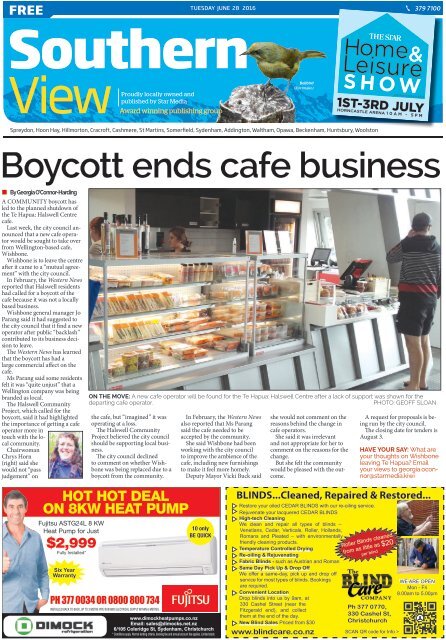 Southern View: June 28, 2016
You also want an ePaper? Increase the reach of your titles
YUMPU automatically turns print PDFs into web optimized ePapers that Google loves.
FREE

TUESDAY jUnE 28 2016

379 7100

Southern

View

Proudly locally owned and

published by Star Media

Award winning publishing group

Bellbird

(Korimako)

SHOW

1ST-3RD JULY

starhomeshow.kiwi

HORNCASTLE ARENA 1 0AM - 5PM

Spreydon, Hoon Hay, Hillmorton, Cracroft, Cashmere, St Martins, Somerfield, Sydenham, Addington, Waltham, Opawa, Beckenham, Huntsbury, Woolston

Boycott ends cafe business

• By Georgia O'Connor-Harding

A COMMUNITY boycott has

led to the planned shutdown of

the Te Hapua: Halswell Centre

cafe.

Last week, the city council announced

that a new cafe operator

would be sought to take over

from Wellington-based cafe,

Wishbone.

Wishbone is to leave the centre

after it came to a "mutual agreement"

with the city council.

In February, the Western News

reported that Halswell residents

had called for a boycott of the

cafe because it was not a locally

based business.

Wishbone general manager Jo

Parang said it had suggested to

the city council that it find a new

operator after public "backlash"

contributed to its business decision

to leave.

The Western News has learned

that the boycott has had a

large commercial affect on the

cafe.

Ms Parang said some residents

felt it was "quite unjust" that a

Wellington company was being

branded as local.

The Halswell Community

Project, which called for the

boycott, said it had highlighted

the importance of getting a cafe

operator more in

touch with the local

community.

Chairwoman

Chrys Horn

(right) said she

would not "pass

judgement" on

Six Year

Warranty

ON THE MOVE: A new cafe operator will be found for the Te Hapua: Halswell Centre after a lack of support was shown for the

departing cafe operator.

PHOTO: GEOFF SLOAN

the cafe, but "imagined" it was

operating at a loss.

The Halswell Community

Project believed the city council

should be supporting local business.

The city council declined

to comment on whether Wishbone

was being replaced due to a

boycott from the community.

Hot Hot Deal

on 8KW Heat PumP

Fujitsu ASTG24L 8 KW

Heat Pump for Just

$2,999

Fully Installed*

Heat Pump for Just

www.dimockheatpumps.co.nz

Email: sales@dimocks.net.nz

6/105 Coleridge St, Sydenham, Christchurch

* Conditions apply. Normal lending criteria, booking fee and annual account fee applies. Limited stock.

In February, the Western News

also reported that Ms Parang

said the cafe needed to be

accepted by the community.

She said Wishbone had been

working with the city council

to improve the ambience of the

cafe, including new furnishings

to make it feel more homely.

Deputy Mayor Vicki Buck said

10 only

BE QUICK

she would not comment on the

reasons behind the change in

cafe operators.

She said it was irrelevant

and not appropriate for her to

comment on the reasons for the

change.

But she felt the community

would be pleased with the outcome.

Hot Hot Deal

on 8KW Heat PumP

Fujitsu ASTG24L 8 KW

$2,999

Fully Installed*

PH 377 0034 OR 0800 800 734

Six Year

Warranty

PH 377 0034 OR 0800 800 734

Installed back to back, up to 3 metre pIpe run and electrIcal supply wIthIn 6 metres.

Restore your oiled CEDAR BLINDS with our re-oiling service.

Rejuvenate your lacquered CEDAR BLINDS

High-tech Cleaning

We clean and repair all types of blinds –

Venetians, Cedar, Verticals, Roller, Hollands,

Romans and Pleated – with environmentally

friendly cleaning products.

Installed back to back, up to 3 metre pIpe

run and electrIcal supply wIthIn 6 metres.

www.dimockheatpumps.co.nz

New Blind Sales Priced from $30

Email: www.blindcare.co.nz

sales@dimocks.net.nz

10 5 only

BE QUICK

Temperature Controlled Drying

Re-oiling & Rejuvenating

Fabric Blinds - such as Austrian and Roman

Same Day Pick Up & Drop Off

We offer a same-day, pick up and drop off

service for most types of blinds. Bookings

are required.

Convenient Location

Drop blinds into us by 9am, at

330 Cashel Street (near the

Fitzgerald end), and collect

them at the end of the day.

A request for proposals is being

run by the city council.

The closing date for tenders is

August 3.

HAVE YOUR SAY: What are

your thoughts on Wishbone

leaving Te Hapua? Email

your views to georgia.oconnor@starmedia.kiwi

BLINDS...Cleaned, Repaired & Restored...

Roller Blinds cleaned

from as little as $20

per blind

Ph 377 0770,

330 Cashel St,

Christchurch

SCAN QR code for Info >

WE ARE OPEN

Mon - Fri

8.00am to 5.00pm
---
2

Tuesday June 28 2016

Inside

SOUTHERN VIEW

FROM

THE

EDITOR'S

DESK News.................................3, 4, 5

FRUIT AND vegetables should

not be as expensive as what they

are. Thankfully there is a social

enterprise in the city that is

ensuring more people get their

five-plus a day. Good Together was

born out of the earthquakes and

is now supplying more than 2000

orders a week. Check out their

story on page 4.

This week's long read, on pages

6 and 7, is on a motor-cycle racing

Canterbury University researcher.

Alex O'Keefe chats to reporter

Hannah Samson-Barry on his

latest project involving bringing

artist Len Lye's works to life.

Our regular columnist, Fire Risk

Management officer Mark Thomas,

says a colleague is "fair game"

after he called in a car fire when

it turned out to be steam. But, he

said, they would rather get 10 false

alarms than not get a phone call to

a fire that quickly escalates.

Have a good week.

Cashmere High students win Hillary Challenge

Schools 11

Our People....................6,7

Schools....................................11

Community Events...14

Keep It Local.......................17

Winter Wonderland.19

Local Achievers...............21

Health & Beauty.........24

GET IN TOUCH

General Enquiries Ph 379-7100

Classified Advertising Ph 379-1100

starmedia.kiwi

NEWS

Tom Doudney

Ph: 371 0780

tom.doudney@starmedia.kiwi

ADVERTISING

John Verd

Ph: 364 7496

john.verd@starmedia.kiwi

Dyers Road Landscape

& Garden Supplies

• Barks • Peastraw • Composts - we supply the best available

• Aggregates - Chip, Round and Basecourse

• Pavers & Schist products • Pungas

• Decorative Stones & Landscaping Rocks

• Trailer Hire first hour free with purchase

• Bag & Bulk - pick up or delivered

David, Carol & Mike

We will deliver!

SOIL

AND

HARDFILL

DUMPING

Phone: 03 384 6540

183 Dyers Rd, Bromley • OPEN 7 DAYS

Weekdays 7.30am-5pm. Weekends 8.30am-3pm

www.dyersroadandlandscapes.co.nz

HEAT PUMPS

Which one is right for you?

• Single-split, Multi-split, Ducted?

• Wall, Floor console, Ceiling cassette, Concealed?

• Mitsubishi, Panasonic, Fujitsu, Daikin, Toshiba...?

Find out with a FREE HOME APPRAISAL

from the Independent Heat Pump Experts.

BOOK NOW

0800 47 48 97

heatpumpguys.co.nz

THE INDEPENDENT SPECIALISTS

A cosy

home is

furry nice

indeed...

Come and

watch a fire

master build

a smoke-free

fire.

Fine-tune your

burning technique –

you'll be warmer,

save on firewood and

have a smoke-free fire!

WHEN

Friday 1 July

1.30pm and 3.30pm

WHERE

Harris Home Fires

41 Braddon St, Christchurch

For more information contact

demo@warmercheaper.co.nz

Imagic ECAN/7192/STAR
---
SOUTHERN VIEW Tuesday June 28 2016 3

News

Milestone for community building

• By Tom Doudney

A CAMPAIGN to retain

a former children's library

building for community use

will come full circle on Saturday

when it reopens as the Hoon

Hay Community Centre on

Saturday.

The volunteer-run library

on Hoon Hay closed in 2014

due to low patronage and the

city council was looking at

selling the building before

the Spreydon-Heathcote

Community Board arranged

public consultation.

The drive to keep it was

boosted by a strong community

response and a city council

analysis which showed there

wasn't enough small meeting

space in the Hoon Hay area.

Hoon Hay Community

Association chairwoman Suzie

Sauer said it was hoped the building

would become a bit of a hub.

"That will be a really awesome

addition to our community I

think – somewhere that we can

hold events and that people just

think of as a place to meet and

learn things and grow and to

belong, really."

A range of other groups have

expressed interest in using the

space including the Rowley

Resource Centre, a toy library,

a whitewater rafting club, an

PARTY MODE: Hoon Hay community members Cathy Robins, Cate Grace, Suzie Sauer, Riwai

Grace, Spreydon-Heathcote Community Board member Melanie Coker, and Lolina Avia will

be among those celebrating the opening of the Hoon Hay Community Centre this Saturday.

antiques and collectables club

and a post-natal depression

group, among others.

Spreydon-Heathcote

Community Board member

Melanie Coker, who was

involved in promoting the

retention of the building, said

getting this point had only

happened because of the hard

work of many people.

"I believe this opening event

is a milestone for Hoon Hay and

shows how a community that

works together for a purpose

can achieve outcomes that

at first may not have seemed

possible."

She said there had already

been two community events

within the last six months with

more than 100 people attending.

PHOTO: GEOFF SLOAN

To book the centre phone 338

9680 or 021 0454 658, or email

hoonhaycommunitycentre@

gmail.com

•The opening will be held on

Saturday, 2-4pm, at 90 Hoon

Hay Rd. There will be a free

sausage sizzle as well as

entertainment and activities

for children.

In Brief

SMOKEFREE ROCKQUEST

Cashmere High School has two

bands competing in the Smokefree

Rockquest regional final at The

Bedford this Friday. The bands

Xenolithic and The Blind Fisherman

will compete against 10 other

high school bands from around

Christchurch at the finals. High

school bands competed in heats last

month and now the top 12 are set

to play off for first and second place

prizes.

HOT WATER CYLINDERS

The Cashmere Residents'

Association wants to hear from any

residents in the area who have had

problems with newly-installed or

repaired hot water cylinders failing,

as reported in the June 14 edition

of Southern View. The residents

association had been aware of a

mystery issue afflicting cylinders

in the Cashmere area since 2014

and earlier this year it started a

website to collate the experiences

of different residents. The website is

https://chchwater.wordpress.com

SPARKS RD REPAIRS

From Friday, Sparks Rd will be oneway

heading to Halswell, between

Hoon Hay Rd and Maryhill Ave,

while the Stronger Christchurch

Infrastructure Repair Team repairs

part of the road. Detours will be in

place via Maryhill Ave and Hoon

Hay Rd.

THIS MONTHS FEATURE RING

Logo ONE

Tagline

ONLY

18ct white gold 0.95ct TDW dress ring.

For only $5995* or $116.34 weekly

NO DEPOSIT 12 MONTHS INTEREST FREE

(Conditions apply) * Doesn't apply to insurance claims

and should be used wherever possible. A dropshadow version

is also available for use but can only be used on a yellow background.

9kg

bOttLe

RefiLL

No tagline

ONLY

$

27 95

Don't forget to

bring your AA

Smartfuel Card

When the AA circle within the logo becomes less than 10mm then the

is also available for use but can only be used on a yellow background.

level 1, 10a athelstan st.

barrington jewellery centre

phone 982 2982 or 0800 4 rings

www.claritydiamonds.co.nz

®

Where full colour cannot be used, the black and

white logo should be used.

Where full colour cannot be used, the black and

white logo should be Caltex

used.

Lincoln Road

55 Lincoln Rd

Spreydon

03 338-5756

MARCH 2014

3

ULTIMATE

PROTECTION

Protect the player in

your family!

Duchenne mouthguards are

designed for greater shock

absorbency with better

distribution of impact, protecting

the teeth, gums and mouth.

8 CONVENIENT CHRISTCHURCH

LOCATIONS:

Merivale 03 375 4444

Beckenham 03 375 4443

Fendalton 03 375 4449

Linwood 03 375 4448

Kaiapoi 03 375 4442

QEII Dental 03 388 0881

Dentistry with a Smile 03 338 8210

Halswell Dental 03 322 9577

Official supplier of the Canterbury Rugby Union in

conjunction with Donna Batchelor Orthodontist.

www.duchenne.co.nz
---
4

Tuesday June 28 2016

McMaster & Heap

Veterinary practice

BLOOD SAVES LIVES

Steve Heap, at

McMaster & Heap,

has recently

performed 2 blood

transfusions in 5

days on young

dogs at the

Practice, both cases

in his own time.

This procedure

isn't common

practice but when

you have a patient presented pale,

collapsed and bleeding out essentially, you

have to be geared up to immediately transfuse.

You also need a capable skilled team around

you as this isn't a one person

job as you'll see below. A blood

transfused patient needs to be

intensively monitored by a nurse to

make sure we don't get transfusion

reactions ( ie tremors, vomiting,

labored breathing, swelling and skin

reactions, seizures, coma or cardiac

arrest). The important things are

having a team capable of performing

the transfusion and closely

monitoring the patient for reactions.

"Poppy" the Hungarian Visla made

a full recovery after her near death

experience of ingesting rat bait.

"Bella" the Airedale unfortunately

wasn't so lucky. She initially improved,

but after a few weeks of intensive care

and huge amounts of love, was very sadly put

to sleep after complications with her kidneys.

This article is specially dedicated to Bella.

Obviously both cases required blood fast.

A dog can take another dogs blood ONCE

without being cross matched to check blood

type. We obtained 500mls of blood and 200mls

of plasma for Bella from the After Hours clinic

on a Sunday and Steve obtained 400mls of

blood from Clive, a German Short haired

pointer, for Poppy. We have the transfusion

bags and filters at work and the blood is

delivered slowly via IVF pumps over 2-3 hours.

A vet must sit with the patient the entire time

and monitor vitals. The blood is delivered via

large bore catheter into the cephalic vein. Both

dogs accepted the procedure

well – admittedly both

were very ill.

Having blood readily

available is helpful. We

didn't but luckily were

able to source it fast. In

the past I've used Lola

for obtaining blood

from but since she's had

cancer and received

chemotherapy, she now

isn't a suitable candidate.

Six year old Bella presented initially for

unexplained bleeding from her bowel. After

a lengthy work up involving blood testing,

radiographs, abdominal ultrasound, bladder

catheterization and intensive care monitoring,

she deteriorated quickly and needed a blood

transfusion in the hope it would save her

life. She was losing large amounts of blood

from her urinary system and large bowel. Her

kidneys were failing, she was depressed and

inappetant. Despite intravenous fluids and

over 10 different medications she was still

deteriorating. We still don't really know what

caused the huge blood loss but the transfusion

initially helped, providing her with clotting

factors, blood and an immune system to fight

whatever was going on.

Open 7 days

Cnr Hoon Hay & Coppell place

phone 338 2534, Fax 339 8624

e. mcmasterandheap@yahoo.co.nz

www.mcmasterheap.co.nz

Poppy, the 14 month old Visla, knibbled on

RAT BAIT 3 days before presenting near death.

This poison destroys platelets and coagulation

factors and causes their victims to bleed to

death because they can't clot blood. Within

hours Poppy would have died due to blood

loss into her chest, preventing oxygenation and

ventilation. She presented collapsed, was as

white as a sheet and in total respiratory distress

– she couldn't breathe at all. Our amazing

team moved quickly, calling in Steve and Kirsty

who worked together over 4 hours – Kirsty

draining the blood from her chest ( the blood

was around her lungs) and Steve transfusing

her with Clive's blood. She was monitored by

two nurses throughout

the procedure.

Her recovery was

instantaneous – after

being transfused she

basically leapt into the

back of the car, totally

transformed. She was

monitored carefully

at the After Hours

clinic that evening

and returned to us the

next day.

These two cases

highlight to me the

need for speed and

urgency in seeing

these cases ( whether

it be late at night or over a weekend),

dedication to our patients, commitment to our

clients and skilled and passionate professionals

prepared to go the extra mile. Our nurse took

the call from Poppy's owner seriously, late on

a Thursday night when we were getting ready

to close. At that stage we had no idea Poppy

had ingested rat bait. She was just quiet and

very lethargic. Not the norm for a 14 month

old Visla! Our nurse also asked the colour of

Poppy's gums and was told they were white!!

This raised alarm bells. Our consulting vet that

night was fully booked until 7pm so our nurse

called Steve, who immediately responded to

the call.

A special mention must be made to the

dedicated clients who trusted in us and

allowed us a chance at saving their dogs by

giving blood, which in itself isn't without risks.

When we undertake a transfusion, we have

no real idea of outcome but we all do our very

best. Our patients all deserve a chance.

Dr Michele McMaster

This is specially dedicated to "Bella" who

was so stoic and fought so hard to make a

full recovery. She was a patient I'll never

forget. No matter how sick she felt, she

always had a tail wag for me. She was

kind, trusting of us all and brave until the

end. Not being able to pull her though

affected us all. RIP dear Bella. You are

never forgotton.

McMaster & Heap

News

Low cost fruit and

vege plan spreading

• By Tom Doudney

A SOCIAL enterprise

supplying low cost fruit

and vegetables which

started in Bryndwr has

taken off across the city

and is now spreading

around the country.

Reverend Craig Dixon

started Food Together as

a non-profit fruit and vegetable

co-operative about

30 years ago when he was

vicar of Bryndwr Anglican

Church.

"It started as a need in an

area of kind of low socioeconomic

households

who were faced with limited

income and a limited

knowledge of what to do

with a number of fresh

food products," he said.

After operating the

single hub in Bryndwr for

many years, Mr Dixon

decided to expand the

service following the 2010

and 2011 earthquakes.

"We contacted a number

of churches, as we

generally work through

churches and community

groups, out around the

east where the need was

EAT

TALK

SMILE

Live life

confidently with

advanced dental

and denture care.

8 CONVENIENT CHRISTCHURCH

LOCATIONS:

Merivale 03 375 4444

Beckenham 03 375 4443

Fendalton 03 375 4449

Linwood 03 375 4448

Kaiapoi 03 375 4442

QEII Dental 03 388 0881

Dentistry with a Smile 03 338 8210

Halswell Dental 03 322 9577

greatest and we started to

supply produce out there,"

he said.

Since the earthquakes,

Food Together has gone

from having one Christchurch

hub to seven, and from

supplying about 140 orders a

week to more than 2000.

The main hubs are in

Bryndwr, New Brighton,

Opawa, Rangiora, Oxford,

St Albans and Hoon

Hay, with about 40 other

smaller distribution points

around the city.

People pre-order a mixed

bag of fruit and vegetables

for between $12 and $15

www.duchenne.co.nz

SOUTHERN VIEW

KEEPING

IT FRESH:

St Albans

Food

Together

hub

volunteer

Anne

Powley.

and then pick it up. Mr

Dixon said the prices were

typically about 40 per cent

below retail price.

Food Together Hubs

have also opened in Auckland

and Hamilton and Mr

Dixon said other groups in

Wellington, Dunedin and

Timaru, while not using

the Food Together name,

had been inspired by the

concept.

Mr Dixon said he didn't

see the need for the service

disappearing anytime soon.

"Generally I think the

price of produce is increasing,"

he said.

Canterbury's leading company specialising

in complete denture services.

Organic Training College

Learn from the experts

Start a career in organics.

Reduce your footprint

and produce a regular

supply of your own fruit

and vegetables

Programme Information

college@bhu.org.nz

www.bhu.org.nz | 03 3253684

Courses

• Organic Distance Programme

Part time 1 year, enrol anytime

• Year 1 Introduction to Organics

44 weeks, starts August 2016

(Lincoln Campus)

• Year 2 Applied Organics

46 weeks, starts August 2016

(Lincoln Campus)

All fees under $500
---
SOUTHERN VIEW Tuesday June 28 2016 5

News

Giving young people a good name

HELPING CHILDREN who

have parents struggling with

addiction is just one of the

reasons Tasharn Rangi was

awarded a Canterbury Youth

Award.

The awards were held for the

first time, with Miss Rangi, of

St Martins, winning the Community

Action Award.

The 16-year-old was

recognised for her work as a

volunteer with Familial Trust

and coaching an under-13

netball team.

The Familial Trust treats all

types of addiction, including

eating disorders, gambling, sex

addiction and obsessive working.

It opened in 2002 and will

celebrate 15 years of service to

the community in November.

Her award was described as

the "giving youth a good name

award". It signifies her tireless

effort to actively get involved

and commit her time and energy

to making a significant impact

in the community.

On the night, there were 23

individuals and four groups

nominated in eight categories

and six supreme awards.

Fifteen-year-old Cashmere

resident Aiyana Mason King

was a runner-up in the same

WINNER: Tasharn Rangi celebrated her win at the youth awards by posing for a photo with

National List MP Nuk Korako.

PHOTO: NUK KORAKO FACEBOOK

category.

Miss King volunteers at

Chomondeley, giving back to

children in need and being a

positive role model in their lives.

She is also an executive

member of the Christchurch

Youth Council, identifying

needs in the community and

striving to represent those

communities.

The awards were held at the

University of Canterbury Students'

Association events centre

on Friday night.

Mobile plan

for computer

training service

• By Tom Doudney

A SPREYDON-BASED charitable

trust which helps provide

computer and internet access

and training is looking to take its

services on the road.

Addington.net is looking to

start a new initiative where its

members travel around the city

to help the staff and clients of

not-for-profit, non-governmental

organisations improve their computer

skills.

The trust moved from Spreydon

St to a new location on Barrington

St in December. Previously, it was

based on Lincoln Rd for many

years.

Addington.net community liaison

co-ordinator Lynda Sawyers

said the initiative had come about

after chairwoman Wendy Butcher

carried out a research project to

determine if there was still a need

for the trust's services.

"She talked to many organisations

and people to get an idea

of what their needs were," Ms

Sawyers said.

"She found that yes, there is still

a need for what we do, but rather

than expecting people to come

to our site, there is a need for our

service to become mobile and for

us to go to other sites."

Keep warm this winter

8 cents

per litre off

with your

SuperGold

card

111 - 115 Milton Street

Phone 332-6056

as local as you are

We Fill Your Own

9kg gas bottles

15kg Nature's

Flame Pellets

Bakery • Lotto • Forecourt service

20kg Firetime

Pellets

www.challenge.net.nz

To all Metro Customers

Fare and Zone Changes

A small fare and zone change will take

effect from 4 July. However, metrocard

fares will not change as much as cash

fares, so metrocard users will now save

even more.

Customers on all current zone 3

Waimakariri services will now only

pay a zone 2 fare.

Save at least

30% when you

use a metrocard

Child

Adult

Metrocard Cash Metrocard Cash

Zone 1 $1.25 $2.00 $2.55 $4.00

Zone 2 $1.85 $2.80 $3.75 $5.50

Airport one-way $1.25 $4.00 $2.55 $8.50

Airport return NA $7.00 NA $15.00

Ferry one-way $2.30 $3.20 $4.60 $6.50

Ferry return NA $6.40 NA $13.00

For more information visit our website or call 03 366 8855.

ECAN/7429/STAR
---
6

Tuesday June 28 2016

SOUTHERN VIEW

Our People

Bringing experimental artist's work

Alex O'Keefe

Canterbury University's Alex O'Keefe, 28, is bringing

to life one of the artworks thought up by Len Lye, a

Christchurch artist known for experimental films and

kinetic sculptures. Hannah Samson-Barry chats to

him about motor-cycle racing and skateparks

Tell me a little about your role

at Canterbury University.

I work in the field of

mechanical engineering research

at the university. Part of this role

is a small amount of teaching

and mentoring. I really like

working at UC because of the

exposure to a wide range of

different fields of study in such

close proximity, its a 5min walk

from fine arts to firing lightning

bolts in the electrical engineering

department.

You made the move from

Queenstown? Why the shift?

I came to Christchurch because

after working for a year in

Queenstown after I finished high

school I realised that I wasn't doing

anything with my life, so my

parents suggested engineering as

a pursuit. Canterbury University

had the best reputation in New

Zealand and it's reasonably close

to home. So I enrolled for first

year engineering and moved up

here.

Can you tell me about life

before you became a doctor,

what was it like growing up in

Queenstown?

Queenstown was a crazy place

to grow up. It's the adventure

capital of New Zealand so it was

a lot of fun. Small town vibes but

with more of a city feel so we got

the best of both worlds. It's safe

and fun and great.

How did you get into mechanical

engineering, so you

mentioned your parents?

Yes, my parents recommended

it as a course of study. I had

no idea what it was other than

basically building bridges. After

the first year of engineering you

figure out what the different

disciplines are and mechanical

engineering was a fit in terms of

the fact that I like solving practical

problems and working with

my hands and doing projects.

How did you first become

involved with Len Lye's work?

After I finished my degree I

was looking for employment

as a mechanical engineer and

I was obligated to be in the

city at the time but none of the

HANDS-ON: Alex O'Keefe has taken up the challenge of

bringing artist Len Lye's ideas to life.

jobs that I could find I found

enough interest in or thought

I'd be happy there. I looked at

the postgraduate curriculum at

Canterbury University and one

of the projects that was offered

was this Len Lye project that I

work on and to me that sounded

like the biggest challenge I could

imagine. So that's the first time I

heard of Len, I researched him,

figured out who he was and his

background and decided that

this was the project for me.

How is it bringing these great

ideas and designs to life?

Len Lye projects are fascinating

to work on because part of it

is that you get to search through

all of his notes, drawings and all

of the material that he produced

on an artwork.

Things that other people never

get to see. You get to work with

small models that he made so

then your job as an engineer is to

translate all of these intentions as

an artist into a piece of art that

he would have been happy with.

So it's inspiring as you get to

see subtleties of the reasons why

he wanted this motion because it

had these intricacies and chaos

in there that was so exciting. So

when you find these things out

and come to understand what

Len was trying to create it's really

fulfilling when you get to

that point when you've worked

towards an art piece that will be

a Len Lye artwork.

It's also kind of stressful because

Len gives you these crazy

challenges where he says shoot a

30m lightning bolt across the sky

and I want things to lift up 100m

into the air.

So he was limitless in his imagination

but as an engineer you

are very limited in what you are

capable of so you have to come

up with clever ways that you can

bring to life Len's ideas, even

though they were grand scale

and crazy.

EVERY DAY 11.30AM TO 2.30PM

LUNCH AT WINNIES

PASTA OF THE DAY $14

SALAD OF THE DAY $14

MINNIE WINNIE $12

MEDIUM TRADITIONAL PIZZA $15

SMALL GOURMET PIZZA $14

2 WATERMAN PL. PH (03) 376 4900 | WWW.WINNIEBAGOES.CO.NZ
---
SOUTHERN VIEW Tuesday June 28 2016 7

to life through engineering

Why do you persevere with

these projects?

That's a really good question.

Something I ask myself and

I have no answer too. I guess

because we are working towards

a goal and I can see the end

result, and the end result is that

we get to share Len Lye who is

one of New Zealand's and the

world's most renowned artists

of the 20 th -century. We get to

share these visions that he had

with everyone and show why this

guy was such a spectacular and

inspiring artist. So I see the end

goal as being a really fulfilling

result of these projects.

After spending so much time

there, what do you think of

Canterbury University?

I do think it's quite a spectacular

place and I do think the

pursuit of engineering, whatever

discipline it might be, or the

sciences for that matter is the

best pursuit for anyone who is

mechanically or scientifically

minded. By going through the

engineering courses at Canterbury

you not only give yourself

the skills, and technical skills

you get from the course, but it

gives you a new analytical way of

looking at your life and it allows

you to take on projects outside

of work like motorbike racing

PROJECTS: (From left): Director of the Len Lye Foundation

Evan Webb, Dr Alex O'Keefe, Len Lye Foundation Chair and

of Technix Industries Ltd Dr John Matthews and Canterbury

University Mechanical Department senior lecturer Dr Shayne

Gooch. PHOTO: DUNCAN SHAW-BROWN.

which I would have never done

without being at Canterbury

and understanding that you can

achieve these things and these

people that do them, they are not

this tier above, your just being

confident enough to tackle these

problems.

Do you get any down time

when you're not working on

these projects?

Yes I have down time. But in

my down time I like to work on

other projects. I treat these projects

as a job but outside of that I

have time to skateboard and ride

motor-cycles and pursue other

interests of mine.

Tell me more about the

motor-cycle racing, how did

that begin?

Being in the mechanical engineering

department engines and

motor vehicles are an integral

part of that whole course and

community. So I was placed in an

office with two other motor-cycle

racers and as with anyone that

seems to be with the engineering

department post-grad they were

infectiously enthusiastic about

the sport and it rubbed off on me

SPEED: Dr O'Keefe racing the yellow Yamaha at Mike Pero

Motorsport Park.

and I got tricked into being part

of it. No regrets at all.

What's your motor-cycle of

choice?

FXR 150 small cubic capacity

race bike called a bucket. Because

bucket racing is heaps of fun.

What is your favourite place

to go on your motor-cycle?

Up the Summit Rd and around

Godley Head in the summer,

or at the Mike Pero Motorsport

Park (Ruapuna).

How about skateboarding,

didn't you help bring about a

new skatepark in the city?

As part of a marketing campaign

an American company

Levi's and Monster Children sent

their professional skateboard

team to Christchurch to help

build a new skatepark for the city

which had suffered from the major

earthquakes. So they linked

up with me and a bunch of other

local skateboarders and we got

together with the youth and we

built a small DIY skatepark at

the stockyards, so give something

back to the community.

They gave something back, I

just helped. It is there to be used

for everyone and we encourage

anyone to maintain or improve it

as they wish.

What are the best places to

skate?

Christchurch is a great place

to skate due to wide range of

small skateparks in the wider

city. Templeton, Rolleston,

Belfast, Leeston, Kaiapoi all

have relatively recent skate parks

which offer a diverse range of

things to skate. These small

community initiative skateparks

are a great thing for kids and big

kids alike.

YOUR ONE STOP SHOP FOR ALL

YOUR AUTOMOTIVE NEEDS

• WOF + Services

• European / German / BMW specialists

• Mechanical repair • Tyres • Scan tool / Scope diagnostics

• Petrol / Diesel / Light commercials

• Brake Testing & machining

• Insurance warranty work welcome

Gainsborough Auto Services Ltd

Ph 03 384 4957

281 Dyers Road, Bromley, Christchurch

gainsboroughauto@gmail.com

395 Brougham St,

Christchurch

Ph (03) 365-3411

"Exclusive range of

pottery, furniture,

handcrafts,

stoneware

& gifts"

Open 7 days

Mon-Fri 10-4.30pm

Weekends 10-4pm

For all your

emergency

plumbing

and

gasfitting

needs

PLEASE give

us a call.

Back Row: Mark, Aaron, Jacob, Mark, Sam

Front Row: Liz, Matt, Sandra, Ant & Paul

SERVICING ALL AREAS OF CHRISTCHURCH

Phone today! 3790-711

or email us: info@whiteheadplumbing.co.nz

Great Service. Awesome Food.

$

15

for

STEAK

NiGHT

Wednesday Night

FREE

MiNi-PuT

kids with accompanying

paying adults. Great option

for dinner while the kids are

entertained!

Friday Night

FRiDAY HAPPY HOuR 5 - 7 PM

UNDER NEW OWNERSHIP

Open for lunch and dinner

Wednesday to Sunday

50 FERRYMEAD PARK DR,

FERRYMEAD

www.ferrymeadevents.co.nz

Phone 03 384-0522
---
8

Tuesday June 28 2016

SOUTHERN VIEW

Your Local Views

What do you think of

the new school?

Port Hills Labour

MP Ruth Dyson

says people should

have their say on

how they would

like Linwood

College to look

like in five years

time, with a whole school rebuild

planned

MANY OF you will have noticed

billboards around our suburbs talking

about a new school coming – have your

say. And you may have talked with people

at one of our markets, outside the

supermarket or at meetings about this

new school.

This project is one of the best examples

of collaboration and taking an

opportunity for improvement that I

have seen.

It is called the legacy project and is taking

a very frank look at Linwood College in the

future, the fact that it now has a new principal

who is very community-focused and

outward looking, and the complete rebuild

of the school which will be under way soon.

The project asks the questions about

what people think of the school, what

they would like to see from the school,

and what it should look like in five

years' time.

The community consultation has been

fantastic, with many parents who are

looking at colleges in the future, coming

along and having their questions

answered in an honest and open way.

We all know that there have been problems

at Linwood College over the last

few years. But we know that it has an

excellent provider of quality education

for many local children and with the

right leadership, can become a school of

choice. The fact that it will be brand new

is an added bonus.

It is a huge opportunity for our communities

to have their say and be part

of making the new high school a place

for of opportunity. All our children and

young adults deserve the best possible

education. This is an exciting piece of

work that will deliver that in our community.

If you haven't been part of the

discussion yet, it's not too late. The

community meetings have finished but

you can share your ideas online www.

surveymonkey.com/r/makeityours

Help build a great school for our

future leaders.

Readers respond to last

week's Southern View

article about businesses

opposing the loss of car

parks on Ferry Rd, part

of a city council plan to

revitalise the area.

Michael J. Brathwaite,

of Spreydon – Regarding

the council's plans for the

Woolston village, when

will the fools who came

up with these crazy ideas

get it into their thick heads

that people go to shopping

centres to buy things, put

them in their cars, and

drive home?

No-one goes to such a

place to admire trees or be

impeded by median strips

and other obstacles on the

roads – all without averting

one's glance from one's

speedometer. How do they

expect to revitalise the area

while doing all they can to

make people stay away from

it?

An April magazine

article by architect David

Sheppard confirms what

we've long suspected, ie

that public consultation "is

generally token only and . .

. carried out once key decisions

and strategies have

been made by those leading

the charge."

I've lodged submissions

against many plans such as

GOING: A

city council

plan to

revitalise

Woolston

would see

the number

of Ferry Rd

car parks

reduced

from 77 to 21.

PHOTO:

GEOFF

SLOAN

the Woolston one, but they

have always gone ahead

anyway.

To support their case, I

imagine the traffic engineers

did their survey of the

demand for parking in the

area in the middle of the

night.

Steve Muir, of central

city – I strongly support the

plans to move car parks off

the road though Woolston.

Evidence shows a good

cycle lane though there will

likely improve business,

not reduce it, and business

owners need to get out of

the 'car parks outside equals

money' mentality.

Penruddock Palace Seeks New Residents

107 Penruddock Rise, Westmorland

5 5 4 2

Listing Number: BE192575

Auction 14 Jul 2016 Unless Sold Prior

Our vendors are downsizing and the children have fled the nest, so this home of

palatial scale must be sold. Views of the city and rural surrounds are offered only to

the lucky few, and especially rewarding on crisp and cool days where the Alps are

truly resplendent.

True grandeur is on offer with large living areas, and a luxurious kitchen to really

make cooking a joy. Upstairs there are 4 bedrooms to host all the family and friends,

and four bathrooms to match making queues a thing of the past.

Each room has its own unique view, and dormer windows give a feeling of old world

opulence. If this wasn't enough, downstairs is a large living room with bedroom,

bathroom and a sauna, making the perfect opportunity for a home gym, or a private

hide away for extended family or friends. The car enthusiast is also catered for with

a big double garage with workshop space at the end for all the tools needed for

tinkering.

Homes of this scale are a rare find these days, not to mention the unobstructed views

over the city. Don't delay in viewing this property.

Open Homes: Sat and Sun 2:45 p.m. - 3:30 p.m.

Your agent, Your home, Your future

LICENSED SALES CONSULTANT REAA 2008

P 027 777 0411

10% discount

everyday

using

*excludes PrescriPtions & sale stock

20%

OFF*

SPECIALLY FORMULATED FOR

NEW ZEALAND WOMEN BY

*Offer available for a limited time, while stocks last. Not in conjunction with

any other offer. Promotion excludes gift sets, value packs, discounted or

promotional items, sponges and tools.

Barrington Pharmacy

Next to CouplaNds,

256 BarriNgtoN st

Ph 332 3156
---
SOUTHERN VIEW Tuesday June 28 2016 9

GREAT

WINTER READS

IN-STORE!

1005 Ferry rd

Ph 384 2063

while stocks last (see instore for terms and conditions)

Barry & kerry
---
10

Tuesday June 28 2016

SOUTHERN VIEW
---
SOUTHERN VIEW Tuesday June 28 2016 11

A group of senior Cashmere High School students won the

outdoor Hillary Challenge. The competition involves trekking,

running, mountain biking, orienteering and working as a team.

The school entered two teams in the competition. Both teams

SCHOOLS

will now head to Napier to compete in the national event next

year.

Thorrington Primary School teachers surprised pupils with a performance of Cinderella.

The pupils were shocked when they saw their teachers on stage, acting as mice, ugly step

sisters and Cinderella.

SUCCESS: Cashmere High's two Hillary Challenge teams

posed for a photo. Back row: Rachel Baker (CPIT coach) Briana

Steven, Gina Damerow-Stephen, Jess Lange, Niva Chittock-

Greenwood, George Sutton, Thomas Flynn, Harry Booth, Daniel

Asmussen, Charlie Lane (CHS adventure racing coach). Front

row: Maia Reid, Maggie McInnes, Naquita Cross, Katie Cory-

Wright, James Friel, Felix Harrison, Gareth Evans, Scott Smith.

SURPRISE SHOW: All of the teachers were involved

in the show, either on stage, backstage or making

sure everyone had a seat.

UNAWARE: Tayla Garters and

Jonathon Parish did not know they

were advertising for the Cinderella

performance.

REFRESHMENTS: Maggie

McInnes and Gareth Evans

stand at the transition spot at

Sugarloaf car park catching a

small break.

LEADING THE TEAM: Katie

Cory-Wright and Felix

Harrison lead the team as

they set off on a navigation/

problem-solving task. Every

team member had to grip

the same wooden stick

throughout the task.

ROMANCE:

Prince

Charming,

played

by Tirina

Goldsmith,

proposed

to

Cinderella,

played

by Lisa

Dowell.

RUNAWAY:

Cinderella,

played by

Kendall Page

lost her shoe

when she

ran away

from Prince

Charming.
---
12

Tuesday June 28 2016

SOUTHERN VIEW

Parents of Year 6 students are

encouraged to take a good look

at their child's full primary school

when choosing schooling for

2017.

Why change schools when you don't

need to? Full Primary schools are tried

and tested and have developed in

innovative and cost effective ways since

their inception in 1877. They are as

important to the provision of education

in 2017 as they were in 1877.

What makes them successful?

• They have evolved over time and have responded to the

different demographic changes since 1877.

• They are located in neighbourhoods; they cater for

families and respond to community needs.

• They are staffed by highly trained teachers who know

curriculum levels from Level 1 – 5 who have had the same

teacher training as teachers in other Year 7 and 8 school

types.

• Teachers in the student's current full primary school

know about individual students learning progress and

learning style from Year 1 – 8.

• Developing the whole child, flexibility, nurture,

innovation and child centred learning sum up full primary

schools.

• Year 7 and 8 students are the leaders and role models

along with the adults in a full primary school with

opportunities to nurture Year 1 – 6 students.

• School organisation in a full primary school fits the needs

of students not the timetable.

• All Year 7 and 8 students are included in leadership

opportunities, sporting opportunities, school community

job opportunities, buddy responsibilities and role model

expectations. They are seen by others in the school as

the leaders and younger students look up to them.

• These opportunities and strategies to build leadership,

key competencies and resilience are available to all Year

7 and 8 students in a full primary.

Lincoln Primary

What does the research tell

us about the learning needs

of Year 7 and 8 students?

• Curriculum that is relevant, challenging,

integrative, and exploratory

• Multiple learning and teaching

approaches

• Assessment and evaluation programmes

that promote quality learning

• Organisational structures that support

meaningful relationships and learning

• Educators who value working with the

age group

• Courageous, collaborative leadership

• School-wide efforts and policies that

foster health, wellness, and safety

• Multifaceted guidance and support

services

• School-initiated family and community

partnerships

Looking at the above list it becomes clear that it isn't school

type or school buildings that make the difference for Year

7 and 8 students. It is instead the innovative approach to

learning and the attitude of professionals toward this group of

students. This can happen in any school setting as long as the

leadership, teachers and non-teaching staff are committed

to the social and emotional development of this group of

learners. Full Primary Schools are providers of Year 7 and 8

education in every way that other types of schools are.

"Encouraging life-long learners. Expanding Horizons"

Burnham School

Westburn School

Our school offers…

§ Fun and authentic learning.

§ A family orientated environment.

Full Primary Years 1 – 8

135 Hackthorne Rd

Cashmere 8022

§ Quality teaching with high expectations.

St Joseph's Papanui
---
SOUTHERN VIEW Tuesday June 28 2016 13

Avonhead 55 Avonhead Road, Avonhead 03 348 7361 admin@avonhead.school.nz www..avonhead.school.nz

Beckenham 71 Sandwich Road, Beckenham 03 337 1404 principal@beckenham.school.nz www.beckenham.school.nz

Belfast 700 Main North Rd, Belfast 03 323 8849 office@belfast.school.nz www.belfastschool.co.nz

Burnham School Chaytor Avenue Christchurch 03 347 6851 principal@burnham.school.nz www.burnham.school.nz

Cashmere Primary 135 Hackthorne Rd Cashmere 03 332 6786

office@cashmereprimary

.school.nz

www.cashmereprimary

.school.nz

Ch.Ch. East 311 Gloucester St Christchurch 03 366 2440 admin@chcheast.school.nz www.chcheast.school.nz

Christ the King 92 Greers Rd Burnside 03 358 2708 admin@christtheking.school.nz www. christtheking.school.nz

Diamond Harbour 13 Hunters Road, Diamond Harbour 03 329 4842

office@diamondharbour

.school.nz

www.diamondharbour

.school.nz

Halswell 437 Halswell Rd, Halswell 03 322 7038 admin@halswell.school.nz halswell.school.nz

Heathcote Valley 61 Bridle Path Rd, Heathcote Valley 03 384 1058 admin@hvs.school.nz www.hvs.school.nz

Kaiapoi Borough

School

20 Hilton Street, Kaiapoi 03 327 7231 principal@kbs.school.nz www.kbs.school.nz

Kaiapoi North 278 Williams Street, Kaiapoi 03 327 8803 jason.m@kaiapoinorth.school.nz www.kaiapoinorth.school.nz

Lincoln Primary 130 North Belt, Lincoln 03 325 2571 principal@lincolnprimary.ac.nz

lincolnprimary.ultranet.

school.nz

Loburn RD 2 Rangiora 03 312 8828 principal@loburn.school.nz www.loburn.school.nz

And also

The research also provides insight into

what works for Year 7 and 8 students:

Ministry of Education by Dinham and Rowe

of the Australian Council for Educational

Research. 2007

• From the broader 'teaching and learning literature',

there is strong evidence that the quality of teaching

which students receive at all levels and stages of

schooling is of major importance in influencing

achievement outcomes for students.

• While productive and positive student-teacher

relationships are identified as an important

characteristic of highly performing schools

catering for middle years' students, it needs to be

acknowledged that good teachers and school leaders

at all levels of schooling is what works.

• It is therefore debateable whether at least some

aspects of the philosophy and enactment of middle

schooling is any different from 'good' teaching and

effective schooling generally in all school types.

The literature is clear in advocating 'middle schooling

approaches focusing on quality teaching and

enhanced learning' rather than on school type.

Therefore it is what happens in the classroom to

support learning and what happens across the school

to cater for the specific developmental, cognitive,

physical, emotional and social needs of Year 7 and 8

that makes the difference. Not school type.

The research on middle schooling and its implications

to provide quality education to Year 7 and 8 students

is as applicable to full primary school as it is for other

schooling types.

Lyttelton Primary

School

34 Oxford Street, Lyttelton 03 929 0588 office@lyttelton.school.nz www.lyttelton.school.nz

Mairehau Primary 43 Mahars Road, Mairehau 03 385 3796 principal@mps.school.nz www.mps.school.nz

Merrin 41 Merrin Street, Avonhead 03 358 8369 office@merrin.school.nz www.merrin.school.nz

Mt Pleasant School 82 Major Hornbrook Road 03 384 3994 principal@mtpleasant.school.nz www.mtpleasant.school.nz

New Brighton

Catholic (Mary

Immaculate)

100 Lonsdale Street, New Brighton 03 388 7982 office@nbc.school.nz www.nbc.school.nz

Oaklands 37 Cunningham Place, Halswell 03 322 8735 office@oaklands.school.nz www.oaklands.school.nz

Ohoka RD2 Kaiapoi, Kaiapoi 03 312 6840 office@ohoka.school.nz www.ohoka.school.nz

Ōpāwa School 30 Ford Rd. Opawa, Christchurch 03 332 6374 principal@opawa.school.nz www.opawa.school.nz

Our Lady Star of

the Sea

45 Colenso Street, Sumner 03 326 5315 office@ourladystar.school.nz www.ourladystar.school.nz

Ouruhia School 21 Turners Rd, Christchurch 03 323 8855 principal@ouruhia.school.nz http://ouruhia.wikispaces.com

Parkview Chadbury St, Parklands 03 383 0833 office@parkview.school.nz www.parkview.school.nz

Pegasus Bay

School

5 Solander Rd, Pegasus 03 920 7000 principal@pegasusbay.school.nz www.pegasusbay.school.nz

Prebbleton School Blakes Road, Prebbleton 03 349 6553 admin@prebbleton.school.nz www.prebbleton.school.nz

Queenspark 222 Queenspark Drive, Christchurch 03 383 1578 admin@queenspark.school.nz www.queenspark.school.nz

Rangiora new Life

School

2 Denchs Rd, Rangiora 03 313 6332 admin@rnls.school.nz www.rnls.school.nz

Redcliffs Truro St, Sumner 03 384 3853 admin@redcliffs.school.nz www.redcliffs.school.nz

Riccarton Primary English Street, Upper Riccarton 03 348 5700

office@riccartonprimary

.school.nz

www.riccartonprimary

.school.nz

Russley 74 Cutts Road, Russley 03 342 7783 reception@russley.school.nz www.russley.school.nz

South New Brighton 160 Estuary Road, South New Brighton 03 388 9426 admin@snbs.school.nz www.snbs.school.nz

Springston School 16- 20 Leeston Road, Springston 03 329 5724 office@springston.school.nz springston.school.nz

St Bernadette's

Catholic

St Joseph's

Papanui

74 Hei Hei Road, Hornby 03 342 9780 admin@stb.school.nz

www.stbernadetteschch

.school.nz

4 Vagues Rd, Christchurch 03 352 8779 principal@stjopapa.school.nz www.stjopapa.school.nz

St Martins Albert Terrace, St Martins 03 332 6121 admin@stmartins.school.nz www.stmartins.school.nz

St Patrick's Kaiapoi 61 Fuller St, Kaiapoi 03 327 7700 tcoleman@stpatkai.school.nz www.stpatkai.school.nz

St Peter's 11 Fisher Avenue, Beckenham 03 332 7598 office@saintpeters.school.nz www.saintpeters.school.nz

Sumner Colenso Street, Sumner 03 326 6546 admin@sumner.school.nz www.sumner.school.nz

Templeton 40 Kirk Road, Templeton 03 349 7045 office@templeton.school.nz www.templeton.school.nz

Waltham School Waltham Road & Hastings Street 03 379 3137 admin@waltham.school.nz www. waltham.school.nz

Westburn 257 Waimairi Road, Ilam 03 358 8173 admin@westburn.school.nz www.westburn.school.nz

West Eyreton 1651 North Eyre Road, Rangiora RD 5 03 312 5850 office@westeyreton.school.nz www.westeyreton.school.nz

West Melton

Primary

743 Weedons Ross Road,

West Melton

03 347 8448 mary@westmelton.school.nz www.westmelton.school.nz

Wharenui 32 Matipo Street, Riccarton 03 348 5263 office@wharenui.school.nz www.wharenui.school.nz

Woodend Full Main Road, Woodend 7641 03 312 7808 g.barber@woodend.school.nz www.woodend.school.nz

Yaldhurst Model 48 School Road, Yaldhurst 03 342 7933 secretary@yaldhurst.school.nz www.yaldhurst.school.nz

Lyttelton Primary School -

Te Kura Tuatahi o Ōhinehou

Parkview School

New Brighton Catholic
---
14

Digital Device Drop In

Tuesday 10.30-11.30am

This event is aimed to help

adults learn more about technology.

Take yourself to this

drop in session to learn more

about computers, laptops, smart

phones and tablets and these

sessions. Find out about how to

create and use emails, applications

and searching the internet

to name a few.

Spreydon Library, 266 Barrington

St.

Baby Times

Tuesday 11-11.30am

Take your babies along to baby

times to hear stories, listen to

rhymes, learn finger play and

interact with other babies. These

programmes are best suited for

children under the age of two.

South Library, 66 Colombo St.

Free entry

Busy Book Club

Wednesday 3.30-4.30pm

Take your children to the book

club and get them more involved

in the library and what it has to

offer. Your child will learn more

about new books, arts, crafts

and new technology in this

programme. This book club is

aimed at children 7-10 years old.

Signing up to the book club but

registration is required per term.

Email learningcentre@ccc.govt.

nz to find out more.

South Library, 66 Colombo St.

Free entry

Community market in

Linwood

Thursday, 8.30am-1pm

Tuesday June 28 2016

New and used goods includes

pre-loved clothing, toys, baby

wear, plants, books, bric-a-brac,

hot frybread, coffee, fresh baking

and more. Inquiries to Murray

on 022 635 9402.

MacKenzies Hotel and Backpackers,

51 Pages Rd, Linwood.

Matariki Storytimes

Thursday 11-11.30am

Take your children to celebrate

Matariki, the Maori New Year

at South Library. Here stories,

rhymes and songs related to

Matariki. This event is aimed at

children 2-5 years old.

South Library, 66 Colombo St.

Free entry

Musical Mentors - Rangi

Ruru Music Scholars

Friday, 1.10-1.50pm

Take yourself to St Augustine

Anglican Church to listen to

music from Rangi Ruru Girl's

music scholars. Listen to their

They will perform many different

songs and styles. Enjoy a hot

drink after the concert.

St Augustine Anglican Church,

5 Cracroft Tce. Donation at door

$10 adult, $5 senior, student and

Concert friends

Opawa Farmers Market

Sunday 9-12pm

Have a wonder around the

Email caitlin.miles@starmedia.kiwi

by 5pm each Wednesday

market and pick up some fresh

baked goods, cheese and organic

vegetables and seasonal fruit

from local and well known

growers.

275 Fifield Tce, Opawa.

Sydenham Walkers

Monday, 10am

Join the group for a walk every

Monday.

Meet outside Countdown on

Colombo St. For more information

phone 027 431 1437.

Maker Space Workshop

Tuesday, 3.30pm-5pm

Take your children to

learn about technology from

3D design and robotics to

animation, music and much

more. This workshop is aimed

at children aged from 10 to 13

years old.

For more information email

learningcentre@ccc.govt.nz $20

per term.

Knot just Knitting

Thursday, 1.30pm-3.30pm

Take your knitting, crochet or

other handy craft and interact

with like minded people. Discuss

your crafty secrets and pick

up some tips from other people

too.

South Library, 66 Colombo St.

Free entry.

FAIR: Lychgate Wellness & Spiritual Fair is back at Halswell

School this Saturday from 11am. Take yourself to this fair

to find many different spiritual and holistic things on offer.

With 36 stallholders there will be a lot to see and buy. From

clairvoyants to tarot card readings there is a lot to see,

experience and learn with free workshops from noon until

when the fair finishes at 4pm. Entry is $2, remember to rake

cash as Eftpos is limited. Halswell School, 437 Halswell Rd. ​

Seriously Brass 125

Sunday, 4pm onwards

Take the family to listen

to the Woolston Brass Band

performing as part of their

125th birthday celebrations.

They will also launch the presale

for their latest album,

The Woolstonian, at the

concert.

Celebration Events Centre, 81

Bickerton St, Wainoni. Tickets

from $10 available at www.

dashtickets.co.nz

Head Rush

Saturday 9.30pm-11.30pm

The Twisted Hop is getting

into the Independence Day

celebrations. Christchurch cover

band Head Rush will play a mix

of classic hits, dance grooves and

everything American long into

the evening.

The Twisted Hop, 616 Ferry Rd.

Free entry

SOUTHERN VIEW

The Remnants

Sunday 7.30pm-9pm

The Remnants will bring their

unique acoustic and electric

guitar sounds covering many

different artists. From Dave

Dobbin and Neil Young to

Jason Mraz and Coldplay. Enjoy

an evening of music. Please

take cash as there is no Eftpos

available.

Christchurch Irish Society Hall,

29 Domain Tce. Entry from $5

Not just Cards

Monday 2.30pm-4pm

Every Monday get involved in

the group activities offered at the

library. It's not just about playing

cards. Chess and Scrabble are

also on offer among many other

fun games. Take yourself down

for a social afternoon and get

among some friendly competition.

South Library, 66 Colombo St.

THE HOME OF GOOD BAKING

PREMIUM

BREAD

White, wholemeal, grain & honey.

3 FOR

$

5 00

FUDGE SLICE

A scrumptious

Fudge Slice that

the kids will

rave about - an

old style Kiwi

favourite.

$

3 49

EA

FREE

TUMBLER

WITH EVERY $ 10 .00 PURCHASE

INCLUDING A 600ml* COCA-COLA!

RASPBERRY

BUNS 4pk

Sweet bun

dough infused

with raspberry

preserve and

finished off with

a light raspberry

icing.

$

3 49

While stocks last. T's & C's apply.

MILK

Dairy Dale 2L varieties.

$

5 98

2 FOR or $3.19 each

FROZEN MEALS $

3 49

Assorted flavours.

EA

Promotional pricing available while stocks last from 27/06/16 to 03/07/16. Images are serving suggestions only.

Strictly while stocks last. Terms & conditions apply. *Range includes; Coca-Cola, Coca-Cola Zero, Diet Coca-Cola, Sprite, Fanta & L&P.

Open 7 days | 8 Convenient local locations

Hornby • Barrington • Ferry Rd • Papanui • Riccarton • Upper Riccarton • New Brighton • Rangiora

BAKERIES

www.couplands.co.nz
---
SOUTHERN VIEW Tuesday June 28 2016 15

GET IN QUICK!

before the boss gets back from holiday!

Benmore

4m Wide

Foamback

Heavy duty cutpile polyprop

PERFECT

FOR D.I.Y!

Baches, sleepouts,

houses, caravans,

campervans, buses.

NOW

$79.90

PER LINEAL METRE

Vinyl Plank Tiles

Domestic &

Commercial

PRICED FROM

A LOW

$35.00

SQUARE METRE

2 Metre Wide Vinyl

Great range of 2m wide vinyl and

seconds ideal for rentals etc

PRICED FROM

$30.00

PER LINEAL

METRE

Short-end Clearance

Hundreds of

short-ends

priced to clear!

• Wool

• SDN

• Polyprop

• Polyester

ROOM-SIZED

CUTS FROM

$35.00

PER LINEAL

METRE

MAT-SIZED

PIECES

$5.00

EACH

312 Wilsons Road North, Waltham Phone 366 0070

www.carpetkingdom.co.nz | Mon - Fri 8am - 5pm | Sat 10am -1pm

FREE no obligation measure & quote (conditions apply.)

Chair Mats

$95
---
16

Tuesday June 28 2016

SOUTHERN VIEW

Christchurch Intermediate

Schools

Specialists in Year 7 and Year 8 Education

OPEN NIGHTS 2016

Intermediates are two year

coeducational schools specialising

in the education of students in their

early adolescence, 11-13 year olds.

Intermediates are exciting places for students to

begin their adventure into adolescence. In addition

to providing a rich, age and stage, middle-yearsspecific

curriculum in a stimulating, challenging and

rewarding environment, intermediates cater for many

interest groups and clubs.

Early adolescence is a unique and

special time of immense physical,

intellectual, emotional and social

development. These changes create

specific needs and challenges that

are significantly different from

the needs of younger children or

older adolescents. Teachers in

intermediate schools are highly

qualified, experienced and skilled

teachers of students in their early

adolescence. Our teachers establish

strong relationships and particularly

enjoy working with this age group.

It is not surprising that New Zealand and overseas

research concludes that the quality of teaching is

one of the most significant factors influencing how

well students learn at school. Given that quality

teaching occurs in most New Zealand schools

regardless of their type, it's only natural to consider

other factors that might make a difference for early

adolescents.

The young people at intermediates are changing

rapidly – physically, emotionally and socially.

Intermediates focus solely on this age group and

are well positioned to meet their needs. A mix

of specialist and home room teachers helps to

provide the choices, challenge, love for practical

activities and academic rigour in the students'

learning. Resourcing, both human and physical, that

is developed deliberately to meet early adolescent

student needs, helps to build self esteem, assist

students to develop and find strengths and links

learning with career aspirations. Teachers who are

focussed solely on the middle years are able to work

collaboratively to provide level-appropriate engaging

Our aim is for all of our students

to leave our intermediate schools

feeling confident in themselves

as successful learners and well

equipped with the knowledge, skills

and attributes needed for high

achievement not only at the next

stage of their formal education but

as life long learners.

programmes that connect learning to students' lives

and interests and provide challenge for all students

to achieve to the best of their ability.

Current intermediate school students list these

points:

In particular, early adolescents

enjoy learning that is authentic and

meaningful to them in an environment

where they have choice and a real say

in what and how they learn. Students

enjoy the challenge of new and

different learning opportunities that

are provided by specialist teachers in

technology, science, performing arts

and visual arts. There also remains an

emphasis on continuing to develop

skills to a high level in literacy and

mathematics.

1. "There are more children of my own age here

because our school takes all the year sixes from a

few different schools and they come to one school.

And because we've got bigger numbers of pupils

we can have more sports teams and … there's

something for everyone" Y8 child

2. "Our school has different specialist teachers for

subjects like music art, P.E. and technology, so we

get used to that – which is good preparation for

secondary school" Y7 girl

3. "At intermediate school everything is for our two

years (age group)." Y8 girl

4. "I like that we don't have to look out for little

children. That was neat at our old (primary) school

but it's nice to just have our own age here. Y7 boy

Intermediate schools work very

closely together to collectively provide

a wide range of extracurricular

opportunities for students. For

example, there are a number of interintermediate

sport competitions such

as swimming, winter sport, summer

sport, athletics and cross country.

5. "It's good that we don't have big secondary kids

here. We can worry about them when we're older…

and then we'll be big too. Y8 boy

For a specialist focus on middle year schooling, use

the table on this page to find the time and date of

the open night for your nearest intermediate school.

ENQUIRIES WELCOME

This is a great opportunity to

see Intermediates in action

Attending our Open Nights is a

great way to see Intermediate

schools in action

School Date Time Principal Email Phone Website

Breens Thursday 7 July 4.30pm – 6.30pm Nikki Clarke office@breens.school.nz 359 8108 www.breens.school.nz

Casebrook Wednesday 3 August 6.30pm – 8.30pm Sharon Keen office@casebrook.school.nz 359 7428 www.casebrook.school.nz

Chisnallwood Wednesday 3 August 6.00pm – 8.00pm Iva Hamilton info@chisnallwood.school.nz 388 4199 www.chisnallwood.school.nz

Christchurch South Thursday 28 July 6.30pm – 8.00pm Ross Hastings office@chchsouth.ac.nz 332 2408 www.chchsouth.ac.nz

Cobham

Tuesday 26 July

3.30 pm – 5.30 pm &

6.30 pm – 8.30 pm

Scott Thelning office@cobham.school.nz 351 6381 www.cobham.school.nz

Heaton Thursday 7 July 6.30pm – 8.30pm Andrea Knight admin@heaton.school.nz 355 9555 www.heaton.school.nz

Kirkwood

Tuesday 5 July

9.00am – 12.00 noon

and 7.00pm – 8.30pm

Phil Tappenden school.information@kirkwood.school.nz 348 7718 www.kirkwood.school.nz

Shirley Thursday 28 July 6.30pm – 8.00pm Geoff Siave office@sis.school.nz 385 2229 www.sis.school.nz
---
2

[Edition datE]

SOUTHERN VIEW Tuesday June 28 2016 17

Southern View

Keep itLocal

It's time for change

Most people's New Year's resolutions

have come and gone. Becoming healthier

is usually one of the top three on the list.

How are you doing with your goal? We

hope you're doing great, but if you are

finding it harder to get into a routine

than you had imagined, Affinity Fitness

is ready to become your new best friend.

Why Affinity when there are many

gym options to choose from?

You can feel their dedication to

changing the face of the Gym industry

with their flexi-grow facilities,

inexpensive, affordable memberships

and their quality equipment brands.

Affinity fitness offers a huge space

which supports the health needs of

everyone from young students to older

retirees. They truly have a plan to suit

everyone. Their friendly qualified experts

work with you to create and provide the

exercise programs that you can build up

to and work for your fitness needs.

Their interactive fitness classes and

CrossFit facilities add to their wide range

and variety of traditional equipment and

facilities.

Affinity's motto, kaizen is at the core

of their business. Based on martial arts

philosophy means forever improving and

with the team at Affinity they want to help

you forever improve.

However, if you're like most people, they

fear exercise, but they realise the effort is

most important to their health and mental

wellbeing. Affinity understands the whole

picture and pride themselves in how to

motivate, support and engage you as a

friend. Affinity experts will walk beside

you and help you succeed with your goals.

They understand how people choose to

spend their time by what's important

in their lives. Make health, your high

priority and visit Affinity Fitness today to

make that positive change in your life.

"With memberships from $5.99 a week,

a year from now you will wish you had

started today!"

Come and in during the month of July.

Mention this star article and receive 30%

off any full membership.

Visit Affinity Fitness today and see for

yourself:

• A spacious facility with high

quality gym gear

• An impressive gym shop and

helpful experienced team members

• Multiple machines of the same

type to ensure zero waiting for your

workout

• Fitness classes including Pilates,

Core-fitness, Boxing fitness, bootcamp

and Kickboxing.

• Martials Arts classes catering for

Children to Adults

• Large group fitness rooms

• Professional results driven

personal trainers

• Swipe card access throughout our

facility open hours

• Brand new changing room, toilets

and shower facilities.

• Over 100 secure car-parks,

monitored by CCtV & well-lit for early

mornings and late evenings

Affinity Fitness located at 244 Annex

Road, in Riccarton, stop by to visit or call

them on 338 3000. check out their website

www.affinityfitness.co.nz

Getting healthy has never been so easy

or FUN!!!!

Have an Elite Haircut

For an Affordable Price

Mens Cuts $18

Womens Cuts $25

Clipper Cuts $14

Gold Card Mens $14

Gold Card Womens $16

Open Blade Box In $4

HOURS:

Mon-Fri 9am - 5pm

Sat 9am - 12 Noon

No

appointment

needed!

Eftpos Available

Autumn bedding Special

duvets, blankets, Covers

20%

OFF

All bedding SeRViCeS

when you mention this ad

(excludes pillows)

50

off full memberships*

up

to

%

memberships from $5.99 per week*

• GYm • CArDio AND weiGhts

trAiNiNG • Crossfit • persoNAl

trAiNiNG • Group ClAsses

*terms AND CoNDitioNs ApplY. priCes Are for A limiteD time oNlY AND mAY

be subJeCt to ChANGe. memberships Are limiteD. "up to 50% off" Applies

for JANuArY AND februArY oNlY.

14 day

free

trial

No JoiNiNG

fee!

238 Barrington Street, Spreydon

(opp St Nicholas Church)

330 Lincoln Rd. Christchurch.

P: 03 338 3312. mastervalet.co.nz

244 Annex rd, ph 338 3000

www.affinityfitness.co.nz

Upgrade & Save!

Turn your old PC into a

fire-breathing dragon!

The best chicken in the world

is just around the corner!

Some say it's the overnight marinating. Others

believe that peri-peri sauce is the key, or that

it's the butterfly-grilling on an open flame.

Nando's reckon it's all these and more!

• Wraps • Burgers • Salads • Veggie Options

145D Colombo St, Beckenham | Ph 332 3207

SMOKED SALMON

AT WHOLESALE PRICES

INSTORE TUE - SAT 9AM - 3PM

Are you home grown?

Bodycore is 100% NZ sourced

Krill oil, vitamins, supplements

18 flavours of protein powder

No artificial sweeteners

No fillers, all natural

Come in and say "Gro Bro" for a free

protein bar. While stocks last.

45b Carlyle St, Sydenham,

Ph 03 374 6947

Dragon PC

Repairs • Parts • Accessories • Software

Come in for "Dragon Deals"

376 Riccarton Rd, Christchurch

03-341 8880

www.dragonpc.co.nz

Advertising enquiries John Verd | Ph: 021 912 372 | john.verd@starmedia.kiwi
---
18

Tuesday June 28 2016

SOUTHERN VIEW

watch local | support local | shop local

Monday to thursday

at 12pM, 5pM & 9pM

LGS_June_QP_001_2016_HO3228

Freeview HD 40 | Live stream and on demand at ctv.co.nz

For enquiries, contact

Geoff Moreton: 021 1066 177
---
SOUTHERN VIEW Tuesday June 28 2016 19
---
20

2

[Edition datE]

Tuesday June 28 2016

SOUTHERN VIEW

CONTINUING EDUCATION

Scheme Helps Pasifika

Tradespeople Succeed

every year ara institute of Canterbury offers Pasifika Trades Training

scholarships for anyone of Pasifika descent to train in trades fees-free.

The iniTiaTive was created to

help Pasifika people contribute to the

rebuild of Christchurch and is run in

collaboration with leaders from the

Pasifika community and government

agencies with Pasifika church ministers

playing a key role in nominating people

and offering pastoral support.

Because everyone is different, there

are a number of options and pathways

available to help Pasifika men and women

start a career in the trades. To make

sure every student succeeds, support is

available from the Centre of Māori and

Pasifika achievement, with pastoral care

advisors helping not only with study

matters but with anything that impacts on

students completing their studies.

Trades training has evolved and that's

good news for learners. Classroombased

theory sessions are being phased

out in favour of shorter, more frequent

theory sessions in new workshops so

that students can practice what they have

learned straight away. The new style will

suit many Pasifika learners, especially

those who would rather be using their

hands than sitting for long periods of

time.

ara recently upgraded the trades

training facilities with $18.9 million of

government investment so that workshops

are even more like what students will find

out in their industry.

ara has close connections with

employers and the programme is designed

to get graduates out working in industry

after they graduate.

Mid-year intake is now open with July

starting dates for electrical engineering,

Fabrication, Furniture and Joinery,

General engineering, and Plumbing.

Carpentry, Painting & Decorating and

Plasterboarding start again in august.

if you know someone who would

benefit from getting a head start on a

career in trades and they are Pasifika,

tell them about the opportunities at ara

institute of Canterbury.

Visit www.ara.ac.nz for more

information or contact Reverend

Fitifiti Luatua at Ara on 03 940

8566 or 021 274 6089.

Because everyone is different,

there are a number of options and

pathways available to help Pasifika

men and women

Knowledge enhances quality.

Feeds creativity.

AND ENABLES

CAREERS.

Ara mid-year Food and Hospitality enrolments open now

Build your future. Gain the knowledge, skills and qualifications

you need for a fulfilling career in Food and Hospitality. Ara offers

real-world learning environments, equipping you with industryrelevant

knowledge and skills to help you get the job you want,

then excel in it.

Enrol now for mid-year intakes in Food and Hospitality

ara.ac.nz

KNOWLEDGE AT WORK
---
[Edition datE]

[Edition datE]

SOUTHERN 2 VIEW Tuesday June 28 2016 21

SECONDARY SCHOOL ACHIEVERSSELECTION

SECONDARY SCHOOL SELECTION

WOOLSTON Brass are

heading off to Napier to

compete in a national

band championship next

month.

This is not the first time

the band has competed in

the National Brass Band

Championships. They've

won the competition 24

times since 1967.

As part of a warm-up to

the competition Woolston

Brass are hosting a concert

on Sunday to showcase

their talent and to celebrate

their 125th birthday.

Part of celebrations will

also include releasing their

sixth album.

Woolston Brass was

established in 1891 and

over the years they have

competed in numerous

competitions, performed

hundreds of times and

released five albums.

The latest album titled

The Woolstonian will go

on pre-sale at the concert.

It features classical pieces

such as Jason Katsikaris

and the Leyland Band's

Visions of Kolkhis. The

album will also include

a march written by New

Zealand composer Kenneth

Young who wrote it

especially for the album.

"It is a huge honour for

me to be asked to write a

march for the band I grew

up playing in which has

given me so much musical

pleasure," Mr Young said.

The album was funded

by a Boosted Campaign,

which helps artist and

groups raise money

through public funding

and donors.

Over two and a half

months the band prepared

to record the album,

practising two nights a

week. The 10 track CD

was recorded over one

weekend at Orange Studio

in Ferrymead.

Marketing and sponsorship

manager and member

of the band Caroline

PERFORMERS:

Woolston Brass

are off to Napier

to compete

in the New

Zealand National

Brass Band

Championships

next month.

National championships

for Woolston Brass

Blackmore said the group

is 'very grateful' to everyone

that has donated towards

making the album

come together.

"The Woolstonian CD

will reflect Woolston

Brass 2016 and its new

era in history with Tyme

Masters," she said.

Tyme Masters was

appointed as the music

director of the band last

year.

The album will be available

from next month, but

an official date is yet to be

confirmed.

The concert will feature

music the band will play

before they head to the

National Brass Band

Championships in Napier

next month.

The concert is being

held at the Celebration

Events Centre in Wainoni

on Sunday at 4pm.

Tickets can be purchased

from www.dashtickets.

co.nz

2

Digital Technologies at

Mairehau High School

Digital Technologies Design, and Visual

Communication and Workshop Materials

are the learning teams that are involved in

the initial stages of a project to build two

weather stations in separate locations.

The first challenge for term one was

to use the project plan for the school's

STEM project as a basis to design a Year

11 Digital Technologies course that met

the individual needs of the students,

curriculum delivery requirements and

NCEA assessment requirements. It's a

popular course, with enthusiasm for it

fuelled by the work students do in this

learning area in the junior school.

The students opting for this course

have a range of skills and abilities.

Individual courses were designed to

establish the base skills needed to begin

the construction, and programming of

the electronic system that will measure,

record and display weather data.

The main emphasis for the first term

was to establish a suitable level of coding

skills in all the students. The learning

progress has enabled all students to be in

a position to participate directly in the

coding of the electronic recording system

for the Weather Stations.

Some students are operating at the

higher skill level and they will write the

code to drive the dynamic data driven

website that will display the data. These

students will be assessed against Level 2

NCEA standards.

Electronic systems have been the

focus of learning and assessment this

term. Arduino boards have been used

to construct small to medium sized

projects. These projects enable students to

understand the electronic componentry

needed in the construction of the weather

stations.

Digit

Mair

Digital Tec

Communicat

are the learni

the initial sta

weather stati

The first ch

to use the pro

STEM projec

11 Digital Te

the individua

curriculum d

NCEA assess

Mairehau High School Construction of popular cour

Weather Stations

fuelled by the

Workshop materials students have learning been area

constructing the housing for the stations The studen

and Year 13 student Chris Nicholson, have a range

is responsible for seeing this part Individual of the co

project to completion. Chris is excited establish the

about the many opportunities offered the construct

in this course. "I really enjoy doing the electronic

the practical work for this subject record and and d

helping out younger students. It's handson,

I get to see how the project will was work to establ

The main e

and I'm doing something I have a skills real in all th

interest in. It's been a lengthy process, progress but has

worth it to see the results and gain a position some to

personal satisfaction."

coding of the

for the Weath

Some stude

higher skill le

code to drive

website that w

students will

NCEA stand

Electronic

focus of learn

term. Arduin

to construct

projects. The

understand t

Year 11 student Niko Smith constructing a radio

controlled system to enable him to navigate

needed

his

in the

stations.

4WD vehicle remotely.

Year 12 student Zion Phillips coding and

constructing a 4WD drive vehicle.

Year 11 students Niko Smith and Erin Mander

constructing a radio controlled system to

Year

enable

12 studen

them to navigate their 4WD vehicle remotely.

constructing a

STAR PUPIL: Barrington Kip McGrath has awarded Ben Crisp as the Star of

the Month. His tutors said he works hard and is determined to extend his

knowledge and he is always polite, friendly and helpful. Ben's tutors went

on to say he has a very bright future ahead of him.
---
22

Tuesday June 28 2016

SECONDARY SCHOOL SELECTION

[Edition datE]

SOUTHERN VIEW

3

New Christchurch schools

to offer students more

AVoNSIDE GIrLS' and Shirley Boys' will

be the first single sex secondary schools in

New Zealand's history to share a campus

– an arrangement their principals say will

enable the schools to offer their students

new opportunities.

The schools are to be built on part of

QEII Park, next to the Christchurch City

Council's Eastern recreation and Sport

Centre.

Avonside Girls' High School Principal

Sue Hume says the campus will be brand

new and state of the art.

"Each school will have its own teaching

spaces and students will spend most of

their day in a single sex environment.

That's important to us. research shows

that single sex education benefits both girls

and boys…boys do better academically

and girls participate more. That's because

they have space to learn and focus away

from the opposite gender," says Sue Hume.

John Laurenson says the new campus is

a step forward.

"Because we are going to work together,

we'll be able to offer more. For example,

we'll be sharing some facilities, including

a performing arts auditorium, theatre

and cultural space, which enables us to

build bigger and better assets," says John

Laurenson.

Another benefit is that the students

will be able to interact with and learn

alongside peers from their partner school.

"Students from both schools will share

buses to and from the campus, they'll all

be able to use the café, our new library

and learning centre and our other shared

facilities. This means that not only will

they have all the benefits of a single sex

education, they'll have social opportunities

not available at other single sex schools,"

says Sue Hume.

The Ministry of Education is currently

working on how the new schools will

be zoned but the schools are focusing

on catering to residents who live east of

Colombo Street.

"Because we will be servicing a wide

area, we will be establishing a network of

buses to service the campus," says John

Laurenson.

Best of all, Sue Hume says the new

campus will open in 2019 so is not too far

away.

"In fact many of our current students

will be making the journey to the new

campus with us and those who join our

schools in the next two years will spend

their senior years there. It's been a long

and sometimes hard road to get to the

new campus, but we are confident we're on

track to create something even better than

what we had before the earthquakes."

John Laurenson and Sue Hume

Year 9 students at work in Ngatahi

SECONDARY SCHOOL SELECTION
---
4

[Edition datE]

SOUTHERN VIEW Tuesday June 28 2016 23

SECONDARY SCHOOL SELECTION

Dual mother and teacher role

provides unique perspective

HAEATA CoMMuNITY Campus will

provide more than cutting-edge facilities

when it opens in 2017, says new Director

of Learning rebecca Wilson – it is a "once

in a lifetime opportunity" for students,

their whānau and the East.

rebecca's three children will be among

the first students attending the new school

next year.

"As a mother and a teacher I know that

Haeata is the best choice for my kids,

as they will be valued for who they are

as individuals and given the chance to

explore their different passions through

Haeata's personalised approach to

learning," says rebecca.

"I also love the fact that they will be at

one school for the rest of their schooling,

as Haeata caters for students from years

1-13. They can stay together for their

education and not be separated."

Haeata is a "new beginning" for the East,

says rebecca.

"The new campus will change things

for the better, providing a new learning

community with endless opportunities –

with students right in the heart of it."

rebecca joins Haeata's Senior Leadership

Team after 13 years at Bromley School, the

last two as Deputy Principal.

As Director of Learning at Haeata,

rebecca is part of a team designing

systems and structures that will ensure a

successful start in 2017. Some of the key

tasks include engaging with families and

students from the contributing schools,

strengthening relationships with Māori

and Pasifika communities, planning for

diverse learners and organising safe travel

routes to and from school.

"I have been in my new role since the

beginning of the year and not a day goes

by that I do not feel excited about Haeata

opening its doors," says rebecca, who also

lives in the local community.

"Although it is a safe, purpose-built

school with state-of-the-art facilities,

for me it is more about the innovative

learning and community relationships that

will form as a result.

"Student wellbeing is really important.

Like many people living in the East postquake,

it has been challenging for us as a

family at times. It is reassuring to know

that my kids will be supported and cared

for."

A future-focused learning environment

that utilises innovation and technology

is a key aspect of the Haeata model, says

rebecca. Ensuring cultural and diverse

Rebecca Wilson with her three children – Sienna (6), Grayson (5) and Brooklyn (8).

needs are met, is another.

"Haeata will be culturally intelligent and

cater for diversity. We know that children

learn in different ways and have different

needs. The campus will be at the heart of

our unique community, bringing together

students and their families.

"It is about really getting to know the

kids and their whānau, creating a true

partnership between home and school.

"I have 100 percent faith that Haeata

is going to be phenomenal. I see the new

school bringing lots of happiness to the

community, which is what it deserves."

"Student wellbeing is really

important. Like many people

living in the East post-quake, it

has been challenging for us as a

family at times. It is reassuring

to know that my kids will be

supported and cared for."

The future is bright in the East

By Andy Kai Fong

W

hen I first saw the

advertisement for the role

of Haeata Community

Campus Principal, I thought it

was the most exciting educational

opportunity I had seen for some time.

The chance to create and build a

new school is rare. At the time I was

working as the Head of Secondary

at Hong Kong's Discovery College

and prior to that I held Principal

and Deputy Principal roles at

Hornby and Lincoln High Schools.

Haeata Community Campus will

open its doors in term one of 2017 for

students from years 1-13. The brand

new school is currently being built on

the Aranui High School site.

The campus will combine pupils

from the four schools that are closing

in eastern Christchurch – Aranui

Primary, Wainoni Primary, Avondale

Primary and Aranui High School –

as well as welcoming new students

from the local community.

It's really important that we

capture the essence of what has

worked well at the four schools

that are closing and apply it in the

new campus.

Families can be confident that

their children will have access

to quality and innovative education

that provides a strong foundation

for their future.

Having students from years

1-13 allows us to build strong

connections between the school,

students and whānau.

We are fortunate to be in

state-of-the-art facilities which will

provide amazing opportunities for

all students and community groups.

We will be engaging face-to-face

with our community regularly to

discuss our plans, seek feedback and

answer questions you may have.

Along with our leadership team

and Board of Trustees, I look

forward to welcoming our first

students in 2017.

This is an exciting time for

the East – join us!

For more information on

enrolment please contact

Deb Palmer on (03) 929 0509 or

botadmin@haeata.school.nz

www.haeata.school.nz

www.facebook.com/

haeatacommunitycampus

MANUKURA / PRINCIPAL

Andy Kai Fong

Haeata Community Campus
---
569a Colombo Street

Christchurch

03 377 6800

www.tocherish.co.nz

24 2

Tuesday [Edition June datE] 28 2016

HEALTH & BEAUTY

Boutique salon specialises

in organic hair treatment

Set in the peaceful surroundings of a

private garden, The Lounge Organic

Hairdressing salon on Derby Street,

Merivale offers clients a retreat where

they can enjoy the benefits of top-quality

hairdressing in a boutique environment.

Since March, The Lounge has been

under the management of experienced

stylist Su Jorgensen. After spending

over 15 years abroad, the last six years

of which were working and teaching in

Southern Asia, Su has brought her skills

and passion to this unique Christchurch

salon.

Another noteworthy aspect of the salon

is that all products used are organic,

Paraben, Resorcine, PPD and ammonia

free. All products, including the retail

products, are animal cruelty free and

environmentally friendly.

The technology means that 100 per cent

grey coverage is easily obtained, Su says.

"The blondes are crisp, and the rich

colours are incredibly long lasting due to

the colour molecules being smaller, and

the hair being less damaged through the

processing."

Aware of the growing interest in natural

and organic products, Su says salon

owner tracette saw the opportunity to fill

a niche in the market.

"Constant exposure to chemicals is not

beneficial for hairdressers or their clients,"

she says, "and people are now more

conscious about having natural products

used that are not harmful for their hair or

scalp.

"i also have a strong personal interest

in these types of products, and healthy

living. Having organic products at The

Lounge was perfect for me."

Su specialises in cutting and colouring,

and also when requested provides her

clients with an indian therapeutic head

massage using holistic oils – a totally

relaxing treatment that nourishes the hair

and scalp.

She imports the highly regarded

Organic Argan oil from Morocco, a hair

and body oil which she markets under

her own label, Sukha. These products

will soon be available to purchase at The

Lounge and will go hand in hand with the

other retail products available.

Clients can also be confident that Su is

up to date with the latest trends in both

colouring and styling. For winter, she

says soft champagne and salmon pink

SOUTHERN VIEW

shades of blonde are taking the place of

the grey and silver tones, while soft and

rich coppers and deep chocolate browns

always look good with winter fashions.

Style-wise, fringes are in, mostly short

to medium, the long bob, or lob, remains

current, while a new trend for short hair

is the deconstructed short-long look,

which features short hair in the front and

long tendrils at the back.

in addition to hair styling The Lounge

also offers aromatherapy, massage and

reiki.

Located at 80 Derby Street, Merivale,

The Lounge is open tuesday to Saturday.

Hours are: tuesday and Thursday,

10am-8pm, Wednesday and Friday 10am-

6pm and Saturday 10am-5pm.

For an appointment or a complimentary

consultation appointment ph 379 6368,

or 0276 619 454, you can also email

tracette@theloungehairdressing.co.nz

Sunday 28 August

9.30am – 4.00pm

PROUDLY SPONSORED BY:

Modern

Contemporary

bliss Hair

CREATING YOUR PERFECT WEDDING

weddings by

collective concepts

www.weddingconcepts.co.nz

Airforce Museum

45 Harvard Avenue,

Wigram, Christchurch

Tickets: $15.00

"Where Every Smile Matters"

Experienced team provides caring and

gentle dentistry for the whole family

Dental Hygienist Available

Sedation dentistry

Wedding packages

Winz quotes

ZOOM whitening

treatment

ACC accredited

Dental Health Counselling

Free treatment for

adolescents (13-18 years)

Free treatment of

children (0-13) with a

school dentist referral

PH 332 6399

We've moved!

Now based at

104 Colombo Street,

Beckenham

www.smileconcepts.co.nz

SuPER

LOW PRICES!

Over 60 health products

on special every day.

Locally owned and operated.

Giving health advice since 1992.

The Palms: 385 0364

The Hub Hornby: 349 5150

Bush Inn Centre: 348 7867
---
2

SOUTHERN [Edition VIEW datE]

Tuesday June 28 2016 25

HEALTH & BEAUTY

Transitioning skincare

through the seasons

Skincare expert and facialist Clemency Alice has a passion for beauty and organic

skincare. Recently travelling to Paris and Australia to further her knowledge, she

shares her secrets.

the tRAnSition from summer to

autumn can have a major impact on your

skin's overall condition and appearance. if

the new season catches you unaware and

unprepared, your skin can become very

dry, extremely sensitive, lacklustre and

more susceptible to breakouts. This is due

to the change in oil flow – which was on

an all-time high during summer – and the

vitality of the 'skin glow' waning as cooler

temperatures plummet, constricting

blood vessels. here's what you need to

know to ensure your skin stays prepped

and primped for the change of season.

PReSeRVe youR liPid BARRieR

if you remove this protective skin barrier

through more aggressive methods of overcleansing

and over-exfoliating, then the

skin cells aren't prepared and your skin

becomes more vulnerable to the extreme

temperatures and external elements of

wind, sun and rain. A way to protect

and maintain hydration in your skin is

through spritzing your face after cleansing

with a floral facial mist then locking the

moisture in with your favourite facial oil

or moisturiser.

SwitCh moiStuRiSeRS

opt for a creamier, rich texture in

your moisturiser that has antioxidant,

super skin-boosting ingredients. Select

moisturisers that contain hyaluronic acid

(skin plumping and hydrating), vitamin

C (antioxidant and uV-protecting

properties), shea butter (moisturising

and protecting), and rose (softening,

anti-inflammatory, hydrating). And for

those with oilier skins, opt for a balancing

facial oil with lavender (restorative

and calming) and jojoba (balancing to

the acid mantle, protecting and antiinflammatory).

PRoteCt youR Skin

Just because summer is a distant dream,

keep applying a chemical-free SPF daily,

and opt for a seperate sun-care product

with a minimum of SPF30 rather than

relying on sun protection from your

foundation.

inSide And out

Beauty and skin health can come from

within:

• Ensure you drink plenty of water.

• Drink organic green tea (helps

prevent tewl – trans-epidermal water

loss).

• Eat seasonal fruit and vegetables.

• Drink green smoothies.

• Boost your intake of essential

fatty acids.

• Go for a brisk walk amongst

nature to

revive your autumnal 'glow'.

• Maintain your skin sparkle with

restorative beauty sleep.

Call 360 3606 to make

your appointment

• Saturdays 9am – 1pm at our

Bishopdale clinic (YMCA Building)

• Pop in for your pre-sport taping

• Sports injuries, sprains and strains,

post-surgery rehabilitation

• No referral required

Muscle People are your physiotherapy experts

musclepeople.co.nz

Open on

Saturdays!

City Clinic

961 0236

YMCA Building

12 Hereford Street

Bishopdale Clinic

360 3606

YMCA Building

13A Bishopdale Court

True

Who thought

DENTURES

and false!

could look this

natural?

• Full dentures • Metal partial dentures

• First-time immediate dentures • Implant supported dentures

HOLLYWOOD: A beautiful result for a

female patient in her 60's

These stunning lovebite full upper and

lower dentures have been expertly crafted by

internationally-recognised dental technician

Richard Greenlees at his Christchurch studio.

The combination of Richard's skill, experience

(including 15 years in London's prestigious

Harley Street) knowledge and revolutionary

techniques allow him to create beautiful

bespoke false teeth that truly resemble those

in nature and reflect each patient's individuality

and unique character.

AGING GRACEFULLY: Natural teeth for

a gentleman patient in his 80's

402 Montreal Street

Christchurch | P. 379 1222

By appointment only.

Consultation fee applies.

GOOD KEEN MAN: Teeth with character

for a hard-case fisherman in his 50's

Richard will personally guide you through the entire process to create

teeth with small nuances in the fabrication, colour and shape. Your beautiful new

lovebite dentures will boost your confidence and make you look and feel year's younger!
---
26

Tuesday June 28 2016

SOUTHERN VIEW

SHOW

2016

HORNCASTLE ARENA

1ST-3RD JULY

10AM - 5PM

Adults $8 - Under 12's free

One step closer to your dream lifestyle

starhomeshow.kiwi
---
2

SOUTHERN [Edition VIEW datE]

Tuesday June 28 2016 27

Hidden surprise, what more could you wish for?

9 Breton Close, Northwood

Auction: Thursday, July 7, 2016 - Unless sold prior

5 bedrooms | 2 bathrooms | 3 living rooms | 1 dining room | 2 car-garage | Listing#: PI55808

Enviably positioned in the heart of a

fabulous neighbourhood, this sunsoaked

contemporary 272m 2 home is

offered to the market by vendors who

have made the decision to downsize.

Built by the acclaimed Peter Ray Homes in

2009, this expansive executive residence boasts

a total of five bedrooms, including a master with

en suite, walk-in-robe and direct access out to

the landscaped grounds.

The well-appointed kitchen is complemented

by an array of formal and informal living spaces,

including an adjoining lounge plus another

separate living room/games room. A separate

laundry adds to the overall functionality of this

thoughtfully considered home.

Outside, the 752m 2 section is fully-fenced and

is perfect for everything, from backyard cricket

clashes to long, lazy BBQs with family and

friends. Double garaging completes the appeal,

while the proximity to the bevy of amenities

on offer at the Northwood Supa Centre means

everything you could ever need is close at hand.

Homes of this calibre, in this highly desirable

part of the city, are always in demand. Interest

is sure to be high and immediate action is

required – call now for more information.

Open Homes: Saturday and Sunday, 2-2.45pm.

Auction Thursday, July 7, 2016 at 10am (unless

sold prior).

See you at the open homes or call me today

for a private viewing appointment – contact

Deb Harvey of Harcourts Gold Papanui

(Licensed Agent REAA 2008) on 352 6166 or

mobile 027 220 6565.

ON DEMAND AT WWW.stylE.kiWi

from magazine

to screen

storiEs givEn nEW liFE

Watch EvEry thursday at

7.30pm

rEpEats Friday at

11am & 4.30pm

ExclusivE intErviEWs

Andrea Allen meets the locals

coming to toWn

A look at what's on

Fashion Focus

Trends to follow

the ultimate guides

ExpErts sharE tips

StyleTV_StarAd_June_HP_001_2016

Freeview HD 40 | Live on ctv.co.nz
---
PROUDLY

PROUDLY

CHRISTCHURCH

CHRISTCHURCH

OWNED

OWNED TUESDaY, aUGUST 27, 2013 PROUDLY 384

384 CHRISTCHURCH 0600

0600

PROUDLY CHRISTCHURCH OWNED MONDaY JUNE 24, 2013

OWNED WEDENSDaY 10 JULY, 2013 384 0600

38

A Mainland

Media Publication

Kea

(Nestor Notabilis)

Ladbrooks, Tai Tapu, Leeston, Lincoln, Southbridge, Prebbleton, Halswell, Rolleston, Templeton, Burnham, West Melton, Darfield, Arthurs Pass

Mainland

Press Newspaper

Sumner, Redcliffs, Mt. Pleasant, Ferrymead, Woolston, Lyttelton & Akaroa Harbours

Black Billed

Gull

A Mainland

Press Newspaper

Linwood, Avonside, Richmond, Shirley, Burwood, Dallington, Wainoni, Bromley, Aranui, Avondale, Bexley, New Brighton, Northshore, Queenspark, Parklands, South B

PROUDLY CHRISTCHURCH OWNED MONDaY JULY 15, 2013 PROUDLY 384 CHRISTCHURCH 0600

OWNED MONDaY 12 aUGUST, 2013 PROUDLY 384 CHRISTCHURCH 0600

OWNED MONDaY JUNE 24, 2013 3

A Mainland

Press Newspaper

Fantail

(Piwakawaka)

A Mainland

Newspaper

Harewood, Burnside, Bishopdale, Bryndwr, Fendalton, Merivale, St Albans, Mairehau, Papanui, Casebrook, Redwood, Regents Park, Styx Mill, Northwood, Spreydon, Belfast Hoon Hay, Hillmorton, Cracroft, Cashmere, St Martins, Somerfield, Sydenham, Addington, Waltham, Opawa, Beckenham, Huntsbury, Woolston

Bellbird

(Korimako)

A Mainland

Press Newspaper

New Zealand

Swamp Hen (Pukeko)

New Zealand

Pigeon (Kereru)

Templeton, Islington, Hei Hei, Broomfield, Halswell, Oaklands, Westlake, Hornby, Wigram, Sockburn, Church Corner, Ilam, Russley, Hyde Park, Avonhead, Riccarton Park

28

Caravans, Motorhomes

& Traliers

Car Parts

TYRES Secondhand,

most sizes, from $30 fitted,

217 Waltham Road, 027

476 2404

Cars

$4,001 - $8,000

NEED a new car? and

need Finance we can

help. Call us today,

Learners lcs, past credit

issues been bankrupt or

new to New Zealand!

Call Leon on 022 625

2232

NEED a new car? and

need finance we can help.

Call us today Learners

lcs, past credit issues

been bankrupt or new to

New Zealand! Call Leon

022 625 2232

Tuesday June 28 2016

Classifieds Contact us today Phone our local team 03 379 1100

Computers

ALL

YOUR

COMPUTER

WORRIES SOLVED!

*$30.00 off your first

service with this coupon!*

No problem too big or

small from home PC's to

business networks. PC

slow? An end to Viruses,

Spyware, and Clogged

Systems. Safe secure

hassle-free computing.

Lost files recovered.

Microsoft Certified,

MCSE, MCP+l. 30 years

experience. Call Andrew

Buxton this week on 326-

6740 or 027 435-7596

for $30.00 off* Custom

Computers Christchurch

Gardening

& Supplies

Garden design

Planting professionals

Garden renovation &

Makeover

Quality plant sourcing

Expert pruning &

Trimming

M: 027 688 8196

P: 0508 242 733

E: greentherapy@

xtra.co.nz

Gardening

& Supplies

Landscape

and Garden

Services

If you need help

getting your garden

back in order after

repairs, need any

type of landscape

construction work or

garden restoration.

Ph 021 272 0303

A GARDEN

PROFESSIONAL

NEEDED? Qualified

Horticulturist, offering FREE

expert pruning, garden

makeovers, garden design

and landscaping, for free

quotes call Bryce 027 688-

8196 or 0508 242-733

A GARDEN OR

LANDSCAPING TIDY

UP? Shrub, hedge &

tree pruning, Lawns,

Gardening, consistently

reliable general property

upkeep, Dip. Hort. 10

yrs experience, One off

tidy ups or on-going

service. Nick's Property

Maintenance. Keeping

your garden beautiful.

Free Quote. Ph. 942-4440

Health & Beauty

Centre of Excellence

AVENUE HEALTH

202 Bealey Ave

New purpose-built

surgical facility

• Cosmetic Medicine

& Surgery

• Skin Medicine &

Dermatology

• Skin Cancer Surgery

Dr Ken Macdonald

MB ChB (Edin), FRACP,

FRCPE, FRCP (Lond), FNZDS

www.kmsurgical.co.nz

Phone 03 379 9467

Halswell/

Hillmorton Tai Chi &

Qigong Workshop 1pm ~

2:45pm, Wed, July 6 Class

starts July 28 Sandy 260-

1256

Very Fine Massage: Hoon

Hay, Deep-Tissue, Chinese

Tui Na, Aromatherapy,

$15-$90, Mondays &

Wednesdays only. Text

021 237 3937 Nora.

FREE Halswell/

Hillmorton Tai Chi &

Qigong Workshop 1pm ~

2:45pm, Wed, July 6 Class

starts July 28 Sandy 260-

1256

Holiday

Accommodation

QUEENSLAND SUN-

SHINE COAST AUSTRA-

LIA Resort, Ocean Views,

Balconies, Self Contained,

1 or 2 B/R Ensuite,

Heated Pool, Spa, Sauna,

Free Internet, Shops,

Restaurants, Tennis, Surf

Club & Patrolled Beach,

Public Transport at door.

Ask for our SEASONAL

SPECIALS. Phone 61 7

544-35011 Email: reception@mandolin.com.au

www.mandolin.com.au

ADD SOME

COLOUR

TO YOUR ADVERT!

Public Notices

Rexellent Rentals

Cars, Vans, Brisbane , Coolangatta

FREE CALL

0800 601 508

www.rexellent.com.au

Weka Pass Railway

Waipara, North Canterbury

We Are Running

SunDAY 3rd July

Running 1st & 3rd

Sundays of every month

Phone 0800WEKAPASS

Depart Glenmark Station

11.30am & 2.00pm

www.wekapassrailway.co.nz

DEMOLITION

With care and respect we

will remove your dwelling.

Our policy is to recycle as

much as we can. We are a

local company specialising

in residential properties. We

will endeavor to cater for

your individual needs.

Ph. R.M. Solutions

021 02866981

for a free quote.

Rexellent Rentals

Cars, Vans, Brisbane , Coolangatta

FREE CALL

0800 601 508

www.rexellent.com.au

Call us & we'll help

you place your

classified advert in our

community papers

Nobody knows

Christchurch

like a local

We're local, we're

in Christchurch, we

speak your language!

Phone: 379 1100

Selwyn

Times

Nor'West

News

Public Notices

Bay Harbour

A

News

Southern

View Press

SOUTHERN VIEW

Pegasus

Post

Western

News

Classifieds

Our community papers are published every

Tuesday (Bay Harbour, Wednesdays) focusing

on local issues & local people.
---
SOUTHERN VIEW Tuesday June 28 2016 29

Classifieds Contact us today Phone our local team 03 379 1100

Situations Vacant

Trades & Services

Trades & Services

Entertainments

Assistant Producer

Star Media

Be part of a growing, locally-owned multimedia company!

Star Media is looking for a full-time Assistant Producer for

its busy production team. The successful applicant will have

outstanding organisational skills and a strong passion for

everything TV and Media.

The Role

You will assist our senior production

staff in all stages of commercial and

web video production, with direct

accountability for the execution of

a specific client brief within editorial

guidelines.

You will oversee all day-to-day

operations, such as schedule

planning, brand and product research,

staff and talent management and

more.

Your responsibilities include but are

not limited to-

• Creative script writing, idea

generation and research

• Managing

producer's daily

activities

• Interacting with

team members and

ensuring excellent

communication within

various departments

• Planning and organising

ahead to establish an

efficient course of action

for yourself and the team

• Leading and motivating

production teams, crews and

contributors, by providing

clear instructions,

support, direction and

feedback

If you're ready for your next challenge, send your CV and cover

letter to Maria.Virgolini@starmedia.kiwi.

Candidates will be considered as and

when applications are received.

Applicants for this position should have

NZ residency or a valid NZ work visa.

Situations Vacant

CA$H

Strippers

& Podium

Dancers

Wanted!

18+ TO APPLY

NEISHA

021 193 0118

Trades & Services

ROOFING

- Re-roofing and

new roofing

- Quality roofing at

the best price around

- Licensed building

practitioner

Robinson

Roofing Ltd

Call Hamish for a

quote 03 347 90 45

• Establishing clear objectives

for implementing effective and

economic production schedules

• Composing and preparing a variety

of correspondence, reports, and

internal documents in support

of current and new business

development activities

Our ideal candidate

We are looking for an enthusiastic,

highly motivated individual with

excellent time management skills,

able to work on multiple projects

simultaneously and to liaise and

cooperate with external suppliers,

clients and team.

Candidate's strengths-

• Relevant qualification in journalism,

communications, media studies or

equivalent experience

• Sound knowledge of the production

process

• Video editing experience

• Script writing experience

• Excellent communication skills

• Ability to think creatively and

"outside the box"

• Can work independently and as part

of a team

• Can work effectively under pressure,

react quickly and meet tight

deadlines

• Have a full, valid driving licence

Trades & Services

Professional

Movers

Making Local

& International

Moving Easy

0800 4 world

(03) 341 2060

www.worldmoving.co.nz

HOUSE

CLEARING

Are you moving

house?

Let All Clear Canterbury

take care of your

unwanted items.

You identify what you want

to keep & we will dispose

of the rest!!

Mob: 021 078 4553

raewynlcooke@gmail.com

www.allclearcanterbury.co.nz

• Replacement/new roofing

• Colour Steel gutter & fascia

• Flue & log burner installs

• Skytube/light installs

• Earthquake repairs

Licence Building

Practitioner LBP

Member of the Roofing

Association

DCM ROOFING LTD

The Roofing Specialists

PHONE IAIN

027 445 5597

iain@dcmroofing.co.nz

Now working

in your area

• Tree Pruning

& Removal

• Stump Grinding

• Hedge Trimming

Fully Insured

Qualified Arborist

For a free quote,

ph 0800 248 733

www.jimstrees.co.nz

AAA CArpentry

licensed builder practitioner

all property maintenance

small job expert by

tradesman /handyman free

quotes city wide call now

03 387-0770 or 027 245

5226 ciey@xtra.co.nz

AnDreWS tree CAre

Services, tree removal,

trimming, stump grinding,

shelterbelt clean up, section

clearing, rubbish removals,

excavation work, ph 027

728 5688

BUILDer

For all building work

but specialist in bathroom

renovations, 30 yrs

experience, with service

and integrity. Free Quotes.

Ph Lachlan 383-1723 or

0274 367-067.

BUILDer LICenSeD

available for all aspects of

building. Please call 027

241-7471 or 335-0265

CArpenter

HANDYMAN - Small

Job Specialists, Carpentry,

Repairs, Decking &

Maintenance, 40 years

experience, no job too

small, Ph Warren 03 322-

1103 or 027 697-8541

CArrIer LoCAL

experienced, friendly,

trade-me purchases, single

items to truck loads,

furniture to whatever,

removals & trade

deliveries a specialty. Ph

GEH 341-5069

CArpet & VInyL

Laying. Repairs, uplifting,

relaying, restretching.

Email jflattery@xtra.

co.nz, ph 0800 003 181 or

027 2407416

CArpetLAyer

Laying and Repairs, 40 yrs

experience, ph Peter 326-

7711 or 027 240-6532

DRIVEWAYS

Replace, repair or new.

We are a local company

with over 10 yrs exp.

We also operate a

digger for all other

earthworks.

Ph. R.M. Solutions

021 02866981

for a free quote.

FenCe pAIntIng

Staining Quality at a

reasonable price. Free

quotes. Phone Warren

today on 980-1676 or 027

2014713

FUrnItUre reMoVALS

Large Trucks $95 +

GST per hour 7 day NZ

wide, packing & moving,

Professional Company,

Professional Service.

Canterbury Relocations

Ltd. ph 0800 359 9313

GARDEN DESIGN

& MAINTENANCE

Rose & Fruit Tree

Pruning by trained

Horticulturalists.

Book winter

pruning in now.

M: 027 688 8196

P: 0508 242 733

Thursday 23rd June - Wednesday 29th June

THE MIKADO (PG)

FINDING DORY (G)

SING STREET (M)

ME BEFORE YOU (PG)

Trades & Services

LAnDSCApIng LtD

Paving, Lawns, Irrigation,

Decking, Fencing.

Kanga & small digger

services. Check out Squire

Landscaping on facebook.

FREE QUOTES. Ph

Authur 347-8796, 027

220-7014 Edwin 027 220-

7154

oVen CLeAnIng

Professional cleans

$50.00. Gift Vouchers

avail. Phone 0800 683-

6253 or 027 228-0025

pAIntIng

& Decorating interior

& exterior, gib fixing,

plastering, paperhanging,

Est 50 yrs in ChCh, ph

Wingfields Ltd, ph Mark

021 171-1586 or 355-5994

pAInter AVAILABLe

All aspects in painting.

Very competitive in roofs

and fences. Please call 027

241-7471 or 335-0265

pLASterer

Gib Stopping, Small

job specialty. 30 + years

experience. Ring 0800

387-369

pLASterer SoLID

both ext & int work,

Scottish Tradesman with

over 30 yrs experience,

FREE Quotes, ph Donald

354-5153 or 021 023

26186

pLUMBer

For prompt service for all

plumbing maintenance,

repairs and alterations.

Phone Michael 364 7080

or 027 438 3943

pLUMBer

ALF THORPE

PLUMBING Certifying

Plumber for all types of

plumbing, maintenance,

spouting, alterations etc.

Phone 352-7402 or 0274-

350-231

pLUMBer

A Top Plumbing job

completed at a fair price,

prompt service, all work

guaranteed, Ph Brian 960-

7673 or 021 112-3492

Trades & Services

MANON LESCAUT (exempt)

EDDIE THE EAGLE (PG)

LABYRINTH OF LIES (M)

MARGUERITE (M)

rooFIng

Qualified & Licenced

Practitioner. Re-Roof &

Repairs, all types. Member

New Zealand Roofing

Association. Over 35 years

experience. Phone John

027 432-3822 or 351-9147

email

co.nz

johnmill@ihug.

SpLASHBACKS

Kitchen/bathroom/

laundry, incl mosaics, ph

Dave 027 334 4125

SpoUtIng CLeAnIng

Spouting Unblocked,

Cleaned Out and Flushed

Out. Also Full Handyman

Services Available. Call

Trevor 332 8949 or 021

043-2034

tILer/CArpenter

35 years exp, no job

too small. Ph Ross 027

4311440.

tree WorK

Hedge trimming, stump

grinding, rubbish removed,

small job specialty Ph

Andrew 03 322-8341 or

027 435-8759

t.V. SerVICe Centre

Repairs, tvs, microwaves,

stereos, DVD. Aerial

installations and kitsets,

480 Moorhouse Ave, ph 03

379 1400

UpHoLSterer

Dining Chairs, Lounge

suites, Caravan Squabs

etc. recovered. Free

Quotes. Phone Graeme

383-1448

VHS VIDeo tApeS

& all camera tapes

converted to DVD, video

taping, weddings, twenty

firsts, special occasions,

www.grahamsvideo.co.nz

ph 03 338-1655

WAterBLAStIng

Quality Job, Quick Service

by skilled tradesman, Ph

Richard Severin at Jet-X

0800 538 969 Free quotes,

visit www.jetx.co.nz

Trades & Services

Appliance Sales & Service

388 4780

Appliance Services

14 Brighton Mall, New Brighton

Vehicles Wanted

VEHICLES

ANY CONDITION

WANTED

FOR CASH

$ $ $

Ph 347 9354 or

027 476 2404

Wanted To Buy

AAA Buying goods

quality furniture,

Beds, Stoves, Washing

machines, Fridge Freezers.

Same day service. Selwyn

Dealers. Phone 980 5812

or 027 313 8156

A+ Household effects,

fridges, freezers, washing

machines, ovens. Good

cash paid. Ph Paul 022

0891 671

A Records and Hi-Fi

gear wanted, excellent

prices paid for good

records especially kiwi

and overseas bands 60's

- 90's PennyLane 430

Colombo St Sydenham

7 days www.pennylane.

co.nz ph 3663278 or 021

2226144

TOOLS Garden,

garage, woodworking,

mechanical, engineering,

sawbenches, lathes, cash

buyer, ph 355-2045

ADVERTISE YOUR BUSINESS HERE

Phone for further details

(03) 379 1100
---
30

Tuesday June 28 2016

SOUTHERN VIEW
---
SOUTHERN VIEW Tuesday June 28 2016 31

Warm up

with

us

Seniors

two-course

LUNCH

SPECIAL

Special available lunch only

Monday - Saturday 12pm - 2.30pm

Conditions apply.

Soup/Roast - OR -

Roast/Dessert

TWO

COURSES

$20

TREAT

THE KIDS!

CHILDREN

under 12

two courses

from $10

RESTAURANT & CAFÉ

'Famous for their roasts!'

RACECOURSE HOTEL & MOTOR LODGE

OPEN 7 DAYS from 6.30am for

BREAKFAST - LUNCH - DINNER

118 Racecourse Rd, Sockburn,

Christchurch. Ph 03 342 7150

www.racecoursehotel.co.nz (opposite Riccarton Raceway)

The newly refurbished

Woolston Club...

A classic, contemporary

club experience

Cafe open from 11am

Happy Hour 4.30pm - 5.30pm

TAB & Gaming, Function Facilities,

HOUSIE Tuesday, Thursday, Saturday

SHUTTLE Tuesday - Saturday

Open 7 Days

Restaurant open

from 5.30pm!

SUNDAY ROAST

12PM-2PM SUNDAY

from Sunday 3rd July

Retro Roast Lunch

12pm Wednesdays

$10 Members/$12 Non

NEW SEASON

MENU

OUT NOW!

LIVE MUSIC

6PM FRIDAY: STEVIE D

7PM SATURDAY: FRANCHISE

3PM SUNDAY: MARION'S OUTLAWS

Lunch & Dinner

All you can eat, 7 days

Ends

this

Sunday

JOIN

A CLUB BY

THE SEA!

www.newbrightonclub.co.nz

Bookings Essential PH 386 0088

fb.com/GardenHotelRestaurant

www.gardenhotel.co.nz

NOW SERVING

available

from

9am

Breakfast

HAPPY

HOUR

5PM - 7PM

DAILY

LIVE

VINTAGE BLUE

6PM FRIDAY 1st July

MUSIC

PHONE 385 8880 FIND US ON FACEBOOK fb.com/GBCCHCH

THE GARDEN HOTEL COMPLEX | 110 MARSHLAND RD

www.gardenhotel.co.nz | phone 385 3132

- downstairs -

ClubBISTRO

Open Tuesday

to Saturday

12pm-2pm

and from 5pm.

Midweek

SPECIAL

$10

ROAST

Available Tuesday,

Wednesday,

& Thursday

WHAT'S ON

TUESDAYS &

THURSDAYS

Members

Lucky Card Draw

TAB POD

CHIEFS v

CRUSADERS

7.35PM FRIDAY

dj

VINYLMAN

7pm SATURDAY

- upstairs -

PIERVIEW

Restaurant

Quality a la carte

with a view!

Open FRIDAY,

SATURDAY,

& SUNDAY

from 5.30pm

FRIDAY SPECIAL:

BBQ PORK RIBS...

$19.50!

for a limited time

SUNDAY SPECIAL

$25 3-Course Feast

SHUTTLE RUNNING Tues, Thurs, Fri & Sat

202 Marine Parade | Ph 388-9416

Members, guests and affiliates welcome
---
32

Tuesday June 28 2016

SOUTHERN VIEW

Spend over $40, fill out the entry form and once a week, for four

weeks, a lucky customer in each FreshChoice supermarket will have

this month's power/gas bill paid back, up to $350.

Terms and conditions apply. See in-store for details or go to FreshChoice.co.nz. Competition runs 27 June to 24 July 2016.

$

2 99

kg

Sweet Juicy

Seedless Mandarins

$

6 99

kg

Fresh NZ Pork Leg Roast

(Excludes Free Range)

$

9 99

kg $

5 99

Fresh Tegel NZ Skin On Chicken

Breast Fillets

bag

Country Fresh Washed

White Potatoes 4kg

$

7 99

each

Tegel Frozen Chicken No 14

$

7 99

each

Mainland Mild/Colby/Edam Cheese 1kg

$

2 99

each

Cadbury Chocolate Block 155-200g

WINE

DEAL

OF THE

WEEK

$

16 99

pack

Speight's Gold Medal Ale/Summit

12 x 330ml Bottles

$

8 99

each

Montana Classic 750ml

$

4 00

each

Persil Laundry Powder 500g

FreshChoice Barrington

256 Barrington Street, Christchurch.

Open 7am-11pm, 7 days.

FreshChoice.co.nz FreshChoiceNZ 332 6364

FreshChoice Barrington

Certain products may not be available in all stores. Savings are based on non-promotional price. Limits may apply.

Prices apply from Tuesday 28th June to Sunday 3rd July 2016, or while stocks last.

Owned and

operated

by locals

FCSV2806
---
ON THIS

WEEKEND

SHOW

A Star Media Event

HORNCASTLE ARENA

1ST-3RD JULY 10AM - 5PM

Inspiration | Trends | Technology | Innovation | Show specials

Adults $8 • Children under 12 go free • Free parking

SHOW

Valid for up to 4 people with this coupon only.

SHOW

SATURDAY

SUNDAY

Valid for up to 4 people with this coupon only.
---
Take one step closer

to your dream lifestyle!

SHOW

This premium home and leisure show

has all the inspiration you need. It has

all the latest looks and trends and

guests can see what's new, get ideas

and compare prices with hundreds of

products and services under one roof.

Take advantage of show specials,

informative demonstrations,

thousands of ideas and giveaways.

Be in with a chance to win a

$25,000 Central Heating System

for your home thanks to Central

Heating New Zealand.
---
Exhibitors Directory

Stand

Company Name

Website

16-19 The Glass Room theglassroom.co.nz

20-21 Bambillo Pilows liveevents.co.nz

22 Enviromaster enviromaster.co.nz

23 Equitus Ltd equitus.co.nz

24 One Da Tool doublebatty.com

27 Smart Vent smartvent.co.nz

28-31 Star Media starmedia.kiwi

32 Action Security actionsecurity.co.nz

33 xteriorscapes xteriorscapes.co.nz

34 Chris Stone Photography duophotography.co.nz

35-36 Platinum Homes platinumhomes.co.nz

37 Logan Smythe & Associates Ltd logansmythe.nz

38 The Crowded House Coffee Company Ltd thecrowdedhouse.co.nz

39 Ceramic Hair Straightner showtv.co.nz

40-41 CPS Solar cpssolar.co.nz

42 Kagi Jewellery kagi.net

43 Allwood Trees Limited allwood.co.nz

45-46 Heat Smart heatsmart.co.nz

47 Cookware liveevents.co.nz

48-51 The Flooring Warehouse theflooringwarehouse.co.nz

52-53 Mike Pero Real Estate mikepero.com

54 Shuzi NZ shuzi.co.nz

55 Hypervent hypervent.com

56-57 Jennian Homes Canterbury jennian.co.nz

58 Venus Flooring venusflooring.co.nz

59 Nuttz Gourmet nuttz.co.nz

60 Eric James & Associates Ltd ericjames.co.nz

61 Holloway Builders hollowaybuilders.co.nz

62 UPVC Windows & Doors upvcwindows.co.nz

63 Garden City Communications gccomms.net

64-65 Ecobulb Led ecobulb.co.nz

66-67 Fryair showtv.co.nz

68-69 Urbano Interiors urbanointeriors.co.nz

70 Milestone Homes Canterbury milestonehomes.co.nz

71 NK Windows nkwindows.co.nz

72 Morepork morepork.nz

74 HPAC Energy Centre hpac.net.nz

75 Kitchen Studio Chch kitchenstudio.co.nz

76 Brenna Sincock Hearing & Gordon Audiology sincockhearing.nz gtaudiology.co.nz

77 Wright Hotspring Spas wsp.co.nz

78 Ladder liveevents.co.nz

80 WindoWow showtv.co.nz

81-82 Layne Watson Plumbing & Inline Plumbing

85-86 Homes By Maxim homesbymaxim.co.nz

87 Harcourts Twiss - Keir twisskeir.co.nz

91-93 Central Heating NZ centralheating.co.nz

94 NZ Home Loans - Whitmore nzhomeloans.co.nz

95 Plus 2WP Ltd - Pruning Range showshop.co.nz

99-105 Bed World bedworld.co.nz

106 Treble Glaze trebleglaze.co.nz

107 Happy Spine happyspine.co.nz

108-111 Pool Land poolland.co.nz

112-114 Waghorn Builders Ltd waghornbuilders.co.nz

115 Renovator Extra Pair of Hands z-vise.co.nz

116 Shimono NZ wealthtrading.co.nz

117 Bellamy's Real Estate bellamys.co.nz

118-119 DVS dvs.nz

120 Cornerstone Eco Homes Ltd cornerstoneecohomes.co.nz

121-122 Enable enable.net.nz

124-125 GNZIS breo.co.nz

129-131 Bed Post Chch bedpost.co.nz

134a IPGNZ www.ipgnz.co.nz

134b Curtains Plus curtainplus.co.nz

134c Unovent South unovent.co.nz

134d-134f Urbano Interiors

urbanointeriors.co.nz

135 Shower Dome South showerdome.co.nz

Stand

Company Name

Website

140-142 Heater & Paint Runner liveevents.co.nz

143 Pest Control ecosmart.com

144 Keith Hay Homes khh.co.nz

145-146 Sunshine Solar sunshinesolar.co.nz

147 House of Travel - Hornby hothornby.co.nz

148-149 Plus 2WP - Massage Machine showshop.co.nz

150-151 Retrospective Designs xeoos.co.nz logburners.info

152-153 MagRoc magroc.co.nz

154-156 Resene resene.co.nz

159 Moda Kitchens & Waredrobes moda.co.nz

160 Strategic Homes strategichomes.co.nz

162-163 Jayco Canterbury Caravan Court caravancourt.co.nz

164 Dinghy's & Outboards dinghysandoutboards.co.nz

165 Events NZ

166 WonderChamois doublebatty.com

167 Folding Bamboo Baskets doublebatty.com

168 The Hamptons harcourts.co.nz

170-171 iCycle Electric icycleelectric.co.nz

173 Graphic Glass Canterbury graphicglass.biz

174-175 & 177-178 HRV Windows hrv.co.nz

176 Massage Chair liveevents.co.nz

179 Munchy Seeds munchyseeds.co.nz

181 Ark Financial Group arkfg.co.nz

182 A1 Konjac Sponge at1konjacsponge.com

183 Kleva Cut Knives klevacut.co.nz

184 Dream Doors dreamdoors.co.nz

185 Innovative Driveways innovativedriveways.co.nz

186-187 GJ Gardner Homes gjgardner.co.nz

188-189 Hometech Solartube hometech.co.nz

190 OuterSpace Landscapes outerspacelandscapes.co.nz

191-192 Venluree venluree.co.nz

193 Scentsy db.scentsy.co.nz

194 Health Station showtv.co.nz

195 Duzz-All Beeswax duzz-allbeeswax.co.nz

198 Canterbury Insulation Ltd canterburyinsulation.co.nz

199 Morgan + Stone morganstone.co.nz

202 ANZ anz.co.nz

203 Lifetime Group lifetime.co.nz

204 Canterbury Continuous Spouting continuous.co.nz

206 Bermuda Pools bermudapools.net.nz

207-208 Bambillo Bed liveevents.co.nz

211 Showerwell showerwellchristchurch.co.nz

200-201 & 212-213 Simply Furniture simplyfurniture.co.nz

214-218 4 Seasons Home & Leisure 4seasons.co.nz

219 Natural Flow South naturalflow.co.nz

220-221 HRV Canterbury North& South hrv.co.nz

222-223 Agility Building Solutions agbs.co.nz

224-225 Woll Induction Line showtv.co.nz

226 Project Homes projecthomes.co.nz

227-234 R.V. Super Centre rvsupercentre.co.nz

235-238 Lifestyle lifestylels.co.nz

239 EnableMe enableme.co.nz

240 Vibrating Gym Plate liveevents.co.nz

241-244 Town & Country Gates townandcountrygates.co.nz

245 The Carpet Mill carpetmill.co.nz

247-248 Wall Art NZ mywallart.co.nz

245 & 249 The Carpet Mill carpetmill.co.nz

251-252 Zenteq zenteq.co.nz

253-254 Creative Images Photography creativeimages.co.nz

C6-Concourse Eenergy

eenergy.co.nz

C5-Concourse Stratton Bathrooms

strattonhomes.co.nz

C7 -Concourse Air Con Christchurch

airconnz.co.nz

C1-C4Concourse Avon City Ford

avoncityford.com

See Site Map Springfree Trampoline

springfreetrampoline.co.nz

Outside Tiny House tinyhousenz.co.nz

Outside Generator Place generatorplace.co.nz
---
ON THIS

WEEKEND

SHOW

COME & SEE!

For the latest looks, trends

and ideas...

Heating solutions

Home appliances & cookware

Furniture & bedding

Landscaping

Design and build

Kitchens and bathrooms

Aluminium joinery

Paint and wallpaper

Storage solutions

Windows & doors

Carpet

Spas

Roofing, spouting and guttering

HORNCASTLE ARENA

1st - 3rd July

BE IN TO WIN!

$25,000 central heating system

thanks to

Stand 91-93

COMFORTABLE | HEALTHY | EFFICIENT | FLEXIBLE

SAFE | QUIET | PROGRAMMABLE | PROVEN

A Star Media Event

Inspiration | Trends | Technology | Innovation | Show specials