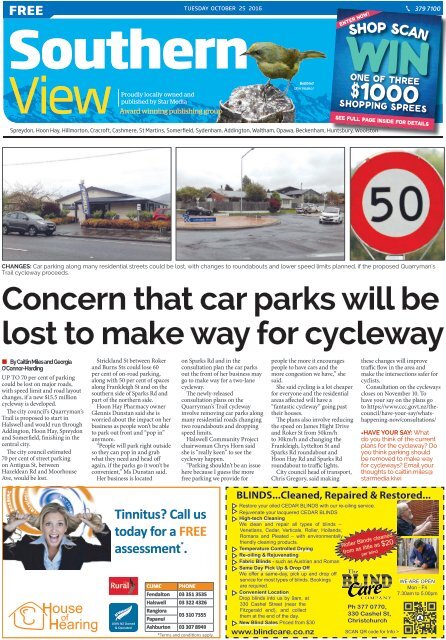 Southern View: October 25, 2016
You also want an ePaper? Increase the reach of your titles
YUMPU automatically turns print PDFs into web optimized ePapers that Google loves.
FREE

TUESDAY OCTOBER 25 2016

Southern

View

Proudly locally owned and

published by Star Media

Award winning publishing group

Bellbird

(Korimako)

Shop scan

ENTER NOW!

one of three

$1000

SHOPPING SPREES

379 7100

SEE full page inside for details

Spreydon, Hoon Hay, Hillmorton, Cracroft, Cashmere, St Martins, Somerfield, Sydenham, Addington, Waltham, Opawa, Beckenham, Huntsbury, Woolston

CHANGES: Car parking along many residential streets could be lost, with changes to roundabouts and lower speed limits planned, if the proposed Quarryman's

Trail cycleway proceeds.

Concern that car parks will be

lost to make way for cycleway

• By Caitlin Miles and Georgia

O'Connor-Harding

UP TO 70 per cent of parking

could be lost on major roads,

with speed limit and road layout

changes, if a new $15.5 million

cycleway is developed.

The city council's Quarryman's

Trail is proposed to start in

Halswell and would run through

Addington, Hoon Hay, Spreydon

and Somerfield, finishing in the

central city.

The city council estimated

70 per cent of street parking

on Antigua St, between

Hazeldean Rd and Moorhouse

Ave, would be lost.

Strickland St between Roker

and Burns Sts could lose 60

per cent of on-road parking,

along with 50 per cent of spaces

along Frankleigh St and on the

southern side of Sparks Rd and

part of the northern side.

Hoon Hay Pharmacy owner

Glennis Dunstan said she is

worried about the impact on her

business as people won't be able

to park out front and "pop in"

anymore.

"People will park right outside

so they can pop in and grab

what they need and head off

again, if the parks go it won't be

convenient," Ms Dunstan said.

Her business is located

on Sparks Rd and in the

consultation plan the car parks

out the front of her business may

go to make way for a two-lane

cycleway.

The newly-released

consultation plans on the

Quarryman's Trail cycleway

involve removing car parks along

many residential roads changing

two roundabouts and dropping

speed limits.

Halswell Community Project

chairwoman Chrys Horn said

she is "really keen" to see the

cycleway happen.

"Parking shouldn't be an issue

here because I guess the more

free parking we provide for

people the more it encourages

people to have cars and the

more congestion we have," she

said.

She said cycling is a lot cheaper

for everyone and the residential

areas affected will have a

"fantastic cycleway" going past

their houses.

The plans also involve reducing

the speed on James Hight Drive

and Roker St from 50km/h

to 30km/h and changing the

Frankleigh, Lyttelton St and

Sparks Rd roundabout and

Hoon Hay Rd and Sparks Rd

roundabout to traffic lights.

City council head of transport,

Chris Gregory, said making

these changes will improve

traffic flow in the area and

make the intersections safer for

cyclists.

Consultation on the cycleways

closes on November 10. To

have your say on the plans go

to https://www.ccc.govt.nz/thecouncil/have-your-say/whatshappening-now/consultations/

•HAVE YOUR SAY: What

do you think of the current

plans for the cycleway? Do

you think parking should

be removed to make way

for cycleways? Email your

thoughts to caitlin.miles@

starmedia.kiwi

BLINDS...Cleaned, Repaired & Restored...

House

of

Hearing

100% NZ Owned

& Operated

CLINIC PHONE

Fendalton 03 351 3535

Halswell 03 322 4326

Rangiora

Papanui

03 310 7355

Ashburton 03 307 8949

Restore your oiled CEDAR BLINDS with our re-oiling service.

Rejuvenate your lacquered CEDAR BLINDS

High-tech Cleaning

We clean and repair all types of blinds –

Venetians, Cedar, Verticals, Roller, Hollands,

Romans and Pleated – with environmentally

friendly cleaning products.

Temperature Controlled Drying

Re-oiling & Rejuvenating

Fabric Blinds - such as Austrian and Roman

Same Day Pick Up & Drop Off

We offer a same-day, pick up and drop off

service for most types of blinds. Bookings

are required.

Convenient Location

Drop blinds into us by 9am, at

330 Cashel Street (near the

Fitzgerald end), and collect

them at the end of the day.

New Blind Sales Priced from $30

www.blindcare.co.nz

Roller Blinds cleaned

from as little as $20

per blind

Ph 377 0770,

330 Cashel St,

Christchurch

SCAN QR code for Info >

WE ARE OPEN

Mon - Fri

7.30am to 5.00pm
---
2

Tuesday October 25 2016

Inside

SOUTHERN VIEW

FROM

THE

EDITOR'S

DESK News.................................3, 5-8

THERE IS absolutely no

argument from me that

cycleways are a wonderful

asset to the city. However, it is a

balancing act to ensure building

them does not negatively impact

residents and businesses. The

Quarryman's Trail that will go

through several suburbs could

take away a lot of residential and

business parking (front page).

Since the earthquakes, parking

in the suburbs has been at a

premium, with residents and

businesses jostling for space.

Art is a powerful tool. The Linwood

Community Arts Centre is

showing the work of people who

found taking up the paint brush

helped them move away from

their life of drug dependency. On

page 7, reporter Fraser Walker-

Pearce has a chat to one of the

artists who will be showing their

work.

10

Exploring art history in the red zone OUR PEOPLE

Hei kona – Shelley Robinson

Local Views......................4

Our People..........................10

Hello Neighbour........12

Community Events......15

Fashion.............................16

Real Estate...........................18

GET IN TOUCH

General Enquiries Ph 379-7100

Classified Advertising Ph 379-1100

The Christchurch Star Company Ltd. PO box 1467 - Christchurch

starmedia.kiwi

NEWS

Caitlin Miles

Ph: 364 7442

caitlin.miles@starmedia.kiwi

ADVERTISING

John Verd

Ph: 364 7496

john.verd@starmedia.kiwi

THE HOME OF GOOD BAKING

SOUTHERN

PLAINS BREAD

VARIETIES

2 FOR

$

5 00

CHOC CARAMEL

SLICE

Choc sweet pastry

encases the gooey

caramel filling,

all coated in choc

icing.

ONLY

BISCUIT

BITES TRAY

PACK

NEW

LARGER

PACK!

$

3 49 Afghan, Apricot

LAST WEEK

TO ENTER!

Yoghurt,

Choc Chip, ONLY

EA

Shortbread,

$

3 49

Super Choc Chip.

EA

PURCHASE 2 X DAIRY DALE

2L MILK TO ENTER THE DRAW

TO WIN 1 OF 50 PLAYSTATION

GAMING PACKS!

50 WINNERS - 2 PER STORE

Promotion valid 1st - 31st October 2016. Winners will

be contacted Monday 7th November 2016. Terms &

conditions apply. Full terms & conditions can be found

at www.couplands.co.nz

MILK

Dairy Dale 2L varieties.

$

5 98

2 FOR or $3.19 each

FAMILY MINCE

& VEGE PIE

$

4 99

EA

Promotional pricing available while stocks last from 24/10/16 to 30/10/16.

Images are serving suggestions only.

Open 7 days | 8 Convenient local locations

Hornby • Barrington • Ferry Rd • Papanui • Riccarton • Upper Riccarton • New Brighton • Rangiora

BAKERIES

www.couplands.co.nz
---
SOUTHERN VIEW Tuesday October 25 2016 3

News

School walks for breast cancer

• By Caitlin Miles

THE ROWLEY Avenue School

community knows what it's

like losing someone to cancer

and on Friday pupils and staff

walked to remember them.

More than 100 pupils, community

members and staff

donned pink to walk 4.3km

to remember former principal

Marg Ngatai, who passed away

in 1998 from cancer, and former

teacher Whaea Missy, who

passed away in 2012.

Event organiser and teacher

aid Susana Muamua said the

walk was dedicated to all the

sisters, mothers, aunties and

cousins who had passed away,

and to those who had survived

and are currently fighting the

disease.

"The kids want to give back

and remember those who have

passed away and those who

are brave and fighting," Mrs

Muamua said.

She said the pupils were

really excited to be involved

and to raise money for the

New Zealand Breast Cancer

Foundation.

"We wanted to do this as a

community, with all our kids

involved and as many members

of the community as possible

getting involved," she said.

WALKING TO REMEMBER: Rowley Avenue School head boy

Jarrod Gali leads the breast cancer awareness walk that 107

pupils, teachers and community members took part in on

Friday.

PHOTO: GEOFF SLOAN

The walked started with a

karakia before the senior pupils

set out along Mathers Rd. The

group then walked along Hoon

Hay, Sparks and Victors Rds

before making their way back to

school.

The school is in the process of

counting the money raised from

the event.

Former principal Marg Ngatai

and former teacher Whaea

Missy.

In Brief

SCHOOL DEVELOPMENT

A ceremony at Te Waka Unua

School last week launched the

second stage of its $9.6m redevelopment.

Eight new learning spaces

will be built as well as a new hall

and an extension to the existing

administration block. The first

stage involved setting up temporary

classrooms so the pupils could

stay on the site while the redevelopment

work was being carried

out. Construction on the learning

spaces is expected to be completed

by October next year.

CHAIRLIFT CONSTRUCTION

Work on the longest chairlift in the

country has begun at Christchurch

Adventure Park. Two out of the

14 towers have been installed and,

once completed, the chairlift will

transport up to 1200 visitors and

their bikes per hour to the top of

the Port Hills. The chair lift will

run 1.8km from the Adventure

Park village in Worsleys Rd up

through the Cashmere Forest.

NEW PIPES INSTALLED

The wastewater network in

Spreydon has been repaired

after nearly 28,000 hours of

work by Stronger Christchurch

Infrastructure Rebuild Team.

The work, undertaken between

Cobham St, Wrights and Hoon

Hay Rds and Barrington and

Simeon Sts, involved replacing

sections of wastewater pipe.

NUK KORAKO

NATIONAL LIST MP BASED

IN THE PORT HILLS

I run weekly mobile office constituency

clinics around the Port Hills. For dates and

locations please visit my website.

You can also contact my office if there is

anything I can help you with.

OFFICE: 6/950 Ferry Road, Ferrymead

EMAIL: nuk.korakomp@parliament.govt.nz

WEBSITE: www.korako.co.nz

PHONE: 03 384 0008

facebook.com/nukkorako.PortHills

Working hard for our community

Watch recent TEDxChristchurch

events at Te Hāpua: Halswell Centre.

22 October—5 November

11am–12.30pm and

2pm–3.30pm

Pick up your schedule

from any library.

All day livestreaming of

TEDxChristchurch 2016

on 29 October!

Authorised by Nuk Korako, 6/950

Ferry Road, Ferrymead, Christchurch

www.national.org.nz

HIKING BOOTS

& SHOES

For men, women

and children

From

$79.95

to $250

47c Garlands Road, Woolston

Phone 389 3431

www.thefootwearfactory.co.nz
---
4

Tuesday October 25 2016

Your Local Views

Focus on connecting

the community

We will be

asking the city

councillors in

the southern

area to give

us their views

on issues.

This week newly-elected

Halswell city councillor

Anne Galloway talks about

being elected and what she

intends to do over the next

three years

I have the honour and privilege

to serve as a city councillor for the

Halswell Ward after being elected

in the recent local body elections.

You may be interested in how

the role of councillor is described

in the handbook given to all those

interested in running for city

council.

Elected members, acting as the

city council, are responsible for

governance, including:

• The development and adoption of

city council policy

• Monitoring the performance of

the council against its stated objectives

and policies

• Prudent stewardship of council

resources

• Employment of the chief executive

Elected members are also

responsible for representing the

david lloyd

Born in England in 1949

Emigrated to New Zealand in 1972

"I have had no formal training in art but have learned at the

coal face doing markets and craft shows. I have been self

employed practising my art since coming to NZ.

Part of the pleasure for me putting this show together has

been the enjoyments of seeing each piece take on its own

story.

The tales we are told when we are young help to shape our

lives making us who we are.

Legends and stories that extend into the roots of civilisation

add to our values and traditions.

Early mankind left rock drawings depicting how they lived

and what they saw in their everyday lives, they would have

made music and communicated with each other as we do

today with story and song. We have become a bit more

sophisticated since the advent of electronic communication.

The ancient Egyptians used hieroglyphics to record their

beginnings and have left a wealth of information about them.

Some cultures have no written language, so song is the way

in which they remember their stories and pass on their past

to the next generation.

I present in this show, a cacophony of untold stories and

songs yet still to be sung."

interests of the residents and ratepayers

of the city.

I intend to be visible in the community

and available. The mayor

talks about the need for councillors

to strengthen their connection

with the community and I will to

do that by setting up regular opportunities

for people to meet with

me. These will be advertised.

I will continue to work with the

community to make it safe for

all those walking and cycling to

school. My focus to implement

safety features along Aidanfield

Drive for all will be at the forefront

of this.

I would love to see more

family-friendly free community

events happening that bring us all

together. And, I will be advocating

for free pool admission for those

under 12 and their careers.

Let's work together to build the

sustainable, connected, vibrant

community we will all benefit

from.

Tales Untold and Songs Unsung

FLAME FILES

Check your gas cylinder

• By Mark Thomas – Fire

Risk Management Officer

A COUPLE of kitchen fires

this week including another

instance of people getting

hurt, burnt in this case, at

a Dallington address last

Thursday.

One out of every three house

fires starts because of cooking.

And about one in three of these

ends in someone getting hurt.

Very occasionally someone

dies.

So easy to stop, just by 'looking

when you're cooking'.

A passerby in Blenheim Rd

called in a building fire last

Saturday morning, having seen

black smoke drifting around

the structure.

Two fire trucks responded

and discovered the culprit, a

steam train further back on the

railway line.

It's interesting that once

upon a time such smoke would

be normal and expected. Now

it's so out of place that people

report it. Which is a good

thing.

Because 10 false alarms are

better than not being called

because someone isn't sure or

SOUTHERN VIEW

thinks smoke is okay. In a real

fire a minute's delay can make

an immense difference.

Barbecue time is just about

here. Which means gas cylinders

not used for six months

are likely to be fired up. When

hooking one up after that time

it's a good idea to slap a detergent

or water mix around the

connector.

Spiders, bugs and old fashioned

dirt can partially block

the threads. Unburnt gas is

not a great mix with a flaming

burner.

Three duckling rescues this

week.

I'm sure we only get the

difficult ones and people are

handling local wildlife rescues

themselves. Which is reassuring.

Humanity still has a heart.

Hopefully always will.

David Lloyd

29 October – 23 November 2016

Main Rd, Little River | 03 325 1944 | art@littlerivergallery.com
---
SOUTHERN VIEW Tuesday October 25 2016 5

News

In Brief

PUB CELEBRATIONS

The Black Horse Hotel

celebrated its 150th birthday at

the weekend. The pub, located

at 33 Lincoln Rd, is one of

the oldest in Christchurch.

Celebrations started on Friday

and went right through to

Monday with bands, karaoke

and a 40in television giveaway.

The original pub was built in

1866.

PEST: Rats and possums are among the predators which kill about 25 million native birds in New Zealand each year.

Making properties pest-free

• By Annabelle Dick

THE SUMMIT Road Society

is urging residents to catch

possums, rats and stoats on

their properties as they launch

an initiative to eradicate pests.

The Predator-Free Port Hills

programme aims to maintain

the local flora and fauna by

removing pests from around the

boundary of the Port Hills.

Summit Road Society vicepresident

Jeremy Agar said they

want to encourage people to set

up traps in their back yard to

help the effort.

"Where residents live on the

Port Hills, between Taylors Mistake

and Halswell and around

Lyttelton Harbour, it's a perfect

opportunity to have traps for

predators in their back garden

because they tend to be heavy

on the edges of bush," he said.

The group is holding a public

seminar to teach residents about

the local pest problem and how

they can help mitigate it.

They will discuss the predatorfree

concept, community pest

control methods in Redcliffs

and Sumner and how to host

and maintain traps.

The group is following

the Government and other

community organisations

around the country which are

aiming to make New Zealand

free of pests.

"We're really encouraged

by the Government's call to

become predator-free by 2050

and we think the way to do that

is to act where we are and that's

the Port Hills," he said.

In New Zealand, predators

kill about 25 million native

birds each year and have pushed

species to the brink of extinction.

The Government launched an

initiative to make the country

predator-free by 2050 earlier

this year.

The Government also said

in this year's budget that it will

spend an additional $28 million

over four years and $7 million

every year thereafter on pest

control.

This is on top of the more

than $70 million already spent

each year on predator control in

New Zealand.

A public meeting will be held

at the Cashmere Presbyterian

Church on Thursday at 7pm.

BUSINESS TO OPEN

Kosco Asian Supermarket

will be the first shop to open

in the new 290 Colombo St

development followed by Pita

Pit. The Funky Pumpkin,

Pedro's House of Lamb and St

Pierre's Sushi will open at a

later date. The development's

entry, exit points and layout

of the existing car park have

been altered to cater for new

businesses.

SILVER MEDAL

Pak'N Save Moorhouse

received a silver medal in a

recent sausage competition.

The supermarket competed

in the Devro Great New

Zealand Sausage Competition

2016 getting a silver for their

traditional beef sausage. Harris

Meats in Cheviot took out a

gold medal for their old English

beef sausage.

6

We accept all

supermarket

dockets up to

15c off * *conditions

apply

15

Conditions Apply

111-115 Milton Street | Phone 332-6056

as local as you are

www.challenge.net.nz

SKILL

STANDS

OUT

N0.1

CONSULTANT FOR

HARCOURTS

CANTERBURY

SINCE 2012

RECENT

SALES
---
6

Tuesday October 25 2016

SOUTHERN VIEW

mon 31 st OCTOBER

Turn your home into a halloween

haunted house... get yourself and

the kids dressed up!

Costumes, wigs, hats, masks, capes, ghosts, bats, spiders,

black balloons and many more spine-tingling accessories!

Outfits may vary from store to store

Make this halloween the spookiest yet!

Your Local JUST INCREDIBLE STORES

• Barrington Mall

• The Hub, Hornby

• New Brighton Mall

• South City Centre

NEW

SOUTH CITY

POP-UP STORE!

NExT DOOR TO OUR STORE aND

WHITCOULLS
---
SOUTHERN VIEW Tuesday October 25 2016 7

News

Artwork addresses addiction

• By Fraser Walker-Pearce

WHEN Liz Cropp started to

address her drug addiction, she

had to do something to fill the

void, so she took up the paint

brush.

Ms Cropp is one of about

six drug addicts in recovery

who will be exhibiting their

work in the Ignite and Excite

art exhibition at the Linwood

Community Arts Centre, which

opens next week.

Ms Cropp, of Woolston,

said she started going to art

workshops to fill up her days

with activities other than doing

drugs.

"Originally it was to find

something else to do rather

than fill up my day with drugs.

So I found that through these

workshops I was able to go

straight and it was my first day

I was able to go without pot

(cannabis). So I knew that I

could do it," she said.

The exhibition's creator Helen

Linton said it is a particularly

special show, as drug

consumers, those in rehab, and

workers in the addiction sector

are all contributing.

"[The exhibition] is different

because it's aimed at those with

drug addiction. It's great as well

because they feel good about

UNIQUE ART: Liz Cropp's artwork which she plans to keep. She said the

rainbow is God's light and the footprints coming out of the sea is God

carrying her away from a sea of emotion. ​

contributing, often they get

lumped in with mental health

people. So they feel pretty

special to have this exhibition,"

she said.

Ms Cropp said it was an

incredible feeling for her to

complete a goal she had set for

herself.

"Things like this [the

exhibition], it could be a once

in a lifetime opportunity. It's

NEW LOCATION ADVERT.pdf 1 1/05/2014 11:51:35 a.m.

VISIT OUR NEW LOCATION LOCATION

430 ST ASAPH STREET!

Hours of Business: 7am-4.30pm Mon-Thurs

Fri 8am to midday

or by appointment with Keith 027 566 3909

RECOVER YOUR LOVED FURNITURE

No job too big or small

Still able to offer

you the finest top

quality new furniture

the first time I've set myself

a goal and I've actually been

able to complete it," she

said.

Ms Linton said she

doesn't know how many

artists will contribute to the

exhibition, or the number

of artworks on display, as it

is a big commitment for the

contributors.

"The number of pieces is

Visit us online

www.qualityfurniture.co.nz

P. 371 7500

QUALITY FURNITURE SPECIALISTS

RE - UPHOLSTERY SPECIALISTS KEITH HARTSHORNE 0275 663 909

Helen Linton

Liz Cropp

an unknown quantity at this

stage, as they are quite critical

of themselves. Some are out of

town, and start off saying 'I'll

bring in six' but on the day only

bring in a few because they

didn't like their others," she

said.

The exhibition opens today

at the Linwood Community

Arts Centre and will run until

November 12.

Book launch

fundraiser

for church

• By Caitlin Miles

THE OPAWA Community

Church's costly $300,000

mortgage has the members

holding fundraising events to

cover costs.

Following the February 22,

2011, earthquake the church was

badly damaged and required

rebuilding.

Opawa Community Church

is part of the Methodist Church,

which has covered much of the

rebuild costs, but the outstanding

$300,000 is being covered by a

mortgage the Opawa church has

taken out.

As part of fundraising efforts

congregation member and author

Marlene Bennetts wrote a Christmas

book to help raise money, it

is titled The Little Drummer Boy

and will be launched at an event

this week.

The Little Drummer Boy is a

children's picture book and tells

the story of a young boy named

Liam who is looking forward to

performing with his drum in a

Sunday school play but he won't

have all of his family around him

at Christmas.

Port Hills MP Ruth Dyson will

be at the book launch at South

Library on Thursday, 10.30am.

Dyers Road Landscape

& Garden Supplies

• Barks • Peastraw • Composts - we supply the best available

• Aggregates - Chip, Round and Basecourse

• Pavers & Schist products • Pungas

• Decorative Stones & Landscaping Rocks

• Trailer Hire first hour free with purchase

• Bag & Bulk - pick up or delivered

David, Carol & Mike

We will deliver!

SOIL

AND

HARDFILL

DUMPING

Phone: 03 384 6540

183 Dyers Rd, Bromley • OPEN 7 DAYS

Weekdays 7.30am-5pm. Weekends 8.30am-3pm

www.dyersroadandlandscapes.co.nz
---
8

Tuesday October 25 2016

News

FACE-PAINTING FUN: Vivian Luo (left),

Bella, Sophia and Hannah Lin, and Olivia

Liu enjoy a day out at Governors Bay.

WELCOME:

Cholmondeley

Children's Centre

chief executive Shane

Murdoch (far left),

Caroline Stiles and

board member David

Johnstone were part

of the welcoming

party as the centre

opened up its doors

to the public recently.

Once a year, the

organisation – which

provides emergency

and respite care

for children whose

families are

experiencing crisis –

invites the community

to take a trip out to

its Governors Bay

base and have a look

around.

PHOTOS: GILBERT

WEALLEANS

SAND PIT FUN: Aardijah Sheehan finds

a different use for the sand pit, with a

helping hand from Kharnei Ferris (left)

and Emma Jarvis.

Coastguard award for

Hillsborough woman

NICOLA HOCKLEY, of

Hillsborough, has received an award

for her work as a volunteer for

Coastguard Canterbury.

Coastguard volunteers were

recognised at the Coastguard New

Zealand awards of excellence for

outstanding contributions to their

communities recently.

Ms Hockley was awarded the

Century Yuasa Coastguard rescue

vessel volunteer of the year along

with Robb Henry from Coastguard

Waiheke.

The event and gala dinner was

held at the Wairakei Resort, near

Taupo, and involved volunteers

from all around the country being

recognised.

She joined Coastguard Canterbury

in 2009, and has achieved many

successes during her seven years.

She is a master on a Coastguard

response vehicle, a regional Coastguard

instructor, and is on several

boards. Nicola was instrumental in

Coastguard Canterbury's project to

obtain new headquarters after the

damage of the 2011 earthquakes and

has committed many hours to help

raise upward of $5 million for the

new building.

Seven awards were presented for

outstanding effort, loyal service

and dedication to Coastguard.

Coastguard Nelson had a hugely

successful night, taking out three

SOUTHERN VIEW

RECOGNISED: Nicola Hockley

was presented with a volunteer

award by Sir Graham Henry.

of the seven awards including

community relations activity of the

year, unit of the year, and the highly

coveted Mitre 10 rescue of the year.

The awards were presented by Sir

Graham Henry.

Coastguard New Zealand CEO,

Patrick Holmes said he was proud of

the hard work volunteers around the

country do for their community.

"Their love of the sea and resolve

to provide communities with a

world-class marine search and

rescue service is unparalleled. The

awards of excellence recognises

those who have given so much, and

I am delighted that we are able shine

the spotlight on a few of our many

deserving volunteers," he said.

Build your next home

with Artisan Homes

Your local registered Master Builder

Home building is as much about understanding the

landscape and the client as it is the plan and the

materials. From our office in Rolleston, Canterbury our

small company has built a huge range of homes that are

distinctive, stylish, durable and cost-effective.

From clever, compact homes to three bedroom townhouses

to large scale, expansive country style homes, our work

spans all types of house building.

Since 2004 we have carefully built, among other things, a

reputation for constructing high quality houses.

An artisan is someone who is highly skilled in a particular

expertise, a hands-on craftsman – someone who is

passionate about the quality results they produce.

With decades in the business the team at Artisian Homes

have worked in all areas of residential construction. There

are obvious differences between building a two-bedroom

home compared to a six bedroom one. Irrespective, our

overall approach remains the same.

While we have a sound reputation for carefully crafted

home building we also are renowned for getting the right

result no matter what the challenge. Building with difficult

access, looming timelines or tight budgets is just a fact of

life for us. All our tradespeople are qualified and registered

or licensed. Our abilities to design and build a range of

houses have increased over the years, as has our skill and

overall capacity. While we don't have the franchises of our

larger competitors we do have their networks and buying

power. Which means our clients receive the most costeffective

results possible.

At Artisan Homes, our passion is building homes for

people who appreciate the work that goes into what will,

ultimately, be a home they love to live in.

5 Broomleigh Drive in Rolleston's Faringdon

Artisan Homes' show home is open every day (Fri by Appt)

8.30am-5pm Mon-Thur,

Fri by appointment, and 12-4pm Sat/Sun.

To contact Rob: phone 374 9172,

mobile 021 324 876 or

email: robin@artisanhomes.co.nz.

Builders of

superior homes

Plans are viewable in high resolution digital at www.artisanhomes.co.nz. Let Rob and his team work with you to produce your own unique plan.

Office & Show Home- 5 Broomleigh Drive, Faringdon, Rolleston | www.artisanhomes.co.nz | Phone - 03 374 9172 or Rob 021 324 876 | E-mail - robin@artisanhomes.co.nz
---
SOUTHERN VIEW Tuesday October 25 2016 9

free 11mm

high density

FINAL DAYS

luxury underlay

Bonita

• 48oz solution dyed

nylon

• extra heavy duty

+ stairs

• Cut pile

• 2 Colours

NOW

$139.90

3.65m

3.65m

Wide

Wide

Rolls

Rolls

WiTH

FREE

UNdeRlAY

Toulon

• Wool plus

• extra heavy duty

+ stairs

• Cut pile

• 1 Colour

• slightly imperfect

NOW

$95.00

WiTH

FREE

UNdeRlAY

Fairfields

• 48oz Wool plus

• extra heavy duty

+ stairs

• Cut pile

• 3 Colours

NOW

$159.90

3.65m Wide Wide Rolls

3.65m 3.65m Wide Wide Rolls Rolls

WiTH

FREE

UNdeRlAY

Sanctuary

• 55oz Polyester

• extra heavy duty

• Cut pile

• 1 Colour

• slightly imperfect

WiTH

FREE

UNdeRlAY

Tiburon

• 40oz Wool

• extra heavy duty

+ stairs

• loop pile

• 1 Colour

WiTH

FREE

UNdeRlAY

Carterville

• 50 oz Polyester

• extra heavy duty

• Cut pile

• 1 Colour

• slightly imperfect

WiTH

FREE

UNdeRlAY

NOW

$115.00

NOW

$95.00

NOW

$105.00

3.65m Wide Rolls

3.65m Wide Rolls 3.65m Wide Rolls

Horizon

• 36oz solution dyed

nylon

• extra heavy duty

• Cut pile

• 2 Colours

WiTH

FREE

UNdeRlAY

Madison

• 48oz Wool

• Commercial grade

• loop pile

• 1 imperfect colour

WiTH

FREE

UNdeRlAY

Newport

• solution dyed

nylon

• Commercial

grade

• loop pile

• 2 Colours

WiTH

FREE

UNdeRlAY

NOW

$125.00

3.65m Wide Rolls

NOW

$89.90

3.65m Wide Rolls

NOW

$115.00

3.65m Wide Rolls

Garage

carpet

from $15 per sqm

All carpet remnants

priced to clear from

$5 per piece

Conditions apply

Clearing vinyl

FROM

$30 per metre

(2 metre wide vinyl)

312 Wilsons Road North, Waltham Phone 366 0070

www.carpetkingdom.co.nz | Mon - Fri 8am - 5pm | Sat 10am -1pm

Q Card Finance Now Available

FREE no obligation measure & quote (conditions apply.)
---
Pompe i Optional Experience

Optional Experience on Day 3

10

Tuesday October 25 2016

Our People

SOUTHERN VIEW

Daegan Wells

Exploring art history in the red

Addington artist Daegan Wells recently received

an award which will allow him to focus on his

latest project. He spoke to Caitlin Miles about the

city's art history and his experience documenting

the residential red zone

Congratulations on receiving

the Olivia Spencer Bower

Award – what was it like to win?

Thank you, it was really exciting

to be given it. It's only offered

every two years so I'm really

excited to be selected. It's really

rare to have an opportunity to

work on your practice full-time

as an artist and especially in

New Zealand.

Is that what this award allows

you to do?

Yes, so over the next year I will

be able to focus on this project

without having to balance working

and my art. It gives artists a

chance to work solely on their

project and provides financial

assistance.

Is it nice to know you don't

have to worry about your finance

for the next year?

Yes it is. It's not often you get a

chance to do this so it will take a

bit of stress off trying to balance

my project around working.

Do you work full time?

No, I work part time at a

few places. I'm a tutor, I teach

photography and I also work at

the Physics Room, which is an

art gallery.

What is your project on?

I have chosen to focus on

Christchurch's art history between

1932 and 1939 because it

coincided with a period of time

of Olivia Spencer Bowers being

in Christchurch. So I decided

to focus on that time and investigate

what was happening in

Christchurch and the similarities

in that time to now.

Do you have any idea of where

this project will take you, or is

it still quite new?

It's still quite new. I think I've

got a few starting points. I'll go

to the research library at the

Christchurch Art Gallery, which

will probably be my starting

point. Also, talking to people

that knew Olivia, knew of her

or collected her works. So it will

start like that but I'm not quite

sure where it will go or how the

work will look, but yeah, that's

my starting point.

Your last project involved

spending time in the residential

red zone, can you tell me a bit

about that?

I have a show at the moment at

the Centre of Contemporary Art

and that work is based around

Bill Sutton and his abandoned

studio and residence in the

residential red zone. So my work

has just been about going there

and to other sites and putting together

research and work about

these sites.

What was it like going into

those people's homes?

It was really overwhelming,

but I guess I had, for lack of a

better word, this good intention.

I thought this wasn't being

documented and it was such a

massive part of Christchurch because

these people once occupied

these spaces and I suppose I just

wanted to engage with the site in

a way that previously no one had

been doing.

So why did you choose to look

at the residential red zone?

I guess I felt that there was an

urgency, things were changing so

fast and there wasn't much documentation

around these sites so

I guess, for me, urgency was the

main kind of concern that I had.

DISPLAY:

Some of

Daegan

Wells' work

is currently

on show at

the Centre of

Contemporary

Art.

How long did this project

take?

This was part of my masters'

research so it started in 2015. It's

been a year-long project.

Can you tell me a bit about

some of the other work you

have done?

So I had a show at Blue Oyster

Gallery in Dunedin and the

work was specifically about

the Bill Sutton house. It

incorporated some historical

photographs, which the

Christchurch Art Gallery lent to

me, and some construction work

as well.

Previously

United Travel

PIllOW

sellOut

Mazon Virtali Visco Original Pillows

Improve your sleeping posture and spine alignment with this

versatile traditional shape pillow.

ONe

WeeK

ONlY!

WITH US

Open 7 Days Mon - Fri 9 - 5.30pm Sat - Sun 10 - 4pm

242 Ferry Rd Along From Old Ami Stadium | Phone 377 8887 | www.bedworld.co.nz

Was $119

LIMITED

STOCK

ONLY

$79

Explore Europe by Coach

AMAZING

EARLY BIRD

OFFERS

Great Italian Cities

10 days, 2 countries

$

2895 *

from

per person, share twin

from

per person, share twin

Italy's greatest cities are

in the spotlight on this

epic journey of discovery

CORSICA

SARDINIA

$800 *

Highlights of Spain & Portugal

$

2925 *

13 days, 2 countries

Visit the Cave Houses

of Guadix, the Alhambra

Palace & Seville Cathedral

2

LISBON

Pisa

Tuscany

Mediterranean

Sea

PORTUGAL

Fátima

1

ALGARVE

Bologna

3

FLORENCE

SEVILLE

3

Jerez

Cadiz

SALAMANCA

1

ROME 3

3 VENICE

Toledo

SPAIN

Assisi

ITALY

MADRID

2 1

Córdoba

Guadix

1

GRANADA

SLOVENIA

CROATIA

Adriatic

Sea

Cuenca

VALENCIA 1

Mediterranean

Sea

UP TO

FLIGHT CREDIT

Per person towards Emirates or

Singapore Airlines return flights

YOU Travel Ferrymead 960 Ferry Road, Ferrymead 03 384 2700 @ melissa@youferrymead.co.nz

YOU Travel Tower Junction 3/4 Troup Drive, Addington 03 341 8965 @ sandra@youtowerjunction.co.nz

*Terms & Conditions: Prices quoted are not guaranteed and subject to availability at time of booking. Further terms and conditions apply, please ask us for details.
---
SOUTHERN VIEW Tuesday October 25 2016 11

zone before it's gone for good

Where did you study art?

I did my masters in sculpture

at Canterbury University.

Why did you decide to do

your masters in sculpture?

I guess it's sculpture in the

loosest sense of the term. The

kind of work that I make is more

installations so my work incorporated

photography and objects

and other materials. It's not set

sculptures like everyone thinks,

it's very loose.

Have you lived here your

whole life?

No I wasn't born here, I moved

to Christchurch from Nelson in

2008. I moved here partly for art

school. But I don't know really –

I guess it's a bigger city. I lived in

the central city for a while and

I've lived in Addington for about

a year and a half.

When you were growing up

did you always want to pursue

art?

I guess it's kind of like that

classic story of when you're

leaving high school and you

don't quite know what to do. So

I enjoyed making and thinking

about art, so I guess for me, it

just made sense and it turned out

to be the right decision for me.

You also co-founded some art

spaces, can you tell me about

them?

HISTORY: This photo was taken at artist Bill Sutton's abandoned red zone home.

My first space that I helped cofound

was a space called Room

4, which was on St Asaph St. We

decided to open that because we

didn't think there were many

showing spaces, especially for

emerging artists. I think that

was the drive, focusing on

emerging artists and not just

from Christchurch. After that,

we opened a gallery called Man

Friday, which we had open for a

year in 2015.

What encouraged you to

make these spaces?

It was really the lack of spaces

for artists around the city and

the need to provide for other artists

and give them a chance. But

also running an artist-run space

is just a good way of encouraging

community or building your

own community, and working

with other artists and getting

more of the public aware of the

artists around them.

What have been some of the

cool projects carried out in

those spaces?

There have been a few. When

Room 4 was running, there was

a big factory behind us. I think

they made garments, school

uniforms I think. Each recycling

day they would put out lots of

boxes and because we didn't have

any shows planned, a group of

us collected the boxes for about

a month and we encouraged

people to come in and we just

kind of made some forts and it

was just a really fun social thing

to do.

Who are some of your favourite

artists?

RED ZONE: Daegan Wells

spent time documenting the

residential red zone in 2015.

PHOTO: GEOFF SLOAN

That's a tricky one to answer. I

guess my peers and friends. But

also the artists that I research,

like Olivia Spencer Bower and

Bill Sutton. Those people have

the biggest influence on my

work.

How do they influence you?

I guess I just respond to their

art. Like mine is in no way

similar to Bill Sutton's, but it

references him and his art and

his career. That's how I relate to

artists I admire or enjoy.

You have a lot on your plate,

do you have much spare time?

I guess my art is my spare time.

So no, I don't really have any. If

I do have spare time, it's pretty

sparse and I haven't had any for

a while.

$35 WOF

extended HOURS

Monday, Thursday and Friday

8.00am-5.00pm

Tuesday and Wednesday

8.00am-7.00pm

Saturday 9.00am-3.00pm

Tyres & Repairs

Complete

Tyre and

Auto

Canterbury owned and operated

464 Ferry Rd, 03 389 5370

ctawoolston@yahoo.co.nz

8.00am-5.00pm Mon-Thurs Fri

New & Used Tyres • Puncture Repairs

Batteries • WOF • Balancing

Mechanical Repairs • Lube & Servicing

Wheel Alignment

Varicose Vein Treatment

Non-surgical Vein Laser Treatments available

Free Assessment

Tired of aching and unsightly veins?

No surgery, no scars, no stitches. No time off work

- continue normal daily activities. An affiliated provider to

Southern Cross Health Society (medical necessity

criteria apply) - check your policy for cover.

Enjoy skirts, short and cropped pants again.

Payment plans available (Conditions apply)

www.transformclinic.co.nz | 52A Mandeville St | Riccarton | 08002lookgood | 343 2880

Kids Birthday Parties

20141031 - Dyson ad (Chch Star) 64x90.indd 1 31/10/14 14:19

Choose from one of our Great Party Packages to suit!

1

2

3

4

Paintball, mini golf (indoor or outdoor), 50 balls and

club hire for the driving range $39 per child.

Paintball, mini golf (indoor or outdoor) $32 per child.

Indoor and outdoor mini golf, 50 balls and club hire

for the driving range $20 per child.

Indoor or outdoor mini golf, 50 balls and club hire

for the driving range $14 per child.

To book ph 376 5350, 50 Ferrymead Park Drive, Ferrymead

Book any Birthday Party with Caddyshack

and you will receive:

• Mini golf game for each child ($9 per child).

• Use of party room for one hour for $50, or two hours for $90.

• Caddyshack Party Meal and drink.

• Caddyshack lollies.

• Themed party gear including invitations and balloons.

• Caddyshack party host to ensure fun and relaxation.

• The birthday child also receives a gift.

• All party goers receive a free child mini putt voucher for

their next visit.

Ph 384 1566, 21 King Edward Terrace, Woolston
---
12 2

Tuesday [Edition datE] October 25 2016

Southern View

SOUTHERN VIEW

Neighbour

Hello

An ear for an engine

Sometimes a motor vehicle develops

a problem that is not easy to find even

with the help of diagnostic tools. This is

where experience and an understanding of

engines, comes to the fore.

After forty years in the automotive

business there is not much that Arthur

does not know about motors. He can take

a car for a drive around the block and will

have a fair idea what is wrong with it when

he returns.

Arthur has just recently returned to

manage the garage at Baylis Motors. This

is great news for those living and working

near Sydenham, as well as others who

want the services of a mechanic who

blends the old-fashioned style of mechanic

with modern day techniques, giving him

the expertise to repair motor vehicles from

vintage and classic through to the latest

models.

"Arthur is very good at what he does,"

says Kathy, owner of Baylis Motors. "He

can take a car for a test drive and diagnose

it and it is very rare that he doesn't hit

the nail on the head straight away. His

knowledge is vast and he has a passion for

working with cars."

Baylis Motors has a large workshop

with seven hoists and current technology

including one of the latest wheel alignment

machines, of which there are only two in

Christchurch. They are experienced in

carrying out repairs on all eras of motor

vehicles, whether it is the latest model

of car or a very old motor, with a good

number of Japanese and European

vehicles being looked after by the team.

They also take care of the warrants

and repairs for the fleet and employees'

vehicles of a number of small to large

businesses and for a number of car

dealerships nearby.

This business covers the gamut of motor

vehicle repairs and servicing including

warrant of fitnesses and wheel alignments.

With seven staff and four mechanics, they

are able to provide an efficient and fast

turnaround.

You can drop your vehicle off or wait

while you get a warrant with no booking

required and if leaving your vehicle, Kathy

will give you a call when your car is ready.

If needing a tyre they can assist too.

Kathy sources new tyres from a range of

suppliers so you have a choice between an

economic brand, mid-level quality or top

of the line range or even a second hand

tyre if there is one suitable on the floor at

the time.

Baylis Motors is located at 20 Gasson

Street in Sydenham, between Brougham

and Coleridge Street. They are open:

Monday to Friday from 8am until 5pm and

on Saturdays between 8.30am and 1.30pm.

THINKING OF SELLING

YOUR HOME?

List exclusively with us

in September, October and

November 2016, and receive a

$200 meal voucher for Bloody

Mary's Restaurant to celebrate

when you sell.

*Voucher supplied on confirmation of sale.

03 348 0187 | 0800 300 383

www.waimakrealestate.co.nz

sales@waimakrealestate.co.nz

First Floor, 40 Cass Street, Sydenham

Halswell Eye Clinic

0800 4 EYE TEST *

Cataract

Glaucoma

Macular Degeneration

Expert Care Close to You

Dr Antony Bedggood, Eye Surgeon

Southern Cross Affiliated Provider

Clinics at Longhurst Health,

53 Caulfield Ave.

*0800 439383 to book eye tests only.

SUNDAY SPECIAL

• Happy Hour All Day Thursday

• Karaoke Thursday & Sunday

• Pokies

• Games, Pool

• Outside Smoking Area

• Courtesy Coach Thursday & Friday

• Late Dining

BAR

& BISTRO

Roast & Dessert

$

15

for

only

ALL DAY

EVERY DAY

1 Halswell Rd, Hoon Hay, Christchurch. Ph: 03-338 8715

Full mechanical service for all

makes and models

WOF $35

New & used tyres available

Free battery test

Wheel Alignments

MOTOR COMPANY CHCH LTD

20 Gasson St, Sydenham

Ph 379-6212

Mon-Fri 8am - 5pm Sat 8.30am - 1.30pm

BECKENHAM

Christchurch's Private

Training Studio

Call or email today to arrange

a free consult with one of our

experienced trainers

No joining fees or membership costs

www.formfitness.co.nz • 0800 367 634

info@formfitness.co.nz

Call to Arms!

Happy

Hour:

10-2 Sat

and all day

Thurs/Sun!

Celtic

Arms

Inn

• Pokies

• 18 games

• New pool table –

FREE pool Thurs/Sun

• Late dining

308 Selwyn Street, Christchurch

top stitch

mobile

alterations

comes to you

in the comfort

of your home

or work place

call Kim for an

appointment

0272 293 574

Fully qualified stylist with over 4 years experience

Using L'Oréal Professional products

Wanting a new cut, colour

or just a fresh new tidy?

Call or email today to make a booking

20% oFF

all mEn cuts and

Woman cut and bloW WavEs

152 Cashmere Road, Cracroft (50 Shades of Fabulous)

Phone 027 829 7850 | Email hairbyjessica16@gmail.com

: Hair By Jessica

Advertising enquiries John Verd | Ph: 021 912 372 | john.verd@starmedia.kiwi
---
2

SOUTHERN [Edition VIEW datE]

Tuesday October 25 2016 13

Southern View

Keep itLocal

Computer Expertise Abound

A "gamer's paradise", Dragon PC in Upper Riccarton has a

comprehensive selection of state-of-the-art computer and gaming

equipment that can be custom-built to suit your particular needs.

In business since 1998 Dragon PC

has been supplying quality hardware

at competitive prices to the public and

businesses around Christchurch. With

over 18 years' of specialist knowledge

and experience in the field, the team

at Dragon PC is fully equipped to

help you choose the right components

and systems to suit your particular

application and can even give your

old PC a new lease of life and save you

money.

For many of their customers who

have bought off-the-shelf PCs that don't

quite meet their specific needs, Dragon

PC's expertise comes to the rescue.

Custom built systems to suit any budget,

together with their specialist knowledge

and passion for all things computer

related, Dragon PC is your one-stopshop.

The chances are if you have a

computer problem Dragon PC will have

the solution.

With a vast array of leading

computer and gaming hardware from

internationally renowned brands, like

Corsair and Logitech amongst a host

of others, they also stock an impressive

selection of computer accessories, such

as cases, headphones and headsets,

memory cards, printers, notebooks and

tablets, and refurbished computers at a

fraction of the original retail price.

Whether you are an avid gamer, or

a casual computer user, a professional

graphic designer or photographer, work

from home or run a business, Dragon

PC has a diverse and extensive range of

products and services to meet a range of

needs.

With the countdown to Christmas

upon us, you can expect some special

deals to fill those Christmas stockings.

Now accepting credit cards online,

Christmas shopping has never been

easier. Visit www.dragonpc.co.nz to

purchase all your computer and gaming

needs.

For hands-on advice, pop into

Dragon PC for a chat with one of

the team. You can find Dragon PC

at 376 Riccarton Road next to

Spagalimis and opposite Countdown

supermarket.

50

off full memberships*

up

to

%

memberships from $5.99 per week*

• GYm • CArDio AND weiGhts

trAiNiNG • Crossfit • persoNAl

trAiNiNG • Group ClAsses

*terms AND CoNDitioNs ApplY. priCes Are for A limiteD time oNlY AND mAY

be subJeCt to ChANGe. memberships Are limiteD. "up to 50% off" Applies

for JANuArY AND februArY oNlY.

244 Annex rd, ph 338 3000

www.affinityfitness.co.nz

Spring bedding Special

duvets, blankets, Covers

20%

OFF

All bedding SeRViCeS

when you mention this ad

(excludes pillows)

330 Lincoln Rd. Christchurch.

P: 03 338 3312. mastervalet.co.nz

14 day

free

trial

No JoiNiNG

fee!

Have an Elite Haircut

For an Affordable Price

Mens Cuts $18

Womens Cuts $25

Kids Cuts under 12 yrs $15

Clipper Cuts $14

Gold Card Mens $14

Gold Card Womens $16

Open Blade Box In $4

HOURS:

Mon-Fri 9am - 5pm

Sat 9am - 12 Noon

No

appointment

needed!

Eftpos Available

238 Barrington Street, Spreydon

(opp St Nicholas Church)

"Where Every Smile Matters"

Experienced team provides caring and

gentle dentistry for the whole family

Dental Hygienist Available

Sedation dentistry

Wedding packages

Winz quotes

ZOOM whitening

treatment

ACC accredited

Dental Health Counselling

Free treatment for

adolescents (13-18 years)

Free treatment of

children (0-13) with a

school dentist referral

PH 332 6399

We've moved!

Now based at

104 Colombo Street,

Beckenham

www.smileconcepts.co.nz

The best chicken in the world

is just around the corner!

Some say it's the overnight marinating. Others

believe that peri-peri sauce is the key, or that

it's the butterfly-grilling on an open flame.

Nando's reckon it's all these and more!

• Wraps • Burgers • Salads • Veggie Options

145D Colombo St, Beckenham | Ph 332 3207

Upgrade & Save!

Turn your old PC into a

fire-breathing dragon!

Dragon PC

Repairs • Parts • Accessories • Software

Come in for "Dragon Deals"

376 Riccarton Rd, Christchurch

03-341 8880

www.dragonpc.co.nz

Are you home grown?

Bodycore is 100% NZ sourced

Krill oil, vitamins, supplements

18 flavours of protein powder

No artificial sweeteners

No fillers, all natural

Come in and say "Gro Bro" for a free

protein bar. While stocks last.

45b Carlyle St, Sydenham,

Ph 03 374 6947

Advertising enquiries John Verd | Ph: 021 912 372 | john.verd@starmedia.kiwi
---
14

WIN

enter every time you shop at any of these participating businesses - more draws, more chances to win! Promotion closes 9th Dec 2016. conditions apply.

ON NOW!

Tuesday October 25 2016

your chance to

win one of three

$1000

SHOPPING SPREES

THIS COULD BE YOU!

Shop scan

SOUTHERN VIEW

½ PRICE

ALL

UVEX

HELMETS

ALL CUBE

BIKES ON

CLEARANCE!

While stocks last

• Clothing, parts & accessories

• Bike servicing and repairs

• Friendly helpful staff

• Layby available • Open 6 days

03 360 2050

93 Barrington St

Mon-Fri 8.30-5.30,

Sat 9.30-3.30

cycleworkz.co.nz

Quick Stop Liquor

69 Centaurus Rd,

Cashmere.

Ph 332 0233

Hrs: Mon 3pm-7pm

Tues - Sat 11am-7pm

Specials from 25th

October to 7th November

• BEER • WINE •

• SPIRITS • RTDs

OVER 50 CRAFT

BEERS INSTORE

$

34 99

1 LITRE

I can

see

clearly

now

GREAT BUY!

$29.60

BARRINGTON, 256 Barrington Street

PH 332 1730 | www.suckling.co.nz

special

offer

Bring in this

ad and receive

$

5 off

any Style Cut

1 per person.

Offer valid until

06/12/16

Style Cuts

cuts

$

29

Just Cuts Hornby, Shop 49A, The Hub, Christchurch

Taste of Persia

Souvlakis & Kebabs

• Various Choices

Lamb, Chicken, Beef, Falafel (Vegetarian)

• Different Sizes

Large/Small/Pocket

• Extra Meat, Mushroom + Cheese Available

• Persian Style Kebabs on Rice

• Fast Friendly Service

• Excellent Value for money

• Phone Orders are Welcome

239D Colombo Street | 332 7252

Open: Tues – Sun 11am – 9pm

KTS

From

$10 Hair Cuts

No appointment just walk in!

337-9407

239B Colombo Street, Beckenham

CHRISTCHURCH'S PERFECT

INDOOR ENTERTAINMENT

FLIP OUT TRAMPOLINE ARENA

• MAIN ARENA

• TRICKING AREA

• FOAM PIT

• WALL TRAMPOLINE

• TUMBLE TRACK

YOUR SAFETY IS OUR #1 PRIORITY

PHONE 384 8244

230 MACES RD, BROMLEY

WWW.FLIPOUT.CO.NZ

Full mechanical service for all

makes and models

WOF $35

New & used tyres available

Free battery test

Wheel Alignments

20 Gasson St, Sydenham

Ph 379-6212

Mon-Fri 8am - 5pm Sat 8.30am - 1.30pm

MOTOR COMPANY CHCH LTD

Bezzera E61 Machines

Vitamix Blenders

Kitchenaid Mixers

Magimix Processors

Bialetti Espresso

Kai Shun Knives

Lodge Cast Iron

Le Creuset Cookware

Pyrolux Cookware

Arcos Knives

Cutlery Homeware

Cheforks Uniforms

Bamix Stick Blenders

Schott Zwiesel

Victorinox Knives

Dualit Toasters

Electric Mincers

Food Dehydtrators

Cake Decorating

Roasting Dishes

Electric Kettles

Sabatier Knives

Acme Expresso Cups

Imperia Pasta Makers

Staub Cookware

Wood Chopping Boards

Quality Bikes

Wanted

new tO addingtOn!

Authentic Indian

Restaurant

North/south delicacies, Dine in or takeaway

lunch specials from $9 .50

full licensed restaurant

See our menu at PepperBridge.co.nz

Spring bedding Special

duvets, blankets, Covers

20% OFF

All bedding SeRViCeS

when you mention this ad

(excludes pillows)

Total Food Equipment

218 Moorhouse Ave 03 366 6912

Before After

Open 7 days • 620a Ferry Road, Woolston | Phone 03 376-6377

www.aroundagaincycles.co.nz

aroundagaincycles@gmail.com

300 Lincoln Rd, Addington | (03) 595 0442

330 Lincoln Rd, Christchurch

Ph: 03 338 3312 | mastervalet.co.nz

$22

WOF

SIZZLING

SAT WOF

SPECIAL

Full mechanical service

+ repair available

Cnr Fitzgerald Ave & Hereford St.

Phone: 365-5220

www.a1auto4service.co.nz

Quality

NZ Made Beds

& Bedroom

Furniture

OPEN 7 DAYS

• Sealy • Beautyrest • Coastwood Furniture • Robax

• Mazon Virtali • Compac Furniture • Sleepmaker

• Sleep Systems NZ

242 Ferry Rd (Along From Old Ami Stadium)

Phone 377 8887 | www.bedworld.co.nz

Printer Cartridges

Visit us and SAVE!

100 Fitzgerald Ave, Christchurch (03) 365-7739

2016 seasoN

NoW starteD

the place to be

this summer!

Season passes available at the Woodford Glen Shop,

129 North Avon Road, ChCh | Ph (03) 385-1515

Check out www.woodfordglen.co.nz for meeting dates

The Automotive Lamp

Specialists

WE ARE

BACK IN

HORNBY!!

BUTLER

Auto Mart

Auto Parts Professionals

STOCKISTS OF NEW PARTS FOR

MOTOR VEHICLES FROM 1930-2016

Radiator Hoses, Water Pumps, Wheel Cylinders,

Belts, Electrical Components, Suspension Parts,

Bearings, Specialised Classic Parts

+ 100's of other parts!

Boost Brain Performance

ENZO:PROFESSIONAL (ENZOGENOL) is a potent

antioxidant extract of the N.Z. pine bark and

has been clinically shown to improve memory,

concentration & brain performance.

SUPER

60's only $45.30, save $5.00

120's only $84.90, save $15.70

PRICE! Detailed Information Available

Bringing You the Best in Natural Health!

New and Used Lamps for Cars, Trucks,

Vans, 4WD and Motorhomes

PH. 0800 225 483

325 Brougham Street, CHRISTCHURCH

4 Brynley Street, Hornby, Ph (03) 982 7554

407 Colombo Street, Sydenham, Ph (03) 366 8005

www.butlerautomart.co.nz

MARSHALLS HEALTH & NATURAL THERAPY

CONSULTING - PRESCRIBING - DISPENSING -

MANUFACTURING - MEDICAL HERBALISTS

110 SEAVIEW RD, NEW BRIGHTON • PH 03 388 5757

Email: enquiry@marshallshealthshop.co.nz

- WE ARE ALWAYS HAPPY TO HELP! -
---
SOUTHERN VIEW Tuesday October 25 2016 15

Email caitlin.miles@starmedia.kiwi

by 5pm each Wednesday

Ignite and Excite

Opens today, 11am-4pm

The latest collection of works

from the Eastside Gallery showcases

art from Keith Morant,

Henry Sutherland, Ross Gillies

and Damian Holt. The pieces

have been created from consumers,

those in recovery and

workers in the addiction sector.

It is presented by Christchurch

Community Arts Council, on

behalf of Christchurch Drug and

Alcohol Service and the Christchurch

Opioid Recovery Service. It

runs Monday-Friday, 11am-4pm

and Saturday noon until 3pm.

Linwood Community Arts

Centre. Free entry.

Musical Instrument Practice

Slots

Tuesday, 3.30 – 7pm

Book a time to go solo or

have a silent practice with up to

four band-mates. There will be

electronic drums, a digital piano,

a Roland session mixer, mics

and headphones available for

budding musicians. You can also

take in your own electric instruments,

and plug into the session

mixer.

Te Hapua: Halswell Centre, 341

Halswell Rd.

Diwali 2016

Wednesday, 9am-5pm

Celebrate Diwali, the festival of

lights at the library. Diwali is the

Hindu New Year, celebrated with

great food, lights, decorations for

the purpose of bringing light and

love into your homes. As part of

the celebration, Linwood Library

will have crafts and colouring in

for you to try throughout the last

week of the month. On Thursday

there will be a special storytimes

and special craft activities.

Linwood Library, first floor

Eastgate.

Mid Week Laughter Club

Wednesday, 6pm-7pm

If you need an excuse to laugh

for no reason, here it is. The

laughter club meet every Wednesday

to giggle about nothing at all

with the aim of relieving stress

and relaxing to get you through

the rest of the week.

St Marks Methodist Church, cnr

Barrington and Somerfield Sts.

Entry $2

Knot just Knitting

Thursday, 1.30pm-3.30pm

Be crafty and social at the library.

Take your own handy hobby,

whether it is knitting, crotchet

or cross stitch. Learn some new

skills from other people there and

pick up a craft book while you're

there to find some new patterns

or designs to try out.

South Library, 66Colombo St.

Free entry.

FIESTA: St Martins Primary School will host its annual fiesta this weekend with many bargains on

offer. Wander around the stalls to find Christmas presents while you're there. There is everything

from plants to second-hand clothes for sale. Children can have fun too with bouncy castles,

face-painting and live entertainment throughout the day. There will also be an auction with some

great items up for grabs. The school kapa haka group will start the festivities at 10am followed

by a showcase of some other talented school pupils, including a rock band. The event will be

held at St Martins Primary School on Albert Tce and runs from 10am-2pm. Entry is free with

money raised throughout the day going towards redevelopment of the school hall.

SCRABBLE @ Linwood Library

10.30am-11.30am

If you want a chance to show

your skills with words and

creativity this is the place to

go. Be social and even pick up

some wordy tricks off of others.

There is no obligation to join the

scrabble club, go when you like

and take your own board if you

choose too.

Linwood Library, 1st floor Eastgate.

Free entry.

TEDxChristchurch Awesome

Library

Sunday, 11am-3pm

If you want to know what all

the fuss is about TED talks go

to the library and watch a few

entertaining New Zealanders

speak on interesting subjects

on a big screen. Learn some

interesting things and ideas while

taking some inspiration from the

talks. The presentations from last

year's talks will be running until

November 5.

Te Hapua Halswell Centre. Free

entry

Opawa Farmers Market

Sunday, 9am-noon

Grab some locally grown

produce or freshly baked bread

at the market, which runs every

Sunday. Pick-up organic products

and enjoy a look around.

275 Fifield Tce, Opawa. Free

entry.

DESIGNER

FASHION

AT OUTLET

PRICES

SMART

BRANDS

SMARTER

PRICES

HORNBY 409 Main South Road | Open 10am–5pm, 7 days
---
16

Tuesday October 25 2016

Fashion

SOUTHERN VIEW

Looking the part on race day

Annabelle

Dick looks

at race day

trends

AS THE New Zealand Cup and

Show Week approaches, now is

a good time to start planning

that race day outfit. This is

Canterbury's biggest fashion

event on the calendar so ladies

start organising your look to get

ahead of the queues.

Here's some things to

consider when planning

this year's cup day look

What to wear:

Loose-fitting, slinky spaghettistrap

dresses look good on almost

any one. While simple, they

scream chic. These dresses will

be a common sight on the field

this year but how you choose

to accessorise it will make all

the difference. Slip dresses are a

good base so you can go all out

and be creative in other ways.

Pair with some lace-up heels and

statement earrings for a sleek

look.

Full-length jumpsuits have

made a hard and fast comeback

and will undoubtedly be a strong

contender for the outfit of choice.

Opt for a jumpsuit in on-trend

HEADWEAR: Make sure you're flaunting a headpiece at New Zealand Cup & Show Week like

these fascinators made by Mary Outram.

PHOTOS: MARCUS NEE/ MAKE UP: KM MAKEUP

hues, such as fiesta red or buttercup

yellow, to really stand out.

This year you can't go wrong

with hues of grey-blue, pastel

pink, nude tones and bright red.

Accessories:

Personally, I like to keep

my accessories very minimal.

I'm not big on colour when it

comes to accessorising because

the chances of me wearing

something brightly-coloured

again is pretty slim. Instead, I

keep it low-key with metallics,

nude tones and pastels. If you're

wearing florals, choose a subtle

colour from your dress for your

accessories. More subtle colours

will bring your outfit together

so think about muted tones like

beige, grey, white or metallic.

If you are wearing a block colour,

you can create contrast with

your shoes, bag and hat. Mustard

yellow can look fab with white

accessories and, if you're scared

of colour, a bright polish on your

toes can really finish an outfit

nicely.

A clutch is essential – you will

need somewhere to put your

lippy if your day involves hours

of race-watching and drinking

bubbles. And you'll also need

somewhere to put all those winning

tickets.

Shoes:

Your bag and shoes don't have

to match, just think about how

they look in a tone sense and

dress accordingly. This year I've

been really big on block heels.

They look slick and they're oh-so

comfy, which makes them a

perfect cup day pick. Each year

at the races, I see women struggle

in sky-high stilettos and I feel

second-hand embarrassment as

I watch them on their tip-tops

to avoid digging their heels into

the muddy grass. Don't be her

this year. Alongside block heels,

mules look good with almost

anything and they are just as

comfortable. But if you're a bit

sceptical about ditching the

pumps, opt for lace-up heels.

They're a great statement if your

dress is more nondescript and

needs a pick-me-up.

Headwear:

The fascinator has become

one of the hottest items worn

by women to the races – mainly

because it's a smaller component

of an outfit and it usually comes

with a smaller price tag. Fascinators

allow creativity and can add

a lot of volume to a look. Whether

you're a first time attendee or

a devoted race-goer, definitely

make sure you're rocking a head

piece this year. Opt for a statement

head piece like those seen

on, and made by, Christchurch

fashion queen Mary Outram.

Check out maryoutram.com to

buy one of her lush, hand-made

crowns and fascinators.

FREE

Cat Food

Bag Giveaway *

Just had surgery?

Come to us for your postsurgery

physiotherapy

• 3 clinics

• Pain and swelling management

• Restoring movement, strength

and function

• ACC and Private surgeries

• Free car-parking

• No referral needed

musclepeople.co.nz

Call us today 360 3606

Three Muscle People Physio Clinics:

Bishopdale Clinic

13a Bishopdale Court

Ph 360 3606

City Clinic

12 Hereford St

Ph 961 0236

Wigram Skies Clinic

67 Skyhawk Rd

Ph 322 9400

now bigger than ever

Book a cat desexing procedure at

a VetEnt Canterbury clinic before

the end of November and receive

a FREE 1.5kg bag of Royal Canin

neutered food.

Find your nearest clinic today,

www.vetent.co.nz

*Whilst stock lasts, terms & conditions apply.

growing with you

SprIng Is here –

It'S Sow Time

how to get the best results from

seeds and seedlings

100% NatIve In

The capItal

Unravelling the secrets of

Otari-wilton Bush

The New Zealand

landscape awards

The people behind

the projects

$7.90 incl. GST

ISSN 2423-0219

Save our roSeS

How a rose register is protecting our heritage

September 2016 | 100%

It's time

to grow!

New look and more

content than ever!

MeeT LeSTer Brice

A Garden coach

auckland Botanic GardenS

Why we love our public grounds

The magazine for

gardeners who like to get

their hands dirty

SubScribe from

$43. 50*

*6 issues/6 months

SUBSCRIPTIONS FREEPHONE

0800 77 77 10

www.gaRdeNER.kiwI
---
SOUTHERN VIEW Tuesday October 25 2016 17

HEALTH & BEAUTY

Reclaim your

identity

When it comes to dentures, Christchurch people

have access to world-leading techniques and oral

aesthetics right on their doorstep.

At his Montreal street studio Lovebite,

internationally renowned dental

technician Richard Greenlees creates

beautiful bespoke dentures with small

nuances in the fabrication, colour and

shape, and even slight imperfections to

create a uniquely individual smile.

There is no need for dentures to look

false. Richard takes a great deal of

satisfaction in making bespoke dentures

that look 100 per cent real and natural,

personally guiding his patients through

the transformation process to craft a

smile that reflects their individuality and

personality, and recreates their natural

pre-denture smile.

Not only do Lovebite teeth look

real, the whole structure and shape of

the patient's face is transformed with

Richard's top-of-the-line dentures,

something he calls his signature 'denture

lift'.

"With appropriate facial support, the

facial tissues are brought back into the

correct position, the lips are reformed,

and beauty is restored," he says.

it is the interior architecture of a

Lovebite denture that helps to create a

more youthful appearance by recovering

the face and skeletal shape that can be

lost after years of wearing dentures.

As the smile is transformed, so are the

patient's confidence, and the way they

feel about themselves.

Richard's vast experience includes

15 years of running his own clinic in

the prestigious harley st, London,

where he treated people from all walks

of life, from barrow boys to the rich

and famous, politicians, actors and

musicians.

his techniques are recognised as

world-leading among his international

peers, and he is regularly asked to

lecture and run courses worldwide.

Miles Cone (DMD, Ms, FACP, CDt),

a prosthodontist from Oregon, UsA,

said in November 2015: "Richard

Greenlees' craftsmanship is as stunning

as it is unique. There is liberation in

the calculated imperfection, indeed an

asperity that reflects a purely human

element."

in addition to dentures, Richard also

carries out crown and bridge, veneer

and implant work, in conjunction

with like-minded dental surgeons who

complement his creative and aesthetic

work.

"teeth are as different as fingerprints

and vary greatly depending on a person's

age, sex and race. Dentures from

Lovebite reflect this, and are as unique

and individual as the people they are

made for," says Richard.

There is nothing more satisfying for

Richard than to see his patients leave

the Lovebite studio with their selfconfidence

and identity restored, as well

as their smile.

Confidence and beauty is restored with a new

denture by Lovebite.

As the smile is transformed, so are the

patient's confidence, and the way they

feel about themselves.

"Your face is unique. Trust your

most valuable asset to us."

- Miranda Hill

"Your face is unique.

Trust your injectable

wrinkle treatments

to an experienced

Cosmetic Physician"

Nothing to wear?

Visit Smith &

Boston today!

Medical Director

Dr Heather Jefferies

Pain

Cosmetic

free laser

skin

skin rejuvenation

assessments

Facial assessments

Treatment for

Injectable sundamaged wrinkle skins

Skin treatments rejuvenation

Dermal

treatments

fillers

Prescription peels

Microdermabrasion

Wrinkle treatments

Mole Mate® Affordable skin cancer skin

and cancer mole checks

Leg vein treatment

Minor surgery theatre -

avoid the public waiting list

VEBITE

lovebite.com

31

31

Colombo

Colombo St,

St,

Cashmere

Cashmere

Phone 372 3589

www.koruskin.co.nz

Phone 372 3589 www.koruskin.co.nz

SMITH & BOSTON

Prebbleton Village | Christchurch

Ph: 03 349 5646

www.smithandboston.co.nz
---
18

Tuesday October 25 2016

REAL ESTATE

Stylish and seriously selling

116 Idris Road, Strowan

Auction Date: Wednesday 2 November - unless sold prior

3 bedrooms | 1 bathroom | 2 toilets | 1 living room | 1 dining room | 2 car-garage | 3 off-street parks | Listing # ST7044

SOUTHERN VIEW

Nestled on a sun-drenched corner and

surrounded by lush and leafy gardens

is this immaculately presented and

meticulously styled 3-bedroom family

home, this superb property secures your

investment in "location" and affordability

the renovations and the thought and detail

given to this home has created a very

special place indeed.

From the moment you enter you get

a sense of style and character. Cleverly

refurbished to include today's modern

elements yet staying true to the character

of the home.

Offering 3 double bedrooms, master

with walk-in wardrobe. The open plan

kitchen and dining is the hub of the home

and the two interconnecting living areas

flow through sliding doors to a sunny

north facing deck a perfect spot for alfresco

dining and children playing on the lawn.

Be reassured this builders own home has

been renovated to exact standards.

An enviable spot close to shops &

services and with St Andrews College

on the morning school run & zoning for

a plethora of excellent public schools

(Fendalton Primary, Heaton & Cobham

Int, & CBHS) you are spoilt for educational

options. Double garaging and ample

parking for vehicles/boat or caravan.

Our very motivated owners have had a

change of circumstances our instructions

are to sell on (or before) auction day - this

could be your best Christmas present ever!

Auction Wednesday 2nd November,

from 12:00pm at Holmwood Auction

Rooms, Russley Golf Club, 428 Memorial

Avenue (unless sold prior).

Open Homes Saturday & Sunday 1.00

-1.30pm. See you at the Open Homes

or for a private viewing contact Peter or

Kathryn Hampton of Harcourts St Albans

- Holmwood (Licensed Agent REAA

2008) on 377 0377 or Peter mobile 021 367

761 or Kathryn mobile 021 889 903

KSL AUDIT PRESENTS

EARTHQUAKE SOLUTIONS SEMINAR

In association with Aurum Property Systems Ltd

& Simplexity Construction Ltd

Celebrate the success of local

businesses and people!

VENUE:

DATE:

TIME:

PROTOCOL

2 Colombo Street, Cashmere

Wednesday, 2nd November

7pm

Thursdays at 7.30pm

CTV Freeview Channel 40,

live and on demand at ctv.co.nz

Do you know if you have

serious damage?

Are you struggling with

your insurer?

Have you been

cash settled?

Do you live in a damaged

hillside property?

Do you own a TC3

damaged property?

Have you had a repair

undertaken that you are

not satisfied with?

RSVP:

Please email office@ksl.co.nz

or contact Emma - 365 4460

Please join us for a night of discussion.

KSL Audit is here to help you negotiate

your claim and will outline the process

we have used for settling in excess of 150

claims, 60% are either hillside property

and TC3.

Aurum will outline how they can help you

as the interface between you, your insurer

and the builder. Aurum has successfully

managed the rebuild of over 100 houses

through their process since 2011 ranging

from $300,000 to $2.3 million

Simplexity Construction will demonstrate

how they can assist homeowners from

scoping the damage, preparing the

reinstatement methodology through to

constructing your repair or rebuild.

PROVIDING THE CLAIMS REVIEW YOU DESERVE
---
SOUTHERN VIEW Tuesday October 25 2016 19

Just

advertisement

in The Star

reaches more

people than

any other

media in

Christchurch!

Reach more customers with The Star!

For a free marketing consultation,

contact the team:

shane@starmedia.kiwi | 03 379 7100

www.starmedia.kiwi
---
20

Tuesday October 25 2016

SOUTHERN VIEW

YOUR LOCAL TRADES & PROfESSiOnAL

SERviCE bUSinESSES

Appears every

month in

Support theSe locAl buSineSSeS

Sports Prescription

Goggles

FROM

Innovative

sports goggles

BARRINGTON, 256 Barrington Street

PH 332 1730 | www.suckling.co.nz

Richard Suckling Optometrists

Your glasses are the one of the first things

people notice so why not take the time

to try on different frames and ensure you

choose something that looks amazing and

fits comfortably? We will help you find the

best frame for you.

Our comprehensive eye exams include

the prescription check, health checks

and retinal photos. Our state of the art

technology can also perform visual fields

tests and GDx scans which help with

early detection of glaucoma and macula

degeneration. It is important to have regular

eye checks because often these eye diseases

can begin with little or no discernible

symptoms. It is ideal to recognise these

issues early to allow for the best possible

prognosis.

We can help you with stylish prescription

sunglasses for the upcoming summer

months as well as the polarized Chemistrie

magnetic clip-on sunglasses. These are

suitable for most frames.

What's more, we offer a 15% discount off

a new frame for Super Gold Card holders

(some terms and conditions apply).

We will take the time to help with all

of your visual requirements and give you

the very best service. So call us or come in

today for the best value in sight!

BARRINGTON, 256 Barrington Street

PH 332 1730 | www.suckling.co.nz

Sydenham Park

Funerals

Direct

Cremation

We care about

your costs

Ph 0800 793 364

heritagefunerals@xtra.co.nz

$

178 00 BLOCKED

The ReLIAbLe TeAm

AT QuALITy TRADesmeN

From the smallest

room in the house

thru to the main

rooms, kitchen,

dining and lounge.

Our simple motto:

Happy clients

tell their friends.

The best form of

advertising is word

of mouth.

beFORe

AFTeR

• Builders • Painters • Plasterers

• PlumBers • electricians

CALL DAVID NOW 027 438 1114

david@qualitytradesmen.com

DRAINS?

CALL thE wAtER BLAStINg SpECIALIStS

• Drain Clearing

• CCtV Drain Video

• tree Root Removal

• Same Day Service

• Competitive prices

• Steam Cleaning

/waterblasting

• gutter Cleaning

• No Callout Fee

(Excluding public holidays)

• Quality guarantee

CANTERBURY

WATERBLAST

we care.

ph: 03 365 7960 // 24 hours // 7 days

44 Maces Road, Chch

info@canterburywaterblast.co.nz

www.canterburywaterblast.co.nz

HAVE WE GOT

YOUR FUTURE CAR?

464 Ferry Road, Christchurch

Phone: Hayden 03 381 6592 or 021 365 957

ALL AVAILABLE FROM NO DEPOSIT

VISIT US ON FACEBOOK: Cars-2-Go

Open 9am-5pm Monday-Friday, 9am-3pm Saturday

WOF $35

Bookings advisable

Complete

Tyre and

Auto

Full Workshop

Repairs & Tyres

NEW HOURS

Monday, Thursday & Friday

8.00am-5.00pm

Tuesday & Wednesday

8.00am-7.00pm

Saturday 9am-3pm

Canterbury owned and operated

464 Ferry Rd, 03 389 5370

ctawoolston@yahoo.co.nz

New & Used Tyres • Puncture Repairs

Batteries • WOF • Balancing

Mechanical Repairs • Lube & Servicing

Wheel Alignment

Clean carpets and upholstery make for a fresher, healthier

and more inviting home or work place.

If you're looking for a deep, thorough and gentle clean get in touch with our specialists.

Using our high quality equipment and expertise we comprehensively clean your carpets and your

furniture. You get real value for money with our competitive rates plus the satisfaction of working

with true local professionals committed to your cleaning needs.

Throughout all of our processes we use only the safest and most environmentally friendly products

for your family's health. When cleaning your carpet and upholstery, we; vacuum using a commercial

brush cleaner, pre spray using an eco-friendly citrus-based cleaning solution, rinse using our own hot

water, extract using our high velocity system and utilise our state of the art encapsulation technology

Our owner operator Eamonn Ford stands behind each job with a personal guarantee of the highest

quality clean possible for your carpets and upholstery.

We are Christchurch's trusted domestic and commercial carpet cleaning team, operating with

expertise and efficiency.

www.extremecarpetcleaning.co.nz | info@extremecarpetcleaning.co.nz

M 022 1602598 | P 03 3901299

$99

half head

fOIlS OR GlOBal

COlOUR

Includes cut & blow wave

*mention this ad

*T&C apply.

• Award winning stylist • All hairdressing services

• SuperGold Card discount Monday - Wednesday

Proud stockist of LUXURY WIGS

M.O.h Provider Open Mon to Sat

6 Opawa Rd, Waltham, Ph 379 1275
---
PROUDLY

PROUDLY

CHRISTCHURCH

CHRISTCHURCH

OWNED

OWNED TUESDaY, aUGUST 27, 2013 PROUDLY 384

384 CHRISTCHURCH 0600

0600

PROUDLY CHRISTCHURCH OWNED MONDaY JUNE 24, 2013

OWNED WEDENSDaY 10 JULY, 2013 384 0600

384 0600

A Mainland

Media Publication

Kea

(Nestor Notabilis)

Ladbrooks, Tai Tapu, Leeston, Lincoln, Southbridge, Prebbleton, Halswell, Rolleston, Templeton, Burnham, West Melton, Darfield, Arthurs Pass

Mainland

Press Newspaper

Sumner, Redcliffs, Mt. Pleasant, Ferrymead, Woolston, Lyttelton & Akaroa Harbours

Harewood, Burnside, Bishopdale, Bryndwr, Fendalton, Merivale, St Albans, Mairehau, Papanui, Casebrook, Redwood, Regents Park, Styx Mill, Northwood, Spreydon, Belfast Hoon Hay, Hillmorton, Cracroft, Cashmere, St Martins, Somerfield, Sydenham, Addington, Waltham, Opawa, Beckenham, Huntsbury, Woolston

Black Billed

Gull

A Mainland

Press Newspaper

New Zealand

Swamp Hen (Pukeko)

Linwood, Avonside, Richmond, Shirley, Burwood, Dallington, Wainoni, Bromley, Aranui, Avondale, Bexley, New Brighton, Northshore, Queenspark, Parklands, South Brighton

PROUDLY CHRISTCHURCH OWNED MONDaY JULY 15, 2013 PROUDLY 384 CHRISTCHURCH 0600

OWNED MONDaY 12 aUGUST, 2013 PROUDLY 384 CHRISTCHURCH 0600

OWNED MONDaY JUNE 24, 2013 384 0600

A Mainland

Press Newspaper

Fantail

(Piwakawaka)

A Mainland

Newspaper

Bellbird

(Korimako)

A Mainland

Press Newspaper

New Zealand

Pigeon (Kereru)

Templeton, Islington, Hei Hei, Broomfield, Halswell, Oaklands, Westlake, Hornby, Wigram, Sockburn, Church Corner, Ilam, Russley, Hyde Park, Avonhead, Riccarton Park, Riccarton

SOUTHERN VIEW Tuesday October 25 2016 21

Classifieds Contact us today Phone our local team 03 379 1100

Public Notices

Free Public Seminar

"Linking Diet anD CanCer"

Integrative GP Dr Dan Quistorff will discuss the

link between cancer and our modern diet and

cover the science behind the discovery of CYP1B1,

the discovery of Salvestrols and how these unique

compounds can be used to our benefit.

"Linking Diet and Cancer"

The Atrium, 455 Hagley Ave

Tuesday 8th November 2016

6.30pm – 8.00pm

All cancer sufferers, their friends or family

and anyone wanting to minimise the risk of

cancer should attend this free seminar.

The first 50 people to register will receive a

free copy of the book "Linking Diet and Cancer"

To register phone: 0800 725 822

or email info@salvacare.co.nz

www.salvacare.co.nz

Car Parts

Garage Sales

**************

BARRINGTON

St Nicholas South West

Church, Barrington St,

Thurs 3rd Nov, 10am-

12pm. Japanese Playgroup

garage sale

Gardening

& Supplies

Landscape

and Garden

Services

If you need help

getting your garden

back in order after

repairs, need any

type of landscape

construction work or

garden restoration.

Ph 021 272 0303

A GARDEN OR

LANDSCAPING TIDY

UP? Rose & Fruit Tree

Pruning, Shrub, hedge

& tree pruning, Lawns,

Gardening, consistently

reliable general property

upkeep, Dip. Hort. 10

yrs experience, One off

tidy ups or on-going

service. Nick's Property

Maintenance. Keeping

your garden beautiful.

Free Quote. Ph. 942-4440

Gardening

& Supplies

TYRES Secondhand,

A GARDEN

most sizes, from $30 fitted,

217 Waltham Road, 027

PROFESSIONAL

476 2404

NEEDED? Qualified

Horticulturist, offering

Computers expert pruning, garden

makeovers, garden design

and landscaping, for free

quotes call Bryce 027 688-

8196 or 0508 242-733

ALL

YOUR

COMPUTER

WORRIES SOLVED!

*$30.00 off your first

service with this coupon!*

No problem too big or

small from home PC's to

business networks. PC

slow? An end to Viruses,

Spyware, and Clogged

Systems. Safe secure

hassle-free computing.

Lost files recovered.

Microsoft Certified,

MCSE, MCP+l. 30 years QUEENSLAND

experience. Call Andrew

Buxton this week on 326-

6740 or 027 435-7596

for $30.00 off* Custom

Computers Christchurch

Holiday

Accommodation

SUN-

SHINE COAST AUSTRA-

LIA Resort, Ocean Views,

Balconies, Self Contained,

1 or 2 B/R Ensuite,

Heated Pool, Spa, Sauna,

Free Internet, Shops,

Restaurants, Tennis, Surf

Club & Patrolled Beach,

Public Transport at door.

Ask for our SEASONAL

SPECIALS. Phone 61 7

544-35011 Email: reception@mandolin.com.au

www.mandolin.com.au

Public Notices

DEMOLITION

With care and respect we

will remove your dwelling.

Our policy is to recycle as

much as we can. We are a

local company specialising

in residential properties. We

will endeavor to cater for

your individual needs.

Ph. R.M. Solutions

021 02866981

for a free quote.

Situations Vacant

CA$H

Strippers

& Podium

Dancers

Wanted!

18+ TO APPLY

NEISHA

021 193 0118

Public Notices

business video

PRoduCTion

A video will bring your business

alive & into your customers mind.

Promote your

services or business

with a professionally

created video with us

• Corporate and

Business video a speciality

• Competitive rates

• 25 years experience

• Start to finished product

• Professional quality guaranteed

PHone KeRRY 021 635 083

To Let

HOUSEME

Portable sleepout or office

available to rent.

Insulated and value for

money at $75.00 per week,

you wouldn't live

in anything else.

Contact Amanda today

on 0279570920 or

houseme2015@xtra.co.nz

Tours

Rexellent

Rentals

Cars, Vans, Brisbane, Coolangatta

FREE CALL

0800 601 508

e: rexellent@bigpond.com

Trades & Services

Appliance Sales & Service

388 4780

Appliance Services

14 Brighton Mall, New Brighton

BLOCKED

DRAINS?

• VIDEO INSPECTION

• WATERBLASTING

• LIQUID WASTE

PH: 03 365 7960

24 hours // 7 days

info@h20jet.co.nz

www.h20jet.co.nz

• Replacement/new roofing

• Colour Steel gutter & fascia

• Flue & log burner installs

• Skytube/light installs

• Earthquake repairs

Licence Building

Practitioner LBP

Member of the Roofing

Association

DCM ROOFING LTD

The Roofing Specialists

PHONE IAIN

027 445 5597

iain@dcmroofing.co.nz

Appliance Sales & Service

388 4780

Appliance Services

14 Brighton Mall, New Brighton

Trades & Services

HOUSE

CLEARING

Are you moving

house?

Let All Clear Canterbury

take care of your

unwanted items.

You identify what you want

to keep & we will dispose

of the rest!!

Ph: 03 312 7119

Mob: 021 078 4553

allclearcanterbury@gmail.com

www.allclearcanterbury.co.nz

MDC

BUILDERS

Renovations & Repairs

All forms of Home

Maintenance

Bathrooms & Kitchens

Site clears

Excavating Driveways

& Paths

All forms of Foundations

Free Quotes

Give me a call today

Ph 022 407 8581

mdcbuildersnz@gmail.com

15% Discount with this Advert

9220021AA

Now working

in your area

• Tree Pruning

& Removal

• Stump Grinding

• Hedge Trimming

Fully Insured

Qualified Arborist

For a free quote,

ph 0800 248 733

www.jimstrees.co.nz

Public Notices

DEMOLITION

With care and respect we

will remove your dwelling.

Our policy is to recycle as

much as we can. We are a

local company specialising

in residential properties. We

will endeavor to cater for

your individual needs.

Ph. R.M. Solutions

021 02866981

for a free quote.

9164023AA

Public Notices

Call us & we'll help

you place your

classified advert in our

community papers

Nobody knows

Christchurch

like a local

We're local, we're

in Christchurch, we

speak your language!

Phone: 379 1100

Selwyn

Times

Nor'West

News

Bay Harbour

A

News

Southern

View Press

Pegasus

Post

Western

News

Classifieds

Our community papers are published every

Tuesday (Bay Harbour, Wednesdays) focusing

on local issues & local people.

Trades & Services

ROOF

PAINTING

Rope & harness

a speciality,

no scaffolding

required,

30 years of

breathtaking

experience.

FREE QUOTES

Exterior staining,

exterior painting,

moss and mould

treatment and

waterblasting

Phone Kevin

027 561 4629

BEST BATHROOMS

full renovation specialists,

LBP, repairs &

maintenance ph 03 387-

0770 or 027 245-5226

Trades & Services

BRICKLAYER

George Lockyer. Over

30 years bricklaying

experience. UK trained.

Licensed Building

Practitioner number

BP105608. Insurance

work. EQC repairs.

Heritage brickwork a

speciality. No job too

small. Governors Bay.

Home 329-9344, Cell

027 684-4046, email

karengeorge@xtra.co.nz

BUILDER

For all building work

but specialist in bathroom

renovations, 30 yrs

experience, with service

and integrity. Free Quotes.

Ph Lachlan 383-1723 or

0274 367-067.

BUILDER LICENSED

available for all aspects of

building. Please call 027

241-7471 or 335-0265

CARRIER LOCAL

experienced, friendly,

trade-me purchases, single

items to truck loads,

furniture to whatever,

removals & trade

deliveries a specialty. Ph

GEH 341-5069

CARPET LAYER

Laying and Repairs, 40 yrs

experience, ph Peter 326-

7711 or 027 240-6532

CARPET & VINYL

LAYINg Repairs,

uplifting, relaying,

restretching, Email

jflattery@xtra.co.nz, ph

0800 003 181 or

027 2407416

Trades & Services

computing solutions

PC Problems?

PC slow? Annoying Errors and Pop Ups?

Internet not working? Are you secure?

Not really sure?

Relax, with over 15 years experience

we have the answers to ALL your PC

problems. And we have a range of

unique fixed price services available.

Best of all we come to you - at no extra charge.

care free computing

Call on 0800 PC PICKUP

(0800 727 4251) or 338 8871

www.carefree.co.nz

DRIVEWAYS

Exposed Aggregate

Stamped Concrete Plain

Concrete Resurfacing

Things we offer...

Competitive/affordable pricing

Attention to detail

Professional service

free quotes/insurance scopes

Cell 0278 145 848

www.drivecrete.co.nz

electrician

Discount

for $20

with this

voucher

residential - commercial - industrial

residential - commercial New Builds - industrial

electrical

residential - commercial

New and Builds lighting design

- industrial

electrical Renovations

and lighting design

New Builds

incl. rewires, switchboard Renovations upgrades, basic additional

electrical and lighting design

lights incl. rewires, & power switchboard / data points, upgrades, garden lighting, basic additional spa power

Renovations

lights & power / data Home points, Ventilation garden lighting, spa power

incl. rewires, switchboard upgrades, basic additional

Home Ventilation

lights heat

& power transfers / data and points, positive garden pressure lighting, systems spa power

heat transfers Alarm and positive pressure systems

Home System Ventilation Installation

incl. heat the latest transfers

Alarm smart and

System phone positive

Installation control pressure and systems monitoring

incl. the latest

Alarm

smart

System

phone

Installation

control and monitoring

incl. the latest smart phone control and monitoring

Call William for a free quote: 021 594 442 or

Call William for free quote: 021 594 442 or

email: admin@preciseelectrical.co.nz

Call email: William admin@preciseelectrical.co.nz

for a free quote: 021 594 442 or

www.preciseelectrical.co.nz

email: www.preciseelectrical.co.nz

admin@preciseelectrical.co.nz

www.preciseelectrical.co.nz

We are proud members of:

We are proud members of:

We are proud members of:

LAND

REINFORCEMENT

SPECIALISTS

RETAINING WALLS – repaired/new timber/

block/concrete/reviews/assessments/

valuations for insurance purposes/in ground

retaining walls for slope stabilisation

LAND REMEDIATION – under runners/

slip remediation/drainage/hill sites/river or

stream banks a speciality/house re-levelled/

new foundations

Call Duncan Laing on 021 320 400

or David Campbell on 021 466 144

DESIGNED, CONSENTED, BUILT AND SIGNED OFF

Laing Technical Ltd

Consultants/Project Managers/Contractors

www.laingtechnical.co.nz

9 Ernlea Terrace, Cashmere Ph: 980 5947

35 YEARS IN THE BUSINESS IN CHRISTCHURCH
---
22

Tuesday October 25 2016

Classifieds

SOUTHERN VIEW

to let

Need an extra room?

RENT ME NOW

Portable

Bedroom or Office

From $75 per week

3.6m x 3m STUDIO

Insulated & double glazed

NO BOND REQUIRED

Phone Amanda:

0279570920

or 0800 HOUSE ME

www.hOUSEmE.cO.Nz

Trades & Services

DRIVEWAYS

Replace, repair or new.

We are a local company

with over 10 yrs exp.

We also operate a

digger for all other

earthworks.

Ph. R.M. Solutions

021 02866981

for a free quote.

Trades & Services

hOUSEmE2015@xTRA.cO.Nz

Trades & Services

ROOFiNg

Qualified & Licenced

Practitioner. Re-Roof &

Repairs, all types. Member

New Zealand Roofing

Association. Over 35 years

experience. Phone John

027 432-3822 or 351-9147

email johnmill@ihug.co.nz

SPOUtiNg CLEaNiNg

Spouting Unblocked,

Cleaned Out and Flushed

Out. Also Full Handyman

Services Available. Call

Trevor 332 8949 or 021

043-2034

FENCE PaiNtiNg/

StaiNiNg Quality at

a reasonable price. Free

quotes. Phone Warren

today on 980-1676 or 027

2014713

StONEMaSON, bRiCK

FURNitURE

& bLOCKLaYER

REMOVaLS

Earthquake Repairs, Grind

Large Trucks $95 +

Out & Repoint, River/

GST per hour 7 day NZ

Oamaru stone, Schist,

wide, packing & moving,

Volcanic Rock, Paving,

Professional Company,

all Alterations new & old,

Professional Service.

Quality Workmanship,

Canterbury Relocations

visit www.featureworks.

Ltd. ph 0800 359 9313

co.nz or ph 027 601-3145

LaNDSCaPiNg LtD tREES

Paving, Lawns, Irrigation, big OR SMaLL tree

Decking, Fencing. removal, trimming, stump

Kanga & small digger grinding, shelterbelt clean

services. Check out Squire up, section clearing,

Landscaping on facebook. rubbish removals,

FREE QUOTES. Ph excavation work, ph Trees

Authur 347-8796, 027 Big or Small, for a free

220-7014 Edwin 027 220- quote, 021 061 4783

7154

tREE WORK

PaiNtiNg

&

Hedge trimming, stump

DECORatiNg interior

grinding, rubbish removed,

& exterior, gib fixing,

small job specialty Ph

plastering, paperhanging,

Andrew 03 322-8341 or

Est 50 yrs in ChCh, ph

027 435-8759

Wingfields Ltd, ph Mark

021 171-1586 or 355-5994

PaiNtER

t.V. SERViCE CENtRE

Repairs, tvs, microwaves,

Top quality work, interior/ stereos, DVD. Aerial

exterior, pensioners installations and kitsets,

discount, free quotes, 30 480 Moorhouse Ave, ph 03

years experience, I stand 379 1400

by Canterbury, ph Wayne UPHOLStERER

your friendly painter 03 Dining Chairs, Lounge

385-4348 or 027 274-3541 suites, Caravan Squabs

PaiNtER aVaiLabLE etc. recovered. Free

All aspects in painting. Quotes. Phone Graeme

Very competitive in roofs 383-1448

and fences. Please call 027

241-7471 or 335-0265 VHS ViDEO taPES

& all camera tapes

PLaStERER

converted to DVD, video

Gib Stopping, Small taping, weddings, twenty

job specialty. 30 + years firsts, special occasions,

experience. Ring 0800 www.grahamsvideo.co.nz

387-369

ph 03 338-1655

PLUMbER

For prompt service for all

WatERbLaStiNg

plumbing maintenance,

Quality Job, Quick Service

repairs and alterations.

by skilled tradesman, Ph

Phone Michael 364 7080

Richard Severin at Jet-X

or 027 438 3943

0800 538 969 Free quotes,

visit www.jetx.co.nz

PLUMbER

A Top Plumbing job WiNDOW CLEaNiNg

completed at a fair price, Average 3 bdrm house

prompt service, all work inside or out $40. Both

guaranteed, Ph Brian 960-

7673 or 021 112-3492

$70. Phone Trevor 344-

2170

Trades & Services

Is your roof looking a bit sad?

Brighten it

up with a new

paint job.

• Difficult or steep roofs

are our specialty

• Water blasting

• Exterior painting

• Fence painting

• Residential and

commercial

• 10 years business in Chch

Call today for a free quote

0508 937 663

Access Property Services

spouting

• Continuous spouting made to

measure

• New or existing homes

• Steel fascia

• Snow fall protection

• No job to big or small

• Will replace or repair any

gutter profiles

• All coloursteel colours available

• All works guaranteed

www.superiorspouting.co.nz

Ph. Jem 0277 515250

Vehicles Wanted

VEHICLES

ANY CONDITION

WANTED

FOR CASH

$ $ $

Ph 347 9354 or

027 476 2404

Wanted To Buy

AAA Buying goods

quality furniture,

Beds, Stoves, Washing

machines, Fridge Freezers.

Same day service. Selwyn

Dealers. Phone 980 5812

or 027 313 8156

A+ Household effects,

fridges, freezers, washing

machines, ovens. Good

cash paid. Ph Paul 022

0891 671

TOOLS Garden,

garage, woodworking,

mechanical, engineering,

sawbenches, lathes, cash

buyer, ph 355-2045

The magazine for

gardeners who

like To geT Their

hands dirTy

www.gardener.kiwi

100%

SAT. NOVEMBER 5

The Brougham

darts

EVERY

WEDNESDAY

Six teams

Newcomers

welcome

KARAOKE

8PM EVERY SATURDAY

THIS SATURDAY, 7PM

PRO WRESTLING

UNSANCTIONED

The best in NZ pro wrestling.

Tickets on sale now! Phone 366 1481.

blues night

EVERY THURSDAY

THE ELEVATORS

FREE

6PM EVERY FRIDAY

cnr Brougham St/Waltham Rd

phone 366 1481

'Famous for their roasts!'

SENIORS SPECIAL

Two courses: $

20

Soup/Roast or Roast/Dessert

Special available lunch only

Monday - Saturday 12pm - 2.30pm

Conditions apply

FAMILY FRIENDLY

Kid's Special

Two courses

Great Kids menu plus

designated play area.

& DINNER $65

Tickets

WOOLSTON CLUB

43 Hargood St, Woolston | ph 389 7039

www.woolstonclub.co.nz

$

10

RESTAURANT & CAFÉ

Open daily from 6.30am - Breakfast, Lunch & Dinner

The

SHOW &

THREE COURSE

MEAL

Tickets available at club reception

& online: http://tickets.dkcm.co.nz

RACECOURSE HOTEL

& Motorlodge

118 Racecourse Rd, Sockburn,

Christchurch. Ph 03 342 7150

www.racecoursehotel.co.nz
---
SOUTHERN VIEW Tuesday October 25 2016 23

www.newbrightonclub.co.nz

GREAT

ENTERTAINMENT

TUES & THURS

Members Lucky Card Draw

MITRE 10 CUP

RUGBY FINALS

THIS WEEKEND - LIVE

COMING UP

NZ CUP DAYFUN DAY

Tuesday 8th Nov from 11am

TICKETS $25

includes drink on

arrival and lunch

Prizes for

Best Dressed Lady

Best Dressed Man

Lucky Seats

Losing Ticket Draw

MASTER HYPNOTIST

BRIAN GEE

7PM SATURDAY

19 NOVEMBER

Tickets $10

TAB POD

SHUTTLE RUNNING

Tues, Thurs, Fri & Sat

202 Marine Parade

Ph 388-9416

Members, guests and affiliates welcome

JOIN

A CLUB BY

THE SEA!

GREAT

DINING

- downstairs -

ClubBISTRO

Open Tuesday to Saturday

12pm-2pm and from 5pm

Midweek $10

SPECIAL

ROAST

Available Tuesday,

Wednesday, & Thursday

- upstairs -

PIERVIEW

Restaurant

Quality a la carte

with a view!

Open from 5.30pm

FRIDAY, SATURDAY

& SUNDAY

SORRY, FULLY BOOKED

SATURDAY 29 OCT

FRIDAY SPECIAL:

BBQ PORK RIBS

$19.50!

for a limited time

SUNDAY SPECIAL

3 courses: $25

NOW OPEN FOR

SUNDAY

BRUNCH

By the Seaside!

10.30am-2.30pm

THIS SUNDAY

30 OCT

ALL YOU CAN EAT

BUFFET

$25... BOOK NOW!

H ORNBY

WORKINGMEN'S

CLUB

«WHAT'S ON«

FRIDAY 28 OCT, 7.30PM

ANNETTE'S HEART OF COUNTRY

YOUNG TALENT SHOW

$6 ENTRY

SATURDAY 29 OCT

4.30PM DES NEWTON

8PM MEDIUM RARE

SUNDAY 30 OCT, 2PM

NEVILLE WILKINS

& THE VISCOUNTS

$5 ENTRY

«COMING UP«

SATURDAY 19 NOV, 8PM

BAD MOON RISING

THE CCR TRIBUTE SHOW

Tickets $20

FRIDAY 9 DEC, 8PM

THE WARRATAHS

Tickets $25

Hornby WMC, 17 Carmen Rd, Hornby ph 03 349 9026

www.hornbyworkingmensclub.co.nz

Members, guests & affiliates welcome

Lunch & Dinner

All you can eat, 7 days

Christmas

Functions

Lunch & Dinner Buffet

NOW SERVING

available

from

9am

Breakfast

HAPPY

HOUR

5PM - 7PM

DAILY

SATURDAY 19th NOV - SATURDAY 24th DEC

Book & dine with us for your Christmas party this

festive season, and we'll take care of the rest!

Bookings Essential PH 386 0088

fb.com/GardenHotelRestaurant www.gardenhotel.co.nz

LIVE

Mandi Miller

6PM FRIDAY 28th October

MUSIC

PHONE 385 8880 FIND US ON FACEBOOK fb.com/GBCCHCH

THE GARDEN HOTEL COMPLEX | 110 MARSHLAND RD

www.gardenhotel.co.nz | phone 385 3132
---
24

Tuesday October 25 2016

SEE INSTORE FOR

HALLOWEEN

TREATS NOT TRICKS!

SOUTHERN VIEW

$

4 49

kg

Fresh Tegel NZ Chicken Drumsticks

$

2 99

bag

Solsa Hothouse Tomatoes 700g

$

4 90

each

$

3 80

each

$

4 00

each

Tip Top Ice Cream 2L

Alpine Butter 500g

Sanitarium Weet-Bix 750g

Jacob's Creek

Sparkling

750ml

(Excludes Reserve)

Just Juice Fruit

Juice 1L/H2GO

Water 750ml

2for

$

22 99

pack

$

8 99

$

3 50

each

Steinlager Classic 15 x 330ml Bottles/

Heineken/Asahi Super Dry 12 x 330ml Bottles

(Excludes Light)

Handmade in-store

Available in our Deli 4-7pm daily, Monday to Saturday

Shopping just got easier

Best deals are here!

FreshChoice Barrington

256 Barrington Street, Christchurch.

Open 7am-11pm, 7 days.

Prices apply from Tuesday 25th October to Sunday

30th October 2016, or while stocks last.

FreshChoice.co.nz

FreshChoiceNZ

332 6364

FreshChoice Barrington

Owned and

operated

by locals

Certain products may not be

available in all stores. Savings

are based on non-promotional

price. Limits may apply.

FCSV2510