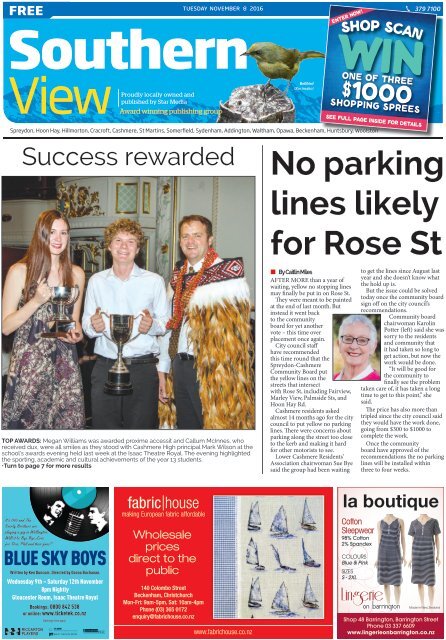 Southern View: November 08, 2016
You also want an ePaper? Increase the reach of your titles
YUMPU automatically turns print PDFs into web optimized ePapers that Google loves.
FREE

TUESDAY NOVEMBER 8 2016

Southern

View

Proudly locally owned and

published by Star Media

Award winning publishing group

Bellbird

(Korimako)

Shop scan

ENTER NOW!

one of three

$1000

SHOPPING SPREES

SEE full page inside for details

379 7100

Spreydon, Hoon Hay, Hillmorton, Cracroft, Cashmere, St Martins, Somerfield, Sydenham, Addington, Waltham, Opawa, Beckenham, Huntsbury, Woolston

Success rewarded

No parking

lines likely

for Rose St

TOP AWARDS: Megan Williams was awarded proxime accessit and Callum McInnes, who

received dux, were all smiles as they stood with Cashmere High principal Mark Wilson at the

school's awards evening held last week at the Isaac Theatre Royal. The evening highlighted

the sporting, academic and cultural achievements of the year 13 students.

•Turn to page 7 for more results

• By Caitlin Miles

AFTER MORE than a year of

waiting, yellow no stopping lines

may finally be put in on Rose St.

They were meant to be painted

at the end of last month. But

instead it went back

to the community

board for yet another

vote – this time over

placement once again.

City council staff

have recommended

this time round that the

Spreydon-Cashmere

Community Board put

the yellow lines on the

streets that intersect

with Rose St, including Fairview,

Marley View, Palmside Sts, and

Hoon Hay Rd.

Cashmere residents asked

almost 14 months ago for the city

council to put yellow no parking

lines. There were concerns about

parking along the street too close

to the kerb and making it hard

for other motorists to see.

Lower Cashmere Residents'

Association chairwoman Sue Bye

said the group had been waiting

to get the lines since August last

year and she doesn't know what

the hold up is.

But the issue could be solved

today once the community board

sign off on the city council's

recommendations.

Community board

chairwoman Karolin

Potter (left) said she was

sorry to the residents

and community that

it had taken so long to

get action, but now the

work would be done.

"It will be good for

the community to

finally see the problem

taken care of, it has taken a long

time to get to this point," she

said.

The price has also more than

tripled since the city council said

they would have the work done,

going from $300 to $1000 to

complete the work.

Once the community

board have approved of the

recommendations the no parking

lines will be installed within

three to four weeks.

It's 1965 and The

Everly Brothers are

playing a gig in Wellington.

Will it be Bye Bye Love

for Don, Phil and their fans?

BLUE SKY BOYS

Written by Ken Duncum. Directed by Donna Buchanan.

Wednesday 9th – Saturday 12th November

8pm Nightly

Gloucester Room, Isaac Theatre Royal

Bookings: 0800 842 538

or online: www.ticketek.co.nz

Bookings fees apply

fabric house

making European fabric affordable

Wholesale

prices

direct to the

public

140 Colombo Street

Beckenham, Christchurch

Mon-Fri: 9am-5pm, Sat: 10am-4pm

Phone (03) 365 0172

enquiry@fabrichouse.co.nz

www.fabrichouse.co.nz

la boutique

Cotton

Sleepwear

98% Cotton

2% Spandex

COLOURS

Blue & Pink

SIZES

S - 2XL

Made in New Zealand

Shop 48 Barrington, Barrington Street

Phone 03 337 6609

www.lingerieonbarrington.co.nz
---
2

Tuesday November 8 2016

Inside

SOUTHERN VIEW

FROM

THE

EDITOR'S

DESK News.....................3,5, 8 & 15

IT IS one of the reasons we do

this job – taking a stand on an

issue that the community needs

addressed.

Last week, we were thrilled

for our readers near Addington

Park who have been successful

at getting a permanent ban on

freedom camping (page 3). If not

for people like resident Bruce

McNabb working with Southern

View on this issue, and the

countless number of letters we

had the outcome may have been

very different.

It was an important issue to

our readers; therefore it was

important to us.

This week we also celebrate the

achievements of young people.

Cashmere High School's prizegiving

list is on page 7. Keep an

eye out over the coming weeks

as we will publish the lists from

other schools.

Hei kona, Shelley Robinson

Dancer earns new shoes

NEWS 15

School prize-giving ... 7

Schools...................................10

Sport.................................. 13

Health & Beauty..............17

Community Events...18

Real Estate..........................20

Entertainment.......22,23

GET IN TOUCH

General Enquiries Ph 379-7100

Classified Advertising Ph 379-1100

The Christchurch Star Company Ltd. PO box 1467 - Christchurch

starmedia.kiwi

NEW LOCATION ADVERT.pdf 1 1/05/2014 11:51:35 a.m.

NEWS

Caitlin Miles

Ph: 364 7442

caitlin.miles@starmedia.kiwi

ADVERTISING

John Verd

Ph: 364 7496

john.verd@starmedia.kiwi

VISIT OUR NEW LOCATION LOCATION

430 ST ASAPH STREET!

RECOVER YOUR LOVED FURNITURE

No job too big or small

YOUR LOCAL FAMILY STORE

Hours of Business: 7am-4.30pm Mon-Thurs

Fri 8am to midday

or by appointment with Keith 027 566 3909

Still able to offer

you the finest top

quality new furniture

Visit us online

www.qualityfurniture.co.nz

P. 371 7500

QUALITY FURNITURE SPECIALISTS

RE - UPHOLSTERY SPECIALISTS KEITH HARTSHORNE 0275 663 909

6 ISSUES

delivered to your door

FROm ONly

$

44. 50

SUBSCRIPTIONS FREEPHONE

0800 77 77 10

rugbynews.co.nz

Preloved good

quality

• Clothing

• Bric-a-brac

• Furniture

• Household goods

DONATIONS &

VOLUNTEERS NEEDED

DROP OFF OR

WE CAN PICK UP

1 Amyes Rd, Hornby Ph. 349 4163

Hours: Mon - Fri 9am-4.30pm,

Sat 9.30am-1.30pm

335b Riccarton Rd, Church Cnr

Ph. 341 8539

Thank You for your Support
---
Proudly locally owned and

published by Star Media

Award winning publishing group

Spreydon, Hoon Hay, Hillmorton, Cracroft, Cashmere, St Martins, Somerfield, Sydenham, Addington, Waltham, Opawa, Beckenham, Huntsbury, Woolston

PHOTOS: GEOFF SLOAN

379 7100

HAVE YOUR SAY

What have you seen

freedom campers

doing at Addington

Park? Has it become

a problem? What

should the city

council do about

it? Email shelley.

robinson@

starmedia.kiwi

with your letter.

GABRIELLE STUART AND December.

spaces often full

be a long-term solution, not just problems when the bylaw was

TOM DOUDNEY

The park is one of three areas

where freedom camping is dents didn't be-

to neighbourhood," she said. The toilets had initially been

from 3pm, resi-

moving it from neighbourhood first put in place in December.

Freedom campers at Addington

Park have sparked complaints allowed, after the city council lieve the park was

City council regulatory compliance

acting head Tracey Wes-

been enough rubbish bins, which

locked at night and there had not

by leaving rubbish lying around, cracked down after problems in well set up for

using the grounds as a toilet and New Brighton last year. freedom camping.

Paul every day.

"But they've got those (rubton

said the park was monitored had sparked problems, he said.

blocking up the car parking when Windsport Park in Ferrymead,

they are not supposed to be there. and the Lower Styx River "We are McMahon She said they recorded the bish bins) now and the toilets are

But no freedom campers have mouth.

concerned about

vehicle registrations of everyone

staying at the site, so they he said.

kept open, so it has improved,"

been fined for breaking the rules. Campers can stay five nights the hygiene down there and

Addington resident Sue Gorton

said a number of people before sunset to 9am the next in the park] has just shifted were staying.

Christchurch as an affordable

and can stay from one hour [allowing freedom camping could monitor how long people "Having people visit

were not happy about the freedom

campers at the park since Mrs Gorton said with rubbish another, which is in our backyard munity Board chairman Paul so long as they are abiding by the

day.

the problem from one area to Spreydon-Heathcote Com-

place to come to is a good thing,

a new bylaw was introduced in bins overflowing and parking at the moment. There needs to McMahon said there had been bylaws," he said.

A nice quiet solution from Fujitsu at a great price

SUPER BUY!

*Model ASTG18KMCA installed back to back,

up to three metre pipe run and electrical supply within 6 metres.

www.dimockheatpumps.co.nz

Email: sales@dimocks.net.nz

6/105 Coleridge St, Sydenham, Christchurch

Fully Installed*

* Conditions apply.

Normal lending criteria,

booking fee and

annual account fee applies.

Limited stock.

Bellbird

(Korimako)

Restore your oiled CEDAR BLINDS with our re-oiling service.

Rejuvenate your lacquered CEDAR BLINDS

High-tech Cleaning

We clean and repair all types of blinds –

Venetians, Cedar, Verticals, Roller, Hollands,

Romans and Pleated – with environmentally

friendly cleaning products.

Temperature Controlled Drying

Re-oiling & Rejuvenating

Fabric Blinds - such as Austrian and Roman

Same Day Pick Up & Drop Off

We offer a same-day, pick up and drop off

service for most types of blinds. Bookings

are required.

Convenient Location

Drop blinds into us by 9am, at

330 Cashel Street (near the

Fitzgerald end), and collect

them at the end of the day.

New Blind Sales Priced from $30

www.blindcare.co.nz

per blind

WE ARE OPEN

Mon - Fri

8.00am to 5.30pm

Ph 377 0770,

330 Cashel St,

Christchurch

SCAN QR code for Info >

Proudly locally owned and

published by Star Media

Award winning publishing group

Bellbird

(Korimako)

Spreydon, Hoon Hay, Hillmorton, Cracroft, Cashmere, St Martins, Somerfield, Sydenham, Addington, Waltham, Opawa, Beckenham, Huntsbury, Woolston

GABRIELLE STUART

vehicle.

April.

NEW LOCATION ADVERT.pdf 1 1/05/2014 11:51:35 a.m.

No job too big or small

Still able to offer

you the finest top

quality new furniture

Visit us online

Hours of Business: 7am-4.30pm Mon-Thurs www.qualityfurniture.co.nz

Fri 8am to midday

or by appointment with Keith 027 566 3909

QUALITY FURNITURE SPECIALISTS

RE - UPHOLSTERY SPECIALISTS KEITH HARTSHORNE 0275 663 909

there. It's not a proper camping

Have your say

Do you think the city council

needs to make changes now

to freedom camping bylaw

in response to problems at

Addington Park. Or do you agree

that more evidence is needed?

Email bridget.rutherford@

starmedia.kiwi

379 7100

6km

CONCERNED: Addington

resident Bruce McNabb said his

children are too scared to walk

thought the park because of

freedom campers.

PHOTO: GEOFF SLOAN

The city council has had 20

complaints about freedom

campers. They include:

• Rubbish bins overflowing

• No space available for

visitors to park

• Large assortment of clothing

in the trees near where

the tents are pitched

• Discarded mattresses left

lying around with rubbish

piled up on top of them

• Defecating and urinating

by the playground

• Used toilet paper within

the branches of trees by car

park

• Drinking and littering,

glass bottles thrown around

• Freedom campers being

rude to people walking their

dogs

• Family visited park and

felt unsafe and unwelcome

• Readers' letters, p7-8

Please hurry this special offer

ends: 29th February 2016.

Remember to bring your

voucher to your appointment.

CLINIC PHONE

Fendalton 03 351 3535

Halswell 03 322 4326

Rangiora 03 310 7355

Papanui 0800 333 606

Kaiapoi 0800 333 606

100% NZ Owned

& Operated Ashburton 03 307 8949

Proudly locally owned and

published by Star Media

Award winning publishing group

Bellbird

(Korimako)

Spreydon, Hoon Hay, Hillmorton, Cracroft, Cashmere, St Martins, Somerfield, Sydenham, Addington, Waltham, Opawa, Beckenham, Huntsbury, Woolston

BRIDGET RUTHERFORD

* Installation is back to back with

up 5 meter pipe run electrical

run up to three meters, in home

assessment recommended

www.dimockheatpumps.co.nz

Email: sales@dimocks.net.nz

6/105 Coleridge St, Sydenham, Christchurch

* Conditions apply.

Normal lending criteria,

booking fee and

annual account fee applies.

Limited stock.

Karleen

Edwards

morning, pick up afternoon.

379 7100

6km

Proudly locally owned and

published by Star Media

Award winning publishing group

Bellbird

(Korimako)

Spreydon, Hoon Hay, Hillmorton, Cracroft, Cashmere, St Martins, Somerfield, Sydenham, Addington, Waltham, Opawa, Beckenham, Huntsbury, Woolston

CAITLIN MILES

This resulted in the Spreydon-

DILO OIL – The Remarkable

Skin Rejuvenator

As seen on Rachel Hunter's Tour of Beauty

••

Remarkable•skin•anti-aging•&•healing•

properties

••

Super•absorbing.•Can•penetrate•all•three•

layers•of•the•skin•offering•exceptional•cell•

hydration•&•regeneration

••

Ideal•for•scars,•blemishes,•wrinkles,•

&•skin•ailments•including•eczema,•

psoriasis,•acne,•rashes,•bites,•sores,• Amazing Price

burns,•etc.

50 ml

••

100%•natural,•Certified•Organic,•

absolutely•no•additives

••

Highly•effective

Mail Order Available

Bringing You The Best In Natural Health

MARSHALLS HEALTH & NATURAL THERAPY

CONSULTING - PRESCRIBING - DISPENSING

MEDICAL HERBALISTS

110 SEAVIEW RD • PH 388 5757 (Just past C.N.B School)

- WE ARE AlWAyS HAPPy to HElP! -

But residents around the park

Karleen

Edwards

Bruce

McNabb

of Addington Park to non-self

379 7100

6km

impact those areas too," he said.

miles@starmedia.kiwi

Present this voucher at

Hillyers Eastgate Mall Kiosk for:

Fujitsu Nocria AWTZ14

Gourmet Pie (any flavour)

6 KW Heat Pump

Roast Veges

for just

Mashed Potato

Six Year

Mushy Peas

Homestyle Gravy

Warranty

FREE Medium Coffee

Fully Installed*

Hurry, offer expires on: 21/03/16

Fully Installed*

Dine in only and not valid with any other offer

Installed back to back, up to 3 metre pIpe

run and electrIcal supply wIthIn 6 metres.

EASTGATE

www.dimockheatpumps.co.nz

Email: sales@dimocks.net.nz www.dimockheatpumps.co.nz

6/105 Coleridge St, Sydenham, Christchurch Email: sales@dimocks.net.nz

* Conditions apply. Normal lending criteria, booking fee and annual account fee applies. Limited stock.

6/105 Coleridge St, Sydenham, Christchurch

* Conditions apply. Normal lending criteria, booking fee and annual account fee applies. Limited stock.

CAITLIN MILES

angst, city council

chief executive

Karleen Edwards

(right) made

the decision to

temporarily close

Addington Park

and other freedom camping

areas in the city and on Banks

This resulted in the Spreydon-

Heathcote Community Board

Proudly locally owned and

published by Star Media

Award winning publishing group

PARKED UP: By tomorrow, these freedom campers, photographed

on Monday, will need to find somewhere else to stay other than

Addington Park.

PHOTO: GEOFF SLOAN

Scott Heasley and his team are building

retaining walls in your area.

Scott Heasley M 0275 350 302

Email your details to heasleyfencing@xtra.co.nz

for a quote

Bellbird

(Korimako)

Spreydon, Hoon Hay, Hillmorton, Cracroft, Cashmere, St Martins, Somerfield, Sydenham, Addington, Waltham, Opawa, Beckenham, Huntsbury, Woolston

UPSET: Freedom camper Michael Vonsternberg was upset by the mess

left at Addington Park.

PHOTO: EMMA VONSTERNBERG

Restore your oiled CEDAR BLINDS with our re-oiling service.

Rejuvenate your lacquered CEDAR BLINDS

High-tech Cleaning

We clean and repair all types of blinds –

Venetians, Cedar, Verticals, Roller, Hollands,

Romans and Pleated – with environmentally

friendly cleaning products.

Temperature Controlled Drying

Re-oiling & Rejuvenating

Fabric Blinds - such as Austrian and Roman

Same Day Pick Up & Drop Off

We offer a same-day, pick up and drop off

service for most types of blinds. Bookings

are required.

Convenient Location

Drop blinds into us by 9am, at

330 Cashel Street (near the

Fitzgerald end), and collect

them at the end of the day.

New Blind Sales Priced from $30

www.blindcare.co.nz

per blind

379 7100

6km

WE ARE OPEN

Mon - Fri

8.00am to 5.30pm

Ph 377 0770,

330 Cashel St,

Christchurch

SCAN QR code for Info >

SOUTHERN VIEW Tuesday November 8 2016 3

News

People power beats freedom campers

• By Caitlin Miles

AFTER MONTHS of lobbying,

freedom camping has been

banned from Addington Park.

THe city council has

prohibited freedom camping

completely from Addington

Park, Windsport Park, Lower

Styx River Mouth, French Farm

and Wainui. It has also banned

non self contained units from

camping throughout the entire

city.

It is news welcomed by

Addington resident Bruce

McNabb who was outspoken on

the issue and joined in Southern

View's campaign to rid the park

of freedom campers.

Southern View campaigned for

the residents to be heard on the

issue, with extensive coverage

from when the problem first

arose in January. Residents were

angry about not being able to use

the car park, rubbish being left

behind and unsanitary toileting

by freedom campers. At one

point the city council received a

complaint of a camper defecating

on the playground swings.

City councillors Phil

Clearwater and Tim Scandrett

were both asked to provide

columns on what they were

going to do on the issue. The

Southern View found out that

the city council's chief executive

FREE Monday JanUaRy 25 2016

Southern

View

Magazine

CHRISTCHURCH'S PREMIER

Advertising Enquiries Ph. 379 7100

CAMPERS BRING PROBLEMS

TO ADDINGTON PARK

Camping activities spark complaints but no fines issued

INSIDE: • Toy collector to share treasure trove, p5 • Taking on Hamlet, p6-7

ALL NEW e3 FUJITSU 6kW HEAT PUMP BLINDS...Cleaned, Repaired & Restored...

Conditions

FULLy INSTALLEd FOR ONLy $2599 apply*

Six Year

Warranty

Limited

Offer!

Model ASTG18KMCA

$2,599

PH 377 0034

OR 0800 800 734

DON'T MISS OUT!

Ro ler Blinds cleaned

from as li tle as $20

Karleen Edwards was the only

person that could change the

bylaw and put the question to

her whether she would. Soon

after, she made decisions to

temporarily ban it on March 10.

"It's really good to see it done

and dusted . . . it's a car park not

FREE Monday FebrUary 1 2016

Southern

View

NO PLANS

YET TO

CHANGE

CAMPING

RULES

"We need to see what's working

well and what isn't, and review

it based on the evidence,"

he said.

One complaint was a resident If the report did show clear

who "noticed a woman sitting problems, he would consider

City councillors have no on the playground swing defecating

as if it was a toilet seat". brought forward, he said.

calling for the review to be

plans to make rule changes to

freedom camping at Addington City councillor Phil Clearwater

said while many residents they have had enough.

But Addington residents say

Park in spite of complaints from

residents.

had complained to him personally,

he wanted more evidence his children, aged 12, 14 and

Resident Bruce McNabb said

Freedom campers at the park

have been reported drinking before lobbying for changes. 17, often used to play in the

in the park, leaving used toilet A report on freedom camping park and walk across it to get to

paper in the trees and defecating will go to the city council in school, but they no longer felt

on the playground swings. April, but the bylaw is not due safe.

At least 20 complaints have to be reviewed until late next "I don't like the idea of them

been made to the city council. year.

going there, especially at night

None have resulted in fines. Cr Clearwater said he would time. You don't know who's

One camper was trespassed not call for changes to the bylaw

to help Addington residents, ing," he said.

down there or what they're do-

from the site for camping for

too long in a non-self-contained until he had seen the report in "They shouldn't even be

ground. If they have the money

to come to New Zealand they

should have the money to pay

for themselves," he said.

City council regulatory

compliance acting head Fiona

Proudfoot said it had brought

in more bins, cleaned the park

more often, and monitored the

park each day.

Under the rules, campers can

stay five nights and can stay

from one hour before sunset to

9am the next day.

Join the movement!

20th March 2016

Enter online at city2surf.co.nz

INSIDE: • Holiday fun, p4&8 • Standing up for those who are 'different', p10-11

VISIT OUR NEW LOCATION LOCATION

430 ST ASAPH STREET!

RECOVER YOUR LOVED FURNITURE

P. 371 7500

ouse

of

earing

FREE TUESDAY FEbrUArY 23 2016

Southern

View

a camping spot," Mr McNabb

said.

City councillor, Tim Scandrett

said the number of freedom

campers using the facilities at

Addington Park, Windsport

Park, Lower Styx River Mouth,

French Farm and Wainui was

Join the movement!

20th March 2016

Enter online at city2surf.co.nz

Council boss has power

to act on freedom campers

chief executive can temporarily

ban freedom camping at a

Freedom camping could be specific location, if it is deemed

suspended immediately at necessary.

Addington Park if city council It comes after residents called

boss Karleen Edwards says so. for a ban due to campers reportedly

drinking, leaving used

The Spreydon-Heathcote

Community Board decided on toilet paper in the trees, taking

Friday to ask Dr Edwards to up car parks and defecating on

temporarily suspend freedom the playground swings.

camping at Addington Park immediately.

would not get to the request

But it appears Dr Edwards

Under part 10 of the freedom until at least today because she

camping bylaw, the city council was tied up with the earthquake

PH 377 0034

OR 0800 800 750

memorial yesterday.

Addington Park is

one of three locations

in the city that

allows freedom

camping after a new

bylaw was introduced

last year.

The bylaw is due to be reviewed

in April, but the problems

at Addington Park have

escalated.

The board was briefed on the

problem at its meeting on Friday.

Deputy chairwoman Karolin

Potter said members were freedom camping there.

Edwards to temporarily ban

told there appeared to be more "I think there needs to be a

freedom campers in the city ban on camping there as soon

than ever before and they were as possible, the temporary closure

is the best way to do that."

congregating in the areas where

freedom camping was allowed. He said if the ban was enforced,

it would likely stay in

The city council was

stretched, because it was not place until the review in April.

able to patrol those areas 24/7, A spokeswoman said

Ms Potter said.

when Dr Edwards received

Councillor Phil Clearwater the request, she would then

said the damage at Addington get advice before making a

Park should be enough for Dr decision.

INSIDE: • Community events, p2 • Achievers, p8 • School fun, p10

DON'T MISS OUT! LIMITeD Offer! DINGHYS & OUTBOARDS

Engines from 2hp-225hp

Call for a FREE no obligation

assessment and quotation BOOK FOR

on 8KW FLOOR A SERVICE

HOT PRICE CONSOLE NOW

Six Year

WarrantY

$3399 installed

AND AVOID

"Model FUJitsU aBtG24lVt THE RUSH!

(Conditions apply)

We pride ourselves on

same day service - drop off

250 Annex Road. Phone 338 4680

www.dinghysandoutboards.co.nz

Workshop hours 8.30-5.30pm

Mobile service

now available

WE COME TO YOU

FREE TUESDAY MArch 8 2016

Southern

View

Anger over

slow action

on freedom

campers

Council chief yet to make decision

Heathcote Community Board

requesting Dr Edwards to immediately

close the park to freedom

Neighbours to Addington Park

are angry that city council chief campers.

executive Karleen Edwards Dr Edwards has the power

is yet to make a decision on to do this under part 10 of the

whether she will immediately freedom camping bylaw, if it is

suspend freedom camping at deemed necessary.

Addington Park.

But a city council spokeswoman

said no decision has been

The Southern View has lobbied

on behalf of residents for the made about suspending freedom

city council to address problems

of freedom camping at the there was no set time frame for

camping in Addington Park and

park since January, after reports Dr Edwards to make a decision.

of overcrowding and sanitary City councillor Phil Clearwater

said he understood Dr Ed-

problems including an incident

of a camper defecating on the ward was collecting legal advice

playground swings.

and opinions from advisers.

say the situation is getting worse

– and they want a decision made

now.

Bruce McNabb, who lives

next door said there are now

tents everywhere and damage is

occurring.

Since last reported in the

unexpected.

"THe influx of freedom

camping numbers had been

quite surprising," Cr Scandrett

said.

He said the facilities in

Addington Park weren't

designed for freedom camping.

Join the movement!

20th March 2016

Enter online at city2surf.co.nz

Southern View, four more contained vehicles.

complaints have been laid with "The city council is very

the city council which included aware of the issue and has a

shopping trolleys left in the strong interest in the bylaw."

park, a female camper was in Cr Clearwater said they had

the men's toilet area, there was to consider the impact closing

no parking for others and the one area would have on other

number of people in the area was freedom camping areas.

a nuisance.

"If you ban them from there

"It's getting worse. It's awful all those people will end up

there's rubbish everywhere, going to other areas, so we need

no one else can use the park. to look at how an influx will

The city council needs to

hurry up with their decision," Mr

McNabb said.

HAVE YOUR SAY: How long is

But councillor Phil Clearwater acceptable to wait for a decision

says it's not that easy.

on whether freedom camping

He wants a temporary closure will be stopped? Email caitlin.

INSIDE: • No secret to longevity for Eve, p6-7 • School fun, p9-10

AMAZING ISLAND MIRACLE OIL amazing Fujitsu

nocria Hot 6 Hot at a Deal World Famous Hillyers

Gourmet Pie Meal

"VerY on sPecial 8KW Price" Heat PumP

ONLY $9.50

Fujitsu ASTG24L 8 KW

with a FREE Coffee

Heat Pump for Just

10 5 only

Six Year

only•$19.90

Warranty

BE QUICK

100ml

only•$29.90

$2,499 $2,999

Installed back to back, up to 3 metre pIpe

PH 377 PH 0034 377 OR 0800 0034 800 OR 734 0800 800 734 run and electrIcal supply wIthIn 6 metres.

GONE:

Addington

resident Bruce

McNabb is

happy to

finally see

freedom

camping

banned from

Addington

Park for good.

FREE TUESDAY MArch 15 2016

Southern

View

FREEDOM CAMPERS TO GO

Temporary ban at Addington Park starts tomorrow

Addington Park will be

emptied of freedom campers by

tomorrow but while residents are

thrilled, those staying there are

upset by the move.

Last week after months of

Peninsula.

Lower Styx River, Windsport

McNabb is relieved to see it

Park and Wainui will all be

closed.

closing to all forms of freedom

"It's awesome to hear it's getting

closed. The state of the park

camping from noon on Wednesday

till the end of May.

is just awful," said Mr McNabb.

The Southern View has lobbied

But French freedom campers

on behalf of residents for the city

Emma and Michael Vonsternberg

said it was "sad news".

council to address problems of

freedom camping, after reports

They understood why the decision

had been made, but said

of overcrowding and sanitary

problems including an incident

they had tried to clean up other

of a camper defecating on the

campers' rubbish to reduce the

playground swings.

impact on residents.

"We don't like rubbish in

France and we don't like it

here," they said.

"We are saddened by this

news, but we understand the

requesting Dr Edwards to immediately

close the park to freedom

campers.

Nearby resident Bruce

INSIDE:

reaction."

The city council is currently

providing information to freedom

campers about the temporary

closures and will closely

monitor the sites to make sure

campers comply.

The freedom camping bylaw

means the city council can issue

a $200 fine for anyone that is

freedom camping in restricted

areas or making preparation to

freedom camp.

Mr McNabb thinks the closure

should be permanent and that

the community will be upset if

the closure is lifted.

"There will be an uproar if

they open it again."

The temporary closures will

be reviewed by the city council

in May.

• Sports gear for needy children, p3 • Linwood youths showcase talent, p5

Retaining Walls

Join the movement!

20th March 2016

Enter online at city2surf.co.nz

BLINDS...Cleaned, Repaired & Restored...

Ro ler Blinds cleaned

from as li tle as $20

Mr McNabb couldn't

understand why the city council

doesn't use part of the red zone

to allow freedom campers to stay

in.

"Why not set up some facilities

in there and let them use some

of the land? It's sitting there

empty," he said.

Deputy Mayor Andrew Turner,

who was also chairman of the

hearings panel that made the

report on the recommendations

said these changes needed to

happen ahead of the full review.

Consultation on changes to the

bylaw were open from August to

September and 72 submissions

were made with 55 supporting

the proposed changes.

HAVE YOUR SAY: Do you

think it is fair to ban freedom

camping from these areas?

Send your thoughts to

caitlin.miles@starmedia.kiwi

Spotted any lonely cones?

There are a lot of lost, lonely road cones out there. We want to bring them home.

We're tidying up the streets as the SCIRT programme winds down.

Please help us track down stray cones no longer on the job. We'll put them back to

work, or send them off to the giant cone melting pot in the sky.

The CONEMOBILE is coming your way.

SCIRT's CONEMOBILE is hitting the streets to collect any road cones that have gone

astray. Let us know if you've spotted a lost or wayward cone.

Call the CONEMOBILE

0800 SCIRT CONE - 0800 7247 82663

email info@scirt.co.nz or visit Facebook/com/scirtcone

Your support is helping us to get the job done. Thank you from the SCIRT team.

Programme funded by
---
4

Tuesday November 8 2016

SOUTHERN VIEW

Your Local Views

Visitors key to recovery

Cashmere ward

city councillor

Tim Scandrett

speaks about

getting the city

back to its

pre-earthquake

days and

the development of

Christchurch Adventure

Park opening and St Martins

Volunteer Library

Christchurch definitely has had

its trials and tribulations over

the past few years. You must

admit though, that the spring

blossom, bulbs and blooms do

make our city look stunning

and make us realise why we all

are so committed to helping

Christchurch get back on its

feet. I am really pleased to be

returning to council with old and

new colleagues passionate about

working hard to achieve the best

for our city.

The next three years will see

many plans and consultations

come to fruition in the form

of new community and city

facilities, infrastructure repairs

and environmental initiatives.

Christchurch has a huge chance to

be better than ever. It is up to us

all to take up these opportunities

and achieve our combined vision

of a vibrant, sustainable and

liveable city.

It is imperative for us as

a council to continue to

consult with and listen to our

communities as we work together

to develop our city. It is also

imperative that visitors return to

Christchurch.

A project I have been heavily

involved with is the Christchurch

Adventure Park due to open in the

Port Hills in December this year.

The opening of this world-class

outdoor recreational facility will

really put Christchurch on the

map. It will offer locals a much

needed outdoor facility, provide

more than 100 local jobs and be

a huge attraction for overseas

visitors.

The St Martins Volunteer

Library is another community

facility due to re-open soon.

This icon on Wilson's Rd will

return as a library, toy library and

community space.

You can't really beat

Christchurch on a clear blue sky

spring day.

Readers respond to a

recent article about

the Quarryman's Trail

cycleway potentially

removing car parks,

changing speed limits

and road layouts and

demolishing homes

Hazel Agnew, of Somerfield

– Why are people so

attached to their cars?

If non cyclists are to start

cycling and feel safe doing

so cycleways are needed. Research

shows that cycling is safer

when more people cycle.

Parking isn't a problem as

eight to 10 bikes can park in

one car parking space.

Businesses don't need to

object because cyclists make

purchases too – in Portland,

Oregon, retailers found that

cyclists spent as much as other

people (smaller but higher

value goods). When more

people cycle the environment

is quieter and less polluted and

the population is healthier –

less of an obesity problem. So

everybody wins.

Graham Swann – I think

cycleways are great. About

time things were made safer

for bikes. This should encourage

more people to cycle, at

the same time reducing the

number of cars on the road. I

would feel a lot better knowing

that my children are safer on

the roads. At the moment it is

a nightmare with the amount

of cars on the road and making

more parks and more lanes

only makes this worst.

Also I have noticed the number

of car and bus drivers that

do not give way to cyclists only

because they are on a cycle.

We talk about this subject

often at work and all agree time

something was done

and cycleways will be a great

start.

Nicki Cartlidge – They

had their chance to develop a

world-class pioneering public

transport network in Christchurch.

If a cycleway was a crucial

part of such a network, then

maybe just maybe they'd begin

to have some justification for

making the route a priority.

But they screwed up their

chance and having done so, a

cycle route no way trumps the

waste of demolishing housing

. . . not to mention uprooting

human beings who have been

through enough.

Nicola N Craig Kinzett

– In a city where undamaged

houses are at a premium, why

would you demolish up to four

of them?

Ann Barsby – I thought

this was just a rumour.

Charmaine Andresen

– Crazy! People need homes,

not cycleways!

Jason Gemmill – Four

metres for a frickin cycleway?

Madness! Demolishing houses

to make a cycleway? Insanity.

Give well

this Christmas

1.

FRAGRANCE

Gifts

For him

2.

3.

4.

5.

6.

7.

8.

1. Ralph Lauren Polo Black EDT 30ml $39 RRP $49

2. Ralph Lauren Polo Blue EDT 30ml $39 RRP $49

3. Yves Saint Laurent L'Homme EDT 60ml $79 RRP $109

4. Diesel Only The Brave EDT 75ml $89 RRP $133

5. Adidas Pure Game EDT 100ml $15 RRP $18

6. Burberry London EDT 50ml $59 RRP $65

7. Burberry Brit For Men EDT 50ml $59 RRP $65

8. Davidoff Cool Water EDT 75ml $39 RRP $92

For her

7.

9. 10. 11.

12.

13.

6.

2.

4.

8.

15.

1.

3.

5.

14.

1. Revlon Charlie Red EDT 100ml $19.99 RRP $22

2. Vanderbilt EDT 100ml $22.99 RRP $27

3. Revlon Charlie Blue EDT 100ml $19.99 RRP $22

4. Maroussia EDT 100ml $24.99 RRP $30

5. Elizabeth Arden Mediterranean EDP 60ml $29 RRP $31

6. Elizabeth Arden Red Door EDT 50ml $39 RRP $79

7. DKNY Be Delicious EDP 30ml $39 RRP $42

8. DKNY Be Delicious Fresh Blossom EDP 30ml $39 RRP $42

9. Elizabeth Taylor Diamonds & Rubies EDT 100ml $45 RRP $50

10. Elizabeth Taylor Diamonds & Sapphires EDT 100ml $45 RRP $50

11. Elizabeth Taylor Diamonds & Emeralds EDT 100ml $45 RRP $50

12. Elizabeth Arden Sunflowers EDT 100ml $39 RRP $41

13. Calvin Klein One EDT 50ml $39 RRP $61

14. Elizabeth Taylor White Diamonds EDT 30ml $39 RRP $55

15. Nina Ricci Nina EDT 30ml $45 RRP $75

Offers available until 24th December, or while stocks last.

EASTGATE PHARMACY

Eastgate Shopping Centre Phone (03) 389 8408

BUSH INN PHARMACY

Cnr Riccarton Rd / Waimairi Rd Phone (03) 348 4038

TOWER JUNCTION PHARMACY

Unit 7 Tower Junction (next to Raeward Fresh)

Cnr Riccarton Rd / Waimairi Rd Phone (03) 348 5544
---
SOUTHERN VIEW Tuesday November 8 2016 5

News

Rubber factory opened

• By Sam Pickering

WELL-KNOWN rubber

company Skellerup opened its

new factory in Wigram last week.

The $60 million facility will

cover 19,000 sq m in Stark Drive

and employ about 200 people.

Prime Minister John Key

opened the factory.

Skellerup has been synonymous

in the rubber industry

since it opened its factory in

Woolston in 1910, and was a big

employer in the eastern suburbs

for decades.

The products the factory

makes range from industrial

rubber products, dairy rubberware,

waterproof footwear,

closed-cell foam products, mining

products, vacuum pumps

and construction products.

For many years it also made

footwear at its Woolston plant.

Company chairman Sir Selwyn

Cushing said Skellerup's

Woolston site had been the company's

heart and soul for more

than three-quarters of a century,

and he expected the Wigram

development would serve the

company and its customers for

at least as many years to come.

"We had a very hard look at

our options after the quake –

staying in Christchurch was

clearly the best choice for the

business," he said.

Skellerup chief executive

David Mair said he is confident

the factory will be a platform for

future growth.

"People said we should move

to China, that didn't actually

stack up. So the great thing

about this is there is a really

good future here in Christchurch.

Dyers Road Landscape

& Garden Supplies

• Barks • Peastraw • Composts - we supply the best available

• Aggregates - Chip, Round and Basecourse

• Pavers & Schist products • Pungas

• Decorative Stones & Landscaping Rocks

• Trailer Hire first hour free with purchase

• Bag & Bulk - pick up or delivered

David, Carol & Mike

We will deliver!

BIG OPENING:

Prime Minister

John Key, Sir

Selwyn Cushing

(above) along

with CEO David

Mair (far left) at

the opening of

Skellerup's new

Wigram base.

PHOTOS: ALEX

PARSONS

The facility was acquired by

Skellerup in May 2013 from Wigram

Business Park developers

and Ngai Tahu property.

Sir Selwyn paid tribute to

Project Champion Sir Ron Carter,

the Skellerup team and the

project contractors responsible

for the Wigram development.

SOIL

AND

HARDFILL

DUMPING

Phone: 03 384 6540

183 Dyers Rd, Bromley • OPEN 7 DAYS

Weekdays 7.30am-5pm. Weekends 8.30am-3pm

www.dyersroadandlandscapes.co.nz

In Brief

MAN SOUGHT

Police are looking for a man

who robbed Couplands on Ferry

Rd last Thursday at 2pm. The

masked man demanded cash

from the register. No weapons

were used and there were no

injuries. The description of the

alleged offender is a caucasian in

his 30s who is about 175cm tall.

He was wearing a blue bandana

over his face, blue full-length

overalls, black running shoes

with a white rim, and had a

black backpack. Anyone with

any information can phone 363

7400 or anonymously through

Crimestoppers 0800 555 111.

TEENS CHARGED

Two 13-year-old boys and one

15-year-old girl allegedly robbed

the Opawa Challenge service

station on October 18. The trio

went into the premises just after

3am armed with hammers and

screwdrivers and stole about

$5000 of cigarettes and $300 cash

before leaving. They have been

charged with aggravated robbery

will appear in Youth Court.

WASTEWATER REPAIRS

Woodham Rd in Linwood

remains closed while wastewater

repairs are done. The road is

closed at the intersection with

Worcester St with access available

via Sewell St and Rowcliffe Cres.

Eastbound traffic on Woodham

Rd will be detoured via Ngarimu

St. There is currently no entry

from Kerrs Rd onto Woodham

Rd east for the next two

months. St Johns St between the

two St Lukes St entrances, will be

closed from Thursday for three

weeks for road repairs.

CONSULTATION TO CLOSE

Public consultation on the

Quarryman's Trail cycleway will

close on Thursday at 5pm. The

cycleway is planned to run from

Halswell through Hoon Hay,

Addington and Somerfield and

involves lowering speed limits,

removing car parks and changing

road layouts throughout the

route. To make a submission

go to https://ccc.govt.nz/thecouncil/have-your-say/whatshappening-now/consultations/

REPAIRS TO GO AHEAD

Repair work to a retaining

wall on Major Aitken Drive,

Huntsbury, will start next

Monday after the work was

placed on hold to review the

design. A new design has been

created for the work to go ahead.

It is expected to take three weeks

to complete. The road between 30

and 41 Major Aitken Drive will

be reduced to one lane and twoway

traffic will be maintained

via traffic lights.

SKILL

STANDS

OUT

N0.1

CONSULTANT FOR

HARCOURTS

CANTERBURY

SINCE 2012

'AS IS'

AUCTION DAY
---
6

Tuesday November 8 2016

SOUTHERN VIEW

Kirkwood Intermediate

Celebrating Success

At Kirkwood we are very proud of our children and their achievements. To

recognise some of their most outstanding personal achievements we offer our

Blues Award system. Our students can achieve a Blues Award in various

areas such as Cultural, Sports and Academic.

Some of their attainments and successes are highlighted below.

Aerobics

Chess

Music

Blues Awards

NZ AIMS Games Cross

Country Competition

Emma gained 7th place for her age

group in the Cross Country running

competition at the recent New Zealand

AIMS Games in Tauranga. She has

also been selected for the Canterbury

Regional running team which will be

competing in the upcoming National

competition in Wellington.

This year some of our most special Blues Awards were

awarded to:

Dante, Libby and Caleb for their placings in the Colgate

South Island Games;

Riley was awarded his Silver Elite Boxing Blue for gaining

first place in the South Island Golden Glove Competition;

Caleb who gained a Silver Elite in the South Island Touch

Championship;

Ashton gained his Silver Elite BMX Blue after placing first

and second in the South Island BMX Championships;

Ashton, Jake, Reuben, Dean, Tanae, Caleb and Riley

also gained their Silver Elite for placing third place in the

South Island Basketball Tournament.

Induwara gained first place

in the South Island U13

Table Tennis Double

Championships.

Josh gained second

place in the individual

South Island Gymnastics

Championships and first

place in the Team's event.

An Outstanding

Elite Blues Award may

be achieved if a student

has achieved an Academic,

Cultural and a Sporting Blue.

There are quite strict

criteria for receiving a Blue

and these are outlined on

our website

www.kirkwood.school.nz

NIWA Canterbury-Westland

Schools' Science and

Technology Fair

Our Engineering team (Jess, Liam,

Cameron and Vincent) entered a

Swimming Pool Temperature Probe

App Project at the recent Canterbury-

Westland Schools' Science and

Technology Fair which was held at Ara.

They won the Statistics New Zealand

Award for Excellent Use of Statistics.

Canterbury Korfball

Championships

Kirkwood Intermediate School's Korfball team had

an unbeaten run to the final where they won overall

and became the Canterbury Korfball Champions.

NZ AIMS Games

Basketball Competition

Kirkwood Intermediate Boys' Basketball

team recently gained 9th place in the

New Zealand AIMS Games in Tauranga.

Phil Tappenden

Principal

Don't forget, there are still some places

available for Year 7 and Year 8 for 2017.

Please visit our website www.kirkwood.school.nz

for information and to download an enrolment

form or ring the office on 348 7718

Kirkwood

INTERMEDIATE SCHOOL

260 Riccarton Road, Christchurch

Email: school.information@kirkwood.school.nz

Phone 03 348 7718 | Fax 03 348 1085

www.kirkwood.school.nz
---
SOUTHERN VIEW Tuesday November 8 2016 7

Celebrating excellence

at Cashmere High

CASHMERE HIGH School

celebrated the achievements of

its senior students last week at its

prize-giving event.

Awards were given to students

who have consistently received

high grades in their schoolwork,

top sports teams and individuals,

as well as high-achieving

cultural, arts and academic

students.

Premier awards (year 13)

Dux – Callum McInnes.

Proxime accessit – Megan

Williams.

The Foundation Pupils'

all-round excellence – Nola

Smart.

Lynne Davis memorial

award for excellence in

the humanities – Isolina

Waghorn; Finn Seelen-

Smith.

Fraser and Tonkin

scholarship for excellence

in mathematics/sciences –

Ross Shepherd; Tess Steel.

Hugh McDougall Rankin

science scholarship –

Monica Hoetjes.

Special awards (year 13)

Leadership Cup – Lockie

Hooft.

Excellence in the social

sciences – Ryan Hampton.

Peter Shore Cup for

commerce – Simon

Stikkelman.

Garry Thin Trophy for

academic music – Finley

Passmore.

Oded Nathan Trophy for

mathematician of the year

– Tess Steel.

Margaret Hudson-Ware

Cup for excellence in year

13 painting – Holly Brook.

Nicola Hair Trophy for

contribution to senior

physical education –

Mitchell Logan.

Kahukura Cup for

creative writing – Niamh

Hollis-Locke.

Library prize for service

to the library – Christian

Greening.

Year 13 Citizenship Trophy

for community – Joshua

Bagnall.

Student Council Cup –

Gina Barclay.

Sonya Harkerss Memorial

Trophy for dedication –

Lucia Sidonio.

Robert Clemence

Memorial Cup for best

overall contribution to

outdoor education – Daniel

Asmussen.

Doris Lusk Trophy for

excellence in drawing –

Mikhail Lopez.

Premier awards (year 12)

Chapman Cup for

academic excellence –

Hannah Hudson.

McCombs scholarship

award – Lorna Pairman;

Gordon Forrest.

Special awards (year 12)

Citizenship award – Grace

Von Huben.

Student council

representatives –

Lorna Pairman; Joseph

Chamberlain.

Malcolm Anderson

Trophy for creative writing

– Elena Sutton.

The Denise Winskill

spoken word performance

poetry prize – Maddie Mills.

Carville Cup for senior

oracy – Grace Von Huben.

Special awards (year 11)

Dimmock Cup for creative

writing – Cerys Fletcher.

Excellence in art – Olive

Topping.

Student council representatives

– Niva Chittock-

Greenwood; Gareth Evans.

Enhancing international

relationships in the school

– Skye Peng.

Citizenship Trophy – Tui

Griffiths.

All-round excellence –

Briana Steven.

Murdoch Cup for

academic excellence –

Liam Taylor.

SPEECH: Principal Mark Wilson spoke to the audience of students, teachers and their families

during the year 13 prize-giving..

CULTURE: The school's kapa haka group performed for the audience.

Kids Birthday Parties

Choose from one of our Great Party Packages to suit!

1

2

3

4

Paintball, mini golf (indoor or outdoor), 50 balls and

club hire for the driving range $39 per child.

Paintball, mini golf (indoor or outdoor) $32 per child.

Indoor and outdoor mini golf, 50 balls and club hire

for the driving range $20 per child.

Indoor or outdoor mini golf, 50 balls and club hire

for the driving range $14 per child.

To book ph 376 5350, 50 Ferrymead Park Drive, Ferrymead

Book any Birthday Party with Caddyshack

and you will receive:

• Mini golf game for each child ($9 per child).

• Use of party room for one hour for $50, or two hours for $90.

• Caddyshack Party Meal and drink.

• Caddyshack lollies.

• Themed party gear including invitations and balloons.

• Caddyshack party host to ensure fun and relaxation.

• The birthday child also receives a gift.

• All party goers receive a free child mini putt voucher for

their next visit.

Ph 384 1566, 21 King Edward Terrace, Woolston
---
8

Tuesday November 8 2016

SOUTHERN VIEW

News

Judge writes children's book

From the

courtroom

to the

classroom

• By Bridget Rutherford

A CHRISTCHURCH judge

and author visited St Martins

Primary School to share his first

book with them.

Hunstbury resident Judge

Rob Murfitt went to the school

recently to read Claire and the

Weka.

He said it was a special place

to share the book because his

children went to the school and

he used to be on the board of

trustees.

It is Judge Murfitt's job to try

and see the world through the

eyes of children. He has been a

judge for more than 10 years,

mostly working in the Family

Court.

Before that, he represented

children in family disputes.

The book has been published

under the name Robbie James –

Judge Murfitt's given names. It is

about a young girl who gets her

favourite teddy stolen by a weka.

She enlists the help of a boy to

CHANGE: Judge Rob Murfitt with his new children's book, Claire and the Weka. (Inset) He read

the book to St Martins Primary School pupils recently.

PHOTO: GEOFF SLOAN

get it back.

Judge Murfitt said the book,

which is illustrated by Sunset,

was a true story about his

daughter, Claire, from a family

holiday in the Marlborough

Sounds about 30 years ago.

"There's little lessons about

helping other people and being

grateful."

He said it was inspired by his

granddaughter Eva, who loved

hearing the story so much, he

thought others might too.

Judge Murfitt said writing the

book helped him with his day job.

"In a sense, it helps to keep you

able to see the world through

children's eyes," he said.

"When we're dealing with

disputes about parenting, the law

says that we have to look at the

welfare of the children.

"It's the child's rights, it's the

child's needs that come first and

so I suppose in the daily routine

of dealing with disputes, you do

get used to doing that."

It also helped him keep a good

balance in life, he said.

"Whether it's in the Family

Court or the criminal court,

you're dealing with people in

crisis almost all the time, so

the uncomplicated innocence

of writing children's books

is a really nice contrast with

that."

Although Judge Murfitt spends

most of his time in Family

Court, he also does a share

of the criminal jurisdiction –

and has been known to use a

more personalised approach to

sentencing when appropriate.

Back in 2007, a 17-year-old

appeared before him in the

Hawera District Court on

a disorderly behaviour charge.

"He was a young man who was

heading off the rails but he was

waiting to join the army. A conviction

was going to delay him

for three months. The army was

just what he needed and a delay

was not going to help anyone."

So Judge Murfitt sent him on

a run accompanied by police – if

he could do it in under an hour,

he would be discharged.

"The court was in uproar

cheering him on."

Turns out his parents were

marathon runners, he said, and

sure enough he made it and was

discharged without conviction.

"I know that he's done really

well since then. He served

overseas, settled down and he's

living a good, pre-social life.

"The whole drive of sentencing

is to (a) keep the public

protected, but (b) to reduce the

offender's risk of re-offending

and returning to court. Getting

particular young men on track is

best for the community."

THE HOME OF GOOD BAKING

PREMIUM

BREAD

White, wholemeal, grain & honey.

3 FOR

$

5 00

TAN SLICE

Timeless tan

slice with sweet

base, topped

with caramel

and crumble -

our version has

ONLY

choc chips. $

3 49

EA

ALL BREAD ROLL

PACKS

(Excludes dinner

rolls.)

2 FOR

$

3 98

PURCHASE 2 x 2L DAIRY DALE MILK TO ENTER

THE DRAW TO WIN A VW POLO CAR!

Promotion valid 1st - 30th November 2016.

Winner will be notified Friday 9th December

2016. Terms & conditions apply. Full terms &

conditions can be found at www.couplands.co.nz

MILK

Dairy Dale 2L varieties.

$

5 98

2 FOR or $3.19 each

SUPER CHOC CHIP

FAMILY PACK BISCUITS

$

4 99

EA

Promotional pricing available while stocks last from 07/11/16 to 13/11/16.

Images are serving suggestions only.

Open 7 days | 8 Convenient local locations

Hornby • Barrington • Ferry Rd • Papanui • Riccarton • Upper Riccarton • New Brighton • Rangiora

BAKERIES

www.couplands.co.nz
---
SOUTHERN VIEW Tuesday November 8 2016 9

FLOORING STOCK

CLEARANCE

NYLON

Riviera

• 26 oz solution dyed

nylon

• Extra heavy duty

• Cut pile

• 10 colours

NOW

$85.00

3.65M WIDE ROLLS

Be Quick

POLYPROP

Bedrock

• Hardwearing polyprop

• Heavy duty

• Loop pile

• 4 great colours

to choose from

NOW

NOW

$49.90

$49.90

3.65M WIDE ROLLS

Outstanding Value

POLYESTER

Classic City

• 30oz polyester

• Extra heavy

• Cut pile

NOW

$75.00

3.65M WIDE ROLLS

Awesome Price

WOOL

Pure Wool

• Slightly imperfect

• Loop pile

• Extra heavy

duty + stairs

• 3 great styles

NOW

$59.00

3.65M WIDE ROLLS

Be Quick

POLYESTER

Benmore

• Heavy duty polyester

• Cut pile

• 4 great colours

• 4 meter wide rolls

• Foam back

no underlay required

NOW

$79.90

4M WIDE ROLLS

Great DIY Carpet

POLYESTER

Wyoming

• 50oz polyester

• Extra heavy duty

• Cut pile

• 3 colours

NOW

$105.00

3.65M WIDE ROLLS

Great Value

Garage carpet

stock clearance

2m - $30 per MTR

3m - $45 per MTR

4m - $60 per MTR

All carpet remnants

priced to clear from

$5 per piece

Clearing vinyl

FROM

$30 per metre

(2 metre wide vinyl)

312 Wilsons Road North, Waltham Phone 366 0070

www.carpetkingdom.co.nz | Mon - Fri 8am - 5pm | Sat 10am -1pm

Q Card Finance Now Available

FREE no obligation measure & quote (conditions apply.)
---
10

Tuesday November 8 2016

SCHOOLS

SOUTHERN VIEW

West Spreydon School pupils have been treated to musical classes with

help from an orchestra. Four members of the Christchurch Symphony

Orchestra spent a week working with pupils and teaching them how to write

compositions and performances. Musicians Cathy Irons, Jennifer Johnson,

Pablo Ruiz Henao and Helen Webby taught the pupils about different

instruments and how to work with each other to create musical pieces. The

pupils performed a concert on Friday.

PATIENT: Marian College's future will not be decided until a

new Catholic Bishop of Christchurch is appointed.

PHOTO: GEOFF SLOAN

School's fate up to bishop

• By Bridget Rutherford

THE FUTURE of Marian

College will not be decided

until a new Catholic Bishop of

Christchurch is appointed.

The diocese has been looking

at permanent options to rebuild

the school after being forced

from its North Pde site following

the February 2011 earthquake.

However, none have been set

in stone.

In a letter to the school, administrator

of the diocese Reverend

Rick Loughnan said the

decision would be deferred until

a new bishop was appointed and

further investigations were carried

out.

"We must be 100 per cent sure

of our reasoning when the final

decision is made and, with a new

bishop soon to be appointed, it

would seem appropriate for him,

with our guidance, to have input

into this final decision," the letter

said.

STAR STUDENT: Ella

Wells was awarded the

Barrington Kip McGrath

star of the month for her

hard work. Her tutors said

she is self-motivated and

works well independently

to complete her class work

and homework. They said

she has made excellent

progress in English and is a

pleasure to teach because

of her kind personality and

her willingness to work hard.

Marian principal Mary-Lou

Davidson said the school was in

good heart while it waited to see

where it would be rebuilt.

"It's an important decision.

We want one that has the best

outcome for the school."

Last year, the diocese decided

the school would not return

to its North Pde site because it

remained at risk of liquefaction

induced subsidence and lateral

spreading.

The Bishop of Christchurch is

the proprietor of the school.

Bishop Barry Jones initiated

the process of deciding where

the school would be rebuilt.

However, he passed away in

February.

A diocese spokeswoman said

there was no time frame for

when a new bishop would be

appointed and it was highly

confidential.

"It's a highly consultative process,

with both lay and clergy to

find a suitable candidate."

LEARNERS: During the week-long workshop pupils learnt to play many instruments.

SOUND:

Pupils

learnt how

to use their

bodies

to create

percussion.

LITTLE

GARDENERS:

Beckenham

School's

gardening group

have been getting

their hands

dirty creating a

vegetable garden.

Over the next

couple of weeks,

the pupils will

continue working

on the gardens

by building them

up and making a

scarecrow.

sellOut

Montego Firm or Medium Mattress & Base

• Classic 8 inch Pocket Spring technology which minimizes partners

disturbance as each individual coil reacts separately.

• Comfort Foam Edge support.

• Naturally Healthier Latex. Pure New Zealand luxurious wool

• 10 Year Warranty - Made in Christchurch.

Open 7 Days Mon - Fri 9 - 5.30pm Sat - Sun 10 - 4pm

QUEEN

$1899

KING

$2199

up tO

18 mOnths

interest

free!

SUPER KING

$2399

242 Ferry Rd Along From Old Ami Stadium | Phone 377 8887 | www.bedworld.co.nz

SAVE

uP to

$2000
---
SOUTHERN VIEW Tuesday November 8 2016 11

EQC UPDATE KEEPING YOU INFORMED | NOVEMBER 2016

EQC pays $495 million in the past year to

settle Canterbury claims

EQC Chief Executive Ian Simpson

The Earthquake Commission paid

out nearly half a billion dollars to

settle claims in Canterbury in the

year to 30 June 2016, its recently

released annual report shows.

The annual report includes lots of detail

about the work EQC has been carrying

out in Canterbury in the past year.

Figures in the report show that in the

2015/16 financial year, EQC paid out

$495 million in claims for the 2010-2011

Canterbury earthquake sequence.

This total was made up of $441 million

for residential building claims (both for

cash settlements and managed repairs),

$46 million for residential land claims

and $8 million for contents claims.

IN THE

FINANCIAL YEAR

TO

30 JUNE 2016 EQC PAID OUT

$495 MILLION

MADE UP OF $441 MILLION

FOR RESIDENTIAL BUILDING CLAIMS,

$46 MILLION FOR RESIDENTIAL

LAND CLAIMS AND $8 MILLION

FOR CONTENTS CLAIMS.

EQC has now spent $9.4 billion

(including claim handling expenses,

excluding GST) in its response to the

2010-2011 Canterbury earthquakes.

This sum has been financed from the

Natural Disaster Fund and by the

reinsurance cover EQC had negotiated

prior to the earthquakes.

EQC recovered about $444 million

of the cost of Canterbury claims,

largely from international reinsurers,

in 2015/16.

EQC also paid out $25 million for claims

other than those from the 2010-2011

Canterbury earthquakes. This includes

$4.7 million for claims from the

February 2016 earthquakes.

AT 30 JUNE 2016,

EQC HAD

COMPLETED

REPAIRS

ON MORE THAN 67,000 HOMES,

SETTLED 187,000 CONTENTS

CLAIMS, COMPLETED CLAIMS

FOR LAND DAMAGE TO

66,000 PROPERTIES.

In Canterbury, as at 30 June 2016, EQC

had completed repairs on more than

67,000 homes, settled 187,000

contents claims and completed claims

for land damage to 66,000 properties.

"By the end of the year we aim to

have cash settled the more than

14,000 claims from the February 2016

earthquakes," says Chief Executive

Ian Simpson.

Mr Simpson reaffirmed EQC's ongoing

commitment to Canterbury in 2017.

"In the upcoming year, EQC will

continue to be present in Canterbury

resolving remedial requests on

properties where we have managed a

repair. There is also a range of

administrative and financial tasks to be

completed."

AS AT 30 JUNE 2016,

EQC HAD PAID OUT

$9.4 BILLION

IN RESPONSE TO THE 2010-2011

CANTERBURY EARTHQUAKES.

THIS MONEY CAME FROM THE

NATURAL DISASTER FUND

AND REINSURANCE.

Mr Simpson says that EQC has adequate

funds to continue to operate and to meet

its financial obligations and settle claims.

"There is always a high level of

uncertainty when it comes to settling

claims. For instance with home repairs,

the true extent of damage may only

become clear once repairs begin and

tradies start ripping off weatherboards

or lifting floorboards.

IN ADDITION,

AS AT 30 JUNE 2016

EQC HAD PAID OUT

$4.7 MILLION

FOR CLAIMS ARISING FROM THE

FEBRUARY 2016 EARTHQUAKES

IN CANTERBURY.

"Because of this uncertainty, we have

built a margin into our estimates of what

the Canterbury claims will cost.

"In the event that we did need to use all

of this margin, the Crown has confirmed

in writing that it will meet its obligations

under the Earthquake Commission Act to

ensure that EQC can meet all its liabilities

as they fall due," Mr Simpson says.

The EQC Annual Report shows that EQC

received about $280 million in premiums

and spent $210 million on expenses,

excluding claims payments and claims

handling expenses for the 2010-2011

Canterbury earthquake sequence.

"Our largest expense was the $150

million in premiums for reinsurance,

which currently provides New Zealand

with access to $4.69 billion in cover

for natural disasters, once the cost of

these events exceeds the deductible,"

Mr Simpson says.

A copy of the EQC Annual Report

2015/16 can be downloaded from the

EQC website.

Canterbury students

head to Chile for

earthquake conference

Five engineering students from University of Canterbury will be

attending the World Conference on Earthquake Engineering

(16WCEE) in Chile this January thanks to sponsorship from EQC and

the NZ Society for Earthquake Engineers (NZSEE).

EQC's Research Strategy and Investment Manager Richard Smith says the

sponsorship goes partway to supporting students and practitioners to

attend the conference, which is the preeminent gathering of engineers

involved in seismic resistant design.

"WCEE is to earthquake engineers what the Olympics are to sport. This

opportunity gives these students exposure to ideas and knowledge from

around the globe as well as the chance to forge international connections

that will be of value to their research and to New Zealand.

"EQC plays an important role in funding and facilitating research about

natural hazard risk. Part of that is making sure we have researchers within

New Zealand who have the capability to undertake that research."

Mechanical engineering PhD student Jarrod Cook says the chance to

attend 16WCEE will be invaluable. "I'm exploring ways a ratcheting,

tension-only device can reduce the motion experienced by buildings

during an earthquake, and therefore limit the damage and impact to

people as well as enabling buildings to stay open after the event. WCEE is

the premier conference in earthquake engineering so this is a great way

to share my ideas, get critical feedback and see what others are doing."

WCEE is held every four years and provides attendees with the

opportunity for a global exchange of knowledge, ideas, research

results and practical experience. As well as students from Canterbury,

EQC and NZSEE are jointly sponsoring the attendance of five students

from Auckland University and four industry representatives from across

New Zealand.

From left to right: Jarrod Cook, Pavan Aninthaneni and Amir Malek are three of

five University of Canterbury students heading to Chile for the World Conference

on Earthquake Engineering this January.

CONTACT EQC AT 0800 DAMAGE (0800 326 243) OR VISIT WWW.EQC.GOVT.NZ
---
12

Tuesday November 8 2016

SOUTHERN VIEW

NOW OPEN FROM 9aM

SaTURDaY MORNINGS

Aashiana

Chop n Wok

McDonalds

Mediterranean Taste

Muffin Break

Pita Pit

Sushi Time

Central City Flowers

Champions of the World

EB Games

Flight Centre

Shop 9a,

South City Centre

Phone 377 0176

SANTA SUITS

BAGS & BAGS

SILVER & GOLD

Phone 03 365 6246

www.justincredible.co.nz

Haircuts for Haircuts

Halo & hazard

Hannahs

Health 2000

Japanz Bakery

Just Incredible

Metropolitan Milkbar & Bakery

take a 15-miNute

Hair Scan Test

receive a full analysis booklet of your health with

a consultation. only 4-5 strands of hair needed.

Michael Hill Jeweller

Mister Minit

New World Supermarket

Notty Horse

Pagani Clothing

fiNd out your leVelS of:

Vitamins

minerals

amino acids

antioxidants

omega 3,6,9s

Paper Plus

Robert Harris

book iN-Store NoW

Rodney Wayne

South City Pharmacy

St Pierres

Phone: (03) 372 9185

Shop 4, South City Centre,

555 Colombo Street, Christchurch

South City

Street Legal Shoes

Subway

Teasme

The Warehouse

Toy Fest

T & T Childrenswear

Wendys Supa Sundaes

Whitcoulls

Wonder Nails

Lotto and Post Centre

Splendido

Jenny Craig

South City lotto aNd PoSt

YouR LuCkY LoTTo & PoST SERvICE ouTLET.

We have sold over $16 million in prizes including

fourteen 1st Division Lotto winners.

South City lotto and Post

Phone 379 2527

open mon-Sat 9am-6pm and Sun 10am-5pm

No Need for a

loNg flight to

tokyo or PariS

Simply see us for delicious

Japanese & European

breads, pastries, cakes,

filled donuts, gourmet

sandwiches and kiwi

Style Meat pies. Plus

Melon-pan (Cookie Bun),

Curry-pan (Curry Puff), Shu

Cream (Japanese Cream

Puff) and some of the best

coffee in town.

Little Saigon Restaurant

Southern Asian

Yoghurt Story / Green Stop

Full range

oF NZ POST

ServiceS

available

PhoNe

03-943-4066

(Next to

the Warehouse)

Find us on Facebook

South City Shopping Centre 555 Colombo Street ChriStChurCh telePhoNe 962 8800
---
SOUTHERN VIEW Tuesday November 8 2016 13

Bowling in Beckenham for 100 years

Barry

Chapman

looks at

Beckenham

Bowling

Club's

upcoming centenary

ROLL OUT the band and raise

the flag, Beckenham Bowling

Club is celebrating 100 years of

giving enjoyment to the many

hundreds of players who have

taken part in the club's activities

over that time.

There will not be a message

from the queen, but such an

achievement is nonetheless one

that will be celebrated with pride

by past and present members

alike in the coming weeks, with

past members attending from

around New Zealand and Australia.

The club was established

on part of the old Heathcote

(Opawaho as it was previously

known) River bed, which had

become a rubbish dump. On

November 7, 1916, a meeting of

interested parties was called by

Ernie Chegwin, with the idea of

establishing a lawn bowls club.

Things moved very quickly. A

committee was set up to establish

the club and begin negotiations

with the council to obtain

the use of the derelict ground.

By March 1917, the green was

prepared and sown with the

first bowls being rolled up in

the following October. A magnificent

feat, all accomplished by

volunteer labour. And the fact

that this took place in the middle

of World War 1 made it all the

more impressive.

The club grew over the following

years and saw the establishment

of the first women's

bowling club in Christchurch in

October 1931. It became obvious

that the club was outgrowing

its facilities and, in April 1945,

a second green was established

at the club's present site in

Waimea Tce. Then followed a

winter green of compacted soil

covered with sawdust that saw

hardy players in their overcoats

playing the sport they loved in

the middle of winter. With two

sites, it required doubling up on

equipment and this, along with

green problems, led to the laying

of a second green on the new

site, which saw the club shift in

full in June 1976 and the original

site was reverted back to the city

council.

The volunteer aspect which

saw the club established continued

as the club grew. This was

tested to the upmost when, in

1960, a decision was made to

replace the old army hut that

was the club pavilion with a new

building that incorporated a

three rink indoor surface – one

of the first at that time. This was

a huge undertaking for mainly

retired members who offered

their skills to complete this in

only 10 months. The building

has seen additions and renovations

since, but has served the

club well right up to today's requirements.

It also came through

the earthquakes with only minor

damage and the club was able

to continue using it apart from

when the repairs took place.

As with all clubs, we have

seen some real characters in our

ranks who are still talked about

today. We have also had some

top players in our membership

over the years, including

New Zealand and Canterbury

representatives. Our centre title

lists are very impressive for a

club that has never featured in

the "top clubs" of Christchurch.

We have undoubtedly made our

mark both on and off the green.

With sporting clubs' facing

uncertain futures, due to

seven-day trading, both partners

working and the large amount

of other attractions that take up

today's recreation time, the club

has looked to ensure we move

with the times by setting up an

administration to operate in a

professional manner.

This has proved beneficial

for our members and assisted

us in linking to the local community

through such things as

club plans, operational plans

and community bowls for

non-players, known as Crack

PLAYERS: Beckenham Bowling Club will celebrate its centenary next year.

A Jack Bowls. Many of these

systems have been adopted by

other bowling clubs around the

country.

All of this contributed to the

club earning titles like club of

the year and administrator of the

year for New Zealand. The club

is very proud of achieving these

and other awards, including

Bowls New Zealand and Sport

Canterbury gold awards.

Today, as we look back over the

last 100 years and congratulate

ourselves on our achievements,

we are also very mindful of

looking to the future and

providing what sports people

and the local community want.

Doing so allows the club to look

positively towards the next 25

years.

As a club, we welcome the local

community to make use of these

first-class facilities. We provide a

social and friendly environment

for all people, from families to

school-aged children to those in

their later years who are looking

for a way to make friends and

enjoy the sport at whatever level

they desire.

Coaching and modern bowls

are available for those starting

SPORTS

ORIGINAL

BOWLERS: Since

the club opened,

the membership has

grown to include

more woman now

than in 1917.

out and seven-day-a-week play

helps provide what the players of

the future are looking for.

We invite any past members

and anyone interested in

learning about our sport to

contact us for details.

•The Beckenham

Bowling Club's centennial

celebrations will take

place on February 3-5,

2017. Contact the club at

beckenhambowls@xtra.

co.nz

•Barry Chapman is the

centennial committee

chairman

Christmas

Stock

arriving

in store now

Shop 5, 346 Halswell Rd, Halswell.

Ph: 322 1368

billboardme.co.nz
---
14

WIN

enter every time you shop at any of these participating businesses - more draws, more chances to win! Promotion closes 9th Dec 2016. conditions apply.

ON NOW!

Tuesday November 8 2016

your chance to

win one of three

$1000

SHOPPING SPREES

THIS COULD BE YOU!

Shop scan

SOUTHERN VIEW

½ PRICE

ALL

UVEX

HELMETS

While stocks last

ALL CUBE

BIKES ON

CLEARANCE!

• Clothing, parts & accessories

• Bike servicing and repairs

• Friendly helpful staff

• Layby available • Open 6 days

03 360 2050

93 Barrington St

Mon-Fri 8.30-5.30,

Sat 9.30-3.30

cycleworkz.co.nz

Quick Stop Liquor

69 Centaurus Rd,

Cashmere.

Ph 332 0233

Hrs: Mon 3pm-7pm

Tues - Sat 11am-7pm

Specials from 7th November

to 14th November

• BEER • WINE •

• SPIRITS • RTDs

OVER 50 cRaFT

BEERS INSTORE

TuI, ExpORT & dB

BOTTLES

$

22 99

15 pack

I can

see

clearly

now

GREAT BUY!

$29.60

BARRINGTON, 256 Barrington Street

PH 332 1730 | www.suckling.co.nz

special

offer

Bring in this

ad and receive

$

5 off

any Style Cut

1 per person.

Offer valid until

06/12/16

Style Cuts

cuts

$

29

Just Cuts Hornby, Shop 49A, The Hub, Christchurch

Taste of Persia

Souvlakis & Kebabs

• Various Choices

Lamb, Chicken, Beef, Falafel (Vegetarian)

• Different Sizes

Large/Small/Pocket

• Extra Meat, Mushroom + Cheese Available

• Persian Style Kebabs on Rice

• Fast Friendly Service

• Excellent Value for money

• Phone Orders are Welcome

239D Colombo Street | 332 7252

Open: Tues – Sun 11am – 9pm

KTS

From

$10 Hair Cuts

No appointment just walk in!

337-9407

239B Colombo Street, Beckenham

CHRISTCHURCH'S PERFECT

INDOOR ENTERTAINMENT

FLIP OUT TRAMPOLINE ARENA

• MAIN ARENA

• TRICKING AREA

• FOAM PIT

• WALL TRAMPOLINE

• TUMBLE TRACK

YOUR SAFETY IS OUR #1 PRIORITY

PHONE 384 8244

230 MACES RD, BROMLEY

WWW.FLIPOUT.CO.NZ

Full mechanical service for all

makes and models

WOF $35

New & used tyres available

Free battery test

Wheel Alignments

20 Gasson St, Sydenham

Ph 379-6212

Mon-Fri 8am - 5pm Sat 8.30am - 1.30pm

MOTOR COMPANY CHCH LTD

Bezzera E61 Machines

Vitamix Blenders

Kitchenaid Mixers

Magimix Processors

Bialetti Espresso

Kai Shun Knives

Lodge Cast Iron

Le Creuset Cookware

Pyrolux Cookware

Arcos Knives

Cutlery Homeware

Cheforks Uniforms

Bamix Stick Blenders

Schott Zwiesel

Victorinox Knives

Dualit Toasters

Electric Mincers

Food Dehydtrators

Cake Decorating

Roasting Dishes

Electric Kettles

Sabatier Knives

Acme Expresso Cups

Imperia Pasta Makers

Staub Cookware

Wood Chopping Boards

Quality Bikes

Wanted

new tO addingtOn!

Authentic Indian

Restaurant

North/south delicacies, Dine in or takeaway

lunch specials from $9 .50

full licensed restaurant

See our menu at PepperBridge.co.nz

Spring bedding Special

duvets, blankets, Covers

20% OFF

All bedding SeRViCeS

when you mention this ad

(excludes pillows)

Total Food Equipment

218 Moorhouse Ave 03 366 6912

Before After

Open 7 days • 620a Ferry Road, Woolston | Phone 03 376-6377

www.aroundagaincycles.co.nz

aroundagaincycles@gmail.com

300 Lincoln Rd, Addington | (03) 595 0442

330 Lincoln Rd, Christchurch

Ph: 03 338 3312 | mastervalet.co.nz

$22

WOF

SIZZLING

SAT WOF

SPECIAL

Full mechanical service

+ repair available

Cnr Fitzgerald Ave & Hereford St.

Phone: 365-5220

www.a1auto4service.co.nz

Quality

NZ Made Beds

& Bedroom

Furniture

OPEN 7 DAYS

• Sealy • Beautyrest • Coastwood Furniture • Robax

• Mazon Virtali • Compac Furniture • Sleepmaker

• Sleep Systems NZ

242 Ferry Rd (Along From Old Ami Stadium)

Phone 377 8887 | www.bedworld.co.nz

Printer Cartridges

Visit us and SAVE!

100 Fitzgerald Ave, Christchurch (03) 365-7739

2016 seasoN

NoW starteD

the place to be

this summer!

Season passes available at the Woodford Glen Shop,

129 North Avon Road, ChCh | Ph (03) 385-1515

Check out www.woodfordglen.co.nz for meeting dates

The Automotive Lamp

Specialists

WE ARE

BACK IN

HORNBY!!

BUTLER

Auto Mart

Auto Parts Professionals

STOCKISTS OF NEW PARTS FOR

MOTOR VEHICLES FROM 1930-2016

Radiator Hoses, Water Pumps, Wheel Cylinders,

Belts, Electrical Components, Suspension Parts,

Bearings, Specialised Classic Parts

+ 100's of other parts!

Boost Brain Performance

ENZO:PROFESSIONAL (ENZOGENOL) is a potent

antioxidant extract of the N.Z. pine bark and

has been clinically shown to improve memory,

concentration & brain performance.

SUPER

60's only $45.30, save $5.00

120's only $84.90, save $15.70

PRICE! Detailed Information Available

Bringing You the Best in Natural Health!

New and Used Lamps for Cars, Trucks,

Vans, 4WD and Motorhomes

PH 0800 225 483

325 Brougham Street

CHRISTCHURCH

4 Brynley Street, Hornby, Ph (03) 982 7554

407 Colombo Street, Sydenham, Ph (03) 366 8005

www.butlerautomart.co.nz

MARSHALLS HEALTH & NATURAL THERAPY

CONSULTING - PRESCRIBING - DISPENSING -

MANUFACTURING - MEDICAL HERBALISTS

110 SEAVIEW RD, NEW BRIGHTON • PH 03 388 5757

Email: enquiry@marshallshealthshop.co.nz

- WE ARE ALWAYS HAPPY TO HELP! -
---
SOUTHERN VIEW Tuesday November 8 2016 15

Dancer earns new shoes

BALLET DANCER Ayiana

Lo-Fo-Wong missed out on a

scholarship – but a judge was so

impressed with her performance

she decided to pay for her pointe

shoes for a year.

The 14-year-old, of

Beckenham, applied for

the People's Choice AMP

Scholarship recently in the hope

of covering some costs for her

ballet lessons, costumes and

shoes.

Ayiana is a full-time

Canterbury Ballet student. She

made it into the top five in the

North Canterbury region, but

when she missed out on the

scholarship, one of the judges,

Dorothy McLennan, offered

to pay for her ballet shoes for a

year.

"I was impressed with the

discipline, dedication and

confidence shown by Ayiana, so

I really wanted to help her cover

some of the many costs involved

in pursuing her ballet career,"

Ms McLennan said.

For Ayiana, this was a big

boost to her confidence and will

help equip her for an audition

video for the New York-based

American Ballet Theatre, as

part of its summer school

programme.

"It makes me feel people care

about my passion and support

ACHIEVERS

DANCER: Ayiana goes through, roughly, four pairs of pointe

shoes a year, practising ballet up to five days a week on top of

performing in shows.

me," she said.

Ayiana's mum Jaimita de

Jongh said her daughter's ballet

shoes cost $125 a pair. And she

goes through roughly four pairs

a year.

"I was really proud of her

for doing this on her own. We

supported her but she did the

interview and impressed them

herself," Ms de Jongh said.

Ayiana has been dancing for

Canterbury Ballet since she was

four-and-a-half, and after her

mother took her to see Southern

Ballet perform The Snow Queen

when she was three-years-old.

"We thought it was just a

phase, but she kept asking and

asking for us to take her to ballet

lessons, so eventually we did.

Our lives revolve around ballet"

Ms de Jongh said.

The next step for Ayiana is

to play the lead role of Aurora

in Canterbury Ballet's

production of Sleeping Beauty

next month.

"In that case, we'll have to do

some serious fundraising."

Standout league

player recognised

with award

• By Gordon Findlater

THE LINWOOD Keas won a

number of awards at the recent

Canterbury Rugby League

awards held at the Hornby

Working Men's Club.

Alani Kikoi (right) picked up

the biggest individual award of

the night, named the Canterbury

Sportsperson of the Year.

The hooker was a standout for

the Keas this season, helping the

team on its way to winning both

the minor premiership and Pat

Smith Trophy in the Massetti

Cup. He also represented the

Canterbury Bulls.

Awards also went to Daniel

Hartley, who won the Turner

and Le Brun Cup, which is

awarded to the top point scorer

in the Massetti Cup. Keas and

Bulls coach Andrew Auimatagi

was also recognised for leading

the club to this year's title,

winning the John Coffey Cup –

Coach of the Year award.

The club also had reason for

celebration last week. Keas and

Bulls centre Matt Sauni has

been given a pre-season contract

with the Warriors following an

outstanding year.

SPORTS

Sauni recently played for the

New Zealand Residents and

made an impression on Warriors

reserve grade coach Ricky

Henry.

He will join the team later this

month.
---
16

Tuesday November 8 2016

SOUTHERN VIEW

10kg

Fresh NZ Lamb Leg Roast

3kg

Loose/Truss Tomatoes

1ea

Bluebird Burger Rings/Twisties/Cheezels/

Rashuns 110-120g

2 for

5

Molenberg Bread 700g

4 for

6

Wattie's Canned Fruit

400-410g

(Excludes Tropical)

$

32 99

pack

Speight's/Summit

24 x 330ml Bottles

Lindauer

750ml

(Excludes Special

Reserve)

$

8 99

each

3 for

5

Griffin's Arrowroot/

Krispie/Gingernuts/Malt/

Wine Biscuits 250g

Celebrate Canterbury

Anniversary with us!

FreshChoice Barrington

256 Barrington Street, Christchurch.

Open 7am-11pm, 7 days.

Prices apply from Tuesday 8th November to

Sunday 13th November 2016, or while stocks last.

FreshChoice.co.nz

FreshChoiceNZ

332 6364

FreshChoice Barrington

Owned and

operated

by locals

Certain products may not be

available in all stores. Savings

are based on non-promotional

price. Limits may apply.

FCSV0811
---
SOUTHERN VIEW Tuesday November 8 2016 17

HEALTH & BEAUTY

We have relocated to a

brand new location

A beautiful smile makes all the difference when you first

meet someone, whether it is in a business setting or at a

social gathering. That is why choosing the right dentist is

an important decision.

The caring team of experienced dentists team at Smile

Concepts provide painless treatment. Plus, the personal

touch they offer by taking time to go over all your

treatment options and associated costs means those who

fear a dental surgery will be immediately put at ease.

Smile Concepts is proud of its patient service. Their

knowledgeable staff members use safe and proven

procedures, the latest technology, materials and

philosophies to enhance your teeth and smile. They also

actively engage with their customers and take regular

feedback. For example, in recent months, customers

complained about earthquake-related shaking at the

surgery. Taking these complaints seriously, they have

now moved to their newly renovated premises with

new repelling of the foundations at 104 Colombo Street,

Sydenham, where ample parking is available and the bus

stop is close by.

Smile Concepts welcomes customers from across

Canterbury, and with the variety of services offered as well

as a compassionate, patient-centered approach, it is well

worth driving the extra mile.

They provide dental care services for children and

adolescents with special needs, and sedation dentistry so

patients can undergo treatment without anxiety. General

dentistry services include regular checkups, fillings,

crowns, dentures, root treatment and extractions. With

their emphasis on preventative dentistry, they recommend

regular checkups to eliminate any major problems

occurring.

No longer should smiles have gaps where teeth used to

be. Implants, veneers and bridges can be crafted and fitted

so they look natural, are long-lasting and a perfect match.

They also have a dental hygienist, who will help to keep

gums healthy and advise on healthy oral habits.

Some food, drink and medicines can stain our teeth

over time and teeth whitening has become one of the

most sought-after cosmetic dental procedures today. Smile

Concepts offers the Zoom whitening system, which is

currently one of the most powerful, effective and safest

methods available on the market.

Perhaps the one day in our lives when our smile means

the most is our wedding day. This innovative dental

practice offers wedding packages individually tailored to

your needs to make sure your wedding photographs do

you justice. As a special gift to brides and grooms, Smile

Concepts will create a wedding package at a special price.

Their generosity doesn't stop with their customers. Smile

Concepts is proud to work with the local community,

supporting initiatives such as Child Safety Awareness

Programmes, the Special Children's Christmas Party

and is a regular donor to the University of Canterbury

Foundation.

To find out about their full range of services, visit

their website at www.smileconcepts.co.nz or call them

on (03) 332 6399.

Just had surgery?

Come to us for your postsurgery

physiotherapy

• 3 clinics

• Pain and swelling management

• Restoring movement, strength

and function

• ACC and Private surgeries

• Free car-parking

• No referral needed

musclepeople.co.nz

Three Muscle People Physio Clinics:

Bishopdale Clinic

13a Bishopdale Court

Ph 360 3606

Call us today 360 3606

City Clinic

12 Hereford St

Ph 961 0236

Wigram Skies Clinic

67 Skyhawk Rd

Ph 322 9400

"Where Every Smile Matters"

Experienced team provides caring and

gentle dentistry for the whole family

Dental Hygienist Available

Sedation dentistry

Wedding packages

Winz quotes

ZOOM whitening

treatment

ACC accredited

Dental Health Counselling

Free treatment for

adolescents (13-18 years)

Free treatment of

children (0-13) with a

school dentist referral

PH 332 6399

We've moved!

Now based at

104 Colombo Street,

Beckenham

www.smileconcepts.co.nz
---
18

Tuesday November 8 2016

SOUTHERN VIEW

CONTINUING EDUCATION

EXHIBITION: Eastside

Gallery opened their latest

exhibition yesterday. Trash

to Treasure is an annual

exhibition for artists around

the city which challenges

them to create pieces

of art out of recycled

materials. Artists showcase

their imagination and skill

through the pieces they

have created using many

different colours and items.

Take a walk around the

creative sculptures and

creations the artists have

spent time crafting. The

exhibition is open daily from

11am-4pm and Saturdays

from noon until 3pm. The

exhibition is on display at

Eastside Gallery, located at

388 Worcester St, on the

corner of Stanmore Rd. The

gallery is free to attend. ​

Email caitlin.miles@starmedia.kiwi

by 5pm each Wednesday

Ensuring a safe

work place

Musical Instrument

Practice Slots

Every Tuesday, 3.30pm–

7pm

Book a time to go solo

or have a silent practice

with up to four bandmates.

There will be electronic

drums, a digital piano, a

Roland session mixer, mics

and headphones available

for budding musicians.

You can also take in your

own electric instruments

and plug into the session

mixer.

Te Hapua: Halswell

Centre, 341 Halswell Rd

Mums 'n' Dads and

Bubs Group

Wednesday, 10.30amnoon

If you're new to the

community or just want

to make some new friends

within the area take your

baby along to this group

and meet some new

people. Learn some

parenting tips and

tricks while enjoying food

and coffee while watching

your little ones play. Phone

the centre on 981 8188

before heading down to

make sure the group is

running.

Linwood Playcentre, 628a

Worcester St, Linwood. Free

entry

Scrabble Club

Wednesday, 1.30pm-

3.30pm

If you want a chance

to show your skills with

words and creativity this

is the place to go. Be social

and even pick up some

wordy tricks off of others.

There is no obligation to

join the scrabble club, go

when you like and take

your own board if you

choose too.

Linwood Library, 1st floor

Eastgate. Free entry

Mid Week Laughter

Club

Wednesday, 6pm-7pm

If you need an excuse to

laugh for no reason here

it is. The laughter club

meet every Wednesday to

giggle about nothing at all

with the aim of relieving

stress and relaxing to get

you through the rest of the

week.

St Marks Methodist

Church, Corner Barrington

and Somerfield Sts. Entry

$2

The Eastern Family

Acoustic Rumbles

Wednesday, 7.30pm-

9.30pm

Blue Smoke presents

different music every

Wednesday. This week The

Eastern are entertaining

your family with their own

and some of their friends.

Presenting original music

and some covers for the

whole family to dance and

sing along to.

Blue Smoke, 3 Garlands

Rd, Woolston. Free entry

Knot just Knitting

Thursday, 1.30pm-

3.30pm

This event is for creative

crafters, take your knitting,

crochet, cross-stitch or any

craft you like to the event.

Pick up some handy skills

from the other crafters and

find a book on your hobby

while in the library. While

this event runs every week

there is no obligation to

attend.

South Library, 66 Colombo

St. Free entry

Science Alive in the

library

Thursday, 3.30pm-

4.30pm

Learn more about science

at these free after

school drop in sessions.

Activities are based on

things found in science

books and other interesting

and popular science

related subjects.

Linwood Library, first

floor Eastgate Mall. Free

entry

Super Saturday Storytimes

Saturday, 11am-11.45am

This event is aimed at

children aged between

two and seven years old.

It includes stories, rhymes

and craft exercises for the

children to enjoy. Take

your children along to interact

with other children

and have fun while they

are there.

South Library, 66

Colombo St. Free entry

Try Golf Croquet

Saturday, 3pm-5pm

Spend Saturday afternoon

learning more about

croquet with members of

the St Martins club. People

of all ages and skill ability

are invited to go along and

learn more, show off their

skills or pick up some new

tips and tricks. Mallets

and balls are provided. Just

wear flat shoes. If it is wet

the event will be postponed

until next Saturday at the

same time and place. For

more information phone

Josie on 384 0400

St Martins Croquet

Club, 11c Gamblins Rd, St

Martins. Free entry

Opawa Farmers Market

Sunday, 9am-noon

Grab some locally grown

produce or freshly baked

bread at the market, which

runs every Sunday. Pick up

organic products and enjoy

taking a look around the

market.

275 Fifield Tce, Opawa.

Free entry

Learning first aid is not only a

part of ensuring a safe work place, but also

an integral part of our engagement with

the wider community. We all learn the

necessary skills to ensure that in times of

emergency we are able to assist our work

colleagues, but are we able to take these

skills home, into the community or on to

the sports field?

not all work places are the same and

the injury risk for each place can be wide

and variable. The office attended by

administrators does not carry the same

risk as those people working with heavy

machinery, or perhaps at some distance

from a regular ambulance service. it is

therefore essential that you pick the right

first aid course to suit all of your activities –

both professional and social.

take, for example, an office worker who

does not have a high risk work environment

and whose concern might be to ensure that

they can deal with minor cuts and superficial

injuries, or the ability to perform effective

CPr. These skills

Piano

Raewyn Clegg

Registered Teacher of

Piano and Theory of

Music.

29 Lancewood Drive

Halswell

Ph 322-9377

can be achieved on a

course of eight hours

duration and would

generally fit into

low to medium risk

area. But take this

same person on to a

sports field either as

a spectator or player

when a higher level injury occurs. The eight

hour course covering unit standards 6402

and 6401 (or 26551 and 26552) does not

cover head neck and spinal injuries, eye

injuries, hypothermia and poisonings.

The majority of injuries occur outside of

the work place, in fact one in three injuries

occurs in the home, making it the most

common place for injuries to happen.

new Zealand children are twice as likely

to die through injury as children who live

in australia. They mostly die as a result

of motor vehicles accidents or falls in the

home. fatalities from leisure and sport are

not far behind those in the workplace.

The wider 12 hour course teaches the

additional unit standard 6400 and provides

a wide knowledge base for medium to high

risk environments. This course covers many

of the skills required to deal with the most

common injuries, such as falls (which can

result in head, neck and spinal injuries) and

dealing with complex scenes such as motor

vehicle accidents.

if you are not sure on the course best

suited to your needs, ask your accredited

first aid training provider. They can explain

the course content and give you options

that will best suit your needs. Look beyond

the workplace and consider your family and

your location. Check that you have a good

quality first aid kit that is up-to-date with

replenished items, and that everyone knows

where it is located.

Monday

14 November

28 November

12 December

Friday

18 November

9 December

16 December

NEW ZEALAND RED CROSS

GLOBAL LEADERS IN FIRST AID TRAINING

Christchurch Course Dates 2016

Venue: 32 Birmingham Drive, Middleton

First Aid Revalidation Course (6 hours)

Cost $120.00 per person (certificates must not

have expired for more than 3 months)

Time: 8.30am – 3.15pm

Tuesday

22 November

6 December

Sunday

20 November

4 December

18 December

For bookings please call 0800 REDCROSS or 339-7111

Book online at www.redcross.org.nz

Wednesday

23 November

21 December

USE THE RED CROSS ADVANTAGE - COMPREHENSIVE FIRST AID, ESSENTIAL FIRST AID,

REVALIDATION OR TAILORED TRAINING TO SUIT yOU AT yOUR PLACE OR OURS.
---
SOUTHERN VIEW Tuesday November 8 2016 19

CONTINUING EDUCATION

An exciting career

in Automotive

Southern Institute of Technology

(SIT) graduate Janaka Liyanapathirana's

childhood love of cars has seen him excel

to an exciting career in Automotive.

Janaka completed the Certificate in

Automotive Engineering in Christchurch

in October and, after being recognised for

his overall outstanding efforts throughout

the course, has graduated with a prized

welding helmet gifted by BOC.

"I was really surprised about the award,

it was so unexpected," he said.

Coming to New Zealand to pursue his

dream of becoming a mechanic, Janaka

said he tried different automotive courses

around the country but only found the

right course for him at SIT.

"I was so lucky to find the right place, the

right course and the right tutors [at SIT],

from all of the other places where I tried

within NZ,"

"The best opportunity the course gave

me was the live practical experience and

institutions with proper techniques from

the tutors who are qualified and have long

term experience in the same trade."

Janaka said he has already received an

opportunity to enter the workforce and

start his career.

"I think I have followed the right track,

by the time I finished I got a job offer from

the biggest car company in Christchurch,

so I have already planned to join them and

enjoy working with what I have studied."

For any enquires phone 349 3645 or call

in and see us at 60 Waterloo Road.

Help your child grow

in confidence

Life skills programme for children.

Do your children lack self-confidence, or

perhaps have so much energy that they need

an outlet for it? Development through drama

is the ideal approach to teach confidence

and channel youthful energy while building

self-esteem.

The Helen O'Grady Drama Academy has

been in New Zealand for 32 years. This highly

regarded worldwide programme helps

students aged 5 to 17 fulfil their potential by

acting confidently and speaking clearly. This

unique, self-development programme helps

achieve invaluable life skills. The confident,

articulate child makes friends easily, accepts

challenges and new directions. Confident

children become well-rounded adults.

Our fully qualified teachers are trained

in the Helen O'Grady Drama system,

they ensure each child is encouraged

and valued in a warm, positive learning

environment. Lessons stimulate and

motivate students without the exam or

peer group pressure. Weekly class activities

include speech training, creative movement

and improvisation. Our Youth Theatre

programme encourages the development of

leadership and organisational skills. Three

terms of the year cover the self-development

programme and in the fourth term all

students prepare a performance for parents

and friends. We also offer Trinity College

London examinations as an option for

those who wish to pursue an international

qualification.

Our safe structured learning environment

values student individuality and encourages

team building. Most importantly its great

fun too!

Enrol now phone 0800 161 131 and see

our website www.helenogrady.co.nz

CHRISTCHURCH CAMPUS

60 Waterloo Rd, Hornby, Christchurch

Certificate in Construction

Starting 30 January 2017

*Direct material costs apply

Call today or email sit@sit.ac.nz

0800 TO STUDY

www.sit.ac.nz

NEW ZEALAND RED CROSS - GLOBAL LEADERS IN FIRST AID TRAINING

CHRISTCHURCH COURSE DATES 2016 • VENUE: 32 BIRMINGHAM DRIVE, MIDDLETON

USE THE RED CROSS ADVANTAGE -

COMPREHENSIVE FIRST AID,

ESSENTIAl FIRST AID, REVAlIDATION

OR TAIlORED TRAINING TO SUIT YOU

AT YOUR PlACE OR OURS.

Monday

21 November

5 December

Comprehensive First Aid PLUS Course (16hrs or 4hr upgrade)

Unit Standard 6402, 6401, 6400 and 25411 or 26552, 26551, 6400 and

25411 Cost $265.00 per person incl FA Manual & GST for 16 hours or

$80.00 per person for upgrade following completion of CFA

Time: Day One 8.30am – 5.30pm Day Two 8.30am – 5pm

16 Hours Thursday/Friday

24 & 25 November

Essential First Aid Course (8hrs)

Unit Standard 6402, 6401 or 26551, 26552

Cost $150.00 per person Time: 8.30am – 5.30pm

Tuesday

13 December

Wednesday

16 November

4 Hours Friday 1.15pm-5pm

25 November

Thursday

3 November

1 December

8 December

Saturday

19 November

3 December

17 December

Comprehensive First Aid Course (12hrs)

Unit Standard 6402, 6401, 6400 or 26552, 26551, 6400

Cost $210.00 per person incl FA Manual & GST

Time: Day One & Day Two 8.30am - 3.15pm

2 x Tuesdays

29 Nov & 6 December

13 & 20 December

Time: Day One 8.30am - 5.30pm

Day Two 8.30am - 12.45pm

2 x Mondays

21 & 28 November

5 & 12 December

Thursday/Friday

24 & 25 November

2 x Wednesdays

16 & 23 November

Wednesday/Thursday

9 & 10 November

Weekends

19 & 20 November

3 & 4 December

17 & 18 December

Thursday/Friday

17 & 18 November

1 & 2 December

8 & 9 December

FOR BOOKINGS PLEASE CALL 0800 REDCROSS OR 339-7111 • BOOK ONLINE AT WWW.REDCROSS.ORG.NZ
---
20

Tuesday November 8 2016

REAL ESTATE

Surplus to requirements - Really

22 Dunrobin Place, Avonhead

Deadline Sale: All offers presented on or before 4pm Thursday 17th November

4 bedrooms | 2 bathrooms | 2 toilets | 1 living room | 1 dining room | 2 car-garage | 2 off-street parks | Listing # ST7071

SOUTHERN VIEW

Our clients have issued instructions

to sell our fabulous family home.

Sited down a quiet cul-de-sac the

property showcases an extensive

list of renovations. A new kitchen,

new bathrooms & incorporating the

qualities we look for in a modern home

today, creating a contemporary feel.

Interconnecting dining & living areas are

open & spacious for ease of entertaining.

A wood burner & heatpump ensure year

round comfort. This is the perfect family

environment and a great opportunity

to secure an affordable foothold in

this sought after location. Educational

requirements are meet with Merrin

School and Burnside High School. Our

clients are committed & determined to

see this sold

Deadline Sale all offers presented on

or before Thursday 17th November,

4:00pm at Harcourts Holmwood, 74

Edgeware Road, St Albans (unless sold

prior).

Open Home Sunday 13 Nov 12:00

p.m. - 12:30 p.m. See you at the

Open Homes or for a private viewing

contact Peter or Kathryn Hampton

of Harcourts St Albans - Holmwood

(Licensed Agent REAA 2008) on 377

0377 or Peter mobile 021 367 761 or

Kathryn mobile 021 889 903

growing with you

SprIng Is here –

It'S Sow Time

how to get the best results from

seeds and seedlings

100% NatIve In

The capItal

Unravelling the secrets of

Otari-wilton Bush

The New Zealand

landscape awards

The people behind

the projects

$7.90 incl. GST

Save our roSeS

How a rose register is protecting our heritage

September 2016 | 100%

It's time

to grow!

New look and more

content than ever!

MeeT LeSTer Brice

A Garden coach

auckland Botanic GardenS

Why we love our public grounds

now bigger than ever

The magazine for

gardeners who like to get

their hands dirty

SubScribe from

$43. 50*

*6 issues/6 months

ISSN 2423-0219

SUBSCRIPTIONS FREEPHONE

0800 77 77 10

www.gaRdeNER.kiwI
---
PROUDLY

PROUDLY

CHRISTCHURCH

CHRISTCHURCH

OWNED

OWNED TUESDaY, aUGUST 27, 2013 PROUDLY 384

384 CHRISTCHURCH 0600

0600

PROUDLY CHRISTCHURCH OWNED MONDaY JUNE 24, 2013

OWNED WEDENSDaY 10 JULY, 2013 384 0600

384 0600

A Mainland

Media Publication

Kea

(Nestor Notabilis)

Ladbrooks, Tai Tapu, Leeston, Lincoln, Southbridge, Prebbleton, Halswell, Rolleston, Templeton, Burnham, West Melton, Darfield, Arthurs Pass

Mainland

Press Newspaper

Sumner, Redcliffs, Mt. Pleasant, Ferrymead, Woolston, Lyttelton & Akaroa Harbours

Harewood, Burnside, Bishopdale, Bryndwr, Fendalton, Merivale, St Albans, Mairehau, Papanui, Casebrook, Redwood, Regents Park, Styx Mill, Northwood, Spreydon, Belfast Hoon Hay, Hillmorton, Cracroft, Cashmere, St Martins, Somerfield, Sydenham, Addington, Waltham, Opawa, Beckenham, Huntsbury, Woolston

Black Billed

Gull

A Mainland

Press Newspaper

New Zealand

Swamp Hen (Pukeko)

Linwood, Avonside, Richmond, Shirley, Burwood, Dallington, Wainoni, Bromley, Aranui, Avondale, Bexley, New Brighton, Northshore, Queenspark, Parklands, South Brighton

PROUDLY CHRISTCHURCH OWNED MONDaY JULY 15, 2013 PROUDLY 384 CHRISTCHURCH 0600

OWNED MONDaY 12 aUGUST, 2013 PROUDLY 384 CHRISTCHURCH 0600

OWNED MONDaY JUNE 24, 2013 384 0600

A Mainland

Press Newspaper

Fantail

(Piwakawaka)

A Mainland

Newspaper

Bellbird

(Korimako)

A Mainland

Press Newspaper

New Zealand

Pigeon (Kereru)

Templeton, Islington, Hei Hei, Broomfield, Halswell, Oaklands, Westlake, Hornby, Wigram, Sockburn, Church Corner, Ilam, Russley, Hyde Park, Avonhead, Riccarton Park, Riccarton

SOUTHERN VIEW Tuesday November 8 2016 21

Classifieds Contact us today Phone our local team 03 379 1100

Community Events

ALCOHOLICS

ANONYMOUS, If you

want to have a drink that's

your business. If you want

to stop, we can help. Phone

0800 229-6757

Computers

ALL

YOUR

COMPUTER

WORRIES SOLVED!

*$30.00 off your first

service with this coupon!*

No problem too big or

small from home PC's to

business networks. PC

slow? An end to Viruses,

Spyware, and Clogged

Systems. Safe secure

hassle-free computing.

Lost files recovered.

Microsoft Certified,

MCSE, MCP+l. 30 years

experience. Call Andrew

Buxton this week on 326-

6740 or 027 435-7596

for $30.00 off* Custom

Computers Christchurch

Gardening

& Supplies

Landscape

and Garden

Services

If you need help

getting your garden

back in order after

repairs, need any

type of landscape

construction work or

garden restoration.

Ph 021 272 0303

A GARDEN OR

LANDSCAPING TIDY

UP? Rose & Fruit Tree

Pruning, Shrub, hedge

& tree pruning, Lawns,

Gardening, consistently

reliable general property

upkeep, Dip. Hort. 10

yrs experience, One off

tidy ups or on-going

service. Nick's Property

Maintenance. Keeping

your garden beautiful.

Free Quote. Ph. 942-4440

A GARDEN

PROFESSIONAL

NEEDED? Qualified

Horticulturist, offering

expert pruning, garden

makeovers, garden design

and landscaping, for free

quotes call Bryce 027 688-

8196 or 0508 242-733

Holiday

Accommodation

QUEENSLAND SUN-

SHINE COAST AUSTRA-

LIA Resort, Ocean Views,

Balconies, Self Contained,

1 or 2 B/R Ensuite,

Heated Pool, Spa, Sauna,

Free Internet, Shops,

Restaurants, Tennis, Surf

Club & Patrolled Beach,

Public Transport at door.

Ask for our SEASONAL

SPECIALS. Phone 61 7

544-35011 Email: reception@mandolin.com.au

www.mandolin.com.au

Public Notices

Call us & we'll help

you place your

classified advert in our

community papers

Nobody knows

Christchurch

like a local

We're local, we're

in Christchurch, we

speak your language!

Phone: 379 1100

Selwyn

Times

Nor'West

News

Bay Harbour

A

News

Southern

Pegasus

Post

Western

View Press

News

Classifieds

Our community papers are published every

Tuesday (Bay Harbour, Wednesdays) focusing

on local issues & local people.

business video

PRoduCTion

A video will bring your business

alive & into your customers mind.

Promote your

services or business

with a professionally

created video with us

• Corporate and

Business video a speciality

• Competitive rates

• 25 years experience

• Start to finished product

• Professional quality guaranteed

PHone KeRRY 021 635 083

Public Notices

DEMOLITION

With care and respect we

will remove your dwelling.

Our policy is to recycle as

much as we can. We are a

local company specialising

in residential properties. We

will endeavor to cater for

your individual needs.

Ph. R.M. Solutions

021 02866981

for a free quote.

Personals

SINGLE

PROFESSIONAL Man

with full time permanent

job, own home, seeks lady,

age between 38 to 40, for

permanent relationship

and who wishes to move to

Sydney, Australia. Please

phone or text details 0413

977 692

Situations Vacant

CA$H

Strippers

& Podium

Dancers

Wanted!

18+ TO APPLY

NEISHA

021 193 0118

Tours

Rexellent

Rentals

Cars, Vans, Brisbane, Coolangatta

FREE CALL

0800 601 508

e: rexellent@bigpond.com

DELIVERY

PEOPLE

The Star requires

delivery personnel

in all areas of

Christchurch.

The work involves

door-to-door

delivery of The Star

newspaper.

Situations Vacant

MUMS & DADS

Would you like your children to

exercise more and earn some money?

WANTED

Please call

Leanne Lucas 364-7451 or

Mark Coulthard 364 7453

email: deliveries@starmedia.kiwi

ADVERTISE YOUR

BUSINESS HERE

Phone for further details

(03) 379 1100

To Let

HOMESITTERS reqd

for Christmas / New Year.

Pref retired / not working.

Ph Lisa 359-2323 www.

townandcountryhomesit.

co.nz

HOUSEME Portable

sleepout or office

available to rent.3m x

3.6m studio. Insulated

and value for money at

$75.00 per week, you

wouldn't live in anything

else. Contact Amanda

today on 0279570920 or

houseme2015@xtra.co.nz

Trades & Services

Appliance Sales & Service

388 4780

Appliance Services

14 Brighton Mall, New Brighton

• Replacement/new roofing

• Colour Steel gutter & fascia

• Flue & log burner installs

• Skytube/light installs

• Earthquake repairs

Licence Building

Practitioner LBP

Member of the Roofing

Association

DCM ROOFING LTD

The Roofing Specialists

PHONE IAIN

027 445 5597

iain@dcmroofing.co.nz

HOUSE

CLEARING

Are you moving

house?

Let All Clear Canterbury

take care of your

unwanted items.

You identify what you want

to keep & we will dispose

of the rest!!

Ph: 03 312 7119

Mob: 021 078 4553

allclearcanterbury@gmail.com

www.allclearcanterbury.co.nz

MDC

BUILDERS

Renovations & Repairs

All forms of Home

Maintenance

Bathrooms & Kitchens

Site clears

Excavating Driveways

& Paths

All forms of Foundations

Free Quotes

Give me a call today

Ph 022 407 8581

mdcbuildersnz@gmail.com

15% Discount with this Advert

9220021AA

Now working

in your area

• Tree Pruning

& Removal

• Stump Grinding

• Hedge Trimming

Fully Insured

Qualified Arborist

For a free quote,

ph 0800 248 733

www.jimstrees.co.nz

Trades & Services

Now working

in your area

• Tree Pruning

& Removal

• Stump Grinding

• Hedge Trimming

Fully Insured

Qualified Arborist

For a free quote,

ph 0800 248 733

www.jimstrees.co.nz

9164023AA

ROOF

PAINTING

Rope & harness

a speciality,

no scaffolding

required,

30 years of

breathtaking

experience.

FREE QUOTES

Exterior staining,

exterior painting,

moss and mould

treatment and

waterblasting

Phone Kevin

027 561 4629

BEST BATHROOMS

full renovation specialists,

LBP, repairs &

maintenance ph 03 387-

0770 or 027 245-5226

BRICKLAYER

George Lockyer. Over

30 years bricklaying

experience. UK trained.

Licensed Building

Practitioner number

BP105608. Insurance

work. EQC repairs.

Heritage brickwork a

speciality. No job too

small. Governors Bay.

Home 329-9344, Cell

027 684-4046, email

karengeorge@xtra.co.nz

BUILDER

For all building work

but specialist in bathroom

renovations, 30 yrs

experience, with service

and integrity. Free Quotes.

Ph Lachlan 383-1723 or

0274 367-067.

BUILDER LICENSED

available for all aspects of

building. Please call 027

241-7471 or 335-0265
---
22

Tuesday November 8 2016

Classifieds

SOUTHERN VIEW

Trades & Services

Trades & Services

Trades & Services

BUILDER AvAILABLE

LBP Builders.All

building work, bathroom

re modelling, decks etc

before Xmas, Ph/Txt Jon

021 613 493

CARRIER LoCAL

experienced, friendly,

trade-me purchases, single

items to truck loads,

furniture to whatever,

removals & trade

deliveries a specialty. Ph

GEH 341-5069

CARPET & vInyL

Laying. Repairs, uplifting,

relaying, restretching.

Email jflattery@xtra.

co.nz, ph 0800 003 181 or

027 2407416

CARPETLAyER

Laying and Repairs, 40 yrs

experience, ph Peter 326-

7711 or 027 240-6532

DRIVEWAYS

Replace, repair or new.

We are a local company

with over 10 yrs exp.

We also operate a

digger for all other

earthworks.

Ph. R.M. Solutions

021 02866981

for a free quote.

FEnCE PAInTIng

Staining Quality at a

reasonable price. Free

quotes. Phone Warren

today on 980-1676 or 027

2014713

FURnITURE REMovALS

Large Trucks $95 +

GST per hour 7 day NZ

wide, packing & moving,

Professional Company,

Professional Service.

Canterbury Relocations

Ltd. ph 0800 359 9313

LAnDSCAPIng LTD

Paving, Lawns, Irrigation,

Decking, Fencing.

Kanga & small digger

services. Check out Squire

Landscaping on facebook.

FREE QUOTES. Ph

Authur 347-8796, 027

220-7014 Edwin 027 220-

7154

PAInTIng

& Decorating interior

& exterior, gib fixing,

plastering, paperhanging,

Est 50 yrs in ChCh, ph

Wingfields Ltd, ph Mark

021 171-1586 or 355-5994

PAInTER AvAILABLE

All aspects in painting.

Very competitive in roofs

and fences. Please call 027

241-7471 or 335-0265

PAInTER

Top quality work, interior/

exterior, pensioners

discount, free quotes, 30

years experience, I stand

by Canterbury, ph Wayne

your friendly painter 03

385-4348 or 027 274-3541

PAInTIng

& DECORATING.

Excellent finish. Domestic

& Commercial. Ph Chris

027 223 8542

PLASTERER

Gib Stopping, Small

job specialty. 30 + years

experience. Ring 0800

387-369

PLUMBER

For prompt service for all

plumbing maintenance,

repairs and alterations.

Phone Michael 364 7080

or 027 438 3943

ELECTRICIAN

residential - commercial - industrial

New Builds

electrical and lighting design

Renovations

incl. rewires, switchboard New Builds upgrades, basic additional

lights & power / data Renovations

points, garden lighting, spa power

Home Ventilation

heat transfers and positive pressure systems

Alarm System Installation

Alarm System Installation

incl. Electrical the latest smart Safety phone control Inspections

and monitoring

Call

Call

William

William

for

for

a free

free

quote:

quote:

021

021

594

594

442

442

or

email: email: admin@preciseelectrical.co.nz

www.preciseelectrical.co.nz

We are proud members of:

DRIVEWAYS

Exposed Aggregate

Stamped Concrete Plain

Concrete Resurfacing

Things we offer...

Competitive/affordable pricing

Attention to detail

Professional service

free quotes/insurance scopes

Cell 0278 145 848

www.drivecrete.co.nz

restaurant

Fine Indian cuisine and

Fully Licensed Restaurant and B.Y.O.

Table bookings are welcome and we also do catering

OpenIng sOOn!

Home delivery available (conditions apply)

458 Colombo St, Sydenham, ChCh

03 366 5853

PLUMBER

A Top Plumbing job

completed at a fair price,

prompt service, all work

guaranteed, Ph Brian 960-

7673 or 021 112-3492

PLUMBER

ALF THORPE

PLUMBING Certifying

Plumber for all types of

plumbing, maintenance,

spouting, alterations etc.

Phone 352-7402 or 0274-

350-231

RooFIng

Qualified & Licenced

Practitioner. Re-Roof &

Repairs, all types. Member

New Zealand Roofing

Association. Over 35 years

experience. Phone John

027 432-3822 or 351-9147

email

co.nz

johnmill@ihug.

SPoUTIng CLEAnIng

Spouting Unblocked,

Cleaned Out and Flushed

Out. Also Full Handyman

Services Available. Call

Trevor 332 8949 or 021

043-2034

STonEMASon

BRICK

&

BLOCKLAYER,

Earthquake Repairs, Grind

Out & Repoint, River/

Oamaru stone, Schist,

Volcanic Rock, Paving,

all Alterations new & old,

Quality Workmanship,

visit www.featureworks.

co.nz or ph 027 601-3145

TREES

BIG OR SMALL, tree

removal, trimming, stump

grinding, shelterbelt clean

up, section clearing,

rubbish removals,

excavation work, ph Trees

Big or Small, for a free

quote, 021 061 4783

TREE WoRK

Hedge trimming, stump

grinding, rubbish removed,

small job specialty Ph

Andrew 03 322-8341 or

027 435-8759

T.v. SERvICE CEnTRE

Repairs, tvs, microwaves,

stereos, DVD. Aerial

installations and kitsets,

480 Moorhouse Ave, ph 03

379 1400

UPHoLSTERER

Dining Chairs, Lounge

suites, Caravan Squabs

etc. recovered. Free

Quotes. Phone Graeme

383-1448

vHS vIDEo TAPES

& all camera tapes

converted to DVD, video

taping, weddings, twenty

firsts, special occasions,

www.grahamsvideo.co.nz

ph 03 338-1655

WATERBLASTIng

Quality Job, Quick Service

by skilled tradesman, Ph

Richard Severin at Jet-X

0800 538 969 Free quotes,

visit www.jetx.co.nz

WInDoW CLEAnIng

Average 3 bdrm house

inside or out $40. Both

$70. Phone Trevor 344-

2170

ROOF

PAINTING

Rope & harness

a speciality,

no scaffolding

required,

30 years of

breathtaking

experience.

FREE QUOTES

Exterior staining,

exterior painting,

moss and mould

treatment and

waterblasting

Phone Kevin

027 561 4629

Wanted To Buy

AAA Buying goods

quality furniture,

Beds, Stoves, Washing

machines, Fridge Freezers.

Same day service. Selwyn

Dealers. Phone 980 5812

or 027 313 8156

A+ Household effects,

fridges, freezers, washing

machines, ovens. Good

cash paid. Ph Paul 022

0891 671

CASH FOR STAMPS. Do

you have an old collection

tucked away somewhere?

It could be worth a fortune.

I am in ChCh buying

collections next week.

Call Matt Power on 0800

239 325 ZEALANDIA

STAMPS

TOOLS Garden,

garage, woodworking,

mechanical, engineering,

sawbenches, lathes, cash

buyer, ph 355-2045

Start your day

with us

We are open from 6.30am

every day

COOKED

BREAFASTS

from

$

18

Join us for

Race Day

Breakfast

RESTAURANT & CAFÉ

'Famous for

their roasts!'

FAMILY FRIENDLY

Kid's Special

Two courses

Great Kids menu plus designated play area.

SENIORS SPECIAL

Two courses:

Soup/Roast or Roast/Dessert

Special available lunch only

Monday - Saturday 12pm - 2.30pm. Conditions apply

BOWYN 'BOMAN' MORGAN

v SHAUN COLMORE

$

10

$

20

Open daily from 6.30am - Breakfast, Lunch & Dinner

The

RACECOURSE HOTEL

& Motorlodge

118 Racecourse Rd, Sockburn,

Christchurch. Ph 03 342 7150

www.racecoursehotel.co.nz

A classic, contemporary Club experience

Cafe open from 11am

TAB & Gaming

Function Facilities

HOUSIE

Tuesday, Thursday,

Saturday

SHUTTLE

Tuesday - Saturday

THIS SATURDAY

VARIETY TRIBUTE SHOW

Cancer Fund-Raiser

8pm in the Sports Bar : Ticket $15

ROBBIE DREW

7pm in the Whitford's Bar

Open 7 Days from 5.30pm

MARK JONES v KYLE 'THE ESSEX BOY' SMITH

Plus top line corporate fights. Door sales $40 or @Dash

RETRO ROAST

LUNCH

12PM-1.30PM

WEDNESDAYS

$10 Members / $12 Non

FRIDAY 18 NOV, 7.30PM

HORNBY WMC, CARMEN RD, PH 349 9026
---
SOUTHERN VIEW Tuesday November 8 2016 23

www.newbrightonclub.co.nz

GREAT

ENTERTAINMENT

TUESDAYS

& THURSDAYS

Members

Lucky Card Draw

COMING UP

MASTER HYPNOTIST

BRIAN GEE

7PM SATURDAY

19 NOVEMBER

Tickets $10

TAB POD

SHUTTLE RUNNING

Tues, Thurs, Fri & Sat

202 Marine Parade

Ph 388-9416

Members, guests and affiliates welcome

JOIN

A CLUB BY

THE SEA!

GREAT

DINING

- downstairs -

ClubBISTRO

Open Tuesday to Saturday

12pm-2pm and from 5pm

Midweek $10

SPECIAL

ROAST

Available Tuesday,

Wednesday, & Thursday

- upstairs -

PIERVIEW

Restaurant

Quality a la carte

with a view!

Open from 5.30pm

FRIDAY, SATURDAY

& SUNDAY

FRIDAY SPECIAL:

BBQ PORK RIBS

$19.50!

for a limited time

SUNDAY SPECIAL

3 courses: $25

NOW OPEN FOR

SUNDAY

BRUNCH

By the Seaside!

10.30am-2.30pm

SUNDAY

27 NOVEMBER

ALL YOU CAN EAT

BUFFET

$25... BOOK NOW!

H ORNBY

WORKINGMEN'S

CLUB

«WHAT'S ON«

FRIDAY 11 NOV, 7PM

JO'S KARAOKE

SATURDAY 12 NOV

4.30PM BARROSS

8PM SHALOW

«COMING UP«

FRIDAY 18 NOV, 7.30PM

FIGHT NIGHT

BOWYN 'BOMAN' MORGAN

v SHAUN COLMORE

MARK JONES v

KYLE 'THE ESSEX BOY' SMITH

plus top line corporate fights

Door sales $40 or @Dash

SATURDAY 19 NOV, 8PM

BAD MOON RISING

THE CCR TRIBUTE SHOW

Tickets $20

FRIDAY 9 DEC, 8PM

THE WARRATAHS

Tickets $25

Hornby WMC, 17 Carmen Rd, Hornby ph 03 349 9026

www.hornbyworkingmensclub.co.nz

Members, guests & affiliates welcome

Lunch & Dinner

All you can eat, 7 days

Christmas

Functions

Lunch & Dinner Buffet

NOW SERVING

available

from

9am

Breakfast

HAPPY

HOUR

5PM - 7PM

DAILY

SATURDAY 19th NOV - SATURDAY 24th DEC

Book & dine with us for your Christmas party this

festive season, and we'll take care of the rest!

Bookings Essential PH 386 0088

fb.com/GardenHotelRestaurant www.gardenhotel.co.nz

LIVE

RHONDA CAMPBELL & JOHN BEVIN

6PM FRIDAY 11th November

MUSIC

PHONE 385 8880 FIND US ON FACEBOOK fb.com/GBCCHCH

THE GARDEN HOTEL COMPLEX | 110 MARSHLAND RD

www.gardenhotel.co.nz | phone 385 3132
---
24

Tuesday November 8 2016

SOUTHERN VIEW

OUTDOOR CLOTHING FACTORY OUTLET

Crazy end of line

clearance all $15

was $59.90 was $69.90 was $49.90

• End of lines

• Rainjackets from $20

• Softshell jackets & pants

• Hats, gloves, scarves

Open Mon - Sat, 9am - 5pm

GARLANDS RD

TANNER ST

WE ARE

HERE

PORT HILLS RD

RUTHERFORD ST

THE TANNERY

CUMNOR TCE

FRENCH

BAKERY

CHAPMANS RD

FERRY RD

KENNAWAY RD

DALZIEL PL

7 Dalziel Place,Woolston

Ph: 380 5000 www.kiwistuff.net.nz