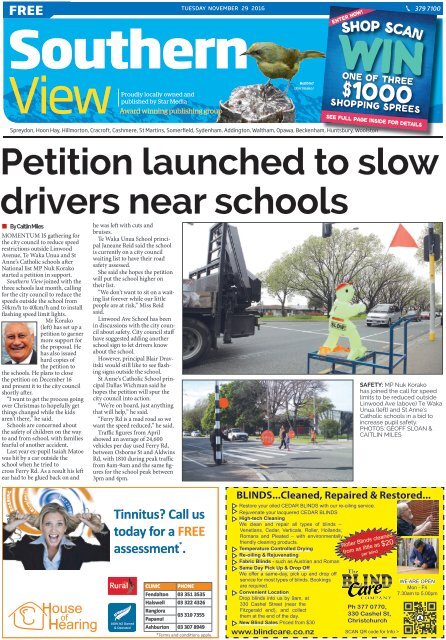 Southern View: November 29, 2016
Create successful ePaper yourself
Turn your PDF publications into a flip-book with our unique Google optimized e-Paper software.
FREE

TUESDAY NOVEMBER 29 2016

Southern

View

Proudly locally owned and

published by Star Media

Award winning publishing group

Bellbird

(Korimako)

Shop scan

ENTER NOW!

one of three

$1000

SHOPPING SPREES

SEE full page inside for details

379 7100

Spreydon, Hoon Hay, Hillmorton, Cracroft, Cashmere, St Martins, Somerfield, Sydenham, Addington, Waltham, Opawa, Beckenham, Huntsbury, Woolston

Petition launched to slow

drivers near schools

• By Caitlin Miles

MOMENTUM IS gathering for

the city council to reduce speed

restrictions outside Linwood

Avenue, Te Waka Unua and St

Anne's Catholic schools after

National list MP Nuk Korako

started a petition in support.

Southern View joined with the

three schools last month, calling

for the city council to reduce the

speeds outside the school from

50km/h to 40km/h and to install

flashing speed limit lights.

Mr Korako

(left) has set up a

petition to garner

more support for

the proposal. He

has also issued

hard copies of

the petition to

the schools. He plans to close

the petition on December 16

and present it to the city council

shortly after.

"I want to get the process going

over Christmas to hopefully get

things changed while the kids

aren't there," he said.

Schools are concerned about

the safety of children on the way

to and from school, with families

fearful of another accident.

Last year ex-pupil Isaiah Matoe

was hit by a car outside the

school when he tried to

cross Ferry Rd. As a result his left

ear had to be glued back on and

he was left with cuts and

bruises.

Te Waka Unua School principal

Janeane Reid said the school

is currently on a city council

waiting list to have their road

safety assessed.

She said she hopes the petition

will put the school higher on

their list.

"We don't want to sit on a waiting

list forever while our little

people are at risk," Miss Reid

said.

Linwood Ave School has been

in discussions with the city council

about safety. City council staff

have suggested adding another

school sign to let drivers know

about the school.

However, principal Blair Dravitski

would still like to see flashing

signs outside the school.

St Anne's Catholic School principal

Dallas Wichman said he

hopes the petition will spur the

city council into action.

"We're on board, just anything

that will help," he said.

"Ferry Rd is a mad road so we

want the speed reduced," he said.

Traffic figures from April

showed an average of 24,600

vehicles per day used Ferry Rd,

between Osborne St and Aldwins

Rd, with 1810 during peak traffic

from 8am-9am and the same figures

for the school peak between

3pm and 4pm.

SAFETY: MP Nuk Korako

has joined the call for speed

limits to be reduced outside

Linwood Ave (above) Te Waka

Unua (left) and St Anne's

Catholic schools in a bid to

increase pupil safety.

PHOTOS: GEOFF SLOAN &

CAITLIN MILES

BLINDS...Cleaned, Repaired & Restored...

House

of

Hearing

100% NZ Owned

& Operated

CLINIC PHONE

Fendalton 03 351 3535

Halswell 03 322 4326

Rangiora

Papanui

03 310 7355

Ashburton 03 307 8949

Restore your oiled CEDAR BLINDS with our re-oiling service.

Rejuvenate your lacquered CEDAR BLINDS

High-tech Cleaning

We clean and repair all types of blinds –

Venetians, Cedar, Verticals, Roller, Hollands,

Romans and Pleated – with environmentally

friendly cleaning products.

Temperature Controlled Drying

Re-oiling & Rejuvenating

Fabric Blinds - such as Austrian and Roman

Same Day Pick Up & Drop Off

We offer a same-day, pick up and drop off

service for most types of blinds. Bookings

are required.

Convenient Location

Drop blinds into us by 9am, at

330 Cashel Street (near the

Fitzgerald end), and collect

them at the end of the day.

New Blind Sales Priced from $30

www.blindcare.co.nz

Roller Blinds cleaned

from as little as $20

per blind

Ph 377 0770,

330 Cashel St,

Christchurch

SCAN QR code for Info >

WE ARE OPEN

Mon - Fri

7.30am to 5.00pm
---
2

Tuesday November 29 2016

Inside

SOUTHERN VIEW

FROM

THE

EDITOR'S

DESK News.......................................3, 5

IT IS an absolute given that

children should be safe on their

travels to school. Families should

not have to fret about vehicles

zooming past the school gate at a

speed that causes concern.

That is why Southern View

alongside Te Waka Unua, Linwood

Ave and St Anne's schools

have over the past few months

called for a lower speed limit

outside these schools which are on

busy streets.

It is therefore great news

that National list MP Nuk Korako,

based in the Port Hills, has

jumped on board by starting a petition

to help push the city council

in its decision making.

We will continue to keep you

up to date with how this issue

progresses – at the moment it

lies with the city council who are

preparing a report.

Let's hope it does not take as

long as the Linwood pool report.

Hei kona, Shelley Robinson

Linwod Keas finished off a great season with a

semi-final appearance at the Queenstown nines

SPORT 8

Your Local Views..........4

Our People............................6

Schools.............................. 7

Community Events.......11

Hello Neighbour........12

Health & Beauty.............15

Real Estate.....................16

GET IN TOUCH

General Enquiries Ph 379-7100

Classified Advertising Ph 379-1100

The Christchurch Star Company Ltd. PO box 1467 - Christchurch

starmedia.kiwi

NEWS

Caitlin Miles

Ph: 364 7442

caitlin.miles@starmedia.kiwi

ADVERTISING

Richard McCombie

Ph: 03 364 7472

richard.mccombie@starmedia.kiwi

Dyers Road Landscape

& Garden Supplies

• Barks • Peastraw • Composts - we supply the best available

• Aggregates - Chip, Round and Basecourse

• Pavers & Schist products • Pungas

• Decorative Stones & Landscaping Rocks

• Trailer Hire first hour free with purchase

• Bag & Bulk - pick up or delivered

David, Carol & Mike

We will deliver!

SOIL

AND

HARDFILL

DUMPING

Phone: 03 384 6540

183 Dyers Rd, Bromley • OPEN 7 DAYS

Weekdays 7.30am-5pm. Weekends 8.30am-3pm

www.dyersroadandlandscapes.co.nz

WE SPECIALISE IN THE CARE AND

PRESERVATION OF TREES

• Pruning

• Expert Tree Felling

• Fully Insured

• Free Quotes

• Powerline Clearing

• Branch Chipping

• Competitive Rates

• Orion Approved Contractor

FULLY

QUALIFIED

ARBORISTS

Member of NZ Arboriculture Association

For quotes and enquiries phone 03 349 7143 | For urgent enquiries phone 027 272-6710

Email: office@arbor-tek.co.nz

www.arbor–tek.co.nz

A new home, complete on your

section for only $376,900! incl GST

Marbella 232m 2

Brick exterior cladding

Builders of superior homes.

Just one example from

our range of plans.

Plans are viewable

in high resolution

digital at

artisanhomes.co.nz

Let Rob and his

team work with

you to produce your

own unique plan.

Built to last.

Silver medal winner in Registered Master Builders 2016 House of the Year Awards

Office & Show Home: 5 Broomleigh Drive,

Faringdon, Rolleston

Phone: 03 374 9172 or Rob: 021 324 876

E-mail - robin@artisanhomes.co.nz
---
SOUTHERN VIEW Tuesday November 29 2016 3

News

New home for playcentre during rebuild

• By Kate Barber

WHILE ITS premises are being

rebuilt the Woolston Playcentre

will share a facility with its

Linwood neighbour.

The playcentre at 29 Portman

St suffered damage during the

February 22, 2011, earthquake

and is set to be demolished, leaving

families wondering where

they would take their children.

But Linwood Playcentre,

located at 628a Worcester St, has

jumped in to help, opening its

doors to the children and families

of Woolston.

Linwood president, Andrea

Read said she wants families

coming into the centre to feel

welcome and like they belong

there.

"We want Woolston to feel like

it is their home too,'' Ms Read

said.

Woolston president Rachel

Pharazyn said while the partnership

is still in the early stages

and the two groups are working

together to merge the cultures of

the playcentres.

"It is so important we keep

the momentum going and the

culture strong within our centre

as we merge with a new group of

families,'' she said.

While the adults are still getting

to know each other and

settling into new routines, Ms

Pharazyn said the children have

transitioned smoothly to their

new location and making new

friends.

She said while the staff, children

and parents are looking

forward to getting into the new

playcentre once it's built but, for

now, they are happy to work with

Linwood Playcentre and add

more families and children to

their network.

FUN: Children from

Woolston Playcentre had

a bit of help from their

fathers who dug a moat in

the sandpit for children to

play in. ​

Carved panel unveiled

In Brief

SELWYN ST CAR PARKS

A controversial plan to rid Selwyn

St of 19 car parks outside the

new shop development closes

for public input on Monday. The

Selwyn St Shops Streetscape

Enhancement plans to get

rid of car parks to make way

for cycleways an improved

pedestrian safety, between

Brougham and Coronation

St. It is part of the Selwyn St

Shops Master Plan which was

adopted in 2012 following the

Canterbury earthquakes due

to about 60 per cent of the

buildings along the street being

lost or deemed unusable. Go to

https://ccc.govt.nz/the-council/

have-your-say/whats-happeningnow/consultations/

to make a

submission.

A MAORI carved panel created

from reused wood from a

house demolished following the

February 22, 2011, earthquake

has been gifted to Waltham

Pool.

The He Toki panel, built by

carpentry students and staff

at Ara Institute of Canterbury

in 2015, was unveiled in a

ceremony at the pool last week.

Ara carpentry tutor Jim

Keenan said seeing it unveiled

was a special moment for those

involved.

"It was a very proud moment

when the panel was officially

blessed at the pool," Mr Keenan

said.

The panel was originally

created as part of the Whole

House Reuse exhibition, on

display at Canterbury Museum

last year.

The timber for this project

was provided from the

deconstruction of a single storey

red-zone house. This project was

to demonstrate that demolition

materials could be recycled and

made into items of value and

beauty. The strips of timber were

removed from under the plaster

of the internal walls.

Different parts of the design

represent different things. The

'poutama' (stairway or step-like)

pattern presented on the outside

of this design symbolises the

NUK KORAKO

NATIONAL LIST MP BASED

IN THE PORT HILLS

ART: The He Toki panel was created by Ara Institute of Canterbury students on display at

the Waltham Pool. Inset: Jim Keenan ​

growth of students, striving

upwards.

The central piece of this

design is represented by the

'niho taniwha' pattern which

means teeth of the taniwha and

represents leadership or that

which is portrayed by a chief.

The 'niho taniwha' design is

incorporated within the He Toki

ki te Rika logo.

The three larger triangle

shapes portray three significant

mountains in the South Island;

Mount Cook, Mount Grey and

Te Poho o Tamatea

(a mountain overlooking

Rapaki) representative of

Canterbury.

These symbolise the

unique nature of the He Toki

programme as an iwi-led

partnership in collaboration

with tertiary vocational training

and industry.

Mr Keenan said the panel

makes a statement in the

entrance of the pool.

"Nobody visiting Waltham

Pool will be able to miss the He

Toki panel. It really stands out

in the entrance way for everyone

to enjoy," he said.

CEMETERY UPDATE

The future of Bromley Cemetery

is still yet undecided. The

cemetery is at capacity and is

only open to pre-purchased plots

and second internments. City

council staff have not undertaken

any plans to develop the site for

either burials or ash interments.

City council operations manager

neighbourhood and sports

parks Al Hardy said it does not

mean that the site of the old

sexton's house cannot be used

in the future, and that adjacent

cemeteries Memorial Park and

Ruru Lawn are still open and have

significant capacity for future

interments.

PARKING RESTRICTIONS

Spreydon-Cashmere

Community Board has approved

parking restrictions Kidsfirst

Kindergarten Beckenham asked

for. The kindergarten asked for

changes to be made to its mobility

car park beside the 119 Fisher

Ave premises. The kindergarten

wanted the hours changed to

better fit their operating hours.

The proposal looked to reduce

the parking restrictions by

30min. This means parking

restrictions will be in place

8.15am-8.45am, 12.15pm-12.45pm

and 2.15pm-2.45pm from Monday

to Friday.

I run weekly mobile office constituency

clinics around the Port Hills. For dates and

locations please visit my website.

You can also contact my office if there is

anything I can help you with.

OFFICE: 6/950 Ferry Road, Ferrymead

EMAIL: nuk.korakomp@parliament.govt.nz

WEBSITE: www.korako.co.nz

PHONE: 03 384 0008

facebook.com/nukkorako.PortHills

Working hard for our community

Authorised by Nuk Korako, 6/950

Ferry Road, Ferrymead, Christchurch

www.national.org.nz

School Uniform

Repairs

• Hems, Zips • Curtains

• Leather • Fitting Rooms

• Eftpos Available

TWO HANDY LOCATIONS

243 Colombo St,

Christchurch

Central.

03 332 0496

129 Farrington Ave,

Shop 4,

Bishopdale.

03 359 4604
---
4

Tuesday November 29 2016

Your Local Views

SOUTHERN VIEW

FLAME FILES

Fire Service in quake recovery mode

Fire risk management

officer Mark Thomas talks

about the Fire Service's

duties in Kaikoura and

Waiau, as well as some

incidents in the city

It's certainly very different this

time. Christchurch city is back to

normal and, for most people, it's

business as usual.

But Waiau and Kaikoura are

definitely part of our fire region

and we have a considerable

number of staff on the ground

up there.

Our Regional Control Centre

remains open and operating

and local staff are picking up

heaps of overtime to cover the

absence of those working on the

earthquake.

So it's a matter of juggling

normal work and quake work for

those of us doing both. The upside

is that Christchurch has not

had a terribly busy week.

Car crashes were quite high,

however, including one at Ferry

Rd and Ensors Rd on Sunday

evening, in which 11 people were

hurt, nine requiring transport to

hospital.

As usual, animal rescues

became our responsibility with a

cat stuck in a fence in Waltham

last Friday and a dog stuck

down a cliff in Dyers Pass Rd on

Monday.

In both cases, firefighters were

rewarded for their efforts by

the victims immediately bolting

once back on flat ground.

Ungrateful, but not unexpected,

I suppose.

A classic kitchen fire was

averted by luck in Sydenham on

Saturday, when a shift worker

returned home very late, put

food on to cook and promptly

fell asleep on the couch.

A smoke alarm did its job and

only smoke damage occurred.

Without the smoke alarm? Well

CRACKED:

State

Highway 1

near Kaikoura

was severely

damaged,

along with

other roads in

and out of the

town.

who knows? Tired or tiddly going

home to cook is not recommended.

Indulge yourself, buy

takeaways.

Readers respond to an

article about the city

council possibly installing

no parking lines along

Rapaki Rd to improve the

safety of residents and

those using the road to get

to Rapaki Track

Emmanuel Navasquez,

of Addington – I am a regular

mountain biker at Port Hills.

In my opinion, there is no

doubt that it is so much safer

and enjoyable if Rapaki Rd is

empty of parked vehicles. It is

just getting narrower. When I

see families cycling up there,

kids and couples, I fear for their

safety. Hope it will be acted

on sooner before anything

untoward happens, God forbid!

Pete Sullivan, of

Hillsborough – What a great

photo of traffic congestion on

Rapaki Rd. The garage shown

in your Southern View article

is ours and it illustrates how

congested it can actually get

here in Rapaki Rd. We have a

vehicle in the garage, which can

be a challenge getting out on to

the road without an observer.

The family also has two vehicles

parked outside our property

on the road. It is virtually

impossible to leave these parks,

especially in the weekends, and

come back and have a space to

park. I feel the problem here is

very few of us have off-street

parking. The council's plan to

have further no parking lines is

a great idea and I'm very much

supportive of this, however, I and

other residents feel that it will

add even more pressure on the

parking spaces left, as it seems

some people just don't want to

walk a few more metres as we see

in supermarket car parks. We

as residents love to see the track

being used as it is; it's a great

asset for us all. However, I feel

'resident's only' parking maybe

the only option up here.

Colin Moss, of

Hillsborough – Yes, the

parking is terrible up there at the

weekend. But Vernon Tce also

has problems near the Centaurus

Rd end to just around the bend

about halfway along. Kids dart

out amongst parked cars and

there is barely enough room

to drive through when there

are cars parked on both sides.

Sooner or later someone is going

to get really hurt. There has been

a couple of knocks but of minor

contact. With restrictions in

Rapaki Rd, the cars will now

fill up Vernon Tce. Look at the

overall picture before you do

anything.

Heather McGuigan – We

have been house sitting up

Rapaki Rd now for three months

and, as the weather warms

up, it gets crazier by the day. It

isn't restricted to the weekends

(which is worst) but now also

after work during the week. I

would certainly never buy and

live here permanently. And it's

not only the parking, it's the total

attitude of people who use the

road to get to the track. People

who do walk up the road

don't walk on the footpath,

they walk on the road three,

four or five abreast across the

road and they don't move at all

for a car. When they run out

of puff, they lean all over your

fence, talk loudly to each other

and generally take over. They

will stand outside your house

in the only space left as you're

trying to get into this park

outside the house you pay rates

on. And you need to ask them

repeatedly to please move so

you can park. The cyclists are

better, although I think some

of them going down the hill

break the speed limit – they

are flying. The road needs work

on it, and the kerbing also. The

amount of people and animals

– walking, cycling and in cars

– that use it daily spoil what

would be a pleasant place to live.

Parking and a toilet is needed

at the bottom of the hill and

resident's only parking on the

street, although I'm not sure

the people at the bottom of the

road would want them either!

NEW TORO DH 210

FOR ONLY

LAND THE ULTIMATE

RIDE-ON MOWER $6,995

AND GET A TOW

HITCH TRAILER

FREE!

toro.co.nz

DH 210 SPECIFICATIONS

• Powerful Briggs and Stratton Intek 500cc engine,

with hydrostatic transmission

• Tight 50cm turning circle

• Width of cut: 102 cm

• Monster 300 litre rear catcher, or switch to rear

discharge or mulch with a tap of the foot

• Height of cut: 25mm – 76mm

• Front nudge bar and halogen headlights

Book a test ride online or visit our

showroom today. 03 343 8960

455 Blenheim Road, Sockburn
---
SOUTHERN VIEW Tuesday November 29 2016 5

News

WINNER: A Hillsborough home by Sinclair Builders won the New Home $300,000-$400,000 category in the national Registered Master Builders Home of the Year

awards. The polished concrete floors and vaulted timber ceilings were a highlight of the home.

Award-winning home 'beautifully detailed'

A HILLSBOROUGH house

has won a supreme award at

the Registered Master Builders

Home of the Year awards.

The house won the Resene

New Home $300,000-$400,000

category at Saturday's award

ceremony in Auckland.

Sinclair Builders built the

home. The grey metal building

has polished concrete floors, a

vault timber ceiling, deck, three

bedrooms, two bathrooms and a

living room.

Judges said the home was

"beautifully detailed."

A home by Parsons

Construction in Beckenham was

a finalist in the New Home Over

$2 million category.

A Cashmere house, built by

Avenue Homes Design Build Ltd,

was a finalist in the New Home

$1 million-$2 million category.

Homes from around the

country were involved in the

annual competition.

CASHMERE: This house by Avenue Homes Design Build Ltd was a finalist in the New Home $1

million-$2 million category.

BECKENHAM: This home, built by Parsons Construction Ltd,

was a finalist in the new home Over $2 million category.

Do you need a...

• Retaining wall

• Car deck

• Driveway or

access to your

property

If so phone the local expert…

Rod Murrell – 021 301 744

30 years experience

Free quotes

No job too small

We also sell

screened soil & all

grades of metal
---
6

Tuesday November 29 2016

Our People

SOUTHERN VIEW

Courtney McGregor

Olympic gymnast returns home

Courtney McGregor, 18, caught the nation's

attention at the Rio Olympics. Fraser Walker-Pearce

talked to the gymnast about how she found out

she had been selected for Rio, the United States

college system and what it's like to be back home

in Halswell again

Hi Courtney, you've had an

incredible year. What was it like

competing at the Olympics?

The Olympics was amazing.

It was a lot of hard work to get

there in the first place and I just

hoped I'd be there. So to get on

the team was amazing. We were

aiming for top 16 and I managed

13th and had no major mistakes

so that was pretty awesome.

How long has it been a dream

for you to compete at the

Olympics?

Oh wow, for a long time.

Definitely from a really young

age, from maybe six or seven.

I always thought I'd go to the

Olympics, I always just assumed

I'd go as kids do. I figured out as

time went on that it was a little

harder than I initially thought it

was.

And when did you actually

think it was possible that you

could become an Olympic

athlete?

I think it was at the 2015

worlds' competition. I did better

than anyone thought. I think

probably after that test event, I

had to get a certain all-round

score and when I got that I

thought that it could be a possibility,

but I still had to get a lot

checked off. I still remember the

call we got from the GymSport

New Zealand chief executive

officer; he told us we weren't allowed

to tell anyone and we had

to Facetime (video call) him to

find out whether I was in or out.

He called my mum and I, and he

told us I was going. I was only

allowed to tell immediate family

and it was at least three or four

days walking around telling my

school mates that I didn't know

yet before I could tell people.

That must have been hard!

What happened after you were

selected for the team?

I got flown up to Auckland

where they announced the

gymnastics team, all of us were

announced. There was a lot of

media there that day and we

must have each told our life story

about 10 times.

Talking to other Christchurch

gymnasts, they were all excited

to hear you were on your way

back from college in the United

States. How do you handle

being a role model for younger

gymnasts?

It's pretty cool I think, and

kind of surreal. I went into the

Christchurch School of Gymnastics

and all the wee kids were

all excited and happy to see me

which was cool. Then I went over

to Olympia (Gymnastic Sports)

to see a friend who is a coach

there and I saw her little girls

and they were all excited as well.

You're at home at the

moment, but when that's

finished you'll head back to the

United States?

Yes. At the moment I'm based

over at Boise State University in

the US on a gymnastics scholarship.

So that starts back up in

January, so I'll be heading back

over there soon.

What are the big

competitions you'll be looking

forward to in both college and

New Zealand next year?

Next year there is the 2017

worlds in Montreal, Canada,

which is kind of close to

where I am. And also the

Commonwealth Games in 2018.

But I think that might interfere

with some of the college events.

So you might miss the

Commonwealth Games? That's

a bit annoying?

It's just that it coincides with

the college gymnastics season.

TOP GYMNAST: Courtney McGregor is back in Halswell visiting

family after representing New Zealand in the Rio Olympics.

PHOTO: GEOFF SLOAN

They always have regionals and

nationals and that kind of thing

at the end of their season so it

might clash.

What was seeing younger

gymnasts at your old club like?

It was pretty special. It's kind

of crazy that I now inspire the

younger kids when I was in their

shoes a few years ago. Some clubs

haven't had the most successful

events recently, but they've got

good programmes in place and

I think they'll be doing fine soon.

Tell me a bit about some of

the young kids' reactions to

seeing you?

Some were really shy when

they came up, but some were

really confident. So it was quite

funny seeing their reactions and

quite cool that they look up to

me.

And are you studying a

subject over at Boise State as

well?

Yes, I'm doing a lot of studying

on general things, but I'm also

doing health science. The set up

is kind of different over there as

compared to in New Zealand.

So are you aiming to become

a doctor or a surgeon or

something like that?

I'm not 100 per cent sure yet,

but I might want to be a doctor.

There's so many schools over

here I really don't know which

ones are the best for studying to

be a doctor.

In terms of your scholarship,

what does that cover for you?

It's a full scholarship for

all schooling, housing and

everything. It's pretty good to be

honest.

What school did you attend

when you were in Christchurch?

I was at Villa Maria College

for most of it and I did

correspondence for the last

couple. I think that school

is more important than

gymnastics, as it was my top

priority and correspondence

allowed me to get on with my

work and then I had time to do

gym after. It just cut out all of the

assemblies and hour-long lunch

times and that kind of thing – it

really worked for me.

Did you get to meet quite a

few famous people while you

were over in Rio and at college?

Yes definitely. Even in Rio

I got to meet all the final five

gymnasts and Simone Biles

(all-round vault and floor gold

medallist from the US) and

everyone like that and I get to

see them sometimes, because

most of them are in college

gymnastics now. When we were

in Rio we trained with them all,

we were in the same part of the

Olympic Village as the American

team which was great.

Do you keep in touch with a

few of them?

Yes, we talk over social media

sometimes which is nice.

Free Range Manuka Smoked

Whole Hams

on the bone

Special!

$

16 90

KG

Banfields of Beckenham

134A Colombo Street. Ph: 332 6148

Every Sale

Bangs a Nail!

FRee pick-up SeRvice

phone: (03) 420 4342

Donate your household

items to the Habitat

for Humanity ReStore,

to help families into

decent homes.

Two drop-off locations: 189 Waltham Rd, Sydenham & 567 Wairakei Rd, Burnside.
---
• 100Hz

• 6 Step

UH652

devices

Gift Card

Enjoy a gift from .

8973281

C730E

SOUTHERN VIEW Tuesday November 29 2016 7

RECOGNISED: Jessica Cameron, Irene Yee, Ethan Gall,

Victoria Young, Tanisha Fage-Ieti and Jennifer Tregurthaall

received scholarships for their tertiary study plans.

University scholarships

SCHOLARSHIPS HAVE been

awarded to several students at

Hillmorton High to go towards

their tertiary studies next

year. The scholarships were for

academic performances and

leadership skills.

The recipients were:

Emerging Leaders

Scholarship for Canterbury

University – Jessica

Cameron

Victoria Achiever's

Scholarships for Victoria

University – Victoria Young

Leaders of Tomorrow

Scholarship for Otago

University –Ethan Gall

SCHOOLS

Leaders of

Tomorrow Scholarship for

Otago University – Irene

Yee

Pacific Orientation

Programme at Otago

Foundation Scholarship for

Otago University – Tanisha

Fage-Ieti

AMP Study Start

Scholarship – Jennifer

Tregurtha

Halswell and District

Lions Award Scholarship –

Tayla Cross

The Rotary Club of

Cashmere Scholarship –

Shavaun English

Cashmere High choppers

supplies into quake zone

TWO HELICOPTER companies

answered Cashmere High's call

for help to transport 150 boxes of

donated goods to those impacted

by the recent 7.8 magnitude

earthquake.

Following the November

14 earthquake that damaged

parts of Kaikoura and North

Canterbury, Cashmere High

asked the community to donate

non-perishable food, animal food

and baby items to the school.

As items started to mount up,

the school realised they would

need some serious help getting

the supplies to the affected areas.

Garden City and Christchurch

City Helicopters came to their

aid and delivered the goods to

Kaikoura last Monday.

The school asked the

community to donate what

they could and within the week

members of staff filled more than

150 boxes.

Rosy Cheeks Early Learning

Centre in Somerfield also got

involved, dropping off goods they

DONATIONS: Tom Wilkinson, Deidre Lum, Jason Comrie,

Charlie Lane, Paul Weggery and Brenda Bickerstaff show just a

sample of the items donated by people from the community to

be loaded into a helicopter.

had collected to the high school.

Along with the boxes taken

by the helicopters, a group of

teachers filled two school vans

and a car and trailer with more

boxes to an army drop-off point

set up in Culverden.

Cashmere High principal Mark

Wilson said the school wanted

to do this because of the support

Christchurch received following

the 2010 and 2011 earthquakes.

LEADING: A group of year 7 Hillmorton High students recently attended the

Be Inspired leadership day at Christ's College. Schools from around the city

were invited to take part in the day. Students listened to Student Volunteer

Army creator Sam Johnson before working in groups to undertake a number

of activities around the concept of leadership.

An Empty Nest

130 Hackthorne Road, Cashmere

6 4 4 3 1 1 1 2 2

Your agent, Your home, Your future

LICENSED SALES CONSULTANT REAA 2008

With the family having left home this magnificent home is now simply too big for the vendor.

Quintessentially Cashmere this superb home with sweeping views and all day sun will

please the most discerning buyer. A superbly designed extension by Sheppard and Rout has

resulted in a six bedroom, four bathroom, three living room home retaining the style and

charm of its history whilst giving the benefit of modern day living.

Step into the large elegant entranceway and on into the large family kitchen and dining

room area featuring beautiful timber floors and then through to the family room. A large

formal wood panelled lounge is a wonderful space to perhaps achieve a quiet area from the

bustle of family life. The adjoining conservatory can also double as room for teenagers, being

big enough to take a table tennis table. A media room complete with speakers, projector and

screen is a great place to entertain family and friends, perhaps after a bbq and swim in the

heated inground pool.

But perhaps the real surprise lies at the top of the house. Here is a purpose-built workspace,

generous in size and ideal for those who wish to work from home. There is room for three

people to comfortably work plus storage space for samples or stock. Attention to detail

continues even into laundry and a refrigerated cool room. The large private grounds are a joy

for the gardener with expansive lawns and well established trees and shrubs. You can sit on

the deck and admire your garden in these long summer days to come. There is so much to see

in the house - call now to view your new home.

P 027 777 0411

Listing Number: BE192731

CARTWHEEL: Beckenham School pupils cartwheeled around the Botanic

Gardens as part of a class trip. The year 1 and 2 pupils ate lunch at the gardens

before heading to the Christchurch Art Gallery where they made animals out

of clay.

3

weeks til

Christmas!

Look out for

this week's

mailer full

of hot deals

3 Christmas!

weeks til

Christmas!

BUY NEW ZEALAND MADE QUALITY

ULTRA HD

SMART

LED TV

• Sate lite Tuner

Upscaling

• Smart TV

webOS 3.0

• Magic Remote

Mailer valid Wednesday 30th November until Monday 5th December

christmas gifts

for everyone on your list

57 %

OFF

The Sleepyhead Chiropractic

QUEEN SIZE

WAS $2799.99 NOW

$

1199 99

SAVE UP TO

$

1200

CALIBRATE

Queensize Bed

The Sleepyhead Chiropractic

Calibrate provides postural

support and offers an extra

comfort layer for those that

prefer a medium feel. Minimal

roll together, supported

with the Torquezone®

3 zone design, you' l sleep

undisturbed.

49" WAS $1999.99 NOW

$

1599 99

55" WAS $3099.99 NOW

$

1899 99

65" WAS $4899.99 NOW

$

3699 99

smithscity.co.nz | 0800 SMITHS (0800 764 847)

SHOP YOUR WAY, DELIVERED TO YOUR DOOR OR PICK UP INSTORE.

BRV-1M BLUETOOTH

SPEAKER

Waterproof, shockproof exterior

• Compatible with GoPro mounting

systems • 12 hours of playtime

and a built-in 2200mAh power

bank to charge USB-enabled

SAVE

$

30

MOVE 70 IN CAR GPS

SAVE

$

30

WAS $179.99 NOW

$

149 99

WAS $159.99 NOW

EA

$

129 99

NO repayments for 6 MONTHS!

on everything $999 & over*

then

receive

• Lifetime Free AU/NZ Maps • Premium

Safety Alerts • Speed Limit Alerts • Smartfind

Keyword Search • 3D Junction View

12

stuck for gift ideas?

give the gift of choice

this christmas

• Intel Celeron

N2830 Processor

11.6" Screen

2GB RAM

• Chrome OSTM

*EXCLUSIONS, FEES, TERMS AND CONDITIONS APPLY. SEE IN-STORE OR VISIT SMITHSCITY.CO.NZ. OFFERS AVAILABLE FROM WEDNESDAY 30TH NOVEMBER UNTIL MONDAY 5TH DECEMBER.

11.6" CHROMEBOOK

WAS $429.99 NOW

$

349 99

EM5000 COFFEE

MACHINE

WAS $499.99 NOW

SAVE

$

80

349

50 %

OFF

$

249 99

months INTEREST FREE

SCG0341
---
8

Tuesday November 29 2016

SOUTHERN VIEW

Linwood Keas finished in the top four in the club's first attempt at the

Queenstown Nines Carnival on the weekend. The Pat Smyth Trophy

winner's got off to a great start at the tournament, defeating 2015 nines

champion, the Hornby Panthers, 14-8. They then accounted for the

Invercargill Cooks 26-0 in their second pool game before going down

14-15 to the Tumeke Natives. The Keas defeated Dunedin's Kia Toa Tigers

36-4 to qualify for the tournament semi-finals but didn't make it any

further after being defeated 13-26 by Dunedin's East Coast Eagles. The

tournament was won by the Riccarton Knights, who defeated the Eagles

in the final with an extra-time golden try to win 12-8. Keas coach Andrew

Auimatagi said: "It was a long day but the boys really enjoyed it. Obviously

we were gutted to bomb out in the semi but, overall, it was a really good

weekend for league." Auimatagi said the team will be back in 2017 for

another crack at the title.

SPEEDSTER: Linwood's Rangitane Thompson

was crowned Queenstown Nines Carnival

fastest player after winning a 100m race held

during the tournament.

Sydenham nab one-run victory

SYDENHAM WON a

nail-biter against Riccarton on

Saturday in the latest round of

the Metro Premier men's oneday

competition.

One run was the difference

between the two teams as

Riccarton fell short after being

bowled out for 200 in their

chase. It was Sydenham's second

win of the campaign.

Canterbury batsman Chad

Bowes, fresh from a 155 knock

against Auckland, got Sydenham

off to a fast start with 28

runs off 20 balls.

The innings hit a road block

with three wickets falling for

just five runs as Sydenham

found themselves 38/3.

Ryan Wallace (68) kick-started

the innings and combined

with Talor Scott (40) for a 59-

run six-wicket partnership.

Riccarton and Canterbury

all-rounder Cole McConchie

was the best of the Riccarton

bowlers, taking three wickets

for 25 runs as Sydenham were

dismissed for 201 in the 50th

over.

Riccarton's chase got off

to a great start with Liam

Bartholomeusz (88) getting his

side through to 104/1 before

the second wicket fell.

The Sydenham attack of

Chris Harris (2), Tom Agnew

(1), Mitchell Gardner (2),

Braden Gardner (1) and

Wallace (4) were able to take

regular wickets as Riccarton's

middle and tail-order batsmen

got starts but failed to

capitalise.

Wallace wrapped up the

narrow win for Sydenham

in the 35th over when he

dismissed Jai Lyons.

The win ensures Sydenham

remain seventh in the eightteam

competition.

Sydenham will play Burnside

West Christchurch University

in the next round of the

competition on Saturday.

KEY MAN: Ryan Wallace top scored for Sydenham with a knock

of 68 before ripping through Riccarton's batting line-up with four

wickets. ​

SPORTS

New sport

fields for

Waltham

School

WALTHAM SCHOOL is one of

11 Canterbury primary schools to

have been gifted a new sports turf.

SKY television

gifted the turfs

to schools which

lost or incurred

significant

damage to playing

fields in the

earthquakes.

Worth almost

$20,000 each, the

turfs are part of

Julyan Falloon

the company's $1 million, five-year

commitment to help repair the

city.

SKY's director of corporate

communication Kirsty Way

said the turfs would make a big

difference to the schools.

"It is very important for

children to be active and outdoors

and Sport Canterbury can use

these turfs to help develop new

programmes to increase sports

participation," she said.

Sport Canterbury chief executive

Julyan Falloon said the donation

will allow his organisation to

deliver new activities to the mostly

low-decile schools.

"A number of schools lost

their outdoor play areas in

the earthquakes. In addition,

population shifts meant some

schools saw their decile rating

change, which meant they lost

funding, while others had an

influx of pupils, resulting in new

buildings taking up space on the

playing fields," said Falloon.

SKY's $1 million commitment

to the Christchurch Earthquake

Appeal Trust saw it give $200,000

to repair Garrick Park in 2013,

with the same amount donated

to West Spreydon School the

following year to restore the

community's much-loved

swimming pool.

now bigger than ever

The magazine for gardeners who

like to get their hands dirty

SubScribe from

$43. 50*

*6 issues/6 months

SUBSCRIPTIONS FREEPHONE

0800 77 77 10

www.gaRdeNER.kiwI

growing with you

SprIng Is here –

It'S Sow Time

how to get the best results from

seeds and seedlings

100% NatIve In

The capItal

Unravelling the secrets of

Otari-wilton Bush

The New Zealand

landscape awards

The people behind

the projects

$7.90 incl. GST

Save our roSeS

How a rose register is protecting our heritage

September 2016 | 100%

It's time

to grow!

New look and more

content than ever!

MeeT LeSTer Brice

A Garden coach

auckland Botanic GardenS

Why we love our public grounds

ISSN 2423-0219
---
SOUTHERN VIEW Tuesday November 29 2016 9

Christmas

party!

is coming!

$

8 99

kg $

3 99

Fresh Tegel NZ Skin On

Chicken Breast Fillets

pack

Meadows White Button

Mushrooms 400g

Sacred Hill/

Huntaway 750ml

(Excludes Reserve)

$

11 99

each

$

3 69

each

Whittaker's Sharepack

180g/Block 250g

$

8 50

each

Alpine Mild/Colby/Edam

Cheese 1kg

$

31 99

pack $

5 49

each

DB/Export Gold/Tui

24 x 330ml Bottles

Hummingbird Coffee 200g/

Nescafé Coffee Sachets 10 Pack

$

5 00

each

Kellogg's Nutri-Grain/

Special K/Sultana Bran/

Coco Pops 500-730g

Christmas

party!

Come along to your local FreshChoice

Christmas Party next week!

There will be savings, prizes, giveaways, tastings &

plenty of entertainment and fun for the whole family!

Barrington

3pm – 7pm

Wednesday 7th December

FreshChoice Barrington

Merivale

256 189 Barrington Papanui Road, Street, Christchurch.

Open 7am-11pm, – 9pm, 77 days. days.

FreshChoice.co.nz FreshChoiceNZ 355 3324432

6364

FreshChoice Merivale Barrington

Certain products may may not not be be available in all in all stores. Savings are are based based on non-promotional price. price. Limits Limits may may apply. apply.

Prices Prices apply apply from from Tuesday 2nd 29th August November to Sunday to Sunday 7th August 4th December 2016, or while 2016, stocks or while last. stocks last.

Owned and

operated

by locals

FCSV2911 FCNO0208
---
10

WIN

enter every time you shop at any of these participating businesses - more draws, more chances to win! Promotion closes 9th Dec 2016. conditions apply.

ON NOW!

Tuesday November 29 2016

your chance to

win one of three

$1000

SHOPPING SPREES

THIS COULD BE YOU!

Shop scan

SOUTHERN VIEW

Fantastic

Range of Bikes

• Layby now for Christmas •

03 360 2050

93 BaRRington St

Mon-FRi 8.30-5.30,

Sat 9.30-3.30

cycleworkz.co.nz

Quick Stop Liquor

69 Centaurus Rd,

Cashmere.

Ph 332 0233

Hrs: Mon 3pm-7pm

Tues - Sat 11am-7pm

Specials from 22 nd November

to 5 th December

• BEER • WINE •

• SPIRITS • RTDs

OVER 50 CRAFT

BEERS INSTORE

CANTERBuRy

CREAm 700mL

$

12 99

OR

$

25 00

2 FOR

I can

see

clearly

now

GREAT BUY!

$29.60

BARRINGTON, 256 Barrington Street

PH 332 1730 | www.suckling.co.nz

special

offer

Bring in this

ad and receive

$

5 off

any Style Cut

1 per person.

Offer valid until

06/12/16

Style Cuts

cuts

$

29

Just Cuts Hornby, Shop 49A, The Hub, Christchurch

Taste of Persia

Souvlakis & Kebabs

• Various Choices

Lamb, Chicken, Beef, Falafel (Vegetarian)

• Different Sizes

Large/Small/Pocket

• Extra Meat, Mushroom + Cheese Available

• Persian Style Kebabs on Rice

• Fast Friendly Service

• Excellent Value for money

• Phone Orders are Welcome

239D Colombo Street | 332 7252

Open: Tues – Sun 11am – 9pm

KTS

From

$10 Hair Cuts

No appointment just walk in!

337-9407

239B Colombo Street, Beckenham

CHRISTCHURCH'S PERFECT

INDOOR ENTERTAINMENT

FLIP OUT TRAMPOLINE ARENA

• MAIN ARENA

• TRICKING AREA

• FOAM PIT

• WALL TRAMPOLINE

• TUMBLE TRACK

YOUR SAFETY IS OUR #1 PRIORITY

PHONE 384 8244

230 MACES RD, BROMLEY

WWW.FLIPOUT.CO.NZ

Full mechanical service for all

makes and models

WOF $35

New & used tyres available

Free battery test

Wheel Alignments

20 Gasson St, Sydenham

Ph 379-6212

Mon-Fri 8am - 5pm Sat 8.30am - 1.30pm

MOTOR COMPANY CHCH LTD

Bezzera E61 Machines

Vitamix Blenders

Kitchenaid Mixers

Magimix Processors

Bialetti Espresso

Kai Shun Knives

Lodge Cast Iron

Le Creuset Cookware

Pyrolux Cookware

Arcos Knives

Cutlery Homeware

Cheforks Uniforms

Bamix Stick Blenders

Total Food Equipment

Schott Zwiesel

Victorinox Knives

Dualit Toasters

Electric Mincers

Food Dehydtrators

Cake Decorating

Roasting Dishes

Electric Kettles

Sabatier Knives

Acme Expresso Cups

Imperia Pasta Makers

Staub Cookware

Wood Chopping Boards

218 Moorhouse Ave 03 366 6912

10th BIRTHDAY

10 DAY

SALE

25% OFF 50% OFF

All

bikes!

All parts &

accessories

10 bikes across the range SLASHED

TO HALF PRICE! Go in the draw to WIN

$1000 worth of bikes & accessories!

Open 7 days • 620a Ferry Road, Woolston | Phone 03 376-6377

www.aroundagaincycles.co.nz

new tO addingtOn!

Authentic Indian

Restaurant

North/south delicacies, Dine in or takeaway

lunch specials from $9 .50

full licensed restaurant

See our menu at PepperBridge.co.nz

300 Lincoln Rd, Addington | (03) 595 0442

Spring bedding Special

duvets, blankets, Covers

20% OFF

All bedding SeRViCeS

when you mention this ad

(excludes pillows)

330 Lincoln Rd, Christchurch

Ph: 03 338 3312 | mastervalet.co.nz

$22

WOF

SIZZLING

SAT WOF

SPECIAL

Full mechanical service

+ repair available

Cnr Fitzgerald Ave & Hereford St.

Phone: 365-5220

www.a1auto4service.co.nz

Quality

NZ Made Beds

& Bedroom

Furniture

OPEN 7 DAYS

• Sealy • Beautyrest • Coastwood Furniture • Robax

• Mazon Virtali • Compac Furniture • Sleepmaker

• Sleep Systems NZ

242 Ferry Rd (Along From Old Ami Stadium)

Phone 377 8887 | www.bedworld.co.nz

Printer Cartridges

Visit us and SAVE!

100 Fitzgerald Ave, Christchurch (03) 365-7739

2016 seasoN

NoW starteD

the place to be

this summer!

Season passes available at the Woodford Glen Shop,

129 North Avon Road, ChCh | Ph (03) 385-1515

Check out www.woodfordglen.co.nz for meeting dates

The Automotive Lamp

Specialists

WE ARE

BACK IN

HORNBY!!

BUTLER

Auto Mart

Auto Parts Professionals

STOCKISTS OF NEW PARTS FOR

MOTOR VEHICLES FROM 1930-2016

Radiator Hoses, Water Pumps, Wheel Cylinders,

Belts, Electrical Components, Suspension Parts,

Bearings, Specialised Classic Parts

+ 100's of other parts!

Boost Brain Performance

ENZO:PROFESSIONAL (ENZOGENOL) is a potent

antioxidant extract of the N.Z. pine bark and

has been clinically shown to improve memory,

concentration & brain performance.

SUPER

60's only $45.30, save $5.00

120's only $84.90, save $15.70

PRICE! Detailed Information Available

Bringing You the Best in Natural Health!

New and Used Lamps for Cars, Trucks,

Vans, 4WD and Motorhomes

PH 0800 225 483

325 Brougham Street

CHRISTCHURCH

4 Brynley Street, Hornby, Ph (03) 982 7554

407 Colombo Street, Sydenham, Ph (03) 366 8005

www.butlerautomart.co.nz

MARSHALLS HEALTH & NATURAL THERAPY

CONSULTING - PRESCRIBING - DISPENSING -

MANUFACTURING - MEDICAL HERBALISTS

110 SEAVIEW RD, NEW BRIGHTON • PH 03 388 5757

Email: enquiry@marshallshealthshop.co.nz

- WE ARE ALWAYS HAPPY TO HELP! -
---
SOUTHERN VIEW Tuesday November 29 2016 11

Email caitlin.miles@starmedia.kiwi

by 5pm each Wednesday

Class Act

Today until December 9

This exhibition showcases a

collection of work from a drawing

class set up by the Linwood

Community Centre. Wonder

around the local art showcasing

local talent at this event. It is

open from Monday to Friday,

11am-4pm, and Saturday, noon-

3pm. Phone 03 981 2881 for

more information.

Eastside Gallery, 388 Worcester

St. Free entry

Another View

Until December 11

The Diamond Harbour

Camera Club Group Show

provides the club with an opportunity

to show their skills.

Go see some photographs,

cards and calendars, produced

by local photographers. This

small suburban gallery is set up

in a garden setting to go along

with the nature of some of the

photographs on display. The

gallery is open from 1pm to 4pm

Tuesdays, Thursdays, Saturdays

and Sundays.

Garden Gallery, 291 Lyttelton

St, Spreydon. Free entry

Deconstruction

Reconstructed

Today and tomorrow

Helen McLeod's exhibition of

surrealist photographs is based

on the lost and threatened heritage

buildings around the city.

The series re-imagines familiar

buildings and places them in

a variety of pre-dawn, sunrise,

daylight and twilight settings.

South Library, 66 Colombo St.

Free entry

First Thursdays Chch: Life

Aquatic

Thursday, 5-9pm

There will be art, exhibitions,

music, markets and more, with a

focus on celebrating everything

water-related. There will be

break-dancing performances

and workshops by Common

Ground, various exhibitions

of original artwork at The Colombo,

The Beer Library, Penny

Lane Records, Gallery 464 and

Dilana. There will also be food

and drink specials by local

eateries and food trucks and live

music at The Colombo. Go to

www.firstthursdayschch.co.nz

for more information.

Sydenham. Free entry

Slice of Comedy – Filming

Night

Friday, 7.30-10pm

Enjoy an evening of

comedy with three different

comedians performing for your

entertainment.

FARMERS' MARKET: Spend your Sunday morning wondering around the many stalls at the Opawa

Farmers' Market. The market runs every Sunday from 9am to noon. There is locally grown and

organic produce, freshly baked bread and many other items to enjoy. End your week with a relaxing

walk around the market and pick up some things for yourself or make a start on your Christmas

shopping. The market is set up at 275 Fifield Tce, Opawa, and entry is always free..​

The evening will be filmed

and released online as a way of

highlighting and showcasing

the talent in the city and every

audience member will receive

a copy of the final video. Go to

http://www.suchcrowd.co.nz/

events/34e841bf-b635-44f1-

b4f6-9d597ebcc94a for more

information and to purchase

tickets.

Orange Studios, Ferry Rd,

Woolston. Entry $10

Hillmorton High School

Community Festival

Saturday, 11am-2pm

Enjoy a family day celebrating

the community. There will be

a bouncy castle, zorb balls,

ponies, a petting zoo, a children's

reading area, arts and crafts and

everything in between, with

something for everyone to enjoy.

Hillmorton High

School, Tankerville Rd,

Barrington

Gone but not Forgotten –

Five-Year Tribute Concert and

Barbecue

Sunday, 6-9.30pm

Take the chance to enjoy

some music from musicians

who have passed away over the

last five years. Listen to classics

and remember the likes of

David Bowie, Cilla Black, Dave

Swarbrick, Prince, Joe Cocker,

Pete Seeger, Phil Everly, Glenn

Frey, B.B King, Merle Haggard,

Percy Sledge, Ben E. King and

Val Doonican to name a few. The

evening will also honour local

artists, such as Marcus Turner,

Pete Love and Dave Hart. The

songs will be covered by a variety

of performers throughout the

evening. Take cash as there is no

eftpos on site.

Irish Society Hall, 29 Domain

Tce, Spreydon. Entry from $8

Celebration Evening

December 14, 5pm

EOS Ecology wants to say

thank you to all the people

involved in the Whaka Inaka

whitebait spawning project, as

well as provide more information

to the community. Feel free to

go along to this event and learn

more about whitebait in the

waterways around the city. RSVP

to Kirsty Brennan at kirsty@

eosecology.co.nz by Friday.

Metropolitan Lounge, 3

Garlands Rd, Woolston. Free

entry

THE HOME OF GOOD BAKING

SOUTHERN

PLAINS BREAD

VARIETIES

Excludes Spicy Fruit.

$

1 99

EA

HOT DEAL!

CHRISTMAS

CAKES –

FULL RANGE

IN STORE

NOW

SQUARE MINCE

& VEGE PIE

Golden pastry

loaded with a

meaty mince filling.

HOT DEAL!

5 FOR

$

4 50

APRICOT

YOGHURT

FAMILY PACK

BISCUITS

$

4 99

PK

MILK

Dairy Dale 2L varieties.

$

5 98

2 FOR or $3.19 each

WHITE OR GRAIN AND

HONEY ROLLS 6pk

$

1 99

EA

Promotional pricing available while stocks last from 28/11/16 to 04/12/16.

Images are serving suggestions only.

Open 7 days | 8 Convenient local locations

Hornby • Barrington • Ferry Rd • Papanui • Riccarton • Upper Riccarton • New Brighton • Rangiora

BAKERIES

www.couplands.co.nz
---
12

Tuesday November 29 2016

Southern View

SOUTHERN VIEW

Neighbour

Hello

Care Free Computing

Make your life easier

Experiencing a computer issue?

Feeling frustrated with trying to keep

up with technology? Just like your

car requires regular servicing, your

computer responds to the same.

For most of us we expect our

computer to just work. When a glitch

happens and we lose a file, get a virus or

can't make heads or tails of the slowness

of the connection, the stress sets in and

creates a delay. Instead of throwing your

computer out of the window, call your

friendly computer experts at Care Free

Computing.

Care Free Computing is your

affordable, specialised computer repair

company based in your own backyard.

Launched in 1997, the Care Free

philosophy is simple. They

aim to provide top level

service and high quality

computer products for the

best value possible and assist

you through a stress-free

transaction process.

Care Free Computing

provides a one-stop solution

for all of your computing

needs - from new computers,

laptops and printers to

network setup, maintenance

and performance tuning.

Bring your computer into

their Wigram

Skies location

or call them

today to arrange

your house

call pickup at

0800PCPICKUP.

The Care Free

team of technicians

are friendly, professional and pride

themselves in making a confusing

topic, easy to understand with clear

definitions and advice. Their goal is to

see the job done right the first time or

they guarantee they will return and fix it

until it's right.

No matter what brand of computer

you own, their team of friendly and

experienced technicians can fix it

fast. So fast that 88% of their jobs are

completed within 24 hours. Call today

about their convenient mobile service,

and their fixed rate PC servicing.

Care Free Computing strives to make

Johnny Ellery (owner) from Care Free Computing

your task as simple as possible and offers

pickup and delivery from your home

or business. They can tackle all of your

home and small business technology

needs.

Call Care Free Computing today for

your peace of mind - 0800 PCPICKUP,

138 Lincoln Road. Check out their

website at www.carefree.co.nz.

Ease your computing stress

today with the experts at Care

Free Computing. Maintenance

has never been so simple.

TIME TO

SELL YOUR

HOME?

Call Glenys French

021 333 699

SUNDAY SPECIAL

• Happy Hour All Day Thursday

• Karaoke Thursday & Sunday

• Pokies

• Games, Pool

• Outside Smoking Area

• Courtesy Coach Thursday & Friday

• Late Dining

Roast & Dessert

$

15

for

only

ALL DAY

EVERY DAY

WE ARE OPEN UNTIL

CHRISTMAS EVE!

20% OFF FOR FIRsT TIME CLIENTs

(when you mention this ad)

CALL Us NOW ON 379 9411

410 COLOMBO sT, sYDENHAM

PC ProblEms?

PC slow? Annoying Errors and Pop Ups?

Internet not working? Are you secure?

Not really sure?

Relax, with over 15 years

experience we have the

answers to ALL your PC

problems. And we have a

range of unique fixed price

services available.

Discount

for $20

with this

voucher

Best of all we come to you - at no extra charge.

03 348 0187 | 0800 300 383

www.waimakrealestate.co.nz

sales@waimakrealestate.co.nz

First Floor, 40 Cass Street, Sydenham

BAR

& BISTRO

1 Halswell Rd, Hoon Hay, Christchurch. Ph: 03-338 8715

care free computing

Call on 0800 PC PICKUP

(0800 727 4251) or 338 8871

www.carefree.co.nz

Have an Elite Haircut

For an Affordable Price

Mens Cuts $18

Womens Cuts $25

Kids Cuts under 12 yrs $15

Clipper Cuts $14

Gold Card Mens $14

Gold Card Womens $16

Open Blade Box In $4

HOURS:

Mon-Fri 9am - 5pm

Sat 9am - 12 Noon

No

appointment

needed!

Eftpos Available

238 Barrington Street, Spreydon

(opp St Nicholas Church)

BECKENHAM

Christchurch's Private

Training Studio

Call or email today to arrange

a free consult with one of our

experienced trainers

No joining fees or membership costs

www.formfitness.co.nz • 0800 367 634

info@formfitness.co.nz

Call to Arms!

Happy

Hour:

10-2 Sat

and all day

Thurs/Sun!

Celtic

Arms

Inn

• Pokies

• 18 games

• New pool table –

FREE pool Thurs/Sun

• Late dining

308 Selwyn Street, Christchurch

"Where Every Smile Matters"

Experienced team provides caring and

gentle dentistry for the whole family

Dental Hygienist Available

Sedation dentistry

Wedding packages

Winz quotes

ZOOM whitening

treatment

ACC accredited

Dental Health Counselling

Free treatment for

adolescents (13-18 years)

Free treatment of

children (0-13) with a

school dentist referral

PH 332 6399

We've moved!

Now based at

104 Colombo Street,

Beckenham

www.smileconcepts.co.nz

Advertising enquiries Richard McCombie | Ph: 021 914 335 | richard.mccombie@starmedia.kiwi
---
SOUTHERN VIEW Tuesday November 29 2016 13

THE MALTWORKS VILLAS

New villas

offer lifestyle

and financial

benefits

The Maltworks Villas residential

complex being constructed on the former

Maltworks site in Heathcote Valley is

designed for people in the over-55 age

group that enjoy an active lifestyle and

want to live in a place where natural beauty

defines their surroundings.

Located at 66 Port Hills Road, the

Maltworks Villas will not only have views

of the Port Hills, but will also have the

additional benefits of the micro-climate

environment of the valley.

Developed by PLC Group, the complex

will comprise 65 villas in duplex or terraced

housing styles.

There are 11 plans available in different

sizes, with two- or three-bedroom and

one- or two-bathroom units being offered.

The advantage of the larger sizes is that

purchasers will be able to bring more of

their existing belongings to their new

home, rather than having to dispose of

them.

Construction is linear, with doubleglazed

windows and Colorsteel roofing

with solar panels to reduce the cost of

power for residents. Villas will have a

single or double garage, depending on

the size, while the common areas of the

complex will be attractively landscaped and

maintained by a caretaker.

A key advantage for purchasers of

villas at the Maltworks development is

that ownership is a freehold unit title,

rather than a licence to occupy. This will

allow owners to benefit from the growth

in capital value of their unit, rather than

having limited access to participate in

increased value, as is the case with the

licence to occupy model.

PLC Groups has been operating for

15 years and has developed three over

55/60 lifestyle villages based on the

freehold unit title model. The Maltworks

Villas are designed to create a community

environment, where people of similar

interests can enjoy

companionship and

share activities, with

the well-appointed

clubhouse offering

facilities for socialising

and special events.

A store and café are

to be built alongside

the village, while

a wide range of

recreational facilities

in close proximity to

Maltworks Villas offer

plenty of opportunities

for enjoying social and

leisure activities.

Ferrymead, with

its multitude of retail

and commercial

Under offer

businesses, is a short drive away, the

Eastgate shopping centre is approximately

12 minutes' drive away, and Lyttelton

township and harbour are also within easy

reach through the tunnel.

There is a bus stop located 100 metres

from the entrance to the village, with buses

running to and from the city centre on a

regular basis.

Fourteen of the villas are under offer

with earthworks currently underway

and construction of the first lot of villas

expected to be completed early in the

New Year.

Those wanting more

information on Maltworks Villas

should contact Michelle Tait,

027 668 6268, or Gemma Roberts

Harcourts Twiss Keir,

027 223 6471 or 03 323 6045

gemma.roberts@harcourts.co.nz.

Licensed Agent REAA 2008.

Twiss-Keir Realty

Committed to

excellence.

Our mission is simple: to deliver

exceptional, personal service

and the best possible outcomes

for every client we work with.

At Harcourts Twiss-Keir, we

like setting and achieving

exceptionally high standards.

Thinking of selling or buying, call

one of our friendly consultants

today 03 323 6045.

twisskeir.co.nz Licensed Agent REAA 2008

Licensed Agent REAA 2008
---
14

Tuesday November 29 2016

SOUTHERN VIEW

Celebrating

25 years

Celebrating

25 years

Celebrating

25 years

It wouldn't be a

celebration without you.

It's Starship's 25th birthday.

So we'd like to acknowledge everyone who's

helped us reach this wonderful milestone.

To our staff, donors, volunteers, corporate

partners and, of course, our patients and their

families - your support of our national children's

hospital means the world to us. Here's to you,

and another 25 years of delivering outstanding

care to young patients.

THANK YOU.

Celebrating 25 years

starshipbirthday.co.nz
---
SOUTHERN VIEW Tuesday November 29 2016 15

Experts restore that

"winning smile"

MEETING PEOPLE for the first time,

interacting with others on social occasions,

going for a job interview - in all these

situations your smile is the most important

part of you.

Or perhaps, on a lighter note, you

might be scaring yourself with your 'selfie'

because your smile is not as attractive as it

should be, due to missing or broken teeth.

Perhaps it's time for a visit to Denture

South in Barrington, where the experts can

give you that winning smile back.

Clinical dental technician, Andrew

Johnson and associate Janice ling can

provide you with a highly personalised

experience. We have a lot of knowledge

and experience that can help guide you

through the process.

For people who have had dentures for a

while and are finding they frequently need

to buy denture adhesive to keep them in

place, Andrew advises having the dentures

relined so they will fit better. As he points

out, the money spent on denture adhesive

over 12 months would easily cover the cost

of having your dentures refitted.

Denture South has been providing a full

range of denture services for the residents

of Christchurch for over 13 years. These

services include first-time immediate

dentures, full replacement dentures, partial

plates and sports mouth-guards.

Many Denture South clients come

through word-of-mouth referral, an

indication of the level of satisfaction that's

provided there. Coming into Christmas

we will be open and available for all

adjustments for our existing patients in the

final week, making for a great Christmas.

The friendly Denture South team.

Conveniently

located at 230

Barrington Street,

Denture South has

off-street parking.

Phone 332-4004 for

a complimentary

consultation.

230 Barrington st

332 4004

Your Local

Friendly

Dental

Team

Easy parking

& great service

Acupuncture

Dr Lan Xiao

A unique UNIQUE PoweRFuL POWERFUL

tReAtment TREATMENT wiLL WILL Give GIVE

you YOU PAin PAIN ReLieF RELIEF in IN

juSt JUST A Few FEW SeConDS SECONDS

without needles

• Relieve all kinds of body pain

• • Relieve all asthma kinds and of body hay fever pain

• Relieve • Fantastic asthma weight and loss hayfever results

• Fantastic • Great results weight for loss insomnia, results dyslexia

• Great

depression

results

and

for

low

insomnia,

energy

• Stop cravings for cigarettes, alcohol,

depression

sweet foods

and

and

low

drugs

energy

instantly

• Stop cravings for cigarettes, alcohol,

sweet foods and drugs instantly

WATCh our Free Trial

insTAnT resulTs

Available

Free Trial Available *

videos online

*Conditions apply

*

*Conditions apply

108 Sawyers Arms Rd, Papanui

108 Sawyers (inside Melrose Arms Building) Rd, Papanui

Phone: 03 (inside 323 4168 Melrose • Cell: Building) 027 231 8388

Phone: www.drlansreflexologynetwork.co.nz

03 323 4168 • Cell: 027 231 8388

VEBITE

Bishopdale Clinic

13a Bishopdale Court, Ph 360 3606

City Clinic

12 Hereford Street, Ph 961 0236

Wigram Skies Clinic

67 Skyhawk Road, Ph 322 9400

Back & neck pain

Sprains and strains

Functional training studio

Biomechanical assessments

Headaches and migraines clinic

Work injuries & gym rehab

Pre and post surgery rehab

lovebite.com

Call us today Ph 360 3606

musclepeople.co.nz
---
16

Tuesday November 29 2016

REAL ESTATE

Social butterflies wanted

39 Applefield Court, Northwood

Auction: Thursday 15 December - unless sold prior

4 bedrooms | 2 bathrooms | 2 toilets | 2 living rooms | 1 office/study | 3 car-garage | 4 off-street parks | Listing # PI45539

SOUTHERN VIEW

Those who love to entertain will be instantly

drawn to our feature listing, a substantial

family home located within the popular gated

area of Styx Mill Country Club.

Built just over a decade ago, this very

appealing home boasts four double bedrooms

(master with walk-in robe) and two superblyappointed

bathrooms, one of which includes

a spa bath.

Versatile, interconnecting living areas

provide the scope to host both intimate

gatherings and large get-togethers, while

the gourmet kitchen ensures the ability

to cater to any and every occasion. Other

highlights include a study, a separate laundry,

and an array of intelligent heating solutions

(including a gas fire, a heatpump, and

undertile heating).

Multiple sets of bi-folding doors provide

seamless access to the expansive section,

where sun-soaked patios offer plenty of space

for entertaining in the private and tranquil

fully-fenced grounds.

Triple, internal access garaging (with

double door access) and ample off-street

parking complete the appeal, while the

proximity to the Northwood Supa Centre

means every amenity you could ever need is

right on your doorstep.

The lifestyle on offer here is compelling, to

say the least, with numerous walkways and

reserves all within easy reach. In addition,

the sale includes membership to the Styx Mill

Country Club, where you'll find everything

from an indoor pool, spa and sauna to

outdoor tennis courts and a gym!

Quality homes in this ever-popular

part of the city are always in demand, and

interested parties are advised to act quickly.

Open homes, Saturday and Sunday 3.30pm-

4.15pm. Call today for more information or

for a private viewing appointment - contact

Deb Harvey of Harcourts Gold Papanui

(Licensed Agent REAA 2008) on 352 6166

or mobile 027 220 6565

Is your roof looking a bit sad?

Brighten it

up with a new

paint job.

• Difficult or steep roofs

are our specialty

• Water blasting

• Exterior painting

• Fence painting

• Residential and

commercial

• 10 years business in Chch

Call today for a free quote

0508 937 663

Access Property Services

Trades & Services

PLANT GROWERS

Bettaplants

Nursery

Have been growing top quality

plants since 1934

Remember you can't buy

Bettaplants anywhere

BEDDING & VEGETABLE PLANT GROWERS

Bettaplants

1934-2016

82 YEARS IN BUSINESS

27 Ottawa Road. Phone: 389-7855

Hours: 8.00am-5.30pm Mon to Fri, 8.00am-5.00pm Sat

Trades & Services

DRIVEWAYS

Exposed Aggregate

Stamped Concrete Plain

Concrete Resurfacing

Things we offer...

Competitive/affordable pricing

Attention to detail

Professional service

free quotes/insurance scopes

Cell 0278 145 848

www.drivecrete.co.nz

ELECTRICIAN

residential - commercial - industrial

New Builds

electrical and lighting design

Renovations

incl. rewires, switchboard New Builds upgrades, basic additional

lights & power / data Renovations

points, garden lighting, spa power

Home Ventilation

heat transfers and positive pressure systems

Alarm System Installation

Alarm System Installation

incl. Electrical the latest smart Safety phone control Inspections

and monitoring

Call

Call

William

William

for

for

a free

free

quote:

quote:

021

021

594

594

442

442

or

email: email: admin@preciseelectrical.co.nz

www.preciseelectrical.co.nz

We are proud members of:

Trades & Services

Trades & Services

Trades & Services

Trades & Services

Trades & Services

OP SHOPS

restaurant

VALUATIONS

WINDOW TINTING

Shop with us and

Give Hope.

tintawindow

advanced film solutions

Fine Indian cuisine and

Fully Licensed Restaurant and B.Y.O.

99% uv block

fade protection

heat control

reduce glare

25 Years Experience

privacy films

frosting designs

non-darkening films

Workmanship Guaranteed

Lifetime Warranties on Most Films

UV

block

Table bookings are welcome and we also do catering

Te Ope Whakaora

Open Monday - Saturday 9am - 5.15pm

62 Poulson Street, Addington

300 Lincoln Road, Lincoln

PH: 338 5154

Your donations of household goods support our

emergency housing hostel

nOw Open!

Home delivery available (conditions apply)

458 Colombo St, Sydenham, ChCh

03 366 5853

Free Quotes Canterbury and Districts

03 365 3653 0800 368 468
---
SOUTHERN VIEW Tuesday November 29 2016 17

YOUR LOCAL TRADES & PROfESSiOnAL

SERviCE bUSinESSES

Appears every

month in

Support theSe locAl buSineSSeS

The ReLIAbLe TeAm

AT QuALITy TRADesmeN

From the smallest

room in the house

thru to the main

rooms, kitchen,

dining and lounge.

Our simple motto:

Happy clients

tell their friends.

The best form of

advertising is word

of mouth.

$99

half head

fOIlS OR GlOBal

COlOUR

Includes cut & blow wave

beFORe

AFTeR

• Builders • Painters • Plasterers

• PlumBers • electricians

CALL DAVID NOW 027 438 1114

david@qualitytradesmen.com

*mention this ad

*T&C apply.

• Award winning stylist • All hairdressing services

• SuperGold Card discount Monday - Wednesday

Proud stockist of LUXURY WIGS

M.O.h Provider Open Mon to Sat

6 Opawa Rd, Waltham, Ph 379 1275

Team of tradesmen cover all bases

Whatever type of renovation work you

want to have done, whether it's a new

kitchen, a renovated bathroom, a whole

home makeover, or outside work such

as fences, decks and pergolas, the team

at Quality Tradesmen can do the job,

including the project management.

"From concept to completion, we've got

you covered," says owner David Gawith.

The team of qualified tradesmen

includes builders, plasterers, painters,

plumbers and electricians, who will

undertake all those aspects of the work,

completing it on time and on budget.

"Our name says it all, really. We provide

quality work," David says. "And we are not

happy unless the client is happy. We keep

going until the client is completely happy

with the job. Happy clients who tell their

WOF $35

Bookings advisable

Complete

Tyre and

Auto

Full Workshop

Repairs & Tyres

NEW HOURS

Monday, Thursday & Friday

8.00am-5.00pm

Tuesday & Wednesday

8.00am-7.00pm

Saturday 9am-3pm

Canterbury owned and operated

464 Ferry Rd, 03 389 5370

ctawoolston@yahoo.co.nz

New & Used Tyres • Puncture Repairs

Batteries • WOF • Balancing

Mechanical Repairs • Lube & Servicing

Wheel Alignment

Merry Christmas

from Fusion Hair

Yes it is that time of year again, hasn't

this year gone quickly! We would like to

wish all our clients a wonderful festive

season. We hope you have made your

Christmas bookings and cakes by now,

both equally important. We still have

spaces available but times are filling fast.

Remember Fusion Hair is a chic

affordable boutique salon in Waltham.

The award winning stylists at Fusion Hair

pride themselves on listening to their

clients' needs and creating a style that

works for them and their lifestyles.

In addition to offering all aspects of

hairdressing – from cutting and colouring

friends about us are the best business card

you can have."

Reliability is another key aspect of the

firm's business, with clients assured that

the tradesmen will turn up when expected,

and complete the work as required.

"We're a modern firm working with

up-to-date methods, but with the oldfashioned

values that people expect when

they're paying for a job," David says.

The team at Quality Tradesmen have the

skills to transform any room, any home, to

not only add value but also to create the

living spaces you want. Visit their website,

www.qualitytradesmen.co.nz to book a

quotation and see examples of their work.

Sydenham Park

Funerals

Direct

Cremation

We care about

your costs

Ph 0800 793 364

heritagefunerals@xtra.co.nz

to perms and blow waves for all members

of the family, owner Joanne Neilson, also

stocks a wide selection of Luxury Wigs.

The wigs are available in short and long

styles and in a wide selection of shades,

with most of them being multi-tonal

and featuring natural-looking highlights.

Many of them have an invisible lace

front, so you can't tell that they are a wig,

Joanne says, and starting at around $200,

they are also very cost-effective.

Fusion Hair, 6 Opawa Road, is open

6 days a week with a late night on

Thursdays. To book an appointment

phone 379 1275.

HAVE WE GOT

YOUR FUTURE CAR?

464 Ferry Road, Christchurch

Phone: Hayden 03 381 6592 or 021 365 957

ALL AVAILABLE FROM NO DEPOSIT

VISIT US ON FACEBOOK: Cars-2-Go

Open 9am-5pm Monday-Friday, 9am-3pm Saturday

Sports Prescription

Goggles

FROM

$

178 00

Innovative

sports goggles

BARRINGTON, 256 Barrington Street

PH 332 1730 | www.suckling.co.nz

BLOCKED

DRAINS?

CALL thE wAtER BLAStINg SpECIALIStS

• Drain Clearing

• CCtV Drain Video

• tree Root Removal

• Same Day Service

• Competitive prices

• Steam Cleaning

/waterblasting

• gutter Cleaning

• No Callout Fee

(Excluding public holidays)

• Quality guarantee

CANTERBURY

WATERBLAST

we care.

ph: 03 365 7960 // 24 hours // 7 days

44 Maces Road, Chch

info@canterburywaterblast.co.nz

www.canterburywaterblast.co.nz
---
PROUDLY

PROUDLY

CHRISTCHURCH

CHRISTCHURCH

OWNED

OWNED TUESDaY, aUGUST 27, 2013 PROUDLY 384

384 CHRISTCHURCH 0600

0600

PROUDLY CHRISTCHURCH OWNED MONDaY JUNE 24, 2013

OWNED WEDENSDaY 10 JULY, 2013 384 0600

38

A Mainland

Media Publication

Kea

(Nestor Notabilis)

Ladbrooks, Tai Tapu, Leeston, Lincoln, Southbridge, Prebbleton, Halswell, Rolleston, Templeton, Burnham, West Melton, Darfield, Arthurs Pass

Mainland

Press Newspaper

Sumner, Redcliffs, Mt. Pleasant, Ferrymead, Woolston, Lyttelton & Akaroa Harbours

Black Billed

Gull

A Mainland

Press Newspaper

Linwood, Avonside, Richmond, Shirley, Burwood, Dallington, Wainoni, Bromley, Aranui, Avondale, Bexley, New Brighton, Northshore, Queenspark, Parklands, South B

PROUDLY CHRISTCHURCH OWNED MONDaY JULY 15, 2013 PROUDLY 384 CHRISTCHURCH 0600

OWNED MONDaY 12 aUGUST, 2013 PROUDLY 384 CHRISTCHURCH 0600

OWNED MONDaY JUNE 24, 2013 3

A Mainland

Press Newspaper

Fantail

(Piwakawaka)

A Mainland

Newspaper

Harewood, Burnside, Bishopdale, Bryndwr, Fendalton, Merivale, St Albans, Mairehau, Papanui, Casebrook, Redwood, Regents Park, Styx Mill, Northwood, Spreydon, Belfast Hoon Hay, Hillmorton, Cracroft, Cashmere, St Martins, Somerfield, Sydenham, Addington, Waltham, Opawa, Beckenham, Huntsbury, Woolston

Bellbird

(Korimako)

A Mainland

Press Newspaper

New Zealand

Swamp Hen (Pukeko)

New Zealand

Pigeon (Kereru)

Templeton, Islington, Hei Hei, Broomfield, Halswell, Oaklands, Westlake, Hornby, Wigram, Sockburn, Church Corner, Ilam, Russley, Hyde Park, Avonhead, Riccarton Park

18

Tuesday November 29 2016

SOUTHERN VIEW

Classifieds Contact us today Phone our local team 03 379 1100

Caravans, Motorhomes

& Traliers

CARAVAN around 4 to 5

berth wanted. Don't mind

repairs. 027 938 5344

WE can sell your caravan

on behalf on our busy

caravan site at www.

affordablecaravans.co.nz

512 Belnheim Rd, ChCh.

03 348-6614

Car Parts

TYRES Secondhand,

most sizes, from $30

fitted, Also batteries, 217

Waltham Road, 027 476

2404

Community Events

ALCOHOLICS

ANONYMOUS, If you

want to have a drink thats

your business. If you want

to stop, we can help. Phone

0800 229-6757

Computers

ALL

YOUR

COMPUTER

WORRIES SOLVED!

*$30.00 off your first

service with this coupon!*

No problem too big or

small from home PC's to

business networks. PC

slow? An end to Viruses,

Spyware, and Clogged

Systems. Safe secure

hassle-free computing.

Lost files recovered.

Microsoft Certified,

MCSE, MCP+l. 30 years

experience. Call Andrew

Buxton this week on 326-

6740 or 027 435-7596

for $30.00 off* Custom

Computers Christchurch

Gardening

& Supplies

Landscape

and Garden

Services

If you need help

getting your garden

back in order after

repairs, need any

type of landscape

construction work or

garden restoration.

Ph 021 272 0303

Gardening

& Supplies

A GARDEN

PROFESSIONAL

NEEDED? Qualified

Horticulturist, offering

expert pruning, garden

makeovers, garden design

and landscaping, for free

quotes call Bryce 027 688-

8196 or 0508 242-733

A GARDEN OR

LANDSCAPING TIDY

UP? Shrub, hedge &

tree pruning, Lawns,

Gardening, consistently

reliable general property

upkeep, Dip. Hort. 10

yrs experience, One off

tidy ups or on-going

service. Nick's Property

Maintenance. Keeping

your garden beautiful.

Free Quote. Ph. 942-4440

Health & Beauty

Centre of Excellence

AVENUE HEALTH

202 Bealey Ave

New purpose-built

surgical facility

• Cosmetic Medicine

& Surgery

• Skin Medicine &

Dermatology

• Skin Cancer Surgery

Dr Ken Macdonald

MB ChB (Edin), FRACP,

FRCPE, FRCP (Lond), FNZDS

www.kmsurgical.co.nz

Phone 03 379 9467

Holiday

Accommodation

QUEENSLAND SUN-

SHINE COAST AUSTRA-

LIA Resort, Ocean Views,

Balconies, Self Contained,

1 or 2 B/R Ensuite,

Heated Pool, Spa, Sauna,

Free Internet, Shops,

Restaurants, Tennis, Surf

Club & Patrolled Beach,

Public Transport at door.

Ask for our SEASONAL

SPECIALS. Phone 61 7

544-35011 Email: reception@mandolin.com.au

www.mandolin.com.au

To Let

HOUSEME

Portable sleepout or office

available to rent.3m x

3.6m studio.

Insulated and value for

money at $75.00 per week,

you wouldn't live in

anything else. Contact

Amanda

today on 0279570920 or

houseme2015@xtra.co.nz

Tours

Rexellent

Rentals

Cars, Vans, Brisbane, Coolangatta

FREE CALL

0800 601 508

e: rexellent@bigpond.com

Trades & Services

& Property Maintenance

Paving

Patio - Pathways - Driveways

Lawns and Gardens

Planting - Raised Vege Gardens

Readylawn - Irrigation - Fencing

General Maintenance

Water Blasting - Gutter Cleaning

Rental Property Maintenance

Section Clearing - Weed Spraying

20 Years Experience

Locally owned and operated

Free Quotes - Competitive Pricing

Blair Gibson 027 699 5815

Trades & Services

• Replacement/new roofing

• Colour Steel gutter & fascia

• Flue & log burner installs

• Skytube/light installs

• Earthquake repairs

Licence Building

Practitioner LBP

Member of the Roofing

Association

DCM ROOFING LTD

The Roofing Specialists

PHONE IAIN

027 445 5597

iain@dcmroofing.co.nz

Now working

in your area

• Tree Pruning

& Removal

• Stump Grinding

• Hedge Trimming

Fully Insured

Qualified Arborist

For a free quote,

ph 0800 248 733

www.jimstrees.co.nz

PLUMBER

Michael

Gale

Plumbing Ltd

PROMPT SERVICE

For all

Plumbing

•Roofing/

spouting

•Maintenance

•Installations

8790441AA

Trades & Services

HOUSE

CLEARING

Are you moving

house?

Let All Clear Canterbury

take care of your

unwanted items.

You identify what you want

to keep & we will dispose

of the rest!!

Ph: 03 312 7119

Mob: 021 078 4553

allclearcanterbury@gmail.com

www.allclearcanterbury.co.nz

Trades & Services

Trades & Services

Small work

no problem

Ph 364 7080 (24 hour)

Mob 027 438 3943

9220021AA

Trades & Services

Lawns, Gardens

& Home Cleaning

9185885AA

Free Quotes

Professional, personalised

service. Regular &

one-offs. Fixed price.

Ph: 377-5814

For all your property and

cleaning requirements

Trained, insured & security

screened owner/operators

Multi-award winning

systems & Franchises

Franchises Available

www.fviphomeservices.co.nz

ROOF

PAINTING

Rope & harness

a speciality,

no scaffolding

required,

30 years of

breathtaking

experience.

FREE QUOTES

Exterior staining,

exterior painting,

moss and mould

treatment and

waterblasting

Phone Kevin

027 561 4629

Trades & Services

AAA CArpentry

licensed builder

practitioner all property

maintenance small job

expert by tradesman /

handyman free quotes city

wide call now 03 387-

0770 or 027 245 5226

ciey@xtra.co.nz

BUILDer

For all building work

but specialist in bathroom

renovations, 30 yrs

experience, with service

and integrity. Free Quotes.

Ph Lachlan 383-1723 or

0274 367-067.

BUILDer

LICENSED, available for

all aspects of building.

Please call 027 241-7471

or 335-0265

BUILDer

Available LBP Builders.

All building work,

bathroom re modelling,

decks etc before Xmas, Ph/

Txt Jon 021 613 493

CArrIer

Local, experienced,

friendly, trade-me

purchases, single items

to truck loads, furniture

to whatever, removals &

trade deliveries a specialty.

Ph GEH 341-5069

CArpenter

HAnDyMAn

Small Job Specialists,

Carpentry, Repairs,

Decking & Maintenance,

40 years experience, no

job too small, Ph Warren

03 322-1103 or 027 697-

8541

CArpet & VInyL

LAyIng

Repairs, uplifting,relaying,

restretching,

email jflattery@xtra.co.nz,

ph 0800 003 181

or 027 2407416

Trades & Services

CArpetLAyer

Laying and Repairs, 40 yrs

experience, ph Peter 326-

7711 or 027 240-6532

DRIVEWAYS

Replace, repair or new.

We are a local company

with over 10 yrs exp.

We also operate a

digger for all other

earthworks.

Ph. R.M. Solutions

021 02866981

for a free quote.

FenCe pAIntIng

Staining Quality at a

reasonable price. Free

quotes. Phone Warren

today on 980-1676 or 027

2014713

FUrnItUre reMOVALS

Large Trucks $95 +

GST per hour 7 day NZ

wide, packing & moving,

Professional Company,

Professional Service.

Canterbury Relocations

Ltd. ph 0800 359 9313

LAnDSCApIng LtD

Paving, Lawns, Irrigation,

Decking, Fencing.

Kanga & small digger

services. Check out Squire

Landscaping on facebook.

FREE QUOTES. Ph

Authur 347-8796, 027

220-7014 Edwin 027 220-

7154

MeCHAnIC QUALIFIeD

semi retired. Servicing

cam belts, WOF's,

lighter jobs. 45 yrs exp.

Competitive rates. FREE

pickup & delivery. Ph

David 389-6100

OVen CLeAnIng

Professional cleans

$50.00. Gift Vouchers

avail. Phone 0800 683-

6253 or 027 228-0025

pAIntIng

DeCOrAtIng

interior & exterior,

gib fixing, plastering,

paperhanging, Est 50 yrs

in ChCh, ph Wingfields

Ltd, ph Mark 021 171-

1586 or 355-5994

pAInter

Available, All aspects in

painting. Very competitive

in roofs and fences. Please

call 027 241-7471 or 335-

0265

pAInter

Top quality work, interior/

exterior, pensioners

discount, free quotes, 30

years experience, I stand

by Canterbury, ph Wayne

your friendly painter

03 385-4348 or 027 274-

3541

pLASterer

Gib Stopping, Small

job specialty. 30 + years

experience. Ring 0800

387-369

pLUMBer

A Top Plumbing job

completed at a fair price,

prompt service, all work

guaranteed, Ph Brian 960-

7673 or 021 112-3492

pLUMBer

ALF THORPE

PLUMBING Certifying

Plumber for all types of

plumbing, maintenance,

spouting, alterations etc.

Phone 352-7402 or 0274-

350-231

Appliance Sales & Service

388 4780

Appliance Services

14 Brighton Mall, New Brighton

Trades & Services

rOOFIng

Qualified & Licenced

Practitioner. Re-Roof &

Repairs, all types. Member

New Zealand Roofing

Association. Over 35 years

experience. Phone John

027 432-3822 or 351-9147

email johnmill@ihug.

co.nz

SpOUtIng CLeAnIng

Spouting Unblocked,

Cleaned Out and Flushed

Out. Also Full Handyman

Services Available. Call

Trevor 332 8949 or 021

043-2034

treeS BIg Or SMALL

tree removal, trimming,

stump grinding, shelterbelt

clean up, section clearing,

rubbish removals,

excavation work, ph Trees

Big or Small, for a free

quote, 021 061 4783

tree WOrK

Hedge trimming, stump

grinding, rubbish removed,

small job specialty Ph

Andrew 03 322-8341 or

027 435-8759

t.V. SerVICe Centre

Repairs, tvs, microwaves,

stereos, DVD. Aerial

installations and kitsets,

480 Moorhouse Ave, ph 03

379 1400

UpHOLSterer

Dining Chairs, Lounge

suites, Caravan Squabs

etc. recovered. Free

Quotes. Phone Graeme

383-1448

VHS VIDeO tApeS

& all camera tapes

converted to DVD, video

taping, weddings, twenty

firsts, special occasions,

www.grahamsvideo.co.nz

ph 03 338-1655

WAterBLAStIng

Quality Job, Quick Service

by skilled tradesman, Ph

Richard Severin at Jet-X

0800 538 969 Free quotes,

visit www.jetx.co.nz

Vehicles Wanted

VEHICLES

ANY CONDITION

WANTED

FOR CASH

$ $ $

Ph 347 9354 or

027 476 2404

Wanted To Buy

AAA Buying goods

quality furniture,

Beds, Stoves, Washing

machines, Fridge Freezers.

Same day service. Selwyn

Dealers. Phone 980 5812

or 027 313 8156

A+ Household effects,

fridges, freezers, washing

machines, ovens. Good

cash paid. Ph Paul 022

0891 671

TOOLS Garden,

garage, woodworking,

mechanical, engineering,

sawbenches, lathes, cash

buyer, ph 355-2045

Public Notices

business video

PRoduCTion

A video will bring your business

alive & into your customers mind.

Promote your

services or business

with a professionally

created video with us

• Corporate and

Business video a speciality

• Competitive rates

• 25 years experience

• Start to finished product

• Professional quality guaranteed

PHone KeRRY 021 635 083

Public Notices

Weka Pass Railway

Waipara, North Canterbury

We Are Running

SunDAY 4th December

Running 1st & 3rd Sundays

of every month

Phone 0800wekapass

Depart Glenmark Station

11.30am & 2.00pm

www.wekapassrailway.co.nz

Public Notices

DEMOLITION

With care and respect we

will remove your dwelling.

Our policy is to recycle as

much as we can. We are a

local company specialising

in residential properties. We

will endeavor to cater for

your individual needs.

Ph. R.M. Solutions

021 02866981

for a free quote.

Call us & we'll help

you place your

classified advert in our

community papers

Nobody knows

Christchurch

like a local

We're local, we're

in Christchurch, we

speak your language!

Phone: 379 1100

Selwyn

Times

Nor'West

News

Public Notices

Bay Harbour

A

News

Southern

Situations Vacant

CA$H

Strippers

& Podium

Dancers

Wanted!

18+ TO APPLY

NEISHA

021 193 0118

Pegasus

Post

Western

View Press

News

Classifieds

Our community papers are published every

Tuesday (Bay Harbour, Wednesdays) focusing

on local issues & local people.
---
SOUTHERN VIEW Tuesday November 29 2016 19

"The Best Food is Good Thai"

EAT IN OR TAKEAWAY

BBQ

PORK

OPEN FOR

LUNCH

Weekdays

11.30am - 2pm

DINNER

7 days

5pm - 9pm

LICENSED, BYO

A classic,

contemporary

Club

experience

Cafe open from 11am

TAB & Gaming

Function Facilities

HOUSIE

Tuesday, Thursday,

Saturday

SHUTTLE

Tuesday - Saturday

LIVE ENTERTAINMENT

THIS SATURDAY

EASY COME EASY GO

7pm in the Whitford's Bar

Open 7 Days from 5.30pm

RETRO ROAST

LUNCH

12PM-1.30PM

WEDNESDAYS

$10 Members / $12 Non

166 Kendal Ave, Burnside. Phone 357 9575

Find us on FACEBOOK/GoodThai166

Chef Phirom

The Brougham

Get all 'Christmasy' with us!

PRE-CHRISTMAS FUNCTIONS,

PARTIES, WORK BREAK UPS,

CHECK THIS OUT!

AVAILABLE LUNCH & DINNER DAILY UNTIL

24/12/16 FOR PARTIES OF 10 OR MORE

RESTAURANT & CAFÉ

Lunch & Dinner

All you can eat, 7 days

NOW SERVING

available

from

9am

0pen daily from 6.30am

Breakfast, Lunch & Dinner

FAMOUS for their ROASTS

Breakfast

HAPPY

HOUR

5PM - 7PM

DAILY

TWO COURSE

FESTIVE MENU

SORRY, WE ARE

CLOSED

CHRISTMAS DAY

Bookings Essential PH 386 0088

fb.com/GardenHotelRestaurant www.gardenhotel.co.nz

LIVE

$

35

The

RACECOURSE HOTEL

& Motorlodge

118 Racecourse Rd, Sockburn,

Christchurch. Ph 03 342 7150

www.racecoursehotel.co.nz

Christmas

Functions

Lunch & Dinner Buffet

SATURDAY 19th NOV - SATURDAY 24th DEC

Book & dine with us for your Christmas party this

festive season, and we'll take care of the rest!

RHONDA CAMPBELL & JOHN BEVIN

6PM FRIDAY 2nd December

MUSIC

PHONE 385 8880 FIND US ON FACEBOOK fb.com/GBCCHCH

THE GARDEN HOTEL COMPLEX | 110 MARSHLAND RD

www.gardenhotel.co.nz | phone 385 3132

ONLY

EACH

THREE COURSE

FESTIVE MENU $ 45

ONLY

EACH

KARAOKE

8PM EVERY SATURDAY

www.newbrightonclub.co.nz

JOIN

A CLUB BY

THE SEA!

GREAT

ENTERTAINMENT

TUESDAYS & THURSDAYS

Members Lucky Card Draw

GREAT DINING

- downstairs -

ClubBISTRO

Open Tuesday to Saturday

12pm-2pm and from 5pm

Available

Tuesday,

ROAST

Wednesday

& Thursday

Midweek $10

SPECIAL

- upstairs -

PIERVIEW

Restaurant

Quality a la carte with a view!

Open from 5.30pm

FRIDAY, SATURDAY & SUNDAY

FRIDAY SPECIAL:

SIRLOIN STEAK

or

CHICKEN BREAST

with Jacket Potato

& Salad Bar

$22

for a limited time

SUNDAY SPECIAL

3 courses: $25

NOW OPEN FOR

SUNDAY

BRUNCH

By the Seaside!

10.30am-2.30pm

SUNDAY

27 NOVEMBER

ALL YOU CAN EAT

BUFFET

$25... BOOK NOW!

TAB POD

SHUTTLE RUNNING

Tues, Thurs, Fri & Sat

202 Marine Parade

Ph 388-9416

Members, guests and affiliates welcome

blues night

EVERY THURSDAY

THE ELEVATORS

cnr Brougham St/Waltham Rd

phone 366 1481

H ORNBY

WORKINGMEN'S

CLUB

«WHAT'S ON«

FRIDAY 2 DEC, 7PM

ROBBIE DREW

SATURDAY 3 DEC 4.30PM

ANDY GILMOUR

8PM SHALOW

«COMING UP«

FRIDAY 9 DEC, 7.30PM

THE WARRATAHS

TICKETS $25

SATURDAY 10 DEC, 8PM

WBO WORLD HEAVYWEIGHT TITLE

PARKER v RUIZ JR

CHALMERS

RESTAURANT

PRE-CHRISTMAS BUFFETS

Sunday 4th; 11th; 18th Dec

LIVE MUSIC with

NEVILLE BARRIE

5pm start. $30 adults.

Bookings essential

Hornby WMC

17 Carmen Rd, Hornby

Phone 03 349 9026

www.hornbyworkingmensclub.co.nz

Members, guests & affiliates welcome
---
20

Tuesday November 29 2016

SOUTHERN VIEW

raNGiora • Northwood • st martiNs • tower juNctioN • BishoPdaLe • raNGiora • Northwood

Northwood • st martiNs • tower juNctioN • BishoPdaLe • raNGiora • Northwood • st martiNs • tower juNctioN • BishoPdaLe •

Christmas

FOR

Less

MAKING GIFTS MORE AFFORDABLE THIS CHRISTMAS!

NEW RELEASES

UP TO 40% OFF

20 %

CALENDARS

off

25 %

DIARIES

off

Offer only available until Sunday, 3rd December

Locations

www.paper-tree.co.nz

BARGAIN BOOKS

40% OFF RRP

50 %

off

GREETING CARDS

tower junction, off Clarence St, Riccarton

Bishopdale, 31 Bishopdale Court, Bishopdale

rangiora, 206 High Street, Rangiora

Northwood supa centre, Main North Road, Belfast

st martins shopping centre, Wilsons Road, St Martins

Follow us on Facebook @papertreestores

• st martiNs • tower juNctioN • BishoPdaLe • raNGiora • Northwood • st martiNs • tower juNctioN • BishoPdaLe • raNGiora