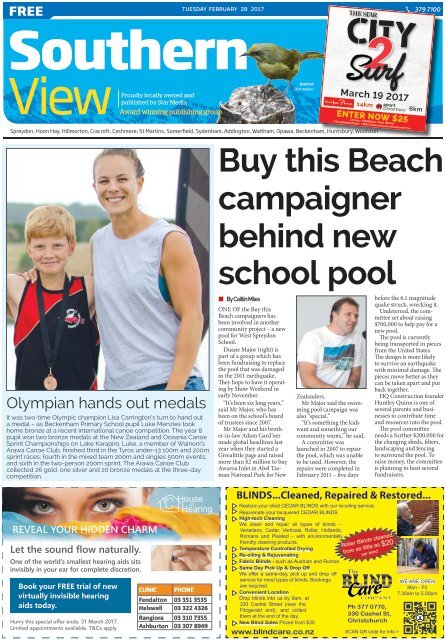 Southern View: February 28, 2017
Create successful ePaper yourself
Turn your PDF publications into a flip-book with our unique Google optimized e-Paper software.
FREE

TUESDAY FEBRUARY 28 2017

379 7100

Southern

View

Proudly locally owned and

published by Star Media

Award winning publishing group

Bellbird

(Korimako)

March 19 2017

14km 6km

ENTER NOW $25

Online • PakNSave • New World

• The Athletes Foot • YMCA Children 10 years old and under free

Spreydon, Hoon Hay, Hillmorton, Cracroft, Cashmere, St Martins, Somerfield, Sydenham, Addington, Waltham, Opawa, Beckenham, Huntsbury, Woolston

Buy this Beach

campaigner

behind new

school pool

Olympian hands out medals

It was two-time Olympic champion Lisa Carrington's turn to hand out

a medal – as Beckenham Primary School pupil Luke Menzies took

home bronze at a recent international canoe competition. The year 8

pupil won two bronze medals at the New Zealand and Oceania Canoe

Sprint Championships on Lake Karapiro. Luke, a member of Wainoni's

Arawa Canoe Club, finished third in the Tyros under-13 100m and 200m

sprint races; fourth in the mixed team 200m and singles 500m events;

and sixth in the two-person 200m sprint. The Arawa Canoe Club

collected 26 gold, one silver and 20 bronze medals at the three-day

competition.

• By Caitlin Miles

ONE OF the Buy this

Beach campaigners has

been involved in another

community project – a new

pool for West Spreydon

School.

Duane Major (right) is

part of a group which has

been fundraising to replace

the pool that was damaged

in the 2011 earthquake.

They hope to have it operating

by Show Weekend in

early November.

"It's been six long years,"

said Mr Major, who has

been on the school's board

of trustees since 2007.

Mr Major and his brother-in-law

Adam Gard'ner

made global headlines last

year when they started a

Givealittle page and raised

more than $2 million to buy

Awaroa Inlet in Abel Tasman

National Park for New

Zealanders.

Mr Major said the swimming

pool campaign was

also "special."

"It's something the kids

want and something our

community wants," he said.

A committee was

launched in 2007 to repair

the pool, which was unable

to be used. However, the

repairs were completed in

February 2011 – five days

before the 6.1 magnitude

quake struck, wrecking it.

Undeterred, the committee

set about raising

$700,000 to help pay for a

new pool.

The pool is currently

being transported in pieces

from the United States.

The design is more likely

to survive an earthquake

with minimal damage. The

pieces move better as they

can be taken apart and put

back together.

HQ Construction founder

Huntley Quinn is one of

several parents and businesses

to contribute time

and resources into the pool.

The pool committee

needs a further $200,000 for

the changing sheds, filters,

landscaping and fencing

to surround the pool. To

raise money, the committee

is planning to host several

fundraisers.

Hurry this special offer ends: 31 March 2017.

Limited appointments available. T&Cs apply

ouse

of

earing

CLINIC PHONE

Fendalton 03 351 3535

Halswell 03 322 4326

Rangiora 03 310 7355

Ashburton 03 307 8949

BLINDS...Cleaned, Repaired & Restored...

Restore your oiled CEDAR BLINDS with our re-oiling service.

Rejuvenate your lacquered CEDAR BLINDS

High-tech Cleaning

We clean and repair all types of blinds –

Venetians, Cedar, Verticals, Roller, Hollands,

Romans and Pleated – with environmentally

friendly cleaning products.

Temperature Controlled Drying

Re-oiling & Rejuvenating

Fabric Blinds - such as Austrian and Roman

Same Day Pick Up & Drop Off

We offer a same-day, pick up and drop off

service for most types of blinds. Bookings

are required.

Convenient Location

Drop blinds into us by 9am, at

330 Cashel Street (near the

Fitzgerald end), and collect

them at the end of the day.

New Blind Sales Priced from $30

www.blindcare.co.nz

Roller Blinds cleaned

from as little as $20

per blind

Ph 377 0770,

330 Cashel St,

Christchurch

SCAN QR code for Info >

WE ARE OPEN

Mon - Fri

7.30am to 5.00pm
---
2

Latest Christchurch news at www. .kiwi

Tuesday February 28 2017

Inside

SOUTHERN VIEW

FROM

THE

EDITOR'S

DESK News.......................................3, 5

YOUNG LUKE Menzies will

probably treasure the photo on the

front page for a long time.

Luke is photographed with

Olympic canoeing champion Lisa

Carrington, a sport he too could

one day become famous in. I'm

sure it was a great moment for

Luke as Carrington presented him

with one of his two bronze medals.

Which reminds me of a moment

many years ago after John Walker

won the 1500m at the New Zealand

Games at QE II against an

international field building up for

the Montreal Olympics. I dashed

after him as he did his victory lap.

Not long after that, a certain

(very) young fella featured on

the front cover of Sports Digest

running alongside Walker with

an autograph poised for a prized

signature.

The things you remember.

–Barry Clarke

Addington church celebrates 150 years NEWS 6

Local Views......................4

Schools.....................................6

Hello Neighbour..... 7-8

Community Events........9

Real Estate.....................10

Entertainment...................15

GET IN TOUCH

General Enquiries Ph 379-7100

Classified Advertising Ph 379-1100

The Christchurch Star Company Ltd. PO box 1467 - Christchurch

starmedia.kiwi

NEWS

Caitlin Miles

Ph: 364 7442

caitlin.miles@starmedia.kiwi

ADVERTISING

Richard McCombie

Ph: 03 364 7472

richard.mccombie@starmedia.kiwi

WE SPECIALISE IN THE CARE AND

PRESERVATION OF TREES

• Pruning

• Expert Tree Felling

• Fully Insured

• Free Quotes

• Powerline Clearing

• Branch Chipping

• Competitive Rates

• Orion Approved Contractor

FULLY

QUALIFIED

ARBORISTS

Member of NZ Arboriculture Association

For quotes and enquiries phone 03 349 7143 | For urgent enquiries phone 027 272-6710

Email: office@arbor-tek.co.nz

www.arbor–tek.co.nz

0800 793 364

www.heritagefunerals.co.nz

Megan

WOODS

Member of Parliament for WIGRAM

Constituents needing

assistance or wanting an

appointment are invited

to contact me on:

Phone 338 6347

Email: megan.woods@

wigram.org.nz

Authorised by Megan Woods MP, Shop 8/12 McCarthy Street, Christchurch
---
SOUTHERN VIEW Latest Christchurch news at www. .kiwi

Tuesday February 28 2017 3

News

Slow zone for Somerfield School

• By Caitlin Miles

THE SPEED limit outside

Somerfield School will be

lowered by the middle of the

year.

The flashing signs advising

motorists of the 40km/h speed

limit will go on Studholme,

Somerfield and Bard Sts, and

non-flashing signs at the end of

the school speed zones will go

on Studholme St and on Tainui

St.

The school is currently in a

50km/h speed zone.

A school zone is an area

where the speed is reduced to

40km/h during times when

pupils are arriving and leaving.

Any other time the usual speed

limit applies.

The school is third on the city

council's priority list, behind

Haeata Community Campus

and Marshland School and

ahead of Yaldhurst Model and

Ouruhia Model School.

Every year, the city council

can lower speed limits outside

about four schools with the

$140,000 school speed zone

budget.

They are prioritised based on

the school's surroundings.

Somerfield principal Denise

Torrey said if the speed limit

was reduced for all schools

SLOW: Somerfield School will have the speed lowered to 40km/h during school time to

improve safety for pupils.

PHOTO: MARTIN HUNTER ​

there might not be a need for

the signs, as people would

know it's the same for every

school.

Ouruhia Model School on

Turners Rd and Yaldhurst on

School Rd were both approved

in last year's budget.

The other schools are expected

to have the lower speeds

reduced by the middle of the

year, leaving 13 on the city

council's list to be completed by

2022. Cashmere High School

and Christchurch South Intermediate

will get lower speed

zones next year, Aidanfield

Christian School in 2019 and St

Martins School in 2020.

Te Waka Unua, Linwood

Avenue and St Anne's Catholic

schools have all been campaigning

for lower speed limits,

but none feature on the list.

Port Hills list MP Nuk

Korako joined the campaign to

have the speed limits lowered

following coverage in Southern

View.

He created a petition to have

the speed lowered and collected

more than 1400 signatures. He

was scheduled to present it at

yesterday's Linwood-Central-

Heathcote Community Board

meeting.

In Brief

NGAIO MARSH HOUSE

The city council will decide

tomorrow whether it will approve

a grant of nearly $40,000 to

Ngaio Marsh House. The Ngaio

Marsh House and Heritage

Trust requested $39,889 for the

conservation, strengthening

and repair work of the heritage

property at 37 Valley Rd,

Cashmere. The proposed works

have been suggested as a result

of the roof condition and

maintenance report, along with

fire protection, security and the

replacement of the heating system.

LIBRARY REPAIR GRANT

The Opawa Public Library

has been granted $3385 by the

Linwood-Central-Heathcote

Community Board to remove and

store its contents. The city council

plans to shift books, shelves and

furniture out of the library on

March 19 while repairs are carried

out. The grant will cover storage

costs for nine months. The city

council expects to have the library

repaired by the end of the year.

CORRECTION

An article in last week's Southern

View about the Sydenham

Cemetery being cleaned up said it

would be maintained every month.

This is incorrect. City council

contractors will maintain the

graves when needed.

YOUR LOCAL FAMILY STORE

Preloved good

quality

• Clothing

• Bric-a-brac

• Furniture

• Household goods

DONATIONS &

VOLUNTEERS NEEDED

DROP OFF OR

WE CAN PICK UP

1 Amyes Rd, Hornby Ph. 349 4163

Hours: Mon - Fri 9am-4.30pm,

Sat 9.30am-1.30pm

335b Riccarton Rd, Church Cnr

Ph. 341 8539

Both stores now late night

Thursday to 6pm

Thank You for your Support

Back to

School

ShoeS

McKinlays and

Blue Haven

From $55 - $130

47c Garlands Road, Woolston

Phone 389 3431

www.thefootwearfactory.co.nz

Varicose Vein Treatment

Non-surgical Vein Laser Treatments available

Free Assessment

Tired of aching and unsightly veins?

No surgery, no scars, no stitches. No time off work

- continue normal daily activities. An affiliated provider to

Southern Cross Health Society (medical necessity

criteria apply) - check your policy for cover.

Enjoy skirts, short and cropped pants again.

Payment plans available (Conditions apply)

www.transformclinic.co.nz | 52A Mandeville | 52A Mandeville St | Riccarton St | Riccarton 0800 2 Look Good | 08002lookgood or 246 654 | | 03 343 2880

4 PIECE

BEDROOM

SUITE

'PORTLAND'

Includes Queen bed frame,

2x bedside cabinets, 5 drawer tallboy

Excludes mattress and linen

$

1899

NZ made furniture

Range of colours to choose from

Headboard options

Other sizes and pieces available

Pieces can be sold individually

NZ

MADE

BEDS LOCALLY

OWNED

7 OPEN

DAYS

Open 7 Days Mon - Fri 9 - 5.30pm Sat - Sun 10 - 4pm

242 Ferry Rd Along From Old Ami Stadium | Phone 377 8887 | www.bedworld.co.nz
---
4 Tuesday February 28 2017

Latest Christchurch news at www. .kiwi

SOUTHERN VIEW

McMaster & Heap

Veterinary practice

Miracles do happen….

Misty is a 14 year old Rough Coated

Collie ( lassie dog) lovingly owned by

my parents. She's never been a hugely

energetic dog but has the gentlest,

sweetest nature. She has had the odd

health issue and is currently taking

ongoing medication for arthritis of

multiple joints. She's not a complainer

though and will still slowly walk around

my parents farm, her favourite pastime

being flushing out rabbits and doing

cattle work with my dad. Shes always

enjoyed a visit from Lola.

Very sadly late last year, Misty was

accidentally run over. My devastated

parents flew to the clinic where Steve

and our nurses immediately took

charge. Luckily they live very close. She

was remarkably alive and seemed in

minimal shock, not like my poor mum

and dad. Our nurses were fabulous – it

was like triage in a hospital ER room.

Whilst she was checked over for shock,

bleeding and fractures, the nurses were

placing an IV line in her, were pulling

bloods to check her internal organs and

organizing shock and pain medications.

I had to consult as it was a usual busy

Saturday clinic. I can tell you its very

hard to carry on as normal, when a dog

you know and love is at risk of dying

and I couldn't be there to support my

mum and dad. I'm very thankful to my

husband Steve for arriving when he did

and taking full control of the situation.

Within 30 minutes of arriving Misty

actually looked improved. She wasn't

wanting to stand, but her vital organs

were all confirmed fine from her

blood tests and her heart and lungs

sounded fine. She was on IV fluids and

we wanted to give her a little time on

fluids before we had to sedate and

xray her abdomen, chest and bones.

She was an incredible little patient,

never whimpering nor complaining

once. Miraculously Misty had broken

no bones – I was worried her pelvis or

worse her lower lumbar spine could

have fractured.

Misty was discharged later that night

into my parents care on a variety of

medications to ensure she was pain

Open 7 days

Cnr Hoon Hay & Coppell place

phone 338 2534, Fax 339 8624

e. mcmasterandheap@yahoo.co.nz

www.mcmasterheap.co.nz

free and comfortable. She certainly

wasn't out of the woods but was better

than any of us could have believed.

She could walk, just, and was eating

and had urinated. Misty continued to

improve slowly over the coming days

becoming stronger and more mobile

but my dad had noticed what looked

like crusty scabs under her dense coat.

We discovered many of these blackened

areas and after shaving her back end it

became obvious that a large area of her

skin was "dying", due to vascular ( blood

vessel) damage suffered at the time of

the accident.

Over the next 4 months a massive effort

was undertaken by my mum and dad

and Misty herself, to help heal these

very extensive skin wounds, comparable

to what you would see in burns victims.

The area of skin that sloughed off

initially was about 30cm by 20cm. The

wound has had to be cleaned, kept

moist and protected by bandaging for

the past 4 months. She was monitored

24/7 and kept inside a lot to protect

the bandages from slipping. Keeping

flies away was also a difficult task. She

has been so brave allowing us all to

clean and dress it for her but finally the

healing is nearly complete.

There were times when my mum wasn't

sure we were getting anywhere and

whether we were doing the right thing

by her. She is an elderly dog and her

ongoing care required by my parents

was huge. But that aside, I could see

Misty wanted to push through and keep

going – she wasn't ready to depart this

world. Plus she was so dearly loved by

my parents. It also helped that my mum

was a registered nurse so could easily

cope with large wounds and their care.

Give an animal time, have patience and

faith and show lots of love and miracles

can happen. Every day I thank the

higher powers that I am the one chosen

to care for all the animals.

-Dr Michele McMaster

McMaster & Heap

Your Local Views

Petrol tax for road repairs

and the benefits of diversity

City

councillor

Phil

Clearwater

has his say

on the use

of petrol tax to help

fix the city's roads

and the importance

of diversity in the

community

Many streets and roads

in Christchurch still

require a lot more work to

bring them up to standard.

I have always had the

view that central Government

should be returning

some of the tax-take on

petrol to help fix Christchurch's

streets.

I have never said or

supported any proposal

to have any additional tax

on petrol to help pay for

Christchurch's earthquake

recovery. Christchurch

people have enough burdens

already and I would

not support this.

I have said that the city

has a special case for further

Government funding from

some of the petrol tax Government

already collects.

$32

WOF

ALL CAR

SERVICING

Convenient central city

repairs and parking

Fixing our streets and

infrastructure will take

more time than people

envisaged, but we need to

complete this as soon as it

is feasible, and some of the

present petrol tax could be

used to help achieve this.

On Waitangi Day at

Tuahiwi Marae, our mayor

led a citizenship ceremony

welcoming new citizens

from 17 countries. Recently,

the city council signed

off our multi-cultural

strategy, which aims for

Christchurch to be inclusive

of our new migrants.

Every New Zealand citizen

must feel they can call

our country their home

and feel they belong here.

Particularly to help with

the rebuild, we have had

a large increase in the

number of migrants and

a significant number live

in the suburbs of south

Christchurch.

The world is divided

as to how we treat new

migrants, but I believe

we must find practical

ways to make them feel

welcome, as Christchurch

needs their skills and they

are an important part of

our communities.

Also, we have to

remember that, at some

stage in our history, all of

our forebears immigrated

to New Zealand from

overseas.

Six years after the

earthquakes, Christchurch

is really coming alive again

and people from many

nations will help our city

thrive.

Here's to everyone

having a great year in

Christchurch.

Dyers Road Landscape

& Garden Supplies

• Barks • Peastraw • Composts - we supply the best available

• Aggregates - Chip, Round and Basecourse

• Pavers & Schist products • Pungas

• Decorative Stones & Landscaping Rocks

• Trailer Hire first hour free with purchase

• Bag & Bulk - pick up or delivered

David, Carol & Mike

Cnr Fitzgerald Ave & Hereford St.

Phone: 365-5220

www.a1auto4service.co.nz

We will deliver!

Best Value

HealtH, leISURe

and tRanSPORt

OPtIOn!

GOt an Old bIke FallInG aPaRt?

tRade It In nOW!

COME FOR THE PRICES, STAY FOR THE SERVICE

Open 7 days • 620 Ferry Road, Woolston

Phone 03 376-6377

www.aroundagaincycles.co.nz

aroundagaincycles@gmail.com

SOIL

AND

HugE RAngE

of quality,

guaranteed

pre-owned

bikes, parts and

accessories!

HARDFILL

DUMPING

Phone: 03 384 6540

183 Dyers Rd, Bromley • OPEN 7 DAYS

Weekdays 7.30am-5pm. Weekends 8.30am-3pm

www.dyersroadandlandscapes.co.nz
---
SOUTHERN VIEW Latest Christchurch news at www. .kiwi

Tuesday February 28 2017 5

News

Design input sought

Community

can choose

materials

for building

STEEL, TIMBER concrete or

brick.

Those are the options the public

is being asked to choose from

for the Woolston Community

facility which will be built on

Ferry Rd.

The four designs vary slightly

depending on the materials

used. There are wood, brick,

steel or concrete options for the

public to choose from.

Plans for the inside of the

building incorporate a voluntary

library, community space, parenting

room, toilet and outdoor

landscaping.

The initial design process,

carried out in October last year,

included input from 22 different

groups and what they thought

was important for the facility to

have.

A public toilet, parents'

room and space for the library

and community groups were

identified as key needs for the

community.

The centre also plans to

include a secured outdoor area,

kitchen, courtyard seating and a

cycle park.

Car parking beside the site

will remain.

The centre will be built in

place of the old Woolston volunteer

library at 689 Ferry Rd,

which was demolished after the

POSSIBLE: The above

design is an option

open for consultation

on a new community

facility planned for

Ferry Rd. It will take the

place of the temporary

structure which is now

on the site (left).

February 22, 2011, earthquake.

The site currently has a small

library and large outdoor area

with seating and trees.

Consultation closes on March

30 and the Linwood-Central-

Heathcote Community Board

is expected to discuss and

make a decision on the plans in

April.

THE FINDINGS of an

examination into whether or not

Coronation Hall is worth saving

will be known in the next two

months.

The hall, in Spreydon, was

badly damaged in 2015 when a

fire partially damaged the roof

and one of the walls – making it

unusable.

It was used by community

groups and the Kereru Sports and

Cultural Club was based out of

the hall, often using it for meetings

and the nearby grounds to

play on. When the building was

damaged the club struggled to

find a new place to set up, moving

in just behind the hall to the

SCORCHED:

Following a

fire in 2015

city council

contractors

patched up

holes in the

Coronation

Hall.

PHOTO:

GEOFF

SLOAN ​

Hall repair decision soon

Spreydon Bowling Club.

City council staff are looking at

the extent of work that needs to

be carried out and have started to

investigate the piles and electrical

systems.

Additional weather proofing

and repair designs for the roof

and walls are also being looked

at.

Once the amount of work has

been determined and additional

repair designs are finalised, city

council staff will price the work

and make a decision on whether

or not to proceed with repairs.

This information is likely to

be ready within the next two

months.

Barely There

T Shirt Bra

Smooth & sleek in the

latest colour range

now instore.

Crafted from silky

lightweight fabric.

Primula Print

Sizes 10-16B, 10-20C,

10-18D, 12-18DD

Knickers 10-18

ACCESS TV FOR NZ

SKY CHANNEL 083

Thursday 7.30pm

Shop 48 Barrington, Barrington Street

Phone 03 337 6609

www.lingerieonbarrington.co.nz

Aviation Automotive

Maritime Rail Military

Artwork, books, models and more.

32 London Street, Lyttelton | Ph. 03 328 7350

E. anchorfinearts@xtra.co.nz

RECENT

SALES
---
6

Tuesday February 28 2017

SCHOOLS

Latest Christchurch news at www.

.kiwi

New entrants

SOUTHERN VIEW

St Anne's Catholic School in Woolston

has had a boost in roll numbers, with 10

new pupils

Aidel Verallo

Anthony

De Oliveira

Cooper Orchard Filimaua Tanoai George Tobin

NEW: Spreydon School introduced nine new pupils recently.

Archer (left), Masaki, Mac, Jackson, Loretta, Hunter, Leo,

Timothy and Carter joined the new entrants class.

Jayde Tippet Mathew Palma Miguel Lund Rosemary Palma Rydah

Armstrong

REMEMBERING: Elsie and Ben from Spreydon School put

flowers into road cones to remember the sixth anniversary of

the February 22, 2011, earthquake.

STAR: Ruby Love has

been awarded the Kip

McGrath Barrington Star of

the Month award. Ruby's

tutors said she is a "true

joy" to tutor and has made

"great progress" in maths.

Addington church celebrates 150 years

• By Caitlin Miles

THE OLDEST church in

Addington celebrated 150 years

recently.

The Anglican Church of St

Mary the Virgin was built in

1867 in the centre of Church

Square.

The celebrations went over two

days, starting on February 18.

A dinner on the Saturday

night was a chance for church

goers and former vicars and

families who attend the church

to reunite and reflect.

It was followed by community

celebrations on the Sunday.

Current priest in charge, Rev

Mandy Neil said the Sunday

celebrations were "special"

since the church was opened on

February 19, 1867.

The celebrations involved

a community tea party and

performances from Addington

Brass and local musician Simon

Hart.

As part of the festivities,

people also dressed in costume

from the 1800s.

Rev Neil said it was important

to recognise and celebrate

the people who started the

Addington community, which

led to the church.

"These were really brave

people; it's about showing

appreciation for what they did,"

Rev Neil said.

NEW LOCATION ADVERT.pdf 1 1/05/2014 11:51:35 a.m.

FAMILIES: Judy Hopkins (daughter of vicar Ivor Hopkins), vicar Peter Williams, vicar Hugh

Bowron, Margaret Merton, vicar John Merton, Robin Froud (daughter of vicar John Froud), Jim

Hopkins (son of vicar Ivor Hopkins), Rev. Catherine Froud (daughter of vicar John Froud), Jenny

Merton (daughter of vicar John Merton). ​

VISIT OUR NEW LOCATION LOCATION

430 ST ASAPH STREET!

RECOVER YOUR LOVED FURNITURE

No job too big or small

watch local | support local | shop local

Hours of Business: 7am-4.30pm Mon-Thurs

Fri 8am to midday

or by appointment with Keith 027 566 3909

Still able to offer

you the finest top

quality new furniture

Visit us online

www.qualityfurniture.co.nz

P. 371 7500

Join our host marissa stephen

on sKy ChaNNeL 83

Thursday 7.30pm

repeaTs friday 1.30am & 7.30am

QUALITY FURNITURE SPECIALISTS

RE - UPHOLSTERY SPECIALISTS KEITH HARTSHORNE 0275 663 909

ACCESS TV FOR NZ

SKY CHANNEL 083

WWW.STAR.KIWI

for enquiries, contact Geoff moreton: 021 1066 177
---
SOUTHERN VIEW Latest Christchurch news at www. .kiwi

Tuesday February 28 2017 7

Southern View

Neighbour

Hello

Does your body

need a tune up?

We all know car maintenance is important in terms of

keeping it in running order and avoiding costly repairs

later on. As the vehicle we live in every day, our body is

even more important, but often due to our busy life it

doesn't get the exercise, fuel or maintenance it needs to

run optimally.

Just like a car, our body needs regular exercise, quality

fuel, and every now and then a service. Sadly, sometimes

our lives become too hectic to fit this in and so our

energy levels, posture and ability to enjoy life suffer.

The key is change. When life's craziness prevents you

from implementing this yourself or you just don't know

where to start, a personal trainer can help. All too often

we go from being sedentary, with our focus elsewhere,

to thinking our body still runs like the mustang it used

to.

A good trainer understands that before engaging in

an exercise programme it is important to assess where

you are. He or she will look at your posture, flexibility,

strength, and movement patterns and ascertain what

needs to be addressed to avoid injury and get you the

best results as fast as possible. They will manage your

training so you can focus on the things that are

important in life without having to spend the time

figuring out what exercises will benefit you the

most.

If your body hasn't had the attention it needs to

enable you to enjoy the things that are important

to you, maybe it's time to make a change – to assess

where you are, get an exercise programme in place

and start tuning up the vehicle you live in every day

(your body). This will allow you to get the best out

of it and enjoy life without aches and pains. Trusting

a personal trainer to help you will enable you to get

the most benefit out of your training so you can

maximise your time and enjoy life to the fullest.

FORM Fitness at 140 Colombo Street has

been operating for six years and all the trainers

have over 10 years' experience. With a focus on

posture and injury prevention, they will manage

your training and motivate and support you

towards making positive changes to get the best

you can out of your training and life. To make

an appointment phone 0800 367 634.

Halswell Eye Clinic

0800 4 EYE TEST *

Cataract

TIME TO

SELL YOUR

HOME?

20% OFF For FIrsT TIME ClIEnTs

(when you mention this ad)

Call us now on 379 9411

410 ColoMBo sT, sYDEnHaM

(CornEr worDworTH sT)

Glaucoma

Macular Degeneration

Expert Care Close to You

Dr Antony Bedggood, Eye Surgeon

Southern Cross Affiliated Provider

Clinics at Longhurst Health,

53 Caulfield Ave.

*0800 439383 to book eye tests only.

Call Glenys French

021 333 699

03 348 0187 | 0800 300 383

www.waimakrealestate.co.nz

sales@waimakrealestate.co.nz

First Floor, 40 Cass Street, Sydenham

BECKENHAM

Christchurch's Private

Training Studio

Correct your

Posture Today

No joining fees or membership costs

www.formfitness.co.nz • 0800 367 634

info@formfitness.co.nz

BRIGGS

AUTO SERVICE

LET US

SERVICE yOUR

VEhICLE And

REdUCE yOUR

RUnnInG

COSTS

your local trusted automotive

service and repair specialists

332-0140 | 242 Barrington Street

Kerry Briggs | Blair Shewan

"Where Every Smile Matters"

Experienced team provides caring and

gentle dentistry for the whole family

Dental Hygienist Available

Sedation dentistry

Wedding packages

Winz quotes

ZOOM whitening

treatment

ACC accredited

Dental Health Counselling

Free treatment for

adolescents (13-18 years)

Free treatment of

children (0-13) with a

school dentist referral

PH 332 6399

We've moved!

Now based at

104 Colombo Street,

Beckenham

www.smileconcepts.co.nz

Have an Elite Haircut

For an Affordable Price

Mens Cuts $18

Womens Cuts $25

Kids Cuts under 12 yrs $15

Clipper Cuts $14

Gold Card Mens $14

Gold Card Womens $16

Open Blade Box In $4

HOURS:

Mon-Fri 9am - 5pm

Sat 9am - 12 Noon

No

appointment

needed!

Eftpos Available

238 Barrington Street, Spreydon

(opp St Nicholas Church)

Best Value

HealtH, leISURe

and tRanSPORt

OPtIOn!

GOt an Old bIke FallInG aPaRt?

tRade It In nOW!

HugE RAngE

of quality,

guaranteed

pre-owned

bikes, parts and

accessories!

COME FOR THE PRICES, STAY FOR THE SERVICE

Open 7 days • 620 Ferry Road, Woolston

Phone 03 376-6377

www.aroundagaincycles.co.nz

aroundagaincycles@gmail.com

Advertising enquiries Richard McCombie | Ph: 021 914 335 | richard.mccombie@starmedia.kiwi
---
8 Tuesday February 28 2017

Latest Christchurch news at www. .kiwi

Southern View

SOUTHERN VIEW

Neighbour

Hello

The huge up-side

of a throw-away

society

In today's lifestyle, it is hard to deny the

current trend of a throw-away society. As

recent as fifty, seventy, a hundred years ago,

households used and then recycled just

about every item they owned, because that

was how things worked. Modern life is full

of conveniences, but short on time.

The Salvation Army has been around for

decades and thrives on the current trend

known as a throw-away society. Their

reputation is known community wide as

a place for refuge, assistance and a caring

hand.

The Sallies enjoy providing a destination

where people can buy clothes and

household goods at a fraction of the price.

The Sallies benefit when people generously

choose to donate their old things to their

drop off spots as individuals have a good

ole clean out. Out with the old—to the

Salvation Army Family Stores—and in with

the new!

The Sallies would like to thank the

Canterbury community. Whether born,

bred and raised in New Zealand or

migrated from another land, Cantabrians

have generous hearts the Sallies do not take

for granted.

The Sallies worldwide mission is to

recycle items society wants to throw away

and give them a second life. This makes

their stores a special haven for bargain

shoppers and those who like nostalgia.

Thanks to the patrons who shop at their

locations, the profits from their Family

Stores help fund their work with people

who might feel a little 'thrown away' by

life, including those who just need a little

support and encouragement to get a fresh

start. Through their stores, they easily assist

families who lose everything in fires, or

who find themselves homeless and without

furniture and clothes for other reasons.

The money people spend at their Family

Stores support community programmes

such as their food banks, family support or

advocacy outreach. The Sallies offer classes

to the community such as budgeting. Their

Family Stores offer a gateway to network

and connect people with all kinds of social

programmes.

Their stores have even been known to

offer people a second chance. Retirees and

volunteers with diversified backgrounds

and from all walks of life, give back to the

community in worthwhile ways.

The Sallies have a special place in their

hearts for their volunteers with any type

of physical or intellectual disability as

they can offer them a space where they

can contribute to society, gain friends and

achieve.

In their Family Stores, they provide

free in-store retail training to volunteers

wanting to gain retail experience. This

comes with the bonus of being able to

complete NCEA Unit Standards, assisted

by a tutor who visits regularly.

The Sallies love Canterbury and strive

to be the heart of the community. Come

home to the heart. Find your nearest store

location at www.salvationarmy.org.nz

New & nearly new

Designer Fashion

At Mini Moocher

you will find

a great range

of nearly new

designer fashion.

Everything from

clothing through

to footwear and

accessories.

Open Monday-Friday 10am - 5pm

Late night Thursday until 7pm

Saturday 11am - 3pm, Sunday Closed

New & nearly new resale

designer fashion and quality labels

oFten quoted as

"the best thai in ChRistChuRCh"

Amazing authentic Thai food will also turn you into a

Green Chilli Thai restaurant advocate.

big oFFeR Wednesday sPeCial!

3-course banquet deal! only $22pp

Home Delivery, Takeaway available, BYO,

Vegetarian Friendly

GREEN CHILLI THAI

RestauRant

1/596 Ferry Road

Woolston, Christchurch

greenchilli@windowslive.com

292 Lincoln Rd, Chch. Ph 338 6264 Phone: 03 384 9993 or 03 381 2855

PC ProblEms?

PC slow? Annoying Errors and Pop Ups?

Internet not working? Are you secure?

Not really sure?

Relax, with over 15 years

experience we have the

answers to ALL your PC

problems. And we have a

range of unique fixed price

services available.

Best of all we come to you - at no extra charge.

care free computing

Call on 0800 PC PICKUP

(0800 727 4251) or 338 8871

www.carefree.co.nz

Discount

for $20

with this

voucher

Shop with us and

Give Hope.

Te Ope Whakaora

Open Monday - Saturday 9am - 5.15pm

62 Poulson Street, Addington

300 Lincoln Road, Lincoln

PH: 338 5154

Your donations of household goods support our

emergency housing hostel

Cut & Colour +

Blow Wave or

Half Head Foils +

Cut with Rebecca

for just $99

For all new clients (conditions apply)

Rebecca is an experienced stylist

with a vast knowledge of L'Oréal

Professional products

Call today to make a booking: 338 9471

152 Cashmere Road, Cracroft Shopping Centre

At Whitehead Plumbing & Gas Ltd

we have a great team of loyal staff

offering a diverse range of skills.

Serving Canterbury for over 35

years, we do everything from

domestic maintenance to new

homes and commercial buildings.

Make us your first call today.

Plumbing.

Gasfitting.

Drainlaying.

03 379 0711

whiteheadplumbing.co.nz

Transeasonal

styles in store

now

Maxwells

Fashion

17 Lillian Street, Halswell

03 322 4548

Open Mon - Fri 9.30am - 5pm

Saturday 10am - 1pm

Advertising enquiries Richard McCombie | Ph: 021 914 335 | richard.mccombie@starmedia.kiwi
---
SOUTHERN VIEW Latest Christchurch news at www. .kiwi

Tuesday February 28 2017 9

Email caitlin.miles@starmedia.kiwi

by 5pm each Wednesday

Retrospective by Pollyanna

Daily, 9am-6pm

Local Linwood artist Pollyanna

presents her retrospective

art work, with a selection from

1995 through to the present day.

It will be the very first time the

bulk of it has been all together

and, as a result, Pollyanna found

it was a lot easier to curate. Her

work covers a range of media,

including her most recent work

using pastels. Go to the library to

enjoy the passion, purpose and

power of Pollyanna's work.

Linwood Library, Eastgate

Mall. Free entry

Mid Week Laughter Club

Wednesday, 6pm-7pm

The focus of the laughter club

is to get over the stress of the

first part of the week and have a

positive outlook on the rest. The

event aims to release endorphins,

help relax and lower stress levels.

There is no comedy, stand-up or

jokes at this session, you are encouraged

to make yourself laugh

at nothing all for the purpose of

relaxing.

St Marks Methodist Church,

corner Barrington and Somerfields

Sts. Entry $2

Game Zone

Thursday, 3.30-4.30pm

It's all fun and games at Linwood

Library. Take the children

along after school so they can

get interactive with each other

and have fun playing numerous

games. There will be Minecraft,

charades, Connect Four and

Pictionary just to name a few, as

well as Xbox and PS4 tournaments.

This event will be aimed

at children aged between eight

and 12, no bookings required.

Linwood Library, Eastgate

Mall. Free entry

Linwood Village Market

Saturday, 9am-1pm

Fresh produce, plants, books,

antiques, bric-a-brac, retro items,

vintage clothes and household

goods, jam, recycled and upcycled

stuff, crafts, artworks and

lots of bargains are on offer at

the market. There is also refreshments

available for purchase to

enjoy while walking around the

market.

Linwood Community Arts

Centre, Eastside Gallery, 388

Worcester St. Free entry

Bellyful tea

Saturday, 1pm-4pm

It's time for tea on Saturday

when volunteer organisation

Bellyful host a fundraising

afternoon with Devonshire tea.

Bellyful is a not-for-profit organisation

which offers support

to families with newborns. The

afternoon is being hosted to help

The annual Linwood Youth Festival Event is back for 2017. Go to Linwood Park on Saturday from

noon onwards to enjoy an afternoon of music, dancing, performances and activities. There are

also community stalls and good food on offer to enjoy throughout the afternoon. Take a picnic

blanket and spend the afternoon with family and mixing with the community. If you would like to

volunteer or perform at LYFE or want more information email lyfe.coordinator@gmail.com. The

event takes place in Linwood Park, Linwood Ave. Entry is free, if the weather is nice make sure

to take a sunhat and sunscreen.

raise money for the organisation

to continue to provide services

for new families. Enjoy a cup of

tea, learn more about the organisation

and meet people.

286A Selwyn St. Tickets cost

$10, children free.

Opawa Farmers' Market

Sunday, 9am-noon

It's a new year and the market

is back. Find some organic and

delicious produce from local

growers. Enjoy sipping on a coffee

while wandering around the

market and seeing all of the food

on offer.

275 Fifield Tce. Free entry

Mosaic Media Freedom

Monday, 5.30pm-7pm

The latest exhibition opens

on Monday night, showcasing

art through mosaics. Glass,

ceramic, porcelain and stone are

just some of the materials artists

have used to create the colourful

and unique style of the mosaics.

Some have stuck to one material

while others have used several to

create the images and pieces they

want. Many pieces are available

for purchase. The exhibition

runs until March 18. Monday to

Friday 11am-4pm and Saturday,

noon until 3pm.

Linwood Community Arts

Centre, Eastside Gallery, 388

Worcester St. Free entry

200m Ocean Swim

7-12yr Olds

CORSAIR BAY

4 MARCH

Entry includes:

· Free swim cap

· Finishers certificate

· Other goodies

ENTER at oceankids.co.nz
---
10 Tuesday February 28 2017

Latest Christchurch news at www. .kiwi

REAL ESTATE

Position, privacy, perfection

130 Hackthorne Road, Cashmere

SOUTHERN VIEW

6 bedrooms | 4 bathrooms | 4 toilets | 3 living rooms | 1 dining room | 1 office | 1 swimming pool | 2 car-garage | 2 off-street parks | Listing # BE192731

This grand Dame offers the best of

hill living on a generous scale with no

compromise. Renovated to the plans of

Sheppard & Rout this home is truly a

timeless classic with traditional features

and modern conveniences throughout. Set

in seclusion, privacy is assured to the new

owner, but the views over the city remain

unobstructed.

Six double bedrooms, four bathrooms

and multiple living spaces give ample room

for family living or perhaps the opportunity

of multi-generational living, or even to

create a home business such as a B & B?

For the cook, there is a large modern

kitchen complimented with a genuine cool

room, large larder and even more pantry

space. Truly a dream come true for the

serious cook.

Add to this a sheltered extremely private

swimming pool for these hot summer days

and when the sun stops step inside to the

media room complete with projector and

screen. The only problem you may have is

getting your friends to leave!

Upstairs on the top level a purpose

designed studio is ideal for a home business,

artist studio and even a teenage retreat.

And finally, to complete the property, the

access is easy to off street parking for up

to 3 or 4 cars with a large double internal

access garage.

This is a rare home - easy access, superb

views, complete privacy & large section.

To arrange a private viewing of this

property call Debbie Pettigrew from

Harcourts Grenadier Beckenham

(Licensed Agent REAA 2008) now on 337

1316 or 027 777 0411

Visit www.star.kiwi

anytime, anywhere!

Breaking news,

delivered to

your pocket.

Fire rages, homes at risk

•news •CTV •sport •districts •schools •lifestyle •opinion •what's on

www.star.kiwi
---
SOUTHERN VIEW Latest Christchurch news at www. .kiwi

Tuesday February 28 2017 11

New after-hours service

provides flexibility for patients

A new after-hours medical service has

been launched in Christchurch with the

aim of providing a better and more readily

accessible service for patients outside

normal medical centre hours.

Dr Martin Seers, a GP at the Selwyn

Medical Centre in Selwyn Street, says a

group of GPs are testing this new model for

out-of-hours medical service that enables

people to book a specific time to see a

doctor, rather than having to sit in an afterhours

waiting room.

He says anyone seeking medical assistance

after hours should first call their own GP's

phone number, from where they will be

connected to the Home Care Medical line.

As with the Health Line phone service, a

nurse will ask a set of questions to ascertain

whether the person needs to see a doctor,

and if not the nurse will advise on how the

person can take care of themself at home.

Should they need to see a doctor they

then go online to the website AfterhoursGP.

co.nz, answer a few simple questions, then

book an appointment at a time that suits.

"This a totally new model and it's not

available anywhere else in Canterbury," Dr

Seers says.

"It saves people money by providing selfcare

advice for those who don't need to see

a GP, and for those who do, it doesn't waste

their time."

The service is currently run out of

Selwyn Street Medical Centre, which is

conveniently located just off Brougham

St, but the service is set up to be venue

agnostic, so patients in future could be

seen in any of the medical centres involved

in the service, Dr Seers says. A key point of

difference from the traditional after-hours

surgery system is that it gives people the

flexibility of choosing their appointment

time.

"It's much more comfortable for people

to wait at home until their appointment

time, rather than sitting in a waiting room

with other unwell people, and not knowing

when they will be seen.

"Another point of difference is that

the service is designed as an ultralow

bureaucracy system with minimal

overheads. Using the facilities of existing,

fully equipped medical centres means it's

free or less expensive," Dr Seers says.

The service is available Monday to

Friday from 6pm-11pm and on weekends

and public holidays as required. It is free

for under-13 year-olds and $73 for most

adults, which is cheaper than other afterhours

services in Christchurch. For non-

New Zealand residents the cost is $95.

AfterhoursGP.co.nz

Selwyn Village

Healthcare

314 Selwyn Street, Spreydon,

Christchurch.

www.selwynstreetmc.co.nz

Ph: 366 8970

We are thrilled to advise 2 new GPs have

joined our family friendly Medical Centre.

We welcome Dr Johanna Joblin and

Dr Isobel Light to our professional team of

GPs, Nurses and Receptionists.

Our Medical Centre is conveniently located

adjacent to a Pharmacy, Physiotherapist

and Southern Community Laboratory.

We welcome new patients.

Call us now to enrol.

UNDER 13 FREE

FREE DENTURE CHECKS

UNTIL THE END OF MARCH

"Your face is unique. Trust your

most valuable asset to us."

- Miranda Hill

"Your face is unique.

Trust your injectable

wrinkle treatments

to an experienced

Cosmetic Physician"

Medical Director

Dr Heather Jefferies

Pain

Cosmetic

free laser

skin

skin rejuvenation

assessments

Facial assessments

Treatment for

Injectable sundamaged wrinkle skins

Skin treatments rejuvenation

Dermal

treatments

fillers

Prescription peels

Microdermabrasion

Wrinkle treatments

Mole Mate® Affordable skin cancer skin

and cancer mole checks

Leg vein treatment

Minor surgery theatre -

avoid the public waiting list

5 Warning Signs of Spinal Stress!

A healthy spine is vital to

your wellbeing.

Specialist spinal therapy

at Southern Chiropractic

consists of:

• Manual manipulative

therapy

• Soft tissue Massage

• Low level Laser therapy

• Exercise and postural

education

André Grob,

Dr of Chiropractic,

has had over

10 years

experience of

specialty spinal

care in Australia

and New Zealand.

FOR BETTER SPINAL HEALTH ACT NOW….

RING 322-1432

●

●

●

●

SCIATIC PAIN

HEADACHES

NECK PAIN

AND TENSION

MID BACK PAIN

AND TENSION

LOW BACK PAIN

6 Brynley St, Hornby | Ph 349 5050

Open Mon-Fri 9am-5pm, Sat 10am-12noon

31

31

Colombo

Colombo St,

St,

Cashmere

Cashmere

Phone 372 3589

www.koruskin.co.nz

Phone 372 3589 www.koruskin.co.nz

Southern Chiropractic Ltd

290 Halswell Road • Halswell • Christchurch 8025

Telephone 322 1432

www.southernchiropractic.co.nz

email Dr.Grob@southernchiropractic.co.nz
---
12 Tuesday February 28 2017

Latest Christchurch news at www. .kiwi

SOUTHERN VIEW

YOUR LOCAL TRADES & PROfESSiOnAL

SERviCE bUSinESSES

Appears every

month in

Support theSe locAl buSineSSeS

HAVE WE GOT

YOUR FUTURE CAR?

464 Ferry Road, Christchurch

Phone: Hayden 03 381 6592 or 021 365 957

ALL AVAILABLE FROM NO DEPOSIT

VISIT US ON FACEBOOK: Cars-2-Go

Open 9am-5pm Monday-Friday, 9am-3pm Saturday

The ReLIAbLe TeAm

AT QuALITy TRADesmeN

BLOCKED

beFORe

• Drain Clearing

• CCtV Drain Video

AFTeR

• tree Root Removal

• Same Day Service

• Competitive prices

$

178 00

From the smallest

room in the house

thru to the main

rooms, kitchen,

dining and lounge.

Our simple motto:

Happy clients

tell their friends.

The best form of

advertising is word

of mouth.

• Builders • Painters • Plasterers

• PlumBers • electricians

CALL DAVID NOW 027 438 1114

david@qualitytradesmen.com

Sports Prescription

Goggles

FROM

Innovative

sports goggles

BARRINGTON, 256 Barrington Street

PH 332 1730 | www.suckling.co.nz

HAVE WE GOT

YOUR FUTURE CAR?

Cars2go have been supplying quality vehicles to Canterbury

locals and regularly ship vehicles nationwide.

DRAINS?

CALL thE wAtER BLAStINg SpECIALIStS

• Steam Cleaning

/waterblasting

• gutter Cleaning

• No Callout Fee

(Excluding public holidays)

• Quality guarantee

CANTERBURY

WATERBLAST

we care.

ph: 03 365 7960 // 24 hours // 7 days

44 Maces Road, Chch

info@canterburywaterblast.co.nz

www.canterburywaterblast.co.nz

Whether you are after a cheap runabout, or

petrol miser, a 4WD, or an upmarket Luxury

Vehicle, be sure to see us first. Quality used

motor vehicles matched with quality customer

service, with a great selection of vehicles to suit

almost everyone, at very affordable prices, with

flexible finance options and from no deposit.

Call in and see us Monday to Friday 9am-5pm,

or Saturday 10am-3pm. Feel free to call us

anytime (03) 381 6592 or 021 365 957

464 Ferry Road, Christchurch

Phone: Hayden 03 381 6592 or 021 365 957

ALL AVAILABLE FROM NO DEPOSIT

VISIT US ON FACEBOOK: Cars-2-Go

Open 9am-5pm Monday-Friday, 9am-4.30pm Saturday

Richard Suckling Optometrists

Your glasses are the one of the first things

people notice so why not take the time

to try on different frames and ensure you

choose something that looks amazing and

fits comfortably? We will help you find the

best frame for you.

Our comprehensive eye exams include

the prescription check, health checks

and retinal photos. Our state of the art

technology can also perform visual fields

tests and GDx scans which help with

early detection of glaucoma and macula

degeneration. It is important to have regular

eye checks because often these eye diseases

can begin with little or no discernible

symptoms. It is ideal to recognise these

issues early to allow for the best possible

prognosis.

We can help you with stylish prescription

sunglasses for the upcoming summer

months as well as the polarized Chemistrie

magnetic clip-on sunglasses. These are

suitable for most frames.

What's more, we offer a 15% discount off

a new frame for Super Gold Card holders

(some terms and conditions apply).

We will take the time to help with all

of your visual requirements and give you

the very best service. So call us or come in

today for the best value in sight!

BARRINGTON, 256 Barrington Street

PH 332 1730 | www.suckling.co.nz

Sydenham Park

Funerals

Direct

Cremation

It's an honour to

assist families

Ph 0800 793 364

heritagefunerals@xtra.co.nz

Do you have a sensitive scalp?

Do you get an itchy scalp or face after colour?

YOU have to try this exciting vegetable and

herbal based colour with NO ammonia

Call 379 1275 NOW

WOF $35

Bookings advisable

Complete

Tyre and

Auto

Fusion Hair offer Super

Gold Card discounts on

Monday to Wednesday

Shampoo and Set $25

Ladies Dry Cut $30

Gents Cut $20

Full Workshop

Repairs & Tyres

NEW HOURS

Monday, Thursday & Friday

8.00am-5.00pm

Tuesday & Wednesday

8.00am-7.00pm

Saturday 9am-3pm

Canterbury owned and operated

464 Ferry Rd, 03 389 5370

ctawoolston@yahoo.co.nz

New & Used Tyres • Puncture Repairs

Batteries • WOF • Balancing

Mechanical Repairs • Lube & Servicing

Wheel Alignment
---
SOUTHERN VIEW Latest Christchurch news at www. .kiwi

Tuesday February 28 2017 13

Classifieds Contact us today Phone our local team 03 379 1100

Public Notice

Public Notice

Public Notice

Tuesday, 7 March 2017

OPEN DAY

Pre-school to Year 8

Register your interest by contacting

Linda Marsh on 03 365 0385

email:marshl@cathedralgrammar.school.nz

Principal's address 10am.

26 Park Terace, Christchurch

www.cathedralgrammar.com

Public Notices

Weka Pass Railway

Waipara, North Canterbury

We are RUNNING

SUNDAY 5th MARCH

Running 1st & 3rd

Sunday of every month

Infoline Chch 96 22 999

Depart Glenmark Station

11.30am & 2.00pm

www.wekapassrailway.co.nz

DEMOLITION

With care and respect we

will remove your dwelling.

Our policy is to recycle as

much as we can. We are a

local company specialising

in residential properties. We

will endeavor to cater for

your individual needs.

Ph. R.M. Solutions

021 02866981

for a free quote.

Computers

ALL

YOUR

COMPUTER

WORRIES SOLVED!

*$30.00 off your first

service with this coupon!*

No problem too big or

small from home PC's to

business networks. PC

slow? An end to Viruses,

Spyware, and Clogged

Systems. Safe secure

hassle-free computing.

Lost files recovered.

Microsoft Certified,

MCSE, MCP+l. 30 years

experience. Call Andrew

Buxton this week on 326-

6740 or 027 435-7596

for $30.00 off* Custom

Computers Christchurch

Gardening

& Supplies

Landscape

and Garden

Services

If you need help

getting your garden

back in order after

repairs, need any

type of landscape

construction work or

garden restoration.

Ph 021 272 0303

Gardening

& Supplies

A GARDEN

PROFESSIONAL

NEEDED? Qualified

Horticulturist, offering

expert pruning, garden

makeovers, garden design

and landscaping, for free

quotes call Bryce 027 688-

8196 or 0508 242-733

A GARDEN OR

LANDSCAPING TIDY

UP? Shrub, hedge &

tree pruning, Lawns,

Gardening, consistently

reliable general property

upkeep, Dip. Hort. 10

yrs experience, One off

tidy ups or on-going

service. Nick's Property

Maintenance. Keeping

your garden beautiful.

Free Quote. Ph. 942-4440

Holiday

Accommodation

QUEENSLAND SUN-

SHINE COAST AUSTRA-

LIA Resort, Ocean Views,

Balconies, Self Contained,

1 or 2 B/R Ensuite,

Heated Pool, Spa, Sauna,

Free Internet, Shops,

Restaurants, Tennis, Surf

Club & Patrolled Beach,

Public Transport at door.

Ask for our SEASONAL

SPECIALS. Phone 61 7

544-35011 Email: reception@mandolin.com.au

www.mandolin.com.au

Hire

REntal

Free Delivery

and Installation

Terms and conditions apply

NEED A

FRIDGE • WASHER

TV • FURNITURE ?

Call Mr Rental - 0800 111 313

Visit www.mrrental.co.nz

123 Blenheim Road, Riccarton

FOOTCARE

OASIS

Senior Citizens Foot Care

25 Conway Street, Spreydon

Treating hard thick nails, calluses

and corns finishing with a foot massage

Price $30 Allow 45 mins

Home Visits available by appointment

Therapist – Amanda

(30 years experience)

Ph. 942-6036 for an appointment

HOURS ARE FLEXIBLE

Trades & Services

BUILDER LBP

ALTERATIONS

Bathroom re-fits,

Fencing and Decking

Ph Jim 022-137-1920

HEAT PUMP

CLEANING

$79.00

(Summer Special)

Indoor and Outdoor units

Save money - don't have

a poorly performing

heat pump

New units, repairs and

electrical work

0800 AA HEAT

0800 22 4328

Health & Beauty

Trades & Services

BLOCKED

DRAINS?

• VIDEO INSPECTION

• WATERBLASTING

• LIQUID WASTE

PH: 03 365 7960

24 hours // 7 days

info@h20jet.co.nz

www.h20jet.co.nz

• Replacement/new roofing

• Colour Steel gutter & fascia

• Flue & log burner installs

• Skytube/light installs

• Earthquake repairs

Licence Building

Practitioner LBP

Member of the Roofing

Association

DCM ROOFING LTD

The Roofing Specialists

PHONE IAIN

027 445 5597

iain@dcmroofing.co.nz

9164023AA

Trades & Services

ARCHGOLA

Enjoy outdoor living all year round

15 months

INTEREST FREE

Normal lending criteria apply

• House, deck, carport & window canopy etc

• Warm & dry in winter

• UV protection for summer

• Customised & Tailored

• Café curtains fitted

• 5 year warranty

Chris Thorndycroft

Ph 0800 27 24 46 | www.archgola.co.nz

Trades & Services

DRIVEWAYS

Replace, repair or new.

We are a local company

with over 10 yrs exp.

We also operate a

digger for all other

earthworks.

Ph. R.M. Solutions

021 02866981

for a free quote.

Trades & Services

ROOF

PAINTING

Rope & harness

a speciality,

no scaffolding

required,

30 years of

breathtaking

experience.

FREE QUOTES

Exterior staining,

exterior painting,

moss and mould

treatment and

waterblasting

Phone Kevin

027 561 4629

Trades & Services

BEST BATHROOMS

full renovation specialists,

LBP, repairs &

maintenance ph 03 387-

0770 or 027 245-5226

BRICKLAYER

Over 30 years bricklaying

experience. UK trained.

Licensed Building

Practitioner number

BP105608. Insurance

work. EQC repairs.

Heritage brickwork a

speciality. No job too

small. Governors Bay.

Home 329-9344, Cell

027 684-4046, email

karengeorge@xtra.co.nz

Trades & Services

Builder

Wright Enterprises Build Limited

W.E. Build

New Homes

Renovations

Alterations

Re-roofing

Re-cladding to older buildings

Family owned & operated

Trades & Services

BRICKLAYING

Quality service of brick,

block & stone work.

Renovations, additions,

fencing, paving &

landscaping, free quotes

& advice, call Michael 021

083 66809

BUILDER

For all building work

but specialist in bathroom

renovations, 30 yrs

experience, with service

and integrity. Free Quotes.

Ph Lachlan 383-1723 or

0274 367-067.

BUILDER

LICENSED, available for

all aspects of building.

Please call 027 241-7471

or 335-0265

CARRIER

Local, experienced,

friendly, trade-me

purchases, single items

to truck loads, furniture

to whatever, removals &

trade deliveries a specialty.

Ph GEH 341-5069

CARPET & VINYL

LAYING

Repairs, uplifting,

relaying, restretching,

E mail jflattery@xtra.

co.nz,

ph 0800 003 181

or 027 2407416

CONCRETE

DRIVEWAYS Pathways,

patios, garden sheds,

garages and house floors,

foundations, Phone for

free quote Roy 0274 316

860, Neil 027 974 4185. N

& R Concrete.

E info@webuildltd.co.nz

Antony Wright 021 111 1703

John Wright 0274 343 323

AH 03 347 4347

www.webuildltd.co.nz

Trades & Services

DRIVEWAYS

Replace, repair or new.

We are a local company

with over 10 yrs exp.

We also operate a

digger for all other

earthworks.

Ph. R.M. Solutions

021 02866981

for a free quote.

FURNITURE

REMOVALS

Large Trucks $95 +

GST per hour 7 day NZ

wide, packing & moving,

Professional Company,

Professional Service.

Canterbury Relocations

Ltd. ph 0800 359 9313

GAS,PLUMBING,

DRAINAGE & HEATING

24/7 service. Ph

Mike Cairns Gas &

Plumbing 021 132 8929

LANDSCAPING

Paving, Lawns, Irrigation,

Decking, Fencing.

Kanga & small digger

services. Check out Squire

Landscaping on facebook.

FREE QUOTES. Ph

Arthur 347-8796, 027 220-

7014 Edwin 027 220- 7154

PAINTER

All aspects in painting.

Very competitive in roofs

and fences. Please call

027 241-7471 or 335-0265
---
Complete and attach to clothing bag for

14 Tuesday February 28 2017

Latest Christchurch news at www. .kiwi

SOUTHERN VIEW

Classifieds Contact us today Phone our local team 03 379 1100

Trades & Services

Trades & Services

Trades & Services

Tuition

Tuition

CONCRETE

Concrete Removal & Trucking

Driveways, paths, sheds, garages,

site clearances

We also deliver and spread landscaping

supplies – topsoil, bark chip, shingle etc.

For fast friendly service phone

Nick on 0274 324 124

keacontracting@yahoo.com

DRIVEWAYS

Exposed Aggregate

Stamped Concrete Plain

Concrete Resurfacing

Things we offer...

Competitive/affordable pricing

Attention to detail

Professional service

free quotes/insurance scopes

Cell 0278 145 848

www.drivecrete.co.nz

GARDEN SUPPLIES

CHCH'S LARGEST SELECTION OF

BARK • COMPOST • SHINGLES

Landscape Lane (off Lunns Rd)

P. 348 2915 OPEN 7 DAYS

nO GREEn wastE In anY OF OUR COMPOst

Is your roof looking a bit sad?

Brighten it

up with a new

paint job.

• Difficult or steep roofs

are our specialty

• Water blasting

• Exterior painting

• Fence painting

• Residential and

commercial

• 10 years business in Chch

Remember...

we are NOT in

Parkhouse Road

Call today for a free quote

0508 937 663

Access Property Services

EQC CASH SETTLEMENT

We will re-scope your property to ensure

you have been paid in full to cover all

your repair costs.

None of the properties that we have

re-scoped so far has been paid the

correct amount to repair their damage.

EXAMPLES

•Yaldhurst Road Initially $3,800 after our

re-scope payment received $46,320

•Wairakei Road Initially $7,575 after our

re-scope payment received $38,182

•Prossers Road Initially $19,827 after our

re-scope payment received $60,273

•Kaplan Avenue Initially $859 after our

re-scope payment received $34,931

•Liverton Crescent Initially $11,000 after our

re-scope payment received $29,842

•Dalkeith Street Initially $5,000 after our

re-scope payment received $8,945

• We have re-scoped 50 properties who have been under

paid for their repairs.

• Have your initial repairs failed?

• Did you receive your full entitlement?

• Do not pay your excess until all repairs are completed.

• General under payments are: Asbestos testing and

exterior lead paint, peeling wallpaper, cracking in exterior

plaster not repaired correctly.

For re-scoping and all earthquake repairs

including painting and redecorating.

Enquire now Phone 021-667-444

VALUATIONS

Trades & Services

PAINTER

Top quality work, interior/

Trades & Services

PLUMBER

A Top Plumbing job

exterior, pensioners completed at a fair price,

discount, free quotes, 30

years experience, I stand

by Canterbury, ph Wayne

your friendly painter

prompt service, all work

guaranteed, Ph Brian 960-

7673 or 021 112-3492

RooFING

03 385-4348 or 027 274- Qualified & Licenced

3541

PAINTING

Practitioner. Re-Roof &

Repairs, all types. Member

DEcoRATING

New Zealand Roofing

Wingfields Contracting, Association. Over 35 years

all interior & exterior experience. Phone John

painting & all forms of 027 432-3822 or 351-9147

interior plastering & jib email johnmill@ihug.

fixing, ph Mark 021 171-

1586 or 355-5994

co.nz

SPoUTING cLEANING

PAINTING

Spouting Unblocked,

PLASTERING

Cleaned Out and Flushed

Excellent finish. Domestic

Out. Also Full Handyman

& Commercial. Ph Chris

Services Available. Call

Trevor 332 8949 or 021

027 223 8542

043-2034

PLASTERER

SToNEMASoN, BRIcK

Gib Stopping, Small

& BLocKLAYER,

job specialty. 30 + years

Earthquake Repairs, Grind

experience. Ring 0800

Out & Repoint, River/

387-369

Oamaru stone, Schist,

PLUMBER

Volcanic Rock, Paving,

For prompt service for all all Alterations new & old,

plumbing maintenance, Quality Workmanship,

repairs and alterations. visit www.featureworks.

Phone Michael 364 7080 co.nz or ph 027 601-3145

or 027 438 3943

TILING

PLUMBER

Quality jobs done on time.

ALF THORPE All aspects of tiling. Reg

PLUMBING Certifying Master Tiler. Ph Dave 027

Plumber for all types of 334 4125

plumbing, maintenance, TILER/cARPENTER

spouting, alterations etc.

Phone 352-7402 or 0274-

350-231

35 years exp, no job

too small. Ph Ross 027

4311440.

TREE WoRK

Hedge trimming, stump

grinding, rubbish removed,

small job specialty Ph

Andrew 03 322-8341 or

027 435-8759

TREES BIG oR SMALL

tree removal, trimming,

stump grinding, shelterbelt

clean up, section clearing,

rubbish removals,

excavation work, ph Trees

Big or Small, for a free

quote, 021 061 4783

T.V. SERVIcE cENTRE

Repairs, tvs, microwaves,

stereos, DVD. Aerial

installations and kitsets,

480 Moorhouse Ave, ph 03

379 1400

UPHoLSTERER

Dining Chairs, Lounge

suites, Caravan Squabs

etc. recovered. Free

Quotes. Phone Graeme

383-1448

VHS VIDEo TAPES

& all camera tapes

converted to DVD, video

taping special occasions,

www.grahamsvideo.co.nz

ph 03 338-1655

WATERBLASTING

Quality Job, Quick Service

by skilled tradesman, Ph

Richard Severin at Jet-X

0800 538 969 Free quotes,

visit www.jetx.co.nz

WINDoW cLEANING

Average 3 bdrm house

inside or out $40. Both

$70. Phone Trevor 344-

2170

Wanted To Buy

CASH FOR

STAMPS

Do you have an Old

Stamp Collection

tucked away

somewhere?

It could be worth

a fortune!

We are currently buying

old collections and can

come to you for larger

collections or if you are

unable to come in.

Call Matt Power

0800 239 325

The Stamp Exchange

Wanted To Buy

AAA Buying goods

quality furniture,

Beds, Stoves, Washing

machines, Fridge Freezers.

Same day service. Selwyn

Dealers. Phone 980 5812

or 027 313 8156

A+ Household effects,

fridges, freezers, washing

machines, ovens. Good

cash paid. Ph Paul 022

0891 671

TOOLS Garden,

garage, woodworking,

mechanical, engineering,

sawbenches, lathes, cash

buyer, ph 355-2045

Piano

Raewyn Clegg

Registered Teacher of

Piano and Theory of

Music.

29 Lancewood Drive

Halswell

Ph 322-9377

Vehicles Wanted

CARS Wanted. Fair

prices paid, quick and

easy process, money paid

directly into your bank

account, friendly local

You can also pin it

service, ph Tim Koller 390

1717 valuemycar.co.nz

name

signed

You can also pin it

Horticulture Course

FREE

National Certificate

in Horticulture,

Level 3 NZQA approved.

Part Time distance Learning

(workshops & Tutorials provided) zero fees.

Contact Ryan Young

(Training facilitator)

021 222 9678

ryan@florascapes.co.nz

www.florascapes.co.nz

14km

Entertainment

2017

14km

6km

19 March 2017

This

emergency

contact number

Ferrymead Heritage Park.

existing

Moving with medical conditionyou for 43 years!

19name

th March 2017 • Prize Giving Ferrymead

emergency

Park.

signed

A Star Media Event

14km

2017

sticker is valid for entry into either

distance. Must be worn during the event,

to claim prizes, and for free entry into

OFFICIAL ENTRY NUMBER:

This

contact number

existing

medical condition

ENTRIES NOW OPEN!

$20 Early bird available online

Are you up for it?

6km

19 th March 2017 • Prize Giving Ferrymead Park.

The Star Photo Archive: 1983

city2surf.co.nz

OFFIC

dista

to cl

Ferry

OFF
---
SOUTHERN VIEW Latest Christchurch news at www. .kiwi

Tuesday February 28 2017 15

COMPETITION A MAJOR

CLASSICAL MUSIC EVENT

'Famous for their roasts!'

RESTAURANT & CAFÉ

Kid's SPECIAL

Two courses

Seniors SPECIAL

Two courses

$10

We are family friendly. Great Kids menu plus designated play area.

Soup/Roast or

Roast/Dessert

Special available lunch only

Monday - Saturday 12pm - 2.30pm

$20

Start your

day with us

We are open from 6.30am

Cooked

breakfasts

$18

Check out our extensive

breakfast menu from

Continental to Cooked

The

RACECOURSE HOTEL

& Motorlodge

118 Racecourse Rd, Sockburn,

Christchurch. Ph 03 342 7150

www.racecoursehotel.co.nz

THE NATIONAL Concerto Competition is set to

take place at the Aurora Centre on Saturday 4th

March at 7pm.

A classical music competition for young people

aged under 25 years, the Competition is viewed as

one of the major classical music events for youth in

New Zealand and attracts many entries from both

local and national participants.

"is year (2016/2017) is a very special year as

we are celebrating our 50th competition which is a

huge milestone! As was in the first inaugural

competition back in 1967 we are having both Piano

and Instrumental competitors."

e Preliminaries and Semi-Finals were held in

December 2016 where 8 Semi-Finalists were chosen

(4 Instrumental and 4 Piano) and from there we

Matthias Balzat - Delvan Lin - Siyu Sun - Hye In Kim

have 4 Finalists (2 Instrumental and 2 Piano) for the

Final. e Finalists will be accompanied by the New

Zealand Symphony Orchestra.

e Finalists are as follows:

Instrumental: Matthias Balzat (Auckland) playing

"Cello Concerto No. 1 in Eb major, Op. 107" by

Dmitri Shostakovich and Hye In Kim (Waikato)

playing "Cello Concerto in B minor, Op. 104" by

Antonin Dvorak.

Piano: Siyu Sun (Christchurch) playing "Piano

Concerto No. 2 in C minor, Op. 18" by Sergei

Rachmaninoff and Delvan Lin (Auckland) playing

"Rhapsody on a eme of Paganini, Op. 43" by

Sergei Rachmaninoff.

Tickets available on Eventfinda.

CAFE

open from 11am

TAB & Gaming

Function Facilities

HOUSIE

Tues, Thurs, Sat

SHUTTLE

Tues - Sat

MONDAYS

Beer & Burger $15

TUESDAYS

2 Pizzas $20

SUNDAYS 6.30pm

'Play Your Cards Right'

WHAT'S ON

Open 7 Days from 5.30pm

LIVE MUSIC

THE

VAGUES

7PM THIS SATURDAY

in Whitfords Bar

Lunch & Dinner

All you can eat, 7 days

NOW SERVING

available

from

9am

Breakfast

HAPPY

HOUR

5PM - 7PM

DAILY

Bookings Essential PH 386 0088

fb.com/GardenHotelRestaurant www.gardenhotel.co.nz

Live Music:

Rhonda Campbell

6PM.FRI.03MAR

PHONE 385 8880 FIND US ON FACEBOOK fb.com/GBCCHCH

THE GARDEN HOTEL COMPLEX | 110 MARSHLAND RD

www.gardenhotel.co.nz | phone 385 3132

www.newbrightonclub.co.nz

GREAT

DINING

- downstairs -

ClubBISTRO

Open Tuesday to Saturday

12pm-2pm and from 5pm

Midweek $10

SPECIAL ROAST

Available Tuesday,

Wednesday, & Thursday

TUESDAYS &

THURSDAYS

Members Lucky

Card Draw

TAB POD

GAMING ROOM

FUNCTION ROOMS

SHUTTLE RUNNING

Tues, Thurs, Fri & Sat

SUNDAY

26th March

ALL YOU

CAN EAT

BUFFET

$25

BOOK NOW!

PIERVIEW RESTAURANT

GREAT

DINING

- upstairs -

PIERVIEW

Restaurant

Quality a la carte

with a view!

Open from 5.30pm

FRIDAY, SATURDAY

& SUNDAY

FRIDAY SPECIAL:

SIRLOIN STEAK

or

CHICKEN BREAST

WITH JACKET POTATO

& SALAD BAR

$22!

SUNDAY SPECIAL:

3 courses

$25

NOW OPEN FOR

SUNDAY

BRUNCH

By the Seaside!

10.30am-2.30pm

202 Marine Parade

Ph 388-9416

Members, guests and affiliates welcome

H ORNBY

WORKINGMEN'S

CLUB

«WHAT'S ON«

WESTVIEW LOUNGE

FRIDAY 03 MAR, 7PM

JO'S KARAOKE

SATURDAY 04 MAR, 4.30PM

MARION'S OUTLAWS

8PM TH' ART OF CHEESE

«COMING UP«

FRIDAY 10 MARCH, 8PM

Tickets $28 SHOW & SUPPER

www.ryannevilleshowband.co.nz

Hornby WMC

17 Carmen Rd, Hornby

Phone 03 349 9026

www.hornbyworkingmensclub.co.nz

Members, guests & affiliates welcome
---
16 Tuesday February 28 2017

Latest Christchurch news at www. .kiwi

SOUTHERN VIEW

14kg

Now available at

Fresh NZ Beef Rump Steak

1ea

barrington

Telegraph

Cucumbers

Order online

now.

Order

online

now.

Order online,

collect instore.

5ea

Sanitarium Weet-Bix

1.2kg

3kg

$5 off!

New Season Royal Gala Apples

Launch Offer

When you spend $100 or more.

4ea

Alpine Butter 500g

4 for

5

Schweppes Sparkling Soft Drink 1.5L

(Excludes Classic Dry)

Use this coupon code below;

5OFF

$

21 99

pack

Use coupon code 5OFF to receive $5 off your Click & Collect order when you spend $100

or more in one transaction. Click & Collect $5 discount offer valid for a limited time only at

FreshChoice Barrington, exclusions and conditions apply, see clickcollect.nz for details.

Monteith's Beer/Heineken

12 x 330ml Bottles

(Excludes Heineken Light)

10 ea

Tux Meat 2.5-2.8kg/

Whiskas Dry Cat Food

1.5-2kg

order online at

clickcollect.nz

FreshChoice Barrington

256 Barrington Street, Christchurch.

Open 7am-11pm, 7 days.

Prices apply from Tuesday 28th February to

Sunday 5th March 2017, or while stocks last.

FreshChoice.co.nz

FreshChoiceNZ

332 6364

FreshChoice Barrington

Owned and

operated

by locals

Certain products may not be

available in all stores. Savings

are based on non-promotional

price. Limits may apply.

FCSV2802