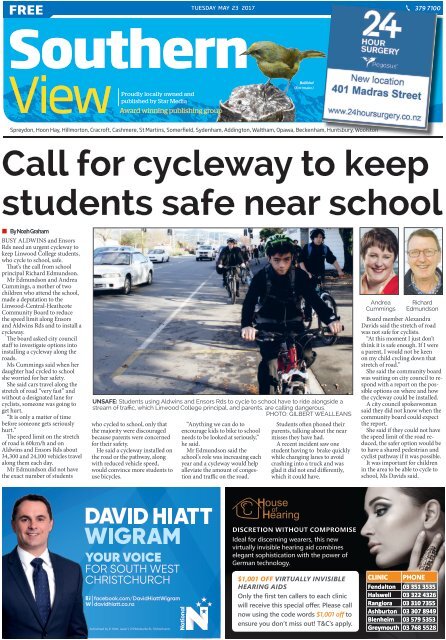 Southern View: May 23, 2017
Create successful ePaper yourself
Turn your PDF publications into a flip-book with our unique Google optimized e-Paper software.
FREE

TUESDAY mAY 23 2017

379 7100

Southern

View

Proudly locally owned and

published by Star Media

Award winning publishing group

Bellbird

(Korimako)

Spreydon, Hoon Hay, Hillmorton, Cracroft, Cashmere, St Martins, Somerfield, Sydenham, Addington, Waltham, Opawa, Beckenham, Huntsbury, Woolston

Call for cycleway to keep

students safe near school

• By Noah Graham

BUSY ALDWINS and Ensors

Rds need an urgent cycleway to

keep Linwood College students,

who cycle to school, safe.

That's the call from school

principal Richard Edmundson.

Mr Edmundson and Andrea

Cummings, a mother of two

children who attend the school,

made a deputation to the

Linwood-Central-Heathcote

Community Board to reduce

the speed limit along Ensors

and Aldwins Rds and to install a

cycleway.

The board asked city council

staff to investigate options into

installing a cycleway along the

roads.

Ms Cummings said when her

daughter had cycled to school

she worried for her safety.

She said cars travel along the

stretch of road "very fast" and

without a designated lane for

cyclists, someone was going to

get hurt.

"It is only a matter of time

before someone gets seriously

hurt."

The speed limit on the stretch

of road is 60km/h and on

Aldwins and Ensors Rds about

34,300 and 24,100 vehicles travel

along them each day.

Mr Edmundson did not have

the exact number of students

UNSAFE: Students using Aldwins and Ensors Rds to cycle to school have to ride alongside a

stream of traffic, which Linwood College principal, and parents, are calling dangerous.

PHOTO: GILBERT WEALLEANS

who cycled to school, only that

the majority were discouraged

because parents were concerned

for their safety.

He said a cycleway installed on

the road or the pathway, along

with reduced vehicle speed,

would convince more students to

use bicycles.

"Anything we can do to

encourage kids to bike to school

needs to be looked at seriously,"

he said.

Mr Edmundson said the

school's role was increasing each

year and a cycleway would help

alleviate the amount of congestion

and traffic on the road.

Students often phoned their

parents, talking about the near

misses they have had.

A recent incident saw one

student having to brake quickly

while changing lanes to avoid

crashing into a truck and was

glad it did not end differently,

which it could have.

Andrea

Cummings

Richard

Edmundson

Board member Alexandra

Davids said the stretch of road

was not safe for cyclists.

"At this moment I just don't

think it is safe enough. If I were

a parent, I would not be keen

on my child cycling down that

stretch of road."

She said the community board

was waiting on city council to respond

with a report on the possible

options on where and how

the cycleway could be installed.

A city council spokeswoman

said they did not know when the

community board could expect

the report.

She said if they could not have

the speed limit of the road reduced,

the safer option would be

to have a shared pedestrian and

cyclist pathway if it was possible.

It was important for children

in the area to be able to cycle to

school, Ms Davids said.

House

of

Hearing

CLINIC PHONE

Fendalton 03 351 3535

Halswell 03 322 4326

Rangiora 03 310 7355

Ashburton 03 307 8949

Blenheim 03 579 5353

Greymouth 03 768 5528
---
2

Latest Christchurch news at www. .kiwi

Tuesday May 23 2017

Inside

FROM

THE

EDITOR'S

DESK

SOUTHERN VIEW

News......................................3-6

AS THE city council spends

millions of dollars developing

cycleways across Christchurch, you

have to wonder why busy Aldwins

and Ensors Rds is not a priority.

As we reveal on page 1 today

those roads carry upwards of

33,000 vehicles a day. The roads

also carry very precious items –

Linwood College students.

Now principal Richard Edmundson

and parent Andrea Cummings

are spearheading a campaign to try

and convince the city council to

put in cycle lanes to make matters

safer for students.

There's been a number of near

misses between vehicle and

cyclists. Both roads carry lots of

heavy vehicles.

Let's hope the campaign is successful.

A good news story on page 3

– Gordon Lee, 90, has ticked off

another wish on his bucket list, a

motor-cycle ride. – Barry Clarke

A Woolston girl through and through

OUR PEOPLE 8

Local Views......................4

Sport............................................9

Community Events...10

Food...........................................13

Health & Beauty.........14

Focus on Health.............15

Real Estate..................... 17

Entertainment...................19

GET IN TOUCH

General Enquiries Ph 379-7100

Classified Advertising Ph 379-1100

The Christchurch Star Company Ltd. PO box 1467 - Christchurch

starmedia.kiwi

NEWS

Noah Graham

Ph: 021 914 169

noah.graham@starmedia.kiwi

ADVERTISING

Richard McCombie

Ph: 03 364 7472

richard.mccombie@starmedia.kiwi

HealtHy Heat

& eat meals

delivered to your door

"Exclusive range of

pottery, furniture,

handcrafts,

stoneware

& gifts"

Convenient, Healthy,

Fresh Meals.

Simple to Store,

Heat and Eat.

Pick Up or

Delivered Weekly.

9 Raycroft St, Opawa

P. 03 420 0722

orders@eatl8r.co.nz

www.eatl8r.co.nz

395 Brougham St,

Christchurch

Ph (03) 365-3411

Open 7 days

Mon-Fri 10-4.30pm

Weekends 10-4pm

Looking for Respite or Day Care?

If you're caring for a family member at home, we know it's hard to leave them

in someone else's care. At Maples, your loved one will be welcomed into our

community, looked after with friendly, personal attention and cared for like

family. We also have beds available right now, providing 24hr professional

care. We can also help you learn about subsidies you may be entitled to.

Call us today. We'd love to have a chat and discuss your personal needs.

Call Neville or Jenny on 03 348 4362

71 Middleton Rd, Upper Riccarton, Christchurch.

Member of the Retirement Villages Association

of NZ and the NZ Aged Care Association.

The attitude of living well. Email neville.youngman@maples.co.nz www.maples.co.nz
---
SOUTHERN VIEW Latest Christchurch news at www. .kiwi

Tuesday May 23 2017 3

News

90-year-old takes ride of his life

• By Noah Graham

GEORGE LEE had two goals

when he was told he had bowel

cancer two years ago: Celebrate

his 90th birthday and have a

ride on a motorcycle.

On Monday, the resident of

Chatswood Retirement Village,

Opawa, ticked both those goals

off his bucket list as he donned

his black helmet and climbed

into the sidecar of a Moto Guzzi

motor-cycle on his 90th birthday.

With his new bike companion,

John Beardsley, the pair set off

from Opawa for a 20-minute

trip out to Sumner and back.

"It was a really good experience.

It wouldn't be everybody's

ideal birthday present but I certainly

enjoyed it," George said.

He had wanted to ride on a

motor-cycle for a few years and

was pleased he had managed

to do it, even if it was "a wee bit

drafty."

George's daughter Catherine

said when he was diagnosed

with cancer two years ago, he

was told by the doctor he would

not make it to his 90th birthday

– he proved them wrong.

She had flown over from Australia

for the birthday and was

pleased her father had gone for

the ride, as they were worried he

would not be well enough.

NUK KORAKO

NATIONAL LIST MP BASED

IN THE PORT HILLS

STYLE: George Lee went for a ride on his 90th birthday in the

sidecar of a Moto Guzzi motor-cycle with John Beardsley.

PHOTOS: MARTIN HUNTER

"I have not seen him smile

that much in a long time. He

was stoked," she said.

"He was smiling from ear to

ear."

She said George would always

"give something a go" but had

not done something like the bike

ride since 1997, when he and

his late wife, Lois, paraglided in

Australia.

George initially wanted to

ride pillion on the bike, but his

health would not allow it, so he

had to settle for a sidecar.

George's son, Stephen, was

there to celebrate his dad's birthday.

He said his dad deserved a

bit of fun after a tough start to

the year.

"It has been a bit of a year for

him. He's had a big few weeks

with mum passing away in

March and him moving into the

retirement home."

George and his wife were married

for 67 years.

Stephen said he and his sister

had no idea what the plan would

be for their dad's 100th birthday.

In Brief

GRAFFITI DECLINES

Graffiti in south Christchurch

has decreased over the past

month. The number of incidents

in Linwood, Woolston and

Hoon Hay has reduced by 11 per

cent, 39 per cent and 19 per cent

respectively. However, Spreydon

had an increase of 44 per cent.

CONSTITUTION SIGNED

The Hoon Hay Community

Association's constitution was

signed by the 10 founding

members last week. Chairwoman

Suzie Sauer said it was good

the group was now official and

could start the process of taking

over the lease of the Hoon Hay

Community Centre.

FUND APPLICATION OPEN

Organisations in south Christchurch

have the chance to apply for

funding to help boost community

projects. Applications for the city

council's 2017/18 Strengthening

Communities Fund are open and

can be applied for through the

city council's website

https://ccc.tfaforms.net/16.

CYCLEWAY OPEN

The first section of the Little

River Link cycleway is open. The

route runs from Hagley Park

across Moorhouse Ave and along

Grove Rd, Collins and Jerrold Sts,

before connecting to the Southern

Motorway.

I hold weekly mobile office constituency

clinics around the Port Hills. For dates

and locations please visit my website.

You can also contact my office if there is

anything I can help you with.

A

E

W

P

6/950 Ferry Road, Ferrymead

nuk.korakomp@parliament.govt.nz

www.korako.co.nz

03 384 0008

facebook.com/nukkorako.PortHills

Working hard for our community

Funded by the Parliamentary Service and

authorised by Nuk Korako, 6/950 Ferry

Road, Ferrymead, Christchurch

NEW HUNTER JUNIOR

WITH COLOURED STRIPED GUSSET

Childrens sizes 7-13 & 1-2

Great price from $99.95

And great colour range

Adult styles also available

47c Garlands Road, Woolston

Phone 389 3431

www.thefootwearfactory.co.nz

THE CLOTHING

WAREHOUSE

$1

PER ITEM

FROM

UNDER NEW MANAGEMENT

Call Allan & The Team

PRELOVED CLOTHING STOCK OUT DAILY

Tasman Traders 61 MONTREAL ST | OPEN 6 DAYS | PH 365 0480

OPEN Mon-Fri 9am-5pm, Sat 10am-3pm CLOSED SUNDAYS

TYRES • SUSPENSION • WOF • ALIGNMENT • SERVICING

NITROGEN • BRAKES • BATTERIES

SELECT TYRE & AUTO SERVICE HORNBY

Ph: (03) 349 5505 • 39 Carmen Road

Monday - Friday 7.30am to 5pm | Saturday 9am to 12 noon
---
4 Tuesday May 23 2017

Latest Christchurch news at www. .kiwi

Your Local Views

Multi-complex not wanted

Studholme

St resident

Martin

Flanagan

talks about

the effect a

high density

residential

development will have

on their street if the city

council gives it approval

The Retain Somerfield's

Character action group formed

in response to bring attention

to Multay Development Ltd's

proposal to build a four-unit,

two-storey, multi-complex, at 23

Studholme St.

This group of local home owners

are concerned a development

so out-of-character with the

surrounding neighbourhood will

negatively impact on existing

residents' property values and

street parking, resulting in a

loss of privacy, street appeal and

school pedestrian safety.

Some will say we're nimbys or

anti-development. I would reply

by saying we are concerned for

our properties and our community

neighbourhood because

city council and the Government

processes are no longer protecting

what we own.

The new Christchurch District

Plan has removed the need for

new developments to be notified

NEW LOCATION ADVERT.pdf 1 1/05/2014 11:51:35 a.m.

VISIT OUR NEW LOCATION LOCATION

430 ST ASAPH STREET!

RECOVER YOUR LOVED FURNITURE

No job too big or small

PLAN: The draft design

of the proposed multiunit

development at 23

Studholme St.

or require neighbours' approval,

in the desire to increase housing

density in the city.

This section in the Residential

Suburban Density Transition

zone is supposed to be a buffer

between low density and medium

density housing.

Replacing a three-bedroom

bungalow with a multi-unit

complex, adding 12 bedrooms –

is not transition. This would also

directly impact all properties on

the opposite side of Studholme St

who are in the low density zone,

as the zone boundary is drawn

down the middle of the street.

Building this proposed complex

will almost fill the 857m2

section, beyond the guidelines

and rules allowable by city council's

City Plan.

We can't help but think this is

solely for the developer to make

a huge profit, off the very special

character and charm of the street

which a huge complex would

ironically destroy.

We have had a lot of discussions

with local MPs and councillors

to voice our concerns. We

are hopeful the new Minister for

Greater Christchurch Regeneration,

Nicky Wagner, will support

our call for amending flaws in

the district plan zoning to protect

what remaining residential

character we still have in our

garden city neighbourhoods.

•Martin Flanagan is the

spokesman for Retain

Somerfield's Character

action group.

We said:

Worsleys Rd residents

understand that trees

damaged by the Port Hills

fire earlier this year need

to be cleared but are

concerned city council

would not properly monitor

or maintain the road

You said:

Lynn Mortlock – I think

they do have a genuine gripe

especially seeing how little the

city council cares for our roads.

Spending millions on cycleways

and ignoring the state of some

roads around town. It's seriously

bad.

Joshy Fitzy – They're only

doing their job. It won't be long

until you have peace and quiet

again.

Dean MacKenzie – There's

been a disaster, now it's getting

fixed.

Amanda Perham – Good

grief. What is the alternative?

Isn't it important to clear the

Port Hills?

Lorna Bray – I feel if it needs

to be done, it needs to be done.

Pretty sure it won't be like that

forever. Hang in there.

Rachel Christian – A bigger

SOUTHERN VIEW

concern to me is drivers not

used to following log trucks.

Make the three-second rule four

to five seconds to stay safe. It

saved my life.

Deborah Hansen – They

are only clearing away the

mess left behind. Are you never

happy?

Nic Davies – Get over it you

soft lot. Stop your moaning and

smile.

Frank Littlewood – It's only

temporary. It's not like its going

to be a regular thing forever,

but I can see how it wouldn't be

pleasant for those who live there.

Maree Brogan – Well they

have to do a job. Imagine clearing

that burnt smelly wood. It's

messy and someone has to do it

and the trucks clear it. Let them

do their job and deal with it.

Won't be forever.

NEW TECHNOLOGY TO TREAT FUNGAL NAILS

Hours of Business: 7am-4.30pm Mon-Thurs

Fri 8am to midday

or by appointment with Keith 027 566 3909

Still able to offer

you the finest top

quality new furniture

Visit us online

www.qualityfurniture.co.nz

P. 371 7500

A simple solution to a complex problem before after

QUALITY FURNITURE SPECIALISTS

RE - UPHOLSTERY SPECIALISTS KEITH HARTSHORNE 0275 663 909

37 Main South Road, Upper Riccarton | Ph 348-7910 | www.feetfirst.co.nz
---
SOUTHERN VIEW .kiwi

Tuesday May 23 2017 5

Latest Christchurch news at www.

News

Pupils plant trees along Heathcote

Laura McIntosh –

We had a drainage contractor

move in next door and they

had massive rolling stock

going up and down our street

six days a week for

over five years. We had to

have a big residents battle to

get the contractor out. The

city council have never

bothered to repair our road

since. Worsleys Rd residents

do have a reason to be

concerned, but I'm sure city

council will repair their road

quickly simply because of its

location.

John Robb – New Zealand

has become a nation of whiners.

Do you want it cleaned up

or not?

Laura Hardie – I know a

solution. Get into groups of

50, climb the hill, put some

gloves on and carry each of the

thousands of logs back down

the hill and across town. It

shouldn't take you more than

a decade.

Marcus Isbada – There

are new subdivisions planned

for the area, so Worsleys Rd

residents (many of them just

moved in to the area) will get

even more traffic, plus the

thousands expected for the

adventure park. Lack of planning.

Brian Cox – Get over it.

We had to live next door to

red zone demolitions for three

years.

Kathleen Dawkins – Stop

griping for goodness sake.

Give it a couple of months and

you will be moaning nothing is

being done.

Te Waka Unua School pupils planted about 230 native trees along the

Heathcote River. A variety of trees were chosen representing those

that were originally planted in the area. It is hoped they will enhance

the walkway by the river and encourage birdsong, organiser Dugald

Wilson said. Ongoing care of the trees will be undertaken every two

months.

PHOTO: GILBERT WEALLEANS ​

Club's quiz night fundraiser

• By Noah Graham

THE WOOLSTON Club is hoping

to raise more than $1800 for Breast

Cancer Foundation NZ at this year's

quiz night.

About 160 people filled the club's

first Pink Ribbon quiz night fundraiser

last year. The club is hopeful

it can raise more money tomorrow

night, club marketing, functions and

events manager Victoria Laird said.

"People absolutely loved it," she

said.

There is an extra element to this

year's quiz – a spray and shaveathon

event where people can donate and

spray or shave their head for cancer.

Raffle prizes this year include Crusaders

tickets and a trip on the TranzAlpine

train worth hundreds of

dollars. The winning quiz team wins

a winter weekend in Lake Tekapo.

•Teams will need to register

through reception or phone 03

389 7039. The quiz starts 7pm

tomorrow.

Call your GP team 24/7 for health advice.

If it's after-hours a nurse is available to give free health advice.

12

9

3

6
---
6 Tuesday May 23 2017

Latest Christchurch news at www. .kiwi

News

SOUTHERN VIEW

Church project to improve health

A GROUP of five Canterbury

health organisations are

collaborating to help improve

the lives of the region's Pacific

communities through their

churches.

The initiative known as the

'Tutupu Project' has been widely

welcomed.

Seven churches

from around

Christchurch and

as far afield as

Ashburton and

West Melton are

participating in a

Maria

Pasene

nine-month commitment

to educate

and empower

nominated 'health champions'

who will then take information

back to their communities.

"I wanted to be involved in the

Tutupu Project because this is an

opportunity for me to learn and

gather information about health,

so I can then pass on to my

family, church and community,"

said Teuila Saafi, youth leader of

Christchurch's Tongan Seventh

Day Adventist.

Pegasus Health, Community

and Public Health, Rural Canterbury

PHO, Etu Pasifika and

Healthy Families Christchurch

will mentor the health champions

in nutrition, exercise and ways to

improve their health literacy.

Pegasus Health's Pacific health

manager and project leader,

BREAKOUT:

Health

champions

taking an

exercise break.

Maria Pasene, said the health

champions will attend health

education sessions to expand

their knowledge about nutrition

and the importance of physical

activity with a particular focus

on children and young people.

"We have discussed the ways

in which Pacific peoples can help

clinicians to assist them in their

health journey. This includes

pushing past their natural shyness,

speaking up and providing

important information at visits to

the GP and hospital and asking

questions when they aren't sure

about what's being discussed. It's

important to assert our needs

to improve our communities'

health."

Ms Pasene said Pacific communities

were at a point where

they see themselves as part of the

solution rather than the problem.

"They are willing to investigate

ways to improve the health of

their families and communities.

We have the ability to link them

to resources and services that

will work with them in a way that

makes sense, such as church environments

where Pacific peoples

naturally connect, support and

communicate with each other."

Cashmere students form volunteer army to do good

• By Noah Graham

THE CASHMERE Volunteer

Army is getting stuck in with the

community.

The army was started at Cashmere

High School in March last

year and has been helping out

community groups since.

From its initial clean-up of a

park in Cashmere View Tce to

helping with planting on the

Port Hills, the year 9 to 11 students

have done their best to do

good in the community.

School year 11 dean Margaux

Hlavac helped organise the

group alongside the year 10 student

council.

"It's been a fantastic thing to

get under way as it is helping our

young people to feel connected

and valued in their community

and to feel like they can make a

difference."

She said it was lovely to see

the students working alongside

people of different ages with a

common purpose.

The students' most recent efforts

to make the community a

better place included the year 11

students hosting a school dodgeball

tournament, which raised

$250 for the Port Hills Restoration

fund, as well as helping with

the Mother of All Clean Ups.

COMMUNITY SPIRIT: The

Cashmere Volunteer Army

spends its time involved with

community projects to help

clean up and improve their

area.

Brand New Prebbleton Show Home Open

This Weekend: 72 Blakes Road, Prebbleton

Open on Weekends from 12pm to 4pm

Silver medal winner in Registered Master Builders 2016 House of the Year Awards

Builders of superior homes.

Built to last.

Office & Show Home: 5 Broomleigh Drive,

Faringdon, Rolleston

New Show Home: 72 Blakes Road, Prebbleton

Phone: 03 374 9172 or Rob: 021 324 876

E-mail - robin@artisanhomes.co.nz
---
SOUTHERN VIEW Latest Christchurch news at www. .kiwi

Tuesday May 23 2017 7

FiNAL

DAYS

FINISHING SooN

CARPET HOUSE LOT DEALS

Prices are based on an average 3 bedroom home, using 20 broadloom metres of carpet, three finishing bars and fully installed.

POLYPROP

NYLON WOOL

Benmore

• Heavy Duty

• Cut Pile

• 4 Metre Wide Rolls

• Foam Back

• 4 Great Colours

• $79.90 per m

Boucle

• Extra Heavy Duty

+ Stairs

• 80/20 Wool Plus

• 48oz

• 1 Colour

• $99.90 per m

Detroit

• Extra Heavy Duty

• 26oz Solution dyed

nylon

• 12 Colours

• $75.00 per m

$2600

FoaM Back

InstaLLatIon IncLuded

$3500

Luxury underLay &

InstaLLatIon IncLuded

$3000

Luxury underLay &

InstaLLatIon IncLuded

WOOL POLYPROP

NYLON

Castleton

• Heavy Duty

• Polyprop

• 1 Great Colour

• $39.90 per m

Tiburon

• Extra Heavy Duty Plus

Stairs Grade

• Pure Wool

• Loop Pile

• Slightly Imperfect

• $75.00 per m

Windsor Twist

• Extra Heavy Duty

• 36 oz Solution Dyed

Nylon

• Cut Pile

• 8 Amazing Colours

• $109.90 per m

$2300

Luxury underLay &

InstaLLatIon IncLuded

$3000

Luxury underLay &

InstaLLatIon IncLuded

$3700

Luxury underLay &

InstaLLatIon IncLuded

NYLON

Horizon

• Extra Heavy Duty

• 36oz Solution Dyed

Nylon

• 1 Colour - Dusk

• $99.90 per m

$3500

Luxury underLay &

InstaLLatIon IncLuded

POLYESTER

Sanctuary

• Extra Heavy Duty

• 50 oz Luxury Polyester

• Cut Pile

• Great Colour

• $99.90 per m

$3500

Luxury underLay &

InstaLLatIon IncLuded

south island's

largest stockist

of vinyl

2m wide

SELLING From

$30 per metre

Call for

our mobile

showroom to

visit your home

312 Wilsons Road North, Waltham Phone 366 0070

www.carpetkingdom.co.nz | Mon - Fri 8am - 5pm | Sat 10am -1pm

Q Card Finance Now Available

FREE no obligation measure & quote (conditions apply.)
---
8

Tuesday May 23 2017

Our People

Latest Christchurch news at www.

.kiwi

SOUTHERN VIEW

Jackie Simons

Getting people aware of Woolston

New Woolston

Residents Association

chairwoman

Jackie Simons is

a 'Woolston girl'

through and through.

She talks to Noah

Graham about what

Woolston residents

need and how

important the area is

to her

What do you think you can

bring to the association and the

community?

I joined the committee for the

first time last year. Having been a

single parent and raised my family,

I now have time I want to give

back to the community. I grew up

in Woolston, I went to Woolston

School, my daughter went there,

I now have grandchildren there.

I am very much a Woolston girl.

We have many families with

intergenerational welfare dependence

and this is not entirely their

fault. I have been one of the fortunate

ones, I was able to get a good

education and have a reasonable

job with reasonable income. I

look around and see how I can

make this better. What can I do

that will improve our community

for the good of our children and

the adults? I went to the Woolston

Community Association last year

and asked what they were doing?

So I sat on the committee for the

last year and saw what these people

do. The previous chairwoman,

Robin Ross-Smith, had done 30

years with the association and

she wanted to step down and I

thought: 'I can do this.'

What do you want to do with

the association?

I want to make the community

more aware of what is going

on. It is about finding ways to

get the word out there that the

community centre is there, is

available for different groups to

use and that things are going on.

We need to utilise the resources

DEDICATION: Jackie Simons has been with Unichem for the past 18 years as a pharmacy

technician and before that a naturopath.

PHOTO: GILBERT WEALLEANS

we have to find out what people

want and what they need. I'd like

to connect with other groups

that are working in the community.

We have the potential

for a community garden in the

area. I'd like to connect with that

group and say how can we work

together to make this better?

How can we help you and get

this going?

What issues do you think

need addressing?

We deserve a swimming pool.

We deserve a playground. We will

be heard on the issues around

lowering the speed outside Te

Waka Unua School. We will be

COMMUNITY

SPIRIT: The

new Woolston

Residents

Association

chairwoman

Jackie Simons

was a local body

candidate last

year running for

the Linwood-

Central-Heathcote

Community Board. ​

heard on the issues surrounding

what city council is going to

do with the Ferry Rd shopping

centre in Woolston. We will be

seeking to utilise the city council's

resources in our community

development. To work with them,

to grow our client base and the

usage of the centre.

There are some people who

say Woolston and the east side

Christchurch has been forgotten

and is dead, what do you say

to those people?

We are very forgotten on the

east side and I think while we do

have some very good community

board members, we also have

much louder ones on either side

of us. So, yes we do get missed.

It's about growing the use of the

centre and growing the awareness

of the association and getting

the people of Woolston more

involved where we can. We're

fighting apathy. That's our struggle.

When you get knocked back

and knocked back, what's the

point? You have people saying

why would we bother, why would

we vote? We have to change it.

Could you tell me a bit more

about your family.

I went to Woolston School

and then went to a private girls'

school which gave me a real taste

for the other side of life. I experienced

various extremes. Growing

up, my father was very strong

about getting an education. This

manifested in different ways

in his four children but for me

what I discovered was the most

important thing is family. Family

extends to your neighbours

and your community. It is people

that matter. My daughters are

both full-time working mothers.

My older daughter is a single

mother. My younger child works

full-time and supports her four

children. It's a very busy life.

What do you do as a full-time

job?

As a pharmacy technician I

run a robotic packaging unit and

we do a lot of rest home packaging.

It's a niche job. It's not the

be-all and end-all, though. My

life is outside my work. I've been

with the same company for 18

years now. Before that I had a

career with Telecom as a testing

technician and before that I was

a pastry cook. My father was

a baker. I started out working

in a bakery when I was eight.

I would get up on a weekend

to go early on a Saturday and

Sunday morning. I was working

full-time when I was 17. I went

and became a temp and then

nine years later I got redundancy

as a senior technician. I then

went to the college of natural

medicine and did a diploma in

clinical herbal medicine. An

advertisement went up for job

in a pharmacy in Northlands. I

went to work in that pharmacy

for natural health. I then went to

work at Eastgate Pharmacy and I

thought let's be a technician and

went and did that.

Visit www.star.kiwi

anytime, anywhere!

Breaking news,

delivered to your pocket.

•news •CTV •sport •districts •schools •lifestyle •opinion •what's on

Fire rages, homes at risk

www.star.kiwi
---
SOUTHERN VIEW Latest Christchurch news at www. .kiwi

Tuesday May 23 2017 9

Two tough assignments

for Cashmere High

• By Andrew King

CASHMERE High has two

major football assignments

this week – keeping the

No 1 spot in the Connetics

first XI competition and

winning the school's

equivalent of the Ranfurly

Shield.

Cashmere takes on St

Bede's tomorrow night at

the Christchurch Football

Centre (7.30pm), before

travelling to the Nelson region

to challenge Waimea

College for the Alex

Harvey Industries Cup on

Thursday.

The cup is contested

by the country's leading

secondary school football

teams on a challenge basis

since 1985, and is considered

the Ranfurly Shield of

high school football.

The first time it was won

by a South Island team was

in 2015 when Nelson College

lifted it off Auckland's

Sacred Heart College 2-1.

Waimea College claimed

it when they beat Nelson in

their opening New Zealand

secondary schools football

championship qualifier 2-1,

in 2016.

Now Cashmere has the

opportunity to bring the

CLASH: Cashmere

High first XI coach

Craig Squire, and

the Alex Harvey

Industries Cup.

silverware even further

south.

"We will be fizzing for

that game," coach Craig

Squire said.​

He said it was rare to see

the trophy in the South

Island, but if Cashmere has

their way they will look

to keep both hands firmly

on it.

Squire said it will be a

tough turnaround but they

are ready to give it their

best shot.

But the immediate goal is

to beat St Bede's tomorrow

night.

The match will be difficult

for Cashmere without

SPORTS

SITTING

ONE OUT:

Cashmere

captain Lyle

Matthysen

will not be

available for

the St Bede's

match after

being sent

off against

Burnside last

week, but will

be ready to

play against

Waimea on

Thursday.

the services of their star

player and captain Lyle

Matthysen who will serve

a one-match ban after being

sent off after receiving

two yellow's in the match

against Burnside.

Squire said it would be

another tight match, but

the boys were up for it after

clawing their way back

from a 3-1 deficit against

Burnside to salvage a 4-4

draw.

"We will go back to the

defensive drawing board,

but that game was played

by two sides that love to

attack, so goals were always

going to be on the table,"

he said.

In The Neighbourhood

GO LOCAL

The Mohair Store has been keeping

people warm & cosy since Andrea

opened back in 2008. If you love the

warmth-without-weight feeling that

Mohair and Alpaca throws provide

then you will be spoilt for choice at

The Mohair Store.

140 Colombo Street, Beckenham

themohairstore.co.nz (discount

code: goat)

themohairstore

Discount

for $20

with this

voucher

care free computing

Andrea

Experience the warmth-without-weight feeling

that luxurious New Zealand-made Mohair and

Alpaca throws provide.

If you love New Zealand made natural fibres,

then you will be spoilt for choice at

The Mohair Store.

Shop online with the in

store special prices!

Discount code: Goat

PC Problems?

PC slow? Annoying errors and Pop Ups?

Internet not working? Are you secure?

Not really sure?

Relax, with over 15 years experience

we have the answers to ALL your PC

problems. And we have a range of

unique fixed price services available.

Best of all we come to you

- at no extra charge.

Call on 0800 PC PICKUP

(0800 727 4251) or 338 8871

www.carefree.co.nz

140 Colombo Street, Beckenham

Phone 03 943 1639

www.themohairstore.co.nz

Discover this

unique Emporium

Plus a unique range

of gifts, homewares and

water features.

Crafted candles a speciality!

722 Marshland Road

Top end Styx

Ph: 03 323 9781

www.hitchingpost.co.nz

The magazine for

gardeners who

like To geT Their

hands dirTy

www.gardener.kiwi

100%

Norma Lill

Key attributes that distinguish my success

in Real Estate are centered around:

• High standards

• Extraordinary work

• Ethics

And lots of energy

with a great

commitment for

exceeding outcomes.

Just call me on

027 432 5168

" I am still

learning, still

inspired, still

loving every

minute. "

Barrington Mall, Christchurch
---
10 Tuesday May 23 2017

Latest Christchurch news at www. .kiwi

SOUTHERN VIEW

Beginners Guide to Family

History

Today - June 13, 6-8pm

Go along and start your New

Zealand family history research

with a six week course. Key life

events such as births, marriages

and deaths will be researched,

along with sources covering

migration, military and electoral

information. Take along as much

as you already know about your

forebears - names, dates, places,

etc and the rest will be filled during

the course.

$15 per term and bookings

are required. South Library, 66

Colombo St

The White Room Presents

Today until May 31, 9am-6pm

This space supports people

who want to use visual art as a

vehicle to communicate their

thoughts, dreams, views, personal

experiences, knowledge

and aspirations with other

people. Focusing on art, not disability,

the works are the result of

a respectful sharing and exploration

of ideas and passions communicated

through the medium

of visual arts.

Linwood Library, Eastgate

Shopping Centre

Christchurch Athenians

Toastmasters

Email noah.graham@starmedia.kiwi

by 5pm each Wednesday

Today, 7.30-9.15pm

Do you get nervous when you

talk in front of a group? Maybe

you'd like to feel more confident

when you speak? Learn by doing

in a friendly and supportive

environment, at your own pace.

You'll be amazed at how fast you

succeed.

The Woolston Club, 43

Hargood St

Creative Writing Wednesdays

Tomorrow, 4-5.45pm

If your imagination runs wild

and you want to learn how to

put those ideas on paper in a way

that makes sense, head along

to this creative writing class. It

will suit people new to creative

writing, or those wanting to

hone their skills, pick up some

tips and learn from other aspiring

writers. Find some fictional

books while you're at the library,

or some books on creative writing.

Linwood Library, Eastgate

Shopping Centre. Free entry.

Mid-Week Laughter Club

Tomorrow, 6-7pm

The focus of the club is to get

over the stress of the first part of

the week and have a positive outlook

for the rest. The event aims

to release endorphins and help

you relax and lower stress levels.

Go and celebrate Samoan Language Week at Linwood Library at the Eastgate Shopping Centre

with creating and designing your own Samoan Se'evae Toso Toso (jandal). From 10-11am,

participate and enjoy learning some new Samoan words and greetings as part of Vaiaso o le

Talofa Lava, Afio ma susu Mai (Samoan Language week). ​

There is no comedy, stand-up or

jokes at this session. Instead, you

are encouraged to make yourself

laugh at nothing at all for the

purpose of relaxing.

St Marks Methodist Church,

cnr Barrington and Somerfield

Sts. Entry $2

Christchurch Woodturners

Association

Tomorrow and every fourth

Wednesday of the month, 7pm

Go along to the Christchurch

Woodturners Association

monthly meetings on the fourth

Wednesday of every month.

There is usually a demonstration,

show table and a cup of tea. The

association also runs classes for

people wishing to learn wood

turning using our club equipment.

Phone Rick Bolch for

more information 03 980 5156.

Harvard Lounge, 31 Corsair

Drive, Wigram

Board Games

Thursday, Friday and Saturday,

10am-6pm

Go along and enjoy a variety

of board games with all sorts to

choose from. Free, no bookings

required. Care giver required.

Spreydon Library, 266 Barrington

St

Maker Space - Family Times

Thursday, 10am-noon

Go and check out the cool

Maker Space which will feature

crafts, LEGO, 3-D colouring,

clay, interactive games and

more.

South Library, 66 Colombo St

Storytime/Wa Korero

Thursday, 10-10.30am

Encourage learning through

a love for stories. Storytimes is

an interactive programme that

includes stories, songs, rhymes

and play.

Free, Linwood Library, Eastgate

Shopping Centre

The authority on

NZ rugby since 1970

–

From local grassroots

rugby through to the

Rugby World Cup

–

On sale every

two months

SPECIAL OFFER FOR

OUR READERS

FOR JUST $49.50 RECEIVE

5 ISSUES OF RUGBY NEWS

PLUS LIONS TOUR

SPECIAL EDITION *

(Special Edition RRP $15)

To Redeem: email scott@rugbynews.co.nz with 'Lions 17' in the subject line

148-PAGe RGBY dND

SPeCIAL edITIoN

eVeRY GAme, eVeRY VeNUe

Learn all about our past, present and future heroes.

Plan your tour in front of the TV and on the road.

Phil Gifford on the game's greats

Justin marshall calls it how he sees it

INSIde: Rugby's most trusted voices

ON SALE NOW at all good

bookstores and supermarkets

Ron Palenski remembers the classics

Lynn mcConnell on the challenge ahead

Terms & conditions: Valid for one-year subscriptions and NZ addresses only. Recipients will receive Lions special edition plus 5 Rugby News editions. Valid for orders placed through scott@rugbynews.co.nz from 1 May 2017 to 31 May 2017 only.
---
SOUTHERN VIEW Latest Christchurch news at www. .kiwi

Tuesday May 23 2017 11

Linwood

College

PERSONALISED

PATHWAYS

TO SUCCESS

2018 Student Leaders: 1st Row: Vai Mariner, Crystal Mehlhopt, Jenna Hollis, Leeah Mullany, Sarah Moana Wooff-Smyth

2nd Row: Eden Pettigrew, Adonai Schwenke, Anaru Gray, Cole Barrie

3rd Row: Havana Aaifou, Thomas McHutchison, Sapana Kharal, William Paulden, Sean Robertson-Wright, Makayla Austin

Enrolling now for 2018

Message from the Principal

Kia ora koutou. Talofa.

Kia Orana. Malo e lelei.

Bula. Fakaalofa atu.

Namaste and Kumusta.

Greetings to our

Community.

There is considerably

increased community

interest in Linwood

College. People are hearing about our

school's re-development and they want to

know more. I am often asked at various

community events, "Why Linwood?" More

and more people are keen to know what

Linwood College can offer their children.

There are three clear answers to this

question.

Firstly, our school nurtures personal

excellence by providing varied opportunities

to meet individual needs. At Linwood

College learning success and personal wellbeing

are inseparable. All Linwood learners

can expect to be challenged, enriched and

supported to reach personal excellence.

Learning is personalised for a 'love to learn'

culture so that each learning stage builds

upon one another to form an integrated,

personalised pathway.

Secondly, Linwood provides a safe, caring

physical and emotional environment with

positive systems and processes to support

students and communicate with families.

Well-being is at the heart of our school.

Finally, Linwood College embraces diversity

and inclusiveness. We see this as reflective

of both New Zealand society today and of

New Zealand's global future. Linwood

learners have a global understanding.

These three answers about our school can

be summarised in one phrase: Pathways to

Excellence: learning and social well-being.

In this season of school open nights I am

holding regular appointments for families

keen to learn more about Linwood College

and meet me personally. Please phone the

school office, phone 9820100, to book in a

time.

Nga mihi nui to our community as the

positive activity of the year continues. I

am always keen to meet people so if any

member of the community wishes to talk to

me about anything, please contact the office

to arrange a time for this to occur. My door

is open.

Richard Edmundson - Tumuaki-Principal

Congratulations - Rise in NCEA Results

In early May our school received a letter

from the Minister of Education, the

Honourable Hekia Parata, congratulating

the Board of Trustees and wider school

on the significant improvements in our

2016 NECA results. Students, staff and

the Board are all pleased to receive this

positive acknowledgement.

Stepping into the Future - the shape of

things to come

Masterplanning is underway for our total

school rebuild on our site with the physical

work beginning in 2018. The time frame is

three years, so that the College can function

sensibly over the rebuild period.

Responding to the clear community voice on

Linwood College's future direction, we will

have purpose-built general and specialist

facilities for classroom learning, sports and

Duke of Edinburgh Expedition

Seventeen students from Linwood College

deployed on a 3-day, 62 kilometre journey

with the Joshua Foundation to complete their

Bronze Duke of Edinburgh Hillary Award

(DOEHA) Expedition.

The expedition took place in challenging

conditions through Motukarara, Little River,

then through the Kaituna Valley to the

Packhorse Hut and down to Gebbies Pass

- with the last part of the expedition over

the Banks Peninsula to Godley Heads and

terminating at Taylors' Mistake Beach.

cultural pursuits.

Our classrooms will have the flexibility of

size to suit the student and the nature of the

learning occurring. Our facilities will centre

on learner-autonomy for personalised

success and future-focussed employability

and leadership skills.

A Linwood learner is nationally and globally

prepared.

Under the guidance of Chris Allan from the

Joshua Foundation, the students developed

their leadership knowledge and forged strong

personal relationships with each other with

great results.

Chris Allan and the Joshua Foundation has

worked with Linwood College over the past

nine years serving our school community

with hundreds of students successfully

completing the various awards.

Families roll up for Dessert

This month the Linwood College Hospitality

Department held a dessert restaurant over

two nights. Year 13 hospitality students

worked hard during Term 1, trialling mini

desserts for the degustation event with

Year 12 hospitality students trained in table

service.

The evenings would not have been as

successful as they were, without the hard

work and planning by former Linwood

College student Navneet Narayan. These

evenings are deservedly attracting more

and more attention.

Power Up East!

Pasifika students from any school are all

invited to participate in this programme

involving tutoring, mentoring and

engagement for our Pasifika Community.

This is based at Linwood College every

Tuesday from 5pm to 6.50pm.

Come along with your families to the Linwood

College School Hall. Groups separate into

ECE, primary and secondary sectors and

parents will have their own session too!

Spread the word. Let's Power Up for Pasifika

success!

David Siumu was the youngest contestant in his section during the recent SPACPAC Speech Competition.

Titi Tomasi (right) came third in the Senior Samoan speech category.

Fuel Up Fundraiser

Our local Z garage on Linwood Avenue are

running the 'Good in the Hood' project.

Please support the local Alternative

Education provider KAP (Kimihia Adventure

Programme) by fueling up there and popping

the token in to support KAP.

Linwood College • Phone: 982-0100 • Email: office@linwoodcollege.school.nz • www.linwoodcollege.school.nz
---
12 Tuesday May 23 2017

Latest Christchurch news at www. .kiwi

SOUTHERN VIEW

Home &

Leisure

SHOW

JUNE 30 –JULY 2

HORNCASTLE ARENA

IN ASSOCIATION WITH

EXHIBITORS

BOOK NOW

Showcase your products or services

to more than 20,000 customers

Bookings

Vanessa Fleming

P 03 379 7100 | M 021 914 565

vanessa.fleming@starmedia.kiwi

WWW.STARHOMESHOW.KIWI
---
SOUTHERN VIEW Latest Christchurch news at www. .kiwi

Tuesday May 23 2017 13

GREAT food

BROUGHT TO YOU BY...

Your fresh food people

ROAST CHICKEN WITH

SHALLOTS

Ingredients

8 large shallots

4 Garlic bulbs

4 Red onions

1 Chicken, size 14

1 Lemon, cut in half

Gravy

1 cup chicken stock

2 tsp Plum jam

1 tsp Cornflour

1 Tbsp Cold water, to mix with

the cornflour

To serve

Carrots

Potatoes

Directions

Heat oven to 200 deg C. Line

a large roasting tray or dish with

baking paper for an easy clean

up.

Leaving the skins on, cut the

shallots in half, slice 1cm off the

top of the garlic bulbs and quarter

red onions.

Wash and pat chicken dry, stuff

with lemon halves and place on

prepared roasting tray. Arrange

carrots, potatoes, shallots, garlic

and onions (cut-side-up) around

the chicken. Drizzle chicken,

shallots, garlic and onions with

olive oil and season with salt and

pepper.

Roast for 40-45min until

chicken is just cooked through

and alliums are soft and caramelised.

Remove chicken from roasting

tray and pour any juices from the

cooked chicken and roasting tray

into a pot. Cover chicken with

tinfoil and a tea towel and leave

to rest for 10-15mins while you

make the gravy.

Add chicken stock and jam to

the pot with the roasted chicken

juices. Bring to the boil and

simmer for 3-4 minutes. Stir in

cornflour mixture and continue

simmering, stirring frequently,

for 2-3 minutes until thickened

to a gravy. Season to taste with

salt and pepper.

Carve roast chicken and serve

the gravy, roasted caramelised

alliums, potatoes and carrots.

BANANA CAKE

Ingredients

125g Butter

¾ cup Sugar

2 Eggs

2 Bananas

1 tsp Cinnamon

1 cup Wholemeal flour

¼ cup Sour cream

1 cup Flour

2 tsp Baking powder

1/2 cup walnuts

Directions

Heat oven to 160 deg C fan

bake. Grease 20cm round or

square cake tin and line with

nonstick baking paper.

Place butter (softened) and

sugar in a bowl, then beat until

pale and creamy. Beat in eggs,

one at a time.

Stir in walnuts, mashed bananas,

cinnamon, wholemeal

flour and sour cream.

Stir in flour sifted with baking

powder, just enough to combine.

Spread mixture in prepared tin

and bake for 45min or until a

skewer inserted comes out clean.

Transfer to a wire rack to cool.

Use as a base to make a decorated

novelty cake.

Extra Large

Green Kiwifruit ............ 1 .49

KG

Whole Crown Pumpkin . 2 .99

each

Fair Trade Bananas .... 2 .99

Washed Agria

Potatoes 3 kg ................... 3 .99

bag

NZ Shallots .................. 5 .99

kg

Fresh Roast Chicken

Size 14 ...................................... 6 .99

each

Beef Topside Roast ... 10 .99

KG

Farmlands

Bacon Bones ................ 6 .99

KG

All our fresh meat is 100% NZ FARMED.

specials VAlid 22nd MAY - 28th MAY 2017. ONLY AVAILABLE AT

RAEWARD FRESH HAREWOOD RD, TOWER JUNCTION & MARSHLAND RD

harewood rd Mon–Fri 7.00am–6.30pm Sat–Sun 8.00am–6pm

Tower junction Mon–Fri 8.00am–7.00pm Sat–Sun 8.30am–6pm

MARSHLAND RD Mon–Sun 8.00am–6:00pm

bunch

WWW.

.CO.NZ
---
14

Tuesday May 23 2017

HEALTH & BEAUTY

Latest Christchurch news at www.

.kiwi

SOUTHERN VIEW

Migraine relief

Your headache or migraine may literally be a pain in the neck

It's not very well known that almost 13

percent of people – including childrensuffer

from headaches and migraines.

It is the 3rd most prevalent illness in

the world and causes 91 percent of the

people it affects to miss work or reduce

their functional capacity. In the past 10

years, the understanding of what causes

headaches and migraines has significantly

changed. The research now shows that

the sensitisation of the brain stem in

your neck is what causes this pain; and

the specially trained physiotherapists at

Muscle People are well versed in how to

treat it.

Krissy Winter, a patient of Muscle

People, had this to say about her

experience: "My migraines were

debilitating and they'd often come without

warning. Sometimes once a week, but

generally about once a month. I'd moved

up from Dunedin where I'd managed them

with my Osteopath, yoga and Pilates. In

Christchurch I was so reluctant to let

anyone near my neck. I read the article

and I must admit I wasn't convinced and I

went to the first appointment with a page

of all the concerns I had. The first time I

met Laurie I remember walking out and

feeling more in control. After about four

treatments with Laurie and perfecting the

technique she taught me I truly began to

reap the benefits. Now I'm fantastic. If I

feel a migraine coming on I now have the

control to manage it myself, even stopping

them from taking over, without needing

someone to drive me in to the osteopath

or the hospital for an injection to relieve

the pain. With the technique Laurie

taught me I'm armed and dangerous!"

Laurie, Clare and Naomi were trained

in Australia in the award winning and

ground breaking Watson Approach to

dealing with headaches and migraines.

This proven method examines and treats

the movements of the first three segments

of the neck, which when sensitised cause

headaches and migraines.

"In our clinics we see people from

as far away as Invercargill who come

to us specially to seek treatment" says

Laurie Moore, Director of Muscle People

Physiotherapy. She says "The symposium

in Australia we went to just recently

reaffirmed the effectiveness of what we

do, and honed our skills even more."

Generally patients will come to our

clinic four or five times in the first few

weeks of treatment. We show them some

very simple exercises to do at home. After

the first few weeks, treatment sessions are

guided by how the patient is feeling.

"Often patients come to us at the end

of a long journey having tried quite a few

other treatments, and we are able to help

them reduce or remove their pain." Laurie

says.

"If I feel a migraine

coming on I now have

the control to manage

it myself."

watch local | support local | shop local

Join our

hosts Geoff &

renee on sKy

ChaNNeL 83

Bishopdale Clinic

13a Bishopdale Court, Ph 360 3606

City Clinic

12 Hereford Street, Ph 961 0236

Wigram Skies Clinic

67 Skyhawk Road, Ph 322 9400

Call us today Ph 360 3606

Back & neck pain

Sprains and strains

Functional training studio

Biomechanical assessments

Headaches and migraines clinic

Work injuries & gym rehab

Pre and post surgery rehab

musclepeople.co.nz

Thursday

7.30pm

repeaTs friday

1.30am

& 7.30am

WE SHARE YOUR VISION

SKY 083 + On Demand

WWW.STAR.KIWI

for enquiries, contact Geoff moreton: 021 1066 177

St John

Community Shop

✓Unbelievable bargains

✓ Value and quality

Supporting Life

272 Lincoln Road

Corner Spencer Street

Addington

Phone 03 338 2560

Be warm in

winter with

mohair and

alpaca rugs,

throws and

scarves

140 Colombo Street

Beckenham, Christchurch

Phone 03 943 1639

www.themohairstore.co.nz
---
SOUTHERN VIEW Latest Christchurch news at www. .kiwi

Tuesday May 23 2017 15

FOCUS ON HEALTH

Time Honoured

Remedy

1 in 2 People

Deficient in B12

According to a country Doctor "D.C. Jarvis"

from Vermont in the USA cider vinegar and

honey (CV & H) can be an important part of

a long healthy life. Dr. Jarvis noted Vermonters

who regularly consumed cider vinegar and

honey had excellent health with many putting

in a vigorous day's work on the farm even

when well into their eighties.

Dr. Jarvis found the effects of cider vinegar

and honey on arthritis can be remarkable

with many patients reporting almost total

relief after taking a course of the cider vinegar

and honey. Dr. Jarvis surmised that the acid

and potassium in cider vinegar counteracted

calcium deposits and helped the body control

calcium use.

As well as a general tonic Dr. Jarvis found

regular administration of cider vinegar and

honey at the onset of complaints such

as the common cold, sinusitis,

asthmatic attacks, hay fever,

and childhood diseases

such as chicken pox

and measles, was

accompanied by

an improvement

in the condition

with symptoms

either disappearing,

or the conditions were

extremely mild and soon

over.

Apple cider vinegar contains all the goodness

of the apple in a form that is readily accepted

by the body. Scientists have found over 90

different substances in ACV, among them 20

important trace elements, minerals, essential

enzymes, a number of different acids including

malic acid, amino acids and roughage in the

form of potash and pectin. A scientific study

at the Shizuka University in Japan has proven

ACV to have potent antioxidant benefits (It can

destroy free radicals, which are a major factor

in ageing.) and also the ACV can break down

cholesterol formations in the blood vessels.

ACV and H is a powerful tonic that also

promotes digestion, assimilation of nutrients

and elimination of waste, and helps neutralize

any toxic substances that enter the body.

It is important to note not all cider vinegar

is made in the traditional way and results are

likely to prove disappointing with these other

vinegars.

Would you like

to promote your

Business?

For local features

please contact

Bev Stanger

03 364 7407

bev.stanger@starmedia.kiwi

Further information is available from the

Natural Health Advisers at Marshall's Health

& Natural Therapy, 110 Seaview Road, New

Brighton, Phone: 388-5757. We are Always

Happy to Help!

THE JOYS OF HOME OWNERSHIP #27

CLEANING

THE SPOUTING

Wouldn't you rather be learning to play

the bagpipes? Let us take care of the

spouting at your new home at

McKenzie Lifestyle Village in Geraldine.

Contact David Connolly on 0800 84 55 24.

M E M B E R O F R V A

Emerging research has shown as

many as 50% of older adults and as

many as 25% of younger adults are

deficient in vitamin B12. Scientists at

Rush University Medical Center found

those most deficient in vitamin B12 to

have the smallest brain mass and the

lowest scores on tests measuring shortterm

memory, concentration and brain

performance. Another study showed

that older people with higher levels of

B12 in their blood have bigger, healthier

brains and score higher on cognitive

tests than those with lower levels. Yet

another recent landmark study showed

that B12 supplementation slows the

accelerated rate of brain shrinkage and

declining cognitive function. B12 is essential

for energy production, cell health, regulation of

mood and sleep cycles, nerve health and repair,

and prevention of homocysteine a serious

cardiovascular risk factor that is known to

cause damage and plaque in the blood vessels.

It can also increase the chances of a stroke.

Harvard researchers found a 34% decrease risk

of vision loss in a study of participants aged

40+ who supplemented with B12. Another

study linked a higher risk of hearing loss in

subjects in their 60's who were low in B12.

The reason so many people lack B12 appears

to be our body's ability to absorb it declining

with age as the digestive system becomes less

efficient. Anti-reflux medication and other

drugs further reduce B12 absorption. The good

news is B12 in the form of Methylcobalamin

sublingual tablets that are dissolved in the

mouth and thru bypassing the digestive tract

have been shown to effectively raise B12 levels

in the body.

Further detailed information is available

from the Natural Health Advisers at Marshall's

Health & Natural Therapy, 110 Seaview Road,

New Brighton, Ph: 388-5757 We are Always

Happy to Help!

Apple Cider VinegAr - Powerful Natural Health Tonic

ACV is a highly nutritious with all the goodness of apples (one of our most health-giving fruits) in a form that is readily

accepted by the body. It promotes healthy digestion, assimilation of nutrients & elimination of wastes. Detoxifying

& purifying & supports the function of vital organs like the kidneys, bladder, liver & heart. Helps neutralise toxic

substances & harmful bacteria in food. A time-honoured natural remedy to improve health & longevity.

ACV SUPPORTS

• Healthy digestion, assimilation of nutrients, elimination of wastes

• Energy – Vitality – Endurance

• Elimination of viruses, bacteria, fungus & parasites

• Powerful antioxidant

• Cardiovascular health, blood flow & healthy blood pressure

• Diabetes – improves insulin sensitivity

• Arthritis • Longevity

• Settles the stomach & reduces reflux

Up to 50% Low in Vitamin B12

BRAIN FOG, FORGETFUL, FEELING OLD, LOW ENERGY, MOOD SWINGS,

DIFFICULTY SLEEPING, PINS & NEEDLES, NUMBNESS IN LEGS

Up to 1 in 2 people may have a shrinking brain due to a lack of vitamin B12.

Supplementation of methylcobalamin B12 has been shown to reduce the rate of brain

shrinkage & support memory & brain function. B12 is also known to protect against

homocysteine a serious cardiovascular risk factor that can also damage the hearing,

eyesight & affect the mood. B12 is essential for energy, cell health & nerve function.

B12 Supports:

• Memory & Brain Performance

• Protects Brain

• Energy & Recovery

• Nerve Function

• Helps protect blood vessels from damage

• Sleep

• Cellular Health & Repair

• Vegetarian's Diet

• Good Health

SEE A DIFFERENCE

IN AS LITTLE AS 48

HOURS!

SUPER PRICE OFFER

Superior Methylcobalamin B12

(High Absorption Sublingual Lozenges)

100 Lozenges

Only $ 32 .90

200 Lozenges

Only $ 59 .80

MAIL ORDER AVAILABLE

Bringing You the Best in Natural Health

MARSHALLS HEALTH & NATURAL THERAPY

CONSULTING - PRESCRIBING - DISPENSING - MANUFACTURING - MEDICAL HERBALISTS

110 SEAVIEW RD, NEW BRIGHTON • PH 03 388 5757 • Email: enquiry@marshallshealthshop.co.nz

- WE ARE ALWAYS HAPPY TO HELP! -

Super price

Premium QuALity N.Z. DoubLe

StreNgth, orgANic APPLe

ciDer ViNegAr:

750ml only $9.90, 2ltr only $19.90

With 20% manuka honey added:

750ml only $14.90, 2ltr only $29.90

Always Insist on Marshall's Apple Cider Vinegar for

Maximum Nutritional Value + Health Benefits

Bringing You the Best in Natural Health

MARSHALLS HEALTH & NATURAL THERAPY

CONSULTING - PRESCRIBING - DISPENSING - MANUFACTURING - MEDICAL HERBALISTS

110 SEAVIEW RD, NEW BRIGHTON • PH 03 388 5757 • Email: enquiry@marshallshealthshop.co.nz

- WE ARE ALWAYS HAPPY TO HELP! -

MAIL ORDER

AVAILABLE
---
16 Tuesday May 23 2017

Latest Christchurch news at www. .kiwi

SOUTHERN VIEW

Bridalshow

save the date

Sun 27th Aug

10am to 3pm

air Force Museum

45 Harvard Ave

Wigram, Chch

Tickets: $20.00

A Star Media Event
---
SOUTHERN VIEW Latest Christchurch news at www. .kiwi

Tuesday May 23 2017 17

REAL ESTATE

Flair, style and finesse

37B Rossall Street, Merivale

4 bedrooms | 2 bathrooms | 3 toilets | 2 living rooms | 1 office/study | 2 car-garage | Listing # PI47365

Designed with exceptional flair and built

using state-of-the-art technology and the

very best in energy efficient applications,

this high-profile, brand new executive

townhouse offers stylish, luxury living in

the heart of Christchurch's most exclusive

suburb.

Built in 2017 on a substantial 455m2 block,

this immaculate two-storey home (285m2)

plays host to four double bedrooms (master

with ensuite and walk-in robes), a large

family bathroom, 3 toilets, a large separate

laundry stylish separate lounge complete

with Rinnai gas fire and Smart TV wiring,

plus a bonus sunken media/office area on

the first floor – the perfect retreat for some

peace and quiet.

With stunning designer finesse

throughout, including an exposed stone

wall in the entranceway, the open plan

kitchen/living/dining really impresses. A

free-flowing space with a naturally warm

and sunny ambiance, the area enjoys

effortless indoor/outdoor flow thanks to

huge windows and French doors.

At the heart of this space is the designer

kitchen. Offering function and style and

boasting premium fixtures and fittings, it's

a foodie's dream come true with a separate

double oven, range hood, dishwasher,

walk-in pantry, island breakfast bar and

granite worktop.

The attention to detail continues with

a downstairs powder room/3rd toilet, a

study nook just off the kitchen, and linen

and storage hallway cupboards upstairs,

while full double glazing, 2 heat pumps

and underfloor heating in both bathrooms,

ensures everyone stays warm in the winter.

Outside, the north-facing aspect of the

dwelling transforms the outdoor space

into a sun-soaked sanctuary complete with

private, fully fenced grounds, immaculate

landscaped gardens and two large patio

areas that are perfect for entertaining.

Located in Merivale and within walking

distance to the CBD and excellent schools

(Rangi Ruru, St Margaret's and zoned for

Elmwood Primary, Heaton Intermediate,

CGHS/CBHS), this superb property is

close to everything – including the handy

shops of Holmwood Road, the beautiful

green spaces of Hagley Park, and the array

of amenities at Merivale Mall, all of which

help to underpin the strength of your

investment.

A brand-new property that has never been

lived in, this stylish designer home offers a

truly unique opportunity for discerning

buyers who are looking for something

extra special. Open Homes Thursday 2.15-

2.45pm, Saturday and Sunday 1.30-2.45pm.

If you require an executive lifestyle

in an exclusive location, act quickly as

homes of this calibre won't be around

for long. To arrange a viewing, give me a

call today Deb Harvey of Harcourts Gold

Papanui (Licensed Agent REAA 2008) on

352 6166 or mobile 027 220 6565

now bigger than ever

growing with you

SprIng Is here –

It'S Sow Time

how to get the best results from

seeds and seedlings

100% NatIve In

The capItal

Unravelling the secrets of

Otari-wilton Bush

The New Zealand

landscape awards

The people behind

the projects

$7.90 incl. GST

Save our roSeS

How a rose register is protecting our heritage

September 2016 | 100%

It's time

to grow!

New look and more

content than ever!

MeeT LeSTer Brice

A Garden coach

auckland Botanic GardenS

Why we love our public grounds

The magazine for

gardeners who like to get

their hands dirty

SubScribe from

$43. 50*

*6 issues/6 months

ISSN 2423-0219

SUBSCRIPTIONS FREEPHONE

0800 77 77 10

www.gaRdeNER.kiwI
---
18

Latest Christchurch news at www. .kiwi

Tuesday May 23 2017

SOUTHERN VIEW

Classifieds Contact us today Phone our local team 03 379 1100

Computers

ALL

YOUR

COMPUTER

WORRIES SOLVED!

*$30.00 off your first

service with this coupon!*

No problem too big or

small from home PC's to

business networks. PC

slow? An end to Viruses,

Spyware, and Clogged

Systems. Safe secure

hassle-free computing.

Lost files recovered.

Microsoft Certified,

MCSE, MCP+l. 30 years

experience. Call Andrew

Buxton this week on 326-

6740 or 027 435-7596

for $30.00 off* Custom

Computers Christchurch

Funeral Directors

Direct Natural

Funeral Provider

0800 000 121

www.cremorials.co.nz

Gardening

& Supplies

A GARDEN

PROFESSIONAL

NEEDED? Qualified

Horticulturist, offering

expert pruning, garden

makeovers, garden design

and landscaping, for free

quotes call Bryce 027 688-

8196 or 0508 242-733

A GARDEN OR

LANDSCAPING TIDY

UP? Shrub, hedge &

tree pruning, Lawns,

Gardening, consistently

reliable general property

upkeep, Dip. Hort. 10

yrs experience, One off

tidy ups or on-going

service. Nick's Property

Maintenance. Keeping

your garden beautiful.

Free Quote. Ph. 942-4440

Holiday

Accommodation

QUEENSLAND SUN-

SHINE COAST AUSTRA-

LIA Resort, Ocean Views,

Balconies, Self Contained,

1 or 2 B/R Ensuite,

Heated Pool, Spa, Sauna,

Free Internet, Shops,

Restaurants, Tennis, Surf

Club & Patrolled Beach,

Public Transport at door.

Ask for our SEASONAL

SPECIALS. Phone 61 7

544-35011 Email: reception@mandolin.com.au

www.mandolin.com.au

Personals

MALE 31 seeks female

for friendship, relationship,

txt 022 312 3327

Health & Beauty

FOOTCARE

OASIS

Senior Citizens Foot Care

25 Conway Street, Spreydon

Treating hard thick nails, calluses

and corns finishing with a foot massage

Price $30 Allow 45 mins

Home Visits available by appointment

Therapist – Amanda

(30 years experience)

Ph. 942-6036 for an appointment

HOURS ARE FLEXIBLE

Trades & Services

ARCHGOLA

Enjoy outdoor living all year round

15 months

INTEREST FREE

Normal lending criteria apply

• House, deck, carport & window canopy etc

• Warm & dry in winter

• UV protection for summer

• Customised & Tailored

• Café curtains fitted

• 5 year warranty

Chris Thorndycroft

Ph 0800 27 24 46 | www.archgola.co.nz

Trades & Services

Builder

Wright Enterprises Build Limited

W.E. Build

New Homes

Renovations

Alterations

Re-roofing

Re-cladding to older buildings

Family owned & operated

E info@webuildltd.co.nz

Antony Wright 021 111 1703

John Wright 0274 343 323

AH 03 347 4347

www.webuildltd.co.nz

Trades & Services

CONCRETE

Concrete Removal & Trucking

Driveways, paths, sheds, garages,

site clearances

We also deliver and spread landscaping

supplies – topsoil, bark chip, shingle etc.

For fast friendly service phone

Nick on 0274 324 124

keacontracting@yahoo.com

Trades & Services

GARDEN SUPPLIES

CHCH'S LARGEST SELECTION OF

BARK • COMPOST • SHINGLES

Landscape Lane (off Lunns Rd)

P. 348 2915 OPEN 7 DAYS

nO GREEn wastE In anY OF OUR COMPOst

kitchen renovation

Kitchen looking tired?

Revitalize with new colour at a

fraction of replacement cost

• Alterations & Hardware available

• Laminated Kitchens no problem

• 'On Site' finishing available

• Over 20 years experience

• Free Quotes with no obligation

• All Joinery & Furniture repair & Spraycoatings

PABLO'S PAINTWORKS

27 Birmingham Drive, Middleton

03 338 6280 | 021 541 323

pablospaints@xtra.co.nz

www.pablospaintworks.co.nz

Trades & Services

painter

Remember...

we are NOT in

Parkhouse Road

Price Family

Painters Ltd

Interior/Exterior

Wallpapering/Painting

Gib Stopping

Free Quotes

EQC Opt Out

Fletcher Accredited

Project Management

Phone: Morton 021 667 444

Email: mortonprice@xtra.co.nz

www.pricefamilypainters.co.nz

Trades & Services

PAINTING - PLUS

• PAINTING • TILING

• PLASTERING

• WALLPAPERING

Phone Kevin Steel

• Interior/Exterior

• New Homes & Repaints

• Quality workmanship assured

• Correct preparation always undertaken

• 20+ years experience

• Earthquake repairs

(Painting/Plastering/Wallpapering/Tiling)

Ph 381 7417 or 027 216 8946

www.facebook.com/kevinsteelpainters&decorators

9164023AA

Trades & Services

BLOCKED

DRAINS?

• VIDEO INSPECTION

• WATERBLASTING

• LIQUID WASTE

PH: 03 365 7960

24 hours // 7 days

info@h20jet.co.nz

www.h20jet.co.nz

• Replacement/new roofing

• Colour Steel gutter & fascia

• Flue & log burner installs

• Skytube/light installs

• Earthquake repairs

Licence Building

Practitioner LBP

Member of the Roofing

Association

DCM ROOFING LTD

The Roofing Specialists

PHONE IAIN

027 445 5597

iain@dcmroofing.co.nz

ROOF

PAINTING

Rope & harness

a speciality,

no scaffolding

required,

30 years of

breathtaking

experience.

FREE QUOTES

Exterior staining,

exterior painting,

moss and mould

treatment and

waterblasting

Phone Kevin

027 561 4629

PROFESSIONAL & QUALIFIED

PAINTING

Plastering, Wallpapering

Spray Painting

Ph John 027 860 8106

Trades & Services

BEST BATHROOMS

full renovation specialists,

LBP, repairs &

maintenance ph 03 387-

0770 or 027 245-5226

Situations Vacant

Exotic Performers

Wanted

This occupation of exotic dancing and

performing requires high levels of creative

talent, personal commitment and interest.

Must be able to compose dance,

and work in an adult entertainment

environment on stage.

Apply online at

www.calendargirls.co.nz

Trades & Services

BRICKLAYER

George Lockyer. Over

35 years bricklaying

experience. UK trained.

Licensed Building

Practitioner number

BP105608. Insurance

work. EQC repairs.

Heritage brickwork and

stonework a speciality. No

job too small. Governors

Bay. Home 329-9344,

Cell 027 684 4046, email

georgelockyer@xtra.co.nz

BUILDER

For all building work

but specialist in bathroom

renovations, 30 yrs

experience, with service

and integrity. Free Quotes.

Ph Lachlan 383-1723 or

0274 367-067.

BUILDER

LICENSED, available for

all aspects of building.

Please call 027 241-7471

or 335-0265

CARPET & VInYL

LAYIng

Repairs, uplifting,relaying,

restretching,

E mail jflattery@xtra.

co.nz,

ph 0800 003 181

or 027 2407416

COnCRETE

DRIVEWAYS Pathways,

patios, garden sheds,

garages and house floors,

foundations, Phone for

free quote, Roy 0274 316

860, N & R Concrete.

DRAInLAYER

excavator & truck

available for hire.

Driveways etc. 0274 351

640

EXCAVATOR

& truck, drainlayer for

hire. Driveways etc. 0274

351 640

PAInTER

Available, All aspects in

painting. Very competitive

in roofs and fences. Please

call 027 241-7471 or 335-

0265

PLASTERER

Gib Stopping, Small

job specialty. 30 + years

experience. Ring 0800

387-369

PLUMBER

For prompt service for all

plumbing maintenance,

repairs and alterations.

Phone Michael 364 7080

or 027 438 3943

PLUMBER

Trades & Services

ROOFIng

Qualified & Licenced

Practitioner. Re-Roof &

Repairs, all types. Member

New Zealand Roofing

Association. Over 35 years

experience. Phone John

027 432-3822 or 351-9147

email johnmill@ihug.

co.nz

SPOUTIng CLEAnIng

Spouting Unblocked,

Cleaned Out and Flushed

Out. Also Full Handyman

Services Available. Call

Trevor 332 8949 or 021

043-2034

STOnEMASOn

BRICK

&

BLOCKLAYER,

Earthquake Repairs, Grind

Out & Repoint, River/

Oamaru stone, Schist,

Volcanic Rock, Paving,

all Alterations new & old,

Quality Workmanship,

visit www.featureworks.

co.nz or ph 027 601-3145

TILER/CARPEnTER

35 years exp, no job

too small. Ph Ross 027

4311440.

TREES BIg OR SMALL

tree removal, trimming,

stump grinding, shelterbelt

clean up, section clearing,

rubbish removals,

excavation work, ph Trees

Big or Small, for a free

quote, 021 061 4783

TREE WORK

Hedge trimming, stump

grinding, rubbish removed,

small job specialty Ph

Andrew 03 322-8341 or

027 435-8759

T.V. SERVICE CEnTRE

Repairs, tvs, microwaves,

stereos, DVD. Aerial

installations and kitsets,

480 Moorhouse Ave, ph 03

379 1400

UPHOLSTERER

Dining Chairs, Lounge

suites, Caravan Squabs

etc. recovered. Free

Quotes. Phone Graeme

383-1448

VHS VIDEO TAPES

& all camera tapes

converted to DVD, video

taping special occasions,

www.grahamsvideo.co.nz

ph 03 338-1655

WInDOW CLEAnIng

Average 3 bdrm house

inside or out $40. Both

$70. Phone Trevor 344-

2170

ALF THORPE

PLUMBING Certifying

Wanted To Buy

Plumber for all types of AAA Buying goods

plumbing, maintenance, quality furniture,

spouting, alterations etc. Beds, Stoves, Washing

Phone 352-7402 or 0274-

350-231

PLUMBER

machines, Fridge Freezers.

Same day service. Selwyn

Dealers. Phone 980 5812

A Top Plumbing job or 027 313 8156

completed at a fair TOOLS Garden,

price, prompt service, garage, woodworking,

all work guaranteed mechanical, engineering,

Ph Brian 960-7673 or 021

112-3492

sawbenches, lathes, cash

buyer, ph 355-2045
---
SOUTHERN VIEW Latest Christchurch news at www. .kiwi

Tuesday May 23 2017 19

All good things must

come to an end

TWIGGERS Dine 'n Dance - Book NOW for the nal

season

e Great British Revival; Stars of the Ages; Legends Live

On. ese are just a few of the great shows performed by

e Great Pretenders, resident band at Twiggers over the

past two decades. And as they say, all great things must

come to an end and this year is the nal season of e Great

Pretenders and Twiggers Dine 'n Dance.

Enjoy an all you can eat sumptuous buffet featuring an

extensive variety of entrees, mains and desserts. Attractively

presented and delicious, there's something for everyone.

Combining costumes, choreography, lighting effects and

stunning performances, e Great Pretenders are real crowd

pleasers. With songs from some of the biggest names in the

history of pop and rock, you'll be on the dance oor before

you can say "Greased Lightning"!

Whether you're celebrating a special occasion or a group

get together, make it the complete night out at Twiggers.

eir nal season kicks off with Mid-Winter Christmas on

Saturday, 17 June and concludes on Friday, 15 December.

Mid-Winter Christmas - 17 and 24 June, 8, 15 and 22 July

and 5, 12 and 19 August - $52 per person

Christmas – 24 and 25 November and 2, 15 and 17

December - $60 per person

To book phone (03) 338 9094 or email

info@addington.co.nz

RESTAURANT & CAFÉ

Cooked Breakfasts

We are open from 6.30am

Seniors SPECIAL

2 courses Soup/Roast or Roast/Dessert

Special available lunch only. Monday - Saturday 12pm - 2.30pm

Family Friendly

Kid's 2 course special

$18

$20

$10

www.newbrightonclub.co.nz

MID-WINTER

XMAS

FUNCTIONS

WE HAVE THE VENUE.

EXCELLENT CATERING.

PLENTY OF PARKING.

ENQUIRE NOW!

'Famous for

their roasts!'

202 Marine Parade | Ph 388-9416

Members, guests and affiliates welcome

The

RACECOURSE HOTEL

& Motorlodge

118 Racecourse Rd, Sockburn,

Christchurch. Ph 03 342 7150

www.racecoursehotel.co.nz

JOIN

A CLUB BY

THE SEA!

TUESDAYS &

THURSDAYS

Members Lucky

Card Draw

FUNCTION ROOMS

SHUTTLE RUNNING

Tues, Thurs, Fri & Sat

TAB POD

GAMING ROOM

ClubBISTRO

Open Tuesday to Saturday

12pm-2pm and from 5pm

Midweek $10

SPECIAL ROAST

Available Tuesday,

Wednesday, & Thursday

PIERVIEW

Restaurant

Quality a la carte

with a view!

Open from 5.30pm

FRIDAY, SATURDAY

& SUNDAY

OPEN FOR

SUNDAY BRUNCH

By the Seaside!

10.30am-2pm

SUNDAY 3 COURSE

DINNER SPECIAL

$25

SUNDAY BUFFET

Sunday 28th May

ALL YOU CAN EAT

$25 BOOK NOW!

NOW SERVING

available

from

9am

Breakfast

HAPPY

HOUR

5PM - 7PM

DAILY

Bookings Essential PH 386 0088

fb.com/GardenHotelRestaurant www.gardenhotel.co.nz

Live Music:

6PM.FRI.26 MAY

OUR CABINET ITEMS ARE HOMEMADE

CREATED FRESH ON SITE DAILY

$12

LUNCH

SPECIALS

Lunch & Dinner

All you can eat, 7 days

COFFEE

HAPPY

H O U R

2PM-4PM

DAILY

$3.50

Offer available for a limited time

and includes tea, hot chocolate

MON: ROAST MEAL

TUE: FISH & CHIPS

WED: FISH BURGER

THU: ROAST MEAL

SAT: FISH & CHIPS

AVAILABLE

FROM

11.30AM-2PM

FOR A

LIMITED TIME

Sima & Vaieo

PHONE 385 8880 FIND US ON FACEBOOK fb.com/GBCCHCH

THE GARDEN HOTEL COMPLEX | 110 MARSHLAND RD

www.gardenhotel.co.nz | phone 385 3132

H ORNBY

WORKINGMEN'S

CLUB

«WHAT'S ON«

FRIDAY 26 MAY

7PM X-FILES DUO

SATURDAY 27 MAY

4.30PM IAN MAC

8PM MEDIUM RARE

SATURDAY 28 MAY, 1.30PM

ANNETTE'S HEART

OF THE COUNTRY

$6 ENTRY

Club

CAFE

OPEN 7 DAYS

LUNCH & DINNER

Gluten Free &

Vegetarian options

WIN TICKETS TO BONEY M

Spend $15 or more in the CLUB CAFE from

Friday 5th May to Sunday 4th June and go

in the draw to WIN one of three double passes

to BONEY M at the Horncastle Arena on

Thursday 8th June.

«COMING UP«

FRIDAY 23 JUNE, 8PM

TICKETS $20 AT CLUB OFFICE

Chalmers

Restaurant

Early Bird Special

5.30pm – 6.30pm

FRI & SAT

Roast (4 Choices)

and Free Desserts

still only $22.50

Unbeatable value

including your

choice of fresh

Veges and Salads

Hornby WMC | ph 03 349 9026 | 17 Carmen Road | Hornby

www.hornbyworkingmensclub.co.nz | Members, guests & affiliates welcome
---
20 Tuesday May 23 2017

Latest Christchurch news at www. .kiwi

SOUTHERN VIEW

Loose Jazz

Apples

$

6 99

kg

Corned Silverside

$

2 99

kg

$

4 00

each

3for

$

22 99 each

Heineken

12 x 330ml Bottles

(Excludes Light)

$

5 00

Bluebird Original/Thick/

Thinly Cut Chips 140/150g

Sanitarium Up & Go 3 Pack/

Keri Fruit Juice/Drink 2.4/3L

"So far this process

has been straight

forward and very user

friendly." - Sheridan

"I can order my groceries

whilst on my conference

calls at work, then whip

into Barrington on the way

home to quickly pick them

up. It's great" - Michelle

with

.nz

Plus, we're offering you $5 off to give our new service a try...

$5 off!

When you spend $100 or more.

5OFF

Use this coupon code

256 Barrington Street, Christchurch.

Open 7am – 11pm, 7 days.

ClickCollect.nz 332 6364

Use coupon code 5OFF to receive $5 off your Click & Collect order when you spend $100 or more in one transaction. Click & Collect

$5 discount offer valid for a limited time only at FreshChoice Barrington only, exclusions and conditions apply, see clickcollect.nz

for details. Prices apply from Tuesday 23rd May to Sunday 28th May 2017, or while stocks last.

Order online

now.

Order

online

now.

FCSV2305