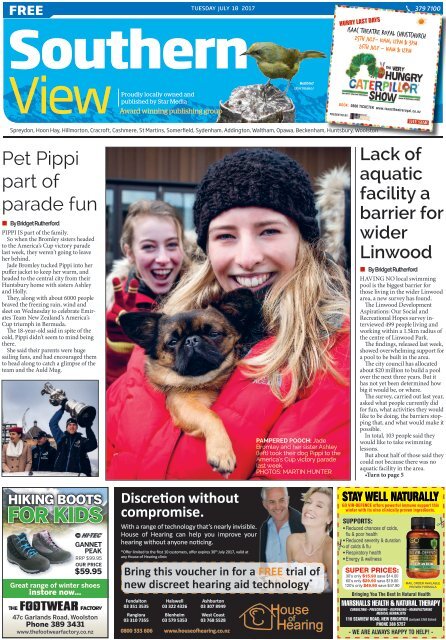 Southern View: July 18, 2017
Create successful ePaper yourself
Turn your PDF publications into a flip-book with our unique Google optimized e-Paper software.
FREE

TUESDAY JULY 18 2017

Southern

HURRY LAST DAYS

ISAAC THEATRE ROYAL CHRISTCHURCH

25th July- 10am, 12pm & 3pm

26th july - 10am & 12pm

379 7100

View

Proudly locally owned and

published by Star Media

Award winning publishing group

Bellbird

(Korimako)

BOOK: 0800 TICKETEK www.isaactheatreroyal.co.nz

PRESENTED BY:

Spreydon, Hoon Hay, Hillmorton, Cracroft, Cashmere, St Martins, Somerfield, Sydenham, Addington, Waltham, Opawa, Beckenham, Huntsbury, Woolston

Pet Pippi

part of

parade fun

• By Bridget Rutherford

PIPPI IS part of the family.

So when the Bromley sisters headed

to the America's Cup victory parade

last week, they weren't going to leave

her behind.

Jade Bromley tucked Pippi into her

puffer jacket to keep her warm, and

headed to the central city from their

Huntsbury home with sisters Ashley

and Holly.

They, along with about 6000 people

braved the freezing rain, wind and

sleet on Wednesday to celebrate Emirates

Team New Zealand's America's

Cup triumph in Bermuda.

The 18-year-old said in spite of the

cold, Pippi didn't seem to mind being

there.

She said their parents were huge

sailing fans, and had encouraged them

to head along to catch a glimpse of the

team and the Auld Mug.

PAMPERED POOCH: Jade

Bromley and her sister Ashley

(left) took their dog Pippi to the

America's Cup victory parade

last week.

PHOTOS: MARTIN HUNTER

Lack of

aquatic

facility a

barrier for

wider

Linwood

• By Bridget Rutherford

HAVING NO local swimming

pool is the biggest barrier for

those living in the wider Linwood

area, a new survey has found.

The Linwood Development

Aspirations: Our Social and

Recreational Hopes survey interviewed

499 people living and

working within a 1.5km radius of

the centre of Linwood Park.

The findings, released last week,

showed overwhelming support for

a pool to be built in the area.

The city council has allocated

about $20 million to build a pool

over the next three years. But it

has not yet been determined how

big it would be, or where.

The survey, carried out last year,

asked what people currently did

for fun, what activities they would

like to be doing, the barriers stopping

that, and what would make it

possible.

In total, 103 people said they

would like to take swimming

lessons.

But about half of those said they

could not because there was no

aquatic facility in the area.

•Turn to page 5

HIKING BOOTS

FOR KIDS

GANNET

PEAK

RRP $99.95

OUR PRICE

$59.95

Great range of winter shoes

instore now…

47c Garlands Road, Woolston

Phone 389 3431

www.thefootwearfactory.co.nz

House

of

Hearing

STAY WELL NATURALLY

GO VIR-DEFENCE offers powerful immune support this

winter with its nine clinically proven ingredients.

SuppORtS:

•Reduced•chances•of•colds,•

•

flu•&•poor•health

•Reduced•severity•&•duration•

•

of•colds•&•flu

•Respiratory•health

•

•Energy•&•wellness

•

SUPER PRICES:

30's only $15.90 save $14.00

60's only $29.90 save $19.00

120's only $49.90 save $47.90

MAIL ORDER AVAILABLE

PROVEN FORMULA

Bringing You The Best In Natural Health

MARSHALLS HEALTH & NATURAL THERAPY

CONSULTING - PRESCRIBING - DISPENSING - MANUFACTURING

MEDICAL HERBALISTS

110 seaVIeW roaD, NeW BrIGHToN (Just past C.N.B School)

pHoNe 388 5757

- We are alWaYs HappY To Help! -
---
2

Latest Christchurch news at www.star.kiwi

Tuesday July 18 2017

Inside

FROM

THE

EDITOR'S

DESK

SOUTHERN VIEW

News..................................... 3-11

IF YOU are a city councillor or

community board member in the

Linwood area, read page 1.

Because the good people of

Linwood are beating the drums

very loudly for a swimming pool.

We reveal today having no local

swimming pool is the biggest

barrier for those living in the

wider Linwood area. The Linwood

Development Aspirations: Our

Social and Recreational Hopes

survey interviewed 499 people

living and working within a

1.5km radius of the centre of

Linwood Park.

About $20 million has been

allocated to a pool over the next

three years. Whether that happens

remains to be seen.

Linwood desperately needs

community facilities and a pool

is a perfect start. The local body

elections are still a way off, but the

pool issue will be a hot election

topic when they come around.

- Barry Clarke

Holiday fun for young gymnasts

KIDSFEST 8

Our People....................4,5

Sport..........................................12

Food................................... 13

Health..................................17,18

Education ................ 20,21

Events.............................................22

Real Estate.....................25

Entertainment...................27

GET IN TOUCH

General Inquiries Ph 379-7100

Classified Advertising Ph 379-1100

The Christchurch Star Company Ltd. PO box 1467 - Christchurch

starmedia.kiwi

ADVERTISING

Richard McCombie

Ph: 03 364 7472

richard.mccombie@starmedia.kiwi

NEW RELEASE

New Benchmark for Recreational Jetboating

Hamilton 470

20 Lunns Rd, Christchurch

Ph: 03 962 0505 Email: john.connelly@hamjet.co.nz

www.hamiltonjetnz.co.nz

Discover Christchurch's

best priced pet

accommodation

• Grooming

cats and dogs

• Daycare -

all breeds

• Long stay/

short stay

Call now to book in your fur baby -

inspections welcome anytime!

aLameDa

kenneLs & cattery

271 Dyers Road | Ph 384 1297

www.alameda.nz

THE JEwEllEry

ValuaTion SpEcialiSTS

Caring for your jewellery since 1990

• Personal service with your

professional valuer

• Qualified, experienced

gemologist & diamond graders

• All valuations completed on

premises

• Validate + Research +

Knowledge = Value

New Location: 2/301 Lincoln Road

www.jvcvaluers.co.nz | (03) 332 4233 | jim@jvcvaluers.co.nz
---
SOUTHERN VIEW Latest Christchurch news at www.star.kiwi

Tuesday July 18 2017 3

News

Expo shows off community

LIVING IN Linwood, Woolston,

Bromley and Phillipstown is

something to celebrate.

That's why the city council

will host It's Great to Live Here

2017 expo on Friday from 11am

to 3pm at Eastgate Shopping

Centre.

The theme this year will be:

Community communication

and connections.

When asked about what they

love about living in greater Linwood,

residents often talk about

the people, the convenience and

the sense of community.

The annual expo, which has

been running for more than 10

years, will celebrate what's great

about living, working, playing

and learning in the area.

The expo is a partnership

between local community

groups and organisations, some

social and public service groups,

Eastgate Shopping Centre, local

businesses and the city council.

Residents, community groups

and businesses come together to

celebrate what they value about

the area, whether it be diversity,

resilience, vibrancy or strong

community spirit.

It also allows people to find

out what is happening in greater

Linwood and what various

community groups and social

MEET UP: The greater Linwood community will come together for the It's Great to Live Here

2017 expo on Friday. ​

services are doing and offering

in the area.

This year, 26 groups will

participate in the expo,

including the Linwood

Resource Centre, Phillipstown

Community Hub and

Community Centre, Bromley

Community Centre, Woolston

Development Project and the

Methodist Mission, among

others

Most of the local groups that

will be present are a part of the

Greater Linwood Forum which

meets once a month.

Some of the great new

initiatives and activities

happening in the area

include the recently launched

community pizza oven at the

Phillipstown Community Hub

and a new community internet

cafe being launched at the

Bromley Community Centre

which will offer free computer

tuition.

Local News

Now

Wheelchair

users will

get to use

beach mat

• By Caitlin Miles

Fire rages, homes at risk

GETTING A wheelchair

across the soft sand at the

beach is about to get easier

thanks to a special mat.

Come the summer season

the North New Brighton Residents'

Association and North

Beach Surf Club will roll out

a special wheelchair mat as a

trial.

It's designed to make it easier

for those in wheelchairs and

with other mobility disabilities

to get from the concrete across

the soft sand and onto the hard

sand near the water.

Association chairman Josiah

Thompson said it was "very

exciting" to be able to provide

the mat so the less able would

not miss out on enjoying the

beach.

The mat will be stored at the

surf club, every morning it will

be rolled out and brought back

in at the end of the day by the

surf club.

Mr Thompson said he hopes

following the trial they will be

able to keep it permanently but

will need to wait and see. ​

Nutritious

Ready

To Go Meals

Heat & Eat

• Lamb Ragout - $1.90 per 100g

• Pork Ragout - $1.75 per 100g

Ready Meals

• Ginger Pork Stirfry - $1.95 per 100g

• Coconut & Curry Stirfry - $1.50 per 100g

Cuisine Artisan Award Winner 2017

303 Colombo Street (opposite Funky Pumpkin)

Telephone: 03 337 2929

Hours: Monday to Saturday 8am-6pm & Sunday 9am-5pm

www.eurogourmetmeats.co.nz

learn

NICKY WAGNER

MP FOR CHRISTCHURCH CENTRAL

A

E

P

W

103 Salisbury Street

Central Christchurch

PO Box 21359

Christchurch 8143

chch.office@parliament.govt.nz

(03) 365 8297

www.nickywagner.co.nz

NEW

membership

FREE pool access included.

Funded by the Parliamentary Service and authorised

by Nicky Wagner, 103 Salisbury Street, Christchurch

Recreation &

Sport Centres
---
4 Tuesday July 18 2017

Latest Christchurch news at www.star.kiwi

Our People

SOUTHERN VIEW

Richard Jolly

Former oil trader finds reward

Teacher Richard Jolly is

head of social science at

Linwood College but in

his former life, he was a

London-based oil trader

who travelled the world.

Sarla Donovan talks to

him about what a trader

does and why he moved

to Christchurch

Oil trader to social studies

teacher – why the change?

To do something worthwhile

and bring up a family in

Christchurch. I taught in Camp

America for a year before oil

trading and loved it. I wanted to

go back to it; teaching students is

very rewarding – and there's not

many oil trading jobs here.

It sounds exotic.

It is exotic. I travelled to many

countries – the United States

lots of times, Egypt and Russia

and the Baltic States. I was

based in London, but did a lot

of work in Hamburg and Zug

in Switzerland. It's a great life,

but if you have small children

you never see them. I spent

hours and hours oil trading

and realised one day, sitting

at my desk that I was paying a

nanny to take my daughter to

the beach. That's really when

I decided to make the change.

That was 14 years ago. We

moved from Switzerland to New

Zealand and I trained at the

New Zealand Graduate School

of Education. My wife Beth is

from Methven but it wasn't all

her choice, she certainly wasn't

putting the pressure on to come

back.

What do oil traders need to

be good at, what's involved?

You need to be good with

people, good with numbers

and good at making decisions.

I'd make contacts in different

countries, buy large quantities

of oil, organise shipping, ship

it halfway across the world,

hedge the price using the futures

market, talk to refineries to

process it. So, you have to work

with a lot of different people.

Are there any similarities

between the two jobs?

Not a lot – the lunches are

quite different! You're still

working with people

though, that's the same.

So were you

here during the

earthquakes?

Yes . . . but I wish I wasn't.

How did they affect

you?

Not good.

We lost our

house in the

February 2011

earthquake

and like many,

it took six years

to get it replaced.

Meanwhile, we

moved 13 times,

including one

year back in

the UK.

I was offered a job back in oil

trading when we went back but

chose to stay in teaching and

worked in a very posh English

public school, Dauntsey's.

So Linwood's not the only

school you've taught at?

No, prior to the earthquake

I worked at Catholic

Cathedral College, which I

very much enjoyed, and

only left because my

house was destroyed.

I commuted in

from Methven

for a few

months but

then got

a job at

Mt Hutt

College followed by a spell back

at Dauntsey's.

Did you grow up in the

countryside back in the UK?

I grew up in a town called

Beaconsfield, just outside of

London, and it was great but the

town has now been swallowed

by London commuters and is

not really very nice now.

Are your family still back in

the UK?

Yes, people are still around.

My parents have lived in the

same place for 52 years and I

try to get back every year or

18 months. I also have four

brothers over in that part of the

world.

PEOPLE: Teaching and oil trading are both peoplefocused

jobs, says Richard Jolly.

PHOTO: GILBERT WEALLEANS

Nuk Korako

National list MP based in

the Port Hills

A

E

P

6/950 Ferry Road, Ferrymead

nuk.korakomp@parliament.govt.nz

03 384 0008

facebook.com/nukkorako.PortHills

Shop online

with the in

store special

prices!

Discount code:

Goat

themohairstore

korako.co.nz

Funded by the Parliamentary

Service and authorised by

Nuk Korako, 6/950 Ferry Road,

Ferrymead, Christchurch

140 Colombo Street, Beckenham

Phone 03 943 1639

www.themohairstore.co.nz

SOLD

SOLD
---
SOUTHERN VIEW Latest Christchurch news at www.star.kiwi

Tuesday July 18 2017 5

in teaching

News

No pool a barrier for Linwood

•From page 1

Thirty-three others said there were not

enough community facilities and spaces

for social and recreational activities.

City councillor Yani Johanson said the

survey results were a good reminder for

why the area needed a pool.

"There's been a really strong desire and

need for a pool and recreation centre for

a long time."

Of the 81 children interviewed, 28 said

they wanted a swimming pool.

Eighty-nine 13 to 25-year-olds were

interviewed.

Nineteen said they wanted to be able to

go swimming, but many said there were

no facilities close by, and it was too far

to travel to one. Twenty-seven said they

wanted a pool.

Of the 210 26 to 64-year-olds interviewed,

45 wanted to be able to go swimming

for leisure, but 28 said there were

no facilities nearby.

Seventy-two wanted a pool.

One-hundred-and-nineteen people

over the age of 65 took part in the survey,

with 18 saying swimming or aqua exercise

was something they wanted to be

able to do.

However, 12 said having no local pool

stopped them from doing that, and 30

wanted some sort of aquatic facility.

Did you attend a co-ed school like

Linwood?

No, I went to a boys grammar school; we

were academics and rugby. The teachers

wore gowns and it was very formal. The

school was good for me, it got me into

Cambridge University where I studied

engineering. It was amazing – I was there

for three years – we had our bicycles, played

sport, rugby and hockey. And from there I

won a scholarship to do my masters in the

US, then became an oil trader.

Your three kids must keep you pretty

busy these days. Do you find time for

sports or hobbies?

I sometimes think I run a taxi service;

football, ballet, gymnastics. Weekends

involve cheering my kids on in their

sports and trying to get out myself for a

hit of tennis or a round of golf. I think it's

important that we find time to balance our

lives, it makes you a better parent and a

better teacher.

Where are you off to in the school

holidays?

We're heading over to Australia for

a family holiday. Very much looking

forward to it.

ACHIEVER: Bao

Tran is Barrington

Kip McGrath's Star

of the Month. His

tutors said he has

made tremendous

academic progress

during his time at

Kip McGrath. His

tutor said this is

strongly reflected in

the fact that Bao is

so focused in class

and completes his

homework to a very

high standard. He is

such a pleasure to

tutor.

shop

for discounts

65 + =

Savings

SENIOR DISCOUNTS

Available at

Paper Plus

Barrington.

SENIORS

enjoy...

10%

10%

10%

10%

OFF MAGAZINES

OFF BOOKS AND STATIONeRY

OFF CARDS and gifts

off games, toys and puzzles

BARRINGTON

256 Barrington St PH: 332 7997

Some terms and conditions apply.

See instore for details.
---
6 Tuesday July 18 2017

Latest Christchurch news at www.star.kiwi

News

HURRY LAST DAYS

ISAAC THEATRE ROYAL CHRISTCHURCH

25th July- 10am, 12pm & 3pm 26th july - 10am & 12pm

BOOK: 0800 TICKETEK www.isaactheatreroyal.co.nz

PRESENTED BY:

SOUTHERN VIEW

CHRISTCHURCH musicians

feature prominently in the

National Brass Band of New

Zealand, which was named

runner-up in the brass band

section of the World Music

Contest.

A third of the band members

are from Christchurch, with all

but one playing for Woolston

Brass.

The contest is held every

four years in Kerkrade, the

Netherlands.

The New Zealand band's

programme opened with Whakarangatiratanga,

commissioned

from New Zealand composer

Gareth Farr.

The programme also featured

a new major work written for

the band by renowned English

composer Peter Graham. The

39 th Parallel is based on the

landscape and mythology of the

Wanganui region in memory of

brass band icon Kevin Jarrett.

This year more than 20,000

musicians, making up 260 bands

from 32 countries and five continents,

participated.

The band performed concerts

in Stein, the Netherlands,

and Aachen, Germany, before

returning to New Zealand last

week.

The 13 Christchurch musicians

are Kevin McMorran,

New Brighton, Anthony

SUCCESS:

The National

Brass Band

of New

Zealand,

which

includes 13

Christchurch

members,

were

runners-up

in a section

of the World

Music

Contest. ​

Success for Woolston brass members

Smith, Sydenham, Kevin

Hickman, Sydenham, and his

brother Graham, Huntsbury,

Andrew Yorkstone, Burnham,

Joe Thomas and Sam

Pinder, Hoon Hay, Phillip

Johnston, Spreydon, Nigel

Seaton and his son Jordan

(the youngest member of

the national band at 20 years

of age), John Mason, Burnham,

Cameron Lee, Ilam and

Vaea Peterson, Halswell.

Wheelchair

users will

get to use

beach mat

• By Caitlin Miles

GETTING A wheelchair across

the soft sand at the beach is

about to get easier thanks to a

special mat.

Come the summer season the

North New Brighton Residents'

Association and North Beach

Surf Club will roll out a special

wheelchair mat as a trial.

It's designed to make it easier

for those in wheelchairs and

with other mobility disabilities

to get from the concrete across

the soft sand and onto the hard

sand near the water.

Association chairman Josiah

Thompson said it was "very exciting"

to be able to provide the

mat so the less able would not

miss out on enjoying the beach.

The mat will be stored at the

surf club, every morning it will

be rolled out and brought back

in at the end of the day by the

surf club.

Mr Thompson said he hopes

following the trial they will be

able to keep it permanently but

will need to wait and see. ​

fall in

Love

with your

favourite

furniture

all over again.

30 YEARS

EXCELLENT

RANGE OF FABRICS

Recover your couches and chairs and save money!

BEFORE

AFTER

EXPERIENCEFREE

QUOTES

Somerfield Upholstery Ltd

FURNITURE RECOVERY SPECIALIST

10 Calgary Place, Hornby | Ph 021 251 6200 | 349 0456

VISIT OUR SHOWROOM | QUALITY WORKMANSHIP GUARANTEED

www.somerfieldupholstery.co.nz

Paul Tainui

UNDER NEW MANAGEMENT

W.O.F $40 BOOKINGS REQUIRED SEE US TODAY

WINTER SERVICE

SPECIAL

"IF IT DOESN'T START - IT WON'T CUT!"

for Rotary Mowers

$100 & Electric Reel Mowers

$195 for Petrol Reel Mowers

$60 for Hand Mowers

FREE PICK UP & DELIVERY IN

CHRISTCHURCH UNTIL 31ST JULY 2017

eDGEWARE

MOWERS & CHAINSAWS

237 Westminster St, Christchurch

Ph. 03 366-3924

www.edgewaremowers.co.nz

Convenient, Healthy,

Fresh Meals.

Simple to Store,

Heat and Eat.

Pick Up or

Delivered Weekly.

NEW LOCATION ADVERT.pdf 1 1/05/2014 11:51:35 a.m.

HealtHy Heat

& eat meals

delivered to your door

VISIT OUR NEW LOCATION LOCATION

9 Raycroft St, Opawa

P. 03 420 0722

orders@eatl8r.co.nz

www.eatl8r.co.nz

430 ST ASAPH STREET!

RECOVER YOUR LOVED FURNITURE

No job too big or small

TYRES • SUSPENSION • WOF • ALIGNMENT • SERVICING

NITROGEN • BRAKES • BATTERIES

SELECT TYRE & AUTO SERVICE HORNBY

Ph: (03) 349 5505 • 39 Carmen Road

Monday - Friday 7.30am to 5pm | Saturday 9am to 12 noon

Hours of Business: 7am-4.30pm Mon-Thurs

Fri 8am to midday

or by appointment with Keith 027 566 3909

Still able to offer

you the finest top

quality new furniture

Visit us online

www.qualityfurniture.co.nz

P. 371 7500

QUALITY FURNITURE SPECIALISTS

RE - UPHOLSTERY SPECIALISTS KEITH HARTSHORNE 0275 663 909
---
SOUTHERN VIEW Latest Christchurch news at www.star.kiwi

Tuesday July 18 2017 7

manufacturers clearance

5000 metres

of slightly imperfect stock to clear

LIMITED STOCK

LIMITED STOCK

3 COLOURS

Madison $65

Columbia $79.90

Capricorn $60

Riviera $75

Ashwood $69.90

SOLD

LIMITED STOCK

Calisto $35

Action $60

Action Pampas $60

Alpacco Rig $69.90

Ashwood $69.90

LIMITED STOCK

Berber Vouge $60

Brookhaven $69.90

York Street $79.90

Canyon Ridge $69.90

Brookhaven $69.90

LIMITED STOCK

Brookhaven $69.90

Riviera 1st grade $75

Canyon Ridge $69.90

Brookhaven $69.90

Ashwood $69.90

SOLD

Aquarius Town $35

Bayside Twist $79.90

Carters Ville $79.90

Brookhaven $60

Horizon Sea Fog $85

Call for our mobile showroom

to visit your home

312 Wilsons Road North, Waltham Phone 366 0070

www.carpetkingdom.co.nz | Mon - Fri 8am - 5pm | Sat 10am -1pm

Q Card Finance Now Available

FREE no obligation measure & quote (conditions apply.)
---
8 Tuesday July 18 2017

Latest Christchurch news at www.star.kiwi

In The Neighbourhood

GO LOCAL

Care Free Computing provides

a one-stop solution for all of

your computing needs - from

new computers, laptops and

printers to network setup,

maintenance and performance

tuning.

Bring your computer into

their Wigram Skies location

or call them today to arrange

your house call pickup at

0800PCPICKUP.

Johnny Ellery (Owner)

PC Problems?

SOUTHERN VIEW

Saturday 8 –

Saturday 22 July 2017

Winter holiday

gymnastics fun

Children taking part in KidsFest activities avoided the winter

blues these school holidays. From gymnastics to

fudge-making, ice skating in Cathedral Square, sumo wrestling

and treasure hunting, there has been something for everyone

to take part in.

Discount

for $20

with this

voucher

PC slow? Annoying errors and Pop Ups?

Internet not working? Are you secure?

Not really sure?

care free computing

Relax, with over 15 years experience

we have the answers to ALL your PC

problems. And we have a range of

unique fixed price services available.

Best of all we come to you

- at no extra charge.

Call on 0800 PC PICKUP

(0800 727 4251) or 338 8871

www.carefree.co.nz

Norma Lill

Key attributes that distinguish my success

in Real Estate are centered around:

• High standards

• Extraordinary work

• Ethics

And lots of energy

with a great

commitment for

exceeding outcomes.

Just call me on

027 432 5168

" I am still

learning, still

inspired, still

loving every

minute. "

Barrington Mall, Christchurch

PHOTOS: MARTIN HUNTER

NO BACK PAIN: Madeleine Devos, 12, of Beckenham, stands on her head

during a school holiday programme at Olympia Gymnastic in Hornby. Sasha

Begg, 9, and Zita Fairbass, 10, both from Halswell, show their class in rhythmic

gymnastics.

themohairstore

Experience the warmth-without-weight feeling

that luxurious New Zealand-made Mohair and

Alpaca throws provide.

If you love New Zealand made natural fibres,

then you will be spoilt for choice at

The Mohair Store.

Shop online with the in

store special prices!

Discount code: Goat

Ad size: 9x4 (90cm x 130cm)

140 Colombo Street, Beckenham

Phone 03 943 1639

www.themohairstore.co.nz
---
SOUTHERN VIEW Latest Christchurch news at www.star.kiwi

Tuesday July 18 2017 9

ENCOURAGED

BY KIDSFIRST

HOURS

FREE

EACH DAY

FOR ALL CHILDREN

6Ask about no fees. Conditions apply.

2017

OUR YEAR

OF INSPIRATION

QUALIFIED TEACHERS

GREAT LEARNING

ENVIRONMENTS

With over 70 Kidsfirst Kindergartens and Early Learning Centres,

there's one near you, visit our website for more information...

www.kidsfirst.co.nz

KF 1707
---
10 Tuesday July 18 2017

Latest Christchurch news at www.star.kiwi

SOUTHERN VIEW

HEALTH

&

BEAUTY

17th - 23rd July 2017

WEEK

WEEK24

On now!

29 30 31

$3 00

save

from

each

$2 09

Garnier Fructis

Shampoo/

Conditioner 250ml

$

11 99

kg

Fresh NZ Lamb Leg Roast

$

1 49

head

Fresh Broccoli

$

4 50

each

Westgold Butter 400g

$

19 99

pack

$

8 99

each

Kingfisher/NZ Pure/Oranjeboom

12 x 330ml Bottles

Selaks 750ml

(Excludes Reserve/Founders/Taste Collection)

$

5 99

each

Hummingbird Coffee 200g

with

.nz

Plus, we're offering you $5 off to give our new service a try...

$5 off!

When you spend $100 or more.

5OFF

Use this coupon code

256 Barrington Street, Christchurch.

Open 7am – 11pm, 7 days.

ClickCollect.nz 332 6364

Use coupon code 5OFF to receive $5 off your Click & Collect order when you spend $100 or more in one transaction. Click & Collect

$5 discount offer valid for a limited time only at FreshChoice Barrington only, exclusions and conditions apply, see clickcollect.nz

for details. While stocks last at FreshChoice Barrington only. We reserve the right to limit quantities. Trade not supplied.

Order online

now.

Order

online

now.

fcsv1807
---
SOUTHERN VIEW Latest Christchurch news at www.star.kiwi

Tuesday July 18 2017 11

News

Halswell shelter recaptures past

THE STORY of a women's

refuge has been captured in a

Halswell shelter.

Canterbury's heritage has

been reflected in a remembrance

structure that recalls

and tells the story of Mount

Magdala, an 1880s women's

refuge and its historical farm

buildings.

Titled A Place to Shelter, the

new structure in McMahon

Reserve outlines the history

of the area and incorporates

repurposed heritage material

from the original Mount Magdala

farm.

The Halswell-Hornby-

Riccarton Community Board

has been involved in the design

options.

"We are delighted a new

remembrance structure now

features in McMahon Reserve,

incorporating heritage material

from the original Mount

Magdala farm. It brings history

to life in the Aidanfield area,"

Community Board chairman

Mike Mora said.

The shelter stands on the

site of the farm that once provided

all the food for Mount

Magdala, and, later, St Joseph's

Orphanage.

It presents a new chapter in

the story of the many shelters

sited on the land.

By using material from the

original farm, it acknowledges

the rural and social history of

the area now known as Aidanfield.

Indeed, Aidanfield was

named after one of Mount

Magdala's founding sisters,

Mother Aidan Phelan.

Mount Magdala was a largely

self-sufficient home run by the

Sisters of the Good Shepherd.

The farm buildings were

arranged in a U-shape with

a central courtyard, replicating

the traditional English

farmstead seldom seen in New

Zealand.

HISTORY:

The new

information

shelter in

Halswell

tells the

story of a

pioneering

women's

refuge. ​

Mount Magdala provided

food and shelter for hundreds

of women, and later children,

until 1966.

The official opening of A

Place to Shelter will be held on

Sunday at 11.45am at McMahon

Reserve on the corner of

McMahon Drive and Aidanfield

Drive.

Christchurch Civic Awards

2017

Each year, the Christchurch City Council gives

awards to those individuals and organisations

who have performed substantial service

( usually of a voluntary nature) or made

important contributions to the city and the

lives of its people. Any significant service

that is seen as worthy of recognition may be

presented for civic commendation.

Nominations are invited for the 2017

Christchurch Civic Awards.

If you wish to nominate someone, please

visit the Christchurch City Council website

ccc.govt.nz ( KEYWORD: Civic Awards) to

download a nomination form. Forms can also

be collected from Council service centres and

libraries.

Completed nominations should be forwarded

in a sealed envelope to:

Civic Awards

Civic and International

Relations Team

Christchurch City Council

Civic Offices

PO Box 73016

Christchurch 8154

No later than 5pm, Friday

18 August 2017.

For more information contact:

Milinda Peris

941 8251

milinda.peris@ccc.govt.nz

DESIGNER

FASHION

AT OUTLET

PRICES

SMART

BRANDS

SMARTER

PRICES

HORNBY 409 Main South Road |

Open 10am–5pm, 7 days
---
12 Tuesday July 18 2017

Latest Christchurch news at www.star.kiwi

SOUTHERN VIEW

TOP EFFORTS: Celyn Edwards (left) and his brother, Ieuan Edwards (right) have had

a solid showing at the world para swimming series event held in Berlin from July 6-9.

SWIFT:

Celyn, 16,

now has

the record

times for 50

and 100m

butterfly, 50

and 100m

freestyle, 50

and 100m

breaststroke

and 50m

backstroke

in the S8

classification

category.

Hillmorton student holds new national records

• By Andrew King

A NUMBER of national

swimming records now belong

to Hillmorton High's Celyn

Edwards after a solid showing at

the world para swimming series

in Berlin.

Celyn, and his brother Ieuan,

travelled with the five-strong

New Zealand team which broke

one Oceania and 10 national

records, had a number three in

the world-ranked performance,

three swimmers achieving

Commonwealth Games

qualifying times and 20 personal

bests.

Celyn, 16, now has the

record times for 50 and 100m

butterfly, 50 and 100m freestyle,

50 and 100m breaststroke

and 50m backstroke in the S8

classification category.

He said he was pleased with

his performance, but was

mentally and physically

tired.

"I really enjoyed the experience

of being able to see all the

other swimmers from all over

SPORTS

the world. I'm very happy with

my performance and know what

to work on in the future, my

coach has given me some things

to change," he said.

Fourteen-year-old Ieuan didn't

manage to break any records but

broke six of his own personal

bests in the 50, 100 and 200m

breaststroke, 50 and 100m backstroke,

50 and 100m freestyle

events.

In the 200m breaststroke, he

beat his previous best by 11sec.

"It was a great to be able to

swim at an international meet. I

felt that in all of my races I gave

my all. It was hard to walk up

the stairs after races back to my

coaches as my legs were so tired,"

he said.

The next event on the horizon

for the Edwards brothers are the

South Island championships in

Blenheim in August followed by

the short course championships

held in Auckland in October.

Celyn's big goal is to qualify

for the Commonwealth Games,

while both want to represent

their country at the Paralympics.

"As parents, we are really

proud of the way the lads have

applied themselves and worked

very hard over the years to reach

their goals. It was terrific to see

them enjoy the competition

and have the success they have

strived for," mother Nicky Edwards

said.

Both swimmers represent the

Selwyn Swim Club.​

New treatment for fungal nails

Feet First, the long-established

podiatry clinic in Upper Riccarton, now

has a much more efficient and effective

means of dealing with the problem of

fungal nails, thanks to a new machine

they recently obtained from Britain,

where it was designed and trialled.

Clearanail is a procedure where the

Podiatrists use a machine to make

tiny holes in the nail without affecting

the nail bed – a completely pain-free

procedure that then allows the topical

application of antifungal

solution to directly reach the

problem area.

Fungal nails may cause

the toenail to thicken, which

consequently can make shoes

feel uncomfortable. Anyone

who believes they have a fungal

infection of the nails is invited

to make an appointment for a

consultation with Feet First so one of the

qualified Podiatrists can assess if that is

the case, and if so, will recommend the

Clearanail procedure. This involves the

initial treatment, and three follow-up

appointments at monthly intervals to

check progress.

"Fungal nail infections won't disappear

immediately," clinic director Charlotte

Russell says, "so people need to commit

to the process, which can take up to four

months as the nail grows."

effective treatment, Feet First has

another unique feature – the Shoe

Room. Here, clients can browse

through a wide selection of 'fashionable,

functional footwear' for men and

women that not only provides support

and comfort, but also looks modern and

attractive.

The four registered and experienced

Feet First Podiatrists offer the full range

of podiatry services for all ages and all

conditions, with customised treatment

provided for every client. They also

offer a range of quality foot treatment

products, including the German brand

Gehwol.

The clinic at 37 Main South Road is

open Monday to Friday from 8.30am to

5pm, with late nights on Monday and

Thursday to 7pm by appointment. The

Shoe Room is open Monday to Friday

9am-4pm. There is on-site parking

available.

Feet First also runs several satellite

clinics. These are at the Marshland

Family Health Centre, Marshland

Road on Mondays, the Redcliffs

Clinic, Augusta Street, on Wednesday

afternoon and Friday morning, the

Waltham Medical Centre, Waltham

Road on Wednesday afternoon, and at

Darfield Pharmacy on Friday.

NEW TECHNOLOGY TO TREAT FUNGAL NAILS

The Clearanail machine and

related products.

Clinic director Charlotte Russell displays

one of the modern boot styles available

in the Shoe Room.

She says now is an ideal time to start

fungal nail treatment with Clearanail,

so nails will be looking healthy again

when the warm, sandal-wearing

weather arrives. Feet First has an

introductory offer on Clearanail until

the end of July.

Call them on 348-7910 for details.

In addition to offering this highly

A simple solution to a complex problem before after

37 Main South Road, Upper Riccarton | Ph 348-7910 | www.feetfirst.co.nz
---
SOUTHERN VIEW Latest Christchurch news at www.star.kiwi

Tuesday July 18 2017 13

GREAT food

BROUGHT TO YOU BY...

Your fresh food people

CHICKEN BREAST WITH

MUSHROOM STUFFING

AND MARSALA GLAZE

Ingredients

1 Garlic clove

1 Shallot, or small onion, diced

15g Butter

50g White Button mushrooms

2 slices Bread, stale and diced

1 Tbsp Parsley, finely chopped

1 Lemon, zest

2 Chicken breasts

1 Tbsp Oil

3 Tbsp Marsala, or sherry

2 Tbsp Cream

Directions

Stuffing

In a small frying pan, fry the

garlic and shallot in the butter

until translucent. Add the mushrooms

and fry for 2-3min until

cooked. Add the breadcrumbs,

cooking until the butter has

been absorbed.

Take off the heat, add the parsley

and lemon zest and season

with salt and freshly ground

black pepper.

To cook the chicken

Heat the oven to 180 deg C.

Stuff the chicken breast by lifting

the tenderloin up (if there is no

tenderloin, ignore this). Press

half of the stuffing on to the

breast meat. Cover the stuffing

with the tenderloin. Wrap the

breast with kitchen string to secure

the stuffing in place and tie.

Repeat with second breast.

Heat a frying pan and add oil.

Add the breasts skin side down

and season with salt. When

browned on one side, turn and

season again. After 3min, place

the pan in the hot oven for a further

10-12min or until cooked.

Remove from the oven and

cover with foil to rest for 5min.

To serve, place the chicken on a

chopping board and remove the

string.

Slice in half and place on a

warmed plate. Cover with foil

while you make the sauce.

Return the pan of chicken

juices to the hob. Add the

marsala or sherry and let it

reduce for 2-3min (this is called

de-glazing). Add the cream and

taste for seasoning. Pour the

sauce over the chicken. You may

need to pour over through a

sieve to remove any burnt pan

leftovers. Season with freshly

ground black pepper. Serve with

potatoes and greens.

BROAD BEAN, SNOW PEAS,

AVOCADO AND TOMATO

SALAD

Ingredients

500g Frozen broad beans

100g Snow peas

2 Avocados

250g Cherry tomatoes

Dressing

½ cup Avocado oil

¼ cup Cider vinegar

1 tsp Sugar

1 tsp Mustard

1 tsp Salt

1 to taste Cracked black pepper

Directions

Thaw beans. Peel grey skin off

beans. Wash snow peas and cut

in half lengthways. Cut avocado

in half, then remove stones and

peel. Chop avocado roughly.

Wash tomatoes and cut in half.

Toss beans, snow peas, avocado

and tomatoes with dressing.

Dressing: Combine avocado

oil, vinegar, sugar, mustard, salt

and pepper.

GLAZED APRICOT YAMS

Ingredients

500g Yams, Apricot variety

1 can Apricot halves, approx.

410g, in syrup

2 Tbsp Sugar

1 Tbsp Cornflour

1 pinch Salt

1 pinch Ground cinnamon

¼ cup Orange juice, use up to

½ cup

Directions

Nip any little loose ends from

the yams. Boil or steam for 10-

15min or until cooked. Preheat

the oven to 190 deg C. Place the

yams in a lightly buttered 28cm

oval baking dish. Drain the apricots

reserving the syrup. Place

the apricots over the yams.

Combine the sugar, cornflour,

salt and cinnamon in a saucepan.

Combine the syrup with

enough orange juice to make

¾ of a cup. Stir into the sugar

mixture and heat, stirring, until

thickened. Pour over the apricots

and yams.

Bake for 20min, until sizzling

and lightly browned.

Large Leeks ................. 1 .49

each

Avocados ........................ 1 .99

EACH

Jazz Apples ....................... 2 .69

kg

White Button

Mushrooms 400g bag ... 3 .99

bag

Snow Pea & Sugar

Snap Combo 150g ........... 3 .99

pack

Yellow or Apricot

Yams 500g bag .................. 4 .99

BAG

Lamb Shoulder Roast .... 9 .99

kg

Chicken Breasts

NEW SEASON

(Skinless) ............................ 10 .99

kg

Beef rump steak ......... 13 .99

kg

All our fresh meat is 100% NZ FARMED.

specials VAlid 17th juLY - 23rd juLY 2017. ONLY AVAILABLE AT

RAEWARD FRESH HAREWOOD RD, TOWER JUNCTION & MARSHLAND RD

harewood rd Mon–Fri 7.00am–6.30pm Sat–Sun 8.00am–6pm

Tower junction Mon–Fri 8.00am–6.30pm Sat–Sun 8.30am–6pm

MARSHLAND RD Mon–Sun 8.00am–6:00pm

WWW.

.CO.NZ
---
Deans Ave

14 TUESDAY JULY 18 2017

Latest Christchurch news at www.star.kiwi

SOUTHERN VIEW

SPITAL

LICHFIELD ST

AVON RIVER

MONTREAL ST

ANTIGUA ST
---
Oxford Tce

Oxford Tce

SOUTHERN VIEW

Latest Christchurch news at www.star.kiwi

TUESDAY JULY 18 2017 15

PROJECT WHAT'S IT ALL ABOUT? STATUS

1. Avon River

Precinct – The

Promenade

New city waterfront with shared-space streetscape,

paved areas, art, gardens, lighting and seating.

• Finishing in stages. Montreal to Durham Street

will be mostly complete this year.

2. Victoria Square

Restoration

Making it safer and more accessible. • Opening in early 2018.

3. East Frame Around 900 new homes for 2000 people and the

3rd largest public space in the central city.

4. South Frame People-focused laneways and gathering spaces,

connecting the Innovation Precinct with the

Health Precinct.

• Public spaces opening in early 2018.

• First 20 homes finishing in mid-2018. Next set

of homes finishing in 2019.

• Opening in stages.

• Evolution Square in the Innovation Precinct

opening in late 2017.

5. Durham Street,

Manchester

Street and

Hospital Corner

Improving the streets, ready for the future

demands on the travel network.

Bealey Ave

• Major work finished on Durham and

Manchester Streets.

Bealey Ave

• Goal is to finish outstanding work by the

end of 2017.

6. Convention

Centre

• 1400 delegate auditorium

• 3600m 2 exhibition hall

• Ground preparation is finished.

• Construction starts soon.

BUS

INTERCHANGE

SOL

SQUARE

SCOULAR PARK

ECAN

Harper Ave

MANCHESTER ST

EPIC

C1

7. Metro Sports

Facility

8. Canterbury

Earthquake

National

Memorial

Park Tce

• 1600m 2 meeting rooms

The largest aquatic and indoor recreation and

leisure facility in New Zealand.

MADRAS ST

Victoria St

Salisbury St

• Early works underway.

• Construction starts this year.

A place to remember. • Finished in February 2017.

Peterborough St

Kilmore St

Montreal St

Cranmer Square

Victoria St

Durham St

Colombo St

Salisbury St

• Take a virtual tour at:

www.canterburyearthquakememorial.co.nz

Peterborough St

Manchester St

Cambridge Tce

Madras St

Salisbury St

Peterborough St

Barbadoes St

Armagh St

Armagh St

Riccarton Ave

Rolleston Ave

Gloucester St

Worcester Blvd

Hereford St

Cashel St

Montreal St

Oxford Tce

Cambridge Tce

Cashel St

Lichfield St

Colombo St

Gloucester St

Worcester St

Hereford St

High St

Manchester St

Latimer Square

Madras St

Barbadoes St

Tuam St

Tuam St

Hagley Ave

Antigua St

St. Asaph St

Montreal St

Durham St

St. Asaph St

Colombo St

Manchester St

St. Asaph St

Madras St

Barbadoes St

Moorhouse Ave

Moorhouse Ave
---
16

Latest Christchurch news at www.star.kiwi

Tuesday July 18 2017

SOUTHERN VIEW

raNGiora • Northwood • st martiNs • tower juNctioN • BishoPdaLe • raNGiora • Northwood

Northwood • st martiNs • tower juNctioN • BishoPdaLe • raNGiora • Northwood • st martiNs • tower juNctioN • BishoPdaLe •

THE

BOOK

BIGEVENT

30 %

off

BOOKS

STOREWIDE

PLUS GET THESE

HOT DEALS

INSTORE!

PAPERBACKS

$4.99

EACH

RRP $64.99

$

44 .99

ANNABEL LANGBEIN

ESSENTIAL

EDUCATIONAL

Follow us on

Facebook:

BOOKS

READ MORE

3 FOR

$10.00

FOR LESS

NEW RELEASES AT HOT PRICES!

RRP $29.99

$

20 .99

JAKE BAILEY

WHAT CANCER

TAUGHT ME

RRP $24.99

$

17 .49

DAVID WALLIAMS

WORLD'S WORST

CHILDREN 2

PICTURE BOOKS

RRP $22.99

$

16 .09

JAY ASHER

13 REASONS

WHY

ALEX RIDER SERIES

$3.99

EACH

@papertreestores

@papertreestores

RRP $36.99

$

25 .89

LEE CHILD

NO MIDDLE

NAME

ONLY $

4 .99

EA

OR 3 FOR

$12.00

tower junction, off Clarence St, Riccarton | Bishopdale, 31 Bishopdale Court, Bishopdale | rangiora, 206 High Street, Rangiora

Northwood supa centre, Main North Road, Belfast | st martins shopping centre, Wilsons Road, St Martins

• st martiNs • tower juNctioN • BishoPdaLe • raNGiora • Northwood • st martiNs • tower juNctioN • BishoPdaLe • raNGiora
---
SOUTHERN VIEW Latest Christchurch news at www.star.kiwi

Tuesday July 18 2017 17

FOCUS ON HEALTH

Time Honoured

Remedy

Are you

Magnesium

According to a country Doctor "D.C. Jarvis"

from Vermont in the USA cider vinegar and

honey (CV & H) can be an important part of

a long healthy life. Dr. Jarvis noted Vermonters

who regularly consumed cider vinegar and

honey had excellent health with many putting

in a vigorous day's work on the farm even

when well into their eighties.

Dr. Jarvis found the effects of cider vinegar

and honey on arthritis can be remarkable

with many patients reporting almost total

relief after taking a course of the cider vinegar

and honey. Dr. Jarvis surmised that the acid

and potassium in cider vinegar counteracted

calcium deposits and helped the body control

calcium use.

As well as a general tonic Dr. Jarvis found

regular administration of cider vinegar and

honey at the onset of complaints such

as the common cold, sinusitis,

asthmatic attacks, hay fever,

and childhood diseases

such as chicken pox

and measles, was

accompanied by

an improvement

in the condition

with symptoms

either disappearing,

or the conditions were

extremely mild and soon

over.

Apple cider vinegar contains all the goodness

of the apple in a form that is readily accepted

by the body. Scientists have found over 90

different substances in ACV, among them 20

important trace elements, minerals, essential

enzymes, a number of different acids including

malic acid, amino acids and roughage in the

form of potash and pectin. A scientific study

at the Shizuka University in Japan has proven

ACV to have potent antioxidant benefits (It can

destroy free radicals, which are a major factor

in ageing.) and also the ACV can break down

cholesterol formations in the blood vessels.

ACV and H is a powerful tonic that also

promotes digestion, assimilation of nutrients

and elimination of waste, and helps neutralize

any toxic substances that enter the body.

It is important to note not all cider vinegar

is made in the traditional way and results are

likely to prove disappointing with these other

vinegars.

Further information is available from the

Natural Health Advisers at Marshall's Health

& Natural Therapy, 110 Seaview Road, New

Brighton, Phone: 388-5757. We are Always

Happy to Help!

deficient?

Minerals are the building blocks of

good health. Some minerals are only

needed in trace amounts where others

like magnesium are needed in much

larger amounts and on a regular basis to

prevent deficiency and maintain optimum

health. A large number of us do not

obtain sufficient magnesium from our

diet and may notice some of the common

signs of deficiency. Some of the more

common symptoms that may be caused by

insufficient magnesium are: leg and muscle

cramps, twitches, muscle pain, muscle

fatigue and weakness, tremors of hands,

blurred vision, restlessness, poor sleep,

raised and/or unstable blood pressure,

poor circulation, irregular heartbeat,

shortness of breath, swallowing problems,

dizziness, headaches, anxiety, agitation,

irritability, seizures, poor concentration

and many more.

Although many young people now show

signs of magnesium deficiency symptoms

generally worsen as we age due to our

digestive system being less efficient. Taking

a magnesium supplement of sufficient

strength may be a sensible option to top

Numerous HealtH Problems may be a magNesium DeficieNcy!

Some of the common symptoms can be:

- Leg cramps

- Leg pain

- Twitches

- Tremors of hands

- Lock-jaw

- Restlessness

- Sleep problems

- Loss of appetite

- Nausea

- Irregular heartbeat

- High blood pressure

- Poor circulation

- Dizziness

- Headaches

- Poor concentration

- Muscle fatigue & weakness

- RSI & Nerve problems

- Muscle & Back Pain

GO Healthy New Zealand's Marine Sourced Magnesium offers superior

absorption in an easy to swallow 1-A-Day capsule. Each capsule provides a

therapeutic dose of 500mg elemental magnesium that is easy on the stomach

& digestive tract. The magnesium is obtained from a natural source of seawater

& retains a complete spectrum of nutrients & trace minerals naturally found in

the seawater. Seawater is similar to human blood & this makes the magnesium

highly bioavailable as well as an excellent way of obtaining many trace

minerals that are lacking in the modern diet, but essential for optimum health.

Super Price

60 capsules

Only $19.95 Save $14.95

120 capsules

Only $39.90 Save $15.00

200 capsules

Only $59.90 Save $20.00

400 capsules

Only $109.90 Save $49.90

MAIL ORDER

AVAILABLE

Bringing You the Best in Natural Health!

marsHalls HealtH & Natural tHeraPy

CONSULTING - PRESCRIBING - DISPENSING - MANUFACTURING - MEDICAL HERBALISTS

110 SEAVIEW RD, NEW BRIGHTON • PH 03 388 5757 • Email: enquiry@marshallshealthshop.co.nz

- We are alWays HaPPy to HelP! -

up our vital magnesium levels. Not all

magnesium supplements however are

well absorbed by everyone. Luckily a new

marine sourced magnesium has been

found that offers good levels of absorbable

magnesium as well as many trace nutrients

that are low in the diet but essential for

good health.

Further information is available in

store from our natural health advisers,

naturopathic doctor & medical herbalist.

Marshall's Health & Natural Therapy,

110 Seaview Road, New Brighton, Phone:

388-5757. We are Always Happy to Help!

Would you like

to promote your

Business?

For local features

please contact

Bev Stanger

03 364 7407

bev.stanger@starmedia.kiwi

Apple Cider VinegAr - Powerful Natural Health Tonic

ACV is a highly nutritious with all the goodness of apples (one of our most health-giving fruits) in a form that is readily

accepted by the body. It promotes healthy digestion, assimilation of nutrients & elimination of wastes. Detoxifying

& purifying & supports the function of vital organs like the kidneys, bladder, liver & heart. Helps neutralise toxic

substances & harmful bacteria in food. A time-honoured natural remedy to improve health & longevity.

ACV SUPPORTS

• Healthy digestion, assimilation of nutrients, elimination of wastes

• Energy – Vitality – Endurance

• Elimination of viruses, bacteria, fungus & parasites

• Powerful antioxidant

• Cardiovascular health, blood flow & healthy blood pressure

• Diabetes – improves insulin sensitivity

• Arthritis • Longevity

• Settles the stomach & reduces reflux

Super price

Premium QuALity N.Z. DoubLe

StreNgth, orgANic APPLe

ciDer ViNegAr:

750ml only $9.90, 2ltr only $19.90

With 20% manuka honey added:

750ml only $14.90, 2ltr only $29.90

Always Insist on Marshall's Apple Cider Vinegar for

Maximum Nutritional Value + Health Benefits

Bringing You the Best in Natural Health

MARSHALLS HEALTH & NATURAL THERAPY

CONSULTING - PRESCRIBING - DISPENSING - MANUFACTURING - MEDICAL HERBALISTS

110 SEAVIEW RD, NEW BRIGHTON • PH 03 388 5757 • Email: enquiry@marshallshealthshop.co.nz

- WE ARE ALWAYS HAPPY TO HELP! -

MAIL ORDER

AVAILABLE

THE JOYS OF HOME OWNERSHIP #43

FIXING A

LEAKY ROOF

Wouldn't you rather go sailing? Let us

take care of the roof at your new home at

McKenzie Lifestyle Village in Geraldine.

Contact David Connolly on 0800 84 55 24.

M E M B E R O F R V A
---
2

Tuesday [Edition datE]

18 July 18 2017

Latest Christchurch news at www.star.kiwi

HEALTH & BEAUTY

SOUTHERN VIEW

Be health smart

this winter

HaNDS arE the main pathways of germ

transmission. Hand hygiene is therefore

the most important measure to avoid the

transmission of harmful germs.

Wash your hands, before & after food

preparation and eating, if you borrow

someone elses equipment and of course

after blowing your nose. For convenience

it is a good idea to have hand sanitiser on

hand to use in between washing.

Sneezing & coughing into the crook

of your arm or tissues rather than your

hand, reduces the spread of airborne

bugs. remove tissues to the rubbish

immediately.

Keep hydrated, two thirds of your body

is made of water, so keeping hydrated

is one of the most important things you

can do for your health. Dehydration

symptoms range from headaches to

nausea to fatigue, but the effects of

dehydration on your immune system are

not always as obvious. Staying hydrated

keeps the mucus membranes moist, which

keeps the immune system functioning

optimally. Unfortunately, lattes and wine

don't count, but upping your intake of

water is incredibly beneficial. aim to

drink at least eight glasses of water a day.

You'll notice the difference!

Eat in season, poor nutrition impairs

the immune response. Fresh vegetables,

fruits, nuts, grains and legumes or pulses

are full of immune-boosting properties

and antioxidants. Nature provides fresh

seasonal foods to compensate for what

our bodies are lacking at that time of

year. Kiwifruit & citrus fruits that are in

season throughout winter are packed with

Vitamin C.

Stress less, although short periods of

stress can actually be good for us longterm

chronic stress lowers our immunity,

making us more susceptible to colds and

flu. We all have our own ways of coping

and reducing stress so whether it's taking

a bath, going to the gym, getting outdoors

in the garden or having fun with the kids,

do something to unwind. Not only are

you doing your adrenal glands a favour,

you're also reducing your chances of being

struck down by the latest virus.

Get a good night's sleep, sleep is

essential for your body to rest, repair and

rejuvenate. (Don't you find you always

tend to look your best after a good night's

sleep?) The human growth hormone

that's released during sleep helps repair

your body at a cellular level, but it's

also beneficial for the immune system.

Interrupted sleep (or just not enough of

it) significantly reduces the effectiveness

of your immune system, particularly the

natural killer cells, which is your body's

first line of defence against germs.

True

Who thought

DENTURES

and false!

could look this

natural?

• Full dentures • Metal partial dentures

• First-time immediate dentures • Implant supported dentures

STUNNING: A beautiful new denture for

a young female patient

These stunning lovebite full upper and

lower dentures have been expertly crafted by

internationally-recognised dental technician

Richard Greenlees at his Christchurch studio.

The combination of Richard's skill, experience

(including 15 years in London's prestigious

Harley Street) knowledge and revolutionary

techniques allow him to create beautiful

bespoke false teeth that truly resemble those

in nature and reflect each patient's individuality

and unique character.

Discover this

unique Emporium

Metal art - gifts - hoMewares

water features - pottery

Mirrors - candles

wall hangings & More

722 Marshland Road, Top end Styx

Open 7 Days

Ph: 03 323 9781

www.hitchingpost.co.nz

Shop online

with the in

store special

prices!

Discount code:

Goat

themohairstore

140 Colombo Street, Beckenham

Phone 03 943 1639

www.themohairstore.co.nz

AGING GRACEFULLY: Natural teeth for

a gentleman patient in his 80's

HOLLYWOOD: It's all white for this

female patient in her 60's

402 Montreal Street

Christchurch | P. 379 1222

By appointment only.

Consultation fee applies.

lovebite.com

Richard will personally guide you through the entire process to create

teeth with small nuances in the fabrication, colour and shape. Your beautiful new

lovebite dentures will boost your confidence and make you look and feel year's younger!

Bishopdale Clinic

13a Bishopdale Court, Ph 360 3606

City Clinic

12 Hereford Street, Ph 961 0236

Wigram Skies Clinic

67 Skyhawk Road, Ph 322 9400

Call us today Ph 360 3606

Back & neck pain

Sprains and strains

Functional training studio

Biomechanical assessments

Headaches and migraines clinic

Work injuries & gym rehab

Pre and post surgery rehab

musclepeople.co.nz
---
2

[Edition datE]

SOUTHERN VIEW Latest Christchurch news at www.star.kiwi

Tuesday July 18 2017 19

FLAME FILES

Seal pup gets short shrift

• By Mark Thomas –

specialist fire investigator

IT WAS going to be the

mother of all storms

apparently.

It turns out it wasn't.

At least not in the city.

But it was bitterly cold,

some snow fell and on the

hills it managed to settle.

I'm sure the weather did

have some effect, however,

with 16 motor accidents

attended by our crews in

the week.

We did have the odd other

call that could have been

attributed to the weather.

Although the incident

attended by Harewood

and Addington crews in

Hornby last Friday had its

origin in ignorance rather

than iciness.

A fire was lit in the

fireplace by a shivering

occupant.

It's just that this was a

house damaged back in the

earthquakes and the chimney

had been removed.

The result was quite

fortunate really, with

smoke filling the ceiling

and then the house itself.

Fortunate because that

smoke was all that happened.

PLAYFUL: This seal pup was escorted from

Fitzgerald Ave by the city's red watch fire crew.

Could easily have

resulted in the loss of the

home.

We go to any number of

false alarms at buildings

with smoke detectors.

Some are from accidental

causes, where smoke

from cooking or dust from

workmen sanding, set the

alarms off.

Last Thursday's call to

the Riccarton Clinic was a

bit different.

A plaster cast was being

cut off a patient.

Seems the plaster dust

was enough to activate the

alarm.

Result was a full evacuation.

Finally, the retrieval of

a seal pup from Fitzgerald

Ave and its return to the

Avon was accomplished

by the city's red watch fire

crew on Wednesday.

Hope Mum was about.

CONTINUING EDUCATION

Christchurch

School of Music

The Christchurch School of Music is

a family-oriented community aimed at

tuition in band, strings, recorder, ukulele

and classroom music in a wide range of

providing quality music education in and Christchurch schools.

around Christchurch.

CSM is a not-for-profit organisation with a

strong focus on community. On a Saturday

morning the whole family can find something

to suit. Preschool and junior school children

can start their musical journey by joining

in our experiential "Take Off with Music"

while older children and adults may opt for

group or individual lessons on a specific

Age is no limit - our Late Starters

instrument (including voice). Those who

already play are welcome to join in one of

the great ensembles which all take part in

regular concerts including Saturday soirees

and the popular annual Showcase Concert.

Solo Recitals where individuals can perform

are held regularly.

CSM also provides a comprehensive music

education to participating primary schools

via its Outreach programmes offering

programme provides the opportunity for

adults approaching retirement with more

time on their hands to learn an instrument

and join an ensemble with other like-minded

adults.

If Saturday isn't an option, CSM also offers

a range of weekday opportunities for learning

and playing music and, if affordability is an

issue, CSM may be able to offer a discount

through funding provided by the Rata

Foundation.

Term 3 starts on Saturday 29 July and we

can take new enrolments in most classes and

ensembles.

Please contact us via our website www.

csm.org.nz and let us start you on a musical

journey that will bring pleasure for a

lifetime.

Piano

Raewyn Clegg

Registered Teacher of

Piano and Theory of

Music.

29 Lancewood Drive

Halswell

Ph 322-9377

The Star

KidsFilmFest

Awards

Join us at our glamorous

red carpet event for kids!

Get dressed up, walk the red

carpet and get snapped by

paparazzi!

Sat 22 July, 4–5pm

The Piano Centre for Music and the Arts

Fantastic spot

prizes to be won!

Special guest MC

Mulletman!

For more information go to

kidsfest.co.nz
---
20 Tuesday July 18 2017

Latest Christchurch news at www.star.kiwi

CONTINUING EDUCATION

Papanui High Night Classes

With winter upon us why not take the

opportunity of longer evenings to take up a

new hobby, learn a new skill, meet some new

people and have fun at the same time then

join one of Papanui High School's exciting

range of Adult and Community Education

Courses for Term 3 beginning from 31 July.

We have a wide range of courses to choose

from and guarantee you will find something

to appeal regardless of age or interests.

Two of our new courses on offer for the first

time in Term 3 are Knitting for Beginners

and Crochet for Beginners. Both courses will

teach you the basics of these wonderful crafts,

you will be provided with all the materials

WORKERS EDUCATION ASSOCIATION

Roopu Kaimahi Matauranga O Waitaha

Term Three July - September

Courses include:

Singing for pleasure, Doing our bit, Double NZ Refugee

Quota, Drawing, Armchair Travel, Play Reading.

Community education and courses throughout the year

Also keep an eye 59 Gloucester out for Street. some Phone: pop 366 0285 up events coming

Email: admin@cwea.org.nz

this term including Eugiene Sage, Raf Manji

www.cwea.org.nz

facebook.com/canterburywea

& Bryan Bruce.

59 Gloucester Street | Phone: 366 0285

Email: admin@cwea.org.nz | www.cwea.org.nz

facebook.com/canterburywea

to master the skills and be able to create

your own beanie or granny square. These

courses are held at Papanui High School on

a Wednesday night beginning in August and

each course runs for 3 weeks.

For further information and enrolment

in these or any of our courses please visit

our website www.papanui.school.nz or

telephone our office on 3520701, or email

Barbara Roper rpb@papanui.school.nz

[Edition SOUTHERN datE] VIEW 3

Ensuring a safe work place

LEArning firST aid is not only a

part of ensuring a safe work place, but also

an integral part of our engagement with

the wider community. We all learn the

necessary skills to ensure that in times of

emergency we are able to assist our work

colleagues, but are we able to take these

skills home, into the community or on to

the sports field?

not all work places are the same and

the injury risk for each place can be

wide and variable. The office attended by

administrators does not carry the same

risk as those people working with heavy

machinery, or perhaps at some distance

from a regular ambulance service. it is

therefore essential that you pick the right

first aid course to suit all of your activities

– both professional and social.

Take, for example, an office worker who

does not have a high risk work environment

and whose concern might be to ensure

that they can deal with minor cuts and

superficial injuries, or the ability to perform

effective CPr. These skills can be achieved

on a course of eight hours duration and

would generally fit into low to medium

risk area. But take this same person on to

a sports field either as a spectator or player

when a higher level injury occurs. The

eight hour course covering unit standards

6402 and 6401 (or 26551 and 26552) does

not cover head neck and spinal injuries,

eye injuries, hypothermia and poisonings.

The majority of injuries occur outside of

the work place, in fact one in three injuries

occurs in the home, making it the most

common place for injuries to happen.

new Zealand children are twice as likely

to die through injury as children who live

in Australia. They mostly die as a result

of motor vehicles accidents or falls in the

home. fatalities from leisure and sport are

not far behind those in the workplace.

The wider 12 hour course teaches the

additional unit standard 6400 and provides

a wide knowledge base for medium to high

risk environments. This course covers

many of the skills required to deal with

the most common injuries, such as falls

(which can result in head, neck and spinal

injuries) and dealing with complex scenes

such as motor vehicle accidents.

if you are not sure on the course best

suited to your needs, ask your accredited

first aid training provider. They can explain

the course content and give you options

that will best suit your needs. Look beyond

the workplace and consider your family

and your location. Check that you have a

good quality first aid kit that is up-to-date

with replenished items, and that everyone

knows where it is located.

NEW ZEALAND RED CROSS

GLOBAL LEADERS IN FIRST AID TRAINING

Christchurch Course Dates 2017

Venue: 32 Birmingham Drive, Middleton

First Aid Revalidation Course (6 hours)

Cost $130.00 per person (certificates must not have

expired for more than 3 months)

Time: 8.30am – 3.15pm

Monday

24 July

7 August

Tuesday

8 August

12 Sept

Wednesday

16 August

6 Sept

Friday

4 August

11 August

Sunday

23 July

6 August

M Learning Workplace Revalidation Course (4 hours)

Cost $130.00 per person (certificates must not have

expired for more than 3 months)

Time: 8.30am – 12.45pm

Monday

14 August

Tuesday

1 August

Friday

21 July

For bookings please call 0800 REDCROSS or 339-7111

Book online at www.redcross.org.nz

USE THE RED CROSS ADVANTAGE - COMPREHENSIVE FIRST AID, ESSENTIAL FIRST AID,

REVALIDATION OR TAILORED TRAINING TO SUIT yOU AT yOUR PLACE OR OURS.

USE THE RED CROSS ADVANTAGE -

COMPREHENSIVE FIRST AID,

ESSENTIAl FIRST AID, REVAlIDATION

OR TAIlORED TRAINING TO SUIT YOU

AT YOUR PlACE OR OURS.

16 Hours Thursday/Friday

20 & 21 July

17 & 18 August

NEW ZEALAND RED CROSS - GLOBAL LEADERS IN FIRST AID TRAINING

CHRISTCHURCH COURSE DATES 2017 • VENUE: 32 BIRMINGHAM DRIVE, MIDDLETON

Comprehensive First Aid PLUS Course (16hrs or 4hr upgrade)

Unit Standard 6402, 6401, 6400 and 25411 or 26552, 26551, 6400 and 25411

Cost $275.00 per person incl FA Manual & GST for 16 hours or $85.00 per

person for upgrade following completion of CFA

Time: Day One 8.30am – 5.30pm Day Two 8.30am – 5pm

4 Hours Friday 1.15pm-5pm

21 July

18 August

Comprehensive First Aid Course (12hrs)

Unit Standard 6402, 6401, 6400 or 26552, 26551, 6400

Cost $225.00 per person incl FA Manual & GST

Time: Day One & Day Two 8.30am - 3.15pm Time: Day One 8.30am - 5.30pm

2 x Monday

28 August & 4 Sept

2 x Tuesday

25 July & 1 Aug

15 & 22 August

2 x Wednesdays

2 & 9 August

23 & 30 August

Thursday/Friday

27 & 28 July

3 & 4 August

Day Two 8.30am - 12.45pm

Thursday/Friday

20 & 21 July

17 & 18 August

Weekends

22 & 23 July

5 & 6 August

Essential First Aid Course (8hrs)

Unit Standard 6402, 6401 or 26551, 26552

Cost $155.00 per person Time: 8.30am – 5.30pm

Monday

28 August

Tuesday

15 August

5 Sept

Wednesday

2 August

13 Sept

M Learning (App.) First Aid Courses

Practical First Aid

Unit Standards 6402, 6401

Cost $155.00 per person

Time: 4 hours 8.30am-12.45pm

Monday 21 August

Thursday 3 August

Workplace First Aid

Unit Standards 6400, 6401, 6402

Cost $225.00 per person

Time: 8 hours 8.30am-5.30pm

Monday 21 August

Thursday 3 August

Thursday

27 July

10 August

FOR BOOKINGS PLEASE CALL 0800 REDCROSS OR 339-7111 • BOOK ONLINE AT WWW.REDCROSS.ORG.NZ

Saturday

22 July

5 August
---
4

SOUTHERN [Edition VIEW datE]

Latest Christchurch news at www.star.kiwi

Tuesday July 18 2017 21

CONTINUING EDUCATION

Risingholme Community

Centre Term 3

Term 3 sees us continuing to offer a range

of classes across the city at Risingholme

Community Centre, Riccarton High

School, Shirley Boys High School,

Christchurch Girls High School and

Hornby High School, many of which

have become a tradition of Risingholme

Community Centre programme. So as we

settle into the winter months a great way

to lift the winter spirits, is to enrol in a

course of interest – maybe something that

you have tried before and want to explore

further or perhaps you would like to try

something new.

It has been proven that Lifelong Learning

has many benefits with the obvious ones

being the continuation of a learning

journey, learning a new skill, increased

confidence, meeting new people and much

more. Our full range of classes can be

viewed on our website www.risingholme.

org.nz

Is English your second Language? In

term 3 we have ESOL classes including

IELTS running at Risingholme Community

Centre, Riccarton High School and Shirley

Boys. Other Language classes include,

German, Spanish, Italian, Russian, Arabic,

NZ Sign and Te Reo. So if you would like to

improve your English or learn a new

language you can enrol via our website

www.risingholme.org.nz or phone the

Risingholme office 332 7359

New and exciting at Risingholme

Community Centre is Zentangle.

What is this you might say - well if

you can't sit still enough for yoga, or

your mind wanders in meditation,

or you would like a creative aspect to

your mindfulness, this may work for

you. This method of drawing does not

require any previous drawing ability,

it can be a 15 minute practice you can

build into your everyday, or you can

explore some of the more creative ways

you can then use this design practise

to make your own cards, images, or

decorate products. This class will teach

you a variety of 'tangles' and get you started

on your Zentangle path in a supportive and

creative atmosphere, and you can build it

at a pace that suits you, within your time

constraints or desire as you move through

the term.

If you would like to know more about

these classes or others on our website

www.risingholme.org.nz please call the

office 03 332 7359

Adult and Community

Education Term 3, 2017

Come learn with us

Risingholme Community Centre offers

a wide range of short courses, each term,

at a range of venues.

Risingholme Community Centre

Alterations & upcycling (sewing), Art (Creative with crystals and pastels, Mixed

Media, Watercolour, Painting with Acrylics), Mindfulness, Cake Decorating,

Drawing & Sketching, Dyeing of Natural Fibres, Embroidery, ESOL, Fabric

& Craft Skills, Guitar, Knitting, Patchwork & Quilting, Pottery, Sewing Skills,

Upholstery, Using your Overlocker, Weekend Sewing classes, Yoga, Wood

Sculpture, Woodwork, Woodwork for Women, Zentangle.

Christchurch Girls' High School

Dressmaking, Embroidery, KiwiSaver, Skincare & Make up, Te Reo Maori,

Watercolour Painting.

Hornby High School

Pattern Making, Sewing Skills, Thai Cooking.

Riccarton High School

Calligraphy, Creative Writing, Computing (Excel & Word), Embroidery for

pleasure, Level 3 ESOL IELTS, ESOL Business English Intermediate, First

Aid, Advanced Indian Cooking, Italian Cooking, Italian Language, Learn to

Touch Type, Mediterranean Cooking, NZ Sign Language (a range of levels),

Russian Language, Sewing Skills, Spanish Language, Te Reo Maori, Writing For

Children & Young Adults, Yoga.

Shirley Boys' High School

Arduino – introduction to coding and electronics, Painting with Acrylics,

Computing Basics, German Language, Gluten Free and Vegetarian Cooking,

NZ Sign Language, Photoshop, Pilates, Reiki Level 1, Spanish Language Level

3, Te Reo Maori, Thai Cooking, Website Design, Woodwork, Yoga (range of

classes).

Situations Vacant:

Tutor – Te Reo Māori

Risingholme Community Centre is a Community Based Adult and Community

Education Organisation who deliver Community Based Learning to Adults across

Christchurch. This is a unique opportunity where you will be working with groups of

Adults to improve their knowledge of Tikanga Māori and use of Te Reo Māori.

So, if you're fluent in Te Reo Maori, have an understanding and awareness of Tikanga

Māori, have an innovative approach to Adult Learning and a passion for sharing your

knowledge then we would love to hear from you. Typically courses are 16 hours and

run over 8 weeks.

For further information please contact:

Wendel Karati (Director Risingholme Community Centre)

director@risingholme.org.nz

027 221 2211

Full details available on www.risingholme.org.nz

Risingholme office at 99 Hawford Road

Phone 332 7359 | Email info@risingholme.org.nz

www.risingholme.org.nz
---
2 Tuesday [Edition July datE] 18 2017

22

Latest Christchurch news at www.star.kiwi

central heating systems, and of course the

biggest saver, hot water, all from your phone we can show you how a 12% return on your

via an app.

investment is quite simple.

MARKET: Find everything you need and more at the Halswell Community

Mitsubishi Hypercore is an ideal heat pump/ Call us for any information or confirmations

Market. While There are ordinary a wide range of heat items for pumps sale from fresh produce fruit and vegetables less air heat conditioner below for the South 7°C, Island as it works for free Build Back Smarter Home Assessments

to crafts, clothing, jewellery and other products. Grab yourself a coffee and some

at the nominal rating down to minus 15 which are supported by the Christchurch City

fresh bread or other food to have a snack on while you wander around and enjoy

degrees at full rated output (no other brand of Council (we are one of only three suppliers for

the only music and Mitsubishi all has to offer. It Electric operated at the HyperCore grounds of St John of ® God Technology guarantees

Hospital at 26 Nash Rd, entry is free. ​

heat pump does that), add to the performance the programme). All our assessors are Beacon

in the cold the multi direction louvers and duct Pathway Accredited and trained.

its fully rated capacity right down to -15°C vane air so louvers you and advanced get air filtration Call Stephen Tucker on 027 432 6222

The Dead Sea Canvasses or those wanting to hone Board Games

with the movement sensor, all these add up to anytime or the office on 343 3049 to book

and other Paintings their skills, pick up some Thursday, Friday and

Monday-Friday, 11am- tips and learn from other Saturday, 10am-6pm

the best performer in the range of all brands an appointment or assessment and free

all the heat you paid for.

heat pumps and wifi control and you have an quote for Tucker Electrical or Air Con

4pm Saturday, noon-4pm aspiring writers. Find some Go along and enjoy a unbeatable solution.

Christchurch.

This exhibition of fictional books while you're variety of board games

Nicholas Williamson's at the library, or some with all sorts to choose

work will be on display books on creative writing. from. Meet some new

until July 29. He has

Linwood Library,

people and have fun

Winter

previously had his work Eastgate Shopping Centre. playing games. There are

exhibited in the United Free entry.

no bookings required for

States and has now brought

this but caregivers are

it back to Linwood. Mr Mid-Week Laughter required.

all the heat you paid for.

Heat PumP

Williamson is a poet and Club

Spreydon Library, 266

artist who is exhibiting his Tomorrow, 6-7pm

® Barrington St. Free entry

®

interesting and creative The focus of the club is

pieces at the gallery for the to get over the stress of the Game Zone @ Linwood

second time.

first part of the week and Library

Linwood Community HIGH WALL have a positive HEAT outlook PUMP for Thursday, 3.30-4.30pm FLOOR CONSOLE

SPecialS

Arts Centre, 388 Worcester the rest. The event aims Play great favourites

St, Linwood. Free entry FH25 3.2kW Heat Pump like Minecraft, Charades, KJ60 6.8kW Heat Pump

Connect Four, Pictionary

FrOm $2,099

®

and more. Learn and

develop strategies in new

games such as Dutch $4449.50

Blitz,

Heads Up, Hand and Installed BB. HIGH WALL HEAT PUMP

Foot, and group games. Conditions apply.

Join in for X-box and PS4

FH25 latest 3.2kW Heat model Pump Wifi included

tournaments.Take your

friends or meet some new

ones; all children aged 8-12 $2549.80

welcome.

all Installed the BB. heat you paid for.

No booking or payment

Conditions apply.

required.

to release endorphins and

help you relax and lower

Snow White

stress levels. There is no

Tuesday-Saturday, times comedy, stand-up or jokes

vary $2549.80

at this session. Instead, you

It's Snow White – with a Installed are encouraged BB. to make

twist. Unfortunately, the Conditions yourself laugh apply. at nothing

actors have forgotten to at all for the purpose of

show up. The ushers get relaxing.

called in instead and use St Marks Methodist

buckets, mops and their Church, cnr Barrington

imagination to create and Somerfield Sts. Entry

everything from the magic $2

mirror to the wicked

queen. It runs twice a day –

from 11am-noon and again

from 1pm-2pm. It is aimed

at children between three

and seven.

Court Theatre, Bernard

St. Tickets from $10

Creative Writing

Wednesdays

Tomorrow, 4-5.45pm

If your imagination runs

wild and you want to learn

how to put those ideas

on paper in a way that

makes sense, head along

to this creative writing

class. It will suit people

new to creative writing,

Knit 'n' yarn

Wednesday 11am-1pm

For those who want to

have a chat while they

construct their favourite

woollen creations can, with

the weekly knit 'n' yarn

meetings. From crochet to

knitting or a craft of your

choice, have fun with this

social group. There are a

variety of books to help

inspire ideas for your next

project or even to help

a beginner. Everyone is

welcome.

Linwood Library,

Eastgate Shopping Centre.

Free entry

Email julia.evans@starmedia.kiwi

by 5pm each Wednesday

Linwood Library,

Eastgate Shopping Centre

HOME & HEATING

Air Con Christchurch

Tucker Electrical

Air Con Christchurch Tucker Electrical

inter Heat Pump Specials

specialize in providing Heating, Ventilation

and Solar solutions with Automation to save

energy. As a sister company they provide the

complete package with all warranties and an

Air Con New Zealand $50,000 workmanship

warranty, being agents for Mitsubishi

Electrical, Fujitsu, Panasonic, Gree, Toshiba

plus multiple supply options for solar solutions.

Home Automation is fast becoming the

normal control of energy and the Econnecx

New Zealand's best low temperature

performance heat pump, guaranteed!

Save

$250

Save

$400

locally designed system is cost effective and

can be used to control all aspects of your

commercial or home premises from turning

lights on/off to the control of the heat pump

Opawa Farmer's Market

Sunday, 9am- noon

Find some organic and

delicious produce from

local growers. Enjoy

sipping on a coffee while

wandering around the

market and checking out

the food on offer. From

Unit 8/33 FH25 Watts 3.2kW Road, Heat Pump

artisan bread and french

pastries to fresh berries

Sockburn, $2549.80

Christchurch

and local cheeses, there

Installed BB.

will be something for

Conditions apply.

everyone.

03 343 4441

275 Fifield Tce. Free

entry​​

SOUTHERN VIEW

We at Tucker Electrical offer true solutions with full

visibility and quality products.

Quietly Superior Heat Pumps

With Solar PV (Electrical Power Generation)

there are many pit falls and false quick sales

are being made due to misleading television

advertising and badly sold solutions. We at

Tucker Electrical offer true solutions with

full visibility and quality products providing

instant assessment of your actual generation

suitability by a full report.

Did you know you can, if installed correctly,

check each panel is working correctly? Did

you know you can assess/see the total amount

of generation of your system and the instant

position of generation? Many package deals do

not offer this and then you are only guessing

when trying to maximise the use and benefit

of your investment. On a financial return basis

Winter Heat Pump Spe

New Zealand's best low tempe

performance heat pump, guara

While ordinary heat pumps produce less heat b

only Mitsubishi Electric HyperCore ® Technology g

its fully rated capacity right down to -15°C so y

Winter Heat Pump Specia

New Zealand's best low temperatu

performance heat pump, guarantee

While ordinary heat pumps produce less heat below 7°

only Mitsubishi Electric HyperCore ® Technology KJ60 6.8kW guarant Heat

its fully rated capacity right down to -15°C so you get

Save

$250

Save

$250

HIGH WALL HEAT PUMP

®

Save

$400

Save

$400

FLOOR CONS

$4449.5

Installed BB.

Conditions apply

FLOOR CONSOLE

KJ60 6.8kW Heat Pump

$4449.50

Installed BB.

Conditions apply.

Quietly S

Unit 8/33 Wa

unit 8/33 Watts road

Sockburn, christchurch

Sockburn, Ch

03 343 3886
---
SOUTHERN VIEW Latest Christchurch news at www.star.kiwi

Tuesday [Edition July 18 datE] 2017 23 3

HOME & HEATING

Get rid of dampness

in your house

Now wITH the colder and wetter weather

on its way, home owners are focusing on

ways to make their homes comfortable, warm

and healthy for their families throughout

winter. RISING dAmp is an issue that affects

many of our older properties which suffer

from poor, or no, insulation. In Canterbury

especially, post-quake, many people have

relocated to homes that suffer from rising

damp which can be associated with health

problems. Independent tests have shown

that up to 40 litres of water can rise from the

ground and enter a house every day, leading

to mildew, mould, condensation and musty

smells. moulds can produce various allergic

reactions and the frail, elderly and very young

are especially vulnerable.

Canterbury Foam Concrete Ltd is a

locally owned and operated firm. The team

understands the problems caused by rising

damp and are there to help. They will come

to your damp home and pump a lightweight,

flowable foam concrete under your timber

floored home. Specially adapted for our

New Zealand conditions and applications

it provides a layer of protection against

rising moisture. An unexpected benefit that

the team at Canterbury Foam Concrete

have noticed recently, is that many owners

of properties which had underfloor foam

concrete installed, reported that it also

provided protection against liquefaction after

the earthquakes.

Contact Canterbury Foam Concrete Ltd

now for your free, no obligation quote and

complimentary appraisal of your underfloor

ventilation needs. Phone 03 376 4608 or

0508 362626 for more information.

AttAck Rising DAmP

For existing homes with

wooden floor construction

• Stop Mould & Mildew

• Reduce Heating Bills

• Cost Effective Permanent

Solution To Rising Damp

• Free Consultation / Quotes

...at the source

STOP RISING DAMP TODAY www.foamcrete.org

Free Phone: 0508 362626 Main Office: (03) 3764608 Fax: (03) 3764603

L

The facts about

home ventilation

Balanced Pressure vs Positive Pressure

Under the New Zealand Building Code,

all buildings, including residential, need to

be suitably ventilated, either with opening

windows or forced ventilation. Clause G4.1

states: "The objective of this provision is

to safeguard people from illness or loss of

amenity due to lack of fresh air." There are

many benefits to forced, or mechanical,

ventilation over opening windows, including

warmth, security, reduction of outside noises

and reduction of condensation.

Traditional domestic ventilation systems

are 'positive pressure'. They bring air in from

outside via the roof space and force the stale air

out through gaps around windows and doors.

The incoming air from these

systems has to be heated or

cooled to keep the house warm

in winter or cool in summer.

The Smooth-Air HEX390 is

a 'balanced pressure' system. It

extracts air from the house and

at the same time brings in fresh

air. These two streams of air

pass through a heat exchanger,

which warms incoming air in

winter and cools in summer if

air conditioning is being used.

This means that up to 80% of

the energy which would be

Balanced

Pressure

Ventilation

wasted using a traditional positive pressure

system is recovered, resulting in significant

energy savings and therefore lower heating or

cooling costs.

Until recently, balanced pressure ventilation

systems have been considerably more

expensive than traditional positive pressure

systems. However, with Smooth-Air's unique

manufacturing capabilities, a HEX390

balanced pressure system can be installed for

a similar price as a traditional positive pressure

system.

Contact Smooth-Air on 0800 SMOOTH

(0800 766 684), or visit www.smooth-air.

co.nz or www.home-ventilation.co.nz

Ventilation Equipment

Suppliers to trade and retail

HEX390

Balanced Pressure Ventilation with Heat Recovery

Fresh air

from outside

Exhaust air

to outside

HEAT PUMP

SALE NOW ON!

Amazin' WINTER Specials!!

• We will offer you the best quality brands and

option of heat pump for your home/business

• Providing Heat Pump solutions for over 15 years to Cantabrians

• We personally guarantee all our products & installs for 5 years

(providing annual maintenance has been completed)

Phone us today for your free consultation & quote

41A SHAKESPEARE RD, WALTHAM

PHONE 03 366 0525

www.enviromaster.co.nz

"A local team for local people"

Warm stale air

from house

for healthy indoor air

Substantial energy savings over traditional domestic

ventilation systems

0800 SMOOTH (0800 766 684)

www.smooth-air.co.nz

sales@smooth-air.co.nz

Heat is transferred to the

incoming filtered fresh air

264 Annex Road, Riccarton

Christchurch 8024, NZ

Ph +64 3 343 6184

Warm fresh air

to house

Mon - Fri 7.30am - 5pm
---
TM

24 Tuesday July 18 2017

Latest Christchurch news at www.star.kiwi

SOUTHERN VIEW

BRIDALSHOW

save the date

Sun 27th Aug

10am to 3pm

Air Force Museum

45 Harvard Ave

Wigram, Chch

Tickets: $20.00

For faster service keep a hold of your

Job Reference No. 134009

Hi there,

Attached is your artwork proof. To enable us to complete your order,

we request that this form is completed, signed and returned either

in store or via email, or alternatively a quick email stating that you

have reviewed your proof, and approve for me to send it to print.

I have done my best to check all your details are correct however I'm

only human and I may have missed something, so I advise that you

double check all information thoroughly. This includes information such

as spelling, phone numbers through to dates and addresses. Please

be aware that once you sign off this proof, it is your responsibility

should anything be incorrect when your printing arrives, and any

P 0220467746

E info@gonetattoo.nz

www.tattooremovalcompany.nz

bliss

Modern

Contemporary

Hair

CREATING YOUR PERFECT WEDDING

weddings by

collective concepts

www.weddingconcepts.co.nz
---
SOUTHERN VIEW Latest Christchurch news at www.star.kiwi

Tuesday July 18 2017 25

REAL ESTATE

Location, views, character and so much more!

78 Waipapa Avenue, Diamond Harbour

Price: $565,000

5 bedrooms | 2 bathrooms | 2 living areas | 1 office/study + more | off-street parking | Listing # 4901

In immaculate condition throughout,

beautifully presented and full of character

this 4 bedroom plus study, well insulated

home offers many options for extended

family, teenagers or possible income

potential.

Set on 2 levels with masses of storage and

exceptional views to the heads and beyond,

Mt Evans and Purau Bay, upstairs has lovely

highly polished Rimu T and G floors, 3

double bedrooms, 2 living areas, a study,

a family bathroom and an as new kitchen

which will be sure to delight.

There is a log-burner and heat-pump

with a heat transfer system to keep things

cosy. Downstairs has a huge rumpus type

room, a man cave, a kitchenette, bathroom

and another 2 rooms one of which could

be a bedroom and one a storage or hobby

room. There are massive decks encircling

the house on 2 levels so always a sheltered

place to enjoy the sun and those captivating

views.

All this set on a well landscaped bushy

type section of 1029m2 with many fruit

trees and nice areas to enjoy. Good access

with off-street parking and a very easy walk

to the cafés, the ferry and Purau beach; this

warm sunny home really does offer some

lucky buyer great value for money, and no

lawns to mow!

OPEN HOME 1:00pm - 1:30pm Sun 23

July 2017

See you at the open home or for a private

viewing, contact Tim Dunningham of

Min Sarginson Real Estate (Licensed

Agent REAA 2008), phone 027 651 5474

or 329 4161.

now bigger than ever

growing with you

SprIng Is here –

It'S Sow Time

how to get the best results from

seeds and seedlings

100% NatIve In

The capItal

Unravelling the secrets of

Otari-wilton Bush

The New Zealand

landscape awards

The people behind

the projects

$7.90 incl. GST

Save our roSeS

How a rose register is protecting our heritage

September 2016 | 100%

It's time

to grow!

New look and more

content than ever!

MeeT LeSTer Brice

A Garden coach

auckland Botanic GardenS

Why we love our public grounds

The magazine for

gardeners who like to get

their hands dirty

SubScribe from

$43. 50*

*6 issues/6 months

ISSN 2423-0219

SUBSCRIPTIONS FREEPHONE

0800 77 77 10

www.gaRdeNER.kiwI
---
26

Latest Christchurch news at www.star.kiwi

Tuesday July 18 2017

SOUTHERN VIEW

Classifieds Contact us today Phone our local team 03 379 1100

Health & Beauty

FOOTCARE

OASIS

Senior Citizens Foot Care

25 Conway Street, Spreydon

Treating hard thick nails, calluses

and corns finishing with a foot massage

Price $30 Allow 45 mins

Home Visits available by appointment

Therapist – Amanda

(30 years experience)

Ph. 942-6036 for an appointment

HOURS ARE FLEXIBLE

Parent representative votes:

Arthurs , Paul 23 Invalid votes 5

Inwood, mark 37

I hereby declare Mark Inwood duly elected.

Signed

Kay Addei

Returning Officer

Community Events

Public Notices

St Peters School

Board of Trustees

By Election

Declaration of

Parent election

results

Gardening

& Supplies

Holiday

Accommodation

ALCOHOLICS

A GARDEN

ANONYMOUS, If you PROFESSIONAL

want to have a drink that's NEEDED? Qualified

your business. If you want Horticulturist, offering

to stop, we can help. Phone

expert pruning, garden

0800 229-6757

makeovers, garden design

and landscaping, for free QUEENSLAND

quotes call Bryce 027 688-

8196 or 0508 242-733

Computers

ALL

YOUR Health & Beauty

COMPUTER

FREE Halswell/

WORRIES SOLVED! Hillmorton Tai Chi &

*$30.00 off your first Qigong Workshop 1pm ~

service with this coupon!* 2:45pm, Wed & Thu, July

No problem too big or 19, 20. 7pm ~ 8:45pm,

small from home PC's to Wed. July 19 Classes start

business networks. PC July 26, 27. Sandy 260-

slow? An end to Viruses, 1256

Spyware, and Clogged

Systems. Safe secure

hassle-free computing.

Lost files recovered.

Microsoft Certified,

MCSE, MCP+l. 30 years

experience. Call Andrew

Buxton this week on 326-

6740 or 027 435-7596

for $30.00 off* Custom

(03) 379 1100

Computers Christchurch

SUN-

SHINE COAST AUSTRA-

LIA Resort, Ocean Views,

Balconies, Self Contained,

1 or 2 B/R Ensuite,

Heated Pool, Spa, Sauna,

Free Internet, Shops,

Restaurants, Tennis, Surf

Club & Patrolled Beach,

Public Transport at door.

Ask for our SEASONAL

SPECIALS. Phone 61 7

544-35011 Email: reception@mandolin.com.au

www.mandolin.com.au

ADVERTISE YOUR

BUSINESS HERE

Phone for further details

Pets & Supplies

AFFORDABLE Dog

Grooming $44 small,

$52 med, experienced

and qualified groomer/

veterinary nurse,

Redwood, ph June 03 354-

6414 or 027 746-5295

9164023AA

Trades & Services

BLOCKED

DRAINS?

• VIDEO INSPECTION

• WATERBLASTING

• LIQUID WASTE

PH: 03 365 7960

24 hours // 7 days

info@h20jet.co.nz

www.h20jet.co.nz

HOUSE

CLEARING

Are you

moving house

or trying to

downsize?

Call All Clear

Canterbury. We work

with you to recycle,

sell and dispose of

unwanted items.

Ph: 03 260 0934

or 021 078 4553

raewynlcooke@gmail.com

www.allclearcanterbury.co.nz

BEST BATHROOMS

full renovation specialists,

LBP, repairs &

maintenance ph 03 387-

0770 or 027 245-5226

BRICKLAYER

George Lockyer. Over

35 years bricklaying

experience. UK trained.

Licensed Building

Practitioner number

BP105608. Insurance

work. EQC repairs.

Heritage brickwork and

stonework a speciality. No

job too small. Governors

Bay. Home 329-9344,

Cell 027 684 4046, email

georgelockyer@xtra.co.nz

BUILDER

For all building work

but specialist in bathroom

renovations, 30 yrs

experience, with service

and integrity. Free Quotes.

Ph Lachlan 383-1723 or

0274 367-067.

BUILDER LICENSED

available for all aspects of

building. Please call 027

241-7471 or 335-0265

Trades & Services

Builder

Wright Enterprises Build Limited

W.E. Build

New Homes

Renovations

Alterations

Re-roofing

Re-cladding to older buildings

Family owned & operated

E info@webuildltd.co.nz

Antony Wright 021 111 1703

John Wright 0274 343 323

AH 03 347 4347

www.webuildltd.co.nz

GARDEN SUPPLIES

CHCH'S LARGEST SELECTION OF

BARK • COMPOST • SHINGLES

Remember...

we are NOT in

Parkhouse Road

Landscape Lane (off Lunns Rd)

P. 348 2915 OPEN 7 DAYS

nO GREEn wastE In anY OF OUR COMPOst

CARPET & VINYL

Laying. Repairs, uplifting,

relaying, restretching.

Email jflattery@xtra.co.nz

ph 0800 003 181 or 027

2407416

PAINTER AVAILABLE

All aspects in painting.

Very competitive in roofs

and fences. Please call 027

241-7471 or 335-0265

PAINTING

& Decorating Wingfields

Contracting, all interior

& exterior painting & all

forms of interior plastering

& jib fixing, ph Mark 021

171-1586 or 355-5994

PAINTING

& Decorating Wingfields

Contracting, all interior

& exterior painting & all

forms of interior plastering

& jib fixing, ph Mark 021

171-1586 or 355-5994

PLASTERER

Gib Stopping, Small

job specialty. 30 + years

experience. Ring 0800

387-369

PLUMBER

For prompt service for all

plumbing maintenance,

repairs and alterations.

Phone Michael 364 7080

or 027 438 3943

PLUMBER

ALF THORPE

PLUMBING Certifying

Plumber for all types of

plumbing, maintenance,

spouting, alterations etc.

Phone 352-7402 or 0274-

350-231

Plumbing maintenance

& repairs

New housing

Kitchen/bathroom

renovations

Gas fitting & gas water

conversions

Hot water cylinder

replacement & repairs

Cam Stevens Plumbing Ltd

Certifying Plumber

Phone. 0212 146 042

or 03 383 8050

Email. info@camstevens

plumbing.co.nz

ROOFING

Qualified & Licenced

Practitioner. Re-Roof &

Repairs, all types. Member

New Zealand Roofing

Association. Over 35 years

experience. Phone John

027 432-3822 or 351-9147

email johnmill@ihug.

co.nz

SPOUTING CLEANING

Spouting Unblocked,

Cleaned Out and Flushed

Out. Also Full Handyman

Services Available. Call

Trevor 332 8949 or 021

043-2034

STONEMASON

BRICK

&

BLOCKLAYER,

Earthquake Repairs, Grind

Out & Repoint, River/

Oamaru stone, Schist,

Volcanic Rock, Paving,

all Alterations new & old,

Quality Workmanship,

visit www.featureworks.

co.nz or ph 027 601-3145

TILER

For all your tiling

needs, new, existing &

replacement of tiles, free

quotes, ph Jared 021 023

58414

Trades & Services

painter

Price Family

Painters Ltd

Interior/Exterior

Wallpapering/Painting

Gib Stopping

Free Quotes

EQC Opt Out

Fletcher Accredited

Project Management

Phone: Morton 021 667 444

Email: mortonprice@xtra.co.nz

www.pricefamilypainters.co.nz

PAINTING - PLUS

• PAINTING • TILING

• PLASTERING

• WALLPAPERING

Phone Kevin Steel

• Interior/Exterior

• New Homes & Repaints

• Quality workmanship assured

• Correct preparation always undertaken

• 20+ years experience

• Earthquake repairs

(Painting/Plastering/Wallpapering/Tiling)

Ph 381 7417 or 027 216 8946

www.facebook.com/kevinsteelpainters&decorators

TREES

BIG OR SMALL, tree

removal, trimming, stump

grinding, shelterbelt clean

up, section clearing,

rubbish removals,

excavation work, ph Trees

Big or Small, for a free

quote, 021 061 4783

T.V. SERVICE CENTRE

Repairs, tvs, microwaves,

stereos, DVD. Aerial

installations and kitsets,

480 Moorhouse Ave, ph 03

379 1400

UPHOLSTERER

Dining Chairs, Lounge

suites, Caravan Squabs

etc. recovered. Free

Quotes. Phone Graeme

383-1448

VHS VIDEO TAPES

& all camera tapes

converted to DVD, video

taping special occasions,

www.grahamsvideo.co.nz

ph 03 338-1655

WINDOW CLEANING

Average 3 bdrm house

inside or out $40. Both

$70. Phone Trevor 344-

2170

BLOCKED

DRAINS?

• VIDEO INSPECTION

• WATERBLASTING

• LIQUID WASTE

PH: 03 365 7960

24 hours // 7 days

info@h20jet.co.nz

www.h20jet.co.nz

Wanted To Buy

AAA Buying goods

quality furniture,

Beds, Stoves, Washing

machines, Fridge Freezers.

Same day service. Selwyn

Dealers. Phone 980 5812

or 027 313 8156

A+ Household effects,

fridges, freezers, washing

machines, ovens. Good

cash paid. Ph Paul 022

0891 671

TOOLS Garden,

garage, woodworking,

mechanical, engineering,

sawbenches, lathes, cash

buyer, ph 355-2045

WHITEWARE

WANTED Cash for

fridges, freezers, dryers,

washing machines, ovens.

Top prices paid for good

working machines. Ph

Dave anytime 960-8440 or

027 6622 116

WHITEWARE

WANTED Cash for

fridges, freezers, dryers,

washing machines, ovens.

Top prices paid for good

working machines. Ph

Dave anytime 960-8440 or

027 6622 116

ADD SOME

COLOUR

TO YOUR ADVERT!
---
SOUTHERN VIEW Latest Christchurch news at www.star.kiwi

Tuesday July 18 2017 27

What's On

Entertainment

Celine's back

with Sam and

the Doctor

To advertise, contact

Jo Fuller 03 364 7425

jo.fuller@starmedia.kiwi

A West Coast welcome in the heart of

Redwood, beautifully refurbished and

something for all the family.

TRY OUR WONDERFUL MENU & DAILY SPECIALS

Daniels Road | Phone 352 8355

coasterstavern.co.nz

RESTAURANT & CAFÉ

We are open from 6.30am

Seniors SPECIAL

2 courses Soup/Roast or Roast/Dessert

Special available lunch only. Monday - Saturday 12pm - 2.30pm

$20

Family Friendly

Kid's 2 course special

'Famous for their roasts!'

$10

Treat the Kids

this school holidays!

The

RACECOURSE HOTEL

& Motorlodge

118 Racecourse Rd, Sockburn,

Christchurch. Ph 03 342 7150

www.racecoursehotel.co.nz

SERVING

HAPPY HOUR

5PM - 7PM DAILY

OUR CABINET ITEMS

ARE HOMEMADE

CREATED FRESH ON SITE DAILY

$12

LUNCH

SPECIALS

Live Music:

6PM.FRI.21 JULY

Available from now to Sunday 30th July 2017

COFFEE

HAPPY

H O U R

2PM-4PM

DAILY

$3.50

Offer available for a limited time

and includes tea, hot chocolate

MON: ROAST MEAL

TUE: FISH & CHIPS

WED: FISH BURGER

THU: ROAST MEAL

SAT: FISH & CHIPS

AVAILABLE

FROM

11.30AM-2PM

FOR A

LIMITED TIME

Rhonda Campbell

PHONE 385 8880 FIND US ON FACEBOOK fb.com/GBCCHCH

THE GARDEN HOTEL COMPLEX | 110 MARSHLAND RD

www.gardenhotel.co.nz | phone 385 3132

duo

www.newbrightonclub.co.nz

MID-WINTER XMAS FUNCTIONS

WE HAVE THE VENUE. EXCELLENT CATERING.

PLENTY OF PARKING. ENQUIRE NOW!

TUESDAYS & THURSDAYS

Members Lucky Card Draw

FUNCTION ROOMS

SHUTTLE RUNNING

Tues, Thurs, Fri & Sat

TAB POD

GAMING ROOM

PIERVIEW

Restaurant

Quality

a la carte

with a view!

Open from 5.30pm

FRIDAY, SATURDAY & SUNDAY

OPEN FOR

SUNDAY BRUNCH

By the Seaside!

10.30am-2pm

ClubBISTRO

Open Tuesday to Saturday

12pm-2pm and from 5pm

Midweek $10

SPECIAL ROAST

Available Tuesday,

Wednesday, & Thursday

SUNDAY 3 COURSE

DINNER SPECIAL $25

SUNDAY NIGHT

BUFFET

Sunday 30th July

ALL YOU CAN EAT

$25 BOOK NOW!

202 Marine Parade ● Ph 388-9416

Members, guests and affiliates welcome

H ORNBY

WORKINGMEN'S

CLUB

«WHAT'S ON THIS WEEK«

FRIDAY 21 JULY, 7.30PM

WITH GUEST

LEGAL

TENDER

TICKETS $15 AT CLUB OFFICE. DOOR SALES $20

SATURDAY 22 JULY, 8PM

TICKETS $20 AT CLUB OFFICE

SATURDAY 22 JULY

WESTVIEW LOUNGE

4.30PM ANDY GILMOUR

8PM MEDIUM RARE

SUNDAY 24 JULY

WESTVIEW LOUNGE

1.30PM, $6 ENTRY

ANNETTE'S

HEART OF THE COUNTRY

Hornby WMC

17 Carmen Rd, Hornby

Phone 03 349 9026

www.hornbyworkingmensclub.co.nz

Members, guests & affiliates welcome
---
28 Tuesday July 18 2017

Latest Christchurch news at www.star.kiwi

SOUTHERN VIEW

Have you been declined

treatment by the DHB ?

The Canterbury Charity Hospital

may be able to treat you at no cost.

Our current services are:

• Colonoscopy (acute and screening)

• Gynaecology and women's health

• Rectal bleeding clinic

• Upper and lower limb orthopaedics

• Vascular (severe varicose veins)

• General surgery (abdominal, rectal)

• Oral surgery and dentistry (* conditions apply)

• Counselling (by self referral)

• Cataracts

To be treated by the Charity Hospital you must:

• Have been turned down in writing for treatment by the CDHB

• Not have medical insurance

• Not be able to afford the treatment privately (means tested)

• Have a referral from your doctor

* All dentistry and oral surgery patients need a dentist's referral.

Dentistry is available for WINZ clients only, whilst oral surgery may be

available if you fit the above criteria.

Why are the Charity Hospital's services at no cost to the patient?

More than 280 unpaid volunteer surgeons, nurses, dentists and support staff

generously donate their time for free. The Charity Hospital does not receive any

Government funding.

Volunteers are always welcome.

If you are a surgeon, nurse or technician, volunteer forms are on our website at

www.charityhospital.org.nz or email reception@charityhospital.org.nz

To donate to the charity please visit our website at www.charityhospital.org.nz.

Your next step...

get a referral from your doctor or dentist - please don't contact the hospital directly.

For more information:

www.charityhospital.org.nz
---
Ready for

something

new?

We're celebrating breaking the mould

of traditional retirement living!
---
Put the date

in your diary now!

Thursday 20 July

4pm-6pm

Living Well Park Lane

Apartments Launch

35 Whiteleigh Ave, Tower

Junction, Christchurch.

Come along and enjoy bubbles,

canapés and a presentation

with special guests in this

very unique retirement

community!

Welcome to the public launch and

You're invited to this very special event

Inspired by the international Living

Building Challenge principles, we have

created a retirement development

that is regenerative both for the local

community and the local environment.

Arvida has partnered with leading

architects Jasmax to create a living

environment designed to help

residents remain engaged with the

greater community and be truly part

of things. So rather than a closed

and gated village, we've designed

an open one. And rather than taking

charge of everything, we're providing

opportunities to support, grow, cook,

bake and even help run things. From

creating produce for our on-site café

and market days, to caring for the

gardens, chooks and animals, there

is opportunity here to be involved as

much or as little as you'd like.

We call it the Arvida attitude of living

well, and it's all about providing you

with choices.

The attitude of living well
---
presentation of Living Well Park Lane

Our buildings are designed to enhance the way you live

It's been our mission to create aesthetically

beautiful buildings using the fundamentals

of good architectural design and built from

technologically advanced, natural and locally

sourced materials.

• One, two or three bedroom large luxury

apartments in four floorplans

• Thermally insulated homes with superior

seismic integrity built-in for Christchurch

• Wellness centre and coaches, café, gym,

pool, crèche, chemist and doctors' rooms

• Fresh produce daily, grown in raised

garden beds and glasshouses

• Kids taking part, learning life skills and

caring for the gardens and animals

• Hassle-free and efficient

transport, with a fleet of

electric and hybrid cars

provided for

residents' use.

www.livingwellparklane.co.nz
---
Deans Ave

Living Well Park Lane Apartments Launch

At a public meeting last year in Christchurch we presented

our ideas for the future of retirement living. We listened to the

responses and we're now creating a community where you can

be fully immersed in the attitude of living well. Come and take

a look at what your future retirement lifestyle could look like.

Put the date in your diary now! Living Well Apartments

Launch, with bubbles, canapés and special guests.

Thursday 20th July, 4pm-6pm

Addington

Raceway

Phone Trish Veronese

on 03 338 4495 or 027 526 0628.

Freephone 0800 278 432, or email

sales@parklaneretirement.co.nz

Twigger St

AMI Rugby

Stadium

Living Well Park Lane

35 Whiteleigh Ave

Tower Junction

Christchurch

Parking

Jack Hinton Dr

Whiteleigh Ave

Entry

from

parking

Blenheim Rd

Lincoln Rd

Join us at 35 Whiteleigh Ave, Tower

Junction. Onsite parking available.

South

Hagley

Park

www.livingwellparklane.co.nz