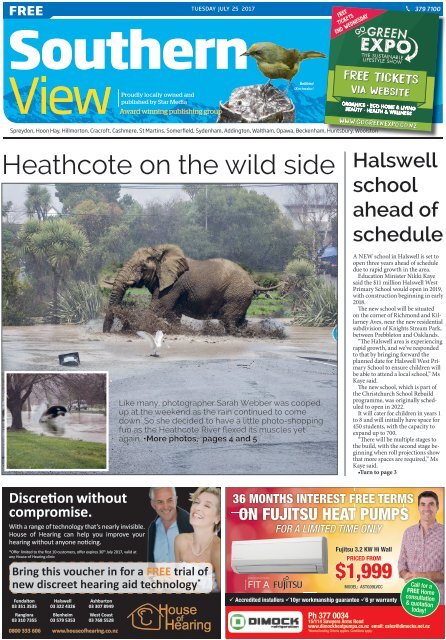 Southern View: July 25, 2017
You also want an ePaper? Increase the reach of your titles
YUMPU automatically turns print PDFs into web optimized ePapers that Google loves.
FREE

TUESDAY JULY 25 2017

Southern

View

Proudly locally owned and

published by Star Media

Award winning publishing group

Bellbird

(Korimako)

Free

tickets

end wednesday

FREE TICKETS

VIA WEBSITE

379 7100

WWW.GOGREENEXPO.CO.NZ

Spreydon, Hoon Hay, Hillmorton, Cracroft, Cashmere, St Martins, Somerfield, Sydenham, Addington, Waltham, Opawa, Beckenham, Huntsbury, Woolston

Heathcote on the wild side

Like many, photographer Sarah Webber was cooped

up at the weekend as the rain continued to come

down. So she decided to have a little photo-shopping

fun as the Heathcote River flexed its muscles yet

again. •More photos, pages 4 and 5

Halswell

school

ahead of

schedule

A NEW school in Halswell is set to

open three years ahead of schedule

due to rapid growth in the area.

Education Minister Nikki Kaye

said the $11 million Halswell West

Primary School would open in 2019,

with construction beginning in early

2018.

The new school will be situated

on the corner of Richmond and Killarney

Aves, near the new residential

subdivision of Knights Stream Park,

between Prebbleton and Oaklands.

"The Halswell area is experiencing

rapid growth, and we've responded

to that by bringing forward the

planned date for Halswell West Primary

School to ensure children will

be able to attend a local school," Ms

Kaye said.

The new school, which is part of

the Christchurch School Rebuild

programme, was originally scheduled

to open in 2022.

It will cater for children in years 1

to 8 and will initially have space for

450 students, with the capacity to

expand up to 700.

"There will be multiple stages to

the build, with the second stage beginning

when roll projections show

that more spaces are required," Ms

Kaye said.

•Turn to page 3

36 months interest Free terms

on Fujitsu heat pumps

For a limited time only

@

House

of

Hearing

Fujitsu 3.2 KW Hi Wall

Priced From

$1,999

MODEL: ASTG09LVCC

Accredited installers 10yr workmanship guarantee 6 yr warranty

Call for a

FREE Home

consultation

& quotation

today!

Ph 377 0034

15/114 Sawyers Arms Road

www.dimockheatpumps.co.nz email: sales@dimocks.net.nz

*Normal lending Criteria applies. Conditions apply.
---
2

Latest Christchurch news at www.star.kiwi

Tuesday July 25 2017

Inside

FROM

THE

EDITOR'S

DESK

SOUTHERN VIEW

News........................................3-7

TOP MARKS to Sarah Webber

for her great out of the box

flooding photos.

It was a dismal time for many

as the Heathcote flexed its

muscle yet again and spilled its

contents into properties.

But Sarah's photos (see pages

1, 4, 5) at least put a lighter spin

on what was a very nasty event

for many.

We put the photos on Rise Up

Christchurch and our website

star.kiwi and no doubt they were

shared around the world.

So thanks for letting us have

them Sarah!

Also, top marks to school

teacher Ryan Pearce who picked

up a silver at the recent waka

ama world champs.

There's an interesting back

story to Ryan, and Ferrymead

Rotary member Barbara Crooks

explains all on page 6.

- Barry Clarke

Retirement village with a difference

NEWS 7

Events.................................. 8

Keep It Local..............10, 12

Food....................................11

Kidstuff.....................................13

Health................................15

Real Estate ...........................17

What's On.......................19

Entertainment...................27

GET IN TOUCH

General Inquiries Ph 379-7100

Classified Advertising Ph 379-1100

The Christchurch Star Company Ltd. PO box 1467 - Christchurch

starmedia.kiwi

ADVERTISING

Richard McCombie

Ph: 03 364 7472

richard.mccombie@starmedia.kiwi

3 Reasons

to see us today

1. Fast & friendly service

2. all dentures made

on site

3. Doesn't cost an arm

and a leg

call 322 4004

TexT 027 537 0567

230 BarringTon sT

www.denturesouth.co.nz

Keep warm this winter

15kg

Nature's

Flame Pellets

$9.26

Open to 10pm Monday - Friday

9pm Saturday - Sunday

111 - 115 Milton Street

Phone 332-6056

as local as you are

Bakery • Lotto • Forecourt service

20kg

Firetime Pellets

$11.75

www.challenge.net.nz

Neighbourhood week

Crank up the BBQ for the neighbours, challenge

your mates to a backyard cricket tournament, or

make your community a better looking place with

a clean-up during Neighbourhood Week 2017!

Applications for funding close 5pm,Friday 1 September 2017.

For more info, great ideas or application forms visit

ccc.govt.nz/neighbourhoodweek
---
SOUTHERN VIEW Latest Christchurch news at www.star.kiwi

Tuesday July 25 2017 3

News

Panels may be removed

RSA claims

council

wasted

$25,000

• By Gabrielle Stuart

CONTROVERSIAL $25,000

glass graffiti protection panels

around the New Brighton War

Memorial may be removed,

sparking calls they have been a

waste of money.

The panels

were installed

around the

memorial last

month, but were

criticised by the

New Brighton

RSA and by

Kim Money

people in the

community who

said they were

"horribly ugly".

The Coastal-Burwood

Community Board is now

considering taking them down

and using lighting, security

cameras and more open

Megan

WOODS

Member of Parliament for WIGRAM

LOOKING AHEAD: The graffiti protection panels around the

New Brighton War Memorial may be removed, sparking New

Brighton RSA executive manager Garry House to say they

have been a waste of money. PHOTO: MARTIN HUNTER

landscaping to discourage

vandalism instead.

Board chairwoman Kim

Money has met with New

Brighton RSA representatives to

discuss the idea.

Ms Money said the options

included removing the low walls

your one stop shop!

in the area to open it to the

street, making it less attractive

to vandals.

But Ms Money said there was

no funding currently set aside

for the work, and having it

approved could take months.

New Brighton RSA executive

We welcome you to come along and have a look

manager Garry House said that

was not good enough.

He said the city council had

wasted money on the panels

without properly consulting the

community.

"If you've blown the money on

doing something stupid, that's

no excuse. You've just got to find

the money somewhere else," he

said.

The memorial was vandalised

in 2015, and he said the idea

of protective panels had been

briefly mentioned then, but

there had been no discussion of

it since.

"I understand the council was

trying to do the right thing by

protecting the cenotaph, so I

applaud them for that, but they

went about it very badly," he

said.

He said the association would

be happy to see the panels left

up as a temporary measure, but

only for a few months.

But Ms Money said the

plan was likely to take some

time to approve, as it would

need to be put to both city

council staff and Development

Christchurch Ltd, the city

council subsidiary responsible

for revitalising the New

Brighton foreshore.

150 comment

on beachside

playground

PUBLIC consultation on New

Brighton's new $8 million

beachside playground closed

on Sunday, with more than 150

people commenting on the plans.

Work on upgrading the whale

pool playground is due to begin

next month, following the feedback

process run by Development

Christchurch Ltd.

Seating, shading, grassed areas,

and accessibility were key themes

in the feedback.

DCL chief executive Rob Hall

said the feedback would allow

it to build the best playground

possible.

Halswell school

to open ahead

of schedule

•From page 1

The funding for Halswell West

Primary School comes from the

$1.137 billion Christchurch School

Rebuild programme, which aims

to rebuild or renew 115 schools by

2022.

As part of the programme,

11 schools have been completed

in Christchurch, 27 are under

construction and 19 will start

construction this year.

Constituents needing

assistance or wanting an

appointment are invited

to contact me on:

Phone 338 6347

Email: megan.woods@

wigram.org.nz

Authorised by Megan Woods MP, Shop 8/12 McCarthy Street, Christchurch

International Flavours

Crafted in Canterbury

Euro Gourmet Meats

Exciting smallgoods range

• Prosciutto, 2 styles

• Eight salami varieties (naturally

fermented)

• Coppa air-dried pork

• Bresaola air-dried beef

• Smoked beef

1 Amyes Rd, Hornby Ph. 349 4163

Hours: Mon - Fri 9am-4.30pm,

Sat 9.30am-1.30pm

335b Riccarton Rd, Church Cnr

Ph. 341 8539

Hours: Mon - Fri 9.30am-5pm

Sat 9.30am-2.30pm

Cuisine

Artisan

Award

Winner

2017

• Smoked pork

• Hot smoked bacon

• Cold smoked bacon

• Smoked salmon

All pork free-farmed Cressy Farm pork

All smallgoods made on the premises

303 Colombo Street (opposite Funky Pumpkin)

Telephone: 03 337 2929

Hours: Monday to Saturday 8am-6pm & Sunday 9am-5pm

www.eurogourmetmeats.co.nz
---
4 Tuesday July 25 2017

Latest Christchurch news at www.star.kiwi

SOUTHERN VIEW

News

A dolphin frolics through the flood waters paying Beckenham

residents a visit.

Wild side of

A killer whale leaps through the Heathcote River. PHOTOS: SARAH WEBBER PHOTOGRAPHY

The flood waters

in Christchurch

didn't quite

reach biblical

proportions

but one

photographer

Sarah Webber has managed

to spread a bit of chuckle

through her imaginative

photographs

A stampeding elephant, churning

up water as it heads for safety,

a bear clutching a fish in its mouth

and an orca leaping through the

streets of Beckenham are part of

an apparent exodus of animals

from the suburb.

Even old Nessie, the Loch Ness

Monster, the legendary water

creature from Scotland, makes an

appearance.

Ms Webber said she was stuck

inside during the floods and

wanted to do something creative

and a bit tongue-in-cheek.

She started with Nessie and

posted it on Facebook. The photo

was such a hit that she started

getting requests for particular

animals.

"I was just rushing to get them

done – it is not even good photoshopping,"

she said.

NUK KORAKO

DELIVERING FOR

PORT HILLS

E

W

Nuk.Korako@national.org.nz

nukkorako.national.org.nz

facebook.com/NukKorako.PortHills

Kapuka Lane, Kennedys Bush

1500m² to 3983m² and priced from $349,000 to $495,000

sold

sold

sold

sold

sold

Here is a special opportunity to build your own mini estate

in the boutique subdivision of Kapuka Lane set in Kennedys

Bush. Each section will offer commanding views of the rural

country side and winery below. Each site has been designed

with care to protect the view from the building platform

and with the spaciousness of each site you can select where

to place your new home to ensure maximum sunshine with

maximum views. This is a chance to have a taste of country

life with city living benefits. Kapuka Lane consists of eleven

sections (two of which are sold), each having a gently

sloping building platform and facing to bask in the evening

sun. The majority of the sections are gently sloping with the

larger sections that have a steeper part still retaining a large

potential easier sloping area to build your home. Ranging

in price from $349,000 to $495,000 and in size from 1500m²

to 3983m² and each title issued, immediate possession is

available to give you the opportunity to begin your new

dream home.

Your agent, Your home, Your future

2

BRING IN THIS

FOR

VOUCHER MENTION THIS AD 1FOR

MINI GOLF

Buy 1 round of Mini Golf at

either Ferrymead Golf

(Monster & Zombies Indoor

or Volcano Park outdoor)

or Caddyshack indoor and get

another round FREE

Only available May, June, July, August 2017

Authorised by Nuk Korako, 6/950 Ferry Road, Ferrymead, Christchurch.

WinTEr Fun For EvEryonE

Ph 384 1566, 21 King Edward Terrace, Woolston

www.caddyshack.co.nz

LICENSED SALES CONSULTANT REAA 2008

P 0800 DEBBIE

027 777 0411

Volcano Park

Ph 376 5350, 50 Ferrymead Park Drive, Ferrymead

www.ferrymeadgolf.co.nz
---
SOUTHERN VIEW Latest Christchurch news at www.star.kiwi

Tuesday July 25 2017 5

A crocodile sits waiting for its prey in the Heathcote River.

the Heathcote

The Loch Ness Monster, seldom seen at its home in Scotland let alone in

another country, drops by to pay a visit.

A bear makes the most of the flood to find a meal.

shop

for discounts

65 + =

Savings

SENIOR DISCOUNTS

Available at

Paper Plus

Barrington.

SENIORS

enjoy...

10%

10%

10%

10%

OFF MAGAZINES

OFF BOOKS AND STATIONeRY

OFF CARDS and gifts

off games, toys and puzzles

BARRINGTON

256 Barrington St PH: 332 7997

Some terms and conditions apply.

See instore for details.
---
6 Tuesday July 25 2017

Latest Christchurch news at www.star.kiwi

SOUTHERN VIEW

News

Rotary helps teacher succeed on water

Ferrymead Rotarians had a

strong inkling they were on

to a good thing when Ryan

Pearce approached them for

support to get to the waka

ama (outrigger canoeing)

world championships. Club

member Barbara Crooks

writes about how it worked

out

THE 34-year-old South

Brighton School teacher

was part of a para-six which

paddled to a silver medal at the

World Distance Waka Ama

Championships in Tahiti a

couple of weeks ago.

Pearce, who has used a brace

on his right leg since spinal

surgery eight years ago, had been

paddling for just 12 months

before making the New Zealand

team.

To get to Tahiti he – and each

of his fellow paddlers –had to

raise $4000 in three months

since the team was named in

March.

His personal and professional

attributes impressed Ferrymead

Rotary members so much they

readily agreed. And while they

thought their contribution

modest, Ryan pointed out that

they had paid his Christchurch

DETERMINED: Ryan Pearce (front) won a silver medal at the World Distance Waka Ama

Championships in Tahiti. ​

to Auckland airfare – without

which he wouldn't have made

the plane to Tahiti.

After his selection was

confirmed in March, he had to

fund a medical examination, and

flights, food and accommodation

for three training camps (in

Napier, Auckland and Tauranga)

and the world champs in Tahiti.

As he says, there are no free

rides for truly amateur sports in

New Zealand.

His waka success further

reflected Pearce's resolve since

complications with a 2009

operation to remove a varicose

vein on his spinal cord left him

with no feeling from the waist

down. A month later, thanks

to his intensive rehabilitation

efforts, he was walking with the

help of a stick on his wedding

day.

Two years later, the remnant

of the vein forced another

operation, six weeks in hospital,

and back to work on physio in

a wheelchair. The next year,

he tackled the 2.8km harbour

crossing swim in Auckland,

dragging himself across almost

entirely with his arms. He has

done four more distance swims

since.

But he believes he trained

harder for waka than his swims

because he didn't want to let his

mates down. He's also quick to

point out that, while one of the

seven paddlers did not get a start

in Tahiti, the performance was

very much a team effort.

Pearce sees "paddling in

some capacity" as very much a

part of his immediate sporting

future. He believes he's best

suited to longer distances, which

opens the way for him to bring

his swimming, paddling and

perhaps other endurance talents

together.

Canterbury's own 21st Century Law Firm...

✓ Combined 40 years' experience in Canterbury,

we know our market.

✓ No offices we can come to you

✓ Fixed Prices = No Surprises!

✓ Time is your most precious asset, we will not waste it!

For legal advice and assistance with

• Trusts • Employment Law • Health & Safety Laws

• Business & Employment Law

• Residential and commercial conveyancing

Buying at auction? We will review

all the legalities of the property for a

fixed price of $180 plus GST plus any

LIM or title search costs.

Buying a property with a mortgage?

Fixed price starting at $950 plus GST

plus search and registration fees.

Without a mortgage: Starting at $800.

John Shingleton

Specialist business lawyer,

owner of Onlinelawyers.

Ph. 022 658 0434

john@onlinelawyers.nz

Sharon Scott

conveyancing specialist

at Online Lawyers.

Ph. 022 584 8135

sharon@onlinelawyers.nz

Premium Door Range

- SILENT SERIES -

Double Mirror Doors - $599

Triple Mirror Doors - $898

Many other panel choices also available

Now in

Christchurch

High Quality

Wardrobes &

Sliding Doors

SHOWROOM

103b Main Sth Road

Ph. 03 344 1060

Premium Quality Wardrobes

Installation and Delivery

Services Available

www.regencywardrobeschristchurch.co.nz

BEST

PRICE

$799

Artisan Homes

Builders of superior homes. Built to last.

Silver medal winner in Registered Master Builders 2016 House of the Year Awards

Artisan Homes Office & Showhome

5 Broomleigh Drive, Faringdon

Artisan Homes New Showhome

72 Blakes Road, Prebbleton

Open Sat & Sun 12–4pm

Office & Show Home: 5 Broomleigh Drive,

Faringdon, Rolleston

New Show Home: 72 Blakes Road, Prebbleton

Phone: 03 374 9172 or Rob: 021 324 876

E-mail - robin@artisanhomes.co.nz
---
SOUTHERN VIEW Latest Christchurch news at www.star.kiwi

Tuesday July 25 2017 7

News

Addington retirement village

with cafe, creche and animals

A RETIREMENT village being

built in Addington will have a

public cafe, creche, community

centre, health hub and even

animals.

Park Lane Retirement Village

will feature Living Well – a

new concept designed to create

community connections and

empower retirees.

Arvida Group chief executive

Bill McDonald said Living Well

would be a public community

precinct.

"Living Well Park Lane will

include a community centre for

both the public and residents,

complete with a cafe that sources

produce from the village's communal

gardens, a community

creche, a health club and animals

including chickens and lambs,"

Mr McDonald said.

"Traditionally retirement

villages are a gated community

– here the community is warmly

welcomed to be part of life at

Park Lane."

Mr McDonald said Christchurch

was the perfect place to

launch Living Well because of

the innovative developments

happening with the rebuild.

He hoped to roll it out across

other Arvida retirement villages,

NEW: A design of what Park Lane Retirement Village will look

like when it is complete.

he said.

Park Lane would use solar

energy to power the main buildings,

and would also offer electric

cars for residents to use.

Apartments at the new Park

Lane Retirement Village are now

on sale, and the majority are

expected to be completed and

ready for tenants in March.

A GROUP of Riccarton

business women raised more

than $5000 for family violence

support group Aviva.

The Riccarton Venus

Businesswomen's Networking

Group held a fundraiser on

July 2 with the proceeds going

directly to Aviva families.

"It's amazing to see what you

can achieve when you have

businesswomen supporting

and encouraging each other

and creating these kinds of collaborations,

and a perfect fit in

giving back to the community,"

regional South Island Venus

manager Maree Bryant said.

The group fundraised by selling

Safelets, a bracelet designed

to help vulnerable people feel

safe.

Safelet has just been launched

in New Zealand by Sharron

Jones.

After an accident while living

alone, she searched for a personal

safety option for herself and

on discovering Safelet wanted to

share the benefits of the product

with the rest of New Zealand.

SUPPORT: (From left)

– Sharon Hunt, Nicola

Woodward, Sharon

McKeeman, Sharron

Jones, Julie McCloy

and Maree Bryant and

Diane Moore (front). ​

$5000 raised for Aviva

Safelet is an "on the go"

personal safety alarm bracelet

that allows the wearer to be connected

and protected by friends

and family.

With the push of a button

they can alert their guardians

and emergency services to their

whereabouts and that they need

help.

When the lucky winner of a

Safelet, Diane Moore decided to

regift it back to Aviva it really

was a celebration of women

wanting to give back.

Aviva helps individuals and

families to become – and stay –

free of violence.

They work with children,

women, and men, giving each

person the support they need,

when they

need it, to become safe

and live free of the effects of

family and sexual

violence.

Aviva Families is delighted to

receive the support to be able to

offer their vulnerable families

this additional tool to help keep

them safe.

SPORTS

BRAS

Come in & be professionally fitted

for your supportive sports bra.

A correctly fitted bra will make

your chosen sport activities more

comfortable & enjoyable.

Choose from: Berlei, Triumph, Shock Absorber

Sizes: 10-18 Cup: A-G

ACCESS TV FOR NZ

SKY CHANNEL 083

Thursday 7.30pm

Shop 48 Barrington, Barrington Street

Phone 03 337 6609

www.lingerieonbarrington.co.nz

CREATING WITH

KIDSFIRST

6

EACH

HOURS

FREE

DAY

FOR ALL CHILDREN

Ask about no fees. Conditions apply.

2017

OUR YEAR

OF INSPIRATION

QUALIFIED TEACHERS

GREAT LEARNING

ENVIRONMENTS

KF 1708

With over 70 Kidsfirst Kindergartens and Early Learning Centres,

there's one near you, visit our website for more information...

www.kidsfirst.co.nz
---
8

Tuesday July 25 2017

Latest Christchurch news at www.star.kiwi

SOUTHERN VIEW

Email noah.graham@starmedia.kiwi

by 5pm each Wednesday

GAME ON: If you want to spend your

Saturday morning being social and

playing various games, go along to

the Spreydon Social Games Club. Play

everything from card and board games

to chess, mahjong and more. The club

meets every Saturday, 10am to noon, at

the Spreydon Library, 266 Barrington St.

Creative Writing Wednesdays

Tomorrow, 4-5.45pm

If your imagination runs wild

and you want to learn how to

put those ideas on paper in a way

that makes sense, head along

to this creative writing class. It

will suit people new to creative

writing, or those wanting to

hone their skills, pick up some

tips and learn from other

aspiring writers. Find some

fictional books while you're at

the library, or some books on

creative writing.

Linwood Library, Eastgate

Shopping Centre. Free entry

Mid-Week Laughter Club

Tomorrow, 6-7pm

The focus of the club is to get

over the stress of the first part

of the week and have a positive

outlook for the rest. The event

aims to release endorphins and

help you relax and lower stress

levels. There is no comedy,

stand-up or jokes at this session.

Instead, you are encouraged to

make yourself laugh at nothing

at all for the purpose of relaxing.

St Marks Methodist Church,

cnr Barrington and Somerfield

Sts. Entry $2

Knit 'n' Yarn

Wednesday 11am-1pm

Those who want to have a

chat while they construct their

favourite woollen creations

can, at the weekly Knit 'n' Yarn

meetings. From crochet to

knitting or a craft of your choice,

have fun with this social group.

There are a variety of books

to help inspire ideas for your

next project or even to help a

beginner. Everyone welcome.

Linwood Library, Eastgate

Shopping Centre. Free entry

Alienated Grandparents

Anonymous

Wednesday, 6.30pm

Grandparents – have you

been cut off from access to your

grandchildren? Alienated from

your adult children perhaps? You

are not alone. Grandparent

alienation is a global epidemic

in the developed world, and it

affects all populations regardless

of socio-economic boundaries.

Alienated Grandparents Anonymous

has face-to-face meetings

in 16 countries worldwide.

You're welcome to come to

our local meeting for support,

knowledge and resources. To

make a confidential inquiry,

email aga.newzealand1@gmail.

com.

Papanui RSA, 55 Bellvue

Ave

Board Games

Thursday, Friday and Saturday,

10am-6pm

Go along and enjoy a variety

of board games with all sorts

available. Meet new people and

have fun playing games. No

need to book but caregivers are

required.

Spreydon Library, 266

Barrington St. Free entry

Maker Space – Family Times

Thursday, 10am-noon

Check out this cool Maker

Space, which will feature

crafts, Lego, 3D colouring, clay,

interactive games and more.

South Library, 66 Colombo St

Game Zone at Linwood

Library

Thursday, 3.30-4.30pm

Play great favourites like

Minecraft, Charades, Connect

Four, Pictionary and more. Learn

and develop strategies in new

games such as Dutch Blitz,

Heads Up, Hand and Foot and

other group games. Join in for

X-box and PS4 tournaments.

Take your friends or meet some

new ones. All children aged 8-12

welcome.

No bookings or payment

required.

Linwood Library, Eastgate

Shopping Centre

Opawa Farmers' Market

Sunday, 9am-noon

Find some organic and

delicious produce from local

growers. Enjoy sipping on a

coffee while wandering around

the market and checking out

the food on offer. From artisan

bread and french pastries to fresh

berries and local cheeses, there

will be something for everyone.

275 Fifield Tce. Free entry

a1

Servicing now

Organic Training College

LEARN FROM

THE EXPERTS

Start a career in

organics. Reduce

your footprint and

produce a regular

supply of your own

fruit and vegetables.

COURSES (All fees under $500)

Year 1

Introduction to Organics

44 weeks

Starts August 2017

(Lincoln campus)

Year 2

Applied Organics

46 weeks

Starts August 2017

(Lincoln campus)

Programme information

college@bhu.org.nz | 03 325 3684 | www.bhu.org.nz

Free

loan cars

available

Conditions apply

$32 WOF

CONVENIENT

CENTRAL CITY

REPAIRS & PARKING

watch local | support local | shop local

Join our hosts

Geoff & Renee on

SKY CHANNEL 83

THURSDAY 7.30PM

REPEATS FRIDAY

1.30AM & 7.30AM

Cnr Fitzgerald Ave & Hereford St.

Phone: 365-5220

www.a1auto4service.co.nz

WE SHARE YOUR VISION

SKY 083 + On Demand

WWW.STAR.KIWI

For enquiries, contact Geoff Moreton: 021 1066 177
---
SOUTHERN VIEW Latest Christchurch news at www.star.kiwi

Tuesday July 25 2017 9

Linwood

College

PERSONALISED

PATHWAYS

TO SUCCESS

2018 Student Leaders: 1st Row: Vai Mariner, Crystal Mehlhopt, Jenna Hollis, Leeah Mullany, Sarah Moana Wooff-Smyth

2nd Row: Eden Pettigrew, Adonai Schwenke, Anaru Gray, Cole Barrie

3rd Row: Havana Aaifou, Thomas McHutchison, Sapana Kharal, William Paulden, Sean Robertson-Wright, Makayla Austin

Enrolling now for 2018

Rebuild Update from the Principal

Major Production 2017 'Wolfstock'

Kia ora koutou. Talofa. Kia Orana. Malo

e lelei. Bula. Fakaalofaatu. Namaste

and Kumusta. Greetings to our

Community.

I am very pleased to inform our

community of two important decisions

regarding our rebuild process.

The school's master-planning

designers have been announced. This

is the firm Architectus and we are very

positive about this.

www.architectus.co.nz

Architectus has completed many

school rebuilds and other major

projects, including in Christchurch the

Knowledge Centre (the Central Library)

and the Bus Exchange. The lead

person for our rebuild at Architectus

is Carsten Auer. Carsten leads the

Christchurch Architectus team. He is

a Redcliffs resident and is committed

to the concepts of community and

inclusion which came through strongly

in Architectus's submission.

In Term 2, 2019 Linwood College will

shift off-site for the duration of our

rebuild to what will then be the former

Avonside Girls' High site. The site will

be available as AGHS (and Shirley BHS)

will be on their new site, formerly QE2

Park. This is a very good step for us,

for while it has its own processes to

work through, there are three major

positives:

1. LC students and staff will not

experience the difficult period of rebuild

disruption. The time and energy

that otherwise would have gone to

ensuring learning was not affected

can now be used more positively.

2. The LC demolition and building

processes start with an unoccupied

site and so can operate in a single

stage. This means that a year

comes off the rebuild timeline so the

timeline we are looking at now is 18

months to two years.

3. With this considerable timesaving

and there being no need

for relocatables to shift us around

in, there is a financial saving of

approximately $1 million. This money

does not leave the budget so is used

to enhance what we will be getting.

The Ministry of Education will ensure

that LC has all the support that we

need during our temporary relocation,

including a transport plan for our

students to the new site. We will be

exploring bussing options to get our

students there. The MoE appoints

a relocation manager and employs

specialist movers skilled at shifting a

school, everything from basketballs to

hydrochloric acid.

The AGHS site is safe. The buildings

are mainly relocatable classrooms.

AGHS has operated very successfully

in them with a full academic and

social curriculum. About half of the

relocatables were brought in postearthquake

so they are modern and

warm. In fact, they are of better quality

than our present LC classrooms.

The site is close to us. I have timed my

last two drives there: 3 min 50 sec and

4 min 10 sec, just 2.2 kilometres from

the LC front gate to the AGHS front

gate.

While the rebuild of Linwood College is

well overdue, we are also aware that

the demolition of the old school will

bring mixed feelings for some. And

this makes sense as a school's physical

fabric contains many memories and

key moments in people's lives. How

we close and honour this chapter in our

school's history, while we open another,

is important to us and already is being

given due attention.

Nga mihi nui to our community as the

positive activity of the year continues. I

am always keen to meet people if any

member of the community wishes to

talk to me about anything. My door is

open.

Richard Edmundson

Tumuaki-Principal

The moon is high and all is quiet.

Excitement is rising. The night is still.

This night, 2nd August will be the

opening night of Linwood College's

2017 major production 'Wolfstock'.

This is a maverick musical written by

Mary McMahan with music by Donald

Woodward.

A 'Grease' 'Teenwolf' mash-up with

eccentric characters, great one-liners

and the odd motor bike - this fun story

along with the compulsory dancing and

singing has all the makings for a fun,

family-friendly show.

The new Performing Arts learning

team of Sam Boyce da Cruz and

Ben Russell are bringing life back

to the Linwood College productions

after a hiatus. The cast of this year's

production celebrates everything that

is great about being part of a Year

7 - 13 school with cast and musicians

involved spanning across all age

groups, collaborating and working

together to present this show.

Community Connections

Students from Linwood North

Primary School visited during Linwood

College's Taster Afternoon this month.

They were treated to a scene from the

upcoming Linwood College musical

WOLFSTOCK as well as engaging

science experiments.

Linwood College • Phone: 982-0100 • Email: office@linwoodcollege.school.nz • www.linwoodcollege.school.nz

The show will have a three night run

from 1 - 3 August. Tickets will be

available at the College's Payment

Office from Term 3. We look forward to

seeing you there.

Heathcote Valley School students

investigate science during their lesson

with Helen Mora, Head of the Science

Department.

Science, mathematics and debating

lessons taught at the College to

local primary school students are

strengthening ties with the community.

Regional Pool Championship Contenders

Kane Tahu, Justin

Howland, Shayden

McKenzie and Ben

Broomhall recently made

it into the regional 'Pool for

Schools' championships

following trials earlier this

month at the Cashmere

Working Men's Club.
---
2

[Edition datE]

Tuesday July 25 2017

10

Latest Christchurch news at www.star.kiwi

Southern View

itLocal

SOUTHERN VIEW

Keep

Master Plumbers,

Whitehead Plumbing

& Gas Limited

Guarantee Results

Whitehead Plumbing & Gas Ltd is a

longstanding Plumbing, Gasfitting and

Drainlaying company that is celebrating

its 38th birthday this year. That's a long

time working for local Christchurch and

Canterbury home owners and businesses.

Over the years Mark Whitehead has

built a loyal following of domestic and

commercial customers. The business began

in 1979 with one staff member and grew

steadily until Feb 2011 when the devastating

Christchurch earthquakes caused a surge

in demand for a wide range of plumbing,

gasfitting and drainlaying repair work.

Mark says that the earthquake put a huge

demand on the business to service peoples

needs and the business grew rapidly to

meet those needs. He said that all their staff

worked exceptionally hard during this time

to get water and drainage working again

for many people. A lot of households had

damage to their hot water cylinders and

Whitehead's were replacing around 20

cylinders per week.

The business has continued to grow

steadily since then as the rebuild gained

momentum, with Whiteheads Plumbing

and Gas Ltd being the preferred Plumbing,

Gasfitting and Drainlaying company for

many builders of high spec architecturally

designed homes. The company has also

branched out into light commercial work

including new schools, shopping centres

and retirement villages.

Mark says that although the rebuild work

on the flat is coming to an end they still

have many rebuilds and major repair jobs

to do for architecturally designed houses.

A lot of these new builds are on hill sites

where there are challenges with access and

engineering requirements.

Whitehead's are specialists in those

difficult jobs whether it be plumbing, gas

or drainage work. They have key staff who

have been in the industry for a lot of years

and their combined knowledge has given

the business the opportunity to tackle those

difficult jobs. Mark says that his team works

closely with the main contractor on every

project to see that the work progresses

smoothly.

Mark Whitehead is passionate about the

Plumbing, Gas and Drainlaying industry

and this is evident in his involvement in and

commitment

to the PGD Board, which is the industry's

regulatory body, Skills, the training

organisation, Master Plumbers, Gasfitters

and Drainlayers and other plumbing

related organisations over the years.

The business has a philosophy of training

young people and over the years they have

trained in excess of 40 apprentices. Mark

says that the industry's future is in training

the right people. The future is in good

hands with Whitehead Plumbing & Gas

Ltd

At Whitehead Plumbing and Gas the staff

take pride in exceptional customer service

and excellent workmanship.

At Whitehead Plumbing & Gas Ltd

we have a great team of loyal staff

offering a diverse range of skills.

Serving Canterbury for over 35

years, we do everything from

domestic maintenance to new

homes and commercial buildings.

Make us your first call today.

Plumbing.

Gasfitting.

Drainlaying.

03 379 0711

whiteheadplumbing.co.nz

CheCk

out the

super

sale

raCk

Maxwells

Fashion

17 lillian street, halswell 03 322 4548

open Mon - Fri 9.30am-5pm sat 10am-1pm

Shop with us and

Give Hope.

"Your face is unique.

Trust your injectable

wrinkle treatments

to an experienced

Cosmetic Physician"

Te Ope Whakaora

Medical Director

Open Monday Dr Heather - Saturday Jefferies 9am - 5.15pm

62 Poulson Street, Addington

300 Lincoln Road, Lincoln

PH: 338 5154

Your donations of household goods support our

emergency housing hostel

395 Brougham St,

Christchurch

Ph (03) 365-3411

"Exclusive range of

pottery, furniture,

handcrafts,

stoneware

& gifts"

Open 7 days

Mon-Fri 10-4.30pm

Weekends 10-4pm

oFten quoted as

"the best thai in ChRistChuRCh"

Amazing authentic Thai food will also turn you into a

Green Chilli Thai restaurant advocate.

big oFFeR Wednesday sPeCial!

3-course banquet deal! only $22pp

Home Delivery, Takeaway available, BYO,

Vegetarian Friendly

GREEN CHILLI THAI

RestauRant

1/596 Ferry Road

Woolston, Christchurch

greenchilli@windowslive.com

Phone: 03 384 9993 or 03 381 2855

Pain free laser

"Your face is unique. skin Trust rejuvenation your injectable wrinkle

Facial assessments

treatments to an experienced Cosmetic Physician."

Injectable wrinkle

- Medical Director, Dr treatments Heather Jefferies

Dermal fillers

Prescription peels

• Pain free laser skin Microdermabrasion • Prescription peels

rejuvenationMole Mate® skin • Microdermabrasion

cancer

• Facial assessments and mole

• Mole

checks

Mate

Leg vein treatment

® skin cancer

• Injectable wrinkle and mole checks

treatments

• Leg vein treatment

• Dermal fillers

31 Colombo St, Cashmere

Phone 372 3589 www.koruskin.co.nz

31 Colombo St, Cashmere | Phone 372 3589

www.koruskin.co.nz

Advertising enquiries Richard McCombie | Ph: 021 914 335 | richard.mccombie@starmedia.kiwi
---
SOUTHERN VIEW Latest Christchurch news at www.star.kiwi

Tuesday July 25 2017 11

GREAT food

BROUGHT TO YOU BY...

Your fresh food people

bowl. Season with salt and

pepper.

Heat a little oil in a large frying

pan and cook 1/4 cup of mixture

until golden on both sides.

Mix garlic with sea salt and

yoghurt in a small bowl.

Serve carrot fritters drizzled

with a little yoghurt dressing.

MOROCCAN ROAST LEG OF

LAMB

CARROT FRITTERS

Ingredients

2 cups Carrots

½ tsp Coriander

½ tsp Cumin

2 Eggs

1 Garlic clove

3 Spring onions

½ cup Breadcrumbs

1 to taste Salt and freshly ground

pepper

3 Tbsp Oil

2 Garlic cloves

½ tsp Sea salt

½ cup Yoghurt

Directions

Mix carrot, cumin, coriander,

eggs, garlic, spring onions and

breadcrumbs together in a

Ingredients

1 Leg of lamb

10 fillets Anchovies, cut into thin

strips (reserve anchovy oil)

1 Lemon, peeled and cut into

thin strips

10 Mint leaves

¼ cup Liquid honey, warmed in

the microwave

2 Tbsp Sumac powder

1 Tbsp Moroccan seasoning

1 to taste Sea salt flakes

Directions

Preheat oven or hooded

barbecue to 195 deg C. Line a

roasting dish with foil and spray

heavily with oil.

Lightly cut the lamb skin in a

criss-cross pattern, turn over and

make approximately 10 incisions

in and around the bone area.

Insert two anchovies, two

lemon strips and one mint leaf in

each incision.

Turn the lamb back over, rub

in the anchovy oil and pour

over the honey. Season with the

sumac, Moroccan spice and sea

salt.

Place in the oven or barbecue

and roast for 15 minutes, then

drop the heat to 155 deg C

and continue for about one

hour.

Remove the lamb on to a

cooling rack and rest for 20min.

CARROT AND NAVAL

ORANGE SALAD

Ingredients

1kg Carrot

2 Garlic cloves, chopped

2 Tbsp Sugar

2 Tbsp Extra virgin olive oil

50g Toasted almonds, sliced

2 Naval Oranges, peeled/sliced

2 Tbsp Fresh mint, chopped

2 Tbsp Ground cumin

Directions

Peel the carrots. Place into a

saucepan and cover with water.

Add the sugar, bring to the boil

and cook until firm.

Drain and then dry. Cut into

julienne or grate. Saute the garlic

in a frying pan with olive oil, add

carrots and fresh herbs and season

with cumin, salt and pepper.

Set aside until cold. Add the

orange juice and sliced orange and

mix well.

Serve with fresh mint leaves,

sliced orange and roasted

almonds.

Bananas .......................... 1 .79

kg

Carrots 1kg Bag ................ 1 .69

bag

Large Crown Pumpkin .. 2 .99

each

Washed Agria or

Nadine Potatoes 3kg 3 .99

bag

Whole Lamb Leg Roast .. 10 .99

kg

Fresh whole Chicken

Size 18 ..................................... 9 .99

EACH

Beef Bolar Roast ..... 10 .99

kg

Free Farmed Pork

Shoulder Roast .......... 8 .99

kg

All our fresh meat is 100% NZ FARMED.

specials VAlid 24th juLY - 30th juLY 2017. ONLY AVAILABLE AT

RAEWARD FRESH HAREWOOD RD, TOWER JUNCTION & MARSHLAND RD

harewood rd Mon–Fri 7.00am–6.30pm Sat–Sun 8.00am–6pm

Tower junction Mon–Fri 8.00am–6.30pm Sat–Sun 8.30am–6pm

MARSHLAND RD Mon–Sun 8.00am–6:00pm

WWW.

.CO.NZ
---
12 2

Tuesday [Edition datE] July 25 2017

Southern View

Latest Christchurch news at www.star.kiwi

itLocal

SOUTHERN VIEW

Keep

Honest, direct, up front with

advice and easy to deal with

Family-owned since its inception in 1972,

Kerry Briggs has been running Briggs Auto

Service since 1992.

Briggs Auto Service consist of a small

team dedicated to offering a high standard

of professional repair and personal service

to each and every client. The mechanics

offer friendly personal service throughout

the repair process, always taking the time

to understand the needs of the client.

Customers get to deal with the mechanic

working on their car, not the receptionist.

The same mechanic works with each client,

offering a continuum of service and one-onone

attention.

Briggs Auto Service offer the full range of

automotive repairs and services. They have

experience working on any type of vehicle

specialising in cars, vans and 4WDs.

Briggs Auto Service offer WoF and custom

work, with computer diagnostics on-site.

Computer diagnostics is an extremely

specialised field which saves customers

stress and expense trying to determine the

cause of the problem. Briggs Auto Service

utilise the latest diagnostic equipment for

locating computer faults and fuel injection

faults, looking through each component

separately. For clients' peace of mind that

the repair is of the highest standard, all

work comes with a workmanship guarantee.

The second-generation family business

has been providing the local community

and wider Christchurch area with friendly

professional service at their current location

at 242 Barrington Street for 45 years.

Contact Kerry and his friendly team

on 03 332 0140 for a free quote or online

at kbriggs@xtra.co.nz, or drop in to see

them.

Briggs Auto Service - Your local trusted automotive

service and repair specialists

BRIGGS

AUTO SERVICE

LET US

SERVICE yOUR

VEhICLE And

REdUCE yOUR

RUnnInG

COSTS

your local trusted automotive

service and repair specialists

332-0140 | 242 Barrington Street

Kerry Briggs | Blair Shewan

FREE

Cataract Assessment

Your eye surgery experts

0800 4 EYE TEST

0800 43 93 83

Longhurst Health - 53 Caulfield Ave

Have an

Elite Haircut

for an

Affordable Price

Mens Cuts $18

Womens Cuts $25

Kids Cuts under 12 yrs $15

Clipper Cuts $14

Gold Card Mens $14

Gold Card Womens $18

Open Blade Box In $4

No appointment needed! Eftpos Available

HOURS: Mon-Fri 9am-5pm, Thu 9am-7pm,

Sat 9.30am-12.30pm

238 Barrington Street, Spreydon (opp St Nicholas Church)

Specialist

eye care in

your area

"Where Every Smile Matters"

Experienced team provides caring and

gentle dentistry for the whole family

Dental Hygienist Available

Sedation dentistry

Wedding packages

Winz quotes

ZOOM whitening

treatment

ACC accredited

Dental Health Counselling

Free treatment for

adolescents (13-18 years)

Free treatment of

children (0-13) with a

school dentist referral

PH 332 6399

We've moved!

Now based at

104 Colombo Street,

Beckenham

www.smileconcepts.co.nz

Shop with us and

Give Hope.

Te Ope Whakaora

Open Monday - Saturday 9am - 5.15pm

62 Poulson Street, Addington

300 Lincoln Road, Lincoln

PH: 338 5154

Your donations of household goods support our

emergency housing hostel

140 Colombo Street, Beckenham

Phone 03 943 1639

www.themohairstore.co.nz

3 Reasons

to see us today

1. Fast & friendly service

2. all dentures made

on site

3. Doesn't cost an arm

and a leg

call 322 4004

TexT 027 537 0567

230 BarringTon sT

www.denturesouth.co.nz

Shop online

with the in

store special

prices!

Discount code:

Goat

themohairstore

Advertising enquiries Richard McCombie | Ph: 021 914 335 | richard.mccombie@starmedia.kiwi
---
SOUTHERN VIEW Latest Christchurch news at www.star.kiwi

Tuesday July 25 2017 13

KIDSTUFF

Lindisfarne nursery school

Lindisfarne opened in 1987 with the aim of

providing parents and families with a nursery

school which respects their individual needs

and aspirations. We provide full time, part

time and casual enrolment opportunities for

your child, so that you can organise a schedule

which suits your requirements.

The teachers provide learning experiences

tailored to individual children's needs and

interests, and the programme promotes

independent thinking and skill development.

Our aim is to have happy, settled, confident

children, who enjoy an environment which

fosters a love of learning, and respect for all

people.

We are proud of our multi-national

community and the opportunities this

provides for both teachers and children.

Regular parent and whanau activities are

organised throughout the year, and we place

an emphasis on a close liaison between home

and nursery school, which is vital to any child's

success and progress.

We do hope you find our website helpful

(www.lindisfarnenursery.school.nz) but

encourage you to visit the nursery school

for a full information booklet. We will be

delighted to meet you and your child, and

welcome you to Lindisfarne.

Kids love CASPA!

Learning through

experiences,

interactions and play

at Marshlands Nest

Roslyn Eason, fully trained and experienced

early childhood teacher, owns and operates

Marshlands Nest Early Learning Centre which

is an intimate centre with a maximum of 25

children.

Roslyn says "Our goal is to create a setting

where self-esteem, love, learning and respect

for others is prominent and where every child

leaves each day feeling secure and loved in

their special environment.

At Marshlands Nest they create a most

positive environment for children so they can

learn through all experiences and interactions

but most importantly through play.

This have a mixed licence which means

children of different ages play and interact with

each other. It allows siblings to be together

and gives solo children a chance to be part of

a larger family. It also means children do not

need to transition between rooms so can stay

with the same teachers and children.

Marshlands Nest does recognize the need

for age specific learning and a portion of each

day is spent in 'nest times" learning with

others of the same age.

The team at Marshland Nest would love to

have you as part of their family, please feel

free to drop in or give them a call.

CASPA (Creative After School Programmed

Activities) incorporating PAPA JACKS offers

children the opportunity to be creative, make

new friends and try new experiences all within

a safe, nurturing environment. CASPA offers

working parents an affordable after school and

school holiday programme that their kids just

love!

CASPA attributes its success to the variety

of activities on offer as well as the convenience

and affordability for parents. CASPA kids

enjoy an exciting range of activities including

sports, music, games, drama, arts and craft as

well as fun trips. Previous themes and activities

have included a Karaoke Dance Party, CASPA

Fear Factor, Healthy Art, Out of Africa and

hundreds of other amazing themes/activities!

CASPA parents enjoy peace of mind,

knowing their kids are safe and enjoying the

benefits of a quality after school programme.

Some parents and caregivers also enjoy

government subsidies for CASPA. CASPA

is Child Youth and Family approved for the

OSCAR Subsidy and in some circumstances,

the full CASPA fee will be covered by the

subsidy.

For more information or to enrol, call

Caroline, Rachel or Tania on 349 9260 or

visit www.caspa.org.nz

CASPA

After School

& Holiday Programme

Creative

After

School

Programmed

Activities

• Sports • Music • Games

• Drama • Arts and craft

• Fun trips

• Central location

• Cooked healthy heart meals

• Large private outdoor play area

• Casual care available

• Enrolments available now

• 7.30am - 5.30pm Monday to Friday

EST 1987

389 2483

375 Worcester Street • Christchurch

Your friendly childcare solution

• We provide a safe, creative

environment for 5-13 year olds

• Our staff are trained

• A range of fun activities

• 7.15-8.30am and 3-6pm Mon-Fri

• 8am-6pm Holidays

• Kids just LOVE it!

Subsidies

Apply

call us

noW

P: 349 9260 or 027 352 1638

E: info@caspa.org.nz

W: www.caspa.org.nz

Incorporating
---
TM

14 Tuesday July 25 2017

Latest Christchurch news at www.star.kiwi

SOUTHERN VIEW

BRIDALSHOW

save the date

Sun 27th Aug

10am to 3pm

Air Force Museum

45 Harvard Ave

Wigram, Chch

Tickets: $20.00

For faster service keep a hold of your

Job Reference No. 134009

Hi there,

Attached is your artwork proof. To enable us to complete your order,

we request that this form is completed, signed and returned either

in store or via email, or alternatively a quick email stating that you

have reviewed your proof, and approve for me to send it to print.

I have done my best to check all your details are correct however I'm

only human and I may have missed something, so I advise that you

double check all information thoroughly. This includes information such

as spelling, phone numbers through to dates and addresses. Please

be aware that once you sign off this proof, it is your responsibility

should anything be incorrect when your printing arrives, and any

P 0220467746

E info@gonetattoo.nz

www.tattooremovalcompany.nz

bliss

Modern

Contemporary

Hair

CREATING YOUR PERFECT WEDDING

weddings by

collective concepts

www.weddingconcepts.co.nz
---
SOUTHERN VIEW Latest Christchurch news at www.star.kiwi

Tuesday July 25 2017 15

HEALTH & AWARENESS

Hip pain: Do I have arthritis or

could it be mainly my muscles?

The team at Physical Sense in

Sydenham sees clients with a

range of symptoms but many

of their middle-aged and senior

clients visit complaining of pain in one or

both hips.

Physiotherapist Ietje van Stolk suggests

that a major part of the pain could be due

to muscle pain rather than simply arthritis.

"Even if an x-ray shows arthritis, the reason

for the pain may be the muscles around

the joint," she explains. Alternatively, a back

muscle could also be the cause, as shown in

the image.

Ietje recalls one case where an 89 year old

client with severe arthritis who walked with

a stick, told her, "I will end up in a wheelchair,

I cannot put any weight through my right

leg due to pain in my hip and buttock".

"Within 4 treatments, she was walking with

her stick but without the severe pain," says

Ietje. "The arthritis was one of the factors

that made her muscles spasm but the other

was that older people move less and the

flexed position the hip is in when we sit is

particularly bad for the hip." Ietje is happy

with the fact that although the client was 89

and could have been "given up on" or told to

live with the pain, she made a difference to

Hip muscle that causes hip pain

(the crosses are the areas of the muscle spasms, the red areas is where the pain is felt)

her health and wellbeing.

At Physical Sense, hands-on techniques

(massage and triggerpoint deactivation

techniques) are used to release the muscles.

The client also gets a home exercise program

designed to mobilize and stretch the hip,

strengthen the important core muscles and

increase general strength and balance. They

teach a movement sequence that stretches

the hip in all directions whilst the client is

able to lie safely on their bed, perfect for

older or less mobile clients.

In many cases having the muscles

released and being taught how to maintain

it, is enough to stay on top of the problem. If

severe arthritis is the underlying cause, some

Back hip muscle that causes hip pain

maintenance therapy may be necessary, but

that is often more affordable and, for older

patients, better tolerated than surgery. In

very few treatments the client will know if

it is going to work for them or not, without

financial commitment.

Physical Sense Gym and Physio is located at 300 Colombo Street, Sydenham. The Blue Line Bus stops in front of the door and there is ample

parking. To enquire about specialised exercise classes or physiotherapy treatment, phone 377-2577 or visit www.triggerpoints.co.nz

Discover this

unique Emporium

Metal art - gifts - hoMewares

water features - pottery

Mirrors - candles

wall hangings & More

722 Marshland Road, Top end Styx

Open 7 Days

Ph: 03 323 9781

www.hitchingpost.co.nz

Magazine & TV | sTyle.kiwi

tHe tRuSteD nAme in fAbRicS

style

noun

elegance and sophistication.

synonyms: flair, grace, poise,

polish, suaveness, urbanity,

chic, finesse, taste, class,

comfort, luxury, affluence,

wealth, opulence, lavishness.

"Specialists in real value

apparel and upholstery fabrics"

HARALDS

ANNEX RD

BLENHEIM RD

BIRMINGHAM DRIVE

47 Birmingham Drive, Middleton | Phone 338 7700 | Open Mon-Sat 10-4

47

MATIPO ST

5 Warning Signs of Spinal Stress!

A healthy spine is vital to

your wellbeing.

Specialist spinal therapy

at Southern Chiropractic

consists of:

• Manual manipulative

therapy

• Soft tissue Massage

• Low level Laser therapy

• Exercise and postural

education

André Grob,

Dr of Chiropractic,

has had over

10 years

experience of

specialty spinal

care in Australia

and New Zealand.

FOR BETTER SPINAL HEALTH ACT NOW….

RING 322-1432

Southern Chiropractic Ltd

290 Halswell Road • Halswell • Christchurch 8025

Telephone 322 1432

www.southernchiropractic.co.nz

email Dr.Grob@southernchiropractic.co.nz

●

●

●

●

SCIATIC PAIN

HEADACHES

NECK PAIN

AND TENSION

MID BACK PAIN

AND TENSION

LOW BACK PAIN
---
16 Tuesday July 25 2017

Latest Christchurch news at www.star.kiwi

SOUTHERN VIEW

Breaking news,

delivered to

your pocket.

Visit www.star.kiwi

anytime, anywhere!

Fire rages, homes at risk

•news •CTV •sport •districts •schools •lifestyle •opinion •what's on

www.star.kiwi
---
SOUTHERN VIEW Latest Christchurch news at www.star.kiwi

Tuesday July 25 2017 17

REAL ESTATE

An elegant answer

153A Clyde Road, Fendalton

Auction: Thursday, 03 August 2017 Unless Sold Prior

3 bedrooms | 2 bathrooms | 3 toilets | 1 living room | 1 dining room | 2 car-garage | Listing # PI47784

Combining elegant and beautifully

proportioned spaces with ease of

maintenance and a superbly convenient

location, this exceptional townhouse is the

perfect answer for those seeking stressfree

contemporary living. Classic brick

construction ensures timeless appeal,

lovingly updated renovation to incorporate

modern comforts including partial double

glazing and a chic new kitchen. Situated in

a perennially popular neighbourhood, it

is zoned for top schools and is just a short

stroll from the supermarket, with several

cafés and restaurants within walking

distance.

Stone features add texture to the openplan

living, providing separation between

dining and lounge areas. A double-sided gas

fire (above which two televisions are cleverly

positioned) enhances the ambience of the

space, while large sliders to the courtyard

garden bathe the room in light and provide

delightful leafy views. The chic kitchen

combines the practicality of generous

storage and bench space with contemporary

extras such as under-bench lights at the

breakfast bar, instant boiling water and softclose

drawers. The spacious master upstairs

has its own private balcony and en-suite,

and two more double bedrooms share a

family bathroom. A double garage, separate

laundry, guest powder room and great

storage ensure this property ticks all the

boxes. Outside, a brick-walled courtyard

garden offers an appealing and easy-care

space for relaxing and entertaining.

Classic design and a leafy, established

setting ensures that this development is

often admired. Warm, comfortable and

appealing, this lovely property offers so

many options. Zoned for Fendalton School,

Cobham Intermediate, Burnside High,

Boys' High and Girls' High (Jan 2018), you

can be assured that your investment will be

underpinned by a blue-chip location. Don't

miss this unique opportunity!

Open Homes Saturday and Sunday 2:30

p.m. – 3:15 p.m.

See you at the open homes or to arrange

a private viewing, give me a call today

Deb Harvey of Harcourts Gold Papanui

(Licensed Agent REAA 2008) on 352 6166

or mobile 027 220 6565

growing with you

SprIng Is here –

It'S Sow Time

how to get the best results from

seeds and seedlings

100% NatIve In

The capItal

Unravelling the secrets of

Otari-wilton Bush

The New Zealand

landscape awards

The people behind

the projects

$7.90 incl. GST

Save our roSeS

How a rose register is protecting our heritage

September 2016 | 100%

It's time

to grow!

New look and more

content than ever!

MeeT LeSTer Brice

A Garden coach

auckland Botanic GardenS

Why we love our public grounds

now bigger than ever

The magazine for

gardeners who like to get

their hands dirty

SubScribe from

$43. 50*

*6 issues/6 months

ISSN 2423-0219

SUBSCRIPTIONS FREEPHONE

0800 77 77 10

www.gaRdeNER.kiwI
---
18

Latest Christchurch news at www.star.kiwi

Tuesday July 25 2017

SOUTHERN VIEW

Classifieds Contact us today Phone our local team 03 379 1100

Computers

ALL

YOUR

COMPUTER

WORRIES SOLVED!

*$30.00 off your first

service with this coupon!*

No problem too big or

small from home PC's to

business networks. PC

slow? An end to Viruses,

Spyware, and Clogged

Systems. Safe secure

hassle-free computing.

Lost files recovered.

Microsoft Certified,

MCSE, MCP+l. 30 years

experience. Call Andrew

Buxton this week on 326-

6740 or 027 435-7596

for $30.00 off* Custom

Computers Christchurch

Curtains

www.curtainfabric-outlet.com

Fashion Designs & Colours

Discontinued Designs

End of Lines Bargain Prices

Call at Our Shop

CURTAIN FABRIC OUTLET

71 Hawdon St Sydenham

Ph 366-5026

Gardening

& Supplies

A GARDEN

PROFESSIONAL

NEEDED? Qualified

Horticulturist, offering

expert pruning, garden

makeovers, garden design

and landscaping, for free

quotes call Bryce 027 688-

8196 or 0508 242-733

Holiday

Accommodation

QUEENSLAND SUN-

SHINE COAST AUSTRA-

LIA Resort, Ocean Views,

Balconies, Self Contained,

1 or 2 B/R Ensuite,

Heated Pool, Spa, Sauna,

Free Internet, Shops,

Restaurants, Tennis, Surf

Club & Patrolled Beach,

Public Transport at door.

Ask for our SEASONAL

SPECIALS. Phone 61 7

544-35011 Email: reception@mandolin.com.au

www.mandolin.com.au

Trades & Services

REntal

Trades & Services

CARPET CLEANING

Busy Bees

Professional carpet and

upholstery cleaning at

affordable prices

• Carpet cleaning from $20 a room

• Lounge and dining chairs from $10 a chair

(conditions apply)

Give us a "Buzz" on 0800 500 016

to discuss your requirements and

get a FREE quote.

www.busybees.co.nz

GARDEN SUPPLIES

CHCH'S LARGEST SELECTION OF

BARK • COMPOST • SHINGLES

Remember...

we are NOT in

Parkhouse Road

Landscape Lane (off Lunns Rd)

P. 348 2915 OPEN 7 DAYS

nO GREEn wastE In anY OF OUR COMPOst

kitchen renovation

Kitchen looking tired?

Revitalize with new colour at a

fraction of replacement cost

• Alterations & Hardware available

• Laminated Kitchens no problem

• 'On Site' finishing available

• Over 20 years experience

• Free Quotes with no obligation

• All Joinery & Furniture repair & Spraycoatings

No BoND

Terms and conditions apply

NEED A

FRIDGE • WASHER

TV • FURNITURE ?

Call Mr Rental - 0800 111 313

Visit www.mrrental.co.nz

123 Blenheim Road, Riccarton

Open Monday to Saturday

Trades & Services

PABLO'S PAINTWORKS

27 Birmingham Drive, Middleton

03 338 6280 | 021 541 323

pablospaints@xtra.co.nz

www.pablospaintworks.co.nz

Trades & Services

spouting

Trades & Services

painter

Price Family

Painters Ltd

Interior/Exterior

Wallpapering/Painting

Gib Stopping

Free Quotes

EQC Opt Out

Fletcher Accredited

Project Management

Phone: Morton 021 667 444

Email: mortonprice@xtra.co.nz

www.pricefamilypainters.co.nz

PAINTING - PLUS

• PAINTING • TILING

• PLASTERING

• WALLPAPERING

Phone Kevin Steel

• Interior/Exterior

• New Homes & Repaints

• Quality workmanship assured

• Correct preparation always undertaken

• 20+ years experience

• Earthquake repairs

(Painting/Plastering/Wallpapering/Tiling)

Ph 381 7417 or 027 216 8946

www.facebook.com/kevinsteelpainters&decorators

Trades & Services

HOUSE

CLEARING

Are you

moving house

or trying to

downsize?

Call All Clear

Canterbury. We work

with you to recycle,

sell and dispose of

unwanted items.

Ph: 03 260 0934

or 021 078 4553

raewynlcooke@gmail.com

www.allclearcanterbury.co.nz

Trades & Services

Lawns, Gardens

& Home Cleaning

9185885AA

Free Quotes

Professional, personalised

service. Regular &

one-offs. Fixed price.

Ph: 377-5814

For all your property and

cleaning requirements

Trained, insured & security

screened owner/operators

Multi-award winning

systems & Franchises

Franchises Available

www.fviphomeservices.co.nz

PLUMBER

Michael

Gale

Plumbing Ltd

PROMPT SERVICE

For all

Plumbing

•Roofing/

spouting

•Maintenance

•Installations

8790441AA

Trades & Services

Small work

no problem

Ph 364 7080 (24 hour)

Mob 027 438 3943

AAA HANDYMAN

licensed carpenter

LBP, all property and

building maintenance,

repairs, bathroom/shower

installations, with free

quotes 03 383 1927 or 027

245 5226 ciey@xtra.co.nz

BRICKLAYER

George Lockyer. Over

35 years bricklaying

experience. UK trained.

Licensed Building

Practitioner number

BP105608. Insurance

work. EQC repairs.

Heritage brickwork and

stonework a speciality. No

job too small. Governors

Bay. Home 329-9344,

Cell 027 684 4046, email

georgelockyer@xtra.co.nz

BUILDER

For all building work

but specialist in bathroom

renovations, 30 yrs

experience, with service

and integrity. Free Quotes.

Ph Lachlan 383-1723 or

0274 367-067.

BUILDER

LICENSED

available for all aspects of

building. Please call 027

241-7471 or 335-0265

CARPET & VINYL

LAYINg

Repairs, uplifting,

relaying, restretching,

E mail jflattery@xtra.

co.nz

ph 0800 003 181

or 027 2407416

CARPENTER

HANDYMAN

Small Job Specialists,

Carpentry, Repairs,

Decking & Maintenance,

40 years experience, no

job too small, Ph Warren

03 322-1103 or 027 697-

8541

WINDOW TINTING

99% uv block

fade protection

heat control

reduce glare

25 Years Experience

Trades & Services

tintawindow

advanced film solutions

privacy films

frosting designs

non-darkening films

Workmanship Guaranteed

Lifetime Warranties on Most Films

UV

block

Free Quotes Canterbury and Districts

03 365 3653 0800 368 468

Trades & Services

CARPENTER PAINTER

& repairs. Free quotes. Ph

Joe 338-3803 after 6pm

PAINTER

Available, All aspects in

painting. Very competitive

in roofs and fences. Please

call 027 241-7471 or 335-

0265

PAINTINg

DECoRATINg

Wingfields Contracting,

all interior & exterior

painting & all forms of

interior plastering & jib

fixing, ph Mark 021 171-

1586 or 355-5994

PLASTERER

Gib Stopping, Small

job specialty. 30 + years

experience. Ring 0800

387-369

PLUMBER

ALF THORPE

PLUMBING Certifying

Plumber for all types of

plumbing, maintenance,

spouting, alterations etc.

Phone 352-7402 or 0274-

350-231

Plumbing maintenance

& repairs

New housing

Kitchen/bathroom

renovations

Gas fitting & gas water

conversions

Hot water cylinder

replacement & repairs

Cam Stevens Plumbing Ltd

Certifying Plumber

Phone. 0212 146 042

or 03 383 8050

Email. info@camstevens

plumbing.co.nz

Trades & Services

RooFINg REPAIRS

Fully Qualified, Over

40 Yrs experience

Ph John 027 432-3822

or 351-9147 email

johnmill@ihug.co.nz

SPoUTINg CLEANINg

Spouting Unblocked,

Cleaned Out and Flushed

Out. Also Full Handyman

Services Available. Call

Trevor 332 8949 or 021

043-2034

TREES BIg oR SMALL

tree removal, trimming,

stump grinding, shelterbelt

clean up, section clearing,

rubbish removals,

excavation work, ph Trees

Big or Small, for a free

quote, 021 061 4783

T.V. SERVICE

CENTRE

Repairs, tvs, microwaves,

stereos, DVD. Aerial

installations and kitsets,

480 Moorhouse Ave, ph 03

379 1400

UPHoLSTERER

Dining Chairs, Lounge

suites, Caravan Squabs

etc. recovered. Free

Quotes. Phone Graeme

383-1448

VHS VIDEo TAPES

& all camera tapes

converted to DVD, video

taping special occasions,

www.grahamsvideo.co.nz

ph 03 338-1655

Pets & Supplies

AFFORDABLE Dog

Grooming $44 small,

$52 med, experienced

and qualified groomer/

veterinary nurse,

Redwood, ph June 03 354-

6414 or 027 746-5295

Wanted To Buy

AAA Buying goods

quality furniture,

Beds, Stoves, Washing

machines, Fridge Freezers.

Same day service. Selwyn

Dealers. Phone 980 5812

or 027 313 8156

A+ Household effects,

fridges, freezers, washing

machines, ovens. Good

cash paid. Ph Paul 022

0891 671

TOOLS Garden,

garage, woodworking,

mechanical, engineering,

sawbenches, lathes, cash

buyer, ph 355-2045

WHITEWARE

WANTED Cash for

fridges, freezers, dryers,

washing machines, ovens.

Top prices paid for good

working machines. Ph

Dave anytime 960-8440 or

027 6622 116

Public Notices

Do you know

where your

nearest

CIVIL DEFENCE

sector post is?

Ring your local

council to find out.
---
SOUTHERN VIEW Latest Christchurch news at www.star.kiwi

Tuesday July 25 2017 19

What's On

Entertainment

To advertise, contact

Jo Fuller 03 364 7425

jo.fuller@starmedia.kiwi

Hurry! Italian Theme

Finishes this Sunday!

A West Coast welcome in the heart of

Redwood, beautifully refurbished and

something for all the family.

TRY OUR WONDERFUL MENU & DAILY SPECIALS

Daniels Road | Phone 352 8355

coasterstavern.co.nz

RESTAURANT & CAFÉ

We are open from 6.30am

Seniors SPECIAL

2 courses Soup/Roast or Roast/Dessert

Special available lunch only. Monday - Saturday 12pm - 2.30pm

Family Friendly

Kid's 2 course special

$20

$10

'Famous for

their roasts!'

The

RACECOURSE HOTEL

& Motorlodge

118 Racecourse Rd, Sockburn,

Christchurch. Ph 03 342 7150

www.racecoursehotel.co.nz

SERVING

HAPPY HOUR

5PM - 7PM DAILY

Available from now to Sunday 30th July 2017

OUR CABINET ITEMS

ARE HOMEMADE

CREATED FRESH ON SITE DAILY

$12

LUNCH

SPECIALS

COFFEE

HAPPY

H O U R

Live Music:

6PM.FRI.28 JULY

2PM-4PM

DAILY

$3.50

Offer available for a limited time

and includes tea, hot chocolate

MON: ROAST MEAL

TUE: FISH & CHIPS

WED: FISH BURGER

THU: ROAST MEAL

SAT: FISH & CHIPS

AVAILABLE

FROM

11.30AM-2PM

FOR A

LIMITED TIME

Sima

PHONE 385 8880 FIND US ON FACEBOOK fb.com/GBCCHCH

THE GARDEN HOTEL COMPLEX | 110 MARSHLAND RD

www.gardenhotel.co.nz | phone 385 3132

www.newbrightonclub.co.nz

MID-WINTER XMAS FUNCTIONS

WE HAVE THE VENUE. EXCELLENT CATERING.

PLENTY OF PARKING. ENQUIRE NOW!

TUESDAYS & THURSDAYS

Members Lucky Card Draw

FUNCTION ROOMS

SHUTTLE RUNNING

Tues, Thurs, Fri & Sat

TAB POD

GAMING ROOM

PIERVIEW

Restaurant

Quality

a la carte

with a view!

Open from 5.30pm

FRIDAY, SATURDAY & SUNDAY

OPEN FOR

SUNDAY BRUNCH

By the Seaside!

10.30am-2pm

ClubBISTRO

Open Tuesday to Saturday

12pm-2pm and from 5pm

Midweek $10

SPECIAL ROAST

Available Tuesday,

Wednesday, & Thursday

SUNDAY 3 COURSE

DINNER SPECIAL $25

SUNDAY NIGHT

BUFFET

Sunday 30th July

ALL YOU CAN EAT

$25 BOOK NOW!

202 Marine Parade ● Ph 388-9416

Members, guests and affiliates welcome

T H E H O R N B Y C L U B

The Heart of Hornby

Dine and

WIN

A

DOUBLE

PASS

TO SEE

Club CAFE

OPEN 7 DAYS

LUNCH & DINNER

Gluten Free &

Vegetarian options

Chalmers

Restaurant

OPEN Friday & Saturday

from 5.30pm

Sunday from 5pm

LIONEL RICHIE

THURS 19 OCT

CONDITIONS APPLY.

CLUB CAFE & CHALMERS RESTAURANT

Early Bird Special ... FRI & SAT 5.30pm – 6.30pm

Roast (4 Choices) and Free Desserts only $22.50

COMING TO

CHALMERS

LET US ENTERTAIN YOU!

PLAYING IN THE

WESTVIEW LOUNGE

FRIDAY 7PM:

ROBBIE DREW

THIS SATURDAY

4.30PM: IAN MAC

8PM: SHALOW

SUN 2PM: $5 entry

NEVILLE WILKINS

& THE VISCOUNTS

SATURDAY 7.30PM

RETRO

ROCKIN'

Anthony Easterbrook-

Carter & BACKPACK

featuring

ROY

ORBISON

mini set

Tickets $20.

Door sales $25.

SUNDAY

Family-friendly and

unbeatable value

6 AUG

$25

EVERY

SUNDAY

12PM-2PM

Bookings

Essential

The Hornby Club | ph 03 349 9026

17 Carmen Rd | Hornby

www.hornbywmc.co.nz

Members, guests & affiliates welcome
---
20 Tuesday July 25 2017

Latest Christchurch news at www.star.kiwi

SOUTHERN VIEW

24th - 30th July 2017

$

14 99

kg

$

2 49

each

Fresh NZ Beef

Rump Steak

New Season Large

Hass Avocados

Plus

$

9 00

ea

$

2 80

ea

Alpine Mild/Colby/Edam Cheese 1kg

$

2 00

ea

Griffin's Chocolate

Thins/Wheaten/

Krispie/Chocoade/

Bites 150/200g

Ploughmans Bakery

Bread 750g

$

3 80

ea

3 for

$

2 50

$

1 99

kg

Sanitarium Weet-Bix 750g/Up & Go 3 Pack

(Excludes Sugar Free)

Moogurt 70g

Dole Ecuadorian Loose Bananas

with

.nz

Plus, we're offering you $5 off to give our new service a try...

$5 off!

When you spend $100 or more.

5OFF

Use this coupon code

256 Barrington Street, Christchurch.

Open 7am – 11pm, 7 days.

ClickCollect.nz 332 6364

Use coupon code 5OFF to receive $5 off your Click & Collect order when you spend $100 or more in one transaction. Click & Collect

$5 discount offer valid for a limited time only at FreshChoice Barrington only, exclusions and conditions apply, see clickcollect.nz

for details. While stocks last at FreshChoice Barrington only. We reserve the right to limit quantities. Trade not supplied.

Order online

now.

Order

online

now.

fcsv2507