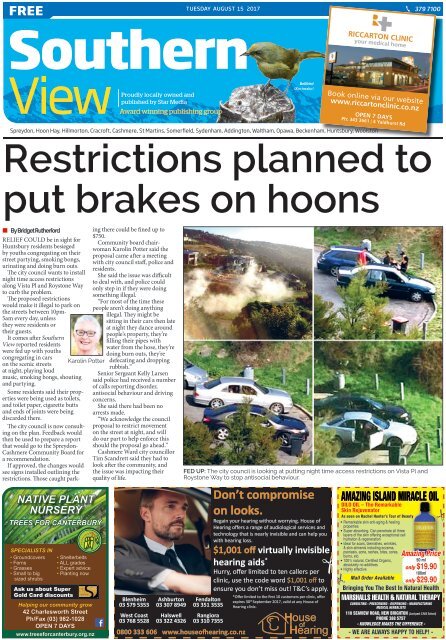 Southern View: August 15, 2017
Create successful ePaper yourself
Turn your PDF publications into a flip-book with our unique Google optimized e-Paper software.
FREE

TUESDAY AUGUST 15 2017

379 7100

Southern

View

Proudly locally owned and

published by Star Media

Award winning publishing group

Bellbird

(Korimako)

Book online via our website

www.riccartonclinic.co.nz

OPEN 7 DAYS

Ph: 343 3661 | 4 Yaldhurst Rd

Spreydon, Hoon Hay, Hillmorton, Cracroft, Cashmere, St Martins, Somerfield, Sydenham, Addington, Waltham, Opawa, Beckenham, Huntsbury, Woolston

Restrictions planned to

put brakes on hoons

Karolin Potter

naTiVe planT

nursery

Trees for CanTerbury

speCialisTs in

• Groundcovers

• Ferns

• Grasses

• Small to big

sized shrubs

• Shelterbelts

• ALL grades

• Expert advice

• Planting now

Ask us about Super

Gold Card discounts

Helping our community grow

42 Charlesworth Street

Ph/Fax (03) 982-1028

OPEN 7 DAYS

www.treesforcanterbury.org.nz

• By Bridget Rutherford

RELIEF COULD be in sight for

Huntsbury residents besieged

by youths congregating on their

street partying, smoking bongs,

urinating and doing burn outs.

The city council wants to install

night time access restrictions

along Vista Pl and Roystone Way

to curb the problem.

The proposed restrictions

would make it illegal to park on

the streets between 10pm-

5am every day, unless

they were residents or

their guests.

It comes after Southern

View reported residents

were fed up with youths

congregating in cars

on the scenic streets

at night, playing loud

music, smoking bongs, shouting

and partying.

Some residents said their properties

were being used as toilets,

and toilet paper, cigarette butts

and ends of joints were being

discarded there.

The city council is now consulting

on the plan. Feedback would

then be used to prepare a report

that would go to the Spreydon-

Cashmere Community Board for

a recommendation.

If approved, the changes would

see signs installed outlining the

restrictions. Those caught parking

there could be fined up to

$750.

Community board chairwoman

Karolin Potter said the

proposal came after a meeting

with city council staff, police and

residents.

She said the issue was difficult

to deal with, and police could

only step in if they were doing

something illegal.

"For most of the time these

people aren't doing anything

illegal. They might be

sitting in their cars then late

at night they dance around

people's property, they're

filling their pipes with

water from the hose, they're

doing burn outs, they're

defecating and dropping

rubbish."

Senior Sergeant Kelly Larsen

said police had received a number

of calls reporting disorder,

antisocial behaviour and driving

concerns.

She said there had been no

arrests made.

"We acknowledge the council

proposal to restrict movement

on the street at night, and will

do our part to help enforce this

should the proposal go ahead."

Cashmere Ward city councillor

Tim Scandrett said they had to

look after the community, and

the issue was impacting their

quality of life.

Blenheim

03 579 5353

West Coast

03 768 5528

Ashburton

03 307 8949

Halswell

03 322 4326

FED UP: The city council is looking at putting night time access restrictions on Vista Pl and

Roystone Way to stop antisocial behaviour.

Fendalton

03 351 3535

Rangiora

03 310 7355

0800 333 606 www.houseofhearing.co.nz

Don't compromise

on looks.

Regain your hearing without worrying. House of

Hearing offers a range of audiological services and

technology that is nearly invisible and can help you

with hearing loss.

$1,001 off virtually invisible

hearing aids *

Hurry, offer limited to ten callers per

clinic, use the code word $1,001 off to

ensure you don't miss out! T&C's apply.

*Offer limited to the first 10 customers per clinic, offer

expires 30 th September 2017, valid at any House of

Hearing clinic.

House

of

Hearing

AMAZING ISLAND MIRACLE OIL

DILO OIL – The Remarkable

Skin Rejuvenator

As seen on Rachel Hunter's Tour of Beauty

••

Remarkable•skin•anti-aging•&•healing•

properties

••

Super•absorbing.•Can•penetrate•all•three•

layers•of•the•skin•offering•exceptional•cell•

hydration•&•regeneration

••

Ideal•for•scars,•blemishes,•wrinkles,•

&•skin•ailments•including•eczema,•

psoriasis,•acne,•rashes,•bites,•sores,•

burns,•etc.

••

100%•natural,•Certified•Organic,•

absolutely•no•additives

••

Highly•effective

Mail Order Available

Amazing Price

50 ml

only•$19.90

100ml

only•$29.90

Bringing You The Best In Natural Health

MARSHALLS HEALTH & NATURAL THERAPY

CONSULTING - PRESCRIBING - DISPENSING - MANUFACTURING

MEDICAL HERBALISTS

110 seaVIeW roaD, NeW BrIGHToN (Just past C.N.B School)

pHoNe 388 5757

- KNOWLEDGE MAKES THE DIFFERENCE -

- We are alWaYs HappY To Help! -
---
2

Latest Christchurch news at www.star.kiwi

Tuesday August 15 2017

Inside

FROM

THE

EDITOR'S

DESK

SOUTHERN VIEW

News..................................... 3-11

THE DRUMS are beating in

Huntsbury as the city council

looks to reinforce besieged

residents under attack from hoons

(see page 1).

The city council wants to install

night time access restrictions

along Vista Pl and Roystone Way.

That would give the police the

power to inflict some real damage

by arresting or moving the hoons

on.

At the moment the only way

they can arrest the hoons is if they

are breaking the law – that could

involve anything from smoking

dope to urinating on the side of

the road.

But don't look for a quick fix.

The city council of course needs to

consult.

Consultation takes time and

with spring around the corner the

hoons will come out to play.

Time is what residents don't

have.

– Barry Clarke

Attain enlightenment at library

NEWS 10

Local Views......................4

Sport.................................. 12-13

Food..................................... 7

Kidstuff.....................................19

Events................................20

Health..........................................23

What's On.......................27

GET IN TOUCH

General Inquiries Ph 379-7100

Classified Advertising Ph 379-1100

The Christchurch Star Company Ltd. PO box 1467 - Christchurch

starmedia.kiwi

ADVERTISING

Richard McCombie

Ph: 03 364 7472

richard.mccombie@starmedia.kiwi

I CAN'T

GET OVER IT, WHY

DID YOU ORDER

SO MANY? WHY ARE

THEY HERE SO

EARLY?

PEOPLE WANT

TO BE ORGANISED

EARLIER NOWADAYS,

ANYWAY STOP YOUR

WHINGEING!

WELL,

MAYBE THEY

WOULD LIKE TO

COME IN AND

HELP UNPACK

ALL OF THIS

LOT!

2018

sorted!

LET'S

CRACK INTO IT!

I'll HELP!

FOR GOODNESS'

SAKE, JUST GET ON

WITH IT AND STOP

MOANING!

GREAT HELP YOU

ARE! SHALL I GET YOU A

CHAIR? WHAT ARE YOU

DOING, ANYWAY?

Calendars are in NOW!

Hot price on Christchurch

and Rose Lovers Calendars

OR

$

6.99ea 3 for $ 18.00

FAIR ENOUGH!

I'M QUALITY

CONTROL - YOU ARE NOT

LOADING THE TROLLEY

IN AN ORDERLY

FASHION!

Mark and Nadine Adams, owners.
---
SOUTHERN VIEW Latest Christchurch news at www.star.kiwi

Tuesday August 15 2017 3

News

Enrolment zone for merger school

• By Bridget Rutherford

WOOLSTON'S Te Waka Unua

School has introduced a new

enrolment zone to avoid over

crowding.

The Ministry of Education has

approved the merger school's new

zone, which is now in force.

It is one of several schools in the

east, including Bromley, to create

an enrolment zone, because of roll

growth.

The new zone roughly runs

from the west along Tuam St, past

Linwood College, stretching to

Linwood Ave in the east.

It then drops to Cumnor Tce,

along to Wilsons Rd, and back

up past Lancaster Park to Tuam

St.

Woolston and Phillipstown

Schools controversially merged in

2015 to form Te Waka Unua.

The Phillipstown community

objected the plan when it was

announced in 2012.

After High Court action, then

Education Minister Hekia Parata

was forced to reopen consultation

with both communities.

But the decision was eventually

made to merge the two.

Currently the school has a roll

of more than 450 pupils. The

school has previously said it can

accommodate more than 500.

Pupils who live within the

NEW: An enrolment zone is now in place for Te Waka Unua School.

new zone will be enrolled at the

school.

Each year, the school's board

would determine the number of

places likely to be available for the

following year for those who lived

out of zone.

It would work through a priority

scheme.

First priority would go to those

who wanted to be in the school's

Maori medium programme, Te

Whānau Puawai o Ngākaunui.

Second was for children who had

a sibling already attending the

school.

Third priority went to a child

whose sibling was a former

student.

Forth was for any child whose

PHOTO: GEOFF SLOAN

parent was a former student, and

fifth priority was for those who

were either a child of an employee

of the school board, or a board

member's child.

If there were more applicants

than spaces available, a ballot

process would be used.

To see the full map, visit the

school's website.

In Brief

PUPILS SOLVE GLOBAL

PROBLEMS IN KOREA

Ben Donaldson and Bronte

Perriam have a chance to

prove they are the best young

problem-solvers in the

world – and on the Korean

peninsula of all places.

The year 8 Casebrook

Intermediate School pupils

will represent New Zealand

at the e-ICON World Contest

in Busan, South Korea. They

leave tomorrow and will

be accompanied by deputy

principal Nick Leith. But Mr

Leith said the heated North

Korean political climate isn't

something they're concerned

about.

PARKING RESTRICTIONS

Parking restrictions proposed

for Rapaki Rd and Vernon,

Montgomery and Erewhon

Tces are now the subject of

public consultation. The city

council is seeking feedback

on the suggested changes,

which come after resident

complaints prompted a city

council investigation into

congestion issues in streets

surrounding the popular

Rapaki and Mt Vernon

tracks. Feedback can be made

at the city council's website

www.ccc.govt.nz before

August 23.

Our fee is

1%

from

min fee applies

At Smart Real Estate YOU keep the Profits

Our Smart Marketing offers Global Exposure

Full service, Free Appraisals

Phone Kerryn Allan

022 189 6678 or

03 384 8600

Change in operating hours

We've changed our hours at two Customer Service

Hubs to better suit local communities.

Hornby Customer Service Hub

(At Hornby Library and Community Centre,

2/8 Goulding Avenue)

Lyttelton Customer Service Hub

(At Lyttelton Library and Customer Services,

Cnr London and Canterbury Streets)

Monday – Friday

9am – 3pm

Monday – Friday

10am – 6pm

NICKY WAGNER

MP FOR CHRISTCHURCH CENTRAL

A

E

P

W

103 Salisbury Street

Central Christchurch

PO Box 21359

Christchurch 8143

chch.office@parliament.govt.nz

(03) 365 8297

www.nickywagner.co.nz

Funded by the Parliamentary Service and authorised

by Nicky Wagner, 103 Salisbury Street, Christchurch

For all the ways we can help,

visit ccc.govt.nz
---
4 Tuesday August 15 2017

Latest Christchurch news at www.star.kiwi

SOUTHERN VIEW

Your Local Views

McMaster & Heap

Veterinary practice

Meet Indy...

Meet Indy, an 11 year old speyed Lab

cross, who presented for a hind leg

mass. Indy has previously had tumors

removed so the owners knew what to

expect and wanted to get this mass

checked out as it seemed to grow quite

quickly. Indy was not bothered by it

though and she wasn't lame on the leg.

Indy is a very special patient of mine

as she has had not one but two knee

surgeries about 4 years ago

(2 months apart), to repair ruptured

cranial cruciate ligaments. Fortunately

her stifles give her no problems and she

enjoys a very fit and active social life.

FLAME FILES

Fire exposes rat nest

• By Mark Thomas -

specialist fire investigator

SURPRISE: The remains of a rat nest which caused

a freezer to catch fire in Shirley.

EARLY LAST week a

detective and I sat in

the sun for the best part

of an hour in Armagh

St while we waited for

an overworked police

photographer to arrive at a

suspicious fire scene.

For the first time in

months, the sun was shirt

sleeves warm.

Spring and summer can't

come too soon for my old

bones, but I dare say we'll

have to put up with some

wintry stuff first.

So winter advice of the

metre/heater rule, of staying

in the kitchen when

cooking, of using electric

blankets only to heat the

bed, and of cleaning the

lint filter on the clothes

dryer are still current and

pertinent.

I spent a much colder

morning in Hammersley

Ave, Shirley, last Thursday.

A shed fire had spread to

a garage and caused quite a

bit of damage.

Inspection of the shed

led us to a small freezer

with signs of the fire originating

underneath in the

compressor compartment.

A closer look at this

space revealed a pile of

newspaper, plastic and

vegetation.

It appears a large

rodent had made a nest in

amongst the wiring.

The interesting fact was

that the newspaper was

all ripped up into nearly

identical small squares.

The mental picture of a

rat carefully comparing its

bedding for uniformity of

size seems ludicrous.

But the evidence was

right there.

The police help us regularly.

So when the brakes of a

caravan being towed by a

police car overheated and

smoked volumes this

week, the St Albans crew

was more than happy to

help.

Olivia performed a FNA ( fine needle

aspirate) on the large mass, that was

very inflamed and was golf ball sized.

Unfortunately she saw lots of "mast cells"

under the microscope, giving a diagnosis

of Mast Cell tumor ( MCT ). These tumors

are malignant, grow fast and will set up

in other sites quickly. Her only option was

surgical removal to hopefully limit the

spread and extend her life.

Indy was admitted, blood tests performed

in house and chest xrays taken to make

sure the mass hadn't spread. Catherine

ultrasounded her liver as well to check

tumor spread. All looked clear. There is no

point subjecting Indy to a major surgery

if we saw gross changes in other organs.

We will never go in and operate on a

malignant tumor without first making

absolutely sure we cant detect disease

elsewhere.

Indy was then anaesthetized, connected

to our Cardell monitoring machine and

placed on intravenous fluids, then taken

to surgery to remove her MCT. Kirsty,

her surgeon, also had to remove the

associated draining popliteal lymph

node as it was enlarged and very close

to the tumor. A wide resection was

undertaken to ensure no tumor tissue

was left behind. The mass will be sent off

for histopathology to make sure no tissue

was left behind. In 10 days after surgical

removal, Indy will be back to her old self,

charging around as though nothing has

happened.

Ultrasound is a widely used diagnostic

tool at McMaster & Heap Vets. It would

Open 7 days

Cnr Hoon Hay & Coppell place

phone 338 2534, Fax 339 8624

e. mcmasterandheap@yahoo.co.nz

www.mcmasterheap.co.nz

be fair to say it is used daily and we see

referrals from other clinics as well. Our

ultrasound is mainly used for scanning

hearts, pregnancy diagnosis and viewing

all the organs in the abdomen plus has

an inbuilt ECG for looking at the electrical

rhythm of the heart. Occasionally

Catherine has scanned eyes and thyroid

glands and tendons. Its great at picking up

abdominal foreign bodies and showing

abdominal masses. Ultrasound is quick

and painless to the pet and usually yields

an answer that helps us in deciding if

the patient is a surgical candidate or not.

We have just invested in a brand new

human ultrasound machine – GE Vivid T8

– to better enable our ultrasonographer

Catherine accurate, fast diagnoses.

If you have any questions regarding

ultrasound in your pet, please feel free to

call the clinic.

Dr Michele McMaster

McMaster & Heap

I can see clearly now

OPTI-FREE PURE MOIST

Multi-Purpose Disinfecting Solution

For all silicone hydrogel and soft contact lenses

ThE BEST

BUY In

TOwn!

GREAT BUY!

$29.60

BARRINGTON, 256 Barrington Street

PH 332 1730 | www.suckling.co.nz
---
SOUTHERN VIEW Latest Christchurch news at www.star.kiwi

Tuesday August 15 2017 5

News

Seafarers Barrington service nets crowd

• By Sarla Donovan

ST SAVIOUR'S Church in

Barrington was packed for

Lyttelton's annual Sea Sunday

Service recently.

The Reverend John McLister

explained the origins of

Sea Sunday to those present.

"It is a time to remember

those who work at sea, often

in dangerous and exploitative

work conditions. Seafarers

can be in danger from

shipwreck, piracy, industry

accident and exploitation."

"On Sea Sunday, we come

to recognise a group of people

we sometimes ignore, sometimes

don't see, yet they are

essential to our lives."

He thanked those who

helped them, making special

mention of the Lyttelton Seafarers

Centre.

"Five nights a week for a few

hours in the evening, a volunteer

opens the centre, switches

on the heat pump, and tells a

seafarer our password so they

can access our free wi-fi. And

the most common sound you

hear in the centre is not the

voices of men, but the voices

of wives and children and, if

you look at what is going on,

you see tough blokes smiling,

looking at cell phone screens

as they chat to their families."

Nuk Korako

National list MP based in

the Port Hills

A

E

P

6/950 Ferry Road, Ferrymead

nuk.korakomp@parliament.govt.nz

03 384 0008

facebook.com/nukkorako.PortHills

korako.co.nz

Funded by the Parliamentary

Service and authorised by

Nuk Korako, 6/950 Ferry Road,

Ferrymead, Christchurch

"A few weeks back, at about

10, we had only one seafarer

in. He was a big, tough looking

bloke," Rev McLister said.

"I said to him: 'Sorry mate

I'm locking up'. He looked a

bit forlorn when I told him

this. I could see why. On the

screen of his phone was a little

girl he was talking to. He

turned to her and said: 'Good

night darling, I have to go. I

love you'. And he kissed the

phone."

Jess Armstrong, manager

of the centre, spoke about

their work. "It's been another

busy year," she said. "We've

had nearly 7000 visits from

seafarers since we opened two

years ago."

A collection was taken

GOOD CAUSE:

Joe and Caeli

McLister, of St

Mark's School,

prepare to

take up the

collection.

Their beanies

were knitted

by volunteers

at the Lyttelton

Seafarers Centre.

for the operational costs

of the centre. Independent

Fisheries and Lyttelton Port

of Christchurch were also

thanked for their support.

The youth orchestra from

St Peter's Upper Riccarton

Church performed and were

"just brilliant," said Port

Hills MP Ruth Dyson, who

attended the service.

massive

sale

Leading Fashion Labels

..............................................................................................................

Saturday

Saturday

19 th August

12 th August

Meet Megan on

Meet a corner Megan in your on

a neighbourhood

corner in your

neighbourhood

Rowley and

Spreydon Hillmorton

1pm

1pm

1.20pm

1.20pm

1.40pm

1.40pm

2pm

2 pm

2.20pm

2.20pm

2.40pm

3pm

3.20pm

3.40pm

3.40pm

4.00pm

Redgrave Street

& Dominion Herdman

Avenue Street+

Strickland Salmond Street

& Rowley

Domain Terrace

Avenue

& Somers Place

Barrowclough

Street &

Lyttelton Northcroft Street &

Edinburgh Street Street

Rowley Avenue

Nairn Street &

& Halswell Road

Blakehall Place

Cardigan Bay

Place Plunket & Street Wrights &

Neville Road Street

Neville

Torrens

Street

Road

&

& Hillmorton

Lyttelton Street

Street

Domain Sylvan Street Terrace &

& Sylvan Neville Courts Street

Cobham

Pavillion

Street

&

Crescent

Evesham

&

Linden

Crescent

Grove

Avenue

Hennessy Place &

Benjamin

Lyttelton Street

Mountfort Close

& Mountford John Campbell Street

& Lyttelton Crescent Street

If you would like to get in in

touch with Megan please email

megan.woods@wigram.org.nz

or call 03 3396234.

Authorised by Andrew Kirton, 160 Willis St, St, Wellington

HIKING BOOTS

FOR KIDS

GANNET

PEAK

RRP $99.95

OUR PRICE

$59.95

Great range of winter shoes

instore now…

47c Garlands Road, Woolston

Phone 389 3431

www.thefootwearfactory.co.nz

..............................................................................................................

FROM

50-80% OFF

2 DAYS ONLY!

Saturday 19-Sunday 20 August

Cashmere Club, 50 Colombo St

10am-4pm eftpos & credit card facilities on site
---
6 Tuesday August 15 2017

Latest Christchurch news at www.star.kiwi

News

SOUTHERN VIEW

St Mark's School celebrates new buildings

AFTER WORKING around

earthquake damage and rebuild

work for almost seven years, there

were plenty of smiles on Friday as

the new St Mark's School buildings

were officially opened.

The earthquake-damaged

school library and music suite

has been demolished and

rebuilt, the hall expanded and

other buildings redeveloped as

part of the $7 million project.

The buildings were officially

opened last week by Bishop

Victoria Matthews, who led the

ceremony and blessing at the

Anglican primary school.

Principal Averil Worner said

reopening the buildings was

a "massive milestone" for the

school.

The rebuild work started three

years ago, and she said work

had been done on almost every

building.

"Keeping the quality teaching

going while the school is being

built around us has been quite a

challenge," she said.

She said the new spaces would

allow more flexible teaching, and

were tailor-made for the school.

"It enhances our school

character, with a nod to

tradition but with space for

innovation," she said.
---
SOUTHERN VIEW Latest Christchurch news at www.star.kiwi

Tuesday August 15 2017 7

FREE

11mm

high

dENSity

luxuRy

FREEuNdERlAy

ON SELECTED PRODUCTS *

NylON

Newport

• Commercial Heavy

Duty

• Solution Dyed Nylon

• Loop Pile

• 5 Colours

FREE

UNDERLAY

$99 90

NylON

Okiwi Bay

• Extra Heavy Duty

• Solution Dyed Nylon

• Cut Pile

• 1 Great Colour

FREE

UNDERLAY

$157 00

NylON

horizon

• Extra Heavy Duty

• Solution Dyed Nylon

• Cut Pile

• 1 Great Colour

FREE

UNDERLAY

$119 90

WOOl

Boucle

• Extra Heavy Duty

• Wool Plus

• Cut Pile

• 1 Great Colour

FREE

UNDERLAY

$119 90

garage

Carpet

• 6 x 6 fully installed

• Conditions apply

$900 00

2nds Carpet

• 100's of metres

• Pure Wool

• Extra Heavy Duty

CLEARANCE

FROM

$60 00

2 Metre Wide

Vinyl

• Selected patterns

• Buy 1 get 1 free

BUY 1

GET 1 FREE

$49 90

Commercial

Vinyl Planks

• 4 Colours

BUY 1

GET 1 FREE

FROM

$39 90

Call for our mobile showroom to

visit your home

312 Wilsons Road North, Waltham | Phone 366 0070

Mon to Fri 8am - 5pm and Sat 10am -1pm

www.carpetkingdom.co.nz *Conditions apply.

Q Card Finance

Now Available

FREE no obligation measure & quote (conditions apply)
---
Oxford Tce

Oxford Tce

Park Tce

8 Tuesday August 15 2017

Latest Christchurch news at www.star.kiwi

t

t

SOUTHERN VIEW

r St

Salisbury St

Salisbury St

Peterborough St

Victoria St

Peterborough St

Kilmore St

Cranmer Square

Colombo St

Cambridg

Armagh St

Armagh St

Rolleston Ave

Gloucester St

Gloucester St

Worcester Blvd

Hereford St

Cashel St

Montreal St

Cambridge Tce

Cashel St

Hereford St

High St

Manchester St

Oxford Tce

Lichfield St

Tuam St

Tuam St

St. Asaph St

St. Asaph St

Antigua St

Colombo St

Durham St

Montreal St
---
SOUTHERN VIEW Latest Christchurch news at www.star.kiwi

Tuesday August 15 2017 9
---
10 Tuesday August 15 2017

Latest Christchurch news at www.star.kiwi

News

Monks offer enlightenment

with art at Halswell Library

GRAIN BY grain, Tibetan monks

are painstakingly creating a

sacred sand mandala at Te Hāpua:

Halswell Centre.

Formed from crushed, marblecoloured

sand, the 'cosmogram'

represents a world in perfect

harmony.

Then, after three weeks, the

grains will be brushed away to

"signifying the impermanence of

all things".

Mandalas are said to transmit

positive energies to the

environment and to people who

view them, guiding individuals on

the path to enlightenment.

The monks will slowly build up

the mandala, which is expected to

be completed by September 1.

Members of the public can see

them labouring over their work at

the centre as they place one grain

of sand after another to realise an

intricate symbolic design in vivid

colour.

City council libraries and

information manager Carolyn

Robertson said it was an amazing

opportunity to see the cosmogram

unfold in all its beauty.

"We are very fortunate to be

able to present this rare chance to

marvel at the wonder of the sand

mandala," she said.

Balance and Harmony: The

HARMONY: Geshe Lobsang Dhonyue, master Tibetan monk,

making a sand mandala creation at Te Hāpua: Halswell

Centre.

PHOTO: MARTIN HUNTER

Creation of a Sand Mandala

opened on Saturday.

The monks performed a

consecration service and poured

the first grains of sand after being

welcomed by local iwi.

On the last two Sundays of

this month at 11am, the monks

will outline their training and

personal perspective on how to

increase happiness.

The dissolution of the mandala

and a release ceremony has been

planned for September 2 at 11am.

Midge solutions in the wind

• By Sarla Donovan

MIDGE-PLAGUED Bromley

residents will know this week

what solutions are on the table

to try and solve the problem.

City council staff met with

the Coastal-Burwood Community

Board behind closed doors

last week.

They were discussing costs

for long and short-term

measures to control midges on

the wastewater ponds.

This follows a June meeting

between a group of affected

residents, board members and

city council staff.

The city council refused to

tell Pegasus Post the details

of last week's meeting, saying

it needed to inform residents

first.

"Once the residents have

been met with to discuss these

options, the details of the proposal

can be released," said a

city council spokeswoman.

One of the options being

looked at is installing a UV

plant in the Bromley sewage

treatment plant, which could

cost $3000 daily in power

charges.

Coastal Ward city councillor

David East has said this option

would "obviate the problem

altogether."

For years, Bromley residents

have been surrounded by

armies of midges during the

SOUTHERN VIEW

BIG PROBLEM: This pile

of midges was collected

off resident Janet Profit's

window.

summer months.

The city council has spent

$800,000 over two years trying

to fix the problem but to no

avail.

Bromley resident Janet Profit

is one of those who has been

pleading for action.

She told Pegasus Post the

residents wanted the problem

"sorted, fixed" by the summer

and their preference was for the

UV treatment. "We know it's

going to cost a lot of money but

we don't want them reduced,

we want them gone."

"They've paid $800,000 to

do what? That money was

absolutely wasted, it never

worked and that really

bugged us."

SMART

BRANDS

SMARTER

PRICES

DESIGNER

FASHION

AT OUTLET

PRICES

HORNBY 409 Main South Road | Open 10am–5pm, 7 days
---
SOUTHERN VIEW Latest Christchurch news at www.star.kiwi

Tuesday August 15 2017 11

ews

Speed limit worry for businesses

nashion

• By Gabrielle Stuart

BUSINESS owners are worried

a 30km/h speed limit on streets

around Linwood Village, which

was approved by the city council

last week, will drive away

customers.

The lower speed limit is

intended to protect cyclists on

the new Rapanui Shag Rock

cycleway, which is set to run

from the central city to Sumner.

Gardening

ngotoring

A city council committee

approved the plan on Thursday,

dropping the speed limit on

parts of Worcester, England and

Cashel Sts, between Fitzgerald

Ave and Aldwins Ave.

New speed limit signs are set

to go up within two weeks.

Suzanne Heenan, manager of

the Cats Protection League Canterbury

Op Shop on the corner

of Worcester and England Sts,

said she was worried the change

would be a final straw for some

businesses.

She said many were already

struggling because of postearthquake

changes and more

than six months of roadworks in

the area.

asty ites Bites

She supported the idea of a

cycleway, but did not believe

cyclists would replace the cardriving

customers businesses

would lose.

WORRY: A new 30km/h speed limit will be set around Linwood

Village within the next two weeks, along the new Rapanui Shag

Rock cycleway route. ​

Commuters to work aren't

going to stop, and even people

out on the weekend aren't going

to want to do much shopping,

because where would they put

their shopping when they're on a

bike," she said.

When the plan was put to

the public in May, 34 of the 65

submissions supported it, 24

were opposed, and another seven

were generally in support but

expressed concerns.

One submission from a retailer

said the lower speed limits would

discourage drivers from travelling

through the area.

"Give us retailers a chance

to survive here, as when our

customers go elsewhere the

Linwood Village will die. A dead

village with cyclists passing

through it is no good to anybody,"

it said.

"I am a cyclist and often cycle

to work, and go faster than

30km/h," another submission

said.

But other submissions strongly

supported the plan, saying it

would be good for the village,

encourage people to be active,

and the lower speed limits would

discourage "hooning" and keep

residents safer.

City councillor Sara

Templeton said she sympathised

with business owners' concerns.

She said there could be a

negative impact on businesses in

the short term, but she believed

the new cycleway would help the

village in the long term.

"There will be a positive impact

for businesses, the difficulty

is that they won't see that until

it's done," she said.

"Keeping an eye on the big

picture, people really want

these cycleways to happen.

The concerns about safety is

the biggest thing that has been

putting people off cycling, so we

do think this will help," she said.

Construction of the city side of

the cycleway is set to be complete

before November this year, while

plans for the Ferrymead section

were approved in March.

It is part of the city council's

$156 million major cycle routes

plan, which would see 13 new

cycleways built across the city.

Swimathon

fundraiser

REGISTRATIONS are open

now for Selwyn Aquatic Centre's

new swimathon event, Swim to

Summer.

Following the success of the

Swim to Rio Swimathon last year,

which raised $2300 for St John

Ambulance Rolleston, the Selwyn

Aquatic Centre has issued a challenge

to Selwyn residents to swim

a combined total of 10,000km

in pool lengths in the lead up to

summer.

Said Kathy Moore, aquatic

facilities manager: "The challenge

is for individuals to collectively

swim 10,000km before December

1, while fundraising for prostate

and breast cancer awareness.

We encourage everyone to come

along to work on their fitness and

help a worthy cause."

Those interested in being

involved simply need to sign

up in person at the centre, start

swimming or aquajogging, and

log their laps for each swim at

reception.

A number of prizes will be

available for those who swim the

most laps, in categories for men,

women and youth swimmers, as

well as most visits to the centre

during the swimathon.

•For information phone

347 2734 or email sac.

inquiries@selwyn.govt.nz

oney
---
12

In The Neighbourhood

GO LOCAL

Care Free Computing provides

a one-stop solution for all of

your computing needs - from

new computers, laptops and

printers to network setup,

maintenance and performance

tuning.

Bring your computer into

their Wigram Skies location

or call them today to arrange

your house call pickup at

0800PCPICKUP.

Discount

for $20

with this

voucher

Tuesday August 15 2017

Johnny Ellery (Owner)

PC Problems?

PC slow? Annoying errors and Pop Ups?

Internet not working? Are you secure?

Not really sure?

care free computing

Relax, with over 15 years experience

we have the answers to ALL your PC

problems. And we have a range of

unique fixed price services available.

Best of all we come to you

- at no extra charge.

Call on 0800 PC PICKUP

(0800 727 4251) or 338 8871

www.carefree.co.nz

Latest Christchurch news at www.star.kiwi

Max sets goal to follow

brother to US college

• By Andrew King

CASHMERE High

footballer Max Chretien ​

is hoping to follow in his

brother's footsteps and

head overseas to play the

sport he loves.

Max, 17, has signed with

Next Step, a company

set up in Christchurch

to help young footballers

get scholarships at United

States universities, and is

excited about the future.

"I see it as an excellent

opportunity to continue to

play my football at a high

level while studying," he

said.

Next Step was started by

former All White Aaron

Clapham.

"I went through the US

university system myself

on a soccer scholarship

and I loved it and had

a great experience and

now I'm passionate about

helping other talented

athletes have some of the

great experiences and

opportunities that I had,"

Clapham said.

Max's brother Simon,

18, has managed to get

a scholarship at Quincy

University, Illinois, and left

for the US on Thursday.

"I've seen how it fell into

place for him over the past

18 months, and how long

the process really is . . . I'm

putting my faith in Aaron

and Gary at Next Step to

try to find a college that

suits me best," he said.

However, Max is

SPORTS

SOUTHERN VIEW

YOUNG TALENT: Max

Chretien (left) hopes to

follow his brother Simon

over to the United States to

pursue his football career.

currently injured, which

has put things on hold

while he recovers.

But he said there will

be plenty of opportunities

to get footage for

future scouts from the

upcoming national schools

tournament, which his

Cashmere High squad has

qualified for.

Max said his goal was

to one day put pen to

paper for a major football

organisation.

"Even if people say it's

extremely difficult or

unrealistic, it's possible

and I think that if you

really believe in yourself

and constantly work

on yourself every day,

anything is achievable," he

said.

style

noun

elegance and sophistication.

synonyms: flair, grace, poise,

polish, suaveness, urbanity,

chic, finesse, taste, class,

comfort, luxury, affluence,

wealth, opulence, lavishness.

HealtHy Heat

& eat meals

delivered to your door

themohairstore

Norma Lill

Key attributes that distinguish my success

in Real Estate are centered around:

• High standards

• Extraordinary work

• Ethics

And lots of energy

with a great

commitment for

exceeding outcomes.

Experience the warmth-without-weight feeling

that luxurious New Zealand-made Mohair and

Alpaca throws provide.

If you love New Zealand made natural fibres,

then you will be spoilt for choice at

The Mohair Store.

Shop online with the in

store special prices!

Discount code: Goat

140 Colombo Street, Beckenham

Phone 03 943 1639

www.themohairstore.co.nz

Ad size: 9x4 (90cm x 130cm)

Just call me on

027 432 5168

" I am still

learning, still

inspired, still

loving every

minute. "

Barrington Mall, Christchurch

Magazine & TV | sTyle.kiwi

Convenient, Healthy,

Fresh Meals.

Simple to Store,

Heat and Eat.

Pick Up or

Delivered Weekly.

9 Raycroft St, Opawa

P. 03 420 0722

orders@eatl8r.co.nz

www.eatl8r.co.nz

Dyers Road Landscape

& Garden Supplies

• Barks • Peastraw • Composts - we supply the best available

• Aggregates - Chip, Round and Basecourse

• Pavers & Schist products • Pungas

• Decorative Stones & Landscaping Rocks

• Trailer Hire first hour free with purchase

• Bag & Bulk - pick up or delivered

David, Carol & Mike

We will deliver!

SOIL

AND

HARDFILL

DUMPING

Phone: 03 384 6540

183 Dyers Rd, Bromley • OPEN 7 DAYS

Weekdays 7.30am-5pm. Weekends 8.30am-3pm

www.dyersroadandlandscapes.co.nz
---
SOUTHERN VIEW Latest Christchurch news at www.star.kiwi

Tuesday August 15 2017 13

Cashmere heads to semi after big win

• By Andrew King

CASHMERE HIGH will take on

St Andrew's College in the

semi-final of the Connetics

first XI football competition at

English Park tomorrow night.

They met in round two

during the regular season, in

which Cashmere took the three

points with a 4-2 win at the

Christchurch Football Centre,

where all league games were

played this year.

They will meet again at 6pm.

Cashmere coach Craig Squire

is not taking the boys from

Papanui Rd lightly.

"[St Andrew's] will be a hard

side to break down with a very

talented squad," he said.

"However, the boys have the

self-belief, skill and desire to win

. . . the boys are ready for the

challenge."

St Andrew's football coordinator

Matt Jansen said they

have learnt a lot since the loss in

round two.

"[We are] looking forward

to playing them again and

embracing the challenges that the

game will bring," he said.

"We know that we can play

good football on our day."

In the other semi-final, minor

premiership winner St Thomas

will play Burnside High.

Previously Burnside were

CONCENTRATION: Max and Simon Chretien's younger brother

Tom looks to get the ball in the box for Cashmere High during

last week's 8-0 win over Rangiora High.

beaten 3-1 by St Thomas in round

seven.

Their semi-final will be played

at 4pm at English Park. Burnside

have retained the Connetics

Shield for the season.

All four teams finished the

regular season last week with

wins, scoring 18 goals between

them.

Burnside beat Riccarton High

4-1, St Andrew's beat Christ's

4-0, Cashmere beat Rangiora

High 8-0 and St Thomas clinched

top spot with a 2-0 win over

Christchurch Boys' High.

There will also be plate semifinals

played for by teams who

LOCKED AWAY: Burnside High have retained the Connetics

Shield until next season and will take on St Thomas in the

semi-final tomorrow night.

Final points table:

1. St Thomas, 30pts, GD 29-1

2. St Andrew's, 27pts, GD

32-2

3. Cashmere High, 26pts, GD

26-3

4. Burnside High, 26pts, GD

25-4

5. St Bede's, 25pts, GD 10-5;

6. Lincoln High, 21pts, GD

17-6

finish fifth to eighth.

St Bede's will play CBHS at

4pm tomorrow and Lincoln High

will play Shirley Boys' High at

7. SBHS, 16pts, GD 1-7

8. CBHS, 13pts, GD 3-8

9. Papanui High, 13pts, GD

16-9

10. Riccarton High, 11pts, GD

7-10

11. Middleton, 8pts, GD 7-11

12. Christ's College, 6pts, GD

30-12

13. Rangiora High, 3pts, GD

72-13

6pm.

Those games will be played

at the Christchurch Football

Centre.

NEW LOCATION ADVERT.pdf 1 1/05/2014 11:51:35 a.m.

Discover Christchurch's

best priced pet

accommodation

VISIT OUR NEW LOCATION LOCATION

430 ST ASAPH STREET!

• Grooming

cats and dogs

• Daycare -

all breeds

• Long stay/

short stay

Call now to book in your fur baby -

inspections welcome anytime!

aLameDa

kenneLs & cattery

271 Dyers Road | Ph 384 1297

www.alameda.nz

RECOVER YOUR LOVED FURNITURE

No job too big or small

Discover this

unique Emporium

Metal art - gifts - hoMewares

water features - pottery

Mirrors - candles

wall hangings & More

722 Marshland Road, Top end Styx

Open 7 Days

Ph: 03 323 9781

www.hitchingpost.co.nz

fall in

Love

with your

favourite

furniture

all over again.

BEFORE

AFTER

Shop online

with the in

store special

prices!

Discount code:

Goat

themohairstore

140 Colombo Street, Beckenham

Phone 03 943 1639

www.themohairstore.co.nz

Hours of Business: 7am-4.30pm Mon-Thurs

Fri 8am to midday

or by appointment with Keith 027 566 3909

Still able to offer

you the finest top

quality new furniture

Visit us online

www.qualityfurniture.co.nz

P. 371 7500

QUALITY FURNITURE SPECIALISTS

RE - UPHOLSTERY SPECIALISTS KEITH HARTSHORNE 0275 663 909

30 YEARS

EXCELLENT

RANGE OF FABRICS

EXPERIENCEFREE

Recover your couches and chairs and save money!

QUOTES

Somerfield Upholstery Ltd

FURNITURE RECOVERY SPECIALIST

10 Calgary Place, Hornby | Ph 021 251 6200 | 349 0456

VISIT OUR SHOWROOM | QUALITY WORKMANSHIP GUARANTEED

www.somerfieldupholstery.co.nz

Paul Tainui
---
14 TUESDAY AUGUST 15 2017

Latest Christchurch news at www.star.kiwi

SOUTHERN VIEW

it's Our

5 th

birthday

but yOu get

the presents! 9x2

Mention this ad for discounts on tyres and repairs

(excludes WOF)

Complete

Tyre and

Auto

$35 WOF

Canterbury owned and operated

464 Ferry Rd, 03 389 5370

ctawoolston@yahoo.co.nz

8am-7pm Tues-Wed

8am - 5pm Mon Thurs Fri | 9am-3pm Sat

New & Used Tyres • Puncture Repairs

Batteries • WOF • Balancing

Mechanical Repairs • Lube & Servicing

Wheel Alignment

Landscape Supplies

now at

WEEK ONE

DATE / GAME WHERE RESULTS

THURSDAY 17 AUGUST

North Harbour v Otago

FRIDAY 18 AUGUST

Tasman v Canterbury

SATURDAY 19 AUGUST

Hawke's Bay v Southland

Taranaki v Waikato

Counties Manukau v Auckland

SUNDAY 20 AUGUST

Northland v Bay of Plenty

Manawatu v Wellington

Albany

Nelson

Napier

New Plymouth

Pukekohe

Whangarei

Palmerston North

WEEK TWO

DATE / GAME

THURSDAY 24 AUGUST

Southland v North Harbour

FRIDAY 25 AUGUST

Bay of Plenty v Hawke's Bay

Waikato v Counties Manukau

SATURDAY 26 AUGUST

Wellington v Taranaki

Auckland v Northland

SUNDAY 27 AUGUST

Manawatu v Tasman

Canterbury v Otago

2

• Bark

• Compost

• Garden Gro

• Vege Gro

• Soil

• Shingle

• Bulk & Bags

• Peastraw

• Float & Trailer Hire

BURWOOD PRODUCE

172 Mairehau Rd, Christchurch, Ph (03) 383 1115

Hours: 9-5pm Tues to Sat, Closed Sun & Mon

NEW RELEASE

New Benchmark for Recreational Jetboating

Hamilton 9x2 470

20 Lunns Rd, Christchurch

Ph: 03 962 0505 Email: john.connelly@hamjet.co.nz

www.hamiltonjetnz.co.nz

SPECIALISTS IN

• Repairs

• Overhauls

• Rebuilds

• Radiators

• Oil Coolers

• Horse & Feed Supplies

• Eukanuba & Iams

• Coprice Dog Food

• Rabbit & Guinea Pig Food

• 9x2 Chook Food

• Bird Seed

• Treats/Toys

• Cages/Hutches

• Straw/ Hay

• Petrol Tanks

• Car Heaters

• Classics

• Vintage

• Racing Cars etc

64 Buchan St, Sydenham

Ph (03) 366 0181

WEEK FOUR

DATE / GAME WHERE RESULTS

WEDNESDAY 6 SEPTEMBER

Wellington v Hawke's Bay

THURSDAY 7 SEPTEMBER

Counties Manukau v North Harbour

FRIDAY 8 SEPTEMBER

Canterbury v Southland (RS)

Manawatu v Bay of Plenty

SATURDAY 9 SEPTEMBER

Auckland v Taranaki

Northland v Waikato

SUNDAY 10 SEPTEMBER

Tasman v Wellington

Hawke's Bay v Otago

WEEK SEVEN

ASHLEY'S

TOW TAXI

fOr SAfE, dAmAgE frEE

cAr TrAnSpOrTATIOn

"SpEcIAL cArE fOr

SpEcIAL cArS"

0800 TOWTAXI

0800 8698294

Wellington

Pukekohe

Christchurch

Palmerston North

Auckland

Whangarei

Blenheim

Napier

DATE / GAME WHERE RESULTS

WEDNESDAY 27 SEPTEMBER

Northland v Otago

THURSDAY 28 SEPTEMBER

Taranaki v Tasman

FRIDAY 29 SEPTEMBER

North Harbour v Hawke's Bay

SATURDAY 30 SEPTEMBER

Southland v Manawatu

Auckland v Bay of Plenty

Canterbury v Waikato (RS)

SUNDAY 1 OCTOBER

Wellington v Otago

Counties Manukau v Northland

9x8

Whangarei

New Plymouth

Albany

Invercargill

Auckland

Christchurch

Wellington

Pukekohe

The Automotive

Lamp Specialists

New and Used Lamps for Cars, Trucks,

Vans, 4WD and Motorhomes

325 Brougham Street, CHRISTCHURCH

PH 0800 225 483

WEEK FIVE

DATE / GAME

WEDNESDAY 13 SEPTEMBER

Canterbury v Counties Manukau (RS)

THURSDAY 14 SEPTEMBER

Northland v North Harbour

FRIDAY 15 SEPTEMBER

Southland v Auckland

Taranaki v Bay of Plenty

SATURDAY 16 SEPTEMBER

Waikato v Manawatu

Otago v Tasman

SUNDAY 17 SEPTEMBER

Counties Manukau v Hawke's Bay

Wellington v Cantrbury

WEEK EIGHT

DATE / GAME

WEDNESDAY 4 OCTOBER

Tasman v North Harbour

THURSDAY 5 OCTOBER

Manawatu v Counties Manukau

FRIDAY 6 OCTOBER

Canterbury v Taranaki (RS)

SATURDAY 7 OCTOBER

Otago v Bay of Plenty

Northland v Hawke's Bay

Southland v Wellington

SUNDAY 8 OCTOBER

Tasman v Auckland

Waikato v North Harbour

PReMiUM

tyReS &

AUtO

drive

away be

happy

10% discount when you mention this ad

tWO LOCAtiONS!

222 LiNWOOd AVe (Beside Burger King)

245 dyeRS ROAd (Cnr Wickham St)

• Vehicle servicing from $75

• Punctures only $25 for most vehicles

• Brake pads from only $110

• New & secondhand tyres on sale now

• WOFs • Lubes • Alignments

CALL NOW! HOURS:

MON - FRi

8am - 5pm

SAtURdAy

9am - 2pm

(03) 380 50 20

(Linwood)
---
SOUTHERN VIEW

Latest Christchurch news at www.star.kiwi

TUESDAY AUGUST 15 2017 15

017

WHERE

Invercargill

Rotorua

Hamilton

Wellington

Auckland

Palmerston North

Christchurch

WHERE

Christchurch

Whangarei

Invercargill

New Plymouth

Hamilton

Dunedin

Pukekohe

Wellington

RESULTS

RESULTS

GAME

SCHEDULE

WEEK THREE

DATE / GAME WHERE RESULTS

WEDNESDAY 30 AUGUST

Auckland v Waikato

THURSDAY 31 AUGUST

Bay of Plenty v Wellington

FRIDAY 1 SEPTEMBER

Hawke's Bay v Canterbury

SATURDAY 2 SEPTEMBER

Otago v Manawatu

Southland v Northland

Taranaki v Counties Manukau

SUNDAY 3 SEPTEMBER

Waikato v Tasman

North Harbour v Auckland

WEEK SIX

Auckland

Rotorua

Napier

Dunedin

Invercargill

New Plymouth

Hamilton

Albany

DATE / GAME WHERE RESULTS

WEDNESDAY 20 SEPTEMBER

Bay of Plenty v Southland

THURSDAY 21 SEPTEMBER

Otago v Auckland

FRIDAY 22 SEPTEMBER

Manawatu v Northland

SATURDAY 23 SEPTEMBER

North Harbour v Canterbury

Waikato v Wellington

Hawke's Bay v Taranaki

SUNDAY 24 SEPTEMBER

Bay of Plenty v Counties Manukau

Tasman v Southland

Rotorua

Dunedin

Palmerston North

Albany

Hamilton

Napier

Tauranga

Nelson

SpecialiSt in

• Brakes, clutches

& cV's

• cambelts

• Servicing &

tuneups

• Batteries & tyres

• WOF's

9x2

• 4WD Vehicles

• power steering

repairs

• Wheel alignment

- new machine

• Shock absorbers

Qualified technicians "We service all cars"

SuBaRu SpecialiSt On Site

pH (03) 366 1305

cnR BaRBaDOeS

& licHFielD StReet

AUTO SPARES

• NEW & USED

CAR PARTS

• DAMAGED & SCRAP CARS

WANTED

9x2

• LOCALLY OWNED & OPERATED

FOR OVER 35 YEARS

PART FITTING

SERVICE AVAILABLE

OVER 10 ACRES OF CARS

2 MONTH WARRANTY ON ALL PARTS

70 RURU RD CHCH

PH (03) 384 2319

WEEK NINE

WHERE

RESULTS

DATE / GAME WHERE RESULTS

Blenheim

WEDNESDAY 11 OCTOBER

Taranaki v Manawatu

New Plymouth

Palmerston North

Christchurch

THURSDAY 12 OCTOBER

Wellington v Northland

FRIDAY 13 OCTOBER

Auckland v Canterbury

Wellington

Auckland

9x2

Dunedin

Whangarei

Invercargill

SATURDAY 14 OCTOBER

Bay of Plenty v Waikato

Otago v Southland

Counties Manukau v Tasman

Tauranga

Dunedin

Pukekohe

Nelson

Hamilton

SUNDAY 15 OCTOBER

North Harbour v Taranaki

Hawke's Bay v Manawatu

Albany

Napier

DAN'S

PRODUCE

FRESH PRODUCE

DAILY SPECIALS

231 Stanmore Road,

Richmond. Ph 389 9570

YOUR LOCAL DEALER

"Quality used vehicles &

Workshop"

Yours for the Long Run!

123 SEAVIEW ROAD, NEW BRIGHTON

Phone: 388 9703

www.storermotors.co.nz

We'll keep you warm this winter.

Fully rated heating right

down to -15°C... guaranteed.

$3,299

9x8

HIGH WALL

HEAT PUMP

FH50 6.0kW

*Conditions apply Back-toback

basic installation

Book your FREE in-home quote TODAY!

0800 324 678

www.dcis.co.nz

NEW LOCATION!

72 Lismore St Waltham

For all your

car audio &

security needs

PH 0800 2 INSTALL
---
16 Tuesday August 15 2017

Latest Christchurch news at www.star.kiwi

SOUTHERN VIEW

Ngā Manu Kōrero

success repeated

For the second year in a row

Cashmere won the senior student

section of the regional Manu

Kōrero speech competition.

Freya Hargreaves-Brown (Year

13) won both the Senior English

prepared and Senior Impromptu

sections, and was also named first

overall in the Senior Competition.

Freya was presented with the

Joe Karetai Memorial trophy for

her prepared speech, and for the

first time in the competition the

new trophy for the impromptu

section named after well-known

Maori teacher Mei Ward. Freya

will represent Cashmere High

School at Ngā Manu Kōrero

National Speech Competition in

New Plymouth in September.

This is the second year

Cashmere has been named first

overall in the Senior Section.

All three Cashmere students

who entered Manu Kōrero this

Sustainability

commitment

continues

Cashmere's Sustainability

Council is a strong and active

group, one of the many diverse

groups offered as part of the

at the school's co-curricular

programme.

The council won the

international Zayed Future

Energy Prize last year.

This year these students

continue to be pro-active,

volunteering to help plant more

than 1000 trees at the end of the

Cashmere Stream near Halswell.

This work continues our

school's strong relationship

with the Cashmere Stream Care

Group, with whom we have been

working over the past three years

gathering weekly data on the

water clarity of the stream and

Heathcote River.

Accompanying Freya Hargreaves-Brown with her trophies, centre,

are Maighdlin Jones, left, and Wairaamia Taratoa-Bannister.

year are of Ngai Tahu descent.

Also competing were Wairaamia

Taratoa-Bannister (Year 9) Junior

Stage 1 of our school's property

works continues to progress well,

with final construction finishing

by the end of this year.

This work has included a new

block for Arts and English, a

new special education block,

extensions to library and gym

and strengthening work on

buildings.

House day

'wows' judges

Term 2 concluded with an amazing

Fashion and Wearable Arts Show, part

of our school's

Inter-House

competition. The

Student Councilselected

theme

of 'Continental'

engendered great

innovation and

creativity which

wowed the judges.

Ngata House won

the House entry,

having selected

South America

as its continent

and its entry was

truly spectacular

(inset). The individual section also

included exceptional entries, with the

eventual winner the clever 'Continental

Breakfast' entry, shown at right.

Maori, who placed seventh, and

Maighdlin Jones (Year 10), who

came sixth in Junior English.

www.cashmere.school.nz

School delivers another

spectacular production

Once again students and

staff of Cashmere High School

delivered a memorable and

hugely entertaining major

school production. The four

evening shows were all sold

out and the capacity audiences

were treated to our school's

usual professional and stunning

performances. Cashmere works

hard to consistently deliver such

Property works update

The tendering process for Stage

2 is under way, with exciting plans

for a new 800-seat auditorium, a

vibrant new science block, and

refurbishment of many of the

classrooms and facilities.

The staging of this work

over three years is to minimise

disruption, with all work due to

be completed in 2019.

Illustration of proposed new science block.

outstanding musical productions,

and this year's Chicago was no

exception. Our congratulations

to all the students and staff

involved in this wonderful

production for 2017. This will be

the last production in our current

Performing Arts Centre (PAC), we

look forward to our new school

PAC and another spectacular

school production in 2019.

Caleb Jordan scoring against St Thomas.

Strong season for

Cashmere rugby

This year the Cashmere High School U16

team has had a stellar season, with a string

of strong wins to comfortably qualify for the

semi-finals. The team is building an impressive

foundation for the school's rugby programme

in the future.
---
SOUTHERN VIEW Latest Christchurch news at www.star.kiwi

Tuesday August 15 2017 17

GREAT food

BROUGHT TO YOU BY...

Your fresh food people

ROASTED CARROTS WITH

ORANGES AND AVOCADO

Ingredients

2 cloves Garlic, crushed

1 Red chilli, deseeded and finely

chopped

1 tsp Cumin seeds, toasted and

ground

4 Tbsp Olive oil

500g Carrots, small, scrubbed

½ cup Vegetable stock

3 Oranges

1 Avocado, firm and ripe, halved,

stone removed and peeled

1 Lemon, juiced

¼ cup Pomegranate seeds,

optional

1 handful Basil leaves

Directions

Heat the oven to 200 deg C.

Place the garlic, chilli and cumin

in a small bowl and mix with one

tablespoon olive oil to make a

paste.

Place carrots in an ovenproof

dish and rub with the garlic

paste. Pour ½ cup vegetable

stock into the corner of the dish

to prevent unsettling the paste.

Cover the dish with foil and

place in the oven. Roast carrots

for 20-25min until just tender.

Remove from the oven and allow

to cool to room temperature.

Place carrots on a serving plate

and reserve cooking juices.

Segmenting an orange: Cut the

top and bottom off the orange.

Place one of the cut sides down

on a board. Starting at the top

and following the contour of the

orange, cut off the skin, leaving

no white pith behind. Working

over a bowl to catch the juice,

cut between the membranes to

release orange segments, reserve

juice. Place segments on top of

the carrots as you go. Repeat

with remaining oranges.

Slice the avocado and place

on the salad. Squeeze over the

lemon juice.

Make a dressing by whisking

the reserved orange juice with

the remaining oil and flavour

with some or all of the carrot

juices. Season with salt and

freshly ground black pepper.

Drizzle over enough dressing to

moisten the salad.

Scatter over pomegranate

seeds, if using, and the basil

leaves.

COURGETTES, MINT AND

BROWN RICE

Ingredients

300g Courgettes

400g Broad beans

1 Ltr Vegetable stock, hot

2 Shallots, medium, or a small

onion

60g Butter

250g Brown rice, short grain

½ cup White wine

3 Tbsp Mint leaves, chopped

1 handful Parmesan cheese

4 Courgette flowers, optional

Directions

Wipe the courgettes, then slice

them. Put them in a colander in

the sink, generously grind salt

over them and leave for at least

20min. Pod the beans, cook

them for 7-10min in very lightly

salted boiling water, then drain.

If the beans are large and you

have the inclination, pop them

out of their skins. Heat the stock

in a saucepan and keep warm

over a low heat.

Peel the shallots or onion

and chop finely. Cook in 40g of

butter until soft but not coloured,

stirring regularly so they don't

brown. Add the rice, stir to coat

the grains in the butter, then

pour in the wine.

Let it almost evaporate, then

start to add the hot stock a

ladleful at a time, stirring almost

continuously. You will find that

the rice will take a good 40min

to cook to tenderness – that is,

considerably longer than white

risotto rice.

As the rice approaches

tenderness (at least 35min into

cooking), squeeze the courgette

dry and stir it in.

Continue cooking then, as the

rice is almost cooked, add the

beans, chopped mint and, if you

are using them, the courgette

flowers. Check the seasoning,

adding black pepper and a little

salt (you may not need any salt

at all), then stir in the remaining

butter and the grated parmesan.

Serve in warm shallow bowls,

with a little more cheese if you

wish.

Large NZ Navel Oranges 2 .99

KG

Large Leeks ................... 1 .49

EACH

Eve Apples ...................... 2 .99

KG

Washed Nadine OR

Agria Potatoes 3kg ..... 3 .99

BAG

Courgettes ..................... 5 .99

KG

Beef Corned

Silverside ........................ 8 .99

kg

Chicken Tenderloins 10 .99

kg

Lamb Shanks ................. 12 .99

kg

All our fresh meat is 100% NZ FARMED.

specials VAlid 14th august - 20th august 2017. ONLY AVAILABLE AT

RAEWARD FRESH HAREWOOD RD, TOWER JUNCTION & MARSHLAND RD

harewood rd Mon–Fri 8.00am–6.30pm Sat–Sun 8.00am–6pm

Tower junction Mon–Fri 8.00am–6.30pm Sat–Sun 8.30am–6pm

MARSHLAND RD Mon–Sun 8.00am–6:00pm

WWW.

.CO.NZ
---
18 Tuesday August 15 2017

Latest Christchurch news at www.star.kiwi

Promotion closes October 10th 2017.

Conditions apply.

I can

see

clearly

now

ON

NOW!

GREAT BUY!

$29.60

BARRINGTON, 256 Barrington Street

PH 332 1730 | www.suckling.co.nz

Have an Elite Haircut

For an Affordable Price

HOURS:

Mon-Fri 9am - 5pm

Sat 9am - 12 Noon

IT's

Mens Cuts $18

Womens Cuts $25

Kids Cuts under 12 yrs $15

Clipper Cuts $14

Gold Card Mens $14

Gold Card Womens $18

Flat Tops $18

Eftpos Available

No appointment needed!

238 Barrington Street, Spreydon

(opp St Nicholas Church)

BRIGGS

AUTO SERVICE

LET US SERVICE

YOUR VEHICLE

AND REDUCE YOUR

RUNNING COSTS

Your local trusted automotive

service and repair specialists

332-0140 | 242 Barrington Street

JuST

INCREDIBLE

• Barrington Mall

• The Hub, Hornby

• New Brighton Mall

• South City Centre

Shop

Win

& Relax

• new & quality

secondhand tyres

• alloy wheels

• replacement rims

• puncture repairs

WITH A MASSIVE RANGE OF TYRES IN STORE,

WHY NOT POP IN AND SEE US TODAY!

8c Birmingham Drive,

(Cnr Hands & Birmingham Drive) Ph: 03 343 0099

Cell: 027 226 3805 Website: www.jcmdirect.co.nz

Diesel

The diesel professionals specialising in

4wd repAirs &

servicing

All work

guArAnteed

288 Lincoln Road (opp ANZ)

Ph: 338 8884

www.dieseldoctor.co.nz

Designer

Fashion

3000

Items

Arriving

Daily!

SUPPORT YOUR LOCAL

BUSINESSES

TO WIN 1 OF 5

FAMILY GETAWAYS

TO HANMER

SPRINGS

see our

HUGE

selection!

• Designer Brands • Family Clothing

• Menswear • Footwear • Bric-a-brac

• Workman Outdoor Clothing

• Household Goods • Books

• See the Retro Section AND Formal Wear

Enter every time you shop at any

of these participating businesses

More Chances to Win!

MUSGROVES

Buyers and Sellers of Recycled and

New Building Material and Joinery

50 OFF

kitchen sink

inserts

3 Musgrove Close (off Wigram Rd) Christchurch

www.musgroves.co.nz • 03 322 7922

or Freephone 0508 468 747

Proudly

Supported By

The Family Feast Combo

$

40

2 x Regular Pitas, 2 x Kids Pitas, 2 x Phoenix Drinks,

2 x Charlies Juice Pouches and

a Family Box of Wedges

$32

WOF

ALL CAR

SERVICING

Convenient

central city

repairs and

parking

Cnr Fitzgerald Ave &

Hereford Street

Phone: 365-5220

www.a1auto4service.co.nz

SOUTHERN VIEW

The Automotive Lamp Specialists

New and Used Lamps for Cars, Trucks,

Vans, 4WD and Motorhomes

325 Brougham Street, CHRISTCHURCH | PH 0800 225 483

Be in to

win with

participating

Pita Pit at

Sydenham, 290 Colombo St

Barrington, 256 Barrington St

Addington, 351 Lincoln Rd

Bring this ad instore to enter

Shop 3, 300 Lincoln Road, Addington, Christchurch

Phone: 338-2882 Email: snlimited1@gmail.com

Hours: Mon-Sat 10am-9pm, Sun 12pm-8pm

www.mosaicbysimo.co.nz

Cafe • Dining Room • Desserts & Coffee • Catering

Thinking WOF & Lube

Think On The Go!!

$5 discount

free brake check,

free tyre shine

for every oil

change or tyre

purchase *

On-The-Go Riccarton

324 Blenheim Road,

Upper Riccarton 8041

Ph 03 348 0042

$3 discount

for WOF check *

03 348 0042

*

Bookings required.

Conditions apply.

Balayage HigHligHts

just $120

• Ladies cuts, colours and styling

• Competitive pricing

• Mens, kids and pensioners cuts

• Stockists of FUDGE range of hair products

Shop 2 - 247 Ferry Road (next to Bronskis)

PH. 379 3300

Open Daily 7 Days

Sydenham: 39 Battersea St Papanui: 472 Cranford St

Hornby: 94 Shands Rd

New Brighton: 52 New Brighton Mall

(Old Farmers Building)

HOURS

Mon–Sat 9am–5pm

Sun/Public Holidays 10am–4pm

New Zealand's Largest Recycled Clothing Retailer

Yummy Food

with

Great Coffee

Delicious range of savouries,

pies, sandwiches & cakes

We also offer:

• Breakfast • Iced Coffee

• Milkshakes • Fresh Juice

290 Selwyn Street | Phone 377 7725

Boost Brain Performance

ENZO:PROFESSIONAL (ENZOGENOL) is a potent

antioxidant extract of the N.Z. pine bark and

has been clinically shown to improve memory,

concentration & brain performance.

SUPER

60's only $45.30, save $5.00

120's only $84.90, save $15.70

PRICE! Detailed Information Available

Bringing You the Best in Natural Health!

MARSHALLS HEALTH & NATURAL THERAPY

CONSULTING - PRESCRIBING - DISPENSING -

MANUFACTURING - MEDICAL HERBALISTS

110 SEAVIEW RD, NEW BRIGHTON • PH 03 388 5757

Email: enquiry@marshallshealthshop.co.nz

- WE ARE ALWAYS HAPPY TO HELP! -
---
SOUTHERN VIEW Latest Christchurch news at www.star.kiwi

Tuesday August 15 2017 19

KIDSTUFF

Lindisfarne nursery school

Lindisfarne opened in 1987 with the aim of

providing parents and families with a nursery

school which respects their individual needs

and aspirations. We provide full time, part

time and casual enrolment opportunities

for your child, so that you can

organise a schedule which suits

your requirements.

The teachers provide learning

experiences tailored to individual

children's needs and interests,

and the programme promotes

independent thinking and skill

development. Our aim is to have

happy, settled, confident children,

who enjoy an environment which

fosters a love of learning, and

respect for all people

We are proud of our multinational

community and the

opportunities this provides for

both teachers and children.

Regular parent and whanau

activities are organised

throughout the year, and we place

an emphasis on a close liaison

between home and nursery

school, which is vital to any child's

success and progress.

We do hope you find our

Portobelo Avonhead

Preschool and Nursery

A great reputation for exceptional education

and care, at 124 Yaldhurst Road.

Your baby or toddler will have a special

'primary care' teacher who will love and care

for them. Our teacher: baby ratios are the best

you will find. Older children are supported in

skills to become life long, curious learners and

problem solvers.

Your child will run, climb

trees, dig, bike, play with

balls, and help tend our

edible gardens in our natural

backyards. Indoors, children

engage purposefully in

sustained play as they learn

with their friends, following

their interests and passions.

As they get older, they will

join "Kura Club" to ease

their journey on to school.

"Respect, Responsibility

and Community" are key

to everything we do in our

centre.

website helpful but encourage you to visit the

nursery school for a full information booklet.

We will be delighted to meet you and your

child, and welcome you to Lindisfarne.

www.lindisfarnenursery.school.nz

We understand how special your child is

and we will work hard with you to ensure

we exceed expectations, for you and for your

child. Call us on 3439943 to book a time to

come and see for yourself.

See our advertisement on this page, and

find us on "Neighbourly" for a special deal!

Learning through

experiences,

interactions and play

at Marshlands Nest

Roslyn Eason, fully trained and experienced

early childhood teacher, owns and operates

Marshlands Nest Early Learning Centre which

is an intimate centre with a maximum of 25

children.

Roslyn says "Our goal is to create a setting

where self-esteem, love, learning and respect

for others is prominent and where every child

leaves each day feeling secure and loved in

their special environment.

At Marshlands Nest they create a most

positive environment for children so they can

learn through all experiences and interactions

but most importantly through play.

They have a mixed licence which means

children of different ages play and interact with

each other. It allows siblings to be together

and gives solo children a chance to be part of

a larger family. It also means children do not

need to transition between rooms so can stay

with the same teachers and children.

Marshlands Nest does recognize the need

for age specific learning and a portion of each

day is spent in 'nest times" learning with

others of the same age.

The team at Marshland Nest would love to

have you as part of their family, please feel

free to drop in or give them a call.

FREE

20 Hours ECE for

3 & 4 year olds

Half days or school

day sessions

• Individual care for every baby and toddler from a teacher

who knows and loves them well

• Amazing natural environment with real grass, trees to

climb, vegetables to grow and eat

• Kura Club to get your 4 year old school–ready

• A focus on being friends and making friends which leads

to lifelong success

• Working in partnership with you to fulfil your hopes and

dreams for your child

• Licensed for 0-5 year olds

Portobelo

Portobelo Avonhead

Preschool & Nursery

124 Yaldhurst Road

Open 7.30am – 5.30pm

Phone 343 9943

Email avonheadportobelo@xtra.co.nz

www.bestpreschools.co.nz

• Central location

• Cooked healthy heart meals

• Large private outdoor play area

• Casual care available

• Enrolments available now

• 7.30am - 5.30pm Monday to Friday

EST 1987

389 2483

375 Worcester Street • Christchurch
---
20 Tuesday August 15 2017

Latest Christchurch news at www.star.kiwi

SOUTHERN VIEW

Email julia.evans@starmedia.kiwi

by 5pm each Wednesday

Creative Writing Wednesdays

Wednesday, 4-5.45pm

If your imagination runs wild

and you want to learn how to

put those ideas on paper in a way

that makes sense, head along

to this creative writing class. It

will suit people new to creative

writing, or those wanting to

hone their skills, pick up some

tips and learn from other aspiring

writers. Find some fictional

books while you're at the library,

or some books on creative writing.

Linwood Library, Eastgate

Shopping Centre.

Mid-Week Laughter Club

Wednesday, 6-7pm

The focus of the club is to get

over the stress of the first part of

the week and have a positive outlook

for the rest. The event aims

to release endorphins and help

you relax and lower stress levels.

There is no comedy, stand-up or

jokes at this session. Instead, you

are encouraged to make yourself

laugh at nothing at all for the

purpose of relaxing.

St Marks Methodist Church,

cnr Barrington and Somerfield

Sts. Entry $2

Knit 'n' yarn

Wednesday 11am-1pm

For those who want to have a

chat while they construct their

favourite woollen creations can,

with the weekly knit 'n' yarn

meetings. From crochet to knitting

or a craft of your choice,

have fun with this social group.

There are a variety of books to

help inspire ideas for your next

project or even to help a beginner.

Everyone is welcome.

Linwood Library, Eastgate

Shopping Centre. Free entry

Board Games

Thursday, Friday and Saturday,

10am-6pm

Go along and enjoy a variety

of board games with all sorts to

choose from. Meet some new

people and have fun playing

games. There are no bookings

required for this but caregivers

are required.

Spreydon Library, 266 Barrington

St. Free entry

Maker Space – Family Times

Thursday, 10am-noon

Go and check out the cool

Maker Space which will feature

crafts, Lego, 3-D colouring, clay,

interactive games and more.

South Library, 66 Colombo St

NEW ZEALAND RED CROSS

GLOBAL LEADERS IN FIRST AID TRAINING

Christchurch Course Dates 2017

Venue: 32 Birmingham Drive, Middleton

First Aid Revalidation Course (6 hours)

Cost $130.00 per person (certificates must not have

expired for more than 3 months)

Time: 8.30am – 3.15pm

Monday

21 August

4 Sept

Tuesday

12 Sept

19 Sept

Wednesday

6 Sept

27 Sept

Friday

25 Aug

1 Sept

HARMONY: This creation of a sand mandala will include a welcome by local iwi and a brief

consecration ceremony before the first grains of sand are poured. You can watch the initial

progress of the mandala any time from 10am to 4pm during the week. Tibetan monks will

be constructing a sacred cosmogram grain by grain with crushed marble coloured sand. Te

Hāpua Halswell Centre, 341 Halswell Rd.

Game Zone @ Linwood

Library

Thursday, 3.30-4.30pm

Play great favourites like Minecraft,

Charades, Connect Four,

Pictionary and more. Learn and

develop strategies in new games

such as Dutch Blitz, Heads Up,

Hand and Foot, and group

games. Join in for X-box and PS4

tournaments. Take your friends

or meet some new ones; all children

aged eight to 12 welcome.

No booking or payment required.

Linwood Library, Eastgate

Shopping Centre

Musical Instrument Practice

Slots

Thursday, 3.30-7pm

Book a time to go solo or

have a silent practice with up

to four band-mates. There will

be electronic drums, a digital

piano, a Roland session mixer,

Sunday

20 Aug

3 Sept

M Learning Workplace Revalidation Course (4 hours)

Cost $130.00 per person (certificates must not have

expired for more than 3 months)

Time: 8.30am – 12.45pm

Monday

11 Sept

Tuesday

26 Sept

Wed

30 Aug

For bookings please call 0800 REDCROSS or 339-7111

Book online at www.redcross.org.nz

USE THE RED CROSS ADVANTAGE - COMPREHENSIVE FIRST AID, ESSENTIAL FIRST AID,

REVALIDATION OR TAILORED TRAINING TO SUIT yOU AT yOUR PLACE OR OURS.

mics and headphones available

for budding musicians. You can

also take in your own electric

instruments and plug into the

session mixer.

Te Hāpua Halswell Centre, 341

Halswell Rd

Afternoon Euchre

Every Friday, 1.15pm-3.30pm

An enjoyable afternoon with

old and new friends in the

new upgraded clubrooms. For

more information, phone Noel

Hopgood on 322 8636. Entry fee

is $3.

Halswell Bowling Club, 301

Halswell Rd

Beckenham Exercise Class

Friday, 9.30-10.30am

Designed for people living

RED CROSS

with long-term health conditions.

Classes generally occur

weekly other than on public

holidays. Phone 0800 663 463 to

register.

St Marks Methodist Church,

cnr Barrington and Somerfield

Sts.

Opawa Farmer's Market

Sunday, 9am- noon

Find some organic and

delicious produce from local

growers. Enjoy sipping on a

coffee while wandering around

the market and checking out the

food on offer. From artisan

bread and french pastries to

fresh berries and local cheeses,

there will be something for

everyone.

275 Fifield Tce.

Ensuring a safe work place

Learning first aid is not only a part of ensuring a safe

work place, but also an integral part of our engagement with the

wider community. We all learn the necessary skills to ensure that

in times of emergency we are able to assist our work colleagues,

but are we able to take these skills home, into the community or

on to the sports field?

not all work places are the same and the injury risk for each place

can be wide and variable. The office attended by administrators

does not carry the same risk as those people working with heavy

machinery, or perhaps at some distance from a regular ambulance

service. it is therefore essential that you pick the right first aid

course to suit all of your activities – both professional and social.

take, for example, an office worker who does not have a high

risk work environment and whose concern might be to ensure that

they can deal with minor cuts and superficial injuries, or the ability

to perform effective CPr. These skills can be achieved on a course

of eight hours duration and would generally fit into low to medium

risk area. But take this same person on to a sports field either as a

spectator or player when a higher level injury occurs. The eight

hour course covering unit standards 6402 and 6401 (or 26551 and

26552) does not cover head neck and spinal injuries, eye injuries,

hypothermia and poisonings.

The majority of injuries occur outside of the work place, in

fact one in three injuries occurs in the home, making it the most

common place for injuries to happen. new Zealand children

are twice as likely to die through injury as children who live in

australia. They mostly die as a result of motor vehicles accidents

or falls in the home. fatalities from leisure and sport are not far

behind those in the workplace.

The wider 12 hour course teaches the additional unit standard

6400 and provides a wide knowledge base for medium to high risk

environments. This course covers many of the skills required to

deal with the most common injuries, such as falls (which can result

in head, neck and spinal injuries) and dealing with complex scenes

such as motor vehicle accidents.

if you are not sure on the course best suited to your needs, ask

your accredited first aid training provider. They can explain the

course content and give you options that will best suit your needs.

Look beyond the workplace and consider your family and your

location. Check that you have a good quality first aid kit that is

up-to-date with replenished items, and that everyone knows where

it is located.

USE THE RED CROSS ADVANTAGE -

COMPREHENSIVE FIRST AID,

ESSENTIAl FIRST AID, REVAlIDATION

OR TAIlORED TRAINING TO SUIT YOU

AT YOUR PlACE OR OURS.

16 Hours Thursday/Friday

19 & 20 October

23 & 24 November

NEW ZEALAND RED CROSS - GLOBAL LEADERS IN FIRST AID TRAINING

CHRISTCHURCH COURSE DATES 2017 • VENUE: 32 BIRMINGHAM DRIVE, MIDDLETON

Comprehensive First Aid PLUS Course (16hrs or 4hr upgrade)

Unit Standard 6402, 6401, 6400 and 25411 or 26552, 26551, 6400 and 25411

Cost $275.00 per person incl FA Manual & GST for 16 hours or $85.00 per

person for upgrade following completion of CFA

Time: Day One 8.30am – 5.30pm Day Two 8.30am – 5pm

Friday 4 Hours 8.30am-12.45pm

20 Oct & 24 Nov

Comprehensive First Aid Course (12hrs)

Unit Standard 6402, 6401, 6400 or 26552, 26551, 6400

Cost $225.00 per person incl FA Manual & GST

Time: Day One & Day Two 8.30am - 3.15pm Time: Day One 8.30am - 5.30pm

2 x Monday

28 Aug & 4 Sept

2 x Tuesday

5 & 12 Sept

17 & 24 Oct

2 x Wednesdays

23 & 30 Aug

13 & 20 Sept

Thursday/Friday

24 & 25 Aug

31 Aug & 1 Sept

Day Two 8.30am - 12.45pm

Thursday/Friday

19 & 20 Oct

24 & 24 Nov

Weekends

19 & 20 Aug

2 & 3 Sept

Essential First Aid Course (8hrs)

Unit Standard 6402, 6401 or 26551, 26552

Cost $155.00 per person Time: 8.30am – 5.30pm

Monday

28 Aug

Tuesday

5 Sept

17 Oct

Wednesday

13 Sept

4 Oct

M Learning (App.) First Aid Courses

Practical First Aid

Unit Standards 6402, 6401

Cost $155.00 per person

Time: 4 hours 8.30am-12.45pm

Monday 21 Aug

Wednesday 13 Sept

Workplace First Aid

Unit Standards 6400, 6401, 6402

Cost $225.00 per person

Time: 8 hours 8.30am-5.30pm

Monday 21 Aug

Wednesday 13 Sept

Thursday

14 Sept

12 Oct

FOR BOOKINGS PLEASE CALL 0800 REDCROSS OR 339-7111 • BOOK ONLINE AT WWW.REDCROSS.ORG.NZ

Saturday

19 Aug

2 Sept
---
2

[Edition datE]

SOUTHERN VIEW Latest Christchurch news at www.star.kiwi

Tuesday August 15 2017 21

HOME & HEATING

Get rid of dampness

in your house

Now wITH the colder and wetter weather

on its way, home owners are focusing on

ways to make their homes comfortable, warm

and healthy for their families throughout

winter. RISING dAmp is an issue that affects

many of our older properties which suffer

from poor, or no, insulation. In Canterbury

especially, post-quake, many people have

relocated to homes that suffer from rising

damp which can be associated with health

problems. Independent tests have shown

that up to 40 litres of water can rise from the

ground and enter a house every day, leading

to mildew, mould, condensation and musty

smells. moulds can produce various allergic

reactions and the frail, elderly and very young

are especially vulnerable.

Canterbury Foam Concrete Ltd is a

locally owned and operated firm. The team

understands the problems caused by rising

damp and are there to help. They will come

to your damp home and pump a lightweight,

flowable foam concrete under your timber

floored home. Specially adapted for our

New Zealand conditions and applications

it provides a layer of protection against

rising moisture. An unexpected benefit that

the team at Canterbury Foam Concrete

have noticed recently, is that many owners

of properties which had underfloor foam

concrete installed, reported that it also

provided protection against liquefaction after

the earthquakes.

Contact Canterbury Foam Concrete Ltd

now for your free, no obligation quote and

complimentary appraisal of your underfloor

ventilation needs. Phone 03 376 4608 or

0508 362626 for more information.

AttAck Rising DAmP

For existing homes with

wooden floor construction

• Stop Mould & Mildew

• Reduce Heating Bills

• Cost Effective Permanent

Solution To Rising Damp

• Free Consultation / Quotes

...at the source

STOP RISING DAMP TODAY www.foamcrete.org

Free Phone: 0508 362626 Main Office: (03) 3764608 Fax: (03) 3764603

L

The facts about

home ventilation

Balanced Pressure vs Positive Pressure

Under the New Zealand Building Code,

all buildings, including residential, need to

be suitably ventilated, either with opening

windows or forced ventilation. Clause G4.1

states: "The objective of this provision is

to safeguard people from illness or loss of

amenity due to lack of fresh air." There are

many benefits to forced, or mechanical,

ventilation over opening windows, including

warmth, security, reduction of outside noises

and reduction of condensation.

Traditional domestic ventilation systems

are 'positive pressure'. They bring air in from

outside via the roof space and force the stale air

out through gaps around windows and doors.

The incoming air from these

systems has to be heated or

cooled to keep the house warm

in winter or cool in summer.

The Smooth-Air HEX390 is

a 'balanced pressure' system. It

extracts air from the house and

at the same time brings in fresh

air. These two streams of air

pass through a heat exchanger,

which warms incoming air in

winter and cools in summer if

air conditioning is being used.

This means that up to 80% of

the energy which would be

Heat Transfer

wasted using a traditional positive pressure

system is recovered, resulting in significant

energy savings and therefore lower heating or

cooling costs.

Until recently, balanced pressure ventilation

systems have been considerably more

expensive than traditional positive pressure

systems. However, with Smooth-Air's unique

manufacturing capabilities, a HEX390

balanced pressure system can be installed for

a similar price as a traditional positive pressure

system.

Contact Smooth-Air on 0800 SMOOTH

(0800 766 684), or visit www.smooth-air.

co.nz or www.home-ventilation.co.nz

Ventilation Equipment

Suppliers to trade and retail

● Domestic

● Commercial

● Industrial

Transfer the excess heat

from the log burner to

the bedrooms

HEAT PUMP

SALE NOW ON!

Amazin' WINTER Specials!!

Inlet grille

Heating appliance

In-line

centrifugal

fan

Outlet grille

Outlet

grille

4 way

splitter

Outlet

grille

• We will offer you the best quality brands and

option of heat pump for your home/business

• Providing Heat Pump solutions for over 15 years to Cantabrians

• We personally guarantee all our products & installs for 5 years

(providing annual maintenance has been completed)

Phone us today for your free consultation & quote

41A SHAKESPEARE RD, WALTHAM

PHONE 03 366 0525

www.enviromaster.co.nz

"A local team for local people"

Smooth-Air has

a wide range

of ventilation

equipment to bring

fresh air into your

home

0800 SMOOTH (0800 766 684)

www.smooth-air.co.nz

sales@smooth-air.co.nz

264 Annex Road, Riccarton

Christchurch 8024, NZ

Ph +64 3 343 6184

Mon - Fri 7.30am - 5pm
---
22 Tuesday August 15 2017

Latest Christchurch news at www.star.kiwi

SOUTHERN VIEW

RiCHMoND DiSCoUNT

Furniture and Bedding - The Best little Furniture Shop in Town

BEDRooM FURNiTURE

beds, tallboys, mirrors, cabinets, chests & more!

Queen Frame

& Mattress

Ther-a-pedic Mattress & Base

Reversible pillowtop innersprung

lowboy

6 Drawer

1130x410x820

Duchess with

Mirror

1090x410x820

NZ MADE

Solid Timber

Free

Standing

Mirror

oNly

$599

SiNglE $499

kiNg SiNglE/DBlE/ 3/4 $599

QUEEN $699

oNly

$399

oNly

$549

WaS $169

oNly

$129

Midi 7 Drawer

Scotch Chest

975x760x410

With metal runners. Also

available in Cherry & Black.

Bedside Cabinet

540x460

With metal runners.

Also available

in Cherry & Black.

7 Drawer

Scotch Chest

1140x800x410

Also available in black.

Jumbo 4

Drawer Chest

1140x800x400

NZ MADE. Metal runners.

Also available in black.

Tallboy 4 Drawer

600x400x900

Tallboy 5 Drawer

600x1100x420

Towerboy 6

Drawer

1260x460x410

With metal

runners.

Also

available

in Cherry

& Black.

oNly

$239

oNly

$120

oNly

$269

oNly

$249

oNly

$199

oNly

$399

oNly

$220

HaRD FURNiTURE

storage shelves, bookcases, buffet units, dining tables, hall tables, side cabinets & more!

White Bookcase/

Storage Shelf

800x1600x300

White Bookcase/

Storage Shelf

800x1980x300

Bookcase

900x1800x350

Timber Bookcase

600x320x1200

Buffet Unit

1500x800x420

Buffet Unit

800x425x840

Buffet

Unit

1175x

430x840

Buffet Unit

with Wine Rack

1300x840x430

oNly

$199

oNly

$249

oNly

$499

oNly

$199

oNly

$549

oNly

$299

oNly

$399

EaCH

Entertainment Unit

1900x600x450

2 Draw Entertainment Unit

1200x600x450

Entertainment Unit

1100x400x480

Entertainment Unit

1530x520x660

Solid Timber.

Entertainment Unit

980x600x460

Solid Timber.

oNly

$499

oNly

$399

oNly

$299

oNly

$499

oNly

$299

2 Draw Hall Table

1200x810x420

oNly

$379

Side Cabinet

600x600x450

oNly

$199

Hall Table

1500x800x420

oNly

$449

Hall Tables

2 Drawer

900x350x770

oNly

$279

3 Drawer

1260x350x775

oNly

$349

Butchers Block

oNly

$349

Coffee Tables

Solid Timber.

oNly

$169

1200x600

oNly

$329

Corner TV Unit

1000x750x550

oNly

$299

Coffee Table

1200x400x600

oNly

$399

Nest of Tables

oNly

$149

233 STANMORE ROAD • PHONE 03 389 0536

WE aCCEPT EFTPoS, ViSa aND MaSTERCaRD... FiNaNCE NoW aVailaBlE

Dining Table + 2 Chairs

800x800

oNly

$499

3 Piece

Dining Suite

600x600

oNly

$399

5 Piece

Dining

Suite

1100x800

oNly

$599

No DEPoSiT

UP To

36 MoNTHS
---
2

[Edition datE]

SOUTHERN VIEW Latest Christchurch news at www.star.kiwi

Tuesday August 15 2017 23

HEALTH & BEAUTY

Migraine relief

Your headache or migraine may literally be a pain in the neck

It's not very well known that almost 13

percent of people – including childrensuffer

from headaches and migraines.

It is the 3rd most prevalent illness in

the world and causes 91 percent of the

people it affects to miss work or reduce

their functional capacity. In the past 10

years, the understanding of what causes

headaches and migraines has significantly

changed. The research now shows that the

sensitisation of the brain stem is what

causes this pain; and the specially trained

physiotherapists at Muscle People are well

versed in how to treat it.

Krissy Winter, a patient of Muscle

People, had this to say about her

experience: "My migraines were

debilitating and they'd often come without

warning. Sometimes once a week, but

generally about once a month. I'd moved

up from Dunedin where I'd managed them

with my Osteopath, yoga and Pilates. In

Christchurch I was so reluctant to let

anyone near my neck. I read the article

and I must admit I wasn't convinced and I

went to the first appointment with a page

of all the concerns I had. The first time I

met Laurie I remember walking out and

feeling more in control. After about four

treatments with Laurie and perfecting the

technique she taught me I truly began to

reap the benefits. Now I'm fantastic. If I

feel a migraine coming on I now have the

control to manage it myself, even stopping

them from taking over, without needing

someone to drive me in to the osteopath

or the hospital for an injection to relieve

the pain. With the technique Laurie

taught me I'm armed and dangerous!"

Laurie, Clare and Naomi were trained

in Australia in the award winning and

ground breaking Watson Approach to

dealing with headaches and migraines.

This proven method examines and treats

the movements of the first three segments

of the neck, which when sensitised cause

headaches and migraines.

"In our clinics we see people from

as far away as Invercargill who come

to us specially to seek treatment" says

Laurie Moore, Director of Muscle People

Physiotherapy. She says "The symposium

in Australia we went to just recently

reaffirmed the effectiveness of what we

do, and honed our skills even more."

Generally patients will come to our

clinic four or five times in the first few

weeks of treatment. We show them some

very simple exercises to do at home. After

the first few weeks, treatment sessions are

guided by how the patient is feeling.

"Often patients come to us at the end

of a long journey having tried quite a few

other treatments, and we are able to help

them reduce or remove their pain." Laurie

says.

Muscle People Physiotherapy, call us

today, ph 360 3606

"If I feel a migraine

coming on I now have

the control to manage

it myself."

True

Who thought

DENTURES

and false!

could look this

natural?

• Full dentures • Metal partial dentures

• First-time immediate dentures • Implant supported dentures

STUNNING: A beautiful new denture for

a young female patient

These stunning lovebite full upper and

lower dentures have been expertly crafted by

internationally-recognised dental technician

Richard Greenlees at his Christchurch studio.

The combination of Richard's skill, experience

(including 15 years in London's prestigious

Harley Street) knowledge and revolutionary

techniques allow him to create beautiful

bespoke false teeth that truly resemble those

in nature and reflect each patient's individuality

and unique character.

Bishopdale Clinic

13a Bishopdale Court, Ph 360 3606

City Clinic

12 Hereford Street, Ph 961 0236

Wigram Skies Clinic

67 Skyhawk Road, Ph 322 9400

Call us today Ph 360 3606

Back & neck pain

Sprains and strains

Functional training studio

Biomechanical assessments

Headaches and migraines clinic

Work injuries & gym rehab

Pre and post surgery rehab

VEBITE

musclepeople.co.nz

AGING GRACEFULLY: Natural teeth for

a gentleman patient in his 80's

HOLLYWOOD: It's all white for this

female patient in her 60's

402 Montreal Street

Christchurch | P. 379 1222

By appointment only.

Consultation fee applies.

lovebite.com

Richard will personally guide you through the entire process to create

teeth with small nuances in the fabrication, colour and shape. Your beautiful new

lovebite dentures will boost your confidence and make you look and feel year's younger!
---
TM

24 Tuesday August 15 2017

Latest Christchurch news at www.star.kiwi

SOUTHERN VIEW

BRIDALSHOW

save the date

Sun 27th Aug

10am to 3pm

Air Force Museum

45 Harvard Ave

Wigram, Chch

Tickets: $20.00

For faster service keep a hold of your

Job Reference No. 134009

Hi there,

Attached is your artwork proof. To enable us to complete your order,

we request that this form is completed, signed and returned either

in store or via email, or alternatively a quick email stating that you

have reviewed your proof, and approve for me to send it to print.

I have done my best to check all your details are correct however I'm

only human and I may have missed something, so I advise that you

double check all information thoroughly. This includes information such

as spelling, phone numbers through to dates and addresses. Please

be aware that once you sign off this proof, it is your responsibility

should anything be incorrect when your printing arrives, and any

reprint will be at your cost. Also due to our production efficiency

once the job has been sent to print we are unable to pull your job from

production or make any changes to the artwork or order details, and any

reprint will be at your expense.

Modern

Contemporary

bliss Hair

P 0220467746

E info@gonetattoo.nz

www.tattooremovalcompany.nz

Care Instructions

Colours can alter in a print run and from previous print jobs due to

1. Keep area clean & dry

various elements such as different batches of paper stock, humidity and

while its healing.

temperature. Colour variation is inherent in the printing process. Your

2. Apply Aloe Vera at least

screen does a pretty rubbish impression of the final colour output, so

twice a day.

please note that all proofs are NOT colour accurate. If you would like to

3. Wash gently with

see a more colour accurate proof we can arrange a digital print for you

lukewarm water.

CREATING YOUR PERFECT WEDDING

weddings by

collective concepts

www.weddingconcepts.co.nz
---
SOUTHERN VIEW Latest Christchurch news at www.star.kiwi

Tuesday August 15 2017 25

REAL ESTATE

Best buy in Beckenham?

5 Piper Lane, Beckenham

Auction: Thursday 21st September 2017 (unless sold prior)

3 bedrooms | 2 bathrooms | 2 toilets | 1 living room | 1 dining room | 2 car-garage | Listing # BE192854

My vendor's instructions are clear – this

house must be sold, on or before auction

day. You may well be surprised what they

may consider on auction day, so don't delay

you could miss out on one of the best buys

in the suburb.

A builder's own home, generously

proportioned with three double bedrooms

and two bathrooms. The master bedroom

is extremely large with a spacious ensuite.

With quality double glazing, including

Smartwood joinery and sited well for the

sun this home will be a delight to live in.

The living room opens onto a perfectly

proportioned private garden, enough space

to have some vegetables if you wish but

also small enough that you can enjoy your

weekends pursuing the many amenities

that the area offers.

Easy walking distance to the South

Library, cafes and local shops and zoned for

Beckenham Primary, Thorrington Primary

and close to a selection of other schools

such as St Peters, Rudolf Steiner, Hillview

Christian and St Marks. High school is

covered with zoning for Cashmere High.

The auction will be on 21st September

2017 (unless sold prior) from 12pm at 98

Moorhouse Ave.

Open Home: Saturday and Sunday

12:00 p.m. - 12:45 p.m.

See you at the open home or to arrange

a private viewing of this property call

Debbie Pettigrew on 027 777 0411 or

Debbie Johnson on 021 0515225 from

Harcourts Grenadier Beckenham

(Licensed Agent REAA 2008) or phone

the office 337 1316

now bigger than ever

The magazine for gardeners who

like to get their hands dirty

growing with you

SprIng Is here –

It'S Sow Time

how to get the best results from

seeds and seedlings

100% NatIve In

The capItal

Unravelling the secrets of

Otari-wilton Bush

September 2016 | 100%

It's time

to grow!

New look and more

content than ever!

Breaking news,

delivered to

your pocket.

The New Zealand

landscape awards

The people behind

the projects

SubScribe from

$43. 50*

$7.90 incl. GST

*6 issues/6 months

ISSN 2423-0219

Save our roSeS

How a rose register is protecting our heritage

MeeT LeSTer Brice

A Garden coach

auckland Botanic GardenS

Why we love our public grounds

Visit www.star.kiwi

anytime, anywhere!

SUBSCRIPTIONS FREEPHONE

0800 77 77 10

www.gaRdENER.kIwI

Fire rages, homes at risk

•news •CTV •sport •districts •schools •lifestyle •opinion •what's on

www.star.kiwi
---
26

Latest Christchurch news at www.star.kiwi

Tuesday August 15 2017

SOUTHERN VIEW

Classifieds Contact us today Phone our local team 03 379 1100

Caravans, Motorhomes

& Traliers

CARAVAN Or Poptop

wanted ph 027 306 6544

TRAILER Briford or

similar wanted ph 027 306

6544

Computers

ALL

YOUR

COMPUTER

WORRIES SOLVED!

*$30.00 off your first

service with this coupon!*

No problem too big or

small from home PC's to

business networks. PC

slow? An end to Viruses,

Spyware, and Clogged

Systems. Safe secure

hassle-free computing.

Lost files recovered.

Microsoft Certified,

MCSE, MCP+l. 30 years

experience. Call Andrew

Buxton this week on 326-

6740 or 027 435-7596

for $30.00 off* Custom

Computers Christchurch

Curtains

www.curtainfabric-outlet.com

Fashion Designs & Colours

Discontinued Designs

End of Lines Bargain Prices

Call at Our Shop

CURTAIN FABRIC OUTLET

71 Hawdon St Sydenham

Ph 366-5026

Gardening

& Supplies

A GARDEN

PROFESSIONAL

NEEDED? Qualified

Horticulturist, offering

expert pruning, garden

makeovers, garden design

and landscaping, for free

quotes call Bryce 027 688-

8196 or 0508 242-733

Holiday

Accommodation

QUEENSLAND SUN-

SHINE COAST AUSTRA-

LIA Resort, Ocean Views,

Balconies, Self Contained,

1 or 2 B/R Ensuite,

Heated Pool, Spa, Sauna,

Free Internet, Shops,

Restaurants, Tennis, Surf

Club & Patrolled Beach,

Public Transport at door.

Ask for our SEASONAL

SPECIALS. Phone 61 7

544-35011 Email: reception@mandolin.com.au

www.mandolin.com.au

Tours

Trades & Services

Builder

Wright Enterprises Build Limited

W.E. Build

New Homes

Renovations

Alterations

Re-roofing

Re-cladding to older buildings

Family owned & operated

E info@webuildltd.co.nz

Antony Wright 021 111 1703

John Wright 0274 343 323

AH 03 347 4347

www.webuildltd.co.nz

GARDEN SUPPLIES

CHCH'S LARGEST SELECTION OF

BARK • COMPOST • SHINGLES

Landscape Lane (off Lunns Rd)

P. 348 2915 OPEN 7 DAYS

nO GREEn wastE In anY OF OUR COMPOst

PAINTING

EQC REPAIRS

TAKE THE STRESS

OUT OF YOUR

REPAIRS!

painter

Remember...

we are NOT in

Parkhouse Road

Price Family

Painters Ltd

Interior/Exterior

Wallpapering/Painting

Gib Stopping

Free Quotes

EQC Opt Out

Fletcher Accredited

Project Management

Phone: Morton 021 667 444

Email: mortonprice@xtra.co.nz

www.pricefamilypainters.co.nz

We can make it happen

WE ARE A

ONE STOP SHOP

WINNING

National Awards

from NZ Master Painters, sponsored by DULUX

36 Years in business now offering

Fixing, Stopping, Painting, Wallpapering

• Piling • Electrical • Plumbing • Flooring

• Painting • Roofing • Plasterboard • Wallpapering

Gary: 021 329 881

Cam: 021 329 200

Office: 03 338 9886

E. office@gkfyfeltd.co.nz

Trades & Services

PAINTING - PLUS

• PAINTING • TILING

• PLASTERING

• WALLPAPERING

Phone Kevin Steel

• Interior/Exterior

• New Homes & Repaints

• Quality workmanship assured

• Correct preparation always undertaken

• 20+ years experience

• Earthquake repairs

(Painting/Plastering/Wallpapering/Tiling)

Ph 381 7417 or 027 216 8946

www.facebook.com/kevinsteelpainters&decorators

Trades & Services

BLOCKED

DRAINS?

• VIDEO INSPECTION

• WATERBLASTING

• LIQUID WASTE

PH: 03 365 7960

24 hours // 7 days

info@h20jet.co.nz

www.h20jet.co.nz

HOUSE

CLEARING

Are you

moving house

or trying to

downsize?

Call All Clear

Canterbury. We work

with you to recycle,

sell and dispose of

unwanted items.

Ph: 03 260 0934

or 021 078 4553

raewynlcooke@gmail.com

www.allclearcanterbury.co.nz

TREES

Now working

in your area

• Tree Pruning

& Removal

• Stump Grinding

• Hedge Trimming

Fully Insured

Qualified Arborist

For a free quote,

ph 0800 248 733

www.jimstrees.co.nz

PROFESSIONAL & QUALIFIED

PAINTING

Plastering, Wallpapering

Spray Painting

Ph John 027 860 8106

9164023AA

Trades & Services

ROOF

PAINTING

Rope & harness

a speciality,

no scaffolding

required,

30 years of

breathtaking

experience.

FREE QUOTES

Exterior staining,

exterior painting,

moss and mould

treatment and

waterblasting

Phone Kevin

027 561 4629

Trades & Services

BEST BATHRooMS

full renovation specialists,

LBP, repairs &

maintenance ph 03 387-

0770 or 027 245-5226

BRICKLAyER

George Lockyer. Over

35 years bricklaying

experience. UK trained.

Licensed Building

Practitioner number

BP105608. Insurance

work. EQC repairs.

Heritage brickwork and

stonework a speciality. No

job too small. Governors

Bay. Home 329-9344,

Cell 027 684 4046, email

georgelockyer@xtra.co.nz

Trades & Services

BUILDER

For all building work

but specialist in bathroom

renovations, 30 yrs

experience, with service

and integrity. Free Quotes.

Ph Lachlan 383-1723 or

0274 367-067.

BUILDER

LICENSED

available for all aspects of

building. Please call 027

241-7471 or 335-0265

CARPET & VINyL

LAyINg

Repairs, uplifting,

relaying, restretching,

E mail jflattery@xtra.

co.nz

ph 0800 003 181

or 027 2407416

PAINTER

Available, All aspects in

painting. Very competitive

in roofs and fences. Please

call 027 241-7471 or 335-

0265

PAINTINg

DECoRATINg

Wingfields Contracting,

all interior & exterior

painting & all forms of

interior plastering & jib

fixing, ph Mark 021 171-

1586 or 355-5994

PLASTERER

Gib Stopping, Small

job specialty. 30 + years

experience. Ring 0800

387-369

PLUMBER

ALF THORPE

PLUMBING Certifying

Plumber for all types of

plumbing, maintenance,

spouting, alterations etc.

Phone 352-7402 or 0274-

350-231

RooFINg REPAIRS

Fully Qualified, Over

40 Yrs experience

Ph John 027 432-3822

or 351-9147 email

johnmill@ihug.co.nz

SPoUTINg CLEANINg

Spouting Unblocked,

Cleaned Out and Flushed

Out. Also Full Handyman

Services Available. Call

Trevor 332 8949 or 021

043-2034

SToNEMASoN

BRICK BLoCKLAyER,

Earthquake Repairs, Grind

Out & Repoint, River/

Oamaru stone, Schist,

Volcanic Rock, Paving,

all Alterations new & old,

Quality Workmanship,

visit www.featureworks.

co.nz or ph 027 601-3145

TREES BIg oR SMALL

tree removal, trimming,

stump grinding, shelterbelt

clean up, section clearing,

rubbish removals,

excavation work, ph Trees

Big or Small, for a free

quote, 021 061 4783

T.V. SERVICE CENTRE

Repairs, tvs, microwaves,

stereos, DVD. Aerial

installations and kitsets,

480 Moorhouse Ave, ph 03

379 1400

UPHoLSTERER

Dining Chairs, Lounge

suites, Caravan Squabs

etc. recovered. Free

Quotes. Phone Graeme

383-1448

VHS VIDEo TAPES

& all camera tapes

converted to DVD, video

taping special occasions,

www.grahamsvideo.co.nz

ph 03 338-1655

WINDoW CLEANINg

Average 3 bdrm house

inside or out $40. Both

$70. Phone Trevor 344-

2170

Wanted To Buy

AAA Buying goods

quality furniture,

Beds, Stoves, Washing

machines, Fridge Freezers.

Same day service. Selwyn

Dealers. Phone 980 5812

or 027 313 8156

A+ Household effects,

fridges, freezers, washing

machines, ovens. Good

cash paid. Ph Paul 022

0891 671

TOOLS Garden,

garage, woodworking,

mechanical, engineering,

sawbenches, lathes, cash

buyer, ph 355-2045

WHITEWARE

WANTED Cash for

fridges, freezers, dryers,

washing machines, ovens.

Top prices paid for good

working machines. Ph

Dave anytime 960-8440 or

027 6622 116

ADVERTISE YOUR BUSINESS HERE

Public Notices

Phone for further details

Situations Vacant

TURN SPARE TIME

into $$$. Work flexible

hours close to home.

Earn money delivering

/ collecting catalogues

and delivering goods. No

outlay. Immediate start. Ph

Verna 021 159 3825

ADD SOME

COLOUR

TO YOUR ADVERT!

Citizens Advice Bureau

Christchurch Area

Te Pou Whakawhirinaki

o Otautahi

Notice of Annual General Meeting

to be held on:

Monday 28th August 2017

10am Cashmere Club

88 Hunter Terrace

Cashmere

Christchurch

All members of the general public welcome

(03) 379 1100
---
SOUTHERN VIEW Latest Christchurch news at www.star.kiwi

Tuesday August 15 2017 27

What's On

Entertainment

To advertise, contact

Jo Fuller 03 364 7425

jo.fuller@starmedia.kiwi

A West Coast welcome in the heart of

Redwood, beautifully refurbished and

something for all the family.

TRY OUR WONDERFUL MENU & DAILY SPECIALS

COMING SOON

COMING SOON

Lunch & Dinner

All you can eat, 7 days

Bookings Essential

PH 386 0088

fb.com/GardenHotelRestaurant

www.gardenhotel.co.nz

Daniels Road | Phone 352 8355

coasterstavern.co.nz

SERVING

HAPPY HOUR

5PM - 7PM DAILY

OUR CABINET ITEMS

ARE HOMEMADE

CREATED FRESH ON SITE DAILY

$12

LUNCH

SPECIALS

COFFEE

HAPPY

H O U R

2PM-4PM

DAILY

$3.50

Offer available for a limited time

and includes tea, hot chocolate

MON: ROAST MEAL

TUE: FISH & CHIPS

WED: FISH BURGER

THU: ROAST MEAL

SAT: FISH & CHIPS

AVAILABLE

FROM

11.30AM-2PM

FOR A

LIMITED TIME

Live Music:

6PM.FRI.18 AUGUST Eddie Simon

PHONE 385 8880 FIND US ON FACEBOOK fb.com/GBCCHCH

THE GARDEN HOTEL COMPLEX | 110 MARSHLAND RD

www.gardenhotel.co.nz | phone 385 3132

RESTAURANT & CAFÉ

We are open from 6.30am

Seniors SPECIAL

2 courses Soup/Roast or Roast/Dessert

Special available lunch only. Monday - Saturday 12pm - 2.30pm

Family Friendly

Kid's 2 course special

$20

$10

'Famous for

their roasts!'

The

RACECOURSE HOTEL

& Motorlodge

118 Racecourse Rd, Sockburn,

Christchurch. Ph 03 342 7150

www.racecoursehotel.co.nz

www.newbrightonclub.co.nz

BOOK NOW! SUNDAY NIGHT BUFFET

SUNDAY 27th AUGUST, $25 PER PERSON

FUNCTIONS

WE HAVE THE VENUE. EXCELLENT CATERING.

PLENTY OF PARKING. ENQUIRE NOW!

TUESDAYS & THURSDAYS

Members Lucky Card Draw

FUNCTION ROOMS

SHUTTLE RUNNING

Tues, Thurs, Fri & Sat

TAB POD

GAMING ROOM

PIERVIEW

Restaurant

Quality

a la carte

with a view!

Open from 5.30pm

FRIDAY, SATURDAY & SUNDAY

OPEN FOR SUNDAY 3 COURSE

SUNDAY BRUNCH DINNER SPECIAL $25

By the Seaside!

10.30am-2pm

ClubBISTRO

Open Tuesday to Saturday

12pm-2pm and from 5pm

Midweek $10

SPECIAL ROAST

Available Tuesday,

Wednesday, & Thursday

SUNDAY NIGHT

BUFFET

Sunday 27th August

ALL YOU CAN EAT

$25 BOOK NOW!

202 Marine Parade ● Ph 388-9416

Members, guests and affiliates welcome

T H E H O R N B Y C L U B

The Heart of Hornby

LET US

ENTERTAIN

YOU!

PLAYING IN THE

WESTVIEW LOUNGE

THIS FRIDAY, 7PM:

ROBBIE DREW

THIS SATURDAY

4.30PM: BUSKER

8PM: IAN MAC

THIS SATURDAY

IN THE SPORTS HALL

DnD SHOWBAND

feat ABBA

Pre-sale $20. Door $25.

8PM START.

Family-friendly dining

that's unbeatable value

Chalmers

Restaurant

CHALMERS IS OPEN FOR DINNER:

Friday, Saturday, Sunday

AND NOW OPEN SUNDAY

BUFFET LUNCH

Early Bird Special

FRIDAY & SATURDAY

5.30pm – 6.30pm

Club CAFE

OPEN 7 DAYS

LUNCH & DINNER

Roast

(4 Choices)

and

Free Desserts

only $22.50

Gluten Free &

Vegetarian options

Dine and

WIN

LIONEL RICHIE

A

DOUBLE

PASS

TO SEE

THURSDAY 19 OCT

CONDITIONS

APPLY

EVERY

SUNDAY

IN CHALMERS

12PM-2PM

$25

GROUPS WELCOME

BOOKINGS ESSENTIAL

ENTER WHEN YOU DINE IN

THE CLUB CAFE &

CHALMERS RESTAURANT

The Hornby Club | ph 03 349 9026

17 Carmen Rd | Hornby

www.hornbywmc.co.nz

Members, guests & affiliates welcome

WITH S.I. BASED

DND SHOWBAND

AKA DATELESS N DESPERATE

WWW.DNDSHOWBAND.COM

THIS LIVE BAND IS RENOWNED

FOR ITS TRIBUTE SHOWS.

GREAT SONGS, COSTUMES,

PROFESSIONAL SOUND & LIGHTS.

IT'S AN EVENT NOT TO BE MISSED.

WITH FEATURE SHOW SET:

A SHOW GUARANTEED TO PLEASE!

PRE-SALE TICKETS $20

at HWMC OFFICE or from

H! GORGEOUS, 2 JOHNS RD, RANGIORA.

DOOR SALES $25.

THIS SATURDAY, 8PM

HORNBY WMC : PH 03 349 9026

Carmen Road, Hornby. Members, guests & affiliates welcome
---
28 Tuesday August 15 2017

Latest Christchurch news at www.star.kiwi

SOUTHERN VIEW

Hornby Shoe Outlet

FACTORY

CLEARANCE

3 weeks only

NOTHING

OVER $ 89 90

Hornby Shoe Outlet

383 Main South Rd, Hornby

Branston Shopping Centre | Ph 349 2936

Where parking is easy

Like us on

Wairakei Shoe Outlet