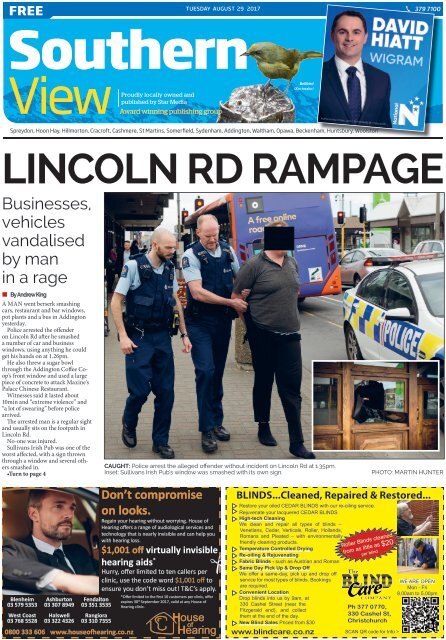 Southern View: August 29, 2017
You also want an ePaper? Increase the reach of your titles
YUMPU automatically turns print PDFs into web optimized ePapers that Google loves.
FREE

TUESDAY AUGUST 29 2017

379 7100

Southern

View

Proudly locally owned and

published by Star Media

Award winning publishing group

Bellbird

(Korimako)

Spreydon, Hoon Hay, Hillmorton, Cracroft, Cashmere, St Martins, Somerfield, Sydenham, Addington, Waltham, Opawa, Beckenham, Huntsbury, Woolston

LINCOLN RD RAMPAGE

Businesses,

vehicles

vandalised

by man

in a rage

• By Andrew King

A MAN went berserk smashing

cars, restaurant and bar windows,

pot plants and a bus in Addington

yesterday.

Police arrested the offender

on Lincoln Rd after he smashed

a number of car and business

windows, using anything he could

get his hands on at 1.26pm.

He also threw a sugar bowl

through the Addington Coffee Coop's

front window and used a large

piece of concrete to attack Maxine's

Palace Chinese Restaurant.

Witnesses said it lasted about

10min and "extreme violence" and

"a lot of swearing" before police

arrived.

The arrested man is a regular sight

and usually sits on the footpath in

Lincoln Rd.

No-one was injured.

Sullivans Irish Pub was one of the

worst affected, with a sign thrown

through a window and several others

smashed in.

•Turn to page 4

CAUGHT: Police arrest the alleged offender without incident on Lincoln Rd at 1.35pm.

Inset: Sullivans Irish Pub's window was smashed with its own sign.

PHOTO: MARTIN HUNTER

Blenheim

03 579 5353

West Coast

03 768 5528

Ashburton

03 307 8949

Halswell

03 322 4326

Fendalton

03 351 3535

Rangiora

03 310 7355

0800 333 606 www.houseofhearing.co.nz

Don't compromise

on looks.

Regain your hearing without worrying. House of

Hearing offers a range of audiological services and

technology that is nearly invisible and can help you

with hearing loss.

$1,001 off virtually invisible

hearing aids *

Hurry, offer limited to ten callers per

clinic, use the code word $1,001 off to

ensure you don't miss out! T&C's apply.

*Offer limited to the first 10 customers per clinic, offer

expires 30 th September 2017, valid at any House of

Hearing clinic.

House

of

Hearing

BLINDS...Cleaned, Repaired & Restored...

Restore your oiled CEDAR BLINDS with our re-oiling service.

Rejuvenate your lacquered CEDAR BLINDS

High-tech Cleaning

We clean and repair all types of blinds –

Venetians, Cedar, Verticals, Roller, Hollands,

Romans and Pleated – with environmentally

friendly cleaning products.

Temperature Controlled Drying

Re-oiling & Rejuvenating

Fabric Blinds - such as Austrian and Roman

Same Day Pick Up & Drop Off

We offer a same-day, pick up and drop off

service for most types of blinds. Bookings

are required.

Convenient Location

Drop blinds into us by 9am, at

330 Cashel Street (near the

Fitzgerald end), and collect

them at the end of the day.

New Blind Sales Priced from $30

Roller Blinds cleaned

from as little as $20

per blind

Ph 377 0770,

330 Cashel St,

Christchurch

www.blindcare.co.nz SCAN QR code for Info >

WE ARE OPEN

Mon - Fri

8.00am to 5.00pm
---
2

Latest Christchurch news at www.star.kiwi

Tuesday August 29 2017

Inside

FROM

THE

EDITOR'S

DESK

LIFE CAN be unpredictable and

that was the case for Addington

businesses yesterday.

A ho-hum early Monday afternoon

became mad Monday when a

man went berserk, smashing windows

and anything else in his path

on Lincoln Rd and with anything

he could get his hands on.

We have the article and photos

on pages 1 and 4.

Police got there fairly quickly as

did our photographer and reporter.

The ferocity and speed of the

attack took business owners and

onlookers by surprise.

On page 3 we reveal a possible

solution to the traffic congestion

that the Halswell Junction Rd and

Springs Rd roundabout causes.

And in sport (page 11) Cashmere

High are one game away from their

first Thompson Trophy basketball

title. They play Christ's College in

tonight's final. Go Cashmere.

– Barry Clarke

GET IN TOUCH

General Inquiries Ph 379-7100

Classified Advertising Ph 379-1100

The Christchurch Star Company Ltd. PO box 1467 - Christchurch

starmedia.kiwi

Cashmere in Thompson Trophy final

NEWS

Sophie Cornish

Ph: 364 7437

sophie.cornish@starmedia.kiwi

SPORT

11

SOUTHERN VIEW

News.......................................3-8

Local Views......................4

Keep it Local......................10

Shop, Win & Relax....12

Food............................................17

Community Events.. 19

Health & Beauty ............20

Real Estate..................... 21

ADVERTISING

Richard McCombie

Ph: 364 7472

richard.mccombie@starmedia.kiwi

Dyers Road Landscape

& Garden Supplies

• Barks • Peastraw • Composts - we supply the best available

• Aggregates - Chip, Round and Basecourse

• Pavers & Schist products • Pungas

• Decorative Stones & Landscaping Rocks

• Trailer Hire first hour free with purchase

• Bag & Bulk - pick up or delivered

David, Carol & Mike

We will deliver!

SOIL

AND

HARDFILL

DUMPING

Phone: 03 384 6540

183 Dyers Rd, Bromley • OPEN 7 DAYS

Weekdays 7.30am-5pm. Weekends 8.30am-3pm

www.dyersroadandlandscapes.co.nz

Discover this

unique Emporium

Metal art - gifts - hoMewares

water features - pottery

Mirrors - candles

wall hangings & More

722 Marshland Road, Top end Styx

Open 7 Days

Ph: 03 323 9781

www.hitchingpost.co.nz

Nuk Korako

National list MP based in

the Port Hills

A

E

P

6/950 Ferry Road, Ferrymead

nuk.korakomp@parliament.govt.nz

03 384 0008

facebook.com/nukkorako.PortHills

korako.co.nz

Funded by the Parliamentary

Service and authorised by

Nuk Korako, 6/950 Ferry Road,

Ferrymead, Christchurch

FOR YOUR NEW HOME OR RENOVATION

Blinds

Curtains

Shutters

Awnings

Screens

up to

40%

off

(for a limited time only)

12

Months

Interest

Free

(Terms and conditions apply)

0800 836 587 www.venluree.co.nz Mobile Van Service
---
SOUTHERN VIEW Latest Christchurch news at www.star.kiwi

Tuesday August 29 2017 3

News

Local

News

Now

Fire rages, homes at risk

Halswell Junction Rd congestion fix

RELIEF IS in sight for

commuters at the congested

roundabout of Halswell

Junction and Springs Rds.

A traffic signal will be

installed before the roundabout

on Halswell Junction Rd to

combat the 2km line of traffic

which builds up daily.

New Zealand Transport

Agency journey manager

Lee Wright said people have

significant

delays at the

roundabout

during the

morning peak –

from 6-10am.

"Some

mornings it

Malcolm Lyall

can take more

than 12min for

people to travel along Springs

Rd and enter the roundabout

because of the constant flow

of traffic travelling north-west

along Halswell Junction Rd,"

Ms Wright said.

She said there are often

lines of traffic backed up for

more than 2km while people

wait for a safe gap to enter the

roundabout.

The new signal will relieve

the delay by several minutes

and improve safety during the

morning rush.

"It is frustrating for drivers

and also risky as some motorists

try to enter the roundabout

when it is not safe to do so," Ms

Wright said.

The signal will be installed

80m before the roundabout on

the Halswell side of Halswell

Junction Rd.

Two sensors will also be

installed – one 200m before the

new traffic signals, and another

on Springs Rd, 50m before the

roundabout.

The signal will only be used

to manage traffic during the

morning peak.

Ms Wright said the two

sensors will ensure traffic is not

stopped unnecessarily and the

majority of people travelling on

Halswell Junction Rd will not

notice any delays.

Give way rules will still apply

at the roundabout, even if cars

have got a green light.

"The green light will give

drivers permission to approach

the roundabout, but they will

still need to obey the road rules

and give way to oncoming

traffic once they are at the

JAMMED:

Traffic on

Halswell

Junction Rd will

be eased with

the installation of

a traffic signal in

September.

PHOTO: GEOFF

SLOAN

roundabout," Ms Wright said.

Prebbleton resident and

Selwyn Deputy Mayor Malcolm

Lyall said he was delighted

that the intersection will be

improved.

"I'm pleased for our

community that the transport

agency is pro-actively providing

a solution to what has become

a frustrating intersection on

our local roading network.

This change will make a real

difference to commuters."

The project it set to cost

around $150,000.

Calling all

candidates

– your

chance to

woo voters

SOUTHERN VIEW will be

publishing biographies of

candidates standing in the general

election on September 23.

If you are a candidate and

want to be included in the coverage

you will need to email us

details.

We will need a 150-word statement

and a colour photograph

(head shot). It will need to be

emailed to bridget.rutherford@

starmedia.kiwi, by noon, Wednesday,

September 6, to be included.

They will be published on Tuesday,

September 12.

3 reasons

to see us today

• Fast & friendly service

• All dentures made

on site

• Doesn't cost an arm

and a leg

call 322 4004

TexT 027 537 0567

230 BarringTon sT

www.denturesouth.co.nz

• W.O.F • Servicing

• Repairs • Batteries

• Auto Electrical • Tyres

• Clutch • Cambelt

• Diagnostic Equipment

YOUR LOCAL

AUTOMOTIVE SHOP

287 Hoon Hay Road

Christchurch

Open Mon-Fri

Ph. 982 0405

Canterbury's own 21st Century Law Firm...

✓ Combined 40 years' experience in Canterbury,

we know our market.

✓ No offices we can come to you

✓ Fixed Prices = No Surprises!

✓ Time is your most precious asset, we will not waste it!

For legal advice and assistance with

• Trusts • Employment Law • Health & Safety Laws

• Business & Employment Law

• Residential and commercial conveyancing

John Shingleton

Specialist business lawyer,

owner of Onlinelawyers.

Ph. 022 658 0434

john@onlinelawyers.nz

Buying at auction? We will review

all the legalities of the property for a

fixed price of $180 plus GST plus any

LIM or title search costs.

Buying a property with a mortgage?

Fixed price starting at $950 plus GST

plus search and registration fees.

Without a mortgage: Starting at $800.

Sharon Scott

conveyancing specialist

at Online Lawyers.

Ph. 022 584 8135

sharon@onlinelawyers.nz
---
4 Tuesday August 29 2017

Latest Christchurch news at www.star.kiwi

News

Businesses plan

mass trespass

of shoplifters

• By Sophie Cornish

FED UP business owners are

hoping to take matters into their

own hands by mass trespassing

shoplifters and troublemakers

from New Brighton Mall stores.

The plan works on the same

principle as a trespass notice from

a shopping mall,

except those

caught stealing

will be banned

from every business

that signs up

Paul Lonsdale

to it.

New Brighton

Business and Landowners Association

manager Paul Lonsdale is

behind the idea.

"It sends a clear message that

we're not going to tolerate this sort

of behaviour out in New Brighton,"

he said.

"If one member wants to trespass

someone from their business, then

they are trespassed from all the

businesses," Mr Lonsdale said.

He set up a similar scheme in

the central city in 2007 when he

was involved with the Central City

Business Association.

Mr Lonsdale claims the programme

was very successful.

Twelve New Brighton businesses

have so far shown interest.

Man goes on rampage

•From page 1

Owner Mark Sullivan said it was a

real pain to have to shut down while

the damage was being repaired.

"He was in the middle of the road

throwing things at cars and attacked

a bus," he said.

Sergeant Mike Jackson said it

would appear the man had mental

health issues and has done "a lot of

damage."

The man was arrested without a

struggle, but swore at officers as they

put him in the police vehicle.

Mosaic by Simo manager Sumeet

Misra said they occasionally gave

the offender food. It appeared he had

just snapped, he said.

The man had tried to throw a

pot plant through the restaurant

window and when he couldn't he

just smashed it on the floor before

continuing to smash things in the

car park.

NEW LOCATION ADVERT.pdf 1 1/05/2014 11:51:35 a.m.

SOUTHERN VIEW

EXPENSE:

Some of the

damage to

cars and

businesses.

VISIT OUR NEW LOCATION LOCATION

430 ST ASAPH STREET!

RECOVER YOUR LOVED FURNITURE

No job too big or small

NICKY WAGNER

MP FOR CHRISTCHURCH CENTRAL

Hours of Business: 7am-4.30pm Mon-Thurs

Fri 8am to midday

or by appointment with Keith 027 566 3909

Still able to offer

you the finest top

quality new furniture

Visit us online

www.qualityfurniture.co.nz

P. 371 7500

A

E

P

W

103 Salisbury Street

Central Christchurch

PO Box 21359

Christchurch 8143

chch.office@parliament.govt.nz

(03) 365 8297

www.nickywagner.co.nz

QUALITY FURNITURE SPECIALISTS

RE - UPHOLSTERY SPECIALISTS KEITH HARTSHORNE 0275 663 909

Funded by the Parliamentary Service and authorised

by Nicky Wagner, 103 Salisbury Street, Christchurch

all new landsCape zone

bulk Compost, lawn mix,

aggregates and stones

The new Ferrymead Mitre10 Trade Centre and Landscaping Zone has

everything you need to complete your projects.

• Screened Soil

• Vege/Zoom Grow

• Bio Blend

• Garden Grow

• Turf Mix

• Tree Mulch

• Black Mulch

• Standard Bark Nuggets

• Premium Bark Nuggets

• Builders Mix

• AP20 Shingle

• AP40 Shingle

• Plastering Sand

• Brick Sand

• Bedding Sand

• Crusher Dust

• Round Stones

• Driveway Chip

• Teddington Chip

Ferrymead 987 Ferry Road Phone 373 6550

mitre10.co.nz/trade
---
SOUTHERN VIEW Latest Christchurch news at www.star.kiwi

Tuesday August 29 2017 5

News

Fast food outlet angers residents

• By Gabrielle Stuart

A NEW McDonald's on Ferry

Rd has been given the tick of

approval by the city council – but

not by the community.

Many residents are angry

they were not given a chance to

have a say on the plan, which

has been approved by the city

council without any community

consultation.

The site chosen for the new restaurant,

on the corner of Ferry

Rd and Heathcote St, is less than

1km from two primary schools,

and two early childhood centres.

It is 2.4km from the fast food

outlets around Eastgate Shopping

Centre, which include

another McDonald's, a KFC,

Burger King and Dominos Pizza.

St Anne's School principal

Dallas Wichman said having

fast food so close would be very

tempting for children walking to

or from school.

"When schools are trying to

teach healthy eating and those

smells are constantly wafting

over the fence it's pretty hard

to get the message across, and I

expect we'll have similar issues,"

he said.

A petition was organised by

Linwood community members

last year asking the city council to

put restrictions on where fast food

OPPOSED: St Anne's School principal Dallas Wichman (left) is one of a group of residents

worried about a planned new McDonald's, which is set to be built on the corner of Ferry Rd and

Heathcote St.

PHOTO: MARTIN HUNTER

outlets were allowed to open.

But the city council decided it

did not have the legal power to

do that.

Linwood city councillor Yani

Johanson said that was "totally

unfair" on local communities.

"The city council decided it

was too difficult. I just think it's

a shame because this kind of

case is what we were trying to

prevent," he said.

The community was not allowed

a say because "food and

beverage activities" were already

allowed in the zone, and the

Government's Christchurch

District Plan set guidelines

minimising the amount of consultation.

Woolston Residents Association

chairwoman Jackie Simons

said she believed a lot of people

would have made submissions on

the plan if they could.

"We're always disappointed

when the public aren't consulted,"

she said.

Kindercare Woolston centre

manager Melissa Fisk said she

had heard a lot of concern from

parents about the plan.

She said it was unfair they were

not given a chance to have a say,

or to talk about conditions set for

the restaurant.

The restaurant has been approved

to open 24 hours, seven

days a week, which she believed

would cause problems.

"There's enough trouble

around here without people

hanging around at all hours," she

said.

A McDonald's Restaurants NZ

spokesman said it had worked

through the proper resource

consent process.

"Our local franchisees are

celebrating 30 years in Christchurch

this year, and as with any

new restaurant development, we

are sensitive to the communities

in which we operate," he said.

10% OFF...

... All our

lovely cards,

giftwrap and

bags, ribbons

AND bows

YEP

... The entire

Magazine range

including Puzzle

Books

YEP

SUPER

Gold Card Deals

for seniors!

... Paperbacks,

children's books -

actually, all books,

including Bargain

Books!

YEP

... ALL OUR

STATIONERY INCLUDING

COMMERCIAL, HOUSEHOLD, GAMES,

TOYS, GIFTS, JIGSAWS, ART SUPPLIES,

INK CARTRIDGES... YOU'RE NOT

SAYING MUCH, MARK, CAT

GOT YOUR TONGUE?

Can't

seem

to get

a word

in!!!

You haven't

done a thing in

this advert, I've done

all the work! What

are you even in

it for?

Just

wanted my

photo in the

paper!

Mark and Nadine Adams, Owners

*Discounts do not apply to merchandise already on sale or part of a PaperPlus national promotion. Offer applies to the SuperGold cardholders only

and SuperGold card must be presented. Staff will not ask for the card as we are mindful that we may upset those who are not entitled to one.
---
6

Tuesday August 29 2017

News

Latest Christchurch news at www.star.kiwi

SOUTHERN VIEW

Superstar Adams comes to Chch

• By Gordon Findlater

HUNDREDS OF aspiring

basketball players flocked

to Cowles Stadium and the

Celebration Stadium to see NBA

star Steven Adams.

The Oklahoma City Thunder

centre was joined by teammate

Andre Roberson and the team's

coach Billy Donovan.

Other than getting the chance

to interact with the NBA star, one

of the highlights of the day was

being introduced to MVP Russell

Westbrook who talked via facetime

(video cellphone call) with Roberson.

Tickets for the first ever Steven

Adams Camp held in Christchurch

sold out in under an hour.

The camp was the first of three

run around the country by Sports

Pathways.

The objective of the camps is to

provide an opportunity for youth

players to train with him and

expert coaches.

While in Christchurch, Adams

also visited the Nga Hau E Wha

National Marae.

Before heading back to the

United States for the upcoming

NBA season, Adams will host an

invitational golf tournament in

Auckland.

•Your local sport, page 11

MENTOR: Adams

passes on some

knowledge to the

next generation of

players.

HEROES: Adams

and Roberson

with young fan

Kobe.

YOUR ONE STOP SHOP!

TYRES

NEW & USEd

WoF

FLAGS

TYRES

bOOk

IN NOW

FULL MECHANICAL

SERVICES

WHEEL

ALIGNMENTS

SPECIALISTS$49

Wigram - 341 1226 104 Hayton Rd

Woolston - 384 0000 49 Garlands Road
---
SOUTHERN VIEW Latest Christchurch news at www.star.kiwi

Tuesday August 29 2017 7

News

Keep your dog on a leash as lambing begins

DOGS MUST now be kept on

a leash as lambing season gets

under way.

There will soon be hundreds

of lambs around Halswell

Quarry, Mt Vernon, Sugarloaf,

Scarborough Hill, Greenwood

Reserve, Godley Head Reserve,

Castle Hill Reserve and

Montgomery Spur Reserve.

Matt Rose, a city council

ranger based at Victoria Park,

said signs have been put up on

Port Hills tracks alerting visitors

to the lambs, but he has

noticed people are still walking

and biking in the area with

their dogs roaming free.

There have been cases in the

past where dogs have chased

SCHOOLS

or mauled newborn lambs.

"The city council doesn't

close tracks for lambing, but

we are asking the public to

respect stock welfare. The next

four to five weeks are the most

STAR: Congratulations to Sean

Ison on being awarded the Star

of the Month award for July.

Sean attends the Barrington Kip

McGrath Centre twice a week,

every week. Tutor Ashleigh

Probert said he works hard

to focus, ignores distractions,

and completes his homework

to an excellent standard. This

means he has been making very

pleasing progress in both maths

and English. "Sean is also a very

friendly and caring student who

always arrives with a smile. We

all enjoy the humorous stories

he shares with us each week.

Sean certainly deserves this

award – he is such a delight to

teach." ​

crucial time for lambing and

it's important that dogs are

kept on a lead," said Mr Rose.

City council reserves are

used for sheep grazing by

farmers who hold a licence.

The grazing is an important

management tool for the

grassland/tussock areas of the

Port Hills and helps to reduce

fire risk by keeping grass short

and reducing the spread of

woody weeds.

Mr Rose said, if someone

comes across a lamb that

seems abandoned, it is usually

best to leave it there, write

down the location and call the

city council's call centre.

In many cases the ewe has

public meeting/

Agm

Tuesday, 5 September 2017

at 7.30pm

(Refreshments from 7.15pm)

"purpose & Future

of the Wastewater

Oxidation ponds"

By Adam Twose,

Manager Operations Water & Wastewater

for Christchurch City Council

AND

"Our estuary;

issues and Options

going Forward"

By Chrissie Williams,

Trust Board Member

just temporarily left the lamb

and is grazing nearby.

If people handle the lamb it

becomes harder for the mother

to recognise her offspring and

she might reject it as a result.

Port Hills farmer Jean Scott

is expecting an excellent lambing

season this year. She asked

people using Port Hills tracks

to keep their distance from

stock, leave gates as they found

them and keep their dogs

under control.

Fines of $300 can be issued

to owners of dogs not kept

under effective control and if

a dog attacks stock the owner

could face prosecution by the

city council.

ACHIEVER:

Bao Tran was

Barrington Kip

McGrath's Star

of the Month for

June. His tutors

said he has made

tremendous

academic progress

during his time at

Kip McGrath. His

tutor said this is

strongly reflected in

the fact that Bao is

so focused in class

and completes

his homework to a

very high standard

and is a pleasure to

tutor.

Saturday 2 nd

Saturday

September

12 th August

Meet Megan on

Meet

a corner

Megan

in your

on

neighbourhood

corner in your

neighbourhood

Hillmorton,

Spreydon

Aidanfield &

Broken Run

1pm

1pm

1.20pm

1.20pm

1.40pm

1.40pm

2 pm

2.20pm 2pm

2.40pm

2.20pm

3pm

2.40pm

3.20pm

3pm

3.40pm

3.20pm

4.00pm

Dominion

Avenue +

Strickland Street

Bidwell Place &

Domain Terrace

Warren Crescent

& Somers Place

West-Watson

Lyttelton Ave & Harling Street Ave &

Edinburgh Street

Cardinal Drive &

Nairn Street &

Halswell Road

Blakehall Place

Plunket Benedict Street Street &

& Euphrasie Neville Street Drive

Neville Street &

McMahon Lyttelton Street Drive

& Aidanfield Drive

Domain Terrace

& Neville Somerville Street

Crescent & Eliza

Cobham Place Street

& Mariposa Evesham

Crescent &

Constance Place

Hennessy Place &

Lyttelton Longspur Street

Avenue &

Mountford Broken Run Street

& Lyttelton Street

If you would like to to get in in

touch with Megan please email

megan.woods@wigram.org.nz

or call 03 3396234.

Authorised by Andrew Kirton, 160 160 Willis Willis St, St, Wellington

Shop online

with the in

store special

prices!

Discount code:

Goat

themohairstore

Mt Pleasant Community Centre

3 McCormacks Bay Road, Mt Pleasant

Entry gold coin donation towards Godwit artwork

to be placed at Bridge Street

140 Colombo Street, Beckenham

Phone 03 943 1639

www.themohairstore.co.nz
---
8 Tuesday August 29 2017

Latest Christchurch news at www.star.kiwi

SOUTHERN VIEW

Your Local Views

Mega-facility work

to start next year

at Denton Park

• By Julia Evans

WORK ON the new $38 million

mega-facility at Denton Park is

scheduled to start in late next

year.

The Hornby Library, Customer

Services and South West Leisure

Centre will be sited at the park

after months of debate and

controversy.

The facility is still in the

planning stage and it will go into

design at the end of this year.

But south-west residents

shouldn't expect to be using the

facility until the middle of 2020.

Although at this stage, these are

only indicative dates.

Sports clubs which have been

protesting the mega-facility's

construction at Denton Park said

they will fight to the bitter end.

A petition, started by Hornby

resident Mark Peters, has received

1500 signatures – including nine

from the original Denton family.

Mr Peters said it was started

to save the "green heart" of the

suburb.

"Denton Park is the Hagley

Park of Hornby. We really feel

passionately about that open

space. It's been there for generations,"

he said.

He said he is trying to get the

voice of the community out there.

THE Christchurch Adventure

Park is set to reopen before the

end of the year – but it will look

very different.

About two thirds of the trees

in the park have had to be

removed because of fire damage,

and the 18 mountain bike tracks

are being redesigned.

The $25 million park has

been closed since the tracks,

chairlift and zip lines were badly

damaged in February's Port Hills

fire, which hit three months after

it opened.

Christchurch Adventure Park

spokeswoman Maree Wilson

said there was a huge amount of

damage across the park.

Bold vision for once-proud hospital

The Princess

Margaret

Hospital was

once the

jewel in the

crown of the

Christchurch

District Health

Board writes Cashmere

Community Board member

Lee Sampson

A lack of investment over

time along with the arrival of

the new facilities at Burwood

have left The Princess Margaret

Hospital teetering on the edge

of demolition.

Admittedly conditions for patients

at TPMH are poor to say

the least, and these structures

are not easily modernised, nevertheless,

these iconic buildings

still stand proud, almost oblivious

to what the natural environment

has thrown at them in

recent years.

So why demolition? TPMH

is nestled at the foot of the Port

Hills in Cashmere on a parcel

of land valued at around $30-

$35 million. Conceivably, if the

CDHB could demolish these

buildings 'cheaply' they'd make

a 'quick buck' to help balance

the books. In reality, demolition

costs alone will stretch

to several million, which this

CDHB doesn't have either with

She said the whole shape of the

hill had changed since the fire.

"It's the logging operation

that has caused a lot of damage,

with the removal of the trees.

So because of that there's a huge

job ahead to get the trails up and

running," she said.

A replacement haul rope for

the chairlift recently arrived

from Austria, and new zip lines

also needed to be installed, she

said.

She said about 30 of the

adventure park staff had stayed

on, and those who were not

busy with the repairs had spent

their time volunteering in the

community.

their ongoing stand-off with the

Ministry.

So the make-do health services

and tired facilities have an

agonising short term reprieve

as this frustrating state of limbo

continuous, equally untenable to

all concerned parties. However,

there is one key missing piece

to this puzzle, that's the broader

logic as to why the CDHB are

seeking to demolish TPMH at

all?

No due diligence has been

provided to support this tact,

besides a somewhat related high

level business case for Burwood.

Moreover, the engineering assessments

generally indicate

TPMH structures to be pretty

sound at around 35 per cent

to 67 per cent NBS with 'minor

to moderate' earthquake

That included teaching cycle

skills at schools, cooking for

Ronald McDonald House,

helping with classes at the

Christchurch City Mission and

taking children at Cholmondeley

Children's Centre for bike rides.

The park is set to reopen before

Christmas, but Ms Wilson said

they could not set a date yet

because there was still so much

work to be done.

The recent rain had turned the

park into "a big mud pie", and

that made the job harder, she

said.

She said regular updates would

be posted on the Christchurch

Adventure Park Facebook page.

damage, engineers further note

the main buildings could be

'significantly stronger' than the

current CDHB modelling suggests.

What's more TPMH's vast

40,000m2 of floor space would

cost taxpayers about $300-$400

million to re-construct in today's

money – so potentially the remaining

value of the structures

could seriously eclipse that of

any land sale.

Now the predicament, Burwood

is indeed built so we

frankly don't require this capacity

at TPMH. So, what are the

options? Well the CDHB seemingly

favour demolition, then

cramming most other services

(including mental health) into

Hillmorton Hospital amongst

others. Personally, I prefer a

slightly bolder vision; this would

involve upgrading and consolidating

existing services and

others, along with introducing a

community-orientated suite of

services at TPMH – ie an integrated

health facility; together

with re-purposing redundant

spaces through partnerships

with the market, possibly Ngai

Tahu. An obvious synergy is the

aged healthcare or the retirement

sector to assist our continued

wave of 'baby boomers'

– this would certainly help the

CDHB to balance the books to

a greater extent that the pocket

change and lessor community

outcomes demolition offers.

Finally, we must acknowledge

the fact these are exceptionally

challenging times for the CDHB,

and staff work tremendously

hard to maintain service levels

but I can only hope that a newlyformed

government on September

23 can rapidly rebuild the

relationship between the Ministry

and CDHB to allow room for

considered thought and vision

– before all of our crown jewels

are sold off. Regardless, health

services should continue to be

provided from TPMH site to

support the 'day to day' needs of

our growing communities.

•If you would like to share

your own opinion email lee.

sampson.CBM@ccc.govt.nz

New trails for Adventure park when it reopens

EntEr

with any

purchase of

nUrOFEn

for children

win

be to

Entries close Saturday 30th September

a mocka balance bike

in this pharmacy!

Barrington pharmacy

Next to CouplaNds, 256 BarriNgtoN st

GONE: Two thirds of the trees at the Christchurch Adventure

Park have been removed because of fire damage.

support a healthy immune system

wITh ThomPsons

FREE

GIFT

sPECIAL PRICE

$18.99

Ph 332 3156

@WilsoNsBarriNgtoNpharmaCy

FREE

GIFT

sPECIAL PRICE

$26.99

10% discount

everyday

using

*excludes prescriptions & sale stock
---
SOUTHERN VIEW Latest Christchurch news at www.star.kiwi

Tuesday August 29 2017 9

FREE

11mm

high

dENSity

luxuRy

FREEuNdERlAy

ON SELECTED PRODUCTS *

NylON

Newport

• Commercial Heavy

Duty

• Solution Dyed Nylon

• Loop Pile

• 5 Colours

FREE

UNDERLAY

$99 90

NylON

Okiwi Bay

• Extra Heavy Duty

• Solution Dyed Nylon

• Cut Pile

• 1 Great Colour

FREE

UNDERLAY

$157 00

NylON

horizon

• Extra Heavy Duty

• Solution Dyed Nylon

• Cut Pile

• 1 Great Colour

FREE

UNDERLAY

$119 90

WOOl

Boucle

• Extra Heavy Duty

• Wool Plus

• Cut Pile

• 1 Great Colour

FREE

UNDERLAY

$119 90

garage

Carpet

• 6m x 6m fully installed

• Conditions apply

FULLY

INSTALLED

$900 00

2nds Carpet

• 100's of metres

• Pure Wool

• Extra Heavy Duty

CLEARANCE

FROM

$60 00

2 Metre Wide

Vinyl

• Selected patterns

• Buy 1 get 1 free

BUY 1

GET 1 FREE

$49 90

Commercial

Vinyl Planks

• 4 Colours

BUY 1

GET 1 FREE

FROM

$39 90

Call for our mobile showroom to

visit your home

312 Wilsons Road North, Waltham | Phone 366 0070

Mon to Fri 8am - 5pm and Sat 10am -1pm

www.carpetkingdom.co.nz *Conditions apply.

Q Card Finance

Now Available

FREE no obligation measure & quote (conditions apply)
---
10 2 Tuesday [Edition August datE] 29 2017

Latest Christchurch news at www.star.kiwi

itLocal

SOUTHERN VIEW

Southern View Keep

Keeping great vision

Can you see everything clearly

in each eye when you have glasses

on? If the answer is 'no' then do not

delay a full eye test says Dr Antony

Bedggood, a local specialist eye

surgeon. A serious eye problem

often goes undetected because

people do not realise that they

could be seen straight away.

Cataracts are a very common

eye problem and modern surgery

makes them very safe and easy

to fix explains Dr Bedggood.

People who have needed strong

glasses most of their lives are able

to see well without them almost

overnight, colours are bright and

near vision is so much easier. Dr

Bedggood explains that he uses

a state-of the art micro keyhole

technique, a tiny incision to the

side of your pupil which heals

straight away without stitches,

and high tech lens implants that

are tailored to your specific needs.

If crystal clear vision, especially

for driving is crucial to you, then

surgery is really not that expensive

- approximately $4000 per eye

according to Dr Bedggood. Health

insurance covers these costs. If a

complex implant is required, or if

patients prefer to also have clearer

reading vision without glasses this

often costs a further $800 or more

to allow a premium implant to

be used, which is not covered by

insurance. There are now so many

options that it is worth talking to

an experienced cataract surgeon

such as Dr Bedggood. He is happy

to provide free assessment in one

of his regular clinics at Longhurst

medical centre in Halswell if you

simply want to find out what

Cataract surgery is a highly sophisticated operation performed

under local anaesthesia - Courtesy of Carl Zeiss Meditec

the options are. Public hospital

surgery is accessible for anyone

once cataracts begin to make

driving, reading and daily tasks

more difficult.

If you could have macular

degeneration or glaucoma Dr

Bedggood states that he offers

experienced assessment and

treatment right here in Halswell.

Both are crucial to diagnose

early and treat actively to avoid

permanently loosing sight.

Macular degeneration should be

suspected when anyone over 60

notes their vision has recently

changed in 1 eye, particularly if the

middle of the vision is obscured

or distorted. Sudden changes in

vision occur when a network of

tiny blood vessels begin to grow

on the very inside of your eye,

these leak fluid or bleed, which

blurs vision. Assessment and

treatment should be done as soon

as possible, within the week if you

have known macular degeneration

or have lost central vision in one

eye already. Dr Bedggood can

provide urgent treatment in these

situations, please don't hesitate to

call!

A specialist eye test once a year is

the minimum requirement if you

have either macular degeneration

or glaucoma. Dr Bedggood was

born in Christchurch, studied

medicine in Otago, and trained

as an eye surgeon in Wellington,

Christchurch and Brisbane. He

works as a senior specialist in the

public hospital 75% of his time

and according to Dr Bedggood 15

years treating all the common eye

conditions that affect both adults

and children gives him a huge

amount of experience to be able to

help you with your eye problems.

A full eye assessment at Halswell

costs $180, and we can perform

the vast majority of minor

surgeries or procedures here for

eyelid problems, small growths,

laser, macular degeneration and

diabetes states Dr Bedggood.

Call 0800 4 Eyetest to arrange an

appointment today.

FREE

Cataract Assessment

Your eye surgery experts

Specialist

eye care in

your area

0800 4 EYE TEST

0800 43 93 83

Longhurst Health - 53 Caulfield Ave

"Where Every Smile Matters"

Experienced team provides caring and

gentle dentistry for the whole family

Dental Hygienist Available

Sedation dentistry

Wedding packages

Winz quotes

ZOOM whitening

treatment

ACC accredited

Dental Health Counselling

Free treatment for

adolescents (13-18 years)

Free treatment of

children (0-13) with a

school dentist referral

PH 332 6399

We've moved!

Now based at

104 Colombo Street,

Beckenham

www.smileconcepts.co.nz

Shop with us and

Give Hope.

Te Ope Whakaora

Open Monday - Saturday 9am - 5.15pm

62 Poulson Street & 300 Lincoln Road,

Addington

PH: 338 5154

Your donations of household goods support our

emergency housing hostel

yippee spring

is here

"Your face is unique.

Trust your injectable

wrinkle treatments

to an experienced

Cosmetic Physician"

Medical Director

Dr Heather Jefferies

Maxwells

Fashion

17 Lillian street, halswell 03 322 4548

Open Mon - Fri 9.30am-5pm sat 10am-1pm

At Whitehead Plumbing & Gas Ltd

we have a great team of loyal staff

offering a diverse range of skills.

Serving Canterbury for over 35

years, we do everything from

domestic maintenance to new

homes and commercial buildings.

Plumbing.

Gasfitting.

Drainlaying.

Pain free laser

"Your face is unique. skin Trust rejuvenation your injectable wrinkle

Facial assessments

treatments to an experienced Cosmetic Physician."

Injectable wrinkle

- Medical Director, Dr treatments Heather Jefferies

Dermal fillers

Prescription peels

• Pain free laser skin Microdermabrasion • Prescription peels

rejuvenationMole Mate® skin • Microdermabrasion

cancer

• Facial assessments and mole

• Mole

checks

Mate

Leg vein treatment

® skin cancer

• Injectable wrinkle and mole checks

treatments

• Leg vein treatment

• Dermal fillers

Make us your first call today.

03 379 0711

whiteheadplumbing.co.nz

31 Colombo St, Cashmere

31 Colombo St, Cashmere | Phone 372 3589

Phone 372 3589 www.koruskin.co.nz

www.koruskin.co.nz

Advertising enquiries Richard McCombie | Ph: 021 914 335 | richard.mccombie@starmedia.kiwi
---
SOUTHERN VIEW Latest Christchurch news at www.star.kiwi

Tuesday August 29 2017 11

REVERSE LAYUP: Nic Wenmoth's double-double for Cashmere

was part of a balanced team performance.

Cashmere in Thompson Trophy final

• By Andrew King

CASHMERE HIGH are

one game away from their

first McDonald's Thompson

Trophy division one

basketball title. All that

stands in their way is Christ's

College.

Since grinding out a 77-

52 win over Shirley Boys'

High at home last week to

book their spot in the final,

they've been building up to

the 7.30pm game at Cowles

Stadium today.

A win would see them

crowned Canterbury

champs and will give them

a confidence boost heading

into the South Island

tournament in Dunedin

(September 6-9).

Cashmere's last title was in

2011, when the competition

was not yet known as the

Thompson Trophy.

The key to victory,

according to coach Ben Sheat,

will be shutting down Christ's

playmakers and sticking to

their game plan.

"The boys are just focused

on going through our

MID-AIR: Cashmere's Connor McLaughlin rises

above the defence.

processes and sticking to our

rules throughout the game,"

Sheat said.

"Limiting Max de

Geest and Max Darling is

important. However, that is

much easier said than done.

They have some other great

players like Tom Crutchley,

which makes Darling and De

Geest even tougher."

Last week's game was tied

30-30 at half-time before

Cashmere pulled away,

scoring 47 points to Shirley's

22 in the last two quarters.

Nic Wenmoth chipped in

SPORTS

with a 12-point, 10-rebound

double-double, while Connor

McLaughlin contributed 18

points, seven assists and five

rebounds backed up by Mitch

Mahon with 12 points and six

rebounds.

Sheat called the

performance a "balanced

team effort."

Christ's beat Rangiora High

last week 105-70 at Cashmere

High.

In the division two final,

Hillmorton High will take

on Papanui High at Cowles

Stadium today at 4pm.

Halswell win

netball title

at primary

tournament

• By Andrew King

HALSWELL SCHOOL won the junior

B netball title at the Primary Sports

Canterbury winter tournament on

Thursday.

More than 1700 pupils making up

171 teams from 87 schools across Canterbury

came together to play netball,

hockey, football and rugby at South

Hagley and English parks.

Halswell beat Paparoa Street School in

the final to lift the title.

Halswell coach Leigh Hurford said it

was a fabulous, well-organised day.

"We were thrilled that all of the hard

work we put into practicing paid off and

we were elated to come away with the

victory."

Thorrington School came third in

the junior B netball. In other results,

Hillview Christian School were second

in the senior rugby section after being

beaten in the final by Rolleston Primary.

Cashmere Primary and Tai Tapu

School were third equal in the senior

hockey, which was won by St Andrew's

College.

In the junior hockey, St Martins

School were third. Hoon Hay School

were third in the junior A netball

All schools had to qualify through

their school zone to be eligible for one

of the biggest primary school sporting

events of the year.
---
12

I can

see

clearly

now

Tuesday August 29 2017

ON

NOW!

Promotion closes October 10th 2017.

Conditions apply.

GREAT BUY!

$29.60

BARRINGTON, 256 Barrington Street

PH 332 1730 | www.suckling.co.nz

Have an Elite Haircut

For an Affordable Price

HOURS:

Mon-Fri 9am - 5pm

Sat 9am - 12 Noon

IT's

Mens Cuts $18

Womens Cuts $25

Kids Cuts under 12 yrs $15

Clipper Cuts $14

Gold Card Mens $14

Gold Card Womens $18

Flat Tops $18

Eftpos Available

No appointment needed!

238 Barrington Street, Spreydon

(opp St Nicholas Church)

BRIGGS

AUTO SERVICE

LET US SERVICE

YOUR VEHICLE

AND REDUCE YOUR

RUNNING COSTS

Your local trusted automotive

service and repair specialists

332-0140 | 242 Barrington Street

JuST

INCREDIBLE

• Barrington Mall

• The Hub, Hornby

• New Brighton Mall

• South City Centre

Shop

Win

& Relax

• new & quality

secondhand tyres

• alloy wheels

• replacement rims

• puncture repairs

WITH A MASSIVE RANGE OF TYRES IN STORE,

WHY NOT POP IN AND SEE US TODAY!

8c Birmingham Drive,

(Cnr Hands & Birmingham Drive) Ph: 03 343 0099

Cell: 027 226 3805 Website: www.jcmdirect.co.nz

Diesel

The diesel professionals specialising in

4wd repAirs &

servicing

Latest Christchurch news at www.star.kiwi

All work

guArAnteed

288 Lincoln Road (opp ANZ)

Ph: 338 8884

www.dieseldoctor.co.nz

Designer

Fashion

3000

Items

Arriving

Daily!

SUPPORT YOUR LOCAL

BUSINESSES

TO WIN 1 OF 5

FAMILY GETAWAYS

TO HANMER

SPRINGS

see our

HUGE

selection!

• Designer Brands • Family Clothing

• Menswear • Footwear • Bric-a-brac

• Workman Outdoor Clothing

• Household Goods • Books

• See the Retro Section AND Formal Wear

Enter every time you shop at any

of these participating businesses

More Chances to Win!

welsh slate

The Family Feast Combo

$

40

MUSGROVES

50 OFF

was $4 per tile

now $2 per tile

Buyers and Sellers of Recycled and

New Building Material and Joinery

3 Musgrove Close (off Wigram Rd) Christchurch

www.musgroves.co.nz • 03 322 7922

or Freephone 0508 468 747

Proudly

Supported By

2 x Regular Pitas, 2 x Kids Pitas, 2 x Phoenix Drinks,

2 x Charlies Juice Pouches and

a Family Box of Wedges

$32

WOF

ALL CAR

SERVICING

Convenient

central city

repairs and

parking

Cnr Fitzgerald Ave &

Hereford Street

Phone: 365-5220

www.a1auto4service.co.nz

SOUTHERN VIEW

The Automotive Lamp Specialists

New and Used Lamps for Cars, Trucks,

Vans, 4WD and Motorhomes

325 Brougham Street, CHRISTCHURCH | PH 0800 225 483

Be in to

win with

participating

Pita Pit at

Sydenham, 290 Colombo St

Barrington, 256 Barrington St

Addington, 351 Lincoln Rd

Bring this ad instore to enter

Shop 3, 300 Lincoln Road, Addington, Christchurch

Phone: 338-2882 Email: snlimited1@gmail.com

Hours: Mon-Sat 10am-9pm, Sun 12pm-8pm

www.mosaicbysimo.co.nz

Cafe • Dining Room • Desserts & Coffee • Catering

Thinking WOF & Lube

Think On The Go!!

$5 discount

free brake check,

free tyre shine

for every oil

change or tyre

purchase *

On-The-Go Riccarton

324 Blenheim Road,

Upper Riccarton 8041

Ph 03 348 0042

$3 discount

for WOF check *

03 348 0042

*

Bookings required.

Conditions apply.

Balayage HigHligHts

just $120

• Ladies cuts, colours and styling

• Competitive pricing

• Mens, kids and pensioners cuts

• Stockists of FUDGE range of hair products

Shop 2 - 247 Ferry Road (next to Bronskis)

PH. 379 3300

Open Daily 7 Days

Sydenham: 39 Battersea St Papanui: 472 Cranford St

Hornby: 94 Shands Rd

New Brighton: 52 New Brighton Mall

(Old Farmers Building)

HOURS

Mon–Sat 9am–5pm

Sun/Public Holidays 10am–4pm

New Zealand's Largest Recycled Clothing Retailer

Yummy Food

with

Great Coffee

Delicious range of savouries,

pies, sandwiches & cakes

We also offer:

• Breakfast • Iced Coffee

• Milkshakes • Fresh Juice

290 Selwyn Street | Phone 377 7725

Boost Brain Performance

ENZO:PROFESSIONAL (ENZOGENOL) is a potent

antioxidant extract of the N.Z. pine bark and

has been clinically shown to improve memory,

concentration & brain performance.

SUPER

60's only $45.30, save $5.00

120's only $84.90, save $15.70

PRICE! Detailed Information Available

Bringing You the Best in Natural Health!

MARSHALLS HEALTH & NATURAL THERAPY

CONSULTING - PRESCRIBING - DISPENSING -

MANUFACTURING - MEDICAL HERBALISTS

110 SEAVIEW RD, NEW BRIGHTON • PH 03 388 5757

Email: enquiry@marshallshealthshop.co.nz

- WE ARE ALWAYS HAPPY TO HELP! -
---
SOUTHERN VIEW Latest Christchurch news at www.star.kiwi

Tuesday August 29 2017 13
---
14 Tuesday August 29 2017

Latest Christchurch news at www.star.kiwi

News

In The Neighbourhood

SOUTHERN VIEW

GO LOCAL

The Mohair Store has been keeping

people warm & cosy since Andrea

opened back in 2008. If you love the

warmth-without-weight feeling that

Mohair and Alpaca throws provide

then you will be spoilt for choice at

The Mohair Store.

140 Colombo Street, Beckenham

themohairstore.co.nz (discount

code: goat)

Andrea

80S-THEMED PARTY: The cast of the Halswell Drama Group. ​

themohairstore

Discount

for $20

with this

voucher

Experience the warmth-without-weight feeling

that luxurious New Zealand-made Mohair and

Alpaca throws provide.

If you love New Zealand made natural fibres,

then you will be spoilt for choice at

The Mohair Store.

Shop online with the in

store special prices!

Discount code: Goat

140 Colombo Street, Beckenham

Phone 03 943 1639

www.themohairstore.co.nz

PC Problems?

PC slow? Annoying errors and Pop Ups?

Internet not working? Are you secure?

Not really sure?

care free computing

Relax, with over 15 years experience

we have the answers to ALL your PC

problems. And we have a range of

unique fixed price services available.

Best of all we come to you

- at no extra charge.

Call on 0800 PC PICKUP

(0800 727 4251) or 338 8871

www.carefree.co.nz

Norma Lill

Key attributes that distinguish my success

in Real Estate are centered around:

• High standards

• Extraordinary work

• Ethics

And lots of energy

with a great

commitment for

exceeding outcomes.

Just call me on

027 432 5168

" I am still

learning, still

inspired, still

loving every

minute. "

Barrington Mall, Christchurch

The Wedding Singer

heads to Halswell

THE HALSWELL Drama

Group is gearing up to

perform another stage

production.

The group will present

The Wedding Singer based

on the movie of the same

name starring Adam

Sandler and Drew Barrymore.

The show goes back to

1985 – a time when hair

was big, greed was good,

collars were up and a

wedding singer might just

be the coolest guy in the

room.

FLAME FILES

Hot tips to prevent

stove top fires

• By Mark Thomas –

specialist fire investigator

I SEEM to spend

some time every week

complaining about the

number of kitchen fires

we're going to.

Not that we are moaning

about having to go to

them, but we know the

inconvenience to anyone

who has such a fire. People

who suffer them, regularly

end up being treated for

smoke inhalation after

trying to control what happened.

Last week was quite a

busy one in the kitchen fire

department, and a couple

of the call-outs triggered

messages we all should be

aware of.

Vice-president Tim

Gunther said the musical

promises to get you up

dancing faster than your

dad at a wedding.

He said the drama group

are a small, but passionate

group of south-western

locals who have been performing

for the benefit of

their local community for

more than 50 years.

The cast is made up

of members from places

including Halswell,

Rolleston, Lincoln and Tai

Tapu.

The first was at Breezes

Rd, Aranui, on Thursday

and was a perfect example

of the danger of leaving

something combustible on

a stove top.

In this case, a plastic coffee

grinder was cooked up

because the element it was

sitting on was turned on by

mistake.

I've seen bread boards,

The show is to be held

September 14, 15, 16, 21,

22 and 23 at the Halswell

Community Hall, 450

Halswell Rd.

To book tickets go

to www.iTicket.co.nz

A pre-show dining offer

is also available at The

Old Vicarage Café, Bar

and Restaurant which has

sponsored the show.

•For more

information email

Halswelldramagroup@

outlook.com

toasters and tea towels all

cause a fire because an

element was mistakenly

activated.

If you persist in storing

these things on the stove

top, it's almost inevitable

that eventually the obvious

will happen.

They're not storage areas.

If you're tempted to use

them as such, then quite

simply, don't.

The second fire was at

Ferry Rd on Friday where a

pot of burning oil was carried

through the house in

an effort to get it outside.

Inevitably it was dropped

as the flames increased. A

fire on the stove top should

be handled right there. If it

can't, get out and shut the

door. Don't spread the fire.
---
SOUTHERN VIEW Latest Christchurch news at www.star.kiwi

Tuesday August 29 2017 15

raNGiora • Northwood • st martiNs • tower juNctioN • BishoPdaLe • raNGiora • Northwood

Northwood • st martiNs • tower juNctioN • BishoPdaLe • raNGiora • Northwood • st martiNs • tower juNctioN • BishoPdaLe •

AFFORDABLE

CLASSIC DAD

SAVE

37%

RRP $24.99

$

9 .99

RRP $39.99

$

24 .99

WORLD'S

GREATEST

MILITARY

AIRCRAFT /

SUBMARINES

SUPPORTER DAD

ALL BLACKS BACKPACK

ALL BLACKS WATCH

BLACK FACE,

LEATHER STRAP

20%

OFF

INCLUDES FREE

PENCIL CASE

WORTH $9.99

OUR PRICE

$

24 .99

MUSICAL DAD

AC/DC

LED ZEPPELIN

Follow us on

Facebook:

for every

DAD

FATHER'S DAY FOR LESS

EA

ILLUSTRATED HISTORY

OF WEAPONS

SAVE

60%

MILLION DOLLAR

CLASSICS

SAVE

29%

RRP $34.99

$

24 .99

EA

RRP $49.99

$

39 .99

EA

FUN DAD

ORGANISED DAD

$

7 .99

20%

OFF

EA

LAGER /

CHILLI

LOLLY

EDIBLE GUMMY

SHOT GLASSES

SAVE

50%

THE BEATLES

DEFINITIVE GUIDE

RRP $49.99

$

24 .99

CALENDARS

$

14 .99

RRP $24.99

$

12 .99

SAVE

48%

PUZZLER DAD

RETRO

COMIC

PUZZLES

GEEKY DAD

@papertreestores

RRP $44.99

$

14 .99

THE SIMPSONS FAMILY

HISTORY

RRP $49.99

$

22 .99

RRP $49.99

$

19 .99

SAVE

60%

@papertreestores

HALF

PRICE

SAVE

70%

STAR TREK

POP-UPS

tower junction, off Clarence St, Riccarton | Bishopdale, 31 Bishopdale Court, Bishopdale | rangiora, 206 High Street, Rangiora

Northwood supa centre, Main North Road, Belfast | st martins shopping centre, Wilsons Road, St Martins

EA

EA

HOT CHILLI

CHALLENGE

BACON / BEER

POPPING CANDY

EA

RRP $24.99

$

12 .49

EA

EA

FREE

NOTEBOOK

WHEN YOU

BUY ANY ONE

OF THESE

THUNDERBIRDS

BOOKS!

• st martiNs • tower juNctioN • BishoPdaLe • raNGiora • Northwood • st martiNs • tower juNctioN • BishoPdaLe • raNGiora
---
16 Tuesday August 29 2017

Latest Christchurch news at www.star.kiwi

SOUTHERN VIEW

Kirkwood Intermediate

Technology, 'Opportunities'

' Schooling for the Whole Child'

The focus of a successful school is the pupil. The growth of our children at Kirkwood is supported by the many extension opportunities

we offer over and above our classroom activities. We work on extending learning opportunities in a number of areas.

Some of the highlights in our technology

area include:

• Food competitions

• Robotics

• 3D Printing

• EPro8 Challenge

• Online Cookbook

• Maori Carving

• Upcycling

Technology is a favourite area for many

students due to the 'hands-on' problem

solving approach to learning.

Technology

Sports

Apart from the regular physical education programmes within the classrooms there are

many other sports offered at Kirkwood. Some the sports played this year are Netball,

Football, Cross Country, Skiing, Swimming, Rugby, Basketball, Waterpolo and Touch

Rugby.

Extension Groups, Competitions and Events

Our students have many opportunities to participate in various competitions and events

offered at Kirkwood.

These include:

• University of Canterbury Academic

Competitions

• Cantamath

• Canterbury-Westland Science Fair

• Science Badges

• Blue Light PCT competition

• Otago Problem Solving

• Publishing of a school magazine

• Art Cup

• Kids'Lit Quiz

• Orchestra

• Choir

• Leadership Opportunities

• House Captains

• School Production

• Physical Activities Leaders

• School Council

Awards

We value and encourage personal excellence which is recognised with our 'Blues'

Awards system.

Music

Is taught as part of the performing arts curriculum in all classrooms however, extra

opportunities are available for students to learn a wide variety of music.

This year, our students have been learning the Guitar, Piano, Violin, Drums, Flute, singing

in the Choir and playing in the Orchestra.

We also have a Rock Band which performs in assemblies during the year.

Don't forget, there are still some places available for Year 7 and Year 8 for 2018.

Please visit our website www.kirkwood.school.nz for information and to download

an enrolment form or ring the office on 348 7718.

Phil Tappenden, Principal

Kirkwood

INTERMEDIATE SCHOOL

260 Riccarton Road, Christchurch

Email: school.information@kirkwood.school.nz

Phone 03 348 7718 Fax 03 348 1085

www.kirkwood.school.nz
---
SOUTHERN VIEW Latest Christchurch news at www.star.kiwi

Tuesday August 29 2017 17

GREAT food

BROUGHT TO YOU BY...

Your fresh food people

CHICKEN THIGHS WITH

FRESH EGG NOODLES

Ingredients

BRUSSELS SPROUTS WITH

ROASTED GARLIC AND

PINENUTS

Ingredients

1 head Garlic

20 small Brussels sprouts

1 Tbsp Olive oil

1 Tbsp Walnut oil

½ cup Pine nuts

½ cup Currants

Directions

Preheat oven to 200 deg C.

Remove the outer layers of

papery skin from the head of

garlic. Slice just enough off the

head to expose the garlic cloves,

then season and wrap in tinfoil.

Bake for 30min, then cool and

squeeze the flesh out of the

skins.

Meanwhile, toss the sprouts in

walnut and olive oil. Season and

place in a roasting dish, cook for

15min, then add the pinenuts

and currants. Return to the

oven for a further 5min.

Pile the sprouts, pinenuts and

currants on to a serving dish,

drizzle with oil leftover in the

pan and top with garlic.

8 Boneless chicken thighs,

skinned

1 Tbsp Light soy sauce

1 Tbsp Dry sherry

2 tsp Cornflour

2 Tbsp Peanut oil

1 bunch Spring onion, trimmed

and sliced

1 stalk Lemongrass, white part

only, finely chopped

1 Red chilli, deseeded and finely

chopped

500g Egg noodles, use fresh

noodles

To finish

1 splash Fish sauce

1 Lime, or lemon, juiced

1 handful Fresh basil

Directions

Cut each chicken thigh into

four pieces and place in a bowl

with the soy sauce, sherry and

cornflour. Mix to combine and

set aside while you prepare the

remaining ingredients.

Heat one Tbsp of the peanut oil

in a large deep-sided frying pan

or wok over a medium-high heat.

Add half of the chicken pieces

and cook on both sides until

browned and almost cooked

through, about 5min. Transfer

to a plate, add remaining peanut

oil and cook remaining chicken

pieces. Return all chicken pieces

to the pan or wok.

Add the spring onions,

lemongrass, chilli and

noodles and continue to cook,

stirring continuously until the

chicken is cooked through, about

3min.

Stir in the fish sauce, lime or

lemon juice and basil leaves and

divide between four warmed

bowls.

Large Avocados ....... 1 .99

each

NZ Red or Green

Capsicums ......................... 1 .99

EACH

Loose Table Onions .....99 c

kg

Brussel Sprouts ........... 3 .99

kg

Chicken Thigh

Cutlets .............................. 7 .99

kg

Lamb Shoulder

Roast .................................. 9 .99

kg

Beef Rump Steak ......... 13 .99

kg

All our fresh meat is 100% NZ FARMED.

specials VAlid 28th august - 3rd september 2017. ONLY AVAILABLE AT

RAEWARD FRESH HAREWOOD RD, TOWER JUNCTION & MARSHLAND RD

harewood rd Mon–Fri 8.00am–6.30pm Sat–Sun 8.00am–6pm

Tower junction Mon–Fri 8.00am–6.30pm Sat–Sun 8.30am–6pm

MARSHLAND RD Mon–Sun 8.00am–6:00pm

WWW.

.CO.NZ
---
18 Tuesday August 29 2017

Latest Christchurch news at www.star.kiwi

SOUTHERN VIEW

IT'S

FREE

everyone

welcome

We're having a party and you're invited! Tennis

clubs across Christchurch are opening their doors

for a fun, FREE event for all ages. Bring yourself or

bring your family Father's Day weekend.

www.lovetennis.kiwi #lovetenniscanterbury

Come play

Racquets supplied. BBQ. Prizes. Giveaways.

You could WIN A TRIP FOR TWO to the

ASB CLASSIC in Auckland this January.

*Times may vary by club. Please check website for details.

Avonhead Tennis Club

Beckenham Tennis Club

Bishopdale Tennis Club

Burwood Park Tennis Club

Cashmere Tennis Club

Edgeware Tennis Club

Elmwood Tennis Club

Hagley Park Tennis Club

Halswell Tennis Club

Mt Pleasant Tennis Club

Opawa Tennis Club

Redcliffs Tennis Club

Riccarton Domain Tennis Club

Shirley Tennis Club

South Brighton Tennis Club

Spreydon Tennis Club

Sumner Tennis Club

Te Kura Tennis Club

Waimairi Tennis Club

Saturday

2 Sept

Sunday

3 Sept

1-4pm*
---
SOUTHERN VIEW Latest Christchurch news at www.star.kiwi

Tuesday August 29 2017 19

Creative Writing Wednesdays

Wednesday, 4-5.45pm

If your imagination runs wild

and you want to learn how to

put those ideas on paper in a way

that makes sense, head along

to this creative writing class. It

will suit people new to creative

writing, or those wanting to

hone their skills, pick up some

tips and learn from other aspiring

writers. Find some fictional

books while you're at the library,

or some books on creative writing.

Linwood Library, Eastgate

Shopping Centre.

Mid-Week Laughter Club

Wednesday, 6-7pm

The focus of the club is to get

over the stress of the first part of

the week and have a positive outlook

for the rest. The event aims

to release endorphins and help

you relax and lower stress levels.

There is no comedy, stand-up or

jokes at this session. Instead, you

are encouraged to make yourself

laugh at nothing at all for the

purpose of relaxing.

St Marks Methodist Church,

cnr Barrington and Somerfield

Sts. Entry $2

Knit 'n' yarn

Wednesday 11am-1pm

For those who want to have a

chat while they construct their

Email julia.evans@starmedia.kiwi

by 5pm each Wednesday

favourite woollen creations can,

with the weekly knit 'n' yarn

meetings. From crochet to knitting

or a craft of your choice,

have fun with this social group.

There are a variety of books to

help inspire ideas for your next

project or even to help a beginner.

Everyone is welcome.

Linwood Library, Eastgate

Shopping Centre. Free entry

Game Zone @ Linwood

Library

Thursday, 3.30-4.30pm

Play great favourites like Minecraft,

Charades, Connect Four,

Pictionary and more. Learn and

develop strategies in new games

such as Dutch Blitz, Heads Up,

Hand and Foot, and group

games. Join in for X-box and PS4

tournaments. Take your friends

or meet some new ones; all children

aged eight to 12 welcome.

No booking or payment required.

Linwood Library, Eastgate

Shopping Centre

Beckenham Exercise Class

Friday, 9.30-10.30am

Designed for people living

with long-term health conditions.

Classes generally occur

weekly other than on public

holidays. Plone 0800 663 463 to

register.

St Marks Methodist Church,

cnr Barrington and Somerfield

Sts.

Gamble Free Community

Day

Saturday, 9am-noon

Go along to this free community

morning raising awareness

around the harm that problem

gambling can cause. Bring the

whanau and join in the fun.

There's health and wellness

stalls for information, games

and fun activities including face

painting and bouncy castle, spot

prizes and scavenger hunts. Free

event.

Linwood Avenue School, 260

Linwood Ave

Spring Market Day

Saturday, 10am-5pm

If you haven't yet been to

The Tannery, this weekend is

the ideal time to check it out

as their bi-annual market day

launches us into spring. With

food from Tommy Taco, Fritz's

Weiner, Kung Fu Dumplings,

Black Forrest Waffle Hut and

live music from Davey Backyard.

Deals to be had across men's and

women's fashion, childrenswear,

jewellery, bags and accessories,

ENDING: The stunning sand

mandala will be completed

this Friday with the dissolution

and a release ceremony

on Saturday. The intricate

symbolic design will be

brushed away as the monks

recite blessings signifying the

impermanence of all things.

In procession the monks will

lead everyone attending to

the nearest natural waterway

to ceremoniously pour the

sand back to nature. Those

attending can participate by

throwing flower heads into

the waterway during the

release ceremony. A small

pouch of blessed sand will be

given to those attending the

closing ceremony. Te Hapua

Halswell Centre, 341 Halswell

Rd. Saturday, September 2,

11am

health, fabrics, books and

homewares.

3 Garlands Rd

Opawa Farmer's Market

Sunday, 9am- noon

Find some organic and

delicious produce from local

growers. Enjoy sipping on a

coffee while wandering around

the market and checking out

the food on offer. From artisan

bread and french pastries to

fresh berries and local cheeses,

there will be something for

everyone.

275 Fifield Tce.

Mixed Two

Emma milburn & JacquElinE morrEn

Breaking news,

delivered to

your pocket.

Visit www.star.kiwi

anytime, anywhere!

Little River Gallery will be presenting works by two artists, Emma Milburn and Jacqueline

Morren in their new exhibition 'Mixed Two' from this Saturday September 2nd. They are

bringing together different geographical cultures, using different media and materials,

both with a strong environmental focus from the manmade and natural world. Their work

is fabricated by using old traditional techniques yet with a contemporary edge.

Emma Milburn's paintings depict elements that are influenced by the natural environment

of remote and isolated South Island wilderness areas and her interaction within this. As a

Wilderness Search Dog handler and Visual Tracker, Emma is acutely tuned in to analyse

detail along with the 'big picture'.

Colour, shape, shine, shadow, contours,movement and

texture influence Emma's abstract painting style.

"The juxtaposition between my experiences of wilderness,

and an urban environment of playing and writing music also

bring an awareness of the interaction between space, time

and repetition."

'Monowai' original painting

by Emma Milburn from

the exhibition 'Mixed Two'

at Little River Gallery from

September 2nd

For Jacqueline Morren this body of work is a new direction.

She sets herself a big challenge to sculpt without training or

access to technical tools. At times this has resulted in her

having to create her own implements, to aid the stretching &

curving of the silver out of one piece, without the use of soldering.

Jacqueline Morren's fine

silver and Pounamu jug

'Punctuated Equilibrium'

from the exhibition 'Mixed

Two' at Little River Gallery

from September 2nd

"Maker's marks are left intentionally; I have no inclination towards smooth perfection. I

love discovering the magical combination of metals & Jade until it feels right, usually after a

long process. This enables the wonderful greenstone to come to life, to its fullest potential."

The artwork is layered with era's bygone, present and anticipated future innovation.

The exhibition is running from 2nd until 27th September. For more information, please visit www.littlerivergallery.com

2 - 27 September 2017

Fire rages, homes at risk

•news •CTV •sport •districts •schools •lifestyle •opinion •what's on

www.star.kiwi

Emma Milburn & Jacqueline Morren

Mixed Two

Main Rd, Little River | 03 325 1944

art@littlerivergallery.com
---
202

Tuesday [Edition datE] August 29 2017

HEALTH & BEAUTY

Latest Christchurch news at www.star.kiwi

SOUTHERN VIEW

Denture specialists

expert at problem

solving for patients

Ryan Carlton and his team of expert technicians at

Dentures Plus in Innes Road are highly skilled in the

design and manufacture of flexible partial dentures.

"We also use industry-leading injection

moulding equipment for all our dentures,

Ryan says, "and we provide dentures not

only for our own patients, but also for

dentists throughout New Zealand."

For anyone experiencing problems with

their teeth or gums Dentures Plus offers a

free consultation to assess their oral health

and possible treatment plans, Ryan says.

"People needing first-time dentures or

immediate dentures can come directly

to us and we will work with their regular

dentist or if necessary arrange with

another dentist for the extraction of their

teeth in preparation for getting dentures

fitted," he says.

"Our team are excellent at problem

solving for our patients and providing

them with a comfortable, functional,

natural-looking solution."

Ryan emphasises the importance of

keeping dentures clean and healthy to

avoid the damage that can occur from

wearing them. Dentures Plus offers a full

True

Who thought

DENTURES

and false!

could look this

natural?

• Full dentures • Metal partial dentures

• First-time immediate dentures • Implant supported dentures

STUNNING: A beautiful new denture for

a young female patient

range of products for keeping dentures

in tip-top condition, including denture

cleaners, brushes and denture baths for

soaking the dentures.

He particularly recommends Caldent

denture cleaner, as it is non-abrasive and

effectively removes stains, calculus and

plaque. All the products can be purchased

at the clinic, or through the Dentures Plus

website, www.denturesplus.co.nz.

While Christmas is still a few months

away, for those people wanting to have

new dentures in time for the festive

season, now is the time to get the process

underway, Ryan says.

"By talking to us now, and getting

started, the new dentures will be settled

in and comfortable by Christmas, so you

can enjoy all the festivities without any

denture problems."

Dentures Plus is located at 396 Innes

Road. To make an appointment to

discuss your needs, phone 385 55127.

These stunning lovebite full upper and

lower dentures have been expertly crafted by

internationally-recognised dental technician

Richard Greenlees at his Christchurch studio.

The combination of Richard's skill, experience

(including 15 years in London's prestigious

Harley Street) knowledge and revolutionary

techniques allow him to create beautiful

bespoke false teeth that truly resemble those

in nature and reflect each patient's individuality

and unique character.

Beautiful Teeth

Meet the

Owner

Ryan Carlton

Our Acrylic Injection Moulding machine

that we use to make to dentures.

Natural Smile

Free Consultation, No Obligation

• Full Dentures • Dentures Repaired • Implant Assisted Dentures

• Injection Moulded Flexible Partials • Relines

• Mouthguards • Additions/Repairs

• Purchase cleaning and care products from our website.

All dentures personally

designed and created to ensure

a comfortable natural fit.

DENTURES PLUS (2014) LTD

Denture Clinic and Laboratory

396 Innes Road, St Albans. Phone 385 5517.

Email: denturesplus@paradise.net.nz

www.denturesplus.co.nz

Orbiter Bus stops Innes Road

AGING GRACEFULLY: Natural teeth for

a gentleman patient in his 80's

HOLLYWOOD: It's all white for this

female patient in her 60's

402 Montreal Street

Christchurch | P. 379 1222

By appointment only.

Consultation fee applies.

lovebite.com

Richard will personally guide you through the entire process to create

teeth with small nuances in the fabrication, colour and shape. Your beautiful new

lovebite dentures will boost your confidence and make you look and feel year's younger!

Bishopdale Clinic

13a Bishopdale Court, Ph 360 3606

City Clinic

12 Hereford Street, Ph 961 0236

Wigram Skies Clinic

67 Skyhawk Road, Ph 322 9400

Call us today Ph 360 3606

Back & neck pain

Sprains and strains

Functional training studio

Biomechanical assessments

Headaches and migraines clinic

Work injuries & gym rehab

Pre and post surgery rehab

musclepeople.co.nz
---
SOUTHERN VIEW Latest Christchurch news at www.star.kiwi

Tuesday August 29 2017 21

REAL ESTATE

Church Bay waterfront contemporary

67 Koromiko Crescent, Diamond Harbour

Price: $1,175,000

4 bedrooms | 2 bathrooms | 3 living rooms | 1 dining room | 2 car-garage | 3 off-street parks | Listing # 5150

A rare opportunity to acquire a prime

waterfront property with panoramic Sea

views which sweep across Quail Island,

the Port Hills and Lyttelton Harbour. This

contemporary 350m2 (approx.) family

home is positioned on a spectacular site.

An Executive home featuring incredible

outdoor family living, providing relaxed

indoor/outdoor flow ideal for ease of

entertaining. Privacy and shelter is

provided by the mature trees, established

formal garden and large lawn leading onto

the expansive kwila deck.

The property is set on an impressive

1810m2 parcel of land, in two titles.

Featuring a double height entrance and

living room ceilings, 4 double bedrooms,

2 living areas and a large family room/

playroom. This open plan executive home

features breathtaking sea views at every

turn.

With both the new master en-suite and

family bathroom luxuriously appointed

with Italian porcelain and marble mosaic,

exquisite in every detail. Facing North

West this is a naturally warm home, the

sun tracking from the early morning to

spectacular evening sunsets.

The floor to ceiling windows in the living

area harness all natural warmth which

during the cooler months is backed up by

under-floor heating, in addition to the gas

fire place in the lounge area, adding to the

warmth and ambience. This property is

visually stunning with world class views.

The current owners are reluctantly

departing after 16 years, their sincere wish

is that the property should continue to be

enjoyed as much as they have enjoyed it.

For a private viewing, contact Tim

Dunningham of Min Sarginson Real

Estate (Licensed Agent REAA 2008),

phone 027 651 5474 or 329 4161

growing with you

SprIng Is here –

It'S Sow Time

how to get the best results from

seeds and seedlings

100% NatIve In

The capItal

Unravelling the secrets of

Otari-wilton Bush

The New Zealand

landscape awards

The people behind

the projects

$7.90 incl. GST

Save our roSeS

How a rose register is protecting our heritage

September 2016 | 100%

It's time

to grow!

New look and more

content than ever!

MeeT LeSTer Brice

A Garden coach

auckland Botanic GardenS

Why we love our public grounds

now bigger than ever

The magazine for

gardeners who like to get

their hands dirty

SubScribe from

$43. 50*

*6 issues/6 months

ISSN 2423-0219

SUBSCRIPTIONS FREEPHONE

0800 77 77 10

www.gaRdeNER.kiwI
---
22

Latest Christchurch news at www.star.kiwi

Tuesday August 29 2017

SOUTHERN VIEW

Classifieds Contact us today Phone our local team 03 379 1100

Community Events

ALCOHOLICS

ANONYMOUS, If you

want to have a drink thats

your business. If you want

to stop, we can help. Phone

0800 229-6757

Computers

ALL

YOUR

COMPUTER

WORRIES SOLVED!

*$30.00 off your first

service with this coupon!*

No problem too big or

small from home PC's to

business networks. PC

slow? An end to Viruses,

Spyware, and Clogged

Systems. Safe secure

hassle-free computing.

Lost files recovered.

Microsoft Certified,

MCSE, MCP+l. 30 years

experience. Call Andrew

Buxton this week on 326-

6740 or 027 435-7596

for $30.00 off* Custom

Computers Christchurch

Curtains

www.curtainfabric-outlet.com

Fashion Designs & Colours

Discontinued Designs

End of Lines Bargain Prices

Call at Our Shop

CURTAIN FABRIC OUTLET

71 Hawdon St Sydenham

Ph 366-5026

Entertainment

Weka Pass Railway

Waipara, North Canterbury

We are RUNNING

SUNDAY 3rd September

Running 1st & 3rd

Sunday of every month

Phone 0800wekapass

Depart Glenmark Station

11.30am & 2.00pm

www.wekapassrailway.co.nz

Gardening

& Supplies

LANDSCAPE GARDEN

PROFESSIONAL

Qualified Horticulturist,

offering expert, garden

makeovers, design and

landscaping, for free

quotes call Bryce 027 688-

8196 or 0508 242-733

Holiday

Accommodation

QUEENSLAND SUN-

SHINE COAST AUSTRA-

LIA Resort, Ocean Views,

Balconies, Self Contained,

1 or 2 B/R Ensuite,

Heated Pool, Spa, Sauna,

Free Internet, Shops,

Restaurants, Tennis, Surf

Club & Patrolled Beach,

Public Transport at door.

Ask for our SEASONAL

SPECIALS. Phone 61 7

544-35011 Email: reception@mandolin.com.au

www.mandolin.com.au

Trades & Services

GLAZING

Stephen Thom Glazing 2012 Ltd.

• Mirrors • Pet Door Specialists

• Splashbacks

THE CAT DOOR MAN

ALL BROKEN WINDOWS

Phone Cushla or Darren Twist

03 352 6225 or 027 352 6225

Builder

Wright Enterprises Build Limited

W.E. Build

New Homes

Renovations

Alterations

Re-roofing

Re-cladding to older buildings

Family owned & operated

E info@webuildltd.co.nz

Antony Wright 021 111 1703

John Wright 0274 343 323

AH 03 347 4347

www.webuildltd.co.nz

GARDEN SUPPLIES

CHCH'S LARGEST SELECTION OF

BARK • COMPOST • SHINGLES

Landscape Lane (off Lunns Rd)

P. 348 2915 OPEN 7 DAYS

nO GREEn wastE In anY OF OUR COMPOst

Trades & Services

ADVERTISE YOUR

BUSINESS HERE

Phone for further details

(03) 379 1100

Remember...

we are NOT in

Parkhouse Road

PAINTING - PLUS

• PAINTING • TILING

• PLASTERING

• WALLPAPERING

Phone Kevin Steel

• Interior/Exterior

• New Homes & Repaints

• Quality workmanship assured

• Correct preparation always undertaken

• 20+ years experience

• Earthquake repairs

(Painting/Plastering/Wallpapering/Tiling)

Ph 381 7417 or 027 216 8946

www.facebook.com/kevinsteelpainters&decorators

PAINTING

EQC REPAIRS

TAKE THE STRESS

OUT OF YOUR

REPAIRS!

Trades & Services

We can make it happen

WE ARE A

ONE STOP SHOP

WINNING

National Awards

from NZ Master Painters, sponsored by DULUX

36 Years in business now offering

Fixing, Stopping, Painting, Wallpapering

• Piling • Electrical • Plumbing • Flooring

• Painting • Roofing • Plasterboard • Wallpapering

Trades & Services

HOUSE

CLEARING

Are you

moving house

or trying to

downsize?

Call All Clear

Canterbury. We work

with you to recycle,

sell and dispose of

unwanted items.

Ph: 03 260 0934

or 021 078 4553

raewynlcooke@gmail.com

www.allclearcanterbury.co.nz

Gary: 021 329 881

Cam: 021 329 200

Office: 03 338 9886

E. office@gkfyfeltd.co.nz

Trades & Services

ROOF

PAINTING

Rope & harness

a speciality,

no scaffolding

required,

30 years of

breathtaking

experience.

FREE QUOTES

Exterior staining,

exterior painting,

moss and mould

treatment and

waterblasting

Phone Kevin

027 561 4629

Trades & Services

SPOUTINg CLEANINg

Spouting Unblocked,

Cleaned Out and Flushed

Out. Also Full Handyman

Services Available. Call

Trevor 332 8949 or 021

043-2034

STONEMASON

BRICK BLOCKLAYER

Earthquake Repairs, Grind

Out & Repoint, River/

Oamaru stone, Schist,

Volcanic Rock, Paving,

all Alterations new & old,

Quality Workmanship,

visit www.featureworks.

co.nz or ph 027 601-3145

TILER/CARPENTER

35 years exp, no job

too small. Ph Ross 027

4311440.

TREES BIg OR SMALL

tree removal, trimming,

BEST BATHROOMS, stump grinding, shelterbelt

painter

full renovation specialists, clean up, section clearing,

LBP, repairs & rubbish removals,

maintenance ph 03 387- excavation work, ph Trees

0770 or 027 245-5226 Big or Small, for a free

BRICKLAYER

quote, 021 061 4783

Price Family George Lockyer. Over T.V. SERVICE CENTRE

35 years bricklaying Repairs, tvs, microwaves,

experience. UK trained.

Painters Ltd

stereos, DVD. Aerial

Licensed Building installations and kitsets,

Practitioner number 480 Moorhouse Ave, ph 03

Interior/Exterior

BP105608. Insurance 379 1400

Wallpapering/Painting

work. EQC repairs.

UPHOLSTERER

Heritage brickwork and

Gib Stopping

stonework a speciality. No Dining Chairs, Lounge

Free Quotes

job too small. Governors suites, Caravan Squabs

EQC Opt Out

Bay. Home 329-9344, etc. recovered. Free

Fletcher Accredited

Cell 027 684 4046, email Quotes. Phone Graeme

Project Management

georgelockyer@xtra.co.nz 383-1448

BUILDER

VHS VIDEO TAPES

Phone: Morton 021 667 444 For all building work & all camera tapes

Email: mortonprice@xtra.co.nz but specialist in bathroom converted to DVD, video

renovations, 30 yrs taping special occasions,

www.pricefamilypainters.co.nz experience, with service www.grahamsvideo.co.nz

and integrity. Free Quotes. ph 03 338-1655

Ph Lachlan 383-1723 or

Trades & Services

0274 367-067.

Wanted To Buy

BUILDER LICENSED

Thorrington available Village for all aspects of Southern AAA ViewBuying goods Aug 29

spouting

building. Please call 027 quality furniture,

Vicky Hilary

241-7471 or 335-0265 Beds, Stoves, Washing

12x1

VSC96363 CARPET & VINYL machines, Fridge Freezers.

LAYINg

Same day service. Selwyn

Repairs, uplifting, Dealers. Phone 980 5812

relaying, restretching, or 027 313 8156

E mail jflattery@xtra. TOOLS Garden,

co.nz

garage, woodworking,

ph 0800 003 181

mechanical, engineering,

sawbenches, lathes, cash

or 027 2407416

buyer, ph 355-2045

PAINTER

Available, All aspects in

painting. Very competitive Situations Vacant

in roofs and fences. Please

call 027 241-7471 or 335-

0265 Night Shift

PAINTINg DECORATINg

Wingfields Contracting, Caregiver

all interior & exterior

painting & all forms of

A fulltime Night Shift duty

www.superiorspouting.co.nz

is becoming available at

interior plastering & jib

Ph. Jem 0277 515 250

Thorrington Village, 51

fixing, ph Mark 021 171- Birdwood Ave, Beckenham.

0800 751 525

1586 or 355-5994

This is for a Senior Caregiver

PAINTER

who must have nighshift

Trades & Services Quality work, I stand by caregiving experience and

Canterbury Ph Wayne

especially with dementia

TREES 03 385-4348 or 027 274

residents,

3541

Thorrington Village is owned

PAINTERS

by the Archer Group and

has a strong set of Christian

Serendipity Decorators.

values.

Wallpaper/Painter avail for

JOB REQUIREMENTS

your next project.Call Kim

· Night Shift Experience.

027 891 0911

· Preferably with Nursing

PLUMBER

background.

ALF THORPE · Experience caring for

Now working

residents with dementia.

PLUMBING Certifying

in your area

· National certificate in

Plumber for all types of Health and well-being

• Tree Pruning plumbing, maintenance,

preferable.

& Removal spouting, alterations etc. Applications without the

• Stump Grinding Phone 352-7402 or 0274- experience and qualifications

• Hedge Trimming 350-231

are unlikely to be considered.

ROOFINg REPAIRS

Fully Insured

Application forms can

Fully Qualified, Over

Qualified Arborist

be collected from the

40 Yrs experience

Thorrington office

For a free quote, Ph John 027 432-3822

during work hours or

ph 0800 248 733

by email on: andrew@

or 351-9147 email thorringtonvillage.org.nz

www.jimstrees.co.nz johnmill@ihug.co.nz

Public Notices
---
SOUTHERN VIEW Latest Christchurch news at www.star.kiwi

Tuesday August 29 2017 23

What's On

Entertainment

To advertise, contact

Jo Fuller 03 364 7425

jo.fuller@starmedia.kiwi

Different outlook

and fresh approach

THE Cashmere Club has appointed a

new Club Manager, Donna Hughes.

"After a very thorough recruitment

process I am pleased to advise that the

Board of the Cashmere Club has

approved the appointment of Donna

Hughes as our new General Manager,"

said Pete Winchester, Board Chairman.

"Donna comes to the Club with an

extensive background in hospitality,

with experience in senior management

positions in Customer Services and

most recently at the executive level in

Marketing and Loyalty management.

As far as I am aware this is the first

time we have ever had a woman take up

the role of General Manager of our

club. It will no doubt provide a different

outlook and fresh approach to what we

want to achieve in the future."

\

Donna said she has been warmly

welcomed by members and staff at

the Cashmere Club and that it is

great to see the diversity of the

services the club already offers its

members, their families and the

community.

The Cashmere Club | 50 Colombo Street | Phone 03 332 0092

www.cashmereclub.co.nz

RESTAURANT & CAFÉ

We are open from 6.30am

Seniors SPECIAL

2 courses Soup/Roast or Roast/Dessert

Special available lunch only. Monday - Saturday 12pm - 2.30pm

Family Friendly

Kid's 2 course special

A West Coast welcome in the heart of

Redwood, beautifully refurbished and

something for all the family.

TRY OUR WONDERFUL MENU & DAILY SPECIALS

Daniels Road | Phone 352 8355

coasterstavern.co.nz

$20

$10

TREAT DAD!

FATHERS DAY THIS SUNDAY

'Famous for their roasts!'

The

RACECOURSE HOTEL

& Motorlodge

118 Racecourse Rd, Sockburn,

Christchurch. Ph 03 342 7150

www.racecoursehotel.co.nz

Lunch & Dinner

All you can eat, 7 days

Bookings Essential

PH 386 0088

fb.com/GardenHotelRestaurant

www.gardenhotel.co.nz

SERVING

HAPPY HOUR

5PM - 7PM DAILY

OUR CABINET ITEMS

ARE HOMEMADE

CREATED FRESH ON SITE DAILY

$12

LUNCH

SPECIALS

COFFEE

HAPPY

H O U R

Live Music:

6PM.FRI.01 SEPT

2PM-4PM

DAILY

$3.50

Offer available for a limited time

and includes tea, hot chocolate

MON: ROAST MEAL

TUE: FISH & CHIPS

WED: FISH BURGER

THU: ROAST MEAL

SAT: FISH & CHIPS

AVAILABLE

FROM

11.30AM-2PM

FOR A

LIMITED TIME

Vintage Blue

PHONE 385 8880 FIND US ON FACEBOOK fb.com/GBCCHCH

THE GARDEN HOTEL COMPLEX | 110 MARSHLAND RD

www.gardenhotel.co.nz | phone 385 3132

www.newbrightonclub.co.nz

LIVE MUSIC = THIS SATURDAY 7PM

Dateless n Desperate PopRockBand

FUNCTIONS

WE HAVE THE VENUE. EXCELLENT CATERING.

PLENTY OF PARKING. ENQUIRE NOW!

TUESDAYS & THURSDAYS

Members Lucky Card Draw

FUNCTION ROOMS

SHUTTLE RUNNING

Tues, Thurs, Fri & Sat

TAB POD

GAMING ROOM

PIERVIEW

Restaurant

Quality

a la carte

with a view!

Open from 5.30pm

FRIDAY, SATURDAY & SUNDAY

OPEN FOR SUNDAY 3 COURSE

SUNDAY BRUNCH DINNER SPECIAL $25

By the Seaside!

10.30am-2pm

ClubBISTRO

Open Tuesday to Saturday

12pm-2pm and from 5pm

Midweek $10

SPECIAL ROAST

Available Tuesday,

Wednesday, & Thursday

SUNDAY NIGHT

BUFFET

Sunday 24th September

ALL YOU CAN EAT

$25 BOOK NOW!

202 Marine Parade ● Ph 388-9416

Members, guests and affiliates welcome

T H E H O R N B Y C L U B

The Heart of Hornby

LET US ENTERTAIN YOU!

PLAYING IN THE

WESTVIEW LOUNGE

THIS FRIDAY, 7PM

JO'S

KARAOKE

THIS SATURDAY

4.30PM:

ANDY

GILMOUR

8PM:

TH' ART

OF CHEESE

Tickets $20 1:30PM

THIS SUNDAY

UNBEATABLE FAMILY DINING

Chalmers

OPEN

Restaurant

FOR DINNER

Friday, Saturday, Sunday

OPEN FOR BUFFET LUNCH

Every Sunday 12pm - 2pm

Early Bird Special

FATHERS DAY

SUN 3.SEPT

BOOK NOW!

COMPETITION TERMS & CONDITIONS APPLY

FRIDAY & SATURDAY 5.30pm – 6.30pm

Roast

(4 Choices)

and

Free Desserts $22 50

Club CAFE

OPEN 7 DAYS

LUNCH & DINNER

Gluten Free &

Vegetarian options

LUNCH BUFFET

12PM-2PM

DINNER BUFFET

5PM-8PM

$30

Dine and

WIN

A DOUBLE PASS TO SEE

LIONEL RICHIE

THURSDAY 19 OCT

ENTER WHEN YOU DINE IN

THE CLUB CAFE &

CHALMERS RESTAURANT

CONDITIONS

APPLY

The Hornby Club | ph 03 349 9026

17 Carmen Rd | Hornby

www.hornbywmc.co.nz

Members, guests & affiliates welcome
---
24 Tuesday August 29 2017

Latest Christchurch news at www.star.kiwi

SOUTHERN VIEW

WINTER CLEARANCE FINAL DAYS! OFFERS END 31 AUGUST

$289

pw

$96

pw

$149

pw

$132

pw

2014 Range Rover Evoque

Immaculate low km example, 20" alloys, new tyres,

rev camera, parktronic, full electrics, keyless start, heated

front/rear seats, climate a/c, electric handbrake, Bluetooth,

2015 model, 9 spd paddle shift auto, Superb throughout.

WAS $59,990 NOW $54,990

2005 Mercedes-Benz ML 350

Superb condition throughout, Full Black Leather heated seats, full

electrics, climate a/c, Multi air bags, remote locking. Parktronic,

cruise control. Looks great on 18 Inch AMG Factory alloy wheels.

2007 BMW X5 4.8i Sportpac

NZ New, E70 new shape, Sat Nav,

Sportpac with factory alloys, side steps,

full black leather, stunning car.

2006 Range Rover SPORT 4.4V8

NZ New, Great History & service records, 19" Alloys,

Heated front/rear leather seats, full electrics, climate a/c,

Hill descent control, terrain response, cruise.

WAS $21,990 NOW $17,990 WAS $31,990 NOW $27,990 WAS $27,990 NOW $24,990

$106

pw

$86

pw

$38

pw

$149

pw

2010 Mercedes-Benz C220 CDi

NZ New, full leather, Parktronic, multi air bags, ABS, traction

control, full electrics, immaculate car throughout with full

Mercedes Benz Agent service history.

WAS $24,990 NOW $19,990

2004 Nissan 350Z Track Edition

Rare Track Edition, 18" Factory Alloys&Brembo Brakes, Heated

Leather seats, Full electrics, remote locking with two keys.

Immaculate low km example.

2003 Volkswagen Passat 2.8 V6 4 Motion

Facelift Model, Highly optioned, full heated leather trim,

cruise, full electrics, 16" Factory Alloys, only 50,000kms,

immaculate example of this popular all-wheel drive sedan.

2011 Jaguar XJ

NZ New, One local owner, Archibalds Jaguar service history,

panorama roof, 3.0 twin turbo diesel. Motoring doesn't get any

better than this Flagship Jaguar Saloon.

JUST TRADED $15,990 WAS $9,990 NOW $6,990 WAS $34,990 NOW $27,990

$44

pw

$96

pw

$106

pw

$132

pw

2005 Peugeot 407 2.0 Wagon

NZ New, HDI Diesel Turbo, full leather seats,

electric/heated, full glass roof, full electrics, air bags, cruise,

climate A/C, Great condition throughout with service history.

WAS $9,990 NOW $7,990

2008 Mercedes-Benz C 250 Avantgarde

Full Avantgarde spec, 2500cc auto, full black leather,

heated electric seats with 18 Inch factory alloy wheels, alarm.

Immaculate throughout.

2007 Audi A6 V6 FSi Avant Quattro

Immaculate, 55,000kms, full black heated leather with electric

adjustment. Paddle shift, factory alloy wheels,

Immaculate throughout.

2008 Jaguar XF V6 Diesel

NZ New, full service history, premium luxury sedan, 6 speed

auto, all electrics, multi airbags, leather seats, cruise control,

parking sensors, auto headlights, Bluetooth, alloys.

WAS $24,990 NOW $17,990 WAS $24,990 NOW $19,990 WAS $29,990 NOW $24,990

$44

pw

$55

pw

$70

pw

$55

pw

2005 Mercedes-Benz A 170

Elegance Sport

NZ New, Full Elegance spec with Parktronic, Factory Sport

Alloys, remote locking, climate A/C, full electrics, Multi Air Bags.

WAS $9,990 NOW $7,990

2006 Volkswagen Passat 2.0 FSi Turbo

Immaculate low kms example, only 34,000kms, multi air bags,

ABS braking, traction control, cruise control, full electrics,

remote locking, Bluetooth hands free & audio streaming.

2007 BMW 120i Motorsport

2 litre hatch, full M Sports package, part leather sports seats,

multifunction leather steering wheel with audio controls for

the NZ spec CD stereo, alloy sports trim, push button start.

2006 Audi A3 1.6 Sportback

Only 33,000kms, immaculate example, auto, factory alloys,

climate A/C, full electrics, multi air bags, Remote locking.

Compare today.

WAS $12,990 NOW $9,990 WAS $15,990 NOW $12,990 WAS $13,990 NOW $9,990

$55

pw

$28

pw

$80

pw

$55

pw

2001 BMW 330Ci Convertible

Superb 330 Convertible, electric folding roof, Motorsport 17"

Alloys, Full Leather trim, Full electrics, remote locking, Stunning

car, great summer fun in this full four seater convertible.

1998 MG MGF VVC Roadster

Great driving MG Roadster convertible with very low kms,

Service well by MG Specialist, 1.8 litre manual, alloys, Fantastic

value - Compare today!

WAS $13,990 NOW $9,990 WAS $7,990 NOW $4,990

2010 Audi A3 Sportback 1.4T FSi

Stunning facelift model, NZ New, full dealer service history.

Leather/suede interior, auto start/stop technology, DSG paddle shift

gearbox, factory alloys, parking sensors, dual zone climate control.

2006 Audi A4 2.0 Attraction

Rare find with low km's, smooth ride with distinctive European

sporty flair, electric seats, dual zone climate a/c, factory alloys

& remote locking, Resplendent in white with charcoal interior.

WAS $17,990 NOW $14,990 WAS $12,990 NOW $9,990

Paul Wallace European MG

Cnr Tuam St & Fitzgerald Ave, Christchurch

Ph. (03) 379 3465 Anytime

0800 PW EURO (793876)

www.paulwallaceeuropean.com

Payments are calculated on NO DEPOSIT over 60 Months at 12.95%. Includes documentation fee of $395 and PPSR fee of $10. Normal lending criteria apply. *Terms & conditions apply.