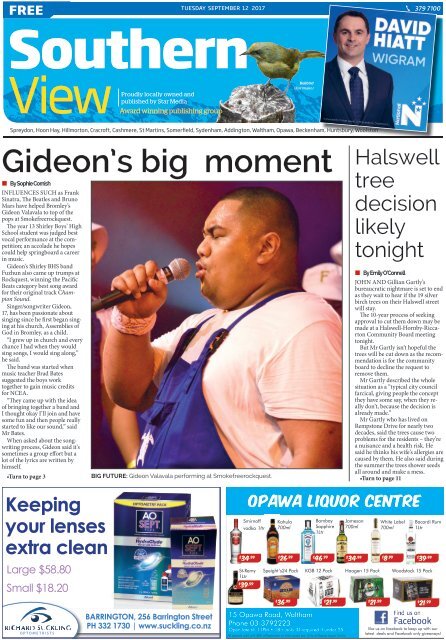 Southern View: September 12, 2017
Create successful ePaper yourself
Turn your PDF publications into a flip-book with our unique Google optimized e-Paper software.
FREE

TUESDAY SEPTEMBER 12 2017

379 7100

Southern

View

Proudly locally owned and

published by Star Media

Award winning publishing group

Bellbird

(Korimako)

Spreydon, Hoon Hay, Hillmorton, Cracroft, Cashmere, St Martins, Somerfield, Sydenham, Addington, Waltham, Opawa, Beckenham, Huntsbury, Woolston

Gideon's big moment

• By Sophie Cornish

INFLUENCES SUCH as Frank

Sinatra, The Beatles and Bruno

Mars have helped Bromley's

Gideon Valavala to top of the

pops at Smokefreerockquest.

The year 13 Shirley Boys' High

School student was judged best

vocal performance at the competition;

an accolade he hopes

could help springboard a career

in music.

Gideon's Shirley BHS band

Fuzhun also came up trumps at

Rockquest, winning the Pacific

Beats category best song award

for their original track Champion

Sound.

Singer/songwriter Gideon,

17, has been passionate about

singing since he first began singing

at his church, Assemblies of

God in Bromley, as a child.

"I grew up in church and every

chance I had when they would

sing songs, I would sing along,"

he said.

The band was started when

music teacher Brad Bates

suggested the boys work

together to gain music credits

for NCEA.

"They came up with the idea

of bringing together a band and

I thought okay I'll join and have

some fun and then people really

started to like our sound," said

Mr Bates.

When asked about the songwriting

process, Gideon said it's

sometimes a group effort but a

lot of the lyrics are written by

himself.

•Turn to page 3

Keeping

your lenses

extra clean

Large $58.80

Small $18.20

BIG FUTURE: Gideon Valavala performing at Smokefreerockquest.

Halswell

tree

decision

likely

tonight

• By Emily O'Connell

JOHN AND Gillian Gartly's

bureaucratic nightmare is set to end

as they wait to hear if the 19 silver

birch trees on their Halswell street

will stay.

The 10-year process of seeking

approval to cut them down may be

made at a Halswell-Hornby-Riccarton

Community Board meeting

tonight.

But Mr Gartly isn't hopeful the

trees will be cut down as the recommendation

is for the community

board to decline the request to

remove them.

Mr Gartly described the whole

situation as a "typical city council

farcical, giving people the concept

they have some say, when they really

don't, because the decision is

already made."

Mr Gartly who has lived on

Rempstone Drive for nearly two

decades, said the trees cause two

problems for the residents – they're

a SMIRNOFF nuisance VODKA and 1 LTRa health KAHULA risk. 700 ML He

$34.99

$26.99

said he thinks his wife's allergies are

caused by them. He also said during

the summer the trees shower seeds

all around and make a mess.

•Turn to page 11

SEPTEMBER 2017 SUPE

MAVE

WOODSTOCK 12 PACK CARLSBERG 15 PACK JAM

Opawa Liquor Centre

$21.99

$25.99

Smirnoff Kahula

Bombay Jameson

Bacardi Rum

vodka 1ltr 700ml

Sapphire 700ml 700ml 1Ltr

1Ltr

$

34 .99 $ 26 .99

$ 46 .99

$

34 .99

$

8 .99 $

39 .99

St-Remy Speight's24 Pack KGB 12 Pack Haagen WHITE 15 Pack LABEL ANY

VODKA CRUISER BACA

Woodstock ANY 12 PACK 15 Pack

1Ltr

$8.99

$21.99

$

39 .99

$

36 .99 $ 21 .99 White Label

$

21 .99 $

21 .99

BARRINGTON, 256 Barrington Street

PH 332 1730 | www.suckling.co.nz

15 Opawa Road, Waltham

Phone 03-3792223

Open late till 11PM • 18+ only ID required if under 25

All specials valid until 30th of September or while stocks last. Only at Opawa Liquor Centre

like us on facebook to keep up with our

latest deals and Facebook only giveaways!
---
2 Tuesday September 12 2017

Latest Christchurch news at www.star.kiwi

SOUTHERN VIEW

FROM

THE

EDITOR'S

DESK

Inside

News..................................... 3-11

DECISION TIME is almost

upon us and on Saturday week

the country will know if we

have a National or Labour-led

government.

Today on pages 4,5,6,7 we publish

who is standing in the electorates

in the Southern View area.

This election is the most unpredictable

in years. Will National

hold on for another term; will

Labour produce a whirlwind finish

and take power when four weeks

ago the party was falling apart,

and which parties will be the glue

that allows National or Labour to

reign?

That's one big boy on page 1

today with a big voice to boot.

Gideon Valvala, who lives in

Bromley, won at the Smokefreerockquest,

and his Shirley Boys'

High School band also did very

well in the Pacifica Beats section.

– Barry Clarke

GET IN TOUCH

General Inquiries Ph 379-7100

Classified Advertising Ph 379-1100

The Christchurch Star Company Ltd. PO box 1467 - Christchurch

starmedia.kiwi

Canterbury rugby stars pack groceries

at FreshChoice Barrington

NEWS

Sophie Cornish

Ph: 364 7437

sophie.cornish@starmedia.kiwi

NEWS 10

Candidates.................. 4-8

Shop, Win & Relax........14

Food...................................15

Senior Living...............16-17

Community Events.. 18

Real Estate...........................21

ADVERTISING

Richard McCombie

Ph: 364 7472

richard.mccombie@starmedia.kiwi

Are you sure

Son, you really

want to write a

cookbook?

Dad,

CHELSEA has

inspired me, I

can do it, I can

even see a TV

SERIES!

This is

embarrassing, he's

got no idea at ALL!

I have to put a stop

to this...

I've got a new

concept! ONE INGREDIENT!

IT'LL BE ON THE SHELVES

FOR CHRISTMAS, WE COULD

MAKE A FORTUNE!

I like it,

I'm in! I'll

back you, even

help with the

cooking!

It's cold, the

presentation is dreadful

AND it's only bacon! what

is he thinking?! I bet Dad

IS behind this!

HERE YOU

GO, MY FIRST

RECIPE, FEEL FREE

TO ADD SALT AND

PEPPER!

THEY

LOVED IT! IT'S

A WINNER! MY NEXT

RECIPE WILL BE...

CHIPOLATAS!

An evening with

Chelsea Winter

Saturday 7 October, 7:00pm

Thanks to Chelsea you'll never be short of

inspiration for delicious home cooking

full of goodness and flavour.

Her new book, Eat, is packed with dishes that are

destined to become new favourites in your household.

No complicated instructions or hard-to-find ingredients,

just real food with real flavour made with love.

Tickets from

paperplus.co.nz,

Paper Plus Barrington

& Cashmere High School

Books for sale on the

night, Chelsea will be

happy to sign

copies.

At Christchurch

South Intermediate

School Hall,

204 Selwyn Street,

Christchurch

$15, proceeds to

Cashmere High School

2018 Music Tour

Doors open 6:30pm

The Adams Family of

Paperplus Barrington.
---
SOUTHERN VIEW Latest Christchurch news at www.star.kiwi

Tuesday September 12 2017 3

News

Midge plan will take time to work

• By Sophie Cornish

A PLAN has been created to

help solve the midge problem

affecting Aranui and Bromley

residents living near the

wastewater treatment plant.

The plan was presented at a

meeting between residents, city

councillors and

Coastal-Burwood

Community

Board members.

City council

engineer

Adam Twose

proposed two

David East

solutions which

he believes will be

effective in reducing the number

of midges.

The first part of the plan, set

to begin in October, involves

methoprene spraying, which will

prevent the larvae from developing

into adults and breeding.

Methoprene is commonly

found in flea treatments for

animals. It does not impact significantly

on bird or water life.

This solution has been used in

the past. However, further scientific

data is needed to accurately

determine how much is required

to reduce the large numbers.

Another part of the plan,

which is more long-term, will be

the planting of native trees near

SWARM: The city council has proposed a plan to deal with

the common sight of midges in Aranui and Bromley.

the edges of the oxidation ponds.

The plants will attract midges

and be treated with contact

pesticide.

Other options previously

discussed were UV protection to

sterilise the water and draining

the ponds. They were deemed

too expensive by the city council

and are no longer viable.

Installing UV protection was

going to come with a price tag

of $225 million with an annual

upkeep cost of roughly $1.5

million. Mr Twose said the city

council could simply not afford

to do this.

Residents are still unhappy

with the slow action and are

facing another summer of

midge-related issues.

Janet Profit, of Aranui, was

disappointed by the time it has

taken to find a solution.

"Personally, I think it's been a

waste of time, I've been fighting

this for 10 years," she said.

Aranui resident Heather

Porter said the spraying needs to

start immediately.

"They said there wasn't going

to be spraying until the first

couple of weeks of October,

which is far too late, because

they are already out there.

Another couple of weeks and

they will be swarming," she said.

Councillor David East is aware

of the strain the lengthy process

is having on residents.

"Again, it's not offering a huge

amount of relief to people right

here and now," he said.

Making summer as pleasant as

possible for residents is what Cr

East hopes to achieve.

"I think my objective this year

is to see if we can substantially

reduce the problem from

previous years," he said.

Establishing a monitoring

programme will be key to

figuring out the extent of the

infestation.

"If we can get on top of a

well organised spray regime,

then maybe we will curb the

worst of the problem and move

towards a solution that's going

to effectively deal with the issue

when it arises, before it gets to

epidemic proportions," Cr East

said.

Both residents spoken to by

Pegasus Post feel the number of

midges in summer has already

reached epidemic proportions.

Local

News

Now

Fire rages, homes at risk

Gideon's big

moment

•From page 1

The winning song champion

sound was written by Gideon in a

day, right before the heats for the

regional Smokefreerockquest in

Canterbury.

Gideon

hopes to

pursue with

singing in

the future,

whether it

be becoming

a solo artist,

progressing

as a band

with Fuzhun

after

high school

or travelling

around with

his church band.

Inspiration for his songs is

gained from a variety of artists

and music he listens to.

"I listen to all sorts of artists,

it doesn't faze me what I listen

to, it gives me a lot of ideas for

what I can use for our band. It

could be anything from old

school music like James Brown,

Queen, The Beatles, Frank Sinatra

or new school people like Bruno

Mars and hip-hop artists like

Kendrick Lamar and J.Cole," he

said.

"Now is the moment we've been

waiting for. It's time. This is our

opportunity to build a better, fairer

future for New Zealand. To fix our

healthcare, grow our economy,

respect our environment and to look

after our towns as much as our cities.

It's time to change things for the

better. I'm ready. We're ready."

Jacinda Ardern, Labour Leader

Ruth

Dyson

for Port Hills

As your local Member of Parliament, I listen to

people, work hard and get things done. We need

affordable housing, better mental health services

and truly swimmable rivers and lakes. I want to

be part of a Labour-led government that delivers

these things for all New Zealanders.

Authorised by Andrew Kirton, 160 Willis St, Wellington
---
4

Latest Christchurch news at www.star.kiwi

Tuesday September 12 2017

SOUTHERN VIEW

GENERAL ELECTION 2017 – MEET THE CANDIDATES

Christchurch Central electorate

McMaster & Heap

Veterinary practice

EMERGENCY EYE

SURGERY FOR JESS

Meet "Jess" an 8 year old black and

white moggy with real attitude,

who recently flew down from

Nelson to see Dr Steve Heap for

emergency surgery on her left eye.

Her primary vet at Alabama Vets,

had seen her a week earlier for a

painful superficial ulcer ( probably

from a cat scratch injury). Jess

was very hard to examine so

was started on topical eye

ointment and anti-inflammatory

medication. Jess was otherwise

well. She returned 2 days later as

her owners couldn't medicate

the eye either. By this stage her

left eye was producing a bloody

infected discharge, had swelled

up and the ulcer had grown in

size. Her vet added in antibiotic

tablets and more medication

for inflammation, swelling

and pain but the next day the

ulcer looked no better. Jess

needed to be sedated as the

vet couldn't examine this eye

with her awake. Her eye was

stained with fluorosein( as can

be seen in the attached photo)

and had become non healing

and so given the difficulty

in medicating Jess it was thought a better

way to go was surgery in Christchurch with

DrSteve Heap.

So Jess flew to Steve and was operated on

immediately to prevent the eye collapsing

and impaired vision. Steve performed

a lamellar keratectomy to remove the

dead, soft, spongy tissue on edges of the

deep stromal corneal ulcer. A conjunctival

flap was sutured over the large defect

to allow the perfect environment for

healing, meaning a good blood supply and

protection from environmental allergens.

Due to the difficulty in checking the healing

progress of Jess's eye it was thought a good

idea to board her at McMaster & Heap vets

until Steve was happy that the ulcer was

healing. As we were still unable to get near

her eye to apply drops, long acting injections

were given for ease and for her comfort.

Needless to say she needs a head collar worn

to stop her irritating her eye, undoing all

Steve's good work.

So far so good 4 days out from her surgery.

She is eating up a storm and feisty again

which means she's back to her happy self.

Steve has given the all clear and she flies

home on Friday to her eagerly awaiting,

doting parents.

Steve sees at least 10 eye referrals daily and

many of these patients end up needing

surgery. Eye injuries can't wait if the end

result is to save the eye and Steve will often

come into the clinic on his days off to see

emergency cases. The take home message

here is don't wait with eye problems – get

them looked at early by your vet, as two eyes

are always better than one!!

Dr Michele McMaster

Nicky Wagner –

National

My focus has, and will

continue to be, making

Christchurch a city of

opportunity for all.

The last six years have

been tough and we still face

many unique challenges,

but I think we all want the

same thing — a vibrant,

people-friendly community

where our families can

thrive.

We want a great

education for our kids, we

want training and higher

learning opportunities,

we want jobs we like, we

Duncan Webb –

Labour

I choose to live in

Christchurch because it will

become the best place for

my family.

Labour's plan – $300

million for the people of

Christchurch to choose

how they progress our

rebuild, an inquiry into

EQC, and compensation

for undue delays by insurers

– puts Christchurch and

Cantabrians first.

As a lawyer helping

homeowners battle for justice

I've seen what people

are still up against.

Nuk Korako

National list MP based in

the Port Hills

A

E

P

6/950 Ferry Road, Ferrymead

nuk.korakomp@parliament.govt.nz

03 384 0008

facebook.com/nukkorako.PortHills

korako.co.nz

Funded by the Parliamentary

Service and authorised by

Nuk Korako, 6/950 Ferry Road,

Ferrymead, Christchurch

want support services, solid

infrastructure and a safe

place to relax and enjoy

ourselves.

Christchurch continues

Six years after the earthquakes,

our people and our

city are still floundering;

that's scandalous. The job is

not finished.

to go from strength to

strength, with strong job

growth, more visitors and

regeneration plans well

under way.

But, there's plenty more

to be done.

That's why I'll be out

over the next 11 days

knocking on doors,

speaking to local groups,

attending events and

connecting with as many

people as possible.

I'm committed to helping

Christchurch get back on

its feet and ensuring it's a

great place for everyone to

live, work and play.

Investing in the city also

means investing in health.

Labour will properly fund

health, especially mental

health.

A strong city is one

where people can get the

help – whether that is

surgery, or counselling –

they need, especially our

children.

Let's get this fixed.

I'm proud to be part of

a Labour team that has

the vision to help make

Christchurch the great

place we know it can be for

the future.

Still Pedalling!

Full Workshop Services:

• WOF's • Service Checks

• Wheel Alignment • Brakes

• Clutches • Tyres etc

All makes & models

Trevor Crowe's been

involved with cars for a

while. You can benefit

from his experience at...

Subaru Specialists

518 Moorhouse Ave (East end) | P: 379 7615

W: crowesport.co.nz | E: service@crowesport.co.nz

Open 7 days

Cnr Hoon Hay & Coppell place

phone 338 2534, Fax 339 8624

e. mcmasterandheap@yahoo.co.nz

www.mcmasterheap.co.nz

McMaster & Heap
---
SOUTHERN VIEW Latest Christchurch news at www.star.kiwi

Tuesday September 12 2017 5

Christchurch Central electorate

Peter Richardson -

Green Party

Kia ora koutou.

I am standing as the

Green Party candidate

for Christchurch Central

because I believe in the

Green Party's principles of

environmental wisdom, social

justice and community

decision-making.

I am a partner at Linwood

Law, living in Mairehau

and married with three

adult children. I have been

involved in the campaign

to protect Canterbury's waterways

and aquifers, and

have built social housing in

the city.

In Government the

Green Party will fight to

protect our environment,

lift the most disadvantaged

out of poverty, and tackle

the pressing issue of climate

change.

We can do these things

while transforming our

economy from its present

low wage, low value, polluting

model, to a model

that encourages innovation,

productivity, high wages

and clean technology.

Our policies are fully

costed and financially

responsible.

Please give your party

vote to the Greens on September

23. We need a new

Government with a strong

green heart.

Doug Hill – The

Opportunities Party

At 24, I am the

youngest candidate in

The Opportunities Party

and I am enthusiastic

about encouraging New

Zealanders to look forward

beyond just the next three

years.

In order to prosper as a

nation, we need to place

our votes to help secure

a better future for New

Zealand.

I grew up in

Paraparaumu and moved

to Christchurch to begin

university in February

2011, just days before the

second quake.

Six-and-a-half years

later, I have completed

my Master's degree in

Biological Sciences at the

University of Canterbury.

TOP's evidenced-based

policy resonates with

my science background,

and their non-partisan

approach is a breath of

fresh air.

If we want to address

housing affordability,

poverty, environmental

degradation, and our

mental health crisis in

earnest, then we need

comprehensive and

evidence-based policies to

address these issues at the

root.

TOP has these

policies, but we need your

support.

Ian Gaskin – United

Future

United Future is leading

the debate on drug law

reform.

If I'm elected to represent

Christchurch Central I

will likely be a government

coalition partner and be

able to change the law.

By enabling drug addicts

to get drugs on prescription

we will see a major

reduction in crime.

By allowing class C drugs

to be sold a large new

cash flow will assist the

Government.

1080 poison.

We can farm opossum

and use the 30 million

possum in the wild as

foundation stock.

Worldwide fine fur is a

$80 billion dollar industry.

We can feed farmed

possum with hydroponic

grown freshwater seaweed

and watercress, this will

help clean rivers.

This will bring 10000

jobs to rural South Island

towns.

I'm 62-years-old and

have been living in

Christchurch since before

the earthquakes.

I have been involved with

United Future for over 30

years.

Janine Shufflebotham

- Aotearoa Legalise

Cannabis Party

The Aotearoa Legalise

Cannabis Party has been

around for 21 years and

exists to legalise cannabis

for recreational, spiritual,

medical and industrial

purposes.

To empower people to

work together for peace and

true justice and to institute

a proper and just balance

between the power of the

state and the rights and

dignity of the individual.

We believe adults have

the right to freedom of

choice unless that choice

harms others or the

planet.

Cannabis is the third

most widely used recreational

drug in New

Zealand after alcohol and

tobacco and the most

widely used illegal drug in

a population of more than

four million. 13.4% of those

between age of 16 and 64

use cannabis this ranks us

the ninth highest cannabis

consumption in the world.

•More candidates,

pages 6, 7 & 8

Follow us on Facebook

@Dream Doors Christchurch

for design inspiration

Amazing

Kitchen

Facelifts!

• Replacement doors

• Drawer fronts

• panels & bench tops

• or a complete brand

new kitchen, all

made to measure.

Ph 03 338 1081 adrian@dreamdoors.co.nz

FILL UP FOR LESS

THIS SEPTEMBER

WITH YOUR

SUPERGOLD

CARD.

111-115 Milton Street

Phone 332-6056

as local as you are | www.challenge.net.nz

FOR YOUR NEW HOME OR RENOVATION

Blinds

Curtains

Shutters

Awnings

Screens

up to

40%

off

(for a limited time only)

12

Months

Interest

Free

(Terms and conditions apply)

0800 836 587 www.venluree.co.nz Mobile Van Service
---
6 Tuesday September 12 2017

Latest Christchurch news at www.star.kiwi

GENERAL ELECTION 2017 – MEET THE CANDIDATES

Christchurch Central electorate

Wigram electorate

Philip Robinson - New

Zealand First

My name is Philip

Robinson and I am your

Christchurch Central

representative for the New

Zealand First political

party.

I am a patriotic New

Zealander, self employed,

and with many years of life

experience.

New Zealand First has

spent many years in Parliament

putting New Zealand

interests first in ownership

of our assets and sovereignty.

Control of our future

by ownership of our rural

and urban land by New

Zealand residents is a

cornerstone of New Zealand

First policy. As more

foreign-based ownership

takes hold and profits are

repatriated back to foreign

owners our country will

struggle to have enough

local capital for growth.

As we see now New

Zealand is becoming debt

ridden in both government

and private debt levels.

An $8 billion Government

debt 10 years ago has

expanded to a massive debt

of around $65 billion even

though there was extensive

sell-offs in power generation

and Air New Zealand

state assets.

Wigram electorate

Megan Woods –

Labour

South West Christchurch

is my home.

I grew up here and over

the last six years it has been

my privilege to represent

our local area.

Before I became an MP

I worked as a business

manager for Plant and

Food Research, matching

innovation and science

with businesses.

I learnt my politics at the

grass roots, serving as a

community board member

in Spreydon-Heathcote. I

am an experienced and senior

member of the Labour

team, with responsibility

for Canterbury recovery,

SOUTHERN VIEW

climate change, science and

innovation and energy.

As the Member of Parliament

for Wigram I have

shown that I will always

stand up for our people and

communities.

My experience and

commitment is proven in

getting things done.

From parking and traffic

issues, supporting new

neighbourhoods to resolving

difficult EQC cases and

advocating for access to

healthcare, I have worked

hard for the people of

Wigram.

David Hiatt –

National

I'm standing for the

National Party for the first

time.

I am a husband and a

very proud father of two

young sons. My family is

the thing I treasure most

in life.

My background is in

small business, more

specifically tourism. I

was proud to win Best

Tourism Business at

last year's Champion

Canterbury business

awards. I am pleased that

I have been able to help

contribute to the recovery

of Christchurch as a visitor

destination.

We live in an incredible

city with a world class

playground at our doorstep.

I am standing to ensure

that Christchurch has

a strong voice for hard

working families and

future generations, as well

as making sure that our

businesses have the ability

to grow, creating more

jobs and opportunities in

Christchurch.

My campaign in Wigram

is grass roots and old

fashioned. I have so far

knocked on 11,000 doors

meeting people face to face

and earning votes one at a

time.

I am asking for your

party vote for National, as

well as your local vote in

Wigram for David Hiatt.

John Ring – Democrats

for Social Credit

John Ring has lived in

Christchurch for about 40

years, more than half of that

in the Wigram electorate.

Democrats for Social

Credit believe citizen's initiated

referendums should be

binding.

They also favour a universal

basic income, which

is different from the basic

income Gareth Morgan

advocates, because it would

be paid to all permanent

residents, both adults and

children, but the payment

for children would be less

and would be paid to their

parents, or whoever was

looking after them.

Democrats for Social

Credit also want to abolish

GST, and to re-establish

a Lyttelton to Wellington

ferry service.

They also want New

Zealand to become carbon

neutral.

Mr Ring is also in favour

of having commuter rail in

Christchurch, including a

railway station in Hornby.

NICKY WAGNER

MP FOR CHRISTCHURCH CENTRAL

A

E

P

W

103 Salisbury Street

Central Christchurch

PO Box 21359

Christchurch 8143

chch.office@parliament.govt.nz

(03) 365 8297

www.nickywagner.co.nz

Funded by the Parliamentary Service and authorised

by Nicky Wagner, 103 Salisbury Street, Christchurch

Dyers Road Landscape

& Garden Supplies

• Barks • Peastraw • Composts - we supply the best available

• Aggregates - Chip, Round and Basecourse

• Pavers & Schist products • Pungas

• Decorative Stones & Landscaping Rocks

• Trailer Hire first hour free with purchase

• Bag & Bulk - pick up or delivered

David, Carol & Mike

We will deliver!

SOIL

AND

HARDFILL

DUMPING

Phone: 03 384 6540

183 Dyers Rd, Bromley • OPEN 7 DAYS

Weekdays 7.30am-5pm. Weekends 8.30am-3pm

www.dyersroadandlandscapes.co.nz

SOLD

SOLD

SOLD

SOLD

SOLD

SOLD

SOLD

SOLD

SOLD

SOLD

SOLD

SOLD

SOLD

SOLD

SOLD
---
SOUTHERN VIEW Latest Christchurch news at www.star.kiwi

Tuesday September 12 2017 7

Wigram electorate

Tane Apanui, New

Zealand First

A security operative, also

a commercial pilot, qualified

personal trainer and hockey

coach.

I got into politics because

I love my country but the

people are being fed too

many alternative facts,

from the likes of

Environment Canterbury

and the Government

solely to further their own

agendas.

That must end.

Key motivators include

mental health, transport,

the environment and

Ruth Knights, ACT

Ruth Knights, ACT's

candidate for Wigram,

grew up in Christchurch

and works in secondary

education.

She holds a bachelor's

degree from Canterbury

University in english and

geography, and graduate

diplomas in both secondary

teaching and management.

Ruth is standing in this

election to encourage

voters to give their vote to

ACT to help work towards

immigration.

My political hero is Bernie

Sanders and have great

respect for Winston Peters

which is why I chose New

Zealand First.

a country in which people

are freer to make decisions

about how they live their

lives.

•Other candidates standing in Wigram are Richard

Wesley, Green, Michael Hansen, NZ Economic

Euthenics Party and Geoff McTague, Independent.

Dash into

Smith & Boston

for your

new look!

Port Hills electorate

Ruth Dyson – Labour

I am an energetic and

passionate person who

listens, works hard and

gets things done.

I have a track record of

advocating for my constituents

and our communities

and supporting

people in difficult times.

We have a strong economy

in New Zealand but

we have a social deficit. We need

a government with priorities to

invest in health, housing, education

and the environment.

Those are my priorities. We

have the highest suicide rate in

the country but we not seen the

investment in mental health that

GOLF

ADULT BEGINNERS

or those who have not played for a while.

• Aimed at 50+ years of age, but flexible.

WHAT

• Groups of 8 – 10 persons

• 4 week course

• Professional coaching

WHEN

• Monday 9th October, for four Mondays

• 10.00am — One hour of professional group

coaching then play five holes with support.

Total time approx. 2.5 hours.

WHERE

• Tai Tapu Golf Course — Tai Tapu Domain

COST

• $85.00 for 4 weeks

(Includes club hire if required)

SUPER FRIENDLY

ENVIRONMENT

REGISTRATION

• www.taitapugolf.co.nz

• Call club manager Steve Piper on 329 6710

• For further details admin@taitapugolf.co.nz

Nuk Korako –

National

As a born and bred

Cantabrian, it's been a

real privilege to serve

as a National List MP

based in the Port Hills

and spend the past

three years connecting

with communities and

becoming immersed in

the issues, opportunities

and challenges you all face.

I've established strong links

across Christchurch and remain as

passionate as ever about representing

the electorate and working

hard to provide a better life with

greater opportunities for our families

and communities.

My team and I have

handled more than

500 constituent cases

and inquiries and have

hosted more than 100

Ministerial and MP

visits to bring high-level

attention to local issues.

Before getting

involved in politics, I

owned and operated

businesses in the tourism industry

and was active in community

leadership roles. My family have

lived in the Port Hills for more

than six generations, and my wife

Chris and I, and our four sons,

continue that legacy today.

our residents deserve.

We have seen degrading

rivers and lakes –

and a "wadeable" water

quality target set by

National.

We can do better.

We can have investment

which makes

a real difference in

people's lives – so they

can have a warm, dry

home, a high quality

education in their local school,

health services when they need

them and swimmable rivers and

lakes.

That's the sort of country I

want to leave for our children and

grandchildren.

•More candidates, p8

HIKING BOOTS

FOR KIDS

GANNET

PEAK

RRP $99.95

OUR PRICE

$59.95

Great range of winter shoes

instore now…

47c Garlands Road, Woolston

Phone 389 3431

www.thefootwearfactory.co.nz

Sunday 17 th

Saturday

September

12 th August

Meet Megan on

Meet

a corner

Megan

in your

on

corner in your

neighbourhood

neighbourhood

Hoon SpreydonHay

1.00pm 1pm

1.20pm

1.20pm

1.40pm

1.40pm

2.00pm 2 2.20pm

2.20pm

2.40pm

2.40pm

3pm

3.00pm

3.20pm

3.20pm

3.40pm

Dominion

Tankerville

Avenue

Road

+

Strickland

& Anvers

Street

Place

Hoon Domain Hay Terrace Road

& Mathers Somers Place Road

Downing Street

Lyttelton Street &

& Kevin Street

Edinburgh Street

Marion Street &

Nairn Street &

Gainsborough

Blakehall Place

Street

Plunket Street &

Wyn

Neville

Street

Street

&

Samuel Street

Neville Street &

Muirson Lyttelton Avenue Street

& Hoon Hay

Domain Road Terrace

& Neville Street

Pablio Place &

Cobham Sparks Road Street

& Evesham

Middle Crescent of

Victors Road

Hennessy Place &

Lyttelton Street

If Mountford Street

4.00pm you would like to get in

& Lyttelton Street

touch with Megan please

If email you would megan.woods@

like to get in

touch wigram.org.nz with Megan please or call email

megan.woods@wigram.org.nz

03 339 6234

or call 03 339 6234.

Authorised by Andrew Kirton, 160 Willis St, Wellington

Authorised by Andrew Kirton, 160 Willis St, Wellington

YOUR ONE STOP SHOP!

SMITH & BOSTON

Prebbleton Village | Christchurch

Ph: 03 349 5646

www.smithandboston.co.nz

TYRES

NEW & USEd

WoF

FLAGS

TYRES

bOOk

IN NOW

FULL MECHANICAL

SERVICES

WHEEL

ALIGNMENTS

SPECIALISTS$49

Wigram - 341 1226 104 Hayton Rd

Woolston - 384 0000 49 Garlands Road
---
8 Tuesday September 12 2017

Latest Christchurch news at www.star.kiwi

GENERAL ELECTION 2017 – MEET THE CANDIDATES

Port Hills electorate

Eugenie Sage –

Green Party

We need a healthy

environment for people

and the economy to thrive.

The Green Party wants

to make our '100% Pure

NZ' image real again. As

part of a progressive new

government we will clean

up our rivers and protect

Canterbury's aquifers, the

source of our drinking

water.

We will use the revenue

from a new charge on

nitrogen pollution to help

farmers change the way

they farm to have fewer

cows, more forestry, fruit,

vegetable and grain crops.

We will invest in

conservation by doubling

the Department of

Conservation's baseline

funding to take care of our

native plants and wildlife

and natural heritage. These

are all issues I have worked

hard on in parliament.

Giving your party vote to

the Greens is a vote for a

kinder, fairer society.

To protect our

environment and our

economy and for real

action on climate change, I

would welcome your party

vote. ​

Gary Gribben –

Democrats for Social

Credit

The housing in our

country is in a horrible state

largely because the National

government have been

asleep at the wheel.

A DSC Government

would use Reserve Bank

credit, low interest and

suspensory loans for people

starting out.

We are very concerned

at the way the present

Government has

abandoned our families.

DSC would stamp

out poverty to give our

children a future with real

tax reforms, including

replacing GST with a

tiny financial transaction

tax.

SOUTHERN VIEW

We will also bring in a

universal basic income

which will take a lot of

pressure off us all, helping

put food on the table and a

roof over our heads,

and create better

opportunities.

Health funding including

mental health together

with education (no student

loans) should be needs

based.

Local authorities, rail and

shipping, environmental

matters (climate change,

cleaning up rivers, vermin

eradication) will be funded

by our own bank.

Where to cast your vote

Denis O'Rourke, New

Zealand First

National's legacy is

economic stagnation,

poverty and a housing

crisis.

NZ First will increase the

minimum wage over three

years to at least $20/hour

and provide compensation

for businesses through the

taxation system.

We will raise benefits to

a living income level and

build thousands of modest

homes on smaller sections,

for first home buyers to

purchase over 25 years

without needing a deposit.

Housing NZ will be fully

funded. We will fully fund

health services, improve

mental health provision,

and revise ACC.

Tertiary education will

be free (with conditions,)

and we will set up workforce

planning to match

skills with demand, have

career support services for

both student and adults to

find jobs.

We will invest in

economic development

in the regions – beyond

just road improvements

– rebuild our neglected

railways, and genuinely

tackle climate change

through innovation and

large scale reafforestation.

And we will clean up our

lakes and rivers without

water taxes.

Some of the polling

booths in Southern View

area:

Addington – Addington

School, Brougham St;

Kidsfirst Kindergarten, 366

Selwyn St; Sacred Heart

Parish Hall, 70 Spencer St

Beckenham – St Peters

Parish Centre Hall, 11

Fisher Ave

Cashmere – Landsdowne

Community Centre,

4 Landsdowne Tce;

Thorrington School, 22A

Colombo St.

Linwood – Aspire

Canterbury, 314 Worcester

St; Linwood Avenue

School, 260 Linwood Ave;

Linwood College, Student

Centre, 85 Aldwins Rd; St

Chad's Anglican Church

Hall, 1 Carnarvon St;

Union Church Hall, 378

Linwood Ave; Linwood

North School, 221 Woodham

Rd.

Opawa – Opawa Community

Church, 1-5 Aynsley

Tce; Opawa School, 30

Ford Rd; St Mark's Church

Hall, corner Opawa Rd &

Vincent Pl

Phillipstown –

Phillipstown

Community Centre, 39a

Nursery Rd

Spreydon – Christchurch

South Intermediate

Hall, 204 Selwyn St; St

Martins Church, Neave

Room, 50 Lincoln Rd; St

Nicholas Church Hall, 231

Barrington St

St Martins – Hillview

Christian Junior School,

150 Wilsons Rd; St Martins

School, 24 Albert Tce

Somerfield – Somerfield

School, 42 Studholme St

Sydenham – Special

Needs Library, 109 Huxley

St

Waltham – Canterbury

Mineral and Lapidary

Club, 110 Waltham Rd

Woolston – Ara

Christchurch, Woolston

Campus, corner Ensors Rd

& Sullivan Ave; Te Waka

Unua, corner Ferry Rd &

Hopkins St

Discount

for $20

with this

voucher

PC Problems?

PC slow? Annoying errors and Pop Ups?

Internet not working? Are you secure?

Not really sure?

care free computing

Relax, with over 15 years experience

we have the answers to ALL your PC

problems. And we have a range of

unique fixed price services available.

Best of all we come to you

- at no extra charge.

Call on 0800 PC PICKUP

(0800 727 4251) or 338 8871

www.carefree.co.nz

Discover this

unique Emporium

Metal art - gifts - hoMewares

water features - pottery

Mirrors - candles

wall hangings & More

722 Marshland Road, Top end Styx

Open 7 Days

Ph: 03 323 9781

www.hitchingpost.co.nz

Wai: We care

"

When I was a kid I used to love

building dams and swimming in

creeks – now that I have my own

children I want to start giving back.

"

What's your wai? Canterbury's water zone committees are looking for new community

members, visit ecan.govt.nz/waiwecare before 8 October and let us know wai you care.

Suzanne Furkert,

Christchurch West Melton Water Zone Committee member
---
SOUTHERN VIEW Latest Christchurch news at www.star.kiwi

Tuesday September 12 2017 9

News

NEW CORRECTIONS recruit

Charmaine Shaw is using her

skills as the manager of the

South Island Scorpions rugby

league team in her new career as

a frontline officer.

She is working at Christchurch

Women's Prison after completing

her 12-week Corrections officer

development pathway course. She

was presented with the minister's

excellence award acknowledging

the leadership, passion and

professionalism she displayed

throughout her training.

Mrs Shaw, of Halswell, says

there are parallels between the

skills she has honed through her

involvement with the Scorpions

and the approach she takes every

day working in the prison.

"You have to be dedicated and

loyal to the task at hand," she says.

"Just like training for rugby

league, you have to be committed

whether it's in the sunshine

or in the pouring rain. You learn

to take the not so good days with

the really good days and recognise

that's just the way life rolls

sometimes. You can't get hung

up on the negatives.

"It's like losing a game where

you learn from what didn't work

well, accept the loss and maybe

try a different strategy next time.

"In the Scorpions, we want to

encourage the young players to

be good young men who will

grow up to be good husbands

and fathers. You want them to be

positive contributors to society

and get them to take all the opportunities

given to them.

"We look for talent and skill on

the field, but the players' attitude

is their most important attribute.

In a split second a person's attitude

can take them to a good

place or a bad place – I'm looking

for the same thing with the

women in prison I work with."

Mrs Shaw says her work in

education, with youth and with

people with mental health issues

has helped with her understanding

of her new role. Her knowledge

of Te Reo Maori will also

be put to great use in the prison's

programmes.

"I am proud to be Maori, the

statistics for Maori in prisons

are not very good and I want to

be a positive Maori role model

to the people I work with daily,"

she said.

"I feel very humbled to be in a

role where I can influence others

and utilise my people skills to

assist and guide others to want to

be better people and change their

lives so that they never return to

prison."

The Corrections officer

development pathway is a new

training package for custodial officers

that blends on-the-job and

classroom-based learning for

Corrections officers and offender

employment instructors.

Each learner's development is

led and managed by their home

prison and experienced prison

Local

News

Now

Parallels between sport and working in Corrections

SKILLS:

Charmaine

Shaw is

making

a mark in

her role at

Christchurch

Women's

Prison.

Fire rages, homes at risk

staff have a key role in progressing

learners along the pathway.

"I absolutely loved college and

the experiences we had," said

Mrs Shaw.

"Our facilitators were engaging,

supportive and passionate in

giving us the foundation tools we

needed to start in our new roles

on the frontline.

"The camaraderie of both my

Christchurch-based colleagues

and also my wider training

cohort was a huge driving force

behind my learning," she says.

"I am loving being at Christchurch

Women's Prison. It is a

great place to start my career and

there are plenty of opportunities

to continue learning."

Christchurch Women's Prison

director Wayne McKnight says

although Mrs Shaw is new to

Corrections she is already making

her mark.

"The skills she already learnt

leading to her career change to

Corrections have put her in a

good place for this role. Working

in a prison can be extremely

challenging but also rewarding."

"Much like sports management,

it is all about people,

mentoring and looking for that

opportunity to influence change.

You need to be patient, supportive

and constantly watching for

that opportunity."

FILL UP FOR LESS THIS SEPTEMBER

WITH YOUR SUPERGOLD CARD.

Save

per

12litre*

*Terms and Conditions apply.

Head into your local participating challenge

service station and save 12 cents off per litre

with your SuperGold card.

Find your local challenge station at

www.challenge.net.nz
---
10 Tuesday September 12 2017

Latest Christchurch news at www.star.kiwi

News

SOUTHERN VIEW

George Bridge, Jack Straker, Braydon Ennor, Alex Hodgman

with Caitlin and Amie Fleming.

Sara Walden, Brenda Sharman and Ben Funnell.

Choice, look who

turned up at Barrington

The pace-setting Canterbury Mitre 10 Cup side made a guest appearance at FreshChoice

Barrington last week where they surprised shoppers with their silky packing skills. The players

were at the supermarket as part of a promotion meeting shoppers and giving away match

tickets.

PHOTOS: GILBERT WEALLEANS

George Bridge, Jacob Hall and Jack Straker.

Jack Straker, Daniel Lienert-Brown, James

Kelso, Tom Sanders, Alex Hodgeman and

Braydon Ennoe.

Ben Funnell
---
SOUTHERN VIEW Latest Christchurch news at www.star.kiwi

Tuesday September 12 2017 11

News

Tech enthusiast makes tracks for model show

STOKED: Celyn Bennet with his Boggy Creek model train layout.

Pastor to lead new school board

• By Emily O'Connell

SOUTH WEST Baptist Church

pastor Warren Read has been

appointed board of trustees

chairman for the new primary

school which will open in

Halswell.

Pastor Read, Sarah Lowe

(deputy chairwoman), Amanda

Wall, Giarne Harrison and

Rodney King make up the board

for the school, which will be

sited in Knights Stream Park.

The school will open in

January 2019.

The school, which has not yet

been given a name, will cater for

up to 450 pupils from year 1-8.

Mrs Lowe is a preparatory

music director at The Cathedral

Grammar School, Mrs Wall is

a senior adviser at Regenerate

Christchurch, Mrs Harrison is

a mother of two children with

a background in education,

advocacy, community service

and administration and Mr

King is a guidance counsellor at

Oxford Area School.

Mr Read said he's "excited to

be part of a great team who have

been appointed to set up the

new school. I look forward to

meeting the community in the

days to come."

Mr Read said his family

built their house in the area

three years ago and they love

being part of the Halswell

community.

He said he has had significant

experience serving on a school

board and a number of other

trusts.

PHOTO: ROY SINCLAIR

•From page 1

"The trees are now quite

mature silver birch trees,

they're about 15 to 16m tall.

They're really an unsuitable

tree for a residential street,"

Mr Gartly said.

Mr Gartly feels as if the

problem is going around in

circles. "The issue is, the city

council will only entertain the

idea of taking the trees away

if people can actually provide

them with a registered, medical

practitioner's certificate

that said whatever they have

is a direct cause of the silver

birch trees and that is a bar

that is too difficult to reach,"

Mr Gartly said.

"The medical practitioners

would always diagnosis on

• By Roy Sinclair

AVONHEAD teenager Celyn

Bennet is an unrepentant railway

devotee.

He best expresses his interest

by creating model railway

layouts.

Owing to space limitations,

two of his projects are set up

outdoors. Both layouts are based

on the popular HO scale or a

ratio of 1:87.

One of his layouts is 'Boggy

Creek', which Celyn exhibited at

last year's BIG Model Train Show

in Christchurch.

It represents a one-time bush

tramway associated with a

pioneer New Zealand sawmill.

He said he "liked the look of"

the layout's integrated sawmill

building and rustic steam shovel.

The second layout is 'Tussock

Flats', a work in progress for this

year's show.

It represents a typical 1950s

New Zealand country railway

station with sidings and a main

line.

Celyn is involved with the

Canterbury Railway Society at

Ferrymead and the Mainline

Steam Trust at Sockburn.

the basis of what the patient

tells them and then they'll

qualify that by saying this is

in accordance with what the

patient said."

Mr Gartly said there are two

separate issues to be considered.

The first is whether the

trees should be removed and

the second is if they should be

replaced and if so, by who?

"The city council would

look more favourably on the

residents replacing the trees.

But let's face it, they are city

council trees. We can't go out

there and cut the things down

and because of their height

now the city council have to

issue themselves a resource

consent to cut the trees down,"

Mr Gartly said.

"The catalyst for modelling was

from watching James May's Toy

Stories television programme,

where he talked about his fascination

with well-known model

train brands, such as Hornby,"

Celyn said.

He utilises technology when

designing and building rolling

stock or line side structures.

He will compile items on his

computer and send them as a 3D

model to his 3D printer.

The printer then builds the

solid item in fine layers of plastic.

Celyn sources plans from the

NZ Model Railway journal and

compiles his computer model

utilising AutoCAD Fusion 360

software, which is free for students.

The Tussock Flats layout will be

operated by Hornby elink from

his PC or an app on his smart

phone.

•Meet Celyn and his

Tussock Flats layout at the

BIG Model Train Show on

October 7 and 8 at Pioneer

Leisure Centre, 75 Lyttelton

St, Somerfield. The theme at

this year's show will be youth

and technology

Tree decision likely tonight

ISSUE: One of the silver birch trees

on Rempstone Drive.

Hagley Senior College

INFORMATION EVENING

Thursday, September 21st | 5:00-7:00pm

Principal's Presentations are at 5:00 and 6:00pm

www.hagley.school.nz
---
12 Tuesday September 12 2017

Latest Christchurch news at www.star.kiwi

SOUTHERN VIEW
---
SOUTHERN VIEW Tuesday September 12 2017 13
---
14

I can

see

clearly

now

Tuesday September 12 2017

ON

NOW!

Promotion closes October 10th 2017.

Conditions apply.

Shop

Win

& Relax

• new & quality

secondhand tyres

• alloy wheels

• replacement rims

• puncture repairs

WITH A MASSIVE RANGE OF TYRES IN STORE,

WHY NOT POP IN AND SEE US TODAY!

Latest Christchurch news at www.star.kiwi

SUPPORT YOUR LOCAL

BUSINESSES

TO WIN 1 OF 5

FAMILY GETAWAYS

TO HANMER

SPRINGS

Enter every time you shop at any

of these participating businesses

More Chances to Win!

MUSGROVES

Buyers and Sellers of Recycled and

New Building Material and Joinery

WATERPROOF ACM PANELS

600X2200=

$20per

Proudly

Supported By

SOUTHERN VIEW

The Automotive Lamp Specialists

GREAT BUY!

$29.60

BARRINGTON, 256 Barrington Street

PH 332 1730 | www.suckling.co.nz

Have an Elite Haircut

For an Affordable Price

HOURS:

Mon-Fri 9am - 5pm

Sat 9am - 12 Noon

BRIGGS

AUTO SERVICE

LET US SERVICE

YOUR VEHICLE

AND REDUCE YOUR

RUNNING COSTS

Your local trusted automotive

service and repair specialists

332-0140 | 242 Barrington Street

IT's

Mens Cuts $18

Womens Cuts $25

Kids Cuts under 12 yrs $15

Clipper Cuts $14

Gold Card Mens $14

Gold Card Womens $18

Flat Tops $18

Eftpos Available

No appointment needed!

238 Barrington Street, Spreydon

(opp St Nicholas Church)

JuST

INCREDIBLE

• Barrington Mall

• The Hub, Hornby

• New Brighton Mall

• South City Centre

8c Birmingham Drive,

(Cnr Hands & Birmingham Drive) Ph: 03 343 0099

Cell: 027 226 3805 Website: www.jcmdirect.co.nz

Diesel

The diesel professionals specialising in

4wd repAirs &

servicing

All work

guArAnteed

288 Lincoln Road (opp ANZ)

Ph: 338 8884

www.dieseldoctor.co.nz

Designer

Fashion

3000

Items

Arriving

Daily!

see our

HUGE

selection!

• Designer Brands • Family Clothing

• Menswear • Footwear • Bric-a-brac

• Workman Outdoor Clothing

• Household Goods • Books

• See the Retro Section AND Formal Wear

sheet

1200X2400=

$40per

sheet

3 Musgrove Close (off Wigram Rd) Christchurch

www.musgroves.co.nz • 03 322 7922

or Freephone 0508 468 747

The Family Feast Combo

$

40

2 x Regular Pitas, 2 x Kids Pitas, 2 x Phoenix Drinks,

2 x Charlies Juice Pouches and

a Family Box of Wedges

$32

WOF

ALL CAR

SERVICING

Convenient

central city

repairs and

parking

Cnr Fitzgerald Ave &

Hereford Street

Phone: 365-5220

www.a1auto4service.co.nz

New and Used Lamps for Cars, Trucks,

Vans, 4WD and Motorhomes

325 Brougham Street, CHRISTCHURCH | PH 0800 225 483

Shop 3, 300 Lincoln Road, Addington, Christchurch

Phone: 338-2882 Email: snlimited1@gmail.com

Hours: Mon-Sat 10am-9pm, Sun 12pm-8pm

www.mosaicbysimo.co.nz

Cafe • Dining Room • Desserts & Coffee • Catering

$5 discount

free brake check,

free tyre shine

for every oil

change or tyre

purchase *

On-The-Go Riccarton

324 Blenheim Road,

Upper Riccarton 8041

Ph 03 348 0042

Be in to

win with

participating

Pita Pit at

Sydenham, 290 Colombo St

Barrington, 256 Barrington St

Addington, 351 Lincoln Rd

Bring this ad instore to enter

Thinking WOF & Lube

Think On The Go!!

$3 discount

for WOF check *

03 348 0042

*

Bookings required.

Conditions apply.

Balayage HigHligHts

just $120

• Ladies cuts, colours and styling

• Competitive pricing

• Mens, kids and pensioners cuts

• Stockists of FUDGE range of hair products

Shop 2 - 247 Ferry Road (next to Bronskis)

PH. 379 3300

Open Daily 7 Days

Sydenham: 39 Battersea St Papanui: 472 Cranford St

Hornby: 94 Shands Rd

New Brighton: 52 New Brighton Mall

(Old Farmers Building)

HOURS

Mon–Sat 9am–5pm

Sun/Public Holidays 10am–4pm

New Zealand's Largest Recycled Clothing Retailer

Yummy Food

with

Great Coffee

Delicious range of savouries,

pies, sandwiches & cakes

We also offer:

• Breakfast • Iced Coffee

• Milkshakes • Fresh Juice

290 Selwyn Street | Phone 377 7725

Boost Brain Performance

ENZO:PROFESSIONAL (ENZOGENOL) is a potent

antioxidant extract of the N.Z. pine bark and

has been clinically shown to improve memory,

concentration & brain performance.

SUPER

60's only $45.30, save $5.00

120's only $84.90, save $15.70

PRICE! Detailed Information Available

Bringing You the Best in Natural Health!

MARSHALLS HEALTH & NATURAL THERAPY

CONSULTING - PRESCRIBING - DISPENSING -

MANUFACTURING - MEDICAL HERBALISTS

110 SEAVIEW RD, NEW BRIGHTON • PH 03 388 5757

Email: enquiry@marshallshealthshop.co.nz

- WE ARE ALWAYS HAPPY TO HELP! -
---
SOUTHERN VIEW Latest Christchurch news at www.star.kiwi

Tuesday September 12 2017 15

GREAT food

BROUGHT TO YOU BY...

Your fresh food people

BUTTERFLIED LAMB LEG

WITH ROSEMARY AND

GARLIC

Ingredients

1 bunch Flat leaf (Italian) parsley

1 bunch Fresh mint

2 medium Red onions, sliced

1 Butterflied boneless leg of

lamb, approx. 150-200g per

person

3 cloves Garlic, finely chopped

3 Tbsp Chopped rosemary

2 Tbsp Olive oil

1 cup White wine

Directions

ICEBERG LETTUCE,

WALNUT AND BLUE

CHEESE SALAD

Ingredients

1 Iceberg lettuce

1 Walnuts, toasted

1 Blue cheese

1 Walnut oil

1 Cider vinegar

Directions

Remove the outer leaves of a

small iceberg lettuce. Cut the

head into four wedges.

Toast some walnuts.

Crumble some good blue

cheese and, using the white bits

from the outer edges.

Make a creamy dressing by

blending them with walnut oil

and a little cider vinegar (olive

oil is fine if you don't have

walnut).

Sprinkle the walnuts and the

blue cheese crumbs over the

crisp lettuce wedges and spoon

over the dressing.

Preheat oven to 220 deg C.

In a roasting tray, lay out the

parsley and mint, then add the

sliced onions.

Place the butterflied lamb leg

on top of the onions, fat side up

(there should be a thin layer of

fat on one side).

Score the lamb on the side

with the fat in large diagonal

shapes.

Sprinkle over a large pinch of

sea salt, and crack over plenty of

black pepper.

Rub the garlic into the slits

where you've scored it, then

sprinkle over the rosemary and

rub that in too. Drizzle over the

olive oil and rub into the skin.

Place the lamb on a high rack

in the oven and grill for 20-

25min (depending on its size)

until the skin crisps and goes

golden.

Remove from oven and add

wine to the tray.

Return the lamb to the oven,

but move it down from the top

shelf to the centre of the oven.

Roast for a further 20min.

Remove from oven, rest for

5-10min, then slice into thick

strips. Serve on a plate of fresh

parsley and sprinkle with

pomegranate seeds. Use the pan

juices and onion to make a gravy

if you wish.

Iceberg Lettuce ........................ 1 .99

EACH

Telegraph Cucumbers ........ 1 .99

EACH

Eve Apples ...................................... 2 .99

kg

Large Pineapples .................... 2 .99

EACH

Red Seedless Grapes 500g ... 3 .99

PUNNET

Skinless Chicken Breasts 9 .99

kg

Beef TopSIde Roast ............... 11 .99

kg

Butterflied Lamb Leg ........ 16 .99

kg

NEW SEASON

NAVEL

ORANGES

NZ Navel Oranges are just perfect at the moment.

Sweet, juicy and full of flavour, enjoy them at their best.

Not only do they taste great, with high levels of Vitamin C,

they'll also help keep you healthy through winter.

Enjoy NZ Navel Oranges at their peak.

All our fresh meat is 100% NZ FARMED.

specials VAlid 11th september - 17th september 2017. ONLY AVAILABLE AT

RAEWARD FRESH HAREWOOD RD, TOWER JUNCTION & MARSHLAND RD

harewood rd Mon–Fri 8.00am–6.30pm Sat–Sun 8.00am–6pm

Tower junction Mon–Fri 8.00am–6.30pm Sat–Sun 8.30am–6pm

MARSHLAND RD Mon–Sun 8.00am–6:00pm

WWW.

.CO.NZ
---
2

FLAME FILES

Tuesday [Edition datE] September 12 2017

16

Latest Christchurch news at www.star.kiwi

SENIOR LIVING

SOUTHERN VIEW

Golden Healthcare

Group Residential

Care Services

Candles can cause chaos

• By Mark Thomas –

specialist fire investigator

I SUPPOSE in spring you

can expect some extremes

of weather, so the heavy

rain last weekend, followed

by a frost and then a

nor'wester shouldn't be a

surprise.

Most people will have

seen the news about the

whole house slipping away

over in Charteris Bay but

less will be aware that

the same day a leak in a

commercial building in

Mandeville St caused a

large enough build-up of

water for portions of the

ceiling to collapse.

Discover Christchurch's

best priced pet

accommodation

Hours of Business: 7am-4.30pm Mon-Thurs

Fri 8am to midday

or by appointment with Keith 027 566 3909

In these circumstances

fire crews can only do so

much, using tarpaulins to

either direct water away or

to protect contents.

THen those affected must

start the long process of

repair.

A couple of weeks ago I

mentioned the bad practice

of putting combustible

materials on a stove top.

You just never know when

an element might be on,

just turned off or turned

on while the article is

there.

THis happened again

on Monday evening in

Percival St. This time

a plastic coffee maker

• Grooming

cats and dogs

• Daycare -

all breeds

• Long stay/

short stay

Call now to book in your fur baby -

inspections welcome anytime!

aLameDa

kenneLs & cattery

271 Dyers Road | Ph 384 1297

www.alameda.nz

Convenient, Healthy,

Fresh Meals.

Simple to Store,

Heat and Eat.

Pick Up or

Delivered Weekly.

NEW LOCATION ADVERT.pdf 1 1/05/2014 11:51:35 a.m.

VISIT OUR NEW LOCATION LOCATION

was involved. Only

smoke damage resulted.

Unfortunately 'only

smoke damage' stinks and

continues to for days, or

even weeks.

Finally one of my pet

hates – candles, used for

ambience. A fire last week

at Rapaki was the result

of this practice where a

bath mat caught on fire.

So did the plastic bath.

Confusion ensued.

Finally the taps were

turned on causing water

to flow through the hole in

the bath to the level below

via a light fitting. All

because of candles. Please

don't.

HealtHy Heat

& eat meals

delivered to your door

9 Raycroft St, Opawa

P. 03 420 0722

orders@eatl8r.co.nz

www.eatl8r.co.nz

430 ST ASAPH STREET!

RECOVER YOUR LOVED FURNITURE

No job too big or small

Still able to offer

you the finest top

quality new furniture

Visit us online

www.qualityfurniture.co.nz

P. 371 7500

Golden Healthcare Group's

position at the forefront of

Canterbury's residential care

services is cemented by a

state-of-the-art facility being

developed at Lady Wigram

Retirement Village providing

hotel-style accommodation

for those residents who enjoy

being part of a vibrant, social

community.

One of the villas built during

the first stage of construction

has been converted to

accommodate social events

such as bowls, happy hours, high teas and

television viewing of sports fixtures.

Once the project is complete, it will

comprise 101 villas, 73 apartments, and

100 care beds. The proposed facilities will

include a rest home, hospital, and dementia

facilities, and permanent amenities such

as a community centre, Bowling Green,

swimming and spa pools, a gym, a theatre,

a library, and a hairdressing salon.

The villas will be offered in a

combination of two and three bedrooms

whereas apartment residents will have a

121 Skyhawk Road

choice between one and two bedrooms.

The Lady Wigram Retirement Village is

a short stroll from The Landing, the central

retail hub of the Wigram Skies subdivision,

and only a short drive to Hornby Mall, the

Hornby Working Men's Club and the city.

Rest home care is provided in the Golden

Age Rest Home and Brookhaven Rest

Home, both of which also encompass

retirement villages. Brookhaven also

has a dementia care unit along with the

dedicated Camellia Court, Albarosa, and

Somerfield rest homes. Furthermore,

the Hoon Hay Rest Home is a dedicated

dementia wing, but the Hoon Hay House

on the same site specialises in mental

health.

Within the facilities, there are plenty

of opportunities to create unique

environments for differing requirements

for residents. Nursing care is provided

by registered nurses, and health is well

monitored. An activities co-ordinator

ensures residents will never be bored and

they participate in programmed activities,

games, sing-alongs with performances by

visiting entertainers, library book exchange

and exercise programmes. The group has

four vans to utilise for residents outings.

Golden Healthcare employs 260 at its

facilities which care for about 350 residents.

All staff are highly trained, experienced,

and qualified in their roles.

Respite care is also provided at all

facilities.

The Golden Healthcare Group website

goldenhealthcare.co.nz provides full

contacts.

Would you like

to promote your

Business?

For local features

please contact

Bev Stanger

03 364 7407

bev.stanger@starmedia.kiwi

QUALITY FURNITURE SPECIALISTS

RE - UPHOLSTERY SPECIALISTS KEITH HARTSHORNE 0275 663 909
---
[Edition datE]

SOUTHERN VIEW Latest Christchurch news at www.star.kiwi

Tuesday September 12 2017 17 3

SENIOR LIVING

Methyl B-12

Research supports

eye health

Emerging research has shown as many as 50 per cent of older

adults and as many as 25 per cent of younger adults are deficient

in vitamin B12.

B12 is essential for energy production,

cell health, regulation of mood and

sleep cycles, nerve health and repair and

prevention of homocysteine - a serious

cardiovascular risk factor that is known

to cause damage and plaque in the blood

vessels. It can also increase the chances

of a stroke. Harvard researchers found

a 34 per cent decrease risk of vision loss

in a study of participants aged 40+ who

supplemented with B12. Another study

linked a higher risk of hearing loss in

subjects in their 60s who were low in B12.

The reason so many people lack B12

seems to be due to our body's inability

to absorb it as we age, as the digestive

system becomes less efficient. Anti-reflux

medication and other drugs further reduce

B12 absorption.

The good news is B12 in the form of

Methylcobalamin sublingual tablets that

are dissolved in the mouth and thru

bypassing the digestive tract have been

shown to effectively raise B12 levels in the

body.

Further info is available from the

Natural Health Advisers at Marshall's

Health & Natural Therapy, 110 Seaview

Road, New Brighton, phone 388 5757. We

are always happy to help!

Clinically Proven Nutrients

Support eye Health

Go Vision Protect from Go Healthy New Zealand is the new standard

in eye support formulas. It is one of the most comprehensive high

potency eye formulas available anywhere, with well researched

ingredients in levels needed to support eye health & good vision.

Key nutrients include: Bilberry, Yumberry, Blackcurrant, Lutein,

Zinc + nine other nutrients.

Diminished vision

Tired Eyes

Dry Eyes

Sore Eyes

Poor Night Vision

Poor Focus, Blurry Vision

Macular Degeneration

Sensitivity to Glare

Headaches from Eye Strain

Supports general eye health

30 Capsules

only $29.90, save $10.00

60 Capsules only

$47.90, save $17.00

120 Capsules

only $88.90, save $40.90

Mail order

available

only one capsule daily required!

Bringing You the Best in Natural Health!

MarSHallS HealTH & NaTUral THeraPY

CONSULTING - PRESCRIBING - DISPENSING - MANUFACTURING - MEDICAL HERBALISTS

110 SEAVIEW RD, NEW BRIGHTON • PH 03 388 5757 • Email: enquiry@marshallshealthshop.co.nz

- We are alWaYS HaPPY To HelP -

IS YOUR BRAIN SHRINKING?

BRAIN FOG, FORGETFUL, FEELING OLD, LOW ENERGY, MOOD SWINGS,

DIFFICULTY SLEEPING, PINS & NEEDLES, NUMBNESS IN LEGS

Up to 1 in 2 people may have a shrinking brain due to a lack of vitamin B12.

Supplementation of methylcobalamin B12 has been shown to reduce the rate of brain

shrinkage & support memory & brain function. B12 is also known to protect against

homocysteine a serious cardiovascular risk factor that can also damage the hearing,

eyesight & affect the mood. B12 is essential for energy, cell health & nerve function.

B12 SupportS:

• Memory & Brain Performance

• Helps protect brain from shrinking

• Energy & Recovery

• Nerve Function

• Helps protect blood vessels from damage

• Sleep

• Cellular Health & Repair

• Vegetarian's Diet

• Good Health

• Cardiovascular Health

SEE A DIFFERENCE

IN AS LITTLE AS 48

HOURS!

SUPER PRICE OFFER

Superior Methylcobalamin B12

(High Absorption Sublingual Lozenges)

100 Lozenges

Only $ 32 .90

200 Lozenges

Only $ 59 .80

MAIL ORDER AVAILABLE

Bringing You the Best in Natural Health

MARSHALLS HEALTH & NATURAL THERAPY

CONSULTING - PRESCRIBING - DISPENSING - MANUFACTURING - MEDICAL HERBALISTS

110 SEAVIEW RD, NEW BRIGHTON • PH 03 388 5757 • Email: enquiry@marshallshealthshop.co.nz

- WE ARE ALWAYS HAPPY TO HELP! -

Nutritional researchers have discovered a

range of nutrients that are essential for eye

health. Some of the most essential nutrients

that have been shown to protect and even

improve eye function are:

Selenium, is a trace mineral that is low

in N.Z. soils and therefore in many of

our foods. Researchers believe selenium

may help prevent cataracts, macular

degeneration (the leading cause of impaired

vision in older people) and may also

improve dry eyes and general eye health.

Zinc is a mineral that a large percentage

of the population are low in. Zinc has been

shown to help protect the eyes from the

damaging effects of light as well as slow

vision loss due to macular degeneration.

Vitamin C, Citrus Bioflavonoids, Betacarotene

(Pro-vitamin A) and Copper have

potent antioxidant ability and help protect

the eyes from damage

Lutein and Zeaxanthin are amazing

nutrients that have been shown in landmark

research to not only provide potent eye

protection but may even help reverse

some of the signs of age-related macular

degeneration (AMD).

Bilberry and Blackcurrant, high in potent

antioxidants may help protect the lens and

retina from damage and reduce the risk of

cataracts. They also may help improve blood

supply to the eye, strengthen the small

capillaries of the eye and may help improve

night vision, may alleviate many eye

THE JOYS OF HOME OWNERSHIP #76

WEEDING

THE GARDEN

Wouldn't you rather be improving

your handicap? Let us take care of the

garden at your new home at

McKenzie Lifestyle Village in Geraldine.

Contact David Connolly on 0800 84 55 24.

M E M B E R O F R V A

ailments including eye fatigue that may be

caused by reading, driving and computers.

Eyebright may help normalise eye

pressure and reduce eye allergies.

Taurine is an amino acid that is essential

for correct eye function. It may also have a

detoxifying affect on the eye.

Vitamin B2 may help alleviate eye fatigue,

bloodshot eyes and maintain good vision.

Yumberry is the latest in eye protection.

It provides many nutrients, is rich in

oligomeric proanthocyanidins (OPC's) that

are potent antioxidants that may protect

eyesight.

These nutrients taken in a therapeutic

amount should provide comprehensive eye

protection, may slow and possibly even help

reverse eye damage that could lead to loss

of vision. All these nutrients are available

in an economical one a day easy to swallow

capsule.

Further information is available in store

at Marshall's Health & Natural Therapy,

110 Seaview Road, New Brighton, Phone:

388-5757. We are Always Happy to Help!

Third Age

Tours EST 1999

Small Group Tours for

the over 50s

Domestic and

International

Great Prices!

England/Wales & Yorkshire Dales

24 August - 23 September 2017

Enchanting Ireland & Scotland

31 May - 27 June 2018

curiosities of cuba

25 April - 21 May 2018

Treasures of Turkey 1 - 25 September 2018

captivating croatia, Slovenia

montenegro & Venice

15 June - 9 July 2018

2017

Full

2 PlAcES

lEFT

Vietnam & cambodia

4 - 26 October 2018

Beautiful norfolk Island

4 - 11 November 2017

Sicily, rome & Southern Italy

29 Sept - 24 Oct 2018

South Island Tours

Glorious Autumn in Arrowtown

17 - 22 April 2018

catlins/Stewart Island

8 - 16 February 2018

Due to popular demand we are running

a second tour 22 Feb - 2 Mar 2018

White herons, Glaciers & Alpine

loop Tour

28 January - 2 February 2018

PluS oThEr DESTInATIonS!

For a FrEE InFormATIon

PAck contact Brenda

Third Age Tours

Ph 03 379 3799 or 03 312 7050

Freephone: 0800 927 725

sunshineone@xtra.co.nz | thirdagetours.co.nz
---
18

Tuesday September 12 2017

Latest Christchurch news at www.star.kiwi

SOUTHERN VIEW

Email emily.oconnell@starmedia.kiwi

by 5pm each Wednesday

CSO Music Trails

Wednesday, 10.30-11.15am

This 45min performance

provides a fun and interactive

way of introducing young people

to live music. Music Trails

through the Library is a great

opportunity for children to see

the instruments up close and join

in with the musical fun. Free, but

a caregiver is required.

Linwood Library, Eastgate

Shopping Centre

Mid-Week Laughter Club

Wednesday, 6-7pm

The focus of the club is to get

over the stress of the first part

of the week and have a positive

outlook for the rest. The event

aims to release endorphins and

help you relax and lower stress

levels. There is no comedy,

stand-up or jokes at this session.

Instead, you are encouraged to

make yourself laugh at nothing

at all for the purpose of

relaxing.

St Marks Methodist Church, cnr

Barrington and Somerfield Sts.

Entry $2

Book Discussion Group

Wednesday, 7.15pm onwards

For those who love reading and

want to share in discussion with

other friendly book-lovers. This

group subscribes to the Book

Discussion Scheme so there is a

cost involved. Held on the first

Wednesday of each month.

South Library, 66 Colombo St

50s Up Band

Wednesday, 9.30-11.30am

Can you play a brass

instrument or maybe some

percussion? The 50s Up band

welcome new members of any

age. A wide range of music is

covered and play outs usually

take place during weekdays

around once a month. Free to

join. For more information, get

in touch with Noeleen on 384

3953

Woolston Brass Band Hall,

Dampier St off Ferry Rd

Beckenham Exercise Class

Friday, 9.30-10.30am

Designed for people living with

long-term health conditions.

Classes generally occur weekly

except on public holidays. Call

0800 663 463 to register.

St Marks Methodist Church, cnr

Barrington and Somerfield Sts

Girls Minecraft Club

Saturday, 2.30-3.30pm

Get creative and start crafting.

GAME ZONE: On Thursday, from 3.30-4.30pm, get along to the Linwood Library in the

Eastgate Shopping Centre for X-box and PS4 tournaments. Then play your favourite games

like Minecraft, Charades, Connect Four, Pictionary and more. Learn and develop strategies

in new games such as Dutch Blitz, Heads Up, Hand and Foot, and group games. Take your

friends along or meet some new ones. All children aged 8-12 welcome. No booking or

payment required.

Build imaginative worlds and

battle nocturnal creatures at the

learning centre's Minecraft Club.

Novice or expert, join the club

and play with your friends in our

very own world. A tutor will be

in attendance to supervise and

assist if necessary. For children

aged eight-13. Cost is $20 a child

per term. Contact the library to

make a booking.

South Library, 66 Colombo St

Opawa Farmers' Market

Sunday, 9am-noon

Find some organic and

delicious produce from local

growers. Enjoy sipping on a

coffee while wandering around

the market and checking out

the food on offer. From artisan

bread and french pastries to fresh

berries and local cheeses, there

will be something for everyone.

275 Fifield Tce

Neerlandia Choir 35th

Annual Concert

Sunday, 2pm onwards

The Dutch Choir of

Christchurch are putting on

their annual concert. The concert

includes a programme of mainly

Dutch, English and German

songs. Tickets can be purchased

on entry for $5 per person.

Hohepa Musical Auditorium​,

23 Barrington St

Fashionable Functional Footwear at Feet First Podiatry

F rankie4 Nat Range

White

Black

Cream

37 Main South Road, Upper Riccarton | Ph 348-7910 | www.feetfirst.co.nz

Help us keep the

Santa Parade going...

The Christchurch City Council funds 50% of this 'not for profit' event

and we thank them for their contribution.

However, the Trust is appealing for further assistance from the public

through our 'Give a little' page.

All donations are gratefully accepted.

Please help with a donation www.givealittle.co.nz/org/santaparadechristchurch000
---
SOUTHERN VIEW Latest Christchurch news at www.star.kiwi

Tuesday September 12 2017 19

HEALTH & AWARENESS

Anxiety and breathing

– are they related?

When good breathing goes bad

Have you experienced any of these

breathing difficulty symptoms?

• Disturbed sleep

• Erratic heartbeats*

• Feeling anxious and uptight

• Upset gut/nausea

• Chest pains*

• Shattered confidence

• Tired all the time

• Achy muscles and joints

• Dizzy spells* or feeling spaced out

• Irritability or hypervigilance

• Frequent yawning and sighing

• Breathing discomfort*

• Pins and needles

• Feelings of 'air hunger'

*Check with your doctor if you experience

these symptoms.

These questions are asked on

the website www.BradCliff.com.

BradCliff was started by North Island

physiotherapists Dinah Bradley and

Tania Cliffton Smith, who specialise in

hyperventilation and anxiety treatment.

Their website notes one in 10 people

experience some form of breathing pattern

disorder or chronic over breathing at some

time in their lives, resulting in a range

of disturbing or frightening symptoms

puzzling to you and your doctor.

You feel unwell because of overbreathing,

and overbreathing makes you feel unwell.

A vicious cycle is established, which is a

major stress all by itself. This is experienced

currently by many Cantabrians, says Ietje

van Stolk of Physical Sense Gym & Physio.

As she explains, it is normal to breathe fast

and in the upper chest when we are in danger

and fight or flight is needed. We know all

about that here, due to the earthquakes.

Normally, once the danger is gone, our

breathing should restore itself within a

couple of days. We would then be using the

diaphragm for our normal nonstressed

breathing. We have been having a hard

time restoring our breathing pattern

here in Canterbury because every time

our body tried to achieve that, the next

aftershock came rolling in. Even though the

aftershocks have significantly diminished,

some people's fight or flight mode

breathing has become chronic, or habitual,

Ietje says. And, as she points out, using the

wrong muscles for breathing means these

overworked muscles cause headaches, neck

pain and jaw pain.

With fast upper chest breathing, sighing

and yawning, the resulting disturbance

of our oxygen and carbon dioxide levels

can give us the feeling we are not able to

control our own body. One moment you

are feeling fine, next moment your chest

feels tight, you feel out of breath, your

heart beats erratically and you may even

experience dizziness and/or tingling.

Very scary if you do not understand what

is happening. No wonder this causes

anxiety. Not being the boss over our own

body makes us anxious, anxiety feeds the

faulty breathing pattern, and so it goes on.

The BradCliff physiotherapists have

established a national network of

practitioners that regularly train together

and can help you overcome this problem.

Physical Sense is part of that network.

Physical Sense Gym and Physio is located at 300 Colombo Street, Sydenham. The Blue Line Bus stops in front of the door and there is ample

parking. To enquire about specialised exercise classes or physiotherapy treatment, phone 377-2577 or visit www.triggerpoints.co.nz

Shop online

with the in

store special

prices!

Discount code:

Goat

themohairstore

140 Colombo Street, Beckenham

Phone 03 943 1639

www.themohairstore.co.nz

True

Who thought

DENTURES

and false!

could look this

natural?

• Full dentures • Metal partial dentures

• First-time immediate dentures • Implant supported dentures

STUNNING: A beautiful new denture for

a young female patient

These stunning lovebite full upper and

lower dentures have been expertly crafted by

internationally-recognised dental technician

Richard Greenlees at his Christchurch studio.

The combination of Richard's skill, experience

(including 15 years in London's prestigious

Harley Street) knowledge and revolutionary

techniques allow him to create beautiful

bespoke false teeth that truly resemble those

in nature and reflect each patient's individuality

and unique character.

Bishopdale Clinic

13a Bishopdale Court, Ph 360 3606

City Clinic

12 Hereford Street, Ph 961 0236

Wigram Skies Clinic

67 Skyhawk Road, Ph 322 9400

Call us today Ph 360 3606

Back & neck pain

Sprains and strains

Functional training studio

Biomechanical assessments

Headaches and migraines clinic

Work injuries & gym rehab

Pre and post surgery rehab

VEBITE

musclepeople.co.nz

AGING GRACEFULLY: Natural teeth for

a gentleman patient in his 80's

HOLLYWOOD: It's all white for this

female patient in her 60's

402 Montreal Street

Christchurch | P. 379 1222

By appointment only.

Consultation fee applies.

lovebite.com

Richard will personally guide you through the entire process to create

teeth with small nuances in the fabrication, colour and shape. Your beautiful new

lovebite dentures will boost your confidence and make you look and feel year's younger!
---
20 Tuesday September 12 2017

Latest Christchurch news at www.star.kiwi

AUTOMOTIVE PROFESSIONALS

SOUTHERN VIEW

Local workshop provides

full servicing and repairs

Although it is a small suburban workshop, Hoon Hay Automotive

in Hoon Hay Road offers the full range of vehicle servicing and

repairs, the same as you would find in larger businesses.

Owner Grant Prior is a fully qualified

mechanic, as is his employee Wade, and

the pair service all types of vehicles, from a

basic service to a full going-over.

They also provide transmission flushes,

coolant changes, cam belt replacement,

and all electrical and mechanical repairs

using the workshop's diagnostic tools to

assess the problems.

Hoon Hay Automotive also supplies and

fits tyres, with a variety of brands available

from entry-level Hi Fly tyres right up to

performance tyres, so everyone is catered

for.

They supply and fit the quality Century

Yuasa batteries, which carry a two-year

warranty.

WoFs for all types of vehicle as well as

trailers are also provided.

But while Grant, Wade and office

manager Sarah carry out all the day-to-day

work, the real star of the business is Jessie

the meet and greet dog, who welcomes

customers with a friendly wag of the tail

and makes sure every customer leaves

happy. She has been a key part of the team

for nine years.

So next time your vehicle is due for a

warrant or service or needs repair, call

Hoon Hay Automotive on 982 0405 and

be sure of quality results. They are located

at 287 Hoon Hay Road, with plenty of offstreet

parking available.

The team at Hoon Hay Auto

The Automotive

Lamp Specialists

Free Check & Assessment

ROSES

AUTO ELECTRICAL

s

m

a

r

t

mall

edium

Fast

turnaround

utomotive

epair

echniques

• Paintless dent removal

• Minor paint repairs

• W.O.F • Servicing

• Repairs • Batteries

• Auto Electrical • Tyres

• Clutch • Cambelt

• Diagnostic Equipment

YOUR LOCAL

AUTOMOTIVE SHOP

New and Used Lamps for Cars, Trucks,

Vans, 4WD and Motorhomes

325 Brougham Street, CHRISTCHURCH

PH 0800 225 483

Smart repairS (NZ) Limited

automotive refinishers

272 Lichfield St (Fitzgerald Ave end)

Ph 377-0409

287 Hoon Hay Road

Christchurch

Open Mon-Fri

Ph. 982 0405

• new & quality

secondhand tyres

• alloy wheels

• replacement rims

• puncture repairs

WITH A MASSIVE RANGE OF TYRES IN STORE,

WHY NOT POP IN AND SEE US TODAY!

8c Birmingham Drive,

(Cnr Hands & Birmingham Drive)

Ph: 03 343 0099 Cell: 027 226 3805

Website: www.jcmdirect.co.nz

®

PARKER

AUTOMOTIVE

■ All Automotive Repairs and

Servicing including 4WD

■ Suspension Brakes & Cambelts

■ WOF, Tyres, Batteries

■ Courtesy Car

55 Lincoln Rd, behind Caltex

(Cnr Lincoln & Torrens Rd)

Ph 03 982 4268

Mob 027 331 0382

Email: parkerauto@clear.net.nz

A vonhead

utomotive

free

6 months roadside assist

with any vehicle servicing

• automatic transmission

flushing service

• Wof • tune-ups • suspension

• batteries • neW tyres • oil &

lube service • courtesy cars

• full mechanical repairs

oPen 6 days (sat until 1pm)

126 racecourse road

Ph 342 7123 or 027 495 6600
---
SOUTHERN VIEW Latest Christchurch news at www.star.kiwi

Tuesday September 12 2017 21

REAL ESTATE

Location and style

15a Whareora Terrace, Cashmere

Auction: Thursday, 28 September 2017 Unless Sold Prior

4 bedrooms | 2 bathrooms | 3 toilets | 2 living rooms | 1 dining room | 1 car-garage | 1 carport | 1 off-street park | Listing #BE192840

Situated on the highly desirable lower

slopes of Cashmere Hills, this lovely home

is a testimony to the architecture of Jonty

Rout. Designed with flair, this home is a

cut above the average with stunning rimu

cathedral ceilings and timber detailing

bringing warmth and spaciousness.

Step into the welcoming entranceway

to view the stunning living area set below.

A large welcoming space with room to

entertain and to flow out onto the generous

decking. The separate formal dining offers

ample space for your dinner parties. The

kitchen is modern and opens into a second

smaller living room or 'snug'. A cosy space

for those busy evenings after work to relax

in.

There are three double bedrooms, all

opening onto a deck, two with mezzanine

floors and the master having an ensuite

and walk in robe, plus a good-sized family

bathroom. Both bathrooms are presented

to a high standard - nothing to do here, the

hard work has been done. There is also a

fourth bedroom upstairs, a great teenage

hideaway.

On the practical side, this home has the

bonus of heaps of storage, beautiful builtin

cabinetry, an internal vacuum system,

central heating and a large laundry.

Step from your kitchen onto a sunny

deck surrounded by your own little bit of

paradise. The home is nestled into the land

with a private, well-established landscaped

garden that is easy care to boot. Sheltered

from the easterly you get to enjoy the

renowned Cashmere microclimate within

easy reach of the central city.

To complete the picture, you have easy

drive on access, off street parking with

garaging and a carport to put your car and

bikes away.

Call now to view - this property may well

sell before the scheduled auction day.

Open Home: Saturdays and Sundays

12:00pm - 12:30pm.

See you at the open home or to arrange

a private viewing of this property call

Debbie Pettigrew on 027 777 0411 or

Debbie Johnson on 021 0515225 from

Harcourts Grenadier Beckenham

(Licensed Agent REAA 2008) or phone

the office 337 1316

growing with you

SprIng Is here –

It'S Sow Time

how to get the best results from

seeds and seedlings

100% NatIve In

The capItal

Unravelling the secrets of

Otari-wilton Bush

The New Zealand

landscape awards

The people behind

the projects

$7.90 incl. GST

Save our roSeS

How a rose register is protecting our heritage

September 2016 | 100%

It's time

to grow!

New look and more

content than ever!

MeeT LeSTer Brice

A Garden coach

auckland Botanic GardenS

Why we love our public grounds

now bigger than ever

The magazine for

gardeners who like to get

their hands dirty

SubScribe from

$43. 50*

*6 issues/6 months

ISSN 2423-0219

SUBSCRIPTIONS FREEPHONE

0800 77 77 10

www.gaRdeNER.kiwI
---
22 Tuesday September 12 2017

Latest Christchurch news at www.star.kiwi

SOUTHERN VIEW

Classifieds Contact us today Phone our local team 03 379 1100

Health & Beauty

FOOTCARE

OASIS

Senior Citizens Foot Care

25 Conway Street, Spreydon

Treating hard thick nails, calluses

and corns finishing with a foot massage

Price $30 Allow 45 mins

Home Visits available by appointment

Therapist – Amanda

(30 years experience)

Ph. 942-6036 for an appointment

HOURS ARE FLEXIBLE

Caravans, Motorhomes

& Traliers

CARAVAN Or Poptop

wanted ph 027 306 6544

TRAILER Briford or

similar wanted ph 027 306

6544

Computers

ALL

YOUR

COMPUTER

WORRIES SOLVED!

*$30.00 off your first

service with this coupon!*

No problem too big or

small from home PC's to

business networks. PC

slow? An end to Viruses,

Spyware, and Clogged

Systems. Safe secure

hassle-free computing.

Lost files recovered.

Microsoft Certified,

MCSE, MCP+l. 30 years

experience. Call Andrew

Buxton this week on 326-

6740 or 027 435-7596

for $30.00 off* Custom

Computers Christchurch

Curtains

www.curtainfabric-outlet.com

Fashion Designs & Colours

Discontinued Designs

End of Lines Bargain Prices

Call at Our Shop

CURTAIN FABRIC OUTLET

71 Hawdon St Sydenham

Ph 366-5026

Entertainment

Weka Pass Railway

Waipara, North Canterbury

We are RUNNING

SUNDAY 17th September

Running 1st & 3rd

Sunday of every month

Phone 0800wekapass

Depart Glenmark Station

11.30am & 2.00pm

www.wekapassrailway.co.nz

Magazine & TV | sTyle.kiwi

Gardening

& Supplies

LANDSCAPE GARDEN

PROFESSIONAL

Qualified Horticulturist,

offering expert, garden

makeovers, design and

landscaping, for free

quotes call Bryce 027 688-

8196 or 0508 242-733

Health & Beauty

FREE Halswell /

Hillmorton Qigong

Introduction, 10am~

11:45am, Thu Sep 21.

Gentle flowing meditative

movements with energy

healing. Class starts Oct

19, ph Sandy 260-1256.

Holiday

Accommodation

QUEENSLAND SUN-

SHINE COAST AUSTRA-

LIA Resort, Ocean Views,

Balconies, Self Contained,

1 or 2 B/R Ensuite,

Heated Pool, Spa, Sauna,

Free Internet, Shops,

Restaurants, Tennis, Surf

Club & Patrolled Beach,

Public Transport at door.

Ask for our SEASONAL

SPECIALS. Phone 61 7

544-35011 Email: reception@mandolin.com.au

www.mandolin.com.au

Situations Vacant

TURN SPARE TIME

into $$$. Work flexible

hours close to home.

Earn money delivering

/ collecting catalogues

and delivering goods. No

outlay. Immediate start. Ph

Verna 021 159 3825

style

noun

elegance and sophistication.

synonyms: flair, grace, poise,

polish, suaveness, urbanity,

chic, finesse, taste, class,

comfort, luxury, affluence,

wealth, opulence, lavishness.

Trades & Services

BLOCKED

DRAINS?

• VIDEO INSPECTION

• WATERBLASTING

• LIQUID WASTE

PH: 03 365 7960

24 hours // 7 days

info@h20jet.co.nz

www.h20jet.co.nz

HOUSE

CLEARING

Are you

moving house

or trying to

downsize?

Call All Clear

Canterbury. We work

with you to recycle,

sell and dispose of

unwanted items.

Ph: 03 260 0934

or 021 078 4553

raewynlcooke@gmail.com

www.allclearcanterbury.co.nz

DO iT OncE

Do it right

Driveways FREE

Paths & patios QUOTES

Concrete or asphalt

Earthquake repairs

All work guArAnteed

Brad 021 716 942

www.gardencitydriveways.co.nz

TREES

Now working

in your area

• Tree Pruning

& Removal

• Stump Grinding

• Hedge Trimming

Fully Insured

Qualified Arborist

For a free quote,

ph 0800 248 733

www.jimstrees.co.nz

ROOF

PAINTING

Rope & harness

a speciality,

no scaffolding

required,

30 years of

breathtaking

experience.

FREE QUOTES

Exterior staining,

exterior painting,

moss and mould

treatment and

waterblasting

Phone Kevin

027 561 4629

Trades & Services

Builder

Wright Enterprises Build Limited

W.E. Build

New Homes

Renovations

Alterations

Re-roofing

Re-cladding to older buildings

Family owned & operated

E info@webuildltd.co.nz

Antony Wright 021 111 1703

John Wright 0274 343 323

AH 03 347 4347

www.webuildltd.co.nz

GARDEN SUPPLIES

CHCH'S LARGEST SELECTION OF

BARK • COMPOST • SHINGLES

Remember...

we are NOT in

Parkhouse Road

Landscape Lane (off Lunns Rd)

P. 348 2915 OPEN 7 DAYS

nO GREEn wastE In anY OF OUR COMPOst

BEST BATHROOMS PAINTER

full renovation specialists, Quality work, I stand by

LBP, repairs & Canterbury Ph Wayne 03

maintenance ph 03 387-

0770 or 027 245-5226

385-4348 or 027 274 3541

PLASTERER

BRICKLAYER

Gib Stopping, Small

George Lockyer. Over job specialty. 30 + years

35 years bricklaying experience. Ring 0800

experience. UK trained. 387-369

Licensed Building PLUMBER

Practitioner number ALF THORPE

BP105608. Insurance PLUMBING Certifying

work. EQC repairs. Plumber for all types of WINDOW

Heritage brickwork and plumbing, maintenance,

stonework a speciality. No

job too small. Governors

spouting, alterations etc.

Phone 352-7402 or 0274-

Bay. Home 329-9344, 350-231

Cell 027 684 4046, email

ROOFING REPAIRS

georgelockyer@xtra.co.nz

Fully Qualified, Over 40

WINDOW

BUILDER

For all building work

Yrs experience. Ph John

027 432-3822 or 351-9147

but specialist in bathroom email johnmill@ihug.

renovations, 30 yrs co.nz

experience, with service

SPOUTING CLEANING

and integrity. Free Quotes.

Spouting Unblocked,

Ph Lachlan 383-1723 or

Cleaned Out and Flushed

0274 367-067.

Out. Also Full Handyman

BUILDER LICENSED Services Available. Call

available for all aspects of

building. Please call 027

241-7471 or 335-0265

Trevor 332 8949 or 021

043-2034

STONEMASON

CARPET & VINYL BRICK

&

Laying. Repairs, uplifting, BLOCKLAYER,

Earthquake Repairs, Grind

relaying, restretching. Out & Repoint, River/

Email jflattery@xtra.co.nz Oamaru stone, Schist,

ph 0800 003 181 or 027 Volcanic Rock, Paving,

2407416

all Alterations new & old,

CARPENTER

Quality Workmanship,

HANDYMAN - Small visit www.featureworks.

Job Specialists, Carpentry, co.nz or ph 027 601-3145

Repairs, Decking & TILER/CARPENTER

Maintenance, 40 years 35 years exp, no job

experience, no job too

small, Ph Warren 03 322-

1103 or 027 697-8541

PAINTER AVAILABLE

too small. Ph Ross 027

4311440.

T.V. SERVICE CENTRE

Repairs, tvs, microwaves,

All aspects in painting. stereos, DVD. Aerial

Very competitive in roofs

and fences. Please call 027

241-7471 or 335-0265

installations and kitsets,

480 Moorhouse Ave, ph 03

379 1400

PROFESSIONAL QUALITY ASSURED

PAINTING PLASTERING

Phone Lance

Ph 3316147 or 022 6503839

PAINTING - PLUS

• PAINTING • TILING

• PLASTERING

• WALLPAPERING

Phone Kevin Steel

• Interior/Exterior

• New Homes & Repaints

• Quality workmanship assured

• Correct preparation always undertaken

• 20+ years experience

• Earthquake repairs

(Painting/Plastering/Wallpapering/Tiling)

Ph 381 7417 or 027 216 8946

www.facebook.com/kevinsteelpainters&decorators

ADVERTISE YOUR

BUSINESS HERE

Trades & Services

PAINTERS

Baz Painters

Certified Tradesman | Interiors & Exteriors

Roofs, Plastering Wallpapering

New Homes, Repaints | Earthquake repairs

35+ yrs quality work experience

UPHOLSTERER

Dining Chairs, Lounge

suites, Caravan Squabs

etc. recovered. Free

Quotes. Phone Graeme

383-1448

VHS VIDEO TAPES

& all camera tapes

converted to DVD, video

taping special occasions,

www.grahamsvideo.co.nz

ph 03 338-1655

CLEANING

Average 3 bdrm house

inside or out $40. Both

$70. Phone Trevor 344-

2170

CLEANING

Average 3 bdrm house

inside or out $40. Both

$70. Phone Trevor 344-

2170

Dealers. Phone 980 5812

AAA Buying goods

quality furniture,

Beds, Stoves, Washing

machines, Fridge Freezers.

Same day service. Selwyn

or 027 313 8156

A+ Household effects,

fridges, freezers, washing

machines, ovens. Good

cash paid. Ph Paul 022

0891 671

Phone for further details

Wanted To Buy

TOOLS Garden,

garage, woodworking,

mechanical, engineering,

sawbenches, lathes, cash

buyer, ph 355-2045

(03) 379 1100
---
SOUTHERN VIEW Latest Christchurch news at www.star.kiwi

Tuesday September 12 2017 23

What's On

Entertainment

To advertise, contact

Jo Fuller 03 364 7425

jo.fuller@starmedia.kiwi

Full programme of top line acts

THE Hornby WMC has a full programme

of top line acts gracing its stages this

weekend.

Australian based drag revue, Drags to

Bitches dazzles with two

performances in the Sports

Hall - Friday and Saturday

night. is ACE Award

Winning production will

showcase all the artistic

aspects in the drag and

entertainment industries:

the art of costume, music,

voice, yodelling, dance,

comedy, sculpture and a

few surprises. Tickets $40. Show starts at

8pm.

Home Grown Country is currently

touring, playing one only Christchurch

show in the Westivew Lounge on Friday

night.

Talented country music artists Bevan

Gardiner, Cam Scott, Melissa Partridge,

and Yvonne Munro will be joined by Peter

Kesha and James Davy in a spectacular

country music showcase. Tickets $15, door

sales $20. Show starts at 7.30pm.

Saturday sees the return of Timaru's

'most versatile band'... e C-Bay Band.

ey play a mix of Jazz, Country and Rock

'n' Roll. Made up of Tony Atwood (lead

vocals); Heath Rainey (lead

guitar/keyboard); Ross Polson (bass/vcoals);

John Shoaf (guitar/trumpet); and George

Kinch (drums/vocals), the group formed

almost 3 years ago and is also a regular

attraction at the Timaru Town & Country

Club. Catch them in the Westview Lounge

this Saturday. 7.30pm start. Free entry.

e Hornby WMC , Carmen Rd. Phone

349 9026.

RESTAURANT & CAFÉ

We are open from 6.30am

Seniors SPECIAL

2 courses Soup/Roast or Roast/Dessert

Special available lunch only. Monday - Saturday 12pm - 2.30pm

Family Friendly

Kid's 2 course special

A West Coast welcome in the heart of

Redwood, beautifully refurbished and

something for all the family.

TRY OUR WONDERFUL MENU & DAILY SPECIALS

Daniels Road | Phone 352 8355

coasterstavern.co.nz

$20

$10

'Famous for their roasts!'

The

RACECOURSE HOTEL

& Motorlodge

118 Racecourse Rd, Sockburn,

Christchurch. Ph 03 342 7150

www.racecoursehotel.co.nz

Lunch & Dinner

All you can eat, 7 days

Bookings Essential

PH 386 0088

fb.com/GardenHotelRestaurant

www.gardenhotel.co.nz

SERVING

HAPPY HOUR

5PM - 7PM DAILY

CONGRATULATIONS JASON DAIKEE

FATHER'S DAY GRAND PRIZE WINNER

OUR CABINET ITEMS

ARE HOMEMADE

CREATED FRESH ON SITE DAILY

$12

LUNCH

SPECIALS

COFFEE

HAPPY

H O U R

Live Music:

6PM.FRI.15 SEPT

2PM-4PM

DAILY

$3.50

Offer available for a limited time

and includes tea, hot chocolate

MON: ROAST MEAL

TUE: FISH & CHIPS

WED: FISH BURGER

THU: ROAST MEAL

SAT: FISH & CHIPS

AVAILABLE

FROM

11.30AM-2PM

FOR A

LIMITED TIME

Sima & Vaeio

PHONE 385 8880 FIND US ON FACEBOOK fb.com/GBCCHCH

THE GARDEN HOTEL COMPLEX | 110 MARSHLAND RD

www.gardenhotel.co.nz | phone 385 3132

www.newbrightonclub.co.nz

BOOK NOW! SUNDAY NIGHT BUFFET

SUNDAY 24th SEPT, $25 PER PERSON

ALL BLACKS v SOUTH AFRICA

7.35PM SATURDAY

TUESDAYS & THURSDAYS

Members Lucky Card Draw

FUNCTION ROOMS

SHUTTLE RUNNING

Tues, Thurs, Fri & Sat

TAB POD

GAMING ROOM

PIERVIEW

Restaurant

Quality

a la carte

with a view!

Open from 5.30pm

FRIDAY, SATURDAY & SUNDAY

OPEN FOR

SUNDAY BRUNCH

By the Seaside!

10.30am-2pm

ClubBISTRO

Open Tuesday to Saturday

12pm-2pm and from 5pm

Midweek $11

SPECIAL ROAST

Available Tuesday,

Wednesday, & Thursday

SUNDAY 3 COURSE

DINNER SPECIAL $25

SUNDAY NIGHT

BUFFET

Sunday 24th September

ALL YOU CAN EAT

$25 BOOK NOW!

202 Marine Parade ● Ph 388-9416

Members, guests and affiliates welcome

H ORNBY

WORKINGMEN'S

CLUB

LET US ENTERTAIN YOU!

WESTVIEW SPORTS HALL

LOUNGE FRIDAY & SATURDAY

FRIDAY, 7.30PM:

Home

Grown

Country

TICKETS $15.

DOOR SALES $20.

SATURDAY,

7.30PM:

C-BAY

BAND

UNBEATABLE FAMILY DINING

OPEN

Chalmers

Restaurant

Early Bird Special

FRIDAY & SATURDAY 5.30pm – 6.30pm

Club CAFE

OPEN 7 DAYS

LUNCH & DINNER

Gluten Free &

Vegetarian options

FOR DINNER

Friday, Saturday, Sunday

OPEN FOR BUFFET LUNCH

Every Sunday 12pm - 2pm

Roast

(4 Choices)

and

Free Desserts $22 50

EVERY SUNDAY

IN CHALMERS

12PM-2PM

$25

GROUPS WELCOME

BOOKINGS ESSENTIAL

The Hornby Club | ph 03 349 9026

17 Carmen Rd | Hornby

www.hornbywmc.co.nz

Members, guests & affiliates welcome
---
24 Tuesday September 12 2017

Latest Christchurch news at www.star.kiwi

SOUTHERN VIEW

FREE

11mm

high

dENSity

luxuRy

FREEuNdERlAy

ON SELECTED PRODUCTS *

NylON

Newport

• Commercial Heavy

Duty

• Solution Dyed Nylon

• Loop Pile

• 5 Colours

FREE

UNDERLAY

$99 90

NylON

Okiwi Bay

• Extra Heavy Duty

• Solution Dyed Nylon

• Cut Pile

• 1 Great Colour

FREE

UNDERLAY

$157 00

NylON

horizon

• Extra Heavy Duty

• Solution Dyed Nylon

• Cut Pile

• 1 Great Colour

FREE

UNDERLAY

$119 90

WOOl

Boucle

• Extra Heavy Duty

• Wool Plus

• Cut Pile

• 1 Great Colour

FREE

UNDERLAY

$119 90

garage

Carpet

• 6m x 6m fully installed

• Conditions apply

FULLY

INSTALLED

$900 00

2nds Carpet

• 100's of metres

• Pure Wool

• Extra Heavy Duty

CLEARANCE

FROM

$60 00

2 Metre Wide

Vinyl

• Selected patterns

• Buy 1 get 1 free

BUY 1

GET 1 FREE

$49 90

Commercial

Vinyl Planks

• 4 Colours

BUY 1

GET 1 FREE

FROM

$39 90

Call for our mobile showroom to

visit your home

312 Wilsons Road North, Waltham | Phone 366 0070

Mon to Fri 8am - 5pm and Sat 10am -1pm

www.carpetkingdom.co.nz *Conditions apply.

Q Card Finance

Now Available

FREE no obligation measure & quote (conditions apply)