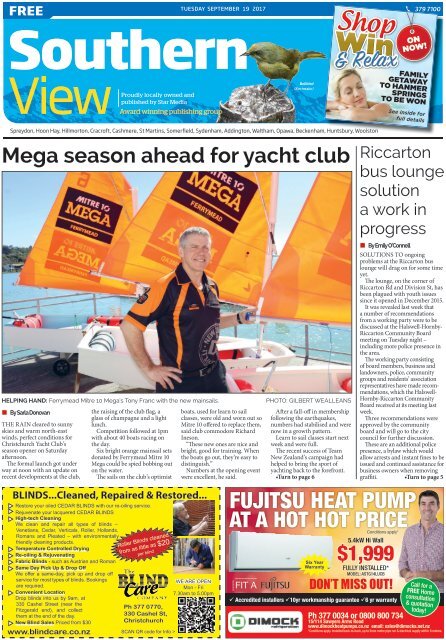 Southern View: September 19, 2017
You also want an ePaper? Increase the reach of your titles
YUMPU automatically turns print PDFs into web optimized ePapers that Google loves.
FREE

TUESDAY SEPTEMBER 19 2017

Southern

View

Proudly locally owned and

published by Star Media

Award winning publishing group

Bellbird

(Korimako)

Shop

Win

& Relax

379 7100

ON

NOW!

FAMILY

GETAWAY

TO HANMER

SPRINGS

TO BE WON

See inside for

full details

Spreydon, Hoon Hay, Hillmorton, Cracroft, Cashmere, St Martins, Somerfield, Sydenham, Addington, Waltham, Opawa, Beckenham, Huntsbury, Woolston

Mega season ahead for yacht club

HELPING HAND: Ferrymead Mitre 10 Mega's Tony Franc with the new mainsails.

• By Sarla Donovan

THE RAIN cleared to sunny

skies and warm north-east

winds, perfect conditions for

Christchurch Yacht Club's

season opener on Saturday

afternoon.

The formal launch got under

way at noon with an update on

recent developments at the club,

the raising of the club flag, a

glass of champagne and a light

lunch.

Competition followed at 1pm

with about 40 boats racing on

the day.

Six bright orange mainsail sets

donated by Ferrymead Mitre 10

Mega could be spied bobbing out

on the water.

The sails on the club's optimist

boats, used for learn to sail

classes, were old and worn out so

Mitre 10 offered to replace them,

said club commodore Richard

Ineson.

"These new ones are nice and

bright, good for training. When

the boats go out, they're easy to

distinguish."

Numbers at the opening event

were excellent, he said.

PHOTO: GILBERT WEALLEANS

After a fall-off in membership

following the earthquakes,

numbers had stabilised and were

now in a growth pattern.

Learn to sail classes start next

week and were full.

The recent success of Team

New Zealand's campaign had

helped to bring the sport of

yachting back to the forefront.

•Turn to page 6

Riccarton

bus lounge

solution

a work in

progress

• By Emily O'Connell

SOLUTIONS TO ongoing

problems at the Riccarton bus

lounge will drag on for some time

yet.

The lounge, on the corner of

Riccarton Rd and Division St, has

been plagued with youth issues

since it opened in December 2015.

It was revealed last week that

a number of recommendations

from a working party were to be

discussed at the Halswell-Hornby-

Riccarton Community Board

meeting on Tuesday night –

including more police presence in

the area.

The working party consisting

of board members, business and

landowners, police, community

groups and residents' association

representatives have made recommendations,

which the Halswell-

Hornby-Riccarton Community

Board received at its meeting last

week.

Three recommendations were

approved by the community

board and will go to the city

council for further discussion.

These are an additional police

presence, a bylaw which would

allow arrests and instant fines to be

issued and continued assistance for

business owners when removing

graffiti. •Turn to page 5

BLINDS...Cleaned, Repaired & Restored...

Restore your oiled CEDAR BLINDS with our re-oiling service.

Rejuvenate your lacquered CEDAR BLINDS

High-tech Cleaning

We clean and repair all types of blinds –

Venetians, Cedar, Verticals, Roller, Hollands,

Romans and Pleated – with environmentally

friendly cleaning products.

Temperature Controlled Drying

Re-oiling & Rejuvenating

Fabric Blinds - such as Austrian and Roman

Same Day Pick Up & Drop Off

We offer a same-day, pick up and drop off

service for most types of blinds. Bookings

are required.

Convenient Location

Drop blinds into us by 9am, at

330 Cashel Street (near the

Fitzgerald end), and collect

them at the end of the day.

New Blind Sales Priced from $30

Roller Blinds cleaned

from as little as $20

per blind

Ph 377 0770,

330 Cashel St,

Christchurch

www.blindcare.co.nz SCAN QR code for Info >

WE ARE OPEN

Mon - Fri

7.30am to 5.00pm

Fujitsu Heat PumP

at a HOt HOt Price

Six Year

Warranty

Conditions apply*

5.4kW Hi Wall

$1,999

FULLY INSTALLED*

MoDEL: ASTG14LUCB

DON'T MISS OUT!

Accredited installers 10yr workmanship guarantee 6 yr warranty

Call for a

FREE Home

consultation

& quotation

today!

Ph 377 0034 or 0800 800 734

15/114 Sawyers Arms Road

www.dimockheatpumps.co.nz email: sales@dimocks.net.nz

*Conditions apply. Installed back-to-back, up to three metre pipe run & electrical supply within 6 metres.
---
2

Latest Christchurch news at www.star.kiwi

Tuesday September 19 2017

Inside

FROM

THE

EDITOR'S

DESK

SOUTHERN VIEW

News.......................................3-8

WHAT AN election it's going to be

on Saturday night.

The best and potentially the closest

in many years, and one which

will shape the country's future for

sometime.

Star Media, publisher of the

Southern View, will be following

the election on our website www.

star.kiwi and we'll have reporters

out on the street and bringing

you latest updates through the

afternoon and into the night.

The Star on Thursday will also

have an in-depth election preview.

The polls clearly show people

have shifted to voting for either National

and Labour and this could

spell doom for many smaller party

politicians who have made it into

Parliament on the back of MMP.

Indications are voter turnout

will be high and which ever party

mobilises its supporters best on

Saturday will win.

– Barry Clarke

GET IN TOUCH

General Inquiries Ph 379-7100

Classified Advertising Ph 379-1100

The Christchurch Star Company Ltd. PO box 1467 - Christchurch

starmedia.kiwi

Try out this refreshing recipe FOOD 13

NEWS

Sophie Cornish

Ph: 364 7437

sophie.cornish@starmedia.kiwi

Local Views..................... 9

Schools...................................10

Sport...................................11

Food...........................................13

Kidstuff............................ 15

Events.......................................16

ADVERTISING

Richard McCombie

Ph: 364 7472

richard.mccombie@starmedia.kiwi

FILL UP FOR LESS

THIS SEPTEMBER WITH

YOUR SUPERGOLD CARD.

Save

per

12litre*

*Terms and Conditions apply.

To find your local partcipating

Challenge station, visit us online

at www.challenge.net.nz
---
SOUTHERN VIEW Latest Christchurch news at www.star.kiwi

Tuesday September 19 2017 3

News

Lights ease congestion

Fashion

• By Georgia O'Connor-Harding

NEW TRAFFIC lights Halswell Junction Rd have

been given the thumbs up by

Prebbleton residents who now

say getting into work is quicker.

The signals designed to ease

the congestion at the Halswell

Gardening

Junction and Springs Rds

roundabout were switched on

last Thursday morning.

Resident Karen Webb said the

lights have cut down her commute

by about half the time.

"It is certainly an improvement

until Rolleston traffic finds

out about it and stops using

Shands Rd and it will be back to

Motoring

normal," she said.

Another Prebbleton resident

Graham Pye said the new traffic

signals have improved traffic

congestion considerably.

"Funny enough there seems

to be more traffic coming across

Springs Rd. That seems to be

holding up Halswell Junction

Rd traffic . . . they might need

Tasty

to tweak timings on Halswell

Bites

Junction Rd," he said.

NZ Transport Agency journey

manager Lee Wright said NZTA

will be monitoring the lights

every day over the next couple of

HELPFUL: New lights switched on at the Halswell Junction

and Springs Rds roundabout.

weeks and getting feedback from

customers and road users on the

lights.

A Prebbleton resident herself,

Ms Wright said she left work

15min later than usual and got

through the intersection in

about 5min.

PHOTO: GILBERT WEALLEANS ​

Until now traffic has been

backed up from the roundabout

to close to the Prebbleton shops.

Prebbleton Community Association

Committee chairman

Peter Hunter said anything to

improve traffic time through the

intersection is a bonus.

The $150,000 project was

designed to reduce delays for

people and bus passengers

on Springs Rd heading to

Christchurch by about 8min,

while the Christchurch Southern

Motorway Stage 2 is under

construction.

Often traffic is backed up for

more than 2km while people

wait for a safe gap to enter the

roundabout.

HAVE YOUR SAY: Are the

new traffic lights at Halswell

Junction and the Springs

Rds roundabout working?

Email your views to georgia.

oconnor@starmedia.kiwi

Local

News

Now

In Brief

Fire rages, homes at risk

GRAFFITI REPORTS

Riccarton was the third highest

suburb to attract reports of

graffiti to the city council during

August. Fourty-two graffiti

incidents were reported in

Riccarton during August which

is more than three times the

amount reported in July.

MADDIE COLLINS CONCERT

This year's St Thomas of

Canterbury College and Villa

Maria College Variety Concert

is raising funds for Maddie

Collins. Maddie needs $750,000

to fly to the US to receive the

surgery that will save her life.

The concert is on Thursday

night at 7pm at the St Thomas'

hall. Tickets are $5 and can

be purchased at the door by

cash only.

FIRE AT STAHLTON

ENGINEERED CONCRETE

City

Fire services

of

had to force their

way into Stahlton Engineered

cycle

Concrete after reports of a

fire from neighbours. The fire

service arrived at the building

on Waterloo Rd in Hornby at

9.51pm on Sunday. The fire crew

found a water pump had caught

ablaze. They spent 15min at

the property and were able to

extinguish the fire without any

problems.

Money

Sunday15 Oct

10am–4pm

the arts centre

City of

c

free

ycles

celebrating 200 years

since the invention

of the bicycle!

Ice

cream
---
4 Tuesday September 19 2017

Latest Christchurch news at www.star.kiwi

SOUTHERN VIEW

ews

ashion

ENVIRONMENT: Soroptimists and Girl Guides planted new

native shrubs in Cashmere's Farnley Reserve following the

recent floods. ​

Gardening

Soroptimists join Guides

to clean-up park land

ARMED WITH spades,

wheelbarrows and rubbish bags,

Girl Guides and Soroptimists

joined forces to clean up a

Cashmere reserve.

Seven members of Sorop-

otoring

timist International of Christchurch

and 10 Girl Guides with

their leaders carried out four

hours' "Saturday of Service" at

Farnley Reserve on Centaurus

Rd.

The ladies cleaned up the

reserve and planted new native

trees and shrubs following the

recent flooding of the Heathcote

asty Bites

River.

City council park ranger

Karen Smith co-ordinated the

clean-up and planting and supplied

the tools, wheelbarrows

VOTE

oney

and rubbish bags, while the

Soroptimists supplied a picnic

lunch.

"Everyone worked very hard

and at the end of the day 60

bags of rubbish were collected

along with a large pile of tree

branches and debris," Soroptimist

president Yvonne Flitcroft

said.

She said it was very satisfying

to see the end result as the area

is frequently used by walkers,

joggers, dog walkers and

cyclists.

"Residents behind the reserve

were very appreciative of the

effort made and one resident,

Mark, assisted us with the rubbish

collection for a couple of

hours," Mrs Flitcroft said.

NUK KORAKO

DELIVERING FOR

PORT HILLS

E

W

Nuk.Korako@national.org.nz

nukkorako.national.org.nz

facebook.com/NukKorako.PortHills

THE HISTORY of Calder Green

Reserve is now on display for all

to see.

A new sign explaining the significance

of the lower Heathcote

reserve was unveiled recently.

Formerly known as 'Devils

Elbow,' Calder Green Reserve is

a salt marsh and riparian area

lying between Ferry and Tunnel

Rds.

Forest and Bird maintains the

area with input from the city

council and community groups.

Heathcote ward city councillor

Sara Templeton was at the

official opening of the project.

Her daughter has been

involved through her local

guide group, which has planted

swathes of ngaio over the past

few years.

She complimented Forest and

Bird on the work done so far.

"I'm looking forward to all

the groups working together on

a range of challenges including

educating dog owners and the

wider public about the native

wildlife present in the area and

how to protect it."

Mick Ingram the volunteer

manager of the Calder Green

Reserve project is designing

habitat to suit all the wildlife

of the area and has a particular

OPEN: Sara

Templeton, Mick

Ingram, and Colleen

Philip cut the

ribbon at the official

opening of Calder

Green Reserve. ​

Calder reserve open

A Treasured Home

soft-spot for lizards.

He's hopeful that as people

visit the reserve and learn more

about the area, "they will come

to love its quiet serenity as I do."

"The hope is more people will

become kaitiaki (caretakers) of

this stretch of river and help its

wildlife thrive into the future,"

Mr Ingram said.

If you want to know more

about this project – maybe get

involved in helping yourself –

phone Mick Ingram

021 816633 or check out the

North Canterbury branch

website www.forestandbird.org.

nz/north-canterbury

21 Aynsley Terrace, Hillsborough | Listing Number: BE192883

4 2 1 2

Auction 28st Sept 2017 Unless Sold Prior

My clients have enjoyed many happy years in this lovely character home but

now they must sell to move to their new home.

Beautifully presented, this home has a spacious living room, good sized

kitchen / dining room which leads onto conservatory. From there you can step

onto a large deck facing into the lovely garden. So perfect for the warmer

months to come to entertain your family and friends. With four bedrooms,

two bathrooms and a study there is room for your family and friends.

A good sized double garage has the bonus of extra space at the rear for a

workshop or extra storage. The garden is a delight and has room for the

children to play safely while you supervise from your kitchen. Spend your

summer evenings enjoying the last of the sun from your front verandah -

a perfect spot to unwind after a busy day.

Call now - this may well sell before the scheduled auction day.

Open Homes: Wednesday 12.30pm - 1.15pm

Saturday & Sunday 1.00pm - 1.30pm

Your agent, Your home, Your future

Authorised by Nuk Korako, 6/950 Ferry Road, Ferrymead, Christchurch.

Artisan Homes

Builders of superior homes. Built to last.

LICENSED SALES CONSULTANT REAA 2008

P 027 777 0411

Silver medal winner in Registered Master Builders 2016 House of the Year Awards

Artisan Homes Office & Showhome

5 Broomleigh Drive, Faringdon

Artisan Homes New Showhome

72 Blakes Road, Prebbleton

Open Sat & Sun 12–4pm

Office & Show Home: 5 Broomleigh Drive,

Faringdon, Rolleston

New Show Home: 72 Blakes Road, Prebbleton

Phone: 03 374 9172 or Rob: 021 324 876

E-mail - robin@artisanhomes.co.nz
---
SOUTHERN VIEW Latest Christchurch news at www.star.kiwi

Tuesday September 19 2017 5

New traps and bait to help

pupils step up conservation

n TRAPS AND bait worth about

$8000 will help reduce rat,

possum and stoat populations

on Banks Peninsula.

The Little River Trap Library

and Lyttleton Primary School

have been given more than 50

traps by the Department of

Conservation.

ning

Conservation Minister

Maggie Barry and Associate

Conservation Minister Nicky

Wagner presented the traps at

a Predator Free 2050 event last

week.

Lyttelton Primary School

received 15 traps, including five

possum traps from the Lyttelton

Port Company.

ing

The school plans to start

trapping on land above the

township that's owned by LPC.

Said Ms Barry: "The easyto-use

traps will enable the

school children to take their

conservation work to the next

level."

The Little River Trap Library

was the first of its kind in New

ites

Zealand and lends traps for free

to people wanting to protect

wildlife on their properties

It was given 40 traps and bait,

CONSERVATION: Lyttelton Primary School pupils Maia, Rose,

Zoey and Ridley with some of the traps they received from

DOC and the Lyttelton Port Company.

enabling it to continue its work.

Ms Barry said the two projects

were examples of "collaboration

and tireless dedication," helping

to eradicate predators and create

pockets of safe habitat.

Ms Wagner said there were

signs the programme was already

having an impact.

"Tui are beginning to prosper

on the peninsula and the whiteflippered

penguin colony in Flea

Bay/Pohatu has doubled in size

since this work began,"

"Eventually I believe these

predator-free areas will expand

to cover the whole of Lyttelton,

Banks Peninsula, wider

Christchurch and beyond. I'm

confident that by 2050 we'll have

a rat, stoat and possum-free New

Zealand," Ms Wagner said.

News

Bus lounge problems

•From page 1

The other 16 recommendations

will come back to the community

board for discussion in a month's

Fashion

Local businesses have declined

time.

to comment on the issue but

community board deputy chairwoman

Helen Broughton said the

situation is not ideal.

"It's quite hard to pass a lot

of recommendations at a board

meeting. My guess is we will have

a workshop on them first," Mrs

Gardening

Broughton said.

Community board chairman

Mike Mora said he thinks the

community board is doing its

best.

"We're going as quick as we

can. There are laws in place now

if somebody breaches trespass

orders the police are contacted,"

Mr Mora said.

Motoring

No police were at the community

board meeting but Constable

Aaron Thorn said "the city council

talks about trespassing, they

seem to think we have the power

to trespass anyone from anywhere

but we can only trespass

people from a private area."

"They seem to think we have

Tasty Bites

powers in the Summary Offences

BUS: Solutions to the ongoing

problems at the Riccarton bus

lounge are being discussed.

Act. And there is one but the

problem is we have to prove the

person is about to commit an

offence which can be quite difficult,"

Constable Thorn said.

Removing WiFi is not going

to be solution to the anti-social

behaviour.

The community board has

taken away the word 'removing'

and replaced it with 'using' in the

WiFi recommendation.

The amended recommendation

reads – The Halswell-Hornby-

Riccarton Community Board

request staff to report back to the

board on the viability and implications

of using the free WiFi

from the Riccarton bus lounge.

City councillor Vicki Buck

said the wording needed to be

changed because the city council

is trying to extend WiFi connections

in central

city. "Installing WiFi along Riccarton

Rd is a good idea. WiFi

is a basic thing now. It should

be on buses. I'm not in favour of

removing access to the internet,"

Cr Vicki Buck said.

Are you sure

Son, you really

want to write a

cookbook?

Dad,

CHELSEA has

inspired me, I

can do it, I can

even see a TV

SERIES!

This is

embarrassing, he's

got no idea at ALL!

I have to put a stop

to this...

I've got a new

concept! ONE INGREDIENT!

IT'LL BE ON THE SHELVES

FOR CHRISTMAS, WE COULD

MAKE A FORTUNE!

I like it,

I'm in! I'll

back you, even

help with the

cooking!

It's cold, the

presentation is dreadful

AND it's only bacon! what

is he thinking?! I bet Dad

IS behind this!

Money

RECIPE, FEEL FREE

HERE YOU

GO, MY FIRST

TO ADD SALT AND

PEPPER!

THEY

LOVED IT! IT'S

A WINNER! MY NEXT

RECIPE WILL BE...

CHIPOLATAS!

An evening with

Chelsea Winter

Saturday 7 October, 7:00pm

Thanks to Chelsea you'll never be short of

inspiration for delicious home cooking

full of goodness and flavour.

Her new book, Eat, is packed with dishes that are

destined to become new favourites in your household.

No complicated instructions or hard-to-find ingredients,

just real food with real flavour made with love.

Tickets from

paperplus.co.nz,

Paper Plus Barrington

& Cashmere High School

Books for sale on the

night, Chelsea will be

happy to sign

copies.

At Christchurch

South Intermediate

School Hall,

204 Selwyn Street,

Christchurch

$15, proceeds to

Cashmere High School

2018 Music Tour

Doors open 6:30pm

The Adams Family of

Paperplus Barrington.
---
6 Tuesday September 19 2017

Latest Christchurch news at www.star.kiwi

SOUTHERN VIEW

News

Yacht club

has wind

Fashion

• By Sophie Cornish

A FITNESS manager is eating

under its burgers to save dogs without

homes.

Marce 'The Tongan Tornado'

sails again Taulango will defend his title

against five other contestants in

•From page 1

the Lower 9th Diner's burger eating

contest on Saturday.

"It's not an automatic effect

but

Gardening

there are things happening. Mr Taulango has raised money

Grant Dalton and some of the for charities the past two

Team New Zealand crew are annual events, in spite of the

coming down for a fundraising contest not being for charity.

event next month," Mr Ineson Competitors will get 5min to

said.

eat as many burgers as possible.

"They are supporting the

Christchurch Bull Breed Rescue

is the charity chosen by Mr

Pleasant Point Yacht Club

rebuild. It's all part and parcel of Taulango this year. It provides

promoting

Motoring

yachting and we food, shelter and re-homing for

hope it will have ongoing

abandoned and rescued bullbreed

dogs.

benefits."

Sailing from Moncks Bay

In 2015, his charity was the

since 1891, Christchurch Yacht Second Chance Dog Rescue, and

Club is one of the oldest in the Cure Kids in 2016, where more

country.

than $1200 was raised.

It famously produced New Those making donations can

Zealand's first Olympic sailing either pledge money per burger

gold medallists, Peter Mander eaten or make a contribution.

and

Tasty

Jack Cropp, in Melbourne

Bites

in For each burger Mr Taulango

1956, and in 1992 Lesley Egnot eats, he will raise $104.

won a silver in Barcelona.

"The more I eat, the more I can

A new $1.17 million boatshed help out the charity," said Mr

is set to be completed by

Taulango.

Christmas, replacing the one Lower 9th Diner is now getting

demolished in June, 2011.

involved in the charitable act,

Woofing down burgers for charity

MUNCHING: Marce Taulango will be eating burgers to raise

money for bull-breed dogs. If you are interested in adopting

a dog like Reno (above) from Christchurch Bull Breed Rescue,

visit www.chchbullbreedrescue.org.nz.

pledging $10 per burger eaten to

the Cancer Society.

Mr Taulango has won the past

two contests at the diner.

"In the first year, I entered and

thought why not try and make

it a charitable event and I ended

up winning, which I didn't really

expect," he said.

Mr Taulango is hoping to demolish

10 burgers this year.

Last year, he managed to devour

eight and a half burgers and

six in 2015.

No preparation has been done,

other than training at the gym –

a strategy which has worked for

Mr Taulango in the past.

"I happen to be up against professional

eaters and I just try to

copy their techniques," he said.

The charity is close to home for

Mr Taulango, who owns a bullbreed

dog himself.

Abbey Vanderplas, founder of

Christchurch Bull Breed Rescue,

started the charity in her own

home and expanded it with the

help of volunteers.

Mr Taulango's wife Rebecca

also helps out at the centre and

walks the dogs.

•The burger eating contest

will be held on Saturday,

from 6-7pm, at the Lower

9th Diner, 89 Lichfield St.

•Donations can be made

at the Snap Fitness New

Brighton reception, 185

Bower Ave, New Brighton,

until Saturday. Collection

buckets will be at the event.

Money

Our fee is

1%

from

min fee applies

At Smart Real Estate YOU keep the profits

Our Smart Marketing offers global exposure

Full service, Free appraisals

Phone Kerryn Allan

022 189 6678 or

03 384 8600

Dyers Road Landscape

& Garden Supplies

• Barks • Peastraw • Composts - we supply the best available

• Aggregates - Chip, Round and Basecourse

• Pavers & Schist products • Pungas

• Decorative Stones & Landscaping Rocks

• Trailer Hire first hour free with purchase

• Bag & Bulk - pick up or delivered

David, Carol & Mike

We will deliver!

SOIL

AND

HARDFILL

DUMPING

Phone: 03 384 6540

183 Dyers Rd, Bromley • OPEN 7 DAYS

Weekdays 7.30am-5pm. Weekends 8.30am-3pm

www.dyersroadandlandscapes.co.nz

30th SEPTEMBER

& 1st OCTOBER

HORNCASTLE ARENA

CHRISTCHURCH

10AM – 5PM DOOR SALES $10

CHILDREN UNDER 12 FREE

www.expos.co.nz 06 354 0498

Grab your girlfriends, mum

or daughters and come

have a great day out!

• Over 200 Companies Involved

• Everything from wine and food to shopping,

fashion, business, beauty & lots more

• Moisture Mist and Za Makeup Lounge

• Style Mystic Hair Lounge

• Sparklewhite Beauty Lounge

• Goodie Bags

• Taste Zone

• Artisan Craft Zone

• Southern Reflexology Relaxation Lounge

You deserve a girl's day out.
---
SOUTHERN VIEW Latest Christchurch news at www.star.kiwi

Tuesday September 19 2017 7

Local

News

Now

Fire rages, homes at risk

WWE superfans

meet wrestling idol

n

• By Julia Evans

ZEINAT ALEBEL almost broke

down in tears when she met her

WWE professional wrestling

idol, Dean Ambrose.

The 18-year-old Sockburn

resident would describe herself

as a wrestling super fan.

ning

Which was proved after she

and her sister Sofiya, 14, lined

up from 7am at The Hub Hornby

for the chance to meet Raw

tag team champion, Ambrose.

"My heart is racing," she said.

Zeinat got Ambrose to sign

her

ng

cellphone, which she said

was now one of her favourite

possessions.

After the 3pm meet and greet,

the teens went to WWE Live at

Horncastle Arena – the only live

wrestling event in the country.

Zeinat said seeing WWE Live

was seven years in the making.

"Last time we saw them I was

11 and

ites

Sofiya was 7."

But she said they'd both been

watching on television for as

long as they can remember, if

not longer.

"I've been watching since

1999 and I was born in 1999,"

GUN SHOW: WWE wrestler Dean Ambrose shows off his

muscles to super fan Sofiya Alebel from Burnside High

School who he met during a meet and greet.

PHOTO: MARTIN HUNTER

Zeinat said.

She, along with almost 300

other fans, lined up from 7am to

get the wrist bands that would

see them meet Ambrose later in

the day and get his signature.

Zeinat said she and Sofiya

went to The Hub early for the

meet and greet.

"It was so worth it," she said.

• By Julia Evans

ARTIST RUBY Williams

stood on the workshop floor of

ENI Engineering in Halswell's

industrial outskirts.

It might not seem like a place

for creating art but the 15-yearold

Villa Maria College student

couldn't wipe the smile off her

face.

Ruby saw the sculpture she

designed as part of the SCAPE

Public Art season for the first

time.

"It's perfect. It's exactly what I

had in mind. Absolutely perfect,"

she said.

The mammoth steel branch,

which will be fixed to a tree in

Hagley Park, was shaped by ENI

engineer Paul Bacon.

It's not something he gets to do

very often.

Ruby picked out the "pinkypurple"

shade it will be painted,

CREATIVE: Ruby

Williams, 15, is all

smiles with her

steel sculpture

of a tree branch.

PHOTO: MARTIN

HUNTER

Student branching out to

become successful artist

saying it represented her personality.

Ruby's mum Breda said her

"budding artist" had been waiting

eagerly to see the sculpture

all day. She was "so, so proud" of

her daughter.

Ruby won the chance to see

her sketches come to life after

winning the senior section of the

Re:ACTIVATE project.

"I don't know how to explain

how it feels. It's just really, really

cool to finally see it," Ruby said.

The branch will be on display

for six weeks during the public

art season from October 7.

It will even feature as a stop

on the public walk, which takes

people on a tour of all the public

art in the city.

The teen said seeing the

branch had given her the drive

to keep chasing her creative

dreams.

"Now is the moment we've been

waiting for. It's time. This is our

opportunity to build a better, fairer

future for New Zealand. To fix our

healthcare, grow our economy,

respect our environment and to look

after our towns as much as our cities.

It's time to change things for the

better. I'm ready. We're ready."

Jacinda Ardern, Labour Leader

Ruth

Dyson

for Port Hills

As your local Member of Parliament, I listen to

people, work hard and get things done. We need

affordable housing, better mental health services

and truly swimmable rivers and lakes. I want to

be part of a Labour-led government that delivers

these things for all New Zealanders.

Authorised by Andrew Kirton, 160 Willis St, Wellington
---
8 Tuesday September 19 2017

Latest Christchurch news at www.star.kiwi

SOUTHERN VIEW

ews

Don't fight fire unless

you're sure to succeed

ashion

• By Mark Thomas – specialist fire

investigator

I WENT to the fire on Clifton

Hill, in Sumner, which recently

destroyed most of a home.

There were a few things there

Gardening

that are worth mentioning.

Firstly, the occupants were in

an unfamiliar house and once

smoke began to restrict visibility

it was fortunate that one of the

group had familiarised himself

with the route to the back door

and was able to herd most of his

family in the right direction.

Secondly, and knowing hu-

otoring

man nature, understandably, the

group leader tried to put the fire

out.

It was too advanced at this

stage and all he managed was to

receive very painful burns.

He only evacuated the house

when the smoke was too thick to

breathe.

He very nearly didn't make it.

asty Bites

I was asked later by media how

the fire grew so large so quickly.

There was nothing unusual

about the fire growth here.

GUTTED: This three-storey house will have to be demolished

after a fire ripped through it. PHOTO: GEOFF SLOAN ​

Modern furniture, made

of plastics, foams and nylon,

provides a huge reserve of fuel,

allowing much faster fire growth

than was normal 50 years ago.

Using the word fuel is very

appropriate because all of those

materials originate in oil. And

burn accordingly.

Anywhere you stay, home, motel,

cabin or hotel room, ensure

there is smoke detection.

If there's heavy smoke the

cleanest air will be at the lowest

point.

Get down, get low and get out.

Don't try to fight the fire unless

you're absolutely sure you will

succeed.

Get out, get your family out,

shut doors as you leave and

phone 111 from a safe place.

SUPERSTAR: Congratulations to Pieta, Kip McGrath

Barrington's star student for August. Said owner and teacher

Ashleigh Probert: "It is always such a pleasure to tutor Pieta

at Kip McGrath. She unfailingly arrives with a smile and a

positive attitude. She always asks for help when necessary

which means she achieves the very best outcome each

week. Pieta is making good progress and will undoubtedly

succeed in the future."

oney

naTiVe planT

nursery

Trees for CanTerbury

LATE NIGHT THURSDAY

Starts 28th September - Open till 6.30pm

give croquet a go

at barrington park

join us for an open day on 30 th september at 1pm...

it's fun and it's free!

If you are aged between 13 and 90 and enjoy a challenge

join us at Barrington Park Croquet Club and

try one or both of the two games of croquet which we play each

Monday and Saturday afternoon between 1pm and 4pm

Free coaching is available by arrangement for individuals or small

groups who would like it

(Under 13's should have an accompanying adult)

speCialisTs in

• Groundcovers

• Ferns

• Grasses

• Small to big

sized shrubs

• Shelterbelts

• ALL grades

• Expert advice

• Planting now

Ask us about Super

Gold Card discounts

Helping our community grow

42 Charlesworth Street

Ph/Fax (03) 982-1028

OPEN 7 DAYS

www.treesforcanterbury.org.nz

NICKY WAGNER

MP FOR CHRISTCHURCH CENTRAL

A

E

P

W

YOUR ONE STOp SHOp!

1 Amyes Rd, Hornby Ph. 349 4163

Hours: Mon - Fri 9am-4.30pm,

Sat 9.30am-1.30pm

335b Riccarton Rd, Church Cnr

Ph. 341 8539

Hours: Mon - Fri 9.30am-5pm

Sat 9.30am-2.30pm

103 Salisbury Street

Central Christchurch

PO Box 21359

Christchurch 8143

chch.office@parliament.govt.nz

(03) 365 8297

www.nickywagner.co.nz

Contact: hugh 338 4445

Funded by the Parliamentary Service and authorised

by Nicky Wagner, 103 Salisbury Street, Christchurch
---
SOUTHERN VIEW Latest Christchurch news at www.star.kiwi

Tuesday September 19 2017 9

Your Local Views

Improving ways to get

people from home to work

ews

Halswell Residents'

Association

secretary David

Hawke writes about

Halswell, recent

changes

ashion

and its

future

WE ALL know that

Halswell, towns and suburbs around

Christchurch's west will keep growing.

So, we have to work out how to get people

from where they live to where they work.

I've recently done some counting at

the Lincoln Rd and Whiteleigh Ave

intersection in the morning rush hour.

People on bicycles make up nine per cent

of the traffic entering Addington village,

Gardening commutes. Doubling the frequency of the

and 11 per cent are on the bus. The rest of buses from 15 minutes to seven to eight

us are in cars, and 80 per cent have just

the driver.

There are two ways of approaching this

problem. First, the big solution. Forget

the new motorway; people I know in

Rolleston are eagerly awaiting it so they

can zoom

otoring

into the central city, so the motorway

won't help. How about light rail

(i.e. a modern-day tram) along Halswell

and Lincoln Rds? Addington folks I've

asty Bites

SELWYN STREET

NOW OpeN

oney

Woodstock 330ml Bottles

& Cody's 7% 250ml Cans

$

20 99

each

12pk

Heineken

330ml Bottles

$

29 99

each

15pk

Selwyn Street 1/304 selwyn st

Ph. 03 377 6586

www.thebottle-o.co.nz

GOLF

or those who have not played for a while.

• Aimed at 50+ years of age, but flexible.

WHAT

• Groups of 8 – 10 persons

• 4 week course

• Professional coaching

WHEN

• Monday 9th October, for four Mondays

• 10.00am — One hour of professional group

coaching then play five holes with support.

Total time approx. 2.5 hours.

WHERE

• Tai Tapu Golf Course — Tai Tapu Domain

COST

• $85.00 for 4 weeks

(Includes club hire if required)

Speight's Gold

Medal 330ml

Steinlager 330ml

REGISTRATION

• www.taitapugolf.co.nz

• Call club manager Steve Piper on 329 6710

• For further details admin@taitapugolf.co.nz

$

23 99

each

15pk

$

27 99

SPECIALS AVAILABLE FROM 18/09/17 UNTIL 15/10/17

ADULT BEGINNERS

each

15pk

SUPER FRIENDLY

ENVIRONMENT

spoken to are enthusiastic because it

would enhance their community.

Alternatively, there could be lots of little

solutions. Did you know that secondary

school principals will no longer take

out of zone students? This will cut down

the hauling that happens every school

day. Then, there is continuing to grow

the city's cycleway network, and e-bikes

may get to be really important for longer

minutes would help too, but this starts to

look like a convoy.

What about car sharing? Sadly, people

these days often don't know their neighbours

so they are hardly likely to share

a car with a person living blocks away.

Applying a levy on sole occupancy cars

at rush hour might encourage this sort of

chumminess, but does city council have

the political will?

So, we are left with politically difficult

alternatives. Pay for light rail, or charge

single occupancy vehicles. Personally, I

Colour Specialists

www.hue.co.nz

think city council will go with the light

rail.

Hue is a specialist hair colouring salon

We don't do "dos", we just do colour

UNIT 2, 1105 FERRY ROAD

HUE FERRYMEAD

0508 225 5483

FASh I onS

WOMEN'S WEAR CLEARANCE

CASUAL & DRESSY • SIZES 10-26

LOTS OF BARGAINS

FABRIC BONANZA

DESIGn ER DRESS FABRICS

At VERY REASonABLE PRICES

FABRIc BONANz A & cOTu RA

113 MAIn S o U th RoAD o FF St REEt PARKIn G

03 366 6958 Mon-FRI 8AM-4PM

Saturday

Let's do this

12 th Wigram

August

Meet Megan on

Saturday

a corner in your

12 neighbourhood

th August

Meet Spreydon Megan on

a corner in your

Together Dominion we

neighbourhood

can

1pm

change

Avenue

the

+

Strickland Street

Spreydon government

Domain Terrace

• 1.20pm Free mental & Dominion Somers health Place

1pm services Avenue in the +

Strickland Street

community Lyttelton Street &

1.40pm

Domain Edinburgh Terrace Street

1.20pm & Somers Place

• Cheaper

Nairn

visits

Street

to

&

2 pm

the doctor Blakehall Place

Lyttelton Street &

1.40pm

Edinburgh Plunket Street &

2.20pm

Neville Street

Nairn Street &

2 pm

Blakehall Place

• Clean rivers

Neville Street &

2.40pm

Plunket Lyttelton Street Street &

2.20pm

Neville Street

• Real action Domain on Terrace

3pm

Neville Street &

2.40pm climate

&

change

Neville Street

Lyttelton Street

Cobham Street

•

Domain Terrace

3.20pm 3pm Free post &-

Evesham

& Neville Street

secondary

Crescent

Cobham Street

3.20pm education Hennessy

3.40pm & Evesham Place &

Lyttelton Crescent Street

• Affordable housing

• Commuter rail in

the South West of

Christchurch

Hennessy Mountford Place Street &

3.40pm 4.00pm

& Lyttelton Street Street

Mountford Street

If 4.00pm you would like to get in

& Lyttelton Street

touch

with Megan please email

If megan.woods@wigram.org.nz

you would like to get in

touch or call with 03 339 Megan 6234. please email

megan.woods@wigram.org.nz

for Wigram

Authorised by Andrew Kirton, 160 Willis St, Wellington

or call 03 339 6234.

Megan Woods

Local, experienced,

gets things done.

Authorised by Andrew Kirton, 160 Willis St, Wellington

Authorised by Andrew Kirton, 160 Willis Street, Wellington.
---
10 Tuesday September 19 2017

Latest Christchurch news at www.star.kiwi

Megan

WOODS

Member of Parliament for WIGRAM

SPORTS

Constituents needing

assistance or wanting an

appointment are invited

to contact me on:

Phone 338 6347

Email: megan.woods@

wigram.org.nz

BUSINESSES

Authorised by Megan Woods MP, Shop 8/12 McCarthy Street, Christchurch

Discover this

unique Emporium

Metal art - gifts - hoMewares

water features - pottery

Mirrors - candles

wall hangings & More

722 Marshland Road, Top end Styx

Open 7 Days

Ph: 03 323 9781

www.hitchingpost.co.nz

SPORTS

BUSINESSES

LEARNING: Parliamentary worker Kris Faafoi working

with some year 7 and 8 students.

Labour leader and old

boys visit Hillmorton

JACINDA ARDERN visited

Hillmorton High School to

announce Labour's climate

change policy.

And in her wake,

she brought two old

boys back to their

former school.

Kris Faafoi, a

Labour MP and

former student,

accompanied

Ms Adern to the

school.

Also following

Jacinda

Ardern

the visit were a number of

reporters – including an old

boy who is a parliamentary

journalist.

Mr Faafoi took

time out of his busy

schedule to visit with

the school. The classes

were working on the

elections and writing

newspaper articles.

The pupils were able

to talk to both old boys

and get some handy

hints.

SCHOOLS

SPORTS

SCHOOLS

New entrants

Scarlett Bailey before her

first day at St Anne's Catholic

School. She turned five on

September 12.

SPORTS

SOUTHERN VIEW

•If your child has started

school recently, send their

picture to sophie.cornish@

starmedia.kiwi

HELPFUL: Hillmorton High School old boy Sam Sachdeva spoke

to students.

DESIGNER

FASHION

AT OUTLET

PRICES

SMART

BRANDS

SMARTER

PRICES

HORNBY 409 Main South Road | Open 10am–5pm, 7 days
---
SOUTHERN VIEW Latest Christchurch news at www.star.kiwi

Tuesday September 19 2017 11

Spreydon fighter takes out

national title, memorial belt

• By Andrew King

SUNNY TEKI-CLARK from

Bells Boxing Gym was crowned

New Zealand champion in the

under-81kg elite category last

week and took home The George

Bush Memorial belt.

The New Zealand Boxing

Championships were held in

Rotorua from Monday to Friday

last week and attracted the best

the country had to offer.

Teki-Clark, who fights out of

the Spreydon club, said he was

pleased with his win, but said

there is always room for improvement.

"You can always improve, I

could have kept my hands up in

the third round. It's great to be

able to put on the red and black

and fight for Canterbury," he

said.

Woolston Boxing Club's Hamuera

Tainui received a silver

medal in the under-57kg category

in an all-Canterbury affair

against Daniel Meehan, 14, of the

Smiling Tigers Boxing Club.

It was a split decision loss for

Tainui​who landed some great

shots, according to his coach and

Canterbury Boxing Association

team manager Holly Sullivan.

"He has a few things to work on

but great first time at nationals

against a tough competitor," she

said. Tainui​ said he was pretty

sore after the bout.

"I left everything out there so I

feel good," he said.

Sullivan said it was one of the

"greenest" teams they have taken

to the national championships, in

spite of being awarded the Malcolm

Treston Shield for the most

wins at the competition.

Other Canterbury fighters

who won titles:

Leon Gibson, 13, Waikuku

FIGHTERS: Sunny Teki-Clark

(left) was crowned New

Zealand champion in the

under-81kg elite category.

Hamuera Tainui received a

silver medal in the

under-57kg cadet category.

PHOTOS: HOLLY SULLIVAN

Boxing Club, under-36kg cadet;

Izyah Hesp, 12, Smiling Tigers

Boxing Club, under-50kg cadet;

Daniel Meehan, 14, Smiling

Tigers Boxing Club, under

57kg cadet; Tyler Rodgers, 22,

Burnham Boxing Club, 80-plus

kilogram elite female champion;

Sunny Teki-Clark, 28, Bells Boxing

Gym, under-81kg elite.

• By Andrew King

THE traditional Cashmere High

leavers v senior rugby match

was played on Wednesday with

the seniors taking the bragging

rights 35-0.

The game is an annual fixture

and a good opportunity for the

leaving students to have one last

hit-out in the college colours.

A school spokesperson said

SPORTS

FRIENDLY: The seniors took the bragging rights in the annual

rugby match against the leavers on Wednesday.

Cashmere High seniors

too strong in final hit-out

there was "more pre-match chat

and hype than an All Blacks

game" but the seniors were

too strong for their departing

counterparts.

"It was great to see quite a few

non-rugby players stepping up

for both teams.

"Well done to all players

and water boys involved in the

game."

A better deAl

for future

generAtions

i'm campaigning on:

• Drug reform

• Replacing 1080 poison with

Opposum farming

• Increased job opportunities

Auth by I Gaskin, 85 Poulson St, Christchurch

Ian Gaskin

Christchurch Central

fall in

Love

with your

favourite

furniture

all over again.

30 YEARS

EXCELLENT

RANGE OF FABRICS

EXPERIENCEFREE

Recover your couches and chairs and save money!

BEFORE

AFTER

QUOTES

Somerfield Upholstery Ltd

FURNITURE RECOVERY SPECIALIST

10 Calgary Place, Hornby | Ph 021 251 6200 | 349 0456

VISIT OUR SHOWROOM | QUALITY WORKMANSHIP GUARANTEED

www.somerfieldupholstery.co.nz

Paul Tainui

Hagley Senior College

INFORMATION EVENING

Thursday, September 21st | 5:00-7:00pm

Principal's Presentations are at 5:00 and 6:00pm

www.hagley.school.nz
---
12

I can

see

clearly

now

Tuesday September 19 2017

ON

NOW!

Promotion closes October 10th 2017.

Conditions apply.

GREAT BUY!

$29.60

BARRINGTON, 256 Barrington Street

PH 332 1730 | www.suckling.co.nz

Have an Elite Haircut

For an Affordable Price

HOURS:

Mon-Fri 9am - 5pm

Sat 9am - 12 Noon

BRIGGS

AUTO SERVICE

LET US SERVICE

YOUR VEHICLE

AND REDUCE YOUR

RUNNING COSTS

Your local trusted automotive

service and repair specialists

332-0140 | 242 Barrington Street

IT's

Mens Cuts $18

Womens Cuts $25

Kids Cuts under 12 yrs $15

Clipper Cuts $14

Gold Card Mens $14

Gold Card Womens $18

Flat Tops $18

Eftpos Available

No appointment needed!

238 Barrington Street, Spreydon

(opp St Nicholas Church)

JuST

INCREDIBLE

• Barrington Mall

• The Hub, Hornby

• New Brighton Mall

• South City Centre

Shop

Win

& Relax

• new & quality

secondhand tyres

• alloy wheels

• replacement rims

• puncture repairs

WITH A MASSIVE RANGE OF TYRES IN STORE,

WHY NOT POP IN AND SEE US TODAY!

8c Birmingham Drive,

(Cnr Hands & Birmingham Drive) Ph: 03 343 0099

Cell: 027 226 3805 Website: www.jcmdirect.co.nz

Diesel

The diesel professionals specialising in

4wd repAirs &

servicing

Latest Christchurch news at www.star.kiwi

All work

guArAnteed

288 Lincoln Road (opp ANZ)

Ph: 338 8884

www.dieseldoctor.co.nz

Designer

Fashion

3000

Items

Arriving

Daily!

SUPPORT YOUR LOCAL

BUSINESSES

TO WIN 1 OF 5

FAMILY GETAWAYS

TO HANMER

SPRINGS

see our

HUGE

selection!

• Designer Brands • Family Clothing

• Menswear • Footwear • Bric-a-brac

• Workman Outdoor Clothing

• Household Goods • Books

• See the Retro Section AND Formal Wear

Enter every time you shop at any

of these participating businesses

More Chances to Win!

welsh slate

MUSGROVES

50 OFF

was $4 per tile

now $2 per tile

Buyers and Sellers of Recycled and

New Building Material and Joinery

3 Musgrove Close (off Wigram Rd) Christchurch

www.musgroves.co.nz • 03 322 7922

or Freephone 0508 468 747

Proudly

Supported By

The Family Feast Combo

$

40

2 x Regular Pitas, 2 x Kids Pitas, 2 x Phoenix Drinks,

2 x Charlies Juice Pouches and

a Family Box of Wedges

$32

WOF

ALL CAR

SERVICING

Convenient

central city

repairs and

parking

Cnr Fitzgerald Ave &

Hereford Street

Phone: 365-5220

www.a1auto4service.co.nz

SOUTHERN VIEW

The Automotive Lamp Specialists

New and Used Lamps for Cars, Trucks,

Vans, 4WD and Motorhomes

325 Brougham Street, CHRISTCHURCH | PH 0800 225 483

Shop 3, 300 Lincoln Road, Addington, Christchurch

Phone: 338-2882 Email: snlimited1@gmail.com

Hours: Mon-Sat 10am-9pm, Sun 12pm-8pm

www.mosaicbysimo.co.nz

Cafe • Dining Room • Desserts & Coffee • Catering

$5 discount

free brake check,

free tyre shine

for every oil

change or tyre

purchase *

On-The-Go Riccarton

324 Blenheim Road,

Upper Riccarton 8041

Ph 03 348 0042

Be in to

win with

participating

Pita Pit at

Sydenham, 290 Colombo St

Barrington, 256 Barrington St

Addington, 351 Lincoln Rd

Bring this ad instore to enter

Thinking WOF & Lube

Think On The Go!!

$3 discount

for WOF check *

03 348 0042

*

Bookings required.

Conditions apply.

Balayage HigHligHts

just $120

• Ladies cuts, colours and styling

• Competitive pricing

• Mens, kids and pensioners cuts

• Stockists of FUDGE range of hair products

Shop 2 - 247 Ferry Road (next to Bronskis)

PH. 379 3300

Open Daily 7 Days

Sydenham: 39 Battersea St Papanui: 472 Cranford St

Hornby: 94 Shands Rd

New Brighton: 52 New Brighton Mall

(Old Farmers Building)

HOURS

Mon–Sat 9am–5pm

Sun/Public Holidays 10am–4pm

New Zealand's Largest Recycled Clothing Retailer

Yummy Food

with

Great Coffee

Delicious range of savouries,

pies, sandwiches & cakes

We also offer:

• Breakfast • Iced Coffee

• Milkshakes • Fresh Juice

290 Selwyn Street | Phone 377 7725

Boost Brain Performance

ENZO:PROFESSIONAL (ENZOGENOL) is a potent

antioxidant extract of the N.Z. pine bark and

has been clinically shown to improve memory,

concentration & brain performance.

SUPER

60's only $45.30, save $5.00

120's only $84.90, save $15.70

PRICE! Detailed Information Available

Bringing You the Best in Natural Health!

MARSHALLS HEALTH & NATURAL THERAPY

CONSULTING - PRESCRIBING - DISPENSING -

MANUFACTURING - MEDICAL HERBALISTS

110 SEAVIEW RD, NEW BRIGHTON • PH 03 388 5757

Email: enquiry@marshallshealthshop.co.nz

- WE ARE ALWAYS HAPPY TO HELP! -
---
SOUTHERN VIEW Latest Christchurch news at www.star.kiwi

Tuesday September 19 2017 13

GREAT food

BROUGHT TO YOU BY...

Your fresh food people

TOMATO AND MOZZARELLA

WITH CRUMBED

EGGPLANT

Ingredients

1 Eggplant, sliced into 1cm

rounds

2 Eggs, lightly whisked and

seasoned

1 cup Breadcrumbs

¼ cup Chopped fresh herbs, e.g.

parsley or chives

1 bottle Oil, enough for cooking

eggplant

2 cups Tomatoes, sliced or

chopped

2 whole Mozzarella cheese

1 cup Basil leaves

1 drizzle Lemon-infused olive

oil, to serve

Directions

Firstly crumb the eggplant. Dip

into seasoned egg, then roll into

the breadcrumbs and parsley

combined in another bowl. Set

aside in the fridge until ready to

cook.

Into a frying pan pour a little

oil. Fry the eggplant on a medium

heat to ensure they cook

right through, turning once to

brown both sides.

Onto a platter, place the eggplant,

tomatoes, torn mozzarella,

basil and salt and pepper. Drizzle

over the lemon infused olive oil

then serve.

MOZZARELLA AND PESTO

SCHNITZEL PARCELS

Ingredients

1 Salt & freshly ground pepper,

to season

8 slices Beef schnitzel

250g Mozzarella cheese, sliced

¼ cup Basil pesto

1 Tbsp Olive oil

Directions

Season schnitzel with salt

and pepper and lay on a work

surface. Arrange two slices of

mozzarella on one half of each

schnitzel and top each with a

heaped teaspoon of pesto.

Fold the empty side of each

schnitzel over to cover the filling

and secure by threading

two toothpicks through each

schnitzel parcel. Heat a non-stick

frying pan, add a film of oil and

place schnitzel parcels in the

pan. Cook over a medium heat

for 2 to 3min on each side, or

until browned on both sides and

cheese has melted.

SWEET ORANGE, DATE AND

MINT SALAD

Ingredients

½ cup Freshly squeezed orange

juice

1 Lemon

3 Tbsp Honey, mild

4 Navel oranges

3 Mint leaves

8 Dates, moist

2 tsp Orange blossom water,

optional

Directions

Put the juices (orange and

juice of one lemon) and honey

into a small pot and gently bring

to the boil. Simmer until reduced

by a third. Cool.

Place an orange on a board

and use a sharp serrated knife

to cut a slice off each end. Stand

the orange on one end and cut

off all the rind and pith. Lay the

orange on its side and cut into

thin slices. Place the slices in a

shallow bowl. Repeat with the

remaining oranges, laying the

mint leaves among the orange

slices.

Stone the dates and cut into

chunks. Pile on top of the orange

slices. Add the optional orange

blossom water to the syrup and

pour over the salad. If possible,

set aside for an hour before

serving.

NZ Navel Oranges ................ 1 .69

kg

Bunched Spinach . .................... 2 .99

bunch

Eggplant ........................................... 2 .99

EACH

Loose Tomatoes ........................... 7 .99

kg

Whole Lamb Legs ...................... 11 .99

kg

Chicken Nibbles ....................... 4 .99

kg

Beef Schnitzel Plain

or Crumbed .................................... 12 .99

kg

NAVEL

ORANGES

NZ Navel Oranges are just perfect at the moment.

Sweet, juicy and full of flavour, enjoy them at their best.

Not only do they taste great, with high levels of Vitamin C,

they'll also help keep you healthy through winter.

Enjoy NZ Navel Oranges at their peak.

All our fresh meat is 100% NZ FARMED.

specials VAlid 18th september - 24th september 2017. ONLY AVAILABLE AT

RAEWARD FRESH HAREWOOD RD, TOWER JUNCTION & MARSHLAND RD

harewood rd Mon–Fri 8.00am–6.30pm Sat–Sun 8.00am–6pm

Tower junction Mon–Fri 8.00am–6.30pm Sat–Sun 8.30am–6pm

MARSHLAND RD Mon–Sun 8.00am–6:00pm

WWW.

.CO.NZ
---
14 Tuesday September 19 2017

Latest Christchurch news at www.star.kiwi

FOCUS ON HEALTH

SOUTHERN VIEW

The Tree of LIFE

New research on Gingko

Biloba excites researchers!

GO-Advanced

Omega-PC

For decades scientists believed brain

damage with age, after a stroke or injury

was irreversible and brain neurons could

not be repaired. In more recent times, new

research has shown that neurons can grow

back with the right conditions and that a

special extract of Gingko Biloba (EGb-761

or TEBONIN) has been clinically found to

assist in this. The implications for stroke

recovery are obvious, but researchers also

know many of us suffer from undetected

"micro-strokes" that over a period of time

slowly reduce our cognitive function.

TEBONIN is prescribed worldwide as a

natural supportive agent for a healthy brain

and cognitive function. It supports healthy

mental performance, concentration, focus,

alertness, motor function and to help

with many conditions including tinnitus

(ringing and noise in the ears), vertigo

and normal balance. TEBONIN improves

BOOST BRAIN

PERFORMANCE UP TO 30%

TEBONIN is the No 1 Ginkgo Biloba extract in the World with more than 8 million tablets

being consumed every day. It is also the most researched herbal extract with more than 60

controlled clinical studies & over 400 scientific studies. It has been shown to have excellent

efficacy, safety & tolerability. Millions of consumers have trusted TEBONIN for over 30

years to support blood flow, capillary health, brain health & performance.

Studies on TEBONIN Show:

- Improved Brain Performance & Function up to 30%. This includes improvement

in mental sharpness, focus, attention, concentration, understanding, memory & recall.

- Reduces errors made & mental stress.

- The only Ginkgo shown to increase activity in all areas of the brain. Can help restore

brain function after a brain injury such as from a stroke.

- Helps relieve tinnitus (ringing & noise in the ears), vertigo, dizziness & supports normal

balance.

- Improves blood flow to all areas of the body.

- Reduces plaque formation in the blood vessels.

- Protective effect against eyes damage caused by light.

micro-circulation and helps the blood flow

reach those critical places it needs to get to.

It is a potent anti-oxidant and makes the

red blood cells more pliable and capillary

walls more flexible.

TEBONIN is one of the most widely

studied and researched herbal products in

the world and is the only Ginkgo biloba

extract manufactured via a patented multistep

extraction process. Each small tablet

contains a highly concentrated 50:1 extract

to give you a therapeutic clinical dose

without having to take a large amount of

the herb. Of 25 Gingko biloba products on

the market, and tested by a major medical

journal, only TEBONIN passed all five of the

test requirements. Ten brands didn't meet

any requirements and the rest didn't pass

more than three out of five requirements.

TEBONIN is the only Gingko biloba

extract shown to activate all areas of the

brain and is considered the gold standard

in Gingko. TEBONIN has been trusted by

millions of consumers worldwide for over

30 years with more than 8,000,000 tablets

consumed each day.

TEBONIN and further information

is available from the Natural Health

Advisers at Marshall's Health & Natural

Therapy in New Brighton. PH: 388-5757.

We are Always Happy to Help!

ONLY GO OMEGA-PC retains the natural Phospholipids that have been shown to be so beneficial for Good

Health BUT are lost in other brands of fish oil due to the less natural manufacturing processes used!

GO-ADVANCED OMEGA-PC SETS NEW STANDARDS IN FISH OIL!

Omega-3 fish oil normally contains the vital Omega-3 fatty acids in a triglyceride form. Fish however naturally

contain Omega-3 in a triglyceride & phospholipid form but until recently the phospholipid form was lost due to the

manufacturing process. GO OMEGA-PC is produced using a new more natural cold extraction process that better

preserves the natural nutrient profile found in fish. Studies show GO OMEGA-PC offers superior absorption with

increased omega-3 fatty acids in organs giving the potential for more health benefits.

GO-ADVANCED OMEGA-PC OFFERS:

• Superior absorption of vital Omega-3, as

shown in research

• Advanced new cold extraction better

preserves the natural nutrient profile

found in fish

• Naturally contains phospholipids to

support cellular health

• Contains vitamin D3 to support immune,

bone & cardiovascular health

MAIL ORDER

AVAILABLE

Bringing You the Best in Natural Health

NOT all FISH OIl IS CreaTed eQUal!

• Supports cardiovascular health - Countries with

a higher Omega-3 intake have much lower rates

of heart disease

• Supports blood circulation, healthy cholesterol &

healthy blood pressure

• Supports joint health, joint mobility & repair

• Supports overall health & wellbeing

• Natural anti-inflammatory - can help reduce

pain

Bringing You the Best in Natural Health!

- WE ARE ALWAYS HAPPY TO HELP -

SUPER PRICE

One month supply

only $39.90

Look for

Omega/PC

on the label

Save

$5.00

TEBONIN is a highly concentrated

proprietary herbal extract of Ginkgo biloba

leaves that has proven superior to other

brands under scientific scrutiny.

MARSHALLS HEALTH & NATURAL THERAPY

CONSULTING - PRESCRIBING - DISPENSING - MANUFACTURING - MEDICAL HERBALISTS

110 SEAVIEW RD, NEW BRIGHTON • PH 03 388 5757 • Email: enquiry@marshallshealthshop.co.nz

- WE ARE ALWAYS HAPPY TO HELP! -

SUPER SPECIALS

80 Softgels ONLY $12.90 SAvE $5.00

200 Softgels ONLY $22.90 SAvE $13.90

400 Softgels ONLY $42.90 SAvE $28.90

MAIL ORDER AVAILABLE

MARSHALLS HEALTH & NATURAL THERAPY

CONSULTING - PRESCRIBING - DISPENSING - MANUFACTURING - MEDICAL HERBALISTS

110 SEAVIEW RD, NEW BRIGHTON • PH 03 388 5757 • Email: enquiry@marshallshealthshop.co.nz

It is well known how important omega-3

fatty acids are to good health. It is estimated

most people don't even get a third of the

recommended omega-3 fatty acids on

a weekly basis. Countries with a higher

amounts of omega-3 in their diet are known

to have lower cardiovascular disease and, in

many cases, better overall health.

Recent research has shown inflammation

to be a big part of disease and the ageing

process.

THE JOYS OF HOME OWNERSHIP #76

WEEDING

THE GARDEN

Wouldn't you rather be improving

your handicap? Let us take care of the

garden at your new home at

McKenzie Lifestyle Village in Geraldine.

Contact David Connolly on 0800 84 55 24.

M E M B E R O F R V A

Fish oil can help reduce inflammation

by providing essential fatty acids required

by the body to heal itself and maintain

good health. Until now most fish oil

only contained omega-3 fatty acids in

triglyceride form. Fish, however, naturally

contain omega-3 in triglyceride and

phospholipid form but until recently the

phospholipid form was lost due to the

manufacturing process.

GO-Advanced Omega-PC sets new

standards in fish oil as it contains

omega-3 attached to both triglycerides

and phospholipids. Studies have shown

GO-Advanced Omega-PC to be far better

absorbed, leading to increased levels of

vital omega-3 fatty acids in the organs

through giving the potential for more

health benefits.

GO-Advanced Omega-PC is produced

from fresh wild deep sea cold water fish

using a new advanced and more natural

cold extraction process that better preserves

the natural nutrient profile found in fish. It

is manufactured to high GMP standards

and is molecularly distilled to remove any

containments, toxins and heavy metals.

Further info on this revolutionary new

fish oil and its benefits is available from

the Natural Health Advisers, Naturopath

and Medical Herbalist at Marshall's

Health & Natural Therapy in New

Brighton, phone 388 5757. We are always

happy to help!

Would you like

to promote your

Business?

For local features

please contact

Bev Stanger

03 364 7407

bev.stanger@starmedia.kiwi
---
SOUTHERN VIEW Latest Christchurch news at www.star.kiwi

Tuesday September 19 2017 15

KIDSTUFF

Lindisfarne Nursery School

Lindisfarne Nursery School was

established by Tricia Cuthbert in 1987 and

remains part of the Cuthbert family today.

We are committed to Christchurch, to our

community, our Lindisfarne families, and

most importantly the futures

and happiness of our children.

We believe in developing

children's feelings of self-worth,

and encouraging tolerance and

understanding of others.

Our teachers all hold a

Diploma of Teaching in Early

Childhood, and one holds a

Diploma of Teaching in Primary

as well as early childhood. She

prepares the four year olds for

school through an informal

and brief daily 'lesson' time

which the children love to take

part in.

We have a separate nursery

with an outdoor area where the

children discover and explore.

We are a strong multi-cultural

centre with committed teachers

who embrace and celebrate

diversity for our families.

Morning and afternoon tea and a cooked

lunch are provided, and we welcome

visitors.

Check us out at www.lindisfarnenursery.

school.nz or phone 389 2483

Kids love CASPA!

A child who's 'a

little different'

Children who are just 'a little different' – perhaps they're

clumsy, have difficulty writing or tying shoelaces, or

prone to 'meltdowns', and struggle to fit in.

To interpret and function in the world

we need to accurately process information

from our environment.

Some children's nervous systems

may receive, sort and use information

inaccurately (sensory processing) causing

them to either under or over reaction to

a sensation, or actively seek or avoid a

sensation.

This may cause distress for the

child, family and teachers,

as coping with everyday

experiences like

noisy classrooms,

the feel of fabric,

or moving in a

coordinated way

may present huge

challenges. It can

influence behaviour

and interfere with

learning, doing

everyday activities or

simply fitting in.

No child is the

same, each have

their own individual

difficulties.

Therapy Professionals Therapists

may be able to help improve the life

of these children and those around

them. Contact us at 3775280 or

www.therapyprofessionals.co.nz.

CASPA (Creative After School

Programmed Activities) incorporating

PAPA JACKS offers children the

opportunity to be creative, make new

friends and try new experiences all within a

safe, nurturing environment. CASPA offers

working parents an affordable after school

and school holiday programme that their

kids just love!

CASPA attributes its success to the

variety of activities on offer as well as the

convenience and affordability for parents.

CASPA kids enjoy an exciting range of

activities including sports, music, games,

drama, arts and craft as well as fun trips.

Previous themes and activities have included

a Karaoke Dance Party, CASPA Fear Factor,

Healthy Art, Out of Africa and hundreds of

other amazing themes/activities!

CASPA parents enjoy peace of mind,

knowing their kids are safe and enjoying

the benefits of a quality after school

programme. Some parents and caregivers

also enjoy government subsidies for

CASPA. CASPA is Child Youth and Family

approved for the OSCAR Subsidy and in

some circumstances, the full CASPA fee

will be covered by the subsidy.

For more information or to enrol, call

Caroline, Rachel or Tania on 349 9260 or

visit www.caspa.org.nz

• Sports • Music • Games

• Drama • Arts and craft

• Fun trips

Do you work, live or study

in central Christchurch?

New enrolment?

No fees until Feb 1 st 2018

We might be just what you are looking for:

• community based, non-profit and

culturally diverse

• 20 hrs ECE and childcare subsidies

• small group sizes, high adult to child ratios

• 500m from Christchurch Hospital in

the grounds of Hagley College off

Waller Terrace

Phone: 364 5158

Email: preschool@hagley.school.nz

Website: hagleypreschool.co.nz

Is a child you know

struggling to relate

or learn?

Don't struggle alone.

Our therapists can help.

They come to you.

Physio, Speech Language, Music,

Occupational Therapists and Dieticians

P: (03) 377 5280

E: therapyprofessionals@clear.net.nz

www.therapyprofessionals.co.nz

Would you like

to promote your

Business?

For local features

please contact

Bev Stanger

03 364 7407

bev.stanger@starmedia.kiwi

• Central location

• Cooked healthy heart meals

• Large private outdoor play area

• Casual care available

• Enrolments available now

• 7.30am - 5.30pm Monday to Friday

CASPA

After School

& Holiday Programme

Your friendly childcare solution

Creative

After

School

Programmed

Activities

• We provide a safe, creative

environment for 5-13 year olds

• Our staff are trained

• A range of fun activities

• 7.15-8.30am and 3-6pm Mon-Fri

• 8am-6pm Holidays

• Kids just LOVE it!

Subsidies

Apply

EST 1987

389 2483

375 Worcester Street • Christchurch

call us

noW

P: 349 9260 or 027 352 1638

E: info@caspa.org.nz

W: www.caspa.org.nz

Incorporating
---
16 Tuesday September 19 2017

Latest Christchurch news at www.star.kiwi

SOUTHERN VIEW

CSO Music Trails

Wednesday, 10.30-11.15am

This 45min performance

provides a fun and interactive

way of introducing young people

to live music. With elements of

dance, song and stories, Music

Trails through the Library is a

great opportunity for children

to see the instruments up close

and join in the musical fun. Free,

caregiver required.

Linwood Library, Eastgate

Shopping Centre

Mid-Week Laughter Club

Wednesday, 6-7pm

The focus of the club is to get

over the stress of the first part

of the week and have a positive

outlook for the rest. The event

aims to release endorphins and

help you relax. Make yourself

laugh at nothing at all for the

purpose of relaxing.

St Marks Methodist Church, cnr

Barrington and Somerfield Sts.

Entry $2

Book Discussion Group

Wednesday, 7.15pm onwards

For those who love reading and

want to share in discussion with

other friendly book-lovers. This

group subscribes to the Book

Discussion Scheme so there is a

cost involved. Held on the first

Email emily.oconnell@starmedia.kiwi

by 5pm each Wednesday

Wednesday of each month.

South Library, 66 Colombo St

50s Up Band

Wednesday, 9.30-11.30am

Can you play a brass

instrument or maybe some

percussion? The 50s Up band

welcomes new members of any

age. A wide range of music is

covered and play-outs usually

take place during weekdays

around once a month. Free to

join. Any inquiries, get in touch

with Noeleen on 384 3953

Woolston Brass band hall,

Dampier St, off Ferry Rd

Game Zone @ Linwood

Library

Thursday, 3.30-4.30pm

Play great favourites like

minecraft, charades, connect

four, pictionary and more.

Learn and develop strategies

for new games such as dutch

blitz, heads up, hand and foot,

and group games. Join in for

X-box and PS4 tournaments.

All children aged 8-12

welcome. No booking or

payment required.

Linwood Library, Eastgate

Shopping Centre

Spreydon Toastmasters

Demonstration Night

NEW ZEALAND RED CROSS

GLOBAL LEADERS IN FIRST AID TRAINING

Christchurch Course Dates 2017

Venue: 32 Birmingham Drive, Middleton

First Aid Revalidation Course (6 hours)

Cost $130.00 per person (certificates must not have

expired for more than 3 months)

Time: 8.30am – 3.15pm

Monday

25 Sept

2 Oct

Tuesday

10 Oct

24 Oct

Wednesday

27 Sept

18 Oct

Friday

6 Oct

27 Oct

FUNDRAISER: Get along to the Ethel and Bethel Bingo Night –

a Cashmere High School rowing fundraiser – on Friday, 7-11pm.

This will be a fun-filled night of hilarity and bingo to raise funds

for the upcoming rowing season. Ethel and Bethel, as seen on

TV3 recently, will ensure you have a night to remember. There

will be prizes, raffles, silent and live auctions on the night - you

won't leave empty handed. The ladies and gents in the kitchen

will whip you up a delicious supper and there will be fabulous

New Zealand wines for you to purchase. Tickets cost $25,

including supper and your first bingo card (extra cards available

to purchase). This event will be R18. Eftpos available. Tickets

are limited, so email cashmererowing@gmail.com or call Janice

on 027 200 1554 or Penny on 027 221 2101. Caledonian Society

Hall, 5 Michelle Rd, Wigram.

Thursday, 7.30-10.30pm

Come along to this event

and find out more about

Toastmasters.

Free coffee, biscuits and chats

on offer.

Barrington Bowling Club, 290

Barrington St, Spreydon

Sunday

1 Oct

15 Oct

M Learning Workplace Revalidation Course (4 hours)

Cost $130.00 per person (certificates must not have

expired for more than 3 months)

Time: 8.30am – 12.45pm

Tuesday

26 Sept

Wedneday

25 Oct

Friday

13 Oct

For bookings please call 0800 REDCROSS or 339-7111

Book online at www.redcross.org.nz

USE THE RED CROSS ADVANTAGE - COMPREHENSIVE FIRST AID, ESSENTIAL FIRST AID,

REVALIDATION OR TAILORED TRAINING TO SUIT yOU AT yOUR PLACE OR OURS.

Beckenham Exercise Class

Friday, 9.30-10.30am

Designed for people living with

long-term health conditions.

Classes generally occur weekly.

Phone 0800 663 463 to register.

St Marks Methodist Church, cnr

Barrington and Somerfield Sts

RED CROSS

SYC Quiz Night

Friday, 7.30-9.30pm

Get a team together of six

mates, neighbours, colleagues

and have some fun at the SYC

quiz night. There will be spot

prizes, a silent auction and a

range of different food. Tickets

cost $10 per person and are

available from the South West

Baptist Church office. Can't find

any teammates? No problem, still

come along and they will find

some teammates for you.

South West Baptist Church, 244

Lyttelton St, Spreydon

Girls Minecraft Club

Saturday, 2.30-3.30pm

Get creative and start crafting.

Build imaginative worlds and

battle nocturnal creatures at the

learning centre's Minecraft Club.

Novice and experts welcome.

A tutor will be in attendance to

supervise and assist if necessary.

For ages eight to 13. Cost is

$20 per child per term. Get in

touch with the library to make a

booking.

South Library, 66 Colombo St

Opawa Farmers' Market

Sunday, 9am-noon

Find some organic, delicious

produce from local growers.

Enjoy sipping on a coffee while

wandering around the market

and checking out the food on

offer.

From artisan bread and french

pastries to fresh berries and local

cheeses, there will be something

for everyone.

275 Fifield Tce

Ensuring a safe work place

Learning first aid is not only a part of ensuring a safe

work place, but also an integral part of our engagement with the

wider community. We all learn the necessary skills to ensure that

in times of emergency we are able to assist our work colleagues,

but are we able to take these skills home, into the community or

on to the sports field?

not all work places are the same and the injury risk for each place

can be wide and variable. The office attended by administrators

does not carry the same risk as those people working with heavy

machinery, or perhaps at some distance from a regular ambulance

service. it is therefore essential that you pick the right first aid

course to suit all of your activities – both professional and social.

take, for example, an office worker who does not have a high

risk work environment and whose concern might be to ensure that

they can deal with minor cuts and superficial injuries, or the ability

to perform effective CPr. These skills can be achieved on a course

of eight hours duration and would generally fit into low to medium

risk area. But take this same person on to a sports field either as a

spectator or player when a higher level injury occurs. The eight

hour course covering unit standards 6402 and 6401 (or 26551 and

26552) does not cover head neck and spinal injuries, eye injuries,

hypothermia and poisonings.

The majority of injuries occur outside of the work place, in

fact one in three injuries occurs in the home, making it the most

common place for injuries to happen. new Zealand children

are twice as likely to die through injury as children who live in

australia. They mostly die as a result of motor vehicles accidents

or falls in the home. fatalities from leisure and sport are not far

behind those in the workplace.

The wider 12 hour course teaches the additional unit standard

6400 and provides a wide knowledge base for medium to high risk

environments. This course covers many of the skills required to

deal with the most common injuries, such as falls (which can result

in head, neck and spinal injuries) and dealing with complex scenes

such as motor vehicle accidents.

if you are not sure on the course best suited to your needs, ask

your accredited first aid training provider. They can explain the

course content and give you options that will best suit your needs.

Look beyond the workplace and consider your family and your

location. Check that you have a good quality first aid kit that is

up-to-date with replenished items, and that everyone knows where

it is located.

USE THE RED CROSS ADVANTAGE -

COMPREHENSIVE FIRST AID,

ESSENTIAl FIRST AID, REVAlIDATION

OR TAIlORED TRAINING TO SUIT YOU

AT YOUR PlACE OR OURS.

16 Hours Thursday/Friday

19 & 20 October

23 & 24 November

NEW ZEALAND RED CROSS - GLOBAL LEADERS IN FIRST AID TRAINING

CHRISTCHURCH COURSE DATES 2017 • VENUE: 32 BIRMINGHAM DRIVE, MIDDLETON

Comprehensive First Aid PLUS Course (16hrs or 4hr upgrade)

Unit Standard 6402, 6401, 6400 and 25411 or 26552, 26551, 6400 and 25411

Cost $275.00 per person incl FA Manual & GST for 16 hours or $85.00 per

person for upgrade following completion of CFA

Time: Day One 8.30am – 5.30pm Day Two 8.30am – 5pm

Friday 4 Hours 1.15pm-5.00pm

20 Oct & 24 Nov

Comprehensive First Aid Course (12hrs)

Unit Standard 6402, 6401, 6400 or 26552, 26551, 6400

Cost $225.00 per person incl FA Manual & GST

Time: Day One & Day Two 8.30am - 3.15pm Time: Day One 8.30am - 5.30pm

2 x Monday

20 & 27 Nov

2 x Tuesday

17 & 24 Oct

7 & 14 Nov

2 x Wednesdays

4 & 11 Oct

25 Oct & 1 Nov

Thursday/Friday

28 & 29 Sept

5 & 6 Oct

Day Two 8.30am - 12.45pm

Thursday/Friday

19 & 20 Oct

24 & 24 Nov

Weekends

30 Sept & 1 Oct

14 & 15 Oct

Essential First Aid Course (8hrs)

Unit Standard 6402, 6401 or 26551, 26552

Cost $155.00 per person Time: 8.30am – 5.30pm

Monday

20 Nov

Tuesday

17 Oct

7 Nov

Wednesday

4 Oct

25 Oct

M Learning (App.) First Aid Courses

Practical First Aid

Unit Standards 6402, 6401

Cost $155.00 per person

Time: 4 hours 8.30am-12.45pm

Tuesday 3 Oct

Thursday 26 Oct

Workplace First Aid

Unit Standards 6400, 6401, 6402

Cost $225.00 per person

Time: 8 hours 8.30am-5.30pm

Tuesday 3 Oct

Thursday 26 Oct

Thursday

12 Oct

2 Nov

FOR BOOKINGS PLEASE CALL 0800 REDCROSS OR 339-7111 • BOOK ONLINE AT WWW.REDCROSS.ORG.NZ

Saturday

30 Sept

14 Oct
---
SOUTHERN VIEW Latest Christchurch news at www.star.kiwi

Tuesday September 19 2017 17

REAL ESTATE

Ready to Move!

15 Caleb Place, Northwood

3 bedrooms | 2 bathrooms | 2 toilets | 1 living room | 1 dining room | 1 office/study | 2 car-garage | 2 off-street parks | Listing Number PI48339

The call to be closer to family is very

strong. Be quick to view this immaculate

and appealing modern 211.95m 2 home,

built in 2005. It has been carefully

maintained to offer a relaxed lifestyle in

a superb location. Situated in a quiet, noexit

street, across the road from walking

trails in leafy Styx Mill Reserve, a close

walk to supermarket and shops, and a

short drive to Northlands or the CBD.

Manicured gardens and timeless

brick construction offer an elegant

first impression and a skylight over

the entrance creates a light and bright

welcome. A northwest aspect ensures

the open-plan living and dining is sunny

and warm, and French doors opening to

decking on two sides make the most of

the magical outdoor living. A breakfast

bar separates a well-appointed kitchen,

which boasts a double wall oven, two

dish-drawers and gas cooktop. The

separate lounge adds further flexibility,

and is an elegant and tranquil space with

leafy views through the feature windows

and a gas fire for cosy ambience. Light and

inviting, the master bedroom includes an

ensuite, while two more double bedrooms

and an office (or 4th bedroom) share a

family bathroom. A double internalaccess

garage is a practical plus, while

the fully fenced and landscaped gardens

include irrigation and a choice of outdoor

living.

Beautifully presented and loaded with

extras, including solar water heating

(with gas boost) and attic storage in the

ceiling, it's clear that this is a much-loved

home, but the vendor is determined to

move closer to family and has committed

to selling.

Contact agent for viewing times or to

arrange a private viewing, give me a call

today Deb Harvey of Harcourts Gold

Papanui (Licensed Agent REAA 2008)

on 352 6166 or mobile 027 220 6565

tHe tRuSteD nAme in fAbRicS

"Specialists in real value

apparel and upholstery fabrics"

BLENHEIM RD

HARALDS

ANNEX RD

BIRMINGHAM DRIVE

47 Birmingham Drive, Middleton | Phone 338 7700 | Open Mon-Sat 10-4

47

MATIPO ST

HEAT PUMP

SALE NOW ON!

Amazin' spring Specials!!

• We will offer you the best quality brands and

option of heat pump for your home/business

• Providing Heat Pump solutions for over 15 years to Cantabrians

• We personally guarantee all our products & installs for 5 years

(providing annual maintenance has been completed)

Phone us today for your free consultation & quote

41A SHAKESPEARE RD, WALTHAM

PHONE 03 366 0525

www.enviromaster.co.nz

"A local team for local people"

At Whitehead Plumbing & Gas Ltd

we have a great team of loyal staff

offering a diverse range of skills.

Serving Canterbury for over 35

years, we do everything from

domestic maintenance to new

homes and commercial buildings.

Make us your first call today.

Plumbing.

Gasfitting.

Drainlaying.

03 379 0711

whiteheadplumbing.co.nz
---
18

Latest Christchurch news at www.star.kiwi

Tuesday September 19 2017

SOUTHERN VIEW

Classifieds Contact us today Phone our local team 03 379 1100

Community Events

ALCOHOLICS

ANONYMOUS, If you

want to have a drink thats

your business. If you want

to stop, we can help. Phone

0800 229-6757

Computers

ALL

YOUR

COMPUTER

WORRIES SOLVED!

*$30.00 off your first

service with this coupon!*

No problem too big or

small from home PC's to

business networks. PC

slow? An end to Viruses,

Spyware, and Clogged

Systems. Safe secure

hassle-free computing.

Lost files recovered.

Microsoft Certified,

MCSE, MCP+l. 30 years

experience. Call Andrew

Buxton this week on 326-

6740 or 027 435-7596

for $30.00 off* Custom

Computers Christchurch

Curtains

www.curtainfabric-outlet.com

Fashion Designs & Colours

Discontinued Designs

End of Lines Bargain Prices

Call at Our Shop

CURTAIN FABRIC OUTLET

71 Hawdon St Sydenham

Ph 366-5026

Gardening

& Supplies

LANDSCAPE GARDEN

PROFESSIONAL

Qualified Horticulturist,

offering expert, garden

makeovers, design and

landscaping, for free

quotes call Bryce 027 688-

8196 or 0508 242-733

Health & Beauty

FREE Halswell /

Hillmorton Qigong

Introduction, 10am~

11:45am, Thu. Sep. 21

Gentle flowing meditative

movements with energy

healing, Class starts Oct.

19 ph Sandy 260-1256

Holiday

Accommodation

QUEENSLAND SUN-

SHINE COAST AUSTRA-

LIA Resort, Ocean Views,

Balconies, Self Contained,

1 or 2 B/R Ensuite,

Heated Pool, Spa, Sauna,

Free Internet, Shops,

Restaurants, Tennis, Surf

Club & Patrolled Beach,

Public Transport at door.

Ask for our SEASONAL

SPECIALS. Phone 61 7

544-35011 Email: reception@mandolin.com.au

www.mandolin.com.au

HOUSE

CLEARING

Are you

moving house

or trying to

downsize?

Call All Clear

Canterbury. We work

with you to recycle,

sell and dispose of

unwanted items.

Ph: 03 260 0934

or 021 078 4553

raewynlcooke@gmail.com

www.allclearcanterbury.co.nz

Trades & Services

Builder

Wright Enterprises Build Limited

W.E. Build

New Homes

Renovations

Alterations

Re-roofing

Re-cladding to older buildings

Family owned & operated

E info@webuildltd.co.nz

Antony Wright 021 111 1703

John Wright 0274 343 323

AH 03 347 4347

www.webuildltd.co.nz

DRIVEWAYS

Exposed Aggregate

Stamped Concrete Plain

Concrete Resurfacing

Things we offer...

Competitive/affordable pricing

Attention to detail

Professional service

free quotes/insurance scopes

Cell 0278 145 848

www.drivecrete.co.nz

GARDEN SUPPLIES

CHCH'S LARGEST SELECTION OF

BARK • COMPOST • SHINGLES

Remember...

we are NOT in

Parkhouse Road

Landscape Lane (off Lunns Rd)

P. 348 2915 OPEN 7 DAYS

nO GREEn wastE In anY OF OUR COMPOst

junk

PAINTING - PLUS

• PAINTING • TILING

• PLASTERING

• WALLPAPERING

Phone Kevin Steel

• Interior/Exterior

• New Homes & Repaints

• Quality workmanship assured

• Correct preparation always undertaken

• 20+ years experience

• Earthquake repairs

(Painting/Plastering/Wallpapering/Tiling)

Ph 381 7417 or 027 216 8946

www.facebook.com/kevinsteelpainters&decorators

RENTAL

NO BOND

Terms and conditions apply

NEED A

FRIDGE • WASHER

TV • FURNITURE ?

Call Mr Rental - 0800 111 313

Visit www.mrrental.co.nz

123 Blenheim Road, Riccarton

Open Monday to Friday

WINDOW TINTING

tintawindow

advanced film solutions

99% uv block

fade protection

heat control

reduce glare

25 Years Experience

Trades & Services

Free Quotes Canterbury and Districts

03 365 3653 0800 368 468

Why go to the Dump? Junkman comes to you!

Items too big for the rubbish bin?

Or too heavy for you to move?

Junkman comes to FROM

you & takes it away $

65 *

*Prices vary depending on items and volume – minimum charge $65

privacy films

frosting designs

non-darkening films

Workmanship Guaranteed

Lifetime Warranties on Most Films

UV

block

0800 586 5626

www.junkman.co.nz office@junkman.co.nz

Trades & Services

GLAZING

Stephen Thom Glazing 2012 Ltd.

• Mirrors • Pet Door Specialists

• Splashbacks

THE CAT DOOR MAN

ALL BROKEN WINDOWS

Phone Cushla or Darren Twist

03 352 6225 or 027 352 6225

DO iT OncE

Do it right

Driveways FREE

Paths & patios QUOTES

Concrete or asphalt

Earthquake repairs

All work guArAnteed

Brad 021 716 942

www.gardencitydriveways.co.nz

TREES

Now working

in your area

• Tree Pruning

& Removal

• Stump Grinding

• Hedge Trimming

Fully Insured

Qualified Arborist

For a free quote,

ph 0800 248 733

www.jimstrees.co.nz

Lawns, Gardens

& Home Cleaning

9185885AA

Free Quotes

Professional, personalised

service. Regular &

one-offs. Fixed price.

Ph: 377-5814

For all your property and

cleaning requirements

Trained, insured & security

screened owner/operators

Multi-award winning

systems & Franchises

Franchises Available

www.fviphomeservices.co.nz

Wanted To Buy

AAA Buying goods

quality furniture,

Beds, Stoves, Washing

machines, Fridge Freezers.

Same day service. Selwyn

Dealers. Phone 980 5812

or 027 313 8156

A+ Household effects,

fridges, freezers, washing

machines, ovens. Good

cash paid. Ph Paul 022

0891 671

TOOLS Garden,

garage, woodworking,

mechanical, engineering,

sawbenches, lathes, cash

buyer, ph 355-2045

ROOF

PAINTING

Rope & harness

a speciality,

no scaffolding

required,

30 years of

breathtaking

experience.

FREE QUOTES

Exterior staining,

exterior painting,

moss and mould

treatment and

waterblasting

Phone Kevin

027 561 4629

AAA HANDYMAN

licensed carpenter

LBP, all property and

building maintenance,

repairs, bathroom/shower

installations, with free

quotes 03 383 1927 or 027

245 5226 ciey@xtra.co.nz

BRICKLAYER

George Lockyer. Over

35 years bricklaying

experience. UK trained.

Licensed Building

Practitioner number

BP105608. Insurance

work. EQC repairs.

Heritage brickwork and

stonework a speciality. No

job too small. Governors

Bay. Home 329-9344,

Cell 027 684 4046, email

georgelockyer@xtra.co.nz

BUILDER

For all building work

but specialist in bathroom

renovations, 30 yrs

experience, with service

and integrity. Free Quotes.

Ph Lachlan 383-1723 or

0274 367-067.

BUILDER

LICENSED

available for all aspects of

building. Please call 027

241-7471 or 335-0265

CARPET & VINYL

LAYINg

Repairs, uplifting,relaying,

restretching,jflattery@

xtra.co.nz

ph 0800 003 181

or 027 2407416

Situations Vacant

Trades & Services

PAINTER

Available, All aspects in

painting. Very competitive

in roofs and fences. Please

call 027 241-7471 or 335-

0265

PAINTER

Quality work, I stand by

Canterbury Ph Wayne

03 385-4348 or 027 274

3541

PLASTERER

Gib Stopping, Small

job specialty. 30 + years

experience. Ring 0800

387-369

PLUMBER

ALF THORPE

PLUMBING Certifying

Plumber for all types of

plumbing, maintenance,

spouting, alterations etc.

Phone 352-7402 or 0274-

350-231

ROOFINg REPAIRS

Fully Qualified, Over

40 Yrs experience

Ph John 027 432-3822

or 351-9147 email

johnmill@ihug.co.nz

TILER/CARPENTER

35 years exp, no job

too small. Ph Ross 027

4311440.

T.V. SERVICE

CENTRE

Repairs, tvs, microwaves,

stereos, DVD. Aerial

installations and kitsets,

480 Moorhouse Ave, ph 03

379 1400

UPHOLSTERER

Dining Chairs, Lounge

suites, Caravan Squabs

etc. recovered. Free

Quotes. Phone Graeme

383-1448

VHS VIDEO TAPES

& all camera tapes

converted to DVD, video

taping special occasions,

www.grahamsvideo.co.nz

ph 03 338-1655

WINDOW CLEANINg

Average 3 bdrm house

inside or out $40. Both

$70. Phone Trevor 344-

2170

Situations Vacant

SMALL quality cleaning

business requires

additional part-time

staff. Applicants must

be honest, reliable and

hardworking. Please email

CV and contact details to

m.coster@xtra.co.nz by

the 22nd September

HAIRDRESSERS

Full-time or part-time

The new JUST CUTS salon at

THE HUB HORNBY

need experienced stylists to

join them.

Excellent pay and conditions.

Flexibility.

If you are a team player

and want to be part of a

new, exciting, dynamic and

friendly team, Phone Angela

on 022 321 8636
---
SOUTHERN VIEW Latest Christchurch news at www.star.kiwi

Tuesday September 19 2017 19

What's On

Entertainment

To advertise, contact

Jo Fuller 027 458 8590

jo.fuller@starmedia.kiwi

Magical moments in music

LOCAL entertainers Tony Gregory-Hunt and Brian Skinner

are amongst the stellar lineup of performers taking part in a

special fund raising show at the Hornby WMC next Saturday

30th September.

Presented by the Rotary Club of Avonhead, 'Another Great

Variety Tribute Show' supports Polio Plus. Rotary, along with

its partners, has reduced polio cases by 99.9 percent

worldwide since the international organisation's first project

to vaccinate children in the Philippines in 1979.

A stunning programme is taking shape for next Saturday's

charity show featuring Kevin Kearns (John Rowles); Tony

Gregory-Hunt (Roy Orbison); Brian Skinner (Elvis); Barry

Cro (Neil Diamond); George Tanner (Barry Gibb); Chrissi

Williams (Patsy Cline) and Ray Harris (e Shadows).

Expert backing will be provided by Neville Wilkins & the

Viscounts with special guest band e Pistons.

Tickets are $15 on sale now at the Hornby WMC office,

Carmen Road, phone 349 9026.

www.newbrightonclub.co.nz

TUESDAYS & THURSDAYS

Members Lucky Card Draw

FUNCTION ROOMS

SHUTTLE RUNNING

Tues, Thurs, Fri & Sat

TAB POD

GAMING ROOM

PIERVIEW

Restaurant

Quality

a la carte

with a view!

Open from 5.30pm

FRIDAY, SATURDAY & SUNDAY

OPEN FOR SUNDAY 3 COURSE

SUNDAY BRUNCH DINNER SPECIAL $25

By the Seaside!

10.30am-2pm

Join the

Cashmere Club

today!

BOOK NOW! SUNDAY NIGHT BUFFET

SUNDAY 24th SEPT, $25 PER PERSON

N.HARBOUR v CANTERBURY

2.35PM SATURDAY

ClubBISTRO

Open Tuesday to Saturday

12pm-2pm and from 5pm

Midweek $11

SPECIAL ROAST

Available Tuesday,

Wednesday, & Thursday

SUNDAY NIGHT

BUFFET

Sunday 24th September

ALL YOU CAN EAT

$25 BOOK NOW!

202 Marine Parade ● Ph 388-9416

Members, guests and affiliates welcome

H ORNBY

WORKINGMEN'S

CLUB

LET US ENTERTAIN YOU!

WESTVIEW SPORTS HALL

LOUNGE THIS SATURDAY 8PM

THIS SATURDAY

4.30PM:

IAN MAC

8PM:

SHALOW

THIS SUNDAY

1.30PM:

HEART OF THE

COUNTRY

$6 ENTRY

TICKETS $20

UNBEATABLE FAMILY DINING

Chalmers

Restaurant

CHALMERS FAMOUS

SUNDAY

BUFFET

Tony Gregory-Hunt and

Brian Skinner

All this

for $30

Annual Membership

• Discounted Member Prices

- Food & Beverages

• Pool Lounge

- 9 Pool & 3 Snooker tables

• Sports Bar

- Live Sport & TAB facilities

• Gaming Lounge

- Choice of 18 Machines

• Riverview Restaurant

- Open Tues- Sun

- Family Friendly

• Beer Garden

- & Children's Play area

• Multiple Function Rooms

- Catered Menu options

50 Colombo St, Cashmere

Ph: (03) 332-0092, Fax: (03) 337-3772

www.cashmereclub.co.nz

DINNER

Friday

Saturday

Sunday

BUFFET

LUNCH

Every Sunday

12pm - 2pm

IT'S THE CHERRY ON TOP!

FREE DESSERT

FRIDAYS & SATURDAYS

ENJOY OUR EXTENSIVE CARVERY

BETWEEN 5.30PM & 6.30PM

PRICED AT ONLY $22.50 PER PERSON

AND DESSERT'S ON US!

LUNCH | 12PM-2PM | $25

DINNER | 5PM-8PM | $27

CELEBRATE THAT SPECIAL OCCASION WITH US!

GROUPS WELCOME BOOKINGS ESSENTIAL

Club CAFE

OPEN 7 DAYS

LUNCH & DINNER

Gluten Free &

Vegetarian options

The Hornby Club | ph 03 349 9026

17 Carmen Rd | Hornby

www.hornbywmc.co.nz

Members, guests & affiliates welcome

Lunch & Dinner

All you can eat, 7 days

Bookings Essential

PH 386 0088

fb.com/GardenHotelRestaurant

www.gardenhotel.co.nz

SERVING

HAPPY HOUR

5PM - 7PM DAILY

THE GARDEN HOTEL COMPLEX | 110 MARSHLAND RD

www.gardenhotel.co.nz | phone 385 3132

A West Coast welcome in the heart of

Redwood, beautifully refurbished and

something for all the family.

TRY OUR WONDERFUL MENU & DAILY SPECIALS

Daniels Road | Phone 352 8355

coasterstavern.co.nz

RESTAURANT & CAFÉ

We are open from 6.30am

Seniors SPECIAL

2 courses Soup/Roast or Roast/Dessert

Special available lunch only. Monday - Saturday 12pm - 2.30pm

Family Friendly

Kid's 2 course special

$20

$10

OUR CABINET ITEMS

ARE HOMEMADE

CREATED FRESH ON SITE DAILY

$12

LUNCH

SPECIALS

Live Music:

6PM.FRI.22 SEPT

COFFEE

HAPPY

H O U R

2PM-4PM

DAILY

$3.50

Offer available for a limited time

and includes tea, hot chocolate

MON: ROAST MEAL

TUE: FISH & CHIPS

WED: FISH BURGER

THU: ROAST MEAL

SAT: FISH & CHIPS

AVAILABLE

FROM

11.30AM-2PM

FOR A

LIMITED TIME

Rhonda Campbell duo

PHONE 385 8880 FIND US ON FACEBOOK fb.com/GBCCHCH

'Famous for their roasts!'

The

RACECOURSE HOTEL

& Motorlodge

118 Racecourse Rd, Sockburn,

Christchurch. Ph 03 342 7150

www.racecoursehotel.co.nz
---
20

Latest Christchurch news at www.star.kiwi

Tuesday September 19 2017

SOUTHERN VIEW

raNGiora • Northwood • st martiNs • tower juNctioN • BishoPdaLe • raNGiora • Northwood

Northwood • st martiNs • tower juNctioN • BishoPdaLe • raNGiora • Northwood • st martiNs • tower juNctioN • BishoPdaLe •

FIDGET TOYS

FIDGET

PAD

MINI

HAND

SPINNER

WRITE AND DRAW KITS

WERE $14.99

EACH

OR 2 FOR

$15.00

NOW

$

9 .99

EA

FIDGET

CUBES

ANY 2 FOR

$10.00

HEX FIDGET

SPINNERS

MY BOOKS - MAKE YOUR OWN MODEL

WERE

$14.99

EACH

AMAZING SPECIALS

RRP $47.99

$

14 .99

WINNIE THE POOH

COMPLETE COLLECTION

(4 BOOKS)

RRP $24.99

$

9 .99

JURASSIC WORLD

PRESS-OUT MODEL

MINECRAFT

SECRETS & CHEATS

RRP $69.99

NOW ONLY

$

24 .99

$

7 .49

EA

RRP $23.99

$

7 .99

THE

FIDGET

SPINNERS

THOMAS THE TANK

ENGINE ORIGINAL

& BEST STORY

COLLECTION

HALF

PRICE!

INFINITY CUBE

THESE

SCHOOL

HOLIDAYS

@papertreestores

OVER 50 PRODUCTS ON CLEARANCE

13 NEW STOREYS

TO ENJOY!

STUCK ON STORIESINCLUDES:

PLANES, SMURFS, MONSTERS UNIVERSITY

THE 91 STOREY

TREEHOUSE

SPECIAL

PRICE

$12.99

FAS 2L PVA GLUE

$

18 .99

EA

Follow us on Facebook:

@papertreestores

10 toy suction

cups and a

story book!

PVA GLUE FOR DIY SLIME

FAS 500ml

PVA GLUE

$

10 .99

OR 2 FOR

$18.00

WONDERS OF LEARNING BOX SETS

$

29 .99

EA

GAMES

JURASSIC

EXPLORER

KIT

2 IN 1

GEO SCIENCE

OR 2 FOR

$45.00

ALL

$

9 .99

EA

OR 2 FOR

$15.00

RRP $29.99 EACH

tower junction, off Clarence St, Riccarton | Bishopdale, 31 Bishopdale Court, Bishopdale | rangiora, 206 High Street, Rangiora

Northwood supa centre, Main North Road, Belfast | st martins shopping centre, Wilsons Road, St Martins

EA

DISC WARS

POP AND HOP

NOW ONLY

$

9 .99

Or BUY ONE

and get a

FREE poster!

TROLLS RING & NAIL

ART SET

MONSTER

MASH

DOMINO

RUN

PLUS MUCH, MUCH MORE INSTORE!

EA

• st martiNs • tower juNctioN • BishoPdaLe • raNGiora • Northwood • st martiNs • tower juNctioN • BishoPdaLe • raNGiora