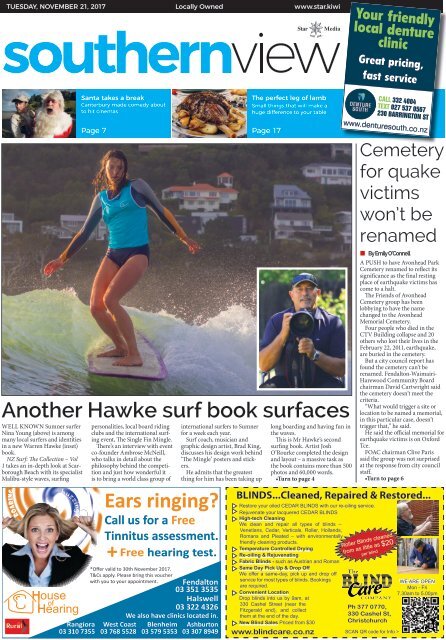 Southern View: November 21, 2017
Create successful ePaper yourself
Turn your PDF publications into a flip-book with our unique Google optimized e-Paper software.
TUESDAY, NOVEMBER 21, 2017

Locally Owned

www.star.kiwi

Your friendly

local denture

clinic

Great pricing,

fast service

Santa takes a break

Canterbury made comedy about

to hit cinemas

The perfect leg of lamb

Small things that will make a

huge difference to your table

call 332 4004

TexT 027 537 0567

230 BarringTon sT

Another Hawke surf book surfaces

WELL KNOWN Sumner surfer

Nina Young (above) is among

many local surfers and identities

in a new Warren Hawke (inset)

book.

NZ Surf: The Collection – Vol

1 takes an in-depth look at Scarborough

Beach with its specialist

Malibu-style waves, surfing

Roaring

buzzing

House

of

Hearing

Page 7

Rangiora

03 310 7355

personalities, local board riding

clubs and the international surfing

event, The Single Fin Mingle.

There's an interview with event

co-founder Ambrose McNeill,

who talks in detail about the

philosophy behind the competition

and just how wonderful it

is to bring a world class group of

Ears ringing?

Call us for a Free

Tinnitus assessment.

+ Free hearing test.

*Offer valid to 30th November 2017.

T&Cs apply. Please bring this voucher

with you to your appointment.

West Coast

03 768 5528

international surfers to Sumner

for a week each year.

Surf coach, musician and

graphic design artist, Brad King,

discusses his design work behind

'The Mingle' posters and stickers.

He admits that the greatest

thing for him has been taking up

Fendalton

03 351 3535

Halswell

03 322 4326

We also have clinics located in.

Blenheim Ashburton

03 579 5353 03 307 8949

Page 17

long boarding and having fun in

the waves.

This is Mr Hawke's second

surfing book. Artist Josh

O'Rourke completed the design

and layout – a massive task as

the book contains more than 500

photos and 60,000 words.

•Turn to page 4

Restore your oiled CEDAR BLINDS with our re-oiling service.

Rejuvenate your lacquered CEDAR BLINDS

High-tech Cleaning

We clean and repair all types of blinds –

Venetians, Cedar, Verticals, Roller, Hollands,

Romans and Pleated – with environmentally

friendly cleaning products.

Temperature Controlled Drying

Re-oiling & Rejuvenating

Fabric Blinds - such as Austrian and Roman

Same Day Pick Up & Drop Off

We offer a same-day, pick up and drop off

service for most types of blinds. Bookings

are required.

Convenient Location

Drop blinds into us by 9am, at

330 Cashel Street (near the

Fitzgerald end), and collect

them at the end of the day.

New Blind Sales Priced from $30

www.denturesouth.co.nz

Cemetery

for quake

victims

won't be

renamed

• By Emily O'Connell

A PUSH to have Avonhead Park

Cemetery renamed to reflect its

significance as the final resting

place of earthquake victims has

come to a halt.

The Friends of Avonhead

Cemetery group has been

lobbying to have the name

changed to the Avonhead

Memorial Cemetery.

Four people who died in the

CTV Building collapse and 20

others who lost their lives in the

February 22, 2011, earthquake,

are buried in the cemetery.

But a city council report has

found the cemetery can't be

renamed. Fendalton-Waimairi-

Harewood Community Board

chairman David Cartwright said

the cemetery doesn't meet the

criteria.

"What would trigger a site or

location to be named a memorial,

in this particular case, doesn't

trigger that," he said.

He said the official memorial for

earthquake victims is on Oxford

Tce.

FOAC chairman Clive Paris

said the group was not surprised

at the response from city council

staff.

•Turn to page 6

BLINDS...Cleaned, Repaired & Restored...

Roller Blinds cleaned

from as little as $20

per blind

Ph 377 0770,

330 Cashel St,

Christchurch

www.blindcare.co.nz SCAN QR code for Info >

WE ARE OPEN

Mon - Fri

7.30am to 5.00pm
---
2

Latest Christchurch news at www.star.kiwi

Tuesday November 21 2017

Inside

FROM

THE

EDITOR'S

DESK

THE FRIENDS of Avonhead

Cemetery spokesman Clive Paris

doesn't pull any punches (see

page 1) over the decision not to

include the name memorial in the

cemetery's name.

The issue is whether to add

memorial to take into account the

2011 earthquake victims who are

interned there has been ongoing

for a long time.

But now the city council has

made a decision that adding the

name doesn't meet required criteria

for cemeteries.

But Clive isn't impressed: "They

(city council) have always had

a backward looking mentality

when approaching ideas or issues

and tend to go into defence mode

rather than looking at the issue

and responding positively."

Good to see Tongan league

star Tuimoala Lolohea drop into

Hornby last week (page 4).

They'll need to be at their best to

beat England this weekend.

– Barry Clarke

Councillor takes on epilepsy stigma

LOCAL VIEWS9

SOUTHERN VIEW

News.................................3-7, 11

Local Views .................... 9

Health........................................12

Events................................ 13

Food...........................................15

GET IN TOUCH

General Inquiries Ph 379-7100

Classified Advertising Ph 379-1100

The Christchurch Star Company Ltd. PO box 1467 - Christchurch

starmedia.kiwi

NEWS

Sophie Cornish

Ph: 364 7437

sophie.cornish@starmedia.kiwi

ADVERTISING

Richard McCombie

Ph: 364 7472

richard.mccombie@starmedia.kiwi

Get to know your butcher!

Classic

Summer

Knits

SELWYN STREET

NOW OPEN

Woodstock &

Vodka Cruiser

250ml 7% Cans

$

21 99

Each

12Pk

BLACKBOARD BUYS

Of THE WEEK

Hogget

forequarter

Chops

$

13 95

KG

GREAT

ON BBQ

Lamb Patties

$

7 00

TRAY Of 6

5 DIffERENT fLAVOURS

• ORIENTAL MINT • SATAY

• NICE & SPICY • MORROCAN

• SUNDRIED TOMATO & BASIL

BBQ Pulled

Pork filo's

$

5 95

EACH

OR 4 fOR $20

Large filled

Chicken Breast

$

5 95

EACH

OR 4 fOR $20

• APRICOT & CREAM CHEESE

• KIEV (GARLIC BUTTER)

• CORDON BLEU (CHEESE & HAM)

• CRANBERRY & BRIE

• CARAMILISED ONION CREAM CHEESE

• TROPICAL CREAM CHEESE

CHRISTMAS IS JUST

AROUND THE CORNER

WE ARE TAKING ORDERS NOW.

HAM - TURKEY - DUCK - LAMB

- PORK & HOGGET - MUTTON HAM ETC

FRESH MEATS

BARRINGTON

Shop 36 — Barrington Shopping Centre, Spreydon

Ph 332 8450 | www.freshmeats.co.nz

Maxwells

Fashion

17 Lillian Street, Halswell 03 322 4548

Open Mon - Fri 9.30am-5pm Sat 10am-1pm

Dyers Road Landscape

& Garden Supplies

• Barks • Peastraw • Composts - we supply the best available

• Aggregates - Chip, Round and Basecourse

• Pavers & Schist products • Pungas

• Decorative Stones & Landscaping Rocks

• Trailer Hire first hour free with purchase

• Bag & Bulk - pick up or delivered

David, Carol & Mike

Jim Beam & Cola,

Canadian & Club Dry &

Jack Daniel's & Cola

330ml Cans

Lion Brown

330ml 18 Pack Cans

We will deliver!

$

19 99

Each

10Pk / 8Pk

$

21 99

Each

SPECIALS AVAILABLE FROM 13/11/17 UNTIL 10/12/17

Selwyn Street 1/304 Selwyn St

Ph. 03 377 6586

www.thebottle-o.co.nz

SOIL

AND

Heineken & Monteith's

330ml Bottles Range

HARDFILL

DUMPING

Phone: 03 384 6540

183 Dyers Rd, Bromley • OPEN 7 DAYS

Weekdays 7.30am-5pm. Weekends 8.30am-3pm

www.dyersroadandlandscapes.co.nz

12Pk

$

23 99

Each

12Pk
---
SOUTHERN VIEW Latest Christchurch news at www.star.kiwi

Tuesday November 21 2017 3

News

Sea level rise could affect insurance

Local

News

Now

In Brief

Fire rages, homes at risk

• By Sarla Donovan

A SHIFT towards evaluating

properties for individual climate

change risk may mean insurance

premiums will rise on coastal

properties.

An updated Tonkin and Taylor

report on coastal hazards released

last week showed close to 25,000

Christchurch houses are at risk of

future coastal flooding and 1000

are at risk from coastal erosion.

In a worst-case climate change

scenario, flooding could affect the

coastal city and Banks Peninsula

properties within the next 50 to

100 years, the report said.

Insurance Council chief

executive Tim Grafton said

climate change was a certainty.

"Sea level will rise and the

frequency of extreme weather

events will increase."

Mr Grafton said each insurer

would take a different approach to

risk, depending on the frequency

and consequences of flooding.

"With respect to climate

change, the price signals are likely

to be incremental changes over

time, rather than swift and rapid

change. There is therefore time for

a range of adaptation measures

that make economic sense to be

considered which

. . . enable the transfer of risk to

insurance to remain affordable

and accessible."

Some properties could become

uninsurable if they flooded with

high frequency, Mr Grafton said.

"They become less insurable as it

becomes more certain that they

will flood."

He said New Zealand was

unusual in offering all-perils

cover house insurance. "In

many other countries, flood is

an optional add-on to house

insurance policies, so flood risk is

separately priced."

OUTSPOKEN: Christchurch

Coastal Residents United

spokesman Darrell Latham

says climate change is a

national responsibility.

PHOTO: MARTIN HUNTER

​Redcliffs resident and Ray

White Ferrymead salesman,

Mark Roberts, said insurance

companies will always try to

mitigate risk.

"At the end of the day, people

love being by the ocean. They will

make decisions (about a property)

based on the statistics they get

and the risk profile."

Last week's report is an update

of Tonkin and Taylor's widelycriticised

2015 report suggesting

18,000 properties were at risk of

flooding and 6000 susceptible to

erosion.

The 2015 report was criticised

as being scientifically flawed,

leading to the updated 2017

version.

Christchurch Coastal Residents

United spokesman Darrell

Latham said climate change was

a national responsibility, not

just the responsibility of coastal

communities or local councils.

"Mitigation and compensation

must be part of the conversation,"

he said.

NO-STOPPING PLANS

The Halswell-Hornby-

Riccarton Community Board

has decided to create six

new no-stopping locations.

The restrictions will be on

Gallaghan Close, Bibiana St,

Mustang Ave, Milnebank St,

Rushden Rise and Middlepark

Rd and the Craven St

roundabout. The streets are all

either narrow or have limited

visibility.

. . . AND BUS STOPS

The community board has

also decided to approve four

new bus stops in Wigram.

They will be located on the No

100 bus route. The locations

are Deal St, The Runway,

Corsair Drive and Keene St.

BELGIUM GRANT

A Christchurch Girls' High

student is off to Belgium for

a year with the help of the

Rotary Club of Avonhead.

Year 13 student Aoife Hyland

will take part in the Rotary

youth exchange. Rotary club

president John Wanty said

the it will provide Aoife with

$1100 towards the exchange.

She will leave for Belgium on

January 9.

Meet Ruth

at the Te Hapua ¯ Halswell Centre Café

2-3pm Friday 10 November

Fun, Feminine,

Fabulous!

Sizes 6-22

Phone 03 376 4512

porthills.mp@parliament.govt.nz

Luxurious

Satin

Nightwear

by essence

Several styles

available

Sizes S to 4XL

Also long and short

Satin Robes

Colours - Blue, Coral,

Navy & Black

Made in NZ

Shop 48 Barrington, Barrington Street

Phone 03 337 6609

www.lingerieonbarrington.co.nz

SMITH & BOSTON

Prebbleton Village | Christchurch

Ph: 03 349 5646

www.smithandboston.co.nz
---
4

Tuesday November 21 2017

News

Latest Christchurch news at www.star.kiwi

SOUTHERN VIEW

Local

News

Now

Fire rages, homes at risk

CELEBRATIONS: Hornby

Preschool children and staff

gathered with Lolohea during

his visit, while Hornby High

School students played a song

for him.

WAVES: Warren Hawke's new book NZ Surf: The Collection

– Vol 1 takes an in-depth look at the surfers and identities of

Scarborough Beach.

Another Hawke book

comes to the surface

•From page 1

Other local breaks to feature

include New Brighton, Waikuku

and a bay on Banks Peninsula.

Taylors Mistake is also present

in the introductory section,

which shows photos from about

30 years ago.

The collection has a broad

coverage of New Zealand surfing

areas, surfing artists, surf champions

and breaks.

"It's actually quite unique in the

surfing world as far as surf publications

go," said Mr Hawke.

"We wanted it to seem like

there was a new adventure over

every page. For this reason, I've

included the work of some of

New Zealand's top surf photographers

to add greater depth and

variety."

The book has a limited print

run with the plan being to sell it

out and not reprint. "We'd like

to have a new collection out in

two years' time, something we've

already started to plan and gather

new material for," Mr Hawke

said.

WELCOME: Tuimoala Lolohea was all smiles as he met

with pupils and students in Hornby.

PHOTOS: GILBERT WEALLEANS

League star drops in

• By Emily O'Connell

TONGA'S rock star-like

rugby league show dropped

in on a Hornby pre-school on

Thursday.

Star stand-off Tuimoala

Lolohea was greeted with red,

white and a lot of smiling faces

when he arrived at Barnardos

Hornby Pasifika Early Learning

Centre.

The Tongan's have taken the

sports world by storm with

their outstanding displays at

the Rugby League World Cup,

which ramped up after the

upset over the Kiwis 28-22.

On Saturday, they take on

England in a semi-final at Mt

Smart Stadium, Auckland,

after a hard-fought 24-22 win

over Lebanon at Christchurch

Stadium (AMI) last weekend.

But last week was all about

spreading the Tongan message.

Hornby Primary pupils and

Hornby High School students

also went along to get a peek at

the Tonga star.

Our pre-Christmas exhibition is once again an allwoman

gathering of multi-media artists. Whimsical

takes on personal themes, each of these artists

serve us their 'Signature Dish'.

The exhibition runs for three weeks finishing

18th of December, giving plenty of time to wrap a

Christmas gift for someone very special.

Lisa Grennell's work is whimsical, much like a

child's imagination. Designed to make the viewer

smile and think of their own childhood,

whilst questioning contemporary society

and its impact on the environment. 'The

Simple Life' is inspiration for this new

work.

Blanche Fryer's work for this exhibition

has been inspired by the anthropomorphic

interpretation of the inner life of fish.

"We hear of horse whisperers, canine

communicators, mammal channelling,

but you never hear of a yarn with a fish, excepting

if there is a hook on the end. It has been really

enjoyable creating these characters and also

playing with a few different glazes."

Jane Downes pieces 'Dwell', a continuation of her

body of work 'Shelter'. Designed almost completely

for function and the upholding of cultural values,

offering shelter, protection and observation. These

works are also an exploration of form, pattern,

scale and light, extending the work through the

formation of shadows.

Kara Burrowes explains her rationale – "I'm drawn

to the layers and history of the urban environment;

exposed walls, discarded objects. Often it's the

banal and mundane that sparks an idea, the

concept of transforming something quite ordinary

into something precious and alluring."

Blanche Fryer's anthropomorphic interpretation

of the inner life of fish.

Amy Hoedemakers, "I used sketches from walking

down the riverbed and words to begin with or

as reference points. I wanted my work to have

the feeling of looking into another world, of it

stretching on, almost as though you could step into

it but having an abstract quality at the same time.

Predominantly I'm inspired by the natural world,

painted in a mixture of sizes and formats in oils."

Magazine & TV | sTyle.kiwi

style

noun

elegance and sophistication.

synonyms: flair, grace, poise,

polish, suaveness, urbanity,

chic, finesse, taste, class,

comfort, luxury, affluence,

wealth, opulence, lavishness.

Discover this

unique Emporium

Metal art - gifts - hoMewares

water features - pottery

Mirrors - candles

wall hangings & More

722 Marshland Road, Top end Styx

Open 7 Days

Ph: 03 323 9781

www.hitchingpost.co.nz

25 November – 18 December

Lisa Grennell • Kara Burrowes • Blanche Fryer • Amy Hoedemakers • Jane Downes

Main Rd, Little River | 03 325 1944

art@littlerivergallery.com
---
SOUTHERN VIEW Latest Christchurch news at www.star.kiwi

Tuesday November 21 2017 5

Local

News

Now

Fire rages, homes at risk

Pensioners plead for help

• By Emily O'Connell

REST HOME residents are again

pleading for noisy trucks to be

banned from Lodestar Ave.

A Lady Wigram Retirement

Village resident wrote a letter to

the Halswell-Hornby-Riccarton

Community Board which was

discussed last week.

The letter was asking for action

to be taken so they could enjoy

some "peace

and quiet."

Halswell

Ward city

councillor

Anne

Galloway

(left) asked the

board what

more they could do to support

the progress.

Community board chairman

Mike Mora said they are supporting

the progress by receiving

the letter and referring it to city

council staff for feedback.

Cr Galloway said the Lady

Wigram residents are "very

upset with how the issue has

transpired."

The Traffic and Parking Bylaw

2017, which would give the city

council the ability to restrict

heavy vehicles on certain roads,

NOISY: A large container truck on Lodestar Ave, Wigram.

PHOTO: MARTIN HUNTER ​

will go to the city council on

Thursday for approval.

If the bylaw is approved, the city

council will then consider placing

a restriction on Lodestar Ave.

When asked again this week

by Southern View whether she

will push for heavy trucks to

be stopped, Cr Galloway would

only say she's been working with

Wigram MP Megan Woods and

city council staff "to address the

concerns of all the residents who

are impacted."

"I've reassured residents

through emails, phone calls

and visits that I am taking the

concerns seriously and will be

using all tools available to us to

manage these," she said.

Three weeks ago Cr Galloway

told Southern View she doubted

the new bylaw will be of any use.

"It seems that speed is the issue

and the recommendation is for

police to get more involved in

monitoring this," Cr Galloway

said.

But then Cr Galloway

tempered her stance, sending

Southern View an email saying

the bylaw can work.

"There definitely is still hope

that it can be used to prevent

heavy trucks along Lodestar.

Staff cannot consider it as an

option until it is passed," Cr

Galloway said.

Last week Cr Galloway said

she's thrilled "things are moving

so quickly" and she hopes the

bylaw is passed.

She said the city council's

Heavy Vehicle Parking in Residential

Area Policy is another

tool which can be used to address

the Lodestar Ave situation.

Lady Wigram Retirement

Village residents said they get

woken up at 4.30am.

Retirement village residents

have been lobbying since April

when they met with Cr Galloway

and Dr Woods asking for a bylaw

to stop trucks being allowed to

drive through Lodestar Ave.

It's a short cut to work sites in

the area.

Raeward Fresh

seeks consent

to open store

in Prebbleton

• By Georgia O'Connor-Harding

PREBBLETON COULD be

getting a new Raeward Fresh.

Foodstuffs South Island Ltd

has lodged a resource consent

to the district council to operate

a Raeward Fresh store along

with a cafe and associated carparking.

It would be located at 563

Springs Rd – down the road

from green grocer, Healthy

Harvest Fruit and Veges.

Foodstuffs South Island

property and retail development

general manager Roger

Davidson said Prebbleton

was chosen due to projected

customer demand.

He said there was a desire

from consumers to have access

to good quality fresh fruit and

produce.

Deputy Mayor Malcolm Lyall

said the new potential shop was

exciting.

"We have had applications

put in the last 12 months that

haven't turned into anything

so it is exciting to see that

happening," he said.

HEAT PUMP

SALE NOW ON!

Amazin' spring Specials!!

• We will offer you the best quality brands and

option of heat pump for your home/business

• Providing Heat Pump solutions for over 15 years to Cantabrians

• We personally guarantee all our products & installs for 5 years

(providing annual maintenance has been completed)

Phone us today for your free consultation & quote

41A SHAKESPEARE RD, WALTHAM

PHONE 03 366 0525

www.enviromaster.co.nz

"A local team for local people"

fall in

Love

with your

favourite

furniture

all over again.

30 YEARS

EXCELLENT

RANGE OF FABRICS

EXPERIENCEFREE

Recover your couches and chairs and save money!

BEFORE

AFTER

QUOTES

Somerfield Upholstery Ltd

FURNITURE RECOVERY SPECIALIST

10 Calgary Place, Hornby | Ph 021 251 6200 | 349 0456

VISIT OUR SHOWROOM | QUALITY WORKMANSHIP GUARANTEED

www.somerfieldupholstery.co.nz

Paul Tainui

SOLD

UNDER THE

HAMMER

SOLD

UNDER THE

HAMMER

SOLD

UNDER THE

HAMMER

SOLD

UNDER THE

HAMMER

SOLD

UNDER THE

HAMMER

SOLD

POST

AUCTION
---
6 Tuesday November 21 2017

Latest Christchurch news at www.star.kiwi

News

SOUTHERN VIEW

Local

News

Now

Fire rages, homes at risk

Firework 'could have led to a death'

• By Andrew King

A FIREWORK thrown onto the

roof of a house caused major

damage and could have claimed

lives.

Fire investigator Bruce Irvine

is furious about what happened

and says it is now time for a

public debate over fireworks.

The fire

started in the

guttering of the

Becmead Drive,

Harewood,

property about

10.30pm on

Saturday,

Bruce

Irvine

November 11, and

spread into the

wall space.

The family had just gone to

bed and were still awake, said Mr

Irvine.

About 10min later, the

kitchen smoke alarm activated

and the family got out of bed.

The fire was well involved and

had been spread by a ventilation

system in the roof space, he

said.

The father went to the

bathroom and burnt his feet on

debris that had fallen through

the ceiling, he said.

Detectives are investigating.

Mr Irvine said the fire was

so reckless that if someone had

died, he would have expected a

murder charge to be laid.

"This family's lives have

been destroyed for the next six

months because of someone's

thoughtless and idiotic act. It has

to stop," fire risk management

officer Bruce Irvine said.

"It was a deliberate act

that could have led to a

death."

Mr Irvine said it was timely

to now start the debate on

fireworks.

"We want to start the

conversation right here, right

now. There have been far too

many incidents. And we know

it is going to happen, that is the

frustrating thing about it.

These fires are avoidable," he

said.

SILENT: The fire was burning

for at least 10min in the ceiling

space before it set off a

smoke detector in the kitchen.

He said he wants the public

to start the discussion about

whether fireworks should be

available for general sale or

should be limited to organised

events only.

"Any feedback we get on this

from the public will be helpful.

That way we can make a

strong case for getting rid of

them," he said.

He said it was not just

the fire, although they were

"extremely frustrating", but the

distress caused to animals and

surrounding residents with the

constant firework use well after

the date they are supposed to be

set off.

"They are supposed to

be used for a celebration on

November 5, a safe time to use

them.

Not weeks and weeks after

when everything is drying out,"

he said.

Cemetery for quake victims will not be renamed

•From page 1

"They have always had a

backwards looking mentality

when approaching ideas or issues

and tend to go into defence

mode, rather than looking at the

issue and responding positively,"

he said.

The four people who lost their

lives in the CTV Building and

could not be identified after

the quake were Shawn Lucas,

of Christchurch, Elsa Torres

De Frood, of Peru, Rhea Mae

Sumalpong, of the Philippines,

and Veleri Volnov, a

Russian-born New Zealand

resident.

The cemetery features

a large circular memorial

with a stone dedication in

the centre.

The central feature of

the memorial includes

six plaques with text in

English, Filipino, Maori,

Russian, Spanish and braille.

In a report to the community

board, city council senior

network planner parks

Eric Banks addressed

some reasons why

the proposed name of

Avonhead Memorial

Cemetery won't work.

He said no

submissions requesting

a name change were

received during the draft

Cemeteries Master Plan

consultation process.

Mr Banks also said there could

David

Cartwright

be more confusion if multiple

cemeteries had "memorial" in the

name.

Mr Paris said the group felt

the issue had not been resolved

and it needed to go back to the

community board.

"The city now has a legacy

to provide a safe haven for the

family members and friends left

behind here forever," he said.

Mr Cartwright said the city

council report on the renaming

took a disappointing amount of

time.

"What you would think would

be a relatively straight forward

request for information . . . has

taken a little longer than we

would have hoped for an answer,"

he said.

Mr Cartwright said four or

five new signs will be placed near

the cemetery to help loved ones

locate it.

He also said there will be some

maintenance done to clean up the

cemetery.

are you

beach body

ready?

Garcinia Max

Supercharged to support

weight management.

NZ's most potent standardized

Garcinia Extract

SAVE 50%

oFF reccomended price

Are your feet

Summer reAdy?

An eASy solution to treat

fuNGAL NAIL INfeCtIoNS

no filing

Penetrates the nail

Simply brush on, dries in 30 seconds

Clinically tested

Entries close Saturday 30th September

Barrington pharmacy

Next to CouplaNds, 256 BarriNgtoN st

Ph 332 3156

@WilsoNsBarriNgtoNpharmaCy

10% discount

everyday

using

*excludes prescriptions & sale stock
---
SOUTHERN VIEW Latest Christchurch news at www.star.kiwi

Tuesday November 21 2017 7

Local

News

Now

Fire rages, homes at risk

Governors Bay link with Santa movie

• By Sarla Donovan

GOVERNORS BAY film

director Tony Simpson has just

finished making the world's first

Kiwi family Christmas movie.

Kiwi Christmas has a special

screening for friends and family

at Hollywood Cinema in Sumner

this Sunday before opening nationwide

on November 30.

The movie tells the story of

how Santa, frustrated by the

materialism of Christmas, goes

'awol' from the North Pole and

crash lands at a camp ground

in New Zealand where he is

adopted by a camping family.

Meanwhile, the coast guard

think an illegal alien has come in

to the country so they go under

cover at the camp.

The family has to save Santa

from the coast guard and then

convince him to go back to the

North Pole and complete his

duties.

Co-written with Andy Gunn

(brother of Jason Gunn) Mr

Simpson said the idea came

during one of his own family's

Christmas camping trips to Totaranui

in the Abel Tasman National

Park, where his children

wondered if Santa would be able

to find them at the camp ground.

Although it is not autobiographical,

Mr Simpson said the

film was quintessentially Kiwi,

unlike most other Christmas

movies which were set in the

Northern Hemisphere.

"Kiwi Christmas is our very

own family Christmas film," Mr

Simpson told the Southern View.

It has taken four years to make,

which was a "fairly quick turnaround"

for a feature film, he said.

Both Mr Simpson and his editor

Scott Flyger live in Governors

Bay, which you might think

would be a bit far from the filmmaking

action.

But he said the first couple of

years were taken up with getting

the script written and the finance

and distribution organised.

"You can live pretty much

anywhere because you can do so

much of that over the internet. I

was away for about three months

making the film in Auckland.

What was good this time was

that Scott happened to live in the

Bay and the sound editor Chris

Sinclair has a studio in Christchurch.

So I didn't have to travel to

do post production. "

Most of the cast and crew lived

in Auckland so filming took

place just north of Orewa Beach,

with funding from the New Zealand

Film Commission.

Mr Simpson said he wanted to

make a movie that would appeal

to families around the world,

and give kiwis the chance to see

themselves on the big screen.

"We'll finally have something

personal to watch at Christmas

time and create a new family

tradition with something that

reflects the magic of that time of

year, Kiwi-style!"

It's the second film Mr Simpson

has made with Mr Gunn.

The two worked together on

2012s Kiwi Flyer, inspired by

the Nelson Trolley Derby which

was an institution in the Nelson

community where Mr Simpson

grew up.

He shifted to Governors Bay

with his wife Helen nine years

ago, just after their third child

was born.

"It's a lovely community and

I particularly like the dramatic

MOVIE: Director Tony

Simpson (left) and editor

Scott Flyger are excited

about the release of their

new film Kiwi Christmas,

which opens in cinemas next

Thursday. The pair live with

their families in Governors

Bay.

Left: A coast guard handcuffs

Santa in a scene from the film

Kiwi Christmas. ​

landscape with the towering

hillside and the ever-changing

harbour. I'm looking forward

to summer and getting the boat

out and heading over to Quail

Island."

•Kiwi Christmas opens

nationwide on Thursday,

November 30.

Check out the trailer:

https://www.youtube.com/

watch?v=_J8Rm531oxs

Artisan Homes

Builders of superior homes. Built to last.

Silver medal winner in Registered Master Builders 2016 House of the Year Awards

Artisan Homes Office & Showhome

5 Broomleigh Drive, Faringdon

Artisan Homes New Showhome

72 Blakes Road, Prebbleton

Open Sat & Sun 12–4pm

Office & Show Home: 5 Broomleigh Drive,

Faringdon, Rolleston

New Show Home: 72 Blakes Road, Prebbleton

Phone: 03 374 9172 or Rob: 021 324 876

E-mail - robin@artisanhomes.co.nz
---
8

Latest Christchurch news at www.star.kiwi

Tuesday November 21 2017

SOUTHERN VIEW

raNGiora • Northwood • st martiNs • tower juNctioN • BishoPdaLe • raNGiora • Northwood

Northwood • st martiNs • tower juNctioN • BishoPdaLe • raNGiora • Northwood • st martiNs • tower juNctioN • BishoPdaLe •

RRP $15.99

$

7 .99

GIFTS

FOR HIM

CRICKET

MUG

365 FISH

EA

GIFTS

FOR kids

BLOCK

TECH FIRE

CREW

$

7 .99

EA

SHOOTING

MUG

RRP $64.99

$

19 .99

AMAZING

GIFT SHOP

RRP $59.99

LITTLE BLOCKS

FIRST TRAIN STATION

RRP $44.99

BLOCK TECH

SITE CREW

$

24 .99

$

14 .99

EA

$

24 .99

CHRISTMAS FOR LESS!

BOXED

CARDS

50 % CHRISTMAS

off

$

29 .99

$

24 .99

$

14 .99

USBORNE

CHILDREN'S

BAKING

COLLECTION

LITTLE GOLDEN

BOOKS CLASSIC

CHARACTERS

BBQ RULES

PLAQUE

50 WATER

ADVENTURES

TO DO BEFORE

YOU DIE

RRP $7.99

$

3 .99

WE'RE GOING ON

A BEAR HUNT

SUITCASE TRIPLE SET

RRP $64.99

$

14 .99

THOMAS & FRIENDS

10 BOOK COLLECTION

TOILET GOLF

GAME OF THRONES

20TH ANNIVERSARY

ILLUSTRATED

EDITION

EA

RRP $29.99

$

19 .99

TOILET

DARTS

$

24 .99

RRP $74.99

EA

$

29 .99

WRAP

35 %

GIFTS

FOR HER

STARS CANDLE IN TIN

CREATIVE

CARD KIT

$

12 .99

SCRAPBOOK KIT

off

3D LOOK

& SEE BIRDHOUSE

$

14 .99

$

19 .99

@papertreestores

ACTIVITY

STATIONS

OR 2 FOR

$25.00

HEART OIL

BURNER SET

MOJITO OR

CABERNET

DIFFUSER

*Stock may vary from store-to-store

Follow us on Facebook:

@papertreestores

DECORATE YOUR

OWN FAIRY WINGS

THE CHASE

GREATEST CHASES

RRP $49.99

$

19 .99

SUPER FOODS &

POWER JUICES

tower junction, off Clarence St, Riccarton | Bishopdale, 31 Bishopdale Court, Bishopdale | rangiora, 206 High Street, Rangiora

Northwood supa centre, Main North Road, Belfast | st martins shopping centre, Wilsons Road, St Martins

EA

EA

$

12 .99

GIFT BAGS

GET ONE

FREE

100s of MAGICAL

EVERYONE

$

19 .99 BUY ONE,

GIFTS FOR

$

17 .99 $

19 .99

$

19 .99

ULTIMATE

TATTOO

STUDIO

RRP $34.99

$

9 .99

CANDLE

DECORATING KIT

$

14 .99

EA

$

9 .99

• st martiNs • tower juNctioN • BishoPdaLe • raNGiora • Northwood • st martiNs • tower juNctioN • BishoPdaLe • raNGiora
---
SOUTHERN VIEW Tuesday November 21 2017 9

Latest Christchurch news at www.star.kiwi

Your Local Views

End the stigma around epilepsy

November

is Epilepsy

Awareness

Month,

Coastal-

Burwood

Ward city

councillor

Glenn Livingstone speaks

about his experience with

the condition

I was first diagnosed with

epilepsy at 19.

I'm now 54 and have not let the

condition hold me back, in fact

I've used it as a springboard to set

goals and achieve them.

Leading up to the diagnosis,

I could not work out why I was

having uncontrollable twitches

when falling asleep.

At a 1983 Youth Easter Camp

I had a seizure, where I blacked

out and was taken to hospital

with concussion and a suspected

broken nose.

My worried parents waited

while an electroencephalogram

revealed the spikes of the 'extra'

electricity in my brain.

Following this, I was diagnosed

with myoclonic epilepsy. I was

put on medication, which I've remained

on since, in order to keep

the epilepsy under control.

One of the consequences of this

newly-acquired condition was

not being able to drive for two

years.

It also meant cycling with a

helmet. Cycling wearing a yellow

helmet in Palmerston North in

1983 was a novel experience for

everyone, both me and the locals.

"Hey skid-lid", or "moon-head"

were all part of the experience of

passing motorists in Palmy.

Shortly after I was diagnosed

and told someone about it, they

said: "Oh, you're an epileptic."

It was that labelling that was to

become the impetus for me to set

goals and pursue them.

In February, I will be taking

part in my seventh Coast to

Coast event with MP Poto Williams.

If you see someone having a

seizure and lying on the ground,

ensure that they do not come

into contact with any furniture

if inside and that they can't hurt

themselves.

Once the seizure is finished,

depending on the severity of it,

check that they're able to breathe

without any obstructions in their

mouth.

They will probably be able

to talk to you but may be a bit

groggy. In some cases they may

need medical attention but every

person and every case is different.

Those of us with epilepsy, our

family and friends, want to be

accepted. We should all work to

put an end to the stigma around

it.

Those of us with epilepsy have

extra electricity in our brains!

So employ us, be cool with us

and above all, give us a chance.

FLAME FILES

• By Mark Thomas – fire risk

management officer

JUST AFTER Guy Fawkes

weekend, I left town for a week.

On my return, I found heaps

of vegetation fires, grass, bushes

and trees had been attended.

While that's a sign of the time

of year, it's also disappointing

to see how many of them were

the result of fireworks.

The worst incident occurred

on November 11 in Harewood,

where a firework thrown on to

the roof of a house set the roof

on fire.

A smoke alarm alerted the

occupants but one was still

burnt while escaping.

If found, the idiot responsible

might well face a charge of

arson. Because recklessness is

now included in the actions

that might constitute the crime.

And you don't get much more

reckless than this.

Going through the week's fire

calls, I almost finished without

seeing a single kitchen cooking

fire, which is almost unheard

of.

Until I got to Wednesday

Local

News

Now

Fire rages, homes at risk

Fireworks continue

to cause issues

Lifestyle Village for over 50 yrs

when some people went out

from their apartment in Madras

St and left a pot on the

working stove.

The neighbour downstairs

smelt smoke and called it in.

The occupants just beat the

first fire truck in returning and

had the job of cleaning up the

smoke damage.

One week, just maybe, we'll

get through without a single

one of these totally preventable

incidents.

Outside fires are banned.

For good reason. A brazier left

burning on a deck in Parklands

on Wednesday night fell over

seemingly after everyone had

gone to bed.

The deck was destroyed. Also

very preventable.

A great Bakery

and Cafe

78 Main Street, Oxford

Phone 03 312 4397

51 Main West Road, Sheffield

Phone 03 318 3876

www.sheffieldpieshop.co.nz

For all your catering needs

Shop online

with the in

store special

prices!

Discount code:

Goat

themohairstore

140 Colombo Street, Beckenham

Phone 03 943 1639

www.themohairstore.co.nz

MALTWORKS VILLAS

LIFESTYLE VILLAGE • HEATHCOTE VALLEY • CHRISTCHURCH

• Maltworks Lifestyle Village is located at 60 Port

Hills Road, Heathcote Valley, priced from $469,900

• 65 FREEHOLD UNIT TITLES - protecting your

investment (not licence to occupy)

• On site caretaker for maintenance of grounds,

common areas plus a communal clubhouse

• Selection of well designed larger floor plans with

both single and double garaging

• Solar panels on all villas generating power savings

Michelle Tait Developer Phone 027 668 6268

Sue & Greg Roberts

Licensed Agent REAA 2008

Sue 027 440 1282 Greg 027 535 9113

ON SITE EVERY:

Mon, Wed, Fri & Sat

1pm - 3pm

Tues, Thurs & Sun

12pm - 2pm
---
10 Tuesday November 21 2017

Latest Christchurch news at www.star.kiwi

SOUTHERN VIEW

2 [Edition datE]

itLocal

Southern View Keep

Celebrate the festive season with

Thai flavours and a group discount

The popular Thai restaurant, Green Chilli

in Ferry Road Woolston, is offering a 10 per

cent discount for groups of seven or more

booking in for their Christmas parties in

the evening.

The attractive, 55-seat restaurant is

the ideal venue for festive celebrations

with workmates, or family and friends.

The menu features

a wide selection

of authentic Thai

dishes, including

their famous Pad

Thai, which is the

most popular item

with diners.

The chicken satay

with four sticks of

large, juicy chicken

pieces is another very

popular dish, and

great value at only

$10. Curry puffs,

spring rolls and fish

cakes are among the

tasty starters, while

the wide selection of

main dishes includes green, red and yellow

curries, massaman curry, spicy chicken

lemongrass and Thai-style salads. To ensure

all taste preferences are catered for, the chef

prepares the dishes in degrees of spiciness

– mild, medium, Kiwi hot and Thai hot,

according to what is requested.

Students and seniors are also offered a

10 per cent discount, which is available at

lunchtime and in the evenings. There is

also a Wednesday special – three courses

for $22.

Green Chilli has been a favourite of

Christchurch's Thai food lovers for more

than 20 years. Originally a takeaway

outlet located in the Woolston shopping

centre, Green Chilli became a fully-fledged

restaurant when it moved further along

Ferry Road almost four years ago. Situated

at 596 Ferry Rd (next to the Three Boys

brewery), the family-run business, Green

Chilli still has the same chef, too.

Fully licensed, the restaurant is open

from 11-30am-2pm for lunch and from

5pm till late for dinner, seven days a week.

Off-street parking is available and there is

plenty of on-street parking as well.

So, make your Christmas party booking

soon, phone 381 2855 or 384 9993, and

celebrate the festive season with delicious

Thai flavours.

Green Chilli also has takeaways, and

offers a free delivery service – minimum

order $45, within the local area. For over

two kilometres away there is a $5 delivery

charge. They will be open right through the

Christmas and New Year holidays, except

for Christmas Day and Boxing Day.

oFten quoted as

"the best thai in ChRistChuRCh"

Amazing authentic Thai food will also turn you into a

Green Chilli Thai restaurant advocate.

big oFFeR Wednesday sPeCial!

3-course banquet deal! only $22pp

Home Delivery, Takeaway available, BYO,

Vegetarian Friendly

GREEN CHILLI THAI

RestauRant

1/596 Ferry Road

Woolston, Christchurch

greenchilli@windowslive.com

Phone: 03 384 9993 or 03 381 2855

FREE

Cataract Assessment

Your eye surgery experts

Specialist

eye care in

your area

0800 4 EYE TEST

0800 43 93 83

Longhurst Health - 53 Caulfield Ave

"Where Every Smile Matters"

Experienced team provides caring and

gentle dentistry for the whole family

Dental Hygienist Available

Sedation dentistry

Wedding packages

Winz quotes

ZOOM whitening

treatment

ACC accredited

Dental Health Counselling

Free treatment for

adolescents (13-18 years)

Free treatment of

children (0-13) with a

school dentist referral

PH 332 6399

We've moved!

Now based at

104 Colombo Street,

Beckenham

www.smileconcepts.co.nz

BRIGGS

AUTO SERVICE

"Your face is unique.

Trust your injectable

wrinkle treatments

to an experienced

Cosmetic Physician"

LET US

SERVICE yOUR

VEhICLE And

Medical Director

Dr Heather Jefferies

REdUCE yOUR

RUnnInG

COSTS

your local trusted automotive

service and repair specialists

332-0140 | 242 Barrington Street

Kerry Briggs | Blair Shewan

• new & quality secondhand tyres

• alloy wheels

• replacement rims

• puncture repairs

Pain free laser

"Your face is unique. skin Trust rejuvenation your injectable wrinkle

Facial assessments

treatments to an experienced Cosmetic Physician."

Injectable wrinkle

- Medical Director, Dr treatments Heather Jefferies

Dermal fillers

Prescription peels

• Pain free laser skin Microdermabrasion • Prescription peels

rejuvenationMole Mate® skin • Microdermabrasion

cancer

• Facial assessments and mole

• Mole

checks

Mate

Leg vein treatment

® skin cancer

• Injectable wrinkle and mole checks

treatments

• Leg vein treatment

• Dermal fillers

WITH A MASSIVE RANGE OF TYRES IN STORE, WHY NOT POP IN AND SEE US TODAY!

8c Birmingham Drive,

(Cnr Hands & Birmingham Drive)

Ph: 03 343 0099 Cell: 027 226 3805

Website: www.jcmdirect.co.nz

31 Colombo St, Cashmere

31 Colombo St, Cashmere | Phone 372 3589

Phone 372 3589 www.koruskin.co.nz

www.koruskin.co.nz

Advertising enquiries Richard McCombie | Ph: 021 914 335 | richard.mccombie@starmedia.kiwi
---
SOUTHERN VIEW Latest Christchurch news at www.star.kiwi

11

News

Tuesday November 21 2017

Local

News

Now

Twitter's quake research role

Fire rages, homes at risk

Student

analysing

emotional

reactions

• By Bridget Rutherford

EARTHQUAKE-related Twitter

posts are being analysed to

provide a new way of gauging

how people are coping, and

whether they need more support.

Lincoln University PhD student

Prerita Gupta is developing

a recognition algorithm to identify

emotions based on keywords

in tweets from 2010-2016.

So far, she has collected more

than 250,000 tweets as part of

the research, which is expected

to take up to two years.

The Complex Systems, Big

Data and Informatics Initiative

student said people experiencing

upheavals often turned to social

media to express their feelings,

especially Twitter.

She decided to research how

people reacted emotionally online

when earthquakes struck.

"I thought it would be interesting

to know which emotions they

RESEARCH: Lincoln University student Prerita Gupta is

capturing earthquake emotion through Twitter research.

PHOTO: MARTIN HUNTER

have gone through and to know

the trend of emotions when they

feel minor or major disasters."

The algorithm gauges intense

reactions from people, and how

they are coping. An example is

a tweet such as "Sharp lil jolt felt

in this morning!!!. Forgot how

much I hate them.''

Ms Gupta said the tool could

be used by psychologists as a

new way of gauging emotional

states. She said it could be used

as a decision-making tool to

understand the collective state of

a group affected, and to provide

them better support or assistance.

The data had geographical

locations, so they could see what

area was impacted the most, she

said.

"This information is very

useful for health providers in

examining the relationship

between emotions and the use

of anti-depressant medicines,

helpful for the Government to

plan which affected area needs

the maximum health benefit and

for social welfare departments to

understand the level of support

they should provide to the

affected party."

Ms Gupta said traditional

approaches such as interviews or

surveys may not be the best way

to collect data, as it reminded

people of the experience and

could be traumatising.

Analysing Twitter posts was

non-intrusive, she said.

The Ministry of Health is also

investigating whether Facebook

or Twitter posts about illnesses

or symptoms could be tracked

to see if there is a trend in a

particular area.

It was also looking at whether

school absentees, employee

sick leave, over-the-counter

pharmacy sales, tissue sales or

Healthline calls could be utilised

in preventing the spread of

illnesses.

DESIGNER

FASHION

AT OUTLET

PRICES

SMART

BRANDS

SMARTER

PRICES

HORNBY 409 Main South Road | Open 10am–5pm, 7 days
---
12 Tuesday November 21 2017

Latest Christchurch news at www.star.kiwi

FOCUS ON HEALTH

Dilo Oil – The Remarkable

Skin Rejuvenator

Until Rachel

Hunter's popular

TV series "TOUR

OF BEAUTY" Dilo

Oil was relatively

unknown, being one

of the best-kept secrets

of the Pacific Islands. It

may however be the number

one natural beauty oil available

as it possesses powerful natural skin

regeneration and healing properties.

According to ethnobotanist Chris

Kilham, Dilo (pronounced dee-lo)

Oil is a powerful skin regenerator as

it is one of the most effective agents

in promoting the regeneration and

formation of new tissue, thereby

accelerating wound healing and

the growth of healthy skin. Dilo

Oil is super-absorbing and can

penetrate all three layers of the

skin, offering exceptional cell

hydration and regeneration.

As well as this, Dilo Oil has

potent anti-inflammatory,

antimicrobial, antifungal and

antioxidant properties.

Traditionally, Dilo Oil is used to keep the

skin young and youthful and for just about

any skin complaint. Some of the conditions

for which it is considered helpful include

abrasions, cuts and cracks, acne and

acne scars, pimples, blemishes, stretch

marks, wrinkles, blisters, burns (including

chemical and radiation), diabetic sores,

rashes, shaving irritation, dry or scaly skin,

ACV SUPPORTS

• Healthy digestion, assimilation of nutrients, elimination of wastes

• Energy – Vitality – Endurance

• Elimination of viruses, bacteria, fungus & parasites

• Powerful antioxidant

• Cardiovascular health, blood flow & healthy blood pressure

• Diabetes – improves insulin sensitivity

• Arthritis & joint support • Longevity & improved health

• Settles the stomach & reduces reflux

• Weight Loss

eczema, psoriasis,

dermatitis, herpes

sores (cold-sores),

insect bites and

stings, rheumatism,

pain, sciatica,

shingles, sunburn,

rosacea, athlete's foot, skin

eruptions, warts, skin ulcers

and sores, nappy rash and almost

any other skin ailment and often with

incredible results.

Many beauty and skincare products

on the market today contain unnatural

ingredients that can be toxic and may

even contribute to disease. Generally

the benefits are exaggerated

and often only temporary or

camouflage. Marshall's Dilo Oil is

100% pure and certified organic.

It has been cold-pressed from the

Dilo nut and contains absolutely

no additives. Polynesians and

Southeast Asians have revered

Dilo Oil for centuries believing it

to be a sacred gift of nature and

the Gods. Dilo oil stimulates

and supports the skins natural

healing process through the growth of new

healthy skin tissue. I personally believe

it is a remarkable product and highly

recommend it to everyone. A 50ml bottle is

$19.90 and 100ml only $29.90.

Further information is available from

the Natural Health Advisers at Marshall's

Health & Natural Therapy in New

Brighton. We are Always Happy to Help!

NATURAL HEALING & BEAUTY OIL

As seen on Rachel Hunter's Tour of Beauty

Revered for centuries by Polynesians & Southeast Asians for its remarkable

skin anti-aging & healing properties, Dilo oil comes from the nut of the sacred

Dilo tree, "the tree of a thousand virtues". Dilo oil is often called the beauty oil

as it can penetrate all three layers of the skin offering exceptional cell hydration

& regeneration. It has a unique ability to stimulate the growth of healthy skin

cells & this gives it powerful anti-aging & healing properties that can help

reduce lines, blemishes, scars & damage to the skin. It also possesses

anti-inflammatory, antimicrobial, antifungal & antioxidant properties.

Dilo Oil Supports

• Anti-aging & skin regeneration, helps reduce lines, blemishes, scars &

stretch marks

• Skin hydration

• Skin repair & growth, helps feed the skin & stimulate healthy new cells

• Wound healing & skin protection from bacteria, viruses & fungus

• Most skin problems, rosacea, pimples, ulcers & sores, acne, psoriasis,

eczema, dermatitis, rashes, blisters, skin eruptions, warts, insect bites &

stings, athlete's foot, burns, nappy rash etc.

• Joint & muscular pain

Bringing You the Best in Natural Health

AMAZING

PRICES

100% PURE & ORGANIC

50ml

only $19.90

only $29.90

100ml

AMAZING ISLAND

MIRACLE OIL

- WE ARE ALWAYS HAPPY TO HELP! -

Apple Cider VinegAr - Powerful Natural Health Tonic

ACV is a highly nutritious with all the goodness of apples (one of our most health-giving fruits) in a form that is readily

accepted by the body. It promotes healthy digestion, assimilation of nutrients & elimination of wastes. Detoxifying

& purifying & supports the function of vital organs like the kidneys, bladder, liver & heart. Helps neutralise toxic

substances & harmful bacteria in food. A time-honoured natural remedy to improve health & longevity.

ALWAYS INSIST ON MARSHALL'S TRUE APPLE CIDER VINEGAR FOR

MAXIMUM NUTRITIONAL VALUE & HEALTH BENEFITS!

Bringing You the Best in Natural Health

MARSHALLS HEALTH & NATURAL THERAPY

CONSULTING - PRESCRIBING - DISPENSING - MANUFACTURING - MEDICAL HERBALISTS

110 SEAVIEW RD, NEW BRIGHTON • PH 03 388 5757 • Email: enquiry@marshallshealthshop.co.nz

- WE ARE ALWAYS HAPPY TO HELP! -

MAIL ORDER AVAILABLE

MARSHALLS HEALTH & NATURAL THERAPY

CONSULTING - PRESCRIBING - DISPENSING - MANUFACTURING - MEDICAL HERBALISTS

110 SEAVIEW RD, NEW BRIGHTON • PH 03 388 5757 • Email: enquiry@marshallshealthshop.co.nz

Super price

Premium QuALity N.Z. DoubLe

StreNgth, orgANic APPLe

ciDer ViNegAr:

750ml only $9.90, 2ltr only $19.90

With 20% mANukA hoNey ADDeD:

750ml only $14.90, 2ltr only $29.90

MAIL ORDER

AVAILABLE

Centuries old folk remedy

supports good health!

A fermented liquid health tonic offers an

array of powerful health benefits. It is none

other than the popular apple cider vinegar

or ACV. Since the time of Hippocrates –

the "Father of Medicine" – ACV has been

renowned for its curative properties.

In his popular book "ARTHRITIS and

FOLK MEDICINE", DR. D.C. Jarvis

reports how he found that Vermonters

who regularly consumed ACV and Honey

had excellent health with many putting in

a vigorous day's work on the farm even

when well into their eighties.

He also noted the effects of

ACV and H on arthritis to be

remarkable with many patients

reporting almost total relief

after taking a course of the

mixture. Dr. Jarvis surmised

that the acid and potassium

in cider vinegar counteracted

calcium deposits and helped

the body control calcium use.

He also noted that Vermonters

who consumed ACV and H

around meal time had excellent blood

pressure and circulation. The reason he

found was that protein foods thickened the

blood and vinegar thinned it. As the blood

thickens it cannot pass as easily and quickly

through the blood vessels and capillaries.

This poor blood flow would reduce cellular

health by limiting nutrients to the cells as

well as waste elimination from the cells.

To prevent cell damage the body naturally

increases blood pressure but this puts

more stress on the blood vessels, organs

ARE YOU READY

TO DOWNSIZE?

Paying rates for a house that's

too big? Paying maintenance and

heating costs for space you don't use?

A move to one of our

architecturally designed villas

at McKenzie Lifestyle Village in

Geraldine will cut those costs.

Three villas are available for

occupation now, priced from

$355,000.

Talk to David Connolly today

on 0800 84 55 24.

SOUTHERN VIEW

and heart. Having ACV and H with meals

will help prevent protein raising the blood

pressure. It also contributes to a feeling

of greater well-being because the thinner

blood circulates quickly and more easily

through the blood vessels. Dr. Jarvis found

regular consumption of CV and H to be

an excellent health tonic with numerous

health attributes.

ACV is highly nutritious as it contains all

the goodness of the apple in a form that is

readily accepted by the body. Good health

starts with good digestion

and assimilation of nutrients.

ACV taken before food will

stimulate and promote healthy

digestion and assimilation of

vital nutrients for good health.

A well-functioning digestive

system helps prevent disease

by neutralising any toxic

substances that enter the body.

It is important to note not

all ACV is produced in the

traditional way and results are

likely to prove disappointing with these

other vinegars.

Marshall's Premium ACV and ACV

with 20% Manuka Honey is produced in

Canterbury from Organic whole apples in

the traditional way. It is double strength so

you can use less.

Further information is available instore

from the Natural Health Advisers at

Marshall's Health & Natural Therapy,

110 Seaview Road, New Brighton, Phone:

388-5757. We are Always Happy to Help!

Professional Ear Care

ACC and WAR Pension Approved

275 Riccarton Road Between Clyde & Ilam Rds

Spacious parking • Orbiter & Metro bus stops outside

For all appointments

Phone 348-8716

Fax 341-5873

Rest home and private

home visits available

by arrangement

Would you like

to promote your

Business?

For local features

please contact

Bev Stanger

03 364 7407

bev.stanger@starmedia.kiwi
---
SOUTHERN VIEW Latest Christchurch news at www.star.kiwi [Edition datE]

Tuesday November 21 2017 13

2

NURSE MAUDE

Email emily.oconnell@starmedia.kiwi

by 5pm each Wednesday

Hours of care in

your cupboards

Go along to the Addington Fun Fair on Saturday from 11am to 3pm at St Mary's Church,

21 Church Square. There will be live entertainment and about 40 stalls. Races will be

held every hour including egg and spoon, sack and pancake. Proceeds from the fair will

go towards supporting local community organisation, Manuka Cottage. ​

Introduction to iPads

Tuesday, 1-2.30pm

Have you got an iPad but don't know

where to start? Are you interested in getting

an iPad and would like to learn some

of the basics? This course will help you

become more confident and show you the

basics. For absolute beginners. Bookings

required.

South Library, 66 Colombo St

Creative Writing Wednesdays

Wednesday, 4-5.45pm

A group leader will work with you to

craft, create and develop your own work.

Bring some pens or pencils, laptop, paper,

and all of your ideas along.

Linwood Library, Eastgate Shopping

Centre

Mid-Week Laughter Club

Wednesday, 6-7pm

The focus of the club is to get over the

stress of the first part of the week and have

a positive outlook for the rest. The event

aims to release endorphins and help you

relax and lower stress levels. There is no

comedy, stand-up or jokes at this session.

Instead, you are encouraged to make

yourself laugh at nothing at all for the

purpose of relaxing.

St Marks Methodist Church, cnr Barrington

and Somerfield Sts. Entry $2

Storytimes/Wā Kōrerō

Thursday, 10-11am

Encourage learning through a love of

stories. Storytimes is a free, interactive

programme with songs, rhymes and craft.

Non-members welcome.

Linwood Library, Eastgate Shopping

Centre

Game Zone @ Linwood Library

Thursday, 3.30-4.30pm

Play great favourites like minecraft,

charades, connect four, pictionary and

more. Learn and develop strategies in new

games such as dutch blitz, heads up, hand

and foot, and group games. Join in X-box

and PS4 tournaments. Take your friends

or meet some new ones; all children aged

8-12 welcome. No booking or payment

required.

Linwood Library, Eastgate Shopping

Centre

Beckenham Exercise Class

Friday, 9.30-10.30am

Designed for people living with longterm

health conditions. Classes generally

occur weekly except on public holidays.

Phone 0800 663 463 to register.

St Marks Methodist Church, cnr Barrington

and Somerfield Sts

Babytimes

Friday, 11-11.30am

Encourage learning through

language. Babytimes is a free, interactive

programme including songs, rhymes,

stories and play. Non-members welcome.

Linwood Library, Eastgate Shopping

Centre

Our Lady of Assumption and Hoon

Hay Schools' Mega Fair

Friday, 4.30-7.30pm

There will be music, food, entertainment,

games, crafts and raffles.

Our Lady of Assumprtion School, 89

Sparks Rd

Spreydon Social Games Club

Saturday, 10am-noon

Join a friendly game or two of upwords,

scrabble, cards, chess, mahjong and more.

Spreydon Library, 266 Barrington St

Cashmere Under-5s Market

Saturday, 10am-12.30pm

With a mix of new and pre-loved stalls,

this is your chance to get organised before

the holiday season. Go along and get

started on your Christmas shopping all in

one place. Adults $2 and children free.

The Cashmere Club, 88 Hunter Tce

Thorrington Community Boot-market

and Kids' Market

Saturday, 10am-2pm

Go along to Thorrington Primary

School and join in the fun at this annual

community event. Live music, yummy

food, craft, bargains and much more.

Thorrington Primary School, 22a Colombo

St

Community Day

Saturday, 11am-2pm

Go along to this community day for free

activities. There will also be food available

to purchase.

Hillmorton High School field, Tankerville

Rd

Girls Minecraft Club

Saturday, 2.30-3.30pm

Get creative, start crafting! Build

imaginative worlds and battle nocturnal

creatures at the learning centres'

Minecraft Club. Novice or expert, join

the club and play with your friends in

our very own world. A tutor will be in

attendance to supervise and assist if

necessary. For those aged eight to 13. It

costs $20 per child per term. Contact the

library to make a booking.

South Library, 66 Colombo St

Opawa Farmers' Market

Sunday, 9am- noon

Find some organic and delicious

produce from local growers. Enjoy sipping

on a coffee while checking out the market.

275 Fifield Tce, Opawa

While the Nurse Maude Hospice Shops are

a well-known feature on the Christchurch

retail scene, no quite so well-known is its

equally successful counterpart, Maudes on

Trade Me.

Maudes on Trade Me sells everything

from antiques to sporting and household

items and is open 24 hours a day, seven

days a week with the proceeds of every

item supporting hours of care in the Nurse

Maude Hospice.

With up to 400 items a week being listed

and sold Maudes on Trade Me is totally

dependent on a steady stream of donated

goods.

So if it's something you no longer want or

need the chances are it can raise money

for the Nurse Maude Hospice.

There has always been a strong

relationship between the

community and the Nurse

Maude Hospice.

That relationship is what makes

it possible for patients and their

families to be able to receive

care and support free of charge

at the Nurse Maude Hospice so

they can focus on what matters

rather than having to worry

about how they're going to pay

for that care.

While smaller pieces can be

left for Maudes on Trade Me

at any of the Nurse Maude Hospice Shops

it is sometimes possible for larger or bulk

items to be picked up.

Just give them a call on 375 4643 or

email them at trademe.volunteers@

nursemaude.org.nz and they can let you

know if and when they can pick them up.
---
14 Tuesday November 21 2017

Latest Christchurch news at www.star.kiwi

HEALTH & BEAUTY

SOUTHERN VIEW

Love your dentures

Is it time to swap your generic denture appearance

for a beautiful, natural looking smile?

Internationally renowned dental

technician Richard Greenlees,

PGDipCDTech (University of Otago) of

Lovebite is the person to call.

His special point of difference is

rebuilding what he calls the Oral

Architecture, the structure and shape of

a patient's face that is often lost following

years of wearing dentures.

Lovebite dentures address problems

that can arise due to years of the patient

wearing incorrectly fitting or poorly

functioning dentures, such as poor

occlusion (the way the teeth come

together), aesthetics, function and

hygiene.

An intricate knowledge and

understanding of facial features allows

Richard to return facial tissues back to the

correct position, reform lips, and restore

beauty and confidence.

Richard provides a friendly, discreet

service and personally guides his patients

through the transformation process to

create teeth with small nuances in the

fabrication, colour and shape.

Carmen, a recent patient said in a

thank you letter to Richard, "I highly

recommend your craftsmanship to anyone

wanting a natural looking smile. Because

you do your work in front of your client,

one is able to see how meticulous and

dedicated you are to ending up with a top

class result. My dentures are amazing.

They look like one's own natural teeth. So

much time, effort and energy went into

the end result. Simply the best."

Richard's patients have varying needs,

from full denture replacement, to first

time immediate dentures, implant

supported dentures and metal partial

dentures.

Since he started making teeth in

1980 Richard has travelled extensively,

accumulating vast knowledge through

training and working in Japan, and

running his own practice in the

prestigious Harley Street, London for 15

years. He continues to teach his world

leading techniques globally.

Richard also creates porcelain crowns

and veneers, working with like-minded

dental professionals.

A beautiful new Lovebite smile

resembles nature and reflects the patient's

character. It boosts confidence and helps

patients to look and feel years younger.

To learn more and to view a gallery

of stunning Lovebite dentures, visit

lovebite.com.

BEFORE

AFTER

These before and after photographs

perfectly highlight the facial

rejuvenation that can be achieved

with a Lovebite denture (right).

The patient's facial structure and

shape have been restored, with her

beautiful new smile transforming

the way she looks and feels.

True

Who thought

DENTURES

and false!

could look this

natural?

• Full dentures • Metal partial dentures

• First-time immediate dentures • Implant supported dentures

STUNNING: A beautiful new denture for

a young female patient

These stunning lovebite full upper and

lower dentures have been expertly crafted by

internationally-recognised dental technician

Richard Greenlees at his Christchurch studio.

The combination of Richard's skill, experience

(including 15 years in London's prestigious

Harley Street) knowledge and revolutionary

techniques allow him to create beautiful

bespoke false teeth that truly resemble those

in nature and reflect each patient's individuality

and unique character.

VEBITE

AGING GRACEFULLY: Natural teeth for

a gentleman patient in his 80's

HOLLYWOOD: It's all white for this

female patient in her 60's

402 Montreal Street

Christchurch | P. 379 1222

By appointment only.

Consultation fee applies.

lovebite.com

Richard will personally guide you through the entire process to create

teeth with small nuances in the fabrication, colour and shape. Your beautiful new

lovebite dentures will boost your confidence and make you look and feel year's younger!
---
SOUTHERN VIEW Latest Christchurch news at www.star.kiwi

Tuesday November 21 2017 15

GREAT food

BROUGHT TO YOU BY...

Your fresh food people

STRAWBERRY AND

MARSHMALLOW PARFAIT

Ingredients

½ cup Marshmallows, small

350g Sugar

500g Strawberries, hulled

6 Eggs, 4 yolks, 2 whole

2 cups Cream, thick

500g Strawberries, fresh, for

garnish

Directions

To prepare the tin, line a narrow

terrine mould about 30cm

x 10cm with plastic wrap. Set

some of the marshmallows along

the bottom with some strawberry

slices.

Place the strawberries in a

saucepan with half the sugar.

Bring to a gentle simmer over a

low heat. The juices will come

out, so there is no need to add

water. Simmer for no more

than 2min, then remove from

the heat and mash or purée the

mixture.

Return it to the pan and set

aside. Use an electric beater to

whisk the egg yolks and whole

eggs with the remaining sugar

until thick and mousse-like.

Return the strawberry and sugar

mixture to the heat and bring to

a simmer. With the beater still

running, tip this hot mixture

into the eggs and continue

whisking until it is really thick

and well incorporated. The hot

sugar and strawberries "cook"

the egg yolk, so it is not raw.

Whip the cream until it reaches

soft peaks, then fold it gently

through. Add the remaining

marshmallows to the mixture.

Spoon it into the prepared tin.

Cover with plastic wrap and

freeze for at least 24 hours. To

serve, cut the parfait into slices,

surround with sliced strawberries

and place in a cup.

HOW TO ROAST THE

PERFECT WHOLE LEG OF

LAMB

Whole leg of lamb

1-2 tbsp oil

Rock salt

Freshly ground black pepper

4-5 sprigs fresh rosemary

Take the lamb out of the fridge

30min before cooking to allow

it to come to room temperature.

Preheat the oven to 170 deg C.

Place a wire rack in a roasting

tray, place the lamb on the rack

and brush the meat with the oil

and then season with the rock

salt and freshly ground black

pepper.

Rub the lamb with the rosemary

sprigs leaving them in the

roasting dish. Place the meat into

the oven and roast at 160 deg C,

allowing 30min per 500g.

To test if the meat is cooked,

use a skewer to pierce the leg at

the thickest part, going through

to the bone. If the juices are clear,

the lamb is cooked.

Remove the lamb from the

oven, cover the meat with some

aluminum foil and then set the

lamb aside to rest, for approximately

15-20min. Carve the meat

and serve with your favourite

vegetables and plenty of gravy.

Peas 400g ........................................... 2 .99

bag

Strawberries 250g ......................... 2 .99

Large NZ Navels ...................... 2 .49

kg

Sunburst, Medley &

Sweet Treat Tomatoes .......... 1 .99

punnet

Capsicums 1kg Bags ...................... 3 .99

bag

Premium Beef Mince ................ 9 .99

kg

Whole Lamb Leg Roasts .. 11 .99

kg

Chicken Tenderloins .......... 11 .99

kg

Beef Tri-Tip

NEW SEASON

punnet

(Steak for the Grill!).................... 14 .99

kg

ROWS OF

LOCALLY

GROWN

PRODUCE

We like to back our local growers. Our team are committed to offering you

the very best locally grown produce and all the benefits it brings. After all,

if it comes from down this way it's bound to be really good .

Love buying locally.

All our fresh meat is 100% NZ FARMED.

specials VAlid 20th november - 26th november 2017. ONLY AVAILABLE AT

RAEWARD FRESH HAREWOOD RD, TOWER JUNCTION & MARSHLAND RD

harewood rd Mon–Fri 8.00am–6.30pm Sat–Sun 8.00am–6pm

Tower junction Mon–Fri 8.00am–6.30pm Sat–Sun 8.30am–6pm

MARSHLAND RD Mon–Sun 8.00am–6:00pm

WWW.

.CO.NZ
---
16 Tuesday November 21 2017

Latest Christchurch news at www.star.kiwi

SOUTHERN VIEW

Breaking news,

delivered to

your pocket.

Visit www.star.kiwi

anytime, anywhere!

Fire rages, homes at risk

•news •CTV •sport •districts •schools •lifestyle •opinion •what's on

www.star.kiwi
---
SOUTHERN VIEW Latest Christchurch news at www.star.kiwi

Tuesday November 21 2017 17

REAL ESTATE

Inspired contemporary living

14A Saracen Avenue, Northwood

Auction: Thursday, 30 November 2017 Unless Sold Prior

3 bedrooms | 2 bathrooms | 3 toilets | 1 living room | 2 car-garage | 4 off-street parks | Property ID: PI48973

Occupying a setting of tranquility, this

cleverly designed townhouse on a Freehold

Title, offers contemporary living without

compromise. With an outlook over Glen

Oaks Reserve, the Styx Mill Conservation

Reserve, and distant mountains beyond,

inspired views will greet you each morning,

yet supermarket, cafés and shops are within

close proximity.

In the tiled entrance, large windows bathe

the space in natural light and offer enticing

glimpses through to the internal courtyard.

A generously proportioned open-plan

living and dining room flows to outdoor

living on two sides: the internal courtyard,

a wonderfully sheltered and intimate space

for relaxing and entertaining throughout

the day and into the evening, and a sundrenched

terrace that invites you to enjoy

the leafy surrounds. Adjoining the living

space, a well-appointed kitchen includes an

island bench, pantry, ceramic cooktop and

90 cm entertainer's oven. Sleek engineered

stone benches and boxed ceilings add a

touch of understated elegance.

Upstairs, the master suite is a luxurious

sanctuary, with sliders opening to your

own private balcony - and those sensational

views - plus a WIR and chic tiled en suite.

Two more airy and inviting bedrooms

(one double, one single) both have built-in

wardrobes and share a tiled family bathroom

filled with light thanks to two rain-sensing

skylights. A downstairs powder room

caters to guests, while a separate laundry

and double internal-access garage ensure

the practicality of this very special home.

The 331 sqm grounds are fully fenced and

neatly landscaped with easy-care plantings,

ensuring maximum enjoyment with the

minimum of maintenance. A gate offers

direct access to the reserve and walking

trails beyond.

The owners have committed to building

in the country and must sell their muchloved

home, allowing you the opportunity

to secure an exceptional standard of living

in an inspiring location.

Open Homes Thursday 23 Nov 1:00pm -

1:45pm, Saturday 25 Nov 1:00pm - 1:45pm

or Sunday 26 Nov 1:00pm - 1:45pm.

See you at the Open Homes or to

arrange a private viewing, give me a call

today Deb Harvey of Harcourts Gold

Papanui (Licensed Agent REAA 2008) on

352 6166 or mobile 027 220 6565

Classifieds

Contact us today

Trades & Services

Trades & Services

watch local | support local | shop local

Join our

hosts Geoff &

renee on sKy

ChaNNeL 83

Thursday

7.30pm

repeaTs friday

1.30am

& 7.30am

WE SHARE YOUR VISION

SKY 083 + On Demand

WWW.STAR.KIWI

for enquiries, contact Geoff moreton: 021 1066 177

Need a

BUILDERS

Builder?

For all your building

needs

Experienced and

reliable builders

All renovations

Decking and fencing

New builds

No job too small

No obligation quote

Contact us today

to discuss your

building project!

Phone Richard

022 159 4820

GARDEN SUPPLIES

CHCH'S LARGEST SELECTION OF

BARK • COMPOST • SHINGLES

Remember...

we are NOT in

Parkhouse Road

Landscape Lane (off Lunns Rd)

P. 348 2915 OPEN 7 DAYS

nO GREEn wastE In anY OF OUR COMPOst

house and garden

home

cleaning

gardening

services available

throughout

christchurch

your one stop shop for home services

www.anextrapairofhands.co.nz

info@anextrapairofhands.co.nz

0800 535 355

paintinG

Price Family

Painters Ltd

Free Quotes

Painting

Interior/Exterior

Gib Stopping

EQC Opt Out

Fletcher Accredited

Project Management

Phone: Morton 021 667 444

www.pricefamilypainters.co.nz
---
ISSN 2423-0219

18 Tuesday November 21 2017

Latest Christchurch news at www.star.kiwi

Mention

this ad and

get a 25%

discount

on labour

Conditions Apply

Classifieds

Computer Services

COMPUTER REPAIRS

PC PROBLEMS?

PC slow? Annoying Errors and Pop Ups?

Internet not working? Are you secure?

Not really sure?

Relax, with over 15 years experience we have the

answers to ALL your PC problems. And we have a

range of unique fixed price services available.

Best of all we come to you - at no extra charge.

Contact us today

Situations Vacant

SOUTHERN VIEW

What's On

Entertainment

To advertise, contact

Jo Fuller

027 458 8590

jo.fuller@starmedia.kiwi

care free computing

Health & Beauty

FOOTCARE

OASIS

Senior Citizens Foot Care

25 Conway Street, Spreydon

Treating hard thick nails, calluses

and corns finishing with a foot massage

Price $30 Allow 45 mins

Home Visits available by appointment

Therapist – Amanda

(30 years experience)

Ph. 942-6036 for an appointment

HOURS ARE FLEXIBLE

Community Events

ALCOHOLICS

ANONYMOUS, If you

want to have a drink that's

your business. If you want

to stop, we can help. Phone

0800 229-6757

Call on 0800 PC PICKUP

(0800 727 4251) or 338 8871

www.carefree.co.nz

Gardening

& Supplies

A GARDEN OR

LANDSCAPING TIDY

UP? Shrub, hedge &

tree pruning, Lawns,

Gardening, consistently

reliable general property

upkeep, Dip. Hort. 10

yrs experience, One off

tidy ups or on-going

service. Nick's Property

Holiday

Accommodation

Computers

ALL

YOUR Maintenance. Keeping

COMPUTER

your garden beautiful.

WORRIES SOLVED! Free Quote. Ph. 942-4440

*$30.00 off your first

service with this coupon!*

LANDSCAPE GARDEN

PROFESSIONAL

No problem too big or

Qualified Horticulturist,

offering expert, garden

small from home PC's to

makeovers, design and

business networks. PC

landscaping, for free

slow? An end to Viruses, quotes call Bryce 027 688-

Spyware, and Clogged 8196 or 0508 242-733

Systems. Safe secure LAWNMOWING &

hassle-free computing. GARDEN SERVICES.

Lost files recovered. Mowing, hedges,

Microsoft Certified, guttercleaning,

waterblasting, green

MCSE, MCP+l. 30 years

waste & rubbish removal.

experience. Call Andrew

Regular maintenance or

Buxton this week on 326-

one off garden tidy. Free

6740 or 027 435-7596 quote. Call Pete Atomic

for $30.00 off* Custom Lawn & Garden Services

Computers Christchurch 021 086 15512

QUEENSLAND SUN-

SHINE COAST AUSTRA-

LIA Resort, Ocean Views,

Balconies, Self Contained,

1 or 2 B/R Ensuite,

Heated Pool, Spa, Sauna,

Free Internet, Shops,

Restaurants, Tennis, Surf

Club & Patrolled Beach,

Public Transport at door.

Ask for our SEASONAL

SPECIALS. Phone 61 7

544-35011 Email: reception@mandolin.com.au

www.mandolin.com.au

Trades & Services

ROOF

PAINTING

Rope & harness

a speciality,

no scaffolding

required,

30 years of

breathtaking

experience.

FREE QUOTES

Exterior staining,

exterior painting,

moss and mould

treatment and

waterblasting

Phone Kevin

027 561 4629

AAA HANDYMAN

licensed carpenter

LBP, all property and

building maintenance,

repairs, bathroom/shower

installations, with free

quotes 03 383 1927 or 027

245 5226 ciey@xtra.co.nz

The magazine for gardeners who

like to get their hands dirty

SubScribe from

$43. 50*

*6 issues/6 months

now bigger than ever

SUBSCRIPTIONS FREEPHONE

0800 77 77 10

www.gaRdeNER.kiwI

Trades & Services

HOUSE

CLEARING

Are you

moving house

or trying to

downsize?

Call All Clear

Canterbury. We work

with you to recycle,

sell and dispose of

unwanted items.

Ph: 03 260 0934

or 021 078 4553

raewynlcooke@gmail.com

www.allclearcanterbury.co.nz

BRICKLAYER

George Lockyer. Over

35 years bricklaying

experience. UK trained.

Licensed Building

Practitioner number

BP105608. Insurance

work. EQC repairs.

Heritage brickwork and

stonework a speciality. No

job too small. Governors

Bay. Home 329-9344,

Cell 027 684 4046, email

georgelockyer@xtra.co.nz

BUILDER

For all building work

but specialist in bathroom

renovations, 30 yrs

experience, with service

and integrity. Free Quotes.

Ph Lachlan 383-1723 or

0274 367-067.

BUILDER LICENSED

available for all aspects of

building. Please call 027

241-7471 or 335-0265

CARPET & VINYL

Laying. Repairs, uplifting,

relaying, restretching.

Email jflattery@xtra.co.nz

ph 0800 003 181 or 027

2407416

CARPENTER

HANDYMAN - Small

Job Specialists, Carpentry,

Repairs, Decking &

Maintenance, 40 years

experience, no job too

small, Ph Warren 03 322-

1103 or 027 697-8541

growing with you

SprIng Is here –

It'S Sow Time

how to get the best results from

seeds and seedlings

100% NatIve In

The capItal

Unravelling the secrets of

Otari-wilton Bush

The New Zealand

landscape awards

The people behind

the projects

$7.90 incl. GST

Save our roSeS

How a rose register is protecting our heritage

Trades & Services

Christchurch's

premier Eco

Friendly cleaning

company

• Eco Friendly

• Gear Supplied

• Professional

• Guaranteed

Contact us today!

Freddie

020 4143 7007

www.snapclean.co.nz

FENCE PAINTING

Staining Quality at a

reasonable price. Free

quotes. Phone Warren

today on 980-1676 or 027

2014713

PAINTER

Quality work, I stand by

Canterbury Ph Wayne 03

385-4348 or 027 274 3541

PAINTING

& Decorating Wingfields

Contracting, all interior

& exterior painting & all

forms of interior plastering

& jib fixing, ph Mark 021

171-1586 or 355-5994

PAINTER AVAILABLE

All aspects in painting.

Very competitive in roofs

and fences. Please call 027

241-7471 or 335-0265

September 2016 | 100%

It's time

to grow!

New look and more

content than ever!

MeeT LeSTer Brice

A Garden coach

auckland Botanic GardenS

Why we love our public grounds

Trades & Services

PLUMBER

For prompt service for all

plumbing maintenance,

repairs and alterations.

Phone Michael 364 7080

or 027 438 3943

STONEMASON

BRICK

&

BLOCKLAYER,

Earthquake Repairs, Grind

Out & Repoint, River/

Oamaru stone, Schist,

Volcanic Rock, Paving,

all Alterations new & old,

Quality Workmanship,

visit www.featureworks.

co.nz or ph 027 601-3145

T.V. SERVICE CENTRE

Repairs, tvs, microwaves,

stereos, DVD. Aerial

installations and kitsets,

480 Moorhouse Ave, ph 03

379 1400

VHS VIDEO TAPES

& all camera tapes

converted to DVD, video

taping special occasions,

www.grahamsvideo.co.nz

ph 03 338-1655

WINDOW CLEANING

Average 3 bdrm house

inside or out $40. Both

$70. Phone Trevor 344-

2170

Wanted To Buy

AAA Buying goods

quality furniture,

Beds, Stoves, Washing

machines, Fridge Freezers.

Same day service. Selwyn

Dealers. Phone 980 5812

or 027 313 8156

TOOLS Garden,

garage, woodworking,

mechanical, engineering,

sawbenches, lathes, cash

buyer, ph 355-2045

WHITEWARE

WANTED Cash for

fridges, freezers, dryers,

washing machines, ovens.

Top prices paid for good

working machines. Ph

Dave anytime 960-8440 or

027 6622 116

Christchurch's only

SEASIDE CLUB

TUESDAYS & THURSDAYS

MEMBERS LUCKY CARD DRAW

DINE BY THE SEA!

UPSTAIRS

Pierview A la Carte Restaurant.

The restaurant is open from 5.30pm

Friday, Saturday and Sunday, and for

Sunday Brunch from 10.30am to 2pm.

SUNDAY NIGHT BUFFET

LAST SUNDAY OF THE MONTH

NEXT BUFFET:

Sunday 26th Nov, from 5.30pm

DOWNSTAIRS : CLUB BISTRO

Open Tuesday to Saturday

from 12pm - 2pm & from 5pm.

FUNCTION ROOMS | GAMING ROOM

SHUTTLE SERVICE Tues, Thurs, Fri, Sat

New Brighton Club

202 Marine Pde | Ph 388-9416

www.newbrightonclub.co.nz

Members, guests and affiliates welcome

H ORNBY

WORKINGMEN'S

CLUB

LET US ENTERTAIN YOU!

THIS FRIDAY, 7PM: JO'S KARAOKE

THIS SATURDAY

DOWNSTAIRS

4.30PM: IAN MAC

8PM: ABSOLUT

UPSTAIRS

8PM: RETRO ROCKIN'

Chalmers

Restaurant

FREE DESSERT : FRIDAYS & SATURDAYS

EXTENSIVE CARVERY 5.30PM & 6.30PM PRICED AT

ONLY $22.50 PER PERSON AND DESSERT'S ON US!

SUNDAY BUFFET

LUNCH $25 12PM | DINNER $27 5PM

GROUPS WELCOME. BOOKINGS ESSENTIAL.

PRE CHRISTMAS BUFFETS

SUNDAY 3, 10, 17 DECEMBER

LUNCH & DINNER BUFFETS : $30 PP

LIVE MUSIC with NEVILLE BARRIE

DINE & DANCE : SATURDAY 16 DEC

SATURDAY 16 DECEMBER

BUFFET DINNER & SHOW : $45PP

MADSEN PROMOTIONS present

THE MUSIC OF THE BEACH BOYS

Club CAFE

THIS SUNDAY

1.30PM:

ANNETTE'S HEART

OF THE COUNTRY

$6 ENTRY

PLEASE NOTE:

CHALMERS CLOSES

FOR HOLIDAYS

SAT 23 DEC

REOPENING

THURS 11 JAN

OPEN 7 DAYS

LUNCH &

DINNER

Gluten Free &

Vege options

The Hornby Club | ph 03 349 9026

17 Carmen Rd | Hornby

www.hornbywmc.co.nz

Members, guests & affiliates welcome
---
SOUTHERN VIEW Latest Christchurch news at www.star.kiwi

Tuesday November 21 2017 19

Prepare

to be

swept

up

FOLLOWING on from their amazing concert in

April, the Christchurch branch StarJam is

gearing up for another spectacular concert.

Taking place at Haeata Community Campus on

Breezes Rd this Sunday evening, the concert is

showcase of the year's work.

StarJam is an award winning non-profit

national organisation that empowers youth

with disabilities through music and

performance workshops.

One in five New Zealanders is living with a

disability. at means approximately 150,000

young people with disabilities are facing

considerable barriers in their lives. StarJam

believes this is something that can be changed.

rough music and performance workshops,

StarJam reaches many of these young New

Zealanders and provides opportunities for them

to explore their talents, gain new skills and

build confidence to try new things. For many,

StarJam has been a life-transforming

experience.

StarJam empowers young people with

disabilities through performance opportunities

here in Christchurch and nationwide. rough

END OF YEAR

StarJam, hundreds of young people with

disabilities are empowered, supported, extended

and welcomed into a space where the focus is

always on what you can achieve, not what you

can't.

e 2017 End of Year Concert, is the

culmination of a year's worth of efforts from

StarJam's young people.

"Prepare to be swept up in an evening filled

with sensational singing, dazzling dancing,

dynamic drumming and masterful musical

mash-ups," said Jo, Casey, coordinator. "A

StarJam show never fails to entertain, inspire,

and surprise. Come along and support our

young people – it's an evening for the whole

family."

ere is a pre-concert Community BBQ

starting at 6.00pm. Concert doors open from

6.30pm. Concert begins 7pm.

Bring cash to enter the raffle for some

wonderful prizes.

Proceeds from this event will be donated to

the StarJam Charitable Trust.

www.starjam.org

Get all 'Christmasy' with us!

PRE-CHRISTMAS FUNCTIONS,

PARTIES, WORK BREAK UPS,

CHECK THIS OUT!

TWO COURSE THREE COURSE

FESTIVE MENU FESTIVE MENU

ONLY

$

30

EACH

'TIS THE

SEASON

TO BE

JOLLY

CHRISTMAS

IN THE

BUFFET

RESTAURANT

ONLY

$

45

EACH

AVAILABLE LUNCH & DINNER DAILY

UNTIL 24/12/16 FOR PARTIES OF 10 OR MORE

SORRY, WE ARE CLOSED CHRISTMAS DAY

The

RESTAURANT & CAFÉ

0pen daily from 6.30am

Breakfast, Lunch & Dinner

RACECOURSE HOTEL

& Motorlodge

118 Racecourse Rd, Sockburn,

Christchurch. Ph 03 342 7150

www.racecoursehotel.co.nz

CONCERT 2017

7PM

SUNDAY

26 NOV

HAEATA

COMMUNITY

CAMPUS

240 Breezes Rd

Adults $10; Children $5; Family Pass $25 (2 Adults/2 Children).

Tickets 0800 BUY TIX (289 849). www.starjam.org

Lunch & Dinner

All you can eat, 7 days

Bookings Essential

PH 386 0088

fb.com/GardenHotelRestaurant

www.gardenhotel.co.nz

SERVING

HAPPY HOUR

5PM - 7PM DAILY

OUR CABINET ITEMS

ARE HOMEMADE

CREATED FRESH ON SITE DAILY

$12

LUNCH

SPECIALS

Live Music:

6PM.FRIDAY24 NOV

COFFEE

HAPPY

H O U R

2PM-4PM

DAILY

$3.50

Offer available for a limited time

and includes tea, hot chocolate

MON: ROAST MEAL

TUE: FISH & CHIPS

WED: FISH BURGER

THU: ROAST MEAL

SAT: FISH & CHIPS

AVAILABLE

FROM

11.30AM-2PM

FOR A

LIMITED TIME

Rhonda Campbell

PHONE 385 8880 FIND US ON FACEBOOK fb.com/GBCCHCH

THE GARDEN HOTEL COMPLEX | 110 MARSHLAND RD

www.gardenhotel.co.nz | phone 385 3132
---
20 Tuesday November 21 2017

Latest Christchurch news at www.star.kiwi

SOUTHERN VIEW

Come down to EzyPawn

and save yourself a

packet for Christmas

50%

OFF

SELECTED

JEWELLERY

AND

PLENTY

MORE DEALS

INSTORE

AT LEAST

30%

OFF

GAMING

WATCHES

FROM

$40

9th Dec

Sausage Sizzle

& Raffle Draw

Be in to win a store credit

1st Prize - $500, 2nd Prize - $250

and 3rd Prize - $100

Need extra cash

for Christmas?

Pop in to EzyPawn

we loan the most

on items of value

Bring in your electronics, firearms, jewellery, sports

equipment and gaming goods AND SORT YOUR LOAN TODAY!

384 Ferry Road Christchurch

Ph 03 389 5989 Open 7 days

Check out our great

gift ideas on