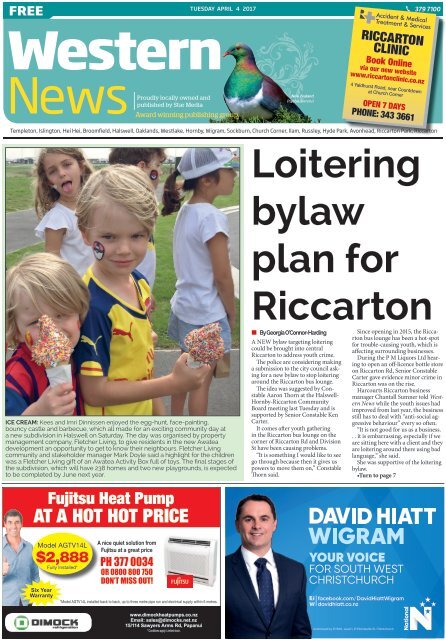 Western News: April 04, 2017
Create successful ePaper yourself
Turn your PDF publications into a flip-book with our unique Google optimized e-Paper software.
FREE

TUESDAY APRIL 4 2017 379 7100

Western

News

Proudly locally owned and

published by Star Media

Award winning publishing group

New Zealand

Pigeon (Kereru)

RICCARTON

CLINIC

Book Online

via our new website

www.riccartonclinic.co.nz

4 Yaldhurst Road, near Countdown

at Church Corner

OPEN 7 DAYS

PHONE: 343 3661

Templeton, Islington, Hei Hei, Broomfield, Halswell, Oaklands, Westlake, Hornby, Wigram, Sockburn, Church Corner, Ilam, Russley, Hyde Park, Avonhead, Riccarton Park, Riccarton

Loitering

bylaw

plan for

Riccarton

ICE CREAM: Kees and Imri Dinnissen enjoyed the egg-hunt, face-painting,

bouncy castle and barbecue, which all made for an exciting community day at

a new subdivision in Halswell on Saturday. The day was organised by property

management company, Fletcher Living, to give residents in the new Awatea

development an opportunity to get to know their neighbours. Fletcher Living

community and stakeholder manager Mark Doyle said a highlight for the children

was a Fletcher Living gift of an Awatea Activity Box full of toys. The final stages of

the subdivision, which will have 238 homes and two new playgrounds, is expected

to be completed by June next year.

• By Georgia O'Connor-Harding

A NEW bylaw targeting loitering

could be brought into central

Riccarton to address youth crime.

The police are considering making

a submission to the city council asking

for a new bylaw to stop loitering

around the Riccarton bus lounge.

The idea was suggested by Constable

Aaron Thorn at the Halswell-

Hornby-Riccarton Community

Board meeting last Tuesday and is

supported by Senior Constable Ken

Carter.

It comes after youth gathering

in the Riccarton bus lounge on the

corner of Riccarton Rd and Division

St have been causing problems.

"It is something I would like to see

go through because then it gives us

powers to move them on," Constable

Thorn said.

Since opening in 2015, the Riccarton

bus lounge has been a hot-spot

for trouble-causing youth, which is

affecting surrounding businesses.

During the P M Liquors Ltd hearing

to open an off-licence bottle store

on Riccarton Rd, Senior Constable

Carter gave evidence minor crime in

Riccarton was on the rise.

Harcourts Riccarton business

manager Chantall Sumner told Western

News while the youth issues had

improved from last year, the business

still has to deal with "anti-social aggressive

behaviour" every so often.

"It is not good for us as a business.

. . it is embarrassing, especially if we

are sitting here with a client and they

are loitering around there using bad

language," she said.

She was supportive of the loitering

bylaw.

•Turn to page 7

Fujitsu Heat Pump

Hot Hot Deal

on 8KW Heat PumP

AT A HOT HOT PRICE

A nice quiet solution from

Fujitsu at a great price

Model AGTV14L

Fujitsu ASTG24L 8 KW

Heat Pump for Just PH 377 0034

Fully Installed*

OR 0800

Six

800

Year

750

DON'T MISS Warranty OUT!

$2,888

Six Year

Warranty

$2,999

Fully Installed*

PH 377 0034 OR 0800 800 734

Installed back to back, up to 3 metre pIpe

*Model AGTV14L installed back to back, up to three metre pipe run run and electrical and electrIcal supply within supply 6 metres. wIthIn 6 metres.

10 5 only

BE QUICK

www.dimockheatpumps.co.nz

Email: sales@dimocks.net.nz

6/105 Coleridge St, Sydenham, Christchurch

www.dimockheatpumps.co.nz

Email: sales@dimocks.net.nz

15/114 Sawyers Arms Rd, Papanui

* Conditions apply. Limited stock.

* Conditions apply. Normal lending criteria, booking fee and annual account fee applies. Limited stock.
---
Vi

2

Latest Christchurch news at www. .kiwi

Tuesday April 4 2017

Inside

FROM

THE

EDITOR'S

DESK

Latest Christchurch news at www.

.kiwi

WESTERN NEWS

TUESDAY Tuesday APRIL april 4 2017 17

News.......................................3-8

POLICE HAVE come up with a

good idea to try and curb youth

problems in central Riccarton – a

loitering bylaw.

But as our article on page 1

reveals the city council, which

implements the bylaw, appears to

be lukewarm on it.

And that's a worry.

Youths congregating in Division

St are an issue. But unless they

are caught in the act tagging, or

threatening people, there's little

police can do about it.

The city council needs to step

up and get with the programme

and get the ball rolling on a bylaw.

You won't get any complaints

from businesses or shoppers I'll

bet.

If this was Australia the police

would sort the problem super

quick, OPPERS

bylaw or no bylaw . . . if you

get my drift.

We're all a bit too PC here.

– Barry Clarke

Get your children building with Lego in the

school holidays

THE HUB 17

Your Local Views..........4

Tourney Week...................11

Hornby.......................13-28

Food..........................................29

Community Events. 30

Real Estate..........................36

GET IN TOUCH

General Enquiries Ph 379-7100

Classified Advertising Ph 379-1100

The Christchurch Star Company Ltd. PO box 1467 - Christchurch

starmedia.kiwi

NEWS

Georgia O'Connor-Harding

Ph: 364 7438

georgia.oconnor@starmedia.kiwi

ADVERTISING

Alana Powell

Ph: 962 8753

alana.powell@starmedia.kiwi

LEnd ME YOuR EaRs

You can't see it, but you

can hear the difference!

ships with some great movie

Ultra discreet

ses such as the very popular Star Wars

hearing solution

Latest technology

her new arrival at The Hub is the

Ready to wear in

ew Spark

one visit

store. Situated at the north

the new food court, the store features

Comfortable,

n-plan secure layout, fittimber finishes and large

creens

EASY

on

TO

the

USE!

two main walls.

most apparent feature of the new site

rge, glazed end wall, which faces north

Merivale Hearing Clinic

24b Church Lane.

Style Cuts

cuts

Call now: 356 2324

$

29

Greg Foote, Audiologist

Hearing Clinics available: Rangiora,

Ashburton and West Coast Consultations by Appointment only.

Freephone 0800 72 73 66.

and lets lots of natural light into the site.

From the food court, the natural light and

external view draws the eye to the store.

The introduction of plastic gift cards at The

Hub means the days of dog-eared gift

vouchers or vouchers that have gone through

the wash are now over. Available in a choice

of two designs with matching holders, the

new gift cards are a convenient way to buy

a gift for that hard-to-shop-for person, or a

FREE

Lend Me Your

Ears and Listen for

CHOCOLATE

FACTORY SHOP

Hunting for

Easter Eggs??

Buy 5 bags of any combination

from the following ($5/bag)

and get another bag FREE

marshmallow bars

bagged chocolates

Easter marshmallow eggs

Marshmallow flavours: dark - milk - coffee -

strawberry - pineapple - raspberry - mousse - mint

19 Cable Street, Sockburn (off Blenheim Rd)

Phone 357 0085

Open Monday - Friday, 9am—4pm

bring in this

advert to

recieve your

Yourself*

EXPERIENCED TEAM OFFER ALL OF THE

* Conditions apply.

Offer valid till April 30th 2017

LATEST STYLES

Book Today, Limited Offer

LEXUS X SERIES

9kg

bottLe

RefiLL

TASTY

GORGEOUS FOOD

Much loved gourmet

food made our way

NOW OPEN

SATURDAY

7am - 1.30pm

great way to reward staff.

The cards

SPECIALIST

can be loaded

BAKERY

• Hand-made on premises daily with any amou

• Wide selection of gorgeous, tasty slices

and used at • almost Fresh cut sandwiches, every paninis, shop bagels in & the salads cen

• Delicious pies, sausage rolls, quiches, muffins

A quick and easy & sconesonline page will tell

• Gluten free options available

customers how much credit is left on a

card, so all the value can be easily used an

balances tracked. Using a new card is eve

66-68 Springs Rd | www.gorgeousfood.co.nz

Email: gorgeousfood@xtra.co.nz

easier – it takes just a simple swipe in the

Ph 344 6044 | Open Mon-Fri 6am-3.30pm

Eftpos terminal with no PIN required.

oNLY

$

24 95

Valid from April 1st -

April 30th 2017

Just mention your SuperGold Card or current supermarket fuel discount voucher and

start saving 12cents per litre. Discounts everyday, terms and conditions apply.

NPD Lincoln Road

55 Lincoln Rd, Spreydon | 03 338-5756
---
WESTERN NEWS Latest Christchurch news at www. .kiwi

Tuesday April 4 2017 3

News

Hornby centre – mega or not?

• By Georgia O'Connor-Harding

THE PUBLIC will get to know

the financial consequences of

their decision if they choose to

make the new Hornby library,

service centre and south-west

pool a separate facility.

It is estimated $2.5 million

of capital expenditure

plus $150,000 for operational

expenditure, is expected to be

saved each year if the facilities

are co-located into a Hornby

mega-facility.

The Halswell-Hornby-Riccarton

Community Board held a

submissions meeting on Friday

to make final changes before the

public consultation document is

released to the public.

Public consultation is set to get

under way later this month on

the controversial facilities.

The draft consultation document

said because separate facilities

would cost more to build

and run, the city council may

not be able to provide as many

services to the community.

A debate over whether the

information may point the

community towards choosing a

co-located facility was ignited at

the meeting.

Community board chairman

CONSULTATION: The city council will begin

seeking feedback on the location of the

controversial new Hornby library, service centre

and south-west pool.

Mike Mora said he did not think

the cost savings should be in the

document.

"I don't think that information

should be in there to sway people

and their preferences at this

point of time. What they need

to know is there is money in the

budget," he said.

His suggestion to have the

information removed was supported

by community board

member and submissions'

committee chairwoman Debbie

Mora. But city councillor Vicki

Buck argued people want to

Mike Mora

Vicki Buck

Debbie

Mora

know the financial implications

of their choice.

"I want them to give as much

information as we can possibly

give them in terms of the choice

they want to make," she said.

Ms Mora said Ms Buck was

trying to make the document

point strongly towards a shared

facility.

Ms Buck responded: "No, you

are trying to hide the financial

implications of a choice."

It was decided the information

would remain in the document.

The three options for the $34

million facility are Denton,

Warren and Kyle parks.

Concerns have also been

raised over the public receiving

full information on the effects

the facility would have if it was

placed in Denton Park.

The document said under the

Denton Park site challenges, one

rugby field would be lost and

the cricket boundaries would be

reduced.

Hornby Cricket Club president

Kevin Hornbrook said this

was incorrect as the club would

lose both of its cricket fields.

"We would lose all of our park

. . . none of that is in here and

that is what upsets me," he said.

Hornby Rugby Football Club

president John Catchpole said

there is not much the club can

do until the results of the public

consultation come back.

The consultation document

is to be forwarded onto city

council for final approval at its

meeting on April 13.

•HAVE YOUR SAY: Do

you think the Hornby

library, service centre and

south-west pool should

be separate facilities or a

co-located mega-facility?

Email your views to georgia.

oconnor@starmedia.kiwi

In Brief

POWER BOX ON RESERVE

The Halswell-Hornby-Riccarton

Community Board has opted to

allow Orion to construct a new

power kiosk on part of Lomax

Reserve to service the adjoining

residential neighbourhood. This

will replace the existing kiosk,

which will be demolished once

the new one is operational.

FUNDING GRANTED

The Halswell-Hornby-Riccarton

Community Board has approved

funding from its 2016/17 youth

development fund to go to

Halswell United AFC. A grant

of $1750 ($250 each) will go to

seven of its young players to

participate in the 13th grade

boys tournament at the Kanga

Cup in Canberra, Australia, in

July.

SPIRIT OF ADVENTURE

Burnside High School students

have had funding approved

towards the cost of participating

in the Spirt of Adventure Trophy

Voyage in June. Year 10 students

Annabelle Baken, Emma Caldwell,

Paige Cleminson, Anna-

Lucy Findlay, Thomas James,

James-Paul Mountstevens, Tobian

Tinker, Hamish Trenchard

have each been granted $200 by

the Fendalton-Waimairi-Harewood

Community Board.

One stop shop for

all your dental needs

Warm, friendly & affordable dental care for the whole family...

We provide a full range of modern dental services

and ensure the highest level of care.

ACC Treatment Provider | WINZ Quotes |Student Discounts

Free Dental for Adolescents | Same Day Emergency Treatment

(03) 355 3888

DENTISTS

DAVID

ROWLEY

JENNY

KIM

Megan

WOODS

Member of Parliament for WIGRAM

Constituents needing

assistance or wanting an

appointment are invited

to contact me on:

Phone 338 6347

Email: megan.woods@

wigram.org.nz

Merivale Dental Group

welcomes hygienist

Megan Smith to the team

Authorised by Megan Woods MP, Shop 8/12 McCarthy Street, Christchurch

Level 1, 184 Papanui Rd

(opposite Merivale Mall)

www.merivaledental.co.nz

Wedding

or Event?

Get an outfit from

Smith & Boston!

Sizes

6-22

SMITH & BOSTON

Prebbleton Village | Christchurch

Ph: 03 349 5646

www.smithandboston.co.nz

GET YOUR HOME LOAN MADE EASY WITH

INDEPENDENT MORTGAGE ADVISER

• First Home Buyers

• Refinancing

LIQUID LAUNDROMATS

47 Carmen road, Hornby

gasoline alley site

CnR CaRMen RoaD & WateRloo RoaD

7 DAYS: 7am-7pm

WASH & DRY ALL YOUR

LAUNDRY IN ABOUT 1 HOUR

$4.00 WaSH

$4.00 dry

Wash 2 Mink Blankets, Duvets

or Woolrests for only $10

DRY UP TO 4 LOADS IN

ONLY 20 MINUTES! $4

SAvE TIME & ELEcTRIcITY

• Building or Renovation

• Investing

"With over 25 years banking experience & multiple lenders to choose from

Holly will negotiate the BEST home loan solution to suit your needs"

Ph. 027 20 20 270 E. holly@hollyrogers.co.nz

www.hollyrogers.co.nz

• Fast Dryers

• Sports Gear

• Duvets

• Mink Blankets

• Bedding

• Washers

• Domestic Laundry

Other Locations:

345 Stanmore Road, Richmond

289 Colombo Street, Sydenham

www.liquidlaundromats.co.nz
---
4 Tuesday April 4 2017

Latest Christchurch news at www. .kiwi

WESTERN NEWS

Your Local Views

Have your say on this week's Soap Box and Rise Up

comments. Email georgia.oconnor@starmedia.kiwi

Addressing cultural issues

City councillor

Jimmy Chen

writes about

the new

Christchurch

Multicultural

Strategy

Since the earthquakes, the city

has become a "city of opportunity."

We are open to new ideas, new

people, and new ways of doing

things – a city where anything is

possible.

Christchurch is also multiethnic

and multicultural with

people from 170 ethnic groups

now living here. New subdivisions,

developed in the southwest

area in recent years, have

attracted many migrants and

international workers. This has

caused a significant change to the

demographics of residents living

in the south-west.

The diversity of culture is

good news for the area. The city

council adopted the final version

of the Christchurch Multicultural

Strategy last month and this

document will be launched on

May 13.

The strategy is a commitment

by the city council to provide a

framework and a set of goals and

actions to ensure every single

CULTURAL: A new strategy has been developed by the city

council to support and embrace the diversity of people in the

city.

person feels a sense of belonging.

It will also give everyone an

equal opportunity to access the

city council's services, information,

as well as participate in the

decision-making process. As

chair of city council's multicultural

working party, it's been a

privilege to lead the development

of the multicultural strategy for

the past year.

This strategy is also a commitment

by the city council to support

and embrace the diversity

of the people in the city. But in

order to ensure the strategy delivers,

we need to develop an action

PHOTO: GEOFF SLOAN

plan.

We also need to monitor

progress on this plan to ensure

its success. In considering this

situation, a multicultural subcommittee

has been established

for overseeing the implementation

of the strategy and issues

relating to diverse communities.

It will also consider matters

related to multicultural communities.

If the community or individuals

have any issues related

to the cultural diversity or to the

implementation of the multicultural

strategy, make a deputation

to the sub-committee.

We said:

Minor crime, such as

trespass, tagging,

shoplifting and the theft

of bikes, is on the rise

and young are to blame,

according to police

You said:

Hugh Jonathan McGuire

– Christchurch is not the only

one, my bike was stolen in

Wellington last year, and the

police kiosk in Newtown has

been closed for sometime. Now

that the Government will add

1000 more cops, this should

make a difference to address

minor crimes.

Lisa Marie Clark –

Seriously need a law change; it's

getting out of hand.

Harry Hansen – As long as

they are treated with kid gloves

and not truly punished for their

action, this will only increase.

Liz Moore – In some cases

they are. But I have to wonder

if they are being groomed

by older persons to do more

serious crime. I would like to

see boot camps brought it. They

know we can't touch them so

they laugh in your face.

Wayne Nicholson –

Too bloody soft with the

young criminals (yes, they

are criminals). Time for a

punishment to suit the crime,

parents as well.

Aaron Smith – Man, we

have become namby-pamby

with the youth. No hard

consequences.

Mike Allfrey – A lack of

boundaries, consequences and

respect is to blame.

Corey Humm – Kids

commit petty crime, meanwhile

the oldies are robbing the

country blind.

Graeme Palmer – Round

them all up and send them to

the army for three months of

boot camp.

Miguel Lopez – Because

the law is slack. Whatever

we have in place now is not

working.

Fresh hot meals - lunch or dinner

Dine in or

Take Away

relationship

property, employment law and resolving contractual

and estate disputes.

Hot roast meals

from $11

Fish n Chips

available

Easy Roast and Fish n Chips | 273 Greers Rd, Christchurch

Ph 359 1968 | Hours: Tuesday to Sunday 11am-9pm

For all your blind repair and cleaning requirements

The Blind Care Company has been

cleaning and repairing the region's blinds

for over 60 years. Those six decades

have seen changes in both fashion and

technology. Styles have ranged from

festooned fabric swags to straightforward

and still popular holland roller blinds,

from vertical to horizontal slat systems,

and in every colour or pattern popular

since the 1960s.

Whatever your style, the Blind Care

Company has the expertise to keep your

window treatments looking fresh and

working efficiently. Using only ecofriendly

chemicals, the build-up of dirt,

dust, grease, nicotine and smoke residue

Lamb shank

meals from $13

Burger, roll or

sandwich value

packs $10

can be removed so that your blinds

smell fresh and are restored to their

original glory. The company can repair

blinds also, having a huge range of parts

in stock. And if you want something

completely new, a great range of blinds is

available for purchase.

The company prides itself on efficient

service, providing a fast turn-around,

with most work taking one or two

days, and a same day cleaning option is

available. It makes it as easy as possible

for clients. The Cashel Street location

couldn't be more convenient and a pickup

and drop-off service is available. 150

blinds per day can be cleaned at this site,

or one of their mobile vans can do up to

50 per day. That means they will come to

your home or office, remove and clean

your blinds on the spot and reinstall them

for you.

A cut-down and size alteration service

is available in order that the blinds you

bought are a perfect fit.

They are experts in their field with a

huge amount of experience to draw on.

In fact, all their staff has been on board

for at least 8 years, and many up to 20

years. Whatever the job involves, they

will work hard to make sure it gets done,

including one job of 800 blinds which

they completed in 4 days.

Find them at

330 Cashel Street

Call 3770770

email:

service@blindcare.co.nz

or visit blindcare.co.nz
---
WESTERN NEWS Latest Christchurch news at www. .kiwi

Tuesday April 4 2017 5

News

Bottle shop licence declined

• By Georgia O'Connor-Harding

Tony Simons

RESIDENTS AND businesses

have won the battle to stop the

opening of a controversial bottle

shop next to a Work and Income

building.

A decision

was made by the

Christchurch

District Licensing

committee

last week to

decline the offlicence

bottle

shop application

by P M Liquors

Ltd for 76 Riccarton Rd.

There were 11 objections and

15 signatories against the application.

P M Liquors Ltd owner

Lovepreet Minhas told Western

News he was disappointed by the

outcome.

He did not want to make

further comment on whether he

would appeal the decision until

he had spoken with his lawyer.

The application was declined

after the committee found Mr

Minhas was "not suitable" for

holding an off-licence.

The licensing committee heard

Mr Minhas could be at risk of

losing his manager's certificate.

The decision highlighted the

CORKED: A application to open an off-licence liquor store on

76 Riccarton Rd has been denied.

company had served a minor in

February 2015.

P M Liquor Ltd also appeared

before the Alcohol Regulatory

and Licensing Authority recently

for suspension or cancellation of

its off-licence store the Bottle-O

in Dunedin.

This was for allegedly serving

to a minor in July 2015 and the

sale of alcohol to an intoxicated

person in October 2015.

Other concerns raised by the

committee was the location –

evidence was given by the police

at the hearing that areas behind

some shops in Riccarton had

become a place for young people

to congregate.

The proposed store was to be

set well back from the street and

hidden from public view.

The committee was also concerned

Mr Minhas had failed

to file a tax return. In a brief of

evidence to the hearing panel,

Mr Minhas said this was due

to being out of the country, his

accountant being delayed and

having the wrong address for the

service of papers and these matters

have since been resolved.

But Christchurch District

Licensing committee chairman

Grant Buchanan said it is a legal

requirement and if he cannot be

relied upon to ensure that this is

completed, it gave the committee

some concern.

The committee concluded the

applicant was not suitable to

hold an off-licence.

Halswell-Hornby-Riccarton

Community Board deputy

chairwoman Helen Broughton

said she was delighted with the

outcome and felt the police did

an excellent job on their presentation.

Riccarton Bush-Kilmarnock

Residents Association chairman

Tony Simons said the outcome

was great news.

In Brief

NEW SPEED LIMITS

A set of lowered speed limits

around Halswell came into

effect on Saturday. The speed

limits affect Halswell Junction

Rd, Quaifes Rd, Marshs Rd,

Murphys Rd and Sparks Rd.

These changes were the outcome

of several years of lobbying

by the Halswell Residents'

Association and others in the

community. It comes after the

city council approved a number

of speed limit changes in the

Halswell-Hornby-Riccarton area

in September.

COMMUNITY AWARDS

Time is running out to nominate

community members in

your area who deserve recognition.

The Community Services

Awards close this month. Those

who you think have made their

community a better place need

to be nominated by 5pm, April

13, online or at the city council

website.

FIRE FUNDRAISER

A celebration was organised

recently at the Halswell

Community Market to honour

the emergency services which

fought against the Port Hills fire.

Five-hundred dollars was raised.

All proceeds from the day went

to the Port Hills Fire Restoration

Fund.
---
6 Tuesday April 4 2017

Latest Christchurch news at www. .kiwi

WESTERN NEWS

Te Whāriki

Located just a short stroll from the heart of Lincoln, Te Whāriki is a stunning

development offering everyone from families to empty-nesters the

chance to be a part of this thriving community. Being a stone's throw

from a host of amenities including New World supermarket, cafes, banks,

medical facilities and the weekend market, this semi-rural setting contributes

to a lifestyle that's both relaxing and invigorating.

Te Whāriki Residential Development

Te Whāriki is a 118 hectare, modern residential property development,

dedicated to creating the ultimate family lifestyle. Located off Vernon

Drive in Lincoln, Te Whāriki is a quality, masterplanned development

which promises more than just a home, it is an opportunity to be part of

a growing community.

Te Whāriki is designed to be a sustainable community with a combination

of eco-sourced native and exotic plantings used throughout the

development. The stormwater treatment system is designed to treat

storm water through a system of swales and wetland basins prior to it

reaching Te Waihora (Lake Ellesmere), and walkways and cycle paths

connect the development to reduce vehicular dependence and encourage

a healthy and active lifestyle.

What benefits Te Whāriki offers:

• Titled sections available, ready for building on now

• Section size approximately 463m 2 – 867m 2

• Sections priced from $201,000

• All sections sold with free boundary fencing, fibre optic

connection to the boundary and site specific geotech report

With parks and reserves located throughout each neighbourhood the

quality of landscaping and design at Te Whāriki is unsurpassed. An

ever extending walkway and cycle path will, upon completion, link the

entire development to the existing township, as well as Lincoln University,

Lincoln Primary School and Lincoln High School, all of which are within

walking distance.

Sales Office and Show Home Village

The Sales Office and Show Home Village (which includes nine show

homes) is open Wednesday to Sunday 12-4pm and is located on

Vernon Drive.
---
WESTERN NEWS Latest Christchurch news at www. .kiwi

Tuesday April 4 2017 7

News

Organic Training College

LEARN FROM

THE EXPERTS

Start a career in

organics. Reduce

your footprint and

produce a regular

supply of your own

fruit and vegetables.

COURSES (All fees under $500)

Year 1

Introduction to Organics

44 weeks

Starts August 2017

(Lincoln campus)

Year 2

Applied Organics

46 weeks

Starts August 2017

(Lincoln campus)

TROUBLE HOTSPOT: A loitering bylaw could be brought in to address youth

crime issues near Division St.

PHOTO: GEOFF SLOAN

Police call for loitering

bylaw in Riccarton

•From page 1

But city council's head

of community support,

governance and partnerships,

Lester Wolfreys,

said the bylaw is a reactive

rather than a preventative

response.

"It may reduce the

problem activity around

the bus lounge. However,

it may also displace the

activity to other locations,"

he said.

Constable Thorn said

the idea would first need

to be discussed with the

Canterbury police chiefs

before it would make a

submission.

The city council's head

of strategic policy Helen

Beaumont said the process

of getting the bylaw in

place would require an

amendment of the Public

Places Bylaw 2008, taking

months to complete.

The issue would first

need to be identified before

options and a draft report

were developed for city

council consideration and

public consultation.

Public submissions

would be analysed and the

policy would go to a hearings

panel.

Constable Thorn said

he would like Division St

looked at specifically for

the bylaw.

Nearby property owner

Arthur McKee said the bylaw

was "common sense"

and something he along

with other tenants had

been advocating for.

He described the situation

as "unfortunate" as

the building was not

designed to deter crime.

HAVE YOUR SAY: Do

you think a loitering

bylaw will help reduce

youth crime hot-spots

in central Riccarton?

Email your views to

georgia.oconnor@

starmedia.kiwi

Programme information

college@bhu.org.nz | 03 325 3684 | www.bhu.org.nz

CLEARS BLOCKED EARS

earwax removal with ear care advice

Microsuction is the safest and the most effective method of removing

wax, debris and objects from the ear canal. It is also helpful for treating

ear infections, assisting in the healing process by removing unwanted

debris and allowing any medication to work more effectively.

Ear Hygiene Clinic was established to help meet the needs of people that

require their ears to be cleaned by the method of microsuction,

giving Cantabrians access to safe ear cleaning.

Meet Ruth

at the Te Hapua ¯ Halswell

Centre Café on Friday April 7

from 2pm to 3pm

"Exclusive range of

pottery, furniture,

handcrafts,

stoneware

& gifts"

Thirteen years later, Ear Hygiene Clinic now provides the microsuction

service at ten locations throughout Canterbury, working closely with Ear,

Nose & Throat Specialists, Audiology Clinics, and Medical Centres.

If you have a concern about your ears, come and see us at

Longhurst Medical Centre in Halswell!

Call us now for an appointment

www.ear.net.nz 03 384 4668 info@ear.net.nz

395 Brougham St,

Christchurch

Ph (03) 365-3411

Open 7 days

Mon-Fri 10-4.30pm

Weekends 10-4pm

First home. Next home.

Investment or Commercial property.

Give me a call and lets talk.

Nathan Miglani

Mortgage Adviser

M 021 0212 0555 | T 03 343 2335

E nathan.miglani@loanmarket.co.nz

With New Zealand's widest range of lenders you know

and trust, I can negotiate you the best deal.

My service is free and I would love to help.

Lending policies, terms and conditions apply. Disclosure statement available on request.
---
8 Tuesday April 4 2017

Latest Christchurch news at www. .kiwi

VIVO FERRYMEAD WELCOMES

Senior Stylist Hayley to our team!

NEW CLIENT PACKAGE

CUT & COLOUR

News

Fresh face for bulldozer

• By Georgia O'Connor-

Harding

A run-down Harrington

Park bulldozer that was

once a workhorse in

Antarctica has undergone

a transformation.

Retired panel beater

Wayne Charney and

resident Ken Twemlow

have successfully pulled

a team together to ensure

the bulldozer was given a

makeover.

The DC4 Caterpillar

in Harrington Park, near

Paeroa Reserve, Riccarton,

was once based with the

US Navy at McMurdo

Station on the south tip of

Ross Island.

The facelifted machine

has now been returned to

Harrington Park so children

can continue playing

on it.

Mr Charney said he was

pleased the bulldozer was

finished and grateful for

the generosity from the

community.

"Bit of a load off my

mind, it took a bit of coordinating

but we got there

in the finish," Mr Charney

said.

The Connect Group's

Commercial Blast and

DONE AND DUSTED: The Harrington Park bulldozer

has had a facelift. (From left) – Retired panel

beater Wayne Charney, resident Ken Twemlow,

Commercial Blast and Paint Centre technical

salesman Ashley Mayo with Te-Potiki Ngaha and

Hilda Roselight at the controls.

PHOTO: GEOFF SLOAN

WESTERN NEWS

Paint centre was roped

in, sandblasting and repainting

the bulldozer for

free.

The centre's suppliers

New Zealand Coating

Supplies also chipped in,

donating paint for the

project.

The city council offered

to pay about $600

to Elevate Crane Truck

Services, who transported

the machine to and from

the Connect Group's Commercial

Blast and Paint

centre site.

The Western News learnt

in August from mechanics

at Gough Group, they were

certain the bulldozer came

to the city in the early

1970s.

It most likely looked

after Williams Field, a

airfield serving McMurdo

Station and Scott Base.

Mr Charney is now looking

to make a plaque to

place with the bulldozer.
---
WESTERN NEWS Latest Christchurch news at www. .kiwi

Tuesday April 4 2017 9

Riccarton High School

NCEA success

The following students achieved high results in the 2016 NCEA exams.

Level 1

Academic Excellence with Gold Bar

Melanie Aitken, Sion Choi, Erica Chung, Katie Hayles,

Charmaine Lam, Sophie Mullally, Apoorva Patelkhana,

Joshua Paul, Ruby Perring, Lehman Taleni, Ashley

Walsh, Daniel Wei, Vanessa Ye, Francesca Zhang

Academic Excellence with Silver Bar

Marcus Brorens, Jordan Hollinshead, Yunru Huang,

Abbey Meiritz-Reid, Emma Patmore, Sarah Wallace,

Ian Wills

Academic Excellence

Alden Arduo, Kelsey Butland, Gabrielle Chai, Emily

Dawson, Claudia Dunn, Courtney Dyson, Patricia

Guo, Sarah Hunter, Christie Liew, Carmen Lionnet,

Hannah MacClure, Becky Marshall, Niamh Maxwell,

Angela Owens, Laura Preston, Alex Reid, Serafina

Slevin, Moe Suzuki, Lauren Thomson

Level 2

Academic Excellence with Gold Bar

Tim Bridgman, Tori Cotton, Andrew Fordyce, Chloe

Kang, Olivia Kennington, Sasha Komiyama-O'Keefe,

Shauna Lionnet, Grace Louie, Hope Louie, Emma

McMorran, Aidan Morris, Lisa Patmore, Sarah Seeley,

Leo Shin, Kate Stedman

Academic Excellence with Silver Bar

Nicole Cochrane, Brooke Fleck, Joy Louie, Sua Oh

Academic Excellence

Sowmiya Adalarasu, Jessica Downward, Keen Leen

Fulgencio, Inise Manu, James Rennie, Hannah Wareing.

Sports keenly contested

On the Gala Sports Day students keenly contested both the championship events and the gala events.

Fine weather meant competitors and spectators all had the opportunity to have a good time.

The champions at each year level were:

Year 9

Year 11

Alysa Whinham Georgina Fee

Amat Rawat Pieter Barkhuizen

Year 10

Senior

Monica Koster Mikayla Gillespie

Luke White Tim Meynell.

Paddlers do well

The Interschool Waka Ama Championships were held at Lake

Roto Kohatu between nine local schools.

Riccarton's Mixed team and the Girls 1 team won most of

their races and were second in their finals.

Team members were:

Mixed team – Jack Barham, Andrew Fordyce, Alana Hillary,

Sam Gamble, Kathryn Lee;

Girls 1 team – Mavis Togia, Na'itoto Faitotonu, Grace Sua,

Emma Ah-Lam, Liga Sua, Tamarisi Vonsanibola;

Girls 2 team – Kate Reilly, Chany Brenssell, Cailin McVicar, Sian

O'Connell.

Swimming champions

Following the school swimming

sports held recently

the following champions

have been named:

Year 9

Molly Dunlop

Joe Wilson

Year 10

Victoria Bee

Year 11

Samara Whittington-Clent

Senior

Justine Owen.

Hard work pays off at Polyfest

Riccarton brings home shield

A bus load of

Riccarton athletes

travelled to Dunedin

last week to contest

the annual Summer

Shield with Kaikorai

Valley College.

Riccarton won the

Shield by 42 points

to 17, winning the

Touch Rugby games,

Volleyball, Futsal boys,

Tennis girls and mixed.

Kaikorai won the

Athletics and the Futsal

girls, while the Tennis

boys was shared.

The sporting

exchange began in

1960.

Heads of Sport Mikayla Gillespie and James Rennie hold

the Summer Shield at the conclusion of the Summer

Shield Exchange in Dunedin.

Our Pasifika group

performed at Polyfest in

March in the Dallington

Redzone. After weeks of

work by the students and

help from parents and

families they entertained the

large crowd with a spirited

and polished performance.
---
10 Tuesday April 4 2017

Latest Christchurch news at www. .kiwi

WESTERN NEWS
---
WESTERN NEWS .kiwi

Tuesday April 4 2017 11

Latest Christchurch news at www.

Tourney Week

Western students gain national sporting glory

Last week, schools from the western area travelled

all over the country to compete in various national

sports competitions. Andrew King reports on how

they went

Water polo

The Burnside High

girls water polo team

were crowned South

Island secondary school

champions after beating

St Margaret's College by a

goal at Jellie Park Recreation

and Sports Centre in

Christchurch.

Burnside goalie Sophie

Williamson was named

most valuable player of the

tournament and, alongside

Ella Dowling, Ella Bampton

and Flynn Marshall, was

named in the South

Island secondary schools

tournament team.

Volleyball

The Burnside High girls

volleyball team's quest for a

third division 1 national title

was halted after a loss in the

semi-final to Whakatane's

Trident High 3-1 on Thursday

in Palmerston North.

Burnside bounced back to

beat St Mary's 3-1, claiming

third place on Friday. The

team started off with a hiss

and a roar, not dropping

a set in their pool play

matches against Tauranga's

Otumoetai College and

Napier Girls' High before

finally losing a set on

Wednesday to Rotorua's

Western Heights High.

Triathlon

The New Zealand schools

triathlon championships

were held on Thursday and

Friday in Wanganui with a

number of western schools

sending their best athletes

to compete in 20 different

events.

Christchurch Boys'

High's William Taylor

backed up his solid

showing at the Canterbury

secondary schools triathlon

championships with first in

the under-14 solo triathlon

and under-14 solo aquathlon

CHAMPIONS: The Burnside High School water polo team are

South Island secondary school champions after beating St

Margaret's College.

at the national event. Taylor,

14, was third overall at the

Canterbury event and first in

his division.

Fellow school student

Logan Currie was third in the

under-16 solo triathlon with a

time of 43min 30sec.

Christchurch Girls' High's

• By Andrew King

MEDBURY SCHOOL pupil Art

Aitken is a national triathlon

champion in his division after a

strong showing in Wanganui last

week.

The year 7 pupil won the under-12

solo triathlon with a time

of 29min 46sec ahead of Huntley

School's Fred McVerry, of

Pixie Cockerill was third in

the under-14 solo aquathlon

with a time of 18min 51 sec.

She was only 11 seconds

behind the winner. She was

also fifth in the under-14 solo

triathlon.

Maadi Cup

Christchurch Boys' High

Marton, who finished in 30min

22sec.

The race involved a 250m

swim, 7.9km bike and 2km run.

Aitken was also part of a Medbury

School team which came

second in the under-12 team

triathlon.

George Howard, Joseph Connolly,

both year 7, and Aitken

shared the work, finishing 58sec

had a strong showing at

this year's Maadi Cup,

held at Lake Karapiro near

Cambridge.

They won gold in the

under-18 novice coxed eight,

under-17 boys coxed four,

under-15 boys coxed eight B

final, under-16 boys double

sculls D final and under-18

boys novice coxed four and

bronze in the under-17 coxed

eight.

Christchurch Girls' High

also brought home a few

medals for their efforts.

They won gold medals in

the under-18 coxless pair

oars and under-18 girls

novice double sculls in the

D final.

Sevens

The Christchurch Girls'

High sevens team came

second in the South Island

secondary schools sevens

tournament behind Motueka

High School.

In the boys tournament, St

Thomas of Canterbury were

runner-up to St Andrew's

College, while Christchurch

Boys' High was third.

Medbury school gives strong performance in national triathlon

SOLID EFFORT:

George Howard,

Art Aitken and

Joseph Connolly

came second

in the under-12

teams triathlon

finishing 58sec

behind the

winners.

behind the winners.

Huntley School won the event

with a time of 25min 35sec.

Medbury finished the 250m

swim, 7.9km bike and 2km run

in 26min 33sec.

Medbury School director of

marketing and communications

Kay Shaw said it was a fantastic

effort and the school was very

proud of the boys.

Tuesday 4 April - Wednesday 12 April 2017

Normal retail $8.50

9am-5pm
---
12 Tuesday April 4 2017

Latest Christchurch news at www. .kiwi

WESTERN NEWS

World Butchery Champ Corey

Winder at Elite Meats

Butchery royalty, Corey Winder and

his shop team showcase their topquality

meat selection at Elite Meats in

Bush Inn. Beef, lamb, pork, chicken,

award winning sausages and so much

more. Check out their stuffed main

meat portions to add taste and beauty

to your meal plate.

The meat cabinet choices are

attractively displayed, which makes

for a mouth-watering selection.

Winder is the captain of New Zealand's

national butchery team, the Pure

South Sharp Blacks, who are set to

compete in the 2018 World Butchers'

Challenge in Ireland.

The World Butchers' Challenge is

designed to showcase the highest level

of skill in butchery and involves each

team breaking down a side of beef,

pork and a whole lamb into a themed

display of value-added cuts all within a

three-hour time-frame.

The Pure South Sharp Blacks won the

competition three consecutive years

in a row, from 2013 to 2015 and are

seen as world-leaders when it comes

to innovation in butchery. France took

home the championship last year.

"I've competed for the last six years

from when it all begin in 2011 as a

Trans-Tasman competition; it's been

gaining momentum ever since the UK

joined in 2013 and this year France

competed for the first time.

"Now that the competition has been

set for Ireland in 2018 we've had

interest from Scotland, Germany, Italy

and Spain. Even though France were

newcomers last year, they took out the

title so there's no doubt in my mind

these new countries will raise the bar

even higher," says Winder.

Winder holds numerous records

and awards, the most current being

the National Sausage Linking

Championship with a world record

setting 82 sausages linked in 1 minute!

Their sausage taste combination

makes their link choices some of the

best in the country.

Winder has travelled the world from

Europe to Asia and stops in between

demonstrating his butchery skills.

Elite Meats offers butchery courses,

so you will be learning from a world

Corey Winder, world butchery champ.

champion, right here in our home

town. If you would like to impress

your friends and family, look on their

Facebook page for their upcoming

courses and make your booking.

Butchery has been Winder's life

passion and he loves preparing the

meat portion of a family's meal, where

memories are made and they spend

time together.

Stop by Elite Meats today, located

at Bush Inn off Riccarton Road at

Church Corner. Browse the shop and

look at their selection. Talk with Corey

or a member of his highly-qualified

butchery team. Call 348-5043 to place

your order to be ready upon your

arrival.

Follow the Elite Meat Facebook page

where you can find all kinds of tips

and know what the seasons preferred

cuts are. Elite Meats, a butchery labour

of love.

Experience the quality of NZ's most

award winning butcher

We pride ourselves on service, advice and quality meat.

• Bacon and ham competition

• Sausage competition

• New Zealands fastest

sausage maker

• 3x world champion butcher

• Captain of the Pure

South Sharp Blacks

Elite Meats Bush Inn Centre

Find us on facebook Ph. 348 5043
---
WESTERN NEWS Latest Christchurch news at www. .kiwi

TUESDAY Tuesday APRIL April 4 2017

13

FASHION CULTURE BUSINESS NEWS

AWAITING COPY

Ad Number: RD13695-V2

Artwork: FIND RD13695 OUT ABOUT:

Size: 9x8

Description: R Vitamins HEALTH 2000 HORNBY LTD

Account: R Minerals Changing Face of Hornby - fron

Colour:

R

F

Amino acids

Filename: RD13695

R Antioxidants

R

R

R

R

R

R

R

R

Omega 3, 6 & 9s

Bacteria

Toxic metals

Chemicals

Radiation

EMF & ELF

Food additives

Sensitivities

HOW'S YOUR

Make better nutritional, lifestyle and environmental

choices with a 15 minute hair scan

MENTION THIS

ADVERT AND GET

$10 OFF

YOUR HAIR

SCAN

HORNBY

Shop 22, The Hub at Hornby, 418 Main South Road

Phone: (03) 344 1934 Email: hornby@health2000.co.nz
---
14 Tuesday TUESDAY April APRIL 4 2017

Latest Christchurch news at www. .kiwi

14

WESTERN NEWS

HORNBY HIGH'S REDEVELOPMENT UNDERWAY

S Hornby High School & T

S

Hornby High School & T

The first steps in the major

redevelopment of Hornby High School have

been taken with the library and

administration building vacated and the staff

and students accommodated in temporary

structures elsewhere on the school grounds.

The vacated buildings are now awaiting

demolition, principal Robin Sutton says, with

the Ministry of Education soon to announce

the successful contractor for the

construction of the first new building. The

80-metre-long, L-shaped building will occupy

the footprint of the present building as well

as a large open area on the school grounds.

In addition to the administration

AWAITING COPY

Ad Number: MS3364

Artwork: MS3364

Size: 18x8

Description: HORNBY HIGH SCHOOL

Account:

Colour: F

Filename: MS3364

Te Huruhuru Ao o Horomaka

In 2016 we reconsidered our vision as a school,

and resolved that our aspiration is to be 'A centre

of creative excellence' in everything that we do,

whether visual arts or chemistry, volleyball or

music. The world demands fewer people who

can do repetitive tasks and more people who

can think creatively and critically. In doing this

we haven't forgotten the importance of the

strong relationships that we build with all of our

students, and the importance of individualising

learning pathways so that we come as close

as we can to meeting every individual student's

needs. With term one gone, there is such

department and library, this expansive

building will also house the science, art and

technology departments, the whare,

student café and the Learning Commons area

(formerly the library). The first stage of the

rebuild project includes a new gymnasium

complex of basketball-court size, which will

sit alongside the existing gymnasium.

A key feature of the building will be

flexibility. As Mr Sutton points out, it is

expected to last for many decades, but there

is no way of knowing how education

methods might change and what the

requirements of teachers and students might

be, even in 10 or 20 years' time. For that

reason this and all the school's new buildings

have been designed on flexible rather than

rigid, old-school lines.

Contractors are expected to set up on

site within one to two weeks following the

demolition, with construction likely to start

by late May, Mr Sutton says.

Another innovation at Hornby High, which

doesn't involve a new build but rather a

re-design, has been the development of the

performing arts school, which has seen

buildings being remodelled and the

auditorium, drama and music departments

incorporated under one roof.

"Already this has brought more

wonderful evidence of our students embracing

our vision for creative excellence, and everything

that it demands.

Our focus is firmly on improved academic

performance. Central to that is our participation

in the Manaiakalani Outreach programme that

causes learning using an approach called 'Learn

Create Share'. Chromebooks are vital to support

student learning and the evidence is growing

almost daily to show that this has a massive

positive effect on student learning. Thank you to

all whanau who have so far been able to make

this significant investment in their tamariki's

education. Our relationships with students and

whanau and vital, and we continue to emphasise

these as the essential base for all learning.

Our student group performing at Polyfest in

March were everything that we could want, while

we also saw the re-emergence of rugby league

as a sport at Hornby High School with teams

in both the secondary schools junior and senior

league Nines competitions. Their performances

revealed a depth of talent that bodes well for the

next few years. Their approaches on the field

were also examples of students taking calculated

180 Waterloo Road, Hornby - Ph 03 349 5395

Email: office@hornby.school.nz www.hornby.school.nz

collaboration between teachers from the two

departments, and students working together

on projects," Mr Sutton says.

The principal has a vision for his school

and his students as 'A centre of creative

excellence', and this is based around three

goals – learning, well-being and a willingness

to take risks.

"It's an ongoing process and we are already

seeing signs of improvement, with students

gaining increased self-confidence and

self-belief. It's very rewarding to see that."

A centre of creative excellence

risks in the approaches to sport, and examples

of the sort of risk taking and leadership that

we have set as a strategic goal for the school.

We are very proud of them all.

Robin Sutton

PRINCIPAL

Open Afternoon

Wednesday 2nd August

12.30pm - 2.30pm

See the Junior College in action

Information Evening

Thursday 3rd August, 7.00pm

Hornby High School Auditorium
---
WESTERN NEWS Latest Christchurch news at www. .kiwi

TUESDAY Tuesday APRIL April 4 2017

15

BUSINESS PARK DEVELOPMENT

A BUZZ OF ACTIVITY

The development of Hornby's Waterloo

Business Park is progressing at an impressive

pace, assistant development manager Joel

Webber says.

"It's a dynamic and constantly evolving

landscape. There are currently 12 individual

sites under construction and we are expecting

ground to be broken on a further three sites

in the near future, so there's a real buzz of

activity on-site at the moment."

Roading work presently underway in the

area will boost the profile of the park once it

is completed, Mr Webber says.

"The NZTA-sponsored realignment of

Pound Road through to Main South Rd is

progressing well, with completion

programmed to occur in the fourth quarter

of 2017. This will significantly increase heavy

vehicle movements along Pound Rd and

provide unparalleled profile and visibility to

Waterloo Business Park sites with frontage to

Pound Rd," Mr Webber says.

"We understand that the programmed

stage two of this work, which will eventually

connect an extended Pound Rd to the

Southern Motorway extension between

Springs RD and Rolleston, has been

fast-tracked for completion ahead of the

original three-year timeframe.

"Since our last update, Waterloo Rd has

been diverted and the course of the new road

runs internally within Waterloo Business Park,

which fits part of the bigger roading upgrades

and realignments in the area."

In terms of land subdivision, Waterloo

Business Park has only a further two stages of

development to deliver (Stages 5 and 6) prior

to completion of the project, Mr Webber says.

Stage 5 (6.3ha) is programmed to be

completed and titled by early August 2017,

while Islington Green, Waterloo Business

Park's central Parkland, measuring nearly

24,000sqm, will be completed as part of the

Stage 5 works.

Mr Webber says Islington Green will deliver

"unprecedented open/green space and

recreational facilities within a business park

context for staff, visitors and local residents

to enjoy".

Stage 6 (6.87ha) will round out the land

subdivision at Waterloo and completion is

expected by the fourth quarter 2017, he says.

To support the commercial development,

there are plans to redevelop the historic

Islington Meat Processing Plant as a retail

precinct, with a focus on retaining and

redeveloping a number of the historic,

Victorian-era industrial buildings. To be known

as Islington Square, this will provide a

comprehensive convenience retail offering

within the business park, Mr Webber says.

"We have had a number of studies

commissioned that estimate that once it's

completed, built-out and fully operational,

Waterloo Business Park will have between

3000 and 5000 employees.

"With so many employees on site, it was a

logical progression to provide a convenience

retail offering within the development," Mr

Webber says.

Uses under consideration include food &

beverage, pharmacies, drycleaners, and

childcare facilities.

AWAITING COPY

Ad Number: AP23883

Artwork: AP23883

Size: 18x4

Description: WATERLOO PARK LTD

Account: changing face of hornby

Colour: F

Filename: AP23883

AWAITING COPY

Ad Number: JF8374-V2

Artwork: JF8374

Size: 18x4

Description: HORNBY WORKING MENS CLUB

Account: Changing Face of Hornby

Colour: F

Filename: JF8374

HORNBY WORKING MEN'S CLUB

& M.S.A. INC

The Hornby Working Men's Club has developed, over its 60 year

history, into one of Canterbury's best supported hospitality venues.

Conveniently positioned on SH1, and directly opposite the recently

expanded Hub Hornby Shopping Mall, the Hornby Club plays host

to nearly 8000 members and offers a range of entertainment options.

◦ Restaurant & Café dining

◦ Functions & Conferencing

(5 - 500 max)

◦ Large Club Bar

◦ 12ft HD Big Screen TV

◦ Latest TAB facilities

◦ 18 Pokies

◦ Great meat raffles

◦ F&B Promotions

◦ Sporting Sections

Maybe it's just a quiet drink and a game of darts, pool or snooker

you're after - the Hornby Club offers it all!

And don't forget the free and live entertainment every Friday and

Saturday night in the Westview Lounge.

To make sure your stay is a safe one, we can pick you up

(and drop you off) in one of the Club's three modern Shuttles

($4 per person, per trip). Restrictions apply.

PROUD TO SUPPORT THE

CHANGING FACE OF HORNBY

CLUB CAFÉ OPEN 7 DAYS

LUNCH 12pm - 2pm DINNER 5pm - 7pm

P: (03) 349 9026 | F: (03) 344 4725 | E: reception@hornbywmc.co.nz

17 Carmen Rd, Hornby, Christchurch 8042 | PO Box 16014, Hornby, Christchurch 8441

www.hornbyworkingmensclub.co.nz

All Clubs NZ and Clubs Australia affiliated members (and their bonafide guests) are welcome
---
16 Tuesday April 4 2017

Latest Christchurch news at www. .kiwi

WESTERN NEWS
---
WESTERN NEWS Latest Christchurch news at www. .kiwi

TUESDAY Tuesday APRIL April 4 2017

17

MORE REASONS FOR SHOPPERS

TO VISIT THE HUB

Already a huge drawcard for Hornby

shoppers, The Hub Hornby is now offering

even more reasons for people from there

and right around the city to visit, with school

holiday attractions, new shops and a new

customer service.

Bound to create a buzz, Lego will be at

The Hub during the April school holidays.

From Tuesday, April 25 until Saturday April 29

between 11am and 2pm every day, children of

all ages will be able to have an authentic Lego

experience.

Brought in from Australia, the Lego

immersive zone features Lego build

challenges and other Lego-themed activities,

all within a special Lego-themed area.

Stores that sell Lego at The Hub will also

be promoting their Lego ranges at this time.

"Lego has such a universal appeal," centre

manager, Jason Marsden says.

"Whilst it has been around since 1932 it

has stayed very current, both with the

technology it now incorporates and

partnerships with some great movie

franchises such as the very popular Star Wars

range."

Another new arrival at The Hub is the

brand-new Spark store. Situated at the north

end of the new food court, the store features

an open-plan layout, timber finishes and large

digital screens on the two main walls.

The most apparent feature of the new site

is the large, glazed end wall, which faces north

and lets lots of natural light into the site.

From the food court, the natural light and

external view draws the eye to the store.

The introduction of plastic gift cards at The

Hub means the days of dog-eared gift

vouchers or vouchers that have gone through

the wash are now over. Available in a choice

of two designs with matching holders, the

new gift cards are a convenient way to buy

a gift for that hard-to-shop-for person, or a

great way to reward staff.

The cards can be loaded with any amount

and used at almost every shop in the centre.

A quick and easy online page will tell

customers how much credit is left on a

card, so all the value can be easily used and

balances tracked. Using a new card is even

easier – it takes just a simple swipe in the

Eftpos terminal with no PIN required.

special

offer

Style

Cuts

cuts

$

29

Bring in this

ad and receive

EXPERIENCED TEAM OFFER ALL OF THE

LATEST STYLES

LEXUS X SERIES

$

5 off

any Style Cut

1 per person.

Offer valid until

30/5/17

Just Cuts Hornby, Shop 49A, The Hub, Christchurch

The 'Just Cuts' Salon in The Hub, Hornby is completely Christchurch owned and

operated. Hairdresser Michael Turner, with over 40-plus years' international experience, is

the owner and 'on the floor' Team Leader, while his wife Angela works behind the scenes

looking after admin, advertising and marketing.

Their staff members are all local people, with nigh on 200 years of hairdressing between

them. Four of the stylists are mums with children, boys and girls, and ages ranging from

seven to 18, so there is very little they don't know about the latest styles, be it shaves, quiffs,

bobs, comb-overs, undercuts, layers – and there's some hair tattooing going on as well!

Michael and Angela are proud to provide jobs for three mums returning to the workforce.

Three of their staff live in Hornby (and just walk to work), then three in Rolleston, Leeston

and the furthest away is from Ilam.

Many clients and staff know each other from school or various activities their children

are involved in – even dance school for one of the staff. So the atmosphere in the salon

is distinctively 'very family and very friendly', with many a catch-up happening right at the

reception desk!

Just Cuts also offers the exclusive Justice Hair Care Products range, and the staff are fully

qualified to advise on which products are perfect for your specific needs. These products

are not tested on animals, are biodegradable, and being concentrated are very cost effective.

Angela and Michael are also involved with the local community, generously supporting

local schools and organisations with contributions whenever possible.
---
18

18 Tuesday TUESDAY April APRIL 4 2017

Latest Christchurch news at www. .kiwi

WESTERN NEWS

NAVYn

Navy is one of the most popular colours this season. Best of all, because it's a darker shade of blue, it is both flattering and slimming, too.

It's also a better alternative to black, as it's less harsh and carries an air of sophistication. Victoria Tait believes navy is most certainly the new black.

Louis Vuitton,

Paris Fashion Week

Liam Dress by Ruby $399

Miss Wilson Mary Kate Brogues $299

Moochi Circuit Dress $249

Taylor Complete Shirt Jacket Ink $487

Miss Wilson belt $69

Getty Images

Deadly Ponies

Bag $410

AWAITING COPY

Ad Number: JS9226

Artwork: JS9226

Size: 18x4

Description: BARKERS WOOL & HABERDASHERY

Account: Hornby Feature

Colour: F

Filename: JS9226

50% OFF

SELECTED BRANDS HUGE SAVINGS

OUT THEY GO - DELETED YARNS

SORRENTO

NOW

$3.90

per 50g ball

CUP CAKE

NOW

$4.90

per 50g ball

MOHAIR

NOW

$5.90

per 50g ball

RARE YARN

Alpaca/Merino

NOW

$7.90

per 50g ball

PLUS MUCH MUCH MORE

AS SEEN ON

ACCESS TV FOR NZ

SKY CHANNEL 083

Shands Rd

Carmen Rd

Russley

PFAFF SEWING CENTRE

9 Witham St, Hornby

9

Springs Rd

Phone 349 7867 Prebbleton - Lincoln Riccarton - City

A my es Rd

WWW.STAR.KIWI

Main South Rd

AWAITING COPY

Ad Number: AP23885

Artwork: AP23085-V1

Size: 9x4

Description: KARENS CLOTHING & ALTERATIONS

Account: changing face of hornby

Karen's Clothing

Alterations & Repairs

Colour: F

Filename: • Mens AP23085-V1 & Womens

• 17 years in Hornby -

easy parking at door

• trained tailor - 30 years

experience in resizing all

garments & ball gowns

FaSt, FRiendly SeRvice.

all trousers hems done same or next day.

AWAITING COPY

root 57

Ad Number: AP23873

Artwork: AP23873

Size: 9x4

Description: ROOT 57 HAIRDRESSING (HORNBY)

Hair and Beauty

Account: Changing Face of Hornby - Root

Colour: F

Filename: AP23873

• Friendly Professional Service

• Offering Quality & Value

• L'Oréal Products

• Nails • Waxing

• Facial & much more

• Ladies Cuts • Colour

• Gentleman's Barbering

• Wedding & Prom Hair

7 Witham St, Hornby

• all work guaranteed

• Overall zip replacement

• Resizing mens suits

• School uniforms

• Feather jacket zips & repairs

• Original jean hems

lOWeR OveRHeadS, betteR PRiceS FOR yOu

397 Main South Road

opp Hornby Mall, next to Harcourts

Ph/Fax: 344-0455 | email: karensalt@xtra.co.nz

Ph (03) 349-7544
---
WESTERN NEWS Latest Christchurch news at www. .kiwi

TUESDAY Tuesday APRIL April 4 2017

19

TRAVEL BAGS

FOR EVERY DESTINATION

As the name suggests, Just Bagz in Dressmart Hornby is filled with hundreds of

bags, with the main focus being on travel bags of every description.

This family-run business, owned and operated by Graham and Julieann Griffiths,

specialises in quality luggage from leading manufacturers including Samsonite,

Eminent and Riccardo, with 90 per cent of the stock being brought in by the couple.

Graham has been in the industry for over 40 years, covering manufacturing,

wholesaling and retailing, so with that experience and knowledge he can advise

customers on the right bag to suit their requirements and budget.

The bag purchased may depend on how many people will be using it, for example

a family, how they are travelling – whether by road or air, and how much they want

to take with them, or bring back.

The first choice customers have, is between hard and soft luggage and this comes

down to personal preference, Graham says. In both types there is a huge selection

of sizes, styles and fashion colours – with modern luggage also being much more

user-friendly. Ninety per cent of bags now have four wheels, making them very easy

to manoeuvre and transport. Just Bagz also has a range of travel accessories

including TSA locks and adaptors, passport holders and luggage labels.

There is also a wide selection of backpacks – adult sizes in various styles, and

children's styles with novelty designs of their favourite cartoon characters.

Also on display are wallets, shoulder bags and handbags in both leather and

man-made materials, in a wide range of prices.

So, call in for a browse, and have a chat to Graham or Julieann about what you

are looking for. They will be very happy to give you some advice for your travel

needs.

AWAITING COPY

Ad Number: AP23749

Artwork: AP23749

Size: 18x8

Description: JUST BAGZ

Account: Changing Face of Hornby

Colour: F

Filename: AP23749

40 % off

up

to

rrp

all

luggage

Just Bagz,

Shop 405, Dressmart, Main South

Road, Hornby, opposite The Hub.

Phone 349 7887,

email juliegriff@xtra.co.nz.

THink Luggage, THink JuST bagz

Ultra-Lite Range

So-Lite Range

Astro-Lock Range

New Zealand Styles

Marvel Range

Disney Range

Wheel Grips

Eminent

Travel Accessories

Sub-Zero Range

DressSmart Mall - 409 Main South Rd, Hornby

03 349 7887 | Open 10am-5pm, 7 days

Samsonite Ranges

juliegriff@xtra.co.nz

just

bagZ
---
20 Tuesday April 4 2017

Latest Christchurch news at www. .kiwi

WESTERN NEWS

Heat pump specialists offer expertise & hot prices

As winter approaches and thoughts turn to home heating, the idea of having a heat pump installed is seen as an ideal and

cost-effective solution for many homeowners.

That's where advice from residential

heat pump specialists DC Installation

Services can be invaluable.

A small Christchurch owned and

operated business run by husband

and wife Daniel and Mel Cooper, DC

Installation Services not only has the

heat pump expertise and experience,

it also has the buying power to offer

customers top-brand heat pumps at

very competitive prices, Daniel says.

"We can come to your home to carry

out a site inspection and then advise on

the best heat pump for your situation.

We can give a quick,on-the-spot

quote with no obligation. Once you

book us, installation is done quickly

too, and we offer a full guarantee

on our workmanship for the life

of the unit."

The company supplies all the major

brands, but highly recommends

Mitsubishi Electric heat pumps, as they

believe the quality and reliability exceed

that of other brands on the market.

"Mitsubishi Electric has carried out

extensive research and development to

produce heat pumps that are specially

designed to work efficiently in our

climate," says Daniel.

Another advantage is that customers

having an existing heat pump replaced

with a Mitsubishi Electric model can

use the existing pipe work, which cuts

down on the cost.

DC Installation Services has an online

Trade Me store, which has generated a

lot of positive feedback.

"We have had well over 150

independent customer reviews, and

they are all 100 per cent positive,"

Daniel says.

For more information visit the

website dcis.co.nz or phone 0800 324

678 to book an appointment for a free,

no-obligation quote for installation of

your new heat pump before the cold

weather sets in.

Mitsubishi Electric GE25 3.0kW

includes FREE installation*

$2,149*

Mitsubishi Electric EF50 5.8kW

includes FREE installation*

$3,099*

Choose from Black, White or Silver

Mitsubishi Electric GE42 5.0kW

includes FREE installation*

$2,499*

Mitsubishi Electric KJ50 5.8kW

includes FREE installation*

$3,499*

Mitsubishi Electric FH50 Hypercore 6kW

includes FREE installation*

$3,299*

Add WiFi control for just

$249*

*with every heatpump purchase

FINANCE

AVAILABLE

Proud installers of

Call 0800 324 678 for a free quote

www.dcis.co.nz

*includes cost of back to back

install only, conditions apply
---
WESTERN NEWS Latest Christchurch news at www. .kiwi

TUESDAY Tuesday APRIL April 4 2017

21

LOCALS TO HAVE THEIR SAY ON NEW LEISURE CENTRE

Stephanie Bushell Audrey Kimble Lyndsay Ellis Carl Dodds

"It will make the whole area much

better."

"A new place to go would be lovely." "I would definitely use the pool." "A nice addition to Hornby."

From late April, Hornby residents will have

the opportunity to have their say on the

planned Southwest Leisure Centre when the

Christchurch City Council begins the

consultation process.

At present there are three potential sites

for the new centre – Denton Park, Kyle Park

and Warren Park, with residents being able to

state their preference, or suggest another site.

As part of the consultation, the council will

also ask if residents want the pool, library and

service centre to be built in the same locality

or separately.

The consultation will run from late April

through until June, which will enable groups

that meet monthly to discuss the options

when they meet in May.

Council representatives will be going out

to meet the local residents and will also be

contacting all the schools in the area.

Councillor Vicki Buck says there will be

lots of opportunity for formal and less formal

feedback, with formal drop-in centres at a

number of venues, meetings with all groups

who use the parks and also newspaper

advertising.

"The council's 'Have your say' will seek

people's views as well as many other ways

including signs at the parks and we'll ask all

local schools and preschools to put it in their

newsletter. There will also be a letterbox drop

to all neighbours," Ms Buck said.

Western News canvassed Hornby shoppers

about their thoughts on the planned centre

and what facilities they would be most likely

to use.

Hornby resident Stephanie Bushell said she

would use all the facilities.

"I have young nieces, so for them the pool

will be brilliant. It will make the whole area

much better."

Audrey Kimble of Hornby said she would

use the library.

"I go to the library here all the time, and it

would be nice to have a bigger library. A new

place to go would be lovely."

Lyndsay Ellis, also a local Hornby resident,

said he would definitely use the pool. His

wife Elizabeth agreed, saying she goes to the

Graham Condon pool, but it's a long way to

go, so it would be good to have a pool closer

to where they live.

Hornby resident Carl Dodds said the pool

would be a "nice addition to Hornby".

Most people spoken to believed that

Denton Park would be the best location for

the new centre.

Dr Chris Hendry, a health service

researcher, said that before building new

facilities councils needed to look at the

demographics of the particular area, to see

what was needed and what was most

appropriate.

"There should also be a point of difference

between community hubs like this, so they are

not competing with each other," Dr Hendry

said.

It would be a good idea if the new

Southwest Leisure Centre had a pool that

was suitable for the elderly to use, she said.

"It needs to be an indoor pool or at least

have some roof cover. I also think it would

be good if rest home residents from the local

area could be brought to the pool," she said.

NOW OPEN

FRESH FOOD AND COFFEE

Specialising in catering for corporate and private events.

Enquire now for a free no obligation quote today.

Contact Rebecca 027 414 1692 cateringinabox@gmail.com

7 WITHAM STREET, HORNBY

Mon-Fri 7:30am—2:30pm Sat 9am—1pm

call us

noW

CATERING IN A BOX

Corporate and Private events

CASPA

After School

& Holiday Programme

Your friendly childcare solution

Creative

After

School

Programmed

Activities

P: 349 9260 or 027 352 1638

E: info@caspa.org.nz

W: www.caspa.org.nz

• We provide a safe, creative

environment for 5-13 year olds

• Our staff are trained

• A range of fun activities

• 7.15-8.30am and 3-6pm Mon-Fri

• 8am-6pm Holidays

• Kids just LOVE it!

Incorporating

Subsidies

Apply

COSY COFFEE SHOP TASTY FOOD

A quirky little coffee shop in Hornby is set to become a destination for anyone who enjoys

freshly made food and good coffee in a quiet, cosy spot where they can chat.

Owned and operated by Rebecca Robertson, Catering in a Box is built almost entirely from

recycled pallets, and was constructed by Rebecca herself.

"I have a creative background and I've always tried to build my own furniture and upcycle

where I can. I had a vision for the café and it turned out to be much more than my vision,"

Rebecca says.

Having built her café, Rebecca, who is also a former truck driver, turned her wide-ranging

talents to creating delicious food for her customers.

"I bake everything from scratch. I use free-range eggs and I don't use any pre-mixes. My

passion for food comes from my granddad who taught me to cook from a very young age."

The selection of food includes pies, sausage rolls, filled rolls, muffins and cakes, which

customers can buy to take away or sit and enjoy.

"It's quiet here, so people can have a conversation without a lot of background noise,"

Rebecca says.

"I also have mums coming in for a takeaway coffee and going to Branston Park with their

children."

Catering in a Box can also cater for your next event, corporate or private, from platters to

buffet and even the cake.

Catering in a Box is located in Witham Street, off Amyes Road. Opening hours are from

7.30am to 3.30pm Monday to Friday.
---
22

22 Tuesday TUESDAY April APRIL 4 2017

Latest Christchurch news at www. .kiwi

Don't expect Toyota's big Land Cruiser 200

to change much in the next few years.

The reason being is that the platform on

which it is based has already served the test

of time in terms of how it has been

engineered for purpose. It has also been

constantly upgraded to earn the reputation as

one of the industry's best off-road drivelines.

The ladder chassis, the four-wheel-drive

mechanicals and the big engine all combine to

provide a vehicle which is an off-road

champion and a station wagon/sport utility

vehicle with few competitors.

The Land Cruiser 200 has just had another

make-over, and I think that is all you can

expect from Toyota and Land Cruiser at this

stage. The changes Toyota has made to the

Land Cruiser go a long way to keep the model

fresh without compromising its ability.

For 2016 the Land Cruiser gets new frontal

treatment – bonnet, grille and bumper – while

TOYOTA'S

LAND CRUISER 200

By Ross Kiddie

the inside gets some new kit including a rear

entertainment system with two

individual screens. The latter kept a nine-yearold

entertained during the time I travelled a

long highway route.

Little has changed under the bonnet. Sitting

there is a 4.5-litre, twin-turbocharged diesel

engine. It is rated with mammoth power

outputs of 200kW and 650Nm, power is

available all through the rev band, it is strong

and energetic, taking into account that it does

have to haul up to nearly three-tonne.

The Cruiser in this form has a willingness

beneath the throttle that is uncanny, and it

does so with a characteristic V8 growl that is

delightful to listen to.

It also has reasonable fuel usage statistics.

Toyota claims a combined cycle average of

9.5-litres per 100km (30mpg), which is not

that far distant to my 11.1l/100km (25mpg)

which incorporated a long highway drive,

achieving an 8l/100km (35mpg) instantaneous

figure at 100km/h, the engine barely turning

over at just 1800rpm.

Drive is sent through a six-speed

transmission and it is a beauty in terms of

refinement and shift quality. How it harnesses

that huge torque flow yet delivers with such

sophistication amazes me.

The Land Cruiser has ride quality to envy, it

floats over bumps and ruts, yet has the

rugged essentials so that off-road travel can

be completed capably. And that is the secret

of Land Cruiser, it is soft and sultry to drive in

the everyday environment, yet it is technically

superior when it comes to life off-the-beatentrack.

I took the evaluation car on a riverbank

route which follows the Ashley River, it was

perfect for the role with huge grip and drive

programs which can be dialled in depending

on the surface likely to be encountered.

The two main dials are for low and high

range, but there is also a crawl control

mechanism and multi-terrain select which

regulates wheelspin depending on the type of

ground encountered. The driver can dial up

the appropriate setting within the choices.

The Land Cruiser is complex, there's no

denying that, but the result is extraordinary

off-road prowess, it is so capable the driver

can glean confidence from the vehicle, and yet

at the same time each occupant is cocooned

in a lap of luxury.

The test car was the range-topping VX

Limited model which sits at $133,490, there is

a lower spec model at $121, 900; however, if

you are serious about off-roading the Limited

would be the best pick with its kinetic

dynamic suspension system which improves

ride quality and performance off-road.

Not only has the Land Cruiser been given

a makeover, it is still the quintessential family

wagon with eight seats, perfect for the school

run or whatever the constraints are during

city driving. Interior space and

WESTERN NEWS

associated comfort is vast, and it has a high

level of safety for all occupants.

Convenience features are too numerous to

mention but there are the usual high profile

items such as satellite navigation, electric

driver's seat, four-zone climate control,

sophisticated audio and complex trip

computer, the latter displayed through two

digital dash panel readouts.

At almost 5m the Land Cruiser makes no

apologies for its size, but it has ability in a

corner which adds to the feeling of control, it

sits solidly on the road, while steerage is

relatively precise through huge tyres (285/60

x 18in Yokohama Geolander).

The Land Cruiser is most certainly an

off-road champion, yet it also serves in the

every day role. Thousands of buyers new and

pre-owned from Japan will attest to that, there

are many on our roads, and the facelift model

builds heavily on that success.

PRICE Toyota Land Cruiser VX,

$133,490

DIMENSIONS Length, 4990mm; width,

1980mm; height, 1945mm

CONFIGURATION V8, four-wheeldrive,

4661cc, 200kW, 560Nm, sixspeed

automatic.

PERFORMANCE 0-100km/h, 9sec

FUEL USAGE 9.5l/100km

award winning

techician SPeciaLiSt

dodge | chrYSLer | jeeP

avoid breakdownS

with reguLar Servicing

• Full servicing

• WOFS

• MTA assured

• No job too big

or too small

• Honest, friendly, reliable

and Personalised Service

• Competitive prices

$14,999

2005 toyota

harrier 240g

2 to choose from, 17" alloys.

DEAL WITH YOUR LOCAL DEALER

No need to travel into town

• Very experienced, importing since 1987

• After sales workshop facility

• Over 80 vehicles in stock and under cover

• All vehicles fully complied and put through a

164 point safely compliance check

• From Sedans and People Movers to SUVs and

Commercials we have a vehicle to suit your

needs, and if not we are happy to source it for you

Unit 6/37 Foremans Road, Hornby www.waynetimms.co.nz

All stock inside a warehouse so viewings at weekends by simply a phone call. On road costs included in price.

Ph Wayne - Bus (03) 349 2480 • Cell 027 432 3367

Finance available

AWAITING COPY

Ad Number: AP23755

Artwork: AP23755

Size: 9x4

Description: FERGUSON ROBERTSON LTD t/- MTF

Account: changing face of hornby

Colour: F

Filename: AP23755

Phone: 03 344 5565

3/15 Anchorage Rd, Hornby

aidan.cars@gmail.com

37 Carmen Road Terms, conditions & lending criteria may apply.

03 349 5921 | mtf.co.nz/hornby
---
WESTERN NEWS Latest Christchurch news at www. .kiwi

TUESDAY Tuesday APRIL April 4 2017

23

LEXUS X SERIES

By Ross Kiddie

PRICE Lexus GSF, $174,900

DIMENSIONS Length,

4915mm; width, 1845mm;

height, 1440mm

CONFIGURATION V8,

rear-wheel-drive, 4969cc,

351kW, 530Nm, eightspeed

automatic.

PERFORMANCE 0-100km/

h, 4.6sec

FUEL USAGE 11.3l/100km

The Lexus F series cars have always been

one of my favourites from the marque.

It all started with the introduction of the

IS series in 2007; that car was available with

a 5-litre V8, the concept of a big engine in a

small car has always appealed to me.

There have been several V8s across the

Lexus lineup before and since, although I

think it would be fair to say that the 5-litre

V8 has been Lexus' best kept secret given

that today the brand has a huge emphasis on

hybrid power.

That aside, a new generation GS F has

landed and, as you can guess, the F represents

V8, the same 4969cc unit which has powered

the performance arm of the Lexus brand.

The GS is a lot bigger than the IS

mentioned in my introduction, but

performance isn't hindered, the GS F is a

monster regarding power output and

performance, and it arrives in a coupe-like

sedan body style which oozes desire and

practicality.

Landing here at $174,900, the GSF also

comes loaded with goodies, and much of that

is sight unseen. It has all of the latest technical

components which combine for safety and

AWAITING COPY

Ad Number: AP23757

Artwork: AP23757

Size: 9x4

Description: CALTEX HORNBY

Account: changing face of hornby

Colour: Today F only

Filename: AP23757

performance. It is a complicated car which

is designed for high-speed motoring but also

has the manners which promote casual

driving for city speeds.

However, it is mostly a car which beckons

for the open roads, and there are driverselectable

sport mode protocols which can

be tailored to suit any driving style or

conditions.

In simple mechanical terms, the GS has a

longitudinally-mounted engine up front with

drive channelled through an eight-speed

automatic transmission to the rear wheels.

Up front, the engine is rated with a massive

351kW and 530Nm of torque. If you take

into account that peak power is available at

7100rpm and torque across a wide spread

from 4800rpm to 5600rpm, it is not only a

powerhouse, but it revs freely to the top end

and is strong from all points of the rev band.

Lexus claim a 4.6sec from a standstill to

100km/h time, and by my stopwatch, it will

lunge from 80km/h to 120km/h in 3.8sec.

These are quick times which easily satisfy, and

if you are letting the engine breathe freely it

affords a sound that is truly enticing, it wails

and thunders, albeit with a little help from the

YOUR ONE STOP SHOP!

TYRES

NEW & USED

WOF

Buy one, get

one FREE

BOOK

IN NOW

FLAGS TYRES

Wigram - 341 1226

104 Hayton Rd

Woolston - 384 0000

49 Garlands Road

*conditions apply

CALTEX HORNBY

427 Main south road

phone 349 2407

opposite 'the hub' HORNBY

FULL SERVICES

MECHANICAL

WHEEL

ALIGNMENTS

SPECIALISTS

PROMO

DAY

18 April, 8am - 4pm

Buy ANY pie, and get

a small coffee

FREE

* conditions

apply

HORNBY OWNED

AND OPERATED

$49

rear audio speakers.

Such are the power outputs a lot is asked

of the traction control system. Even with

huge rear rubber (275/35 x 19in), the grip is

challenged, the low profile Michelin tyres are

as good as you can get in a sporty car, but

under load even they struggle.

The fully independent front wishbone/rear

multiple link system aids traction along with

providing a fabulous, comfortable ride. In

standard mode the ride is glorious, and even

if you select the sports modes which firm the

suspension, there is little compromise in ride

quality.

I took the test car on the road I only use

for quick cars, the route to Lake Coleridge

Village is a mix of corners which will test

any chassis. The GS was in its element in the

quick and slow stuff. It has steering to envy,

feedback and control is millimetre precise,

turn-in is direct, and body balance perfectly

even. With the force of the engine out of a

corner it is a car which pleases the driver

immensely; and, of course, if a corner looms

a little too quickly, huge brakes with Brembo

calipers quickly slow speed, pedal feel is solid

Butler

Auto MArt

Auto PArts ProfessionAls

STOCKISTS OF NEW PARTS

FOR MOTOR VEHICLES

FROM 1930 - 2017

Radiator Hoses, Water Pumps,

Wheel Cylinders, Belts, Electrical

Components, Suspension Parts,

Bearings, Specialised Classic Parts

+ 100's of other parts!

CHRISTCHURCH BRANCHES

261 Stanmore Road, Richmond

407 Colombo Street, Sydenham

4 Brynley Street, Hornby

Ph (03) 389 8830

Email: butler.auto@xtra.co.nz

www.butlerautomart.co.nz

Get Your Butt Down to Butler Auto Mart!!

ROOF &

WALL

FLASHINGS

Roofing or Re-Roofing?

Made to order.

2 day turnaround!

For all your Longrun Roofing Contact

PRODUCTS LTD

163 Shands Road

Tel: 03 349 8439

www.roofline.co.nz

163 Shands Road Tel: 03 3498439

and totally reassuring.

It's hard to believe that with so much

performance on offer the GS F also beholds

the Lexus concept of luxury, the entire

in-cabin area is an experience to be in. Not

only is there every conceivable convenience

item, but that area is laid out so that five

people can enjoy the driving experience.

As much as I enthused with the engine outputs,

it also delivered respectable fuel usage

readouts. My five-day average

constantly listed around 12.9-litres per

100km/h (22mpg). That sits well with Lexus'

claim of 11.3l/100km (25mpg) on a combined

cycle average.

The GS F is also a car which you could

enjoy as an occasional on-track experience.

The first time I was acquainted with the car

was on the sealed track at Ruapuna's Mike

Pero Motorsport Park. I was a passenger

with a professional race driver at the wheel.

The GS F responded to the high-speed

workout just as if it was built for

competition; it is an all-rounder which, in

comparison to other desirable sports cars,

seems all so affordable.

cars 'n' trucks

AWAITING COPY

Ad Number: LG9490

Artwork: LG9490

Size: for 9x2 work or play

Description: NEAT CARS From Light

Account: Changing Face of Hornby Commercial

Colour: F

Trucks to Zippy

Filename: LG9490 Town Vehicles

We have you covered for all

your vehicle needs!

Neat cars

www.neatcars.co.nz

301 MaIn sOutH rOaD, HOrnBY.

PHOnE (03) 349 9298 (24 Hrs)

Tradesman Trailers

Custom Built Trailers

General Engineering

Horse Floats

REPAIRS & ALTERATIONS

Statesman Engineering Ltd

5 Green Lane | Hornby | Christchurch

(03) 348 1306 or 027 414 0228

statesman_@xtra.co.nz

www.statesmanfloats.co.nz
---
24 Tuesday April 4 2017

Latest Christchurch news at www. .kiwi

WESTERN NEWS

Musgroves

Buyers & Sellers of New & Recycled Building Materials Since 1969

Flooring, timber, kitchens, doors, windows, vanities, iron, spouting, hardware and many more recycled bespoke items

NEW

SPOUTING

was $8 per metre

NOW $6

per metre

760 cover 5 Rib

and corrugated

.8 gauge thick

clearlite

20% OFF

(WAS $14 per metre,

NOW $11.20 per metre)

15% OFF

Internal french

doors.

From $145

JUST IN

Beautiful

premium recycled

furniture grade

timbers.

Great

selection

of recycled

cobbles and

pavers

NEW

Premium

unframed &

framed trellis

Extended &

renovated iron

& roof bay with

new 5-rib cutter

CHECk OUT

our wide range of

new and recycled

furniture grade,

landscaping and

structural timber

for all your building

requirements.

www.musgroves.co.nz

NEW ENTRANCE 3 Musgrove Close, Wigram • Phone 322 7922

Open Hours: Monday-Friday 8am-5pm | Saturday 8am-4pm
---
WESTERN NEWS Latest Christchurch news at www. .kiwi

TUESDAY Tuesday APRIL April 4 2017

25

NRL PROGRAMME

DESIGNED TO PROMOTE MENTAL HEALTH

Jessica Macartney and Brent Tomlinson display

the State of Mind jersey the players wear.

The Hornby Rugby League Club is one of two Christchurch league clubs that has put in place

a programme designed to foster a healthy mental state in its players.

Recognising the devastating effects that can occur if mental health issues are not addressed,

the NRL has developed its NRL State of Mind grass roots programme. Now in its second

season, it comprises a six-step recognition process targeted at club leadership level – club

administrators, coaches, managers and senior members.

Australian Jessica Macartney, community manager – NRL Health, who was in Christchurch

recently to present the programme, says the idea is to change the culture of the clubs by

educating these leaders about mental health and how to deal with difficulties young players may

have around mental health, and passing this on to them through mentoring.

"Each club has its own needs," Jessica says, "so it's a matter of working out what's best, and

we do this through the six-step recognition process. It takes two seasons to get through the

six-step process."

In 2016 there were five New Zealand clubs and 30 Australian clubs participating in the

programme. This year a further five clubs have joined the programme in New Zealand, and

in Australia, after a substantial State Government funding boost, there are 105 clubs going

through the programme, Jessica says.

Two leading NRL players, Simon Mannering and Tofofoa Sipley, have been appointed as

Ambassadors for NRL State of Mind in New Zealand.

As stated on the NRL State of Mind website, the key outcomes of the programme are: to

Come enjoy the atmosphere and

our Friendly efficient Team

reduce the stigma around mental ill health within the club and community; increase mental

health literacy across grassroots rugby league clubs; and stimulate help-seeking behaviours of

club members and community.

The outline of the programme was introduced at the Hornby Rugby League clubrooms in

May 2016, and that meeting drew a good crowd of club members, players and friends, who got

right behind the concept, club president Brent Tomlinson says.

"People knew it was needed, that something had to be done. They just didn't know how, so

this came at just the right time."

The club has set up a special Education Centre where the programme is presented, equipped

with sound system, computers and screens. The redecoration of the room and the installation

of equipment were carried out by club members in their free time, with the costs covered by

fundraising.

"Our teenage members can also come in here if they want some time out in a safe,

comfortable environment," Brent says.

As part of the State of Mind programme, and to reinforce the message, all the teams wear

the special State of Mind jersey when they are playing.

Hornby Rugby League Club has produced Kiwis and other representative players and

coaches over the years. Later this year, members and local residents will have the opportunity

to see some of the world's current top rugby league players in action, when they come here to

compete in the Rugby League World Cup taking place between October and December.

fall in

Love

with your

favourite

furniture

all over again.

BEFORE

AFTER

• Live music Friday & Saturday

• Complimentary BBQ 6pm Friday nights

• Gaming room with 18 games

• Pool competitions Wednesday

and 9ball Sundays

• Karaoke every Thursday

• Outdoor area

• Longest serving publican in Hornby

• Live sports – Sky TV

• Run by locals for locals

• Jam night every Tuesday

Welcome to

TEMPS BAR

CITY of HORNBY

30 YEARS

EXCELLENT

RANGE OF FABRICS

EXPERIENCEFREE

Recover your couches and chairs and save money!

Somerfield Upholstery Ltd

FURNITURE RECOVERY SPECIALIST

10 Calgary Place, Hornby | Ph 021 251 6200 | 349 0456

VISIT OUR SHOWROOM | QUALITY WORKMANSHIP GUARANTEED

www.somerfieldupholstery.co.nz

AWAITING COPY

Ad Number: JS9301

Artwork: JS9301

Size: 9x4

Description: Bridgestone Tyre Centre Hornby

Account:

Colour: F

Filename: JS9301

QUOTES

Paul Tainui

21 Goulding Ave

Hornby

PH 03 3497463

Open 7 days

TYRES • SUSPENSION • WOF • ALIGNMENT • SERVICING

NITROGEN • BRAKES • BATTERIES

SELECT TYRE & AUTO SERVICE HORNBY

Ph: (03) 349 5505 • 39 Carmen Road

Monday - Friday 7.30am to 5pm | Saturday 9am to 12 noon
---
26

Tuesday April 4 2017

Latest Christchurch news at www.

.kiwi

WESTERN NEWS

TaNquEray

jim bEam

$

24 99 Super range

applEToN

of beer, Spirits,

ESTaTE

1 Litre

international and

HoT DEal!

$

19 99 $

29 99

local Wines

$

47 99

THE NED

750ml

Sauvignon Blanc,

DE valcourT

$

14 99 $

44 99 $

34 99 $

37 99

EacH

Pinot Gris, Rosé

1 Litre

1 Litre

1 Litre

STEiNlagEr

coruba

claSSic

& cola

oraNjEboom

18 x 330ml

10 x 330ml

12 x 330ml

Bottles

Bottles, 5%

Bottles

HoT DEal!

Offers valid from Monday 27 March to

HORNBY

Super Liquor Hornby - 8 Tower Street, Hornby. Phone 344 2044

Sunday 9 April or while stocks last.

EXHIBITORS

BOOK NOW

Bridalshow

save the date

Showcase your

products or

services to more

than 20,000

customers

Home &

Leisure

SHOW

Sun 27th Aug

10am to 3pm

air Force Museum

45 Harvard Ave

Wigram, Chch

Tickets: $20.00

30 TH JuNE – 2 Nd JuLy 2017

HorncaStle arena

BOOKINGS

VANESSA FLEMING | P 03 379 7100 | M 021 914 565

vanessa.fleming@starmedia.kiwi

starhomeshow.kiwi

A Star Media Event

A Star Media Event
---
WESTERN NEWS Latest Christchurch news at www. .kiwi

TUESDAY Tuesday APRIL April 4 2017

27

The award-winning team: from left, Paula Waldeck,

Shaunice Ross, Kirsty Stewart, Amanda Ellis, Christine Gilliver.

TIME TO PLAN WINTER HOLIDAYS

WITH AWARD-WINNING TEAM

See our full page advert on the back page and start planning your next holiday.

There have been more celebrations in the House of Travel

Hornby office recently as the team have recently been named

'Best performing Small Outlet' in New Zealand for House of

Travel for the second year in a row.

"We are absolutely delighted with the win," says owner/

operator Paula Waldeck.

"We are only two and a half years old, so to have this title

under our belt twice is such a credit to our fabulous team," she

says.

As the temperatures in Christchurch cool down, that's when

people start thinking seriously about winter breaks in warmer

climes, Paula says. And the hot destinations this

season, are the South Pacific islands – especially Fiji and

Rarotonga.

"These destinations are popular because they are close, safe

and easy to travel to. And with the direct flights now on offer

to both destinations from Christchurch, not going via Auckland

or Sydney, it's much easier not having to negotiate another

airport – plus it means more time on the beach."

Cheap travel to Europe is the other big news of the

moment, Paula says.

"These deals are the most competitive I've ever seen.

Destinations like Greece and Spain, for example, are great

places to be during the New Zealand winter and we look

forward to organising trips to exciting places like these for our

clients."

The consultants at House of Travel Hornby are all

passionate about travel themselves, as well. Christine Gilliver

has just returned from a 10-day, five-star trip to Japan, which

she says was "amazing", especially visiting the mountains.

Kirsty Stewart is heading off to India this month, Shaunice

Ross has just come back from Fiji and will be travelling to The

Philippines in May.

All these diverse travel experiences enable the consultants

to advise their clients on what to expect and how to make the

most of the various destinations they visit.

This month House of Travel Hornby will be welcoming a new

member to the team – senior consultant Amanda Ellis. Amanda

has a wealth of experience in the travel industry, and is another

keen traveller. Her next trip will be to the Great Barrier Reef.

House of Travel Hornby is located at 40 Carmen Road, with

easy parking right outside the door, so call in soon and start

planning your winter holiday with one of their friendly and

knowledgeable consultants.

FACTORY

SHOP

"QUALITY YOU CAN TRUST -

FROM OUR KITCHEN TO YOURS"

• DAILY SPECIALS

• SALADS • COLESLAWS

• SEAFOOD SALADS

• PASTA & PESTOS

AWAITING COPY

Ad Number: AP23875

Artwork: AP23875

Size: 9x4

Description: ROOT 57 HAIRDRESSING (HORNBY)

Account: changing face of hornby - ad f

Colour: F

Filename: AP23875

• Ladies Cuts

• Colour

• Wedding & Prom Hair

• Gentleman's Barbering

1 Hamill Road,

Longhurst-Halswell

PH: (03) 322 9199

OPEN TO

THE PUBLIC

MON TO FRI 10AM-3PM

"COME & SEE US FOR YOUR WEDDING, WORK FUNCTIONS & BBQS OR JUST

DROP IN AND PICK UP A SALAD FOR DINNER"

CNR BRIxTON ST & WATERLOO RD,

HORNBY

PH 0800 805 705 OR ORDER ONLINE

WWW.BUSHROADLTD.CO.Nz

The Hair Lounge

YOUR LOCAL FAMILY STORE

Preloved good

quality

• Clothing

• Bric-a-brac

• Furniture

• Household goods

DONATIONS &

VOLUNTEERS NEEDED

1 Amyes Rd, Hornby Ph. 349 4163

Hours: Mon - Fri 9am-4.30pm,

Sat 9.30am-1.30pm

335b Riccarton Rd, Church Cnr

Ph. 341 8539

Both stores now late night

Thursday to 6pm

Thank You for your Support

NEW LOCATION

On Main South Road

DROP OFF OR

WE CAN PICK UP

• Preschool Classes

• Holiday Programmes

• Trampolining

• Recreation

• Rhythmic

• Artistic

• Birthday Parties

For more information visit www.olympia.org.nz

cnr Springs Rd & Corsair Drive, Wigram

Ph. (03) 344 6060

Hand, wrist

or elbow injury?

Rehabilitation for

• Sports or work injuries

• Post operative rehabilitation

• Arthritis

• Nerve compressions

• Fractures and Tendonitis

No referrals necessary - ACC treatment providers

Hornby - 212 Main South Rd

Rolleston - 43 Shelley Street | Lincoln - Unit 3, 19 Gerald Street

Ph 03 349 3388 www.intouchhandtherapy.co.nz
---
28 Tuesday April 4 2017

Latest Christchurch news at www. .kiwi

WESTERN NEWS

House of Travel Hornby.

100% locally owned & operated.

House of Travel Hornby are proud to announce

winning 'Best performing Small Outlet' in New Zealand

for 2015 and again in 2016.

We want to thank all our wonderful customers for

helping us in our achieving this prestigious award

again for 2016.

COME IN AND MEET THE TEAM AT HOUSE OF TRAVEL HORNBY

PAULA, SHAUNICE, KIRSTY, AMANDA, CHRISTINE

Paula Waldeck

Owner Operator

No. of years in travel: 21 years

What you love about travel? I love the thrill of going

somewhere new and experiencing it first-hand it

touches all the senses. But equally the excitement of

going back to your favourite beach is just as good.

What are your favourite holiday destinations? South Africa

is my favourite spot, but I also love Fiji & the US

What do you always take on holiday? My husband, my

phone, sunscreen and a good book

Where on earth do you still want to go? Cruising in the

Caribbean, Philippines, East Coast USA

CONTACT PAULA I paulawaldeck@hot.co.nz

Christine Gilliver

Travel Consultant

No. of years in travel: 30 years

What you love about travel? The excitement of

travel – both for myself and for my clients. It gives

me such a buzz.

What are your favourite holiday destinations? The

Pacific Islands, France, Italy & Japan

What do you always take on holiday? Good walking

shoes, sunscreen and my swimsuit

Where on earth do you still want to go? Peru, Cuba,

Botswana & Namibia to name only a few from ever

evolving list!

CONTACT CHRISTINE I christinegilliver@hot.co.nz

Kirsty Stewart

Travel Consultant

No. of years in

travel: 6 years

What you love about

travel? 2 options – relax

and chillout OR to be

challenged by the culture,

food and language

What are your favourite

holiday destinations?

Snorkelling, cycling

and food

What do you always take

on holiday? Sarong, phone

and cash

Where on earth do you

still want to go? Tibet,

Labrador/ Newfoundland

and West Africa

Shaunice Ross

Travel Consultant

No. of years in

travel: 2 years

What you love about travel?

Experiencing the culture,

uniqueness & wildlife of a

destination

What are your favourite

holiday destinations?

Rarotonga & Fiji - both

relaxing with the opportunity

to explore

What do you always take on

holiday? Go Pro/Camera,

sunscreen & comfy walking

shoes

Where on earth do you still

want to go? Japan, Morocco

& Cambodia

Amanda Ellis

Travel Consultant

No. of years in

travel: 10 years

What you love about

travel? Meeting new people,

experiencing different

cultures, food, sights and

memories that last a lifetime!

What are your favourite

holiday destinations?

Cambodia, Vietnam, USA,

China, Morocco, Aitutaki

What do you always take

on holiday? Lots of spare

memory cards for the

camera!

Where on earth do you still

want to go? Hawaii, South

America, Cuba, Alaska, Maldives, Scandinavia.

CONTACT KIRSTY I kirstystewart@hot.co.nz CONTACT SHAUNICE I sross@hot.co.nz CONTACT AMANDA I amandae@hot.co.nz

The best holidays are created together.

HOUSE OF TRAVEL HORNBY I 40 CARMEN ROAD, CHRISTCHURCH I 03 344 3070
---
WESTERN NEWS Latest Christchurch news at www. .kiwi

Tuesday April 4 2017 29

GREAT food

BROUGHT TO YOU BY...

Your fresh food people

BANANA BREAD

Ingredients

1½ cups Self raising flour

½ tsp Baking soda

¼ tsp Ground cinnamon

1 pinch Salt

¼ cup Canola oil

400g Bananas, peeled and

chopped

Directions

Preheat the oven to 180 deg

C. Lightly grease a 21cm x 10cm

loaf pan.

Sift the dry ingredients into a

large bowl.

Combine the oil and bananas,

mashing and mixing until

smooth. Fold into the dry

ingredients until just mixed.

Pour into the loaf pan.

Bake for 40-45 minutes or

until a skewer inserted in the

centre comes out clean.

BRAEBURN APPLE AND

BERRY CRUMBLE

Ingredients

6 Braeburn apples

½ cup Sugar

¼ cup Water

3 Cloves, whole

100g Butter

100g Flour

75g Brown sugar

15g Coconut, long thread

¼ cup Walnuts

1 cup Mixed berries, frozen

Custard

½ cup Cream

½ cup Milk

3 Tbsp Sugar

4 Eggs, yolks only

½ tsp Pure vanilla extract

Directions

Peel, core and slice the apples

into a pot, add sugar, water and

cloves, simmer gently with a lid

on until apple is soft. Remove

whole cloves and allow to cool.

Make the crumble topping

by rubbing the butter into the

flour with your fingertips, stir in

sugar, coconut and walnuts.

Spread on a non-stick baking

sheet and cook for 10 minutes or

until golden brown. Once cool,

crumble into small chunks and

keep in an airtight container.

To serve, mix berries with

stewed apples and place in

the microwave – reheat until

boiling hot, stirring the mixture

from time to time, spoon into

individual glasses and top with

crumble. Serve with homemade

vanilla custard, below.

Homemade vanilla custard

Heat milk and cream until

boiling.

Whisk egg yolks with sugar

and vanilla extract, pour

over the boiling milk and

cream.

Tip this mixture back into the

pot and on a low heat. Gently

stir until it begins to thicken.

Serve hot.

COCONUT WATER WITH

PINEAPPLE AND MINT

Ingredients

1 Pineapple, fresh, skin removed

700 ml Coconut water

½ cup Mint

Directions

Juice pineapple and mix

with coconut water in a jug to

combine.

Place half the mint into each

bottle and fill with pineapple

and coconut water, leaving a

3cm space in the neck of each

bottle.

Place each bottle upright in

the freezer overnight before

placing the cap on top.

Take bottles out of the freezer

just before hitting the road and

enjoy the icy cold contents.

Turn it into a slushy by giving

it a good shake when contents

are half-melted.

Bananas ..................... 1 .99

KG

Orchard Run Red

Braeburn Apples ... 1 .49

KG

Iceberg Lettuce ...... 1 .79

EACH

USA Navel Oranges .. 2 .99

kg

Pineapples ................ 2 .99

EACH

Beef Rump

Steak ......................... 13 .99

KG

Chicken

Drumsticks ................ 3 .99

KG

All our fresh meat is 100% NZ FARMED.

specials VAlid 3RD april - 9TH april 2017. ONLY AVAILABLE AT

RAEWARD FRESH HAREWOOD RD, TOWER JUNCTION,& MARSHLAND RD

At

we have...

local FRESH produce

everyday

in season now

Passionfruit a nd Feijoas

COMING SOON

Persimmons a nd Ta marillos

harewood rd Mon–Fri 7.00am–6.30pm Sat–Sun 8.00am–6pm

Tower junction Mon–Fri 8.00am–7.00pm Sat–Sun 8.30am–6pm

MARSHLAND RD Mon–Sun 8.00am–6:00pm

WWW.

.CO.NZ
---
2 [Edition datE]

Tuesday April 4 2017

30

Latest Christchurch news at www. .kiwi

HOME & HEATING

WESTERN NEWS

Knit and Yarn

Today, 10am-noon

Take along your

knitting, crochet or any

portable craft and join the

friendly group for an hour

or two of companionship

and crafting. Beginners

most welcome.

Hornby Library,

Goulding Ave

Musical Instrument

Practice Slots

Today, 3.30-7pm

Book a time to go solo or

have a silent practice with

up to four band-mates.

There will be electronic

drums, a digital piano,

a Roland session mixer,

mics and headphones

available for budding

musicians. You can also

take in your own electric

instruments and plug into

the session mixer.

Te Hāpua Halswell

Centre, 341 Halswell Rd

Te Hāpua: Halswell

Centre Book Group

Today, 6-7pm

This group is for those

who love reading and want

to talk with other friendly

book lovers. The group

subscribes to the book

discussion scheme so there

is a cost involved.

Te Hāpua Halswell

Centre, 341 Halswell

Rd

Fendalton Family

History Help

Wednesday, 9.30-

11.30am

Are you interested in

family history? A volunteer

from the Canterbury

branch of the New Zealand

Society of Genealogists

will be available to help

with your family history

questions.

Free entry, Fendalton

Library, 4 Jeffreys Rd

General Painting

Course

Wednesday, 9am-1pm

This course will cover

still-life, landscape, floral

and portraiture techniques.

You will learn

about palette arrangement,

colour mixing, brush

application, layering and

glazing. It will suit all ages

and levels of ability. There

will be individual guidance

to assist you through your

artwork. Free entry.

Avice Hill Art and Craft

Centre, 395 Memorial Ave,

Burnside

CSO Music Trails

Wednesday, 10.30-

11.15am

The Christchurch

Symphony Orchestra,

in partnership with the

city council libraries, is

delighted to introduce

Music Trails through the

Email georgia.oconnor@starmedia.kiwi

by 5pm each Wednesday

CUTE: Go along to the library and encourage your children to learn through

language. Babytimes/Wa Pepi is an interactive programme which will include

rhymes, songs, stories and play. This free session will be held today from

11-11.30am at the Te Hapua: Halswell Centre, 341 Halswell Rd. ​

Library. The CSO ensemble

will visit the library to

give a free 45-minute

performance. It will

provide a fun, interactive

way of introducing young

people to live music. The

event will be free but a

caregiver will be required.

Upper Riccarton Library,

71 Main South Rd

GenConnect

Wednesday, 1-1.45pm

Connecting generations

by sharing knowledge.

While the library staff try

to help as much as they

can, nothing compares to

the knowledge of helpful

teens who have grown up

with technology. Riccarton

High School students will

be available to help you

find answers to all your

tech questions.

Upper Riccarton Library,

71 Main South Rd

Bedtime Stories at

Fendalton

Friday, 6.30-7.15pm

Go along and to enjoy

some Friday night fun.

There will be themed

stories, songs and simple

crafts to entertain four to

seven-year-olds. The whole

family is welcome and

children should go along in

their pyjamas.

Free entry. Fendalton

Library, 4 Jeffreys Rd

Warming winter with

EnviroMaster

Are you struggling with the heat of Summer

or wanting to get organised for Winter? With

the ever changing weather patterns, heat

pumps have the flexibility of being able to

heat and cool which is an advantage no other

appliance can offer. This represents great

value for your investment as you can use it all

year round. The team at Enviro Master Ltd

can help keep you cool this Summer either at

home or work. Enviro Master supplies, installs

and services all the leading brands including

Panasonic, Fujitsu, Mitsubishi and Daikin.

This means our team can show you which

system and brand will best suit your needs.

We currently have savings up to $600

off the recommended retail price on

selected models.

Would you like to maximise the number

of days you can use your swimming pool?

Heating your pool can do this and one of the

most cost effective ways is with a water heat

pump. Enviro Master Ltd can supply, install

and service you swimming pool heat pump

providing you with a comfortable, extended

swimming season.

Servicing your heat pump is extremely

important to ensure that it is working as

effectively and efficiently as possible resulting

in a healthy, hygienic heat pump, lower power

bills and greater comfort. But beware, not

all cleaning companies are equal. We are

constantly hearing of people being charged

huge amounts for servicing and all they are

getting is a heat pump clean. We at Enviro

Master, are qualified engineers and therefore

are able to fully test and diagnose any problems

you may or may not be aware of with your

heat pump. Also, as we are associated with all

major brands, we are able to repair these under

warranty if they are still within the warranty

period.

It is important to remember, when selecting

an installer, the manufacturer's warranty does

not cover the installation and consumers could

be responsible for any repair or damage caused

to the system due to poor installation. Enviro

Master's five-star installation guarantee ensures

correct installation, and a demonstration so

customers have an understanding on how it

will best meet their needs.

For a free in home consultation, call

Enviro Master on 366 0525 or visit our

showroom at 41A Shakespeare Rd,

Waltham, Christchurch.

Discover this

unique Emporium

Plus a unique range

of gifts, homewares and

water features.

Crafted candles a speciality!

722 Marshlands Road

Top end Styx

Ph: 03 323 9781

www.hitchingpost.co.nz

St John

Community Shop

✓Unbelievable bargains

✓ Value and quality

Supporting Life

272 Lincoln Road

Corner Spencer Street

Addington

Phone 03 338 2560

HEAT PUMP

SALE NOW ON!

Amazin' autumn Specials!!

• We will offer you the best quality brands and

option of heat pump for your home/business

• Providing Heat Pump solutions for over 14 years to Cantabrians

• We personally guarantee all our products & installs for 5 years

(providing annual maintenance has been completed)

Phone us today for your free consultation & quote

41A SHAKESPEARE RD, WALTHAM

PHONE 03 366 0525

www.enviromaster.co.nz

"A local team for local people"
---
WESTERN NEWS Latest Christchurch news at www. .kiwi

Tuesday [Edition April datE] 4 2017 31 3

HOME & HEATING

Air Con Christchurch

Tucker Electrical

We at Tucker Electrical offer true solutions with full

visibility and quality products.

Air Con Christchurch Tucker Electrical

specialize in providing Heating, Ventilation

and Solar solutions with Automation to save

energy. As a sister company they provide the

complete package with all warranties and an

Air Con New Zealand $50,000 workmanship

warranty, being agents for Mitsubishi

Electrical, Fujitsu, Panasonic, Gree, Toshiba

plus multiple supply options for solar solutions.

Home Automation is fast becoming the

normal control of energy and the Econnecx

locally designed system is cost effective and

can be used to control all aspects of your

commercial or home premises from turning

lights on/off to the control of the heat pump

central heating systems, and of course the

biggest saver, hot water, all from your phone

via an app.

Mitsubishi Hypercore is an ideal heat pump/

air conditioner for the South Island as it works

at the nominal rating down to minus 15

degrees at full rated output (no other brand of

heat pump does that), add to the performance

in the cold the multi direction louvers and duct

vane air louvers and advanced air filtration

with the movement sensor, all these add up to

the best performer in the range of all brands

heat pumps and wifi control and you have an

unbeatable solution.

With Solar PV (Electrical Power Generation)

there are many pit falls and false quick sales

are being made due to misleading television

advertising and badly sold solutions. We at

Tucker Electrical offer true solutions with

full visibility and quality products providing

instant assessment of your actual generation

suitability by a full report.

Did you know you can, if installed correctly,

check each panel is working correctly? Did

you know you can assess/see the total amount

of generation of your system and the instant

position of generation? Many package deals do

not offer this and then you are only guessing

when trying to maximise the use and benefit

of your investment. On a financial return basis

we can show you how a 12% return on your

investment is quite simple.

Call us for any information or confirmations

for free Build Back Smarter Home Assessments

which are supported by the Christchurch City

Council (we are one of only three suppliers for

the programme). All our assessors are Beacon

Pathway Accredited and trained.

Call Stephen Tucker on 027 432 6222

anytime or the office on 343 3049 to book

an appointment or assessment and free

quote for Tucker Electrical or Air Con

Christchurch.

The facts about

home ventilation

Balanced Pressure vs Positive Pressure

Under the New Zealand Building Code,

all buildings, including residential, need to

be suitably ventilated, either with opening

windows or forced ventilation. Clause G4.1

states: "The objective of this provision is

to safeguard people from illness or loss of

amenity due to lack of fresh air." There are

many benefits to forced, or mechanical,

ventilation over opening windows, including

warmth, security, reduction of outside noises

and reduction of condensation.

Traditional domestic ventilation systems

are 'positive pressure'. They bring air in from

outside via the roof space and force the stale air

out through gaps around windows and doors.

The incoming air from these

systems has to be heated or

cooled to keep the house warm

in winter or cool in summer.

The Smooth-Air HEX390 is

a 'balanced pressure' system. It

extracts air from the house and

at the same time brings in fresh

air. These two streams of air

pass through a heat exchanger,

which warms incoming air in

winter and cools in summer if

air conditioning is being used.

This means that up to 80% of

the energy which would be

wasted using a traditional positive pressure

system is recovered, resulting in significant

energy savings and therefore lower heating or

cooling costs.

Until recently, balanced pressure ventilation

systems have been considerably more

expensive than traditional positive pressure

systems. However, with Smooth-Air's unique

manufacturing capabilities, a HEX390

balanced pressure system can be installed for

a similar price as a traditional positive pressure

system.

Contact Smooth-Air on 0800 SMOOTH

(0800 766 684), or visit www.smooth-air.

co.nz or www.home-ventilation.co.nz

Winter Heat Pump Specials

New Zealand's best low temperature

performance heat pump, guaranteed!

While ordinary heat pumps produce less heat below 7°C,

only Mitsubishi Electric HyperCore ® Technology guarantees

its fully rated capacity right down to -15°C so you get

all the heat you paid for.

Balanced

Pressure

Ventilation

Ventilation Equipment

Suppliers to trade and retail

HEX390

Balanced Pressure Ventilation with Heat Recovery

Save

$250

Save

$400

Fresh air

from outside

Exhaust air

to outside

®

®

HIGH WALL HEAT PUMP

FH25 3.2kW Heat Pump

$2549.80

Installed BB.

Conditions apply.

FLOOR CONSOLE

KJ60 6.8kW Heat Pump

$4449.50

Installed BB.

Conditions apply.

Warm stale air

from house

Warm fresh air

to house

for healthy indoor air

Quietly Superior Heat Pumps

Heat is transferred to the

incoming filtered fresh air

www.airconnz.co.nz

Unit 8/33 Watts Road,

Sockburn, Christchurch

03 343 4441

Substantial energy savings over traditional domestic

ventilation systems

0800 SMOOTH (0800 766 684)

www.smooth-air.co.nz

sales@smooth-air.co.nz

264 Annex Road, Riccarton

Christchurch 8024, NZ

Ph +64 3 343 6184

Mon - Fri 7.30am - 5pm
---
32

Tuesday April 4 2017

Latest Christchurch news at www.

.kiwi

WESTERN NEWS

A more youthful appearance

When it comes to dentures, Christchurch

people have access to world-leading

techniques and oral aesthetics right on their

doorstep.

At his Montreal St studio Lovebite,

internationally-renowned dental technician

Richard Greenlees creates beautiful

bespoke dentures with small nuances in

the fabrication, colour and shape and even

slight imperfections to create a uniquely

individual smile.

Not only do Lovebite teeth look real, the

whole structure and shape of the patient's

face is transformed with Richard's top-ofthe-line

dentures – something he calls his

signature 'denture lift'. "With appropriate

facial support, the facial tissues are brought

back into the correct position, the lips are

reformed, and beauty is restored," he says.

It is the interior architecture of a Lovebite

denture that helps to create a more youthful

appearance by

recovering the

face and skeletal

shape that can be

lost after years of

wearing dentures.

As the smile

is transformed,

so is the patient's

confidence, and the

way they feel about

themselves.

There

is no

need for

These Lovebite dentures have been handcrafted by internationally-renowned

dental technician Richard Greenlees to closely resemble natural teeth, resulting

in a beautiful smile, tailored to the patient's character and individuality.

dentures to look false. Richard takes a great

deal of satisfaction in making bespoke

dentures that look 100 percent real and

natural, personally guiding his patients

through the transformation process, to craft

a smile that reflects their individuality and

personality, and recreates their natural predenture

smile.

Richard's vast experience includes 15 years

running his own clinic in the prestigious

Harley St, London, where he treated people

from all walks of life, from barrow boys to

the rich and famous, politicians, actors and

musicians.

His techniques are recognised as worldleading

amongst his international peers

and he is regularly asked to lecture and run

courses worldwide.

Miles Cone (DMD, MS, FACP, CDT),

a prosthodontist from Oregon, US, said

in November 2015: "Richard Greenlees'

craftsmanship is as stunning as it is

unique. There is liberation in the calculated

imperfection, indeed an asperity that reflects

a purely human element".

In addition to dentures, Richard also

carries out crown and bridge, veneer and

implant work, in conjunction with likeminded

dental surgeons who complement

his creative and aesthetic work.

"Teeth are as different as fingerprints and

vary greatly depending on a person's age,

sex and race. Dentures from Lovebite reflect

this, and are as unique and individual as the

people they are made for," says Richard.

There is nothing more satisfying for

Richard, than to see his patients leave the

Lovebite studio with their self-confidence

and identity restored, as well as their smile.

For more information or to

book an appointment phone

379 1222 or call into the

studio at 402 Montreal St.

Bishopdale Clinic

13a Bishopdale Court, Ph 360 3606

City Clinic

12 Hereford Street, Ph 961 0236

Wigram Skies Clinic

67 Skyhawk Road, Ph 322 9400

Back & neck pain

Sprains and strains

Functional training studio

Biomechanical assessments

Headaches and migraines clinic

Work injuries & gym rehab

Pre and post surgery rehab

lovebite.com

Call us today Ph 360 3606

Be warm in

winter with

mohair and

alpaca rugs,

throws and

scarves

musclepeople.co.nz

style

noun

elegance and sophistication.

synonyms: flair, grace, poise,

polish, suaveness, urbanity,

chic, finesse, taste, class,

comfort, luxury, affluence,

wealth, opulence, lavishness.

140 Colombo Street

Beckenham, Christchurch

Phone 03 943 1639

www.themohairstore.co.nz

Magazine & TV | sTyle.kiwi
---
WESTERN 2 [Edition NEWS datE]

Latest Christchurch news at www. .kiwi

Tuesday April 4 2017 33

FLAME FILES

SENIOR LIVING

A natural approach to health

WARNING: A hot paint-stripping

gun and dry wood is a dangerous

combination.

Take care when

stripping paint

• By Mark Thomas – Fire Risk

Management Officer

ABOUT ONCE a year we get called to a

house that has been set on fire with a paint

stripping heat gun.

Of course, houses that have paint of

so many coats and thickness that they

require a heat gun, are normally made of

timber, generally many years old and dry

as a bone.

We had one of these fires on Tuesday in

Jutland St, North New Brighton.

Thankfully, this time the occupants of

the house noticed the wisps of smoke and

called the Fire Service nice and early. So

that a garden hose and a thermal imaging

camera check for hot spots were all that

was needed.

Sometimes the result is much worse. It

pays to check for any gaps between weatherboards

before starting.

Birds or rodent nests in wall cavities are

often responsible for fire development.

Don't burn your house down trying to

improve it.

Smoke was also seen seeping out of a

house by neighbours in Skipton St, Mairehau,

a week ago. This time it turned out to

be muffins too long in the oven so it was

a matter of clearing the smoke away for

the attending crew. Sad for the St Albans

watch that attended. They like muffins.

Daylight saving ended on Sunday. If

you haven't already done it, take the time

to replace the batteries in your smoke

alarms.

What do you consider to be the main

moderator of your health? Do you consider

what you eat to be the number one

influence on the way your body operates,

or is it the amount and type of exercise?

Maybe you feel that the way you handle

or deal with the stress of modern life to

be the major determinant in how well and

healthy you are. It could be that you feel

there is a more spiritual component at

play or that your genes or family history

determines your health. What about

health literacy? Is there a correlation

between your knowledge of your own

body's workings and how healthy you

are? Health literacy is about having the

ability to obtain, understand and process

information and services related to health

and to make appropriate health decisions

based on this knowledge. All of these

things play an important role in health and

obviously some will have more of a role

than others depending on the individual.

How you understand and choose to

deal with your health is a complex issue

involving many influences. As a natural

health practitioner I see my role as being

McKenzie Lifestyle Village

is in the final stages of

completion. There are still

great sites available and we also

have a number of affordable

villas ready for immediate

occupation.

Our beautiful Leisure Centre

was opened last year and the

pools, gymnasium and library

and lounge area are in use

daily. Outside, the bowling

green is very popular along

with Petanque, Mini-golf and

Table Bowls. By next summer

the Croquet Lawn will also be

available.

The residents enjoy an enviable resort style

lifestyle. It is also surprisingly affordable.

A former Christchurch resident, Judith,

says "We couldn't have all this for what we

are paying if we were still in Christchurch."

Another resident, David, says "my wife and

I have never been so well off as we are now

we moved to McKenzie Lifestyle Village."

There are fuller testimonials on the village

homepage at mlv.co.nz.

someone that can help other people

to recognise the importance of these

moderators, identifying the ones that are

central to their health and to give them the

tools and knowledge to make the choices

they want to in order to achieve their

health goals. I help people understand their

health - explaining tests and diagnosis's as

well as researching treatments available

to them. The most important approach to

your health is one that is informed - we

need to remember that we have choices

and that it is our responsibility to question,

research, explore all of the moderators

involved in this aspect of our lives. No

matter how you choose to deal with your

health, if you are feeling uninformed,

confused, frustrated, blasé or overwhelmed

reach out to someone to help you feel more

knowledgeable. I don't believe there is one

single approach to health (or to anything

in life!), at times this is overwhelming

especially if you are dealing with a chronic

or life threatening issue. This is the time

when you want someone to tell you the

one thing that you can do that will turn

things around. Unfortunately even in these

The Leisure Centre at

McKenzie Lifestyle Village

Geraldine is a great little town with a very

pleasant microclimate. There is plenty

to do in and around the town with art

galleries, theatre and cinema, interesting

shops and boutiques, two museums and a

wide range of good places to eat. For the

more adventurous there are river and forest

walks nearby, opportunities for biking and

a choice of two local golf clubs.

For more information you can talk to

David Connolly about this on

0800 84 55 24.

situations a multi-pronged approach is

needed and that is where employing the

guidance of a natural health practitioner

can be of use. There are also times when

a single approach has been exhausted

and people are feeling like they have tried

everything - often this is just a case of those

people not being exposed to other choices

and possible options. It is a great thing

when you can facilitate a change that was

previously unknown and get a positive

result.

Marshall's Health & Natural Therapy,

110 Seaview Road, New Brighton,

PH: 388-5757 or email:

enquiry@marshallshealthshop.co.nz

The magazine for

gardeners who

like To geT Their

hands dirTy

www.gardener.kiwi

100%

NATURAL HEALTH SOLUTIONS

We Can Help!

Marshall's Health and Natural Therapy have two qualified medical herbalists and a team of highly

trained natural health advisors all offering a vast array of knowledge and experience.

We challenge ourselves to not only offer a great service, but to also go that step further in terms of

getting to the heart of your health issues and to help initiate change that will improve your health

in the long term. Our Herbalist Nadine Driver is available for private consultations, providing

guidance and education on a one on one basis. We also have a fully stocked dispensary packed

with high quality herbs and supplements! Come on in and have a chat and start to become more

informed and educated about the options available to support good health and wellbeing.

• Private consultations - with a focus on individualised health plans that suit your specific

needs and budget

• Bach flower remedies and consultations

• NZ Plant Rhythms remedies

• Practitioner only supplements available on prescription or via consultation

• Comprehensive range of dried herbs and liquid extracts, including NZ native herbs

• Tailor made tonics, medicinal creams, ointments, gels and poultices

• Comprehensive Functional testing including, hair & stool analysis, hormones, blood, thyroid etc.

• Blood pressure checks

Bringing You

the Best in

Natural Health

MARSHALLS HEALTH & NATURAL THERAPY

CONSULTING - PRESCRIBING - DISPENSING - MANUFACTURING - MEDICAL HERBALISTS

110 SEAVIEW RD, NEW BRIGHTON • PH 03 388 5757 • Email: enquiry@marshallshealthshop.co.nz

- WE ARE ALWAYS HAPPY TO HELP! -

THE JOYS OF HOME OWNERSHIP #27

CLEANING

THE SPOUTING

Wouldn't you rather be learning to play

the bagpipes? Let us take care of the

spouting at your new home at

McKenzie Lifestyle Village in Geraldine.

Contact David Connolly on 0800 84 55 24.

M E M B E R O F R V A
---
34 Tuesday April 4 2017

Latest Christchurch news at www. .kiwi

SENIOR LIVING

Aspire

Canterbury

Aspire Canterbury offers support, advice and

resources to older people and those with impairments,

their families and caregivers.

Removing barriers to everyday living for

individuals, Aspire Canterbury inspires people

to live life to the fullest no matter what their

difficulties. The Disability Information Service

is a source of valuable information about

the various services available to people

with short or long term impairments and

professionals from community/health

organisations.

Visit Aspire Canterbury's shop at 314

Worcester Street or visit their website for

more information and resources. They also

have an online shop selling a wide selection of

easier living aids, and offer rental services for

wheelchairs, ramps and walkers.

Aspire now has a mobile service which is available

for free, fun, interactive presentations of all their

equipment and services to retirement homes/

villages and any other community groups wanting

a speaker.

For more information visit

www.aspirecanterbury.org.nz, 03 366 6189

mobileservices@aspirecanterbury.org.nz

We can help

Pain management

Living with pain can be the hardest part

of living with arthritis. For some forms of

arthritis, the cause of the pain is often not

well understood.

There are over 620,000 New Zealanders

living with a diagnosis of arthritis. That's

one in six, but one in two is over 75 years

of age.

Arthritis-related pain causes significant

difficulties for many people. They find

that it impacts on their ability to conduct

everyday activities and to live life as fully

as possible. Sleeping at night becomes a

challenge and for many they hide their pain

from family and friends.

It's important that those with arthritis

pain seek advice from their GP, pharmacist

or an Arthritis Educator.

WESTERN NEWS

Pain management programmes, (such as

those held by Arthritis New Zealand), tend

to work well for older people. There is a

focus on what you can do rather than what

you cannot do. Pain may limit some of the

things that you can do, but it doesn't have

to control your life. You can learn ways to

manage your pain. You may have to try

different self-management techniques until

you find what works best for you.

The key points of pain management will

be explored at the Workshops on 19th and

20th April.

It is important that you ask for help

when you need it. There is a great deal

of information on our website www.

arthritis.org.nz or call our helpline

0800 663 463

Support and Resources for Independent Living

walkers to

purchase

(FroM $230)

or hire

$20

per week

Can we help you or someone you support?

Disability Information Service – a 'one stop

information service' which offers unbiased

advice to assist people navigate their way to

organisations or services that can provide them

with support or advice.

Aspire Canterbury Shop – shop online or call in

to our shop at 314 Worcester Street and view our

range of easier living products We also hire out

wheelchairs, ramps and walkers.

Total Mobility Discounted Taxi Service – a scheme

which provides 50% discounts on taxi journeys to

eligible people in the Christchurch area who, due

to health conditions, are unable to access public

transport. Contact us for more information on

03 366 9093 or visit our website.

Mobile Service – Fun interactive presentations of

our information, services and easier living

equipment. We come to you! To book our

presenter to speak to your group call Richard

at numbers below or email mobileservices@

aspirecanterbury.org.nz

Mobility scooter demonstrations available.

Aspire Canterbury is a not-for-profit organisation

providing services to the community since 1981

Physical Address:

314 Worcester Street

Linwood Christchurch

Postal Address:

PO Box 32074

Christchurch 8147

2015 NZ Disability

Information Centre

of the Year

Ph: 03 366 6189

Freephone: 0800 347 242

Ph: (Total Mobility) 03 366 9093

Mobile Service: 027 588 9700

E: admin@aspirecanterbury.org.nz

W: www.aspirecanterbury.org.nz

Manage your arthritis

Wednesday

19 April

9.30-11.30am

Workshop

Pain Management

Avonhead Baptist

Church

102 Avonhead Road,

Christchurch

Do you live with the pain

of an arthritis condition

like: osteoarthritis,

rheumatoid arthritis or

one of the many other

forms?

If so, please come along

to this workshop; learn

more about how pain

works, and options

available for managing it.

Wednesday

19 April

Group Information

sessions

1-2pm:

Osteoarthritis

2.15-3.15pm:

Polymyalgia

Rheumatica

3.30-4.30pm:

Fibromyalgia

Oxford Terrace

Baptist Church

288 Oxford Terrace

(Access from Madras St)

Christchurch

Come along to one of our

education sessions to

learn more about these

types of arthritis.

Thursday

20 April

9.30-11.30am

Workshop

Pain Management

Oxford Terrace

Baptist Church

288 Oxford Terrace

(Access from Madras St)

Christchurch

Do you live with the pain

of an arthritis condition

like: osteoarthritis,

rheumatoid arthritis or

one of the many other

forms?

If so, please come along

to this workshop; learn

more about how pain

works, and options

available for managing it.

Please register: Contact Dave Cox, Arthritis NZ

P 0800 663 463 E dave.cox@arthritis.org.nz
---
WESTERN NEWS Latest Christchurch news at www. .kiwi

Tuesday April 4 2017 35

SENIOR LIVING

Golden Health Care

Golden Healthcare Group's position at

the forefront of Canterbury's residential

care services is cemented by a state-ofthe-art

facility being developed at Lady

Wigram Retirement Village.

The concept is to provide hotel-style

accommodation for those residents

who enjoy being part of a vibrant, social

community.

The group has already completed 50

villas with an additional 17 to be completed

by early 2017. Until the full project is

finalised, one of the villas built during

the first stage of construction has been

converted to accommodate social events

such as bowls, happy hours, high teas and

television viewing of sports fixtures.

Once the project is complete, it will

comprise 101 villas, 73 apartments, and

100 care beds. The proposed facilities will

include a rest home, hospital, and dementia

facilities, and permanent amenities such

as a community centre, Bowling Green,

swimming and spa pools, a gym, a theatre,

a library, and a hairdressing salon.

The villas will be offered in a

combination of two and three bedrooms

whereas apartment residents will have a

choice between one and two bedrooms.

The Lady Wigram Retirement Village is

a short stroll from The Landing, the central

retail hub of the Wigram Skies subdivision,

and only a short drive to Hornby Mall, the

Hornby Working Men's Club and the city.

Lady Wigram Retirement Village is

one of eight facilities operated by Golden

Healthcare Group that offer a variety of

residential care services.

The large Christchurch-based group is

a privately owned provider that strives to

support every aspect of aged care.

Rest home care is provided in the Golden

Age Rest Home and Brookhaven Rest

Home, both of which also encompass

retirement villages. Brookhaven also

has a dementia care unit along with the

dedicated Camellia Court, Albarosa, and

Somerfield rest homes. Furthermore,

the Hoon Hay Rest Home is a dedicated

dementia wing, but the Hoon Hay House

on the same site specialises in mental

health.

Within the facilities, there are plenty

of opportunities to create unique

environments for differing requirements

for residents. Nursing care is provided

by registered nurses, regular scheduled

medical appointments and on-call doctors

ensure residents' health is well monitored.

An activities co-ordinator ensures residents

will never be bored and they participate in

programmed activities, games, sing-alongs

with performances by visiting entertainers,

library book exchange and exercise

programmes. The group has four vans to

utilise for residents outings.

Each facility has its own kitchen and

offers nutritious home-style meals and

baking, and special diets are catered for.

Golden Healthcare employs 260 at its

facilities which care for about 350 residents.

All staff are highly trained, experienced,

and qualified in their roles.

Each facility offers regular resident and

family meetings to ensure feedback is

encouraged, and dementia facilities also

offer educational evening for families to

understand the dementia process. Respite

care is also provided at all facilities.

The Golden Healthcare Group website

goldenhealthcare.co.nz provides full

contacts.

you can stop him

snoring with a

SNOREX

Why put up with a broken

night's sleep?

Ph 377-4318 or 027 682 1752

DENISE LIM

FOR A FREE INFO PACK

Website: www.snorex.co.nz

Apple Cider VinegAr - Powerful Natural Health Tonic

ACV is a highly nutritious with all the goodness of apples (one of our most health-giving fruits) in a form that is readily

accepted by the body. It promotes healthy digestion, assimilation of nutrients & elimination of wastes. Detoxifying

& purifying & supports the function of vital organs like the kidneys, bladder, liver & heart. Helps neutralise toxic

substances & harmful bacteria in food. A time-honoured natural remedy to improve health & longevity.

ACV SUPPORTS

• Healthy digestion, assimilation of nutrients, elimination of wastes

• Energy – Vitality – Endurance

• Elimination of viruses, bacteria, fungus & parasites

• Powerful antioxidant

• Cardiovascular health, blood flow & healthy blood pressure

• Diabetes – improves insulin sensitivity

• Arthritis • Longevity

• Settles the stomach & reduces reflux

Super price

Premium QuALity N.Z. DoubLe

StreNgth, orgANic APPLe

ciDer ViNegAr:

750ml only $9.90, 2ltr only $19.90

With 20% manuka honey added:

750ml only $14.90, 2ltr only $29.90

Always Insist on Marshall's Apple Cider Vinegar for

Maximum Nutritional Value + Health Benefits

Bringing You the Best in Natural Health

- WE ARE ALWAYS HAPPY TO HELP! -

MAIL ORDER

AVAILABLE

MARSHALLS HEALTH & NATURAL THERAPY

CONSULTING - PRESCRIBING - DISPENSING - MANUFACTURING - MEDICAL HERBALISTS

110 SEAVIEW RD, NEW BRIGHTON • PH 03 388 5757 • Email: enquiry@marshallshealthshop.co.nz

Time Honoured Remedy

According to a country Doctor "D.C.

Jarvis" from Vermont in the USA cider

vinegar and honey (CV & H) can be an

important part of a long healthy life. Dr.

Jarvis noted Vermonters who regularly

consumed cider vinegar and honey had

excellent health with many putting in a

vigorous day's work on the farm even when

well into their eighties.

Dr. Jarvis found the effects of cider vinegar

and honey on arthritis can be remarkable

with many patients reporting almost total

relief after taking a course of the cider

vinegar and honey. Dr. Jarvis surmised that

the acid and potassium in cider vinegar

counteracted calcium deposits and helped

the body control calcium use.

As well as a general tonic Dr. Jarvis found

regular administration of cider vinegar and

honey at the onset of complaints such as the

common cold, sinusitis, asthmatic

attacks, hay fever, and childhood

diseases such as chicken pox and

measles, was accompanied by an

improvement in the condition with

symptoms either disappearing,

or the conditions were extremely

mild and soon over.

Apple cider vinegar contains

all the goodness of the apple in a

form that is readily accepted by

the body. Scientists have found

over 90 different substances in

ACV, among them 20 important

trace elements, minerals, essential

enzymes, a number of different

acids including malic acid, amino

acids and roughage in the form

of potash and pectin. A scientific

121 Skyhawk Road

study at the Shizuka University in Japan

has proven ACV to have potent antioxidant

benefits (It can destroy free radicals,

which are a major factor in ageing.) and

also the ACV can break down cholesterol

formations in the blood vessels.

ACV and H is a powerful tonic that

also promotes digestion, assimilation of

nutrients and elimination of waste, and

helps neutralize any toxic substances that

enter the body.

It is important to note not all cider

vinegar is made in the traditional way and

results are likely to prove disappointing

with these other vinegars.

Further information is available from

the Natural Health Advisers at Marshall's

Health & Natural Therapy, 110 Seaview

Road, New Brighton, Phone: 388-5757.

We are Always Happy to Help!

Third Age

Tours

Small Group Tours for

the over 50s

Domestic and

International

Great Prices!

neW

neW

neW

england/Wales & Yorkshire Dales

24 August - 23 September 2017

enchanting Ireland & Scotland

1 June - 26 June 2017

curiosities of cuba May 2017

Treasures of Turkey On Hold & TBA

captivating croatia, Slovenia

montenegro & Venice

16 June - 10 July 2017

Vietnam & cambodia

3 - 25 October 2017

Beautiful norfolk Island

22 - 29 October 2017

Sicily, rome & Southern Italy

October 2017

South Island Tours

Glorious Autumn in Arrowtown

20 - 25 April 2017

catlins/Stewart Island

8 - 16 February 2018

White herons, Glaciers & Alpine

loop Tour

28 January - 2 February 2018

PluS oTher DeSTInATIonS!

For a Free InFormATIon

PAck contact Brenda

Third Age Tours

Ph 03 379 3799 or 03 312 7050

Freephone: 0800 927 725

sunshineone@xtra.co.nz | thirdagetours.co.nz
---
36

Tuesday April 4 2017

REAL ESTATE

Lifestyle…life pleasure

17 Harbour View Terrace, Cass Bay - RV $1,290,000.00

Deadline sale - all offers close 5pm and will be presented 11th April 2017

5 bedrooms | 3 bathrooms | 2 living rooms | 2 car-garage | 2 off-street parks | boat mooring | Listing # SMT10098

A truly unique opportunity, this

beautifully designed contemporary home

offers a position like nothing you've seen

before. Boasting access to the beach front

with its very own mooring. Fall in love and

be mesmerized as you enter this amazing

abode. Set in an absolute one-of-a-kind

position on a landscaped 1106m² with

amazing outdoor entertaining areas. This

exceptional double glazed home offers

functional family living with sumptuous

style and the space to suit! This lovely

property plays host to five bedrooms, three

double sized, one single plus a studio area.

The main bedroom a real treat for parents

with its own gas fire, walk-in wardrobe,

ensuite and a wonderful flow to the decking

overlooking the water.

The European kitchen area is incredible

and offers amazing picturesque views

over the bay to Quail Island and Diamond

Harbour. The spacious living areas flow

to the private outdoor entertaining space,

while the kitchen with its bi-fold window

offers a unique space to enjoy your morning

cuppa plus many other bells and whistles,

which is sure to delight the 'chef ' of the

home. Under-tile heating in master ensuite

bathroom, two heat pumps, two gas fires,

plus log burner will ensure you and your

family stay warm in the winter months.

Outside the north, west and south-facing

aspects of this lovely home means the

patio/entertainment areas enjoy sunshine

throughout the day. On cooler nights

NEW LOCATION ADVERT.pdf 1 1/05/2014 11:51:35 a.m.

there's a beautiful outdoor gas fire to gather

around. The landscaped gardens offer a

private outdoor space that's perfect for

unwinding. To complete the appeal, the

front entrance is gated, plus a double garage

and two off-street car parks.

Beyond appeal, this property is located

3.9km from Lyttelton Port and eateries,

14km to Christchurch Central offering a

short drive and the upmost assurance to the

strength of your investment.

With exceptional attention to detail

throughout, this wonderful family home is

a very rare opportunity, offering discerning

buyers the chance to purchase a wonderful

property with a lifestyle to dream of. We

recommend early viewing as this impressive

home is sure to capture people's hearts

Marketed by Debra Hakaraia of Smart

Real Estate. Please call for viewing times

0275 620 420 or 03 384 8600 or email

debra.hakaraia@smartrealestate.co.nz or

visit our website smartrealestate.co.nz

VISIT OUR NEW LOCATION LOCATION

430 ST ASAPH STREET!

Hours of Business: 7am-4.30pm Mon-Thurs

Fri 8am to midday

or by appointment with Keith 027 566 3909

RECOVER YOUR LOVED FURNITURE

No job too big or small

Latest Christchurch news at www.

Still able to offer

you the finest top

quality new furniture

Visit us online

www.qualityfurniture.co.nz

P. 371 7500

QUALITY FURNITURE SPECIALISTS

RE - UPHOLSTERY SPECIALISTS KEITH HARTSHORNE 0275 663 909

.kiwi

LAwyERS

We have over 40 years' experience

to assist you with…

• Buying and Selling Houses and

Commercial Property

• Wills, Trusts and Estate matters

• All issues facing you

and your business;

• Employment Law

matters;

• Traffic matters;

• Advice regarding

Retirement Villages

• General Legal Advice on all matters

Call John, Brendan or Andrew today

03 366 8996

Email. lawyers@mclegal.co.nz

Airport Business Park

92 Russley Road, Christchurch 8042

WESTERN NEWS

growing with you

SprIng Is here –

It'S Sow Time

how to get the best results from

seeds and seedlings

100% NatIve In

The capItal

Unravelling the secrets of

Otari-wilton Bush

The New Zealand

landscape awards

The people behind

the projects

September 2016 | 100%

It's time

to grow!

New look and more

content than ever!

MeeT LeSTer Brice

A Garden coach

now bigger than ever

The magazine for

gardeners who like to get

their hands dirty

$7.90 incl. GST

Save our roSeS

How a rose register is protecting our heritage

auckland Botanic GardenS

Why we love our public grounds

SubScribe from

$43. 50*

*6 issues/6 months

ISSN 2423-0219

SUBSCRIPTIONS FREEPHONE

0800 77 77 10

www.gaRdeNER.kiwI
---
WESTERN NEWS Latest Christchurch news at www. .kiwi

Tuesday April 4 2017 37

Celebrant

WEDDINGS, Civil

Union Ceremonies,

Renewal of Vows, Naming

Ceremonies, Funerals

and Unveilings - Jenni

Gibson Ph/Fax 324-8332,

021 723-089. www.

celebrantservices.net.nz

Community Events

ALCOHOLICS

ANONYMOUS, If you

want to have a drink that's

your business. If you want

to stop, we can help. Phone

0800 229-6757

Classifieds Contact us today Phone our local team 03 379 1100

Curtains

www.curtainfabric-outlet.com

Half Price Sale

from $5 per mtre

Call at Our Shop

CURTAIN FABRIC OUTLET

71 Hawdon St Sydenham

Ph 366-5026

Gardening

& Supplies

A GARDEN OR

LANDSCAPING TIDY

UP? Shrub, hedge &

Computers

tree pruning, Lawns,

Gardening, consistently

ALL

YOUR reliable general property

COMPUTER

upkeep, Dip. Hort. 10

WORRIES SOLVED! yrs experience, One off

*$30.00 off your first

tidy ups or on-going

service with this coupon!*

service. Nick's Property

No problem too big or

Maintenance. Keeping

small from home PC's to

business networks. PC

your garden beautiful.

slow? An end to Viruses, Free Quote. Ph. 942-4440

Spyware, and Clogged

Systems. Safe secure

hassle-free computing.

Public Notices

Lost files recovered. HORNBY Primary

Microsoft Certified, School has adopted an

MCSE, MCP+l. 30 years enrolment scheme which

experience. Call Andrew will come into operation

Buxton this week on 326-

6740 or 027 435-7596

on Monday 1 May 2017.

For any queries or to see

for $30.00 off* Custom the map please contact the

Computers Christchurch school office on 3497238.

Holiday

Accommodation

QUEENSLAND SUN-

SHINE COAST AUSTRA-

LIA Resort, Ocean Views,

Balconies, Self Contained,

1 or 2 B/R Ensuite,

Heated Pool, Spa, Sauna,

Free Internet, Shops,

Restaurants, Tennis, Surf

Club & Patrolled Beach,

Public Transport at door.

Ask for our SEASONAL

SPECIALS. Phone 61 7

544-35011 Email: reception@mandolin.com.au

www.mandolin.com.au

9164023AA

Trades & Services

BLOCKED

DRAINS?

• VIDEO INSPECTION

• WATERBLASTING

• LIQUID WASTE

PH: 03 365 7960

24 hours // 7 days

info@h20jet.co.nz

www.h20jet.co.nz

Trades & Services

Cracked tiles?

Dirty grout?

Old or mouldy

silicon?

Brett Ph 03 358 5105

or 027 746 7632

www.groutpro.co.nz

BUILDER

For all building work

but specialist in bathroom

renovations, 30 yrs

experience, with service

and integrity. Free Quotes.

Ph Lachlan 383-1723 or

0274 367-067.

BUILDER LICENSED

available for all aspects of

building. Please call 027

241-7471 or 335-0265

CARPENTER

HANDYMAN - Small

Job Specialists, Carpentry,

Repairs, Decking &

Maintenance, 40 years

experience, no job too

small, Ph Warren 03 322-

1103 or 027 697-8541

CARRIER LoCAL

experienced, friendly,

trade-me purchases, single

items to truck loads,

furniture to whatever,

removals & trade

deliveries a specialty. Ph

GEH 341-5069

**************

CARPET & VINyL

Laying. Repairs, uplifting,

relaying, restretching.

Email jflattery@xtra.

co.nz, ph 0800 003 181 or

027 2407416

CARPETLAyER

Laying and Repairs, 40 yrs

experience, ph Peter 326-

7711 or 027 240-6532

EQC CASH SETTLEMENT

We will re-scope your property to ensure

you have been paid in full to cover all

your repair costs.

None of the properties that we have

re-scoped so far has been paid the

correct amount to repair their damage.

EXAMPLES

Trades & Services

•Yaldhurst Road Initially $3,800 after our

re-scope payment received $46,320

•Wairakei Road Initially $7,575 after our

re-scope payment received $38,182

•Prossers Road Initially $19,827 after our

re-scope payment received $60,273

•Kaplan Avenue Initially $859 after our

re-scope payment received $34,931

•Liverton Crescent Initially $11,000 after our

re-scope payment received $29,842

•Dalkeith Street Initially $5,000 after our

re-scope payment received $8,945

• We have re-scoped 50 properties who have been under

paid for their repairs.

• Have your initial repairs failed?

• Did you receive your full entitlement?

• Do not pay your excess until all repairs are completed.

• General under payments are: Asbestos testing and

exterior lead paint, peeling wallpaper, cracking in exterior

plaster not repaired correctly.

For re-scoping and all earthquake repairs

including painting and redecorating.

Enquire now Phone 021-667-444

CARPET CLEANING

and free deodorising,

3 rooms & hallway

from $59, over 20 yrs

experience ph 027 220-

2256

DRAINLAyER

Reg, all types, inclds soak

holes, 20 yrs exp, ph 028

408-0121

ELECTRICIAN

REGISTERED for all

electrical installations &

repairs Ph 03 322 4209 or

021 026 73375

FURNITURE REMoVALS

Large Trucks $95 +

GST per hour 7 day NZ

wide, packing & moving,

Professional Company,

Professional Service.

Canterbury Relocations

Ltd. ph 0800 359 9313

GARDENER

Able to do lawns, pruning

of roses, trimming

hedges, small trees &

shrubs, garden tidy ups,

competitive rates, please

phone Paul 027 206 8781

BHUJA

LEIGH HART

JASON HOYTE

YOUR DRIVE HOME

4PM - 7PM WEEKDAYS
---
38 Tuesday April 4 2017

Travlon

Latest Christchurch news at www. .kiwi

WESTERN NEWS

Coachlines Classifieds Contact us today Phone our local team 03 379 1100

Trades & Services

CHARTER & TOUR

Travlon

Coachlines

Travlon Coachlines

School Run to some

private schools

ex Selwyn/Halswell area

"Wide range of coaches

"Wide

and buses for

School range of Run coaches to some and buses

for Charter

private schools

& Tour"

ex Selwyn/Halswell area

www.travlon.co.nz

www.travlon.co.nz | Phone: 03 325 2959

"Wide

Email:

Phone: range

info@travlon.co.nz

03 325 of coaches 2959

and buses for

Charter & Tour"

gas fitter

www.travlon.co.nz

Registered Phone: 03 325 Certified 2959

Email: info@travlon.co.nz

Email: info@travlon.co.nz

Gas Fitters

• Water Heating • Fires • Gas Cooking

• Supply - Install - Servicing

Craftsman

Gas

Services Ltd

Free Quotes - 30+ years experience

CRAFTSMAN GAS SERVICES LTD

Steve Blackwell 0274 329 307 - 341 0923

www.craftsmangas.co.nz

house clearance

HOUSE

CLEARING

Are you moving house?

Let All Clear Canterbury take care

of your unwanted items.

You identify what you want to keep

& we will dispose of the rest!!

Ph: 03 260 0934 or 021 078 4553

raewynlcooke@gmail.com

www.allclearcanterbury.co.nz

pc & phone repairs

• iPhones • Smart Phones

• iPads • Tablets • Computers • Laptop

Repairs, Parts and Accessories

• Glass Screen Protectors

• Phone Cases • Cables etc

109 Matipo St | 0800 222 691

WINDOW TINTING

tintawindow

advanced film solutions

99% uv block

fade protection

heat control

reduce glare

25 Years Experience

Trades & Services

privacy films

frosting designs

non-darkening films

Workmanship Guaranteed

Lifetime Warranties on Most Films

UV

block

Free Quotes Canterbury and Districts

03 365 3653 0800 368 468

PAINTING

TREE WORK

& Decorating Wingfields

Hedge trimming, stump

Contracting, all interior

& exterior painting & all grinding, rubbish removed,

forms of interior plastering

& jib fixing, ph Mark 021 small job specialty Ph

171-1586 or 355-5994 Andrew 03 322-8341 or

PAINTER

027 435-8759

Top quality work, interior/

exterior, pensioners

discount, free quotes, 30

years experience, I stand

by Canterbury, ph Wayne

your friendly painter 03

385-4348 or 027 274-3541

PAINTER AvAIlAblE

All aspects in painting.

Very competitive in roofs

and fences. Please call 027

241-7471 or 335-0265

PlASTERER

Gib Stopping, Small

job specialty. 30 + years

experience. Ring 0800

387-369

PlASTERER SOlID

both ext & int work,

Scottish Tradesman with

over 30 yrs experience,

FREE Quotes, ph Donald

351-1691 or 021 023

26186

PlUMbER

For prompt service for all

plumbing maintenance,

repairs and alterations.

Phone Michael 364 7080

or 027 438 3943

PlUMbER

A Top Plumbing job

completed at a fair price,

prompt service, all work

guaranteed, Ph Brian 960-

7673 or 021 112-3492

ROOFING

Qualified & Licenced

Practitioner. Re-Roof &

Repairs, all types. Member

New Zealand Roofing

Association. Over 35 years

experience. Phone John

027 432-3822 or 351-9147

email johnmill@ihug.

co.nz

SPOUTING ClEANING

Spouting Unblocked,

Cleaned Out and Flushed

Out. Also Full Handyman

Services Available. Call

Trevor 332 8949 or 021

043-2034

TIlING

Quality jobs done on time.

All aspects of tiling. Reg

Master Tiler. Ph Dave 027

334 4125

TIlER/CARPENTER

35 years exp, no job

too small. Ph Ross 027

4311440.

TIlING

SPLASHBACKS

Kitchen/bathroom/

laundry, incl mosaics, ph

027 334 4125

Trades & Services

TREES

BIG OR SMALL, tree

removal, trimming, stump

grinding, shelterbelt clean

up, section clearing,

rubbish removals,

excavation work, ph Trees

Big or Small, for a free

quote, 021 061 4783

T.v. SERvICE CENTRE

Repairs, tvs, microwaves,

stereos, DVD. Aerial

installations and kitsets,

480 Moorhouse Ave, ph 03

379 1400

T.v. SERvICE CENTRE

Repairs, tvs, microwaves,

stereos, DVD. Aerial

installations and kitsets,

480 Moorhouse Ave, ph 03

379 1400

vHS vIDEO TAPES

& all camera tapes

converted to DVD, video

taping special occasions,

www.grahamsvideo.co.nz

ph 03 338-1655

WATERblASTING

Quality Job, Quick Service

by skilled tradesman, Ph

Richard Severin at Jet-X

0800 538 969 Free quotes,

visit www.jetx.co.nz

A Star Media Event

9164023AA

Trades & Services

ADD SOME

Tuition

PILATES Beginner &

Intermediate classes,

Tuesday & Wednesday

nights. Fendalton Croquet

Club, Makora Street.

Phone Julie 351-2100

COLOUR

TO YOUR ADVERT!

Tuition

Ballet Tuition

Classes for juniors to seniors or

individual private lessons

Preparation for examinations

Ph 027 282 5700

Joan Adams (A.R.A.D)

Associate Royal Academy of Dance,

Solo Seal

Wanted To Buy

Dealers. Phone 980 5812

AAA Buying goods

quality furniture,

Beds, Stoves, Washing

machines, Fridge Freezers.

Same day service. Selwyn

or 027 313 8156

A+ Household effects,

fridges, freezers, washing

machines, ovens. Good

cash paid. Ph Paul 022

0891 671

TOOLS Garden,

garage, woodworking,

mechanical, engineering,

sawbenches, lathes, cash

buyer, ph 355-2045

Bridalshow

save the date

Sun 27th Aug

10am to 3pm

air Force Museum

45 Harvard Ave

Wigram, Chch

Tickets: $20.00
---
WESTERN NEWS Latest Christchurch news at www. .kiwi

Tuesday April 4 2017 39

The Toner Sisters & Tom Sharplin

are coming to town!

'Famous for their roasts!'

RESTAURANT & CAFÉ

Kid's SPECIAL

Two courses

Seniors SPECIAL

Two courses

$10

We are family friendly. Great Kids menu plus designated play area.

Soup/Roast or

Roast/Dessert

Special available lunch only

Monday - Saturday 12pm - 2.30pm

$20

Start your

day with us

We are open from 6.30am

Cooked

breakfasts

$18

Check out our extensive

breakfast menu from

Continental to Cooked

The

RACECOURSE HOTEL

& Motorlodge

118 Racecourse Rd, Sockburn,

Christchurch. Ph 03 342 7150

www.racecoursehotel.co.nz

THE TONER Sisters were raised on country

music, performing with mum and dad as e

Toner Family. ey each eventually took their

cra in other directions and each has had

amazing musical careers.

Long-time admirers of one another's work,

Lynne, Celine and Adrienne have nally come full

circle, together in a collaboration that both excites

them and rejuvenates their love of country music.

Together they perform songs that shaped their

lives and brought them to where they are today.

eir charming 'onstage antics', big voices,

mesmerising harmonies and sisterly love will leave

you feeling very much part of e Toner Family.

Together, their list of achievements in Country

Music is second to none. Collectively they were

regulars on TVNZ's 'THAT'S COUNTRY', have

opened for Ricky Scaggs, Larry Gatlin & e

Gatlin Bros, Kenny Rogers, Ricky Scaggs, George

Hamilton IV, Freddy Fender, Rod Stewart, Ronan

Keaton and much more. Each has toured

nationally & internationally and have now come

full circle... Take a piece of them home with you

in their brand new EP 'Full Circle... e Acoustic

Session'.

eir 'Special Guest' is none other than NZ

Rock n Roll Icon Mr Tom Sharplin. Tom created

a rock 'n' roll revival in the 70's when he recorded

5 singles and toured the country several times

with the likes of Johnny Devlin, Maria Dallas,

Nash Chase & Angela Ayres.

e Toner Sisters with Tom Sharplin and 4

piece band perform at the Hornby Workingmens

Club on Friday 21st April. Tickets $20 on sale

now at the club office, phone 349 9026. 8pm start.

CAFE

open from 11am

TAB & Gaming

Function Facilities

HOUSIE

Tues, Thurs, Sat

SHUTTLE

Tues - Sat

LIVE MUSIC WITH

ROCKABELLA

7PM THIS SATURDAY

in Whitfords Bar

WHAT'S ON

Open 7 Days from 5.30pm

COMING UP...

VAGUE-AS

BROS

7PM GOOD FRIDAY

in Whitfords Bar

NOW SERVING

available

from

9am

Breakfast

HAPPY

HOUR

5PM - 7PM

DAILY

Lunch & Dinner

All you can eat, 7 days

EASTER - NO SURCHARGE

Note. Open for DINNER ONLY

Good Friday & Easter Monday

Bookings Essential

PH 386 0088

fb.com/GardenHotelRestaurant www.gardenhotel.co.nz

CAFE OPEN THROUGHOUT EASTER - NO SURCHARGE

$12

LUNCH

SPECIALS

COFFEE

HAPPY

H O U R

2PM-4PM

DAILY

$3.50

Offer available for a limited time

and includes tea, hot chocolate

MON: ROAST MEAL

TUE: FISH & CHIPS

WED: FISH BURGER

THU: ROAST MEAL

SAT: FISH & CHIPS

AVAILABLE FROM 11.30AM-2PM FOR A LIMITED TIME

Live Music: Sima & Vaeio

6PM.FRI.7 APR

PHONE 385 8880 FIND US ON FACEBOOK fb.com/GBCCHCH

THE GARDEN HOTEL COMPLEX | 110 MARSHLAND RD

www.gardenhotel.co.nz | phone 385 3132

www.newbrightonclub.co.nz

GREAT

DINING

- downstairs -

ClubBISTRO

Open Tuesday to Saturday

12pm-2pm and from 5pm

Midweek $10

SPECIAL ROAST

Available Tuesday,

Wednesday, & Thursday

TUESDAYS &

THURSDAYS

Members Lucky

Card Draw

TAB POD

GAMING ROOM

FUNCTION ROOMS

SHUTTLE RUNNING

Tues, Thurs, Fri & Sat

SUNDAY

30th April

ALL YOU

CAN EAT

BUFFET

$25

BOOK NOW!

PIERVIEW RESTAURANT

GREAT

DINING

- upstairs -

PIERVIEW

Restaurant

Quality a la carte

with a view!

Open from 5.30pm

FRIDAY, SATURDAY

& SUNDAY

FRIDAY SPECIAL:

SIRLOIN STEAK

or

CHICKEN BREAST

WITH JACKET POTATO

& SALAD BAR

$22!

SUNDAY SPECIAL:

3 courses

$25

NOW OPEN FOR

SUNDAY

BRUNCH

By the Seaside!

10.30am-2pm

202 Marine Parade

Ph 388-9416

Members, guests and affiliates welcome

H ORNBY

WORKINGMEN'S

CLUB

«WHAT'S ON«

FRIDAY 7 APRIL, 7PM

JO'S KARAOKE

SATURDAY 8 APRIL

4.30PM

BARROSS

8PM

DRAMA QUEENS

FRIDAY 7 APRIL, 8PM

(UPSTAIRS)

IBO TITLE FIGHT

BOWYN 'BOMAN' MORGAN v

GUNANR 'THE STUNNA' JACKSON

plus top line corporate fights

Door sales $40 or from Dashtickets

«COMING UP«

FRIDAY 21 APRIL, 8PM

THE TONER SISTERS

with special guests

TOM SHARPLIN & REMEDY

COUNTRY & RnR

Tickets $20 at club office.

Hornby WMC, 17 Carmen Rd,

Hornby. Phone 03 349 9026

www.hornbyworkingmensclub.co.nz

Members, guests & affiliates welcome
---
40 Tuesday April 4 2017

Latest Christchurch news at www. .kiwi

WESTERN NEWS

Four Seasons Realty

AUCTION

Thursday 13th April

(unless sold prior)

AUCTION

Thursday 13th April

(unless sold prior)

AUCTION

Thursday 13th April

(unless sold prior)

528 Halswell Road

Halswell

8/60 Ely Street

City Central

53 Sterling Crescent

Kaiapoi

3 1 1 2 1

New Home + 2 Studios!

The home provides all the conveniences and comforts

of a new build. A contemporary kitchen that features a

compact oven with a microwave function and walk in

pantry. All three bedrooms are doubles with full height

wardrobes. The spacious living/dining area enjoys the

suns' favour all day with the use of skylights.

View at: fourseasons.harcourts.co.nz ID#FH4342

Jan Green -027 222 8736

AUCTION

Thursday 13th April

(unless sold prior)

39 Hinemoa Street

Spreydon

2 1 2 1 1

Your Keys To The City

Previously rented for $420 p/w and with a vendor

freeing-up funds for the next project, this is a prime

opportunity to acquire a modern city-side apartment

with high appeal location to both buyers and

investors.

View at: fourseasons.harcourts.co.nz ID#HR4444

Belinda Hu – 021 047 1855

AUCTION

Thursday 13th April

(unless sold prior)

46c Rudds Road

Linwood

4 2 2 1 2

No Joke! Must Go!

Empty and ready to go! Vendors want sold. Make this

home yours! Stylish kitchen with walk in pantry and

quality appliances. Great indoor/outdoor flow/family

living. Solar panels and a ducted heat pump system are

some of the extras. Call now to view!

View at: fourseasons.harcourts.co.nz ID#RL1636

Kaye Isaacs – 027 686 6941

DEADLINE

SALE

All offers to be presented

11th April 2017

(unless sold prior)

34 Sunline Avenue

Lincoln

814sqm 3 1 1 1

Must Go - Owners Committed Elsewhere

Beautifully presented 1930's character bungalow

With EQC work completed. Featuring wooden floors

and panelling with modern day style and sympathetic

improvements / new log fire / heat pump & open plan

living. Excellent inflow outdoor flow to the secure

Sheltered section. See it NOW!

View at: fourseasons.harcourts.co.nz ID#FH4348

Raewyn Marles 027 277 9736

FOR SALE

12 Crowder Street

Lincoln

4 2 1 1 2

Out of Town Investor Says SELL!

Calling all first home buyers, families and investors

this is an opportunity to secure this property.

Offering four double bedrooms, master with

ensuite and walk through robe, double garage with

internal access and off street parking.

Don't miss the opportunity, contact me today.

View at: fourseasons.harcourts.co.nz ID# HR4442

Claire Mason - 027 7232571

DEADLINE

SALE

All offers to be

presented 6th April

(unless sold prior)

280 Greers Road

Bryndwr

4 3 3 1 2

Brand New, with Granny Flat

Full of hidden surprises within, this home is a must

view. Attached granny flat, 2 living areas + 29m2

loft area, enormous butler's pantry the list goes on.

All sited on a family sized NW facing section in ever

popular Lincoln.

View at: fourseasons.harcourts.co.nz ID#RL1638

Natalie McLean– 027 943 6413

DEADLINE

SALE

All offers to be presented

5th April 2017

(unless sold prior)

31 Forest Drive

Parklands

4 2 2 3

A Crowd Pleaser on Crowder

With new construction underway, this stylish,

contemporary, home is now offered for sale. Designer

kitchen with generous bench spaces and scullery,

spacious open plan living and an expansive sun-saturated

deck ensures this property offers a sensational capacity

for family living and entertaining. A must to view!

View at: fourseasons.harcourts.co.nz ID# FH4337

Tania McCrone - 021 721 208

3 1 1 2

Oh So Close!

With Wairakei Primary over the back fence and in

the zone for Burnside High School, that's the kid's

schooling all sorted! Tidy, brick 3 bedroom + sunroom

family home, set on 766 sqm section. Astute purchasers

will recognise the superb location and a lovely home to

be lived in or rented out.

View at: fourseasons.harcourts.co.nz ID#HR4435

Paula Catchpole– 027 432 5976

4 2 2 1 2

Ready When You Are

Designed for sunshine featuring open plan kitchen/

living and separate lounge with gas fire and DVS

system. Seamless flow to 702m2 private section.

Walking distance to Bottle Lake Forest. EQC work

completed and fully insured.

View at: fourseasons.harcourts.co.nz ID#RL1635

Shona Robb – 027 229 3657

Halswell.

Hornby.

Rolleston.

379 Halswell Road

395 Main South Road S13, Rolleston Square

P 322 1197 P 349 9919 P 347 4711

fourseasons.harcourts.co.nz

Licensed Agent REAA 2008