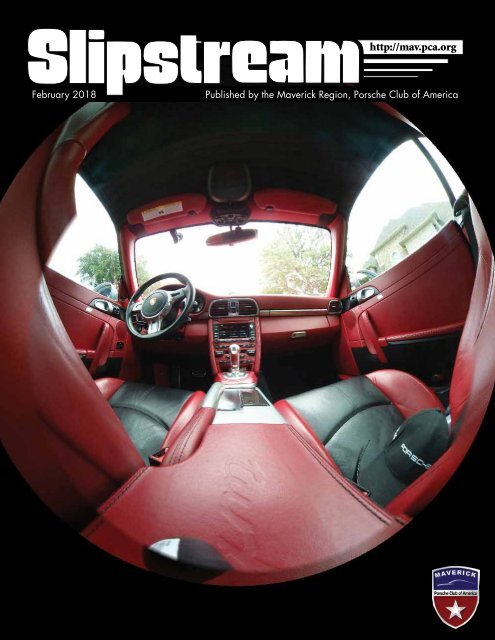 Slipstream - February 2018
The monthly newsletter of the Maverick Region of the Porsche Club of America
The monthly newsletter of the Maverick Region of the Porsche Club of America
SHOW MORE
SHOW LESS
Create successful ePaper yourself
Turn your PDF publications into a flip-book with our unique Google optimized e-Paper software.
http://mav.pca.org

February 2018

Published by the Maverick Region, Porsche Club of America

Upcoming Events

• Father's Day Picnic

• Sunday Drive

• Rally School

Past Events

• Wild Wildflowers

• May at Mayo's

• Results

June 2007 - Published by the Maverick Region

Porsche Club of America
---
©2017 Porsche Cars North America, Inc. Porsche recommends seat belt usage and observance of all traffic laws at all times.

Where high-performance

becomes my-performance.

Create a one-of-a-kind Porsche at Park Place Porsche Dallas. As a Porsche Exclusive Flagship Dealer, we offer a

custom design studio to make your Porsche dreams a reality. With personal advisors who take you through the

incredible range of personalization options and help bring your high-performance vision to life. When you're done,

your Porsche will be delivered straight from the factory, tailored to your specifications. It's yet another way we bring

you the highest level of personal service—making Park Place feel like Your Place.

Park Place Porsche

6113 Lemmon Avenue

Dallas, TX 75209

214.525.5400

park-place.porschedealer.com
---
http://mav.pca.org

Volume 56, Issue 2, February 2018

Find event updates at http://mav.pca.org, follow on Instagram at http://instagram.com/MaverickPCA

and join our Facebook Group at http://www.facebook.com/groups/mavpca/

Features

50 Years With PCA: Bill and Hertha Hughes...................... 6

Kruder's Cars & Conversation........................................ 12

Tech Session Program for 2018...................................... 14

Porsche Trivia................................................................ 14

Porsche of the Month..................................................... 15

Favorite Porsche Moments of 2017................................. 18

Maverick Driving Tours Program for 2018....................... 21

Boot Campaign Charity: Santa Boots.............................. 25

DIY: Repairing Your Porsche Key Transmitter.................... 27

Five Speed Chatter........................................................ 29

Maverick Financial Statement for 2017........................... 31

Upcoming Events

Board Meetings............................................................... 7

Autocross Schedule....................................................... 16

High Performance Driver Education Schedule.................. 16

Maverick Lunch Series...................................................17

Monthly Social..............................................................17

Mavs & Mochas............................................................17

Departments

Sprockets (President's Column)......................................... 2

Maverick of the Month..................................................... 2

List of Officers and Board Chairs...................................... 4

Zone 5 Presidents............................................................4

New Mavericks and Anniversaries.................................... 9

Unclassifieds................................................................. 34

Advertiser Index............................................................ 34

Around the Bend (Editor's Column)................................. 36

See more details and check for event updates via

the QR code here or our online calendar at

http://mav.pca.org/go/calendar

Board Meeting..................................................... (Wed) 7

Monthly Social: Silver Fox, Grapevine..................... (Thu) 8

Mavs & Mochas: Frogg Coffee Bar, Allen............... (Sat) 10

Lewisville area lunch............................................. (Tue) 13

Richardson and Southlake area lunches.................(Thu) 22

DE: MotorSport Ranch..............................(Sat-Sun) 24-25

Autocross #1: Lone Star Park................................(Sun) 25

PCA Club Race and DE: COTA....................... (Fri-Sun) 2-4

Board Meeting..................................................... (Wed) 7

Mavs & Mochas: Zims Autotechnik........................ (Sat) 10

Lewisville area lunch............................................. (Tue) 13

MONTHLY SOCIAL TBD..................................(Thu) 15

Autocross #2: Mineral Wells Airpark.....................(Sun) 18

Richardson and Southlake area lunches.................(Thu) 22

Maverick Driving Tour: TBD...................................(Sun) 25

Alan Bambina shared his

favorite Porsche Moment of

2017: "After a one month

search, I found a car that

checked all the boxes; '15,

white, manual trans. Home

run." on pages 18-19 along

with 30 other members.

Photo by Alan Bambina

Event Dates

February

March

On the Cover

An unusual perspective of the interior from a 2011

Porsche 911 Turbo S. This "1 of 1" model features a

full leather Paint to Sample (PTS) Lipstick Red interior

with a PTS Polar Silver exterior.

Photo by Peter Wen

Slipstream (USPS 666-650) is published monthly by the Maverick Region, Porsche Club of America, 155 Jellico

Southlake, TX 76092. Subscription price is $24.00 per year. Periodical postage is paid at Fort Worth, TX.

POSTMASTER: Send address changes to Hiram Saunders, Slipstream, 155 Jellico, Southlake, TX 76092.

Opinions expressed herein are not necessarily endorsed by the Club's membership or officers. Contributions will be

printed on a space available basis. Chartered regions of PCA may reproduce items from this issue provided the author/

artist and Slipstream are credited. Slipstream is printed by Ussery Printing Company in Irving, Texas.

1
---
Sprockets: You Never Know Who You Might Meet at a Maverick Event

By David Robertson, Region President

s mentioned in the past, I am always amazed

A

at the different walks of life that people in

our club hail from. Club members are here

from the four corners of the earth and everywhere

in between. It's always fun to discover when

a member I have known for years has an interesting

background, or I learn something I never knew about

them while we are casually chatting at a Maverick event.

Passion and enthusiasm are infectious, and I really enjoy

talking to all of our members who are passionate

about anything they do, whether it is the cars that they

love, their chosen career path, or a cause that they support.

Artists, teachers, doctors, lawyers, business owners,

and even a few oil barons are all within our ranks,

and we all love to get together and talk about our main

shared interest which is our cars!

With this shared passion of ours, we have the opportunity

to meet people that can give us insight into

a world with which we may not be so familiar. As an

example, there seems to be a big connection with

Porsches and airplane pilots. Perhaps the thrill of flying

a fighter jet, commanding an airline aircraft, or flying

famous people around the globe translates well to the

thrill of driving a Porsche. I will never fully understand

the connection, as my eyesight kept me from getting

too far with this pursuit in my youth, but it is a lot of

fun to hear these folks discuss their exploits when we

are together at a Maverick event.

In this club I have met so many interesting people

from a very diverse set of backgrounds, and I am quite

a newcomer compared to most. As a newbie and a

Porsche neophyte, I struck up a conversation with

a gentleman at one of our events who turned out to

be Peter Schutz, the Porsche CEO who saved the 911!

(Yes, I was and I am still quite embarrassed that I didn't

know who he was at the time). At the next Maverick

event just ask and listen, you will be amazed at what interesting

things you will discover about our members!

SAUL FRAIRE, Chef-Proprietor

1235 William D. Tate Ave

Grapevine, TX 76051

817-329-6995

944. As a fan of the 944, Ginger volunteered to organize

the November 2017 Mavs & Mochas 944 35th

anniversary special event, and through her efforts we

had 30 beautiful 944s in the showcase. Ginger is a great

example of the great things that happen through our

volunteers here in the Maverick Region PCA.

MAV OF THE MONTH: Ginger Heuerman

Our Mav of the Month is Ginger Heuerman. Ginger

participated in our Halloween Rally back in 2016 and

was motivated to create a quilt as a gift to the club. The

quilt took Ginger 10 months to craft, and it turned out

to be such a work of art that a decision was made to

raffle it off for charity. The raffle was a huge success,

and generated almost $1700, which was donated to the

Patriot Paws charity. While Ginger was creating the

quilt, she and her husband began attending the

monthly Mavs & Mochas events in their highly modified

2 February
---
3
---
2018 Maverick Region Board - Officers and Chairs

President

David Robertson

617-797-0516

president@mavpca.org

Autocross Chair

Mark Schnoerr

ax@mavpca.org

Vice President

Jim Falgout

vp@mavpca.org

Charity Chair

Chris Hamilton

hope@mavpca.org

Secretary

Carey Spreen

817-422-3480

secretary@mavpca.org

Club Race Co-Chair

Pat Heptig

214-649-7907

cr@mavpca.org

Treasurer

Deborah Fike

972-672-4282.

treasurer@mavpca.org

Club Race Co-Chair

Joel Nannis

cr@mavpca.org

Concours Chair

Mike Mahoney

801-230-1482

concours@mavpca.org

DE Chair

ChrisTabor

817-371-4888

de@mavpca.org

DE Chief Driving Instr.

John Sandusky

817-777-0421

cdi@mavpca.org

DE Equipment Mgr.

Hunter Allen

deequip@mavpca.org

DE Hospitality

Rose Gohlke

de@mavpca.org

DE Sponsorship

Daren Kirbo

254-396-2973

desponsorship@mavpca.org

Email List Moderator

Brian Scudder

mrpca-owner@

yahoogroups.com

Email List Moderator

Matt Platts

mrpca-owner@

yahoogroups.com

Goodie Store

Chris Flaugh

214-288-5300

goodiestore@mavpca.org

Histographer, Tenured

Charlie Davis

historian@mavpca.org

Marketing, Social

Media Chair

Bill Orr

bill@billorr.com

Membership Chair,

Past President

John Hamilton

817-907-7823

membership@mavpca.org

Monthly Social Chair

Position Open

hh@mavpca.org

Online Calendar

Karl Poulsen

calendar@mavpca.org

PCA Tours Co-Chair

Mark Pitarresi

817-715-7156

tours@mavpca.org

PCA Tours Co-Chair

Tom Gomer

tours@mavpca.org

Rally Co-Chair

Don Sebert

214-613-6900

rally@mavpca.org

Rally Co-Chair

George Luxbacher

rally@mavpca.org

Registrar, Club Race/DE

Wendy Shoffit

crreg@mavpca.org

deregistrar@mavpca.org

Safety Co-Chair

Wayne Elliott

safety@mavpca.org

Safety Co-Chair

Bob Kramer

safety@mavpca.org

Slipstream Advertising,

Coffee Meets

Bill Kruder

214-497-0711

ads@mavpca.org

Slipstream Editor

Jim Hirsch

972-740-7377

editor@mavpca.org

Slipstream Content Ed.

Carey Spreen

817-422-3480

editor@mavpca.org

Slipstream Event

Ad Design

Kurt Scaggs

eventads@mavpca.org

Tech Sessions Chair

Michael Baynton

214-641-2848

techcorner@mavpca.org

Slipstream Mailing

Andy Mears

214-394-5857

mailing@mavpca.org

Time Trial Chair,

(AX/TT Rules)

Travis Howard

214-616-6152

tt@mavpca.org

Slipstream Printing

Fran Ussery

972--438-8344 (W)

817-481-8342 (H)

printing@mavpca.org

TT Registrar, AX/TT

Schools, Swap Meets

Robyn Howard

214-991-0873

drivingschools@mavpca.org

Social Chair

Debi Gibson

social@mavpca.org

Trivia Chair

Jerry DeFeo

972-240-5800

trivia@mavpca.org

Volunteers Chair

Jim Gallegos

214-697-0792

volunteers@mavpca.org

Web Site Chair

James Shoffit

972-786-6246

webmaster@mavpca.org

ARK-LA-TEX

Ken Chandler

bad968@bellsouth.net,

COASTAL BEND

Bryan Kerrick

bksailspadre@

sbcglobal.net

2018 PCA Zone 5 Presidents and Zone Representative

LONE STAR

Steve Bukoski

president@lsrpca.com

MARDI GRAS

Scott Spradley

swsprad@bellsouth.net

OZARK

Jim Woolly

jim.carol_NOSPAM@

sbcglobal.net

WHISKEY BAY

Mike Hamza

mikehamza944@

gmail.com

CIMARRON

Joy Jones

presidentcmr@gmail.

com

HILL COUNTRY

Tracey Gross

president@hcrpca.org

LONGHORN

Charles Bush

president@longhornpca.org

MAVERICK

David Robertson

president@mavpca.org

WAR BONNET

Randal Goodman

drtoys42@aol.com

WHITE RIVER

Leonard Zechiedrich

whiteriverregionpca@

gmail.com

ZONE 5 REP

Jon Jones

zone5rep@pca.org

www.zone5.pca.org

4 February
---
VISIT OUR NEW 8600 SQ FT LOCATION!

MONTHLY SPECIAL

$195

MOTUL OIL

$187

MOBIL 1 OIL

CERTIFIED MASTER TECHNICIANS

GENERAL MAINTENANCE

PERFORMANCE UPGRADES

SUSPENSION MODIFICATIONS

ALIGNMENTS ( TRACK AND STREET )

TRACK PREPARATION

TECH SHEET INSPECTIONS

CUSTOM FABRICATION

CUSTOM BUILT SPEC 996S AND SPB

2520 Tarpley Rd. Suite 700

Carrollton, Texas 75006

(972) 418-1996

innovativeautosports.com

innovativeautosportstx@gmail.com

5
---
50 Years With PCA: Bill and Hertha Hughes

As told to Carey Spreen, Region Secretary

ill Hughes became interested in a VW after

B

he graduated from high school in Joliet, IL

in 1956. That summer, on a European tour,

he enjoyed touring the Volkswagen factory

in Wolfsburg, Germany. So when it came time to buy

his first car, he purchased a '61 VW Beetle.

Following graduation from the University of Illinois

– Champaign/Urbana with a BA in Mathematics and

Physics, Bill went to work for Boeing in Seattle on the

Minuteman project. With his Beetle's manual transmission,

a 1200cc engine, and 40 horsepower, Bill had no

problem climbing the steepest Seattle hills with ease.

But whenever he took the Beetle for service at University

Motors, he couldn't help but notice the Porsches

on the showroom floor; in particular, there was a 1962

Roadster that caught his eye.

In 1964, Bill transferred with Boeing to Huntsville,

AL to work on the Apollo program, doing Saturn V firststage

trajectory design. By 1965, he was making $8,800

a year, while the base price of the 1965 356SC coupe

was about $4,700, so he figured he could finally afford

one. Conveniently, there was a Porsche dealer, Continental

Cars, in Huntsville, so he bought the car you see

in the photo accompanying this article: a Dolphin Grey

1965 356SC. (Bill wanted a silver one, but Porsche was

experiencing issues with the silver paint, so Dolphin

Grey was the replacement color.)

Bill was particularly excited

that his 356SC represented the

performance and development

peak for the Typ 356 model in

its last year of production, having

been produced for 17 years,

from 1948-1965. He named his

car the Grey Ghost after one of

his favorite '50s TV shows (The

Gray Ghost), about Major John

Mosby, whose Mosby's Raiders

created havoc behind Union

lines in the Civil War.

In 1967, Bill met with a

group of Porsche owners in

Huntsville, who petitioned PCA

to form a local region. In 1968,

PCA chartered the Heart O' Dixie

Region, based in Huntsville,

replacing a dormant region formerly

based in Birmingham. It

included Alabama, Mississippi,

southern Tennessee, and west

Florida. Bill was one of the 15

6 February

Bill and Hertha Hughes with their grandchildren

charter members. To communicate with its far-flung

members, Bill volunteered to write a mimeographed

newsletter, which he named Der Wanderer. Bill also

served as President of the Heart of O' Dixie Region in

1970.

It was during this period that Bill met Hertha in

Huntsville, after she returned in 1967 from her Fulbright

Scholarship in Applied Mathematics in Germany.

She also drove a VW Beetle, purchased in 1966.

In Huntsville, Hertha went to work for IBM's Federal

Systems Division as an engineer, doing flight program

design work for the Saturn V rocket, supporting multiple

Apollo missions (including Apollo 11) as well as

the Skylab program. As the space program was winding

down, Bill took an educational leave of absence

in 1970 from Boeing, returning to graduate school at

the University of Michigan. Bill and Hertha married

in 1971 and moved together to Ann Arbor, MI, so Bill

could complete his master's degree in Public Policy.

Hertha transferred with IBM as a systems engineer into

a branch office in Detroit, supporting Chrysler and

Education customers. After graduation, Bill was hired

by U-M in their Academic Planning Office.

While they lived in Ann Arbor, the Hughes were in

the PCA Southeast Michigan Region. At this time, the

356 Registry was formed to perpetuate interest in the

Typ 356. It is much more informal

and less competitive than

PCA. From Ann Arbor, they

enjoyed local 356 Holidays,

essentially long weekends, to

Columbus, OH and Indianapolis,

IN, where they were able to

drive their car on Indianapolis

Motor Speedway. What a thrill!

Best of all, their son Erik was

born in 1974, and their lives

were enriched and transformed

forever.

For career opportunities, the

Hughes made two more moves.

In 1980, they moved to Darien,

CT where they were in the PCA

Connecticut Valley Region. Bill

joined Columbia University in

NYC, and Hertha worked at

IBM's Data Processing Division

HQ. Finally, in 1983 they moved

to Dallas and the Maverick Region.

Here Bill joined SMU and

Hertha managed several IBM
---
The Grey Ghost - 1965 356SC

technology programs, later leading IBM's Worldwide

Business Partner Program for Software.

In addition to the 356SC, Bill currently owns a silver

1994 911 Carrera 2 Cabriolet, which they enjoy driving

when A/C makes it so much more comfortable. And,

for a few years, Bill owned a 1973 914 2.0, so he could

do some autocrossing.

In the PCA Maverick Region, Bill, Hertha, and Erik

were very active in the rally program in the mid '80s,

with Bill trying his hand at running a Hare and Hound

rally. Bill and Hertha enjoyed working as volunteers at

the 1987 D/FW Parade, and also participated in Porsche

Parades in Colorado Springs, Aspen, and Steamboat

Springs. In addition, they particularly enjoyed traveling

many times with other Mavs to Lafayette, LA for a

multi-region event hosted by PCA Whiskey Bay Region.

They participated in a murder mystery event staged in

Jefferson, TX by Diane Butler, from Whiskey Bay, with

Hertha and Erik surprisingly solving the mystery. They

have enjoyed 356 Holidays in Mystic CT, Taos NM, Sedona

AZ, Charleston SC, and Durango CO, and have

traveled to local 356 events in Helen, GA and Franklin,

TN.

In 1987, local 356 enthusiasts formed the DFW 356

Tub Club. Bill and Hertha have been very active in this

club, particularly after retiring in 2002-2003. Bill handles

club communications, while Hertha has organized

many club road trips. The club meets every month

for breakfast across DFW and beyond. It's the people

that make this club so special -- both the men and the

women. Every year, driving tours are planned for the

spring and fall. Hertha organized a tour to Big Bend

National Park, and has also planned and led three trips

to Arkansas: one trip to Mt. Magazine (highest mountain

in Arkansas) and the Pig Trail; another to Queen

Wilhelmina State Park and the Talemina Parkway; and

a third to the Ozark Folk Arts Center. Normally, the

trips include 10 to 12 cars with 20 to 24 people. All love

to drive their old cars! Bill definitely believes Porsches

were built to be driven!

In 2004, Bill and Hertha had an exciting trip to the

Daytona International Speedway and caught up with

several of Bill's old friends from Huntsville. Very special

was the time they spent with Jim Watson from Lewisburg,

TN who sold Bill his first Porsche in Huntsville,

and has worked on both of Bill's current Porsches over

the years.

And now, Bill and Hertha are proud grandparents

of three grandchildren: Kathryn (11 years old) and the

twins, Erin (8) and Jason (8). These are Erik's kids who

live in Raleigh, NC. Since 2013, the Hughes now have

a second home in Raleigh and regularly travel there

3-4 times a year to spend as much time as possible with

their grandchildren, going to soccer games, to band

concerts, and on excursions. What a special joy it is to

be grandparents and to be able to share this time with

them! Erik is now North American Director for Manufacturing

Sciences at Biogen, a major pharmaceutical

company, and his wife, Sarah, is a medical doctor, licensed

in internal medicine and pediatrics.

Over the last 50 years, Bill and Hertha have loved

the journey they've experienced through ownership of

their Porsches. It's always been the people they met

and befriended along the way that have made it so enjoyable

and worthwhile.

7
---
your baby deserves

it's own room.

Introducing Garages of Texas, a community of first-class, affordable, completely customizable garage suites. Here, you don't rent a

space. You buy it. Giving you complete financial control and power to make it your own with unlimited customization options. So, stop fighting

for space in your family garage. Upgrade to a garage suite and move your show cars, motorhome or boat to the showroom they deserve.

Contact our sales team at 888.988.8049 or sales@GaragesOfTexas.com for more information.

ALLEN • CARROLLTON • DALLAS • FRISCO • PLANO • ROANOKE COMING SOON: AUSTIN • HOUSTON • SAN ANTONIO

GaragesOfTexas.com • Facebook.com/GaragesOfTexas

8 February
---
Welcome Our New Mavericks!

By John Hamilton, Region Membership Chair

Mark Alphonso

Colleyville

2007 911 Carrera S

Jason Ellis

Fort Worth

2013 911 Carrera S

Paul Kelleher

Corinth

2007 911 Carrera 4S

If you have any changes that

you would like to make to the

MRPCA membership guide,

contact John Hamilton at

membership@mavpca.org

Tim Schutze

Dallas

2005 Boxster S

Manu Bhatia

Plano

2015 Boxster

Elizabeth Fergerson

Fort Worth

2002 911 Turbo

Greg Kneifl

Dallas

2014 Cayenne

Scott Sewell

Westworth Village

2014 Boxster S

William Bone

Wichita Falls

2008 Cayman

Chris Funk

Argyle

2001 911 Carrera

Mike Krieger

Forth Worth

2013 911 Carrera S Cabriolet

Ram Viswanathan

Carrollton

2006 911 Carrera 4S

Jon Brooks

Arlington

2014 Boxster

Gary Brown

Fort Worth

2017 Panamera

Robert Caglia

Prosper

2015 911 GT3

Brad Davis

Dallas

1995 911 Carrera

Peter Donovan

Allen

2015 Panamera

Mark Early

Dallas

2017 911 Carrera

Sudeep Gupta

Allen

2018 911 Carrera

Joshua Gutjahr

Tyler

2004 911 Carrera

John Hromadka

Southlake

2017 Cayenne

John Huffman

Dallas

2014 911 Carrera 4S

Chris & Nathaniel Johnson

Hurst

2006 911 Carrera S

Andrew Kahl

Dallas

2015 911 Carrera 4

Rob Lay

Southlake

2015 911 GT3

Matt Leffers

Dallas

2009 911 Carrera S Cabriolet

Doug Maclay

Dallas

2013 Cayenne S

Shezad Malik

Dallas

2013 911 Carrera 4

David Mathews

Plano

1973 911T Targa

Jon Rafpor

Dallas

1996 911 Targa

Transfers In

Bob Andrews

Royse City

Transfer From: ORC

1988 928 S4

Chris Kidd

Southlake

Transfer From: STL

1972 911T & 2009 911

Greg Kneifl

Dallas

Transfer From: ORC

2014 Cayenne

Eric Long (Zlatan Nezic)

Dallas

Transfer From: SFL

2017 911 Carrera S

Murray F. Tysinger (Jan)

Wylie

Transfer From: CAR

2007 Cayman

Maverick Membership Stats

Members: 1,769 Affiliate Members: 888 Total Membership: 2,657

Anniversaries: February

35 Years

Joseph Berdis (Heidi) McKinney

Cyril Reif (Marion)

Brian Petri

Darrell Clarke

Doreen Petri

20 Years

McKinney

15 Years

North Richland Hills

Aledo

North Richland Hills

Torben Nielsen

Jeff Kraemer (Mary)

Chris Tabor

Rob Stewart

Michael McMorran

Bradford Simmons

Brad Stampa

Dustin Marks

Cecilia Nielsen

Shannon Tabor

Ann Stewart

Sandy Simmons

Mechelle Coate

5 Years

Highland Village

Prosper

Fort Worth

Richardson

Dallas

Flower Mound

Allen

McKinney

Highland Village

Fort Worth

Richardson

Flower Mound

Lubbock

9
---
Like a Personal Trainer for your Porsche!

• Expert maintenance and repair services • Track day preparation

• Performance and appearance upgrades from GMG, Manthey, FVD and more

• Superior customer service and free loaner cars • PCA discounts

• Show quality detailing services • Comprehensive service from air-cooled to 991

We Buy, Sell and Consign Quality Pre-owned Porsches

PCA Special - Brake Flush $149 00

Plus Sales Tax

10 February

With this coupon. Brake Flush with MOTUL Brake Fluid. Offer includes complimentary car wash and vacuum.

3236 Skylane Drive, Dallas, Texas 75006 • 214-269-1570 • www.racperformance.com
---
MarvelousHomeMakeovers.com | 972.951.1932 | Botond@MarvelousHomeMakeovers.com

11
---
Kruder's Cars & Conversations

By Bill Kruder, Region Advertising Chair

his month takes on

T

a different twist than

most on how I met this

Porsche enthusiast;

frankly, up until writing, this we

had never met. The reason for our

meeting was in large part thanks to

John Labunski, "Pops"' son-in-law.

John and Pops attended Mavs &

Mochas at Highland Park Village as

part of our Founders Day Celebration.

Upon arriving, they were surprised

to see some 200 Porsches, including

several 356s. As they walked

amongst the cars, Pops commented

"I bought that one, which was our

356 coupe with the tree on it," and

then over breakfast the memories

came flooding back as Pops proceeded

to tell John stories of his

past cars. John just had to share this

story of a man and his love affair

with Porsches, maybe the longest

Porsche owner he knows (back to

1958), and I knew immediately I

needed to share this conversation.

So here is the next individual in

my series of "conversations" I would

like to share with you . . .

Albert "Pops" Magazzine,

Porsche Enthusiast since 1958,

Owner today of a 2011 (997)

Bill Kruder: So are you originally

from here?

Pops: No I grew up in

Youngstown, a small steel city in

Ohio between Pittsburgh and

Cleveland.

BK: And how did you find yourself

in Dallas?

Pops: Well, back in the day, I was

in the Air Force and stationed at

Perrin Air Station in Sherman, and

eventually, years later, after lots of

moving around the world, ended

back here, and now I call Dallas

home.

12 February

BK: And what did you do in the Air

Force?

Pops: I was a fighter pilot and

trainer, flying the early T-33 Shooting

Star, which was essentially the

training craft for the P-80, and later

the F-4 fighters.

BK: And did you make a career out

of it?

Pops: I did. I was in for 20 years

and 1 month, retiring in 1975.

BK: What did you do as a second

career after retiring?

Pops: DFW Airport had just

opened in 1973 and I was hired

shortly thereafter, working there

for nearly 38 years in various jobs,

primarily in operations, and ended

up in "Code enforcement" on DFW

construction projects.

BK: Ok so let's talk cars. Were you

always a Porsche guy?

Pops: Heck no! Where I was

from it was all American cars. We

were into muscle cars. It wasn't till I

joined the Air Force that I even really

paid any attention to Porsches,

and that was because I found myself

stationed in Germany, and all

the pilots were buying them.

BK: So what was your first Porsche?

Pops: That was a 1958 356A

coupe; I was stationed in Germany

and ordered it there. I paid

$3200 cash for it, which was a crazy

amount of money

considering that I was

making $250 a month,

and that included my

flight pay (laughing).

BK: Tell me more

about that car?

Pops: It was Red

with Savannah interior,

had chrome

knock-off wheels, a radio,

and an extra side

mirror as the only options. Think

the knock off wheels were a $100

option, and the extra mirror cost

me another $3 (laughing). I still

have the sticker and receipt.

BK: So you brought it home with

you?

Pops: I did! I had it shipped to

New York, and in those days they

would come off the ship and be

pushed by hand around the lot

until picked up. Well somewhere

along the line they dented it in a

couple spots. I then picked it up in

NY and drove it the 1500 miles to

Dallas. Once here, when I needed

to get it repaired, the only shop

doing work on Porsches was Van

Winkle Pontiac of all places. As I recall

it was located in the city around

Oak Lawn and Avondale maybe.

BK: And how long did you have it?

Pops: I sold it in 1961; I was being

shipped off to Japan, so I drove

to California and sold it for I think

$900.

BK: So what was next?

Pops: Well, some time had

passed and I found myself in

England in 1974. I bought a 1965

356C and I don't have to tell you

how much rust this car had, having

spent 10 years on the roads there.

I brought it back to the States with

me and ending up selling it for I

think $1500.

Pop's Red 1958 356A coupe
---
BK: But I understand that wasn't

your last 356?

Pops: No, there was yet one

more. At this point I had retired

from the Air Force and lived now in

Dallas; this was 1976. I found a 1961

B, black with the double grill, at essentially

a junk yard in

Weatherford. I bought

it and had it running

pretty well and decided

to basically restore it.

I drove it up to Ohio,

where I have a nephew

who restored cars, so

he took on the project.

We restored the body,

taking out all the fillers,

and changed the

color, painting it Fish

Silver Grey. I loved that

'61; I drove it for about

15-16 years and sold it

in 1992.

BK: And thinking you did a little

better selling this one than the previous

two?

Pops: Yes we did! (laughing) I

think I had about $15,000 in it and

sold it for $45,000.

John and Pops at the December Founders Day Mavs & Mochas

BK: Then I hear you jumped into the

modern era of Porsches?

Pops: I did. I bought a 1998

Boxster, and still today drive a 2011

Cream White 997 as my daily driver,

with my co-pilot Dutch.

And that's the story

of how a young serviceman

finds himself attracted

to a funny little

car and the car guy lifestyle,

and soon finds

himself in a lifelong

love affair with Porsche.

I'd like to also thank

Lieutenant Colonel

(Ret.) Albert Magazzine

for his service around

the world including

Germany, Japan, England,

and Vietnam.

Lastly for his long dedication

to PCA and the

Porsches he so loved

and kept on the roads

for us to enjoy today.

13
---
Maverick Tech Sessions: What to Expect

By Michael Baynton, Region Tech Sessions Chair

ave you ever wondered . . .

H

• Should I use conventional or synthetic

motor oil?

• How do I best protect my car's paint?

• What brands of tires are approved for Porsches?

• What are coil-overs, and do I really need them?

Our beloved Porsches are fantastically fun, capable,

and well-engineered vehicles. And as such, they can

also be highly complex and require very specific care

and handling to optimize their reliability and performance.

But that complexity often leads to confusion,

conflicting advice, and a knowledge base beyond that

of the typical Porsche owner.

To help remedy that—and to help educate and inform

our members—our Mav PCA Tech Sessions are

designed to provide practical and useful information

on a wide range of topics.

They are casual affairs, with no previous knowledge

needed to benefit. In fact, the opposite is true:

bring your questions and have them answered by our

experts! These tech sessions are typically not designed

to be hands-on, so you won't be working on your own

Porsche. Think "FYI," not "DIY." So join us for some

coffee, camaraderie, and a wealth of useful information

and tips. But sign up quickly—these sessions have

limited enrollment based on venue size, and they fill

up fast.

We are still building out our schedule for 2018, and

we plan to have 4-6 sessions throughout the year. So

keep an eye on our events calendar for upcoming

sessions. And if you have any suggestions or questions,

please don't hesitate to email us at techsessions@

mavpca.org.

December Trivia Questions and Results

By Jerry DeFeo

Sponsored by Zims Autotechnik

You can test your knowledge (or Google search ability)

of all things Porsche by participating in the monthly

trivia contest posted online at http://mav.pca.org/

trivia. Answers are due by the last day of each month.

The winner of the trivia contest receives a $25 gift

certificate from our sponsor, Zims Autotechnik. In the

case of ties, a random drawing determines the winner.

The winner for our December Trivia is Tom Martin

who answered four out of five questions correctly.

Tom, please contact Kirk at Zim's to claim your $25 gift

certificate. The questions for the December Trivia are

shown to the right with the correct answers below.

Answers: 1) d 2) d 3) b 4) b 5) d

1. Last month we talked about 901 and 911 production

numbers. But before there were 82 Porsche 901s produced,

how many 901 prototypes were built?

a. 6 b. 9 c. 10 d. 13

Source: Porsche Panorama, Nov 2016, p 63

2. When you speak of early 911s (1965-73), many people say

that the coveted 911S is the one to own. There was also a

911E, 911L, and 911T. In 1969, Car and Driver magazine

determined the best all-around 911. Which one was it?

a. 911E b. 911L c. 911 S d. 911T

Source: Porsche Panorama, Jan 2008, p 26

3. A 914 owner wanted to know how to best relocate the fuel

pump on his 1974 914 so as to reduce vapor lock issues. Our

own Ed Mayo said it was not overly difficult to relocate it,

but powering it could be. The system was only designed to

run the pump for ______ seconds unless the engine starts.

a. 2 b. 3 c. 4 d. 6

Source: Porsche Panorama, July 2017, p 128

4. The Baja 1000 race in Mexico began in 1967, but Porsche

was not able to win until 1986. To win the Baja 1000, shocks

are a key performance element. A recommended coil-over

shock for 964s is a special order EXE-TC set with 9" of

travel. How much are they per shock, in round numbers?

a. $2500 b. $3000 c. $3500 d. $4000

Source: Porsche Panorama, August 2017, p 62

5. It took Porsche some 54 years to sell 1,000,000 911s, but

only ______ years to sell 750,000 Cayenne SUVs.

a. 12 b. 13 c. 14 d. 15

Source: MotorTrend Internet, Oct 27, 2017

14 February
---
Porsche of the Month

Selected by Bill Orr, Region Marketing Chair

2005 Fayence Yellow Porsche Carrera GT, "Mavs & Mochas – Dec 2017" Photo by Bob Molyneux

15
---
Upcoming Maverick Region Events

16 February
---
17

Upcoming Maverick Region Events
---
Favorite Porsche Moments of 2017

Compiled by Jim Hirsch, Slipstream Editor

ith 2018 now upon us,

W

I asked our Maverick

members to think back

and remember their

favorite Porsche moments of 2017

and allow me to share those collective

experiences with you. Unfortunately,

there is not enough

room for all of the photos that were

shared in support of the memories.

Olga Taylor: Good Samaritan

Frank Briggs put a battery in my 80

SC (aka Baby) and started her after

a 21 year rest.

Julia Cleath: My favorite club

moment was the toy drive. I loved

being part of that and was super

proud of our group!

Carolle Liu: First time at autocross.

Lost on the course but hit

NO cones and won a trophy.

Lenny Zwik: Buying this.

Mitchell Berry: Enjoying both my

Porsches in my man cave. A 82 924

Turbo with 67k miles and no dash

cracks and a Concours winning 89

944 Turbo with only 32k miles.

Bob Aines: Emory Campout, Mc-

Minnville, OR.

Matt Wilson: Waking up to a sunrise

at 6 a.m. to attend Boxstoberfest

2017 in Fredericksburg.

Alan Bambina: After a one month

search, I found a car that checked

all the boxes; '15, white, manual

trans. Home run (see page 1).

Robert Kendrick: Going back in

time and reliving memories of my

first Porsche.

Belinda Daughtry: Buying this!

Frank Rocha: Febuary 20th. Getting

my first Porsche.

Jason Street: June 12 - 3rd Porsche,

1st 911.

Mike O'Hare: Enjoying my first

lesson learning how to get the best

performance from my 981 S.

Daniel Coyle: Porsche test drives

at Cars and Cannoli last season.

Robert Walton: Moving from Blue

Solo to Yellow at COTA.

Bill Orr: Having a 918 Spyder,

Carrera GT, and a 911 GT3 RS

show up at our first Mavs & Mochas

in downtown Ft Worth.

Michael Osborn: Doing the

Porsche Sport Driving School Masters

at the Nurburgring in my 991.

18 February
---
Frances Kwan: Last minute

change of players at an annual Ferrari

Fall Rally (I ended up winning

the Fix It Again Tony award on that

run). Jumped into little miss reliable

and she finished the rally like

a champ.

Jimmyg Gallegos: August 2017,

Stuttgart, Germany.

Bill Kruder: Maggie's wedding

with our "Hagestad" 356.

Chantel Tennyson: First road trip

in Zara. My best friend of 35 years

had been diagnosed with Stage

4 Ovarian Cancer and told she

wouldn't live. She and I had not

seen each other in 10 years. My

daughter and I decided on the spur

of the moment to drive to Estes

Park, CO and surprise her with a

visit to cheer her up before her 2nd

chemo. This bear and sign guard

the house. She is now in remission,

by the way.

Andrew Golden: Flying to Vegas,

picking up my 981S and driving it

back to Dallas.

Jim Hirsch: Road trip that included

a long stretch of Hwy 1... ocean,

curves, mountains, and a top-down

Porsche.

Mike Mahoney: Taking my twin

granddaughters to an impromptu

Mavs and Mochas.

Hunter Bentley: Taking delivery of

my first Porsche in April.

Mel Benzaquen: Mine was purchasing

my first 911 in August of

2017 and then shortly thereafter

kicking myself for not buying one

earlier!

Stephen Dumas: Mavs and Mochas

November. Nice to see all the other

944s.

Jorge Carmona-Rodriguez: A dream

come true...first 911.

Mark Fleniken: Prior to unveil for

Atlanta PEC delivery.

Doug Tallman: Buying our first

Porsche and loving it! Enjoying the

road trip from Dallas to Asheville

NC for our first Treffen and celebrating

our 20th anniversary at the

resort we were married at!

Paul Moseley: Being a massive

Steve McQueen fan, every year during

Monterey Car Week, I try to say

something constructive to Chad

McQueen. This year in Carmel we

ended up side-by-side on the sidewalk

as cars lined up for display,

and right in front of us were two

re-creations of Stan Mott's Cyclops

fantasy racer made famous in his

stories for Road and Track magazine.

"What in the hell is that?," Mc-

Queen asked me. Being a 60's R&T

font of knowledge, I got to explain

the whole Cyclops thing to Chad.

I think you'll agree that our

Porsches and membership in the

Maverick Region make for some

memorable times for all of us.

19
---
The Art of Paint Protection

After Installation

A virtually invisible urethane film

professionally applied to high-impact areas

of your vehicle to protect your paint job from

stone chips, sand, road debris and bug acids.

During Installation

Owner Installed

Highest Quality Guaranteed

2530 Tarpley Road, Suite 100

Carrollton, TX 75006

20 February
---
Maverick Driving Tours: What First-Timers Can Expect

By Mark Pitarresi and Tom Gomer, Region Tours Co-Chairs

averick Region Driving Tours are a gathering

of members and guests who meet up

M

at a defined starting location and drive

together along an interesting route. Tours

generally last about three hours and run around 60-100

miles in length. After the tour, we meet at a destination

that usually involves food and beverages.

After signing up for your first Maverick Region Tour,

you will receive an email at the end of the third day

before the tour. The email will have all the necessary

information for you to participate in the tour. You will

definitely want to arrive early to socialize with other

members. The energy level is high on these tours, and

you will feel a buzz in the air!

We will have a separate Drivers' Briefing just for

members that have never been on a Maverick Tour at

each event. After the Drivers' Briefing, we will depart

in groups of 14 cars or less. Each group leaves the starting

point in 2-5 minute intervals. Each group will have

a Group Leader that will guide the group throughout

the route so navigation aids will not be needed. While

driving within the group, you will need to follow closely,

but at a safe distance, generally 2-3 seconds behind the

car in front or one car length for every 10 mph.

It is important to slow down if the car behind you

falls behind, so that both you and the car behind can

see each other. You will follow the car in front of you

safely without letting the car behind you get too far

away. It is important to always make sure you can always

see the car behind you in your rear view mirror.

Maverick Region Tours promote safety. If you feel

the group is driving too fast to keep up, simply slow

down and the group will do the same. Passing is not

acceptable on our tours unless the car in front has signaled

the car behind and it is safe to pass them. The

Always great routes on our Driving Tours (Photo by Bill Orr)

Maverick Region Tours program is one of the most well

attended programs in the country on a regular basis! As

we Mavericks like to say...It's about driving friendships!

2018 PCA Tour Changes:

The 2018 PCA Minimum Tour Standards have been

released. These are also our tour requirements within

PCA. It will NOT be mandatory for our group leaders

or sweeper cars to have co-drivers. This is because of

the type of tours we provide. Our groups will, however,

be limited to 14 cars including the Group Leader and

Sweeper Car.

We will also be using clubregistration.net for sign-up

and attendee management. Our club already uses this

site for event registration, and will have links on our

website for registration. This will allow us to address

new tour attendees separately from regular attendees

via email easily. Our intention is to streamline the program

to increase the overall quality of our tours.

Another big change to our tours program will be

adding a classic/antique group or groups. These new

groups will be for classic/antique Porsches, and offer a

more relaxed tour within those groups. The classic/

antique group will be optional when signing up. We

look forward to the 2018 Maverick Tours program and

hope to see everyone at our first tour, scheduled for

Sunday, March 25!

"Follow the leader!" (Photo by Bill Orr)

Porsche 928 view of the route (Photo from club Flickr album)

21
---
Engine Restoration

• Restore, Rebuild to OEM Original

or Modified Spec

• Partial or Complete Car

Preservation Restoration

• We Manufacture NLA Parts to

OEM Original Condition

• Specializing in 911 930 928

R A N D A L L K A R A

RKT 817-624-1322

T E C H N I Q U E S

901 TERMINAL ROAD • SUITE 400 • FORT WORTH, TEXAS 76106

35 Years Doing What We Love.

Visit us on Facebook - Randall Kara Techniques

22 February
---
We Buy, Sell & Tradethe

World's Finest Timepieces

Precise, sleek, distinctive and exceptional. de Boulle is a family-owned business

established in 1983. Along with de Boulle Motorsports, both are a living and moving

illustration of the passion for excellence for jewelry, watches and racing. de Boulle

is an uthorized Dealer for major brands including: Patek Philippe, Rolex, Bell & Ross,

Blancpain, Corum, Girard Perregaux, Greubel Forsey and Tudor. de Boulle also

provides the options of pre-owned timepieces, which includes vintage watches of

notable brands. Visit deBoulle.com to view our extensive collection.

6821 Preston Rd., Dallas, TX 75205214.522.2400

River Oaks District Houston, TX 77027 713.621.2400

deBoulle.com

2017SlipStreamAd.indd 1

23

8/9/2017 1:06:26 PM
---
©2017 Porsche Cars North America, Inc. Porsche recommends seat belt usage and observance of all traffic laws at all times.

The heirs to over 60 years of a racing legacy.

Divided equally.

The form varies. But the racing bloodlines, the undying dedication to pure sports car performance, the marriage of power and

efficiency embodied in the Porsche principles, do not. And that truth is revealed in that moment you turn the key. Discover it for

yourself with a test drive. Porsche. There is no substitute.

Experience every form of Porsche performance.

Porsche Plano

5924 W. Plano Parkway

Plano, Texas 75093

Tel. (214)576-1911

www.plano.porschedealer.com

©2017 Porsche Cars North America, Inc. Porsche recommends seat belt usage and observance of all traffic laws at all times.

24 February
---
Santa Boots: Maverick Region's Work With the Boot Campaign

By Meg Jones

Photos courtesy of the Author

he Maverick Region of the Porsche Club

T

of America has been partnering with local

nonprofits for more than 50 years, driving

efforts of goodwill across the Dallas/Fort

Worth Metroplex. In the 2017 holiday season, Maverick

was honored to support, for the second year in a

row, the Boot Campaign, a national military-focused

non-profit dedicated to igniting the inner patriot in

all Americans and providing life-improving programs

to military families across the United States. Maverick's

support was specifically for Boot Campaign's Santa

Boots Program to surprise deserving military families

with holiday boxes with customized gifts inside.

"As a club, we are very proud to support the work of

the Boot Campaign through the Santa Boots program.

Their work to support and assist our military families'

needs when they come home is making a difference,"

said Maverick Region Treasurer Richard Solomon.

For veteran and active duty families in need, the

holidays can be particularly difficult. The Santa Boots

Program, first introduced by Boot Campaign in 2015,

has made a difference for more than 180 military families

thus far, providing a joy-filled Christmas for veteran

and active duty military families who may not have been

able to afford Christmas gifts otherwise. According to

Boot Campaign CEO Shelly Kirkland, money is often

tight after deployments, and some military families

have PCS orders or face service-related injuries. Without

help around the holidays, many military families

would go without the uplifting tradition and gifts they

deserve.

Patrizi family in Pearl Harbor, HI were referred to us by our

partners at ASYMCA; father has recently returned to shore

duty in Pearl Harbor after multiple overseas deployments

"Thanks to Richard Solomon's leadership and the

patriots of the Maverick Region, Boot Campaign's Santa

Boots Program was able to share the holiday spirit

with those who have served and sacrificed so much for

us year-round," said Kirkland. "We were able to broaden

our impact and reach more families this year ever

before!"

This season, thanks to a new national partnership

between the Boot Campaign's Santa Boots Program

and two other national non-profits serving the military:

Armed Services YMCA and Operation Homefront,

more than 80 military families in 27 states received

benefitted from the effort.

To learn more about the Boot Campaign, visit www.

bootcampaign.org.

Sampson family was referred to us by our partners at

Operation Homefront; delivered by USMC Veteran

Rocky Smith & nephew in Charlotte, NC.

The father (pictured in Amazon hat) requested the box be

delivered to him at work so his kids wouldn't see it

D'Amico family

in Santa Rosa,

California; came

to Boot Campaign

through our

@info line in

search of some

extra holiday

cheer

25
---
877 C

200 C

200 C

200 C

200 C

200 C

123 C

307 C

307 C

307 C

307 C

307 C

151 C

354 C

354 C

354 C

354 C

354 C

299 C

108 C

108 C

108 C

108 C

108 C

200 C

Ussery Printing

Printer of SliPStream

Since 1982

3402 Century CirCle irving, texas 75062

972-438-8344 Fax 972-721-1847

www.usseryprinting.com

OUR PASSION DRIVES OUR CRAFTSMANSHIP

At APEX, your unique, personalized service program is crafted to meet your

speciic desires. Our passion is delivering a concierge level of service that

goes above expectations to create an unparalleled client experience.

To Ensure that you and your Porsche enjoy an unmatched standard of care,

contact us today for a private consultation.

855.998.APEX (2739) | www.ApexAutoCo.com | info@ApexAutoCo.com

CONCOURS LEVEL RESULTS

Using cutting-edge processes and

state-of-the-art equipment, our

detail techniques consistently

deliver an unsurpassed level

of care for your Porsche.

Expert Paint Correction | Professional

Detailing | Paint Protection Films (Clear Bra)

Ceramic Coatings | Window Films | Vinyl

Vehicle Wraps & Accents

Ceramic Pro Certiied Installer

The World's #1 Ceramic Coating

Member; IDA & Elite

Detialers Alliance

CARS & CANNOLI

Monthly on the 3rd Sat.,

Mar.-Nov., 9AM - 11:30AM

4756 Frank Luke Dr.

Addison, TX 75001

EXPERT ADVICE, OPTIMUM

ENHANCEMENTS

We have the knowledge and experience

required to truly enhance your

Porsche's aesthetics and

performance with

customized and proven upgrades.

Automotive Customization | Performance

Parts Sold & Installed | Intake/Exhaust |

Wheels/Tires | Suspension/Brakes | Custom

Methanol Injection Kits | ECU & TCU Tuning |

Racing Fuels and Methanol Sales | CEL/Code

Clearing & Diagnostics | Light Bodywork,

On-The-Go Hand Car Cleaning,

Reenishing & Respraying | Powder Coating

Automotive Customization &

Services | Integrated Radar/Laser Systems

Automotive Gifts

We indulge the needs of the connoisseur who values unsurpassed expertise

and craftsmanship for their Porsche. APEX; an automotive lifestyle brand.

26 February
---
DIY: Repairing Your Porsche Key Transmitter

By Charles Tolles and Tom Martin

Photos courtesy of the Author

o you have a Porsche key transmitter that

D

doesn't function properly? Have you lost

the ability to lock and unlock the doors of

your Porsche with a simple button press, or

to direct your trunks to open upon command?

Malfunctioning key transmitter and

exposed circuit board

The solution to the malfunction may be as simple as

a dead battery or a broken micro switch, or it could be

more serious, such as a broken solder joint, or a failed

proprietary integrated circuit. Other than a failed IC,

chances are your Porsche key transmitter can be repaired.

This would spare one a trip to the dealer for a

new, and very expensive, factory key.

I recently repaired a couple of key transmitters for

a fellow Porsche owner, so thought I'd pass this info

along. This key transmitter was from a 986 Boxster, the

repair also applies for 996 keys and possibly other models

as well.

Symptoms: Both transmitters' LEDs would flash

when the buttons were pressed, but the result was either

no response from the car, or an intermittent function.

Battery would drain quickly.

Test Procedure: Battery tested to confirm proper

voltage output. All micro switches tested with a DVM

set to continuity, and function confirmed. De-soldered

and removed battery holder from the rear of the board.

All solder joints inspected for breaks (this required a

30x magnification inspection scope or equivalent; potential

breaks cannot be seen with the naked eye).

Source of Failure: Flexing of the circuit board from

years of button

presses resulted in

broken solder joints

at the rear of the circuit

board.

Repair: Reflowed

all solder joints

with flux, a fine tip

soldering iron, and

Broken solder joints inspection scope. A

very steady hand and some basic knowledge of electronics

soldering is required. Too much heat or flux

will destroy components and/or circuit traces, and

stray solder will cause shorts.

After soldering is finished, the boards were gently

cleaned with isopropyl alcohol and a soft bristle brush

to remove any debris and excess flux, then all joints

were examined under magnification to ensure proper

repair.

Battery holder reattached. Key transmitter tested

and worked properly. Enjoy your working key transmitter.

There have been some isolated incidents where

the key transmitter did not work after repair. In these

cases, the red LED on the case blinked slowly. Not a

good sign. The IC was not generating the coded signal

needed. Looked like an internal failure of the IC,

which is not fixable as it is super-secret Porsche stuff

(the IC contains the coding and cannot be replaced).

If you have a non-working transmitter, but find the

procedure a bit daunting, feel free to e-mail me at

charlestolles@gmail.com and I'll try to accommodate

you as best I can.

27
---
Porsche Specialist - Experienced Enthusiasts

Dealer-Like Service at Independent Prices

fifthgear.biz

Excellent Service Maintenance & Repair Sales

•Wide Range of Porsches'

Serviced

•Fast Turnaround Times

•Same Day Service In Some

Cases

•Serving DFW Area For Over

13 Years

•Family Owned & Operated

•100+ Years of Porsche Tech Experience

•11,000 sq. ft. Shop Equipped

with the Lastest Diagnostic and

State-of-the-Art Tools

•Comfortable Waiting Area w/Free WiFi

& Coffee Bar

•Same Services and Capabilities as the

Dealers

•Consignment Sales performed

on a case-by-case basis

1975 Archer Ave • Lewisville • TX 75077 • 972•317•4005

28 February
---
Five-Speed Chatter: A Blustery Brush with Death

By Ash Seidl-Staley

Photo courtesy of the Author

e have all felt the sudden

tug of the wheel,

W

the slight push into

the rumble strips, and

the straight up shove of the rear

end when a wind gust slams into

us while driving on the highway.

Those who have driven a van, a

box truck, or even a large U-Haul,

especially while driving on one of

the Metroplex's rural highways,

can attest to the mercilessness of

Texas winds. Over time, as we mature

into attentive drivers, we learn

how to compensate for the wind's

force, but there will always be that

time you get caught off guard. Unfortunately,

this was my fate.

After living in Allen and Plano

for seven years, I forgot how brutal

a 25 mph wind gust can be! I was

rudely reminded of my error late

one misty night after I closed up the

sandwich shop. At 11:45 pm, east/

southbound I-635 is fairly open,

as is Highway 80. Thanks to early

evening rain showers, however, the

roads were still pretty wet. As a result,

I took it easy on the gas, opted

to shut off cruise control, and was

vigilant about monitoring my speed

on corners. The entire trip along

LBJ freeway went swimmingly, as

did my entrance onto Highway 80.

I was careful when passing others,

and I didn't try to hot-rod it past

the eighteen-wheelers. But when I

passed through Sunnyvale, I failed

to remember that any semblance of

wind protection provided by concrete

structures disappears right

before you cross East Fork Road

and part of Lake Ray Hubbard's

southern spillway. Out of nowhere,

a forceful gust lifted and shoved

my Nissan's back end so hard that

I thought someone had wrecked

into my left rear quarter panel.

When my hatchback lowered

back to the road, it didn't gain any

traction on the saturated roads. I

"Nancy" our Nissan Versa Note

hydroplaned

going 68 mph

in the dead of

night! Fortunately,

I was

able, without

even thinking,

it would seem,

to correct my

slide. The car

that happened

to be entering

the highway

from Collins

Road behind

me, unless

he was really

paying attention,

would have thought that I had

merely changed lanes. To be honest,

the slide felt just like driving

on snowy roads. Learning to drive

in Idaho all those years ago really

paid off, I guess. Although safe and

in full control of the vehicle, I was

still pretty rattled. The rest of the

way home I barely took it above 62

mph, and I couldn't help but think

about how many unsuspecting

drivers of hatchbacks, and other

sub-compact hybrid vehicles like

my Nissan, might get slammed in

that very same spot. I mean, I love

the awesome mpg of today's subcompacts,

as well as the reliability

of their powertrain, but man, they

are basically aluminum cans when

it comes to blustery weather!

The engineers of our Porsches

have many design tools and have

been quite successful at using them

to help owners stabilize at high

speeds. The 928 and the 968, as

well as many of their front-engined

siblings, were revered in their day

for their exceptional aerodynamic

stability. To see how far Porsche

has come, all you have to do is subscribe

to the Porsche Engineering

magazine. Rather frequently, you'll

read about all the high-tech equipment

that Porsche's aerodynamic

development team employs on a

daily basis. You'll see how Porsche

possesses a top-rate facility that

utilizes one of the world's most efficient

wind tunnels, and has also

created a dual-track system that

allows Porsche to test its production

and concept cars in a number

of different condition and speed

combinations. On top of minimizing

drag, reducing fuel consumption,

and stabilizing the vehicle on

high-speed corners, engineers at

Porsche's Weissach Development

Center also study the effects of

wind in order to improve acceleration,

top speed, engine and brake

cooling systems, and surprisingly,

to improve the reduction of outside

odors and sounds relative to those

sitting in the car's cab.

Now, I'm all for the automatic

retractable rear spoilers, innovative

brake cooling designs, flashy, yet

sleek aerodynamic styling, and

even the reduction of unnecessary

road noise, but please Porsche,

don't muffle the glorious roar rumbling

from the back end for other

people that don't have a 914, and

aren't spoiled like me! Stay safe,

and wrench on Mavs!

29
---
When all HAIL breaks loose...

Roofing Solutions

By Darren Houk

German Car

Service & Maintenance

by Appointment

Specializing in:

Impact Resistant Roofing Options Including:

Metal, Tile, and even COMPOSITION shingles.

SAVE up to 28% on insurance premiums

www.RoofingSolutionsHOUK.com

817.692.8496

817-366-1678

DasZauberwerk@ix.netcom.com

Showroom by Appointment

5500 Meandering Road Fort Worth 76114

30 February
---
2017 Maverick Region Financial Statement

By Richard Solomon, Region Treasurer, 2015 - 2017

he year end 2017 financials

for the Maverick

T

10:35 PM MAVERICK REGION PCA

01/11/18 Profit & Loss

Region of Porsche Club

Cash Basis January through December 2017

of America are provided

for complete transparency to our

members.

The year 2017 final accounting

statement reflected significant improvement

over the year 2016 figures

based on a Net Excess position

of $39,385.

This position was attributable to

a strong year of driver education

events including a special DE at the

Circuit of the Americas.

In addition, the club continued

to strengthen our social events, such

as Mavs & Mochas, culminating in a

fantastic set of Founders Day events.

Once again our club stepped up

to support those in need by providing

donations to our long time

charity, the Hope Shelter, and the

national military charity, the Boot

Campaign.

Lastly, through the support of

our advertisers, our Slipstream magazine

began printing completely in

color.

Thank you for making 2017

a strong financial year. We look

forward to continued success in

2018.

Editor's Note: A special thank you to

Rich for his work as our Region Treasurer

for the past three years. Our financial

standing as a club continues to be in

great condition thanks to his careful

stewardship. We welcome Deborah Fike

as she takes over this important role of

Maverick Region Treasurer this year.

Jan - Dec 17

Ordinary Income/Expense

Income

4000 · Revenues

4001 · Membership

4001-01 · Dues 6,093.60

4001 · Membership - Other 31,062.50

Total 4001 · Membership 37,156.10

4002 · Registrations 192,314.41

4003 · Sponsorships 26,950.00

4004 · Goodie Store sales 550.00

4005 · Advertising income 46,322.73

Total 4000 · Revenues 303,293.24

4006 · Interest Income 48.12

4007 · Charitable receipts 2,290.00

4008 · Social Income

4008-03 · Founders Day 9,944.00

4008 · Social Income - Other 2,160.00

Total 4008 · Social Income 12,104.00

4009 · Other 3,424.25

4011 · Auction proceeds 9,733.00

Total Income 330,892.61

Expense

5010 Tech Session Expenses 338.50

5000 · Expenses

5001 · Track Expenses 172,425.75

5002 · Social expenses 21,924.82

5003 · Goodie Store Purchases 208.15

5004 · SlipStream 57,018.50

5005 · Postage 142.84

5009 · Concours expenses 708.77

5011 · Rally Expenses 1,427.06

Total 5000 · Expenses 253,855.89

5006 · Other administrative expense 19,156.90

5007 · Board Meetings 3,087.23

5008 · Storage 1,284.00

5010 · Sunday drive expenses 333.39

5020 · Swap Meet Expenses 75.50

Total Expense 278,131.41

Net Ordinary Income 52,761.20

Other Income/Expense

Other Expense

6001 · Charitable donations 13,376.25

Total Other Expense 13,376.25

Net Other Income -13,376.25

Net Income 39,384.95

31
---
Since 1971

Providing personalized service

on all Porsche automobiles.

• Complete servicing and repairs

on all air or water cooled models

• In-house machine shop

• M96/M97 reconditioning

• Performance and track mods

2530 Tarpley Road • Suite 700

Carrollton, Texas 75006

(972) 417-0997

Top motorsports brands...

...at the lowest prices in the nation!

competitionmotorsport.com

844 . 438 . 7244

32 February
---
Parts or Service, We Deliver Excellence.

Over 300,000 parts in stock.

Expert service and repair.

Parts and Service for: Porsche, Mercedes-Benz, BMW, Mini, and Smart Car.

817-267-4451

Visit us online at:

1-800-356-2964

www.allzim.com

zimips@allzim.com

1804 Reliance Pkwy. Bedford, TX 76021 M-F 8am to 5:30pm

Zims Autotechnik is not affiliated with Porsche AG or PCNA Registered Trademark of Dr. Ing h.c.F. Porsche A.G.

33
---
Maverick Region Unclassifieds

For Sale: 1996 911 Carrera 4 Cabriolet. Polar

Silver Metallic/Black Leather. 50.5k miles. Sixspeed

manual with Porsche Sport Classic wheels.

AM/FM cassette player, 6 Disc remote CD changer.

Power seats with lumbar support. All original paint,

clean Carfax, 3rd Owner. Fully serviced at Porsche

Dealerships with all receipts. Porsche Certification

of Authenticity. $52,500. Contact Phil Berkebile at

philberkebile@gmail.com or 972-898-5689. (02)

For Sale: 1989 Porsche 944. White/Blue, 175,000

miles - two owner. Original owner purchased

in San Antonio, and lives in White Rock Lake.

Fully documented maintenance performed by

knowledgeable Porsche people (Louden, 9Eleven,

Mayo Performance). The owner kept all the old

receipts, every noise she heard, flats fixed, and wipers

replaced, and kept all maintenance up to date. I've had

Mayo do a lot of work in the last few years: timing

belt, water pump, tensioners, balance shafts, seals,

motor mounts, steering rack/resiv/boot/bushings,

koni yellows, new updated A/C everything, shift

linkages, moonroof gear, brake pads/sensors, ABS

computer, cd player (have original, but equalizer was

shorting itself out), cruise control box, momo steering

wheel (have original), 17" 996 wheels (have original

phone dials as well). 175k miles. Great car. Ready to

go. Asking $7500. Contact Thad Prugh at tjprugh@

gmail.com or (254) 213-8882. (02)

For Sale: 2000 Porsche 911 Carrera Cabriolet.

Zenith Blue Metallic with Metropol Blue convertible

top, Lapis Blue removable hardtop, Graphite Grey

leather interior. March 2000 production date; originally

sold at Park Place Porsche Dallas on April 26, 2000.

Dealer serviced at Park Place and Porsche Austin

from new through 60k miles. 6 speed manual. New

clutch and LN IMS bearing at 67,795 miles. Brake

fluid flush at 73,602 miles by Mayo Performance.

Water pump replaced at 76,493 miles by Innovative

Autosports. Most recent oil change at 78,147 miles.

Option codes: C02 U.S. Std Emissions, 424 CD

Compartment, 436 3-Spoke Leather Steering Wheel,

437 8-way electrical seat left, 438 8-way electrical

seat right, 476 Porsche Stability Management, 490

HI-FI Sound Pkg, 537 seat memory left, 551 Porsche

Windstop, 692 Remote CD Changer, 696 AM/FM

Radio w/CD Player. Original MSRP: $80,770.Very

well maintained, documented, great running car,

ready to drive anywhere. Everything works as it

should. Clean CarFax report with no accident history

or other issues. Cosmetically in average condition,

with various stone chips and small scratches to its

original paint from being driven and enjoyed as it

should. Original factory radio/CD changer replaced

by previous owner with Alpine unit w/iPod connector.

Tires are very good, less than 1 year old, approx 7k

miles. Car cover included. Asking $21,000. Contact

Chris Flaugh at chrisflaugh@hotmail.com or 214-

288-5300. (01)

For Sale: 1978 Porsche 928. Red exterior with

Red interior. First-Year Euro Market Car. Vin #

9288101283. With spoiler-free rear end, five speed

manual transmission, sunroof-delete, this is certainly

a special car. Original 4.5L engine, Lexan front

windshield, Lexan rear window, larger 1986 front

disc brakes, Eibach coil springs which lower the car

1", Koni shocks, Short Shifter, Weltmeister 28mm

front swaybar, Martin Schnider Headers, 245/45-16

Hoosier tires on BBS rims. Corner Balanced by Auto

Edge and ready for the track. Asking $5999. Contact

John Ballard at Johnballard@frontiernet.net or 469-

494-6704. (01)

For Sale: 2014 Porsche Boxster S. Agate Grey

exterior with two-tone Agate Grey/Pebble White

interior. Showroom condition with 4,300 miles.

PASM, DCT, sport exhaust, power seats, full frontal

clear bra, 20" wheels and many other extras. Asking

$53,000. Contact Jack Cicerello at jcicerello@

sbcglobal.net or 972-235-5543. (12)

For Sale: 1985 Porsche 944. Guards Red with Black

interior. 133,000 miles. Excellent condition. Vehicle

just had major restoration of engine, suspension,

power steering, brakes, and interior 3,000 miles ago.

Fresh repaint and fresh re-seal of engine with new

belts, adjusters, water pump, thermostat, gaskets,

valve job, and more. Too many new parts to list in

this ad, please see the online ad at http://mav.pca.org/

Classifieds/classifieds.asp for complete infomration.

Asking $10,900. Contact Jeff Queen at jeff_queen@

ahm.acura.com or 770-335-2854. (12)

Wanted: 2009 or 2010 Grey or Silver Carerra S

Coupe. Manual transmission, reasonably low miles in

pampered condition. All records appreciated. Contact

John Polivka at John.Polivka@yahoo.com. (12)

Advertiser Index

Advertising rates available upon

request. For more information contact

Bill Kruder at ads@mavpca.org

Apex Automotive........................... 26

Attic Butlers.................................... 26

Autobahn Motorcar Group........... B.C.

Autoscope..................................... 35

Bennett Motor Werks...................... 13

Competition Motorsport.................. 32

Concorso Detailing......................... 28

deBoulle Diamond & Jewelry........... 23

DFW Garage Design...................... 35

Ebby Halliday – Michael Picolo....... 32

Falgout & Associates, P. C............... 22

Fifth Gear Motorsports.................... 28

Financial Enlightenment.................. 36

Garages of Texas............................. 8

Growler Motor Labs....................... 20

Innovative Autosports....................... 5

Invisibra........................................ 20

Louden Motorcar Services........... I.B.C.

Marvelous Home Makeovers........... 11

Mayo Performance......................... 22

Mullenix Motorsport....................... 32

Mustard Racing.............................. 30

Nine-Eleven Automotive.................. 30

OCD'tailers.................................... 33

Park Place Porsche...................... I.F.C.

The Phoenix Insurance.................... 27

Porsche Plano................................ 24

RAC Performance........................... 10

RKT Techniques.............................. 22

Roofing Solutions by Darren Houk... 30

Send My Parcels............................ 35

Silver Fox........................................ 2

Stuart's Paint and Body..................... 3

Ussery Printing............................... 26

Zims Autotechnik............................ 33

These advertisers support

our Maverick Region.

Tell them you saw their ad

in Slipstream!

Unclassifieds are available free to Maverick Region members and are $5 for all others (contact editor@mavpca for payment details). Please limit size to no more than 6 lines (subject to editing).

Ads will run for 3 consecutive issues unless you contact the editor. E-mail your ad to classifieds@mavpca.org by the 10th of the month to have your ad run in the following month's Slipstream.

Be sure to include year, make, model, color, mileage, and asking price, as well as a contact name, phone number and/or email address. Parts are advertised only on our website. Due to space

constraints, photos are not included. No dealers please!

34 February
---
autoscope.co

3 Dallas Locations:

Porsche Specialists with over

35 years experience in DFW

Park Cities

6134 Denton Dr

Dallas, Tx 75235

214-350-3050

Plano

601 Coit Rd

Plano, Tx 75075

972-867-7467

White Rock

9796 Ferguson Rd

Dallas, Tx 75228

214-320-8280

35
---
Around the Bend...

By Jim Hirsch, Managing Editor

appiness in your Porsche isn't around the

H

corner. It is the corner. Driving the perfect

Porsche, on the perfect racetrack, is certainly

a dream that many of our Maverick Region

members have had through the years of owning their

personal Porsche. In fact, for many Mavs, the Porsche

they currently own is that perfect Porsche!

Unfortunately, for those of us still looking for that

perfect Porsche experience, actually driving the real

thing on an iconic racetrack is very unlikely. That's why

a recent comment by Rory Carroll in Autoweek caught

my attention.

Gran Turismo Sport, the seventh iteration in the

Gran Turismo series of racing simulations, was released

in 2017, the 30th anniversary of this video game created

by Kazunori Yamauchi and his team.

And why does this matter to this quest of driving the

perfect Porsche on the perfect racetrack? For the first

time in the history of Gran Turismo (due to a

previous exclusive license with EA), Porsche has

licensed four models to be included in Gran

Turismo Sport: 911 GT3 RS, 911 RSR, Cayman

GT4 Clubsport, and 919 LMP1 Hybrid.

Suddenly, the ability to "drive" four pretty good

examples of "the perfect Porsche" on a wide variety

of iconic racetracks, using a racing simulator with

very realistic physics, is well within the reach of our

Maverick members. I'd be interested in hearing about

your experience with these perfect Porsche models

for those of you with a Playstation and Gran Turismo

Sport.

For any Maverick members who are slot car

racing afficiandos, there is some discussion about an

impromptu get together at a local track in Garland

where we could also put some Porsche models

through their paces. Look for more information on

that potential event on our web site and social media

postings.

For the rest of us, driving the perfect Porsche may

be a simple exercise of skill such as Natalie Neff puts it,

"I can parallel park in almost any spot that allows for

even a few inches clearance on either end.

Always within a foot of the curb, and preferably

in a two-point motion: back in, straighten

forward." Try that in your Porsche if you dare.

Carpe Viam!

Treat your portfolio like you would your Porsche

You wouldn't leave your Porsche in the care of anyone but a certified service technician.

Shouldn't your financial portfolio receive similar qualified attention?

Anyone can call themselves a financial planner. Only a select group can

display the CFP ® certification. Call Clark Randall at 214-890-4098 today

for a complimentary financial evaluation.

10,000 North Central Expressway

Suite 400

Dallas, Texas 75231

214-890-4098

Clark.Randall@FinancialEnlightenment.com

www.FinancialEnlightenment.com

Clark Randall, CFP ®

Registered Representative, Securities offered through Cambridge Investment Research, Inc., a Broker/Dealer, member FINRA/SIPC.

Investment Advisor Representative, Cambridge Investment Research Advisors, Inc., a Registered Investment Advisor. Financial Enlightenment and Cambridge are not affiliated. V.CIR.1217

36 February
---
Hiram Saunders, Slipstream

155 Jellico

Southlake, TX 76092

Periodical Postage

Paid at Fort Worth, TX