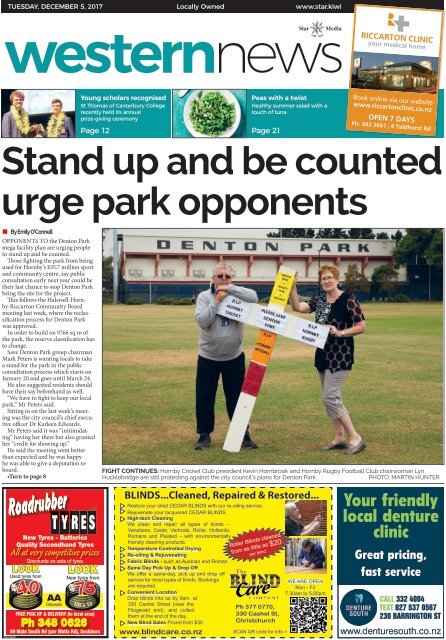 Western News: December 05, 2017
You also want an ePaper? Increase the reach of your titles
YUMPU automatically turns print PDFs into web optimized ePapers that Google loves.
TUESDAY, DECEMBER 5, 2017

Locally Owned

www.star.kiwi

Young scholars recognised

St Thomas of Canterbury College

recently held its annual

prize-giving ceremony

Page 12 Page 21

Peas with a twist

Healthy summer salad with a

touch of tuna

Book online via our website

www.riccartonclinic.co.nz

OPEN 7 DAYS

Ph: 343 3661 | 4 Yaldhurst Rd

Stand up and be counted

urge park opponents

• By Emily O'Connell

OPPONENTS TO the Denton Park

mega facility plan are urging people

to stand up and be counted.

THose fighting the park from being

used for Hornby's $35.7 million sport

and community centre, say public

consultation early next year could be

their last chance to stop Denton Park

being the site for the project.

This follows the Halswell-Hornby-Riccarton

Community Board

meeting last week, where the reclassification

process for Denton Park

was approved.

In order to build on 9766 sq m of

the park, the reserve classification has

to change.

Save Denton Park group chairman

Mark Peters is wanting locals to take

a stand for the park in the public

consultation process which starts on

January 20 and goes until March 24.

He also suggested residents should

have their say beforehand as well.

"We have to fight to keep our local

park," Mr Peters said.

Sitting in on the last week's meeting

was the city council's chief executive

officer Dr Karleen Edwards.

Mr Peters said it was "initimidating"

having her there but also granted

her "credit for showing up."

He said the meeting went better

than expected and he was happy

he was able to give a deputation to

board.

•Turn to page 8

8047287AA

$

40

LTD

T Y R E S

New Tyres -Batteries

Quality Secondhand Tyres

All at verycompetitive prices

Discounts on sets of tyres

LOOK

Used tyres from

AA

Discounts

$

70

155

x 13

FREE PICK UP &DELIVERY (in local area)

Ph 348 0626

99 Main South Rd (cnr Watts Rd), Sockburn

8214716AA

LOOK

New tyres from

5

FIGHT CONTINUES: Hornby Cricket Club president Kevin Hornbrook and Hornby Rugby Football Club chairwoman Lyn

Hucklebridge are still protesting against the city council's plans for Denton Park.

PHOTO: MARTIN HUNTER

BLINDS...Cleaned, Repaired & Restored...

Restore your oiled CEDAR BLINDS with our re-oiling service.

Rejuvenate your lacquered CEDAR BLINDS

High-tech Cleaning

We clean and repair all types of blinds –

Venetians, Cedar, Verticals, Roller, Hollands,

Romans and Pleated – with environmentally

friendly cleaning products.

Temperature Controlled Drying

Re-oiling & Rejuvenating

Fabric Blinds - such as Austrian and Roman

Same Day Pick Up & Drop Off

We offer a same-day, pick up and drop off

service for most types of blinds. Bookings

are required.

Convenient Location

Drop blinds into us by 9am, at

330 Cashel Street (near the

Fitzgerald end), and collect

them at the end of the day.

New Blind Sales Priced from $30

Roller Blinds cleaned

from as little as $20

per blind

Ph 377 0770,

330 Cashel St,

Christchurch

www.blindcare.co.nz SCAN QR code for Info >

WE ARE OPEN

Mon - Fri

7.30am to 5.00pm

Your friendly

local denture

clinic

Great pricing,

fast service

CALL 332 4004

TEXT 027 537 0567

230 BARRINGTON ST

www.denturesouth.co.nz
---
2 Tuesday December 5 2017

Latest Christchurch news at www.star.kiwi

from the editor's desk

CHRISTMAS MIGHT be right on the

radar but there's another big event looming

too – the City2Surf.

Yep, it's only a handful of months away

(see page 4) so it's time to start lacing up

those running shoes and pounding the pavement or local park

to get in some sort of shape.

The great thing about the City2Surf – and this hasn't changed

over the decades – is that anyone regardless of shape or fitness

level can take part.

A face that wil appear on the marketing of City2Surf this year

is Jesel Royokada, a Fijian pastor.

And remember it's a family event – children 10 and under are

free to participate.

Barry Clarke

get in touch

GENERAL ENQUIRIES Ph 379 7100

CLASSIFIED ADVERTISING Ph 379 1100

The Christchurch Star Company Ltd

PO box 1467, Christchurch

starmedia.kiwi

news

WESTERN NEWS

Getting into the spirit of City2Surf

Pastor asks congregation to get involved in event as a way

to connect with other cultures. Earlybird entries open on

December 1 at http://www.city2surf.co.nz/

Page 4

sports

Student wins tennis open

Tessa McCann (left) is looking forward to a big year on the

court after winning the Canterbury women's tennis

open.

Page 10

community events

Crusaders go into bat

The Crusaders take other sport stars at Christchurch

Boys' High School for a game of cricket on Sunday. All

for a good cause. 11am-5pm.

NEWS

Emily O'Connell

Ph: 364 7497

emily.oconnell@starmedia.kiwi

ADVERTISING

Alana Powell

Ph: 962 8753

alana.powell@starmedia.kiwi

Page 23

The best-read local newspaper, delivered to

18,190 homes every Tuesday

Templeton, Islington, Hei Hei, Broomfield, Halswell, Oaklands,

Westlake, Hornby, Wigram, Sockburn, Church Corner, Ilam,

Russley, Hyde Park, Avonhead, Riccarton Park, Riccarton.

FILL UP FOR

LESS WITH YOUR

SUPERGOLD

CARD.

10

Incorporating

Sunday 10 December 2017

Open to the public from 12 - 4pm

Lincoln University Dairy Farm, Shands Road, Lincoln

9113487AC

9113487AE

HALSWELL

NOW OPEN IN HORNBY

WOF ONLY $29

FOR A LIMITED TIME ONLY

• Full mechanical services

• Petrol & Diesel

• New wheel alignment equipment

TYRE SPECIAL

175/65R14 Bridgestone Ecopia $135

245/45R18 Bridgestone Ecopia $257

215/55R17 Bridgestone ER33 $280

• All range of tyres. Economic –

Only while stocks last.

High performance

345 Halswell Road

Bridgestone Tyre Centre Hornby

Ph: (03) 349 5505 • 39 Carmen Rd, Hornby

Phone 322-7137

Prices include fitting balancing and GST.

Monday – Friday 7.30am to 5pm. Saturday 9am to 12 noon

Your Local

Real Estate

Specialists

Lower fees, 2.95% up

to $390,000 thereafter

1.95% + admin fee + gst

Mike Pero Hornby

393 Main South Road

Mike Pero Real Estate Ltd Licensed REAA (2008)

Ken Sharplin

Licensed Salesperson

027 432 4912

Dee Knowles

Licensed Salesperson

027 531 5456

Ian Falconer

Licensed Salesperson

027 849 0404

Stevie Golding

Licensed Salesperson

021 0830 4660

Lee Allison

Licensed Salesperson

021 0883 6682

Chris Downes

Mortgages & Insurance

027 283 0464
---
WESTERN NEWS Latest Christchurch news at www.star.kiwi

Tuesday December 5 2017 3

News

Police say no to bus lounge bylaw

• By Emily O'Connell

POLICE AREN'T backing a

bylaw to help stop anti-social

behaviour at the Riccarton bus

lounge.

The lounge, on the corner of

Riccarton Rd and Division St,

has been plagued with youth

issues since it opened in December

2015.

A working

party consisting

of board

members,

business and

landowners,

police, community

groups

Lianne Dalziel

and residents'

association

representatives

have made 19 recommendations

to help solve the issues.

These include introducing an

anti-loitering bylaw, playing music

in Division St which would

attract more people to the area

and changing the current bus

lounge Wi-Fi policies.

A report was given to the

Halswell-Hornby-Riccarton

Community Board last week

with an update on the recommendations.

One update included a letter

from Inspector John Robinson,

ONGOING ISSUE: Police don't believe a bylaw would help

stop the anti-social behaviour at the Riccarton bus lounge. ​

who said he and Canterbury

District Commander Superintendent

John Price had the

same views on the anti-loitering

bylaw.

Mayor Lianne Dalziel had a

preliminary meeting with Superintendent

Price last month.

Inspector Robinson said the

bylaw would be difficult to enforce

and most people involved

would be under 17-years-old

which certain criteria would not

be met if they had to enforce the

bylaw.

"Trying to enforce such a

general bylaw would likely

bring about a lot of anger and

disagreement and an increase

in other disorder," Inspector

Robinson said.

He said defining what loitering

is would also be difficult.

"We understand this is unlikely

to be the response that

you were wanting, but hope that

a successful alternative can be

found," Inspector Robinson said.

Senior Sergeant Stephan

McDaniel said he met with

the community development

adviser Marie Bryne last month

regarding the lounge issues.

"Our discussions were

over how we would reduce

the calls for service in the

environment of the lounge

to ensure the community feel

safe using this facility," he said.

Senior Sergeant McDaniel said

they are looking at doing this

"through any recommendations

made from a Crime Prevention

Through Environmental Design

review, increasing CCTV surveillance

and signage, reviewing

security and increasing police

presence."

The report said the city council

has made a request to Westfield

Riccarton management to

consider installing additional

security cameras along Division

St. If the mall decline, about

$10,000 of community board

funding would be required for

the cameras.

The report also said increasing

the access is part of the city

council's strategy and needs

further investigation.

As for playing music along

Division St to attract more people

to the area, the report said

speakers will be installed on the

outside of the bus lounge.

Deputy chairwoman Helen

Broughton made an amendment

to the report, for the community

board to review the recommendations

in the new year.

City councillor Vicki Buck

also made an amendment for up

to $5500 to be allocated for the

CPTED report.

Local

News

Now

In Brief

Fire rages, homes at risk

BUS STOPS TO GO

The Halswell-Hornby-Riccarton

Community Board approved the

removal of eight redundant bus

stops in Templeton at its meeting

last week. The stops are located

on Kirk Rd. The city council

was contacted by a resident who

stated they had sometimes seen

people waiting at the bus stops

for a bus which would never

come, and requested removal of

the signs.

BROCKWORTH PL MURALS

The community board also approved

a $2000 grant for supplies

for the Brockworth Pl murals.

The murals are being painted

by advocate advisor Damian

Holt. The funding was from the

board's 2017-18 Discretionary

Response Fund.

$10,000 ILAM BURGLARY

Jewellery, vitamins and foreign

money, to the value of $10,000,

has been stolen from an Ilam

flat. The house was broken into

last week and the burglars took

with them what flatmate Carly

Fisher is describing as "very

sentimental and personal items."

Miss Fisher said it was especially

disappointing as they were

moving flats in less than a

week.

Ready for something fresh and new?

Arvida has begun a revolution that is transforming the ageing experience.

We're focused on the holistic wellbeing of each person as well as

providing clinical care. We support every individual to feel truly

at home, to lead us with how they want to live daily and to know

they're still part of things. We live in home environments, not

institutions with rules and timetables. Our attitude to living well

brings happiness, joy and smiles, the fuel that drives everything

we do. If you're looking at aged care options for a loved one,

don't make a decision until you've experienced an Arvida village.

Village Manager Maurice David

Ph 348 5305, 28 Ilam Rd

Village Manager Neville Youngman

Ph 348 4362, 71 Middleton Rd

Village Manager Graeme Gordon

Ph 348 2445, 104 Wharenui Rd

Village Manager Aleshia Rayner

Ph 338 4495, 35 Whiteleigh Ave

The attitude of living well. www.arvida.co.nz 0800 278 432

18390_WESTN5_1217
---
4 Tuesday December 5 2017

Latest Christchurch news at www.star.kiwi

News

WESTERN NEWS

Local

News

Now

Fire rages, homes at risk

Getting into the spirit of

• By Andrew King

JESEL ROYOKADA embodies

everything that is the Star Media

City2Surf.

Last year he was photographed

leaping into the air after crossing

the line capturing the spirit of the

event.

Now, the Christchurch Fijian

Seventh-Day Adventist Church

pastor has asked his congregation

of about 80 to get involved in the

event as a way to connect with

other cultures.

"We come from the islands and

sometimes we do things in our

own island groups but it is good

to get involved with the rest of

the community," he said.

The 31-year-old encouraged

about 25 of his parishioners to

get involved in the event last year

"It was the first time our

church has got involved with

something like this," he said.

He said they were told

about the event by Healthy

Families Christchurch, part

of a nationwide Government

initiative ​aimed at helping New

Zealanders live healthy, active

lives.

"I would like to see all 80 of

them out there, and their friends

and families. We can even have

kids in prams at the event," he

said.

He said they will start to train

soon for the event, which will be

held on March 18.

The event is split into two

sections – 6km and 14km.

The Star Media City2Surf with

Les Mills 14km event starts in

Centennial Park, Spreydon, at

9am.

The Sport Canterbury 6km

event starts at 10am in Hansen

Park, Opawa.

Both finish at the Ferrymead

playing fields. There will be

after-event entertainment

with live music, food and free

children's entertainment in the

finish area.

Earlybird entries open online

on December 1 and cost $20.

They can be purchased from

http://www.city2surf.co.nz/

Standard entry from January 1

will cost $25 online or tickets can

be purchased from The Athletes

Foot, Pak'n Save and New World

supermarkets.

Children 10 and under are free

to participate.

•The Star Media City2Surf

will be held on March 18.

Early bird entries will be

available from December

1 at http://www.city2surf.

co.nz/

ENTHUSIASM: Jesel Royokada embodies the spirit that is the

Star Media City2Surf.

Pack a

it ' s

Picnic,

Island

Time!

Discover walking tracks, native birds,

penguins, the swimming beach and

shipwrecks, all on the island that's

only 15 minutes from Christchurch!

Start Exploring

Otamahua/Quail Island today!

Wednesday 6th Dec - Cnr Wilkinsons & Johns Rd (Access via Gardiners)

Thursday 14th Dec - 455 Linwood Ave, Cnr Keighleys Road

0800 436 574

www.blackcat.co.nz

DEPARTS: LYTTELTON QUAIL ISLAND

Oct – Apr 10.20am 3.30pm

Dec – Feb 10.20am & 12.20pm 12.30pm & 3.30pm

FARE: adult $30 child $15 return

CRUISES

LYTTELTON & AKAROA
---
WESTERN NEWS Latest Christchurch news at www.star.kiwi

Tuesday December 5 2017 5

News

Lieu day decision could be appealed

• By Emily O'Connell

FAST FOOD giant, Wendy's,

may appeal the decision on lieu

days.

Wendy's chief executive officer

Danielle Lendich told Western

News neither party won in the

determination.

"The authority member has

come up with an alternative interpretation

of law which is not

based on either parties' submissions,"

she said.

But Hornby Wendy's worker,

Rose Williams, thinks she's

definitely won the battle.

Ms Lendich has until next

Wednesday to appeal the decision.

She said they are "currently

still interpreting the decision

and no decision has been made

whether to appeal or not."

Ms Lendich said the outcome

will have repercussions for many

industries, not just hospitality.

Mrs Williams went to the

Ministry of Business, Innovation

and Employment three years ago

with the lieu day issue after she

had been working at the Hornby

restaurant for a year.

Wendy's, which has 23 outlets

in New Zealand, including one

in Hereford St and in Hornby,

has breached two sections of the

Holidays Act 2003.

Ms Lendich said they have

SUCCESS: Rose Williams believes she's won the battle

against Wendy's in spite of its CEO defending the company's

actions.

PHOTO: ANDREW KING

been using the 'three week' rule

to determine who is entitled to

alternative holidays.

"... a person who works the

same day of the week as the public

holiday for the three weeks

prior to the public holiday and

the public holiday itself is due an

alternative day," she said.

Ms Lendich issued a notice

to all her employees last week,

letting them know about the

situation.

"However the decision does

not mean that everyone will be

paid an alternative day for working

a public holiday," the letter

concluded.

Unite Union, of which Mrs

Williams is a delegate, has estimated

it would cost Wendy's $1.6

million to pay back employees'

leiu days.

MBIE senior labour inspector

Kim Baldwin found Wendy's

breached section 56 and 60 of

the Holidays Act.

Section 56 says an alternative

holiday must be provided to

an employee who works on a

public holiday if that day would

otherwise have been a working

day for them.

Section 60 sets out how those

employees should be paid for the

alternative holiday.

Wendy's has been ordered to

comply with the two sections,

conduct a review of its restaurants

and keep records of staff

contacted, rosters and leave.

It has been ordered to give all

past and present employees from

the Hornby and Dunedin restaurants

their alternative holidays,

or the equivalent pay since the

restaurants were opened.

Wendy's has also been ordered

to do the same for all other

restaurants across the country

backdated to July 1, 2012.

Ms Lendich said they thought

their interpretation of the law

was right and it's incorrect to

say Wendy's employees have

not been receiving alternative

holidays.

But Mrs Williams believes

Wendy's purposely change their

employees shifts so they don't get

lieu days.

Ms Lendich said laws about

pay need to be black and white

and the Holidays Act 2003 needs

a "total overhaul."

"Politicians should be more

aware of the laws they make

around these issues and be

totally clear on what the law

actually is," she said.

But Mrs Williams said the law

doesn't need changing.

She told Western News she's

had a lot of support from coworkers

and friends.

Local

News

Now

Call to

investigate

cycling initiative

Fire rages, homes at risk

• By Julia Evans

CONCERNS HAVE been

raised over publicity of a cycling

initiative at Jellie Park Sports and

Recreation Centre.

Staff at the centre not knowing

about the initiative at all, and a

lack of advertising, has prompted

the Fendalton-Waimairi-Harewood

Community Board to

ask city council staff investigate

urgently.

The campaign to get less people

driving to Jellie Park in a bid

to clear the congested car park

means if you cycle five times, you

receive free pool entry and a bottle

of water.

The initiative was first run in

February with only a "small to

moderate uptake," city council

western area operations manager

Martin McGregor said.

It was recommended the

programme be dropped. But a

second campagin, running from

now through summer, was called

for by the board as it said a longer

trial was necessary for a greater

uptake. As well as being in warmer

months when more people are

likely to cycle.

It was previously suggested that

the scheme would be rolled out

across all city council sport and

recreation centres.

GOOD TIMES THIS

SUMMER

Plan your summer, our

events guide is out now!

ccc.govt.nz/summertimes
---
6 Tuesday December 5 2017

Latest Christchurch news at www.star.kiwi

News

Chance to

reconnect with

school before

demolition

• By Julia Evans

FORMER BISHOPDALE School

pupils have been invited to visit

one last time.

The school's 60-year-old buildings

are being demolished during

the school holidays as work begins

on the $4.38 million rebuild.

Principal Sue Fisher said anyone

who wants to go back, take photos

and visit the classrooms is more

than welcome.

"People from Bishopdale seem to

live in this area forever," she said.

She said there is a huge community

connection in the suburb,

especially as its going through a

regeneration with the new library

and redevelopment of the mall.

Demolishing the first block will

begin in January, with the new

building beginning construction in

March and the rebuild expected to

finish late next year.

"They [the Ministry of Education]

want to have it done in the

holidays because it's not desirable

to have children and asbestos in

the same space," Mrs Fisher said.

Anyone who wants to go

through the school has until

December 15. Phone the school on

352 9354 to arrange a time.

• By Emily O'Connell

A $150,000 grant from the city

council has pushed St Peter's

Anglican Church closer to

restoration.

The Upper Riccarton church,

which was consecrated in 1858,

was damaged in the February

22, 2011, earthquake.

The grant, from the Capital

Endowment Fund, was approved

at city council last

Thursday.

Riccarton Ward city councillor

Vicki Buck made an amendment

on the $100,000 grant,

increasing it to $150,000.

"I'd like to see us give more

than $100,000. The loan won't

be helpful as they can't afford a

loan," she said.

Originally, St Peter's applied

for the Heritage Incentive Grant

– seeking $500,000 of funding.

The application was then

deferred as the proposal would

have a significant impact on

heritage values and key criteria

was not met.

Parish reverend Nick Mountfort

said they are thrilled with

the $150,000 grant.

"They [the city council] recognise

that St Peter's is a central

hub for a multitude of community

and independent groups

and provides a home for their

RESTORATIONS: St Peter's Anglican Church parish Reverend

Nick Mountfort is grateful after the city council has approved

a $150,000 grant towards the restoration of the church. ​

activity," he said.

Rev Mountfort said all their

community groups are currently

in temporary buildings.

"This is limiting the capacity

of St Peter's to support the

community fully through these

WESTERN NEWS

Local

News

Now

Grant for St Peter's raised to $150,000

Fire rages, homes at risk

groups as it has done in the

past," he said.

Rev Mountfort said St Peter's

has an active fundraising strategy

that has been developed to

ensure they reach their goal.

"At the moment, we are focusing

on a Living Stones concept,

where we are inviting people to

donate towards a block or stone

in support of our fundraising

campaign," he said.

Donors are then recognised

by way of a map in the foyer

which will denote the locations

of stones and blocks as given by

each donor.

Rev Mountfort said they are

hopeful they will reach their

fundraising target next year.

Cr Buck said the church was

the "foundation stone of Church

Corner."

Halswell Ward city councillor

Galloway also saw importance

in giving more money to the

church.

"Yes it is a heritage building

but more importantly it's a community

building and this community

needs this to strengthen

and enhance what it does," she

said.

The church requires a further

$500,000 of funding for their

$3.93 million upgrade which

will see the building extended,

altered and restored.

St Peter's has been paid $1.5

million from insurance.

• Donations to St Peter's

Anglican Church can

be made at www.

stpeterschurch.nz/

donate-now

CHOCOLATE

FACTORY SHOP

Christmas

Specials

Buy 5 bags of any combination

from the following ($5/bag):

marshmallow bars

Christmas marshmallow Bells and Santas

Bagged chocolates

and get another bag FREE

19 19 Cable Street, Street, Sockburn (off (off Blenheim Rd)

Phone 357 0085

Open Monday to - Friday, 9am—4pm

- 4pm

your one stop shop!

We welcome you to come along and have a look

Late night Thurs open till 6.30pm

1 Amyes Rd, Hornby Ph. 349 4163

Hours: Mon - Fri 9am-4.30pm,

Sat 9.30am-1.30pm

335b Riccarton Rd, Church Cnr

Ph. 341 8539

Hours: Mon - Fri 9.30am-5pm

Sat 9.30am-2.30pm

tramping boots now instore

We've been trusted to look after hundreds

of properties all over Christchurch.

You can trust us to look after your's too.

Open 7 days

dressmart HOrnby, main sOutH rd | pH 03 344 5304

Property Manager of

the Year NZ 2015/16

Ray Hastie

Manager

027 448 8225

Paula Hastie

Assistant Property Manager

Local Experts – Citywide Knowledge

Phone (03) 331 6755

www.propertymanagementchristchurch.com

Chloe McGill

Property Manager

021 914 332

Rebekah Whalley

Accounts Administrator

03 331 6755

Abbey Nolan

Property Manager

027 379 5021

Nominated for Ray White New

Zealand Property Management

Office of the Year, 2016/17

Prier Manson Real Estate Ltd Licensed (REAA 2008)
---
WESTERN NEWS Latest Christchurch news at www.star.kiwi

Tuesday December 5 2017 7

raNGiora • Northwood • st martiNs • tower juNctioN • BishoPdaLe • raNGiora • Northwood

Northwood • st martiNs • tower juNctioN • BishoPdaLe • raNGiora • Northwood • st martiNs • tower juNctioN • BishoPdaLe •

RRP $15.99

$

7 .99

EA

GIFTS

FOR KIDS

GIANT XMAS

JIGSAW & BOOK

RRP $45.00

$

34 .99

LIKE A BAT OUT

OF HELL, STORY

OF MEAT LOAF

RRP $24.99

$

12 .99

SPIDER-MAN

& X-MEN

POP-UP BOOKS

GIFTS

FOR HIM

BICYCLE

TOOL KITS

$

19 .99

EA

LIFE ON MUZZLE

FIONA REDFERN

AMAZING

GIFT SHOP

BOXED

CARDS

50 %

RRP $39.99

$

19 .99

EA

RRP $37.99

$

29 .99

CHRISTMAS FOR LESS!

off

$

19 .99

GAME OF THRONES

STATIONERY SET

VINTAGE CAR CLOCK

RRP $7.99

$

3 .99

AOTEAROA

GAVIN BISHOP

$

17 .99

$

12 .99

PAW PATROL

CHRISTMAS

BOOK

BLOCK TECH PRINCESS

FAIRYTALE CASTLE

RRP $72.00

$

24 .99

EA

RRP $64.99

$

29 .99

GROOMING KIT

$

19 .99

CALENDARS

20 %

RRP $40.00

BAD DAD

DAVID WALLIAMS

$

29 .99

RRP $24.99

$

7 .99

$

19 .99

TOP GEAR THE COOL 500

@papertreestores

100s of MAGICAL

GIFTS FOR

EVERYONE

*Stock may vary from store-to-store

Follow us on Facebook:

@papertreestores

tower junction, off Clarence St, Riccarton | Bishopdale, 31 Bishopdale Court, Bishopdale | rangiora, 206 High Street, Rangiora

Northwood supa centre, Main North Road, Belfast | st martins shopping centre, Wilsons Road, St Martins

off

$

24 .99

RRP $59.99

$

24 .99

STAR WARS

BOOKS &

MODEL

CHIC

BOUTIQUE KIT

GIFTS

FOR HER

$

14 .99 $

12 .99

GIZZI'S SEASON'S

EATINGS

LITTLE BLOCKS

FIRST TRAIN STATION

STAR

WARS

TREASURY

RRP $64.99

$

19 .99

SCRAPBOOK

KIT

EAT

CHELSEA WINTER

RRP $50.00

$

34 .99

BUY TWO,

GET THE

THIRD

FREE

MEMO CUBES

WITH CARDS

$

5 .99

EA

GARDEN

GIFT SETS

$

19 .99

EA

CHRISTMAS

CARDS

ELMER'S FOR DIY SLIME

FROM

$

3 .99

$

19 .99

EA

1000 PIECE

JIGSAW

PUZZLE IN

A TIN

OR 2 FOR

$35.00

• st martiNs • tower juNctioN • BishoPdaLe • raNGiora • Northwood • st martiNs • tower juNctioN • BishoPdaLe • raNGiora
---
8 Tuesday December 5 2017

Latest Christchurch news at www.star.kiwi

WESTERN NEWS

News

Your Local Views

Stand up and be counted

•From page 1

City council staff had strongly

advised board chairman Mike

Mora not to allow Mr Peters to

do so, the reason being because

the matter was subject to a hearing.

Mr Mora used his discretion to

give Mr Peters the opportunity.

Mr Peters had previously made

a deputation on Denton Park,

but said he had new information

which he needed to share.

During the presentation, Mr

Peters said entering into the reclassification

process would be a

waste of time and money for the

city council as the clubs weren't

going to end their leases.

The Hornby Rugby Football

Club's lease runs until 2039 and

the Hornby Cricket Club's lease

ends in 2053.

Mr Peters said its likely the

city council has already made

up their mind and they're only

going through with public consultation

so they "show interest."

He said the group definitely

want the facility but not on Denton

Park.

Mr Peters told the board he's

been requesting figures from the

city council on remediation costs

at Kyle Park, but they were unable

to provide them.

City council operations manager

neighbourhood and sports

park, Al Hardy, told Western

News garden areas were fenced

off permanently two years ago

at Kyle Park as a remediation

strategy.

"The areas have been mulched

to ensure the amenity of the park

is retained while containing the

risk. The cost of the fencing was

$138,237," he said.

Board member Ross McFarlane

requested two additional

city council resolutions regarding

traffic, safety and sports club

accomodation to be fast tracked

for clarification.

Readers

react on Star.

Kiwi Rise Up

Christchurch's

Facebook

page to Rose

Williams

winning a

three-year

battle against hamburger

company Wendy's. Mrs

Williams' battle now

means Wendy's workers

will be given their days in

lieu when they work on

public holidays

Kate Blackley-c – Good

on her for standing strong. Poor

example Wendy's, trying to

contract out of law. Makes you

wonder what else they do.

Shannon Burrows - I don't

get Wendy's excuse . . . they

didn't pay it because hours are

changeable . . . it's got nothing to

do with normal hours . . . if you

work it you work it and you get

the lieu day.

Lyla Heaslip – My question

is why did it take three years to

get this right . . . wrong on every

level.

Kerri Scott – Shame on you

Wendy's. Well done Rose.

Judy Gillstrom – Great

work – all staff are deserving

of this. Come on New Zealand

employers, treat your staff with

respect.

Danella Friend – Good on

her.

Ruth Sproston – Congratulations,

awesome win.

Carly McAllister – Good

for her.

Ange Hodges – Awesome

work.

Jase Anthony – That'll teach

fast food owners to not rip off

their hard-working employees.

Crooks.

Sally King – Good on her.

Rachel Roberts – If it's not

your normal rostered day, you

only get time-and-a-half period.

If its your normal rostered day

on you get time-and-a-half

plus the day in lieu. If it's your

normal rosteted day on and you

don't work it, its still a normal

day's wage for you. You do not

have to work a stat day if you

don't want to. Employer can not

force you. Hospitality is a minefield

in regards to hours paid in a

lieu day and is usually calculated

by average of hours worked over

a three-month period, as hours

worked are very changable.

Graeme Brown – How the

hell did this even make it to

court? More money wasted when

anyone with common sense

could see they were breaking the

law.

Cherisse Masefield – Well

done. Shame on you Wendy's.

Tanya Didham – There's

also a thing called 'they smashed

the unions back in the 80s and

everyone forgot how to collectively

bargain.' I feel for that

woman, good on her for sticking

to her guns.

Debbie Erickson – Yes

weakening the unions and

people are scared to stand up

because they could lose their

job which are hard to find these

days.

Kathryn Macgregor -

Wendy's not sticking to the law

– tut tut.

Trish McGregor – Good on

her well done.

WIGRAM

Super Range of Beer,

Spirits,

International

and Local

Wines

WiGRaM

neW sTORe

nOW OPen

Convenient

location to

Wigram Skies

Sort your toe nails for summer

3 for

$

99!

New technology to treat fungal nails

A simple solution to a complex problem

before

after

37 Main South Road, Upper Riccarton | Ph 348-7910 | www.feetfirst.co.nz

2 for

$

89!

HEAT PUMP

SALE NOW ON!

Amazin' summer Specials!!

Super Liquor Wigram

187 Wigram Rd

(next to Culture Fitness)

Ph (03) 322 4000

Offers valid until 24th December or while stocks last.

chill-ahh hiRe

Glass hiRe

• We will offer you the best quality brands and

option of heat pump for your home/business

• Providing Heat Pump solutions for over 15 years to Cantabrians

• We personally guarantee all our products & installs for 5 years

(providing annual maintenance has been completed)

Phone us today for your free consultation & quote

41A SHAKESPEARE RD, WALTHAM

PHONE 03 366 0525

www.enviromaster.co.nz

"A local team for local people"
---
WESTERN NEWS Latest Christchurch news at www.star.kiwi

Tuesday December 5 2017 9

Encouraging kids to value community

Halswell

Residents'

Association

secretary

David

Hawke talks

about the

proposed

Halswell

Skate Parks and what

they will mean to the

community

About two weeks ago there

was a news article on how

young people in Papanui

have been left out by way of

recreation facilities where they

can socialise on their own

terms.

The Halswell Residents'

Association has been pushing

the same issue in Halswell

for 10 years now, and it is

tremendous to have the two

new skate and recreation

facilities at Halswell Domain

and Knights Stream within

sight.

We are fully expecting the

city council to complete both

facilities well before the end of

the council's financial year in

June 2018.

As we think about the

journey to this point, our key

driver has been the need to

value our young people within

our community.

We see the provision of

relevant facilities as part of a

bigger picture that includes

citizenship and community

building. As these eight to

12-year-olds grow up, we want

them to value the community

in which they live and to play

their part in decision making.

One of the awesome aspects

of the Halswell skate park

consultation was the active

engagement of young people

in the process, to the extent

that our association's role

moved to the sidelines.

One of the unfortunate

realities of our new

Christchurch suburbia is

the distance between people

socially, technologically and

by income.

These aspects have made

worse the always-present gap

between young and old. The

Halswell skate and recreation

parks, and the consultation

process so far, gives us hope

BENEFIT: David

Hawke thinks the

proposed Halswell

Domain skate

park, which is due

to be completed in

late April, will have

a positive impact

on the community.

that our community can cross

these gaps, becoming more

trusting and less fearful.

Even though people won't

agree all the time, and some

will be upset. The alternative

is a community, and political

process, driven by low

participation, lack of trust,

and resentment. We see such

a chain of events playing out

particularly in the United

States, and the consequences

are dire for everyone and

difficult to reverse.

Be fabulous:

shop with us!

Sizes 6-22

SMITH & BOSTON

Prebbleton Village | Christchurch

Ph: 03 349 5646

www.smithandboston.co.nz

Wishing all our customers

a Merry Christmas

New Dentures > Additions > Partial Dentures >

www.betterdenture.co.nz • Phone 03 349 5050

Over Sixties With Edge!

6/3 Karitane Drive, Cashmere | Listing Number: BE192947

3 1 1 1

$499,000

This gorgeous apartment will have your kids and grandkids green with envy. Stylish

and elegant with lovely views across the treetops, this is over sixties living with edge!

Located on the top level of this well maintained and much loved complex, there

is guest parking beside the apartment with easy flat walk on access, and a garage

underneath with a lift right to your back door. Inside, the apartment has an open

and spacious feel with open plan living and dining areas, which connect outdoors to

a covered balcony. The galley style kitchen features Rimu joinery and overlooks the

dining area, with a lovely sunny adjoining space ideal for breakfasts for two with views

of the surrounding greenery.

The decor is light and modern throughout with sumptuous new cut pile carpets and

new tiles in the hard-floor areas. There are three roomy double bedrooms, a separate

laundry and a large entry area that could double as a sunroom. The newly decorated

bathroom has a luxury spa bath and separate shower.

Nestled right in the heart of leafy Cashmere this is a sought after address surrounded

by other quality homes. Proving that age is just a number this over sixties apartment

is tasteful and contemporary and it's certainly no granny flat! If you're into age defying

this could be a perfect fit!

Your agent, Your home, Your future

LICENSED SALES CONSULTANT REAA 2008

P 027 777 0411

Email: wigram@f45training.co.nz

F45 Training Wigram

is opening January

2018!

Limited number of foundation

memberships are now available.

You don't want to miss out!

For more details e-mail us today!

140 Hayton Rd, Wigram www.f45training.co.nz/wigram f45wigram f45_training_wigram

TEAM TRAINING LIFE CHANGING
---
10 Tuesday December 5 2017

Latest Christchurch news at www.star.kiwi

BRAND NEW

STORE ABOUT

TO OPEN

Watch this space,

further details shortly

Shoe Repairs

88B Riccarton Road

• All shoe/boot repairs

same day service

• Shoe dyeing

• Key Cutting

• Shoe stretching

• Watch batteries & straps

• Polishes / laces / insoles

Te Ope Whakaora

Cnr Columbia Ave & Halswell Junction Rd

Ph 344 2530

• Dry-cleaning agency

• Bag repairs

• Zip replacement

• 18 years experience

• Easy Parking at rear

- off Straven Road, see map.

PH: 343 3467

• By Andrew King

TESSA MCCANN is targeting

a big year after winning the

Canterbury women's tennis open.

The 16-year-old Rangi Ruru

student beat Elmwood's Emily

Martin in straight sets 6-3, 6-1 at

the Trustpower Tennis Centre at

Wilding Park.

"I was quite pleased with myself

and happy with the result. The

wind got a bit tricky later in the

day but they were really good

games," she said.

Now she is focusing on three

upcoming tournaments in

January, the under-16 nationals

and the under-16 teams' event,

both held in Auckland and an

ITF under-18 tournament in

SPORTS

TOP TWO: Open

winner Tessa

McCann (left)

with runner-up

Emily Martin.

Tessa said she is

looking forward

to the upcoming

tournaments in

the new year.

PHOTO: PATRICK

ROSE

Student takes out

Canty tennis open

Christchurch.

For now, she will focus on the

interclub competition where she

plays for the Cashmere club.

Tessa missed a few interclub

games while she ventured

overseas to watch her father and

coach Neil play in the seniors

world individual championships

in Miami, United States early last

month.

He was beaten 6-4, 6-0 in the

second round by Chilean Claudio

Rojas Trivinos.

"He is my inspiration to play

tennis and has given me heaps

of good tips over the years," she

said. Tessa lives in Ashburton but

makes the trip up to Christchurch

each week with her mother

Tammy to their flat.

Gold Coast for

baseball player

• By Andrew King

PAPANUI HIGH student

Owen Dabkowski has been

selected to play for the

Super City Spartans in the

Gold Coast summer classic

baseball tournament in

Australia in January.

The 13-year-old has been

playing baseball since he was

five and currently plays for

Southern Astros club based

in Avonhead Park.

He said he was looking

forward to competing

overseas.

"I am looking forward

to meeting new people and

being able to compete at a

high level for New Zealand,"

he said.

He said it would be great

to get more students into the

sport.

"It is not popular at all [at

Papanui High]. I think that

I am the only one that plays.

I'd like to introduce it to

more students though," he

said.

Ultimately, he would like

to get a scholarship to play

in the United States.

Owen has been busy

fundraising towards the cost

of the trip through running

sausage sizzles, quiz nights,

WESTERN NEWS

THROWING SMOKE:

Owen Dabkowski has

been selected to play for

the Super City Spartans

in the Gold Coast

Summer Classic Baseball

Tournament

a St Albans market day sale

and car washing.

He was also granted $450

from the Papanui-Innes

Community Board towards

the trip.

The classic has been run

since 2016 and will feature at

least 18 teams participating

in the various age group

levels this year.

The aim of the tournament

is to develop players

and the game of baseball.

5 Warning Signs of Spinal Stress!

André Grob,

Dr of Chiropractic,

has had over

15 years

experience of

specialty spinal

care in Australia

and New Zealand.

A healthy spine is vital to

your wellbeing.

Specialist spinal therapy

at Southern Chiropractic

consists of:

• Manual manipulative therapy

• Soft tissue Massage

• Low level Laser therapy

• Exercise and postural

education

SCIATIC PAIN

Southern Chiropractic Ltd

NEW PREMISES

Unit 4, 3 Kennedys Bush Road, Halswell

(Down the drive beside Pringle Homes offices)

Telephone 322 1432

www.southernchiropractic.co.nz

Email dre.nik@xtra.co.nz

HEADACHES

NECK PAIN

AND TENSION

MID BACK PAIN

AND TENSION

LOW BACK PAIN

FOR BETTER SPINAL HEALTH

ACT NOW… RING 322-1432

Halswell Jct Road

Halswell

Road

Kennedys

Bush Road

3 Kennedys

Bush Road

Sparks Road

Christchurch School of Music presents

Christmas in the Gardens on the Archery Lawn on

Saturday 9 December from 11am - 3pm

Enjoy a wide range of ensembles, orchestras,

choirs, jazz and more.

Come and try

out all the

instruments in

the KBB "Have

a Go" tent - all

instruments

available for

children and

their parents

to try.
---
WESTERN NEWS Latest Christchurch news at www.star.kiwi

Tuesday December 5 2017 11

CGHS fall short of sevens crown

• By Andrew King

CHRISTCHURCH GIRLS'

fell short in their quest for

a Condors Seven's title in

Auckland beaten 20-5 in the

final against Hamilton Girls'

High.

The girls had gone through

the tournament undefeated

until they met Hamilton in the

final.

Coach Jamie Livingstone

said it was great to be the first

South Island team to make the

finals of the girls section. ​

"Overall, extremely happy to

make the final, it's a massive

achievement for a school from

Christchurch. Hopefully, we

can build on the result and

make Christchurch Girls'

High one of the leading rugby

programmes in New Zealand,"

he said.

With the mandate to play

an exciting brand of sevens,

they kicked off the tournament

• By Andrew King

MIDDLETON GRANGE

student Lauryn Hippolite

has received a scholarship to

Hawaii Pacific University to

study and play basketball.

The 17-year-old moved to

Christchurch from Nelson this

year to further her basketball

skills and found success with

RUNNER-UP: Christchurch Girls' High came second in the Condor Sevens held in

Auckland.

with a 22-14 win over Helenville's

Kaipara College before

a 19-all draw with Gisborne

Girls' High.

They then beat Auckland's

Aorere College 31-0.

In the quarter-finals, they

overcame stiff competition in

the Canterbury Wildcats winning

the championship under

coach Lori McDaniel.

Lauryn earned a call-up to

the New Zealand team which

competed in the FIBA under-18

Oceania championship

this year.

The Mainland Eagles Academy

helped her get the scholarship

and she will begin her

New Plymouth Girls' High

advancing to the semi-finals

with a 29-17 win.

They then met defending

champions Auckland's St

Mary's College 17-0 before

falling at the hands of Hamilton.

studies in Hawaii in August

next year where she plans on

majoring in psychology.

The academy was set up

in 2014 to support players

throughout the South Island to

chase their dream of pursuing

tertiary education and

basketball excellence both in

New Zealand and the United

States.

Grace Brooker was the only

CGHS player to make the

tournament team.

"We have eight girls

returning to school next year

from this year's squad so we

already have a base to build

on," Livingstone said.

Hawaii scholarship for basketballer

DREAM CHASING: Lauryn

Hippolite has received a

scholarship to Hawaii Pacific

University.

WOF

$45 .00

Closing Dec 22 2017, Re-opening Jan 8 2018

• Courtesy cars • Oil changes

• Full mechanical repairs

• Brake & clutch repairs

• Transmission flush service

• Tyres & batteries

• Petrol & diesel servicing

Fitzgerald Motors

PHONE 03 349 7813

We've shifted now located at

Unit 8,193 Waterloo Road, Hornby

(6 doors down from our old site)

PARA PARA PARA PARA PARA PARA PARA PARA PARA PARA PARA PARA PARA

PARA PARA PARA PARA PARA PARA PARA PARA PARA

CHRISTMAS SPECIAlS

fREE dElIvERy ON ANy POOl

intex solar mat

Compatible

with Bestway

pools.

Was $ 69

now

Was $ 450

$

59 99 $

299

intex metal

frame pool

4.57 by

1.22m

deep

Was $ 899

now

$

599

intex solar covers

Priced from

$

28

KRySTAl ClEAR

SAlTWATER SySTEM

Compatible

with Intex and

Bestway pools.

now

Intex ultra frame

Was $ 1500

now

5.49 x 2.74 x 1.2 deep

$

1399

Intex ultra frame

16ft, with cartridge filter

$

899

127 Blenheim Rd

No rainchecks. Cash sales only.

PHONE 343 9820

Monday to Friday 8.30am - 5pm;

Saturday 9am - 4pm; Sunday 10am - 4pm

(All items while stocks last)

or upgrade

to sand filter

for $1100

blenheiM

clarence

Matipo

PARA PARA PARA PARA PARA PARA PARA PARA PARA

PARA PARA PARA PARA PARA PARA PARA PARA PARA PARA PARA PARA PARA

formulated

for dogs

Want the best Dog

Food possible?

• Pure meat • No Chemicals • No Fillers

• Dogs love Essential • Convienent chilled roll

• Affordable $1 a day for a medium dog

VISIT OUR WEBSITE FOR

STOCKISTS OR BUy OnlInE

www.animalessentials.co.nz phanley@xtra.co.nz

0800 HAnlEy (0800 426 539)
---
12 Tuesday December 5 2017

Latest Christchurch news at www.star.kiwi

WESTERN NEWS

Young scholars recognised at St Thomas

THE TOP St Thomas of

Canterbury College students

were acknowledged during

their prize-giving awards on

Wednesday, November 1.

Benjamin Topham and Patrick

Hansen were named dux for this

year.

Drama

•Harry Tullet — year 7

drama prize.

•Nicholas Dravitski – year

10 drama prize.

•Will Andrews – year 11

drama prize.

•Oscar Sergel-Stringer –

Tranter Trophy for the best

performance.

•Edward Morgan –

The Radnor Trophy for

commiment and excellence.

•Dominic Anisy and Sean

Willets – Dennis Cunningham

Memorial for technical

excellence.

•Patrick Hansen—McNeil

Family Cup for college

production performance.

•Anaru Shadbolt –

Thompson Family Cup for

most improved.

Music

•Daniel Prescott – year 7

music prize.

•Hunter Adam – year 8

music prize.

•Andriano Bernall – most

improved prize.

•Yannick Lillo – year 9,

McDonald Trophy.

•Francis Costas — year 10,

Music Award Trophy.

•Joshua Tait – senior, Simon

Popham Trophy for service to

the college.

•Patrick Hansen — senior,

Fleming Family Trophy for

general excellence.

Public speaking

•Jackson Bunting — year

7, Matthew Guerin Memorial

Trophy.

•Hunter Adam — year

8, Michael Savin Memorial

Trophy.

•Jarrod Gali — year 9,

Pengelly Cup.

•Daniel Fogarty — year 10, B

T Daley Cup.

•Fraser Buckley — year 11,

Kevin Curnow Cup.

•Jacob Brown — year 12,

Highbury Cup.

•Patrick Hansen — Senior,

Kevin O'Connor Memorial

Trophy.

•Anaru Shadbolt — Senior,

The Brother J H Shepherd

Memorial Trophy for senior

oratory.

Debating

PROUD:

Patrick

Hansen

(left) and

Benjamin

Topham

receiving the

Father J. J.

O'Sullivan

Cup and the

University of

Canterbury

Scholarship

for Dux

•Oscar Sergel-Stringer —

Senior, Ellen Tryon Memorial

Cup.

•Cormac Gallagher —

Junior, B J Dalex Trophy.

Theatresports

•Cormac Gallagher —

Junior, The Lawrence

Trophy.

•Patrick Hansen — Senior,

The Gaffaney Trophy.

ESOL

• Benette Guinto — Junior

ESOL prize.

SCHOOLS

•Eddie Chu — Senior ESOL

prize.

Maori Culture

•Kalani Halliday-Numan

— Hato Tamati Trophy for

recognition of outstanding

contribution to Maori culture.

Pasifika Culture

•Jade Uliano — The Petelo

Trophy for recognition of

outstanding contribution to

Pasifika culture.

Young Enterprise Awards -

The Peter Shirtcliffe Cups.

•Daniel Fogarty — Edmund

Rice Enterprise Cup for best

year 10 enterprise economics

student.

•Joshua Heslop — Edmund

Rice Enterprise Cup for year 13

best student in commerce.

•Lavish Lifestyle — Edmund

Scholarship. ​Rice Enterprise Cup for top

young enterprise team.

Athletics

•Noah Harmer-Campbell —

Under 12 athletics, Kevin Daly

Cup.

•Tevita Faitotonu — Under

13 athletics, E.J. Fox Cup.

•Jamie Watson — Under 14

athletics, Mary C Fitzgibbon

Cup.

•Josh Dent and Mark Loh —

Junior athletics, Andrew Lees

Cup.

•Cormack Tarrant —

Intermediate athletics, A

Kennett Cup.

THE RUSSLEY VILLAGE

HOLLY LEA VILLAGE

russleyvillage.co.nz

03 357 9392

73 Roydvale Ave,

Christchurch

For enquiries contact

Nola Lamb

STYLISH DESIGN,

CONTEMPORARY RETIREMENT LIVING

Making your retirement move is easy when its to one of these sought after locations.

Located on the site of the old Russley Hotel,

the Russley Village is set within eight acres

of award-winning gardens and grounds.

The Russley Village has recently opened its

purpose built resident community facility,

The Homestead. Inside The Homestead you

will find Abode Café & Brasserie, a boutique

cinema, library, arts & crafts space, hair salon

and wellness rooms.

Holly Lea Village is nestled in the heart of

Fendalton within beautifully tailored grounds

with an extensive range of facilities including

restaurant, garden lounge, cinema, library, hair

salon and the newly renovated dining room.

The village offers a range of care and extra

support services delivered to your apartment.

We currently have a beautiful selection of

studio and one bedroom apartments available.

hollylea.co.nz

03 351 2679

123 Fendalton Rd,

Christchurch

For enquiries contact

Juliane Brand
---
WESTERN NEWS Latest Christchurch news at www.star.kiwi

Tuesday December 5 2017 13

of Canterbury College's prize-giving

•Louis Andrews — Senior

athletics, BR J.B. Duffy Cup.

Basketball

•Isaac Beever and Jacob

Sue — Senior First V, The Lyn

Mummery Memorial — MVP.

•Jacob Sue — Senior First V,

Most points prize.

•Ben Ruffles — Senior First

V, Most improved prize.

•Asoono Puni — Senior First

V, 6th man award.

•Isaac Beever — Senior First

V, Best defensive player prize.

Cricket

•Harry Mayo — First XI, Wijemanne

Cup — Bowling award.

•Lachlan Stove — First XI,

J.L. Powell Cup — First XI caption.

•Anton Smail — First XI,

O'Neill Cup for most runs

scored.

•Lachlan Stove — First XI,

The Eady Trophy for best

team player.

•Kieran Charlton — First

XI, J.P. Lee Memorial Cup for

most improved.

Cross country

•Daniel Prescott — Under 12

cross country, Father Cooper

Cup.

•Liam Murdoch — Under 13

cross country, Adamson Cup.

•Jamie Watson — Under 14

cross country, L.R. Casey Cup.

•Nicholas Dravitski and

Mykah Lumb — Under 15

cross country, Otto Nelson

Cup.

•Cormack Tarrant — Under

16 cross country, J. Shaw Cup.

•Luke Baker-Garters —

AWARDS: Oscar Sergel-Stringer (left) receiving the Brother J G

Rodgers Memorial Cup for year 12 academic excellence from

pastoral dean Richard Washington.

Senior Open cross country, V

L Walker Cup.

Football

•Oliver Cosgrove — Junior,

Brother Gillies Trophy for junior

player of the year.

•Michael White — First XI,

Dick Schuyt Cup — First XI

captian.

•Thomas Stewart — First XI,

Van Opzeeland Cup for best

team player.

•Treye Butler — First XI, Mike

Killick Golden Boot Trophy for

most goals scored.

•Leon Barrowcliff — First XI,

Jack Killick Trophy for most

improved.

•Michael White and Treye

Butler — First XI, Ryan Nelsen

Trophy for player of the year.

Rowing

•Tobias Sunter — St Thomas

Blade — Sportsmanship.

•Leon Barrowcliffe — Suzanne

Woodward Cup for

most dedicated rower.

•Lachlan Sydney — Graham

Brown Rising Star.

•Benjamin Scarlett — Malcolm

Robinson Cup for most

improved rower.

•Logan Anderson — Paddy

Dowling Cup for rower of the

year.

•Ben Wright — Tanya

Woodward Cup for coxswain

of the year.

•Logan Anderson and

Lachlan Syndey — Under 17

Double, Terry Noonan Cup for

rowing crew of the year.

Rugby

•Patrick Elia — First XV, Captain

— B.A.L.M. Cup.

•Theodore Fowler — First

XV, The McKeefry Cup for

best team player.

•Caius Faatili — First XV,

John Fowke Cup for most

improved.

•Elisara Vaifale — First XV,

The McWhirter Cup for most

skilled player.

•Noah Gosling — First XV,

The Lafdal-Cookson Cup for

best trainer.

•Seth Tauamiti — First XV, St

Thomas of Canterbury Cup for

player of the year.

•Tommy Taualai — First

XI, BR Bill Dowling Cup for

sportsmanship in rugby.

Swimming

•Campbell Buck — Under

12, The Kappely Cup.

•Carter Mathew — Under 13,

Terrence O'Brien Cup.

•Jamie Watson — Under 14,

H.D. Gillies Cup.

•Jake Charlton — Junior, D.

Stewart Cup.

•Oliver Darby — Intermediate

— Hay's Ltd Cup.

•Caleb Rahurahu — Senior,

M.A. Connelly Cup.

Volleyball

•Asoono Puni — Senior, STC

Cup.

Other sports awards

•Izaac Beever — Puni Family

Trophy for sportsmanship of

the year.

•Patrick Elia — STC Cup for

sportsman of the year.

•First XI Football — STC

Cup for sports team of the

year.

•Patrick Elia, Izaac Beever,

Lachlan Stove and Michael

White — STC Cup for outstanding

contribution to STC

sport.

Junior Academic Awards

Years 7 & 8

•Harry Tullett — Year 7H,

Academic excellence prize.

•Finn Clarke — Year 7H,

Academic excellence prize.

•Will Hodgson — Year 7H,

Academic excellence prize.

•Jackson Bunting — Year

7T, Academic excellence

prize.

•Elliot Price — Year 7T,

Academic excellence prize.

•Jackson Austin — Year 7T,

Academic excellence prize.

•Hunter Adam — Year 8K,

Academic excellence prize.

•Alexander McCorkingdale

— Year 8K, Academic

exellence prize.

•Turn to page 14
---
14 Tuesday December 5 2017

Latest Christchurch news at www.star.kiwi

St Thomas of Canterbury College student awards

WESTERN NEWS

•From page 13

•Isaac Topham — Year 8K,

Academic excellence prize.

•Jack Coultard — Year 8P,

Academic excellence prize.

•Josh Price — Year 8P, Academic

excellence prize.

•Jack Robinson — Year 8P,

Academic excellence prize.

Years 9 & 10

•Nikolas Grbavac — Year

9MA, Academic excellence

prize.

•Josh Rea — Year 9MA, Academic

excellence prize.

•Logan Grosvenor — Year

9MA, Academic excellence

prize.

•Riley Steel — Year 9JO,

Academic excellence prize.

•Louis D'Alosio — Year 9JO,

Academic excellence prize.

•George Bassett Smith —

Year 9JO, Academic excellence

prize.

•Yannick Lillo — Year 9MC,

Academic excellence prize.

•Wilson House — Year 9MC,

Academic excellence prize.

•Calum Murdoch — Year

9MC, Academic excellence

prize.

•Daniel Metherell — Year

9RI, Academic excellence

prize.

•Kobe Northmore — Year

9RI, Academic excellence

prize.

•Phelix Woods — Year 9RI,

Academic excellence prize.

•Bi-Cai Lu — Year 10MA,

Academic excellence prize.

•Harry Coleman — Year

10MA, Academic excellence

prize.

•Jackson Clark — Year

FAREWELLS: Principal Christine O'Neill with college captain

Earl Baua at St Thomas' prize-giving.

10MA, Academic excellence

prize.

•Caleb Sullivan — Year

10JO, Academic excellence

prize.

•Francis Costas — Year

10JO, Academic excellence

prize.

•Rakai Stone — Year 10JO,

Academic excellence prize.

•Camerson Anisy — Year

10MC, Academic excellence

prize.

•Cormac Gallagher — Year

10MC, Academic excellence

prize.

•Luke Comyns — Year

10MC, Academic excellence

prize.

•Jack Cunniffe — Year 10RI,

Academic excellence prize.

•Daniel Fogarty — Year 10RI,

Academic excellence prize.

•Isaiah Ong — Year 10RI,

PHOTOS: BRENDAN BIGGS

Academic excellence prize.

Senior Academic Awards

Year 11

•Kieran Charlton — Art prize.

•Kenneth Huang — Computing

prize.

•Fraser Buckley — Chinese

prize.

•William Topham — Economics

prize.

•Joshua Dent — Geography

•Jes Pol Ramerez —

Technology design and

visual communication

prize.

•Thomas Downes — Physical

education prize.

•Tahuora Himona-Bircher —

Te Reo prize.

•Nathan Bruce — Technology

prize.

•Elisara Vaifale — Samoan

prize.

•Thomas Downes — Fitness

•Cameron Brewitt — Science

prize.

•Joshua Brand — English

prize.

•Fraser Buckely — English

prize.

•William Topham — Conscience

and liberation prize.

•Cameron Brewitt — Religious

education prize.

•Fraser Buckley — Maths

prize.

•Cameron Brewitt — Father

J Clenaghan Cup for Year 11

academic excellence.

Year 12

•Kenneth Huang and

Taualai Taualai — Art design

prize.

•Jack Pugh — Art painting

prize.

•Vince Gabrillo — Art photography

prize.

•Levani Rova — Art printmaking

prize.

•Hamish Allison — technology

prize.

•Vince Gabrillo — Technology

design and visual communication

prize.

•Santiago Blanco — Religious

education prize.

•Eddie Morgan — Religious

education prize.

•Ted Coleman — Physical

education prize.

•Josh McVicar — Employment

studies prize.

•Joshua Vaifale — Samoan

prize.

•Ethan Bargh — Calculus

prize.

SCHOOLS

•Mathew Ryan — Statistics

prize.

•Mathew Ryan — Chinese

prize.

•Taualai Taualai — Sports

leadership prize.

•Oscar Sergel-Stringer —

English prize.

•Sherwin Bautista — Computing

prize.

•Eddie Morgan — Lincoln

University commerce award

for business studies.

•Joshua Vaifale — Hauora

Cup for health.

•Andriano Bernal — Music

prize.

•Luke Baker-Garters — Justice

and peace prize.

•Oscar Sergel-Stringer —

Chemistry prize.

•Luke McLaughlin — Biology

prize.

•Luke Baker-Garters — Sustainability

prize.

•Oscar Sergel-Stringer —

Physics prize.

•Oscar Sergel-Stringer —

Brother J G Rodgers Memorial

Cup for Year 12 academic

excellence.

Year 13

•Sherwin Bautista — Art

design prize.

•Jes Pol Ramerez — Art

painting prize.

•Andrei Gomez — Art printmaking

prize.

•Amani Ah Kuoi — Art photography

prize.

•Turn to page 18
---
WESTERN NEWS Latest Christchurch news at www.star.kiwi

Tuesday December 5 2017 15

$49 89

Wetta

Gardner Hose

50m

12mm x 50m, 5 year

warranty

240778

Number 8

30m Hose

238109

GET IT BEFORE IT'S GONE

$

19 98 $

149

$ 49 99 WAS $121

Gardenia

Hose

Trolley Set

13mm x 20m hose

with fittings

932621

Wetta

Professional

Fitted Hose

12mm x 30m

3 layer knitted

hose

923642

Wetta

Lifestyle

Hose with

Fittings

18mm

x 30m.

Large bore

hose 10year

warranty

with fittings

917252

$

99 99

Number 8

Sprinkler

238281

Sprinkler

Heads

$

9 98

Number 8

Water Timer

238283

Hozelock

$

14 99 $

149

$

84 99

Wetta

Gardena

Microtimer

Water Timer

Computer control

1-999 minutes

timer with simple

digital read out

programming.

921082

239418

$

19 98 Hidrate

Oscillating

$

5 98 $ 24 99

Sprinkler

115473

Sprinkler

916324, 921513

Sprinkler

Bases &

Stands

Wetta

4 Zone

Water

Timer

930525

$

39 98

Hidrate

Impact Sprinkler

on Spiked Base

Up to 24m coverage.

929544

SPARE SPRINKLER HEADS AVAILABLE OR MAKE UP YOUR OWN

$

199

$

849

Orbit

Heavy Duty

Travelling Sprinkler

Covers up to 13,500

square feet along 200

feet of hose.

297480

Kline

5 Pod Farm Pack

100m x 32mm pipe,

installation DVD.

910789

ST041217

Available from Tuesday

5th December until

Monday 11th

December 2017,

while stocks last.

Mitre10 MEGA

Hornby Ph: 349 8497

*If you find a lower price on an identical stocked

product locally we will beat it by 15%

Mitre10 MEGA

Papanui Ph: 359 5443

*If you find the same product cheaper from another Mitre 10 store or Mitre 10 website

we'll match that price. Excludes trade and special quotes, stock liquidations and

commercial quantities. The in-store price may be lower than that advertised.
---
16 Tuesday December 5 2017

Latest Christchurch news at www.star.kiwi

WESTERN NEWS

FREE CHILDREN'S

4 TH -8 TH December

Spend $50 or more in one

transaction and receive a

FREE children's Christmas

book for a limited time only!

STUNNING RANGE

OF BAGS AND ACCESSORIES

instore now

The wonder of a

new child's book!

Aotearoa by Gavin Bishop

OUR PRICE $40.00

Illumantomy by Carnovsky

written by Kate Davis

OUR PRICE $39.99

Summer Days

by various authors

OUR PRICE $45.00

Shop 1, Avonhead Mall

Corner of Merrin Street & Withells Road, Avonhead

Ph: 358 4835 | www.piccadillybooks.co.nz

NEW YEAR'S EVE PARTY WITH FRIENDS

BOOK NOW

AT THE...

Corner Withells Road and

Merrin Street, Avonhead

Phone 358 8598

facebook.com/bondstreetfashions

www.bondstreet.co.nz

AVONHEAD SHOPPING CENTRE - PHONE 358 8184
---
WESTERN NEWS Latest Christchurch news at www.star.kiwi

Tuesday December 5 2017 17

Photos

9 TH -24 TH December

10am-4pm daily

Come and meet Santa and

have your photo taken by the

friendly Santa Magic team!

Bonbon factory

Vegan bath and

beauty products

Now Instore

DESIGNER

HOMEWARE, GIFTS

& JEWELLERY

token.

Cnr Withells Road & Merrin Street,Christchurch 8042

Phone 03 358 3663 | Email eliza@giftsattoken.co.nz

The perfect gift for her or him

For her…L'Oreal Age Perfect (& Golden Age), Revitalift Gift Packs

with FREE Diffuser…from just $49.95 – save up to $29.99

For him…L'Oreal Men Expert Gift Packs with FREE Toiletry Bag

Avonhead Mall, Withells Rd/Merrin St, Christchurch, Phone (03) 358-5449

AVONHEAD

YOUR PLACE YOUR LOCAL
---
18 Tuesday December 5 2017

Latest Christchurch news at www.star.kiwi

WE SERVICE

WHAT WE SELL

"the best oil that

money can buy"

WAYNE HILL CARS

313 LINCOLN RD

ADDINGTON CHRISTCHURCH

Ph. (03) 338 3255 E. hillcars@es.co.nz

LAwyERS

We have over 40 years' experience

to assist you with…

• Buying and Selling Houses and

Commercial Property

• Wills, Trusts and Estate matters

• All issues facing you

and your business;

• Employment Law

matters;

• Traffic matters;

• Advice regarding

Retirement Villages

• General Legal Advice on all matters

Call John, Brendan or Andrew today

03 366 8996

Email. lawyers@mclegal.co.nz

Airport Business Park

92 Russley Road, Christchurch 8042

St Thomas of Canterbury College student awards

•From page 14

•Andriano Bernal —

Sculpture prize.

•Benjamin Topham —

Biology prize.

•Patrick Hansen — Chemistry

prize.

•Benjamin Topham —

Physics prize.

•Thomas Bennett — Computing

prize.

•Oscar Sergel-Stringer —

Calculus prize.

•Earl Baua — Technology

design and visual communication

prize.

•Thomas Bell — Technology

prize.

•Josh Tait — Drama prize.

•Kalani Halliday-Numan

— Te Reo prize.

•Patrick Hansen — Religious

education prize.

•Benjamin Topham —

Terry Bligh Memorial Trophy

and Scholarship for sustainability.

•Patrick Hansen — Music

prize.

•Benjamin Topham —

Lincoln Harrison Cup for

English.

•Patrick Hansen — Lincoln

Harrison Cup for English.

•Taylor Lester — Statistics

prize.

•Tahemaka Nui — Physical

education prize.

•Robb Bautista — Lincoln

University Commerce

Award for business studies.

•Ash Reihana — Michael

Bendall Cup for best academic

performance by a

Maori student.

•Jade Uliano — Puni Family

Cup for best academic

performance by a Pasifika

student.

•Ash Reihana — Jenkins

Family Cup for sports leadership.

Edmund Rice Awards

For students who bets

show care and concern for

others and uphold the Christian

values of the college.

•Jacob O'Connell — Year

7H prize.

•Maretino Kaloudau —

Year 7T prize.

•Isaac Topham — Year 8K

prize.

•Memphis Vaszilyko —

Year 8P prize.

•Jarrod Gali — Year 9MC

prize.

•Nikolas Grbavac — Year

9MA prize.

•Matthew Pelenato —

Year 9JO prize.

•Daniel Metherall — Year

9RI prize.

•Luke Comyns — Year

10MC prize.

•Franco Meris — Year

10MA prize.

•Francis Costas — Year

10JO prize.

•Jake Charlton — Year

10RI prize.

•Cameron Brewitt — Year

11A prize.

•Keyden Stryder — Year

11B prize.

•Arnil Pasaylo — Year 11C

prize.

•Will Andrews — Year 11D

SCHOOLS

prize.

•Brad Clive — Year 12A

prize.

•Romek Gall — Year 12B

prize.

•Edward Morgan — Year

12C prize.

•Oscar Sergel-Stringer —

Year 12D prize.

•Donnell Dudley — Year

13 Ruffles Family Cup.

Special prizes

Principal's Award

•Louis Andrews — Father

D K O'Sullivan Cup for positive

contribution to school

life.

•Lathym Scott — St

Thomas A Becket Award for

significant progress.

•Kalani Halliday-Numan

— Chris Smith Cup for pride,

passion and participation.

•Izaac Beever — Paul

Blackman Trophy for the

student who best demonstrates

the principles of the

STC man.

•Earl Baua — Bishop

Joyce Cup for college captain.

•Tom Bell and Jordan

Leigh — O'Connor Trophy

for a student who achieves

national honours in his

chosen sporting, cultural or

academic field.

•McClintock — Thomas

Ruane Challenge Cup for

most points in the interhouse

competition.

•First XI Football — St

WESTERN NEWS

Thomas of Canterbury

College Cup for significant

team achievement.

•Aaron Sim — Frances Loeffen

Memorial Trophy for a

student who has performed

creditably in the academic

sphere through persistence

and determination.

•Earl Baua — Nancy

Mummery Trophy for outstanding

contribution to the

spirit of the college.

•Te Aotahi Rice Edwards

— Edmund Rice Award for

college service in the spirit

of blessed Edumnd rice.

•Benjamin Topham —

Stephen Robertson Science

Award for the top Year 13

science student.

•Patrick Hansen —

Parents and Friends

Association Cup for

excellence in cultural

activities.

•Patrick Elia — Parents

and Friends Association Cup

for sportsman of the year.

•Thomas Bell — The Scott

Family Cup and Scholarship

for the student who most

exemplifies the school

motto "virtue scientiam

complete." Scholarship =

$500.

•Patrick Hansen — The

Murray Aynsley Cup and

the Dean Wallace Scholarship

for general excellence.

Scholarship = $500.

•Benjamin Topham and

Patrick Hansen — Father

J. J. O'Sullivan Cup and the

University of Canterbury

Scholarship.
---
WESTERN NEWS Latest Christchurch news at www.star.kiwi

Tuesday December 5 2017 19

News

FLAME FILES

Big risk of fire in Antarctica

• By Mark Thomas –

Specialist fire investigator

I'VE JUST got back from

Scott Base.

Sound like bragging?

Damn right!

This was the trip of a

lifetime.

Two fire people and one

industry expert were invited

by Antarctica NZ to

examine the fire systems,

the building fire separation

and the ability for occupants

to escape.

Antarctica is cold, we all

know that.

But it's also not only the

windiest place on earth but

also one of the driest.

So fire is one of the biggest

risks.

In the last 10 years, fires

at the Russian and Brazilian

bases have cost three

lives.

Others have perished in

this way over time.

Even Scott Base itself lost

a hut to fire in 2009.

Antarctica NZ takes fire

danger very seriously.

Base staff, including

engineers, electricians,

carpenters, mechanics,

LiQUiD LaUnDroMatS

47 CarMen roaD, hornBy

GaSoLine aLLey Site,

Cnr CarMen & WaterLoo roaDS

7 DayS: 6am-7.30pm

WaSh & Dry aLL yoUr

LaUnDry in aBoUt 1 hoUr

$4.00 WaSh

$4.00 Dry

Wash 2 Mink Blankets, Duvets

or Woolrests for only $8

Dry UP to 3 LoaDS in

onLy 25 MinUteS! $4

Save tiMe & eLeCtriCity

CHILLING OUT: Mark Thomas at Scott Base.

cooks and domestic

staff train at Fire and

Emergency New Zealand's

Woolston training centre

in firefighting with

breathing apparatus.

Three duty crews ensure

a firefighting force is

guaranteed available 24/7.

They practice regularly.

They are well aware

any firefighting must be

carried out by them early,

well before the McMurdo

Station fire truck 10min

away arrives.

• Fast Dryers

• Sports Gear

• Duvets

• Mink Blankets

• Bedding

• Washers

• Domestic Laundry

Speaking of McMurdo,

all those at Scott Base

were invited there for

Thanksgiving dinner.

To eat turkey, sample

'American as mom' apple

and pumpkin pie at a table

with four Americans, to

share what you had to

be thankful for with the

group, and then to walk

the 4km back to Scott

Base at midnight in bright

sunshine was, like the

whole trip, a privilege.

One I'm grateful for.

SeLF ServiCe

other Locations: 289 Colombo Street, Sydenham • 345 Stanmore Road, Richmond

17 Halswell Road, Hoon Hay • 713 Ferry Rd, Woolston • 261 Burwood Road, Burwood • 319 Pages Rd, Aranui

www.liquidlaundromats.co.nz

Beautiful range of

Christmas gifts instore

Students

who love

science

take on

competition

• By Emily O'Connell

TWO OF Riccarton High School's

most promising science students have

been selected for a national event.

Forty senior secondary school students

from across the country will be

finding answers to challenging questions

posed by scientists at Powering

Potential next week in Wellington.

Kate Stedman, 18, and Wen Qi

(Vanessa) Ye, 16, both from Riccarton

High School, will be taking part in the

event.

The students will work alongside a

scientist, who will act as their mentor

for the three days. They will work in

teams of five on a question submitted

by their mentor. They will then

research, investigate and collaborate to

provide recommendations.

All costs for the students, including

flights, accommodation and social

activities, are covered by Royal Society

Te Apārangi, Freemasons New

Zealand and Ministry of Business,

Innovation and Employment.

vegeland

for the best value

fruit and vegetables

everyday

310 marshland road, chch

phone 03 385 3718

tony.vege@gmail.com

As seen on

Kerbside public

holiday collection

is changing

WWW.STAR.KIWI

Discover this

unique Emporium

Metal art - gifts - hoMewares

water features - pottery

Mirrors - candles

wall hangings & More

722 Marshland Road, Top end Styx

Open 7 Days

Ph: 03 323 9781

www.hitchingpost.co.nz

Starting this Christmas, you will notice a change with

your kerbside collection on certain public holidays.

Wheelie bins will now be collected a day after their

usual collection day.

MON TUE WED THU FRI SAT

• Monday collections will be picked up on Tuesday

• Tuesday collections will be picked up on Wednesday

• Wednesday collections will be picked up on Thursday

• Thursday collections will be picked up on Friday

• Friday collections will be picked up on Saturday

These changes will only affect Christmas Day, New Years Day,

Easter Good Friday and ANZAC Day, for all other holidays

collection will continue as normal.

follow

us on

Thanks to everyone who gave feedback on this through our survey.

Please ensure wheelie bins are placed at the kerbside by 6am

on collection day.

WE ARE OPEN: Monday to Friday 9am-5pm and Saturday 9am-1pm

RED

GREEN

YELLOW

For more information, phone 941 8999

or visit ccc.govt.nz

WARREN agencies

Jewellery & Giftware

79 Wrights Road, Middleton

Ph: (03) 338 0171

www.warrenagencies.co.nz

ONSITE

CAR

PARKING
---
20 Tuesday December 5 2017

Latest Christchurch news at www.star.kiwi

Christmas

in Western News

WESTERN NEWS

Shops bursting with

festive gift ideas

The countdown to the big day is well underway, so making

up the Christmas gift list will now be a top priority… if you

haven't already done so.

Finding those special gifts and stocking

fillers as well as the Christmas treats for

the table is so easy at our city's malls and

shopping centres, where the shops are

bursting with festive merchandise.

Every woman likes to receive bodypampering

gifts, and there is a huge

selection of these priced to suit all budgets

at the many pharmacies and gift shops

around the city. Perfume is another

favourite and again there is a wide

selection to choose from, ranging from

exciting new releases to the well-known

fragrances that have stood the test of time.

Lingerie, jewellery, fashion accessories,

homewares and decor items – there's no

end to the ideas for the women on the list.

The men are equally well catered for, from

the sophisticated metro-male boyfriends,

to the car-crazy brothers and the DIY

enthusiast and keen gardener husbands

and dads. Choose from clothing, books,

tools, personal grooming items and

gadgets to put a smile on their face on

Christmas morning.

Speaking of smiles, nothing gives families

more joy than seeing the excitement

of the children opening their presents.

Whether they are delivered by Santa or

snuck under the tree by mum and dad,

the cuddly toys, games, dolls and building

blocks, the candy canes, toy trucks and

pretty dresses currently filling the shops

will bring squeals of sheer happiness from

the smallest family members.

The tweens and teens usually have their

own ideas about what they want for

Christmas, so the gift cards offered by a

wide range of retailers are the perfect way

to please.

Style Cuts

just

Gift

$

30

GHDs

Vouchers

Christmas

Packs

Christmas Sale

20% off everything

in store

Starts Dec 1 st

till 24 th Dec

The

Main

Skein

OPEN 7 DAYS Bush Inn Centre, Upper Riccarton

Ph: (03) 348 6899 | E: themainskein@hotmail.co.nz

www.themainskein.co.nz

GREAT SELECTION OF

CHRISTMAS GIFTS

INSTORE

Designer

Fashion

3000

items

arriving

daily!

See Our

HUGE

Selection!

• Designer Brands • Family Clothing • Menswear • Footwear

• Bric-a-brac • Workman Outdoor Clothing • Household Goods

• Books • See the Retro Section AND Formal Wear

Open Daily 7 Days

Sydenham: 39 Battersea St Papanui: 472 Cranford St

Hornby: 94 Shands Rd New Brighton: 52 New Brighton Mall

(Old Farmers Building)

Open 7 days Mon-Fri 10-4.30pm, Weekends 10-4pm

395 Brougham St, Christchurch | Ph (03) 365-3411

HOURS

Open 7 days 10am–4pm

New Brighton store only is closed on Sundays.

New Zealand's Largest

Recycled Clothing Retailer
---
WESTERN NEWS Latest Christchurch news at www.star.kiwi

Tuesday December 5 2017 21

GREAT food

BROUGHT TO YOU BY...

Your fresh food people

PEA, BEAN, ASPARAGUS

AND TUNA SALAD

Ingredients

Salad

2 cups new season peas, trimmed

300g asparagus, trimmed and

halved lengthways

300g green beans, trimmed and

halved diagonally

300g tuna in spring water,

drained and flaked

¼ cup fresh basil

Caper dressing

¼ cup capers

¼ cup red onion, finely sliced

2 Tbsp balsamic vinegar

3 Tbsp extra virgin olive

oil

Directions

Cook beans, asparagus,

and peas in a large

saucepan of boiling water

for 2-3min, until tender

to the bite but still bright

green.

Drain well and refresh

in ice-cold water to cool,

then drain again.

In a large salad bowl,

combine cooked greens

and flaked tuna.

Combine dressing

ingredients, season with

salt and pepper to taste

and pour dressing

over salad.

Toss well, garnish with

basil leaves and serve.

SMOKEY SWEET CHICKEN

DRUMSTICKS

Ingredients

8 chicken drumsticks

1 tea, a pot of strong tea,

"smokey" flavoured variety.

2 Tbsp honey

1 orange, juice only

1 Tbsp soy sauce, thick (or

oyster sauce)

Directions

Make a strong pot of tea using

a "smokey" flavoured variety.

To each two cup measure

of tea, add two tablespoons of

honey, the juice of an orange

and a tablespoon of thick soy or

oyster sauce. Blend together.

Add a cup of water. Layer your

drumsticks in a baking tray and

pour the mix over them.

Place into medium oven and

cook for 20-30min, basting

occasionally. The liquid should

reduce to a sticky glaze.

Cooking tip: If the chicken

cooks before the glaze forms,

remove the drumsticks and keep

warm.

Put the marinade in a pot and

reduce it down until syrupy.

Toss the chicken through the

syrup and serve.

Raspberries 125g ....................... 4 .79

punnet

local Peas 400g ........................... 2 .49

bag

Iceberg Lettuce (unwrapped) 1 .79

each

Large Pineapples .................... 2 .99

each

Bicolour grape punnets 500g 4 .99

punnet

Rocket & Agria Potatoes .. 2 .49

kg

Whole Beef Fillets ............... 32 .99

kg

Chicken Drum Sticks ............. 3 .99

kg

Butterflied Lamb Leg ........ 18 .99

kg

Precooked Sausages 1 kg .. 7 .99

kg

NEW SEASON

NEW SEASON

check out our premium

handcrafted Sausages instore

PRODUCE

WE'VE GOT YOU

COVERED

This summer with a great range of fresh, quality produce

from the best growing regions around New Zealand.

All our fresh meat is 100% NZ FARMED.

specials VAlid 4th december - 10th december 2017. ONLY AVAILABLE AT

RAEWARD FRESH HAREWOOD RD, TOWER JUNCTION & MARSHLAND RD

harewood rd Mon–Fri 8.00am–6.30pm Sat–Sun 8.00am–6pm

Tower junction Mon–Fri 8.00am–6.30pm Sat–Sun 8.30am–6pm

MARSHLAND RD Mon–Sun 8.00am–6:00pm

WWW.

.CO.NZ
---
22 Tuesday December 5 2017

Latest Christchurch news at www.star.kiwi

WESTERN NEWS

A Star Media Event

Star Media

Sunday 18 March 2018

#areyouupforit? 14km, 6km Community Fun Run Event

Entries NOW OPEN

$20 Early bird tickets available from www.city2surf.co.nz
---
WESTERN NEWS Latest Christchurch news at www.star.kiwi

Tuesday December 5 2017 23

Scrabble Group

Tuesday, 9.45am-noon

Go along and play scrabble

with this friendly weekly group.

Exercise your brain and have

fun.

Gold coin donation. Sundbye

House, 100 Farrington Ave

Coffee and Cake Morning

Tuesday, 10am-noon

Go along to this free coffee

morning. Pop in for a quiet chat.

Bring a friend, the children or

yourself. Home-made baking

will be provided.

Halswell Community Hub, 381

Halswell Rd

Storytimes/Wā Kōrerō

Tuesday, 10.30–11am

Encourage learning through a

love for stories. Storytimes is an

interactive programme including

stories, songs, rhymes and play.

This is a free session.

Fendalton Library, 4 Jeffreys Rd

Avonhead Exercise Classes

Tuesday, 10.45-11.45am

Designed for people living with

long-term health conditions.

Classes generally occur weekly

except on public holidays and

during school holiday periods.

Please phone 0800 663 463 to

register.

RED CROSS

Learning first aid is not only a part of ensuring a safe

work place, but also an integral part of our engagement with the

wider community. We all learn the necessary skills to ensure that

in times of emergency we are able to assist our work colleagues,

but are we able to take these skills home, into the community or

on to the sports field?

not all work places are the same and the injury risk for each place

can be wide and variable. The office attended by administrators

does not carry the same risk as those people working with heavy

machinery, or perhaps at some distance from a regular ambulance

service. it is therefore essential that you pick the right first aid

course to suit all of your activities – both professional and social.

take, for example, an office worker who does not have a high

risk work environment and whose concern might be to ensure that

they can deal with minor cuts and superficial injuries, or the ability

to perform effective CPr. These skills can be achieved on a course

of eight hours duration and would generally fit into low to medium

risk area. But take this same person on to a sports field either as a

spectator or player when a higher level injury occurs. The eight

hour course covering unit standards 6402 and 6401 (or 26551 and

26552) does not cover head neck and spinal injuries, eye injuries,

hypothermia and poisonings.

The majority of injuries occur outside of the work place, in

fact one in three injuries occurs in the home, making it the most

common place for injuries to happen. new Zealand children

Email emily.oconnell@starmedia.kiwi

by 5pm each Wednesday

Avonhead Baptist Church, 104

Avonhead Rd

GenConnect

Wednesday, 1-1.45pm

This class aims to connect

generations by sharing

knowledge. Nothing compares

to the knowledge of helpful

teens that have grown up with

technology. Riccarton High

School students will be available

to help you find answers to all

your questions.

Upper Riccarton Library, 71

Main South Rd

Scrabble Club

Wednesday, 1-3pm

Go along to Scrabble Club.

There's no obligation, just go

along whenever you can and join

the friendly group.

Ōrauwhata: Bishopdale Library

and Community Centre, 13

Bishopdale Court

Sports in the Park

Wednesday, 3.30-4.30pm

Sports in the park runs during

term 4. All primary school-aged

children are welcome to come

along and join in some ball

games. Cancelled if wet and

cancellations will be posted

on the Riccarton Community

Updates Facebook page.

Ensuring a safe work place

Go along to Christchurch Boys' High School on Straven Rd to

see the Crusaders go in to bat for cystic fibrosis on Sunday.

They will be up against New Zealand Olympians and sports

stars in a Twenty20 cricket game. This will be a free, familyfriendly

event, with bouncy castles, food stands, cricket

academy and an all-new art exhibition. Eftpos will be available

on-site. The event will run from 11am until 5pm.

Harrington Park, Peverel St

UR Club

Wednesday, 3.30-4.30pm

Go and join the fun at this after

school club. Open to all schoolaged

children, there will be

stories, crafts, games and more.

Upper Riccarton Library, 71

Main South Rd

Technology Help Drop-In

Sessions

Thursday, 11am-noon

Free drop-in sessions, no

booking required. You don't

are twice as likely to die through injury as children who live in

australia. They mostly die as a result of motor vehicles accidents

or falls in the home. fatalities from leisure and sport are not far

behind those in the workplace.

The wider 12 hour course teaches the additional unit standard

6400 and provides a wide knowledge base for medium to high risk

environments. This course covers many of the skills required to

deal with the most common injuries, such as falls (which can result

in head, neck and spinal injuries) and dealing with complex scenes

such as motor vehicle accidents.

if you are not sure on the

course best suited to your

needs, ask your accredited first

aid training provider. They can

explain the course content and

give you options that will best

suit your needs. Look beyond

the workplace and consider

your family and your location.

Check that you have a good

quality first aid kit that is up-todate

with replenished items, and

that everyone knows where it is

located.

Piano

Raewyn Clegg

Registered Teacher of

Piano and Theory of

Music.

29 Lancewood Drive

Halswell

Ph 322-9377

need your own PC but if you

do have a laptop, tablet or

e-reader, you can get help using

these tools as well. New to

computers, the web, email, Trade

Me, Facebook, Skype, eBook

readers, spreadsheets or Word?

Got a question about how to

do something? Come along to

receive some help.

Upper Riccarton Library, 71

Main South Rd, Upper Riccarton

Knit 'n' Yarn

Thursday, 10am-noon

Those who want to have a

chat while they construct their

favourite woollen creations

can at the weekly Knit 'n' Yarn

meetings. From crochet to

knitting or a craft of your

choice, have fun with this

social group. There are a

variety of books to help inspire

ideas for your next project or

even to help a beginner. Everyone

is welcome.

Upper Riccarton Library, 71

Main South Rd

Go Well Group – Play

Rummikub

Thursday, 1-3pm

Go along to Fendalton Library

and play Rummikub. The game

is an exciting, interactive strategy

game that will test your wits.

Fendalton Library, 4 Jeffreys Rd

Musical Instrument Practice

Slots

Thursday, 3.30-7pm

Book a time to go solo or

have a silent practice with up

to four band-mates. There will

be electronic drums, a digital

piano, a Roland session mixer,

mics and headphones available

for budding musicians. You can

also take in your own electric

instruments and plug into the

session mixer.

Te Hāpua Halswell Centre, 341

Halswell Rd

Halswell Carols by Treelight

Thursday, 6-9pm

Go along for the fifth annual

Carols by Treelight community

event.

St John of God Halswell and the

Granada Centre

NEW ZEALAND RED CROSS

GLOBAL LEADERS IN FIRST AID TRAINING

Christchurch Course Dates 2017

Venue: 32 Birmingham Drive, Middleton

First Aid Revalidation Course (6 hours)

Cost $130.00 per person (certificates must not have

expired for more than 3 months)

Time: 8.30am – 3.15pm

Monday

11 Dec

26 Feb

Tuesday

16 Jan

13 Feb

Wednesday

20 Dec

24 Jan

Friday

15 Dec

5 Jan

Sunday

17 Dec

14 Jan

M Learning Workplace Revalidation Course (4 hours)

Cost $130.00 per person (certificates must not have

expired for more than 3 months)

Time: 8.30am – 12.45pm

Monday

18 Dec

Thursday

25 Jan

Friday

16 Feb

For bookings please call 0800 REDCROSS or 339-7111

Book online at www.redcross.org.nz

USE THE RED CROSS ADVANTAGE - COMPREHENSIVE FIRST AID, ESSENTIAL FIRST AID,

REVALIDATION OR TAILORED TRAINING TO SUIT yOU AT yOUR PLACE OR OURS.

USE THE RED CROSS ADVANTAGE -

COMPREHENSIVE FIRST AID,

ESSENTIAl FIRST AID, REVAlIDATION

OR TAIlORED TRAINING TO SUIT YOU

AT YOUR PlACE OR OURS.

16 Hours Thursday/Friday

18 & 19 Jan

NEW ZEALAND RED CROSS - GLOBAL LEADERS IN FIRST AID TRAINING

CHRISTCHURCH COURSE DATES 2017 • VENUE: 32 BIRMINGHAM DRIVE, MIDDLETON

Comprehensive First Aid PLUS Course (16hrs or 4hr upgrade)

Unit Standard 6402, 6401, 6400 and 25411 or 26552, 26551, 6400 and 25411

Cost $275.00 per person incl FA Manual & GST for 16 hours or $85.00 per

person for upgrade following completion of CFA

Time: Day One 8.30am – 5.30pm Day Two 8.30am – 5pm

Friday 4 Hours 1.15pm-5.00pm

19 Jan

Comprehensive First Aid Course (12hrs)

Unit Standard 6402, 6401, 6400 or 26552, 26551, 6400

Cost $225.00 per person incl FA Manual & GST

Time: Day One & Day Two 8.30am - 3.15pm Time: Day One 8.30am - 5.30pm

2 x Monday

19 & 26 Feb

2 x Tuesday

9 & 16 Jan

27 Feb & 6 Mar

2 x Wednesdays

14 & 21 Mar

Thursday/Friday

4 & 5 Jan

11 & 12 Jan

Day Two 8.30am - 12.45pm

Thursday/Friday

18 & 19 Jan

Weekends

13 & 14 Jan

20 & 21 Jan

Essential First Aid Course (8hrs)

Unit Standard 6402, 6401 or 26551, 26552

Cost $155.00 per person Time: 8.30am – 5.30pm

Monday

19 Feb

Tuesday

9 Jan

Wednesday

17 Jan

M Learning (App.) First Aid Courses

Practical First Aid

Unit Standards 6402, 6401

Cost $155.00 per person

Time: 4 hours 8.30am-12.45pm

Thursday 15 Feb

Wednesday 7 Mar

Workplace First Aid

Unit Standards 6400, 6401, 6402

Cost $225.00 per person

Time: 8 hours 8.30am-5.30pm

Thursday 15 Feb

Wednesday 7 Mar

Thursday

4 Jan

25 Jan

FOR BOOKINGS PLEASE CALL 0800 REDCROSS OR 339-7111 • BOOK ONLINE AT WWW.REDCROSS.ORG.NZ

Saturday

13 Jan

20 Jan
---
24 Tuesday December 5 2017

Latest Christchurch news at www.star.kiwi

WESTERN NEWS

Save the

Date

Bridalshow

25th March, 2018

10am – 3pm

Air Force Museum of NZ

45 harvard Ave, wigram,

Christchurch

2x Fashion parades showcasing

the latest Bridal styles.

All the experts under one roof.

Tickets on sale soon.
---
2

WESTERN [Edition NEWS datE]

Latest Christchurch news at www.star.kiwi

Tuesday December 5 2017 25

HEALTH & BEAUTY

New hope for patients

suffering from MS,

strokes or spinal injuries

For those seeking relief from pain caused by injury, and other physical and mental

health issues, Chinese health practitioner Dr Lan Xiao offers a method of treatment

that brings fast, and often immediate results.

Special offer for DeceMBer - if you

have suffered a stroke, spinal injury or

have MS, then this article is for you.

A graduate of Beijing Medical College, Dr Lan

established an acupuncture clinic in Christchurch

in 1993. As she continued her research and medical

practice, she discovered a reflexology network on

the human body, an exciting new discovery that

became the foundation of her new treatment –

acupuncture without needles.

Instead of needles, Dr Lan uses a blunt instrument

to stimulate the reflexology points on the face

or other parts of the body. When the point is

stimulated by pressure, a message is sent to the

repair centre to promote healing. As Dr Lan

explains, the treatment increases energy, which

boosts the body's healing system.

The body will heal injuries naturally, she says, but

that is a slow process. In addition, many people will

start to use their injured part, for example a knee

or an ankle, before it is properly healed, therefore

prolonging the injury and even causing chronic

pain.

With her powerful treatment, results are produced

very quickly – even instantly.

She likens it to the differences between the

power of a car – natural healing, of an aeroplane

– other types of natural healing, and of a rocket –

reflexology network.

It brings fast results because it is a very precise

treatment, Dr Lan says. She uses it to treat people

of all ages with many different types of pain in all

parts of the body, including arthritic pain, MS,

and pain from injury, and there are no side-effects.

Depression and anxiety, often the result of ongoing

low energy, can also be overcome with Dr Lan's

treatment.

Dr Lan's treatment can give amazing, instant

improvement for muscle weakness and numbness

caused by nerve damage such as MS, stroke

and spinal injury. Search You Tube for Dr Lan

reflexology to see lots of instant results videos.

Dr Lan has published a book, Dr Lan's Reflexology

Network, which introduces the treatment and

explains how it works. Her website, www.

drlansreflexologynetwork.co.nz, includes treatment

videos, where people who have had the treatment

speak about the fast relief it has brought them.

Dr Lan is offering 10 patients of stroke, 10

patients of MS and 10 patients of spinal injury

half price for their rehabb. Phone 323 4168,

mobile 027 231 8388.

Shop online

with the in

store special

prices!

Discount code:

Goat

themohairstore

140 Colombo Street, Beckenham

Phone 03 943 1639

www.themohairstore.co.nz

True

Who thought

DENTURES

and false!

could look this

natural?

• Full dentures • Metal partial dentures

• First-time immediate dentures • Implant supported dentures

STUNNING: A beautiful new denture for

a young female patient

These stunning lovebite full upper and

lower dentures have been expertly crafted by

internationally-recognised dental technician

Richard Greenlees at his Christchurch studio.

The combination of Richard's skill, experience

(including 15 years in London's prestigious

Harley Street) knowledge and revolutionary

techniques allow him to create beautiful

bespoke false teeth that truly resemble those

in nature and reflect each patient's individuality

and unique character.

VEBITE

AGING GRACEFULLY: Natural teeth for

a gentleman patient in his 80's

HOLLYWOOD: It's all white for this

female patient in her 60's

402 Montreal Street

Christchurch | P. 379 1222

By appointment only.

Consultation fee applies.

lovebite.com

Richard will personally guide you through the entire process to create

teeth with small nuances in the fabrication, colour and shape. Your beautiful new

lovebite dentures will boost your confidence and make you look and feel year's younger!
---
2

[Edition datE]

Tuesday December 5 2017

26

Latest Christchurch news at www.star.kiwi

SENIOR LIVING

Aspire

Canterbury

Mobile

Aspire Canterbury is a not-for-profit

community-focused organisation

committed to meeting the needs of older

persons with mobility issues and disabled

persons. Their aim is to assist people in

making informed decisions about accessing

services or choosing products that will

assist them in their daily lives.

They have taken their services on the

road and out into communities, meeting

people in their environments to make

daily living easier. Aspire Mobile is a

response to the need to reconnect, giving

disabled people easier access to services

and introducing them to new products

which can make their lives more enjoyable

and provide them with a sense of inclusion

in the wider community.

They will show you how to choose a

walker or walking stick that is the correct

height, provide information about both

their services and other resources available

for community, disability and health

organisations.

For more information visit

www.aspirecanterbury.org.nz,

03 366 6189 mobileservices@

aspirecanterbury.org.nz We can help.

Plenty to do at McKenzie

Lifestyle Village

The last stage is under construction at

McKenzie Lifestyle Village but there are still

good sites available. We also have a number

of affordable villas ready for immediate

occupation. Prices range from $330,000

and our monthly outgoing fees are fixed for

life.

Our beautiful Leisure Centre is very

popular with the residents who make

full use of the swimming and spa pools,

gymnasium, craft room, library and lounge

area. Outside, the Bowling Green is also

popular along with Petanque, Mini-golf and

Table Bowls. This coming summer will see

Croquet being played on our Village Green.

The residents' monthly activities calendar

boasts the following; bowls events, concert

going (Operatunity), shopping trips, lunch

outings, yoga, housie, Qigong (Tai Chi),

happy hour, knitting, quiz nights, cards

and games, book club, Bible discussion,

craft sessions, and there are regular visits by

the hairdresser, massage therapist and the

WESTERN NEWS

podiatrist.

Geraldine is a great little town with a

very pleasant microclimate. There is plenty

to do in and around the town with art

galleries, theatre and cinema, interesting

shops and boutiques, two museums and a

wide range of good places to eat. For the

more adventurous there are river and forest

walks nearby, opportunities for biking and a

choice of two local golf clubs.

For more information you can

talk to David Connolly about this on

0800 84 55 24.

you can stop him

snoring with a

SNOREX

Why put up with a broken

night's sleep?

Ph 377-4318 or 027 682 1752

DENISE LIM

FOR A FREE INFO PACK

Website: www.snorex.co.nz

Support and Resources for Independent Living

walkers to

purchase

(FroM $230)

or hire

$20

Can we help you or someone you support?

Disability Information Service – a 'one stop

information service' which offers unbiased

advice to assist people navigate their way to

organisations or services that can provide them

with support or advice.

Aspire Canterbury Shop – shop online or call in

to our shop at 314 Worcester Street and view our

range of easier living products We also hire out

wheelchairs, ramps and walkers.

Total Mobility Discounted Taxi Service – a scheme

which provides 50% discounts on taxi journeys to

eligible people in the Christchurch area who, due

to health conditions, are unable to access public

transport. Contact us for more information on

03 366 9093 or visit our website.

per week Mobile Service – Fun interactive presentations of

our information, services and easier living

equipment. We come to you! To book our

presenter to speak to your group call Richard

at numbers below or email mobileservices@

aspirecanterbury.org.nz

Mobility scooter demonstrations available.

Aspire Canterbury is a not-for-profit organisation

providing services to the community since 1981

Physical Address:

314 Worcester Street

Linwood Christchurch

Postal Address:

PO Box 32074

Christchurch 8147

2015 NZ Disability

Information Centre

of the Year

Ph: 03 366 6189

Freephone: 0800 347 242

Ph: (Total Mobility) 03 366 9093

Mobile Service: 027 588 9700

E: admin@aspirecanterbury.org.nz

W: www.aspirecanterbury.org.nz

Third Age Tours eST

Small Group Tours for the over 50's

Domestic and International

Great Prices!

england/Wales & Yorkshire Dales

23 August - 24 September 2018

enchanting Ireland & Scotland 31 May - 27 June 2018

curiosities of cuba 25 April - 21 May 2018

Treasures of Turkey 1 - 25 September 2018

captivating croatia, Slovenia

montenegro & Venice

1 June - 25 June 2018

Vietnam & cambodia 4 - 26 October 2018

Beautiful norfolk Island 4 - 11 November 2018

Sicily, rome & Southern Italy 29 September - 24 October 2018

South Island Tours

Glorious Autumn in Arrowtown 17 - 22 April 2018

catlins/Stewart Island 22 Feb - 2 Mar 2018

White herons, Glaciers & Alpine loop Tour

28 January - 2 February 2018

PluS oTher DeSTInATIonS!

For a Free InFormATIon PAck contact Brenda

Third Age Tours

1999

Ph 03 379 3799 or 03 312 7050 | Freephone: 0800 927 725

sunshineone@xtra.co.nz | www.thirdagetours.co.nz

Follow us on Facebook
---
WESTERN NEWS Tuesday December

[Edition

5

datE]

Latest Christchurch news at www.star.kiwi

2017 27 3

SENIOR LIVING

1 in 2 people

deficient in B12

Emerging research has shown as

many as 50% of older adults & as many

as 25% of younger adults are deficient

in vitamin B12. Scientists at Rush

University Medical Center found those

most deficient in vitamin B12 to have the

smallest brain mass & the lowest scores

on tests measuring short-term memory,

concentration & brain performance.

Another study showed that older people

with higher levels of B12 in their blood

have bigger, healthier brains & score

higher on cognitive tests than those with

lower levels. Yet another recent landmark

study showed that B12 supplementation

slows the accelerated rate of brain

shrinkage & declining cognitive function.

B12 is essential for energy production, cell

health, regulation of mood & sleep cycles,

nerve health & repair, & prevention of

homocysteine a serious cardiovascular

risk factor that is known to cause damage

& plaque in the blood vessels. It

can also increase

the chances of a

stroke. Harvard

researchers found

a 34% decrease risk

of vision loss in a

study of participants

aged 40+ who supplemented with B12.

Another study linked a higher risk of

hearing loss in subjects in their 60's who

were low in B12.

The reason so many people lack B12

appears to be our body's ability to absorb

it declining with age as the digestive

system becomes less efficient. Anti-reflux

medication & other drugs further reduce

B12 absorption. The good news is B12 in

the form of Methylcobalamin sublingual

tablets that are dissolved in the mouth &

thru bypassing the digestive tract have

been shown to effectively raise B12 levels

in the body.

Further detailed information is

available from the Natural Health

Advisers at Marshall's Health & Natural

Therapy, 110 Seaview Road, New

Brighton, Phone: 388-5757. We are

always happy to help!

IS YOUR BRAIN SHRINKING?

BRAIN FOG, FORGETFUL, FEELING OLD, LOW ENERGY, MOOD SWINGS,

DIFFICULTY SLEEPING, PINS & NEEDLES, NUMBNESS IN LEGS

Up to 1 in 2 people may have a shrinking brain due to a lack of vitamin B12.

Supplementation of methylcobalamin B12 has been shown to reduce the rate of brain

shrinkage & support memory & brain function. B12 is also known to protect against

homocysteine a serious cardiovascular risk factor that can also damage the hearing,

eyesight & affect the mood. B12 is essential for energy, cell health & nerve function.

B12 SupportS:

• Memory & Brain Performance

• Helps protect brain from shrinking

• Energy & Recovery

• Nerve Function

• Helps protect blood vessels from damage

• Sleep

• Cellular Health & Repair

• Vegetarian's Diet

• Good Health

• Cardiovascular Health

SEE A DIFFERENCE

IN AS LITTLE AS 48

HOURS!

SUPER PRICE OFFER

Do You Suffer Eczema or Psoriasis?

Special

120g tube

Only $27.30

270g Pump Bottle

Only $42.90

Superior Methylcobalamin B12

(High Absorption Sublingual Lozenges)

100 Lozenges

Only $ 32 .90

You'll be amazed

at the difference

it can make!

200 Lozenges

Only $ 59 .80

MAIL ORDER AVAILABLE

Bringing You the Best in Natural Health

MARSHALLS HEALTH & NATURAL THERAPY

CONSULTING - PRESCRIBING - DISPENSING - MANUFACTURING - MEDICAL HERBALISTS

110 SEAVIEW RD, NEW BRIGHTON • PH 03 388 5757 • Email: enquiry@marshallshealthshop.co.nz

- WE ARE ALWAYS HAPPY TO HELP! -

MooGoo Eczema & Psoriasis Balm is our top selling

anti-inflammatory & anti-fungal cream. It is a great

alternative to steroid & chemical based creams.

Customers rave about how great it is!

Ideal For:

• Eczema & Psoriasis

• Seborrheic Dermatitis

• Fungal & Yeast skin conditions

• Supports wound healing

• Infants to Adults

MAIL ORDER AVAILABLE

Effective natural skincare

that is ideal for problem skin

MooGoo produce a full range of safe,

natural skin & scalp products that are

especially suited for those with problem

skin. In these products they only use top

quality edible ingredients that are known

to be highly effective & good for our skin.

These active ingredients are only used in

correct concentrations for effective results

& not just added to look good on the

label. Because the MooGoo range is so

safe & yet so effective is probably why it

was rated the number one most preferred

brand of non-prescription (non-steroid)

creams for those suffering from problem

skin in Australia. It is also recommended

by many medical practitioners in

Australia.

As MooGoo products are safe & natural

they are ideal for long term use from

babies to adults. They are an effective

alternative or follow-up treatment to

chemically-based ointments.

Although MooGoo products are

commonly used by people with skin

complaints like Eczema, Psoriasis &

Dermatitis etc. the range of products is

becoming increasingly popular for healthy

skin care. The Skin Milk Udder Cream

is the lightest of creams that can easily

penetrate the skin with its beneficial

ingredients especially the milk protein

which has been shown to increase skin

elasticity & health. It is non-greasy &

contains no mineral oil or other nasties.

The comprehensive MooGoo range

includes the popular Milk Shampoo &

Conditioner, Milk Wash, Cleansing Bars,

Fresh Cream Deodorant, Body Spray,

Edible Lip Balms, Baby range & much

more.

The MooGoo range & further detailed

information & advice is available

from the Natural Health Advisers at

Marshall's Health & Natural Therapy,

110 Seaview Road, New Brighton.

Phone: 388-5757. We are always happy to

help!

ARE YOU READY

TO DOWNSIZE?

Paying rates for a house that's

too big? Paying maintenance and

heating costs for space you don't use?

A move to one of our

architecturally designed villas

at McKenzie Lifestyle Village in

Geraldine will cut those costs.

Three villas are available for

occupation now, priced from

$355,000.

Talk to David Connolly today

on 0800 84 55 24.

Bringing You The Best in Natural Health

MARSHALLS HEALTH & NATURAL THERAPY

conSulTinG - PreScribinG - diSPenSinG - manufacTurinG - medical HerbaliSTS

110 SEAVIEW RD, NEW BRIGHTON • PH 03 388 5757 • Email: enquiry@marshallshealthshop.co.nz

- WE ARE ALWAYS HAPPY TO HELP! -

121 Skyhawk Road
---
MARCH 2014

28 [Edition Tuesday datE] December 5 2017

Latest Christchurch news at www.star.kiwi

2

WESTERN NEWS

Keep safe these holidays on the roads

You will need to take extra care when

travelling in holiday periods because of

increased traffic volumes, congestion,

tiredness and people driving in unfamiliar

environments. Being courteous,

remembering to share the road with others

and scheduling frequent breaks can help

you keep your cool when driving during

these times.

Follow these tips to ensure your travel is

a safe and pleasurable experience for you

and others on the road.

Why you need to be alert

• There are more vehicles on the road

– more vehicles means a higher risk of

crashes.

• Many people are driving on unfamiliar

roads.

• People are driving long hours and

getting fatigued – often early morning or

late evening.

• Increased stress from factors such

as heat, traffic jams, noisy children and

general tiredness.

• People on holiday may be less vigilant

about road safety, eg speeding, driving

when tired, not buckling up.

• There's more drink-driving during

holiday periods.

What you can do to increase your

safety

You can make a number of choices

to increase your safety on your holiday

journey. You need to give road use the

attention and respect it deserves.

Plan ahead

• Take a little time to make sure that you

- ATM

- COFFEE

Christmas Motoring

and your vehicle are safe before starting

your journey.

• Plan your travel to avoid the worst

peak traffic periods when many highways

become congested.

• Allow plenty of time – make the

journey part of the holiday.

• Schedule regular rest stops.

Be alert to changes

Often during holiday periods,

passing lanes are closed to help reduce

congestion and prevent further delays

where the traffic merges at the end of

lanes. Sometimes alternative routes are

suggested. Check our information on

highway conditions for real-time updates

about route changes, delays, closures and

incidents.

Drive to the conditions

'Conditions' doesn't just mean the

weather. It also includes:

• the road you're on

• the traffic conditions

• the speed (the speed limit and a 'safe

speed' may differ)

• you, for example are you tired or on

medication that affects your driving

• your vehicle and load.

Watch out for fatigue

Long trips are tiring and fatigue can be

deadly when you're driving. Driver fatigue

was a factor in 54 road deaths and nearly

1000 injuries last year. Plan to get enough

rest beforehand so that you drive fresh.

You should plan in advance where you'll

take breaks on your trip.

Before you travel

Enjoy your journey with Caltex Hornby

gas up with us today!!!

- LPG SWAPPA BOTTLE

- MINI SUPERMARKET

- FIREWOOD

- TRAILER HIRE

- FORECOURT SERVICE

- TOUCH FREE CARWASH

• Have your vehicle

checked. Most garages

offer safety checks for tyre

tread and pressure, lights,

brakes, cooling systems

and other components. (A

well-tuned vehicle is also more

fuel efficient, so you'll also save money

on fuel costs. Check that your warrant of

fitness and vehicle licence are up to date.

• Check that you have a current driver

licence. If it's expired or close to expiry,

you'll need to renew it before starting your

journey.

When buying or hiring a vehicle, always

choose the safest vehicle you can afford.

When packing your vehicle, make sure

everything is securely stowed. Even small

objects can become dangerous missiles in

the event of a sudden stop or crash.

Check your trailers and caravans

Check all towing attachments and make

sure the couplings are compatible. Also

remember to check the safety chain, trailer

lights, tyres and brakes.

Remember, if you're towing a trailer,

your maximum speed limit on the open

road is 90km/h. Keep left and pull over

when it is safe to let other vehicles pass.

Load heavy objects evenly over all of the

axles.

Keep your cool

Holiday driving can be frustrating

with busy roads, often slower sightseeing

travellers, stifling heat in summer and icy

surfaces in winter. Here are some simple

and easy ways to stay calm and stay in

Moving to

95 Gasson St

in December

control:

• Be courteous – let others merge into

traffic and indicate before turning or

changing lanes.

• Keep left unless passing.

• If you're a slower driver, pull over

when you can to let others pass.

• Be patient and don't be provoked by

other drivers' aggressive behaviour.

• Remember that trucks and towing

vehicles have lower speed limits. Wait for

a passing lane or until you can see clear

road ahead of you and enough space to

overtake safely.

• Keep an eye out for cyclists and other

road users. Give them plenty of space.

• Watch out for horses on back country

roads.

Buckle up

Don't let your family holiday be marred

by tragedy simply because someone didn't

buckle up. If you're the driver, you are

legally responsible for making sure all

passengers under the age of 15 are securely

restrained with either a safety belt or child

restraint. Children under seven must be

properly restrained by an approved child

restraint suitable to their size and weight.

The Automotive Lamp Specialists

Logo

Tagline

No tagline

and should be used wherever possible. A dropshadow version

is also available for use but can only be used on a yellow background.

LOCALLY OWNED & OPERATED

427 MAIN SOUTH RD - PH 349 2407

Where full colour cannot be used, the black and

white logo should be used.

www.caltexhornby.co.nz

When the AA circle within the logo becomes less than 10mm then the

is also available for use but can only be used on a yellow background.

Where full colour cannot be used, the black and

white logo should be used.

Don't get caught

out these holiDays

✓ Repairs

✓ Radiators

✓ Oil coolers

✓ Petrol tanks

✓ Car heaters

✓ Air conditioning

✓ Rebuilds

✓ Classic

✓ Vintage

✓ Racing cars

Christchurch Radiators

& Airconditioning Specialists

64 Buchan Street, Sydenham | Phone 03 366 0181

3

YOUR ONE STOP SHOP!

TYRES

NEW & USEd

WoF

FLAGS

TYRES

New and Used Lamps for Cars, Trucks,

Vans, 4WD and Motorhomes

PH 0800 225 483 | 325 Brougham Street, CHRISTCHURCH

bOOk

IN NOW

FULL MECHANICAL

SERVICES

WHEEL

ALIGNMENTS

SPECIALISTS$49

Wigram - 341 1226 104 Hayton Rd

Woolston - 384 0000 49 Garlands Road
---
WESTERN NEWS Latest Christchurch news at www.star.kiwi

Tuesday December 5 2017 29

REAL ESTATE

Tucked away in Tuckers Road

Unit 2, 31 Tuckers Road, Redwood

Price on Application

2 bedrooms | 1 living area | 1 bathroom | 1 car-garage | Property ID: 3464GT

Every now and then, we all discover a

little gem of a property amongst the new

properties coming into the market.

This over 60's is an exceptional quality

property in an appealing location and

being of first class presentation. A private

rear property in a cluster of 4 only. This one

being in the favoured private Northwest

position of the complex. The cosy home

provides an open plan dining, living area

that connects to a vey functional kitchen

that enjoys views to lawns and gardens.

The living extends to a sheltered patio

and attractive garden. The master bedroom

with super storage has its own double doors

out to the lawns and gardens that offer a

peaceful restful with the bathroom next to

it. The second bedroom ideally suited for

single person or grandchildren stay over.

An internal access garage with laundry and

auto door.

Close to churches, sports facilities,

Northlands and Main North Road buses at

the door.

The Owners have retired to their new

accommodation and request that we

present all offers to their Trustees. A sale

before Christmas would really please them.

Further details from Gavin Topp

& Nazira Murdock @ Harveys– Topp

Realtors Ltd (Lic Agent REAA 2008 )

Phone 03 359 5595 or 027 431 7470

CALL GAVIN NOW FOR AN

APPOINTMENT TO VIEW.

now bigger than ever

growing with you

SprIng Is here –

It'S Sow Time

how to get the best results from

seeds and seedlings

100% NatIve In

The capItal

Unravelling the secrets of

Otari-wilton Bush

The New Zealand

landscape awards

The people behind

the projects

$7.90 incl. GST

Save our roSeS

How a rose register is protecting our heritage

September 2016 | 100%

It's time

to grow!

New look and more

content than ever!

MeeT LeSTer Brice

A Garden coach

auckland Botanic GardenS

Why we love our public grounds

The magazine for

gardeners who like to get

their hands dirty

SubScribe from

$43. 50*

*6 issues/6 months

ISSN 2423-0219

SUBSCRIPTIONS FREEPHONE

0800 77 77 10

www.gaRdeNER.kiwI
---
30

Latest Christchurch news at www.star.kiwi

Tuesday December 5 2017

WESTERN NEWS

Classifieds Contact us today Phone our local team 03 379 1100

Computers

ALL

YOUR

COMPUTER

WORRIES SOLVED!

*$30.00 off your first

service with this coupon!*

No problem too big or

small from home PC's to

business networks. PC

slow? An end to Viruses,

Spyware, and Clogged

Systems. Safe secure

hassle-free computing.

Lost files recovered.

Microsoft Certified,

MCSE, MCP+l. 30 years

experience. Call Andrew

Buxton this week on 326-

6740 or 027 435-7596

for $30.00 off* Custom

Computers Christchurch

Gardening

& Supplies

A GARDEN OR

LANDSCAPING TIDY

UP? Shrub, hedge &

tree pruning, Lawns,

Gardening, consistently

reliable general property

upkeep, Dip. Hort. 10

yrs experience, One off

tidy ups or on-going

service. Nick's Property

Maintenance. Keeping

your garden beautiful.

Free Quote. Ph. 942-4440

Holiday

Accommodation

QUEENSLAND SUN-

SHINE COAST AUSTRA-

LIA Resort, Ocean Views,

Balconies, Self Contained,

1 or 2 B/R Ensuite,

Heated Pool, Spa, Sauna,

Free Internet, Shops,

Restaurants, Tennis, Surf

Club & Patrolled Beach,

Public Transport at door.

Ask for our SEASONAL

SPECIALS. Phone 61 7

544-35011 Email: reception@mandolin.com.au

www.mandolin.com.au

Health & Beauty

Trades & Services

GLAZING

Stephen Thom Glazing 2012 Ltd.

• Mirrors • Pet Door Specialists

• Splashbacks

THE CAT DOOR MAN

ALL BROKEN WINDOWS

Phone Cushla or Darren Twist

03 352 6225 or 027 352 6225

FOOTCARE

Cracked tiles?

Dirty grout?

Old or mouldy

silicon?

Brett Ph 03 358 5105

or 027 746 7632

www.groutpro.co.nz

JD GAWITH

CONSTRUCTION LTD

All interior / exterior

building

Decks

Fences

Pergolas

Renovations&Restorations

Free quotes

Immediate start

Call Jordon now 027 923 2879

OASIS

Senior Citizens Foot Care

25 Conway Street, Spreydon

Treating hard thick nails, calluses

and corns finishing with a foot massage

Price $30 Allow 45 mins

Home Visits available by appointment

Therapist – Amanda

(30 years experience)

Ph. 942-6036 for an appointment

HOURS ARE FLEXIBLE

Rent

Me

Or

Buy

Me

Trades & Services

plumbing

Professional plumbing, friendly service

Residential & Commercial

Licensed & Insured

New Homes & Renovations

Repairs & Maintenance

Code Compliance

info@dcsplumbing.nz

Call David now for a FREE quote

021 0233 3111

www.dcsplumbing.nz

to let

Rental - From $75 p/w Size 10m 2

• Accommodation –teenagers, elderly, guests

• Cabin Sleep out • Site office • Storage

• Home office/ small business • Games room

0800 HouseMe 468 736

houseme2015@xtra.co.nz

Trades & Services

HOUSE

CLEARING

Are you

moving house

or trying to

downsize?

Call All Clear

Canterbury. We work

with you to recycle,

sell and dispose of

unwanted items.

Ph: 03 260 0934

or 021 078 4553

raewynlcooke@gmail.com

www.allclearcanterbury.co.nz

NO BOND

REQUIRED

Trades & Services

ROOF

PAINTING

Rope & harness

a speciality,

no scaffolding

required,

30 years of

breathtaking

experience.

FREE QUOTES

Exterior staining,

exterior painting,

moss and mould

treatment and

waterblasting

Phone Kevin

027 561 4629

junk

Trades & Services

BATHROOM

RENOVATIONS

"Quality 1st time from

start to finish". Including

demolition. Free quotes Ph

Dave 027 33 44 125

BRICKLAYER

George Lockyer. Over

35 years bricklaying

experience. UK trained.

Licensed Building

Practitioner number

BP105608. Insurance

work. EQC repairs.

Heritage brickwork and

stonework a speciality. No

job too small. Governors

Bay. Home 329-9344,

Cell 027 684 4046, email

georgelockyer@xtra.co.nz

BRICK & BLOCK

LAYING

all restoration work

and new work plus

foundations, ph 342 9340

or 021 853 033

BUILDER

For all building work

but specialist in bathroom

renovations, 30 yrs

experience, with service

and integrity. Free Quotes.

Ph Lachlan 383-1723 or

0274 367-067.

BUILDER LICENSED

available for all aspects of

building. Please call 027

241-7471 or 335-0265

**************

CARPET

&

VINYL LAYING

Repairs, uplifting,relaying,

restretching,mail

jflattery@xtra.co.nz

ph 0800 003 181

or 027 2407416

CARPENTER

HANDYMAN

Small Job Specialists,

Carpentry, Repairs,

Decking & Maintenance,

40 years experience, no

job too small, Ph Warren

03 322-1103 or 027 697-

8541

FENCE PAINTING

Staining Quality at a

reasonable price. Free

quotes. Phone Warren

today on 980-1676 or 027

2014713

PAINTER

-Quality work, I stand by

Canterbury Ph Wayne

03 385-4348 or 027 274

3541

PAINTING DECORATING

Wingfields Contracting,

all interior & exterior

painting & all forms of

interior plastering & jib

fixing, ph Mark 021 171-

1586 or 355-5994

PAINTER

Available, All aspects in

painting. Very competitive

in roofs and fences. Please

call 027 241-7471 or 335-

0265

Why go to the Dump? Junkman comes to you!

Items too big for the rubbish bin?

Or too heavy for you to move?

Junkman comes to FROM

you & takes it away $

65 *

*Prices vary depending on items and volume – minimum charge $65

Trades & Services

PLASTERER

Gib Stopping, Small

job specialty. 30 + years

experience. Ring 0800

387-369

PLUMBER

For prompt service for all

plumbing maintenance,

repairs and alterations.

Phone Michael 364 7080

or 027 438 3943

STONEMASON, BRICK

& BLOCKLAYER,

Earthquake Repairs, Grind

Out & Repoint, River/

Oamaru stone, Schist,

Volcanic Rock, Paving,

all Alterations new & old,

Quality Workmanship,

visit www.featureworks.

co.nz or ph 027 601-3145

TILING

Quality jobs done on time.

All aspects of tiling. Reg

Master Tiler. Ph Dave 027

334 4125

TILING

SPLASHBACKS

Kitchen/bathroom/

laundry, incl mosaics, ph

027 334 4125

T.V. SERVICE CENTRE

Repairs, tvs, microwaves,

stereos, DVD. Aerial

installations and kitsets,

480 Moorhouse Ave, ph 03

379 1400

VHS VIDEO TAPES

& all camera tapes

converted to DVD, video

taping special occasions,

www.grahamsvideo.co.nz

ph 03 338-1655

WINDOW CLEANING

Average 3 bdrm house

inside or out $40. Both

$70. Phone Trevor 344-

2170

0800 586 5626

www.junkman.co.nz office@junkman.co.nz

Situations Vacant

WESTBURN SCHOOL

Te Kura O Hereora

Wanted To Buy

AAA Buying goods

quality furniture,

Beds, Stoves, Washing

machines, Fridge Freezers.

Same day service. Selwyn

Dealers. Phone 980 5812

or 027 313 8156

TOOLS Garden,

garage, woodworking,

mechanical, engineering,

sawbenches, lathes, cash

buyer, ph 355-2045

Public Notices

ADD SOME

COLOUR

TO YOUR ADVERT!

Board of Trustees

Casual vacancy for an elected trustee

A casual vacancy has occurred on the Board of

Trustees for two elected parent representatives.

The Board has resolved under Section 105 of the

Education Act 1989 to fill the vacancies by selection.

If ten percent or more of eligible voters on the

school roll ask the Board, within 28 days of this

notice being published, to hold a by-election to fill

the vacancy, then a by-election date will be held.

Any eligible voter who wishes to ask the board to

hold a by-election should write to:

Fiona Gilmore, Chairperson

Westburn School Board of Trustees

257 Waimairi Road

CHRISTCHURCH 8041

No later than: 04 January 2018
---
WESTERN NEWS Latest Christchurch news at www.star.kiwi

Tuesday December 5 2017 31

What's On

Entertainment

Christchurch's only

SEASIDE CLUB

LIVE MUSIC

7PM SATURDAY

Dateless n Desperate POP-ROCK-BAND

TUESDAYS & THURSDAYS

MEMBERS LUCKY CARD DRAW

FUNCTION ROOMS | GAMING ROOM

SHUTTLE SERVICE Tues, Thurs, Fri, Sat

To advertise, contact

Jo Fuller 027 458 8590

jo.fuller@starmedia.kiwi

DINE BY THE SEA!

UPSTAIRS

Pierview A la Carte Restaurant.

The restaurant is open from 5.30pm

Friday, Saturday and Sunday, and for

Sunday Brunch from 10.30am to 2pm.

SUNDAY NIGHT BUFFET

LAST SUNDAY OF THE MONTH

NEXT BUFFET : BOOK NOW!

NEW YEAR'S EVE

Sunday 31st Dec, from 5.30pm

DOWNSTAIRS : CLUB BISTRO

Open Tuesday to Saturday

from 12pm - 2pm & from 5pm.

New Brighton Club

202 Marine Pde | Ph 388-9416

www.newbrightonclub.co.nz

Members, guests and affiliates welcome

Get all 'Christmasy' with us!

PRE-CHRISTMAS FUNCTIONS,

PARTIES, WORK BREAK UPS,

CHECK THIS OUT!

TWO COURSE THREE COURSE

FESTIVE MENU FESTIVE MENU

ONLY

$

30

EACH

AVAILABLE LUNCH & DINNER DAILY

UNTIL 24/12/16 FOR PARTIES OF 10 OR MORE

SORRY, WE ARE CLOSED CHRISTMAS DAY

'TIS THE

SEASON

TO BE

JOLLY

ONLY

$

45

EACH

The

RESTAURANT & CAFÉ

0pen daily from 6.30am

Breakfast, Lunch & Dinner

RACECOURSE HOTEL

& Motorlodge

118 Racecourse Rd, Sockburn,

Christchurch. Ph 03 342 7150

www.racecoursehotel.co.nz

CHRISTMAS

IN THE

BUFFET

RESTAURANT

Lunch & Dinner

All you can eat, 7 days

H ORNBY

WORKINGMEN'S

CLUB

LET US

ENTERTAIN YOU!

WESTVIEW LOUNGE

THIS FRIDAY, 7PM:

ROBBIE DREW

THIS SATURDAY, 4.30PM:

BARROSS

8PM:

JOHN McCABE

Chalmers

Restaurant

FREE DESSERT

FRIDAYS & SATURDAYS

EXTENSIVE CARVERY FROM 5.30PM PRICED AT

ONLY $22.50 PER PERSON AND DESSERT'S ON US!

SUNDAY BUFFET

LUNCH $25 12PM | DINNER $27 5PM

GROUPS WELCOME. BOOKINGS ESSENTIAL.

PRE CHRISTMAS BUFFETS

SUNDAY 3, 10, 17 DECEMBER

LUNCH & DINNER BUFFETS : $30 PP

LIVE MUSIC AT DINNER with NEVILLE BARRIE

DINE & DANCE

SATURDAY 16 DECEMBER

BUFFET DINNER & SHOW : $45PP

MADSEN PROMOTIONS present

THE MUSIC OF THE BEACH BOYS

Club CAFE

The Hornby Club | ph 03 349 9026 | 17 Carmen Rd | Hornby

www.hornbywmc.co.nz | Members, guests & affiliates welcome

PLEASE NOTE:

CHALMERS CLOSES

FOR HOLIDAYS

SAT 23 DEC

REOPENING

THURS 11 JAN

OPEN 7 DAYS

LUNCH &

DINNER

Gluten Free &

Vege options

Bookings Essential

PH 386 0088

fb.com/GardenHotelRestaurant

www.gardenhotel.co.nz

SERVING

HAPPY HOUR

5PM - 7PM DAILY

OUR CABINET ITEMS

ARE HOMEMADE

CREATED FRESH ON SITE DAILY

$12

LUNCH

SPECIALS

Live Music:

6PM.FRIDAY.08DEC

COFFEE

HAPPY

H O U R

2PM-4PM

DAILY

$3.50

Offer available for a limited time

and includes tea, hot chocolate

MON: ROAST MEAL

TUE: FISH & CHIPS

WED: FISH BURGER

THU: ROAST MEAL

SAT: FISH & CHIPS

AVAILABLE

FROM

11.30AM-2PM

FOR A

LIMITED TIME

Rhonda Campbell duo

PHONE 385 8880 FIND US ON FACEBOOK fb.com/GBCCHCH

THE GARDEN HOTEL COMPLEX | 110 MARSHLAND RD

www.gardenhotel.co.nz | phone 385 3132
---
32 Tuesday December 5 2017

Latest Christchurch news at www.star.kiwi

WESTERN NEWS

Get Your

Jingle

on

@ JuST

INCREDIBLE

don't

forget

the pets

dress-up bling

fun, funky &

traditional ornaments

bows,

cards,

gift

labels,

wrap &

more

elf magic

lots of treasures

to discover

santa

stockings

& sacks

a christmas hat

for everyone

huge

selection

in store!

Pop up christmas store at South city Centre

• The Hub, Hornby • New Brighton Mall

• Barrington Mall • South City Centre