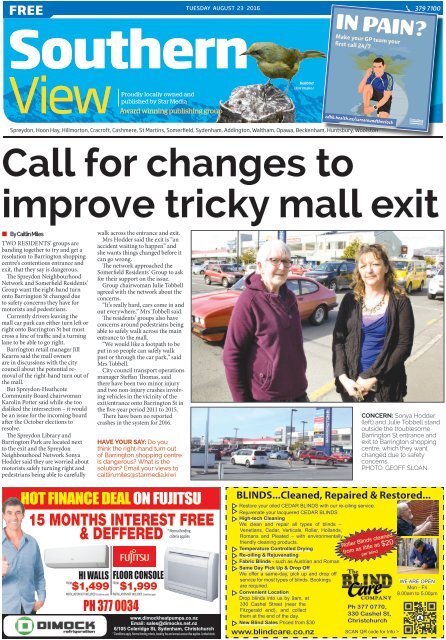 Selwyn Times: August 23, 2016
Create successful ePaper yourself
Turn your PDF publications into a flip-book with our unique Google optimized e-Paper software.
FREE

TUESDAY AUgUST 23 2016

379 7100

Southern

Make your GP team your

first call 24/7

View

Proudly locally owned and

published by Star Media

Award winning publishing group

Bellbird

(Korimako)

cdhb.health.nz/carearoundtheclock

Spreydon, Hoon Hay, Hillmorton, Cracroft, Cashmere, St Martins, Somerfield, Sydenham, Addington, Waltham, Opawa, Beckenham, Huntsbury, Woolston

Call for changes to

improve tricky mall exit

• By Caitlin Miles

TWO RESIDENTS' groups are

banding together to try and get a

resolution to Barrington shopping

centre's contentious entrance and

exit, that they say is dangerous.

The Spreydon Neighbourhood

Network and Somerfield Residents'

Group want the right-hand turn

onto Barrington St changed due

to safety concerns they have for

motorists and pedestrians.

Currently drivers leaving the

mall car park can either turn left or

right onto Barrington St but must

cross a line of traffic and a turning

lane to be able to go right.

Barrington retail manager Jill

Kearns said the mall owners

are in discussions with the city

council about the potential removal

of the right-hand turn out of

the mall.

But Spreydon-Heathcote

Community Board chairwoman

Karolin Potter said while she too

disliked the intersection – it would

be an issue for the incoming board

after the October elections to

resolve.

The Spreydon Library and

Barrington Park are located next

to the exit and the Spreydon

Neighbourhood Network Sonya

Hodder said they are worried about

motorists safely turning right and

pedestrians being able to carefully

walk across the entrance and exit.

Mrs Hodder said the exit is "an

accident waiting to happen" and

she wants things changed before it

can go wrong.

The network approached the

Somerfield Residents' Group to ask

for their support on the issue.

Group chairwoman Julie Tobbell

agreed with the network about the

concerns.

"It's really hard, cars come in and

out everywhere," Mrs Tobbell said.

The residents' groups also have

concerns around pedestrians being

able to safely walk across the main

entrance to the mall.

"We would like a footpath to be

put in so people can safely walk

past or through the car park," said

Mrs Tobbell.

City council transport operations

manager Steffan Thomas, said

there have been two minor injury

and two non-injury crashes involving

vehicles in the vicinity of the

exit/entrance onto Barrington St in

the five-year period 2011 to 2015.

There have been no reported

crashes in the system for 2016.

HAVE YOUR SAY: Do you

think the right-hand turn out

of Barrington shopping centre

is dangerous? What is the

solution? Email your views to

caitlin.miles@starmedia.kiwi

CONCERN: Sonya Hodder

(left) and Julie Tobbell stand

outside the troublesome

Barrington St entrance and

exit to Barrington shopping

centre, which they want

changed due to safety

concerns.

PHOTO: GEOFF SLOAN ​

hot finance deal on fujitsu

Hot Hot Deal

on 8KW Heat PumP

15 months interest free

* Normal lending

& deffered criteria applies

Fujitsu ASTG24L 8 KW

Heat Pump for Just

$2,999

from

hi walls floor console

$1,499 from $1,999

Fully Installed*

installation not included (conditions apply)

installation not included (conditions apply)

Six Year

Warranty

PH 377 0034 Ph 377 OR 0034 0800 800 734

www.dimockheatpumps.co.nz

Email: sales@dimocks.net.nz

6/105 Coleridge St, Sydenham, Christchurch

* Conditions apply. Normal lending criteria, booking fee and annual account fee applies. Limited stock.

BLINDS...Cleaned, Repaired & Restored...

Restore your oiled CEDAR BLINDS with our re-oiling service.

Rejuvenate your lacquered CEDAR BLINDS

High-tech Cleaning

We clean and repair all types of blinds –

Venetians, Cedar, Verticals, Roller, Hollands,

Romans and Pleated – with environmentally

friendly cleaning products.

Temperature Controlled Drying

Re-oiling & Rejuvenating

Installed back to back, up to 3 metre pIpe

run and electrIcal supply wIthIn 6 metres.

10 5 only

BE QUICK

Fabric Blinds - such as Austrian and Roman

Same Day Pick Up & Drop Off

We offer a same-day, pick up and drop off

service for most types of blinds. Bookings

are required.

Convenient Location

Drop blinds into us by 9am, at

330 Cashel Street (near the

Fitzgerald end), and collect

them at the end of the day.

www.dimockheatpumps.co.nz

New Blind Sales Priced from $30

Email: sales@dimocks.net.nz

www.blindcare.co.nz

Roller Blinds cleaned

from as little as $20

per blind

Ph 377 0770,

330 Cashel St,

Christchurch

SCAN QR code for Info >

WE ARE OPEN

Mon - Fri

8.00am to 5.00pm
---
2

Tuesday August 23 2016

Inside

SOUTHERN VIEW

FROM

THE

EDITOR'S

DESK News.......................................3, 5

THe mystery of what is causing

a series of hot water cylinders

to fail in Cashmere continues.

Some residents are on their sixth

element in the past six years. The

city council are doing further

testing to prove that the water

supply is not behind it. Check

out page 3 for the story.

Suburbs Rugby Club is taking

on a push-up challenge to help

raise money for Aviva (formerly

Christchurch Women's Refuge).

They will be doing 101,981

push-ups in four hours – one for

each family violence incident attended

in New Zealand in 2014.

The fluoride opinion piece last

week got you all talking with

letters to the editor. We have a

rebuttal to that soapbox on page

5

4 and again would love to see

your feedback.

Rugby club looks to push family violence into touch

Hei kona, Shelley Robinson NEWS

Your Local Views..........4

Our People........................6,7

Schools.............................. 8

Achievers.................................8

Bridal Show..................... 9

Community Events......12

Health & Beauty..13-15

Real Estate...........................16

Entertainment..............19

GET IN TOUCH

General Enquiries Ph 379-7100

Classified Advertising Ph 379-1100

starmedia.kiwi

NEWS

Tom Doudney

Ph: 371 0780

tom.doudney@starmedia.kiwi

ADVERTISING

John Verd

Ph: 364 7496

john.verd@starmedia.kiwi

WE SPECIALISE IN THE CARE AND

PRESERVATION OF TREES

• Pruning

• Expert Tree Felling

• Fully Insured

• Free Quotes

• Powerline Clearing

• Branch Chipping

• Competitive Rates

• Orion Approved Contractor

FULLY

QUALIFIED

ARBORISTS

Member of NZ Arboriculture Association

For quotes and enquiries phone 03 349 7143 | For urgent enquiries phone 027 272-6710

Email: office@arbor-tek.co.nz

www.arbor–tek.co.nz
---
TM

SOUTHERN VIEW Tuesday August 23 2016 3

News

Cylinder corrosion cause sought

In Brief

BASKETBALL COURT LIGHTS

• By Tom Doudney

ONGOING PROBLEM: Cashmere resident Dean Johnston

with a corroded element from his hot water cylinder. ​

HOUSEHOLD WATER

supplies in Cashmere are being

tested in response to claims

that something in the water

is behind a series of hot water

cylinder failures.

The city council has previously

asserted that the water

supply is not the problem.

Head of three waters and

waste John Mackie said it was

hoped the testing, which is being

carried out in conjunction

with hot water cylinder suppliers,

would help put people's

minds at ease.

"What this will do is give hot

water cylinder manufactures

a good understanding of the

water quality which will assist

them when dealing with their

own customers," Mr Mackie

said.

A number of Cashmere

residents have had issues with

corroded elements having to

be replaced multiple times in

the space of a few years and

the Cashmere Residents' Association

has been collecting

information on the matter.

The problems have not related

to one particular element type,

supplier or installer, leading

suppliers and plumbers to suggest

something in the water supply

was causing problems.

Mr Mackie said the city

council undertook sampling

of some wells and reservoirs in

the Cashmere area in mid-June

and the results hadn't shown

anything to be concerned

about.

At a meeting with residents

and hot water cylinder suppliers

Superheat and Rheem,

city council staff were asked if

further sampling could be done

at residential properties and

reservoirs. This was due to be

completed by early next month.

"We are expecting the results

will once again be similar to

previous results," Mr Mackie

said.

Superheat manager Trevor

Edwards said the testing programme

with the city council

was a positive thing.

However, Superheat's own

testing had shown very high

levels of chlorides, which are

corrosive to stainless steel at

high temperatures, in some

Cashmere residents' water supplies.

Issues could also be related to

galvanised pipes being replaced

with plastic ones, Mr Edwards

said.

Bowenvale Ave resident Dean

Johnston, who last month replaced

his sixth set of elements

in the last six years, said he

would await the city council's

testing results with interest.

"We have just invested in

fixing the symptoms ourselves

but it doesn't fix the cause and

obviously it's an issue related

to certain types of metals and

something in the water."

Money from the Spreydon-

Heathcote Community Board's

discretionary response fund is

expected to go towards installing

lights at Hoon Hay Park so people

can play basketball after dark.

The fund currently has $16,224.19

which the board intends to fully

allocate before October's local

body elections. If there are no

other applications, all the money is

likely to be put towards the lights.

Hoon Hay teenagers have also

been fundraising for the lights.

ROAD WORKS

Maunsell St in Woolston has been

reduced to one-way eastbound,

starting yesterday and continuing

for about the next nine days,

while a segment of the wastewater

mainline is replaced.

SKI FIELD SALE

Disabled Snowsports Canterbury

is hosting a fundraiser so it can

continue to enable Cantabrians

with disabilities to try out

snow sports. The not-for-profit

organisation teamed up with

15 ski fields in the south island

to give out 'bargain books'.

The books are ski field passes

and cost $110 for the first

one, and $90 for subsequent

ones. Go to http://www.

disabledsnowsportscanterbury.org.

nz/bargainbooks for more details.

BUY OF THE MONTH

*not available for insurance claims

ONE ONly

18ct Solitaire Diamond Ring with

1.12ct TDW Only $7,995*

level 1, 10a athelstan st.

barrington jewellery centre

phone 982 2982 or 0800 4 rings

www.claritydiamonds.co.nz

®

CLOTHING DONATIONS

NEEDED!!!

We have a need for quality

winter clothing to stock our shops

CAN YOU DONATE?

Please drop your goods off in-store during business hours:

14 Yaldhurst Rd, Ph 03 341 5379

251 Ferry Rd, Ph 03 381 3089

94 Victoria St, Rangiora, Ph 03 310 7421

Open: Mon-Fri 10am-4.30pm, Sat 10am-2pm

320 Manchester Street Super Store (Bealey Ave end)

Phone 03 365 2051

Open: Mon-Fri 9am-5pm, Sat 9am-3pm

Donations of furniture anD homewares welcome During shop hours.

NEW ZEALAND

RED CROSS

RIPEKA WHERO AOTEAROA

FUNDRAISING TRAINING

Raise More Money

Register now. For charity and community group fundraisers,

trustees and managers.

This three stream fundraising training programme is a power pack

of fundraising training by experienced fundraisers to give you the

edge when it comes to sourcing new and more funds for your charity.

Riccarton Park Function Centre

165 Racecourse Road, Broomfield, Christchurch

Tuesday 30 August

FINZ member rate $99,

Non member rate $119 Includes morning tea

Register at www.finz.org.nz

or for enquiries phone 0508 64 FINZ(3469)

THINKING OF RENOVATING?

ENJOY IT WITH US!

From concept to completion, enjoy the experience of a full service

renovation company.

Whatever the scope of your extension or renovation, with your

dreams and our experience we can realise your home's potential.

WE MAKE IT EASY WITH OUR THREE SIMPLE STEPS...

With 5 offices in Christchurch,

let's start the conversation call

0800 764 846

or visit smith-sons.co.nz
---
4

Tuesday August 23 2016

Your Local Views

Anti-fluoridation argument

doesn't 'hold much water'

Nick King

responds to

last week's

opinion piece

by John

Verd about

the dangers

of water

fluoridation

in Christchurch

With respect John, I think

your passion for the well-being

of others is admirable but, in this

case, misguided.

To suffer a "toxic dose" of

fluoride, at the current safe and

recommended level you'd have to

guzzle 25 gallons of water. You'd

die from hyperhydration first.

Sola dosis facit venenum – the

dose makes the poison.

You quote Hirzy and Connett

as if that adds weight to the antifluoride

argument.

They are not respected in their

field, nor do they speak for the

(United States) Environmental

Protection Agency. And they're

at odds with their peers and

mountains of research.

I suspect these "studies" are the

well-known "Chinese studies",

popular among conspiracy theorists

and widely discredited. Fifty

poor studies versus thousands

of more robust studies does not

make a solid case.

The Chinese studies fail to

acknowledge the higher than recommended

levels of fluoride and

other chemicals (also other factors

that may contribute to lower

IQ), including arsenic and iodine

– iodine being a good example

of "beneficial in small doses,

dangerous in higher doses".

The dose makes the poison.

Even if it is a by-product of an

industrial process, so what? Lots

of things are. We call it recycling.

It's safe at the levels required to

be beneficial to teeth.

Sure, it might be classed as

a hazardous product which, of

course, it will be if you're counting

it by the truck load.

Hydrochloric acid is highly

corrosive, but is also produced

naturally by your own body.

There's arsenic in rice.

Owner Has Purchased - Must Be Sold!

75 Kidson Terrace, Cashmere

3 2 1 2 2

The dose makes the poison.

I'm all for questioning and

challenging the status-quo –

things go stale if we don't.

But scaring people with

sciencey-sounding rhetoric isn't

very helpful, even if your intentions

are good.

I too have my own reservations

about this situation because of

Christchurch's reputation for

amazing water, and I have an

emotional attachment to that.

But the points you covered just

don't hold much water (pun

intended) and are potentially

unnecessarily scary for people.

Listing Number: BE192592

Readers respond to last

week's opinion piece by

John Verd about fluoridated

water

Pam Webber, Middleton

I agree with you. (It's)

abhorrent that they intend

ruining our beautiful

Christchurch water. Keep up the

good work.

Ian Orchard, Papanui

I won't be losing sleep

over the possibility of

fluoridated water until I get

some more details which

John Verd omitted from

his soapbox. The somewhat

breathless revelation that

hydrofluorosilicic acid (more

properly Hexafluorosilicic acid)

is a by-product of the fertiliser

industry isn't particularly

relevant. Like sausages, lots

of ingredients in food come

from pathways that we prefer

not to know about, without

being in any way hazardous.

On the other hand, plenty of

ingredients can be dangerous

in the wrong concentrations.

Sodium chloride and

dihydrogen oxide are two classic

examples. Sodium bicarbonate,

frequently recommended for

tough cleaning jobs, is also an

essential ingredient in cakes.

John makes no mention of the

concentration of fluoride ions in

treated water. The World Health

Organisation recommends

YOUR ONE STOP SHOP FOR ALL

YOUR AUTOMOTIVE NEEDS

SOUTHERN VIEW

1mg/l or one part per million,

hardly a toxic dose for a mineral

that doesn't accumulate in

the body. It's much easier to

scaremonger if you leave out

any details that might counter

your beliefs.

Fee, Fendalton

I am very annoyed that

people do not have a choice with

fluoridation. It's mass poisoning.

I certainly do not want to drink

a neurotoxin everyday. What

about babies and pregnant

mothers? I would have to buy a

special water filter that can get

rid of fluoride. Children who

have rotten teeth are most

likely not drinking water and

consuming too much sugar.

Better to educate than fluoridate.

Daniel Brice, Woolston

I strongly support John

Verd's article on water

fluoridation. It's a poison and,

like all things we ingest, it

should be done of our own

hand. I will be doing as much

as possible to stop our precious

water from being tainted with

this chemical and having the

choice taken from me of water I

put into my body.

Heather Sinclair,

Somerfield

I would hate to see

Christchurch water fluoridated.

I would be very concerned

about residents' health.

Your agent, Your home, Your future

LICENSED SALES CONSULTANT REAA 2008

$849,000

3 bedrooms, 2 bathrooms, 1 living room, 1 dining room, 1 office/study, 2 car-garage,

2 off-street parks.

Not your usual, this steel framed home built by our owner 30 years ago is up for sale for the

first time - ever. My owner is downsizing and moving from his hill home lovingly crafted

and thoughtfully designed in collaboration with Simon Thompson Architect, his late wife

and himself.

Built of quality materials and built to last, this home offers all that is expected from modern

homes including double glazing and plenty of insulation. Three bedrooms all downstairs

means upstairs is dedicated to a separate lounge, open plan dining and kitchen and a large

deck to soak up the sun. My owner has spent many a summer having breakfast on the deck

in the early morning, and watching the sunset over the Alps in the evening. With extra

features in this home, including the workshop area, this home will surprise at every turn.

My owner has made the difficult decision to leave his masterpiece on the hill and has

purchased elsewhere. This property is sure to impress with its timeless design.

Make sure you call to arrange a viewing.

P 027 777 0411

• WOF + Services

• European / German / BMW specialists

• Mechanical repair • Tyres • Scan tool / Scope diagnostics

• Petrol / Diesel / Light commercials

• Brake Testing & machining

• Insurance warranty work welcome

Gainsborough Auto Services Ltd

Ph 03 384 4957

281 Dyers Road, Bromley, Christchurch

gainsboroughauto@gmail.com

THE ORIGINAL GOURMET PIZZA BAR

DAD'S

DESERVE

GREAT

PIZZA

BOOK FOR

FATHER'S DAY

SUNDAY

4 SEPTEMBER

CALL 376 4900

For all your

emergency

plumbing

and

gasfitting

needs

PLEASE give

us a call.

FERRYMEAD ~ 2 WATERMAN PLACE

WINNIEBAGOES.CO.NZ

Back Row: Mark, Aaron, Jacob, Mark, Sam

Front Row: Liz, Matt, Sandra, Ant & Paul

SERVICING ALL AREAS OF CHRISTCHURCH

Phone today! 3790-711

or email us: info@whiteheadplumbing.co.nz
---
SOUTHERN VIEW Tuesday August 23 2016 5

News

Rugby club looks to push

family violence into touch

ONE RUGBY club is about to

tackle its biggest challenge yet –

101,981 push-ups in four hours to

help kick domestic violence into

touch.

That's one push-up for each

family violence incident

New Zealand police attended in

2014.

Suburbs Rugby Club, which

also incorporates Suburbs

Netball and Halswell Wigram

Rugby, is holding the Mega

Push-up Challenge charity

fundraiser to help stamp out

the country's domestic violence

problem.

The event will be held at

Hoon Hay Park on August 28,

with multiple push-up stations

running continuously from 11am

to 3pm.

Sponsored participants will

try to top personal targets and

challenge friends, as well as

contribute to the overall goal.

The money raised will support

Aviva (formerly Christchurch

Women's Refuge), a local charity

that helps families live violencefree

lives, as well as the sports

club.

Event organiser and club vice

president Jayson McRoberts said

members from all communities

GOOD CAUSE: Suburbs Rugby Club vice president Jayson

McRoberts and under 7s players Eruera and Iosefo are hoping

people will get behind a push-up challenge, raising money for

Aviva and the club.

can live, and raise their children

in, a constant state of hurt and

fear.

"As a community, we need to

band together and stop tolerating

this. Enough is enough. Let's help

rid our community of domestic

violence," Mr McRoberts said.

The event will also serve as a

family fun day with a silent auction,

live music, face-painting, a

bouncy castle and food and drink

stalls.

To sponsor the event, attend or

find out more information, visit

the Mega Push-up Challenge

Facebook page – www.facebook.

com/pushup2016/

HELPING HANDS: Earlier this year volunteers helped shift the

Rowley Resource Centre, now the centre is asking for help

again.

PHOTO: GEOFF SLOAN

Centre's fundraising effort

reaches halfway mark

• By Caitlin Miles

ROWLEY RESOURCE Centre

is past the halfway mark

towards their goal of raising the

funds to repair their garage.

The centre requires more

room to undertake community

activities, including stone and

wood carving.

Repairs to their garage are expected

to cost between $50,000-

$60,000 and the centre has been

busy fundraising.

They have raised $31,000 so

far and have received a further

$5000 in funding from the

Spreydon-Heathcote Community

Board.

The centre also received a

$15,000 grant from the Lottery

Community Facilities Fund.

In November last year, the

centre shifted and, while their

new building could be used, the

garage was damaged.

Rowley Resource Centre

manager Donna McAleer said

they decided the garage needed

to be repaired so they had more

space for activities.

"We do things like stone and

wood carving and we would

like to get a Menz Shed going,

so we need the garage and we

need more space back inside,"

said Ms McAleer.

"We want to have lots of space

and activities available to cater

to different interests for people

in the community," she said.

The centre plans to celebrate

their 25th birthday next month.
---
6

Tuesday August 23 2016

Our People

SOUTHERN VIEW

Snowboarding and modelling

Anneke Stewart is an artist who has spent years

travelling and adventure-seeking. Reporter

Annabelle Dick spoke to her about what it was

like growing up on a deer farm, modelling for one

of New Zealand's biggest designers and how she

impressed some of Europe's most well-known

graffiti artists

You are an artist by trade, can

you tell me about your art and

your career?

I exhibit at least once or twice

a year, I'm always producing

artwork. I produce in about

10 different mediums quite

prolifically. The style is very much

cohesive throughout my work.

I'm into reclaimed objects

and keeping the integrity of a

material. My approach to what

I do is consciously create and

honour where we come from and

where our materials come from.

I believe we're here to look after

this beautiful planet. I'm a Reiki

master which is like an energy

healer so I'm very sensitive to

energy and energy patterns.

I love what I do. Art is not

something I do, it's who I am and

there's no separation between the

two. It's like breathing I have to

do it in order to feel normal.

What are you working on at

the moment?

I'm currently working on

more products and print media

on paper so I can make my

work more accessible. I've

just completed the largest

commission of my career so

far for the Deloitte building in

the city centre. It's a lenticular

lightbox which is an animated

3D-type medium so the images

change when you walk past.

I'm trying to keep my fine art

and commercial art separate. On

a weekly basis I do art classes

where I teach a handful of

students – hopefully, by next year

I can have more classes. I want

to start adult classes next month

too. I'm also doing a piece for the

BMX park over in New Brighton

in spring.

Tell me about you family.

My father was a deer farmer

and my mother has always

worked in fashion. When I was in

school she sold Pieter's Modelling

Agency which is now Portfolio

Dyers Road Landscape

& Garden Supplies

• Barks • Peastraw • Composts - we supply the best available

• Aggregates - Chip, Round and Basecourse

• Pavers & Schist products • Pungas

• Decorative Stones & Landscaping Rocks

• Trailer Hire first hour free with purchase

• Bag & Bulk - pick up or delivered

David, Carol & Mike

We will deliver!

SOIL

AND

Phone: 03 384 6540

183 Dyers Rd, Bromley • OPEN 7 DAYS

Weekdays 7.30am-5pm. Weekends 8.30am-3pm

www.dyersroadandlandscapes.co.nz

CREATIVE: Anneke Stewart with one of her creations.

Model Agency. Then a few years She's very down to earth, a hard

later she started New Zealand worker and she's quite shy. She

Fashion Week.

loves to cook and hates shopping.

I've always grown up with a That sounds like you would've

highly driven and motivated had an interesting upbringing,

mum doing amazing events. what was life like growing up?

HARDFILL

DUMPING

I had an amazing life growing

up on a farm. We spent summers

in the Sounds at our family bach

and in the winter I was always up

at Mt Olympus.

Spending time on the snow was

a big part of my life. I learnt to

ski there at three-years-old and

snowboard at 16.

I actually did my minor

at art school in snowboard

photography just so I could get

up the mountain every week

and justify it. I've been really

involved in the early days of the

snowboard industry in New

Zealand. It makes me who I am

and it makes me tick.

Were you ever keen to get into

fashion after growing up with a

mother who's highly prominent

in the industry?

Fashion isn't something I've

felt a huge desire to get into, I

chose to pursue art which isn't

highly lucrative but I'm working

on it. I used to model when I was

15 through to about 20 – but it

wasn't serious at all.

I was just learning to

snowboard when I got the biggest

bruise on my hip. Soon after

that happened I had to fly up to

Auckland for my first advertising

campaign for a New Zealand

designer and it was with Helen

Cherry.

Organic Training College

Learn from the experts

Start a career in organics.

Reduce your footprint

and produce a regular

supply of your own fruit

and vegetables.

Programme Information

college@bhu.org.nz

www.bhu.org.nz | 03 3253684

Courses

• Organic Distance Programme

Part time 1 year, enrol anytime

• Year 1 Introduction to Organics

44 weeks, starts August 2016

(Lincoln Campus)

• Year 2 Applied Organics

46 weeks, starts August 2016

(Lincoln Campus)

All fees under $500

MENOPAUSE?

; Hot Flushes

; Mood swings

; Irritability

; Night sweats

; Mild anxiety

; sleeplessness

; Feeling Low

Remifemim is a

Hormone Free

natural alternative

for the relief

from menopause

symptoms.

2 MONthS

SUPPly

Was $59.00

$49.99

1 MONth

SUPPly

WAS $34.99

$29.99

10% discount

everyday

using

*excludes PrescriPtions & sale stock

Barrington Pharmacy

Next to CouplaNds,

256 BarriNgtoN st

Ph 332 3156
---
SOUTHERN VIEW Tuesday August 23 2016 7

give way to creating art

It was a big deal and I turned

up all bruised expecting them to

say: 'Who is this chick from the

boonies? What's she doing?'

Christine Webster shot the

campaign and I idolised her as

a photographer and here was

me this little rookie snowboard

model chick. I was mortified. That

exemplifies my non-attachment

to the fashion industry.

I did draw on my photography

skills though and I was the official

photographer for New Zealand

Fashion Week when I moved back

to the country.

What was school like?

I went to Hororata Primary

then Selwyn House before

going to boarding school at St

Margaret's College.

After high school I went to

Christchurch Polytechnic where I

did a degree in craft design.

I actually failed university

entrance for art so I couldn't get

into art school on my marks.

So I took the year off and

snowboarded every day and

painted at night and filled up

work books so I could get myself

in. I then did my post graduate

at Elam School of Fine Arts

majoring in sculpture.

What did you do after

studying?

I had been institutionalised my

ENTHUSIASTIC: Anneke Stewart on the slopes with her

four-year-old daughter Phoenix.

whole life so I decided to move

overseas where I spent 10 years.

What was it like living

overseas?

I tried to get art-related jobs

but they wouldn't recognise my

degree there. While I was there I

got very good at graffiti.

My partner of the time was

an aerosol artist so I went out to

do public walls with him quite

often. I was part of a paint jam in

Brighton with about 150 graffiti

artists from all around Europe

and I was one of three girls. They

were watching me paint and

asked me how long I've been

doing it . . . it was probably about

my fifth ever piece and they were

really impressed.

After living in the UK I moved

to Morzine, France and I got a job

as a photographer. The first gig

was at the Arctic Circle up the top

of Sweden to an event called The

Battle which is legendary in the

snowboarding world. I ended up

meeting a pro rider from Sweden

and we ended up dating for four

years.

SUNSET: Mandala light box created from an original photo

taken near Shag Rock after the February 22, 2011, earthquake.

Why did you make the move

back to New Zealand?

After the Sweden saga I

came home. I became unwell

and developed really bad

endometriosis.

I was close to being booked in

to get surgery but I wanted time

to get my body strong so I moved

to Wanaka. Being a Reiki master

I was aware that what was going

on could be fixed holistically. I

worked with a natural healer and

nutritionist for a year and I got

rid of it completely without any

surgery.

You got engaged earlier this

year, how did you meet you

partner?

When I moved to Wanaka I

met my partner Anthony who's a

builder. We lived in Wanaka for a

couple of years before moving to

Leeston, then to the high country

and now we're in Sumner. We

have two kids together – Phoenix

who's four and Knox who is twoand-a-half.

After the endometriosis I was

told I wouldn't be able to conceive

children easily so my children are

miracles. He's from the Taranaki

so he's a North Island boy but

I managed to move him down

here because I'm a hardcore

Cantabrian.

SCIRT programme on the home straight

SCIRT's five year programme of repairs to pipes, roads, bridges and retaining walls is

almost complete and will finish in December.

Most of our repairs involve fixing the city's underground pipe networks with only small

amount of our work focused on roads.

Our roading work largely involves fixing where we have dug down to repair and replace

the earthquake damaged pipes beneath. The result may look a little patchy but we repair

roads to a reliable and serviceable standard.

The City Council and NZ Transport Agency will continue completing ongoing repairs to the

city's earthquake-damaged roads after SCIRT.

Progress in your neighbourhood

• The Durham Street overbridge repairs in Sydenham are scheduled to be

completed this month.

• Our work in Hoon Hay is now winding up.

• Repairs to the wastewater network in Spreydon are now complete.

• Fresh water, storm water and wastewater repairs in Cashmere are three-quarters of the

way through and are due to finish next month.

• Your support is helping us to get the job done, thank you from the SCIRT team.

Want

more

info?

Email:

info@scirt.co.nz

Phone:

941 8999

Find out about work

in your area:

www.scirt.co.nz

Email us on:

info@scirt.co.nz to get our:

Weekly Traffic Update

Monthly e-Newsletter

Follow us on Twitter:

@SCIRT_info

#chchtraffic

• Anna McAlpine, Traffic Manager working with SCIRT's

Fletcher team.

Programme funded by
---
8

Tuesday August 23 2016

SCHOOLS

ADDINGTON PRIMARY

School pupils will get a new

school uniform.

Over the following weeks,

new entrant children will

be wearing slightly different

attire.

As a result of re-branding,

the school's board of trustees

has been working with a new

uniform supplier.

The new kit retains the basic

navy blue base items, but the

school has changed the colour

of its polo shirts from 'sky blue'

to 'kelly green'.

The polar fleece jacket has

changed to a half zip and a navy

bucket hat with green under the

brim will also become available

in the future.

All uniform items will have

either an embroidered name

and logo or a logo only.

​The expectation will be that

all students are wearing the new

uniform by the beginning of the

2017 school year.

SOUTHERN VIEW

Addington uniform goes green

UPDATED: Jabez Afualo, 8,

models his school's new uniform. ​

BILINGUAL: Melanie Law, Cerys Fletcher, Isabel Becker,

Alyanna Suerte-Felipe, Jacob O'Carroll, Emma Brook, Jordi

Fajdiga Boyd, Alice Tiso and Saoirse Hill-Shearman are some of

the students who took part in the competition.

Students put second

language to use

CASHMERE HIGH School

students won a language

competition recently.

They competed against 242

other high schools throughout

the country.

There were 550 junior students

and 180 senior students involved

in the nationwide competition.

The group of students placed

fifth out of 1110 schools

around the world in the annual

Language Perfect World Championships.

The online competition challenges

students to test their

vocabulary skills through writing,

listening and reading in their

chosen second language.

Over the course of 10 days,

students from across the world

competed to answer as many

questions correctly as they could.

As a result of winning first

place in New Zealand, Cashmere

High received the New Zealand

Association of Language Teachers

winner's prize.

ACHIEVERS

A CLASS ABOVE: This

Cashmere home built

by Avenue Homes

Design is one of 18

from Christchurch

which have been

selected as finalists

in the national

Registered Master

Builders 2016 House

of the Year.

Homes in

Beckenham,

Huntsbury and

Hillsborough were

also among those

selected from the

southern suburbs.

Altogether, 100

homes from around

the country will be

judged, with the

overall and category

winners being

announced at an

event in Auckland on

November 26.

Don't miss the

granD FInaL

between

Lincoln & Cashmere

High Schools

Charity

EvEnt

Parliamentary

rugby team

SCHOOLS PrEMIEr 1st XI

granD FInaL FOOTBaLL

Canterbury

rugby legends

All proceeds go to Hohepa Canterbury and 0800 Hungry

SATURDAY 3rd SEPTEMBER

Lincoln

High School

v

Kick-off Wednesday August 24 at 3.05pm

Live on CTV Freeview

Channel 40

Live stream and

on demand at ctv.co.nz

Cashmere

High School

Watch live at Christ's College Upper Field 3pm

SUGGESTED DONATION: Adults $10, Family $20 (2 adults & 2 children under 12)

OTHER EVENTS:

Parliamentary Netball Team VS Netball Legends: 1pm at Christ's College Indoor Court.

After-match function. 4.30pm-6.30pm. Includes drinks, light food, entertainment, auction

and a chance to meet well-known sports personalities and MPs. $75pp.

For more information and tickets to the after-match function visit www.parlysport.com
---
SOUTHERN VIEW Tuesday August 23 2016 9

Bridal Show

Plan

WE

your

ARE

dream

ON

honeymoon

THE

THE COST and time it takes wedding and bridesmaid

to organise a honeymoon can gowns, photography,

often be underestimated when honeymoons, flowers,

couples are planning

MOVE

their stationary, caterers, venue hire

AGAIN...

weddings.

and many more.

But at Sunday's With This On top of that, there will be

Ring Bridal Show, there will be more than $22,000 of prizes to

a number of exhibitors there be won.

to take the stress out of it. A wedding and honeymoon

Hello World Travel's at Norfolk Island will be

Rangiora and Rolleston up for grabs, as well as a

branches will be at the show,

with a group of experts to talk

to people who are looking into

the planning.

Rangiora branch managing

director Liz Ditmer said

often people had unrealistic

expectations of how much

honeymoons could cost.

She said people also had to

start planning their trips well

in advance, and their teams

would be at next Sunday's

show to help people do so.

"We're just there to start

pointing them in the right

direction," she said.

"We can make

appointments and sit down

with them at a later time to

talk in more detail."

This year's show will have

85 exhibitors ranging from

honeymoon at The Edgewater

Resort and Spa in Rarotonga.

Venue hire up to the value

of $4050 for Wigram Base

will be up for grabs, along

with many more prizes and

giveaways.

TO A NEW LOCATION IN

Two fashion catwalks will

be held, one

FERRYMEAD,

at 11am and the

DUE TO

other at 2pm, showcasing

wedding gowns and mother of

the bride outfits.

•The With This Ring Bridal

Show will

EARTHQUAKE

be held at the

REPAIRS

Air Force Museum of

New Zealand, Wigram,

on Sunday (August 28),

from 9.30am-4pm. Tickets

are $15 and can be

purchased at the door on

the day, or pre-sale

WATCH

tickets

THIS SPACE

are available online at

dashtickets.co.nz

destinations.

GETAWAY: The With This Ring Bridal Show will have stalls that offer advice on exotic honeymoon

WE WELCOME ALL NEW PATIENTS

We will keep you informed as to our

new address.

on the day service whenever possible

arlotte

If you would lIke advIce

and treatment wIth:

• Women's health • Children's & teenage health & wellbeing

• Older persons health • Lifestyle advice

• Warrant of fitness checks for men and women

• Helping patients manage long term medical problems

Dr Brendan Smith Dr Charlotte Cooper Dr Gort Stephan Dr David Thomson

If you would lIke advIce and treatment wIth:

• Removal of skin lesions • Sports medicine • Vasectomies

• Occupational and company medicine • Drug testing

• Pre-employment medicals • Stopping smoking support

• Travel vaccinations

• Women's health • Children's & teenage health & wellbeing

• Older persons health • Lifestyle advice

• Warrant of fitness checks for men and women

• Helping patients manage long term medical problems

• Removal of skin lesions • Sports medicine • Vasectomies

• Occupational and company medicine • Drug testing

• Pre-employment Gort medicals • Stopping smoking support

• Travel vaccinations

New patients welcome Ph. 384 5484

Ferrymead

MEDICAL

c e n t r e

ferrymead

medIcal centre

YES we are now permanently

located in the new purpose

designed medical facility on

the corner of Waterman Place

& Ferry Rd (next to BNZ and

Café del Mar)

ferrymead medIcal centre

unIt 10/2 waterman Place

Phone 384-5484

Mon to Fri 8.30am-5.30pm
---
10 TUESDAY AUGUST 23 2016

SOUTHERN VIEW

Exhibitors

Charmed Flowers

Classic Photo Booth

Moriarty Dental

Bell Road Bespoke Bridal

Bramble Grove

Mariessa Waddington

Tastefull Affiars

Hot Shots Photo Booth

Catlins River Ridge Retreat

Commodore Hotel

Louise Anderson Bridal Design Ltd

The Cake Eating Company

The George

Nectar Florist

Paintball Games

Tuscany Downs Estate

Wedding Professionals NZ Planners

Garry Walls Photography & DJ

Airpark Limousines

Links Functions and Events

Hanmer Springs

Braemar Lodge & Spa

Crème de la Rose

Haley Saul Hair Artist

VMC images

Chalk it Up

Peppers Clearwater Resort

Break Free on Cashel

Alyssandra Striking Stationry

Pure Romnace By Andi

Hand Made Photography

Westhave Gardens

Davis Bridal

The First Dance

Canterbury Kombi Chauffeur

Brides of Merivale

Omarino Wine Park

Kennett Crafted Jewels

Something Borrowed Something New

Verve Real Food Catering

Trents Estate Vineyard

Beautiful Make Up

Outback Bathrooms

Mandy Caldwell Photography

The Tannery

The Dear Ones Photobooth Co

Continental

Black Shadow Project

Artistic Blooms

Simpatico Hair Studio

Registered Celebrant

Heritage Queenstown

Moveable Feasts

Cherished

Heritage Hanmer Springs

Hirepool Events

Number 9 Events Centre

Weddings by Collective Concepts

Julie Lassen

Glen James Jewellers

Hello World Rolleston

Hello World Rangiora

CM Photography

Cakes Galore

Phoenix Weddings

Kates Cakery

Westende Jewellers

The Little Hire Company

Angela minson Makeup Artist

Smith & Boston

Flowers by Lynette

Hotel Ashburton

Wigram Base

Kiwi Cuisine

To Cherish Bridal Boutique

Terrace Downs Resort

Tricia Warwick - Naziris

Johannes Van Kan Photographer

Lincoln Motel

ChCh Coach Charters

Over $ 22,000

in prizes to be won

Honeymoon to Norfolk Island

Honeymoon to Edgewater Resort in Rarotonga

The Wedding Dress of Your Choice

Wedding Ceremony Package

Engagement Photo Shoot

$1000 towards your Wedding Bands

$1000 towards the Hire of your Marquee

Wedding Planning Package

$300 worth of Hire items

Wedding Cake to the Value of $500

$100 of the Hire

Bridal Party Flowers

Floral Design Décor

Wedding Day Package

Champagne Breakfast for Two at Maddisons Restaurant

Dinner for two at Maddisons

Dinner for two on Christchurch Tram

Your Wedding Celebrant
---
569a Colombo Street

Christchurch

03 377 6800

www.tocherish.co.nz

SOUTHERN VIEW

TUESDAY AUGUST 23 2016 11

Sunday 28 August

9.30am – 4.00pm

PROUDLY SPONSORED BY:

bliss

Modern

Contemporary

Hair

CREATING YOUR PERFECT WEDDING

weddings by

collective concepts

www.weddingconcepts.co.nz

Airforce Museum

45 Harvard Avenue,

Wigram, Christchurch

Tickets: $15.00
---
12

Tuesday August 23 2016

SOUTHERN VIEW

Email caitlin.miles@starmedia.kiwi

by 5pm each Wednesday

Reading to Dogs

Wednesday, 3.30pm-4.30pm

Designed to provide a relaxed,

non-threatening atmosphere,

which encourages children to

practice their reading skills and

develop a love for the written

word. The programme uses

dogs as an audience for children

to talk to. These furry friends

have all been trained and tested

for health, safety and temperament.

Library staff and a dog

handler will be present at all

times to help facilitate the sessions.

Sessions are 15 minutes

long. Phone 9417923 to register

and secure a spot.

South Library, 66 Colombo St.

Free entry

Young Poets: Performance

and Open Mic

Wednesday, 4pm-8pm

Warm up for National Poetry

Day at this event. Reading performances

and an open mic will

be available for young, talented

people aged between eight and

25. All young poets are welcome

to take part in the open mic section

for their age group. Readers

will also be there to share stories

with those who do not want to

be on stage. Poets aged 8-12 can

perform from 4pm-5pm and

those aged 13-25 can perform

from 5.30pm. For more details,

email Heather at schoolforyoungwriters@gmail.com

376 Wilsons Rd, Waltham.

Donations appreciated

Young Poets: Pop-up

Saturday, 7.30am-3pm

Take a walk around the

pegged up poems and read

pieces from people aged between

8-25 years. There will

many different styles and stories

in the poems on display. There

will also be pop-up readings

and performances of different

pieces.

XCHC, 376 Wilsons Rd,

Waltham. Donations appreciated

Colin Henderson and Jeff

Bell

Sunday, 7.30pm-9.30pm

Colin and Jeff will bring their

musical skills to Spreydon. They

perform many ballads with a

country twist. They bring their

mix of guitar, harmonica and

singing to the Irish Society

Hall for an evening of music.

The duo featured as part of

New Zealand Music Month,

performing at one of the many

library gigs. Enjoy an evening of

music that you can sing along

to.

29 Domain Tce. Entry $8

members, $12 non-members

WORDY: Test your mind and scrabble skills at the club. Join in with like-minded players and

pick up some new skills and tips. No obligation, just go along when you can and join the friendly

group. Some boards provided, but feel free to bring your own. No fee. The session will be held on

Wednesday, August 24, from 1.30-3.30pm, at the Te Hapua: Halswell Centre, 341 Halswell Rd. ​

MARKET DAY: Go to

the Opawa market

from 9am-noon on

Sunday and pick up

some fresh produce for

your pantry. Whether

you need something

for dinner or to fill up

on your favourites,

there is a lot on offer,

including artisan bread,

French style pastries,

free-range eggs,

locally-made Italian

cheeses, fresh fruit and

vegetables and many

more treats. The market

is located at Helios

Integrative Medical

Centre, 275 Fifield Tce.

Entry is always free.

THE HOME OF GOOD BAKING

PREMIUM

BREAD

White, wholemeal, grain & honey.

3 FOR

$

5 00

tAN SLIcE

Timeless tan slice

with a sweet

base, topped

with caramel and

crumble - our

version has choc

chips.

ONLY

$25,000

TRAVEL GIVEAWAY

RASPBERRY

BUNS 4pk

A sweet bun

infused with

raspberry

preserve and

$

3 49 ONLY

EA

$

3 49

finished off with

a light raspberry

icing.

Purchase 2 x 2L Dairy Dale Milk to enter

the draw to win $1,000 worth of travel

vouchers for your family!

25 WINNERS - 1 PER STORE!

MILK

Dairy Dale 2L varieties.

$

5 98

2 FOR or $3.19 each

Promotional pricing available while stocks last from 22/08/16 to 28/08/16.

Images are serving suggestions only. *Promotion valid 1st - 31st August 2016. Winners will be contacted Wednesday 7th September 2016.

Terms & conditions apply. Full terms & conditions can be found at www.couplands.co.nz

Open 7 days | 8 Convenient local locations

YO YOs

6PK

Hornby • Barrington • Ferry Rd • Papanui • Riccarton • Upper Riccarton • New Brighton • Rangiora

BAKERIES

$

2 99

www.couplands.co.nz
---
SOUTHERN VIEW Tuesday August 23 2016 13

CONTINUING EDUCATION

eStar working to

attract best IT talent

Nurturing new talent and better

engaging employees will reach new

heights at eStar, as the world class

e-commerce platform and leading

Christchurch tech company strives to

attract the brightest IT professionals.

eStar's outreach activities look

four to five years ahead, says Chief

Operations Officer Kevin Rowland.

eStar 'lead team' staff attend careers

events, visit secondary schools and

recently supported Shadowtech,

with two female employees

mentoring two secondary school girls for a day.

The company is recruiting and will be looking

for new talent at Ara Institute of Canterbury's

Industry Expo on 25 August, having previously

employed Ara graduates (when Ara was CPIT).

Finding the right skills mix for retail IT is

challenging, Rowland says. With around 70

staff, eStar designs and develops the software

that powers the websites and the online retail

systems of retailers including Briscoes and

Country Road.

Technical skills are of course essential, but 'soft

skills' such as communication and interaction

can really set candidates apart. "When we

interview I am always looking for personality. We

do a technical test/developer half day immersion

and everybody freaks over the fact that it's a tech

test, but if you can do what you say on your CV

then it's not an issue. You're in a live 'dev' room,

with the people you are going to be working

with. I not only encourage people to talk to each

other but it has to happen because that helps me

see what they're like.

"Most people who work in IT are introverts.

It's what makes us good programmers; it's part

of our personality.

"It's OK if candidates are a bit meek, but I

have to see some kind of spark. I can throw a

stone into Christchurch and find graduates

who can do IT. They have got to have that bit of

enthusiasm."

To find out more about working for eStar

and other leading Christchurch companies

visit the Ara Industry Expo and Open Day

on 25 August, 2 – 5pm, City Campus and

Woolston Campus, Christchurch.

Health

The age you peak

at everything

EVER HAD the depressing

thought that your best

years are already behind

you?

Fear not, as scientists say

there is always something

better just around the

corner.

Researchers have

analysed a range of studies

that assess physical and

mental traits as people age.

From this, we are able to

chart a timeline of life's

high points.

And some of the

numbers may surprise

you.

According to scientists,

the age at which you reach

your peak potential to

learn a language is seven,

and your brain processing

power is on top form at 18.

At the carefree age of

23, researchers say both

sexes are likely to be feeling

smug in the life satisfaction

stakes, and you'll be best

placed to run a marathon

at 28.

Twenty-three is also the

point where the research

says women's attractiveness

to men peaks.

While some of the peak

ages are the same for men

and women, it's a different

story when it comes to pay

packets.

Researchers say women

hit their peak salary at 39,

while men are at the top

of their earning potential

at 48.

Both sexes are at their

peak powers for playing

chess at 31, and the

researchers say you'll be

best at remembering faces

at age 32.

As we rack up birthday

candles, a different set of

skills emerge. If you're

challenged when it comes

to numbers, it could be

because generally we're not

at our peak age for maths

ability until we hit 50, and

have the biggest vocabulary

at age 69.

Proving that age is

indeed just a number,

perhaps the most surprising

date on the chart is the

time when we are happiest

with our bodies – which is

74 years old, for both men

and women.

5 Warning Signs of Spinal Stress!

André Grob,

Dr of Chiropractic,

has had over

10 years

experience of

specialty spinal

care in Australia

and New Zealand.

●

●

HEADACHES

NECK PAIN

AND TENSION

A healthy spine is vital to

your wellbeing.

Specialist spinal therapy

at Southern Chiropractic

consists of:

• Manual manipulative

therapy

• Soft tissue Massage

• Low level Laser therapy

• Exercise and postural

education

●

●

SCIATIC PAIN

MID BACK PAIN

AND TENSION

LOW BACK PAIN

FOR BETTER SPINAL HEALTH ACT NOW….

RING 322-1432

Southern Chiropractic Ltd

290 Halswell Road • Halswell • Christchurch 8025

Telephone 322 1432

www.southernchiropractic.co.nz

email Dr.Grob@southernchiropractic.co.nz
---
14 2

Tuesday

[Edition datE]

August 23 2016

HEALTH & BEAUTY

Varicose veins treated

quickly and effectively

Transform CliniC in mandeville

street riccarton boasts a team of dedicated

professionals, who include the clinic's

doctor, ian little, registered nurses and

qualified beauty therapists, providing a wide

range of appearance medicine and beauty

therapy treatments for their clients.

one of their main specialties is nonsurgical

varicose vein removal. This is a

simple, quick and effective walk-in walk-out

treatment with no time off work required.

Clients seeking advice about their varicose

veins first undergo a free assessment, which

enables the health professional to determine

if they need treatment, and if so, what the

most appropriate type would be.

Two methods are offered – endo-venous

laser treatment, which is used for both

smaller and larger veins, and ultrasound

guided sclerotherapy. following the

treatment, clients need to wear support

stockings for two weeks. international travel

is not recommended for four weeks after

treatment.

Transform Clinic has an affiliation

with health provider southern Cross and

relationships with several other health

insurance companies, which means clients

may be covered for varicose vein treatment,

providing it is included in their policy.

appearance medicine is another key

aspect of Transform Clinic's therapy

options, with skin rejuvenation and skintightening

treatments designed to improve

skin quality as well as enhance self-esteem.

Treatments include the Vampire face lift,

which uses Platelet rich Plasma or PrP, and

fraxel laser treatment. These treatments can

be combined to achieve the desired results.

sclerotherapy is also used to remove

superficial veins on the legs and face. in

addition, the clinic offers mole mapping,

mole removal and primary skin cancer

removal.

The Transform Clinic website,

www.transformclinic.co.nz, has a wealth of

information on the various treatments and

regularly has special offers and promotions.

They also suggest you 'like' their facebook

page, to keep up to date with what they

are offering.

The Transform Clinic is discreetly located

at 52a mandeville street. opening hours

are monday to friday from 8.30am, with

late nights on Tuesday and Thursday, and

saturday from 9am to 3pm. Phone 343-2880

to enquire about treatments or make an

appointment.

SOUTHERN VIEW

Clients seeking advice about their varicose veins first undergo a free

assessment, which enables the health professional to determine

if they need treatment.

Varicose Vein Treatment

Non-surgical Vein Laser Treatments available

Tired of aching and unsightly veins?

No surgery, no scars, no stitches. No time off work

- continue normal daily activities. An affiliated provider to

Southern Cross Health Society (medical necessity

criteria apply) - check your policy for cover.

Enjoy skirts, short and cropped pants again.

Payment plans available (Conditions apply)

Free Assessment

www.transformclinic.co.nz | 52A Mandeville St | Riccarton | 08002lookgood | 343 2880

lovebite.com

Get your back

BACK!

Join our Spinal Strengthening

Programme

• Eliminate back weakness and

improve posture

• Two level small group exercise

programme led by a physiotherapist

• Held at Bishopdale & Hereford St

with free parking

musclepeople.co.nz

Call us today! 360 3606

Three Muscle People Physiotherapy Clinics:

Wigram Skies, Bishopdale & Central City
---
SOUTHERN VIEW Tuesday August 23 2016 15

FOCUS ON HEALTH

Proven

formula

combats

colds & flu

Research has shown certain herbs and natural

ingredients can dramatically reduce the chances

of succumbing to colds and flu.

One example of a proven formula is Go

Healthy 'Go Vir-Defence'. Due to the high

potency extracts it contains, one or two capsules

daily are usually sufficient to keep the immune

system at optimum efficiency; however, at the

onset of headaches, sore throat, body aches

etc. the dose should be increased to one or two

capsules up to three times daily.

Go Vir-Defence contains: Olive Leaf Extract

- a popular ingredient used in the treatment of

immune attacks for its strong anti-microbial

properties.

Garlic Extract - effective in combatting

bacteria, viruses and fungi and supporting the

immune system. Andrographis Extract - has

powerful immune-enhancing properties.

Echinacea Extract - a natural antibiotic and

infection fighter.

Pau D' Arco Extract - helps enhance the

immune system.

Citrus Bioflavonoids - work with Vitamin

C and support the immune system as well

as strengthening capillaries and reducing

inflammation.

Vitamin C - a powerful antioxidant that helps

counteract bacteria and viral infections.

Elderberry Extract - provides immune support.

Zinc - an essential mineral for the immune

system and general health.

Vir-Defence is

available from

Marshall's Health

& Natural Therapy,

110 Seaview Road,

New Brighton, phone

388-5757. We are

Always Happy to

Help!

Essential

nutrients for

health & vitality

After noticing patients were

experiencing gut, bowel and

digestive issues that often led to

more serious chronic health

conditions, two Australian

Naturopaths conducted

extensive research. This

revealed that although

the patients were generally

eating good food, they were not

obtaining all the nutrients required

for good health, with one of the

main problems being the digestive

system.

Also, with the soils crops are

grown in being depleted of many

trace elements and other essential

nutrients, the crops are also

depleted.

If we do not obtain all the

required nutrients, our body will

compensate to some degree, but

a lack of too many nutrients will

eventually lead to health issues.

Knowing this, the naturopaths

developed Vital Greens, a nutrientdense

powdered formula that

provides superior absorption and

comprehensive nutrition.

Vital Greens contains a balanced

blend of nutritionally rich

ARTHRITIS

Boost circulation and gently

exercise while you sit – it's so easy!

FOR

Pain & stiffness

Swollen ankles

Night cramps

Painful hands

Balance & mobility

Sore legs/numb feet

Travel & office sitting

Diabetes foot problems Only

Stroke rehab/Parkinson's

$39 90

vegetables, fruits, minerals,

vitamins, essential fatty acids, plant

and herbal extracts, superfoods,

powerful antioxidants, probiotics,

essential amino acids, digestive

enzymes and fibre, plus an

alkalising pea protein.

Anyone can benefit from it,

including people in poor health,

those recovering from injury or

sickness, children, athletes, poor

eaters and the elderly. It is gluten,

wheat and dairy free, and provides

more energy and endurance,

better sleep, a more positive mood,

improved eyesight and overall

better health.

Further information is available

from Marshall's Health & Natural

Therapy, 110 Seaview Road, New

Brighton, Phone 388-5757. We

are Always Happy to Help!

Father's Day -

Keep Dad on

his toes

Every three hours a New Zealand man dies from a

preventable disease. Yet most "blokes" wait until

something goes wrong before seeking help!

Men are not as diligent at taking

care of themselves as women,

according to health practitioners

around the world.

So men, what about some

preventative maintenance for

your body, as you would give your

car? And women, let's try harder

to encourage our men to take care

of themselves. Small lifestyle

changes can prevent or delay the

onset of many health problems.

When diabetes, arthritis or

stiff, aching joints are a problem,

and more time is spent sitting,

it's important to have an easy and

enjoyable way to remain active.

Participating in sports or not,

watching TV, reading the paper,

or talking on the phone, an

Aircycle circulation booster can

keep you moving while you sit..

Keeping Dad on his toes with

a Father's Day gift of an Aircycle

will keep his blood pumping,

muscles strong and help relieve

pain.

More information or orders

www.aircycle.co.nz, call 0800 14

14 15 or post $44.90 to Aircycle,

PO Box 45105 Waterloo, Lower

Hutt.

Available from pharmacies,

at www.aircycle.co.nz

or by calling 0800 14 14 15

STAY WELL, rEcovEr fASTEr, WiTh Go vir-DEfENcE

Powerful Natural Immune Support

• Provides powerful nutrient support for your immune system,

reducing the chances of immune weakness that can lead to

colds, flu & poor health.

• Contains some of the best research proven ingredients

shown to reduce the severity & duration of colds & influenza.

• Has potent anti-microbial properties reducing the growth of

bacteria, fungi & preventing the replication of viruses.

• Supports respiratory health & reduces the symptoms of most

types of upper respiratory tract infections.

• Supports energy levels by supporting the immune system.

• Safe, Effective, all Natural formula.

Each easy to swallow

Vege-capsule contains:

Olive Leaf - 5000mg

Garlic – 1200mg

Andrographis – 1200mg

Echinacea – 500mg

Pau D' Arco – 250mg

Citrus Bioflavonoids –

20mg

Zinc (equiv.) - 5mg

Elderberry – 220mg

Vitamin C – 200mg.

Super

Prices

60 capsules only

Save

$19

$29.90

Full Range of

GO-HEALTHY NZ

products in store &

all at Great Prices!

30 capsules only

$15.90 Save

$14

120 capsules only

Save

$56.90 $40.90

N.Z. Made to Good Manufacturing Practice

Standards. Quality You Can Count On!

Bringing You the Best in Natural Health!

MARSHALLS HEALTH & NATURAL THERAPY

CONSULTING - PRESCRIBING - DISPENSING - MANUFACTURING - MEDICAL HERBALISTS

110 SEAVIEW RD, NEW BRIGHTON • PH 03 388 5757 • Email: enquiry@marshallshealthshop.co.nz

- WE ARE ALWAYS HAPPY TO HELP! -

MAIL

ORDER

AVAILABLE

ARE YOU RECEIVING ALL THE NUTRIENTS YOU REQUIRE?

TAKE THE VITAL GREENS 12 DAY CHALLENGE TO BETTER HEALTH

VITAL GREENS has been developed to provide superior nutritional support to your

body. It is near impossible to obtain all the nutrients your body requires from a

modern diet. VITAL GREENS contains 76 vital nutrients in a balanced & highly

absorbable form to help you receive all the nutrients you require for optimum

health. It consists of a blend of nutrient dense greens, vegetables, fruits, plus

additional herbs, vitamins & minerals, powerful antioxidants, prebiotics &

probiotics, essential fatty acids, fibre, plus a uniquely alkalising pea protein.

VITAL GREENS Supports:

- Increased Energy & Endurance

- Better Digestion

- Optimised Immune Function

- Reduced Brain Fog

- More Balanced Blood Sugar

- 76 Vital Nutrients to Support

Optimal Health

- Superior to a Multivitamin Tablet

- Wheat, Dairy & Gluten Free,

Vegan Friendly

- Gently Detoxifies, Cleanses &

Energises Every Cell in Our Body

Super Special

120g only $19.95, save $14.95

300g only $55.50, save $19.50

600g only $99.90, save $39.10

1kg only $138.90, save $60.10

120g (55+) only $19.90,

save $14.95

MAIL ORDER

AVAILABLE

Bringing You the Best in Natural Health!

MARSHALLS HEALTH & NATURAL THERAPY

CONSULTING - PRESCRIBING - DISPENSING - MANUFACTURING - MEDICAL HERBALISTS

110 SEAVIEW RD, NEW BRIGHTON • PH 03 388 5757 • Email: enquiry@marshallshealthshop.co.nz

- WE ARE ALWAYS HAPPY TO HELP! -
---
16

Tuesday August 23 2016

REAL ESTATE

Explore the potential ….. As Is Where Is

33 Hawkesbury Ave, Merivale

Auction Date: Wednesday 14 Sep 12:00 p.m. - unless sold prior

3 bedrooms | 2 bathrooms | 2 toilets | 1 living room | 1 dining room | 2 off-street carparks | Listing# ST6993

SOUTHERN VIEW

Our clients have issued us with clear

instructions to sell this breath-taking villa.

The property is to be sold uninsured, but

renovations have delivered a better home

than before and, in its current condition,

the house is incredibly desirable and ready

for its next chapter. Living opens to the

north offering a family -sized lawn - a

rarity in this area – ideal for entertaining

with privacy and sun assured. With three

bedrooms, two bathrooms and beautiful

open plan living, the home provides

ample options and huge potential. As it's

sited on 820sqm L2 land, astute investors

may explore its long term redevelopment.

Given its location, it's a great option for

those looking to move closer to school

zones, Merivale Mall, and amenities.

Immediate settlement is available; this

proposition should be at the top of your

list. The owners want sold on or before

auction day.

Auction Date: Wednesday 14 Sep 12:00

p.m. (Russley Golf Club, 428 Memorial

Ave) unless Sold Prior

Open Homes Saturdays and Sundays

2:00 p.m. - 2:30 p.m. See you at the open

homes or for a private viewing contact

Peter or Kathryn Hampton of Harcourts

St Albans - Holmwood (Licensed Agent

REAA 2008) on 377 0377 or mobile

021 889

MUMS & DADS

Would you like your children to

exercise more and earn some money?

now bigger than ever

The magazine for gardeners who

like to get their hands dirty

DELIVERY

PEOPLE

WANTED

The Star requires delivery personnel

in all areas of Christchurch.

The work involves door-to-door

delivery of The Star newspaper.

growing with you

SprIng Is here –

It'S Sow Time

how to get the best results from

seeds and seedlings

100% NatIve In

The capItal

Unravelling the secrets of

Otari-wilton Bush

The New Zealand

landscape awards

The people behind

the projects

SubScribe from

$43. 50*

$7.90 incl. GST

*6 issues/6 months

ISSN 2423-0219

Save our roSeS

How a rose register is protecting our heritage

September 2016 | 100%

It's time

to grow!

New look and more

content than ever!

MeeT LeSTer Brice

A Garden coach

auckland Botanic GardenS

Why we love our public grounds

Please call

Leanne Lucas 364-7451 or

Mark Coulthard 364 7453

email: deliveries@starmedia.kiwi

SUBSCRIPTIONS FREEPHONE

0800 77 77 10

www.gaRdENER.kIwI
---
SOUTHERN VIEW Tuesday August 23 2016 17

Classifieds Contact us today Phone our local team 03 379 1100

YOUR LOCAL TRADES & PROfESSiOnAL

SERviCE bUSinESSES

Appears every

month in

Support theSe locAl buSineSSeS

BLOCKED

DRAINS?

CALL thE wAtER BLAStINg SpECIALIStS

• Drain Clearing

• CCtV Drain Video

• tree Root Removal

• Same Day Service

• Competitive prices

Innovative

sports goggles

WOF $35

Bookings advisable

Complete

Tyre and

Auto

• Steam Cleaning

/waterblasting

• gutter Cleaning

• No Callout Fee

(Excluding public holidays)

• Quality guarantee

CANTERBURY

WATERBLAST

we care.

ph: 03 365 7960 // 24 hours // 7 days

44 Maces Road, Chch

info@canterburywaterblast.co.nz

www.canterburywaterblast.co.nz

Sports Prescription

Goggles

FROM

$

178 00

BARRINGTON, 256 Barrington Street

PH 332 1730 | www.suckling.co.nz

Full Workshop

Repairs & Tyres

NEW HOURS

Monday, Thursday & Friday

8.00am-5.00pm

Tuesday & Wednesday

8.00am-7.00pm

Saturday 9am-3pm

Canterbury owned and operated

464 Ferry Rd, 03 389 5370

ctawoolston@yahoo.co.nz

New & Used Tyres • Puncture Repairs

Batteries • WOF • Balancing

Mechanical Repairs • Lube & Servicing

Wheel Alignment

Canterbury Waterblast – We care!

Family Owned

For over 30 years we have proudly said that Canterbury Waterblast is a Christchurch based, family owned

business. More than that, we are local. Cantabrians looking after Cantabrians. We care about the environment and

its surroundings because like you, we care about the community our families live in.

How can we help you?

We provide you with peace of mind. As Canterbury's leading and largest waterblasting & draincleaning company

we understand that when problems occur it is important to get them resolved quickly. This is why we operate

seven days a week and offer an invaluable 24 hour call-out service for urgent or emergency jobs, which we can

usually attend within an hour.

Residential or Commercial

Whether it be Residential or Commercial, we have the

experience, knowledge and skills to complete the job right

first time.

We can assist you with:

• gutter cleaning

• waterblasting – driveways, paths, swimming pools,

houses, and commercial buildings

• blocked drains and drainage videos

• liquid waste removal (Grease Traps/Sumps/Septic Tanks)

• steam cleaning

• hydro excavation

Luxury wigs!

• Heat resistant wigs

• 17 fashion colours

• Style your new hair

with straighteners or

curling iron!

• Award winning stylist • All hairdressing services

• SuperGold Card discount Monday - Wednesday

Welcome to

Complete

Tyre and

Auto

www.canterburywaterblast.co.nz

M.O.H Provider

Open Monday to Saturday

6 Opawa Rd,

Waltham

Ph 379 1275

Located on the corner of Ferry Rd

and Hopkins Street, we are your

friendly one-stop-shop for all your

tyre requirements, WOF testing

and automotive mechanic repairs.

Our experienced onsite team are

available to repair and maintain

vehicles to ensure they are kept in

tip top condition and if you don't

know what goes on under the

bonnet, don't worry, that's our job!

If your vehicle has got a problem,

we'll explain what's wrong

simply and honestly.

The environment your family and pets play

in is important to us, which means we won't

damage your garden, we don't use chemicals,

and we make sure that we clean up when the

job is done. Call us today on 365-7960

CANTERBURY

WATERBLAST

we care.

The ReLIAbLe TeAm

AT QuALITy TRADesmeN

From the smallest

room in the house

thru to the main

rooms, kitchen,

dining and lounge.

Our simple motto:

Happy clients

tell their friends.

The best form of

advertising is word

of mouth.

beFORe

AFTeR

• Builders • Painters • Plasterers

• PlumBers • electricians

CALL DAVID NOW 027 438 1114

david@qualitytradesmen.com

Bookings for WOF and mechanical

repairs are advisable and the

new extended opening hours now

makes it easier to book at times

that are more convenient for you.

We also supply, repair and install

all types of tyres, including wellknown

brands that our customers

know and trust. Whether you are

looking for tyres for your car,

van, SUV, 4WD, 4x4 we can help.

From entry level tyres to high

performance, you'll find we are

very competitively priced.

For professional friendly service, come on in and see

your local friendly team at Complete Tyre and Auto.

Monday, Thursday & Friday 8.00am – 5.00pm

Tuesday & Wednesday 8.00am – 7.00pm Saturday 9am – 3pm

464 Ferry Rd | 03 389 5370 | ctawoolston@yahoo.co.nz

HAVE WE GOT

YOUR FUTURE CAR?

464 Ferry Road, Christchurch

Phone: Hayden 03 381 6592 or 021 365 957

ALL AVAILABLE FROM NO DEPOSIT

VISIT US ON FACEBOOK: Cars-2-Go

Open 9am-5pm Monday-Friday, 9am-4.30pm Saturday

Sydenham Park

Funerals

Direct

Cremation

We care about

your costs

Ph 0800 793 364

heritagefunerals@xtra.co.nz
---
18

Tuesday August 23 2016

SOUTHERN VIEW

Classifieds Contact us today Phone our local team 03 379 1100

Car Parts

Health & Beauty

Trades & Services

Trades & Services

Trades & Services

Trades & Services

Vehicles Wanted

TYRES Secondhand,

most sizes, from $30 fitted,

217 Waltham Road, 027

476 2404

Cars

$4,001 - $8,000

NEED a new car? and

need finance we can help.

Call us today Learners

lcs, past credit issues

been bankrupt or new to

New Zealand! Call Leon

022 625 2232

Computers

ALL

YOUR

COMPUTER

WORRIES SOLVED!

*$30.00 off your first

service with this coupon!*

No problem too big or

small from home PC's to

business networks. PC

slow? An end to Viruses,

Spyware, and Clogged

Systems. Safe secure

hassle-free computing.

Lost files recovered.

Microsoft Certified,

MCSE, MCP+l. 30 years

experience. Call Andrew

Buxton this week on 326-

6740 or 027 435-7596

for $30.00 off* Custom

Computers Christchurch

Gardening

& Supplies

Landscape

and Garden

Services

If you need help

getting your garden

back in order after

repairs, need any

type of landscape

construction work or

garden restoration.

Ph 021 272 0303

Gardening

& Supplies

A GARDEN

PROFESSIONAL

NEEDED? Qualified

Horticulturist, offering

expert pruning, garden

makeovers, garden design

and landscaping, for free

quotes call Bryce 027 688-

8196 or 0508 242-733

A GARDEN OR

LANDSCAPING TIDY

UP? Rose & Fruit Tree

Pruning, Shrub, hedge

& tree pruning, Lawns,

Gardening, consistently

reliable general property

upkeep, Dip. Hort. 10

yrs experience, One off

tidy ups or on-going

service. Nick's Property

Maintenance. Keeping

your garden beautiful.

Free Quote. Ph. 942-4440

Trades & Services

Appliance Sales & Service

388 4780

Appliance Services

14 Brighton Mall, New Brighton

Appliance Sales & Service

388 4780

Appliance Services

14 Brighton Mall, New Brighton

Centre of Excellence

AVENUE HEALTH

202 Bealey Ave

New purpose-built

surgical facility

• Cosmetic Medicine

& Surgery

• Skin Medicine &

Dermatology

• Skin Cancer Surgery

Dr Ken Macdonald

MB ChB (Edin), FRACP,

FRCPE, FRCP (Lond), FNZDS

www.kmsurgical.co.nz

Phone 03 379 9467

Holiday

Accommodation

QUEENSLAND SUN-

SHINE COAST AUSTRA-

LIA Resort, Ocean Views,

Balconies, Self Contained,

1 or 2 B/R Ensuite,

Heated Pool, Spa, Sauna,

Free Internet, Shops,

Restaurants, Tennis, Surf

Club & Patrolled Beach,

Public Transport at door.

Ask for our SEASONAL

SPECIALS. Phone 61 7

544-35011 Email: reception@mandolin.com.au

www.mandolin.com.au

Pets & Supplies

AFFORDABLE Dog

Grooming $44 small,

$52 med, experienced

and qualified groomer/

veterinary nurse,

Redwood, ph June 03 354-

6414 or 027 746-5295

electrician

residential - commercial - industrial

residential - commercial New Builds - industrial

electrical

residential - commercial

New and Builds lighting design

- industrial

electrical Renovations

and lighting design

New Builds

incl. rewires, switchboard Renovations upgrades, basic additional

electrical and lighting design

lights incl. rewires, & power switchboard / data points, upgrades, garden lighting, basic additional spa power

Renovations

lights & power / data Home points, Ventilation garden lighting, spa power

incl. rewires, switchboard upgrades, basic additional

Home Ventilation

lights heat

& power transfers / data and points, positive garden pressure lighting, systems spa power

heat transfers Alarm and positive pressure systems

Home System Ventilation Installation

incl. heat the latest transfers

Alarm smart and

System phone positive

Installation control pressure and systems monitoring

incl. the latest

Alarm

smart

System

phone

Installation

control and monitoring

incl. the latest smart phone control and monitoring

Call William for a free quote: 021 594 442 or

Call William for free quote: 021 594 442 or

email: admin@preciseelectrical.co.nz

Call email: William admin@preciseelectrical.co.nz

for a free quote: 021 594 442 or

www.preciseelectrical.co.nz

email: www.preciseelectrical.co.nz

admin@preciseelectrical.co.nz

www.preciseelectrical.co.nz

We are proud members of:

We are proud members of:

We are proud members of:

Trades & Services

Blocked or

broken drains?

• Residential or commercial

• Repair work or new drains

• No obligation quotes and advice

Contact Glen at Y45 Drainage

0800 945 900 or 027 531 0614

y45drainage@shearings.co.nz

or www.y45.co.nz

A division of

R A Shearing

Contractors Ltd

DRIVEWAYS

Is your roof looking a bit sad?

Brighten it

up with a new

paint job.

• Difficult or steep roofs

are our specialty

• Water blasting

• Exterior painting

• Fence painting

• Residential and

commercial

• 10 years business in Chch

Exposed Aggregate

Stamped Concrete Plain

Concrete Resurfacing

Things we offer...

Competitive/affordable pricing

Attention to detail

Professional service

free quotes/insurance scopes

Cell 0278 145 848

www.drivecrete.co.nz

Call today for a free quote

0508 937 663

Access Property Services

Trades & Services

Appliance Sales & Service

388 4780

Appliance Services

14 Brighton Mall, New Brighton

Trades & Services

DRIVEWAYS & PAVING

FREE QUOTES

Professional, friendly

Service Always

Ph. 03 329 4806

or 027 827 0505

CAP CONSTRUCTION LTD

ROOFING

- Re-roofing and

new roofing

- Quality roofing at

the best price around

- Licensed building

practitioner

Robinson

Roofing Ltd

Call Hamish for a

quote 03 347 90 45

Trades & Services

• Replacement/new roofing

• Colour Steel gutter & fascia

• Flue & log burner installs

• Skytube/light installs

• Earthquake repairs

Licence Building

Practitioner LBP

Member of the Roofing

Association

DCM ROOFING LTD

The Roofing Specialists

PHONE IAIN

027 445 5597

iain@dcmroofing.co.nz

Garden design

Planting professionals

Garden renovation &

Makeover

Quality plant sourcing

Expert pruning &

Trimming

M: 027 688 8196

P: 0508 242 733

E: greentherapy@

xtra.co.nz

NEED A

PLUMBER?

Call us now for fast

friendly service.

Get your problems sorted out

quick smart - on time!!

Phone for a FREE

quote now.

Phone 03 377 1280

Mobile 021 898 380

MDC

BUILDERS

Renovations & Repairs

All forms of Home

Maintenance

Bathrooms & Kitchens

Site clears

Excavating Driveways

& Paths

All forms of Foundations

Free Quotes

Give me a call today

Ph 022 407 8581

mdcbuildersnz@gmail.com

15% Discount with this Advert

Now working

in your area

• Tree Pruning

& Removal

• Stump Grinding

• Hedge Trimming

Fully Insured

Qualified Arborist

For a free quote,

ph 0800 248 733

www.jimstrees.co.nz

Trades & Services

ROOF

PAINTING

Rope & harness

a speciality,

no scaffolding

required,

30 years of

breathtaking

experience.

FREE QUOTES

Exterior staining,

exterior painting,

moss and mould

treatment and

waterblasting

Phone Kevin

027 561 4629

AAA CArpentry

licensed builder

practitioner all property

maintenance small job

expert by tradesman /

handyman free quotes

city wide call now 03

387-0770 or 027 245

5226 ciey@xtra.co.nz

BUILDer

For all building work

but specialist in bathroom

renovations, 30 yrs

experience, with service

and integrity. Free

Quotes. Ph Lachlan 383-

1723 or 0274 367-067.

BUILDer LICenSeD

available for all aspects of

building. Please call 027

241-7471 or 335-0265

CArpenter

HAnDyMAn

Small Job Specialists,

Carpentry, Repairs,

Decking & Maintenance,

40 years experience, no job

too small, Ph Warren 03

322-1103 or 027 697-8541

CArrIer LoCAL

experienced, friendly,

trade-me purchases, single

items to truck loads,

furniture to whatever,

removals & trade

deliveries a specialty. Ph

GEH 341-5069

CArpet & VInyL

LAyIng

Repairs, uplifting,

relaying, restretching,

E mail jflattery@xtra.

co.nz,

ph 0800 003 181

or 027 2407416

CArpetLAyer

Laying and Repairs, 40 yrs

experience, ph Peter 326-

7711 or 027 240-6532

DRIVEWAYS

Replace, repair or new.

We are a local company

with over 10 yrs exp.

We also operate a

digger for all other

earthworks.

Ph. R.M. Solutions

021 02866981

for a free quote.

DrAInLAyer

Blocked drains, Repairs

to drains, New drains &

sumps. All work overseen

by Registered Drainlayer.

Contact Glen at Y45

Drainage - 0800 945 900

FUrnItUre

reMoVALS

Large Trucks $95 +

GST per hour 7 day NZ

wide, packing & moving,

Professional Company,

Professional Service.

Canterbury Relocations

Ltd. ph 0800 359 9313

LAnDSCApIng LtD

Paving, Lawns, Irrigation,

Decking, Fencing.

Kanga & small digger

services. Check out Squire

Landscaping on facebook.

FREE QUOTES. Ph

Authur 347-8796, 027

220-7014 Edwin 027 220-

7154

pAIntIng DeCorAtIng

interior & exterior,

gib fixing, plastering,

paperhanging, Est 50 yrs

in ChCh, ph Wingfields

Ltd, ph Mark 021 171-

1586 or 355-5994

pAInter

Available, All aspects in

painting. Very competitive

in roofs and fences. Please

call 027 241-7471 or 335-

0265

PEST CONTROL

SERVICES Ltd.

• Spiders

• Flies • Ants

• Wasps • Bees

• Mites • Bed Bugs

• Cockroaches

• Carpet Beetles

• Silver Fish

• Borer Treatments

• Rodent Control

• Rats • Mice

Call Royce Delaney

0800 777 585 or

027 687 3748

pLASterer

Gib Stopping, Small

job specialty. 30 + years

experience. Ring 0800

387-369

pLUMBer

For prompt service for all

plumbing maintenance,

repairs and alterations.

Phone Michael 364 7080

or 027 438 3943

pLUMBer

ALF THORPE

PLUMBING Certifying

Plumber for all types of

plumbing, maintenance,

spouting, alterations etc.

Phone 352-7402 or 0274-

350-231

pLUMBer

A Top Plumbing job

completed at a fair price,

prompt service, all work

guaranteed, Ph Brian 960-

7673 or 021 112-3492

rooFIng

Qualified & Licenced

Practitioner. Re-Roof &

Repairs, all types. Member

New Zealand Roofing

Association. Over 35 years

experience. Phone John

027 432-3822 or 351-9147

email johnmill@ihug.

co.nz

SpoUtIng CLeAnIng

Spouting Unblocked,

Cleaned Out and Flushed

Out. Also Full Handyman

Services Available. Call

Trevor 332 8949 or 021

043-2034

tILer/CArpenter

35 years exp, no job

too small. Ph Ross 027

4311440.

tree WorK

Hedge trimming, stump

grinding, rubbish removed,

small job specialty Ph

Andrew 03 322-8341 or

027 435-8759

treeS

BIg or SMALL

tree removal, trimming,

stump grinding, shelterbelt

clean up, section clearing,

rubbish removals,

excavation work, ph Trees

Big or Small, for a free

quote, 021 061 4783

t.V. SerVICe

Centre

Repairs, tvs, microwaves,

stereos, DVD. Aerial

installations and kitsets,

480 Moorhouse Ave, ph 03

379 1400

UpHoLSterer

Dining Chairs, Lounge

suites, Caravan Squabs

etc. recovered. Free

Quotes. Phone Graeme

383-1448

VHS VIDeo tApeS

& all camera tapes

converted to DVD, video

taping, weddings, twenty

firsts, special occasions,

www.grahamsvideo.co.nz

ph 03 338-1655

WAterBLAStIng

Quality Job, Quick Service

by skilled tradesman, Ph

Richard Severin at Jet-X

0800 538 969 Free quotes,

visit www.jetx.co.nz

VEHICLES

ANY CONDITION

WANTED

FOR CASH

$ $ $

Ph 347 9354 or

027 476 2404

Wanted To Buy

AAA Buying goods

quality furniture,

Beds, Stoves, Washing

machines, Fridge Freezers.

Same day service. Selwyn

Dealers. Phone 980 5812

or 027 313 8156

A+ Household effects,

fridges, freezers, washing

machines, ovens. Good

cash paid. Ph Paul 022

0891 671

TOOLS Garden,

garage, woodworking,

mechanical, engineering,

sawbenches, lathes, cash

buyer, ph 355-2045

Situations Vacant

CA$H

Strippers

& Podium

Dancers

Wanted!

18+ TO APPLY

NEISHA

021 193 0118

Public Notices

DEMOLITION

With care and respect we

will remove your dwelling.

Our policy is to recycle as

much as we can. We are a

local company specialising

in residential properties. We

will endeavor to cater for

your individual needs.

Ph. R.M. Solutions

021 02866981

for a free quote.
---
SOUTHERN VIEW Tuesday August 23 2016 19

www.newbrightonclub.co.nz

WHAT'S ON

TUESDAYS &

THURSDAYS

Members

Lucky Card Draw

TAB POD

RUGBY

All Blacks v

Australia

7.35pm Saturday

- downstairs -

ClubBISTRO

Open Tuesday

to Saturday

12pm-2pm

and from 5pm.

Midweek

SPECIAL

$10

ROAST

Available Tuesday,

Wednesday,

& Thursday

- upstairs -

JOIN

A CLUB BY

THE SEA!

PIERVIEW

Restaurant

Quality a la carte

with a view!

Open FRIDAY,

SATURDAY,

& SUNDAY

from 5.30pm

FRIDAY SPECIAL:

BBQ PORK RIBS

$19.50!

for a limited time

SUNDAY SPECIAL

$25 3-Course Feast

SUNDAY 28th AUG

BOOK NOW for

Sumptuous winter

BUFFET $25

SUNDAY

BRUNCH

by the seaside

10.30am - 2.30pm

SHUTTLE RUNNING

Tues, Thurs, Fri & Sat

202 Marine Parade

Ph 388-9416

Members, guests and affiliates welcome

H ORNBY

WORKINGMEN'S

CLUB

«COMING UP«

«WHAT'S ON«

WESTVIEW LOUNGE

SATURDAY

27 AUGUST, 4.30PM

MARION'S OUTLAWS

8PM

TONY ATWOOD

& THE C-BAY BAND

SUNDAY

28 AUGUST, 2PM. $6 ENTRY

HEART OF THE COUNTRY

SPORTS HALL

SATURDAY 27 August, 7.30PM

SOUND SENSATION

13 PIECE SHOWBAND. Tickets $25.

FRIDAY 2 September, 7.30PM

THE DIXIE PRIX PRESENT

LEGENDS OF COUNTRY

NZ PREMIERE COUNTRY TRIO. Tickets $15.

SATURDAY 8 October, 7.30PM

ANTHONY'S JUKEBOX

PRE-SALE TICKETS $18 / DOOR SALES $20

Hornby WMC, 17 Carmen Road, Hornby

phone 03 349 9026

www.hornbyworkingmensclub.co.nz

Members, guests & affiliates welcome

Seaside Brunch

FANCY 'a side' of ocean view with

your brekkie? Well it's now on the

menu at the Pierview Restaurant.

Located upstairs in the New

Brighton Club, the Pierview

Restaurant has always been a

popular destination for dining and

private functions. Offering

uninterrupted views of beach, pier

and coastline, the view is a stunning

accompaniment to any occasion.

Warmer weekends in Canterbury

have seen an increase in people

enjoying the beach side of late and to

add to the seaside attraction the

Pierview is now open Sundays from

10.30am to 2.30pm for brunch.

Offering all the expected

scrumptious breakfast/brunch

delights, the menu also caters to

children.

Apart from Sunday Brunch the

Pierview is open from 5.30pm

Friday to Sunday serving quality, yet

very affordable, a la carte dining plus

the introduction of Buffet dining on

the last Sunday of each month.

Priced at just $25 per person, tables

fill fast on buffet nights, so bookings

are essential.

Father's Day is fast approaching -

Sunday 4th September - so phone

now to secure your table on 388

9416.

Downstairs the club's Tramshed

Treat the Kids!

Kids

2 course

special

from

Open daily from 6.30am - Breakfast, Lunch & Dinner

$10

Big Beach Brekkie

Eggs Benedict

Pancakes

Bistro is open for lunch and dinner

Tuesday to Saturday with a great

selection of meals, light meals, and

snacks.

As well as great dining, the New

Brighton Club provides regular live

music, big screen sport and rugby,

gaming room, plus social and

sporting sections. Enquiries to

become a member are most

welcome.

New Brighton Club, 202 Marine

Parade, Phone 388 9416.

www.newbrightonclub.co.nz

'Famous for their roasts!'

RESTAURANT & CAFÉ

Seniors SPECIAL

Two courses Soup/Roast or

Roast/Dessert

$20

We are family friendly.

Great Kids menu plus

designated play area.

Special available lunch only

Monday - Saturday 12pm - 2.30pm

Conditions apply.

Lunch & Dinner

All you can eat, 7 days

NOW SERVING

available

from

9am

Breakfast

HAPPY

HOUR

5PM - 7PM

DAILY

Bookings Essential PH 386 0088

fb.com/GardenHotelRestaurant

www.gardenhotel.co.nz

LIVE

SUNDAY

4th SEPT

HAPPY

FATHERS

DAY

Rhonda Campbell duo

6PM FRIDAY 26th August

MUSIC

PHONE 385 8880 FIND US ON FACEBOOK fb.com/GBCCHCH

THE GARDEN HOTEL COMPLEX | 110 MARSHLAND RD

www.gardenhotel.co.nz | phone 385 3132

Racecourse Hotel Motorlodge

118 Racecourse Rd, Sockburn, Christchurch. Ph 03 342 7150

www.racecoursehotel.co.nz (opposite Riccarton Raceway)

The Woolston

Club...

A classic, contemporary

club experience

Cafe open from 11am

TAB & Gaming

Function Facilities

HOUSIE

Tuesday, Thursday, Saturday

SHUTTLE

Tuesday - Saturday

What's On...

6PM FRIDAY

TJ

NEW SEASON MENU

OUT NOW!

Open 7 Days

Restaurant open from 5.30pm!

RETRO ROAST LUNCH

12PM-1.30PM

WEDNESDAYS

$10 Members / $12 Non

SUNDAY ROAST

12PM-2PM SUNDAY

FATHER'S DAY LUNCH

Sunday 4th September, 12pm-2pm

Dining Dads go in the draw to

WIN a $250 'Man Pack'
---
20

Tuesday August 23 2016

SOUTHERN VIEW

Fresh NZ Pork

Shoulder Roast

(Excludes Free Range)

$

5 99

kg

Californian Red

Seedless Grapes

500g

$

3 49

pack

cANtErbUrY

rUGbY plAYErS

iNStorE!

WEDNESDAY 24 th AUGUSt

4 – 5pm

Eta Munchos/

Monster Munch/

Cruncheese/

Cheese Balls/Spuds

100-150g

4for

$

5 00

plAYErS Will AlSo

pAck YoUr GrocEriES!

GEt YoUr photo

tAkEN With YoUr

fAvoUritE plAYErS!

Speight's Gold Medal Ale/

Summit

12 x 330ml Bottles/Cans

$

16 99

pack

frEE tickEt

GivEAWAYS!

Prices apply from Tuesday 23rd August to Sunday 28th

August 2016, or while stocks last.

freshchoice a proud

sponsor of canterbury

rugby take a kid to footy.

TAKE A KID

TO FOOTY

FCSV2308

Shopping just got easier

Best deals are here!

Certain products may not be available in all stores. Savings are based

on non-promotional price. Limits may apply.

FreshChoice Barrington

256 Barrington Street, Christchurch.

Open 7am-11pm, 7 days.

FreshChoice.co.nz

FreshChoiceNZ

Owned &

operated

by locals

332 6364

FreshChoice Barrington

Terms & Conditions apply.

barrington
---
FREE

TUESDAY AUgUST 23 2016

379 7100

Southern

View

Proudly locally owned and

published by Star Media

Award winning publishing group

Bellbird

(Korimako)

See your

local

community

Newspaper

INSIDE

Spreydon, Hoon Hay, Hillmorton, Cracroft, Cashmere, St Martins, Somerfield, Sydenham, Addington, Waltham, Opawa, Beckenham, Huntsbury, Woolston

Davis Cup event returns to Christchurch

The New Zealand Davis

Cup team are heading back to

Christchurch to take on Pakistan in

the Asia-Oceania Group 1 second

round playoff. The Tie is being

held from Friday 16 September to

Sunday 18 September, indoors at

Z Energy Wilding Park.

Kiwi Olympians Michael Venus

and Marcus Daniell ranked 41

and 58 respective in the world

for doubles have been named

alongside Finn Tearney ranked

381, Rubin Statham at 444 in

singles. If Statham takes the court

he will beat Onny Parun's New

Zealand Davis Cup record of the

most ties played for his country of

25 ties.

It is likely Pakistan will select

their doubles expert Aisam

Qureshi who is 36-years-old and

ranked 48th in doubles. Aqeel

Khan is another likely veteran

who should be selected.

New Zealand lead Pakistan

3-1 in head-to-head clashes. The

last time the two sides clashed it

was a 4-1 win for New Zealand

in Myanmar in 2013 which was

abandoned.

Christchurch has been the home

of Davis Cup ties since 2014, with

a win against Chinese Taipei in

2014 and a close 3-2 loss to India

in the 2015 semi-finals. Tennis

Canterbury is extremely excited

to host yet another Davis Cup tie

for the third consecutive year. This

is a return to the glory days that

has seen Tennis Canterbury host

numerous Davis Cup ties against

some of the superpower of world

tennis.

Z Energy Wilding Park is one

of the oldest sport venues still in

operation in all of Canterbury.

It has played host to Davis

Cup matches as far back as the

1910's and 20's. Much like many

of Christchurch's other most

important sporting facilities

Wilding Park was severely

impacted by the Christchurch

Earthquake impacted in both

September 2009 and February

2010.

The rebuilding process has

been a long one. Mixed emotions

were felt at the demolition of the

iconic Memorial Stands, host to

numerous Davis Cup Tie and other

International Tennis Federation

events. However it was also the first

bit of tangible progress in relation

to the redevelopment of Wilding

Park and proved to generate

some real excitement amongst the

tennis community. Strengthening

work on the facility's structural

steel and refurbishment of the

administration and function

space erased any signs of the

earthquake damage and provided

the wider community with some

great function space.

The final stage of development

will see the reinstatement of

six additional outdoor courts,

the development of a grassy

embankment for spectator viewing

and social spaces, including a

barbeque area. The facility will

continue to be available to the

local communities, including

school, charitable organisations

and, in some cases, other sports

outside of normal hours. The

final stage of development work

is scheduled to be gin in the

coming month with a completion

date of mid November, just in

time for the Summer of Tennis.

This development will allow

Canterbury to again host National

Age Group events, International

Events and, of course, future

Summer Davis Cup ties.

This year's Davis Cup tie is a

three day event. Two singles will

be played on Friday, doubles on

Saturday and the two reverse

singles on Sunday. Matches are

the best of five sets. Tickets and

Corporate Boxes are available.

Please go to www.tennis.kiwi for

further information and pricing.

Like you, we love to serve.

For over 20 years, ASB has been an enthusiastic sponsor and partner to

Tennis Canterbury. You've given us a lot of proud moments and in return we

have tailored banking packages to meet members' specific needs.

To set up the right banking match for you, visit any ASB branch or call

Warren Oliver, ASB Canterbury mobile lending manager on 027 338 0977.

Succeed on.

asb.co.nz

ASB Bank Limited
---
www.canterburytennis.co.nz

Cantabrian Tennis Player USA Bound

On the 1st June 2016, Jack Tiller

signed a national letter of intent

with Southeastern Oklahoma State

University, located in Durant,

Oklahoma, USA.

From the age of 15 Jack's overall

goal in tennis was to gain a

scholarship to train, play and study

in the United States of America.

Through taking part in Canterbury

Performance squads since the age of

12, he constantly saw older players

being granted scholarships and

given opportunities to experience

American lifestyle through

tennis while gaining invaluable

experiences. Seeing others excel

in the college tennis system

encouraged him to start

preparation for enrolment in

Fall 2016.

In October of 2015, Jack

got in contact with John

Gardner, the head coach in

the Nelson/Marlborough region

and his company, Inspire Sports.

John's expertise guided Jack

through a comprehensive checklist

of what he needed to achieve to

reach his ultimate goal of signing

with a college that fitted in well with

what he wanted. John's personalised

programme was a great help. It

began with initial meetings with

Jack and his father so John could

understand what they were looking

for in a college. John then set out a

'Plan of attack" on how they would

go about getting a contract. They

began working together through

each stage, which included NCAA

registration, skills video, personal

website, SAT and GPA results and

working through what colleges Jack

wanted to contact. Jack believes that

it would not have been possible for

him to work through everything

that needed to be done without

John's outstanding expertise and

knowledge. Jack found John's

attention to detail and reliability to

be outstanding.

Jack began talks with the coach

from Southeastern Oklahoma State

University in March of this year. The

coach expressed his interest in Jack

joining the college team and, after

talking through email, the college

made an offer for Jack to attend

their college and become part of the

Savage Storm athletic family. After

the initial paper work, Jack signed a

national letter of intent, committing

Jack to attending the university.

Through his years of training,

Jack's ultimate goal was to get to

university. Jack is a self-professed

'late bloomer' in tennis. During his

junior years, he describes himself as

a mediocre player who was always

outside the top player category.

Through growth, maturity and the

help of the Canterbury training

programme, he was able to play

smarter tennis and achieve positive

results. Coaching by Alistair Hunt

and Matt Meredith has afforded

Jack the opportunity to learn from

the best and use their expertise on

court, creating a huge advantage.

Jack has represented Canterbury

in multiple ties including

Canterbury vs Marlborough,

City vs Country, Canterbury

team's event and also the

Canterbury men's team. In 2015

he won the under 18 Canterbury

Championships, a great result to put

on his college application form.

Jack has always loved the fact that

tennis is mostly an individual sport,

results are based on a player's own

ability and there are no excuses. Jack

has always enjoyed competing in

Canterbury Interclub representing

his club of Elmwood. He is grateful

to Ashley Forbes for giving him

the opportunity to play top level

tennis in the premiere grade against

great players like James Meredith,

Remi Fennon and other top rated

players in the region. Jack feels that

it through playing top level players

that he has learned the most, even if

it involved losing.

During tennis season, Jack trains

or plays every day of the week. Each

week also includes four sessions of

hitting, two fitness sessions and two

days of interclub matches on the

weekends. During the off season

Jack keeps training with hitting

three days a week and a fitness

session and match play on the

weekends.

Jack chooses to keep his future

goals simple. His immediate goal

is to do the best he can to prepare

for college and to give himself the

best chance of success. For Jack,

this means being fit and healthy,

requiring him to train as well as he

can every time he gets on the court.

Over the long term, Jack plans to

take every opportunity he can at

Southeastern Oklahoma State in

order to reach his full potential

whilst there, not just in tennis, but

also in academic life.

For younger players aspiring to

play college tennis, Jack's advice is

to never give up. Jack recalls many

moments in his time of playing

tennis when he thought he wasn't

good enough, or wasn't able to

compete to his full potential. Not

TENNIS CANTERBURY 2016 / 2017 CALENDAR

being the best player in the region

or the nation is not a problem;

it's a challenge. By embracing

that challenge, working hard and

training, it is possible to shorten the

gap between the different levels in

order to compete in top level tennis.

Have a goal and go for it!

Jack invites anyone interested in

college tennis to feel free to ask any

questions. He will be happy to try

and answer!

AUGUST

26 Pre Season Interclub starts

SEPTEMBER

10 ASB Premier Interclub starts

23 Pre Season Interclub ends

30, 1 12s Development Camp (camp full)

OCTOBER TBA Midweek Ladies

TBA Business House

2, 3, 4, 5, 6, 7 Z Energy 2016 Junior Spring Open

8, 9 ASB Senior Interclub starts

14, 15 Junior Interclub starts

15, 16 Junior Trial for National Teams

17 Junior National Teams named for 2017 event

22, 23, 24 MC Junior Open (Ashburton)

27 TBC Primary Schools Teams Yrs 5/6 doubles only

NOVEMBER 11, 12, 13

2016 ASB Canterbury Primary and Intermediate Tennis

Championships (show weekend)

16 Primary Schools Teams Yrs 7/8 doubles only

NI Primary Schools Final (Waikato Tennis Centre /

21, 22

Hamilton)

22, 23 Canterbury Junior Secondary Schools Yrs 9-10 S/D

25, 26, 27 Tennis Canterbury Open (not junior)

28, 29 SI Primary Schools Finals (Timaru)

DECEMBER

6 Intermediate Schools doubles only

10, 11 Junior Interclub Christmas Break

11 ASB Premier Interclub Finals

11, 12 ASB Senior Interclub Christmas Break

14, 15, 16, 17,

18s Nationals Individual (Albany Tennis Centre / Auckland)

18, 19

17, 18 12s, 14s, 16s Wild Card Playoffs (Scarbro / Auckland)

TBA Tennis Hot Shots Tournament - Red and Orange Stage

JANUARY 2, 3, 4, 5, 6 18s Nationals Indiv (Wilding Park / Christchurch)

7, 8, 9, 10 16s Nationals Teams (Wilding Park Christchurch)

7, 8, 9, 10, 11 14s Nationals Indiv (Scarbro/ Auckland)

12, 13, 14, 15 12s Nationals Teams (Scarbro / Auckland)

12, 13, 14, 15 14s Nationals Teams (Scarbro / Auckland)

16, 17, 18, 19,

Wilson ITF Gd 4 TBC

20, 21, 22 TBC

16, 17, 18,

12s Nationals Indiv (Scarbro / Auckland)

19, 20

28, 29 ASB Senior Interclub Post Christmas start

TBC ASB Premier Interclub second round

FEBRUARY 3, 4 ASB Junior Interclub Post Christmas start

20, 21 Canterbury Secondary Schools Yrs 11-13 Open S/D

MARCH 10, 11 Junior Interclub finishes

18, 19 ASB Senior Div 4-7 Grade Finals

25, 26 ASB Senior Div 1, 2 and 3 Grade Finals

27, 28, 29, 30 Teams Finals (Scarbro / Auckland)

APRIL 23, 24 12S Development Camp (registrations open February 2017

26, 27, 28, 2017 Tennis Canterbury Junior Championships

29, 30 (TNZ Masters Tier 2 Event)

MAY TBD Winter Interclub begins

UNMATCHED CONSISTENCY, SUPERIOR PLAYABILITY

Unstoppable innovation, unmatched consistency and the most premium woven felt all add up to more W's for you. That's why Wilson ® has

been the Official Ball of the Australian Open for over 8 years, and used at more than 45 professional tournaments worldwide. Because a truly

renowned tennis match calls for an undeniably superior tennis ball. Wilson #1 in Tennis.*

PROUD TO BE THE OFFICIAL BALL OF TENNIS CANTERBURY www.wilsonsports.co.nz Follow us on instagram @wilsontennisNZ
---
Something for

everyone at Opawa

Tennis Club

The Opawa Tennis Club is situated in

beautiful tree-lined Cholmondeley Ave in

Opawa, across the road from the historic

home and gardens of Risingholme. Its

location makes it a very convenient home

club to tennis players in many areas of South-

East Christchurch, including Lyttelton and

bays, Heathcote, Hillsborough, St Martins,

Opawa, Woolston, Waltham, Linwood and

Charleston.

The Opawa Tennis Club has a long and

eventful history, dating from its establishment

in 1907. Being situated close to the Heathcote

River, the courts and clubhouse suffered

moderate damage in the 2010 earthquakes,

repairs to which have been mostly completed.

The club enjoys six well-positioned courts,

four of which are astroturf and two new

flexipave courts. An elevated clubhouse

provides excellent views over the courts,

where members can watch the play from the

extensive sunny balcony, or socialise postplay

in the comfortable lounge area. The

quiet residential area offers easy parking,

and is close to many bus routes including the

Orbiter.

Whether you are starting out as a beginner,

junior or adult, a keen social player, or

wanting a more competitive challenge,

Opawa can cater for a wide range of player

abilities. We have six senior competitive

interclub teams, and are very excited to have

a team competing in Division One Women

this year.

Also of note, we are very proud of our

several senior members who are still playing

into their eighties, many of whom have been

club members for decades.

We are very fortunate to have our own

professional coach, Sally Moorfield from

'Red Stripe Tennis', who has more than 25

years experience in tennis coaching. Sally and

her enthusiastic team of instructors provide

coaching for both juniors and seniors, in

individual or group sessions. They can

guide your child from absolute beginner to

interclub player in one of the approximately

20 junior interclub teams. (The club is lucky

to have a very active, sociable committee that

includes a dedicated junior administrator.)

New players are invited to join in any club

day on a no-obligation free first visit. We are

especially encouraging of adults wanting to

return to tennis after a break.

Players obtain the best value when they join

as full members and purchase a key so they

have use of the club facilities for a full year, or

The 2016-2017 season opens

at Opawa with a fun play/

registration morning on

Sunday the 4th September

there is the option of attending casually

at $10 per session. Tennis racquets are

available for use at the club if required

by new members.

The 2016-2017 season opens at

Opawa with a fun play/registration

morning on Sunday the 4th September.

Find out about Hot Shots or have a go

at Aerobic Tennis. Meet the coaches and

stay for a cup of tea and a sausage sizzle.

General information, contact phone

numbers and membership forms can be

found on our website. www.sportsground.

co.nz/opawatennis

We welcome all enquiries, or just come

along to our open fun morning, or any of our

senior club sessions:

www.canterburytennis.co.nz

Senior Club Tennis:, Saturdays from 1pm,

Wednesday morning coaching session with

Sally Moorfield 9.30-11.30 ($15), Tuesday

from 1pm, Sundays 10am. Contact Ian

Williams, M: 0272 303 927

For enquiries about Juniors, including

mini stars, junior stars and junior interclub,

please contact the junior administrator.

Andrea Baker mobile 021 232 714

General information, contact

phone numbers and membership

forms can be found on our website.

www.sportsground.co.nz/opawatennis

Senior Club Tennis:

Ian Williams 0272 303 927

Junior Administrator:

Andrea Baker 021 232 714

Club Contact Phone Email

Beckenham Peter Dunbar (Juniors) 027 667 7045 peter@peterdunbar.co.nz

Dave Hillman (Adults) 027 221 0290 dave@exalindustries.co.nz

Cashmere Andrea Baker (Juniors) 021 232 714 bakesak@yahoo.com

Shane Steele (Adults) 03 332 0865 shaneanthonysteele@gmail.com

Opawa Sue MacEwan (Juniors) 027 892 1393 familymacewan@xtra.co.nz

Richard Fairchild (Adults) 03 332 5895 fairchild@xtra.co.nz

Spreydon Nan Mason 03 338 8124 nanamason@clear.net.nz

St Martins Valley Kay Jelley 03 981 2974 kayejellybeans@gmail.com

CASHMERE TENNIS CLUB

Valley Road, Cashmere

Come out and

Proud holder of the Tennis Canterbury Club of the Year Award 2014/15.

Come and see for yourself why this is THE BEST place to enjoy tennis!

• Our upgraded facilities include 13 courts

• Large friendly club house with licensed facilities

• Social tennis runs throughout the year, Saturdays from

12.30pm, Wednesday evenings in summer from 5pm

followed by a BBQ

Adult Open Day on Saturday 1st October 12.30pm

is FREE and new members are very welcome

We are a family friendly club, offering playing and coaching

opportunities for players of ALL ages, levels and abilities.

Matt Meredith (Coach of the Year Award 2014) Head Resident Coach

www.cashmeretennis.org.nz • Phone 03 980 7358
---
Have Fun and Get Fit

with Cardio Tennis

Looking for a way to get fit, have fun and

meet new people? Cardio Tennis is a fitness

programme offered at tennis clubs across

Canterbury. Combining the best features of

tennis with cardiovascular exercise, Cardio

Tennis delivers a fun, full-body, calorieburning

aerobic workout ¬– even if you have

never played tennis before.

Cardio Tennis uses low-compression tennis

balls which travel at a slower speed, making

it easier for a beginner to hit the ball. More

advanced players will be challenged by a

range of activities that cater to all skill levels.

Cardio Tennis works by raising participants'

heart rates into their aerobic training zone. At

the beginning of each session, participants

are equipped with heart rate monitors before

exercising to music and using a variety of

modified equipment to elevate the heart

rate. Like interval training, periods of high

intensity are followed by short periods of rest.

Cardio Tennis combines fun with

spectacular success. Women can burn up to

500 calories in a 60 minute workout. Men

can burn up to 800 calories. Cardio Tennis

coaches are Tennis NZ registered and trained

to ensure that participants get a great workout

while improving their tennis skills.

Even if you're not good at tennis, Cardio

Tennis can provide a fun, social way to keep

fit. Contact Tennis Canterbury to find a

Cardio Tennis programme near you.

http://canterburytennis.co.nz/cardiotennis,

phone (03) 389-6484

Tennis Hot Shots –

Grassroots fun for all!

Kids working together, no queues and modified

courts, balls and equipment make Tennis Hot

Shots plenty of fun for all and a great way for your

kids to be introduced to the sport of

tennis in a fun, social environment.

The four key elements of any

New Zealand Post Tennis Hot Shots

session are:

1. FUN Players are actively

engaged, excited and motivated to

participate.

2. TACTICAL/PLAY Players

think and make decisions about

meaningful tennis situations.

3. SKILLS Players have plenty

of opportunities to improve their

tennis skills.

4. SOCIAL Players build social

skills such as working cooperatively

with a partner, building friendships,

encouraging teammates and

showing sportsmanship during game play.

Coaching New Zealand Post Tennis Hot Shots

coaching sessions are run by Tennis New Zealand

October marks the beginning of Tennis

Canterbury's exciting tournament calendar

for the 2016/17 season at Wilding Park. Chris

Anderson and Rosemary Hargreaves, both

experienced tournament co-coordinators,

have been appointed to organise this year's

tournaments.

As in previous years, the programme for

junior tournaments will take place during

each of the school holidays, starting with the

Z Energy Junior Spring Open (2-7 October).

Entries for the Spring Open are now being

accepted online until the closing date of 23

Sept 2016. Fact Sheets are available on the

website for each tournament, and provide

information for planning and for play as well

as contact information for any questions. The

tournament welcomes players from the 8 and

under age group up to 18 years.

All junior tournaments are open to any

junior, regardless of age or ability. Players

can be from any area, in New Zealand and

internationally, except for the ASB Primary/

Intermediate Tournament on Show Weekend,

which is replicated throughout the country

for each area's participation.

Primary Sports Canterbury and School

Sport Canterbury (Secondary Schools) also

www.canterburytennis.co.nz

qualified coaches. Our qualified coaches teach

kids to play in fun, supportive and interactive

sessions. Lessons generally run for between 30 and

60 minutes. NZPTHS coaching

sessions can be one-on-one or in a

group – ask your local venue what

options are available.

Community Play Community

Play is designed to give kids

the chance to have a hit in a

supportive environment where the

emphasis is on fun, not coaching.

The Community Play program

is conducted in clubs and centres

New Zealand-wide by parents,

club volunteers and NZPTHS

coaches.

Get involved today If Tennis

Hot Shots sounds like a fun

summer sport for your child,

please contact Andrew Falck at

Tennis Canterbury today to link

you with the right programme for your child

Contact Andrew Falck, email: andrew.falck@

canterburytennis.co.nz

Tennis Canterbury Region

Junior Tennis Tournaments

encourage tennis through tournaments

during term time. These tournaments are

advertised and encouraged through the

schools, then organised and run through

Tennis Canterbury. This is an opportunity for

players to try out tennis and to inspire them

to go further.

Tennis Canterbury will host the 16s and

under National Individual and Teams events

in January, with upcoming top NZ talent on

show.

The International Tennis Federation (ITF)

18 and under Junior Event will be held at the

end of January, with outstanding talent from

all over the world competing on our own

courts.

The Tennis Canterbury Open, held at the

end of November, attracts the very best NZ

players, including present and up and coming

Davis Cup / Federation Cup players.

Enjoy watching players in action, from

8-year-old beginners to top NZ and

international players. Mark the dates in your

diary. The tournament office is open during all

tournaments for any questions. Tournament

organisers can be reached at any time.

tournaments@canterburytennis.co.nz

More Great Deals in store NOW!

Were $399

Three BLX $ NOW 199

Were $349

Pro Staff 97 $ NOW 199

Were $249

Monfils Tour $ NOW 99

See Al at the

Frontrunner Bush Inn

for great prices on

all junior rackets.

Only available at the Front Runner in the Bush Inn Centre – (03) 343 3310

Corner Waimairi & Riccarton Roads Riccarton, Christchurch