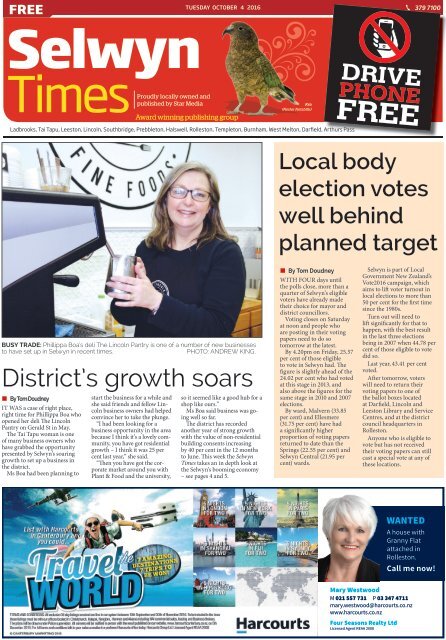 Selwyn Times: October 04, 2016
Create successful ePaper yourself
Turn your PDF publications into a flip-book with our unique Google optimized e-Paper software.
FREE

TUESday OCTOBER 4 2016 379 7100

Selwyn

Times

Proudly locally owned and

published by Star Media

Award winning publishing group

Kea

(Nestor Notabilis)

DRIVE

PHONE

FREE

Ladbrooks, Tai Tapu, Leeston, Lincoln, Southbridge, Prebbleton, Halswell, Rolleston, Templeton, Burnham, West Melton, Darfield, Arthurs Pass

Local body

election votes

well behind

planned target

BUSY TRADE: Phillippa Boa's deli The Lincoln Pantry is one of a number of new businesses

to have set up in Selwyn in recent times.

PHOTO: ANDREW KING. ​

District's growth soars

• By Tom Doudney

IT WAS a case of right place,

right time for Phillippa Boa who

opened her deli The Lincoln

Pantry on Gerald St in May.

The Tai Tapu woman is one

of many business owners who

have grabbed the opportunity

presented by Selwyn's soaring

growth to set up a business in

the district.

Ms Boa had been planning to

start the business for a while and

she said friends and fellow Lincoln

business owners had helped

convince her to take the plunge.

"I had been looking for a

business opportunity in the area

because I think it's a lovely community,

you have got residential

growth – I think it was 25 per

cent last year," she said.

"Then you have got the corporate

market around you with

Plant & Food and the university,

so it seemed like a good hub for a

shop like ours."

Ms Boa said business was going

well so far.

The district has recorded

another year of strong growth

with the value of non-residential

building consents increasing

by 40 per cent in the 12 months

to June. This week the Selwyn

Times takes an in depth look at

the Selwyn's booming economy

– see pages 4 and 5.

• By Tom Doudney

WITH FOUR days until

the polls close, more than a

quarter of Selwyn's eligible

voters have already made

their choice for mayor and

district councillors.

Voting closes on Saturday

at noon and people who

are posting in their voting

papers need to do so

tomorrow at the latest.

By 4.20pm on Friday, 25.57

per cent of those eligible

to vote in Selwyn had. The

figure is slightly ahead of the

24.02 per cent who had voted

at this stage in 2013, and

also above the figures for the

same stage in 2010 and 2007

elections.

By ward, Malvern (33.85

per cent) and Ellesmere

(31.75 per cent) have had

a significantly higher

proportion of voting papers

returned to date than the

Springs (22.55 per cent) and

Selwyn Central (21.95 per

cent) wards.

Selwyn is part of Local

Government New Zealand's

Vote2016 campaign, which

aims to lift voter turnout in

local elections to more than

50 per cent for the first time

since the 1980s.

Turn out will need to

lift significantly for that to

happen, with the best result

in the last three elections

being in 2007 when 44.78 per

cent of those eligible to vote

did so.

Last year, 43.41 per cent

voted.

After tomorrow, voters

will need to return their

voting papers to one of

the ballot boxes located

at Darfield, Lincoln and

Leeston Library and Service

Centres, and at the district

council headquarters in

Rolleston.

Anyone who is eligible to

vote but has not received

their voting papers can still

cast a special vote at any of

these locations.

WANTED

A house with

Granny Flat

attached in

Rolleston.

Call me now!

Mary Westwood

M 021 557 731 P 03 347 4711

mary.westwood@harcourts.co.nz

www.harcourts.co.nz

Four Seasons Realty Ltd

Licensed Agent REAA 2008
---
2

Tuesday October 4 2016

Inside

FROM

THE

EDITOR'S

DESK

SELWYN TIMES

News....................................3-19

BY LATE afternoon, early

evening on Saturday, we are

likely to know which one of the

five mayoral candidates will be

leading the district for the next

three years.

Sarah Walters, Pat McEvedy,

Sam Broughton, Bill Woods and

Debra Hasson all appear to have

campaigned well.

Reporter Tom Doudney

reveals on page 1 that there has

not yet been a tsunami of postal

votes received, and if that continues

through this week then

the outcome is likely to be super

close.

The same can be said of the

battle for district councillor

positions, and Environment

Canterbury.

So if you haven't put your

voting papers in the post – do it

today!

– Barry Clarke

No stopping economic growth in Selwyn

NEWS

4

Your Local Views.......10

Sport.................................20-21

Fashion.............................25

Community Events......27

Gardening...............28-29

Taste..........................................30

Achievers........................31

GET IN TOUCH

General Enquiries Ph 379-7100

Classified Advertising Ph 379-1100

The Christchurch Star Company Ltd. PO box 1467 - Christchurch

starmedia.kiwi

NEWS

Tom Doudney

Ph: 371 0780

tom.doudney@starmedia.kiwi

ADVERTISING

Lynette Evans

Ph: 364 7434

lynette.evans@starmedia.kiwi

230 Barrington st

332 4004

Your Local

Friendly

Dental

Team

Easy parking

& great service

WOF

$45 .00

• Courtesy cars • Oil changes

• Full mechanical repairs

• Brake & clutch repairs

• Transmission flush service

• Tyres & batteries

• Petrol & diesel servicing

Fitzgerald Motors

PHONE 03 349 7813

2/193 Waterloo road, Hornby

Rolleston's neW RetiRement village

OWN

YOUR OWN

VILLAGE

Woodcroft Estate brings you all the benefits of living in

a thriving community while retaining all the rewards of

owning your own home.

• 78 villas with Club rooms/ Pavilion and a bowling

green

• 2-3 bedroom villas with single or double garage

• On site manager

• Secure lifestyle village

• 100% capital gain

FOR MORE INFORMATION

Phone: 03 421 7796 | Email: sales@woodcroftestate.co.nz

34 kEndOn drivE, rOllEStOn
---
SELWYN TIMES Tuesday October 4 2016 3

News

New sports facility

• By Tom Doudney

was no proper basketball court had yet to raise this idea with the

or volleyball court in the town school's board of trustees.

THE NEED for a new indoor

and a full size gym was needed. There has been growing interest

in basketball with the high

sports facility in Darfield will be

"Having a facility like that in a

looked into as part of next year's

community like this would be, I school going from having one

Annual Plan process.

think, a positive," he said. team to five in the last five years.

District council staff have been

Darfield already has two small The teams had to play all their

asked to prepare an analysis

gyms at the high school, as well games in Christchurch due to

to determine whether such a

as the Darfield Primary School the lack of local facilities.

facility is needed and if so how it

hall and the Darfield Recreation Other sports which would

could be funded.

Centre – but all have limited benefit from an improved

The idea was raised by Darfield

High School head of out-

capacity.

indoor facility could include

Mr Dickens said one possibility

could be to upgrade one of volleyball.

netball, badminton and

door education Jason Dickens.

Mr Dickens said students at

the high school gyms, which A meeting was held between

the high school always had to

would be available for use by the high school staff, district council

travel into town because there

wider community. However, he staff, Darfield Recreation Centre

• By Tom Doudney

DARFIELD RESIDENTS may

not need to travel to Christchurch

to watch the Crusaders square

off against southern rivals the

Highlanders next year.

An agreement for Darfield to host

a pre-season match is understood

to be almost finalised. And if the

fixture is a success, it could be held

in the town every two years.

The match would be for the Farmlands

Cup which was first contested

in Southland farmer Fred Booth's

paddock as part of the Southern

Field Days event at Waimumu in

February. That match ended in a

19-19 draw.

It is anticipated the match will

alternate each year between Crusaders

and Highlanders country, with

the Crusaders to host their matches

in Darfield and the Highlanders to

continue hosting theirs in conjunction

with Southern Field Days.

The Darfield Township Committee

has agreed in principle to a new

permanent fence being built around

the Darfield Domain, provided by

the rugby club, which would be necessary

for the match to go ahead.

The Darfield Rugby Football

Club and the Crusaders confirmed

discussions on the matter had been

taking place but would not comment

further at this stage.

staff and district councillor Sam

Broughton, during which it was

agreed that district council staff

would look into the matter as

part of the 2017/2018 Annual

Plan process.

Cr Broughton said there were

other towns which might also

argue the need for upgraded

facilities so more analysis was

needed before it could be determined

whether the idea stacked

up.

"Facilities like these are quite

expensive," he said.

"I think a needs assessment is

definitely a good first step."

Crusaders pre-season game at Darfield likely

Behind the

Green Door

Ooh La La

Hairdressing

DARFIELD BOUND: Kieran Read on the charge for the

Crusaders during their Super Rugby match in Dunedin

last year. PHOTO: ROB JEFFERIES/GETTY IMAGES

25 %

LINCOLN EVENT CENTRE

SATURDAY 8TH OCTOBER

7 pm start | Doors & Bar open 6.00pm

Jeremy Corbett | | Justine Smith | Ben | Hurley | Jamie | Tom Bowden Furniss

at The Famous Grouse Hotel or email lincolnticketsnz@gmail.com

off

In Brief

GIRL KICKED BY COW

A two-year-old girl was flown

to Christchurch Hospital on

Saturday, about 4pm, after being

kicked by a cow at a Springston

property. A Westpac rescue

helicopter spokesperson said the

girl's injuries were "moderate to

serious."

DRIVER FELL ASLEEP

A Christchurch driver ended

upside down in a ditch on

Christchurch Akaroa Rd, near

Motukarara, after dozing off at

the wheel on Saturday at about

5pm. The man, in his early 20s,

had been in Akaroa for the day

and was on his way home. He

was uninjured. Sergeant Alex

Pickover said no charges would be

laid but the incident was a timely

reminder of the need for people to

pull over when tired.

KIRWEE MOBILE RECEPTION

Vodafone plans to improve

coverage in the Kirwee area with

a temporary cell on wheels site

to be installed near the Kirwee

tavern. The company plans to

install a permanent cell tower in

the township but that will depend

on residents' support and consent

from the district council and the

New Zealand Transport Agency.

Senior stylist

Amber Meyerhoff

Open Monday to Saturday

by appointment

Eftpos available

– credit cards accepted

Ladies

footwear

H90 x W130mm

336 Dunns Crossing Road, Rolleston

Situated opposite West Rolleston Primary School

Phone: 027 232 6237

John Sunckell

ECAN 2016

"Working together taking us forward"

• A steady experienced hand

• Strong Mid Canterbury voice

• Thriving sustainable communities

• Responsible resource use

• Simple regulatory processes

Maureen Crowley

Including access to Smart Marketing

and Expertise.

Why would you pay more?

Call Maureen Crowley 0211 537 167

Debra Hakaraia 0275 620 420

Office 03 384 8600

0274 542 554 john4ecan@xtra.co.nz

john4ecan

Authorised by John Sunckell, 100 Caldwells Road, Leeston

Debra Hakaraia
---
4

Tuesday October 4 2016

News

SELWYN TIMES

No stopping economic growth

Selwyn has continued to

ride an economic high

tide this year, the latest

economic data shows.

Tom Doudney reports

on the growth which just

won't stop

SELWYN'S ECONOMY has hit

new highs thanks largely to a

commercial building boom and

the district's strong retail sector.

Rolleston resident Sinead

McGrath said the growth

had been a big factor in deciding

to start up her hair and beauty

salon Copperhead Road, which

opened about seven weeks

ago.

"I have hair dressed in Rolleston

for a few years and built up

quite a big clientele but just with

all the new people coming into

the area and the fact that there

was only three or four other hair

salons I thought there was a lot

of potential to grow a business

out here," she said.

"It's going brilliantly."

Malvern Butchery owner

Paddy McKay said business in

Darfield was booming and he

was noticing the increased trade

in his own shop.

IN DEMAND: An extension of the Lincoln New World was recently completed. Population

growth across Selwyn has driven both the expansion of existing shops and the building of new

ones.

PHOTO: ANDREW KING

"Darfield is going flat out,

things are going real good here,"

Mr McKay said.

Data compiled by economic

analysts Infometrics showed the

value of non-residential building

consents in Selwyn grew by 40

per cent for the year to June.

During this time, consents valued

at $152 million were lodged,

up from $109 million for the

previous 12 months.

District council building

manager Vanessa Beavon said

the figures reflected a number of

factors including the building of

new schools in Rolleston, consents

for new shops to be developed

in Rolleston, West Melton

and Darfield and the continuing

development of new businesses

at Izone.

Non-residential consent values

increased by 16 per cent in

Canterbury and by 15 per cent

nationally in the year to June.

Selwyn retail trade was up by

6.4 per cent, well up on national

retail activity figures of 2.8 per

cent.

Overall, Selwyn's gross domestic

product grew by 3.8 per cent,

significantly above the Canterbury

average of 0.9 per cent, and

above the New Zealand figure of

2.7 per cent.

Selwyn's unemployment

rate of 2 per cent was the fifth

lowest among New Zealand territorial

authorities. Canterbury's

unemployment rate was 3.2 per

cent and New Zealand's 5.2 per

cent.

The 2014/2015 year was an

exceptionally busy year for

Selwyn as Statistics New Zealand

estimated that the district's

population grew by 6.5 per cent

in the year to June 2015 and

is now estimated to be about

55,000.

MOST PEOPLE would

probably recognise the growing

population along with farming

and rural industries as growth

drivers in Selwyn but not

everyone would see tourism as

part of the district's success.

Yet Selwyn's tourist numbers

have been on the rise, with

94,649 guest nights recorded

in the district (covering both

international and domestic

visitors) in the year to June, up

4.4 per cent from the previous

12 months.

District council chief

executive David Ward said a

focus on tourism promotions

had been part of its strategy

since 2011.

A shortage of venues in

Christchurch due to the

earthquakes had been a factor

in Selwyn's business tourism

growth as people had ventured

further out of the city to hold

their events.

Mr Ward said an increase

in international flights

into Christchurch Airport,

particularly from China,

and Queenstown had also

had an impact on visitor

numbers across the whole of

Canterbury.

HEAT PUMP

SALE NOW ON!

Amazin' spring Specials!!

New Builds

Alterations & Renovations

Project Management

Construction Services

NO JOB

TOO BIG OR

TOO SMALL

We are your local builders. Call today FoR a FREE QUotE

www.bownessbuilt.co.nz • info@bownessbuilt.co.nz • Phil: 021-0769-669

• We will offer you the best quality brands and

option of heat pump for your home/business

• Providing Heat Pump solutions for over 14 years to Cantabrians

• We personally guarantee all our products & installs for 5 years

(providing annual maintenance has been completed)

Phone us today for your free consultation & quote

41A SHAKESPEARE RD, WALTHAM

PHONE 03 366 0525

www.enviromaster.co.nz

"A local team for local people"

Try something new this Spring

Term 4 Recreation Classes - October to December 2016

Look out for the brochure in your letterbox* or alternatively pick one up from your local library,

service centre or the Selwyn District Council. Also available on our website.

Lincoln Event Centre

Get fit and energised with HIIT (High Intensity Interval

Training) – a mix of boxing, spinning and weights to

motivating music for only $8 a class. HIIT – Tuesdays

9.15-10.15am and Box-HIIT – Wednesdays 7-8pm.

15 Meijer Drive, Lincoln

347 2983, lec.enquiries@selwyn.govt.nz

www.lincolneventcentre.co.nz

Rolleston Community Centre

Try one of 4 new spin classes for endurance

and cardio fun this term. Golf for adults

returns to Burnham Golf Course and there's

new baby and mini gym classes on Friday too.

94 Rolleston Drive, Rolleston

347 2882, rcc.enquiries@selwyn.govt.nz

www.rollestoncommunitycentre.co.nz

*Rolleston and Lincoln residents only

Event Centre

Community Centre
---
SELWYN TIMES Tuesday October 4 2016 5

throughout Selwyn region

THE TWIN pillars of new

business investment and

agriculture mean Selwyn has

every reason to be confident

about its future growth, an

economic analyst says.

Infometrics senior

economist Benje Patterson

(right) said Selwyn's

economy was "quite

interesting" compared

to many of its peers in

surrounding districts.

"Even though in some ways

it is a primary sector orientated

district in that it has a lot of

agricultural production, it is also

somewhere where we are seeing a

lot of investment and that

has come about because

of many people flocking

to residential areas that

are growing in Rolleston

and other satellite

communities," he said.

Commercial

development in retail, logistical

facilities and industrial space

boded well for the future both

because much of the construction

was still yet to happen and this

development would enable

further economic activity.

"Those factors lead us to be

reasonably optimistic that Selwyn

is going to continue to perform

well – it may not grow at quite

the rate it has recently but even if

it was to grow at two or three per

cent that would still be very good

growth for a regional economy,"

Mr Patterson said.

The recovery in dairy

prices was also cause for

optimism.

"Dairy prices are not yet

at their historical averages

but they are up 25-30 per

cent in terms of the pay

out forecast compared with a year

earlier and that is going to see

farmers feeling more confident in

their spending patterns," he said.

Federated Farmers North

Canterbury dairy

chairman Michael

Woodward (left) said

that, apart from some

general maintenance

which had been put off

during the downturn,

farmers were unlikely to

increase their spending much

until next season.

"There is potentially pressure

coming from banks to basically

step up repayments," Mr

Woodward said.

"So we have got to have some

good $6 plus pay outs to get back

to where those farmers are really

happy again."

WITH A new shopping centre

soon to open to cater for the

subdivisions which have sprung

up over the last 10 years West

Melton is a poster child for

Selwyn's runaway growth.

While Rolleston and Lincoln

have grabbed much of the

spotlight, West Melton's own

population growth over the last

10 years has been phenomenal.

Resident Bruce Russell, who is

deputy chairman of the Selwyn

Central Community Board, said

this was driving demand for new

facilities and businesses.

"In 2006 we had 40 houses

here – today we have got nearly

1000," Mr Russell said.

"With the new shopping

centre going ahead West Melton

is going to be a little township on

its own."

The shopping centre, which is

being built by James Lloyd Developments,

is expected to open

early next month.

It features a Four Square

supermarket and 12 other shops

including a restaurant and bar,

Unichem, medical centre, bakery,

real estate agent, hairdresser

and a beauty therapy salon.

James Lloyd Developments

director Tony Hickman said

there were only two shops which

COMING SOON: West Melton's new shopping centre is

expected to open early next month.

did not have tenants arranged

yet and discussions were taking

place to fill those vacancies.

"The phone rings every day

from residents asking when it's

going to open and what kind of

businesses are going to be there,"

he said.

"It's what the area has needed

for a long time."

Mr Russell is also steering

committee chairman for the

planned $6.6 million West Melton

Community and Recreation

Centre which will replace the

community's ageing hall.

He said the new building

would be a big asset to the area.

"We are still hoping to go out

for tender probably about December

and then have the thing

built in hopefully September or

October 2017," Mr Russell said.

"The Lincoln Event Centre is

attracting people from Christchurch,

conferences and all that

sort of thing, and we could do

the same thing here because

we are only 10 minutes from

Christchurch."
---
6

Tuesday October 4 2016

SELWYN TIMES

BRING ON

THE WEEKEND

$

1 79 Hornby

Black

Jack

Courgette

H-930492

$

549

Weber Q

2000 BBQ

Sleek styled roasting

hood. Piezo ignition.

Two fold down side

shelves.Cart sold

separately $249

5 year limited

warranty.

239458

each

$

1099

$

229

Whitford

3 piece

Café Setting

E-coated steel. Also available in red,

lime, & white. 288866 202053 202058 202007

$

1599

Icarus

3 Piece

Setting

1800 x 1000mm

rectangular

table and

two 1600mm

bench seats.

Bench cushions

included.

Umbrella $179

248047 !88921

Como

3 Piece Lounge

& Day Bed Setting$

1799

1600

Three seater lounge chair, ottoman and convertible

glass top coffee table (with removable cushion).

Seat cushions included. 228977

Sienna

3 Piece Pod

Setting

Throw cushions included.

288902

$

1299

Icarus

7 Piece Setting $

2299

1800 x 1000mm

rectangular table and six

armchairs. 3 Year Warranty

!88913

Como

6 Piece Low

Dining Setting

$

3299

x 850mm low dining table, three seater lounge

chair, 2 single seater lounge chairs, ottoman and a

convertible glass top coffee table (with additional

cushion included).!88006

Sienna

4 Piece

Lounge Setting

2 Seater with 2x Single chairs. Also

available as a 3 seater $2599 !88931

$

479

Como

3 Piece Setting

720mm round table

and 2 armchairs.

Wicker-look with aluminium construction.

Seat cushions included.

!88003

$

2299

Gasmate

Horizon 6

Burner BBQ

Vitreous enamel

firebox, powder

coated side

shelves and

stainless

steel fascia. Large

glass viewing

window.

229235

$

3699 $

4199

Marbella

4 Piece Lounge

Setting

Throw cushions sold

separately.

Also available as a 2

seater setting $3299

!88199

Marbella

9 Piece

Setting

2200 x 1000mm

table with 8

wicker armchairs.

Throw cushions

sold separately.

!88952

370 Main South Road

Phone: 349 8497

Available from Tuesday 4th October to

Monday 10th October, while stocks last.
---
SELWYN TIMES Tuesday October 4 2016 7

News

Councillors hit out

at city counterparts

• By Tom Doudney

DISTRICT councillors have hit

out at their Christchurch counterparts

over the ban on freedom

camping in the city and Banks

Peninsula.

The comments came as a

report on freedom camping was

presented at Wednesday's district

council meeting.

The report predicts increased

numbers of freedom campers in

Selwyn this summer due to the

ban, at a cost of about $30,000

to the district council in extra

cleaning, servicing and waste

removal.

District councillor Sam

Broughton said it was "quite

disappointing that Christchurch

has put its head in the sand and

decided that it doesn't want to

have to deal with freedom camping

which has made it really

hard to come up with a regional

response to freedom campers."

District councillor John

Morten said it was "typical of a

wishy-washy Christchurch City

Council and their inability to

make a decisive decision."

District councillor Nigel

Barnett said if the city council

TRAVELLING LIGHT: More freedom campers are expected in

Selwyn this summer.

could "get their act together"

the impact on Selwyn would be

reduced.

Several other district councillors

expressed support for the

comments.

Christchurch mayor Lianne

Dalziel declined to respond

to the comments, when approached

by the Selwyn Times.

District councillors also suggested

that more could be done

to encourage freedom campers

to spend their money in ways

which would benefit the Selwyn.

District councillor Pat McEvedy

suggested that freedom

campers could have the opportunity

to make a donation to an

environmental protection and

enhancement fund to offset the

effects of freedom camping.

District councillor Malcolm

Lyall said he had concern for Selwyn's

tourism hot spots but he

was also interested in what could

be done to connect the campers

with local businesses which

could benefit from their trade.

"Think of them as an opportunity,"

he said.

HAVE YOUR SAY: Are

you concerned about the

prospect of more freedom

campers coming to your

area? Send your views to tom.

doudney@starmedia.kiwi

Pig farm's bid to renew

resource consent fails

• By Tom Doudney

A PIG farm near Burnham that

has frustrated its neighbours for

four years has had its application

to renew its resource consent

declined.

The 20ha farm, run by Chris

and Melanie Bates and their

son Henry since 2012, has until

October 19 to decide if it wants

to appeal the decision of an

independent hearing panel to the

Environment Court.

Neighbours were concerned

about dust and, to a lesser extent,

noise and odour from the farm.

Those who spoke to the Selwyn

Times said they were pleased

about the decision but wary over

the possibility of the Bates making

an appeal.

Neighbour Hamish Cottier

said if the panel's decision was

upheld, he and his wife would

be able to get back to their

business of training polo horses

and taking riding lessons –

something which he said had not

been possible with the pig farm

next door.

"It's a step in the right direction

and I would like to have my business

back," he said.

"But the pigs have to go first."

The farm, on the corner of

Thompsons Rd and Selwyn Rd,

has about 235 pigs not including

piglets.

The Bates had been granted a

two-year consent in May 2014

to allow them time to move the

operation to a larger site.

The Selwyn Times was unable

to reach the Bates for comment

but in their application to renew

the resource consent they stated

that they had been unable to find

a suitable alternative location in

spite of investigating about 60

potential sites.

Hearing commissioners

Graham Taylor and John Iseli

were satisfied that odour and

noise were not significant

issues. However, they were not

satisfied that dust issues could be

sufficiently mitigated.

"Our conclusion is that without

irrigation, the pig farm will be

unable to maintain ground cover

on a regular seasonal basis," their

report stated.

"There is therefore a high

likelihood that dust nuisance

conditions will re-occur in less

than extreme events."

Irrigation had been

investigated but discounted

by the Bates due to water

unavailability and cost.

Clever?

Compact?

LARGE?

However you like it - Our work spans all types of house building

When it comes to scope and style the homes you see here are just the tip of the roofline. With

decades in the business the team at Artisian Homes have worked in all areas of residential

construction. There are obvious differences between building a two-bedroom home compared

to a six bedroom one. Irrespective, our overall approach remains the same.

While we have a sound reputation for carefully crafted home building we also are renowned

for getting the right result no matter what the challenge. Building with difficult access,

looming timelines or tight budgets is just a fact of life for us.

Our house looks great. I have been

very impressed with the Artisan team.

Good build quality, very good progress

& clear open communication.

Thanks heaps! "

~ Peter, Halswell

My husband and I have just moved into a home built by

Artisan Homes. Even though it is a large home we had no

delays with supply or tradesmen. We were concerned when

choosing a builder as we are in the Christchurch rebuild

zone. Rob and his team were honest, very prompt sorting

out any queries and helped with choices throughout the

entire build. We are very pleased with our home. The

quality and service was excellent. If we ever build again, it

will be with Artisan Homes.

- Kevin and Debbie, Templeton.

Office & Show Home: 5 Broomleigh Drive,

Faringdon, Rolleston

Phone: 03 374 9172 or Rob: 021 324 876

E-mail - robin@artisanhomes.co.nz

Builders of superior homes.

Built to last.
---
8

Tuesday October 4 2016

SELWYN TIMES

In the lead up to local body elections on Saturday, the Selwyn Times has been regularly

putting a question to each of the five Selwyn mayoral candidates. The final question

relates to the 6km of new footpaths constructed by the district council during the current

financial year. The footpaths cost $500,000 in total, with $400,000 of that being met from

investment income and therefore no direct cost to the ratepayer. Lincoln and Prebbleton

are not among the 12 Selwyn communities which will benefit from this. If the district

council is using funds from investments, why shouldn't some funds be allocated to these

two towns?

District

councillor Sam

Broughton:

The

contribution to

the general rate

from households

across the district

is an important income source

for our community and is used

to pay for public good items

including footpaths where a

targeted rate is not appropriate or

difficult to apportion.

Income from investments is

treated in the same way. The

council makes general rate

decisions based on need and

looks to be fair across the district.

There are footpaths in each of the

wards to be completed as part of

the programme.

The footpath programme is

to bring our footpaths up to the

expectations of our community.

The towns with the most work

have been lagging behind our

expected standard and it will be

good to see them upgraded over

the next couple of years.

District

councillor

Debra Hasson:

Investment

revenue is used to

support the general

rate and applied

across Selwyn in

'swings and roundabouts'.

Due to the timing of this money,

post annual plan deliberations

council decided to increase the

footpath budget from $200,000

to $500,000 over 12-18 months,

bringing forward planned

expenditure. A revised list was

prepared by staff reflecting both

submissions and priorities. While

Lincoln and Prebbleton footpaths

were not included, on a ward basis,

footpaths in Tai Tapu were.

Once this $500,000 has been

spent, council plans to consult

with township committees on

council's Walking and Cycling

Strategy so further footpaths can

be added.

Please remember, to construct

Lincoln's Town Centre Plan, general

rate funding will apply and

some years ago Prebbleton had its

main street upgraded.

District

councillor Pat

McEvedy:

The footpaths

listed in the

2016/17 footpath

extension programme

are those

that have been requested by various

township committees over a

period of years.

The $400,000 from a Sicon

dividend has made it possible

to reduce the nine year waiting

list. Most of these footpaths are

missing links in the older parts

of these townships. The reason

that there are none in Lincoln

and Prebbleton may mean that

the connections in these two

townships are much better than

most other townships. This

reflects the quality of the recent

developments in these towns that

has provided good linkages and

connections for walking.

It's important that we respond

to what individual communities

want and request as all of our

townships are unique and have

different requirements.

Elections 16

Deputy mayor

Sarah Walters:

An assessment

was undertaken by

staff based on three

pedestrian benefit

factors to initially

determine priority

across the district and letters were

sent to community committees

asking for further feedback.

Priority was determined on:

those within townships (ie the

benefit to more pedestrians), those

alongside the busiest road

(ie improves safety of pedestrians),

those that filled in a missing link

(ie gaps between existing footpaths

to make routes more continuous).

Since the annual budget was

put together the council has also

adopted the Lincoln Town Centre

Plan which includes improved

pedestrian facilities and requires

significant investment but has

not yet been through the budget

process.

Bill Woods:

This question

is directed to the

other candidates

as I have had no

involvement in

the decision but I

am confident that

there would have been a list of

footpaths to be constructed and

an order of priority drawn up

with the towns of Lincoln and

Prebbleton not making the grade.

What I am also not aware of is

did the councillors question the

order or just accept the list presented

to them without question?

If past actions are anything to

go by the list would have been accepted

without any questioning.

I must emphasise this is only my

assessment as I have no information

to the contrary.

Summer Wedding?

Visit Smith & Boston!

Experience a tiny hearing aid that

outperforms normal hearing in

challenging listening environments*

A virtually invisible German engineered hearing aid that

enables wearers to understand speech in difficult listening

situations like busy restaurants, and reduces listening

effort throughout your day.*

Easy to operate with excellent sound quality and audibility.

For further information or to book an

appointment for a free hearing screening

and hearing aid demonstration

FREE PHONE: 0800 72 73 66

Completely disappears

Hearing Clinics available: Christchurch, Rangiora, Ashburton and West Coast

(Hokitika, Greymouth and Westport). Consultations by Appointment only.

*Clinically proven in two independent studies to provide better than normal hearing in certain demanding listening environments.

*Special conditions apply

Merivale Hearing Clinic

24b Church Lane, Merivale. Call: 356 2324

Greg Foote, Audiologist

New

stock

in store

now

SMITH & BOSTON

Prebbleton Village | Christchurch

Ph: 03 349 5646

www.smithandboston.co.nz

Freshen up your look

Come and see our full collection of

curtain and upholstery fabrics today.

Classic Curtains & Interiors

817 Jones Road, Rolleston

Ph 03 347 4295

Brighten

up a

bedroom

with a

crisp

new

decor.

Visit us

today.
---
SELWYN TIMES Tuesday October 4 2016 9

Coe's final meeting

• By Tom Doudney

MAYOR KELVIN Coe has paid

tribute to a group of district

councillors who "play the ball and

not the man" in his last meeting

in charge.

Mr Coe will step down

following Saturday's election after

nine years as mayor and 12 years

before that as a district councillor.

In his valedictory speech, he

said that throughout his time as

mayor councillors had shown the

ability to work together and keep

disagreements at the table from

becoming personal – something

which wasn't always been true of

other councils.

"That's a real strength of this

council," he said.

He said the fact that most of the

incumbent district councillors

had been voted back in at the last

two elections showed they had

been doing a good job.

Other district councillors

thanked Mr Coe for encouraging

discussion, which allowed for

consensus decision making.

District councillor Nigel

Barnett, who is also retiring,

said he was proud of the way

the district council had gone

from lagging behind in dealing

with some issues relating to

the district's runaway growth

JOB DONE: Mayor Kelvin Coe will step down after Saturday's

election.

to getting on top of things

during his own nine years at the

table.

"When I look back at some

of the big decisions we took

on board, with the benefit of

hindsight, there really wasn't any

other decision that could have

been made," Cr Barnett said.

He acknowledged his

reputation as a joker.

"It would be a bit of a shame if I

couldn't have some fun along the

way."

Jeff Bland

• By Tom Doudney

MEMBERS OF the Selwyn

Central Community Board

have lamented its loss as it

enters its final days.

The board held its final

meeting last month and will be

officially disestablished following

Saturday's local government

elections.

The district council decided

to disestablish the board after

consultation last year and the

Local Government Commission

supported the decision.

District councillors Jeff

Bland, who took over from

Diane Chesmar as chairman

at the start of the year due to

tensions between fellow board

members, said the district

council had been too quick to

Bruce Russell

Last days for

community board

get rid of the board.

He would rather have seen

Selwyn Central residents given

the chance to vote on whether

to retain the board as part of

local body elections.

"I'm a great believer in democracy

and I am sad myself

that the board has been dissolved,

I would have liked to

see it continue," Cr Bland said.

Deputy chairman Bruce

Russell said that in turning

away from community boards

Selwyn was out of step with

other parts of the country.

"In Christchurch the mayor

and councillors there are saying

'we must give more power

to our community boards

because they are the heart of

the community'."

KEEP IT SAFE

& SECURE

You're invited to

a free workshop on

irrigation efficiency

Manage your irrigation to make every drop count

Selwyn Waihora Workshop

Come and hear from IrrigationNZ and get your questions

answered. A practical workshop designed to get the most

out of your irrigation water.

• Understanding soil/water needs & pre-season check

• Scheduling, using climate info to budget water use, etc

Wednesday 12 October, 9.45am – 3pm

110 Brook St, Southbridge

For more information call Sylvia McAslan, 027 705 9735

Lunch sponsored by:

Get your perfect backyard shed!

THICKER, STRONGER & MORE SECURE

BIG RANGE OF GARDEN AND STORAGE SHED

SIZES AND STYLES AVAILABLE

CHRISTCHURCH

55 Hands Road

Ph: (03) 338 9063

www.stratco.co.nz
---
10

Tuesday October 4 2016

Your Local Views

Health and safety concerns

at Selwyn Sawmills justified

WorkSafe

New Zealand

deputy general

manager

assessments Jo

Pugh responds

to a column

by Selwyn

Sawmills

co-owner AJ Halliday about

"restrictive and expensive

edicts from WorkSafe New

Zealand" forcing businesses

to close their doors

Health and safety is an easy

target when financial difficulties

happen.

The Health and Safety at Work

Act asks businesses to be sensible

in managing their hazards.

It doesn't mean that every

hazard, no matter how small,

has to be eliminated at any cost.

That's not reasonable, let alone

possible.

We know it's possible to meet

health and safety obligations as

demonstrated by the five out six

sawmills in the region that we

have assessed. They are managing

their hazards and protecting their

workers and customers from

serious harm.

However, what was witnessed

on-site by WorkSafe inspectors at

Selwyn Sawmills left us no choice

but to seek improvements. The

site had unguarded belt drives,

open chain and sprockets, and

required workers to step over one

machine to get to the next, which

are all examples of hazards with

the potential to threaten life and

limb.

WorkSafe is not insensitive to

businesses circumstances and,

in the case of Selwyn Sawmills,

we provided the business extra

time to meet the improvement

notice. Upon news that the

directors had taken the decision

to cease trading, we helped

them work through short term

safety improvements – including

administrative controls like

earmuffs – which would allow

them to continue trading while

the business was wound up.

Health and safety is a part of

business – not an addition to be

tacked on when times are good.

Keeping workers and customers

well away from dangerous

machinery while it is in operation

is the best way to prevent

incidents. Adequate machine

guarding is not optional – it's a

must.

A lack of money does not

reduce responsibilities under the

Health and Safety at Work Act. In

fact, when times are tight it can

be tempting for businesses to cut

corners, leaving workers exposed

to serious and potentially deadly

hazards.

In New Zealand, one person

a week is killed in workplace

accidents, and over 20,000 suffer

serious injury and 600 to 900 die

an early death from work-related

ill-health each year.

Our workplace death and injury

toll is far worse than Australia's or

the United Kingdom's. That is not

a record to be proud of.

Additionally, taxpayers are

forking out an estimated $3.5

billion a year on workplace

deaths, injuries and ill-health.

However, the most significant

cost is that paid by the loved ones

who pick up the pieces following

a workplace accident.

Residents respond to

business owner Lynn

Townsend's recent

column in the Selwyn

Times which criticised

the planned removal of

car parks on Gerald St in

favour of a cycleway

Alan Wise, of Lincoln –

Does Lynn Townsend

honestly believe that people

go to the Lincoln supermarket

because it has a large car park

and how is this an argument for

the district council to provide

on-street parking? Does a

business such as Coffee Culture

think their coffee is so ordinary

that their customers will go

elsewhere if they can't park on

Gerald St?

I thought business owners

were more astute and realised

that more business comes from

people walking past the door

than driving past.

I fully support the district

council's plans for Gerald St.

SELWYN TIMES

Change can't come soon

enough and I couldn't agree

more with Don Babe's views.

Pat Palmer, of Prebbleton

– Lynn Townsend should be

asking the district council 'how

many cyclists will use the proposed

cycleway along Gerald

St and how much will it cost?'

And the council should have

considered this, and already

told us.

Lincoln resident Vicky

Bowden writes on the

state of the earthquakedamaged

St John's

Anglican Church in

Hororata

I don't live in Hororata but

do visit relatives there and so

have driven past the church at

different times.

When I was at a wedding in

Hororata three years ago we

went over to visit the grave of

the bride's mother.

Authorised by Mark Alexander 478 Two Chain Road RD7 Christchurch 7677.

ü Vote

Mark

Alexander

SELWYN

COUNCIL

ü

ü

ü

for

HONEST

INDEPENDENT

EXPERIENCED

FLOORING

FREE

RURAL

DELIVERY

To closesT freighT

depoT

SHOWROOM 3/954 FeRRy ROad | CHRISTCHURCH | Tel. 03 943 2001 | WWW .gReenFlOORIng.CO .nz

QUICKSTEP – LOC – ELKA – PERGO – TORLYS

LET US HELP

YOU SAVE $$$

ON FLOORING

• TIMBER • TILE • CORK

• LAMINATE • LEATHER

laRge SeleCTIOn

FRee MeaSURe &

QUOTe

TRAdInG hOURS:

Tuesday to Thursday 8:30am to 5:30pm,

Friday 8:30am to 5:00pm, Saturday 9:30am

to 1:00pm, Sunday & Monday closed.
---
SELWYN TIMES Tuesday October 4 2016 11

LAWyerS

WINNERS ARE GRINNERS: Lincoln University student Zoe Harty, who won the Miss

Famous Grouse contest. She will spend the $2000 prize money on clothes and an

overseas trip.

Some of us commented on

the fact that even though there

is obviously not any repair

work happening it would be

good if they were continuing

to do some basic maintenance

of the church to keep it in a

good state.

Earlier this year I was there

again for an internment and

noticed that there are weeds

in the gutters and other things

that will not be helping with

the overall condition of the

church and one would think

could be looked after – unless

it is a safety issue.

Lincoln resident Todd

Nicholls writes about the

Selwyn Times' coverage

of the Miss Famous

Grouse competition on its

front page last week

I am a long-term Lincoln

resident. I have been a

journalist and a lawyer for

over 20 years. I am also the

father of two young daughters.

I was horrified by your front

page story Beauty and Brains

(September 27, 2016).

For just a moment I thought

that we had gone back to the

dark ages. Bad enough that the

Lincoln Hotel had to advertise

this sexist rubbish (posing as

entertainment) for weeks beforehand

outside its premise.

For your otherwise excellent

newspaper to highlight this

backward event on its front

page is an insult to not only

the progress that we have

made as a community but the

role of women in our society.

Your readers, and my two

young daughters, deserved

so much better.

Rolleston resident

Jonathan Scott writes

about the Pest Control

Research factory in

Rolleston planning to

manufacture 1080 bait

Myself and other Rolleston

residents wish to express our

concerns that PCR keep their

external roller door open

during operation.

Open Day Announcement

St John The Evangelist Catholic Church Leeston, is proud to announce its

long awaited reopening following the completion of phase one, earthquake

strengthening works.

Although the district

council have advised that PCR

cannot manufacture 1080

bait yet, we believe PCR are

demonstrating their lack of

concern for the community by

engaging in poor manufacturing

practices, which, if occurring

during active poison bait

manufacture, would put the

community at risk and be in

breach of their consent.

As the spokesman for the

1080 Free Rolleston Facebook

page, we would like to see PCR

take these concerns into consideration,

rather than simply

responding with 'we are not

making bait yet.'

I suggest PCR is leaving

the external door up in

order to counteract the

effect of solar heating or

manufacturing temperatures

occurring during the day.

We want to understand if

this is PCR's only method of

cooling their building during

pre-feed manufacture, how

is PCR prepared to react if

they proceed to active bait

manufacturing.

Some residents are also concerned

that leaving the factory

door open is a security risk

that PCR should address in

order to safeguard their stock

of poison.

If PCR were willing to make

a gesture to allay the community's

concerns, I would be

prepared to meet with PCR

management to discuss the

matter further.

We have over 40 years' experience

to assist you with…

• Buying and Selling Houses and

Commercial Property

• Wills, Trusts and Estate matters

• All issues facing you and your business;

• Employment Law matters;

• Traffic matters;

• Earthquake related issues; and

• Advice regarding Retirement Villages

Call John, Brendan or Andrew

today on 03 366 8996 to find

out how we can help you.

Email. lawyers@mclegal.co.nz

Airport Business Park

92 Russley Road

Christchurch 8042

Bursting with colour for Spring

In the flower business 24 years.

broadfieldflowers

P 325 2621 | 1094 Shands Road

www.broadfieldflowersflorist.co.nz

Just 5 minutes from Lincoln

The first mass will be held this

Sunday 9th October, 10am.

Followed by the open day

which will take place from 2-4pm.

The parish would like to welcome everyone along to the open day, as a thank

you for the support that has been shown over the last five years.

St. John the

Evangelist Catholic

Parish - Leeston

7th, 8th & 9th Oct

www.theswapmeet.org.nz

WE SPECIALISE IN THE CARE AND

PRESERVATION OF TREES

• Pruning

• Expert Tree Felling

• Fully Insured

• Free Quotes

• Powerline Clearing

• Branch Chipping

• Competitive Rates

• Orion Approved Contractor

FULLY

QUALIFIED

ARBORISTS

Member of NZ Arboriculture Association

For quotes and enquiries phone 03 349 7143 | For urgent enquiries phone 027 272-6710

Email: office@arbor-tek.co.nz

www.arbor–tek.co.nz
---
12

News

In Brief

Tuesday October 4 2016

NEW BUSINESS NETWORK

The Lincoln Envirotown Trust

is looking to establish a 'Selwyn

Responsible Business Network.'

A meeting about the network

and the future of the Sustainable

Business Awards will be held at

the Rolleston Community Lounge

on October 11, 7pm. For catering

purposes people are asked to

RSVP to rbacoordinator@gmail.

com

STATE HIGHWAY 1 MEETING

The Weedons Resident's

Association will hold a meeting

on October 11 to update residents

on the State Highway 1 four

laning work associated with Stage

2 of the Christchurch Southern

Motorway. The meeting will cover

approximate starting dates and

the manner in which the work

will be undertaken. It will be

held at the pavilion in Weedons

Reserve, from 7.30pm.

CORRECTION

Last week's edition of the Selwyn

Times made reference to Joan

Simpson who attended the 150th

anniversary celebrations for

Lincoln Primary School. The

article incorrectly stated that

Mrs Simpson's maiden name

was Bray and that she was 96.

Mrs Simpson's maiden name was

actually Smart and she is 94.

Leeston man makes Solomons safer

NEW LOCATION ADVERT.pdf 1 1/05/2014 11:51:35 a.m.

A LEESTON man is helping

make communities in the

Solomon Islands safe by clearing

explosive remnants of World

War 2.

Able Diver Craig Smith has

been taking part in Operation

Render Safe, a multinational

operation led by the Australian

Defence Force to dispose safely

of unexploded World War 2

munitions.

"It's been fantastic to help

them out and they are also our

main source of information,"

ADR Smith, from the Royal

New Zealand Navy diving and

mine countermeasures ship

HMNZS Manawanui, said.

"The Solomon Islanders have

been living in an area scattered

with tonnes of explosive

ordnance for the past seven

decades," he said.

"Removing these hazards will

give them a safe environment to

live in and the kids will be able

to jump in the water without being

afraid of injuring or killing

themselves."

In the first week of the Render

Safe operation, the combined

multinational teams recovered

1389 items, weighing 3.7 tonnes,

of unexploded ordnance.

The team of divers from

Manawanui and explosive ordnance

disposal experts from the

Canadian Defence Force have

recovered and detonated safely

about 60 unexploded munitions,

including a 250-pound bomb,

during the operation.

ADR Smith joined the navy

four years ago, after graduating

from St Thomas of Canterbury

College.

"I wasn't sure if I should follow

my brothers' footsteps and

go to university or get 'out of the

box' to see the world and have

an interesting lifestyle," he

said.

"I know that sounds like a

cliché but since joining the navy

I've had many opportunities to

see the world, including South-

East Asia."

He said his role as a diver

aboard Manawanui included

maintaining the dive equipment,

the decompression chamber and

the diving bell.

ADR Smith spent his early

years in Perth but moved with

SELWYN TIMES

FROM THE

DEPTHS: Able

Diver Craig Smith,

from HMNZS

Manawanui,

holding an

unexploded

World War 2

munition he

recovered on the

sea floor in the

Solomon Islands.

PHOTO:

AUSTRALIAN

DEFENCE

FORCE ​

his family to settle in Leeston

when he was 13.

He said he was still a true-blue

Aussie, even though all his

friends were All Blacks supporters.

"It's good to keep up the rivalry

in Manawanui," he said.

About 200 personnel from

Australia, Canada, New Zealand,

the Solomon Islands and

the United Kingdom have been

participating in Operation Render

Safe.

VISIT OUR NEW LOCATION LOCATION

430 ST ASAPH STREET!

Hours of Business: 7am-4.30pm Mon-Thurs

Fri 8am to midday

or by appointment with Keith 027 566 3909

RECOVER YOUR LOVED FURNITURE

No job too big or small

Still able to offer

you the finest top

quality new furniture

Visit us online

www.qualityfurniture.co.nz

P. 371 7500

QUALITY FURNITURE SPECIALISTS

RE - UPHOLSTERY SPECIALISTS KEITH HARTSHORNE 0275 663 909

ROLLESTON

LAW

Sound, workable legal advice and solutions

Rolleston Office: 78A Rolleston Drive, Rolleston Square

Darfield Office: Darfield Business Hub, 68 South Terrace

RICHARD GRAY

W: www.meareswilliams.co.nz

T: (03) 374 2547

M: 021 148 6221

E: rcg@meareswilliams.co.nz

E: am@meareswilliams.co.nz

ANITA MOLLOY-ROBERTS

BRAND NEW VILLAGE

CENTRE AND CARE

CENTRE – NOW OPEN!

Welcome to our new village centre

and care centre.

We're excited to let you know that we recently opened

our village centre! The village centre is the heart of

our Summerset community with residents already

enjoying the fantastic facilities, like the café, lounges,

indoor swimming pool and spa, library, exercise

room and outdoor bowling green. The village centre

is also home to our care centre, which offers a range

of care options up to rest home and hospital-level care.

For more information about our village, please call

Anne on 03 741 0872.

Come and see why

we love the life at Summerset

Summerset

at Wigram

135 Awatea Road, Christchurch

Contact Anne Walker on 03 741 0872

wigram.sales@summerset.co.nz

Love the life

WORK6839
---
SELWYN TIMES Tuesday October 4 2016 13

News

Plans to rebuild historic cottage

• By Tom Doudney

A FORMER Rolleston cottage,

which may have been built as

early as 147 years ago, could be

rebuilt following the excavation

of the site where it once stood.

The Dynes Rd site was excavated

18 months ago, with an old

land deed revealing that it was

almost as old as the town itself.

Rolleston will celebrate its 150th

anniversary in 11 days time.

Records showed that the

crown sold the land to K. Kelly

in 1869. A Witter Archaeology

report concluded that, while

that did not necessarily date the

building, "such a structure might

be expected to follow soon after."

The site's owner, former district

councillor Annette Foster,

said she and her family were

in the process of having plans

drawn up to rebuild the cottage

based on a photograph sourced

from the Canterbury Museum.

The photograph, taken in 1928,

had appeared in a 2007 book

by George Singleton about the

former Ellesmere county.

Mrs Foster and her late husband,

David, had deliberately retained

ownership of the cottage

site on Dynes Rd when they sold

the surrounding 121ha for the

Faringdon subdivision, Foster

Park and Rolleston College.

"We thought it was really important

for Rolleston to actually

have something which related

to its history, because Rolleston

PIECES OF

HISTORY:

Annette Foster

with late 19th

century Rhine

pattern china

found in the

excavation of

a site on her

property where

a cottage

was built 147

years ago.

PHOTO: TOM

DOUDNEY

wasn't really a place where people

settled, it was a transient area

and a lot of the land was owned

by people in Leeston, Springston

and Lincoln and was used as

their dry land run-off," she said.

AS IT WAS: This photograph of the former cottage was taken

in 1928 and later appeared in a 2007 book about the former

Ellesmere county. Mrs Foster and her family plan to rebuild it.

PHOTO: CANTERBURY MUSEUM

"I think you would struggle to

find anything in Rolleston that is

older than this site."

Excavations unearthed artefacts

dating to the 1880s, including

Rhine pattern china, glass,

wire, metal items and the remnants

of household furniture.

Mrs Foster said her intention

was to hold occasional open days

once the cottage was restored so

people could view it.

The cottage had been originally

built as a sod cottage, but

then was built on to with cob,

which was unusual.

It was thought to have

belonged to the Kelly family

who owned the property at the

time.

Before his death more than a

year ago, Mr Foster, whose family

had owned the property for

75 years, had been able to recall

as a child seeing a mound of sod

with remnants of a chimney

where the house stood.

Although the excavations

were carried out 18 months ago,

the report into the site was only

completed about three months

ago.

Spring

Clearance Sale

Up to 50% off storewide.

Limited Time Only!

(Some exclusions apply, see

instore for details.)

2239 Main South Road

5 minutes south of

Rolleston

www.ynots.co.nz

ynots.gifts@xtra.co.nz

03 3476190

NEW

ARRIVAL

ORGANIC BAMBOO

Babywear

*Superbly Soft

*Hypo-allergenic

*Stretchy & breathable

*Antibacterial

*Pesticide & chemical free

Boody baby nur tures both babies

and the world they will grow up in.

Barrington Pharmacy

Next to CouplaNds,

256 BarriNgtoN st Ph 332 3156
---
14

Tuesday October 4 2016

SELWYN TIMES

A community event - Friday

14 th to Sunday 16 th October

Turning 150 years

old is a marvellous

occasion, so

Rolleston is

preparing to

celebrate its birthday

in style!

Throughout history,

locals have contributed

time, effort and

money to make Rolleston a

better place with the 150th

celebrations, an example.

"A twenty strong committee

of volunteers have been

working hard to organise a

great weekend for the community

with something for

everyone," says organising

committee chairman, Jeff

Bland.

From the time that Mrs

Robinson (owner of the Rolly

Inn in the 1940s) built a tennis

court and playground for

the children of Rolleston, to

the part residents have played

in developing and running

the town's infrastructure,

sports events, fire brigade

150th Committee members from left to right: Amanda Smith,

Jeff Bland, Sarah Croucher, Dave Tippett and Graham Lawn.

and community activities,

locals have made Rolleston

a better place. It will also be

locals who make Rolleston's

150th something special.

If you can help in some

way during the celebration

weekend, or your community

group would like to fundraise,

email: rolleston150@

gmail.com or call Jeff Bland

on 027 399 9206.

Opening night

mix & mingle

Friday, 14th October 2016

Rolleston's 150th will start

at 7pm at the community

centre where MP Amy Adams

will officially open the weekend

celebrations and long-time

Rolleston resident, Lex Cockburn

will cut the cake.

There will be exhibitions by local

children and Maori, photos of

Rolleston throughout its 150 years

and a bar for drink purchases

with free nibbles.

"This free event is for everyone.

Come along in period costume

or just pop in. The Flying Dixies

Jazz Band will be playing and

there'll be a movie for children

in a neighbouring room," says

Councillor Jeff Bland, chairman

of organising committee.

This event is generously sponsored

by Sicon.

The Flying Dixie Band will be playing at the opening night.

The Rolleston Show &

Culturefest Festival

Saturday, 15th October 2016 10am-4pm –

FREE ENTRY

There have been good

registrations for the

Rolleston Show with

cars, motorbikes, trucks,

ex-military vehicles and

traction engines, from vintage

to classic and modern day

entered. This includes a 1901

Locomobile steam car, Model

Model traction engine.

T Fords from 1911, 1916 ambulance,

1926 Morris Oxford

and rare 2007 Audi RS4.

Over fifty agricultural

machines, equipment and

implements will be on display,

including a number of tractors

along with a Tractor Pull event,

shearing, chaff cutter demonstrations,

and active and static

New Zealand Army displays.

Traction engines there range

from a model engine through

to two Burrell engines with

demonstrations of a Foden

steam truck's three-way tipping

deck and traction engines

driving a threshing mill, chaff

cutter and sawmill.

Over by the railway station,

accessed from Jones Road, will

be two Mainline Steam locomotives,

KA942 and JA1240,

which will also be on view on

the Sunday. The latter regularly

travelled through Rolleston

when on the South Island rail

network. People will have the

opportunity to look inside

the cabs and view Kiwirail

Burrell traction engines and

Foden steam truck.

memorabilia reflecting New

Zealand's rail history.

Anyone with a vehicle or

machinery of interest and

relevant to Rolleston's history,

is invited to contact the organisers

with a view to exhibiting

at the show by emailing: Rolleston150@gmail.com.

Mainline Steam's KA942

locomotive will be at Rolleston

Railway Station.

The Rolleston Show has

been generously sponsored by

Intelligro and Fulton Hogan

have generously prepared and

sponsored the safety management

plan for both the

Rolleston Show and the Grand

Parade.

This even will be held

10am-4pm on Saturday, 16th

October, on the corner of

Hoskyns and Jones Road with

FREE ENTRY.

This 1965 MGB Roadster and

1967 Chev Impala will be on

show.

ALL EXHIBITORS MUST BE ON SITE BY 10AM FOR A SAFETY BRIEFING.
---
SELWYN TIMES Tuesday October 4 2016 15

CULTUREFEST 2016

celebrating selwyn's diversity - Saturday 15 th October

Cultural groups will

be represented at the

Rolleston Show and

CultureFest as part of the

Selwyn Council's recently

developed NewComers and

Migrants Strategy, which

highlights the district's multi-cultural

emphasis.

In its inaugural year, CultureFest

2016 will be an important

part of the Rolleston

150th celebration.

There will be stage performances

of dance, music and

other entertainment representing

India, China, Russia,

Italy, Ukraine and other

countries. People will also

have the opportunity to try

Bhangra traditional dance.

Sixteen food vendors will

bring food from all over the

world to Rolleston; Iranian,

Jordanian, Halal, Russian,

Tibetan, South African, Malaysian,

Polish, German and

Hungarian food.

Members of the Polish Folk Dance Group in their new

Krakowski costumes.

THE GRAND PARADE

Sunday 16th October 10am

To finish off the weekend, there will

be a Grand Parade in Rolleston.

Traction engines, trucks, tractors,

cars, motorbikes, floats, community

groups, multicultural society members

and the military will be participating

in the parade, which will travel along

Norman Kirk Drive, Kidman Street, Tennyson

Street, Rolleston Drive, and back

to its starting point, while the traction

engines will head away via the Main

South Road.

A highland pipe band will head the

parade, breaking ranks at the clock

tower where they will pipe the rest of the

parade with a truck from Road Metals

Quarries Ltd leading the oldest through

to most recent vehicle, interspersed with

business and community floats, and

followed by a platoon of soldiers from

Burnham Military Camp.

Norman Kirk Drive will be blocked off

between Rolleston Drive and Kidman

Street, from 8.00am to around midday

so the floats, vehicles and individuals can

be arranged. The organisers apologise for

any disruption to traffic during this time.

This event has been generously sponsored

by Road Metals Quarries Ltd.

Polish Folk Dance Group performing at the celebration of

World Youth Day, June 2016.

CultureFest will also feature

arts and crafts including

Oriental art sessions where

people can have a go. Displays,

activities and stalls

along with information

stands for newcomers and

migrants, will also be available

while a marquee will be

dedicated to Diwali activities,

featuring henna tattoos,

crafts and more.

Children will be entertained

with free activities

from SNAG Golf to Pedalmania,

bouncy castles and more.

"Registrations from

individuals and groups

wishing to exhibit have been

overwhelming," says Dave

Tippett, Selwyn District

Council's Recreation Advisor

who is working with the

Christchurch Multicultural

Council, Canterbury Migrant

Centre, Rotary Club

of Lincoln and the Rolleston

Newcomers Network to bring

CultureFest to Rolleston.

CultureFest 2016 will be

held 10am-4pm on Saturday,

15th October, on the corner

of Hoskyns and Jones Road

with FREE ENTRY.

rolleston new world

dine and dance

The Flying Dixies Jazz

Band will be back

at the Community

Centre to provide background

music during the pre-dinner

drinks and meal (catered

for by Country Feast) at the

Rolleston New World Dine

and Dance. Following on, the

18-piece Ellesmere Big Band

will provide dance music.

A highland pipe band will lead the parade, breaking ranks at the clock tower.

Tickets for this event are

$60 a person and can be

purchased from Council reception,

Amanda Smith (021

169 3193), or Raylene Clark

(027 326 7461), with period

costume or black tie the dress

code.

This event has been generously

sponsored by Rolleston

New World.

The Ellesmere Big Band will provide the dance music at

the Rolleston New World Dine and Dance.

People who live along the

parade route are asked to

kindly avoid parking on the

road from midnight Saturday

15th October through to 2pm

Sunday 16th October.
---
16

Tuesday October 4 2016

SELWYN TIMES

News

STEADY HANDS: Volunteers helping in the have-a-go arena. (Right) Justine Morrison refereeing the tug of war.

Volunteers wanted for Hororata Highland Games

CLAN HORORATA: Volunteers enjoying lunch after packing up

following last year's Hororata Highland Games.

THE CALL has gone out – it is

time to assemble Clan Hororata.

The Hororata Highland Games

would not be possible without the

support of its many volunteers,

and this 'clan' will be vital to

ensuring the success of the event

on November 5.

The volunteers come from

within Selwyn, wider Canterbury,

as far north as Auckland

and south to Dunedin; all to be

part of Clan Hororata.

Not only are 180 volunteers

needed on event day, it takes a big

team to transform the Hororata

Domain for the games and then

to pack up again on Sunday.

Christchurch resident Paul Kofoed

has volunteered at the games

since its inception.

"Although I have never lived in

Hororata or the Selwyn District

I consider myself a local at the

Hororata Highland Games. The

community spirit is so overwhelming

I get caught up in it

even more each year," Mr Kofoed

said.

"I attend many major events

and I can honestly say the

Hororata Highland Games is one

of the best, from the chairman

of the trust to the hundreds of

volunteers; they are all passionate

and proud of what they achieve."

As a member of the clan, all

volunteers receive an adult pass

to the event plus an invite to the

Prime Smoke Clan Hororata

barbecue held afterwards.

Volunteers receive lunch each

day with plenty of homemade

baking to fill the gaps and this

year will get a free Clan Hororata

T- shirt, courtesy of the district

council.

The volunteers also get to vote

on how a $4000 community fund

is allocated to four nominated

community groups. The groups

who have been nominated this

year are the Hororata Parish,

Hororata Golf Club, Hororata

Scouts and Windwhistle School/

Playgroup.

•Anyone interested in

becoming part of Clan

Hororata can email games@

hororata.org.nz

•Discounted early bird

tickets to the games are

available now from www.

hororatahighlandgames.org.

nz
---
SELWYN TIMES Tuesday October 4 2016 17

Barrington Jewellery Centre

YouR oNe sTop JeWelleRY shop

Offering a combined expertise in jewellery of over 100 years.

Opened in 1999 Barrington Jewellery Centre offers unique service where you can purchase

your engagement, wedding rings and remakes, have jewellery repaired, ring resizing and

restoration completed, as well as your precious items of jewellery valued.

Clarity Diamonds

We specialize in wedding rings, diamond rings and remaking jewellery.

LOVE

NOW AVAILABLE

IN BLACK

BARRINGTON MALL

The Warehouse

BARRINGTON

Jewellery Centre

WE STOCK ONE OF THE

LARGEST SELECTIONS

OF MEN'S RINGS IN NZ

Craig Anderson – Goldsmith / Manufacturing Jeweller

With 38 years experience at the workbench Craig specialises in jewellery repair and restoration.

A member of the Goldsmiths Guild of New Zealand, Craig completed his apprenticeship in

Wellington and attained his Trade Certificate in Manufacturing Jewellery in 1978. Jewellery repairs,

ring resizing and restorations are carried out by Craig in his workshop on the premises. Craig will

discuss the best available options to you in regards repairs as well as advice on the care and

maintenance of your precious jewellery items. Whilst no appointment is necessary Craig can be

contacted on (03) 337 6576 if you wish to make a time to see him.

1 ONLY Diamond

Cluster

Only $1,395

Professional

service from

professional

people

Edwin Edmonds

Clarity Diamonds

GIA Diamond Cert.

Craig Anderson

Goldsmith /

Manufacturing

Jeweller

Member Goldsmiths

Guild of N.Z.

NZTCMJ

JVC Valuers

1st Fl/10a Athelstan Street,

Barrington

Christchurch

Ph:

Fax:

03 332 4233

03 982 4234

Email: jim@jvcvaluers.co.nz

Client Name:

Valuation Number:

Ruby Ring

JC12-7834Ad

Valuation for Insurance

Item: 1 SOLITAIRE RING

Alloy: 18ct yellow gold, Stamped : (18ct/1.00), Manufacture: assembled cast, Maker Designer: na, Setting:

tapered six claw, Underrail: straight, Shoulders diamond set extended and pointed cross over,

Shank/Band: narrow, near flat and slightly tapered.

DIAMOND.. one claw set, round brilliant cut diamond measuring 5.37 - 5.29 mm, estimated total weight

0.58 carats, with apparent averaged quality of; Colour: I-J, Clarity: low SI2, Make: medium good.

DIAMOND.. Fourteen channel set, round brilliant cut diamonds measuring 1.93 - 1.95 mm, estimated

total weight 0.42 carats, with apparent averaged quality of; Colour: H-I, Clarity: SI2-I1, Make: medium.

DiamondLink #L049M- www.diamondlink.co.nz

Item Weight:

Condition:

Durability:

510

Good

Good

Valuer: Jim Young, GIA: Diamonds Graduate GIA: ADG

Authorised signature:

Economic Factors:

grams

NRV- New Replacement Value......

$6,275.00

VALUERS DECLARATION - I hereby certify that the above item was personally examined by me on the date shown

and has been valued for the purpose of Insurance. This report does not constitute a warranty or guarantee. This

report should be read in conjunction with the attached schedule

20 July 2012

$NZ Exchange Rates US$ 0.7775 Metal Prices (NZ$/ounce) Gold 2055.16 Platinum 1857.87 Palladium

785.52 Silver 36.09

www.claritydiamonds.co.nz

www.titaniumweddingrings.co.nz

Ph: (03) 982 2982 or 0800 4 RINGS

Email: edwin@claritydiamonds.co.nz

®

ATHELSTAN STREET

JVC Valuers, Jewellery Valuation Specialists

Craig Anderson NZTCMJ

Goldsmith

Jewellery Manufacture, Repair & Restoration

Ph: (03) 337 6576

Email: gold.smith@clear.net.nz

BARRINGTON

JEWELLERY

CENTRE

ENTRANCE

Why use JVC ? See why JVC Valuers, jewellery valuation specialists are leading

the industry in jewellery valuation services.

1. EXPERIENCE. As we value more precious jewellery than anyone else in NZ, our

valuation team have unrivalled expertise. We can value all types of jewellery,

diamonds and gemstones. We value antique watches, antique jewellery, Asian

22 carat or 24 carat gold jewellery.

2. QUALITY. Our valuations meet Insurance Company standards. Your jewellery

will be clearly described, cleaned, photographed and valued. (see sample in

advertisement)

3. PRICE. We offer fair and transparent pricing based on the work we do, not the

value of your jewellery. So there's no hidden fees.

4. SECURITY. Your jewellery stays on our premises, all our valuations are

completed in house.

5. CONVENIENT. JVC Valuers has four valuation centres conveniently located

in Auckland, Tauranga, Wellington & Christchurch (Christchurch, 1st floor 10a

Athelstan Street-next to medical centre).

6. SERVICE. By appointment you can make a booking at our special Valuation

Days, to have your jewellery valued within the same day. Please Phone 332 4233.

7. Check us out. www.jvcvaluers.co.nz

Monday to Friday 9:00am – 5:30pm. Clarity Diamonds only: Saturdays 10:00am – 2:00pm

LeveL 1 - 10a atheLstan street, BarringtOn, ChristChurCh

www.jvcvaluers.co.nz

Ph: (03) 332 4233

Email: jim@jvcvaluers.co.nz

Barrington St Barrington St

Barrington

jewellery

Centre

Frank leigh St

Jim Young

JVC Valuers

Senior Valuer

GIA: Diamonds

Graduate

Bei Kong

JVC Valuers

FGA: Gemmogolist

GIA: Diamond

Grading

Barrington

Shopping

Centre

athelStan St

WE ARE

HERE

SiMeon St

Barrington

Medical

Milton St
---
18

Tuesday October 4 2016

SELWYN TIMES

More information on

health & wellbeing at

FreshChoice.co.nz/

Wellbeing.

$

5 99

kg $

4 99

kg

Fresh NZ Pork Shoulder Roast

(Excludes Free Range)

Californian Red Globe Grapes

$

6 00

each

Sealord Gluten Free Crumb 300g/

Salt & Vinegar Hoki Portions/Hoki

Fillets 450-480g/Sauced 460g

$

7 99

each

Mainland Mild/Colby/

Edam Cheese 1kg

$

2 99

each

Arnott's Cheese/

Supreme/Harvest

Wheat Crackers 250g

$

16 99

pack

Speight's Gold Medal Ale/

Summit

12 x 330ml Bottles

$

8 99

each

Lindauer 750ml

(Excludes Special Reserve)

$

3 99

each

Whittaker's Chocolate

Block 250g

Shopping just got easier

Best deals are here!

FreshChoice Leeston

78 High Street, Leeston.

Open 7am-8pm, 7 days.

Prices apply from Tuesday 4th October to

Sunday 9th October 2016, or while stocks last.

FreshChoice.co.nz

FreshChoiceNZ

324 3788

FreshChoice Leeston

Owned and

operated

by locals

Certain products may not be

available in all stores. Savings

are based on non-promotional

price. Limits may apply.

FCSELWYN0410
---
SELWYN TIMES Tuesday October 4 2016 19

News

Closer connections with Indonesia

FRIENDSHIP: Mayor Kelvin Coe presents a picture of a kea to

the Bupati (mayor) of North Toraja. ​

A TRIP by Selwyn residents to

our sister city of North Toraja

has opened up connections

to build a closer relationship

between New Zealand and

Indonesia.

Nine participants, including

Selwyn Mayor Kelvin

Coe, farmers, and Sister City

Committee chair Allison Rosanowski

visited the North Toraja

Regency for a week in August

2016. Trip participants paid for

their own travel and accommodation.

The trip was the first sister

city exchange between the

two areas since a Sister City

agreement was signed between

North Toraja and Selwyn in

2014.

Selwyn is the only New Zealand

district to have a sister city

in Indonesia.

This agreement added to a

relationship which had been

developing for over a decade

between a group of Canterbury

farmers, and coffee growers in

North Toraja Regency.

Looking back

HISTORIC CHURCH: St Stephens Church in Lincoln dated back

to 1900. The church is still operational today.

•Heritage photos supplied by Selwyn Libraries on behalf of the

Lincoln and Districts Historical Society. If you have any information

about this photo, please contact the library via www.

selwynlibrary.co.nz

EFFORTS REWARDED: Southbridge and Leeston firefighters have been

honoured for their service at a combined annual awards ceremony. Firefighters

earn a certificate for three years service, a medal for five years service, a silver

bar every two years after that until they have done 25 years service, then a

gold bar every two years until they have done 50 years service at which point

they are awarded a double gold star. Southbridge awards: 49 years – Donald

McMillan; 35 years – Wayne Maw; 21 years - Mark Root; 13 years – Ben Wilson;

11 years – Shane King; seven years – Kris Montgomery and Jason Trethewey;

five years – Craig (Freddie) Clark and Ed Love; three years – Matt Burrell, Casey

Twiss and Mike Leigh. Leeston awards: 47 years – Lloyd Clausen; 21 years –

Dale Hammett; 13 years – Jamie Clark and John Andrew; nine years – Liam

Tarpey; seven years – John Scott*

*John Scott was presented with his three-year certificate, five-year medal and

a silver bar for seven years all at the same time due to having rejoined the fire

service following a gap of many years.

SelwynTimes

is a proud sponsor

of the Hororata

Highland Games

5 November 2016

Hororata Domain — 9am to 4pm

the family to

the event! Selwyn

Times has 20 family

WIN!Bring

passes to give away.

Simply email your contact details to giveaways@starmedia.kiwi (with

Hororata Highland Games in the subject line) and you'll be in the draw.

Entries close October 17. Winners will be notified.
---
20

Tuesday October 4 2016

SPORTS

SELWYN TIMES

Canterbury Metro took out the South Island under-18

provincial rugby tournament on Sunday after defeating

Tasman 28-14 in the final at Lincoln.

Otago Metro claimed third place, defeating the Canterbury

Metro Development team 22-14 in their play-off game. The

plate was won by Otago Country who defeated Southland

45-6 in the battle of the south.

There wasn't much luck for the home teams with

Canterbury Country suffering defeats to Otago Metro and

Otago Country. Their only victory of the tournament came

against Ellesmere Development 43-7.

Tournament organiser Leslie Greenslade, of the Ellesmere

sub union, said the event ran smoothly with great weather

and good crowds over the three days, making for a great

tournament.

Photos from Canterbury Country v Otago Country. Otago

won 23-5.

PHOTOS: KAREN CASEY

CHARGE DOWN: Jordy Gray goes for a charge down.

OUT OF REACH: Doom Ponino

and Tristan O'Connell lift Connor

Smith.

GOOD TECHNIQUE: Canterbury Country's Lucius Williams

tackles Otago's Keegan O'Donnell.

TRY TIME: Connor Smith touches down.

GET HIM LOW: Henry Bates goes

for the legs.

THE HOME OF GOOD BAKING

PREMIUM

BREAD

White, wholemeal, grain & honey.

3 FOR

$

5 00

BELGIUM SLICE

A taste of

sweetness

and a smell of

spices makes

our traditional

favourite Belgium

slice divine!

ONLY

$

3 49

EA

ALL BREAD

ROLL PACKS

(Excludes dinner

rolls.)

2 FOR

$

3 98

PURCHASE 2 X DAIRY DALE

2L MILK TO ENTER THE DRAW

TO WIN 1 OF 50 PLAYSTATION

GAMING PACKS!

50 WINNERS - 2 PER STORE

Promotion valid 1st - 31st October 2016. Winners will

be contacted Monday 7th November 2016. Terms &

conditions apply. Full terms & conditions can be found

at www.couplands.co.nz

MILK

Dairy Dale 2L varieties.

$

5 98

2 FOR or $3.19 each

6 X RING DONUTS

$

7 50

Promotional pricing available while stocks last from 03/10/16 to 09/10/16.

Images are serving suggestions only.

Open 7 days | 8 Convenient local locations

Hornby • Barrington • Ferry Rd • Papanui • Riccarton • Upper Riccarton • New Brighton • Rangiora

BAKERIES

www.couplands.co.nz
---
SELWYN TIMES Tuesday October 4 2016 21

South African

school rugby

teams visit

LINCOLN RUGBY Club

will host some of South

Africa's up-and-coming

rugby stars on Thursday

when five South Africa

schools teams play against

a selection of Canterbury

Country and Ellesmere

sides.

The South African

teams are in Canterbury

as part of the Southern

Cape Sports Tours annual

rugby trip which has seen

them travel to Ireland and

Argentina in previous

years.

Lincoln golf results

Lincoln Men's

27-hole open results

Senior grade:

Best gross: Jordan Pruden

107, 1; Rory Williamson

112, 2; Terry Dempsey

116, 3.

Best net: Gray Haley 102,

1; Kevin Logan 102.5, 2;

Craig Castle 105, 3.

Intermediate grade:

Best gross: Duncan

MacKay 121, 1; Jon Berry

123, 2.

Best net: Darryl Moore

The under 18A, U18B,

U16, U15 and U14 teams

are currently on tour in

Canterbury. They took on

five age group Canterbury

Metro teams on Sunday

at Linfield Park.

Canterbury Metro had

wins in the under 14 and

15 games with the South

African team winning the

under 16 and 18s games.

Today they will play

a selection of North

Canterbury teams in

Mandeville before they

visit Lincoln.

100.5, 1; Murray Mowat

103.5, 2.

Junior grade:

Best gross: Barry Archer

126, 1; Roy McRobert 131,

2; Ken Griffiths 133.

Best net: Alan Banks 100,

1; Jack Chandra 102.5, 2;

Bill Campbell 104, 3.

Winner of Colin

Bailey Trophy for best

net score by a Lincoln

member:

Barry Archer 99.

RUNNING START: Springston School pupil Ben Airey takes the

baton from Cust School pupil Tinesha Benson in the Canterbury

relay team's win in the 8x1km race at the Inter-regional Primary

and Intermediate Schools' Cross-Country Championships held

recently at Waikanae. Ben also finished sixth in the individual year

6 boys' 2km race. Weedons School pupil Samuel Jones was a

member of the Canterbury A team, which won the year 7 boys'

3km race. Samuel came third in the individual results.

VOLUNTEERS WANTED

FOR TRIALLING A NEW

TREATMENT FOR TYPE

2 DIABETES

DO YOU HAVE TYPE 2

DIABETES and TAKE AT

LEAST METFORMIN TO

CONTROL YOUR DIABETES

and DO NOT TAKE INSULIN?

If yes, you may be eligible to participate in a

clinical research study of an investigational

procedure for diabetes being conducted at

Auckland City Hospital, Middlemore Hospital,

Wellington Hospital, Christchurch Hospital

and Dunedin Hospital. The procedure is

similar to a coronary angioplasty so this will

be conducted by a cardiologist.

Who cannot take part?

• Age below 18 years or above 70 years

• If you have certain medical conditions

such as kidney failure or liver damage

• If your diabetes is already well controlled

(your HbA1c is below 58mmol/mol)

Transport costs will be reimbursed

If you would like to know more,

please contact:

JINNY WILLIS or

CATHERINE CRUICKSHANK

(Christchurch Hospital)

(03) 364 1096 / (03) 378 6259

or (03) 364 0448

jinny.willis@cdhb.health.nz or

catherine.cruickshank@cdhb.health.nz

INDOOR

OUTDOOR

LIVING SALE!

now

40 % off

Milan 3 Piece Dining Setting

Includes 1900x870mm Dining Table + 2 Bench Seats

was $3349

now only

$1999

The sleek look of the Milan 3 Piece Dining set makes it a stand out modern piece. The slatted design

retains a wood-like feel while being made from durable powder coated Aluminium.

Removable spun polyester seat cushions are weather resistant and provide comfort for guests.

Cnr Blenheim & Curletts Rds, Christchurch. Ph: 03 343 3204

View our collections online: targetfurniture.co.nz

Offers and product prices advertised here expire 10/10/16. Sale excludes Manchester and accessories.

*18 months no payments and no interest ("Payment Holiday") is available on Flexi Payment Plans for in-store purchases only until 25th October 2016. Minimum

spend $499. Annual Account Fee of $50 applies. New Cardholder fees - $55 Establishment ($3 PPSR – Q Card only). Existing Cardholder fee - $35 Advance.

Standard Interest Rate, currently 25.25% p.a. applies to any outstanding balance at end of Payment Holiday. Lending criteria, fees, terms and conditions apply.

Rate and fees correct as at date of publication, subject to change.

40 % OFF

ALL OUTDOOR

FURNITURE

Ego

Egg Chair

A fun addition to any

home. Egg chairs are

available in two colours

with very comfortable

pillow seating.

Supports up to 113kg

was $799

now only

$459

Toronto Desk

Contemporary yet practical design perfect

for a study or home office.

now

40 % off

was $589

now only

$349

now

40 % off

Valencia 7 Piece Bar Setting

Includes 1500x700mm Table + 6 Barstools

These settings are both stylish and durable with

aluminium frames and maintenance free wicker.

was $1999

now only $1199

18

MONTHS

NO PAYMENTS

& NO INTEREST!

*Minimum purchase $499.

Finance offer expires 25th October 2016.

Lending criteria, $50 Annual Account Fee, Establishment Fees,

terms and conditions apply. See below for terms & conditions.
---
22 TUESDAY OCTOBER 4 2016

SELWYN TIMES

Don't miss your chance to vote!

If you have received your local election voting papers please vote

and return these to reach the council by 12 noon on Saturday 8

October. Please post your voting papers back by Wednesday 5

October to ensure your vote counts. From Thursday 6 October until

the morning of Saturday 8 October you can still vote but will need to

return your voting papers to a ballot box to ensure your papers are

received before voting closes.

Voting ballot boxes are located at Darfield, Lincoln and Leeston

Library and Service Centres, and at the Council Headquarters in

Rolleston. Voting papers can be returned at these facilities between

8.30am and 5pm Monday to Friday, and to libraries on Saturday

from 9.30am up to 12 noon. Lincoln Library is also open late until

7pm on Thursday. The Council's Rolleston Headquarters will also be

open from 9am–12 noon on Saturday 8 October for voters to drop

their papers off (normal service centre functions won't be available).

If you didn't receive your voting papers in the mail you will need

to cast a special vote. Please visit our Rolleston Headquarters or

Darfield, Leeston or Lincoln Library and Service Centres (during

opening hours) to do this before 12pm on Saturday 8 October.

CultureFest brings

the world to Selwyn

Selwyn's first ever CultureFest will feature music, dancing, performances, food and crafts from 20

different cultures.

CultureFest is a free event which showcases the district's cultures with free performances, fun

activities, craft and food stalls, along with activities for kids like a mega slide, SNAG inflatable golf,

bouncy castles and pedalmania.

CultureFest will build on the successful Lincoln Multi-Cultural Festival. CultureFest will be held

every year with the venue moving between Rolleston and Lincoln in alternating years. Many local

groups have joined CultureFest to share their culture with our community.

The event is part of the Rolleston 150th anniversary celebrations which feature a free show on

Saturday 15 October from 10am-4pm, on the corner of Jones and Hoskyns Roads, with displays

including traction engines, vintage cars, motorbikes, tractors, military displays, fire engines and

shearing. Other events planned during Rolleston's 150th celebrations include an opening evening,

kids movie, dine and dance and street parade.

CultureFest's activity programme includes performances from local Indian, Chinese, Polish

(pictured), Russian, Italian and Greek communities, as well as a Scottish flash mob. There will be a

range of fun activities for everyone to take part in and learn more about different cultures including

Turkish ceramics, Oriental ink painting and Bhangra (Indian dancing).

Cuisines on the menu at CultureFest include Indian, Iranian, Jordanian, German, Malaysian,

Polish, Russian, Tibetan, Singaporean, South African and England (high tea and scones).

CultureFest takes place on Saturday 15 October from 10am-4pm in Rolleston (on the corner of

Jones and Hoskyns Roads). It is presented by the Council with support from the Christchurch

Multicultural Council, Canterbury Migrants Centre, The Rotary Club of Lincoln, Rolleston

Newcomers Network and Smokefree Aotearoa NZ 2025.

Darfield garden waste day

On Saturday 29 October between 10am and 4pm, Selwyn residents

will have the opportunity to dispose of green garden waste at

Hawkins Pit. The pit is located off Cullens Road just east of Bangor

Road, about five kilometres from Darfield.

This is a great chance to get rid of garden prunings, tree trimmings

or weeds over springtime. It costs $5 per car, $10 per ute or single

axle trailer and $15 per twin axle trailer to dispose of garden waste

on the day. General rubbish, soil, flax, cabbage tree leaves, trees

or branches over 10cm in diameter can't be disposed of through

this service. Payment is by cash only (no EFTPOS is available).

Proceeds from the event will be donated to the Malvern Lions Club.

A greenwaste disposal day is also planned for Ellesmere on

19 November.

Mayor says farewell

Mayor Kelvin Coe retires next week after 21 years on the Council and

nine years as Mayor. We spoke to him about his time with Council.

How has Selwyn changed since you joined the Council in 1995?

Selwyn's population was around 25,000 and it has now more than

doubled and is about 54,000. We have changed from a largely rural

district to having significant towns as well as rural communities. We

now have a lot more infrastructure like sewerage and community

facilities like libraries, new community centres and the Aquatic Centre.

What have you enjoyed during your time on Council?

The opportunity to meet great people. There are a large number of

volunteers who run halls, sports, and community groups who make

a huge contribution to Selwyn. I really appreciate all the assistance I

have had from the community, Councillors and staff in my role and I

would like to thank them all for their support.

What do you consider have been the Council's biggest

achievements while you have been Mayor?

Our achievements have been made by the whole of Council,

Council staff, other Councillors all working together with the

community. Dealing with September 2010 earthquake was both a

major challenge and a significant achievement. I think we coped

well as our civil defence operations centre was running early the

next morning and responded well and nearly all of the roading

damage was fixed promptly afterwards. The Council, and in

particular our planning team, have also responded well to the post –

earthquake challenges of growth. The Urban Development Strategy

was already in place identifying where new development could

occur and Izone development was under way so the groundwork

was in place, and staff had an enabling attitude to helping people

set up homes and businesses which allowed this to happen.

On the roads this week

Road repairs are planned on Leaches Road and Bealey Road (between Telegraph and Essendon

Roads), and work is planned on North Rakaia Road and Bridge Street. Traffic controls will be in place

on these roads. Footpath and kerbing repairs will take place in some areas within Izone. Maintenance

grading will take place in the Hororata, Leeston, Dunsandel, Norwood, Greendale and Coalgate areas.

Mayor Coe at a Gallipoli oak planting ceremony in Sheffield

Council Call

Selwyn District Council

Norman Kirk Drive Rolleston

Ph 347 2800 or 318 8338

Rolleston Library

Rolleston Drive, Rolleston

Ph 347 2880

Darfield Library & Service Centre

1 South Terrace, Darfield

Ph 318 8338 or 347 2780

CC031016
---
SELWYN TIMES

TUESDAY OCTOBER 4 2016 23

Notices

PLAN CHANGE 47

Selwyn District Plan, Prebbleton

Living 3 Zone

Selwyn District Council has

accepted the Commissioner's

Recommendation to approve

without amendment, Plan

Change 47 (M J Stratford).

The full text of these decisions

can be read online at www.

selwyn.govt.nz or, during

working hours at the Council's

Rolleston Headquarters, or

electronically at any Council

service centre or library. From

the date of this notice the Selwyn

District Plan is amended in

accordance with these decisions.

Anyone who made a submission

on Plan Change 47 may appeal

to the Environment Court against

the Council's decisions. Appeals

must be in the prescribed

form as set out in Form 7 and

must reach the Court within 30

working days of receiving notice

of the decision from the Council.

A copy of any appeals must

also be served on the Council.

For information, contact Craig

Friedel, Policy and Strategy

Planner on 347 2800 or at P.O.

Box 90, Rolleston 7643.

This notice is given under

Clause 10 (3) of the First

Schedule to the Resource

Management Act 1991.

MOBILE LIBRARY VISITS

Wednesday 5 October

Rakaia Huts 9.10-9.30am

St John of God, Rolleston

1-1.30pm

Thursday 6 October

Prebbleton Tavern 4-6pm

Monday 10 October

Upper Selwyn Huts 10-10.45am

Lincoln University Learning

Centre 11-11.30am

Prebbleton Child Care

1.15-1.30pm

Rolleston Christian School

2.30-3.30pm

Tuesday 11 October

Burnham Kindy 9.40-10.10am

Burnham Preschool

10.15-10.45am

Dunsandel School

11.20am-12.10pm

Dunsandel Childcare

12.20-12.40pm

Paradise for Little Angels,

Rolleston, 1.30-2pm

CLOSURE OF LINCOLN

CAMPERVAN DUMP STATION

Please note that the Lincoln

Campervan/Caravan Effluent

Dump Station which occupied

the corner of the site at 24

Edward Street Lincoln (Lot 2

DP 430391) will be permanently

closed for public use from 10

October 2016. This is due

to plans for the larger site to

be used by the Ministry of

Education in the future as an

additional educational facility

for Lincoln Primary School.

Alternative public campervan/

caravan dump stations are at:

· State Highway One, Templeton

· BP Connect - Corner State

Highway 1 and Tennyson Street

Rolleston

· Rakaia Huts Campground -

Pacific Drive, Rakaia Huts

· Glentunnel Holiday Park -

Homebush Road, Glentunnel

· Darfield, 68–90 Railway Terrace

The council has consulted the

New Zealand Motor Caravan

Association in relation to the

closure and is investigating

alternative sites.

TRIENNIAL ELECTION

MEETING - SPRINGSTON

The Community Committee's

triennial election meeting takes

place on Monday 17 October.

See meetings below for details.

LINCOLN ENVIROTOWN

RESPONSIBLE BUSINESS

NETWORK & AWARDS

Lincoln Envirotown invites

business representatives to the

Rolleston Community Lounge

at 7pm on Tuesday 11 October

to hear about the future of the

awards and how the business

network can help you achieve

more sustainable practices.

Drinks and nibbles provided.

Free. Please RSVP for catering

to rbacoordinator@gmail.com

TEMPORARY ROAD

CLOSURE – ROLLESTON

Norman Kirk Drive will be closed

from Kidman Street to Rolleston

Drive from 9am-12pm on

Sunday 16 October 2016 for a

parade to celebrate Rolleston's

150th anniversary. During the

road closure, traffic is requested

to detour along the nearest

alternative route. Queries can be

directed to Joanne on 347 2887.

Selwyn Events

SAT-SUN

8-16

OCTOBER

SUNDAY

9

OCTOBER

SUNDAY

9

OCTOBER

TUESDAY

13

OCTOBER

Darfield Artweek

Darfield Recreation Centre &

Darfield Library

Over 200 works by established,

emerging & local artists in varied

mediums. Open 10am-5pm daily. Free.

Works by Svetlana Orinko & Charles

Pickworth are on display at the library

during library opening hours in Artweek

Rolleston Envirotown Market

& Scarecrow competition

Rolleston Square car park

10am-1pm

Choose from local produce & craft. Email

enquiries@rollestonenvirotown.org.nz

Spring Fling

Broadfield Garden,11am-4pm

Country fete in an award winning

garden with live music, garden tours,

demonstrations, artisan stalls, food,

drink & more. $20 adults, school children

free. Phone 325 2007 for tickets

Southbridge Netball

Club AGM

Southbridge Hotel, 6.30pm

All welcome. For enquiries phone Jo

on 324 2022

Meetings

Public Forums: Council,

Community Board and local

committee meetings are open

to the public. Time is available at

the start of meetings for people

to speak on matters of concern.

Please notify Bernadette Ryan

(Council), Kate Anderson

(Community Boards) or your local

committee at least three days

before the meeting.

Township, Hall and Reserve

Committees: To list or make

changes to meeting details, email

meeting.changes@selwyn.govt.nz

or phone 347 2800 or 318 8338

by 9am Wednesday the week

before publication.

COUNCIL & COMMUNITY

BOARDS

Selwyn Waihora Zone Committee

Tue 4 Oct 1pm

Rolleston Council Building

Industrial Park Project Team

Thurs 6 Oct 12pm

Izone Café Meeting Room

Due to commercial sensitivity, the

public may be excluded from part

of or all of the meeting. Enquiries

to Property and Commercial

Manager, Douglas Marshall

LOCAL COMMITTEES &

ASSOCIATIONS

Castle Hill Community

Association

Mon 17 Oct 5.30pm by Skype

Coalgate Township Committee

Tue 18 Oct 7.30pm

Coalgate Fire Station

Darfield Township Committee

Thurs 20 Oct 7.30pm

Darfield Library/Service Centre

Doyleston Community Committee

Wed 12 Oct 7.30pm

Osborne Park Pavilion

Glenroy Community Hall

Committee

Tue 18 Oct 8pm

Glenroy Community Hall

Hororata Reserve Management

Committee

Wed 5 Oct 7.30pm, Hororata Hall

Killinchy Community Centre

Committee

Mon 17 Oct 7.30pm

Killinchy Community Centre

Kirwee Community Committee

Mon 17 Oct 7.30pm, Kirwee Hall

Kirwee Recreation Reserve

Management Committee

Mon 10 Oct 7.30pm

Kirwee Reserve Sports Pavilion

Lincoln Community Committee

Mon 10 Oct 7pm

Lincoln Event Centre

Lincoln Event Centre

Governance Committee

Wed 5 Oct 7pm

Lincoln Event Centre

Little Rakaia Huts Community

Committee

Mon 17 Oct 7.30pm

Community Centre

Prebbleton Community Assn Inc.

Tue 18 Oct 7.30pm

Prebbleton Cottage

Prebbleton Public Hall

Society Inc.

Mon 10 Oct 7.30pm

Prebbleton Hall Supper Room

Prebbleton Reserve Committee

Mon 17 Oct 7.30pm

Prebbleton Rugby Football Club

Rolleston Reserve

Management Committee

Mon 17 Oct 7.30pm

Rolleston Community Centre

Sheffield/Waddington

Community Committee

Thurs 20 Oct 7.30pm

Sheffield Hall

Springfield Township Committee

Tue 11 Oct 7.30pm, Tawera Hall

Note change of date

Springston Community

Committee – Triennial elections

Mon 17 Oct 7.30pm

Springston Hall Supper Room

Springston Hall Committee

Thurs 6 Oct 7.30pm

Springston Hall

Springston South Soldiers

Memorial Hall Committee AGM

Sun 16 Oct 1.30pm

433 Days Road, Springston

Springston Recreation

Reserve Committee

Wed 19 Oct 7.30pm

Errol Tweedy Pavilion

Tai Tapu Community

Association Inc.

Wed 5 Oct 7.30pm

Tai Tapu Library

Weedons Reserve Committee

Mon 10 Oct 7.30pm

Weedons Reserve Pavilion

Weedons Residents

Association Inc.

Tue 11 Oct 7.30pm

Weedons Domain

West Melton Residents

Association

Wed 12 Oct 7.30pm

West Melton Community Centre

Whitecliffs Township &

Domain Committee

Mon 10 Oct 7.30pm

Glentunnel Hall

Windwhistle District Society

Incorp. – AGM

Thurs 13 Oct 7.30pm Windwhistle

School Library

FRIDAY

14

OCTOBER

WED & TUE

12 & 18

OCTOBER

SATURDAY

15

OCTOBER

Rolleston 150th storytime

Rolleston Library, 5.30pm

Celebrate Rolleston's 150th birthday

with train themed stories, rhymes,

a treasure hunt, a special guest &

secret surprise. Free. Library open

late until 7pm

Love your Life @

Lincoln Library

Wednesday 12 October

5 Ways to Wellbeing Workshop,

7pm

Discover the 5 ways to wellbeing

& how they can help you.

Presented by 'All Right?'

Introduction to Mindfulness

Meditation - 7.30 pm

Discover what mindfulness is & how

it can help you. Includes guided

meditation - bring a cushion. Free but

booking required for both sessions –

see www.selwynlibraries.co.nz

Tuesday 18 October

Qigong Class, 11am-12pm

Qigong is a gentle & meditative

exercise to increase vitality &

suppleness & relax the mind. It

supports healing of body & mind.

Suitable for all ages. Book at Lincoln

Library. Gold coin donation

Ellesmere A&P Show

Showgrounds, Leeston

With carnival rides, animals, craft

stalls, show jumping, vintage

machinery, pony rides, dog trials,

wine tasting & lots more. See www.

ellesmereshow.co.nz for information

Leeston Library & Service Centre

19 Messines Street, Leeston

Ph 347 2871

Lincoln Library & Service Centre

Gerald Street, Lincoln

Ph 347 2876

(03) 347 2800

Darfield call free 318 8338

www.selwyn.govt.nz
---
24

Tuesday October 4 2016

SELWYN TIMES

NEW 7 SEAT

OUTLANDER

FROM $32,990 +ORC*

Along with versatility and an unbeatable warranty, all the features you need from a family SUV are in the new Outlander 2WD LS.

Visit ChristchurchMitsubishi.co.nz, call 03 379 0588 or come and see us on the cnr Montreal & St Asaph Streets, Christchurch.

* Price listed is for Outlander 2WD LS. Price excludes On Road Costs which includes WoF, Registration

and a full tank of fuel. See www.mmnz.co.nz for Diamond Advantage terms and conditions.

INCREDIBLE TECHNOLOGY. THE BEST VALUE.

NEW ASX

AWD XLS DIESEL

With a long list of smart features, New Zealand's best

new vehicle warranty and the sharpest price ever, new

ASX is the best value all-wheel drive Diesel.

*Price listed is for ASX AWD XLS Diesel. Price excludes On Road Costs which includes WoF, Registration, 1,000km Road User charges and a full tank of fuel. See www.mmnz.co.nz for Diamond Advantage terms and conditions.

cnr Montreal & St Asaph Streets, Christchurch. Sales, Service & Parts: 03 379 0588
---
SELWYN TIMES Tuesday October 4 2016 25

Fashion

Kim's

Fashion Quarterly

from Kim Taylor —Viva La Moda

Proudly supporting local!!

At Viva La moda we are proud to support

local south island designers such as

ivyblu, Vargo and Vassalli all from

Christchurch and White Chalk from

Blenheim.

ivyblu design and manufacture their

beautiful classic pieces in Christchurch

and Vargo, Vassalli and White Chalk design

their garments here but manufacture

offshore.

With the increasing trend toward on

line shopping we are proud to offer a

lovely in store shopping experience

where the fashion can be seen,

touched and most importantly

tried on before purchase.

BLEND: Elaine Jiang works on her end of year collection, Soft Shell.

PHOTO: GEOFF SLOAN

Fusion of east

and west

in designer's

garments

• By Annabelle Dick

ARA INSTITUTE of

Canterbury student Elaine

Jiang is on a mission to

mix up the local fashion

scene with her eastern

meets western designs.

The 33-year-old was one

of 12 students to showcase

their collection at

Ballantynes Fashion Week

last Saturday.

Mrs Jiang is in her third

year of study towards a

Bachelor of Design degree

in fashion technology and

design.

"I like making things

by hand and because of

my character I'm not very

talkative, so I thought I'll

go into an industry where I

don't have to talk to many

people. That way I could

do things by myself instead

of relying on a team or

other people," she said.

Her garments have a

strong Japanese-influence

and her pieces are mostly

targeted towards the

modern eastern woman.

"I'm Asian and we are

shorter so the silhouette

of my garments are

different because eastern

and western bodies curve

differently. So my clothes

better fitting for us . . . they

are quite loose, relaxed and

oversized."

Originally from China,

Mrs Jiang moved to

New Zealand to be with

her Christchurch-based

husband and pursue a

career in fashion.

She moved to

Christchurch on February

19, 2011 – just three days

before the earthquake

that would change the city

forever.

"That was my first

experience of New

Zealand. I was really

jet-lagged due to the

time difference, but I was

planning on going to

the city to see the Christ

Church Cathedral the day

of the quake. I was lucky

because I was changing my

clothes just before leaving

and then the earthquake

happened . . . I didn't get to

see any of Christchurch,"

Mrs Jiang said.

While her cultural

roots play a big part in

her aesthetic, her move

to Christchurch has

influenced the garments

she creates.

"When I came here,

I realised people are a

lot more relaxed than in

China. I want to keep my

style from my background,

but I'd like to fuse them

both and design items that

Kiwis would like," she said.

Mrs Jiang is now busy

working on her end of year

collection Soft Shell, which

is based on a series of

photographs of some of the

poorest children in 1900s'

England.

The collection also

includes elements of

Japanese fashion she

noticed while overseas

earlier this year.

"I've put old-England

and new-Japanese together

for my collection," she

said.

Mrs Jiang plans on

launching her own label

after graduating.

We have showcased the new

ivyblu striped off the shoulder

'Brenda top' ($169) with Vargo

'Unfold Bloomer' pants ($189)

This look is classic and

sophisticated and the

off the shoulder style

is more flattering than

you may imagine.

Also photographed is

the Vassalli Jean skirt

in Barcelona colourway

($119) with Vassalli white tee ($95) and

Vassalli washed denim jacket ($145). This is

a great casual weekend look that can

take you anywhere. Vassalli are famous

for their comfortable well fitting pants

but are increasingly expanding their

repertoire and offering much more

besides pants.

The stunning Vargo outfit photographed

shows the always striking black and white

combination. The off white jacket is a

perfect style to team up with dresses,

skirts or pants. ($245)

The striking Vargo "Execute midi" skirt is a stunning new

take on a classic pencil style and is very flattering with its

assymetric hemline. ($175). Under the jacket is the "leather

look 'Revive Cami ' ($119)

Another pretty ivyblu 'Annie' dress ($179) is pictured here in

red & cream stripes with lovely lace detail sleeves. This gorgeous wee dress can

be dressed up or down and is a nice easy fit being shift shape. Dress it up with

sandals or down with sneakers and you are ready to go!

All of the garments pictured are available right now at Viva

La moda. Come and support local!

-Kim Taylor

All of the fashion featured in the images is

available from Viva La Moda Rolleston

Shop 12, Rolleston Square, Rolleston. Phone 347 1151
---
26

Tuesday October 4 2016

Country Fete in

SELWYN TIMES

Award Winning Garden

Sunday 9 October 2016

11am to 4pm

Broadfield

Garden

Art & Crafts

Artisan

Silent Auction

Live Music

Variety of Food

Refreshments

Garden Tours

Floral Demonstration

Plant Stalls

TICKETS

$20 Adult - School children FREE

PURCHASE

Lincoln Community Care Ph: 03 325 2007

www.eventfinder.co.nz Prebbleton Spring Fling 2016

IT'S TIME FOR THE SPRING FLING

It is six years since the Ellesmere Spring Fling

was first held and this year promises to be just as

enjoyable as that of previous years.

The Ellesmere Spring Fling will again be held at

David Hobbs' stunning, award winning Broadfield

Garden. This garden, which covers ten acres, is

of national significance and world class standard

making it the perfect setting for a garden party

with a difference.

"The Spring Fling is a great day out," says Janice

Burnett, Chairperson of Community Care Lincoln.

"Visitors can enjoy savoured arts and craft stalls,

food and live music while wandering through

David's landscaped grounds."

Locals and those from further afield will have

an opportunity to purchase local fresh produce,

artisan foods, crafts and plants. Devonshire teas

and quality food will also be served for people to

partake while enjoying live easy listening music

with the gardens offering plenty of places to sit

and relax in beautiful surroundings.

Those keen on gardening ¬¬or interested in

growing their own vegetables, will have the

opportunity to watch demonstrations by The Seed

Warehouse while Andrea from Andreas Florist

will be showing people how to make eye catching

flower arrangements.

"Principal sponsors, Intelligro from Weedons are

also an ideal fit for the event," says Janice.

Intelligro will be showcasing a selection of their

products and have some garden fertilisers for sale

while their team will be there to talk to people

about their gardens.

David Hobbs will also be providing garden tours,

giving guests an opportunity to learn more about

the species growing at Broadfield Gardens.

With so much on offer, those attending are sure to

have a fun day out while also gaining knowledge

and inspiration for their own gardens.

The Ellesmere Spring Fling is the sole fundraiser for

Lincoln & Districts Community Care Association

Inc. (LDCC). It is completely run by volunteers with

tremendous support from local businesses that

include Lincoln New World, Paper Plus stores at

Hornby and Merivale, Dave Burnett of Feedco,

the Selwyn District Council, Pub Charity Limited,

Digital Print Lincoln and The Warehouse Rolleston.

"We're extremely grateful to have ongoing

community support especially the members of

Lincoln Rotary who assist with running the day, no

job is too big," adds Janice.

Future Leaders from Lincoln University, local

exercise and walking group members, along

with Community Care's staff, board members and

volunteers will also be helping on the day.

The Ellesmere Spring Fling country garden

experience will be held on Sunday, 9th October

between 11am and 4pm at Broadfield Garden,

250 Selwyn Road, Broadfield with ticket sales on

the day: adults $20, children free.

A Huge

Thank you to Our

Principal Sponsor

and other keys sponsors

• Lincoln Rotary

• Selwyn District Council

• Merivale & Hornby Paper Plus • New World Lincoln

• Cartwright Insurance Brokers • Food & Health Standards

• Andrea's Florist, Avonhead • Gordons Pickles

• The Warehouse Rolleston

• Digital Print

• Feedco Canterbury

• Canterbury Seed Warehouse
---
SELWYN TIMES Tuesday October 4 2016 27

Email caitlin.miles@starmedia.kiwi

by 5pm each Wednesday

Photography exhibition

Open daily until Saturday,

library hours

The Ellesmere Camera Club

are hosting an exhibition of their

work at the library. Take a look at

the calibre of photos the members

of the club can produce and see if

you're interested in joining.

Leeston Library, 19 Messines St.

Free entry.

Bee-bot robot

Wednesday, 10.30-11.30am

Bee-bots are a perfect starting

point for children interested in

small programmable robots.

Work to solve different challenges

while having fun. Recommended

age range five to 10.

Southbridge Hall. Places are

limited. Book online at www.

selwynlibraries.co.nz

Young writers workshop

Thursday, 10am-12pm and

1-3pm

Join award-winning young

people's writer and poet, James

Norcliffe, for a two-hour

workshop and create your

own collection of amazing

how to poems. Morning session

for year 4 to 6 children and

afternoon session for year 7 to 9

children.

Leeston Library. Places limited.

Costs $20. Book by emailing

young.writers@xtra.co.nz

Scratch computer animation

Friday, 10-11.30am

Learn programming concepts

by using Scratch to make online

animations. Beginner and

intermediate challenges for all

skill levels. Recommended age

range nine to 15.

Darfield Library. Southbridge

Hall. Places are limited. Book

online at www.selwynlibraries.

co.nz

Darfield Artweek

Daily from Saturday

More than 200 works by

established, emerging and local

artists in varied mediums are on

display at Darfield Recreation

Centre, 10am-5pm. Works by

Svetlana Orinko and Charles

Pickworth are on display at the

Darfield Library during opening

hours in Artweek

Darfield Recreation Centre and

Darfield Library. Free entry.

New Zealand and Beyond

Saturday, 4-6pm

Solo art exhibition by Nola

O'Connell. A frequent traveller

her inspiration comes from her

experiences with a variety of

cultures and landscapes overseas

and in New Zealand.

Nut Point Centre, 703 Old West

Coast Rd, West Melton. Entry is

$2 including refreshments, tickets

from www.nutpoint.org

THAT COUNTRY FEELING: Go and celebrate spring with a country fete at an award-winning

garden this Sunday – te annual Spring Fling will be held at Broadfield Garden, 11am-4pm. The

event showcases not only the gardens and includes live music, artisan stalls, plant sales, a range

of food and beverages, gardens tours and demonstrations. The event will be raising funds for

Lincoln and Districts Community Care. The garden is located at 250 Selwyn Rd. Tickets can be

purchased at the gate, $20 for adults and school age children are free. Earlybird tickets are

available for $15 if purchased prior to the event at New World Lincoln, Paper Plus Merivale and

Paper Plus Hornby.

Markets this weekend

The local markets have a lot on

offer, from fresh produce to hand

made crafts.

West Melton Market: Saturday,

9am-12pm. St Paul's Church.

Lincoln Farmers' and Craft

Market: Saturday, 10am-1pm.

Gerald St, Lincoln.

Darfield Market: Saturday,

10- 2 pm, next to Farmlands on

South Tce, Darfield.

Rolleston Envirotown Market:

Sunday, 10am-1pm, Rolleston

Square.

Edendale Car Boot

Sale: Sunday, 10-3pm, Edendale

Cafe, 888 Sandy Knolls Rd, West

Melton.

Running Groups

The running groups aim to

get like minded members of the

community fit and engage with

other. All running groups have

a handicapped start to cater for

your ability.

Lincoln Road Runners:

Tuesday registration from

5.30pm starts at 6pm. 3km or

6km. Starts at Lincoln University.

Gold coin donations.

Malvern Road Runners:

Tuesday registration from

5.40pm starts at 6pm. 3km

or 6km. Starts from Malvern

Netball Centre.

Prebbleton Runners: Tuesday

registration from 6pm. 3km or

6km walk or run. Starts

from Prebbleton Reserve

soccer ground. Gold coin

donations.

Ellesmere Road Runners:

Wednesday registration from

5.45 starts at 6pm. 3km or 6km

walk or run. Starts from Leeston

Physiotherapy.

Christmas is just around the corner and if you're thinking of ways

to tame traditions and reduce stress this year, 12 Crafty Days of

Christmas offers something fresh and fun for everyone.

Nin McKay is passionate about crafts and has developed a series

of themed workshops where participants will learn techniques to

make four craft projects. Other than bringing an apron and the odd

household item, you don't need to worry about buying the materials

as these are all included in the course fee and are supplied on the day.

The next two workshops are coming up in October and November

2016 with locations in either Rolleston or Lincoln. This is a chance

to try your hand at making soy candles in a glass jar, paint dipped

wooden spoons, block printed tea towel and infused oils.

Adults of all ages can come along to craft and chat and the end result

not only means you have a finished product to give to a loved one at

Christmas, but a learned skill you can use again and again.

For fun, community and creativity book you spot

on the 12 Crafty Days of Christmas classes at

www.eventbrite.co.nz/o/nin-mckay-11267825493

BOOKINGS ESSENTIAL!

A fun, thrifty course

in gift creating!

2 themed workshops running

October and November

Workshop No. 1

October 20 & 22 $40

Visit the facebook page for more info and bookings

www.facebook.com/12craftydays

Themed 'The Butcher, The Baker, The Candlestick

Maker', you will make four unique gifts:

• A block printed tea towel

• Customised wooden spoon

• Flavoured oils and BBQ rub presented in

gorgeous glassware

• A soya candle in beautiful glass container

Workshop No. 2

November 12 & 17 $35

Deck the halls – you'll be making four unique

christmas crafts:

• A customised tree decoration

• Bunting advent calendar for kids of all ages

• Letterpress cards and customised gift tags

• Handmade wrapping paper, gift bags and

presentation ideas
---
28

Tuesday October 4 2016

Gardening

SELWYN TIMES

Flowering powerhouses create colour

More flowers anyone? Rachel Vogan says to create time and space for colour in between vegetable planting

New double-flowered petunia

'Surfinia Double Salmon'.

When you are not up to your armpits in the

vege patch, look to pots, baskets and tubs

to add a blast of colour to the garden. These

containers do for the garden what a scarf

or a necklace does to a lady's outfit; they

punctuate and create focal points, soften hard

edges and brighten anything dull and grey.

This summer should be all about flowers,

and the earlier your summer pots and tubs are

planted the better. Hitting the shops now are new

hybrids of petunia and calibrachoa; flowering

powerhouses that take a bit of beating, with

most of them delivering blooms continuously

from late spring until the end of autumn. Look

for this brand new double-flowered petunia

'Surfinia Double Salmon' – for six months

of the year all it wants to do is flower.

Just coming into bloom, the Bacopa Epic

series will stay this way until May next year.

Crop Protection

Young seedlings and cuttings appreciate

some TLC when young. If you don't

have room for a glasshouse, mock up

something at home (Kristina Jensen

shows us how on page 51). Maybe prop

up an old window on some bricks to

provide some shelter, or look at a mini

propagating house, which is ideal for

using indoors when sowing a few packets

of seeds. The larger portable outdoor cold

frames are brilliant, too. Just remember

that once seedlings are starting to form

their first sets of true leaves they need

plenty of air movement. Make sure you

can prop the door open or open a vent so

the young plants don't fry on a hot day.

Vegetables

Plant potatoes and yams now. Both

need a well-dug soil in a warm

sunny spot, and remember to blend

in potato food prior to planting.

Sow rows of carrots, radish, parsnip

and beetroot; these are all best

sown directly into the ground. In

regards to lettuces, jam in as many

as you can, and not just in the

garden – they thrive in pots, tubs

and baskets. Seeds can be sown,

too, and will germinate readily

uncovered outside, so save your

precious room in the greenhouse

or on the windowsill for frostsensitive

seeds like tomato, chilli

and basil. To make sure you get the

biggest and juiciest asparagus spears

this season, sprinkle round some

vegetable fertiliser now and give beds

a drench with a liquid fertiliser.

Strawberries

How is your patch looking? If

you haven't done so already, cut

off all those dead leaves from

any older plants and any rogue

side runners. Add a generous

handful of strawberry fertiliser

around the base of each plant.

For new patches, it's vital you

prepare the soil first by digging

it over and adding strawberry

mix, this give the roots the best

possible chance to spring into

action. The cold nights trigger

the plants to produce flowers,

so the earlier you plant them

the better. No need to wrap

this crop in cotton wool.

In Flower: Bacopa

Epic Series

If you are after a plant that

forms a neat dome, with a soft

tumbling habit that will cascade

over the edge of a basket,

window box or tub, then look

for these wee gems. Bacopas are

making a comeback and this

new Epic series look marvellous.

With increased flowering ability

and tolerance to hot weather,

their colours appeal too, coming

in a range of deep pink, blue and

white. They look a picture in the

shops now – hunt a few down.

These perky wee numbers would

help punctuate any summer

wedding with a twinkle of colour.

gardening without guesswork

Question:

I planted a lot of daffodil bulbs in winter but was disappointed to see mainly

only leaves came up and no flower? I planted them with compost and just

assumed I would have a brilliant display of flowers?

Sorry to hear that. I can imagine you are

Answer: very disappointed! Unfortunately there

isn't much we can do now to fix

that, but here are some tips to help prevent it happening

again. Daffodils make their flower buds straight after

they have finished flowering in the spring. To help

ensure they flower the following season, it is important

to follow these practices:

1) Remove the spent flowers so they don't set any seed

2) Give the daffodils plenty of water

3) Top dress with Potash fertiliser

4) Do not remove the leaves or tie them in a knot to make the

garden look tidy. Leave them there as these will deliver nutrients to

the bulb to prepare it for the next spring

All the best with the next season! If you find your bulbs are planted

in an area that isn't getting much sun, and doesn't have good

drainage, you may need to rethink your chosen spot. If you need

any other information, please let us know!

for more information, check out our website: www.intelligro.co.nz

or visit our facebook page: www.facebook.com/igro.co.nz

Thanks to Julia for her question

QualITy prOducTs frOm ThE WEB TO ThE shEd!

WIN!

a $50

INTEllIgrO gIfT

VOuchEr!

pest patrol

There is a narcissus bulb fly that sometimes attacks

daffodils, which results in leaves and no flowers.

If you have noticed flies around the daffodils, treat

these with the same insect granules that you would

for grass grub. These will be available at your local

garden centre. Do the treatment after the leaves have

died down, and make sure that the hole where the

plant is, is covered so the insect cannot get to the

bulb in the ground

Send us your

question and

BE IN

TO WIN!

Email to: info@igro.co.nz or post

your question on our Facebook page:

www.facebook.com/igro.co.nz

New questions received by Tuesday

10th October
---
SELWYN TIMES Tuesday October 4 2016 29

Plants to give your summer meal flavour

• By Tod Palenski

EVERY MONTH I write a

gardening article on a couple of

plants.

I typically try and come up

with some kind of unique angle

or theme to get things going. But

this month I'm just going to get to

the point. Chives, coriander and

rocket are really handy (and tasty)

plants to have in the garden.

Individually, they're just such

great herbs to have accessible for

fresh cooking.

And what do you know? Your

local nurseries are likely to have

chives, coriander and rocket in

a mixed bundle. Mixed bundles

are fantastic because they provide

you with a smaller number of

seedlings per herb, which means

you should end up with about the

right amount of each, without any

taking over your garden.

Once you've got your rocket,

chives and coriander plants you

need to find somewhere to grow

them.

Chives are the easiest to grow.

The only thing you need to

remember – is where you planted

them.

Rocket is the next easiest to

grow. It likes sun. At this time of

the year it can be grown out in

full sun.

But when we hit summer

it pays to choose an area that

doesn't get hit by the midday heat

to avoid sending your plants to

seed.

Dig through some compost into

the area you plan to plant. Or add

some good quality potting mix,

if you're planning on planting in

large containers (around 25cm

or more deep). Then plant each

rocket seedling around 20cm

apart. Don't forget to watch out

for snails around your rocket.

Lastly, coriander. We know that

this fragrant herb can be a little

tricky to grow. But it's so worth

it if you get it right. My top tip

for growing coriander is to plant

when the weather is steady. This

will prevent it bolting from the

change in temperature that can

occur when we change seasons.

Plant it where you would plant

your rocket – full sun before

summer and in partial sun during

summer.

Just make sure it's in freedraining,

aerated soil. Mound the

soil up and plant the seedling on

top – this will help ensure the soil

is free-draining.

Remember to water lightly all

your coriander, chive and rocket

TASTY: Chives (left) and rocket are

easy to grow, but remember where

you have planted them.

seedlings once planted. And don't

let the soil dry out around your

coriander as this could cause it

to bolt. Water all the plants in the

morning to allow the water to dry

off during the day and prevent

disease.

Remove old or yellowed leaves

from your rocket and coriander

to help your plants continue to

flourish. And harvest the leaves

often to stop them going to seed

too early and encourage new

leaves to shoot up. And again, if

you want a continuous supply,

keep planting new seedlings every

few weeks.

Lastly, enjoy your herbs and

let me know if you have a good

recipe that combines all three.

SPRING SALE

WEEKDAYS 8:30–5PM

OCTOBER 10 TH –24 TH

FLAXES

Black Rage, Golden were

$9 .00

Ray, Dark Delight,

Platts Black now $6 .00

ea

SHRUBS &

GROUNDCOVERS

Large selection

including Choisya,

15-30 % off

Hebes, Mondo grass, Rhododendrons,

Viburnums plus many more varieties

LARGE

GRADE TREES

up to

50 %

off

GRISELINIA

HEDGING

60cm plants

$10 .00 ea

30cm plants

$4 .00 ea

NZ NATIVES

9 & 15cm from$2 .50 ea

Pot Grade

BONUS OFFER

Buy 150 x 15cm plants and receive

150 green guard spray protector

sleeves FREE!

WWW.GREENLINC.CO.NZ
---
30

Taste

Tuesday October 4 2016

SELWYN TIMES

Sweeten up your day with cake

Penelope's Cakery

Deli has opened

in New Regent St.

Gabrielle Stuart

reports

A LEGO figure, a shark

breaching the water, a five

tier wedding cake, or even a

mathematical equation: When

it comes to cake orders, Penny

Ritchie has to be ready for

anything.

But her biggest challenge this

year has not been fondant or

buttercream.

She opened the doors of her

New Regent St shop, Penelope's

Cakery Deli, last month.

As well as selling food and

her own custom-made cakes

there, it was designed as a place

where home decorators could

get support, advice and supplies,

which were difficult to find in

Canterbury, she said.

Although she had always

enjoyed creating cakes for

her children or friends, she

only began decorating cakes

commercially about four years

ago.

She owned a confectionery

SOMETHING SWEET: Penny Ritchie cuts into a tasty treat at

her new shop and cake supplies store.

PHOTO: GEOFF SLOAN

store in Rangiora, and she

said it had been a challenge to

attract customers there after the

earthquakes.

Branching into cake making

was a way to turn the store into a

destination, she said.

But finding the supplies and

tools she needed had often been

challenging.

"It was just through not

wanting to say no to anything, I

forced myself to learn," she said.

She hoped the Christchurch

shop would make it easier for

beginner cake decorators to give

it a go.

"We have moulds and cutters

for most things and, with so

much information and tutorials

on the internet, now it is very

easy for people to get into it, even

if they have never done it before,"

she said.

Although creating some cakes

could be a challenge, she said

delivering them was often

the most terrifying part of the

job.

"Some are quite elaborate

wedding cakes that have to be

absolutely perfect and the biggest

challenge is working out how to

transport them," she said.

"I always take an emergency

repair kit, but I haven't ever –

touch wood – needed to use it."

TREAT: Penny Ritchie has

created a selection of exotic

cakes for customers.

H ORNBY

WORKINGMEN'S

CLUB

«WHAT'S ON«

WESTVIEW LOUNGE

FRIDAY 07 OCT, 7PM

SPORTS HALL

SATURDAY 8 OCT, 7.30PM

«

SHALOW

SATURDAY 08 OCT

4.30PM MARION'S OUTLAWS

8PM FRANCHISE

ANTHONY'S

JUKEBOX SHOW

PRE-SALE TICKETS $18 / DOOR SALES $20

«COMING UP«

SUNDAY 16 OCT, 1.30PM

KEEPING IT

COUNTRY

Kylie Austin Allan Barron Yvonne Munro

backed by REMEDY Showband

SATURDAY 19 NOV, 8PM

BADMOONRISING

THE CCR TRIBUTE SHOW

TICKETS $20

FRIDAY 9 DECEMBER

Hornby WMC | ph 03 349 9026 | 17 Carmen Road | Hornby

www.hornbyworkingmensclub.co.nz | Members, guests & affiliates welcome

TASTY

GORGEOUS FOOD

Much loved gourmet

food made our way

NOW OPEN

SATURDAY

7am - 1.30pm

SPECIALIST BAKERY

• Hand-made on premises daily

• Wide selection of gorgeous, tasty slices

• Fresh cut sandwiches, paninis, bagels & salads

• Delicious pies, sausage rolls, quiches, muffins

& scones

• Gluten free options available

66-68 Springs Rd | www.gorgeousfood.co.nz

Email: gorgeousfood@xtra.co.nz

Ph 344 6044 | Open Mon-Fri 6am-3.30pm

RESTAURANT & CAFÉ

'Famous for their roasts!'

Make us your

No 1 stop for

fresh berry and

stone fruit

this season.

OPEN 7 DAYS

Phone 349 5952

Cnr Springs Rd & Marshs Rd,

Prebbleton

(next to Milanese Restaurant)

School's Out

FAMILY FRIENDLY

Kid's Special

Two courses

Great Kids menu plus designated play area.

SENIORS SPECIAL $

20

Two courses:

Soup/Roast or Roast/Dessert

Special available lunch only

Monday - Saturday 12pm - 2.30pm. Conditions apply

Treat

the Kids

$

10

Open daily from 6.30am - Breakfast, Lunch & Dinner

The

RACECOURSE HOTEL

& Motorlodge

118 Racecourse Rd, Sockburn,

Christchurch. Ph 03 342 7150

www.racecoursehotel.co.nz
---
SELWYN TIMES Tuesday October 4 2016 31

ACHIEVERS

CONTINUING EDUCATION

MOVIE MAKERS: West Rolleston

Primary School pupils won the green

screen category at the recent CORE

Education DigiAwards thanks to a

movie made about the school rules.

The theme of this year's awards was 'be

the change – thinking about the impact

you can have on your community

and ultimately the world.' The West

Rolleston pupils put together an iMovie

with pupils creating a pretend news

report about how the schools rules

were making a difference around the

world. The rules are based on values

such as honesty, using only positive

words and sharing. Pictured are: Top

row from left – Alyssa, Liam, Harper,

Jacob, April, Arthur and Samreen.

Middle row – Ryder, Isla, Jess, Izzy and

Quinn. Bottom row – Emily, Ollie, Harri

and Xavia.

PLAYING HIS PART: Harper plays

All Black Dan Carter in a pretend

television news live cross to Paris.

Exciting times ahead

for social workers

Fiona Maurice is focused on whanau. Midway through her final year work

placement at Child, Youth and Family, the Ara Bachelor of Social Work student

spoke of her hopes for the future for her family and for all Māori families.

Working for the Māori Women's

Welfare League, as researcher and then as

kaiawhina, in 2011 to 2012, Fiona loved

community work but realised she need a

qualification to progress and be even more

effective. Coming to Ara was, she says, "the

best move I ever made".

"I've learnt more

about myself and

what my strengths are

and I've realised that

determination and

perseverance are good

skills to have.

"I believe this

qualification will give

me more opportunities. I

want to register as a social

worker so that employers

will look at me more

seriously.

Working for Child, Youth and Family,

the social work agency of the Ministry of

Social Development, "didn't faze" Fiona.

"I put my hand up to go there. In terms of

learning I can link a lot of my studies, such

as attachment theory and developmental

theory to the work, but I am also learning

a lot in the office about the systems and

processes."

It's an exciting time to be at CYF, she

says. "The agency is in a transformation

phase. They will have a new identity next

year and new processes. To be part of that

wave of social work is exciting."

Her focus is clear. "It's whanau that's the

perspective I come with."

Proud of her heritage, she

affiliates to Tuahiwi Marae near

Rangiora and Nga Ruahine

(South Taranaki tribe). It's

an exciting time for New

Zealanders, she says, because

qualifications now involve

learning about the Treaty of

Waitangi. "More and more

we will see that knowledge

in action. Most of the social

work students want to learn

bicultural skills, but I already

had that."

Receiving the Ara Eke Panuku

award last year and other scholarships have

been hugely helpful and Fiona says support

is there for other Māori students to enter

social work – a perspective the profession

badly needs to better respond to Māori

clients. "There are not enough of us! Only

three started in my first year group of 55!"

Fiona has made it a personal challenge

to share her story and inspire others to

consider social work.

Celebrate the success of local

businesses and people!

Thursdays at 7.30pm

CTV Freeview Channel 40,

live and on demand at ctv.co.nz
---
32

Tuesday October 4 2016

CONTINUING EDUCATION

SELWYN TIMES

Risingholme Community Centre

Adult and Community

Education

Risingholme Community Centre

continues to offer a wide range of exciting

learning opportunities across the city.

With the start of term 4 on Monday 10th

October and longer days why not enrol

in one of our exciting classes – www.

risingholme.org.nz

Risingholme's strong focus on language

development continues with a wide range

of languages courses at a variety of levels

– ESOL, German, Italian, Russian, Sign

Language, Spanish and Te Reo Maori.

Risingholme's traditional base of art and

craft courses continues to flourish with a

full range available at a number of venues.

They include fabrics, woodwork skills, cake

decorating, health & fitness and well-being,

computing, guitar and photography, as well

as many others. Due to popular demand we

have added another Upholstery course and

a one day course, Saturday 22nd October,

"Tracing Your Family History" to coincide

with Heritage Week.

For more information on classes at

Risingholme, Riccarton High School,

Christchurch Girls' High School, Shirley

Boys' High School, Hillmorton High

School and Hornby High School, contact

the Risingholme Community Centre at

332 7359 or e-mail info@risingholme.

org.nz

NIGHT CLASSES

PAPANUI HIGH

TERM 4 2016

The full programme for Term 4

is available on our website at

www.risingholme.org.nz/courses

Brochures are available at the

Risingholme office and public

libraries.

An example of some of the work

done in our Upholstery course

Nightclasses at

Papanui High School

As the weather gets warmer and the

evenings get longer it is the ideal time to

get out of the house and learn something

new and meet some new people by

taking part in one of the wide range of

nightclasses on offer at Papanui High

School for Term 4 beginning week of 17

October.

From Art to Yoga and everything in

between we are sure regardless of your

age or interest you will find something

to tempt you. Classes at Papanui High

School are held in a warm, friendly

relaxed environment and our tutors are

supportive and well qualified in their

chosen fields.

WORKERS EDUCATION ASSOCIATION

Roopu Kaimahi Matauranga O Waitaha

One of our new courses on

offer for Term 4 is Tribal Belly

Dancing. This course will cater

for all ages from young adults

to retirees. No previous dance

experience necessary and suitable

for all fitness levels and abilities.

Come along and improve your

confidence, creativity and self

expression while having some

fun! Class begins Monday 17

October 7-8 pm for 6 weeks at a

cost of $78.

For further information and

enrolment in this or any of our

Term 4 courses please visit our website

www.papanui.school.nz or email rpb@

papanui.school.nz or telephone our

office on 3520701

Huge range of classes from

Art to Yoga

Come down and enjoy the fun!

To enrol, please

phone our office on: 352 0701

See our full range of courses on

www.papanui.school.nz

Term 4 begins

17 October 2016

Term 4: 17th of October – 9th of December

See our website or call for more information.

Community education and courses throughout the year

59 Gloucester 59 Gloucester Street. Phone: Phone: 366 0285 366 0285

Email: Email: admin@cwea.org.nz

www.cwea.org.nz

www.cwea.org.nz

facebook.com/canterburywea

facebook.com/canterburywea

Piano

Raewyn Clegg

Registered Teacher of

Piano and Theory of

Music.

29 Lancewood Drive

Halswell

Ph 322-9377

From Art

to Yoga and

everything in

between

CHRISTCHURCH CAMPUS

60 Waterloo Rd, Hornby, Christchurch

2017 applications open now:

Automotive

Beauty Therapy

Collision Repair

Construction

Electrical

Fitness Instruction

Hairdressing

Mental Health

Personal Training

Project Management

Refrigeration & Air Conditioning

*Direct material costs apply

Call today or email sit@sit.ac.nz

0800 TO STUDY

www.sit.ac.nz
---
SELWYN TIMES Tuesday October 4 2016 33

CONTINUING EDUCATION

Southern Institute

of Technology

Ensuring a safe

work place

Monique VanRooyen is

a perfect example of how

the Southern Institute of

Technology (SIT) assists

full time workers to move

forward in their career.

Working in

administration at

SIT for nine years,

Monique jumped at the

opportunity to upskill

in her Administration

Management career with

the National Certificate

in Project Management

(Level 4) in June 2016.

The 18-week blended

delivery course not

only offered the content

she needed to take a

step forward, but its

flexible hours made both

studying and working

viable, she said.

"The biggest benefit

is being able to do the

course outside of work

hours and also the

fact that lectures are

fortnightly, which allows

time to complete each

assignment."

Though only half way

through the Project

Management certificate,

she said it had already

increased her confidence

to talk in front of large

groups and had given her

Monique VanRooven

a better understanding of

business dealings.

"I enjoy the tutor's

lecturing style, he has a lot of industry

based knowledge and experience in

this area which enables us to grasp the

concepts [of Project Management] a lot

easier."

Monique said she would "definitely"

recommend the course to anyone

interested in a managing environment on

any level, especially those looking to excel

in their existing role.

LeARNINg fIRST aid is not only a

part of ensuring a safe work place, but also

an integral part of our engagement with

the wider community. We all learn the

necessary skills to ensure that in times of

emergency we are able to assist our work

colleagues, but are we able to take these

skills home, into the community or on to

the sports field?

Not all work places are the same and

the injury risk for each place can be wide

and variable. The office attended by

administrators does not carry the same

risk as those people working with heavy

machinery, or perhaps at some distance

from a regular ambulance service. It is

therefore essential that you pick the right

first aid course to suit all of your activities –

both professional and social.

Take, for example, an office worker who

does not have a high risk work environment

and whose concern might be to ensure

that they can deal with minor cuts and

superficial injuries, or the ability to perform

effective CPR. These skills can be achieved

on a course of eight hours duration and

would generally fit into low to medium

risk area. But take this same person on to

a sports field either as a spectator or player

when a higher level injury occurs. The eight

hour course covering unit standards 6402

and 6401 (or 26551 and 26552) does not

cover head neck and spinal injuries, eye

injuries, hypothermia and poisonings.

The majority of injuries occur outside of

the work place, in fact one in three injuries

occurs in the home, making it the most

common place for injuries to happen.

New Zealand children are twice as likely

to die through injury as children who live

in Australia. They mostly die as a result

of motor vehicles accidents or falls in the

home. fatalities from leisure and sport are

not far behind those in the workplace.

The wider 12 hour course teaches the

additional unit standard 6400 and provides

a wide knowledge base for medium to high

risk environments. This course covers many

of the skills required to deal with the most

common injuries, such as falls (which can

result in head, neck and spinal injuries) and

dealing with complex scenes such as motor

vehicle accidents.

If you are not sure on the course best

suited to your needs, ask your accredited

first aid training provider. They can explain

the course content and give you options

that will best suit your needs. Look beyond

the workplace and consider your family and

your location. Check that you have a good

quality first aid kit that is up-to-date with

replenished items, and that everyone knows

where it is located.

Adult and Community

Education Term 4, 2016

Come learn with us

Risingholme Community Centre offers a wide range

of short courses each term at a range of venues.

Risingholme Community Centre

Alterations – Upcycling and Recycling, Art, Belly Dancing,

Canvas Craft, Cake Decorating, Christmas Patchwork, Crochet,

Embroidery, ESOL, Fabric & Craft Skills, Floral Art, Healing

with Dreams, Guitar, Italian Language, Making a Gingerbread

House, Making Christmas Crafts, Marquetry group, Master

Your Sewing Machine, Mindfulness, NZ Sign Language, Paint

Your Own cards, Painting with Acrylics, Patchwork & Quilting,

Pilates, Pottery, Roman Blinds, Sewing Skills, Tracing Your

Family History, Using your Overlocker, Weaving, Watercolour

Painting, Wood Sculpture, Woodwork, Woodwork for Women,

Yoga.

Christchurch Girls' High School

Argentinian Cooking, Baking, Dressmaking, Embroidery,

Empowerment, KiwiSaver, Salads – Raw & Vegan, Screen

Printing, Skincare & Make up, Te Reo Maori, Watercolour

Painting.

Hillmorton High School

Computing, Meditative Yoga, Spanish Language, French

Language, Style Makeover on a Budget, Hands-on Makeup

Application.

Hornby High School

Pattern Making, Sewing Skills, Thai Cooking.

Riccarton High School

Basic Photography, Calligraphy, Chocolate Making, Computing

(Excel & Word), Creative Art Creative Writing, Cupcakes,

Egyptian Cooking, Embroidery, ESOL IELTS, ESOL Business

English, First Aid Red Cross, Indian Cooking, Italian Cooking,

Italian Language, Learner Licence, Mediterranean Cooking, NZ

Sign Language, Picture Framing, Portraiture, Russian Language,

Sewing Skills, Spanish Language, Te Reo Maori, Website Design,

Woodwork, Yoga, Your Career Take Charge.

Shirley Boys' High School

Arduino, Bake and Decorate, Computing Basics, Computing

(Excel & Word), Designing Your Garden, German Language,

Gluten Free Vegetarian Cooking, Graphology, Intuitive

Meditation, Kasmiri Wazwan Cooking, Learner Licence, Massage,

MYOB, NZ Sign Language, Painting with Acrylics, Pilates,

Spanish Language, Take Control of your Life, Te Reo Maori, Thai

Cooking, Upholstery, Vegetarian Cooking, Website Design, Yoga.

Full details available on www.risingholme.org.nz

Brochures available at local libraries and

Risingholme office at 99 Hawford Road

Phone 332 7359 | Email info@risingholme.org.nz

www.risingholme.org.nz
---
34 2

Tuesday [Edition datE] October 4 2016

SELWYN TIMES

2016 Spring Show - Celebrating Rural Women

Saturday 15th October – Gates open 8am – Ellesmere Showgrounds, Leeston

President puts focus

on role of women

As the first woman president of the

Ellesmere A & P show committee, Paula

McIlraith wants to acknowledge the role of

woman in our community over the decades

– hence the theme of the 146th Ellesmere

Show, 'Celebrating Rural Woman'.

"We have some amazing women in our

community who have made a difference in

peoples' lives," says Paula.

"There are those that have supported

youth through education, culture and

sport, and often acted unknowingly as role

models to these young people. The likes

of Cath and Rosalie Brown come to mind

and many others who have given their time

selflessly. There are also women before

their time such as Dr Helen Dougal who

practised in Leeston in the 1950s and later

Dr Molly Prendergast.

"Going back, there was the contribution

and effort of rural women during wartime.

My own mother, like many others, farmed

the land whilst others ran the services

allowing them, in a time of necessity, to

prove they were capable and adaptable.

"These characteristics are still part

of the modern-day rural woman who,

among traditional roles, may also be the

extra labour unit when things are busy

Paula McIlraith, president of the Ellesmere

A&P Show.

and for many they are an integral part of

a farming partnership which has had to

adapt to a changing farming environment,

especially with regards to accounting and

technology."

Paula's involvement with the show started

in the horse section and she believes it is

a great event that really showcases the

community.

She has her fingers crossed for a sunny

show day and hopes that everyone takes a

moment to reflect on some of those unsung

female heroines who often go unnoticed

and suggests, if we get the chance, to let

them know they are appreciated.

Not just a tyre shop!

On-FaRM SERViCES

No CaLLout Fee

(SElwyn diSTRiCT)

aGRiCUlTURal TyRES

Courtesy car available.

Kiddie's toys & entertainment.

Enjoy a free coffee, massage

(chair) & TV while you wait.

• 24 hour fleet service

• Full mechanical repairs

• Nitrogen fills, batteries, WOF, shock

absorbers

• Car tyres, 4x4 tyres, light truck

tyres, truck & bus tyres

• Wheel alignments, puncture

repairs, full groom

Mon-Fri 7.30am-5.00pm, Saturday 9am-12pm

Call 03 347 4702

or 0800 838 973

Plenty to enjoy

at Ellesmere's

upcoming show

The Ellesmere A&P Showgrounds

will once again be the focal point for the

community on Saturday October 15 as

young and old from across the district

flock to enjoy the Ellesmere Agricultural &

Pastoral Association's annual show.

This year sees the 146th running of the

show, with the theme being 'Celebrating

Rural Women'. All the traditional activities

and displays will be featured including

the always-popular farmyard display

sponsored by Structurewise, which will

again be a major attraction at the show.

The tent will be filled with as many kinds

of animals as possible, with one of the main

draw cards the eels from Lake Ellesmere.

Other animals on display will include

chickens, ducks, turkeys, pigs, lambs and

calves, while the hourly 'needle in the

haystack' lolly scramble will keep everyone

entertained.

The Farmlands feature tent will house

a 'Celebrating Rural Women' display, the

Wearable Arts, with interesting guest

speakers an additional attraction.

Donkeys, alpaca, sheep and wool

displays, the excitement of the dog trials,

wood chopping, highland dancing, vintage

and modern machinery, wearable arts, live

music and much more will add to the fun

and excitement of the day.

Pupils from the four local primary

schools, Dunsandel, Leeston and

Southbridge, will compete in the Country

Kids AgriSports competition. Teams of

three will go head-to-head in a number

of farm-related activities and team work.

Activities such as catching greasy pigs,

feeding calves, colouring lambs and sack

races in wool packs are sure to provide

entertainment and hilarity for contestants

and spectators alike.

Gates open to the public at 8am, with

admission price for adults priced at $15,

children 12 and under get in free and

family passes $40 for two adults and up to

three children. Cash only will be accepted

at the gate, but Eftpos facilities will be

available on the grounds. Parking is free.

Showjumping will be held on Sunday,

October 16.

847 Jones Rd, Rolleston • www.tasmantyres.co.nz

Roundwood

Farm posts

Deer Fencing

Post and Rail Fencing

Yarding Timber

Oregon Rails

Oregon Gates

Sheep and Deer Netting

Gallagher

Strainrite Fencing Systems

Rural Section

HOURS

Mon - Fri: 7am - 5pm

Saturday: 8am- 12pm

Weedons Ross Rd

to Rolleston

We are here

Berketts Rd

Jason Pester 1304 Main South Road, Christchurch

jason@cthl.co.nz P 03 3477465 F 03 3477032

Trents Rd

Main South Rd / SH1

Your Local Timber Merchant

the side-by-side that's got it all

so maNy featUres

1100efI

$16,100* gst

excl

*100% finance available to approved purchasers

New Upgrade model

test

drive

today

67 hp. 1100cc 4 cyl. 16 valve engine, 5 x speed transmission, hydraulic clutch, 2WD, 4WD, Diff. lock front & rear, max speed 70kph, snorkel, electrically

operated rear deck hoist, fully foldable windscreen, front mounted electric winch, roof mounted LED light bar, all steel construction, disc brakes all

round, amazing carrying capacity (front, roof, rear tray), road registrable, Dimensions - 3270 x 1550 x 2065(mm) (L x W x H).

BUY DIRECT FROM THE IMPORTER!

Lifestyle Tractors & Machinery Ltd • www.lifestyletractors.co.nz

Tel. 03-347-4956 • Mob. 0274 770 070 Email. tractors@lifestyletractors.co.nz
---
SELWYN TIMES Tuesday October [Edition datE] 4 2016 35 3

2016 Spring Show - Celebrating Rural Women

Saturday 15th October – Gates open 8am – Ellesmere Showgrounds, Leeston

Rural women to

be highlighted

Craft, machinery

and sideshows

in Feature Tent

The feature tent sponsored by Farmlands is definitely

keeping with the Ellesmere A & P Show's theme

'Celebrating Rural Women'.

This year the Wearable Arts parade

and competition will be staged with

parades starting at 11am and 1.45pm.

The brief to exhibitors was; "You

choose, whatever aspect of a rural

woman's life through the decades that

you would like to portray". This year

the Wearable Art Apron class has

been introduced, which promises to

be entertaining, and even humorous.

Also featuring in the tent will be

some entertaining speakers. These

include the New Zealand Women's

Rowing Eight coxswain Francie

Turner, fresh from her trip to the

Rio Olympics, and the recognised

sculptor and artist Sharon Earl, both

of whom will provide some insights

into their interesting lives and their

rural origins in the Ellesmere area.

You are encouraged to visit the

feature tent, where you are promised

a trip down memory lane, which

will leave you wondering, "How on

earth did they do it all with so few

conveniences?"

The display will showcase what

being a rural woman meant through

the decades – all of who have certainly

been working women. Or it may be

to simply appreciate the change of

styles. Call in, reflect on times gone

by, enjoy the displays of clothing, art,

achievement, furniture, sculpture,

food, static displays of lifestyle and cultural

elements, sports, equestrian, wartime and

how it shaped their lives and defined their

time.

As well, Rural Women NZ and other

groups will present displays and interesting

insights into what they do for rural

women whether it be locally, regionally or

nationally.

Almost 100 craft sites will offer

an array of stalls selling goods

from handmade crafts, plants,

clothing, food stalls, outdoor

furniture and local organisations

fundraising.

The trade sites will comprise a

range of businesses from banks to

real estate to fertiliser and power

distribution companies.

On the machinery sites visitors

will see the latest in agricultural

equipment and technology, as

well as new car sales, irrigation

companies, mowers and fertiliser

spreading. It's a chance to see the

latest equipment and the advances

in farming technology. There will

also be a large selection of vintage cars and

agricultural machinery.

In the produce sheds, sections being

competed in include cooking, homemade

beverages, handcrafts, photography and

flowers.

For the school children there will be

sections in technology, art, flowers and

cooking.

The poultry section will have over 40

different classes with a huge variety of

poultry – some you probably didn't know

existed.

Sideshow attractions range from the

Ferris wheel, to thrill rides, merry-gorounds

and bouncy castles, plus there will

be an assortment of food stalls.

Your land. Your people. Your stories.

Every Wednesday at 7.30pm

on CTV Freeview Channel 40

live and on demand at ctv.co.nz

Brought to you by
---
36 4

Tuesday [Edition datE] October 4 2016

SELWYN TIMES

2016 Spring Show - Celebrating Rural Women

Saturday 15th October – Gates open 8am – Ellesmere Showgrounds, Leeston

Changes in the

equestrian section

This year there are some changes in ring layout and

new classes added, with organisers always looking to

improve the equestrian aspect of the show. The main

change will be the miniature/shetland and donkey

ring, which will now be in the south-west corner past

the vintage machinery area.

The first of two new classes will be held in the

main ring around 11am to showcase the ridden

thoroughbred. With a lot more focus on what happens

to horses after they finish their racing careers, this

is generating support within the industry itself. The

thoroughbred is bred to be an athelete, and provided

the horses retire without major injury they can be

retrained as excellent riding horses and many go on to

be competitive sport horses.

The other new class is Best Pair of Matched Ridden

horses, which aims to encourage some fun in what can

be a competitive discipline. In keeping with the theme

of the show, president Paula McIlraith will award a

special prize to the best lady rider of fences.

Unique to the Ellesmere show is the trotting and

pacing section, which is held in ring two at 1pm.

There are inhand and driven classes, which have been

well supported for many years by harness trainers

Paul Nairn and Justin Smith as an opportunity

to expose their potential young race horses to an

atmosphere similar to a major race meet. There is

also a section for ridden standardbreds held in the

main ring, proving there is life after racing for the

harness horse also.

Jumping events include a 1.15m pony classes

and a 1.30m-1.40m horse class starting at 12pm on

Saturday in the Hound & Steed Creative Agency

arena. There is good prize money thanks to FMG

and Southfuels.

The following day there will be three rings of

competition ranging from small heights through

to the young rider class, which goes up to 1.35m.

Public admittance is free on Sunday.

Selwyn Auto

ALL YOUR MOTORING NEEDS

› WOF's › Diagnostics

› Repairs › Servicing

› Batteries › Tyres

Phone 329 5841 | 132 Leeston Road, Springston

www.selwynauto.com | office@selwynauto.com

Woodchopping & more

will draw the crowds

Wood chopping is an extremely popular

event at the Ellesmere Show, with large

numbers of spectators coming to see some

30 male and female competitors in action.

The Canterbury Axemen's Association

will be running the meeting, which

involves more than just turning up on

the day to chop logs. The logs have to be

sourced, cut down, peeled and stored

before the meeting, all achieved through

members volunteering their time.

The Ellesmere Show Committee also

spends considerable time and effort

preparing the grounds, sorting out

the hosting requirements, and gaining

sponsorship. Sponsors include Think

Water Leeston, Canterbury Waterproofing,

Ellesmere Motor Bodies, McMillan

Drilling Group and Stihl Shop Fosters.

Events will include standing and

underhand chops, single and doublehanded

sawing, and some extra women's

events, both sawing and chopping, to

celebrate this year's theme 'Celebrating

Rural Women'.
---
SELWYN TIMES Tuesday October [Edition datE] 4 2016 37 5

2016 Spring Show - Celebrating Rural Women

Saturday 15th October – Gates open 8am – Ellesmere Showgrounds, Leeston

Ellesmere

Shears

This year's shearing competition is

expected to be another prime event with

a good showing of competitors expected

throughout the grades. The Speed Shear

will be a highlight, with competitors set

to shear their sheep in under 40 seconds.

A blade shearer will take on a machine

shearer to see who can de-fleece a sheep

the fastest.

The open grade will see a number of

world-class shearers in action.

Sponsors are: BE & PM Pullin Shearing

Ltd, Webster Shearin, Dunsandel Tavern,

Mainland Wools, Westpac, Ellesmere

Transport, Acto Agriculture.

Sheep to

feature

strongly

at show

Sheep

dog trials

Ellesmere A&P Association Dog Trials

competition includes District Maiden,

District (Boon Trophy), Maiden (Barclay

Cup) and Open class (DC Gilbert Challenge

Cup).

Shepherd and dog will have eight

minutes to drive three sheep through two

sets of hurdles and put them in the pen to

complete the run.

The dog trials event is well supported

across the four classes with the district

dogs running on Friday afternoon and the

maiden and open classes on the Saturday.

It is sponsored by Brian Brice of HRL Ltd

Sheep entries are up significantly this

year, due to president Paula McIlraith

and husband Alistair's involvement in the

stud sheep industry. Their breeds, the Poll

Dorset and Suffolk, are both having feature

shows, attracting increased entries in these

sections. The black and coloured sections

also have a feature show.

The champions from each breed's section

will contest the Donald Cameron Memorial

trophy for the Supreme Sheep of the Show.

The best ram hoggets from each breed will

contest the Connelly Cup for meat breeds

and the Ellesmere Livestock Trophy for

wool breeds, sponsored by Peter Walsh &

Associates.

The best ewe hogget contest, the Adelong

Trophies, is sponsored by Essential

Nutrition.

The specialised competitions, the

Alliance Group Export Sire Competition,

the ANZCO Foods Canterbury Hoof

and Hook Lamb Competition, and the

Rabobank Gift Lamb competition, will

again be hotly contested.

Dairy

This year's dairy section will bring registered breeders from

as far north as Rangiora through to the Ellesmere District and

surrounding areas of Methven. Major sponsor Agrisea will again

contribute to the day, along with DBC, Semex Samen NZ, WWS,

Genetic Enterprises, Tahora Farm, ABS, Vitec Nutrition, Aakland

Chemicals and Riverbrae Dairy Farm Ltd.

The Holstein classes will be judged by Peter Sheriff from the

Sherraine Holstein Friesian Stud, Ohoka.

The Jersey judge will be Robert Kelly from Oamaru. Robert has

judged nationwide and has been invited back to this year's show to

judge the Jerseys.

The Ayeshire breed will

again be well represented

by local exhibitors so

the all breeds classes

will ensure good class

numbers. Richard Boyce

will again be judging the

calf club section with

good entries throughout

the different age groups.

Beef cattle

This year's beef judge for the Ellesmere Show is Rob Burrows

from Ashley. As an RAS judge Rob is an approved interbreed

national beef judge. Originally from Culverden he currently runs

the Beechwood Hereford and Charolais Studs.

Associate judge is Marie Timperley of Oxford, who runs the

Timperlea Angus Stud. Last year Marie won the Five Nations Beef

Alliance Young Leader Scholarship, which allowed her to attend a

conference in Mexico.

The two main sponsors are Tavendale & Partners and Brown

Glassford & Co.
---
38

Tuesday October 4 2016

SELWYN TIMES

ADVERTORIAL

Introducing VetEnt Lincoln:

Amanda

I started with VetEnt in 2012

as a qualified veterinary

nurse. My present position is

multi-clinic coordinator forr

both Lincoln and Halswell

clinics. I have lived locally with

my husband, children and our

great mix of pets for the last

14 years. When not at work I'm

often found on the West Coast

at the family bach out boating,

fishing and enjoying time with

family and friends.

Sahar

I have been vet nursing for 3

years and currently studying

towards my Diploma in

Veterinary Nursing. I am a

very proud mother of 2 girls

aged 7 and 13 and they both

keep me very busy with their

sports and the youngest with

her Motorcross. My hobbies

include adventure racing,

road and mountain biking. I

love working with my team

at Lincoln and enjoy chatting

with all our clients.

Challenge, Innovate, Perform, Excel

Leesa

I have come from a farming

background of sheep and crop

just outside of Lincoln. After

graduating I worked for a

while in Dunsandel and then

worked and travelled in the

UK/Europe for 18 months. I

have started as a large animal

vet for Lincoln/Leeston and am

looking forward to getting a

good client base and settling

down in the area.

Rob

I've been working as a

veterinarian since the mid 80s,

starting first in Wanaka before

working in the UK. I work

predominantly as a production

animal vet, sharing my time

between mid Canterbury and

local Selwyn clients. After

living in Ashburton for many

years I moved eight years ago

to Tai Tapu with the family

and our menagerie of sheep,

alpacas, goats, pigs and Ernest

the Highland steer.

Do you want to ensure the best

health and welfare of the animals

on your lifestyle block?

The team at VetEnt Lincoln and

Leeston would like to help you

provide the best care for your animals.

There are expectations when owning

and caring for livestock in regards

to animal health and welfare so we

want to make this information easily

accessible. We have taken on board

your feedback highlighting that many

of you are not sure where to get good

information and are stuck with most

vet practices catering for either the

larger farms or companion animals.

We would like to change this.

In response to your feedback we

would like to introduce the Lifestylers

Package. The aim of this is to create a

community where we can help each

other out and get you comfortable

and confident handling, treating

and recognizing problems in your

animals. We have held a number of

evening talks over the last six months

and have had a high level of interest

already.

By becoming a member you will

receive regular newsletters, can

attend talks and training sessions for

free and have access to prescription

only medicines once you have

completed a basic training workshop.

Members will be able to join in on

discussions and help propose future

talks or initiatives on our Facebook

page.

Give us a call and have a chat to

our large animal vets or pop in and

grab an information sheet about the

package and how to join. Check out

the Facebook page "VetEnt Lincoln/

Leeston Lifestylers" to see up coming

events and for more information.

We look forward to hearing from

you.

Annual

Lifestylers

Membership

Poorna

I'm Poorna, a registered vet

nurse with a diploma in

Veterinary nursing. I have

been vet nursing for the last

11 years, and I love it! In my

spare time I love the out doors,

music, dancing, Theatre,

watching movies and continual

education to keep improving

my vet nursing skills.

Annalisa

Maddie

I am the receptionist at Vetent

Lincoln and graduated as a

vet nurse from CPIT last year.

I grew up on a dairy farm in

Rakaia with lots of different

animals. I am currently

building a house in Leeston

with my partner Michael and

we own a beautiful French

Bulldog named Alissa.

I'm Annalisa I was born and

bred in Christchurch and have

worked as a small animal vet

in clinics in Ashburton and

Christchurch since graduating

in 2007. I have a keen interest

in Animal Behaviour and Feline

Medicine. When not treating

other people's fur babies,

or taking care if of my own

animal menagerie, I'm busy

spending time in the garden,

mountain-biking or making

memories with my husband

Jeremy and our gorgeous

children Lilly and Stan.

Ivor

I'm from Singapore originally,

and have been living in

New Zealand since 2006.

I graduated from Massey

University and have spent my

first three years working in

mixed practice on the Banks

Peninsula. I spend my free

time rock climbing, mountain

biking, skiing and travelling.

Jo Bennett

India

Originally from the UK, I have

been a farm animal vet for the

last five years on the Wild West

Coast with a brief interlude back

home for a year. This confirmed

my desire to make NZ my home

so I have just moved to the flats

of Canterbury with my lovely

puppy and horse to start with

this great new team, I look

forward to meeting you.

I am the Canterbury region

operations leader also a vet

having graduated from Massey

in 2005. Original working

between Wairoa and Napier

I have recently moved and

now settled with my family in

Rolleston. When not at work

(and when the wife allows) I

enjoy hunting the variety of

game that the South Island has

on offer.

We want to get to know you better by providing a service that

makes you feel more connected to your local vet and community.

By becoming a member of our lifestylers package you will have

access to great resources to help you and your animals stay healthy.

These will include:

• Attend a group training session on diagnosis and treating sick

animals to gain over the counter precriptions (RVM) specific to

your property.

• Regular talks on animal management and health issues, let us

know any topics that would be of interest through the forum.

• Receive a quartlerly newsletter on topical animal health issues

relating to the current season.

• Benefit from access to drenching and vaccination advice and take

advantage of treatment options for smaller numbers of animals.

• VetEnt Facebook Forum - Stay in direct contact with our large

animal vets and other lifestylers in your

area, share information, resources and ideas.

Sign up now for only $50 a year.

Want to know more or wish to sign up?

Call the Leeston or Lincoln clinic.

LINCOLN

LEESTON

Monday, Tuesday & Thursday:

8am – 5pm

Wednesday & Friday: 8am – 7pm

Saturday: 9am – 2pm

Sunday: Closed

55 James Street, Lincoln 7608

Ph +64 3 325 2808

Fax +64 3 325 3040

24-hour emergency service

Email: lincoln@vetent.co.nz

Monday, Wednesday, Friday:

8am – 5pm

Tuesday & Thursday: 8am – 7pm

Saturday and Sunday: Closed

65 Station Street, Leeston 7632

Ph +64 3 324 3575

Fax +64 3 324 3803

24-hour emergency service

Email: leeston@vetent.co.nz

www.vetent.co.nz
---
http://kaywa.me/Op1Vo

My Kaywa QR-Code

www.robertbrucemotors.co.nz

SELWYN TIMES Tuesday October 4 2016 39

Driven

Major revamp for Colorado

• By Ross Kiddie

THE 2017 Holden Colorado

ute is now on sale in New

Zealand.

Although based on the

model it replaces the newcomer

has many changes,

most evident in a completely

revised interior, gains in

overall quietness and ride,

while handling is aided by

electric power steering across

the range.

Under the bonnet the engine

is mostly a carryover, the

four-cylinder, twin-camshaft,

turbocharged diesel produces

147kW and 500Nm. There

are choices of both manual

and automatic gearboxes,

along with two and fourwheel-drive

options. There's

also a choice of three body

styles – single-cab, spacecab

and crewcab.

Payload and towing capability

is rated at 1-tonne and

3.5-tonne respectively. A list

of 77 genuine accessories

available across the range.

"Colorado has resonated

well with customers in a

segment that has more than

doubled in sales in the last 10

years, and we're confident the

new 2017 Colorado will build

on this and redefine customer

expectations of what a truck

HOLDEN COLORADO: Many options within the range,

including both two and four-wheel-drive variants.

can be," Holden New Zealand

managing director Kristian

Aquilina said.

"Not only does it come

with fresh new styling, it also

offers car-like refinement,

ride and handling as well as

vehicle technologies unique

to this segment including

Apple CarPlay and Android

Auto connectivity.

"Colorado is also the only

vehicle in the 4x4 utility vehicle

segment to offer remote

window activation – a feature

we expect to be popular with

customers in warmer parts of

New Zealand."

Colorado's technology offering

also provides notable

safety enhancements, including

a new forward facing camera

with active safety features

such as forward collision alert

and lane departure warning.

For low speed manoeuvres,

drivers are assisted by

front and rear park assist on

selected vehicles and rear view

camera across the range.

The Colorado also has a

new MyLink infotainment

system delivered through a

colour touchscreen.

Said Mr Aquilina: "Pleasingly,

we have been able to

maintain carry-over pricing

for two-wheel drive models

and just a $1000 increase for

four-wheel drive variants."

Prices range from $39,990

to $66,990.

Competition for

Subaru WRX owners

SUBARU OF New

Zealand is celebrating

25 years of the WRX in

2017 and wants to find

the best WRXs in the

country.

The winners will

have the opportunity to

display their WRX at

one of New Zealand's

premium motorsport

events. The competition

will see New Zealand's

25 most-stunning

WRXs win a Subaru Leadfoot Festival

experience. Entrants need to

simply upload a photo of their WRX

to www.subaru.co.nz/wrx25 with

some information about what makes

their pride and joy so special.

Share the entry on social media

with the hashtag #wrx25nz and get

friends and family to vote. The public

vote accounts for 50 per cent with

a panel of three Subaru-appointed

judges rounding out the remaining

50 per cent.

The judges are Ben Hunt, 2015 NZ

National Rally Champion and Subaru

of New Zealand brand ambassador;

Rod Millen, Leadfoot Ranch

owner, Leadfoot Festival founder,

and motorsport legend; and Subaru

of New Zealand managing director

Wallis Dumper.

The 25 chosen winners will attend

the Leadfoot Festival on Waitangi

Weekend, February 4 and 5, 2017,

and enjoy Subaru hospitality at the

Coromandel event, as well as having

their WRX on display in a Subaru

tent in prime position at the festival.

Five lucky owners will also be chosen

on the day to drive their WRX

up the 1.6km driveway, owned and

built by Millen, on his oceanfront

ranch in Hahei.

The Leadfoot Festival is a unique

motorsport event held annually,

where Millen and his wife Shelly

bring together an exciting mix of

classic and performance cars, vintage

motor-cycles and motorsport identities.

It features a long, perfectlysealed

driveway – designed to be

the perfect hill climb – that winds

through the property.

CHRISTCHURCH'S

LEADING COMMODORE

& FALCON DEALERS

$51,999

$39,999

3 TRUCKS

3 CARS

3 LUBES

3 SERVICING

3 FLEET WORK

3 BOATS

3 DIESEL INJECTOR

3 & PUMP SERVICING

3 ENGINE TUNING

Mon-Fri 6.45am-6.00pm,

Sat 8.00am-12.00pm

3 BRAKES

3 MAXXIS TYRES

3 WHEEL ALIGNMENTS

3 BATTERIES

3 WOFs

3 CAMBELTS

AND MUCH

MORE!

839 Jones Road, Rolleston P.O. Box 16 Rolleston

Phone Simon on 347 7110 or Mobile 027 272 9213

2010 HOLDEN HSV GTS 327

6.2L LS3 V8, Headers, Bigbore Exhaust, OTR Intake, 6 Speed Tiptronic,

Adjustable (MRC) Magnetic Ride Control Suspension, Bluetooth, Low 65,000km

From New.

$19,999

2006 HOLDEN COmmODORE VE SV6

195kw 3.6L Quadcam Alloytec V6, 5 Speed Tiptronic

Auto, Stability Control, Trip Computer, Remote Locking,

CD Player, 18inch Alloys, Cruise Control, LOW 80,00km

$17,999

$17,999

2009 HOLDEN COmmODORE VE SV6

195kw alloytec V6, tiptronic sports

shift auto, parking sensors, 8x SRS

airbags, CD player, 18" alloys.

$42,999

2008 HSV CLUBSPORT R8

6.2L LS3 V8, Big Bore Exhaust, OTR Intake, 19" Alloys,

6 Speed, Tiptronic, Sports Shift Auto, Tinted Windows.

$17,999

2006 HOLDEN COmmODORE VE SV6

3.6L V6, 5 Speed Tiptronic Sports

Shift Auto, ESC, Alarm, Cruise, 18"

Alloys, Bluetooth, Reversing Camera.

$12,999

$19,999

2009 HOLDEN COmmODORE VE SV6

3.6L quadcam V6, 5 speed tiptronic

auto, remote locking, aircom, cd

player, trip computer.

$13,999

2003 fORD faLCON Ba xR6 UTE

4.0L Twincam engine, tiptronic auto,

CD player, remote locking, aircon,

very low 73,000km.

2007 HOLDEN HSV VE GTS

6.0L LS2 V8, Big Cam Upgrade, Dyno Tuned,

Bigbore, 6 Spd Tiptronic, Walkinshaw Bonnet

Scoop, 20", only 69,000km.

2009 HOLDEN COmmODORE VE

OmEGa 3.6L Alloytec V6, Lowered on 20" Alloys,

Rear Spolier, Trip Computer, Remote Locking, Stability

Control, Air Con, CD Player, Great Look!

2007 fORD faLCON Bf xR6 mkii

4.0L, 6 speed tiptronic auto, 19 inch alloys,

cruise control, driving lights, sports

suspension, stability control, only 99,000km.

CARS - TRUCKS

VANS - 4WDS

New + Used Lamps for Cars, Trucks,

Vans, 4WD, Motorhomes,

Trailers & LED's.

We can repair your existing lights including:

Headlamp Adjusters, Lens Refurbishment and Plastic Welding.

0800 225 483

For all your automotive Lamp Requirements

F: 03 371 1101

E: carlights@carlights.co.nz

325 Brougham Street, Christchurch

2011 HOLDEN COLORaDO LT 4WD

3.0L VCDi Intercooled Turbo Diesel, 5 Speed

Manual, HI/Low Ratio 4WD, Running Boards,

Immaculate Condition done only 69,000km.

2002 fORD faLCON xR8 maNUaL

5.0L Tickford V8, 5 Speed Manual, Lowered on Tickford Alloys,

Hardlid, Sports Bar, Big Bore Exhaust.

03 366 5888

$28,999 $20,999

$16,999

2007 DODGE NiTRO 4x4

3.7L petrol, selectable 4x4, CD player,

parking sensors, remote locking,

aircon, stunning in metallic blue.

$13,999

2003 NiSSaN NaVaRa VENTURER 4x4

DiESEL 3.0L Turbo Diesel, 5 Speed Manual,

4WD, Free Wheel Hubs, Towbar, Canopy,

Elecrtics, Running Boards, Tinted Windows,

Central Locking, Air Con, Roof Racks, Alloys

$25,999

www.robertbrucemotors.co.nz

Corner Lancaster St & Moorhouse Ave | OPEN 7 DAYS

2012 fORD faLCON fG2 xR6

4.0L Twincam Engine, 6 Speed Tiptronic, Lockable Hardlid,

Factory Sat/Nav, Trip Computer, Tuff Deck.

$24,999

2007 TOyOTa LaNDCRUiSER PRaDO

4.0L V6 petrol, auto, 7 seater, Hi/

Lo ratio 4WD, climate A/C, towbar,

keyless entry, Exceptional example.
---
40

Animals Livestock/

Supplies

Gold in

Grass

Seaweed

Concentrate

$350, 20ha.

Phone

0800 UR SOIL or

www.wsss.co.nz

Caravans, Motorhomes

& Traliers

CARAVAN Or Poptop

wanted ph 027 306 6544

TRAILER Briford or

similar wanted ph 027 306

6544

Community Events

ALCOHOLICS

ANONYMOUS, If you

want to have a drink thats

your business. If you want

to stop, we can help. Phone

0800 229-6757

Garage Sales

WEST MELTON

29 Finlays Road,

Saturday 15 October, not

before 9am, household

goods, fencing supplies,

horse gear etc

Tuesday October 4 2016

To Let

HOUSEME

Portable sleepout or office

available to rent

Insulated and value for

money at $75.00 per week,

you wouldn't live in

anything else. Contact

Amanda

today on 0279570920 or

houseme2015@xtra.co.nz

SELWYN TIMES

Classifieds Contact us today Phone our local team 03 379 1100

Grazing

DEER FENCED LAND

WANTED for lease or to

share farm a line of well

breed hinds.

Any size considered,

preferably within an hour

of Christchurch. Ph 0275

918 438

ADD SOME

COLOUR

TO YOUR ADVERT!

Gardening & Supplies

Macrocarpa Sleepers

200x100

Ideal for

landscaping

1-5m

We cut to

length

SUPPLIES LIMITED

Lost & Found

MISSING

We have recently moved to Rolleston and our much

loved 7 year old ginger cat 'Sargy' has been missing

for 4 weeks from the Devon Park Subdivision. He is

very friendly, and no doubt hungry.

If located, please keep him safe

and contact Petrea on 0212444163

Phone

021 325 661

653 Ellesmere Road, Lincoln

www.macrocarpasupplies.co.nz

To Lease

TO LEASE

LINCOLN

63sqm office space

or similar in the heart

of Lincoln Township.

Refurbished, fully

carpeted unit in a

block of 3.

Parking available.

Enquiries phone

Eric 354 6617

or Wendy

0274 316 822.

To Let

RENT ME!

Ideal as an extra

bedroom or office.

no bond required thiS month

Fully insulated and

double glazed for warmth.

Three convenient sizes

from $70 a week:

Standard 3.6m x 2.4m,

Large 4.2m x 2.4m

Xtra-large 4.8m x 2.4m.

Visit our website

www.justcabins.co.nz for

display cabin locations.

www.justcabins.co.nz

Select Services

Driveways

17

SWAINS KIWI KERB

DRIVEWAY

CONSTRUCTION

Free Measure & Quote

• Asphalt

• Driveways

• Kerb

Quality Workmanship -

Over 10 Years Experience

• Chipseal

• Chip

PH 0800 081- 400 • 980-1123

Mob 0274 325 457

TREE sERViCEs

sPOuTiNG

PROPERTY MANAGEMENT

FiNANCE

SUPPLY AND INSTALL OF

SEAMLESS

GUTTERS

Written Warranty and 10 yr NO LEAKS Guarantee

• Trees felled • Land clearing

• Logging of forestry blocks

• Tree lots thinned for production chip

• Irrigation clearance specialists • Excavator hire

• Cash paid for wood lots • Wind rows removed

• Firewood Sales, Pine and Bluegum

Fully insured covering all areas. 17 yrs exp.

Large Macrocarpa Trees or Logs.

Standing or on the ground.

Cash Paid on the spot!

Call 021-049-8657

• Specialise in snow protection

• Continuous spouting made on site,

large colour range available

• High grade and thicker material used

Any type of gutters repaired, Insurance Work undertaken

No job too small or too big!

Call us NOW for FREE QUOTE

Call Danie 021 875 462

03 980-2865 / 03 344-5744

www.spouting2u.co.nz

info@themortgageshop.co.nz

03 325 2117

REMOVAL COMPANY

CONTRACTiNG

GARdENiNG

BuiLdER

• Professional Packing Service

• Local, National & International Moves

• Complete Door to Door Service

• Secure Storage Available

• Full Comprehensive Insurance

Ph: 03 344 6164

esales_christchurch@graceremovals.co.nz

ACROSS THE STREET ACROSS THE WORLD

THE BEST MOVES ARE MADE WITH GRACE

• Irrigation • Drainage • Driveways • Auger Hole Drilling

• Land Clearing & Development • Culvert Installation

• Construction Site Works • Tree & Hedge Removal

• Concrete Breaker

Hedge tRimming

& gaRden maintenance

• Hedge Trimming

• Small Trees and Shrubs Topped,

Shaped or Removed

• Trenching and Digging Buckets

• Garden Maintenance/Landscaping

• Cleanups Available

• Mulcher, Chipper and Wood Splitter

for Hire

JuSt Small

HedgeS

Stu Reid OWNER OPERATOR

Phone: (03) 325-4664

Mobile: 021-500-519

Wright Enterprises Build Limited

W.E. Build

New Homes

Renovations

Alterations

Trade Certified Builders

Family owned & operated

E info@webuildltd.co.nz

Antony Wright 021 111 1703

John Wright 0274 343 323

AH 03 347 4347

www.webuildltd.co.nz
---
SELWYN TIMES Tuesday October 4 2016 41

Classifieds Contact us today Phone our local team 03 379 1100

Select Services

STOP BIRDS

hail, leaves, snow & vermin from

blocking & damaging your spouting

Quality materials: BHP Colorbond steel mesh with

unique patented louvre will even keep out pine needles.

Will not rust or sag with age or load. 10 year warranty,

range of colours.

Proven in Australia & New Zealand over the last 15 years.

FOR SAFE, PURE DRINKING

WATER FROM YOUR ROOF.

NOW AVAILABLE: STAINLESS STEEL

MICO MESH

Call Rohan anytime Mon-Sat for a

no-obligation assessment & quote

03 982 8850 0800 486532

www.gumleaf.co.nz

BUILDERS LTD

New Builds

Home Alterations

Bathrooms

Decks

Painting/Plastering

Phone Keith:

027274 9359

or (03) 325-4452

ktmbuilders@xtra.co.nz

Select Services

CheCk Out OuR neW COmPetItIOn

PAge On OuR WebsIte

Paving, Irrigation, Lawns,

Planting, Fences, Pergolas,

Water-features, Outdoor fires,

Raised Vege beds, Decks,

Artificial grass & more...

Renovations

Extensions

Kitchens

Re-Roofing

Insurance Work

Fully Qualified Builder

Call Aaron & the team today!

Phone: 03 3474422 or 021542402

Email: landscapeyouroutdoorspace@gmail.com

www.theoutdoorspace.co.nz

Select Services

Garage Doors, Auto Openers,

EQC Quotes, Repairs and

Maintenance, One off Custom

Made Designs...

Showroom at

Larcombs Road and

Home Ideas Centre,

Mandeville Street

The genuine custom made

garage door professionals

EQC &

insuranCE

rEPairs

TyPEs of garagE doors:

Cedar Door, Glass & Acrylic doors, Flat Panel insulated range,

Pressed Panel Doors, Ribline doors, Tilt doors, Roller Doors,

flush mounted doors.

Proud to support your local community

Phone: 0800 661 366 • Fax: 03 347 8363

Factory: 276 Larcombs Road, R.D. 8 Weedons,

Christchurch

www.custommade.co.nz

9020599AA

Select Services

William Ross

Building & Painting

Services

Rolleston, Christchurch

Qualified Tradesmen

Gib Stoppers

Painting & Wallpapering

• Fletchers Accredited

• EQC opt outs

• Insurance work

• Free Quotes & Prompt Service

• Distance no object

Contact Billy on 0226413530

or Gareth on 0212427384

Email: williamross@xtra.co.nz

Summerwood01@clear.net

DON'T DELAY, CONTACT US TODAY!

Select Services

junk

Why go to the Dump?

Junkman comes to you!

Items too big for the

rubbish bin?

Or too heavy for you

to move?

Junkman comes

to you & takes

it away

FROM $

65 *

*Prices vary depending on items and volume – minimum charge $65

0800 586 5626

www.junkman.co.nz

selwyn@junkman.co.nz

ELECTRICIAN

Need a Professional

Electrician?

Call Laser Electrical Rolleston!

Residential • Industrial • Commercial • Rural • Dairy

Laser Electrical Rolleston, 831 Jones Road, Rolleston

www.laserelectrical.co.nz

(0800 527 374)

Select Services

EXCAVATING

Select Services

Need a hand?

✤ Lawns & Edges

✤ Landscaping

✤ Gardening

✤ Hedge Trimming

✤ Handyman Jobs

✤ Casual or One Off

Phone Mike Lineton

022 341 8848

Your local

Selwyn District

GARDENER/

HANDYMAN

Select Services

PESt

coNtRol

• Spider proofing &

fly control

• all other pest

problems

• Industrial &

domestic pest

control

Rob & Scott WaRloW

Servicing Selwyn Area Since 1987

Qualified & Experienced Professional

office: 03 337 9553

Rob: 027 436 1169

Scott: 021 168 6118

Member of Pest Management

Assoc. of NZ

Select Services

• Temporary power for new builds

• Sales and installation of power,

phone, fibre and water

• Cable repairs

• Underground cable locating

service

• Trenching

Phone: 027 237 9742

powercable.direct@xtra.co.nz

www.powercabledirect.co.nz

Excavations

• Driveways

• Car Parks

• Site Cleaning

• Demolition

• Farm Tracks

• Drain Cleaning

• Stump & Hedge

Removal

• Ashpalt Concrete

Wide range

oF TruckS

• Tennis Courts &

Swimming Pools

• Chip Seal Driveways

• Diggers – 2 Ton

up to 20 Ton

• Excavators

• Bobcat & Drilling

• For Posthole &

Fence hole

For a Free Quote

on your next project

Phone Steve on 021 338 247

or 325 7922

Free

QuoTe

Select Services

XCV84U

Garden Supplies

• Soil • Bark • Sand

• Compost • Chip & more

0274 313 389

www.xcv84u.co.nz

LEESTON

HIRE

2006 Ltd

• Excavators • Dingo • Trailers

• General Equip • Chainsaws

• Log Splitters • Concrete Gear

• Rotary Hoes • Lawnmowers

and much more!

info@leestonhire.co.nz

www.leestonhire.co.nz

(03) 324 3669

1552 Leeston Road

(1km North of Leeston)

Open 7 days.

Closed public holidays.

Celebrant

WEDDINGS, Civil

Union Ceremonies,

Renewal of Vows, Naming

Ceremonies, Funerals

and Unveilings - Jenni

Gibson Ph/Fax 324-8332,

021 723-089. www.

celebrantservices.net.nz

Tours

Rexellent

Rentals

Cars, Vans, Brisbane, Coolangatta

FREE CALL

0800 601 508

e: rexellent@bigpond.com

Trades & Services

LifestyLe

BLock

fencing

new fencing, post driving,

repairs, maintenence.

Quality workmanship

& advice.

Phone Allan 021 049 6151

allan@agrifencenz.com

Facebook: agrifencenz

Trades & Services

Inside N Out

Cleaning

Domestic Cleaning,

One-off Total Cleans,

Windows/Carpets,

Commercial Cleaning,

Specialist Builders/

Construction Cleans or

for garden clean up.

We are your local

Detailed cleaners that

will make your place

sparkling clean.

Call 020 406 93732

or enquiries@

insidenoutnz.com

Trades & Services

• Irrigation • Drainage • Driveways

• Auger Hole Drilling

• Land Clearing & Development

• Culvert Installation • Construction Site Works

• Tree & Hedge Removal • Concrete Breaker

Phone Mike: 027 272 8058 OR 03 324 4323 A/H

g.m.contracting@xtra.co.nz

www.gmcontracting.co.nz

Trades & Services

DIRTY

WINDOWS

Fast friendly

professional

service,

Selwyn area,

ph 021 364 664

Trades & Services

Trades & Services

Locals Providing

Locals with Quality

New Zealand Products

Available 24/7

For All Your:

Drainage, Plumbing,

Kitchen and Bathroom

Products

Products are held in Rolleston

and New Show room opening

soon

Contact (03) 313 3266 or

sales@paramountplumbing.co.nz

Lifestyle Block

Mobile Shearing

No job to big or to small!

• Shearing • Tailing

• Crutching

• Drenching

• Foot trimming

Professional

friendly service

Call Shaun Adams

for a free quote

021 204 1274

or 03 9603112

Est

1979

Arthur's

Roof & Property

Services

Ph: 03 347 2635

DeMossing

Silicone Sealing

Pest Controls

Roof Repairs

Colourcoating

Cell: 0274 847 980

Email: apisl2008@slingshot.co.nz

www.arthursroofandproperty.co.nz

• Re Roofing

• Roof Repairs

• Spouting

Approved Age Concern

provider

Over 30 years experience

Licensed Building

Practitioner

N A BARRELL

ROOFING LTD

Ph: 349 9778 or 0275 389 415

Email: nabroofing@xtra.co.nz
---
42

Tuesday October 4 2016

SELWYN TIMES

Classifieds Contact us today Phone our local team 03 379 1100

Trades & Services

Trades & Services

Trades & Services

Trades & Services

GUTTER PROTECTION

I KNOW!

I KNOW!

KNOW!

BUGGER

ITS

BUGGER

BUGGER METAL!

I

ITS METAL!

ITS CAN'T

I CAN'T

METAL!

GET GET

CAN'T IN!

IN!

GET IN!

STOPS LEAVES,

RATS & BIRDS

INSULATION

Keeping Canterbury cozy

We specialise in insulating ceilings, walls,

under floors, in pre-existing homes or new builds.

If you refer us to a friend and they insulate

with us – you will receive a $100 pressie card!

Call us for a

free assessment

on your home.

Phone 0800 22 00 55

www.CanterburyInsulation.co.nz

HEIGHT SAFETY

HANDLING EQUIPMENT

CANTERBURY

Roofers Kits $289

Harness with Adjustable Lanyard $215

Complete Roofers Kit $289

Petzl Vertex Vent Helmet $119

Spanset Fall Arrest Harness $99

Quality Titan Tie Downs from $6.95

Titan 750kg Lever Hoist $236

Prices exclusive of G.S.T. For a Limited time only.

LIMITED TIME ONLY - SHOP ONLINE

www.hecanterbury.co.nz

www.hecanterbury,co.nz

82 Waterloo Road, Hornby

Rolleston

Couriers

Starting 26th Sept 2016

Rolleston Couriers is bringing the business

back home by providing a fast, efficient,

friendly service based in Rolleston for your

business or personal convenience.

Local deliveries within the surrounding area

CHCH return daily - 5 days a week

Affordable prices.

Small to extra large parcels.

Ability to carry Dangerous Goods.

Phone: 027 204 1303

Email: rollestoncouriers2016@gmail.com

Trades & Services

Trades & Services

S1629krGutter

S1629krGutter S1629krGutter

Trades & Services

Trades & Services

Trades & Services

Trades & Services

Trades & Services

Situations Vacant

ACE HIGH

PLUMBING

All Plumbing

Gasfitting

Drainlaying

Blocked Drains

Log Fires,

Wetbacks

Gas Hotwater

Phone

021 454 864

CARPET CLEANING

Thorough job,good price,

quick drying, highly

recommended,

Ph Robert anytime

027 2999599

CARPET & VINyL

LAyING

Repairs, uplifting,

relaying, restretching,

E mail jflattery@xtra.

co.nz,

ph 0800 003 181

or 027 2407416

FENCE PAINTING

Staining Quality at a

reasonable price. Free

quotes. Phone Warren

today on 980-1676 or 027

2014713

FENCING

Quality timber fencing -

gates & repairs, ph Ryan

027 951 8892

RE-ROOFING

QUALITY ROOFING AT THE

BEST PRICE AROUND

Protect your home with a new Colorsteel roof.

Call for a friendly, FREE assessment and quote.

• Roofing

• Spouting and Downpipe

• Safety rails

• Licensed Building

Practitioner

Ph: 347 9045 or 021 165 1682

Email: Robinsonroofing99@gmail.com

Fencing

Boundary, Executive,

Modular

All types of residential

fencing and gates

Defender Products

Ph 0800 63 80 80

www.defenderproducts.co.nz

Bellamy's

Furniture

Furniture made to

order and restoration

by tradesman with

35yrs experience.

PH Stephen

021 073 2624

Bellamy's

Furniture

Furniture made to

order and restoration

by tradesman with

35yrs experience.

PH Stephen

021 073 2624

Garage Doors

Insulated garage doors with

our unique fully weather

sealed system. Ask your

builder for a Defender garage

door; your first defence

against the elements.

Defender Products

Ph 0800 63 80 80

www.defenderproducts.co.nz

heat pump

HEAT PUMP

Service | Maintenance | Repair | Installation

We are authorised service agents for all major brands.

Servicing is essential to maintain maximum

energy efficiency and increased reliability.

Please Phone now for our

sPring service sPecial!

41A SHAKESPEARE RD, WALTHAM

PHONE 03 366 0525

www.enviromaster.co.nz

"A local team for local people"

Heatpump

Cleaning

Is your heatpump

ready for wInter?

• Save power, Save Money

• Cleaner healthier air

• Friendly, professional

service

Bemer

Heatpump

Cleaning

Rob Spink

• 0800 423 637

• (A/H) 03 325 2713

spinkfam@xtra.co.nz

Homekill

Fast,friendly

and reliable

Homekill Service

Canterbury wide.

Delivered to

butcher of your

choice.

Call Will for

bookings

0273458833

LANDSCAPING LTD

Paving, Lawns, Irrigation,

Decking, Fencing.

Kanga & small digger

services. Check out Squire

Landscaping on facebook.

FREE QUOTES. Ph

Authur 347-8796, 027

220-7014 Edwin 027 220-

7154

Landscaping

landscape design & build

• Eco-sourcing specialist nursery

• Landscape design & build

• Eco-restoration services

• Maintenance services

Call us today

03 359 2458

www.waioralandscapes.co.nz

MASONRy

DAMAGED

MASONRY?? Rock and

Blocks Work Ltd for all

your brick, block and tile

laying needs. Friendly

service Licensed Building

Practitioner phone Devon

on 021 375-888 or 03 329-

5511

PAINTER

Qualified Tradesman,

experienced & reliable,

Mike Le Lievre, free

quotes, ph 03 317 8222 or

027 420 6125

TILING

Quality jobs done on time.

All aspects of tiling. Reg

Master Tiler. Ph Dave 027

334 4125

TREES BIG OR SMALL

tree removal, trimming,

stump grinding, shelterbelt

clean up, section clearing,

rubbish removals,

excavation work, ph Trees

Big or Small, for a free

quote, 021 061 4783

T.V. SERVICE

CENTRE

Repairs, tvs, microwaves,

stereos, DVD. Aerial

installations and kitsets,

480 Moorhouse Ave, ph 03

379 1400

What's On Guide

PAINTING

EXHIBITION. By Nola

OConnell at Nut point

Centre, Langdales Road,

off the Old West Coast

Road. Starts Sat 8 October

from 4 pm and runs till

Christmas. Open Tues to

Sun 10am to 5 pm .Thurs

10am to 1pm. Ph 342 1033

Part time

cleaner

required

4 - 10 hours per

week.

Morning work.

Lincoln area.

Please phone

Kathy

0274 488 133.

CA$H

Strippers

& Podium

Dancers

Wanted!

18+ TO APPLY

NEISHA

021 193 0118

CIVIL

OPERATORS

WANTED

Class 1 WTR,

civil background

an advantage.

Please txt

your name

and licenses

to

021 921 981

BOUNDARY TRIMMING

Shelterbelt Trimming

Contractor

Call Tony Dempsey

Ph 03 325 3256 Mob 0274 323 943

CARPET carpet/furnishings

/ FURNISHINGS

Di's Carpet

BinDing

Have your carpet

off-cuts bound

124 Halswell Junction Rd, Halswell

Phone 322 1103 Mobile 027 586 4830

Hours Mon - Fri 9.30am - 5.00pm

ELECTRICAL

SELWYN

ELECTRICAL

SERVICE

Don't let electrical

problems worry you

For all electrical

repairs & service

CALL TODAY

027 492 8971

or ah 344 6202

SHELTER TRIMMING

Town & Country

Shelter Trimming

Phone Tom

027 4340 200

TREE SERVICES

• Trees felled • Land clearing

• Logging of forestry blocks

• Tree lots thinned for production chip

• Irrigation clearance specialists • Excavator hire

• Cash paid for wood lots • Wind rows removed

• Firewood Sales, Pine and Bluegum

Fully insured covering all areas. 17 yrs exp.

Large Macrocarpa Trees or Logs.

Standing or on the ground.

Cash Paid on the spot!

Call 021-049-8657.
---
SELWYN TIMES Tuesday October 4 2016 43

Classifieds Contact us today Phone our local team 03 379 1100

Situations Vacant

Sporting Notices

LINCOLN TOUCH MODULE

Wanted for mixed social teams

for our tournament this summer

Starting on Wednesday night

October 12 th from 6.30pm onwards

Contact Mark Tweedey

027 433 0415 or 325 3476

Real Estate

Location Location Location

Ground Floor Close to the Airport

This is 325.2 square meters of prime commercial floor

space in a modern building.

• Off street parking.

• Well appointed kitchen, staffroom and bathroom facilities.

• Office area consists of a welcoming reception area,

several offices, studios and an area suitable for retail

showroom or storage.

This high profile building situated on Wairakei Road presents

a perfect opportunity for office, retail or production facilities.

Upstairs may also be available on negotiation.

To make arrangements to view the premises:

Contact Gary Anderson

0275 333 227 any time

ADVERTISE YOUR BUSINESS HERE

Phone for further details

(03) 379 1100

SelwynTimes

is a proud sponsor

of the Hororata

Highland Games

5 November 2016

Hororata Domain — 9am to 4pm

the family to

the event! Selwyn

Times has 20 family

WIN!Bring

passes to give away.

Simply email your contact details to giveaways@starmedia.kiwi (with

Hororata Highland Games in the subject line) and you'll be in the draw.

Entries close October 17. Winners will be notified.
---
44

Tuesday October 4 2016

M-A

MATSON & ALLAN

REAL ESTATE LIMITED

'The

Selwyn

Experts'

SELWYN TIMES

Residential

Lifestyle

Rural Property

Licensed REAA2008

ROLLESTON - 225 Walkers Road

Motivated Vendor

• 4.7 Hectares Irrigated

• 4 bedroom & office 290m² family home

• Great indoor/outdoor entertaining

• Established garden setting

• Fully sealed tennis court

• American style barn with power

• Well subdivided into 4 paddocks

• Located 5 minutes from amenities

ROLLESTON - 10 Granite Drive

Get Excited - It's Like New!

• 199m² near new home

• Sleek modern kitchen & walk in pantry

• Open plan kitchen/dining opens onto

patio area

• Separate living area

• 4 double bedrooms plus study

• Master bedroom with walk in robe & ensuite

• Well designed main bathroom

• 675m² easy care fully fenced & secure section

Price: by Negotiation

View: www.marealestate.co.nz/996

Andrew Taylor

Mb 027 435 5930

Price: Neg Over $555,000

View: www.marealestate.co.nz/037

Jackie Derrick Mb 027 636 3576

or Susan Davis Mb 027 662 2751

ROLLESTON - 45 Othello Drive

What a Location!

• 4 double bedrooms

• Master with ensuite & WIR

• 2 living rooms both with access

to outdoors

• Underfloor heating in kitchen & bathroom

• Heatpump & double glazing

• Double garage

• 789m² property with fully

fenced backyard

• Close to parks & shopping centre

ROLLESTON - 10 Louis Lane

Price Reduction

• 238m² stunning contemporary style property

• 4 double bedrooms with large wardrobes

• Private master with ranch sliders onto timber deck

• 2 heat pumps, home ventilation system &

upgraded insulation

• Modern designed kitchen with quality appliances

including an induction hob

• LED lighting, quality blinds, ample storage space

& separate laundry

• Beautifully landscaping & superior fenced 992m²

Price: Neg Over $525,000

View: www.marealestate.co.nz/019

Andrew Taylor

Mb 027 435 5930

Price: Neg Over $645,000

View: www.marealestate.co.nz/003

Jackie Derrick Mb 027 636 3576

or Susan Davis Mb 027 662 2751

ROLLESTON - 13 Hulme Lane

Stand Out Street Appeal

• Executive home

• 4 bedrooms

• 2 large living

• Butler's pantry

• Large landscaped section

• Stunning property

NEW LISTING

ROLLESTON - 30 Seymour Drive

Spacious and Stylish 4 Bedroom Home

• New build

• 4 bedrooms

• 2 large living

• Walk in pantry

• Drive through garage

Price: Neg over $699,000

View: www.marealestate.co.nz/042

Jackie Derrick Mb 027 636 3576

or Susan Davis Mb 027 662 2751

Price: Neg over $559,000

View: www.marealestate.co.nz/021

Jackie Derrick Mb 027 636 3576

or Susan Davis Mb 027 662 2751

WEST MELTON - 344 Curraghs Road

Lifestyle Tranquility in Sought After

West Melton

• Established grounds

• 4 bedrooms, 2 bathrooms

• 3 car garaging

• Storage and sheds with 4 bay shed

• Excellent grazing and fenced for cattle

• 4.3ha

SHEFFIELD - 42 Railway Terrace

Investment or First Home Buyers

- Act Quickly!

• Cute 2 bedroom, 1 bathroom home

• Currently tenanted

• Suit investor or someone wanting to get

on property ladder

• Kitchen renovated

• New carpet and vinyl

Open Home: Sun 9 Oct 2.15pm – 3.00pm

Deadline Sale: Closes 19 October 2016

View: www.marealestate.co.nz/038

Sue Robinson

Mb 021 409 050

Open Home: Sat 8 Oct 2.00pm – 2.30pm

Price: $329,000

View: www.marealestate.co.nz/040

Sue Robinson

Mb 021 409 050

DARFIELD - 10 Mulholland Drive

Executive Lifestyle Home with Views

and Privacy.

• 2.17ha

• 4 bedrooms with office (or 5th bedroom),

2 bathrooms

• Large family room and separate lounge with

fire on wet back

• 2 car garaging

• 3 bay shed (one with concrete pad and

garage door)

• Fenced for horses

LEESTON - 14 Fibonacci Way

A Genuine Family Home at a Genuine

Low Price

• Just completed four bedroom home

• Two living, two bathroom and double garage

• Fully landscaped and fenced 657m² section

• Desirable street in great subdivision

• Complete with Masterbuild guarantee

• Ready to move into immediately

Open Home: Thurs 13 Oct 5.30pm – 6.30pm

Deadline Sale: Closes 9 November 2016

View: www.marealestate.co.nz/039

Sue Robinson

Mb 021 409 050

Price: $489,000

View: www.marealestate.co.nz/991

Cameron McRae

Mb 027 769 6696

ROLLESTON PH: 03 347 9949 LEESTON PH: 03 324 3704 DARFIELD PH: 03 318 8204 www.marealestate.co.nz

Chris Flanagan

027 433 4657

Andrew Taylor

027 435 5930

Jackie Derrick

027 636 3576

Susan Davis

027 662 2751

Stephan Knowler

027 229 9522

Cameron McRae

027 769 6696

Sue Robinson

021 409 050

Juliet

Flanagan

Connie

van der Klei
---
H O R N B Y
---
8 7

6

40

41

K9

42

43

45

46

47

48

49

50

1

To rooftop

5

4

3

2

K2

K3

20 21 22 23

28

29

25

24

30 27

F7 F8

M1

31

F1

F2

F3

F4

F5

F6

32

33

39a

34

39

38

35

36

37

56

57

59

73

70

72

K6

K4

89

90

88

87 86

85

84a

84b

84c

84d

83

82a

82b

80

81

K1

71

124

125

123

120

100

101

102

104

64

62

61

63

103

BANKS & INSURANCE

FOOD & CAFES

ENTERTAINMENT

FASHION & ACCESSORIES

HEALTH & BEAUTY

AMI 104

Auntie Dai's Dumplings 42

EB Games 39

Bob Style

84a

Health 2000 22

ANZ 61

ASB 64

BNZ 124

Kiwibank / NZ Post 80

NZCU South 125

Westpac 62

ELECTRIC & APPLIANCE

HBD Mobile

K6

NZ Camera 87

Omnitech

K9

Brumbys 88

Cheeky Sparrow Cafe F6

Esquires 71

Great Wok 101

Hungry Wok

F2

Ichiban

F7

KFC 63

Liquor King 102

Muffin Break

K4

Pak'n Save 1

Pepe's Mexican 40

GIFTS & GENERAL

Acquisitions

39a

Back Country 56

Espresso Car Wash 103

Flight Centre 90

Hornby Florist 41

iGotit

K2

Just Incredible

84d

Centre Customer Service M1

Mister Minit

K1

Dowsons 5

Farmers 70

Hallensteins 4

Looksmart 73

Michael Hill 28

Moda Bella 59

On Time 81

Pagani 3

Pascoes 35

Shanton 36

Silvermoon 85

Just Cuts 50

Life Pharmacy 2

OPSM 27

Rodney Wayne 86

Shampoo'n Things 37

Simply Beauty 29

Snipps Cuts & Colours 100

Spec Savers 25

Tam's Massage 38

Touch of Elegance Nails 23

Spark 120

Vodafone 31

2 Degrees K3

Pita Pit

F5

Roast Republic

F3

Robert Harris 57

Shamiana

F4

STATIONERY

Paper Plus 24

Whitcoulls 83

Stirling Sports 72

Sushiland 43

Tank Juice

F8

Wendy's 89

H O R N B Y

SERVICE DESK TEL: 03 349 7288

info@thehubhornby.co.nz
---
SelwynTimes

Week commencing Tuesday, 4TH ocToBeR, 2016

www.flemington.co.nz

A Variety of Options!

Well set up for a variety of options this 22.570 ha property has fertile Offers over $1,200,000+ GST (if any)

land and enjoys a wonderful rural setting with water rights to irrigate.

The large three bedroom home features a great open plan living room

with high framed ceilings and stunning country styled kitchen with

beautiful wooden features granite bench tops, walk in pantry and gas

hobs. The double garage with an added bonus of a rumpus room with

covered access to the house and shower facilities. A large wooden deck Town & Lifestyle Real Estate Ltd

overlooking the stunning mature gardens completes the picture and Licensed (REAA 2008) - Rolleston

creates a wonderful indoor/ outdoor summer living

awaiting the summer Barbecues. The property has

plenty of trees including a well-established orchard

boasting a variety of fruit and 10 Walnut trees.

Angela Hunt

Enjoy a steady income from running your own

stock. The property has post and wire and electric

Contact:

fences and there is also a stockyard, 2 x 3 bay barns

Mobile: 021 548 777

which creates a storage area for hay and a shelter

for calf rearing. A further extension creates a

large workshop area. Farms of this size and quality

are rare and it offers a great income and lifestyle

potential for those who want the opportunity to

Brendan "Big Red" Shefford

work for themselves and all within 20 minutes'

drive to Hornby or a short drive to Rolleston,

Contact:

Springston and Lincoln.

Mobile: 027 224 4733

www.rwrolleston.co.nz/RLL22570

398 The Lake Road, Leeston Viewing by appointment only

Meet the Team

Town & Lifestyle Real Estate Ltd Rolleston

Licensed (REAA 2008) | Ph (03) 347 9988

'Big Red' Shefford

Licensee Agent

027 224 4733

Sarah Booth

Licensee Salesperson

027 527 8258

Emma George

Licensee Salesperson

027 555 0568

Leisa Webster

Licensee Salesperson

027 722 5537

Angela Hunt

Licensee Salesperson

021 548 777

Amanda Cherry

Licensee Salesperson

027 340 6955

Melissa Warrington

Licensee Salesperson

027 279 4362

Leesa Barrie

Licensee Salesperson

027 947 1200

Dwayne Bloomfield

Licensee Salesperson

021 163 9874

Kathy Wilson

Licensee Salesperson

021 183 3060

Nyressa Vincent

Licensee Salesperson

027 515 7045

Melanie Elliott

Licensee Salesperson

027 635 2643

Laura Mooney

Property Management

027 456 1133
---
2
---
3

For Sale

Leeston

11 Cassini Place

704m 2

Price

Offers over $499,000

Contact

Suzy McPherson

027 695 0519

Immaculate On Cassini. Great, two-year old, Linea-clad home. Four bedrooms, master with walk-in

wardobe and en suite, all with built-in wardrobes. Open-plan kitchen/dining/living - all heated by log

burner and heat pump. Separate office and double garage, sunny deck and landscaped garden - great

for entertaining. Close to all of Leeston's amenities. | Property ID LE1578

Darfield

188 Horndon Street

800m 2

Price

$439,000

Contact

Kerin Pitkethley 027 698 7453

This One Ticks All The Boxes. Very tidy, solid, three bedroom home with modern kitchen, new log

fire and new carpet and vinyl. Bath and shower, separate toilet beside. Huge Kwila deck to enjoy a BBQ.

Aluminium joinery, recently painted exterior (all EQC repairs completed). Fenced section, double garage.

Handy to township amenities. Ideal first home/retirement option or rental. | Property ID DA1707

Darfield

27 Kimberley Road

Half Share 907m 2

Price

$409,000

Contact

Kerin Pitkethley 027 698 7453

Stand Alone Townhouse. Three bedroom brick home with large, open-plan living/lounge with heat

pump, kitchen with generous pantry and dishwasher. Family bathroom with bath and shower, separate

toilet and laundry. Internal-access, double garage with automatic door opener. Established garden and

compact lawns. Also available is 26 Coleman Place DA1683. | Property ID DA1682

Leeston

1/14 Spring Place

Floor Area 90m 2

Price

$285,000

Contact

Suzy McPherson

027 695 0519

What A Charmer. This great two bedroom home would be perfect if you are wanting to downsize, get

on the property ladder or as an investment. Large open-plan living/kitchen/dining area with a breakfast

bar. This leads out to a sunny patio area. The bathroom has a wet room shower for easy access. The

fully fenced garden leads to a single garage and off street parking. | Property ID LE1579

Licensed under REAA 2008

REAL ESTATE SPECIALISTS

44 Mathers Road, Hoon Hay

ONE mOrE LiStED!

great family Living!

DEADLiNE SALE 5Pm 1St

NOvEmBEr (UNLESS SOLD PriOr)

Be quick to view this beautifully presented 3 double bedroom bungalow. The stylish crisp kitchen has plenty

of storage, with the added bonus of a butlers pantry. The open plan dining and living area flows onto a

large hardwood deck and private back yard – perfect for entertaining! The home is well serviced with a

family bathroom, a separate laundry, plenty of storage, and a large double garage. Fully fenced and located

in a popular area, close to good schools, parks and public transport, this home is ready to move in and

enjoy and will be the perfect home for first home buyers or a young family. Contact Mike or Fay today for

further information.

8 Waterbridge Way, Rolleston

By NEgOtiAtiON

42 Korua Street, Moana

OffErS OvEr $489,000

Unique, Exclusive & Serene!

This is no ordinary home! Packed with

exceptional design features, this property

will impress as the perfect place for the busy

professional or empty nester looking for

a peaceful and secluded location for their

time off or the next season of life. If you are

looking for a private setting there is nothing

to compare with this unique offering in the

beautiful Waterbridge Way. After listening

to the feedback and pricing accordingly our

owners' instructions are clear, the next project

is looming and they want this property Sold.

So don't delay, call Mike today to make this

one yours.

A Piece of Paradise!

Set in a breathtakingly beautiful location that will

delight the senses, this beautifully styled home

offers a wonderful opportunity to secure a stylish

holiday retreat in ever-popular Lake Brunner.

Enjoying all day sun and views of the lake, this

generous property offers comfort, ease of living

and can comfortably accommodate even the

biggest of families. Homes of this quality and size

in this unique location are a rarity – contact Mike

today for further information

www.oneagencyres.co.nz

Real Estate Specialists Ltd Licenced REAA (2008)
---
4

Ray White Rolleston

Sarah Booth

Licensee Salesperson

Business Owner

027 527 8258

Brendan 'Big Red' Shefford

Licensee Agent

Business Owner

027 224 4733

Emma George

Licensee Salesperson

Business Owner

027 555 0568

Melanie Elliott

Licensee Salesperson

027 635 2643

Leisa Webster

Licensee Salesperson

027 722 5537

Leesa Barrie

Licensee Salesperson

027 947 1200

Doyleston 5B Greenan Place

Situated in a family friendly cul-de-sac set amongst other

quality Horncastle built homes, you will be delighted with the great

living spaces including a separate lounge, that this well laid out 3

bedroom home offers. The light and bright kitchen & living areas

are spacious and flow effortlessly out to a private backyard and

sun drenched patio area. The master bedroom is serviced with

an en-suite and both a walk in wardrobe and a double wardrobe

which will comfortably cater for a his and hers option. The further

2 doubles are both generous sized, with built in double wardrobes

and a full family sized bathroom and a separate toilet with hand

basin. This tidy property is sure to tick a lot of boxes for those

looking to jump on the property ladder or looking to downsize.

For Sale

Sale Offers over $449,000

View By Appointment

rwrolleston.co.nz ID# RLL22598

Angela Hunt 021 548 777

Rolleston 9 Binyon Place

This spacious 4 bedroom home has impressive

features along with a third living area. Open plan

living will attract entertainers with the kitchen

overlooking the dining & living areas including

sliders flowing to a sunny patio area, while a

separate lounge is kept snug with a log burner. A

Lossnay heat transfer ventilation system means

the entire house is kept warm plus filtered fresh air

which is a large attraction in today's modern lifestyle

as well as solar hot water. Another attraction of

the house is the master bedroom complete with

ensuite, walk in wardrobe & separate lounge area.

Sale Offers over $619,000

View Sunday 12.00pm - 12.30pm

rwrolleston.co.nz ID# RLL22580

Dwayne Bloomfield 021 163 9874

Leisa Webster 027 722 5537

Rolleston 67 Shadbolt Lane

The beautiful street appeal, with elements of cedar & angular lines

makes this property stand out from the crowd, & once inside, you

will be equally impressed. A huge picture window gives you views

right through to the outdoor decking & al fresco area, just perfect

for upcoming summer BBQs. The large open plan living houses the

sleek, modern kitchen, & has numerous doors to the rear garden.

For accommodating your everyday needs, the 3 bedrooms are all

For Sale

well proportioned & are complemented by a bathroom, separate

Sale Offers over $549,000

WC & ensuite with a lovely tiled shower. Elements of modern

design are apparent, with polished concrete floors & an 'H' shaped

design, giving you privacy & shelter both inside & out. Packed with

plenty of storage & built in 2015, this home is a must to view!

View Sunday 11.30am - 12.00pm

rwrolleston.co.nz ID# RLL22594

Leesa Barrie 027 947 1200

'Big Red' Shefford 027 224 4733

Rolleston 20 Elizabeth Street

With larger sections becoming harder to find these

days, you are sure to be impressed with the full

quarter acre on offer here! Summer BBQ's are

sure to be a hit, with the fantastic outdoor deck

providing the perfect place to sit back & relax. For

everyday life, the house offers modernised living

spaces & plenty of room for the whole family, with

a large open plan kitchen/living/dining, separate

conservatory/lounge area as well as 4 good sized

bedrooms. To top it off, there is a separate laundry,

near new carpet throughout, upgraded roofing, a

logburner & a host of other features.

Sale $475,000

View Sunday 11.00am - 11.30am

rwrolleston.co.nz ID# RLL22592

Brendan 'Big Red' Shefford 027 224 4733

Sarah Booth 027 527 8258

Rolleston 13 Frame Crescent

Garaging galore plus lots more!

You just won't believe this home's space & options for use until

you see it and, when you do, you'll be blown away! So rare &

yet so sought after, the 1916m2 section provides huge amounts

of off street parking for caravans, trailers, motor homes, boats

or company vehicles, whilst maintaining a lovely garden setting

for the whole family to enjoy. The 4 car garaging, workshop &

attached sleepout are sure to excite the most avid car collector,

hoarder or home handyman with all the storage space on offer

here. Internally, this extensive residence of around 266m2

comprises 4 spacious double bedrooms, an open plan living room

with its entertainer's kitchen & a formal lounge, all of which enjoy

an open aspect to the large rear garden. Homes of this calibre,

size & versatility don't come along every day, so if this home is

what you've long dreamed of, you need to snap it up whilst you

can.

Sale Offers over $849,000

View Sunday 2.00pm - 2.30pm

rwrolleston.co.nz ID# RLL22613

Brendan 'Big Red' Shefford 027 224 4733

Sarah Booth 027 527 8258

Ray White Rolleston - Town & Lifestyle Real Estate Ltd Licensed (REAA 2008) MREINZ

Ph: 03 347 9988

www.rwrolleston.co.nz
---
Ray White Rolleston

5

Angela Hunt

Licensee Salesperson

021 548 777

Amanda Cherry

Licensee Salesperson

027 340 6955

Dwayne Bloomfield

Licensee Salesperson

021 163 9874

Melissa Warrington

Licensee Salesperson

027 279 4362

Nyressa Vincent

Licensee Salesperson

027 515 7045

Kathy Wilson

Licensee Salesperson

021 183 3060

Rolleston 3 Binyon Place

Purchase this fabulous family home and you can be ready to enjoy

BBQ's out on the extensive patio and fun on the large lawn this

Summer. Equally appealing are the two spacious living areas, both

of which extend out to the patio through ranch sliders, providing

an easy indoor/outdoor flow. The kitchen boasts the sought after

features of a 90cm oven with gas hob and walk in pantry, whilst

the open plan living room benefits from having a handy study nook.

Generous in size, the formal lounge will allow you to entertain family

and friends with ease. To top things off, the property is situated

in a cul-de-sac location and has good off street parking for the

teenager's or visitors' cars, as well as your own. With a flexible

possession date on offer, you can choose when to move in.

For Sale

Sale Offers over $549,000

View By Appointment

rwrolleston.co.nz ID# RLL22600

Sarah Booth 027 527 8258

'Big Red' Shefford 027 224 4733

Rolleston 2 Stanford Way

This brand new 4 double bedroom home will

immediately impress with its design and superior

finish. The vast living area attracts natural light

and makes family living and entertaining a breeze

with its open plan and indoor outdoor flow

to patios. The kitchen is sleek in design with

plenty of storage and bench space including a

generous walk in pantry. Two living areas plus a

dining area makes this spacious design a stand

out above the rest. The master bedroom again

shows off with size and luxurious tiled ensuite,

a walk in wardrobe and sliders leading outside.

Sale $635,000

View Sunday 1.00pm - 1.30pm

rwrolleston.co.nz ID# RLL22544

Dwayne Bloomfield 021 163 9874

Leisa Webster 027 722 5537

Rolleston 17 Berners Way

Situated in the popular Faringdon subdivision is this brand new

3 bedroom home which is well positioned on a 433m2 section.

Ranch sliders off the living and dining area open out to the sun

drenched patio and nicely landscaped grounds. Creating a culinary

masterpiece will be a breeze in the well-appointed kitchen with

granite bench tops and tiled splash back. Warmth is assured with

the benefit of a log fire & heat pump plus under-tile heating in both

bathrooms. The master suite will please the most discerning of

buyers, with a double tiled shower in the ensuite and custom fitted

walk in wardrobe, while the two remaining bedrooms are generous

in size with one having access to the main bathroom. The quality

and style of this home must be viewed to believe. Call now!

For Sale

Sale Offers over $525,000

View By Appointment

rwrolleston.co.nz ID# RLL22586

Amanda Cherry 027 340 6955

'Big Red' Shefford 027 224 4733

Rolleston 12 Loeb Place

Located in Levi Park with a peaceful reserve

outlook, this brand new 221m2 home has loads of

great features including a trendy, modern kitchen

with walk in pantry, double fridge slot & tons of

bench & storage space. Further to this, the dining

& living areas will make family living a breeze, &

with a separate lounge, you will be able to enjoy

movie nights at home with the family. Add to the

mix 4 great sized bedrooms, 1 of which would

be ideal for guests plus 2 trendy bathrooms, a

separate WC, alarm, carpeted double i/a garage &

a lovely position at the end of a friendly cul-de-sac.

Sale Offers over $589,000

View Sunday 12.30pm - 1.00pm

rwrolleston.co.nz ID# RLL22563

Leesa Barrie 027 947 1200

Brendan 'Big Red' Shefford 027 224 4733

West Melton 42 Jacks Drive

Lifestyle to adore & options galore!

Located in the Preston Downs subdivision, the home offers a

huge variety of options for any family situation, whether you have

lots of children, grandparents living with you, or simply looking

for a large home with room for everyone, then this must be put

on your 'to view' list. Spanning across approx 350sqm, the

property has a separate fully self-contained flat, perfect for nana

& grandad to have their own space, yet still be close to family. All

under the one roof, the main home has great areas for everyday

living, playing & entertaining. There are generously sized living

areas, a huge kitchen & walk in pantry, separate lounge, media

room, study & the added bonus of a rumpus room, handy to the

children's bedroom area. The 4 bedrooms are complemented

by a bathroom, WC & ensuite, which has a lovely tiled shower +

a bath for mum & dad to relax in. The flat features an open plan

kitchen/living + a double bedroom & bathroom. To top things

off, the home is set on a lovely big 3160m2 section (inc ROW)

offering plenty of room for off street parking, the kids to play, or

the green thumb to add to the substantial veggie patch.

Sale Deadline Sale - 2pm, 18th October 2016

View Sunday 2.45pm - 3.15pm

rwrolleston.co.nz ID# RLL22534

Leesa Barrie 027 947 1200

Brendan 'Big Red' Shefford 027 224 4733

Ray White Rolleston - Town & Lifestyle Real Estate Ltd Licensed (REAA 2008) MREINZ

Ph: 03 347 9988

www.rwrolleston.co.nz
---
6

Ray White Rolleston

Sarah Booth

Licensee Salesperson

Business Owner

027 527 8258

Brendan 'Big Red' Shefford

Licensee Agent

Business Owner

027 224 4733

Emma George

Licensee Salesperson

Business Owner

027 555 0568

Melanie Elliott

Licensee Salesperson

027 635 2643

Leisa Webster

Licensee Salesperson

027 722 5537

Leesa Barrie

Licensee Salesperson

027 947 1200

Rolleston 69 Hungerford Drive

Instantly welcoming, you are sure to love the layout & features

the home has, including great living areas, a trendy & functional

kitchen, good sized bedrooms & a few little extras. At the heart of

the home, the stylish kitchen has a 90cm oven & gas hobs, plus

a great walk in pantry & a commanding outlook to the living, dining

& outdoor alfresco deck areas. Furthermore, the separate lounge

provides another area to host guests or watch your favourite movie. For Sale

For everyday life, the 4 well proportioned bedrooms, 2 bathrooms Overs over $599,000

& separate laundry with excellent storage are sure to please, plus a View By Appointment

handy study area! All of this, plus a safe & secure 727sqm rwrolleston.co.nz ID# RLL22572

section with a semi-rural outlook & a fabulous location. Be sure to Leesa Barrie 027 947 1200

have this property at the top of your 'must view' list.

'Big Red' Shefford 027 224 4733

Doyleston 416B Drain Road

Set down a right of way, backing on to paddocks,

come and enjoy the peaceful living that is on

offer here. Boasting 4 bedrooms and fantastic

indoor out door flow, you and your family could be

enjoying a barbecue on the sheltered sunny deck

before the spring is over, as quick possession is

available. The large back yard will give plenty of

space for the kids to kick the ball around in the

fresh country air and there is still plenty of room for

the tramp and swing set. Inside enjoy the warmth

from the log burner and with the added bonus of

an HRV & fully double glazed, this home will be

warm and dry all year around!

Sale Offers over $445,000

View Sunday 2.15pm - 2.45pm

rwrolleston.co.nz ID# RLL22574

Angela Hunt 021 548 777

West Melton 387 West Melton Road

Featuring open plan living, a separate formal lounge, four

very generous bedrooms (two with ensuites) & an office, this

impeccable family home on a total of 4.6 hectares of land has been

designed with family in mind. Incorporating European appliances,

German design, & supported by a fully equipped butlers pantry,

the spacious kitchen exudes quality & style. Downstairs living areas

have been designed to capture maximum year round sunshine & For Sale

the cooler months will offer no challenge given the heating options Overs over $1,350,000

on offer here. Upstairs, a luxurious master suite featuring dressing View By Appointment

room & fully appointed ensuite provides the perfect sanctuary. The rwrolleston.co.nz ID# RLL22541

four bay (one enclosed), powered shed is the icing on the cake. Melanie Elliott 027 635 2643

This meticulous home will be hard to pass by. Call now to view! 'Big Red' Shefford 027 224 4733

Rolleston 66 Moore Street

Don't miss this fabulous opportunity to get on

the property ladder for either first home buyers

or investors alike. Situated on a secure & private

cross-leased section, this property is awaiting

new owners to enjoy the easy living 3 bedroom

home. The light open plan kitchen/lounge/dining

area leads to a sunbathed North facing deck.

Other features of the home include a log burner

in the living area & a separate laundry, plus

there's also a detached double garage & a gated

back yard to keep the pets & children safe. This

should be viewed early to avoid disappointment!

Sale $429,000

View Sunday 11.30am - 12.00pm

rwrolleston.co.nz ID# RLL22604

'Big Red' Shefford 027 224 4733

Sarah Booth 027 527 8258

Rolleston 24 Hartford Crescent

Fresh & Funky!

Are you looking for something a little different, not just another

'cookie cutter' home..? Well, 24 Hartford Crescent may be just

what you are searching for! Funky in design & with a unique street

appeal, this property is sure to grab your attention with its modern

edge layout & style, both inside & out. The large open plan living

area is home to the trendy kitchen & has great indoor-outdoor

flow to the outdoor deck & fully landscaped section, just perfect

for summer bbq's with friends! Adding to the appeal, the master

bedroom benefits from a sleek tiled bathroom & WIR, plus there

is another bedroom & spacious family bathroom with a 2nd tiled

shower to complete the floor plan. Now for the difference... a large

3rd bedroom, man cave, toy room or teenagers retreat upstairs!

This rooms has a variety of uses & has a lovely outlook to the

nearby reserve & children's playground. With homes like this a rare

find, be sure to come take a look & see all that this fresh & funky

property has to offer... you won't be disappointed!

Sale Offers over $519,000

View Sunday 12.00pm - 12.30pm

rwrolleston.co.nz ID# RLL22551

Brendan 'Big Red' Shefford 027 224 4733

Sarah Booth 027 527 8258

Ray White Rolleston - Town & Lifestyle Real Estate Ltd Licensed (REAA 2008) MREINZ

Ph: 03 347 9988

www.rwrolleston.co.nz
---
Ray White Rolleston

7

Angela Hunt

Licensee Salesperson

021 548 777

Amanda Cherry

Licensee Salesperson

027 340 6955

Dwayne Bloomfield

Licensee Salesperson

021 163 9874

Melissa Warrington

Licensee Salesperson

027 279 4362

Nyressa Vincent

Licensee Salesperson

027 515 7045

Kathy Wilson

Licensee Salesperson

021 183 3060

Rolleston 26 Othello Drive

Here's a home the whole family will love! Instantly appealing, this 4

bedroom family home offers updated kitchen and bathrooms, HRV

system, gas fire, double garage with internal access and neutral

decor throughout. The kitchen features stainless steel appliances,

breakfast bar, plenty of bench space and storage. You can even

watch the kids playing in the backyard of this fully fenced and beautifully

landscaped 820m2 section. Entertaining is made easy with

open plan living and sliders opening out to a large patio area. This

family home offers affordable luxury for the whole family. Very few

homes give you that "loving feeling" - this one will. Located close to

the shops, transport and Rolleston School, this family home is sure

to impress. Quick action is highly recommended!

For Sale

Offers over $509,000

View Sunday 2.30pm - 3.00pm

rwrolleston.co.nz ID# RLL22612

Leisa Webster 027 722 5537

Lincoln 21 Payne Court

With many enticing features to list, this beautiful

home has so much for the discerning buyer, and a

price tag that is sure to please. For sale well under

the RV, this has got to be fantastic buying! Located

in the desirable Liffey Springs, the home comes

with spacious & sunny living areas, a large walk in

pantry, separate laundry, tiled ensuite shower, triple

garage, oodles of storage & a study nook. With 4

bedrooms, the home will suit a variety of situations

& buyers. Get in now before you miss out!

Sale Offers over $639,000

View Saturday 11.30am - 12.00pm

Sunday 1.00pm - 1.30pm

rwrolleston.co.nz ID# RLL22599

Leesa Barrie 027 947 1200

'Big Red' Shefford 027 224 4733

Leeston 2 Palladio Avenue

If you are looking for a stylish home with all the

work completed for you, then this exceptional

3 bedroom home needs to be top of your list.

The well-appointed kitchen with stone benchtop,

quality appliances and plenty of storage is perfectly

positioned overlooking the spacious light filled

open plan living / dining area, complete with ranch

sliders out to a large patio. Relax and unwind in

the tastefully decorated master bedroom with a

well organised walk in robe and ensuite. The two

remaining double bedrooms are serviced by the

family bathroom and a separate toilet.

Sale Offers over $435,000

View Sunday 1.00pm - 1.30pm

rwrolleston.co.nz ID# RLL22610

Leisa Webster 027 722 5537

Lincoln 18 Kildare Terrace

Whether you want to fix it up, or simply knock it

down to use the section on which it sits, then come

take a look. The home features 2 bedrooms, a

lounge area/ kitchen, bathroom & separate toilet/

laundry room. They don't come any cheaper than

this, so don't miss your chance to do up this

diamond in the rough and make it shine! The land

area on the flat plan is approx 500m2 & is super

handy to the heart of Lincoln, with great shops,

cafe's & schools only a short walk away! Call today

to arrange your viewing.

Sale $269,000

View Saturday 1.30pm - 2.00pm

rwrolleston.co.nz ID# RLL22597

'Big Red' Shefford 027 224 4733

Sarah Booth 027 527 8258

West Melton 79 Rossington Drive

Situated in the popular Halkett Grove subdivision, and benefiting

from post-quake infrastructure, this home will appeal to anyone

seeking quality, comfort and flexible living spaces. Offering four

generous bedrooms including a stunning master suite with tiled

ensuite, a contemporary kitchen with butler's pantry, an office and

separate laundry, what isn't to love? Expansive open plan dining

For Sale

and living flows seamlessly to outdoor patios and the private

Offers over $895,000

1045sqm section, perfect for summer fun, while the separate

View Saturday 12.30pm - 1.00pm

lounge with feature fire provides multiple options as a games room,

Sunday 2.15pm - 2.45pm

formal lounge, or ideal spot to curl up in front of the fire and relax.

rwrolleston.co.nz ID# RLL22556

Located only 12 minutes from Hornby and an easy commute to the

Melanie Elliott 027 635 2643

city, this home really does offer the best of both worlds. Call now!

'Big Red' Shefford 027 224 4733

Prebbleton 10B Sterling Drive

The heart of this home revolves around the

spacious, modern open plan kitchen, dining & living

which includes pick up sliders out to the sheltered

U shaped courtyard, a perfect area for entertaining

or summer BBQs. Double doors lead you through

to the cosy separate lounge which would also

be perfect as a well-stocked library or perhaps a

dedicated kids play room. The master bedroom is

complimented by a huge walk in robe, plus a tiled

bathroom with a double shower and vanity. The

remaining two double bedrooms are situated in their

own wing with yet another quality tiled bathroom.

Sale Offers over $620,000

View Sunday 12.30pm - 1.00pm

rwrolleston.co.nz ID# RLL22567

Emma George 0275 550 568

Dwayne Bloomfield 021 163 9874

Leeston 375 Brookside & Irwell Road

You will enjoy the great indoor/outdoor flow from

the main living area out to the mature garden with

lots of established trees. The 3 car garage off the

house has an area to the side which makes a

perfect workshop. The tidy 3 well fenced paddocks

will cater for both livestock or the family pony &

has a full shelter belt. There is also the bonus of a

garden studio which is versatile in it's uses. Inside,

the log burner on wet back will keep you cosy

and warm and this property has the added bonus

of a separate wing, complete with kitchenette.

Sale Offers over $749,000

View Sunday 1.00pm - 1.30pm

rwrolleston.co.nz ID# RLL22542

Angela Hunt 021 548 777

'Big Red' Shefford 027 224 4733

Rolleston 223A Lowes Road

You will be wowed by the polished concrete floors,

spacious modern kitchen featuring a large walk

in pantry, expansive stone benchtops and quality

appliances. The open plan kitchen/living offers

amazing indoor/outdoor flow to the composite decks

on three sides of the house. A comfortable separate

formal lounge provides another living space. The

grand master bedroom presents an oversize WIR

& ensuite. Three further double bedrooms are set

in their own wing. A fifth bedroom could also be an

ideal study or office for those working from home.

Sale Offers over $765,000

View By Appointment

rwrolleston.co.nz ID# RLL22588

Emma George 0275 550 568

Dwayne Bloomfield 021 163 9874

Ray White Rolleston - Town & Lifestyle Real Estate Ltd Licensed (REAA 2008) MREINZ

Ph: 03 347 9988

www.rwrolleston.co.nz
---
8

Hastings McLeod Limited Licensed under the Real Estate Agents Act 2008 rolleston@propertybrokers.co.nz 03 929 0306

BREED YOUR CHAMPIONS HERE

RARE OPPORTUNITY CLOSE TO CITY

OPEN HOME

WEB ID ROL51831

TEMPLETON

5 Ivey Road

VIEW Sunday 9 Oct 2.30 - 3.15pm

Whether you're breeding the next NZ Olympian or Cup

Winner, you can't look past this lifestyle property.

• Elegant 290m2 home on 4ha

• North facing outline meaning all day sun

• Underfloor heating and 2 gas fires

• Multiple storage sheds

• Large, covered tack and wash bay

• 5 stables and separate shed with 5 loose boxes

Make your dreams a reality and breed your champions

Kurt Richardson

here whether it be kids, horses or car collections.

Mobile 021 154 3764

View today and don't let this winner get away!

Office 03 929 0306

kurt@propertybrokers.co.nz

MID SCALE DAIRY

BY NEGOTIATION

$8,950,000 + GST (IF ANY)

WEB ID ROR46815

HORORATA

897 + 899 Ardlui Road

184ha (subject to survey) dairy farm located near

Hororata in Central Canterbury. Currently milking 670

cows 16/17 season through a modern 40 aside

herringbone shed. Centre pivot covering 160ha with

water supplied from both groundwater and Central

Plains Irrigation Scheme. Accommodation includes a

modern 4 bedroom homestead and 2 x 3 bedroom farm

cottages.

This property offers an excellent opportunity for

purchasers looking for a mid scale dairy farm within the

desired Central Canterbury location.

VIEW By Appointment

4

2

2

WEB ID ROL49271

YALDHURST

430 Buchanans Road

Unique opportunity to secure a significant 4.48 hectare

parcel of land extremely well located on the edge of

Christchurch city.

Existing improvements include a 4-bedroom dwelling

with 1 bathroom and large living area, heated by wood

burner and heat pump. Range of sundry outbuildings.

Water sourced from own well.

Vendors have completed extensive landscaping and

fencing providing exciting options for intending

purchasers to further develop their dream country

lifestyle whilst having all the benefits of city living.

Motivated Vendors inspection a must!

AUCTION

View By Appointment

AUCTION 1.00pm, Wed 5th Oct, 2016, (unless sold prior)

Gareth Cox

Mobile 021 250 9714

Office 03 929 0306

gareth@propertybrokers.co.nz

HIGHLAND SPECIAL $330,000

WEB ID DFU51500

HORORATA

4 Hobbs Street

Located in the rural setting of Hororata is this 3

bedroom weatherboard home, well positioned on a

quarter acre section offering a well fenced private

backyard.

Inside the home features a combined kitchen/dining

with exposed timber floors, separate lounge with

logburner and a compact bathroom with separate toilet.

Outbuildings include a single carport and garden shed

situated in sheltered grounds with an abundance of

native plantings providing a peaceful haven.

Excellent opportunity for those looking for a property

with great bones and real options to add value.

VIEW By Appointment

4

1

FEED MACHINE- 70 HA

Gareth Cox

Mobile 021 250 9714

Office 03 929 0306

gareth@propertybrokers.co.nz

$2,600,000 + GST (IF ANY)

WEB ID ROR48274

HORORATA

Morgans Road

70ha (subject to survey) spray irrigated grazing property

well located near Hororata, Central Canterbury.

Irrigation water supplied by Central Plains Water and

applied via centre pivot covering 40ha and the balance

by hard hose gun irrigator.

Excellent setup for wintering cattle or as a cut and carry

option.

Improvements include an older set of cattle yards and

two bay hayshed.

Not often do smaller scale blocks like this come to

market in this area, recommend inspection.

VIEW By Appointment

Gareth Cox

Mobile 021 250 9714

Office 03 929 0306

gareth@propertybrokers.co.nz

3

1

Gareth Cox

Mobile 021 250 9714

Office 03 929 0306

gareth@propertybrokers.co.nz

www.propertybrokers.co.nz
---
9

Hastings McLeod Limited Licensed under the Real Estate Agents Act 2008 rolleston@propertybrokers.co.nz 03 929 0306

PRESTIGIOUS LIFESTYLE

AYLESBURY

712 Highfield Road

• 370m2 architecturally designed home built post -

quake in 2013.

• Solid construction with plaster over brick and cedar,

sitting upon ribraft foundations

• Quality is evident throughout this executive modern

residence

• 4 bedrooms + Office, 3 Living areas and a fabulous

kitchen

• 10 hectares of fully irrigated land offers numerous

options

• Large 110m2 barn with 3 phase power provides

excellent additional shedding

PARK YOUR CLASSIC HERE!

• Located just a 10 minute commute to Rolleston or

West Melton

If it is the highest quality you desire - you will not be

disappointed here.

VIEW By Appointment

WEB ID ROL51658

IRRIGATED WITH OPTIONS

Chris Moore

Mobile 027 288 0563

Office 03 929 0306

chris.moore@propertybrokers.co.nz

BY NEGOTIATION

BY NEGOTIATION

WEB ID ROR47147

HORORATA

310 Hororata Road

Superbly presented 195-hectare grazing/finishing

property. Held in 7 titles with excellent road access

providing numerous purchase options. Spray irrigated by

rotorainer and k-line covering 98ha from existing

groundwater take. This property has genuine potential

for further intensification being within the command

area for stage two of Central Plains Irrigation Scheme.

Executive style 4-bedroom homestead built in 2006, set

in established sheltered grounds.

VIEW By Appointment

4

2

2

www.propertybrokers.co.nz

OPEN HOME

WEB ID ROU51620

HORNBY

7A Ruakaka Street

VIEW Sunday 9 Oct 1.00 - 1.45pm

With plenty of parking and 3 car garaging (double plus

another large single) as well as a studio/office space

attached, there are options galore. The house is a classic

3-bedroom summer hill stone with modern kitchen and

large bathroom, a spa bath and separate shower. A

lounge ideal for large gatherings, opening out to a

balcony and private outdoor space. Facing northwest,

the house sees plenty of sun from sunrise to sunset and

for the winter months you'll keep warm with a log

Kurt Richardson

burner and heat transfer to the bedrooms, as well as

Mobile 021 154 3764

heat pump to take away that morning chill.

Office 03 929 0306

kurt@propertybrokers.co.nz

BY NEGOTIATION

3

1

3

SLICE OF COUNTRY

OPEN HOME

Gareth Cox

Mobile 021 250 9714

Office 03 929 0306

gareth@propertybrokers.co.nz

DEADLINE SALE

WEB ID ROU42280

OXFORD

58 Victoria Street

Situated on the outskirts of the bustling town of Oxford,

you will enjoy the mature gardens and look over your

paddocks toward the hills. The sweeping decks provide

the perfect place to sit out in the peace and quiet or

entertain friends and family, whilst the cosy conservatory

with wood burner off the kitchen and dining room is a

comfortable and spacious area to relax all year round.

Outdoors there are 3 paddocks for the horse or a few

sheep, double garage & numerous sheds and kennels.

VIEW Sunday 9 Oct 1.00 - 1.45pm

DEADLINE SALE closes Wednesday 26th

October, 2016 at 3.00pm, (unless sold

prior)

Gareth Cox

Mobile 021 250 9714

Office 03 929 0306

gareth@propertybrokers.co.nz

4

1

2
---
10

LIFESTYLE

Hastings McLeod Limited Licensed under the Real Estate Agents Act 2008 rolleston@propertybrokers.co.nz 03 929 0306

TAKE THE REINS

WEST MELTON

206 Langdales Road

This incredible lifestyle property on the highly sought

after Langdales Road, West Melton, is a property which

offers so much more than the usual.

• Modern 4 bed 3 bath 320m2 home

• Outdoor patio area adjoining the dining area allows for

excellent indoor/outdoor flow

• An additional, 2 bedroom dwelling

• 4ha of land for equestrian pursuits

• Well fenced in 9 horse safe paddocks

• Full sized dressage arena

• Full sized show jumping arena and cross country jumps

MOVE YOUR FAMILY IN

• Currently being run as an equestrian centre

Potential purchasers have the opportunity to continue

this business, and enjoy the potential income this offers,

or simply enjoy the facilities for your own use.

WEB ID ROL51090

VIEW By Appointment

DEADLINE SALE closes Thursday 13th October, 2016

at 4.00pm, (unless sold prior)

Chris Moore

Mobile 027 288 0563

Office 03 929 0306

chris.moore@propertybrokers.co.nz

DEADLINE SALE

4

3

2

WEST MELTON

304 Halkett Road

This fantastic lifestyle property is a must see for all

families. Comprising of 4 large bedrooms plus an office,

a spacious dining/living/lounge area, 3 bathrooms, and a

rumpus room, everyone will have room to spread their

wings here. The home is encompassed by a lovely

established and sheltered section. A multitude of

specimen, shelter and fruit trees, along with large vege

gardens, makes for a very peaceful and private setting.

Located just outside the popular West Melton residential

area, this block offers all the benefits of this wonderful

community, with the space and tranquillity of lifestyle

living.

The 5ha of land is set up for easy maintenance, low

stress lifestyle farming. Established shelter provides

excellent wind and weather protection. Fenced into 3

sheep proof paddocks, the vendors have historically run

sheep and have regularly harvested hay off the property.

All of this is complimented by a good 3 bay

implement/hay shed.

VIEW By Appointment

WEB ID ROL51636

Chris Moore

Mobile 027 288 0563

Office 03 929 0306

chris.moore@propertybrokers.co.nz

BY NEGOTIATION

4

3

2

www.propertybrokers.co.nz
---
11

RURAL | LIFESTYLE | RESIDENTIAL

Licenced under REAA 2008

Prices To Increase In 2017

Darfield

Stunning Garden Setting

Darfield

• Last chance to secure these sections at the

current market value as the price will be

increased by $5,000 from January 1st 2017

• Sections ranging in size from 5001m² with

attractive rural and mountain views

• Power, phone and Darfield town water

connections available at the boundary

• Common sense covenants to protect your

investment

• The first subdivision in Darfield to offer highspeed

fibre-optic internet

• Selling fast with only 10 sections left

www.pggwre.co.nz ID: CHR2619308

$199,000-$212,000

Sam Davidson

B 03 341 4301

M 027 488 8269

'Marchfield' Welcome to the magic of this very

desirable, charming and welcoming home, that will

tick all the boxes for size, privacy and a lovely

cottage garden.

The permanent material home is neatly sited on a

mature 962m² section. It has three bedrooms, two

bathrooms and great living spaces flowing out to a

west and east facing patio and the garden.

It is within a very easy walkable distance into the

shops or just to have a coffee. A very attractive

property in Darfield and making it a very easy

commute into the city or international airport.

www.pggwre.co.nz ID: DAR24394

$590,000

OPEN HOME 55 Bangor Road

Sunday 9 October, 12.00-12.30pm

Min Cookson

B 03 341 4301

M 027 249 5417

Show Home Quality

Rolleston

Space To Enjoy With Potential Plus

West Melton

This beautiful Linea built home has fabulous street

appeal with its colonial styled charm. The long

driveway leading to the property provides

excellent off-street parking in addition to the three

car garaging. Internally, the home comprises four

bedrooms plus a study and two spacious living

areas, which together with the super 1321m²

section, offers plenty of room for a growing family

both inside and out.

www.pggwre.co.nz ID: DAR24483

$670,000

OPEN HOME 11B Cameron Crescent

Sunday 9 & 16 October, 2.00pm-

2.30pm

Min Cookson

B 03 341 4301

M 027 249 5417

John Hughes

B 03 341 4301

M 021 455 488

A larger lifestyle opportunity set on 5.2ha with

options galore having recently had a makeover. It

offers a kitchen/dining area, separate formal

lounge, three bedrooms and a family bathroom. A

separate cottage sits in the yard area and is openplan

with two bedrooms. A two-bedroom sleepout

sits adjacent to this.

The farm has nine paddocks with several small

utility sheds, an older stable complex and cattle

yards. A very attractive opportunity here just out of

the city making it an easy commute and an

attractive opportunity for the extended family.

www.pggwre.co.nz ID: DAR24433

$790,000

OPEN HOME 489 Hoskyns Road

Sunday 9 October, 11am-11.30am

Min Cookson

B 03 341 4301

M 027 249 5417

Athol Earl

Sales Manager/Auctioneer

M 027 437 6298

Peter Crean

M 027 434 4002

Min Cookson

M 027 249 5417

Sam Davidson

M 027 488 8269

Karen Hennessy

M 027 967 0186

Wilton Atkins

M 027 606 0660

Peter McCorkindale

M 027 594 5190

John Hughes

M 021 455 488

PGG Wrightson Real Estate Ltd, Real Estate Agent, REAA 2008
---
2

12

[Edition datE]

Your guide to Show Homes & New Sections

in the Selwyn District

Rolleston – Then & Now

There is much to celebrate

with Rolleston turning 150

and maybe a little melancholy

as some remember the town

as it was.

Strategically positioned by state

highway one and the midland/

southern railway junction, Rolleston's

origin links to the opening of its

railway station, in 1866, named after

William Rolleston (Canterbury's last

provincial superintendent).

The area was originally a large sheep

run, farmed by Fitzgerald and Cox.

This was divided into smaller lots

early in the 1860s, with some of the

subsequent farmers names like Levi

Lowe, Henry Benny and the Fosters

still linked to the area.

Lex Cockburn's family moved to

Hoskyns Road in 1929 where his

parents ran sheep on 300 acres.

"It was tough making a living out

of farming," says Lex who remembers

gorse and broom right to the edge

of the road and his parents sending

him to Weedons School so he did

not have to cross the railway line and

main road, to reach Rolleston Primary

School, which originally opened in

1893.

For much of its 125 years, Rolleston

was small with few amenities.

John Neville purchased a section in

Rolleston in the 1970s for $800.

"We could only

buy icecreams or

chocolate at the

Rolly Inn when it

was open," adds

Lex.

"We played

tennis on the road

and my father dug a long jump pit in

the footpath for us. Everyone knew

each other back then," says Eleanor

Payne who has lived in Rolleston all

her life.

Prime Minister Norman Kirk

mooted the idea of Rolleston as a

satellite to Christchurch in the 1970s.

"My parents owned 500 acres where

Rolleston town now stands which the

government purchased in September

1976," says Rayleen Clarke (nee

Wilson).

The government changed and the

plan was shelved though floated

periodically with the land sold onto

private developers. Meanwhile, private

enterprise promoted and developed

Rolleston as the 'Town of the Future'.

"Paramount Homes built down

Moore Street. I bought a full quarter

acre section for $800, which was about

a third less than in Christchurch, with

the home and land costing around the

$5,000 mark," says John Neville who

moved to Rolleston for cheap land in

the 1970s.

The population grew to around

1,000 then later lifestyle blocks

attracted people with the population

steadily growing, with the Rolleston

New World built in 2002.

When, the 2010/2011 earthquakes

Rolly Inn was once the only place

that sold icecream and chocolate.

Photo by Paul Markholm.

wreaked homes in Christchurch,

many people relocated to Rolleston.

This spurred planning changes with

denser housing. Housing estates filled

quickly, more land opened up and the

population climbed to around 14,000.

Lex Cockburn and Brian Whittington

who married a local girl and moved to

Rolleston in 1966.

Shopping precincts and public

amenities have been added over time

with four primary schools and a high

school by 2017 and numerous preschools.

Over the railway tracks, industry

has grown where two inland ports

see containers loaded onto trains for

transporting to the ports of Timaru or

Lyttelton.

Selwyn now has age and ethnic

diversity. Once a young town,

Rolleston now embraces those older

with smaller sections, townhouses,

over 60s units, rest homes and

retirement villages being built.

No wonder, the region's growth

is anticipated to reach 2.4% and

Rolleston's population to double by

2040.

Jill Webb and Eleanor Payne met at

Rolleston Primary School.

Ange brought her favourite

orange lights to us.

So we worked with her to build a

colour palette around them.

Start your own story

03 348 1994 | www.peterrayhomes.co.nz
---
13

New Stage Now Open

Home sites from 480m 2 - 705m 2

Priced from $175,000

First National Real Estate

Sue Mullins Barry O'Neill

021 244 1325 021 364 422

Visit Us Onsite 601 Birches Road, Lincoln, 7 days Noon - 4pm
---
14

2

[Edition datE]

The big spring clean

HPM_CHC008

All the benefits,

none of the stress.

Over 15 years experience in managing investment properties

has given us valuable insight into how to maximise returns

and minimise stress for our clients.

Our detailed approach to everything

from selecting the right tenants to

effectively handling rent arrears

and maintenance issues, means our

customers have real peace of mind

PH:

WEB:

EML:

0800 RENT HPM

horncastle.co.nz

hpm@horncastle.co.nz

knowing their investment is in good

hands. Our exceptionally high occupancy

rates, make for better returns too.

Contact us today to see what we can

do for you.

The spring clean has a long history,

and for good reason. Spring is

the first opportunity to open

up windows and doors, and let

warm, dry air into the house, helping

remove winter moisture and any additional

dampness created during; for example,

carpet cleaning. It's not just about making

the house look better, but also preserving

the fixtures and fittings in your home,

and maintaining a healthy environment

by removing unwanted dust, bugs and

maybe mould.

Mattress care is a good example. We spend

up a third of our life in bed, and it's a dirty

place. We shed skin that is devoured by

millions of dust mites, and we sweat. It all

causes deterioration that leads to a worse

sleep. Vacuuming the mattress, turning it

over and leaving it exposed to sunlight are

simple things to add to your spring cleaning

list for great dividends in the long run.

Making a list is a good idea, albeit a little

disheartening as it gets longer. You do,

however, get a small reward as you tick

off each item. Spring cleaning is one of

those activities that is most satisfying when

finished (rather than during), and lends itself

to a management method called the salami

technique. Use small steps to reach your goal,

like slicing a salami, rather than trying to

eat it whole, and you'll get through your list

before you know it. If you need a list, Google

'spring clean' and customise to your particular

circumstances.

A comprehensive clean is also a good

opportunity to review your possessions.

There has been some great innovations in

storage solutions recently, including drawers

built into stairs and into the kickboards in

kitchens, but you have to ask yourself – if I

Many hands: Get the whole family involved

in your spring cleaning!

need that much storage, maybe I just own too

much, and do I really need it all? Research in

the USA showed there was around 300,000

items in the average home, and many of us

are probably not that far behind. This has

spawned a movement called minimalism,

where people reduce what they own. It

doesn't mean living a Spartan lifestyle where

you go without; people who try it say it just

feels more liberating. It's hard to do though,

as we tend to be loss averse – we place a high

value on what we own, and simply don't

part with it easily. It's much easier to clean

a minimalist home, and much easier to make

it look stylish. If you want to rid yourself of

extra bits and bobs, try putting them on

the local neighbourhood Facebook page or

choose to have a garage sale, with an early

start and day of fun and conversation with

people.

Spring is the season associated with renewal

and growth, and it's a good opportunity to

use that increased energy and enthusiasm

you have to get your renovation projects

underway, too.
---
15

This Week's

M-A

MATSON & ALLAN

REAL ESTATE LIMITED

Rolleston

sunday saTuRday ThuRs

AVONHEAD 147a Hawthornden Road

Thurs 6th Oct, 12pm - 12.45pm, 2 bdrm, 1 bthrm, 2 living 2 car gge

Auction 13th October (USP) ph Natalie 027 943 6413 or Eddie 027 600 4007

Harcourts Rolleston www.harcourts.co.nz ID#RL1522

LINCOLN 21 Payne Court

Sat 8th Oct, 11.30am – 12.30pm, 4 bed, 2 bthrms, 3 car, 247m2 on 619m2

section, Offers over $639,000.

Ray White Rolleston www.rwrolleston.co.nz/RLL22599

LINCOLN 46 Faulks Drive

Sat 8th Oct, 1pm - 1.45pm, 4 bdrm, 3 bthrm, 2 living, 3 car gge on a 985m2

section, Auction Thursday 27th October (USP) ph Richard (Taitie) 027 777 8080

Harcourts Rolleston – www.harcourts.co.nz ID#RL1526

AVONHEAD 147a Hawthornden Road

Sun 9th Oct, 12pm - 12.45pm, 2 bdrm, 1 bthrm, 2 living 2 car gge, Auction

13th October (USP) ph Natalie 027 943 6413 or Eddie 027 600 4007

Harcourts Rolleston www.harcourts.co.nz ID#RL1522

BURNHAM 218 Thomsons Road

Sun 9th Oct, 2.15pm – 3pm, 3 bedroom, 2 bthrm, By Negotiation,

ph Noel Lowery 027 432 8859, LE1569 Farmlands Real Estate

CHARING CROSS 605 Bealey Road

Sun 9th Oct, 3.30pm - 4pm, 3 beds, 1 bthrm on 7.5ha, $750,000 GST

incl, Ph Karen Hennessy 027 967 0186

PGG Wrightson Real Estate, DAR24292

DARFIELD 55 Bangor Road

Sun 9th Oct, 12pm – 12.30pm, 3 beds, 2 bthrm on 962m2, $590,000

GST incl, Ph Min Cookson 027 249 5417

PGG Wrightson Real Estate, DAR24394

DARFIELD 11B Cameron Crescent

Sun 9th Oct, 2pm -2.30pm, 4 beds,2bthrm & office, $670,000 GST incl,

Ph Min Cookson 027 249 5417 or John Hughes 021 455 488

PGG Wrightson Real Estate, DAR24483

HALSWELL 7A Wales Street

Sat 9th Oct, 3.15pm – 3.45pm, 5 bed, 1 bthrm, 2 car, 658m2 section

Offers over $549,000.

Ray White Rolleston www.rwrolleston.co.nz/RLL22595

HORNBY 7A Ruakaka Street

Sun 9th Oct, 1pm – 1.45pm, 3 bed, 1 bthrm, 3 car, By Negotiation,

Property Brokers, ph Kurt Richardson 021 154 3764

LEESTON 41 Clausen Avenue

Sun 9th Oct, 12.15pm – 12.45pm , 3/4 bedroom, 2 living on beautifully

landscaped 732m2. $489,000, Cameron McRae 0277 696696,

cameron@marealestate.co.nz

Matson & Allan www.marealestate.co.nz/909

LEESTON 8 Clausen Avenue

Sun 9th Oct, 12.15pm – 12.45pm , 4 bedroom, 2 living 2 bthrm, 2

garage, turnkey package, $480,000 Cameron McRae 0277 696696

cameron@marealestate.co.nz

Matson & Allan www.marealestate.co.nz/922

LEESTON 17 Lambie Street

Sun 9th Oct, 12.15pm – 12.45pm , 3 bedroom, 1 living on 1106m2

section with 6 x 9 garage, $429,000, Stephan Knowler 027 229 9522

stephan@marealestate.co.nz

Matson & Allan www.marealestate.co.nz/044

LEESTON 15 Slattery Lane

Sun 9th Oct, 12.15pm – 12.45pm, 2 bedroom, 1 living, 1 bthrm, 1 garage,

easy living. $395,000 Cameron McRae 027 769 6696,

cameron@marealestate.co.nz, Matson & Allan www.marealestate.co.nz/024

LEESTON 1 Lambie Street

Sun 9th Oct, 1pm – 1.30pm , 4 bedroom, 2 bthrm, 2 car garage, on

700m2, $485,000, Cameron McRae 0277 696696,

cameron@marealestate.co.nz,

Matson & Allan www.marealestate.co.nz

LEESTON 65 High Street

Sun 9th Oct, 1pm – 1.30pm, 300m2, 4 bed 3 living, 2 garage.

$629,000, Stephan Knowler 027 229 9522 stephan@marealestate.co.nz

Matson & Allan www.marealestate.co.nz/008

LEESTON 375 Brookside & Irwell Road

Sun 9th Oct, 1pm to 1.30pm, 4.255ha, 4 bed, 2 bthrms, 3 car, mostly

double glazed, Offers over $749,000.

Ray White Rolleston www.rwrolleston.co.nz/RLL22542

LEESTON 2 Palladio Ave

Sun 9th Oct, 1pm – 1.30pm, 3 bed, 2 bthrms, 2 car, 812m2 section

Offers over $435,000.

Ray White Rolleston www.rwrolleston.co.nz/RLL22610

LEESTON 11 Cassini Place

Sun 9th Oct, 1.30pm – 2.15pm, 4 bedroom, 2 bathroom

$499,000, ph Suzy McPherson 027 695 0519

Farmlands Real Estate, LE1578

LEESTON 14 Fibonacci Way

Sun 9th Oct, 1.45pm – 2.15pm, 4 bedroom, 2 living, 2 garage turnkey

package, $489,000, Cameron McRae 027 769 6696,

cameron@marealestate.co.nz

Matson & Allan www.marealestate.co.nz/991

LEESTON 17 Friars Lane

Sun 9th Oct, 1.45pm – 2.15pm, 4 / 5 bedroom, 3 living Linea home

on 5005m2. Neg Over $789,000, Stephan Knowler 027 229 9522

stephan@marealestate.co.nz

Matson & Allan www.marealestate.co.nz/023

LEESTON 1 Cassini Place

Sun 9th Oct , 2.15pm – 2.45pm , Turnkey 4 bed, 1 living, 2 bath, 2 garage

on 770m2. $479,000 Stephan Knowler 027 229 9522,

stephan@marealestate.co.nz

Matson & Allan www.marealestate.co.nz/963

LEESTON 416 B Drain Road

Sun 9th Oct, 2.15pm – 2.45pm, 4 bed, 2 bthrm, 2 car, 898m2 Section

inc ROW, Offers over $445,000.

Ray White Rolleston www.rwrolleston.co.nz/RLL22574

WEST MELTON 1004 Weedons Ross Road

Thurs 6th Oct, 2pm - 2.45pm, 4 bdrm, 3 bthrm, 5 car gge on a 40010m2 life

style section, Auction 13th October (USP) , ph Fergus 027 608 4768

Harcourts Rolleston www.harcourts.co.nz ID#RL1521

LINCOLN 18 Kildare Terrace

Sat 8th Oct, 1.30pm – 2pm, 2 Bed, 1 Bthrm, 1 Car, Cross lease title

$269,000.

Ray White Rolleston, www.rwrolleston.co.nz/RLL22597

ROLLESTON 212 Larcombs Road

Sat 8th Oct , 2.30pm - 3.30pm, 3 bdrm, 2 bthrm, 2 living, 4+gge on 2.0234ha

rural section, Auction Thursday 27th October (USP) Katie 021 135 0887

Harcourts Rolleston – www.harcourts.co.nz ID#RL1525

For full details of all Open Homes, please contact the Real Estate companies.

LINCOLN 21 Payne Court

Sun 9th Oct, 1pm – 1.30pm, 4 bed, 2 bthrms, 3 car, 247m2 on 619m2

section, Offers over $639,000.

Ray White Rolleston www.rwrolleston.co.nz/RLL22599

LINCOLN 46 Faulks Drive

Sun 9th Oct, 1pm - 1.45pm, 4 bdrm, 3 bthrm, 2 living, 3 car gge on a

985m2 section, Auction Thursday 27th October (USP) ph Richard

(Taitie) 027 777 8080.

Harcourts Rolleston – www.harcourts.co.nz ID#RL1526

LINCOLN 83 Heathridge Place

Sun 9th Oct, 2.30pm – 3.15pm, 4 bedroom 2 bathroom, 4 garage

$649,000, ph Tracy Stevenson 027 543 9029

Farmlands Real Estate, LN1480

OXFORD 58 Victoria Street

Sun 9th Oct, 1pm – 1.45pm, 4 bed, 1 bthrm, on 1.21ha

Deadline sale USP Closes 3pm Wednesday 26th Oct

Property Brokers, ph Gareth Cox 021 250 9714

PREBBLETON 10B Sterling Drive

Sun 9th Oct, 12.30pm – 1pm, 3 bed, 2 bthrms, 2 car, 650m2 section,

built 2013, Offers over $620,000.

Ray White Rolleston www.rwrolleston.co.nz/RLL22567

PREBBLETON 10 Westburn Place

Sun 9th Oct, 1.30pm - 2pm, 4 bdrm, 3 bthrm, 2 living, 2 car gge on a 745m2

section, $729,000 ph Natalie 027 943 6413 or Eddie 027 600 4007

Harcourts Rolleston – www.harcourts.co.nz ID#RL1488

RAKAIA 147 Rolleston Street

Sun 9th Oct, 3pm - 3.30pm , 3 bed, 1 bthrm, 1 garage, $320,000,

Penny Dadson-Clausen PH 027 895 5943.

Farmlands Real Estate, LE1576

REDWOOD 23 Grimseys Road

Sun 9th Oct, 11am - 11.30am, 3 bdrm, 1 bthrm, 1 living, $409,000,

ph Natalie 027 943 6413 or Eddie 027 600 4007

Harcourts Rolleston, www.harcourts.co.nz ID#RL1513

ROLLESTON 20 Elizabeth Street

Sun 9th Oct, , 11am – 11.30am , 4 bed, 1 bthrm, 1 car, 1011m2 section

$475,000.

Ray White Rolleston www.rwrolleston.co.nz/RLL22592

ROLLESTON 489 Hoskyns Road

Sun 9th Oct, 11am – 11.30am, 3 beds, 1 bthrm on 5.2ha

$790,000 GST incl, DAR24433

PGG Wrightson Real Estate, Ph Min Cookson 027 249 5417

ROLLESTON 67 Shadbolt Lane

Sun 9th Oct, 11.30am – 12pm , 3 bed, 2 bthrms, 2 car, on 563m2

section, Offers over $549,00.

Ray White Rolleston www.rwrolleston.co.nz/RLL22594

ROLLESTON 66 Moore Street

Sun 9th Oct, 11.30am –12pm , 3 bed, 1 bthrm 2 car crosslease ½ int in

1156m2, $429,000.

Ray White Rolleston www.rwrolleston.co.nz/RLL22604

ROLLESTON 9 Binyon Place

Sun 9th Oct, 12pm – 12.30pm, 4 Bed, 2 Bthrms, 3 living 2 Car, 805m2

Section, Offers over $619, 000.

Ray White Rolleston, www.rwrolleston.co.nz/RLL22580

ROLLESTON 24 Hartford Crescent

Sun 9th Oct, 12pm – 12.30pm, New 3 Bed, 2 Bthrms, 2 Car, 400m2

Section, Offers over $519,000.

Ray White Rolleston, www.rwrolleston.co.nz/RLL22551

ROLLESTON 12 Loeb Place

Sun 9th Oct, 12.30pm – 1pm, 4 bed, 2 bthrms, 2 car, 564m2 section

Offers over $589,000.

Ray White Rolleston www.rwrolleston.co.nz/RLL22563

ROLLESTON 387 Lansdowne Way

Sun 9th Oct, 12.30pm – 1pm, 3 bed, 2 bthrms, , 2 car, well Spec'd,

422m2 section, Offers over $525,000.

Ray White Rolleston www.rwrolleston.co.nz/RLL22611

ROLLESTON 35 Faringdon Boulevard

Sun 9th Oct, 1pm – 1.30pm, 3 bed, 2 bthrms, 2 car, 475m2 section

Offers over $539,000.

Ray White Rolleston www.rwrolleston.co.nz/RLL22545

ROLLESTON 2 Standford Way

Sun 9th Oct, 1pm – 1.30pm, 4 Bed, 2 Bthrms, 2 Car, 231m2 on 745m2

Section, $635,000.

Ray White Rolleston, www.rwrolleston.co.nz/RLL22544

ROLLESTON 8 William Street

Sun 9th Oct, 1.15pm – 2pm, 3 bedroom 1 bathroom, 2 garage

$459,000, ph Tracy Stevenson 027 543 9029

Farmlands Real Estate, LN1482

ROLLESTON 1053 Goulds Road

Sun 9th Oct, 1.30pm – 2pm, 4 Bed, 2 Bthrms, 2 Car, 1350m2 Section

Offers over $669,000.

Ray White Rolleston, www.rwrolleston.co.nz/RLL22564

ROLLESTON 3 Lloyds Close

Sun 9th Oct, 1.45pm – 2.15pm, 4 bed, 2 bthrms, 2 car, 225m2 on 781m2

section, Offers over $599,000.

Ray White Rolleston, www.rwrolleston.co.nz/RLL22561

saT

ThuRs

13 OCT

HALSWELL 7A Wales Street

Sat 8th Oct, 2.45pm – 3.15pm, 5 bed, 1 bthrm, 2 car, 658m2

section, Offers over $549,000.

Ray White Rolleston www.rwrolleston.co.nz/RLL22595

SHEFFIELD 42 Railway Terrace

Sat 8th Oct, 2pm – 2.30pm, 2 bedroom home on 809m2. Great wee starter

$329,000, ph Sue Robinson 021 409 050 sue@marealestate.co.nz

Matson & Allan www.marealestate.co.nz/040

SYDENHAM 1 / 9 Cameron Street

Sat 8th Oct, 11am – 11.30am, Modern 2 storey T/house 2 bed,1 bthrm 1 car

Offers over $309,000, Ray White Rolleston www.rwrolleston.co.nz/RLL22479

WEST MELTON 79 Rossington Drive

Sat 8th Oct, 12.30pm – 1pm, 4 bed + study, 2 bthrm, 2 car, 1045m2 section

Offers over $895,000 Ray White Rolleston www.rwrolleston.co.nz/RRL22556

ROLLESTON 13 Frame Crescent

Sun 9th Oct, 2pm – 2.30pm, 4 bed, Rumpus, 2 bthrms, 4 car, 1916m2

section, Offers over $849,000.

Ray White Rolleston, www.rwrolleston.co.nz/RLL22613

ROLLESTON 20 Colebrook Drive

Sun 9th Oct, 2pm – 2.30pm, 226m2 top quality build in Devon Park.

Neg Over $615,000, Andrew Taylor 027 4355930,

andrew@marealestate.co.nz

Matson & Allan www.marealestate.co.nz/028

ROLLESTON 212 Larcombs Road

Sun 9th Oct , 2.30pm - 3.30pm, 3 bdrm, 2 bthrm, 2 living, 4+gge on

2.0234ha rural section, Auction Thursday 27th October (USP) Katie

021 135 0887, Harcourts Rolleston – www.harcourts.co.nz ID#RL1525

ROLLESTON 14 Park Lane

Sun 9th Oct, 2.30pm - 3pm, 4 bdrm, 2 bthrm, 2 living, 2 car gge on a

613m2 section, Price by negotiation, ph Natalie 027 943 6413,

Eddie 027 600 4007

Harcourts Rolleston www.harcourts.co.nz ID#RL1466

ROLLESTON 26 Othello Drive

Sun 9th Oct, 2.30pm – 3pm, 4 bed, 2 bthrms, 2 car, 820m2 section

Offers over $509,000.

Ray White Rolleston, www.rwrolleston.co.nz/RLL22612

SOCKBURN 1 / 82 Racecourse Road

Sun 9th Oct, 2.15pm – 2.45pm, 2 bed, 1 bthrm, 1 car, share in 809m2

section, $335,000.

Ray White Rolleston www.rwrolleston.co.nz/RLL22575

SOUTHBRIDGE 5 Broad Street

Sun 9TH Oct, 1pm – 1.30pm, 2 bedroom, 1 bathroom, 2 garage

Neg Over $335,000, ph Penny Dadson-Clausen, 027 895 5943

Farmlands Real Estate, LE1574

SOUTHBRIDGE 12 Bridge Street

Sun 9TH Oct, 1pm – 1.30pm, 4 bedroom, 2 bathroom, 1 garage

Neg Over $375,000, ph Noel Lowry 027 432 8859

Farmlands Real Estate, LE1577

SOUTHBRIDGE 167A High Street

Sun 9th Oct, 2pm – 2.30pm, 3 bedroom, 1 bthrm, 1 garage

Neg over $340,000, Penny Dadson-Clausen PH 027 895 5943

Farmlands Real Estate, LE1570

SOUTHBRIDGE 2 Sarsfield Street

Sun 9TH Oct, 2.30pm – 3.15pm, 4 bedroom ,2 living superior country

residence on 4046m2, $619,000, Stephan Knowler 027 229 9522

stephan@marealestate.co.nz

Matson & Allan www.marealestate.co.nz

SOUTHBRIDGE 28 Hastings Street

Sun 9TH Oct, 3.30pm – 4pm, 4 bedroom , two storey home on botanic

1201m2. $495,000, Stephan Knowler 027 229 9522,

stephan@marealestate.co.nz

Matson & Allan www.marealestate.co.nz/027

TEMPLETON 2 Kissel Street,

Sun 9th Oct 1.30pm -2pm, 4 bdrm, 2 bthrm, 2 living, 1 car gge on

911m2 section, Price by Negotiation, ph Claire 027 723 3571

Harcourts Rolleston – www.harcourts.co.nz ID#RL1519

TEMPLETON 5 Ivey Road

Sun 9th Oct, 2.30pm – 3.15pm, 4 bed, 2 bthrm, 2 car, on 4.04ha

By Negotiation , Property Brokers, ph Kurt Richardson 021 154 3764

WEST MELTON 18 Shona Lane

Sun 9th Oct, 1.45pm – 2.15pm, 4 bed, 3 living, 2 bthrm, 3 car, 1200m2

property, Offers over $899,000.

Ray White Rolleston www.rwrolleston.co.nz/RRL22615

WEST MELTON 344 Curraghs Road

Sun 9th Oct, 2.15pm – 3pm, 260m2 house, triple garage, 162m2 shed

on 4.364ha, Deadline Sale closes 19/10/16, Sue Robinson 021 409 050

sue@marealestate.co.nz

Matson & Allan www.marealestate.co.nz/038

WEST MELTON 79 Rossington Drive

Sun 9th Oct, 2.15pm – 2.45pm, 4 bed + study, 2 bthrm, 2 car, 1045m2

section, Offers over $895,000.

Ray White Rolleston www.rwrolleston.co.nz/RRL22556

WEST MELTON 42 Jacks Drive

Sun 9th Oct, 2.45pm – 3.15pm, 4 Bed home + 1 Bed flat, 2 Car, 3160

m2 Section, Deadline Sale.

Ray White Rolleston www.rwrolleston.co.nz/RRL22534

WEST MELTON 1004 Weedons Ross Road

Sun 9th Oct, 2pm - 2.45pm, 4 bdrm, 3 bthrm, 5 car gge on a 40010m2

life style section, Auction 13th October (USP) , ph Fergus 027 608 4768

Harcourts Rolleston www.harcourts.co.nz ID#RL1521

WEST MELTON 304 Halket Road

Sun 9th Oct, 3pm - 3.45pm , 4 bed, 3 bthrm, 2 car, on 5.12ha

Deadline Sale USP closes 4pm 27th Oct

Property Brokers ph Chris Moore 027 288 0563

DARFIELD 10 Mulholland Drive

Thurs 13th Oct, 5.30pm – 6.30pm, 285m2 4 bedroom & office

on 2.17ha. Great lifestyle, Deadline Sale closes 21/10/16,

Sue Robinson 021 409 050 sue@marealestate.co.nz

Matson & Allan www.marealestate.co.nz/ 039
---
16

Four Seasons Realty

Licensed Agent REAA 2008

List with Harcourts

in Canterbury and

you could...

the

WORLD

WORLD

7 AMAZING

DESTINATIONS

7 TRIPS TO

BE WON!

5 NIGHTS

IN LONDON

FOR TWO

5 NIGHTS

IN NEW YORK

FOR TWO

5 NIGHTS

IN PARIS

FOR TWO

5 NIGHTS

IN HONG KONG

FOR TWO

5 NIGHTS

IN SHANGHAI

FOR TWO

5 NIGHTS

IN FIJI

FOR TWO

5 NIGHTS

IN SYDNEY

FOR TWO

Contact

your local

Harcourts

consultant

today!

List with Harcourts Four Seasons and you could travel the world! Contact one of our three offices to find out how.

www.harcourtscanterbury.co.nz

HORNBY 395 Main South Road • 03 349 9919 | HALSWELL 379 Halswell Road • 03 322 1197 | ROLLESTON Shop 13, Rolleston Square • 03 347 4711

TERMS AND CONDITIONS: All exclusive 90 day listings received and live in our system between 10th

September and 30th of November 2016. To be included in the draw these listings must be with our offices

located in: Christchurch, Kaiapoi, Rangiora, Hanmer and Akaroa including NAI commercial sales, leasing

www.fourseasons.harcourts.co.nz