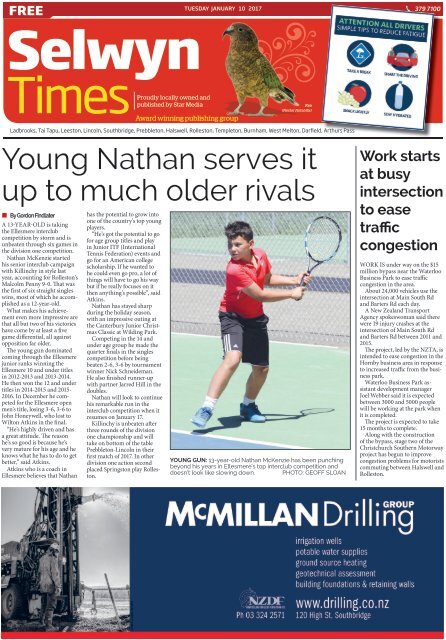 Selwyn Times: January 10, 2017
Create successful ePaper yourself
Turn your PDF publications into a flip-book with our unique Google optimized e-Paper software.
FREE

TUESday JaNUaRy 10 2017 379 7100

Selwyn

Times

Proudly locally owned and

published by Star Media

Award winning publishing group

Kea

(Nestor Notabilis)

Ladbrooks, Tai Tapu, Leeston, Lincoln, Southbridge, Prebbleton, Halswell, Rolleston, Templeton, Burnham, West Melton, Darfield, Arthurs Pass

Young Nathan serves it

up to much older rivals

• By Gordon Findlater

A 13-YEAR-OLD is taking

the Ellesmere interclub

competition by storm and is

unbeaten through six games in

the division one competition.

Nathan McKenzie started

his senior interclub campaign

with Killinchy in style last

year, accounting for Rolleston's

Malcolm Penny 9-0. That was

the first of six straight singles

wins, most of which he accomplished

as a 12-year-old.

What makes his achievement

even more impressive are

that all but two of his victories

have come by at least a five

game differential, all against

opposition far older.

The young gun dominated

coming through the Ellesmere

junior ranks winning the

Ellesmere 10 and under titles

in 2012-2013 and 2013-2014.

He then won the 12 and under

titles in 2014-2015 and 2015-

2016. In December he competed

for the Ellesmere open

men's title, losing 3-6, 3-6 to

John Honeywell, who lost to

Wilton Atkins in the final.

"He's highly driven and has

a great attitude. The reason

he's so good is because he's

very mature for his age and he

knows what he has to do to get

better," said Atkins.

Atkins who is a coach in

Ellesmere believes that Nathan

has the potential to grow into

one of the country's top young

players.

"He's got the potential to go

for age group titles and play

in Junior ITF (International

Tennis Federation) events and

go for an American college

scholarship. If he wanted to

he could even go pro, a lot of

things will have to go his way

but if he really focuses on it

then anything's possible", said

Atkins.

Nathan has stayed sharp

during the holiday season,

with an impressive outing at

the Canterbury Junior Christmas

Classic at Wilding Park.

Competing in the 14 and

under age group he made the

quarter finals in the singles

competition before being

beaten 2-6, 3-6 by tournament

winner Nick Schneideman.

He also finished runner-up

with partner Jarred Hill in the

doubles.

Nathan will look to continue

his remarkable run in the

interclub competition when it

resumes on January 17.

Killinchy is unbeaten after

three rounds of the division

one championship and will

take on bottom of the table

Prebbleton-Lincoln in their

first match of 2017. In other

division one action second

placed Springston play Rolleston.

YOUNG GUN: 13-year-old Nathan McKenzie has been punching

beyond his years in Ellesmere's top interclub competition and

doesn't look like slowing down. PHOTO: GEOFF SLOAN

Work starts

at busy

intersection

to ease

traffic

congestion

WORK IS under way on the $15

million bypass near the Waterloo

Business Park to ease traffic

congestion in the area.

About 24,000 vehicles use the

intersection at Main South Rd

and Barters Rd each day.

A New Zealand Transport

Agency spokeswoman said there

were 19 injury crashes at the

intersection of Main South Rd

and Barters Rd between 2011 and

2015.

The project, led by the NZTA, is

intended to ease congestion in the

Hornby business area in response

to increased traffic from the business

park.

Waterloo Business Park assistant

development manager

Joel Webber said it is expected

between 3000 and 5000 people

will be working at the park when

it is completed.

The project is expected to take

15 months to complete.

Along with the construction

of the bypass, stage two of the

Christchurch Southern Motorway

project has begun to improve

congestion problems for motorists

commuting between Halswell and

Rolleston.
---
2

Tuesday January 10 2017

Inside

FROM

THE

EDITOR'S

DESK

SELWYN TIMES

News....................................3-18

THE WORLD is your oyster if you

are a young sporting talent and

13-year-old Nathan McKenzie (see

page 1) has plenty of that.

He is unbeaten in the senior

men's Ellesmere interclub competition

– yep that's senior men's.

And having just turned 13 he's

been winning as a 12-year-old,

and that is pretty impressive in

anyone's books.

Nathan is now making his mark

in the junior representative ranks

so we'll keep an eye on him as he

progresses through the season and

beyond.

Not long to go for the big concert

in Lincoln – Selwyn Sounds.

Today we profile Annie Crummer

(page 7) who will perform

with her old mates Debbie Harwood,

Margaret Urlich and Sharon

O'Neill in what promises to be

an amazing day of music alongside

Mi-Sex, Dragon, Jordan Luck and

others. – Barry Clarke

Concert chance for reunion

NEWS

7

Our People....................6,7

Your Local Views............17

Sport..................................19

Driven........................................21

Gardening................22,23

City2Surf................................ 24

GET IN TOUCH

General Enquiries Ph 379-7100

Classified Advertising Ph 379-1100

The Christchurch Star Company Ltd. PO box 1467 - Christchurch

starmedia.kiwi

NEWS

Tom Doudney

Ph: 371 0780

tom.doudney@starmedia.kiwi

ADVERTISING

Lynette Evans

Ph: 364 7434

lynette.evans@starmedia.kiwi

wanted

People to experience a virtually invisble German

engineered hearing aid * .

Need a Professional

Electrician?

Call Laser Electrical Rolleston!

Residential • Industrial • Commercial • Rural • Dairy

Laser Electrical Rolleston, 831 Jones Road, Rolleston

www.laserelectrical.co.nz

(0800 527 374)

Mon-Fri

6.45am-6pm

Sat 8am-12 noon

(WOFs only)

3 TRUCKS

3 CARS

3 LUBES

3 SERVICING

3 FLEET WORK

3 BOATS

3 DIESEL INJECTOR

3 & PUMP SERVICING

3 ENGINE TUNING

3 BRAKES

3 MAXXIS TYRES

3 WHEEL ALIGNMENTS

3 BATTERIES

3 WOFs

3 CAMBELTS

AND MUCH MORE!

839 Jones Road, Rolleston

P.O. Box 16 Rolleston

Phone Simon on 347 7110

or Mobile 027 272 9213

Do you want to understand speech in difficult

listening situations with little effort * ?

CaLL nOw FOR a FRee

HeaRInG aId deMOnStRatIOn

FRee PHOne: 0800 72 73 66

Completely disappears

Hearing Clinics available: Christchurch, Rangiora, Ashburton, Akaroa and West

Coast (Hokitika, Greymouth and Westport). Consultations by Appointment only.

*Clinically proven in two independent studies to provide better than normal hearing in certain demanding listening environments.

*Special conditions apply

Merivale Hearing Clinic

24b Church Lane, Merivale. Call: 356 2324

Greg Foote, Audiologist
---
SELWYN TIMES Tuesday January 10 2017 3

News

Selwyn's growth rate

now second to Queenstown Lakes

SELWYN HAS been knocked

off its spot as the country's

fastest growing district for the

first time in several years.

The drop to second position

hasn't been due to any slow

down in Selwyn's own growth

rate, which remains extremely

high at 6.6 per cent for the 12

months to June last year.

Rather it is a testament to

the extraordinary growth

seen by the new number one,

Queenstown Lakes, which has

experienced a whopping 7.1 per

cent population growth over the

same period.

Infometrics senior economist

Benje Patterson said both districts

were outliers.

"They are both miles ahead of

the pack. To put things in perspective,

last year the third fastest

growing area was Tauranga

and it only had 2.9 per cent

growth in population," he said.

Mr Patterson said growth over

the last 10 years gave a more

complete picture than looking

at just one year's growth, and

Selwyn was still well ahead in

this regard, with average annual

growth of 4.9 per cent, while

Queenstown Lakes was second

GROWTH: Booming tourism has helped make Queenstown the country's fastest growing

district, pushing Selwyn into second place in spite of a large number of homes being built.

at 3.7 per cent.

"Over the last three years,

Selwyn's population growth has

been elevated and consistently

high, it has averaged more than

six per cent per annum for three

years in a row," he said.

"If you compound that you are

looking at 20 per cent more people

in the last three years which

is quite outrageous."

Mr Patterson said Queenstown

Lakes high growth over

the last 12 months was due to its

booming tourism, housing and

retail sectors which were also

providing a boost for employment

in the area.

"The tourism sector is just

having a phenomenal time

there, it is just absolutely ridiculous

and it's not only the growth

that is happening during peak

times," he said.

"You used to see some pretty

quiet months during times like

the second half of April into

May before the ski season kicked

in and then again in October

to November following the ski

Choosing better services

Do you live in Rolleston or the Selwyn area?

Do you wear or need hearing aids? Did you

know that you can choose Brenna Sincock as

your audiologist?

It doesn't matter who fitted your existing

hearing aids, or how new/old/ancient they

are, Brenna's expertise means that she can

service and adjust all makes and models.

Your hearing changes over time and the

settings and tuning of your device need to

change with it. If you have already invested

in hearing aids, getting the most out of

them makes so much sense.

"What people may not realise

is that it is their choice

as to who cares for their

hearing," says Brenna "I

love what I do, I am good

at what I do and I want

my customers to have

the best hearing

possible. It doesn't

matter if they start

the journey with me with their first hearing

test or if they come to me after wearing

hearing aids for a decade. If people want to

switch to me, I am here to help."

What sets Brenna Sincock Hearing apart is

that customers will always see Brenna, every

visit. "They can take comfort in my years of

experience" says Brenna. "I'm the boss, it

(the service) all starts and stops with me."

"There are a significant amount of people

in the area with hearing loss. Many hearing

aid clinics are part of large internationally

owned networks and therefore patients may

not see the same person/audiologist each

time they visit. It's a little bit frustrating

when you have formed a relationship with

someone and they know your patient history,

your lifestyle and then you have to explain

it again. Continuity of care is so important!"

"Customers come first and I am always willing

to go the extra mile. I am here to help

locals hear better for years to come."

season before you got to summer

but we are not seeing these real

lulls anymore."

However, he didn't expect

Queenstown's growth to continue

at such a high level in the

years to come.

"I see it remaining well above

the national average, being one

of the fastest growing areas in

New Zealand. But frankly, you

just can't sustain that sort of

growth in population," he said.

"Queenstown is already bursting

at the seams."

Brenna Sincock Hearing

Branding / Appropriate Usage

PRINT

36 Tennyson Street, Rolleston | Darfield | Leeston | Lincoln

ON THE DOMAIN

MARCH 4 2017 LINCOLN

LINCOLN'S FINEST SUBDIVISION

Live in Lincoln

nine bands. one day. www.selwynsounds.co.nz

Coe on New Year

Honours List

FORMER SELWYN Mayor

Kelvin Coe was part of the New

Year Honours List, named an

Officer of the New Zealand

Order of Merit for his services to

local government.

Mr Coe (right)

served three

terms as mayor

before standing

down in October

last year. He had

previously been a

councillor for the

Ellesmere Ward

from 1991 to 2007 and deputy

mayor from 2004 to 2007.

He led the district through

a major housing expansion as

thousands of people moved out

of Christchurch city seeking

accommodation following the

earthquakes. He also opened up

council premises to house the

displaced commissioners and

staff of Environment Canterbury.

Mr Coe has held leadership

positions within various community

organisations. He was

a member of the St John area

committee for nearly 15 years

and Federated Farmers North

Canterbury president from 1991

to 1994.

Call 03 390 2332 today

Hearing tests | Hearing aids

Tinnitus | ACC funding

Rolleston Owned & Independent

SWITCH to Brenna Sincock Hearing

Its easy to switch and we can give your

existing hearing aids a clean and tune up

Jon Griffiths

jon@heartlandprint.co.nz

LOVE YOUR

HEARING

in time for summer!
---
4

Tuesday January 10 2017

News

SELWYN TIMES

Bid to get children reading

SELWYN LIBRARIES

are hosting a variety of

activities to keep kids

entertained – and reading

– during these summer

holidays.

Book lovers of all ages

have been able to join

Selwyn Libraries in a

Summer of Reading

which includes the

Selwyn Summer Reading

Programme for children

and Stop, Drop and

Read.

During the holidays

Selwyn residents can join

library staff at 2.30pm

every week day to 'stop'

what they are doing, 'drop'

into a comfortable seat

and 'read' for 15min.

The Selwyn Summer

Reading Programme gives

children a chance to win

prizes.

To join the programme

children need to visit a

Selwyn library, pick up an

official reading log, then

record how many minutes

they spend reading each

day.

They can read anything,

anywhere, anytime. Prizes

include android tablets,

book vouchers and family

passes to the Selwyn

Aquatic Centre.

Terms and conditions

are available online at

www.selwynlibraries.

co.nz.

Selwyn Libraries

manager Vicki Carlyon

said the aim was to

encouraging children to

continue reading over the

summer holidays in an

attempt to reduce the risk

of 'summer slide.'

"According to research

from a number of

countries, during the

summer holiday months,

the reading level of

children who don't

have access to reading

material or who don't read

declines," she said.

"New Zealand research

shows children from

lower income areas are

most at risk of the summer

slides."

Selwyn Libraries also

have new children's boxes

which contain a range

of dress ups and toys to

encourage children to

stay a while and engage in

creative play.

PAGE TURNERS: Darfield siblings Jack, 6, Harriet, 9, and Skye Collins, 9, enjoying some books.

GREAT SUMMER

SAVINGS NOW ON

Have the best nights sleep on a

Dreamwool Pocket Spring or Natural

Latex mattress with 100% natural fillings.

No foams, polyester fillings and glue.

Enjoy year round superior comfort

and support on a flexible slat bed

Not just a

tyre shop!

• On-farm services - NO CALLOUT FEE

(Selwyn district)

• 24 hour fleet service

• Full mechanical repairs

• Nitrogen fills, batteries, WOF,

shock absorbers

• Agricultural tyres

• Full range of vehicle tyres

• Wheel alignments & puncture repairs

Mon-Fri 7.30am-5.00pm, Saturday 9am-12pm

Call 03 347 4702

or 0800 838 973

847 Jones Rd, Rolleston • www.tasmantyres.co.nz

Jones Road

Auto

ALL YOUR

MOTORING NEEDS

› While You Wait WOF's

› Courtesy Cars › Diagnostics

› Repairs › Servicing

› Batteries › Tyres

Phone 347 4020

851 Jones Rd, Rolleston

www.jonesroadauto.co.nz

22 Kennaway Rd • www.dreamwool.com • Ph 343-5105

Unique & Handcrafted

FURNITURE

HOME DÉCOR

GIFTS

www.ynots.co.nz

ynots.gifts@xtra.co.nz

2239 Main South Road

5 minutes south of Rolleston

03 3476190

SALE NOW ON

20% off

this range of solid handcrafted

furniture, with many more items

reduced instore. Limited time only.
---
SELWYN TIMES Tuesday January 10 2017 5

Progress on farm environment plans

• By Tom Doudney

ABOUT A third of 900 Selwyn

Waihora Zone farmers who need

to obtain a farm environment

plan in the next six months have

done so.

Under Plan Change 1 to the

Land & Water Regional Plan,

farms not supplied by the Central

Plains Water scheme, about

900 in total, will need to obtain

land use consent. Having an

audited farm environment plan

will be a key part of that process

and about 300 of these farms

already have theirs.

The requirement to have a

land use consent took effect

from January 1 and farmers will

have six months to lodge their

application.

Farm environment plans

identify on-farm environmental

risks and how they will be managed.

Environment Canterbury's

Selwyn Waihora Zone team

manager Michaela Rees said it

was pleasing that many farms

already had theirs.

ECan would work with

the others to make sure they

could meet the six month deadline.

"In this catchment particularly,

the community expects that

we will take action where compliance

is not being achieved –

DEADLINE: Selwyn Waihora Zone farmers not supplied by the Central Plains Water scheme

will have to obtain land use consent within the next six months. PHOTO: BRETT PHIBBS

and that's what we will do where

necessary," Ms Rees said.

"Some farmers have already

obtained consent and others are

in the pipeline. The zone team

and industry bodies are working

hard to help farmers get on

track towards obtaining their

consents."

Farms supplied by CPW also

need to obtain audited farm environment

plans to comply with

the scheme's discharge consent.

Stage one of the scheme involves

120 farms and, so far, 107 had

farm environment plans. Stages

two and three of the scheme are

not yet operational.

Stabbing

accused

from Coalgate

THE MAN who allegedly stabbed

a New Brighton woman in

December with a screwdriver was a

68-year-old from Coalgate.

Wayne Curtis Durham was

granted interim name suppression

on December 30, the same day

it is alleged he stabbed a 46-yearold

woman. However, the suppression

order lapsed yesterday when

he appeared at the district court by

video-link from prison.

Durham is accused of wounding

the woman with intent to cause

grievous bodily harm. Police were

called to the woman's property on

Hawke St, New Brighton, at about

1.15am.

"There was a female victim and a

male offender. He stabbed her with

a screwdriver and the offender then

returned with a knife," a police

spokeswoman said at the time.

It is understood the knife was

not used in the assault. A family

member said the victim was now at

home "resting up."

Defence counsel Glenn Dixon

asked Judge Jane McMeeken for a

further remand without plea for

Durham.

No bail application was made.

McMeeken remanded Durham

in custody to appear on February

20.

Enjoy the Romance

AT TERRACE DOWNS RESORT

The team at Smart

Real Estate wishes

you a very happy

New Year

We thank you for your continued

support and look forward to

working with you in 2017.

Valentine's Day

DINNER

$

75

Valid 14 February

A glass of

Sparkling Wine,

3 Course Set Menu,

Live Music

Make your Sunday

extra special with

our popular

Sunday Buffet

Come and enjoy a delicious menu

of classic and International flavours,

accompanied by live music.

Every Sunday 12:30pm

Adults $45pp, Kids u12 only $20

Indulge with our

special package

for Couples

This Valentine's Day, let us help you treat that

special someone with a great package for two!

Package includes romantic dinner for two

overlooking the beautiful surrounds of Mt Hutt,

candlelit spa bath before sliding into one of

our super king size beds. Complimentary late

checkout in the morning, with breakfast brought

to you in your villa. Optional extras also available

including welcome platter and champagne and

spa treatments on site!

Valid from Friday 10th Feb – Sunday 19th Feb

2017. Priced from $450 per couple.

Phone us on 03 318 6943

Michael

Arlidge

Maureen

Crowley

Jahna

Brennan

Kama

Jacobs

Debra

Hakaraia

Only one hour's drive from ChCh

Phone 03 318 6943

Terrace Downs Resort, Coleridge Road

Windwhistle, Canterbury

Email: info@terracedowns.co.nz

www.terracedowns.co.nz
---
6

Tuesday January 10 2017

Our People

SELWYN TIMES

Lyn Miles

Two decades of nurturing young

Templeton resident Lyn Miles will celebrate 20

years in the role of sports director of Primary

Sports Canterbury this year. Gordon Findlater

talked to her about her involvement with Selwyn

netball, her passion for sport and the challenges

that come with the role

PROUD: Lyn MIles has

a passion for organising

primary school sporting

events. PHOTO: GEOFF

SLOAN

Tell us about your

involvement with netball.

I was involved with the

Christchurch Netball Club for

38 years and ended up as the

president there. Eventually, I

thought it was time for a change

and moved out to Selwyn netball

at Lincoln, and next year will be

my seventh year there. I umpire,

most specifically, and coach

young umpires.

Umpiring, has that made you

thick-skinned?

Oh yes, I'm a trained teacher

as well so that has to be the case

doesn't it.

You became a member of the

New Zealand Order of Merit in

2010. How did that come about?

That came about through the

volunteer work I do in netball; it

was for netball administration. It

was a proud moment because my

father had also received an OBE

(Order of the British Empire) for

his work with cricket and rugby

league.

Tell us about your role as

sports director of Primary

Sports Canterbury.

The role entails organising

all of the sports events for

primary schools in Canterbury.

We have five major events:

Swimming, cross-country,

winter tournament, basketball

and athletics. They go through

a zone process – we have 233

schools divided into 18 zones,

as we can't have them all in one

place obviously. The top two or

three from the zone events will

then compete in the Canterbury

event.

You've been in the role for

almost 20 years, it's obviously a

passion?

Yes, it's great when you actually

get to the event and

see what you've organised.

There's nowhere else in the

country that has a full-time

primary school sports director.

The opportunities that kids

here in Canterbury have to

succeed in sport is just amazing

really.

You must have come across

your fair share of famous faces

in their younger days?

Oh yes. One that I remember

in particular is Ryan Crotty.

I went to Chisnallwood

Intermediate to present some

rugby plaques and he accepted

one of them. I think he may have

been the captain of the rugby

team at that time. There was

a sprinter just the other day I

saw in the Selwyn Times (Maia

Broughton) who broke a 200m

record. I remember those people

coming through.

NOTICE OF HELICOPTER

SURVEY OF TRANSMISSION

LINES IN YOUR AREA.

Transpower the owner and operator of the national grid, will be carrying out aerial

surveys on its overhead transmission line in your area. This work is critical to

ensure the continuation of a safe and reliable service to your region.

This will involve a helicopter flying at around 300 metres – so the transmission

line and underlying topography can be surveyed.

This work is planned to take place between Wednesday 25 January and

Saturday 28 January, 2017.

We will be flying in and around Clyde, Alexandra, Roxburgh, Gore, Te Tipua,

Pebby Hills, Roslyn Bush and Waverley areas.

Our hours of work are typically 8am to 5pm.

This work is weather dependant and may be changed at the last minute.

It's important to us that you are kept informed and update on our activities.

If you require further information, please call James Cormack on 012 357 996 or

visit www.transpower.co.nz

TPST10117

Full supply of fresh

fruit and vegetables.

Call in for fresh stone

and berry fruit.

OPEN 7 DAYS

Phone 349 5952

Cnr Springs Rd & Marshs Rd,

Prebbleton

(next to Milanese Restaurant)

Welding & Engineering

Services available:

• Welding, metal fabrication

• Engineering repair

• Farm, factory and site work

undertaken

Well equipped workshop

Widely experienced, many years

Wilson Engineering

Workshop, 486 Two Chain Road, Burnham.

Phone 347 6760 or 021 329 605

ROLLESTON

LAW

Sound, workable legal advice and solutions

Rolleston Office: 78A Rolleston Drive, Rolleston Square

Darfield Office: Darfield Business Hub, 68 South Terrace

RICHARD GRAY

Happy New Year to all Selwyn Residents.

Our offices will be reopening on

16 January 2017.

W: www.meareswilliams.co.nz

T: (03) 374 2547

M: 021 148 6221

E: rcg@meareswilliams.co.nz

E: am@meareswilliams.co.nz

ANITA MOLLOY-ROBERTS
---
SELWYN TIMES Tuesday January 10 2017 7

people with a passion for sports

How long can you see

yourself being involved in

sport?

Well people keep saying:

'When are you going to retire?'

But if you really like what you're

doing then it's not a mission

for me to come to work. I enjoy

doing it. I know there's a lot of

administration work that goes

into an event and the better the

administration, the better the

event runs, but seeing it all come

together is a buzz.

What are some of the fond

moments that stick out from

your involvement with sport?

It's just seeing the kids out

there enjoying themselves. That

smile that comes on their face

from not just winning, but just

being there doing what they like

doing. It's the same with netball,

just seeing people come through

the sport and grow as people.

What about passions outside

of sport, what else makes you

tick?

I do love my gardening. We've

got quite a big section, just over

half an acre out in Templeton

and that's all in garden. When

I'm not doing sport, I'm usually

in the garden.

Is this the time of year that

you get a chance to get away

from sport a wee bit?

It's actually quite nice at this

time of year to get a break

from the email. I probably get

about 150 emails a day just with

people asking questions about

everything. I try to get people

to go to our website to get the

answers. There seems to be a bit

of difficulty doing that . . . but

yes, it's nice to get a bit of rest

and it's a good catch-up time.

And then it's back to it for

another year. You must know

the routine pretty well by now?

Yes, although the routine keeps

changing with people wanting to

add new sports.

Is that something you've

noticed over the years? I'd

imagine there would have been

far less sport being played when

you started in the role.

FUN TO RUN: Lyn Miles wants

children to enjoy sports like

cross-country which, she says,

is gaining in popularity.

PHOTO: GEOFF SLOAN

Rugby, netball and cricket, that

was about it. This organisation

began in 1900, there was a group

of principals who felt more sport

was needed and they actually

ran the events until 1995. That's

when a sports director was

employed because it got too

much for them. Because there

was someone full-time, we had

the opportunities to add more

sports and make the events

larger.

Are there any particular

sports that you've noticed grow

in recent years?

The likes of duathlon, triathlon

and cross-country seem to be

growing in popularity. Our

numbers in gymnastics have

grown so much that we've had

to split it into three different

days now. This year the hip-hop

dancing also had a huge increase,

I think that has a lot to do with

a few local groups doing well on

the world stage.

Happy

New

Year!

Work that'S Worth it!

Your plumbing & gas fitting specialists

Ethical

work

Quality

work

CJ's Plumbing

Call noW

Ph 03 347 4475

www.cjsplumbing.co.nz

Open

now

for 2017

New Stock

Sizes 6-22

SMITH & BOSTON

Prebbleton Village | Christchurch

Ph: 03 349 5646

www.smithandboston.co.nz

Pack a

it ' s

Picnic,

Island

Time!

0800 436 574

www.blackcat.co.nz

Discover walking tracks, native birds,

penguins, the swimming beach and

shipwrecks, all on the island that's

only 15 minutes from Christchurch!

Start Exploring

Otamahua/Quail Island today!

DEPARTS: LYTTELTON QUAIL ISLAND

Oct – Apr 10.20am 3.30pm

Dec – Feb 10.20am & 12.20pm 12.30pm & 3.30pm

FARE: adult $30 child $15 return

CRUISES

LYTTELTON & AKAROA
---
8

Tuesday January 10 2017

News

SELWYN TIMES

Former cop behind

'Justice for Lisa'

Lisa Blakie

A FORMER police officer,

who worked on the Lisa Blakie

murder case, has launched a

Facebook page in support of

her long time

campaign

for police to

reinvestigate the

young Timaru

woman's death.

Ms Blakie

was murdered

while hitchhiking

from

Christchurch to

Greymouth in

February 2000, with her body

found under a 104kg boulder

in the Porter River, beside State

Highway 73.

Darfield man Timothy Taylor

was found guilty of the 20-yearold's

murder and remains

behind bars after receiving a

sentence of life imprisonment.

He has maintained his

innocence, claiming he picked

Ms Blakie up but dropped her off

at a layby before her death.

And doubts have been

raised about his guilt, most

prominently by ex-cop Bridget

Bridget McMenamin

McMenamin, who worked on

the case as an analyst.

That involved reading witness

statements and charting the

movements of people and

vehicles.

The Christchurch woman has

repeatedly called for police to

look into the case again, and

continued her campaign by

launching the Justice for Lisa

Facebook page.

She met Taylor in prison in

2014, along with Ms Blakie's

father, Doug, and Taylor's lawyer,

and he told the trio he saw a

white Bedford van travelling

towards Arthur's Pass after he

dropped Ms Blakie off.

He recognised three people

inside as being from a gang, Ms

McMenamin said.

He did not initially tell police

because he feared retribution,

she said. Two of the alleged

occupants underwent DNA

testing and were cleared, but a

third did not.

Ms McMenamin has

previously called for the man to

be tested before police told Doug

Blakie this month they could not

make the man give a sample, she

said. That had prompted her to

start the Facebook page, which

had more than 330 members

three days after its launch.

"I'm hoping to get enough

support and maybe next year we

can get this case reinvestigated."

Detective Inspector Gregory

Murton said in a statement

police were satisfied with the

result of the investigation.

"There is no evidence to

suggest anyone else was involved

in the abduction and murder of

Lisa Blakie." – NZ Herald

BIG WIN: Coupland's Bakeries managing director Lance

Coupland presents the keys of a new Volkswagen Polo to

Louisa Sinclair, the winner of a Coupland's competition.

While Mrs Sinclair, 34, described the win as an "amazing

Christmas present", she will be trading the car valued

at $25,000 to support a trip to her homeland, Northern

Ireland, next April. Living in Dunedin for the past seven

years, Mrs Sinclair, her husband and two daughters will

travel to Bangor for the first time since she moved to

New Zealand. Mrs Sinclair won the competition through

Coupland's Bakeries at Andersons Bay, South Dunedin. She

said the bakery is a regular stop for milk and thickly sliced

white bread, while her favourites from the bakery are citrus

truffles.

PHOTO: GEOFF SLOAN

THE bEsT PlACE To look AT

nEw flooRing is... youR PlACE

For the best range of carpet, vinyl, timber & tile; call

The Flooring Centre's Mobile Showroom and let us

come to you.

Call me NOW to arrange a Free Consulation

and a Free Measure and Quote.

We are taking appointments NOW for your area

PH. 0800 4 CARPET (0800 422 773)

www.theflooringcentre.co.nz
---
SELWYN TIMES Tuesday January 10 2017 9

Mountain bikers gear

up to ride new track

A NEW mountain bike

track built predominantly by

volunteers has opened on the

Port Hills.

The 3.8km track, currently

called the Montgomery Spur

Loop Track until it is formally

named, is the first new public

track to be built on the hills in

about a decade.

It's the result of work by about

40 volunteers, contractors and

city council staff.

"It's been 75 per cent volunteer

labour, 15 per cent contracted

construction and about 10 per

cent council oversight, planning

and helping to transport gear up

there," Christchurch Singletrack

Club Port Hills track liaison and

development officer Graham

Allan said.

He co-ordinated the team of

volunteers who worked on the

project over the past 18 months.

He's been a regular volunteer,

helping the city council with

track maintenance on the Port

Hills for 10 years.

The new track sits

within Montgomery Spur

Reserve on land that was

mandated in 2010 for a mountain

bike track.

NEW: The Montgomery Spur Loop Track is the first public track

to be built on the hills in about 10 years.

It's close to the Rapaki Track

but provides an additional loop

that's designed for beginner to

intermediate riders.

The only access to the track is

from the mid-way point of the

Rapaki Track, but there are plans

to introduce other access points.

It takes about 25 minutes to

ride, but Mr Allen said the track

provided a lot of variety and

challenges without too much

risk.

"The scenery looking out over

the city is amazing. It has really

filled that niche of a track that

helps people get from the flat

lands up on to the hills because

there are no steep drop-offs. It

gives them a bit of playground

where they can ride without

fear of taking a tumble because

there's nothing to fall on but

tussock," he said.

"We're really pleased to see

it open and being discovered

and enjoyed by a wide range of

riders."

Traffic delays likely

during reconstruction

of Lincoln's Gerald St

ROAD reconstruction work

will soon be under way on

Gerald St in Lincoln.

The work will take place over

January and February between

the roundabout at the junction

of Gerald St and Springs Rd

through to Gerald St, east of

Vernon Dr.

Throughout most of the

work, the street will be open

to vehicles with traffic controls

in place. However, short delays

should be expected.

The work will involve

excavating and disposing of

the existing road surface and

replacing it with a new road

base and seal.

It will also include replacing

the existing kerb and dish

channel on the south side of the

street with a standard kerb and

channel.

The reconstruction will be

done rather than repairing the

and resealing the street because

of the number of faults on this

section.

The intersection of Kidman

St, Byron St and Tennyson St

in Rolleston will also be closed

from today to allow for a new

roundabout to be constructed.

It will reopen on Wednesday,

January 18.

During the closure, traffic on

Byron St and Kidman St won't

be able to travel through the

intersection and will need to

detour through an alternative

route along Rolleston Dr or

Wordsworth St and Tennyson

St.

Tennyson St traffic will be

able to travel through the

intersection but traffic controls

will be in place which may

cause short delays.

Work will also resume to lay

a new sewer line along East

Maddisons Rd in Rolleston

from next Monday onwards.

The pipeline will service new

development areas in east

Rolleston.

From next Monday, East

Maddisons Rd will be open

to one-way traffic between

Goulds Rd and Ellington

Mews.

Traffic will be able to travel

from Ellington Mews to Goulds

Rd but not from Goulds Rd to

Ellington Mews during this

closure.

All International

Artists,

Death-Defying

Acrobatics,

Amazing Illusions All

NEW Acts

Animal FREE!

Great Family Fun!

$2 DISCOUNT

ON PRESENTATION

OF THIS AD

Does not apply for Family Pass or

concessions. Each voucher valid

for discount on 1 ticket only.

Zirka Circus is

Proud to Present it's

4th Tour

Ticket Prices

Adult

Child (Aged 2-14)

VIP

$40

$29

Student & $38

Beneficiary

Family Pass N/A

(2A + 2C or 1A +3C)

RINGSIDE

$35

$25

$33

N/A

ELEVATED

$30

$20

$28

$89

ROLLESTON

RESERVE

WED 18 JAN - 7PM

THU 19 JAN - 2PM & 7PM

BOOK NOW!

PHONE 0800 2 ZIRKA

(0800 294 752)

EMAIL bookings@zirkacircus.com

www.zirkacircus.com

a small booking fee applies

FRI 20 JAN - 2PM & 7PM

SAT 21 JAN - 2PM & 7PM

SUN 22 JAN - 1PM & 4.30PM
---
10

Tuesday January 10 2017

SELWYN TIMES

ews

Crummer looking forward to reunion

Annie Crummer found

fame with hits such as

Language and See What

Love Can Do. She spoke

to Tom Doudney about

working on new material

and seeing dyslexia

as a blessing, ahead

of her performance

with Debbie Harwood,

Margaret Urlich and

Sharon O'Neill at

Lincoln's Selwyn Sounds

concert in March

IT HAS been a long time since

we've heard anything new from

Annie Crummer but the singer

is hopeful her fans won't have to

wait too much longer.

Crummer hasn't released a full

album of original material since

1996's Seventh Wave. Since then

fans have had to make do with

a best of collection in 2002 and

three songs released in 2010 as

singles only.

While she is reluctant to talk

about release dates, she has been

working on songs for an album

which has a working title of Project

Annie C.

"I have got a bunch of songs

that I am dying to get out of the

demo situation and get into the

studio and smash that stuff out,

I'm the only one stopping me,"

she said.

"I've got a lot more to say musically,

I will just have to get over

myself and get on with it."

Crummer said that while she

was known more as a singer than

a songwriter, she had become

more confident dabbling in song

writing.

"Melodies come really good to

me but the way I write lyrics is

quite odd because I am fully dyslexic

so the way I explain things,

I don't think it's the same as a

non-dyslexic song writer."

Crummer only discovered she

was dyslexic well into her adult

years but the revelation came as a

big relief.

"When I look back I think: 'Oh,

I have been blessed with dyslexia,

that's all.' I just learn things differently,"

she said.

"I forgave myself for feeling

so dumb all these years because

I left school really early and

now when I look back at all the

subjects I took it had nothing to

do with anything technical, it all

had to do with creative stuff."

Those subjects included

classes on art, Maori culture and,

perhaps surprisingly, typing –

because she could just copy the

patterns without thinking about

the words.

That ability to recognise patterns

helped her land a leading

role in the Australian version of

Ben Elton's hit musical-theatre

production We Will Rock You,

based on the songs of British rock

band Queen, in 2003. To get the

part of Killer Queen, Crummer

had to audition in front of Queen

guitarist Brian May and drummer

Roger Taylor.

"I had to learn the English phonetically

and that is actually how

I learn music too, I listen to where

heart is needed and where anger is

needed and all the emotions, I just

SONGSTRESS: Annie

Crummer has been working

on material for her first album

of original material in two

decades.

emulate those inflections without

really knowing what I am talking

about, but I have just fooled everyone,"

she said.

"I can't believe I got that role, if

only they knew how I did it. But

it did catch up on me a couple of

times on stage where I'd fumble

BEST OF FRIENDS: From left, Margaret Urlich, Debbie Harwood

and Crummer will perform together at Selwyn Sounds, along

with Sharon O'Neill (not pictured).

over a word because I didn't fully

understand it and I had to dig my

way out of it, live."

She said that while the way

dyslexic people figured things out

might be different, the outcome

could be incredible.

Crummer, who lives in

Auckland, said she loved that

performing enabled her to travel.

She always looked forward to

playing with Harwood, Urlich

and O'Neill, sometimes joined

by Shona Laing, with the singers

typically doing about three or

four shows together a year.

She was looking forward to

reuniting with them for Selwyn

Sounds.

"I'm a huge fan of theirs and we

have the utmost respect for each

other so it's a joy all round, a real

buzz."

The concert will also feature

Kiwi rock heavyweights Mi-Sex,

Dragon, The Jordan Luck Band

and Jason Kerrison.

When she was not performing

with Harwood and co or

going solo, she often joined her

father's band, Will Crummer

and the Rarotongans, playing

songs which mostly sung in Cook

Island Maori. Crummer took a

more low key role in the band,

playing the pahu and putting in

some occasional backing vocals.

She didn't mind stepping back

from the spotlight and credited

her father with setting her on the

path to stardom.

"He gave me the gift of music,"

she said.

"I do count my blessings, that's

a daily ritual for me, the fact that

I can do music and have never

had a job."

•Selwyn Sounds will be held

on March 4, from 11.30am-

8.30pm. Tickets can be

purchased via Ticketek and

buyers will be able to prepurchase

a return bus ride

between pick-up points in

Christchurch or Rolleston

and Lincoln Domain.
---
SELWYN TIMES Tuesday January 10 2017 11

SUMMER

in

SELWYN

YOUR GUIDE TO UPCOMING SUMMER EVENTS IN SELWYN

Available now!

Summer events continue until April

Pick up your guide to over 60 events from Council offices,

Selwyn Libraries, Lincoln Event Centre and Rolleston

Community Centre.

Pool Fest - Rolleston

Monday 16 – Friday 20 January 1-3pm

Selwyn Aquatic Centre

Your favourite water activities are here for summer!

Make a splash with giant inflatables, paddle boats,

aquatic volleyball and more.

Teddy Bears' Picnic - Rolleston

Wednesday 18 January 11am-1pm

Rolleston Community Centre and Reserve

Pack a picnic and dress your teddy for a fun day out!

With trampolines, Pedalmania, face painting, bouncy

castles, toddler gym, House of Bricks, Zirka Circus

and Teddy Bear Parade.

Picnic in the Park - Tai Tapu

Thursday 19 January 5.30-7.30pm

Rhodes Domain

With live music, bouncy castle, the events trailer,

games, Pedalmania, prizes and free sausage sizzle.

Bring a picnic and enjoy the summer evening.

Pool Party - Darfield

Sunday 22 January 2-4pm

Darfield Pool

Enjoy games, music, a sausage sizzle, prizes and

pool inflatables.

Picnic in the Park - Springfield

Thursday 26 January 5.30-7.30pm

Springfield Domain (by donut)

With live music, bouncy castle, the events trailer,

games, Pedalmania, prizes and free sausage sizzle.

Bring a picnic and enjoy!

Lake Crichton Triathlon

and Duathlon

Friday 27 January, Lake Crichton

A community event for first-time athletes in a friendly

atmosphere. Individual and team options, short and long

courses. To enter see www.selwynsportstrust.org.nz

Southbridge Pool Party

Sunday 29 January 2-4pm, Southbridge Pool

Enjoy games, music, a sausage sizzle, prizes and

pool inflatables.

Community organised event

Picnic in the Park - Springston

Thursday 2 February 5.30-7.30pm

Springston Domain

With live music, bouncy castle, the events trailer,

games, Pedalmania, prizes and free sausage sizzle.

Bring a picnic and enjoy!

Waitangi Day Community

Country Picnic

Monday 6 February, 10am-2pm, Darfield

Domain and Recreation Centre

A community country picnic for the family. Celebrate all

things country with games, food, history and music.

Picnic in the Park - Lincoln

Thursday 9 February 5.30-7.30pm, Lincoln Domain

With live music, bouncy castle, the events trailer,

games, Pedalmania, prizes and free sausage sizzle.

Bring a picnic and enjoy!

Lake Crichton Triathlon

and Duathlon

Friday 10 February, Lake Crichton

A community event for first-time athletes in a friendly

atmosphere. Individual and team options, short and long

courses. To enter see www.selwynsportstrust.org.nz

Drive in Family Movie - Darfield

Friday 10 February 7-9.30pm

Darfield Domain

Grab your friends and family, snacks, drive in and tune

your radio to our special frequency to enjoy a great

family movie!

Music on the Green - Rolleston

Sunday 12 February 4.30-7pm

Rolleston Reserve (behind library)

Pack a picnic and be entertained by great local musicians.

Food also available for purchase.

PhysioMed Women's

Triathlon and Duathlon

Sunday 12 February, Selwyn Aquatic Centre

Kick off 2017 with a new challenge! A range of

distances and categories, enter as an individual or

team at www.womenstri.co.nz

More Events!

Watch for details of upcoming events in February and March.

www.selwyn.govt.nz/events

www.facebook.com/summerinselwyn

Community organised event

Community organised event

Community organised event

growing strong

communities

together
---
12

Tuesday January 10 2017

News

SELWYN TIMES

How you spell the Cathedral

Christchurch,

ChristChurch

. . . or is it

Christ Church?

• By Gabrielle Stuart

A QUESTION over the spelling

of Christ Church Cathedral has

left even the Anglican Diocese

itself confused.

The diocese sent out a media

release last week to say an

announcement on the fate of the

Cathedral, which was expected

before Christmas, would be

delayed.

But in the media release, the

name was spelt two ways, as

Christchurch Cathedral and

ChristChurch Cathedral.

It is also spelt two different

ways on the Anglican Diocese

website.

There are several Christ

Church Cathedrals in the United

Kingdom, including in Dublin,

Newcastle and Oxford.

The Cathedral in Nelson is also

called Christ Church Cathedral.

When asked which spelling

was correct, diocese media

MISSPELT: The spelling of Christ Church Cathedral has even confused the Anglican Diocese.

PHOTO: GEOFF SLOAN

spokesman Jayson Rhodes

said he would have to check

with Bishop Victoria Matthews.

But Cathedral administrator

Chris Oldham had an answer.

He said the official name was

Christ Church Cathedral, named

after the Cathedral in Oxford

which also inspired its design.

Victoria Matthews

He said "ChristChurch

Cathedral" was a brand name,

as the designers had combined

the name of the city and of the

Cathedral.

"We put the cap C in the

middle of the word when we

designed a new logo about 10 to

12 years ago," he said.

Rev Rhodes said he would

continue to use the ChristChurch

Cathedral spelling, in spite of it

not being the official name.

But he said the Christchurch

Cathedral spelling was an error.

He said the incorrect spellings

on the website might be changed,

but that was a lower priority.

"You've got the issue of how to

spell it, and the issue of how to

rebuild it," he said.

Specials

Monday 9 January 2017 - Saturday 14 January 2017*

Chicken Wings

free flow frozen

$

4 . 99

kg

$ Pork

8 . 99 Ribeye Steak

plain each or marinated

$

9 . 95

kg

Italian Casalinga Pork

Sausages - fresh

$

10 . 99

kg

Fresh Cherrios

$

5 . 99

kg

*While stocks last

394 Blenheim Road, Christchurch

Ph: 03 349 5078 Hours: Mon - Fri 7:00 am to 6:00 pm, Sat 7:00 am to 5:00 pm

www.westmeat.co.nz
---
SELWYN TIMES Tuesday January 10 2017 13

News

Call to recycle waste

Happy New year

Take your furniture from

shabby to chic!

SUMMER IS the season of

parties and barbecues but the

district council is encouraging

residents to recycle bottles and

cans to help the environment

by reducing the amount of

waste going to landfill.

District council solid waste

manager Andrew Boyd said

the volume of household waste

recycled in Selwyn had been

steadily increasing from 3901

tonnes in the year to June 2014

to 4982 tonnes in the year to

June 2016.

"It's great to see the increase

in recycling," Mr Boyd said.

"Over the holidays people

often generate more recyclables.

To help maximise recycling

over this period we have

provided some answers to

common questions we receive

about what you can and can't

recycle."

Soft plastics including

newspaper wrap and cling

film can't be recycled through

the kerbside recycling system,

only empty supermarket plastic

bags are accepted. All recyclable

items must be loose in

your yellow bin so they can be

easily separated for recycling,

not placed inside a plastic bag,

as the machinery that sorts

COLLECTION TIME: The district council is reminding Selwyn residents to make sure

they are putting the right items into their recycling bin. ​

recycling rejects bagged items

as rubbish.

Takeaway coffee cups have

a thin plastic coating on the

inside, so that they can hold

liquid. For this reason they

can't be recycled and need to

be put into the rubbish bin.

Drinking glasses or crockery

also can't be recycled – these

differ from glass bottles and

end up contaminating the

recyclable glass.

"It's important that recyclable

containers are empty and

are clean before you put them

into your recycle bin," Mr

Boyd said.

Gift wrapping paper can be

recycled to reduce the amount

of Christmas rubbish your

household creates.

•For a full list of what you

can't and can't recycle,

visit www.selwyn.govt.

nz/kerbsideguide, or

you can request a free

sticker for your recycling

bin with this information

by contacting the district

council on 347 2857 or

318 8338.

We look forward to seeing you in 2017

Reopening on 16 January

Classic Curtains & Interiors

817 Jones Road, Rolleston

Ph 03 347 4295

The magazine for

gardeners who

like To geT Their

hands dirTy

www.gardener.kiwi

100%

'Famous for their roasts!'

RESTAURANT & CAFÉ

Kid's SPECIAL

Two courses

Seniors SPECIAL

Two courses

$10

We are family friendly. Great Kids menu plus designated play area.

Soup/Roast or

Roast/Dessert

Special available lunch only

Monday - Saturday 12pm - 2.30pm

$20

Need

Accommodation?

We have

GREAT SUMMER

HOLIDAY RATES

on Studio Units

Book now! 03 342 7150

Sports Bar, Carbine Bar,

HOOFBEATS Open for

breakfast, lunch & dinner

The

RACECOURSE HOTEL

& Motorlodge

NEW LOCATION ADVERT.pdf 1 1/05/2014 11:51:35 a.m. 118 Racecourse Rd, Sockburn,

Christchurch. Ph 03 342 7150

www.racecoursehotel.co.nz

VISIT OUR NEW LOCATION LOCATION

430 ST ASAPH STREET!

Hours of Business: 7am-4.30pm Mon-Thurs

Fri 8am to midday

or by appointment with Keith 027 566 3909

RECOVER YOUR LOVED FURNITURE

No job too big or small

Still able to offer

you the finest top

quality new furniture

Visit us online

www.qualityfurniture.co.nz

P. 371 7500

QUALITY FURNITURE SPECIALISTS

RE - UPHOLSTERY SPECIALISTS KEITH HARTSHORNE 0275 663 909

H ORNBY

WORKINGMEN'S

CLUB

«WHAT'S ON«

SATURDAY 14 JAN

4.30PM

BARROSS

SATURDAY 14 JAN

8PM

EASY COME

EASY GO

Chalmers Restaurant

REOPENS THIS FRIDAY

13th January 2017

Club CAFE

OPEN 7 DAYS

LUNCH & DINNER

Gluten Free &

Vegetarian options

Hornby WMC | ph 03 349 9026 | 17 Carmen Road | Hornby

www.hornbyworkingmensclub.co.nz | Members, guests & affiliates welcome
---
14

Tuesday January 10 2017

SELWYN TIMES

A RUN TO

REMEMBER

Brought

to you by:

Proudly

supporting:

New Zealand

Red Cross will

benefit from

the funds raised

by this event

9am Sunday

19 February 2017

Victoria Park

Mitre 10 MEGA - A Run to

Remember is a 10km charity fun

run/walk to honour those who

lost their lives in the February

2011 earthquake. The course

features views over Christchurch,

across the Canterbury Plains to

the Southern Alps, allowing for

reflection and remembrance.

PRE-REGISTRATION ON-LINE:

Adult: $18. Child (5-13 years): $13

ON THE DAY REGISTRATION:

Adult: $20. Child (5-13 years): $15

Cash only

REGISTER

NOW

www.runtoremember.co.nz
---
SELWYN TIMES Tuesday January 10 2017 15

News

TV star paid $15k by taxpayers

REAL HOUSEWIVES of Auckland

star Angela Stone is getting paid

taxpayer money for her styling

advice – nearly $15,000 of it.

Christchurch-based Ms Stone,

who made waves on the reality

show by gifting the other women

her book on styling, is one of three

stylists hired by the New Zealand

Defence Force to help young people

find a job.

She has been helping at Burnham

Military Camp.

It is part of the Limited Services

Volunteer programme the Defence

Force runs on behalf of the Ministry

of Social Development. Stone

is there to provide grooming and

presentation tips.

Ms Stone has done 49 of these

sessions and been paid $14.9k for

her services, Radio New Zealand

reported.

Speaking to RNZ, Ms Stone said

the sessions are very rewarding for

the participants.

"It's competitive out there and so

I'm in the empowerment business

and I show these young men and

young women how to make the

most of themselves," she said.

Participants, aged between 18

and 24, pay $6000 for these sessions,

which also teach reading,

numeracy and driving.

Colonel James Kaio defended

the use of Ms Stone in these sessions,

arguing that she is worth

the money.

"Since 2008 she's been providing

what the course needs. After every

course they do a validation, for

every module we ask the students

how each module went and then

we ask our staff and obviously for

her and her delivery of her sessions

they've been hitting the right

mark."

The course has a 70 per cent

employment rate from the 1500

people who take part each year.

Ms Stone does the Burnham

styling courses, while other stylists

do sessions in Auckland Wellington.

The reality star added that the

travel time it takes her to get out

to Burham is factored into her

costs.

Ms Stone charges $304 per session,

a slight discount from her

recent three-day styling course in

Parnell, where tickets were $999

per head.

COSTS: Television star

Angela Stone has been

providing grooming tips at

Burnham Military Camp.

REAL ESTATE SPECIALISTS

SOLD

SOLD

SOLD

SOLD

SOLD

SOLD

Are you contemplating selling your property in 2017? Want to know what we do differently and how we can

get you the results you deserve? Contact Mike and the award winning team at One Agency Real Estate

Specialists for a free, no-obligation appraisal today!

Mike Goatley

027 249 5561

Chris Finnerty

021 274 6041

Trevor McIvor

027 444 2814

Nicola Curtis

Administrator

Julz Sibbe

Administrator

68 Rolleston Drive, Rolleston

0800 645 346

www.oneagencyres.co.nz

Real Estate Specialists Ltd Licenced REAA (2008)
---
16

Tuesday January 10 2017

SELWYN TIMES

$

4 49

kg

Fresh Tegel NZ Chicken Drumsticks

$

5 99

box

Wilcox New Season Perlas 1.5kg

$

9 99

kg

Fresh NZ Premium Beef Mince

$

6 99

each

Mainland Mild/Colby/

Edam Cheese 700g

$

5 99

each

Beehive Bacon 250g

3

for

$

5 00

Just Juice Fruit Juice 1L

$

3 00

each

Emma-Jane's Premium Cones 4 Pack/Essentials Dessert 2L

$

22 99

pack

Mac's Beer/Moa Original Lager/Session Pale Ale

12 x 330ml Bottles

$

11 99

each

Stoneleigh 750ml

(Excludes Wild Valley/Rapaura/Latitude)

$

1 59

each

Bluebird Delisio Chips 140g

FreshChoice Leeston

78 High Street, Leeston.

Open 7am - 8pm, 7 days.

FreshChoice.co.nz FreshChoiceNZ 324 3788

FreshChoice Leeston

Certain products may not be available in all stores. Savings are based on non-promotional price. Limits may apply.

Prices apply from Tuesday 10th January to Sunday 15th January 2017, or while stocks last.

Owned and

operated

by locals

FCSELWYN1001
---
SELWYN TIMES Tuesday January 10 2017 17

Your Local Views

Readers respond

to Canterbury

University Professor

Simon Kingham's

view that population

growth will make a

passenger rail service

between Selwyn and

Christchurch "vital".

Alan Haylock, of

Rolleston, owner

operator of Selwyn

Shuttle and Tours – I

believe that a passenger

rail service should run

between Ashburton and

Christchurch and also

between Amberley and

Christchurch.

This would relieve a lot

of congestion that both

the southern and northern

motorways are experiencing

at peak traffic periods.

Unfortunately, for this

to work, I believe the

Christchurch Bus Exchange

and the railway station

need to be on the same site,

which logically would have

been the site of the former

railway station.

Looking back

CLASS PHOTO:

Greendale School

held its 75th jubilee

in 1947.

•Heritage photo

supplied by Selwyn

Libraries. If you

have any information

about this

photo, please contact

the library via

www.selwynlibrary.

co.nz

M-A

MATSON & ALLAN

REAL ESTATE LIMITED

Thinking of Selling?

For Trusted Reputation, Local Knowledge and Experience

M-A

MATSON & ALLAN

REAL ESTATE LIMITED

Chris Flanagan

027 433 4657

Andrew Taylor

027 435 5930

Jackie Derrick

027 636 3576

Susan Davis

027 662 2751

Stephan Knowler

027 229 9522

Cameron McRae

027 769 6696

Sue Robinson

021 409 050

Before you list with anyone else contact us first to find out what we have to offer. Call us or pop into one of our three offices in Rolleston,

Leeston & Darfield. We would be delighted to take the time to discuss the many options available to you.

ROLLESTON P: 03 347 9949 | DARFIELD P: 03 318 8204 | LEESTON P: 03 324 3704 | www. marealestate.co.nz

Guy and Kate's family love

playing tennis.

So we designed their home around

the court to maximise their game time.

Paul Robinson

021 277 2690

Start your own story

03 348 1994 | www.peterrayhomes.co.nz
---
18

Tuesday January 10 2017

News

Lincoln High drama students

in pre-school charity show

SEVEN LINCOLN High

School senior drama students

have been preparing to bring

a little fun into pre-schoolers

lives while also contributing to

charity.

The students will perform

three stories in a 40-minute

production at the Lincoln High

hall on January 24.

The performances will

include A Pirate Story, Aesop's

The Tortoise and the Hare fable,

as well as a story about speaking

up called Oliver Has Something

to Say.

There will be singing and

games played between the

stories.

All profits will be donated to

the KidsCan charity,

which helps children living in

poverty.

The public will be able to

choose between the 10am or

11.30am show.

Tickets will cost $4 per seat

and are cash only, meaning

mothers with children sitting

on their lap will pay for the seat

only.

For pre-schools wishing to

book groups, teacher tickets are

free.

For presales and block

ENTERTAINERS: Lincoln High School students Jarod Pope

(left), Craig Pope, Elizabeth Steel, Beth Walsh, Libby Duncan,

Daniel Berry and Gabriel Clarke have been rehearsing for

their production aimed at pre-schoolers.

bookings of 10 or more people,

email Sandra McLean at smc@

lincoln.school.nz

Door sales will be available,

but the hall has a 220-seat

capacity.

SELWYN TIMES

FUN TIME: Freyer Jennings, 6, of Lincoln, gets into the swing

of things during a holiday visit to the Margaret Mahy Family

Playground.

PHOTO: GEOFF SLOAN

A new home, complete on your

section for only $376,900! incl GST

Marbella 232m 2

Brick exterior cladding

• 232m²

• 4 bedrooms

• Study

• 2 living areas

• 2 bathrooms

• Double garage

• Building consent fees

• Construction insurance

• 10 year Registered Master Build

Guarantee

• Engineers ground report

• Colorsteel roof

My husband and I have just moved into a home built by

Artisan Homes. Even though it is a large home we had no delays

with supply or tradesmen. We were concerned when choosing a

builder as we are in the Christchurch rebuild zone. Rob and his

team were honest, very prompt sorting out any queries and helped

with choices throughout the entire build. We are very pleased with

our home. The quality and service was excellent. If we ever build

again, it will be with Artisan Homes.

- Kevin and Debbie, Templeton.

• Clay brick & Linea weatherboard exterior

• Flat 4-panel colorsteel garage door

• Millenium showers

• Grohe tapware

• LED lighting

• Custom design kitchen & laundry joinery

• Bosch kitchen appliances

• Rinnai gas fire

• Daikin heat pump

• Feltex extra heavy duty carpet over high

density underlay

• Porcelain floor tiles to all wet areas

Just one example from our range of plans.

Plans are viewable in high resolution digital at

artisanhomes.co.nz. Let Rob and his team work

with you to produce your own unique plan.

Builders of superior homes.

• Full custom design & build service

• Over 40 years building & project management experience

• Expert advice & personal friendly service

• Fixed price contracts

• 10 year Registered Master Build Guarantee

• Excellent rates

• Immediate start* (upon building consent issue)

• Quote and build off your plans

Silver medal winner in Registered Master Builders 2016 House of the Year Awards

Office & Show Home: 5 Broomleigh Drive,

Faringdon, Rolleston

Phone: 03 374 9172 or Rob: 021 324 876

E-mail - robin@artisanhomes.co.nz

Built to last.
---
SELWYN TIMES Tuesday January 10 2017 19

Sprintcars set to tear up Ruapuna

• By Allan Batt

THE PITS will be bursting at

the seams this weekend when

the Racecourse Hotel and Motor

Lodge Ruapuna Speedway host

the 47th New Zealand Sprintcar

Championship.

With 35 entries, this will be

the biggest turn out of the V8-

powered sprintcars at any event

in the South Island.

Hopes are high for a good

showing by the local drivers who

are now more used to racing

longer distance events and bigger

fields than in the past.

Christchurch hopes will probably

rest on the shoulders of

sprintcar rookie, Luke Keegan,

who is currently leading the

prestigious War of the Wings

Series which is contested at numerous

South Island tracks.

Keegan is a three-time winner

of the national modified championship

and he has looked fast

and smooth this summer.

Other Christchurch-contracted

drivers expected to feature

include the current New Zealand

Sprintcar Grand Prix title-holder

Matt Honeywell, veteran Ray

Baughan, Shaun Ashton, Jackson

Lovelady and Ben Gilmore.

There will also be strong support

for the event from Cromwell

and Nelson drivers, including

previous South Island champion

Jason Scott and former national

champion Jamie Duff who contracts

to the southern track.

The format will see a host

of sprintcar races on the programme

with the entry list split

into six groups. The groups will

race each other once, with the

top 16 point scorers going to the

25 lap final. An additional four

drivers will qualify for the final

through a last chance race.

American Jonathan Allard, of

Chico, California, will defend

his title and will be keen to make

up for his last appearance in

Christchurch, when a crash in

his last heat race caused damage

that saw his engine overheat

when he was in a strong position

during the championship race.

Top Auckland drivers Dean

Brindle, Jamie Larsen, Jamie

McDonald and Daniel Eggleton

are all well-known to Ruapuna

regulars and know the track

well, while another Aucklandcontracted

driver, Matthew

Leversedge, will make his first

appearance of the season in his

home town after campaigning

at Western Springs this summer.

Leversedge is currently studying

in Auckland and has registered

some good results at North

Island events.

Other prominent entries from

the far side of the Cook Strait

SPORTS

HIGH SPEED:

Christchurch's Ben

Gilmore held the inside

running from hard

charging Cromwell

driver 'Slammin' Sam

O'Callaghan at a recent

Ruapuna race.

PHOTO: BRIAN HOPPING

include former national champion

Rodney Wood (Tauranga),

former North Island champions

Steven Taylor (Wellington) and

Skinny Colson (Tauranga) and

leading Palmerston North driver

Tony Uhlenberg.

•Racing will take place on

January 13 and 14, and start

each night at 6.30pm with

the public gates opening at

4.30pm.
---
20

Tuesday January 10 2017

SELWYN TIMES

SCOOP PURCHASE

2016 LANCER GSR

Hatch 2.0L Petrol

RRP $32,990 +ORC

$24,990

2016 Pajero Sport VRX

4WD 2.4L Diesel

Original RRP $58,990 +ORC

$49,990

ONLY

2

l e f

t

Christchurch Mitsubishi have a LIMITED NUMBER Brand New Pre-Registered Lancer GSR hatches and

Short-term lease returned Pajero Sports VRX (5-seats), most having travelled under 15,000kms available for immediate delivery.

Both models includes balance manufacturers warranty.

cnr Montreal & St Asaph Streets, Christchurch. Sales, Service & Parts: 03 379 0588

T Custom Ceiling Banners_Chch_2502x1000_FAem.indd 1 4/02/15 11:5
---
SELWYN TIMES Tuesday January 10 2017 21

Driven

Technology boost for popular Mazda3

• By Ross Kiddie

WHEN IT became clear the

global financial crisis had ended,

most car manufacturers launched

full speed into research and

development, regaining some

of the ground they lost when

funds for future projects seemed

uncertain.

Mazda is now reaping the

rewards of that investment, it

has a lot of new product rolling

off the production lines and the

vehicles have a significant array

of specification, much of it in the

all-important area for safety.

Regular readers will be aware of

my recent evaluations for CX-9,

MX-5 and Mazda6. My last drive

in a series of models which rolled

out fresh late last year for model

year 2017 was the Mazda3, it was

an upgrade model which is loaded

with clever new features.

I've stopped short of calling the

latest Mazda3 a facelift; quite simply,

there aren't a lot of cosmetic

upgrades, it is fresh up front but

it features mostly the technology

which has been spread across the

entire Mazda line-up.

Of note, there is a vehicle

dynamics package which has

a list of acronyms that read

like a bowl of alphabet soup.

G-Vectoring control (GVC),

[Edition datE]

2

MAZDA3 SP25 LTD: High safety ingredient.

autonomous emergency braking

(AEB) and lane-keep assist

system (LAS) are just some of the

key ingredients, the latter I found

particularly useful.

Obviously my driving style

must tend to favour keeping well

left on the highway and, to that

end, LAS was constantly reminding

me of the need to clear the

painted line on the left through

a gentle nudge on the steering

wheel. It isn't forceful, just a

reminder that the road edge is

close.

That technology is gear that

works with the driver to enhance

safety, the active elements which

keep the car out of trouble in

the first instance. There's a new

camera system in the car which

recognises objects of importance

such as traffic sign recognition

(TSR) and, of course, the AEB

will ultimately operate the brakes

should a collision appear imminent.

These features were recently

demonstrated to motoring journalists

by Mazda New Zealand in

a controlled sealed surface environment

so they could be understood

effectively, they are certainly

features you can relax with,

knowing that as a driver you are

constantly being looked after.

Elsewhere, the Mazda3 is still

the remarkable sedan and hatchback

which Kiwis have purchased

in large numbers.

The test car was the rangetopping

Limited hatchback and,

• Price – Mazda3 SP25 Ltd,

$47,495

• Dimensions – Length,

4580mm; width, 1795mm;

height, 1450mm

• Configuration – Fourcylinder,

front-wheeldrive,

2488cc, 138kW,

250Nm, six-speed

automatic.

• Performance –

0-100km/h, 8.9sec

• Fuel usage – 6l/100km

as you would guess, it gets a high

level of specification for comfort

and convenience as well, everything

from satellite navigation

and head-up display to leather

trim and electric sunroof. These

items are just a few of many too

numerous to mention.

Under the bonnet sits a 2.5-

litre, four-cylinder naturally

aspirated engine which produces

a feisty 138kW and 250Nm. It is

a SkyActive engine, another gem

from Mazda which is the result of

development aimed at reducing

emissions and fuel usage. Mazda

rates the twin-camshaft, 16-valve

unit with a six-litre per 100km

(47mpg) combined cycle average.

There are sport mode gearshift

protocols available at the flick of

a switch, but in reality unless you

really want to work the car hard I

found the sport setting unnecessary.

However, I did use that system

to glean a 8.9sec standstill to

100km/h acceleration time. But

the SkyActive range of engines is

designed to work low in the rev

band, utilising the healthy torque

figure to keep engine revolutions

down and gaining the fuel economy

advantage.

If you are after lively performance,

the Mazda3 does have

personality, it is responsive

underfoot and certainly has handling

prowess.

One of the other key aspects for

me is the reality of a fully independent

suspension. I particularly

like it when manufacturers

go the whole hog and build quality

suspension systems, and if you

take into account the spring and

damper rates are a good comprise

between what you need for

comfort and containing body roll

control in a corner, the Mazda3

benefits in all these areas.

It was good to be reacquainted

with the Mazda3, it's most

certainly a case of a good car

made better. I just can't wait to

see other surprises this highprofile

and high quality car

maker produces in the near

future.

CONTINUING EDUCATION

Christchurch School of Music

The Christchurch School of Music is a family-oriented

community aimed at providing quality music education in and

around Christchurch.

We have an exciting offer for all new enrolments for 2017,

where you will receive $775 worth of lessons for just $450! All

you have to do is click here to enrol before January 15th, 2017:

http://www.csm.org.nz/enrol/

This deal includes: 1 year of group lessons for beginners on

recorder, flute, clarinet, violin, ukulele, guitar or voice (worth

$525), FREE instrument hire where instruments are available

(worth $110), FREE joining of a performance ensemble for the

second semester (worth $140).

We also have individual lessons and ensembles for a wide

range of instruments available too, for any age and from

beginner through to experienced - explore our website www.

csm.org.nz to learn more.

CSM is a not-for-profit organisation with a strong focus on

community. On a Saturday morning the whole family can find

something to suit. Preschool children can start their musical

journey by joining in our experiential "Take Off with Music"

while older children and adults may opt for group or individual

lessons on a specific instrument (including voice). Those who

already play are welcome to join in one of the great ensembles

which all take part in regular concerts including Saturday

soirees and the popular annual Showcase Concert. Recitals

where individuals can perform are also held regularly.

CSM also provides a comprehensive music education to

participating primary schools via its Outreach programmes.

With programmes offered in band, strings, recorder and ukulele

in a wide range of Christchurch schools this is an area of the

School, which has grown fast over the last few years.

Another area that has grown rapidly over the last few years

is the Late Starters programme where adults approaching

retirement with more time on their hands have really enjoyed

learning an instrument they never had the chance to play in

their early years and join an ensemble with other like-minded

adults.

If Saturday isn't an option, CSM also offers a range of

weekday opportunities for learning and playing music.

If affordability is an issue, CSM may be able to offer a

discount through funding provided by the Rata Foundation.

Please contact us via our website www.csm.org.nz and let

us start you on a musical journey that will bring pleasure for

a lifetime.

GROUP LESSONS, ENSEMBLE,

2017 ENROLMENT DEAL!

$775 $ 450!

AND INSTRUMENT HIRE!
---
22

Tuesday January 10 2017

Gardening

SELWYN TIMES

Get gorgeous gaillardia growing in your garden

• By Henri Ham

LIKE THE flowers I

mentioned last month

(portulaca, livingstone daisies

and gazania), gaillardia is

another fan of the warm

weather associated with

summer.

It grows well in the sun and

dry conditions and will add

more bright, striking colour to

your garden. Though unlike

the three previously mentioned

flowers, gaillardia is a

perennial.

For those of you still learning

the difference between

perennial and annual flowers,

perennials are plants that

go dormant each winter and

continue to grow year-afteryear.

Annuals generally bloom

for one season and then need

to be replaced with something

else.

Try arizona sun which produces

masses of bright orangered

flowers with yellow on the

tips or red shades which, as

the name suggests produces

flowers with slightly different

shades of red.

They both grow to a height

of around 35cm and will

flower all through summer

and well into autumn. They

grow well in pots and they also

do well in landscape plantings

as they tend to 'blanket' the

ground.

Which is not surprising

given gaillardia are also known

as blanket flowers.

And, if you still need a bit

of convincing that gaillardia

is the plant you need in your

garden, it's also great at attracting

bees.

Once you've got your seedlings

simply plant each one

around 35cm apart from the

next.

To encourage more flowering,

don't forget to deadhead

regularly.

VIVID: Arizona sun produces masses of orange-red and yellow

flowers.

Forget weeds – plant in containers

GARDENING IN pots is

a spectacularly rewarding

and low labour hobby.

Instead of battling the

elements, treating tired old

soil, weeding and digging

frantically, you simply tip

the prepared perfect potting

mix into the container,

follow it up with the plants,

water and wait.

It's hard to go wrong. You

just move the pot around

until you've found the perfect

sunny or shady spot,

without disturbing the root

system, because a container

garden is portable.

You can move it about

your home, patio or garden

to fill bare spots at any time

of year.

And best of all, when you

move house, you don't have

to leave your cherished garden

behind – they all shift

with the furniture.

Furthermore, container

gardens look great anywhere

– as hanging baskets

on terraces and pergolas,

half round containers

spilling colour down a wall

or fence, or simply sitting

on paved areas, decks and

steps.

For best effect, plan your

planter by height as well as

colour.

You can mix annuals

with a central perennial

until the perennial gets

well established, and in the

meantime, enjoy a miniature

garden rather than a

miniature plant surrounded

by bare earth.

You can dispense with

the annuals when the perennial

takes over.

Container gardeners

can pretty much give up

weeding altogether. But

you don't need to do a bit

of soil maintenance from

time to time, because the

plants aren't in a self renewing

environment – they're

relying on you to give them

nutrition and moisture.

gardening without guesswork

Question:

I have come back from a break away and my garden is suffering

a bit. It looks dry and lack-lustre, what can I do to fix it and help

prevent this happening again?

Firstly, hopefully you had a lovely

Answer:

break away!

With the temperatures still climbing

through this month and next, you will want to get on to adding some

mulch now.

This will help to conserve water and protect your plant's roots when

the temperatures soar. Intelligro stocks a variety of barks suitable

for mulching, with differing looks to suit a variety of gardens. We

recommend a good 10cm layer of the bark to get the best results.

We often get asked "What is the best one to use?" There is no right

or wrong answer to this, a lot comes down to personal preference. It

is a good idea to have a look at our website to see what we offer, or

come down and have a talk with our team onsite.

If bark isn't your thing, add some of our Organic Compost and dig it

through the soil. Make sure you water regularly, giving it a long soak

every few days rather than a light sprinkle daily.

If you want something decorative on top, and bark isn't the look you're

going for, we also have a good variety of stones and chips.

Top tip: remove the weeds first. They take up a lot of the water and nutrients

your plants need, so get rid of them quick!

for more information, check out our website: www.intelligro.co.nz

or visit our facebook page: www.facebook.com/igro.co.nz

Thanks to Emily for her question

WIN!

a $50

INTEllIgrO gIfT

VOuchEr!

handy hint

Watering is key.

Send us your

question and

BE IN

TO WIN!

Email to: info@igro.co.nz or post

your question on our Facebook page:

www.facebook.com/igro.co.nz

New questions received by Tuesday

17th January.

Watering is going to be vital with the soils drying out faster at this time of year. Early

morning or late evening are the best times to water as this reduces the amount of

evaporation. Raised garden beds will need frequent watering due to their generally

shallower water reservoir. If you find it is drying out too fast, talk with our helpful

sales team about how you can combat that with a good quality product.

QualITy prOducTs frOm ThE WEB TO ThE shEd!
---
SELWYN TIMES Tuesday January 10 2017 23

School holiday boredom buster

• By Henri Ham

IT'S BEEN a while since my

daughter required entertaining

in school holidays, but I can still

appreciate the need to have a few

tricks for boredom-busting up

the sleeve.

And given we lived, and still

do, on-site at a nursery it's probably

no surprise that my number

one trick is to get gardening –

particularly growing vegetables.

Getting busy in the garden is

a great way to entertain kids but

it also gets them outside and can

help instil from an early age a

love of nature, plants and growing.

My three tricks for gardening

with kids are – keep it quick,

keep it easy and keep it fun.

Keep it quick means plant

fast growing vegetables that can

be harvested early. Veges like

radishes, lettuces, peas, spinach

and zucchini all mature quickly

and can be eaten off the plant or

before they fully mature.

Next, keep it easy. This means

making sure you pick the right

spot for their garden. Don't fob

them off with a dreary part of the

garden. Give them a prime spot

to plant. This will help them get

EASY: Growing vegetables is

child's play.

the best results and ensure they

stay encouraged and interested.

It's also important to make sure

you plant the seedlings in places

it's easy for small people to reach

and work on.

If you can, get them their own

kid-sized tools to make it easy

for them to dig and plant some

are bright and colourful and

perfect for small hands.

And, as a general rule, plant

seedlings over seeds. Unless

you're planting something like

sunflowers, it's easier and far

more likely to get you better

results if you plant seedlings.

The reason is he hard work of

getting the seeds germinated and

established as plants is already

done – a process which isn't easy

and can take anywhere from six

to 12 weeks. That's a lot of time

in a kid's world.

Next, keep it fun. Grow anything

that's different and colourful

or can be eaten straight from

the garden. Try rainbow beet for

its colour, italian broccoli for its

space-aged looking shape and

sugar snap peas and butter beans

for their tastiness straight off the

plant.

And don't let the fun stop at

planting and eating. Get your

kids involved in any form of pest

control.

Who doesn't remember trying

to catch white butterfly with

nets?

Or for a more modern approach,

send your kids out with

water guns to get the butterflies,

or water the plants.

Use your outdoor living areas

all year round

• Warm & dry in winter

• UV protection for summer

• Stylish & permanent

• 5 year warranty

"AS SEEN ON TV"

Chris Thorndycroft

Phone 0800 27 24 46 | www.archgola.co.nz

The team at Canterbury Timber & Hardware

wish all their clients a safe & merry

Christmas and look forward to being of

service in the new year.

Decking

Retaining Wall Timber

Landscaping Timber

Trellis

Residential Fencing

Poles and Piles

H3 and H4 Timber

Dressed Timber

Christmas hours:

23rd December – 7.30am – 3pm

24th – 27th December – Closed

28th December – Open 8am – 4pm

29th December – Open 8am – 4pm

30th December – Open 8am – 4pm

31st December – 3rd January – Closed

15 months

INTEREST FREE

Normal lending criteria apply

Urban Section

HOURS

Mon - Fri: 7am - 5pm

Saturday: 8am- 12pm

Weedons Ross Rd

to Rolleston

We are here

Berketts Rd

Jason Pester 1304 Main South Road, Christchurch

jason@cthl.co.nz P 03 3477465 F 03 3477032

Trents Rd

Main South Rd / SH1

Your Local Timber Merchant

HAPPY NEW YEAR

FROM THE TEAM AT INTELLIGRO

We hope that 2017 brings you much

happiness, and fun in the garden.

OPENING HOURS

Mon – Fri 8am – 5pm

Saturday 8am – 5pm

Sunday 9am – 5pm

(Extended weekend hours until

the end of daylight saving)

Entrance now available off Weedons Ross Road. Please follow all

speed and safety signs. Main South Road entrance is still open, but

Weedons Ross Road entry is advised.

www.igro.co.nz | Phone 03 347 9415 |

:igro.co.nz
---
plete and attach to clothing bag for

24

Tuesday January 10 2017

14km

6km

SELWYN TIMES

name

signed

2017

14km

6km

19 March 2017

This

emergency

contact number

2017

sticker is valid for entry into either

distance. Must be worn during the event,

to claim prizes, and for free entry into

Ferrymead Heritage Park.

OFFICIAL ENTRY NUMBER:

This

Moving with you for 43 years!

existing

medical condition

19name

th March 2017 • Prize Giving Ferrymead

emergency

Park.

signed

contact number

existing

medical condition

19 th March 2017 • Prize Giving Ferrymead Park.

dist

to c

Ferr

OF

ENTRIES NOW OPEN!

$20 Early bird available online

A Star Media Event

Are you up for it?

The Star Photo Archive: 1983

city2surf.co.nz
---
SELWYN TIMES Tuesday January 10 2017 25

Classifieds Contact us today Phone our local team 03 379 1100

Public Notice

Selwyn District

Fire restrictions in place

A restricted fire season is in place across the rural plains areas of Selwyn.

In residential areas under Environment Canterbury rules outdoor cooking is allowed

so long as smoke from your barbecue, pizza oven or other method has no offensive

or objectionable effect beyond your boundary. In the high country and hill areas of

Selwyn, a restricted fire season is permanently in place.

In other rural areas in Selwyn in a restricted fire season the following rules apply:

· Gas barbeques are allowed if a water source is nearby

· Fires in drums must be covered with a wire mesh top sized no greater than 20mm

or have a lid and flue with a spark arrester fitted. Only material that has had a

minimum of at least a six week drying period may be burnt under Environment

Canterbury's Air rules. The only type of materials that may be burnt under these

rules are dried vegetation, paper, cardboard and untreated wood

· Crop residue burns are allowed but only during daylight hours and must be

attended at all times. Fires may not be lit when strong winds are blowing or

forecast, fire fighting equipment and an adequate water source must be nearby

and a 10 metre firebreak must be cleared around the edge of the area to be burnt

· Fire may be lit if a permit has been issued by Selwyn District Council and these

conditions are followed.

Please visit www.selwyn.govt.nz/fire for fire safety guidelines.

What's not allowed:

· Any type of fire not listed as permitted above

· Fires cannot be lit on Council reserves

Don't let stored hay start a fire

Excess moisture trapped inside hay bales can cause hay to heat, which can start a

fire. Heating often occurs when vegetation is baled when it is too green, especially

when bales are tightly stacked together, preventing air from circulating.

Hay should be regularly checked for heating for up to four months after stacking.

Signs of heating include: hot bales, steam rising from the stack or moisture build

up on rafters or roof or roof corrosion, unusual odours from the hay and sometimes

slumping of bales.

One way to test to see if heating has occurred if to push a crow bar well inside the

hay stack and leave it for two hours, then extract it. If you can safely handle the crow

bar then recheck the temperature daily. If you can only handle the crow bar for a short

time then you should remove machinery from the shed and recheck the temperature

twice a day. If the bar is too hot to touch for more than a few seconds then move

hay to improve the air flow and recheck the temperature every 2-4 hours. If the crow

bar is too hot to handle it could start a fire. You should contact your local fire brigade

immediately and avoid walking on the haystack as this could cause the stack to

collapse and ignite.

www.selwyn.govt.nz

water

sense

Public Notice

Help us keep water flowing this summer

We encourage properties connected to Council water

supplies to continue to conserve water and adjust when

you use water. If demand for water increases over summer,

formal water restrictions may be introduced. Council is closely

monitoring water use.

We appreciate your assistance in helping us avoid needing to introduce formal water

restrictions. For more information see www.selwyn.govt.nz. For tips on SMART

watering, see www.smartirrigation.co.nz/smart-watering

When to water your lawn...

Don't irrigate between

6-9am or 4-9pm daily

Check weather conditions

before watering

We recommend you check

weather conditions before

watering. Watering on hot

days or when a Nor' West

is blowing results in a lot

of water evaporating and

watering in these conditions is

not recommended. Watering

on a cooler overcast day is a

better option as it provides the

best opportunity for water to

soak into your lawn or garden.

Irrigate wisely

www.selwyn.govt.nz

Situations Vacant

6PM

8PM

4PM

STOREMAN/FORKLIFT

OPERATOR

Leeston Seeds Ltd is seeking a fulltime

experienced Storeman/Forklift Operator for

its seed cleaning and treatment operation in

Leeston.

Requirements for the role include:

• Forklift licence with F endorsement

• Able to work extended hours plus

weekend work

• Be accurate recording details and some

warehouse knowledge

• Be proactive with a can do attitude

• Committed attitude towards health and

safety and have good hygiene practices

• Able to work in a team environment and

take a mature approach

• Ability to learn and operate dressing and

treating machines

• Lifting is required so must be physically

fit and healthy

Leeston Seeds Ltd is an alcohol

and drug free workplace.

Please send your CV to Leeston Seeds Ltd, 8

Station Street, Leeston 7632

or e-mail to leestonseeds@xtra.co.nz

9PM

10PM

2PM

12AM

when to

water

12PM

2AM

10AM

Situations Vacant

9AM

4AM

8AM

6AM

Ellesmere College

ASSISTANT

CARETAKER

We are looking for a versatile, enthusiastic

and active person to assist the Caretaker with

ground and other maintenance tasks.

The ideal applicant will be practically minded,

have gardening/lawn maintenance experience,

display a high degree of initiative and a

willingness to learn new tasks.

Part time position of 20 hours per week. Ability

to be flexible with time an advantage.

For a job description and application

details please contact Principals Assistant

(email thiand@ellesmere.school.nz)

Applications close 16 January, 2017.

Caravans, Motorhomes

& Traliers

Are you about to sell

your caravan? We can

sell it in our busy yard on

behalf for you, at www.

affordablecaravans.co.nz

512 Blenheim Road

CHCH 03 3488614.

CARAVAN Wanted to

buy. Up to $5000 cash

today 027 482-3559.

Caravan 4 to 5 Berth

Wanted Repairs OK 027

938 5344

Computer

Services

COMPUTER

PROBLEMS? Mature

assistance. Reasonable

rates. Ph Adrien 027 589

9672

For Sale

HANDBAG Genuine

Guess Leilani box bag -

CR240831 sand/neutral

colour, sz 42cm long x

22cm high, excellent

condition only $160 ono

ph 020 444 4202

Gardening

& Supplies

GARDEN DESIGN

Selwyn based qualified

Designer. Any garden any

size. Free Consultations

Tel: 0220 259929

W: creative-intentions.nz

Massage

SENSUAL Hot Oil

Massage Rural Location

Anna 021 110-8790

Jewellery

WATCHES Ladies

Versace, Gucci & Calvin

Klein, brand new in boxes,

bracelet design excellent

price $99.95 each, plse ph

ChCh 020 444-4204

ADD SOME

COLOUR

TO YOUR ADVERT!

Tours

Kumara Races Day Trip

14th January

$40 per person

Tasmania – 12 days

Departs 28th March 2017

$4495.00 per person

includes flights

Call Reid Tours 0800 446 886

www.reidtours.com

ADVERTISE YOUR

BUSINESS HERE

Phone for further details

(03) 379 1100
---
26

Tuesday January 10 2017

SELWYN TIMES

Classifieds Contact us today Phone our local team 03 379 1100

Select Services

PESt

coNtRol

• Spider proofing &

fly control

• all other pest

problems

• Industrial &

domestic pest

control

Rob & Scott WaRloW

Servicing Selwyn Area Since 1987

Qualified & Experienced Professional

office: 03 337 9553

Rob: 027 436 1169

Scott: 021 168 6118

Member of Pest Management

Assoc. of NZ

XCV84U

Garden Supplies

• Soil • Bark • Sand

• Compost • Chip & more

0274 313 389

www.xcv84u.co.nz

LEESTON

HIRE

2006 Ltd

• Excavators • Dingo • Trailers

• General Equip • Chainsaws

• Log Splitters • Concrete Gear

• Rotary Hoes • Lawnmowers

and much more!

info@leestonhire.co.nz

www.leestonhire.co.nz

(03) 324 3669

1552 Leeston Road

(1km North of Leeston)

Open 7 days.

Closed public holidays.

Sporting Notices

Lincoln Rugby

Football Club

COACHES WANTED

2017

Lincoln RFC is seeking

expressions of interest in

coaching positions for ALL

grades for the 2017 season

except Div 1.

Email by 24th of January to

secretary@lincolnrugby.org.nz

Come & join Lincoln RFC for 2017

Trades & Services

LifestyLe

BLock

fencing

new fencing, post driving,

repairs, maintenence.

Quality workmanship

& advice.

Phone Allan 021 049 6151

allan@agrifencenz.com

Facebook: agrifencenz

Lifestyle Block

Mobile Shearing

No job to big or to small!

• Shearing • Tailing

• Crutching

• Drenching

• Foot trimming

Professional

friendly service

Call Shaun Adams

for a free quote

021 204 1274

or 03 9603112

Trades & Services

ACE HIGH

PLUMBING

All Plumbing

Gasfitting

Drainlaying

Blocked Drains

Log Fires,

Wetbacks

Gas Hotwater

Phone

021 454 864

PDI

GarDen

ServIceS

new client spots

available for

areas covered:

Lincoln, Halswell,

Springston, Ladbrooks,

rolleston, Prebbleton,

West Moreland, cashmere.

• Weeding, tidy and grass

• Hedges, trees & shrubs

• Free quotes and estimates

Selwyn gardening for 18 years.

also part time

gardener wanted.

call erik

0275 329 677

and leave a message

CARPET & Vinyl

Laying. Repairs, uplifting,

relaying, restretching,

working thru xmas, Email

jflattery@xtra.co.nz, ph

0800 003 181 or 027

PAinTER

2407416

Qualified

FEnCinG

Quality timber fencing -

gates & repairs, ph Ryan

027 951 8892

BOUNDARY TRIMMING

Trades & Services

Fencing

Boundary, Executive,

Modular

All types of residential

fencing and gates

Defender Products

Ph 0800 63 80 80

www.defenderproducts.co.nz

Garage Doors

Insulated garage doors with

our unique fully weather

sealed system. Ask your

builder for a Defender garage

door; your first defence

against the elements.

Defender Products

Ph 0800 63 80 80

www.defenderproducts.co.nz

lAnDSCAPinG

Paving, Lawns, Irrigation,

Decking, Fencing.

Kanga & small digger

services. Check out Squire

Landscaping on facebook.

FREE QUOTES. Ph

Arthur 347-8796, 027

220-7014 Edwin 027 220-

7154

MASOnRy DAMAGED

MASONRY?? Rock and

Blocks Work Ltd for all

your brick, block and tile

laying needs. Friendly

service Licensed Building

Practitioner phone Devon

on 021 375-888 or 03 329-

5511

Tradesman,

experienced & reliable,

Mike Le Lievre, free

quotes, ph 03 317 8222 or

027 420 6125

Trades & Services

PAinTER

Top quality work, interior/

exterior, pensioners

discount, free quotes, 30

years experience, I stand

by Canterbury, ph Wayne

your friendly painter 03

385-4348 or 027 274-3541

TilinG

Quality jobs done on time.

All aspects of tiling. Reg

Master Tiler. Ph Dave 027

334 4125

TREES

BIG OR SMALL, tree

removal, trimming, stump

grinding, shelterbelt clean

up, section clearing,

rubbish removals,

excavation work, ph Trees

Big or Small, for a free

quote, 021 061 4783

T.V. SERViCE CEnTRE

Repairs, tvs, microwaves,

stereos, DVD. Aerial

installations and kitsets,

480 Moorhouse Ave, ph 03

379 1400

Katie's Driving

Service

We provide a safe

reliable door to door

driving service for

• Shopping Trips

• Medical

appointments

• Visits

or any other

appointments

you may have.

Call Kaye

021-232-2511

CARPET carpet/furnishings

/ FURNISHINGS

To Let

RENT ME!

Ideal as an extra

bedroom or office.

no bond required thiS month

Fully insulated and

double glazed for warmth.

Three convenient sizes

from $70 a week:

Standard 3.6m x 2.4m,

Large 4.2m x 2.4m

Xtra-large 4.8m x 2.4m.

Visit our website

www.justcabins.co.nz for

display cabin locations.

www.justcabins.co.nz

SHELTER TRIMMING

Need a hand?

✤ Lawns & Edges

✤ Landscaping

✤ Gardening

✤ Hedge Trimming

✤ Handyman Jobs

✤ Casual or One Off

Phone Mike Lineton

022 341 8848

Your local

Selwyn District

GARDENER/

HANDYMAN

Shelterbelt Trimming

Contractor

Call Tony Dempsey

Ph 03 325 3256 Mob 0274 323 943

Di's Carpet

BinDing

Have your carpet

off-cuts bound

124 Halswell Junction Rd, Halswell

Phone 322 1103 Mobile 027 586 4830

Hours Mon - Fri 9.30am - 5.00pm

Town & Country

Shelter Trimming

Phone Tom

027 4340 200
---
SELWYN TIMES Tuesday January 10 2017 27

Classifieds Contact us today Phone our local team 03 379 1100

Trades & Services

Trades & Services

Trades & Services

Trades & Services

junk

DealKing

FLOORING

EXCAVATING

Why go to the Dump?

Junkman comes to you!

Items too big for the

rubbish bin?

Or too heavy for you

to move?

Junkman comes

to you & takes

it away

FROM $

65 *

*Prices vary depending on items and volume – minimum charge $65

0800 586 5626

www.junkman.co.nz

office@junkman.co.nz

Furniture

View our website for

all details of products.

Phone 03 3386 021

www.dealking.co.nz

OPENING HOURS:

Monday–Friday 8am - 4pm,

Saturday 10am - 1pm

YES!! WE WILL BE AVAILABLE

OVER THE HOLIDAY PERIOD!

SUPPLIERS & INSTALLERS OF:

RESIDENTIAL CARPET

COMMERCIAL CARPET

UNDERLAY

VINYL

CARPET TILES

GARAGE CARPET

Friendly Service • Competitive Rates

Lynda - 03 421 6527

Nathan - 021 042 5169

Excavations

• Driveways

• Car Parks

• Site Cleaning

• Demolition

• Farm Tracks

• Drain Cleaning

• Stump & Hedge

Removal

• Ashpalt Concrete

Wide range

oF TruckS

Digga Rental

• 1.5t, 3t, 5t, 12t, 20t, 30t Excavators

• Loaders • Compactors • Tip Truck

Short & Long Term Hire

Flexible & Competitive Rates

0800 344 425

• Tennis Courts &

Swimming Pools

• Chip Seal Driveways

• Diggers – 2 Ton

up to 20 Ton

• Excavators

• Bobcat & Drilling

• For Posthole &

Fence hole

For a Free Quote

on your next project

Phone Steve on 021 338 247

or 325 7922

Free

QuoTe

Cnr SH1 & Weedons Ross Rd, Rolleston

Landscaping

landscape design & build

• Eco-sourcing specialist nursery

• Landscape design & build

• Eco-restoration services

• Maintenance services

• Re Roofing

• Roof Repairs

• Spouting

Approved Age Concern

provider

Over 30 years experience

Licensed Building

Practitioner

Call us today

03 359 2458

www.waioralandscapes.co.nz

N A BARRELL

ROOFING LTD

Ph: 349 9778 or 0275 389 415

Email: nabroofing@xtra.co.nz

PLUMBER

NEED A PLUMBER

Call us now for fast friendly service.

Get your problems sorted out

quick smart - on time!!

Phone for a

FREE

quote now.

Phone 03 377 1280 | Mobile 021 898 380

RE-ROOFING

QUALITY ROOFING AT THE

BEST PRICE AROUND

Protect your home with a new Colorsteel roof.

Call for a friendly, FREE assessment and quote.

• Roofing

• Spouting and Downpipe

• Safety rails

• Licensed Building

Practitioner

Ph: 347 9045 or 021 165 1682

Email: Robinsonroofing99@gmail.com

Driveways

SWAINS KIWI KERB

DRIVEWAY

CONSTRUCTION

Free Measure & Quote

• Asphalt

• Driveways

• Kerb

Quality Workmanship -

Over 10 Years Experience

• Chipseal

• Chip

PH 0800 081- 400 • 980-1123

Mob 0274 325 457

• Irrigation • Drainage • Driveways

• Auger Hole Drilling

• Land Clearing & Development

• Culvert Installation • Construction Site Works

• Tree & Hedge Removal • Concrete Breaker

Phone Mike: 027 272 8058 OR 03 324 4323 A/H

g.m.contracting@xtra.co.nz

www.gmcontracting.co.nz

hay baling

services

Conventional

Individual Rounds & Squares

(03) 347 3479

STOP BIRDS

hail, leaves, snow & vermin from

blocking & damaging your spouting

Quality materials: BHP Colorbond steel mesh with

unique patented louvre will even keep out pine needles.

Will not rust or sag with age or load. 10 year warranty,

range of colours.

Proven in Australia & New Zealand over the last 15 years.

FOR SAFE, PURE DRINKING

WATER FROM YOUR ROOF.

NOW AVAILABLE: STAINLESS STEEL

MICO MESH

Call Rohan anytime Mon-Sat for a

no-obligation assessment & quote

03 982 8850 0800 486532

www.gumleaf.co.nz

BUILDERS LTD

New Builds

Home Alterations

Bathrooms

Decks

Painting/Plastering

Phone Keith:

027274 9359

or (03) 325-4452

ktmbuilders@xtra.co.nz

Renovations

Extensions

Kitchens

Re-Roofing

Insurance Work

Fully Qualified Builder

Paving, Irrigation, Lawns,

Planting, Fences, Pergolas,

Water-features, Outdoor fires,

Raised Vege beds, Decks,

Artificial grass & more...

Call Aaron & the team today!

Phone: 03 3474422 or 021542402

Email: landscapeyouroutdoorspace@gmail.com

www.theoutdoorspace.co.nz

Garage Doors, Auto Openers,

EQC Quotes, Repairs and

Maintenance, One off Custom

Made Designs...

Showroom at

Larcombs Road and

Home Ideas Centre,

Mandeville Street

The genuine custom made

garage door professionals

EQC &

insuranCE

rEPairs

TyPEs of garagE doors:

Cedar Door, Glass & Acrylic doors, Flat Panel insulated range,

Pressed Panel Doors, Ribline doors, Tilt doors, Roller Doors,

flush mounted doors.

Proud to support your local community

Phone: 0800 661 366 • Fax: 03 347 8363

Factory: 276 Larcombs Road, R.D. 8 Weedons,

Christchurch

www.custommade.co.nz

9020599AA
---
28

Tuesday January 10 2017

SELWYN TIMES