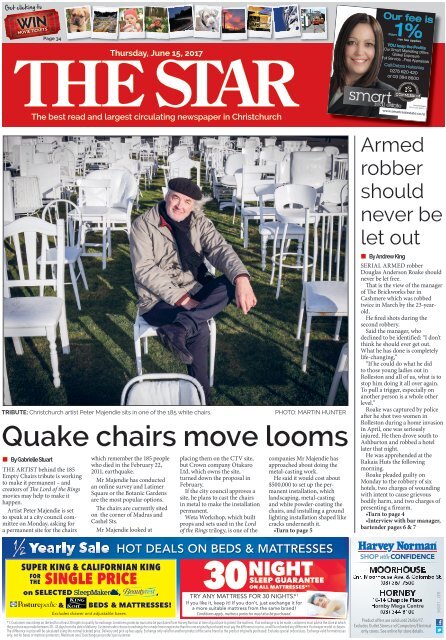 Create successful ePaper yourself
Turn your PDF publications into a flip-book with our unique Google optimized e-Paper software.
Get clicking to

Page 34

Our fee is

from

1%

min fee applies

Thursday, June 15, 2017

YOU keep the Profits

Our Smart Marketing offers

Global Exposure

Full Service…Free Appraisals

Call Debra Hakaraia

0275 620 420

or 03 384 8600

The best read and largest circulating newspaper in Christchurch

TRIBUTE: Christchurch artist Peter Majendie sits in one of the 185 white chairs.

• By Gabrielle Stuart

THE ARTIST behind the 185

Empty Chairs tribute is working

to make it permanent – and

creators of The Lord of the Rings

movies may help to make it

happen.

Artist Peter Majendie is set

to speak at a city council committee

on Monday, asking for

a permanent site for the chairs

which remember the 185 people

who died in the February 22,

2011, earthquake.

Mr Majendie has conducted

an online survey and Latimer

Square or the Botanic Gardens

are the most popular options.

The chairs are currently sited

on the corner of Madras and

Cashel Sts.

Mr Majendie looked at

placing them on the CTV site,

but Crown company Otakaro

Ltd, which owns the site,

turned down the proposal in

February.

If the city council approves a

site, he plans to cast the chairs

in metal to make the installation

permanent.

Weta Workshop, which built

props and sets used in the Lord

of the Rings trilogy, is one of the

PHOTO: MARTIN HUNTER

Quake chairs move looms

companies Mr Majendie has

approached about doing the

metal-casting work.

He said it would cost about

$500,000 to set up the permanent

installation, which

landscaping, metal-casting

and white powder-coating the

chairs, and installing a ground

lighting installation shaped like

cracks underneath it.

•Turn to page 5

Armed

robber

should

never be

let out

• By Andrew King

SERIAL ARMED robber

Douglas Anderson Roake should

never be let free.

That is the view of the manager

of The Brickworks bar in

Cashmere which was robbed

twice in March by the 23-yearold.

He fired shots during the

second robbery.

Said the manager, who

declined to be identified: "I don't

think he should ever get out.

What he has done is completely

life-changing,"

"If he could do what he did

to those young ladies out in

Rolleston and all of us, what is to

stop him doing it all over again.

To pull a trigger, especially on

another person is a whole other

level."

Roake was captured by police

after he shot two women in

Rolleston during a home invasion

in April, one was seriously

injured. He then drove south to

Ashburton and robbed a hotel

later that night.

He was apprehended at the

Rakaia Huts the following

morning.

Roake pleaded guilty on

Monday to the robbery of six

hotels, two charges of wounding

with intent to cause grievous

bodily harm, and two charges of

presenting a firearm.

•Turn to page 4

•Interview with bar manager,

bartender pages 6 & 7
---
2

Latest Christchurch news at www. .kiwi

Thursday June 15 2017

Inside

FROM

THE

EDITOR'S

DESK

The Star

News..................................3-20

IF YOU do the crime, you've

got to do the time.

And the manager of The

Brickworks bar in Cashmere

says serial armed robber

Doug Roake should do a lot

of time.

On pages 1 and 6-7, the

manager and a bartender

who were held up – not once

but twice by Roake – speak

exclusively to reporter Andrew

King.

Very few people will ever

have to face a loaded firearm,

but these two women have

experienced the terror twice.

It's a fear all hospitality

staff have. During Roake's

reign of terror across Canterbury,

hotels and bars were on

alert fearing if they would

be next.

He had no issue about discharging

his firearm – and

the attack on two women in

Rolleston, which ultimately

led to his undoing, was testimony

of that.

So when the manager

of The Brickworks says he

should stay in jail for a very

long time, she has a point.

– Barry Clarke

The Christchurch Star Company Ltd.

359 Lincoln Rd | Addington | Christchurch 8024

CONTACT THE STAR

ADVERTISERS

YOUR BEST CHOICE TO

GROW CUSTOMERS

No.1 for Readership

No.1 for Circulation

No.1 for Results

Contact us today to grow

more customers for your

business!

Contact Shane at:

shane@starmedia.kiwi

or call 3797-100

Source: CMI Nielsen readership

Thursday Christchurch Urban area 10+

Composer's love of music

21

At a Glance

Playhouses take

shape for Home &

Leisure Show

NEWS

GENERAL: 379 7100 | NEWS: Barry Clarke. 364 7422. barry@starmedia.kiwi | WEB: www.starmedia.kiwi

ADVERTISING: 364 7429, shane@starmedia.kiwi | CIRCULATION/DELIVERY JOBS: 364-7451 or 7453

THIS WEEK IN CANTERBURY'S PAST

This week in history saw Kemp's Deed signed by Ngai

Tahu on June 12, 1848. It gave the New Zealand Company

control of land from Kaiapoi to Otago. On June 13, 1909,

Cafe Continental Hotel at Sumner was destroyed by fire.

On June 14, 1923, New Zealand's permanent air force was

established at Sockburn with the Government taking over

the Canterbury Aviation Company. Included in the takeover

was Sockburn Aerodrome, which was renamed Wigram a

few days later. On June 14, 1977, the worst ever daytime

smog level was recorded – 750 mcg per cu m. On June 15,

1842, William Deans left Wellington to look for suitable

farmland in the South Island. On June 16, 1932, the Robert

McDougall Art Gallery was opened. It was a gift of R. E.

McDougall, managing director of Aulsebrooks and Co.

OUR PEOPLE 24

Viewpoint......................22

Food.........................................27

Gardening.....................31

Theatre/Arts.............32,33

Readers' photos........34

Puzzles..................................40

Sport..........................41-43

Entertainment........ 52-55

Go underground into

North Korea

TRAVEL

37

LOCAL NEWS

www.Star.kiwi

CUFF 'EM AND STUFF 'EM

When you find yourself stuck in handcuffs,

what do you do? You call into your local

fire station. Specialist fire investigator Mark

Thomas said in his weekly Star Media column

a man walked into the Christchurch

Central Fire Station on June 3, asking to

be helped out of handcuffs. He said some

discreet calls were made to find out if the

handcuffs were the work of police. "It turns

out the cuffs were the type available at

certain adult shops and the poor fellow had

been 'trying them on.' Ten minutes later he

was on his way – handcuffs in pieces, Mr

Thomas said.

Tired of cold and drafty wooden window frames?

We can help you

create a warmer,

healthier and more

valuable home

and reduce your

heating bill.

Open Mon-Fri 7.30am-5pm, Sat 9am-12 noon

If your old windows are in poor condition, we have a

couple of options, insert frames or full replacement.

Benefits for you:

• Healthier, warmer home

• Reduces heating bill

• Reduces condensation

• Adds value to your property

• Reinvigorates the look and

saleability of your home

THE DIFFERENCE IS AMAZING

Visit our showroom, text or phone

for a FREE quote

Phone: 377 7708 or 0274 602 254

11 Iversen Terrace, Waltham

www.windowinnovation.co.nz
---
The Star 3

News

Latest Christchurch news at www.

.kiwi

Thursday June 15 2017

Quake buildings inquiry: No charges

• By Gabrielle Stuart

POLICE WILL not lay

any charges in relation to

the earthquake death at St

Christopher's Book Market on

Riccarton Rd.

Henry Ross Bush, 75, died

when the facade collapsed on his

parked car during the February

22, 2011, earthquake.

Survey 'dictatorial style'

• By Bridget Rutherford

HIGH PROFILE property

developer Ernest Duval has

likened a survey commissioned

by the Anglican Church on the

future of the Christ Church

Cathedral to a method world

dictators would use.

Mr Duval,

who heads City

Owners Rebuild

Entity, wrote a

submission saying

the survey

was something

Ernest Duval

that would

happen under

Russian President

Vladimir Putin, Syrian

President Bashar al-Assad, or

North Korea's Kim Jong-un.

The survey, done by company

Research First, was released on

Tuesday and said 58 per cent

wanted the Cathedral reinstated.

In his submission, Mr Duval,

who wants the Cathedral restored,

said it was biased.

"Good to know there are

outfits like yours in the Market

place and will pass your contact

details to Messrs putin Assad

Kim il Jun [sic]," he wrote.

He said the comments were

directed at the pollsters.

"That's the sort of thing they

would do in those countries

to get a result to support their

political point of view.

Detective Inspector Darryl

Sweeney said police are also

unlikely to pursue charges into

the death of apprentice tattooist

Matt McEachen who died trying

to escape falling rubble at the

Southern Ink tattoo parlour on

Colombo St.

Police said yesterday they are

awaiting final reports into their

investigation into the collapse

CRITICISM: The Anglican Church-commissioned survey on

the future of the Christ Church Cathedral has been called

biased.

"We live in an open and fair

and transparent democracy, we

don't live in a place where you

have to manipulate questions to

get a desired result."

But the Church Property

Trustees, along with Research

First director Carl Davidson,

said on Tuesday the survey was

not biased.

"We went to Research First

because we knew they would

help us form the questions that

didn't actually bias the results

of the CTV Building and the

Ballantynes car park building

on Lichfield St.

Linda Arnold, 57, was killed

when a concrete panel fell

from the Ballantynes car park

building, and 115 lives were lost

in the CTV collapse.

Detective Inspector Sweeney

said police had assessed

the Southern Ink case for

PHOTO: GEOFF SLOAN

in any particular way," Church

Property trustee Bruce Deam

said.

The survey first asked the 380

random participants whether

they preferred reinstatement, a

rebuild or if they did not mind.

Then, when participants

were told the "consequences,"

such as the funding gap for

reinstatement, the likelihood of

an impact on rates, and the time

frame, 23 per cent changed their

minds.

criminal charges and engaged

several experts to examine the

report.

"They do not believe that

charges should be laid in this

case," he said.

Matt's father Bruce McEachen

said he had been waiting 2250

days to hear the result of the

investigation, and he was

absolutely gutted.

DICTATORS: Russian

President Vladimir Putin,

Syrian President Bashar

al-Assad, and North Korea's

Kim Jong-un.

In Brief

RAVENSDOWN CLEARED

A Worksafe investigation into the

death of a contractor at Ravensdown

on Main South Rd has been

concluded. Worksafe have said it

will be taking no action against

the fertiliser company after the

death of 73-year-old Keith Edward

Hillery. Mr Hillery suffered serious

burns from an electric shock

on June 16, 2016. He was airlifted

to the National Burns Centre at

Middlemore Hospital in Auckland,

where he later died. Five others

were taken to hospital for smoke

inhalation but were uninjured.

BURGLARY CHARGES

A man arrested for a number of

burglaries in north-west suburbs

has had further charges added.

Robert William Northe, 30, now

faces eight charges of burglary,

possession of instruments for

burglary and possession of

cannabis. He will appear via videolink

from Christchurch Men's

Prison on June 22. Eighty-three

houses were burgled in Ilam,

Bryndwr and Strowan over a 10-

week period. Detective Sergeant

Ross Tarawhiti said more charges

for Northe were likely.

HOSPITAL FUNDRAISER

The women fundraising to buy

recliner chairs for the Christchurch

Hospital children's ward have

nearly reached their target.

Joanna Triplow and Renee Jones

began fundraising to buy 12

hospital-standard recliners and

pull-out beds to make the stays of

families with sick children more

comfortable. Mrs Triplow said they

have been able to buy nine, and

want to get three more. To donate,

visit https://givealittle.co.nz/

fundraiser/12chairsforhdu

97-YEAR-OLD TIME CAPSULE

A time capsule has been found

underneath the demolished St

Albans Community Centre. The

St Albans Residents' Association

is looking for any relatives of

those who buried the capsule 97

years ago before it is opened. The

association is working to plan a

public opening later in the year.

black leather

recliner suite

Stunning in black leather,

3 seater plus 2 recliners

$1299

or Rent to Own options available

Rent to own

225 Linwood Ave

389 7742

TROUBLE HEARING?

• Reduce listening effort

throughout your day,

resulting in less stress &

fatigue.

• Understand speech

in difficult listening

situations, eg.

Restaurants.

Call today to book an appointment for a

Free hearing check & hearing aid demo

Merivale Hearing Clinic

24b Church Lane.

Call now: 356 2324

Greg Foote,

Audiologist MNZAS
---
4 Thursday June 15 2017

Latest Christchurch news at www. .kiwi

The Star

News

Stadium upkeep costs soar

SHOTS: The Brickworks – a

bar twice held up by Roake.

Armed robber

should never

be let out

•From page 1

His reign of terror was carried

out over two months, instilling

fear throughout the hospitality

industry.

Police mounted a special taskforce

to catch him.

Said the manager: "There is

nothing that would make me

feel better about him being back

out. We feel protected while he is

locked up."

In May The Star revealed that

Roake was part of the security

team that worked at Richie and

Gemma McCaw's wedding.

He has been remanded in custody

until sentencing on August

23.

•Interview with bar manager,

bartender pages 6 & 7

• By Bridget Rutherford

THE COST of maintaining

Addington's AMI Stadium has

jumped by more than $700,000

in the past year, renewing calls

for a replacement facility.

City council figures show

the maintenance costs for the

temporary facility were $998,532

in 2016.

That jumped from $153,259

the year before.

Christchurch

Stadium Trust

chief executive

Tim Shannahan

said the

2016 costs were

higher because

Jamie Gough

it included the

replacement of

the floorboard

decks in the three main stands.

"The original decks installed

in 2012 were identified at that

time as having a life of five years

before replacement would be

necessary."

In March the city council

granted building consent for $1

million of work to prolong the

stadium's lifespan to 2022. The

replacement floorboard decks

were part of that work.

In 2012, the stadium's maintenance

costs were $102,576,

followed by $95,072 in 2013, and

$67,367 in 2014.

Mr Shannahan said the figures

included annual, scheduled

and reactive maintenance.

AMI Stadium opened in 2012

as a replacement for earthquakedamaged

Lancaster Park.

A multi-purpose arena is part

of the central city blueprint to

replace Lancaster Park to be

funded by the Crown and city

council.

The Crown has already spent

about $40 million acquiring

land for it in the blocks between

Hereford, Tuam, Madras, and

Barbadoes Sts.

A business case for it was put

on hold last year until the city

council stated clear support for it.

Now that Lancaster Park will

be demolished, a pre-feasibility

study for the replacement facility

is under way.

City councillor Jamie Gough

said the multi-purpose arena

needed to be built as soon as

practically possible because

AMI Stadium's costs were "skyrocketing".

"It's been put together with

Blu-Tak and goodwill. We've

had some incredible events

but we need to be honest with

ourselves, we've got these events

EXPENSIVE:

The cost of

maintaining

the

temporary

AMI

Stadium

has jumped,

renewing

calls for a

new multipurpose

arena to be

built as soon

as possible.

because we're a charity case. We

need to be serious about being a

city again."

He said originally the replacement

facility was meant to have

been built by now, ready to host

a Lions match.

There was "every possibility"

the construction of the new

facility would be sped up as a

result of the submissions on the

Annual Plan, he said.

In May, Crusaders chief executive

Hamish Riach urged the

city council to build a modern,

fit-for-purpose facility as soon

as possible in his annual plan

submission.

Prizes to

WIN!

Purrrfect.

Crazy but true –

you can have a

smoke-free fire.

You'll be warmer and

save on firewood!

Learn how to burn smoke-free and be

in to WIN great prizes. Enter meow.

An iPad

12 Kindling Crackers

40 Cosy Home Packs

Every time you load more

wood into the fire, make

sure you turn the airflow

to high for 15 minutes.

Watch videos and learn more at our website.
---
The Star Latest Christchurch news at www. .kiwi

Thursday June 15 2017 5

'Cadenza'

Sink or Basin Mixer

All pressures. WELS mains 4, low 3 star.

00170325A/314

$

44EACH

Easycoat

Ceiling

Flat. White.

01540486

$

89

Paint

Roller Kit

230mm.

Includes roller

cover, frame

& paint tray.

01560226

$

3 75

DESTRUCTION: The CTV

and PGG Buildings where

many of the 185 people were

killed In February 22, 2011,

earthquake.

Quake chairs move looms

•From page 1

"I've meet a number of

people there reflecting

on their personal losses.

Everyone at some stage of

their life will experience

that loss, that empty

chair at the table," he said.

City council committee

chairman Phil Clearwater

said he and the other city

councillors were looking

forward to hearing Mr

Majendie, and were open

to finding a permanent

site.

He said staff would have

to consider all the options

and come back with a

report before a decision

would be made.

20kg General

Purpose

Cement

00248971

$

7 20

12mm

Non-Structural

Plywood

2400 x 1200mm.

Untreated. 00327903

$

33 94

EACH

18V

Drill Driver

2 x 1.5Ah

li-ion batteries.

00270315

$

98

3 Pce

Bistro Setting

Steel construction,

glass table top.

00244274/277

Earthwool

Glasswool

Ceiling Segment

R3.2. 430mm. 9.98m².

00224584

$

74 70

$

7 11

PER

SQ MTR

winter

Golf

clearance

20% OFF

off all adidaS

menS and ladieS

Golf SHoeS

Floor stock only

20% OFF

menS and ladieS

Golf clotHinG

Nike, FootJoy, Adidas, Sporte

Leisure - Shop stock only

30% OFF

Selected 2016 Golf

driverS, fairwayS,

HybridS and all

SecondHand and ex-demo

StockS

Limited floor stock only

20% OFF

left Handed 2017

model of taylormade

m1 &m2 driver, fairway

and HydribS

Only one set of each available

Other great specials in store!

1400W

Waterblaster

1600psi. 00296120

$

137

$

28

Garden Shed

1.8 x 1.5 x 0.8m. Zinc.

Kitset. 00189683

$

168

Porcelain

Floor Tiles

900 x 150mm.

Pinewood beige.

06661130

3 Bar Heated

Towel Rail

45W. 540 x 535 x 30mm.

White. 00305154

MDF Interior Door

1980 x 760/810mm.

Pre-primed. Hollow core.

00703465/603

$

49 50

$

25PER

SQ MTR

Potted

Colour

0.9L. Assorted

varieties.

00431151/00162002

95 ¢

'Allegro' Link

Toilet Suite

S or P trap. WELS

3 star. 6/4L flush.

04870075/076

$

129

25cc

Line Trimmer

2 stroke.

430mm cutting

width. 00278675

$

137

Our Policy is Lowest Prices, and we're committed to it.

Our price guarantee means that where, despite

our procedures supporting our Policy, you find a

competitor's lower price on the same stocked item,

15%

This excludes trade quotes, stock liquidations

and commercial quantities.

Open Monday to Friday 7am – 7pm, Saturday & Sunday 8am – 6pm

BEST

ADVICE

204 St asaph St | www.sharpies.co.nz | 03 379 9009 | open 7 dayS

BEST

BEST

PRODUCT

Excludes Gift Vouchers, Website sales and is floor stock only.

BEST

BEST

BEST SERVICE FOR YOUR INDIVIDUAL GAME

ADVICE

SERVICE

PRODUCT

FOR YOUR INDIVIDUAL GAME

Not all services and products featured are available in all stores, but may be ordered. See in store for product availability.

We reserve the right to restrict the purchase of commercial quantities. All prices quoted are inclusive of GST.

Prices valid until Sunday 25th June 2017, or while stocks last.

BUNZ17870
---
6 Thursday June 15 2017

Latest Christchurch news at www. .kiwi

The Star

News

Robbed twice: Manager, staff

Armed robber Douglas

Anderson Roake pleaded

guilty this week to a

string of violent hold-ups

and a double shooting

in Canterbury. Two of his

victims speak exclusively

to Andrew King

"F**k I can't believe this is

happening again."

That was the first thing that

came into the mind of a The

Brickworks bar staff member

when angry armed robber Douglas

Roake shot his way in late on

Wednesday night, March 29.

Just two weeks earlier the staff

member had been on duty when

Roake had robbed the Centaurus

Rd bar at gunpoint.

This time Roake was very

agitated.

Unable to get in after the doors

were locked as the last patrons

were finishing up their drinks,

he simply shot his way in. The

damage from his shotgun is still

visible.

The robberies have taken their

toll on the bartender and the

manager who have endured both

robberies.

Said the bartender: "I have

HORROR: Douglas Roake (right) twice used a gun to hold up

The Brickworks in Centaurus Rd.

suffered panic attacks, insomnia,

sleep paralysis since the robberies,

but that is getting better

now."

"You don't want to relive it but

you do every morning when we

walk in the door."

"I'm still scared to enter the

toilet [in the bar] because I am

unsure who could be behind the

door."

Neither the bartender or

manager will be identified. It is

the first time they have spoken

publicly, about the ordeal every

hospitality worker dreads.

When Roake could not get in

he violently tried to open the

door.

The bartender was drying

glasses behind the bar. She

looked up and saw a man

hunched over with a gun pointed

through the glass at her. The

manager was stacking chairs on

tables.

"I was in disbelief that it was

happening again. I just went into

shock," the manager said.

The bartender crouched down

and retreated to the kitchen to

warn other staff they were being

robbed again.

The manager went to the back

of the restaurant and phoned

111. She then heard the shot and

quickly said into the phone: "If

anyone can hear me, please help

us."

Kitchen staff hearing the shot

hid in the chiller. The bartender

refused.

"I don't do well in enclosed

places and didn't want to be in

there if he opened it and fired the

gun inside," she said.

Roake entered through the hole

he had blown in the door and

demanded: "Come out with your

hands up." His voice was frantic.

The bartender appeared from

the kitchen hands up. The

kitchen staff stayed in the chiller.

She and another bartender

were ordered on the ground, and

the manager was ordered to fill a

bag with money.

The bartender knew it was the

same robber from the previous

hold-up. His voice gave him

away.

"OH I LOVE IT.

IT'S ALL

SO NEW."

"I have the security, the companionship

and everything I need."

Jill made the move to a villa in her Summerset

retirement village, after the passing of her

husband. "We had discussed it in the past

and thought it would be the best thing for me,

for many reasons," she says.

Apart from tending to her lovely garden, she

keeps a busy daily schedule.

Come and see why we

love the life at Summerset

Open Weekend

17 & 18 June, 10am-4pm

Summerset at Wigram

135 Awatea Road, Christchurch

Contact Anne Walker

on 03 741 0872 or 022 639 2341

wigram.sales@summerset.co.nz

"There's so much going on, so many activities…

like film night, Happy Hour, exercise classes…

it's wonderful."

Love the life

SUM0544_9x8
---
The Star Latest Christchurch news at www. .kiwi

Thursday June 15 2017 7

tell of gunman's terror

"It was a surreal experience

lying on the floor while there is a

gunman in the building wanting

money," she said.

Roake asked if there was a

back way to leave.

"No, everything is bolted shut,"

the bartender said.

Roake was agitated and very

aggressive as he pointed the gun

in a threatening manner telling

them they "were doing well, I

don't want to hurt you, but if you

move I will."

He then demanded money

from the pokies, as he had during

the first robbery. He was

told it would take longer this

time, as they had not cleared the

machines.

He ordered the manager and

bartender into the pokie room

for more cash before telling the

bartender: "You come with me".

Panic filled. She thought she

would be taken as a hostage. She

decided she wouldn't go without

a fight. But all Roake wanted was

for her to zip up his loot bag. She

fumbled which made him angry.

He yelled at her to hurry up.

Roake told her to lie back

down and he left through the

hole in the front door. He walked

a short distance along Centaurus

Rd, but returned to pick up the

AFTERMATH: Broken glass and a hole where a shotgun pellet

lodged into the timber.

PHOTOS: ANDREW KING

spent cartridge by the door.

The manager says Roake was

in the bar for at least 10min.

When police arrived they

ordered everyone out of the bar

at gunpoint, something that was

just as traumatic as the robbery

itself, she said.

The manager says the robberies

have affected her.

"Sometimes, I don't want to

be here, but I have too. You can't

run away in life, you have to

confront the demons."

In the first robbery on March

14, Roake again struck at closing

time. Staff waiting outside for a

lift home were marched into the

bar at gunpoint.

They were ordered onto the

ground and the manger told to

hand over the money. He made

everyone get on the ground

while he demanded money from

the manager.

"You're doing well ma'am,"

Roake said as she complied with

his orders.

"When it happened I just

turned into a zombie. I couldn't

tell you what was going through

my mind," the manager said.

She will always be puzzled why

Roake targeted the bar, not once

but twice.

She and the bartender went to

court to hear Roake.

"We went to court to hear his

voice to put our minds at ease

that it was him and that the guy

was not still out there," the manager

said.

One way the manager and one

of the bartenders have taken

their mind off things is buying

Fitbits, a device that monitors

how many steps you take. That

has now turned into a bit of a

competition.

"I am currently winning," the

manager laughed.

Responding, the bartender

said: "It is because she goes for

huge walks in the morning before

I have even got up."

Roake's robberies and

shootings

•March 10 – Tavern Harewood

robbed at about 10.45pm.

$18,982 was taken, but he

dropped about $2000 while

fleeing.

•March 14 and 29 – The

Brickworks was robbed

twice. Once at about 10.45pm

on March 14 and again at

about 11pm on March 29

where he shot his way into

the bar through a locked

door. $43,000 was taken in

the first robbery and $12,000

in the second.

•March 24 – Trevinos

Restaurant and Bar was

robbed just before midnight.

$29,708 was taken.

•April 6 – Springston Hotel

robbed with shots fired inside

the bar at about 10.30pm. ​

$10,000 was taken.

•April 19 – Roake shot a

woman and her daughter

at a property on Newtons

Rd, near Rolleston, at about

10pm. Both survived. He fled

the property and headed for

Ashburton.

•April 19 – Hotel Ashburton's

Turf Bar was robbed by

Roake at gunpoint at about

11.20pm with several shots

fired during the hold-up.

$1645 was taken.

•A total of $115,335 was taken

from the six robberies.

Still trying to get your

EQ damage or repair

issues sorted

We've helped hundreds of homeowners get

what their policy promises.

Talk to us about our "no win-no fee" approach.

NO WIN

NO FEE

Ph: 03 377 8855 | 127 Ferry Road, Christchurch City

E: reception@earthquakeservices.co.nz | W: www.earthquakeservices.co.nz
---
8 Thursday June 15 2017

Latest Christchurch news at www. .kiwi

The Star
---
The Star 9

News

Latest Christchurch news at www.

Thursday June 15 2017

Sexual assaults highest in Chch

.kiwi

CHRISTCHURCH had the

highest number of sexual assault

cases in the country, police

figures show.

From July 2014 to December

2016, Christchurch had 10,417

cases of victimisation complaints

for acts intended to cause injury.

Nationally, there were 118,732.

Wellington had 4312 cases,

Hamilton with 6063, and Counties-Manukau

West with 5886.

Acting Assistant Commissioner

Sam Hoyle said Christchurch

Metro was ranked top in New

Zealand for sexual assault cases

from mid-2014 to the end of last

year.

Many of the same factors associated

with assaults around the

country were also found in aggravated

sexual assault incidents.

"Central Christchurch, as we

know, is sort of reopening and

reinvigorating and nightlife is

coming back. It hasn't featured

amongst the data much at all

until the last year or two [due

to the earthquake recovery],"

Acting Assistant Commissioner

Hoyle said.

"These types of sexual assaults

[tend to result from] big groups

of people dispersing from clubs

and pubs in the early hours of

the morning. Generally, these

sexual assaults are not committed

by strangers."

He said stranger attacks were

still incredibly rare.

In spite of a high number

of hotels and backpackers in

downtown areas, Acting Assistant

Commissioner Hoyle said

there was no evidence to suggest

that tourists were sexual assault

targets.

Historically, he said data suggests

the vast majority of victims

are locals making their way

home through a more dangerous

part of town.

Police said one reason many

sexual assaults are recorded in

downtown Christchurch is because

many crimes are reported

at the Central Police Station, due

to police being unable to determine

an exact location.

Acting Assistant Commissioner

Hoyle said the national stats

were not a surprise and there was

a "strain" on police resources to

help keep the peace.

"If you look at our biggest

CBDs, they all feature around

those common assaults, which

doesn't surprise me at all.

"Where we have those strong

night-time economies, where

we have big groups of people

all arriving in town at the same

time, often having pre-loaded

before they arrive, and then they

all leave at about the same time

we get people bumping into each

other and that's where we get the

assaults.

"At four o'clock on a Sunday

morning, there's not much

around in terms of capable

guardianship, there's some police

officers, some security, taxi

operators – there's not that much

else out there in terms of capable

guardians."

He said often assaults involved

"predominately younger people

[who were] heavily intoxicated."

He said police "resource-up"

for every Thursday, Friday and

Saturday night, and large events,

to help combat the carnage.

"It does put a strain on, it's

a busy period for police most

weekends, it's a busy period

for ambulance staff, it's a busy

period of ED (emergency department)

staff for all those same

reasons."

Police statistics also show more

than a third of all offences are

committed by an offender who

has been drinking.

Acting Assistant Commissioner

Hoyle said Wellington's

inner-city was a hotbed for

violent offences on a Friday or

Saturday night. – NZ Herald

EQC REPAIRS

TAKE THE STRESS

OUT OF YOUR

REPAIRS!

We can make it happen

WE ARE A

ONE STOP SHOP

WINNING

National Awards

from NZ Master Painters

Sponsored by DULUX

36 Years in business now offering

Fixing, Stopping,

Painting, Wallpapering

Still trying to get your

EQ damage or repair

issues sorted

• Piling

• Painting

• Electrical

• Roofing

Supreme: Commercial: New Exterior:

Small - Medium:

Winner GK Fyfe & Assoc Ltd

Supreme: Intergrain Excellence in Timber Rework:

Interior Commercial Award: Winner

Gold Award: Commercial – New Interior Medium:

St Andrews College, Gymnasium

Gold Award: Commercial – New Interior Medium:

The Piano: Centre for Music and Arts

• Plumbing

• Plasterboard

• Flooring

• Wallpapering

Gold Award: Commercial – Intergrain Timber

Rework: Kaikoura District Council

Gold Award: Residential - Wallcoverings:

24 Joy Street: Gary Clinton: Owner

Gold Award: Commercial - Porters Specialty/

Industrial Coatings: The Piano: Centre for

Music and Arts

Gold Award: Commercial – New Exterior small

to medium: The Piano: Centre for Music and Arts

Gary: 021 329 881

Cam: 021 329 200

Office: 03 338 9886

E. office@gkfyfeltd.co.nz

We've helped hundreds of homeowners get

what their policy promises.

Talk to us about our "no win-no fee" approach.

Ph: 03 377 8855 | 127 Ferry Road, Christchurch City

E: reception@earthquakeservices.co.nz | W: www.earthquakeservices.co.nz

NO WIN

NO FEE
---
10 Thursday June 15 2017

Latest Christchurch news at www. .kiwi

News

Councillors frustrated

The Star

Call for rebuild

boss to meet

with city hall

• By Bridget Rutherford

SOME CITY councillors are

frustrated they still haven't had

a formal meeting with the new

rebuild boss more

than two months

after she took over

the role.

But Minister

supporting Greater

Nicky

Wagner

Yani

Johanson

Christchurch Regeneration

Nicky Wagner

said she planned

to but had not found

the time.

City councillor

Yani Johanson said

it was "really important"

to meet on

a regular basis. He

had made a request

to do so but was still

waiting.

City councillors never met

with Mrs Wagner's predecessor

Gerry Brownlee, which had been

frustrating, he said.

"We're at the start of a new

relationship. We need to be openminded

and give it the benefit

of the doubt to see if there is an

improved way to work together

so it's better for the community."

City councillor Aaron Keown

said he was surprised a meeting

had not happened already.

He wanted something like the

2010 system, where there was a

monthly meeting attended by

city councillors, community

board members, health board

members and mayors from

across Canterbury.

Mrs Wagner said she had

planned on attending a city

council meeting, but had not

found the time.

She was open to setting up

monthly meetings.

"I see my job now as moving

the leadership from central

Government and passing it on to

local Government."

Mrs Wagner said she meets

with Mayor Lianne Dalziel

weekly, and spoke to the relevant

ministers at weekly caucus meetings

about Christchurch issues.

She said she met with Prime

Minister Bill English last week to

keep him updated.

"And Gerry Brownlee, I'm constantly

talking to him because, of

course, he's got lots of the history

going back."

City councillor Jamie Gough

said he was keen to meet with

Mrs Wagner when required.

He said the city council should

have met more with Mr Brownlee.

"I think the tension between

local government and the Crown

occurred probably more often

than we would have liked because

there wasn't that dialogue

there. I don't know if that was

necessarily anyone's fault."

BLAZE: A fire in the City Central Motel Apartments on

Wednesday morning has left a man in critical condition.

PHOTO: BRAD YELAVICH

Critical fire victim

an Australian

• By Andrew King

A MAN in a critical condition

after he was pulled from a

burning motel room is believed

to be a roofer from Australia.

Firefighters dragged the man

from a room at the City Central

Motel Apartments, Barbadoes

St, at about 6.50am on Wednesday

after responding to a room

consumed by fire.

Detective Senior Sergeant

Mark Worner would not be

drawn on what had caused the

fire on Wednesday but said it

was "not accidental."

It is understood the man

had set up a roofing company

in the past nine months after

coming to Christchurch about

18 months ago and was working

predominantly in Queenstown.

He had returned to the city

from Queenstown on Friday

night.

Save with

30 %

Kingston

Shutters

(Limited time only)

off

Why choose

Kingston

Shutters

Polymer?

Unique manufacturing process

allows for the best shutter

performance

Aluminium core for increased

strength and durability

Aesthetic appearance of real

wood

Custom designed

Won't crack, split, chip or warp

Fire retardant

No harsh chemicals necessary

to clean

Insulates better than timber

Moisture and humidity resistant

Insect resistant

Made from a solid, non-toxic,

recyclable, environmentally

"green" poly material

The look of wood, the strength

of technology and the energy

efficiency of high-tech polymers

Available in a variety of colours

20 Year Warranty

www.venluree.co.nz

Curtains

Blinds

Ph 03 365 4666

M 027 779 6574

We come to you

with our mobile

service.
---
The Star Latest Christchurch news at www. .kiwi

Thursday June 15 2017 11

manufacturers clearance

5000 metres

of slightly imperfect stock to clear

Brookhaven $69.90 Brookhaven $69.90 Brookhaven $69.90 Brookhaven $69.90 Calisto $35

Berber Vouge $60 Riviera 1st grade $75 Canyon Ridge $69.90 Capricorn $60 York Street $79.90

Horizon Sea Fog $85 Madison $65 Carters Ville $79.90 Riviera $75 Bayside Twist $79.90

Ashwood $69.90 Columbia $79.90 Ashwood $69.90 Action $60 Brookhaven $60

Action Pampas $60 Alpacco Rig $69.90 Aquarius Town $35 Ashwood $69.90 Canyon Ridge $69.90

Call for our mobile showroom

to visit your home

312 Wilsons Road North, Waltham Phone 366 0070

www.carpetkingdom.co.nz | Mon - Fri 8am - 5pm | Sat 10am -1pm

Q Card Finance Now Available

FREE no obligation measure & quote (conditions apply.)
---
12 Thursday June 15 2017

Latest Christchurch news at www. .kiwi

The Star

Belt and Road Forum

for Future Cooperation

The Belt and Road Forum for International Cooperation

(BRF) which was concluded in May 14-15 outlined the

roadmap for the success of the Belt and Road Initiative.

Twenty-nine foreign heads of state and government

attended the forum.

Other delegates included officials, entrepreneurs, financiers

and media from over 130 countries and regions, which are

home to more than two thirds of the world's population

and their combined gross domestic product accounts for

90 percent of the world's total. The second BRF will be held

in China in 2019.

The forum yielded a list of outcomes, which included 76

consensuses comprising more than 270 detailed results in

five key areas, namely policy, infrastructure, trade, financial

and people-to-people connectivity.

It sent a positive signal for all parties to work together

to build a community of shared future, which would be

extremely important for China and the world.

Large Investment Demand

A joint communiqué was issued at the forum, vowing

to work on a long-term, stable and sustainable financing

system, as well as to enhance financial infrastructure

connectivity, by exploring new finance models, platforms

and services. The projects will require innovative financing

mechanisms -- a mix of public and concessional finance

and commercial capital.

Stronger Financial Connectivity

Meanwhile, besides the actual fund injection, future

cooperation would gradually extend from the building of

hardware such as roads and ports to softer sectors such as

management and services. Funding services and financial

support would be one of the service and institutional

improvements that would take more shares in the next

round of Belt and Road construction.

Nine Chinese-funded banks have set up 62 direct branches

and representative offices in 26 countries along the Belt

and Road as of the end of 2016, offering tailored services to

local clients. At the same time, 54 commercial banks from

20 countries and regions along the Belt and Road have

established branches, financial companies or representative

offices in China, seeking opportunities with the initiative.

According to the Guiding Principles on Financing the

Development of the Belt and Road, governments along

the Belt and Road should coordinate to provide favorable

policy environments for financing. The guiding principles

also suggest letting the private sector play a larger role in

the initiative, and encouraging financial innovation while

enhancing cooperation on financial regulation.

Consolidated Consensus

China aims to work with other countries to build the

Belt and Road into an open platform of cooperation and

a solution for challenges, including a lack of new growth

drivers, development imbalance and terrorism. President

Xi Jinping said China hoped to create a big family of

harmonious co-existence, and the pursuit of the Belt and

Road will not resort to outdated geopolitical manoeuvring.

To ease concerns, Xi said China has no intention of

interfering in internal affairs of other countries, exporting

its social system and model of development, or imposing

its will on others.

accounting for 8.5 percent of total overseas investment

made by Chinese enterprises.

The Chinese President in his speech also mentioned China

will expand China-Europe railway cargo services and

establish new mechanisms, including a liaison office for

the forum's follow-up activities and a research centre. With

coordinated and sustained collaboration among all parties

concerned, the forum will mark the start of the Belt and

Road 2.0.

Opportunities for New Zealand

Attending the forum showed that New Zealand wanted to

be part of the discussion. New Zealand and China signed a

ground-breaking memorandum of understanding on Belt

and Road Initiative in March. The longer-term target is to

work with China to develop a plan on how New Zealand

can participate and contribute to the initiative.

One of the eye-catching outcomes of the forum was China's

hefty financial support to advance the initiative, including

an additional 100 billion yuan (14.5 billion U.S. dollars) to

the Silk Road Fund.

China will also encourage its financial institutions to

conduct overseas yuan fund businesses with an estimated

amount of about 300 billion yuan. China's decision to scale

up financial support for the Belt and Road, after billions

of U.S. dollars of investment over the past three years,

underscored the country's resolution to push forward the

initiative.

The Belt and Road will be open to all. All countries, from

Asia, Europe, Africa, Oceania or the Americas, can be

partners of the initiative. So far, the initiative has won

support from more than 100 countries and international

organizations, of which over 40 have signed cooperation

agreements.

Landmark Significance

The Belt and Road initiative has gone beyond vision and

become a reality, delivering tangible benefits to countries

along the routes. From Mongolia to Malaysia, Thailand to

Pakistan and Laos to Uzbekistan, many projects, including

high-speed railways, bridges, ports, industrial parks, oil

pipelines and power grids, are being built. Since 2013,

Chinese businesses have invested more than 60 billion

U.S. dollars in countries along the Belt and Road. The

investment totalled 14.5 billion dollars in 2016 alone,

This advertorial page is supported by The Chinese Consulate

Coming back from the Belt and Road Forum for

International Cooperation, Paul Goldsmith who is New

Zealand's Minister of Science and Innovation, Minister of

Tertiary Education, Skills and Employment, said the forum

"was a very impressive and significant event." As the head

of the New Zealand delegation, Goldsmith said during an

interview that he sees the Belt and Road Initiative as the

re-management, re-invention and re-invigoration of the

ancient trade routes. He said "The Silk Road is a starting

point and an expression of support for the open market,

reducing trade barriers, increasing connectivity across the

world. He said that as a small trading nation, New Zealand

"obviously has a keen interest on all those things" and

New Zealand is well aware of the opportunities that China

provide especially for bilateral trade.

Being Minister of Science and Innovation, Mr. Goldsmith

is particularly interested in the themes of the Belt and

Road Initiative on innovation, which is the particular

field that New Zealand is focused on. New Zealand is

also looking into how the two countries can continue to

work together on innovation in many fields. New Zealand

universities have long time relationships with Chinese

leading universities. Mr. Goldsmith said that there's a good

prospect for New Zealand and China to further develop

science connections under the Belt and Road Initiative.
---
The Star 13

News

Latest Christchurch news at www.

.kiwi

Thursday June 15 2017

Child sex offender concern

Meeting

held by

residents

• By Andrew King

SOMERFIELD residents

met last week to discuss the

placement of a convicted

child sex offender in their

community.

It comes after schools and residents

were told on May 29 about

the offender being released from

prison and who would soon be

living near them.

The meeting

was organised

by Labour MP

for Port Hills

Ruth Dyson

(left) and included

Somerfield

Residents

Association

representatives and Department

of Corrections staff.

Ms Dyson labelled the meeting

as "extremely positive."

"They have really tried to engage

the community as much as

possible. We were told it was the

CONCERN: Letters have been sent to schools warning of a sex offender living in the

community.

first time that Corrections have

door-knocked residents to let

them know what is happening,"

she said.

She said she initially had

doubts that police would be able

to respond to any breaches of

conditions, but said Corrections

reassured her police would make

it a "top priority."

Residents association chairwoman

Julie Tobbell said it was

good to allow the community to

voice their concerns.

"I will be looking to set up a

meeting with concerned residents

and Corrections at a later

date once I find out how many

people would be interested in it,"

she said.

No specific details about the

offender were discussed at the

meeting, Ms Tobbell said.

The next time the residents

association will meet is July

10, but Ms Tobbell said there

could be another meeting set up

if there was a large number of

interested residents who wanted

to attend.

Schools were notified by Corrections

staff who assured them

that there will be 24/7 monitoring,

exclusion zones

to prevent contact with

children, and the offender will

be housed more than 500m

from schools.

Letters were sent to Somerfield,

St Peter's and Cashmere

High schools.

Corrections staff were

also going door-to-door

in Somerfield letting the

community know.

Controversial

fence set

to cost

ratepayers

A CONTROVERSIAL ratepayerfunded

fence at Flock Hill Station

has been given the go-ahead.

The Selwyn Waihora Zone

Committee has reconfirmed its

decision to allocate $26,571 of

its Immediate Steps Biodiversity

Funding to section off a part of

Cave Stream and 35ha wetlands at

the station.

The zone initially approved allocating

$44,236 to the project in

March but has since reviewed its

decision.

It comes after an application

by Flock Hill's leaseholder Flock

Hill Holdings, owned by Jim

Foster and Vince Saunders of Los

Angeles-based Coast Range New

Zealand, was made.

It proposed fencing off Cave

Stream as a way of mitigating the

associated loss of biodiversity on

the terraces. The landowners will

contribute $22,000 towards the

project.

A final decision on the funding

was held off at the zone's May

meeting after concerns more

research needed to be done on the

project

Make your GP team your first call 24/7

Even after-hours a nurse is available to give free health advice

Phone your usual General Practice number 24/7

CREATE AN

AWESOME LIFE

FOR YOU AND

YOUR WHANAU

Gain skills for employment for FREE* through

He Toki. Training options include construction,

electrical, plumbing, health, engineering and more.

Through He Toki you'll explore your cultural

identity and be supported to join the next

generation of Māori leaders.

Apply now at Ara

For more information

0800 24 24 76

ara.ac.nz/he-toki

12

9

6

12

3

*

Conditions apply.

9

3

6
---
14 Thursday June 15 2017

Latest Christchurch news at www. .kiwi

The Star

News

Changing attitudes lower the number

• By Bridget Rutherford

DRINK DRIVING charges have

almost halved in Canterbury

over the past decade – a shift

police say is down to changed

attitudes.

The latest drink driving figures

show the number of people

charged for driving under the influence

of alcohol in Canterbury

was 1658 last year, compared

with 2543 in 2007.

Of those, 1604 were convicted

last year. There were 2433 convictions

in 2007.

Nationally, the number has

dropped from 27,328 a decade

ago, compared with 16,304 in

2016.

Canterbury

road policing

manager

Inspector Al

Stewart (left)

said police were

encouraged by

the downward

trend.

"The trauma and grief caused

by an alcohol-related serious

crash is massive, so less people

affected by alcohol on our roads

make them safer for all road

users and reduces harm in our

communities."

He said changing public

POPULAR: Sullivans Irish Bar manager Subhadra Marshall

pours a class of Mac's light beer. PHOTO: MARTIN HUNTER

attitudes to drink driving was

the reason for the decline. It

was not seen as acceptable any

more, he said.

Inspector Stewart said police

had made strategic efforts targeting

alcohol harm, especially on

the roads.

"This has been supported by

the lower drink driving limits

which have encouraged people

to think about their drinking

behaviour and plan to make it

home safely."

The breath-alcohol limit was

lowered from 400mcg/L to

250mcg/L in December, 2014.

But the limit that triggered

prosecution at court was

400mcg/L.

The latest stats did not include

the number of people given an

infringement notice for driving

over the 250mcg/L limit since it

changed.

But in 2014, the number of

people charged in Canterbury

was 2235, before dropping to

1852 in 2015 and again in 2016.

Bars and pubs have noticed

people are more aware of what

they were drinking, with many

patrons now choosing light beers

and wines.

Valley Inn Tavern owner Dean

Calvert said since the new limit

was introduced in 2014, they had

noticed patrons were buying a lot

more food and snacks to go with

their drink.

"People are eating before they

drive."

BY THE NUMBERS

Number of drink driving

charges in Canterbury in the

last five years:

2012: 2900

2013: 2472

2014: 2235

2015: 1852

2016: 1658

Number of convictions in

Canterbury in the last five

years:

2012: 2795

2013: 2392

2014: 2187

2015: 1796

2016: 1604

The sale of lower alcohol beer

had also been on the rise, he

said.

"There's definitely a lot more

people drinking the Monteith's

Mid Strength Ale."

They had a courtesy van for 14

years and it had always been very

well used, he said.

Sullivans Irish Bar owner

Mark Sullivan said they had

a wide range of non-alcoholic

beverages, as well as low alcohol

beer and alcohol-reduced wine.

They also sold an Edenvale

non-alcoholic wine, he said.

"There definitely has been a

shift to no-alcohol products."

STREET PARTY 23RD JUNE 6PM – 10:30PM

EVENTS PROGRAMME ON FACEBOOK & LYTTELTON.NET.NZ

17-24th JUNE

No parking in Lyttelton. Shuttle buses running from Eastgate & Chapmans Rd. Extra 28 & 535 services running.
---
The Star Latest Christchurch news at www. .kiwi

Thursday June 15 2017 15

of drink drivers

He said they had seen an increase

in people buying food, and staff

monitored their patrons closely

and encouraged them to eat.

Sullivans manager Subhadra

Marshall said: "People are more

aware of what they're drinking."

The statistics showed in

Christchurch, 1562 appeared in

the district court charged with

drink driving last year. It was

2080 in 2007.

In comparison, last year 78

people appeared in the Ashburton

District Court charged

with drink driving, and 170 in

Timaru.

In 2007, people aged 19-yearsold

and under had the most

convictions for drink driving in

Christchurch with 473.

But last year, the number of

under-19s convicted had dropped

to 154, and the 20-24-year-old

bracket was the highest with 323

convictions.

That was followed by the 25-29

age bracket with 274.

Inspector Stewart said police

and communities could not be

complacent.

People needed to continue to

have "hard conversations" with

family members, whatever their

age, if they were putting themselves

and others at risk by drink

driving, he said.

"Police will continue to enforce

alcohol-related offending at a high

level to reduce the trauma and

family harm that results from it."

FOCUS: Canterbury road

policing manager Inspector

Al Stewart says police have

been targeting alcohol harm

in general, and especially on

the roads.

NEW

NORMAL:

More drivers

are drinking

low alcohol

beer and

non-alcohol

wines.

While the number of

people charged with drink

driving in Canterbury has

almost halved in the last

10 years – changing public

attitude has not deterred

others

•A 38-year-old woman

was caught drink driving

more than four times the

legal limit with her two

young children in Rolleston.

Melanie Susan Trebilco

pleaded guilty to a charge

of driving with excess

blood alcohol after being

caught at a random stop on

Tennyson St on December

9. Her alcohol level was

1157mcg/L. Police said she

refused to let officers escort

her three and

nine-year-old children, as

the car did not have car

seats. She was disqualified

from driving for eight

months, and fined $1000 in

January.

•On the same day,

another Rolleston mother

recorded a reading of

696mcg/L when stopped

in Faringdon subdivision

with her four-year-old child

in the car. The 35-year-old

was pulled over after failing

to stop at a stop sign.

•Well-known race car

driver and businessman

Paul Kelly was caught by

police doing a burnout

in a classic car outside

a Christmas party while

under the influence. The

47-year-old had been

drinking for the day on

December 16 and blew

853mcg/L. He was

disqualified from driving for

six months and fined $600.

• Sarah Jane Arrow was

on a zero-alcohol licence

when she got behind the

wheel after drinking last

year. The 45-year-old was

driving along Main Rd,

four times the legal limit,

and failed to take a bend,

crashing into pedestrian

Ben Appleton. He flew

2m onto the rocks below,

suffering two broken legs,

and a fractured skull and

spine. In September Arrow

was sentenced to twoand-a-half

years in prison

and was banned from

driving for the rest of her

life. She was ordered to pay

$2500 in reparation to Mr

Appleton. It was her fourth

conviction for drink driving.

Running

1st & 3rd Sundays

every month

WEKA PASS RAILWAY

Diesel Locomotive in Service

Train hire available

Fares: Adults $30 Child $12 - Family $70

Dep Glenmark 11.30am & 2.00pm

Dep Waikari 1.00pm & 3.10pm

Infoline: 0800wekapass

www.wekapassrailway.co.nz

Heat Pump Specials

Heat Pump Specials

GE35 4kW Heat Pump from only $2,299

WINTER

GE35 4kW Heat Pump from only $2,299

GE50 HEAT 5.8kW Heat PUMP Pump SPECIALS

from only $2,749

GE50 Phone 5.8kW now Heat for Pump prompt from only expert $2,749

FH50 6.0kW advice Heat and Pump installation from only $3,499

FH50 6.0kW Heat Pump from only $3,499

(we can install the same week)

Technology

Technology

INCLUDES INSTALLATION. CONDITIONS APPLY.

INCLUDES INSTALLATION. CONDITIONS APPLY.

379-3589 379-3589

COUNTRY GOLF

AT ITS BEST

Only half an hour

from the city.

GREENDALE

GOLF CLUB

Green Fee players, both

men and women, are always

welcome to play and may join

in the 'Match of the Day' on

Saturdays at 12 noon and

Tuesdays at 9.30am – only $20!

AttrActive flexible

subscriptions AvAilAble

987 Coal Track Road, Greendale

Email: greendale@golf.co.nz

Web: www.greendalegolf.co.nz

ONLY 15

MINUTES FROM

ROLLESTON!

Serving Canterbury for 33 years

196 Wordsworth Street,

196 Wordsworth Street,

www.snowtemp.co.nz

Christchurch

www.snowtemp.co.nz

Christchurch

Heat Pump Installation/Repairs • Refrigeration Design, Build, Repairs

Heat Pump Installation/Repairs Refrigeration Design, Build, Repairs

2017

TE IWA O MATARIKI

Te Kātao a Matariki: Waipuna-ā-Rangi,

Waitī, Waitā

A TIME OF GIVING THANKS, OF

REMEMBERING, AND TO CELEBRATE

THE MĀORI NEW YEAR.

Activities include Matariki Storytime and

storytelling, community art projects and

a family fun day held in conjunction with

Kotahi Mano Kaika.

Family Fun Day:

Saturday June 17th

New Brighton Library

from 10am to 3pm.

Contact your local libraries

for more information.
---
16 Thursday June 15 2017

Latest Christchurch news at www. .kiwi

The Star

S Av O U R t h E

At m O S P h E R E

For an iconic shopping experience & the best

selection of street food the city has to offer

f OOd COURt

Dose Sushi

The Burger Joint

Dimitri's Greek Kebabs

American Delight

Berry Healthy

Base Woodfired Pizza

Fritzweiners

Maree's Lebanese Kebabs

Pure Pulp

Tiki Taco

A Mouse Called Bean

Wild Bites

Noodle Monk

Gaslight Taverna

Freyburgs Fish and Chips

Cosy Cafe

Paradise Dumplings

J Bings

Herba Gourmet

Coq au Van

O P E n n O w

ShOP tO win

Win lunch for 4 people at Black Estate Vineyard,

flying there and back with Christchurch

Helicopters, piloted by Richie McCaw

Enter in store or online www.containermall.kiwi

News

Bishop in protest

• By Gabrielle Stuart

BISHOP Victoria

Matthews is set to speak at

a State houses sale protest

rally this weekend – but

she won't be the guest of

honour there.

Instead, the top speaker

position has been given

to the tenants of the state

houses, so they can tell

their own

stories.

The rally

on Saturday

will

protest the

Victoria

Matthews

proposed

sale of up

to 2500

state houses

in Christchurch, about 40

per cent of the city's state

housing stock.

The sell-off plan was

announced in November

by Bill English, who said

it was opportunity for a

private social housing provider

to renew and develop

the homes.

But Christchurch social

agencies, including the

Salvation Army, Christchurch

Methodist Mission

and Tenants Protection

ON THE MARKET: The Bryndwyr state house where

John Key lived as a child is one of up to 2500 which

could be sold under a Government plan. ​

Association, have criticised

the plan.

Protest organiser

Marney Ainsworth said

people were concerned the

state housing sold would

be run for profit, and

people living there would

suffer.

"A woman came up to

me after one meeting and

said she felt very ashamed

of herself, because she

hadn't clicked that these

were real, live, human,

people. That's what we're

trying to show," she said.

Victoria Matthews said

she planned to speak at

the protest to support the

people living there.

"I'm less concerned

about who owns state

housing, and more

concerned about the maintenance

of it and the response

to those who need

extra support. The need to

care for our neighbour is

more important than who

owns the housing," she

said.

Labour MP Megan

Woods and Green MP

Eugenie Sage are also set to

speak at the meeting. Ms

Ainsworth said National

MPs Amy Adams and

Gerry Brownlee had both

been invited, but neither

had responded.

The protest rally and

march will start at 2pm

on Saturday, at the Shands

Crescent Reserve on Riccarton

Rd.

REtA il

Cosmic

Hunters and Collectors

Hapa

TradeAid

Stencil

NZ Post / Kiwibank

Simply New Zealand

The General Store

Metromart

Meccano

Untouched World

Champions of the World

Barkers

SECURE YOUR SPACE tO d AY

Limited retail spaces

available 0800 00 11 78

Establishment fee of $99 applies

Call into your nearest Instant

Finance branch and ask about the

Fast $500 or apply online now!

3/11 Goulding Ave, Hornby

9B Buckley Road, Linwood

Open frOm 10am daily

cashel street (Bridge Of rememBrance end)

Hurry! The Fast $500

finishes on 30 June 2017.

Terms and conditions apply. Subject to Instant Finance

lending criteria and responsible lending guidelines.
---
The Star Latest Christchurch news at www. .kiwi

Thursday June 15 2017 17

Tickets on

sale NOW!

Health funding at risk

Historian dies

• By Gabrielle Stuart

THE CANTERBURY District

Health Board has less than three

weeks left to catch up on its

surgery waiting lists – with $24

million in funding on the line if

it fails.

The doctor strikes and rebuild

work on operating

theatres

meant many surgeries

had to be

rescheduled, and

the CDHB fell

behind on its set

Andrew

Dickerson

surgery targets.

That left some

patents waiting

more than six

Troubadour 1 by Philip Trusttum

BEHIND: The doctor strikes and rebuild work at Christchurch

Hospital left many patients waiting longer for surgery, and the

health board is now trying to catch up.

months for treatment or a first

assessment – breaking the rules

around the Government funding.

In March, the health board was

told it could face a $24 million

funding cut as penalty if it did

not catch up by the end of June.

That means having fewer than

one per cent of patients waiting

for more than six months, and

completing the year's target of

20,982 non-emergency surgeries

this month.

The CDHB already faces

financial problems, with a estimated

budget shortfall this year

of more than $39 million.

The CDHB met with the

Ministry of Health to discuss

the situation last month, and the

health board was on track

to achieve the targets at that

point.

Ministry of Health spokeswoman

Clare Perry said a

decision on whether to charge

the penalty would be made in

August, after the results for this

month were confirmed.

CDHB hospital advisory

committee chairman Andrew

Dickerson some of the shortfall

Jubilee Concert

Celebrating 25 years of 'Music for Pleasure' by the

Risingholme Orchestra

Conductor - Philip Norman

Soloists:

Mark Walton - Clarinet Amandine Guerin - Violin

Milana Kornienko - Violin Rebecca Bendre - Cello

Guest Conductor: Anthony Ferner

Programme includes:

Artie Shaw - Clarinet Concerto

Vivaldi

- Double Violin Concerto

Bruch

- Kol Nidrei

Plus new work by

Philip Norman - Echoes of an Exhibition

had been made up by contracting

some surgery out to the

private sector – but that only

went so far.

"Contracting out isn't sustainable,

because we're using the

same people. Often the same

surgeons work in both private

and public, so there is only so

much they can do. It's very

much a juggling act," he said.

He said the difficulty meeting

targets could carry on over

winter, as emergency operations

because of winter illnesses could

use theatre space and delay less

urgent surgery.

TICKETS AT

THE DOOR:

Adults $12

School Children $3

Inspired by Philip Trusttum's 'Pictures at an Exhibition' series and specially

commissioned for this concert. Primary sponsors the Sadler Jones Family Trust.

Sunday, 18 June 2017 at 2.00pm

The Piano, 156 Armagh St, Christchurch

• By Caitlin Miles

OKAINS BAY identity Murray

Thacker has died.

The 83-year-old, whose great

grandparents were early settlers

in the Okains Bay area, passed

away last week.

He was best known for his

work with the Okains Bay Maori

and Colonial Museum, which he

founded.

He collected many historic

items over the decades for the

museum and he was heavily

involved in the annual Waitangi

Day celebrations.

He was awarded a Queen's

Service Medal for his work.

Mr Thacker was once described

as being 'pure Okains'.

He was born in 1933 and grew

up in Okains Bay, He attended

the local school and began his

collecting interest of historic

items while there.

He went onto Christchurch

Boys' High School, trained as

a blacksmith, and returned to

Okains Bay and developed a successful

hereford stud.

The Okains Bay Maori and Colonial

Museum began as his private

collection in his own home,

but when the opportunity arose,

he purchased the disused Okains

Exciting New Arrivals

Pop instore and have fun creating your new look!

Bay Cheese Factory in 1968 and

spent the next nine years setting

up the museum.

This included the relocation

and restoration of many colonial

historic buildings, forging links

with Maori crafts people and

commissioning the construction

of the Whakaata and Pataka

and the erection of the Whare

Taonga.

Mr Thacker was awarded a

Queen's Service Medal shortly

after gifting the museum

collection. In 2009, he was

honoured by the Canterbury

History Foundation with the A.C

Rhodes History Medal.

His funeral will be held today.

Great service, style & variety

Late Night every Thursday - Open until 6.30pm

55 Nottingham Avenue, Halswell. Phone: 322 6126

wish

you were

HERE?

Be in to WIN $10k* in travel

when you take a virtual walk

around the world at Northlands.

Visit northlands.co.nz

for more information.

*Terms & conditions apply.

northlands.co.nz
---
18 Thursday June 15 2017

Latest Christchurch news at www. .kiwi

The Star

News

Golden Oldies festival launched in

TWO SOUTH African cricket

legends have been named as

ambassadors for the largest

sporting event in Christchurch

history.

Cricketers

Barry Richards

(left) and Mike

Procter, along

with bowls

maestro Gary

Lawson, will be

ambassadors for

the Christchurch Casino Golden

Oldies Sports Celebration 2018,

which will run throughout April.

They will join Sir Graham

Henry (rugby), Sir Bob Charles

(golf), Brendon Pongia (basketball),

Rod Latham (cricket),

Selwyn Maister (hockey), Julie

Seymour (netball), Alan Stroud

(football), Jo Edwards (lawn

bowls), Barry Gardiner (squash),

Todd Blackadder (rugby) and

Cheryl Kemp (softball).

The announcement was made

at the event's Christchurch

launch on Monday.

The event will be the first time

10 sports are combined into one

Golden Oldies tournament.

Event director Peter McDermott

said they were fortunate to

have an amazing group of sports

advocates join its ambassador

team.

Sir Graham and his wife Lady Raewyn

Henry at the launch on Monday.

Colin Grant, Damion Neri and Sheavoynne

Mouat

"Our initial group of ambassadors

was largely Canterburybased,

recognising the importance

of engaging the local

Alan Stroud and Barry Corbett

Sally Mene, James Daniels and Mene Mene

region first and foremost," Mr

McDermott said.

"We are now focused on attracting

up to 70 per cent of the

forecast 10,000 participants from

overseas and our new ambassadors,

along with some of the very

high profile Kiwis, will provide

Mike Godinet, Dianne McDermott, Christine

Augsto and Jordan Wareham

strong voices and faces to help us

do so."

Richards and Procter will both

participate in the Golden Oldies

World Festival of Golf on top of

providing sideline support for

the cricket.

"Other than enjoying a week

of cricket festivities I am excited

at the prospect of playing golf

on what I understand are four

magnificent Christchurch golf

courses and being back in New

Zealand whose people are among

the most friendly and welcoming

it has been my pleasure to meet

in all my travels," Richards said.

Fondues RetRo FlaRes sidebuRns

Plus MoRe

Why not journey with us as we

travel back to 1977.

Do you remember booGie

niGHts or daVid soul

or KennY RoGeRs and

luCille?

BOOK ONLINE

www.casnova.co.nz

Did you know the space

shuttle Enterprise had

test flights?

Robert Muldoon was

our Prime Minister

and oh so much more

JOIN US FOR

MIDDLE AGE SPREAD

by ROGER HALL

"YOU CAN'T BEAT

KIWI CREATIVE

TALENT."

- Craig Hutchison,

Director and Producer

CAS'n'OVA PRODUCTIONS

on their latest production.

BOOK ONLINE NOW www.casnova.co.nz
---
The Star Latest Christchurch news at www. .kiwi

Thursday June 15 2017 19

grand fashion at Chch Casino

Registrations for most sports are

tracking well with rugby already

at 60 per cent of capacity and two

sports – netball and cricket – at the

50 per cent mark.

A push to recruit for the new

sports – lawn bowls, basketball, golf

and squash – will begin soon.

The event's volunteer recruitment

programme will begin next month,

with about 1000 expected to be

needed.

"Volunteers sit at the very heart

of delivering a great experience for

participants and becoming a volunteer

provides a way in which the

wider Canterbury community can

be involved," Mr McDermott said.

Minister supporting Greater

Christchurch Regeneration Nicky

Wagner said the event, which is

expected to inject about $33 million

of direct economic benefit, was a

golden opportunity to showcase

Christchurch.

Beneficiaries of the Christchurch

Casino Golden Oldies Sports Celebration

2018 are Cure Kids and the

Leverage and Legacy Committee.

Support for the event is provided

by New Zealand Major Events,

the city council, the Rata Foundation,

Tourism New Zealand and

Christchurch and Canterbury

Tourism.

Scott Dew, Earle Thomas and Bob Smith

Tracey Noble-Ford and Tracey Burtenshaw

Kate Dinwiddie, Michelle and Nigel Dixon

Sara Weeks-Norton and Lynlea Willan

Helen Whittington and

Danielle Gillespie

Balanced

Pressure

Ventilation

Ventilation Equipment

Suppliers to trade and retail

HEX390

Balanced Pressure Ventilation with Heat Recovery

Fresh air

from outside

Exhaust air

to outside

Want to Shift to a new career?

We can make it happen.

CDC estimates ICT employment in Canterbury

will grow 2500 additional jobs by 2025

Scholarships

available

APPly noW!

Warm stale air

from house

for healthy indoor air

Heat is transferred to the

incoming filtered fresh air

Warm fresh air

to house

Substantial energy savings over traditional domestic

ventilation systems

Combine your existing degree and life experience with

innovative learning to prepare for a career in the booming Tech

sector. Shift, Signal's 9 month industry focused programme

starts July 24, is open to graduates of any discipline, with

limited scholarship opportunities still available.

Choose from the Software development stream or the

Development Allied stream to focus on other areas such

as testing, user experience or technical writing.

Be part of one of NZ's fastest

growing sectors with fantastic

employment opportunities.

SIGNAL is powered by:

P 0800 990 024

E info@signal.ac.nz

W www.signal.ac.nz/shift

0800 SMOOTH (0800 766 684)

www.smooth-air.co.nz

sales@smooth-air.co.nz

264 Annex Road, Riccarton

Christchurch 8024, NZ

Ph +64 3 343 6184

Mon - Fri 7.30am - 5pm
---
20 Thursday June 15 2017

Latest Christchurch news at www. .kiwi

News

Wig out in support of the

Child Cancer Foundation

STAR MEDIA staff will don

their wigs on Wednesday to

raise money for a very worthy

cause – and we are urging you

to as well.

Wig Wednesday will take

place on June 21 to raise

money for the Child Cancer

Foundation, which provides

personalised support for children

diagnosed with cancer and

their families. Participants just

need to wear a wig, and bring a

donation.

Star Media publishes The Star,

six community newspapers,

magazines, including Style, Kiwi

Gardener and Rugby News, and

has a website www.star.kiwi

Star Media director Charlotte

Smulders, who organises the

annual Child Cancer Foundation

Christmas Party, said Wig

Wednesday would raise much

needed funds.

"Child Cancer Foundation is

an essential and amazing support

service for families going

through their cancer journey,"

she said.

"I think this is a unique and

fun way to support them, and

it brings the Star Media team

together for a great cause."

In last year's Wig Wednesday,

businesses, schools, community

groups and individuals donned

their wigs to raise more than

$90,000.

"We're hoping to build on

those numbers again this year.

It's so much fun and easy for

people to participate; simply

don a wig and make a donation,"

Child Cancer Foundation

national commercial manager

Jo Clark said.

Every week more than three

children in New Zealand are

diagnosed with cancer.

The Child Cancer Foundation

receives no direct funding from

the Government, so relies on

the generosity of the public, and

events such as this.

Star Media wants you to join

in. Take photos of yourself, your

school or business taking part

in Wig Wednesday and send

them to bridget.rutherford@

starmedia.kiwi.

Those who send in the best

photos will receive a free

double pass to Hoyts. We

have 10 double passes to give

away. Winners will need to

be able to pick up the tickets

at 359 Lincoln Rd. For more

information, visit www.

wigwednesday.org.nz

Complaints leave red zone

in doubt for future concerts

• By Bridget Rutherford

LARGE EVENTS are unlikely

to be held in a red zone park

again after a trial concert left

damage to the grounds and noise

complaints.

It comes after calls to hold

more events in the red zone to

take pressure off Hagley Park.

Australian musician Tash

Sultana played in The Bedford

Marquee at Burwood's Donnell

Sports Park on May 25.

It was one of three sold-out

shows performed in New Zealand,

organised by her management

and CRS Music.

The park had never been used

for that type of event before, and

the city council decided future

use of the site was to be determined

on the outcome of it.

A recently-released city council

report said its events partnerships

and development team would

not "actively recommend" the

park for future events with heavy

infrastructure such as marquees

and truck movements.

But the report said the team

would assess any application on a

"case-by-case basis."

It came after the city council

received four noise complaints

from the Tash Sultana concert,

The Star

two of which were after the event

had finished.

The report said the ground was

not ideal for future events of this

scale, as trucks driving on it had

caused damage due to how wet

it was.

The cost of that damage was

being covered by the concert

organisers. CRS Music did not

respond to The Star.

But the report said for the most

part, the feedback from residents

had been positive. In February,

Mayor Lianne Dalziel said more

events should be held in the red

zone to take pressure off Hagley

Park. Hands off Hagley had been

concerned with the damage being

caused to Hagley due to the number

of events being held there.

The city council report said the

public had expressed interest to

utilise parts of the red zone for

events.
---
Thursday June 15 2017

Home & Leisure Show

The Star Latest Christchurch news at www. .kiwi

21

Playhouses take shape for charity

FUTURISTIC, CLASSIC or

quirky – three unique and very

different playhouses are taking

shape, all in aid of charity.

The playhouses are being

designed and built by three

teams of Canterbury architects

and builders, and are set to be

auctioned at the Star Home &

Leisure Show in less than three

weeks.

The money raised will go to

charities – Birthright Canterbury,

which supports single

parent families in need, and

Tenants Protection Association

Christchurch, which works to

protect and support tenants.

Tenants Protection Association

manager Di Harwood said

the Playhouse Challenge was a

perfect fit for both charities.

"Housing is an important issue

for clients of both organisations

and demand for advice and

support has remained high ever

since the first Canterbury earthquakes,"

she said.

Birthright Canterbury manager

Rhodora Sagles said the

playhouses were "real statement

pieces" and she could see them

suiting businesses, pre-schools or

private backyards.

The teams creating the playhouses

are Fusion

Homes with

Scratch Architecture;

Irving Builders

with PXA

Architects;

and Pound

Road Trading.

Star Media

is the major

sponsor of the Playhouse

Challenge, which is also being

supported by Priority Communications,

Wyma Engineering,

Resene, Robertson Creative, and

Dave Richards Photography.

Star Media general manager

Steve McCaughan said it was a

worthy cause.

"We are big supporters of

Birthright Canterbury and

Tenants Protection Association,

who have been looking after

Canterbury people for many

many years."

The playhouses would also be

something special, he said.

"They will be judged on their

architectural design and construction,

as well as how much

fun they are for kids," he said.

The Playhouse Challenge was

inspired by Australia's popular

Cubby House Challenge,

QUIRKY: Fusion Homes' playhouse final design (top left)

combines solid construction and foam insulation for warmth and

vibrant colours as seen during its construction. ​

which this year raised well over

$100,000 for the charity 'Kids

Under Cover'.

The judges will include Birthright

Canterbury chair Jane

Lancaster, Tenants Protection

Association board member

Robin Tinga, architect John

McGrail from Dalman Architects

and early childhood educator

Blanche Head.

To stay up-to-date on the

Canterbury playhouses, you

can like the '2017 Playhouse

Challenge' page on Facebook or

follow 'Playhouse Challenge' on

Instagram.

•The 2017 Star Home &

Leisure Show will be held

at Horncastle Arena from

Friday, June 30, to Sunday,

July 2. The playhouses will

be auctioned at the show on

Saturday.

HOT WINTER

HEAT PUMP SPECIALS

+ FREE installation *

$2,799 $2,999 $1,999

$2,499

Free Installation*

Compact

Floor Console

5.2kW Heat Pump

AGTV14LAC

Free Installation*

High Capacity

Floor Console

8.0kW Heat Pump

ABTG24LVTC

Free Installation*

Compact

Premier Plus Hi-Wall

5.4kW Heat Pump

ASTG14LUCB

Free Installation*

Compact Hi-Wall

6.0kW Heat Pump

ASTG18LVCC

Call now for a free quote 0800 324 678 www.dcis.co.nz

*Inc back-to-back installation only, conditions apply.

FG2231

Christchurch mental health:

Public meeting 21 June

You're invited to join Labour Leader

Andrew Little, Labour's Health

Spokesperson Dr David Clark and local

MPs Dr Megan Woods, Ruth Dyson and

Poto Williams to discuss the state of

Christchurch's mental health services.

A panel of local experts will discuss their

views on the state of youth and child

mental health in our city.

Authorised by Andrew Little MP, Parliament Buildings, Wellington

7:30pm, Wed 21 June 2017

Transitional Cathedral

234 Hereford Street

Christchurch

For more info, contact: amy.just@parliament.govt.nz
---
22 Thursday June 15 2017

Latest Christchurch news at www. .kiwi

The Star

Viewpoint

Lions give city a boost

Nicky Wagner

WHAT A game. The Crusaders

may not have won at the

weekend but Christchurch

certainly did – the city came

alive with thousands of eager

rugby fans.

The visit by the British and

Irish Lions, their support staff

and loyal fans was a boost of

energy and income, but also an

opportunity to take stock of our

tourism sector.

The latest Greater Christchurch

Dashboard – Tourism,

released on Sunday, looks at

international visitor arrivals to

Christchurch Airport, guest

nights and accommodation

availability.

Overall, while tourism is not

back at pre-quake levels, visitor

numbers and accommodation

capacity are increasing.

It's particularly pleasing to

see annual international visitor

numbers to Christchurch

Airport (as of April this year)

reach more than 500,000 for

the first time since the quakes.

Total tourism expenditure in

the greater Christchurch area is

estimated at $2.3 billion in the

12 months to April 2017.

Capacity at motels and holiday

parks is almost back to 2010

levels, but there's still some work

to do in the hotel sector, with

bed numbers in March 2017 at

56 per cent of 2010 numbers.

We know the central city was

struck hard in the quakes and a

lot of building stock, including

hotels, were lost. A number of

hotels have re-opened, two more

are in the process of substantial

refurbishment or repairs, and

new ones are in the pipeline,

such as the Holiday Inn Express

on Gloucester St, scheduled to

open next year.

I was lucky enough to attend

the game on Saturday, but I

know thousands more watched

from local bars and restaurants,

as well as the temporary fan

zone on Poplar St in the Innovation

Precinct.

Locals also embraced

travelling Lions by offering beds

and campervan parking spots

through the unofficial "Adopt a

Lions Fan" Facebook page.

This all shows that in spite of

greater Christchurch's ongoing

tourism challenges, the area

is very much on the map and

heading in the right direction.

As a community, we can do

our part by helping domestic

and international visitors see

Christchurch the way we do –

not as a broken place, but a city

of opportunity.

•Nicky Wagner is Minister

supporting Greater

Christchurch Regeneration

Readers respond to a

transport expert's calls for

the city council to reduce

speed limits in a bid to

improve safety

Allan and Maureen

Goulstone, Aidanfield – We

are residents in the Anthony

Wilding Retirement Village in

Aidanfield. We like your article

on lowering speed limits in the

June 8 edition of The Star. We

feel that speed limits should

be reduced around retirement

villages as well as the list you

gave. For the two and a half

years we have lived here, I've

battled to have the 80km/h

speed limit on a 0.9km section of

Halswell Rd, between Dunbars

and Hendersons Rds, reduced

to 60km/h, in line with the

speed limit from Dunbars Rd

through the Halswell village. I

feel I've been playing ping-pong

with the authorities on this. It's

a national transport authority

decision, apparently. So no-one

will do anything. The limit, as it

stands, seems to me to be quite

ridiculous.

One other aspect of this is that

there is a bus stop serving the

Orange Line on the east side of

Halswell Rd 'opposite' Aidanfield

Dr. Our residents have to run to

get across the road, taking their

lives in their hands to do so.

Blessings on your work. May it

succeed beyond expectation.

Carmina Blewett,

Redwood – Living my entire 17

years in Redwood's winding and

narrow Barnes Rd, I have grown

up to witness, on a daily basis,

the excessive speeds hoons and

reckless drivers alike strive to

outside my gate. Is 60km/h really

an appropriate speed limit with

oncoming vehicles, and pets and

children on the road side?

Matthew Tansey – The

(transport expert) is a bike riding

dreamer. Don't wreck our new

city any further with your stupid

lower speed limits and your

segregated bike lanes that make it

dangerous for every car driver.

Christine Schuler – Who

gets up to 50km/h outside malls

or schools (far too many people

waiting to pick up kids)? It's nothing

to do with speed, it's poorly

designed roads and congestion.
---
The Star Latest Christchurch news at www. .kiwi

Thursday June 15 2017 23

SAFETY FIRST: Traffic expert

Glen Koorey says speed

limits near schools, shopping

centres and on windy narrow

roads should be lowered.

PHOTO: CANTERBURY

UNIVERSITY

Andrea Lamont – The so

called traffic experts should not

have diverted all the traffic to

main roads where schools are

and cut off the many routes to

get there. This includes diverting

traffic to malls, adding

lights, islands, no parking lanes

and bus stops. It is not the speed

creating the crashes, it is the

confusion. The road rules say

one thing, the signs say another.

Katherine Zeg – Why?

Nobody does 30, not even the

police. Why don't you not look

at the speed, but the fact that

people are too busy looking

down at their phones or not

crossing at the lights? Why is

it always just the speed of cars

that's the problem?

Tamsin Carter – Better

policing is needed to enforce the

current 40km/h limit outside

schools. I was once overtaken

by a courier van when sticking

to 40km/h outside a school in

the morning when the extra

signs were lit. Some people will

just not obey the rules and need

to be stopped by police when

they speed past a school.

Immigration reform

NEW Zealand is

a country built on

immigration.

When new migrants

arrive in our cities and

our country, we are all

the better for it. My

own family arrived in a couple

of waves of migration in the late

19th and early 20th centuries

from England and Ireland. We

all have our family migration

histories, whether it be a waka,

sailing ship, boat or plane. We've

always welcomed migrants in this

country and will continue to do

so.

A Government's job is to ensure

that the number of people arriving

matches our economic needs and

ability to cope with the population

growth. In recent years, the

National Government has failed

to do this. Since 2013, immigration

has been more than four

times what was planned for – that

means 130,000 more people than

expected have settled here. National

hasn't made the necessary

investments in public services and

infrastructure to support new arrivals.

This has contributed to the

housing crisis, put pressure on our

health system and schools, and

added to the congestion on roads.

This week, Labour announced

moderate and sensible reforms

to immigration that will reduce

the pressure on cities, while still

making sure our businesses and

regions can access the skilled

workers our country needs. We

have reviewed the system and

found ways to end abuse of the

system, particularly the backdoor

immigration through low-value

education.

Businesses facing genuine skills

shortages will be able to get the

skilled migrants they need. Labour's

KiwiBuild and Exceptional

Skills Visas will help bring in

skilled workers for construction

and areas like IT and health.

This is not about slashing immigration.

In fact immigration will

continue above levels overseen by

either Helen Clark or John Key.

It's about taking a breather and

ensuring that all New Zealanders,

whether their families have been

here for five generations or five

days, have access to great housing,

schools and healthcare.

•Megan Woods is Labour's

Canterbury spokeswoman

FREE

installation*

SALE

INVEST

in the best!

®

Classic GE Series

HIGH WALL HEAT PUMP

HIGH WALL HEAT PUMP

FLOOR CONSOLE

HIGH WALL HEAT PUMP

FH50 6.0kW Heat Pump

KJ50 5.8kW Heat Pump

GE25 3.0kW Heat Pump

EF50 5.8kW Heat Pump

$3,299* $3,499* $2,149* $3,099*

Mitsubishi Electric Heat Pumps are super energy

efficient and whisper quiet. Let us help you find

the right solution for your home!

Only

$249*

Add

*includes cost of

back-to-back install

only, conditions apply

We are your local heat pump specialists.

Call for your free consultation and quote.

0800 324 678

www.dcis.co.nz
---
24

Latest Christchurch news at www. .kiwi

Thursday June 15 2017

Our People

The Star

Philip Norman

Composer scores grant to keep

Dr Philip Norman has been granted a $100,000 Michael King

Fellowship to pursue a lifetime project about New Zealand

composers. He spoke with Gabrielle Stuart about burning

bras, brutal reviews and making money out of music

How how did you get the news

of this grant?

I got the call about a fortnight

ago. It was a lovely surprise.

Who wouldn't like to be offered

$100,000 to pursue one of their

projects? This is something I've

been working on for a while, but

the fellowship means I can concentrate

on it, turn down other

work, and get it done.

How long have you been

working on this?

I would dread to think. I

started this project in 1978 when

I began studying for my PHD

at the University of Canterbury,

before I realised it was too big a

project to do in that time. So I

put in a year on it then, and add

to that another 10,000 hours

every few years since.

You've already written a bibliography

with stories of about

120 New Zealand composers. I

have to confess, I didn't know

we had so many composers

here.

You can actually add one or

two to that – there are about

1200 people out there composing.

If I listed all of them that

would be the whole word count

of the book right there, but it

would look like a phonebook.

So this will focus just on people

who have had a real impact with

their work.

It's funny really, today we've

got many, many people composing

because computer technology

makes so much possible.

But go back 100 years, and there

were thousands of people composing

then. It was something

you had a go at, because of

course there was no radio or

music recordings, so for many

people that was their source of

entertainment. Many people

were something else by day

and composer by night.

Is being based here at

the bottom of the world,

an advantage or disadvantage

to composers?

I found it to be a huge

disadvantage, principally

because the world's cultural

traffic flows southward. It comes

from London and New York

and trickles down until it finally

one day arrives in Invercargill.

It makes it hard for New

Zealand composers to

swim against that tide,

because you don't

have that huge

promotional

machinery behind you that they

do in those cities. Having said

that, I wouldn't wish to live in

London or New York. The advantages

of being here outweigh

the difficulties.

Your pieces have been performed

in some amazing theatres

and venues across the world

– what are some that have stood

out?

HEAT PUMP

SALE NOW ON!

Amazin' WINTER Specials!!

• We will offer you the best quality brands and

option of heat pump for your home/business

• Providing Heat Pump solutions for over 15 years to Cantabrians

• We personally guarantee all our products & installs for 5 years

(providing annual maintenance has been completed)

Phone us today for your free consultation & quote

41A SHAKESPEARE RD, WALTHAM

PHONE 03 366 0525

www.enviromaster.co.nz

"A local team for local people"
---
The Star Latest Christchurch news at www. .kiwi

Thursday June 15 2017 25

writing about his love for music

I've actually hardly ever been

overseas. The life of a composer

is not well remunerated, so it's

not something I could afford to

do.

That's a real shame.

I think it's very sad, although

I'm biased of course. But the

reality is the royalty I get for a

piece performed at a concert

wouldn't be sufficient to buy a

programme, let alone fly across

the world.

But actually, what excites me

the most is having my pieces

performed in front of my own

audiences, my own people here.

It's nice to say something you

wrote has been performed in

Timbuktu, but it's more special

to have people you love watching

it. It gives me great pride to see

someone take the time to learn

and put their heart and soul into

performing my work, it doesn't

matter if it's one person or 100.

What was the first instrument

you learned?

I learned the cello when I was

eight or nine, so it was taller than

I was. My mother was a music

teacher, and a great source of

inspiration and help. But what

really lit my fire was Gilbert and

Sullivan musicals at school. My

friends and I used to write comic

ICONIC: The Adamstown Theatre in Australia performing the

Footrot Flats musical, one of the most successful shows Philip

Norman has written music for.

operettas during our school

holidays – I'm not sure if that's a

normal pastime? But one of the

first we performed at school was

all about the women's liberation

meetings at Parliament. I still remember

the opening line: Burn

the bra, burn the bra! That was

very risqué then, so we loved it.

After school, did your family

ever tell you to get a real job?

My father often used that

line. He was a headmaster, so

that made for an interesting

childhood. But my father also

always had a creative streak,

so he had admiration for the

fact I was using my creativity. I

was determined, even at 18, to

make a career out of music. So

at university I wrote, again with

friends, a series of musicals.

One had a wonderful title, Stiff

Luck to the Undertaker, and it

went quite well. It was difficult at

times. I was privileged to be part

of the team writing the Footrot

Flats musical and, after the hours

of work spent on it, I said if I

couldn't get a decent return, I

would give it up. But fortunately

it did well.

Have you ever had to turn to

other work, to pay the bills?

Actually no, I haven't had to

do the traditional things like

flip burgers at McDonald's, so I

count myself enormously privileged.

I haven't really ever undertaken

something just because I

have needed the money, either –

I have always been interested in

it. But perhaps that's also because

I have wide interests.

What are some reviews of

your work that have stood out

to you over the years?

You mean times I've been

roasted? There have been

many. One I really rather relish

was from one of the London

critics, who are known for their

savagery. One said I should be

noted for writing one of the

world's first tune-free musicals.

I didn't appreciate it at the time,

but I do rather appreciate that

now.

You've also earned many

honours and accolades for your

work. Which has meant the

most to you?

Receiving the Companion of

the New Zealand Order of Merit.

That was something really quite

special.

Outside your work, what are

some of your pet passions?

Well, pets actually. My current

delight is a pet rabbit by

the name of Harvey. Harvey

Norman. There's something

about this rabbit, he's been a real

joy. My children are also a real

source of joy. It's incredibly interesting

seeing them develop into

skilled and fascinating young

adults.

What are your musical guilty

pleasures?

I'm of the belief there are no

musical guilty pleasures. Whatever

you enjoy is worth listening

to. I admit I get very moved by

the sound of bagpipes, and jazz

has been something I've loved for

years. So I do have eclectic tastes.

So you would listen to a rap

song every now and then?

I'm full of admiration for some

rap, actually. This is the street

poetry of now, and the voice of

youth. I predict before too long

there will be university studies of

rap, there probably already are.

With all styles of music, there

are bad examples and well done

examples. With rap some of the

worst is terrible, but in the best

there is a lot to admire.

June 2017

Community digs in to help improve local environment

Christchurch West Melton Zone Committee

By Arapata Rueben, Zone Committee Chair

A big thank you

to those of you in

Christchurch who

showed up last

month to help

clean up some

of our wonderful

Christchurch

waterways.

Over 750 people participated in the

"Mother of all Clean Ups 2017" and nearly

9 tonnes of rubbish was collected from

the 156 kilometres of river bank bordering

the Avon and Heathcote Rivers, Kerrs

Reach and the Avon-Heathcote Estuary.

The largest culprit in the rubbish stakes

was plastic, with hundreds of carrier

bags, food wrappers, straws and bottles

being pulled from the rivers. The good

news was that less rubbish was collected

this year than in 2016. I like to think that

this is because the clean ups are making

a difference and that they are also making

people stop and think about how they

dispose of their rubbish and the impact

that dropping litter on the ground has

on the environment.

At the meeting last month of the

Christchurch West Melton Zone

Committee the Avon Otakaro Network

gave an update on plans for the 12

kilometre City to Sea river trail which

will open in stages from Spring this year.

The trail is expected to be completed in

early 2018 and you will be able walk, run

or cycle from Barbadoes Street to Pages

Road in New Brighton. For now though,

residents are able to use sections of the

trail as they are completed, so make the

most of this new facility and get out and

enjoy our river.

Work is continuing to undertake plantings

on the Port Hills to help with sediment

control and an aerial seeding programme

has been completed in some areas. The

Port Hills Volunteer planting days are

continuing throughout June so if you are

keen to be involved, the meeting place is

Princess Margaret Hospital on Saturday

June 17, Thursday June 22 and Saturday

June 24 from 12.15 – 4.00pm. Volunteer

spaces are limited so you do need to

register. Many thanks to Environment

Canterbury for providing transport for

volunteers from the hospital up to the

hill. For any queries about the volunteer

days, please contact Ranger Di Carter,

di.carter@ccc.govt.nz.

Image courtesy of Christchurch City Council

LOOK A LITTLE DEEPER

www.canterburywater.org

And finally, this month Environment

Canterbury has launched an information

campaign, helping people in our cities

and towns to become more informed

about the action being taken across the

region to protect our precious water. This

year, Environment Canterbury is working

closely with farmers as strict new rules

are implemented, rules which limit the

effects of farming on water quality. You

too can 'look a little deeper' by visiting

canterburywater.org.nz.
---
26 Thursday June 15 2017

Latest Christchurch news at www. .kiwi

The Star

Smirnoff Vodka

or Gordon's Gin

1 Litre

Montana Festival

Block 750ml

Woodstock 7%

250ml 12 Pack Cans

Heineken or

Monteith's Beer

330ml 12 Pack Bottles

34 .99

each

9 .99

each

19 .99

pack

23 .99

pack

Teacher's Scotch Whisky

1 Litre

Jim Beam White Label

Bourbon or Canadian

Club Whisky 1 Litre

Bacardi Carta Blanca or

Oakheart Rum

1 Litre

Absolut Vodka

1 Litre

Jack Daniel's No. 7

Whiskey 1 Litre

Smirnoff Ice Double

Black & Guarana 7%

250ml 4 Pack Cans

St-Rémy VSOP

Brandy 1 Litre

37 .99

each

33 .99

each

36 .99

each

37 .99

each

37 .99

each

49 .99

each

9 .99

pack

Woodstock 7%

330ml 6 Pack Cans

Vodka Cruiser 5%

275ml 12 Pack Bottles or

KGB 7% 250ml 12 Pack Cans

Coruba & Cola

330ml 10 Pack Bottles

Woodstock 5%

330ml 18 Pack Bottles or

Cody's 7%

250ml 18 Pack Cans

DB Export Gold,

Draught or Tui

330ml 15 Pack Bottles

Corona

355ml 12 Pack Bottles

12 .99

pack

19 .99

pack

24 .99

pack

29 .99

pack

22 .99

pack

25 .99

pack

Steinlager Pure

330ml 15 Pack Bottles

28 .99

pack

Selaks Premium

Selection 750ml

Speight's Gold Medal Ale

or Summit Lager

330ml 24 Pack Bottles

33 .99

pack

Villa Maria Private

Bin 750ml (excl

Pinot Noir & Syrah)

Villa Maria Private

Bin Pinot Noir or

Syrah 750ml

15 .99

each

Old Mout Cider

1.25 Litre

8 .49

each

Roaring Meg

Pinot Noir 750ml

Roaring Meg

Sauvignon Blanc or

Pinot Gris 750ml

17 .99

each

Henry's guide to

bitter

is

better!

Whatever your taste in beer (or wines and spirits!),

at Henry's we're sure to satisfy even the most

discerning palate with our extensive range.

Drop by soon, we look forward to seeing you!

9 .99

each

12 .99

each

24 .99

each

Collect Fly Buys or Airpoints

for every $20 spent.

www.henrys.co.nz CHRISTCHURCH: AVONHEAD • BARBADOES ST • BISHOPDALE • HOMEBASE SHIRLEY

• HORNBY • MOORHOUSE AVE • PARKLANDS • ROLLESTON • TOWER JUNCTION • WOOLSTON • YALDHURST • TIMARU • RANGIORA •

KAIKOURA • GREYMOUTH • QUEENSTOWN • ALEXANDRA • DUNEDIN • NELSON: RICHMOND

Henry's encourages safe & responsible use of alcohol. Shout prices run from Monday 5th June until Sunday 18th June 2017 or while stocks last.
---
The Star Latest Christchurch news at www. .kiwi

Thursday June 15 2017 27

GREAT food

BROUGHT TO YOU BY...

Your fresh food people

MANDARINS IN CARAMEL

SAUCE

Ingredients

8 Mandarins

1 cup Caster sugar

1 cup Water

1 handful Mint leaves, to ganish

1 pot Creme fraiche, to serve

Directions

Peel mandarins and set aside.

Into a small pot place sugar

and water.

Slowly bring to a simmer

and continue to cook for 10-15

minutes until mixture starts to

turn a caramel colour.

At this stage keep a close eye

on it. It will brown very quickly.

When it is a caramel colour

remove from heat and add ¼-½

cup water.

It may spit a bit at you, so do

this carefully.

Stir until syrup is clear. Cool.

Place mandarins in glasses and

pour over caramel sauce.

Decorate with mint leaves

and serve creme fraiche on the

side.

SILVERBEET WITH

PUMPKIN, PINENUTS AND

LENTILS

Ingredients

500g Pumpkin, peeled and sliced

2 tsp Brown sugar

1 Tbsp Butter, melted

1 Tbsp Sherry vinegar

3 Tbsp Olive oil

½ tsp Nutmeg, (freshly grated)

2 Tbsp Pine nuts

3 stalks Silverbeet

1 cup Brown lentils, cooked

Directions

Preheat the oven to 180deg

C. In a large bowl, add the

pumpkin, sugar, butter and

vinegar. Add two Tbsp of olive

oil, nutmeg, then season and toss

all together.

Grease an oven tray, add

the pumpkin and bake for 45

minutes. Meanwhile, toast the

pinenuts over a gentle heat until

coloured – approximately five

minutes.

Slice the silverbeet. Heat

a large frying pan, add one

Tbsp of olive oil and then the

silverbeet, season and stir-fry

for 10 minutes. To serve, plate

the pumpkin, alternating with

the silverbeet then spoon over

the lentils and finish with a

scattering of pinenuts.

GLUTEN-FREE LEMON

BISCUITS

Ingredients

100g Butter

½ cup Sugar

1 Egg

2 cups Rice flour

2 Lemons

½ cup Gluten-free icing sugar to

decorate

Directions

Preheat oven to 170deg C.

Beat the butter and sugar until

pale and creamy, add the egg and

beat well. Mix in flour and one

tablespoon of grated lemon rind.

Roll mixture into small balls

and place on a lined baking tray.

Gently press biscuits with a fork

dusted with rice flour.

Bake for 15 minutes until

lightly golden and firm. Cool on

a wire rack, dust with icing sugar

and sprinkle with 1 tablespoon

lemon rind when cool.

Bananas ............................ 1 .79

kg

Satsuma Mandarins .... 2 .99

kg

NZ Meyer Lemons .......... 2 .99

kg

Silverbeet ........................ 2 .49

Red Yams ........................... 4 .99

kg

Beef Corned

Silverside ........................ 7 .99

kg

Chicken Thigh

Cutlets .............................. 7 .99

kg

Lamb Shoulder

chops ................................... 11 .99

kg

All our fresh meat is 100% NZ FARMED.

specials VAlid 12th june - 18th june 2017. ONLY AVAILABLE AT

RAEWARD FRESH HAREWOOD RD, TOWER JUNCTION & MARSHLAND RD

harewood rd Mon–Fri 7.00am–6.30pm Sat–Sun 8.00am–6pm

Tower junction Mon–Fri 8.00am–7.00pm Sat–Sun 8.30am–6pm

MARSHLAND RD Mon–Sun 8.00am–6:00pm

WWW.

bunch

At

check out our end

of week special!

thursday &

friday only

australian navel

oranges 1 .99

..................... kg

WHILE STOCKS LAST!

specials VAlid 15th june - 16th june 2017. ONLY AVAILABLE AT

RAEWARD FRESH HAREWOOD RD, TOWER JUNCTION & MARSHLAND RD

.CO.NZ
---
28 THURSDAY JUNE 15 2017

Latest Christchurch news at www. .kiwi

The Star

HOSPITAL

RICCARTON AVE

HAGLEY PARK
---
The Star Latest Christchurch news at www. .kiwi

THURSDAY JUNE 15 2017 29

LICHFIELD ST

AVON RIVER

ST MICHAEL'S

CHURCH SCHOOL

BUS

INTERCHANGE

SOL

SQUARE

C1

VODA-

FONE

KATH-

MANDU

TUAM ST

ANTIGUA ST

MONTREAL ST

THE GREENWAY

DURHAM ST

ST ASAPH ST

COLOMBO ST

SCOULAR PARK

ECAN

MANCHESTER ST

EPIC

MADRAS ST

HOSPITALITY & ENTERTAINMENT
---
30 Thursday June 15 2017

Latest Christchurch news at www. .kiwi

The Star

12 th June to 18 th June 2017

$

4 99

kg

Fresh NZ Chicken Drumsticks

great deal

$

3 99

bag

4 for

$

5 00

Jazz Snacker Apples

1.5kg

Schweppes Sparkling

Soft Drink 1.5L

(Excludes Classic Dry)

$

13 99

kg

Fresh NZ Beef Topside Roast/Steak Dig Me Agria Potatoes 2kg Alpine Butter 500g

best price

$

4 99

pk

$

4 79

ea

$

1 25

ea

great deal

$

3 99

ea

4 for

$

5 00

Wattie's Baked

Beans/Spaghetti

Regular 420g

Nestlé Milo

310g

Bluebird Burger Rings/

Cheezels/Rashuns/

Twisties 110-120g

$

32 99

pk

$

8 99

ea

$

3 99

ea

Speight's/Summit

24 x 330ml Bottles

Montana Classic

750ml

Just Juice/Citrus Tree

Fruit Juice/Drink

2.4/2.8L

our fresh promise

If it's not fresh, we'll replace & refund

svcs1506

Owned & operated

by locals

Store Locations: Edgeware Village, Fendalton Village, Lyttelton, Stanmore, Sumner, Wairakei

All stores open 7 days.

While stocks last at SuperValue Edgeware Village, Fendalton Village, Lyttelton, Stanmore,

Sumner, Wairakei only. We reserve the right to limit quantities. Trade not supplied. For inspiration visit SuperValue.co.nz |

Please drink

responsibly
---
The Star 31

Gardening

Latest Christchurch news at www.

Window dressing

No matter whether your garden is big or small, there's

plenty more room to grow on the windowsill says

Rachel Vogan

.kiwi

Thursday June 15 2017

TIMES CHANGE and so do gardens.

This winter sees me relocating to a new

abode; a barn conversion. I have had a

seismic shift of sorts, going from a large

established garden to nothing. I am back

to the start-from-scratch scenario, and it's

both fun and challenging.

Therefore, my crops this winter have to

be portable, productive, tasty and easy to

grow.

As there is little room for much outside

just yet, all my edibles are growing on the

windowsills around the new dwelling. It's

almost like living in an apartment.

1. ROCKET

Where, oh where, would I be without

rocket? I grow both the perennial and

annual types and through winter the

serrated peppery leaves of the come-again

variety are one of my go-to crops. Either

sow seeds now or treat yourself to some

seedlings. The trick to keep the leaves

coming is to pick and harvest on a regular

basis. Not a lot of root room is required

either, so a plant will readily grow in a

takeaway coffee cup, if the container starts

to get a bit ratty, slip a new one underneath

the original one. Too easy.

2. BASIL

Yes, crazy I know, but it will keep growing

as a cutting in a glass of water over winter

if your kitchen doesn't drop below 10 deg

C very often. And, so far, mine is chugging

away with plenty of vigour, mostly due

to the log burner, which is constantly

burning to keep the temperatures from

plummeting.

3. PARSLEY

What a campaigner this crop is. The curly

type is happy as, quietly hanging out on

the windowsill. I use a lot of it, so it never

gets too leggy. Pinch the stalks right back to

the base of the plant to keep the new flush

of flavour-filled leaves coming through

quicker and faster.

4. KALE & THE CABBAGE FAMILY

When I first started growing kale on the

windowsill I thought this would fail to get

past microgreens stage, but it didn't. In

The magazine for

gardeners who

like To geT Their

hands dirTy

fact, it's been one of the best crops. And

what's even better is that I am using it far

more often as it is so handy, and is quite

sweet when the leaves are about thumb

size.

5. LETTUCE

The frilly lettuces are thriving. Whilst they

can get a bit leggy if I give them too much

water, or leave them too long between

harvest, they quickly re-grow new leaves

once I pluck them or give them a haircut

with the nail scissors. I rotate the pots

every few days so as the plants retain an

even shape.

7. SUPER SPROUTS

Goodness in a jar. Are sprouted seeds

your thing? Well, they never used to be

mine and now I use them most days. All

you need is a jar, a spot with good light,

some water and seeds, and you are in

business. Too easy. Consider having three

jars on the go at any one time, and soak

new seeds twice a week – this way you will

never run out.

8. MICROGREENS

These pint-sized seedlings are just the

ticket in winter. They are bigger than

sprouted seeds, but smaller than salad

leaves. Last year I grew them for the first

time and this year they are making an

appearance once again. I sow them into

those shallow takeaway containers with a

few holes poked into the bottom.

9. ARTHRITIS HERB – GOTU KOLA

(CENTELLA ASIATICA)

This wee gem is sensitive to frost, so

it needs to be tucked up inside. It will

cope with a spot away from direct light,

especially if the windowsill is getting a bit

full with other crops. I grow mine in the

bathroom.

I grow this purely for medicinal reasons; it

helps ease general aches and pains and has

definitely helped reduce my blood pressure.

Some people swear it eases arthritic pain.

Two leaves a day does the trick, easily

chopped finely into a salad

or thrown in with the greens for a

smoothie.

COMPACT: Little lettuce (left) and gotu

kola are easy to grow in tight spaces.

Rocket (below) needs to be picked on

a regular basis.

naTiVe planT

nursery

Trees for CanTerbury

speCialisTs in

• Groundcovers

• Ferns

• Grasses

• Small to big

sized shrubs

• Shelterbelts

• ALL grades

• Expert advice

• Planting now

Ask us about Super

Gold Card discounts

Helping our community grow

42 Charlesworth Street

Ph/Fax (03) 982-1028

OPEN 7 DAYS

www.treesforcanterbury.org.nz

Use your outdoor living areas

all year round

• Warm & dry in winter

• UV protection for summer

• Stylish & permanent

• 5 year warranty

"AS SEEN ON TV"

www.gardener.kiwi

100%

Grant Stewart

Chris Thorndycroft

Phone 0508 272 446 | www.archgola.co.nz

15 months

INTEREST FREE

Normal lending criteria apply
---
32 Thursday June 15 2017

Latest Christchurch news at www. .kiwi

The Star

Theatre/Arts

Hamlet like

you've never

seen it before

Hamlet: The Video Game

(the stage show) by Simon

Peacock, directed by Gregory

Cooper

Reviewed by Barry

Southam

ALAS, POOR Yorick, I did not

know you well in this version of

verbal mayhem.

A male-dominated piece with

much clowning by the leads as they

took the mickey out of Shakespeare

using a video format. Instead of

something rotten in the state of

Denmark there was something

comedic as the trio spoofed the

original.

Not really a farce, in spite of the

rapid entrances and exits, more of

a parody. Being familiar with the

traditional version of the classic

helps with the humour, but even

without such knowledge there were

plenty of laughs there for all. It all

worked, even the simplest scene of

one character getting another character's

name mispronounced.

Dan Bain, Kathleen Burns and

Jared Corbin can feel well pleased

with their performances as the audience's

laughter kept on coming.

The show runs until June 24. Well

worth checking out.

Choir in harmony with art gallery

• By Georgia O'Connor-Harding

WHEN MUSICAL director

Ravil Atlas first heard the

acoustics in the Christchurch

Art Gallery Te Puna o

Waiwhetu, he was determined

to bring more choral

performances to the space.

When Atlas heard his

Christchurch Pops Choir

singing at a

casual afternoon

performance, he

decided he needed

to bring his advanced

choir in to

perform.

Ravil Atlas

Now his choir,

known as the AtlasVoices

Ensemble,

will transform the gallery

into a majestic state performing

Echo: The Glory of Cathedral

Acoustic, a repertoire of music,

which Atlas describes as being

built entirely around the art gallery's

acoustics.

He said the acoustics give him

fond memories of being in a

cathedral – something choirs in

the city miss.

Audiences can expected to be

transported back to the Renaissance

period with the concert

featuring music from composers

Giovanni Gabrieli, Tomás

MUSICAL: Members of the AtlasVoices Ensemble

performing at The Piano: Centre for Music and the Arts.

Luis de Victoria and Giovanni

Pierluigi da Palestrina.

Atlas said in the time that the

choir has been running, this

concert has been their biggest

challenge yet. They will use

their voices to create layers of

melody known as polyphony

music.

But the choir will also present

an array of songs from modern

composers, including Eric

Whitacre's anchor piece When

David Heard.

Atlas said the piece has a

chord which requires the choir

to sing every note on the keyboard

at the same time.

"It is like putting your arm on

the whole organ . . . it is a tidal

wave of grief," Atlas said.

The choir was founded in

2013 as an offshoot of the

Christchurch School of Music to

give singers in the community

something more to do.

The choir is made up of performers

from Showbiz Christchurch,

Christchurch Pops Choir,

New Zealand Opera and former

Burnside High School students

Atlas has taught.

Atlas has an extensive performing

career, playing the Jean

Valjean in the San Francisco

broadway company version of

Les Miserables and the phantom

in Phantom of the Opera.

He recently featured as a mentor

on TVNZ's The Naked Choir

and was excited Christchurchbased

modern a cappella academy

Voices Co is now on the

map after winning the show.

Next up Atlas will be preparing

a repertoire of music for the

opening of the Christchurch

Arts Festival in August.

•Echo: The Glory of

Cathedral Acoustic will

be performed at the art

gallery this Saturday. To

book tickets go to https://

christchurchartgallery.org.

nz

Guy and Kate's family love

playing tennis.

So we designed their home around

the court to maximise their game time.

Start your own story

03 348 1994 | www.peterrayhomes.co.nz

WIN $ 1000 *

towards your

wardrobe transformation

Request a free

measure and quote

from HomePlus and

go into the draw to

win $1000 towards

your wardrobe

transformation.

*Promotion closes

31 July 2017.

Choose from the many stylish high quality

systems - all custom made to fit your home

and lifestyle.

2015 Franchise Of The Year

AWNINGS & BLINDS, BALUSTRADES, FENCING & GATES, INSECT SCREENS, LOUVRE ROOF, SECURITY SCREENS, SHOWERS, WARDROBES & DOORS

88 Gasson St, Sydenham

03 379 3740

www.homeplus.co.nz
---
The Star Latest Christchurch news at www. .kiwi

Thursday June 15 2017 33

The actor behind the mask

• By Georgia O'Connor-Harding

USING FACIAL expressions to

express a story is normally an

actor's lifeline for executing a

great stage performance.

But not for Andrew Ford, 34,

who has delved into mastering

the art of deception and disguise

in a show featuring predominantly

masked

characters.

Auckland-based

Ford, who grew

up in Sumner,

will set foot on

the Isaac Theatre

Andrew

Ford

Royal stage as a

bombastic villain

in a comedy about

love, death and preserves.

He said the show has been a

challenge because he has had to

emphases his body movements

and voice, rather than rely on

the simplicity of facial expressions.

"It is great because it gives you

permission to give really big,

larger than life performances,

which I enjoy doing," the former

Hagley Theatre Company student

said.

As part of Indian Ink Theatre

Company's 20th anniversary national

tour, Ford has been cast as

COMEDY: Andrew Ford as George Reaper and Vanessa Kumar

playing Anmachy in The Pickle King.

George Reaper in the company's

award-winning play, The Pickle

King.

He describes his character as

over-the-top, flamboyant and in

love with the sound of his own

voice.

Ford has had a colourful

career since he graduated from

Auckland's Unitec in 2008.

Five times Ford has performed

in Christchurch's Anthony

Harper Summer Theatre show

and was recently in this year's

performance of Robin Hood.

Shortland St fans may have

seen Ford make a guest appearance

on the soap as an "insensitive

doctor".

He said things happen very

quickly behind the scenes and

actors need to be at the top of

their game.

Although a comedy, The

Pickle King tells the story of a

blind receptionist working at a

crumbling hotel in Wellington

who believes she is cursed as

everyone she loves dies.

In spite of the curse, she falls

in love with a another hotel

employee and at the same time

a mysterious new guest (Ford)

checks into the hotel who she

believes to be the Grim Reaper.

"For me, the main message

about the show, and it may be

corny, is about having the courage

to love someone . . . she feels

cursed but still falls in love,"

Ford said.

As part of Indian Ink's anniversary

celebrations, the original

performance of The Pickle King

about 15 years ago has been

changed from a heterosexual to

a same sex love story.

Ford said very little of the

script needed to be adapted and

it was nice to see audiences were

accepting of the gender change

in the show.

The show also touches on

immigration and the difficulty

many face when they move to

a new country and find their

qualifications mean nothing.

•The Pickle King will run

at the Isaac Theatre Royal

from today until Saturday.

To book tickets go to http://

isaactheatreroyal.co.nz

•Free mask workshops

will also be run by Indian Ink

Theatre Company. For more

information, go to https://

indianink.co.nz

Pupils land

von Trapp

family roles

NOT ONE, but three Cathedral

Grammar School pupils have been

chosen to star as the lovable von

Trapp children in a nationwide

tour of The Sound of Music.

Daniel Bridgman, Eloise Parkes

and Madeleine Glossop were

picked out of 200 hopefuls from

around the country to perform in

Ben McDonald Ltd's professional

production.

The pupils will play the younger

three of the seven von Trapp children,

with Daniel as Kurt, Eloise

as Marta and Madeleine as Gretl.

Auditions were held at the Isaac

Theatre Royal recently.

Cathedral Grammar School

executive assistant Linda Marsh

said it was fantastic news and

the pupils were delighted to have

secured the professional roles.

Following a month of rehearsals,

the tour will begin in the

North Island at the end of September.

The show will be performed

in 23 centres from Kerikeri to

Invercargill.

It will be on at the Isaac Theatre

Royal on October 21 and 22.

One step

closer

to your

dream lifestyle

Want to learn about

Selwyn's fresh water?

JUNE 30 - JULY 2

HORNCASTLE ARENA

10AM - 5PM

Adults $8 - Under 12's free

Come along to one of our

seminars at Lincoln University.

Hosted by Selwyn Waihora Zone Committee. Moderated by Sue Jarvis, Lincoln University.

DATE TOPIC PRESENTERS

Thurs 22 Jun

12pm and 7.30pm

Thurs 06 Jul

12pm and 7.30pm

Thurs 20 Jul

12pm and 7.30pm

Thurs 03 Aug

12pm and 7.30pm

Thurs 17 Aug

12pm and 7.30pm

Thurs 31 Aug

12pm and 7.30pm

Thurs 14 Sep

12pm and 7.30pm

Land and water

issues – what and

how we got here.

Water quantity

Water quality

Te Waihora/

Lake Ellesmere

CPW

(Central Plains Water)

Farming to limits

in Selwyn

A first step...

what more needs

to be done.

Ken Taylor - Our Land and Water Science Challenge

David Perenara-O'Connell - Taumutu Rūnanga

Tim Davie - Environment Canterbury

Melissa Robson - Landcare Research

Tim Davie - Environment Canterbury

David Perenara-O'Connell - Taumutu Rūnanga

Susan Goodfellow - CPW

Ron Pellow - South Island Dairy Development Centre

David Birkett - Foundation for Arable Research

Panel discussion

Lunchtime seminars: Held in the D6 lecture room (Landscape Building) from 12pm to 12.50pm.

Evening seminars: Held in the S1 lecture room (Stewart Building) from 7.30pm to 9pm.

Star Media is proud to be sponsoring Canterbury's first ever Playhouse Challenge

Live Auction Saturday July 1 at 4pm

Proceeds to charity - Birthright Canterbury and Tenants Protection Association

starhomeshow.kiwi

Star Media Event

For more information find us at

facebook.com/canterburywater
---
34 Thursday June 15 2017

Latest Christchurch news at www. .kiwi

The Star

Readers' photos

If you

want to

win a

double

movie

pass – get clicking. Each

week The Star will give

away a double movie

pass to the best photo

sent in by a reader. Send

your photos to martin.

hunter@starmedia.kiwi.

Put 'photo competition'

in the subject line and

include your name,

address and phone

number

WINNER: Alex Hunger, Richmond.

FANTAIL: Pat Tetlow, Waimairi Beach.

POT OF GOLD: Tammy Kney, Sumner. PURAU HARBOUR: Jennie Coffey, Springston. NEW WINTER SCARF. Rachel van der Plas.

DESIGNER

FASHION

AT OUTLET

PRICES

SMART

BRANDS

SMARTER

PRICES

HORNBY 409 Main South Road | Open 10am–5pm, 7 days
---
The Star Latest Christchurch news at www. .kiwi

Thursday June 15 2017 35

12th - 18th June 2017

Seedless Easy Peel

Mandarins

$

12 99

kg

Fresh NZ Beef

Braising Steak

$

2 99

kg

Alpine Mild/Colby/Edam

Cheese 1kg

$

8 99

each

Whittaker's

Chocolate

Block 250g

$

3 99

each

$

4 80

each

Signature Range Ice Cream 2L

$

11 99

kg

Fresh Tegel NZ Skinless Chicken Breast Fillets

$

2 99

each

Whole Crown Pumpkin

$

19 99

pack

Carlsberg

12 x 330ml Bottles

$

7 99

each

Jacob's Creek 750ml

(Excludes Reserve/Sparkling/Double Barrel)

4

for

$

5 00

Schweppes Sparkling Soft Drink 1.5L

(Excludes Classic Dry)

FreshChoice

Barrington | Merivale | Parklands

Open 7 Days a week.

FreshChoice.co.nz FreshChoiceNZ 0800 40 40 40

Customer Support Freephone

While stocks last at FreshChoice Barrington, Merivale & Parklands only.

We reserve the right to limit quantities. Trade not supplied.

Owned and

operated

by locals

fccs1506
---
36 Thursday June 15 2017

Latest Christchurch news at www. .kiwi

The Star

cnr Montreal & St Asaph Streets, Christchurch

www.christchurchmitsubishi.co.nz

Sales, Service & Parts: 03 379 0588

PAJERO SPORT VRX

HURRY NOW ONLY $50,990 LIMITED NUMBERS

Christchurch Mitsubishi have a LIMITED NUMBER of short-term lease returned Pajero Sport VRX available for

immediate delivery and includes balance of new car warranty.

These top of the range VRX's bring you a 2.4L diesel with new 8-speed auto, 3,100kg towing, advanced 4WD

with Hill Descent Control, Blindspot Warning, Forward Collision Mitigation, 8L/100km economy, Smart Audio

with Apple Carplay & Android Auto, Multi Around View Monitor, 5 star safety and more.

Visit ChristchurchMitsubishi.co.nz or call 03 379 0588 for a test drive.

100% UNIQUE. 0% INTEREST.

For a limited time you can get behind the wheel of these unmistakable MINI models with 0% interest and just 3 payments. *

MINI HATCH Iconic design, with three or five doors and plenty of customisable details to make your MINI an individual.

MINI CLUBMAN Highly crafted design with distinct split rear doors, offering ample space and room to move.

Book a test drive at Christchurch MINI Garage today.

1

/ 1 2018

3 / 1 2019

3 / 3

INTEREST NOW

(Deposit)

0% ($250 Establishment Fee)

(Month 12)

(Month 24)

CHRISTCHURCH MINI GARAGE.

30 Manchester Street. Christchurch. 03 363 7240.

MINI.CO.NZ

*Offer includes an establishment fee of $250 and recommended on-road vehicle costs. Offer excludes MINI John Cooper Works Clubman. BMW Financial Services New Zealand Ltd terms, conditions and standard

lending criteria apply. Offer expires June 30th 2017.
---
The Star Latest Christchurch news at www. .kiwi

Thursday June 15 2017 37

Travel

DMZ – where tourism and terror collide

• By Mike Yardley

IT'S THE racket blasting from

the loudspeakers that is still

ringing in my ears.

From the south, soaring operatic

ballads and K-Pop are belted

out, while from the north, a mix

of angry sermons and bombastic

propaganda songs salute the Dear

Leader.

Galloping across the

countryside for 250km, with

a 2km-wide buffer zone either

side of the border, the razor wire

stretches into infinity. I joined a

DMZ day-trip from Seoul, which

is a mere 50km drive away from

the border.

As we drove towards the great

divide, either side of the highway

was laced with elaborate reams

of razor wire, while manned

military look-outs studded the

roadside, in full battle readiness.

Within the buffer zone, tank

traps and land mines stalk the

countryside. My guide, Moon,

remarked there's an estimated

two million land mines still in

the DMZ from the Korean War –

after a million have already been

cleared.

Panmunjeom is where the

armistice agreement was signed

in 1953. You'll recognise those

United Nations-blue buildings,

the site of the world's most

famous face-off, where South and

North Korean soldiers stare interminably

at each other through

sunglasses.

In spite of the macho sense of

theatre, the air hangs heavy with

unblinking hostility. All DMZ

tours begin at Imjingak, which

HISTORY: The infiltration tunnels aren't for the faint-hearted. You can walk underground into the north. Right – Dorasan Station

was built to connect Seoul with Pyeongyang. It is largely unused.

features a variety of monuments

in memory of the Korean War.

An 83m bridge, used in the exchange

of 13,000 POWs, is lauded

as the Freedom Bridge.

Nearby, the blasted carcass of

an original steam locomotive,

which desperately made it back

across the Imjin River just as war

broke out, riddled with the scars

of 1020 bullet holes.

Imjingak is also the entry point

into the Third Infiltration Tunnel,

the biggest of four tunnels identified

by the South Koreans since

1974, although there's apparently

another 20 that haven't been

spotted yet. Dug by the North

Koreans with the intent of being

able to spring a surprise invasion

on the south, these tunnels aren't

for the faint-hearted.

Issued with a hard hat, the third

infiltration tunnel leads you 73m

underground, along a 2m wide

by 2m high passage. I felt like the

hunchback of Notre Dame, but

it's a searing and slightly spooky

encounter to traverse the border,

subterranean-style.

This tunnel, which is large

enough to enable 30,000 soldiers

to tromp through in an hour, was

discovered in 1978 after a defector

tipped off the south.

Another striking stop was

Dorasan Station, a $40 billion

beacon of hope, built 15 years

ago with a view of re-connecting

Seoul and Pyeongyang by rail.

Just 700m from the southern

boundary line of the DMZ, it's

utterly bizarre to admire this

sparkling yet haplessly underused

train station.

The shiny international customs

hall has never screened a

passenger. A few daily services

run to Seoul, but services to the

North have been on ice since

the North Koreans slammed the

border crossing shut in 2008.

Should Korea be re-united,

Moon says the dream is Dorasan

Station would not only connect

Seoul with Pyeongyang,

but would connect with the vast

Eurasian services like the Trans-

Siberian.

The undeniable highlight was

soaking up the raw cross-border

drama of Dora Observatory.

This lookout serves up the most

intimate view of the north, from

South Korea, as if you can reach

out and touch it, while being assaulted

by those blaring loudspeakers.

With the naked eye, I gazed

down at the streams of barbed

wire along the border, across into

North Korean villages. With the

mounted binoculars, I could see

locals wandering around and a

massive statue of Kim Il-sung,

while the Propaganda Village

touts one of the tallest flags in

the world.

In a classic case of boys will be

boys, the south and north have

played ping-pong for years over

their respective border flagpoles.

The south started the tussle by

erecting a 50m-high flag. Back

and forth they went, outdoing

one another, until the north triumphed

in this battle of attrition,

mounting a 160m-high flagpole.

The flag alone weighs a whopping

300kg. The south threw in

the towel at 110m. The Propaganda

Village is so named because it's

widely believed that the brightly

coloured buildings are just shells

and are uninhabited.

Even Hollywood would be

left blushing at the sheer scale of

this elaborate set. For me, that

summed up the weirdness of the

DMZ.

A strange, surreal, unsettling

place, where terror and tourism

collide, at one of the world's flash

points.

INTRIGUE: The blasted carcass of a steam locomotive, riddled with more than 1000 bullet holes. Centre – The Freedom Bridge

and border fortifications. Right – The joint security area where soldiers face-off.

FAST FACTS

•In spite of the current crisis,

day trips from Seoul to

the DMZ remain fiendishly

popular. Every day, 5000

visitors are allowed access

to the buffer zone, while

500 people can also enter

the joint security area at

Panmunjeom. Book well in

advance. www.vviptravel.

com

Spend $10 at

a participating

airport outlet

during June

for your chance

to win.*

*For more details, go to

eatshopwinatrip.co.nz
---
38 Thursday June 15 2017

Latest Christchurch news at www. .kiwi

The Star

GET MORE FOR LESS WITH

MID-WINTER

MEGA DEALS!

Don't miss incredible storewide savings!

Catalogue

ONLINE NOW!

20 to

25 % OFF *

TVs

* Excludes clearance & OLED TVs

HURRY Limited Offer!

Valid 14th - 20th June only

%

50OFF *

SELECTED

BEDS

FEEL THE ROAR

with the ultimate in

home entertainment

100 ONLY

Table rug & throw not included.

MARTINA 5 SEATER LOUNGE SUITE - FABRIC

HALF PRICE

%

30OFF

*

LIMITED STOCKS!

SELECTED

LOUNGE

SUITES

See mailer for more

CUSHIONS

INCLUDED

$

900

SAVE

WAS $2699.99

NOW

$ 1799

99

CONFORM

Queensize Bed

SET & FORGET

SENSOR DRYER

THAT'S

36% OFF

SLOW COOKER

We believe that One Pot

Cooking should be easy,

nutritious and delicious,

and not just for dinner

time either. Create

snacks, desserts and

even breakfast with this

true one-pot cooker!

CHP450

KITCHEN APPLIANCES

COOKING MADE EASIER WITH

THIS ONE-POT COOKER

SAVE

6.5kg SENSOR DRYER $

This clothes dryer comes with Sensor 500

Dry to gently dry your garments for

an exceptional result. Other features

WAS $3199.99 NOW

include ideal temperature settings,

$ Fast 40 program, reverse tumbling

action and anti-crease option.

1599 99

EDV6552

30 to

%

40OFF *

RADIANT HEATER

For the comforting feeling

of direct heat plus cosy

visual appeal, the traditional

favourite - the radiant heater

- can't be beaten. With 3 heat

settings and a turbo fan boost,

it warms your room quickly.

GIR400

SAVE

50 % OFF * HEATING

WAS $159.99 NOW

$

79 99

HALF PRICE

$

80

WAS $199.99 NOW

$

129 99

WAS $999.99 NOW

$

499 99

$

70

SAVE

60cm MERCURY WHITE

FREE STANDING RANGE

White 60cm freestanding cooker

with conventional oven, oven light,

storage drawer and electric hob with

4 coil elements.

WLE620WA

20 to

55 %

OFF *

VACUUM CLEANERS

$

250

SAVE

WAS $1249.99 NOW

$

799 99

ERGORAPIDO

SERIES 5

ROSE GOLD

CORDLESS 2 IN 1

VACUUM GIVES

YOU VERSATILITY

WAS $449.99 NOW

$

199 99

$

450

SAVE

months INTEREST FREE

24 on everything $999 & over*

smithscity.co.nz

Get everything you need for

your home under one contract

*Flexible interest free terms to suit you under a single contract for everything you purchase.

SHOP YOUR WAY Delivered to your door or pick up in-store 0800 SMITHS (0800 764 847)

COLOMBO ST MegaStore | Bush Inn MegaStore, RICCARTON | NORTHWOOD MegaStore

*Discount is off our full retail price. Exclusions, fees, terms and conditions apply. See in-store or visit smithscity.co.nz

SCG0610CS
---
The 2 Star [Edition datE]

Latest Christchurch news at www. .kiwi

Thursday June 15 2017 39

NATIONAL VOLUNTEER WEEK - JUNE 19-25

Time

and

talent

More than 300 volunteers give tens of

thousands of hours of their time, skills and

compassion to Nurse Maude each and every

year, working across the whole organisation.

Their philosophy is to enhance the quality

of patient care and services and they are

an integral part of Nurse Maude, working

in the Nurse Maude Hospice, hospital,

administration, across the hospice shops

and in the gardens of Nurse Maude.

For Nurse Maude it means being able

to offer a lot more than nursing care,

particularly in the hospice and hospital.

Over the past year Nurse Maude has also

had volunteers in the community, providing

those caring for family members much

needed respite care in their own homes.

Caring for a family member with complex

needs, including those with dementia, in

your own home is a full-on proposition.

Nurse Maude recognises that family can

find it almost impossible to get someone to

come into their home they can rely on and

who is trained and supported to provide the

respite care that allows them to take a short

break.

Sue Bramwell, Nurse Maude's GM

Marketing, says the contribution of Nurse

Maude's volunteers is significant.

"To volunteer time and talent to make a

difference in the lives of others is no small

thing," says Bramwell. "We, and those we

care for, are incredibly fortunate that our

volunteers are willing to give up what is

really a very precious commodity, their

time, to support our work."

Volunteering a chance to share

This year's theme for National Volunteer

Week is: "Live, laugh, share – Volunteer", or,

"Kia ringa hora: Me mahi tuao" – a positive

message celebrating what volunteers bring to

their communities.

Volunteering Canterbury is proud of the way

that the region's people get out in the community

and volunteer "in the bad times – and the notso-bad!",

Volunteering Canterbury's outreach

and marketing manager Glenda Martin says.

"We see it every day in every sector across the

community. Volunteering is something that we

just do well."

As Glenda points out, in every city there will

be people who get out and do something for

another person. It could be as simple as helping

a neighbour who may be unwell or looking after

a pet while a friend is on holiday.

"That's the informality of volunteering," she

says.

"On top of that there is the more formal

volunteering, for a common good, and that is

as much in demand as ever in and around our

region. Volunteers pack and distribute 3000 bags

of fruit and vegetables throughout Christchurch

each week, for example.

"Whether we acknowledge it or not, there are

deprived areas in our city – 65 per cent of those

fruit and vegetable packs are going in to those

areas. Alongside that sit community lunches

– serving up wholesome meals prepared by

volunteers and often with gifted produce."

Red Cross humanitarian services manager

Carol Ball says a lot of that organisation's

programmes couldn't run without volunteers.

"They are almost the lifeblood of the

organisation," she says.

Programmes in which Red Cross volunteers

provide services include Meals on Wheels, for

which they give more than two hours a week,

We sincerely thank our

wonderful volunteers for

their valuable contribution

to Orana Wildlife Park.

and community transport, for which volunteers

work almost a full day, either once a week or

once a fortnight.

Carol says there are close to 1000 Red Cross

volunteers in Christchurch, who continue

volunteering for many years.

"This can be up to 20, 40 even up to 60 years.

We recently gave two 30-year presentations –

that's not uncommon."

Volunteering with one of Volunteering

Canterbury's member organisations is just the

'tip of the iceberg' of volunteering happening in

the region, Glenda says. Even so, it equates to

the equivalent of 149 full-time volunteers in the

community on any given day of the year. And,

using the minimum wage as a base rate, this

Huge thanks

to our volunteers!

is a monetarised contribution to the region of

approximately $4.7 million.

"It's what it looks like at the other end – the

actual impact of the volunteering, that makes

our work so humbling. Last year, 36,000 people

in our region were impacted by volunteers of

our member organisations.

"We all have skills that can help others.

Volunteering is good for you, your community

and for the social development of our city.

It helps build the social fabric that keeps us

connected and engaged."

For more information on volunteering

opportunities in Canterbury, contact

Volunteering Canterbury www.volcan.org.nz

or phone 366-2442.

It's Volunteer Awareness Week and New Zealand Red Cross wants

to thank all our amazing volunteers. The programmes we deliver to

vulnerable people in New Zealand communities are diverse and

far-reaching – and we simply couldn't do it without you!

Want to join us? Volunteering in your community is fun and rewarding.

There are many ways you can help:

Refugee support

Youth programmes

Meals on Wheels

Disaster response

Community

Transport

Events

Shops

For more info:

phone 0800 RED CROSS

go to redcross.org.nz

follow us on Facebook

National Volunteer Week

18-24 June 2017

We are currently seeking

enthusiastic people

to join our

volunteer team,

for a variety

of roles

including

guiding

visitors and

driving our

Safari Shuttle

(particularly

on weekends).

If you would

like to join

our team,

please contact

us to obtain

an application

pack.

Phone 359 7109 extn 819

volunteers@oranawildlifepark.co.nz

www.oranawildlifepark.co.nz
---
same line or row. © 2017 KenKen Puzzle LLC. All rights reserved

40 Thursday June 15 2017

Latest Christchurch news at www. .kiwi

The Star

Puzzles

THE

CROSSWORD

1676

1 2 3 4 5 6 7 8

9 10

11 12 13

14 15 16 17 18

19 20 21

DECODER

Each number

represents a different

letter of the alphabet.

Write the given letters

into all squares with

matching numbers.

Now work out which

letters are represented

by the other numbers.

As you get the letters,

write them into

the main grid and

the reference grid.

Decoder uses all 26

letters of the alphabet.

22 23

24 25

343

©THE PUZZLE COMPANY

ACROSS

1. Valiant (6)

5. Money lender (6)

9/10. One of Peter Jackson's Lord

of the Rings films (3,3,6)

11. Suspended (4)

12. Run wildly, especially animals

(8)

14. Lines of poetry (6)

16. Corkscrew (6)

19/21. Former international rugby

ground, last used in 1999 (8,4)

22. Figure (6)

23. Poorly (6)

24. First-born (6)

25. Cricket team (6)

DOWN

2. Tire out (7)

3. Dunedin landmark (7)

4. French roll (9)

6. Tempest (5)

7. Animals introduced to New

Zealand in the 1850s (3,4)

8. New Zealand's first permanent

European settlement (7)

13. Connect (9)

14. Bush shirt (colloq) (7)

15. Deeply embarrassed (7)

17. Sudden urge (7)

18. Put into order (7)

20. 50/50 (5)

WORDBUILDER

I P S L A

How many words of three or more letters can you

make, using each letter only once? Plurals are

allowed, but no foreign words or words beginning

with a capital. There's at least one five-letter word.

Good 13 Very Good 17 Excellent 21

SUDOKU

Fill the grid so that every row,

every column and every 3x3

box contains the digits 1 to 9.

The number game that

improves your arithmetic

SOLUTION 1675

Across: 7. Option, 8. Attire, 10. Chateau, 11. Irate, 12. Path, 13/17/18. April Sun in

Cuba, HOW 22. TO Moana, PLAY23. Excited, 24. Kidnap, 25. Borrow.

Down: It's like 1. sudoku: Concept, each 2. Stealth, 3. Comet, 4. Steinie, 5. Vital, 6. Jewel, 9. Surprised,

14. vertical Runaway, and horizontal 15. Mustard, 16. Lay down, 19. Smoko, 20. Tardy, 21. Scoop.

line has to contain

the numbers 1-6, and

the numbers can't be

repeated in any row or

column.

But it's sudoku with a

twist: The numbers in

each heavily outlined

set of squares, called

cages, must produce the

number in the top corner.

For example, 5+ means

the numbers add up to 5,

9x means the numbers

multiply to equal 9.

TIP: Numbers can be repeated in a cage, as long as they are not in the

same line or row.

© 2017 KenKen Puzzle LLC. All rights reserved

KenKen is a registered trademark of Nextoy LLC

Number FuN

2 Digits

03

61

78

82

3 Digits

026

028

031

089

143

367

374

468

478

598

4 Digits

0913

2414

3908

4227

4863

7694

5 Digits

18833

30040

7 Digits

3717986

7417067

8 Digits

06588830

14760950

17511778

87192334

SOLUTIONS

Untitled Puzzle

NUMBER FUN

0

4

0

6

5

8

8

8

3

0

0

8

9

3

9

0

8

7

6

9

4

1

7

5

1

1

7

7

8

3

7

4

0

3

1

3

0

2

6

4

2

2

7

4

6

8

2

4

7

8

3

6

7

0

9

1

3

1

4

3

8

KENKEN

1

DECODER

WORDBUILDER

ail, ails, ais, alp,

alps, asp, lap,

laps, lias, lipa,

lipas, lip, lips, lis,

lisp, pail, pails,

pal, pals, pas,

pia, pial, psi, sail,

sal, salp, sap, sip,

slap, slip, spa.

NZ CROSSWORD

Across: 1. Heroic, 5. Usurer,

9/10. The Two Towers, 11.

Hung, 12. Stampede, 14.

Stanza, 16. Spiral, 19/21.

Athletic Park, 22. Number, 23.

Ailing, 24. Eldest, 25. Eleven.

Down: 2. Exhaust, 3.

Octagon, 4. Croissant,

6. Storm, 7. Roe deer, 8.

Russell, 13. Associate, 14.

Swannie, 15. Ashamed, 17.

Impulse, 18. Arrange, 20.

Evens.

SUDOKU

SUDOKU

NZ CROSSWORD

Across: 1. Heroic, 5. Usurer,

9/10. The Two Towers, 11.

Hung, 12. Stampede, 14.

Stanza, 16. Spiral, 19/21.

Athletic Park, 22. Number, 23.

Ailing, 24. Eldest, 25. Eleven.

Down: 2. Exhaust, 3.

Octagon, 4. Croissant,

6. Storm, 7. Roe deer, 8.

Russell, 13. Associate, 14.

Swannie, 15. Ashamed, 17.

Impulse, 18. Arrange, 20.

Evens.

WORDBUILDER

ail, ails, ais, alp,

alps, asp, lap,

laps, lias, lipa,

lipas, lip, lips, lis,

lisp, pail, pails,

pal, pals, pas,

pia, pial, psi, sail,

sal, salp, sap, sip,

slap, slip, spa.

DECODER

KENKEN

1

8

2

4

6

8

0 3

3 7

1 4

1

7

5

1

1

7

7

8

1

4

3

0

9

1

3

4

2

2

7

7

6

9

4

3

9

0

8

0

8

9

0

6

5

8

8

8

3

0

3 4

6 7

7 8

0

2

6

3

4

0

SOLUTIONS

NUMBER FUN

Untitled Puzzle
---
The Star Latest Christchurch news at www. .kiwi

Thursday June 15 2017 41

Sport

Armstrong takes out first win

In Brief

• By Gordon Findlater

MARCUS Armstrong's drive

towards his formula one dream

picked up pace with his first

win in the ADAC Formula 4

Championship at the weekend.

The 16-year-old adapted well

to his first outing at the Red

Bull Ring

in Austria,

dominating

in qualifying

with the

fastest lap

time of 1min

29.954sec.

He then

drove from

Marcus

Armstrong

pole to win

the opening

race of the

weekend – his first victory of

the championship.

"It's a great feeling to be

celebrating this victory with my

team. I'm obviously dreaming

of the title, but at the moment,

only winning counts for me.

Our car was so fast, I couldn't

even see what was going on

behind me," said Armstrong.

He backed up the win with

two solid performances in

the final two races on Sunday,

finishing third in both. The

results mean that he now moves

DEBUT WIN: Marcus Armstrong powers his Prema Powerteam F4 to victory in Austria.

up to third in the championship

standings after three rounds

and is 29 points behind

championship leader and Prema

Powerteam teammate Juri Vips

from Estonia.

The next event in the sevenround

championship will be

held at Oschersleben, Germany,

from July 7-9.

Last year, Armstrong was

picked up by the Ferrari Driver

Academy.

He was in New Zealand over

the summer and competed in

the Toyota Racing Series, which

he finished fourth in.

Armstrong is also currently

competing in the Italian

Formula 4 Championship

with Prema Powerteam and

is currently fourth in the

championship standings after

two rounds.

SCHOOL CROSS-COUNTRY

Ascot Golf Course will host the

National Secondary Schools

Cross-Country Championships

this weekend. Saturday sees the

running of the individual and

school team championship events.

On Sunday, competitors will

race in the regional relay, which

Canterbury dominated last year,

winning four of the six titles and

getting medals in the other two.

St Bede's College student Nick

Moulai, who broke a nine-year-old

under-17 3000m national track

and field record in December, will

be among the favourites.

SHARPE TAKES OVER AS

COUNTRY CRICKET COACH

Michael Sharpe will return

to the Canterbury Country

Cricket fold next season with

his appointment as coach of

the senior representative team.

Sharpe played most of his cricket

for Sefton, including 50 matches

for the senior team. Following a

playing career that involved 31

first class and 33 one-day games

for Canterbury, he turned to

coaching, which has also involved

time with the Canterbury side

and New Zealand under-19s. He

replaces Shanan Stewart, who as a

player-coach in 30 games, won and

defended the Hawke Cup.
---
42 Thursday June 15 2017

Latest Christchurch news at www. .kiwi

Sport

Awards show

Parker, Garvey

on course for

big golf future

NEW ZEALAND junior

representatives Tom Parker and

Amelia Garvey were the major

winners at the Canterbury Golf

annual awards evening in Russley.

Parker, 17, is one of the country's

top golfing prospects and recently

finished third at the

Australian Boys' Amateur

Championship in

April. He is currently in

Japan representing New

Tom

Parker

Zealand at the Junior

Golf World Cup. He took

home three awards on

Friday night, including men's golfer

of the year.

Garvey, 16, was also recognised

three times on the night after a

strong 12 months which included

winning the New Zealand

stroke play title in

Hastings in March. She

also represented New

Zealand at the Queen

Amelia

Garvey

Sirikit Cup in China last

month.

A life membership was

awarded to Rangiora's Sue McFarlane

for her huge contribution over

the last 30 years.

Award winners

Service awards: Amelia

Garvey (Kaiapoi), Hillary

O'Connor (Pegasus), Craig

Vining (Russley) Gary McAuley

(Russley), Bruce Hutchison

(Rangiora). Ambassador of the

year: Tom Parker (Christchurch).

Best stroke average – Liz

Douglas Trophy: Amelia

Garvey (68.30). Best stroke

average – Vardon Trophy: Tom

Parker (69.83). Promising junior

girl: Maddie May (Russley).

Promising junior boy: Zach

May (Russley). Women's golfer:

Amelia Garvey. Men's golfer:

Tom Parker. Women's junior

golfer: Juliana Hung (Russley).

Men's junior golfer: Hiroki

Miya (Russley). Administrator

of the year: Marie Michael

(Greendale). Volunteer of the

year: Denis Cotton (Rawhiti).

• By Gordon Findlater

THREE YOUNG footballers

can now call themselves

teammates at club, provincial

and international level.

Rebecca Lake, 18, Lily Bray,

16, and Emma Clarke, 17, are

used to lining up together

for both Coastal Spirit in the

Mainland Women's Premier

League and the Canterbury

United Pride in the National

Women's League.

The trio will now represent

New Zealand together at next

month's under-19 Oceania

Women's Championship in

Auckland after being named

in coach Gareth Turnbull's

20-strong squad. The championship

winner will qualify

for next year's under-20 World

Cup.

Lake was a regular in New

Zealand's central defence at

last year's under-17 World Cup

in Jordan. She along with Bray

and Clarke will now push their

case for a spot in the under-20

World Cup in France.

"I've never experienced

Changes to junior cricket encourage faster game

CANTERBURY Cricket

will implement changes to

transform the junior game next

summer.

Juniors will now start their

cricket journey on grounds

with shorter pitches, smaller

boundaries and with less fielders,

to enable a faster paced

game with increased activity.

Canterbury Cricket believes

the changes will result in more

balls in play, more runs scored

and increased fielder activity.

The changes include a reduction

in pitch length from 20m

to 16-18m, depending on the

group's stage, limited boundary

sizes and either seven or nine

players on the field.

Players will progress to playing

on the full-sized adult pitch,

and with 11 players on the

field, after participating in two

Value Cars

www.valuecarswarehouse.co.nz

32 Moorhouse Ave | 03 366 7768

Teens share path to youth World Cup

TRIO: Emma Clarke, Lily Bray and Rebecca Lake,

all of Coastal Spirit, are now New Zealand football

representatives.

PHOTO: MARTIN HUNTER

anything like the atmosphere

in Jordan. It's definitely made

me hungry to push my case for

another World Cup," said Lake.

Midfielder Bray has previously

represented New Zealand

in a tournament in China and

at just 16 will be eligible for the

development stages: The under-

10/11s and the under-12/13s.

The changes are based on

extensive research and piloting

by Cricket Australia and have

been endorsed by New Zealand

Cricket, which expects the

next two under-20 World Cups.

It's a new experience for

right-back Clarke. The qualifying

tournament will be her

first time representing New

Zealand.

"I couldn't believe it to be

honest when I got the news,"

changes to be implemented

country-wide in the 2018/19

season.

Feedback from the pilot programmes

in Australia showed

that a shorter pitch resulted in

fewer wides and no balls, and

the match scorecards showed

that there were more balls in

the hitting zone for the batsmen.

Canterbury Cricket chief

executive Lee Germon urged

people to consider the changes

as a great opportunity for children

to develop their skills in a

fun and engaging way.

"Some of these formats are

already being played successfully

throughout Canterbury

and this will ensure consistency

throughout our province," said

Germon.

He said the modifications

The Star

The biggest range of vehicles in one location

said Clarke. Turnbull also has a

strong Coastal and Canterbury

connection. He coached the

Coastal women's premier side

from 2009 to 2012, before

moving on to coach the Pride,

leading them to national titles

in 2013 and 2014.

Turnbull was no mug on the

field himself and is regarded as

one of Coastal's greatest players.

He previously held the Mainland

Premier League's all-time

leading goal-scorer record

with 94 goals, a mark that was

only surpassed last month by

Cashmere Technical's Michael

White.

Before the girls head to

Auckland, they have a must

win game for their club. Coastal

take on Cashmere in the third

round of the national knockout

cup on June 24. The two

teams are also currently level

on points at the top of the WPL

standings.

"We beat them recently so

we're confident. The knockout

is a competition we really want

to progress far in," said Clarke.

would allow children to better

develop their skills, experience

more success, build greater

confidence and be more involved

in each game.

"I'm confident that these

changes are the most important

Canterbury Cricket will make

to junior participation," said

Germon.

A road show of information

sessions will be developed with

local cricket associations in

Canterbury over the winter,

which will provide the opportunity

for parents, children and

others involved in cricket to understand

and ask any questions

about the formats.

Germon finishes up with

Canterbury Cricket at the end

of the month to begin a role as

Sydney Thunder general manager

in July.

Brand New Prebbleton Show Home Open

This Weekend: 72 Blakes Road, Prebbleton

Open on Weekends from 12pm to 4pm

Silver medal winner in Registered Master Builders 2016 House of the Year Awards

Builders of superior homes.

Built to last.

Office & Show Home: 5 Broomleigh Drive,

Faringdon, Rolleston

New Show Home: 72 Blakes Road, Prebbleton

Phone: 03 374 9172 or Rob: 021 324 876

E-mail - robin@artisanhomes.co.nz
---
The Star 43

Sport

Kevin Proctor set to make return for Titans following drug ban

GOLD COAST forward Kevin

Proctor is poised to make his

NRL return from a four-match

illicit drug ban with the Titans

facing a tricky task to make the

finals.

Proctor copped the suspension

from the Titans – as well as a

$20,000 fine – after being caught

using what was believed to be

cocaine in Canberra on May 5

following the Anzac test.

Chris McQueen, who often

partnered with Proctor in the

second row for the Titans, told

AAP Proctor's chomping at the

bit after spending seven weeks

on the sideline. The Titans take

on the South Sydney Rabbitohs

in Sydney tomorrow night.

"He'd be a massive inclusion

for us, the suspension's been

burning away at him. I'm expecting

a big game for him this

week," McQueen said.

"He knows how to win games

and he's not scared of the hard

work, he's more than willing to

put his body on the line for the

team.

Latest Christchurch news at www.

.kiwi

"He brings a lot of leadership,

we have still got a lot of young

guys who haven't got a lot of

experience and to have a guy like

him is invaluable."

Proctor's last match for the

Titans was their 38- 8 win over

Newcastle in round nine and,

since he's been banned, Gold

Coast have lost three of their last

four fixtures.

A veteran of 186 games,

Proctor averages 25 tackles per

game this season and his stability

in defence is much needed with

the Titans conceding the third

highest amount of tries in the

NRL.

The 13th-placed Titans are out

of form losing their last three

games on the trot, but McQueen

is demanding a fight for the rest

of the season.

"Mathematically speaking, I

think we've only got two or three

losses in us for the rest of the

year," McQueen said.

"We've put ourselves into a

difficult position but we're going

to fight until the end of the year."

Thursday June 15 2017

Titans: William Zillman,

Anthony Don, Dale Copley,

Konrad Hurrell, John Olive,

Chris McQueen, Ashley

Taylor, Nathaniel Peteru, Pat

Politoni, Ryan James (c), Kevin

Proctor, Joe Greenwood, Leivaha

Pulu.

Interchange: Morgan Boyle,

Eddy Pettybourne, Max King,

Paterika Vaivai, Ben Nakubuwai,

Phillip Sami, Keegan Hipgrave,

Jamal Fogarty.

Referees: Ashley Klein, Alan

Shortall.

sample

2006 MITSUBISHI OUTLANDER

2.4 auto, alloys, ABS, twin airbags, 7 seater.

$13,990

CAR

OF THE

WEEK!

Plus ORC $300 Cash Price $14,290

275 Colombo St, Christchurch

Cnr Colombo & Milton Sts

Ph: 337 9629

Andy

Carr

Austin Motor Group

Rabbitohs

Storm

Sharks

Dragons

steve

Lennon

Rabbitohs

Storm

Sharks

Eels

Games

successfully

selected

2017 NRL

TIPPING COMPETITION

OuR ExPERT's sELECTIONs

Games

successfully

selected

64/107

Currently

4th

ROuND 15 (JuNE 16 - 18)

Pepe

Clark

Andrew

McCormick

Ben

Rogers

Frank

Endacott

Mike

Olds

Wilson's Sports Bar The Flooring Warehouse Rockcote

Titans

Storm

Sharks

Dragons

Rabbitohs

Storm

Sharks

Eels

Games

successfully

selected

Currently

7th

Games

successfully

selected

Rabbitohs

Storm

Sharks

Eels

Rabbitohs

Storm

Sharks

Eels

Games

successfully

selected

Currently

2nd

Rabbitohs

Storm

Sharks

Dragons

Eddie

Kerrigan

Woodford Glen Speedway Brandts-Giesen McCormick Nigel Thompson Motor Co. Ltd Ignite Fitness

63/107

Currently

5th

Rabbitohs v Titans

Storm v Cowboys

Sharks v Tigers

Eels v Dragons

60/107

66/107

Currently

3rd

67/107

Games

successfully

selected

69/107

Currently

1st

Rabbitohs

Storm

Sharks

Dragons

Games

successfully

selected

56/107

Currently

8th

Games

successfully

selected

61/107

Currently

6th

• TOOLS

• AIR TOOLS

• ALLOY JACKS

• BATTERIES

• OIL & MUCH MORE!

OPEN TUES-FRI 9AM - 4.30PM

129 NORTH AVON RD, CHRISTCHURCH

www.woodfordglen.co.nz

Brandts-Giesen

McCormick

Barristers & Solicitors

139 Kippenberger Avenue, Rangiora

Telephone: 03 313 4010 | Facsimile: 03 313 5096

Christchurch Direct Line: 03 379 1303

Email: reception@bgmlawyers.co.nz

We belong to your community

All areas of practice:

Family, Property, Farming, Business Trusts,

Wills, Estates, Criminal and Traffic

After hours by appointment

• Andrew McCormick • Anna Lloyd

• Roger Brown • Quentin de Hamel

• Sharon Ward • Emma Symon

• Jesney Te Puke-Cowperthwaite

• Carol Dunn

Committed to Excellence in a

Friendly Environment

WILSONS'

SPECIALS

Tuesday's + Wednesday's:

Burger + Fries $12.00

Saturday 12 – 5pm:

Wilsons' $10 Pint 'n' Punt

Buy a pint of your favourite

beer & receive a $5 TAB

voucher to enjoy.

All Day Everyday:

2 Big Sports Screens

18

Pokie Machines

2 Major Jackpots with NZCT

Wilsons Sports Bar Steinlager

PH 03 343 4141 | 25 Riccarton Rd

2005 Suzuki Swift SPORt

ABS Brakes, Air Bag(s), Air Conditioning, Alloys, Body

Kit, Central Locking, Electric Mirrors, Electric Windows,

Fog Lights, HID, Isofix, Power Steering, Spoiler, Stereo,

Tinted Glass, 1580 cc

$11,999

519 Moorhouse Ave

Ph 377 6484 | Cell 021 134 9848

www.nigelthompson.co.nz

Carpet piCk of the week

Berber

Grid

An absolute bargain,

extra heavy duty 100%

solution dyed nylon

carpet, in two colours

- Viking and Charcoal.

Hard wearing fade and

stain resistant, ideal for

rental properties or

even a family home.

PLUS

MUCH

MORE

INSTORE

$

69.00m

(that's $18.86m²)

Only

while

stocks

last.

47 Gasson St, Ph 353 8899

Hours: 8.30am-5pm Mon-Fri

www.theflooringwarehouse.co.nz
---
44

Latest Christchurch news at www. .kiwi

Driven

Thursday June 15 2017

FREE WEEKLY MAGAZINE

in stands every Friday

Best

Motorbuys

TM

OVER 1000

VEHICLES

FOR

SALE

Below is a small

selection of our

great deals!

To advertise in Best Motorbuys, phone Lea Godfrey 021 277 3086

Little Lexus leaves

big impression

The Star

rEDUCED

2006 MAZDA DEMIO

2005 TOyOTA wIsh

2005 TOyOTA MArk x 250

AUTO

1.8 auto

1.3, Auto

$5,990 auto

7 Seater

$6,990 Auto

$7,990

2006 ford falCon xr6

4.0 auto, alloys, ABS, twin airbags.

$13,990

2008 MITSUBISHI PAJERO EXCEED

3.2 diesel, NZ New, olympic edition,

7 seat, cruise control, hi/lo ratio, t/bar,

sunroof, 112km.

rEDUCED

CHRISTCHURCH'S neweST CAR yARd nOw OPen!

179 Moorhouse Ave | PH. 03 377 7990 | AH. 027 555 7990

2005 MaZda axEla SPorT

2.3 auto, alloys, ABS, twin airbags.

$10,990

rEDUCED

2004 honda Crv

2.0 5spd manual, alloys, ABS, twin airbags.

Plus orC $300

$11,990 Cash Price $12,290

275 Colombo St, Christchurch.

Cnr Colombo & Milton Sts. Ph: 337 9629.

2016 FORD EVEREST 'Trend' 4WD

3.2 T.Diesel, Tiptronic, 20" Alloys, 7 Seater,

GPS/Sat Nav, Sync 3, Bluetooth, Tints,

Low km. "Staunch Good Looks"

2014 FORD FOCUS 'Sport'

2.0 Litre, 17" Alloys, Multiple Airbags,

GPS Sat/Nav, Spoiler, Bodykit, Bluetooth,

Very Low km. "Striking in Winning Blue"

2013 FORD TERRITORY SZ 'Titanium'

2.7 T.Diesel, 7 x Leather Seats, DVD Player,

Bluetooth, GPS Sat/Nav, Reverse Camera.

"Seriously Classy in Emperor"

$60,990 LOOK $21,990 LOOK $33,790

Neat cars

SAVE $3000, NOW

NOW $26,995

07 toyota ractis gl

Wald Special Edition, many

great extras.

NOW $26,995

2015 HONDA CRv SPORT STylE

Auto, 2.0 litre, 18,295kms, daytime

lights, bluetooth, reverse camera.

Quality vehicles at

competitive pricing

Cnr Main South & Epsom Rd

www.avoncityford.co.nz Sockburn, Christchurch

0800 655 551

nissan atlas 150

With tail lifter. Rare opportunity.

www.neatcars.co.nz

NOW $27,995

2003 vW TOUAREg vIO DIESEl

Jumbo puller, superb motoring,

low low 90,000kms, NZ new.

31 Moorhouse Ave

Christchurch

03 3770980

volkswagen touareg v6

Top grade, low kms,

must be seen.

ON

rOAD

$9,990 $14,995

$23,990

$15,999

2004 Volvo XC90 T6 7 SEATER

4WD, 3000cc tiptronic, all electrics, leather seats,

reverse camera, climate air cond, cruise, alloys,

7 seater, only 77,000kms!

Inch Quality

European

noW

$9,990

SAVE $2000, NOW

$11,999

2006 Nissan Murano 2WD 250 XL

2500cc auto, alloys, electric mirrors/windows,

central locking, driving lights, reversing camera,

only 74,000kms, extremely tidy.

SAVE $2000, NOW

301 Main South Rd

Hornby Christchurch

03 349 9298

$11,999

2005 Audi Allroad 2.7 Bi Turbo

4WD, tiptronic auto, leather seats, parking

sensors, traction control, climate a/c, cruise, all

electrics, adjustable suspension, only 80,066kms.

541 Moorhouse Ave

Christchurch

Ph 03 3799529 or 0274366076

• By Ross Kiddie

OVER THE years I've

made no secret of the fact

that I like sports sedans.

If you add that to my

desire for Lexus product,

and the IS series in total,

then you'd have to agree

that I'm a little bit smitten

with the latest IS – a

series that lands with three

engine options.

Topping the line-up

is a 3-litre V6 petrol at

$107,900, there's the 2.5-

litre hybrid driveline

($77,300 and $88,700), and

the baby of the series – the

IS200t starting at $74,300.

As its nomenclature suggests,

the latter is a 2-litre

turbocharged model and it

is a car that punches well

above its weight and, in my

opinion, is by far the pick

of the series.

Regular readers will

recall my recent evaluation

on the RC200t, Lexus'

small and sporty coupe,

it was a car I enjoyed

immensely. The IS200t uses

much the same driveline,

but as I've eluded to, it is

packaged in a sedan body

shell. The test car was an

F-Sport model and sits

in the line-up at $84,900

which, to my way of thinking,

is good value considering

that it is a premium car

built to all the Lexus values

of quality and performance.

It is high-specced with all

the trimmings for comfort

and convenience along

with a high level of safety.

There are no surprises,

buyers want for nothing.

Under the bonnet sits the

heart of what makes the

IS200t so special – a fourcylinder,

twin-camshaft,

turbocharged engine of

180kW and 350Nm. Both

outputs are realised low in

the rev band at 5800rpm

and 1650rpm respectively.

It drives through an eightspeed

automatic transmission,

and between the two

the flow of power is exciting,

or gentle, depending on

the conditions at any given

time.

When Lexus New

Zealand launched the new

series, motoring journalists

LEXUS IS200T: At home on-road or on the track.

were invited to the Taupo

Motorsport Park and we

were treated to laps on the

circuit under the guise of

professional race drivers. I

can report that all three variants,

yes, even the hybrid,

equipped themselves well

on track, but to me it was

the turbo model that stood

out. The gentle flow of

boost and the quiet and

refined manner with which

the engine operates is true

to the Lexus ideology.

• Price – Lexus IS200t,

$84,900

• Dimensions – Length,

4680mm; width,

1810mm; height,

1430mm

• Configuration – Fourcylinder,

rear-wheeldrive,

1998cc, 180kW,

350Nm, eight-speed

automatic.

• Performance –

0-100km/h, 7.5sec

• Fuel usage –

7.5l/100km

SHAPE: The Lexus IS200t looks stylish from all angles.

What also makes the IS

rather special is the way

the chassis and suspension

has been set up. Of course,

Lexus' engineers haven't lost

sight of the benefits of rearwheel-drive,

and the IS is

set up so that it can be used

in a sporty environment,

the combination of sensible

spring and damper ratings

and perfect steering just

reinforces my adulation.

On my home patch I

took it west on the scenic

route to Terrace Downs. I

didn't push too hard in the

corners, for I felt the Taupo

experience was enough to

evaluate its handling prowess.

Instead, I travelled at

a leisurely pace, soaking

up the ambience of what

makes Lexus so special as

a brand.

The IS200t travels ever

so quietly and is a joy to

be behind the wheel of. It

is smooth and feels just so

unbelievable from behind

the wheel, the steering is

like turning on velvet and

the chassis responds comfortably

to any broken surface

or directional change.

If quick acceleration is

required the engine and

gearbox respond swiftly

to throttle pressure, an

overtaking manoeuvre

can be achieved in 4sec

while a standstill to acceleration

time of 7.5sec is

just enough to release the

endorphins.

At highway speed the

engine turns over slowly

and economically at just

1750rpm, sipping fuel at

the rate of just seven litres

per 100km (40mpg). When

I took the car back the

trip computer was listing a

9l/100km (31mpg) average

which sits well with Lexus'

7.5l/100km (37mpg) claim.

The IS200t isn't a big car,

but it does fit five without a

squeeze, the interior detailing

is such that it reeks of

quality and luxury build.

For me, though, it's all

about performance and I

know it's a bold statement,

but I firmly believe that as

a series the IS is one of the

world's great all-rounders.

I applaud Lexus' product

planners, in an age when

sedans are struggling in a

wilting market, great cars

like the IS, and others, are

rolling out of the Lexus

factories.

I'm the owner of one of

the early forerunners to the

IS series and enjoy it very

much as a daily drive. That

being the case, it would be

a natural transition to step

into an IS, and I'm desperate

to do that, the only

thing standing in my way is

I'm yet to pick the winning

Lotto balls.
---
The Star Latest Christchurch news at www. .kiwi

Thursday June 15 2017 45

OPEN HOMES

Come to an open

home or make a

time to view.

Avondale: 26 Cowes Street

Priced To Moo-ve On Cowes: Solid 3 bedroom

family home. Modern kitchen, spacious living.

Large deck. Dble garage. Extra parking.

Enquiry over $379,000

Sunday 1-1.30pm

Avonhead: 31a Rosedale Place

Needs To Sell Urgenty: Make an offer. Nest or

invest. 2 dble bdrm rear townhouse in Burnside

& Merrin St school zones. Make an offer.

Enquiry over $345,000 (RV $355,000)

Sunday 11-11.30am

COLLAPSED SALE

Cashmere: 75 Valley Road

Brand New Designer Dwelling: Collapsed sale,

back on the market, be quick! 4 bdrms, 2 bthrms,

single gge. Extra parking. See it, love it, get it!

Sunday 3.15-3.45pm

Linwood: 1a Clive St

Affordable, Sizable & Practical: Very tidy 3 dble

bdrm home. Modern kitchen, new paint, carpet.

Off street parking. Great value for money.

Sunday 12-12.30pm

North New Brighton: 12 Saltaire Street

Get On The Property Ladder: Must be sold. 2/3

bdrms. Woodburner on wetback. Re-wired,

re-roofed, re-painted. New dble garage.

Enquiry over $370,000 (RV $375,000)

Sunday 2-2:30pm

Do you know

the current

value of

your home?

Find out,

call Trish

now for a

free appraisal.

Trish Lawrence

ph 0800 874 745

Initial Realty Ltd

Licensed Agent REAA 2008

To Let

AN Extra Room @

your place.

A NZ made Room-Mate

movable Cabin is what

you need, will keep you

warm in winter, 2.4 mts x

3.6, fully insulated, curtains,

carpet, alum joinery,

lockable,

from only $55 pw,

WINZ quotes avail.

to view

www.roommatecabins.co.nz

or ph 03 341-8909 or

0800 111-344 or

027 202-9145

To Let

Trish donates

to Camp Quality

SOUTH Brighton self

contained sleepout with

ensuite, own bathroom

facilities, newly

redecorated, warm &

private, $200 pw, ph 027

398-2797

Real Estate

CARTERS Beach

Westport, 2 x 2 bedrm

flats, needing tlc, live in

one & rent the other, GV

$180,000, offers over

$125,000, ph 03 547 8136

Home

& Property

CHECKLIST FOR

SELLING YOUR HOME

MAKE SMALL FIXES

Inspect your home with a buyer's eyes, and correct

the flaws that are most egregious (if affordable) or can

be relatively easily fixed—from repairing cracks in the

walkways to repainting dingy walls or oiling creaky

hinges.

SET A PRICE

A real estate agent will give you a market analysis free

of charge or commitment.

Ask a few to get a broader picture of the market, then

ask to see listings for properties similar to yours that

have sold in the past six months.

Check out comparable listings yourself in the real

estate section of your newspaper or on websites.

Then decide whether you want a quick, easy sale or

the highest possible price.

There has never been a better time to look at

investing in the Oamaru property market! During

the last few months, real estate in the region

has seen a surge in the number of properties

being listed and sold, with some great options in

investment to be found.

Oamaru, is made up of four main suburbs:

Oamaru (central suburb), Oamaru North,

Holmes Hill and South Hill. Average values have

grown relatively comparatively across these

main suburbs and properties are selling, on

average, in about two months.

With a lot of media time in recent weeks, after

data was released showing Oamaru as the fourth

most-viewed New Zealand location on property

website Juwai, we have received a multitude of

calls from out-of-towners who are interested in

investing in property in, or moving to, the North

Otago region.

With a shortage of rentals available, investors

are seeing great returns for what they already

own, and the time is right to increase investment

portfolios. On the other hand, many folk are

also looking at making the move to our region

as they're seeing the many benefits our lifestyle

here has to offer.

To have a chat about the local

property market, give me a call!

Stephen Robertson

LJ Hooker Oamaru Principal

Phone 027 473 1112

Make The Move To Oamaru!

NEW LISTINGS

Home & Property appears

every Thursday, delivered FREE

throughout Christchurch

For more information

and bookings, contact

Mike Fulham

M: 021 300 567

E: mike@starmedia.kiwi

CLEAN & DECLUTTER

Weed out excess furniture, knicknacks, and "stuff"—

toss it, donate it, give it away, sell it at a yard sale,

or put it into storage—so the house seems more

spacious and buyers can imagine themselves in it.

STAY VIGILIANT ABOUT MAINTENANCE

From the moment you start showing your house, keep

the lawn mowed, shrubs trimmed, gardens weeded,

rooms spotless and clutter-free.

READY YOUR HOME FOR OPEN DAYS

Hide pocketable valuables, display fresh flowers or

bowls of fruit, bake a batch of cookies for the homey

smell, open the drapes, keep pets out of sight.

DECIDE WHETHER TO DO YOUR OWN BUILDING

INSPECTION

It may save you time, especially with older homes,

to identify—and potentially solve—problems your

buyer's inspection will discover later.

The Waitaki district is definitely on a roll at the

moment, and that roll looks set to continue

for quite some time yet! With agriculture,

manufacturing and tourism growing strongly

through investment and promotion, Waitaki is

attracting a lot of attention.

Lonely Planet has called Oamaru, "the coolest

town in New Zealand," and that is a title we are

proud of. Our Council is working hard with our

community to make our district an even more

amazing place.

With so many wonderful attributes going for us,

from our natural environment through to our

built heritage, our eclectic arts and music scene,

and growing economy, we really have a place

with an amazingly positive future.

I'm proud of the sustainable growth we are

experiencing. We are improving opportunities

for our local people, and welcoming a steady but

manageable stream of new people to the area.

They are coming for better lifestyles, good jobs,

business opportunities, and in some cases to

retire. We are a friendly town and a welcoming

district.

If you want to know more, I am

just a phone call away.

Warm regards,

Gary Kircher

Mayor for Waitaki

Phone 021 463 546

Call Oamaru's No. 1 Team For Listing & Selling

Phone (03) 434 9014 • Web www.oamaru.ljhooker.co.nz

Robertson Real Estate Ltd MREINZ - Licensed Real Estate Agent REAA 2008

Your Earthquake

damaged home!

Talk to us if you are serious about

selling your "As is Where is" home.

We have sold over

100 "As is Where is"

homes and we have

a huge database of

qualified buyers.

Phil & Holly Jones

Ph 03-382-2230

Phil 027 435 7711

Holly 027 222 0220

phil.jones@raywhite.com

We have

achieved record

breaking prices

recently!

Licensed (REAA 2008)

Results Realty Ltd

www.firsthomes.nz

chchsales@firsthomes.nz

3 Bed, 2 Bathroom

Double Garage

$285,000

Oamaru

SELL THE CAR!

Price: SBD BEO $199,000

Web: G3FGF3

2 1 -

COME AND GET ME!

Price: SBD BEO $205,000

OPPORTUNITY KNOCKS

Price: SBD BEO $205,000

A STIRLING PROPERTY

Price: SBD BEO $245,000

Web: FZ9GF3 3 1 - Web: G6AGF3 3 1 1 Web: G5YGF3 2 1 1

SBD BEO = 'Sale By Deadline Buyer Enquiry Over'

*

LJ Hooker Harveys Group, based on number of transactions

Call Oamaru's No. 1 Team For Listing & Selling - Ph (03) 434 9014

Robertson Real Estate Ltd MREINZ - Licensed Real Estate Agent REAA 2008

PIECE OF PARADISE - ACTION WANTED!

Price: SBD BEO $445,000

Web: G66GF3 4 2 4

Check out all our listings at www.oamaru.ljhooker.co.nz | Deal with the Best: LJ Hooker Oamaru - The Most Productive Team in NZ *
---
46 Thursday June 15 2017

Latest Christchurch news at www. .kiwi

Phone our local team on 379 1100

or Email: star.class@starmedia.kiwi

The Star

4wd/Commercial/

Trucks/Utes

TOYOTA Hi Ace 1987,

manual, wof & reg,

210kms, 9 seater, tinted

windows $5000 ono, ph

021 212 4626

Adult Information

VENUS

ROOM

Upmarket discreet,

open 10.30am till late,

www.venusroom.co.nz

or ph 03 376-4565

or 022 059-4369

Adult Information

DOUBLE Trouble 1 for

pleasure & 1 for fun, ph

022 100-3942, Chch

LADIES Wtd sensual

massage or full service,

room hire also avail, ph

03 379-5440 or 021052-

4568ChCh

LADIES WANTED.

For Canterbury massage

parlour.Ph 022 0675490

SEXY, Sensual lady avail

for fun times, ph 021 025-

92429, ChCh

Babies Equipment

BABY Clothing clean,

girls birth to 12 mths, all

reas priced, baby clothing

boys, birth to two & half

yrs, all reas priced, nappy

inserts Microfibre x 10

with nappy pants x 5 $35

ono ph 027 549-0048 or 03

349-0048

FRONT Pack baby

carrier, birth to 1 yr old,

exc cond $30, also baby

bath white $10 ph ph 027

549-0048 or 03 349-0048

Bicycles

GIRLS Bike 2 wheeler

$50 ph 980 2455

New and Used

WINDOWS

& DOORS

• Extensive

range

• Aluminium &

timber

• French doors

Phone

379 6159

215 Waltham Rd

Building Supplies

www.windowmarket.co.nz

Birds – Caged

CANARY Male swap for

female canary, ph 021 142

1364

KING PARROTS.

x2 males, 4 & 5 yrs old,

avairy birds only $325 ea,

ph ChCh 3257166

Boating Accessories

& Equipment

MARINE

SUPPLIES

• Boat Covers

• Fish Finders

• Boat Hardware

• Life Jackets

• Accessories

305 Flaxton Road, Rangiora

Ph 027 439 3184

www.southislandmarine.co.nz

Boating Accessories

& Equipment

SAILING DINGHY

Int. Fireball,beutiful

varnished sell to good

home only $800 complete

with launchiung trolley.

Ph 338 5210

Building Supplies

SLEEPOUTS

WANTED

Don't mind

craning

to remove or

doing repairs.

Also wanted

offices, homes,

granny flats,

garages etc

Ph 021 106 2900

Building Supplies

CORRUGATED Iron

wanted, sheets of baby

corrugated iron, 1.8mt L,

ph ChCh 354 5609

NETTING 2 Rolls

$100 the lot, ph 021 142

1364

• Exterior

sliding doors

• Single &

double glazed

• Buy and sell

Caravans, Motorhomes

& Traliers

TRAILER Wanted any

size or cond, ph or txt

Peter 021 025-94977

Cars

$8,001 - $12,000

TOYOTA VITZ.

2006,1.3 auto,low 56K,

ABS, 8 safety air bags,

AC, CD player, economy

at its best, very tidy, be

quick $8999 Ph 0274

936023

Cars $0 - $1,500

HONDA ACCORD.

1994, auto, original clean

cond,wof & reg, $1300. Ph

3853788

NISSAN Cefiro 1997

2500cc V6 reg & wof

$1200 no lower

Ph 027 7034993

Cars

$16,001 - $20,000

MITSUBISHI 380

SX, 2007, stunning red,

$8000 paint, 3.8 V6,

40mpg, spoiler, 17" alloys

$18,000, ph 352-5963

Cars

$1,501 - $4,000

NISSAN PULSAR 2000

SW 185 kms, wof & reg,

5 spd manual. Reliable &

economical. $2,500. Ph

981-9563 or 027 200 4706

Cars

$4,001 - $8,000

TOYOTA Celica SS1,

1999, 200hp factory, low

kms, 50mpg, was $12,000

now $6750, ph 352-5963

Classic Cars & Motorcycles

ASHLEY'S

TOW TAXI

fOr SAfE, dAmAgE frEE

cAr TrAnSpOrTATIOn

"SpEcIAL cArE fOr

SpEcIAL cArS"

0800 TOWTAXI

0800 8698294

Classic Cars &

Motorcycles

MITSUBISHI Cordia

turbo GSR, 1985, low

kms, 1 previous family

owned, red, suit collector,

ph 352-5963

PEUGEOT 403. complete

but project car & lots of

spares offers wanted also

on swap meet site 612.

Ph 338 5210

Church Notices

SPIRITUALIST

CHURCH OF

KAIAPOI

Centre of Eternal Spirit

This Sunday 7pm

St Johns Hall

51 Hilton Street.

Address:

Gale

Clairvoyant:

Gale

Contact: Heather

(03) 981 0303

Church Notices

The Spiritualist

Church of NZ

41 Glenroy Street

Woolston

SUNDAY SERVICE

7pm

Address

Andy D

Mediumship

Andy D

Ph 021-081-43700

SYDENHAM CHRISTIAN

SPIRITUAL CHURCH

Sydenham Community

Centre

23/25 Hutcheson St

Address

Janet

Clairvoyance

Janet

Sunday 7pm

All Welcome

Phone 349-9749

Christian

sPiritUaList

ChUrCh

182 Edgeware Road

Sunday Service

7pm

Address

Tawera

Clairvoyant

Tawera

All Welcome

Church Notices

NEW AGE CHRISTIAN

SPIRITUAL CENTRE

Grafton Street

Sunday 7pm

Address:

Shirley

Clairvoyance:

Teressa

Tuesday 1pm-3pm

Healing &

Clairvoyance

All Welcome

Clothing &

Accessories

HANDBAG Guess,

authentic, neutral colour,

exc cond, bargain $150

ono, ph ChCh 0204

444204

Community Events

ALCOHOLICS

ANONYMOUS, If you

want to have a drink thats

your business. If you want

to stop, we can help. Phone

0800 229-6757

Firewood

FIREWOOD 1 Cu Mtr

of dry untreated off cuts

$25, 32 Dakota Cres, Mon

to Fri 7am - 5pm , ph 03

3411027

Fishing & Hunting

RIFLE Bolts wtd,

cash paid, by collector,

any type, price etc, in

Canterbury Mon - Thurs,

ph 027 586-7621

Finance

CASH LOANS

$200 - $20,000

Same day approval

Same day cash

GET CASH NOW!

3/11 Goulding Ave, Hornby

9B Buckley Road, Linwood

Finance holding you back?

Whatever you need the

money for – a new car or

computer, something for

the home, a wedding or

family holiday, maybe even

debt consolidation – we

can fast-track your loan

and structure it to suit,

with repayments to fit your

budget and lifestyle.

WE BUY ALL UNWANTED

GUNS & ACCESSORIES

FOR CASH

Now at

64 Carmen Rd, Hornby

027 265 4659

You can now shop online with us

www.shooterssupplies.co.nz

Finance

Apply online now at faircity.co.nz

or call the team on 0800 340 350

IF22881CS

Fair loans, fast.

Fishing & Hunting

For Sale

SalE

Get excited at the great prices

for decorator pots, fountains,

fine furniture, lamps and more at

348 Brookside Road, Rolleston.

10.30am - 4.00pm

Monday through Saturday

PHONE 022 358 1690

Flatmates

FLATMATE WANTED.

Two rooms $140 & $130

pw.Incl Power & phone.

Ph Rob 03 981 2353

LINWOOD furn room in

flat $175 per wk, incl pwr

& ph. Share with 1 other

40+. Ph 960-5667

SOUTH NEW Brighton,

double room can furn,

working, private home

$200 pw ph 027 398 2797

Free

MODEL TRAIN SET,

old, on 1200 x 2400 base,

ph for details 388 2971

ORGAN Electric old

style, 2 x k/boards, for

more info ph 332-2038

TOP SOIL Available,

Bishopdale, several trailer

loads, was old vege

garden, large pile, bring

wheelbarrow & spade, ph

359 3440

Furniture (Indoors)

CABINET 3 tier, light

wood $20 ph 980 2455

FURNITURE Various

pieces, bedroom & lounge

furniture, all must go, ph

027 398 2797

SOFA & two chairs, cane,

with cushions $80 ph 980

2455

For Sale

REMOVAL Cartons,

good quality, approx 20,

large & medium size, ph

03 388 8738

Furniture

(Outdoors)

CHAIRS x 2 Green $20

for both, ph 980 2455

Funeral Directors

Direct

Cremation

No frills, No Service,

No fuss, simply

straight to the crem.

Other options available

Ph: 379 0178

for our brochure

or email

office@undertaker.co.nz

POPPY

FUNERALS

Refreshingly

different...

For all your funeral

needs from direct

cremation to full

service

No hidden or

additional fees

24 hour availability

Male and female

directors

Ph: 0800 92 00 99

www.PoppyFunerals.co.nz
---
The Star Latest Christchurch news at www. .kiwi

Thursday June 15 2017 47

Star Classifieds

• Phone our local team 03 379 1100 • Email star.class@starmedia.kiwi

Funeral Directors

Massage

Pets & Supplies

Tours

Trades & Services

MALE Masseur, relax

massage, waxing for men,

8am-8pm ph 027 723 5756

SENSUAL Hot Oil

Massage Rural Location

Anna 021 110-8790

Mobility &

Disability Aids

SHOPRIDER Scooters

variety of new &

secondhand with warranty,

also wheelchairs,

powerchairs & walkers.

Contact Gerald &

Christine, Accredited

Supplier Service

Wheelchair Scooter

Sales/Service Ltd,

ph 383-1364 or

0800 231-023

or 021 183-1177

DOG KENNEL

on wheels, with run $350

ph 021 142 1364

KAT Attack brand new,

never used, pd $90 sell

$45, ph 389-9055 or 027

358-7530

SYDNEY Silkie pups

avail 29/6 8 wks had first

vacc, fleaed, wormed, ph

03 323 4344 or 021 217

2292 Kianaga.

Plants & Gardens

RASPBERRY CANES.

Good quality $7 each

.Phone 341 6630

Sewing & Knitting

OVERLOCKER Brother

Model 524, offers ph 388

2971

OVERLOCKER Brother

Model 524, offers ph 388

2971

Hokianga and Far North

Departs 27th August 2017

8 days $1950.00 per person

Mt Cook Stargazing

Departs 9th August 2017

2 nights

$1295.00 per person

Includes helicopter flight

All tours include flights

Call Reid Tours 0800 446 886

www.reidtours.com

Trades & Services

Trades & Services

• Hot water cylinder repair/replacement

• Leaky taps, blocked toilets

• New housing

• All plumbing alterations

• Mains pressure hot water

• Fire and wetback installation

• Digger/tipper excavation and hire

• Watermain replacement/repair

• Free quotes

• Certified craftsman plumber

10% prompT paymenT disCounT*

same day serviCe*

*conditions apply

Call/Text 027 245 5100

Freephone: 0508 426 269

Garage Sales

*****

AVONHEAD 222

Avonhead Rd, Sat 8am

-1pm. H/hold goods,

garden tools, chainsaw,

suitcases, cabinets, toys.

************

EDGEWARE 146

Edgeware Rd, Sat 7am

to 11am, birdcage large,

dress fabric, bookcase, old

dolls, small safe, paint, too

much to list, on wet or fine

HALSWELL.

1 Aberdare Street

Sat 17th June

8am - 3.00pm

" Something for everyone"

Great items available so

get in early!

************

HORNBY 13A Brynley

Street, Saturday 10 to

1pm, dining tables, chairs,

old sofa bed, double sink

unit plus many other items,

some fair condition, good

prices, must collect

MAIREHAU MacFarlane

Community Centre,

Acheson Ave, Sat 9am to

1pm, sheets, bedspreads,

pillowcases, blankets,

towels, kitchenware,

food processor & juice

extractor, something for

everyone, no reasonable

offer refused

************

UPPER RICCARTON

Flat 3, 7 Angela Street,

Saturday 8am start, lots for

everyone

Gardening

& Supplies

TREE & HEDGE

SERVICES

• Trees removed

• Trees pruned

• Storm damage

• Hedges trimmed

• Free quotes

Ph Justin

021 221 4344

Gardening

& Supplies

A GARDEN

PROFESSIONAL

NEEDED? Qualified

Horticulturist, offering

expert pruning, garden

makeovers, garden design

and landscaping, for free

quotes call Bryce 027 688-

8196 or 0508 242-733

ROCKS Wanted .

Suitable for establishing a

rock garden, ph 354 5609

ROTARY HOE

for sale, goes good, $500

ph 021 142 1364

Handy Person

Services

Tired of that dripping

tap?Brassed off with

those sticking doors and

windows?Sick of looking

at that broken gate &

fence?Help is at hand!Ph

John on 021 149 0986 for

an obligation free quote to

ease your mind.

Health & Beauty

ANGELIC Witches,

here to heal, miracles

do happen, try a Reiki

massage, for your aches,

pains, blocks, pulls &

strains from Reiki Master

Pauline $25 per 30mins or

$40 p/hr, ph 341-3146,

Heating

POT Belly Stove Masport

Oregon, top cond, $350,

ph 027 220 5175

Jewellery

PENDANT Aurum

pendant, offers welcome

ph 021 026-94143,

Masterton

WATCHES Ladies Louis

Vuitton, Versace, Calvin

Klein, bracelet type, all

brand new, bargain at only

$99 ea, ph ChCh 0204

444204

Livestock & Poultry

HENS Laying $10 ea,

young pullets $20 ea, ph

021 142 1364

HENS Laying $10 ea,

young pullets $20 ea, ph

021 142 1364

A picture is worth a

THOUSAND

WORDS!

Advertise

your vehicle

for sale with a

photo for only

$

20

Motoring

2007 ToyoTa

Corolla

EXaMPlE

Auto, new WOF, reg, P/S, A/C, stereo,

mag wheels, immaculate inside and

out, only 56,000km.

$8,995

PHONE 03 123 45678

For full information and assistance

in placing your advertisement,

call now on 379 1100

Home delivered into over 93,000

Christchurch homes every Thursday

Personals

JUST RETIRED.

Man would like to find a

silly and naughty firm slim

older lady to talk about old

times, and how it used to

be.Maybe try and rekindle

passion lost over the years.

Want to die with a smile on

my dial. 3583634

LOOKING for a lady to

share my nice lifestyle

with. No tats, no smokers,

emaill alanjamieson@xtra.

co.nz

SINGLE LAD.

With time on hands seeks

a firm fit friendly feminine

feline for company,

laughter, squeals of joy

and TV time. 0276584425

SUCCESSFUL

GENTLEMAN. Mildly

athletic 180cm and 95kg

handsome and motivated

living on own, Fendalton

area, seeks a stylish,

sophisticated and well

preserved slim lady

who might enjoy my

company, my jokes,my

warmth, my personality,

for company. Love to hear

from you

Age 40 plus, Euro or

Asian. Write to me.

Brad, P.O.Box 1919

,Christchurch A photo

would be appreciated.

Telephones &

Communications

CB RADIO.

Midland 80

channel,27MHZ 5 watt

as new in box with all

accressories $60

Ph 021 1418029

Tools & Machinery

CHAINSAWS Wanted,

old types, make & model

number required, plse ph

06 327-6056

TOOLS, Garden garage,

saw benches, Lathes. Cash

buyer Phone 355-2045

Toys and Trikes

RIDE ON Thomas the

Tank Engine train & rails,

suit 1 to 3yr old $50 ph

980 2455

ADD SOME

COLOUR

TO YOUR ADVERT!

ACE handyman services.

Lawn mowing, painting,

fence building and

cleanups etc Phone

021-164-5567 or 03-960-8431

Trades & Services

GARDEN CITY

MOVERS (LTD)

Christchurch Fragile Freight

Small Shift

Specialists

and Single

Items

Ph 027 355 0090

info@gardencitymovers.co.nz

• Replacement/new roofing

• Colour Steel gutter & fascia

• Flue & log burner installs

• Skytube/light installs

• Earthquake repairs

Licence Building

Practitioner LBP

Member of the Roofing

Association

DCM ROOFING LTD

The Roofing Specialists

PHONE IAIN

027 445 5597

iain@dcmroofing.co.nz

Trades & Services

LANDSCAPING

• Paving

• Driveways

• Patios & BBQ Areas

• Retaining Walls

• Fencing & Decking

• Design & Construct

• Free Plans

30 years

experience

338 9349 or

027 447 9707

PROFESSIONAL & QUALIFIED

PAINTING

Plastering, Wallpapering

Spray Painting

Ph John 027 860 8106

RE-ROOFING

QUALITY ROOFING AT THE

BEST PRICE AROUND

Protect your home with a new Colorsteel roof.

Call for a friendly, FREE assessment and quote.

• Roofing

• Spouting and Downpipe

• Safety rails

• Licensed Building

Practitioner

Ph: 347 9045 or 021 165 1682

Email: Robinsonroofing99@gmail.com

Trades & Services

EXPERIENCED

GARDENER

(Kevin Garnett)

30 Years

Christchurch Botanic

Gardens.

ALL landscape

work done.

Maintenance, pruning,

tidy up, lawn work,

landscape planning

and planting etc.

Free Quotes

Phone 348 3482

Trades & Services

Looking for an

electrician?

• Residential, Domestic

& Commercial

• Repairs, Maintenance

• Fault finding

• New housing

• Competitive rates

• Free quotes

• Full & Partial Rewiring

• Test & Tagging

• Security Cameras

• LED Lighting Upgrades

Call 022 643 6450

Email admin@totalelectric.co.nz

After Hours 347 3313

Trades & Services

Driveways

SWAINS KIWI KERB

DRIVEWAY

CONSTRUCTION

Free Measure & Quote

• Asphalt

• Driveways

• Kerb

Trades & Services

Blind

Cleaning

Specialists

Clean & repair of all

styles of window blinds

domestic & commercial.

New blind sales.

0800 8899 99

www.blindcleaning.co.nz

info@blindcleaning.co.nz

5 / 301a Blenheim Rd

(Driveway next to Hubbers carpark)

Trades & Services

BRICK & BLOCK

new work, repairs, small

jobs only, free quotes, ph

Bruce 028 406 8226

BUILDER

Exp in all aspects of

building works, home

renovations & extensions,

property repairs. Free

quote. Ph Stuart 0274

661058

BUILDER

LICENSED, available for

all aspects of building.

Please call 027 241-7471

or 335-0265

BUILDER

Available for all your

building needs. No job

too small, specialist in

residential repairs and

Trades & Services

BEST BATHROOMS

full renovation specialists, maintenance.

LBP, repairs &

maintenance ph 03 387-

0770 or 027 245-5226

Trade

qualified and Licenced.

Phone Jason for a free

quote on 021790083

Quality Workmanship -

Over 10 Years Experience

• Chipseal

• Chip

PH 0800 081- 400 • 980-1123

Mob 0274 325 457
---
48 Thursday June 15 2017

Latest Christchurch news at www. .kiwi

The Star

Your local guide to our

Trusted Tradesmen & Professionals

To advertise:

Phone 379 1100 or email

star.class@starmedia.kiwi

accountant

ACUPUNCTURE

ARCHGOLA

Builder

Accounting

services

quotes

given

• Bookkeeping

• GST

• PAYE

• Tax Returns

• Management

Advice available

PHone PAul

355-2636

C H R I S T C H U R C H

ACUPUNCTURE

C E N T R E

C H R I S T C H U R C H

ACUPUNCTURE

C E N T R E

Patrick Guo MB (China)

Registered acupuncture specialist

ACC treatment provider

25 years experience

Specialising in injuries, muscular

problems and pain relief

440 Papanui Rd (end of Blighs Rd), Chch

Ph: 03 3542398 | Email: patguo@gmail.com

www.chchacupuncture.co.nz

Enjoy outdoor living all year round

• House, deck, carport & window canopy etc

• Warm & dry in winter

• UV protection for summer

• Customised & Tailored

• Café curtains fitted

• 5 year warranty

15 months

INTEREST FREE

Normal lending criteria apply

Grant Stewart

Chris Thorndycroft

Ph 0508 272 446 | www.archgola.co.nz

Wright Enterprises Build Limited

W.E. Build

New Homes

Renovations

Alterations

Re-roofing

Re-cladding to older buildings

Family owned & operated

E info@webuildltd.co.nz

Antony Wright 021 111 1703

John Wright 0274 343 323

AH 03 347 4347

Travlon

Coachlines

www.webuildltd.co.nz

Builder

BUILDers

"A local looking after locals"

• Licenced builder with 20 years

experience in renovations,

alterations and extensions

• A creative craftsman who is

attentive to detail

• Quotes the job, does the job

• Works with all budgets

Andrew Drewitt

Ph: 021 395 324

Email: ad_designs@hotmail.com

CONCRETE

BUILDING

Building & roofing

log fire inSTAllATionS

• Bricklaying & Blocklaying (30 yrs experience)

logfires

• log fire installation & maintenance

• chimney cleaning

• standard logfire installations $600 + gsT +

permit + parts if applicable

• My scaffolding no charge

fencing

• Brick, block, timber or any combination

roofing repairs

• concrete tile, metal chip tile, corrugated iron

landscape Builds

• retaining walls, decks, BBQs, planter boxes

Jim Gardner Trade Services

Member NZ Home Heating Association

Ph 03 343 4044 or 0274 375 619

Email teamgardner@xtra.co.nz

concrete & paving

CARPET CLEANING

Busy Bees

Professional carpet and

upholstery cleaning at

affordable prices

• Carpet cleaning from $20 a room

• Lounge and dining chairs from $10 a chair

(conditions apply)

Give us a "Buzz" on 0800 500 016

to discuss your requirements and

get a FREE quote.

www.busybees.co.nz

DRIVEWAYS

CHARTER & TOUR

Travlon

Coachlines

Travlon Coachlines

School Run to some

private schools

ex Selwyn/Halswell area

"Wide range of coaches

"Wide

and buses for

School range of Run coaches to some and buses

for Charter

private schools

& Tour"

ex Selwyn/Halswell area

www.travlon.co.nz

www.travlon.co.nz | Phone: 03 325 2959

"Wide

Email:

Phone: range

info@travlon.co.nz

03 325 of coaches 2959

and buses for

Excavations

Charter & Tour"

Email: info@travlon.co.nz

Concrete Removal & Trucking

Driveways, paths, sheds, garages,

site clearances

We also deliver and spread landscaping

supplies – topsoil, bark chip, shingle etc.

For fast friendly service phone

Nick on 0274 324 124

keacontracting@yahoo.com

• Driveways

• Earthquake repairs

• New Home Specialists

• Patios & Paths

tel: 0508 873 7483

email: sales@affordableconcrete.co.nz

www.affordableconcrete.co.nz

Exposed Aggregate

Stamped Concrete Plain

Concrete Resurfacing

Things we offer...

Competitive/affordable pricing

Attention to detail

Professional service

free quotes/insurance scopes

Cell 0278 145 848

www.drivecrete.co.nz

www.travlon.co.nz

Phone: 03 325 2959

Email: info@travlon.co.nz

• Driveways

• Car Parks

• Site Cleaning

• Demolition

• Farm Tracks

• Drain Cleaning

• Stump & Hedge

Removal

• Ashpalt Concrete

Wide range

oF TruckS

• Tennis Courts &

Swimming Pools

• Chip Seal Driveways

• Diggers – 2 Ton

up to 20 Ton

• Excavators

• Bobcat & Drilling

• For Posthole &

Fence hole

For a Free Quote

on your next project

Phone Steve on 021 338 247

or 325 7922

Free

QuoTe

EXTERIOR PLASTERING

Quality

Workmanship

at Competitive Pricing

Free Quotes

Aynsley Frewer

M: 027 201 1296

E: aynsleyfrewer@xtra.co.nz

PO Box 20534 Bishopdale

FOOTCARE

OASIS

Senior Citizens Foot Care

25 Conway Street, Spreydon

Treating hard thick nails, calluses

and corns finishing with a foot massage

Price $30 Allow 45 mins

Home Visits available by appointment

Therapist – Amanda

(30 years experience)

Ph. 942-6036 for an appointment

HOURS ARE FLEXIBLE

GARDEN SUPPLIES

CHCH'S LARGEST SELECTION OF

BARK • COMPOST • SHINGLES

Remember...

we are NOT in

Parkhouse Road

Landscape Lane (off Lunns Rd)

P. 348 2915 OPEN 7 DAYS

nO GREEn wastE In anY OF OUR COMPOst

Gutter Guard

STOP LEAVES

birds, snow, hail & vermin

from blocking up your spouting

Quality materials: BHP Colorbond steel mesh with

unique patented louvre will even keep out pine needles.

Will not rust or sag with age or load. 10 year warranty,

range of colours.

Proven in Australia & New Zealand over the last 15 years.

FOR SAFE, PURE DRINKING

WATER FROM YOUR ROOF.

NOW AVAILABLE: STAINLESS STEEL

MICO MESH

Call Rohan anytime Mon-Sat for a noobligation

assessment & quote

0800 486532 www.gumleaf.co.nz
---
The Star Latest Christchurch news at www. .kiwi

Thursday June 15 2017 49

Your local guide to our

Trusted Tradesmen & Professionals

To advertise:

Phone 379 1100 or email

star.class@starmedia.kiwi

HEAT PUMPS

junk

kitchen renovation

LANDSCAPING

Which one is

right for you?

• Single-split, Multi-split, Ducted?

• Wall, Floor console, Ceiling

cassette, Concealed?

• Mitsubishi, Panasonic, Fujitsu,

Daikin, Toshiba...?

Find out with a

FREE HOME APPRAISAL

from the Independent

Heat Pump Experts.

BOOK NOW

0800 47 48 97

heatpumpguys.co.nz

THE INDEPENDENT SPECIALISTS

Why go to the Dump?

Junkman comes to you!

Items too big for the

rubbish bin?

Or too heavy for you

to move?

Junkman comes

to you & takes

it away

FROM $

65 *

*Prices vary depending on items and volume – minimum charge $65

0800 586 5626

www.junkman.co.nz

office@junkman.co.nz

Kitchen looking tired?

Revitalize with new colour at a

fraction of replacement cost

• Alterations & Hardware available

• Laminated Kitchens no problem

• 'On Site' finishing available

• Over 20 years experience

• Free Quotes with no obligation

• All Joinery & Furniture repair & Spraycoatings

PABLO'S PAINTWORKS

27 Birmingham Drive, Middleton

03 338 6280 | 021 541 323

pablospaints@xtra.co.nz

www.pablospaintworks.co.nz

• Site clearing • Rubbish removal

• Garden edging • Planter boxes

• New lawns • Concreting • Paving

Solid Landscape

027 777 7513

info@solidlandscaping.co.nz

facebook.com/SolidLandscapingLtd

solidlandscaping.co.nz

MAINTENANCE

Doctor

Fixit

• Carpentry • Repairs &

Maintenance

• Doors & Windows

• Fencing

• Painting & Plastering

• Tiling

• Outdoor Maintenance

• Renovations

• Decks & Pergolas

Norm McRae

027 222 3060 | 03 312 0082

www.doctorfixit.nz

PAINTING - PLUS

• PAINTING • TILING

• PLASTERING

• WALLPAPERING

Phone Kevin Steel

• Interior/Exterior

• New Homes & Repaints

• Quality workmanship assured

• Correct preparation always undertaken

• 20+ years experience

• Earthquake repairs

(Painting/Plastering/Wallpapering/Tiling)

Ph 381 7417 or 027 216 8946

www.facebook.com/kevinsteelpainters&decorators

REntal

painter

Price Family

Painters Ltd

Interior/Exterior

Wallpapering/Painting

Gib Stopping

Free Quotes

EQC Opt Out

Fletcher Accredited

Project Management

Phone: Morton 021 667 444

Email: mortonprice@xtra.co.nz

www.pricefamilypainters.co.nz

pc & phone repairs

• iPhones • Smart Phones

• iPads • Tablets • Computers • Laptop

Repairs, Parts and Accessories

• Glass Screen Protectors

• Phone Cases • Cables etc

109 Matipo St | 0800 222 691

ROOF REPAIRS

PAINTER

Michael Kelly Painters

Locally owned and

operated family

business.

25+ years Experience

• Painting • Wallpapering

• Interior • Exterior

Free Quotes

Phone

Michael 0212 649 492

michaelkellypainter@hotmail.co.nz

PLUMBER

• Hot water cylinder repair/replacement

• Leaky taps, blocked toilets

• New housing

• All plumbing alterations

• Mains pressure hot water

• Fire and wetback installation

• Digger/tipper excavation and hire

• Watermain replacement/repair

• Free quotes

• Certified craftsman plumber

10% prompT paymenT disCounT * same day serviCe *

Call/Text 027 245 5100

Freephone: 0508 426 269

spouting

*conditions apply

PAINTING

EQC REPAIRS

TAKE THE STRESS

OUT OF YOUR

REPAIRS!

We can make it happen

WE ARE A

ONE STOP SHOP

WINNING

National Awards

from NZ Master Painters, sponsored by DULUX

36 Years in business now offering

Fixing, Stopping, Painting, Wallpapering

• Piling • Electrical • Plumbing • Flooring

• Painting • Roofing • Plasterboard • Wallpapering

Gary: 021 329 881

Cam: 021 329 200

Office: 03 338 9886

E. office@gkfyfeltd.co.nz

Plumbing & Drainage

Plumbing & Drainage

PLUMBING & DRAINAGE

Local business for all

plumbing MTPD and drainage

Call Local Morgan business work. - 0223758506 for all

plumbing and drainage

Morgan Thomas Plumbing & Drainage Ltd

Local business for all plumbing and

drainage work.

Freework.

Free Quotes

Quotes

Free Quotes

New SkyVac

Gutter Cleaning Machine

New SkyVac

Revolutionary Gutter cleaning system.

No job too big or too small!

Gutter Cleaning Machine

Revolutionary Gutter cleaning system.

MORGAN THOMAS PLUMBING & DRAINAGE LTD

No job

Calltoo Morgan

big0223758506

or too small!

MORGAN Visit our THOMAS website PLUMBING - www.mtpd.co.nz

& DRAINAGE LTD

Email Call-Morgan morgan@mtpd.co.nz

0223758506

Visit our website - www.mtpd.co.nz

Email - morgan@mtpd.co.nz

WINDOW TINTING

No BoND

until 30th June

Terms and conditions apply

NEED A

FRIDGE • WASHER

TV • FURNITURE ?

Call Mr Rental - 0800 111 313

Visit www.mrrental.co.nz

123 Blenheim Road, Riccarton

Open Monday to Saturday

Locally owned & operated with

over 30 years experience.

• Extensions & repair • Roof coating

• Concrete & clay tiles • Butynol

• Malthoid • Asbestos Certified

• Coloursteel • Old iron • Guttering

Phone Dave 981 0278

or 021 223 4200

E: dave@beaumontroofing.co.nz

BEAUMONT ROOFING LTD

tintawindow

advanced film solutions

99% uv block

fade protection

heat control

reduce glare

25 Years Experience

privacy films

frosting designs

non-darkening films

Workmanship Guaranteed

Lifetime Warranties on Most Films

UV

block

Free Quotes Canterbury and Districts

03 365 3653 0800 368 468
---
50 Thursday June 15 2017

Latest Christchurch news at www. .kiwi

The Star

Star Classifieds

• Phone our local team 03 379 1100 • Email star.class@starmedia.kiwi

Trades & Services

Trades & Services

Tuition

Situations Vacant

EQC CASH SETTLEMENT

We will re-scope your property to ensure

you have been paid in full to cover all

your repair costs.

None of the properties that we have

re-scoped so far has been paid the

correct amount to repair their damage.

EXAMPLES

•Yaldhurst Road Initially $3,800 after our

re-scope payment received $46,320

•Wairakei Road Initially $7,575 after our

re-scope payment received $38,182

•Prossers Road Initially $19,827 after our

re-scope payment received $60,273

•Kaplan Avenue Initially $859 after our

re-scope payment received $34,931

•Liverton Crescent Initially $11,000 after our

re-scope payment received $29,842

•Dalkeith Street Initially $5,000 after our

re-scope payment received $8,945

• We have re-scoped 50 properties who have been under

paid for their repairs.

• Have your initial repairs failed?

• Did you receive your full entitlement?

• Do not pay your excess until all repairs are completed.

• General under payments are: Asbestos testing and

exterior lead paint, peeling wallpaper, cracking in exterior

plaster not repaired correctly.

For re-scoping and all earthquake repairs

including painting and redecorating.

Enquire now Phone 021-667-444

Trades & Services

BUILDER

For all building work

but specialist in bathroom

renovations, 30 yrs

experience, with service

and integrity. Free Quotes.

Ph Lachlan 383-1723 or

0274 367-067.

BUILDER

Qualified, licenced

and insured, bathroom

renovations, decks and

fences, all building work,

ph Josh 020 400 96143

www.jmhbuilders.co.nz

CARPET & VInyL

LAyIng

Repairs, uplifting,

relaying, restretching,

E mail jflattery@xtra.

co.nz,

ph 0800 003 181

or 027 2407416

COnCRETE

DECOPAVE LTD

Canterbury owned &

operated for over 10

years, competitive rates,

full excavation, coloured,

exposed, stamped, call

Paul 027 322 6119

Trades & Services

PROFESSIONAL & QUALIFIED

PAINTING

Plastering, Wallpapering

Spray Painting

Ph John 027 860 8106

Trades & Services

Trades & Services

COnCRETE

IMPRESSIOnS LTD

Call us for a free quote for

all your driveway, path

& patio needs - Concrete,

Asphalt & Landscaping.

Excavation & placings,

power washing service,

acid wash & reseal and

fencing. Please call Jason

Fisher on 022 075 9310

ELECTRICIAn

Registered, electrical

installation and repairs,

Gorbie Electrical, ph 021

026 73375 or 03 322 4209

ELECTRICIAn

Prompt & reliable

registered electrician with

24 years experience for all

residential and commercial

work, new housing and

switch board replacements

Phone Chris 027 516 0669

ELECTRICIAn

Available, 30 years

experience, immediate

start, competitive rate,

ph Brian 027 433 9548

FEnCIng

All styles and shapes,

gates, wooden, ph Mark

027 331-3223

gLAZIER

Window repairs, pet

doors, new glazing, double

glazing, conservatory

roofs. Experienced

tradesman. Call Bill on

981-1903 or 022 413-3504

Building & roofing

log fire inSTAllATionS

• Bricklaying & Blocklaying

(30 yrs experience)

logfires

• log fire installation & maintenance

• chimney cleaning

• standard logfire installations $600 + gsT +

permit + parts if applicable

• My scaffolding no charge

fencing

• Brick, block, timber or any combination

roofing repairs

• concrete tile, metal chip tile, corrugated iron

landscape Builds

• retaining walls, decks, BBQs, planter boxes

Jim Gardner Trade Services

Member NZ Home Heating Association

Ph 03 343 4044 or 0274 375 619

Email teamgardner@xtra.co.nz

HAnDyMAn

You name it, I'll probably

do it. Competitive rate. Ph

Gordon 0274 851 897 or

960-1961

HAnDyMAn

No job too big or small.

Good rates. Call 020 410

67205

HAnDyDAn

One call does it all.

General Handyman

Decking Fencing Spouting

Cleans, Concrete Paths,

Patios & Driveways,

Repairs and Replacements

Renovations Painting

Gardening Full Cleaning

Services Project Managing

Ph Dan Today

O22 600 7738

LAnDSCAPIng

Paving, Lawns, Irrigation,

Decking, Fencing.

Kanga & small digger

services. Check out Squire

Landscaping on facebook.

FREE QUOTES. Ph

Arthur 347-8796, 027

220-7014 Edwin 027 220-

7154

OVEn CLEAnIng

Professional cleans

$50.00. Gift Vouchers

avail. Phone 0800 683-

6253 or 027 228-0025

PAInTER

Available, All aspects in

painting. Very competitive

in roofs and fences. Please

call 027 241-7471 or 335-

0265

PLASTERIng - FInnS

PLASTERING Services

- alterations, renovations,

cracks, holes, skim coating

and coveing. 24 yrs exp,

no job too small. Canty

born & bred. Ph 022 087

4351

PLUMBER

A top plumbing job

completed at a fair price,

prompt service, all work

guaranteed, ph Brian, 960

7673 or 021 112 3492

REMOVALS

Have own van for

whiteware, small furniture,

bedding, boxes etc, honest

& reliable, most areas, ph

027 517-7001, ChCh

ROOFIng

Qualified & Licenced

Practitioner. Re-Roof &

Repairs, all types. Member

New Zealand Roofing

Association. Over 35 years

experience. Phone John

027 432-3822 or 351-9147

email johnmill@ihug.

co.nz

SPOUTIng CLEAnIng

Spouting Unblocked,

Cleaned Out and Flushed

Out. Also Full Handyman

Services Available. Call

Trevor 332 8949 or 021

043 2034

TILER

For all your tiling

needs, new, existing &

replacement of tiles, free

quotes, ph Jared 021 023

58414

TREES BIg OR SMALL

tree removal, trimming,

stump grinding, shelterbelt

clean up, section clearing,

rubbish removals,

excavation work, ph Trees

Big or Small, for a free

quote, 021 061 4783

TREES & HEDgES

cut down or trimmed,

shrubs and rubbish

removal, section clearing,

ph 022 609 2176 for a free

quote

WATERBLASTIng

Quick service, great rates

Call Bret 02041067205

WInDOW CLEAnIng

Average 3 brm house

inside or out $40. Both $70

Phone Trevor 344-2170

The best place

to learn and

play music in

Christchurch!

• Learn an instrument (including voice) in a group or on

your own!

• Join an orchestra, an instrumental ensemble, a jazz

band, rock band or choir!

• Bring the children, aged 2-8 years along to have some

fun and engage in music learning in our foundation

classes, Take Off with Music!

• From ages 2 - 92 we can meet your musical needs.

Join our great community now!

For more information, check out our website www.csm.org.nz

or phone the CSM office on 03 366 1711

Wanted To Buy

AAA Buying goods

quality furniture,

Beds, Stoves, Washing

machines, Fridge Freezers.

Same day service. Selwyn

Dealers. Phone 980

5812 or 027 313 8156

ALL Old China, Crystal,

Ornaments, Vases,

Cutlery etc. Raewyn

Hill Phone 360-0951

A records and hi-fi gear

wanted. Excellent prices

paid. NZ's biggest range

with over 100,000 items,

cds, DVDs & records.

PennyLane Music 430

Colombo St, Sydenham

3663278 www.pennylane.

co.nz

7 days

BUYING Now, Royal

Albert, Royal Doulton,

all old china, crystal,

antiques, estate lots.

For best prices and free

inspection call Academy

Antiques. Phone 349-4229

GOOD stuff wanted.

Whiteware, freezers

etc, good quality

furniture, antiques,

curios, collectables.

Anything considered.

Cash paid. Ph Dave 960-

8440, 027 66 22 116

MILITARIA Any

country, firearms,

uniforms, badges, medals,

memoribilia, WW2 or

earlier ph 338-9931|

TOOLS, Garden garage,

saw benches, Lathes. Cash

buyer Phone 355-2045

Situations Vacant

Machine

Operators

Wanted Experienced

Machine

Operators with

WTR for projects

in Queenstown

to operate 20T

excavator, dump

truck, roller and

water cart.

Good rates of pay.

Phone Karen:

022 303 3723

or email karen@

wilsoncontractors.

co.nz for more

information

Situations Vacant

TELEMARKETERS

We require 2 enthusiastic

and experienced

Telemarketers with a

mature outlook to work

as appointment makers

from our Avonhead office.

Earn up to $40.00 per hour

with a starting hourly rate

of $20.00 per hour plus

generous bonuses paid

weekly!

Hours of work 5.00pm-

8.30pm Monday-Thursday.

Perfect for University

Students or people who

want to do some part time

work and be well paid for

their efforts.

Immediate start available.

Please phone 365 1759 to

arrange an interview.

CLEANERS

REQUIRED

Shirley

Saturday & Sunday

6am to 8.30am

We are looking for

cleaners to join our

commercial

cleaning team.

You will need to pass

a Security Check and

you MUST have your

own transport.

These are permanent

long term positions

and not suitable for

holders of temporary

work permits.

Please email your

Application to

csc@totalcanterbury.co.nz

or phone 338 9056

Visit our website:

totalcanterbury.co.nz

Please advise which

job when emailing

your CV.

Situations Wanted -

Jobs Wanted

MECHANIC Diesel +

petrol, c.o.f.a / wof, car &

bike, 30 yrs exp, ph John

022 060-8903

PERSON Requires 30 hrs

work per wk, Mon - Fri or

Tues - Sat, exp in retail,

warehouse & clerical

duties, refs available req,

ph 027 778 3291

Commercial Site Staff

Auckland Based

Form Building & Developments Ltd are seeking

positive site staff to join our award winning

team in Auckland for upcoming commercial

projects.

Attributes we require are:

• Commercial Construction experience

• Strong communication skills

• Attention to detail

• Ability to work closely with a positive team

• Existing right to work in New Zealand - preferred

We are looking for career driven people to fit in with our

company's strong culture. In return, Form offers great packages for

suitable candidates, negotiable on experience. Visit our website

www.formnz.co.nz for more information about us.

Interviews – Form's Labour Manager will be in

Christchurch on June 23 & 24 to meet candidates.

For more information - email Damian.little@formnz.co.nz

or call 027 555 2557 to discuss further.

ADVERTSING

TELEPHONE SALES

• Part Time evenings, approx 6-9 hours per

week.

• Hourly rate plus commission.

• Earn extra dollars.

Star media is looking for a talented &

determined person to work 2-3 hours in the

evenings, 2-3 nights per week

The role will be to contact a wide variety of

businesses offering a range of advertising

options across our newspaper titles

The person we are seeking should

be self motivated, reliable, have a

good telephone manner & enjoy

talking with people.

You must be highly organised & be

able to work independently. Sales tools,

training & an excellent remuneration

package will be available to the successful

applicant.

Our offices are at 359 Lincoln Road near

Hagley Park

Reporter,

Sub Editor

Situations Vacant

Star Media is seeking journalists.

We are looking for a reporter who will

have the ability to file great stories for our

print publications, including The Star and

Community titles, and our website

www.star.kiwi.

The successful applicant will need to be

competitive, have a thorough knowledge

of Christchurch and Canterbury, have

great deadline sense and have a passion

for community news and the people that

make it.

Video skills would be an advantage.

Star Media is also seeking casual sub

editors. The successful applicants will

need to have had experience with

InDesign and able to copy sub, lay out

pages and write headlines.

Situations Vacant

Send your CV to

Classified Manager

Mike Fullham

mike@starmedia.kiwi

Send your CV to

Editor in Chief

Barry Clarke

barry@starmedia.kiwi
---
The Star Latest Christchurch news at www. .kiwi

Thursday June 15 2017 51

Star Classifieds

• Phone our local team 03 379 1100 • Email star.class@starmedia.kiwi

Public Notices

SALE AND SUPPLY OF

ALCOHOL ACT 2012

SECTION 101

MEDITERRANEAN FOODS

SOUTH ISLAND LIMITED, (THE

LICENSEE, The Manager, PO

Box 22358, Christchurch),

has made application to the

District Licensing Committee

at Christchurch for the issue

of ON-LICENCE NEW and

OFF-LICENCE NEW in respect

of the premises situated at

322 Tuam Street known as THE

MEDITERRANEAN FOOD CO.

The general nature of the

business conducted under

the licence is: ON-LICENCE

RESTAURANT CLASS 3 AND

OFF-LICENCE GROCERY.

The days on which and the

hours during which alcohol is

intended to be sold under the

licence are:

ON LICENCE:

MONDAY TO SUNDAY 8.00AM

TO 11.00PM.

OFF LICENCE:

MONDAY TO SUNDAY 8.00AM

TO 6.00PM.

The application may be

inspected during ordinary

office hours at the office of the

Christchurch District Licensing

Committee, 53 Hereford Street,

Christchurch.

Any person who is entitled

to object and who wishes to

object to the issue of the licence

may, not later than 15 working

days after the date of the first

publication of this notice, file a

notice in writing of the objection

with the Secretary of the District

Licensing Committee, PO Box

73049, Christchurch 8154.

No objection to the issue of the

licence may be made in relation

to a matter other than a matter

specified in section 105(1) of

the Sale and Supply of Alcohol

Act 2012.

This is the second publication of

this notice. This notice was first

published on 8 June 2017.

SALE AND SUPPLY OF

ALCOHOL ACT 2012

SECTION 127 & 101

FA & XIN LIMITED, (THE

LICENSEE, 26 Burbank Drive,

Christchurch 8025), has made

application to the District

Licensing Committee at

Christchurch for the renewal

of ON-LICENCE RENEWAL in

respect of the premises situated

at 5/182 Clarence Street known

as KEUNG'S CHINESE CUISINE.

The general nature of the

business conducted under the

licence is: ON-LICENCE BYO

RESTAURANT

The days on which and the

hours during which alcohol is

consumed under the licence

are: MONDAY TO SUNDAY

10.00AM TO 11.00PM

The application may be

inspected during ordinary

office hours at the office of the

Christchurch District Licensing

Committee, Civic Offices, 77

Hereford Street, Christchurch.

Any person who is entitled to

object and who wishes to object

to the grant of the application

may, not later than 15 working

days after the date of the first

publication of this notice, file a

notice in writing of the objection

with the Secretary of the District

Licensing Committee, P O Box

73049, Christchurch 8154.

No objection to the renewal of a

licence may be made in relation

to a matter other than a matter

specified in section 131 of the

Sale and Supply of Alcohol Act

2012.

This is the only publication of

this notice.

Public Notices

SALE AND SUPPLY OF

ALCOHOL ACT 2012

SECTION 101

MACSON ENTERPRISES 2006

LIMITED, (THE LICENSEE, 22

Tauhinu Avenue, Lincoln 7608),

has made application to the

District Licensing Committee

at Christchurch for the issue of

ON-LICENCE NEW in respect

of the premises situated at 26

Main North Road known as

ROSE & THISTLE.

The general nature of the

business conducted under the

licence is: ON-LICENCE TAVERN.

The days on which and the

hours during which alcohol is

intended to be sold under the

licence are:

SUNDAY TO THURSDAY

9.00AM TO 12.00 MIDNIGHT

FRIDAY AND SATURDAY

9.00AM TO 1.00AM THE

FOLLOWING DAY.

The application may be

inspected during ordinary

office hours at the office of the

Christchurch District Licensing

Committee, 53 Hereford Street,

Christchurch.

Any person who is entitled

to object and who wishes to

object to the issue of the licence

may, not later than 15 working

days after the date of the first

publication of this notice, file a

notice in writing of the objection

with the Secretary of the District

Licensing Committee, PO Box

73049, Christchurch 8154.

No objection to the issue of a

licence may be made in relation

to a matter other than a matter

specified in section 105(1) of

the Sale and Supply of Alcohol

Act 2012.

This is the second publication of

this notice. This notice was first

published on 8 June 2017.

SALE AND SUPPLY OF

ALCOHOL ACT 2012

SECTION 127 & 101

CLEARWATER GOLF CLUB

LIMITED, (THE LICENSEE, PO

Box 14069, Christchurch 8544),

has made application to the

District Licensing Committee

at Christchurch for the renewal

of OFF-LICENCE RENEWAL in

respect of the premises situated

at 1/38 Clearwater Avenue

known as CLEARWATER GOLF

CLUB.

The general nature of the

business conducted under the

licence is: OFF-LICENCE OTHER

NOT OTHERWISE SPECIFIED.

The days on which and the

hours during which alcohol

is sold under the licence are:

MONDAY TO SUNDAY 7.00AM

TO 11.00PM.

The application may be

inspected during ordinary

office hours at the office of the

Christchurch District Licensing

Committee, Civic Offices, 77

Hereford Street, Christchurch.

Any person who is entitled to

object and who wishes to object

to the grant of the application

may, not later than 15 working

days after the date of the first

publication of this notice, file a

notice in writing of the objection

with the Secretary of the District

Licensing Committee, PO Box

73049, Christchurch 8154.

No objection to the renewal of a

licence may be made in relation

to a matter other than a matter

specified in section 131 of the

Sale and Supply of Alcohol Act

2012.

This is the first publication of

this notice.

Public Notices

Treaty

Settlement

Negotiators

Applications are called for suitable people and

iwi members to act as negotiators for our Treaty

Settlement Negotiations. Whānau should note that

at least one negotiator will be an Iwi Lead (ahi kaa)

negotiator!

Applications should be addressed to:

The Chair,

Ngāti Hāua Iwi Trust

info@ngatihaua.iwi.nz

PO Box 400, Taumarunui 3920

A position description can be requested from the

Ngāti Hāua Iwi Trust office.

Expressions of Interest should be accompanied by:

• A CV and/or covering letter

Applicants should note the Iwi are looking for the

following qualities in their negotiator(s);

• Māori sector experience

• Treaty settlement experience

• Knowledge of central and local government

• Negotiating experience(commercial, not for

profit, work based)

• Desire to succeed

• Familiarity with the Ngāti Hāua claim

• Strong Iwi/whānau network

• Mauteihi, wehi, metemana

Tu Ake Ngāti Hāua!

Public Notices

Applications close 20 June 2017

Contact: Mitch Roderick-Hall Project Manager

Phone: 07 895 5966 or 0800 AWA HAUA

Email: info@ngatihaua.iwi.nz

Website: www.ngatihaua.iwi.nz

Vehicles Wanted

Vehicles Wanted

Public Notice

Nobull Gas & Plumbing

Vehicles Wanted

CAR REMOVALS

$$CASH PAID$$

CARS, VANS, UTES & 4X4 WANTED

NZ OWNED AND OPERATED FOR 24 YEARS

We use world class vehicle depollution systems

0800 8200 600

www.pickapart.co.nz

on the

PLACEMAKERS

PRIZE WHEEL

27 CHANCES TO WIN

OVER 3 DAYS!*
---
52 Thursday June 15 2017

Latest Christchurch news at www. .kiwi

The Star

Star Classifieds

.CO.NZ

RICCARTON (0508-446-987)

GOING IN STYLE (M) Thu-Fri 3:40PM Mon 3:40PM

THE MUMMY (2017) (M)• Thu-Fri 10:15aM

SaT 9:50aM Mon 10:15aM Tue 10:15, Wed 12:50,

6:00PM TRANSFORMERS: THE LAST KNIGHT (TBC)

Wed 8:30PM, 4:00PM WONDER WOMAN (M) Thu-Fri

12:40, 6:00, 9:00PM SaT-Sun 12:10, 3:10, 6:10, 9:10PM

Mon 12:40, 6:00, 9:00PM

Tue 12:40, 6:00PM, 9:00PM Wed 12:50PM

GENERAL ADMISSION

ALL EYEZ ON ME (R16)• Thu 12:10, 3:00, 6:00, 9:20PM

Fri 12:10, 3:00, 5:50, 9:20PM SaT 12:15, 3:15, 6:20,

9:15PM Sun 10:10, 12:40, 6:40, 8:50PM Mon-Tue 12:10,

3:00, 5:50, 9:20PM Wed 12:40, 3:30, 5:50, 9:10PM

BAYWATCH (R13) Thu 10:20, 3:30, 9:10PM Fri 10:20,

3:40PM SaT 10:40, 9:20PM Sun 9:30PM

Mon 10:20, 3:30, 9:15PM Tue 10:20, 3:40, 9:15PM

Wed 10:20, 3:20PM

BLACK BUTLER: BOOK OF THE ATLANTIC (RP13)•

Thu-Fri 8:40PM SaT 3:50PM Sun 3:30PM

BOSS BABY (G) SaT-Sun 10:00aM

CARS 3 (TBC)• SaT 10:20, 1:20, 2:00, 3:40, 6:40PM

Sun 9:45, 12:30, 1:30, 3:40, 6:50PM

DESPICABLE ME 3 (TBC)• SaT 1:00PM Sun 1:15PM

GUARDIANS OF THE GALAXY 2 (M)

Thu-Fri 10:10aM Mon-Wed 10:10aM

JOHN WICK: CHAPTER 2 (R16)

Thu-Fri 3:50PM Mon-Tue 3:50PM Wed 3:40PM

KING ARTHUR: LEGEND OF THE SWORD (M)

Thu 12:50PM Fri 12:45PM

Mon 12:45PM Tue-Wed 12:45PM

MCLAREN (G) Thu-Fri 10:00, 2:00, 6:30PM SaT 10:10,

6:30PM Sun 1:10PM Mon-Tue 10:00, 2:00, 6:30PM Wed

10:30, 1:40PM

PIRATES OF THE CARIBBEAN: DEAD MEN TELL NO

TALES (M) Thu 1:00, 8:50PM Fri 1:00, 9:10PM

SaT 10:30, 3:30, 9:30PM

Sun 3:50, 5:50, 9:30PM Mon 1:00, 8:40PM

Tue 1:00, 8:50PM Wed 1:00PM

ROUGH NIGHT (R16)• Thu 11:10, 1:30, 3:45, 6:10,

8:30PM Fri 11:10, 1:30, 3:50, 6:10, 8:30PM

SaT 11:45, 4:00, 6:00, 8:30PM Sun 10:20, 4:00, 6:15,

8:30PM Mon-Tue 11:10, 1:30, 3:50, 6:20, 8:40PM

Wed 11:10, 1:30, 3:45, 6:20, 8:40PM

SMURFS: THE LOST VILLAGE (G) SaT 9:40aM

SUPER SINGH (TBC) Fri 8:50PM SaT-Sun 8:40PM

Mon-Wed 8:50PM

THE MUMMY (2017) (M)• Thu-Fri 12:30, 4:30, 6:20,

7:00, 9:30PM SaT 12:30, 1:30, 4:30, 6:15, 7:00, 8:50PM

Sun 1:40, 4:15, 6:20, 7:00, 9:15PM Mon 12:30, 4:30, 6:20,

7:00, 9:30PM Tue 12:30, 4:30, 6:20, 7:00PM, 9:30PM

Wed 12:30, 3:50, 6:30, 9:30PM

THE SHACK (M) Thu-Fri 11:00, 6:15PM

Mon 11:00aM Tue 11:00, 6:15PM Wed 6:15PM

TRANSFORMERS:

THE LAST KNIGHT (TBC) Wed 9:20PM

VICEROY'S HOUSE (M)

Thu-Fri 10:05aM Mon-Wed 10:00aM

WONDER WOMAN (M)

Thu-Fri 3:15PMMon 3:15PM

Tue 3:15 Wed 3:00, 6:10, 9:00PM

PRAMS AT THE PIX - TICKETS ONLY $9

BOSS BABY (PG)

Wed 11:00aM

G SUITABLE FOR GENERAL AUDIENCES.

PG PARENTAL GUIDANCE RECOMMENDED FOR

YOUNGER VIEWERS.

M SUITABLE FOR MATURE AUDIENCES 16 YEARS

OF AGE AND OVER.

E SUITABLE FOR EVERYONE

SESSION TIMES ARE CORRECT AT TIME OF PRINTING

• NO COMPLIMENTARIES

PHOTO ID IS REQUIRED FOR ALL (R) RATED MOVIES

ROUGH NIGHT (R16) BAYWATCH (R13) ALL EYEZ ON ME R16

BLACK BUTLER: BOOK OF THE ATLANTIC (RP13)

NORTHLANDS (0508-446-987)

GENERAL ADMISSION

ALL EYEZ ON ME (R16)•

Thu 12:40, 3:50, 6:00, 8:50PM

Fri 12:10, 3:00, 6:00, 8:50PM

SaT 12:20, 6:00, 8:50PM

Sun 12:30, 6:00, 8:50PM

Mon-Tue 12:10, 3:00, 6:00, 8:50PM

Wed 12:10, 3:00, 6:10, 8:40PM

BAYWATCH (R13) Thu 3:20, 9:20PM

Fri 3:20, 9:00PM SaT 3:25, 9:00PM

Sun 9:00PM Mon-Tue 3:20, 8:00PM

Wed 4:00PM

CARS 3 (TBC)

SaT 10:00, 11:00, 12:20, 3:00PM

Sun 10:00, 10:40, 12:40, 1:15, 3:40PM

CHURCHILL (PG)

Thu 10:00, 1:00, 6:10PM Fri 10:00, 1:00, 6:40PM

SaT 10:10, 4:20, 6:40PM Sun 10:20, 3:30, 6:40PM

Mon 10:00, 1:00, 6:40PM Tue 10:00, 12:00, 2:20, 5:50PM

Wed 10:00, 1:00, 5:45PM

DESPICABLE ME 3 (TBC) SaT 1:20PM Sun 1:00PM

GUARDIANS OF THE GALAXY 2 (M)

Thu-Fri 3:40PM Sun 3:10PM

Mon 12:30, 1:00PM Tue 12:35, 4:30PM

Wed 1:00PM

KING ARTHUR: LEGEND OF THE SWORD (M)

Thu 10:30aM Fri 10:30, 8:00PM Mon-Wed 10:30aM

MCLAREN (G) Thu 1:10PM Fri 1:15, 5:50PM

SaT 11:30, 5:50PM Sun-Mon 10:10, 5:50PM Tue

10:30aM Wed 10:40aM

PECKING ORDER (PG) Thu-Fri 11:00aM Mon 11:00aM

Tue 10:00aM

PIRATES OF THE CARIBBEAN:

DEAD MEN TELL NO TALES (M) Thu 3:15PM Fri

3:20PM SaT 3:20, 8:00PM Sun 8:00PM Mon 3:35,

9:00PM Tue 3:50PM Wed 3:15PM

ROUGH NIGHT (R16)

Thu 1:10, 3:30, 6:20, 8:30PM Fri 1:10, 3:30, 6:10,

8:20PM SaT 1:40, 3:45, 6:10, 8:20PM Sun 1:35, 3:25,

6:10, 8:20PM Mon-Tue 1:10, 3:30, 6:10, 8:20PM

Wed 1:10, 3:30, 6:20, 9:00PM

THE MUMMY (2017) (M)•

Thu 11:00, 1:20, 6:30, 8:40PM Fri 11:00, 1:20, 6:30,

9:10PM SaT 10:20, 12:40, 6:30, 9:10PM

Sun 10:20, 12:15, 6:30, 9:10PM Mon 10:35, 4:00, 6:30,

9:10PM Tue 11:00, 1:30, 6:30, 9:00PM

Wed 10:35aM, 1:30, 6:30, 9:10PM

TRANSFORMERS: THE LAST KNIGHT (TBC)

Wed 4:30, 6:00, 8:30PM

VICEROY'S HOUSE (M) Thu 10:10aM Fri 10:00aM Mon

10:00aM Tue 10:15aM

WONDER WOMAN (M)

Thu 10:15, 12:30, 3:25, 8:55PM

Fri 10:15, 12:20, 3:10, 6:20, 8:55PM

SaT 10:45, 3:50, 6:20, 8:55PM

Sun 10:30, 3:50, 6:20, 8:55PM

Mon 12:20, 3:10, 6:20, 8:55PM

Tue 12:30, 3:20, 6:10, 8:55PM

Wed 12:20, 3:10, 6:20, 8:55PM

PRAMS AT THE PIX - TICKETS ONLY $9

BOSS BABY (PG)

Wed 11:00aM

BAYWATCH R13 -VIOLENCE, OFFENSIVE

LANGUAGE & SEXUAL THEMES. PIRATES OF THE

CARIBBEAN: DEAD MEN TELL NO TALES M -

SUPERNATURAL THEMES AND VIOLENCE. DIARY

OF A WIMPY KID: THE LONG HAUL PG - COARSE

LANGUAGE. MCLAREN G. ROUGH NIGHT R16 -

VIOLENCE, OFFENSIVE LANGUAGE, DRUG USE SEX

SCENES AND CONTENT THAT MAY DISTURB. BOSS

BABY G. THE MUMMY M - SUPERNATURAL THEMES

AND VIOLENCE. THE SHACK M - CONTENT THAT

MAY DISTURB. GOING IN STYLE M. DESPICABLE

ME 3 TBC. WONDER WOMAN M - VIOLENCE.

CHURCHILL PG. CARS 3 TBC. VICEROYS HOUSE M.

CONTENT THAT MAY DISTURB. TRANSFORMERS:

THE LAST KNIGHT TBC. GUARDIANS OF THE

GALAXY 2 M - VIOLENCE. PECKING ORDER PG.

SMURFS THE LOST VILLAGE G. SUPER SINGH TBC.

CLUBS NEW ZEALAND WARMLY WELCOME

MEMBERS, THEIR GUESTS AND

AFFILIATE CLUB MEMBERS.

BECOME A MEMBER TODAY!

FOR MORE INFORMATION, CONTACT A

CLUB WITHIN THIS SECTION.

H ORNBY

WORKINGMEN'S

CLUB

«WHAT'S ON« «COMING UP«

FRIDAY 16 JUNE

7PM REMINISCE

SATURDAY 17 JUNE

4.30PM DES NEWTON

8PM C-BAY BAND

Club

CAFE

OPEN 7 DAYS

LUNCH & DINNER

Gluten Free &

Vegetarian options

Chalmers

Restaurant

Early Bird Special

5.30pm – 6.30pm

FRI & SAT

Roast (4 Choices)

and Free Desserts

still only $22.50

Unbeatable value

including your

choice of fresh

Veges and Salads

Hornby WMC | ph 03 349 9026 | 17 Carmen Road | Hornby

www.hornbyworkingmensclub.co.nz | Members, guests & affiliates welcome

Entertainment

DALLAS TV Series,

from season 1 - 14, incl 2

reunions exc cond, $200,

ph 027 227 1069

DALLAS TV Series,

from season 1 - 14, incl 2

reunions exc cond, $200,

ph 027 227 1069

Running

1st & 3rd Sundays

every month

WEKA PASS RAILWAY

Diesel Locomotive in Service

Train hire available

Fares: Adults $30 Child $12 - Family $70

Dep Glenmark 11.30am & 2.00pm

Dep Waikari 1.00pm & 3.10pm

Infoline: 0800wekapass

www.wekapassrailway.co.nz

THIS SATURDAY

10am: AGM

3.30pm:

MONSTER

RAFFLE

Tickets on sale at the ofce

Large TV's • TAB pod

Gaming Room • Courtesy Van

Great Bar • Great Staff!

• Open daily from 11am •

richmond

club

www.rwmc.co.nz

pride of the east

since 1888

Club

BISTRO

SUBS

ARE NOW

OVERDUE!

LIVE MUSIC

3PM SUNDAY

I ALONE

LIVE RUGBY

ON OUR NEW LARGE SCREEN

FRIDAY 4.30PM: TONGA v WALES

7.35PM: ALL BLACKS v SAMOA

SATURDAY 7.35PM:

MAORI ALL BLACKS v LIONS

SPECIAL: THURSDAY 5PM

CHECK OUT OUR BISTRO

SPECIALS ON FACEBOOK

Steak, chips & salad $10 OR www.rwmc.co.nz

Open Tuesday to Sunday | Brunch - Lunch - Dinner

75 London St | Ph 389 5778

www.rwmc.co.nz
---
The Star Latest Christchurch news at www. .kiwi

Thursday June 15 2017 53

Cafe OPEN from 11am

TAB & Gaming

Function Facilities

HOUSIE

Tuesday, Thursday, Saturday

SATURDAY JACKPOT

UP TO $80

SHUTTLE

Tuesday - Saturday

phone 0508 966 5786

WHAT'S ON

ENTERTAINMENT

IAN MAC

7.30PM SATURDAY, Whitford's Bar

LIONS v MAORI ALL BLACKS

SATURDAY, Kellaway Bar

NEW

WINTER

MENU

Open 7 Days from 5.30pm

WEDNESDAYS

RETRO ROAST

LUNCH

12PM-1.30PM

$10 Members / $12 Non

JOIN

A CLUB BY

THE SEA!

www.newbrightonclub.co.nz

ClubBISTRO

Open Tuesday to Saturday

12pm-2pm and from 5pm

Midweek $10

SPECIAL ROAST

Available Tuesday,

Wednesday, & Thursday

LIVE MUSIC

DRIVE

SATURDAY 17th JUNE, 7PM

MID-WINTER

XMAS FUNCTIONS

WE HAVE THE VENUE.

EXCELLENT CATERING. PLENTY OF

PARKING. ENQUIRE NOW!

TUESDAYS & THURSDAYS

Members Lucky Card Draw

FUNCTION ROOMS

SHUTTLE RUNNING

Tues, Thurs, Fri & Sat

TAB POD

GAMING ROOM

PIERVIEW

Restaurant

202 Marine Parade | Ph 388-9416

Members, guests and affiliates welcome

Quality

a la carte

with a view!

Open from 5.30pm

FRIDAY, SATURDAY & SUNDAY

OPEN FOR

SUNDAY BRUNCH

By the Seaside!

10.30am-2pm

SUNDAY 3 COURSE

DINNER SPECIAL

$25

SUNDAY BUFFET

Sunday 25th June

ALL YOU CAN EAT

$25 BOOK NOW!

St Albans Shirley Club

269 Hills Rd | ph 385 1632 www.sasclub.co.nz

Members, guests & affiliates welcome FOLLOW US ON FACEBOOK

Coming Up... AGM - Sunday 25th June, 11am

WHAT'S

ON

• SKY Sport • Pool Tables

• Gaming Room • TAB

• Shuttle operates

Thurs, Fri, Sat night

BECOME A MEMBER TODAY!

FRIDAY between 5.30pm-7.30pm

LUCKY MEMBER JACKPOT DRAW

FRIDAY 7PM LIVE MUSIC

FRANCHISE

SUPER 15 & LIONS RUGBY

SEE IT HERE!

BISTRO

Open 5pm-8pm

Thurs, Fri, Sat

BAR MENU

available daily

Clubs New Zealand

warmly welcome

members, their guests and

affiliate club members.
---
54 Thursday June 15 2017

Latest Christchurch news at www. .kiwi

The Star

www.star.kiwi/whatson

To add a listing,

contact Jo Fuller

03 364 7425

jo.fuller@

starmedia.kiwi

BARETTA: Friday 4pm - Antony

Pickard; 7.30pm - Uptown Shakedown;

10.30pm - DJ Vlad. Saturday 9pm - DJ

Double Header feat. Phase & DJ.

BECKS SOUTHERN ALEHOUSE:

Saturday 9pm - Smoke & Mirrors.

BILL'S BAR: Thursday & Sunday 6pm

- Mickey Rat Karaoke.

BISHOP BROTHERS PUBLIC

HOUSE: Sunday 3pm - Rusila.

BLACK HORSE: Saturday - TP

Karaoke.

BLUE SMOKE: Friday 8.30pm -

Hobnail 'The Blue Skies' Tour, tickets

$20+bf@eventfinda.

BROUGHAM: Saturday 8pm - Jenlin's

Karaoke.

CARLTON: Thursday 9pm - Summer

Drive. Friday 10pm - Smoke & Mirrors.

Saturday 10pm - Ctrl Alt Rock. Sunday

4pm - Great Carlton Quiz. Monday

5pm - Harpy Noise. Tuesday 6pm -

Open Mic Night. Wednesday 8.30pm -

D'Sendantz duo.

CASA PUBLICA: Friday 9pm - DJ

Dwight Caldwell. Saturday 9pm - DJ

Ash-S.

CASHMERE CLUB: Saturday 7.30pm

- Neville Wilkins & the Viscounts, $5

entry.

CELTIC ARMS INN: Friday 7pm -

Micky Rat's Karaoke.

CHRISTCHURCH CASINO: Friday

7pm - Steve & Andy; 10.15pm -

Everlong. Saturday 4.30pm - Eddie

Simon; 9.15pm - Blackie. Sunday

5.30pm - Lissel.

CHRISTCHURCH FOLK MUSIC,

IRISH SOCIETY HALL: Sunday

7.30pm - The Ellesmere Big Band, $8

members/$12 non.

CLADDAGH IRISH PUB,

FERRYMEAD: Thursday - Open mic.

Saturday - Live music.

COASTERS TAVERN: Saturday

8.30pm - Hot Gossip. Sunday 5pm -

Stephen James.

Hobnail: 'The Blue Skies' Tour show @ Blue Smoke this Friday.

DARKROOM: Thursday - Neil

Macleod. Friday - Jed Parsons & his

friends. Saturday - Beatcomber.

DOUG CALDWELL AUDITORIUM:

Thursday 7.30pm - The Hamish Smith

Quartet, entry $5.

DUX CENTRAL: Friday 5pm -

Emerson; 9.30pm - Get Set. Saturday

2pm -Tim Driver; 9pm - Nacoa.

Sunday 2pm - Jazz Session.

EMPIRE: Thursday 9pm - DJ Oh One

Eight. Friday 10pm - DJ Amnesia.

Saturday 10pm - DJ. Vlad Sunday

10pm - DJ.

FINNEGANS - PREBBLETON

TAVERN: Friday - Trad Jam Session.

GBC (GARDEN BUFFET CAFE):

Friday 6pm - Vintage Blue.

HORNBY WMC: Friday 7pm -

Reminisce. Saturday 4.30pm - Des

Newton; 8pm - The C-Bay Band.

HORNCASTLE ARENA: Tickets

@ticketek.

ISAAC THEATRE ROYAL: Thursday,

Friday, Saturday - The Pickle King.

Sunday - Four Flat Whites in Italy by

Roger Hall. Wednesday - NZSO

presents Schumann & Barber feat.

James Feddeck (Conductor) & Daniel

Muller-Schott (Cello). Tickets @ticketek.

JANES BAR: Saturday - Live music.

Sunday - Live blues. Wednesday - Open

Mic Night.

MACKENZIES BAR: Friday -

Mammoth. Saturday - Flat City

Brotherhood. Wednesday - Karaoke.

MAK TAVERN: Friday 9pm - Sign of

the Firebrid. Saturday 9pm - The

Stoutfellows. Sunday 3pm - Unhinged.

MICKY FINNS: Thursday 8pm - Flat

City Brotherhood.

NEW BRIGHTON CLUB: Saturday

7pm - Drive.

OAK N FERRY, WOOLSTON: Friday

- I Alone. Saturday - Mammoth.

PIERSIDE CAFE & BAR: Friday 9pm

- Karaoke withDJ Chick. Saturday 9pm

- Brothers Grimm.

RICHMOND WMC: Sunday 3pm - I

Alone.

ROCKSTAR PIZZA: Thursday 9pm -

Funk City. Friday 10pm - Corner

Sounds. Saturday 10pm - The Easy

Hearts. Sunday 8pm - Lindon Puffin.

SAS CLUB: Friday 7pm - Franchise.

STOCKxCHANGE BAR, SHIRLEY:

Friday 7pm - 12 Gauge. Saturday 7pm -

Misfitz.

SULLIVANS IRISH PUB: Thursday

7.30pm - Stephen McDaid. Friday 9pm

- Headrush. Saturday 9pm - Dateless n

Desperate RockBand. Tuesday 7.30pm -

Topia. Wednesday 7.30pm - Willie

McArthur.

TEMPS BAR: Friday 8.30pm - No

Secrets. Saturday 8.30pm - Live music.

Tuesday 7pm - Jam Session (gear

provided).

THAI CHEFS, SUKHU TIGER:

Thursday to Wednesday 9pm - Resident

DJ & Karaoke.

THE BOG: Thursday 10pm - Assembly

Required. Friday 5pm - Bobby Lee;

11pm - Stoutfellows. Saturday 11pm -

Good Company. Sunday 5.30pm - Ian

Costello & friends Sunday Session.

Monday - The Jameson Band.

THE CRAIC IRISH BAR: Thursday -

Andy Page. Friday - Fat Stallions.

Saturday - Eddie Simon. Wednesday -

Karaoke with DJ Chick.

THE CUBAN: Thursday 9pm - Topia.

Friday 9pm - Antony Pickard. Saturday

9pm - Antony Pickard.

THE FITZ: Friday - Picking at the

Remnants. Saturday - Lee Acoustic.

THE MILLER: Friday 9.30pm - Flat

City Brotherhood. Saturday 9.30pm -

Awesome Sorce. Wednesday 8pm -

Karaoke with Lance.

THE PIANO: Sunday 2pm - The

Risingholme Orchestra Silver

Anniversary Concert,

THE WAVE BAR: Thursday 8.30pm -

Karaoke. Friday 8.30pm - DJ.

TREVINOS: Friday - Southfield.

TWISTED HOP: Friday 7.30pm -

Guns on Sunday.

WOOLSTON CLUB: Saturday

7.30pm - Ian Mac.

WUNDERBAR, LYTTELTON:

Tuesday 7pm - Open mic.

Hobnail

classic celtic country folk

"An illustrious blend of bluegrass, celtic, folk, and rock 'n' roll"

Blue Smoke

Friday 16th June

Doors 8pm Show 9pm Tickets $20

thru eventinda.co.nz or

hobnail.co.nz

www.hobnail.co.nz

new album

"blue sky songs"

out June 16th
---
The Star 55

What's on

Latest Christchurch news at www.

.kiwi

Thursday June 15 2017

Let us know about your event!

Email whatson@starmedia.kiwi

and runs through to July 16.

The Physics Room, 209

Tuam St

FRIDAY, 5-11PM

CHARITY RACE NIGHT

The Wish for Fish charity and

New Zealand Spinal Trust are

holding a fundraiser to help

provide those with mental

and physical disabilities with

opportunities to experience salt

water activities. Tickets include a

three-course meal and drinks and

there will be a charity auction,

raffles, punters' club, spot prizes

and more.

Addington Raceway, 75 Jack

Hinton Dr

SATURDAY, 9-10AM

PT IN THE PARK

PT in the Park is a free 60-minute

workout held every Saturday

morning, rain or shine. It is near

Carlton Mill corner and clearly

visible with flags showing where

it is. Join the team of volunteer

personal trainers who are

dedicated to improving the fitness

and flexibility of all community

members. For more information

about PT in the Park, email

michael@focus.kiwi.nz or check

out the Facebook page.

Cnr of Hagley Park at Harper

Ave

SATURDAY, 10.30AM-3PM

MATARIKI WANAKA,

MATARIKI TAKIURA

Twinkling in the winter sky

just before dawn, Matariki (the

Pleiades) signals the Māori New

Year. Celebrate at this whānau/

family day, co-hosted with Kotahi

Mano Kāika from Te Rūnanga o

Ngāi Tahu. It's a time for learning

and a time for sharing with

activities for everyone, including

bilingual storytelling, arts, crafts,

star gazing, competitions and

even books. Free entry.

New Brighton Library,

Marine Pde.

SATURDAY, 10.30AM-3.30PM

FILIPINO FLEA MARKET

Christchurch's first ever Filipino

market will showcase the unique

tastes of Filipino delicacies and

feature produce and products

made locally in the Philippines.

St Martin's Community

Centre

SATURDAY, 7.30PM

CBS CHOIR AND

ORCHESTRA

A new arts initiative, the mid-

June Cathedral Arts Festival

COMMUNITY MARKET

Thursday, 8am-1pm, 51 Pages Rd

MT PLEASANT FARMERS'

MARKET

Saturday, 9.30am-12.30pm,

McCormacks Bay Rd

LYTTELTON FARMERS'

MARKET

Saturdays, 10am-1pm, London St

OPAWA FARMERS' MARKET

Sundays, 9am-noon, 275

Fifield Tce

THURSDAY, 7.30PM. FRIDAY

TO SUNDAY, 10AM

CHRISTCHURCH ART SHOW

Come out to the show and enjoy

this amazing art extravaganza.

The opening night gives guests

the option to view and purchase

artwork. Vote for your favourite

piece, enjoy the fun, wine, live

music and nibbles. Show days

follow on Friday, Saturday and

Sunday. For information and

tickets, visit chchartshow.co.nz

Wigram Air Force Museum

THURSDAY TO SUNDAY

CINEMA ITALIANO FESTIVAL

Enjoy a fantastic selection of

feature films, ranging from

traditional and contemporary

masterpieces to drama, comedies

and documentaries – whatever

your preference, culture and fun

are guaranteed. Christchurch is

privileged to be the first leg of

the festival, so make sure to go

along and get a head start on what

the rest of New Zealand will be

talking about over the next few

months.

Academy Gold Cinema,

Colombo Mall car park

THURSDAY TO SUNDAY,

8PM

LET'S NOT ARGUE

Let's Not Argue depicts the best,

the worst and the funniest parts

of the everyday interactions

between husband and wife,

including the ever-changing

gender roles and relationship

dynamics. But it's not too serious

and it's not for kids. Directed

by Mike Friend, founder of

the Lyttelton Arts Factory

(formerly Loons Theatre),

and choreographed by United

Kingdom-based Neil Fisher, the

show features married couple

David Ladderman and Lizzie

Tollemache. $25/$30

Lyttelton Arts Theatre, 34

Oxford St

FRIDAY, 5.30PM

FFFUTURE FFFOCUSED ART

PRIZE PREVIEW

The Physics Room will play

host to the inaugural Fffuture

Fffocused Art Prize, which aims

to inspire the nation's artists to

engage with the all-important

concept of the future. The

exhibition opens Friday night,

opens with a concert by the

Cathedral of the Blessed

Sacrament choir and orchestra,

featuring Schubert's Unfinished

Symphony, and a beautiful setting

by Mendelssohn of the Aquinas

hymn Lauda Sion. It is believed

to be the first time this work

will be heard in New Zealand.

$15/$20

St Mary's Pro Cathedral,

Manchester St.

SUNDAY, 10AM-5PM

MATHS CRAFT DAY

Maths craft day featuring seven

craft creation stations as well as

public talks by mathematician

crafters. The day-long celebration

of maths promises to engage

people of all ages. Crochet a

hyperbolic plane, build a fractal

sculpture, fold an origami

octahedron, and listen to talks

about the connections between

maths and crafts. Open to

everyone: Experts and amateurs,

maths-fans and maths-phobes,

the crafty and the curious. Hosted

by Canterbury University. Free

entry.

Arts Centre of Christchurch

– The Great Hall, 2

Worcester Boulevard

SUNDAY, 9AM-1PM

WEST SPREYDON SCHOOL

MARKET DAY

West Spreydon School is having

a market day to raise money for

the completion of the school pool.

There will be a variety of stalls,

including new and second hand

goods and great food and coffee.

The market will be on whatever

the weather. For stall inquiries,

email wssfriendswhanau@gmail.

com

West Spreydon School, 147

Lyttelton St
---
56 Thursday June 15 2017

Latest Christchurch news at www. .kiwi

The Star

MEGA DEALS

NOW ON IN STORE!

SALE

MUST END

MONDAY!

serenesleep

Diego Lounge Suite (Grade A)

The Diego modular suite is a Target favourite.

How many other suites can transform to suit the shape of your room?

This one can and it does it with comfort in mind!

now only

$1899

Bahamas Trundle Bed

Features a King Single bed with a pull out

trundler below, and comes complete with a

King single and single mattress. The trundler

easily stows away under the bed when not in

use, making it the perfect solution for extra

guests and sleepovers.

now only

$759

Logan Living Collection

Contemporary styling to compliment any

living area. Elegant with its straight lines and

its clean white finish, this range will enhance

the look of any home.

Includes Queen Bed, 2 Bedsides

& 6 Drawer Tallboy.

Nohr 4 Piece Bedroom Package

The simple white drawer fronts make this range suitable for both kids and adults

bedrooms and each drawer features smooth runners for ease of use. All units of

the same height can be put side by side to create a seamless long chest.

now only

$1099

Coffee Table

Coffee Table

now only $299

Bookcase

now only $479

Lamp Table

now only $199

Entertainment Unit

now only $539

Bookcase

Lamp Table

Entertainment Unit

Carnival Bedroom Collection

This bedroom range features metal drawer runners.

Available in 4 colours. Great for the kids bedroom.

Available in Green, Blue, Purple & Pink

4 Drawer Lowboy

now only $279

5 Drawer Split Tallboy

now only $359

3 Drawer Bedside

now only $159

Large Bookcase

now only $259

Toybox

now only $239

Cnr Blenheim & Curletts Rds, Christchurch. Ph: 03 343 3204

500 DAYS

NO PAYMENTS

AND NO INTEREST *

*Minimum purchase $499. Finance offer expires 24th July 2017.

Lending criteria, $50 Annual Account Fee, Establishment Fees,

terms and conditions apply. See below for terms & conditions.

View our collections online: targetfurniture.co.nz

Offers and product prices advertised here expire 19/06/17.

Sale excludes Manchester and accessories.

*No Payments and No Interest for 500 Days ("Payment Holiday") is available on Q Card Flexi Payment Plans for in-store purchases only until offer ends 24th July 2017. Minimum spend $499.

Annual Account Fee of $50 applies. New Q Cardholder fees - $55 Establishment and ($3 PPSR - Q Card only. Existing Q Cardholder fee - $35 Advance. Q Card Standard Interest Rate,

currently 25.25% p.a. applies to any outstanding balance at end of Payment Holiday. Payment Holiday period may vary depending on Cardholder's payment cycle dates. Q Card lending

criteria, fees, terms and conditions apply. Rate and fees correct as at date of publication, subject to change.