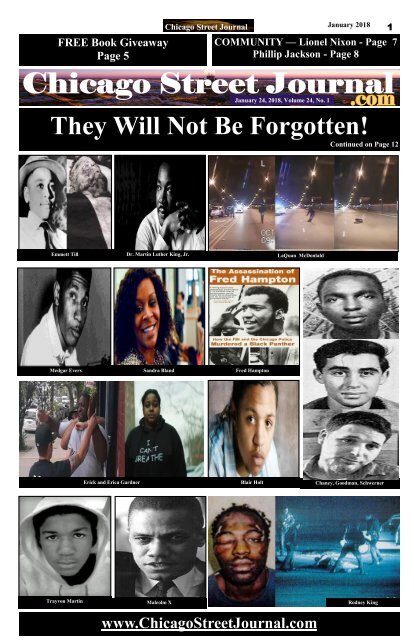 They Will Not Be Forgotten. Chicago Street Journal for January 24, 2018
The more things change, the more they remain the same. We've all heard that old saying. It does indeed seem that history is repeating itself. Chicago Street Journal (CSJ) dedicates this issue to all those who gave so that we may live. There is never a wrong time to celebrate their lives and purpose. Sonja Cassandra Perdue, Associate Publishers, Digital 773-609-2226
The more things change, the more they remain the same. We've all heard that old saying. It does indeed seem that history is repeating itself. Chicago Street Journal (CSJ) dedicates this issue to all those who gave so that we may live. There is never a wrong time to celebrate their lives and purpose.

Sonja Cassandra Perdue, Associate Publishers, Digital
773-609-2226
SHOW MORE
SHOW LESS
You also want an ePaper? Increase the reach of your titles
YUMPU automatically turns print PDFs into web optimized ePapers that Google loves.
FREE Book Giveaway

Page 5

Chicago Street Journal

January February 2018 2017

COMMUNITY — Lionel Nixon - Page 7

Phillip Jackson - Page 8

1

January 24, 2018, Volume 24, No. 1

They Will Not Be Forgotten! September 12, 2017

Volume 23 No. 5

Continued on Page 12

Emmett Till

Dr. Martin Luther King, Jr.

LaQuan McDonlald

Medgar Evers

Sandra Bland

Fred Hampton

Erick and Erica Gardner

Blair Holt

Chaney, Goodman, Schwerner

Trayvon Martin

Malcolm X

www.ChicagoStreetJournal.com

Rodney King
---
February 2017

2 January 2018

Chicago Street Journal

www.CBBNAffordableMarketingSolutions.com
---
Chicago Street Journal

February 2017

January 2018

3

EDUCATION – Saturday

University helps 1 st

through 4 th Grade Boys and

Girls Become Reading Warriors.

Every Saturday, for the

next 10 weeks, in Chicago, Illinois,

The Black Star Project

will teach young Black boys

and girls to read well, think

critically, study their history, love their people, develop confidence,

increase self-esteem, and move into action to improve

their communities. Call 773.285.9600 to register your child for

another FREE term of Saturday University! Boys 9:00 am to

11:00 am. Girls 11:00 am to 1:00 pm.

BOOKS – Reading is fundamental, but apparently not to

NYC gatekeepers for incarcerated persons. Most of you know

that 50% or more of those imprisoned read below any standard

testing level, now their families are being barred from donating

books. Inmates can only purchase books from state selected

vendors.

Could this be that it is about controlling what is read, as well

as, the enhancement of the school-to-prison money pipeline?

According to one article, there were only 77 book titles available

and 24 were coloring books. Thanks Enoch Mubarak for

the heads up on this info.

SMALL BUSINESSES – This is the 5 th year that SCORE

has hosted its American Small Business Championship

(ASBC) competition. Two small business owners from every

state and DC will receive a reward of $15,000 as a show of

support for their success and to provide help to them for future

projects. Tell them what makeS your business unique and

win. Apply online here: https://championship.score.org/

CRIME – In a recent trip to New York, Cook County Commissioner

Richard Boykin met with the U.N. Assistant Secretary

General to discuss possible deployment of peacekeeping

troops to Chicago. Everyone agrees that the communities,

who experience a high level of violence on a daily basis are

most certainly in need of peace. But, are the UN troops the solution

to problem?

ELECTIONS – Twenty-one year old, Jewell Jones became

the youngest state representative ever in Michigan in 2016.

CSJ is now wondering where is Chicago's "under 30" future

elected officials? Could it be "you" that we've been looking?

BE A CRIME FIGHTER – Cook County Crime Stoppers is

offering up to $1,000 dollars for information leading to arrests.

It pays to help clean up crime. Visit their website for details.

www.CookcountyCrimeStoppers.org

BOOKS – Published authors, be a part of our new CSJ's new

Books Section. Visit CSJads.info for details.

Are you a Travel Consultant?

Visit CSJads.INFO

to be in the NEXT issue.

Publisher and Editor: Ron Carter

Associate Publisher: Sonja Cassandra Perdue

Chicago Street Journal

8036 S. Cottage Grove, Chicago, IL 60619. E-mail:

ChicagoStJournal@gmail.com

773.595.5229

For delivery direct to your inbox.

http://www.issuu.com/ChicagoStreetJournal

Columbia University South Street Journal archive:

http://southside.ccnmtl.columbia.edu/

Archived by Columbia University's Urban Research

Workshop (URW), back issues from 1993 to 2006 of

Chicago Street Journal's predecessor, the South

Street Journal, were donated to provide material for

URW students to collaboratively research themes

such as gentrification, racism, political affairs, and

youth development.

CSJ is free, except special request drop offs and

street sales where a $1 donation is requested.

Copyright 2014. All

rights reserved. CSJ

assumes no responsibility

to return unsolicited

editorial or

graphic material. All

rights in letters and

unsolicited editorial

Ron Carter, Publisher and Editor
---
4 January February 2018 2017

Chicago Street Journal
---
Chicago Street Journal

January February 2018 2017

5

LOVE TO READ? Pick a book. Pick all of them.

Click the title to reserve your complimentary eBook.

January 25, 2018

The Beautiful Things That I Love About Me

by Maurice W

Doing Business as Unusual:A Proverbs 31 Guide

for Women Entrepreneurs

by Tonya Franklin

January 28, 2018

A Strippa'z Money

by Swag Ery'thang

January 29, 2018

Love & Sin

by Tempestt Luckett

Big Red: How I Learned Simplicity from a Suitcase

by Ellie Dias

Phoenix

by Daccari Buchelli

The Life & Times Of A Full Figured Fashionista

by Dominique Ali

January 30, 2018

Tha Hood Tha Bad and Ugly

by J. Hitz

Black America: Asking Ourselves The Tough Questions

By Sonja Cassandra Perdue
---
6 January February 2018 2017

Chicago Street Journal
---
CELEBRATING

KWANZAA

Contributor Lionel Nixon

On the day of Nia I

visited the South Side

Community Arts Center

and Chicago State

University Kwanzaa

Celebrations.

They both were just

wonderful programs

that lifted one's spirit.

I took a picture at the

South Side Community

Art Center with one of my community heroes Pemon

Rami and at Chicago State University with well-respected,

known and highly regarded social activist, community organizer

and entrepreneur. Afrika Porter.

Afrika is the granddaughter of Chicago legend Dr. John R

Porter Phd, pastor, author, historian, professor and social

activist who I have known and looked up to for a very

long time, even from childhood. She is the daughter of

computer scientist, son of Dr. Porter and longtime friend

Robert Porter.

One of my greatest friends, teachers and counselors, the

late Peb Ali brought, was in our Black history class from

Hyde Park High School. Dr. Porter actually introduced us

Chicago Street Journal

January February 2018 2017

all to Malcolm X, when I was 14 years old at his church in

Englewood, where Malcolm X spoke to a group of us.

This gathering happened only a few months before was

Malcolm X was assassinated.

To this day I will never forget Malcolm X walking down

the aisle of that church and stopping directly in front of

me and saying to all of us, "Don't struggle only within the

ground rules that the people that you're struggling against

have laid down."

At both events I shared some copies of the African News-

World Newspaper . "A Media That We Control", published

in St Louis and circulated in many cities across America

and in some in other parts of the world by the Universal

African Peoples

Organization,

Zaki Baruti

President/

General of

which I am a

member in good

standing and I

serve as UAPO

Chicago Chapter

and National

Correspondent.

RESPECT!

www.UAPO.org

7

Direct Line: 773-892-2610

Click the images to learn more about our sponsors!
---
February

8 January 2017 2018

Chicago Street Journal

Celebrate Black History Month by Circulating Black

Dollars in Black Communities

Once and for all, let's get this straight. America has gotten

out of the Black people business! No help is coming from Washington,

D.C. No help is coming from state government. No significant

help is coming from city and county municipal governments.

No useful help is coming from

foundations and corporations. We,

Black people, are on our own. And, really,

for centuries, we were always on

our own.

Most jobs that Blacks once had in

America are now done by computers

and robots. Many of the other jobs that

we used to have are now taken by immigrants

or have grown beyond our

collective skillsets. Black leadership is

still using protest tactics and methodologies

from the 1950's to address 2018

economic problems. Those won't

work. There is no more cotton for

Black people to pick, and many of us

still have a cotton picking and sharecropper mentality.

Even if Black people continue acquiring wealth at our present

rate and White people stop acquiring any additional wealth, it

would take 228 years to close the racial wealth gap. As of 2013,

White households had $116,000 in median household net worth

and Black families had $1,700.00 of median household net

worth. It is projected that by 2053 Black median household net

worth will be at zero dollars. Black people's net worth will be at

the same level as when we came out of slavery in 1865.

Good news: Black people in America have a gross national income

of about $1.3 trillion. Bad news: Only 2% or about $26

billion of those $1.3 trillion are re-circulated in the Black community.

If Black dollars were more re-circulated in Black American communities,

Black dollars would produce Black companies, help

hire Black employees, support Black families and rebuild Black

communities. Instead, our $1.3 trillion income makes other people

rich including Whites, Arabs, Koreans, Pakistanis, Indians,

Latinos, Chinese, Polish, even Blacks from the Caribbean and

the continent of Africa.

Black people need a simple plan to alter our trajectory. Here's a

plan: One – Ask The Black Star Project for a "Circulate Black

Dollars in Black Communities"

stamp. Two – Stamp all of your paper

money with this stamp (legal according

to Title 18, Section 333 of the United

States Code and Title 18, Section 475 of

United States Code) and use your dollars

as you normally would. Three –

make a conscious effort to spend your

Black "stamped" dollars with Black people

for at least one year.

You will be reminded to spend your

Black dollars every time you see a

"stamped" dollar. If 43 million Black

people move their spending efforts from

2% with Black people to 4% with Black

people, $26 billion more will be infused into the Black economy.

If Black people can move their spending power from 2% to 10%

with Black people, an additional $104 billion will be generated.

Theoretically, $104 billion would produce between 400,000

and 750,000 new jobs and geometrically accelerate Black financial

and social well-being.

As Black spending becomes more intentional, our social and

economic issues will disappear. We won't have to wait for others

to give us financial permission or support to fix our own

problems. We will declare a new freedom and help take control

over the lives of everyone in our communities. Your dollar is

your most potent weapon in a capitalistic society. We must learn

to use our dollars to reward those who help and support us, and

to punish those who don't.

By Phillip Jackson, Founder and Chairman of the Board,

The Black Star Project, 3509 South King Drive, Chicago, Illinois

60653, 773.285.9600.
---
Chicago Street Journal

January February 2018 2017

9

There are 1.2 million

small businesses in Illinois,

employing 2.4 million people.

Click the images to learn more about our sponsors!
---
February

10 January 2017 2018

Chicago Street Journal

To be in our next issue. Visit www.CSJads.INFO
---
Chicago Street Journal

January February 20182017

11

Glenwood Academy recognized as a

Common Sense Certified School.

"We're honored to be recognized as a Common Sense School,"

said Dr. Colleen Carter, Vice President of Academic Affairs.

"By preparing our students to use technology safely and responsibly,

we are providing them unlimited opportunities to

maximize and personalize their learning."

For more information about Glenwood Academy, go to https://

www.glenwoodacademy.org. To learn more about the criteria

Glenwood met to become recognized as a Common Sense

School, visit https://www.commonsense.org/education/

recognition-schools.

Common Sense, the national nonprofit organization

dedicated to helping kids and families thrive in a world of digital

media and technology, has recognized Glenwood Academy

as a Common Sense School.

Glenwood has demonstrated its commitment to taking a whole

-community approach to preparing its students to use the immense

power of digital media to explore, create, connect, and

learn, while limiting the perils that

exist in the online realm, such as

plagiarism, loss of privacy, and

cyberbullying. The recognition

acknowledges our schools commitment

creating a culture of digital

learning and citizenship.

"We applaud the faculty and staff

of Glenwood Academy for embracing

digital citizenship as an important

part of their students' education,"

said Liz Kline, VP, Education

Programs, Common Sense Education.

"Glenwood deserves high

praise for giving its students the

foundational skills they need to

compete and succeed in the 21stcentury

workplace and participate ethically in society at

large."

Glenwood Academy has been using Common Sense Education's

innovative and research-based digital citizenship resources,

which were created in collaboration with Dr. Howard

Gardner of the GoodPlay Project at the Harvard Graduate

School of Education. The resources teach students, educators,

and parents tangible skills related to Internet safety, protecting

online reputations and personal privacy, managing online relationships,

and respecting creative copyright. The free resources

are currently used in more than 100,000 classrooms

nationwide.

About Glenwood Academy

Glenwood Academy nurtures and educates good kids from

challenging situations by inspiring excellence, building character,

and strengthening community. Located in Glenwood,

Ill., 35 miles south of Chicago, Glenwood Academy is a supportive

learning community serving over 150 children ranging

from ages 7 to 18 from 60 communities throughout the Greater

Chicago area. Nearly 100% of our children live at or below

the poverty line and 92% come from single parent households.

Glenwood Academy is proudly accredited by North Central

Association Commission on Accreditation and School Improvement

(NCA CASI), an accrediting division of AdvancED.

Our accreditation demonstrates our

dedication to continuous improvement

in all that we do. We are committed to

eradicating poverty, injustice, and inequality

through the power of residential

education.

About Common Sense Education

Common Sense Education provides

teachers and schools with free research-based

classroom tools to help

students harness technology for learning

and life. Our K–12 Digital Citizenship

Curriculum and interactive games

teach students how to make safe,

smart, and ethical decisions in the digital

world. Our educational ratings and

reviews platform helps educators discover,

use, and share high-quality digital products that propel

student learning. Common Sense Education works with more

than 340,000 teacher members in over 110,000 schools to help

ensure all children have the opportunity to thrive in the 21st

century.

Common Sense is the nation's leading nonprofit organization

dedicated to helping families and educators thrive in a world

of media and technology. To see all of Common Sense's education

resources, visit https://www.commonsensemedia.org/

educators.

Send your editorials to ChicagoStJournal@gmail.com.

Chicago Street Journal is looking for experienced sales agents.

Call 773-998-1925 for details.
---
January February 2017 2018

12 Chicago Street Journal

They Will Not Be Forgotten!

Philando Castro

Shanta Myers and her children, Jeremiah "JJ" Myers, and Shanise Myers

and her friend Brandi Mells

Mike Brown

Members of the Emanuel African Methodist Episcopal Church
---
Chicago Street Journal

January February 2018 2017

13

1955 – Emmett Louis Till - On August 28, 1955, a 14 year old

boy from Chicago was abducted, tortured and killed in Mississippi

for allegedly making inappropriate gestures at a white woman. His

body was shipped back home by Pullman Porters and his mother

insisted that his casket be left open, so that the world could witness

what had been done to her child. The brutal murder of Mamie

Till's son changed the world and ignited a movement.

His original casket is being preserved at the Smithsonian, after being

discarded like garbage in a Mississippi cemetery in 2005.

Chicago Street Journal (CSJ) dedicates this issue to those who gave

their lives, so that we may live. "They Will Not Be Forgotten."

1968 – Dr. Martin Luther King, Jr. - At risk to himself and his

family, he became a profound activist for equal rights and brought

the plight of the African-American to the world stage. He was in

Memphis to show support for the striking garbage workers of that

city, when he was killed. It was in Tennessee, the night before his

assassination that he gave the infamous "I've Been To The Mountaintop"

speech.

2014 – LaQuan McDonald - Videos show that CPD Officer Van

Dyke was on the scene less than 30 seconds before he started firing.

It wasn't until November 2015 that the video showing that

McDonald was shot 16 times was released to the media and public

and only then by court order.

1963 – Medger Evers – In 1954, on behalf of the NAACP, he

became their 1st Field Secretary in Mississippi. Thirty years after

he was shot in the back, in front of his home, his killer was brought

to trial for the third time. In 1994, Byron De La Beckwith, a founding

member of Mississippi's White Citizens Council was sentenced

to life in prison.

2015 – Sandra Bland – It could have your daughter, sister, mother,

aunt, cousin, neighborhood or co-worker, stopped for a traffic

violation and "found" dead in a cell three days later. It could have

been you. Instead of "Serve and Protect", maybe squad cars should

carry the following warning… "It has been proven again and again,

that driving while Black will lead to your death."

1969 – Fred Hampton – From TheNation.com, "Ultimately, a

federal grand jury determined that the police had fired between

eighty-three and ninety shots–the Panthers a maximum of one. The

grand jury indicated that, if the Panthers fired at all, it was one shot

that Mark Clark fired–apparently after he had been shot in the

heart. If the cops had, in fact, demanded a ceasefire on three occasions,

they were talking only to themselves. The official explanation

amounted to a cover-up, and a massive one." After almost 60

years and many more cover-ups later, we find that CPD is still in

need of a ceasefire on civilians.

1964 – James Earl Chaney, Andrew Goodman and Michael

Schwerner – In the words of Nina Simone "Mississippi Goddam".

Three young men volunteered to assist with the voter's registration

campaign in Mississippi that summer and their bodies were found

weeks later near a dam. The investigation into their deaths were

part of the Emmett Till Unsolved Civil Rights Crime Act for which

Congress set aside funds to investigate and prosecute racially motivated

murders before 1970.

2017— If you can't breathe, I can't breathe, then we can

breathe. Eric Gardner's pleads were heard around the world.

His daughter, Erica Gardner, who took up the baton for justice

past away late year.

2007 – Blair Holt - What happens in your life when someone

dies so that you may live? Some of us will never know, but some

of us have heroes who step in front of speeding bullets for us. The

editor of Sister-to-Sister made a statement, after her son was shot,

to the affect that simply indicates that your child may not harm anyone,

but there are those out there who will harm your child.

Blair's killer was "resentenced" to 75 years in prison, but for his

family that does not compare to an eternity of loss.

2012 – Trayvon Martin - Doesn't seem like it was that long ago,

does it? So many have been shot down in the street and we continuously

see the lives of so many flashing before our eyes as breaking

news and on social media. If you're Black, you can also die

from eating Skittles and drinking iced tea, while walking. 17 year

old Trayvon Martin did.

1965 – Malcolm X - Most don't finish, where they start as they

are constantly evolving into who they will become along their journey.

Jailed and troubled along the way, he become one of the greatest

advocates for human rights in our time. Black-on-Black crime

is not new. Assassinated by his own kind, because its easier for

them to get close to you. But, as Fred Hampton said, "You can kill

the revolutionary but you can never kill the revolution."

1991 – Rodney Glen King - Police brutality videos are "old

skool" as King's video made world-wide news and once again

showed that the power of "moving" pictures is worth more than a

1000 words. King knew how to start a LA riot.

1944 – Junius Stinney – Executed at age 14. He was accused to

killing 11-year-old Betty June Binnicker and 8-year-old Mary Emma

Thames in South Carolina. It's difficult to go back 70 years and

ascertain what took place but according to Wiki, "On December

17, 2014, his conviction was posthumously vacated 70 years after

his execution, because the circuit court judge ruled that he had not

been given a fair trial; he had no effective defense and his Sixth

Amendment rights had been violated.[7][8]" But, you can't vacate

that execution, can you?

1885 – It is estimated that 8 million Africans died under the reign

of The Butcher of Congo: King Leopold II of Belgium, who controlled

the populace from 1885 to 1908. Congonese who did not

meet production quotes or who had to be controlled were maimed.

2016 - Philando Castile was shot during a traffic stop in Minnesota

with his fiancée and child in the car with him. The world

watched this young man, who knew the names of all the children

he served in the school cafeteria where he worked, dying in front of

their eyes.

1963 - Denise McNair, Carole Robertson, Addie Mae Collins,

and Cynthia Dianne Wesley were killed and another 20 people

were injured in a bombing at The 16th Street Baptist Church in

Birmingham, Alabama.

1917 – What is known as the East St. Louis Race War has

been repeated throughout history of the African in American.

2017 - Shanta Myers and her children, Jeremiah "JJ" Myers,

and Shanise Myers and her friend Brandi Mells were found tied up

with their throats slashed in Troy, New York. Two Black men have

been arrested for the crime. The screams and protest against our

own self-destruction should be deafening to our own ears and our

stand again Black-on-Black crime should send the message, to all

that stand against us, that NO CRIME AGAINST OUR PEOPLE

IS ACCEPTABLE.

2014 - "Hands up, don't shoot." The shooting death of Michael

Brown br ought inter national focus on the events in Ferguson,

Missouri, The officer charged was acquitted. But, the

"Hands up, don't shoot" slogan has not die with him.

2015 - Dylann Roof mur dered nine African Americans at the

Emanuel African Methodist Episcopal Church in downtown

Charleston, South Carolina. Do we forgive white supremacist

for their actions? Maybe. Do we forget? NEVER!

They Will Not Be Forgotten!
---
14

January February 2017 2018

Chicago Street Journal

Call 773-998-1925 to be in the next issue.
---
December 2017

Chicago Street Journal

January February 2018 2017

15

BLACK IN AMERICA IS…

Black in America is a poem written in blood,

pain filled stanzas of people reduced to mud

on a plantation of snow.

It is living with anxiety that goes undiagnosed,

silent conversations with ancestral ghost

while Marvin's Make Me Wanna Holler plays

in the background.

It is being fearful of traffic stops

by agenda having cops

who are eager to turn us into hashtags.

It is a worldstar video full of wide hips and tatted backs

playing against the echo of cotton field whip cracks

which dominate legislative voting floors.

It is watching hipsters "discover" your neighborhood;

appropriation of our culture into consumer goods

because wanting to be black is an American pastime.

It is standing in line for $300 J's;

fire from religious pulpits condemning all gays

while pastors baptize their side chicks.

It is being more comfortable with the people living in

your phone

rather than with the people living in your home

because sometimes illusions are kinder than reality.

It is Grandma's hands and Pop-pop's storytelling,

family get togethers full of food, laughing and yelling;

matriarchs and griots mimicking the sun.

It is remembering black love unafraid and intense;

velvet paintings and nag champa incenses

inspiring many raised fist romances.

It is kids who love STEM writing algorithms and code,

blerds, anime watches and gamers who dream bold;

silent architects of future rebellions.

It is the night feared by those only loving the moon,

scared that darkness will ultimately consume

their precious alabaster shine.

Black in America is a poem written in blood,

pain filled stanzas of people reduced to mud

on a plantation of snow.

© 2017 abruvanamedsly

The Official Black Poetry Cafe, affectionately

known as the BPC, was founded by poet

and author Mark Goggins and began as a

highly successful online poetry forum on

March 3, 2005.

It was created out of a sense of dissatisfaction

that Mark had with some other online poetry

outlets at the time. Some of those outlets had

membership fees while others either censored

poets or had so many restrictive rules that

Mark felt it was hindering a more creative

atmosphere. So instead of complaining about

it, Mark decided to create his own free forum

that was also free from censorship and what

he felt were unnecesarily restrictive rules.

Thus, The Black Poetry Cafe was born.

As social media began to take hold, Mark decided to evolve with the

times so he morphed the BPC into a Facebook group in 2011 and

achieved an even greater poetic audience. There are currently over 15,000

members. The group allows poets to post poems and encourages the

members to comment on the works of others as well in order to facilitate

an artistic environment where there is interaction between the poets.

There are also weekly poetry challenges or prompts that are assigned to

the group by one of our nearly 20 admins who oversee the group. These

admins rotate weekly issuing these challenges. Every few months Mark

will intercede and issue a challenge of his own and award the winner a

trophy called the BPC POETRY SUPERSTAR AWARD. The award is a

crystal trophy standing 14 inches high and engraved with the winner's

name. These special challenges typically last 2-3 weeks and the entries

are judged by the group's admins who then select a winner via admin

vote.

Our latest challenge was titled the, BPC BLACK IN AMERICA CHAL-

LENGE and was won by a very talented poet that goes by the name of

'Abruvanamed Sly.' We intend to continue our weekly challenges and periodic

challenges that offer a chance to win the coveted BPC POETRY

SUPERSTAR AWARD trophy as well. We further intend to continue to

grow and challenge our artists via these challenges to learn different poetic

styles and forms as well as engage in a wide variety of topics. BPC is

committed to the integrity of the art and strives to maintain a healthy artistic

atmosphere that educates as well as entertains in a censorship free

environment with the exception of nude depictions. And while we are the

BLACK Poetry Cafe, all ethnicities are welcome to take part and add

their own distinct flavors to our poetic mix.

Mark Goggins,

Founder

The Official Black

Poetry Cafe
---
February January 2017 2018

16 Chicago Street Journal

www.AskingOurselvesTheToughQuestions.com

Get your book in the next edition of CSJ.

Visit CSJads.INFO