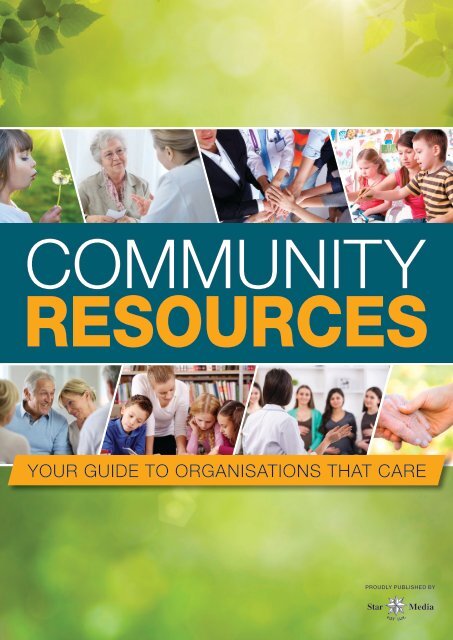 Community Resources: June 14, 2016
You also want an ePaper? Increase the reach of your titles
YUMPU automatically turns print PDFs into web optimized ePapers that Google loves.
community

resources

your guide to organisations that care

Proudly Published by
---
2

The happiness effect

Studies have proven that helping others causes us to be happier, so why not give a little of yourself by volunteering your

time and see how your mood improves, your social life increases and even see how it optimises your career opportunities.

Not only does offering our time

benefit others in our community,

but the selfless act of giving to

others actually endows the Good

Samaritan with a long list of

benefits too.

Volunteering can help you

develop new skills, meet new

people, and even advance your

career. Helping others from

different walks of life who need

our help enables us to develop

important attributes that can

increase our physical and mental

well being. By developing and

extending our compassion

to others less fortunate than

ourselves can bring a great sense

of fulfilment and offers us a

useful perspective on life.

Connecting with others out

in the wider community can lift

us out of depression, give us a

sense of purpose, and increase

self-confidence. By switching our

focus onto others we find relief

from our own problems.

Volunteering is a great way

to get out and about, and get

involved with areas of the

community you care about. If

animal welfare is an issue close to

your heart you could offer your

time to one of the many animal

shelters around Christchurch

or if you've always wanted to

get up-close-and-personal with

wildlife, then contact Orana Park

or Willowbank where there are a

range of volunteer roles available.

Perhaps you have a specialised

skill set that charitable trusts

would particularly benefit from,

like accountancy, law, or business

administration and development.

This kind of experience can

also put you one step ahead of

the competition when you're

on the job hunt, as prospective

employers are known to favour

applicants who demonstrate the

aptitude to help others.

According to data research

conducted by the business

networking site, LinkedIn, 41

percent of employers consider

volunteer work just as valuable as

paid work.

"It shows that you're a

passionate professional who's

adept at multitasking," LinkedIn's

Senior PR Manager, Krista

Canfield says.

Certain volunteering positions

can also enable you to develop

and learn new skills that can

benefit your chosen career,

creating greater opportunities.

Job dissatisfaction or a change

in life circumstances may lead

you to question your current

career and volunteer work

can be the ideal place to start

when searching for a new path.

Volunteering presents a golden

opportunity to dip your toe in the

water without having to commit

to a course of study before you're

sure it's what you want.

As we grow older it becomes

increasingly difficult to make

friends so volunteering is a

great way to widen your social

networks and meet people from

different walks of life who may

share similar interests.

Contact libraries, museums,

art galleries, national parks, or

animal shelters, or rotary clubs,

or register with Volunteering

Canterbury (www.volcan.org.

nz) where you'll find a huge

variety of environments to learn

and develop new skills, meet

new people and increase your

happiness.

PUBLISHER Star Media

PO Box 1467 Christchurch

03 379 7100

FEATURE & SUPPLEMENT MANAGER Jenny Wright ADVERTISING Bev Stanger

EDITORIAL & DESIGN Majka Kaiser FRONT COVER Rachel Taylor

For advertising in the next issue please contact Bev on 03 364 7407.
---
Mobilising Cantabrians

3

Aspire Canterbury

offers support, advice

and resources to older

people and those with

impairments. Their

practical assistance is

warm and friendly and

acts as a welcoming hub

for people with disabilities

and mobility issues, their

families and caregivers.

Removing barriers

to everyday living for

individuals, Aspire

Canterbury inspires

people to live life to the

fullest no matter what

their difficulties. The

Disability Information

Service (DIS) is a source

of valuable information

about the various

services available to

people with short or

long term impairments,

to individuals and

professionals from

community organisations.

Aspire Canterbury now

has a mobile service which

is available for free fun,

interactive presentations

of all their equipment

and services to retirement

homes and villages and

any other community

groups.

Visit Aspire Canterbury's

shop at 314 Worcester

Street or visit their new

and improved website at

www.aspirecanterbury.org.

nz for their Community

Services Directory which

contains contact details

of over 300 Canterbury

support organisations, an

online shop selling a wide

selection of easier living

aids, and rental services

for wheelchairs, ramps,

walkers, and venue hire.

Support and Resources

for Independent Living

2015 NZ Disability

Information Centre

of the Year

Can we help you or someone you support?

Disability Information Service – a 'one stop information service' which offers unbiased

advice to assist people navigate their way to organisations or services that can provide

them with support or advice.

Aspire Canterbury Shop – shop online or call in to our

shop at 314 Worcester Street and view our range of easier

living products We also hire out wheelchairs, ramps and

walkers.

Total Mobility Discounted Taxi Service – a scheme which

provides 50% discounts on taxi journeys to eligible people

in the Christchurch area who, due to health conditions, are

unable to access public transport. Contact us for more information on 03 366 9093 or

visit our website.

New Mobile Service – Fun interactive presentations of our information, services and

easier living equipment. We come to you! To book our presenter to speak to your group

call Shannon at numbers below or email mobileservices@aspirecanterbury.org.nz

Mobility scooter demonstrations available.

walkers to

purchase

(FroM $230)

or hire

$20

per week

Aspire Canterbury is a not-for-profit organisation providing services to the

community since 1981

Physical Address: 314 Worcester Street, Linwood, Christchurch

Postal Address: PO Box 32074, Christchurch 8147

Ph: 03 366 6189

Freephone: 0800 347 242

Ph: (Total Mobility) 03 366 9093

Mobile Service: 022 140 8213

E: admin@aspirecanterbury.org.nz

W: www.aspirecanterbury.org.nz
---
House of Hearing is proudly

independent and locally owned.

Hearing loss generally develops slowly over

many years and the effects become apparent

only gradually. This makes it difficult for those affected

to recognise that they are actually suffering

from a hearing impairment. Relatives, friends

or colleagues are often the first to realise that

something is wrong. You may have a hearing impairment

if you frequently ask people to repeat

what they have just said, or you play your music

or television loud enough for family and friends

to comment.

Hearing loss is not something to be taken lightly.

It is important to do something about it, sooner

rather than later. Hearing is no different to any

other part of the human body: it requires exercise

and stimulation. Hearing stimulates and

trains the brain. If this stimulus is taken away,

hearing not only gets progressively worse but

the understanding of speech will also start to

deteriorate. A hearing instrument helps to maintain

neural pathways in your brain responsible

for hearing all the sounds around you.

If you've been having doubts about your hearing

or you are concerned about hearing impairment,

then now is the right time to have it checked.

Being concerned about your hearing is natural,

so get the answers you need in a clear, easy to

understand way and this is where House of Hearing

can help.

House of Hearing is proudly independent and

locally owned. Our hearing care professionals will

find you the best treatments from the full range

of available solutions, including tinnitus management,

rehabilitation, counselling, and hearing aids

from all leading manufacturers.

House of Hearing has many clinics located in and

around Christchurch, Blenheim, Ashburton and

Greymouth. Please don't put it off any longer,

call us today toll free on 0800 333 606.

CLINIC PHONE CLINIC PHONE

Ashburton 03 307 8949 Papanui

Blenheim 03 579 5353 Rangiora

03 310 7355

Halswell 03 322 4326 Greymouth

Fendalton 03 351 3535 Hokitika

Westport

03 768 5528

House

of

Hearing

100% NZ Owned

& Operated
---
Freedom

to learn & explore

5

As a parent herself, Tiny Tots

Nursery and Preschool owner

and operator, Rebecca Ellis

knows only too well how

important your child's welfare

and learning is.

For the highest quality

care and education for your

children Tiny Tots Nursery and

Preschool is a privately owned

and family operated centre that

ensures peace of mind through

their commitment to your

child's needs.

"Over the years I've found

that the best results for happy,

socially well-adjusted children

who are free to explore

and grow, come from an

environment that has flexible

routines, changing challenges

and a caring professional

qualified, experienced teaching

team," says Rebecca.

Tiny Tots provides a safe and

secure environment in which

children can learn, create

and grow to the best of their

abilities.

Observing the children at

play the teachers communicate

with both parents and the

teaching team in order

to develop an individual

programme tailored to each

child's unique needs. This

helps the children to extend

their learning and enhance

their development in an open

learning environment.

Tiny Tots is a small, homely

centre with a real family feel

and has a great open plan

environment both indoors and

out. Children are provided

NEED CHILDCARE?

with high quality equipment,

resources and facilities to

support each child's learning

and development.

Teachers encourage

parents to spend time with

their children in the centre,

especially to help them settle

in, which also helps parents

to discover how the centre

operates throughout the day.

Parents and children are

welcome to visit Tiny Tots at

148 England Street in Linwood

or phone 3896851.

• Full day, half day sessions and full time

• Caring for children birth to 6 years

• Fully qualified, registered and experienced teachers

• Quality child ratios

• Free ECE and subsidies available

• Large indoor and outdoor environment

• Quality programmes and care for your child's individual needs

Hours open - 7am to 6pm

• Helping children reach their full potential.

Tiny Tots Nursery and Preschool provides a safe and secure environment in which children can learn, create and grow to the best of their abilities.

Tiny Tots has an open plan environment both indoors and out and seeks to provide high quality equipment, resources and facilities to support your child's learning and

development for now and the future.

Our programme is based around each child's individual interests, needs or development and this is formatted through the teachers and parent's communication together.

Enrol your child now to our warm, fun, homely learning environment.

Please don't hesitate to visit us or call us if you would like further information.

Call us now (03) 389 6851 | www.tinytotspreschool.co.nz

148 England Street, Linwood, Christchurch

Email: tinytotspreschool@xtra.co.nz
---
6

Golden Opportunity

Development on the latest

complex from the Golden

Healthcare Group, Lady

Wigram Retirement Village, is

now well underway. The $80m

state-of-the-art care complex

occupies 5.7 hectares at the new

Wigram Skies development.

Currently in its first stage of

development, Lady Wigram

will eventually have 101 villas,

73 apartments, a rest home,

hospital and dementia facilities

and amenities within the village

will include a village community

centre, bowling greens, a

swimming pool, a spa, a gym, a

theatre, and a hair salon.

Located in the vicinity of

the new Wigram town centre,

The Landing, and the Wigram

Airforce Museum, village

residents will find safe and easy

access to all the local amenities

via adjoining walkways.

The first time Golden

Healthcare has constructed a

retirement village from scratch,

owner John Tooby says this is

"a very exciting project" they're

embarking upon.

The new retirement village

promises to be an extremely

attractive complex with all the

comforts of modern life. Stage 1

and 2 villas which are currently

being sold come complete with

whiteware, double-glazing, heat

pumps, and a gas fire to keep

you cosy and warm, and have

fibre optic cabling for speedy

internet.

"Our aim is to provide

first class quality facility in a

desirable location," says Tooby.

For enquirires regarding the

last few remaining Stage 1 villas

or further information on Stages

1 and 2 contact Sarah Jacobson

on 027 341 1464.

Community Connection

Social interaction or lack thereof

can have a major impact on

older people's quality of life. If

you or a loved one you know

is feeling a little lonely or

could benefit from more social

contact, Age Concern can help

with their Social Connection

Service.

Age Concern staff, alongside

volunteer hosts and drivers are

there to provide transportation

and companionship for isolated

people to facilitate engagement

with the wider community.

Watching the world of a loved

one shrink due to memory

impairment, frailty or social

isolation is heart breaking.

Presbyterian Support's

Enliven Day Programmes

provide interesting, abilityappropriate

activities for frail

elderly, who are sociallyisolated

or memory-impaired.

Offering two one day activity

programmes; the Harakeke

Club helps people with

Alzheimer's or related dementia

Visits to a local cafe, garden

centre or the museum can be

arranged or can visit a person

in their home for morning or

afternoon tea.

Age Concern welcomes

interest from anyone keen to

join the minibus service as a

client, or volunteer their time

to become a driver (no special

license required) or hosts or

hostess. Please contact www.

ageconcern.org.nz or call 03 366

0903 for further information or

to make a donation.

Enliven the Elderly

remain socially active, and the

Totara Club provides isolated

or frail older people with an

opportunity to meet others and

socialise with others.

Transport is available to

and from the clubs and a

midday meal and morning and

afternoon tea are provided.

Purpose-built facilities are

staffed by trained professionals

and operate five days a week.

Call 03 366 5472 or visit

www.enlivenuppersouth.org.nz.

A Leader in

Heathcare

Excellence for

the Older Person

Golden Healthcare Group

Age Concern Canterbury

provides advocay, information

and confidential services for

people over 60.

Services Include:

• Home Support & Maintance • Earthquake Support

• Social Outings • Visiting Service • Information

• Community Health (Nursing and social work)

• Elder Abuse & Neglect Prevention

Ph: 366 0903

24 Main North Road, Papanui, Christchurch

www.goldenhealthcare.co.nz
---
Online Shop New to Nurse Maude 7

Nurse Maude's Health and

Mobility Shop in Wairakei

Road has long been the goto

shop for those requiring

specialised products and

equipment that allow them

to live as independently as

possible in their own home.

Now many of the same

diverse range of specialised

products are available online.

"Nurse Maude's online

Health and Mobility Shop has

proved to be very popular,"

says Nurse Maude's general

Marketing Manager, Sue

Bramwell.

"Life is busy enough without

having to schedule one more

trip into your day, especially

when you're working. The

online shop is open 24 hours

a day, seven days a week and

it only takes a few minutes to

order what you need and have

it sent."

Nurse Maude's online

Health and Mobility Shop

has created a strong following

in rural and remote areas

where being able to access

specialised products often

means a long trip to the

nearest town.

"This way it's as simple as

click, buy and have it delivered

to your door," says Bramwell.

"It's ideal for people who

regularly shop online, those

shopping for aging parents on

a regular basis or those who

simply like the convenience of

home delivery."

For those who like to shop

in person Nurse Maude's

Health and Mobility Shop has

a huge range of incontinence

and allied products with new

items added regularly as they

come on the market.

The staff at Nurse Maude's

Health and Mobility Shops

work closely with Nurse

Maude's Specialty Clinic

nurses and suppliers to make

sure the expertise, advice and

support customers may need

is readily available.
---
8

Smile with

confidence

With 12 clinics from Kaiapoi to

Invercargill, Duchenne Dental

provides a modern, professional

and welcoming service to their

clients throughout Canterbury

and the South Island.

The team at Duchenne Dental

offer first-time and replacement

full and partial dentures. With

the aid of digital scanning

technology they also hand craft

high-end aesthetic and precision

fit dentures.

All products are constructed

with injection moulded acrylics

and elastomers. This means

a greater effort is placed on

creating a comfortable and well

aligned finished denture. This

is to ensure patients who wear

dentures made by Duchenne

will have confidence to eat, talk

and smile naturally.

Experienced technicians

also work on the protection of

remaining natural teeth with

custom fitted mouth guards.

This is a must for those in

contact sports like rugby. A

custom fitted mouthguard

provides far more protection

and a superior design to the

stock " boil and bite" products.

Not only is Duchenne Dental

concerned with protecting teeth

or replacing missing teeth, the

experienced team are equally

dedicated providers of dental

services, which allows the team

to assist those who suffer from

snoring or sleep apnoea.

With approximately 50-60

per cent of all adults affected

by snoring, this problem can

be minimised and treated with

snoring appliances, designed

and crafted at Duchenne Dental.

With the latest in technology

and crafting techniques,

patients can entrust their smile

and dental care to the dental

professionals at Duchenne. Visit

www.duchenne.co.nz to find

your nearest clinic or call 03 375

4444 to book a complimentary

consultation.

One step at a time

Why struggle with your stairs and

feel limited in your own home

when a stairlift can restore your

freedom and independence?

Installed somewhere in the

world every nine minutes,

Acorn Stairlifts have become

a household name in quality

and safety. With more than 20

years experience and knowledge

Acorn is a British company that

has made stairlifts stylish, easy to

use and affordable.

Made with the highest quality

British engineering Acorn

Stairlifts are designed to be easy

to use, comply with the most upto-date

stairlift safety standards,

and are amongst the smoothest

and quietest systems available on

the market. Dealing direct with

the New Zealand office based

in the heart of Auckland, each

stairlift is delivered directly from

one of their three UK factories.

Cutting out the middle man,

Acorn ensures the customer

receives the best possible service

to which their thousands of

customers around the world

have testified to, echoing the

sentiments that they have been

"installed expertly and efficiently"

and have helped them regain their

mobility in their own homes.

With straight, curved and

outdoor options available, there

is a solution for almost every

staircase. Contact Acorn Stairlifts

to discover how your life can

be made easier one step at a

time. Visit them online at www.

acornstairlifts.co.nz for a free

quote or call 0800 782 404.

EAT

TALK

SMILE

Live life confidently with advanced

dental and denture care.

Canterbury's leading company specialising

in complete denture services.

Regain the

freedom of your

home with an

Acorn Stairlift

• For straight or curved

staircases

• Indoor and

outdoor lifts

• Free home assessment

• Fast installation

• Safe and reliable

www.duchenne.co.nz

Merivale 03 375 4444

Beckenham 03 375 4443

Fendalton 03 375 4449

Linwood 03 375 4448

Kaiapoi 03 375 4442

QEII Dental 03 388 0881

Dentistry with a Smile 03 338 8210

Halswell Dental 03 322 9577

All Acorn Stairlifts

carry the Arthritis

Foundation's

Ease-of-Use

Commendation

FOR FREE BROCHURE & QUOTATION

0800 087 050

FREE DVD Guide to Stairlifts
---
Living with hep C

Since 1998 Hepatitis C Resource Centre has been

actively raising awareness and providing support for

those affected with hepatitis C in New Zealand.

15 years ago treatment was less effective and with

many people experiencing debilitating side-effects,

which often caused illness worse than the disease itself,

but now there is medicine available in New Zealand

that has proven to be an effective cure in more than

90 percent of treated patients and new Direct-Acting

Antivirals (DAAs) will shorten treatment time, contain

very few side-effects and have been proven to cure up

to 100 percent of some strains of hepatitis C.

As there are still many people with latent infections

who are unaware that they have hepatitis C,

possibly because they have never been sick with it,

it is important people are tested so they can receive

treatment and avoid passing it on to others.

Given that 75 percent of people living with hepatitis

C were born between 1945 and 1965 the Hepatitis C

Resource Centre urges people from the Baby-Boomer

generation to get tested; especially if you have ever;

shared injecting equipment with others (even just

once); had a blood transfusion in New Zealand prior

to July 1992; or received a potentially unsterile tattoo

or piercing.

Those who work at the centre have personal

experience of living with the virus and most have been

successfully treated.

Visit www.hepcnz.org for more information, drop

into the Christchurch clinic at 301 Tuam Street or call

the national helpline on 0800 22 HEPC (0800 224372)

to start the conversation today.

Don't Worry

Be Happy

Being happy and healthy is

important for everyone. The

Mental Health Education and

Resource Centre (MHERC)

connects people with a range

of information and services to

support people to stay well.

MHERC provides a free

mental health library, produces

an annually updated Canterbury

Mental Health Directory, and

can connect you with mental

health support groups and other

organisations in Christchurch.

The Centre also offers a range of

professional development courses

about wellbeing, mental health

and addiction.

MHERC has been supporting

people in Christchurch for over

21 years, helping Cantabrians

find the right services to support

them and their loved ones, and

providing information and

community education to enhance

wellbeing. Whether you are

concerned about someone you

care for, dealing with mental

illness yourself, working in the

mental health sector, studying, or

seeking a deeper understanding

of wellbeing and mental health

issues, MHERC's library has a

range of resources.

The Centre's free public library

has over 3,300 items and covers

topics such as; relationships

(raising teenagers, working with

difficult people), mental illness

(anxiety, depression), wellbeing

(happiness, positive psychology),

practical resources (mediation

and relaxation DVDs), children's

resources (coping with grief) and

much more. Their friendly staff

will help you find what you are

looking for.

You can search MHERC's

online library catalogue and

directory at www.mherc.org.nz

and visit 116 Marshland Road in

Shirley Monday-Friday 9.00-

4.30pm.

9
---
10

Safe Haven for Women

Saving Lives

Would you know what to do in

an emergency? St John is one of

the leading providers of first aid

training in Canterbury. Teaching

people first aid skills is critically

important - first aid can help save

a life.

St John began in New Zealand

130 years ago and was started by

community-minded people who

were eager to promote first aid

skills and training to the public.

Saving lives and helping others

was very important to them and

still is.

They believe everyone

should have some level of

first aid ability, as accidents

and medical emergencies can

happen anywhere, anytime. St

John First Aid courses provide

the necessary knowledge and

confidence to provide effective

first aid whenever it's required.

Courses range from basic

first aid training and industryspecific

modules through to

advanced resuscitation for

hospital employees. Booking

is easy either with a scheduled

course or group bookings can be

arranged at St John or your own

home.

If you would like to know what

to do in an emergency and would

like to save someone's life, a first

aid course with St John's qualified

instructors will ensure you have

all the skills you need when the

time comes to save someone's life.

Visit www.stjohn.org.nz/

firstaid or phone 0800 FIRST

AID (0800 347 782) to book your

first aid course today.

The Women's Centre has been a

pillar of support to the women

of Christchurch for 30 years.

Unique in the broad range

of services the Women's Centre

provides, it offers women a

safe, supportive, affirming,

and women-only environment

where they can come to enjoy

social interaction, share

information and resources and

receive in-depth one-to-one

counseling sessions.

For many women the centre is

a place to work through difficult

issues, find support, gather

information, or simply a safe

haven where they can rest before

going out into the world again.

Offering extensive networks

the Women's Centre can

provide information and links

to appropriate agencies and

organisations who can offer

further, and sometimes more

specialised, assistance.

Helping women to feel safe,

well informed, accepted and

confident, the Women's Centre

plays a vital role in women's lives

to help them become a positive

influence for their children,

family and friends, and the

wider community.

Help available for New

Zealand Superannuation

clients this winter

• Purchasing a heat source

There may be assistance for the cost of purchasing a portable heater.

• Heating costs

Assistance may be available to provide help with additional electricity, gas

or heating costs that a person has because of an on-going disability.

• Assistance with heating costs

There may be recoverable assistance available for electricity, gas or

firewood.

Note - Applicants must meet a number of criteria.

Seniors clients can access further information on the Ministry of Social

Development website www.msd.govt.nz click on - What we can do for

Seniors, or phone us on 0800 552 020.

Are you prepared?

St John encourages everyone in

the community to learn skills to

look after themselves - and others.

Do a St John First Aid course - learn

how to help someone else.

For more information, call

0800 FIRST AID or

visit www.stjohn.org.nz

Drop in Mon to Fri 10am -2pm

573 -579 Colombo Street, near South City

Phone 371 7414 / 022 105 530 (9am - 4pm)

Website www.womenscentre.co.nz
---
A New Concept in Health

11

Longhurst Allied Health is a new

purpose-built medical centre

in Halswell that offers a broad

scope of health and medical

services under one roof.

Each specialist, who is also

an ACC Authorised Provider,

works in close collaboration with

one another and together with

the GP staff at Halswell Health

and Longhurst Health to provide

optimal care for their patients.

Acupuncture and Chinese

medicine offers a proven,

3000 year-old system of health

care and maintenance which

approaches every person as an

individual, holistically. They are

ACC authorised providers for

injury recovery and specialise

in all chronic conditions of the

body and mind.

Longhurst Chiropractic

and Little Spines offer general

chiropractic services and

specialist chiropractic care for

pregnant mothers, newborns

and teenagers, and also treat

problems with the extremities.

The Longhurst Hand Clinic

provides specialised hand

rehabilitation services for

injuries affecting the hand,

wrist, forearm and elbow, as

well as non-injury conditions

including osteoarthritis and

carpal tunnel syndrome.

Longhurst Physiotherapy

offers a full range of services

that include treating sports

injuries, post surgery

rehabilitation, spinal problems

and work related injuries.

Longhurst Podiatry treats

a variety of foot and ankle

disorders, which include;

Achilles and ankle injuries, heel

pain, in-grown toenails, painful

corns and calluses, verrucae,

diabetic foot care, and children's

foot problems.

Canterbury Speech and

Language Therapy offers

assessment and evidence-based

treatment for a wide-range of

speech and language difficulties

for children and adults.

Contact the team on 03 595

0050 or find out more at www.

longhurstalliedhealth.co.nz.

Longhurst Allied Health

Allied health is a team of health care

professionals dedicated to both

medical and proactive health services

for the community.

The Allied Health team includes:

53 Caulfield Ave, Halswell, Christchurch

Acupuncture &

cHinese Medicine

Offering professional care

using a proven, 3000

year-old system of health

care & maintenance which

approaches every person as

an individual, holistically.

We are ACC authorised

providers for injury recovery

and specialise in all chronic

conditions of the body and

mind.

cHiroprActic

cAre

Registered ACC provider

and an extremity listed

chiropractor, in addition to

examining the spine and pelvis

we are registered to examine,

diagnose and if appropriate

treat problems involving

the feet, ankles, knees, hips,

hands, wrists, elbows and

shoulders.

hand theraPy

The Longhurst Hand Clinic

provided specialised hand

rehabilitation services for

people with injuries affecting

the hand, wrist, forearm

and elbow, as well as noninjury

conditions including

osteoarthritis and carpal

tunnel syndrome.

PhysiotheraPy

Our physiotherapists will

guide you through your

journey to wellness with our

range of physio services.

Whether you are struggling

with post-op rehabilitation, a

sports injury or general wear

and tear, our experienced

team at Halswell Physio are

here to help.

Podiatry

At Longhurst Podiatry we

treat all foot and lower limb

problems big or small. We

treat a variety of foot and

ankle disorders, some of which

include; Achilles and ankle

injuries, heel pain, in-grown

and difficult to cut toe nails,

painful corns and calluses,

verrucae, diabetic foot care,

and children's foot problems.

sPeech & language

theraPy

Our goal is to help those who

are struggling with various

communication disorders.

We pride ourselves on

providing the best possible

evidence-based therapy and

professional services.

Although we are based at

Longhurst Health, home and

school appointments can be

provided in the Christchurch

and Ashburton areas.

The Allied Health Team can be reached at 595 0050 or online at

longhurstalliedhealth.co.nz for information and bookings.
---
12

Bitten by the Bookworm

Now that we are finally within winter's icy grip, there's nothing better than snuggling up with a

good book to delve into when the dark descends.

Whether it's a romance

or thriller to while away

the evenings or weekends,

your local library is a great

resource for books and

much more.

Music and movies

are also available at a

fraction of the cost to rent

rather than buying them,

downloading, or renting

from the DVD store and

makes entertainment much

more affordable for the

whole family.

Take advantage of dreary,

wet weekends by setting

yourself a fun project

such as learning a new

hobby. If you don't know

where to start, begin by

browsing their diverse

selection of eBooks, audio

books, DVDs, videos,

CDs, and magazines

to give you some great

ideas. Creative pursuits

include needle crafts,

aircraft modelling, beer

brewing, woodworking,

bookbinding, stone

carving, or jewellery

making, to name just a

few. There are plenty of

DIY books to keep you

occupied after work and

on the weekend. There's

something for the kids too,

with a range of arts and

crafts books, which give

you and your family a fun

and affordable alternative

to going out or blobbing

in front of the TV. It's

surprising how your old

magazines, newspapers,

and toilet rolls can be a

cheap source of creativity

while nurturing your

child's imagination.

Fascinated in family

history? Why not embark

on a journey of discovery

by delving into the library's

archives? Offering a wealth

of local information about

our city's history, through

imagery, old newspapers

and periodicals from 1839

to 1945, alongside other

useful documentation

and resources, to help you

track your ancestry or fill

in any gaps. Visit one of

the dedicated research

computers at the Family

History Centres at the

two Central Libraries

in Manchester and

Peterborough Streets, as

well as the Upper Riccarton

and Fendalton Libraries.

If you're looking to

progress your career the

library is a great source of

educational material and

contains valuable resources

to give you a great head

start. Learn how to create

a successful CV, research

a prospective employer by

investigating the company's

background or explore

the limitless realm of new

career options from their

extensive database located

in libraries and online.

Christchurch City

Libraries have Learning

Centres to provide every

generation with innovative

programmes within a fun

learning environment.

Facilities include meeting

rooms, computer labs

with webcams, data

projectors and video

conferencing. A range of

community programmes

are offered throughout

the year and include

after-school programmes

and programmes for

pre-schoolers and during

the holidays. Pick up a

brochure from one of the

four Learning Centres in

selected libraries or view

the timetable online.

Accessing information,

services, catalogues, and

databases has never been

easier now that much of

the legwork can be done at

home from your computer.

Their comprehensive,

user-friendly website has all

you need to know at your

fingertips. You can even

access their live chat line,

LiveOnline, for assistance

9am to 8pm on weekdays,

9am to 5pm at weekends.

For a full list of all

Christchurch City Library

locations, visit www.

christchurchcitylibraries.

com.
---
Red Cross Urgently Needs Volunteers

A significant volunteer shortage is

forcing New Zealand Red Cross to

create waiting lists of vulnerable

people needing to access its

community transport services.

Since beginning in July 2013 the

community shuttle vans have

become increasingly popular.

However, due to a chronic shortage

of drivers, the service is working at

capacity and Red Cross staff are

having to create waiting lists for

those needing to use the service.

"As people and agencies become

aware of our transport service

we're experiencing a significant

increase in demand that we

currently cannot meet," explains

Red Cross Community Transport

Coordinator Vicki Pooley.

"It's so hard having to say 'not at

the moment' to helping someone

in genuine need, due to a lack of

volunteers for us to draw on. Our

volunteers are the backbone of the

organisation; they're committed,

passionate and always return with

big smiles on their faces after a

day on the road."

Volunteers' level of commitment

for both programmes is flexible

from one day a month to several

days a week. The programmes are

run daily Monday to Friday.

For more information or to get

involved, ph 339 7978 or email

vicki.pooley@redcross.org.nz

Drivers are also needed across

the city for the Meals on Wheels

programme.

Meals on Wheels has operated

in Christchurch since the early

1950's and currently Red Cross

drivers deliver approximately

750 hot meals per day.

However the programme is

more than the delivery of a hot

meal, for many recipients it is

the friendly smile and chat that

means so much, in fact for

many recipients the delivery

person may be the only other

person they see that day.

If you can spare 2 hours

a week, fortnight or

month, please phone

03 339 3759 or email

chch.mow@redcross.org.nz

New Zealand Red Cross needs you!

Volunteers are the heart and soul of the Red Cross and and you you could be be the the person we're we're looking looking for. for.

We urgently need:

We urgently need:

ɠ Meals on Wheels drivers. This service provides home-delivered hot lunches on weekdays. The regular social contact and

Meals nutritionally Wheels balanced drivers. meals help This support service vulnerable provides people home-delivered in their homes. hot lunches on weekdays. The regular social

ɠcontact Community and Transport nutritionally drivers. balanced This service meals offers help a support lifeline to vulnerable people who cannot people access in their private homes. or public transport, enabling

Community them to meet Transport appointments drivers. and activities This service across Christchurch. offers a lifeline We will to provide people you who with cannot AA training access to drive private the or vans. public

ɠtransport, Outreach volunteers. enabling them If you to have meet good appointments communication and activities interpersonal across skills and Christchurch. a flexible attitude, We will we need provide you to you help with us

AA with training outreach to activities drive the such vans. as door-knocking and support roles at Red Cross events.

All outreach and community transport volunteers receive First Aid and Recovery Matters training.

All community transport volunteers receive First Aid and Recovery Matters training.

Call us now on (03) 339 3759 or 0800 Red Cross (0800 468 873)

Call or visit us now www.redcross.org.nz

on (03) 339 7978 or 0800 Red Cross (0800 468 873)

or Alternatively, visit www.redcross.org.nz

drop in to 1 Magdala Place, Christchurch to discuss

opportunities in your area.

Here for Good
---
14

Stimulate

Mind, Body

& Spirit

Unfulfilled at work? Yearning for more social

connections? Stuck in a rut? If these niggling

questions have been bothering you then signing up

for a community course could be just

the answer you've been looking for.

Instead of slumping in front

of the TV the minute you get

home from work, why not

stimulate your senses, fast

track your career, master a

new skill, take up a new hobby,

or join your local sports club

and widen your social circle,

by attending one of the many

community based courses

around Christchurch.

Explore something new,

challenge yourself by building

on your existing knowledge,

or simply do something you've

always dreamed of doing, but

have never made the time for.

There are a great selection

of affordable part-time and

full-time community based

courses, offering a wide

variety of subjects and training

programmes for all ages and

abilities, run by qualified tutors

from schools, polytechnics, and

community centres around

Christchurch.

Looking for an engaging

activity I could pursue using

a bundle of vintage fabric I

had collected over the years,

I signed up for an eight week

sewing course.

Revitalising my home décor,

I made my own cushion covers

for a fraction of the cost of

store bought ones, whilst

learning new skills and making

new friends.

A friend of mine decided to

boost her confidence and step

outside her comfort zone by

taking an evening burlesque

class. Learning new skills has

increased her confidence in a

fun environment with other

women, with whom she has

made a new circle of friends.

Community Information

Christchurch (CINCH - www.

cinch.org.nz) is an online

community directory of clubs,

community organisations

and continuing education

course providers in the greater

Christchurch area.

Established by Christchurch

City Libraries in 1981, CINCH

is an excellent resource,

which includes more than

5,800 listings offering day

and night courses in arts

and crafts, music and dance,

languages and cultural studies,

occupational training, personal

development, sports and

recreation, and also includes

a comprehensive list of citizen

and consumer agencies.

All listings provide detailed

information, including course

details, location and maps,

course tutors and contact

details, and links to further

information.

Improve your career

prospects or explore a change

in career direction by taking

one of the diverse occupational

courses on offer. Employers

are often willing to invest in

the continuing education of

their employees, so it pays to

ask and they may be happy

to pay for training. There are

also many on-line training

programmes available through

a number of educational

institutions.

Boost your confidence,

improve your health, and

increase your energy levels

by joining a sports club or

participating in one-on-one

recreational activities. With

winter just around the corner,

why not join an indoor sports

team and explore a new

pursuit, which could become

a life long passion while you

widen your social circle.

Seeking a thrill and a

little adventure, why not

try abseiling, caving, motor

sports, hunting, flight training,

kite surfing, or paragliding?

Improve your fitness in a fun,

non-competitive environment

by becoming part of a social

sports team (either mixed or

single sex teams) in a number

of team sports like basketball,

cricket, hockey, netball,

roller derby, rugby, or soccer.

Prefer one-on-one training to

achieve your personal best?

There are many opportunities

to improve your skills and

challenge your limitations with

personal coaching available

across a number of recreational

activities.

Those with mental or

physical disabilities are also

catered for with the likes of

basketball, tennis, and rugby

for those in wheelchairs,

and a wide range of social

sporting activities for those

with other impairments,

including archery, blokarting,

sailing, bowling, cycling, judo,

swimming, running, and even

fencing, to name just a few.

Personal development

courses offer a large choice

of topics for exploration,

including achievement

motivation, bible studies and

spirituality, communication,

creative, travel, and fiction

writing, driver education,

employment re-entry, goal

setting, life skills, mentoring

in business, phobias,

self-confidence, stress

management, and general wellbeing,

alongside many others.
---
Positive Start for Kids

15

What lies behind us &

what lies before us are

tiny matters compared

to what lies within us

Buddha

Kids' Role Models

Since 1987 Lindisfarne Nursery

School has provided full time,

part time, and casual enrolment

opportunities for children giving

parents optimum convenience.

Fostering a love of learning,

a respect for all, and a sense of

confidence and self worth, are

values upheld by the caring staff

at Lindisfarne Nursery School.

Providing children with

learning experiences tailored

to their individual needs and

interests, the teaching programme

promotes independent

thinking, core skills, and social

development. Encouraging

happy, secure, and confident

children, parents can rest assured

their children receive the best

foundation for a lifetime of

successful learning at Lindisfarne

Nursery School.

Located at 375 Worcester St,

Linwood, Lindisfarne welcomes

parents and their children to visit.

Visit www.lindisfarnenursery.

school.nz or call 03 389 2483

for more about the programme,

menus, and school philosophy.

Positive role models are

important to child and

adolescent development. Events

or circumstances simply make

some children or young people

more vulnerable to negative

influences, which is where

mentors can help.

Family Works mentors are

reliable, motivated individuals

with the desire to enhance the

well being of children. Volunteer

mentors range in age from midtwenties

to the over-sixties and

come from diverse backgrounds

bringing a variety of interests,

skills and talents.

Many Family Works mentors

maintain contact with their

mentees into adulthood.

If you have the desire to give

back to the community, have

patience, humour and the ability

to relate well to younger people,

call 03 366 5472 or visit www.

familyworksuppersouth.org.nz

for more information on how

you can make a difference.

• Central location

• Cooked healthy heart meals

• Large private outdoor play area

• Casual care available

• Enrolments available now

• 7.30am - 5.30pm Monday to Friday

EST 1987

389 2483

375 Worcester Street • Christchurch
---
16

Keep cool till after school

CASPA (Creative After School

Programmed Activities) offers

children the opportunity to

be creative, build valuable

friendships, and engage with

new experiences within a

safe, nurturing environment.

Offering working parents

affordable after-school and

school holiday programmes,

CASPA is just as popular with

the kids as it is with their

parents.

CASPA offers parents

convenience and affordability,

while giving children a wide

range of activities to engage

with including sports, music,

games, drama, arts and crafts

as well as organised fun trips.

Previous themes and activities

have included a Karaoke

Dance Party, The CASPA Fear

Factor, Healthy Art, and Out

of Africa, just to name a few.

Parents who choose to

enrol their children in

CASPA enjoy peace of mind,

knowing their kids are safe

while enjoying the benefits

of a quality after-school

programme.

With a dozen locations

across the city, including

Youth Holiday Programmes

at Breens Intermediate in

Bishopdale, there is sure to be

a CASPA near you.

CASPA is approved by

the Ministry of Social

Development for the

OSCAR Subsidy and in

some circumstances, the full

CASPA fee may be covered

by the subsidy. For a list

of eligibility criteria, those

seeking assistance can contact

their nearest WINZ centre.

For further information or to enrol, call Caroline, Rachel

or Tania on 349 9260 or visit www.caspa.org.nz.

CASPA

After School

& Holiday Programme

Your friendly childcare solution

Creative

After

School

Programmed

Activities

• We provide a safe, creative

environment for 5-13 year olds

• Our staff are trained

• A range of fun activities

• 7.15-8.30am and 3-6pm Mon-Fri

• 8am-6pm Holidays

• Kids just LOVE it!

cALL us

nOW

P: 349 9260 or 027 352 1638

E: info@caspa.org.nz

W: www.caspa.org.nz

Subsidies

Apply