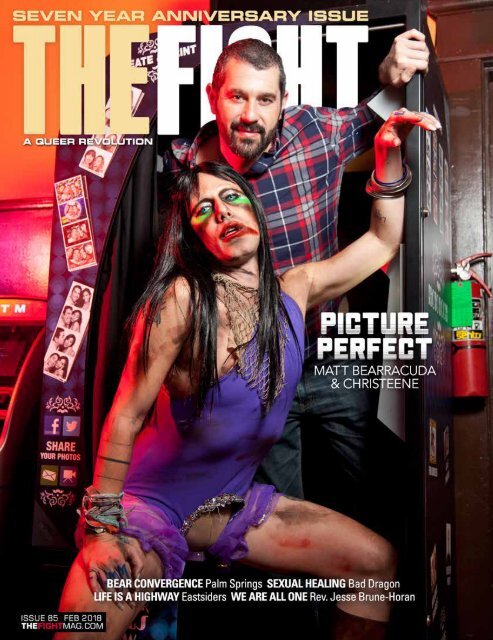 THE FIGHT SOCAL'S LGBTQ MONTHLY MAGAZINE FEBRUARY 2018
You also want an ePaper? Increase the reach of your titles
YUMPU automatically turns print PDFs into web optimized ePapers that Google loves.
FEBRUARY 2018 | THE FIGHT 1
---
2 THE FIGHT | www.thefightmag.com
---
www.newhair.com

info@newhair.com

NEW HAIR

INSTITUTE

Scott is a

real SMP patient

NHI

11620 Wilshire Blvd. Suite 280, Los Angeles, CA 90025

FEBRUARY 2018 | THE FIGHT 3
---
THECONTENTS

ON THE COVER

MATT "BEARRACUDA" CONSOLA,

CHRISTEENE

COVER PHOTO, TOC PHOTO

AND FEATURE PHOTO BY

DUSTI CUNNINGHAM

FEATURES

16 A CRISIS OF HATE

A TREND IN RISING VIOLENCE

22 IT'S RAINING BEARS

INTERNATIONAL BEAR CONVERGENCE

24 LOVE ACTUALLY

LOVE STORY GOES VIRAL

26 PICTURE PERFECT

MATT "BEARRACUDA" CONSOLA AND CHRISTEENE

28 CHAMPION OF SISTERHOOD

THE DINAH WELCOMES MADAME GANDHI

30 LIFE IS A HIGHWAY

EASTSIDERS' KIT WILLIAMSON AND JOHN HALBACH

34 OPENLY BOB

COMEDIAN BOB SMITH, RIP

38 SEXUAL HEALING

BAD DRAGON'S DEREK YOUNG

40 WE ARE ALL ONE

REVEREND JESSE BRUNE-HORAN

43 ADVANCING SOCIAL CHANGE

THE ONE ARCHIVES FOUNDATION

DEPARTMENTS

09 THE LETTERS READERS RESPOND

10 THE TALK ADAM RIPPON

12 THE STATE NEW ATTACK

14 THE CITY VICCKY GUTIERREZ, RIP

18 THE ROSTOW REPORT FAMILY VALUES

21 THE TRANSACTION THE OSCARS

36 THE SHARE LOCAL RECOVERY

41 THE EPIDEMIC NEW TEST

42 THE ART LOCAL ARTISTS

44 THE EVENT OUT & ABOUT

48 THE CALENDAR THINGS TO DO

50 THE FINAL FIGHT LAST WORD

4 THE FIGHT | www.thefightmag.com
---
Honda of Hollywood

138 S Glendale Ave, Glendale, CA 91205

New Owner, New Attitude.

New Ownership,

New Management

WHOLE

NEW

ATTITUDE!

We Have A Huge Inventory

So We Can Give You

The BEST DEALS!

6 THE FIGHT | www.thefightmag.com

PROUDLY

SERVING

THE LGBTQ

COMMUNITY!

Call NOW—Mention

THE FIGHT For A

Special Pride

Discount!

TEL: 866-632-4180

6511 Santa Monica Blvd, Hollywood CA 90038

www.hondaofhollywood.com

FEBRUARY 2018 | THE FIGHT 5
---
THEEDITOR

A new survey commissioned by the

LGBT media-advocacy group GLAAD

and conducted by The Harris Poll

found that fewer non-LGBT adults

reported being comfortable with their

LGBT peers than in previous years,

reports The Daily Beast.

This marks the first time in the

four-year history of the "Accelerating

Acceptance" report that GLAAD

has witnessed a decline in LGBT

acceptance.

"This year, the acceptance pendulum

abruptly stopped and swung

in the opposite direction," GLAAD

President and CEO Sarah Kate Ellis

wrote in the 2018 report, noting the

sharp contrast between this year's results

and the last three years of watching

Americans report being "more

comfortable with LGBTQ people and

more supportive of LGBTQ issues."

The annual GLAAD survey asks non-

LGBT Americans to describe how comfortable

they are in several scenarios

involving LGBT people, like learning that

a doctor is LGBT, witnessing a same-sex

couple holding hands, or worshipping

alongside an LGBT person at church.

This year's version, conducted in

November 2017, found "a decline

with people's comfort year-overyear,"

not just in a few of the scenarios,

but "in every LGBTQ situation."

"This change can be seen as a

dangerous repercussion in the tenor

6 THE FIGHT | www.thefightmag.com

>> IN THIS ISSUE
---
FEBRUARY 2018 | THE FIGHT 7
---
&

Master Sponsors

18

April 26-29, 2018

Cleveland, Ohio | clawinfo.org

Sustaining Sponsors

Event Sponsors

CLAW has donated over $800,000 to community charities.

CLAW Yapp code: CLAW

8 THE FIGHT | www.thefightmag.com

Westin Downtown: Fully Booked. Hampton Inn or Double Tree $149/night. Book Now at clawinfo.org.

Main Photo by Tank's Takes. International Mr. Leather 2017 and CLAW 18 Featured Performer Ralph Bruneau.
---
THELETTERS

>> FROM OUR READERS WRITE TO THE EDITOR Email: editor@thefightmag.com

Fax: (213) 281-9648. Letters may be shortened due to space requirements.

FEBRUARY 2018 | THE FIGHT 9
---
THETALK

>> WHAT THEY'RE SAYING
---
HEALTH AND SEX BELONG TOGETHER

Healthysexuals

LOVE

SHARING

Talk about your sexual health. #NoFilter

VISIT

AND TALK TO A HEALTHCARE PROVIDER

HEALTHYSEXUAL, GILEAD, and the GILEAD Logo are trademarks of Gilead Sciences, Inc. © 2017 Gilead Sciences, Inc. All rights reserved. UNBC3907 01/17

FEBRUARY 2018 | THE FIGHT 11
---
THESTATE

>> NEWS BRIEFS
---
FEBRUARY 2018 | THE FIGHT 13
---
THECITY

>> BY PAULO MURILLO
---
In adults with HIV on ART who have diarrhea not caused by an infection

Tired of planning your life around diarrhea?

Enough is Enough

Get relief. Pure and simple. Ask your doctor about Mytesi.

Mytesi (crofelemer):

• Is the only medicine FDA-approved to relieve diarrhea in people with HIV

• Treats diarrhea differently by normalizing the flow of water in the GI tract

• Has the same or fewer side effects as placebo in clinical studies

• Comes from a tree sustainably harvested in the Amazon Rainforest

What is Mytesi?

Mytesi is a prescription medicine that helps relieve symptoms of diarrhea not caused by

an infection (noninfectious) in adults living with HIV/AIDS on antiretroviral therapy (ART).

Important Safety Information

Mytesi is not approved to treat infectious diarrhea (diarrhea caused by bacteria, a virus,

or a parasite). Before starting you on Mytesi, your healthcare provider will first be sure

that you do not have infectious diarrhea. Otherwise, there is a risk you would not receive

the right medicine and your infection could get worse. In clinical studies, the most

common side effects that occurred more often than with placebo were upper respiratory

tract (sinus, nose, and throat) infection (5.7%), bronchitis (3.9%), cough (3.5%),

flatulence (3.1%), and increased bilirubin (3.1%).

For Copay Savings Card and

Patient Assistance, see Mytesi.com

IMPORTANT PATIENT INFORMATION

This is only a summary. See complete Prescribing

Information at Mytesi.com or by calling

1-844-722-8256. This does not take the place

of talking with your doctor about your medical

condition or treatment.

What Is Mytesi?

Mytesi is a prescription medicine used to improve

symptoms of noninfectious diarrhea (diarrhea not

caused by a bacterial, viral, or parasitic infection) in

adults living with HIV/AIDS on ART.

Do Not Take Mytesi if you have diarrhea caused by

an infection. Before you start Mytesi, your doctor and

you should make sure your diarrhea is not caused by

an infection (such as bacteria, virus, or parasite).

Possible Side Effects of Mytesi Include:

• Upper respiratory tract infection (sinus, nose, and

throat infection)

• Bronchitis (swelling in the tubes that carry air to

and from your lungs)

• Cough

• Flatulence (gas)

• Increased bilirubin (a waste product when red blood

cells break down)

For a full list of side effects, please talk to your doctor.

Tell your doctor if you have any side effect that

bothers you or does not go away.

You are encouraged to report negative side

effects of prescription drugs to the FDA. Visit

www.fda.gov/medwatch or call 1-800-FDA-1088.

Should I Take Mytesi If I Am:

Pregnant or Planning to Become Pregnant?

• Studies in animals show that Mytesi could

harm an unborn baby or affect the ability to

become pregnant

• There are no studies in pregnant women

taking Mytesi

• This drug should only be used during pregnancy

if clearly needed

A Nursing Mother?

• It is not known whether Mytesi is passed through

human breast milk

• If you are nursing, you should tell your doctor before

starting Mytesi

• Your doctor will help you to decide whether to stop

nursing or to stop taking Mytesi

Under 18 or Over 65 Years of Age?

• Mytesi has not been studied in children under

18 years of age

• Mytesi studies did not include many people over

the age of 65. So it is not clear if this age group will

respond differently. Talk to your doctor to find out if

Mytesi is right for you

What Should I Know About Taking Mytesi

With Other Medicines?

If you are taking any prescription or over-the-counter

medicine, herbal supplements, or vitamins, tell your

doctor before starting Mytesi.

What If I Have More Questions About Mytesi?

For more information, please see the full Prescribing

Information at Mytesi.com or speak to your doctor

or pharmacist.

To report side effects or make a product complaint or

for additional information, call 1-844-722-8256.

Please see complete Prescribing Information at Mytesi.com.

NP-390-12

RELIEF, PURE AND SIMPLE

Rx Only

Manufactured by Patheon, Inc.

for Napo Pharmaceuticals, Inc. San Francisco, CA

94105 Copyright © Napo Pharmaceuticals, Inc.

Mytesi comes from the Croton lechleri tree

harvested in South America.

FEBRUARY 2018 | THE FIGHT 15
---
A NEW REPORT FROM THE NATIONAL COALITION OF ANTI-VIOLENCE PROGRAMS
---
138 S Glendale Ave, Glendale, CA 91205

New Owner, New Attitude.

EXPERIENCE THE

NEW CENTURY DIFFERENCE

Car shopping shouldn't be stressful. We're here to provide

you with a welcoming environment and friendly experience.

Simply put, what puts us a cut above the rest is our treating

New Century guests like family and friends.

Come on in, talk to Carlos Garcia and

experience the difference! We will

help you find the car of your dreams

within your budget.

6 THE FIGHT | www.thefightmag.com

Call Carlos at

(844) 201-8687

FEBRUARY 2018 | THE FIGHT 17
---
THEROSTOWREPORT

BYE BYE

BAD BILLS?

I can't stand listening to

Sarah Huckabee Sanders.

I just can't stand it. Will you

scream with me once or

twice before we get started

here? (She's on TV with the

sound off as I write to you.)

And what's with the weird

eye shadow? That's how we

applied our makeup for prom

night when we were fifteen.

Okay then. As another year

begins, so does another set of

legislative sessions around the

country. Usually we suck it up

and gird ourselves for battle

once January rolls around,

but it looks as if right wing

lawmakers might be a little

less aggressive this year. As

the Gray Lady put it in a recent

headline: "Wary, Weary Or

Both, Southern Lawmakers

Tone Down Culture Wars."

Of the 1,300 bills already

introduced in Virginia's new

legislature, for example, you

won't find a bathroom bill or a

religious freedom measure.

One reason for the trend

is political. Obviously, Virginia

just became a lot more blue

last November, and other

places in the country are moving

in the same direction.

Then there's the "weary"

part of the picture; many of

these GOP legislatures have

trotted out divisive proposals

to no avail year after year and

everyone is getting tired of it.

Next, there's the business

aspect. Fortune 500 corporations

have been some of the

unsung heroes in the fight for

GLBT civil rights. From signing

on to Friend of the Court briefs

in major cases, to lobbying

state and federal government,

the vast majority of America's

top businesses have advocated

for equal treatment and

fought discrimination for years.

Look at the competition for

Amazon's second headquarters.

Do you think Amazon is

going to settle down in a city

or a state that encourages

SARAH

HUCKABEE

SANDERS

discrimination? Do you see any

Mississippi cities on the HQ2

short list? No! These economic

activists for equality are a

crucial flank in our strategic

configuration, and it seems that

politicians on the right are starting

to think twice about their

states' antigay reputations.

(Sidebar: The High Court decided

not to accept review of

Mississippi's antigay religious

"freedom" law, most likely

due to the fact that no one has

yet been ensnared in its insidious

grip.)

Finally, a lot of people are

>> BY ANN ROSTOW
---
BYE BYE BAD BILLS • PARTY HEARTY • FAMILY VALUES • AS THE WORLD TURNS
---
GET

RIPPED!

Achieve The Six Pack

You Always Dreamed

Of With Celebrity

90210 Dr. Farzadmehr

Procedures Include:

• LipoSculpture

• Male Breast Reduction

• Rhinoplasty (Nose Reshaping)

• Eyelid Surgery

• Pectoral Implants

• Tummy Tucks

• Phalloplasty

• Buttock Implants

• Botox, Fillers, Lasers

• Chemical Peels

TRANS OPERATIONS

• Breast Augmentation

• Hips and Brazilian Buttocks

• Facial Feminization Surgery (FFS)

20 THE FIGHT | www.thefightmag.com

Dr. Farzadmehr is a world

renowned plastic surgeon,

requested for his experience

in body contour surgeries by

members of the film industry

and top models.

CALL NOW

FOR A FREE

CONSULTATION!

(310) 271-1133

90210 COSMETIC SURGERY

1125 S Beverly Drive, Suite 600

Los Angeles, CA 90035
---
THETRANSACTION

>> DANIELA VEGA
---
INTERNATIONAL BEAR CONVERGENCE
---
FEBRUARY 2018 | THE FIGHT 23
---
LOVE

>> COVER INTERVIEW
---
THE BEDROOM
---
COVER INTERVIEW
---
LEO HERRERA, COLUMBINE DEMERS, BRENDEN SCHUCART
---
KEVIN WEILER
---
PRIDE IN SELF. PRIDE IN SOBRIETY. PRIDE IN COMMUNITY.

Specializing in Addiction Recovery Treatment for

our LGBTQ Community and their loved ones.

Our mission is to help people who are suffering with addiction to secure lasting

recovery, achieve personal well-being, participate in meaningful community, and

ultimately celebrate self.

"LGBTQ people are nearly 30% more likely than members of the general

population to suffer from addictions." Therefore, it is imperative to provide treatment

for our community, by our community.

LGBTQ Affirmative Staff and Practices

Whole-Person, Strength-Based Approach

Community-Centered

Group Therapy, Individual Therapy and Educational Groups

Dual Diagnosis Treatment

Sober Living Referral Services

Trauma-Informed Practices

Evidence Based Practices

Modalities include: CBT, DBT, Mindfulness, Relapse Prevention, Motivational

Interviewing, Sensorimotor, Psychodrama

ACCEPTING MOST INSURANCES

WEST HOLLYWOOD, CA

844-303-1515

FEBRUARY 2018 | THE FIGHT 29
---
LIFE IS A

HIGHWAY

EastSiders' Kit Williamson

and John Halbach on working

together and being in a

relationship, spending

time on the road

and sexual

health.

BY MARK ARIEL

Kit Williamson's acclaimed LGBT

series EastSiders has returned for

a six-episode third season after

two Daytime Emmy nominations

and overwhelming crowdfunding support,

with special guest stars including

Constance Wu, Wilson Cruz, Stephen

Guarino, Traci Lords, and Willam Belli.

Following the cross-country misadventures

of Cal (Williamson) and Thom

(Van Hansis), the highly anticipated new

season is available worldwide from Wolfe

Video on DVD and digital platforms including

Amazon Video, Google Play, iTunes,

WolfeOnDemand.com and more.

In an interview with THE FIGHT

Williamson and his husband, Eastsiders'

co-star John Halbach talk about working

together and being in a relationship, spending

time on the road and sexual health.

Looking back over the past 5 years—since

the beginning of "EastSiders"—what moments

stand out for you in particular?

30 THE FIGHT | www.thefightmag.com
---
VAN HANSIS (L),

KIT WILLIAMSON,

EASTSIDERS

Kit Williamson: Getting picked up for

DVD distribution by Wolfe Video, raising

$153,000 in our second Kickstarter

campaign and having season 2 came out

on Netflix all definitely stick out as highs.

There have been so many times when

people took a chance on us and helped the

show move to the next level. Conversely,

there have been a lot of times when people

did not honor their word and endangered

the show—on our budget level there's

not a large margin of error, and we've had

some close call moments with crew members

and post-production vendors.

John Halbach: The highest points

have definitely been both times the show

has come to Netflix, most recently with

Season 3 debuting there on January 1st

of this year. It's such a huge platform and

people are willing to try watching something

new there. Netflix doesn't release

viewership numbers, but based upon

social media engagement we can tell that

they have increased our audience im-

FEBRUARY 2018 | THE FIGHT 31
---
BEN CORY JONES
---
FEBRUARY 2018 | THE FIGHT 33
---
BOB SMITH
---
UCLA LEGACY PROJECT

UCLA Film & Televison Archive and The

Andrew J. Keuhn Foundation present

Outfest UCLA Legacy Project Screening Series

TORCH SONG TRILOGY

Friday, March 23

7:30 p.m.

Billy Wilder Theater

Outfest members will receive admission

for free at the box office.

For tickets and more information,

visit bit.ly/TorchSongTrilogy

Presented by

FEBRUARY 2018 | THE FIGHT 35
---
THESHARE

THIS PAGE IS SPONSORED BY

>> BY PAULO MURILLO
---
ALTERNATIVE ADDICTION TREATMENT

ZEN RECOVERY PATH seamlessly weaves traditional

Eastern Philosophy (martial arts/healing arts/

Chinese Medicine) and Western Philosophy

(clinical addiction therapy, counseling,

psychotherapy) into a cohesive pattern of healing

that is unique to every student we serve.

Human suffering comes in so many varieties.

Thus, the methods we utilize reach back

in time to ancient ways as well to the future for

modern ways to live serenely.

Through spiritual guidance, friendship,

holistic methods, innovative clinical treatment

interventions and transitional services,

we guide both men and women of all ages, races,

colors and creeds on their personalized path

to recovery.

IOP | PHP | MOST PPO INSURANCE ACCEPTED | PRIVATE

zenrecoverypath.com

Located in the coastal community of Costa Mesa, CA 92627

800.759.1930

ZEN_RECOVERY_AD_1/2.indd 1

FEBRUARY 2018 | THE FIGHT 37

11/17/17 9:31 PM
---
DEREK YOUNG
---
FEBRUARY 2018 | THE FIGHT 39
---
JESSE BRUNE-HORAN
---
THEEPIDEMIC

>> NEW HIV TEST
---
THEART

>> LGBTQ ARTISTS
---
THE ONE ARCHIVES FOUNDATION
---
PHOTOS BY DUSTI CUNNINGHAM
---
FEBRUARY 2018 | THE FIGHT 45

OCTOBER 2017 | THE FIGHT 45
---
THEEVENT

>> PHOTOS BY ABRAHAM RAMOS
---
PHOTOS BY DUSTI CUNNINGHAM
---
THECALENDAR

>> THINGS TO DO
---
FEBRUARY 2018 | THE FIGHT 49
---
THEFINALFIGHT

>> MATT PALAZZOLO
---
ONLINE NOW!

Prty SEXY

Looking for a good time, but it's harder to find…

New to the scene, and the site. I'm a weekend warrior, but PNP anytime. HIV STATUS: ASK ME

CALL: 323-463-7001

VISIT: friendsgettingoff.org

Friends Getting Off provides free drug counseling for gay and bisexual men who use

methamphetamine. The program combines group counseling with an intervention

that gives rewards for negative urine samples. Participation is 8 weeks followed by a

16 week support group and one follow-up assessment.

1419 North La Brea Avenue, Hollywood, CA 90028

A clinic of Friends Community Center, a division of Friends Research Institute, Inc.

This project is supported by funds received from the County of Los Angeles Department

of Public Health, Division of HIV and STD Programs and the City of West Hollywood.

FEBRUARY 2018 | THE FIGHT 51
---
52 THE FIGHT | www.thefightmag.com