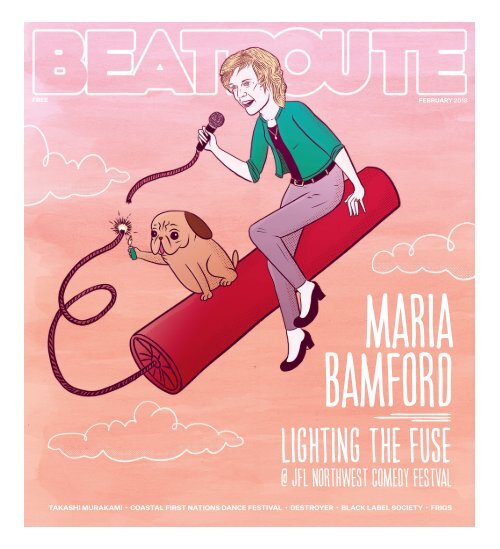 BeatRoute Magazine BC Print Edition February 2018
BeatRoute Magazine is a monthly arts and entertainment paper with a predominant focus on music – local, independent or otherwise. The paper started in June 2004 and continues to provide a healthy dose of perversity while exercising rock 'n' roll ethics. Currently BeatRoute's AB edition is distributed in Calgary, Edmonton (by S*A*R*G*E), Banff and Canmore. The BC edition is distributed in Vancouver, Victoria and Nanaimo. BeatRoute (AB) Mission PO 23045 Calgary, AB T2S 3A8 E. editor@beatroute.ca BeatRoute (BC) #202 – 2405 E Hastings Vancouver, BC V5K 1Y8 P. 778-888-1120
BeatRoute Magazine is a monthly arts and entertainment paper with a predominant focus on music – local, independent or otherwise. The paper started in June 2004 and continues to provide a healthy dose of perversity while exercising rock 'n' roll ethics.

Currently BeatRoute's AB edition is distributed in Calgary, Edmonton (by S*A*R*G*E), Banff and Canmore. The BC edition is distributed in Vancouver, Victoria and Nanaimo. BeatRoute (AB) Mission PO 23045 Calgary, AB T2S 3A8 E. editor@beatroute.ca BeatRoute (BC) #202 – 2405 E Hastings Vancouver, BC V5K 1Y8 P. 778-888-1120
SHOW MORE
SHOW LESS
You also want an ePaper? Increase the reach of your titles
YUMPU automatically turns print PDFs into web optimized ePapers that Google loves.
TRIM SIZE: 10.25"W x 11.5" H, RIGHT HAND PAGE
---
february'18

PUBLISHER

BeatRoute Magazine

LAYOUT

& PRODUCTION MANAGER

Naomi Zhang

FRONT COVER

ILLUSTRATION

Jarett Sitter

FRONT COVER DESIGN

Randy Gibson

LIVE EDITOR

Darrole Palmer

EDITORIAL ASSISTANT

Lauren Donnelly

CONTRIBUTING WRITERS

Andrew Bardsley • Sarah Bauer • Alex

Biron • Luiza Brenner • Beth D'Aoust

• Adam Deane • Lauren Donnelly •

Bryce Dunn • Mike Dunn • Chris Dzaka

• Slone Fox • Amber Harper-Young •

Sarah Jamieson • Ana Krunic • Brendan

Lee • Paul McAleer • Jamie McNamara

• Pat Mullen • Cole Parker • Liam Prost

• Mitch Ray • Brendan Reid • Frankie

Ryott • Alastair Spriggs • Max Szentveri •

Willem Thomas • Erin Ward

CONTRIBUTING

PHOTOGRAPHERS &

ILLUSTRATORS

Robert Anderson • Nedda Asfari •

Peter Battistoni • Bryce Hunnersen

• Bill Crisafi • Elissa Crowe • Tj Dawe

• Itai Erdal • Cody Fennell • Greg

Gallinger • Maria Jose • Dahila Katz

• Anita Lewis • Connor Mccracken •

Nelson Mouellic • Darrole Palmer • Jaik

Puppyteeth • Daniel Rampulla • Rachel

Robinson • Shimon Karmel • Raymund

Shum • Landon Speers • Jake Stark •

Steven Taylor • Matthew Zinke

Editor-In-Chief

Glenn Alderson

glenn@beatroute.ca

City

Yasmine Shemesh

yasmine@beatroute.ca

BPM

Alan Ranta

alan@beatroute.ca

Comedy

Graeme Wiggins

graeme@beatroute.ca

Managing Editor

Jordan Yeager

jordan@beatroute.ca

Local Music

James Olson

james.olson@beatroute.ca

The Skinny

Johnny Papan

johnny@beatroute.ca

Film

Hogan Short

hogan@beatroute.ca

04 HI, HOW ARE YOU? 17

05

06

09

10

12

14

- With Lesley McHale of

Womyn's Ware

PULSE - CITY BRIEFS!

CITY

- Takashi Murakami

- Coastal First Nations

Dance Festival

MARIA BAMFORD

JFL NORTHWEST

- Todd Barry

- Cameron Esposito &

Rhea Butcher

- Jim Norton

- Sasheer Zamata

- Beth Stelling

SKI/SNOW

- Landline

FOOD

- Di Beppi

23

24

26

27

33

34

MUSIC

- Destroyer

- Bahamas

- KIgaku Moyu

- Tinsley Ellis

- Bully

THE SKINNY

- Black Label Society

- Enslaved

BPM

- Noble Oak

- 1800 Haight Street

FILM

- Entaglement

- This Month in Film

MUSIC REVIEW

- Frigs

- Born Ruffians

- Cecil Frena

LIVE REVIEW

HOROSCOPES

ADVERTISING INQUIRIES

Photo by Marcelo Krasilcic

Glenn Alderson

glenn@beatroute.ca

778-888-1120

DISTRIBUTION

Gold Distribution (Vancouver)

Mark Goodwin Farfields (Victoria)

Web

Jashua Grafstein

jash@beatroute.ca

Social Media

Mat Wilkins

mat@beatroute.ca

BEATROUTE MAGAZINE

202-2405 Hastings St. E

Vancouver BC Canada

V5K 1Y8

editor@beatroute.ca • beatroute.ca

©BEATROUTE Magazine 2018. All rights reserved.

Reproduction of the contents is strictly prohibited.

Page 19 - The Magnetic Fields - Looking back at 69 Love Songs

Photo by Matt Barnes

February 2018 3
---
WITH LESLEY MCHALE OF WOMYN'S WARE

JORDAN YEAGER

Winter is universally known as the best time of

year to get your freak on. Ever heard of cuffing

season? When the weather outside is frightful,

there's nothing more delightful than finding

someone you vibe with and locking yourselves

away until temperatures once again rise to the

double digits. A community staple since 1995,

Womyn's Ware is well-versed in spicing up the

love lives of those both single and in committed

relationships; with Valentine's Day around the

corner, there's no better time to expand your mind

(and your toybox). Owner Lesley McHale took the

time to woo us with some knowledge from behind

the scenes of her sex shop.

What does your core client base look like?

The best way to describe our core client base is all

ages, genders, and orientations. Predominantly,

folks who are aligned with our business values:

celebrating sex and desire to parallel sexual health

with sexual pleasure.

Do you have regulars?

Our store has been open since 1995 and we have

customers who have been shopping with us since

day one. We have regular local shoppers and

shoppers who travel from a distance a few times

a year to pick up their staples and to pick up the

latest and greatest.

How does your clientele change around

Valentine's Day? Are there more couples

coming in together? More single people

wanting to explore self-love?

Our clientele doesn't necessarily change around

Valentine's Day, but we do sometimes see a spike

in first time and slightly shy shoppers. We see a

good combination of both [couples and single

people]. Some folks who haven't used toys before

use Valentine's Day as an opportunity to introduce

toys into their sexy time play.

At which times throughout the year

do you really see a spike in the sex toy

market? Any slow seasons?

Our store experiences a lot of volume for most

of the year. Christmas, New Year's celebrations,

Valentine's Day, and tourists in the summer are

when we see spikes in business.

Based on your observations, are there

fetish trends? Or have people always kinda

been into the same things?

We find that many folks are becoming more

open to either learning more, or exploring the

opportunity to experience fetish play.

What's the most approachable toy for a

beginner to the sex toy game?

When a person who is new to sex toys comes into

the store, we like to provide a safe opportunity for

each person to tell us about their expectations of

what they would like to experience. Consequently,

a first time buyer may choose anything from

something that has an abstract appearance

and does not have the "look" of a sex toy, to a

rechargeable, submersible, blue tooth enabled

multi-purpose toy. That's the amazing thing about

people: given the opportunity, they will often allow

themselves to explore what it is they truly desire.

Helping people come to the realization that

they can feel empowered sexually is an amazing

way to spend the day!

Ann and I have the best job in the world!!

Womyn's Ware is located at 896 Commercial Drive.

Photo by Darrole Palmer

Business partners Ann Boone and Lesley McHale aim to help people on their quest for sexual empowerment.

4

February 2018
---
CITY BRIEFS!

CHUTZPAH! FESTIVAL TYPHOON CONSTRUCTED ABSTRACTION BLACK HISTORY MONTH

BLACK HISTORY MONTH AT VIFF

February 5-29 at Vancouver International Film

Festival

This year, VIFF's annual Black History Month film

series places an emphasis on inspirational women

amongst recurring themes of politics, protest,

and music. Along with new works from Canadian

filmmakers (Black Cop, Brown Girl Begins),

Senegal's Félicité — about a single mother in the

Congo — is a highlight.

MY FUNNY VALENTINE

February 7-18 at Scotiabank Dance Centre

In 2008, Lawrence King was shot and killed by his

classmate after asking him to be his valentine. In

a number of monologues written by Vancouver

playwright Dave Deveau, actor Conor Wylie gives

voice to seven different people affected by the

aftermath of a horrific hate crime.

SLEEP OUT

February 15 at Covenant House

Taking place throughout the year, this movement

raises both funds and awareness for homeless

youth. This particular iteration is aimed at young

professionals, who are overcoming obstacles

(completing education, applying for jobs) that

many young homeless individuals might be facing.

CHUTZPAH! FESTIVAL

February 15-March 15 at various locations

The annual festival of Jewish performing arts

celebrates its 18th year, with international

performances in dance, comedy, theatre, and

music. Highlights this season include Vancouver

musician/poet Barbara Adler, humorist Jonathan

Goldstein and Perla Batalla — a longtime touring

band member of Leonard Cohen, who will perform

a tribute.

CELEBRATE CRAFT BEER!

February 8 at Performance Works

This charitable fundraiser lives up to its name:

celebrating seasonals from 10 different BC craft

beer breweries including Granville Island, Luppolo,

R&B, and Strange Fellows. Tickets include four

tastings and jurors will pick the winner.

CONSTRUCTED ABSTRACTION

February 8-March 10 at Deer Lake Art Gallery

The multidisciplinary work of local artist

Monique Motut-Firth is featured in this exhibition

that explores an intersection of urban space,

industrialization, natural elements, and identity by

way of prints and collage.

ROMEO + JULIET

February 21-24 at Queen Elizabeth Theatre

Ballet BC presents the iconic Shakespearean

tragedy about two star-crossed lovers, adapted by

famed choreographer Medhi Walerski and set to

Russian composer Sergei Prokofiev's original score.

TYPHOON

February 24 at Rickshaw Theatre

The Portland, Oregon band is on tour in support

of their new album, Offerings — a 14-track

conceptual record partly inspired by filmmakers

David Lynch and Federico Fellini that explores the

spiralling stages of losing one's mind.

MEN'S ACCOUNTABILITY CONFERENCE

March 3 at RayCam Community Centre

In the wake of #MeToo, this session will include

workshops on pro-feminism and accountability.

All male-identifying individuals are welcome.

February 2018 5
---
CITY

TAKASHI MURAKAMI: THE OCTOPUS EATS ITS OWN LEG

ICONIC ARTIST'S FIRST RETROSPECTIVE IN CANADA COMES TO VANCOUVER

LUIZA BRENNER

Photo by Maria Ponce Berre

Takashi Murakami has collaborated with the likes of Kanye West, Pharrell Williams, and Louis Vuitton.

It might still be rainy season in Vancouver, but

the Vancouver Art Gallery is already blooming.

Starting on February 3, the gallery will welcome

Takashi Murakami's first major retrospective in

Canada. Takashi Murakami: The Octopus Eats Its

Own Leg showcases over 50 works spanning three

decades of the artist's career.

The touring exhibition, first conceived

and presented by Michael Darling, the James

W. Alsdorf Chief Curator at the Museum of

Contemporary Art Chicago, "offers unique and

dynamic insight into the visual world of Takashi

Murakami," describes Diana Freundl, Associate

Curator, Asian Art at the Vancouver Art Gallery.

"One that mines the cultures of folklore, comics,

anime, manga, fashion as well as both Japanese

and Euro/American art histories."

Even if you're not an art aficionado, you're

probably familiar with Murakami's work outside

the museum realm. The artist's cartoon-like

flowers and monsters are printed in Louis Vuitton

bags, on Kanye West's 2005 Celebration album

art, and on Supreme skate decks, to name a few.

"Both he [and his work]effectively blur boundaries

between vernacular and fine art," says Freundl. For

that, Murakami's work seems to be more relatable

and democratic than most contemporary

artworks.

Visitors can expect massive sculptures,

paintings from his earliest mature work to his

recent large-scale projects, including a newly

created five-metre-tall sculpture and three

multi-panel paintings designed exclusively for

the Vancouver Art Gallery exhibition. In talking

about the hardships of installing a show of this

magnitude, Freundl says that the "energy and

effort required to finish one artwork should be

considered when mounting it, and hopefully that

gets translated when visitors walk through the

exhibition."

A range of events will also accompany the

show. There will be a now sold-out lecture with

Murakami, and a much anticipated Murakami's

Birthday Bash on February 2. Celebrating both

the artist's birthday (on February 1) and the

opening of his exhibition, the evening will begin

at the Vancouver Art Gallery, with an exclusive

exhibition preview with the artist, followed by a

seated dinner and after party at the Commodore

Ballroom.

Grab your bag, blast Kanye on your

headphones, hop on your skateboard, and head to

the Vancouver Art Gallery, because this show will

be an epic one!

Takashi Murakami: The Octopus Eats Its Own Leg

runs at the Vancouver Art Gallery from February

3-May 6.

COASTAL FIRST NATIONS DANCE FESTIVAL

FLYING GWITCH'IN FIDDLER TELLS TALES OF THE YUKON

ERIN WARD

Boyd Benjamin picked up the fiddle for the

first time at 14-years-old. With the melody

of a song played at an old-time dance in Old

Crow still running through his head, he sat

down to try and recreate what he'd heard. That

experience — sitting with the fiddle, learning

to play a song that was played nowhere else —

launched a life-long passion for fiddle music

and for sharing the story of his home.

"It's a unique way for me to express myself

because that's sort of who I am," he explains.

"It's my upbringing and where I come from.

I was taught that our culture up North is

precious and [playing fiddle music] is a way to

keep that going."

Known as the Flying Gwitch'in Fiddler,

Benjamin, along with singer/songwriter Kevin

Barr, has performed his music across the

country. This March will be the first time the

duo has performed as part of the Coastal First

Nations Dance Festival at the UBC Museum of

Anthropology. The festival, which runs from

February 27 to March 4, will celebrate the

songs, dances, and stories of the Indigenous

peoples of the Northwest Coast of North

America.

Benjamin explains that Old Crow, a small

6

community just below the Beaufort Sea in

Northern Yukon, is known for its fiddle music.

Continuing this tradition, he says, is a way to

keep the culture of his community alive and

vibrant.

"Some of the music we play is only heard

in Old Crow, and some of the dances we

do only happen in Old Crow," he says. "We

speak Gwitch'in, and the language is fading,

so my contribution to that part of culture

is the music that I play. I'm contributing to

our culture in a way so as to keep that alive

musically."

With his music, Benjamin is telling the story

of the cultural tradition of fiddle music in Old

Crow, of the dances and songs unique to his

community. In telling that story, and in sharing

his fiddle music, he keeps those traditions alive

— not just by playing some of the old-time

songs he's heard since childhood, but also

by making new ones to continue that legacy

of bringing community together over fiddle

music.

The Coastal First Nations Dance Festival runs

at the Museum of Anthropology from February

24-March 4.

Boyd Benjamin keeps his heritage alive through the cultural tradition of fiddle music.

Photo by Gary Bremner Photography

February 2018
---
Yoko Ono

March 1 to March 31, 2018

MEND PIECE, Andrea Rosen Gallery, New York City version, (1966/2015) | ceramic, glue, tape, scissors and twine | dimensions variable

Rennie Museum | 51 East Pender St | Vancouver
---
Maria

Photo by Bruce Smith

Bamford

F

unny, fearless comedian Maria Bamford shares her

experiences with self perception, relationship dynamic

and mental health on stage. She makes people laugh

by looking back at her sometimes tragic journey with

insightfulness. And by being so open she's communicated to

anyone suffering from depression, anxiety, suicidal thoughts,

bipolar disorder and/or OCD that they're not alone! She's a

modern day saint and has been a pioneer in dissolving the stigma

surrounding mental illness, through comedy, throughout her

career. Bamford masterfully acts out carefully crafted character

scenarios with ease. Her stand-up is honest, original, vulnerable

and hilarious.

Maria Elizabeth Sheldon Bamford was born to Marilyn and Joel

in Port Hueneme, California but was raised in Duluth, Minnesota,

alongside her sister Sarah. Before she had her life direction it

crossed her mind to do something other than perform. She

says, "My dad was a doctor, so I thought about that, you know

thinking it's sort of a monk-like aesthetic, a sad answer to what

life could be. I thought (goes into a tired/slow voice) 'maybe I'll

be a physician and ahhh, and I'll help people' in a very depressed

vision of the future. But I did think about doing that. I was

generally terrified of what life had to offer. I didn't have any hope

for myself beyond just gratitude that I could go to college, so that

I could have some place to go."

During her university years Bamford fought to find her path,

she struggled with depression and unwanted thoughts syndrome

(a type of OCD) and on top of all that had difficulty finding the

right school. Her second school, the University of Edinburgh,

however introduced her to performing improv, which she

enjoyed, along with being a part of other student productions.

In her senior year she also experimented with doing stand-up at

some open mics while attending the University of Minnesota,

where she received her Bachelor of Arts in creative writing.

It wasn't until she worked through the infamous book, The

Artist's Way, though that she knew what road she would travel.

Recommended to her by her then mentor Frank Conniff (TV's

Frank from Mystery Science Theatre 3000), Bamford says, "I did

that whole book and I was like 'oh this is what I want to be. I want

to be a comedian.' Then I started kinda doing one person shows

and yeah it really helped me gain more confidence in a direction."

Bamford then moved to LA and worked as a temp to support

herself and her dream. She also got paid minimum wage to be

an audience member at shows and went against the grain of

her introverted instincts and served tables. She remembers,

"Waitressing was a nightmare for me, I did it for three years and

I just never got better at it. I always tip over 20 per cent cause I

just feel like if you got the food to the table than you have done

more than I did. There's something about the social anxiety of

looking into the faces of hungry people, who have specific needs

and they're all different and then being kinda easy going in your

service (confident/laid back voice) 'Oh here's a glass of water and

a basket of chips'... I could never seem to pull it off, I was always

shakily theatrical about everything."

Ten years after figuring out what she wanted to do and dealing

with complications of her brain's predisposition, Bamford was

invited to perform on the Tonight Show. And since then she's

been on every late night show you can name. Stephen Colbert has

called her one of his favourites. She was the first female ever to

lock down not one but two Comedy Central Presents. In 2003 she

released her debut album, The Burning Bridges Tour. Then in 2005

she starred alongside Zach Galifianakis, Brian Posehn and Patton

Oswalt in Comedians of Comedy: The Movie. In 2007 she put out

a second album, How to Win, in 2009 she released Unwanted

Thoughts Syndrome, then shortly after that was Maria Bamford's:

Plan B (2010). Then there was The Special Special Special put out

unto the universe in 2012 and now on Netflix. And Bamford's

next album, Ask Me About My New God was released in 2013.

After all that the American Comedy Awards presented her with

the Best Club Comic 2014, she had been honing her craft for

about 22 years.

Bamford has also had success in front of the camera and

received numerous credits for her skilled voiceover work. She's

done voices for the Emmy Winning series Word Girl, Bojack

Horseman, Kung Fu Panda and Bob's Burgers to name only a

few. She's had recurring acting roles on Arrested Development,

ABC's Fresh off the Boat and USA's Benched. Most recently

though Bamford has blessed us with audio album 20% and her

special entitled, Old Baby that's currently available on Netflix.

Additionally this past year Bamford's show, Lady Dynamite

(created by Mitchell Hurwitz and Pam Brady), released its final

season. The quirky autobiographical dramedy starred Bamford

and is on the same famous binge watching portal. Rolling Stone

and Variety Magazine dubbed the series a "Must-See Show"

after the first season but unfortunately it was cancelled after its

second.

Now at 47-years-old, Bamford is looking to blaze a new kind of

trail in entertainment. She says "I would like to know about new

comics especially from a diversity point of view. I feel like as an

older white lady who is relatively lazy, I don't always meet people

who have different experiences than I do. I am really grateful

that there's more space being created. You know I'd love to help

somebody else have their voice be heard. That sounds good to

me. I've had plenty of chance to be seen and heard, so that's what

I would like to do is to be a job creator."

Bamford is also happily tapped out of mental material and

believes that on top of the professional support, talking about

her illness in joke form has helped her to heal. "You hear people

laugh about it and you go 'oh, I'm not alone,' like it feels good. The

hilarious part is that I've felt so good for the past six years and I'm

on such great medication regimens that I don't have any material.

I've kinda burned through all my experiences and now I'm just

writing jokes about animals," she says. "If you work through

material and get health care then you can move back into the

bland, generic material you've always wanted to do. No, life is

very interesting. It felt very meaningful and fun to talk about. It's

awesome and it's just only been positive. It's wonderful, you find

your audience and it's great."

And so it seems she may have become a doctor of sorts in

the end, healing others with her candidness and hilarity. While

helping to heal herself by bravely reaching out for the support

through her material and living her truth, the artist's way!

Maria Bamford performs at the Vogue Theatre (Vancouver) March

3 as a part of the Just For Laughs NorthWest Comedy Festival.

February 2018 9
---
Todd Barry: Icky comic keeps things unscripted

By Johnny Papan

TODD BARRY

"I did a one-man show years ago about a woman who insulted

me on a Conan O'Brien message board. She said I was the

worst guest of the week, and that I had no charm, no wit and a

personality that could only be described as 'icky.' I called that

one-man show Icky."

Though Todd Barry's deadpan style of comedy may not be

for everyone, as is the case with every comedic styling, he's

certainly captured the attention and respect of many since the

start of his 30-year career. In honour of this tenured course,

Barry is doing his signature Crowd Work tour, an unscripted

standup performance that plays with the audience.

"I look for people who are intriguing," Barry explains. "Not

everyone looks intriguing, so [sometimes] I just have to start

picking people at random. I just look out at the sea of bearded

dudes and start talking to one. Sometimes the people who

seem the most timid have the best stories."

After Barry picks his victim, he will ask the audience

member a series of simple questions that can take bizarrely

hilarious turns when infused with unexpected answers and the

comedian's sniper-shot wit.

"I guess I've always been a smartass, but only right up to the

point of actually getting in trouble. I usually know when to

stop and I'm not interested in actually insulting someone."

This experimental trek was so successful that Barry released

a special entitled: Todd Barry: The Crowd Work Tour in 2014.

Last year Barry released his Netflix exclusive, the interestingly

titled: Spicy Honey.

Barry began his career in 1980s Florida while working a day

job as a substitute teacher. Even as a comedian, he still has

knowledge to bestow on the scene's newcomers.

"My advice for young comics is to stay focused on what's

important: jokes and stage time. The biggest weapon you can

have as a comic is being good. Don't get caught up in money

or getting an agent or manager. Just write and go on stage as

much as possible. Also be patient and don't annoy people. I

didn't follow all these rules when I started, but you should!"

Todd Barry performs at the Biltmore Cabaret on March 10.

RHEA BUTCHER

CAMERON ESPOSITO

Cameron Esposito and Rhea Butcher: wives take centre stage, please

Among the abundance of talented comics participating in this

year's Just For Laughs NorthWest comedy festival happen to be

two of Variety's 10 people to watch award winners, Cameron

Esposito and Rhea Butcher. "Rhea and I are the only couple to

win Variety's 10 people to watch back to back. I won in 2016

and Rhea in 2017," Esposito says. Butcher humbly adds "It was

really cool because you are surrounded by your peers so to

have it happen to me and then watch Cameron go though it

was awesome. It's basically one more step of us taking over the

world," she proclaims with a sarcastic confidence.

Esposito and Butcher are riding a runaway train of success,

coming off a cross-country American tour: "Back to Back."

"The style of the show is we do thirty minutes together

and thirty minutes each individually. As far as I know this is

the only show like this, especially being a couple," Butcher

recounts. They recently finished filming the second season

of their hit series Take My Wife. The first season was well

received by audiences and critics alike and was an intelligent,

witty scripted account of life in a same-sex marriage successful

movie and comedy careers. Along with fans and with the help

of the #takemywife hashtag, the twosome is in search of a new

home for the show because Seeso, the NBC streaming site they

called home, recently folded.

By Chris Dzaka

As comics, turning the tragedy into something to laugh

about is key for the duo. "In choosing to be a comic I had to

talk about how I am as a person. All of stand-up has taken

a turn to the more personal," Esposito says with a laugh. "I

looked around and saw some comics didn't have equivalent

experiences. I wasn't seeing myself anywhere. But if it wasn't

me it would be someone else telling me what it's like to be

gay, still, in a positive way. After a while, hearing gay marriage

jokes from straight guys became exhausting, even if they are

on the right side of the issue that affects you so personally. So

I found myself running toward it. I don't know, is it less serious

than that? We are stand up comics." Rhea enters as if on cue,

also giggling, "I agree with Cameron but where there's people,

there is conversation. Every step we take of understanding

opens up interesting people. It's not that our differences will

become invisible. Our differences will become interesting. It's

not about making individuality invisible as it is about making

fear invisible." These women are using comedy as a weapon for

their greater good. Uniting the diversity in humanity with a

laugh, a wink, and of course, a smile.

Cameron Esposito and Rhea Butcher perform "Back to Back" at

the Rio Theatre on March 9.

Jim Norton: making failure funny

By Alex Biron

JIM NORTON

Although the legendary Opie & Anthony show ended years

ago, there are still tons of YouTube videos dedicated to

preserving the fans' favourite moments. One of the most

popular is a video titled "Carpet Bombing," where the show's

third mic, Jim Norton, shows up to work particularly tired

and proceeds to tell one terrible joke after another. This video

demonstrates one of Norton's biggest strengths as a comic, his

ability to make anything funny, even (or perhaps especially)

failure. BeatRoute chatted with him ahead of his Vancouver

debut at JFL Northwest to talk about his many projects, and he

spoke with lightning quick wit and total honesty.

"I've got a lot going on right now," Norton says. "I'm doing

an MMA podcast for the UFC, a radio show with Sam Roberts,

stand-up, and The Chip Chipperson Podacast." Yes, "podacast"

is spelled wrong on purpose. It's a show starring one of

Norton's many characters, the offensive and socially inept

Chip. "I created him while annoying my girlfriend," Norton

reveals. "I'd whisper things in their ear that ruined the moment

and then I eventually started doing the voice on the radio.

Doing Chip is really fun and people seem to love it."

Radio is what helped Norton gain his huge following and

he's still doing a regular show on SiriusXM, something he

believes has made him a better comedian. "You have to stay

topical," he says. "That's what I miss most about the O&A

show, just getting to be there everyday live, and also the sense

of camaraderie, working with so many legendary comics."

When asked about what audiences could expect from his

new (Kneeling Room Only) tour, he replies "It's kind of an

update on my life. It's a different hour. You have to switch it

up from year to year otherwise people get very bored. With

YouTube and Facebook people see your material quickly now.

Once it's been out for a few months, you have to assume your

fans have seen it." When told that the Vogue was one of the

most haunted places in Vancouver, and some performers have

reported seeing ghosts in the crowd, Norton was thrilled. "I

don't care what they have to do to fill that place up,", he jokes.

"Get some dead people in there if that's what it takes."

Jim Norton performs March 2 at the Vogue Theatre.

10

February 2018
---
SASHEER ZAMATA: exploring the psyche and sense of self post-SNL

By Jordan Yeager

The universe has a way of working itself out; Sasheer Zamata's

professional trajectory is proof. Growing up, she was a shy

child who sang in choir, eventually transitioning to musicals

and plays while studying at the University of Virginia. No one

who knew her in childhood would have predicted Zamata

would be headlining shows as a comedian, touring with Just

for Laughs, and graduating from an almost four-year run with

Saturday Night Live. But quiet kids make the best comedians

– while you think they're reading in the corner, they're actually

quietly observing your every move, gathering material.

"Because I started doing choir so young, I was able to feel

comfortable onstage, so it was easier to do everything else,"

says Zamata. "I moved to New York thinking I was going to

do theatre and audition for plays, but at the same time, I was

always watching improv at the Upright Citizens Brigade (UCB)

Theatre. Eventually I took some classes, started doing standup,

and then I was on improv teams and sketch teams and

booking shows. It was like, oh, I think you can actually make a

career out of this."

"It really was just for fun," she continues. "I didn't know how

improv was going to play into my life. When I was younger,

I wanted to be on SNL or MADtv – I thought it would be so

cool to do that, but I had no idea how anybody went about it.

When I was performing, I started to see that I was actually on

the path that was getting me to that goal anyway."

In 2014, Zamata's vision of being cast on SNL was realized

when she became the first black female cast member since

Maya Rudolph's departure seven years earlier. The show's lack

of diversity gave Zamata ample opportunity to fine-tune her

impressions; over the course of her run, she portrayed the likes

of Beyoncé, Michelle Obama, and Rihanna. But she was never

given enough screen time to truly show off the skillset she'd

been honing for years with UCB. At the end of season 42, she

departed SNL with neither announcement nor ceremony.

"It was time to start focusing on my own creative pursuits,"

says Zamata. "I like being the boss of whatever I'm doing. It's

nice to be able to express myself and show different sides of

me that audiences maybe wouldn't have been able to see

before."

"I was [with SNL] for three and a half years, and part of me

feels like I was there for so long, but part of me also feels like I

was there for 30 seconds," she laughs. "It was a great training

ground for all things entertainment. You had to write and

rewrite so quickly, you couldn't be attached to your work

– you had to be able to kill your darlings. I'm so grateful for

the experience. Everything I do after SNL is a piece of cake in

comparison, because that place is really like a boot camp. It's

an education you can't pay for."

Breaking away from sketch comedy means Zamata is no

longer delegated to portrayals of other icons and can focus

instead on introspection, self-discovery, and being vulnerable

with her audience.

"Most of the stuff I'm talking about comes from a very

personal place," says Zamata. "I want to be able to connect to

people in the audience through what I'm going through, and

hope that they're able to absorb this and take these thoughts

into their lives, too."

Her set at JFL NorthWest is sure to be a glimpse into

the psyche. But leave your manners at the door – in her

experience, Canadian audiences are "too nice."

"It really is a symbiotic relationship – I feed off the energy

the crowd is giving me," she says. "If the audience is just nice,

I'm going to give a nice performance. If you're having fun and

enjoying it, I'm going to do that too. I don't want to generalize

every Canadian audience I've seen, but I have been like, 'Oh, I

think maybe people are just really nice and sweet here.' I mean,

it could be worse – I'd rather that than people yelling and

throwing things."

Sasheer Zamata performs at the Biltmore Cabaret on March 2.

SASHEER ZAMATA

Beth Stelling: busy comic motivated by joy and gratitude

By Beth d'Aoust

"Sweet Beth" Stelling is bringing her delightful comedic stylings

to the Biltmore Cabaret as part of JFL NorthWest, and if

history repeats, perhaps she'll even drop in for a guest spot at

one of the annual comedy festival's lower profile rooms. When

asked whether she prefers performing in cozy, underground,

hole-in-the-wall venues or lofty, prestigious, sold-out theatres,

Stelling admits "It's just fun to get invited by local comics in

whatever city I'm in to perform at their show. It usually means

they like you. And that's the only reason I do this: to be liked."

Throughout Stelling's wide range of subject matter runs

a common thread of gentle razzing. From playfully roasting

those who insist on introducing her as a "female comedian,"

to lambasting her own regrettable tattoo choices, her dietary

dilemmas, and her absolutely precious relationship with her

adorable, Midwestern, music-teaching mother, Stelling delivers

material that is both exceptionally well-constructed and

genuinely pleasant to behold.

These abilities clearly have not gone unnoticed by her peers,

as well-established fixtures in the LA comedy community

have begun to vie for her sharp, refreshing voice in the writer's

room. Last year, Stelling begun flexing her screenwriting skills

on seasons one and two of Judd Apatow's Crashing, starring

Pete Holmes, and season three of Riki Lindhome and Natasha

Leggero's Another Period.

"Writing for other people is most fun when you believe in,

care about, and are inspired by the person," Stelling insists.

The ambition doesn't stop there, however, as she divulges, "I'm

currently developing my own show. It just keeps developing. I

can't stop it."

In a mere 31 laps around the sun, Stelling has achieved

remarkable acclaim for her uniquely charming brand of

comedy, due perhaps in part to her ability to prioritize genuine

joy for the work above the bright lights of super stardom. The

joy in Stelling's voice is palpable as she gushes about her craft:

"I'm doing it! It's amazing to me. I'm patient and want to really

enjoy what I'm doing. More importantly, I want to do it very

well. I've found that even if I've watched other comedians get

things before me, I'm thankful I was forced to wait because

it makes my work better. I'm grateful for where I am in my

comedy career, while simultaneously reminding myself I've

been working toward it for 10 years. I just want to create

quality material that finds the right people."

Beth Stelling performs at the Biltmore Cabaret on March 1.

BETH STELLING

February 2018 11
---
SKI/SNOW

LANDLINE

FIRST SNOWBOARD FILM BY VANS SHOWCASES THE TRUE HEART OF SNOWBOARDING CULTURE

ALASTAIR SPRIGGS

Directed by Tanner Pendleton, LANDLINE. is shot primarily on 16mm film.

Photo by Alastair Spriggs

On the third stop of the Vans Global Premiere Tour

for LANDLINE., the brand's first-ever full length

snowboard film, the Vans snowboard team visited

Imperial Vancouver on January 17 for the official

Canadian premiere. Hours before the show, hundreds

lined the streets outside the event hall; to no one's

surprise, the Vancouver snowboard scene showed up

for this highly anticipated event.

"The past two European premieres have gone really

well," says Vans boarder Jake Kuzyk. "But the whole

crew has been excited for this night in particular, since

we have so many friends here. We're at home. I'm really

stoked."

The video captures the hard-hitting Vans snowboard

team over the past two years as they travel the world

in search of the deepest powder, gnarliest rails, and

steepest terrain. Shot almost entirely on Kodak 16mm

film, director Tanner Pendleton and the filming team

deliver an authentic experience shaped by the natural

ability and expression of each rider.

"There are things about every rider on the team that

I connect with and really look up to," says Pendleton.

"Each part came from the riders' minds, like painting a

picture. I'm lucky to have had the opportunity to show

the world how well they all snowboard."

When the video began rolling, the anxious

Vancouver crowd came to a near silence. The

hammers, bails, and original lifestyle shots in the

opening scenes set the tone for the masterpiece

to come. LANDLINE. opens with a well-rounded,

street-heavy scene from Sam Taxwood. Though each

trick was worthy of praise, his backlip same-way on a

Michigan down-flat rail sparked roars throughout the

crowd.

From start to finish, LANDLINE. delivered mindblowing

parts. Although most sectional snowboard

videos tend to feature the heaviest riding in the

opening and closing segments (here, Taxwood and

Kuzyk), LANDLINE. was filled with equally impressive

riding, editing, and filming throughout. Whether it be

poked-out methods by pioneer Bryan Iguchi, big-city

rail charging by Dillon Ojo, or tuck-kneed backcountry

trickery from Blake Paul, this video has something for

everyone.

Though it took Vans almost 25 years to release their

first-ever full-length snowboard film, the video's release

couldn't have come at a better time. While modern

day snowboarding is gradually trending towards triple

corks, Olympic results, and mainstream sponsorship,

LANDLINE. manifests the culture, energy, and artistic

expression that drives boarders to spend days trying to

land a single trick, or to spend an evening with friends

at a local resort.

LANDLINE. is available for download on iTunes and

Vimeo.

12

February 2018
---
GROWING ROOM: A FEMINIST LITERARY FESTIVAL

SECOND EDITION EXPANDS ON EXPERIENCE

SARAH JAMIESON

Writer Farzana Doctor will be speaking at the festival.

COME ON, VOGUE

COLLECTIVE CELEBRATES, SUPPORTS VANCOUVER'S CREATIVE WOMEN IN MUSIC

SARAH JAMIESON

When Madonna accepted the Lifetime

Achievement Award at the Billboard Awards

in 2016, Laura Smith knew what she had to

do.

Madonna's speech spoke of terrible things

women were expected to do as artists, how

they had to weaponize their sexuality to

survive. Smith knew right then that she

needed to create a community where women

could support each other in music. She had

friends and family who were female musicians,

so she seized the opportunity to add a sense

of belonging — one she says has been missing

from Vancouver for far too long.

"You can be a bit isolated (gender-wise)

because there's a lot of men," she says. "The

group [Come on, Vogue] really struck a chord

with people. Vancouver can be a weirdly

lonely city. Having a sense of community is

important to people's well-being."

Smith started Come on, Vogue in

December 2016 with casual meetup groups

after she realized a lot of younger women

were interested in collaborating within the

music industry. Female performers, producers,

and sound engineers all came together.

After a triumphant first year, Room Magazine's

literary festival, Growing Room, returns for a

second volume full of feminism.

The festival will feature more than 40 authors,

16 events, and nine workshops, including

authors Amber Dawn, Caroline Adderson,

Carleigh Baker, and Jen Sookfong Lee. While

there are less events and authors than last year,

the organizers have doubled the number of

workshops.

"We decided to double [the workshops]

because they were so popular," says Room

Managing Editor Chelene Knight, adding that

this year the festival narrowed its scope to

maximize impact. This meant fewer events and

more hands-on experiences.

This year, burgeoning writers can run their

own work past a team of writing mentors and

editors, including Knight, Anna Ling Kaye, and

Adèle Barclay. The literary consultations cost a

fraction of the usual price for a half-hour with

an editor.

Workshops include new offerings by Farzana

Doctor, Molly Billows, Jillian Christmas, Maggie

de Vries, Jónína Kirton, and Sharon Jinkerson-

Brass. Jen Currin and Barbara Findlay will also

return by popular demand.

Panels and readings include topics on

white feminism, trauma and self-care, and the

complexities and responsibilities of writing

Although Come on, Vogue is womencentred,

the community welcomes trans,

female identifying, non-binary, 2spirit, and

friends. Smith wants to foster a safe and

inclusive space for creative inspiration.

They run workshops and panels for

industry professionals, as well as performances

and information access for artists. Entry to

the workshops and panels is free, and any

donations go to WISH. The WISH Drop-In

Centre is an overnight refuge for self-identified

women who are involved in the survival sex

trade. Bi-monthly concerts are hosted at Café

Deux Soleils and the Fox Cabaret, and are

open to the public. The next showcase is at

Café Deux Soleils on February 2.

"We're trying to showcase a variety

of everything," Smith says, adding that

performances range from classical, sunshine

rock, country, and synth pop to punk, metal,

and rap. "We're thinking big things for 2018.

We're getting our feet on the ground. We have

lots of ideas and excitement."

Learn more about Come On, Vogue at

comeonvoguecwim.squarespace.com.

February 2018 13

CITY

about family and other loved ones.

"Personally, I'm excited about the Indigenous

Brilliance panel," Knight says, "and the Hidden

Intersections event will be pretty educational."

Although the festival is branded as feminist,

events are open to anyone with a passion for

literature. There's something for everyone, even

if you're not a writer or familiar with the scene.

A live recording of Room's new podcast, Fainting

Couch Feminists, will be fun to see even if you're

not a literary nut, and many events mix spoken

word with music.

For free, festival attendees can attend the

live podcast, a panel, or visit a brewery for a

musical performance and get involved in the

conversation. All events at Growing Room —

with the exception the Opening Night Party,

manuscript consultations, and workshops — are

pay-what-you-can donation.

"After you attended, donate how much you

think this was worth. It's a ratings system for

us, and it removes the financial barrier," Knight

adds.

Growing Room's opening night party is

March 1 at the Fox Cabaret. The event will

feature music by Too Attached.

Growing Room: A Feminist Literary Festival runs

from March 1-4 at various locations in Mount

Pleasant.

Come On, Vogue celebrates community in the music industry.

RIO

THEATRE

1660 EAST BROADWAY

FEBRUARY

FEB

2

FEB

3

4 FEB

6 FEB

7 FEB

8 FEB

9 FEB

16

FEB

17

FEB

20

FEB

21

FEB

22

FEB

23

FEB

28

FEB

MAR

2

MAR

4

THE GEEKENDERS PRESENT

UH-OH! A YTV BURLESQUE

NIGHT FT. SCOTT YAPHE

GROUNDHOG DAY

FRIDAY LATE NIGHT MOVIE

CASABLANCA

ETERNAL SUNSHINE OF

THE SPOTLESS MIND

LOVING VINCENT

THE SUPER BOWL

LIVE & FREE! KICKOFF TIME 3:30 PM

GET OUT

JOAQUIN PHOENIX DOUBLE BILL!

WALK THE LINE

HER

WIM WENDERS'

WINGS OF DESIRE

THE GENTLEMEN HECKLERS PRESENT

M. NIGHT SHYAMALAN'S

THE HAPPENING

TITANIC

FRANCO ZEFFIRELLI'S

ROMEO & JULIET

THE PRINCESS BRIDE

THE ROOM

FRIDAY LATE NIGHT MOVIE

THE DARK CRYSTAL

REMSATERED IN 4K!

FRIDAY LATE NIGHT MOVIE

INSTANT THEATRE COMPANY PRESENTS

SHAKESPEARE AFTER DARK

LIVING ON SOUL

SHARON JONES & CHARLES

BRADLEY LIVE AT THE APOLLO 2014

REIGN CITY CABARET

THE FICTIONALS COMEDY CO. PRESENTS

IMPROV AGAINST HUMANITY:

CUPID'S REVENGE!

STORY STORY LIE:

A STORYTELLING GAME SHOW

"SMOOTH CRIMINAL"

DREAD CENTRAL PRESENTS

THE LODGERS

NICOLAS CAGE + SELMA BLAIR

MOM & DAD

RAISING ARIZONA

FRIDAY LATE NIGHT MOVIE

THE CRITICAL HIT SHOW!

#DNDLIVE, IMPROVISED EPIC FANTASY

ICHI THE KILLER

(REMASTERED IN 4K!)

FRIDAY LATE NIGHT MOVIE

THE RIO'S ANNUAL

OSCAR PARTY!

LIVE & FREE ON THE BIG SCREEN

COMPLETE LISTINGS AT WWW.RIOTHEATRE.CA
---
CITY

BOTTOMS UP

WITH CAM BROWN AT CLOUGH CLUB

GLENN ALDERSON

Cam Brown shakes things up as head bartender at Clough Club.

HOW DID YOU START

BARTENDING?

I fell into it as most do. I had just moved

back to Kelowna from Vancouver to start

college. I was freshly 19 and hadn't spent

much time in any bars and wasn't really

interested in it. I had a friend who was

working at a nightclub as a bar back and

they needed more people. He knew I

needed a job and kept bugging me to join

him. I eventually did and really enjoyed

it. I kept working in nightclubs and a

lounge called Avenue for four years while I

finished college. After graduating I moved

to Vancouver and started working for the

Donnelly Group.

HOW LONG HAVE YOU WORKED

AT THE CLOUGH CLUB?

I've been full time at Clough Club for

about three months now. I've done a

couple guest shifts and events over the

last couple years.

BEST THING ABOUT YOUR JOB?

I love hosting people and being creative.

This industry is really unique where you

get to host a party every night and get

the joy of making your guests' night,

every night. This could be with a great

drink, good conversation or just the

vibe we create in our venue. I went to

school for 3D animation so I've always

enjoyed being creative. There are so many

unique flavours and techniques it really

is never ending what you can do behind

the bar. Also this job allows me to travel

around the world. Almost every two

months at least I'm off somewhere for an

event, competition or convention.

14

FAVOURITE DRINK TO MAKE?

My favourite drink to make would be

whatever my guest is in the mood for. It's

always a conversation and then I go from

there. I don't go to work to make drinks

for myself. If it's a beer and a shot or a

unique cocktail it really doesn't matter to

me. It's more about being hospitable and

creating experiences, which can vary guest

to guest. That said, we do have some really

interesting cocktails on our menu such as

the "it's not you it's me," which is like a gin,

cucumber, mint smoothie using a blender

to cheat dilution and garnished with

lemon zest, mint and rose flower water.

GO-TO ON A NIGHT OFF?

On a night off I'm usually at Keefer Bar.

Great team, atmosphere and usually have

something exciting and new in the way of

cocktails.

My go-to drink is usually a pint of

Guinness or a light beer depending

where I am. I also like seeing what other

bartenders are excited about so I do drink

a lot of dealer's choice cocktails.

TELL US ABOUT THE GREATEST

NIGHT YOU'VE EVER HAD AT

WORK.

The best nights are any nights you have

a good room of friends, family and great

guests drinking and having a good time.

THE WORST?

The worst nights are the ones where you

are not prepared and things get chaotic

instead of smooth, the way they should be.

Clough Club is located at 212 Abbott St.

DI BEPPE

VETERAN RESTAURATEURS STRIKE GOLD WITH AUTHENTIC CAFÉ-RESTAURANT

WILLEM THOMAS

Sometimes, a miscalculation can actually be of benefit.

For the Kitchen Table Restaurant Group (of Ask For

Luigi and Pourhouse fame), their venture on the corner

of Cordova and Carrall, Joe's Pizza, didn't quite meet

their expectations. While its Roman-style pizza was

well-received, its counter service and cafeteria-like

atmosphere never quite felt right in the large, unique

character space. So a rework was needed. By saving Joe's

Pizza with a logical move out to UBC and its ravenous

students, they were ready to elevate their Gastown

address into something special.

Enter Di Beppe, which essentially translates to "Joe's"

from Italian. Di Beppe isn't your average Italian eatery.

The space has been split into two distinct halves – a café

and a restaurant – creating a particularly welcoming

blend of casual and quasi-upscale dining. The restaurant

side avoids any off-putting attributes of fine-dining, like

vexing price points, but still gives guests the same level

of quality in food and overall experience. Di Beppe's café

side feels like another establishment altogether, with a

totally different design and separate offerings on the

menu. Both sides work in conjunction smoothly due to

the central bar that passes through each room. Guests

enter through the café on Cordova, which operates

through the day and into night service, and after 5 p.m.,

seating in the restaurant begins.

Whether your knowledge of Italian food extends

only so far as The Godfather Part II's closing scene or

you're visiting Vancouver from Italy itself, Di Beppe

should be able to accommodate and surprise you. As is

to be expected if you've visited any of the group's other

establishments, proper care has been implemented,

with highly knowledgeable staff members able to

properly explain and recommend fare on both sides of

the room. Their dedicated Italian coffee program, led by

Chris Giannakos (who has worked with Revolver Coffee)

exemplifies this care.

"Every drink here should feel like you went to your

Italian uncle's house, and we take huge pride in making

our coffee the proper way," he says. "Most places in

Vancouver can't do a true Italian cappuccino. That's one

of main things we're doing differently here."

Both sides of the establishment already seemed to be

operating in a well-rehearsed capacity when BeatRoute

visited, despite only having opened a week prior. Not

papering up and hiding from view, passers-by could

peek in the large windows and see as Di Beppe took

shape. What emerged is a wholly original, authentic

Italian restaurant that will most likely be jam-packed

into the new year. Make sure to try a corretto – "The

ultimate 5 o'clock pick-me-up," says GM Matthew

Morgenstern – while waiting for your table.

Di Beppe is located at 8 West Cordova Street.

The Kitchen Table Restaurant Group elevate their Gastown presence with Di Beppi.

Photo by Chris Giannakos

February 2018
---
TABOO NAUGHTY BUT NICE SEX SHOW SKIN DEEP

SEX-POSITIVE ATTITUDES CONTINUE TO BREAK BARRIERS IN SHOW'S 17TH YEAR

WITH NINA CHWELOS, STICKS AND STONES

YASMINE SHEMESH

HOGAN SHORT

CITY

Since it began in 2001, the Taboo

Naughty But Nice Sex Show has been

continuously breaking down social

and societal barriers that exist around

human sexuality.

"The main objectives have

always been to entertain, educate,

promote the importance of sexpositive

attitudes and connect

adult consumers with all different

types of adult companies and

the products they sell," says show

director Kevin Blackburn. "When

people have sex-positive attitudes,

they are open-minded which allows

them to build an extensive healthy

understanding of human sexuality in

general. That understanding builds

self-confidence and acceptance of

others. At the Taboo Show, we don't

discriminate. There is something there

for everyone. It is primarily why the

Show was started and what makes it

unique from any other Show in North

America."

With an ever-growing number

of both exhibitors and attendees

over the past 17 years of Taboo's run

in Vancouver in mind, Blackburn

describes the city's alternative sex

scene as very diverse. "Vancouver is

a very sexually open city. You have

everything in Vancouver and nobody

is afraid to show it."

Taboo prides itself on always being

a step ahead of the trend and, this year,

the Show's highlights include male

strippers, sensual parties that feature

naked yoga, educational seminars

covering every sexual topic imaginable

(sexologist speaker Dr. Jess O'Reilly

is a headliner), and an extensive area

for exploring kink. The highlights

are simply a reflection of today's

Sex positive, body positive — There is something for everyone at the Taboo Show.

growing sex trends, Blackburn says,

even attributing some of them — and

some more relaxed approaches — to a

certain popular film.

"People are just generally more

open to trying new things nowadays.

Ever since the movie 50 Shades of Grey

came out and became mainstream, it's

really kick-started people's ability to be

receptive to new ideas."

The Taboo Naughty But Nice Sex

Show runs from February 2-4 at the

Vancouver Convention Centre.

How many years have you been

tattooing?

I was 16 when I did my first stick 'n

poke, so if we're counting that, six years.

But professionally, I've been tattooing

for two years.

Why did you start tattooing?

I always wanted to be heavily tattooed

and I always drew. I couldn't afford

to get tattooed, and when I could, I

didn't have very positive experiences

as a young woman getting tattooed,

so I bought my first kit when I was 18. I

tattooed my legs and my arms and my

friends out of my house.

How do you view the culture of

tatooing in Vancouver?

I think we have a wonderfully diverse

and amazing tattoo community in

Vancouver. Although it may not be very

connected, clients in Vancouver have

a wide range of very talented artists to

choose from.

Can you tell us about other

projects of yours?

I'm in full time design and illustration

school at Capilano University, so

starting to learn inDesign in September

spawned my desire to start a magazine.

SCRATCH on issuu.com is an annual

print publication that acts as a platform

for self-taught (and otherwise) artists

to showcase their work, with a focus on

queer and marginalized artists.

If you could get tattooed by

anybody in the world, who would

it be?

Tamara Santibanez is an idol in the

queer tattoo community living and

working in Brooklyn, New York. She's

ridiculously talented, steadfast, and

deserves all the acclaim and respect she

has received. I think what makes her so

fascinating to me is her wonderful fine

art practices that break down cultural

barriers and explore her identity.

FRIDAY LATE NIGHT MOVIES!

19+

VALID ID FOR

BAR SERVICE

VISIT WWW.RIOTHEATRETICKETS.CA FOR SHOW TIMES & TICKET PRICES

FEB 2

GROUNDHOG DAY

FEB 9 THE ROOM FEB 16 THE DARK CRYSTAL FEB 23 RAISING ARIZONA MARCH 2 ICHI THE KILLER

February 2018 15
---
1

Mr. Boom Bap

presents

Boogie Nights

2

The Railway

Stage presents

Rock N' Roll

Winter Classics

3

Blues Brunch 1-4

Saturday Sessions

4:30-7:30

Modern Day Poets

9-late

4

Super Bowl LII

5

The Take Back

DJs Khingz,

Mic Flont

& Guests

6

Happy Hour

$

3 Beer til 5pm

7

Happy Hour

$

3 Beer til 5pm

8

Live Acts

Canada & Live

Agency present

Walter The 17th

ep release show

9

The Live

Agency presents

Aviator Shades

w. guests

10

Blues Brunch 1-4

Saturday Sessions

4:30-7:30

Stella Soul w. guests

9-late

11

Open Mic Night

12

The Take Back

DJs Khingz,

Mic Flont

& Guests

13

Cookies

hosted by Dust

& Karmella w.

guest Merrie

Cherrie

14

Happy Hour

$

3 Beer til 5pm

15

Mr. Boom Bap

presents

Boogie Nights

16

Live Agency

& Live Acts

Canada present

The Segues

w. guests

17

Blues Brunch 1-4

Saturday Sessions

4:30-7:30

The Fallaways

9-late

18

Live Agency &

Live Acts Canada

present

Wil

19

The Take Back

DJs Khingz,

Mic Flont

& Guests

20

Happy Hour

$

3 Beer til 5pm

21

Live Agency

presents

Whitney Rose

22

Mr. Boom Bap

presents

Boogie Nights

23

Toddcast Podcast

presents

La Chinga

w. We Hunt Buffalo

& The Thick Of It

24

Blues Brunch 1-4

Saturday Sessions

4:30-7:30

Emily In The

Headlights 9-late

25

Live Agency &

Live Acts Canada

present

Phenix Warren

w. guests

26

The Take Back

DJs Khingz,

Mic Flont

& Guests

27 28

Happy Hour

$

3 Beer til 5pm

Happy Hour

$

3 Beer til 5pm
---
DESTROYER

THE DIFFERENCE BETWEEN DEPRESSIVE AND MELANCHOLIC

SARAH BAUER

Dan Bejar continues working on the new Oliver Twist with his latest saga, ken.

BAHAMAS

MAKING MODERN SONGS FROM THE EARTH

FRANKIE RYOTT

It's only taken Dan Bejar 12 records and 20 some-odd years of

playing music as Destroyer to make something his 17-year-old

self would approve of. ken (Merge Records) is gloomy, synthheady

and short in play time, just like the stuff Bejar devoured

in the late eighties, "the era when I got really crazy about

music," he says from the streets of Chicago on his call with

BeatRoute.

To make ken (which takes its name from the working title

of the Suede ballad "The Wild Ones"), Bejar had to get

uncomfortable, working within the prison of writing songs on

guitar, which is something he hadn't attempted in over ten

years.

"There's something about the tightness of the craft [of

writing on guitar] that hadn't really been interesting to me

on the previous two records [Kaputt and Poison Season], and

probably is something I won't do again for a while," Bejar says.

From the confines of guitar chords came 11 depressive ditties

taking stock of derangement, malaise and overconsumption in

a too-close-for-comfort physical landscape. The lyrical aura on

ken is pointed yet elusive, relatable but not quite topical. Bejar

brought Destroyer drummer and Black Mountain member

Joshua Wells on as producer, to a stunningly accurate effect for

evoking his chosen decade. Songs like "Rome" and "Tinseltown

Swimming in Blood" groove with the body-pulsing movement

of an imagined dance scene out of Casino or Heat, with

drenched percussion and deep, driving synth.

"It's been really fun to lay into these songs," Bejar says,

having been on tour for ken for a couple of weeks at the time

MUSIC

the interview was recorded. "I wasn't really sure how the band

would take to them and attack them because they're kind of

robotic in their way and icier than what we're used to doing

onstage."

Instead, Destroyer makes it "really noisy and really loud,"

punctuating the crisp and close-up lyrics on high-drama

doozies like "Le Regle Du Jeu" (yes, that's a Renoir film

reference), and "Ivory Coast".

Phoneys, corrupters and "dear young revolutionary

capitalists," ("Sky's Grey") saturate Bejar's macabre landscape

on ken, so the odd moment of optimism renders its listener

deranged in desperation for more. "Sometimes in the world

you're very alive," Bejar intones on "Sometimes in the World",

emphasizing, "You're nuts and bolts and electrocutions. You're

antidotes, you're solutions." Even manufactured goodness is

a bitter laugh on ken, which Bejar describes as "depressive"

in comparison to the otherwise "melancholic" themes he's

explored as Destroyer otherwise.

Wherever it comes from, depressive or melancholic, it's

not always something Bejar recognizes in himself. "I never sit

down and pick up a pen and go, 'OK, it's time for me to write

a song now,'" says Bejar. The imagery and "shreds of a melody,"

descends without warning, leaving Bejar to his devices to report

it in music. To some that might seem scary, but not to Bejar.

"That's how I get my kicks," he says. We've all got to get our

kicks somehow.

Destroyer plays the Commodore Ballroom February 9.

After a demanding few years touring the world

and sharing his light, Afie Jurvanen, aka Bahamas, is

back in beige and ready to share his fourth album,

Earthtones, with the world.

The Toronto-based singer-songwriter last

appeared on the musical radar in 2014 with

his critically acclaimed LP "Bahamas is Afie," an

album that not only took home Juno awards

for songwriter of the year and alternative adult

album of the year, but also solidified Bahamas'

momentous presence in the indie-folk realm.

Despite this success, Jurvanen struggled to find

which direction to head in next, until long-term

manager and confidante Robbie Lackritz suggested

he collaborate with contemporary RnB icon

D'Angelo's rhythm section: Pino Palladino (bass)

and James Gadson (drums). This partnership

reignited Jurvanen's creative flames, pushing the

indie-folk heavyweight towards creating an album

that truly represents what Bahamas is all about.

"This album is heavy. I think it is the most direct

and to-the-point album I have made so far, both

lyrically and musically. There's no studio trickery.

The songs are a performance, the vocals are loud

and I'm not trying to hide behind anything. I'm

singing about my brother, my wife, my kids, my

life and the world I live in. I wanted to make

something modern, contemporary and relevant to

2018 and the time we live in," Jurvanen explains.

This desire to make modern songs "from the earth

for the earth" came from Jurvanen's appreciation

of the fluidity and creative diversity hip-hop and

RnB artists have within their albums.

"Rnb and hip-hop artists are able to sing about

the modern world; they can create dance songs,

sing, and rap. You can listen to a Drake or Kanye

West album and there are all different kinds of

music on there that can change each day you

listen to it. I like the idea of that, that we can do

anything we want because, at the end of the day,

music is art before it is a product to sell. D'angelo's

records have that quality, and when working with

Pino and James I never wanted to talk about what

we were doing, I just wanted to allow them to be

themselves, to enjoy our musical conversation and

see what we could come up with. I think it's a lot

more interesting to make music together when

you're on the edge of your seat waiting to hear

what the other is going to do next, that produces

something more exciting," says Jurvanen.

There is no doubt that Earthtones is something

to be excited about. The eleven-track album

provides listeners with a compilation of delicate

but diverse tracks balanced with Jurvanen's

signature vocals. Earthtones is bluesy, melodic,

well crafted, and expertly intricate in all the right

moments. From the wading guitar riffs of "Alone"

to the tropical twists of "Way with Words," the

combination of D'Angelo's rhythm section and

his own road band has allowed Jurvanen to create

an album that dives into a dimension of its own;

one without definition and the constraint of genre

boundaries and this is just his beginning.

"I was playing music long before anybody cared

about my music. And I'll be playing music long

afterwards. The cool thing is my musical mind

is with me wherever I go. For instance I wrote

'Bad Boys Need Love Too' tapping my steering

wheel sitting in traffic. I think it's important to

have no expectations, because when you have no

expectations, well, anything is possible and you

can go beyond what you think is possible. That

was definitely a revelation to me on this album and

I'm excited for all the music that's to come from

here on out."

Bahamas performs at the Queen Elizabeth Theatre

on March 1.

After a four-year hiatus, Bahamas is back with his fourth album, Earthtones.

February 2018 17
---
MUSIC

KIKAGAKU MOYO

REDEFININING PSYCHEDELIA FROM ACROSS THE OCEAN

MAT WILKINS

TINSLEY ELLIS

ROOTS ROCK, SOUTHERN BLUES AND WINNING HANDS

ADAM DEANE

For someone who has performed in every single

state, both Western and Eastern Europe, and

toured South America and Australia, somehow

Tinsley Ellis has not only kept a level head, but

a rapid-fire wit and the heart of a comedian as

well. BeatRoute had the opportunity to catch

up with the Atlanta-based blues-guitarist.

Ellis brought a certain type of warmth to the

exchange that was unexpected, but certainly

welcome, sort of like talking to your uncle if

your uncle had held space with The Allman

Brothers, Leon Russell and Stevie Ray Vaughan,

to name a few.

Having reconnected with Chicago-based label

Alligator Records after releasing his first album

with them in 1988, Ellis seems to have found

more than just a voice in the industry: he's also

collected massive amounts of fans, respect, and

a compilation of road stories and jokes over

the years. These certainly provide fodder for

his most recent release, Winning Hand, which

dropped January 12, ahead of a massive 63-show

tour across the nation, to which Ellis jokes,

"Show business is 10 per cent inspiration and

90 per cent perspiration. We'll have ended up

driving our van up to 18 hours in a day to cities

like Vancouver – that's how much we like what

we do. Pretty crazy for this 60-year-old."

Professing that this is the most guitar-driven

album he's released in quite some time, Ellis

explained why he's stuck with it for more than

40 years and made the move back to Alligator,

parting ways with his entrepreneurial side of

releasing music under his own label, Heartfixers,

for the past few years.

"Having been on the road since 1979, there

is just no way I could do a tour like this and run

a record company at the same time," he laughs.

"This was a great move for me, and it is nice to

be back with Alligator. If I wasn't playing music,

I'd probably be in jail."

Ellis has made the return to a heavy guitardriven

sound and brings his character rootsrock,

southern blues style along with him on his

latest tour where he will play fresh tracks from

Winning Hand and a handful of his many other

hits.

Tinsley Ellis performs at the Rio Theatre

(Vancouver) on February 18.

Photo by Flournoy Holmes

Kikagaku Moyo formed almost by accident, but have released seven albums since.

Photo by Jamie Wdziekonski

Tokyo's Kikagaku Moyo (Japanese for "geometric

patterns") goes above and beyond the typical

trappings of the everyday psych outfit. They are a

group with a penchant for sonic assembly, carefully

constructing ethereal soundscapes and melodious

riffs alike— that are expertly bound together with

the glue of their own unmistakable style. According

to drummer and vocalist Go Kurosawa, this band's

distinctive sound is a result of more than just a

smattering of band practices.

"Yui Kimijima has recorded all of our studio

albums so far… He's not afraid to experiment or try

a different approach, which we like," says Kurosawa.

Stone Garden is the most recent testament

to Kimijima's behind-the-scenes tinkering; the

five-song EP is a whirlwind of aural sensation,

taking listeners on a journey through abrasive

distortion, on to toe-tapping vocal melodies, and

then back again. Other recent albums — House in

the Tall Grass or Forest of Lost Children — contain

diverse collections of infectious tunes, complete

with fuzzed-out guitar and sitar leads, drawn-out,

meandering instrumentals, and creative vocal

harmonies (drenched in reverb, of course). Sonic

evidence of the band's relationship with Kimijima

is palpable not only on Stone Garden, but right

through to the beginning of their entire sevenalbum

discography.

18

"It's kind of miraculous how we got together. It's

amazing how we can sustain the same energy we

had when we started the band after five years of

playing together," mentions Kurosawa.

Having began as a two-piece between Kurosawa

and vocalist/guitarist Tomo Katsurada, Kikagaku

Moyo began picking up additional members almost

by coincidence. First came Daoud Popal on the

guitar, who Katsurada met when out for a smoke

at his university. Then came bass player Kotsu Guy,

who was found on the street recording vending

machine noises for a drone project. Finally, after

returning from sitar training in India Kurosawa's

brother Ryu joined.

With some members now living in Europe,

the band's writing process has become a result

of "[sharing] musical ideas [while Go Kurosawa]

comes up with the song structure." Despite

distance's traditional role as band-killer, Kurosawa

shows little if any concern over their new creative

workaround to living abroad. Though, as a band

that likes to "play N64 or take naps" when they're

not rehearsing or performing together, we shouldn't

expect them to be terribly prone to many of life's

classic stressors.

Kikagaku Moyo performs at the Fox Cabaret

(Vancouver) on February 26.

With a career that's spanned decades, Tinsley Ellis feels the blues in his bones.

February 2018
---
BULLY

REDEFINING DIY PUNK WITH AN ENGINEER'S PRECISION

ADAM DEANE

69 LOVE SONGS

REVISITING THE ROMANCE OF THE MAGNETIC FIELDS

ALEX BIRON

MUSIC

Alicia Bognanno, frontwoman of Bully, started her career as an audio engineer.

After a year like 2017, the needle on the collective

emotional pressure-gauge has reached the red

zone. More and more humans are desperately

searching for a voice to call home, a safe asylum,

a place to shake off the proverbial dust of all

the everyday realities and stresses we breathe.

Alicia Bognanno is no stranger to this feeling.

She is human after all. Though, with a voice

like hers and a brain capable of concocting and

constructing the framework of the Nashville punk

band Bully, she just may have the answer to the

worries and woes of yesteryear, hidden within

their Sophomore release, Losing.

Given a brief window to pick at Bognanno's

brain, we did just that. We found her and her dog

at home in Nashville, which Bognanno assured us

has a yard, a sidewalk and space for her van and

trailer.

"I've been in Tennessee for almost 10 years

now. I grow to like it more all the time. I'll

come back from tour and just realize I was not

appreciating the simple pleasures of living here. I

have sidewalks on my street and I can go and run

with my dog whenever I want. There's always a

lot going on. Nashville is somewhat central and

it's easy to tour out of, which is a plus for playing

music."

Bognanno has got one of those sounds that

resonates with every cell. You know, the kind

that keeps you up at night because you've

unintentionally mopped up every lyric — and

there are a lot. With songs that touch on matters

of depression, anger, relationships, resentments

and regrets; no one can really relate. Makes you

wonder if she creates anything else you can inject,

inhale, ingest?

Photo by Alysse Gafkjen

"I recently started just writing to write. It's

weird because I get really self-conscious about it

and I'm not sure why. I write lyrics knowing that

someone will be reading them. I'm trying to write

a lot more to help work things out emotionally.

There's poetry I like but when I try and write it I

just can't take myself seriously enough to do it."

With backing vocals, bass, and drums thrown

into the mix and Bognanno producing and

engineering her own sound, Bully is an irrefutable,

incomparable force to be reckoned with. Having

studied under the infamous producer Steve

Albini (Nirvana, Pixies, The Cribs) for years as an

audio engineer, Bognanno not only found her

niche, but ran with it.

"I always wanted to get into music. My first way

in was through audio-engineering, which I started

in high school. I ended up going to college for it.

I picked up electric guitar while I was in college

and eventually started Bully. I was playing piano

before and I just couldn't stand it. I felt stuck and

felt like I couldn't express myself. Then I picked up

electric and was like 'oh I found it!'"

With blistering punk-esque vibes,

unapologetically confident howls, feedback that

could take down a bear and a little pop thrown

in for good measure, Bully's sophomore release,

Losing, will most certainly keep you coming back

for another handful. Bognanno's Bully appears

to be precisely what we need in uncertain

times such as these, a bloody fist bashing its

way through a crowd of bullshit to address the

feelings everyone has, yet seldom voice.

Bully performs at the Biltmore Cabaret

(Vancouver) on February 26.

Whether you're heartbroken, starting a new

romance or just a plain cynic when it comes to

love, 69 Love Songs is the record for all shapes

and sizes. Since its release in 1999, the sprawling

conceptual indie album released via Merge

Records has become legendary. 19 years after

writing it in New York, the album is still just as

relevant and poignant today no matter your

mood, gender or sexual orientation. Looking

back on the album just in time for Valentine's

Day, Stephin Merritt was kind enough to reflect

with us and answer some of our questions about

the L-word. And since he refused to answer any

questions containing the word favourite, it made

our interview fairly short and sweet — just like

most of the songs on the album.

BeatRoute: Hi Stephin! Thanks for taking the

time to talk to us for this feature.

Stephin Merritt: Thanks for having me. As is

my policy, I have ignored the questions about

favourite things..

BR: This year marks the 19th anniversary of

69 Love Songs, which means it's finally legal in

Canada!

SM: In the US we are taught that practically

nothing is legal anywhere but the US, which is the

land of the free...all of them. Everywhere else is

North Korea.

BR: Music has changed so much since the late

'90s. How do you think 69 Love Songs would be

received if it was released today?

SM: Really? I don't think pop music has changed

at all since the late '90s. There's rock, disco and

country, slowly merging. Since no one listens to

music anymore — why would you? — And since

nothing ever happens, 69 Love Songs couldn't

be released at all today. If it were, no one would

notice.

BR: 69 Love Songs has undoubtedly helped a lot

of broken hearts through breakups. Do you hear

from a lot of these people?

SM: My manager Claudia does. She reads the fan

mail. I had to stop reading the mail decades ago

when I got a love letter from a lunatic, enclosing

a photograph of himself that he had cut into tiny

triangles.

BR: You wrote 69 Love Songs in New York. What's

the best place to take someone on a date in the

Big Apple?

SM: A bar. If they don't show up, you can just get

drunk.

BR: In your experience, what's the secret to a

happy relationship?

SM: Brevity!

BR: Do you think animals fall in love?

SM: Oh yes, I just saw some stupid clickbait

article about a dog pining away with love for the

neighbour's cat. Essentially the same chemicals

are sloshing around in their and our little brains.

Love doesn't require language skills.

BR: If you had to make another album of songs

about an emotion other than love, what would

it be?

SM: Love is much, much more than an emotion,

and I would never make a whole album about

only one emotion. The only one feasible would be

boredom, right? A zen album. I'd happily listen to

it, if only once, but I sure wouldn't want to make

it.

BR: When are you more creative — during times

of happiness or heartbreak?

SM: Neither! If I'm happy I don't want to work

(fortunately this is rare), and if I'm heartbroken I

can't. I like to work when I'm tipsy and otherwise

a little bored, so I write mostly in bars.

BR: How do you plan to spend Valentine's Day

2018?

SM: I think I'd like to blow something up. I gather

there is a sexual fetish for that, and it just sounds

like a lot of fun. Maybe at the Eagle, which is the

only remaining leather bar in New York, and has a

nice big roof deck.

BR: Thanks for taking the time to talk to us. All

the best in 2018 and beyond!

SM: Ta.

Photo by Marcelo Krasilcic

69 Love Songs is the sixth album by The Magnetic Fields and was released in three volumes in 1999.

February 2018 19
---
MUSIC

DAN AUERBACH

BLACK KEYS FRONTMAN GOES NASHVILLE AND SOARS

MAX SZENTVERI

Dan Auerbach believes it's not work if it's what he's passionate about.

Dan Auerbach's lengthy résumé reads as that of a workaholic.

Starting in 2011, he and Black Keys bandmate Patrick Carney

embarked on a five-year grind of worldwide tours supporting

three separate records, after working more-or-less non-stop

since 2001. So when the Keys finally took a hiatus in the

summer of 2016, you may have assumed the musician would

pause to relax. Instead, Auerbach has produced seven albums,

launched a record label, begun hosting his own radio program

(The Easy Hour, on SiriusXM) and is now preparing to tour

in support of the solo album he released last June, entitled

Waiting on a Song.

But Auerbach's ethos is the old adage that if you do what

you love, you'll never work a day in your life. "It's not work

really, it's what I'm passionate about," he explains. "I'm very

lucky I get to do it, so I do it as much as I can." After moving to

Nashville eight years ago, the Ohio native built his own studio,

Easy Eye, and gradually began assembling an inner circle of

distinguished local musicians with whom to collaborate on

Waiting on a Song. The record's roster is stacked with titans of

20th century American music, such as hall of fame singersongwriter

John Prine and legendary rockabilly guitarist Duane

Eddy—even Mark Knopfler lends his signature finger-picking

to standout track "Shine on Me."

Despite the potentially comical juxtaposition of one of

rock hipsterdom's leading front men working with a band

of grey-haired old hands, Auerbach felt like he had met

kindred spirits—people who shared "the same disease," as he

puts it, a near-addiction to music-making. "Somebody like

[iconic session keyboardist] Bobby Wood—who's in his midseventies—he'll

be texting me at, like, two in the morning with

song ideas, just excited about a riff or something."

This chemistry was exhilarating for Auerbach. "I just got

really hooked on writing," he says. "And I've been doing it ever

since." Indeed, he soon became a craftsman-style musician

in the classic Nashville vein, punching in early in the morning

and diligently writing all day Monday to Wednesday, then

recording Thursday through Saturday. By the time the album

was released, Auerbach and Co. had recorded a staggering

200-plus songs, of which 10 made the final cut. The result is a

sunny, radio-ready collection of catchy, retro-prismed tunes

that sounds unlike anything Auerbach has released before.

Auerbach opens his 22-date tour February 10 at Vancouver's

Vogue Theatre, and is audibly excited about the more intimate

scale of these shows compared to the Black Keys' stadium gigs:

"I do love playing these sized venues—places like the Fillmore

[in San Francisco], the Ryman in Nashville—they are really

great rooms. The kind of places where people who really love

music go to." After 17 years fronting the Black Keys, Auerbach's

passion for making music remains as strong as that of the old

industry veterans he now calls friends. "Honestly," he says, "I've

never had more fun."

Dan Auerbach performs February 10 at the Vogue Theatre

(Vancouver).

20

February 2018
---
BLACK WIZARD

HEAVY METAL HOMIES GET HEAVIER AND HAZIER

ANA KRUNIC

The lower mainland's heavy music scene wouldn't be complete

without our homegrown road warriors, Black Wizard. Their brand

of metal with a heavy lean towards rock n' roll definitely sounds

like it was cultivated here, tinged with the Vancouver haze we

know so well. Their new record, Livin' Oblivion, slated for release

on February 16, brings us a heavier and faster 'Wiz. Founding

members Eugene Parkomenko and Adam Grant say it was an

intuitive progression.

"It was kind of natural, honestly," says Grant. "Even though it's

our fourth record, this is the first time we've had the same lineup

following the last one. So it really helps, having that consistency

as well as [guitarist] Daniel Stokes, who's a genius and also a death

metal boy. He definitely had a big influence on writing of some of

the newer songs."

The album ebbs and flows, as Black Wizard records have always

done, with some slow-burners to break it up a bit.

"'Feast or Famine' is a faster one, but the rest of the record

still follows our classic 'Wiz formula, but on the next level," says

Parkomenko. "We spent a lot more time on tones and sounds this

time, making it big and in-your-face."

The guys have always considered engineer Michael Kraushaar

the fifth member of their band, as he's worked with them from the

start and has had a big impact on their work.

"Having worked with Mike on all of our records, he's just so

fucking good at what he does, and he only gets better year by year,"

Grant explains. "It's become effortless now that we've worked with

him so often. It's great to feel comfortable doing what you're doing,

and having a guy that contributes valuable things. We're definitely

super happy with how the new record sounds."

As for future plans, Grant says it's their mission to tour with

Judas Priest.

"Rob Halford actually left a comment on one of our photos

one time," Grant laughs. "It was a devil horns emoji, a microphone

emoji and a little flame emoji. So hopefully that means we get to

tour with them someday."

"Naturally, we have an eternal tour question that we ask bands

we're on the road with: would you let Rob Halford suck your dick

if he offered?" adds Parkomenko. "Whoever says no is probably

a homophobic dickbag. Because if I can get it up, the answer is

always YES."

Black Wizard's album release show is on February 16 at the Rickshaw

Theatre with Mean Jeans, WAINGRO and Killer Deal.

Livin' Oblivion is Black Wizard's fourth magical offering.

February 2018 21
---
ASKING ALEXANDRIA

ALTERNATIVE METAL GROUP THROW THEIR OLD SELVES INTO THE FIRE

SLONE FOX

Asking Alexandria has undoubtedly had their

share of twists and turns during their decade

as a band, perhaps the most notable being the

departure of vocalist Danny Worsnop in 2015.

Their previous album, The Black, saw singer Denis

Stoff as frontman, but his reign was short-lived –

Worsnop inevitably reclaimed his throne in 2017,

just in time for the band's powerful new self-titled

album.

The hard rock quintet offers a new style this

time around, but old fans shouldn't stress. The

rowdiness that has come to be synonymous with

Asking Alexandria still has its permanent place

on the record. Energy falls out of every song, just

as one would expect from a reunion album of

this magnitude, yet the record is also laced with a

unique kind of softness, if Asking Alexandria could

ever be considered soft.

According to lead guitarist Ben Bruce, the

change in sound is obvious: the music has changed

because they have changed.

"Sometimes people want more music like our

old stuff, but the old stuff is still there," Bruce

points out. "If that's what you want to listen to,

listen to it. I think everyone would get very bored

if we just kept playing the same kind of thing over

and over again."

To accompany their hard-hitting new album,

Asking Alexandria also released an equally raucous

music video for their opening track, "Into The

Fire." The Sin City-esque video features a series

of cheerful scenes, such as Wors turning his back

on his bandmates as they burn to death in a car

wreck, bleed out on the road, get hit by cars and

so on, all at the hands of Worsnop and his various

unsafe road practices. The symbolism there is

glaring.

One would think filming such heavy scenes

would have an emotional toll on the band, but

Bruce insists that the hardest part of it was all

physical.

"There's these harnesses, and they're just lifting

you around all day," he says. "Emotionally though,

I mean, it was mostly just production people

yelling 'CRY!' Which I can do, by the way. I can

cry on demand. I cry all the time. I cry when I

watch movies, when I wake up, when I eat, when I

ejaculate. I'm very good at it."

Even though the music video might look

somber, Bruce says having Worsnop back has been

nothing but positive. After a four-year absence

from Vancouver, fans can expect to see some

changes in the band since their last show here, but

only for the best.

"Just as people, we've all grown a lot. Cam and

I were talking about it today, how four or five

Asking Alexandria have evolved since reuniting with their original vocalist.

years ago, we all would have been just hammered

around this time, but the other day we did meet

and greets and afterwards we just, like, went to

bed."

The well-rested rock group kicked off the aptly

named Resurrection Tour in January 2018. With

such an extensive list of tour dates spanning over

Photo by Sanjay Parikh

continents, Asking Alexandria has returned to the

scene and hit the ground running. We can only

hope that this time around, it's permanent.

Asking Alexandria co-headlines the Vogue Theatre

with Black Veil Brides and Crown the Empire on

February 25.

22

February 2018
---
BLACK LABEL SOCIETY

A WYLDE AND UNEXPECTED CONVERSATION WITH ICONIC METAL AXEMAN

JOHNNY PAPAN

Zakk Wylde is considered one of the most influential guitarists

in the history of modern music. His heavy tones mixed with

unimaginable lead solos earned him guitar duties for metal-icon

Ozzy Osbourne in 1988, during the Ozzman's prime. Wylde is the

axeman behind some of metal's most memorable riffs, marking his

debut on Ozzy's No Rest for the Wicked at the young age of 21.

Now 51, Wylde has been the frontman for Black Label Society over

the last two decades.

"Hellooo thereee," a withering voice elongates upon answering

the phone. Wylde has disguised his vocal tonality to match that of

the type of creepy old man who would try to lead you from a dark

alleyway into his van for candy, similar to Herbert from Family Guy.

After a brief, confused pause, I ask Wylde how his day was going. I

was not prepared for Wylde's inner jokester.

"Very good!" he responds. "We're doing the South Carolina

chapter of the almighty Black Label tour. Getting ready for a big, fat

Festivus miracle tonight! I am very excited. I just finished shaving

my legs and my anal bleach appointment is coming up in about an

hour and a half. The first one was already done and it was perfect,

so I said 'let's just do it again!' Second anal bleach of the day, I'm just

that kind of guy."

Black Label Society is touring in support of their newest release,

Grimmest Hits, which was dropped earlier this year. Though the title

may seem as such, this is not a greatest hits record. The album was

recorded over 20 days in Wylde's home studio, the Black Vatican.

"The record company was like, 'Are there any hits on this record?'"

he says. "I said 'No. It's rather bleak and rather grim.' That's why I

went with Grimmest Hits. You see, in order to have greatest hits

album you need to have one special ingredient: good songs. We

don't have any of those."

Grimmest Hits, despite Wylde's exaggerated claims, contains all

the classic stylings that brought him to the pit: thrashy riffs, ripping

solos, and heavy tones, with a couple piano-laden mellow tunes

sprinkled in. Wylde admits that he wasn't trying to explore anything

new on the record, opting to continue thematic trends from

throughout his career, much of which was also spent drinking booze

and partying. As of 2009, Wylde is no longer on the liquor.

"It's not that I'm completely sober," Wylde chuckles. "I shifted

from alcohol and moved on to paint kits and glue. Glue and paint

kits are less filling; they aren't that high in calories. They're good for

the abs and the vascularity."

Many of Wylde's craziest road stories are featured in his book

Bringing Metal to the Children: The Complete Berzerker's Guide to

World Tour Domination.

"If you ask anyone in a band or who's been a part of the music

business, they'll tell you the comedy that comes along with it is a

gift that keeps on giving," he says. "You figure that when you get out

of high school, you don't have to deal with this crap anymore. But

then you realize that life is one giant version of high school, except

more silly and ridiculous. You either laugh at it or you'll just be

crying profusely. Then you write a book about it."

Black Label Society headlines the Commodore Ballroom on February

14. Zakk Wylde Gives Us More Than His Grimmest Hits.

Photo by Justin Reich

ENSLAVED

CYCLING BETWEEN HEAVINESS AND HARMONY

BRENDAN REID

Photo by Christian Misje

Enslaved know transformation is a huge part of one's man journey.

Enslaved has never been a band to shy away from esoteric

concepts. On E, their latest work, the group delves deeper

than ever into themes of arcane lore, the bonds we have with

nature, and our identities.

Each song on E is part of a grand narrative, an

interpretation of the human experience that can only be

described in varying, ever-changing forms, much like the

music itself. The melding of heavier moments with haunting

and beautiful melodies is a reflection of our natural essence.

Lead songwriter Ivar Bjørnson penned the compositions in an

appropriately organic fashion.

"A lot of the songwriting has to do with feeling," Bjørnson

explains. "They are interpretations of dreams and stories that

don't necessarily fit together in a narrative way."

"Storm Son," the album's opening track, demonstrates this

structure. Bjørnson describes the song as a tableau of man's

relationship with the natural world. As you listen, it floats

between mythical ideas and our simple struggle to survive in

a harsh, unyielding environment. The lyrics focus heavily on

the runic character "Hagalaz," which stands for "hailstone" or

"severe weather." It's a call to overcome the challenges that life

throws our way.

"People often forget that nature is a dangerous place," offers

Bjørnson. "There are predators at night and the forest floor is

lined with death. But it is this death and decay that allows for

the growth of beautiful things."

We are a part of the flow of nature, no matter how much

we try and overcome it. Bjørnson laments the way we destroy

nature, along with the fear and discomfort this unconsciously

brings us. Despite the pessimism in the air, Bjørnson sees

hope on the horizon. Much like the themes of life, death,

destruction, and rebirth explored through the track "Axis

Of The Worlds," he believes our disconnection from natural

reverence is just one part of an ever-changing cycle.

"Shifts are always occurring. We have taken a step away

from the mythological, but you can feel that things are

beginning to swing the other way."

Transformation is a huge part of man's journey, and the

emotions of this universal experience are captured most

poignantly in "Sacred Horse." The track examines man's

taming of horses while telling the story of Sleipnir, Odin's

eight-legged horse. This act embodies E, or the Ehwaz rune,

which is emblematic of trust, harmony, and loyalty, and

celebrates our ability to work with nature and evolve. It

reminds us that even though nature can be terrifying and

challenging, we still need it to survive, both physically and

mentally.

"Through the horse, we were able to commune and

connect with nature on a much more personal level," says

Bjørnson. "That feeling resides within us still."

Enslaved will be playing the Rickshaw Theatre on March 5.

February 2018 23
---
BPM

NOBLE OAK

TAKING THE RHODES LESS TRAVELLED

ALAN RANTA

CLUBLAND

GO OUT AND GET SOME

ALAN RANTA

Patrick Fiore is bringing Collapsing Together home.

Oak is a word that is synonymous with enduring quality and

integrity. Put "noble" in front of it, and you've got yourself

something even greater, Canadian synth-pop producer and

multi-instrumentalist Patrick Fiore. Literally speaking, Noble Oak

is a rough translation of his real name; Patrick represents noble in

Ireland while Fiore is Italian for flower.

Born in Vancouver, Fiore ended up making the obligatory move

to Toronto for financial reasons. He would end up spending two

and a half years there, working for a company that no longer exists,

before returning to the inspirationally mountainous and oceanic

visual stimuli of British Columbia.

"It was pretty good," Fiore remembers of Toronto. "I obviously

missed a lot of my friends back home, but it allowed me to enter

into a different mind-state to write different music. I missed the

West Coast a lot, the inspiration I get here, which is very different

than the inspiration I got there. It's part of the environment that

you're in and the places you get to visit really push songs out of a

person."

Fiore has been riding high on the hype machine for past few

years, on the back of a handful of EPs building through his 2015

debut album, Past Life, to his most recent full-length opus, 2017's

Collapsing Together, earning favorable comparisons to the likes of

Tycho and Ulrich Schnauss along the way, but his journey started

long ago. While Fiore had studied piano since the age of seven,

going on to churn out a solid decade of experience writing solo

piano and symphonic pieces, the lineage of the Noble Oak project

can be more or less traced back to the serendipitous moment that

a friend lent him a Fender Rhodes electric piano.

"Not only did I get [the Rhodes] for a long time for free,

eventually I bought it off him, but it was a sound I'd only ever heard

synthesized before," recalls Fiore. "To finally have access to one that

was the real deal, it sounded so warm and vibrant that I just had to

do something with it. It was calling out… It inspired a whole range

of sounds I'd never even thought of before."

24

While the Rhodes was a heavy focus on early Noble Oak

recordings, it only appears in the fringes of Collapsing Together.

On this record, it plays more of a textural role alongside the piano,

acoustic guitar, Telecaster, and synthesizers, in particular the OB-6,

a six-voice polyphonic analog synthesizer that was beautifully

designed by Dave Smith and Tom Oberheim in a rare collaboration.

As a result, the body of his downtempo synth-pop tracks have

become thicker and more robust, while cosmically feeding off of

personal influences both new and old, informed by everything

from Steely Dan, Enya, Bee Gees, Ravel and Enigma to Nosaj Thing,

Boards of Canada, Horizon Fire and Vondelpark.

"Enya was the first artist I really liked as a kid," Fiore reminisces.

"Some people say that's a strange choice, but the layeredness of the

vocals really left an impression on me, and it's something that I go

back to very often."

Noble Oak is always pushing forward, though. If he's not out

skiing, what he refers to as a form of therapy, music is Fiore's

primary priority. He dedicates the great majority of his non-dayjob

time to perfecting his worthy craft, composing music and

practicing the piano to get back into tip-top game shape. With a

renewed live band, a heaping helping of new songs to play, and

freshly designed visuals to display on a big screen, Fiore is stoked to

bring it all down to one of his favorite hometown venues, the Fox

Cabaret.

"I love that it's a really large, high ceiling space, and the sound

system they've managed to acquire for it is extremely robust,"

praises Fiore. "The cavernousness of the room is offset by a few

of the baffles, so it's boomy but it's not too echoey. It's perfect

for performing; it's not too low of a ceiling so that the sound gets

compressed and people get uncomfortable, but it's also not too

concrete of an echo chamber that it's hard to hear the music. It's a

nice balance of the two."

Noble Oak floats into the Fox Cabaret (Vancouver) on February 16.

Valentine's Day? Are you shitting me? I can't afford chocolate

and flowers. I'm a music writer living in Vancouver. I shouldn't

even exist. Soon, I probably won't. However, if you are one of

the few upper-lower class BeatRoute readers out there with

the means to splurge on such meaningless Hallmark holidays,

perhaps you might consider throwing some concert tickets in

your bouquet.

Trippy Turtle

Feb. 09 @ Fortune

Celebrate VD early with Norwegian producer Peder Losnegård.

He wouldn't let the likes of Crazy Frog and Hampton the

Hampster go unchallenged, so he cosmically dosed a testudines

reptile with electro-house for your amusement. (FYI: no animals

were harmed in the writing of this blurb.)

Zion I + Gift of Gab

Feb. 24 @ Biltmore

In one corner is Gift of Gab, the immeasurably talented,

larger-than-life, cerebral word slinger of Blackalicious fame. In

the other is Zion I, long-time independent hip-hop duo and

frequent collaborators with The Grouch, among others. Put

them on a bill together, and treat your mind, body and soul.

Bradley Zero

Feb. 24 @ Beaumont Studios

Where so many producers are motivated by sex, drugs and

money, UK producer and record digger Bradley Zero Phillip

gets his primary payoff from delivering catharsis through dance.

As a Boiler Room original and smoothness selecta for many a

different frequency, he always makes it happen.

BROCKHAMPTON

Feb. 26 @ Vogue

Formerly known as AliveSinceForever, California-based

alternative R&B/hip-hop collective BROCKHAMPTON is

renowned as the Internet's first boy band… or so the Internet

would have you believe.

Black Loops

Mar. 03 @ Open Studios

Under the name of Black Loops, Italian producer Riccardo

Paffetti puts a funky twist on German techno and Italian house.

It's pure ear candy. Plus, local legend Max Ulis is opening for

him, and he never disappoints.

Bradley Zero

February 2018
---
BPM

1800HAIGHTSTREET

DIGGING DEEP TO BRING IT LIVE

MITCH RAY

The Vancouver-based duo has put out 10 hours of music in the last year alone.

"You have to dig," says Zach Treble, who,

along with friend and collaborator Hunter

Cheveldave, comprise the Vancouver-based

techno outfit 1800HaightStreet. He may

be referring to one's ability to find the

gems when listening to a particular genre

of music, but it's a line that's indicative of

the duo's mentality, one that displays an

uncompromising standard of quality control

and an obsessive work ethic that brings it to

life. It's this approach that has enabled them

to create 10 hours of music within the last

year (and that's the finished product, not

including all that's been left on the cutting

room floor). They're also equipped with a

two-hour live set of new original material,

none of which has been featured on any of

their previous six releases.

"I'd like to put out 10 records a year, if I

could," claims Treble. However, as is the plight

of many a modern musician, time is at a

relative premium due to job commitments

and other obligations. Still, they've managed

to benefit from the dynamic of being a

duo rather than an ensemble band, which

is a background they both share as former

members of various bands in Vancouver.

Unburdened by the individual motivations

and moods of a big bunch of people,

their greater grasp of creative control and

accountability, along with the ability to get

their music down quicker, has helped them

achieve their prolific output.

There seems to be no qualms between

Treble and Cheveldave. Playing in bands

together along with their electronic project,

they have been digging for six years now.

With a respectful nod to their predecessors,

the duo is set on doing their own thing, while

continuing to build on their stellar reputation

and the positive press that has come with it.

Although they do value a good review, Treble

insists they "put the most stock on seeing

how things go off" in a live setting.

"I just make the music I want to hear,"

Treble says, and it seems that more and more

people are starting to dig for it too.

1800HaightStreet play Vancouver Art and

Leisure 494 Railway St. on February 17, along

with Lobster Theremin labelmates D.Dan and

Minimal Violence.

February 2018 25
---
FILM

ENTANGLEMENT

ON FILM AND VINYL: A CONVERSATION WITH FILMMAKER JASON JAMES

PAT MULLEN

THIS MONTH IN FILM

BRENDAN LEE

A Fantastic Woman – February 2

When young waitress Marina falls in love with the much older

Orlando, nothing matters but their love for one another. But with

Orlando's sudden passing, Marina is treated with vulgarity, forced

to fight for her place in this world as a transgender woman. A

Fantastic Woman is the Chilean entry for Best Foreign Film at the

2018 Academy Awards.

Early Man – February 16

A caveman named Dug is forced to unite his tribe as they stand

their historical ground against the incoming Bronze Age. Early

Man is the newest Claymation comedy from visionary Nick Park

(Wallace and Gromit, Chicken Run). Voiced by Eddie Redmayne,

Maisie Williams, and Tom Hiddleston, the film promises to be

Park's most cracking contraption yet.

Local filmmaker Jason James is willing to flip the script to honour the story in his latest outing, Entanglement.

Nostalgia – February 16

"Objects, memories, items that are tangible. These are our artifacts,

our scars." This drama from Mark Pellington tells a web of stories

connected over time through love, loss and the objects we share

with one another. If one thing's clear from the trailer, it's this: tears

will be shed.

"I'm a total research nerd," admits Jason James. The Vancouver

filmmaker explains the process of exploring the worlds of his

movies, like the new dramedy Entanglement, which opens in

theatres this February. James often begins his research on Tumblr,

creating micro-blogs filled with videos, songs, and images that

inspire him. "It's like a moving, shifting scrapbook where I throw

thoughts and ideas," he says. "When I'm trying to get an actor on

board, I'll write them a warm, fuzzy email and send a link to the

Tumblr site." This practice of finding nuggets of art and culture

brings the characters to life and gives Entanglement a world that

is offbeat and humorous, but painfully real.

Entanglement stars BC native Thomas Middleditch (Silicon

Valley) as Ben, a lonely and depressed man who learns he nearly

had a sister, but that his birth complicated the adoption process

for his parents. When Ben finds this spiritual-sibling, Hanna (The

Disappearance of Eleanor Rigby's Jess Weixler), their relationship

inspires him to see the many lives with which he's intimately

connected. James notes that he began to understand Ben after

consulting his friend, psychologist Dr. Maia Love, who diagnosed

the character with schizoaffective bipolar disorder. Identifying

Ben's mental illness helps ground Entanglement in reality and

contrasts the offbeat magical realism of the film.

James likes to get inside the heads of prospective actors during

casting.

"I watch interviews with actors on late night TV and at film

festivals to see who they innately are as people," he says. "I

remember watching this interview with Thomas at the Sundance

Film Festival and they asked him, 'What's your favourite song?'

He started talking about Neutral Milk Hotel's 'The King of Carrot

Flowers,' and he just started bawling. To me, that was Ben. He's on

the verge of a breakdown. He's this raw, emotional dude."

Music, and our relationship with it, also inspires the aesthetic

of Entanglement. "When I first read the film and created that

Tumblr site," says James, "the first word that came to mind was

'vinyl.' I wanted the film to feel hand-made, hand-drawn, and a

little bit messy."

Entanglement's visual design flows with underwater sequences

and dreamy images that let viewers swim in Ben's sea of selfdoubts

and desires. One scene offers a trippy blink-and-you'llmiss-it

effect in a bowling alley where Hanna snaps her fingers

and the wall behind her, a galaxy mural of sparkling stars, ripples

like a hypnotic vision. It's the first signal for a twist that reveals

26

the extent of Ben's illness.

James turned to local crews for visual effects, since his previous

films, like the rom-com That Burning Feeling, didn't call for many.

However, the crews skilled in creating visuals like spaceships and

explosions for Hollywood tent-poles are like digital to vinyl's

analogue.

"Their job is to make the unreal real," James observes. "I wanted

the visual effects to feel unreal and bump up against reality. I

wanted them to feel childish or handmade and to create this

collective consciousness of images and ideas coming out of

Ben's head." For example, James cites some cartoon deer that

Ben and Hanna spy during a drug-induced trip that recall the

classic Rudolph the Red-Nosed Reindeer cartoon, while fireworks

resemble Windows 95 screensaver fireworks: "Cheap, weird, and a

little bit off-putting," he laughs.

Researching the story world extends to the city itself. James

doesn't hire location scouts and instead drives around listening

to playlists inspired by the script.

"Sometimes the locations will inform the story, like the

bowling alley," says James. "It really suited the film, so we rewrote

a scene that was originally at a park bench into this location and

then the visual effects moment came from that."

Langley dive Lee's Chicken offers another element of local

character. The fried chicken joint isn't in the original script, but

enjoys a prominent role as Ben's go-to greasy spoon. He even

takes Hanna there for a date where menu offerings of chickenfried

steak bewilder her.

"Jason [Filiatrault] had written this fancy hipster hot dog

restaurant in Calgary into the script," says James, who visited

locations that inspired the screenplay. "It felt a bit sad, lonely,

and left behind, and that spoke to what Ben was going through.

We rewrote the script. We couldn't change the sign, so we had to

change some of the dialogue, like the chicken-fried steak. It was

something that I found in the real world to inform the creative."

Having juggled producer, writer, and director roles on different

projects, James appreciates that filmmaking is a malleable

process.

"When you're making a film, you have three different scripts:

the film you write, the film you shoot, and the film you edit," he

says. "And you're constantly reworking the material along the

way. The idea of finding things in the real world that inspire the

process is something I love about filmmaking."

Annihilation – February 23

Alex Garland returns with his highly anticipated follow-up to

2015's Ex Machina. Based off the novel of the same name (the

first in a trilogy), a kaleidoscopic "shimmer" envelops a town's

surrounding forest, and a group of volunteer scientists journey

within to search for the source of all this real-world surrealism.

Annihilation stars Natalie Portman and Oscar Isaac.

Hannah – February 23

Charlotte Rampling embodies Hannah, a woman coping with

a newfound life of loneliness and struggle when faced with her

husband's imprisonment. What's sure to be a paralyzing character

study of an older woman crushed by denial, this TIFF + Venice Film

Festival selection may very well give us Rampling at her absolute,

soul-crushing best.

Annihilation

February 2018
---
MUSIC REVIEWS

FRIGS

Basic Behaviour

Arts & Crafts

Even when they were still Dirty Frigs, Toronto

quartet FRIGS stood out amongst a crowded field

of chorus-pedal-loving, grunge-indebted post punk

bands from the nation's biggest city.

Led by frontwoman Bria Salmena, the band built

their name off a raucous live show and two solid EPs

(a self-titled EP Dirty Frigs and 2016's Slush EP after

changing their name).

Now, after signing with the stalwart indie label

Arts & Crafts, the band return with their proper

debut Basic Behaviour. Like their previous EPs,

the album was produced over a 16-month period

in the band's home studio, with supplementary

production at Union Sound Company in Toronto.

The result is an album that has flourishes of

experimentalism without losing any of its urgency.

On songs like the opener "Doghead," brittle guitar

tones chime with chorus while effects washes and

drones swell underneath. Even on the most straightforward

tracks, something in the background is

always lurking in the swampy exterior.

Much of Basic Behaviour is slow-tempo,

shambling along in its gothic atmospheres,

but when the band speeds up it's all the more

noticeable. "Talking Pictures," for instance, is a

motorik dirge that encapsulates much of what

makes FRIGS so compelling: skronky, tightly-wound

guitars, propulsive drums and a vocal performance

from Salmena that oscillates between quiet speaksinging

and blood-curdling wails.

Here, and on much of the album, Salmena

reminds of Kim Gordon. Her poetic delivery is rarely

melodic, instead serving as a gravel texture that

anchors the rest of the band. This is especially true

on "Solid State," a song that could serve as the sister

record to Sonic Youth's "Tunic (Song for Karen),"

complete with a droning guitar outro that feels

pulled directly out of the band's late-'80s heyday.

The comparisons to Sonic Youth don't just stop

at the band's sonic identity, but in their ability to

craft a singular mood throughout the album. Basic

Behaviour is a bleak, distressing listen for most of

its runtime, but that doesn't mean it's ever a slog.

Songs never overstay their welcome and as much

of the album feels dour and minor-key, songs like

"Gemini" offer brief moments of relative levity. It's

a synth-heavy ballad that wouldn't feel completely

out of place on Angel Olsen's recent output.

Of course, "Gemini" is followed up by the album's

centrepiece "I" and "II," the two tracks that find the

band at their most outright post punk. The latter

song sounds like a Savages track with Johnny Marr

filling in on guitar. It's a possessed stomp that sees

the band at their least optimistic. "This is shit /

Just admit it / Just admit it / This is shit," Salmena

repeats in her most dissatisfied on the album.

"Trashyard," a song that's been floating around

the internet since 2016, feels like a '60s psychedelic

tune sent through a Oujia board and come back

through the other side. Like much else on the

album, it's been reworked and perfected into a

meticulous, seven-minute trudge through murky

atmospheres. It feels like a Preoccupations song in a

benzo haze, ending with Salmena reaching her vocal

apex, no longer annunciating anything, instead

offering full-throated guttural shouts.

As the last song on the album, it's as if FRIGS

have finally arrived at the destination they've been

working towards the past five years. As with the rest

of Basic Behaviour, it's a well-earned victory lap that

builds off the band's previous output to arrive with a

compelling conclusion.

• Jamie McNamara

• Illustration by Sofia Elidrissi

February 2018 27
---
Born Ruffians - Uncle, Duke & the Chief Cecil Frena - The Gridlock Scallops Hotel - Sovereign nose of (y)our arrogant face

Born Ruffians

Uncle, Duke & the Chief

Paper Bag Records

Born Ruffians are one of many indie rock bands that bubbled up in

the mid 2000s. Hailing from small-town, Toronto-adjacent Midland,

Ontario, the group draws heavy inspiration from bands like Modest

Mouse and Arcade Fire.

The band went through a bit of a change a few years ago with their

2013 album Birthmarks when they parted ways with their original

drummer Steve Hamelin and added a second guitarist. It led to a

cleaner sound, one that was a little less rough around the edges.

With their fifth studio album Uncle, Duke & The Chief, Hamelin

returns and the band shifts back to their grittier sound, recording as

a trio.

Born Ruffians seem to produce their best material when that

frantic nature comes out in their songwriting. Moments on Uncle,

Duke & The Chief sound like drunken eulogizing, with lead vocalist

Luke Lalonde rapidly shifting from desperate yelps to sing-along

celebratory anthemic shouting.

Catchy choruses, jubilant guitars and an intense earnestness all

shine through on the band's new output, something that's been

lacking from the band's output since their debut in 2008. The album's

songwriting is strong, strong enough to buoy it above the ocean of

albums out there like it.

• Cole Parker

Cecil Frena

The Gridlock

Hovercraft/Kissability

Cecil Frena has been around for awhile. The mastermind behind

Edmonton weird pop acts Gobble Gobble and Born Gold, he's also

worked with other lauded acts from that scene like Purity Ring,

Grimes and Chairlift. The Gridlock is his debut under his birth name,

his first full release since 2013 and a noticeable shift towards a

different sound.

A lot of care is placed into the sonics of the record. Layered synths

and vocals, wildly varied guitars, and Frena's experience with glitchy

pop music is channeled into furious growls of feedback and noise

that feel so, so good.

"Nerves Grow Rust" and "All of My Heroes" open the album with

some great synth-singed pop rock before you hear the chugging of

a car engine, a count, and a stellar drum fill that leads you into the

hardcore track "Unknow Yourself."

The Gridlock feels like an artist deconstructing his identity,

musical and otherwise, and letting us watch as he pulls the pieces

back together, with lyrical content to match. A bank robber speaks

aloud the existential crisis brought on by L.A. property prices, Frena

reluctantly confesses love, and asserts that dancing on an airplane

might treat some of his nihilistic woes.

The Gridlock is a horribly fun rebirth of an artist who's still actively

finding the best version of themselves.

• Cole Parker

Sidney Gish

No Dogs Allowed

Independent

Boston's Sidney Gish is a distinctly 2018 kind of songwriter. The

20-year-old has quietly been developing a voice for absurdist, memeas-music

songs through YouTube and BandCamp since 2015, but No

Dogs Allowed, her sophomore album, is an internet breakthrough.

Like Clairo, early Frankie Cosmos or Car Seat Headrest, Gish's

career exists almost solely on the internet, but gone are the days

that would be a knock. With its MS Paint cover aesthetic, No Dogs

Allowed is deceptively clever bedroom pop that puts Gish's neuroses

front and center.

On standout track "Sin Triangle," Gish's lyricism and deft skill of

self-roasting is on full display. "Two-faced bitches never lie / And

therefore I never lie," she sings overtop a laptop lounge rock joint

that feels effortlessly cool.

Every nook and cranny of No Dogs Allowed is filled with

earworms and it's not hard to fall in love with it.

• Jamie McNamara

The Go! Team

SEMICIRCLE

Memphis Industries

The Go! Team has made some seriously bombastic music over the

years, but has always maintained a level of obscurity that keeps

any of their tracks from being too sugary to rock out to. From

bubblegum pop, to grimey hip-hop, to indie rock, it's always been big

melodies for people who abhor contemporary pop production.

SEMICIRCLE is no exception, a huge record full of compelling

vocal melodies, driving rhythms, and badass instrumental

arrangements. The downside is that the whole record sounds like it's

being performed from the bottom of a well. This production style,

which pushes the vocals back in the mix and compresses much of

the instrumentation to a similar level, creates an almost marching

band like listening experience. Every instrument sounds like it's in

the same room, possibly a high school gymnasium. It's impressive

that a band that has at moments been a rock ensemble can still

sound like themselves with so many horns, xylophones and flutes,

but the fuzzy production keeps any of the real bangers on the record,

like the single "Semicircle Song," from being that successful. The

most effective tracks on the record are the more contained ones,

especially the tracks that let Ninja stand out with her gorgeous vocal

performance like "Plans Are Like a Dream U Organize."

It's hard not to smile your way through SEMICIRCLE, it's just so

much fun, but it doesn't necessarily reward close listening.

• Liam Prost

Scallops Hotel

Sovereign nose of (y)our arrogant face

Ruby Yacht

As Scallops Hotel, Wisconsin rapper and producer Milo creates

tranquil atmospheres like an alchemist who found the philosophers

stone. He knows when to let the beat rise and bubble before

splashing in his conversational flow, which is reminiscent of Earl

Sweatshirt in style and skill. Sovereign nose of (y)our arrogant face

is the second entry in a trilogy that began last year with Over the

Carnage Rose a Voice Prophetic.

The production is minimal and piano-heavy, meshing perfectly

with Milo's poetic and often hilarious versus touching on topics like

socioeconomic shifts and Mortal Kombat references. Fittingly, on

"Rank, Title, Pressures," Scallops Hotel mentions Mugen, a character

from the stylish and hip-hop-inspired anime Samurai Champloo,

which used to air on Adult Swim. The network is known for its

impeccable music between shows, favouring sounds on the Flying

Lotus spectrum. In this sense, the 25-year-old rapper is embracing

the influences of his youth as Scallops Hotel, carrying the fluttering

torch to enlighten a new generation. Whether his next release is

labelled as Scallops Hotel or Milo, Rory Ferreira proves time and time

again he can turn his old influences into modern gold.

• Paul McAleer

The Sumner Brothers

To Elliot - In Remembrance Of Wolf

Independent

Through a career notable for sonic twists, Vancouver's Sumner

Brothers follow up the dark, energetic tone of their 2015 release,

The Hell In Your Mind, with the reflective and gentle To Elliot - In

Remembrance Of Wolf. The album is a collection of instrumentally

spare covers by a who's who of roots songwriters, including Billy Joe

Shaver, Warren Zevon, and Bruce Springsteen.

Brothers Bob and Brian Sumner keep the arrangements light

and tight to the originals on To Elliot. Brian's plaintive drawl on

Springsteen's "The Ghost Of Tom Joad" and Zevon's "Carmelita,"

allows the melody and lyrics to shine through, the latter getting a

relaxed electric guitar and subtle female harmony to go along with

the mellow cantina vibe. Bob's baritone is haunting on his take of

The Tragically Hip's classic album cut "Scared," and on Jolie Holland's

"Damn Shame." For those aware of Zachary Lucky or Colter Wall,

28

February 2018
---
Friday, March 23, 7:30pm

Bill Copeland Sports Centre,

Burnaby

ROCKERS

Jim Cuddy (Blue Rodeo)

Dallas Smith

Chad Brownlee

Craig Northey (Odds)

Devin Cuddy

Grant Lawrence

Many more players to

be announced!

NHL GREATS

Cliff Ronning

Dave Babych

Jyrki Lumme

Kirk McLean

Troy Crowder

Brad Dalgarno

PRESENTS

HOSTED BY

JANN ARDEN &

BOB ROCK

SUNDAY, MARCH 25

AT NOON

ORPHEUM

+ MORE ARTISTS TO

BE ANNOUNCED

junoawards.ca #JUNOS

SPACE PROVIDED BY

PROCEEDS BENEFITING
---
The Go! Team - SEMICIRCLE The Sumner Brothers - To Elliot - In Remembrance Of Wolf Tune-Yards - I can feel you creep into my private life

Bob's timbre will sound immediately familiar, its tenderness belied by

a gruff, aged tone, the kind of vocal people often call that of "an old

soul."

The Sumner Brothers are one of Western Canada's best

underground roots acts, and their taste in quality songs is evident on

To Elliot - In Remembrance Of Wolf. It's easy enough to play covers

everyone has heard; when an artist digs a little deeper and shows

their audience something farther removed from expectation, the

listener gets to experience a piece of the artist's inspiration.

• Mike Dunn

Tune-Yards

I can feel you creep into my private life

4AD

It's abrupt how little abruptness there is in the latest release from

Tune-Yards. The rhythmic attack and staccato catch-and-release

structure of the weird-pop outfits previous releases were career

defining. I can feel you creep into my private life brings enormous

simplicity to the rhythms, but the off-kilter melodies and nasal

delivery from frontwoman Merrill Garbus become even more

prescient to the project as a result. Most tracks are anchored by

simple four-beats and structured like electronic music, specifically

techno, but occasionally even features drop-like movements that

echo dance music. This is most notable in the singles like "Look at

Your Hands."

Other tracks feature a more deliberate instrumental build up

that resembles LCD Soundsystem. The effectiveness of the record

is mostly due to the sheer textural variety, combined with the huge

personality of Garbus' voice and lyrics. Garbus writes a lot about her

social position on the record, both in her vulnerability as a woman

in the public eye, which is echoed in the title of the record (and

is spoken aloud several times during the record), and also in her

self-consciousness about her white privilege. This is spoken to most

directly in the first-person-sung "Colonizer."

Garbus' own political self-awareness is a testament to the tonal

variety that has defined her career. Tune-Yards routinely uses

ethnically tinged instrumentation, but no song or even musical

movement is distinctly drawn from any particular culture to even

consider it appropriative. I can feel you creep into my private life is a

weird, woke, and ultimately wonderful piece of work.

• Liam Prost

Typhoon

Offerings

Roll Call Records

With the release of Offerings, Portland based Typhoon once again

attracts listeners to delve into the emotion and passion of front man

Kyle Morton. Offerings is the fourth studio album for the band and

the sound differs significantly from White Lighter, the last studio

album by indie symphonic collective. A much more distorted and

frantic sound, Offerings fails to capture the listener's full attention

throughout and seems disjointed in the story it is meant to tell. The

albums structure seems off, starting with "Wake," a frantic song that

is off-putting to the listener; however, it is followed by "Rorschach,"

which for fans of Typhoon will be a welcome return to form. The

album ends with the nearly 13-minute epic "Sleep" which draws

comparisons to the 2009 release of Hospice by Brooklyn-based

band The Antlers. This epic is the strongest song on the album and

showcases Morton's storytelling as well as the larger orchestral

quality that is Typhoon.

• Andrew Bardsley

U.S. Girls

In A Poem Unlimited

4AD

Often described as idiosyncratic, Meg Remy of U.S. Girls has now

made a decade of creative work and used fuel from her 2016 Juno

Nomination for Alternative Album of the Year to build an inquisitive,

well-produced and bizarre portrait of a disenchanted yet disarming

reality in In a Poem Unlimited.

Never without hook and never without its draws from pop to

magnet listeners in, Remy twists expectation on itself to create

completely danceable and somewhat perplexing disco-loaded

schemes. Remy's blunt use of repetition, computerized undertones,

and sometimes breathy, sometimes undulating pitched vocals,

never quite suit the traditional confines of pop and add to an inner

richness that frames something illusive.

Remy uses quaking siren-like guitar and saxophone lines that are

catchy and captivating; breathing a modern air into their reverb and

fully capitalizing on their strength in songs like "Velvet For Sale" and

"Rage of Plastics." What Remy does excessively well, it seems, is splice

discordant, no-wave reactionary elements with more reliable basics

of pop and disco. The album elaborates but doesn't overcomplicate

some intoxicating boogie while keeping with real emotion.

Platinum Era ('96-'09)

HiP HOP + R&B

EVERY FRIDAY

10:30pm - 19+

2755 Prince Edward Street

biltmorecabaret.com

HOUSE JAMS FOR THE YOUNG,

RESTLESS & BORED

CAN I LIVE + GUESTS

EVERY SATURDAY NIGHT

10:30pm - 19+

February 2018 31
---
HUMANS

plus INKY

FRI, FEB 9

CAPITAL BALLROOM

Typhoon - Offerings

LA VIDA LOCAL

HOMEGROWN VANCOUVER MUSIC RELEASES

U.S. Girls - In A Poem Unlimited

Including a short clip of her decimated voice stating the

obvious, Remy follows this with the most harmonious and

easy going, alpha wave infused "Rosebud," and curtails this

immediately with the wailing "Incidental Boogie" — opened

up by words on abandonment. The groove never lets up,

and Remy's natural lean towards reinterpretation and

repetition is exploited in great combination with varying

rhythms and constantly engaging material.

Closing with "Time," Remy picks up some massive speed

for her final piece. "There is no time" she repeats as she

delves into over seven-minutes of guitar and sax solos. She

eases in and out but never slows down, and things quickly

get jumbled together, layers pile onto a solid groove. The

instruments seemingly improvise their own end while the

albums' many elements ring on and shake it off.

• Arielle Lessard

JENN GRANT

plus MICK FLANNERY

SAT, FEB 10

CAPITAL BALLROOM

BELLE GAME

plus GUESTS

SAT, FEB 10 | LUCKY

SONREAL

plus GUESTS

SAT, FEB 17

CAPITAL BALLROOM

Autogramm

Jessica Don't Like Rock 'N' Roll

Party Product Records

Call me crazy, but I'm pretty sure the A-side from this new trio of newwave

mojo workers is about a girl I knew back in the rock'n'roll hey-day of

the Pic Pub party scene - a feminine force of nature who exuded energy

at every show that was outrageous and contagious all at once. When the

scene died away, I'm sure many were left wondering what happened to

"the spandex and creeper queen"? Well apparently, "she still thinks the

clothes are cool, but must have better things to do," laments our lead

vocalist as the silky synths, throbbing bass and "so-dead-on-you'd-thinkthey-were-digital"

drums set the AM radio tone of growing older and

leaving your past (perhaps regrettably) behind. If you miss bands like

Redd Planet and the like, then you'll need to pick up this single.

• Bryce Dunn

Elan Noon

Have a Spirit Filled

Field Mates Records

Indulge in a Wes Anderson inspired daydream with Victoria-based

Elan Noon's newest release. Have a Spirit Filled is a captivating lo-fi pop

album with experimental touches and intricate lyrics. "Blue" is a Simon

and Garfunkel and Nick Drake hybrid with acoustic finger picking and

ambient electric guitar licks. From the perkier "False Idols (ft. Suz)" with

its punchy beats, to the reflective instrumental "Please Hold," each song is

its own experience. Have a Spirit Filled is consistently engrossing.

• Lauren Donnelly

Colour Tongues

EP

Independent

Math rock – often held in derision by some music critics and detractors,

but loved dearly by its converts. On their debut EP, Vancouver fourpiece

Colour Tongues navigate an earnest, pleasant technical route

that methodically touches most of the bases associated with the

genre. Prominent mathy indie bands such as Minus The Bear and This

Town Needs Guns make for clear influences across the four tracks. The

instrumentation, catchy and upbeat, boasts the requisite playing ability

and the songwriting is consistent throughout. While the production on

the EP occasionally doesn't do the band's tight, lush melodies full justice,

the release itself is a quick, wholly enjoyable listen.

• Willem Thomas

Corner Boys

Just Don't Care

Drunken Sailor Records

The Corner Boys are a good-time gang you wanna get with on their

gate-crashing debut. First off, unabashed Undertones riffs tangle with the

tough turf-sound of 53rd & 3rd on "Just Don't Care". Next, they offer a

Jilted John-esque ode to Patrick McGoohan's secret agent-thriller-turnedsurrealist

drama The Prisoner on "Be Seeing You" and then finish off with

"Joke (Of The Neighbourhood)" that is anything but, hitting the sweet

spot between the Real Kids and the Rich Kids - all ringing chords, snappy

bass and driving drums to get the toes tapping and hands clapping. More

of this please and make it quick.

• Bryce Dunn

Matt Stern

Magic

Independent

Montreal transplant Matt Stern is bringing his musical "Je ne sais quoi"

to the West Coast with his new album Magic. The celebratory pop sound

is a good fit for Stern. Exuberant horns pair with understated vocals and

dance-worthy beats on tracks "You're Magic" and "Chance to Live."

"You're an Animal," "Keeps Me Awake," and "Taking Us Over" slow

things down. They're delicately sexy with driving rhythms and sweet

lyrical quirk. The orchestral touches are the album's strength. Stern is

finding his stride as an artist and it makes for a celebratory sound that's

magnifique.

• Lauren Donnelly

32

February 2018
---
LIVE

August Burns Red w/ Ocean Grove, Erra, Born of Osiris

Vogue Theatre

January 19, 2018

7PM at the Vogue on a Friday, with the line-up curled around the corner

of Granville and Smithe, the sky split open like a circle-pit. Drenched

hoodies and black umbrellas augmented the texture of a night that

started melodic and culminated in an onslaught of top-tier metalcore.

Aussie blokes, Ocean Grove, broke the stage in around 7:30 and won

over a small crowd with most still stuck in lines at merch-tables. Erra

materialized next in a haze of smokey blue and effortlessly drifted through

a set equal parts melody, equal-parts steel-splitting heaviness. Born of

Osiris followed with a 40-minute set that never slowed, never found a

comfortable spot and stayed there.

Yung Leang

Vogue Theatre

January 24, 2018

Photo by Zee Khan

Moments before August Burns Red arrived, the pit inhaled, became

the eye of the downpour at the doorstep, and with bodies already

traumatized we momentarily rehabilitated, then erupted in flame for an

hour-long interminable mosh-pit. ABR moved through an instrumentally

unmatched setlist with black-bearded, black-toqued, Jake Luhrs, at the

helm hitting each catapulting scream. Though predominantly Phantom

Anthem-inspired, the set seemed a heartfelt culmination of everything

the band has achieved in the last 15 years while, at the same time,

evidencing their storm has only just begun.

• Brendan Lee

Photo by Timothy Nguyen

There was something different about the redhaired

kid, bathed in white light, pouring out his

soul at the Vogue Theatre during Yung Lean's latest

Vancouver appearance. In a genre saturated with a

thousand Lil' "everything's" obsessed with money,

drugs, and champagne on airplanes, Stockholm

Sweden's Yung Lean stood out with a set of songs

that grew all over you, felt constantly propelled

by the positivity in his body language and an

electronic ambience that filled every inch of the

place.

Lean's music falls under strange subgenres like

'Cloudrap' and 'Sad Rap,' and the ambiguity of his

style feels spot on. Although, at times, Lean's beats

had the floor more trap-trampoline than concrete,

the set had an overall mellowness at its center, the

type of music you lean way back, close tired eyes

and bob heads to.

Again, as the final few songs blurred in and

out of each other, it was clear the crowd was

witnessing something different. That feeling may

have stemmed from the rebirth of a polluted genre

injected with life again. May have been indefinable.

Whatever that something might have been, if you

were there that night, whatever the reason, you

wouldn't dare look away.

• Brendan Lee

Photo by Aishath Boskma

Meshuggah

The Commodore Ballroom

January 23, 2018

It's been nearly six years since Meshuggah last played Vancouver. And judging

by the huge amount of fans wandering around outside of the Commodore

before the show, it was long overdue. Being their first date of a short run (the

"Not Much of a Tour 2018" up and down the west coast), the band was in full

force as they launched off their set with the dissonant "Clockworks," drummer

Tomas Haake's hectic polyrhythms kicking off the set like a starting gun. A

notable absence was that of guitarist Fredrik Thordendal who is currently

on hiatus, replaced during this tour by Scar Symmetry's Per Nillson. Despite

generally coming from different stylistic background, Nillson is an incredibly

skilled guitarist in his own right.

Meshuggah powered through their set, keeping the energy high with "Born

in Dissonance," another track from their most recent album, The Violent Sleep

of Reason. Jens Kidman's vocals reached new heights on "Do Not Look Down,"

while lighting tech Edvard Hansson showed off why he's considered the band's

sixth member with his manually triggered light show. The band segued into

the slowly-melting riffs of "Straws Pulled at Random," followed by fan-favorite

"Bleed" - the song that introduced a lot of younger fans to Meshuggah and socalled

math metal.

The lights went out, but Meshuggah came back quickly to finish off with

the high-octane "Demiurge," rounding off the setlist. It's a complete brainscrambling

experience seeing a band like Meshuggah live, but that just so

happens to be the perfect equation for the ultimate math metal experience.

• Ana Krunic

February 2018 33
---
NEW MOON RISING

YOUR MONTHLY HOROSCOPE

QUAN YIN DIVINATION

Month of the Wood Tiger

This month's wood moon heralds an

early spring: warmer weather coast

to coast brings a fresh burst of new

growth. The element of wood, also

represented by wind, is associated

with change. This naturally rising

force can stir up the sky like booming

thunder with the qualities of ambition,

creativity, and optimism. The Tiger

loves community affairs as well as

public appearances and, with clear

communication, we can now pave

the way for better relationships with

others, adherence to a higher vision,

as well as fostering good old fashioned

team-work. Watch your temper —

wood, when out of balance, can cause

irritability, righteousness, and pride. The

element of wood also represents our

arms, legs and trunk — good time for

some bodywork, perhaps? Take to the

forest for strength and enjoy a peaceful

moment to honour our good friends,

the trees.

Rabbit (Pisces): A hectic time is only

just beginning. Clear boundaries and

organization skills keep you on task.

Keep it kind, calm, and tasteful, but do

let people know what you think in an

open, honest way.

Dragon (Aries): Shiny and new, this

month with start your year off with a

bang. Water under a bridge starts to rise

up over your shiny new shoes. Better to

meet it now while there's still time to

save what you can.

Snake (Taurus): Complaining will turn

people off and may not be appreciated

now, so keep your head clear, your eyes

and ears open, and your mouth closed.

Meditation and contemplation teach

the wisdom of non-action.

Horse (Gemini): Give yourself the time

you would generously offer others and

this month could be a good one for

health, wealth and relationships. Your

dance card is open so you can now

choose who you take to the floor –

enjoy moving to the music!

Sheep (Cancer): Everyone needs a little

guidance once and a while, and when

you are at a crossroads, it's okay to ask

others for support and advice. They

might know something you don't. Seek

mentors that share your values and who

empathize with your situation.

Monkey (Leo): Pressures of the

moment rise as you take up new

opportunities to generate more wealth,

reputation, and increased status. Keep

track of small details and fine print –

keep up and you will be kept up.

Rooster (Virgo): Quiet solitude might

be what you need, but it could be

challenging to find as the pace of this

month will pull you in many directions.

Don't give up but have the discipline

to take space from partners and friends

when duty calls.

Dog (Libra): Take this month to

consider the ways in which you are

contributing to the solution – or the

problem. What is it in yourself that

needs to change in order to bring about

the progress that you're seeking? Look

inward now.

Pig (Scorpio): This month's moon

brings death and rebirth for you,

humble boar. Life is not always fair,

but if you look around you, you might

find that nature has a way of bringing

some kind of balance in all situations.

Compromise and eat your pride!

Rat (Sagittarius): Busy times may

exhaust your energy – get a boost by

going to the gym, a yoga or tai chi

class, get some exercise and build your

strength. Optimism, determination, and

focus inspire new ideas and optimism

about your future.

Ox (Capricorn): Come out of

hibernation a little early this year,

Ox. Stand strong and let the winds of

change blow of any stagnant, stuck, or

negative energy off you. Secret allies

surround you, so don't forget you are

never alone.

Tiger (Aquarius): The key to great

friendship comes from the quality of

your own friendliness toward others.

Make the first move and set an example

to others of your commitment to

the highest good. Your good deed or

sacrifice today brings great success

tomorrow.

Susan Horning is a Feng Shui Consultant

and Bazi Astrologist living and working

in East Vancouver. Find out more about

her at QuanYin.ca.

34

February 2018
---
UPCOMING SHOWS

CANADA'S LARGEST INDEPENDENT CONCERT PROMOTER

February 27 - Rickshaw Theatre

STARSET

w/ PALISADES, GRABBITZ,

AND YEAR OF THE LOCUST

February 10 - The Cobalt

February 11 - The Cobalt

February 17 - The Biltmore Cabaret

DIET CIG w/ GREAT GRANDPA AND THE

SPOOK SCHOOL

DENT MAY w/ MOON KING

THE CORONAS

February 18 - Rickshaw Theatre February 23 - Vogue Theatre February 24 - The Biltmore Cabaret

MATISYAHU w/ EMINENCE ENSEMBLE

February 28 - Rickshaw Theatre

NECK DEEP w/ SEAWAY, CREEPER, AND

SPEAK LOW IF YOU SPEAK LOVE

March 1 - Vogue Theatre

ZION I w/ THE GIFT OF GAB

March 3 - Imperial Vancouver

SUPERCHUNK w/ BAT FANGS

March 6 - The Commodore Ballroom

ARCHITECTS w/ STICK TO YOUR GUNS

AND COUNTERPARTS

March 11 - The Biltmore Cabaret

THE WHITE BUFFALO

March 13 - Fox Cabaret

MACHINE HEAD

THE RUBENS

TICKETS ARE AVAILABLE AT MRGCONCERTS.COM

KIM CHURCHILL w/ CHRISTIAN HUDSUN