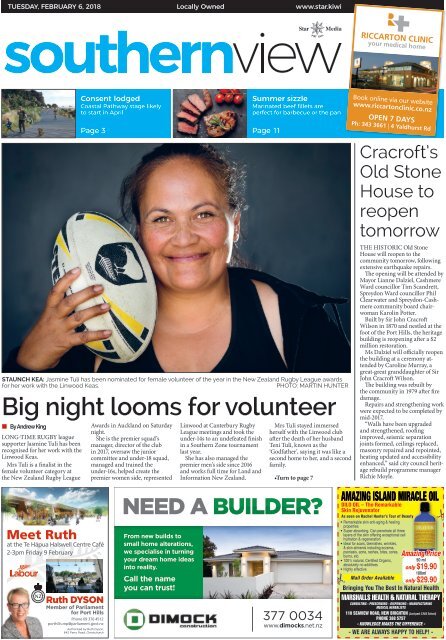 Southern View: February 06, 2018
Create successful ePaper yourself
Turn your PDF publications into a flip-book with our unique Google optimized e-Paper software.
TUESDAY, FEBRUARY 6, 2018

Locally Owned

www.star.kiwi

• By Andrew King

LONG-TIME RUGBY league

supporter Jasmine Tuli has been

recognised for her work with the

Linwood Keas.

Mrs Tuli is a finalist in the

female volunteer category at

the New Zealand Rugby League

Consent lodged

Coastal Pathway stage likely

to start in April

Page 3

Awards in Auckland on Saturday

night.

She is the premier squad's

manager, director of the club

in 2017, oversaw the junior

committee and under-18 squad,

managed and trained the

under-16s, helped create the

premier women side, represented

Linwood at Canterbury Rugby

League meetings and took the

under-14s to an undefeated finish

in a Southern Zone tournament

last year.

She has also managed the

premier men's side since 2016

and works full time for Land and

Information New Zealand.

Summer sizzle

Marinated beef fillets are

perfect for barbecue or the pan

Page 11

STAUNCH KEA: Jasmine Tuli has been nominated for female volunteer of the year in the New Zealand Rugby League awards

for her work with the Linwood Keas.

PHOTO: MARTIN HUNTER

Big night looms for volunteer

Meet Ruth

at the Te Hapua ¯ Halswell Centre Café

2-3pm Friday 9 February

Phone 09 376 4512

porthills.mp@parliament.govt.nz

From new builds to

small home alterations,

we specialise in turning

your dream home ideas

into reality.

Call the name

you can trust!

Mrs Tuli stayed immersed

herself with the Linwood club

after the death of her husband

Teni Tuli, known as the

'Godfather', saying it was like a

second home to her, and a second

family.

•Turn to page 7

377 0034

www.dimocks.net.nz

Book online via our website

www.riccartonclinic.co.nz

OPEN 7 DAYS

Ph: 343 3661 | 4 Yaldhurst Rd

Cracroft's

Old Stone

House to

reopen

tomorrow

THE HISTORIC Old Stone

House will reopen to the

community tomorrow, following

extensive earthquake repairs.

The opening will be attended by

Mayor Lianne Dalziel, Cashmere

Ward councillor Tim Scandrett,

Spreydon Ward councillor Phil

Clearwater and Spreydon-Cashmere

community board chairwoman

Karolin Potter.

Built by Sir John Cracroft

Wilson in 1870 and nestled at the

foot of the Port Hills, the heritage

building is reopening after a $2

million restoration.

Ms Dalziel will officially reopen

the building at a ceremony attended

by Caroline Murray, a

great-great granddaughter of Sir

John Cracroft Wilson.

The building was rebuilt by

the community in 1979 after fire

damage.

Repairs and strengthening work

were expected to be completed by

mid-2017.

"Walls have been upgraded

and strengthened, roofing

improved, seismic separation

joints formed, ceilings replaced,

masonry repaired and repointed,

heating updated and accessibility

enhanced," said city council heritage

rebuild programme manager

Richie Moyle.

AMAZING ISLAND MIRACLE OIL

DILO OIL – The Remarkable

Skin Rejuvenator

As seen on Rachel Hunter's Tour of Beauty

••

Remarkable•skin•anti-aging•&•healing•

properties

••

Super•absorbing.•Can•penetrate•all•three•

layers•of•the•skin•offering•exceptional•cell•

hydration•&•regeneration

••

Ideal•for•scars,•blemishes,•wrinkles,•

&•skin•ailments•including•eczema,•

psoriasis,•acne,•rashes,•bites,•sores,•

burns,•etc.

••

100%•natural,•Certified•Organic,•

absolutely•no•additives

••

Highly•effective

Mail Order Available

Amazing Price

50 ml

only•$19.90

100ml

only•$29.90

Bringing You The Best In Natural Health

MARSHALLS HEALTH & NATURAL THERAPY

CONSULTING - PRESCRIBING - DISPENSING - MANUFACTURING

MEDICAL HERBALISTS

110 seaVIeW roaD, NeW BrIGHToN (Just past C.N.B School)

pHoNe 388 5757

- KNOWLEDGE MAKES THE DIFFERENCE -

- We are alWaYs HappY To Help! -
---
2 Tuesday February 6 2018

Latest Christchurch news at www.star.kiwi

get in touch

from the editor's desk

JASMINE TULI is one step way from

being recognised as one of rugby league's

top volunteers.

The Linwood Keas stalwart (see page 1) is

a finalist in the female volunteer of the year

category at the New Zealand Rugby League awards in Auckland

on Saturday night.

She is the premier squad manager, is a director of the club and

has a lot to do with the junior teams.

Her husband Marsden, aka the 'Godfather', tragically died on

the training field during 2015, one game short of his 300th for

the Keas. It was going to be his last premier grade match.

Says Jasmine: "We are a league family and that is all we do. It

is in my blood."

All the best for Friday.

– Barry Clarke

GENERAL ENQUIRIES Ph 379 7100

CLASSIFIED ADVERTISING Ph 379 1100

The Christchurch Star Company Ltd

PO box 1467, Christchurch

starmedia.kiwi

news

Couple's love for penguins

Underweight and injured penguins are being cared for by

a Halswell couple, they often have up to 14 birds at their

home at one time.

Page 6

news

Cadet goes into the wild

Opawa's Courtney Rae recently took part in the inaugural

Exercise Takahe, a week-long adventure camp in Arthur's

Pass

Page 8

community events

Share stories

Head to South Library and take part in a six-week

programme sharing memories of the past. Starts on

February 12, 9.30-11.30am.

SOUTHERN VIEW

NEWS

Sophie Cornish

Ph: 364 7437

sophie.cornish@starmedia.kiwi

ADVERTISING

Richard McCombie

Ph: 364 7472

richard.mccombie@starmedia.kiwi

Page 14

The best-read local newspaper, delivered to

15,826 homes every Tuesday

Spreydon, Hoon Hay, Hillmorton, Cracroft, Cashmere,

St Martins, Somerfield, Sydenham, Addington, Waltham,

Opawa, Beckenham, Huntsbury, Woolston.

Dyers Road Landscape

& Garden Supplies

• Barks • Peastraw • Composts - we supply the best available

• Aggregates - Chip, Round and Basecourse

• Pavers & Schist products • Pungas

• Decorative Stones & Landscaping Rocks

• Trailer Hire first hour free with purchase

• Bag & Bulk - pick up or delivered

David, Carol & Mike

We will deliver!

Phone: 03 384 6540

183 Dyers Rd, Bromley • OPEN 7 DAYS

Weekdays 7.30am-5pm. Weekends 8.30am-3pm

www.dyersroadandlandscapes.co.nz

Air Conditioning and Heat Pumps

Commercial and Residential

• Daikin • Fujitsu • Mitsubishi • Gree • Panasonic

• Toshiba • Hitachi

Heat pumps

installed

from $2,495 *

SOIL

AND

HARDFILL

DUMPING

*Conditions apply. Back to back installations 3 metre pipe run.

Email info@pshc.co.nz

Website www.pshc.co.nz
---
SOUTHERN VIEW Latest Christchurch news at www.star.kiwi

Tuesday February 6 2018 3

News

Coastal pathway consent lodged

• By Sarla Donovan

CONSTRUCTION on the next

stage of the coastal pathway

is likely to start in April, once

the city council gets resource

consent approval from

Environment Canterbury.

The 760m section from Shag

Rock to the Sumner Surf Life

Saving Club is jointly funded by

the city council and the Coastal

Pathway Group.

It is expected to take 12

months to build.

The 4m-wide pathway will

be a mix of asphalt and timber

boardwalk with native coastal

planting. It will mostly be at

the same level as Main Rd and

extend towards the seaward side

of the road.

Rip rap – loose stone providing

a protective breakwater –

will extend along the beach front

below Peacocks Gallop, with

two separate beach access steps

opposite Deans Head and one

opposite Shag Rock Reserve.

City council manager

planning and delivery transport,

Lynette Ellis said the start

date and construction period

would be conditional on any

"additional requirements"

identified during the consenting

process.

An ECan spokeswoman said a

PATHWAY: A computer-generated image of the coastal pathway boardwalk through dunes

beside the Clifton Hill car park. ​

decision on whether to publicly

notify the consent was expected

towards the end of next week.

The consent was lodged with

THE JEwEllEry

ValuaTion SpEcialiSTS

Caring for your jewellery since 1990

ECan on December 15 last year.

When fully complete, the

coastal pathway will be 6.5km,

running from Ferrymead

bridge, along the coastal edge

to Scarborough beach. It will

connect with the city cycle

network

Local

News

Now

In Brief

Fire rages, homes at risk

WOOLSTON PARK PLAN

The landscape plan for

the playground renewal at

Woolston Park has been

approved by the Linwood-

Central-Heathcote Community

Board. The board also

requested city council staff

provide advice on installing an

additional piece of accessible

playground equipment at the

Ferry Rd park to be funded by

its discretionary response fund.

OPAWA VILLAGE SPEED

The Linwood-Central-

Heathcote Community Board

is looking at installing some

traffic calming measures

within the Opawa Village.

It is concerned that traffic is

speeding through the area on

Opawa Rd.

MOBILITY PARKING SPACE

A new mobility parking space

will be installed on Stanmore

Rd. After a request from Te

Whare Roimata Trust and

the Stanmore Post and Book

Shop in Linwood Village,

which have a number of

regular customers in need

of a mobility park, the city

council will put a new 30min

parking space along Stanmore

Rd near the intersection with

Gloucester St.

• Personal service with your

"Your professional face is unique. valuer

• Trust Qualified, your injectable experienced

wrinkle gemologist treatments & diamond graders

• All

to

valuations

an experienced

completed on

Cosmetic premisesPhysician"

• Validate Medical + Director Research +

Dr Heather Jefferies

Knowledge = Value

New Location: 2/301 Lincoln Road

www.jvcvaluers.co.nz | (03) 332 4233 | jim@jvcvaluers.co.nz

Pain free laser

"Your face is unique. skin Trust rejuvenation your injectable wrinkle

Facial assessments

treatments to an experienced Cosmetic Physician."

Injectable wrinkle

- Medical Director, Dr treatments Heather Jefferies

Dermal fillers

Prescription peels

• Pain free laser skin Microdermabrasion • Prescription peels

rejuvenationMole Mate® skin • Microdermabrasion

cancer

• Facial assessments and mole

• Mole

checks

Mate

Leg vein treatment

® skin cancer

• Injectable wrinkle and mole checks

treatments

• Leg vein treatment

• Dermal fillers

31 Colombo St, Cashmere

31 Colombo St, Cashmere | Phone 372 3589

Phone 372 3589 www.koruskin.co.nz

www.koruskin.co.nz
---
4 Tuesday February 6 2018

Latest Christchurch news at www.star.kiwi

News

SOUTHERN VIEW

Abusive teens 'out of control' at yacht club

• By Sarla Donovan

THE Christchurch Yacht Club

was recently overrun by more

than 100 teenagers, prompting

an emergency meeting.

Club commodore Richard

Ineson said some of the

committee met last week after

crowds of young people using

the club's pontoon ignored

requests to move out of the

way.

Mr Ineson said the

situation had been "out of

control."

"We couldn't even drive our

IRBs with outboards up to the

pontoon there were so many people

in the water and they wouldn't

get out."

No matter what he said, the

young people simply "gave . . .

the middle finger" and ignored

him, Mr Ineson said. "They were

really abusive."

The club's pontoon in Moncks

Bay has been used by the public

for the past 25 years without any

problems, but hot weather and

school holidays have made it a

popular spot with teenagers this

summer.

Mr Ineson said he was reluctant

to call police because

everyone in the area would have

to have been moved, including

families.

"It was very stressful."

The club had never had problems

before, said Mr Ineson, but

the influx this summer had been

creating issues.

An external tap on the clubhouse

was vandalised last week

and litter is regularly left strewn

around.

The club has members-only

rights over the area, from the

car park to the slipway but it has

always left it open for the public

to use.

"We want the community to

use it and respect it," said

former club commodore Jo

Hooker.

She said people needed to be

responsible.

The following day Mr Ineson

closed the area between 9am-

3.30pm for a regatta but said he

had had to police it. "If I wasn't

there, they would have climbed

the rope and ignored the sign."

The club has asked the City to

Sumner Community Patrol to

visit because people were staying

well into the evening.

It is also looking at putting

more signage up in the area.

"The only consolation is school

holidays are ending soon so we

hope it won't be anywhere near

as bad," said Mr Ineson.

POPULAR:

The pontoon

at the

Christchurch

Yacht Club in

Moncks Bay

was inundated

recently by

more than 100

teenagers.

PHOTOS:

MARTIN

HUNTER

Now Here

111-115 Milton Street

Phone 332-6056

as local as you are | www.challenge.net.nz

FREE

Medium barista coffee

with any fuel purchase

$50 and over

*Terms and Conditions apply.

Expires 21 February 2018

HEAT PUMP

SALE NOW ON!

Amazin' summer Specials!!

• We will offer you the best quality brands and

option of heat pump for your home/business

• Providing Heat Pump solutions for over 15 years to Cantabrians

• We personally guarantee all our products & installs for 5 years

(providing annual maintenance has been completed)

Phone us today for your free consultation & quote

41A SHAKESPEARE RD, WALTHAM

PHONE 03 366 0525

www.enviromaster.co.nz

"A local team for local people"

Last Chance to Enrol for 2018

Last chance to enrol in Hagley's full-time Year 12, 13 Courses

| Specialist Courses | Tertiary Pathways

Limited full-time places available only

Wherever you want to be, you'll get there with Hagley!

Enrolments for 2018 close 3pm - 9th February 2018

CONTACT THE ENROLMENT CENTRE

Phone us on (03) 364 5156 or visit www.hagley.school.nz

for more information on courses available and what you need to enrol.
---
SOUTHERN VIEW Latest Christchurch news at www.star.kiwi

Tuesday February 6 2018 5

RETURNED: John

Edmonds asked the

city council to put the

's' back into Linwood's

Edmond St, which was

originally named after

his great-grandfather.

PHOTO: MARTIN

HUNTER

• By Bridget Rutherford

THE 'S' will be returned to

a street named after the man

behind a Kiwi kitchen icon

more than a century after it was

mysteriously removed.

Linwood's Edmond St will be

corrected to Edmonds St after

Christchurch businessman and

philanthropist Thomas John

Edmonds.

He founded Edmonds Sure to

Rise baking powder.

The Linwood-Central-

Heathcote Community Board

approved the change last week.

The street was named after T J

Edmonds in 1878. But somehow

after 1893, it was altered and the

's' was removed for no apparent

reason.

T J Edmonds' great grandson,

John Edmonds, asked the city

council if the spelling could be

corrected last year.

To do so, the city council

had to consult with the street's

residents.

One responded saying while

they did not have an issue with

the renaming, they were concerned

it could cause confusion

with mail delivery

and they would

need to change

their address with

organisations such

as the Inland Revenue

Department.

However, city

council staff said

there were no

other streets in

the city with a

similar name, so

there would be no

confusion with mail

delivery.

Staff said while inconvenient,

changing addresses with those

organisations was easier now

because it could be done online.

John Edmonds said he was

"very happy" to hear his greatgrandfather's

legacy was being

restored.

"It's a courtesy that's well warranted

. . . and I'm sure he would

appreciate it as well. He was very

conscious of the future," he said.

It would cost $500 to install a

Local

News

Now

Street name changed

back to honour Edmonds

baking powder founder

Fire rages, homes at risk

new street sign with the correct

spelling. Edmond St runs off

Aldwins Rd and

sits next to the

Edmonds Factory

Gardens.

T J Edmonds had

the gardens created

around his factory,

which was built in

1923.

Although the

iconic factory was

controversially

demolished in

1990, it still appears

on the cover of

the Edmonds

Cookery Book with the iconic

sunray motif on it.

T J Edmonds was a wellknown

philanthropist. He built

the Edmonds Band Rotunda on

Cambridge Tce near Manchester

St in 1929. He also partly, or fully

funded, several other buildings,

including Kilmore St's demolished

Repertory Theatre, the

Clock Tower on Oxford Tce, and

the former Theosophical Society

building on Cambridge Tce.

I believe

everybody

can awaken

their spirit and

Dance for Joy

Bringing poise and elegance to the community

As an ex-professional Ballet Dancer and International teacher,

I wish to share my passion and expertise for dance with the

community. Everyone can have the chance to express themselves

through movement, building self confidence and good posture.

Join with me to celebrate a community of Dancing for Joy!

INGHAM'S

LAZY SUNDAYS

Fiona Pears

Sunday 11 Feb, 3.30–5pm

Archery Lawn, Botanic Gardens

Head to the Botanic Gardens to enjoy the ever-charismatic

international violinist Fiona Pears. Put summer into your

Sundays with Ingham's Lazy Sundays.

ccc.govt.nz/summertimes

FREE

Class Timetable (Classes start 13th February )

Tuesdays

6.15pm - 7.15pm Ballet 1 (8-10 years)

7.15pm - 8.15pm Pilates

All classes $100

per ten week term

Wednesdays

6.15pm - 7.15pm Ballet 3 (14-16 years)

7.15pm - 8.15pm Adult Ballet

Thursdays

6.15pm - 7.15pm Ballet 2 (11-13 years)

7.15pm - 8.15pm Pilates

Classes held at St Marks

Methodist Church Hall,

Somerfield

Ring Sally to book your

place: 022 377 6640
---
6 Tuesday February 6 2018

Latest Christchurch news at www.star.kiwi

SOUTHERN VIEW

News

Couple's love for penguins

Woolston

street may

be made

one-way

• By Julia Evans

A SECTION of Woolston's

Cumnor Tce may become

one-way.

The city council is seeking

feedback on part of the Heathcote

Expressway cycleyway on

Cumnor Tce between Garlands

Rd and Marshall St.

At a meeting last year, the city

council infrastructure transport

and environment committee

agreed that an option for

increasing the width of the

cycleway on Cumnor Tce should

be explored, including the option

to convert it to a one-way

street.

As detailed design investigations

progressed, concerns were

raised by staff about the potential

impact on ecological values

along this section of the route, a

city council report said.

Cumnor Tce, between

Maunsell St and Garlands Rd,

is already one-way and north

of Marshall St would remain

two-way.

The public can give feedback

on the proposal via the city

council's website.

"ALL YOU need is love, and a

penguin," said the sign on the

front door.

It's the perfect slogan for the

couple who live inside.

Halswell's Kristina Schutt and

Thomas Stracke have been looking

after underweight and injured

penguins at their suburban

home for the past eight years.

Their organisation, Christchurch

Penguin Rehabilitation, is

licensed by the Department of

Conservation.

The German couple, who also

work part-time as intensive care

nurses at Christchurch Hospital,

fell in love with penguins after

seeing the birds at Oamaru when

they visited New Zealand in the

1990s.

The current penguin breeding

season, which runs from

December-May, is their busiest

yet with a peak of up to 14

penguins in their care at one

time.

Their current charges are all

white-flippered penguins, except

one very precious yellow-eyed

penguin chick that is covered in

a downy, brown coat.

It has been named Fluffy and

was brought in underweight

from Shell Bay, Banks Peninsula.

The yellow-eyed chick is one

of only three hatched on Banks

Peninsula this season and the

Artisan Homes

Builders of superior homes.

Built to last.

only one known to have survived.

Although Fluffy is still on

medication for an infection, the

chick is moving around and will

hopefully be able to return to

the wild after a couple of months

with Christchurch Penguin

Rehabilitation.

"We're doing everything possible

for this little guy," Ms Schutt

said.

Most of the birds are brought

in by members of the public who

come across them around the

coast, or they are found by city

council or DOC rangers.

At first, the chicks are given

syringes filled with clear fluids

to rehydrate them before they

Our new Showhome in the

new Faringdon South Showhome Village

OPEning SOOn

WAtcH tHiS SPAcE!!!

CARE:

Thomas

Stracke

with a

penguin he

is nursing

back to

health.

move on to a grey paste that

Mr Stracke described as a "fish

smoothie" for a few days. Then

they are fed small salmon.

Ms Schutt said warmer sea

temperatures are making life

difficult for penguin chicks this

year. They find it harder to feed

because the fish tend to stay in

deeper waters where it is cooler

making them harder for juveniles

to catch.

She and Mr Stracke are handfeeding

two white-flippered

penguins which couldn't survive

in the wild when they arrived.

They are also looking after an

adult white-flippered penguin

with a deep seal bite on its back.

It needed surgery at Hornby

Veterinary Centre.

City council ranger project

manager Andrew Crossland said

the city is lucky to have such

skilled and dedicated penguin

rehabilitators.

"They're doing a great service

by saving our local penguin species

and returning the birds to

the wild."

The penguins are given a name

after 48 hours, Mr Stracke said.

Often they name the bird after

the person who brings it in, so

one of their feathered patients is

called Steve.

When the birds have recovered,

they are released as close

as possible to the location where

they were found.

Mr Stracke said it's satisfying

to see rescued birds set free.

"It's a good feeling to have done

something."

He said dog owners should

keep their pets on a leash as loose

dogs can be a threat to penguin

chicks.

•Any penguins found

should be placed in a box

and kept in a cool, quiet

place before calling DOC,

a local veterinary clinic, or

the Christchurch Penguin

Rehabilitation on 967 7733.

People should not try to give

them food or water.

Phone: 03 374 9172 or Rob: 021 324 876

E-mail - robin@artisanhomes.co.nz

Winners in Registered Master Builders House of the Year Awards
---
SOUTHERN VIEW Latest Christchurch news at www.star.kiwi

Tuesday February 6 2018 7

Your Local Views

Fight to reopen Kennedys Bush track

Halswell

Community

Project

chairwoman

Chrys Horn

says a lack

of action

at the Kennedys Bush

track is preventing it

from being reopened

KENNEDYS BUSH track is a

paper road line that provides

walking, running and biking

access from Halswell to

Summit Rd.

It also provides access to an

awesome network of tracks

in Ōhinetahi Reserve above

Governors Bay, as well as

Kennedys Bush and east and

west along the Port Hills. It has

been well used for decades.

Since the Port Hills fire, the

track has been closed, with

the city council citing health

and safety concerns. There are

burned trees that could fall over

the track, and the city council

can't open it until they have

been cleared. The issue is that

there is little sign of them being

cleared and now there are huge

fences top and bottom of the

track. Increasingly, it appears we

may have a landowner who is

trying to stop public access.

Other affected Port Hills

tracks, including Christchurch

Adventure Park, reopened

relatively quickly. Inquiries in

October indicated that the track

would reopen on December

31. Now we are being told

March 31, but this seems very

uncertain.

It would appear that if we

simply accept these changes

without comment, getting this

track reopened could get a

whole lot harder.

I hope I am wrong, but

communities across New

Zealand have lost walking track

access like this because they

haven't chosen to defend it. If

very few people act, it makes it

much easier for landowners to

get away with obstructing the

public.

If you want to make sure our

community gets back access

to Kennedys Bush track, then

contact the city council and/

or your local councillor and let

them know.

Ask for detailed information

and updates. Talk to others

about this, and get them

involved too. Join the Kennedys

Bush track network to keep up

with developments.

Find us on Facebook or

email kbtracknetwork@gmail.

com for more information. It is

more fun and more effective if

we all work together to achieve

this.

Local

News

Now

Fire rages, homes at risk

Big night looms

for volunteer

•From page 1

"We are a league family and that

is all we do. It is in my blood," she

said.

Teni died of a heart attack on a

training field on June 2, 2015, just

before his 300th game which he told

his teammates would be his last.

He played prop and second row,

and debuted for the Keas in 1994

and was part of the grand finalwinning

teams of 2005 and 2008

and was named premier player of

the year three times.

THe first she knew about the

nomination was when she got a

phone call from NZRL telling her

she had made the finals and to be in

Auckland on Saturday.

"I'm quite honoured to be

nominated and I have no idea who

has put my name forward but it is my

everyday life you know," she said.

Mrs Tuli played for the Sydenham

Swans before getting involved with

the Keas.

Mrs Tuli's 14-year-old son, Uriah,

now plays for in the under-16s. He

is the captain of his side and plays

loose forward.

Other Canterbury finalists are: St

Thomas' and Hornby Panthers Caius

Fa'atili, 16s player of the year, former

St Thomas' and Papanui Tiger Seth

Tauamiti, 18s player of the year, Panthers'

volunteers Willy Simon and Jack Newson,

male volunteer of the year and Jason

Wilson, referee of the year.

Retirement Villages

Enjoy your

retirement at

Cashmere View.

Open to view:

Wed 7 February, 1-3pm

Sat 10 & Sun 11 February, 1-3pm

Wed 14 February, 1-3pm

Enjoy the warmth of Bupa Cashmere

View. Our residents enjoy stylish

living, amongst a friendly community.

Open

to view

We currently have a range of new

one and two bedroom apartments

available, priced from $345,000 to

$440,000. Plus, our care home is

conveniently located right next door.

Come along to our open homes or

Call Rochelle to find out more.

Bupa Cashmere View Retirement Village, 72 Rose Street, Cashmere

Call Rochelle Moore on (03) 373 8591 or 027 663 2806

bupa.co.nz
---
8 Tuesday February 6 2018

Latest Christchurch news at www.star.kiwi

News

SOUTHERN VIEW

Local

News

Now

Fire rages, homes at risk

Police dog pioneer passes away

BOND: Harold Surgenor with his first dog Axel One and his

son Carl in 1958.

PHOTO: NZ POLICE

• By Andrew King

HAROLD THOMAS Surgenor,

a pioneer of how police dogs are

used now, has died aged 86.

Mr Surgenor's wife Ruth said

he was one of the first officers in

the country to push for the use of

dogs in the police, highlighting

their versatility and ability to

perform many of the tasks police

dogs are used for today.

Mr Surgenor, who lived in

Ryan St, Linwood, for many

years, passed away suddenly in

his Ilam home on January 16.

Canterbury district

commander Superintendent John

Price said his legacy lives on in

the important role police dogs

play in today's society.

"We owe him a debt of thanks.

He set up what we now have and

we will forever be grateful to

him," he said.

"Now we have dogs that do all

manner of things like searching

out drugs, money, bombs and a

whole range of other uses."

A retired police sergeant, Mr

Surgenor was one of the first

officers to train a police dog in

New Zealand after he picked up

Axel One from Trentham, Upper

Hutt, in October 1956.

The pup was born on a boat

coming from England and was

selected by Mr Surgenor over one

that was partially trained because

he wanted a fresh dog to work

with.

Another of his colleagues,

Colin Guppy,

of Wellington,

took the

partially

trained dog

to become

the first dog

handler in the

country.

Mr Surgenor

had three dogs

during his

career – Axel

One, Axel

Two and Axel

Three.

But he was

almost denied

his dream job

of becoming a

police officer

when he was

told he was too small to join.

"He had to fill out as a young

person and the police told him

to do some manual work to get

bigger. So he worked in a gold

mine on the West Coast," Mrs

Surgenor said.

The couple met shortly after

Mr Surgenor had joined the

police in Wellington. They were

due to mark their 63rd wedding

anniversary next month. He

Harold Surgenor

spent time in the King Country

and Wanganui chasing prison

escapees, and was sometimes

away for weeks at a time, Mrs

Surgenor

said. They

moved from

Wanganui

to Ryan St in

1965.

Mr Surgenor

was head of

the police dog

unit which

covered most

of the South

Island.

His first

dog, Axel One,

was buried

at the couple's

Ryan St

property, Mrs

Surgenor said.

Mr Surgenor

was farewelled

at a service in the Westpark

Chapel, Burnside, which was

attended by about 200 people.

"He was a dedicated and proud

policeman," Mrs Surgenor

said.

"I was very proud to be his

wife and the letters and emails

detailing how respected he

was and admired in the police

force have been incredible," she

said.

Opawa cadet goes

into the wild

OPAWA'S Courtney Rae took

part in the inaugural Exercise

Takahe, a week-long adventure

camp in Arthur's Pass for the

New Zealand Cadet Forces.

NZCF is a youth training

organisation which provides

military-based leadership,

personal development and

adventure training to those aged

13-18.

During the recent exercise,

the cadets went through Cave

Stream, abseiled at Castle Hill

and flew over a river on a flying

fox.

They also treated some

injured patients after a mock

'boulder accident', bonded

with their teammates on a low

rope course, floated down the

Waimakariri River and rode

in a Unimog. An unexpected

storm with lightning, thunder,

rain and hail provided a bit of

excitement, but otherwise the

weather was calm and hot.

VERTICAL: Opawa's Courtney Rae abseiling at Castle Hill.

liQuid laundromatS

289 Colombo St, Sydenham

(next to SuShi Shop)

17 halSwell rd, hoon hay

713 ferry rd, woolSton

7 dayS: 5am-11pm

waSh & dry all your

laundry in about 1 hour

$4.00 WASH

$4.00 DRY

wash 2 mink blankets, duvets

or woolrests for only $8

DRY UP TO 3 LOADS IN

ONLY 25 MINUTES! $4

SAvE TIME & ELEcTRIcITY

• Fast Dryers

• Sports Gear

• Duvets

• Mink Blankets

• Bedding

• Washers

• Domestic Laundry

SELF SERvIcE

Other Locations: 47 Carmen Road, Hornby • 319 Pages Rd, Aranui

• 345 Stanmore Rd, Richmond • 261 Burwood Rd, Burwood

www.liquidlaundromats.co.nz

Deceased Estate – Must Be Sold

2 Enticott Place, Huntsbury | Listing Number: BE192948

4 2 2 2

Your agent, Your home, Your future

LICENSED SALES CONSULTANT REAA 2008

Only two years old, and with the reassurance of a post-earthquake

build, this home by Maxim Homes comes with a Homefirst Builders

Guarantee through until December 2023. You will be delighted with

the well-designed floorplan and quality of the finish throughout.

Constructed of Linea board and plaster over AAC panel you will enjoy

the low maintenance that this home offers. Thought and attention has

been given to the kitchen which has everything you would expect of

a home of this calibre, with a large walk in pantry, induction cooktop

and convection oven. The kitchen forms the hub of the home, with

a spacious living/dining room to entertain in. The extra bonus of a

separate lounge allows that all important space to retreat to should

you wish. Your entertainment and internet needs are well taken care

of with CAT5 throughout - so no problem with connecting to the world!

With four bedrooms, two bathrooms and in zone for top schools in this

area, don't hesitate to call to view.

P 027 777 0411
---
SOUTHERN VIEW Latest Christchurch news at www.star.kiwi

Tuesday February 6 2018 9

Over 7000m 2 Of slightly

imperfect stOck tO be cleared

Solution dyed

nylon carpet 2nds

Extra heavy duty 26oz, 30oz, 36oz, 55oz options

PRICED FROM $65 per metre

Pure Wool Carpets

Extra heavy duty options

PRICED FROM $50 per metre

Polyester Carpet

Extra heavy duty options

PRICED FROM $79.90 per metre

Commercial Nylon Carpet

1st Grade options

PRICED FROM $75 per metre

312 Wilsons Road North, Waltham Phone 366 0070

www.carpetkingdom.co.nz | Mon - Fri 8am - 5pm | Sat 10am -1pm

Q Card Finance Now Available

FREE no obligation measure & quote (conditions apply.)
---
10

Latest Christchurch news at www.star.kiwi

Tuesday February 6 2018

SOUTHERN VIEW

raNGiora • Northwood • st martiNs • tower juNctioN • BishoPdaLe • raNGiora • Northwood

Northwood • st martiNs • tower juNctioN • BishoPdaLe • raNGiora • Northwood • st martiNs • tower juNctioN • BishoPdaLe •

NEW ART

SALE!

&CRAFT

65 %

off

ART CANVAS

EXHIBITION, BLACK & STUDIO

READS

FOR YOUR

VALENTINE

RRP $38.00

our price

$

28 .99

STILL ME

JOJO MOYES

CARDS

FOR YOUR

VALENTINE

VALENTINE'S DAY

gREETINg CARDS

AVAILABLE

INSTORE NOW

*Does not apply to canvas

panels and professional canvas.

RRP $25.99

$

19 .99

FIFTY

SHADES

FREED

E L JAMES

@papertreestores

DISCOUNTS ON CANVAS,

PAINTS, BRUSHES & INKS!

35 %

INSTORE NOW

our price

MORE HOT DEALS

TWO $

10 FOR

PAPERBACK NOVELS

BESTSELLINg AUTHORS

CANON OFFICE

PAPER BOX

OF FIVE

RRP $32.99

our price

$

23 .99

off

PAINTS & BRUSHES *

*Excludes medium products.

BUY TWO,

gET THE

THIRD

FREE

BARgAIN

BOOKS *

*Lowest price item is free.

Follow us on Facebook:

@papertreestores

tower junction, off Clarence St, Riccarton | Bishopdale, 31 Bishopdale Court, Bishopdale | rangiora, 206 High Street, Rangiora

Northwood supa centre, Main North Road, Belfast | st martins shopping centre, Wilsons Road, St Martins

• st martiNs • tower juNctioN • BishoPdaLe • raNGiora • Northwood • st martiNs • tower juNctioN • BishoPdaLe • raNGiora
---
SOUTHERN VIEW Latest Christchurch news at www.star.kiwi

Tuesday February 6 2018 11

GREAT food

BROUGHT TO YOU BY...

Your fresh food people

PEACH SORBET WITH BLUEBERRY COULIS

AND CHOCOLATE TUILES

Ingredients

Peach sorbet

6 white peaches, fresh

½ cup sugar

½ cup water

1 Tbsp lemon juice

1 egg white

Blueberry coulis

½ cup sugar

500g blueberries, fresh

MARINATED BEEF FILLET

WITH TRUSS TOMATOES

Ingredients

1kg whole beef fillet

500g truss tomatoes

Marinade

½ cup red wine

2 Tbsp extra virgin olive oil

1 Tbsp roughly chopped thyme

leaves

1 Tbsp chopped rosemary leaves

1 Tbsp wholegrain mustard

2 garlic cloves, crushed

Directions

Chocolate tuiles

75g butter

2 egg whites

½ cup caster sugar

5 Tbsp flour

1 Tbsp cocoa powder

½ tsp vanilla essence/extract

Directions

To make the sorbet, peel the

peaches, remove stones and

chop flesh roughly. Place in a

saucepan with sugar, water and

lemon juice. Bring to the boil.

Simmer for 5min and then

remove from the heat. Cool.

Refrigerate until cold. Place in

a food processor with egg white

and process to a pulp. Pour into

a freezer-proof container. Freeze

until firm.

Remove from freezer, break

up and place back in the food

processor.

Process to combine and pour

back into container. Refreeze

until required.

To make the coulis, place

blueberries and sugar in a

food processor and process to

combine. Place fruit mixture in

a sieve and press through juice.

Truss Tomatoes . ...................................... 1

Fancy Lettuce ............................................. 1

Yellow & White Peaches ......... 2

5kg Agria Potatoes . ....................... 5

Discard pulp. To make the tuiles,

preheat oven to 190 deg C.

Melt the butter. Cool. Beat egg

whites and sugar until combined

but not frothy.

Sift flour and cocoa together

and fold into egg whites with

butter and vanilla.

Place teaspoons of mixture on

a baking paper-lined oven tray.

Bake for 6-8min.

Rest biscuits for 30sec then

carefully lift from the tray and

mould around a rolling pin to

curl until firm.

.99

kg

.99

each

.99

kg

.99

bag

Place the beef fillet into a nonmetal

dish.

To make the marinade, in a jug,

combine all ingredients. Season

to taste. Pour marinade over

beef, turning to coat. Cover and

chill for at least four hours, or

overnight, turning occasionally.

Remove from the fridge 30min

before cooking.

Preheat the flat and grill plate

of a covered barbecue on high.

Remove meat from marinade.

Barbecue for 5min on grill,

turning to brown and seal all

sides. Transfer to a large heavybased

roasting pan.

Turn off the heat on the flat

At

we have...

plate and scrape clean. Place the

roasting pan on the flat plate.

Reduce grill heat to medium,

close lid and cook beef for 45min

for medium rare. Remove to a

board, cover loosely with foil and

rest for 15min before slicing.

While the meat is resting, place

the tomatoes in the roasting

pan and cook in the covered

barbecue for 15-20min until

starting to collapse. Serve beef

sliced with tomatoes and other

accompaniments of choice.

local FRESH produce

everyday

Whole Beef Fillet ............................. 32

NEW SEASON

Waitoa Free Range

Chicken Kebabs (8pk) ................ 7

Lamb Shoulder Chops . ................ 11

All our fresh meat is 100% NZ FARMED.

specials VAlid 5th february - 11th february 2017. ONLY AVAILABLE AT

RAEWARD FRESH HAREWOOD RD, TOWER JUNCTION.

.99

kg

.99

pack

.99

kg

in season nOW

SUMMER

Apricots, Nectarines, Plu ms,

Cherries, Strawberries, Raspberries,

Blackberries a nd more!

harewood rd Mon–Fri 8.00am–6.30pm Sat–Sun 8.00am–6pm

Tower junction Mon–Fri 8.00am–6.30pm Sat–Sun 8.30am–6pm

WWW.

.CO.NZ
---
12 Tuesday February 6 2018

Latest Christchurch news at www.star.kiwi

SOUTHERN VIEW

FREE TRAINING

SERIES

February 6th, 13th, 20th, 27th

March 6th, 13th

South Hagley Park

(by the netball courts)

Meet at 6.15pm, run at 6.30pm

Free entry, all welcome

Are you up for it?

city2surf.co.nz
---
SOUTHERN VIEW Latest Christchurch news at www.star.kiwi

Tuesday February 6 2018 13

Women relish challenge

Kathmandu

Coast to Coast

male domination

changing

HISTORICALLY THE Kathmandu Coast

to Coast has been a male dominated race,

but that is definitely changing.

The event is full for the first time in a

decade, with organisers and title sponsor

Kathmandu challenging more females to

take it on, a rallying call that is gaining

some real momentum and having an impact

on the event in a number of ways.

Jess De Bont is a working mum who

has competed in the event and now

throws her energy into running a youth

programme, training a new generation of

multi-sport athletes.

"It's wonderful to see so many females

stepping up and being involved in Coast

to Coast whether it be in a team, tandem,

support crew role or some other way of

getting behind the event," she said.

Ms De Bont established the Coast to

Coast Rangers, a programme for disadvantaged

youth in Canterbury

She is one of a growing number of

women who are making their mark on

the event in different ways.

"Our programme is about making the

event accessible to teenagers who would

not have had the opportunity otherwise,"

she said.

"The Kathmandu Coast to Coast is accessible,

achievable and fun, and there's a

real social element to training and getting

into the outdoors. Kathmandu are all

about making the outdoors accessible to

everyone and the race is the same so it's a

great fit."

Ms De Bont says for her east Christchurch

teenagers it has been about getting

outside and exploring the wonderful

backyard that Christchurch and Canterbury

offers, just as much as it has been

about training.

"They have biked, run and kayaked over

places they never knew existed. Exposing

them to the great outdoors has been an

absolute privilege. They embrace each

week in the Port Hills with enthusiasm

and gratitude," said Ms De Bont.

This is the third year the Coast to Coast

Rangers have competed in the event with

16-year-old Emmy Slott, competing in the

kayak leg.

Emmy has two fellow Linwood College

team mates competing with her in a twoday,

three person team, with the other

two doing the cycling and running legs,

making the challenge of completing the

243km journey across the South Island

very do-able.

"They will be supported by their friend,

Aleisha, who is keen to see the event from

a support crew role and then compete in

years to come," said Ms De Bont.

"Emmy has been training hard these

past few months, getting up at 6am for

kayak training more than once a week has

been a challenge in itself.

"For me, it is all about giving these east

Christchurch teenagers opportunities

they perhaps wouldn't normally have and

taking them to places they haven't been,

encouraging them to step outside their

comfort zones, which they do on a regular

basis. Some people don't step outside

their comfort zones all year. Our

teenagers do it each week when I ask

them to participate in various activities,

TRAINING: Jess De Bont with Finn

Pierce who is a part of her

Coast to Coast Rangers group for

youths in Canterbury.

challenges and races. It is inspiring to see.

As a working mum and an athlete myself,

I know all that the multi-tasking busy

mums have to do. Trying to fit in kids

activities, nutritional cooking, training

and working is a juggling act in itself,

but it is a very special thing to be able to

compete and have your children waiting

and cheering so proudly as their mum

crosses the finish line, smiles all round,"

said Ms De Bont.

Kathmandu Coast to Coast full

– women's race shaping up for

titanic battle

More women competing is highlighted

even further with the women's World

Championship Longest Day event shaping

up as one to watch this year.

The late entry of two-time champion

and three-time adventure racing world

champion, Sophie Hart, has added some

real spice to an already deep field for the

women's one-day race. The 34-year-old

Lyttelton GP is a two-time winner of the

women's one-day event with her last win

coming in 2013. Her first win in 2011 in a

time of 12hr 10min was only 1min

outside the women's individual record

set by Christchurch's Andrea Murray in

1997.

The women's field is the strongest in

years, led by defending champion and

four-time winner Elina Ussher; last year's

runner-up, South African Robyn Owen,

who was leading the race into the final

bike leg before being overhauled by Ussher;

Christchurch-based German Simone

Maier, who last raced in the event in 2015

when she was second; and Whakatane's

Corrine O'Donnell, a strong runner who

always makes her presence felt.

Former world champion kayaker and

Olympian Teneal Hatton is another one

to watch in the women's one-day event.

Hatton was third in November's ICF

ocean ski world champs in Hong Kong,

racing as the event's defending world

champion.

Leading Australian multi-sport athlete

Alex Hunt and New Zealander Bobby

Dean loom as men's defending World

Championship Longest Day champion

Sam Clark's biggest challenges. Clark

stormed home last year to pass Braden

Currie on the final bike leg and claim

back-to-back wins in the World Championship

longest day event.

Dean has raced for top adventure racing

team Team Bivouac inov-8 and was 11th

in the 2016 Kathmandu Coast to Coast

and fourth last year while Hunt is back for

his third crack at his favourite event and is

aiming to repeat his 2016 podium effort.

Kathmandu

brings you

New Zealand's

most iconic

adventure

race.

#KMDC2C

A LEAVE NO TRACE EVENT

KBR1153/R
---
14 Tuesday February 6 2018

Latest Christchurch news at www.star.kiwi

PLAY FOOTBALL

SOUTHERN VIEW

Kint 'n' Yarn

Wednesday, 11am-1pm

Go along to the

Linwood Library for a

friendly Craft Corner

session. Take your

knitting, crochet or other

portable craft project and

enjoy time with other

crafters. Have a look at the

range of books to get ideas

for your next project. Free,

beginners welcome.

Linwood Library,

Eastgate Shopping Centre

Creative Writing on

Wednesdays

Wednesdays, 4-5.45pm

Craft, create and

develop your own work

with some help. Take

some pens or pencils, a

laptop, paper and your

wonderful ideas, storytelling,

or art. Talk to

any of the Linwood

Library team for contact

information. No charge.

Linwood Library,

Eastgate Shopping Centre

South Library Book

Discussion Group

Wednesday, 6-7pm

For those who love

reading and want to

share in discussion with

other friendly book

lovers. We subscribe to

the Book Discussion

Scheme so there is a cost

involved. Held on the

first Wednesday of each

month. Places are limited

so phone or email to

inquire about availability

and cost.

South Library, 66

Colombo St

Mid-Week Laughter

Club

Wednesday, 6-7pm

The focus of the club is

to get over the stress of the

first part of the week and

have a positive outlook for

the rest. The event aims

to release endorphins and

help you relax and lower

stress levels. There is no

comedy, stand-up or jokes

at this session. Instead,

you are encouraged to

make yourself laugh at

nothing at all for the

purpose of relaxing.

St Marks Methodist

Church, cnr Barrington

and Somerfield Sts. Entry

$2

Rummikub Club

Thursday, 10am-noon

Go and join in on a

game of rummikub, a

tile-based game for two

to four players, combines

elements of the card game

rummy and mahjong.

Every Thursday from

10am-noon. No charge.

Linwood Library,

Eastgate Shopping Centre

Beckenham Exercise

Class

Friday, 9.30-10.30am

Designed for people

living with long-term

health conditions. Classes

generally occur weekly

other than on public

holidays. Phone 0800 663

463 to register.

St Marks Methodist

Church, cnr Barrington

and Somerfield Sts

Scrabble @ Linwood

Library

Friday, 10.30am-noon

Go along to the Scrabble

Club every Friday. No

obligation, just go along

when you can and join

the friendly group. All

materials are supplied. No

fee.

Linwood Library,

Eastgate Shopping Centre

Babytimes

Friday, 11-11.30am

Encourage learning

through language.

Babytimes is a free

interactive programme,

including songs, rhymes,

stories and play. Nonmembers

welcome.

Linwood Library,

Eastgate Shopping Centre

Email emily.oconnell@starmedia.kiwi

by 5pm each Wednesday

Do you have stories you'd like to share with family, friends or even the wider

community? The South Library at 66 Colombo St is offering a six-week

programme starting on Monday, February 12, for you to record your family

history, the history of your area or neighbourhood, childhood anecdotes or

memories of the past. Bookings are required as places are limited. The cost

will be $15 per person and the session will go from 9.30-11.30am.

Spreydon Social Games

Club

Saturday, 10am-noon

Join a friendly game or

two of upwords, scrabble,

cards, chess, mahjong and

more.

Spreydon Library, 266

Barrington St

Multicultural Festival

Saturday, 11am-3pm

The festival is a

celebration of the

neighbourhood's

unique cultural

diversity. Ethnic food,

craft and information

stalls will feature along

with a variety of live

entertainment. Children

are well catered for

with stone carving,

flax-weaving, natural

magic pirates and much

more. The Linwood

Community Arts Centre's

Eastside Gallery will be

open for visitors to

view an exhibition with

the theme 'the things that

connect us'. The inner-city

east festival is a small but

vital step in aiding

cultural understanding

while celebrating

diversity. Take your family

and friends along and

enjoy a feast of cultural

delights.

Doris Lusk Reserve, cnr

of Worcester and Stanmore

Rds

Opawa Farmers'

Market

Sunday, 9am-noon

Go along to the Opawa

Farmer's Market this

Sunday for organic and

delicious produce from

local growers. Enjoy

sipping on a coffee while

wandering around the

market and checking out

the food on offer. From

artisan bread and French

pastries to fresh berries

and local cheeses, there

will be something for

everyone.

275 Fifield Tce, Opawa.

Get in to

football

this winter

With over 20 football clubs in Canterbury

- catering for all ages and abilities - make

2018 the year you lace up the boots.

You might want to be the next All White

or Football Fern, or you may just want to

have a social kick-around, most clubs have

teams entered in grades for boys, girls and

men and women, so sign up now.

You may also be interested in giving back,

so why not take up the whistle as a referee

or a become a coach? Mainland Football

offers great courses and support to help you

on your pathway.

Visit Mainlandfootball.co.nz for more

information on clubs in your area and

upcoming courses.

Papanui

Redwood

AFC

Papanui Redwood AFC is a family

friendly club with roots in the community.

It's a club that prides itself on being

welcoming and inclusive, encouraging

participation and development for all ages

and in all levels of competition.

We have around 350 players in five senior

and 12 junior teams. We also run Fun

Football and First Kicks programmes for

the 4-8 year olds. We are always looking

for new members young and old.

The heart of our club is Redwood Park

where every Saturday our clubrooms are

open, serving refreshments to players and

supporters.

We also play at Owen Mitchell Park

where our winter trainings are undertaken

by qualified coaches – help from families is

always appreciated! During the Summer

we are also there most Wednesday evenings

and Sunday mornings. All are welcome to

drop by for a kick around – bring your shin

pads and boots and join in!

COASTAL SPIRIT

FOOTBALL CLUB

new players wanted

We cater to male & female players

From 4 to 65 years +

Beginners, Social & Elite Players

2018 Registration info online

via our website

New players to the club

contact details below:

WEBSITE: www.coastalspirit.co.nz

FACEBOOK: www.facebook.com/CoastalSpirit/

PHONE: 381 2661

EMAIL: info@coastalspirit.nz

ADDRESS: Cuthberts Green

220 Pages Rd, Wainoni
---
SOUTHERN VIEW Latest Christchurch news at www.star.kiwi

Tuesday February [Edition 6 datE] 2018 153

PLAY FOOTBALL 2018

Nomads

United AFC

are C and

AFC

Y Licence

holders for

2018!

A Regional Youth League Club Licence

(Y), is a New Zealand Football and Mainland

Federation approved and supported

player development programme. Talent

Centres provide players with a professional

environment to train and develop their

football with professional NZF accredited

coaches.

We enter teams in many competitions -

including the South Island Tournaments

for 10-19th Grade players (formally

Canterbury Representative Teams).

Nomads United offer excellent coaching,

facilities and enjoyment for all ages and

grades of footballers.

For more information come to our

Club Registration Day on Sunday 11th

February between 2- 4pm at Tulett Park,

Claridges Road or check out our website

www.nomadsafc.org

Coastal Spirit

Football Club

Coastal Spirit Football Club formed

in 2007 with the amalgamation of New

Brighton AFC and Rangers AFC. The club

offer junior, youth and senior football at

both elite and social levels and we welcome

new members each year.

The club would like to welcome the

arrival of its new Football Development

Manager, Gary Bennett. Gary will bring

a wealth of knowledge and experience to

the club having worked in four different

countries over 20 years, including several

years in England with Southampton FC.

Gary Bennett, Football

Development Manager

Burwood

Welcome to the 2018 football season.

Burwood AFC is a progressive club with

Junior and Senior teams.

We expect to have three Senior teams,

with our Senior 1st team in the Canterbury

Championship League. New Senior and

Junior players are most welcome.

Burwood supports the Whole of Football

framework initiated by NZ Football and

run by Mainland Football. This concept

works for our First Kicks (4-6 years) and

the 7-8 year olds (Fun Football). Both these

grades are run In-house with the help of

Mainland Football and other clubs.

Registration is now online, for more

information see our website www.

burwoodafc.co.nz.

Christchurch United

Academy growing

at rapid pace

The Christchurch United Football

Club and its high-performance academy

continues to develop at a rapid pace.

The arrival of high-profile Academy

Director Colin Williamson is another major

step in the development of the academy

based at the world-class Christchurch

Football Centre (CFC) on Yaldhurst Road.

Williamson worked with some of the best

coaches in the Netherlands during his seven

years at professional clubs PSV Eindhoven

and Roda JC. He will be working closely

with the club's Brazilian Head Coach

Fernando Lambert in developing the other

coaches at Christchurch United.

This year the academy has expanded to

include an U13, two U14 and an U15 squad.

Christchurch United also offers preacademy

programmes from U6 to U12 and

will expand its community programmes

for players from the age of 4 to 17, with

additional pitches at Yaldhurst, as well as

the historical base at Spreydon Domain.

Players can join the community teams

from $119 a season, and still get the

benefit of the professional coaching staff

supporting the volunteer coaches.

The academy and CFC were created

by Christchurch businessman Slava

Meyn in 2014 to provide all-year football

development with top quality coaching.

The academy in 2016 merged with

the Christchurch United and last year

dominated many of the junior leagues.

A staggering 36 players were being picked

for representative teams.

The 2018 Football

Season is here!

Trial dates and Registration

details on our website

www.nomadsafc.org

Where it all started for All White Aaron Clapham

and Football Fern Meikayla Moore

REGISTRATION DAYS

At the clubrooms, Clare Park,

Burwood Road

Sunday 11th Feb 10.00am - 12.00pm

Monday 12th Feb 6.30pm - 8.00pm

New junior and senior players

are welcome.

For more details on registration and

subscriptions see our website

www.burwoodafc.co.nz

JUNIOR COACHES REQUIRED

Please contact the Secretary Mark Tolchard

385 0098 or 027 319 0192
---
16 Tuesday February 6 2018

Latest Christchurch news at www.star.kiwi

SENIOR LIVING

SOUTHERN VIEW

Aspire

Canterbury

Mobile

you can stop him

snoring with a

SNOREX

Why put up with a broken

night's sleep?

Ph 377-4318 or 027 682 1752

DENISE LIM

FOR A FREE INFO PACK

Website: www.snorex.co.nz

Support and Resources for Independent Living

walkers to

purchase

(FroM $230)

or hire

$20

Aspire Canterbury is a not-for-profit

community-focused organisation

committed to meeting the needs of older

persons with mobility issues and disabled

persons. Their aim is to assist people in

making informed decisions about accessing

services or choosing products that will

assist them in their daily lives.

They have taken their services on the

road and out into communities, meeting

people in their environments to make daily

living easier. Aspire Mobile is a response

to the need to reconnect, giving disabled

people easier access to services and

introducing them to new products which

can make their lives more enjoyable and

provide them with a sense of inclusion in

the wider community.

They will show you how to choose a

walker or walking stick that is the correct

height, provide information about both

their services and other resources available

for community, disability and health

organisations.

For more information visit

www.aspirecanterbury.org.nz,

03 366 6189 mobileservices@

aspirecanterbury.org.nz We can help.

Can we help you or someone you support?

Disability Information Service – a 'one stop

information service' which offers unbiased

advice to assist people navigate their way to

organisations or services that can provide them

with support or advice.

Aspire Canterbury Shop – shop online or call in

to our shop at 314 Worcester Street and view our

range of easier living products We also hire out

wheelchairs, ramps and walkers.

Total Mobility Discounted Taxi Service – a scheme

which provides 50% discounts on taxi journeys to

eligible people in the Christchurch area who, due

to health conditions, are unable to access public

transport. Contact us for more information on

03 366 9093 or visit our website.

per week Mobile Service – Fun interactive presentations of

our information, services and easier living

equipment. We come to you! To book our

presenter to speak to your group call Richard

at numbers below or email mobileservices@

aspirecanterbury.org.nz

Mobility scooter demonstrations available.

Aspire Canterbury is a not-for-profit organisation

providing services to the community since 1981

Physical Address:

314 Worcester Street

Linwood Christchurch

Postal Address:

PO Box 32074

Christchurch 8147

2015 NZ Disability

Information Centre

of the Year

Ph: 03 366 6189

Freephone: 0800 347 242

Ph: (Total Mobility) 03 366 9093

Mobile Service: 027 588 9700

E: admin@aspirecanterbury.org.nz

W: www.aspirecanterbury.org.nz

1 in 2 people

deficient in B12

Emerging research has shown as many as 50% of older adults and

as many as 25% of younger adults are deficient in vitamin B12.

Scientists at Rush University Medical

Center found those most deficient

in vitamin B12 to have the smallest

brain mass & the lowest scores on

tests measuring short-term memory,

concentration & brain performance.

Another study showed that older people

with higher levels of B12 in their blood

have bigger, healthier brains & score higher

on cognitive tests than those with lower

levels. Yet another recent landmark study

showed that B12 supplementation slows

the accelerated rate of brain shrinkage

& declining cognitive function. B12 is

essential for energy production, cell

health, regulation of mood & sleep cycles,

nerve health & repair, & prevention of

homocysteine a serious cardiovascular

risk factor that is known to cause damage

& plaque in the blood vessels. It can also

increase the chances of a stroke. Harvard

researchers found

a 34% decrease

risk of vision

loss in a study

of participants

aged 40+ who

supplemented

with B12. Another

study

linked a higher risk of hearing loss in

neW

subjects in their 60's who were low in B12.

The reason so many people lack B12

appears to be our body's ability to absorb

it declining with age as the digestive

system becomes less efficient. Anti-reflux

medication & other drugs further reduce

B12 absorption. The good news is B12 in

the form of Methylcobalamin sublingual

tablets that are dissolved in the mouth &

thru bypassing the digestive tract have

been shown to effectively raise B12 levels in

the body.

Further detailed information is

available from the Natural Health

Advisers at Marshall's Health & Natural

Therapy, 110 Seaview Road, New

Brighton, Phone: 388-5757. We are always

happy to help!

Third Age Tours eST

Small Group Tours for the over 50's

Domestic and International

Great Prices!

england/Wales & Yorkshire Dales

23 August - 24 September 2018

enchanting Ireland & Scotland 31 May - 27 June 2018

curiosities of cuba 25 April - 21 May 2019

Treasures of Turkey 1 - 25 September 2018

captivating croatia, Slovenia

montenegro & Venice

1 June - 25 June 2018

Vietnam & cambodia 4 - 26 October 2018

Thailand, land of Smiles 29 October - 11 November 2018

Sicily, rome & Southern Italy 29 September - 24 October 2018

South Island Tours

Glorious Autumn in Arrowtown 17 - 22 April 2018

catlins/Stewart Island 7 - 15 February 2019

White herons, Glaciers & Alpine loop Tour

25 - 30 Jan 2019

PluS oTher DeSTInATIonS!

For a Free InFormATIon PAck contact Brenda

Third Age Tours

1999

Ph 03 379 3799 or 03 312 7050 | Freephone: 0800 927 725

sunshineone@xtra.co.nz | www.thirdagetours.co.nz

Follow us on Facebook
---
SOUTHERN VIEW Latest Christchurch news at www.star.kiwi

Tuesday February 6 2018 17

SENIOR LIVING

Dilo Oil – The Remarkable

Skin Rejuvenator

Until Rachel

Hunter's popular

TV series "TOUR

OF BEAUTY" Dilo

Oil was relatively

unknown, being one

of the best-kept secrets

of the Pacific Islands. It

may however be the number

one natural beauty oil available

as it possesses powerful natural skin

regeneration and healing properties.

According to ethnobotanist Chris

Kilham, Dilo (pronounced dee-lo)

Oil is a powerful skin regenerator as

it is one of the most effective agents

in promoting the regeneration and

formation of new tissue, thereby

accelerating wound healing and

the growth of healthy skin. Dilo

Oil is super-absorbing and can

penetrate all three layers of the

skin, offering exceptional cell

hydration and regeneration.

As well as this, Dilo Oil has

potent anti-inflammatory,

antimicrobial, antifungal and

antioxidant properties.

Traditionally, Dilo Oil is used to keep the

skin young and youthful and for just about

any skin complaint. Some of the conditions

for which it is considered helpful include

abrasions, cuts and cracks, acne and

acne scars, pimples, blemishes, stretch

marks, wrinkles, blisters, burns (including

chemical and radiation), diabetic sores,

rashes, shaving irritation, dry or scaly skin,

eczema, psoriasis,

dermatitis, herpes

sores (cold-sores),

insect bites and

stings, rheumatism,

pain, sciatica,

shingles, sunburn,

rosacea, athlete's foot, skin

eruptions, warts, skin ulcers

and sores, nappy rash and almost

any other skin ailment and often with

incredible results.

Many beauty and skincare products

on the market today contain unnatural

ingredients that can be toxic and may

even contribute to disease. Generally

the benefits are exaggerated

and often only temporary or

camouflage. Marshall's Dilo Oil is

100% pure and certified organic.

It has been cold-pressed from the

Dilo nut and contains absolutely

no additives. Polynesians and

Southeast Asians have revered

Dilo Oil for centuries believing it

to be a sacred gift of nature and

the Gods. Dilo oil stimulates

and supports the skins natural

healing process through the growth of new

healthy skin tissue. I personally believe

it is a remarkable product and highly

recommend it to everyone. A 50ml bottle is

$19.90 and 100ml only $29.90.

Further information is available from

the Natural Health Advisers at Marshall's

Health & Natural Therapy in New

Brighton. We are always Happy to help!

NATURAL HEALING & BEAUTY OIL

As seen on Rachel Hunter's Tour of Beauty

Revered for centuries by Polynesians & Southeast Asians for its remarkable

skin anti-aging & healing properties, Dilo oil comes from the nut of the sacred

Dilo tree, "the tree of a thousand virtues". Dilo oil is often called the beauty oil

as it can penetrate all three layers of the skin offering exceptional cell hydration

& regeneration. It has a unique ability to stimulate the growth of healthy skin

cells & this gives it powerful anti-aging & healing properties that can help

reduce lines, blemishes, scars & damage to the skin. It also possesses

anti-inflammatory, antimicrobial, antifungal & antioxidant properties.

Dilo Oil Supports

• Anti-aging & skin regeneration, helps reduce lines, blemishes, scars &

stretch marks

• Skin hydration

• Skin repair & growth, helps feed the skin & stimulate healthy new cells

• Wound healing & skin protection from bacteria, viruses & fungus

• Most skin problems, rosacea, pimples, ulcers & sores, acne, psoriasis,

eczema, dermatitis, rashes, blisters, skin eruptions, warts, insect bites &

stings, athlete's foot, burns, nappy rash etc.

• Joint & muscular pain

Bringing You the Best in Natural Health

IS YOUR BRAIN SHRINKING?

BRAIN FOG, FORGETFUL, FEELING OLD, LOW ENERGY, MOOD SWINGS,

DIFFICULTY SLEEPING, PINS & NEEDLES, NUMBNESS IN LEGS

Up to 1 in 2 people may have a shrinking brain due to a lack of vitamin B12.

Supplementation of methylcobalamin B12 has been shown to reduce the rate of brain

shrinkage & support memory & brain function. B12 is also known to protect against

homocysteine a serious cardiovascular risk factor that can also damage the hearing,

eyesight & affect the mood. B12 is essential for energy, cell health & nerve function.

B12 SupportS:

• Memory & Brain Performance

• Helps protect brain from shrinking

• Energy & Recovery

• Nerve Function

• Helps protect blood vessels from damage

• Sleep

• Cellular Health & Repair

• Vegetarian's Diet

• Good Health

• Cardiovascular Health

SEE A DIFFERENCE

IN AS LITTLE AS 48

HOURS!

SUPER PRICE OFFER

100 Lozenges

Only $ 32 .90

AMAZING

PRICES

100% PURE & ORGANIC

50ml

only $19.90

only $29.90

100ml

AMAZING ISLAND

MIRACLE OIL

- WE ARE ALWAYS HAPPY TO HELP! -

Superior Methylcobalamin B12

(High Absorption Sublingual Lozenges)

200 Lozenges

Only $ 59 .80

MAIL ORDER AVAILABLE

Bringing You the Best in Natural Health

MARSHALLS HEALTH & NATURAL THERAPY

CONSULTING - PRESCRIBING - DISPENSING - MANUFACTURING - MEDICAL HERBALISTS

110 SEAVIEW RD, NEW BRIGHTON • PH 03 388 5757 • Email: enquiry@marshallshealthshop.co.nz

- WE ARE ALWAYS HAPPY TO HELP! -

MAIL ORDER AVAILABLE

MARSHALLS HEALTH & NATURAL THERAPY

CONSULTING - PRESCRIBING - DISPENSING - MANUFACTURING - MEDICAL HERBALISTS

110 SEAVIEW RD, NEW BRIGHTON • PH 03 388 5757 • Email: enquiry@marshallshealthshop.co.nz

What's happening

at Lady Wigram

Retirement Village?

It's been a busy few years for The

Golden Healthcare Group with their latest

development of Lady Wigram Retirement

Village on Kittyhawk Road. The first villas

were occupied in August 2015 and now 101

villas are completed.

In December, the club house opened

which provides a bowling green, hair

dressing salon, restaurant and bar, billiard

room, movie theatre and library. The Club

House has all the trimmings, including 16

one and two bedrooms Apartments. The

next stage will also include a swimming

pool, gym and a further 14 Apartments.

When speaking with one of their

residents about how he feels about the new

Club house, Mr Havill said "everyone is

so excited about it opening, we have all

been watching it very closely'. Mr Havill is

fascinated as to how the fountain works.

He has lived in the village for the past

few years, enjoying his new life style and

making friends. He has also picked up new

hobbies including learning to play mahjong,

"I love it, I had never played in my life". Mr

Havill owned his own home for 44 years

and in that time he maintained the house,

painted it, did this... did that. "We don't

have to do that anymore, this is my place for

the moment. Every villa is different, even

121 Skyhawk Road

though they look the same. But you make it

your own". One thing Mr Havill likes at this

age is "the gates shut at night, we can get in

but no one else can and that is an additional

sense of security for us".

Owner John Tooby says "our residents

are very involved in the continuing

development of the village, they share our

pride in making this a great place to live. It's

a real community and it continues to grow".

ARE YOU READY

TO DOWNSIZE?

Paying rates for a house that's

too big? Paying maintenance and

heating costs for space you don't use?

A move to one of our

architecturally designed villas

at McKenzie Lifestyle Village in

Geraldine will cut those costs.

Three villas are available for

occupation now, priced from

$355,000.

Talk to David Connolly today

on 0800 84 55 24.
---
18 Tuesday February 6 2018

Latest Christchurch news at www.star.kiwi

SOUTHERN VIEW

BridalsHoW

25th March, 2018

25th March, 2018

10am – 3pm

10am – 3pm

Air Force Museum of NZ

Air Force 45 Harvard Museum Ave, of Wigram, NZ

45 Harvard Christchurch Ave, Wigram,

Christchurch

2x Fashion parades showcasing

All the experts the latest under Bridal one styles. roof.

www.withthisring.kiwi All the experts under for one roof.

tickets.

www.withthisring.kiwi for tickets

a honeymoon prize of

5 nights in Fiji

With proud support from:
---
SOUTHERN VIEW Latest Christchurch news at www.star.kiwi

Tuesday February 6 2018 19

Hydrate to elevate

We all know drinking water is important, but the

majority of us simply don't drink enough even though

we know it makes us feel great when we do. We look

at the benefits and motivate you to drink more with a

few tips on how to make it just a little more palatable.

With over a quarter of Kiwis consuming

less than two glasses of water a day and only

5% drinking more than the recommended

eight, the message obviously hasn't hit

home on the importance of hydrating our

body.

A recent survey conducted by

SodaStream found that Cantabrians are

particularly guilty when it comes to their

water intake.

With 82% drinking less than six glasses

of water a day, but with over 85% admitting

they feel healthier when they drink more

water, something needs to be done to

bridge the gap in terms of what we know

to be true and what we're actually doing

about it.

This same survey revealed that although

41% of us limit how many soft drinks we

consume due to our concerns over sugar

content, the same number of people said

tea or coffee is this their number one drink

of choice.

Some people even believe that the water

consumed in their cup of Joe constitutes

part of their water intake. This is a fallacy.

As caffeine actually dehydrates us, as

does alcohol too, it means we need to

drink even more water to compensate.

Not so surprisingly the reason we don't

drink nearly enough water is that we

simply forget. Now with apps you can

download direct to your smart phone,

there are no more excuses.

Further studies proved that people who

had a SodaStream machine in their homes

were more likely to drink more water.

In fact, the study showed that people

drank 30% more water.

For those of us who aren't used

to drinking water like it's going

out of fashion, there are plenty of ways

to increase the fun factor while still

being healthy.

By simply turning tap water into

sparkling water with a SodaStream

machine and adding a splash of fresh

lemon juice or naturally squeezed fruit

juice, is bound to have a positive impact on

our health and wellbeing.

Discover this

unique Emporium

Metal art - gifts - hoMewares

water features - pottery

Mirrors - candles

wall hangings & More

722 Marshland Road, Top end Styx

Open 7 Days

Ph: 03 323 9781

www.hitchingpost.co.nz

style

noun

elegance and sophistication.

synonyms: flair, grace, poise, polish, suaveness,

urbanity, chic, finesse, taste, class, comfort,

luxury, affluence, wealth, opulence, lavishness.

MAGAZINE

STYLE.KIWI
---
20 Tuesday February 6 2018

Latest Christchurch news at www.star.kiwi

SOUTHERN VIEW

A Star Media Event

Star

Media

Sunday 18 March

#Areyouupforit?

EntEr NOW!

Entry $25 (children 10 and under free)

Available online now from city2surf.co.nz or at these outlets from 1st February
---
SOUTHERN VIEW Latest Christchurch news at www.star.kiwi

Tuesday February 6 2018 21

REAL ESTATE

Urgent sale required

25 Overdale Drive, Cashmere

3 bedrooms | 2 bathrooms | 1 living room | 2 car-garage | Listing ID: BE192983

My clients are moving, and their

treasured home must be sold! Ignore the

RV, all reasonable offers will be presented.

Designed by Perry Royal and built by

Wayne Murray, this is a lovely home.

Generous open plan living with a highpitched

ceiling give you vistas across the

City, across the Plains and then on to the

Southern Alps beyond.

A modern kitchen is designed to make

the family cook's life easy, with a cosy nook

to one side for intimate dining or perhaps a

study space? There is also a well-positioned

deck bathed in sunshine - here you could

dine al fresco. Perhaps coffee and a croissant

for breakfast or a summer evenings meal.

There is also another lovely outside area

off the living room, complete with your

own garden waterfall. The easy-care garden

has room for you to grow some of your own

vegetables and fruit, whilst not requiring

many hours to maintain at all.

The loft bedroom with its own bathroom

is a delight - with panoramic views across

Christchurch. Downstairs there are two

good double bedrooms linked by a large

bathroom. Both have external access to the

garden. You may have a hard time deciding

which is to be the master bedroom.

Complemented by easy drive on access

and a roomy double garage with a rumpus

room as well this home is perfect for the

busy lifestyle we all lead today.

Quality, low maintenance and easy access

are a winning formula - call now to view!

Open Homes: Saturday 10 Feb 2:15pm -

2:45pm or Sunday 11 Feb 2:00pm - 2:30pm.

See you at the open home or to arrange

a private viewing of this property call

Debbie Pettigrew on 027 777 0411 or

Debbie Johnson on 021 0515225 from

Harcourts Grenadier Beckenham

(Licensed Agent REAA 2008) or phone

the office 337 1316.

growing with you

SprIng Is here –

It'S Sow Time

how to get the best results from

seeds and seedlings

100% NatIve In

The capItal

Unravelling the secrets of

Otari-wilton Bush

The New Zealand

landscape awards

The people behind

the projects

$7.90 incl. GST

Save our roSeS

How a rose register is protecting our heritage

September 2016 | 100%

It's time

to grow!

New look and more

content than ever!

MeeT LeSTer Brice

A Garden coach

auckland Botanic GardenS

Why we love our public grounds

now bigger than ever

The magazine for

gardeners who like to get

their hands dirty

SubScribe from

$43. 50*

*6 issues/6 months

ISSN 2423-0219

SUBSCRIPTIONS FREEPHONE

0800 77 77 10

www.gaRdeNER.kiwI
---
22

Latest Christchurch news at www.star.kiwi

Tuesday February 6 2018

SOUTHERN VIEW

Classifieds Contact us today Phone our local team 03 379 1100

Entertainment

Trades & Services

Trades & Services

TOP DOG THEATRE

PRESENTS

OPEN AIR

Enjoy outdoor living all year round

• House, deck, carport & window canopy etc

• Warm & dry in winter

• UV protection for summer

• Customised & Tailored

• Café curtains fitted

• 5 year warranty

ARCHGOLA

15 months

INTEREST FREE

Normal lending criteria apply

Chris Thorndycroft

Grant Stewart

Ph 0508 272 446 | www.archgola.co.nz

EQC CASH

SETTLEMENT

We will re-scope your property

If you have been cash settled

for repairs you will have been

well underpaid.

This also applies to remedial work to be carried

out under the earthquake repair program.

All the properties we have rescoped

100% have been underpaid

some by as much as up to $40,000.

EQC have agreed to pay out any

shortfall in all cases.

You can only gain by re-scoping.

Enquire now phone 021 667 444

Computers

ALL

YOUR

COMPUTER

WORRIES SOLVED!

*$30.00 off your first

service with this coupon!*

No problem too big or

small from home PC's to

business networks. PC

slow? An end to Viruses,

Spyware, and Clogged

Systems. Safe secure

hassle-free computing.

Lost files recovered.

Microsoft Certified,

MCSE, MCP+l. 30 years

experience. Call Andrew

Buxton this week on 326-

6740 or 027 435-7596

for $30.00 off* Custom

Computers Christchurch

Gardening

& Supplies

A GARDEN OR

LANDSCAPING TIDY

UP? Shrub, hedge &

tree pruning, Lawns,

Gardening, consistently

reliable general property

upkeep, Dip. Hort. 10

yrs experience, One off

tidy ups or on-going

service. Nick's Property

Maintenance. Keeping

your garden beautiful.

Free Quote. Ph. 942-4440

LANDSCAPE GARDEN

PROFESSIONAL

Qualified Horticulturist,

offering expert, garden

makeovers, design and

landscaping, for free

quotes call Bryce 027 688-

8196 or 0508 242-733

2018

MONA VALE

WED FEB 14th - SAT FEB 24th

6PM NIGHTLY, + 2PM SATURDAY MATINEES

THE COURT THEATRE BOX OFFICE: 963 0870

Holiday

Accommodation

QUEENSLAND SUN-

SHINE COAST AUSTRA-

LIA Resort, Ocean Views,

Balconies, Self Contained,

1 or 2 B/R Ensuite,

Heated Pool, Spa, Sauna,

Free Internet, Shops,

Restaurants, Tennis, Surf

Club & Patrolled Beach,

Public Transport at door.

Ask for our SEASONAL

SPECIALS. Phone 61 7

544-35011 Email: reception@mandolin.com.au

www.mandolin.com.au

watch local | support local | shop local

Join our

hosts Geoff &

renee on sKy

ChaNNeL 83

Thursday

7.30pm

repeaTs friday

1.30am

& 7.30am

WE SHARE YOUR VISION

SKY 083 + On Demand

WWW.STAR.KIWI

for enquiries, contact Geoff moreton: 021 1066 177

Trades & Services

ROOF

PAINTING

Rope & harness

a speciality,

no scaffolding

required,

30 years of

breathtaking

experience.

FREE QUOTES

Exterior staining,

exterior painting,

moss and mould

treatment and

waterblasting

Phone Kevin

027 561 4629

BEST BATHROOMS

full renovation specialists,

LBP, repairs &

maintenance ph 03 387-

0770 or 027 245-5226

BRICKLAYER

George Lockyer. Over

35 years bricklaying

experience. UK trained.

Licensed Building

Practitioner number

BP105608. Insurance

work. EQC repairs.

Heritage brickwork and

stonework a speciality. No

job too small. Governors

Bay. Home 329-9344,

Cell 027 684 4046, email

georgelockyer@xtra.co.nz

BUILDER

For all building work

but specialist in bathroom

renovations, 30 yrs

experience, with service

and integrity. Free Quotes.

Ph Lachlan 383-1723 or

0274 367-067.

BUILDER LICENSED

available for all aspects of

building. Please call 027

241-7471 or 335-0265

Need a

EARTHWORKS

Quality

• Driveways

• Car parks

• Demolition

BUILDERS

Locally owned & operated

with over 10 years

experience

Builder?

For all your building

needs

Experienced and

reliable builders

All renovations

Decking and fencing

New builds

No job too small

No obligation quote

Contact us today

to discuss your

building project!

Phone Richard

022 159 4820

• Shingle Deliveries

• Truck hire

• Digger hire

027 240 7030

JACOB BROWNLEES

CARPET & VINYL

Laying. Repairs, uplifting,

relaying, restretching.

Email jflattery@xtra.co.nz

ph 0800 003 181 or 027

2407416

PAINTING

& Decorating Wingfields

Contracting, all interior

& exterior painting & all

forms of interior plastering

& jib fixing, ph Mark 021

171-1586 or 355-5994

PAINTER AVAILABLE

All aspects in painting.

Very competitive in roofs

and fences. Please call 027

241-7471 or 335-0265

PAINTER

Quality work, I stand by

Canterbury Ph Wayne 03

385-4348 or 027 274 3541

PLASTERER

Gib Stopping, Small

job specialty. 30 + years

experience. Ring 0800

387-369

PLUMBER

ALF THORPE

PLUMBING Certifying

Plumber for all types of

plumbing, maintenance,

spouting, alterations etc.

Phone 352-7402 or 0274-

350-231

SPOUTING CLEANING

Spouting Unblocked,

Cleaned Out and Flushed

Out. Also Full Handyman

Services Available. Call

Trevor 332 8949 or 021

043 2034

STONEMASON

BRICK

&

BLOCKLAYER,

Earthquake Repairs, Grind

Out & Repoint, River/

Oamaru stone, Schist,

Volcanic Rock, Paving,

all Alterations new & old,

Quality Workmanship,

visit www.featureworks.

co.nz or ph 027 601-3145

Cracked tiles?

Dirty grout?

Old or mouldy

silicon?

Brett Ph 03 358 5105

or 027 746 7632

www.groutpro.co.nz

GLAZING

Stephen Thom Glazing 2012 Ltd.

• Mirrors • Pet Door Specialists

• Splashbacks

THE CAT DOOR MAN

ALL BROKEN WINDOWS

Phone Cushla or Darren Twist

03 352 6225 or 027 352 6225

HOUSE

CLEARING

Are you

moving house

or trying to

downsize?

Call All Clear

Canterbury. We work

with you to recycle,

sell and dispose of

unwanted items.

Ph: 03 260 0934

or 021 078 4553

raewynlcooke@gmail.com

www.allclearcanterbury.co.nz

T.V. SERVICE CENTRE

Repairs, tvs, microwaves,

stereos, DVD. Aerial

installations and kitsets,

480 Moorhouse Ave, ph 03

379 1400

UPHOLSTERER

Dining Chairs, Lounge

suites, Caravan Squabs

etc. recovered. Free

Quotes. Phone Graeme

383-1448

UPHOLSTERER

Dining Chairs, Lounge

suites, Caravan Squabs

etc. recovered. Free

Quotes. Phone Graeme

383-1448

VHS VIDEO TAPES

& all camera tapes

converted to DVD, video

taping special occasions,

www.grahamsvideo.co.nz

ph 03 338-1655

WINDOW CLEANING

Average 3 bdrm house

inside or out $40. Both

$70. Phone Trevor 344-

2170

Tuition

Piano

Raewyn Clegg

Registered Teacher of

Piano and Theory of

Music.

29 Lancewood Drive

Halswell

Ph 322-9377

Wanted To Buy

CASH FOR

STAMPS

Do you have an

Old Stamp or Coin

collection tucked away

somewhere? It could

be worth a fortune!

We are currently Buying

old collections in the

Christchurch area to stock

our retail shop in Riccarton.

Free Appraisal and Cash

Offers on most items.

Call Matt Power

0800 39 24 26

The Stamp Exchange

134a Riccarton Road. Opposite

the Mall carpark.

AAA Buying goods

quality furniture,

Beds, Stoves, Washing

machines, Fridge Freezers.

Same day service. Selwyn

Dealers. Phone 980 5812

or 027 313 8156

TOOLS Garden,

garage, woodworking,

mechanical, engineering,

sawbenches, lathes, cash

buyer, ph 355-2045
---
SOUTHERN VIEW Latest Christchurch news at www.star.kiwi

Tuesday February 6 2018 23

What's On

Entertainment

WIN

A DOUBLE

PASS

To advertise, contact

Jo Fuller 027 458 8590

jo.fuller@starmedia.kiwi

WORLD-CLASS

PRODUCTION

MICHAEL Jackson fans will be moonwalking their way

to theatres next month as the Michael Jackson HIStory

Show makes it's return to New Zealand.

'Famous for their roasts!'

RESTAURANT & CAFÉ

Kid's SPECIAL

Two courses

Seniors SPECIAL

Two courses

$10

We are family friendly. Great Kids menu plus designated play area.

Soup/Roast or

Roast/Dessert

Special available lunch only

Monday - Saturday 12pm - 2.30pm

$20

Start your

day with us

We are open from 6.30am

Cooked

breakfasts

$18

Check out our extensive

breakfast menu from

Continental to Cooked

The

RACECOURSE HOTEL

& Motorlodge

118 Racecourse Rd, Sockburn,

Christchurch. Ph 03 342 7150

www.racecoursehotel.co.nz

e Michael

Jackson HIStory Show

Who plays Michael?

e world-class production showcases all of Michael

Jackson's greatest hits live on stage, complemented by the

famous dance moves that fans all know, love and aspire

to do. Playing the role of Michael is Dantanio, a South

African theatre performer and solo recording artist who

has been studying and impersonating Jackson since the

age of nine. Dantanio, will be accompanied by a lively

six-piece band, four groovy backup dancers and a

phenomenal lighting team.

e show - that has chalked up 5000+ performances

in the past nine years across Australia, New Zealand,

Singapore, Hong Kong, Dubai, Indonesia, South Africa,

Canada and the US - features 40 different customised

costumes, twenty of which are for the MJ character alone.

Over 100 hours have been dedicated to the lighting

design, which makes use of 160+ moving lights and over

2000 lighting cues arranged to punctuate and enhance

the musical elements of the show.

e Michael Jackson HIStory Show takes place at the

Isaac eatre Royal on Monday 19th February 2018.

Tickets are on sale now at Ticketek or visit

www.mjhistoryshow.com for more information.

What's On

TUESDAYS & THURSDAYS

MEMBERS LUCKY

CARD DRAW

DOWNSTAIRS

CLUB BISTRO

Open Tuesday to Saturday

from 12pm - 2pm

& from 5pm.

DINE BY THE SEA!

UPSTAIRS

Pierview Restaurant

Open from 5.30pm Friday, Saturday

and Sunday, and for

Sunday Brunch from 10.30am to 2pm.

SUNDAY NIGHT BUFFET

LAST SUNDAY OF THE MONTH

SUNDAY BUFFET : $25pp

Sunday 25th February, from 5.30pm

NEXT BUFFET : BOOK NOW!

202 Marine Pde | Ph 388 9416 | www.newbrightonclub.co.nz | Members, guests & affiliates welcome

FEATURE BUFFETS COMING UP

H ORNBY

WORKINGMEN'S

CLUB

COMING UP

SERVING

HAPPY HOUR

5PM - 7PM DAILY

Lunch & Dinner : All you can eat, 7 days

Bookings Essential PH 386 0088

fb.com/GardenHotelRestaurant www.gardenhotel.co.nz

OUR CABINET ITEMS

ARE HOMEMADE

CREATED FRESH ON SITE DAILY

$12

LUNCH

SPECIALS

COFFEE

HAPPY

H O U R

2PM-4PM

DAILY

$3.50

Offer available for a limited time

and includes tea, hot chocolate

MON: ROAST MEAL

TUE: FISH & CHIPS

WED: FISH BURGER

THU: ROAST MEAL

SAT: FISH & CHIPS

AVAILABLE

FROM

11.30AM-2PM

FOR A

LIMITED TIME

PHONE 385 8880 FIND US ON FACEBOOK fb.com/GBCCHCH

THE GARDEN HOTEL COMPLEX | 110 MARSHLAND RD

www.gardenhotel.co.nz | phone 385 3132

PLAYING THIS

WEEKEND

SATURDAY, 4.30PM:

BARROSS

SATURDAY, 8PM:

LITTLE CITY DUO

OPEN DAILY

HERE'S SOME OF OUR TASTY SUMMER DISHES

Ceasar Salad

Thai Beef Salad

Steak Sandwich

Club CAFE

GF & V options available

LUNCH & DINNER DAILY

SAT.17.FEB.8PM. TICKETS $20

FAMILY FRIENDLY DINING

Chalmers Restaurant

CARVERY DINNER

$22.50

EVERY FRIDAY & SATURDAY FROM 5.30PM

DINE BEFORE 6.30PM & DESSERT'S FREE

SUNDAY NIGHT BUFFET $27

EVERY SUNDAY FROM 5PM-8PM

The Hornby Club | ph 03 349 9026 | 17 Carmen Rd | Hornby

www.hornbywmc.co.nz | Members, guests & affiliates welcome
---
24 Tuesday February 6 2018

Latest Christchurch news at www.star.kiwi

SOUTHERN VIEW

CRANFORD CENTRAL

484 CRANFORD STREET

03 354 5026

QUEENSTOWN

REMARKABLES PARK TOWN CENTRE

03 442 3435