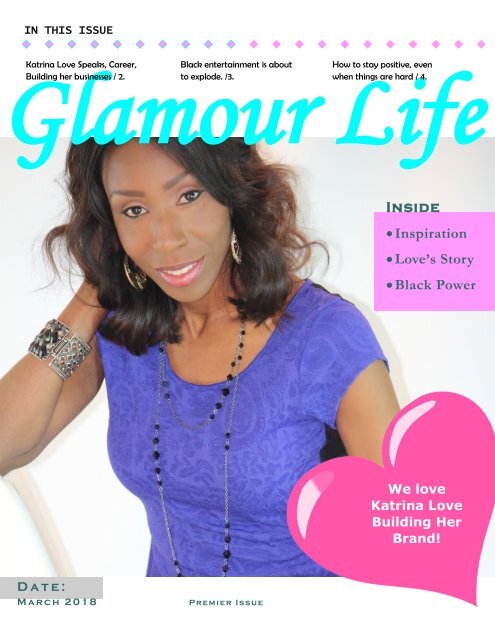 Glamour Life Premier Issue March 2018
Bringing you Katrina Love ready for the world, plus Ava DeVernay, NAACP Image Awardee.
Bringing you Katrina Love ready for the world, plus Ava DeVernay, NAACP Image Awardee.
SHOW MORE
SHOW LESS
Create successful ePaper yourself
Turn your PDF publications into a flip-book with our unique Google optimized e-Paper software.
IN THIS ISSUE

Glamour

Katrina Love Speaks, Career,

Life

Building her businesses / 2.

Black entertainment is about

to explode. /3.

How to stay positive, even

when things are hard / 4.

Inside

• Inspiration

• Love's Story

• Black Power

We love

Katrina Love

Building Her

Brand!

D a t e :

M a r c h 2 0 1 8

P r em i er Issue
---
Glamour Life

KATRINA LOVE

BUILDING HER

BRAND!

Katrina Love is making her way to

the big time. With two successful

businesses under her belt and work

on independent films, she has her

sights on more. A trained model

Katrina has moved to film with

roles on Empire, Chicago Fire, Chicago

Med and a host of film projects.

She continues to drive her

brand with companies Love Our

Glamour and Love Our Hair.

She has been in business now over

10 years and loves the challenge.

Starting out in modeling with runway,

print, promotional consultant,

she has significant experience at

cosmetics, makeup and hair. She

makes sure that each day brings

positive engagement with her fans

and followers.

Born and raised on the tough streets

of Chicago's Englewood neighborhood,

Katrina has absolutely came a

long way. Overcoming adversity and

challenges but always looking at life

positively. She lends her success to

maintaining a spiritual connection

with God and always giving thanks

for your life.

She believes that in order to succeed

you must invest in yourself.

With a proper diet and exercise you

always challenge yourself to do better

and to take constructive criticism

as an opportunity to improve. Now a

grandmother she believes life continues

to be amazing and she says

she doesn't feel likes a grandmother

but like to go by "Glamour Gran" or

GG. She has a diligent work ethic

and continues each day to build her

brand and businesses. One thing is

for sure Katrina Love is just getting

started.

Glamour Life

Page 3
---
Glamour Life

Ava DeVernay

"Live the

Dream, We are

the dream!"

Ava DeVernay NAACP image awards speech accented an amazing night. What makes

her award so interesting is that she is a director and not your typical in front of the

camera entertainer. She was named entertainer of the year and during her acceptance

speech, took a moment to speak to the black community about using our

creativity to create change.

DeVernay indicated that entertainment black power players are on the rise. As Du-

Vernay accepted her award, she lauded other black artists from the stage naming writers

and directors such as Shonda Rhimes, Gina Prince-Bythewood, Kenya Barris, Lena

Waithe, Black Panther's Ryan Coogler, and more! She touts that "We can say we were

here when all this gorgeous creative art is happening, and that we support it. We are

lifting each up that as Dr. Martin Luther King has "Live the Dream, We are the Dream!"

In the last several years black media creativity has exploded. From accolades for academy

awards, to hit TV shows, to blockbuster movies, black creativity has gone mainstream

and Ava DeVernay is one of those mavericks on the cusp of making a major

difference in the entertainment field. Now movie studios, television content providers

are now seeking out black talent and creatives to deliver compelling cinema and content

with great fan fair.

Glamour Life

Page 4
---
Never Get Discouraged,

Think positive!

Glamour Life

There isn't a single person who

doesn't experience hardship and

even trauma in their. Life can be

hard, from growing up in poverty to

hunger, to violence to maintaining a

job and there are a litany of things

that cause stress. The good thing is

even if supposed "bad" things are always

happening you can "choose"

how you respond to them. There will

always be challenges because that is

what life is about, but keep in mind

with the challenges there comes

times of happiness.

You got to believe that the times of

happiness will continue and deliver

what you want. It all comes down to

having a positive attitude. Not letting

things that cause stress to take over

your mind. Be determined to make

negative circumstances and events a

learning moment. And then put them

behind you and focus on being positive

and what's the next amazing adventure.

Never get discouraged because if you are diligently focusing on the positives they will eventually

return and be at the front of your life. Always look at bad circumstances as temporary

and believe that God will always deliver happiness no matter where you are in life. Make a

commitment to be positive and happy all the time even in hard times.

Daria Gatteson

Glamour Life

Page 5
---
Glamour Life

Glamour Life Vol. 1 Issue 1

March 2018

Cover Image

Javae Wright

Editorial

Daria Gatteson Editor

Marketing, Sales & Advertising

Daryl Adkins

daryl.adkins@loveourglamour.com

Free Subscriptions

Visit www.loveourglamourblog.com

Love Our Glamour Media.

customerservice@loveourglamour.com

Published monthly by

LoveOurGlamourBlog.com.

All Rights Reserved.

Life style magazine dealing with fashion, hair, cosmetics, handbags &

accessories and important women's issues.

Glamour Life
---
E V E R Y D A Y q u a l i t y H A I R

Who We Are...Everyday

LoveOurHair.com is a women owned and growing retailer of a wide array of hair styles. We understand

that your life centers on having an amazing look with great character, charm and wit.

We bring you internationally sourced quality hair that can be worn everyday.

We focus on exceptional customer service as that is the hallmark of LoveOurHair.com. We deliver

exceptional value at each and every stage of the shopping experience.

Excellence is demanded of ourselves and each other. We strive to earn your trust by committing

to the highest standards of quality, excellence in our relationships and behavior characterized by

honesty, fairness and integrity.

We sustain success for our business and "you", the customers we serve by staying true to the

key tenets upon which our company was founded, which is the desire to provide useful products

that can make a meaningful difference in all our customers lives.

Email us at

P age 6

CustomerService@LoveOurGlamour.com