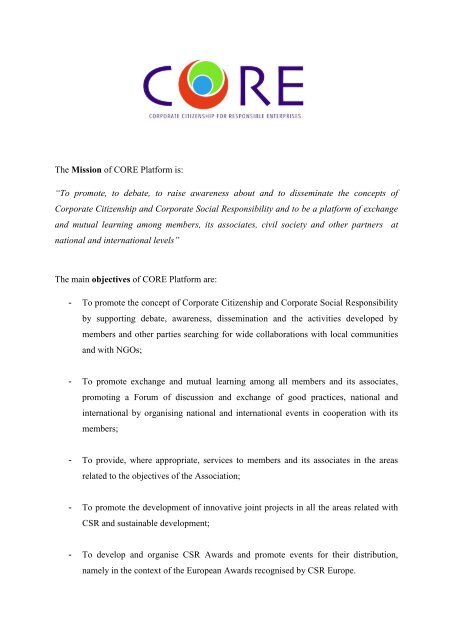 CORE Platform Leaflet
CORE Platform Leaflet
CORE Platform Leaflet
SHOW MORE
SHOW LESS
Create successful ePaper yourself
Turn your PDF publications into a flip-book with our unique Google optimized e-Paper software.
The Mission of CORE Platform is:

"To promote, to debate, to raise awareness about and to disseminate the concepts of

Corporate Citizenship and Corporate Social Responsibility and to be a platform of exchange

and mutual learning among members, its associates, civil society and other partners at

national and international levels"

The main objectives of CORE Platform are:

- To promote the concept of Corporate Citizenship and Corporate Social Responsibility

by supporting debate, awareness, dissemination and the activities developed by

members and other parties searching for wide collaborations with local communities

and with NGOs;

- To promote exchange and mutual learning among all members and its associates,

promoting a Forum of discussion and exchange of good practices, national and

international by organising national and international events in cooperation with its

members;

- To provide, where appropriate, services to members and its associates in the areas

related to the objectives of the Association;

- To promote the development of innovative joint projects in all the areas related with

CSR and sustainable development;

- To develop and organise CSR Awards and promote events for their distribution,

namely in the context of the European Awards recognised by CSR Europe.
---
Through the supporting of activities, CORE Platform will aim to develop stronger bonds

between businesses, NGOs and communities. CORE Platform will support experiences of

exchange and mutual learning amongst members and stakeholders at national and

international levels.

CORE Platform is under the patronage of H.E. The President of Malta. It is also a member of

CSR Europe and is their National

Partner Organisation in Malta. CRS

Europe is chaired by IBM Europe

and has more than 40 CSR

Organisations in more than 30

European countries.

The Executive Committee of CORE Platform is comprised of the Malta Chamber of

Commerce, Enterprise and Industry (President), GRTU – Chamber of SMEs

(Secretary), SOS Malta (Treasurer), the Malta Hotels and Restaurants Association, the

Malta Employers' Association, the Malta Business Bureau, BoV Foundation, Alfred

Mizzi Foundation, TUMAS Foundation, Farsons Foundation, and AX Holdings Ltd.
---
Helga Ellul - President

Helga Ellul was the Chief Executive Officer of Playmobil Malta Ltd

until 2012. The company was set up in 1971 and currently employs

over 1,000 people. Helga later set up a consultancy company Advise

Ltd, and is board member and Chairman of various local businesses.

She has also held various posts on boards of both constituted bodies

and governmental organisations. She served as the Deputy Chairman

of the Employment & Training Corporation between 1990 and 1996

and was President of the Foundation for Human Resources

Development between 1995 and 2003.

Helga was the first female President of the Malta Chamber of Commerce, Enterprise and

Industry, with her tenure ending in March 2011. She was awarded the 'Medalja ghall-Qadi

tar-Repubblika' in 1994 and received the Officer's Cross of the Order of Merit on behalf of

the German President by the German Ambassador Bernd Braun in 2011.

Helga is married to Joseph A. Ellul and has two children, Christian and Chiara, and two

grandchildren Maya and Thomas. Her family has always been her top priority and her biggest

achievement has been to combine career and family.

Matteo Privitelli - Executive

Matteo joined CORE Platform in May 2016. He is in charge of the

administration of the organisation and helps in the setting up and

coordination of events and meetings. He is also directly involved

in the management of any projects that CORE Platform

undertakes.

Matteo graduated from the University of Malta with a B.A. (Hons)

in International Relations in 2011 and a M.A. in Diplomatic Studies in 2013. He is currently

reading for a second M.A. in Hospitaller Studies. Apart from this, in 2013, he also graduated

from the Institute for Tourism Studies as a Professional Tour Guide of the Maltese Islands.

Before joining CORE Platform, Matteo worked with the Malta Business Bureau and, briefly,

with the Malta Hotels and Restaurants Association.
---
Some of the local and European projects CORE Platform is engaged in include:

Volunteer Sliema

Volunteer Sliema is a Partnership between SOS Malta and the Core Platform and is supported

by Sliema Local Council and Capua Hospital. This multi-stakeholder local partnership will

develop an innovative community based response to the needs of vulnerable elderly people to

ensure a reduction of their social exclusion, whilst contributing to a reawakening of the spirit

of self giving and active citizenship within the community through the development of a local

volunteer scheme. This project will be a flagship project to celebrate 25 years of SOS Malta.

This project will seek to ensure vulnerable elderly and people with a physical disability feel

more mobile and able to access health care and essential services, as well as engage in leisure

and community activities. Additionally, the project will seek to provide emotional support to

these groups of people through the creation of a Community Volunteers Network.

This pilot project will build upon both the existing VolServ project and Tal-Kultura – the

volunteer programme for Valletta 2018, which currently together have approximately 500

volunteers. The scheme will also utilise the existing the SOS Malta car and the wealth of

volunteer management experience SOS Malta holds and will contribute to the SOS Malta

core pillar of work of social inclusion and solidarity with vulnerable groups. The proposed

pilot project would take place in Sliema. This area is one of the main shopping hubs with a

wide catchment area.

The project will include 3 key elements:

1) The development of a local volunteer network of 20-30 volunteers to ensure a pool of

support for the elderly;

2) The development of a community transport scheme to promote the mobility of the elderly

and those with a disability;

3) The establishment of a local stakeholder network who support the implementation of the

scheme.
---
Supporting the President's Trust Employment Initiative and the President's

Foundation, and projects at a local level

CORE Platform is currently supporting the President's Trust in its Employment Initiative,

which aims to help young people, who are coming from difficult backgrounds and are going

through personal challenges, find employment in Malta.

CORE Platform is also helping the President's Foundation for the Wellbeing of Society in

two main projects. These include the redesigning and embellishment of the Palliative Ward at

the Oncology Centre at Mater Dei Hospital, as well as the renovation of the gardens at Mt

Carmel Hospital in Attard.

In addition, CORE Platform is working with the Maltese local councils in the setting up of

playing fields in the various localities found around the Islands, which would serve as safe

hubs and recreation zones for children in the area.

Tackling Gender Stereotypes in the field of Science, Technology, Engineering, and

Mathematics (STEM)

CORE Platform, together with CSR Europe and 14 other National Partner Organisations, has

embarked on a mission to address the stereotyping of education and career choices relating to

STEM and to dissolve the persisting imbalance in the STEM field.

Project activities include:

Setting up of business-education partnerships to deliver awareness-raising activities

for 13-19 year-old students, their parents, and company representatives to address and

question stereotypes and attract women into male-dominated STEM sectors;

Developing a toolkit and provision of training for national partner organisations on

how to set-up business-education partnerships on STEM and gender Stereotypes;

Having an impact assessment of activities;

Facilitating a learning network for companies at both national and EU level that aims

to improve the impact of a company's STEM programme (with an emphasis on

tackling gender stereotypes).

Developing and providing training, online courses and a guide for teachers so that

they are equipped with all the tools necessary to combat gender stereotypes.
---
EU Talent – Business in Europe Hosting Apprenticeships for Youth

Small and Medium Enterprises (SMEs), have a big role and potential in combating youth

unemployment by providing development and employment opportunities, such as offering

apprenticeships. SMEs however often lack information, resources and/or experience in

providing high quality apprenticeships. To support SMEs, this project aims to create support

structures in the form of European & national learning networks.

The key objectives include:

1. Increasing awareness on the benefits of apprenticeships

2. Increasing opportunities for uptake of apprenticeships

3. Improving the quality of the apprenticeships

4. Identifying and remove policy obstacles to engage in

apprenticeships

This project, led by CSR Europe, will cover 12 countries directly through collaboration with

13 of its national partners, including CORE Platform, which are split into 6 high engagement

partners (representing 5 countries) and 7 soft engagement ones, including Malta.

The strategic direction of the project will be supported by the expertise of one strategic

partner, EVTA (European Vocational Training Association, EVTA) and one associate partner

EUROCHAMBRES.

GET IN TOUCH

You can find CORE Platform's website by following this link: http://www.core.org.mt/

Our Facebook page can be accessed by following this link:

https://www.facebook.com/COREPlatformMalta/