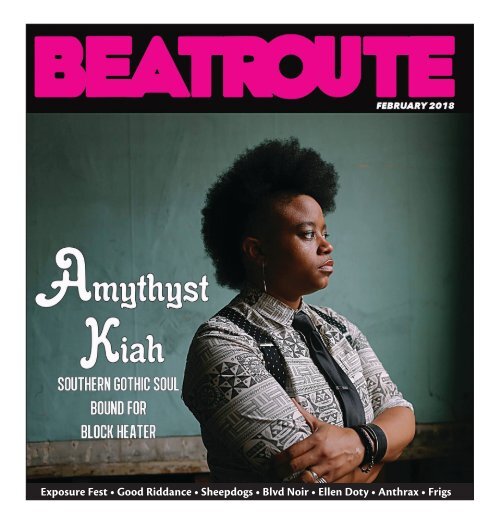 BeatRoute Magazine [AB] print e-edition - [February 2018]
BeatRoute Magazine is a monthly arts and entertainment paper with a predominant focus on music – local, independent or otherwise. The paper started in June 2004 and continues to provide a healthy dose of perversity while exercising rock 'n' roll ethics.
BeatRoute Magazine is a monthly arts and entertainment paper with a predominant focus on music – local, independent or otherwise. The paper started in June 2004 and continues to provide a healthy dose of perversity while exercising rock 'n' roll ethics.
SHOW MORE
SHOW LESS
Create successful ePaper yourself
Turn your PDF publications into a flip-book with our unique Google optimized e-Paper software.
Exposure Fest • Good Riddance • Sheepdogs • Blvd Noir • Ellen Doty • Anthrax • Frigs
---
FEBRUARY 2018 I EVENT LISTINGS

Friday February 2nd

Parkland

Dark Time

Lisa Anderson

Saturday February 3rd

Snake River

Old Apartments

Samantha Savage Smith

Sunday February 4th

Superbowl Chili Cook-off

Beer, Chili and Football!!

Friday February 9th

Conan (UK)

The Weir (EP Release)

Monolith AB

Saturday February 10th

Phillips Brewing & Malt. Co Presents:

Jonathan Toubin's Soul Clap and Dance

Off returns with guest selectors, celebrity

judges and killer bands!!

Friday February 16th

Woodhawk

Sellout

A-Bomb

Saturday February 17th

Boreal Sons

Kakagi

Hit Dice

Unpleasant Trees

Sunday February 18th

X92 presents the YYC alternative

market after party with Peter & the

Wolves, Eve Hell & The Razors, The Fake

Mustache Drag King Troupe and Miss

Marla Muse

Friday February 23rd

Free The Cynics (Single Release/UK/Ireland

Tour Kick Off): Ten Minute Detour,

Conversation Killers, Andrew Franks

FREE UPSTAIRS - Band Of Rascals

and Bandolier Brigade

Saturday February 24th

Borscht

Crystal Eyes

Symfan

Friday March 1st

Heirlooms

Ashley Hundred

The Wells

Saturday March 3rd

Melted Mirror

Dri Hiev

Blackrat

Locutus

Friday March 9th

Phillips Brewing & Malting Co. Presents

Joey Cape

Brian Wahlstrom

Seth Anderson

Ben Sir

Saturday March 10th

Wake (Album Release)

Fall City Fall

Spurn

Murk

Tuesday March 13th

FREE UPSTAIRS - Shawn James (of the

Shapeshifters solo set) with Jon Whitehead

(Double Fuzz) & KV Raucous

Saturday March 24th

Iron Tusk

Mothercraft

Electric Revival

Sparrow Blue

Buffalo Bud Buster

COMING SOON

Monday March 26th

Ought

Flasher

Slut Prophet

Friday March 30th

Royal Thunder

Pinkish Black

Electric Owl

The Otters

Saturday April 24th

Yamantaka // Sonic Titan with Ghostkeeper

and DRI HIEV

Saturday April 7th

Escape-Ism with Physical Copies and guests

Friday May 4th

Preoccupations with Freak Heat Waves

Saturday May 5th

Preoccupations with Melted Mirror

109 7TH AVE SW 403 532 1911 THEPALOMINO.CA
---
TABLE OF CONTENTS

COVER 20-23

BLOCKHEATER

ARTS 9-14

Exposure, The Lily, Burnt Toast Studio, Frida Kahlo

at the Glenbow, YYScene

FILM 17-19

Trevor Solway, To The Mountain, Brown Girl Begins,

5 Films To See, The Vidiot

MUSIC

rockpile 25-31

Enter Shikari, Dashboard Confessional, Good

Riddance, The Sheepdogs, 54-40, Pizza Bath,

The Heirlooms

edmonton extra 32-35

Harcourt House, Fitness, Zebra Pulse, The Order

Of Chaos, Anzu, Adult Cartoon Party, Eye On

Edmonton

jucy 37-39

BLVD NOIR, The Ten Percent, Street Level, Cartel

Madras, Matt & Gill

roots 40-41

Ellen Doty, I Am The Mountain, Soul In The City

shrapnel 43-45

Corrosion Of Conformity, Anthrax, This Month In

Metal, Enslaved

REVIEWS

music 47-51

Frigs and much more ...

live 49

savage love 54

427's

5th Anniversary party

Mikey's Juke Joint on 10th Ave SW

Friday, Feb. 23

BEATROUTE

Publisher/Editor-in-Chief

Brad Simm

Marketing Manager

Glenn Alderson

General Manager

Colin Gallant

Production Coordinator

Hayley Muir

Web Producer

Masha Scheele

Social Media Coordinator

Amber McLinden

Section Editors

City :: Brad Simm

Film :: Morgan Cairns

Rockpile :: Christine Leonard

Edmonton Extra :: Brittany Rudyck

Jucy :: Paul Rodgers

Roots :: Liam Prost

Shrapnel :: Sarah Kitteringham

Reviews :: Jamie McNamara

Contributing Writers

Christine Leonard • Arielle Lessard • Sarah

Mac • Amber McLinden • Kennedy Enns •

Jennie Orton • Michael Grondin • Mathew

Silver • Kevin Bailey • Jackie Klapak • Hayley

Pukanski • Nicholas Laugher • Arnaud Sparks •

Brittney Rousten • Jodi Brak •Breanna Whipple

• Alex Meyer • Jay King • Alec Warkentin • Paul

McAleer • Mike Dunn • Shane Sellar • Kaje

Annihilatrix • Dan Savage • Miguel Morales •

Sarah Allen

Cover Art

Courtesy of amythystkiah.com

Advertising

Ron Goldberger

Tel: (403) 607-4948 • e-mail: ron@beatroute.ca

Distribution

We distribute our publication in

Calgary, Edmonton,

Banff, Canmore, and Lethbridge.

SARGE Distribution in Edmonton

Shane Bennett

(780) 953-8423

photo: Paul Chirka

e-mail: editor@beatroute.ca

website: www.beatroute.ca

E-Edition

Yumpu.com/BeatRoute

Connect with BeatRoute.ca

Facebook.com/BeatRouteAB

Twitter.com/BeatRouteAB

Instagram.com/BeatRouteAB

Copyright © BEATROUTE Magazine 2017

All rights reserved. Reproduction of the contents

is prohibited without permission.

BEATROUTE • FEBRUARY 2018 | 3
---
MOOD MUSIC

With Valentine's Day just around the corner, we got a little curious about

what the savvy folks in our community are listening to in order to put their

partner, or themselves in the mood. From mushy gushy love songs to full

records that make you want to get it on, we've compiled a list to help guide

you in your endeavors. It's our Valentine's gift to you... you're welcome.

BY SARAH ALLEN AND BRITTANY RUDYCK

Mikaela Cochrane — Future Womb

Cochrane chose the song, "When You're Smiling Adn Astride

Me" by Father John Misty. She said, "This whole album is gold

and I could rave about every song on it. The first time I listened

to the album front to back I was on acid during a romantic

getaway in the mountains and it was serious perfection. Lyrically

this song captures how terrifying and vulnerable being in

love is. As a writer who is typically pretty verbose, he's at a loss

for words and can only express his overwhelming love feeling

in vowel sounds. The chorus of 'Ohs' is like a grand, shameless

orgasmic declaration of devotion."

Matthew Doherty — The Dudes, Raleigh,

and the High Kicks

Two records stood out to Doherty. He put it

simply, "Glass Animals' Zaba and Otis Redding's

Otis Blue. Those are two albums that

you'll want to listen to with someone else.

Because sex is amazing.

Kimberley Ilott — Aerial artist and dancer

Ilott knew her answer instantly and picked

"Room in Here" by Andersen .Paak. "It's

cute, flirty, and sexy as fuck, with bass and

rhythms that make my hips slinky. Paak owns

the smooth seduction. The Game's input on

romance is unfortunately less inspiring, but

overall the track is worth it."

Evangelos Lambrinoudis —DJ & musician

No explanation needed. Lambrinoudis selected

"Hey Mister" by Custom. Seriously, look it up.

Marlaena Moore — Singer-songwriter

With possibly the best, most self-loving

answer we possibly could have asked for,

Moore told BeatRoute "I Feel Love" by Donna

Summer is her ultimate pick. She said, "Whenever

I listen to it I'm pretty sure an ancient

love goddess inhabits my body and makes me

feel like I can do anything. I guess what I'm

trying to say is that it's a really good song to

masturbate to."

Noelle Sawchuk — Manager of Local 510

Sawchuk found her favourite Valentine's track by mistake

while looking for the theme music from the movie Badlands.

She said, "I would pick this song I've loved for years that makes

me feel like a really sexy human. It has a calm vibe but super

horny and feminine lyrics. Such great honest storytelling and

so attractively framed — a total one off. It's called 'The Lady

With The Braid' and it's by Dory Previn who I know absolutely

nothing about."

Arron Crook — The Northern Coast

Crook told BeatRoute his choice would have to be the sexy

song "Hot Dreams" by Timber Timbre but that his preferred

'get it on' album is Nathaniel Rateliff and the Night Sweats. "I

love the soul aspect of Nathaniel Rateliff's album, and 'Hot

Dreams' just creates such a visual and a type of sultry vibe,"

Crook said.

Cassia Hardy — Wares

Harding said that "Sweetest Taboo" by Sade is very special

to her. "It's got a killer groove, sophisticated production and

arrangement. Sade's voice is so reserved in its way, yet heavy

with emotion. The music video brings it to another level, lush

colours perfectly matching the mood."

Celeigh Cardinal - Singer/Songwriter

'I would say my favourite romantic song, or the song that I think is

the most romantic would be 'Your Song' by Elton John. I've written

many love songs that just pour out all my feelings for someone

and this song sums up exactly how I feel about it. All I can afford

to give these days is my love and my songs. It's the very best that I

can do. 'Your Song' has always been one I relate to so much."

Cara Ashbey - Assistant Manager, Starlite Room

"'Forrest Gump' by Frank Ocean is an incredibly romantic song!

The lyrics discuss his unrequited love for Forrest Gump and

arguably sitting in the metaphorical shoes of Jenny. It is almost

more romantic to be in love with the idea of another person, than

to every love them. 'Forrest green, forrest blues, I'm remembering

you, If this is love, I know it's true, I won't forget you'"

Stacey Cann – Visual Artist

"The Ramones 'I Want To Be Your Boyfriend' because it's the

perfect mix of cheese and sweet."

Chris Chang-Yen Phillips–News Coordinator, CJSR 88.5 FM

"On their own, the two most romantic songs I can think of are

'Cocoon' by Björk, and 'Leisure Suite' by Feist. They both capture

something honest about sex, intimacy, and

longing. But really, a romantic song can be

whatever brings you closer to an actual person

(or people). I feel really close to my husband

whenever I hear Northern Lights by Bowerbirds,

because it used to be the alarm song on his

phone. Same with 'Dust to Dust' by The Civil

Wars, because we sang it a lot together while

driving down highways at night. And 'Chica

Chica Boom Chic' by Carmen Miranda makes

the list too, because it makes us both laugh

every time we hear it."

Ryn Climenhaga – Programming Assistant,

Metro Cinema

"Stan Rogers '45 Years' is my top choice for

romantic song. It's a testament to a lasting love.

He sings about meeting the woman he fell in

love with and how still, after 23 years, he cant

quite find the words to tell her how much he

loves her. It really makes me feel like even these

tumultuous times, there's still hope for love (I'm

secretly a total sap)."

Perry Gratton– Edmonton Theatre Artist

"'Porcelain; by Yeah Yeah Yeahs. It's got that

smiley naivety of new love while acknowledging

the messiness of life."

Tanyss Nixi – Wildwood

"I think Massive Attack is good make-out music

because it puts you in a trance, and you're

not going to suddenly fade in for a minute to

some distractingly stupid lyric that throws off your hot moves.

Most romantic song to me is Nick Cave's 'Ship Song,' it just has

this sweet sorrowful melody and it's all 'loose your dogs upon

me' and 'burn your bridges down,' it's about letting go and

letting love conquer you, even when it could potentially destroy

you. I'm totally into that."

Deicha Carter – Torchettes

"Anything by Morphine makes me GIGI. It's very 'saxual.'"

BEATROUTE • FEBRUARY 2018 | 5
---
PINBAR WIZARD

Arlen's new funhouse opens this February, are you ready for the challenge?

BY CHRISTINE LEONARD

The thrill that accompanies pulling back the plunger and sending a little

silver ball screaming up the rails is as universal as the sigh of satisfaction

that comes with biting into a perfectly prepared sandwich. All the better

when these two immensely gratifying activities are paired together. That's

exactly what local restaurateur and BBQ-guru Arlen Smith had in mind when

he struck upon the notion of PinBar. A dynamic game and grain combo that

will satiate your hunger for thumping bumpers and delicious tucker.

"The concept behind PinBar is fairly simple, a room that has great music

playing, lots of pinball machines to keep you entertained, killer food including

well-crafted sandwiches, appetizers and comfort food," says Smith who is

looking forward to launching his latest venture in late February. "People can

expect a space that is playing great music, giving excellent service, has delicious

food at a good value. PinBar is a treat for the senses, because nothing is

more eye-catching than a row, or two, of pinball machines."

"I've been working in bars since 1998," he explains. "I took The Palomino

Smokehouse over in 2012 and have been concentrating on two of my favorite

things: live music and barbeque. Now i am going into this new space to

carry on working with things i truly enjoy. In this case, pinball and great food."

As the second-half of the fledgling establishment's name implies, there

is a pubtastic element to PinBar. The innovative Smith is looking forward to

tempting his clientelle with a surprising selection of beverages designed to

appeal to a wide-variety of pinball enthusiasts.

"PinBar will feature an extensive craft beer and cocktail list," Smith

confirms. "And, for the first time in a business I've been involved with, a great

selection of non-alcoholic cocktails! We will also have Kombucha on tap, as

well as two types of cold brew coffee."

Does this mean that parents and the all-ages crowd have gained another

haunt? Hell, yes!

"The target clientele is anyone who likes to have fun. We are trying our

best, as with the other venues I am and have been a part of, to be totally

inclusive to everyone. We will be family-friendly until 8pm Sunday to

Wednesday and before 4pm Thursday to Saturday. So, people can bring their

family down to play games and have some awesome food."

Oh, we're all about the food. Bonus play, PinBar's masterfully-balanced

menu promises to draw would-be pinball wizards away from the bright lights

and chiming bells inside those glass cabinets.

"For the food end of things, we will be curing and making a bunch of items

in-house and putting out the best cold and hot sandwiches in the city. The

recipes are based off of some of my culinary favourites from around North

America; a French dip a la Phillipe's in Los Angeles, a pastrami sandwich inspired

by Primanti Bros. in Pittsburgh. We will also have a wonderful selection

of main courses, for those who don't want a sandwich and would prefer to

have something not jammed between tasty slices of bread!"

Feeling adventurous? PinBar wants to feed your competitive spirit.

"We will have a 'Challenge Sandwich' that's a total monster. If you eat the

whole thing in 30 minutes it's free!"

Good luck staggering back to the office after attempting that noonhour

feat!

"Hopefully people will want to come hang-out for lunch, stop in for happy

hour and come party and play games all night long," Smith continues. "The

prime location on 17th Avenue and 4th Street is the crossroads of the restaurant

scene of 4th and the nightlife of 17th, which is perfect for us as we are

not only food but fun-focused, as well. We hope to get people in for the great

food and to stay for the good times. That being said, we'll have a more relaxed

and low key 'Rumpus Room' area at the front of the bar for those who want

to grab a booth and relax."

Lounging with drink-in-hand is a worthy pastime in itself, but the allure of

PinBar's neon-hued machines is bound to get diner's flipping-out for analog

arcade amusements.

"There will be 18 games when we open our doors. I am a big fan of the

games that feature the art of Dirty Donny (he is a close personal friend). I also

recommend The Pabst Can Crusher and Aerosmith machines, but I would

have to say that the Metallica game is probably my favourite. From the art to

the soundtrack, in my opinion, it's of the funnest games out there."

Racking up points and downing frosty pints sounds simple enough, but according

to Smith the flipside of hustling a good game of pinball comes down

to hand-eye coordination and what the individual brings to the table.

"There really is only one way to become a 'Wizard' and that is practice,

practice, practice."

PinBar grand opening takes place 22 Feb. at 501-17th ave S.W.

BEATROUTE • FEBRUARY 2018 | 7
---
ARTS

FRIDA KAHLO: HER PHOTOS

portrait of an artist in photography

BY B. SIMM

EXPOSURE PHOTO FEST

Olivier Du Tré —Seeking Stillness

Now in its 14th year, Exposure is a rare, ambitious photography

festival that takes place at over 40 different locations across

Alberta and hosts more than 60 events (most are free) that

includebook launches, photography workshops, film screenings,

panel discussions and numerous opening receptions. Dona

Schwartz, President and Board Chair for Exposure, reveals a bit

of the festival's inner workings, but primarly encourages you to

go and indulge on the vast array of fantastic photograhpy.

HOW DOES THE SELECTION PROCESS WORK?

To participate in the festival, museums, galleries, groups with exhibition

spaces, and photographers organize exhibitions and list them

with us. The Exposure Photography Festival is an inclusive, community

supported event. We have also launched our own exhibitions.

Continuing from last year's festival we are hosting an international

Open Call exhibition. Submissions for this exhibition have come from

around the world. Andrea Kunard, Associate Curator of Photographs

Frida stomach down — Nickolas Muray, 1946 ©Frida Kahlo Museum at the National Gallery of Canada, juried those submissions to put

F

together a fantastic exhibition of contemporary photography. Our

rida Kahlo, the revered Mexican painter known for her stunning you how she presented herself to the world. Her father did a lot

Emerging Photographers Showcase presents the best work by photographers

living in Alberta. It is a surprising and delightful exhibition.

self-portraits and visual art blending fantasy and surrealism, also of self-portraits, and you get a sense that from an early age that

had a significant relationship with photography. During her lifetime she was exposed to this idea of self-portraiture: Why would you

Selections were made by the Exposure Board of Directors, all of whom

more than 6,000 images were taken of the artist, mostly by her do that and what are you communicating to people through that

are professionally engaged with photography.

father, Guillermo, a professional photographer, in addition to friends self-portrait? It's not simply smiling for the camera. From the photos

of hers at different points in her life, as well as some by Kahlo herself. you really get a sense there's this image she wanted to project. And

Is there a differece in the festival's approach from previous

Archived in her famous Blue House (now a museum) until 2007, then as a painter she did over 50 self-portraits, and those are her

some of the photographs come from formal sittings while others most recognizable works."

years?

are more candid snapshots. However, considering the time frame Stricken by polio at the age of six, which left her with one leg We are reaching out to a broader audience than ever before. The festival

is well known within the photography community but we aim to

¬– early to mid 1900s ¬– photography was far more involved and thinner than the other, there was also the possibility that she suffered

from spina bifida. Then in her late teens she was in a near-fatal shine a spotlight on photography by bringing our exhibitions, events

expensive than now with its equipment and darkroom requirements,

so that anyone pursuing it usually had a serious interest. bus accident that fractured her pelvis, ribs, legs and collarbone and activities to the public. We are all photographers—how many of

Frida Kahlo: Her Photos is a international exhibition making its leaving her bedridden for over a year. During the isolation Kahlo us use our smart phones to photograph a funny pet or a great meal

way to Glenbow Museum starting February 3 running until the started to explore questions of identity and existence leading her and post it on social media? In so many ways, photography is a part

third week in March with a total of 240 photos on display. Melanie "to begin again, painting things just as I saw them with my own of our daily lives and Exposure aims to raise awareness of the medium

Kjorlien, VP of Collection and Exhibitions at the Glenbow, provides eyes, nothing more."

and interrogate its role. Most of all we aim to surprise and delight.

an overview.

Kjorlien feels that some of the most compelling photos of Kahlo

"It covers all periods of her life –there's periods of her as a child, a are from a section of the exhibition that the curator refers as to as Are they any special events would you highlight?

young woman, through adulthood. It's a really good cross-section of "her broken body."

The Fence is an amazing outdoor juried photography exhibition

the different phases in her life and the different people from those "There's a grouping of images that show her recuperating from making its international debut here in Calgary. It will be installed

phases as well as certain things that influenced her which gives us different surgeries in hospital beds, where she's clearly not well but on fencing starting at the Peace Bridge in Eau Claire Park, heading

some insight as to who she was."

playful and painting. You just get a sense of the impact all those east towards our festival hub at Eau Claire Market. it's unique, it's

It's evident that photography was a considerable factor in Kahlo's surgeries had on her, and how it really affected her life in so many outstanding, and you won't want to miss it. This year's festival will be

artistic development as a painter. Early on and through out her life different ways. Those images I find really quite poignant."

extraordinary. Come to the festival hub at Eau Claire Market and help

she was the subject of her father's work which also affected how she

us celebrate the festival launch on Saturday, February 3.

came to view herself and her environment.

Frida Kahlo: Her Photos runs from Saturday, Feb. 3 to Wednesday,

"Although the photos don't reveal that she was inspired to be March 21.

A complete schedule and detailed information about photographers,

a professional photographer herself," says Kjorlien, "it does inform

venues and events is at www.exposurephotofestival.com

8 | FEBRUARY 2018 • BEATROUTE ARTS
---
ROMEO and JULIET

BANFF CENTRE

for ARTS and CREATVITY

Ballet BC is thrilled to have this iconic story

expertly crafted by French choreographer Medhi

Walerski, one of the most original contemporary

voices in international dance today. Set to Sergei

Prokofiev's original score, this full-length commission

showcases Walerski's signature style that

brings together dazzling landscapes woven with

poetic, unpredictable, and complex imagery.

A collaboration between Dutch set and lighting

designer Theun Mosk, an international team

of collaborators, and the Arts Umbrella Graduate

Dance Program, Ballet BC's Romeo and Juliet will

be a fresh and thought-provoking retelling of this

timeless classic.

Saturday, Feb. 10

THE OLD TROUTS

JABBERWOCKY

In Lewis Carroll's Through the Looking-Glass, and

What Alice Found There, Alice comes across a

poem which makes no sense – or rather, as Alice

puts it: "Somhow it seems to fill my head with

ideas—only I don't exactly know what they are!

However, somebody killed something:that's clear,

at any rate."

The poem, called Jabberwocky, is one of the

most renowned and beloved examples of total

nonsense in the English language. In their

newest production, the Trouts use the poem as

a launching point for a wildly surreal investigation

into the nature of monsters and their

slayers, the stories that structure our lives, and

the cosmic nonsense that forms the foundation

of it all.

ARTS

The Trouts are busily inventing a new style of puppetry

for the show, inspired by paper 'toy theatres'

popular in Lewis Carroll's time, fused with the

contemporary language of film. Using intricately

layered two dimensional puppets and sets, the

effect is like an animated movie or an illustrated

pop-up book created live before your eyes on

stage. The show was commissioned by Le Festival

Nuits de Fourvière in Lyon, France, and is slated

to premiere in early 2017, making a few stops in

North America before heading to Spain, France,

and Edinburgh for the summer.

Jabberwocky runs from Wednesday, Feb. 21 to

Sunday, March 4, 2018 at the DJD Studio.

WHAT SHAKES

YYSCENE's quick scan go-to-guide for February

Right! February! Let's do this, you

typically dull, cold, month we

endure waiting patiently for spring!

Whatcha got? Oh, quite a lot as it

turns out. Here's a run-down"

Kicking off the month that

I personally love (not for Valentine's

Day, people— that's a

load of crap) is Milky Chance's

Blossom Tour with Lewis Capaldi

at MacEwan Hall on Feb. 1.

The Particle + Wave Media Arts

Festival takes place Feb. 1-3, and

you should really check it out.

Portugal the Man with Hollerado

play MacEwan Hall on Feb. 6,

The Punk Version –Theatre Junction Feb. 22-25

and then learn a little something

about one of Hollywood's most

fascinating actors at Doc Soup — Bombshell: The Hedy Lamarr Story over at

Cineplex Eau Claire Feb. 7.

On Feb. 8 you can check out Romes at The Gateway, and then for some

comedy head to the Grey Eagle on Feb. 9 for Chris D'Elia. EDM more your thing?

Paul Oakenfold with Dom G and Guest Who will be doing their thing at The

Palace, also on Feb. 9. But Feb. 10! Yes you'll want to be at the Jack Singer for A

Symphonic Tribute to Prince! Seriously. Purple Rain with orchestra (single tear

down my face. Snap out of it!). Feb. 13 you can see Enter Shikari with Milk Teeth

at the Commonwealth (ShiKARI. Love these guys) and then From Feb. 15-18

you'll be inundated with great music in Inglewood during the Folk Festival's

annual Block Heater festival — Justin Townes Earle, Windigo, Raleigh, Leeroy

Stagger, Yolanda Sargeant, Dan Bern, Astral Swans ... so much to see. Or, take

in some great local theatre artists Feb. 15 with Intimately Awe — the second

instalment of To The Awe. Why not?

Need some metal in your life? Distortion's the place to get it, and on Feb. 16

they will have Cabrakaan playing for your musical enjoyment. Also on Feb 16

you should try to catch Flowshine's Record Release at Mikey's on 12th. Local

dudes! Feb. 17 at MacEwan Hall you can catch Black Label Society with Corrosion

of Conformity and Eyehategod. (Hah. Clever.) From Feb. 21-March 4 you

should make a point of seeing The Old Trouts Puppet Workshop's production

of Jabberwocky at the DJD Centre — PUPPETS! Then over at Theatre Junction

from Feb. 22-25 is My Fair Lady — The Punk Version by Productive Obsession.

Looks good, but so does Dashboard Confessional's We Fight Tour 2018 with

guests at Mac Hall. Go forth. See stuff.

Kari Watson is a writer and former Listings Editor of FFWD Weekly, and has

continued to bring event listings to Calgary through theYYSCENE and her event

listings page, The Culture Cycle. Contact her at kari@theyyscene.ca.

BEATROUTE • FEBRUARY 2018 | 9
---
KOOL FM

a refreshing breeze with Christy and Fraser

BY B. SIMM

"This is the first radio station

where I can say that I don't like

a song. The programmer is still

going to play what they have

their list, but I can say on-air that

I don't like it. Everywhere else I've

worked, you have to put on the

face of the station, and the

'Hi, I love everything' attitude."

Amid the avalanche of media that we get caught up in each day, early someone talk about peeing or pooping out loud is the funniest thing. Farrell

morning radio is a pleasant way to be bombarded by info bites and then chirps in with the adult punch line, "Oh, is that their excuse," adding a

soundtracks. There are, of course, a variety of choices to consume the air little extra as to why grown-ups might pee on each other. Hehe.

waves while lying in bed with one eye open, putting on the coffee or, all too Good innuendos are part of C&F's yin and yang charm directed by unpretentious

chit-chat that's light-hearted but engaging with everyday topics that

often, stuck on Glenmore Trail on route to work.

Some folks prefer the chatty talk show hosts rehashing yesterday's news range from airport travel, cooking meals, walking the dog, treating hangovers

while manning the call lines from chatty citizens, some like frat house humour

despite it seldom scores more than three stars out of five, some need by texting comments directly to C&F, helping to kick-start the day with a

and pulling through the divorce. Their fanbase of regular listeners join in

their shot of classic rock or contemporary twang, while others prefer the morning coffee.

serenity of jazz, classical concertos or peaceful, easy listening with little to no "We just talk about normal shit. People text in, we talk about their shit,

talk at all. And some us just flip to a station so the kid strapped in the safety and it's almost as easy as doing this conversation," says Tuff, explaining their

seat is satisfied.

relaxed, accommodating approach.

101.5 Kool FM plays all the pop songs bubbling up the charts. A lot

Farrell adds that 101.5 FM's hands-off policy allows them to have up to

hip-pop: silky-smooth hip-hop and sexy R&B for the masses. It's stuff most 30 minutes of talk time, which, for commercial stations, breaks the format.

folkies, rockers, metalheads and country fans dread and denounce as sappy "Usually you have three to four minutes an hour of ins and outs filling it with

insipid shit. Too bad for them. Lorde makes fantastic records, fading divas some he-hes and blah-blahs. But they wanted it unplanned, so we have a lot

Gaga and Katy Perry leave a trail of gems behind, Taylor Swift, Sia and Portugal

The Man spew out infectious smash hits, and Bruno Mars is the dashing would be told to shut up!"

of talk time. I don't know where I would be able to work again, because we

love child of Prince and/or Michael Jackson. The shit is often irresistible, hardly

insipid. But who would know unless you had a teen or preteen strapped in program before switching to another in Saskatoon called the Western

Originally from Edmonton, Farrell enrolled in NAIT's broadcasting

the back seat of the SUV.

Academy of Broadcasting. Referred to as WABC, she fondly says it's more

Kool FM also comes with a pleasant surprise called Christy and Fraser – a well known as "the Western Academy of Bingo Calling." After working

morning show tag-team that bottles the right stuff. They're not zany, not in Northern BC, she relocated to the Okanagan Valley were she was

cranked on caffeine, not slick, definitely not rock jocks, they're clever but head-hunted by 101.5 FM and brought to Calgary.

it's not a political podcast, they're fun and spirited with the right amount of "She was offered a job, and I had to fucking beg for one," jokes Tuff,

on-air zest that doesn't dumb-it-down and insult your intelligence like most who's been in radio a number of years. Trained in Lethbridge he's moved

biff-bam-pow stations do ad nauseam.

around from Fort Mac to Brandon to Regina then Calgary spending seven

Christy, last name is Farrell, defends other talk show hosts saying, "Sometimes

I wonder if they're allowed to be anything else. While they (radio at Kool FM. "This is the first radio station where I can say that I don't like a

years at X92. Like Farrell, Tuff enjoys and appreciates the freedom he has

station management) want you to be you, it's their version of you. But where song. The programmer is still going to play what they have their list, but I

we work, your flaws, they embrace them. We don't get in trouble for making can say on-air that I don't like it. Everywhere else I've worked, you have to

mistakes."

put on the face of the station, and the 'Hi, I love everything' attitude." In

There's definitely a natural shoot-from-the-hip banter between the two mocking unison, C&F harmonize, "You gotta love the music!"

that easily slides into a comic routine that, like all good PG comedy, works for To be clear, Kool Fm doesn't just play the latest by Ed Sheeran. AC/

the kids, mom and dad. On one occasion C&F were discussing how to ease DC, Tom Petty are staples and even Motorhead's "Ace Of Spades" came

the pain and prevent infection from a jellyfish bite that might happen during blasting through the speakers when "Fast Eddie" Clark, one of the band's

that warm, mid-winter tropical getaway. Fraser (Tuff) said that peeing on founding members, passed away. Fun family radio for anyone who gives a

the bite helps to disinfect the wound. Of course, any seven year-old hearing shit about good radio.

10 | FEBRUARY 2018 • BEATROUTE ARTS
---
THE LILY

new DIY artist-run space where "art is fun"

In the heart of Calgary's Mission, a small collective of artists have transformed the basement of a

century old house into a bright, shadowless, DIY gallery space, intended for artists of all media to

share their work. It is called The Lily.

"The space itself is not about one person. It was designed for the community. We wanted it to be a

place for writers, curators and artists to come together," says Lily.

An experiment in what can be done with a space and community of artists, the space itself has

white walls, white floors and a plethora of fluorescent lights creating a blinding and immersive room

where art hangs as if floating. Replete with outdoor fire, DJs and a small party at each opening.

The Lily has hosted three shows since its inception in the summer of 2017, and is currently showing

the artwork of Eureka, California based visual artist Stephen Nacthigall, who has exhibited his work in

Canada, the United States, Scotland and Germany.

Titled lost in the meshes, Nachtigall's work is an exploration of the relationship between technology

and the natural world. Using computer software, video and sculptures to alter and manipulate

images of plant life, he creates "growing pictures, translated and repackaged but still reaching to

express an environment, a changing climate, a continual emergence. Pictures weaving in and out,

reaching across to touch vertices and edges."

Adding, "The imagery in this show reflects the merging of those two in some way. It's interesting

that this computer software is trying to emulate these natural images, in the colours and textures,"

says Nachtigall. "There's always a push and pull between nature and technology. If we look at serious

issues with more of a hybridity of the two, it may be a more healthy way to find solutions." Going

forward, The Lily will be continually looking for new submissions and collaborations.

"There's value in an idea," says Lily. "This can be a space for anyone from established to emerging

artists."

Adding that such DIY spaces create new cultures in Calgary's art community. "I think a lot of these

DIY, artist-run spaces haven't been around for a quite some time. It brings a new form of history

back into the city. Our space can be a reminder that art is fun, and doesn't necessarily have to be

commercial."

BY MICHAEL GRONDIN

To contact The Lily, reach out to the lilygallery@gmail.com and for information on showings visit

@the.lily_ on Instagram.

ARTS

BEATROUTE • FEBRUARY 2018 | 11
---
BURNT TOAST STUDIO

reworking love and fostering the silk screening community

For Karolina Gajewska, who serves as the president of the Board of

Directors at Burnt Toast Studio, building out artist studios to be

accessible and usable has gone hand in hand with supporting a creative

community. Burnt Toast, as happily described by Gajewska, "provides

studio spaces to artists at an affordable rate and welcomes many artists.

Though the emphasis is on silk screening we have painters, designers and

sculpturists; and anybody is welcome to rent a space."

Hosting 23 members is no small job, and the studio has opened a

show space, completed renovations and plans on creating lesson plans

to help beginners and others learn about the silk screening process.

Regardless of commitment level, Burnt Toast hopes to offer affiliate

memberships to allow involvement in the community, and use of their

equipment and expertise. Including an etching press as well as a woodshop

so users can make the contraptions they need to work on their art

and printing.

With a focus on music, after printing the Sled Island Poster Show for

the last 3 years and working out of Burnt Toast studio for 5 years, Gajewska

successfully helped host Burnt Toast's first poster show last year

-which is how the upcoming "Love Show" was born. In an attempt to rework

Valentine's Day, a showcase created for Burnt Toast Studio's artists

"[brought] designers together in an attempt to highlight them and give

them a chance to meet other people in the community." Gajewska says,

"it's given us a chance to design something that isn't necessarily work but

that can be presented and celebrated."

Valentine's Day seemed like a natural choice for a show, but the concept quickly took on a life of its

own. "It's been a great way to bond the various designers and silk screeners working both in and out of

BY ARIELLE LESSARD

Burnt Toast Studio and work on something collaboratively. After some conversations,

we thought about going back to our elementary years when we gave

cards to our friends and family to show them love and care instead of keeping it

to romantic partners. A lot of us are single or not in traditional relationships, and

there's not a day where we celebrate our friends specifically."

As a collective their artists decided to get nostalgic and design cards in a move

to build community around silk screening: "some are romantic and traditional,

some are less than romantic, some are very sexual, and some are awfully cute."

In the studio, Gajewska describes how artists can link up with one another,

"share their own designs, discuss and get feedback about their inspiration and

techniques […] We never had any community events in the space or with each

other because the old space didn't really allow for us to do a tone so it's been fun

to bring everyone together. So much of it is word of mouth, so we're excited to

launch these events and future projects so we can get more people in the studio

to learn how to silkscreen, understand the concepts and grow the community."

Burnt Toast is a place where people can come and do art, but Gajewska hopes

it can continue to grow and double down as a resourceful and lively common

space, perhaps even a first thought "for people in need of an illustration or a chat

with someone who understands the concepts of design." Burnt Toast can help

you find an artist, and those links have and are being patiently built, "there are

a lot of people that aren't necessarily part of the studio but could be referred to

from here." Burnt Toast is teeming with opportunities for peer support, knowledge

sharing and collaboration.

Visit burnttoaststudio.com for more information and to sign up for updates on workshops and poster shows.

Feb 1: Chris Gheran

Feb 8: El Niven & The Alibi

Feb 15: Amy Hef

Feb 22: Brent Tyler

12 | FEBRUARY 2018 • BEATROUTE ARTS
---
TRIM SIZE: 10.25"W x 11.5" H, RIGHT HAND PAGE
---
"...inspired ... timely

...a fantastical visual

world ...as bleak as

it is funny."

–The Globe & Mail

"...unimaginable

creativity and talent

...downright beautiful."

– Vue Magazine,

Edmonton

February 21 – March 4

DJD Dance Centre

Tickets at:

www.theoldtrouts.org

Evenings: 8:00 pm

Matinees: 2:00 pm

Black

CMYK
---
FILM

TREVOR SOLWAY

the new wave of young Indigenous filmmaker

Trevor Solway: cutting a path for the up-and-coming. PHOTO: HANNAH MANYGUNS

At just 25, Siksika-goo-wan filmmaker

Trevor Solway has directed, distinctive narrative on parenting, from

families lives. The 10 minute film offers an

filmed, edited, and produced seven an Indigenous perspective.

of his own short-films. Receiving his "Our parents, you know, they learnt

certificate in Indigenous Independent how to be parents from residential school

Digital Filmmaking from Capilano survivors. They didn't always have the

University, and a bachelor of Communications

greatest examples. If we're going to move

from Mount Royal Uni-

forward as Native People, we need to

versity, his extensive education has be able to forgive each other, forgive our

strengthened Solway's natural knack parents, and show some grace."

for story-telling.

The film's cinematography is a prize for

"I started off as a creative writer. That the eyes, along with great performances by

was really the only outlet I had, because all actors involved. Solway says he couldn't

you only need a pencil and a paper to have made a film like Indian Giver without

do that, and, when you're from the rez his mentors' guidance, and credits his professors

and you don't got a lotta' money, that's

and friends at Capilano University.

all you need."

"I went to an all Indigenous film school.

But when he picked up a camera for We had a class called Indigenous cinema,

the first time at age 20, suddenly everything

and I learned a lot. You know, Native

started to click.

People were some of the first people

"Once I broke down what it was, the to be documented on film. We were

components of it, and how to use it, the in those nickle machines that Thomas

limits were just endless," he beams, "Film's Edison made, where these flashing images

my preferred medium of choice."

shown in black and white, and in one of

Solways most note-worthy film to them, there were these Indigenous tribes

date, Indian Giver, was shot in Siksika and doing their ceremony. So we've been

tells the tale of a father who's been absent at the forefront of film for a long time,"

for 15 years, and tries to get back into his notes Solway.

FILM

BY HANNAH MANYGUNS

"But, in the earlier days of film,

Indigenous people weren't portrayed

the right way, and what that's resulted

in is a complete uneducation of North

America. A lot of non-Indigenous

people had the idea that natives were

primitive, not caught up in society,

second-class, and that we were these

blood-thirsty savages they seen in

Western movies. That's not the case.

We've been vastly mis-represented in

films. And, you know, I think that's just

because Native people aren't making,

or aren't put in positions, to make

films. When you go back to when we

had all of these big up-and-coming

filmmakers learning their craft, like

Steven Spielberg and Quentin Tarantino,

Native People couldn't even gather

in groups of five. When the potlatch

and Sundance ban happened, the Canadian

government didn't want Native

People getting together to practice

their ceremonies. If you can't even

practice your ceremonies, how could

you even make a film? These are the

kind of ideas we explored in Capilano."

Solway strives to carve out opportunity

for up-and-coming indigenous

filmmakers by being a mentor himself. In

partnership with Canada Bridges, he has

been running youth film camps for the

past four years, with the camps taking

place in Morley, Siksika, and Calgary.

"I'm just trying to give that opportunity

that I never had. When I was

young I'd see filmmaking workshops,

but they'd always be in Calgary. And

it wasn't possible for me to go to that

when I was a kid. So now, when I put

up these film camp posters, I take

pride that it says: 'Location – Siksika'.

It gives the youth a chance to tell

stories. That's the goal of these film

camps, to create that new wave of

young Indigenous filmmakers, and get

cameras into their hands a lot younger

than I was."

Solway is currently in post-production

for a docu-series called The Intertribal

Series. Created in partnership with CJSW,

"this series profiles four indigenous artists

from Treaty 7 area," explains Solway.

"We have Armond Duck Chief, Darcy

Turning Robe, Bebe Buckskin, and Olivia

Tailfeathers." Viewers can expect the

series to be screened in Calgary in the

coming months.

BEATROUTE • FEBRUARY 2018 | 15
---
BROWN GIRL BEGINS

post-apocalyptic/Carribean film rethinks Black History — future now!

here my mother ends, I begin." – Here

"Wlies a powerful message introduced at

the inception of director Sharon Lewis' debut

full-length feature, Brown Girl Begins. Set in

2049, addiction has led to the segregation of

the wealthy from the poor. The post-apocalyptic

tale follows Ti-Jeanne, a young priestess

faced with a life-altering decision. She must

either risk resurrecting and surviving possession

of the spirits responsible for the death of

her own mother, or lay-witness to the demise

of her people.

The essence of Brown Girl Begins lies within

Nalo Hopkinson's award winning novel, Brown

Girl in the Ring.

When asked what ignited that inspiration,

Sharon Lewis reflected passionately, "Its the

first time I ever read a novel that was set in

Canada – a dystopian novel that was set in

Canada with Caribbean people. The idea that

Nalo could take a city like Toronto in particular

and paint it as a dystopia, and have this

futuristic view of a place where I grew up blew

my mind. I just was inspired by this idea that

we could see a Canadian landscape on film in

a whole different way."

Though easily warranting appreciation for

the stunning visuals employed throughout,

the film projects significant commentary.

Lewis says, "It does speak to what's happening

now. And dystopia allows you to push it

a little bit further. The kinds of polarization

5 FILMS TO SEE ...

February's must-see movies

February is interconnected with the concept of love, which

is shown in a variety of forms in films being shown this

month. Grab a date (or yourself) to experience these classic

noir/drama/thrillers firsthand at your local theatre.

OSAKA ELEGY

The first glance of Ayako Murai (Isuzu Yamada), in her slanted

white hat, one may think she is the wife of a rich man. Kenji

Mizoguchi brings to the screen the story of a switchboard

operator turned prostitute to keep her father out of jail and

brother in school. Murai becomes the mistress of her boss Sumiko

Asai (Yôko Umemura) who has been pursuing her endlessly.

Through this frank portrayal of sex work, we experience

the tumultuous decisions Murai must make and the rejection

she must accept.

Espressokino presents Osaka Elegy at The Roasterie on Thursday,

Feb. 1 at 8:00 PM

Brown Girl Begins screens in Calgary as part of the Block Heater festival

we're seeing in politics right now could lead to

segregation of the wealthy and poor. So that

doesn't feel that far out.

"Detroit was the inspiration for Nalo, for

the novel. Detroit is the city we are portraying.

The idea that people have abandoned

a city and the wealthy have fled, the little

political governance. Detroit is on the mend

now, but we're seeing that in large American

cities, portions of large American cities, and

mugshots. The honeymoon phase ends abruptly when Ed is

informed she cannot have children. The only logical decision?

To kidnap a baby. H.I. takes pride in his new role of felon father

by being chased and shot at for stealing Huggies for their

abducted son, Nathan Jr.

Raising Arizona screens at Eau Claire Market Cinema Friday, Feb. 2

at 9:15 PM

KLUTE

A tape recorder starts playing and the voice speaking creates

a sense of familiarity. In this 1971 neo-noir crime-thriller, Jane

Fonda plays call-girl Bree Daniels who lives in New York City.

A picturesque family man goes missing and there is reason

to believe Daniels is the only connection. John Klute (Donald

Sutherland) plays a private detective who follows Daniels

through the city built on her beguiling profession. As an

audience we feel as lost in the labyrinth of sexual deviance and

darkness as our leading characters who attempt to connect

the dots.

Calgary Cinematheque presents Klute at The Plaza Theatre on

Thursday, Feb. 15 at 7:00

BY BREANNA WHIPPLE

what I want to do is wake Canada up to the

fact that it could happen here. I think sometimes

we feel very safe... but that kind of

polarization in politics has been happening

here in Canada, as well."

The message does not solely lie within

the confines of the film, either. "Its opening

across Canada but we're doing it under a

rebranding of Black History Month called

Black Future Month," explains Lewis. "We

are really trying to challenge this idea of

the way we look at black people in Canada,

which is oftentimes to celebrate the history

of blacks. Although we think that's really

important, we really, really want to push the

gaze into the future."

The event in Calgary also includes musical

performances by Comrade and A.Y.E.,

The Extraordinary Gentlemen, and Yolanda

Sargeant, the latter which stars and sings in

Brown Girl Begins.

In summation, Lewis states her mission.

"One – Let's get woke as Canadians and see

that these issues are here, not just south

of the border. Two – I want young women,

and women of colour to be inspired and to

know that they have the power to change the

circumstances that they're living in."

Catch Brown Girl Begins at the Festival Hall

during Block Heater on Saturday, Feb. 17.

BY CHLOE LAWSON

romance than a director/estranged husband demanding the

leading star to terminate her symbolic red hair? In this film noir

of smoke and funhouse mirrors Orson Welles plays Michael

O'Hara who becomes spellbound with the striking blonde Elsa

Bannister (Rita Hayworth) after her husband hires him as one

of his seamen. Among the dark depths of the unpredictable

ocean the two discover love, murder, and that everybody is

somebody's fool.

The Lady from Shanghai will screen at the Globe Cinema on

Tuesday, Feb. 20.

STRANGER THAN PARADISE

A young woman places her two bags down and turns on her

cassette player. She continues walking down the desolate street

as Screamin' Jay Hawkins belts out "I Put a Spell on You". This

Jim Jarmusch flick tells the tale of Willie (John Lurie) who takes

in his Hungarian cousin, Eva (Eszter Balint) in battered early

'8os' borough of NYC. Willie's friend, Eddie (Richard Edson)

joins them on a road trip to paradise, aka Florida. With dry

amusement we watch human existence as this film takes us

into its subjective realm. Like Eddie says, "You come someplace

new and everything looks just the same."

Stranger Than Paradise screens at the Globe Cinema on Saturday,

Feb. 24.

RAISING ARIZONA

Living by one's true nature can be difficult due to upbringing

and "screwed up" genes, according to felon H.I. McDonnough

(Nicholas Cage). In this dark comedy Joel Cohen shows life

through the revolving door of the justice system. H.I. meets THE LADY FROM SHANGHAI

his wife, Ed (Holly Hunter) an officer who routinely takes his What way would better represent crippling Hollywood

16 | FEBRUARY 2018 • BEATROUTE FILM
---
Blade Runner 2049

Geostorm

It

Jigsaw

FILM

The Battle of the Sexes

The most sexist thing about sport is that

female athletes pay double what men pay for

steroids. Back in the '70s, however, the sport

in this dramedy capitalized off that inequality.

To prove superiority over women, and

feed his gambling addiction, former #1

Bobby Riggs (Steve Carell) comes out of

retirement to challenge current top-female

tennis player Billie Jean King (Emma Stone) to

a bout. While initially refusing, the closeted

King eventually agrees to face the chauvinist

on the court. In the process, however, the

marriages of both players disintegrate.

With a comedic supporting cast on hand

to facilitate its talented leads, this true

story provides the backstory of the oddball

pair that has always been missing from the

much-ballyhooed match. Moreover, its

socially conscience subject matter mirrors our

current climate of social change.

Lastly, men and women can be equal in

sport so long as men don't wear cups.

Blade Runner 2049

The downside to having a robotic lover is

that your romantic baths always end in electrocution.

Smartly, the Blade Runner in this

sci-fi thriller keeps his sex-bot on his frontal

lobe.

K (Ryan Gosling) is an engineered human

employed by the LAPD for the purpose of

tracking down and liquidating maverick

replicates. When he learns of a replicate that

reproduced, K's superior (Robin Wright)

orders him to kill the offspring before the

manufacturer (Jared Leto) can exploit the

glitch. K's search for the lost lovechild finds

him face-to-face with the Blade Runner who

held his position previously, Deckard (Harrison

Ford).

A visual feast with absorbing concepts but

measured pacing and a taxing runtime, this

long awaited sequel to Ridley Scott's 1982

adaptation of Philip K. Dick's book is a worthy

successor to the equally sluggish original.

Incidentally, when delivering a mechanical

baby make sure not to cut the wrong cord.

Bright

If magic were real than sawing someone in

half would not end in a jail sentence. Fortunately,

the alternate earth in this action-fantasy

has seen a recent increase in enchantment.

In a world where Tolkien-type creatures

live in harmony alongside humanity, LAPD

officer Ward (Will Smith) and his Orkish partner

Jakoby (Joel Edgerton) are tasked with

maintaining that delicate balance. But an elf

(Lucy Fry) with a magic wand being sought by

a dark elf (Noomi Rapace) - intent on reviving

the Dark Lord - threatens that harmony. Now,

the odd couple must protect the girl and the

wish-granting wand whilst battling their own

demons.

A paint-by-numbers buddy-picture,

Netflix's first foray into blockbuster territory

is a tepid one. While the concept is serviceable,

the racial comparisons are bordering on

offensive. Moreover, the action, dialogue and

character designs are all questionable.

Worse, the Orc's rap album sold more than

Will Smith's last one.

Geostorm

Extreme weather isn't global warming; it's

God trying to wipe out humanity again.

Thankfully, this disaster movie has a Noah of

its own to protect the wayward sinners.

When a system of satellites he designed

to control Earth's climate begins to attack

it, the ousted Jake (Gerard Butler) is asked

to return to the International Climate Space

Station by his replacement, his brother, Max

(Jim Sturgess). Jake is hesitant to help his

former employer until he sees the damage

his creation is wreaking across the world. But

when Jake discovers that the White House

planted the glitch, his and his daughter's lives

are endangered.

With a hokey premise that takes itself

deadly serious, this super-nature thriller is

a gentle breeze from being a movie-of theweek.

Bad writing, ham-fisted acting and

corny SPFX further feed this shit-storm.

Furthermore, if humanity controlled

weather then all wars would be fought over

the thermostat.

It

The public is afraid of clowns because they

don't want to have to eat a Big Mac. Thankfully,

the mischief-maker in this horror movie

is not a corporate mascot.

The summer after his brother vanished

down a storm drain, Bill (Jaeden Lieberher)

and his friends (Finn Wolfhard, Wyatt Oleff,

Jack Dylan Grazer) head out in search of the

body. Along the way they recruit more members

(Sophia Lillis, Jeremy Ray Taylor, Chosen

Jacobs) with knowledge of the town's missing

child epidemic. The gang eventually links

the disappearances to a demonic clown (Bill

Skarsgård) living in the sewer system.

The first feature film adaptation of Stephen

King's infamous jester Pennywise, newcomer

Skarsgård nails the creepy clown, making the

scary moments even more so. Condensed

THE VIDIOT

rewind to the future

BY SHANE SELLAR

compared to the 1990 miniseries, this streamlined

version is a flawless fright-fest.

Incidentally, the only one powerful enough

to defeat an evil clown is a kid's party magician.

Jigsaw

The worst thing about taking hostages is that

Stockholm syndrome obligates you to send

them all Christmas cards. Even the killer in

this horror movie has empathized with his

victims over the years.

The deceased Jigsaw (Tobin Bell) is back

in action, welcoming new captors (Laura

Vandervoort, Brittany Allen, Mandela Van

Peebles) to his complex torture tests designed

to draw confessions of past sins from each. As

the hostages struggle for survival in captivity,

dead bodies begin appearing around the city

leading detective Halloran (Callum Keith

Rennie) to suspect that a copycat killer is

responsible.

Borrowing heavily from previous installments

for its two major plot twists, this

eighth chapter of the floundering franchise is

predictable to anyone with a passing familiarity

with the series. While Jigsaw's traps are

inventive, the largely Canadian cast is hammy.

And remember the ransom for a Canadian

hostage is half due to the exchange rate.

Professor Marston and the Wonder Women

Wonder Woman was created because

Batman hitting Catwoman didn't look good.

Ironically, this drama displays how the Amazonian

Princess was forged from S&M.

Fired from his teaching position for his

relationship between a student (Bella Heathcote)

and his wife (Rebecca Hall), William

Marston (Luke Evans) draws inspiration from

his feminist viewpoint, his fetish leanings and

his invention – the lie detector – to create the

first female super-hero. But when he and his

publisher Max Gaines (Oliver Platt) are called

before a decency commission for the BDSM

imagery in the comics, Marston's paradise

comes crashing down.

The kinky beginnings of an icon for female

empowerment, this Wonder Woman origin

story doesn't exploit the creator's lifestyle

choices, but instead offers compassion. With

dedicated performances across the board,

this titillating true tale shines a whole new

light on the 75-year-old warrior woman.

And here everyone thought The Flash was

DC Comics only sexual deviant.

He's a First–Class Clown. He's the…

Vidiot

BEATROUTE • FEBRUARY 2018 | 17
---
ROCKPILE

ENTER SHIKARI

lucid streaming

BY CHRISTINE LEONARD

Unleashing a flash flood of electronicore colour.

Straight outta St Albans, Hertfordshire,

England the upstart outfit known as

Enter Shikari has been purveying its

unique take on British electronic rock since

coming together as a quartet in 2003. Over

the past decade-and-a-half, Enter Shikari's

guitarist Liam "Rory" Clewlow, bassist

Chris Batten, drummer Rob Rolfe and lead

vocalist/keyboardist Rou Reynolds have

been attacking the scene from the bastion

of their own record label, the appropriately

named Ambush Reality. Fans from many

musical folds were quick to pick up on the

group's genre-melding style, which borrows

heavily from the realms of electronica and

experimental rock while mining everything

from dubstep to hardcore punk and heavy

metal for instrumentation and inspiration.

The resultant 'electronicore' sound is a sleek

but complex hybrid that has set charts and

dancefloors ablaze across the UK. It's something

audio-pioneer Reynolds describes as

the inevitable outcome of tapping into their

collective creative impulses.

"Music flows out of me like vomit from a

projectile vomiting drunk. I'm just the guy

with a bucket mopping it up. And it's relentless,"

jokes Reynolds.

"All I try and do with Shikari is specifically

write when I feel inspired - not

provoked - into writing. Though I have no

qualms with music for music's sake, it is

definitely not music for music's sake. It has

soul and it has purpose."

The inescapable gravity of modern life is a

ROCKPILE

topic that Enter Shikari feels exceptionally well

equipped to address. Appreciated for pushing

political dialogue into the musical spotlight,

the foursome rarely shies from the dark side

of human existence. Opting instead to project

vitriol outwards, Reynolds and his company of

multi-instrumentalists excel at transforming

simmering resentment and personal outrage

into bust-a-move worthy art.

"Music has been a tool that has brought

communities together for millennia. We are

united by the fact that we are all vulnerable

to music's emotional power. So, in effect, we

are just continuing to use music for the same

means, to bring people together, indiscriminately.

If that means being political then

that's what it means. It doesn't bother me," he

acknowledges.

"First and foremost, I like to be realistic.

And, that means sometimes everything does

seem to be going to shit and sometimes

things do seem truly hopeless. A negative

outlook every now and then is honest. The

main thing I try to do is constantly make sure

I'm putting things into perspective. Things are

sometimes disheartening, but often exciting.

I'm lucky to be able to have potential and willpower

to do small things to make the world a

little better."

One positive stride towards that noble goal

comes in the form of Enter Shikari's fifth and

most recent full-length release, 'The Spark'

(2017). Representing a steady progression that

began with their certified-gold debut, 'Take to

the Skies' (2007), 'The Spark' conjures a heavysynth

whirlwind that resonates with grimy

layered vocals, brassy orchestral arrangements

and rabble-rousing rhythms.

"There was a lot more opening up about

my life and experiences and a real determined

effort to let melody take the forefront with

this album," confirms Reynolds, who composed

'The Spark' over the course of a year.

"I wanted to concentrate on a more lucid

style of music with a more personal, honest

and open lyrical theme. The thing that we've

found is, really it's simply about the humans

involved. If you're working with people who

truly understand and support your music

that's what matters most. Through experience

we learnt that major labels probably aren't

right for us, as our music is too left field and

our nature too erratic and unpredictable."

So, how does that nonconformism and

spontaneity translate from studio to stage?

Strap on your jammy packs, kids!

"We've been lucky enough to play some really

big shows in Europe and have been able to

really transform each venue we play into our

own environment by using surround-sound

and synchronised visuals. It's takes months

of preparation and work, but is so incredible

when it all comes together. Having the sounds

swirl around your ahead is almost disorientating

and creates such an exciting atmosphere."

Enter Shikari performs Monday, Feb. 13 at

Commonwealth Bar (Calgary), and Tuesday, Feb.

14 at The Starlite Room (Edmonton), and Friday,

Feb. 16 at Imperial (Vancouver).

BEATROUTE • FEBRUARY 2018 | 19
---
DASHBOARD CONFESSIONAL

lifting the whole damn crowd up

It's been more than eight years since we last

heard from Dashboard Confessional, but front

man Chris Carrabba is feeling good about the

band's new album 'Crooked Shadows', out on

February 9 via Dine Alone Records.

Carrabba is hanging out in Nashville (where he

now lives), rehearsing and waiting for the snow to

fall when reached on a blustery January day.

"I just feel like we had an objective and a

creative goal, and we nailed it and then exceeded

it," Carrabba declares.

"I owe a lot of credit to my band mates and

producers and friends, but also to my fan base

who said 'take your time' and allowed us to take

a lot of time."

'Crooked Shadows' encapsulates everything

great about Dashboard Confessional: loud, bright

guitars, driving rhythms, and emotionally rich

lyrics, among others.

However, Carrabba says crafting those

soul-bearing lyrics and upbeat melodies took

longer than usual.

"It took more time than ever before to find my

voice, your point of view, your melodic tenancies

that make it identifiable as the band that you're

in," he explains.

He continues: "I needed to envision this record

as if I was making the first Dashboard record.

PIZZA BATH

In crust we trust

As zestful as a slice of well-seasoned za, the saucy foursome

known as Pizza Bath enjoy the hell out of a good kitchen

party. Punching upwards with a frantic and fraught punk

rock sound, vocalist/guitarist Sean Hamilton, guitarist/vocalist

Eric Andrews Svilpis, bassist/vocalist Gavin Howard and

drummer Fergie McLean recall the thirsty days of yore when

garage jams and Hot Pockets ruled the suburban wasteland.

"We all play in a lot of bands," Hamilton acknowledges.

"Pizza Bath emerged as a project out of Rockin' 4 Dollar$

at Broken City. I had all these punk songs I'd been writing

while on tour drumming for Miesha and the Spanks and I

just wanted them to have a purpose. Eric helped me put

together a band that was only supposed to learn like four

songs, but it just sounded too good to not pursue and put

some energy into."

Pouring their collective steam into a fully-loaded EP seemed

like the right direction to head in, and they got down to

pounding out some speedy but generously proportioned

tunes.

"The goals and values of Pizza Bath stem from the lyrical

content," he elaborates.

"We wanted to be fun and goofy, but then have a much

darker message in our portrayal of what life means and what

our role in the world is. What we try and promote through our

lyrics and real life actions is just a willingness to become better;

in everything we are and through all of our failures. We want

to grow and learn be the best versions of ourselves with each

new experience."

How would I make this record and how would it

sound?"

"We Fight" was the first single; a poignant

anthem for the underdogs, the people who have

had to stand up and fight for everything they've

earned in life.

In powerful chorus, Carrabba proclaims: "And

we earned what we could from the ground up/

And tried to lift the whole damn crowd up/So we

fight our way in/And we fight our way out."

"It's a song that we're excited to play in front of

people. They started singing along to it recently,"

he says with enthusiasm.

Whether it's for Dashboard Confessional or for

Twin Forks, his newer folk-influenced side project,

Carrabba wants to continue writing great songs

and learning from the experience.

"Just when you think you've got the hang of it,

you break the pencil," he confesses.

"I love to write. I love to write great songs and

I love to write terrible songs. And if I was bagging

groceries at the Piggly Wiggly, I'd love to write

songs. And if I was a stock boy at Sears, I'd love to

write songs. If I was an investment banker, I'd love

to write songs."

He concludes, "This is a thing I do because I

love it. "

To each a calzone.

Classic emo group releases 'Crooked Shadows' on February 9.

Dashboard Confessional will be playing

MacEwan Hall on Tuesday, Feb. 27 (Calgary),

Salvation is where you find it. And in the case of the not-soflippant-after-all

Pizza Bath, a compelling melody, unguarded

confession or even a decisive downbeat can all illuminate the

path to a more fulsome experience. Proof that the group's philosophy

isn't hopelessly mired in glutinous psychoanalysis and

sadness, Pizza Bath always makes short work out of providing

audiences with a cheesy good time.

"Don't get me wrong, Pizza Bath is a lot of fun and games.

That's important, as well," Hamilton affirms. "If you aren't

actively trying to enjoy life, then I'd like to meet up, give you a

BY TREVOR MORELLI

Union Hall on Wednesday, Feb. 28 (Edmonton),

O'Brian's Event Centre on Friday, Mar. 2

BY CHRISTINE LEONARD

high five, and try to explain that if this blip of an existence isn't

the coolest thing in the universe, I don't know what is. But,

we do acknowledge the darkness. Because if you don't see the

desperation in life, you might be missing out on living a little

bit of it."

Pizza Bath will celebrate their EP release show on Saturday, Feb.

17th at Nite Owl (Calgary) with Abductees, Old Wives and All

Hands on Jane. Abductees will also be releasing a new recording

that night!

20 | FEBRUARY 2018 • BEATROUTE ROCKPILE
---
THE SHEEPDOGS

exploring multiple shades of rock 'n' roll

The Sheepdogs released 'Changing Colors' on February 2.

Damn near everyone can croon the iconic

Tom Petty and the Heartbreakers line:

"The way—eh—ting is the hardest part"

(emphasis on the waiting… and waiting).

The adage runs true in the classic rock

track as it does in life. Just ask The Sheepdogs'

front man Ewan Currie. Their new

record 'Changing Colors' finally dropped

on February 2, and according to him, it's

about time.

"Truthfully, it's like 'Get the damn thing

out already.' It's been done for a while and

we just want people to hear it," he says.

Although it's only been three years since

their previous offering 'Future Nostalgia,' he's

excited for the changes the band implemented.

"It's because we're excited about it. I always

loved when a band would make a big, sort

of sprawling album with all kinds of stuff you

can sink your teeth into, so that's kind of

what we did. I hope people dig it and I think

they will."

'Changing Colors' isn't so much a departure

from the band's pleasant brand of bluesy

rock 'n' roll as it is an addition, incorporating

smooth pedal steel hooks, groovy horns,

funky bass lines, and other unique sounds.

Did BROS (Currie's side project with his

brother and Sheepdogs keyboardist Shamus)

influence the sound of 'Changing Colors'?

"I think it did to some degree. We made it

in the same place where we made our BROS.

record," Currie responds.

"And I think what that BROS. project did

was expand our palette and open our minds

a little more to different sounds and different

BY TREVOR MORELLI

ways of doing things."

Another layer on 'Changing Colors' is the

addition of multi-instrumentalist Jim Bowkill,

who joined the band in 2015. Currie believes

Bowskill adds a texture to The Sheepdogs'

sound that elevates them to another level.

"He actually helped me write a couple of

songs straight up so that was pretty huge,"

Currie remarks.

"He's a crazy talented, amazing guitar

player. He's also a very good singer. He sings

a lot of backups and stuff. He's also a really

tremendous pedal steel player. He's a fiddle

player and plays mandolin. We really wanted

to take advantage of those instruments."

Bowskill's luscious pedal steel playing can

be heard on mellower tracks like "Let it Roll",

while Currie and the boys crank up the guitars

for a rollicking good time on first single

"I've Got a Hole Where My Heart Should Be".

Without question, Currie and The Sheepdogs'

hearts will be into every show on the

band's upcoming Canadian tour. They're glad

to be out touring the country even though

the weather was less than favorable for the

first month of the year.

"It's a great time to tour Canada. Summertime

is the time when everyone's taking off. I

think it's actually the best time. It helps that

we've got a tour bus we'll be on."

Catch the Sheepdogs performing Tuesday, Feb.

20 at Union Hall (Edmonton), Wednesday, Feb.

21 at The Palace Theatre (Calgary), Thursday,

Feb. 22 at Cadillac Hall (Cadillac), Friday, Feb. 23

at O'Brian's Even Centre (Saskatoon) and Saturday,

Feb. 24 at the Burton Cumming's Theatre

THE HEIRLOOMS

avoiding genre traps and keeping momentum

Seeking to create something honest,

something reflective of internal struggles

and the satisfaction of overcoming them,

Calgary indie-psych-rockers The Heirlooms

are on the verge of releasing their latest

single, a teaser of their new album to come

in 2018.

The four-piece, fronted by Kat Westermann,

have released three albums, each

building upon their mellow, rainy day vibes

while incorporating something new. Clean

guitar riffs rise around subtle drum beats

and lilting keyboard melodies to create a

soundscape conducive to moonlit drives and

introspective contemplation of the sunrise.

At times, though, the pace picks up and leads

to something more upbeat; like a folk anthem

begging the listener to enjoy life despite the

ups and downs.

"I think all of us really just want every song

to be somewhat different, and that leads us

to having quite the diverse set list to play in

terms of having different emotive qualities

for different crowds and different places,"

Westermann remarks.

"In that way, it's kind of nice that we've

avoided falling into one particular genre or

another."

In the first week of March, The Heirlooms

will be releasing a brand new single which

they have been working on throughout the

winter. The track (or tracks, as it may be) is

Calgary psych-rock group drops single and hints at album.

BY JODI BRAK

going to be a glimpse into their latest full

length release which is planned for release

later in the year.

"One of the songs we will be recording we

actually just wrote about a week ago!"

Westermann says, "it just felt like it was

way too good to not record right away, we

were all quite excited about it."

"The first one we are recording is called

"Feel This Out," and it's a really fun sounding

song, but the lyrics are actually about having

horrible social anxiety," she says, with a bit of

a chuckle.

"It centres around how sometimes what

you say and what you feel in a situation kind

of contradict each other. The other one is

called "Hear Me Now," and it's about coming

out of a funk… How coming out of that period

of introspection can actually make you

stronger. It's a very fun, beachy type of song.

It's super groovy, and there is a drum solo!"

These new singles will be the first releases

from The Heirlooms to feature some new

instrumentation they are experimenting with,

namely organs and more pronounced keys

and piano interspersed throughout the songs.

Catch The Heirlooms on Saturday, Feb. 24 at

The Ironwood Stage (Calgary), and stay tuned

to their Facebook page for their newest single

release on Friday, Mar. 2, along with a show at

The Palomino (Calgary)

22 | FEBRUARY 2018 • BEATROUTE ROCKPILE
---
54-40

Canadian greats keep on walkin' and rockin'

Over the last few years, CanCon rockers 54•40 have revealed

a more intimate side of themselves through acoustic

shows, which feature their classic hits reimagined with expanded

yet familiar arrangements.

Regardless of whether it's one of these up-close-and-personal

theater shows or a more traditional rock show, the band is excited

to just get up and play for people, even after nearly four decades

as a band.

"Well, we want to do both," says bassist Brad Merritt with a

chuckle.

54•40 has blended many different styles into their impressive

catalogue spanning eleven studio albums. "One Day in

Your Life" starts with concise country-style finger picking

before exploding into a catchy chorus, while "Since When"

employs '70s keyboards to get your head nodding to its infectious

pop rhythm. The reimagined versions on 'La Difference:

A History Unplugged' (2016) integrate violin, guitar, banjo,

mandolin and more.

"We want to do it all. We've been at this for 37 years and we're

still ambitious. What it comes down to is we love it. It's kind of a

natural variety for us, and it feels good. It's like putting on a comfortable

pair of shoes or something."

Merritt says the smaller venues and close atmosphere took

some getting used to, but now the band is glad they have the

option to do either acoustic or electric gigs.

"It took us a little while to sort of adapt and do these acoustic

performances. You're kind of laid bare, you're out there quite

GOOD RIDDANCE

hitting up Alberta for the fans

Reunited Going on in 36 the years pursuit as a of staple punk of rock Canadian thrills music.

ROCKPILE

BY TREVOR MORELLI

naked, exposed. There's a lot

of space, and so it's more of an

intimate kind of experience, not

just for the audience, but for us

as well."

In the beginning, it took a

lot of long days on the road for

54•40 to make a name for themselves

but now they're in a place

where they can be themselves

and choose the gigs they want

to play.

"There was one tour where we

did four shows in Missouri, if you

can believe that," recalls Merritt.

"You probably can't name four

cities in Missouri. Last year we

did 42. And that's kind of a nice

number for us. So once again we

kind of say yes to some things

and others we say 'Maybe we'll take a pass for now.'"

He adds: "And I don't take that for granted. It's a nice place

to be."

On January 26, the band released a new album dubbed 'Keep

on Walkin'. The album demonstrates that the band is absorbing

the diverse instrumentation style of their 'La Difference' recording

and live experience, incorporating more sounds and styles into

Santa Cruz punk group Good Riddance are

heading north for a few select shows this

February.

Known for their infectious mix of melodic,

hardcore punk rock punctuated by politically

and socially conscious lyrics, Good

Riddance's sound sound is rooted in fast,

up-beat tempos, heavy riffs and drums, tied

together with harmonic vocals. Although

they disbanded in 2007, it was only a short

while later in 2012 that they reunited for

what many thought would only be a handful

of shows. Six years later, they're still at it.

"Yeah, we had no idea we'd still be doing

this, [in 2012] we decided to practice and

see how that felt, and that was a lot of fun.

So, we decided to play a show. And it's kinda

been like that ever since, just not making any

long-term plans. There's not really any career

arc anymore. There's no we gotta do this

and we gotta do that, now it's more that we

enjoy it," explains vocalist Russ Rankin, who

helped form the band way back in 1986.

"We all realize that we're incredibly fortunate

to have this opportunity, even in the

limited capacity that we have now. We're doing

it because our fans are so awesome. The

response that we've gotten since we started

playing shows again, that's what's cemented

their music than ever before to bouncy, pop infused results.

Merritt says a full-blown electric Canadian tour in support of the

record should be coming in the fall; meanwhile, the soon to occur

tour is unplugged.

Catch 54•40 live and on stage Wednesday, Feb. 14 at the Bert Church

Theatre (Airdrie), Thursday, Feb. 15 at Bo's Bar and Grill (Red Deer).

BY SARAH MAC

for us that we made the right decision."

In 2015, Good Riddance released their

eighth full-length album, 'Peace in Our Time.'

With their new slower pace, a new album

seemed an option, though unlikely.

"I don't think it's out of the realm of possibility.

But, back in the day, that was our job

and all we did. Now, we're taking it a day at

a time and enjoying it. But, as a band who is

used to getting together and throwing ideas

at each other, at some point we need to play

new music. We aspire to be creative and

have new stuff to play. So, it wouldn't really

surprise me at all if there was something

new. And if there is, we'll embrace it and see

where it goes."

Regardless of when new music may or may

not arrive, let's focus on the present – we get

to see them live. Let's not take it for granted,

Alberta!

"There's been a lot of people in Alberta

that have been wanting us to come back

for a while, so we're pretty stoked for these

shows."

Good Riddance performs on Friday, Feb. 2d

at the Forge (Edmonton), Saturday, Feb. 24 at

Dicken's Pub (Calgary) and Sunday, Feb. 25 at

Wild Bill's (Banff).

BEATROUTE • FEBRUARY 2018 | 23
---
AMYTHYST KIAH

Southern Gothic swings due north

BY ANDREW BARDSLEY

BEGONIA

a flower in the frost

BY DEICHA CARTER

From deep within Bayou country, self-proclaimed Southern

Gothic songstress Amythyst Kiah speaks about new music,

inspirations and connecting with her audience. Kiah is ready to

enrapture audiences with her powerful voice and passionate

stories of love, loss, passion, and trauma. With songs like "Dark

Holler" and "Doomed to Roam" Kiah has firmly cemented her

place as a writer for the ages. Residing in Johnson City, Tennessee,

Kiah is a powerful voice within the bluegrass and folk community.

Her voice and touring band – Her Chest of Glass – have recently

returned from a European tour where her 2013 album Dig has

found a devout audience.

Amythyst Kiah has been playing guitar for most of her life but it

was at East Tennessee State University where she went from song

writing to traditional music.

"It went from me song writing into interpreting old traditional

songs and reinterpreting them," Kiah says over the phone from

storied recording studio, The Cypress House, where she is working

with acclaimed musician Dirk Powell.

Kiah is currently on a follow-up album to Dig, and taking her

time in the process. A big roadblock was her own reluctance to

co-writing. "I was writing the songs, but it wasn't in the way I'd

wanted. And I'd heard obviously of people who co-write all the

time and I think a part of me that was a little apprehensive to

open up."

Kiah's music is devoutly traditional, but her listening habits

are broad. Her top three favourites are Tori Amos, Bjork and

Radiohead. "These all rotated in my CD player because I liked their

songwriting style. It was nonlinear, and each verse of their songs

emoted a feeling, each word choice has a gripping metaphorical

meaning. And so when it came to traditional music, I came to find

that there was a lot of those same themes of struggle and pain."

Regardless of background, individuals should aim to have a fullfledged

human experience, and her music strives to reinforce this.

"I've had people of all ages, and colours and religions come up to

me and say what they felt was authentic and they felt what I was

saying and they appreciated it. And because we are all human and

because we have emotions and have struggle and I hope to connect

with those people and that people feel a sense of humanity."

Kiah has recently been collaborating with acclaimed folk singer,

Rhiannon Giddens, co-founder of the Grammy Award winning

folk band, Carolina Chocolate Drops. This new project – spearheaded

by Giddens – Songs of a Native Daughter, is based somewhat

off James Baldwin's Notes of a Native Son, which is a 1955

collection of essays dealing with issues of race in America.

"In this particular project, the focus is to look historically at

things that have happened that people aren't necessarily willing

to have discussions about in a way that is healthy and honest. Our

goal is to look at some of these themes and create songs that people

can sing to, can dance to, tap their foot to, but also talk about

some of these themes."

Kiah uses her voice as a powerful connection to the past but

also to an innovative story-telling future. With raw intensity and a

guitar, Amythyst Kiah is a sound that travels north through from

the Deep South via the Appalachians.

Amythyst Kiah performs Saturday, Feb. 17 during Block Heater at

the King Eddy.

Winnipeg pop queen Begonia, the stage name of singer Alexa

Dirks, takes us on a bright, ethereal, hard-hitting journey

with her debut EP Lady in Mind. With a quirky blend of old soul

and new-age production, she turns contemporary pop on its

head. It feels like you're listening to a one-woman rendition of The

Commitments, transmitting from an abandoned prairie synthshack.

The single "I Don't Wanna Love You" is a moody doo-wop anthem

drenched in slippery hammond organ, perfectly highlighting

the chemistry of co-producers Matt Schallenberg (Royal Canoe)

and Matt Peters (Royal Canoe, Close Talker). Spouting out search

and destroy storylines with "If I could dream I had teeth like a

tiger, I'd make you scream, drown ya in the mud. And on the news

they'd call it friendly fire, but we would know what it was all made

of", you know this tigress is all too-capable to lunging right back.

Dirks provides an adorable disclaimer saying the song is "basically

the best I could do at writing a diss track."

"Hot Dog Stand" and "Juniper" dive deeper than conventional

pop songs, reflecting darkness, vulnerability, and "not really know

what the hell you're doing in life," reveals Dirks. The debut recording

spotlights her step forward as a solo artist - previously with

Chic Gamine, Juno award winners.

"It was kind of like flipping the switch. [realizing] that I could

write anything I wanted and when I step on stage I get to say

exactly what I want to say," says Dirks. However, there's still an

abundance of collaborative elements in her music. "I'm not really

the type of songwriter that can throw a guitar in the back of my

car and head across Canada on my own. It's just not my style and

I really respect people that can do that. I would just be too lonely,

so there are people that I get along with that I can create and play

music with. You just find a way to surround yourself with people

that make you feel creative and passionate. It's a different bag that

I'm learning."

Begonia performs Saturday, Feb. 17 during Block Heater at Studio Bell.

26 | FEBRUARY 2018 • BEATROUTE ROCKPILE
---
JUSTIN TOWNES EARLE

nuthin' but the straight dope

Throughout his decade-long recording

career, singer-songwriter Justin Townes

Earle has defied expectation by sticking

to a mainly straightforward amalgam of

classic roots styles – never aiming for the

pretentious or chasing that "big leap" to

the mainstream. His records have always

sounded spare and unflinching, a really

live-off-the-floor feeling of a songwriter with

exactly the right pieces to fill out a song on

any given cut.

There's long been a natural bluesy vibe in

Earle's work, though not the wanky blues

hammer bullshit that so many artists trot

out. Earle cuts closer to the bone, deeper

than a lot of artists dig, relying on the

elemental groove and rhythm of the style

instead of the flashy instrumental gymnastics

of modern blues. In hearing Earle play a blues

number, like "15-25" from his most recent

album Kids In The Street, it's easy to imagine

what Hank Williams might have sounded

like had he lived long enough to record at

Chess in Chicago in the mid-50s. Likewise in

his ability to deftly run through a bluegrass

barroom weeper like "Faded Valentine", or

the mix of hop-along folk with western swing

on "What's Goin' On", Earle has distilled the

classic styles of American folk music down to

the essential ingredients.

Helping Earle bring Kids In The Street up

was veteran Mike Mogis, perhaps best known

ROCKPILE

BY MIKE DUNN

for his work with Bright Eyes, Rilo Kiley, and

M. Ward. Mogis's touch is evident in some

of the arrangement choices, adding sonic

touches that bring a new edge to Earle's style,

including the gritty textures on "If I Was The

Devil" and the solo upright bass workout

on "Trouble Is". In addition, a few interesting

choices on the country rock cuts "Maybe A

Moment" and "What's She Crying For" will

appeal immediately to fans of Alberta prairie

country.

It's a busy life for artists, especially ones

who've likely had to answer the same questions

over and over again year in and out.

New West Records made an admirable and

appreciated attempt to connect BeatRoute

with Earle, and I waited all evening to see

if he'd get back to me. Earle's a hell of a

songwriter, and probably a hell of a guy to

those who know him best. It would have

been great to have some straight dope from

the man himself. Fingers crossed for another

time. Perhaps then I'll get to tell y'all more

of what Justin Townes Earle has to say about

making records and being on the road from

the wizened tenor that hitchhikes from

Texas to Tennessee. Right now, all I have is a

voicemail greeting that calmly warns, "Don't

waste my time."

Justin Townes Earle performs Friday, Jan. 16 at Studio

Bell during Block Heater.

DELHI 2 DUBLIN

as desi as they wanna be

What happens when you slam together

all of the most visceral dance music you

can find? You get Vancouver's Delhi 2 Dublin, a

world-binding fusion of Bhangra, hip-hop, Celtic

reels, and electronic. That's exactly the kind of

spicy Canadian Masala that the five-piece have

been serving up since the group's inception at

the Vancouver Folk Festival over a decade ago.

Following that fateful meeting, tabla player and

beat wizard Tarun Nayar, dhol/dholak virtuoso

Ravi Binning, and vocalist Sanjay Seran, have

been steady churning out groove-filled albums,

including the bombastic 'We're All Desi' (2015),

and bringing electro-clash dance parties to

festivals around the globe.

"The whole 'Where do we fit in?' thing has

been really hard for us," says vocalist and lyricist

Sanjay Seran.

"It's a blessing and a curse. We fit everywhere,

so we're able to take a lot of gigs and we're

always booked. And, we're grateful for that, but

the curse is not fitting here, there, nor anywhere.

It's a constant battle. We're coming up on 12

years as a band in March and the core of the

band is still together and getting along."

The same identity crisis that makes their offerings

so unique as feeds back into the band's own

internal culture.

"We've done a lot of self-reflection and

soul-searching about the confusion of being

born in Richmond," Seran continues.

"It's a pretty affluent suburb of Vancouver,

BY CHRISTINE LEONARD

which means I grew up pretty sheltered, yet

I grew up as a Brown kid born there. I didn't

experience a lot of racism, but most of it had to

do with the embarrassment of hiding my culture

– from the smell of the cooking, to the clothing.

So, you're walking through life, trying to figure

out who you are."

The journey of unraveling that age-old

mystery has revealed some important truths

to Delhi 2 Dublin. And while their mid-career

identity crisis is not entirely resolved, the

turntable-and-tabla outfit has emerged from the

conversation with a renewed sense of purpose.

"We do have a lot brewing under the hood.

We're hard at work on writing a new album right

now and we're stoked. We're scrambling like

mad to get a single ready to drop in February,

but otherwise we're working on trying to get the

best songs we can," says Seran, who welcomed

violinist Serena Eades into the trio's touring

compliment.

"Lately, we've been honing in on the idea of

'Sub-continental Pop.' Delhi 2 Dublin really resonates

with this. We spent a bunch of time talking

about and I feel like we're more focused than

ever. Finally, we feel like we fit into this weird

world we've been juggling. Everything's getting

better and better. Maybe we were ahead of our

time. I will reflect on that."

Delhi 2 Dublin perform at Block Heater on Friday,

Feb. 16.

BEATROUTE • FEBRUARY 2018 | 27
---
EDM ONTON EXTR A

HARTCOURT HOUSE

three decades of art and debate... with new adventures now!

Harcourt House has two new exhibitions opening in February.

There will be no vainglorious celebration

for Harcourt House's 30th year

of serving the Edmonton community.

The proud yet humble institution, which had

its beginnings as a one-off fundraiser for the

victims of the Black Friday tornado of '87, will

simply continue to do what it does best: support

the contemporary visual arts community.

Despite no official celebratory event, there

are some big plans for the future and some

engaging exhibitions opening the 2018 season.

Opening the season are two exhibitions:

MACROMEA, by Alana Biffert and Marta

Gorski in the Main Gallery, and The Book

Of Seven by Stephen Ferris in Harcourt's Art

Incubator Gallery.

"There is a process of pairing the two galleries

together," explains Jacek Malec, Executive

Director of Harcourt House who has recently

taken the helm of this venerable ship.

"We look at the works to either compliment

or engage and be an extension to a

discussion, or to provide a kind of a musical

counterpoint. Like the two opposite polar

elements."

MACROMEA is a modular work consisting

of images silk screened on canvas or printed

on vellum, hung disorderly from the ceiling

with cast glass panels separating the viewer

from the scene. There is also a lens through

which to view the piece. The Book Of Seven is

a series of explorative and intuitive paintings

that capture a cacophony of mental formations

that roil in a dizzying array of snaking

lines.

The presentation in these two divergent

pieces is certainly a counterpoint to each

other. The two exhibitions are a "dialogue

with the inner and outer world. Inner notions

embedded in our minds, more kind of elusive,

and the outside world, more empirical which

you can define."

"Alana [Biffert] and Marta [Gorski's] exhibition

is more of an inward thinking element,"

Malec elaborates. "How people evaluate

each other. How people perceive each other.

An analysis of who we are as human beings.

Global culture. How we are integrating with

each other... A more structured work. Clearly

defining the experience through a lens."

MACROMEA is dimensional and ambiguous,

creating an uncomfortable distance that

resists bridging but demands the attempt.

In contrast, Ferris' The Book Of Seven is

empirical, "more of an analysis which brings

the horizontal element graphically." With it

you get a density, which is obscuring yet inviting

to investigate. It is a work that is personal

and curious, a "bombardment of information.

An organized disorganized chaos." When you

encounter it, instead of stepping back, you

must get closer.

As you analyze the exhibitions more closely

you begin to hear the dialogue forming in the

shared space, which is exactly to the point of

the matter in the relationship between the

exhibition, the gallery space and the viewer.

"The exhibition is really the artwork within

the artwork," explains Malec. It's a concept

developed by French novelist and philosopher

Honoré de Balzac, who explored the notion in

his 'La Comédie humaine' multi-volume series

exploring the interconnectivity of French

society in the tumultuous 1700s. "The human

condition of us in that multi-faceted society

bombarded by so much information."

This concept is present in the way MACRO-

MEA uses the body, lenses and cast glass to

show how distorted our perceptions of each

other become when filtered through materials.

It's a focused work. The Book Of Seven, on

the other hand, is expansive and distorting in

its elusiveness. It contains the breadth of individual

experience in a wash of information.

BY MICHAEL PODGURNEY

Experiencing these exhibitions together is

all part of the work of the gallery.

When it comes to explaining the sometimes

confusing and ambiguous goals of art,

Malec muses, "It's that spark between the

object and the viewer. Is the artwork really the

artwork?"

It's the energy you share with the artwork

that completes the whole process. You become

part of the environment of the exhibit.

Your reaction or malaise becomes an element

of the exhibition. Don't try to get it all at once,

because "getting it" might not be the point.

Engaging in it is the key. "If you go to view the

piece and you ignore it," says Malec, "That is

tragic."

Left in the wake of a financially shaky 2017,

Malec has been working strategically to maintain

Harcourt House's viability, and is likely to

steer toward international waters. He brings

an expansive vision to go along with the

sustainable business model that has kept the

gallery/studio space alive for 30 years. Along

with the 42 affordable studio spaces that constitute

the largest space of its kind in Western

Canada, there are plans for growth.

Malec established an international art

exchange program at his previous gig as Executive

Director of Contemporary Calgary and

believes Harcourt House can also benefit from

the international exchange of ideas. By 2020,

he aims to have a program in place to export

local talent and import a few goodies as well.

There will be a new gallery opening soon and

he hopes a vision of creating a research library

for the arts community at large can be established

somewhere in the space. All of this,

says Jacek, in an effort to provide artists with a

"sustainable environment for their professional

growth."

Malec will also be working closely with

Edmonton Design Week to bring the newest

ideas from Edmonton's architecture and

design communities to the public. He believes

that architecture and design are sorely underrepresented

in the public discussion of art in

Edmonton and hopes that the initiative will

help to foster a discussion.

"When you look at the Harcourt we are

providing the forum for the debate," Malec

points out. "To stimulate or compel the public

to be part of the discussion or debate."

The official opening of MACROMEA and The

Book Of Seven is on Wednesday, Feb. 7 at 7 p.m.

at Harcourt House (Edmonton). Opening day will

feature talks by Marta Gorski and Stephen Ferris.

Admission is free.

28 | FEBRUARY 2018 • BEATROUTE ROCKPILE
---
FITNESS

bodies in motion

Emotional yet feverish art pop debut their full-length 'ing'

PHOTO: MAX PARAN

New(ish) art-pop rock trio Fitness are

"I mean Fitness plays into that body concept,

body image and how our bodies don't

exploring body awareness on their new

album titled 'ing' (pronounced "dashing). really belong to us," explains Swan-Azmon.

With the over-arching sentiment "bodies are "We're constantly being bombarded with

weird," in mind, the conversation was physical. ideas about how to present our bodies, what

Guitarist and lead singer Keanan Swan-Azmon our bodies should look like and how they fail

went along with the concept.

to meet that standard."

The strength in Fitness lies in their ability

to find melody (and extremely catchy

hooks) within relative chaos. Their live set

contains peaks in energy, where Swan-Azmon

appears to be losing his lid, but in

a moment's notice drops to emotional

catharsis, leaving the audience with an understanding

into the frontman's psyche in a

stunningly dynamic twist.

Drummer Sam Leuck met Swan-Azmon

in Medicine Hat through a few fruitless jams.

After both moving to Edmonton several years

later, they found bass player Devin Murphy-Hopp,

who fit in perfectly.

Fitness's sound is largely shaped through

dissonance, complex rhythms and the openness

for experimentation.

"I think a lot of the songs are very personal,

passionate and emotional," reveals

Swan-Azmon.

"But also, at least for me, there's two voices

competing in the songs. There's someone

who's like, 'I'm suffering look at my pain and

all these things.' Then there's someone, this

sort of voice that's trying to remind. I'm trying

to remind myself that my pain is very specific

to a context and not as grand as I like to think

BY KENNEDY PAWLUK

of it at times. So grappling with sincerity,

trying to be sincere but always reminding

yourself."

"For me I really found Keanan's song writing

has very challenging rhythms, and I found

that's left me with a lot of room to experiment,"

adds Leuck.

"As opposed to playing in a garage rock

band, which is something I've done in the

past. This feels way more like, as a three-piece

we each have a little more of an individual

voice which I really like about it."

With a lack of constriction among the

members in the band and a fraught approach

to avoiding one certain genre, Fitness may

not explicitly write about the human form

but they embody a positive mentality going

forward.

"Maybe Fitness is more than being in good

shape and kind of more about being happy

and healthy," concludes Leuck.

Fitness' highly anticipated debut album will be

released digitally and on cassette at the Buckingham

on Friday, Feb. 23 (Edmonton). The show

will also feature performances by local emotional

rockers Wares and Lethbridge post-punks Wint.

ROCKPILE

BEATROUTE • FEBRUARY 2018 | 29
---
ZEBRA PULSE

ten years on and not a single "song" has been written

Weirdo noise crew probably no longer welcome at MacEwan.

Since their inception, Zebra Pulse has been

straight-out wacky. Looping vibrator

drones, mic-ing a cooking fish in a microwave,

vacuums, popcorn makers, Game Boys, typewriter

percussion among others; Zebra Pulse

will use anything that makes a sound as a tool

for experimentation.

Their first appearance as a three-piece was

at the West Grant MacEwan Community

College campus cafeteria on Valentine's Day.

"Owen (Strasky) was organizing this open

mic noise performance to kind of fuck with

the music students," recalls multi-instrumentalist

Parker Thiessen.

"There was one point where the company

that runs the cafeteria tried to shut us down, but

the guitar teacher came and defended the whole

thing like, 'this is an art school, deal with it!'"

After establishing themselves as Edmonton's

favourite weirdos during their first four

years as a three-piece, bleep blooper Strasky

describes the change after adding drum guru

Sean MacIntosh.

"When Sean joined he increased the flavour

so much," says Strasky.

"It was like adding Montreal steak spice

or something. It just brought it all together

'cause lots of times before we would have

these long nebulouss jams. Sean really brings

a more solid rhythm to everything."

Nebulous jams aside; there have of course

been ups and downs throughout the group's

kooky career. Take for example a venue's decision

to drop them off a bill so a hockey-viewing

crowd wouldn't be scared away.

"What's really funny though," reveals Thiessen,

"is that eventually I had a weekly DJ set

there and they would come talk about Zebra

BY KENNEDY PAWLUK

PHOTO: PEARL GREY

Pulse to me unknowingly, being like 'Those

guys are never allowed in here.' I just wanted

to like rip a mask off and be like, 'It was me

the whole time!'"

"I kept thinking about this nude calendar

release for MacEwan where we stripped down

to our underwear while we played," explains

third founding member Dave Schaefer. "That

show was full of people who definitely did

not like our music and it was probably super

weird that we stripped throughout the set.

It's funny this punk and metal bar couldn't

handle it. We went in thinking it's a nude

calendar release, so it'll be a bunch of art students

but instead it ended up being people

in gowns and suits, rich donors to MacEwan

They still stayed and tolerated the whole

thing. We played for two hours."

Over their ten years Zebra Pulse have

played hundreds of shows. Gigs including

opening for noise legend Merzbow and '70s

psych rockets Nick Turner, a child's first birthday,

an LRT station, and a set at Wunderbar

in diapers. They've performed in oversized

blow up suits and are even sometimes nearly

naked, leaving fans weirded out but satisfied.

The band's ultimate advice: start a bullshit

band with your buds, don't take it too seriously,

don't plan too hard, hangout as much

as you can outside of the band, watch Flea's

instructional bass video from the '90s and

never write a song.

Zebra Pulse celebrate their 10th anniversary on

Thursday, Feb. 15 at the Sewing Machine Factory

(Edmonton) with Boothman and Limina. The

show will also feature the reease of Boothman's

new cassette 'Boothman vs. Time' and the

THE ORDER OF CHAOS

metal band writes for passion, not profit

Perfectionism is an element of most creative

minds, but even the most particular

of musicians can find peace with their creations.

Thrash metal four piece The Order of

Chaos are releasing their new EP Night Terror

and it's the first time John Simon Fallon,

founder and guitarist, has been truly pleased

with the final product.

The band has been an important part of the

metal scene in the greater Edmonton area for

somewhere between 12 and 14 years. Like most

bands, they've had their fair share of line-up

changes and challenges, but the passion to

make music outweighs all else. Fallon spoke of

the band's humble beginnings in the all-ages

punk and metal scene of Stony Plain, chronicling

their transformation all the way to playing

a headlining slot at Midi Festival in China.

"I've been fortunate enough to be surrounded

with great people the whole ride," says

Fallon. "The labels in Europe that helped us out,

the local promoters who gave us a chance to

play some bigger shows and learn the ropes. It's

testament to the Alberta music community."

Over a decade deep into the band's career,

they've released three full-length albums and

two EPs once Night Terror is out this month.

While some may say their sound is indefinable,

one thing is for sure: they can shred. Their

instrumentals feature wild chord progressions

and dexterous speed picking, while vocalist

Amanda Kiernan eases in and out of melodic

purrs, harsh growls and soaring howls.

"We don't have the elaborate music education

as a lot of the bands in Finland," explains

Fallon. "Kids over there are trained at a conservatory

level by the age of six, playing incredible

arrangements. For us, we all developed our

The Order of Chaos release 'Night Demon' in February.

BY BRITTANY RUDYCK

own style by not having a frame of reference to

what was happening outside our community at

the time. We're pretty isolated here. So we just

practiced and created something we thought

was special. When we did get into the international

scene, we realized how important that

isolation was to our sound."

Despite being okay with having an unconventional

sound in the metal world (2011's

'Burn These Dreams' includes a self described

bluesy rock track, "Guns 'n' Order"), Fallon

insists the band will always write what appeals

to them over writing to appease the marketing

overlords. Although with Night Terror, they may

have found a happy medium.

"I'm generally not happy with anything we

put out. I'm the worst critic of course," Fallon

admits. "I think that's why music has always appealed

to me; you can never perfect it. But with

this EP, there was a sense of accomplishment.

We finally developed into the sound we wanted

and we didn't have to force it."

Fallon's understanding and acceptance of the

creative journey being rife with imperfection

and sometimes difficult growth lends itself to a

career worth witnessing.

"I don't know if anything is going to sound

like Night Terror going forward. But I'm happy

with it. We learned a lot while making this EP;

we became more conscious of who we are as a

band and I think that's why I feel so proud of it."

Join The Order of Chaos at the Mercury Room on

Friday, Feb. 23 (Edmonton) for their EP release featuring

Dahlmers Realm, Wolfrik and Sins of Sorrow.

They're also headlining Femme Fatale at Distortion

on Saturday, Feb. 24 (Calgary) with Caveat, Tessitura,

Traer and more!

PHOTO: BARRETT KLESKO

30 | FEBRUARY 2018 • BEATROUTE ROCKPILE
---
ANZU

adoring and paying homage to disco

Edmonton electronic duo ANZU

don't waste any time launching into

a nostalgic dance party on the opening

track of their new EP Without Love

Vol. 1.

"Cry, Cry, Cry" is soaked in disco

vibes with an up-tempo modern feel.

The new EP is out Valentine's Day,

which is symbolically irrelevant.

"The date just conveniently worked

out that way. Which is sweet; it

definitely fits the vibe," says Jesse Silkie

with a laugh. "It's a more cohesive and

focused sound. It's what we were really

looking for."

Silkie and his cohort Simon Belanger

spent most of 2017 incubating this EP,

drawing the spotlight away from live

shows to focus on creating music. The

pair recorded, produced and mixed

the EP and with help from Sam John

(Justice, Robyn, Chemical Brothers) for

their masters.

"I'm happy because we really invested

a lot of time into the production

of these EPs. I want people to

enjoy the music the way they want

to enjoy it, that's more important to

me than performing the songs live. As

long as people are enjoying the music,

that is number one."

The result is a five-song anthology

to pump up the fun. The infusion of

'70s and '80s disco soul spawn a groovy,

ADULT CARTOON PARTY

wild cartoons to tickle your fancy

Throughout their tenure, Metro

Cinema Society has always featured

strong programming, largely thanks to

the passion oozing from its curators.

Night Gallery is one of the most recent

additions to their programming, seeking

to "give Edmonton's film and video

nerds a home."

Inspired by Montreal's video lounges

and the campy midnight movie phenomena

of the early '70s, the project

was curated by Metro Cinema Facilities

Manager Allan Mulholland. He wants

to test if the secondary screening space

he engineered in the lobby of the

Garneau Theatre is a feasible way to

show content to an audience. Maggie

Hardy, a long time contributor to the

programming department at Metro

Cinema, is assisting Mulholland in

sourcing content for their upcoming

event dubbed Adult Cartoon Party.

ROCKPILE

What is best in life? Conan doom, of course.

energized album one can easily turn to

for uplifting times.

When asked about potential dates

out of town, Silkie let us down gently.

"It's tricky to tour when you DJ. We

learned that the hard way; you can't really

play rave music on a weeknight, especially

in a town you haven't played before."

Fair enough. However, 2018 is looking

up to be a big year for the duo, with

hopes to release the second and third

The duo has been working hard on

their visual mix tape sourcing material

from Super 8mm, LaserDisc, Betamax,

VHS and web rips.

"It's incredible what was out there,"

explains Mulholland.

"The collection will go through the

history of X-Rated adult cartoons. The

first film we are starting off with is a

short from the 1920s, which was a surprise

to me. It will be all over the map.

Things that I find interesting will colour

it, but I'm trying to keep it open. And

it all depends… The mix tape has to go

through the class board first!"

Without revealing too much Hardy

adds, "It will mostly be sexy, fun and

light-hearted. It is a party after all!"

The lounge atmosphere is an intentional

call back to early midnight movie

screenings encouraging social interaction,

as Mulholland clarifies.

BY CAROLINE REYNOLDS

PHOTO: NEAL MERRELL

installments of the series by the end of

the year.

"It's escapism. That's what dance music

is, you want to get into it, dance and

think about nothing but the music."

Check out ANZU live at the EP release

party on Friday, Feb. 16 at Church of John

(Edmonton) with Odd Child, Joses Martin,

Polyesterday and Kusch. Tickets are $10 at

the door.

BY NICOLE BOYCHUK

"You can sit or stand where you

want, as long as everyone is still able

to see – we set chairs out, but it seems

naturally people like to form rows

and that's fine! It should be whatever

the audience wants it to be," informs

Mulholland.

"We are providing it for their

enjoyment. We don't have a strict 'no

talking rule.' As long as you're not

interrupting someone's enjoyment,

it's all yours."

In vein of the experimental cinema

and video lounges, the bar is open late

and admission is inexpensive.

"Let's just all be friends, and enjoy

the late night!"

Night Gallery's sixth installment 'Adult

Cartoon Party' screens on Saturday, Feb.

17 at 11:59 pm at Metro Cinema (Edmonton).

Advance passes are recommended.

finger on the pulse of Dirt City

E

ven the most angsty cynic could get behind some of the

lovey-dovey crap comin' up in February for Valentine's

Day. Cynics aside, there are more than just sentimentally inspired

events taking place to warm up your cold, dead heart.

We can all rejoice now the Aviary is finally up and running!

Check out Jordan Norman & the Wisdom Teeth Feb. 3

for their While They're Still Hungry album release. Denim

Daddies are also releasing their single "Road Runner" on the

same night. All the twang.

Celebrate Black History Month for free at Metro Cinema on

the 4th at noon. They're screening a group of short films presented

by the National Film Board of Canada. The screening

runs 87 minutes and features a selection to simply scratch the

surface of Canada's rich and thriving black community.

Join the McLuhan House Artists-in-Residence Black Girl

Collective Feb. 7 for a discussion circle entitled: Entangling

Black Identity. The discussion will offer insight into the

experience of black people in Canada, predominantly Alberta

related to their hair. Hear from barbers, hair dressers and

more about the history of black hair care, misconceptions,

self-perceptions and transferring knowledge to the next generation.

Suggested $5 donation.

The Dream Machine Zine #4 release party Feb. 9 includes

queer & feminist poetry, a discussion on sexual harassment in

the workplace as well as a chance to experiment with making

your own zine! The Nook will be host to an art display by Jen

Lee, a presentation by Simone Alaine Polo and an open discussion

facilitated by Tab CA of the Sewing Machine Factory.

All genders are welcome. $10 at the door.

Mercy Funk's annual Love Fest takes place two nights this

year at the Aviary. The fun-loving party crew will be playing

some of their beloved originals as well as their fave covers.

Buy your advance tickets for Feb. 9 or 10 and dance your face

off in the spirit of love.

And then there's Valentine's Day. February 14th there's no

need to be lonely… if you care about that kind of thing. Just

go to 9910 where everyone is lovely and beautiful all the time.

For $15 go see Major Love and Amy van Keeken tear up the

stage. For $40 have a meal upstairs at the Common before the

show. Yum.

• BRITTANY RUDYCK

BEATROUTE • FEBRUARY 2018 | 31
---
february AT

wed

WAT PRESENTS

02/07

dj pump WITH teddy

celebration

tues

02/13

LIVE NATION

PRESENTS:

ENTER SHIKARI

WITH MILK TEETH

sun

02/18

thur

02/22

fri

02/23

MONSTER ENERGY AND BLUEPRINT ALBERTA PRESENT:

MOUNTAIN MAGIC TOUR WITH NEON STEVE

SKIITOUR AND SMALLTOWN DJs

FOURCE ENTERTAINMENT PRESENTS:

SonReal WITH GUESTS

Music Calgary Sound Off EARLY SHOW

sun

02/25

CYHI THE PRYNCE

WITH GUESTS

wed

02/28

COMMONWEALTH PRESENTS:

Amy Shark WITH MILCK

what a time wednesdays • world famous fridays • modern vintage saturdays

403-247-4663 731 10 TH AVE SW COMMONWEALTHBAR.CA COMMONWEALTHYYC COMMONWEALTHBAR
---
JUCY

BLVD NOIR

Habitat's collective DJ, live-band incarnation releases EP

Habitat's residents NOIR to release live EP.

In Calgary it's relatively unheard of for a DJ

night to release an EP, but such is the case

with NOIR, the monthly night at Habitat

Living Sound that fuses house music with live

instrumentation.

Inspired by their chemistry on stage, NOIR's

three residents Rusty Meeks (Casey McMechan),

Jared Andres, and Juicy Jamey (Jamey Lougheed)

decided to officially become a band under the

name BLVD NOIR. In March they'll release a

THE TEN PERCENT

photo book celebrates Calgary's female DJs

In January, Leigh-Anne Hazard released a new photography

book that showcases 63 self-identified female DJs in Calgary

which celebrates the history and triumphs of the women in this

city's DJ scene. Entitled The Ten Percent, its forward, written by

local DJ, producer and event planner Isis Graham (Esette) begins

by acknowledging that while there have been big changes in the

electronic music industry, there is still a stark divide that separates

men from women.

Citing research from Women in Music Professional Association

of Canada, Graham writes that less than 10 per cent of the top

music executives in Canada are women, the wage gap throughout

almost all levels of the industry are well above 10 per cent and

that many festival lineups contain less than 10 per cent female

talent, despite the "rising awareness of inequality within our

community."

The project represents a mammoth amount of work that took

place over more than three years from concept to physical copy.

"This whole project was a labour of love," says Hazard. "It wasn't

done for any other reason but that."

The photos were first displayed during the Alberta Electronic

Music Conference, and at first, Hazard had no intention of putting

them in the book.

"The purpose of the book was to put the photos somewhere

as a keepsake for each DJ in the book. That was it. I wasn't doing

it to sell a book, by any means, because I've never even printed a

photograph. I've never been able to print a photograph of mine

JUCY

PHOTO: LEIGH-ANNE HAZARD

five-track EP inspired by the night's jam-like,

improvisational nature.

"Literally the whole thing's a jam, which is

kind of the essence of what our night's always

been. We never prepare anything," says Mc-

Mechan.

"We tried to capture that a little for sure,"

concurs Andres.

NOIR began in 2013 with Andres and

McMechan DJing alongside local guests. Eight

months into their run they invited saxophonist

Lougheed to accompany them live.

Lougheed emanated from psychedelic rock

culture, in particular Deadhead culture that

extends from The Grateful Dead. Andres and

McMechan believe this worked in their favour,

giving Lougheed musical adaptability.

"Deadhead culture, I think, is a lot about

jamming and about spontaneity, and Jamey definitely

brings that element to it," says McMechan.

Combined with the backgrounds of McMechan

and Andres, this gave NOIR a unique diversity.

"It's right in the NOIR description, we all come

from pretty different backgrounds of music,"

explains Andres. "I started off as playing in punk

bands for years, then eventually psych bands

down the road, and now this."

With Lougheed cementing their vision for the

night, Andres began incorporating live congas

and tablas. The trio began jamming outside

of the club, leading to the idea of starting a

band. Other musical projects, however, kept

them from pursuing it. But the current format

approaching its four-year anniversary gave them

a new resolve.

In keeping with their style, the forthcoming

EP's five songs were forged by jam sessions

and hang it on the wall, I've never been able to commit to that."

The execution of the project is indeed a stunning accomplishment,

both in its content and the amount of foresight, coordination

and dedication required to bring it to fruition. The idea

began a few years ago when Hazard, who was then beginning

her foray into both DJing and photography, thought it would be

a great project to get Calgary's female DJs into a room together,

get their nails and hair done up and have vogue, black-and-white

photos taken of them.

"But when I really thought about it I wasn't quite ready to do it

— I didn't think I had the photography skills, and I also only knew

a handful of female DJs and so I kind of left it."

Then local DJ Molly Fi, who has run the Girls on Decks events

for a decade, "lit a fire under her bum" and encouraged her to

follow through with it.

The project was not easy by any means. Not only was it challenging

compiling the list of all female Calgarian DJs, but then to

convince some of the more hesitant subjects, and incorporate

them all, even the ones who had moved away from Calgary, was

a remarkable achievemen. Now complete, she has said that it has

led to community building, drawing these women together, creating

new relationships, business partners and support networks.

The Ten Percent book release took place at the McHugh house on

January 27 with limited copies available. Visit www.leighannehazard.

com for more information.

BY JONATHAN CRANE

at Lougheed's studio. The majority of the

percussion is live drumming by Andres, with

Lougheed alternating between the sax and the

guitar. McMechan manned the production

software, capturing everything and turning it

into loops in real time. The trio improvise then

decide on which elements to keep. This means

NOIR's fans will find the EP authentic to what

happens on stage.

"Jamie plays the sax on the EP exactly the

same way that he plays the sax live, and same

with the congos," says McMechan.

With the EP soon released on Bandcamp,

they hope to use it for festival applications. If

this comes to fruition they'll contemplate taking

their act onto the road.

"Depending on how the album release goes

and how people receive it, that could really bring

us one way or another," says McMechan.

Either way, the group is happy with their

achievements over the last four years. Many local

DJs made their debut at NOIR, and the group

pledges to keep this innovation, and the eclectic

blend of music flowing into 2018.

For information on the EP's release, follow BLVD

NOIR at www.facebook.com/noiryyc

BY PAUL RODGERS

BEATROUTE • FEBRUARY 2018 | 33
---
ROOTS

ELLEN DOTY

breaking trail

Ellen Doty releases 'Come Fall' on March 3.

is it" was the first thing Ellen

Doty declared after a demo

"This

session in Toronto that would lay

the groundwork for her new album 'Come

Fall.' As a result of creative experimentation

and growth through personal experience,

Doty has unearthed a stripped down version

of her already nuanced jazz-pop sound.

"We were in the studio with a six-piece

band doing this demo session of a song,

but even though they are all incredible [musicians]

it just wasn't sounding right," the

Calgary based Doty explains.

"So Davide Di Renzo [the producer and

drummer on 'Come Fall'] said, 'How do

you feel about just the three of us – piano,

drums, vocals – playing together.' So we

tried it, and it was magic!"

By pushing her artistic boundaries and refusing

to be placed in a box, Doty achieved

musical brilliance that sets her apart from

her peers. What she describes as "a mix

of jazz, pop, soul, indie, and folk," Doty's

sophomore album clearly proves her voice

knows no limits. But it is perhaps her modesty

and the purity of her intent to create

good music that continues to define her as

a blossoming Canadian artist.

As a nod to her talent, passion, and work

ethic, Alma Records came knocking, adding

Doty to their roster in 2017. Doty expresses

her excitement to be signed alongside artists

such as Phil Dwyer, Hilario Duran, and

Eliana Cuevas.

"I'm really honoured to be in a group

with so many Grammy-nominated and Juno

award-winning artists. I feel so lucky to be a

part of it!"

Doty admits she is no longer worried

about trying to fit into a certain genre. She

has adopted a "whatever comes out, that's

it" approach to creating music, demonstrating

you don't need to stick to one genre to

be a successful recording artist. Remaining

true to herself and conveying her distinct

creative vision are qualities that have, and

will continue to, do her well.

"Everyone has goals they want to achieve

as an artist and we all have those 'pie in the

sky' dreams to get a Grammy, but I think

just being able to make a living and enjoy

what you do everyday is a pretty special

PHOTO: BRENDAN KLEM

thing to have. I think everyone that chooses

a path like this knows that there's a good

chance you're not going to be wealthy and

rich, but rich in spirit. And I think that's

what's important."

Considering her grandmother lived across

the street from Nat King Cole and spent

countless nights dancing at the Hollywood

Palladium, it isn't hard to believe that Doty

was destined to become a musician. If it

weren't the jazz influence that runs deep in

her roots, then it was the universe conspiring

to bring her to the stage. Originally

pursuing a degree in Geology, Doty was

looking ahead to a comfortable future: one

that promised security in the form of a nice

house, a nice car, and nice things. But for

Doty, nice wasn't going to cut it.

"I was three years in and it was interesting,

but it wasn't what I loved," Doty

explains.

"That was the first time I hadn't really

been doing music. I had been performing

a bit on the side, but I wasn't practicing all

the time and I really missed it. My body and

soul were screaming 'no! Stop this!'"

BY ALIX BRUCH

Fate brought Dave Mancini, an accomplished

jazz drummer and composer, to

the Fairmont Palliser on an ordinary Friday

night in 2012, where heard Doty's mesmerizing

voice for the first time. Quickly recognizing

her undeniable talent, Mancini made

a move that would pluck Doty from the

path already laid at her feet and kick-start

her career as a singer-songwriter.

"We finished a set and he came up to say

hi and said, 'So what are you doing, do you

have an album, do you do this professionally?'

When I told him I was doing geology

in school and playing music for fun he said,

'You should be pursuing music as your job.

Take it from me, it's possible, you can do it.

And if you need help, I'd really like you to

come to New York and I'll mentor you and

help you get connected.' Before leaving he

told me he expected to hear from me, and

that was it. He called me the next week

asking when I was coming, and I told him

I would be there in September, which was

about a month later."

Doty stayed true to her word and took

the plunge, taking lessons at Julliard and

getting her feet wet as a professional musician.

And she hasn't looked back since.

"I really felt an urge to pursue it [music]

further and I think I just realized that if it's

something you are really passionate about,

you'll put more work into it than anything

else."

In addition to studying vocal jazz, Doty

has staked her place as a prolific songwriter.

Drawing from personal experience, Doty

injects raw emotion into her music, which

accentuates her vocal performance.

"Being vulnerable not only helps me

connect with the music but with people

too. A lot of people have shared experience

through grief, love, and loss, and finding

ways to communicate that through song

can be really powerful."

Further exploring the writing process,

Doty has taken an interest in collaborating

with other artists, including fellow local

musicians Danny Vacon and Scott MacKay.

"I wake up everyday super excited to

work on my music. I feel like I can put in

endless amount of hours and never feel

like it's work because it always feels like I'm

moving towards something that is really

important to me."

Ellen Doty releases 'Come Fall' on Saturday,

Mar. 3 at the Bella Concert Hall (Calgary). She

will also perform on Thursday, Mar. 22 at the

CKUA Performance Hall (Edmonton).

34 | FEBRUARY 2018 • BEATROUTE ROOTS
---
SOUL IN THE CITY

a seat at the table

As part of Black History Month, Soul

In The City is a collaboration of

artists setting a platform that speaks

to race relations, politics and inclusion.

Lynn Olagundoye, art and musical

director of the event, emphasizes not

only thinking about the past but what's

on the horizon.

"We're also trying to think of the

future – daring to dream, daring to

think out of the box, thinking of a

future where we all have a place at the

table and everyone is included."

Even Donald Trump, does he get

invited?

"Hahaha!" laughs Olagundoye.

"Never! But we do live in a world

where a country like the US is having

problems with race relations, which

they've always had, but it's becoming

that much more prevalent. Even in

Canada we're having similar issues, and

one of the challenges is having a deep

I AM THE MOUNTAIN

part of the tribe and feeling the vibe

and thoughtful conversation around

these issues."

The event itself is curated to weave

from one issue to another. Olagundoye

explains that "It seamlessly brings

together music, poetry and visual art to

tell a powerful story of resilience, struggle

and triumph. The overall intention

of Soul In The City is to contribute

to the community and help foster

connection through the use of various

art forms. And we're committed to

showcasing the amazing local talent

our city has to offer."

Local artists include singer-songwriter

Lynn Olagundoye, visual artists

Katherine Calnan and Shaleen Ladha,

poet-writers Pierre Mvono and

Priscilla Bukasa and the hip-hop duo

Cartel Madras.

Soul In The City takes place at Festival

Hall Saturday, Feb. 24.

Check out the video premiere for "Motorcycles" on BeatRoute.ca

Am The Mountain are set to release something soulful, funky,

I and complex with their latest EP, 'We're Here For Each Other.' This

short, six track affair is fresh, while playing on the nostalgic sounds

that make their music nostalgic and comfortable. BeatRoute is

proud to premiere the music video for the bubbly album cut "Motorcycles,"

which you can find at BeatRoute.ca.

Singer and primary songwriter Colton O'Reilly began the band

six years ago and has been performing, touring, and making music

with a steady cast of characters for the last three years. O'Reilly's

smooth, warm voice and soulful folk-inspired lyrics are paired well

with classically-trained trumpet master Keath Mueller, jazz bassist

and singer-songwriter Jesse Shire (Rosalind), and hip-hop and soul

ROOTS

PHOTO: HENRY ACTESON

BY B.SIMM

BY KAITLIN MOERMAN

influenced brothers Robin and

Jason Cillo, who play drums

and lead guitar respectively.

The seeds of the new EP

were crafted when Aacomplished

album producer Nils

Mikkelsen (AM Static) approached

O'Reilly to record after

hearing the band perform

their song "That Old Feelin,'" a

track from their 2015 offering

'While Off Adventuring," at a

live performance.

O'Reilly says the song is a

band statement.

It "sums up that familiar

feeling of our band's name, of

the songs we perform, of the

feeling you feel when you see

us live, all encompassed into I

Am The Mountain," he says.

The band's thoughtfully

crafted aesthetic and stage

presence demonstrated during their live shows cultivates a calming

ambience, which in turn echoes the laid-back attitude of their low

tempo bubbly rhythms. It's right there in the name of the album,

'We're Here for Each Other'. I Am The Mountain mounts the tunes

you want to listen to when coming down late at night, or to vibe to

when out on the road.

I Am The Mountain release 'We're Here for Each Other' on Friday, Feb.

16 at the Ironwood Stage and Grill (Calgary) and on Saturday, Feb. 17

at the Mercury Room (Edmonton). Admission includes a copy of the

album.

BEATROUTE • FEBRUARY 2018 | 35
---
SHRAPNEL

CORROSION OF CONFORMITY

through hardship to the stars

No Gods, No Idols, No Stage Diving

North Carolina's Corrosion of Conformity has seen a

lot of changes sweep the music industry since their

inception in 1982, and so it's only fitting that the punk,

thrash, heavy metal act has reinvented itself on more than

one occasion. Most notably, the comings and goings of

guitarist Pepper Keenan and drummer Reed Mullin have had

a significant impact on the tone and personality of the band.

Tracking their commanding presence, subsequent absences

and gradual reappearances is enough to give a music archivist

hives! Still the steadfast act has managed to survive and thrive,

from the early success of formative albums like Technocracy

(1985) to the definitive movements of In the Arms of God

(2005), the tenacious Southern-blues-rock phenomenon has

made a career of traversing genre-lines and outlasting trends.

Today Corrosion of Conformity continues to draw on the

same elements that have always been their calling card; solid

songwriting, intense collaboration and a pure unabated lust

SHRAPNEL

for working their audiences into a lather. And, judging by their

work ethic, it's evident that elder statesmen Keenan, guitarist

Woody Weatherman, bassist Mike Dean and Mullin aren't

quite ready to rust in peace.

"Don't get me started on the nightmare situation here in the

States. My God!" says percussionist Reed Mullin of the band's

current political outlook, noting that COC hasn't abandoned

its post, but is perhaps a bit more subtle in expressing their

views than in the past.

"We still touch on issues, but I don't think we're quite as demonstrative,

or finger-pointing, as we've been in the past. Not

to say we've abandoned things that we feel strongly about."

Judging by the strength of COC's first new album full-length

album in four years, No Cross No Crown (2018), the band isn't

running short on ideas.

"It's a long one isn't it? She's long!" Mullin exclaims with an

air of pride.

BY CHRISTINE LEONARD

"The new album definitely represents us and this chapter

in our history very well. We kind of feel like we can and have

done whatever kind of music we want. And haven't been

bound by our past or anything like that. Our name is Corrosion

of Conformity (I came up with the name in chemistry class)

and I think we remain true to the name. We've always been

into blending different things, because we like a lot of different

types of music. Luckily a lot of people grew with us. Our sound

is complex, it has a lot of influences, and a lot of ear-candy."

Mullin elaborates.

"The vast majority of, No Cross No Crown, was written in

the studio. Originally, we were going to demo the material at

our rehearsal space/studio and then we were going to take the

tracks somewhere else, like Dave Grohl's studio, to do what

was supposed to be the real tracks. But, as we went along,

the demo tracks just sounded so fucking good that we finally

asked ourselves 'How are we going to make this better? It

already sounds slammin!' Everything was really loose and not

over thought and I think that's one of the main aspects of this

new record. Captures the live essence of COC."

Bottling the lighting that is COC in-performance is one

thing, but bringing those recorded tracks to life on stage is

another ball of wax. Fortunately, by (the soon to be 52) Mullin's

estimation, getting back into tour-ready condition was as

simple as falling off a bike.

"We've been touring together again as this particular

line-up since 2014. This is a classic line-up and certainly

the most popular one, but if you ask an old crusty punk

rocker they'll probably disagree with you. We've had three

big incarnations as a band; the original '80s hardcore punk

version (so it was a little different), and then we did one

album with a guy named Karl Agell singing and Pepper

(Keenan) sang one song called "Vote With A Bullet," and

that was much more metal and super political, and then the

Pepper one. For me it's been 18 years since I recorded with

the band. I split for a little while and they did an album with

a badass drummer named Stanton Moore. So, America's

Volume Dealer is the last one I was did, in 2000. I think we

probably always thought that we could keep going on. I

don't think we ever thought it was over with."

Knowing when to say "When!" has never been the hardcore

outfit's prerogative, but they have established a crew of talented

(and more restrained) individuals who dutifully curb those

tendencies from the other side of the soundproof glass.

"We've used our Producer, John Custer, since 1991," reports

Mullin. "He's a Raleigh-boy like me, Mike Dean and Woody.

He's fantastic and was able to extract these killer takes from

me and everybody else. We ended up getting it mixed by Mike

Fraser, he's a well-known engineer, mixer, producer-guy who

did our Wiseblood album. Something Henry Rollins of Black

Flag used to say was 'Playing live. That's the get off. And when

you go to the studio that's just the documentation of the getoff.'

I think we documented the get-off pretty good."

Corrosion of Conformity perform with Black Label Society and

Eyehategod on Monday, Feb. 12 at The Ranch Roadhouse (Edmonton),

Friday, Feb. 16 at Bowes Event Centre (Grande Prairie) and

Saturday, Feb. 17 at MacEwan Hall (Calgary)

BEATROUTE • FEBRUARY 2018 | 37
---
ANTHRAX

Charlie Benante talks his band, sociopolitical volatility, and 'Jaws'

"I worry. Every day. I have anxiety because of this.

And I'm not alone."

PHOTO: TRAVIS SHINN

still have the thrill to play live again and see people,"

"I says Anthrax drummer Charlie Benante.

"I have that kind of excitement, but I don't know if

I have a thrill for 'the road,' as such... That's the crappy

part! These days on tour, I don't have as much time to

myself as I once did. We all have lots to do during our

day: media interviews, meet-and-greets. It takes time.

I mean, read a book? Yeah, right. The days of reading a

book have now dwindled down to checking e-mail, or

looking online and seeing who said what about who..."

he says, then laughs.

"But I joke a lot."

Regardless of the rigors and the grind, Anthrax rides

again, hitting the highways with metalcore stalwarts Killswitch

Engage (and Havok!) on a repeat cycle of the highly

successful 'Killthrax' tour, which smashes into Alberta via

Edmonton, Calgary, and Grande Prairie.

As one of Anthrax's earliest members, Benante joined

in the band in 1983, shortly before recording sessions

began for their debut album 'Fistful of Metal'. He's

been there ever since, originally establishing himself

as a brilliant drummer in the burgeoning thrash-metal

scene. Hailing from New York City, Anthrax were one of

the few American East Coast thrash bands in a community

largely centered on the San Francisco Bay Area.

Hailed as one of the 'Big Four' of the genre alongside

Metallica, Megadeth, and Slayer, they've released a

whopping 11 albums, selling over 10 million copies

worldwide. Benante's adept multi-instrumental talents

(he plays electric guitar as well as he plays drums) quickly

made himself invaluable as a co-writer on most of the

band's music. Now, Anthrax's current lineup is mostly

a re-solidification of the band's '80s salad days that

includes vocalist Joey Belladonna, rhythm guitarist Scott

BY FERDY BELLAND

Ian, and bassist Frank Bello alongside relative newcomer

Jonathan Donais.

Given that two years have now passed since 'For All

Kings', the subject of a new Anthrax album is brought up.

"There's no real news," regrets Benante. "The only new

release we have is the live DVD, which comes out this

spring. That's where we're at. I've been compiling new riffs

and new pieces, but nothing complete or cohesive. I haven't

been collaborating with Scott or anyone else: just recording

my own private demos.I've sent some rough

pieces to the other guys, and they've liked them. It'd be

wise to focus on a new Anthrax album, once the dust

settles from this coming tour, but I don't want to jump

ahead and say: 'Yeah, we have this on the go!'"

Benante elaborates on his current songwriting state

of mind.

"I commented a while back about how the new material

sounded very angry and pissed-off," he says.

"And that's the truth. It's my reflection of the world

right now. The world is now a very volatile place. Back

in the '80s, when we were making those other, earlier

albums, there was anger in certain things, in politics and

whatnot... But there was always a sense of peace, too.

These days, I worry. Every day. I have anxiety because of

this. And I'm not alone. The tones of the new music are

a bit darker and angrier than normal. That's what I'm

feeling."

As a coping tool for the volatility of the world,

Benante indulges in film memorabilia. While bandmate

Scott Ian is known to fans as an avid comics collector,

few know Charlie is a rabid fan of Steven Spielberg's

1975 blockbuster 'Jaws'; his personal collection of

the movie's memorabilia was impressive enough to land

him a spot in the 2012 documentary 'The Shark is Still

Working'. His collection was featured alongside those of

director Steven Spielberg and other celebrity 'Jaws' geeks

like Kevin Smith, M. Night Shyamalan, and Eli Roth.

"A few months ago I went to a horror convention

and picked up a 'Jaws' patch," Benante admits. "But I

haven't been adding a lot to the collection lately. What

I did get... Someone MADE me a life-size Han Solo frozen

in carbonite! So I'm very, very happy about that! My

collection focuses just on 'Jaws' itself: I don't care too

much for the sequels. Maybe 'Jaws II,' in a pinch, but the

rest of them...? Um, not so much. They just got worse

and worse, sequel after sequel... But there's nothing like

that first movie."

Despite whatever nuisance of the grind of life, touring,

or disintegrating film franchises, Benante yearns for the

road and its wonders.

"I always remember Alberta as one of the prettiest

places in Canada I've ever seen. I love the big, open plains,

the rolling hills, the mountains in the distance. It's just

beautiful, such a nice place. Looking so forward to coming

back!"

Metal legends Anthrax perform with Killswitch Engage and

Havoc on the "Killthrax II" tour. They will perform on Monday,

Feb. 19 at the Ranch (Edmonton), Tuesday, Feb. 20 at Revolution

Place Casino (Grand Prairie) and on Wednesday, Feb. 21 at

MacEwan Hall Ballroom (Calgary).

This Month

In METAL

February and early March have a lot to offer – so much so that

we could barely fit in half of what we wanted into this section.

So let's go!

As covered in our January edition, doom lords Conan will

perform at Palomino with the Weir. The band will also perform in

Edmonton on Saturday, February 10 alongside The Weir, Culled,

and more. That same evening in Calgary, Round 3 of the Wacken

Metal Battle goes down on February 10 at Distortion with Accostal,

Heyoka's Mirror, Red Cain, To The Mountains, and World

Class White Trash battling for the last slot in the Calgary final.

On Saturday, February 17, head to Rendezvous Pub in Edmonton

for Winnipeg's own Ossific and Cell. The two bands will be

playing alongside Erebos and new act Everythingyoueverloved,

the latter is making their live debut.

Calgary's own WAKE are releasing their fourth studio album

'Misery Rites' on February 23 via Translation Loss Records. Although

we are huge fans of the project, we'll be waiting for their

upcoming March tour with Withered to discuss the new record.

In the meantime, we encourage everyone to go order the splatter

colour variant and get familiarized with the crusty grindcore

album so you can shout the lyrics back at the band when they play

Calgary and Edmonton.

Iced Earth will perform on Friday, March 3 at the Starlite Room

in Edmonton and on Saturday, March 3 at the Marquee Beer Market

& Stage in Calgary. Two days later on March 5, Max Cavalera

of Sepultura, Soulfly, and Cavalera Conspiracy fame will be fulfilling

his early 2017 promise to play a set as his shockingly strong industrial

metal sideproject Nailbomb. They'll be performing all of the

disarmingly sociopolitical statement 'Pointblank' an album that

merges industrial metal with hardcore to shockingly strong results.

The band will be performing at Dickens in Calgary alongside Today

is the Day, Lody Kong, and Uncured.

• Sarah Kitteringham

WAKE release 'Misery Rites' on February 23 via Translation Loss!

38 | FEBRUARY 2018 • BEATROUTE SHRAPNEL
---
ENSLAVED

myth, music, and the ties that bind us

BY GREG GROSE

Enslaved discuss Jung, myth and their relation to metal.

Over their nearly three-decade career,

Enslaved has expelled thunderously heavy

anthems injected with thought provoking

lyrical content, mythic imagery and conceptual

undertones.

"Before we got involved in Enslaved, me

and Grutle, the singer and my cowriter for the

lyrics, we both came from homes were there

was a lot of interest in culture," begins Ivar

Bjørnson, rhythm guitarist and co-lyricist for

the band. He is referring to bassist, vocalist,

and lyricist counterpart Grutle Kjellson. They

formed the band in 1991.

"We both had parents who were teachers,

so there would be a lot of books on Native

Americans, aborigines, and Eskimo culture,

but also Vikings. We both had the same experience

of being drawn to this, and spending

the time reading these books as a hobby.

When the time came and we formed Enslaved,

we agreed we needed some kind of concept

behind it, and Norse mythology felt natural."

What makes Enslaved special is not the utilization

of Nordic myth (a topic oft exploited

by metal bands to varying success), but rather

the metaphorical and psychological lens that

they apply to said myths. Thor and Odin are

not only powerful figures in the lyrics, but

metaphors for aspects of human nature.

"The scientific link between psychology

and Norse mythology came from the Austrian

Carl Jung, one of Freud's students, who started

doing field work and found compelling evidence

that a lot of this mythological language

and symbolism, and the different figures that

appear in mythology, seem to be pre-installed

software in the human mind. Where people

come from places with no abilities to obtain

these images of dragons or other figurines, or

geometric symbols, but they seem to be with

SHRAPNEL

us from the time we are born."

This metaphorical thinking was integrated

throughout the band's 14th studio album

'E', released in October via Nuclear Blast. 'E'

delivers the same masterful and progressive

black metal that Enslaved have perfected over

their colossal discography. The epic choruses

and triumphant progressions weave to

terrific heights, but the lyrical subject matter

differentiates itself with an acute focus on

relationships and empathy, specifically the

transformative aspects of those connections.

"It sort of opened up with the song that

was first written for the album [called] "Sacred

Horse,"" explains Bjørnson. The song ultimately

became the third on the eight-track album.

"That just had something about it that

didn't feel like was explored enough on it.

The theme of that was the rune Ehwaz, which

[literally] translates to 'horse.'"

The rune is associated with harmony and

trust, symbolizing interconnectivity.

"In this, [we] specifically focused on the

relationship between man and other living beings.

The thought that we are exploring is the

relationship between other living creatures,

[which] spawned an idea about things bigger

than just the mundane, and is extremely formative

on how we function. And we thought

that was such a big thought, and such an explosive

expansion on topics and concepts that

we decided to just take on different angles of

the concept for the album. They're all about

relationships and interdependencies."

Enslaved perform with Wolves in the Throne

Room, Myrkur, and Khemmis at the Decibel Magazine

Tour. The tour takes on Friday, March 2 at

MacEwan Hall (Calgary) and on Saturday, March

3 at The Starlite Ballroom (Edmonton).

BEATROUTE • FEBRUARY 2018 | 39
---
musicreviews

FRIGS

Basic Behaviour

Arts & Crafts

Even when they were still Dirty Frigs, Toronto

quartet FRIGS stood out amongst a crowded

field of chorus-pedal-loving, grunge-indebted

post-punk bands from the nation's biggest city.

Led by frontwoman Bria Salmena, the band

built their name off a raucous live show and

two solid EPs (the self-titled EP Dirty Frigs and

2016's Slush EP after changing their name).

Now, after signing with the stalwart indie

label Arts & Crafts, the band return with

their proper debut Basic Behaviour. Like their

previous EPs, the album was produced over a

16-month period in the band's home studio,

with supplementary production at Union

Sound Company in Toronto. The result is an

album that has flourishes of experimentalism

without losing any of its urgency.

On songs like the opener "Doghead," brittle

guitar tones chime with chorus while effects

wash throughout and drones swell underneath.

Even on the most straight-forward

tracks, something in the background is always

lurking in the swampy exterior.

Much of Basic Behaviour is slow-tempo,

shambling along in its gothic atmospheres,

but when the band speeds up it's all the more

noticeable. "Talking Pictures," for instance, is

a motorik dirge that encapsulates much of

what makes FRIGS so compelling: skronky,

tightly-wound guitars, propulsive drums

and a vocal performance from Salmena that

oscillates between quiet speak-singing and

blood-curdling wails.

Here, and on much of the album, Salmena

reminds of Kim Gordon. Her poetic delivery

is rarely melodic, instead serving as a gravel

texture that anchors the rest of the band.

This is especially true on "Solid State," a song

that could serve as the sister record to Sonic

Youth's "Tunic (Song for Karen)," complete

with a droning guitar outro that feels pulled

directly out of the band's late-'80s heyday.

The comparisons to Sonic Youth don't just

stop at the band's sonic identity, but in their

ability to craft a singular mood throughout

the album. Basic Behaviour is a bleak,

distressing listen for most of its runtime,

but that doesn't mean it's ever a slog. Songs

never overstay their welcome and as much

of the album feels dour and minor-key, songs

like "Gemini" offer brief moments of relative

levity. It's a synth-heavy ballad that wouldn't

feel completely out of place on Angel Olsen's

recent output.

Of course, "Gemini" is followed up by the

album's centerpiece "I" and "II," the two tracks

that find the band at their most outright post

punk. The latter song sounds like a Savages'

track with Johnny Marr filling in on guitar. It's

a possessed stomp that sees the band at their

least optimistic. "This is shit / Just admit it /

Just admit it / This is shit," Salmena repeats in

her most dissatisfied on the album.

"Trashyard," a song that's been floating

around the internet since 2016, feels like a '60s

psychedelic tune sent through a Oujia board

and come back through the other side. Like

much else on the album, it's been reworked

and perfected into a meticulous, seven-minute

trudge through murky atmospheres. It

feels like a Preoccupations song in a benzo

haze, ending with Salmena reaching her

vocal apex, no longer annunciating anything,

instead offering full-throated guttural shouts.

As the last song on the album, it's as if

FRIGS have finally arrived at the destination

they've been working towards the past five

years. As with the rest of Basic Behaviour, it's

a well-earned victory lap that builds off the

band's previous output to arrive with a compelling

conclusion.

• JAMIE MCNAMARA

Illustration: SOFIA ELIDRISSI

BEATROUTE • FEBRUARY 2018 | 41
---
Born Ruffians

Uncle, Duke & the Chief

Paper Bag Records

Born Ruffians are one of many indie rock

bands that bubbled up in the mid-2000s.

Hailing from small-town, Toronto-adjacent

Midland, Ontario, the group draws heavy

inspiration from bands like Modest Mouse

and Arcade Fire.

The band went through a bit of a change

a few years ago with their 2013 album

Birthmarks when they parted ways with their

original drummer Steve Hamelin and added a

second guitarist. It led to a cleaner sound, one

that was a little less rough around the edges.

With their fifth studio album Uncle, Duke &

The Chief, Hamelin returns and the band shifts

back to their grittier sound, recording as a trio.

Born Ruffians seem to produce their best

material when that frantic nature comes

out in their songwriting. Moments on

Uncle, Duke & The Chief sound like drunken

eulogizing, with lead vocalist Luke Lalonde

rapidly shifting from desperate yelps to singalong

celebratory anthemic shouting.

Catchy choruses, jubilant guitars and an

intense earnestness all shine through on the

band's new output, something that's been

lacking from the band's output since their

debut in 2008. The album's songwriting is

strong, strong enough to buoy it above the

ocean of albums out there like it.

• Cole Parker

Cecil Frena

The Gridlock

Hovercraft/Kissability

Cecil Frena has been around for a while. The

mastermind behind Edmonton weird pop

acts Gobble Gobble and Born Gold, he's also

worked with other lauded acts from that

scene like Purity Ring, Grimes and Chairlift.

The Gridlock is his debut under his birth

name, his first full release since 2013 and a

noticeable shift towards a different sound.

A lot of care is placed into the sonics of the

record. Layered synths and vocals, wildly varied

guitars, and Frena's experience with glitchy

pop music is channeled into furious growls of

feedback and noise that feel so, so good.

"Nerves Grow Rust" and "All of My

Heroes" open the album with some great

synth-singed pop rock before you hear the

chugging of a car engine, a count, and a stellar

drum fill that leads you into the hardcore

track "Unknow Yourself."

The Gridlock feels like an artist deconstructing

his identity, musical and otherwise,

and letting us watch as he pulls the pieces

back together, with lyrical content to match.

A bank robber speaks aloud the existential

crisis brought on by L.A. property prices,

Frena reluctantly confesses love, and asserts

that dancing on an airplane might treat

some of his nihilistic woes.

The Gridlock is a horribly fun rebirth of

an artist who's still actively finding the best

version of themselves.

• Cole Parker

Sidney Gish

No Dogs Allowed

Independent

Boston's Sidney Gish is a distinctly 2018 kind

of songwriter. The 20 year-old has quietly been

developing a voice for absurdist, meme-asmusic

songs through YouTube and BandCamp

since 2015, but No Dogs Allowed, her sophomore

album, is an internet breakthrough.

Like Clairo, early Frankie Cosmos or Car

Seat Headrest, Gish's career exists almost

solely on the internet, but gone are the days

that would be a knock. With its MS Paint

cover aesthetic, No Dogs Allowed is deceptively

clever bedroom pop that puts Gish's

neuroses front and center.

On standout track "Sin Triangle," Gish's

lyricism and deft skill of self-roasting is on full

display. "Two-faced bitches never lie / And

therefore I never lie," she sings overtop a laptop

lounge rock joint that feels effortlessly cool.

Every nook and cranny of No Dogs

Allowed is filled with earworms and it's not

hard to fall in love with it.

• Jamie McNamara

The Go! Team

SEMICIRCLE

Memphis Industries

The Go! Team has made some seriously bombastic

music over the years, but has always

maintained a level of obscurity that keeps

any of their tracks from being too sugary to

rock out to. From bubblegum pop, to grimy

hip-hop, to indie rock, it's always been big

melodies for people who abhor contemporary

pop production.

SEMICIRCLE is no exception, a huge record

full of compelling vocal melodies, driving

rhythms and badass instrumental arrangements.

The downside is that the whole

record sounds like it's being performed from

the bottom of a well. This production style,

which pushes the vocals back in the mix

and compressed much of the instrumentation

to a similar level, creates an almost

marching band like listening experience.

Every instrument sounds like it's in the same

room, possibly a high school gymnasium. It's

impressive that a band that has at moments

been a rock ensemble can still sound like

themselves with so many horns, xylophones

and flutes, but the fuzzy production keeps

any of the real bangers on the record, like

the single "Semicircle Song," from being that

successful. The most effective tracks on the

record are the more contained ones, especially

the tracks that let Ninja stand out with

her gorgeous vocal performance like "Plans

Are Like a Dream U Organize."

It's hard not to smile your way through

SEMICIRCLE, it's just so much fun, but it

doesn't necessarily reward close listening.

• Liam Prost

Scallops Hotel

Sovereign nose of (y)our

arrogant face

Ruby Yacht

As Scallops Hotel, Wisconsin rapper and producer

Milo creates tranquil atmospheres like

an alchemist who found the philosopher's

stone. He knows when to let the beat rise

and bubble before splashing in his conversational

flow, which is reminiscent of Earl

Sweatshirt in style and skill. Sovereign nose

of (y)our arrogant face is the second entry in

a trilogy that began last year with Over The

Carnage Rose A Voice Prophetic.

The production is minimal and piano-heavy,

meshing perfectly with Milo's poetic

and often hilarious versus touching on topics

like socioeconomic shifts and Mortal Kombat

references. Fittingly, on "Rank, Title, Pressures,"

Scallops Hotel mentions Mugen, a character

from the stylish and hip-hop-inspired anime

Samurai Champloo, which used to air on

Adult Swim. The network is known for its

impeccable music between shows, favouring

sounds on the Flying Lotus spectrum. In this

sense, the 25 year-old rapper is embracing

the influences of his youth as Scallops Hotel,

carrying the fluttering torch to enlighten a

new generation. Whether his next release is labelled

as Scallops Hotel or Milo, Rory Ferreira

proves time and time again he can turn his old

influences into modern gold.

• Paul McAleer

The Sumner Brothers

To Elliot – In Remembrance Of

Wolf

Independent

Through a career notable for sonic twists,

Vancouver's Sumner Brothers follow up the

dark, energetic tone of their 2015 release, The

Hell In Your Mind, with the reflective and

gentle To Elliot – In Remembrance Of Wolf.

The album is a collection of instrumentally

spare covers by a who's who of roots songwriters,

including Billy Joe Shaver, Warren

Zevon, and Bruce Springsteen.

Brothers Bob and Brian Sumner keep the

arrangements light and tight to the originals

on To Elliot. Brian's plaintive drawl on Springsteen's

"The Ghost Of Tom Joad" and Zevon's

"Carmelita," allows the melody and lyrics to

shine through – the latter getting a relaxed

electric guitar and subtle female harmony to

go along with the mellow cantina vibe. Bob's

baritone is haunting on his take of The Tragically

Hip's classic album cut "Scared," and on

Jolie Holland's "Damn Shame." For those aware

of Zachary Lucky or Colter Wall, Bob's timbre

will sound immediately familiar, its tenderness

belied by a gruff, aged tone, the kind of vocal

people often call that of "an old soul."

The Sumner Brothers are one of Western

Canada's best underground roots acts, and

their taste in quality songs is evident on To

Elliot – In Remembrance Of Wolf. It's easy

enough to play covers everyone has heard.

But when an artist digs a little deeper and

shows their audience something farther removed

from expectation, the listener gets to

experience a piece of the artist's inspiration.

• Mike Dunn

Tune-Yards

I can feel you creep into my

private life

4AD

It's abrupt how little abruptness there is in

42 | FEBRUARY 2018 • BEATROUTE
---
the latest release from Tune-Yards. The rhythmic

attack and staccato catch-and-release

structure of the weird-pop outfits previous

releases were career defining. I can feel you

creep into my private life brings enormous

simplicity to the rhythms, but the off-kilter

melodies and nasally delivery from frontwoman

Merrill Garbus become even more

prescient to the project as a result. Most

tracks are anchored by simple four-beats and

structured like electronic music, specifically

techno, but occasionally even features droplike

movements that echo dance music. This

is most notable in the singles like "Look at

Your Hands."

Other tracks feature a more deliberate

instrumental build up that resembles LCD

Soundsystem. The effectiveness of the record

is mostly due to the shear textural variety,

combined with the huge personality of

Garbus' voice and lyrics. Garbus writes a lot

about her social position on the record, both

in her vulnerability as a woman in the public

eye, which is echoed in the title of the record

(and is spoken aloud several times during the

record), and also in her self-consciousness

about her white privilege. This is spoken

to most directly in the first-person-sung

"Colonizer."

Garbus' own political self-awareness is

a testament to the tonal variety that has

defined her career. Tune-Yards routinely uses

ethnically tinged instrumentation, but no

song or even musical movement is distinctly

drawn from any particular culture to even

consider it appropriative. I can feel you creep

into my private life is a weird, woke, and

ultimately wonderful piece of work.

• Liam Prost

Typhoon

Offerings

Roll Call Records

With the release of Offerings, Portland–

based Typhoon once again attracts listeners

to delve into the emotion and passion of

front man Kyle Morton. Offerings is the

fourth studio album for the band and the

sound differs significantly from White

Lighter, the last studio album by indie symphonic

collective. A much more distorted

and frantic sound, Offerings fails to capture

the listener's full attention throughout and

seems disjointed in the story it is meant to

tell. The albums structure seems off, starting

with "Wake," a frantic song that is off-putting

to the listener. However, it is followed

by "Rorschach," which for fans of Typhoon

will be a welcome return to form. The

album ends with the nearly 13-minute epic

"Sleep" which draws comparisons to the

2009 release of Hospice by Brooklyn-based

band The Antlers. This epic is the strongest

song on the album and showcases Morton's

storytelling as well as the larger orchestral

quality that is Typhoon.

• Andrew Bardsley

U.S. Girls

In A Poem Unlimited

4AD

Often described as idiosyncratic, Meg Remy

of U.S. Girls has now made a decade of creative

work and used fuel from her 2016 Juno

Nomination for Alternative Album of the

Year to build an inquisitive, well-produced

and bizarre portrait of a disenchanted yet

disarming reality in In a Poem Unlimited.

Never without hook and never without

it's draws from pop to magnet listeners in,

Remy twists expectation on itself to create

completely danceable and somewhat perplexing

disco-loaded schemes. Remy's blunt

use of repetition, computerized undertones,

and sometimes breathy, sometimes

undulating pitched vocals, never quite suit

the traditional confines of pop and add to

an inner richness that frames something

illusive.

Remy uses quaking siren-like guitar and

saxophone lines that are catchy and captivating;

breathing a modern air into their reverb

and fully capitalizing on their strength

in songs like "Velvet For Sale" and "Rage of

Plastics." What Remy does excessively well,

it seems, is splice discordant, no-wave reactionary

elements with more reliable basics

of pop and disco. The album elaborates but

doesn't overcomplicate some intoxicating

boogie while keeping with real emotion.

Including a short clip of her decimated

voice stating the obvious, Remy follows this

with the most harmonious and easy going,

alpha wave infused "Rosebud," and curtails

this immediately with the wailing "Incidental

Boogie" ¬— opened up by words on

abandonment. The groove never lets up,

and Remy's natural lean towards reinterpretation

and repetition is exploited in great

combination with varying rhythms and

constantly engaging material.

Closing with "Time," Remy picks up some

massive speed for her final piece. "There is

no time" she repeats as she delves into over

seven minutes of guitar and sax solos. She

eases in and out but never slows down, and

things quickly get jumbled together, layers

pile onto a solid groove. The instruments

seemingly improvise their own end while

the albums' many elements ring on and

shake it off.

• Arielle Lessard

BEATROUTE • FEBRUARY 2018 | 43
---
livereviews

The wild antics of Annie-Claude Deschênes of Duchess Says crowdsurfing during this year's

BIG Winter Classic

PHOTO: LIAM PROST

PARTNER

BIG Winter Classic

Last Best Brewery, Jan. 21

Calgary loves Partner. Maybe it's my biased

opinion, or perhaps it's because they're the only

band I saw that weekend who got called back

for an encore, but it seemed to ring true to the

packed patio at Last Best Sunday night. The

stage dynamic between Lucy Niles and Josée

Caron, along with the rest of their band, had the

audience at ease. That might be why the crowd

opened up a mosh pit during "Ambassador to

Ecstasy" or found each other headbanging along

to "The Ellen Page." Last time Partner visited

Calgary was in 2016, for Sled Island. Since their

first time here, the band has produced a full

length album, booked a world tour and gained

well-deserved attention from media and their

growing fanbase. Yet their Big Winter Classic

show still had the same intimate, high energy

feeling as it did in 2016, complete with a cover

of "I'm The Only One" by Melissa Etheridge.

Filling a break for technical difficulties, the band

sang their emergency song, "Long & McQuade"

and finished off with Caron playing guitar in the

mosh pit and an encore they weren't prepared

for, but played anyways. I think it's safe to say

I speak for everyone when I say, Partner, come

back soon.

• Amber McLinden

JAY SOM

BIG Winter Classic

Gerry Thomas Gallery, Jan. 19

"We've had four naps today!" Melina Duterte

told the crowd at the Gerry Thomas Gallery on

Friday night. While it was funny to hear, it speaks

to the overall vulnerability of Duterte's music

and her live performance. Her lo-fi bedroom pop

sound, backed by the members of her talented

band, reverberated through the venue and

captivated the audience. Kicking off the set with

"Everybody Works," the name of Duterte's latest

album, the audience immediately started to

sway. The entire band had an awkward manner

about them, which wasn't detrimental to their

set but rather endearing. Playing crowd favourites

"I Think You're Alright" and closing with

"Baybee," we all found ourselves belting the lyrics

alongside Duterte. A hush fell over (most) of

the crowd during "The Bus Song," a tune about

nearing the end of a relationship, reflected in

the pace the band played the song. Jay Som was

both enthralling and relatable, perhaps speaking

to the crowd she and her band drew to the gallery.

You might have shed a tear, you might have

laughed a little, but with the set they played, you

definitely felt a little bit of something from a raw

and beautiful show.

•Amber McLinden

BEATROUTE • FEBRUARY 2018 | 45
---
SAVAGE LOVE

lesborama

I am a 38-year-old lesbian, very femme, very out. I have a coworker

I can't figure out. We've worked together for a year and gotten very

close. I never want to put out the wrong signals to coworkers, and I err

on the side of keeping a safe but friendly distance. This is different. We

are each other's confidants at work. We stare at each other across the

office, we text until late at night, and we go for weekend dog walks.

Her texts aren't overtly flirty, but they are intimate and feel more than

friendly. I've never had a "straight" girl act like this toward me. Is she

into me? Or just needy? Is it all in my head?

–Workplace Obsession Roiling Knowing-If-Nervous Gal

Five weeks ago, a letter writer jumped down my throat for giving

advice to lesbians despite not being a lesbian myself. Questions from

lesbians have been pouring in ever since—lesbians apparently don't

like being told who they may or may not ask for advice. Three weeks

ago, I responded to a man whose coworker asked him if he might

want to sleep with the coworker's wife—a coworker who was "not

[his] boss"—and people jumped down my throat for entertaining

the idea because it is NEVER EVER NEVER EVER okay to sleep with a

coworker and/or a coworker's spouse. And now here I am responding

to a question from a lesbian who wants to sleep with a coworker.

Farewell to my mentions, as the kids say.

Here we go, WORKING…

Your straight-identified workmate could be straight, or she could

be a lesbian (lots of lesbians come out later in life), or she could

be bisexual (most bisexual women are closeted, and others are

perceived to be straight despite their best efforts to identify as bisexual)—and

lots of late-in-lifers and/or closeted folks don't come out

until some hot same-sex prospect works up the nerve to ask them

out. If your coworker isn't currently under you at work and you're

not an imminent promotion away from becoming her supervisor

and your company doesn't incentivize workplace romances by

banning them, ask your coworker out on a date—an unambiguous

ask for a date, not an appointment to meet up at the dog park. And

this is important: Before she can respond to your ask, WORKING,

invite her to say "no" if the answer is no or "straight" if the identity is

straight. Good luck!

I'm a lesbian, and my partner recently reconnected with a childhood

friend. At first I felt sorry for him, as he was having a health crisis. But

he's better now, and his pushy behavior really gets to me. He texts

her at all hours—and when he can't get in touch with her, he bugs

me. When I refused to go on a trip with him and his husband, he

guilt-tripped me for weeks. He constantly wants us to come to his

house, but they're chain-smokers. I'm going to Los Angeles to interview

a celebrity for a project, and now he's trying to insert himself into this

trip because he wants go starfucking! He also wants to officiate at our

upcoming wedding! My partner won't stand up for me when I say no

to this guy. How can I get my partner to listen to me or get her jackass

friend to leave me be?

–Can't Think Of A Clever Acronym

Burn it down, CTOACA. Call or e-mail your partner's old friend and

tell him you think he's a pushy, unpleasant, smelly asshole and that

you don't want to hang out with him—not at his place, not on a

trip, and not at your wedding, which he not only won't be officiating

but, if you had your druthers, he wouldn't be attending. That

should do it. You can't tell your soon-to-be wife who she can't have

as a friend—that's controlling behavior—but she can't force you to

spend time with someone you loathe.

I'm a 40-year-old lesbian in Alabama, and I work with a woman I

find impossible to resist. The catch is she's 66, straight, and has two

children. I love her deeply, she loves me, but we don't have sex. She has

given me a pass to sleep with whoever I like, but I'm one of those weirdos

who requires an emotional connection to sleep with someone. The

odd thing is that she vacillates between heavily making out with me

every time we are alone together and saying, "No, I can't, I'm straight!"

Why does she do everything but sex if she's straight?

–Feeling Really Unsure Since This Remarkably Amazing

Temptress Entered Domain

That nice straight lady from work is making out with you because

she likes it (the thirst is real), FRUSTRATED, or she's making out

with you because she wants you in her life and believes—perhaps

mistakenly—that this is the only way to hold your interest/fuel your

obsession (the thirst is faked). If she likes it, then she's a lesbian or

bisexual but so invested in her heterosexual identity that she can't

"go there." (Alabama, you said? Maybe she doesn't feel safe being

out in your community.) If she's making out with you only because

she's lonely and values your friendship and/or enjoys the ego boost

of being your obsession, then you don't want to keep making out

BY DAN SAVAGE

with her—for her sake (no one feels good after making out with

someone they'd rather not be making out with) and for your own

sake (those make-out sessions give you false hope and prevent you

from directing your romantic and erotic energies elsewhere).

I'm a woman in my early 60s with a healthy lifestyle and an even

healthier libido. I've had almost exclusively hetero relationships, but

I've been attracted to women all my life and all of my masturbation

fantasies involve women. The older I get, the more I think about

a relationship with a woman. The thought of being in love with a

woman, making love with her, sharing a life with her—it all sounds

like heaven. The trouble is that it's really hard to see how I'll meet

women who would be interested in me. There's rarely anyone my

age on dating apps. I don't even know what age range is reasonable.

What's a reasonable age difference for women with women? Also,

who is going to be interested in a rookie? Advice?

–Energetic Lonely Dame Envisioning Relationship

Emmy-Award-winning actress Sarah Paulson is 43 years old and

Emmy-Award-winning actress Holland Taylor is 75—and Sarah

and Holland have been girlfriends for almost three years. Emmy-Award-winning

talk-show host Ellen DeGeneres is 60 years old

and Screen-Actors-Guild-Award-winning actress Portia de Rossi is

45 years old—and Ellen and Portia have been together for 13 years

and married for almost 10. There are lots of non-Emmy/SAG-

Award-winning lesbians out there in relationships with significant

age gaps—and at least one lesbian in Alabama who desperately

wants to be in one. So don't let the lack of older women on dating

apps prevent you from putting yourself out there on apps and

elsewhere, ELDER. As for your rookie status, there are two examples

of lesbians pining over rookies in this very column!

And remember: If you put yourself out there, you might be alone

a year from now—but if you don't put yourself out there, you'll

definitely be alone a year from now.

Listen to the Savage Lovecast every week at savagelovecast.com

mail@savagelove.net

@fakedansavage on Twitter

ITMFA.org

46 | FEBRUARY 2018 • BEATROUTE
---
UPCOMING

EVENTS

2018

G ERC