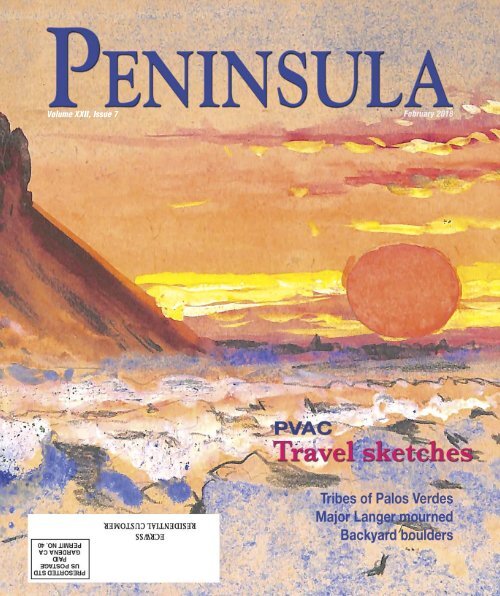 Peninsula People Feb 2018
You also want an ePaper? Increase the reach of your titles
YUMPU automatically turns print PDFs into web optimized ePapers that Google loves.
Volume XXII, Issue 7
---
February 2018 • Peninsula 3
---
RPV Residents

PENINSULA

Volume XXII, Issue 7

February 2018

P A L O S V E R D E S P E N I N S U L A M O N T H L Y

Do you change your automobile oil and filter? If you do,

call EDCO your trash/recycling hauler and arrange for a

free pickup. Then, place your used oil in a tightly sealed

container and your filter in a sealed ziplock bag. EDCO

will pick them up and drop off a free oil recycling kit that

contains a 15-quart drip pan, empty 1-gallon container,

funnel, shop rag, cardboard floor mat and information

on used oil and filter recycling. Call EDCO at 310-540-

2977 or go to www.rpvrecycles.com.

Composting Workshop

Sat. April 14 from 9:30 a.m. to 11 a.m.

Hesse Park, Fireside Room

Document Shredding Event and

Electronic Waste Roundup plus

Free Mulch Giveaway

Sat. April 21 from 8 a.m. to 11 a.m.

RPV Civic Center, 30940 Hawthorne Blvd

(for RPV Residents Only)

Household Hazardous Waste Roundup

Sat. April 28 from 9 a.m. to 3 p.m.

RPV Civic Center

For More information on Used Oil Recycling, go to:

1-800-CLEANUP

For Weekly Household Hazardous Waste Disposal

(including Sharps, Used Oil and

Electronic Waste Disposal) go to:

Gaffey SAFE Center

1400 N Gaffey St, San Pedro, 90731

Phone: 800.988.6942

Open Every Saturday and Sunday from 9 a.m. to 3 p.m.

ON THE COVER

"Arctic Sunset" by Albert Operti,

who accompanied Admiral Robert

Peary Sr. on the first Arctic

expeditions. The sketch is among

a collection of travel sketches on

exhibit next month at the

Palos Verdes Center.

PROFILES

18 Spotlight on the Peninsula

by Ryan McDonald Joy Nicholson's critically acclaimed

novel "Tribes of Palos Verdes" is adapted for the big screen

with stars Maika Monroe ("Labor Day"), Cody Fern ( "American

Crime Story: The Assassination of Gianni Versace") and

Jennifer Garner ("Alias").

22 Travel sketches

by Bondo Wyszpolski Before there were cameras, there

were sketchbooks, which travelers used to memorialize their

travels. A collection of sketches from the Vanderlip family, as

well as contemporary sketches by local artists will be featured

in an exhibit next month at the Palos Verdes Art Center.

Boulder of dreams

by Stephanie Cartozian First, Dean and Kara Herbrandson

collected boulders that they stored wherever the boulders

would fit on their Palos Verdes Estate property. Then they figured

out the boulders could be used to build their dream garden.

Lin's Peninsula people

by Chalice Lin Chalice Lin grew up regretting having missed

the opportunity to spend a day at the amusement park with her

grandfather in Taiwan. Her word and photo portraits of over 50

Peninsula seniors are a way to compensate for her childhood

error.

Beef, Japanese style

by Richard Foss Since the centuries old ban on eating cows

was lifted in Japan, the country has made an art of barbecue.

Yamaya Japanese Wagyu & Grill is the first American outpost

of a Japanese restaurant specializing in beef.

Major Langer remembered

by Kevin Cody Attorney Major Langer is remembered as a

bigger than life figure, with a heart to match.

HIGHLIGHTS

DEPARTMENTS

6 Peninsula • February 2018

30

36

54

56

12 Morgan's Jewelers "A man and his watch"

18 Malaga tree lighting

40 Shrivers' Arty Party

58 Special Children's League affair

64 Peninsula Symphony with the Asia America

Youth Symphony

44 Peninsula calendar

57 Around and about

65 Home services

STAFF

EDITOR

Mark McDermott

PUBLISHER

Stephanie Cartozian

PUBLISHER EMERITUS

Mary Jane Schoenheider

ASSOCIATE PUBLISHER

Richard Budman

DISPLAY SALES

Tamar Gillotti,

Amy Berg

CLASSIFIEDS

Teri Marin

ADVERTISING

DIRECTOR

Richard Budman

ADVERTISING

COORDINATOR

Teri Marin

GRAPHIC DESIGNER

Tim Teebken

FRONT DESK

Judy Rae

DIRECTOR OF

DIGITAL MEDIA

Daniel Sofer (Hermosawave.net)

CONTACT

MAILING ADDRESS

P.O. Box 745

Hermosa Beach, CA

90254-0745

PHONE

(310) 372-4611

FAX

(424) 212-6780

WEBSITE

www.easyreadernews.com

EDITORIAL

PenPeople@

easyreadernews.com

ADVERTISING

(310) 372-4611

displayads@

easyreadernews.com

Please see the Classified Ad

Section for info.

FICTITIOUS NAME

STATEMENTS (DBA'S)

can be filed at the

office during regular

business hours.

(310) 372-4611

Peninsula is a supplemental

publication of Easy Reader, 2200

Pacific Cst. Hwy. #101, PO Box 427,

Hermosa Beach, CA. 90254-0427.

SUBSCRIPTIONS

Yearly domestic mail subscriptions

to Peninsula are $80, foreign $100

payable in advance. The entire contents

of Peninsula is copyrighted

2018 by Peninsula People, Inc.
---
IN ESCROW

PALOS VERDES ESTATES LIFESTYLE AT ITS BEST!

Spectacular lot in PVE with resort-like grounds.

6,258 square feet, 29,653 SF lot size. Ocean and coastline view.

1409VIAARCO.COM $4,995,000

WENDY SUN

BROKER ASSOCIATE

310.544.7301

WWW.WENDYSUN.COM

BRE# 01729186

RE/MAX ESTATE PROPERTIES

SMASHING QUEEN'S NECKLACE VIEW IN PALOS VERDES ESTATES

LET THE VIEW SPEAK FOR ITSELF! Panoramic queen's necklace view from Santa Monica, downtown LA,

PV Golf Course to Long Beach. GATED PROPERTY, 6BR, 6.5baths, 9884 SF living area, 48,353 lot size.

North-South facing TENNIS COURT. An aesthetic balance of comfort and design is found in every room of this house.

702VIALACUESTA.COM $8,999,000
---
February 2018 • Peninsula 9
---
S P O T L I G H T O N T H E H I L L

Morgans Celebrations are Bar None

Author visit and holiday fare

Morgan's Jewelers celebrated a new book by Matt Hranek titled, "A Man

& His Watch." The book details the emotional attachment between

watches and their owners. The cover features the famous Paul Newman

Rolex Daytona, which broke all records when it sold at auction for over $17

million. It was a man's night of whiskey and watches. On another evening,

Morgan's Jewelers hosted a holiday party with a top shelf bar, hors d'oeuvres

from PV Catering and a harpist to set the holiday mood.

PHOTOS BY STEPHANIE CARTOZIAN AND

PROVIDED BY MARSHALL VARON

1. Dean and Kara Herbrandson.

2. Guests showing off their highcalibre

watches.

3. Guest with her son showing off

the new emerald-colored Day Date

Rolex.

4. Irv and Lenore Levine, Marshall

Varon and Shintia Lynch.

5. Elie Massoud and Abbe Vargas.

6. Guest with his new edition of A

Man & His Watch alongside author

Matt Hranek.

7. Elie Massoud and Colleen

Conradt.

8. A photo of Paul Newman's

watch inscribed with "Drive Slowly"

by his wife Joanne Newman.

9. Nicole and Ron Connor.

1

2 3

4 5 6

7

8

9

12 Peninsula • February 2018
---
Ralph Moore, Priscilla Hunt and Craig Leach

Our Heartfelt Appreciation

Ralph Scriba

Torrance Memorial Medical Center wishes to thank the following sponsors for their generous support of the 34th Annual Holiday Festival which

raised millions for the medical center's Donald and Priscilla Hunt Tower.

Emmanuel and Ofelia David

Jack Baker, Craig Leach, Richard Lundquist and Mark

Lurie, M.D.

Lisa Hansen and Barbara Demming Lurie

Julie and Jackson Yang

$100,000+

Billee and John Gogian

Donald and Priscilla Hunt

Major and Cathy Lin

Joelene and Bill Mertz

Loraine and Ralph Scriba

Jackson Yang Family

$50,000+

Sam and Rose Feng

Melanie and Richard Lundquist

Oarsmen Foundation

$25,000+

Ayne and Jack Baker

Emmanuel and Ofelia David

Michael Greenberg

Sunrider International - Drs. Tei-Fu

and Oi-Lin Chen

Ellen and Patrick Theodora

Torrance Memorial Medical Staff

Patricia and Gerald Turpanjian -

TF Education Foundation

$15,000+

Cindy and Paul Campbell

COR HealthCare

The Graziadio Family

Keenan HealthCare

Warren Lichtenstein and Steel Partners

Marina and Roman Litwinski, MD

Nixon Peabody LLP

Sodexo

$10,000+

Diana Cutler

Bryce Fukunaga, MD and Jenny Luo, MD

Shirley and Chih-Ming Ho, MD

Carole Hoffman

Marilyn and Ian MacLeod

Roxanne and Ramin Mirhashemi, MD

Laura and James Rosenwald

Rick Rounsavelle, DDS and

Kirsten Wagner, DDS

Alfredo and Beatrice Sheng

Kay and Sam Sheth

Timur and Janice Tecimer

Marshall Varon

Cathy and Michael Wyman, MD

Roy Young and Teri Kane

$5,000 - $9,999

Sandra and Tim Armour

Association of South Bay Surgeons

Jennifer and Brad Baker

Cindy and Paul Campbell

Eric and Anna Mellor, MD

Morrow Meadows

Murray Company

Owens & Minor

Pacific National Group

Tiffany Rogers, MD and Karen Seymour

Laura and Marc Schenasi

The Teague Family

Torrance Emergency Physicians

Torrance Memorial Radiology Group

Torrance Pathology Group

Sara and Keri Zickuhr, MD

$1,000 - $4,999

2H Construction

Betty and John Abe, MD

Christy and Jay Abraham

Nicholas Acosta

AD/S Companies

Anesthesia Medical Group

Jeanne and Fikret Atamdede, MD

Lori and David Baldwin

BCM Construction

Peggy and Cliff Berwald

Nadine and Ty Bobit

Marcia and Ken Boehling

Pam and Larry Branam

Brigante, Cameron, Watters &

Strong LLP

Trudy Brown

Ann and David Buxton

Linda and Zan Calhoun

The Cam Family (Vinh, Judy, Wilson

and Melody)

Joan Caras and Family

Bryan Chang, MD

William and Ellen Cheng

Ron Cloud

Sandra and Thomas Cobb

Francine and Phillip Cook

Kate Crane and Honorable Milan Smith

Pam Crane

Randy and Luke Dauchot

Digestive Care Consultants

Beth Dorn, MD

Sally and Mike Eberhard

EMCOR

Thyra Endicott, MD and Jonathan Chute

Regina and Dan Finnegan

Deanna and Lenny Fodemski

Food Fetish

Robert Gaudenti

Gelbart & Associates

Teresa Gordon

Marnie and Dan Gruen

Laurie Inadomi-Halvorsen and

Greg Halvorsen

Lisa and Steve Hansen

Harbor Post Acute

Cindy and Richard Harvey

Teresa and Saffar Hassanally

Heritage Rehabilitation Center

Eve and Rick Higgins

Mary Hoffman and Bob Habel

Terry and Joe Hohm

Daniel Hovenstine, MD

HUB International

Karen and Chris Hutchison

James & Gamble Insurance

Kathy Kellogg-Johnson and

Brian Johnson

Judy and Parnelli Jones

Vince Kelly

Heather and Rick Kline

kpff Consulting Engineers

Sherry and Ian Kramer, MD

Judy and Craig Leach

Patti and Thomas LeGrelius, MD

Jacquie and Joe Leimbach

Charlotte and Russ Lesser

Linda and David Lillington

Tracy and Amy Livian

Lomita Post-Acute Care Center

Pat and Rich Lucy

Barbara Demming Lurie and

Mark Lurie, MD

Kristy and Eric Maniaci

Allison and Rick Mayer

McCarthy Building Services

Jimmy McDonald

Kak and David McKinnie

Drs. Lisa Humphreys and

John McNamara

Medline Industries

Brian Miura, MD

Keith and Amanda Murphy, MD

Sheila and Ben Naghi, MD

Lisa and Eric Nakkim, MD

Jeff Neu

John and Serena Ngan

Diana and Steve Nuccion, MD

Corinne and Randolph O'Hara, MD

Jacinto Orozco

Maureen and Mario Palladini

Payden & Rygel

Michele and Robert Poletti

Adriana and Greg Popovich

Leslie and Todd Powley

Department of Radiation Oncology

Kelly and Chris Rogers

Nancy and Michael Rouse

Marge Schugt

James Scriba

Connie Senner

Alex Shen, MD Family

Monica and Sam Sim

Laura and Tom Simko, MD

Debra and Gerald Soldner

South Bay Gastroenterology

South Bay Orthopaedic

South Bay Plastic Surgeons

Spierer Woodward Corbalis & Goldberg

Rose Straub

Helen and Pasquale Theodora

TMPN Cancer Care

Yuki and Jeff Tom

Torrance Health IPA (THIPA)

Torrance Memorial Neonatology Group

Torrance Orthopaedic Sports

Torrance Pathology Group

Voya Financial

Susan and Bill Weintraub

Cynthia Williams, MD

Mary and Steve Wright

MAJOR IN-KIND

BENEFACTORS

Choura Events

G.S. Gaudenti Brothers

Morrow Meadows

Redondo Van & Storage

Rolling Hills Flower Mart Studio

The Zislis Group

Toyota Motor Sales, U.S.A., Inc.

Thank you to all our donors.

3330 Lomita Blvd., Torrance, CA 90505

310-517-4703 - www.TorranceMemorial.org
---
Tribal

by Ryan McDonald

In "The Tribes of Palos Verdes," there's darkness amid the sunshine as Medina (Makia Monroe) and her brother Jim (Cody Fern) move to the peninsula from the

midwest with their family. Photo courtesy IFC Films

'Tribes of Palos Verdes' is a beautiful but flawed take on the Peninsula

Brendan and Emmet Malloy's latest film, "The Tribes of Palos Verdes,"

had a high bar to clear, and the fault is their own. As far as cinematic

takes on surfing localism go, it would be hard to top a four-minute

deleted scene from "Fair Bits," the Malloy Brothers' Taj Burrow-centered

surf movie from 2005.

The skit centers around Donavon Frankenreiter and Ben Stiller — disguised

in a fake moustache and trucker hat — who post up in a beach-front

carpark, channeling Laurel and Hardy as they ape their way through the

finer points of localism. They growl "No photos!" and clumsily wrench a

camera away from a mom and daughter out for a stroll. They clutch latemorning

Budweisers while talking down the surf, which, in passing shots,

looks absolutely firing. (The spot is never named, but the footage suggests

a certain Ventura County beach break with a reputation for violence). And

they harangue a series of passersby who include Burrow, the late Andy

Irons, and the Malloy Brothers themselves. "More like the motherfuckin'

Marx Brothers," Stiller mumbles from the lot as one of them threads a spitting

barrel.

It's hilarious, and it dramatizes the way hateful surfing locals are almost

always clowns, as suitably brought down with a pie in the face as a vengeful

exposé. This lesson, though, is often forgotten in the brooding "Tribes,"

which snaps and turns with a seriousness that never quite feels earned.

The film follows teenager Medina (Makia Monroe), who moves with her

family from the midwest to Palos Verdes. She encounters a sterile, superficial

community that enforces manicured uniformity by municipal ordinance,

and is so cloistered that the football stadium lacks lights, Medina

tells the audience, "because locals didn't want anyone from out of town

there after dark."

Medina launches this voiceover critique less than 15 minutes in, but it is

already fairly clear what kind of ideas the movie has about Palos Verdes.

Peninsula residents watching the movie will notice a fair share of Easter

eggs, but they are unlikely to be thrilled. Over the course of the film, Medina's

family tumbles downward like stones off a cliff, and it all seems to be

the fault of the Hill and the people living on top of it.

As a finely etched portrait of the Peninsula, forget about it: "Tribes" dispenses

with subtleties, like the existence of four different cities and an unincorporated

area in favor of generalizations about the whole darn

landmass. In interviews, the Malloy brothers have instead characterized the

film as a look at the darker side of coastal Southern California, a place that

tries very hard to be perfect. The idea is not quite an original one, but there

are enough piquant moments to make one wonder whether people will

groan at the movie for what it gets wrong, or squirm for what it gets right.

"Tribes" is an adaptation of the 1997 young-adult novel of the same name.

In most reviews, the book carries the ambiguous descriptor "semi autobiographical,"

and in the years since its publication, Peninsula native Joy

Nicholson's tale has found a comfortable niche between cult classic and

mainstream success. Its frank depictions of drug use and parents behaving

badly have endeared it to teens typically bored by reading. But the real lure

of the story, for coast-dwellers and landlocked alike, is surfing.

The "Tribes" of the title carries several meanings, but the most prominent

reference is to the Bay Boys — or "Bayboys" in Nicholson's truncated style

— the crew of surfers that for decades have been accused of keeping people

out of the water at Lunada Bay. As in the headlines, the Bay Boys of the

film are buffoonish cro-magnons, who hold their territory with a mixture

of intimidation and violence. (A lawsuit in federal court against several alleged

Bay Boys is pending; last February, a judge declined to certify it as a

class action.)

This protectionist behavior, of course, is also a great way to make something

desirable. Not long after moving in, a mysterious noise at sunset lures

Medina out of her bedroom. She climbs to the top of her family's ranchstyle

home, and realizes that it is a crew of surfers hooting each other into

16 Peninsula • February 2018
---
waves. (In the film and book, the family home is posited as resting directly

above Lunada Bay; according to an article in the Los Angeles Daily News,

most of the film was actually shot just over the San Pedro border.) Entranced,

she procures a surfboard by flashing a schoolmate, then repeats

the process to get one for her beloved twin brother Jim. The Bay Boys

ridicule Medina, which only seems to embolden her.

The film devotes little time to the arduous process of learning to surf,

which is a shame because the Malloys are so talented at shooting in the

water. They are responsible for some of the best surf movies of the young

millenium, including "Thicker than Water" and "Brokedown Melody." The

surf scenes that are included are gorgeous, with a fluid grace that often

eludes non-surfing directors, who tend to drown the action in slow-motion

and noise.

Jim and Medina are wary of the Bay Boys, who appear to tolerate them

because their home fronts the break. But while Medina seeks her own

peak, Jim becomes part of the pack. Jim is played by the Australian actor

Cody Fern, who looks like he enjoys his role more than anyone else in the

movie. Rangy and feral, he manages to pull off a character who is somehow

both stoned and angry for much of the movie. (Here is one voice for casting

him in any film adaption of Kem Nunn's "surf noir" books.)

Meanwhile, their mother Sandy — an anything-but-matronly Jennifer

Garner — struggles to fit in. In an early scene, she goes to lunch at a country

club with some local women. They all order salads with dressing on

the side, while Sandy picks out a cheeseburger and fries. The scene initially

feels like a heavy-handed attempt at using food to contrast Sandy's midwestern

authenticity with the West Coast shallowness of Palos Verdes

women. The audience soon learns, though, that it is difficult to trust anything

that comes out of Sandy's mouth. (The movie mostly ignores the

book's exploration of Sandy's compulsive overeating.)

Jim and Medina's father Phil (Justin Kirk), drifts away from his unstable

wife, and is absent for much of the movie. A serial philanderer, he becomes

a walking cliche after shacking up with his real estate agent, an underused

Alicia Silverstone. Silverstone, in reality a proud PETA member, gets in a

winking joke when she chides her son from a previous marriage for bringing

up the evils of factory farming during a country club luncheon.

The film's one-dimensional depiction of Palos Verdes' women, though,

is pervasive, and is the laziest aspect of its storytelling. (This is, in fairness,

a limitation of the source material: sophomoric narration is the price you

pay for a story told from the perspective of a high schooler.) Some of the

best scenes come when the film actually bothers to interrogate the Stepford-wife-in-sandals

stereotype it has erected. Sandy, dabbling in a real estate

relationship of her own, discusses an arsonist torching homes on the

peninsula, and crudely announces she wishes someone would burn the

whole place down. The Realtor, hurt, gets up from the table and says, "But

Sandy, these people are my friends."

With dad gone and mom acting like a child, Jim descends further into

the Bay Boys cult he once ridiculed. Medina does her best to pull him out,

but she is ill-matched against the lure of drugs and belonging. By the time

Jim is bashing in the face of a hapless dad who dared to try to surf the Bay,

his fate seems pretty much sealed.

It's a credit to the filmmakers that they don't bash us over the head with

the parallels between keeping unknown surfers out of the ocean, and keeping

unknown people out of Palos Verdes. The Bay Boys and the plastic

adults never seem to cross paths. Indeed, it's unrealistic how ignorant the

country club women seem of surfing altogether. The audience is left to

wonder what the well-respected men and women really think about the

ones doing the dirty work.

Whether you resent them, love them, or deny their existence, the Bay

Boys attract attention because they represent a heightened version of the

separation that makes surfing so alluring. More or less since "Gidget," surfing's

mystique has come from all the ways it is inaccessible: to squares at

work during dawn patrol, to flatlanders living far from the beach, and to

people whose bodies are not accustomed to piloting fiberglass over moving

water. Belonging to a tribe can promote a sense of connection, but it's only

meaningful if some people are left out. And nothing says "exclusive" quite

like telling even the willing and able-bodied to take a hike.

The Tribes of Palos Verdes, from IFC Films, is available for streaming online.

The film is rated R, with a run-time of 1 hour, 43 minutes. PEN

February 2018 • Peninsula 17
---
S P O T L I G H T O N T H E H I L L

Malaga Cove Tree Lighting

Deck the halls

With the generous help of PVE city personnel, Realtor and resident,

Virginia Butler along with John Polen of Premier Bank of Palos

Verdes, the Malaga Cove tree lighting tradition was upheld again in

2017. "It was a systematic, old-fashioned, community effort," said Butler.

"We all got together and made it happen." Santa Claus was on site

to grant last minute wishes and the bank provided hot cocoa, libations

and finger foods to keep the revelers reveling.

1. Ruth Gralow and Santa Claus.

2. John Polen and Mario Santoyo.

3. Nicholas and Charly Sandoval and

Santa Claus.

4. Jeremy and Alex Hudgens.

PHOTOS BY STEPHANIE CARTOZIAN

5. Karen Elston with her dog Chaka

and local children.

6. John Vandever, Virginia Butler and

John Polen.

7. The tree lighting.

8. John Vandever, Arleigh 'Gene'

Dotson and Kim Hall.

9. Shari Campbell and Santa Claus.

1

2 3

4 5 6

7

8

9

18 Peninsula • February 2018
---
Chris Adlam

310.493.7216

chrisadlam.com

One of a kind beachfront property. Two exquisite homes on two parcels

totaling over 60,000 square feet. $25,000,000

For full video, visit chrisadlam.com
---
Gated estate on the bluffs of Palos Verdes Estates. Stunning Queen's Necklace,

coastline, city lights views with over 260 feet of bluff top frontage.

Over 7500 square feet and a 6 car garage. $9,500,000

Chris Adlam

310.493.7216

chrisadlam.com

Breathtaking city lights and coastline views from this 2.5 acre estate in Rolling

Hills! Some of the features include a full gym, game room, theatre, indoor

racquetball court, expansive guest suite and so much more! $6,999,999
---
Brand new construction in Palos Verdes Estates. Huge ocean views, a wonderful

open floor plan, 4 bedrooms, elevator and a luxurious, large Master Suite!

A must see. $3,995,000

Chris Adlam

310.493.7216

chrisadlam.com

Spectacular custom built home with panoramic views of Catalina, ocean, coastline and

beyond! Over 7600 square feet with 6 bedrooms, wine cellar, 4 car garage, pool, spa and

more! $6,998,000
---
Clothing items worn by a female eskimo, sketched by Albert Operti.

Courtesy of the Explorers Club of New York

Sketch of Villa Narcissa by Daniel Pinkham of the Portuguese Bend Artist Colony.

The Birth of an Idea, or, From Spark to Sparkle

Portuguese Bend artists to show sketches and finished work at the Palos Verdes Art Center

by Bondo Wyszpolski

Until roughly the mid-19th century, when cameras emerged to do the

job for them, painters and other visual artists carried sketchbooks

and an assortment of pens, pencils, and pieces of chalk. Some artists

worked quickly and some took their time, but the ultimate goal was to preserve

the idea or the inspiration and then to rework it under usually more

favorable conditions (and, yes, many artists work this way today).

There are exceptions to the above. One, what were formerly deemed

working sketches later were elevated as artistic masterpieces in their own

right. John Constable is a good example of this, with J.M.W Turner being

yet another. Two, when we get to the waning years of the 19th century and

the vogue for plein air painting (Impressionism by another name, perhaps),

the "sketch" and the finished work were often one and the same.

For several years, Katrina Vanderlip has been hosting a painting week at

Villa Narcissa, high on the hillside in Portuguese Bend. Villa Narcissa is a

11.5-acre estate and also the remainder of Frank Vanderlip's personal holdings

in the area. Lest we forget, in 1913 Vanderlip acquired 16,000 acres on

the Palos Verdes Peninsula. In layman's terms, that's a lot of Dodger Stadiums

(the latter, with parking, encompassing a mere 352 acres).

The painting weeks that Katrina oversees attract numerous participants.

These often occur in the spring, and the one last year had some involvement

by members of the Portuguese Bend Artist Colony, in particular Daniel

Pinkham. The next painting week is scheduled for April 2-7. (In connection

with this event, high teas are scheduled for three Sundays in March at Villa

Narcissa: a Mad Hatter Tea Party on March 11; an Opera High Tea on

March 18, with UCLA opera students performing arias; and a classic Parent-Child

High Tea on Palm Sunday, March 25. Please email katrinavanderlip@yahoo.com)

A sketch is a diamond in the rough

And so we come to "Capturing a Vision," an exhibition opening on March

16 at the Palos Verdes Art Center, which was conceived by Katrina as a

means not only to highlight the annual painting week at the Villa, but to

focus attention on the Portuguese Bend Artist Colony and specifically their

preparatory designs in advance of their completed canvases.

Or, as Katrina herself explains it, "A sketch allows you to capture a vision,

an idea, or an impression that you can use to create a final artwork." And,

she adds, "A good sketch becomes a powerful tool and stands on its own as

art."

The artists in the Portuguese Bend Artist Colony include Rick Humphrey,

Steve Mirich, Kevin Prince, Tom Redfield, and Amy Sidrane, plus Daniel

and Vicki Pinkham. One gallery will contain and pair preliminary sketches

alongside finished oil paintings.

A second gallery will exhibit preparatory sketches for jewelry, wood carving,

costume designs for UCLA opera productions, and a sketchbook never

before displayed by Albert Operti who, among other accomplishments,

served as the official artist for Robert E. Peary during his Arctic expeditions

in 1896 and 1897. Operti's sketchbook is being loaned by the Explorers

Club of New York. ("The Explorers Club connection," Katrina says, "is that

I have been accepted as a member this year [and] can go as an artist to

record expedition sketchings. My grandfather Frank Vanderlip helped raise

funds for Perry's last expedition to reach the North Pole and was given a

polar bear rug on their return.")

Another highlight of the show is Operti's wall-sized sketch on cloth called

"The Last Meal," depicting George W. De Long and his officers prior to their

departure for Siberia from the Arctic in three small boats after their ship

became trapped in ice. Some survived, many did not.

Katrina Vanderlip, as an artist and art scholar, inherited the sketchbooks

of her great aunt, Clover Cox, the elder sister of Narcissa Cox Vanderlip,

Sketch exhibit cont. on page 24

22 Peninsula • February 2018
---
Small, subtle, and gently magnificent

Angel wings and peacock feathers: Sketches for jewelry by Marianne Hunter

A Portuguese Bend jeweler crafts works of art and beauty

by Bondo Wyszpolski

The first sketchbook Marianne Hunter shows me dates back to 1977,

but she's been making jewelry for half a century so perhaps there's

an earlier sketchbook or two lying close by.

The word "exquisite" is often overused, same with the word "sensibility,"

but if there are better ways to describe the work and the person I'm sitting

down with I don't know what they are.

Married to the equally talented and skillful woodcarver William Hunter,

Marianne may be described or defined in some circles as an artisan or

craftsperson, but what she creates is never mere handiwork. The finished

pieces, mostly pendants or brooches, are thoughtfully designed, almost storyboarded

in some cases, visual and non-visual poetry with many of them

bearing poetic titles.

Elaborate praise goes only so far. The jewelry needs to make an appearance,

the preliminary drawings as well. Her influences are many, some not

so surprising, such as the Viennese Secessionist and the French-Belgian

Symbolist styles of the late 19th and early 20th centuries, along with Art

Nouveau and in particular René Lalique.

"Lalique is my jewelry hero," Marianne says, "because his artwork was

so finely wrought and so exquisitely detailed. And also incredibly inventive.

He used materials that nobody used before him in fine art jewelry – tortoise

shell and bone and wood. Materials that weren't considered valuable and,

therefore, 'No, this can't be a part of a fine piece of jewelry.'" But the naysayers

were proved wrong, weren't they?

In her earliest days, Marianne Hunter worked primarily in grisaille, that

is to say, in black and white, and her subject matter was curtailed in the

realms of fantasy and myth. Her husband, thankfully, nudged her out of

that self-confined way of thinking, and into new territory. "So, now I'm all

over the map," Marianne says, "but I feel that's the reflection of a curious

mind."

It's a curious mind that we are funneled into by way of her sketches.

Items were numbered, what metals were used were dutifully noted. "When

you look through these," Marianne says, "you can start to see different areas

of development where I've got themes going."

In the early years she was making about 50 pieces a year. They were small

and the smithing was relatively easy. "And then as I went on I came into

contact with so many more materials." More choices, then, requiring more

deliberation.

And where does she find her ideas?

"The way I draw is partly whatever it is I'm thinking about at the moment.

So that comes into my work. And I'm interested in anthropology and

I'm interested in dance and I'm interested in other art forms. I really like

other cultures; and I love fantasy, all kinds of fantasy and mythology."

There are stories with fairy tale themes as well as pendants and brooches

with African or Australian undercurrents. One prominent design that occurs

in numerous permutations are her Kabuki Kachinas, as she calls them.

"They ended up being my signature work. I can tell any kind of story in

these figures. I can go anywhere I want with them reflecting how I feel

about that. They're everything from, really, art nouveau to very stylized

and modern."

It took her, Marianne says, 50 years to get to Japan. "And it was everything

I imagined and more. Walking into some of the older buildings that had

been maintained, or down the street in the older towns, was like walking

into a woodcut." The appeal is understandable. Peter Quennell called Japan

"a universe of half-tones and subtle hints."

They speak, she listens

Sometimes a gem will remind her of something, Marianne says. In that

Hunter cont. on page 25

February 2018 • Peninsula 23
---
Original sketch of Arctic explorer Robert E. Peary by Albert Operti, from which

a life-size portrait was painted. Courtesy of the Explorers Club of New York

Sketch exhibit cont. from page 22

Katrina's grandmother (and the grandmother of Katrina's siblings, Kelvin,

Narcissa, and Henrik). A sketch by Kelvin Cox Vanderlip, Katrina's father,

showing the Villa Narcissa cypress allee in the early 1930s is being included,

in addition to sketches of the Villa Narcissa entrance hall by Denis

Berteau and various mural sketches by nearby resident Steve Shriver.

Notable, also, are the jewelry designs, coupled with the finished pieces,

by Marianne Hunter. Please see the accompanying story.

Katrina Vanderlip's new children's book, "A Tale of Twin Peacocks," will

be available for purchase. As a girl, Katrina was taught illustration by Ted

Geisel, that fellow better known as Dr. Seuss.

What was, and what could have been

A companion show, "Inhabit: The Olmsted Brothers on the Palos Verdes

Peninsula," is to occupy the third gallery. The Olmsteds were hired by

Frank Vanderlip to study and evaluate the vast tract of land he'd purchased.

They did a thorough job, and the exhibition, in the words of curator

Hilarie Schackai, "casts a spotlight on the crucial process of visionary translations

from rough settlement and natural environment into a manifestation

of cultural splendor. It presents formidable and meticulous early

surveys, planning sketches, and other documents – topographical surveys,

water analyses, road studies – that in their glorious abstraction are more

than technical artifacts: they are virtual art objects in themselves."

The person who knows the most about Frank Vanderlip's history, before,

during, and after the land on the peninsula was acquired, is Palos Verdes

Estates resident Vicki Mack. Her book, "Frank A. Vanderlip: The Banker

Who Changed America," is a panoramic view of the man and his vision

for developing the area from Portuguese Bend to Malaga Cove. It was a vision

interrupted by that little bump in history called The Great Depression.

Capturing a Vision: The Portuguese Bend Tradition, curated by Katrina

Vanderlip, paired with Inhabit: The Olmsted Brothers on the Palos Verdes

Peninsula, curated by Hilarie Schackai, opens Friday, March 16, from 6 to 10

p.m., with Palos Verdes Wild! a farm-to-table and foraged feast with Chef

Paul Buchanan of Primal Alchemy Catering. The seasonal produce as well as

the wild ingredients are entirely from local sources. Tickets, $125. The Palos

Verdes Art Center is at 5504 W. Crestridge Road, Rancho Palos Verdes. (310)

541-2479 or go to pvartcenter.org. PEN

24 Peninsula • February 2018
---
Left, Marianne Hunter's sketch elaborating on an orphan medal designed by

René Lalique in the aftermath of World War I. Right, her completed work.

Hunter cont. from page 23

inch or half-inch cloud an idea for a piece may emerge. An opal, for example.

"That's one of the things I'm good at," she adds, referring to her ability

to extrapolate an image or part of a story. One grouped set of stones that

she shows me reminds her of photographs taken from the Hubble telescope:

"An expansion of galaxies and the beautiful colors in space."

"And also, by this time, the titles have become poems. I make no claim

as to how good the poetry is, but it's heartfelt. It's just a longer title; it's

the way I feel about the piece." And now, because the exactitude of her

work has led her to create just 18 pieces a year instead of the previous 50

a year, "I have a lot of emotion left over. So it ends up in the poetry."

It's not just the physical work that is taking more of her time, Marianne

says. The decisions about the physical work are taking more time as well.

Some of that pre-planning is made by what her trained eye conveys to

her brain. She has boxes of different materials, tiny stones and other objects

she may have saved for years, even decades, waiting for the right setting

or the right context. Like sifting through patterns to see what plays with

or against something else. "And I just keep moving them around on the

bench until I find the things that [go together]."

She says at one point, as she shows sketches and photographs of recent

and past work: "I love these materials. It's a real indulgence for me to be

able to do this."

In Tucson, each year, sellers gather to display their wares. Booths, tents,

every place imaginable. Marianne used to be a regular. But now?

"I don't have good self-control," she confesses; and since she already has

so much material on hand, in addition to crafting less than 20 pieces annually,

"I just get myself in big trouble, so I don't go to Tucson anymore."

But some of her favorite dealers make house calls as they pass through

California. She'll patiently look through everything, the high-end stones as

well as the less expensive. One just never knows…

Meanwhile, the jewelry-making continues.

"I like doing commissions as long as I know that the person who's placing

it is familiar enough with my work that they know they like it, and they

trust me." That's the key; she doesn't want a client who starts telling her

how to design something. First she'll gather all relevant information from

them, so that client and artist are on the same page. "And then I do a drawing

to scale before I finish the piece so that I get an approval."

Recently she's been bidding on and collecting orphan medals made in

France during the aftermath of the First World War to raise money for the

orphans of the French army. Specifically the one designed by Lalique.

There's something in the somber quality that strikes a chord with Marianne,

and with each medal she'll add a little here, there, to enhance its

poignancy.

She shows one, and it's a real beauty. Quiet, subtle. And we'll use that

word again: exquisite.

"I keep one piece a decade," she says, "and I'm thinking of keeping that

one."

How do we describe these little works of art? So small, and yet how

firmly they resonate through time and space.

Marianne Hunter's jewelry and sketches will be on display at the Palos

Verdes Art Center from March 16 through April 22 in Capturing a Vision:

The Portuguese Bend Tradition. PEN

February 2018 • Peninsula 25
---
550 Silver Spur Rd. Suite 240, Rolling Hills Estates, CA 90275
---
28 Peninsula People • February 2018
---
3602 GREVE DRIVE RANCHO PALOS VERDES

5 Beds | 4 Baths | 2,712 SQft | $1,399,000

Start your 2018

With an Ocean View Home

Anne St. Cyr

310.755.9592

edlergroup.com

Anne.StCyr@vistasir.com

BRE # 01930136

Selling the Neighborhood

We Live, Work & Play
---
Garden of stone

by Stephanie Cartozian

Photos by Tony LaBruno

An aerial view of the Herbrandsons' final work of art, which encompassed a few stops and starts along the way. (Photo by Carlo Zanella, DHP Multimedia)

After collecting stones and boulders for more than two decades,

Dean Herbrandson and wife Kara finally found something to do with them

Dean and Kara Herbrandson celebrating Dean's 50th birthday on Flag Day,

when the backyard landscaping was only a few months old. (Photo by Adam,

Treasured Moments Photography)

Dean Herbrandson had a

penchant for collecting

boulders and for decades

scouted the hill to uncover just the

right ones. For what? He did not

know. But he credits his wife Kara

for her infinite patience as he had

these enormous monoliths

dumped off for years on their

Malaga Cove driveway and in their

side yard.

"I used to drive my pickup truck

around as far back as the 2000, collecting

stones as big as I could lift.

I wouldn't stop until the truck almost

bottomed out," Dean said.

Later, he would bid on even

larger stones, some fossilized with

whale vertebrae and other sea

creatures, or plant material. He

would bid against contractors and

architects for the most awesome

earthly specimens.

"I was into these rocks for about

$10,000 and still hadn't ascertained

how to utilize them."

All along he assumed the rocks

would be cut and made into something

like stepping stones, but he

later learned that PV stone doesn't

peel back like an onion, but is like

chalk and disintegrates when cut.

This discovery led to new concepts

on how to proceed with his treasure

trove.

Herbrandson graduated from

Cal Poly San Luis Obispo with a

degree in mechanical engineering.

He builds drone engines. Herbrandson

Engines is based in

Lawndale and specializes in designing

and manufacturing drone

mechanisms for military use. His

father Dale started the business.

"At work he's Dale and at home,

he's dad," Herbrandson said. In the

'70s, his dad built a 2 cylinder engine

that had very good vibration

resistance. This was a crucial enhancement

to previous drone models

because his drones could hold

a camera without vibrating, enabling

them to take sharper photos.

His drones were used for reconnaissance

during the Vietnam War

and the Gulf Wars.

30 Peninsula • February 2018
---
The custom designed fire pit has inverted

sides so that guests can cozy

up close to the fire on cool evenings.

Backyard quandary

Dean and Kara's 1950s Spanish style Malaga Cove home is across the

street from the Malaga Cove Library on Via Pinale, where the outdoor

summer concerts are held June through September. The previous owners

had raised their family there and wanted another family to enjoy what

they had. Other contenders included contractors who wanted to raze the

property and turn it into a behemoth. The Herbrandsons won the sellers'

hearts and minds with their plan to raise their family there. After the home

was purchased they made improvements to the electrical system, foundation

and plumbing.

"When we looked at the house, there was a lamp in every corner because

none of the light switches worked," Dean said.

The backyard was dirt with winding stone walls that were uneven and

in disrepair.

"In the backyard, you couldn't get out of your own way to see over the

roofline and what was layed out before you. There's the ocean and Malibu,

King Palms and these idyllic concerts in the park, but we couldn't see any

of it," Dean said. "We started putting chairs on top of trash cans trying to

get some height in the back to see what laid before us and how high we

had to go to see it."

The idea for creating a usable outdoor environment started to take hold.

When Dean and Kara were dating, they found they both enjoyed the outdoors

and often went on garden tours. Originally, they hired some high

profile landscape architects to help them design their dream outdoor environment,

but quotes ranged upwards of $650,000 to accomplish their

rough plan. To create a patio environment with poured cement or concrete

blocks required casans, per the city regulations. When the first contractor

went down 12 feet, he hit bedrock. To continue with the project, they were

going to have to go down another 12 feet into the bedrock with multiple

casans, which made their plan cost-prohibitive. The project sat dormant

for two years.

"Our son would take his dirt bike in the backyard and gun it, to the chagrin

of our neighbors. We knew we had to find other footing to proceed."

The couple has two sons, Brett, 21, and Erik, 17.

John Feldman, of Ecocentrix Landscape Architecture, came through with

some solutions. Instead of using cement, they brought in stone imported

from India that was hand cut onsite and layed down in a terraced pattern,

maintaining lots of little enclave gardens and places to enjoy varying van-

These weighty stepping stones imported from India, lead up to a bistro lighted

perch that's high enough to view concerts in Malaga Park, the ocean, Malibu

and neighboring parklands.

February 2018 • Peninsula 31
---
The backyard perch looks out over the roofline and landscaping.

tage points. The stones had fluctuating thicknesses, which had to be accounted

for when laying them on the ground. Instead of bringing in new

soil, they moved soil and repositioned it to build height in the rear, enhancing

the scope and breadth of their home's perch. This improved the views

of the ocean, the concerts and the rural parklands bordering the property.

There used to be a water pump on the hillside above the property that

would pump water up to a reservoir close to La Venta Inn. The pump is

long gone, but parts of the stone structure remain. There was a time, Herbrandson

reflects, when the parkland's hillside was green and there was a

stream that was home to frogs that would ribbit through the night. There

is still a teeming natural habitat here. They stopped trimming the palm

Changing leaves lead up the terraced pathways to a Sapote tree where bees

live year-round.

fronds when they realized that they served as a habitat for owls who made

these trees their home.

The Herbrandsons worked for two years to create a botanical experience

rich in color regardless of the season.

"We like bugs. We wanted a garden that attracted them," Dean said.

The Sapote tree planted by the previous owner is abuzz with bees except

for the one month out of the year where it loses its leaves. Their garden is

full of native plants that require little water. The Peninsula peacocks are especially

fond of the succulents.

"We have to plant new succulents every week. The birds eat all the leaves,

and when they can't get a firm grip on the plant anymore, they yank out

32 Peninsula • February 2018
---
The PV stones collected by Herbrandson himself fit together like a puzzle and are home to a wall of

succulents.

the whole thing by its roots," Dean said. There are Winter Lavender, Beach Cannas, Crepe Myrtles,

Aloe Vera plants with orange blooms, and double and single Trumpet vines, all amidst a perfectly

contoured outdoor environment that has individual rocks fitted together like a puzzle. Some

of the boulders Dean collected serve as resting places. Others, including the boulder with the fossilized

whale vertebrae, create the feeling of a sculpture garden.

The couple's goal was to create an outdoor environment for entertaining that stretched to the

very top of the property. This proved to be no easy feat. Each one of the slabs of stone from India

weighed 300 pounds. They were brought in on pallets. It would take a whole day for three workers

to make one or two steps. The end result is the Huntington Library gardens meets Hollywood's

Greek Theater – in Palos Verdes. PEN

The slabs from India were handcut onsite and dovetailed

to enhance their strength and natural beauty.

February 2018 • Peninsula 33
---
Lin's seniors

Destabelle, 76, at Wayfarers

Chapel, where she has frequently

performed. Photo by Charlice Lin

Over the past year, Charlice

Lin has interviewed and

photographed 54 Peninsulans

over the age of 75. "Foregone,

but not forgotten," an exhibit of

those interviews and photographs

opened Jan. 14 at the Peninsula

Center Library and will continue

through Jan. 31.

The project is the result of the remorse

the Rancho Palos Verdes resident

felt over an unfulfilled

promise to her paternal grandfather

when she was 10 and visited

him in Taiwan. He offered to take

her to an amusement park, but she

told him "another time" because

she wanted to go shopping with

her cousins. Her grandfather

passed away from cancer soon afterwards.

Lin hopes the exhibit will inspire

people to reach out to their families

and loved ones, often. To learn

more about her project, visit Charlicelin.com.

Following is the first in a series

of Lin's senior profiles that will appear

in Peninsula magazine.

-Editor's note

by Charlice Lin

Anne Stallone left Long Island,

New York, when she

was 17 to attend American

University in Washington, D.C. In

1963, shortly after President John

F. Kennedy spoke at her commencement,

she moved to California.

After five years spent raising

her daughter Dawn on her own,

she married Ray Destabelle.
---
Peninsula seniors who participated in Charlice Lin's photograph and personal

history project gather at an exhibit of her stories and photos at the Peninsula

Center Library. Photo by Stephanie Cartozian

Destabelle, now 76, plays tennis,

mahjongg, the guitar, and the piano.

She performs throughout Southern

California with the Pennyroyal

Players, a musical group she established

in 2003. The group has raised

over $130,000, all of it donated to

charities. Destabelle also plays

piano at the Torrance Memorial

Hospital.

Destabelle chose Wayfarers

Chapel for her photo because she

has played guitar there on multiple

occasions. The chapel symbolizes to

her all that is beautiful and wonderful

in the world.

Anne's message for the world:

"Find your personal happiness, and

then do what you can to bring

peace to our very troubled world.

Each one of us can do that. Find a

way." PEN

$50 Off

Radiesse*

1.310.373.5000

*1.5 mL syringe, Expires 1/31/18

February 2018 • Peninsula People 37
---
S P O T L I G H T O N T H E H I L L

The Shrivers' Annual Arty Party

Artists Extraordinaire

The slogan is "Come one, come all' to the Shrivers' annual gathering

in their Tuscan style courtyard, once called the Farmstead. Jean,

Charlie and Steve Shriver were the gracious hosts who opened their

iconic home to over 25 different local artists who displayed their works

just in time for gift giving for the holidays. While the original oils on

canvas were displayed on easels throughout, there were also ceramicists,

jewelers, and artists of every medium, many who come annually. Guests

park in gravel lots to shop and drink wine with their Portuguese Bend

neighbors.

1. Marty Redfield and her dog Mattie,

Tom Redfield and Joan Wright.

2. Don Christy and Nic Vaughan.

PHOTOS BY STEPHANIE CARTOZIAN

3. John White, Jean Shriver and Fred

Shriver.

4. Harpist and flutist entertained.

5. Meredith Grenier and De De Hicks.

6. Bernard Fallon.

7. Stephen Mirich, Steve Dair and

Bernard Fallon.

8. Emily and Tim Vaughan, Tracy England

and Bob Mennig.

1

2 3

4 5

6

40 Peninsula • February 2018
---
30 Year Anniversary

The Palos Verdes Flower Talking Clock donated by

Michel Medawar and his family, celebrated its 30th

Year on the Palos Verdes Peninsula.

Your clock reminds you of its presence every

time you wind it. If the accuracy of the clock is

not what it used to be, or the chimes are not as

strong or rhythmic, or maybe it just stops; that means

your clock is talking to you and telling you that its endless

life is in jeopardy.

It is imperative to maintain and service your clock

regularly. Oil gets old and dry forcing the train of gears

to work twice as hard to accomplish their goal. This results

in damage that drastically shortens the life of a

fine timepiece.

Michel Medawar has been extending the lives of

timepieces for over sixty years as his father did sixty

years before. He is the inventor of the first talking clock

in the world. He is a graduate from Patek Philippe in

Geneva, Switzerland, The Theod Wagner Clock CO. in

Zeeland, Michigan. Call him so that he may come to

your and offer you a free estimate for servicing your

clock. Or bring your wall or mantel clock to out store

to see our showroom and receive the same complementary

diagnosis.

We are located at 810C Silver Spur Rd., in Rolling Hills Estates, Ca.

90274. Or call us at (310) 544-0052

Open 10:00 am - 6:00 pm Tuesday - Saturday

810C Silver Spur Road • Rolling Hills Estates • CA 90274

Call 310.544.0052

42 Peninsula • February 2018
---
• Serving the South

Bay for over 35 years

• Full Service Contractor

• Complete Installation

• New Construction

• Remodeling

• Second Floors

• Additions

• Cabinets

4203 Spencer St., Torrance, CA 90503 (310)214-5049 • www.pevelers.com

Appointments Are Recommended

Showroom Hours: Tuesday, Wednesday, Thursday 10-5 • Friday 9-3 • Monday by Appointment

Closed Saturday and Sunday • License #381992

Visit Our

Kitchen &

Bath

Showroom

eventcalendar

CALENDAR OF COMMUNITY EVENTS

Compiled by Teri Marin

You can email your event to our address: penpeople@easyreadernews.com

All submissions must be sent by the 10th of each month prior to event taking place.

On Going

Peninsula Seniors

Weekly and periodic activities. Call the Center for more information (310)

377-3003 or for Peninsula Newsletter for Active Seniors go to: pvseniors.org.

Native Plant Nursery Volunteer Days

Monday - Friday, 9 a.m. Enjoy nurturing seedlings and help plants grow for

habitat restoration projects. Must RSVP 48 hours in advance. Sign up at:

www.pvplc.volunteerhub.com

Mother's Day essay contest

St. John Fisher School and Sam Pheng of Modern Jewelry Mart are hosting

an essay contest for first through eighth students on "Why mom deserves a

diamond." Eight gemstone prizes for each grade will be awarded, along with

a diamond for the grand prize winner. For more information call Modern Jewelry

Mart at 310-517-0308.

Friday, January 26

Picasso at the

Lapin Agile

The clever off-Broadway hit from comedian/writer

Steve Martin imagines

Albert Einstein and Pablo

Picasso meeting in a Parisian bar

one evening in 1904, just before

each man introduced the work that

would make him famous. Tickets

$30-$70. 8 p.m. Fridays, Saturdays;

2 p.m. Sundays. Through Sunday,

February 4. Norris Theatre, 27570

Norris Center Dr., Rolling Hills Estates.

Saturday, Jan. 27

Trail Watch Training

Richy Stores is Einstein and

Andrew Puente is Picasso in

Picasso at the Lapin Agile at

the Norris Theatre Jan. 26

through Feb. 4.

Become a Trail Watch Volunteer and make a difference on the trails. 9 a.m.

– noon. Ladera Linda Community Center, 32201 Forrestal Dr., RPV. Sign up

at pvplc.volunteerhub.com.

Rock the Garden

Live family musical performance in the Amphitheatre 11 a.m. - 3 p.m. Also,

through January 31 a selection of trails will host a special "mix-tape" to mix

up your post-holiday walk. 9 a.m. - 5 p.m. Included with garden admission.

South Coast Botanic Garden, 26300 Crenshaw Blvd., Palos Verdes. southcoastbotanicgarden.org.

Native Plant Sale

At White Point Nature Education Center, noon – 2 p.m. Plants sold on firstcome,

first-serve basis. 1600 W. Paseo del Mar in San Pedro. For more information

call (310) 541-7613.

Sunday, January 28

Whale Fiesta

This fun-filled family event, co-sponsored by Cabrillo Marine Aquarium and

the Los Angeles Chapter of the American Cetacean Society, celebrates marine

mammals and the migration of Pacific gray whales along Southern Califor-

44 Peninsula • February 2018
---
PANORAMIC VIEWS FROM THE MALIBU COAST TO CATALINA ISLAND

1504 VIA CASTILLA | PALOS VERDES ESTATES

5 BEDROOMS | 6 BATHROOMS | 5,090 SQUARE FEET

This custom built Mediterranean with congenial California Coastal style will win your heart with the luxurious and comfortable living it affords in

desirable Lunada Bay. This lovely homes features vaulted and cathedral ceilings, an island kitchen to inspire any cook, an expansive master suite

with a sitting room plus sparkling his/her remodeled bathrooms. You will have the flexibility to relax in the spacious living room, the appealing

family room/great room, the handsome paneled library/home office, or the pleasing den/children's study. In addition there are gorgeous white

oak parquet floors, multiple double French doors to let in the sunshine, and three fireplaces. Luxuriate in the back yard with its gorgeous pool/spa,

yard, and patio, as privacy is insured by high mature hedges. This stylish and winning home will exceed your expectations. It is not to be missed.

1504viacastilla.com

OFFERED AT $3,695,000

Anna Randall

Chairman's Circle, Top Producer

Cell: (310) 413-0838

www.AnnaRandall.com

annamrandall@gmail.com

BRE#00592793
---
eventcalendar

nia's coast. 10 a.m. - 3 p.m. 3720 Stephen M. White Drive, San Pedro. For

more information, see: cabrillomarineaquarium.org.

Rock the Garden

Live, family friendly DJ sets provided by VOX DJ in the Amphitheatre, 11 a.m.

to 3 p.m. Free with Garden admission. South Coast Botanic Garden, 26300

Crenshaw Blvd., Palos Verdes.southcoastbotanicgarden.org.

Wild & Scenic Films

An exciting selection of adventurous and inspirational films about nature presented

by the Palos Verdes Peninsula Land Conservancy. 4 p.m. Hermosa

Beach Community Theater, 710 Pier Ave. Hermosa Beach. Tickets $15 at the

door, $10 at www.pvplc.org or (310) 541-7613.

Wednesday, January 31

Hesse Park Lecture Series

Liz Cantine returns with Crooners and Song-birds as dancers and singers

beckon back to the golden age of music and entertainment. 10:30 a.m. Liz

Cantine is a professional dancer, director, choreographer and instructor. Hesse

Park, 29301 Hawthorne Blvd., RPV. pvseniors.org.

Thursday, February 1

Wine, cheese & chocolate

Palos Verdes Historical Society presents resident Dana Graham speaking on

the history of the Neighborhood Church and the building's original owner J.J.

Haggarty. 7 to 9 p.m., seating space is limited. Please RSVP (310) 373-6018.

Suggested donation: members $15, non-members $25. Malaga Cove Library

Lower Gallery, 2400 Via Campesina, Palos Verdes Estates.

Saturday, February 3

Palos Verdes Peninsula Land Conservancy

First Saturday Family Hike at George F Canyon. 9 a.m. Join a naturalist guide

to discover wildlife and more on an easy hike with amazing views. Free. All

ages welcome. 27305 Palos Verdes Dr. E., Rolling Hills. For more information,

contact (310) 547-0862 or RSVP at pvplc.org, Events & Activities.

Outdoor Volunteer Day

At Alta Vicente Reserve, 9 a.m. – noon. Help restore this unique canyon habitat

home to many threatened and endangered wildlife species. 30940

Hawthorne Blvd., Rancho Palos Verdes. Sign up at pvplc.volunteerhub.com.

Volunteer Greeter Training

This one day training prepares volunteers to lead outreach booths at special

events and nature walks to help connect the Land Conservancy with the community.

10 a.m. - noon. Land Conservancy Office. Sign up at http://pvplc.volunteerhub.com.

REAL ESTATE LOANS LOW RATES - FAST CLOSING

• Jumbo Loan To $10 Million

• Conventional Loans with only 1% Down (WHY RENT?)

• FHA up to $636,150

• 5+ Unit Financing

• Construction Loans

• Good Credit/Bad Credit

MILLENNIUM REAL ESTATE SERVICES

(BRE: 01275204/MLO: 1153348)

JACKIE COLLINS, Broker

800-653-1022

www.webmortgagefunder.com

609 Deep Valley Drive, Suite 200, Rolling Hills Estates, CA 90274

46 Peninsula • February 2018
---
All Hunter Douglas 20% OFF!

Catalina Supreme Paints

Redondo Beach

1002 S. Pacific Coast Hwy.

310-540-4456

Supremepaintredondobeach.com

Manhattan Beach

708 N. Sepulveda Blvd.

310-376-2444

Supremepaintmanhattanbeach.com

eventcalendar

Sunday, February 3

Tidepool Wonders

Explore the rocky shore at low tide with Cabrillo Marine Aquarium 3 to 4:30

p.m. Gather at the aquarium's John M. Olguin Auditorium for an informative

slide show, followed by a walk led by Aquarium Education Staff to the nearby

tidepools. Free; reservations required for groups of ten or more. Children must

be accompanied by an adult. Non-slip shoes and outdoor clothing recommended

for navigating the slippery, rocky shore. Also held Saturday, February

10 from 11:30 a.m. to 1 p.m. and Sunday, February 11 from 12:30 to 2

p.m. 3720 Stephen M. White Drive, San Pedro. (310) 548-7562 or

www.cabrillomarineaquarium.org.

Thursday, February 8

Needle Artists

Chapter of the American Needlepoint Guild will hold its monthly meeting, 10

a.m. The program will be "Coeur Hearts," a design which can be stitched on

your choice of ground fabric and thread color. Call 424-224-9254 for further

information. Meeting held at Ports O'Call Restaurant, 1200 Nagoya Way,

San Pedro.

Saturday, February 10

Volunteer Trail Crew Training

Join the Trail Crew for monthly field practice in trail assessment and repair

techniques. This will give an overview to the 50-hour certification training program.

9 a.m. - noon. Land Conservancy Office. Snacks, refreshments and

good company provided! Sign up at http://pvplc.volunteerhub.com.

DAVID FAIRCHILD PHOTOGRAPHY

"Its Like You're There All Over Again"

310-483-5090 WWW.DAVIDFAIRCHILDSTUDIO.COM

Guided walk

Palos Verdes Peninsula Land Conservancy

at Vicente Bluffs Reserve. Follow

the bluff top from Point Vicente

to Oceanfront Estates, an area containing

restored coastal sage scrub

habitat. 9 a.m. Great location for

sighting whales. This is an easy

walk. Free and open to the public.

For more information, contact (310)

541-7613 ext. 201 or sign up at

www.pvplc.org/_events/Nature-

WalkRSVP.asp. 31501 Palos Verdes

Dr. W, Rancho Palos Verdes.

Outdoor Volunteer Day

At Alta Vicente Reserve, 30940

Hawthorne Blvd., Rancho Palos

Verdes, 9 a.m. – noon. Help restore

this unique canyon habitat home to

many threatened and endangered

wildlife species. Sign up at

http://pvplc.volunteerhub.com.

Stories, Songs and More

At White Point Nature Education

Center, 10 -11 a.m. Share the joy of

storytelling with your children and introduce

them to the beauty of the natural

surroundings. Retired Children's

Librarian Carla Sedlacek shares stories

and activities featuring nature

themes, exciting props and songs.

Free. 1600 W. Paseo del Mar, San

Pedro. RSVP at: www.pvplc.org.

48 Peninsula • February 2018
---
SOLD

Dana Graham specializes in Palos Verdes, where he has lived since 1947, the last 33 years as one of

Palos Verdes' leading Realtors. Dana got into the business to be the kind of Realtor he wanted

but couldn't find, and he still is, from knowledge of the market, the history and nuances of Palos

Verdes, contract negotiation, construction, financing, and more. You will get Dana's personal attention

to all aspects of your transaction (no assistants, secretaries, or coordinators). He is in the Top 10 (out of

thousands) in Palos Verdes' listings sold. See his website at www.DanaGraham.com or, better yet, give

him a call at 310 613-1076. He will answer the call himself.

SOLD

Dana Graham

#1 Berkshire Hathaway Agent in PV in 2014

Berkshire Hathaway Chairman's Circle

Prudential Legend

33 years experience

310 613-1076 (cell)

Palos Verdes Resident Since 1947

DRE #00877973
---
Night in Old Cuba

Cuban-style food, casino games, music, dancing,

piano bar, cigar lounge, live and silent auction, opportunity

drawing, no host bar. Dress casual or

Caribbean style. Tickets $95 through February 9;

$100 at the door. Presented by Temple Emet. At the

Automobile Driving Museum, 610 Lairport St., El

Segundo, 6 - 10 p.m. Contact Karen Greenberg at

310-266-7567 or kgreenberg@socal.rr.com.

Sleeping Beauty

Get swept into a world of kings, queens, fairy godmothers

and storybook creatures, as the treasured

tale of Tchaikovsky's "Sleeping Beauty" comes alive

for two performances only at the Norris Theatre.

With exquisite costumes and a lavish set, the production

includes more than 30 distinguished

dancers from the nationally acclaimed Atlantic City

Ballet, and features special appearances by fairy

tale favorites Puss-In-Boots and Little Red Riding

Hood. Performances are 8 p.m. and February 11

at 2 p.m. Tickets $45 for ages 17 and under, $55

for ages 18 and over. For more information or to

purchase tickets, call 310-544-0403 or visit

palosverdesperformingarts.com. 27570 Norris

Center Drive, Rolling Hills Estates.

Tuesday, Feb. 13

Shrove Tuesday

St. John Fisher's Women's Council will hold its annual

luncheon in Barrett Hall. Guest speakers include

a priest and two residents from Homeboy

Industries, a gang intervention program located in

Boyle Heights. $25. Refreshments at 10 a.m.,

speakers at 11 a.m., lunch at noon. 5446 Crest

Rd., Rancho Palos Verdes. For information call Gail

Capers at 310-377-6164.

Thursday, Feb. 15

South Coast Rose Society

Monthly meeting. Social hour begins at 7 p.m. with

refreshments. Speaker is being kept secret because

it's so special. The public is welcome and for further

information, please see them on Facebook! South

Coast Botanic Garden, 26300 Crenshaw Boulevard,

Palos Verdes Peninsula.

Friday, February 16

Beauty and the Beast

"Be our Guest," and experience the enchantment

of Disney's "Beauty and the Beast," live on stage at

the Norris Theatre, weekends through February 25.

Presented by the highly-acclaimed youth theatre program,

the Palos Verdes Performing Arts Conservatory.

Show times for the student-cast production are

7:30 p.m. on Fridays and Saturdays and 2 p.m.

Sundays, as well as a 2 p.m. show on Saturday,

eventcalendar

February 24. Tickets are $15 for ages 17 and

under, $30 for ages 18 and over. For more information

or to purchase tickets, call 310-544-0403

or visit palosverdesperformingarts.com. 27570

Norris Center Drive in Rolling Hills Estates.

Saturday, February 17

Outdoor Volunteer Day

At White Point Nature Preserve, 9 a.m. – noon.

Help beautify the native demonstration garden and

surrounding habitat. 1600 W. Paseo Del Mar, San

Pedro. Sign up at www.pvplc.volunteerhub.com.

Guided Nature Walk

Visit White Point Nature Preserve and attend a naturalist-guided

hike. Enjoy coastal views and learn

more about the plants, animals, restoration area

and more! 9 a.m. 1600 W. Paseo del Mar in San

Pedro. Meet at the information kiosk between parking

lot and Nature Center. For more information call

(310) 541-7613 or RSVP at: www.pvplc.org,

Events & Activities.

Sunday, February 18

Peninsula Symphony

Celebrate the symphony's 51st season. Doors open

at 6 p.m. Pre-concert lecture by Maestro Berkson

(members only) at 6:15 p.m., followed at 7 p.m.

50 Peninsula People • February 2018
---
Considering A Major Remodeling Project?

REMODEL THE DESIGN/BUILD WAY - EVERYTHING YOU NEED UNDER ONE ROOF!

Enjoy The Remodeling Process From Concept to Completion

Get inspired at our state-of-the-art Design Center in El Segundo.

It's the perfect place to see an array of ideas for your home.

Visit Our

Design Center

2001 E. Mariposa Ave., El Segundo

For information on upcoming seminars and events:
---
Winner - South Bay's Best Hair Salon 2017!

The Felix Design Studio team invites you to enjoy your

'best in class' hair experience.

We are thankful for our existing guests and look forward

to welcoming new friends to our family.

550 Deep Valley Dr Suite 133 Rolling Hills Estates, CA 90274

310-265-9343 | www.felixdesignstudio.com

Open Monday - Saturday

MATTUCCI

Plumbing

Since 1990 • License # 770059, C-36 C-34 C-42

D E P E N D A B L E • P R O F E S S I O N A L • A F F O R D A B L E

w w w . m a t t u c c i p l u m b i n g . c o m

WINTER SPECIALS

$ 9 8 0

Residential Water Heater

40 gal. installed! ($1080 - 50 gal. also available)

Includes hot & cold water supply lines

Expires Februar y 28, 2018

FULL SERVICE PLUMBING

SEWER VIDEO INSPECTION

ROOTER SERVICE

COPPER REPIPES

$ 7 5

Rooter Service - Main Line

Must have clean-out access. Some restrictions may apply.

Expires Februar y 28, 2018

F R E E

E S T I M A T E S

M e n t i o n t h i s a d w h e n

s e t t i n g u p a p p o i n t m e n t .

3 1 0 . 5 4 3 . 2 0 0 1

by the concert. Concert and parking are free. Redondo Union High School

Auditorium, 631 Vincent Street in Redondo Beach (PCH at Diamond). For further

information, please call the Symphony Office at (310) 544-0320, e-mail

us at music.pensym@verizon.net, or visit our website at Pensym.org.

Wednesday, February 21

Birding with Wild Birds Unlimited

Explore the birds making a home in the restored habitat at the beautiful White

Point Nature Preserve. Binoculars supplied for beginners. The program is free,

all ages welcome. 8:30 a.m. 1600 W. Paseo del Mar in San Pedro. RSVP at:

www.pvplc.org, Events & Activities.

Saturday, February 24

Cactus Wrens

Learn to help monitor rare Cactus wren habitat. Birding experience desired,

but not mandatory. 8:30-11:30 a.m. Alta Vicente Reserve, 30940 Hawthorne

Blvd., Rancho Palos Verdes. Sign up at http://pvplc.volunteerhub.com.

Capturing rain water

Learn how easy it is to conserve and use water in your home. White Point Nature

Education Center, 1600 W. Paseo del Mar, San Pedro, 11 a.m. RSVP at

https://pvplc.org/_events/WhitePointWorkshopRSVP.asp.

Outdoor Volunteer Day

At Native Plant Nursery, 9 a.m. – noon. Nurture seedlings and grow shrubs

for habitat restoration projects all around the Peninsula. Reservations required.

Sign up at www.pvplc.volunteerhub.com.

Native Plant Sale

At White Point Nature Education Center, noon – 2 p.m. Plants sold on firstcome,

first-serve basis. White Point Nature Preserve located at 1600 W. Paseo

del Mar in San Pedro. For more information call (310) 541-7613.

DARs to celebrate

The public is invited to join with members at El Redondo Chapter, Daughters

of the American Revolution's 53rd annual Colonial Luncheon. Have lunch with

Ben Franklin and hear about his adventures and challenges in forming a new

nation. 11 a.m. Event benefits veterans, active military and provides scholarships.

Los Verdes Golf Club, 7000

W. Los Verdes Dr., Rancho Palos

Thank You

For Your

Vote!

ON CALL

24 HOURS

7 DAYS

52 Peninsula People • February 2018

2013

Sunday, Feb. 25

Organ concert

The Neighborhood Church hosts visiting

French-Canadian organist Isabelle

Demers, who has enraptured

listeners around the globe with her

spell-binding performances. A native

of Québec and a graduate of the

Juilliard School, Ms. Demers is

Organ Professor and Head of the

Organ Program at Baylor University

in Texas. 4 p.m. in the ocean view

sanctuary of the Neighborhood

Church, 415 Paseo del Mar, Palos

Verdes Estates. Tickets are $20 and

may be purchased in the Church Ofeventcalendar

Verdes. $50. Reservations must be

made by February 10. For information

or reservations contact Maureen

Drew at 310-534-2222 or mrdandco@sbcglobal.net.
---
eventcalendar

fice Monday thru Friday from 9 a.m. - 4 p.m. or by calling (310) 378-9353

ext. 1005.

Wednesday, February 28

Birding with Wild Birds Unlimited

At George F Canyon presented by the Palos Verdes Peninsula Land Conservancy,

8:30 a.m. Explore the birds in nesting season making a home in the

canyon. Free, all ages welcome. 27305 Palos Verdes Drive East, Rolling Hills

Estates. RSVP at: www.pvplc.org, Events & Activities.

Mac Users Group Meeting

Admission is free. All Mac/iPad/iPhone users and potential users are welcome.

6:30 p.m., Beginners Q & A. 8 p.m., presentation on Mac OS High

Sierra. See sbamug.com for more info, or call 310-644-3315. Email:

info@sbamug.com. Lomita VFW Hall, 1865 Lomita Blvd.

Sunday, March 4

Music in the Garden

The Peninsula Committee Los Angeles Philharmonic hosts Music in the Garden.

Young musicians will be showcased with performances by Peninsula High,

Palos Verdes High, Redondo Union High, Ridgecrest Intermediate, South High

and Narbonne High students, to name a few. Festivities will also include Philharmonic's

Music Mobile, face painting, drum circle, food for purchase and

more. Noon to 4:30 p.m. Great musical fun for all ages. Tickets are $25 for

a Family Pack (up to two adults and five children), or $15 per adult and $5

for youth. Benefits music youth education. South Coast Botanic Garden,

26300 Crenshaw Boulevard, Palos Verdes Peninsula. For more information,

please visit pclaphil.org or email pclaphil@gmail.com. PEN

February 2018 • Peninsula People 53
---
Seven tasty meats

Yamaya general manager Masahiko Koyanagi. Photos by Brad Jacobson (CivicCouch.com)

The Japanese's relatively young tradition of eating beef is gloriously celebrated at Yamaya

You wouldn't know it from the number of Japanese steakhouses that

have been popping up around town, but the Japanese are relatively

new at eating beef. The overwhelmingly Buddhist country banned

most cattle consumption in the year 675 and only legalized it in 1868. When

it was announced in 1872 that the Emperor himself had eaten beef and

lamb, resistance to the practice fell. Still, most of the population ate beef

only rarely until the 1960s.

The style of Japanese barbecue most celebrated now is yakiniku, a variant

on the grill-your-own Korean barbecue style. There are differences that fit

the culture, with sauces that are less pungent so the focus is on the natural

flavor of quality beef.

A restaurant in Torrance offers a particularly authentic version of this

cuisine. Yamaya Japanese Wagyu & Grill is the first American outpost of a

Japanese restaurant chain that features the Japanese wagyu breed of cattle

raised in Oregon by traditional methods. They're fed a natural diet and allowed

to live longer than commodity cattle. The more mature animal has a

richer flavor.

The restaurant in the eastern corner of the mall at Crenshaw and Pacific

Coast Hwy. has a demure frontage and a neat and modern but slightly

anonymous interior. The only unusual element is the industrial-size exhaust

fans that hang above every table to vent the smell of cooking beef. They

work well and are surprisingly quiet, so it's not like having dinner under a

running aircraft engine.

The menu offers the expected variety of grilled beef but also some noodle

soup, shabu-shabu, and sukiyaki entrees that are portioned for two people.

While these looked intriguing, my companion and I wanted to try as many

different items as possible, so we ordered a seven-item combination

yakiniku dinner and a bowl of bibimbap stone pot rice for main courses.

This was preceded by appetizers, and the three I most wanted to try went

a bit beyond my companion's comfort zone. He doesn't usually like raw

fish or meats, but gamely decided to try mentaiko (spicy salted caviar), top

sirloin tartare, and salmon marinated in Japanese rice vinegar with onions.

The salmon was the most conventional item, lightly pickled fish with a

little sweetness and a little vinegar tartness. In typical Japanese fashion they

left the good ingredients to speak for themselves, the flavor of the fish delicately

enhanced.

The other two items had more art and less nature in the combinations.

Mentaiko is made from the eggs of the Alaskan cod fish, called Pollock,

which are salt-cured and blended with chili peppers. The flavors are strong

but balanced, the texture a bit weird and slightly pasty, and it is often used

as a flavoring in noodle dishes and soups but sometimes eaten alone. This

was the first time I had tried it by itself, and while it was interesting I like

it better with spaghetti.

The beef tartare was a cylinder of shredded top quality raw beef per-

54 Peninsula • February 2018
---
fumed with sesame oil and topped with a raw egg yolk. Small portions of

toasted garlic, shredded scallion, and pine nuts accompanied it, and added

little bursts of flavor and texture. The meat itself was rich and full of flavor,

and the condiments made it an experience that was simultaneously primal

and civilized. If you are at all open minded about flavor and enjoy the taste

of beef, try this – you may be surprised.

The manager, a pleasant fellow named Mr. Koyanagi, had helped suggest

our menu selections and also asked about our beverage preferences. They

have many premium sakes and shochus here but the wine selection is limited,

with only one red wine by the glass. We had tried some shochus with

our starters, but preferred wines with the main course. Mr. Koyanagi mentioned

that he had some bottles that didn't appear on the list, and offered

a Beaujolais that worked nicely with the meaty flavors to come.

While we nibbled our starters a server fired up the grill in the middle of

our table, which had gas for heat along with charcoal for flavor. When the

first items were demolished he brought the beef, an array of seven different

cuts of meat, attractively presented. A few slices of zucchini, onion, and

pepper were provided too, but this dinner was all about the beef. Five

types were presented unseasoned. One had a sprinkling of sesame seeds

and salt, and one was marinated with soy sauce, sesame, and chopped scallions.

We were encouraged to grill each type rare and take it off before it

became tough.

What followed was a thoughtful carnivore's dream meal, an exploration

of the flavors and textures of beef. I don't have room in this article to rhapsodize

about all seven, but suffice it to say that we were engrossed in analyzing

each type. Was the buttery richness of the short rib more enjoyable

than the more fully flavored top sirloin cap? How did that compare with

the ribeye or the chewier tongue or chuck flap tail? Did the flatiron steak's

marinade and scallions make it the best palate cleanser between unadorned

cuts, or did the marinated flank steak wrapped around a rice ball do that

better? It was a challenge to put our thoughts into words as we savored

each piece.

When we had devoured the beef we had the bibimbap to finish things.

Like yakiniku style cooking, this dish of rice heated in a stone bowl has a

Korean influence, but with the accent on natural flavors rather than high

seasonings. Beef, vegetable, and seafood bibimbaps are offered, and since

we knew we would be in beef overload we decided on vegetable. The rice

had been quietly sizzling and developing a tasty crust as we ate the beef,

and when we mixed everything together there were crusty bits where the

rice and sauce had cooked next to the bowl. The crisped rice with root vegetables,

bean sprouts, and spinach were a fine finish to the meal.

Mr. Koyanagi surprised us with a dessert, steaming cups of dashi soup

with citrusy yuzu added. We're used to desserts being sweet instead of

umami-laden and scented with seaweed and bonito, but it was strangely

compelling.

Dinner for two with a bottle of wine and two shochus ran $140, remarkably

reasonable for a meal of this caliber. Yakiniku is the style of dining

for people who really want to savor good beef. Yamaya's preparations of

quality meat hit the balance of simplicity and sophistication. The Japanese

came to eating beef late, but they've made up for the lost time.

Yamaya is at 2529 Pacific Coast Hwy., Torrance. Open 11:30 a.m. – 2 p.m.

and 5:30 – 9:30 p.m. Tue-Sun. Parking lot, wheelchairs OK, beer, wine, shochu,

and sake served. Menu hakatayamaya.com. (310) 257-1800. PEN

TRUSTS, WILLS, PROBATE

After practicing law in the

Manhattan and Hermosa Beach area for

over 28 years I'm pleased to announce the

relocation of my offices to Palos Verdes.

Please call for a free consultation.

MARGARET A. JONES

Attorney At Law

655 Deep Valley Drive, Suite 125

Rolling Hills Estates, CA 90274

(310) 544-2255

Majoneslaw.com

Vinyl Windows

Replacement and New Construction

BUY ONLINE

AND SAVE BIG $$$

WWW.1STWINDOWS.COM

VINYL, ALUMINUM, WOODCLAD

Lowest Prices Up Front • No Games

Show Room 562-494-9069

CONTRACTOR REFERRAL • Fax 562-494-2069

February 2018 • Peninsula 55
---
Barney's Beanery

Here at Barney's we've got our full newspaper-sized menu available as well as 40 beers

on draft. Daily and weekend specials and a great Happy Hour Mon - Fri, 4pm to 7pm.

ALL DAY Happy Hour on Monday! We offer free wifi and always have the TV's tuned

to numerous sporting events, in case you want to settle in for a long lunch or dinner.

Either way, we are here for you so come on in and enjoy!

100 Fisherman's Wharf, Suite H, on the Redondo Beach Pier.

(424) 275-4820 www.barneysbeanery.com

V ilicich

Watch & Clock

Established 1947

Celebrating

Our

70 th

Anniversary!

(310) 833-6891

We Buy

Watches!

714 S. Weymouth Avenue

San Pedro, CA 90732

Not affiliated with Rolex USA

in remembrance

Neighbors, legal community

mourn for Major Langer

by Kevin Cody

On the first day of shiva, following Major Langer's burial, the guard at

the Rolling Hills gatehouse asked one of the arriving guests, "Who

was this guy? I've never seen so many people come to pay their respects."

At noon that day, Jan. 4, over 1,000 mourners attended the Rolling Hills

attorney's burial at Hillside Memorial Park Cemetery.

"I lost track of all the dignitaries at the services. People flew in from all

over the world. It was something to see," recalled friend and colleague Jim

Hall.

Langer and Hall met at their children's preschool over four decades ago.

They and their wives Shirley and Marcie, had dinner almost every Sunday

at Fu Yuan Low. They celebrated Christmas Eve dinner together and were

scheduled to be together on New Year's Eve.

But on Friday, Dec. 29, Langer, 75, was fatally shot by a recently dismissed

law partner. According to witnesses, John Mendoza, 58, of Redondo Beach,

arrived that afternoon at the holiday office party for Langer's Long Beach

law firm. Mendoza, Langer and partner Ronald Beck went into the firm's

conference room to discuss Mendoza's dismissal settlement, which sources

described as "generous." According to Hall, who spoke to Beck after the

shootings, Mendoza became verbally confrontational and then fired a handgun

at Langer and Beck. Langer was fatally shot in the back. Beck, a Rancho

Palos Verdes resident, was wounded in the leg. After shooting his former

partners, Mendoza fatally shot himself.

Both Mendoza and Langer were prominent personal injury attorneys.

Mendoza was a frequent legal commentator on Los Angeles television and

radio programs.

Langer represented many high profile clients, including actress Pamela

Anderson. He also represented several Rolling Hills neighbors in the 1987

Portuguese Bend Flying Triangle Landslide case. Langer spent days on horseback

riding across the otherwise inaccessible slide area, taking notes and

photographs to support his argument that the slide was caused by faulty

water pipes. The 14 month civil trial, believed to be the longest civil trial in

California history, resulted in a $17.6 million judgement in favor of his neighbors

whose homes were damaged in the slide.

Langer's legal successes enabled him to devote his leisure time to tending

his Rolling Hills property vineyard. But his motivation, Hall said wasn't success,

but justice.

"One of his early cases involved an eccentric Long Beach woman named

Misses Rose, who claimed the neighborhood kids were taunting her. Most

attorneys won't even return calls from the Misses Roses of the world. But

Major took her case and won a judgement in her favor against the kids and

their parents," Hall said.

In addition to his wife Shirley, Langer is survived by daughters Jessica and

Alexis, son Ryan and grandchildren Bobby and Zelda Sousa. PEN

Attorney

Major Langer

took pride in

the vineyard

he maintained

on his Rolling

Hills property.

Photo courtesy

of Jim Hall

56 Peninsula • February 2018
---
Beautify Lunada Project

The Beautify Lunada Bay (BLB) Project is an initiative sponsored by Lunada Bay

Homeowners Association (LBHOA), City of Palos Verdes Estates (PVE) and Palos

Verdes Peninsula Land Conservancy

(PVPLC). The goal is to revitalize the

bluff tops along Lunada Bay using

drought tolerant, native landscaping

through a phased multi-year program

and to provide an outdoor classroom

for elementary school students where

they can sit outside and learn.

The LBHOA has been working alongside

the Palos Verdes Peninsula Land

Conservancy and a professional

landscape design firm, Dudek Habitat

Restoration, to develop a realistic

budget and execution plan. The plan calls for $88,650 to complete Stage 1 construction

and planting, and an additional $22,500 for 3 years maintenance,

water costs, and volunteer training. Once the project has been firmly established,

maintenance and water costs will decrease significantly.

There has been some controversy amongst residents, some who prefer to leave

the Bluff and adjacent space in its natural state. Visit lbhoa.org and blb.lbhoa.org

for more information.

Los Cancioneros

Los Cancioneros Master Chorale is a non-profit organization of mixed chorus that

performs in the South Bay region of Los Angeles County under the direction of

Artistic Director, Allan Robert Petker. The association offers musical scholarships,

community concerts and an opportunity for the public to enjoy the musical arts in

the South Bay. Its repertoire ranges from classical to modern and their performances

around&about

Los Cancioneros holiday concert, above, celebrated the Latin culture and

included carols and lullabies from the Southwest along with holiday

melodies from Spain and Central America. The Chorale ended the

evening with playful favorites including Guaraldi's jazzy "Peanuts" classic,

Christmas Time is Here. Visit www.lcmasterchorale.com. Photo by Jeremy

Brunson

are limited to only four per year. Generally the concerts are held at the Armstrong

Theater in Torrance. Their next concert is on March 18, 2018 called Celebrating

Music, a classical concert.

New children's book release, A Tail of Twin Peacocks

"Dr. Seuss (Ted Geisel) was a friend of my family's when I was growing up", shares

author Katrina Vanderlip. "He taught me how to illustrate at age 6 and now 6

decades later, I have finally finished my first children's book completely written and

illustrated by me, yet inspired by my early interactions with Geisel." She further explains

that after her father Kelvin Vanderlip passed away, she remembers a trip to

Geisel's home overlooking La Jolla beach. "This was a time before computers and

he (Geisel) carefully figured out each color separately for his illustrations and explained

it all to us. From that time on, I had always wanted to create a children's

February 2018 • Peninsula 57
---
S P O T L I G H T O N T H E H I L L

Special Children's League

Diamond Anniversary

The Special Children's League hosted a holiday boutique fundraiser at the Palos Verdes

Golf Club. The group has helped children with disabilities for the past 60 years. President

Joyce Komatsu observed, "There is a greater recognition and acceptance of individuals

with special needs, with more attention given to their abilities rather than disabilities."

But she added that more work needs to be done. Among the festive holiday vendors were

Abbracci Medical Spa, Kendra Scott Jewelry and Social Butterfly Designs. There was a nohost

bar and lunch included a Brown Derby Chopped salad followed by a flourless chocolate

cake topped with fresh berries for dessert. The Diamond drawing awarded the lucky

winner a stunning 18kt white gold, diamond necklace valued at $3,000 and a First Prize

drawing included a two night stay at the Montage Beverly Hills.

PHOTOS BY STEPHANIE CARTOZIAN

1. Stephanie Hughes and

Catina Gonzalez.

2. Michele Dahlerbruch,

Julie Patterson and Tracy

Lazarus.

3. The luxe table

centerpieces.

4. Jill Pasant, Virginia

Butler and Janis Farran.

5. Dr. JJ Levenstein, Joyce

Komatsu and Cristina

Ferrare.

6. Linda Marlo, Janis

Farran and Linda Igo.

7. Ellen Schuchert, Sally

Hill and Lynn Densmore.

8. Joyce Komatsu, Linda

Igo and Ann Cooper.

9. Jan Sharpe, Jacqueline

Glass and Robin Haney.

1

2 3

4 5

6

7

8

9

58 Peninsula • February 2018
---
ook myself." Being a fraternal twin with a brother and having grown up in Palos

Verdes where peacocks are ubiquitous, Vanderlip's book was a natural story having

been evolving for years in her mind. Mixing memories with her vivid watercolor

pallette, she brings the story to life. The book is about adventure and growing up.

Gabriel the white peacock is an angelic character in the book who is heartwarming

and sage and looks out for twins Leopold and Cleopatra as they progress

through different stages of their lives. The debut of the book will be at the PV Art

Center beginning on Friday, March 16 for the Capturing a Vision Exhibition. To

obtain signed copies of the book beforehand, please email

Katrinavanderlip@yahoo.com.

Newest Eagle Scouts honored at the Court of Honor

Boy Scout Troop 378 of the Greater Los Angeles Area Council proudly announced

its newest Eagle Scouts, Brent H Usui and Matthew Y. Usui, both 18, at an awards

banquet, on January 3 at St. John Fisher Church.

Brent and Matthew are seniors at Palos Verdes High Schhol and join their brothers

Jeff and Ryan in earning the rank of Eagle Scout.

Brent's Eagle project involved designing and building a hexagonal indoor bench

made of maple wood for the Children's Ministry at South Bay Community Church

(SBCC), the church where Brent and his family attend. In addition, Brent designed

and built the storage closet area for the High School Legacy group of SBCC,

which included making wooden shelving, storage closets and a guitar rack.

Brent has actively participated in engineering and research projects through Jisan

Research Institute and Palos Verdes High School, which included presenting at the

11th Annual International Green Energy Conference in Anchorage, Alaska in May

2016 and participating in observational studies of wildlife in the Galapagos Islands.

Brent's hobbies include playing the guitar and the ukulele.

Matthew's Eagle project involved building the gate and portions of the dressage

horse arena at Ernie Howlett Park located in Rolling Hills Estates. Matthew chose

to do his project at Ernie Howlett Park because he spent many memorable hours

playing Little League there. Matthew's project required many volunteers to help dig

around&about

out and replace decaying posts, custom build and paint sections of the fence and

gate that were damaged to allow the local community to safely enjoy the beautiful

dressage riding arena.

Outside of Scouting, Matthew is a member of the Palos Verdes High School Varsity

Volleyball team, Team Rockstar Club Volleyball team, and earned 1st team honors

in the Bay League. Matthew also played on the Palos Verdes High School Varsity

Basketball team. Matthew is active in school leadership as a member of the Palos

Verdes High School Principal Advisory Council and as the student representative

for the Western Association of Schools and Colleges. Matthew also enjoys being

a staff writer for Trade Winds, a student-run Palos Verdes High School literary magazine.

Brent Usui. Photos provided by

David Seo

Matthew Usui.

February 2018 • Peninsula 59
---
60 Peninsula People • February 2018
---
around&about

Journey of the Endeavour and David Benoit

The Peninsula Committee Los Angeles

Philharmonic presented its 2017

fall fundraiser alongside the historic

Space Shuttle at the California Science

Center's Samuel Oschin Pavilion.

Performing under the wings of

the Endeavour was Grammy nominated

jazz pianist, composer and

producer, David Benoit, conducting

the Asia America Youth Symphony.

The concert included original composition

of Benoit's called the "Journey

of the Endeavour" which also

accompanied the shuttle to his final

and permanent home here in Los

Angeles. There was gourmet hors

d'oeuvres, fine wines and dessert

served at this iconic event, in part,

sponsored by Malaga Bank,

Kinecta Credit Union and the California

Science Center.

Photo provided by the Asia America Youth

Symphony

M-80s debut

South Bay cover band

M80s made their debut

performance this past Saturday

at Torrance's Hey 19

Public House. Singer Dave

Carr and band, which includes

members of South

Bay favorites Crow Hill

Band and One Digit

Down, had a packed

house on their feet from

start to finish, playing all

the rock and pop hits from

the 80s and late 70s. For

more about M80s, visit

www.M80sLA.com.

(L-r) Mike Rubin, Jeffrey White, Dave Carr,

Brian White, and Dave Donson are the

M-80s. Photo by Jason Flynn

William J. Wickwire, M.D.

Certified, American

Board of Dermatology

Neal M. Ammar, M.D.

Certified, American

Board of Dermatology

DERMATOLOGY & SKIN SURGERY

BEACH CITIES DERMATOLOGY

M E D I C A L C E N T E R

Say Goodbye to Stubborn Fat....

Two Coolscuplting Devices to Treat Two Areas at Once!

Specialists in Skin Cancer Detection

• Skin Cancer • Mole Removal & Mohs Surgery

• Reconstructive Facial Surgery and Scar Revision

• Acne & Accutane Treatment

• Warts, Rashes and Cysts • Leg Vein Sclerotherapy

• Hair Loss & Propecia • Restylane, Radiesse, Perlane,

Juvederm & Sculptra • Botox and Dysport Injections

• Age Spots & Sun Damage • Laser Surgery

• Microdermabrasion • Glycolic and Chemical Peels

• Ultraviolet B & PUVA • Pediatric Dermatology

310-798-1515

www.beachcitiesderm.com

Redondo Beach —

520 N. Prospect Ave., Suite 302

Palos Verdes —

827 Deep Valley Drive, Suite 101

Buy One, Get One

FREE

South Bay's

best equipped

Dermatology

Center!

All PPOs Accepted

Evening & Sat.

Appts. Available

JoAnn DeFlon

SRES, Palos Verdes Specialist

310.508.3581 call/text

joann.deflon@VistaSIR.com

CalBre #01943409

Suzy Zimmerman, Agent

Insurance Lic#: OF71296

4010 Palos Verdes Dr N, Suite

103

Rolling Hills Estates, CA 90274

Bus: 310-377-9531

www.zimziminsurance.com

That's when you can count on

State Farm®.

I know life doesn't come with a schedule.

That's why at State Farm you can always

count on me for whatever you need –

24/7, 365.

GET TO A BETTER STATE.

CALL ME TODAY.

1101198.1 State Farm, Home Office, Bloomington, IL

Achieving the real estate goals of each and every

client is my absolute and utmost priority. All

methods, both local and global that are available

through Sotheby's International Realty will be used to

market your property.

Call me if you are looking to buy or sell in

the next few months.

Each office is independently

Owned and operated

February 2018 • Peninsula People 61
---
Highest Quality at a Fair Price

• Stamping

• Driveways

• Pool Decks

• BBQ/Firepits

• Patios

• Stonework

• Pavers

• Foundations

LIABILITY INSURED • WORKERS COMPENSATION

Casey Lindahl - Founder & President of Lindahl Concrete Construction, Inc.

] u

t

310-326-6626 LindahlConcrete.com

Lic.#531387

Showroom Available

FEE ONLY FINANCIAL PLANNER

• Are you in or approaching retirement?

• Do you want to stop worrying about your

investment portfolio?

• Do you lose sleep wondering if you may

outlive your nest egg?

• Do you want to know if you are on the

right path financially?

• Do you want to take control of your

finances?

• Do you feel you need a second opinion on

your portfolio?

If you answered "yes" to any or all of the

above questions, you may need to contact

me, to provide you with a personal financial

plan designed to help you take control

of your finances, reduce anxiety and ultimately

achieve your financial goals. There

is no cost or obligation for the initial meeting,

as it is an opportunity for you to learn

more about me, and for me to determine

if I can help you achieve your financial

goals and objectives.

As a fee-only financial planner I will be

compensated solely by my clients, I do not

accept commissions, referral fees, or

compensation from other sources, and I am committed to acting in

your best interest.

Abbas A. Heydari, CFP®

Certified Financial Planner

and Registered Investment Advisor.

Providing Financial Services

in Torrance since 1986

21515 Hawthorne Blvd., Suite 1020

Torrance, CA 90503

E-mail: aahfp@Yahoo.com

Web: www.aaheydari.com

Phone: (310)792-2090

February 2018 • Peninsula 63
---
S P O T L I G H T O N T H E H I L L

Benoit, Asia America Youth Symphony

perform Journey of the Endeavour

The Peninsula Committee of the LA Philharmonic celebrated its 65th anniversary

with a performance by the Asia America Youth Symphony, directed by

Peninsula composer and conductor David Benoit. The concert took place under

the wings of the Space Shuttle Endeavour at California Science Center's Samuel

Oschin Pavilion. The concert showcased Benoit's newly completed composition,

"Journey of the Endeavour," which was accompanied by footage of the retired

space shuttle's journey from Los Angeles Airport, through the streets of Los Angeles

to the Science Center. Over 350 guests attended the performance and afterwards

enjoyed hors d'oeuvres, craft beers and premium wines. Sponsors

included Malaga Bank and Mr. and Mrs. Allan Frew.

PHOTOS BY GREG SIERVELD AND VAL NOGUCHI

1. Ken Phillips of Calif. Science

Center and Sue and Allan Frew.

2. Jann Feldman, Marian Hall and

Lu Takeuchi.

3. Tom and Sandy Cobb and Rolf

and Judy Sannes.

4. David Benoit conducting under

wing of Endeavour.

5. Event Committee (back)

Cheryl Graue, Linda Whitson, Kei

Benoit, Denise Clement, Sue Frew,

Judy Sannes, Marian Duntley and

Marian Hall. (Front) Jann Feldman,

Lu Takeuchi, Darlene Vlasek,

Karen Gotlieb, Nancy Ceja, Jane

Beseda, Alicia Maniatakis, Tammy

Kolodny and Joann Deflon.

6. Lu Takeuchi and Jann Feldman.

7. Riner Scivally on guitar, Jean

Strickland on flute and Paul

Gormley on bass.

1

2 3

4 5

6

7

64 Peninsula • February 2018
---
Classifieds 424-269-2830

G

CATERING

Healthy

Japanese

Cooking

Two Month Classes

One Day Class

Private Classes

Catering is available

for parties

www.sushischool.net

310-782-8483

classifieds

424-269-2830

D

Remodeling

Design

Kitchens

Bathrooms

Room Additions

New Construction

your space in the

next

Pub Date: Feb 24

CONSTRUCTION

Deadline: Feb 10

Call direct

(424)

s

"Mr. Australia"

New Zealand and Fiji Too!

Your local expert for amazing, personalized

South Pacific travel packages

PVE resident • 16 years experience

100% "A" rating on Angie's List

EG

Concrete • Masonry

Landscape • Pools

Spa • Waterfall

BBQ • Firepits

310.420.7946

Lic#611186

Reserve

Charles Clarke

Local Owner/General Contractor

Ph: (310) 791-4150

Cell: (310) 293-9796

Fax (310) 791-0452

"Since 1990" Lic. No. 810499

Rick Stone, "Mr. Australia"

310-793-6013

mraustralia@verizon.net

www.MrAustralia.net

CONCRETE

269-2830

CONCRETE

QUIXTAR

Concrete & Masonry

Residential & Commercial

310-534-9970

Lic. #935981 C8 C29

classifieds

424-269-2830

CONSTRUCTION

Call us to Discuss the

ENDLESS POSSIBILITES

Extreme

Hillside Specialist

Foundation Repair Experts

Grading & Drainage

Retaining Walls,

Fences & Decks

310-212-1234

www.LambConBuilds.com

Lic. #906371

Classifieds 424-269-2830

ELECTRICAL

LYNCH

ELECTRIC &

General

Building

Contractors

• Residential

Troubleshooting

• Remodel Specialist

Scott K. Lynch

P.V. Native

Licensed & Insured

Cell

310-930-9421

Office & Fax

310-325-1292

www.LynchElectric.us

Lic 701001

FLOORING

GARAGE DOORS

HANDYMAN

Handyman

Services…

Fix It Right

the

First Time

Free estimates

What we do…

Plumbing,

Electrical, Drywall,

Painting & more.

Valente Marin

310-748-8249

Unlic.

MUSIC LESSONS

Vocal Technician

Piano Teacher

Vocalist

Jeannine McDaniel

Rancho Palos Verdes

20 year experience

All Ages

310-544-0879

310-292-6341

Jeannine_mcdaniel2001@yahoo.com

PLASTERING

Patch Master

Plastering

Patch Plastering

Interior • Exterior

• Venetian Plastering

• Ceiling Removal

• Drywall Work

• Acoustic

Ceiling Removal

• Water & Fire Restoration

310-370-5589

Lic. # 687076 • C35-B1

PLUMBING

Thank You South Bay for

50 Years of Patronage!

Residential • Commercial • Industrial

Plumbing 24/7 • Heating

Air Conditioning

pfplumbing.net

800-354-2705 • 310-831-0737

PLUMBING

MATTUCCI

PLUMBING • HEATING • COOLING

DEPENDABLE • PROFESSIONAL • AFFORDABLE

FULL SERVICE PLUMBING • COPPER REPIPES

SEWER VIDEO INSPECTION • HEATING

DRAIN & SEWER SERVICE • COOLING

TRENCHLESS SEWER REPLACEMENT

POOLS & SPAS

POOLS • SPAS

HARDSCAPES

New Construction

& Remodeling

Excellent References

Horusicky Construction

310-544-9384

www.Horusicky.com

Credit cards accepted

Lic #309844, Bonded, Insured

ROOFING

Tile Reroof and

repair specialist

310-847-7663

Family owned

business since 1978

Lic 831351

ON CALL

24 HOURS

7 DAYS

FREE ESTIMATES

310.543.2001

CALIFORNIA

Lic. #770059

C-36 C-20 A

2013

February 2018 • Peninsula 65