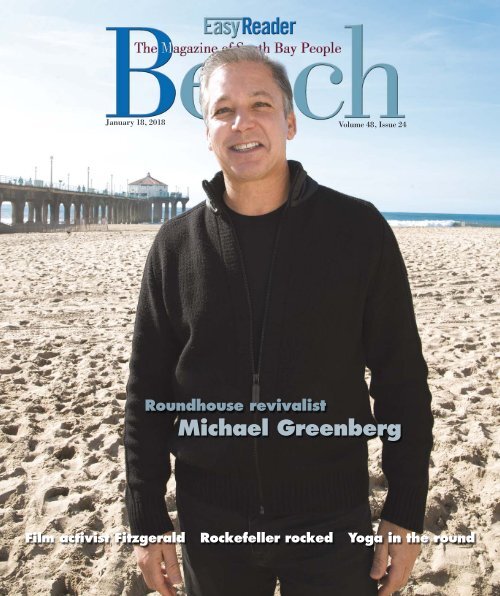 You also want an ePaper? Increase the reach of your titles
YUMPU automatically turns print PDFs into web optimized ePapers that Google loves.
January 18, 2018

Volume 48, Issue 24

Roundhouse revivalist

Michael Greenberg

Film activist Fitzgerald Rockefeller rocked Yoga in the round
---
Ralph Moore, Priscilla Hunt and Craig Leach

Our Heartfelt Appreciation

Ralph Scriba

Torrance Memorial Medical Center wishes to thank the following sponsors for their generous support of the 34th Annual Holiday Festival which

raised millions for the medical center's Donald and Priscilla Hunt Tower.

Emmanuel and Ofelia David

Jack Baker, Craig Leach, Richard Lundquist and Mark

Lurie, M.D.

Lisa Hansen and Barbara Demming Lurie

Julie and Jackson Yang

$100,000+

Billee and John Gogian

Donald and Priscilla Hunt

Major and Cathy Lin

Joelene and Bill Mertz

Loraine and Ralph Scriba

Jackson Yang Family

$50,000+

Sam and Rose Feng

Melanie and Richard Lundquist

Oarsmen Foundation

$25,000+

Ayne and Jack Baker

Emmanuel and Ofelia David

Michael Greenberg

Sunrider International - Drs. Tei-Fu

and Oi-Lin Chen

Ellen and Patrick Theodora

Torrance Memorial Medical Staff

Patricia and Gerald Turpanjian -

TF Education Foundation

$15,000+

Cindy and Paul Campbell

COR HealthCare

The Graziadio Family

Keenan HealthCare

Warren Lichtenstein and Steel Partners

Marina and Roman Litwinski, MD

Nixon Peabody LLP

Sodexo

$10,000+

Diana Cutler

Bryce Fukunaga, MD and Jenny Luo, MD

Shirley and Chih-Ming Ho, MD

Carole Hoffman

Marilyn and Ian MacLeod

Roxanne and Ramin Mirhashemi, MD

Laura and James Rosenwald

Rick Rounsavelle, DDS and

Kirsten Wagner, DDS

Alfredo and Beatrice Sheng

Kay and Sam Sheth

Timur and Janice Tecimer

Marshall Varon

Cathy and Michael Wyman, MD

Roy Young and Teri Kane

$5,000 - $9,999

Sandra and Tim Armour

Association of South Bay Surgeons

Jennifer and Brad Baker

Cindy and Paul Campbell

Eric and Anna Mellor, MD

Morrow Meadows

Murray Company

Owens & Minor

Pacific National Group

Tiffany Rogers, MD and Karen Seymour

Laura and Marc Schenasi

The Teague Family

Torrance Emergency Physicians

Torrance Memorial Radiology Group

Torrance Pathology Group

Sara and Keri Zickuhr, MD

$1,000 - $4,999

2H Construction

Betty and John Abe, MD

Christy and Jay Abraham

Nicholas Acosta

AD/S Companies

Anesthesia Medical Group

Jeanne and Fikret Atamdede, MD

Lori and David Baldwin

BCM Construction

Peggy and Cliff Berwald

Nadine and Ty Bobit

Marcia and Ken Boehling

Pam and Larry Branam

Brigante, Cameron, Watters &

Strong LLP

Trudy Brown

Ann and David Buxton

Linda and Zan Calhoun

The Cam Family (Vinh, Judy, Wilson

and Melody)

Joan Caras and Family

Bryan Chang, MD

William and Ellen Cheng

Ron Cloud

Sandra and Thomas Cobb

Francine and Phillip Cook

Kate Crane and Honorable Milan Smith

Pam Crane

Randy and Luke Dauchot

Digestive Care Consultants

Beth Dorn, MD

Sally and Mike Eberhard

EMCOR

Thyra Endicott, MD and Jonathan Chute

Regina and Dan Finnegan

Deanna and Lenny Fodemski

Food Fetish

Robert Gaudenti

Gelbart & Associates

Teresa Gordon

Marnie and Dan Gruen

Laurie Inadomi-Halvorsen and

Greg Halvorsen

Lisa and Steve Hansen

Harbor Post Acute

Cindy and Richard Harvey

Teresa and Saffar Hassanally

Heritage Rehabilitation Center

Eve and Rick Higgins

Mary Hoffman and Bob Habel

Terry and Joe Hohm

Daniel Hovenstine, MD

HUB International

Karen and Chris Hutchison

James & Gamble Insurance

Kathy Kellogg-Johnson and

Brian Johnson

Judy and Parnelli Jones

Vince Kelly

Heather and Rick Kline

kpff Consulting Engineers

Sherry and Ian Kramer, MD

Judy and Craig Leach

Patti and Thomas LeGrelius, MD

Jacquie and Joe Leimbach

Charlotte and Russ Lesser

Linda and David Lillington

Tracy and Amy Livian

Lomita Post-Acute Care Center

Pat and Rich Lucy

Barbara Demming Lurie and

Mark Lurie, MD

Kristy and Eric Maniaci

Allison and Rick Mayer

McCarthy Building Services

Jimmy McDonald

Kak and David McKinnie

Drs. Lisa Humphreys and

John McNamara

Medline Industries

Brian Miura, MD

Keith and Amanda Murphy, MD

Sheila and Ben Naghi, MD

Lisa and Eric Nakkim, MD

Jeff Neu

John and Serena Ngan

Diana and Steve Nuccion, MD

Corinne and Randolph O'Hara, MD

Jacinto Orozco

Maureen and Mario Palladini

Payden & Rygel

Michele and Robert Poletti

Adriana and Greg Popovich

Leslie and Todd Powley

Department of Radiation Oncology

Kelly and Chris Rogers

Nancy and Michael Rouse

Marge Schugt

James Scriba

Connie Senner

Alex Shen, MD Family

Monica and Sam Sim

Laura and Tom Simko, MD

Debra and Gerald Soldner

South Bay Gastroenterology

South Bay Orthopaedic

South Bay Plastic Surgeons

Spierer Woodward Corbalis & Goldberg

Rose Straub

Helen and Pasquale Theodora

TMPN Cancer Care

Yuki and Jeff Tom

Torrance Health IPA (THIPA)

Torrance Memorial Neonatology Group

Torrance Orthopaedic Sports

Torrance Pathology Group

Voya Financial

Susan and Bill Weintraub

Cynthia Williams, MD

Mary and Steve Wright

MAJOR IN-KIND

BENEFACTORS

Choura Events

G.S. Gaudenti Brothers

Morrow Meadows

Redondo Van & Storage

Rolling Hills Flower Mart Studio

The Zislis Group

Toyota Motor Sales, U.S.A., Inc.

Thank you to all our donors.

3330 Lomita Blvd., Torrance, CA 90505

310-517-4703 - www.TorranceMemorial.org

January 18, 2018 • Easy Reader / Beach magazine 3
---
January 18, 2018

Volume 48, Issue 24

BEACH PEOPLE

ON THE COVER

Skechers President

Michael Greenberg.

Photo by

Jessie Lee Cederblom

10 Trapeze artists by Ralph Doyle

Redondo Union High sailors Micky Munns and Michael Fineman are

campaigning their spinnaker flying, trapeze hanging I420 sailboat for a

spot on the U.S. Sailing Team.

Michael Burstein is a probate and estate planning

attorney. A graduate of the University of California,

Hastings College of the Law in 1987, he is admitted

to the California, Kansas and Oklahoma Bars and

is a member of the Order of Distinguished Attorneys

of the Beverly Hills Bar Association.

As an estate and probate lawyer, Michael has prepared

approximately 3,000 living trusts and more

than 4,000 wills.

An Estate Planning,

Estate Administration,

and Probate Attorney

l Living Trusts

l Wills

l Powers of Attorney

l Asset Protection

l Veterans Benefits

l Pet Trusts

l Advance Health

Care Directives

l Insurance Trusts

l Probate

l Conservatorships

l And Much More!

Call us to schedule an appointment or for our

FREE Guide:

Selecting the Best Estate Planning Strategies

111 North Sepulveda Boulevard, Suite 250

Manhattan Beach, California 90266

310-545-7878

12 Roundhouse resurrection by Mark McDermott

Skechers president Michael Greenberg recalls the son who motivated him

to mobilizes a $4.5 million community effort to transform the Manhattan

Pier Roundhouse Aquarium into a world class marine education

destination.

18 Yoga in the round by Ryan McDonald

Yoga practitioner and entrepreneur Evanna Shaffer rounds the edges off

yoga mats.

20 Documentaries for change by Bondo Wyszpolski

Documentary maker Jon Fitzgerald writes about and teaches "Filmmaking

for Change."

24 Rockefeller reinvented by Richard Foss

What began as an upscale burgers and beer joint bring in celebrity chef to

reinvent it's menu.

STAFF

PUBLISHER Kevin Cody, ASSOCIATE PUBLISHER Richard Budman, EDITORS Mark McDermott, Randy

Angel, David Mendez, and Ryan McDonald, ARTS & ENTERTAINMENT Bondo Wyszpolski, DINING

EDITOR Richard Foss, STAFF PHOTOGRAPHERS Ray Vidal and Brad Jacobson, CALENDAR Judy Rae,

DISPLAY SALES Tamar Gillotti and Amy Berg, CLASSIFIEDS Teri Marin, DIRECTOR OF DIGITAL MEDIA Hermosawave.net,

GRAPHIC DESIGNER Tim Teebken, DESIGN CONSULTANT Bob Staake, BobStaake.com, FRONT DESK Judy Rae

EASY READER (ISSN 0194-6412) is published weekly by EASY READER, 2200 Pacific Cst. Hwy., #101, P.O. Box 427, Hermosa

Beach, CA 90254-0427. Yearly domestic mail subscription $150.00; foreign, $200.00 payable in advance. POSTMASTER: Send

address changes to EASY READER, P.O. Box 427, Hermosa Beach, CA 90254. The entire contents of the EASY READER newspaper

is Copyright 2018 by EASY READER, Inc. www.easyreadernews.com. The Easy Reader/Redondo Beach Hometown News

is a legally adjudicated newspaper and the official newspaper for the cities of Hermosa Beach and Redondo Beach. Easy Reader

/ Redondo Beach Hometown News is also distributed to homes and on newsstands in Manhattan Beach, El Segundo, Torrance,

and Palos Verdes.

CONTACT

BEACH LIFE

6 Calendar

8 Beach Cities Toy Drive

22 Trump-inspired art at Shock Boxx

n Mailing Address P.O. Box 427, Hermosa Beach, CA 90254 Phone (310) 372-4611 Fax (424) 212-6780

n Website www.easyreadernews.com Email news@easyreadernews.com

n Classified Advertising see the Classified Ad Section. Phone 310.372.4611 x102. Email displayads@easyreadernews.com

n Fictitious Name Statements (DBA's) can be filed at the office during regular business hours. Phone 310.372.4611 x101.

4 Easy Reader / Beach magazine • January 18, 2018
---
B E A C H

CAL ENDAR

Photos by over 20 Easy Reader staff and contributing photographers will be on

exhibit at the Hermosa Beach Historical Museum through June. Opening reception

Friday Jan. 26, 6 p.m. 710 Pier Ave., Hermosa Beach. Pictured above:

Pier Plaza arrest, July 13, 2008 by Patrick Fallon.

January 19-21

MB Sidewalk sale

Downtown Manhattan Beach Sidewalk

Sale. For more information visit

DowntownManhattan Beach.com

Saturday, January 20

Hermosa book sale

The Hermosa Beach Friends of the

Library Book Sale is 9 a.m. - noon.

1181 Bard Ave., Hermosa Beach, behind

Stars Antiques. For information

call (310) 379-8475 or visit hbfol.org.

Underwater Parks Day

Learn about Marine Protected

Areas (MPAs) in Southern California

that went into effect January 2012.

These areas help protect fish and kelp

forests. Speakers, presentations, interactive

activities and handouts. 11 a.m.

- 3 p.m. Cabrillo Marine Aquarium,

3720 Stephen M. White Drive, San

Pedro. For information call (310) 548-

7562 or visit cabrillomarineaquarium.org.

Rock the garden

The South Coast Botanic Garden

offer live and recorded music

throughout the 87-acre gardens and

hiking paths. Heather Hero Roberts

performs Jan. 20 and The Skinny Ties

perform Jan. 27 from 11 a.m. to 3

p.m. in the Rose Garden. Adults $9,

seniors $6, children $4. For more information

visit southcoastbotanicgarden.org

Adios Richard

Cannery Row Studios presents

Richard Stephens' closing reception at

the Loft. 1 - 5 p.m. 401 South Mesa

Street, San Pedro. (310) 291-5316.

Water and Wood

Nearly 100 local artists and photographers

will exhibit their work at the

Hermosa Beach Artists Collective

tonight through Jan. 27. Tonight's

opening reception begins at 4 p.m.

618 Cypress Ave., Hermosa Beach.

For more information visit HBArtist-

6 Easy Reader / Beach magazine • January 18, 2018

collective.org

Magical Soiree

Woman's Club of Redondo Beach,

Outback Steakhouse and Balboa

Wealth Partners present Magical

Soiree, an evening of music, magic

and dancing benefitting RUHS Student

Scholarships. 6 - 10 p.m.

Woman's Club of Redondo Beach, 400

S. Broadway, Redondo Beach. $65. To

purchase, call (310) 713-4063.

Sunday, January 21

Yo-Yo classic

Professional yo-yo artists show off

their tricks at the annual Bill

Liebowitz Yo-Yo Classic. Free. 3 - 9

p.m. George Nakano Theatre, 3330

Civic Center Drive, Torrance. For

more info: Mr.skim888@gmail.com or

check out their Facebook page: Bill

Liebowitz Classic Yo-Yo contest.

Thomas Fire benefit

Saint Rocke hosts a benefit concert

for Thomas Fire victims featuring

Jason Ferg and Awdiv Band. $10/$15.

Doors open at 6 p.m. Tickets available

at SaintRocke.com. 142 Pacific Coast

Highway, Hermosa Beach

Monday, January 22

Beginning drawing

Manhattan Beach artist Ray Patrick

offers a beginning drawing class for

teens and adults. Free. 6 - 8 p.m. Manhattan

Beach Library, 1320 Highland

Ave., Manhattan Beach. Contact

Melissa McCollum at (310) 545-8595

or mmccollum@library.lacounty.gov.

STEAM: e-Gloves

Ever wondered how your smartphone

senses your touch through your

new gloves? Make your own gloves

compatible with the cold and touch

screen devices. Ages: 18+. Free. 5:30

- 6:30 p.m. Hermosa Beach Library,

550 Pier Ave., Hermosa Beach. Call

Kathleen Sullivan for questions at

(310) 379-8475.

BCHD parent group

Families Connected Parent Chat,

presented through a partnership between

South Bay Families Connected

and Beach Cities Health District, is a

free support group open to all parents.

The session will be led by a licensed

professional from the Thelma

McMillen Center at Torrance Memorial

Medical Center and provides an

opportunity to discuss shared parenting

challenges. 10 - 11 a.m. Beach

Cities Health District, 514 N. Prospect

Ave., #102, Redondo Beach. Visit

bchd.org/familiesconnected for more

information.

Tuesday, January 23

Your blood is needed

January is National Blood Donor

Month and the American Red Cross

has an urgent need for blood and

platelet donors of all blood types.

Please donate. 11 a.m. - 5 p.m. Manhattan

Beach Farmers Market, 326

13th Street, Manhattan Beach. For

questions and information call 1-(800)-

733-2767 or visit redcrossblood.org.

Wednesday, January 24

Bingo in Hermosa

Join in for a free night of Bingo with

special needs young adults of the

Friendship Foundation. Make new

friends and lasting bonds while playing

Bingo and enjoying dinner. 4:30 -

6 p.m. Hermosa Five-O Senior Activity

Center, 710 Pier Ave., Hermosa

Beach. For questions call (310) 318-

0280 or visit Hermosabch.org.

Friday, January 26

Easy Reader exhibit

The Hermosa Beach Historical Society

hosts an exhibit featuring photos

by over 20 Easy Reader staff and contributing

photographers, from 2000 to

2017. 6 p.m. Hermosa Beach Historical

Museum, 710 Pier Avenue, Hermosa

Beach. Exhibit continues

through June. For more information

call the museum at (310) 318-9421 or

Easy Reader at (310) 372-4611.

Saturday, January 27

Community Garage Sale

Over 100 homes are expected to

participate in the Hermosa Beach citywide

garage sale. 7 a.m. - noon.

throughout town. Garage sale kits

$10, available at Easy Reader. For

more information or to register your

sale: local.nixle.com/alert/6311557,

Georgia Moe at gmoe@hermosapolice.org,

or Leeanne Singleton at lsingleton@hermosabch.org.

South Bay Chili Cook-off

The Manhattan Beach Fire Department

hosts its annual chili cook-off

featuring offerings from dozens of the

area's top restaurant and personal

chefs. $25. Under 8 free. Tickets at

Eventbrite.com.

Light Gate Sunset

Twice a year the sunset aligns perfectly

through the Light Gate keyhole

in front of the Manhattan Beach library.

5:20 to 6 p.m. 14th Street and

Highland Ave., Manhattan Beach.

Sunday, January 28

Whale Fiesta

Marking the start of Pacific gray

whale annual migration to Mexico.

Over 20 marine life organizations provide

information to bring awareness

and protection to these animals. Highlight

is the "Great Duct Tape Whale

Contest," where model whales are

created by all ages. Other activities include

face painting, music, and marine

mammal-related arts and craft

projects, puppet show and passport

contest for fabulous prizes. 10 a.m. - 3

p.m. Cabrillo Marine Aquarium, 3720

Stephen M. White Dr., San Pedro.

Free. (310) 548-7562 or cabrillomarineaquarium.org.

Blood for life

One pint of blood can save up to

three lives. Donate from 12 - 6 p.m. at

the Clark Building, 861 Valley Dr.,

Hermosa Beach. Incentives included

a choice of a Starbucks gift card,

coupon for a pint of Baskin & Robbins

Ice Cream or a T-shirt. (310) 406-5907.

Wild & Scenic Film Fest

The Palos Verdes Peninsula Land

Conservancy host adventurous and inspirational

films about nature. Film

selections provide an encouraging

look at the worldwide interest in land

conservation. 4 p.m. Hermosa Beach

Community Theater, 710 Pier Ave.,

Hermosa Beach. Purchase tickets by

calling (310) 541-7613, at the door for

$15, and online at pvplc.org for $10.

Saturday, Feb 3

Health and Fitness Expo

Get ready for tomorrow's Redondo

Beach Super Bowl Sunday 10K/5K by

visiting the booths of hundreds of athletic

vendors in the Redondo Beach

Seaside Lagoon. Free. 10 a.m. to 4

p.m. and Sunday 6 to 11 a.m. 200 Harbor

Drive, Redondo Beach.

redondo10k.com/expo.

Sunday, Feb. 4

Super Bowl 10k/5K

One of the nation's largest, longest

running 10Ks features elite runners

chased by baby buggies and runners

in costume, followed by the Michelob

Ultra Post Race hospitality area (read

beer garden). Presented by King Harbor

Association. Custom awards presented

to the top three male and

female finishers in each category. $30

(5K), $35 (10K) and $10 (Kids Run). To

register visit Redondo10K.com. B
---
Considering A Major Remodeling Project?

FREE - DESIGN & REMODELING SEMINAR

Join us on

Saturday January 27 th

at 10:00 am

R e s e r v e Yo u r S e a t s

LEARN ABOUT THE DESIGN / BUILD PROCESS

AND SEE AN INSPIRING ARRAY OF IDEAS

FOR YOUR HOME
---
each charity

25TH ANNUAL BEACH

CITIES TOY DRIVE

caps off season of giving

T

housands of toys were met by hundreds of

eager hands last month for the annual 25th

Annual Beach Cities Hermosa's basketball

gym was packed with wrappers of all ages. Local

restaurateur Ron Newman provided lunch for the

event, which began in the morning and stretched

into the afternoon. Co-organizer Pete Tucker said

that local fire stations and police departments,

which served as donation points for the toys,

seemed to fill up with gifts as fast he could take

them away.

PHOTOS BY RYAN MCDONALD

1

2

1. Genevieve Filmardirossian and Maria Rojas,

of the South Central Family Health Center, one

of the charities accepting gifts from the toy

drive, help Janice Brittain wrap gifts.

2. Firefighters Christian McArthur and Peter

Heck wrap up a book.

3. City of Manhattan Beach employees try to

make a dent in the pile of toys.

4. Jamie Uou and Rosin Gross show off their

work.

5. Zeta Tau Alpha sorority alumni helped

package toys.

6. Members of the Manhattan Beach

Community Emergency Response Team make

their way through hundreds of stuffed animals.

7. Karen Clink, Katie Welac, Natalie Collicut

and Andrea Collicut man a table.

8. Manhattan Beach Firefighters bring more

loot to be wrapped.

9. Former Manhattan Beach Fire Chief Robert

Espinoza, Assemblyman Al Muratsuchi,

Hermosa Beach Mayor Jeff Duclos, Manhattan

City Council members Nancy Hersman and

David Lesser, and former Manhattan

councilmember Wayne Powell get in the

holiday spirit.

10. Musician Jeremy Buck and local news

anchor Vera Jimenez take a break from

wrapping.

3 4

5

6

7

8

9

10

8 Easy Reader / Beach magazine • January 18, 2018
---
each sports

Micky Munns and Michael Fineman looking for speed in their International 420 off of Palos Verdes.

Photo courtesy of the Munns family

high

by Ralph Doyle

Redondo Union High School sailors Micky Munns, 17, and

Michael Fineman, 16, have embarked on a challenging

campaign to qualify for the U.S. Olympic Sailing team. In

November, Munns and Fineman placed fourth in the International

420 West Coast Sailing Championships in San Diego.

Last month, their efforts received a boost when they trained

with San Diego Yacht Club head sailing coach Maru Urban,

coach of the 2016 U.S. Olympic team in Rio De Janeiro.

The 12-foot I420 is a technically demanding boat that requires

its two-person crew to lean out on a trapeze

while managing a spinnaker, as well as jib and

main sails.

In January, Munns and Fineman will travel

to Miami Beach to compete in the North

American I420 Championships. The following

month, they will return to Miami for the I420

Midwinter Championships. Their goal is to

qualify for the I420 World Championships in

Newport, Rhode Island, in August. A strong

finish in Newport will enhance their chances

for joining the U.S. Sailing Team.

Munns and Fineman both compete for Redondo

Union High in a league hosted by the

King Harbor Yacht Club. Other local teams include

Mira Costa, Rolling Hills Prep and Torrance.

Munns, a Redondo Beach native, began sailing

US Sabots and Optimist Dinghies when he

was 7. He joined the King Harbor Youth Foundation

FJ (Flying Junior) Race Team at 13. The

following year he and fellow Youth Foundation

sailor Alex Shapiro won a decisive victory over

a fleet of 30 in the FJ Area J Junior Olympics

in San Diego.

Last year, Munns enlisted Fineman, who

also raced with the King Harbor Youth Foundation.

Like Munns, Fineman began sailing US

Sabots and Optimists Dinghies when he was 7

and at 13 joined the KHYF FJ race team. Last

fall, as a Sea Hawk freshman, he a became a

skipper on the school's FJ racing team.

Munns and Fineman are enlisting support

for their sailing campaign at

GoFundMe.Com/I420Campaign.B

Micky Munns and Michael Fineman have embarked on an uphill campaign

to join the U.S.'s best sailors

• Serving the South

Bay for over 35 years

• Full Service Contractor

• Complete Installation

• New Construction

• Remodeling

• Second Floors

• Additions

• Cabinets

4203 Spencer St., Torrance, CA 90503 (310)214-5049 • www.pevelers.com

Appointments Are Recommended

Showroom Hours: Tuesday, Wednesday, Thursday 10-5 • Friday 9-3 • Monday by Appointment

Closed Saturday and Sunday • License #381992

Visit Our

Kitchen &

Bath

Showroom

Barney's Beanery

Here at Barney's we've got our full newspaper-sized menu available as well as 40 beers

on draft. Daily and weekend specials and a great Happy Hour Mon - Fri, 4pm to 7pm.

ALL DAY Happy Hour on Monday! We offer free wifi and always have the TV's tuned

to numerous sporting events, in case you want to settle in for a long lunch or dinner.

Either way, we are here for you so come on in and enjoy!

100 Fisherman's Wharf, Suite H, on the Redondo Beach Pier.

(424) 275-4820 www.barneysbeanery.com

10 Easy Reader / Beach magazine • January 18, 2018
---
each

Harrison Greenberg's senior photo. Photo courtesy the Greenberg family
---
The boy and the pier

First of two parts

A rendering of the "reimagined" Roundhouse Aquarium, expected to open

by Memorial Day. Courtesy Cambridge Seven Associates

How Michael Greenberg transformed the loss of his son into a gift for the place that made him

by Mark McDermott

Michael Greenberg was in England on

business when the call came that every

parent fears most.

It was April 7, 2015. His oldest son, 19-year-old

Harrison Greenberg, was on the other side of the

world. Harrison, heir to the family business,

Skechers, was 90 days into a four month internship

in China. He was traveling with his cousin

Colton, and they'd taken a six day break to visit

Thailand while en route to a work assignment in

Vietnam.

The call was from Michael's brother, and

Colton's father, Scott Greenberg. Hotel workers

had found Harrison dead in his room. He and

Colton had come back to the hotel together that

night, and Harrison had ordered room service as

Colton went to his own room to go to bed. Harrison

apparently choked to death while eating his

room service meal. Michael would later watch

the hotel's video surveillance footage to catch a

last glimpse of his son alive, buoyantly getting off

the elevator with his cousin, eager, as always, to

keep on going.

Harrison had always been an unusual kid. He

wasn't a conventionally good student; he was diagnosed

with ADD and was willfully independent

to a sometimes maddening degree, his father

would later recall. But he was extraordinarily

good at self-educating, possessed a quick mind

and broad curiosity, and had a nose for business,

technology, and travel. He'd started learning on

computers at the age of three, enthusiastically attended

business conferences with his father

throughout his boyhood, manufactured bitcoin at

home while still in high school, and traveled extensively

in Asia during his teenage years.

"One thing I'll say about Harrison is that even

though he passed early in life, he did a tremendous

amount in a compressed amount of time,"

his father recalled. "He traveled to Asia at least a

half dozen times -- China, Korea, all over… He'd

go anywhere. He had a plane ticket, he had apps

on language translations. 'How are you going

to..?' 'I got it dad.'"

On an Instagram post from the Guangzhou

Baiyun International Airport in China two weeks

before he died, Harrison combined two quotes

generally attributed, separately, to Saint Augustine

and the prophet Mohammed: "Don't tell me

how educated you are, tell me how much you

traveled. Because the World is a book, and those

who do not travel read only a page."

Michael immediately got on a plane to return

from London. His other two kids, Chase, who

was 16 at the time, and Mackenna, who was 13,

were on spring break with their mother Wendy

in the Cayman Islands.

"I had a long flight home to reflect on what was

going on," Greenberg said. "I was in shock. I

think if I had to say what concerned me the most,

it was worrying about his mother, and his siblings.

Because he's gone, so he's pain free, but if

you step back, you can imagine all the pain that

was going to happen. I was 35,000 feet up in the

sky knowing what I was going to encounter at

home."

Home was Manhattan Beach, the town Greenberg

had adopted as his hometown 25 years earlier

— before he had kids, before Skechers

became the third largest shoe company in America,

when he was 25 years old and just beginning

to make his mark on the world. He'd moved

around as a kid, from Boston to Florida and finally

to the Valley to join his own father, Robert,

with whom he helped build the shoe company

LA Gear, and then Skechers out its ashes.

Robert, a joyously imaginative serial entrepreneur

who'd launched a chain of hair salons, a wig

company, and a roller skate company before entering

the shoe industry, had always referred to

Skechers as "a nice family business," even as it

became a billion dollar, international enterprise.

He and most of his six kids lived in the Valley.

Michael woke up one morning in his home in

January 18, 2018 • Easy Reader / Beach magazine 13
---
MasterCard®

®

AMERICAN EXPRESS ®

SM

Woodland Hills and decided to

move to the beach. A week later, to

his family's shock, he was living in

Manhattan Beach. He became completely

in thrall with the little town.

Soon he headquartered the company

there. He had an office on the

200 block of Manhattan Beach

Boulevard with a view of the pier

and the Roundhouse.

"I always refer to it as this enchanted

village. It's how I felt when

I moved here," Greenberg said. "It's

like I'm always on vacation. It's a

special town….I feel really blessed

to be able to be here. All those times

I packed up my bags and moved —

I have no intention of ever moving.

I found it. I have lived over half my

life here now, and it gave me everything.

It gave me the life I have

today. My kids were born and raised

here; it was the only place they

know. I knew so many places, from

moving around. But who gets to live

near the beach?"

What was more unusual was that

even as Skechers grew into a $2 billion

a year business, selling 200 million

pairs of shoes worldwide

annually, Greenberg chose to keep

the company in Manhattan Beach.

"Setting up this company in a city

that is two miles by two miles —

who would do that? There is no

Michael and Harrison Greenberg. Photo Courtesy of the Greenberg family

land," he said. "They are not producing

more Manhattan Beach. So,

it took a lot of planning to keep a

company that was growing, that

needed space, inside of Manhattan

Beach. It's full; the houses are on

top of one another. There is no

farmland. There is no acreage. But

it's where I wanted to be."

He'd always marvelled when

coming home from business trips,

as he came over the crest of the hill

and looked down on the the red tile

roof Roundhouse at the end of the

pier. "This is where I get to live," he

thought.

But on that day in early April

three years ago, Greenberg arrived

bewildered. His first instinct was to

immediately book another flight, to

Thailand.

"I started to make flights to Thailand,

because that is where he was,"

he remembered. "But I was thinking,

why am I going to Thailand?

I've got to be with the kids and Harrison's

mother. There was a lot of

support here."

There is a confusingly beautiful

thing that often happens at a time of

such devastating loss — an unreal

and terrifying sense of absence is accompanied

by profound feelings of

love. It's hard to fully grasp the

enormity of a love a father has for a

son, or a sibling for a sibling, until

that person's passing throws the

feeling into sharp relief, creating a

hole in a heart the size of this unfathomably

large love. We often

don't know just how much we are

capable of feeling until loss forces it

upon us. That capacity is reflected

back upon us as we rest in the love

of those remaining.

The outpouring of love from the

community floored Greenberg. And

from around the world, donations

quickly arrived. The Harrison

Greenberg Foundation was immediately

established; within days, a

quarter million dollars had been donated

to the Foundation.

Robin Curren, the executive director

of the non-profit Skechers Foun-

G e t R e a d y F o r S p r i n g !

Say Goodbye to Stubborn Fat....

• Skin Cancer & Mole Removal

• Mohs Micrographic Surgery

and Reconstruction

• Cysts, Acne, Warts & Rashes

• Leg Vein Sclerotherapy

• Acne & Accutane Treatments

• Pre-Cancer Treatments

• Propecia Available

Two Coolscuplting Devices to Treat Two Areas at Once!

• Age Spots

• Glycolic & Chemical Peels

• Sculptra, Radiesse, Perlane ® ,

Juvéderm & Restylane ®

• BOTOX ® & Dysport

• Pediatric Dermatology

• Ultraviolet B & PUVA

• Latisse for longer, darker lashes

Get Ready For The New Year

Discounts Offered Now!!

Call Our Office For Details!

• Laser Surgery

• GentleLASe-Hair Removal

• IPL-Rosacea/Sun Damage

• Smoothbeam-Acne/

Wrinkle Reduction

• Vbeam-Redness/Broken Capillaries

• Fraxel – Melasma/Wrinkle Reduction

• XTRAC laser for treatment of

Psoriasis and Vitiligo

Fariba Seraj,

NP/PA-C

Providing Full

Dermatological

Medical Treatment,

in addition, Provides

all Laser and

Cosmetic Services.

Intense Pulsed Light

Treats Sun Damage, Brown Spots,

Age Spots, Broken Capillaries, Sun

Induced Freckles, Rosacea

NO DOWNTIME!

Special Introductory Price

$200* (Complimentary Consulation)

*New Clients only. Must bring ad for discount.

Shelby Reed

Also providing services: Steven E. Gammer, M.D. and Geover Fernandez, M.D.

www.beachcitiesderm.com

BEACH CITIES DERMATOLOGY MEDICAL CENTER

CERTIFIED, AMERICAN BOARD OF DERMATOLOGY

Also Providing

Licensed Aesthetician

Services

• Glycolic and Salicylic

Chemical Resurfacing Peels

• Microdermabrasion

Erika La Ponza • Progressive Acne Treatments

Hamaguchi

Jennifer

FREE INITIAL CONSULTATION! PLUS...

State-of-the-Art Skin Care With a Personal Touch

Rolling Hills Estates – 827 Deep Valley Drive, Suite 101

Redondo Beach – 520 N Prospect Avenue, Suite 302

Culver City – 3831 Hughes Avenue, Suite 504 B

ALL PPOS ACCEPTED l EVENING & SAT. APPTS. AVAILABLE

310-798-1515

William J. Wickwire, M.D.

Get Two FULL

HOUR Microdermabrasion

Treatments

for $160.

A Savings of

$100.00

Neal Ammar, M.D.

14 Easy Reader / Beach magazine • January 18, 2018
---
dation and a close family friend

who'd known Harrison all his life,

had an idea. Harrison had been a

quintessential child of Manhattan

Beach, sun-drenched with sand always

on his feet. Perhaps his greatest

passion had been for the ocean.

What better way to honor his

memory than by donating to the

Roundhouse Aquarium, which

was both an enduring symbol of

Manhattan Beach and a working

facility where generations of children

had been taught about marine

life?

Greenberg had arrived back on a

Tuesday. By Saturday, he and Curren

met with Lynn Gross, a board

member for Oceanographic Teaching

Stations, which operated the

Roundhouse Aquarium.

"Knowing his love for the sea, for

Catalina Island, for always being

on the water or in the water, visiting

the Roundhouse Aquarium all

the time… it was a natural fit,"

Greenberg said. "It was a beautiful

idea."

The boy

Harrison Greenberg grew up

never far from the water. As a little

boy, he was preternaturally drawn

to the Pacific Ocean and all its

Harrison Greenberg on Catalina Island. Photo courtesy the Greenberg

family

teeming life.

His family moved a few times in

his childhood, but always within

Manhattan Beach, always within a

quick march to the beach. In the

thousands of photos that documented

his early life, most have an

ocean backdrop, a tussle-haired

tanned boy building sandcastles,

bodysurfing, fishing; the closer he

was to the water, the bigger his

mischievous smile.

He tooled down the pier a thousand

times, ecstatic to run above

the slap of the ocean, more alive

than ever in the salt water air. He

especially loved the Roundhouse,

where he'd touch the animals in

the touch tanks and gaze in wonder

at the sharks in the big tanks.

Sometimes the ocean would

come to him. One photo shows a

party at his house when he was

two years old.The OTS crew from

the Roundhouse Aquarium

brought some of their animals to

the Greenbergs' home. Harrison

looks like he's being reunited with

old friends.

The first time he dove, on a family

vacation to Hawaii, he hugged

an octopus. For the rest of his short

life he'd keep the habit he was

taught on that first dive, holding

January 18, 2018 • Easy Reader / Beach magazine 15
---
his nose as he went under.

He was a boisterous kid, even

bold, curious about the world, unafraid

to go beyond his own limits

and especially those others set for

him. It was a trait that kept growing

all his life.

"He was a lot of work," said

Michael Greenberg. "What I realized

later was why — a lot of it was

because he was so creative, and determined.

It took me a while to understand

that he wanted to do things

that a young boy his age just didn't

do. He wanted to travel, he wanted

to work."

Because Harrison grew up in affluence

didn't mean he was immune

to the difficulties that beset

childhood. He was chubby when he

was young; as a grade schooler at

Robinson Elementary, he was bullied

for it. Rather than cower, however,

the experience seemed to

make him even more resolute, and

it may have drawn him closer to the

ocean — on the water, all creatures

are equally small relative to the immensity

of the Pacific.

His father recalls his early penchant

for voyaging. The family visited

Catalina Island perhaps a dozen

times a year, sometimes for a day, a

weekend, or a few weeks at at time.

They favored the Isthmus, which is

simple and rustic, with a single

hotel and restaurant, rather than the

more touristy Avalon. By the time

he was a teenager, Harrison would

take the family fishing boat out

alone.

"He was an avid fisherman,"

Michael Greenberg said. "This kid

would fish for hours. We have a

Grady White. he'd take it out and I

wouldn't see him for nine hours.

He'd go on the backside of the island.

And I was a little worried because

they didn't get reception; the

radio on the boats, the antennas --

there's got to be line of sight."

By this time he'd learned to trust

his son, who each year seemed to

grow more defined, physically and

otherwise.

"He really started to understand

who he was and have confidence,"

Greenberg said. "He figured out

who he was supposed to be."

He'd always taken an interest in

the family business. He'd grown up

Skechers, as had all the kids; his

brother, Chase, famously had his diapers

changed by his mother on the

boardroom table at the New York

Stock Exchange the morning Skechers

went public.

"I remember saying, 'You can't,

we don't have time,' and she said, 'I

am changing him,'" Michael Greenberg

said. "There is no telling a

mother. She puts him on this iconic,

world leaders' conference table that

is longer than my office; many dignitaries

have sat around this. We are

in this grand room and she plops

him on that table. And the head of

the exchange, [Richard] Grasso, he's

looking and he says, 'Well, that's

never happened.'"

When Harrison was four, his father,

playing the role of "shoe-ologist"

by doing a little market

research on his child, asked him if

he liked the Skechers he was wearing.

"Yes, Daddy, I like them," the boy

said.

"Do you like Nike or Adidas?" his

father asked.

"What is that?" Harrison replied.

He had no idea other shoes existed.

Nearly every trip the family

took they'd stop at at least one

Skechers store to check things out,

and thus by means of osmosis the

family business was being transferred

to the next generation. As

Harrison grew older, he formed

strong opinions on the Skechers line

— he'd tell his dad what was cool,

what wasn't, and what was missing.

"The kids are all very opinionated,"

Greenberg said. "They are not

shy, and they are critics. Children

are their parents' biggest critics. You

know, we are not cool. They forget

I was 19 and I know all the shit you

are doing. Maybe I invented some

of the shit you are doing."

Harrison had become a magnetic

personality as he grew into a young

man. He'd always been as comfortable

speaking with adults as with

kids; his eclectic circle of friends included

the entrepreneur Rob

Gough, a 32-year-old cancer survivor

who'd launched a half dozen

successful businesses, including

Coupon.com and the DOPE apparel

line.

"He was incredible," Gough said.

"He was a curious soul who loved to

learn. To be honest, he would have

been a monster in the business

world. You could put him anywhere

and he would survive and come out

better than anyone else. He just had

a talent for figuring things out and

making things happen, but he also

had just a massive heart for everyone."

"He had gotten into bitcoins years

ago," Gough added. "I mean, he just

had an innate understanding of how

things worked. He was definitely a

16 Easy Reader / Beach magazine • January 18, 2018
---
Harrison Greenberg was an avid fisherman. Photo courtesy the Greenberg

family

visionary."

Several of his friends were

equally ambitious, but in different

ways — such as future UCLA quarterback

Josh Rosen, and University

of Washington basketball player K.J.

Garrett, who grew up with Harrison

in Manhattan Beach.

"We surround ourselves with likeminded

friends," Garrett said. "We

were all very ambitious. I mean,

one of our friends is going to be a

top pick in the NFL draft this year.

We all loved where we grew up and

wanted to stay in that community,

and that's not easy."

But even among his friends,

something about Harrison stood

out.

"His ambition and passion just radiated,"

Garrett said. "When you

were around him, he had this energy

— I don't know how to describe

it, but people just wanted to

be around him at all times, like a

magnet. Anything he wanted, he'd

just put his mind to it...He had

skills, with technology and business,

that I never had. It was admirable.

And he just had so much

love for me, I could never understand

why. He'd just make me feel

at home whenever I was with him."

And so it was a natural progression

when, at 19, he ventured out

into the world. He enrolled at Loyola

Marymount, but he had little

patience for academic life and took

the spring semester off to do a four

month internship across the Pacific.

"He wanted to take over Skechers,"

Robin Curren said. "He

wanted to learn as much as he

could and please his mom, his dad,

and his grandfather. He really

wanted to go far."

His father tries not dwell on what

could have been. But sometimes he

can't help himself.

"He was a very, very bright young

man and had lots of ideas," he said.

"I don't want to get emotional, but

I will. You know, I think about what

he could have done…"

But if the world is a book, as Harrison

wrote on his last voyage, then

he left behind a bookmark. Some

day in the not very distant future a

school bus is going to pull up at the

foot of the Manhattan Beach pier. A

group of kids, maybe from LA, or

Compton, or Palos Verdes, will pour

out and run to the Roundhouse at

the end of the pier. Their voyage

will have just begun.

Next month: the pier, history and

future. For more information on the

project, and to donate, see harrisongreenbergmemorialfund.mydagsit

e.com/home. B

January 18, 2018 • Easy Reader / Beach magazine 17
---
each

business

Round peg

in a

square hole

Evanna Shaffer

tries to upend

the yoga world

with circle-themed

Chakya

Evanna Shaffer's Chakya Go is equal parts meditation cushion, towel, blanket and backpack. Photos by Brad Jacobson (CivicCouch.com)

18 Easy Reader / Beach magazine • January 18, 2018

by Ryan McDonald

Evanna Shaffer was in the midst of a "lifequake."

After the onset of the recession,

Shaffer had formed a business with her

then-husband focused on finding jobs for people

in the tech industry. But two weeks after the business

launched, her husband said he no longer

wanted to be with her.

Shaffer dealt with the blow by developing a

deep yoga practice, and engaging in daily meditation

at the end of the Hermosa Beach Pier.

Around that time, she also began having dreams

with circles as a recurring motif.

Drawing from her art school background, she

set out to make something. She began tinkering

with designs, feeling her way through as she

measured and folded various materials. She

worked entirely out of local coffee shops. People

would pass through and gawk in curiosity. Interest

in her and her creation began building without

her even being aware of it.

The result is Chakya, a line of circular yoga and

lifestyle products linked by their round shape.

Shaffer's goal is that the circular Chakya can

soften the edges of how people view yoga — to

upend the increasingly popular perception that it

is a set of poses to hold with militant rigidity.

"And that's when I had this epiphany," she said.

"Not everybody can do all of the poses, but everyone

can be inspired by that feeling you get."

Those who have worked with Shaffer describe

her as a tireless worker, and she does not shy

away from her entrepreneurial ambition in conversation.

But at a time when even the basest of

Silicon Valley startups gild their efforts with the

language of making the world a better place,

Shaffer comes across as a true believer.

Her first product, the Chakya Go, is a combination

meditation cushion, towel, mat, blanket

and backpack. Folded up, it resembles a small pillow,

but it's pliable enough to hold a laptop or a

volleyball. Shaffer is fond of taking it with her on

airplanes, preferring its microfibers to the typical

"cootie blanket." She recently concluded an IndieGogo

campaign for the product, and is tirelessly

pitching it in the area, while working with

residents of the South Bay for every aspect of the

business. It's the start, she hopes, of something

much bigger.

"Hermosa has so many fitness and yoga lovers.

I want to launch a whole new movement, and I

want to do it from right here," she said. "

Life moves in a circle

Shaffer grew up on a farm in upstate New

York. She lovingly describes her parents as

"artists and hippies."

"There were no sweets. And everything mom

cooked came from our ground," she said.

She left home to attend to art school outside

Philadelphia, then decided to head to school in

London. She didn't have enough money for tuition

when she left but, in a manner that reveals

much about her world view, assumed things

would work out. On arriving, she got a call from

her mom, informing her that she had won a longshot

scholarship she had applied for; a $10,000

check was sitting in the mail. She had always

dreamed of ending up by the Pacific Ocean, and

an apprenticeship with a Malibu-based artist

brought her to Southern California

"There's a certain amount of research and planning,

but sometimes you just have to go for it,"

she said.

Her sentinel-like presence on the Hermosa Pier

helped her get her project off the ground. In the

project's early days, she reached out to manufacturing

firms to see who could meet her demands

for a uniquely designed, responsibly sourced

product. Among those she contacted was Sean

Saberi, who runs FabFad, a customized textile

printer in the Arts District in downtown Los Angeles.

As the two started talking, Shaffer said,

Saberi revealed that he was a Hermosa resident,

and recalled seeing her meditating on the pier.

Saberi, who also runs a company called C

Print, said his businesses can handle everything

needed for manufacturing, from patent advice to

marketing, leaving their clients free to focus their

creative energies on design. Combined with its

made-in-the-U.S.A labor practices and willingness

to use sustainable materials, Shaffer was

sold.

Although Saberi said the firm has large accounts

such as Under Armor, he estimated that

50 to 60 percent of his clients are startups. His

business has worked with major yoga brands, including

the El Segundo-based Manduka.

Shaffer's vision demanded a lot of back-andforth;

he estimated the current Chakya Go is the
---
Evanna Shaffer with the round yoga mat at the Hermosa Beach pier, where

she was inspired to launch her company.

result of eight production cycles.

All the time that Shafer spent

meditating by the ocean seems to

have sunk in. Saberi makes some of

Shaffer's products from a polymer

derived from refuse, like plastic

water bottles and fishing nets, that

wash up on shore. The two plan on

rolling out more products in the

coming year, including a line of

yoga pants.

Shaffer, Saberi said, manages to

combine the creativity of a designer

with the focus of an entrepreneur.

"She's a great artist, and very high

energy, but she's also definitely on

top of stuff all the time," he said.

The vision

Roughly translated from Sanskrit,

"Chakya" translates as "to awaken

from within."

The next product in the line is a

circular yoga mat. Almost all yoga

mats on the market are rectangular,

something Shaffer muses may be

related to fiting as many people as

possible into a yoga studio.

"When I'm on a linear mat I feel

like I'm a little soldier," she said.

Her circular, color-wheel mat is

based around the chakras, an idea

in the yogic tradition that posits

there are seven different energy

centers in the body. Each chakra is

linked with a color, a part of the

body, and an aspect of the soul. For

example, the fifth chakra, located in

the throat, is blue, and signifies

communication.

Shaffer's circular mat is split up

into six colored segments, and a

white circle, for the seventh

"crown" chakra, in the center. The

colors are arranged to provide reminders

for practice, she said, that

may elude someone on a traditional

mat. For example, based on the way

the colors are arranged, if she is

overdoing core work, associated

with the yellow chakra, it will be

difficult to occupy the purple part

of the mat, that signaling the chakra

responsible for intuition.

"The chakras are always displayed

in a linear fashion," Shaffer

said. "But it makes so much more

sense to me this way. Doing it in a

circle unlocked so many mysteries."

Among the idea's proponents is

David Romero, a prominent local

yoga teacher who also leads regular

sound baths. Shaffer assisted

Romero when he gave a TEDx

demonstration on sound healing,

and often shows up to offer the

Chakya Gos as cushions at his regular

offerings.

"I'm a huge believer in it. I look

at things from the perspective that

the human body is one big vibrating

piece of material made of earth elements

of different densities. She

sees things through color, which is

also a vibration. It's just further up

the spectrum of light," Romero said.

The goal, Shaffer said, is ultimately

to use the mats as part of

specialized classes she has designed.

The energy flow would resemble

a traditional yoga class, with

a gentle beginning, a peak in vigor

near the middle, and gradual comedown.

But Shaffer describes the experience

as something closer to a

Disneyland ride, concluding people

softening into the bliss of meditation.

She's currently looking for a

space in the area to launch the effort,

and is also pitching existing

studios to let her try it as a workshop.

Shaffer knows that getting people

to see new things in a discipline that

is thousands of years old will be difficult.

But her attitude lifts her high

enough that she can see it becoming

reality.

"By the time we finish, you

should be feeling as though you are

above the clouds," she said. B

January 18, 2018 • Easy Reader / Beach magazine 19
---
each people

Lights!

Camera!

Change!

Jon Fitzgerald and social impact cinema

Jon Fitzgerald. Photo by Bondo Wyszpolski

by Bondo Wyszpolski

Movies can simply amuse us or they can jolt up awake and leave

us considering things from a new, unexplored perspective. Speaking

with Jon Fitzgerald, it's clear from the start which sort of motion

picture he prefers, and why.

"In the last decade or so I've gravitated to what I would call social impact

films. Films that have something to say." The title of his book, recently

published in a second edition, doesn't mince words: "Filmmaking for

Change: Make Films that Transform the World."

But who is Jon Fitzgerald, what's his background or experience, and why

should we care?

So let's go back to the mid-'90s, shall we?

Film student to festival director

Jon Fitzgerald was born and raised in Redondo Beach (his parents attended

Redondo Union High School), but then went to UC Santa Barbara

and earned a degree in Film Studies.

"After making an independent film that didn't get into the Sundance Film

Festival," he says, "me and a couple of other guys started the Slamdance

Film Festival, more as an opportunity for us to promote our films. And,

for whatever combination of reasons, it really struck a chord with the community,

with the industry, and with journalists. It became a bit of a Cinderella

story.

"That was 1995, over 20 years ago now, and it's still going strong. I was

the festival director for the next two years, and then AFI (the American

Film Institute) brought me in to be their festival director."

He ran that much-heralded film festival from 1997 to 1999.

"So I've had an opportunity to see literally thousands of films over the

years."

This is where Fitzgerald's resume begins branching into several directions

at once.

Periodically he's been called in to direct film festivals, regional and national,

as well as international. Abu Dhabi is an example of the latter. And,

along the way, he's also helped launch new film festivals in places like Orlando

and the Bahamas. "When I started Slamdance," he says, "there were

less than 500 film festivals. Now there's over 5,000."

To attend them all, we'd need to take in several each day, but cab fare

would be prohibitive.

While serving as the executive director of the Santa Barbara International

Film Festival in 2003 something big crossed his mind. "It dawned on me

that I was talking to a lot of independent filmmakers and advising them

about how to play the festival circuit. And then there were festival directors

launching in random places all over the country." They'd heard about Slamdance

and how it got started, and so they said to their buddies: "If these

guys can start this thing out of their garage, then why can't we? We've got

a theater, let's start a festival."

Well, yes and no. How many Cinderella stories can we have, after all?

But Fitzgerald had been to the ball and danced with the prince, and instead

of merely being on the ropes he'd climbed them to the top.

"So I started a business called Right Angle Studios," he says. It was a consulting

firm that assisted filmmakers, helping them with marketing and

distribution strategies and getting their work to film festivals. Because, if

you aren't being seen, who's going to know if you're the next Jim Jarmusch

or Guillermo del Toro?

Of course, nudging others into the public eye isn't quite the same as making

and financing your own pictures. And Fitzgerald wanted to transition

back to that.

"In 2010, my first documentary came out. It's called 'The Back Nine,'

and it was about seeing if it's possible to become a professional athlete

after turning 40. And it's about golf."

He then went on to direct and/or produce a few other documentaries,

including "The Highest Pass" (mountains and motorcycles, not football),

"The Milky Way" (breastfeeding, not stargazing), "Woman One," and

"Dance of Liberation." For some budding filmmakers he became advisor,

mentor, guru, because everyone just starting out needs a little help.

A guide for the journey

"It was around that time that I had a panel discussion with book publisher

Michael Wiese. His company has always been the leader in film-related

books for film schools." So Fitzgerald said to Wiese, "Have you ever

done a book about the development of social impact movies, filmmaking

for change?" "No," said Wiese, "but that's a good idea. Why don't you write

a table of contents and a first chapter, and let's see what it could be about."

20 Easy Reader / Beach magazine • January 18, 2018
---
"Within a few weeks I had a book deal," Fitzgerald says. To a certain extent,

his concept for the book drew from Joseph Campbell's seminal "The

Hero with a Thousand Faces," a book that examines the mythic-heroic archetype

down through the ages, and describes, in a dozen stages or so, just

what it is the hero has to encounter as he, or she, combats obstacles before

finally reaching the goal, be it the Golden Fleece or a Golden Globe award.

I think it's common knowledge that George Lucas honed in on Campbell's

book as well for his initial vision of "Star Wars," although the recent "Star

Wars" films are only slightly more appealing than the Black Plague.

So Fitzgerald condensed the heart and soul of Campbell's book (for the

hero's quest it's largely faith and guts) "and applied it to the social impact

space and into documentaries. In the last ten years documentaries have

evolved. There's a more interesting flavor and different styles and personalities

now, whereas before it was a lot of talking heads, a lot of static camera."

Among the films he cites that meet this criteria, Fitzgerald mentions "An

Inconvenient Truth," "The Cove," "Super Size Me," and "The Fog of War."

"Filmmaking for Change" is in some ways a how-to book, although the

author states early on that while "Social impact films are made with a goal

in mind," he later adds that "One of the best things about the film business

is this: There are no rules."

It sounds like we're in Zen country now, but not really. The last part of

Fitzgerald's book is weighted with case studies or resources, and during

our conversation he singles out "Warrior One," which is about underprivileged

girls living in Florida trailer parks later finding themselves trekking

up the Andes to Machu Picchu. It's a film about building leadership and

confidence, in this case for youngsters who certainly weren't born with

silver spoons in their mouths.

"I don't want the book to just be for people in film school," Fitzgerald

says. "It should be for the average Joe who wants to pick up a camera and

tell a story that could make a difference. You don't need to have worked

Fitzgerald cont. on page 27

All Hunter Douglas 20% OFF!

Catalina Supreme Paints

Redondo Beach

1002 S. Pacific Coast Hwy.

310-540-4456

Supremepaintredondobeach.com

Manhattan Beach

708 N. Sepulveda Blvd.

310-376-2444

Supremepaintmanhattanbeach.com

January 18, 2018 • Easy Reader / Beach magazine 21
---
each art

TRUMP-INSPIRED ART

at ShockBoxx

S

hockBoxx on Cypress Avenue in Hermosa

Beach hosted the opening night of

"Enough!," a politically themed art show on

Jan. 6. The show featured paintings, photography,

sculpture, mixed-media and assemblage from

local artists and some from as far away as

Chicago. Most of the works dealt with the tumultuous

first year of the Trump Administration. The

exhibit runs through Jan. 24.

PHOTOS BY RYAN MCDONALD

1

2

1. Blandine Saint-Oyant.

2. Claudia Berman.

3. Maria Cracknell.

4. William Kieffer.

5. Tammie Valer.

6. Sharon Lee Rosenbaum.

7. Daniel Molina.

8. Michelle Victoria.

9. Lisa Pedersen.

10. ShockBoxx co-owner Michael Collins.

3 4

5

6

7

8

9

10

22 Easy Reader / Beach magazine • January 18, 2018
---
January 18, 2018 • Easy Reader / Beach magazine 23
---
each dining

Revolution at The Rockefeller

by Richard Foss

The Rockefeller's Chris Bredesen with his American Prime Burger and Sweet Potato Bomb. Photos by Brad Jacobson

What started out as a burger-and-a-beer spot unveils a new menu by Primo Italia chef Michelangelo Aliarga

Building a brand is more than a matter of a

catchy name and an interesting logo. Those

things are helpful but have to represent

something, some theme that makes the business

itself stand out from the crowd. Once you have

that, so a marketer would say, you should build

on it but never change the ideas that are at the

core.

The people who run The Rockefeller evidently

don't believe in this logic, because the restaurant

has undergone a slow but almost complete transformation.

The place that started out as a gourmet-burger-and-a-beer

spot still serves burgers

and beers, and a few of the sandwiches and tacos

that were on the menu when they opened, but

the energy is elsewhere. They've become more

upscale and eclectic. A winter menu crafted by

consulting chef Michelangelo Aliarga of Primo

Italia has taken the menu to a new heights in subtlety

and style.

The new menu is served at both outposts of

The Rockefeller. I experienced it at the Manhattan

Beach location because I happen to like the

more low-key style there. The one in Hermosa is

more the showplace thanks to mosaic pillars and

other fancy architecture, but Manhattan Beach is

more cozy. The feel is slightly like a rustic cabin,

a comfortable place to settle in for some appetizers

and a glass of wine before dinner.

Appetizers include the new octopus lollipop

and also the Rockefeller Mess, which has been

on the menu for a while. The name of that latter

item is as accurate as it is amusing, because the

pile of fries topped by pickled fresno chiles and

onions, guacamole, and allagash queso sauce is a

sloppy joy. The flavors go together surprisingly

well and there's an interesting mix of hot and

cold items and different textures. I wish they

used cottage fries or waffle cut chips because it

would make this so much easier to eat with a

fork, and there's no other way to do this without

wearing some of it.

The octopus lollipop was a daintier portion, a

skewered and grilled chunk of the thick part of

the tentacle over a slice of griddled potato, served

with both a kalamata olive aioli and a dab of Peruvian

green sauce. The green and purple sauces

looked lurid but tasted great. I could have easily

eaten a full plate of this as a main course.

Another relatively new item is actually a twist

on an idea a century old. Stuffing an avocado

with lobster meat seems to have occurred to

someone around 1920, when the California Avocado

Society published a recipe. In that one the

seafood was simply mixed with mayonnaise and

garnished with parsley, but the one served by The

Rockefeller reflects modern tastes. The shellfish

is mixed with chopped green onion and tomato,

then ladled into the avocado, topped with breadcrumbs,

and run under the broiler. It's necessarily

a small portion because avocados aren't very

big, but it's completed with a green salad and

toast and is satisfying.

During a recent visit, I verified that the burgers

here are still quite good, but the most exciting entrée

was from the new menu. It's braised pork

cheeks and polenta in a tomato and vegetable

sauce that contains chimichurri and cilantro.

While this item was created by an Italian chef

and includes tomato sauce with olive oil and garlic,

it's not Italian – the herbs are the French

mirepoix of onions, carrots, and celery. The flavors

are almost Southern U.S. thanks to the similarity

between polenta and properly made grits,

but the sprinkling of cilantro gives it a dash of

South America. It's a luxurious companion to the

meat, and since pork cheeks have a rich character

and cook to disintegrating softness the meat

has the character of a perfect pot roast. It's a fantastic

winter dish and as far as I can tell the standout

on the menu. (I say as far as I can tell because

24 Easy Reader / Beach magazine • January 18, 2018
---
I have tried to order another item,

the sea bass in chermoula sauce,

but they were sold out of it twice.

If it is more popular than the

braised pork cheeks, it must be

amazing.)

The Rockefeller doesn't serve

liquor but has a good selection of

beers and wines, some from unusual

producers. They briefly offered

a wine from Idaho that was

worthwhile for the novelty value,

but I preferred the Ripper

Grenache from Booker, near Paso

Robles. The selection changes and

sometimes they offer by-the-glass

items that aren't on the regular

menu, so it's always worth asking

if there's something new.

The Rockefeller has matured in

a way that is unpredictable and interesting,

and I hope they continue

in this vein. Their success may

confound some of the usual rules

of marketing, and is all the more

admirable for it.

There are two locations: 1209

Highland, Manhattan Beach and

422 Pier in Hermosa Beach. (A

third location is planned for Redondo

Riviera Village.) Open daily

at 5 p.m., close 10:30 p.m. Sun. -

Wed, 11 p.m. Thurs. - Sat.,

Street parking, full bar,

wheelchair access okay. Some vegetarian

items. Menu at EatRockefeller.com.

B

The Rockefeller American Prime

Burger.

January 18, 2018 • Easy Reader / Beach magazine 25
---
$50 Off

Radiesse*

1.310.373.5000

*1.5 mL syringe, Expires 1/31/18

26 Easy Reader / Beach magazine • January 18, 2018
---
Fitzgerald cont. from page 21

on ten movies." Apart from a

sound idea or vision, perhaps all

that's necessary is some software

and a used camera. "For less than

five grand you can have all the

tools you need to go make a

movie."

Of course, for a more polished

look one might hire or consult with

a director of photography or try

and coax Daniel Day-Lewis out of

retirement. Maybe also you'll want

to see James Franco's "The Disaster

Artist," which is an original and

curious look at how amateur entrepreneur

Tommy Wiseau created

"The Room," which critics and

fans like to dub the worst movie

ever made. Well, worst or not,

everybody now knows about it,

right?

"The point is," Fitzgerald says,

"there are people turning to film as

a tool of mass communication to

create change in the world. With

politics and education and the environment

and social issues and

gender issues there are so many issues

now, and people are looking

to film to get some answers."

A couple of points I would interject,

one being that a filmmaker

doesn't necessarily have to show

all sides of an issue, but people

might shy away from out-and-out

propaganda, and of course no one

likes to be preached to, except perhaps

the choir.

Regarding point of view, is any

film ever wholly objective? Some

filmmakers don't try, "This is my

spin," they'll say. "Take it or leave

it." And that's fine. "But there are

filmmakers," Fitzgerald notes, "that

do want to show both stories," so

that we, the audience, can draw

our own conclusions. "But I also

think it depends on the goal: What

is the goal for that particular

movie?"

It should also be pointed out that

"cause cinema" or "social impact

films" do not need to be documentaries

but can be fictional or narrative

films. Fitzgerald mentions

"Moonlight" and "Mudbound,"

"Schindler's List" and "El Norte,"

which no one would call documentaries

even if they are rubbing

shoulders with socially relevant topics.

And then there's someone like

Werner Herzog who espouses the

ecstatic or poetic truth as opposed

to the accountant's truth, the result

being that his documentaries have a

fictive element. But then, he's

Werner Herzog, and you're… Who

are you again?

A bigger concern for the unenlightened

public is this: What do I

watch? It's a celluloid jungle out

there.

"At the same time I was writing

the book," Fitzgerald says, "I started

a company called Cause Cinema,

and my intention is to bring more

MATTUCCI

Plumbing

Since 1990 • License # 770059, C-36 C-34 C-42

D E P E N D A B L E • P R O F E S S I O N A L • A F F O R D A B L E

w w w . m a t t u c c i p l u m b i n g . c o m

WINTER SPECIALS

$ 9 8 0

Residential Water Heater

40 gal. installed! ($1080 - 50 gal. also available)

Includes hot & cold water supply lines

Expires Februar y 28, 2018

awareness to a lot of these social impact

movies that the big studios

don't release. You're on Netflix and

Amazon and HBO, and you're looking

through all these carousels,

through hundreds of movies. (There

are) between 100 and 200 at any

given time in the documentary

carousels, so how do you know

which ones to watch?

"With Cause Cinema, I want to

guide people to the best of these

movies. So, I started a podcast and

I'm going to do a blog, all of that

with 'Filmmaking for Change.'"

Start early, stay late

All of which leads us to VistaMar,

the private high school in El Segundo

with less than 300 students,

which has put up new buildings and

created an exploratory arts program,

part of what is being called

the Creative Commons. Now they

have state-of-the-art film, music,

FULL SERVICE PLUMBING

SEWER VIDEO INSPECTION

ROOTER SERVICE

COPPER REPIPES

$ 7 5

Rooter Service - Main Line

Must have clean-out access. Some restrictions may apply.

Expires Februar y 28, 2018

F R E E

E S T I M A T E S

M e n t i o n t h i s a d w h e n

s e t t i n g u p a p p o i n t m e n t .

3 1 0 . 5 4 3 . 2 0 0 1

and theater rooms, plus the latest

equipment and gear.

"I taught 'Filmmaking for

Change' in the fall," Fitzgerald says,

and as part of the initial exploratory

arts program had 15 students in his

class.

They're about to move from the

theoretical to the practical.

"I'm doing a filmmaking course,

where kids are actually going to be

able to put their hands on a camera

and make a short film by the end of

the semester."

Hollywood, watch out, you may

soon have competition.

Jon Fitzgerald will be talking

about "Filmmaking for Change" on

Saturday, Jan. 27, from 11 a.m. to

noon, at the Redondo Beach Main

Library. For more information about

Fitzgerald, his efforts and

accomplishments, go to

CausePictures.com or filmmakingforchange.com.

B

Thank You

For Your

Vote!

2013

ON CALL

24 HOURS

7 DAYS

Buying or Selling

"Since 1992"

Don Ruane

Serving the South Bay Beach Cities and beyond

Office: 310.546.3441

Cell: 310.643.6363

Email: Donruane@verizon.net

DRE#01036347

January 18, 2018 • Easy Reader / Beach magazine 27
---
Hermosa Beach

2000 to 2010 in photos

Featuring the work of over 20 Easy Reader staff and contributing

photographers. Presented by the Hermosa Beach Historical Society

Opening reception: Friday, January 26, 6 p.m.

Hermosa Beach Historical Museum, 710 Pier Avenue, Hermosa Beach

For more information call the museum at (310) 318-9421 or Easy Reader at (310) 372-4611.
---
HANDYMAN

SCHATAN

• Reasonable & Reliable

• All types of jobs

welcome

• No job too small

MATT

310 540-4444

unlic.

Classifieds

424.269.2830

HANDYMAN

Handyman

Services…

Fix It Right

the

First Time

What we do…

Plumbing, Electrical,

Drywall, Painting

& more.

Valente Marin

310-748-8249

your space in the

next

Magazine

Pub Date: Feb 24

Deadline:

Feb 12

Call direct

s

(424)

Unlic.

Reserve

Beach

269-2830

STONE

MORRIS

Cleaning & Restoration

• Marble polishing

• Travertine & Limestone

honing & polishing

• Tile & Grout

cleaning & sealing

Free Advice

& Estimates

Call George

310-545-8750

www.CleanRestoreProtect.com

Lic. #1005861

Call Direct

424

269-2830

PLUMBING

WINDOW

CLEANING

TOTAL SATISFACTION

GUARANTEED!!

KIRBY'S

WINDOW CLEANING

THE SCREEN DOCTOR

SINCE 1978

PRESSURE WASHING

SERVICES

• RELIABLE & PROFESSIONAL

TECHNICIANS

• EXCELLENT REFERENCES

FREE

WEATHER TOUCH UPS

FREE ESTIMATES

310-374-7895

CALL TODAY

KirbysWindowCleaning.com

January 18, 2018 • Easy Reader / Beach magazine 29