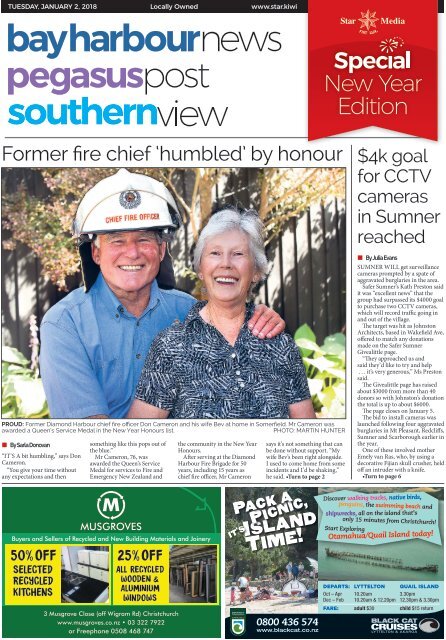 Pegasus Post: January 02, 2018
You also want an ePaper? Increase the reach of your titles
YUMPU automatically turns print PDFs into web optimized ePapers that Google loves.
TUESDAY, JANUARY 2, 2018

Locally Owned

www.star.kiwi

Former fire chief 'humbled' by honour

PROUD: Former Diamond Harbour chief fire officer Don Cameron and his wife Bev at home in Somerfield. Mr Cameron was

awarded a Queen's Service Medal in the New Year Honours list.

PHOTO: MARTIN HUNTER

• By Sarla Donovan

"IT'S A bit humbling," says Don

Cameron.

"You give your time without

any expectations and then

something like this pops out of

the blue."

Mr Cameron, 76, was

awarded the Queen's Service

Medal for services to Fire and

Emergency New Zealand and

the community in the New Year

Honours.

After serving at the Diamond

Harbour Fire Brigade for 50

years, including 15 years as

chief fire officer, Mr Cameron

says it's not something that can

be done without support. "My

wife Bev's been right alongside.

I used to come home from some

incidents and I'd be shaking,"

he said. •Turn to page 2

$4k goal

for CCTV

cameras

in Sumner

reached

• By Julia Evans

SUMNER WILL get surveillance

cameras prompted by a spate of

aggravated burglaries in the area.

Safer Sumner's Kath Preston said

it was "excellent news" that the

group had surpassed its $4000 goal

to purchase two CCTV cameras,

which will record traffic going in

and out of the village.

The target was hit as Johnston

Architects, based in Wakefield Ave,

offered to match any donations

made on the Safer Sumner

Givealittle page.

"They approached us and

said they'd like to try and help

. . . it's very generous," Ms Preston

said.

The Givealittle page has raised

about $3000 from more than 40

donors so with Johnston's donation

the total is up to about $6000.

The page closes on January 5.

The bid to install cameras was

launched following four aggravated

burglaries in Mt Pleasant, Redcliffs,

Sumner and Scarborough earlier in

the year.

One of these involved mother

Emely van Ras, who, by using a

decorative Fijian skull crusher, held

off an intruder with a knife.

•Turn to page 6

MUSGROVES

Buyers and Sellers of Recycled and New Building Materials and Joinery

50 OFF

selected

recycled

kitchens

25 OFF

ALL RECYCLED

WOODEN &

ALUMINIUM

windows

3 Musgrove Close (off Wigram Rd) Christchurch

www.musgroves.co.nz • 03 322 7922

or Freephone 0508 468 747

Pack a

it ' s

Picnic,

Island

Time!

0800 436 574

www.blackcat.co.nz

Discover walking tracks, native birds,

penguins, the swimming beach and

shipwrecks, all on the island that's

only 15 minutes from Christchurch!

Start Exploring

Otamahua/Quail Island today!

DEPARTS: LYTTELTON QUAIL ISLAND

Oct – Apr 10.20am 3.30pm

Dec – Feb 10.20am & 12.20pm 12.30pm & 3.30pm

FARE: adult $30 child $15 return

CRUISES

LYTTELTON & AKAROA
---
2

Tuesday January 2 2018

from the editor's desk

COMMUNITY NEWS

A NICE story on page 1 today about Don

Cameron, a very likeable chap who spent

50 years serving as a volunteer fireman.

Yes, that's right – 50 years!

So in recognition of Don's services to the

community, he was recognised in the New Year Honours list,

alongside a number of other well deserving local people (see

pages 1, 2, 4, 5).

Don now lives in Somerfield but he is an icon of the

Diamond Harbour area where he spent many years fighting

fires, attending car crashes and other emergencies that

popped up.

He was also part of a number of other groups that glue a

community together.

Being a volunteer firefighter means you are called out at all

times of the day and night, so to do that for half a century is

nothing short of inspirational.

Don made sure through reporter Sarla Donovan's interview

that his wife Bev got the recognition she deserves, and that

is captured perfectly in Martin Hunter's photo on the front

page.

"My wife Bev's been right alongside. I used to come home

from some incidents and I'd be shaking. You've just got to have

that clear support and understanding so you can pick yourself

up and do it again," he said.

Congratulations Don and Bev.

– Barry Clarke

get in touch

GENERAL ENQUIRIES Ph 379 7100

CLASSIFIED ADVERTISING Ph 379 1100

The Christchurch Star Company Ltd

PO box 1467, Christchurch

starmedia.kiwi

swinging for success

Page 13

Teen eyes up another national tennis title

Burwood Park club member Reece Falck, 15, is confident he can bring home another age group title at the

national junior team's event in Auckland on Saturday.

Former fire chief 'humbled' by honour

•From page 1

Said Mr Cameron: "You've just

got to have that clear support

and understanding so you can

pick yourself up and do it again."

As well as his involvement

with the fire brigade, Mr

Cameron (left co-founded the

Diamond Harbour Rugby Club

with Ben Hawkins some 30-odd

CHARGE: Former Diamond

Harbour chief fire officer

Don Cameron retired in

2015 after 50 years of

service.

years ago.

"When we left Diamond

Harbour the community put on

a farewell and the current club

president, Trevor Turner, said

in his speech: 'Thank you Don

for what you've done. I've made

lifelong friends through what

you've started.' And I'd never

thought about it like that; people

have come together through the

game of rugby and now they're

lifelong friends."

A mechanic by trade, Mr

Cameron had been married a

year and was living in Yaldhurst

when he heard the local garage

was for sale in Diamond Harbour.

That was in 1965.

In spite of not knowing anything

about the area, he and Bev

went over to take a look, decided

they would "dip their toes in the

water" and ended up staying for

52 years.

Over that time, the Camerons

raised three children, became

involved in the playcentre and

Diamond Harbour School committee,

and helped establish a

school sailing club.

Mr Cameron was in the Merrymakers

theatre group and was

a founding member of the bridge

club. "It's not putting your name

out there; quite the reverse – it's

bringing people together."

He reckons community organisations

are more important

now than they've ever been.

"You need your playcentres,

your plunkets, your bowls,

your arts group, your choir,

your bridge club. That's the

structure of a community, it's

the soul. When storms and

quakes come, they link the

community together. That's the

value – it would be a bland area

to live in if there weren't these

organisations."

FIRST STAGE TWO & THREE BEDROOM VILLAS

COMMENCING JANUARY 2018

ROLLESTON'S FIRST RETIREMENT VILLAGE

PROVIDING THE FULL CONTINUUM OF CARE

VILLAS, APARTMENTS, CARESUITES, HOSPITAL

REST HOME & DEMENTIA CARE

BOULEVARDVILLAGE.CO.NZ

E: INFO@BOULEVARDVILLAGE.CO.NZ

P: KAREN 0273 739 463
---
Co lections

Look up

Me sages Information

COMMUNITY NEWS Tuesday January 2 2018 3

News

Six-month liquor ban in place

Local

News

Now

In Brief

Fire rages, homes at risk

• By Julia Evans

A TEMPORARY liquor ban

is being enforced in Linwood

Village.

The city council approved

the temporary alcohol ban to

be applied on the streets and

parks of Linwood Village for

the next six months, in a bid to

reduce the level

of crime and

disorder in the

area.

The ban will

apply 24 hours

a day, seven

days a week

within the

Deon Swiggs

streets bound

by Fitzgerald

Ave, Armagh, England, and

Hereford Sts.

It comes after businesses and

residents lobbied for the liquor

ban, saying they feel unsafe

shopping and working in the

area due to the disorder caused

by on-street drinking.

Previously, police said they

didn't have sufficient resources

to enforce a ban and the

problem wasn't bad enough.

But last month, the Linwood-

Central-Heathcote Community

Board asked the city council to

urgently investigate imposing

an alcohol ban in the area

after residents, businesses and

police raised concerns about

the high level of alcohol-fuelled

behaviour in the area.

Central city councillor Deon

Swiggs said the liquor ban

would help make Linwood

Village a place where everyone

feels welcome and safe.

"Residents and shopkeepers

have expressed feeling

intimidated and unsafe due

to anti-social drinking in the

street, and the alcohol ban will

address this immediate issue as

longer term work takes place

to deal with other issues

surrounding the development

of the Linwood Village,'' Cr

Swiggs said. But he said more

needed to be done to properly

address the issues.

"An alcohol ban will not solve

the deeper social issues that we

must confront, but it is a good

start to making positive changes

in the area.''

A report said police were

dealing on an almost daily

basis with alcohol-related

misbehaviour in the area.

In the past six months, the

number of calls coming into

police from the Linwood area

has increased by more than 50

RESPECT: A

temporary

liquor ban

is being

enforced on

the streets

of Linwood

Village for

the next

six months.

PHOTO:

MARTIN

HUNTER

per cent, the police report said.

It said calls have been

coming from shoppers and

business owners feeling

intimated by the disorderly

behaviour of people drinking

and asking for money.

"Police believe that the

ban will be an effective tool

to address alcohol-related

offending and intimidation, and

in making the community feel

safe,'' the report said.

Before the temporary liquor

ban expires in June, the city

council will consider making it

permanent.

BORROW A BEACH TOY

The Borrow-A-Bucket initiative

has placed a chest filled with

beach toys by the changing

rooms at New Brighton Beach.

All the toys inside are free to

use for families and children

at the beach, as long as they

are returned. If you have any

unwanted beach toys in good

condition, donate them to the

Borrow-A-Bucket chest.

MUSEUM FILM APPEAL

The New Brighton Museum is

taking donations of classic films

on DVD or VCR. The museum

runs a movie club each Tuesday

in which members watch old

musicals and films from the

50s with stars like Doris Day,

Bing Crosby, Danny Kaye and

Elizabeth Taylor. Lighter films

are more popular. The museum

is open every day from 1-3pm if

you want to drop off any films.

RUBBISH COLLECTIONS

Rubbish and recycling

collection days differ from

normal again this week.

Collections take place the day

after the normal scheduled

day. Today's collection moves

to tomorrow, with normal

days resuming on January 8.

Friday collections will move to

Saturday.

Kerbside Collection Dates

for Christmas and New Year

Starting this Christmas, you'll notice a change with

your wheelie bin collection. For the weeks starting

Monday 25 December and Monday 1 January 2018,

wheelie bins will be collected the day after their usual

collection day.

MON TUE WED THU FRI SAT

• Monday collections will be picked up on Tuesday

• Tuesday collections will be picked up on Wednesday

• Wednesday collections will be picked up on Thursday

• Thursday collections will be picked up on Friday

• Friday collections will be picked up on Saturday

Please ensure wheelie bins are placed at the kerbside

by 6am on your deferred collection day.

Download the Christchurch Wheelie Bins App for

collection day reminders. Available on Android and iOS.

RED

GREEN

YELLOW

For more information, phone 941 8999

or visit ccc.govt.nz
---
4

Tuesday January 2 2018

New Year Honours

COMMUNITY NEWS

Achievements recognised

Members of the community have been

acknowledged on the New Year Honours list for their

achievements and work in the community

•John Norman Harrison –

Cass Bay, Officer of the New

Zealand Order of Merit for

services to music and theatre.

Mr Harrison was executive

officer of the New Zealand Brass

Bands' Association from 1979 to

2003. During this time Mr Harrison

oversaw the National Band

of New Zealand and from 1990

to 2009 he was also executive

officer of the Royal New Zealand

Pipe Band Association. Mr

Harrison helped bring the Royal

Edinburgh Military Tattoo to

New Zealand in 2000.

He volunteered in various roles

at The Court Theatre from the

mid-1970s, including a period

as chief usher, and served on the

trust board from 2003 to 2013.

He was secretary and a trustee

of the Court Theatre Foundation

from 2012 to 2016 and was made

the inaugural Fellow of The

Court Theatre in 2016.

His 22-year career as an announcer

and programmer with

Radio New Zealand culminated

in his appointment as executive

music producer. In 1984 he was

vice-president of the National

Music Council.

During the 1970s and 1980s

Mr Harrison was choir master at

Lyttelton's Holy Trinity Church.

•Paul Ferrier Pritchett –

Church Bay,

Member of the

New Zealand

Order of Merit

for services to

yachting and the

community.

Mr Pritchett

has played a key role in encouraging

the youth of Canterbury

into sailing.

He introduced the Optimist

Sailing Dinghy to New Zealand

in 1975 and instigated the New

Zealand Optimist Dinghy

Association, spening many

hours travelling the country

to promote the dinghy as the

ideal child's learner sailing boat,

which has since been widely

adopted around New Zealand.

He founded the Water Activities

Centre in 1986, through

which school pupils were able to

learn safe sailing and associated

water activities. He co-founded

sailing for the disabled in Canterbury

in 1989 and is a life member

of the Charteris Bay Yacht Club

and has been commodore twice.

He has chaired Canterbury

Yachting Association committees

and been chairman of the Youth

Committee of the New Zealand

Yachting Federation.

Within the wider community

Mr Pritchett has been involved

with probus and lions clubs,

organised beach clean ups, tree

plantings, and cliff track working

parties.

•Graeme Richard Wallis –

Cashmere, Member of the New

Zealand Order of

Merit for services

to music.

Mr Wallis has

been a significant

contributor to

the music scene

for more than

40 years and has

held numerous leadership positions

within Canterbury music

organisations.

He has held various leadership

positions with the Avonhead

Rotary Club since 1984 and has

led several fundraising projects,

including a leading role in the

fundraising for the purchase and

installation of a pipe organ at the

town hall in 1997. He is currently

chairman of the Friends of the

Arts Centre of Christchurch.

He has been president of the

Christchurch Civic Music Council

since 2006 and chairman of

Christchurch Civic Music Council

Concert Programmes since

2011. He is the past president of

the Specialist Music Programme

and chairman of the National

Concerto Competition Trust

and the Voice of Music Committee.

Mr Wallis has been musical

director of the Christchurch

Operatic Society, patron of the

Friends of the Christchurch

School of Music Support Trust,

and was president of the New

Zealand Society for Music Education

in 1989.

•Shona Evelyn Andrell –

Addington, The Queen's Service

Medal for services to the stroke

community.

Mrs Andrell has provided

assistance and support to members

of stroke communities in

Christchurch and the South

Island since 1997.

She set up the Richmond

Stroke Club in Christchurch in

1997 and has been the co-ordinator

of its fortnightly sessions.

The club provides support to

those that have been affected by

a stroke, including professional

sessions to improve survivors'

communication, language and

motor skills.

In 2001 she was elected to the

Stroke Foundation's Southern

Region's Council and was elected

South Island president in 2008.

When the council closed in

2014, she was appointed to the

new Southern Stroke Advisory

Group in 2015. In spite of suffering

a stroke in May 2016, she

has continued to assist with the

organisation of the Richmond

Stroke Club.

As recognition of her contributions,

she was made a life member

of the Stroke Foundation of

New Zealand. Mrs Andrell was

the community representative

on the establishment committee

that set up the Stroke Rehabilitation

Facility at The Princess

Margaret Hospital, where she

then volunteered in the stroke

ward.

Still Pedalling!

A BRANCH OF

Discover Christchurch's

best priced pet

accommodation

HealtHy Heat

& eat meals

delivered to your door

Trevor Crowe's been involved with cars for a

while. You can benefit from his experience at...

Subaru Specialists

Full Workshop services

WOF's | Service Checks | Wheel

Alignment | Brakes | Clutches | Tyres etc

Great range of Subarus & other

makes from $5,000 - $35,000

View at www.crowesport.co.nz

Michael Toomey

mft@younghunter.co.nz

Proudly providing

legal advice to

the community

for 25 years

• Grooming

cats and dogs

• Daycare -

all breeds

• Long stay/

short stay

Call now to book in your fur baby -

inspections welcome anytime!

aLameDa

kenneLs & cattery

271 Dyers Road | Ph 384 1297

www.alameda.nz

Convenient, Healthy,

Fresh Meals.

Simple to Store,

Heat and Eat.

Pick Up or

Delivered Weekly.

9 Raycroft St, Opawa

P. 03 420 0722

orders@eatl8r.co.nz

www.eatl8r.co.nz

Michelle Rossiter

mjr@younghunter.co.nz

518 Moorhouse Ave (East end)

Phone 379 7615 or

email: service@crowesport.co.nz

P. 384-5350

www.younghunter.co.nz
---
COMMUNITY NEWS Tuesday January 2 2018 5

WIN

A RETRO CRUISER

LIMITED EDITION PACKAGE WORTH $700

Spend $25 and grab your text entry

form at the checkout.

Terms & Conditions apply. See instore for details

Peaches Yellow

Flesh Loose

Product of New Zealand

$

5 99

kg

ROYAL BUGMAN: Ruud Kleinpaste and George a two-year-old tree weta.

PHOTO: MARTIN HUNTER

Bugman's work with nature

rewarded with honour

• By Emily O'Connell

MORE THAN 50 years

ago a very young Ruud

Kleinpaste had a pair of

binoculars and a curiousity

for birds.

Now the Halswell resident

has been recognised

for his services to entomology,

conservation and

entertainment.

Dr Kleinpaste, 65, has

received a member of the

New Zealand Order of

Merit.

He said his love for

nature started when he

was about eight-years-old

and he used a pair of

binoculars to watch birds

outside his bedroom

window.

Also known as Bugman

from Maggie's Garden

Show, Dr Kleinpaste admits

he never expected the

award.

He shares his passion

with others because he

wants people to learn

about nature – not for

recognition.

"Honoured is probably

the best way to describe it,"

Dr Kleinpaste said.

Early in his career Dr

Kleinpaste spent 14 years

working as an entomologist

for the Ministry of

Agriculture and Fisheries.

In the late 1980s he

began the radio talk back

show, Ruud's Awakening.

He's published regular

newspaper and magazine

columns and commenced

television work with the

documentary series The

Enduring Land.

Dr Kleinpaste then

worked on the children's

series The Early Bird Show

before becoming Bugman

on Maggie's Garden Show.

In the 2000s he worked

on the documentary film

The Bughouse, the Animal

Planet documentary

World's Biggest Baddest

Bugs and the 13-part series

Buggin' with Ruud.

Dr Kleinpaste currently

works an ecological consultant

and is a trustee of

Project Crimson, Kiwis

for Kiwi, Air New Zealand

Environment Trust, Kids

Restore New Zealand and

the Omaha Shorebird

Protection Trust.

He's a patron of the Little

Barrier Island Supporters

Trust, National Wetland

Trust, Trees for Survival,

Southland Community

Environment Trust and

Wingspan.

Suprisingly though, Dr

Kleinpaste never studied

bugs.

"It's always been a hobby

and I love it and that's

probably the best message

to anybody especially children,"

he said.

Dr Kleinpaste said the

best thing about his job is

telling stories.

He said humans can

learn a lot from nature as

it's the best classroom.

Pams Fresh

Iceberg Lettuce

Product of New Zealand

$

1 99 ea

Just Juice Fruit

Juice 1 Litre

Hellers Fresh NZ Burgers

400g or Pre-Cooked

Sausages 1kg Plain

(excludes Flavoured Variants)

ANY 2 FOR

$

11 99

Cadbury Chocolate

Block 155-200g

ANY 2 FOR

$

4 49 $

2 99 ea

Quality Bakers

Nature's Fresh Bread

700g

$

2 99 ea

Streets Magnum

4-6 Pack

$

7 99 pk

Shop online

with the in

store special

prices!

Discount code:

Goat

themohairstore

140 Colombo Street, Beckenham

Phone 03 943 1639

www.themohairstore.co.nz

Discover this

unique Emporium

Metal art - gifts - hoMewares

water features - pottery

Mirrors - candles

wall hangings & More

722 Marshland Road, Top end Styx

Open 7 Days

Ph: 03 323 9781

www.hitchingpost.co.nz

Speight's

24 Pack 330ml Bottles

$

33 99 pk

www.foursquare.co.nz

The Ned 750ml

(excludes Pinot Noir)

$

14 99

ea

facebook.com/FourSquareNZ

Specials available South Island only from Monday 1st January until Sunday 7th January 2018

or while stocks last. Wine and beer available at stores with an off licence. Wine and beer

purchases restricted to persons aged 18 years old and over.
---
6

Tuesday January 2 2018

News

Funding to buy CCTV

cameras reached

•From page 1

A man was charged with three

of the four aggravated burglary

offences, including that of Miss

van Ras. He has been remanded

in custody and will next appear in

court on February 21.

Johnston Architects owner

Regan Johnston said the business

has recently moved to Sumner

from the central city so the

company wanted to get involved

in an important community

initiative.

"It's important to the community.

We thought, we're new – let's

do our part," he said.

Ms Preston said any leftover

money would go straight back to

the community via the Sumner

Residents' Association.

Ms Preston said residents have

been concerned for a number of

years that property-related crime

was on the rise. However, she said

it was the burglary of Miss van Ras

that sparked the group into action.

"The idea is that if something

does happen we've got footage

to help track down whoever was

involved," she said.

But she said the cameras would

also act as a good deterrent to

crime.

Any footage captured would

only be viewed by police, who

support the initiative, and

security staff.

Shakespearean stage beckons

Actress off

to London's

Globe Theatre

• By Julia Evans

"ROMEO, ROMEO, wherefore

art thou Romeo?"

Tigerlily Perry may soon

be reciting the famous

Shakespearean quote at the

theatre his plays were first

performed in four centuries ago.

Although Romeo and Juliet isn't

her favourite play.

"It's a tie between Much Ado

About Nothing and Julius Caesar,"

she said.

The 17-year-old who has just

finished school at St Margaret's

College is hoping to send her

acting career into overdrive

after landing a coveted spot in

the New Zealand Young Shakespeare

Company.

From more than 5000 applicants,

Tigerlily was selected

as one of the 24 students who

will fly to London to perform

at the Globe Theatre. Only one

other student from Christchurch

made the cut, Cashmere's Ben

Kelly.

Tigerlily and Ben will

perform and take part in several

CURTAINS: Tigerlily Perry is set to head to London and

perform Shakespeare at the Globe Theatre and in

Stratford-upon-Avon. ​

workshops and talks at the

Globe before heading north

to Shakespeare's birthplace,

Stratford-upon-Avon.

"It's really exciting thinking

about performing there."

Tigerlily said she expects it

will be "life-changing."

Although the trip isn't until

July, Tigerlily is already hard at

work fundraising for the $8500

it will take to get her there.

COMMUNITY NEWS

Local

News

Now

Fire rages, homes at risk

"I've been doing odd jobs,"

she said. But a funding grant

of $1000 from the Shakespeare

Globe Centre New Zealand has

been "amazing," she said.

It comes after her recent role

as the lead in the international

award-winning film, A Perfect

Child, made by Christ's College

and St Margaret's students.

"I've always been into acting.

It started with the Shakespeare

festival at school," she said.

Her mother was an actress,

although never professionally.

"Mum was an actress, she

exposed me to that world and

it developed when I was a kid,"

she said.

Tigerlily grew up with a

love of reading play scripts –

something she always thought

was "a bit weird."

She has played Paulina and

Hermione in The Winter's Tale,

Mark Antony in Anthony and

Cleopatra, Trebonius from Julius

Caesar and has taken the lead in

Timon of Athens, Timon.

But she couldn't pick a

favourite. Instead, she's hoping

to add new characters to her

repertoire at the Globe in July.

•If you want to help

Tigerlily with the fundraising

campaign, go to https://

givealittle.co.nz/cause/

tigerlilyysc2018

style

noun

elegance and sophistication.

synonyms: flair, grace, poise,

polish, suaveness, urbanity,

chic, finesse, taste, class,

comfort, luxury, affluence,

wealth, opulence, lavishness.

Magazine & TV | sTyle.kiwi
---
COMMUNITY NEWS Tuesday January 2 2018 7

NEW YEAR

New hoME

25 % UP

TO

OFF *

COOKING &

DISHWASHERS

50 % 50 % UP

OFF * OFF *

60cm WHITE

SELECTED

BEDS

TO

New yeAR, neW whiTewAre!

KITCHEN APPLIANCES

40 % OFF *

SELECTED

OUTDOOR

FURNITURE

Plus LOads MOre

30 % 20-

OFF *

ALL MICROWAVES

NEW YEAR BARGAINS

IN-STORE & ONLINE • HURRY ENDS TUESDAY 9TH

WHITE FREE

STANDING

DISHWASHER

HDW100WCT

$649.99 NOW

$

486 99

SAve $ 163

50 % OFF * SUper deaL

Plus

$2999.99 NOW

$

1499 99

SAve $ 1500

ALIGNMENT QUEENSIZE BED

BIg sCreEn deaL

18

smithscity.co.nz

65" UHD 4K TV

65UJ654

8.5kg

QUICKSMART

FRONT LOADING

WASHING

MACHINE

WH8560J3

$1599.99 NOW

$

1299 99

SAve $ 300

NOW ONLY

$

2299 99

months INTEREST FREE

on everything $499 and over #

403 LITRE

ACTIVESMART

STAINLESS STEEL

FRIDGE FREEZER

Limited stock.

RF402BRPX6

$1999.99 NOW

$

1399 99

SAve $ 600

30 % UP

OFF *

TO

The smart way to pay

LOUNGE

SUITES

Shop now and spread the

total cost over six weekly

payments, interest free.

GET STARTED NOW,

register at - laybuy.com

Terms and conditions apply

*

TOULON

4 PIECE

BEDROOM

SUITE

VITROCERAMIC

UPRIGHT

COOKER

BFC60VMW

$1749.99 NOW

$

1309 99

SAve $ 440

$3399.96 NOW

$

2379 99

SAve $ 1020

VIENNA FABRIC 5

SEATER CORNER

SUITE WITH BUILT IN

RECLINERS

$3999.99 NOW

$

2999 99

SAve

$ 1000

40 % UP

TO

OFF *

BEDROOM &

DINING SUITES

SHOP YOUR WAY Delivered to your door or pick up in-store 0800 SMITHS (0800 764 847)

Bethlehem Town Centre – 19 Bethlehem Road, TAURANGA

*Best deals and everyday low price items excluded from interest free and discount. #Exclusions, fees, terms and conditions apply. See in-store or visit smithscity.co.nz

SCG0939BHN
---
8

Tuesday January 2 2018

Your Local Views

COMMUNITY NEWS

Readers respond to the

article regarding two

large trees in the former

Redcliffs School grounds

that may be cut down after

the city council declined

to give them protected

status

Jan Simpson – We strongly

believe that the two lovely old

trees in the original Redcliffs

School grounds should be given

protected status. I do not know

the criteria for protection of

worthwhile trees but on our

property on Beachville Rd we

have inherited a protected tree

which we have tried to have

removed from the list. It is a

nonsense – an old, unhealthy,

ngaio tree with unsightly dead

branches. Ngaios are poisonous

weeds and a tree such as this,

very close to our house should

not be protected, unlike the two

lovely old trees in the former

Redcliffs School. Playgrounds

benefit from trees like these.

Retain them please.

Bobby Phuong – I believe

the trees should be given protected

status. They have been

there for so long and are part

of the land now, not to mention

beautiful. If there are configurations

that allow the trees to be

retained then there's no reason at

all for their removal.

Dan Salisbury – Please

LANDSCAPE: An oak tree at the former Redcliffs School may be chopped down when the city council develops playing

fields on the site. While Avondale's Maree Ross says she wants the overgrown mess on the property next to her home

cleared.

PHOTO: MARTIN HUNTER

keep the oak and elm on the old

Redcliffs School site. It sounds

like they can be accommodated

into any new plans. The trees add

so much.

Readers also respond

to the update about

the overgrown section

in Avondale

Helen Young – Make a

complaint to the city council to it

being a fire risk. I did that when

the neighbours had grass up to

the top of the fence 2m high.

They were made to cut it down

and keep it to a low height as

a fire risk. It's worth a try even

if it is the city council with the

problem.

Daniel Leadley – Why

should the city council be

expected to look after a privatelyowned

section? I cut the berm

down for this lady about

two years ago the site was bad

then hate to think how bad it is

now.

Karen Bullock – Typical.

The city council doesn't want to

help.

Nicky Kidd – The city

council will end up getting

someone in to do it and

send them a bill. The section

owners are lazy. Grow up and

take responsibility of your

section.

growing with you

SprIng Is here –

It'S Sow Time

how to get the best results from

seeds and seedlings

100% NatIve In

The capItal

Unravelling the secrets of

Otari-wilton Bush

The New Zealand

landscape awards

The people behind

the projects

$7.90 incl. GST

Save our roSeS

How a rose register is protecting our heritage

September 2016 | 100%

It's time

to grow!

New look and more

content than ever!

MeeT LeSTer Brice

A Garden coach

auckland Botanic GardenS

Why we love our public grounds

now bigger than ever

The magazine for

gardeners who like to get

their hands dirty

SubScribe from

$43. 50*

*6 issues/6 months

ISSN 2423-0219

SUBSCRIPTIONS FREEPHONE

0800 77 77 10

www.gaRdeNER.kiwI
---
COMMUNITY NEWS Tuesday January 2 2018 9

WATERMAN PL

get your summer projects sorted!

Urban Paving

Concrete Paver

500x500MM

in natural.

900622

limited stock

Pea Straw Bale

908966

Urban Paving

Exposed

Aggregate

Pavers

450, 500 and 600MM

sizes available.

Traditional.

908935

FERRY ROAD

FERRY ROAD

987 Ferry road

$

14 98

each

Garden Art

Assorted designs available.

The perfect statement piece

for your garden.

944345

$

20 each

from

$

17 12

each

new ProdUct

renin

Barn Door

Available in grey, off-white or oak. Hanging hardware included.

904003/04/05

from

$

239

massive range

Macrocarpa Sleepers

1.2 to 6M available. Ideal for

creating landscaping features.

635960

from

$

21 12

each

$

649

All new lAndscApe zone

21x BulK BIns

compost, lAwn mIx, BuIldIng

AggregAtes And stones

The new Ferrymead Mitre10 Trade Centre and Landscaping Zone

has everything you need to complete your projects.

• Screened Soil

• Vege/Zoom Grow

• Bio Blend

• Garden Grow

• Turf Mix

• Tree Mulch

• Black Mulch

• Standard Bark

Nuggets

• Premium Bark

Nuggets

• Builders Mix

• AP20 Shingle

• AP40 Shingle

• Plastering Sand

• Brick Sand

• Bedding Sand

• Crusher Dust

• Round Stones

• Driveway Chip

• Teddington Chip

• Lime Chip

• Tailings

$6 BAgs

Ask about our delivery service

and Free loan trailers today!

Conditions apply

offers available at mitre10 mega ferrymead only,

until the 10th of January, while stocks last.

ferrymead 987 Ferry Road Phone 373 6550 mitre10.co.nz/trade hours Mon-Fri 7am-7pm, Sat-Sun 8am-6pm
---
10

Tuesday January 2 2018

COMMUNITY NEWS

BRIDALSHOW

25th March, 2018

10am – 3pm

Air Force Museum of NZ

45 Harvard Ave, Wigram,

Christchurch

2x Fashion parades showcasing

the latest Bridal styles.

All the experts under one roof.

www.withthisring.kiwi for tickets
---
COMMUNITY NEWS Tuesday January 2 2018 11

GREAT food

BROUGHT TO YOU BY...

Your fresh food people

PEACH TRIFLES

Ingredients

4 Tbsp orange

liqueur, or peach

schnapps

6 white peaches

1 banana

1 cup vanilla custard

200g sponge cakes

¾ cup passionfruit

pulp

¾ cup whipped

cream

Directions

Halve, peel, stone and

thinly slice the peaches.

Combine the schnapps with

the custard.

Cut the sponge into 2cm

cubes.

Place some sliced peaches in

the base of six individual serving

dishes or drinking glasses.

Spoon a little passionfruit pulp

over the top. Add some cubes of

cake. Top with the custard, smoothing

with a spoon.

Add some whipped cream and

smooth the top. Carefully

place more peach slices

and sliced banana on top

and drizzle with a little

more passionfruit pulp.

LAMB CHOPS WITH MINT

SAUCE AND CRUSHED PEAS

Ingredients

4 lamb shoulder chops

Marinade

2 Tbsp olive oil

⅓ cup honey

½ cup fresh mint, chopped

2 Tbsp white wine vinegar

½ tsp salt

Crushed peas

2 cups frozen peas

3 mint leaves, finely chopped

25g butter

½ tsp salt

½ tsp pepper

2 Tbsp creme fraiche

Directions

Mix together all marinade

ingredients and cover the lamb

with it.

Leave to marinate for one hour

or overnight.

Preheat the oven to 190 deg C.

Place the lamb chops in a

roasting tray and cook for 7min

then turn over and cook for a

further 7min or until cooked

through.

Blanch the peas for 5min, drain

and add the mint to the peas.

Using a potato masher, lightly

crush the peas with the butter and

season with salt and pepper.

To serve, cover the peas with a

dollop of the creme fraiche and

plate with the lamb chops.

Bananas ........................................... 1 .99

kg

Broccoli ............................................... 1 .49

each

Fancy Lettuce .................................... 1 .99

each

White Peaches ................................. 4 .99

kg

NEW SEASON

Pomegrante .................................. 1 .49

each

Beef rump Kebabs 5 pack ... 9 .99

each

Lamb Shoulder Chops ........ 12 .99

kg

Angus Beef Burgers

or Meatballs ................................... 8 .99

kg

All our fresh meat is 100% NZ FARMED.

specials VAlid 3rd january - 7th january 2017. ONLY AVAILABLE AT

RAEWARD FRESH HAREWOOD RD, TOWER JUNCTION.

harewood rd Wednesday 27th-8am-6:30pm, Thursday 28th-8am-6:30pm,

Friday 29th - 8am-6:30pm, Saturday 30th-8am-6pm, Sunday 31st-8am-6pm

Tower junction Wednesday 27th - 9am-6pm, Thursday 28th - 9am-6pm,

Friday 29th - 9am-6pm, Saturday 30th - 9am - 6pm, Sunday 31st 9am-6pm

Watermelon Stra wberry Cooler

Ma kes 2 a pproxi mately 8-ou nce drinks

Y ou' ll n eed:

4 cu ps cu bed watermelon

1 cu p hulled stra wberries

1/2 peeled li me (or juice from 1/2 li me)

2 tea spoons chia seeds

6 mint leaves, plu s more for ga rnish

Ice (option al)

At

we have all the ingredients to make...

refreshing mocktail

recipes

Directions:

If using juicer: Juice the watermelon, stra wberries, a nd

lime according to juicer's instructions. Discard the pulp.

If using blender or food processor: Blend the watermelon,

stra wberries, a nd lime u ntil smooth. Strain through a

sieve, pushing the juice through with a spatula. Discard

the solids.

1. Mix the chia seeds into the juice a nd refrigerate for

a bout 15 minutes to let the chia seeds swell.

2. Muddle 3 mint leaves in the bottom of each glass.

F ill glasses with ice (optional). Stir the juice to break up

the chia seeds, pour into glasses, a nd serve.

3. In a large jar or pitcher, combine tea, cinnamon

sticks, pomegranate juice, ora nge juice, ora nge, lemon,

lime, a nd apple. Refrigerate for at

least 1 hour a nd preferably overnight.

4. Just before serving, stir in carbonated water. Serve in

glasses over ice.

Non-Alcoholic Sa ngria

Serves 8

Y ou' ll n eed:

2 cu ps boiling water

2 bla ck tea ba gs (or 2 tea spoons loose-leaf

tea in a n infu ser; decaf tea is fine)

2 cin n a mon sticks

1/2 cu p su ga r

3 cu ps pomegra n ate juice

1 cu p freshly squ eezed ora nge juice

1 mediu m ora nge, sliced into thin rou nds

1 mediu m le mon, sliced into thin rou nds

1 mediu m li me, sliced into thin rou nds

1 mediu m a pple, cored a nd cut into 1/2-inch

chu nks

3 cu ps Soda water

Directions:

Pou r the boiling water over tea ba gs a nd

cin n a mon sticks a nd steep for 5 minutes.

Disca rd tea ba gs a nd stir in su ga r to

dissolve.

WWW.

.CO.NZ
---
12

Tuesday January 2 2018

COMMUNITY NEWS

A Star Media Event

Star Media

Sunday 18 March 2018

#areyouupforit? 14km, 6km Community Fun Run Event

Entries NOW OPEN

$20 Early bird tickets available from www.city2surf.co.nz
---
COMMUNITY NEWS Tuesday January 2 2018 13

Reece eyes up another national title

• By Andrew King

BURWOOD PARK'S Reece Falck

will be looking to bring home

another national tennis title when

he competes in Auckland on

Saturday.

Fifteen-year-old Reece, who

was crowned national 14 and

under champion last year, will

compete in the national junior

team's event in the 16 and under

section and in the 16 and under

singles and doubles tournament.

He said he is excited to get

stuck in at the tournament and

feels he has a good opportunity to

take another national title.

"I am feeling pretty confident.

I am hitting the ball pretty well,"

he said.

Reece returned from

Auckland last week where he

attended a three-day training

camp working on technique and

fitness.

The Shirley Boys' High School

student is coached by his father

Andrew, who is the head coach at

the Burwood Park club.

He will also compete in the

doubles with fellow Cantabrian

Jamie Garbett, 16, and in the

national junior team's event and

said the team has good depth and

should be in with a chance to win

a title.

Canterbury is sending three

teams to the event.

The 16 and under team, who

will compete in Auckland from

CONFIDENT: Fifteen-year-old Reece Falck is looking to add to his 14 and under national title he

won last year, when he competes in the 16 and under nationals in January.

January 11-14, is made up of

Reece Falck, Jamie Garbett, William

Schneideman, Liam Adams,

Annabel Coates, Monique Hore

and Tessa McCann.

The 14 and under and 12 and

under teams will compete at

Wilding Park, Christchurch,

from January 17-20.

The 14 and under team includes

Abby Mason, Jenner Johnson,

Charlie Morrison, Jordan Edwards,

Nant Prachuabmoh, Farrah

Richards, Taylah Holdem and

Jade Feneon.

The 12 and under team

features Liam Barrett, Duncan

McCall, Ethan Cooke,

Wonjeong Kim, Harry Pugh,

Ruby Young, Tatum Falck and

Lily Parkinson.

SPORTS

DEPTH: Canterbury women's

open winner Tessa McCann

will compete in the 16 and

under national junior team

event. PHOTO: PATRICK ROSE

watch local | support local | shop local

Join our hosts

Geoff & Renee on

SKY CHANNEL 83

THURSDAY 7.30PM

REPEATS FRIDAY

1.30AM & 7.30AM

WE SHARE YOUR VISION

SKY 083 + On Demand

WWW.STAR.KIWI

For enquiries, contact Geoff Moreton: 021 1066 177
---
14

Tuesday January 2 2018

COMMUNITY NEWS

Classifieds Contact us today Phone our local team 03 379 1100

Community Events

ALCOHOLICS

ANONYMOUS, If you

want to have a drink thats

your business. If you want

to stop, we can help. Phone

0800 229-6757

Computers

ALL

YOUR

COMPUTER

WORRIES SOLVED!

*$30.00 off your first

service with this coupon!*

No problem too big or

small from home PC's to

business networks. PC

slow? An end to Viruses,

Spyware, and Clogged

Systems. Safe secure

hassle-free computing.

Lost files recovered.

Microsoft Certified,

MCSE, MCP+l. 30 years

experience. Call Andrew

Buxton this week on 326-

6740 or 027 435-7596

for $30.00 off* Custom

Computers Christchurch

Entertainment

Weka Pass Railway

Waipara, North Canterbury

Trains run

every SUNDAY

in January

Phone 0800wekapass

Depart Glenmark Station

11.30am & 2.00pm

www.wekapassrailway.co.nz

Gardening

& Supplies

A GARDEN OR

LANDSCAPING TIDY

UP? Shrub, hedge &

tree pruning, Lawns,

Gardening, consistently

reliable general property

upkeep, Dip. Hort. 10

yrs experience, One off

tidy ups or on-going

service. Nick's Property

Maintenance. Keeping

your garden beautiful.

Free Quote. Ph. 942-4440

LANDSCAPE GARDEN

PROFESSIONAL

Qualified Horticulturist,

offering expert, garden

makeovers, design and

landscaping, for free

quotes call Bryce 027 688-

8196 or 0508 242-733

To Let

NEED MORE

SPACE?

WARMER THAN A CARAVAN

NO BOND

Classic Cars & Motorcycles

ASHLEY'S

TOW TAXI

fOr SAfE, dAmAgE frEE

cAr TrAnSpOrTATIOn

"SpEcIAL cArE fOr

SpEcIAL cArS"

0800 TOWTAXI

0800 8698294

Health & Beauty

FOOTCARE

OASIS

Senior Citizens Foot Care

25 Conway Street, Spreydon

Treating hard thick nails, calluses

and corns finishing with a foot massage

Price $30 Allow 45 mins

Home Visits available by appointment

Therapist – Amanda

(30 years experience)

Ph. 942-6036 for an appointment

HOURS ARE FLEXIBLE

Trades & Services

ROOF REPAIRS

Locally owned & operated with

over 30 years experience.

• Extensions & repair • Roof coating

• Concrete & clay tiles • Butynol

• Malthoid • Asbestos Certified

• Coloursteel • Old iron • Guttering

Phone Dave 981 0278

or 021 223 4200

E: dave@beaumontroofing.co.nz

BEAUMONT ROOFING LTD

FOR ALL YOUR

★Garden Clean-ups

★Pruning

★Lawn Mowing

★Garden Maintenance

Call us today for a FREE quote

PH 0800 4 546 546

(0800 4 JIMJIM)

Phone for

further details

(03) 379 1100

ROOF

PAINTING

Rope & harness

a speciality,

no scaffolding

required,

30 years of

breathtaking

experience.

FREE QUOTES

Exterior staining,

exterior painting,

moss and mould

treatment and

waterblasting

Phone Kevin

027 561 4629

BEST BATHROOMS

full renovation specialists,

LBP, repairs &

maintenance ph 03 387-

0770 or 027 245-5226

Trades & Services

Lawns, Gardens

& Home Cleaning

Breaking news,

delivered to

your pocket.

9185885AA

Free Quotes

Professional, personalised

service. Regular &

one-offs. Fixed price.

Ph: 377-5814

For all your property and

cleaning requirements

Trained, insured & security

screened owner/operators

Multi-award winning

systems & Franchises

Franchises Available

www.fviphomeservices.co.nz

BRICKLAYER

George Lockyer. Over

35 years bricklaying

experience. UK trained.

Licensed Building

Practitioner number

BP105608. Insurance

work. EQC repairs.

Heritage brickwork and

stonework a speciality. No

job too small. Governors

Bay. Home 329-9344,

Cell 027 684 4046, email

georgelockyer@xtra.co.nz

BUILDER

For all building work

but specialist in bathroom

renovations, 30 yrs

experience, with service

and integrity. Free Quotes.

Ph Lachlan 383-1723 or

0274 367-067.

*****************

CARPET

&

VInYL LAYIng.

Repairs, uplifting,

relaying, restretching,

Email jflattery@xtra.co.nz,

ph 0800 003 181 or 027

2407416

Trades & Services

gLAZIER

Window repairs, pet

doors, new glazing, double

glazing, conservatory

roofs. Experienced

tradesman. Call Bill on

981-1903 or 022 413-3504

PAInTIng

& Decorating Wingfields

Contracting, all interior

& exterior painting & all

forms of interior plastering

& jib fixing, ph Mark 021

171-1586 or 355-5994

PAInTER

Quality work, I stand by

Canterbury Ph Wayne 03

385-4348 or 027 274 3541

PLUMBER

ALF THORPE

PLUMBING Certifying

Plumber for all types of

plumbing, maintenance,

spouting, alterations etc.

Phone 352-7402 or 0274-

350-231

PLUMBER

For prompt service for all

plumbing maintenance,

repairs and alterations.

Phone Michael 364 7080

or 027 438 3943

T.V. SERVICE CEnTRE

Repairs, tvs, microwaves,

stereos, DVD. Aerial

installations and kitsets,

480 Moorhouse Ave, ph 03

379 1400

VHS VIDEO TAPES

& all camera tapes

converted to DVD, video

taping special occasions,

www.grahamsvideo.co.nz

ph 03 338-1655

Dealers. Phone 980 5812

Wanted To Buy

AAA Buying goods

quality furniture,

Beds, Stoves, Washing

machines, Fridge Freezers.

Same day service. Selwyn

or 027 313 8156

TOOLS

Garden, garage,

woodworking,

mechanical, engineering,

sawbenches, lathes, cash

buyer, ph 355-2045

Visit www.star.kiwi

anytime, anywhere!

Ideal as an extra

bedroom or office

Three convenient sizes

from $70 p/w:

Standard 3.6m x 2.4m

Large 4.2m x 2.4m

Extra-large 4.8m x 2.4m

Visit our display cabins at

470 Cranford Street or call

0211277227 for a free brochure

Fire rages, homes at risk

www.justcabins.co.nz

•news •CTV •sport •districts •schools •lifestyle •opinion •what's on

www.star.kiwi
---
COMMUNITY NEWS Tuesday January 2 2018 15

What's On

Entertainment

Perfect soundtrack

to chill to on your

Sunday

To advertise, contact

Jo Fuller 027 458 8590

jo.fuller@starmedia.kiwi

LAZY Sundays are back and Oakley

Grenell headlines at the event launch this

Sunday from 3.30pm in the Christchurch

Botanic Gardens.

Acoustic guitar and vocals is the

perfect soundtrack to chill to on your

Sunday, and to kick off the Ingham's Lazy

Sundays 2018 programme!

Oakley will fluently blend blues and

contemporary soul, with a dash of his

country roots thrown in. We are lucky to

have Christchurch jazz super group

Departure Lounge to guest.

Having released an 11th album in NZ,

Oakley will perform originals from his

back catalogue and a few covers thrown

in for good measure.

Over the years Grenell has supported

Ben Harper, Salmonella Dub, Ce Fu, and

has also worked with a host of local and

international talent collaborating on all

his projects.

Start your day

with us

We are open

from 6.30am

every day

COOKED

BREAFASTS

from

$

18

'Famous for their roasts!'

RESTAURANT & CAFÉ

Seniors SPECIAL

Two courses $20

Soup/Roast or

Roast/Dessert

Special available lunch only

Monday - Saturday 12pm - 2.30pm

Treat the Family!

Kid's

2 course

special

We are family

friendly.

Great Kids menu

plus designated

play area.

$10

The

RACECOURSE HOTEL

& Motorlodge

118 Racecourse Rd, Sockburn,

Christchurch. Ph 03 342 7150

www.racecoursehotel.co.nz

Cafe OPEN

from 11am

HOUSIE:

Tuesday & Saturday

SHUTTLE

Tuesday - Saturday PH 0508 966 5786

DINNER HAS NEVER BEEN THIS GOOD

NEW MENU | NEW TEAM

CHECK OUT OUR

SENSATIONAL

SUMMER

SIZZLERS $15

Whitford's Hours:

Open Monday to Sunday

LUNCH from 11am

DINNER from 5pm

KID'S EAT FOR FREE!

MONDAYS &

TUESDAYS

H ORNBY

WORKINGMEN'S

CLUB

LIVE

ENTERTAINMENT

JO'S

KARAOKE

Club CAFE

NEW SUMMER

MENU

LUNCH & DINNER DAILY

GF & V options available

The Buffet Restaurant is closed and

reopens this Thursday 4th Jan 2018.

We wish everyone a very happy festive period

and look forward to seeing you all in the New Year.

Lunch & Dinner

All you can eat, 7 days

Bookings Essential

PH 386 0088

fb.com/GardenHotelRestaurant

www.gardenhotel.co.nz

FREE

MAIN BAR

SAT.06.JAN, SAT.16.DEC8PM

Chalmers

Restaurant

PLEASE NOTE:

CHALMERS IS CLOSED FOR HOLIDAYS

REOPENING THURS 11 JAN

The Hornby Club | ph 03 349 9026 | 17 Carmen Rd | Hornby

www.hornbywmc.co.nz | Members, guests & affiliates welcome

SERVING

HAPPY HOUR

5PM - 7PM DAILY

OUR CABINET ITEMS

ARE HOMEMADE

CREATED FRESH ON SITE DAILY

$12

LUNCH

SPECIALS

COFFEE

HAPPY

H O U R

2PM-4PM

DAILY

$3.50

Offer available for a limited time

and includes tea, hot chocolate

MON: ROAST MEAL

TUE: FISH & CHIPS

WED: FISH BURGER

THU: ROAST MEAL

SAT: FISH & CHIPS

GBC is closed to 3rd Jan 2018.

We will resume normal business hours

from thisThursday 4th Jan 2018.

AVAILABLE

FROM

11.30AM-2PM

FOR A

LIMITED TIME

PHONE 385 8880 FIND US ON FACEBOOK fb.com/GBCCHCH

THE GARDEN HOTEL COMPLEX | 110 MARSHLAND RD

www.gardenhotel.co.nz | phone 385 3132

What's On

TUESDAYS & THURSDAYS

MEMBERS LUCKY

CARD DRAW

DOWNSTAIRS

CLUB BISTRO

Open Tuesday to Saturday

from 12pm - 2pm

& from 5pm.

DINE BY THE SEA!

UPSTAIRS

Pierview Restaurant

Open from 5.30pm Friday, Saturday

and Sunday, and for

Sunday Brunch from 10.30am to 2pm.

SUNDAY NIGHT BUFFET

LAST SUNDAY OF THE MONTH

SUNDAY BUFFET : $25pp

Sunday 28th Jan, from 5.30pm

NEXT BUFFET : BOOK NOW!

202 Marine Pde | Ph 388 9416 | www.newbrightonclub.co.nz | Members, guests & affiliates welcome
---
16

Tuesday January 2 2018

COMMUNITY NEWS

Happy

New Year

from your local

SuperValue!

1 st to 7 th January 2018

great deal

$

8 99

kg

Fresh NZ Skin On Chicken Breast Fillets

$

2 99

kg

Loose Hothouse Tomatoes

$

2 99

ea

Cadbury Chocolate

Block 155-205g

$

6 99

bag

$

5 99

kg

Loose Nectarines

great deal

$

3 99

ea

Fresh'n Fruity/

Meadow Fresh Yoghurt 1kg

(Excludes Greek)

Hellers Pre-Cooked

Sausages 1kg

2 for

$

5 50

great deal

$

1 25

ea

great deal

$

7 00

pk

Tip Top Better For You/

Supersoft/Goodness

Grains Bread 700g

Wattie's Baked Beans/

Spaghetti 420g

(Excludes Meat)

Streets Magnum

4/6 Pack/Calippo/

Paddle Pop 10 Pack

$

27 99

pk

Heineken

15 x 330ml Bottles

$

8 99

ea

$

2 99

pk

Jacob's Creek

Sparkling 750ml

(Excludes Reserve)

Handee Paper Towel

2 Pack

svcee0201

Owned & operated

by locals

Store Locations: Edgeware Village, Fendalton Village, Lyttelton, Stanmore, Sumner, Wairakei

All stores open 7 days.

While stocks last at SuperValue Edgeware Village, Fendalton Village, Lyttelton, Stanmore,

Sumner, Wairakei only. We reserve the right to limit quantities. Trade not supplied.

Please drink

responsibly

See supervalue.co.nz forHoliday Hours