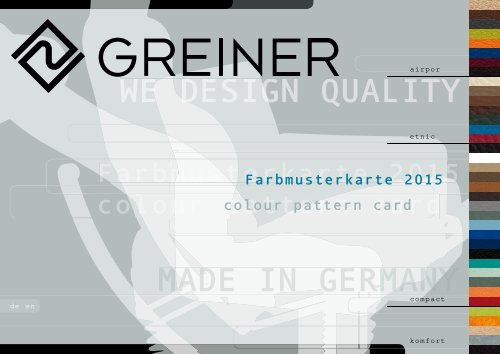 friseustuehle_farbmusterkarte_2012_greiner_gmbh
You also want an ePaper? Increase the reach of your titles
YUMPU automatically turns print PDFs into web optimized ePapers that Google loves.
airpor

WE DESIG

GN QUALITY

etnic

Farb must

terkarte 2015

col

olo

ur p

Farbmusterkarte 2015

colour pattern card

d

de en

MA

ADE IN GERMAN

MANY

compact

komfort
---
Farbkarte

arte

airpor

etnc

colou

olour

etnic

A87

A428

E890

E770

A342

A56

E850

E660

A211

A633

E310

E230

A15

A709

E340

E10

Geringe Abweichungen in Farbe und Struktur sind produktionsbedingt und nicht auszuschließen. Sie berechtigen nicht zur Reklamation.
---
pattern

tern

compact

card

komfort

K436

C811

C830

C700

C530

K510

C450

C350

C706

C637

K815

C422

C390

C711

C214

K215

C435

C360

C111

C220

K115

Slight differences in colour and structure are due to production and cannot be excluded; therefore such differences are not subject to complaint.
---
Material

Kombination einer schaumweichen, abriebfesten Kunststoffbeschichtung auf hochwertigem, dehnbaren Trikotgewebe

Eigenschaften

Schwer entflammbar, langlebig, lichtecht, abriebfest, reißfest, pflegeleicht, desinfektionsmittelbeständig.

Reinigung

Für dauerhafte Freude an ihrem Material bitte regelmäßig reinigen. Verschmutzungen durch Öle, Fette, Tinte, Blut, Urin und organische Säuren müssen umgehend

entfernt werden. Verwenden Sie hierzu lauwarmes Wasser oder eine warme, milde Seifenlauge und ein feuchtes Microfasertuch. Bitte keine Lösemittel, Chloride,

Poliermittel, chem. Reinigungsmittel oder Wachspoliermittel einsetzen. Vermeiden Sie den Kontakt mit farbmittelhaltigen oder jodhaligen Hautdesinfektionsmitteln,

Kontrastmitteln, Elektrodengel, etc.. Bitte beachten Sie, dass Anfärbungen durch Jeans oder andere Textilien von jeglicher Herstellergarantie

ausgenommen sind.

Desinfektion

Zur Wischdesinfektion mit Flächendesinfektionsmittel geeignet.

Flammfestigkeit / Sonstige Hinweise

MVSS 302, ISO 3795, DIN 75200, EN 1021 T.1+2

material

Combination of a smooth and abrasion-resistant plastic-coating and a stretchable premium tricot tissue.

characteristics

Flame resistant, durable, light-fast, abrasion-resistant, tearproof, easy to clean, resistant to disinfectants.

cleaning

For durable joy with this material, please clean regularly. Stain caused by oil, fat, ink, blood, urine or organic acid must be removed immediately. Clean

with lukewarm water or a warm and mild soap sud and a microfiber cloth. Please do not use solvents, chloride, abrasive, chemical cleaning agents or wax

polishes. Avoid any contact with disinfectants containing iodine or colorant, contrast medium, electrode gel, etc. Please note that colorings caused by

jeans or other textiles are excluded from any manufacturer's guarantee.

disinfection

Appropriate for surface disinfection.

flame resistance / miscellaneous

MVSS 302, ISO 3795, DIN 75200, EN 1021 T.1+2

GREINER GmbH Riedbachstraße 5 74385 Pleidelsheim

Phone +49-7144-8112-O Fax +49-7144-8112-99

info@greiner-gmbh.de www.greiner-gmbh.de

de en

GREINER Middle East DMCC

DMCC Business Center, Almas Tower Jumeirah Lakes Towers

P.O.Box 34O5O5 Sheikh Zayed Road Dubai U.A.E

Phone: +971 4 36O8O11 www.greiner-me.com info@greiner-me.com

Version Juni 2015