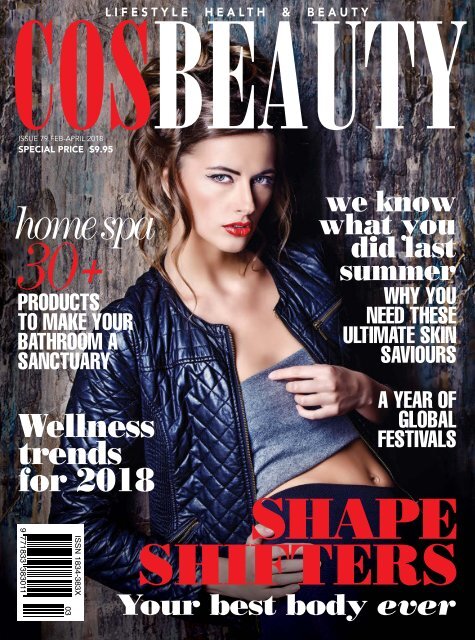 CosBeauty Magazine #79
CosBeauty is the #BeautyAddict's guide to lifestyle, health and beauty in Australia. This issue we look at 30+ products to make your bathroom a spa, why you need these ultimate skin savers, wellness trends for 2018, a year of global festivals and shape shifters; your best body ever!
CosBeauty is the #BeautyAddict's guide to lifestyle, health and beauty in Australia. This issue we look at 30+ products to make your bathroom a spa, why you need these ultimate skin savers, wellness trends for 2018, a year of global festivals and shape shifters; your best body ever!
SHOW MORE
SHOW LESS
Do you know the secret to free website traffic?
Use this trick to increase the number of new potential customers.
COSBEAUTY

lifestyle health & beauty

ISSUE 79 FEB-APRIL 2018

Special price $9.95

home spa

30 +

products

to make your

bathroom a

sanctuary

Wellness

trends

for 2018

we know

what you

did last

summer

why you

need these

ultimate skin

saviours

a year of

Global

festivals

shape

shifters

Your best body ever
---
Introducing NEW DNA Eye Balm

:

DNA Eye Balm combines DNA Repair Enzymes with Growth Factors to help reverse and

delay signs of ageing in the delicate under eye area. This 2-in-1 approach works to

effectively combat UV damage, reduce fine lines and wrinkles while simultaneously

stimulating new collagen production for tightening and pore perfection.

Clinically proven to help repair photodamaged ageing skin
---
THE FOUNDER:

DNARenewal: THE FOUNDER

DNARenewal: Dr. THE FOUNDER

Dr. Ronald L. L. Moy, Moy, renowned renowned scientist, scientist, researcher, researcher, dermatologist, dermatologist, and cosmetic surgeon, and

Dr. cosmetic Ronald L. surgeon, Moy, renowned has scientist, dedicated researcher, his life's dermatologist, work understanding cosmetic surgeon, the

impact Today, DNARenewal of photo damage marks the culmination on skin's of health his passion and to create ageing. a clinically Today, proven DNA regimen Renewal that

Today, marks effectively DNARenewal the helps culmination repair marks photodamaged the of culmination his passion aging of skin. his to passion create to create a clinically a proven regimen that

effectively that effectively helps repair helps photodamaged repair aging photodamaged skin. ageing skin.

has dedicated his life's work to understanding the impact of photo damage on skin's health and aging.

has dedicated his life's work to understanding the impact of photo damage on skin's health and aging.

www.dnarenewal.com.au
---
Instant non-invasive eyelid lift

New

products

now

available

COLORSET ® &

NECK RESCUE TM

LIDS BY DESIGN ® is a non-surgical

correcting strip, available in different sizes,

to instantly lift eyelids and widen eyes, hiding

the excess skin in the natural fold of the lid.

Virtually invisible, quick and easy to apply, they

last all day and makeup can be applied over

the top. They are ideal for:

Before

After

• Loose sagging skin hanging over lashes

• Asymmetrical lids

• Excess skin covering the natural fold of the lid

• Enlarging the appearance of the eyes

• Dermatologist Tested

• Medical Grade • Hypoallergenic

• Latex Free

To purchase or to become a stockist:

visit bellaaesthetics.com.au

email michelle@bellamedia.com.au or call

02 9398 2755

Distributed by

AESTHETICS
---
LOSE 15CM AND KEEP IT OFF!

Nicole's Beauty Salon offers only the very best treatments available,

including the International Body Wrap which improves the appearance

of cellulite, stretch marks and scar tissue and is guaranteed to take 15

centimetres off your entire body size - or your money back!

With highly trained aestheticians and stunning surroundings, any

treatment you have at Nicole's Beauty Salon will be a luxurious

experience you'll long for time and time again.

02 9327 7728

mobile 0410 627 767

nicole@nicolesbeautysalon.com.au

Shop 8, 401 - 407 New South Head Rd,

Double Bay NSW 2028

www.nicolesbeautysalon.com.au
---
&

Radiate

beauty

confidence

Using the latest technologies, our team of experts

is committed to help you achieve natural-looking

results in a relaxed and friendly setting.

Come in and experience the Skin Renu difference.

Our comprehensive treatment menu includes:

world-class wrinkle reduction and

lip enhancement

laser skin rejuvenation

CoolSculpting non-surgical fat reduction

Thermage non-surgical face lifting

medical peels

clinic-only premium skincare

Call us to book a complimentary consultation

02 9555 9506

www.skinrenu.com.au

16B Beattie St, Balmain, Sydney
---
Contents

BEAUTY

regulars

10 Editor's letter

12 Beauty insider

104 Ed's Faves

cover stories

16 Wellness trends for 2018

56 At home spa – 30+ products

to make your bathroom a

sanctuary

62 Shape shifters

– your best body ever

A rundown on every

body contouring device

on the market

86 We know what you did last

Summer – why you need these

ultimate skin saviours

96 A year of global festivals

features

40 The future: skincare that

impacts our DNA

The founder of Synergie Skin

explains why superficial skincare

is no longer enough

42 10 ways to look and feel better

It's time to make those 2018

goals a reality

48 Intermittent fasting – benefits

and risks

Curious about the 5:2? We've

got all the deets right here

78 Be the best version of you

If your fitness struggles are just

too real, it could be time to try

this multifaceted approach

22 Day vs night

Up your beauty game with these

must-try products

26 Foundations with benefits

The functional foundations that

improve your complexion while

you wear them

29 Be my Valentine

Make someone smile this Feb

14 with these lust-worthy gifts

30 Hitting the right notes

A breakdown of heavenly scents

so you never buy the wrong

perfume again

52 Don't get in a tizz about frizz

Our go-to tips and tricks for

humidity-proofing your hair
---
SKIN

36 Glowing skin is always in

Dewy skin in 30 minutes?

Yes please!

38 Real science, real results

Why you need to make DNA

enzymes your new best friend

92 Dolce Vita Skin

Expert advice on the benefits of

adopting a long-term

beauty regime

ENHANCEMENT

72 Tried and true

Why liposuction is still the most

commonly performed form of

cosmetic surgery

76 Thinking about liposuction?

Here's your liposculpture

lowdown

80 Navigating the land down under

Let's talk about sex, baby!

84 Fat grafting – the natural

alternative to fillers

Everything you need to know

about redefining your facial

features with your own fat

94 Lids by Design – Colorset

primer pencil

Another eye enhancing gem

from Lids by Design

Read the

FREE

online

version at

cosbeauty.com.au

www.cosbeauty.com.au 9
---
From the

Editor

W

elcome to the Autumn edition of CosBeauty magazine.

As the hot weather is starting to abate, we can finally

drift off at night without the relentless humidity

interrupting our precious beauty sleep. According to the

author of The Liver Cleansing Diet, Dr Sandra Cabot,

making sleep a priority is one of the top ten things we

can do to look and feel better (p42). She explains: 'Sleep is critical for immune

function, improving the metabolism, maintaining a healthy weight, enjoying

a positive mood, optimising physical and mental performance and preventing

premature ageing.' I knew there must be some valid reasons behind my love of

snuggling up!

The world of 'wellness' accounts for a $3.7 trillion global industry and in

our report on page 16, we showcase the forecast trends for 2018, including my

favourite – Vinotherapy. And no, it's not what you think!

This issue's enhancement feature is on Bodyshaping devices – getting into

shape without the sweat, or undergoing surgery. And for those who are old school

in their approach to weight loss, we also have a fascinating article on Intermittent

Fasting (p48) and another on the benefits of personal training (p78).

For makeup lovers, we're exploring the rise of functional foundations on page

26 and our Beauty Insider reveals the latest lineup of celeb inspired products and

procedures from page 12. Our guide to seasonal skincare will help you clear your

complexion during the cooler months (p86), while our frizzy hair feature will aid

you in keeping the flyaways at bay, no matter how intense the humidity (p52).

Our Valentine's picks on page 29 will keep you in Cupid's favour for another

year, but remember to prioritise some self-love this Autumn by transforming your

bathroom into the perfect sanctuary with our comprehensive pampering package

from page 56. Looking after yourself is the best way to bring balance to your life

and it empowers you to look after those you love the most.

Issue 79

Feb-April 2018

Editor-in-Chief

Michelle Kearney

Editorial Director

Michelle Kearney

Art Director

Debbie Pilarinos

Writers

Tara Casey, Jenni Gilbert, David Hickie,

Maria Leahy, Aimée Rodrigues

Photographers

Debbie Pilarinos, ShutterStock

Distribution &

Subscription Enquiries

Bill Dunk

Phone 02 9398 2755 Fax 02 9398 2855

Email acsmag@bellamedia.com.au

Advertising Enquiries

Michelle Kearney

Phone 02 9398 2755 Mob 0419 624 246

Email michelle@bellamedia.com.au

Editorial Enquiries

Michelle Kearney

Phone 02 9398 2755 Fax 02 9398 2855

Email acsmag@bellamedia.com.au

Produced & Published by Bella Media

ABN 86 082 157 695

Managing Director

Michelle Kearney

Chief Operating Officer

Bill Dunk

Public Relations, Marketing

& Event Organisation

Phone 02 9398 2755 Fax 02 9398 2855

Office address

Level 1, 42a Frenchmans Road

Randwick, NSW, 2031

Phone +61 2 9398 2755 Fax +61 2 9398 2855

www.bellamedia.com.au

Michelle Kearney

Editor-in-Chief

michelle@bellamedia.com.au

Read the online edition

plus more greAT ARTicles @

www.cosbeauty.com.au

find us on Facebook

cosbeauty

follow us on Instagram

cosbeauty

Reproduction in whole or in part is not permitted without the

written authorisation of the publisher. All reasonable efforts have

been made to trace copyright holders. All manuscripts and articles

submitted for publication remain the property of The Bella Media

Group. This magazine contains general information only and

does not purport to be a substitute for medical advice. All readers

are advised to seek medical advice from a doctor if considering

cosmetic surgery. The publisher and the authors do not accept

any liability whatsoever in respect of an action taken by readers in

reliance on the recommendations set out in this magazine. Except

where specified in captions, photographs depict models who have

not necessarily received treatments described in this magazine.

Any 'before and after' photographs in CosBeauty Magazine

articles are of genuine patients. It is important to understand

that they represent one person's experience and there is

no guarantee that any other patient will experience similar results.
---
Body Balance

Dr John Flynn

cosmedic&

Dr John Flynn

skin clinic

Reshaping can create

cosmedic&

the look you want

skin clinic

Breast augmentation can

enhance the natural size

and shape of your breasts

Refi nement in Cosmetic Surgery

With breast augmentation, your natural form can be

enhanced and complemented. This results in a balanced

and symmetrical effect that suits your individual body type

and achieves a feminine silhouette.

Liposuction to Shape and Contour

With liposuction, Dr John Flynn can reshape and contour

your form to achieve balance between your body's

proportions. Areas such as the abdomen and inner and

outer thighs respond particularly well to this procedure.

CERTIFIED

IN COSMETIC

SURGERY

Dr John Flynn

M.B., B.S., Dip. R.A.C.O.G., F.R.A.C.G.P.

Dip. P. Dermatology., F.A.C.C.S.

Fellow of the Australasian College of Cosmetic Surgery

Certifi ed by the American Board of Laser Surgery

Dr John Flynn has over 20 years of experience as

a medical practitioner on the Gold Coast

AD Flynn.indd 1

CERTIFIED

IN COSMETIC

SURGERY

20/4/09 9:01:39 AM

AD Flynn.indd 1

For more information or to make an

appointment call Cosmedic and Skin Clinic

07 5588 4777

Southport | Gold Coast

Level 2, Pivotal Point

50 Marine Parade, Southport QLD 4215

www.cosmedic.com.au | info@cosmedic.com.au

Dr John Flynn

cosmedic& skin clinic

Dr John Flynn

20/4/09 9:01:39 AM
---
@cosbeauty

Beauty insider

THE WHO'S WHO AND WHAT'S NEW IN BEAUTY.

LINDSAY LOHAN SET FOR

ULTIMATE REBRAND

Another day, another celebrity

makeup line! With Rihanna,

Victoria Beckham and Kim

Kardashian West dominating the

2017 beauty scene, it's no surprise

that other celebs are keen to get

in on the action. Following some

time away from the spotlight,

Lindsay Lohan has announced

that she will be launching her own

lipstick range. Speaking on The

Wendy Williams Show, the 31-yearold

actress described the move

towards makeup entrepreneurship

as 'very exciting', but failed to

reveal when exactly the LiLo

inspired collection will be released.

SIA MAKES HER MARK ON

MAC'S VIVA GLAM

She may be known for her

anonymous appearance, but

Australian singing sensation

Sia is about to go public with a

very special collaboration. The

popstar has teamed up with

MAC for its 2018 Viva Glam

campaign to raise money for

those affected by HIV/AIDS. To

date, more than $600 million

has been collected through the

brand's partnerships with stars

like Rihanna, Miley Cyrus and

Lady Gaga. Sia's vivid red Viva

Glam lipstick will be available

from February 12.

PEARLS FOR THE GIRLS

When it comes to our favourite

beauty products, we generally

stand by the statement: 'Don't

mess with a classic'. But when

the experts at Benefit decided

to add a touch of luminosity to

their legendary POREfessional

primer, we can't say we weren't

a little intrigued. The new

POREfessional Pearl Primer

($53) boasts all the pore-defying

goodness of the original, with

the added superpower of

brightening lacklustre skin. The

best news? It's in stores now!

12 www.cosbeauty.com.au
---
@cosbeauty

THE ELLE EFFECT

If you're one of Elle Ferguson's

600K Insta followers, you'll

know all about this Bondi

babe's enviable glow. Now,

you can replicate the Cosmo

cover girl's style with the arrival

of her new tanning line, Elle

Effect. While an official release

date has yet to be announced,

with promises of a five-day

streak-free tan, we think this

is definitely a space worth

watching.

600K

PUBLIC ROYALLY

OBSESSED WITH MEGHAN

MARKLE'S NOSE

When Kate Middleton became

the Duchess of Cambridge in

2011, her ability to sell out entire

lines of clothing quickly became

apparent. And now that Prince

Harry's engagement to Meghan

Markle has been announced, it

seems the American actress is

having a similar impact on the

world of cosmetic enhancement.

Since going public with her royal

romance, a number of New York

based plastic surgeons have

reported a surge in requests for

the Suits star's features. Dr Philip

Miller told the Daily Star that he

receives two requests a week

for 'Meghan's nose', while Dr

Stephen T Greenberg admitted

to Allure that Ms Markle's

defined cheekbones and jawline

are popular among his patients'

requests.

MIRROR, MIRROR

As anyone who's ever left the

house repping fifty shades of

orange will know, sometimes

even our must trusted looking

glasses lie. Thankfully, this

situation could soon be a thing

of the past as 'the world's

first smart beauty mirror', the

HiMirror, promises to assess

your skin, offer personalised

advice and play beauty

tutorials while you apply your

makeup. #Winning

www.cosbeauty.com.au 13
---
Feature

Perfect

is boring,

human

is beautiful

– Tyra Banks

14 www.cosbeauty.com.au
---
Feature

www.cosbeauty.com.au 15
---
Feature

W ellness

Trends

for

2018

16 www.cosbeauty.com.au
---
Feature

THE WORLD OF WELLNESS

ACCOUNTS FOR A $3.7

TRILLION GLOBAL INDUSTRY.

HERE ARE SOME OF THE TOP

TRENDS THAT WILL DRIVE IT

– AND YOU – IN 2018.

WORDS BY JENNI GILBERT

From crystal therapy to healing spices,

the wellness trends once considered too

alternative for the general public now

look set to become the must-try treatments of

2018. That's according to the Global Wellness

Institute (GWI), an esteemed Miami-based body

whose mission is to empower wellness worldwide

by educating the public and private sectors about

preventative health and wellbeing.

'Much of that expansion is happening in what

were once regarded as alternative therapies,' says

the GWI's director of research and PR, Beth

McGroarty. 'The more kooky or whacky the

treatment, the bigger it is.'

A torrent of holistic health specialties will

take the limelight, according to Jess Barron,

general manager of leading US diet, nutrition

and fi tness website Livestrong. 'Infrared sauna,

acupuncture, Reiki massage, meditation and

cryotherapy are becoming hugely mainstream

and thought of less so as woo-woo,' she says.

Jess also predicts that energy healing will be

big: 'In addition to crystals and sage smudging,

we've seen aura reading and energy healing such

as Reiki becoming more and more mainstream.

A massage therapist in San Francisco recently

used a tuning fork on my head and neck to get

my energy back into proper vibration!'

www.cosbeauty.com.au 17
---
Feature

CRYSTAL CUT

The New York Times christened

2017 the year of 'the great

crystal boom' with all things

lunar related, solar powered and

crystal coated having a galactic

moment. The famed publication

predicts this trend will continue

to shine through 2018.

'How did crystals go from a

New Age curiosity to ubiquitous

accessory in the luxury wellness

world?' asked The New York

Times. 'They are extolled as

beneficial to physical and

emotional healing. Crystals,

it seems, appeal to those who

seek calm in a chaotic world: a

counterbalance to the anxiety

induced by nonstop news and

feelings of Instagram FOMO.'

From Adele to Victoria

Beckham, celebrities have been

embracing the pleasing aesthetic

and suspect healing properties

of precious gems and stones,

including Crystal Light Bed

Therapy, which involves lying

on a massage table beneath

seven glowing rainbow coloured

Vogel-cut quartz crystals (one for

each chakra).

Wish list

According to Modern

Sanctuary, a Manhattan luxury

wellness centre that specialises

in the practice, crystals will

'shine on and off in healing

rhythms to cleanse, balance

and align energies'.

INFRARED

SAUNAS

The oldest known sauna is a pit of

stones in Finland, but over the past

two millennia this ancient tradition

has undergone multiple facelifts.

The latest incarnation is the

infrared sauna, which uses infrared

light waves to create heat in the

body instead of the air. This new

wave of light therapy is said to help

you detox, lose weight, boost the

immune system, lower stress levels

and improve sleeping patterns.

Wish list

Miranda Kerr has one installed

in the guesthouse of her Malibu

home, but in the absence of a

personal invitation the rest of us

can sweat in style at Nimbus & Co,

Bondi Beach.

VINOTHERAPY

'The old model of excess – the party

mentality – is not as affordable for people

anymore,' says Beth McGroarty, citing a

new, health-conscious breed of millennial

traveller as a changing force within the

wellness industry.

They are more likely to be found

indulging in wine-based skin therapies –

vinotherapy – than imbibing the gorgeous

grapes. Vinotherapy describes a treatment

where the residue of wine-making (pips and

pulp) are rubbed into the skin. The pulp is

said to have excellent exfoliating qualities

and to help reduce the problems associated

with ageing.

Wish list

French skin care brand Caudalie was

the first to catch onto the skin-softening

benefits of grape seed polyphenols,

creating the world's first Vinothérapie

spa in the heart of the Chateau Smith

Haut Lafitte vineyard in Bordeaux in 1999.

These days you can soak in a vat of vino

everywhere from Tuscany to Japan.

18 www.cosbeauty.com.au
---
SALT THERAPY

A natural modality that has been practised since the

18th century, salt therapy involves inhaling dry salt,

which can help cleanse both the airways and skin to

relieve congestion, inflammation and dermal irritations.

A client sits in a salt 'cave', where a halogenerator grinds

pharmaceutical grade salt into minute particles that

become airborne when dispersed into the room. The

particles are then inhaled deep into the lungs.

Wish list

The salt chamber in the spa at Sirene Luxury Hotel

Bodrum on Turkey's idyllic Aegean coast.

BACK TO

REALITY

Workout apps and online fitness classes

have been trending for years, but this

might come to an end. Instead, face-toface

classes and experiences are expected

to rise in popularity as we realise the

mental health benefits of connecting with

others in real life.

Jess Barron says the current political

climate is causing a shift in our health

goals and routines. '[It's] incredibly

volatile and people are on edge,' she says.

'In order to take care of their health,

I've seen friends heading regularly

to meditation centres. I've noticed

physical challenges like marathons

rise in popularity, perhaps as a way to

ease anxiety. I am seeing friends and

acquaintances sign up for glitter runs,

5Ks, half marathons and marathons more

than ever before.

'It could be that people are looking to

these types of physical challenges to not

only improve their fitness and health

but to develop their determination and

improve their mental focus to thrive

in what can feel like an overwhelming

political world right now.'

Wish list

UNPLUG Meditation in Los Angeles.

www.cosbeauty.com.au 19
---
Feature

WORKLEISURE

CLOTHING

Over the last few years we've seen 'athleisure'

gear rise to the fore, but Jess predicts the next

iteration is 'workleisure', where functional,

comfortable clothes become work appropriate.

Lifestyle brands like Aday and Kit and Ace are

taking this trend to the masses.

'Here's the deal,' says Jess. 'Successful tech

world businessmen such as Facebook CEO

Mark Zuckerberg and AXS TV chairman Mark

Cuban have shepherded in an incredibly casual

business look for men. Forbes dubbed it "CEO

casual" several years back. Well, what about

all the women out there who are founding and

running companies?

'We live in a world where work life and

home life are increasingly blurred. The power

to wear athleisure clothing at the office makes

taking a walk or yoga or meditation break

much more manageable.'

HEALING SPICES

Beyond inflammation and gut health,

Keri Glassman, leading US celebrity

nutritionist and founder of The

Nutrition School, says spices are

moving into the limelight. You could

say turmeric is the new avocado.

'Adaptogenic herbs and spices have

taken off,' Keri says. 'Historically,

[adding spices] was always a great

way to flavour food without adding

calories and to increase your intake of

antioxidants.

'But more recently, inflammation

and chronic stress have become

such big issues so, naturally, ways to

remedy that have become popular,

too.'

Turmeric lattes are just the start,

she says. 'People are also putting

turmeric and other spices into their

morning coffees and smoothies.'

Buzz about turmeric's antiinflammatory

powers dominated

2017, but 2018 is all about moringa,

according to US wellness lifestyle

website Well+Good. It's a 'super

green' touted as an even more

powerful inflammation fighter.

Called the 'world's most useful

tree' by scientists, moringa's healing

history in India, Chile and Africa has

been little known in the West. But

its nutrition profile is now becoming

legend with twice the protein of

spinach and three times as much iron,

says nutritionist and Well+Good

Council member Kimberly Snyder.

FUNCTIONAL

DRINKS

Consumers are getting wiser

about vitamin drinks and iced

teas, which are marketed as

healthy elixirs even though they

are packed with sugar. Instead,

we'll start to see functional drinks

become more popular, such as

vinegar or activated charcoalinfused

concoctions.

'I think [vitamin drinks and

iced teas] will definitely still be

crowd favourites, but the trend

will be taken up a level,' says Keri

Glassman. 'Kombucha floats are

already a thing, so I wouldn't be

surprised if the next big thing is a

combo of a few of these items or

one of them with a twist.'

Some caution is needed,

however. Activated charcoal and

clay have been given a makeover

in the form of Instagrammable

detox drinks, but these ingredients

can also cause the not-so-ideal

outcome of constipation.

20 www.cosbeauty.com.au
---
SOUND

BATHING

Bizarre name aside, sound bathing,

which involves relaxing to the sound

of Tibetan singing bowls or bowls

made of metal or quartz crystals, may

actually serve as a useful meditation

aid for novices who struggle to reach

Nirvana through breath work alone.

Think of it as meditating to a

soundtrack. The Integratron – a

repurposed out-of-this-world domed

structure described by its creator as 'a

time machine for basic research on

rejuvenation, anti-gravity and time

travel' in California's Mojave Desert

– will transport you to another world

before you even shut your eyes.

Wish list

Blue Mountains Sound Therapy,

Springwood, NSW.

SOUNDS

OF SILENCE

Vows of silence have long been a

religious practice in many faiths,

but in recent years they've become a

popular wellness trend thanks to what

Beth McGroarty calls 'the endless

noise and digital noise' of modern life.

Research suggests a period of silence

can lower stress hormones and boost

overall happiness. Endorsements from

the likes of Gisele Bündchen and

Emma Watson don't go astray either.

If all you want is some peace and

quiet then you're in luck because

silence is getting supercharged by a

new generation of silent hotels, spas,

restaurants, gyms, airports and even

hair salons.

Wish list

Therme Laa Hotel and Spa in

Austria, which bills itself as the

fi rst comprehensively silent spa

experience. CBM

Foodbites

LOW-FODMAP EATING

Irritable Bowel Syndrome (IBS) sufferers are finding success with

low-FODMAP diets, and now other trendy eaters are jumping on

the bandwagon. The acronym [Fermentable Oligosaccharides,

Disaccharides, Monosaccharides and Polyols] stands for a type of

carb found in a wide variety of foods that can cause indigestion.

Followers usually skip dairy products, sugar, alcohols and legumes

(to name a few) in lieu of lactose- and fructose-free eating. While this

diet might soothe your stomach, stay wary of any products with a

'low-FODMAP' claim as they can still contain lots of saturated fat and

added sugar.

'NEW' SUPERFOODS

While these trending eats are old news in other parts of the world,

cassava, jackfruit and monk fruit are all gaining popularity as swaps

for wheat flour, meat, and sugar. Try baking with cassava or using

jackfruit in vegan tacos.

PROBIOTIC EVERYTHING

Yoghurt and fermented foods like sauerkraut and kimchi have

received huge attention for their gut-boosting live cultures, but

probiotics are popping up in other places. You can now find good

bacteria in special chips, cookies and granolas, but make sure to look

at the other ingredients before adding to your shopping trolley.

CAFFEINE-INFUSED FOOD

This is news everyone can get behind! Recent research supports

consuming 300 to 400 milligrams of caffeine (about three or four cups

of coffee) per day for its brain benefits. But matcha's not the only en

vogue source. Turn to new caffeinated waters or seltzers for a pickme-up,

but skip coffee cubes and sugary beverages if you want an

actual health boost.

www.cosbeauty.com.au 21
---
Day

Beauty

VS

night

Transitioning from

day to night isn't as

simple as dropping

your blazer for

an LBD. Whether

you're channelling

successful

professional or

weekend warrior,

be sure to bring

your beauty

'A' game.
---
Beauty

1.

2.

3.

4.

7.

5.

6.

RELEASE YOUR INNER

GIRL BOSS

Daytime beauty is all about

convenience, but that doesn't mean

you can't look fresh AF heading to

the office. Show the world you mean

business with dewy skin, a soft glow,

defined eyes and subtly shaded lips.

Remember, earthy tones and coral

highlights are your friends.

8.

WE RECOMMEND

10.

11.

9.

12. 13. 14.

1. Youngblood Mineral Rice Setting

Powder, $55, 2. Peter Thomas

Roth Lashes to Die For, $31, 3.

Youngblood Illuminate Palette, $89.95,

4. Charlotte Tilbury Rock 'n' Kohl

Iconic Liquid Eye Pencil in Barbarella

Brown, $43, 5.Colorescience Pressed

Mineral Foundation SPF 20, $69.50,

6. Colorescience Mineral Corrector

Palette, $79.20, 7. Charlotte Tilbury

Luxury Palette in The Sophisticate,

$80, 8. Salt by Hendrix Lip Glow in

Peach Martini, $19.95, 9. Charlotte

Tilbury K.I.S.S.I.N.G in Valentine, $49,

10. Mavala Switzerland Lipstick

with Prolip in Opal Rose, $27.95,

11. Ms. Lova Tanning Mousse, $29.90,

12. Lycogel Breathable Tint, $89,

13. Inglot Refreshing Face Mist,

$12, 14. Dermalogica Ultra Sensitive

Tint, $61.50.

www.cosbeauty.com.au 23
---
1.

OH HELLO,

DANCING QUEEN

To quote Rita Ora, 'When the sun

comes down, that's when the animal

comes out!' When hitting the town

you can afford to amplify your look.

Think sculpted cheeks, brushed

brows, lined eyes and slicked lips.

To avoid looking overdone, you

should aim to accentuate your best

features, not create new ones.

3.

2.

4.

WE RECOMMEND

1. YSL Touche Éclat Glow Shot Liquid

Highlighter in Daylight, $68, 2. Skeyndor

High Impact Panoramic Mascara, $39.90,

3. Tarte BEAUTY (RED)EFINED tarteist

PRO Amazonian clay palette, $82, 4.

Charlotte Tilbury Filmstar Bronze &

Glow, $97, 5. Giorgio Armani Luminous

Silk Foundation, $99, 6. Arbonne

Makeup Sheer Glow Highlight Stick, $69,

7. Marc Jacobs Dew Drops Coconut

Gel Highlighter, $63, 8. YSL All Hours

Foundation, $89, 9. YSL Glow Shot, $68,

10. MAC x Jade Jagger Mineralise Eye

Shadow x4 in Burning Nights, $72, 11.

Gilded Cage Revelation Eyeshadow

in Rose Gold, $27, 12. Peter Thomas

Roth Skin to Die For No Filter Mattifying

Primer and Complexion Protector, $40,

13. Sisley Phyto Lip Twist in Coral, $55,

14. Dermalogica Hydrablur Primer,

$70, 15. Jeffree Star Cosmetics Velour

Liquid Lipstick in Calabasas, $18, 16.

Fenty Beauty Stunna Lip Paint, $36,

17. Inglot Intense Sparkler Face Eyes

Body Highlighter in 14, $30, 18. Mavala

Switzerland Nail Color Cream, $8.50, 19.

Bondi Sands Self Tanning Foam, $24.95.

5. 6.

7.

8. 9.

24 www.cosbeauty.com.au
---
Feature Beauty

10.

18.

11.

16.

12. 13. 14. 15. 17.

19.

www.cosbeauty.com.au 25
---
Feature

foundationS

with

benefits

Once considered a simple tool for covering up

unwanted blemishes, the humble foundation has

since been infused with all kinds of skin loving

goodness. From collagen boosting formulas to

post-procedure healers, the following foundation

fix is anything but basic!

26 www.cosbeauty.com.au
---
Beauty

1.

1. Ultraceuticals CC Powder Pure

Mineral Foundation, $69. Brimming

with skin saving vitamins, this triple

milled anti-ageing mineral powder

is perfect for brightening sensitive

complexions.

2.

3.

2. Lycogel Breathable

Camouflage, $108. This buildable

matte foundation works hard to

deliver oxygen, moisture and

nutrients to the skin, making it a

great post-treatment skin saviour.

3. Charlotte Tilbury Magic

Foundation, $65. Capable of

reducing the appearance of acne

and age spots, this collagen

boosting, pore tightening product

really is like magic in a bottle.

4.

4. Skeyndor Hydrafluid

Foundation SPF 18, $55. Part of

Skeyndor's Anti-Ageing collection,

this product utilises lifting

peptides, de-puffing agents and

botanicals to give the complexion

a boost of youth.

5. Colorescience Even Up Tinted

Makeup Base SPF 50, $158.40.

Think colour correction at its

finest – this innovative brightening

product is clinically proven to

improve the appearance of

discoloured skin.

5.

6.

6. asap pure skin perfecting

mineral foundation, $65. Time for a

complexion boost? This lightweight

formula improves skin health,

provides pollution protection and

stimulates skin cell production.

7. Oxygenetix Oxygenating

Foundation, $66. Described

as a 'breathable second skin',

the Oxygenetix Oxygenating

Foundation supports skin healing

following aesthetic procedures.

Contains Vitamin E and the extracts

of grape seed and Salix alba.

7.

www.cosbeauty.com.au 27
---
8. Ella Baché Great Sunguard

Foundation SPF 40, $48. Be beach

ready with this antibacterial opaque

foundation with advanced sun

protection and anti-oxidising

properties. Bonus points for the eyecatching

packaging!

9. Nude by Nature Flawless Liquid

Foundation, $39.95. Bamboo

powder, baobab fruit and lilly pilly

unite to soften and enrich the skin

while providing flawless coverage.

Oil and fragrance free.

10. La Roche-Posay Toleriane Teint

Hydrating Water-Cream Foundation,

$39.95. Harnessing the power

of hyaluronic acid, this medium

coverage formula visibly unifies

the skin while providing up to 12

hours of moisture.

11. Youngblood Loose Mineral

Foundation, $79.95. It's a foundation,

concealer and powder all in one!

This fan favourite mineral foundation

looks after sensitive skin while

providing UVA/UVB protection.

12. Paula's Choice RESIST Anti-

Ageing Serum Foundation, $58.

Diffuse imperfections and soften the

signs of time with this lightweight

matte foundation. Infused with

replenishing ceramides.

8. 9. 10.

12.

11.

13. O Cosmedics 1SKIN Natural

Fusion Foundation, $59. Using desert

date oil and organic fruit extract,

this high performing natural product

supports skin firmness and elasticity

while boosting hydration.

13.

14. 15.

14. Inglot HD Perfect Coverup

Foundation, $49. Providing long

lasting coverage that adjusts to suit

its wearer's skin tone, and powerful

HD pigments for a flawless finish, this

is a winning selfie foundation.

15. Revlon Youth FX Foundation,

$39.95. This uber hydrating formula

blurs fine lines and wrinkles with

micro-fillers and optical diffusers,

while limiting the appearance of age

spots and hyperpigmentation.

28 www.cosbeauty.com.au
---
e my

Valentine

B eauty

SHOW SOMEONE YOU CARE THIS

VALENTINE'S DAY WITH GIFTS SO GOOD

EVEN CUPID WOULD APPROVE.

2.

3.

1.

1.

Gucci Bloom EDP, $140

2.

Giorgio Armani

Sì Eau de Toilette, $129

3.

Robert Piguet

Rose Perfection, $299

4.

Prada Candy Florale

Eau de Toilette, $156

5.

Skeyndor Luxury

Valentine's Pack, $89.90

6.

Synergie Skin

Targeted Anti-Ageing Set for

Men, $149

7.

Floris London No 89, $190

7.

4.

6.

5.

www.cosbeauty.com.au 29
---
HITTING

the

RIGHT

notes

30 www.cosbeauty.com.au
---
Beauty

ONCE A WOMAN WAS

EXPECTED TO HAVE

A SIGNATURE SCENT.

NOWADAYS, WE ARE

MORE LIKELY TO TREAT

FRAGRANCE AS AN

ACCESSORY, CHANGING

AT WHIM TO SUIT OUR

DIVERSE LIFESTYLES

AND SHIFTING MOODS.

WORDS BY JENNI GILBERT

Perfume in all its incarnations can lift or create a

mood, evoke powerful memories or just make you

smell really good. But how do you know which scent

is the best fi t for you?

Navigating the perfume hall of a department store or

duty free can be an overwhelming experience – indeed, an

assault on the senses – with so much marketing hype and

so many scents clamouring for attention. That's perhaps

not the ideal way to choose one's fragrance de jour, but the

scent selection process is not always a rational experience

to begin with.

'You may feel that there can be no logic in your choice

of perfumes because sense of smell is so emotional, but the

fragrances you most enjoy will probably belong to just one

or two of the 14 fragrance families,' according to renowned

'nose' Michael Edwards, a British fragrance expert, author

and founding editor of Fragrances of the World and its

sumptuous annual reference book.

With an online database, FOTW is widely regarded

as an olfactory bible, with more than 21,000 separate

classifi cations to date. Michael is one of the only impartial

and independent voices in the industry, an expert's

expert who consults to perfume creators and retailers

around the world, dividing his time between London,

New York, Australia and a Paris offi ce he shares with

Pierre Dinand, designer of iconic bottles for YSL,

Givenchy and Calvin Klein.

His lectures and writings, including the book

Perfume Legends: French Feminine Fragrances, pioneered

critical scholarship on the history of perfumery, while

his Fragrance Wheel marked a major innovation in

perfume retail.

'Like most good things, it takes a little effort to

fi nd a new perfume that is just right,' says Michael.

'Start by understanding the difference between the

fragrance families.'

www.cosbeauty.com.au 31
---
Fl

F

Fresh

Fr

F

re

WHICH

FAMILY

DO YOU

BELONG

TO?

The classifi cation system of the

Fragrance Wheel is based on four

major groups – Florals, Fresh,

Woods and Orientals – and 14

subcategories or families.

The outer ring shows which

ingredients are added to move a scent

from one family to the next. For

example, adding orange blossom and

sweet spices to Soft Florals transforms

them into Floral Orientals, incense and

amber then transform Floral Orientals

into Soft Orientals, and so on.

es

Floral

Oriental

Woody ody

Wo

W

d

FLORAL

Probably the most popular fragrance

category, fl oral perfumes aren't just for young

girls or grandmas.

Florals encompass a wide range of blooms,

from a single rose petal to a medley of

fl oral bouquets. Most of these scents will be

romantic and feminine, but depending on

the ingredients can be soft (subtle whiffs

and powdery notes), fresh (like newly cut

fl owers) or intense (with hints of fruit and

sweet spices). Common fl oral notes include

jasmine, rose, gardenia and iris. In this

classifi cation scheme, Chanel N o 5, which is

traditionally classifi ed as a Floral Aldehyde,

would be located under Soft Floral sub-group.

Today, most mainstream fragrances

are made with a large share of synthetic

fragrances. Chanel N o 5, introduced in 1921,

was the fi rst big seller to include them in the

form of aldehydes. They're said to have a

soapy, fl oral, citrusy aroma

FRESH

Michael Edwards' scale of fresh notes is

broken down into greens, aquatics and citrus,

with notes on either side of those blurring

into the fl oral and woody categories that

make up his fragrance wheel.

Green notes are often associated with the

crisp scents of the outdoors – newly cut grass,

green fl owers and herbs. Water notes invoke

the spirit of the sea or the smell of rain.

One of the oldest fragrance families, citrus

is comprised of the juices of lemons, oranges,

bergamot, grapefruit and mandarins.

32 www.cosbeauty.com.au
---
Beauty

WOODY

If you didn't already guess, the Woody group

consists of your aromatic wood notes –

sandalwood, cedarwood and oak. You will

commonly fi nd patchouli mixed in with the

woody notes as well.

In a nutshell, according to

Michael Edwards:

• Floral notes are a range of fl owers

• Fresh notes are greens and water scents

• Oriental notes are rich, bold and spicy

• Woody scents are aromatic wood notes

ORIENTAL

Just like its name suggests, the Oriental

group is comprised of notes that are

sweet, spicy and overall exotic. Notes

like amber and vanilla are oftentimes

present in the Oriental group. Michael

Edwards' Oriental group includes Soft

Oriental, Oriental and Woody Oriental

before offi cially crossing into the

Woody notes group.

Oriental notes are richer and bolder.

Spices like cardamom and clove make up

the oriental notes, as well as chocolate.

www.cosbeauty.com.au 33
---
Things

TO NOTE

Each perfume (parfum), eau de parfum,

eau de toilette or eau de cologne consists

of different 'notes' that determine the

overall scent and work in synergy to

create a specific smell:

• Top notes are otherwise called the

head notes. Perceived immediately

upon application of a perfume, top

notes consist of small, light molecules

that evaporate quickly. They form a

person's initial impression of a perfume

and thus are very important in the

selling of the product. The scents of

this note class are usually described

as 'fresh', 'assertive' or 'sharp'. The

compounds that contribute to top

notes are strong in scent, very volatile

and evaporate quickly.

• Middle or heart notes make up

the core of a fragrance and usually

comprise around half the oil in the

bottle and act as kind of a buffer

for the base notes, which might not

smell quite as pleasant on their own.

They are generally composed of more

robust oils because they need to hold

up longer on the skin. And because

they're the main fragrance, they also

have to win you over – this has to be

a scent you can live with. Heart notes

usually evaporate within two to four

hours, leaving the base note to react

with your skin.

• Base notes linger the longest on the

skin – some essential oils can last for a

couple of days. While there are a wide

variety of scents that make up top

and heart notes, there's less diversity

among base notes. This is because

there aren't all that many scents

heavy enough to stick around for as

long as base notes need to. Base notes

generally comprise about 20 per cent

of any given fragrance. They're often

from the woodsy family – sandalwood,

amber, musk and vanilla are among

the most popular – but vetiver and

patchouli are common too.

The skin

YOU'RE IN

Our skin has a unique code of hormones

and pheromones that can slightly – or

extremely – alter the way a fragrance

smells. When choosing a perfume, it's

a good idea to spray a small amount on

the wrist, wait a few moments and then

smell the scent. Depending on your

chemical makeup, it can enhance or

diminish the smell.

As soon as you spritz a perfume and

it reacts with your skin, you'll smell the

top note. It's like an introduction to the

fragrance. It might be fleeting, but it's

your first impression, the first scent listed

on the box, and often the selling point

for the perfume. After about 30 seconds

or so, you'll start smelling the middle

and base notes and the fragrance will be

noticeably different.

The top notes are meant to evaporate

within a couple of hours, so they're

usually made up of lighter oils. Citrus,

herbal and subtle florals are common

top notes, so you tend to notice lots of

grapefruit, anise, lavender, chamomile

and rose as you spray your way around

the perfume department.

Choose your

CONCENTRATION

• The highest concentration is simply

called perfume, or parfum. This

level usually will last all day with

just one application to the wrists or

pulse points.

• The next level is eau de parfum,

which typically can last about six

hours after application.

• The third level is called eau de toilette

and is usually fairly affordable and

easy to find in retail stores. It typically

requires more than one application

throughout the day to last.

• The fourth and lowest fragrance

concentration is eau de cologne,

which only lasts about two hours.

34 www.cosbeauty.com.au
---
Beauty

Fragrances OF THE ICONS

Marilyn Monroe famously told

interviewers she wore Chanel N o 5

to bed and nothing else, but it wasn't

her only favourite. She also had

a secret penchant for Floris Rose

Geranium. The eau de toilette was

delivered in bulk to LA's legendary

Beverly Hills Hotel under an alias

while she fi lmed Some Like It Hot

in 1958. Featuring notes of rose,

geranium, citronella and sandalwood,

the British eau de toilette has since

been discontinued and its scent is

now only available as a bath essence.

While former US First Lady Jackie

Kennedy wore several perfumes

throughout her life, one of her

favorites was the classic Joy by Jean

Patou, known for years as the most

expensive perfume in the world.

For just one ounce of the heavily

fl oral scent, more than 10,000

jasmine fl owers and 28 dozen roses

are required – a risky business

decision, especially since the scent

was created in 1929 at the start of the

Great Depression. But it worked: Joy

went on to become one of the most

successful fragrances of all time.

Another famous Joy afi cionado was

legendary British actress Vivien

Leigh. When Clark Gable fi rst met

the real-life Scarlett O'Hara before

fi lming Gone With the Wind in the late

1930s, he is said to have noticed that

she smelled like violets.

When Oscar-winning actress Grace

Kelly became Her Serene Highness

Princess Grace of Monaco in 1956,

walking down the aisle of Cathédrale

Notre-Dame-Immaculée in front

of guests like Cary Grant and Ava

Gardner, she did so wearing Creed

Fleurissimo.

The fragrance, from the esteemed

family-owned fragrance house, was

commissioned by Prince Rainier

for his bride to complement her

wedding bouquet and contains notes

of bergamot, tuberose, Florentine iris

and Bulgarian rose.

Elizabeth Taylor was a pioneer

when she launched her revolutionary

perfume empire in 1987, spanning

blockbuster scents like White

Diamonds, Forever and Passion. In

earlier days, however, Liz wore Jean

Desprez Bal à Versailles, an oriental

scent with notes of rosemary, orange

blossom, sandalwood and vanilla

created in 1962. She wore it on the

set of Cleopatra in 1962 and also

gifted the scent to her great friend

Michael Jackson, who wore it for

the rest of his life.

Princess Diana walked down the

aisle at London's St Paul's Cathedral

in 1981 to become Princess of Wales

bathed in Quelques Fleurs, a fl oral

scent featuring notes of tuberose, rose

and jasmine.

Later in life, Diana was a fan of 24

Faubourg by Hermès, created in 1995

by perfumer Maurice Roucel and

named for the address of the Hermès

fl agship store in Paris. A sunny scent,

it contains notes of orange blossom,

peach, gardenia and amber.

Created in 1957 especially for

Audrey Hepburn by legendary

French fashion designer Hubert

de Givenchy, L'Interdit means

'forbidden' in French. Rumours

abounded that Audrey didn't want

Givenchy to release the scent, but

it was ultimately made available for

wide purchase in the 1960s.

A Floral Aldehyde, L'Interdit's

notes include bergamot, rose, jasmine,

iris, violet, narcissus and sandalwood.

In later years, Audrey wore Creed

Spring Flower, another scent created

just for her.

Often photographed spritzing

perfume, 1940s screen siren Rita

Hayworth was a fan of the iconic

1925 oriental fragrance Shalimar

by Guerlain. It was rumoured to

have been created when Jacques

Guerlain, one of the most prolifi c

and infl uential perfumers of the

20th century, dumped vanillin into

a bottle of the celebrated fougère

scent Jicky as an experiment. Fougère,

which means 'fern' in French, is a

fragrance family including fresh,

fl oral, herbaceous and woody/

warm elements, typically blended

with notes like bergamot, oakmoss,

lavender, coumarin – aka tonka bean

– sandalwood and geranium. CBM

www.cosbeauty.com.au 35
---
Glowing

skin

is

always

in

HydraFacial is a

game-changing

skin rejuvenation

treatment used

to improve

pigmentation, fine

lines and wrinkles,

congested skin

and everything in

between. Words by

Aimee Rodrigues

We spend billions of dollars

– and most of our adult

lives – hunting, sourcing

and trying products to improve our

skin. From the awkward acne days of

our youth to the more recent arrival

of lines, wrinkles and brown spots

(hello, sun damage and ageing),

it's an unwavering, albeit elusive,

beauty goal to have clear, smooth,

homogenous skin.

But with the introduction of

HydraFacial, we can finally call off

the search. HydraFacial is a unique

30-minute skin treatment suitable for

all skin types, delivering immediately

clearer, plumper, glowing skin without

any downtime or discomfort.

So much more than a facial,

HydraFacial merges spa therapy

with medical technology to create

truly exceptional skin revitalisation

results. It combines a facial,

microdermabrasion, skin resurfacing,

and an antioxidant boost in one

quick, easy and pleasant treatment

(sign. me. up.).

How does it work?

Using specialised patented

technology, the HydraFacial system

includes five steps: cleansing and

exfoliation removes dead skin cells,

an acid peel dislodges grime from the

pores, and a vortex suction extraction

system unclogs the pores completely.

This cleansing is followed by the

infusion of a highly active hydrating

serum to nourish and protect the skin.

Finally, the specialised HydraFacial

Daily Essentials skincare is applied to

help retain moisture and protect and

smooth the surface of the skin.

36 www.cosbeauty.com.au
---
Skin

Seeing is believing

Dr Sarah Boxley from The Skin

Clinic Fremantle, WA, has been

performing HydraFacial treatments

for three years now. 'The HydraFacial

has quickly become the backbone of

the skin treatments that we offer,' she

says. 'Having just one machine that

is able to cleanse, exfoliate, extract,

infuse nutrients and deeply hydrate

in a single treatment means that we

can deliver maximum results with

minimum fuss.'

'The treatment can be customised

for individual patients by altering

suction and infusion parameters,

and adding in different serums at the

hydration phase,' explains Dr Boxley.

'One of the biggest attractions of the

HydraFacial is its suitability for all

skin types, yet it is not a "one-size

fits-all" situation as it enables us to

deliver an individualised treatment to

really address different skin concerns.'

The HydraFacial treatment

improves the appearance of fine

lines, wrinkles, congested and

enlarged pores, oily or acne-prone

skin, hyperpigmentation and brown

spots. Each treatment noticeably

decongests and shrinks pores, and

plumps skin with antioxidant and

hyaluronic acid infusions.

'Immediately after the HydraFacial

it is normal for the skin to look and

feel hydrated and gently plumped.

Fine to moderate lines are smoother

and less visible, and there is a notable

glow, or radiance, from the skin,' says

Dr Boxley. 'Makeup is easier to apply,

which is what makes this treatment

so great to have before an important

social event. Over time, with

repeated treatments, the skin not

only looks healthier, but it behaves

better – acne lesions settle down,

pore size reduces, texture and tone

improve and pigmentation becomes

more even.'

Cementing itself as the go-to skin

treatment, HydraFacial is excellent

for deep hydration, skin revitalisation

and skin nourishment. It's both the

perfect introduction to anti-ageing

procedures and a reliable and quick

complexion refresher, providing

immediate and longer lasting

improvement in skin quality and

appearance. Think of it as the iPhone

X of skin treatments. CBM

WHERE

TO GET IT

To find a HydraFacial practitioner in

your area, visit www.likeyourlook.com.au

What happens

during

HydraFacial

treatment

1.

Cleansing and

Exfoliation

Dead skin cells are removed to

reveal healthy new skin

2.

Acid Peel

Glycolic acid, salicylic acid and

peptides soften the bonds that

bind dead cells together and

decongest the blockages within

pores without irritation

3.

Extractions

Automated extractions use

vortex suction to clean out

pores – as a bonus, you can

actually see the impurities

collected!

4.

Hydration

Antioxidants and hyaluronic

acid are vortex-fused to nourish

and protect the skin

5.

Protection

The HydraFacial Daily

Essentials skincare helps

maintain and protect results

www.cosbeauty.com.au 37
---
Real

science

Real

results

It might sound like something from a sci-fi

movie, but the reports are true – scientists are

now encapsulating DNA repair enzymes so that

we can apply them topically to our skin.

by maria leahy

Despite the ever expanding

pile-up of products and

techniques fighting for

attention on the anti-ageing stage,

DNA based skincare is garnering

consistent and deserved attention

from those in the know.

Having founded the DNA

Renewal skincare range, and with

more than 25 years' experience as a

scientist, researcher, dermatologist

and cosmetic doctor, Dr Ronald

Moy of Beverly Hills, California,

has dedicated his life's work to

understanding the impact of photo

damage on skin health and ageing,

gaining international acclaim

for skincare innovation and his

investigation into the role of DNA

repair enzymes as a result.

DNA repair enzymes are found

naturally in the skin, but as soon as

we reach 30 years of age they begin

to deplete. These enzymes work as a

seamstress for the skin, pulling out

DNA damaged by UV rays, pollutants

and ageing, and patching the rest of

the DNA back together. This leads

to healthier, stronger skin, which

aesthetically means less brown spots,

wrinkles and dullness.

'DNA enzymes really enhance

your natural DNA repair,' explains

Dr Moy. 'They help you fix damaged

collagen, damaged elastin, or damaged

mitochondria within the cells. We

extract these DNA repair enzymes

from plankton and algae. They're

all natural sources because every

organism has its own DNA repair.'

In 2015, the Nobel Prize in

Chemistry was awarded to three

scientists for their studies in DNA

repair, validating the role of DNA

repair enzymes in skin health. It has

since become a hot topic at cosmetic,

medical and anti-ageing conferences

across Australia and around the world.

It is Dr Moy's ability to translate

the values of this Nobel Prize-winning

science into an accessible range of

easy to apply products that makes

DNA Renewal so unique. Dr Moy's

passion for science and evidence

based skincare is clear when he speaks

about the importance of investing in a

skincare regime that works.

'I think there's no reason to use

products that aren't scientifically

based,' he says. 'We're in a scientific

world. It is true that we get seduced

by fancy packaging and marketing,

but we now have the opportunity

to prevent skin ageing. So, why not

do so? There has been such a lack of

scientifically proven ingredients in the

aesthetic industry that DNA repair

enzymes are like a breath of fresh

air. Finally, we have something that

38 www.cosbeauty.com.au
---
Skin

contributes to promoting skin health

besides sunscreen.'

Featuring the highest level of active

ingredients for proven clinical results,

Dr Moy's DNA Renewal range was

originally created to help reverse

pre-cancers in patients with severely

sun-damaged skin. By replenishing

DNA repair enzymes that have been

compromised by our environment

and bad habits, the DNA Renewal

line is clinically proven to decrease

wrinkles and pore size, as well as lift

and tighten the skin around the eyes

and lower face. Maximum results can

be seen with two to three months of

regular use, but many people report

improvements in the skin's texture

within weeks.

DNA

Eye Balm

It's no secret that the delicate under

eye area is highly vulnerable to

damage. The recently released DNA

Eye Balm, $129, has been formulated

to repair existing damage in this

zone, while tightening and reducing

wrinkles. DNA repair enzymes

combat the UV damage that causes

90 per cent of visible ageing and a

barley derived growth factor combats

the loss of collagen that causes skin

thinning.

'DNA repair enzymes and the

growth factor work together,' says Dr

Moy. 'One works to repair damage

and the other thickens and tightens

skin. This is important because

much of the ageing that we see is the

thinning of the skin.'

Additionally, this product employs

an advanced liposome delivery system

to ensure its active ingredients fully

penetrate the skin. It is suitable for

all skin types and includes hyaluronic

acid to target infl ammation and

dehydration.

DNA

Restoring

Mask

Produced in sunny California,

the DNA Restoring Mask, $89,

has been infused with skin loving

vitamins C and E and, as with Dr

Moy's other products, contains

DNA repair enzymes. From the

fi rst touch, this supercharged

formula feels hydrating. It helps

boost cellular renewal and

revitalises the complexion with a

vibrant glow.

'If you had really bad sunburn,

which is really DNA damage,

what's the best thing you could

do?' asks Dr Moy. 'In the old days

we would say take some Aspirin,

but really a DNA repair enzyme,

both from practical experience and

theoretically, is going to repair that

DNA damage. That's really what

sunburn is; it's brand new damage.'

For full facial rejuvenation,

apply a thick layer of the DNA

Restoring Mask to the face and

neck once a week. Use up to three

times a week where severe sun

damage is present. CBM

Icelandic

growth

factors

The addition of Icelandic

growth factors to the DNA

Regeneration Serum, $192,

makes this product particularly

powerful in terms of

triggering cell restoration and

encouraging the skin to selfcorrect

signs of ageing and

photo damage. 'This product

contains the first plant-based

growth factors based on a

patented technology and

bioengineered from barley

grown in Iceland which is

non-endotoxic,' explains Dr

Moy. 'This is a unique form of

growth factor. The product's

success is also due to the fact

that it contains the highest

dose ever used.'

WHERE

TO GET IT

DNA Renewal is available at select skin

clinics across Australia. For stockists,

visit www.dnarenewal.com.au or call

1800 242 011.

www.cosbeauty.com.au 39
---
Feature

The

future:

skincare

that

impacts

our DNA

TERRI VINSON, Cosmetic chemist and ceo

of synergie skin, EXPLAINS how the next

generation of peptide technology is

redefining the world of skincare.

There are truly exciting

times ahead regarding

new cosmeceuticals in the

appearance-medicine industry.

Formulators are now able to harness

the power of laboratory created

peptides to create novel new

anti-ageing products with clinical

data to support results. As cosmetic

science advances, we are evolving

from ingredients that create

superficial cosmetic changes to

surface cells – such as glycolic

acids and hyaluronic acid – to new

cosmeceuticals that can influence the

integrity of the genome.

Peptides are an area of cosmetic

chemistry that have undergone

significant evolution. A peptide

is a small fragment of a protein or

group of amino acids which assists

in regulating cellular activities.

The original crude copper peptide

cosmeceutical of the 1970s has been

superseded by peptides formulated in

the lab, creating pure, targeted and

40 www.cosbeauty.com.au
---
Feature

more sustainable ingredients.

The challenge to formulators is to

ensure the peptide is small enough

to penetrate the skin. Generally,

peptides must be ten amino acids or

less to penetrate. Peptides are also

prone to breaking down in the body,

so scientists are now able to stabilise

them in a number of ways. This

includes liposomal encapsulation and

adding protective molecular groups to

the peptide to prevent breakdown by

the body's natural enzymes.

New peptide

technology:

Acetyl

Hexapeptide-51

Skin ageing is considered as a

slowing or loss of the natural cell

functions of the skin. This results in

the appearance of fine lines, uneven

tone and texture, dryness and loss of

elasticity. This ages skin primarily due

to cellular senescence. This means

that the cells no longer proliferate

due to DNA damage and the inability

of the DNA repair machinery to

reverse errors in the genetic code.

The next generation of

cosmeceuticals aimed at skin

rejuvenation must target mechanisms

to avoid cell damage and enhance

the ability of the cells to repair.

This is now the focus of current

cosmetic science.

Scientists often look at nature to

provide clues to longevity and then

reproduce the active components

in the laboratory. Our underwater

world is offering scientists an

ocean of possibilities in antiageing

innovation. A species of

jellyfish called the Hydra is the only

known animal capable of perfect

regeneration without genetic errors

in the DNA. The cells essentially

possess an unlimited lifespan.

To translate this exceptional

feature for human use, scientists

have developed Hexapeptide-50 to

mimic the activity of the Hydra's

nuclear repair factor to protect skin

DNA from damage. This new peptide

stimulates natural repair pathways

and enhances cellular longevity and

vitality in the skin. It mimics the

activity of a transcription factor in

the cell nucleus which protects the

DNA from damage, stimulates natural

chromosomal repair programs and

reverts cell senescence in human

dermal fibroblasts.

Scientists have discovered that

specific peptides called 'Forkhead

box' transcription factors (FOX) in

the nucleus of our cells can control

cell division and renewal. In human

cells, a natural peptide called FOX03a

protects DNA and stimulates DNA

repair to reverse mutations and cell

ageing. This peptide is a marker in

longevity, and humans who live to be

over a hundred years old have higher

levels of FOX03a in their cells.

FOXO3a is activated in the

presence of cell damage – from

factors such as pollution, free

radical damage, nutritional deficiency,

thermal, Infrared and UV exposure

– and then sets out to repair the

damage and prevent cell mutation.

However, if the damage is irreversible,

the cell is programmed to selfdestruct.

This is crucial as DNA

mutation can be copied to all

future cells unless the error can be

repaired before being passed onto

daughter cells.

Enter the breakthrough ingredient

in cosmetic medicine, acetyl

hexapeptide-51. In vivo tests on UV

treated skin showed significantly

reduced DNA damage when acetyl

hexapeptide-51 was applied to the

UV damaged epidermal skin cells.

When scientists tested the peptide

in a 30-day clinical trial in Europe

on a woman aged 55, she exhibited

collagen-producing cells (fibroblasts)

with the function and vitality of

a woman 10 years younger at the

conclusion of the trial period.

The development of acetyl

hexapeptide-51, a peptide acting as

the guardian of the genome, is truly

a game changer in our industry. As

an Australian cosmetic chemist, I

consider myself so fortunate to be

part of such a dynamic and constantly

evolving industry. Our responsibility

is to remain at the coalface of

innovation and technology and

to ensure that the cosmeceuticals

we develop are stable, safe, highly

effective, and truly able to make a

difference. CBM

www.cosbeauty.com.au 41
---
ways

look

feel

0to

and

better

From cleansing to clay

masks, Shonagh Walker

reveals the best ways

to look and feel better

now, tomorrow and

well into the future.
---
1.

Do a Cleanse

'A two-week detoxification program will

help break down and eliminate toxic load

from your liver, gut and immune system,'

reveals Dr Sandra Cabot, Medical and

Executive Director of the Australian

Women's Health Advisory Service and

Founder of Cabot Health. 'This will help

you reach and maintain a healthy weight,

improve skin appearance, minimise cellulite

and keep your eyes bright and sparkling. It

will also enhance your mood and mental

clarity and boost your energy levels.'

2.

Take a Liver

Supplement

Supporting the liver with a blend of potent

herbs, vitamins and minerals helps the

body to detoxify and eliminate chemicals

and heavy metals. It will also assist with

weight maintenance. 'If you've been overindulging,

smoking, taking some types of

medication, or live in a highly polluted

area, a liver supplement can really help,'

says Dr Cabot. 'It could assist the liver in

repairing and regenerating itself in cases

of inflammation and also supports optimal

digestive and gall bladder function.'

3.

Dry Body Brushing

'The skin is the body's largest organ and toxins are

removed from it constantly via sweat,' says Dr Cabot.

'Dry body brushing supports this process by sloughing

off dead skin cells and debris that might otherwise

clog the release of toxins. It also encourages

lymphatic drainage, thereby supporting toxin and

excess fluid removal.' Dry body brush before each

shower, starting at your left ankle and moving in

long, firm strokes towards the heart.

4.

Get a Massage

'Regular massages relax the muscles, improve blood

and lymph circulation, and help joint mobility and

flexibility,' reveals Dr Cabot. 'Massage also triggers

the release of endorphins, the chemicals in the

brain that produce feelings of wellbeing. Make sure

you include your feet – it's a form of reflexology

that stimulates the nerves that represent various

detoxification organs in the body.'
---
5.

Take a Magnesium

& Epsom Salt bath

'Epsom salt is a form of magnesium that is high in sulphates,

which are known to promote relaxation and support

detoxification,' says Dr Cabot. 'It can also be absorbed through

the skin, so is fantastic when added to a bath to help boost the

body's natural detoxification process, minimise cellulite and

improve the appearance of your skin.'

6.

Prioritise Sleep

'Sleep is critical for immune function, improving the

metabolism, maintaining a healthy weight, enjoying a

positive mood, optimising physical and mental performance

and preventing premature ageing,' says Dr Cabot. Aim to

be in bed by 10pm so you can get at least seven hours of quality

sleep. 'If you struggle with sleep, turn off technology at least

an hour before bed, avoid stimulants like caffeine and alcohol,

and relax in a warm bath with the aforementioned salts.

Drinking chamomile tea and taking magnesium supplements

will help too.'

7.

Embrace

Bentonite Clay

This unique clay swells when it is mixed with

water and is able to absorb toxins from the

skin. 'It also refines the pores, heals blemishes,

promotes soft skin and is a natural exfoliant,'

says Dr Cabot. Apply it as a mask to the face

and body at least once a week.

8.

Enjoy daily

exercise

Feature

While it's not unique advice, it remains the

best tip for getting and staying in shape, and

enjoying a happy, healthy outlook on life.

'Walking for 20-30 minutes each day improves

heart health, boosts immunity and enhances

your mood,' advises Dr Cabot. 'Incorporate

it into your daily routine – walk to the shops

rather than drive, or if you have a dog, take it

out every morning. If not, volunteer to walk the

dogs at your local animal shelter. Try yoga. It's

not just a great workout that strengthens and

stretches the muscles, it relaxes the mind and

eases stress too.'
---
9.

STAY HYDRATED

The body is made up of around 70 per cent water. We lose

approximately two litres each day through sweat and other

bodily functions, so it's important to replace it to keep skin clear,

hydrated, smooth and young looking, as well as to maintain a

healthy weight.

'It's recommended we drink around one and a half to two litres

of water each day,' says Dr Cabot. 'You can add lemon, lime,

strawberries or mint to give it extra fl avour, or even sip on tasty

herbal teas to get your intake. Some of the best teas include

peppermint, dandelion, ginger, chamomile and rooibos.'

10.

GET JUICING

Drinking freshly juiced vegetables and fruit imparts powerful

healing and rejuvenating benefi ts, helping improve mental and

physical health. 'It can assist with allergies, digestive issues,

immune dysfunction, headaches, gallstones and liver and kidney

problems,' says Dr Cabot. 'They're easily digested and ramp up

your daily vegetable intake.'

DR

15

CABOT'S

DAY CLEANSE

The new Dr Cabot 15-Day Cleanse is a

gentle but effective detox plan that will

help boost your energy levels, improve

your liver and gut function, and help

your liver burn fat, as well as improve

skin tone and texture from head to toe.

The three powder program and

delicious daily menu plan developed by

Dr Cabot and her team of experienced

naturopaths and nutritionists is aimed

at balancing your gut, improving

digestion and immune health, as well

as alkalising your body.

During the cleanse, the website

will offer you plenty of inspirational

advice and healthy hints, and can put

you in touch with Cabot Health's

team at any time.

To make your cleanse even easier,

you have the option of getting these

meals freshly prepared and delivered

straight to your door.

All recipes are gluten and dairy-free

and created with fresh, free-range,

natural whole foods and ingredients.

Vegetarian and vegan options will

also be available. Priced at $99 for

the three powders and $318 for

meals and their delivery for 15 days

inclusive of all snacks and smoothies.

For more information visit

www.drcabotcleanse.com.

46 www.cosbeauty.com.au
---
Feature

About

DR SANDRA CABOT

With a medical career spanning more than four

decades, Dr Sandra Cabot is highly respected the

world over. Her passion has always been in holistic

medicine, marrying her knowledge and skills of

traditional medicine with nutrition, naturopathy

and Eastern medicines, and using these skills to

improve the life, health and wellness of patients

throughout Australia and around the world.

Dr Cabot has written 30 popular books on

different health topics and pioneered the detox and

cleanse paradigm with her 1996 publication The

Liver Cleansing Diet.

She is a pilot who uses her Beechcraft Baron

aircraft to do regular work for the Angel Flight

Charity, which provides free transport for patients

with severe disabilities in remote Australian areas.

Dr Cabot's aircraft has completed nearly 200 fl ights

since January 2007 for the charity.

Dr Cabot has conducted international health

seminars and has been asked to lecture for

numerous health organisations including The

American Liver Foundation and the Annual

Hepatitis Symposium. She continues to maintain

active medical practices in Camden, Adelaide,

Canberra and Merimbula.

www.cosbeauty.com.au 47
---
Intermittent

Fasting

Benefits & Risks

48 www.cosbeauty.com.au
---
Feature

fasting is one of the most ancient

healing traditions but it has only

recently been accepted by the

scientific community. words by david hickie

FAQs

Medical News Today assessed the

most common FAQs for beginners

to fasting routines.

In recent years, various

intermittent fasting plans have

become popular with people

seeking to lose weight or improve

their health.

The most popular regimens

generally involve very low or no

calorie intake on certain days per

week, then eating normally on nonfasting

days.

Alternate Day

Fasting

Professor Krista Varady created the

Every-Other-Day Diet, based on

her groundbreaking research into

'alternate-day modified fasting' at the

University of Illinois in Chicago.

Proponents describe it as 'the diet

that lets you eat all you want (half

the time) and keep the weight off!'

The plan involves alternate

'fast' and 'feast' days. Fasting days

consist of a single 500 calorie meal

at lunchtime. But then there is no

restriction on what, when or how

much is eaten on feasting days.

The two key attractions are:

• The promise that 'you'll lose

weight and improve your health

– while eating anything you want

and all you want, every other day';

• Where most diets include a

daunting set of rules to be obeyed

– what you can eat and can't eat,

how much you can and can't eat,

when you can and can't eat – here

there is only one rule: eat no more

than 500 calories on Diet Day,

eat anything you want and as

much as you want on Feast Day.

That's it. No counting calories,

carbs, fat or protein. No avoiding

any particular food; all foods

are allowed. No complex meal

preparations and plans.

Two Days Per

Week Fasting

Developed by popular UK TV

medico Dr Michael Mosley, the Fast

Diet involves fasting for two days

per week. People maintain their

usual eating routines for the other

five days. Dr Mosley sums up: 'If we

were to distil the Fast Diet into a

single soundbite, it would all come

down to 5:2. That's five days of

normal eating, with little thought

to calorie control and a slice of pie

for pudding if that's what you want.

Then, on the other two days, you

reduce your calorie intake to 500

calories for women and 600 calories

for men.'

Proponents claim that since you

are only fasting for two days of your

choice each week – and eating

normally on the other five days –

there is always something new and

tasty on the horizon. In short, it's

easy to comply with a regime that

only asks you to restrict your calorie

intake occasionally. It 'recalibrates

the diet equation, and stacks the

odds in your favour'.

Importantly, the plan is designed

as a 'well-signposted path towards a

longer, healthier life'; weight

loss is 'simply a happy adjunct to

all of that'.

Hence, according to Dr Mosley,

this eating plan can not only help

people lose weight, but offers an

array of other health benefits:

'Studies of intermittent fasting

show that not only do people see

improvements in blood pressure and

their cholesterol levels, but also in

their insulin sensitivity.'

And how did he come up with

the recommendation that women

have 500 calories and men have 600

Can I still exercise?

In an interview with US magazine

The Atlantic, Professor Krista

Varady (creator of the Every-Other-

Day Diet) noted that for people

beginning her regimen, after the

first 10 days 'their activity levels

were similar to people following a

traditional diet or an unrestricted

eating plan'.

It may also be most beneficial for

exercise sessions to end one hour

before mealtime.

Won't I eat too much

on feast days?

According to Professor Varady,

people do eat more than their

estimated calorie needs on 'feast'

days. However they do not eat

enough to make up the deficit from

fast days.

And other UK researchers (at

University Hospital in Manchester)

have reported that people

unintentionally eat less on nonfasting

days as well.

Will I be hungry on

fasting days?

Professor Varady reports that the

first 10 days on the Every-Other-Day

Diet are the most challenging.

Calorie-free beverages, such

as unsweetened tea, may help

offset hunger.

Do I still fast once I'm ready

to maintain my weight?

Some plans, such as the Every-

Other-Day Diet, also include a

weight maintenance phase, which

involves increasing the number of

calories consumed on fasting days

from 500 to 1,000.

Other plans recommend

decreasing the number of fasting

days each week.

www.cosbeauty.com.au 49
---
calories on a Fast Day?

Dr Mosley explains: 'We used

the rule of thumb that women

need 2,000 calories and men

need 2,400 calories per day

and on a Fast Day you should

eat a quarter of a normal day's

recommended calories.'

DAILY

INTERMITTENT

FASTING

Daily intermittent fasting limits

eating to a certain number of

hours each day. The 16:8 Diet is

an increasingly popular method,

which involves fasting for 16

hours per day, leaving an eighthour

window for eating.

There are various forms of

this plan, with the most popular

advocating that the 'fasting'

phase should last through the

night and during the morning

hours. Ideally the 'fast' should

then be broken around midday,

with the last food for the

evening being consumed around

7pm or 8pm.

Alternately for those with

a personal preference for later

daily routines, the food window

may be between 2pm and 10pm.

PERIODIC

FASTING

Medical News Today has

reported on a study suggesting

periodic fasting – defi ned as

'one day of water-only fasting a

week' – may reduce the risk of

diabetes among people at high

risk for the condition.

Another study, conducted by Dr

Valter Longo at the University

of Southern California found

longer periods of fasting (two to

four days) may even 'reboot' the

immune system, clearing out old

immune cells and regenerating

new ones – a process they

say could protect against cell

damage caused by factors such

as ageing and chemotherapy.

POTENTIAL HEALTH

Benefits

A comprehensive survey by US

newsletter Medical News Today found

advocates of intermittent fasting 'say

the following benefits can be achieved':

Weight loss

Since the body is unable to draw its

energy from food during fasting, it dips

into glucose that is stored in the liver

and muscles. This begins around eight

hours after the last meal is consumed.

When the stored glucose has been used

up, the body then begins to burn fat as

a source of energy, which can result in

weight loss.

Reduce cholesterol

As well as aiding weight loss, Dr Razeen

Mahroof at the University of Oxford in

the UK explains the use of fat for energy

can help preserve muscle and reduce

cholesterol levels.

Regenerate immune cells

The study by Dr Longo noted above

suggests prolonged fasting may also be

effective for regenerating immune cells.

'When you starve, the system tries to

save energy, and one of the things it can

do to save energy is to recycle a lot of

the immune cells that are not needed,

especially those that may be damaged,'

he explains.

In the study, published in the journal

Cell Stem Cell, his team found repeated

cycles of two to four days without food

over a six month period destroyed the

old and damaged immune cells in mice

and generated new ones.

What is more, the team found cancer

patients who fasted for three days

prior to chemotherapy were protected

against immune system damage

that can be caused by the treatment,

which they attribute to immune cell

regeneration.

'The good news is that the body got

rid of the parts of the system that might

be damaged or old, the inefficient parts,

during the fasting,' says Dr Longo.

'Now, if you start with a system heavily

damaged by chemotherapy or ageing,

fasting cycles can generate, literally, a

new immune system.'

Longevity

Some researchers report years of animal

studies have shown a link between

restriction of calories, fewer diseases

and longer life. Scientists have studied

the mechanisms behind those benefits

and their translation to humans.

Insulin-like growth factor-1 (IGF-1) is a

hormone linked to certain diseases that

affect lifespan, such as cancer and type

2 diabetes. Some experts report eating

increases IGF-1 production. Fasting may

be a way to decrease

IGF-1 levels, which could potentially

lower the risk of chronic diseases and

extend lifespan.

Cancer

Studies have reported that restricting

calories decreases IGF-1 levels, which

results in slower tumour development.

A very small study in people with

cancer found that fasting reduced some

of the side effects of chemotherapy,

including fatigue, nausea, vomiting

and diarrhoea.

Due to potential negative effects,

long-term calorie restriction is not

recommended for people with cancer.

Short-term calorie restriction, such as

intermittent fasting, may be an option

for this group of people.

Neurological diseases

Intermittent fasting may also impact

cognition. In a study of mice with genes

for Alzheimer's disease, intermittent

fasting improved performance

on measures of cognitive decline

associated with ageing.

Blood sugar

Some studies have shown that

intermittent fasting improves insulin

sensitivity more than traditional diets,

but others have not found the same

advantage. Researchers have also

reported intermittent fasting and

traditional diets lead to comparable

decreases in haemoglobin A1c.

50 www.cosbeauty.com.au
---
POTENTIAL HEALTH

Risks

According to the UK's National Health

Service, there are numerous health risks

associated with intermittent fasting.

People who fast commonly experience

dehydration, largely because their body is

not getting any fluid from food. If you are

used to having breakfast, lunch, dinner

and snacks in between, fasting periods

can be a major challenge. As such, fasting

can increase stress levels and disrupt

sleep. Dehydration, hunger or lack of

sleep during a fasting period can also

lead to headaches.

Fasting can also cause heartburn; lack of

food leads to a reduction in stomach acid,

which digests food and destroys bacteria.

But smelling food or even thinking about it

during fasting periods can trigger the brain

into telling the stomach to produce more

acid, leading to heartburn.

According to 5:2 Diet advocate

Dr Michael Mosley, intermittent fasting

is not recommended for people with the

following conditions:

• Being underweight

• Eating disorders

• Type 1 diabetes

• Type 2 diabetes that is controlled by

medication

• Pregnancy (or women breastfeeding)

• Recent surgery

• Mental heath conditions

• Fever or illness

• Conditions where Warfarin is prescribed

Negative feelings and behaviours

reported by Dr John Berardi in his

book Experiments with Intermittent

Fasting include:

• Changes in mood

• Extreme hunger

• Low energy

• Obsessive thoughts about food

• Binge eating behaviour

And Medical News Today noted people

interested in trying intermittent fasting

'should consider whether or not it will

work with their lifestyle. Fasting stresses

the body, so it may not be beneficial for

people already dealing with significant

stressors'. CBM

Feature

Fasting 'easier than

traditional dieting'

US nutritionist Dr John Berardi

tried six different intermittent

fasting plans over six months and

published his results in the book

Experiments with Intermittent

Fasting.

Over those six months he:

• Dropped 20 pounds of weight

(from 190 pounds to 170

pounds);

• Reduced his body fat from 10

per cent to four per cent (while

maintaining most of his lean

muscle mass).

Importantly, he noted:

'I accomplished the goals

I set for myself in a way that was

easier and less time consuming

than "traditional" dieting.'

Berardi summed up his four key

findings:

1. Trial fasting is a great way to

practice managing hunger.

'This is an essential skill

for anyone who wants to get in

shape and stay healthy and fit.'

2. More regular fasting isn't

objectively better for losing

body fat.

'While my IF experiments

worked quite well, the

intermittent fasting approach

(bigger meals, less frequently)

didn't produce better fat loss

than a more conventional diet

approach (smaller meals, more

frequently) might have.'

3. More regular fasting did

make it easier to maintain a

lower body fat percentage.

'Intermittent fasting isn't easy.

However, I did find that using

this approach made it easier

for me to maintain a low

body weight and a very low

body fat percentage vs more

conventional diets.'

4. Intermittent fasting can work,

but it's not for everyone, nor

does it need to be.

'In the end, IF is just one

approach, among many

effective ones, for improving

health, performance, and body

composition.'

Berardi says his results found

that 'intermittent fasting can

be helpful for in-shape people

who want to really get lean

without following conventional

bodybuilding diets, or for

anyone who needs to learn the

difference between body hunger

and mental hunger.'

However he also explains that

successful nutrition plans,

'whether they use smaller, more

frequent meals or larger, less

frequent meals all share a few

commonalities'.

These include:

• Controlling calories. When

calories are controlled,

progress is made. 'Whether

you control them by eating

frequent small meals or

infrequent larger meals is

up to you.'

• Focusing on food quality.

Fresh, unprocessed, nutrientdense

food is a must,

regardless of which eating style

you adopt.

• Regular exercise. Exercise is a

critical part of the equation.

Berardi concludes: 'Once those

three have been taken care of, it's

a matter of personal preference

and lifestyle considerations.'

www.cosbeauty.com.au 51
---
DON'T

GET IN

A TIZZ

ABOUT

FRIZZ

Humidity is hair hell.

Ask a person with dead

straight tresses and

they'll lament impossibly

lank locks. As For those

with waves, hang on for

the tsuNaMi! Tools, tips,

tricks and products to

the rescue. by maria leahy

Achieving just-so beach babe waves or, alternatively,

a cool, sleek mane while combatting Australian

sun, surf and sand conditions can be a bitch.

In technical terms, frizz is a result of humidity causing

hydrogen bonds to form between water molecules present

in the air and proteins in the hair.

Those with dry hair are even more susceptible to frizz

in humid conditions, as what frizzy hair really wants is

moisture. If you don't give it the hydration it needs with

appropriate moisturising products and proper care, frizzy

hair will get its moisture from somewhere else – like the

air's humidity.

52 www.cosbeauty.com.au
---
Beauty

WATER, WATER EVERYWHERE

Hydrating with the right products helps soothe and smooth stressed out hair. You'll

need a good moisturising shampoo and conditioner, followed by styling products

specifically designed for taming wayward waves.

Stay clear of products with too much alcohol, as they will frizzle locks fast.

Instead, use a hydrating conditioner with keratin, protein and/or natural oils.

Natural oils are better than synthetic varieties because they are absorbed by the hair.

Protein-infused conditioners will manage frizz and create shine. Synthetic silicone

moisturisers, however, can lie on top of the hair, making it look dull or dirty.

LESS IS MORE

Resist the urge to overcompensate. Don't overwash

frizzy hair – if you have product build-up

from nourishing shampoos and conditioners and/or

styling products, the first step is to remove it with

a clarifying shampoo. Excessive shampooing can

strip hair of its natural oils, which are great frizz

fighters. Lather frizzy hair three times a week tops.

For between-washing days, use a dry shampoo to

help keep oil at bay. You can also skip the shampoo

and just apply conditioner.

It's not just us girls who suffer – men's hair also

needs special attention in humid conditions.

Special shampoos for men are recommended as

guys tend to consider a 'hair wash' part of their

daily routine!

Keune Fortifying Shampoo,

$24.50

Keune Vital Nutrition

Shampoo, $23.95

OGX Anti-Gravity + Hydration

O2 Shampoo, $17.99

OGX Anti-Gravity + Hydration

O2 Conditioner, $17.99

Keune Premium Clay, $24.50

www.cosbeauty.com.au 53
---
Feature

Moroccan Oil

Restorative Hair

Mask, $51.95

Keune CARE Vital

Nutrition Mask,

$33.95

John Frieda Frizz

Ease Miraculous

Recovery Intensive

Masque, $16.99

VS Sassoon Smooth &

Wave, $199.95

EVY Professional

Pro-Style, $189

CAN'T HANDLE

THE HEAT?

If styling tools are your default tactic, err on the

side of caution. Use a treatment or heat-protective

product before drying and only use tried and true

brands. The VS Sassoon Smooth & Wave, $199.95,

draws hair into a ceramic styling chamber to ensure

frizz-free results, while the fl oating plates on the EVY

Professional Pro-Style iron, $189, have been infused

with advanced mineral technology to lock in moisture

during styling.

SHAKE IT UP

Do you wash your hair in the morning and leave it

to dry naturally? That could leave you at the mercy

of the elements. Why not try washing it at night

so that your hair isn't still damp when you leave

for the day?

Also, try applying a little more product than

you normally would – sample a variety of anti-frizz

conditioners and styling products to see what your

hair best responds to – and try wrapping it in a clean

t-shirt or towel overnight. In the morning, you'll

unwrap smoother locks.

TREAT YO'SELF

Give your hair some extra lovin' with KEUNE's

Miracle Elixir treatment. Applied in-salon following

a hair diagnosis, shampoo and scalp massage, an

ampoule of concentrated keratin is combined with

an enriching restorative mask to create a tailor made

experience that addresses your personal hair needs.

KEUNE's potent formula can visibly reduce damage

by up to 80 per cent, leaving your locks smooth, soft

and revived. Use the CARE Miracle Elixir Keratin

Spray, $33.95, post-treatment to prolong the results.

Where to get it Head Offi ce,

Bondi Junction, NSW, Ph 02 9369 4605.

THE GOOD OILS

Hot oil treatments are simple to apply and infuse

frizzy hair with moisture and shine. Apply your oil

of choice to clean, towel-dried hair and cover with

a shower cap or plastic wrap. Heat by sitting in the

sun, applying a hot towel or using a blow dryer.

Then allow hair to cool to room temperature,

before rinsing with cool water. Hot oil treatments

can be done one to three times per month on frizzy

hair depending upon need.

54 www.cosbeauty.com.au
---
Beauty

DON'T BRUSH UP THE

WRONG WAY

Incorrect brushing (and brushes) can disrupt the hair's

cuticle, as well as stretch the hair and cause breakage.

After washing, a better idea is to towel-dry and brush,

comb or finger-comb hair while it's still wet. Then, add a

small amount of moisturising conditioner or your favourite

anti-frizz product. Finger combing with wet fingers can

help tame frizz and de-tangle.

If you use a round brush while blow drying to straighten

or smooth frizzy hair, use a medium round brush if you

have mid-length to long hair, and a small round brush if

you have shorter hair. If you use a flat brush to straighten

your frizzy hair while blow drying, be sure to use a natural

boar-bristle brush. It can help carry your scalp's natural oil

down to the ends. This can moisturise the entire hair shaft

and reduce the oil build-up at the scalp.

FINISHING TOUCHES

To hang on to the lovely smooth 'n shine you've

worked so hard to achieve, use a gloss or gel to finish

the look. Rub a small amount between your palms and

fingers and smooth it over frizz. Maintain results by

spritzing on a light hairspray. CBM

Frizz Ease Heat Defeat

Protecting Spray, $16.99

Keune Miracle Elixir

Keratin Spray, $33.95

Moroccan Oil

Frizz Control, $50.95

Moroccan Oil Hydrating

Styling Cream, $47.50

Maui Moisture Curl Quench +

Coconut Oil Curl Milk, $19.99

www.cosbeauty.com.au 55
---
Feature

56 www.cosbeauty.com.au
---
Beauty

at

Spa

home

by maria leahy

Despite our laid-back reputation, more Australians are

now suffering the effects of stress than ever before.

And even though they have the world at their

fingertips, millennials have been described as the 'most

anxious generation in history'.

With hectic schedules, financial obligations and busy

social calendars to attend to, it is vital that we find time to

unwind. But while retreating to a luxury spa might be out

of reach, 30 minutes in the tub is totally attainable.

www.cosbeauty.com.au 57
---
5.

7.

1.

2.

3.

6.

4.

9.

FACEPUT YOUR

BEST FACE

FIRST

If the term 'day spa' evokes

any image, it's one of a robe,

head towel and facemask!

Whether you're in the tub

or chilling in your favourite

spot, applying a face or sheet

mask can be a great way to

tackle troublesome skin. When

choosing a facemask, look at its

active ingredients, consider its

texture and, most importantly,

go for one that addresses your

personal skin concerns.

11.

13.

8.

10.

14.

12.

WE RECOMMEND

1. DNA Renewal Restoring

Mask, $89, 2. Cosmedix Detox

Activated Charcoal Mask,

$84.70, 3. Sisley Eye Contour

Mask, $160, 4. TEOXANE RHA

hydrogel mask, $110, 5. Aspect

Gold Hydrating Mask, $59,

6. Dermalogica Multivitamin

Power Recovery Masque,

$75.50, 7. Medik8 Ultimate

Recovery Bio-Cellulose Mask,

$89, 8. mesoestetic hydravital

face mask, $78, 9. Image

Skincare I MASK Biomolecular

Sheet Mask, $20, 10. June

Jacobs Cranberry Pomegranate

Moisture Masque, $87, 11.

Ella Baché Intensive Extreme

Regeneration Mask, $78, 12.

Synergie Skin Detox Antiox,

$69, 13. Pure Elements

Lavender Softening Mask,

$33.50, 14. Peter Thomas

Roth Irish Moor Mud Purifying

Black Mask, $80.
---
Be body

beautiful

Beauty

1.

2.

o

d

y

Baths don't have to be boring!

Use your soakage time to get

smoother skin with a grainy

scrub or to detoxify the body

with luxury salts. Hair masks are

another great way of boosting

your appearance while you

relax. After your bath, wrap

yourself in a warm towel before

generously applying your

favourite lotion or oil. Heaven.

We recommend

1. Frank Body Cacao Coffee

Scrub, $18.95, 2. Dr Teal's

Restore & Replenish with Pink

Himalayan, $19.99, 3. This

Works Deep Sleep Bath Soak,

$55, 4. Arbonne Rescue &

Renew Detox Bath Soak, $38, 5.

Salt by Hendrix Bath to Body

Oil in Mandarin + Camellia,

$39.95, 6. MOR Marshmallow

Body Cream, $39.95, 7. ATUA

LoobyLou Tahiti Bath Salts,

$29.95, 8. Pure Fiji Coconut

Sugar Rub Coconut Lime

Blossom, $49.95.

6.

4. 5.

7.

3.

8.

www.cosbeauty.com.au 59
---
Feature

e

l

a

x

Breathe easy

No spa day is complete without some

relaxing scents. While essential oil

diffusers are rising in popularity, lighting

a candle remains an easy way of bringing

atmosphere to a room.

We recommend

1. MOR Emporium Classics

Blood Orange Fragrant

Candle $49.95, 2. Sunescape

Triple Scented Soy Blend

Candle in Tahitian Twist, $36, 3.

Palm Beach Collection Vintage

Gardenia Standard Soy Candle,

$39.95, 4. Jo Malone London

Velvet Rose & Oud Home Candle,

$120, 5. Bordeaux Triple Scented

Soy Candle in Bali, $35, 6. Wilds Soy

Candle in Sea Salt + Lily, $29.95.

2.

1.

3.

Embrace

the rainbow

Bring your tub to life with a

colourful bath bomb from Lush.

These cruelty-free products come in

a wide variety of shades, scents and

styles, with some even containing

glitter! Try Cheer Up Buttercup for

uplifting hints of lime or Twilight for

a calming dose of lavender.

4.

60 www.cosbeauty.com.au
---
Hidden gem

Escape reality anywhere, anytime

with Salt Scent Organic Perfume

Oil, $24.95. This handbag ready

product comes in three enticing

scents, each of which is brimming

with organic essential oils. Roll

Goddess Glow on your wrist for

a touch of Neroli and Rose Otto

or try Luxe Bohemia for a Sweet

Orange and Vetiver fragrance.

5. 6.

Quick fix

Bring a sense of harmony

to your day with Jurlique's

Calming Blend Aromatherapy

Mist, $35. Spritz on the face,

body or around the home

for a lavender and grapefruit

infused wellbeing boost.

Phone free zone

From emails to Instagram, phones are

making it impossible for us to unwind.

Thankfully, Swedish stationary sensation

kikki.K has the perfect solution. Dressed with

the adage 'offline is the new luxury', the

Phone Box, $19.95, will keep your favourite

device out of sight until you're ready to

return to reality.

Beauty

Switching

off

Taking time out may be

necessary, but that doesn't

mean it's always easy. If you

find unwinding difficult, try

these calming activities to

keep your mind in the now.

1.

Start that book you've been

meaning to read or get lost

in an old fave. Need a rec?

Try Melissa Ambrosini's Open

Wide, $29.99.

2.

Pop on a chill Spotify playlist

or a guided meditation.

3.

Sip on your favourite herbal

tea. We love Tea Tonic's

Peppermint, $8.95.

4.

Get creative with an adult

colouring book.

5.

Recognise the good in your

life by filling a page in your

gratitude journal.

References:

https://wayahead.org.au/stress-and-australians/

https://www.vogue.com.au/beauty/wellbeing/whymillennials-are-the-most-anxious-generation-in-history/

news-story/755e7b197bdb20c42b1c11d7f48525cd?

www.cosbeauty.com.au 61
---
ody

THE

beautiful

62 www.cosbeauty.com.au
---
Enhancement

The world of

non-surgical fat

reduction and

body shaping

is continually

advancing.

here's the skinny

on the latest

technology for

reducing excess

baggage.

Spot fat reduction was once the missing link

in achieving your ideal shape. Even if you

were a healthy weight, you could still be

plagued by stubborn fat pockets, resistant to the

efforts of diet and exercise. Fat would only be

lost proportionately with the rest of the body, so

'trouble spots' remained an issue.

In the past, the only option was surgical

intervention, such as liposuction, which many

people are daunted by due to its invasive nature,

cost and required downtime. But over the past

decade, non-surgical body contouring procedures

harnessing a variety of energy sources have

made spot reduction a welcome reality. These

treatments can be performed quickly and with

relative ease in a salon, spa or clinic. They require

little to no downtime, have few risks or side

effects, and generally cause minimal discomfort.

Yes, they will work without diet or exercise, but

you can greatly enhance and maintain the results

achieved by improving your approach to both.

Drinking sufficient water is extremely important

when aiding the elimination of fat cells destroyed

during these treatments.

To be a good candidate, you should be at or

near your ideal body weight, eat well and exercise

regularly, but still have stubborn fat that doesn't

respond to a healthy lifestyle. It is important

to have realistic expectations about what the

procedure can achieve and not rely on it as a

weight loss treatment.

Here we examine some of the top non-surgical

body contouring procedures on the market,

according to the energy sources involved.
---
RF fat reduction

and body

contouring

is a versatile

procedure that

can be used

on most parts of

the body

RADIOFREQUENCY

Radiofrequency (RF) delivers sound

wave energy to areas of unwanted

fat by driving controlled heat deep

into the cells to cause mechanical

disruption and subsequently destroy

them. This commences apoptosis –

the breakdown and removal of intra

cellular waste over a period or weeks

or months through the body's natural

elimination process.

Unlike some procedures that

primarily affect the most superficial

layers of the skin, the resulting heat

of RF works mainly on the skin's

deepest layer, the dermis, without

affecting the upper layers, such as

the epidermis. As heat is a stimulant

that promotes the contraction of

underlying tissues, soft tissues found

within the target area of the body

compress, realign and produce new

collagen and elastin. As well as

destroying unwanted fat, RF may

help sculpt and tighten treated tissues

into a more youthful, smoother and

elastic surface.

RF fat reduction and body

contouring is a versatile procedure

that can be used on most parts of

the body, from large areas like the

abdomen to very small sections like

the chin. However, the tummy, hips

and thighs are the most sought after

areas for treatment. enCurve by

Lutronic uses a special frequency

of 27.12MHz to selectively target

and heat fat cells to an optimal

temperature, leading to the cells'

death. The body's natural removal

process then takes over, permanently

removing the detritus. This results

in a sleeker body contour in the

treatment area.

enCurve is touted to be a more

gentle and comfortable way to reduce

fat cells, virtually melting away fat

rather than blasting it. Results

can be observed after a single

session, although a series of

treatments is usually recommended

for significant results.

The truSculpt 3D system by

Cutera uses a premier conductive

RF delivery method to achieve

selective and effective disruption of

the subcutaneous adipose tissue while

maintaining comfortable surface

temperatures.

BodyFX, on the InMode platform

and distributed by High Tech

Medical, offers third generation

body contouring with apoptosis,

skin contraction and cellulite

improvements. It is a unique, dualaction

RF device that combines

tissue heating with electroporation

(a technique in which an electrical

field is applied to cells in order to

increase the permeability of the cell

membrane) for precise and optimal

heating of the skin for reduction,

contraction and body shaping.

Negative pressure massage applies

gentle vacuum pressure, allowing for

maximal depth treatment. Clinical

studies have been conducted with

histologies showing volume reduction

and contraction.

COMBINATION

TREATMENT

Dalyance, distributed by Cryomed,

is an integrated cosmetic solution

that combines RF and low frequency

ultrasound cavitation technologies

for body contouring – and also can be

used for facial rejuvenation. It offers

body contouring in three phases:

drainage, reduction and firming.

LASER

What if you could lose 24 per cent of

fat off your abdomen in 25 minutes?

64 www.cosbeauty.com.au
---
Enhancement

You'd probably think it was a

fairytale. Well, this time dreams just

might come true.

Cynosure, a leader in energy based

aesthetic solutions spanning 120

countries, offers SculpSure, a noninvasive

1060nm hyperthermic diode

laser to permanently reduce unwanted

fat. It is the world's first FDA-cleared

laser treatment for non-invasive

lipolysis of the flanks (love handles)

and abdomen. It is also being used to

target fat on the upper arms, thighs

and knees, with effective results.

Cynosure has now expanded

indications for its advanced noninvasive

body contouring technology

with the launch of SculpSure

Submental; FDA-cleared to

reduce chin fat in patients with

a body mass index (BMI) up to

43. In recent clinical trials * ,

patients received two 25 minute

SculpSure Submental treatments six

weeks apart with an almost unheard

of 100 per cent satisfaction rate

among those patients.

With SculpSure there is no

downtime or post-treatment

discomfort and it offers shorter

treatment times and measurable

results. In clinically tested multi-site

trials with more than 100 patients,

a 24 per cent reduction in stubborn

fat was seen in the treated area, with

a patient satisfaction rate greater

than 90 per cent. Using patented

technology, the laser raises adipose

temperature to between 42˚C and

47˚C, disrupting subcutaneous

fat cells with no damage to the

surrounding tissue. The 1060nm

does not require anaesthesia and can

treat multiple areas simultaneously

in just 25 minutes, making it a

true 'lunchtime procedure'. The

device has four versatile nonsuction

applicators and can treat

www.cosbeauty.com.au 65
---
Feature

It's a

wrap!

The International Body Wrap –

which harnesses Dead Sea clay

particles – involves wrapping

the body from head to toe with

special bandages that have been

soaked in an all-natural solution.

When hydrated, the clay solution

expands and, like a giant poultice,

draws out toxins and impurities

from the body while cleansing skin

to leave it feeling softer and more

smooth.

As well as being able to absorb

many times its own weight in body

toxins, it leaves the skin and soft

fatty tissues compressed.

After an hour, the wrap is removed

and claims to reveal softer, firmer

and more toned skin and a

reduction of body circumference

of up to15cm.

You will then be wrapped head

to toe with bandages soaked in

Dead Sea clay and a vinyl suit is

worn for warmth and comfort.

Your new svelte shape should last

at least 30 days – and up to 12

months if you maintain a healthy

lifestyle.

Around 60cm can be lost from

the body's circumference over a

course of three treatments.

numerous areas at once, as well as

both pinchable and non-pinchable

areas of fat, offering versatile and

customisable treatments for each

patient and not just a 'one-size fits

all' approach. Importantly, SculpSure

does not damage dermal tissue, so it

can be used on all skin types.

In addition to disrupting

subcutaneous fat cells, the heating

energy of the diode laser can also

promote the production of collagen

and elastin to help the treated area

look firmer and younger. For the

best outcome, three to four

treatments are recommended six to

12 weeks apart, but results can be

seen after just one treatment. Optimal

results from each treatment can be

seen at around six weeks.

ULTRASOUND

Ultrasonic fat cavitation is based on

low-frequency ultrasound, delivering

an energy signature through the skin

that heats and vibrates the layer of

fat cells below the skin's surface to

disrupt them. The ultrasound field

creates bubbles in the subcutaneous

fat that gradually grow and implode

at a certain size, as the membranes

of fat cells do not have the structural

capacity to withstand the vibration.

However, vascular, nervous and

muscular tissue is spared.

The result is a reduction in the

circumference of the treated area due

to the cutback in fat thickness. It

simultaneously works to enhance the

skin's surface (initially constricting

connective tissue and then promoting

collagenesis) while decreasing fatty

deposits. Fat is released in the form of

triglycerides that are then processed

through the liver and eliminated from

the body naturally.

Scizer uses MFU technology

(Macro Focused Ultrasound) to

help eliminate stubborn fat deposits

around the waist without surgery.

Sensations experienced by patients

from different forms of MFU

treatment tend to vary, however with

the contact cooling technology of the

Scizer, any discomfort is substantially

reduced due to the numbing effect

the hand piece provides on the

treatment area. Treatments can take

as little as 20 minutes, but vary based

on the treatment area and what is

comfortable for the patient.

The Scizer treatment is

recommended for all candidates who

have stubborn fat on their abdominal

region and are looking for methods

of treatment other than undergoing

surgery, which requires anesthesia and

incisions. As long as you have a fat

layer of more than 2.5cm, you are a

suitable candidate.

Scizer applies ultrasound energy

13mm under the surface of the

skin, melting the fat deposits in

the subcutaneous fat layer at heat

levels of 65°C. Temporary redness,

mild bruising, minimal discomfort

and swelling may occur. All of these

symptoms are resolved within one or

two days of treatment.

The manipulation of the adipocytes

reduces the fat cell count in the

targeted region. Scizer yields results

immediately after treatment and

further improvements gradually

appear over a four to 12 week period.

CRYOLIPOLYSIS

One of the biggest breakthroughs

in non-surgical body contouring

was reportedly inspired by the

observations of Harvard University

Medical School researchers in the

early 2000s that babies given ice

blocks to suck on to ease teething

pain over a prolonged period lost fat

in their cheeks. This sparked years of

research into the role freezing plays in

the destruction of fat cells.

It was found that, under carefully

controlled conditions, subcutaneous

fat cells are more vulnerable to the

effects of cold than the surrounding

66 www.cosbeauty.com.au
---
THE

BODY

SCULPTING

EXPERTS

•Liposuction • SculpSure

Since 1991 Dr Nair and her team at

Ashbrooke Surry Hills have developed an

industry wide reputation for a responsible

and measured approach to cosmetic

surgery resulting in impressive results.

NOW'S THE TIME TO GET BACK IN SHAPE

CALL NOW 02 9310 4100

Level 1, 573 Crown Street, Surry Hills

info@ashbrookesh.com.au
---
Enhancement

under carefully

controlled

conditions,

subcutaneous

fat cells are more

vulnerable

to the effects of

cold than

the surrounding

tissue

tissue. Further, once a certain level

of cooling is achieved, a natural

'cascade' of fat destruction known

as selective cryolipolysis begins. The

body goes on to expel the destroyed

fat cells through natural excretion

over a two to four month period.

In both clinical and pre-clinical

trials, CLATUU, distributed

in Australia by Cryomed, has

demonstrated its efficacy in

eliminating stubborn fat. It works

by gently drawing fatty areas into

patented 360˚ applicators, targeting

and freezing fat cells through a

process called Cool-Assisted Lipolysis.

These fat cells gradually die and are

eliminated from the body in the

following weeks and months without

affecting the surrounding tissue.

CLAATU's DualSculpt hand

piece system means practitioners

have the ability to treat two sites at

once, thus cutting treatment time

in half. A gradual cooling sensation

is felt, similar to placing the area in

iced water, but this subsides as the

body gets used to the change. The

initial suction may be uncomfortable

depending on the laxity of the skin,

but any discomfort usually subsides

about 10 minutes into treatment.

A typical treatment takes 60

minutes and most patients find it

very tolerable (more of a tingling,

numbing sensation). There is no

downtime and you can return to your

usual activities immediately.

Results gradually occur in the

ensuing weeks and months after

treatment, as the body naturally

eliminates the destroyed fat through

the body's lymphatic system. Visible,

measurable results can be seen

from just one treatment, however a

series of sessions will yield the most

dramatic fat-busting.

Also distributed by Cryomed,

European-manufactured Cooltech

is a premium fat-freezing technology

studied in numerous clinical trials

with certified clinical predictabilty. Its

six applicators are fashioned to adapt

to any area of the body, offering a

total body contouring treatment.

Cooltech works by gently drawing

fatty skin into applicators before

cooling the area to the desired

treatment temperature. The different

hand pieces are adapted for areas of

curved contours like the back, waist

and sub-buttocks, broad areas such as

the flanks, love handles and calves,

and for fat folds small and large,

from the abdomen and back to the

arms, knees and under the chin.The

procedure targets and cools fat cells

to temperatures that trigger fat cell

apoptosis and elimination without

affecting any of the other surrounding

tissue. All the hand pieces work at a

temperature between 3°C and -8°C.

This temperature range is required to

treat fat folds of various thicknesses.

After one treatment patients can

expect to see a 20-30 per cent fat

reduction in the treated area. Results

can first be seen in eight to 12 weeks.

Now available in more than 40

countries, over one million Cooltech

treatments have been performed

worldwide. Numerous clinical studies

have demonstrated its effectiveness,

along with very high satisfaction

levels across a wide variety of

patients. The lower abdomen/

stomach is the most highly requested

area for treatment, and other areas

that have proven popular are love

handles/flanks and the pockets of fat

beneath the bra line that concern so

many women.

During a CoolSculpting treatment

(distributed in Australia by Lumenis),

unwanted fat is sucked between

two cooling plates. This vacuumlike

suction draws the area into the

applicator head so that the cool

68 www.cosbeauty.com.au
---
Feature

www.cosbeauty.com.au 69
---
Enhancement

to eight weeks apart, although some

people see excellent results after just

one treatment.

temperature is delivered directly

to the underlying fat cells. The

destroyed fat cells are then naturally

metabolised by the body.

Though you may feel intense

cold initially, this feeling usually

subsides as the area numbs. You

may also feel some pulling, tugging

and mild pinching.CoolSculpting's

CoolAdvantage applicator increases

direct contact with the area being

treated and lowers the temperature.

This means treatments take as little

as 35 minutes. CoolSculpting can be

used to treat the tummy, love handles

and flanks, to name a few areas and

fat reduction of between 20 and 25

per cent in the treated areas is typical.

Another breakthrough in the

technology was the development

of the CoolMini applicator,

specifically designed to target smaller

areas of fat accumulation, such as a

double chin. Up to 20 per cent fat

reduction in the area can be achieved

in one to two treatments.

For the body, generally two or three

sessions are required, performed six

ENDERMOLOGIE

The working principle of LPG

CELLU M6 Alliance (released in

Australia in 2017 by France Medical)

lies in a mechanical mobilisation

of skin tissue and fasciae called

endermologie, whose results have

been proven in 145 scientific studies

over the past 30 years.

Manual massage strokes are

reproduced and optimised by the

new patented treatment head's

combination of motorised flap and

roller with sequential suction, which

work together to thoroughly stimulate

and mobilise tissue to, among other

things, release fat, smooth cellulite

and firm the skin.

The modality claims to be the only

100 per cent natural, non-invasive,

non-aggressive mechanical skin

stimulation technique that reactivates

cell processes. The Alliance body

treatment head makes it possible

to target and slim specific areas

resistant to diet and exercise (arms,

back, stomach, waist, thighs) while

precisely adapting to the needs of

each skin type. CBM

*Cynosure Submental Clinical Trial,

September 2017, Dr Bruce Katz, Dr

Lawrence Bass and Dr Roy Geronemus.

70 www.cosbeauty.com.au
---
Technology

for full body

contouring

that works!

Over indulged this past few months?

Now is the time to get back in shape.

Call us to find out how easy it

is with cooltech ® body shaping.

02 9948 1775

5/67 Wanganella St, Balgowlah

www.austinclinic.com.au
---
TRIED

AND

TRUE

72 www.cosbeauty.com.au
---
E nhancement

LIPOSUCTION – IN THE

RIGHT HANDS – CAN

BE AN EXCELLENT

OPTION FOR REDUCING

DEPOSITS OF EXCESS

FAT AND SIGNIFICANTLY

IMPROVING BODY

CONTOURS ACROSS

SEVERAL AREAS IN JUST

ONE TREATMENT.

WORDS BY JENNI GILBERT

Non-surgical fat reduction and sculpting

can be a good fi t if you are already

at your ideal weight, have good skin

elasticity and want to target smaller, stubborn

trouble spots. Treatments typically do not

require incisions or anesthesia, have few side

effects and require little to no downtime.

Unfortunately, results will not be as dramatic

as with more intrusive procedures, and multiple

treatments may be necessary to achieve the

desired effect.

While more invasive and requiring downtime,

liposuction remains a popular means of reducing

deposits of excess fat and improving bodily

contours, with just one treatment producing

permanent results.

During liposuction the doctor carefully and

precisely suctions excess fat through a fi ne

instrument called a cannula. It is particularly

effective at removing fat from the legs, abdomen,

back, arms, face and neck.

The vast majority of liposuction patients

aren't looking to surgery as a solution for

weight loss. They've already worked hard on

their fi gure, are sensible with their diet and are

considering liposuction as a way of reducing

stubborn areas of fat.

www.cosbeauty.com.au 73
---
E nhancement

POWER TO IT

Power-assisted liposuction uses

energy such as radiofrequency

(RF), ultrasound or laser to liquify

fat before it is removed, making

it easier to vacuum out via

liposuction. It can help increase

skin contracture, while also

stimulating the production of

collagen and elastin. This results in

firmer, tighter, smoother skin.

'There are several energy devices

that use either laser light energy,

ultrasound energy or RF, which can

be applied during the liposuction

procedure to help tighten skin for

a smoother post-procedure result,'

Dr Flynn explains.

The BodyTite system is one such

technology offered by Dr Flynn; a

device that helps destroy fat and

provide skin tightening at the same

time. It utilises computer-controlled

radiofrequency-assisted lipolysis

(RFAL) to produce 3D dermal

and sub-dermal contraction.

RF energy is delivered from the

liposuction cannula tip, causing the

'Pockets of fat in the mid-abdomen

are often genetic and can be difficult

to address; this is a popular treatment

area for liposuction,' says Queensland

cosmetic surgeon Dr John Flynn,

from Cosmedic & Skin Clinic in

Southport. 'Younger women with

a slender figure also commonly use

liposuction to address heavy pockets

of fat on the outer thighs – also

referred to as saddle bags. The back of

the arms and neck are also common

treatment sites.'

There are different layers of fat

beneath the skin and optimising fat

reduction at each level is important

simultaneous melting and removal

of fat, but also controlled heating

of the skin.

BodyTite uses both internal and

skin surface temperature sensors

to minimise the risk of burns; the

energy is instantly turned off by

the computer when the desired

temperature is attained. Heat, in

the form of RF, is introduced to

the targeted tissue in a minimally

invasive manner, leaving nearundetectable

scars.

BodyTite can be used as a

standalone treatment or to

complement traditional surgical

liposuction for superior body

contouring results. The procedure

involves an internal probe that uses

intense RF to help melt fat while

strengthening the fibrous septae

(that give the skin more tone)

and an external probe that allows

for additional skin tightening.

Definitive results are seen within a

few months.

to achieving the best results. 'In

many areas of the body – for example,

the abdomen – there is a superficial

layer of fat, then a fascia which is

smooth, and then a deeper layer of

fat under the fascia,' says Dr Flynn.

'The majority of the volume should

be taken from the deeper layer of fat.

It is important to suction the more

superficial fat very minimally, as

it can lead to uneven results postprocedure.'

Liposuction is performed as day

surgery either under anaesthetic

with the patient asleep or with local

anaesthetic using the tumescent

technique where the patient is awake.

Generally, the target area is infiltrated

with a tumescent fluid containing

local anaesthetic and a vasoconstrictor

which reduces bleeding

and bruising, before small cannulas

are used to vacuum out the fatty

tissue. Alternatively, a syringe can be

used to withdraw the fat.

According to Dr Flynn, the

liposuction procedure has evolved

immensely over the years. 'In

experienced hands, the procedure

is far more gentle and comfortable

than ever before,' he says. 'Downtime

is minimised (usually two or three

days), which makes a great difference

for people who lead busy lives.

Liposuction allows me to treat more

areas in a reasonable period of time

and we can be judicious on how much

fat we remove. In my opinion, it is

the ultimate body shaping treatment.'

WHEN ENOUGH IS

ENOUGH

Overdoing fat removal can be just

as counterproductive to a patient's

goals as leaving it in place. 'You

have to remember, fat is a source of

nourishment and helps plump the

skin out for smoothness,' Dr Flynn

explains. 'With too little fat, the skin

looks crepey and old; with too much

fat, the skin appears dimpled and

uneven. Liposuction is about creating

a balance between the smoothness

of the skin, shapely contours and a

reduction in volume.'

THE DAYS (AND

WEEKS) AFTER

Because liposuction creates a trauma

in the treatment area, patients

can expect to experience soreness,

bruising and swelling for up to 10

days post-surgery. It's also common

to feel some numbness in the treated

areas, although this should go away

in the first few weeks. It's important

to remember that all liposuction is

74 www.cosbeauty.com.au
---
Feature

surgery and requires diligent postoperative

care. You'll usually wear a

compression garment for about three

weeks to help aid skin retraction and

healing, but can typically return to

work after three to five days.

Results are visible after the

swelling goes down and the treated

area heals. A trimmer looking, more

proportionate and shapely form can

be seen from around three to four

months after all swelling subsides,

although the final result may not be

seen for six months. Generally, it

takes longer to see optimal results

from non-invasive methods of fat

reduction.

While neither liposuction or

non-surgical body contouring

treatments are a substitute for a

healthy diet and exercise, liposuction

does offer more dramatic and longerlasting

results, in addition to some

skin shrinkage. A healthy approach

to weight maintenance is essential

following the liposuction procedure.

The fat cells that are left behind can

still grow bigger and store fat, but the

treated area will put on less weight

than the adjacent non-treated areas.

'Eating right, exercising,

minimising drinking and avoiding

smoking can assist in skin retraction

following liposuction and ensure the

results last and skin stays even for

the long-term,' Dr Flynn explains.

'It is important for patients to

understand the underlying concepts

of liposuction, and the techniques

involved to create a balanced and

sustainable result. Liposuction is a

genuine medical procedure, with

associated risks and long-term

consequences – for this reason,

it is essential patients are well

educated about the surgery and have

realistic expectations going into the

procedure.' CBM

FAST

FACTS

Liposuction became popular in the

1980s and has remained one of the

most popular cosmetic procedures for

many years.

Although there is no definitive data

about cosmetic surgery trends in

Australia, we typically follow American

statistics to provide an insight into

emerging and changing trends on our

own shores.

Indeed, stats from the American

Society for Aesthetic Plastic Surgery

reveal liposuction is the most

commonly performed cosmetic

surgery in the US (the second is breast

augmentation) and is the only surgical

procedure with a spot in the top 10

cosmetic procedures overall (surgical

and non-surgical).

But, just like any form of cosmetic

enhancement, liposuction is no

panacea. It's important to remember

the risks of surgery and that

liposuction is not a way of losing

masses of weight or a cure for obesity.

FOR

MORE

INFO

Dr John Flynn

Cosmedic & Skin Clinic,

Southport, Qld

Ph 1300 88 13 88

www.cosmedic.com.au

www.cosbeauty.com.au 75
---
Thinking

about

liposuction?

DR SAROJINI NAIR FROM ASHBROOKE

COSMETIC SURGERY TALKS US THROUGH

THE ORIGINAL – AND #1 – FAT-BUSTING

PROCEDURE. WORDS BY AIMEE RODRIGUES

Did you know liposuction

is consistently the most

commonly performed

cosmetic surgery around the

world? It's for good reason. No

other procedure can give you the

immediate and permanent dramatic

body sculpting and fat reduction

results of liposuction.

'For the right candidate,

liposculpture can be life-changing,'

says cosmetic surgeon Dr Sarojini

Nair from Ashbrooke Cosmetic

Surgery in Sydney's Surry Hills. 'It

can successfully reshape different

areas of the body to sculpt and fl atten

and create beautiful curves, as well

as remove deposits of fat that are

impervious to diet and exercise.'

With liposculpture, fat can be

transferred to any part of the body

such as the buttocks, which is

becoming increasingly popular.

Liposculpture is also used to treat

gynaecomastia, a common medical

condition in which the male breasts

are abnormally enlarged.

'Just about everyone wants to

lose stubborn pockets of fat, and

liposculpture provides virtually

immediate results, eliminating

unwanted body fat to help create the

ideal silhouette for each patient,' says

Dr Nair. 'Clothes may fi t better and

more aesthetic body proportions can

be restored.'

Liposculpture helps to improve

more than just your appearance; it

can also enhance confi dence and

self-esteem and kick start a healthier

way of living.

LIPO WHAT?

Liposuction has come a long

way since its initial rise to

popularity some 40 years ago,

and the term 'liposculpture' is

now commonly used to refl ect

the modern procedure's emphasis

on body contouring and

sculpting results, rather than

the blanket fat removal of

traditional liposuction.

'Liposculpture is a more refi ned

method of removing body fat than

liposuction,' says Dr Nair. 'The

instruments used are smaller and

the procedure is gentler, allowing

for detailed body contouring that

facilitates fi nessed results.'

Dr Nair performs liposculpture

under local anaesthetic using a

tumescent anaesthesia, which

allows for a gentle yet highly detailed

body contouring effect. Patients

report minimal discomfort, but a

76 www.cosbeauty.com.au
---
sedative may be offered for enhanced

patient comfort.

Liposuction is performed at

the fully licenced and accredited

Surry Hills Day Hospital, which

is located on the same floor as the

Ashbrooke Clinic.

Leading the way

in liposuction

Since 1991, Dr Nair and her team

at Ashbrooke have developed

an industry-wide reputation for a

responsible and measured approach

to cosmetic surgery.

Dr Nair is a widely respected

surgeon and especially well known

for being the first female surgeon

to practice liposuction surgery in

Australia. She has worked with

before

before

before

thousands of patients, both male and

female, ensuring they receive the

most appropriate treatment tailored

to their needs and wishes.

'We pride ourselves on giving the

patient the very best service, talking

through each aspect of surgery in a

caring and detailed way to ensure

safe, effective and aesthetically

pleasing results,' she says.

A fully accredited practice,

you can trust your cosmetic

enhancement to Ashbrooke,

knowing that each treatment is

approved, ethical and carried out

by surgeons who are continually

expanding their expertise to offer

their patients the most sophisticated

and cutting edge treatments

available. CBM

after

after

after

Enhancement

Sculpsure

the non-surgical

alternative

Interested in fat reduction but

not a candidate for liposculpture?

Listen up! Ashbrooke Cosmetic

Surgery also offers Sculpsure, the

world's first FDA-cleared laser

treatment for non-invasive fat

reduction of the abdomen.

While liposculpture is still

your best bet for larger scale fat

reduction, Sculpsure is perfect

for small, localised fat deposits

such as the love handles and

muffin top.

During the procedure a

laser beam targets, heats and

consequently destroys targeted

fat cells, killing up to 24 per cent

of fat cells in the area.

Results can be seen after six

weeks or so as your body naturally

metabolises the destroyed

fat. A series of treatments is

recommended for optimum

outcomes, but even one session

can yield impressive centimetreshrinking

results.

Like liposculpture, results are

permanent if you follow a healthy

lifestyle and stay within your

weight range.

The best bit about Sculpsure?

It's performed in just 25 minutes,

with no downtime, no needles and

no surgery. Never has there been

an easier way to say goodbye to

stubborn fat!

WHERE

TO GET IT

Ashbrooke Cosmetic Surgery

573 Crown Street,

Surry Hills, NSW

Ph 02 9310 4100

www.ashbrookesh.com.au

www.cosbeauty.com.au 77
---
BE THE

Best

of you

VERSION

VISION PERSONAL

TRAINING HAS

TRANSFORMED MORE

THAN 50,000 LIVES. WILL

YOURS BE NEXT? WORDS

BY AIMEE RODRIGUES

Are you ready to reclaim the

best version of you? To be

fi t, fi erce and fearless and in

charge of your mind and body?

Look no further than your local

Vision Personal Training studio,

which offers weight loss or a

money-back guarantee.

Equipped with some of Australia's

leading experts in fi tness, health and

weight reduction techniques, Vision

PT is unlike any other fi tness studio.

It offers a different approach to fi tness

and weight loss by placing equal

emphasis on diet, exercise, psychology

and education, ensuring you lose

weight and tone up in a healthy way

that is easy to achieve and maintain.

Vision Personal Training was

started by leading fi tness experts

who knew how diffi cult it was to

provide truly personal service at a

large commercial gym. They had

an idea for a small friendly studio

environment where likeminded

people would train and help

motivate one another, backed by

scientifi cally proven exercise and

nutrition programs.

This vision came to life with

the opening of the fi rst studio in

Caringbah, Sydney in 2001, providing

a fun and welcoming concept gym

with a holistic approach to exercise

and weight loss. Since then, the

franchise has gone from strength

to strength with more than 50

locations throughout Australia and

New Zealand and more than 50,000

success stories.

Vision PT studios are small,

non-threatening and uncrowded

– in other words, not your typical

gym. They're places where everyone

knows your name and where you

receive the one-on-one exercise,

nutrition and coaching sessions you

need to succeed.

Vision PT is all about empowering

people to create, and live by, longterm

lifestyle changes. The program

involves a combination of personal

one-on-one training, group training,

nutrition planning, motivation and

support, and education. This isn't just

about exercise and working out – the

education process is key to ensuring

results that last.
---
Fitness

One-on-one

training

Let's face it – sticking to a healthy

exercise and diet regimen can be

hard, even with the best intentions

to remain vigilant in the fight against

fat. At Vision PT, your trainer will

be there every step of the way as your

motivator and supporter, ensuring you

reach both short-term and long-term

goals. Just think of your trainer as

your own personal cheerleader.

Your trainer will design a program

to suit you, and only you. They will

consider your current condition,

time frame, body shape, exercise

preferences and general lifestyle to

tailor a training program that will

help you achieve your fitness and

weight loss goals.

With one-on-one training, the

focus is on you and you alone.

Nutrition

Knowing what to eat to align with

your exercise plan is critical to your

success. Your Vision personal trainer

has extensive nutritional knowledge

and will design you an individual

nutrition plan, a critical part of your

journey to self-transformation. You'll

be introduced to fresh and tasty meals

and have access to recipes to ensure

you have all the tools you need to

achieve your goals.

Vision PT offers one of the most

comprehensive eating programs on

the planet to help you know exactly

what to eat now and to educate you

for the long-term. The tools to help

you include:

• Your personal daily macronutrient

requirements based on your

goals, body composition, body

type and lifestyle

• Food diary

• Online menus and recipes

• Online meal plans

• Library of nutritional information.

Group training

Need an additional workout to

complement your personal training

sessions? Vision PT offers a variety

of low and high impact group

training classes for all fitness levels.

Whether you opt for low or high

impact sessions, group training is all

about fun. Get involved and train

together – it's a great way to test

your limits, with your studio mates

offering as much motivation as

your instructor.

Education

Emotions, moods and feelings can

dictate your health and fitness

results and Vision PT ensures you

are ready to face any challenges.

Each studio offers regular goalsetting

sessions, online support

videos, cooking demos and other

resources, the Vision Virtual

Training online library, the Ready,

Set, Go: 3 steps to better health book,

regular shopping tours to the local

supermarket, plus access to some

truly amazing client success stories

to help motivate you through your

own journey.

Complimentary education

seminars are also held at the studios

on various topics relating to health,

nutrition and weight loss.

Vision virtual

training

Your personal trainer is not the

only source of help and support

you'll have access to at Vision.

Vision Virtual Training (VVT)

is a handy tool that puts the

knowledge and expertise of Vision

trainers in an easy-to-use app.

With VVT, you can access training

sessions, update your food diary,

check your workout schedule, track

your progress and plan your week

for results. CBM

Results,

guaranteed

Vision PT assures your

investment with this simple

promise: follow the program

completely for your first nine

weeks and in the unlikely event

you do not achieve the agreed

results, Vision will give you your

money back and train you for

free until you achieve what you

set out to do.

With passionate trainers

supporting you and the Vision

Promise, your success is

guaranteed. So go on, what are

you waiting for?

WHERE

TO GET IT

To book a free consultation

or to find a studio near you visit

www.visionpt.com.au

www.cosbeauty.com.au 79
---
Navigating

the

land down

under

80 www.cosbeauty.com.au
---
Enhancement

EMPOWERING WOMEN THROUGH KNOWLEDGE,

CHOICE AND ACCESS TO WORLD CLASS CARE, GYNAECOLOGIST

DR OSEKA ONUMA SAYS IT'S TIME TO UNDERSTAND WHAT'S

HAPPENING UNDER THE COVERS; ABOUT WHAT TRIGGERS

VULVO-VAGINAL DISORDERS AND SEXUAL DYSFUNCTION. .

WORDS BY JENNI GILBERT

Sexual health has a huge infl uence on mental

health and psychological wellbeing, as the function

and form of the different parts of the vagina are

closely linked to the female psyche. There are pivotal

times in a woman's life that infl uence sexual function and

vaginal competency; menopause, pregnancy and childbirth

among them.

While it's been reported that nearly half of all women

have some sort of problem with their sex lives, it's a

topic many people don't know much about, or are

embarrassed to discuss.

'Female sexual dysfunction is complex and can be a

result of hormonal, psychological, psychiatric, physical,

neurological, environmental and social causes,' says

Adelaide gynaecologist and pelvic reconstructive surgeon

Dr Oseka Onuma.

'Since most cases of sexual dysfunction are treatable,

it's important to keep in mind that dysfunction does not

always imply abnormality and affected women should

seek help. These days women are less willing to accept

changes in genital anatomy resulting from pregnancy,

childbirth and ageing.

'They are less likely to have the attitude that sexual

dysfunction is "just part of being a woman."'

Dr Onuma stresses that no woman should suffer

embarrassment or feel inhibited in her relationship with

her partner due to the appearance of her vagina or physical

sexual dysfunction.

Further, she should be encouraged to talk openly about

her sexual health in order to gain realistic ideas of the

changes in her body and in her relationship.

Dr Onuma says assessment of sexual function,

mental health and relationship quality are crucial and

should be considered routine.

'The majority of my patients seeking vaginal

rejuvenation are not motivated by the aesthetic but,

rather, by a growing dislike of pain during intercourse

or discomfort when participating in everyday activities,'

he says.

'The importance of reassuring my patient that she is

not alone in her genital issues and that there are

options for improving her quality of life cannot be overemphasised,'

he concludes.

PREGNANCY

'The effect of pregnancy on a woman's life is variable:

some women's libido increases, some decreases, some

remain unaltered,' explains Dr Onuma.

'As pregnancy proceeds, the physical challenge

increases and the missionary position becomes less

possible or tolerable. An increase in vaginal dryness

often accompanies pregnancy and use of lubricants

may be needed.

'Further to this, fear of damaging the developing baby

may prevent sexual activity (in most cases there is no

evidence to support this). A history of early pregnancy

failure may lead to advice to restrict sexual activity in the

fi rst and sometimes second trimester of pregnancy.

'A fi nding of a low-lying placenta or bleeding during

pregnancy may also be an indication to cease sexual

intercourse during the pregnancy.

'There is also an increase in hormones such as

progesterone and relaxin, which causes softening and

relaxation of muscle and connective tissue. Some of these

changes will not be reversed after pregnancy is complete.'

www.cosbeauty.com.au 81
---
Enhancement

CHILDBIRTH

A 2015 study published in the Journal of Sexual

Dissatisfaction Medicine found more than 60 per cent of

women suffer from sexual dysfunction after childbirth.

Other studies have shown the prevalence of sexual

dysfunction is high during pregnancy and peaks in the

third trimester. This includes the inability to orgasm, pain

during sexual activity, or a general lack of interest.

The study found sexual dysfunction could lead to

overall relationship dissatisfaction, as well as post-natal

depression. It also showed 88 per cent of women did not

consult healthcare professionals about the issue, due to

shyness or embarrassment.

'Childbirth is the major factor in causing damage to the

female pelvic floor,' says Dr Onuma.

'The disruption of connective tissues [muscles/ligaments/

fascia] results in reduced tissue elasticity and avulsion of

tissues from their origins.

'There is some significant restitution [healing with tissue

going back towards normal] after childbirth. However,

some of the spontaneous healing involves formation of

scar tissue, which is inherently weaker and less elastic than

the original tissue.

'Symptoms can occur immediately after delivery but

often present some years later. Further pregnancies and

deliveries can result in marked worsening of symptoms.'

Damage to the pelvic floor can result in pain during

intercourse, reduced sensation during intercourse,

both pain and reduced sensation and reduced ability to

achieve orgasm.

Dr Onuma says that often these causes co-exist – for

example, painful intercourse may result in a fear of

intercourse, resulting in psychological sequelae.

MENOPAUSE

Hormonal changes from menopause can result in loss of

libido or physical alterations of the vaginal epithelium,

which can result in difficult or painful intercourse.

Laser-assisted vaginal surgical procedures can enhance

vaginal muscle tone, strength and control, as well as

help alleviate vaginal atrophy and dryness. According

to Dr Onuma, laser techniques deliver gentle precision

procedures with controlled accuracy and result in rapid

healing, minimal pain and relatively fast recovery, allowing

for improved sensation and resumption of daily activities

in a relatively short period of time.

'Non-surgical laser vaginal treatment is not the same

as traditional methods and may not be the most suitable

avenue of treatment for some patients,' he says. 'The best

'

Since most cases

of sexual dysfunction

are treatable, it's

important to keep in

mind that dysfunction

does not always imply

abnormality

'

approach is for a patient to discuss their symptoms with a

doctor who has a clear understanding of all the modalities

of treatment available and is able to guide them towards

the mode of treatment that might offer the best outcome.'

According to Dr Onuma, while non-surgical laser

vaginal treatment shows the most promise for improving

or curing symptoms related to atrophic vaginitis, it is of

little value in correcting pelvic organ prolapse (particularly

relevant to childbirth issues).

'While non-surgical laser vaginal treatment can

improve very mild stress incontinence or reduce vaginal

wall relaxation, it is unlikely to cure any significant

stress urinary incontinence or improve sensation during

intercourse where the vagina and the vaginal introitus

are patulous because of detached or torn muscles and

fascia,' he says.

LABIA ISSUES

At any stage of life, oversized, elongated or asymmetrical

labia minora may lead to self- consciousness and even

embarrassment.

It can cause discomfort during sex and hinder certain

activities such as cycling and horse riding, and often

makes wearing certain clothes such as swimwear, jeans

or tights difficult.

Vaginal rejuvenation – both surgical and non-surgical

procedures – can help alleviate pain, improve form and

function, and enhance quality of life for many women.

'A blanket of taboo means there is a lack of open and

honest public dialogue that makes it difficult for some

women to seek successful treatment – or even know there

are treatment options available,' says Dr Onuma.

For example, both surgical and laser reduction

labiaplasty can sculpt the elongated or unequal labial

82 www.cosbeauty.com.au
---
The Australian Centre for Female

Pelvic & Vaginal Rejuvenation

Feature

minora as desired. The vulvar structures (including

the labia minora, labia majora, mons pubis, perineum,

entrance to the vagina and hymen) can be surgically

enhanced, both functionally and aesthetically.

Each treatment is completely tailored by Dr Onuma to

meet the patient's specific needs and individual goals.

Laser reduction labiaplasty can also be used to

reconstruct conditions that are a result of the ageing

process, childbirth trauma or injury.

VULVO-VAGINAL DISTRESS

SYMPTOMS

Every organ within the female pelvic floor is subject to

stress – from gravity or from the delivery of a baby.

'Muscle, connective tissue and epithelium can break, tear,

stretch and lose their elasticity, resulting in functional

impairments,' says Dr Onuma.

'The organs within the female pelvic floor that can be

subject to prolapse include the urethra, bladder, uterus,

vaginal walls, perineum and labia minora. All can present

as a lump or mass that was not previously visible or noted

by the woman.'

Common symptoms of vaginal wall prolapse or

relaxation include a lump, a 'dragging' within the vagina

or lower back, urinary incontinence, the need to empty

the bladder frequently and/or with urgency, pain and/or

reduced sensation during intercourse.

Another problem is female stress urinary incontinence,

caused predominantly by an improperly functioning

urethra. When a woman suffers from this condition,

weakened muscle and pelvic tissue don't adequately

support the urethra.

OPTIONS

As women become more aware that it is possible to

correct potentially embarrassing problems, female genital

procedures are increasing in popularity.

Vaginal rejuvenation – both surgical and non-surgical

procedures – can help alleviate pain, improve form and

function, and enhance quality of life for many women.

'Beyond pelvic floor retraining and physiotherapy, there

is now a range of minimal-access surgical options available

that can address and hopefully resolve these problems,'

says Dr Onuma.

'Non-surgical laser vaginal rejuvenation can effectively

enhance vaginal muscle tone, strength and control, and

can be used to treat minor degrees of prolapse and/or

relaxation of the vaginal walls to improve sensation.' CBM

Empowering women through

knowlege, choice and access to

world class care

Dr Oseka

Onuma

Gynaecologist & Pelvic

Reconstructive Surgeon

BSc. (Hons), MJur., CCST,

MBBS, FRANZCOG, FRCOG

ADELAIDE • SYDNEY • DARWIN

DR OSEKA ONUMA

4 Robe Terrace, Medindie SA 5081

08 8344 6085

Facsimile 08 8344 6087

Email reception@dronuma.com.au

www.dronuma.com.au

www.cosbeauty.com.au 83
---
fat

grafting

the natural

alternative

to fillers

Use your body's

own tissues to

replace lost

volume and

sculpt beautiful

facial contours.

Words by Aimee

Rodrigues

Sunken cheeks, furrows and

wrinkles and poorly defined

facial contours are common

cosmetic issues as we age. To add

insult to injury, while we're losing

volume in our face, we're often

struggling to keep volume in the form

of fat off other areas of our body.

The Adip'sculpt fat grafting

procedure offers a double-edged

solution: it allows you to take

unwanted fat from your body and

inject it back into volume-deficient

areas. For example, fat from the

abdomen or thighs can be used to

define cheekbones, fill in a sunken

mid-face, smooth out deep grooves

and wrinkles, and add volume to

the temples for a more youthful

roundness. Fat grafting can even

augment a non-descript chin and

enhance overall facial structure.

Adip'sculpt is applied in the same

way as dermal fillers, the difference is

you are using your own tissue which

integrates as part of your natural

structure. Because of this, the result is

considered relatively permanent.

84 www.cosbeauty.com.au
---
Enhancement

Benefits

of fat

transfer

for facial

rejuvenation

Autologous,

that is it uses your own

body tissue rather than

a foreign injectable

Excellent safety profile

Long-lasting,

more permanent

solution

Smooth, natural-looking

results

Virtually no risk

of adverse reaction

Improvement in

skin quality

What exactly is

fat transfer?

Fat transfer, also called fat grafting, fat

injections, lipofilling and autologous

fat injection, is a procedure that uses

your own fat to fill in irregularities,

grooves and volume deficits.

The fat is obtained through a

minimally invasive liposuction

procedure and is normally taken from

the abdomen or inner thigh. This

aspirated fat is processed through a

specialised centrifugal and filtering

system, leaving only the pure liquid

fatty tissue behind, ready for reinjection

where needed.

Fat grafting is not a new procedure,

but early techniques lacked

consistency and the proportion of

fat cells surviving could be as low as

30 to 50 per cent. It is only in recent

times, after significant research and

development, that it has become a

predictable procedure with a wellestablished

technique. Ranked among

the most popular cosmetic procedures

in the world, it is now used every day

in plastic surgeons' clinics to enhance

the results of surgery and add volume

to the face, breasts and body.

Adip'sculpt –

the smarter

fat transfer

technology

Recently, huge leaps have been made

in investigating the biology behind

the success of fat transfer. Surgeons

and scientists alike have advanced

this field by innovating fat graft

harvesting and injection techniques,

expanding the use and effectiveness

of fat grafting for cosmetic

enhancement.

A leader in fat grafting solutions,

the Adip'sculpt fat transfer system

has redefined the fat transfer process

– from harvesting and processing

through to re-injection – to the

point where most of the fat cells can

successfully be transferred. This is

a significant development as with

previous techniques the majority of

the fat did not survive the procedure

and was reabsorbed by the body.

With Adip'sculpt, fat retention is

in the range of 70 to 90 per cent,

thereby delivering superior and

predictable outcomes.

Dr Neal Hamilton from Concept

Cosmetic Medicine has been using

the Adip'sculpt system for three

years now. 'Adip'sculpt has forever

changed my view of what constitutes

best practice in cosmetic medicine,'

he says. 'The adipose derived stem

cells preserved by the Adip'sculpt

system not only give facial volume

but change the sun-damaged and aged

skin's architecture to a more normal

youthful state. [It's] the equivalent

of vacuuming up the mess, not just

sweeping it under the carpet. Nothing

else does this.'

The Adip'sculpt system extracts

and preserves the fat cells best suited

to the new area to achieve longterm,

natural-looking results. The

first step is liposuction of fat from

any unwanted bulges on the torso

or thighs. Next the harvested fat is

spun in a centrifuge. Once any excess

fluid or oil is discarded, the fat is then

ready to be put into small syringes for

injection into the target area.

The Adip'sculpt fat grafting

procedure can be used to correct a

variety of concerns – from enhancing

the results of breast implant surgery

and standalone breast enlargement

of around one cup size to body

contouring, facial volumising and skin

rejuvenation. One main advantage of

the Adip'sculpt procedure is because

most fat cells are preserved, the

results seen immediately post-surgery

are very close to the final result.

Fat transfer using Adip'sculpt is a

predictable and effective procedure

for restoring that plumper look of

youth and adding fullness to areas

of the face that look gaunt and

tired. By adding predictability to

excellent cosmetic outcomes, it's not

surprising that fat grafting for facial

augmentation is surging in popularity

and demand. CBM

FOR

MORE

INFO

To find a practitioner in your area,

visit www.likeyourlook.com.au

www.cosbeauty.com.au 85
---
Skin
---
Know

What

You Did

Last

Summer

ust when your skin is

starting to recover

from the sins of

another sensational

summer, cooler temps,

changing humidity

and an overall switch

in routine threaten to

thrust it straight into

turmoil. But not to worry

– we're here to make the

transition to autumn/

winter simple.

www.cosbeauty.com.au 87
---
Cleanse

tone

moisturise

While there's nothing revolutionary about

a three-step beauty routine, it's important

to remember that consistency is key when

it comes to skincare. Rather than ditching

your morning ritual in favour of a passing

fad, adjust it to suit the season by cutting

back on harsh exfoliators and applying a

richer moisturiser.

1.

2.

4.

3.

1. Arbonne RE9 Advanced Regenerating

Toner, $59. Orange stem cells and

brown algae extract are among the

conditioning agents that make this toner

stand out from the crowd. Think more

elasticity, fewer wrinkles.

5.

2. Alpha-H Liquid Gold, $59.95.

A cult classic that requires no introduction!

This award winning exfoliant uses glycolic

acid to target wrinkles, pigmentation,

acne and sun damage as it delivers

essential hydration.

7.

3. Ginger & Me Regenerative Nourishing

Cream, $80. Built on self-regenerative stem

cell technology, this nourishing emulsion

thickens the epidermis, blurs fine lines and

promotes collagen synthesis – an ideal

combination for dry, ageing skin.

6.

9.

4. Skinstitut Enzymatic Micro Peel, $45.

Slough away dead skin cells and impurities

with this refreshing exfoliator. It's gentle

enough for sensitive complexions and

post-treatment use.

5. Dermalogica Barrier Repair, $67.50.

Shield your skin from environmental

stressors with this unique waterless product.

Velvet-like in texture, Dermalogica's Barrier

Repair can be worn alone or combined with

your moisturiser of choice.

8.

10.

88 www.cosbeauty.com.au
---
6. L'Occitane Divine Cream, $150.

Divine by name, divine by nature.

This intensely nourishing cream

visibly reduces the appearance of

wrinkles, while restoring the skin's

hydration balance.

Skin

7. A'kin Replenishing Antioxidant

Night Cream, $39.95. Take your

beauty sleep to the next level

with this penetrating night cream.

Infused with coconut water for

added hydration and green tea to

protect the skin from free radicals.

8. Paula's Choice SKIN RECOVERY

Softening Cream Cleanser, $30.

Having been developed with

eczema prone skin in mind, this rich

cleansing cream removes makeup

without stripping the skin of its

existing moisture.

9. June Jacobs Rapid Repair

Healing Cream, $92. Apply this

soothing product to the face and

body for lasting moisturisation.

Its key ingredient, Edelweiss

extract, is known for its

anti-inflammatory properties.

10. O Cosmedics Rebalancing

Cream, $82. This oil free lotion

targets bacteria, excessive sebum

production and build-up as it works

to rebalance the complexion.

Perfect for problematic skin.

Sunscreen

queen

The jumpers may be out, but that doesn't mean it's

time to ditch the most important anti-ageing product

of all. Australia is home to some of the strongest

UVA and UVB rays in existence meaning sunscreen is

essential all year round.

DNA Renewal DNA Sheer Defense, $109.
---
Hydration is

everything

1.

2.

While we're all in search of that

sunkissed summer glow, excessive

sun exposure can leave the skin

damaged, drained and dehydrated.

This effect is only exacerbated by

the changing seasons as the skin

is forced to adjust with its

environment. Maintaining hydration

is essential in this scenario. Oils,

serums and masks are great ways of

replenishing lost moisture.

DEVINE DROPS

1. Medik8 Glow Oil, $89. Tackle dark

circles, reduce unwanted puffiness

and hydrate the complexion. This

professional strength dry facial oil

uses Vitamin C and Omegas 3 and 6

to repair and protect the skin.

Make

mine a

mask

3.

2. Trilogy No.15 Limited Edition

Beauty Oil, $35.95. Fight pollution

and condition the complexion

with this limited edition oil. Enriched

with powerful antioxidants, this little

gem can be applied to the face,

body and hair.

1.

2.

3. mesoestetic anti-ageing flash

ampoules, $106. This anti-ageing

all-star contains the right blend of

active ingredients to tighten the skin,

eliminate signs of fatigue and smooth

out fine lines and wrinkles.

4. 5.

4. Paula's Choice RESIST Moisture

Renewal Oil Booster, $52. Wave

goodbye to dry, flaky skin with this

concentrated hydrating formula. It is

light in texture, completely fragrance

free and brimming with plant power.

5. Maaemo Vitalize Face Elixir,

$47.95. Rich in Omega 3 and 6,

hemp seed oil is the driving force

behind this lightweight product.

The Vitalize Face Elixir stimulates

cell production, repair and growth.

Perfect for all skin types.

3.

90 www.cosbeauty.com.au
---
Skin

Soothing

serums

1. Biologi Bd – Luminosity Face

Serum, $97.95. Strong skin is in with

this Australian-made serum. Created

with 100 per cent Davidson Plum,

it reduces blemishes, redness and

stretch marks, while enriching the

complexion with a natural glow.

2. Ultraceuticals Ultra B2 Hydrating

Serum, $89. Capable of holding

1,000 times its weight in water, this

little bottle packs a punch! It also

boasts the anti-ageing powerhouse

that is Vitamin B3.

1. Antipodes Aura Manuka

Honey Mask, $49. A mask

with a past! This traditional

remedy has its origins with New

Zealand's Maori people who

recognised the antibacterial

benefits of manuka honey. It is

seriously hydrating and works a

treat on blemish-prone skin.

2. Sisley Phyto-Blanc Ultra

Lightening Mask, $160. This

purifying mask cleanses and

lightens the complexion. Its

natural plant extracts and blend

of essential oils return a sense

of radiance to tired skin.

3. Peter Thomas Roth Blue

Marine Algae Mask, $73. Blue

will be your new favourite

colour after trying this

deeply hydrating gel mask. A

combination of blue marine

algae and Korean tea help

smooth and plump the skin.

1.

2.

3.

4.

5. 6.

3. USPA Smoothing AHA Serum

with Fruit Acids, $90. Alpha Hydroxy

Acids have supercharged this

serum, allowing it to brighten the

complexion while removing dry

skin build-up. Its fresh citrus

scent makes its application a real

sensory experience.

4. June Jacobs Advanced Cell

Repair Serum, $103. Hyaluronic acid

is a key ingredient in this paraben

and preservative free gel serum.

With consistent use, it minimises

facial laxity and dehydration.

5. Image Skincare ILUMA Intense

Lightening Serum, $75. This

hydroquinone free product is easily

absorbed. It calms irritated, sundamaged

skin, before employing

botanical brighteners to promote a

clearer complexion.

6. asap DNA renewal treatment,

$129. Clinically proven to help

restore DNA at a cellular level, this

innovative product stimulates keratin

production, boosts the skin's natural

moisture balance and protects

against pollution.

www.cosbeauty.com.au 91
---
Skin

Dolce

VITA

SKIN

THE BRUTAL AUSTRALIAN

SUN TAKES ITS TOLL

ON OUR SKIN. VITA

CATANZARITI SHARES HER

TIPS FOR MAINTAINING A

BEAUTIFUL COMPLEXION.

WORDS BY JENNI GILBERT

With each Australian

summer, in one of the

harshest climates on Earth,

skin damage accumulates, with every

bit of sun exposure contributing to

the way our faces age.

Over time, our skin loses its

elasticity. It can develop unsightly

brown spots, and previously hidden

blood vessels become visible to the

naked eye. Lines and wrinkles emerge

as our formerly vibrant complexions

start to appear dehydrated and dull.

We look in the mirror, and, well, we

feel a bit blah.

'Post-summer skin just looks lax!'

says 'The Skin Whisperer' Vita

Catanzariti, a highly sought-after

dermal therapist with more than 20

years' experience. 'In many cases,

the appearance of the neck and

décolletage is worse. This is a huge

concern for a lot of women.'

'In particular, the side of the neck

can be extremely vulnerable to red

and brown pigment damage, clinically

called poikiloderma, or Civatte. So

the neck needs to be managed as

much as facial skin,' she explains. 'I

always tell my clients to extend their

skincare regime to the neck, chest

and back of the hands. This could

save them a fortune in the future,

with less treatments being spent on

attempts to reverse the damage.'

Vita says the sun negatively impacts

the skin's ability to retain water.

'Solar exposure builds up dry skin

cells and blocks light,' she observes.

'This masks the skin's natural glow

as water escapes too easily, leaving it

looking dehydrated and dry. 80 per

cent of facial ageing is caused by the

sun, so we need to prevent and repair.

We all want a radiant complexion,

but many women make the mistake

92 www.cosbeauty.com.au
---
Vitas

TOP

TIPS

Cleanse with the correct

formulation for your skin type

Exfoliate with ingredients

containing AHAs or BHAs

Use an active treatment cream as

advised by a skin expert

Moisturise with cream or lotion rich in

antioxidants and collagen

Protect your skin from damaging

UVA and UVB rays with

broad spectrum sunscreen

of not having a long term plan to

combat the ravages of sun, heat

and light.'

Vita believes simplicity is the key

to success when it comes to skincare.

'Invest in yourself and lift your skin

to new heights by developing good

habits, particularly after summer,' she

says. 'What you actually use on your

skin on a daily basis will pay off and

deliver results. A gentle, consistent

effort in the long run is proven to be

more effective than overkill.'

She also recommends using skin

actives that work on a cellular level

to strengthen and calm the skin's

immune system.

'We are defi nitely a nation guilty

of overdoing our cleansing and

exfoliating,' she states. 'I encourage

my clients to break old habits

and create new ones; to follow

professional advice regarding the

right skincare to minimise and repair

damage and maximise results.'

And, while recognising the

importance of sun protection in any

skincare plan, Vita stresses that we

cannot reduce our anti-ageing regimes

to just sunscreen.

'I always advise my clients to revisit

the old notion that sunscreen alone

is enough to prevent and repair sun

damage – it's not! Antioxidants in

skincare are essential, especially as

you age. Vitamins A, C, E and B3

(niacinamide) boost skin immunity,

reduce sensitivity and protect against

solar damage,' she says.

'Hyaluronic acid (HA) is a natural

component of the skin that seals in

moisture and makes the complexion

appear more hydrated,' she continues.

'As skin is damaged by the sun, HA

decreases and the skin loses the

ability to retain water. Concentrated

HA restores lost volume. Vitamin A

has also been proven to soften lines

because it thickens and rejuvenates

the skin and stimulates skin cells to

make healthy collagen and boost

natural moisturising factors.'

Ultimately, the fate of your skin is

in your hands as Vita explains, 'It's

all up to the individual to achieve

and maintain a youthful look by

incorporating a selection of antiageing

products into the regular daily

beauty routine.'

WHERE

TO GET IT

Contact Vita on

0414 990 973 or visit

www.vitatheskinwhisperer.com.au

www.cosbeauty.com.au 93
---
Lids By Design

Colorset

Primer

Pencil

flawless lids,

every time

The newly launched

colorset primer pencil

makes applying makeup

over Lids By Design

even easier.

94 www.cosbeauty.com.au
---
Enhancement

Lids By Design has recently

added another impressive

product to its line with the

new Colorset Jumbo Pencil Primer,

specially formulated to allow easy

application of makeup over the noninvasive

strips.

This luxurious cream-based formula

is not a typical primer. It works to

neutralise dark spots, veins and

redness so eye shadow colours adhere

more evenly, creating a seamless and

vibrant smudge-proof look.

The easy to use jumbo pencil allows

one-step application on the eyelids

and even the lips, fi lling fi ne lines and

enhancing colour longevity.

The formula involves no mineral

oils, allowing the strips to adhere

correctly to the lid. It also contains

moisturising benefi ts to the skin for

an optimal makeup base.

AN INSTANT

TEMPORARY

SOLUTION

Whether you're considering a

procedure or are just unhappy with

the appearance of your eyes, Lids

By Design is a solution like

nothing before.

Distributed in Australia by Bella

Aesthetics, Lids By Design fi lls a gap

in the market for instant, temporary

non-surgical eyelid lifting.

Queensland cosmetic physician

Dr Mary Dingley considers Lids By

Design a valuable tool for people who

don't want/can't afford eyelid surgery,

or those who want an idea of how

they might look should they decide to

have a procedure.

Before

After immediate application of Lids By Design

'They are useful for those people

who need more "eyelid show",

due to the excessive or loose skin

which is falling forward and giving

the impression of heavy lids.

For asymmetric lids, they can be

differentially placed or a different

size used to keep skin back and

give a more symmetric result,' says

Dr Dingley.

The medical-grade strips invisibly

lift hooded lids to present an

immediately younger and more

vibrant appearance. Designed for

both men and women, Lids By Design

is hypoallergenic, latex-free and can

be worn comfortably all day.

Due to the wearable technology,

the adhesive is breathable and

leaves no residue – it is soft,

comfortable, easy to use and blends

in with the skin.

To apply, eyelids must be clean

of any makeup or oils. Using the

specialised ContoursRX tweezers,

the strips are gently peeled off and

applied on the ideal spot on the lid,

over the natural crease. The strip is

then tapped down to set it in place

and held for a few seconds to ensure

it adheres. If necessary, strips can be

trimmed to the exact specifi cations.

Lids By Design strips are available

for different eyelid shapes and

needs, and come in a variety of sizes

to fi t just about any eye shape

and ethnicity.

Each strip is for one-time use and

can be removed using either the

specialised Lids By Design tweezers

or fi ngertips to gently peel off and

discard. CBM

Before

After immediate application of Lids By Design

NEW COLORSET

JUMBO PENCIL

PRIMER

• Pencil – protects primer from

prematurely drying out

• Precision tip – gives you more

control for better application

• Jumbo size – larger quantity

gives three times more primer

than others

• One step – provides easy

application without the need

for other tools

• No mineral oils – formulated

without mineral oils to work

with Lids By Design (oils and

adhesives don't mix)

• CocoGlycerides – an organic

derivative from coconuts

brings moisturising benefits to

the skin while preparing the

surface for optimal eye shadow

application.

WHERE

TO GET IT

Lids By Design is distributed

in Australia by Bella Aesthetics.

Visit www.bellaaesthetics.com.au

to purchase online or call

02 9398 2755. RRP $69.95 for

80 strips (40 days' wear).

www.cosbeauty.com.au 95
---
Feature

A year of

Global Festivals

to add to your

bucket list

96 www.cosbeauty.com.au
---
Feature

this issue We take a trip

around the globe to the

world's top festivals in all

their flamboyant colours

from January to June. next

issue we continue from July

to December.

Whether it's through camel racing, food fights

or music and dance, there's no better way to

understand a country than to take part in a

festival that proudly celebrates its individuality. We take

a look at some of the most colourful and vibrant festivals

around the world.

january

Harbin Ice

and Snow Festival

Destination Harbin, China

Dates December to February (officially the festival

opens 5 January)

Every winter, Zhãolín Park and Sun Island Park become

home to the most exquisite ice and snow sculptures

in the world. Ranging from huge recreations of iconic

buildings to animals and ancient legends, they're lit up

at night with coloured lights and lasers. Although it's a

chilly one, this exhibition is truly one of a kind and has a

lot to offer!

Bikaner Camel Festival

Destination Bikaner, India

Dates Varying dates in January (during the 10th month

of the Indian lunar calendar)

Held over two days, the Rajasthan city of Bikaner,

which is home to India's only camel breeding farm, pays

homage to their humped friends. There are camel races,

camel rides, camel tug-of-wars, a camel pageant, dancing

camels, competitions for the best decorated camel and

the best camel haircut, and even a camel beauty contest.

Carnevale of Venice

Destination Venice, Italy

Date 27 January – 13 February

The Venice Carnevale is the most internationally known

festival celebrated in Venice, Italy, as well as being one of

the oldest. Each year thousands of tourists flock to Venice

to see and take part in its magnificent carnival, filled

with a mass of masked party-goers, in a slightly surreal

re-invention of a great tradition of the city. Walking

around in fancy dress in this city's magical scenery means

taking part in a truly exceptional experience. This is

undoubtedly one of the world's most unique festivals.

www.cosbeauty.com.au 97
---
Feature

february

Chinese New Year

Destination Beijing, Shanghai

and Hong Kong

Dates February 15 – March 2

Filled with dragons, fireworks,

symbolic clothing, flowers, lanterns

and celebration, this is China's

most important and significant

day of the year. Also known as the

Spring Festival, Chinese New Year

celebrations traditionally run from

Chinese New Year's Eve, the last

day of the last month of the Chinese

calendar, to the Lantern Festival

on the 15th day of the first month,

making the festival the longest in the

Chinese calendar!

The Rio de Janeiro

Carnaval

Destination Rio de Janeiro, Brazil

Dates Held before Lent, it begins on

Friday and ends on Ash Wednesday

Dating back to 1823, the Carnaval in

Rio de Janeiro is a world renowned

festival. It is considered the biggest

carnival in the world with an amazing

two million people per day on the

streets. Every aspect of the parade is

filled with music, dancing, colourful

floats and adornments from numerous

samba schools. Packed with energy

and life, this is one to add to

the bucketlist.

98 www.cosbeauty.com.au
---
Feature

march

Sydney Gay &

Lesbian mardi Gras

Destination Oxford Street, Sydney, Australia

Date Beginning in February and ending in early March

Starting in 1978 as a civil rights march, Sydney Gay

& Lesbian Mardi Gras has become one of Australia's

proudest celebrations of diversity, attended by half

a million locals and thousands of visitors each year.

The month is filled with an exciting line-up of sports,

theatre, comedy, cabaret, film, literature and parties,

ending with a sparkling and colourful parade along

Oxford Street. From the outrageously adorned to the

sassy, satirical and serious, the joyous parade is a fabulous

festivity of love.

Holi

Destination India

Date March 12

Known as the festival of colours, Holi is a spring festival

and an ancient Hindu religious festival. It starts with a

Holika bonfire on the night before Holi where people

gather, sing and dance. The next morning is a free-forall

carnival of colours, where everyone colours each

other with dry powder and colored water, with some

carrying water guns and coloured water-filled balloons

for their water fight. Groups carry drums and musical

instruments, go from place to place, all while singing

and dancing.

St Patrick's Day

Destination Ireland

Date March 17

St Patrick's Day is a cultural and religious holiday

named after Saint Patrick, the patron saint of Ireland.

The day commemorates Saint Patrick and the arrival

of Christianity in Ireland, as well as celebrating the

heritage and culture of the Irish in general. The

celebrations usually involve public parades and festivals,

céilithe (Irish traditional music sessions) and the

wearing of green attire or shamrocks. Christians also

attend church services and the Lenten restrictions on

eating and drinking alcohol are lifted for the day.

www.cosbeauty.com.au 99
---
Feature

100 www.cosbeauty.com.au
---
Feature

april

New Orleans Jazz

and Heritage

Festival

Destination Fair Grounds,

New Orleans, USA

Date Last weekend of April

and first weekend of May

Join the wild, feel-good musical

party that is the New Orleans Jazz &

Heritage Festival. A 10-day cultural

feast, it began as a celebration of

the city's 250th birthday in 1968,

attracting musicians such as Louis

Armstrong, Duke Ellington and

Dave Brubeck. This year the line-up

features a string of stellar acts such as

Aerosmith, Sting, Jimmy Buffett and

more. The Fair Grounds are open

from 11am to 7pm, but the festival

continues well into the night in bars

and clubs throughout the city.

Songkran Water

Festival

Destination Thailand

Date April 13 – 16

Falling on some of the hottest days

in Thailand, people celebrate the

Thai New Year Festival by throwing

water on each other, using water

guns, buckets, hoses – whatever they

can get their hands on. Sometimes

chalk or menthol (the latter causes a

cooling sensation) is mixed into the

water to create a paste, which people

smear on each other's faces for good

fortune. Elephants also join in on the

fun and can be seen walking around

and squirting people!

www.cosbeauty.com.au 101
---
Feature

may

Cannes Film

Festival

Destination Cannes, France

Date May 8 – 19

By the shore of the French Riviera,

cinema is celebrated, not only

rewarding the best of the year but

also paying tribute to the men and

women who have transformed the

way of making and watching movies.

While it may be an invitation-only

event, you can get up close to the red

carpet action and catch a glimpse of

the A-listers in town for the famous

Cannes Film Festival. For a double

dose of glamour, you could stick

around for Monaco's Grand Prix.

june

White Nights

Festival

Destination St Petersburg, Russia

Date Late May until mid-June

The White Nights Festival is an

annual international arts festival

during the season of the midnight

sun. The festival showcases a series

of classical ballet, opera and music

events and includes performances by

Russian dancers, singers, musicians

and actors, as well as famous

international guest stars.

The White Festival ends with the

Scarlet Sails celebration, the largest

public event in Russia with the

annual estimated attendance about

one million people. CBM

102 www.cosbeauty.com.au
---
Feature

www.cosbeauty.com.au 103
---
1.

Ed's

Faves

THE LUST-WORTHY PRODUCTS WE'RE

CURRENTLY COVETING.

Ed's

2.

2.

104 www.cosbeauty.com.au
---
B eauty

1. MAC #129 Brush, $70. Beauty lovers

rejoice! We've found the perfect soft

fibre brush for powder and blush

application. This essential tool has been

hand-sculpted by MAC experts.

4.

2. Burberry Liquid Lip Velvet, $50. With

14 dreamy colours to choose from, this

whipped liquid lipstick will have you

party ready with a single swipe.

3. Dior Diorshow Mascara, $56.

Designed to replicate the effect of lash

extensions used by runway makeup

artists, this showstopping mascara

nourishes each lash as it's applied.

3.

5.

4. Stila Magnificent Metals Glitter &

Glow Liquid Eye Shadow, $35. This one

slick wonder is the ultimate liquid eye

shadow. Worn alone with winged liner,

its staying power will outlast the most

adventurous night out.

6.

5. Percy & Reed Perfectly Perfecting

Wonder Balm, $38. Beneath the

prize worthy packaging is a moisture

boosting leave-in balm that will have

your locks ready to battle the humidity.

7.

6. The Balm TimeBalm Primer, $34.95.

A vitamin rich primer that really can

be worn alone or with makeup. It

improves skin texture and reduces the

appearance of pores.

9.

8.

7. Nuxe Huile Prodigieuse Multi-

Purpose Dry Oil, $42.99. This nourishing

product is suitable for the face, hair and

body. Its subtle scent and light feel add

a touch of luxury to the everyday.

8. MAC Prep + Prime Fix+, $32.

MAC's legendary Fix+ spray just got

better! In addition to the original,

this multipurpose hydrating mist is

now available in Rose, Lavender and

Coconut scented varieties.

9. Benefit High Beam, $45. This satin

pink liquid highlighter is a real all

rounder. Apply to the high points of the

face for a desirable dewy glow.

www.cosbeauty.com.au 105
---
B eauty

10. DNA Renewal DNA Eye Balm, $129. A

high-impact eye balm to help reverse and delay

signs of ageing in the delicate under eye area.

10.

11.

11. Dermalogica Precleanse Balm, $65.

Dermalogica has found another winner with

this deeply cleansing balm-to-oil product. It

melts away makeup with ease, leaving the skin

hydrated and refreshed.

12. Silver Bullet Easycurl Curling Iron, $99.95.

This ergonomically designed curler is unlike

anything we've seen before. Available in three

barrel sizes allowing for perfect curl creation.

13. Ella Baché Great SPF 50+ Bodysaver

Lotion, $49. Boost the skin's protective barrier

while preventing moisture loss with this

antioxidant rich sun protection essential.

12.

14. O Cosmedics O-Sonic Cleansing Brush,

$99. This rechargeable cleansing brush uses

sonic pulsations and silicone fibre touch points

to exfoliate the skin, massage the face and

lessen the appearance of fine lines.

13.

15. L'Occitane Divine Youth Oil, $132.

Containing 10 per cent more Immortelle oil

than its predecessor, this product delivers a host

of anti-ageing benefits as it melts into the skin.

16. Enbacci Age Revitalising Eye Defence, $88.

'An apple a day' takes on a whole new meaning

with this innovative product as it employs apple

stem cell technology to moisturise the delicate

under eye area.

17. Teoxane RHA Serum, $165. Revive your

complexion with this powerful restructuring

complex. Capable of reactivating the skin's

natural regenerative processes, your face will

appear brighter after just two weeks of use.

14.

15.

18. Peter Thomas Roth Rose Stem Cell Bio-

Repair Precious Cream, $73. An entire bouquet

of roses is the secret to this product's success!

It softens, plumps and firms the skin, while

illuminating the more mature complexion.

18.

19. Olay Eyes Deep Hydrating Eye Gel,

$48.99. Wake up tired looking eyes with this

supercharged eye gel. Featuring cucumber

extract for reduced under eye puffiness.

16.

17.

19.

106 www.cosbeauty.com.au
---
A 'gym' that will actually

tell you 70% of your result

is nutrition...

LET US SHOW

YOU HOW TO

EAT FOR LIFE

#thevisiondifference

Double Bay Studio

Level 1, 373 New South Head Road

ph: 9328 0677

visionpersonaltraining.com
---
www.synergieskin.com