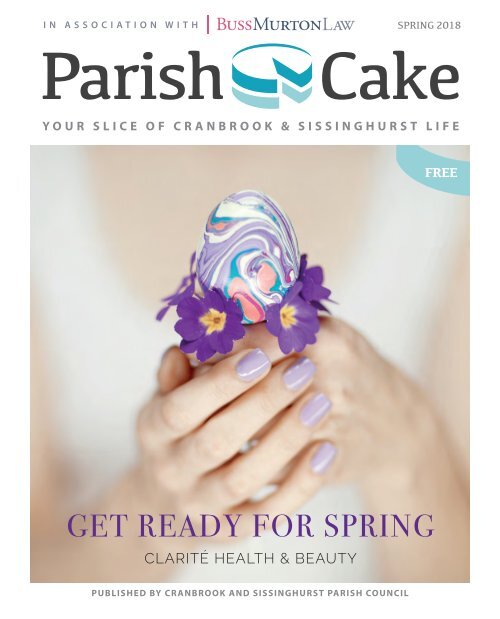 Parish Cake - Spring 2018
Your slice of Cranbrook and Sissinghurst life - published by Cranbrook and Sissinghurst Parish Council
Your slice of Cranbrook and Sissinghurst life - published by Cranbrook and Sissinghurst Parish Council
SHOW MORE
SHOW LESS
Create successful ePaper yourself
Turn your PDF publications into a flip-book with our unique Google optimized e-Paper software.
IN ASSOCIATION WITH

Parish

SPRING 2018

Cake

YOUR SLICE OF CRANBROOK & SISSINGHURST LIFE

FREE

GET READY FOR SPRING

CLARITÉ HEALTH & BEAUTY

PUBLISHED BY CRANBROOK AND SISSINGHURST PARISH COUNCIL
---
Conservatories | Solid Replacement Roofs | Orangeries | Windows & Doors | Flood Defense Doors

Laterns / Rubber Roofs | All Other Subsidiary Works Available | Standard Size & Made To Measure

Replacement Conservatory Roofs

Aluminium and Upvc Bi Folds

Windows | Doors

Soffit | Fascia | Gutters

Drives | Patios | Turfing | Fencing

Extentions, New Builds and Renovations.

THE MONTH'S CONSERVATORY DEALS

Edwardian

Conservatory

3200mm X 3200mm

(10.25m 2 Approx.)

EXTERNAL DIMENSIONS

ALL IN PRICE

SUPPLIED & INSTALLED

£8450.00 INC

Lean To

Conservatory

2400mm X 2400mm

(5.75m2 Approx.)

EXTERNAL DIMENSIONS

ALL IN PRICE

SUPPLIED & INSTALLED

£4250.00 INC

Tel: 07837 561048

info@beautifulhomesuk.co.uk www.beautifulhomesuk.co.uk
---
Parish Cake

YOUR SLICE OF CRANBROOK & SISSINGHURST LIFE

EDITOR:

Cllr. Brian Clifford

brian@parishcake.co.uk

FEATURES EDITOR & CHIEF

FEATURES WRITER:

Cllr. Trisha Fermor

trisha@parishcake.co.uk

ADVERTISING SALES:

Nemone Goodman

nemone@parishcake.co.uk

Cllr. Nancy Warne

nancy@parishcake.co.uk

BUSINESS DEVELOPMENT:

Cllr. Graham Holmes

graham@parishcake.co.uk

PUBLISHED BY:

Cranbrook and Sissinghurst Parish Council

01580 713112

www.cranbrookandsissinghurstpc.co.uk

PRODUCED BY:

Tally Wade

Coffee Shop Media Ltd

01580 848555

www.coffeeshopmedia.com

welcome

Keep the Letters Coming!

IT'S GREAT news that Parish Cake readers

in Cranbrook and Sissinghurst are taking to

their pens or computers to write letters for

publication. As you will see when you reach

pages 8-9 there is a really mixed bag

of views and ideas. Keep them

coming!

The more Parish Cake

becomes part of the

community, stories about

local people and club

activities have made it

possible for this edition to

have eight extra pages. We

hope you will enjoy widening

your knowledge of what's going on in

Cranbrook and Sissinghurst – it has certainly

opened my eyes!

One of the perks of being an editor can lead

to a most enjoyable afternoon out at Cranbrook

Rugby Club. The long-established solicitors in

Cranbrook, Buss Murton - who also sponsor

Cranbrook RFC – entertained clients at the club

recently to watch the first team victorious – 36-

30 – against Royal Bank of Scotland. The

firsts simply do not hold back!

I urge everyone to visit the club

on a Saturday afternoon for really

fast and furious rugby and take a

chance to watch the ladies' team

who are doing really well.

Please enjoy these 52 pages –

and do write to us with your views

and, maybe, story ideas.

Brian Clifford - Editor

FRONT COVER:

Our friendly and professional team

at Clarité invite you to our beautiful

Grade 2 listed salon situated in

the heart of Cranbrook. We offer a

comprehensive range of treatments

individually tailored to your needs,

using renowned product brands

including Dermalogica, CND Shellac

Nails, Sienna X, Nouveau Lashes, and

most recently we have introduced

Guinot to our range. This brand new

revolutionary treatment provides

an alternative to aesthetic surgery.

We can't fight against time, but we

can reduce the effects of time on

the skin!

01580 714991 / www.clarite.co.uk

Whilst every effort is made

to ensure accuracy, the

Cranbrook and Sissinghurst

Parish Council, editor and

authors cannot be held

responsible for published

errors. The views or opinions expressed

do not necessarily reflect views of the

Cranbrook and Sissinghurst Parish Council.

Inclusion of any advertising material does

not constitute a guarantee or endorsement

of any products or services or claims made.

PHOTO BY GETTY IMAGES

contents

REGULARS

4 Directory

5 What's On

7 Chairman's Views

8 Letters

10 Parish News

14 Club News

19 Events

48 Parish Council Round-up

FEATURES

4 NDP Update – the latest

from Cllr. Nancy Warne

21 New Roundabout –

accessible for all

23 Civic Spend – should

the borough spend £77

million?

24 Bargain Hunt – TV

ISSUE 4 SPRING 2018

antiques show comes to

Cranbrook

27 Bob Sharpe – the

detectorist is on the hunt

again!

29 Eating Out – where to

eat in Cranbrook with a

special diet

31 Sandra Marsh – on

becoming a priest

33 Kitchen & Garden –

taking care of wildlife, and

monkfish ragout

35 Dying on its Feet? –

Cranbrook's traders

discuss the town's future

37 What it Takes – the role of

a school governor

39 The Good Old Days –

Ivor Hatcher goes down

memory lane

41 Queen Bee – a chat with

Helen Faloon on her

passion for bees

43 Hop Pickers Line –

bringing the old route

back to life

45 Business News – movers

and shakers in the parish

47 A Word from our

Sponsors – legal Q&As

50 Local Legend – Cranbrook

vet John Sauvage

Parish Cake • Spring 2018 3
---
through

the lens

Some wonderful images from around the parish

captured by Cranbrook photographer

Fraser Allen, fraserallenphotography.co.uk

directory

Cranbrook and Sissinghurst

Parish Council

The Old Fire Station

Stone Street, Cranbrook

KENT TN17 3HF

Clerk – Mrs. L. Ham

Deputy Clerk – Mrs. L. Larkin

01580 713112 / clerk@

cranbrookandsissinghurstpc.co.uk

BOROUGH & COUNTY

COUNCILS

Tunbridge Wells Borough Council

01892 526121

www.tunbridgewells.gov.uk

Kent County Council

03000 41 41 41

www.kent.gov.uk

USEFUL NUMBERS

UTILITIES

Electricity: 0800 727282 (24 hrs)

Gas: 0800 111 999

Water: South East Water (drinking

water) 0800 0283399, Southern

Water (waste water) 0800 820999 (24

hrs), Emergency leak 0800 0283399,

Floodline 0845 9881188 (24 hrs)

CRIME

Non-Emergency Police: 101

Crime Stoppers: 0800 555111

KCC Community Warden: Adam

Osbourn 07813 695741

PCSO: Lee Jules 07772 226045

Neighbourhood Watch Area

Co-ordinator: 01622 604395

ROOMS & HALLS TO HIRE

St George's Institute, Sissinghurst:

Ursula O'Connor 01580 713938

The Parish Room, Sissinghurst: Sue

Crowe 01580 712901

ts.crowe@sky.com

The Vestry Hall, Council Chamber and

Addison VC Room, Cranbrook:

01580 713112 (10am-12pm weekdays).

A full list of over 30 venues for hire in the

parish is available from the parish office

USEFUL CONTACTS

CHURCHES

Congregational Church,

Cranbrook: 01580 388070

St. Dunstan's, Cranbrook:

01580 715861

St. Theodore's RC, Cranbrook:

01580 713364

Strict Baptist Church, Cranbrook:

01580 713212

Trinity Church, Sissinghurst:

01580 852275

Vine Church, Cranbrook:

01580 712505

SCHOOLS AND PRE SCHOOLS

Colliers Green CE Primary:

01580 211335

Cranbrook CE Primary:

01580 713249

Cranbrook Children's Centre:

03000 41 10 35

Cranbrook School: 01580 711800

Dulwich Preparatory School:

01580 712179

High Weald Academy:

01580 712754

Rainbow Pre School, Cranbrook:

01580 715570

Sissinghurst CE Primary:

01580 713895

Woodpeckers Pre School, Cranbrook:

01580 720195

DOCTORS

Jockey Lane Surgery, Cranbrook:

01580 713032

Old School Surgery, Cranbrook: 01580

712476

Orchard End Surgery, Cranbrook:

01580 713622

DEFIBRILLATORS

Cranbrook Medical Centre, Cranbrook

Cricket Club, Sissinghurst

Sissinghurst Castle Garden,

Sissinghurst

St. George's Institute, Sissinghurst

Tennis Club, Sissinghurst

The George Hotel, Cranbrook

The Milkhouse, Sissinghurst

4 Parish Cake • Spring 2018
---
what'son

The

Parish Cake guide to events

in Cranbrook and Sissinghurst

REGULAR EVENTS

• The Cranbrook Union Windmill is

open on Saturday 2.30-5pm from 24

March. Also open on Wednesdays and

Sundays in the summer and every bank

holiday

• St. Dunstan's Church Tower is open on

Saturdays 11am-1pm from 31 March

for fabulous views over the town

• Cranbrook Museum opens on 3 April,

then Tuesdays and Saturdays until 27

October (and Sunday afternoons in

July)

• Farmers' Market every fourth Saturday

9am-12pm, Vestry Hall, Cranbrook

• Messy Church Children's and Parent

Group, every second Friday each

month – 3.30-5pm

• Tempo – join up beat singing on

Saturday mornings at the Music Centre,

Cranbrook School, 9.30-11am

• The Children's Centre, Cranbrook,

offers free sessions for parents and

children throughout the week. Call

03000 411035 for a timetable

MARCH

THURSDAY 8

Full Parish Council Meeting,

Council Chamber, 7.30pm –

everyone welcome

SATURDAY 10

Canterbury Cathedral Choir

concert, Trinity Church,

Sissinghurst, 7pm. Tickets are

£12.50 from the village stores

SUNDAY 11

Mothering Sunday Service,

St Dunstan's Church, with

distribution of flowers to

those who 'mother us'

SATURDAY 17

Box2Beat Ovarian Cancer

fund raising, Weald Sports

Centre, 07734 6520589

SATURDAY 24

Sissinghurst Flower Show,

Sissinghurst COE Primary

School Hall, 2.30pm

SUNDAY 25

Chamber Choir (music

over the last 25 years), St.

Dunstan's, Cranbrook, 6pm

WEDNESDAY 28

Kent High Weald Project,

Crane Valley, 10am

SATURDAY 31

Easter Eve Darkness to Light

Service, St. Dunstan's, 8.30pm

APRIL

SATURDAY 7

Cranbrook In Bloom plant

sale, High Street, Cranbrook,

9am–12 noon

THURSDAY 12

Full Parish Council Meeting,

Council Chamber, 7.30pm –

everyone welcome

SATURDAY 14

CODS present 'The Real

Inspector Hound' by Tom

Stoppard, Queens Hall

Theatre, Cranbrook, 8pm

SUNDAY 15

St. Dunstan's Church Annual

Meeting, 6.30pm

WEDNESDAY 18

The Annual Parish Meeting,

Parish Room, Sissinghurst,

7.30pm - everyone welcome

SUNDAY 22

Book Swap, George Hotel,

Cranbrook, 5-7pm

WEDNESDAY 25

Talk from Old Cranbrookian

Tony Blaker, Assistant Chief

Constable Central Operations

at Kent Police, Cranbrook

School, 7.30pm

SATURDAY 28

Choral Society Spring

Concert, Handel's Alexander

Feast (English Version), St.

Dunstan's, Cranbrook

MAY

SATURDAY 12

Cranbrook Town Band, St.

Dunstan's, Cranbrook, 7pm

SATURDAY 12

Mugenkyo Talko Drummers,

Queen's Theatre, 7.30pm,

01580 711856

THURSDAY 16

Full Parish Council Meeting,

Council Chamber, 7.30pm –

everyone welcome

SATURDAY 26

Folk-rock band Fairport

Convention, St. Dunstan's,

Cranbrook

SUNDAY 27

Nuts In May Cranbrook Street

Festival, 10am-5pm

JUNE

SUNDAY 17

Cranbrook Garden Safari

Programme, 10.30am-5pm,

entry £5

FRIDAY 22 - MONDAY 25

Flower Festival St. Dunstan's

Church with art and music

While every effort is made

to ensure accuracy, dates

and times may change.

If you are organising an

event in the parish why

not drop us a line and we

might be able to include

you in the listings too –

editorial@parishcake.co.uk

Neighbourhood Development Plan Update

THANK YOU to everyone who

attended the public exhibitions in

November and December, especially

those who filled in postcard responses

to the draft policy headings that

were displayed, or gave their opinion

on where housing and business

development should happen (or not)

in the parish.

More than 250 people attended

the events at St. George's Institute,

Sissinghurst, and the Vestry Hall,

Cranbrook. The exhibition then

moved to the Cranbrook Library. We

had more than 80 responses to the

displayed material which outlined

the policy areas we are developing. It

seems the community feels strongly

about affordable housing, adequate

infrastructure to support

new development, the

need to protect heritage

assets, such as the

Providence Chapel,

the importance of

keeping green spaces

green and developing

joined-up cycle paths

and footpaths.

There were some very strong

feelings about where new housing

should and should not go. The parish

council has received support in

undertaking the site assessments

by an independent assessor funded

by central government. The task

involves looking closely at the areas

of land that had been submitted in the

ABOVE: Cllr. Nancy

Warne, chairman,

NDP Steering

Group

borough's 'call for sites' and deciding

which could be suitable in principal

for development of either housing or

business premises. The task is nearly

complete and the results will be ready

in the spring.

If you have missed any of the events

or are interested in viewing the

evidence gathered so far, please

do visit the website at www.

cranbrookandsissinghurstndp.co.uk

and click on the evidence tab.

Parish Cake • Spring 2018 5
---
APPROVED

APP

APPROVED

APPROVED

Build confidence.

Express individuality.

We look to inspire each

child, develop and celebrate

their interests.

Come and see the difference.

dulwichprepcranbrook.org

01580 712179

Cran_Cake_Parish_Mag.indd 1 18/10/2017 09:25

6 Parish Cake • Spring 2018
---
What Does the Parish Council Do?

HOW OFTEN do we hear the

cry "they must do something",

but who are "they?"

We are often asked, what

does the parish council do and

what are we paying for?

We support all initiatives

to promote the prosperity

of the town. Sensitive to

the potentially conflicting

interests of historic

preservation and commercial

development, the council

plays a pivotal role in defining

the policies that affect the

quality of life in the town and

Sissinghurst.

The responsibilities

are many and varied and

include the management

and maintenance of St.

Dunstan's churchyard, the

burial grounds at Golford

and Sissinghurst, the war

memorials, recreation

grounds, the Crane Valley,

allotments, litter bins, public

seats, street lighting, and the

upkeep of the Vestry Hall.

We make strong

representation to Tunbridge

Wells Borough Council

(TWBC) on planning

applications and equally

respond to consultations

issued by TWBC and Kent

County Council (KCC) for

example on the Local Plan.

Parish councillors are

all volunteers whose big

advantage is that they live

and work in the parish.

With their knowledge and

dedication they are fully

committed to the well-being

of the community. Many of

them have lived in the area

for 30 years or more and the

aim of

the parish council is to

improve the quality of

life of our parishioners.

We act as trustees on

three charities, the

Tomlin Murton rugby

field, the Ball Field

and the Sissinghurst

Jubilee Field, as well

as being sole trustees

of the Cranbrook War

Memorial.

What we are not

responsible for are highways,

including potholes, street

parking, refuse collection and

some street lighting.

Where does the money

go? A big slice goes on the

running of the parish office

and the vital work of the

clerks. Contracts to keep

parts of the town and village

tidy and well as our war

memorials, are also a major

spend. Another part of the

budget is put aside for the

maintenance of the car parks.

Grants are also given to

voluntary organisations and

we support such initiatives as

Cranbrook in Bloom and the

British Legion Remembrance

service

Christmas lights are

organised by the town's

business association which

is actively relaunching. The

parish council also has a

representative on the tourism

group.

Looking to the future the

Neighbourhood Development

Plan group is working very

hard to ensure that all

new housing is placed in

acceptable sites and is of

good quality and mixture of

properties. New buildings

TRISHA FERMOR

more

info

out chairman's & about

view

must provide opportunities

for businesses to expand.

Spring is just around

the corner and with your

help we will achieve great

things in 2018.

But remember, the

work of the parish

council is just one slice

of life in Cranbrook and

Sissinghurst.

Cllr. Bridget Veitch

For further information on the parish

council please visit

www.cranbrookandsissinghurstpc.co.uk

(under the About menu item)

EXTERIOR AND INTERIOR

DECORATING AND PAINTING

inc. outdoor and indoor spraying

High-end finish - weatherboard,

pebble dash, fencing, vaulted

ceilings WALLPAPERING

Based in Northiam,

serving the A21 corridor of

East Sussex and West Kent

Visit our website for further details

www.a21decorators.com

07973 814753

Parish Cake • Spring 2018 7
---
Letters

www.bussmurton.co.uk | T: 01580 712 215

Star Letter

Crane Conservation

Good to see on BBC TV's

Countryfile programme that

cranes have made a comeback

on the Somerset levels thanks to

bird-loving conservationists.

Perhaps with some judicious landscaping of the

Crane Valley, to provide the right watery habitat,

we could persuade some of their offspring to fly to

Cranbrook where they once thrived? In hope.

Jane Roberts by email

Royal Cranbrook

Star Letter

The author will receive

a voucher for a hot drink

and slice of cake from

Cranbrook café Cocolicious!

www.cocolicious.co.uk

With all this talk of Brexit I think the time has come for the

town of Cranbrook (please note town not village) to assert

its independence. We, the burgers of the said town, deserve

a mayor and who knows, a lord mayor. We already have St.

Dunstan's, the Cathedral of the Weald; the windmill, the

tallest working smock mill in Britain; a museum to rival the

British Museum; many clubs and societies, and a famous

rugby club.

Our history predates Tunbridge Wells; perhaps we should be

Royal Cranbrook, after all Queen Lizzie I had a drink outside

the George, Edward I granted us a couple of market charters,

and Montgomery did battle planning in the George Hotel.

There are many more claims to fame that Cranbrook has, so

why not come revolting with me?

The Village Eccentric, or should it be City Eccentric!

Where are

Cranbrook's

Houses?

In the interests of

equity and good

planning practice I

am curious to know

why Cranbrook

has yet to take

any substantial

housing

development

in this current housing bonanza

which appears to be upon us all. One only has to look

at surrounding towns and villages to see that they are

building their fair share. Indeed, lowly Sissinghurst has

currently a large, some would say completely intrusive,

development of 65 houses under construction and in

the last year has seen the building of Church Mews and

Cobnut Close, with apparently at least three other sites

already identified. Overstretched services, yet more

congestion and pollution are indeed something to look

forward to.

So Cranbrook, take the pressure off and get building the

sort of houses that local people want.

Linda Clifford (former chairman of Cranbrook &

Sissinghurst Parish Council)

Reply from the Cranbrook & Sissinghurst Parish

Council Chairman

Yes, on the face of it, it does look unfair that Sissinghurst

is building 60+ houses in Common Road and Cranbrook is

yet to build any. However there are several large sites for

proposed and agreed housing in Cranbrook totalling nearly

300 dwellings. One of these (for 180 homes) is soon to go to

the Tunbridge Wells Planning Committee. The applicant and

the borough council have been trying to address all concerns,

and we have no doubt that a start will be made on the

construction in the not too distant future.

The recent call for sites has resulted in 40 sites being

suggested to Tunbridge Wells for consideration for building.

The Neighbourhood Development Plan Steering Group, with

professional support, has also reviewed these sites and their

comments were mindful of the pressures on the Sissinghurst

infrastructure.

Cllr. Bridget Veitch

8 Parish Cake • Spring 2018
---
We have been providing expert and

trusted legal advice to individuals and

businesses for generations.

out & about

Something to Think About?

During this Christmas break I was invited

to visit a church, but as I discovered no

ordinary church! I wanted to share my

experience with you all, because it was one

of the most inspiring spaces I have ever

encountered. A church that is open every

day and was so busy and happy it was heart

warming. Friends invited me to the church

of St. James in West Hampstead.

Incredible. Facing falling attendance

numbers, struggling to fund the fabric of

the building and keen to place the church

back at the heart of the community, a brave

decision was made to remove the pews

and turn it into a versatile space. It holds

all of its services, but so much more and

the people I spoke with really feel that the

church itself has brought a new lease of life

to the community and refocused peoples'

minds on the whole meaning of goodwill.

It was uplifting and an ingenious use of

the space with people from all walks of life,

young and old, mingling. The people and

the church were supporting one another,

and those that work and volunteer there

are all passionate about their involvement.

I left tingling all over. It was an

experience I shall never forget.

Emma Wood

Please send your

letters to editorial@parishcake.

co.uk or by post to Parish Cake,

Cranbrook and Sissinghurst Parish Council,

The Old Fire Station, Stone Street,

Cranbrook, TN17 3HF. Please note, letters

may be published in a shortened form at

the discretion of the editor.

Cranbrook 10K & 5K

Sunday 15th July

Celebrating its 5th Year!

Races start at 10.30am -

Kids races from 10am

FUN

for all the

family

LOCATION: High Weald Academy, Angley Road

Sign up online or on the day.

Premier Property Maintenance

Painting Houses Inside & Out Since 1983

• Weatherboard a Speciality

• Windows, Fascias, Roof and Gutters Repaired

PAINTWORK THAT LASTS

References Fully Insured

Victor Kellett - 01580 240409 / 07905 741416

www.CranbrookPropertyMaintenance.co.uk

www.sportingeventsuk.com

Parish Cake • Spring 2018 9
---
newsbites

News

and views from

Cranbrook and Sissinghurst

IN BRIEF

30 HALLS TO HIRE

IN THE PARISH

Did you know we have over 30 venues/

halls for hire within the parish? The full

list is available from the Parish Council

Offices, The Old Fire Station, Stone

Street, Cranbrook, TN17 3HF. Pop in,

call or email (01580 713112 /clerk@

cranbrookandsissinghurstpc.co.uk). The

list contains contact details of venue

administrators, approximate capacity, hire

costs, facilities, restrictions and conditions

of use.

HOUSING REGISTER

Cranbrook and Sissinghurst Parish Council

has a local-connection housing register.

If you would like to add your name or

find out if you are you are eligible to join

please contact the parish office on 01580

713112 or pop in and see us at the Weald

Information Centre.

A CHANCE TO WIN £1,000!

ST. DUNSTAN'S church is in line to bring in

a much-needed £9,000 a year with its new

100 Club competition.

Set up in January, it was hoped that 300

people will sign up, each paying £5 a month,

and bringing in a total of £18,000 a year. Half

of this would go to St. Dunstan's and the

remainder would be presented throughout

the year in prizes, which include three major

pots of £1,000.

The vicar, the Rev Ann Pollington

said: "The money that would come to

St. Dunstan's would enable us to keep

financially afloat." TF

Anyone interested in signing up can

contact email the church office at office@

stdunstanschurch.org.uk

BOX2BEAT

OVARIAN

CANCER

EVEN PRINCE Harry reckons a bit of

boxing is a great way of getting rid

of pent up aggression or stress so

why not try it out?

This is the view of Boxathon

ABOVE: Boxathon for children at Weald Sports Centre

devotee Nic Smith who has run

sessions to help people suffering from

stress, depression and other mental health issues.

Donning a pair of boxing gloves to face an opponent similarly attired, the new

fitness sport can be followed by children or adults.

Nic, who runs classes on Tuesdays evenings at the Weald Sports Centre,

Cranbrook, said: "Boxercise combines boxing and exercise in a great fun, stressbusting

activity to suit everyone of all fitness levels."

As well as running the weekly classes, Nic will be organising the yearly

fundraising event, Box2Beat Ovarian Cancer. Lasting three hours it will take place

at the centre on Saturday 17 March at 9am. TF

For further information call Nic on 07734 652058.

A NEW VOICE FOR SMALL BUSINESSES

SINCE THE relaunch of the Cranbrook

Business Association (CBA) in

December, the 2018 agenda is packed

full of training sessions and community

events aimed at supporting local

traders.

So how can the CBA help your

business? A wealth of untapped talent

among the town's independent business

owners joining together to share their

skills will lead to a thriving community.

The CBA is committed to creating

sessions on a variety of topics including

first aid, employment law, data

regulations and cyber security among

many others.

The CBA will allow smaller businesses

to have their voices heard by sharing

products, services and events with a

wider audience.

It is also committed to rekindling

the community spirit as e-commerce

continues to grow and High

Street traders often feel isolated.

Communicating can also be done via

a dedicated Facebook page as well as

Twitter. A new-look website will be

updated regularly with events, news and

member details.

The people at the helm are chair

Karlene Rivers, treasurer Andy Nield

and secretary Hazel Broadley.

To celebrate the relaunch, a halfprice

membership for just £30

is being offered for 2018. www.

cranbrookbusinessassociation.co.uk

10 Parish Cake • Spring 2018
---
Exciting New Plan for Children

WHEN CRANBROOK Museum

and the Union Windmill reopen

in April, children will be able to

join the countywide Wheels of

Time scheme which encourages

them, with their families, to

visit 33 heritage sites across

Kent.

Youngsters will receive a

badge which they can pin

to a lanyard, with special

recognition being given to

those who visit multiple sites

– bronze for 10 sites, silver for

20, and gold for a visit to every

site.

The scheme is completely

free and hopefully, once

parents, children and

grandchildren get the bug, they

will want to visit some of the

other intriguing heritage sites.

For further details see www.

wheelsoftime.uk. In due

course the scheme will include

information our own websites.

As an addition to this,

both the Museum and

the Windmill will become

accredited Learning

Destinations for The Children's

University, another free

initiative to inspire children

from five to 14. See www.

kentchildrensuniversity.

co.uk or contact education@

cranbrookmuseum.org and

watch out for further

information for the 2018

season. Sue Huxley

REPORT CRIMES ONLINE

KENT POLICE is running a trial where the public can report

crimes and other incidents directly online.

The idea was set up late last year and people can also use

this medium to notify police of a non-injury road crash.

A spokesperson said: "We are promoting both as a testpilot

at this stage. The overall aim is to provide another

choice for how the public can report crime or incidents as

well as try to reduce the number of people calling 101 on

non-urgent issues that could easily be dealt with through

digital contact, which increasingly a lot of people prefer and

have asked us to provide." TF

Visit www.kent.police.uk for more and to use the service.

n Sissinghurst church warden Tim Heath and the Bishop of Dover the

Right Reverend Trevor Willmott)

Former Villagers Live

on as Rooms Blessed

FOLLOWING A £98,000 restoration, two rooms at the former

Sissinghurst Primary School were unveiled by the Right

Reverend Trevor Willmott, Bishop of Dover, in January.

Dedicated to the late John Martin and Margaret Denton

the bright and airy rooms are available to hire. The first

organisation to use them was the Messy Church that afternoon.

Funds for the extensive work were donated by many people

including the families of Mrs Denton and Mr Martin, the Friends

of Sissinghurst Church and villagers.

The unveiling of the rooms took place after the communion

service which was taken by Bishop Trevor who gave the sermon.

Local boy Fergus McKie, a chorister at Canterbury Cathedral,

sang I cannot tell why He, whom angels worship, to the tune of

the Londonderry Air. TF

We are a warm, friendly salon in

Benenden offering a range of luxury

nail, brow and lash treatments.Our

team are passionate about providing

fabulous natural treatments and the

highest levels of customer service.

Feel free to pop in for a consultation or visit our website for our full

treatment menu and to book online. We very much look forward to

welcoming you to our house of luxury nails & brows soon.

Maison Manicure

The Beauty Box, The Street, Benenden TN17 4DB

Tel: 01580 388190 Email: Nails@Maisonmanicure.co.uk

www.maisonmanicure.co.uk

Raising money for local charities

This year's event:

CANCELLED

Parish Cake • Spring 2018 11
---
news

Planning Go-Ahead for Academy Build

AFTER BEING given the green light to

bring the school buildings into the 21st

century, the construction work can be

followed on Facebook and Twitter.

There was excitement at the school when

Tunbridge Wells Borough Council gave the

green light for a new building as part of a

£10million share with other schools.

Nicola Taylor, co-principal, said: "The

significant investment being made in our

academy will mean that students will have

access to a new learning resource centre,

drama studio and suite of music classrooms

and practise spaces."

Other facilities include three new art

rooms, a new dining room as well as

specialist science laboratories. English,

maths, humanities and modern foreign

languages will also be located in the new

building.

Mrs Taylor said it was fortunate that

temporary accommodation would not

be needed while work was being done as

demolition of the old buildings would be

the final phase of the project.

Trisha Fermor

CRANBROOK

FAMILY FUN DAY

CANCELLED

IT WAS with deep regret that

the Cranbrook Family Fun Day

committee announced in January the

cancellation of the 2018 event due to

lack of support from the public.

To run the event requires

manpower (or lady!) to set up the

site the day before, people to help

while the event is running and

also help to break down and clean

the site afterwards. This requires

at least 12 people for each phase.

The committee has endeavoured to

recruit manpower for 2018 but has

had no response.

Moving forward, we are looking

towards a bigger, brighter 2019

event which will take place on 9 June

2019. Therefore, we are asking for

volunteers early in order to make it a

huge success for everyone.

The fun day raises money for

Cranbrook worthy causes. Last year's

event allocated money to three

organisations: Cranbrook Primary

School PTA, the Cranbrook Scouts

and the Windmill. Phil Mummery

FAMILY SUPPORT CAFÉ LAUNCHED

ABOVE: Two Cranbrook COE Primary School pupils with Mrs Salter, the

school's family and community manager

BARONESS STEDMAN-

Scott has unveiled a vital

new resource at Cranbrook

Primary School.

The Sunshine Café is a

meeting place, provided

jointly by the school and the

Children's Centre, where

anyone, from pensioners to

children, can go for support.

The new facility includes

a community room with

brightly coloured furniture

where people can meet

and socialise, and a nearby

sensory room.

Maxine Salter, the family

and community manager at

the school, said: "It is also

targeting our families who are

vulnerable. The biggest thing

is to have parents involved.

It has a great impact on

children's learning and we try

to use it for all the children. It

is a volunteer run project and

we would very much like to

open it daily." TF

12 Parish Cake • Spring 2018
---
Risebridge, Ranters Lane, Goudhurst, Kent, TN17 1HN

Special offers available every month – visit

www.thebeautyspot.co.uk

• Relaxing facials

• Waxing

• Electrolysis

• Tanning

• Manicures / Pedicures

• Shellac Power Polish

• Minx Nail Transfers

• Massage

• Dermalogica treatments

• Eyelash / brow

tinting

• Mineral make up

• Wedding packages

• Nourishing body

treatments

• Fat reduction

• Red vein removal

• Ear piercing

Wave goodbye to unwanted fat!

The cutting edge treatment without the cut!

NO pain • NO surgery • NO needles • NO scars • NO downtime!

Book your FREE consultation NOW 01580 212 045

The

Farm

Street

Kitchen

The

Farm

Street

Kitchen

Call now for

enquiries

07960106605

thefarmstreetkitchen@

gmail.com

Weddings • Events • Markets • Parties

Follow us on Facebook, Twitter or Instagram

to be in with a chance to

WIN a FREE menu tasting!

Parish Cake • Spring 2018 13
---
clubnews

A round-up of news from

Cranbrook and Sissinghurst clubs,

groups and associations

Cranbrook Ladies on the up

DESPITE TWO recent losses against

extremely strong and well-drilled

teams, things are very much on the up

for the Cranbrook Rugby Club's ladies.

Cranbrook played Lewes RFC Ladies

in January but, due to injuries, Lewes

were not able to field a 15 players'

team. Cranbrook sportingly agreed to

play 12v12. However, valuable playing

experiences were learnt by the new

CRFC development team who lost

5-26.

Cranbrook Ladies travelled to

Heathfield and Waldron RFC to take

part in an all-day Festival of Rugby.

The conditions were awful, wet and

muddy but, spirited and well-played

games took place. Heathfield Ladies

deserved victory but the score line was

not a reflection of the match at 42–0.

Not dismayed and with excellent

handling skills and superb

commitment Cranbrook Ladies, also

in January, travelled to Burgess Hall

and won 25-12 in very wet and muddy

conditions. Steen Mickelborg

We welcome new players at all training

evenings (Tuesday and Thursdays from

8-9.15pm).so please contact us on

07540 572305 or at crfc.ladiesrugby@

gmail.com.

The Inner Wheel Club

THE CRANBROOK and

Hawkhurst branch is a

small club which is part of

a very large international

organisation operating in more

than 40 countries worldwide.

Originally started in 1923

by a business woman in

Manchester as a club for the

wives of Rotarians, it evolved

to take any member of a

Rotarian's family. It now has open membership for all women

while remaining part of the Rotary family.

We meet on the third Tuesday of the month, in the evenings

during summer and at lunchtime in the winter. There is a social

meeting, usually on the first Tuesday, which can be coffee, lunch,

a trip out or an evening meeting. We have strong ties with other

clubs in our district.

Our distinguishing feature is the tremendous amount that

we raise for charities, both here and abroad, while enjoying

ourselves. We run stalls, organise lunches and coffee mornings

and have speakers from charitable causes.

Find us on www.innerwheeldistrict12.org.uk or contact Di

Chamberlain, our secretary, on 01580 715143.

Bowl Along and Meet New Friends!

ANYONE WHO likes

being in the open

air and making new

friends is being

urged to go along

to Cranbrook Bowls

Club and join in.

Tony Platts, the

chairman, said

the club is looking

for new members

from novices to

experienced players.

There is no joining

fee and the annual fee is just £55.

There is an excellent clubhouse with facilities for the

disabled plus a first-class green in central Cranbrook. There

is also free coaching with qualified coaches and bowls are

available for beginners. Dave Pullin

To join contact membership secretary Dave Pullin on 01580

388836. Check the club's website on cranbrookbowls.co.uk

MATTINBGN

14 Parish Cake • Spring 2018
---
More Youngsters

Needed for

Sissinghurst FC

THE SISSINGHURST Junior Football Club

started in the early 2000s when a group of

local Dads got together to provide football

for their sons. Various age group teams

were formed during the next few years

with several teams winning their leagues

and the occasional cup competition.

The club folded in 2011 when the last

of the age groups had reached the end

of the league structure at under 18 and

there were no others to follow. There

was the odd Veterans match until the

junior club was resurrected in 2015 with

an U14 team. This has satisfied a group

of boys, including my son, who attended

Cranbrook School where football is not on

the sports curriculum.

The team entered the Maidstone and

District league and finished in mid-table.

For 2016/17 the U15 team joined the

Crowborough & District Junior Football

League with another team being formed

by Will Aitken at U16 level in the same

league.

The U15s had a tough season finishing

just above the relegation zone but the

newly formed U16s took their league title

winning all but one match, which was a

draw.

For the 2017/18 season we are back to

one team with last year's U16s playing

in the U18B division. They are finding it

tough being a year under age but it will

stand them in good stead for next year and

another season in the U18 league when

most will be able to drive themselves to

and from the games.

Home matches are played on the King

George V field and we are grateful to

Graham White of the cricket club for

mowing.

We are also very grateful to all our

sponsors for their support during the past

club news

two seasons. We are keen to talk to any

local company which may wish to sponsor

us.

A big thank you to the King George V

playing field trust which made a donation

toward our purchase of new transportable

goals for this season.

We would like to hear from anyone who

is interested in keeping the club going

with NEW teams and age groups.

Tony Reader

If you would like to manage and run a

team and can get enough players then

please call 07714 018454.

Call for a free flower consultation with Sharon and receive

10% off your first order when you mention Parish Cake.

Parish Cake • Spring 2018 15
---
club news

New Clubhouse gets the Go-ahead

CRANBROOK RUGBY and Cricket

Club has been given the thumbs up

for a new clubhouse.

Aimed at both sporting and

social use, the state-of-the-art

building will replace the current

clubhouse which has become worn

out.

The new two-storey building will

have a glass first-storey frontage

and balcony facing the cricket

square.

The design includes four sets of

changing rooms with their own showers

and toilets, officials' changing rooms,

a first aid room and spectator toilets. A

wheelchair lift will be incorporated in

the build.

On the first floor there will be a room

comfortably seating 150 people and a

removable partition will allow the large

space to be divided into two. Among

other facilities will be a bar, shop,

kitchen, storage areas and function

room bathrooms.

James Fraser, the sports club chair

responsible for club development

Sissinghurst

Cricket Club

and fundraising, said the club was

"delighted" at finally securing approval

for the new clubhouse on the Tomlin

Ground. He thanked everyone who

had contributed to moving the project

forward.

He went on: "There is still a

considerable way to go before the

successful delivery of this magnificent

building and we will undoubtedly be

looking for help and support from

within the club and from the wider

community in order to complete this

most impressive and important local

facility." TF

SISSINGHURST CRICKET Club is looking

forward to another successful season

this summer. We play a wide range of

cricket which involves league cricket on

Saturdays where our first eleven play

in the premiership division of the very

popular Kent County Village league. Our second eleven competes in division five.

On Sundays we play friendly fixtures and have regular midweek games in the longer

summer months. We offer a warm welcome to anyone at any playing level interested

in joining our club. We are currently having Wednesday evening net sessions at

Cranbrook School. New players are welcome to come along.

We are once again running our very successful junior coaching this year. We run

sides from all age groups ranging from under nine, right up to under 16 level. In

addition, we run a very popular girls' junior side. Coaching for all levels and abilities

takes place on Sunday mornings at the cricket field. Jonathan Gurr

Details of registration and other information can be found at

www.sissinghurst.play-cricket.com

Vine Church

LIFE CAN be transient. Continually

moving, never settling. We may never

even meet the people we interact

with on a daily basis. Isolation and

loneliness; epidemics hidden behind

busy Facebook profiles.

The opening pages of the Bible reveal

what it took years for professionals to

figure out, "It is not good for [people] to

be alone." Community and connection

are part of our basic human needs. Yet

living in close proximity doesn't make

you part of the community. It takes

more than that.

Community must be built, over time,

on a common idea that draws people

together. The safety of friendship

allows sharing and participation, not

brushing issues under the carpet, but

communicating humbly and openly

when we don't see eye-to-eye.

For over 20 years The Vine Church

has been a community centred on

God's truth and love. Do we always

get everything right? No. Are we

committed to reconciling our

differences and helping each other up?

Yes.

Community doesn't come free.

Like all investments, there is a cost.

Coffee. Time. Emotion... But if you've

immersed yourself in community,

you'll know the dividends far surpass

the investment.

Ask yourself, "What can I do to invest

in community today?" Chris Goodchild

For more information on the Vine

Church, call 01580 712620 or visit

vinechurch.org.uk

16 Parish Cake • Spring 2018
---
ELBA

ELBA PRIVATE HIRE - PERSONAL CARRIAGE

"We go that extra mile"

Lady & Gentlemen Drivers

Town and Country

Travel in Style

Business and Social Pleasure

Allows you to Drink

Like a Lord

Leave Like a Lady!

To Book Text: 07785 11 20 21 or Call: 01580 441 302

Email: book@elbaprivatehire.com

www.elbaprivatehire.com

THE STREET, SISSINGHURST TN17 2JG

WWW.THEMILKHOUSE.CO.UK

NEW YEAR, NEW BAR!

SUPER COMFY SEATING

COSY NOOKS

GLEAMING FLOORS

COME & SEE FOR YOURSELF

FORTHCOMING PRODUCTIONS:

Are you interested in joining CODS?

Cranbrook Operatic and Dramatic Society has existed for

almost 100 years, to encourage the performance of all

forms of amateur theatre, musical, drama and comedy

and is open to all interested persons.

We produce at least 3 shows each year. A Spring play, an

Autumn Musical and a Charity Pantomime at Christmas.

We also enjoy a rich and varied social scene,

including quiz nights, member's evenings, theatre trips

and workshops ranging from dance and singing to acting

and technical activities, as well as various other events.

There is a bi-monthly e-newsletter and an AGM so that

members are kept in touch.

As a member there are opportunities to get

involved in construction and decoration of sets,

backstage work, front of house, or on stage -

dancing, acting, singing or even directing.

Tickets available from ticketsource.co.uk/cods, The George Hotel or Fancy Pants

Thanks to our sponsors: Hartley Dyke Farmshop, COSTA and Peter Jones (Opticians)

The main point of contact for CODS is our Secretary:

Lee Hatcher - 07539 460571

Email : cods.secretary@gmail.com

Facebook : www.facebook.com/groups/cranbrookods

Or visit our website: www.cranbrookods.org.uk

where you will find details and an application form.

18 Parish Cake • Spring 2018
---
eventnewswe are

Some of the great events

rightly proud of!

Arctic Weather Fails to

Deter Christmas Spirit

WITH ICY blasts blowing through

Cranbrook, the town's annual

Extravaganza soon warmed up with

a combination of a hog roast and

Christmas cheer.

The evening began with the arrival of

Father Christmas in Robert Longley's

classic delivery van while the reindeer

were given time off to conserve their

energy for their Christmas Eve deliveries.

Children processed down the High

Street singing carols and were blessed at

St. Dunstan's Church by the vicar, the Rev

Ann Pollington.

The lights on the Christmas tree outside

the Vestry Hall were turned on by parish

ABOVE: Harpers and Hurlingham estate agents celebrate a win

in the best dressed window at the Christmas Extravaganza

council chairman Cllr. Bridget Veitch with

the help of Father Christmas.

Cllr. Veitch, together with Cllr. Alison

Bunyan and Cllr. Brian Clifford, judged

the best dressed shop window with the

top prize – a shield – going to Harpers and

Hurlingham for its spectacular display of

white angels.

Other activities were fire spinning

by Tracy Johnson (also known for her

chainsaw wood carvings), face painting,

a laser shoot and a hunt for Rudolph's

nose. Music was supplied by the Cranbrook

School Jazz Band, the Cranbrook COE

Primary School Choir, YT93, and the

Tempo Choir. Philip Mummery

CRANBROOK LITERATURE FESTIVAL

CRANBROOK LITERATURE Festival will be hosting two days of talks, lectures

and workshops with such familiar names as BBC 2's Eggheads' quiz master

and writer Jeremy Vine and fitness exponent Davina McCall.

Taking place on 28-29 September, events will be held at venues in and

around the town. Appearances will also be made by Harry Potter illustrator

Johnny Duddle, authors Vanessa Altin and Jane Thynne, and Guardian

journalist Ann Moore. Alison Weir will also be returning to the popular event

to talk about her writing on Elizabeth I.

In the meantime, the festival organisers will be holding a Book Swap

event on Sunday 22 April in the Cranbrook Bar of the George Hotel from

5-7pm to celebrate World Book Night. People are invited to bring a book

along to swap and find out more about the festival. TF

Parish Cake • Spring 2018 19
---
WEALDEN

CONCRETE

WEALDEN

CONCRETE WEALDEN

CONCRETE

Your local

ready mix experts

Your local

Your local

ready mix experts

ready mix experts

CRANWELLS PROPERTY SERVICES

Professional Property Refurbishment

Alterations & Construction

Building, Electrical & Plumbing Services

A small local business proud to boast excellent

local references and appropriate qualifications.

Wealden Concrete are a family run business delivering ready mix

concrete throughout the Weald of Kent and East Sussex.

From day to day repairs to extensive structural

alterations and complete property refurbishment.

• Readymix concrete

• Aggregates

• Concrete pumping

• Wealden Friendly Concrete advice from are local a family experts

run business info@wealdenconcrete.co.uk

delivering ready mix

concrete throughout the Weald of Kent and East Sussex.

• Readymix concrete

• Aggregates

• Concrete pumping

•

Friendly

Friendly

advice

advice

from

from

local

local

experts

experts

For more information call us on

01580 714747

www.wealdenconcrete.co.uk

For more information call us on

01580 714747

COMMITTED TO LONG TERM CUSTOMER

FRIENDSHIPS, NOT ONLY CUSTOMER SATISFACTION

Call Brian Scott on 01580 712032

or 07702 139103 www.cranwells.co.uk

info@wealdenconcrete.co.uk

info@wealdenconcrete.co.uk

MUGENKYO

TAIKO DRUMMERS

12th May 2018

@ 7.30pm

Tickets: £19 Adults £10 Students

Box Office: 01580 711856

www.queenshalltheatre.co.uk

Cranbrook School, Waterloo Road, Cranbrook, Kent, TN17 3JD

20 Parish Cake • Spring 2018
---
feature

A Boon for Laura's Children

Thanks goes to the parish council for accessible play equipment, writes Trisha Fermor

MUM OF three Laura Seal

would like to say a big thank

you to the parish council for

making her children's lives

more exciting as they learn

to live with a debilitating

condition.

Mrs Seal, who lives in Frythe

Way, Cranbrook, has three

children - Paige, six, Andy 10,

and Kerry 13, who all suffer

from neurofibromatosis, a

genetic disorder which has a

huge effect on their lives. It has

been passed on by their mother

who is also a sufferer.

Paige has to use a wheelchair

to get around but this does not

stop her from enjoying the new

roundabout on the Ball Field,

Cranbrook, without getting out

of the chair. She has undergone

extensive treatment and

was recently found to have a

The Seal

family

cancerous tumour on an optic

nerve.

"I can't thank the parish

council enough," said Mrs Seal.

"When the old roundabout

was there she could not go on

it but she can now sit in her

wheelchair as it goes round.

She loves it."

Mrs Seal praised Cranbrook

Primary School, where Paige

and Andy are pupils, for the

help they have given with

their health problems. "I

would recommend the school

to anyone, it is great," she

said.

Mrs Seal spends much of

her time going to and from

Great Ormond Street Hospital,

Evelina Children's Hospital,

Guy's and Pembury Hospitals

with the children for specialist

treatment.

LashPerfect classic lash extensions

Elleebana lash lifts

Helen Aldridge

07919 925500

facebook.com/dreamlashescranbrook

FANCY DRESS HIRE & COSPLAY EMPORIUM

Extensive range of costumes & accessories to hire and buy

Experienced Cosplay advice

Costume commissions also taken

Anna, Andy & Trystan Nield

Kent House, 33 Stone Street, Cranbrook, Kent TN17 3HF

Shop: 01580 715340 Mobile: 07854 573784

anna@fancypantsemporium.com www.fancypantsemporium.com

Chartered Accountants

helping you, your business

and your family

We specialise in farms, families, trusts and estates and have a

dedicated team who can help you manage your financial needs.

Our directors, Janet Pierce and Mark Howard have direct experience

with equestrian and farming matters, and we also offer an

extensive range of services including:-

Bookkeeping

Succession planning

Accounts preparation

Inheritance tax advice

Tax returns and VAT advice

Estate planning

Payroll

Auto enrolment

Please contact janet.pierce@charter-tax.com or

mark.howard@charter-tax.com • Telephone 01580 313108

www.charter-tax.com

Suite 1 Bedgebury Business Park, Goudhurst, Kent TN17 2QX

Parish Cake • Spring 2018 21
---
10% off

British-made gifts, art exhibitions &

creative workshops in Cranbrook

www.happyglorious.co.uk

47b High Street, Cranbrook, Kent TN17 3EE

22 Parish Cake • Spring 2018
---
feature

Have Your Say on £77

Million Civic Spend

Tracy Moore, Tunbridge Wells Borough

Council Cabinet member, writes about

the proposals for investment in the

royal spa town

DID YOU know that of

the people living in the

borough who visit the

Assembly Hall Theatre 40

per cent come from rural

areas and outside Royal

Tunbridge Wells?

With that figure in

mind it's exciting to

think that in just a few

years' time the possibility

of seeing even more top

theatre entertainment

without having to make

the journey to London

could be a reality with

a new theatre in the

borough.

Early in December

councillors gave the

go-ahead to proceed to

the next stage of plans

for investment in a new

1,200 seat theatre, civic

centre, office space to

let, underground car park

for 260 cars and a public

square at the entrance

to Calverley Grounds

in the centre of Royal

Tunbridge Wells.

In 2014 the council

adopted a cultural

strategy with an

ambitious 10-year vision

"to grow our role as the

cultural centre of the

Kent and Sussex High

Weald, so that by 2024

the borough of Tunbridge

Wells is nationally

recognised for its vibrant

cultural provision". I

see the new theatre

and the other planned

investment as essential

ingredients to realising

this aspiration.

There is a real

opportunity for

co-operation

between a new

theatre and

other cultural

venues and

events across the

borough. These

cultural happenings

drive footfall, increase

dwell time and increase

customer spend and

in turn support the

local leisure and retail

economy.

The choice is to invest

or risk decline. Choosing

to do nothing is not the

cheap option; we could

still face costs of millions

of pounds maintaining

and propping up existing

out-dated facilities that

are no longer fit for

purpose.

We have a financial

plan in place to borrow

£77 million for the

proposed scheme. This

ABOVE: Tunbridge

Wells Borough

Council Cabinet

member Tracy Moore.

what do you

think?

has been independently

audited and verified by

experts as being sound

and prudent. We have

identified savings and

efficiencies to service the

debt and some of these

savings have already

begun in anticipation

of the project being

given the go-ahead. It

is quite usual to borrow

money for a long term

investment. The council

is in a position to borrow

at very competitive rates

and government checks

are in place to ensure

councils borrow only an

amount which they can

afford to repay.

Change is never

without controversy

and I realise that not

everyone is going to be

supportive but there are

few projects, if any, that

would get unanimous

support from all quarters.

We have kept people

up to date with the

project through Local,

the residents' magazine,

and a series of roadshows

across the borough, and

will continue to do this.

We would like your views on the new development for

the next edition of Parish Cake. Please send to brian@

parishcake.co.uk or post to Parish Cake, The Old Fire

Station, Stone Street, Cranbrook TN17 3HF

Parish Cake • Spring 2018 23
---
feature

TV Antiques

Guru has a

Roaring Day!

Trisha Fermor reports on when Bargain

Hunt came to Cranbrook

RAJ BISRAM, the

Cranbrook auctioneer,

who has carved himself

a popular spot on

television's Bargain Hunt

and Antiques Road Trip,

found the tables turned

when contestants' lots

went under the hammer

at his saleroom.

The home of Bentley's

Fine Art Auctioneers

in Waterloo Road was

packed with potential

buyers and followers of

Bargain Hunt, BBC 1's

most popular daytime

show.

Over two days, antiques

experts Charlie Ross and

John Cameron took it in

turns to help or host eight

couples trying their luck

at winning the muchcoveted

golden

gavel for making

a profit on all the

items they had

bought from shops

and fairs.

As an avid antiques

collector and viewer of

BH I was soon engrossed

in the making of the

programme in more ways

than one. Looking at the

lots on offer I was struck

by a plaster model of a

roaring tiger standing

on a tray marked with:

Bengal Gin imported,

(and undomesticated!).

Having lived in India

running a wildlife camp

with my husband and

working hard to conserve

tigers, this had our name

written all over it.

ABOVE: Raj Bisram,

auctioneer on Bargain

Hunt.

BELOW RIGHT: Bargain

Hunt competitors

Adam and Lois with

their lot.

date for

your diary!

I am sworn to

secrecy by the BBC

as to how the bidding

went and who won,

or lost, anything. All I

can say is that Lois and

Adam from Maidstone,

who had bought Bengal,

were delighted he would

be coming to live in our

home!

Then, to my surprise, it

The episodes filmed at

Bentley's are scheduled to

be aired in March and April.

The programme goes out

on weekdays at 12.15pm.

was my turn to sign a BBC

document giving them

carte blanche to use film

of me frantically waving

from the back of the room

as I made bids for the

tiger.

Another couple taking

part were John, a former

curate at All Saints

Church, Staplehurst, and

his wife Sophie.

24 Parish Cake • Spring 2018
---
Do You Want a Safe, Reliable,

Reasonably Priced Electrician?

• Smart Controls • Rewires • Extra Sockets

• New Fuse Boards • Fault finding

• Outside Lighting & Power Design

• New Builds & Extensions

L.E.D. LIGHTING

Fully insured qualified electrician I assure you of a

quick response and offer you a 6 year guarantee

Call Nick now on:

01580 279906

Email: nick@njhelectrical.co.uk

www.njhelectricalservices.co.uk

To view all

designs visit

our new

website

Parish Cake • Spring 2018 25
---
Salon Offer

Recommend a friend to

your preferred stylist and

both of you will get £5 off

a cut and blow dry!

*Not to be used in

conjunction with any

other offer

Committed to providing you with

the very best salon experience

Cut, colour and men's styling with

a warm and friendly atmosphere

We look forward to meeting you

01580 714204

www.thelittlehairshopcranbrook.co.uk

George Cottage, High Street, Cranbrook

Cranbrook has free car parking

t 01580 720003

e shersbyjewellers@aol.com

www.shersbys.co.uk

FIND US ON FACEBOOK

Gatwick Airport

1-4 Passengers from £65.00

5-8 Passengers from £95.00

Heathrow (Including Tolls)

1-4 Passengers from £89.00

5-8 Passengers from £130.00

London City Airport

1-4 Passengers from £75.00

5-8 Passengers from £112.50

Stansted Airport

1-4 Passengers from £95.00

5-8 Passengers from £139.00

Premier taxi transfer service for Staplehurst, Cranbrook and surrounding areas

AIRPORTS • RAILWAY STATIONS • SEAPORTS • EVENTS • LONG DISTANCE

We can accommodate up to 12 suitcases or equivalent luggage (e.g. golf club or skis etc.)

To Book call 07909 225 553 or Email: info@flightcatcherstaxis.co.uk

Web: www. flightcatcherstaxis.co.uk

26 Parish Cake • Spring 2018
---
feature

BOB'S ON THE

HUNT AGAIN!

Detectorist Bob Sharpe is taking to the fields

again in search of hidden treasure writes

Trisha Fermor

AFTER A year off because of

a shoulder operation, Bob,

76, who lives in Milkhouse,

Sissinghurst, is hoping to

unearth more interesting

objects from bygone

centuries.

It was curiosity which

spurred him on 16 years ago

in search of buried treasure –

first asking permission from

the land owners.

The former landscape

gardener's curiosity has led

him to find everything from

a Roman coin to his most

unusual treasure, a silver

Tudor dress hook, found just a

few inches below the surface

in 2003 in pristine condition.

After a lengthy legal

process – finders-keepers is

definitely not allowed – the

tiny treasure was bought for

£400 by Cranbrook Museum.

The unearthing of objects

can start a lengthy trail

involving coroners' courts, the

Portable Antiquities Scheme

and the British Museum.

Bob said: "It was eventually

decided that the hook was

treasure trove so it was

returned to me. There are

lots of rules and regulations

about metal detecting. It

was an experience going to

the coroner's court. He said

it made a change from dead

bodies."

"THERE ARE

LOTS OF RULES

AND REGULATIONS

ABOUT METAL

DETECTING.

IT WAS AN

EXPERIENCE

GOING TO THE

CORONER'S

COURT"

Another of his finds was

a gold coin with the words

Ambiani Statei and the head

of Apollo dated 150 BC which

eventually sold for £400. In

both cases the landowner

received half the sale price.

Bob, who did much of his

detecting with his late friend

Basil Hopperton, said: "When

I started I dug up lots of

Second World War bullets and

old one and two pennies. But

one day we found an antitank

bomb in the woods at

Maplehurst Frittenden. We

were worried about children

playing with it so we got hold

of the authorities and they

came and did a controlled

explosion and boy did it go!"

Parish Cake wishes Bob lots

of luck when he picks up his

metal detecting machine for

the first time in more than a

year and heads off into the

fields.

Nicholas Bussey

Call 01580

715159

or 07717 855516 anytime

'Bringing the

best from

your piano

for all to

enjoy'

Parish Cake • Spring 2018 27
---
WE HAVE

MOVED

Fresh Fruit & Vegetables • Flowers

Plants • Shrubs • Hot & Cold Food

Drinks • Groceries & Delicatessen

Open 7 Days a Week

Charity Farm Swattenden Lane

Tel: 01580 712546 • www.hartleydyke.co.uk

www.mcanimalportraits.co.uk

Fully

Qualified

& Insured

Acorn tree care and landscapes

is a family run business

established in 2005

♦ All types of Trees Lopped, Topped & Shaped

♦ Fruit Trees Pruned & Sprayed

♦ Hedges Trimmed & Topped

♦ Trees Removed & all Roots Destroyed

♦ Also Fencing, Turfing, Patios & Gravel Gardens etc.

♦ Pressure Washing Drives & Patios

Tel: 0800 830 3656 / 01424 839726

Mob: 07584 621776

Email: info@acorntreecareandlandscapes.co.uk | www.acorntreecareandlandscapes.co.uk

28 Parish Cake • Spring 2018
---
feature

Can I Eat in

Cranbrook?

'Café expert' Ann Cook on how

Cranbrook's eateries cater for those

with special diets

CAN YOU eat in

Cranbrook with a special

diet? The answer is a

resounding yes! I've put

on my food sleuth hat and

toured the town's eateries

to find delicious edibles

for vegetarians and

people with allergies.

You can find gluten-free

sandwiches at the George

Hotel, the Waterloo

Tearooms, Cocolicious,

and the White Horse (give

advanced notice), and

Costa Coffee can supply a

chicken wrap so you don't

feel left out.

Fabio's (Campo Vecchio

Gastronomia) will create

a bespoke meal for you.

Proprietor Fabio calls his

meals "elastic" Italians

don't choose a set meal

so go in, look at what's

on offer and pick and mix

– Fabio is happy to give

advice! Try Costa for a

choice of salads.

Moving on to glutenfree

cake – sadly with

calories – give it a go at

Food for Thought, Fabio's

(mmm tiramisu and a

carrot cake), Cocolicious

and the Waterloo

Tearooms. Hit the right

day and you could be

eating Victoria sponge or

chocolate cake and not

missing out at all. The

Waterloo Tearooms has a

wide range of teas, some

of them unusual, to go

with your cake.

Almost all the eateries

in Cranbrook can offer

soya milk but Fabio's

has Lacto-free and the

Waterloo Tearooms offers

almond milk as well. Need

rice milk? Try Cocolicious

ABOVE: Ann Cook

'café expert'

and I hear their smoothies

are good as well. Costa

keeps oat milk; give their

soya hot chocolate a try.

It's addictive!

What if you are a

vegetarian? No problem.

Grab a veggie-burger or

breakfast at the George

or White Horse. You can

find a salad at Fabio's

or Cocolicious. Fancy a

baked potato or roll? Pop

up the High Street to

Chaney's but avoid if you

need gluten free food due

to cross-contamination

from wheat flour.

And of course there is

the Indian restaurant,

just go in and ask for

advice.

All in all, Cranbrook

is a very good place to

eat with a wide range of

options for those of us

on special diets. Two new

places have just opened -

Arthur's and Cloudberry

- and I will be popping

along to find out what

they can offer! Best of

all, Cranbrook has plenty

of helpful people very

willing to make you feel

welcome.

SPONJEM UK Limited

Capital Allowances Consultants

Helping people in the area save money upon

their commercial buildings such as offices,

shops, restaurants, hotels and holiday let cottages

For Information contact Paul Jempson on

Tel: 0800 954 5081

Mob: 07957 822110

Parish Cake • Spring 2018 29
---
amper yourself

or treat someone special

Choose from a range of luxury beauty

products including gifts vouchers

07881 905990

lucysbeautystudio@me.com

Enjoy

20% off

your first visit

The Village Therapy Room, Village Hall (Parkside), Ticehurst TN5 7BE

For everything electrical

delivered to your door

across Kent, the UK and

the rest of the world

From plug sockets and

light bulbs to all forms of

exterior and interior lighting

including chandeliers, visit

our website.

Public and trade also

welcome at our showroom

in Rolvenden.

Tel: +44 (0)1580 243043

Unit 3, Windmill Farm,

Benenden Road,

Rolvenden TN17 4PF

directelectrical.online

Calling all

ELECTRICIANS

to join the BOOK A

SPARKIE network

ARE YOU AN

ELECTRICIAN?

Then you are invited to join our

new BOOK A SPARKIE network

Unlike Checkatrade and others it is

FREE to join. Directelectrical.online

will refer you jobs when they arise

in your area and you can claim a

trade discount card

- 10% OFF EVERY TIME YOU

SPEND £100.00

To join visit bookasparkie.com

30 Parish Cake • Spring 2018
---
feature

"A Long Time

Coming"

Former Cranbrook Primary School governor has

a calling to the church, writes Trisha Fermor

AFTER YEARS of selfdoubt,

former Royal Ulster

Constabulary (RUC) officer

Sandra Marsh is facing a lifechanging

move as a priest.

Mrs Marsh, who was born in

Northern Ireland and has vivid

memories of the troubles, will

become the Rev Marsh when

she is ordained

at Canterbury

Cathedral on 30

June.

The former

chair of governors

for eight years at

Cranbrook Primary

School said her

decision had been "a

long time coming".

She added: "I kept

putting it off and I

still question myself.

Am I good enough

to do it? I was really

surprised when the former

vicar of St. Dunstan's, the

Rev Richard Williams, asked

me to be his church warden.

I remember asking myself, `I

don't know why I am here, but I

have been called.'"

Despite that, Mrs Marsh, who

lives in Dorothy Avenue with

her husband Simon, found her

lack of confidence continuing,

until she finally made the

decision to undergo more than

two years' theological training,

with more to come.

One of five children, Mrs

Marsh faced hardship not only

while in the RUC but earlier

"... I WAS

A POLICE

OFFICER AT

THE HEIGHT

OF THE

TROUBLES

AND THAT IS

WHY I CAN

UNDERSTAND

WHERE

YOUNG

PEOPLE ARE

COMING

FROM."

when her father, a tug boat

captain, was drowned in an

accident.

"I wasn't a teenager because

I was bringing up my brothers

and sisters because my mother

had breakdowns. I was a police

officer at the height of the

troubles and that is why I can

understand where

young people are

coming from."

She is particularly

concerned about the

rising vandalism in

Cranbrook and the

need for youngsters

to have somewhere to

meet.

Mrs Marsh, a

mother of three, has

worked at the Hospice

in the Weald and in

the Headcorn benefice

during her training

which also included time as a

street pastor in Maidstone.

"The study is intensive and

you go through a lot of inward

change," she said. "It is very

interesting but relentless."

After her ordination, Mrs

Marsh, whose father-in-law

was a priest on Romney

Marsh, will be saying goodbye

to Cranbrook and moving to

Eastry, taking on responsibility

for five parishes.

The move will include an

additional flock to care for.

"When we go, we will be taking

our chickens and quail and are

hoping to have ducks."

ABOVE: Sandra Marsh

Nevill Estate Yard, Eridge, Tunbridge Wells, TN3 9JR

01892 543233

The best selection of pianos in

www.thepianoshopkent.co.uk

the South East: upright and

grand; new and restored;

acoustic and digital.

PianoShopWT180.indd 1 04/01/2017 16:06

The perfect piano for everyone!

Nevill Estate Yard, Eridge,

Tunbridge Wells, Kent TN3 9JR

Tel. 01892 543233

www.thepianoshopkent.co.uk

Parish Cake • Spring 2018 31

Piano Shop Kent.indd 1 13/03/2017 11:04
---
Your Country Lifestyle

Department Store!

CASTLE VIEW RESTAURANT

AT L E E D S C A S T L E

Our departments are:

Equine • Small Holder • Pets & Wild Birds

Garden • Gifts and Cards • Fuel

Clothing including:

Joules, Seasalt, White Stuff, Toggi, Jack Wolfskin, Hoggs,

Thought, Jack Murphy, Hunter Outdoor and more...

We have plenty of free parking, and we offer a free local

delivery for orders over £50 (£2.50 charge for under £50)

astle View Restaurant offers diners a relaxed atmosphere

and spectacular views across the terrace of the near

900 year old Leeds Castle beautifully lit at night.

You are welcome for drinks from 6pm and to take your seats

for dinner from 6.30pm onwards. Parking is free and a ticket

to Leeds Castle is not required.

Book a table online at

leeds-castle.com/restaurant or call 01622 767777

Open 8.30-5.30 weekdays, 9-5 Satudays and 10-4 Sundays

Swattenden Lane Cranbrook, TN17 3PS

01580 713189 | info@charityfarmcountrystore.co.uk

www.charityfarmcountrystore.co.uk

32 Parish Cake • Spring 2018
---
In the

Garden

Take action to protect our wildlife

WHILE TRAWLING the internet for

information on how our wildlife and

plants are faring in the 21st century, I

was sad to read that that no less than 60

per cent of species had declined in the

past 60 years.

High on the list were turtle doves –

declined by 93 per cent – hedgehogs

down by a third since

the millennium – the

early bumblebee and

the tormentil mining

bee have also strongly

declined.

The stark statistics

follow the State

of Nature report

compiled by 25 wildlife

organisations, from

the RSPB to the British

Lichen Society, which assessed 3,148

species.

The findings were launched four years

ago by Sir David Attenborough who said:

"This ground-breaking report is stark

warning but it is also a sign of hope."

Having been around for more than

half a century, I can well remember as a

child our country garden being visited by

turtle doves, hedgehogs often in groups,

bats doing aerobatics over the house, and

frogs and newts in the ponds. Moths and

butterflies abounded and fields, verges

and hedgerows were full of wild flowers.

Birds were abundant, especially the sky

lark.

Despite the obvious gloom of the

report, Sir David was optimistic that with

the network of passionate conservation

groups supported by millions of people a

huge difference was possible.

We are being encouraged to take

action through gardening and land

management. With habitat loss being

one of the main factors in the decline

of wildlife, people can create havens, no

matter how small their plots.

With our honey bees having a pretty

tough time, we can grow flowers to

attract them and other pollinating

insects which are vital in our food chain.

Among the plants, most of which are

easy to grow, are

foxgloves, thyme,

lavender, honeysuckle,

rowan trees, ice

plant (sedum),

purple loosestrife,

cotoneaster,

marigolds. Buddleia,

thistles such

as cersium and

sunflowers are also

much loved. Throw

down a handful of wildflower meadow

plant seeds on a bare patch of prepared

soil and wait for the insects and birds to

come when they are flowering.

Avoid planting double forms of flowers

as the bees find it difficult to get in

among the petals to gather nectar or

pollen.

Other ways of helping are: making

insect houses, putting up nest boxes

away from cats, feeding birds all the

year round not just in the winter, having

water available 24/7, making gaps at the

bottom of fences to allow hedgehogs to

pass through your garden, constructing

a log pile as insect and small-mammal

habitat, and allowing a rough patch with

nettles and other "weeds" which attract

moths and butterflies.

If we all planted up a small area of

bee and pollinator-attracting plants, we

would, in a small way, help to maintain

and, more importantly, increase the

wildlife in our gardens. Penny Royal

Let's Cook!

Monkfish Ragout

with Vermouth

THIS IS an easy and simple meal to cook but

one which would look very professional on any

dinner table… and it tastes great too!

INGREDIENTS

Serves 4

500g trimmed monkfish

1 small onion finely chopped

3 tbsp olive oil

2 cloves of finely grated or chopped garlic

400g chopped and peeled tomatoes, fresh or tinned

100ml dry white vermouth

2 tbsp crème fraîche

Sprig of tarragon

1 lemon

Salt and pepper

WHAT TO DO

1 If using fresh tomatoes, pop them into a bowl

add boiling water and leave for a minute or two

then drain. Peel and chop, discarding the white

bit in the middle.

2 Cut the monkfish into cubes, season with salt

and pepper. Heat the oil in a frying pan and fry

the fish in batches for two minutes until it turns

white. Remove from the pan.

3 Add chopped onion and garlic to the pan

until soft but not coloured. Add the tomatoes

and the vermouth, increasing the heat. Add

tarragon leaves to the pan.

4 Wash any wax from the lemon and grate the

rind into the pan. Boil rapidly for about five

minutes. Add the fish, stir in the crème fraîche

reduce the heat and simmer gently until the

fish is cooked through. About eight minutes. Do

not over-cook or the fish will become hard.

5 Serve with rice and/or a lovely green side

salad.

Bon appetite! Emma Fraser

Parish Cake • Spring 2018 33
---
Tompsett

Landscaping

'Garden Landscape and

Maintenance Contractors'

"For all Your Garden Needs"

Tompsett landscaping is a family run

business which takes pride in offering

a quality, professional, friendly and reliable

service a competitive rates.

Please contact is today for your free

no obligations quotation

Nick: 07746 672946 Rob: 07961 637275

Email: info@tompsettlandscaping.co.uk

Web: tompsettlandscaping.co.uk

Helping Families and Children in Kent & Sussex

Shop open Weds to Sat, 10am - 4.30pm

Ockley Road, Hawkhurst TN18 4DP

Bespoke Ironwork for

Home and Garden

www.cranbrookiron.com

07765 344298

At M4K "We are all equal and Together We Grow"

Promoting and providing inclusion for all ages and

abilities especially those with any kind of Special Education

Need and/or Disability, at More4Kidz everyone is equal

Proudly sponsored by Hawkhurst Parish Council

Activities and sessions run by qualified,

enhanced DBS checked staff

Looking for new areas and

venues to offer inclusive

activities and sessions

Come and enjoy our weekly freshfruit box and activity stations.

Mobile

Sessions

Now taking booking for

inclusive sessions, parties and

activities for 2018!

Would you like a session in your area?

SEN support group? Messy makers

session? Parent and child group?

Inclusive party?

Contact us to discuss

more details

t: 07790 216037 www.more4kidz.org.uk

info@more4kidz.org.uk facebook.com/saresmore4kids

Find us on

Facebook:

www.facebook.com/

saresmore4kids

Instagram:

more4kidz_ltd

More4Kidz Ltd - Company no. 09828415. Non government funded, not for profit, family and children's company limited by guarantee.

34 Parish Cake • Spring 2018
---
feature

Is Cranbrook "Dying

on its Feet?"

Trisha Fermor asks around – what do you think?

THIS IS the view of antiques dealer

David Smedley who believes more

should be done to encourage

people to visit the town and more

importantly, shop.

Mr Smedley, speaking at his

High Street shop, said: "What is

the parish council doing to engage

more with the people? They should

ask for feedback and hold surgeries

for people to come and discuss

issues."

Mr Smedley, who is chairman of

Icklesham Parish Council in East

Sussex, said he holds surgeries and

engages the villagers more in what

is happening.

He complained about the lack

of Christmas decorations in

Cranbrook High Street last year

and he had been unaware that

the business association, which

is responsible for the Christmas

trees, had been reformed.

"Where were the posters? Did

anyone come round and speak to

us?"

David Prentice who has been

running his Beric Appliances

in the High Street for 11 years,

countered: "I don't think

Cranbrook is dying on

its feet, business is good

but there are two things

this town needs, a destination

supermarket and banks.

"I believe banks have a

responsibility, not just to their

shareholders, but to communities

to maintain a presence in the

town. They are forcing people to

go online and once online they will

do everything online. We have got

free parking which is a great asset.

But some shops in the town must

move with the times and keep up

with trends."

He was also critical of how some

businesses closed on Mondays and

Wednesday which must have an

effect on their takings.

Linda Page, of Pages

Newsagents, said: "I would not

say Cranbrook is dying on its feet

but business is not as good as

say 10 years ago. We are holding

our own in the face of a lot of

online shopping. We need more

houses. We are desperate for new

residents. It is no good saying the

MILLICENT RIX

what do you

think?

town is dying on its feet, we need

more houses and more footfall.

"We are lucky to have Dulwich

Prep School and Cranbrook School

which bring people in but we

are not having the same footfall

as 10 years ago. We don't want

to forecast doom and gloom.

Tenterden isn't thriving, it has

empty shops and a third of shops

in Victoria Place in Tunbridge

Wells are empty."

Roger Chant, who has owned

Vegetare in the High Street for 27

years, said: "The High Street is

dying. People's shopping habits

have changed. It is all done online

but if there is any snow they will

all come back to Cranbrook."

Mr Chant, who has put his

business and home above on

the market for £525,000, said:

"Cranbrook is a place where people

want to live but they don't want to

partake in Cranbrook life. If there

is nothing here it will affect house

prices."

Do you believe Cranbrook is dying

on its feet? Let us know your

views. Email brian@parishcake.

co.uk or write to Parish Cake, The

Old Fire Station, Stone Street,

Cranbrook TN17 3HF.

LADIES, LET'S MEET!

• free coffee

• free samples -

skincare, nutrition

and makeup

• free consultation -

look and feel better

inside and out!

Alison 07776 002600 • alisonede@icloud.com

EAT WELL, BE WELL

Grace Davies

Nutritional Therapist BA (hons) DipCNM

Working across Kent and Sussex Offering personalised

nutrition plans to support you towards optimum health.

INITIAL CONSULTATION £65

10% OFF WITH THIS ADVERT

gracednutrition@gmail.com • 07718 084510

www.gracedaviesnutrition.com

Parish Cake • Spring 2018 35
---
8, 9 & 10

June 2018

ELM WOOD OFF RISDEN LANE,

HAWKHURST, CRANBROOK, KENT

TN18 5DU

IN AID OF

Tel: 01580 715570

Established since 1982,

Rainbow Pre-School sits in the

heart of Cranbrook town

centre. Our dedicated team

are passionate about providing

excellent care and

teaching. Ensuring that

children feel secure, have lots

of fun and leave confident and ready for Primary School.

Children aged 2 -5.

Morning, lunchtime & afternoon sessions available.

Part of the Free for 2 & 30 hours Schemes.

For children aged 2 -5

Morning, lunchtime & afternoon sessions available

Part of the Free for 2 & 30 hours Schemes

Find us on facebook @: Rainbow Pre-School, Cranbrook

email us on: enquiries@rainbowcranbrook.org

36 Parish Cake • Spring 2018
---
feature

Got What it Takes?

DISCOVER WHAT it means to be a

school governor

Every year thousands

of people serve our

schools as governors

and trustees. They

make one of the

largest volunteer

work forces in

the UK and play

an essential role

in raising school

standards.

Sissinghurst

Primary School is

a voluntary aided

Church of England

School and is looking to recruit

a new local authority governor.

Chair of the board, Amanda

Goodchild, explains what is

involved and what it takes to be a

great governor.

"I believe one of the most

important characteristics of good

governors is being passionate

about children and young people

receiving a strong start in life.

Anyone who cares about children,

is willing to learn something

new, and has the necessary time

to invest in the role can make a

positive contribution."

Governance is well and

truly a team effort. Governors

take different responsibilities

according to their skills and

expertise, and a good board

comprises a variety of people

with broad life experience. "It's

enjoyable working with a diverse

team of people who each bring

their unique perspective to the

table."

Great boards remain focused

on the big picture and do not

get bogged down (or interfere)

with the day-to-day running of

the school. They set the vision

Amanda Goodchild, chair

of the board of governors

at Sissinghurst COE

Primary School

and ethos of the school and

determine the strategic priorities

for each year. Governors

then monitor how

well the school

is progressing

towards achieving

its goals. Another

essential

function (though

slightly boring for

the more "creative

types") is ensuring

the school meets its

legal obligations;

has robust policies

and that the school's

finances are being spent

effectively. Governors challenge

the school leadership and provide

valuable support too!

"As with governance of any

organisation, there is always an

element of "dry" work, but the

reward comes in seeing children

who are happy in their learning

and teachers enjoying their jobs."

A typical year for governors at

Sissinghurst involves: five full

governing board meetings of

two hours, three day-time team

meetings of two hours and three

monitoring mornings, visiting

the classrooms, speaking to

staff and pupils (three hours). In

addition, governors write reports

of their visits, read literature

from the local authority and

Department for Education, and

undertake relevant training.

Candidates must not be related

to any pupils or staff at the

school and must not have worked

in a local school in the past two

years. There is no need to be

affiliated to a church.

Anyone interested in more

information should email office@

sissinghurst.kent.sch.uk

A Link With History

Paul Donovan shares his favourite

Cranbrook Colony picture

MANY

RESIDENTS of

the parish will

have heard of

the Cranbrook

Colony of

artists - some

will be familiar

with their art

and some will

know where

they lived and

worked. During

the past dozen years or so dedicated volunteers at

Cranbrook Museum have accumulated more than

450 reproduction images, drawings and prints of the

artists' paintings to form a reference collection for

students and visitors.

The six artists and their families contributed

greatly to the economy, fame and social life of the

local community for more than thirty years. However,

they were all commercial artists who needed to sell

their work for income and who together exhibited

392 paintings at the Royal Academy. Thomas Webster

and JC Horsley were elected Royal Academicians.

In seeking to show a representative example of

life in our parish during the late 19th century, I

have chosen The Little Chimney Sweep by Frederick

Daniel Hardy, probably the most prolific painter of

the group. The location of the scene is Room 9 of the

museum, the doorway and fireplace still in situ.

The original version was exhibited at the RA in

1862, as The Sweep became one of the most popular

narrative pictures of Victorian times. It depicts the

children of the Boorman family living there at the

time, all listed in the 1861 census, and the town's

only chimney sweep, Edwin Archer aged 23.

The Little Chimney Sweep, painted in 1866 and

now hanging above the doorway of Room 9, was

donated to us three years ago by George Bednar,

an admirer of artists' colonies. The picture is a fine

example of life in the 1860s, always having been on

the museum's "want list" as part of the parish history.

Well worth a visit to view. Postcards are available

from the museum shop.

Parish Cake • Spring 2018 37
---
Nothing to lose, but a great deal to gain...

Need to get the best price

for your property this

Spring?

We can professionally

negotiate on your behalf.

'

Emma and I worked together on a property

transaction and it was very helpful having Emma guide

the buyer through the process. She has a very good

understanding of the process and managed to secure a

successful result for all parties involved.

Simon Biddulph, Partner - Knight Frank

̓

+44 (0)7792 045121 | www.yournegotiator.co.uk

38 Parish Cake • Spring 2018
---
feature

The

Good

Old

Days

Parish Warden Ivor

Hatcher goes down

memory lane

IN MY early years Cranbrook

had a smaller population with

more to do socially than today.

We had a cinema and young

people, (keep this quiet!) were

allowed in some of the pubs

and The Working Men's Club

on St. David's Bridge provided

family entertainment.

We had Red Cross Cadets,

Jucos and Covenanters

who were part of the

Congregational Church. The

youth club met on Thursday

evenings and most weekends

the youth band and majorettes

were out performing. There

was always something to do.

A young child could be much

more adventurous as things

were safer in those days. Living

near the Tomlin Ground meant

crossing the busy Angley Road

to get to the bomb crater, a big

hole in the ground made by

a doodlebug during the war.

Small children disappeared

into this vast bowl to play

while others built camps in the

small wood bordering the road

or went fishing at Angley Lake.

TRISHA FERMOR

We earned pocket money

working on the farms with

apple picking, hop picking or

blackcurrant picking bringing

in some extra pennies. I

spent school holidays driving

tractors, carting straw and

early mornings milking cows at

Buckhurst Farm.

As teenagers, we hung

around at the top of Jockey

Lane. We had fun, we got

into mischief. We had respect

for our elders helping those

who needed help. I walked

an old couple's dog and

went shopping for an elderly

gentleman. I also had my

pony and cart which I drove

everywhere. Everybody knew

everybody. Parents knew

what we were doing (even if

we thought they didn't!) and

looked out for each other's

children. If we got into trouble,

there were repercussions.

Police officers lived in the town

and their children attended our

schools. They were part of the

community and respected as

such. We had boundaries and

boundaries meant safety.

The town has evolved. Young

people have different pressures

that need to be addressed. Care

packages for the older generation

are not always sufficient and

some people have to move out

of the area to be cared for. The

town has a diverse population.

Cranbrook is unique in many

ways.

As Parish Warden, I can draw

on a lifetime of living in the town

and 30 years of working for the

parish council. As I have said,

the town is evolving and has to

cater for modern times whilst

preserving its heritage. With

new things to learn and past

experiences to draw on, life can

be a juggling act, but I enjoy it.

BEE BEAUTIFUL

D E S I G N S

Handmade Artisan Sterling

Silver Jewellery lovingly

produced and finished in my

Cranbrook workshop.

High quality, unique

pieces at an

affordable price

Commissions and

home jewellery

parties welcome

Contact Marcia t: 07711 846350

e: BeeBeautifulDesigns17@gmail.com

www.beebeautifuldesigns.com

Parish Cake • Spring 2018 39
---
feature

Is Your Home a Potential Death Trap?

Trisha Fermor on the importance of electrical checks

RESEARCH HAS shown that 40 per cent

of people interviewed had no idea about

the age of wiring in their home coupled

with ignorance about electrical dangers

lurking indoors – says expert Nick

Higginson.

According to electrical safety body

NICEIC, more than half those questioned

did not know wiring should be checked

by a qualified electrician. Faulty electrics

are responsible for about 12,500 house

fires, 750 serious injuries and 10 deaths

each year.

Householders who were quizzed

had electrical hazards in their homes

including exposed wires, loose cables,

old wiring and overloaded sockets.

Mr Higginson said: "Electrical systems

age and degrade over time and with use.

You have an MOT yearly for your car, an

occasional medical check-up for yourself

and yet you live in a building surrounded

by an electrical installation that could

potentially be a death trap."

He urges a simple inspection in one of

two ways:

• Visual inspection – a brief look at the

main components of your installation

with an electrician providing their

professional opinion. This would

include a one or two page report.

• A full periodic inspection – a

comprehensive look and testing of

your installation. Cables will be tested

for degradation and a full five to six

page report, often including photos,

should be provided.

For more information email nick@

njhelectrical.co.uk

Chartered Financial Planners

Intelligent Independant Financial Advice

For over 25 years AV Trinity has applied clarity, uncommon wisdom and pure

common sense to help our clients achieve their financial goals.

Care fees, Pensions, Equity Release, Divorce and Estate Planning are just some of the areas

where our highly qualified male and female advisers have specialist skills.

An initial meeting with AV Trinity will be at our cost, so come in for a coffee and find out how

we can help you make the right decisions for you – and your family.

Call us on 01892 612500 or 0800 668 1898 (Freephone)

info@avtrinity.com | www.avtrinity.com

Oakhurst House, 77 Mount Ephraim, Tunbridge Wells, TN4 8BS

Authorised & registered with the Financial Conduct Authority. Reg no 182032

40 Parish Cake • Spring 2018
---
feature

Former Midwife

Turns Queen Bee

Trisha Fermor meets enthusiastic member of

the Weald of Kent Beekeepers, Heather Faloon

AFTER BRINGING hundreds

of babies into the world

Heather Faloon has turned

her attention to broods of a

different kind.

As we walked around the

garden of her idyllic Weald

cottage, Heather was on a

crusade to spread the word on

how honey bees are vital for

everyone's existence.

"One in three mouthfuls

of what we eat are down to

bees. If bees go we are going

to struggle to feed ourselves,"

said Heather, as we wandered

amongst her hives in her field

adjoining the garden. She has

a total of 12, seven at home

and others in Staplehurst and

Frittenden.

As a stalwart member of the

Weald of Kent Beekeepers,

she is anxious to tell as many

people as possible about the

dangers facing bees – either

through pesticides, predators

or diseases – and the urgent

need for more people to take

up bee keeping.

She said: "Bees have been

around for millions of years

and honey was even found

in Tutankhamun's tomb. It

will keep for ever but bees are

having a tough time. Spraying

can affect the fertility of the

queen and diseases are still

taking their toll. Loss of places

for them to forage is also a

problem. People should look

at planting the right type of

bee-friendly plants in their

gardens."

Born and brought up in

Ireland her father was in

to alternative honey-based

remedies.

"At the age of seven a

swarm of bees went over my

head. I thought it was the

end of the world but it was so

fascinating.

"I didn't go out to have

bees but they found me. We

had moved here and one day

I found a swarm when I went

into the garage. A man said he

would remove them for £150

but I decided to keep them."

With 60,000 bees in an

established colony they

forage for nectar and pollen

over a wide area and it was

surprising to hear their food

preferences.

"Bees love thistles

best, the honey

is wonderful,

and oil seed

rape, as well

as clover.

It is very

important

that people

do not cut

down hedges

in the autumn

or get rid of ivy

as the flowers get

the bees through the

winter."

Heather Faloon

more info

If anyone is interested in learning about

beekeeping or joining the Weald of Kent

Beekeepers they can contact Heather on

01580 291986.

Parish Cake • Spring 2018 41
---
feature

From Trains to

Bikes And Boots!

Graham Holmes on the demise of the Hop Pickers Line

and the work being done to bring it back to life

MEANDERING THROUGH

the picturesque High

Weald landscape, the

Paddock Wood to

Hawkhurst branch Line

was typical of the many

rural railway tracks that

existed in this country

to serve small rural

communities.

Most have now

disappeared. The 11.5

mile Hawkhurst branch

differed from most

in originally having

substantial goods traffic

to support its passenger

services and, of course,

it became well known

for bringing down from

London, large numbers of

families who took part in

the seasonal hop picking.

However, with the advent

of the private car and

road haulage in the

1950s, the writing was on

the wall for the line.

Stations on the line

included Paddock

Wood, Horsmonden,

Goudhurst, Cranbrook

and Hawkhurst, the latter

three were located some

distance from the places

they purported to serve

and this only hastened

the line's demise with

"THE

HISTORY

OF THE

LINE FROM

INCEPTION

THROUGH

TO

OPENING

WOULD BE

SUFFICIENT

TO FORM A

SEPARATE

ACCOUNT"

closure in 1961.

The history of the

line from inception

through to opening

would be sufficient to

form a separate account

altogether. However, it

is worth bearing in mind

that construction work

started in 1891 and was

completed in September

1893. Ownership passed

from the South Eastern

Railway to the Southern

Railway and finally via

nationalisation to the

Southern Region of

British Railways in 1949.

In September 2008

representatives of

Paddock Wood Town

Council, together

with the parishes of

Goudhurst, Cranbrook

and Hawkhurst, met to

consider the possibility

of reopening the disused

line as a route for

walking and cycling and

so the Hop Pickers Line

Heritage Group was born.

When it became evident

that land owning issues

would rule out use of the

old track bed, attention

turned to using the

public footpath network

to take walkers through

the very countryside

where the railway

originally ran.

Later, a survey listed

all the buildings and

structures that still

remain. The first section

of the interpretation

scheme was opened on

the 22 November 2016 at

Paddock Wood as a result

of a partnership with

Tunbridge Wells Borough

Council that included

installation of new finger

posts with distinctive

markings. This has now

been complemented

by an impressive

information panel at

Paddock Wood Station.

The group is

continuing to investigate

the existing footpaths

network with the aim of

providing a flavour of

the countryside through

which the railway ran

and also interpreting its

close connections with

the hop growing industry

and the communities it

supported.

Parish Cake • Spring 2018 43
---
Kent NLP &

Hypnotherapy

Helen Evans

DipCHyp, NLP, NLP4Kids,

GHR, ANLP, CNHC

• Thyroid Condition Support

• Gastric Band Hypnotherapy

• Overcome Anxiety & Stress

• Conquer Fears & Phobias

• Manage Anger

• Boost Confidence

• Regain Self Esteem

• Lift Depression

• Manage Test & Exam Worries

• Give up Smoking

Therapy rooms in

Sandhurst & Tenterden

Telephone: 07807 885 099

Email: Helen@kentnlptherapy.com

www.kentnlptherapy.com

Your local independent Estate and Letting Agents, providing an

unrivalled level of personal service...

Having been trading for over 23 years we are a well-established and successful Cranbrook-based

estate agent, offering full coverage of the Weald of Kent. We also specialise in Lettings for UK and

Overseas Landlords, whether you need us to "Find A Tenant" only or "Fully Manage" your property

we cater for your every need.

We pride ourselves in making sure that our marketing is effective, from good quality photographs

for our particulars, displayed in our prominent office windows and distribution to our

mailing list of applicants, to informative weekly property lists and coverage in the local press, on

our own website, Rightmove and OnTheMarket.

When you decide to move home, it's important you receive sound advice from someone you can

rely on. Therefore we would like to offer you a FREE, no obligation, market appraisal on your

property.

Simply call us on 01580 712500 and we'll do the rest.

www.lloydmartin365.co.uk

49 High Street Cranbrook

Kent TN17 3EE

44 Parish Cake • Spring 2018
---
usiness

businessnews

Nepali Joins Weald

Artists In New Venture

ON THE run-up to opening a new

art gallery in Cranbrook a couple

will be staging their first art fair at

Benenden Village Hall, on 14-15

April, complete with works from

Nepal.

Grahame Grant and Annie

Watsham, who currently have a

gallery in Sevenoaks, also have

works of art for sale in the window

of Cranbrook solicitors Kingsfords,

who are sponsoring the show

alongside Lloyd Martin estate

agents.

The couple said: "We aim to

support artists who are local as

well as further afield – the furthest

away being our amazing artist NB

Gurung who lives and works in

Kathmandu, Nepal."

The couple, who have lived

in and run businesses from

Cranbrook for nearly 18 years,

said: "We believe now is the

time to move a new, vibrant and

creative business to the area with

a new micro pub, bistro and pizza

restaurant opening."

They added: "We love our

town and surrounding area and

feel that a gallery, which offers

so much more than hanging

paintings on a wall, is very much

on the radar."

In Cranbrook they will also

offer gallery space for events,

an oil painting restoration

service by Cranbrook-based Nick

Hampshire, a "try before you

buy" service and are aiming to

organise artists' workshops. TF

Goodbye and Hello at

Sissinghurst Castle

A NEW general manager has been

appointed at Sissinghurst Castle

following the departure last month

of Hester Liakos after five year in the

job.

In an open letter to staff before

she left, Mrs Liakos, said that

Sissinghurst Castle "has always

been special" and mentioned the

£500,000+ seven year project to "renew its spirit and

character".

Among the changes have been opening to the public

the late Nigel Nicolson's gazebo overlooking the mote,

the nursery and the South Cottage as well as extending

and improving the vegetable garden.

She described the estate as having one of the

best ranger teams in the country and said staff and

volunteers were hugely committed to their work.

She went on: "I am pleased to be handing over

the reins to Philip Barnes…who is known for his

enthusiasm and energy, with a real passion for

gardens.

"I am sure the Sissinghurst portfolio will continue

to thrive under his leadership. He certainly knows

a lot more than I did when I first arrived, rabbit in

headlights on June 12 2012, in inappropriate footwear,

not knowing a daffodil from a dahlia…" TF

MARSHALL HEATING HELPS APPRENTICES

LAWRENCE MARSHALL, known to everyone as

Milky, is proud to do his bit for young people

keen to step on the employment ladder.

His business, Marshall Heating which operates

out of his home in Wheatfield Drive, Cranbrook,

employs five apprentices who are all local.

One of the youngsters is a girl and Milky said

he was delighted to take her on.

"The business was just me to start with," said

Milky. "I have been in the trade since I left school,

working for British Gas and then becoming a

Corgi safety inspector. Then I decided I wanted to

be my own boss and we have expanded."

"The plan is year on year to progress the

business and give other local youngsters an

opportunity." TF

Parish Cake • Spring 2018 45
---
We insure it.

You enjoy it.

For information on our Bespoke Collection of insurances, please

contact our Private Client Specialists on 01580 766174

Jodie Dane

jodie_dane3@nfumutual.co.uk

Lee Phillips

lee_phillips@nfumutual.co.uk

Agent of The National Farmers Union Mutual Insurance Society Limited.

Get Your Oven's

Sparkle back

AS SEEN

ON TV

Before

After

INTERIOR DESIGNER SPECIALISING IN SOFT FURNISHINGS

BESPOKE FURNITURE, WALLPAPER & PAINTS

Personal attention and great care taken to make your house gorgeous!

l Ovens

l Grills

l Extractors

l Filters

l BBQs

l Microwaves

l Hobs

l Ranges

l AGAs

Call Steen today for your free estimate

Zoffany • Sanderson • Colefax & Fowler • Designers Guild

07860 690 252

ovenclean.com

46 Parish Cake • Spring 2018
---
Ask our

Friendly

Experts

Buss Murton's lawyers answer

your legal questions

EMPLOYMENT LAW

Q

I have worked for my company for

some years and I now have small

children. I am finding it difficult to work

my set hours. Is there anything I can

do?

AIt is important to talk openly

with your managers and explain

the difficulties you are facing. If you

have worked for your company for

26 weeks, then you will likely have

a right to request flexible working

hours. You should review your

company's staff handbook for its

policy on flexible working and follow

the process provided. If this is not

available, then you should obtain

your own legal advice.

A recent survey found that 44%

of working parents felt that flexible

working was a genuine option in their

workplace.

I have set up a small business and

Q I now need to hire an assistant.

What should I consider?

AThink carefully about the role,

the hours and the type of work

you are expecting your assistant to

undertake. Prepare a job description

so this is clear for both of you.

Consider whether there is a business

need for this person to work solely

for you or not. This will help you

decide on the type of employment

relationship and whether the

assistant will be an employee or selfemployed.

You will need to prepare

a written contract of the terms and

conditions and agree this with your

potential assistant.

There are many technical issues

to review when hiring an assistant

and you should talk this through

with your employment lawyer,

accountant and pension adviser for

associated employee matters.

JULIE TAYLOR

Solicitor, Family and Employment

If you would

like to

discuss any

employment

issues then

please feel

free to contact

me on 01580

712 215 or by email jtaylor@

bussmurton.co.uk (please quote

the reference 'ParishCake4').

PROPERTY LAW

Q

I wish to buy a leasehold

residential property, what should

I be looking out for?

AInitially, you should enquire

about the length of the lease,

the ground rent payable and any

increases in ground rent. Once the

lease term goes below 80 years

many buyers will want to extend

the lease which can be a costly

process, so you may wish to make

enquiries as to the approximate

cost.

The issue of ground rent

escalation clauses in leases has

been a hot topic recently. Some

leases provide for ground rent to

double every 10 or 25 years, which

can be problematic. For example,

further

info

if the ground rent doubles every 10

years over a 99-year lease term with a

starting rent of £200, the ground rent

would be £102,400 per year at the end

of the term.

I am concerned about rising

Q service charges and future works.

How can I find out more about this?

AYour lawyer should receive an

information pack completed by

the freeholder or managing agent

which will tell you whether there are

works planned to the building in the

near future and should provide the

last three years' audited accounts.

QAre any changes planned to

leasehold law?

AThe Leasehold Reform Bill is

due to have its second reading in

February which includes a proposal

that the price leaseholders pay for

purchasing the freehold should be

capped at 10 times the ground rent.

It has also been announced that the

sale of houses on long leases will

be banned and ground rents will be

abolished for new-build flats and

houses. We shall have to wait and see

whether the proposed fairer terms

come to fruition.

Find Buss Murton Law at

31 High Street, Cranbrook.

01580 712 215

info@bussmurton.co.uk

www.bussmurton.co.uk

KERRY CARTER

Partner, Property and Private Client

We are happy

to assist with

any questions –

please feel free

to contact me on

01580 712 215 or

by email kcarter@

bussmurton.

co.uk (please quote the reference

'ParishCake4').

legal

Parish Cake • Spring 2018 47
---
update

News

and views from Cranbrook

& Sissinghurst Parish Council

Parking in Cranbrook

Cllr. Kim Fletcher on the options for cars in our town

LAST YEAR a petition was received

by the parish council suggesting the

introduction of paid-for parking in the

town. The petitioners felt that parking

places were being "blocked" for too

long, thereby preventing shoppers and

customers being able to park and spend

money in the town.

The parish council decided in 2013

to take control of the car parks from

Tunbridge Wells Borough Council

(TWBC). This was to avoid "paid for

parking" as we felt this would be hugely

detrimental to the town. It would take

about £400,000 out of the local economy

and put it into the TWBC coffers, with

little prospect of it being spent in

Cranbrook or Sissinghurst.

Last year it was reported that councils

in the UK made £830 million profit from

car parks. The parish council raised the

precept (local council tax) by 37 pence

per week to pay the ongoing bills, such as

cleaning and council tax, and put aside

money to refurbish the white lines, and

eventually resurface the car parks. It was

felt that this cost would benefit everyone

- residents, shoppers, businesses and

visitors, be they tourists or relatives or

friends of our parishioners.

Following this new petition, the council

reconsidered the free parking approach.

To start with, we need to get solid data

about who uses the car parks, for how

long, and when they arrive and leave.

There are various "urban myths" in

the town, for example: "Commuters fill

the car parks and then take one car to

Staplehurst" or "Jockey Lane is filled with

Cranbrook pupils' cars", so we needed

to find the data that

supports or explodes

these myths.

ANPR (Automatic

Number Plate

Recognition) machines

are now used to manage

ABOVE: Cllr.

car parks – they are used in

Kim Fletcher.

Tunbridge Wells' car parks.

The machines are excellent at

generating parking tickets from being

a minute over time, so a trial on the car

parks in Cranbrook would give us the

data we need.

Unfortunately, the companies who

operate these systems will only do a trial

if the council signs up for a three-year

contract and the company keeps all the

parking fines - £80 each time rising to

£120 if unpaid for two weeks. We are still

looking for a company which will deliver

the data, without the need for a contract.

If the parking became paid for, even

after a couple of hours, then the council

will still have to pay for enforcement,

but with little income to pay for it.

Equally, if the parking is paid for, then

double yellow lines will be required on

all the side streets throughout the town,

otherwise car owners will park anywhere

except in the paid for car parks. This

means many people will not be able to

park outside their houses during the day,

without the risk of a penalty.

Traffic and parking are future issues

that have to be addressed by parishioners.

Access from the planned new housing

developments, future parking capacity

and the traffic down Stone Street are

burning issues that will affect us, our

children and grandchildren.

The parish council recently

voiced objections to a planning

application to build two houses in Dr

Hopes Road in Cranbrook, on the site of

16 garages and eight parking places. The

application has now been withdrawn. We

need to be vigilant to ensure that we lose

no more parking.

GETTING READY TO CHARGE!

Currently(!) about 2% of cars on our

roads are purely electric. The nearest

public charge points are in Tenterden

or Tunbridge Wells. Charging points in

Cranbrook may bring in new tourists who

have to stay about 30 minutes to get a

meaningful charge.

The council is looking at installing at

least four charging points in Jockey Lane

car park. We are investigating whether

these should be as a public service or as

paid-for income for the council. There

are several different suppliers and we are

working to find the best for users and the

council.

your say

If you have any views

on the above, please

write to Parish Cake –

details on page 3.

48 Parish Cake • Spring 2018
---
Getting Young

People Involved

THE PARISH Council is keen to engage and

help the young people of the town and local

area. Anyone can pop into the parish office to

explain their good ideas for a better deal for

our young parishioners. Please encourage your

children to do this.

For those going to university, looking for

experience to put on their entry forms, we

are considering a youth parish council, which

would meet every six weeks or so, to discuss

and feedback to the parish what the youth

of Cranbrook would like the town to look

like. This will be weighty evidence for your

university interview.

For budding journalists, why not submit an

article for a future issue of Parish Cake?

If you are interested in either of these, please

contact your head teacher or the parish office

(details on page 3). Cllr. Kim Fletcher

PARISH PRECEPT – GOOD NEWS!

THE PARISH precept is part of the Tunbridge Wells Borough Council tax that

is charged by the parish council to finance the costs of keeping Cranbrook and

Sissinghurst pleasant and vibrant places to live.

The good news is, that despite some necessary substantial amounts of

expenditure, the precept will be increased by only 1.4% or £1.45 for the entire year

for a Band D property. Houses in other bands will increase or decrease proportionally.

Services to the community have not needed to be cut and increased costs have

been absorbed for salaries and pensions, Vestry Hall and Vestry Cottage maintenance,

Crane Valley enhancement, car parks, business rates, general repairs, and finally data

protection.

Parish councillors very much hope that you will continue to enjoy living in

Cranbrook and Sissinghurst. Should you have any questions to put to the parish

council, please do not hesitate to visit the parish office in Cranbrook and speak to the

clerks. Cllr. Brian Swann

diary

date

The Annual Parish Meeting will be held on Wednesday, 18

April at 7.30pm in the Sissinghurst Trinity Church Parish

Room. Everyone is welcome to attend.

PETKEN

CONSTRUCTION LTD

www.petkenconstructionltd.co.uk

Undertaking all aspects of residential and commercial building works.

Please contact us to discuss your building requirements.

Mob. 07834 952 965 Office. 01580 441336

Email. info@petkenconstructionltd.co.uk

Parish Cake • Spring 2018 49
---
local legend

JOHN

SAUVAGE

A Q&A with Cranbrook's specialist vet

WHERE WERE YOU BORN?

Streatham in South London, I

was a post war baby.

WHERE DID YOU GO TO

SCHOOL?

The local primary and then

because I failed my 11+ to

Tulshill, one of the first

comprehensive schools, with

2,500 pupils. Only three of us

did our A-levels so it was great

getting one-to-one tuition.

I then went to the Royal

Veterinary College in Camden

Town.

WHAT WAS YOUR FIRST JOB?

I worked at a surgery in

Wootton-under-Edge in

Gloucestershire. I remember it

was my first evening surgery

and a little fat dog came in

with a urinary tract infection

and I managed to catheterise

it at the first go. It is a tricky

procedure and have never

been able to do it so quickly

again!

HOW DID YOU COME TO

CRANBROOK?

I worked with Arnold

Crowhurst in Maidstone

for a while and was

toying with the idea of

setting up in practice in

Sutton Valence when I

was offered a job in 1976

with Pierson, Stewart and

Partners here in Cranbrook.

I am the only remaining

one now. My daughter

Rhianna works with me as the

practice manager, responsible

for our four practices, and at

any one time we have five to

seven vets here including me.

There is a national shortage

of vets in this country and we

take students and graduates

from all over the world

including South Africa,

Australia and Italy.

WHAT MAKES YOU

TICK?

I enjoy the job. I really

enjoy all aspects of it.

Not everyone is good

with both ends of the lead,

either preferring people or pets,

but I enjoy both ends equally. It

is a very satisfying job but sad

when you have to put down an

animal.

YOUR PREFERENCE, CATS OR

DOGS?

Oh, I think dogs and Labradors

are my favourite. We have

three chocolate Labs; my wife

Sandra breeds them and my

mother used to breed miniature

dachshunds when I was a

child. Clinically dogs are easier

to diagnose because cats are

more secretive.

It is more

rewarding

when you

diagnose

a cat.

ANY CLOSE SHAVES?

Oh yes, I think the worst was

a horse with colic. It ended

up with its front legs over my

shoulders and I thought I'd

had it. The foot and mouth

outbreak was harrowing. I

killed more lambs in a weekend

than I killed in my whole

career.

WHAT IS THE MAIN HIGHLIGHT

OF YOUR CAREER?

Becoming a specialist in

cardiology and fitting dogs with

pacemakers. That was quite a

break through. It has enabled

me to travel the world lecturing

on heart problems. I also

specialise in teeth.

WHAT IS YOUR FAVOURITE TV

PROGRAMME?

I do enjoy the Apprentice.

Running a business is not easy.

So many businesses are not

ethical which comes out in the

programme.

WHAT IS YOUR FAVOURITE

CAKE?

Lemon drizzle.

WHAT DO YOU DO TO

UNWIND?

Gardening, mainly vegetables,

and tennis. We have a court

at home.

WHICH DAILY PAPER DO

YOU READ?

The Times.

Pierson,

Stewart and

Partners was taken

over by Medivet earlier

this year and Mr Sauvage

will be continuing with

the practice.

50 Parish Cake • Spring 2018
---
R

CHURC

R

RI

HILL SECURI

TY

C

T

SYSTEMS

DETER.DETECT.DEFEND
---
Local lawyers for all your

personal and business needs

Property Conveyancing

Family, Children & Divorce

Employment Law

Wills, Trusts and Probate

Litigation & Dispute Resolution

Company & Commercial Law

Our Cranbrook Office:

31 High Street

Cranbrook

Kent TN17 3EE

T: 01580 712 215

E: info@bussmurton.co.uk

www.bussmurton.co.uk

CRANBROOK | TUNBRIDGE WELLS | EAST GRINSTEAD | DARTFORD

Buss Murton Law LLP is a Limited Liability Partnership No. OC345994 and is authorised and regulated by the Solicitors Regulation Authority.