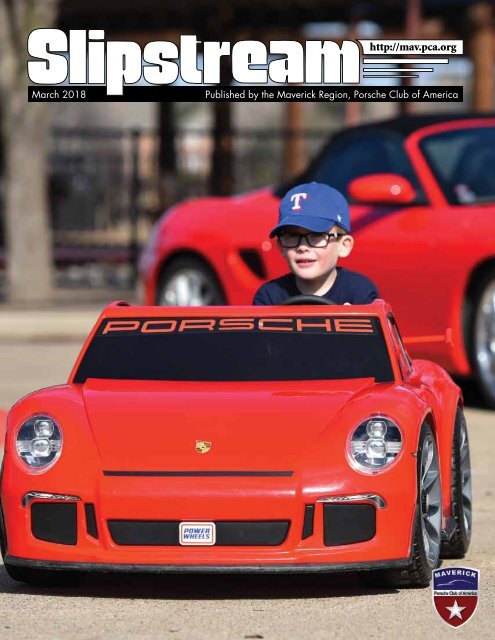 Slipstream - March 2018
The monthly newsletter of the Maverick Region of the Porsche Club of America
The monthly newsletter of the Maverick Region of the Porsche Club of America
SHOW MORE
SHOW LESS
Create successful ePaper yourself
Turn your PDF publications into a flip-book with our unique Google optimized e-Paper software.
http://mav.pca.org

March 2018

Published by the Maverick Region, Porsche Club of America

Upcoming Events

• Father's Day Picnic

• Sunday Drive

• Rally School

Past Events

• Wild Wildflowers

• May at Mayo's

• Results

June 2007 - Published by the Maverick Region

Porsche Club of America
---
High-performance Porsche.

High-performance service

to match.

Park Place now offers even more services to make your Porsche its best: tint and

clear bra installation, headlight restoration, wheel repair and more, performed

by certified Porsche technicians. Enjoy the convenience of the only Metroplex

dealership with an on-site Porsche-certified body shop—together with an

exceptional ownership experience.

That's what makes Park Place feel like Your Place.

Park Place Porsche Dallas

6113 Lemmon Avenue

Dallas, TX 75209

214.525.5400

park-place.porschedealer.com

©2018 Porsche Cars North America, Inc. Porsche recommends seat belt usage and observance of all traffic laws at all times.
---
http://mav.pca.org

Volume 56, Issue 3, March 2018

Find event updates at http://mav.pca.org, follow on Instagram at http://instagram.com/MaverickPCA

and join our Facebook Group at http://www.facebook.com/groups/mavpca/

Features

Mavs & Mochas: January and February Recap................. 6

Kruder's Cars & Conversation........................................ 12

Porsche Trivia................................................................ 14

Porsche of the Month..................................................... 15

2018 Maverick All Member Party Recap......................... 18

January Monthly Social Recap....................................... 25

Five Speed Chatter........................................................ 29

January Tech Session Recap........................................... 31

Upcoming Events

Mavs & Mochas..............................................................7

Motoring Mavs at Mayo................................................ 14

Autocross Schedule....................................................... 16

High Performance Driver Education................................ 16

Tech Session: Suspension and Alignment......................... 16

Board Meetings............................................................. 17

Maverick Lunch Series...................................................17

Monthly Social..............................................................17

Porsche Promenade.................................................17, 21

Easter Rally................................................................... 21

Maverick Drive: Mitas Hill Winery.................................. 27

Departments

Sprockets (President's Column)......................................... 2

Maverick of the Month..................................................... 2

List of Officers and Board Chairs...................................... 4

Zone 5 Presidents............................................................4

New Mavericks and Anniversaries.................................... 9

Unclassifieds................................................................. 34

Advertiser Index............................................................ 34

Around the Bend (Editor's Column)................................. 36

On the Cover

Our 2018 All Member Party brought Porsche drivers

of all ages out to join in the fun. This is Wilson, the

son of our Event Ads designer Kurt Scaggs, enjoying

his tour of the parking lot full of larger Porsches.

Photo by Andrew Barber

Slipstream (USPS 666-650) is published monthly by the Maverick Region, Porsche Club of America, 155 Jellico

Southlake, TX 76092. Subscription price is $24.00 per year. Periodical postage is paid at Fort Worth, TX.

POSTMASTER: Send address changes to Hiram Saunders, Slipstream, 155 Jellico, Southlake, TX 76092.

Event Dates

See more details and check for event updates via

the QR code here or our online calendar at

http://mav.pca.org/go/calendar

March

PCA Club Race and DE: COTA....................... (Fri-Sun) 2-4

Board Meeting..................................................... (Wed) 7

Mavs & Mochas: Zims Autotechnik........................ (Sat) 10

Lewisville area lunch............................................. (Tue) 13

Monthly Social: The Lion & Crown Pub, Allen.........(Thu) 15

Motoring Mavs at Mayo....................................... (Sat) 17

Autocross School: Mineral Wells Airpark............... (Sat) 17

Autocross #2: Mineral Wells Airpark.....................(Sun) 18

Southlake area lunch............................................(Thu) 22

Maverick Driving Tour: Mitas Hill Winery...............(Sun) 25

Porsche Promenade: Brookhaven Country Club......(Sun) 25

Tech Session: Innovative Autosports....................... (Sat) 31

April

Board Meeting..................................................... (Wed) 4

Easter Rally.............................................................(Sat) 7

Autocross #3: Lone Star Park..................................(Sun) 8

Lewisville area lunch............................................. (Tue) 10

Mavs & Mochas: Nordstrom @ North Park Mall..... (Sat) 14

Maverick Driving Tour: Bluebonnet Tour.................(Sun) 15

Monthly Social: TBD.......................................(Thu) 19

Motoring Mavs at Mayo....................................... (Sat) 21

Southlake area lunch............................................(Thu) 26

HPDE: MotorSport Ranch..........................(Sat-Sun) 28-29

With temperatures in the 20s and a

clear blue sky, our January Mavs &

Mochas event in Southlake brought

out 31 Porsche 996 models and a

total of over 120 cars.

Photo by Andrew Barber

Opinions expressed herein are not necessarily endorsed by the Club's membership or officers. Contributions will be

printed on a space available basis. Chartered regions of PCA may reproduce items from this issue provided the author/

artist and Slipstream are credited. Slipstream is printed by Ussery Printing Company in Irving, Texas.

1
---
Sprockets: Women (and Fashion) in Maverick Region's History

By David Robertson, Region President

One thing

that stands

out is the

impact that

our women

members

have had on

this club.

e recently cleaned out a storage unit that

W

the club has rented for many years. Most

of what was found were extra copies of

Slipstream, old files and documents to be

shredded, and ancient technology items left there over

time.

There was also treasure found in some old mementos

of our club. Yearly scrapbooks and documentation of

our club over the years were located in the dust among

those items that were way overdue for the dumpster.

The pictures and descriptions in these compilations

tell a story of how a club like ours evolves and adapts

over time. The Maverick Region members have been a

fun bunch throughout the years and I have the pictures

to prove it!

One thing that stands out throughout

these scrapbooks is the impact

that our women members have had

on this club. There has been at least

one woman on our Executive Committee

serving as President, VP,

Secretary, or Treasurer since the

beginning of the Maverick Region in

1963. Women from this club on both

local and national levels have been

creating and implementing brilliant

ideas, competing in driving events, and managing the

Maverick Region from its inception to the organization

we have today. Many of these very long-tenured members

are still active in the club and I see them at many

of our events. After diving into our archives, I have an

entirely new level of respect for the contribution they

have made to our region over the years.

As I look at the pictures and yearly activity outlines

in these collections, I think about where we are today

as an organization. Except for the excessive amounts

of polyester and quite prominent sideburns, not much

has changed with the goals and spirit of this club. We

just have a much bigger challenge today to compete

with the unlimited choices that our members have for

their attention and time, both online and in the physical

world. This challenge only becomes greater with

the next generation of Maverick Region members.

The quality of our event offerings, newsletter and

social media is phenomenal today due to the continuous

innovation and enthusiasm of our event chairs and

volunteers. Member participation and excitement is

as high as it has ever been. Although there have been

questionable fashion trends over the years, the mantra

of our club has not changed since its inception, and I

hope that it never does. Driving Friendships!

SAUL FRAIRE, Chef-Proprietor

1235 William D. Tate Ave

Grapevine, TX 76051

817-329-6995

MAV OF THE MONTH: Derrick Tate

Our Mav of the Month for March 2018 is Derrick

Tate. Derrick joined PCA last year and became actively

involved in many of our Maverick Region events, most

notably our Coffee Meets. Many of you will also

recognize this young man, as he is always greeting

Maverick members with a warm smile, eager to please,

and be of assistance whether greeting at the Founders

Day Celebration, Mavs & Mochas, or helping get your

car photographed at our December People's Choice

Car Show in Highland Park Village. Since joining the

region, Derrick has participated in several tours,

monthly socials, and of course Mavs & Mochas. Derrick

also took it upon himself to start showing up to our

monthly board meetings

offering to help in any

capacity he could, and as a

matter of fact, effective

this month, Derrick

becomes Co-Chair of our

Coffee Meets. Derrick is

yet another example of

the enthusiasm that is

catching on, making him

the face of our club's

future. Congratulations

on a job well done!

2 March
---
3
---
2018 Maverick Region Board - Officers and Chairs

President

David Robertson

617-797-0516

president@mavpca.org

Autocross Chair

Mark Schnoerr

ax@mavpca.org

Vice President

Jim Falgout

vp@mavpca.org

Charity Chair

Chris Hamilton

hope@mavpca.org

Secretary

Carey Spreen

817-422-3480

secretary@mavpca.org

Club Race Co-Chair

Pat Heptig

214-649-7907

cr@mavpca.org

Treasurer

Deborah Fike

972-672-4282.

treasurer@mavpca.org

Club Race Co-Chair

Joel Nannis

cr@mavpca.org

Coffee Meets Co-Chair

Derrick Tate

972-748-1178

coffeemeets@mavpca.org

Concours Chair

Mike Mahoney

801-230-1482

concours@mavpca.org

DE Chair

ChrisTabor

817-371-4888

de@mavpca.org

DE Chief Driving Instr.

John Sandusky

817-777-0421

cdi@mavpca.org

DE Equipment Mgr.

Hunter Allen

deequip@mavpca.org

DE Hospitality

Rose Gohlke

de@mavpca.org

DE Registrar

Jason Brodigan

deregistrar@mavpca.org

DE Sponsorship

Daren Kirbo

254-396-2973

desponsorship@mavpca.org

Goodie Store

Chris Flaugh

214-288-5300

goodiestore@mavpca.org

Histographer, Tenured

Charlie Davis

historian@mavpca.org

Marketing, Social

Media Chair

Bill Orr

bill@billorr.com

Membership Chair,

Past President

John Hamilton

817-907-7823

membership@mavpca.org

Monthly Social Chair

Position Open

hh@mavpca.org

Online Calendar

Karl Poulsen

calendar@mavpca.org

PCA Tours Co-Chair

Mark Pitarresi

817-715-7156

tours@mavpca.org

PCA Tours Co-Chair

Tom Gomer

tours@mavpca.org

Rally Co-Chair

Don Sebert

214-613-6900

rally@mavpca.org

Rally Co-Chair

George Luxbacher

rally@mavpca.org

Registrar, Club Race

Wendy Shoffit

crreg@mavpca.org

Safety Co-Chair

Wayne Elliott

safety@mavpca.org

Safety Co-Chair

Bob Kramer

safety@mavpca.org

Slipstream Advertising,

Coffee Meets Co-Chair

Bill Kruder

214-497-0711

ads@mavpca.org

Slipstream Editor

Jim Hirsch

972-740-7377

editor@mavpca.org

Slipstream Content Ed.

Carey Spreen

817-422-3480

editor@mavpca.org

Slipstream Event

Ad Design

Kurt Scaggs

eventads@mavpca.org

Tech Sessions Chair

Michael Baynton

214-641-2848

techcorner@mavpca.org

Slipstream Mailing

Andy Mears

214-394-5857

mailing@mavpca.org

Time Trial Chair,

(AX/TT Rules)

Travis Howard

214-616-6152

tt@mavpca.org

Slipstream Printing

Fran Ussery

972--438-8344 (W)

817-481-8342 (H)

printing@mavpca.org

TT Registrar, AX/TT

Schools, Swap Meets

Robyn Howard

214-991-0873

drivingschools@mavpca.org

Social Chair

Debi Gibson

social@mavpca.org

Trivia Chair

Jerry DeFeo

972-240-5800

trivia@mavpca.org

Volunteers Chair

Jim Gallegos

214-697-0792

volunteers@mavpca.org

Web Site Chair

James Shoffit

972-786-6246

webmaster@mavpca.org

Yahoo List Moderator

Brian Scudder

mrpca-owner@

yahoogroups.com

Yahoo List Moderator

Matt Platts

mrpca-owner@

yahoogroups.com

ARK-LA-TEX

Ken Chandler

bad968@bellsouth.net,

COASTAL BEND

Bryan Kerrick

bksailspadre@

sbcglobal.net

2018 PCA Zone 5 Presidents and Zone Representative

LONE STAR

Steve Bukoski

president@lsrpca.com

MARDI GRAS

Scott Spradley

swsprad@bellsouth.net

OZARK

Jim Woolly

jim.carol_NOSPAM@

sbcglobal.net

WHISKEY BAY

Mike Hamza

mikehamza944@

gmail.com

CIMARRON

Joy Jones

presidentcmr@gmail.

com

HILL COUNTRY

Tracey Gross

president@hcrpca.org

LONGHORN

Charles Bush

president@longhornpca.org

MAVERICK

David Robertson

president@mavpca.org

WAR BONNET

Randal Goodman

drtoys42@aol.com

WHITE RIVER

Leonard Zechiedrich

whiteriverregionpca@

gmail.com

ZONE 5 REP

Jon Jones

zone5rep@pca.org

www.zone5.pca.org

4 March
---
VISIT OUR NEW 8600 SQ FT LOCATION!

MONTHLY SPECIAL

$195

MOTUL OIL

$187

MOBIL 1 OIL

CERTIFIED MASTER TECHNICIANS

GENERAL MAINTENANCE

PERFORMANCE UPGRADES

SUSPENSION MODIFICATIONS

ALIGNMENTS ( TRACK AND STREET )

TRACK PREPARATION

TECH SHEET INSPECTIONS

CUSTOM FABRICATION

CUSTOM BUILT SPEC 996S AND SPB

2520 Tarpley Rd. Suite 700

Carrollton, Texas 75006

(972) 418-1996

innovativeautosports.com

innovativeautosportstx@gmail.com

5
---
Photos contributed as noted

Mavs & Mochas: Southlake and Watters Creek in the Cold!

By Jason Oliver, Porsche 996 Owner and Mark Palmer, Porsche 993 Host

anuary: 20 Years of the 996

J

It was a warm reception for

the Porsche 996 on a chilly

January morning. At least 31 of

the early hydrated 911s were in attendance,

which was roughly one 996 for every temperature

degree that morning. Brisk. Cool.

Frosty. Choose an adjective, it was cold.

Cold start to the morning

(Photo by Landon Stogner)

Jason

Oliver

Celebrating the 20th

anniversary of the 996,

Southlake Town Square

was awash with the full

spectrum of the first

water-cooled 911s, from

early models built in 1998

to those produced up

through 2004.

As an owner of an

early 996, I'm a little biased and madly in love with

the sometimes-maligned generation of the 911. The

Porsche 996 was a new design by Pinky Lai. It was the

first new 911 that was completely redesigned, with little

being carried over from the previous 993 models. All

new body work, interior, and the aforementioned first

water-cooled engine in a 911.

By 9 am, a quick walk around the square allowed us

to eye-spy everything and anything 996, including base

C2s, C4s, Gen 1s, Gen 2s, Turbos, Coupés, Cabriolets,

4Ss, and an X50 (a Turbo with larger turbochargers

and intercoolers providing a 30-hp increase). All were

represented and welcomed, with a cup of joe from Starbucks

and a donut personally handed out by Mav of the

Year Bill Orr himself.

Besides the first-generation H2O stars of the show,

there were also the usual suspects in attendance, with

the exception of a random drive-by, a 1991 964 reimagined

by Singer Vehicle Design. As expected, the Singer

quickly drew a crowd, worthy of any celebrity/paparazzi

swarm fest, and we are all looking forward to seeing

more of it at future events.

Early 996 arrivals (Photo by Andrew Barber)

All told, at last count, over 120 cars braved the 30°

morning in Southlake, which means we are all either

crazy about our cars, or we REALLY like coffee and

doughnuts.

ebruary: 25 Years of the 993

F

The conditions weren't great

but the spirit of the Mavs & Mochas

members overcame all that

mother nature served up Saturday morning,

Mark

February 10, and made for a great event.

Palmer

We had everything Saturday: 117 great cars,

Frogg coffee, Mr. 993 Rudy Mancinas, raffle

winners for The Pad Keeper, and 25 awesome 993s.

To everyone that came out: thank you! Please plan

on attending the March meeting at Zims Autotechnik

and invite your Porsche friends. I want to give a special

shout out to Rudy Mancinas who came up from

Houston in his beautiful 993 to support his fellow 993

owners and the Mavs.

Singer Vehicle Design 964 (Photo by Andrew Barber)

Special 993 guest Rudy Mancinas (Photo by Mark Palmer)

6 March
---
Park Place support vehicle and 993s (Photo by Bill Kruder)

Another special thank you to David Etter, The Pad

Keeper, for donating four Pad Keepers along with a

nice banner for the event. Frogg Coffee Bar & Creperie

was very accommodating, thank you.

993 lineup framed by a 944 Turbo (Photo by Paul Moseley)

Pointing out the 993 features (Photo by Paul Moseley)

Last, to everyone that helped make it all happen

and braved the early morning weather to put out parking

cones, assist drivers in parking, put out tables and

banners, and anything else that needed to happen….

boo-yaa!

7
---
your baby deserves

it's own room.

Introducing Garages of Texas, a community of first-class, affordable, completely customizable garage suites. Here, you don't rent a

space. You buy it. Giving you complete financial control and power to make it your own with unlimited customization options. So, stop fighting

for space in your family garage. Upgrade to a garage suite and move your show cars, motorhome or boat to the showroom they deserve.

Contact our sales team at 888.988.8049 or sales@GaragesOfTexas.com for more information.

ALLEN • CARROLLTON • DALLAS • FRISCO • PLANO • ROANOKE COMING SOON: AUSTIN • HOUSTON • SAN ANTONIO

GaragesOfTexas.com • Facebook.com/GaragesOfTexas

8 March
---
Welcome Our New Mavericks!

By John Hamilton, Region Membership Chair

Nick Baggenstos

Fort Worth

2018 718 Cayman

Alec Baker

Fort Worth

2006 Cayman S

Ziad Blaik

Dallas

1997 911 Carrera Cabriolet

Danny Briones

Mckinney

2015 Macan Turbo

John Burchett

Dallas

2013 911 Carrera S

Gregory Castelan

Plano

2015 Cayman

Bob Chrampanis

Irving

2003 Boxster S

Bill Costello

Allen

1986 911 Carrera

Chris Craig

Fort Worth

2018 718 Cayman S

Gilbert D'Andria

Frisco

2013 911 Carrera Cabriolet

James Day

Benbrook

2007 911 Carrera S

Rene DeLeon

Rockwall

2015 911 GT3

Christopher Gooch

Fort Worth

2013 Boxster S

Joshua Griswold

Dallas

2016 911 Carrera GTS

Gabriel Gutierrez

Mesquite

2000 911 Carrera Cabriolet

Russell Hague

Burleson

2014 911 / 2013 Panamera S

Douglas Hasty

Keller

2000 911

Andy Hsieh

Colleyville

2017 911 Carrera

Jon Israelson

Flower Mound

2001 Boxster

Jack Keller

Dallas

2012 911 Carrera S

Kim Kohler

Dallas

2013 Boxster S

David Lien

Richardson

2003 911 Carrera 4S

Bruce Martin

Carrollton

2018 Panamera

Tom Mason

Dallas

2017 718 Boxster S

Sterling May

Dallas

2018 911 GT3

Alan Mayhew

Fort Worth

2018 911 Carrera GTS

Richard Merriam

Dallas

2016 Panamera S E-Hybrid

Jelena Mitic

Grapevine

2018 718 Cayman

Mark Moore

Dallas

2014 911 Carrera

Jeswin Philip

Plano

2008 911 Turbo

Michael Precht

Colleyville

2006 911 Carrera S

Adam Roach

Southlake

2015 Boxster S

Sean Ruckel

Southlake

1980 911 SC

Maverick Membership Stats

Members: 1,799 Affiliate Members: 892 Total Membership: 2,691

If you have any changes that

you would like to make to the

MRPCA membership guide,

contact John Hamilton at

membership@mavpca.org

John Russell

Frisco

1999 911 Carrera Cabriolet

Tom Thompson

Keller

2010 Cayman

Kenny Tran

McKinney

2014 911 Turbo

Larry Urben

McKinney

1991 944 S2

Mike Watts

Bedford

2002 911 Carrera 4S

Worth Williams

Dallas

2012 911 Turbo S Cabriolet

Bud Zarsk

Grapevine

2014 911 Carrera

Transfers In

Jerry Fradenburg (Vanessa)

(PST)

Rockwell

2005 Cayenne

Jesse Garrett (FST)

McKinney

1986 944

Chuck Gould (RMT)

Allen

1975 911S

Robert Graeter (Debra)

(LHN)

Lantana

1988 928 S4

Anniversaries: March

35 Years

Mark Hanna

Plano

George Maffey

Denton

Michael Orlie (Chris)

Fort Worth

25 Years

Chester Epperson (Debra Christon) Southlake

Steven Hensley

Dallas

Larry Ricketson

Arlington

20 Years

Mitch Hill (Stephen)

Southlake

Darrell Jones (Karen)

Granbury

15 Years

Stephen Coomes (Leah Lamb) Aubrey

Todd Coon (Diane)

Frisco

Jon Glover (Kimberlee)

Grapevine

10 Years

Bob Blakewell (Suzy)

Fort Worth

Tom Cox

Bullard

Jo Golaz

Joshua

Cheryl McCally

Pilot Point

Dan McRee

Fort Worth

Thomas Minnella (Barbara) Plano

John Noack (Alexis No)

Dallas

Fran Ussery (Adam) Grapevine

5 Years

David Bradley (Cris)

Dallas

Daniel Castillo

Dallas

Matthew Dzurik

Fort Worth

Arlin Goldberg

Dallas

Jason Harper (Alisha)

Dallas

Daren Kirbo (Bob Prosen) Stephenville

William Leven

Dallas

Bob Molyneux (Anne)

Plano

Patrick Needham

Fort Worth

Michael OShaughnessy

Plano

Anthony Vant Westeinde

Dallas

9
---
Like a Personal Trainer for your Porsche!

• Expert maintenance and repair services • Track day preparation

• Performance and appearance upgrades from GMG, Manthey, FVD and more

• Superior customer service and free loaner cars • PCA discounts

• Show quality detailing services • Comprehensive service from air-cooled to 991

We Buy, Sell and Consign Quality Pre-owned Porsches

PCA Special - Brake Flush $149 00

Plus Sales Tax

10 March

With this coupon. Brake Flush with MOTUL Brake Fluid. Offer includes complimentary car wash and vacuum.

3236 Skylane Drive, Dallas, Texas 75006 • 214-269-1570 • www.racperformance.com
---
MarvelousHomeMakeovers.com | 972.951.1932 | Botond@MarvelousHomeMakeovers.com

11
---
Photos courtesy of Olga Taylor

Kruder's Cars & Conversations

By Bill Kruder, Region Advertising Chair

his month's "conversation"

started with an

T

email back in October

from a member asking

if it would be OK to join us at our

Mavs & Mochas, even though she

would be in her daily driver. She

briefly mentioned how she had a

Porsche that had not been driven

for some time, and how she was

once active in PCA and was looking

to reconnect. Well, after assuring

her that we would love to have her

attend, a few emails later I learned

she had an 80s SC, so I told her to

look me up that morning and we

would chat. With that, our connection

was in motion.

So here is the next individual in

my series of "conversations" I would

like to share with you . . .

Olga Carolyn Stain Taylor,

Porsche Enthusiast since 1978,

Owner today of a

1980 911 SC Targa

Bill Kruder: So are you originally

from here?

Olga Taylor: No, I was born in

D.C. I was a baby when we moved to

Houston, but I grew up in the San

Joaquin Valley, specifically Fresno.

BK: So how did you end up living

in Dallas?

OT: Well after graduating college

let's just say I moved a lot

(laughing). I got a job at Kraft

Foods in Buena Park as a food

chemist and had a few promotions

when an opportunity came up with

Frito Lay at Exchange Park in Dallas.

I was here for several months

before they moved me back to L.A.

as a QA Manager. It wasn't till 1988

that I moved here permanently,

first as a Field Industrial Engineer,

then as Area Manager.

"Sleeping Beauty" from 1996 to

November 2017

BK: I understand that after all the

different positions that you had as a

chemist and production manager, you

have a whole different career?

OT: Yes, in 1993 I started "New

Paradigms," a consulting company

that specializes in organization development.

I make sure people play

well together (laughing). Today, I

mainly work on executive coaching,

training, and I teach at SMU.

BK: So how did you get your passion

for cars?

OT: I'd have to blame my dad.

When were kids he had a manual

Ford Falcon that he would drive

briskly down the streets, surprisingly

with us kids in the car. Talk

about something you would never

do today! But those were different

times. As a kid, I was not sure about

fast driving, but my dad was always

interested in fast cars and I guess

that just stuck.

BK: So what was your first experience

with Porsche?

OT: My dad's friend saw me

walking home from middle school

and offered me a ride in his 911 -- it

was such a thrill. Later, I bought my

brother's friend's black 1974 914/4

after he took it out on the track

for a test drive. This was in 1978. I

drove the 914 for some time after

that till my boss thought I should

have another car.

BK: And did that work out?

OT: Well this was about 1984.

We went to Redondo Porsche, I

told them how much I would pay,

and about two weeks later, for my

30th birthday, I was now the owner

of two Porsches. They had located

my "baby," the 1980 SC Targa in

Nutmeg Metallic.

BK: And I understand your cars are

not garage queens?

OT: Oh no! When I own cars I

drive them -- from 1984 thru 1996

I put on over 100k miles on "Baby."

She took on the Pacific coast, wine

country, and mountains, as well as

PCA events: Tours, Rallies, Track,

Autocross, etc.

Touring at Mount Hood National Forest

BK: So after 1996?

OT: Well let's just say that owning

and driving a Porsche just

makes one happy; how can it not,

right? You have to just smile each

and every time you head out. But

then life gets complicated, and I

went through a very heartbreaking

time. So, I just parked it and never

looked at it again. As I said, a lot

was going on, and in 2007 I lost my

husband, so again that just was not

the focus.

12 March
---
BK: And what made you want to

bring the car out after 21 years?

OT: Well, last September I had

a friend over to the house, and he

saw this car covered in the garage

and asked what it was. I uncovered

it and he said, "Olga why don't you

drive this?"

BK: OK so I know the story gets good

now.

OT: It really does. I had read

about this PCA group who gather

for coffee every month and I

thought maybe I should just go see

what goes on and meet them. I had

been very active in the PCA

club in Oregon back in 1985

till moving here in 1988.

BK: Yes I remember you sending

me an email asking if you

could drive over to meet us.

OT: And I did, I drove over

to Bedford, the Texas Harley

Dealership, in my Honda

Pilot, and upon arriving was

directed to the "non-Porsche" lot

(laughing). But hey, I get it! So, I

parked and started walking the lot

among more Porsches that I had

ever seen in one place for some

time. I casually just started to talk to

some of the owners, when I ran into

Frank Briggs and told him I had a

car that had not been driven in 20

years. Well Frank said we better do

something about that! So before I

knew it he was at my house, checking

the oil, and bringing fresh gas

and a battery. With a crank or two it

started! It had not run since 1996.

With that, Frank shut it down and

recommended that I get the car

in for service. He recommended

Nate, Rick, and Ricky at Fifth Gear.

So we flat bedded it off to them.

Frank went over there and supervised

the whole process for me.

BK: And when was the car ready to

drive again?

OT: "Baby" became road worthy

the day before Thanksgiving.

I wasn't even sure I knew how to

drive a stick after 20 years. Then,

the best part was being able to attend

Founders Day Mavs & Mochas

with some 200 other cars. Let's

just say all the happiness I had

enjoyed, and yet missed, was

back!

And there you have it: yet

another example of "driving

friendships," and what it means

to not only own a Porsche but

how that simple pleasure

changes lives forever.

13
---
Motoring Mavs at Mayo: Saturday Morning With Porsches

By Bill Kruder, Region Coffee Meets Co-Chair

Photo by Jim Hirsch

ith the success of Mavs & Mochas (M & M)

W

-- sponsored by our friends at Park Place

Porsche – we are now averaging nearly 120

cars a month, and are excited to announce

another new monthly event for you to attend.

Starting in March we will kick off our newest

event: Motoring Mavs at Mayo, sponsored by Mayo

Performance. This event will be held every third

Saturday of the month, and starting time will be 9:11

am at Mayo Performance in Euless.

Now you might wonder what the difference is

between M & M and Motoring Mavs at Mayo. Well, M &

M is held the second Saturday of the month and varies

on location,

typically

moving East

and West in

the Metroplex.

Motoring Mavs

at Mayo will

be the third

Saturday of the

month, and will

always be at the

garage. As Ed says, "we see this event focused around

shop talk." More information can be found at http://

mav.pca.org/go/mmm. In addition, an online store

has been created specifically to allow you to purchase

merchandise with the MMaM logo. You can browse and

order those items at www.zazzle.com/motoring_mavs.

So there you have it. If you have been disappointed

in not being able to attend Mavs & Mochas, you now

have another option to get your coffee fix and enjoy

even more great Porsches. We look forward to seeing

you there, and thank Mayo Performance for their

partnership in this new monthly event!

January Trivia Questions and Results

By Jerry DeFeo

Sponsored by Zims Autotechnik

You can test your knowledge (or Google search ability)

of all things Porsche by participating in the monthly

trivia contest posted online at http://mav.pca.org/

trivia. Answers are due by the last day of each month.

The winner of the trivia contest receives a $25 gift

certificate from our sponsor, Zims Autotechnik. In the

case of ties, a random drawing determines the winner.

We had 19 entires this month! The winner for our

January Trivia is Tom Gomer who answered all five

questions correctly and won the drawing. Tom, please

contact Kirk at Zim's to claim your $25 gift certificate.

Honorable Mention goes to Rob Adams, Jim Hirsch,

and Cyril Reif, who also got

5 of 5 Correct. The questions

for the January Trivia

are shown to the right with

the correct answers below.

1. Porsche's first production car was called the 356. They made

it in many variations: Coupes, Cabriolets, Convertibles with

Removeable Hardtops, Roadsters, and Speedsters -- all with

different engine displacements and horsepower ratings.

Whenever they made major changes to the 356, they added a

letter suffix. What was the very last 356 made?

a. 356B b. 356C c. 356D d. 356E

Source: https://en.wikipedia.org/wiki/Porsche_356

2. Which other European car company threw a hissy-fit when

Porsche came out with a new car called the 901?

a. BMW b. Citroen c. Peugeot d. Ferrari

Source: https://en.wikipedia.org/wiki/Porsche_901

3. What was the first 4-door that Porsche built?

a. Troutman b. Panamera c. Cayenne d. 924S

Source: https://en.wikipedia.org/wiki/Porsche_Cayenne

4. The front cover of the February 2008 issue of Porsche

Panorama shows a close-up of a Porsche Race Engine. How

many spark plugs does it have?

a. 8 b. 12 c. 16 d. 32

Source: Porsche Panorama, February 2008, front cover

5. What is generally considered to be the most fantastic racing

Porsche ever built?

a. 904 b. 906 c. 917 d. 935

Source: Popular vote (subjective)

Answers: 1) b 2) c 3) c 4) d 5) c

14 March
---
Porsche of the Month

Selected by Bill Orr, Region Marketing Chair

Silver 2017 Porsche 911 R, "2017 Maverick-Halloween Fun Rally" Photo by William Beck

For instruction on how to submit your Porsche photos in the POTM contest go to: http://mav.pca.org/photos/POTM/

15
---
Upcoming Maverick Region Events

16 March
---
17

Upcoming Maverick Region Events
---
2018 Maverick Region All Member Party

By Jim Hirsch, Slipstream Editor with observations by Josh Gutjahr

Photos by Andrew Barber

he longtime Maverick Region motto of

T

"Driving Friendships" was definitely in evidence

to the members who attended the All

Member Party (AMP) held on January 27.

Our Maverick Region made Hackberry Country

Club the place to be as over 120 Porsche vehicles made

the drive along with over 250 PCA friends in attendance

for the afternoon.

Fortunately the weather cooperated for our event

once again and allowed members to spend lots of

time outside enjoying the parking lot full of members'

Porsches of all years and models.

As members made their way inside, they were greeted

and directed to the area filled with tables of event

information as well as a winderful selection of appetizers

and drinks.

Our Region President, David Robertson, did a masterful

job sharing information about our club and what

members can expect in the way of numerous activities

and information sources.

Beyond great food and libations, the conversations

heard throughout the afternoon were those of new and

old friends sharing good times together.

Our Region Social Chair, Tracy Robertson, did a

wonderful job of putting this event together for our

new and current members to enjoy. This is the final

event coordination for Tracy as she turns over the Social

reins to Debi Gibson and gets a well deserved

break. Thank you Tracy for your years of service as the

Region's Social Chair!

A new Maverick Region member, Josh Gutjahr,

attended with Parker Ackerman and shared these

observations.

Parker and I were a little nervous about coming

to this event because we were unsure as to how the

reception would be. This marks my second Maverick

Region event, with the first one being an Autocross.

For Parker this would be her first car event EVER.

We arrived a little late, but wasted no time diving

into the great food and drink that was there. I met a

couple of familiar faces, and mingled with new ones

as well.

Everyone was so friendly and outgoing, and that

made the world of difference for us. We got so wrapped

up in conversation, that I didn't have time to show

Parker all the cars! I barely was able to scratch the

surface on the flat-6 configuration. I also forgot to

get the pictures that I promised both our parents. Oh

well, there'll be other times. I enjoyed learning about

all the upcoming car events, such as the Mavs & Mochas

and the tours. Overall we had a great time and

will be coming out to more events as they arise. Being

from Tyler it's hard sometimes to get to the Maverick

Region events, but I'm going to try at least one event

a month. Parker had a great time as well, and the

Mavericks definitely made a great impression on her.

18 March
---
All Member Party Scrapbook

Photos by Bob Molyneux

19
---
The Art of Paint Protection

After Installation

A virtually invisible urethane film

professionally applied to high-impact areas

of your vehicle to protect your paint job from

stone chips, sand, road debris and bug acids.

During Installation

Owner Installed

Highest Quality Guaranteed

2530 Tarpley Road, Suite 100

Carrollton, TX 75006

20 March
---
Spring 2018 Porsche Promenade: Shine & Show

By Mike Mahoney, Region Concours Chair

n Sunday, March 25, Maverick

Region of the PCA will be

O

holding its inaugural Porsche

Promenade Car Show at

Brookhaven Country Club in Farmers

Branch. The show will be held from 11

am to 2 pm where brunch and refreshments

will be served. Look for registration

information on our Facebook page.

We're looking forward to kicking off

2018 with a "Shine & Show" event, where a "clean car"

is all you need. Concours d'Elegance this is not. Bring

your clean Porsche and let our judges rate your cleaning

skills.

Accessing the vast "think tank" of car show experience

from the club, veteran car show participants Ed

Mayo and Alan Bambina will assist the judges and help

set the expectations of participants.

All members will receive a club "enews" email regarding

registration, volunteers needed for judges, and

training for judges and participants. We will also post

that information on our web site at http://mav.pca.

org/Events/Concours/ and our Facebook page.

lease join us for our third annual Easter

P

gimmick rally: the Bunny Hop Road Rally

(BHRR) on Saturday, April 7. Sign-in is at

9 am in the Costco parking lot at 11220

Dallas Parkway in Frisco, with first car out shortly after

the drivers' meeting at 9:30. We will end at the Hard

Eight BBQ in The Colony for libation and lunch, a recap

of the fun-filled route, and our prestigious award

ceremony! The competition for the DLBF (Dead Last

But Finished) Award is always fierce!

If you joined us in the past for either our Halloween

or Easter gimmick rallies, you know how much fun we

have – your rallymeisters continue to hone their bag

of gimmicks to maintain the excitement and competition,

and this rally will assuredly introduce some new

"hops" down that path. If you are new to gimmick rallying,

we assure you that it will be an enjoyable morning.

Our goal is to keep everyone on the route, so the drive

instructions are not (too) cryptic, as long as you follow

a few basic rules. We have planned the rally to go

from Frisco to The Colony, traveling over 60 miles and

staying on paved back roads, out of the main stream of

traffic as much as possible.

Kurt Scaggs, our event ads designer,

has created yet another unique logo

for this first Porsche Promenade.

All participants will receive a

commemorative decal on the day of the

car show. In addition, an online store

has been created specifically to allow

you to purchase other merchandise with

the same commemorative logo. You can

browse and order those items at

www.zazzle.com/maverick_concours.

We're looking forward to a great turnout for this

first Concours event of 2018.

If you have any questions please call me at 801-230-

1482 or email me at concours@mavpca.org.

Maverick Rally Series: Bunny Hop Road Rally Preview

By George Luxbacher and Don Sebert, Region Rally Co-Chairs

Two people at a minimum should be in each car:

a driver and a navigator. Pre-registration is strongly

encouraged; we will have over thirty cars participating,

leaving at one- to two-minute intervals from our starting

point, and pre-registration helps in our planning.

We will send out General Instructions prior to the rally

as well – it helps to

understand the basic

rules and guidance

before rally day.

We look forward

to seeing you at the

BHRR!! Contact us

with any questions.

Don Sebert and

George Luxbacher –

Rally Co-Chairs;

rally@mavpca.org

Photo courtesy of the Author Logo design by Kurt Scaggs

21
---
Engine Restoration

• Restore, Rebuild to OEM Original

or Modified Spec

• Partial or Complete Car

Preservation Restoration

• We Manufacture NLA Parts to

OEM Original Condition

• Specializing in 911 930 928

R A N D A L L K A R A

RKT 817-624-1322

T E C H N I Q U E S

901 TERMINAL ROAD • SUITE 400 • FORT WORTH, TEXAS 76106

35 Years Doing What We Love.

Visit us on Facebook - Randall Kara Techniques

22 March
---
We Buy, Sell & Tradethe

World's Finest Timepieces

Precise, sleek, distinctive and exceptional. de Boulle is a family-owned business

established in 1983. Along with de Boulle Motorsports, both are a living and moving

illustration of the passion for excellence for jewelry, watches and racing. de Boulle

is an uthorized Dealer for major brands including: Patek Philippe, Rolex, Bell & Ross,

Blancpain, Corum, Girard Perregaux, Greubel Forsey and Tudor. de Boulle also

provides the options of pre-owned timepieces, which includes vintage watches of

notable brands. Visit deBoulle.com to view our extensive collection.

6821 Preston Rd., Dallas, TX 75205214.522.2400

River Oaks District Houston, TX 77027 713.621.2400

deBoulle.com

2017SlipStreamAd.indd 1

23

8/9/2017 1:06:26 PM
---
©2017 Porsche Cars North America, Inc. Porsche recommends seat belt usage and observance of all traffic laws at all times.

The heirs to over 60 years of a racing legacy.

Divided equally.

The form varies. But the racing bloodlines, the undying dedication to pure sports car performance, the marriage of power and

efficiency embodied in the Porsche principles, do not. And that truth is revealed in that moment you turn the key. Discover it for

yourself with a test drive. Porsche. There is no substitute.

Experience every form of Porsche performance.

Porsche Plano

5924 W. Plano Parkway

Plano, Texas 75093

Tel. (214)576-1911

www.plano.porschedealer.com

©2017 Porsche Cars North America, Inc. Porsche recommends seat belt usage and observance of all traffic laws at all times.

24 March
---
Maverick Monthly Social: Silver Fox in Grapevine

By Dan Amado

hey're baaaack!! Yes, we are very happy that after a very busy holiday season, the popular Monthly

T

Socials are back for our members' enjoyment and included in the Maverick Events Calendar.

There was a great turnout of members at the fabulous Grapevine Silver Fox restaurant on Thursday,

February 8. It was exciting to get together with so many familiar faces and extend our welcome to the

new attendees. As usual, everyone was very chatty, catching up with each other, sharing their stories, and welcoming

the new attendees.

The Silver Fox setting is perfect since they dedicate an entire private area by the bar, with assigned servers to

take good care of us. Almost everybody stayed to enjoy the terrific food and friendly service, after breaking the ice

with some of our favorite beverages.

We are already working hard to fill the rest of the calendar which promises to continue in the tradition of these

fun and friendly events.

We look forward to seeing you at the next Monthly Social event which will be held at the The Lion & Crown Pub

located in the Watters Creek shopping area in Allen. Check for more details in the ad on page 17.

Photos by Bill Orr

If you missed us

at this event, plan

to join us at The

Lion & Crown

Pub in March

25
---
877 C

200 C

200 C

200 C

200 C

200 C

123 C

307 C

307 C

307 C

307 C

307 C

151 C

354 C

354 C

354 C

354 C

354 C

299 C

108 C

108 C

108 C

108 C

108 C

200 C

Ussery Printing

Printer of SliPStream

Since 1982

3402 Century CirCle irving, texas 75062

972-438-8344 Fax 972-721-1847

www.usseryprinting.com

OUR PASSION DRIVES OUR CRAFTSMANSHIP

At APEX, your unique, personalized service program is crafted to meet your

speciic desires. Our passion is delivering a concierge level of service that

goes above expectations to create an unparalleled client experience.

To Ensure that you and your Porsche enjoy an unmatched standard of care,

contact us today for a private consultation.

855.998.APEX (2739) | www.ApexAutoCo.com | info@ApexAutoCo.com

CONCOURS LEVEL RESULTS

Using cutting-edge processes and

state-of-the-art equipment, our

detail techniques consistently

deliver an unsurpassed level

of care for your Porsche.

Expert Paint Correction | Professional

Detailing | Paint Protection Films (Clear Bra)

Ceramic Coatings | Window Films | Vinyl

Vehicle Wraps & Accents

Ceramic Pro Certiied Installer

The World's #1 Ceramic Coating

Member; IDA & Elite

Detialers Alliance

CARS & CANNOLI

Monthly on the 3rd Sat.,

Mar.-Nov., 9AM - 11:30AM

4756 Frank Luke Dr.

Addison, TX 75001

EXPERT ADVICE, OPTIMUM

ENHANCEMENTS

We have the knowledge and experience

required to truly enhance your

Porsche's aesthetics and

performance with

customized and proven upgrades.

Automotive Customization | Performance

Parts Sold & Installed | Intake/Exhaust |

Wheels/Tires | Suspension/Brakes | Custom

Methanol Injection Kits | ECU & TCU Tuning |

Racing Fuels and Methanol Sales | CEL/Code

Clearing & Diagnostics | Light Bodywork,

On-The-Go Hand Car Cleaning,

Reenishing & Respraying | Powder Coating

Automotive Customization &

Services | Integrated Radar/Laser Systems

Automotive Gifts

We indulge the needs of the connoisseur who values unsurpassed expertise

and craftsmanship for their Porsche. APEX; an automotive lifestyle brand.

26 March
---
Maverick Tour Series: Mitas Hill Vineyards Preview

By Mark Pitarresi, Region Tours Chair

pring is right around the corner, and it's

S

time to get your Porsche in order for a great

tour season. We have to get those Porsches

waxed or coated in time for bug season!

Our first Tour, "Wine M Up, Blow M Out!" is scheduled

for Sunday, March 25, which is the first official

weekend of spring. We have a great drive lined up, and

it's a new route! The roads on this tour are the most

underpopulated that I have experienced on a Maverick

Tour, well at least since I have been attending them.

You will experience a great country drive in the lesspopulated

areas northeast of Dallas. At the time this

article was written, there was no construction on this

route. The Tour starts at Tom Thumb, 3070 N Goliad

Street, in Rockwall, Tx 75087. We will start the First

Timers' Drivers' Briefing at 9:45 am. We recommend

first time tour attendees to arrive no later than 9:30 so

they have time to get signed in and listen to the First

Timers' Drivers' Briefing.

Most of our tour attendees arrive early to socialize

and check out all the different types of Porsches that

attend these tours. Arriving early also helps our volunteers

in signing everyone in on time. Our normal Drivers'

Briefing will begin at 10:00, and then we will head

for our destination shortly afterward. The drive is 71.5

miles and will last approximately an hour and forty-five

minutes. Our Tour ends at Mitas Hill Vineyard, 2300

Vineyard Hill Lane, in McKinney, TX 75071.

Registration for this tour will be different than past

tours. You will need to register on our web site at mav.

pca.org/Events/Tours.asp. Registration will open up

one month before the tour. If you don't already have

an account with Clubregistration.net you will need to

follow the instructions on Clubregistration.net to set

up an account. Once registered we will send out an

email on the third day before the tour with all the information

that you need to attend.

A second change

that we have implemented

in the tour

program is the Vintage

Class. This new

class will offer a more

relaxed driving experience

within that

group. It will be your

choice to drive in the

Vintage Class or the Modern Class regardless of what

type of Porsche you drive. You will be able to make this

selection when signing up for the Tour.

We will be accepting donations to Patriot Paws Charity

at the sign-in table. The mission of Patriot Paws is to

train and provide service dogs of the highest quality at

no cost to disabled American veterans and others with

mobile disabilities. You can learn more about our clubs

preferred charity at http://mav.pca.org/about/charity/.

We look forward to seeing everyone on this Tour!

If you would like more information on Driving Tours

please see last month's article in Slipstream or email

tours@mavpca.org.

Photos by Bill Orr

Tour drives will be organized into

Classic/Antique and Modern groups

27
---
Porsche Specialists - Experienced Enthusiasts

Dealer-Like Service at Independent Prices

fifthgear.biz

Excellent Service Maintenance & Repair Sales

•All Porsches' Serviced

•Fast Turnaround Times

•Same Day Service In Some

Cases

•Serving DFW Area For Over

14 Years

•Family Founded, O wned &

Operated

•100+ Years of Porsche Tech Experience

•11,000 sq. ft. State-Of-The-Art Facility

Equipped with the latest Diagnostic

Tools

•Comfortable Waiting Area with

Free WiFi & Coffee Bar

•Same Services and Capabilities as the

Dealers

•Consignment Sales performed

on a case-by-case basis

1975 Archer Ave • Lewisville • TX 75077 • 972•317•4005

28 March
---
Five-Speed Chatter: Weihnachtsporsche Schätze

By Ash Seidl-Staley

he holidays are a special

time. Lots of good

T

food and plenty of great

times spent with family

and friends. I have also found that

it is easy to question the lengths of

November, December, and the first

half of January. Sometimes vacations,

trips, and family get togethers

are not so relaxing. This past

holiday season I was thankful I got

to relax—albeit only a little—but I

was even happier that I got to spend

a bunch of time with my family.

I was also quite pleased with the

Christmas Porsche treasures Christian

and I received from Santa. I

wish to share with you what we acquired,

not just to reveal our cool

Porsche collectables, but for you to

see the wide range of toy companies

currently working with Porsche.

Who knows, this discussion might

give you some ideas for the handful

of birthdays, anniversaries, and bar

mitzvas coming up this year.

A few years back I believe I relayed

my utter fascination at the

fact that Porsche and LEGO have

collaborated and developed toys

based on some of the

latest 911s. I mean,

back when I was a

kid in the mid 90s,

I would have sold

all my little sister's

teeth to the tooth

fairy in one night for

a LEGO GT1! And,

now, kids these days

have at least three

different Flying Lizard

racing models

to choose from. On

top of that, Playmobile,

Power Wheels,

and even Barbie

have come out with

Porsches.

As you can see

from the photo of

The most recent additions to the collection

our Christmas haul, Porsche has

developed toys and models with

even more companies than the

ones listed thus far. Right off the

bat, Hot Wheels, Revell, and Maisto

make sense; making toy cars is kind

of their thing. But if you ask anyone

that has tried to search for good

quality die-cast models these days,

he or she would tell you how difficult

it is to find the big ones, as well

as how long it could take to find

the specific model you desired. Hot

Wheels definitely makes things easy

on the consumer. They have made

truckloads of iconic, and often

flashy, 911s, Carrera GTs, and 959s

since the mid 70s, but again, unless

you shop online, you won't be able

to find a specific model at any physical

store locations. It is very much

the luck of the draw when it comes

to toy shopping.

The same can easily be said for

Revell's plastic and die cast models.

I had searched for a 914 model for at

least 10 years. Physical stores never

carried them (the clerk often said

"nine four-what?"), I always come

up short on eBay, and I never committed

to buying the pricey ones

I did find. As luck would have it I

found the two-in-one 914 pictured

at a Hobby Lobby in Rockwall. I

actually found two there—the only

two—so naturally I bought one for

myself, and the other as my Uncle's

Christmas gift!

Don't fret -- if toys and models

are not your thing, there are many

other Porsche collectibles and

memorabilia available with just a

quick search online. Banners, flags,

decals, clothes, posters, and books

galore flood retail websites. Sites

and apps like Pinterest and Instagram

even reveal how artsy and

creative people make their own

types of Porsche-inspired goods.

My Uncle seems to have a knack

for finding the perfect Porsche

gift. This year he got me the large,

framed 944 Turbo Specification

poster pictured. Not only does the

poster depict sketches of the car at

different profiles, but it also lists

the car's class, body type, engine,

and top speed. My uncle knows me

so well.

No matter who you are or what

your style is, there is

a Porsche collectible

out there for you.

Many Mavericks already

collect and

display their memorabilia

proudly and

can help in your

search as well. Speaking

of hanging, I

have to go find a

spot to hang my 944

Turbo poster . . . .

Happy shopping,

and Wrench on

Mavs!

Photo courtesy of the Author

29
---
When all HAIL breaks loose...

Roofing Solutions

By Darren Houk

German Car

Service & Maintenance

by Appointment

Specializing in:

Impact Resistant Roofing Options Including:

Metal, Tile, and even COMPOSITION shingles.

SAVE up to 28% on insurance premiums

www.RoofingSolutionsHOUK.com

817.692.8496

817-366-1678

DasZauberwerk@ix.netcom.com

Showroom by Appointment

5500 Meandering Road Fort Worth 76114

30 March
---
January Tech Session: Oils and Lubrication

By Mike O'Hare

o, how do you get a 15 year-old teenage boy

S

out of bed early on a Saturday morning?

Offer up the opportunity to learn more

about the cars he loves (dad too) and to

see some of these fine driving machines that our Mav

owners love so much.

Yep - my son Ian and I ran that play and headed

downtown for a wonderful experience at the Mav's Tech

session hosted by Park Place Porsche, ExxonMobil, and

our own Mike-n-Michael's (Mahoney and Baynton) pit

lane commentary. Upon arriving in the parking lot,

Ian was quick to call out all the members' cool cars

– specifically the Kruder 356, along with the Barber

Carmine Red GT4, which was parked discretely in its

own little area of the dealership.

After half a dozen cups, hats and shirts were awarded,

and the 90-minute journey commenced with a fantastic

engagement of learning everything from refinery

processing to oil grades, viscosity levels, synthetic vs.

conventional, additives, and frequency of oil changes!

A special "thanks" is due to Mike Mahoney and his 30+

years of petroleum experience for helping to simplify

what is a very complex industry topic!

Photos by Andrew Barber

Maverick members toured the showroom and the shop area

to learn what services Park Place offers

Park Place Porsche GM Patrick Huston and Maverick Tech

Session Chair Michael Baynton welcome a sold-out session of

Maverick members interested in proper lubrication

Upon entering the showroom, the Park Place crew

and GM Patrick Huston greeted us with open arms.

We were all escorted upstairs into a classroom-setting

conference room that included an abundance of

fresh coffee, donuts and other fine edibles. Ian and I

took our seats towards the front of the class -- from his

perspective (and high school experience) the best seat

to be in, and less inclined to be called upon to answer

a tough question by the "teacher."

The room was filled to capacity, and extra chairs

had to be brought in to accommodate the overflow of

excited Mav owners passionately waiting to learn about

proper lubrication and maintenance. The group was

greeted by Tech Session Chair Michael Baynton, who

introduced us to Porsche ExxonMobil rep Leanna

Almarines ("the teacher"), who would take us through

a very informative PowerPoint presentation that began

with asking the group some "simple" questions. I

learned that nothing gets hands in the air or responsive

shout-outs quicker than the offering of various Mobil 1

and Porsche trinkets for correct answers.

After the session, Patrick Huston offered everyone a

personally guided tour of the magnificent dealership,

including the sales floor, and--best of all--their expansive

service facility. I could see Ian's (and almost everyone

else's) eyes light up with excitement in hopes of

catching a glimpse of a 918, GT3, or GT4 in for service

or sitting on the sales floor waiting to be taken home

by some very fortunate owner. It was definitely our

lucky day, as all eyes feasted on not one but two 918s, a

few GT3s and GT4s, and a plethora of other beautiful

Porsches, including the new Panamera Sport Turismo.

As Ian and I headed out from a great morning he

was quick to tell me about his dream to someday have

his own Porsche dealership and personal collection

of the finest Porsche automobiles in existence. My

response: "Chase that dream and don't ever forget to

change your oil frequently!"

31
---
Since 1971

Providing personalized service

on all Porsche automobiles.

• Complete servicing and repairs

on all air or water cooled models

• In-house machine shop

• M96/M97 reconditioning

• Performance and track mods

2530 Tarpley Road • Suite 700

Carrollton, Texas 75006

(972) 417-0997

Top motorsports brands...

...at the lowest prices in the nation!

competitionmotorsport.com

844 . 438 . 7244

32 March
---
Parts or Service, We Deliver Excellence.

Over 300,000 parts in stock.

Expert service and repair.

Parts and Service for: Porsche, Mercedes-Benz, BMW, Mini, and Smart Car.

817-267-4451

Visit us online at:

1-800-356-2964

www.allzim.com

zimips@allzim.com

1804 Reliance Pkwy. Bedford, TX 76021 M-F 8am to 5:30pm

Zims Autotechnik is not affiliated with Porsche AG or PCNA Registered Trademark of Dr. Ing h.c.F. Porsche A.G.

33
---
Maverick Region Unclassifieds

For Sale: 2012 Porsche 911 Carrera Cabriolet.

Dark Blue Metallic/Luxor Beige. 24,700 miles.

7-Speed PDK Transmission. New OEM Convertible

top. Comes with all original books, and two keys.

OPTIONAL FEATURES INCLUDE: Porsche Torque

Vectoring Plus, Auto-Dimming Mirrors, Heated/

Cooled Front Seats,Porsche Active Suspension

Management, Bi-Xenon Headlights, Porsche

Dynamic Light System, Keyless Entry/Start, Light

Design Package, Front/Rear Parking Sensors, Sport

Chrono, Bose Surround Sound with Sirius XM

Radio, Power Folding Heated Mirrors, Seat/Mirror

Memory, SportDesign PDK Steering Wheel, Center

Console Storage Bin Lid in Leather w/ Model Logo,

14-Way Power Bucket Seats, Blue Convertible Top.

MSRP of $114,670. Asking $57,500. Contact Andre

Champagne at andre-champagne@tx.rr.com or 817-

637-9922. (03)

For Sale: 2007 Porsche Cayman S. Atlas Grey

Metallic/Black/Stone Grey. 22,594 miles. Like new.

6-speed manual, 19" Carrera Classic Wheels. Fully

optioned. Garage kept, never been out in bad weather,

senior driven only. MSRP of $77,000. Asking

$28,000. Contact Lloyd Reeves at Lean1710@gmail.

com or 972 262 0769. (03)

For Sale: 1996 911 Carrera 4 Cabriolet. Polar

Silver Metallic/Black Leather. 50.5k miles. Sixspeed

manual with Porsche Sport Classic wheels.

AM/FM cassette player, 6 Disc remote CD changer.

Power seats with lumbar support. All original paint,

clean Carfax, 3rd Owner. Fully serviced at Porsche

Dealerships with all receipts. Porsche Certification

of Authenticity. $52,500. Contact Phil Berkebile at

philberkebile@gmail.com or 972-898-5689. (02)

For Sale: 1989 Porsche 944. White/Blue, 175,000

miles - two owner. Original owner purchased

in San Antonio, and lives in White Rock Lake.

Fully documented maintenance performed by

knowledgeable Porsche people (Louden, 9Eleven,

Mayo Performance). The owner kept all the old

receipts, every noise she heard, flats fixed, and wipers

replaced, and kept all maintenance up to date. I've had

Mayo do a lot of work in the last few years: timing

belt, water pump, tensioners, balance shafts, seals,

motor mounts, steering rack/resiv/boot/bushings,

koni yellows, new updated A/C everything, shift

linkages, moonroof gear, brake pads/sensors, ABS

computer, cd player (have original, but equalizer was

shorting itself out), cruise control box, momo steering

wheel (have original), 17" 996 wheels (have original

phone dials as well). 175k miles. Great car. Ready to

go. Asking $7500. Contact Thad Prugh at tjprugh@

gmail.com or (254) 213-8882. (02)

For Sale: 2000 Porsche 911 Carrera Cabriolet.

Zenith Blue Metallic with Metropol Blue convertible

top, Lapis Blue removable hardtop, Graphite Grey

leather interior. March 2000 production date; originally

sold at Park Place Porsche Dallas on April 26, 2000.

Dealer serviced at Park Place and Porsche Austin

from new through 60k miles. 6 speed manual. New

clutch and LN IMS bearing at 67,795 miles. Brake

fluid flush at 73,602 miles by Mayo Performance.

Water pump replaced at 76,493 miles by Innovative

Autosports. Most recent oil change at 78,147 miles.

Option codes: C02 U.S. Std Emissions, 424 CD

Compartment, 436 3-Spoke Leather Steering Wheel,

437 8-way electrical seat left, 438 8-way electrical

seat right, 476 Porsche Stability Management, 490

HI-FI Sound Pkg, 537 seat memory left, 551 Porsche

Windstop, 692 Remote CD Changer, 696 AM/FM

Radio w/CD Player. Original MSRP: $80,770.Very

well maintained, documented, great running car,

ready to drive anywhere. Everything works as it

should. Clean CarFax report with no accident history

or other issues. Cosmetically in average condition,

with various stone chips and small scratches to its

original paint from being driven and enjoyed as it

should. Original factory radio/CD changer replaced

by previous owner with Alpine unit w/iPod connector.

Tires are very good, less than 1 year old, approx 7k

miles. Car cover included. Asking $21,000. Contact

Chris Flaugh at chrisflaugh@hotmail.com or 214-

288-5300. (01)

For Sale: 1978 Porsche 928. Red exterior with

Red interior. First-Year Euro Market Car. Vin #

9288101283. With spoiler-free rear end, five speed

manual transmission, sunroof-delete, this is certainly

a special car. Original 4.5L engine, Lexan front

windshield, Lexan rear window, larger 1986 front

disc brakes, Eibach coil springs which lower the car

1", Koni shocks, Short Shifter, Weltmeister 28mm

front swaybar, Martin Schnider Headers, 245/45-16

Hoosier tires on BBS rims. Corner Balanced by Auto

Edge and ready for the track. Asking $5999. Contact

John Ballard at Johnballard@frontiernet.net or 469-

494-6704. (01)

For Sale: 2014 Porsche Boxster S. Agate Grey

exterior with two-tone Agate Grey/Pebble White

interior. Showroom condition with 4,300 miles.

PASM, DCT, sport exhaust, power seats, full frontal

clear bra, 20" wheels and many other extras. Asking

$53,000. Contact Jack Cicerello at jcicerello@

sbcglobal.net or 972-235-5543. (12)

For Sale: 1985 Porsche 944. Guards Red with Black

interior. 133,000 miles. Excellent condition. Vehicle

just had major restoration of engine, suspension,

power steering, brakes, and interior 3,000 miles ago.

Fresh repaint and fresh re-seal of engine with new

belts, adjusters, water pump, thermostat, gaskets,

valve job, and more. Too many new parts to list in

this ad, please see the online ad at http://mav.pca.org/

Classifieds/classifieds.asp for complete infomration.

Asking $10,900. Contact Jeff Queen at jeff_queen@

ahm.acura.com or 770-335-2854. (12)

Wanted: 2009 or 2010 Grey or Silver Carerra S

Coupe. Manual transmission, reasonably low miles in

pampered condition. All records appreciated. Contact

John Polivka at John.Polivka@yahoo.com. (12)

Advertiser Index

Advertising rates available upon

request. For more information contact

Bill Kruder at ads@mavpca.org

Apex Automotive........................... 26

Attic Butlers.................................... 26

Autobahn Motorcar Group........... B.C.

Autoscope..................................... 35

Bennett Motor Werks...................... 13

Competition Motorsport.................. 32

Concorso Detailing......................... 28

deBoulle Diamond & Jewelry........... 23

DFW Garage Design...................... 35

Ebby Halliday – Michael Picolo....... 32

Falgout & Associates, P. C............... 22

Fifth Gear Motorsports.................... 28

Financial Enlightenment.................. 36

Garages of Texas............................. 8

Growler Motor Labs....................... 20

Innovative Autosports....................... 5

Invisibra........................................ 20

Louden Motorcar Services........... I.B.C.

Marvelous Home Makeovers........... 11

Mayo Performance......................... 22

Mullenix Motorsport....................... 32

Mustard Racing.............................. 30

Nine-Eleven Automotive.................. 30

OCD'tailers.................................... 33

Park Place Porsche...................... I.F.C.

The Phoenix Insurance.................... 35

Porsche Plano................................ 24

RAC Performance........................... 10

RKT Techniques.............................. 22

Roofing Solutions by Darren Houk... 30

Silver Fox........................................ 2

Stuart's Paint and Body..................... 3

Ussery Printing............................... 26

Zims Autotechnik............................ 33

These advertisers support

our Maverick Region.

Tell them you saw their ad

in Slipstream!

Unclassifieds are available free to Maverick Region members and are $5 for all others (contact editor@mavpca for payment details). Please limit size to no more than 6 lines (subject to editing).

Ads will run for 3 consecutive issues unless you contact the editor. E-mail your ad to classifieds@mavpca.org by the 10th of the month to have your ad run in the following month's Slipstream.

Be sure to include year, make, model, color, mileage, and asking price, as well as a contact name, phone number and/or email address. Parts are advertised only on our website. Due to space

constraints, photos are not included. No dealers please!

34 March
---
autoscope.co

3 Dallas Locations:

Porsche Specialists with over

35 years experience in DFW

Park Cities

6134 Denton Dr

Dallas, Tx 75235

214-350-3050

Plano

601 Coit Rd

Plano, Tx 75075

972-867-7467

White Rock

9796 Ferguson Rd

Dallas, Tx 75228

214-320-8280

35
---
Around the Bend...

By Jim Hirsch, Managing Editor

ny Porsche is a true enthusiast's car. A

A

classic Porsche may be considered more of a

driver's car due to the analog nature of the

experience, while a modern Porsche may

be considered more of a performance car due to the

more advanced tech in the nature of the experience.

What all Maverick members can take away from

this is the fact that owning and driving any Porsche is

first and foremost an exceptional experience. So, what

might you consider as a next step to enjoy your Porsche

experience even more? I'm glad you asked!

The Petersen Automotive Museum in Los Angeles is

providing Porsche enthusiasts an opportunity to better

understand the answer to the question,"What makes

a Porsche a Porsche?" The Porsche Effect exhibit

now at the museum explores the brand's history and

enduring success, which have been made possible by

the distinctive design, engineering, advertising, and

racing triumphs of its products.

The exhibit encompasses five thematic

sections, each of which contains a combination

of automobiles, artifacts, archival material, film

footage, and visual reproductions.

Elements of Style addresses "what makes a Porsche

a Porsche" by tracing how the cars' ideal proportions

have developed into an aesthetic archetype that

illustrates "the Porsche Effect."

The Zuffenhausen and Beyond section explores

the crucial transatlantic relationship between Porsche

manufacturing in Germany and the American market,

illustrating the large role of L.A. in the Porsche story.

Extended Families illustrates both the international

family of Porsche owners and the families of the Porsche

owners themselves. Innovation through Competition

relates the ways in which Porsche's impressive racing

success was driven by engineering innovation. Finally,

the Word/Image/Object space reveals how the Porsche

phenomenon has resulted in a recognizable style.

As Alan Drayson comments, "driving a Porsche puts

you in charge of a smart, reliable sports machine full of

character. Further, Porsche ownership makes you part

of a massive community of enthusiasts keen to

share their passion for the brand. The social life

that you experience with these cars shouldn't

be underestimated".

Sounds like a road trip is in order!

Treat your portfolio like you would your Porsche

You wouldn't leave your Porsche in the care of anyone but a certified service technician.

Shouldn't your financial portfolio receive similar qualified attention?

Anyone can call themselves a financial planner. Only a select group can

display the CFP ® certification. Call Clark Randall at 214-890-4098 today

for a complimentary financial evaluation.

10,000 North Central Expressway

Suite 400

Dallas, Texas 75231

214-890-4098

Clark.Randall@FinancialEnlightenment.com

www.FinancialEnlightenment.com

Clark Randall, CFP ®

Registered Representative, Securities offered through Cambridge Investment Research, Inc., a Broker/Dealer, member FINRA/SIPC.

Investment Advisor Representative, Cambridge Investment Research Advisors, Inc., a Registered Investment Advisor. Financial Enlightenment and Cambridge are not affiliated. V.CIR.1217

36 March
---
Hiram Saunders, Slipstream

155 Jellico

Southlake, TX 76092

Periodical Postage

Paid at Fort Worth, TX