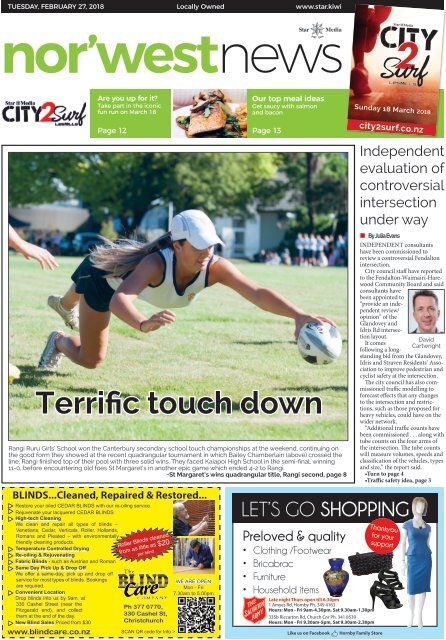 Nor'West News: February 27, 2018
You also want an ePaper? Increase the reach of your titles
YUMPU automatically turns print PDFs into web optimized ePapers that Google loves.
TUESDAY, FEBRUARY 27, 2018

Locally Owned

www.star.kiwi

A Star Media Event

Star Media

Are you up for it?

Take part in the iconic

fun run on March 18

Our top meal ideas

Get saucy with salmon

and bacon

Sunday 18 March 2018

Page 12 Page 13

Terrific touch down

Rangi Ruru Girls' School won the Canterbury secondary school touch championships at the weekend, continuing on

the good form they showed at the recent quadrangular tournament in which Bailey Chamberlain (above) crossed the

line. Rangi finished top of their pool with three solid wins. They faced Kaiapoi High School in the semi-final, winning

11-0, before encountering old foes St Margaret's in another epic game which ended 4-2 to Rangi.

•St Margaret's wins quadrangular title, Rangi second, page 8

BLINDS...Cleaned, Repaired & Restored...

Restore your oiled CEDAR BLINDS with our re-oiling service.

Rejuvenate your lacquered CEDAR BLINDS

High-tech Cleaning

We clean and repair all types of blinds –

Venetians, Cedar, Verticals, Roller, Hollands,

Romans and Pleated – with environmentally

friendly cleaning products.

Temperature Controlled Drying

Re-oiling & Rejuvenating

Fabric Blinds - such as Austrian and Roman

Same Day Pick Up & Drop Off

We offer a same-day, pick up and drop off

service for most types of blinds. Bookings

are required.

Convenient Location

Drop blinds into us by 9am, at

330 Cashel Street (near the

Fitzgerald end), and collect

them at the end of the day.

New Blind Sales Priced from $30

Roller Blinds cleaned

from as little as $20

per blind

Ph 377 0770,

330 Cashel St,

Christchurch

www.blindcare.co.nz SCAN QR code for Info >

WE ARE OPEN

Mon - Fri

7.30am to 5.00pm

city2surf.co.nz

Independent

evaluation of

controversial

intersection

under way

• By Julia Evans

David

Cartwright

INDEPENDENT consultants

have been commissioned to

review a controversial Fendalton

intersection.

City council staff have reported

to the Fendalton-Waimairi-Harewood

Community Board and said

consultants have

been appointed to

"provide an independent

review/

opinion" of the

Glandovey and

Idris Rd intersection

layout.

It comes

following a longstanding

bid from the Glandovey,

Idris and Straven Residents' Association

to improve pedestrian and

cyclist safety at the intersection.

The city council has also commissioned

traffic modelling to

forecast effects that any changes

to the intersection and restrictions,

such as those proposed for

heavy vehicles, could have on the

wider network.

"Additional traffic counts have

been commissioned . . . along with

tube counts on the four arms of

the intersection. The tube counts

will measure volumes, speeds and

classification of the vehicles, types

and size," the report said.

•Turn to page 4

•Traffic safety idea, page 3

LET'S GO SHOPPING

Preloved & quality

• Clothing /Footwear

• Bricabrac

• Furniture

• Household items

Late night Thurs open till 6.30pm

1 Amyes Rd, Hornby Ph. 349 4163

Hours: Mon - Fri 9am-4.30pm, Sat 9.30am-1.30pm

335b Riccarton Rd, Church Cnr Ph. 341 8539

Hours: Mon - Fri 9.30am-5pm, Sat 9.30am-2.30pm

Like us on Facebook

Thankyou

for your

support

Hornby Family Store
---
2

get in touch

Tuesday February 27 2018

from the editor's desk

RESIDENTS CAMPAIGNING over the

Glandovey/Idris Rd intersection have taken

another step forward (see page 1).

The city council has commissioned independent

consultants to review the layout

of the intersection which has been a sore point with people who

live near there for sometime.

If it wasn't for the Glandovey, Idris and Straven Residents'

Association – and if I can take the liberty, coverage in Nor'West

News - I suspect little would have been done about the matter.

The group also has a very good individual within its ranks in

the form of James Wilding. With his legal background he has

the natural ability to think outside of the square and possibly,

more importantly, to read what lies between the lines.

– Barry Clarke

GENERAL ENQUIRIES Ph 379 7100

CLASSIFIED ADVERTISING Ph 379 1100

The Christchurch Star Company Ltd

PO box 1467, Christchurch

starmedia.kiwi

NEWS

Julia Evans

Ph: 021 914 742

julia.evans@starmedia.kiwi

ADVERTISING

Monique Maynard

Ph: 364 7474

monique.maynard@

starmedia.kiwi

Javier Balcazar

Ph: 982 9308

javier.balcazar@

starmedia.kiwi

Latest Christchurch news at www.star.kiwi

news

Bid to reinstate forest

Planting will start soon in Bridgestone Reserve after the city

council budgeted $11,000 for the project

Page 7

news

Fire fears from neighbour's house

A overgrown property in St Albans is a concern for those

living close by.

Page 7

community events

All the fun of the fair

Go along to St Barnabas Anglican Church on Sunday for

free entertainment and affordable food. The fun event will

be held from noon until 3pm.

Page 19

NOR'WEST NEWS

The best-read local newspaper, delivered to

16,717 homes every Tuesday

Harewood, Burnside, Bishopdale, Bryndwr, Fendalton, Merivale, St

Albans, Mairehau, Papanui, Casebrook, Redwood, Regents Park,

Styx Mill, Northwood, Belfast, Strowan.

STREETSTOCK

STATE OF ORIGIN TEAMS RACING

PLUS

DEMOLITION

DERBY

SAT, MARCH 3 RD

7PM START

DOUBLEDAYS ROAD KAIAPOI

INFOLINE 03 364 8833

WWW.WOODFORDGLEN.CO.NZ

ADULTS $20, SENIORS $10, CHILDREN $5, UNDER 5 YRS FREE

FAMILY PASS $40 (2 ADULTS & UP TO 4 CHILDREN 14YRS & UNDER)

The magazine for

gardeners who

like To geT Their

hands dirTy

www.gardener.kiwi

100%

CELEBRATING

2 YEARS

of our Christchurch branch

FREE Quotation

FREE Installation

FREE Aluminium Track

for Christchurch customers

PROFESSIONAL CUSTOM MADE CURTAINS

25 Picton Avenue Riccarton, Christchurch

P 349 4888 E officinevoluptasnz@gmail.com

www.officinevoluptas.co.nz

Air Conditioning and Heat Pumps

Commercial and Residential

• Daikin • Fujitsu • Mitsubishi • Gree • Panasonic

• Toshiba • Hitachi

Mitsubishi

Hypercore

Heat Pumps

installed

from $2,495 *

Mr Mobility Scooters

• Going to the mall?

• Meeting friends?

• Picking up groceries?

• No.1 for Quality,

Price and

Friendly Service

*Conditions apply. Back to back installations 3 metre pipe run.

Email info@pshc.co.nz

Website www.pshc.co.nz

Call Oliver for a

Free Trial

0204 100 2737
---
NOR'WEST NEWS Latest Christchurch news at www.star.kiwi

Tuesday February 27 2018 3

News

Traffic safety idea mooted

• By Julia Evans

THE POWER to upgrade

intersections could soon go back

to community boards.

And city councillor Aaron

Keown said the news is a "great

development" for the Harewood,

Gardiners and Breens Rd intersection.

At the city

council's draft

Long Term

Plan meeting

on Wednesday,

a motion was

moved by

Aaron Keown

Mayor Lianne

Dalziel to get

public submissions

on prioritising intersection

upgrades, which may include

providing community boards the

ability to approve them.

"There has been a lot of feedback

expressing community

concerns about the dangers presented

at a range of intersections

and the state of many streets and

footpaths. We want to hear from

the community about how they

would like to prioritise that work

so we can establish a prioritisation

framework,'' she said.

Ms Dalziel specifically mentioned

the Harewood intersection

in relation to this project.

Cr Keown has been lobbying

to have the intersection upgraded

for more than two years.

It was the basis of his election

campaign but installing lights

was voted down by city councillors

in last year's Annual Plan.

"It'll be in the consultation

document of the draft Long

Term Plan . . . it's a really good

update," he said.

Cr Keown said the news comes

SAFETY: A crash (left) at the intersection of Harewood, Breens

and Gardiners Rd has reignited calls traffic lights be installed,

which may soon be decided by the community board.

following a crash involving a car

which was carrying a baby at the

intersection last week.

He said the crash highlighted

the "issue" at the intersection

and the Long Term Plan could

provide a potential "solution" as

the Fendalton-Waimairi-Harewood

Community Board would

be able to approve upgrading the

intersection to lights.

"This time there was a baby in

this car and it was hit on the side

just over a metre from the baby.

The baby was not injured but less

than one second difference and

it could have been an extremely

tragic outcome."

He said the crash shows the

city council's duty of care in

regard to the safety of residents

at the intersection.

But Cr Keown said it was up to

the people to give the city council

feedback, otherwise nothing

would change.

"People just need to submit.

If they don't submit and miss

this opportunity, it won't come

around for another decade," Cr

Keown said.

•The city council's draft Long

Term Plan will go out for

consultation on the its website,

www.ccc.govt.nz, from

March 9.

Local

News

Now

In Brief

Fire rages, homes at risk

JELLIE PARK REPAIRS

Work is progressing on the

Jellie Park Recreation and

Sports Centre upgrade and

earthquake repair programme

which is being carried out in

stages to keep the disruption

to users to a minimum. Work

is under way on the sauna, spa

and steam room which is due

for completion in March and

the outdoor hydroslide which is

due for completion in May.

COMMUNITY CENTRE SITE

Papanui-Innes Community

Board staff are developing a

localised research project on

what the community currently

have and what they would like

to develop at the site of the

former Shirley Community

Centre at 10 Shirley Rd. Staff

will go back to the board with

the results in the coming

months to ascertain the board's

thoughts around the future of

the site.

SCHOLARSHIP AWARDED

Former Rangi Ruru Girls'

School student Isabella Gregory

was awarded the NCEA

outstanding scholarship in art

history, English and music last

Monday. Isabella also won a

scholarship in physics and an

outstanding scholar award.

'CEREC' & cosmetic dentistry

Wisdom tooth removal

Painless, high quality dentistry

Sedation dentistry

Experienced, conscientious team

Experienced hygienists

OPEN SATURDAYS

355 9380

144 Cranford Street

Wedding?

Visit Smith and Boston!

The BEST

neighbourhood bar

in town!

www.stalbansdentalcentre.co.nz

Hugh LeLievre

Manufacturing Jeweller

reg 236

Why choose us:

• 38 years trade experience

• Honest, approachable, free appraisals

• Knowledge • Skills • Advice

• Quality work • Affordable prices

• All work carried out on premises

• Make/create your designs

• Repairs, re-makes, re-models

• Unique, one off pieces in stock

Immediate in-store quotes

Mon-FRi

10-6PM

SatuRday

10-2PM

2a Straven Rd

(Cnr Riccarton & Straven Rds)

Ph 03 348 1135

SMITH & BOSTON

Prebbleton Village | Christchurch

Ph: 03 349 5646

www.smithandboston.co.nz

$10 lunches

Dave Quiz nights and the team

welcome

Poker nightsyou to

live DJ

the live Rose banDs & Thistle

• $10 beer Lunches & bet deals • Weekend Beer & Bet Promos

• Barista Full service Coffee tab• Full Service TAB

• Children's 2 self service Menuterminals

• Pre Order and Takeaway meals available

• Quiz large Nights gaming room • Large Gaming Room

• Live car Bands park at & rear DJs • Garden Bar

• Poker Nights • Car Park At Rear

www.roseandthistle.co.nz

24A Main North Road,

Papanui

Phone 352 7011

CAR PARK AT REAR
---
4 Tuesday February 27 2018

Latest Christchurch news at www.star.kiwi

News

Intersection

evaluation

under way

•From page 1

Board chairman David

Cartwright said he was looking

forward to seeing the results of

the investigation and working towards

plan to address residents'

concerns.

"We don't know what the

outcome will be but getting these

reports done is a step in the right

direction," he said.

Mr Cartwright said the city

council was being "thorough" in

the reports, as it included looking

at addressing impacts change

could have on the wider area.

A camera will be installed

above the intersection to record

traffic "turning motion."

The residents' association

received a report, which showed

long, heavy vehicles could not

turn the corner without cutting

into other lanes, including cycle

lanes.

Spokesman James Wilding

said the group is pleased the city

council is reviewing the intersection.

But he wants to make sure

the city council is reviewing it

against the appropriate standards

and guidelines.

• By Julia Evans

IDEAS ARE being sought for

the future use of two heritage

buildings in Belfast.

Individuals, groups and

organisations interested in using

or helping to fund the restoration

of Kapuatohe Cottage and

the former Belfast School master's

house on Main North Rd

have until March 29 to submit

ideas to the city council.

The two buildings are on a list

of 17 city council heritage buildings

that sustained damage in

the 2010 and 2011 earthquakes

and are yet to be repaired.

Repairs to the cottage have

been estimated at $50,000

and the house would be about

$370,000. A city council report

said the figures are based on

preliminary investigation, not

engineering reports.

"Unfortunately, we don't have

enough money right now to

repair all our heritage buildings

within the next few years, so

we need to prioritise how these

funds should be spent,'' city

council acting head of parks

Brent Smith said.

The 19th-century colonial

schoolmaster's house was built

in 1877 and was saved by public

appeal as one of few historic

buildings left in the area.

It has a Heritage New Zealand

category 2 status and high

historical and social significance

for its association with the development

of public schooling in

New Zealand.

It also provided a link from

Kaiapoi to Banks Peninsula for

Ngāi Tūāhuriri.

The interior of this building is

protected under the city council's

District Plan.

The cottage, built in 1912 and

is linked the early settlement of

Belfast in particular the Kapuatohe

Hamlet subdivision.

The interior of this building is

also protected under the District

Plan.

"We want to hear from anyone

who is interested in helping us to

restore these buildings and put

them to good use,'' Mr Smith

said.

"People may be interested in

NOR'WEST NEWS

Local

News

Now

Ideas for heritage buildings sought

Fire rages, homes at risk

HISTORY: The city council is

seeking ideas for the future

of Kapuatohe Cottage (left)

and the former Belfast School

master's house.

running a business or community

group from these buildings,

or they may be able to help us to

restore the buildings."

•For more information, or

to register your interest,

visit www.ccc.govt.nz/ heritagebuildings

QEII Drive/Grimseys Road intersection closure

Daniels Road

Detour

Detour

Detour

Main North Road

Grimseys Road

Queen Elizabeth II Drive

Intersection

closed

The Christchurch Northern Corridor team is upgrading

QEII Drive between Main North Road and Innes Road

to four traffic lanes. To allow safe construction of the

two new lanes at QEII Drive west, the Grimseys Road

intersection will be temporarily closed.

From Tuesday evening 27 February, traffic on Grimseys Road will need

to take Daniels Road and Main North Road to enter and exit QEII Drive.

Traffic on QEII Drive will need to take Main North Road and Daniels Road

to enter Grimseys Road. See map above.

The intersection closure will stay in place during the construction of the

two lanes till mid-May 2018. Motorist are advised to plan ahead and allow

up to five minutes extra travel time. The CNC Alliance team apologises for

any inconvenience caused by the works.

For more information phone 0800 262 200 or visit www.nzta.govt.nz/cnc
---
NOR'WEST NEWS Latest Christchurch news at www.star.kiwi

Tuesday February 27 2018 5

News

$11,000 to start forest planting

Local

News

Now

In Brief

Fire rages, homes at risk

• By Julia Evans

A PORTION of Papanui Bush

is set to be reinstated more than

150 years after its last tree was

felled.

The city council has budgeted

$11,000 to begin the first stage of

the Papanui-Innes Community

Board's plan to regenerate the

forest in Bridgestone Reserve and

an unused drainage reserve on

Langdons Rd.

A city council staff report said

planting would begin before the

end of June, which would make it

only the second native bush in the

city alongside Riccarton Bush.

Said the report: "Unlike Riccarton

Bush were the foresight

and vision of the Deans family

protected approximately 7ha of

this forest for future generations,

Papanui Bush was immediately

felled over a period of five to six

years."

The bush once took up 36ha between

what is now Papanui High

School and Vagues Rd in 1850.

The report said there is a

"unique opportunity" to reflect

some of the city's natural, cultural

and pioneering heritage

through planting totara and

other native trees and plants.

But the modern version will be

a lot smaller than it's predecessor,

which is one of the first things

pioneers would have seen when

FOREST: Funding has been set aside for a project pushed by John Stringer (above) which will

see more than 1500 native plants and trees planted in Bridgestone Reserve in a bid to reinstate

Papanui Bush.

PHOTO: LAURIE THIEDE

walking into the city over the

Port Hills.

Community board member

John Stringer has been lobbying

to get the project under way.

"This is essentially waste land

that can now be planted and bird

habitat developed to draw native

tui, bellbird and kereru back in to

Papanui," he said

Two plantings of 1100m2 and

1000m2 at the north and south

ends of the reserve – that would

be about 1520 native trees, including

70 totara.

The planting would be done

by Papanui High School and Mr

Stringer said he plans to work

with local businesses, other

schools and organisations such

as churches to help with future

plantings.

"I will be working hard to see

if we can't extend the idea to

restore Papanui Bush through a

phased series of community-led

plantings not only on this drainage

land but in other pockets that

might be appropriate over time,"

Mr Stringer said.

UNI PARKING MEETING

Canterbury University vice

chancellor Rod Carr met with

local community board chiefs

in a bid to address parkingrelated

issues in the area.

Fendalton-Waimairi-Harewood

Community Board chairman

David Cartwright and deputy

Sam MacDonald, as well as

Halswell-Hornby-Riccarton

chairman Mike Mora and

deputy chairwoman Helen

Broughton attended.

TREES REMOVED

Several trees have been removed

from around the Fendalton,

Waimairi and Harewood

Wards, including some from

Avonhead Park that were dead,

dying or dangerous. A tree was

also removed from outside 336

Gardiners Rd in Harewood for

health and safety reasons.

CULTURE CELEBRATION

City council staff are working

on this year's Culture Galore

event, which is sponsored by the

Fendalton-Waimairi-Harewood

Community Board. Culture

Galore is a celebration of culture,

showcasing performing arts,

crafts, demonstrations and

global food. It will be held on

March 10, at Ray Blank Park in

Ilam.

2 down, 4 to go!

We're working in three key central

city intersections over six weekends,

8pm Fri to 6am Mon, until 26 March.

We've finished work in the Montreal/

Tuam intersection. There are four more

weekends of work in two intersections

to go.

These intersections need replacing.

We're digging them out and rebuilding

them to extend their lifespan.

Road layers need 'curing', or drying time.

If you don't see us on site, don't worry –

we'll be back again soon.

The intersections will remain rougher

than usual until April or May, when the

final surface will be applied.

Project delivered by:

• Avoid unnecessary travel through the

city. Go around using the four avenues.

• When we're working on Durham

Street, use Barbadoes and Madras

Streets to get in and out of the city.

• Expect delays. Allow extra time and

plan your travel using tfc.govt.nz.

• Buses will run as usual. Expect

short delays.

• Bike or walk if you can.

INTERSECTION 2 — Durham St

2 — 5 March

Durham Street between Lichfield Street and

Tuam Street is closed. Tuam Street is one lane.

Use Barbadoes and Madras Streets to get in and out of the city.

INTERSECTION 3 — St Asaph St

9 — 12 March

St Asaph Street between Antigua Street and

Hagley Avenue is closed. Antigua Street is

one lane.

Use Moorhouse to travel west.

16 — 19 March

Durham Street between Tuam Street and St

Asaph Street is closed. Tuam Street is one lane.

23 — 26 March

St Asaph Street between Montreal Street and

Antigua Street is closed. Antigua Street is

one lane.

Note: All works are subject to weather. In the event of bad weather, works will be rescheduled.

E: info@otakaroltd.co.nz

P: 03 357 6300

W: otakaroltd.co.nz

fb.com/otakaroltd

@otakaro_ltd
---
6 Tuesday February 27 2018

Latest Christchurch news at www.star.kiwi

Your Local Views

Raising profile of community board

Papanui-Innes

Community

Board deputy

chairwoman

Emma Norrish

writes about

what exactly

a community

board is and what it can do

for residents

I first stood for the

Papanui-Innes Community

Board in 2013 when I realised a

lot of people didn't know what a

community board was, why they

existed, or what they did.

I wanted to change this lack

of awareness, and let people

know that there is a lot more to

community boards than just

approving no stopping markings,

tree removals and parking

restrictions.

Did you know that in the last

year the Papanui-Innes Community

Board has allocated just

over $400,000 in funding to all

sorts of different community

groups, as well as to young people

through our Positive Youth

Development Scheme?

Or that it has managed to get a

project for the re-establishment

of Papanui Bush off the ground?

Or that we are pushing to get a

virtual reality cycle teaching tool

into local schools to encourage

more children to use the nearby

cycleway?

One of the Papanui-Innes

Community Board goals for

this electoral term is to raise its

profile within the community.

The board now has a monthly

newsletter and a Facebook page,

and is continuing to network

with community groups, attend

local events, and it is now running

a public forum open to anyone

who is interested in talking

to us at the start of each of our

meetings.

Meetings are all open to the

public, the agenda is available

online, and I have also started

posting a video on my Facebook

page a few days before each

meeting giving a run-down of

what is coming up.

The board wants to be more

than just a group of people

sitting around a table making

decisions for you.

It wants to be making decisions

based upon what it has

heard from you – through

talking to you in person in the

community or at events, hearing

from you on the Facebook

page, reading your submission

to a council plan or proposal, or

even just through a good oldfashioned

phone call.

I encourage you to make your

views and your voice heard, as

this enable the board to help you

make this the best community

in Christchurch.

Be it a cracked footpath which

needs repairing, a small community

event which you want help

funding, a community facility

you think is missing from our

area, or some grand idea you

would like to see made a reality

– get in touch and let us know.

•Facebook pages – Papanui

Innes Community Board and

Emma Norrish – Papanui-

Innes Community Board

Member. My email: emma.

norrish@ccc.govt.nz

Readers respond to the

news that two Papanui

bus services are set to be

cut as part of Environment

Canterbury's draft Long

Term Plan

Joy Scurr – I am really

disappointed to hear that buses

107 and 108 and going to be

cancelled. I am 82-years-old and

don't have a car and rely on the

buses to get to Northlands Shopping

Centre to go shopping and

go to the bank. Our rates keep

going up but we are getting less

services for what we pay.

Karen Ravenwood – I am

emailing in regards to the possible

bus route cuts proposal. I live

in Casebrook and catch the 108

from Highsted Rd to Northlands

Shopping Centre. I then have to

catch the blue bus through to the

exchange. Before the earthquakes

I used to bus and the bus went

straight through to town. After

the earthquakes I started to take

my car into town where I work

full-time.

Once my work moved to another

location, I was encouraged

to take the bus again, but having

to change buses became quite

annoying as the journey home

was made longer as I had to wait

at least 25min for my connecting

bus from Northlands to Casebrook

on many occasions

NOR'WEST NEWS

Local

News

Now

Fire rages, homes at risk

This aside, it was cheaper to

bus than having to pay a lot for

parking.

I was surprised to read of the

cuts and while the bus at 7.19am

from Casebrook is not always

very full, it is the only bus that I

can catch without having to drive

to another stop, the closest being

Harewood Rd and leave my car

parked somewhere.

While I appreciate that there

are costing factors involved, I

would like to see the 108 bus

remain.

If the route had not been

changed to catching two buses

through to town, I feel it would

have still been a viable option.

If people are to be encouraged

to use the system, then chopping

routes is not going to help in

many areas.

Doug Soper – I read with

interest and alarm, of Environment

Canterbury's proposed cuts

to the bus services in and out of

Northwood.

My son uses the 107 and the

108 primarily to get to and

from Burnside High School,

plus whenever he needs to get

across town for social and/or

other reasons, from our home in

Northwood.

If ECan follows through with

the cut to this essential service,

my son will have no other option

other than to take a cab, at considerable

cost to us.

Struggling to see

with your dim lights?

Get switchedon

Upgrade your old power hungry halogen downlights

• Switch to LED for sleek long lasting efficient lighting

• 70% saving on power for lighting

Bathroom & Shower

Renovations

Tile & grout Cleaning

Re-grouting

Grout Sealing & Re-colouring

Replace Mouldy Silicone

CALL TODAY 0800 247 688

befoRe

afTeR

www.groutpro.co.nz

nova Series LEd

Fixed Recessed

downlights

Replace 4 downlights

$240 + GSt

✓ Security and landscape lighting

✓ Pre purchase/Insurance Electrical Inspections

✓ Replace tired/old existing switches sockets

✓ Switchboard Upgrades

✓ House Rewires

ContaCt US today!

24 Frank Coxon Road, Belfast, Christchurch

03 373 8320 • info@switchedon.net.nz

www.switchedon.net.nz

SPEAK UP

Imagine having the confidence to speak up in your

work place, to present your thoughts in a clear and

confident manner.

At Toastmasters we offer you a safe and friendly

learning environment that teaches you how to:

• Write a speech

• Deliver it with confidence

• Speak on the spot

You're invited to our next meeting

for a free, no obligation look at

what Toastmasters can offer you.

To find out more phone Phil Gourdie on 021 598 258
---
NOR'WEST NEWS Latest Christchurch news at www.star.kiwi

Tuesday February 27 2018 7

News

Fire fears from neighbouring house

• By Julia Evans

THE NEIGHBOUR of a vacant

and overgrown property in

St Albans says she is "living a

nightmare" plagued by fears a

fire could spread to her home.

Innes Rd resident Jillian Lloyd

said the property next door has

been in state of "complete neglect"

after the owner walked out

following the February 22, 2011,

earthquake seven years ago.

She is "terrified" a fire could

start and has been in contact

with the city council on "numerous"

occasions.

"It is full of rubbish, rats and

overgrown trees. It still has

the furniture in it and has had

squatters," she said.

Ms Lloyd said the bid from

the Papanui-Innes Community

Board to find out how the city

council can work with owners of

vacant and abandoned properties

to clear and tidy the sites to stop

arson and vandalism attacks

couldn't have come soon enough.

On Tuesday Ms Lloyd said she

heard people in the house yelling

and had to go out to tell them it

was private property.

"But it would just take one

person dropping a cigarette and

starting a fire, it would spread

over to us."

The property still has power,

so Ms Lloyd is also worried

about rats chewing through

wires and causing a blaze.

She said her neighbours had

been wanting to sell their

property but were unable due to

the "eyesore" and "danger" next

door.

On Christmas Day she

returned home from a family

lunch to find a rotten tree that

had fallen from the property

leaning over her driveway and

onto her neighbour's house.

"I called the Cranford St fire

brigade. They came and chopped

the tree up and threw it back over

the fence. They told me it was an

extreme fire risk," she said.

Ms Lloyd said she called the

city council and reported the

incident on Tuesday.

But head of regulatory compliance

Tracey Weston said the

compliance team was unaware

of the incident.

However, she said the city

council is working with the

property owner to clear rubbish

from the site.

"It can be confirmed that all

the vegetation on the section was

DANGER:

Jillian Lloyd

is worried

about the

fire risk from

the property

next to her

St Albans

home.

PHOTO:

MARTIN

HUNTER

green, wet and posed no immediate

risk of fire."

City councillor Jamie Gough

lobbied for derelict properties

in the central city, dubbed the

"Dirty 30," to be cleared or

repaired.

Cr Gough said if the model

used in the central city was

rolled out to the suburbs, it

would be "watered down."

"But I think more work needs

to be done . . . the current tools

we have to clear these sites isn't

working so I'm keen to explore

what it would look like," he said.

Local

News

Now

Fire rages, homes at risk

Teacher lobbies

for crossing

sign upgrade

• By Julia Evans

A BISHOPDALE teacher is

lobbying to get safety concerns

addressed outside Cotswold

Primary School.

Sam Hall wrote a letter to

Harewood city councillor Aaron

Keown, which was tabled at the

Fendalton-Waimairi-Harewood

Community Board meeting yesterday

regarding safety concerns

involving car speed on Cotswold

Ave.

He said some drivers don't stop

for the crossing patrol.

"The number of cars that fly

through the crossing, I'm scared

that one of these days someone

is going to get killed and I would

hate to have not acted about this,"

he said.

Mr Hall said he is not asking for

flashing signs. But said the current

signage is "out of date" and

needs to be upgraded, in line with

schools in the area.

"There was recently an upgrade

of lights above the crossing, which

has made a bit of a difference."

Mr Hall said drivers who go

through the crossing often don't

notice the signs prior to it.

"The current signage is in the

old yellow, where most of the

city is now a bright highlighter

colour," he said.

Discover this

unique Emporium

LIQuID LAuNDROMATs

345 sTANMORE ROAD, RICHMOND

261 BuRwOOD ROAD, BuRwOOD

7 DAYs: 5am-11pm

SELF SERvIcE

Shop online

with the in

store special

prices!

Discount code:

Goat

themohairstore

140 Colombo Street, Beckenham

Phone 03 943 1639

www.themohairstore.co.nz

Metal art - gifts - hoMewares

water features - pottery

Mirrors - candles

wall hangings & More

722 Marshland Road, Top end Styx

Open 7 Days

Ph: 03 323 9781

www.hitchingpost.co.nz

wAsH & DRY ALL YOuR

LAuNDRY IN ABOuT 1 HOuR

$4.00 WASH

$4.00 DRY

wash 2 Mink Blankets, Duvets

or woolrests for only $8

DRY UP TO 3 LOADS IN

ONLY 25 MINUTES! $4

SAvE TIME & ELEcTRIcITY

• Fast Dryers

• Sports Gear

• Duvets

• Mink Blankets

• Bedding

• Washers

• Domestic Laundry

Other Locations: 289 Colombo Street, Sydenham • 47 Carmen Road, Hornby

17 Halswell Road, Hoon Hay • 713 Ferry Road, Woolston • 319 Pages Road, Aranui

www.liquidlaundromats.co.nz
---
8 Tuesday February 27 2018

Latest Christchurch news at www.star.kiwi

SPORTS

NOR'WEST NEWS

WINNERS:

St Margaret's

year 13 student

Ruby Spencer

helped her

school win the

tennis title and

take the overall

victory in the

quadrangular

tournament.

St Margaret's takes out

quad title, Rangi second

• By Andrew King

ST MARGARET'S College have

won the annual quadrangular

tournament which pits four

South Island schools against

each other in sports and

debating.

It is contested between St

Margaret's, Rangi Ruru Girls'

School, Timaru's Craighead

Diocesan School and Dunedin's

St Hilda's Collegiate.

Held at Rangi Ruru this

year, the schools enter teams

in debating, touch, volleyball,

and individuals in tennis and

swimming.

St Margaret's won the debating,

tennis and volleyball titles, and

Rangi Ruru, which were second

overall, won the touch. St Hilda's

took out the swimming section.

Originally, the tournament

was contested between Rangi, St

Margaret's and Craighead. It was

first held in 1952.

Points table:

St Margaret's, 1, 17pts;

Rangi Ruru, 2, 15pts; St Hilda's,

3, 13pts, and Craighead, 4,

5pts.

SUPPORTERS: Rangi Ruru's Emma Cushing, Emma Stephens,

Lucy Simpson, Claudia Reid, Maddie Wall and Prue Lange

support of their fellow students.

BACKHAND: Rangi Ruru's Tessa McCann had home court

advantage as her school came second in the tournament.

• Curtains/Voile • Roller Blinds • Venetian Blinds

• Roman Blinds • Vertical Blinds • Vision Blinds

• Tracks/Rods • Curtain Accessories

FrEE pair of tassel tiebacks with any drapes purchased

in store (when you mention this ad, limited time only. Conditions apply)

Best

Motorbuys

TM

ANYTHING WITH A MOTOR!

Expandatrack Ltd

288 Main North Road, Redwood, Christchurch

Phone (03) 354 5525

Open Monday to Friday 9am-4pm & Saturday 10am-4pm

The South Island's leading motoring

publication FREE every Friday at

hundreds of locations around the

South Island, and it's available online!

www.bestmotorbuys.co.nz

For Advertising Enquiries,

Ph Lea Godfrey 021 277 3086
---
NOR'WEST NEWS Latest Christchurch news at www.star.kiwi

Tuesday February 27 2018 9

Tight schedule for Old Boys' athlete

• By Andrew King

AFTER competing in the

Canterbury track and field

championships at the weekend,

Old Boys' United Athletic Club's

Tegan Duffy will have little time

to recover.

The 17-year-old is about to head

off to the New Zealand track and

field and then the Australian

junior championships – with

all three events in the space of a

month.

She has also just started

studying land and property

management at Lincoln

University, works part-time at the

Commodore Hotel, and trains six

times a week at the Christchurch

Boys' High-based athletics club.

She won the under-20 long

jump at the Athletics Canterbury

track and field championships

with a distance of 5.64m in her

fifth jump. However, Duffy didn't

compete in her other specialised

event, the 100m hurdles.

She is set to compete in both

events at the New Zealand track

and field championships from

March 9-11 in Hamilton before

flying to Sydney on March 12 for

the Australian junior athletics

championships from March 14-

18.

"So basically I have to get back,

repack and head off again," she

said.

Tegan said she started

athletics as a hobby but now has

aspirations for bigger things.

"I am looking ahead to the

junior worlds and what I need to

do to qualify for that," she said.

She has to pay her own way to

attend the championships, and

said it would cost about $2000 to

attend the Hamilton and Sydney

events.

"I have gone to the local

community board to ask for

funding and my nana Faye Kerr

has helped me fundraise with

my mum, Toni, and we have held

some quiz nights. Also, nana has

a few friends that have chipped

in," she said.

For the past month, Tegan has

been training harder than

usual and has been pushing

herself to see what her body can

endure.

"There has been a lot of harder

running and pushing myself as

hard as possible. The weights are

heavier, all of that," she said.

ATHLETE: Tegan Duffy, seen

here competing at last year's

New Zealand track and field

championships, will be back

at the same event next month

looking for success in the long

jump and 100m hurdles.

•More sport, p10

SPORTS

In Brief

CANTY TRACK CYCLE TEAM

The Canterbury Track Cycling

under-17 and under-15 teams

have been named for the

New Zealand age group track

cycling championships in

Invercargill from March 8-11.

The under-17 boys team includes

Abe O'Donnell, Michiel Van

Heyningen and Laurence Pithie,

Christchurch Boys' High, and

Jack Drange, Christ's College. The

under-17 girls team includes Jenna

Borthwick, St Margaret's College,

and Erin Downie, Burnside High.

The under-15 boys team includes

Lewis Davidson and D'Arcy

Sanders, CBHS. The under-15 girls

team includes Claudia Rowse and

Amye Kellow, CGHS.

SCHOOL TRIATHLON

St Andrew's College's Saxon

Morgan has won the senior boys

section of the Challenge Wanaka

secondary schools triathlon. He

powered through the 300m swim,

14km bike and 3.5km run in

44min 9sec. Christchurch Boys'

High's Logan Currie was fourth

with a time of 45min 11sec. Rangi

Ruru's Charlotte Spurway was

third in the senior girls event with

55min 55sec. Christchurch Girls'

High's Pixie Cockerill was second

in the junior girls event with

57min 52sec.

Senior Services Entitlement

Tuesday 6 March, 2pm

Ngaio Marsh Retirement Village

We warmly invite you to attend an informative

presentation by a guest speaker from

Senior Social Services, a division of the Ministry

of Social Development, about subsidy entitlements.

Followed by afternoon tea.

Please RSVP to Marie on 354 6608

95 Grants Road, Papanui

7945
---
10 Tuesday February 27 2018

Latest Christchurch news at www.star.kiwi

Bates breaks more pool

records in school competition

• By Andrew King

CHRISTCHURCH Girls' High's

Hannah Bates has broken more

records in the pool.

The 17-year-old broke the

senior 50m backstroke and

breaststroke and the open girls

200m individual medley records

at the school's swim competition

held on February 12.

Two of the records she broke

were her own after claiming them

from former Atlanta Olympian

and Kuala Lumpur Commonwealth

Games swimmer Lydia

Lipscombe who set records in the

200m medley with a time of 2min

27.90sec and 50m backstroke with

a time of 31.60sec in 1997.

Hannah swam the 50m backstroke

in ​31.26sec beating her old

time of 31.42sec, a record she set

last year. It is the fastest time she

has ever posted in that event, she

said.

In the 200m individual medley,

she beat her old 2016 time of

2min 26.09sec by 2sec with the

new record standing at 2min

24.36sec.

She also beat Abbie Johnston's

2013 senior 50m breaststroke

record of 34.32sec, the new record

is 34.19sec.

"I was ecstatic to break the

records as it was my last chance to

achieve these, due to the fact that

I am in my last year at Christchurch

Girls' High School," she said.

"I wanted to leave with my

name alongside as many school

swimming records as I could and

I would love to hold onto as many

as I can for as long as I can."

In January, Hannah broke

three-time Olympian and Commonwealth

Games bronze medallist

Helen Lesslie's (nee Norfolk)

long-standing Canterbury record

in the pool in the 200m individual

medley at the Swimming

Canterbury West Coast championships.

The Aquagym swimmer's time

also broke the 17-year age group

record which was also previously

held by Lesslie.

Hannah swam the evening session

in a scorching 2min 17.29sec

shaving .06sec off Lesslie's open

record of 2min 17.35sec which has

stood since 2000.

At the Canterbury West Coast

championships, Hannah also

competed in breaststroke, freestyle,

backstroke and butterfly

events and won seven gold and

one silver medal in total.

For the seventh year in a row,

the championships were held in

RECORD

SMASHER:

Hannah Bates

has broken

more records

in the pool.

Dunedin because Christchurch

doesn't have a 50m pool.

She said she will be looking

ahead to the New Zealand age

group championships in Auckland

in April.

"My next national swim meet is

the age groups, but my real focus

will be New Zealand open championships

during the first week in

July which will be the qualifying

meet for all 2018 New Zealand

swim teams," she said.

"My short-term goal is to make

the New Zealand swim team to

compete at the Junior Pan Pacific

Games in Fiji in August. I have

achieved three qualifying times

but I need to swim these times or

better during this meet."

SPORTS

CHAMPIONS: The Rangi Ruru U17 coxed eight of Izzy Inkson,

Anneka Calder, Alice Sproat, Emma Stephens, Millie Knight,

Alice Graham, Imogen Bell, Milly Dickie and Amber Williams

(cox) won in a time of 7min 28.11sec.

Medal haul and champion

school title for Rangi juniors

NOR'WEST NEWS

RANGI RURU Girls' School

has taken away 16 medals at

the Canterbury junior rowing

regatta in successful outing over

the weekend.

At the Lake Hood regatta

over Saturday and Sunday, the

penultimate event before the

Maadi Cup in late March, the

Rangi Ruru crews were hugely

successful, winning 10 gold,

two silver and four bronze

medals.

The medal haul saw them

awarded the Sweep Oar champion

school, for collecting the

most points.

The majority of Canterbury

rowing schools attended the

regatta, as well as Otago Boys'

and Otago Girls' High Schools,

St Kevin's College and Waitaki

Boys' High School.

Forty-seven of the 52 finals

were able to take place in

Ashburton before weather

deteriorated late on Sunday.

The next major regatta for

schools is the South Island

secondary school championships

at Lake Ruataniwha on March 3.

ONE-TWO: Rangi Ruru crews topped the podium in the girls

U18 coxed four.

PHOTOS: DAVID WILLIAMS ​

Whether it is a

RELAXING WANDER,

picking up some

GROCERIES,

buying that

PERFECT GIFT,

or a little well deserved

SELF-INDULGENCE...

AvonheadShoppingCentre | Cnr Withells Road & Merrin Street, Avonhead | www.avonhead.co.nz
---
NOR'WEST NEWS Latest Christchurch news at www.star.kiwi

Tuesday February 27 2018 11

BuRnSide

Celebrate

NATIONAL

BBQ WEEKEND

3rd - 4th March 2018

There's nothing like the smell of a sizzling barbie and

a cool drink in your hand... Gather your mates and

grab some coldies, it's BBQ time! #getyourgrillon

SPARKLERS!

LEON ROUX

SPARKLING

750ml

$

8 99

MONTANA

RESERVE

OYSTER

BAROSSA

Range

CHURCH

BAY Range

VALLEY

750ml

ROAD

750ml

ESTATE

Includes

Range

Excludes Pinot

Range

Pinot Noir

750ml

Noir & Sparkling

750ml

$

14 99 $

15 99 $ 19 99

$

9 99 $ 13 99 $ 17 99

BAY AND

BARNES

BLOCK Range

750ml

Includes

Sauvignon Blanc,

Chardonnay,

Merlot & Riesling

CANTI

PROSECCO

750ml

BROWN

BROTHERS

MOSCATO

& FRUITY

Ranges

750ml

$

13 99 $

21 99

MATAWHERO

Range

750ml

$

19 99

OYSTER BAY

SPARKLING

750ml

Includes

Brut & Rosé

WITHER

HILLS

Range

750ml

Includes Early

Light Range,

Excludes

Pinot Noir

$

13 99

BROWN

BROTHERS

TAWNY

PORT

750ml

TEACHER'S

or CITY OF

LONDON GIN

1 Litre

$

39 99

99 $

34 99

$

each 37 99

each

700ml

700ml

1 Litre

$ 47 99 $

49 99 52

JOHNNIE

JOHNNIE

KRAKEN

WALKER

WALKER

SPICED

JACK

BLACK

RUM

DANIEL'S

CANADIAN

CLUB & DRY

12 x 250ml Cans, 7%

MAC'S

Range

6 x 330ml Bottles

SMIRNOFF

PURE

4 x 300ml

Bottles, 4.5%

DE

VALCOURT

1 Litre

42 BELOW

700ml

Includes Pure

& Flavours

DIESEL

BOURBON & COLA

6 x 330ml Cans, 7%

$

10 99 JIM BEAM

DEVIL'S

CUT & COLA

8 x 330ml Cans, 6.66%

$

22 99

JIM BEAM

$

22 99

$

13 99

LION BROWN

18 x 330ml Cans

SPEIGHT'S MID ALE or

DB EXPORT CITRUS

12 x 330ml Bottles

$

21 99

GOLD & COLA

12 x 250ml Cans, 7%

$

15 99

each

each

under $20

under $20

PERONI, ASAHI or

STELLA ARTOIS

Includes Stella Legere

12 x 330ml Bottles

$

24 99

each

ABSOLUT,

BEEFEATER,

or JOHNNIE

WALKER RED

1 Litre

$

42 99

each

$

34 99

each

$

44 99

each

DOUBLE

ROGUE

BLACK

SOCIETY

SCRUMPY

$

24 99

700ml

700ml

1.25 Litre

$

59 $ 69 $

8 99

LONG WHITE

10 x 320ml Bottles, 4.8%

CORUBA & COLA

10 x 330ml Bottles, 5%

$

24 99

each

JACK DANIEL'S & COLA

6 x 330ml Bottles, 5%

JIM BEAM

1.125 Litre

JIM BEAM

DOUBLE OAK

700ml

STEINLAGER

PURE

24 x 330ml

Bottles

SUMMER

CIDERS

CODY'S & COLA

18 x 250ml Cans, 7%

$

29 99

each

MALIBU or

KAHLÚA

1 Litre

WOODSTOCK

& COLA

18 x 330ml Bottles, 5%

MONTEITH'S

CIDER RANGE

12 x 330ml Bottles

$

12 99 $

under $20

19 99

$

39 99

$ 34 99

each

each

SPEIGHT'S

SUMMIT ULTRA

LOW CARB

12 x 330ml Bottles

HEINEKEN

15 x 330ml Bottles

MONTEITH'S

STEINLAGER

CORONA

Range

CLASSIC

10 x 355ml Cans

12 x 330ml Bottles

18 x 330ml Bottles

$

24 99 $

24 99

$

29 99

$

34 99

each

each

SPEIGHT'S, SUMMIT, LION RED

or WAIKATO 24 x 330ml Bottles

COINTREAU

or DRAMBUIE

700ml

DB DRAUGHT,

TUI or DB

EXPORT GOLD

24 x 330ml Bottles

Offers end close of trade 11th March 2018, while stocks last. Varietals may vary by store. Available at

participating stores only. Limits may apply at participating outlets. Trade not supplied. Terms and conditions

may apply. Available 26th February - 11th March 2018 inclusive. Please see www.superliquor.co.nz for details.

Super Liquor superliquor.co.nz

Burnside • 501 Wairakei Rd • Phone 359 0556

Offers valid Monday 26th February to Sunday 11th March while stocks last. Limits may apply. Trade not supplied.

Super

SUPER Location LIQUOR

BURNSIDE

Roydvale Ave

now open!

Waiakei Rd

• Open 7 days from

10am - 9pm

• Chiller trailer hire

• Glassware hire

Abros Pl

GIFT CARDS

now instore

Sorted

GIFT CARD
---
12 Tuesday February 27 2018

Latest Christchurch news at www.star.kiwi

NOR'WEST NEWS

A Star Media Event

Star

Media

Sunday 18 March

#Areyouupforit?

EntEr NOW!

Entry $25 (children 10 and under free)

Available online now from city2surf.co.nz or at these outlets
---
NOR'WEST NEWS Latest Christchurch news at www.star.kiwi

Tuesday February 27 2018 13

GREAT food

BROUGHT TO YOU BY...

Your fresh food people

SALMON WITH

MUSHROOMS, BACON AND

OYSTER SAUCE

Ingredients

ROASTED SPICED PUMPKIN

WITH CANDIED CARROTS

AND YOGHURT DRESSING

Ingredients

500g boneless salmon fillets, up

to 600g

4 slices smokey bacon

250g meadow mushrooms

2 cloves crushed garlic

2 Tbsp oyster sauce

2 Tbsp fresh parsley, chopped

1 nutmeg, freshly grated

1 to serve spinach, or a fresh

spinach salad

Directions

Heat the grill to high.

Lay the salmon on a shallow

baking tray, season with

freshly ground black pepper

and top with two of the bacon

slices.

Place under the grill and grill

for about 8min.

The salmon should be slightly

under cooked in the middle

– remember it does keep on

cooking a little after being

removed from the heat source.

Meanwhile, dice the remaining

bacon slices and place in a frying

pan over a high heat and pan-fry

until crisp.

Add the mushrooms and panfry

until golden.

Reduce the heat to medium,

add the garlic and pan-fry for a

further 30sec.

In a small bowl, combine the

oyster sauce with ¼ cup of hot

water.

Pour into the frying pan and

blend well, stir through the

parsley.

Remove the salmon from the

grill, remove the bacon and place

on a warmed serving platter.

Pour over the mushroom sauce

and grate over a little nutmeg.

Serve with wilted spinach or a

fresh spinach salad.

Pumpkin

1 tsp cumin

1 tsp coriander

½ tsp turmeric

¼ tsp chilli flakes

2 Tbsp olive oil

¼ crown pumpkin, peeled and

sliced

20g butter

2 large carrots, grated

½ orange, zest

2 Tbsp sugar

1 tsp vinegar

Garnish

1½ cups microgreens, or salad

greens

½ cup pumpkin seeds, roasted

Dressing

½ cup plain unsweetened

yoghurt

¼ cup chopped fresh herbs

1 Tbsp lemon juice

Directions

Preheat an oven to 180 deg C.

Line a roasting tin with baking

paper.

In a small bowl combine

cumin, coriander, turmeric and

chilli flakes. Place pumpkin on

baking paper and sprinkle over

the spices and oil. Massage into

the pumpkin. Bake for 30min

until cooked.

Melt butter in a flying pan.

Add carrots and cook for 5min

until soft. Add zest and sugar

and continue to cook for 5min

until sticky. Add vinegar, salt and

pepper.

Mix yoghurt, herbs, juice and

salt and pepper in a small bowl.

Place pumpkin on a platter.

Scatter over the carrots, greens

and seeds and dress. Serve hot or

cold.

Bananas ............................................................. 1

Sweet Corn on the Cob ......................

400g Meadow Mushrooms ...... 3

1KG Southland

Bagged Carrots ..................................... 1

Large Crown Pumpkins ............... 3

Beef Porterhouse Steak ....... 24

Fresh Lamb Leg Roast ............... 10

Fresh Whole Chicken (Large) ... 9

Beef Tri Tip ....................................................... 14

Mt Cook Alpine

Whole Salmon Fillet................... 34

All our fresh meat is 100% NZ FARMED.

specials VAlid 26th february - 4th March 2018. ONLY AVAILABLE AT

RAEWARD FRESH HAREWOOD RD, TOWER JUNCTION.

harewood rd Mon–Fri 8.00am–6.30pm Sat–Sun 8.00am–6pm

Tower junction Mon–Fri 8.00am–7.00pm Sat–Sun 8.30am–6pm

WWW.

.99

KG

59 c

.99

BAG

EACH

.99

BAG

.99

EACH

.99

kg

.99

kg

.99

each

.99

kg

.99

kg

At

we have...

local FRESH produce

everyday

in season nOW

SUMMER

Apricots, Nectarines, Plu ms,

Cherries, Strawberries, Raspberries,

Blackberries a nd more!

HAREWOOD RD

800 Harewood Rd (Airport end)

Monday–Friday 8:00am–6:30pm

Saturday–Sunday 8:00am–6:00pm

Phone: 359 2772

.CO.NZ

TOWER JUNCTION

4/4 Troup Drive, Addington

Monday–Friday 8:00am–7:00pm

Saturday–Sunday 8:30am–6:00pm

Phone: 341 1110
---
14 Tuesday February 27 2018

Latest Christchurch news at www.star.kiwi

BE INSPIRED

NOR'WEST NEWS

Interpreters wanted:

a profession in great demand

Do you speak two or more languages fluently? Perhaps you are

already volunteering or working with your community. Would you

like to be trained and join a vibrant team of interpreters in the

Canterbury region? Then look no further!

At Interpreting New Zealand we train,

employ and provide professional community

interpreters in over 70 languages, 24/7, in a

variety of settings: medical, immigration,

legal, etc. An interpreter (oral translator)

removes the language barrier between two

people that do not share the same language.

When Farah Khosravi

arrived in NZ four years

ago, she was a fluent English

speaker as she was an

English teacher, university

lecturer as well as translator

in her home country, Iran.

Farah says: "In New

Zealand, I sometimes did

some interpreting for my

friends, later I started a

volunteering job with

women's refuge where I got

to do some more serious but

still untrained interpreting.

I have always loved and enjoyed

interpreting and helping other people

communicate better but it wasn't until I

started my training and later my actual

interpreting practice with Interpreting

New Zealand that I realised how difficult

and risky interpreting job can be. I had

no idea how absolutely

crucial the principals of

accuracy, impartiality and

confidentiality are to the

job of an interpreter and

that disregarding these

principals can even result

in irreversible damage.

I learned all that as well

as lots more through

Interpreting New Zealand's

ongoing training and

professional development.

I believe that interpreting is

a very interesting, exciting,

as well as, satisfying job in spite of all its

difficulties."

Is this a job you'd enjoy? If you are

proficient in English and another language,

why not train with us to become an

interpreter? Our next Introductory

Interpreting Course will begin in May

2018. Apply via www.interpret.org.nz by

9 April, for more information email us at

maria.fresia@interpret.org.nz

Interpreting Canterbury particularly

needs speakers of: Amharic, Arabic,

Cantonese, Dari, Farsi, Nepali, Samoan,

Sinhala, Somali, Tagalog

INTERPRETERS NEEDED

We are recruiting now for our Canterbury Introductory

Interpreting course starting in May 2018.

Complete the course, pass the assessment and

become a paid interpreter with us.

You must be proficient in English and preferably

one of the following languages:

Amharic, Arabic, Cantonese, Dari, Farsi, Japanese,

Mandarin, Nepali, Samoan, Sign Language,

Sinhala, Somali, Tagalog.

For more about training and working with us, go to

our website.

Applications Close Fri. 09 April 2018

COURSE DATES:

INTERPRETING

New Zealand

Fridays 6:00 p.m - 8:30 p.m.

Saturdays 9:00 a.m. - 4:30 a.m.

4 & 5 of May

18 & 19 of May

22 & 23 of June

6 & 7 of July

Participants must attend all 5

sessions.

We design your jewelery unique

to your style and personality.

We offer a resize and redesign service.

Canterbury 2018.indd 1

Phone Maria: 027 493 1122

maria.fresia@interpret.org.nz

www.interpret.org.nz

Enrol now: www.interpret.org.nz/become-an-interpreter.html

2/5/2018 2:30:11 PM

Merivale Mall | ChristChurCh

Phone 356 2377
---
NOR'WEST NEWS Latest Christchurch news at www.star.kiwi

Tuesday February 27 2018 15

Email julia.evans@starmedia.kiwi

by 5pm each Wednesday

Scrabble Group

Tuesday, 9.45am-noon

Go along and play scrabble

with the friendly weekly group.

Exercise your brain and have

fun.

Gold coin donation. Sundbye

House, 100 Farrington Ave

GP Clinic

Tuesday, 10am-1pm

A justice of the peace will

be available to members of the

community, to witness signatures

and documents, certify document

copies, hear oaths, declarations,

affidavits or affirmations as well

as sign citizenship, sponsorship

or rates rebates applications.

There is no charge for this

service.

Fendalton, Shirley and Papanui

libraries

GenConnect

Tuesday, 12.10-12.40pm

Connecting generations by

sharing knowledge. Do you have

questions about your iPad, Smart

Phone or Tablet? Or maybe you

want to know how to use Skype,

Facebook, or share your photos

with family or friends? Ask an

expert. Papanui High School

students will be available every

Tuesday during term time from

12.10-12.40pm to help you find

answers to all your questions.

Papanui Library, 35 Langdons

Rd

Reading to Dogs

Tuesday, 3.30-4.30pm

These sessions have been

designed to provide a relaxed and

non-threatening atmosphere to

encourage children to practise

their reading skills and develop a

love of reading. This programme

uses dogs who are the pets of the

city council animal management

team and have been trained

and tested for health, safety

and temperament. Sessions are

15min. Phone 941 7923 to book

a spot.

Shirley Library, 36 Marshland

Rd

Bishopdale Bridge Club

Wednesday, 11am-2.30pm

Go along and join in with this

social group who meets every

Wednesday for a game or two of

bridge. Table fees $5. Phone Janet

for more information on 352

1440.

Ōrauwhata: Bishopdale Library

and Community Centre, 13

Bishopdale Court

Lunar New Year Bilingual

Storytimes

Wednesday, 10.30-11am

Head to St Barnabas Anglican Church on Memorial Ave in Fendalton for a fun day for all.

March 4 will be one to remember with loads of free entertainment including the ever popular

Water Ratz, old-fashioned races, a bouncy castle, face painting, giant jenga, slack lining, and

a wide range of exciting performances – musical and otherwise. All the entertainment is free

and the church has made the food as affordable as possible. Take the family down for a

great time and a cheap lunch on the grounds of the beautiful St Barnabas.

Celebate the Lunar New Year

with bilingual storytimes and

Chinese traditional performing

arts – shadow puppet. Go along

and celebrate the year of the dog

with the library.

Ōrauwhata: Bishopdale Library

and Community Centre, 13

Bishopdale Court

Knit 'n' Yarn

Thursday 2-3pm

Go along and enjoy a chat with

other as you knit. For anyone

who loves to knit or wants to

learn.

Fendalton Library, 4 Jeffreys Rd

Maker Space

Thursday, 3.30-4.30pm

Maker Space session every

week at Redwood Library. There

will be a variety of activities and

fun to be had for all! During term

time only.

Redwood Library, 339 Main

North Rd

Christchurch Women's

Toastmasters

Friday, 12.30-1.30pm

Want to advance your career?

Have the confidence to speak

up for issues you care about? A

friendly group of women meet

weekly to help women succeed

through developing speaking and

leadership skills. See the website

for more information - www.

cwctoastmasters.org.nz

St Pauls, behind in Tennis

Pavilion, 1 Harewood Rd

Card Club

Friday, 1.30-3.30pm

This weekly card club is on

every Friday, just go along and

join in the fun.

Shirley Library, 36 Marshland Rd

Super Saturday Storytimes

Saturday, 11-11.45am

Encourage learning through

a love for stories and craft.

Storytimes is an interactive

programme including stories,

songs, rhymes and play. This is a

free session.

Shirley Library, 36 Marshland

Rd

Sign up to Smart Deals & be in the monthly draw for a $100 Dress-Smart gift card!

Be one of the first to hear about the latest deals, sent straight to your inbox each week!

JOIN US NOW!

See website for details

BENDON

VIP Event, 5pm to 8pm

Tuesday 27th February,

Bras from $10, Briefs

from $5, Plus Many More

Offers.

BONDS

40% Off the Marked

Price Storewide.

K&K FASHIONS

Extra 25% Off the Lowest

Marked Price. Extra 40%

Off Denim.

ITALIA SPORTSWEAR

Diadora Men's & Women's

Clothing $30 & Under (excludes

compression gear).

DRESS-SMART CHRISTCHURCH

/ DRESSSMARTCHRISTCHURCH

NEW

DEDICATED

FACEBOOK

PAGE

Like our page for the latest deals, news,

giveaways & invites to special events.

HALLENSTEINS

Polo's Only $10, Huge

Selection.

GET

EVERY

DAY

CHRISTCHURCH 409 Main South Road, Hornby

www.dress-smart.co.nz

Open 10am-5pm, 7 Days 03 349 5750
---
16 Tuesday February 27 2018

Latest Christchurch news at www.star.kiwi

NOR'WEST NEWS

BridalsHoW

25th March, 2018

25th March, 2018

10am – 3pm

10am – 3pm

Air Force Museum of NZ

Air Force 45 Harvard Museum Ave, of Wigram, NZ

45 Harvard Christchurch Ave, Wigram,

Christchurch

2x Fashion parades showcasing

All the experts the latest under Bridal one styles. roof.

www.withthisring.kiwi All the experts under for one roof.

tickets.

www.withthisring.kiwi for tickets

a honeymoon prize of

5 nights in Fiji

With proud support from:
---
NOR'WEST NEWS Latest Christchurch news at www.star.kiwi

Tuesday February 27 2018 17

REAL ESTATE

6 car garaging… will be a car enthusiasts dream!

9 Elmwood Drive, Prebbleton

Auction: Wednesday, 21st March 2018, 2pm

4 bedrooms | 2 bathrooms | 2 lounges | 2 Dining rooms | 6 Garages | Land area 1204m2 | Listing ID: HR4834

Situated amongst some of Prebbleton's

finest properties, 9 Elmwood Drive, has

come to the market for the very first

time. This sprawling home is as unique

as it is special with 4 double bedrooms, 2

bathrooms, media room, office, formal

dining, formal living and massive garaging

on a 1204m2 section. Whilst decorative and

opulent in its design, the owners wanted

to create an authentic home where their

family could simply relax, enjoy and soak

in the peace and tranquillity of the land

and location. If you have ever considered

a property with large garaging you'll know

that very rarely does such an opportunity

like this present itself. Whether you

are a motor enthusiast, a tradesman,

hobbyist, work from home, or just have

the requirement for expansive garaging,

this address is a must to inspect! Once this

property has been sold, there are no others

to replace it. With instructions to sell on or

before auction day, what are you prepared

to pay?

Auction date: Wednesday 21st March,

2pm at Russley Golf Club, 428 Memorial

Avenue.

For more information or to arrange

a private viewing phone Jackie Wither

on 027 4503 777 from Harcourts Four

Seasons (Licensed Agent REAA 2008) or

phone the office 03 349 9919, email jackie.

wither@harcourts.co.nz

growing with you

SprIng Is here –

It'S Sow Time

how to get the best results from

seeds and seedlings

100% NatIve In

The capItal

Unravelling the secrets of

Otari-wilton Bush

The New Zealand

landscape awards

The people behind

the projects

$7.90 incl. GST

Save our roSeS

How a rose register is protecting our heritage

September 2016 | 100%

It's time

to grow!

New look and more

content than ever!

MeeT LeSTer Brice

A Garden coach

auckland Botanic GardenS

Why we love our public grounds

now bigger than ever

The magazine for

gardeners who like to get

their hands dirty

SubScribe from

$43. 50*

*6 issues/6 months

ISSN 2423-0219

SUBSCRIPTIONS FREEPHONE

0800 77 77 10

www.gaRdeNER.kiwI
---
18

Latest Christchurch news at www.star.kiwi

Tuesday February 27 2018

NOR'WEST NEWS

Classifieds Contact us today Phone our local team 03 379 1100

Building Supplies

SHOWERLINERS

Installed to fit your tired

or old existing shower,

the perfect solution, ph

Lachlan for a free quote

383 1723 or 027 436 7067

Community Events

ALCOHOLICS

ANONYMOUS, If you

want to have a drink thats

your business. If you want

to stop, we can help. Phone

0800 229-6757

Computers

ALL

YOUR

COMPUTER

WORRIES SOLVED!

*$30.00 off your first

service with this coupon!*

No problem too big or

small from home PC's to

business networks. PC

slow? An end to Viruses,

Spyware, and Clogged

Systems. Safe secure

hassle-free computing.

Lost files recovered.

Microsoft Certified,

MCSE, MCP+l. 30 years

experience. Call Andrew

Buxton this week on 326-

6740 or 027 435-7596

for $30.00 off* Custom

Computers Christchurch

Curtains

www.curtainfabric-outlet.com

Fashion Designs & Colours

Discontinued Designs

End of Lines Bargain Prices

Call at Our Shop

CURTAIN FABRIC OUTLET

71 Hawdon St Sydenham

Ph 366-5026

Gardening

& Supplies

A GARDEN OR

LANDSCAPING TIDY

UP? Shrub, hedge &

tree pruning, Lawns,

Gardening, consistently

reliable general property

upkeep, Dip. Hort. 10

yrs experience, One off

tidy ups or on-going

service. Nick's Property

Maintenance. Keeping

your garden beautiful.

Free Quote. Ph. 942-4440

Holiday

Accommodation

QUEENSLAND SUN-

SHINE COAST AUSTRA-

LIA Resort, Ocean Views,

Balconies, Self Contained,

1 or 2 B/R Ensuite,

Heated Pool, Spa, Sauna,

Free Internet, Shops,

Restaurants, Tennis, Surf

Club & Patrolled Beach,

Public Transport at door.

Ask for our SEASONAL

SPECIALS. Phone 61 7

544-35011 Email: reception@mandolin.com.au

www.mandolin.com.au

junk

Why go to the Dump? Junkman comes to you!

Items too big for the rubbish bin?

Or too heavy for you to move?

Junkman comes to FROM

you & takes it away $

65 *

*Prices vary depending on items and volume – minimum charge $65

Trades & Services

DRIVEWAYS

Exposed Aggregate

Stamped Concrete Plain

Concrete Resurfacing

Things we offer...

Competitive/affordable pricing

Attention to detail

Professional service

free quotes/insurance scopes

Cell 0278 145 848

www.drivecrete.co.nz

EARTHWORKS

Quality

• Driveways

• Car parks

• Demolition

Locally owned & operated

with over 10 years

experience

027 240 7030

JACOB BROWNLEES

0800 586 5626

www.junkman.co.nz office@junkman.co.nz

• Shingle Deliveries

• Truck hire

• Digger hire

EXTERIOR PLASTERING

Quality

Workmanship

at Competitive Pricing

Free Quotes

Aynsley Frewer

M: 027 201 1296

E: aynsleyfrewer@xtra.co.nz

PO Box 20534 Bishopdale

Trades & Services

Trades & Services

PAINTER

Michael Kelly Painters

Locally owned and

operated family

business.

25+ years Experience

• Painting • Wallpapering

• Interior • Exterior

Free Quotes

Phone

Michael 0212 649 492

michaelkellypainter@hotmail.co.nz

Vicki Keast

Managing Director

P 0274 933 529

E vicki@paintmasters.co.nz

PAINTER

Experts in...

• Wallpapering • Plastering/Crack Repairs

• Interior Painting • Exterior Painting

• Specialty Finishes • Design Advice

Trades & Services

HOUSE

CLEARING

Are you

moving house

or trying to

downsize?

Call All Clear

Canterbury. We work

with you to recycle,

sell and dispose of

unwanted items.

Ph: 03 260 0934

or 021 078 4553

raewynlcooke@gmail.com

www.allclearcanterbury.co.nz

Courtney Keast

Creative Technician

P 021 571 946

E courtney@paintmasters.co.nz

Trades & Services

ROOF

PAINTING

Rope & harness

a speciality,

no scaffolding

required,

30 years of

breathtaking

experience.

FREE QUOTES

Exterior staining,

exterior painting,

moss and mould

treatment and

waterblasting

Phone Kevin

027 561 4629

Trades & Services

AAA HANDYMAN

licensed carpenter

LBP, all property and

building maintenance,

repairs, bathroom/shower

installations, with free

quotes 03 383 1927 or 027

245 5226 ciey@xtra.co.nz

BRICKLAYER

George Lockyer Over

35 years bricklaying

experience. UK trained.

Licensed Building

Practitioner number

BP105608. Insurance

work. EQC repairs.

Heritage brickwork and

stonework a speciality. No

job too small. Governors

Bay. Home 329-9344,

Cell 027 684 4046, email

georgelockyer@xtra.co.nz

BUILDER

LICENSED

available for all aspects of

building. Please call 027

241-7471 or 335-0265

BUILDER

For all building work

but specialist in bathroom

renovations, 30 yrs

experience, with service

and integrity. Free Quotes.

Ph Lachlan 383-1723 or

0274 367-067.

****************

CARPET & VINYL

LAYINg

Repairs, uplifting,

relaying, restretching,

E mail jflattery@xtra.

co.nz

ph 0800 003 181

or 027 2407416

ELECTRICIAN

Registered, electrical

installation and repairs,

Gorbie Electrical, ph 021

026 73375 or 03 322 4209

gREENFIELDS

For quality gardening

services call Johnny 022

1983698.

PAINTINg

DECoRATINg

Wingfields Contracting,

all interior & exterior

painting & all forms of

interior plastering & jib

fixing, ph Mark 021 171-

1586 or 355-5994

PAINTER AVAILABLE

All aspects in painting.

Very competitive in roofs

and fences. Please call 027

241-7471 or 335-0265

PAINTER

Quality work, I stand by

Canterbury Ph Wayne

03 385-4348 or 027 274

3541

PLASTERER

Gib Stopping, Small

job specialty. 30 + years

experience. Ring 0800

387-369

PLUMBER

ALF THORPE

PLUMBING Certifying

Plumber for all types of

plumbing, maintenance,

spouting, alterations etc.

Phone 352-7402 or 0274-

350-231

SHoE REPAIRS

Belfast engraving.Shoe

repairs,key cutting &

engraving.(10 yrs exp)683

Main North Rd

ph 027 3113423

SPoUTINg CLEANINg

Spouting Unblocked,

Cleaned Out and Flushed

Out. Also Full Handyman

Services Available. Call

Trevor 332 8949 or 021

043 2034

Public Notices

Belfast

Community Trust

Applications are open to appropriate

charitable organisations in Belfast. The grant

is for the purpose of benefiting the residents of

Belfast. Applications also open for advertising

on the billboard corner of Main North Road

and Johns Road, Belfast.

For more info and to apply, please refer to our

website:

www.perpetualguardian.co.nz/philanthropy/

grants-and-scholarships

Completed forms are due no later than 5pm

Friday 9th March 2018.

Trades & Services

SToNEMASoN, BRICK

& BLoCKLAYER

Earthquake Repairs, Grind

Out & Repoint, River/

Oamaru stone, Schist,

Volcanic Rock, Paving,

all Alterations new & old,

Quality Workmanship,

visit www.featureworks.

co.nz or ph 027 601-3145

T.V. SERVICE

CENTRE

Repairs, tvs, microwaves,

stereos, DVD. Aerial

installations and kitsets,

480 Moorhouse Ave, ph 03

379 1400

UPHoLSTERER

Dining Chairs, Lounge

suites, Caravan Squabs

etc. recovered. Free

Quotes. Phone Graeme

383-1448

VHS VIDEo TAPES

& all camera tapes

converted to DVD, video

taping special occasions,

www.grahamsvideo.co.nz

ph 03 338-1655

WINDoW CLEANINg

Average 3 bdrm house

inside or out $40. Both

$70. Phone Trevor 344-

2170

Wanted To Buy

CASH FOR

STAMPS

Do you have an

Old Stamp or Coin

collection tucked away

somewhere? It could

be worth a fortune!

We are currently Buying

old collections in the

Christchurch area to stock

our retail shop in Riccarton.

Free Appraisal and Cash

Offers on most items.

Call Matt Power

0800 39 24 26

The Stamp Exchange

134a Riccarton Road. Opposite

the Mall carpark.

Wanted To Buy

AAA Buying goods

quality furniture,

Beds, Stoves, Washing

machines, Fridge Freezers.

Same day service. Selwyn

Dealers. Phone 980 5812

or 027 313 8156

TOOLS Garden,

garage, woodworking,

mechanical, engineering,

sawbenches, lathes, cash

buyer, ph 355-2045

Entertainment

Weka Pass Railway

Waipara, North Canterbury

We are RUNNING

SUNday 4th March

Running 1st and 3rd

Sunday of every month

Phone 0800wekapass

Depart Glenmark Station

11.30am & 2.00pm

www.wekapassrailway.co.nz

Entertainment

THE MEANIEZ

three piece Classic Rock

Band have limited dates

available for 2018.

Versatile,reliable & fun.

Call Brian on 027 271-

7288.
---
NOR'WEST NEWS Latest Christchurch news at www.star.kiwi

Tuesday February 27 2018 19

What's On

Entertainment

To advertise, contact

Jo Fuller 027 458 8590

jo.fuller@starmedia.kiwi

Outstanding Young Musicians

LIXIN Zhang is one of the 3 Finalists in

st

the 51 National Concerto Competition

rd

Final taking place this Saturday 3

March 2018, 7.30pm at Charles Luney

Auditorium.

Lixin is 16 years old and is in his h

year at Burnside High School where he

is in the Specialist Music Programme

playing both piano and violin. He

began piano lessons at the age of 4.

In January this year, Lixin travelled to

Santiago Chile to study with the

renowned Edith Fischer and Jorge Pepi-

Alos. In 2017, Lixin was invited to

perform two solo concerts at festivals

held in Mallorca Spain. During the

same year, he had attended a summer

school program held in Switzerland and

was invited to return the following year

and perform as a guest artist at a

SERVING

HAPPY HOUR

5PM - 7PM DAILY

festival concert.

Lixin has won the 2017 Wallace

National Piano Competition, 2016

Wallace National Junior Piano

Competition, IRMT piano competition,

and the Ruby Hay Pianoforte

Scholarship.

Away from the piano, he enjoys

playing table tennis, chess, and tennis.

e other 2 Finalists are Muse Ye

(Christchurch) and Modi Deng

(Auckland).

Contestants will be accompanied by

the Christchurch Symphony Orchestra,

Conductor Ben Northey.

st

Tickets to the 51 National Concerto

Competition Final are available from

www.ticketek.co.nz /telephone 0800 842

538. Door sales available from 6.30pm.

FEATURE BUFFET COMING UP...

OUR CABINET ITEMS

ARE HOMEMADE

CREATED FRESH ON SITE DAILY

$12

LUNCH

SPECIALS

Irish Fare

added

to the

Dinner Buffet

SATURDAY

17TH MARCH 2018

Available only on

Saturday 17th March 2018

DINNER SESSION ONLY.

NORMAL PRICE APPLIES

Lunch & Dinner : All you can eat, 7 days

Bookings Essential PH 386 0088

fb.com/GardenHotelRestaurant www.gardenhotel.co.nz

COFFEE

HAPPY

H O U R

2PM-4PM

DAILY

$3.50

Offer available for a limited time

and includes tea, hot chocolate

MON: ROAST MEAL

TUE: FISH & CHIPS

WED: FISH BURGER

THU: ROAST MEAL

SAT: FISH & CHIPS

AVAILABLE

FROM

11.30AM-2PM

FOR A

LIMITED TIME

PHONE 385 8880 FIND US ON FACEBOOK fb.com/GBCCHCH

THE GARDEN HOTEL COMPLEX | 110 MARSHLAND RD

www.gardenhotel.co.nz | phone 385 3132

'Famous for their roasts!'

RESTAURANT & CAFÉ

Kid's SPECIAL

Two courses

Seniors SPECIAL

Two courses

What's On

TUESDAYS & THURSDAYS

MEMBERS LUCKY

CARD DRAW

DOWNSTAIRS

CLUB BISTRO

Open Tuesday to Saturday

from 12pm - 2pm

& from 5pm.

$10

We are family friendly. Great Kids menu plus designated play area.

Soup/Roast or

Roast/Dessert

Special available lunch only

Monday - Saturday 12pm - 2.30pm

$20

Start your

day with us

We are open from 6.30am

Cooked

breakfasts

Check out our extensive

breakfast menu from

Continental to Cooked

The

RACECOURSE HOTEL

& Motorlodge

118 Racecourse Rd, Sockburn,

Christchurch. Ph 03 342 7150

www.racecoursehotel.co.nz

DINE BY THE SEA!

UPSTAIRS

$18

Pierview Restaurant

Open from 5.30pm Friday, Saturday

and Sunday, and for

Sunday Brunch from 10.30am to 2pm.

SUNDAY NIGHT BUFFET

LAST SUNDAY OF THE MONTH

SUNDAY BUFFET : $25pp

Sunday 25th MARCH, from 5.30pm

NEXT BUFFET : BOOK NOW!

202 Marine Pde | Ph 388 9416 | www.newbrightonclub.co.nz | Members, guests & affiliates welcome

H ORNBY

WORKINGMEN'S

CLUB

PLAYING

THIS WEEKEND

WESTVIEW LOUNGE

FRIDAY 7PM:

JO'S KARAOKE

SATURDAY 4.30PM:

REMINISCE WITH ANTHONY

8PM: MEDIUM RARE

SUNDAY, 1.30PM

$5 ENTRY:

THE MUSIC OF

RITCHIE VENUS &

THE BUSKER

PLANNING

A FUNCTION?

We have rooms available

for any occasion.

Call us today, 349 9026

FAMILY FRIENDLY DINING

OPEN DAILY

HERE'S SOME OF OUR TASTY SUMMER DISHES

Club CAFE

GF & V options available

LUNCH & DINNER DAILY

Chalmers Restaurant

CARVERY DINNER $22.50

EVERY FRIDAY & SATURDAY FROM 5.30PM

Early Bird Special

5.30pm - 6.30PM

FREE

DESSERT

Family Friendly

SUNDAY NIGHT BUFFET $27

EVERY SUNDAY FROM 5PM-8PM

PERFECT FOR SPECIAL OCCASIONS & FAMILY EVENTS!

The Hornby Club | ph 03 349 9026 | 17 Carmen Rd | Hornby

www.hornbywmc.co.nz | Members, guests & affiliates welcome
---
20 Tuesday February 27 2018

Latest Christchurch news at www.star.kiwi

NOR'WEST NEWS

26th February - 4th March 2018

WEEK24

29 30 31

$

8 99

kg

WEEK

$

5 99

kg

WEEK

Fresh Tegel NZ Skin On Chicken Breast Fillets

Fresh NZ Pork Shoulder Roast

(Excludes Free Range)

$

4 99

bag

5 for

$

3 00

$

3 79

ea

Home Farm Brushed Potatoes 3kg

Sweetcorn

Whittaker's Share Pack 12 Pack/

Chocolate Block 250g

$

21 99

pk

Steinlager Tokyo Dry/DB Export

Hop Lager/Asahi Super Dry

12 x 330ml Bottles

$

2 99

pk

Ciabatta Rolls 6 Pack

$

1 29

per 100g

Farmland Champagne Ham

edgeware

Your new local supermarket, serving you a great range of fresh food, with

thousands of savings store-wide.

61 Edgeware Road, Edgeware

Open 7am-9pm, 7 days

Now

Open

FreshChoice

Merivale | Edgeware

Open 7 Days a week.

FreshChoice.co.nz FreshChoiceNZ 0800 40 40 40

Customer Support Freephone

While stocks last at FreshChoice Merivale and Edgeware only. We reserve the right to limit quantities.

Trade not supplied.

Owned and

operated

by locals

fcnw2702