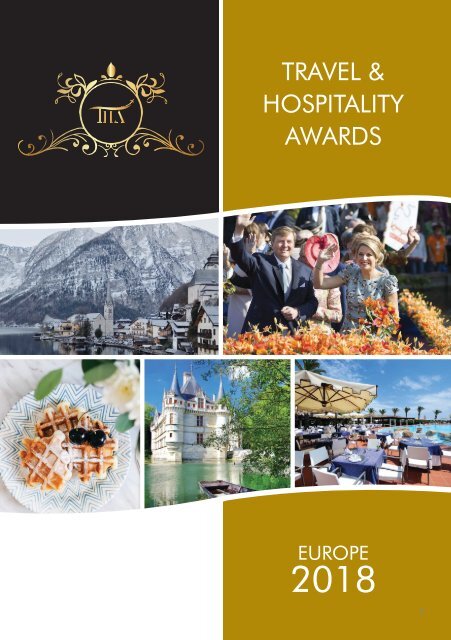 Travel & Hospitality Awards | Europe Awards 2018 | www.thawards.com
www.thawards.com
www.thawards.com
SHOW MORE
SHOW LESS
Do you know the secret to free website traffic?
Use this trick to increase the number of new potential customers.
TRAVEL &

HOSPITALITY

AWARDS

EUROPE

2018

1
---
TEAM

CEO

Dennis Mayhew

Contents

EDITOR-IN-CHIEF

Katherine Lozell

ART DIRECTOR

Marcs Bacera

DIRECTOR OF SALES

Stanley Lucas

AWARDS DIRECTOR

Brian Anson

DIRECTOR OF MARKETING

Zoe Watkins

SENIOR WRITERS

Tasmai Dave

Jacqui Irvine

Joseph Wilton

SENIOR DESIGNERS

Antoine Jackson

Dave Chen

AWARDS MANAGERS

Adam Cole

Joseph Malabanan

Zach Ford

Peter Clement

RESEARCH MANAGERS

Costin Marcel

Sarah Patel

CONTIBUTING WRITERS

Tracy Morgan

Kim Feldmann de Britto

Joseph Malabanan

Aisha Ahmed

Criteria4

Culinary Delights8

7 Wonders of Europe30

Northern Europe42

Iceland44

Iceland Air 49

Western Europe60

Alpine Lake Towns 62

Made in Bern 74

French Top 5 80

Juan Juarez Valdes 86

Amsterdam Event Calender 90

Austria 102

Hamburg | Germany 110

Southern Europe114

Portugal 116

Barcelona 128

Adriana Q&A Barcelona 132

A Maltese Summer 136

Italy 144

Adventure in Italy 146

Road Trip : Santa Maria to Rapello 156

Sicily 170

Santorini Vs Mykonos 174

One day in Tel Aviv 182

Eastern Europe 188

Albania 190

Rise of Croatia 194

Russia : 2018 FIFA World Cup 202

The United Kingdom & Ireland 210

The Royal Wedding 212

British Airways i360 218

Scotland 226

The Dublin Top 10 232

2

3
---
CRITERIA

Excellence in Service is an important category, as customer

service can often be responsible for having guests return

year after year. We look for the hotels and tour operators

that go out of their way to please their guests, those that

provide a personal level of service and take the time to

get to know each visitor so that they might anticipate their

every need. This can be something as simple as a 24-hour

concierge desk, a hotel manager who offers a personal

greeting or a tour guide who is happy to create bespoke

private tours – but whatever it is, we are always pleased

when we encounter staff that have been trained in the art of

customer satisfaction.

Service

It is no question that style and design plays a big part in

selecting our awards shortlist. A guest will form an opinion

about a hotel as soon as they arrive so it is important to

us that all our winners make those first impressions count.

We're certainly not partial to a particular period of

architecture – but whether we're judging a gothic castle or

an environmentally friendly lodge, the criteria remains the

same. We consider factors such as architectural features,

use of materials, creation of spaces, décor and the overall

feel. We love it when we find a hotel that tells a story

though its design and construction, or offers a design that is

sympathetic to the natural surroundings of its location.

Style & Design

Knowledge of the local area is essential for any organization,

be it a hotel or a tour operator. The quality of services takes

a great hit when the quality of this element is not up to

the mark. Quite a few of our winners in this category are

because they have displayed excellent knowledge about the

surrounding areas. The criteria for a hotel is slightly lenient

compared to a tour operator, as the latter is expected to

have thorough knowledge of the area in order to provide

good services.

Image by: Annie Spratt

Local Knowledge

4

5
---
Facilities

Award-winning guest rooms come in all shapes and sizes,

but they all have one thing in common – a home-away-fromhome

feel. The comfort of the facilities on offer are of vital

importance; we look for luxurious linens, stylish bathrooms

and a coordinated colour scheme that work together to

create a cohesive sense of relaxation. Additional touches,

such as complimentary toiletries, free wi-fi or tea and coffee

making facilities are always a bonus in making us feel

welcome. We're always impressed to find hotel rooms that

embrace technology and offer amenities like tablets or smart

thermostat systems, but this does not always necessarily

trump the traditional – four poster beds, ornate fireplaces

or antique furniture can add a touch of decadence to a

hotel stay.

Location

Location is one of the most important factors, but also

one of the most subjective, as the 'ideal' is very much

determined by the type of visitor and the type of hotel itself.

However, there a few factors we take into consideration

when determining the winners of location-based awards.

The first is convenience; that is, hotels that are easy to travel

to. Many of our winners in this category are in convenient

locations, such as adjacent to airports, close to beaches or

found in the heart of easy-to-navigate cities. We are always

impressed when hotels go the extra mile to take the hassle

out of traveling and offer such additional services as airport

shuttles or car hire services. However, we're always excited

to come across a hotel that is, to use a familiar phrase,

off-the-beaten-track. A hotel that can offer something a little

different, in terms of natural surroundings, can make the

difference between a good holiday and an incredible one.

In today's modern age, a hotel or tour operator cannot rely

on word of mouth to get their message out into the world. As

social media has become a vital part of everyday life, we

like to see companies that go the extra mile to engage with

their guests, both past and future. Attractive and informative

websites and engaging and honest content and what we

look for when judging a company's use of marketing; how

well they display their services, how up-to-date their content

is, how well they get their brand message across, and, most

importantly, how well their marketing can tempt us to go

and see what they have to offer for ourselves.

What better way is there to know about an organization

than by getting first hand reviews? Customers are the best

judges of any service out there as they are the ones who

experience them and can assess whether they were up to

the mark or not. Considering reviews from hundreds of

customers gives us a fair idea about the general pros and

cons of any organization and also gives us valuable inputs

for the other criteria as well.

Marketing

Customer Feedback

Diversity is one important aspect that needs to be taken into

consideration when in the travel and hospitality industry. It

is essential to have staff that has varying diversity to ensure

that the organization can properly connect with their guests.

Diversity is taken into account in terms of gender, nationality

as well as languages spoken among other factors. Not only

do we take the diversity of the staff into account but even

that of the facilities and services offered; a hotel or tour

operator providing a better range of services is preferred

over those that do not.

It is of prime importance that an organization has thorough

industry knowledge. Without knowing the nit-bits of the

industry, it is difficult to flourish and provide services which

are a class apart. Before any organization ventures into

the industry, it is essential that they know how the industry

is moving and how they should make changes to their

methodologies in order to remain relevant and also be a

top-performing organization.

Diversity

Industry Knowledge

6

7
---
CULINARY

DELIGHTS

Image by: Brenda Godinez

8

9
---
France

Elegant and captivating are the two words that best describe

the city of Nice. One of the most recognised and acclaimed

cities in the world located in a mesmerising location along

the famous French Riviera in the region of Provence-

Alpes-Côte-d'Azur. The entire region is a melting pot of

Mediterranean culture and cuisine. Some would say

that the Lyonnaise cuisine is very difficult to beat since

Lyon is the cradle of French gastronomy, but the medley

of ingredients, recipes and flavours that exist in in Côted'Azur

is something to behold and enjoy with a passion.

Locals and restaurant owners are extremely passionate about

the food that is produced in their kitchens and they are not shy

to show it off.

One of the most interesting things on offer in Nice is to become part

of this passion by taking cooking classes. One particular company is

"Les Petits Farcis" run by Rosa Jackson, she offers courses to all levels

of ability. Part of the course is to visit the local fresh food markets to

sample and learn about the array of produce

and choose ingredients from the plethora

on offer including French Cheeses and

locally produced wine at local vineyards.

Then back to her remodelled and beautifully

decorated studio kitchen to prep and cook.

With good company and time to cook,

converse and sample the wine, then it is time

to devour the prepared dishes. Incredible food

and memories are to be gained by visiting

Nice.

10

11
---
Spain

Spanish cuisine has an outstanding reputation worldwide and has a long history

culminating today in a phenomenon in Spanish gastronomy thanks to celebrity chefs

such as Juan Maria Arzak and Santi Santamaria. Tapas said to have originated

in Cadiz, have evolved into a sophisticated cuisine and a huge variety is on offer

including this small list:

Tortilla, typical but very satisfying Spanish omelette

with potato.

Albondigas, Spanish meatballs, typically made

with pork and in a sauce of either tomato or

almond.

You will also find regional versions of these

tapas plus many more on offer depending

on where you are in Spain and should

ideally be enjoyed with a glass of local

wine, beer or sherry. Pintxos are an adapted

version of the tapa and appeared in 1930

in Donostia, the centre of San Sebastian.

The Pintxo is a small snack offered with drink,

placed on top of a slice of the house bread and

held with a skewer.

• Tapa de Croquetas, made from ham, chicken or seafood

• Gambas al Ajillo, sizzling prawns with garlic and chili

• Bacalao, delicious salted cod, coated in breadcrumbs

• Calamares, fried squid

• Patatas Bravas, fried potato with spicy sauce

• Ensaladilla, a potato salad with tuna or prawns

• Gazpacho, served in glass, cold tomato soup topped with cucumber

• Salmorejo or Porra de Antequera, slightly thicker, and topped with egg and

ham

12

13
---
Belgium

Germany

Belgium is an absolute hotbed of gastronomical delights! But a famous stalwart is

the friteries (or frituurs in Flanders). French fries are part of the Belgian culinary

and cultural heritage and it is a fact that Belgium, rather than France was the first

to create the notion of the "French Fry" as it was Belgium in the 1970s serving

this street food from the numerous friteries, with an array of wonderful sauces. It is

thought that the fries were originally a peasant food from the areas of Dinant and

Liège.

Nowadays Frites are available all day long from kiosks on street corners and main

squares and are delicious and a great source of energy to assist with sightseeing.

Another wonderful source of street food is the mitraillettes which are an American

style sandwich consisting of a baguette with a huge slab of steak, choice of sauces

and onion. Sadly not a great deal of choice for vegetarians or vegans, or if one

is concerned about cholesterol levels! But prices are reasonable, approximately

EUR5 for a sandwich and a Belgium beer. The only downside is that often there

are long queues and the food is takeaway, so you will need to find a suitable place

to sit and enjoy.

Another classic, mussels with chips, and there is no better place than

in one of the many fishing villages and towns along the coast of

Flanders, where the Belgian mussels are brought ashore. Available in

all restaurants in Flanders during mussel season.

A diverse and extensive region of Germany is the Black Forest, in the state of

Baden-Württemberg, south-west Germany.200 kilometres long and 60 kilometres

wide it is a holiday region synonymous with red pom pom hats, cuckoo clock

timber houses and the inspiration for the Brothers Grimm fairy tales Hansel and

Gretel, Sleeping Beauty and Rapunzel.Wine tasting is a popular reason to visit

the area, due to the famous wine routes bordering the enchanting hills of the Black

Forest starting from the legendary Baden-Baden.

The region reigns as the sunniest and warmest climate in Germany, with almost

Mediterranean temperatures. This mild climate and rich soil make the area one of

the best wine regions in Europe. Driving through the Black Forest is the best way

to get to know it. Along the way, you can visit and taste the high-quality wines

of Kraichgau, Ortenau, Breisgau, Kaiserstuhl, Markgräflerland and Tuniberg.

Along the route, there are tastings of Spätburgunder and Müller-Thurgau and other

precious Riesling wines.

A good wine should always accompany a good dish and Baiersbronn is the

epicentre of the German haute cuisine due to the city´s award-winning restaurants.

Undoubtedly it is essential to try the locally produced ham and Black Forest gateau

that shares the name of

this German paradise. Of course, when the

wine becomes weariful,

there is always one of the 5,000 varieties

of beer that exists in

Germany!

14

15
---
Italy

Bérgamo is a beautiful city located in the centre of the Lombardy region, 60

kilometres northeast of Milan. A small city with an enormous amount of charm.

The city is divided into two well-defined areas, "Citta Alta" (Upper Bérgamo) and

"Citta Bassa" (Lower Bérgamo).

The main attraction is Citta Alta. A breathtaking enchanting area full of stunning

Italian architecture and history. Situated on a steep hill and surrounded completely

by an ancient Venetian wall with dozens of interesting shops and traditional Italian

cafes.

Meander through the narrow cobbled streets and eventually come upon the Piazza

Vecchia, all roads lead here. A charming and open space with medieval palaces

and the stunning "Fontana dei Contarini" at its centre, epitomising the influence

of Venetian architecture. Sit and enjoy a drink and watch life go by in this busy

square.

Citta Bassa, on the other hand, has a more

modern vibe, rich in business and wide

boulevards for strolling along. The two areas

are connected by a funicular (a tram), one of the

oldest in Italy which will take you to one part or

the other in less than five minutes.

Bérgamo is full of restaurants and trattorias where

you can eat regional specialities at reasonable

prices. A speciality is the famous "Casoncelli

alla Bergamasca," delicious ravioli stuffed with

meat, salami, pears and raisins and the Polenta

in Bergamasca, a salty cake made mainly with

corn flour. For desert "Polenta e Osei" the most

famous sweet in the region. It is a cake made

with chocolate cream, butter or nuts and rum,

covered by a layer of yellow marzipan. Simple

but delicious. Buonissíma

16

17
---
TOUR

Spain

BODEGAS TORRES

THE AWARD FOR EXCELLENCE

IN BRANDING

Bodegas Familia Torres, Finca "el Maset" s/n,

08796 Pacs del Penedès, Barcelona, Spain •

Tel +34938177487 • torres.es

Started in 1870, Bodegas Familia Torres is

a family company that has come to be

seen as a reference for quality and

sustainability in the wine world today.

With 5 generations of the family dedicated

to wines, you can be assured that this is a

brand you can trust. With a commitment to

reduce CO2 emissions per bottle by 30%

by 2020 as compared to 2008, they are

taking an eco-friendly approach too. They

believe in transparency and respect

between company and employees, take a

fair approach in trading and are closely

connected with their international

customers from over 150 countries. The

efforts put in by them go ahead to prove

that their brand is not just limited to

excellent wine but is much more than that.

A tour to their wineries is sure to be

once-in-a-lifetime experience, allowing you

to choose from a wide range of activities of

the one that best suits your needs; from a

traditional winery tour with a pairing of

wines and Jamón Ibericos to a morning of

harvesting grapes in their most

representative estate, the Mas la Plana

estate, or the Torres Starry Night event

where you will learn to observe the night

sky in a different and unique way while

enjoying a delicious wine dinner with live

music under the stars.

TOUR

Spain

LOVE RIOJA

CULINARY EXPERIENCE

OF THE YEAR

Logroño — La Rioja — Spain • Tel +34

696 007 330 • loverioja.com

Love Rioja shows you the hidden

part of the region that only a few

are lucky enough to discover.

Rioja is known for its wine and food;

the tour operators are seasoned

travelers and will help you discover

the history and take you around the

best eateries to eat like a king or

taste some of the finest wines in the

world. You can visit the most world

class wineries or even the tiniest of

them and get to know the origins

of your favorite drink. You can fly

over vineyards and visit some of the

most exclusive wineries and taste

the best wines available out there

in the Gran Reserva Tour. Some of

the best restaurants of the region

are covered in this as well. You can

also get a chance to interact with

winemakers and learn about their

lives and secrets to creating their

wines. Tours can also be customized

according to your requirements so

you can get the most out of them.

18

45

19
---
TOUR

Spain

TOUR

France

HIDDEN IN SPAIN

TOUR COMPANY

OF THE YEAR

CEDRIC'S FLAVORS OF PARIS PARIS

TAILOR TOUR GUIDE MADE OF TOUR THE YEAR

COMPANY OF THE YEAR

Luis Fernandez de Vega Chavarri

Avenida de la costa 122, 1D 33204

— Gijon, Asturias (Spain) • Tel +34

609240812 •hiddeninspain.com

When you travel with Hidden

in Spain, you get a boutique

experience with specially curated

tours that are based on the personal

experience of the founders.

You can explore the Andalucia

County and see the beautiful cities

of Granada and Cadiz or perhaps

visit the coastal villages of Asturias

in a seven day journey. If you're a

foodie, you might as well explore

some of the finest Michelin starred

restaurants in the country across

days and enjoy great Spanish

gastronomic delights along the

way. Whether you're looking for

an adventurous tour or a simple

laid back holiday, they can

arrange it all. A completely tailormade

experience awaits you with

tours that fit into your budget and

give you exactly what you want

from your holiday! They offer

concierge services too for those

who do not wish to miss out on

anything in their trip.

Discover the hidden Spain

with us through a customized tour.

Paris, France • Tel +33 06 40 40 00 66 •

cedricsparis@gmail.com flavorsofparis.com •

cedricsparis.com

Flavors of Paris' carefully vetted

A walking personalized and tasting tour inside tours will the

guide original you convertible to some of "2 the chevaux" finest little is

Parisian what you food get when shops, traveling cafés, with and

markets Cedric's Paris. where you can meet the

locals

Traverse

and

charming

sample some

streets

of

and

the best

tiny

French

squares

foods.

of the city that are unknown

With to tourists three and major to tours even carefully many

crafted Parisians! to offer Whether you a you're wide looking variety

of to French see the fare, city ranging at night from sipping crispy

baguettes Champagne to or splendid into discovering wines, you it

beyond can the assured famous of a monuments, once-in-alifetime

single experience. tour is possible when

every

traveling You can also with customize them. For your larger tours

groups, according a to 1976 your requirements,

VolksWagen

Kombi be it a small "Bert" group is the or perfect a large vehicle one.

to Every drive aspect around of the the city tour and is enjoy kept

time flexible with to family. ensure If that you're more receive of

a the walker, best experience a private possible. walking tour

around the lively markets and the

hidden gardens of the city is all

you need to discover Paris like a

native Parisian! A bachelorette

party special tour is available as

well. With an option to customize

the tours according to your needs,

it is possible to make the most out of

your trips to Paris.

"Tailor made

sightseeing tours in

Paris with a local in

a vintage car!"

34 20

36

35 21
---
TOUR

Germany

GASTRO-RALLYE –

THE CONTEMPORARY

GOURMET TOUR

TOUR COMPANY OF THE YEAR

Bornholmerstrasse 4, Berlin • Tel +49 30 43 720 701 •

berlinagenten.com

Berlinagenten is well known as one of the most creative lifestyle

of tour agencies in Berlin and boasts some recent prestigeful

awards for guide of the year and their gourmet tours. Since the

start, Berlinagenten made headlines worldwide shocking the

American Pie Starlet Tara Reid with a visit to notorious KitKat

club, showing Madonna´s daughter Lourdes the underground

scene, introducing actor Shidô Nakamura (Letters from Iwo

Jima) to the historical Berlin and taking singer Adele on the river

Spree. The owner Henrik Tidefjärd was listed in Forbes as one

of three people you should know in three global cities in 2012

and due to the company´s capability to create exciting tour

concepts they have gained lots of press coverage worldwide.

It all started back in 2004. Somebody had to be "Mother

Teresa" for individual travelers who were seeking the hip,

trendy and happening neighbourhoods in a city which

doesn´t have a traditional city centre full of life. Moreover,

the food scene was quite backwards in 2003, in comparison

to other European cities. With this in mind Henrik developed

his first tour, a gourmet tour. The 'Gastro Rallye' is an overall

experience. While you´re eating and enjoying yourself in 3 or

4 different restaurants, you get an introduction to the lifestyle of

Berlin by your private guide. This was the beginning of Henrik´s

company – a story of success. It was never his intention to save

the world, but to help demanding travelers to get plugged into

the emerging food scene and to discover a tricky city.

22

23
---
TOUR

Germany

GASTRO-RALLYE –

THE CONTEMPORARY

GOURMET TOUR

TOUR COMPANY OF THE YEAR

Bornholmerstrasse 4, Berlin • Tel +49 30 43 720 701 •

berlinagenten.com

Since the launch of the Gastro-Rallye Berlin has seen a huge

facelift and a boom in the culinary scene. Fifteen years ago

the city was rough and grubby and it was hard to find chic

locations. Now it's more cosmopolitan and foodies get their

bearings when signing up for a contemporary food tour. Just

like Berlin becomes an "adult," step by step Berlinagenten

adjusts the choice of restaurants on the Gastro-Rallye to keep

up with the latest hotspots. The aim is to give all guests an

insight of what the current food scene is about. The local

ingredients used by cooking reflect Berlin´s natural sources,

the chef´s way of cooking and different techniques used will

tell you about standards and even the interior design in an

eatery showcases new trends. If you expect pig knuckles or

other wobbly fat Germany dishes you are in the wrong place

because Berlinagenten´s gastro-rallye goes under the motto

"we are not sauerkraut." On a tour they explain that Berlin

is like NY for US or London for Great Britain. In other words,

Berlin is an international city and locals eat more Asian,

Italian or Turkish food due to the city´s historical background

and influences from abroad. So when in Rome... leave the

"sauerkraut" out and you will learn about the local habits.

Today the luxury lifestyle tour agency offers more than 8

different food tours including the brand new Gastro-Rallye

Veggie tour. Berlinagenten has guided over 1.500 journalists

since 2004 through the gastronomic scene and their standard

guests are global companies, managers, trendsetters, celebs

and individual travellers from all over the world. They love to

entertain people so be prepared for making new friends when

you meet your local guide.

24

25
---
TOUR

Belgium

BREWERY BOURGOGNE

DES FLANDRES

UNIQUE EXPERIENCE OF THE YEAR

Kartuizerinnenstraat 6, 8000 Brugge Belgium • bourgognedesflandres.be/en

If you're looking for the typical Belgian beer, there's

no other place that does it better than Bourgogne

des Flandres.

The blending of old and young beer is done perfectly

here to achieve balance. Located in Bruges, this

brewery can be explored now by visitors and you

can actually smell the malt and fresh hops in the loft

here on your visit. This brewery has had a history of

nearly 200 years through different names and this

reason is enough to go and experience the origins

of your favorite drink.

You can make a visit to the brewery and here you'll

get to find out more about the brewing process and

how to tap beer digitally! This beautiful brewery is

placed next to the Bruges canals and you can get

some wonderful views of the same post your tour.

You don't even need a guide to visit the brewery; you

can simply walk in and pick up their audio guides

or texts which are available in various languages.

If you're a group of 20 or more people, you could

also opt for a blending session where you'll be able

to blend your very own Bourgogne des Flandres!

The brewery also has a bar where you can go and

relish a variety of Belgian beers with snacks while

taking in the serene views of the canals.

If you wish to have professional meetings or even

private events, they enable it with their splendid

service. A flexible room layout allows you to host

any of your events here with some delicious meals

prepared by them inspired by Flemish cuisine.

54 26

55 27
---
TOUR

Italy

WINE TOUR

AMALFI COAST

WINE TOUR COMPANY

OF THE YEAR

Via Panoramica 31, 84010, Conca

dei Marini, Salerno, Italia • Tel +39 333

3432830 • winetouramalficoast.com

Wine Tours Amalfi Coast takes you on

a journey across the Amalfi Coast for

excursions to some of the most famous

and historic places in the area.

Gastronomical delights such as

mozzarella of Lattari Mounts await

you along with some exotic native

wines of Reale which wait to be

discovered as well. Traditional recipes

are also taught and you can actually

try your hand at cooking them in the

kitchen. The lemon tours take you on

a trip to discover the 'yellow gold' of

Amalfi Coast on the numerous terrace

gardens overlooking the sea. Cheese

lovers are sure to get excited in the

mozzarella tasting tours, where you

will be taught how to prepare

mozzarella! All the adventure lovers

can retrace the footpaths and mule

tracks running across ridges of

mountains along the Divine Coast.

Guests are made to feel special by

their transfer services, where you can

easily reach your destination without

any hassles. With some exquisite

all-round experiences to offer, you can

never be disappointed when traveling

with them.

HOTEL

Austria

PARK HYATT VIENNA

ELEGANT HOTEL OF THE YEAR

Am Hof 2 Vienna, Austria, 1010 • Tel +43 1

22740 1234 • parkhyattvienna.com

Park Hyatt is located in the very heart

of Vienna and offers unparalleled

elegance and grandeur.

With 143 spacious rooms and suites

with remarkable furnishings and built

with a fusion of contemporary style and

Viennese accents, staying here is a very

comfortable experience for all. Situated

in a 100-year old building, this hotel

truly reflects the history of Vienna; with a

convenient central location, guests can

find the most important and impressive

sites of the city within easy walking

distance. Exquisite dining experiences

await your arrival at The Bank Brasserie

& Bar while hot beverages and dainty

snacks can be enjoyed at Café Am Hof.

Guests can also relax in the state-of-theart

Arany Spa with its indoor pool,

sauna, sanarium and vitality shower,

in addition to indulging in refreshing

massages from the expert therapists.

This pet-friendly hotel is also the place

to head to for conducting corporate

meetings or holding some functions in

their large banquet halls and meeting

rooms that are fully equipped to cater

to your requirements.

Image by: Jassy Onyae

628

297
---
EDITORS

CHOICE –

7 WONDERS

OF EUROPE

HOTEL

Belgium

CROWNE PLAZA

BRUSSELS –

LE PALACE

THE AWARD FOR

EXCELLENCE IN SERVICE

Rue Gineste 3, Brussels, 1210, Belgium

• Tel +32-2-2036200 • crowneplaza.

com/brusselsbel

Located in the capital of Belgium,

Crowne Plaza Brussels – Le Palace

is a 100 year old building that has

been fully renovated and offers

plush comforts to guests.

The central location makes it

the perfect choice for corporate

travelers and tourists alike. The

multilingual staff will ensure that

you are provided with every

luxury possible. You can work out

in the fitness center and keep up

with your fitness routine during

your stay at the hotel too. If you

are feeling a bit peckish you can

choose to dine in one of two on-site

restaurants or in the privacy of your

own room. You could keep up with

your corporate life thanks to the

latest Wi-Fi technology, allowing

you to stay connected 24x7 on up

to three devices. The hotel is also

pet friendly so you can bring your

pooch along with you!

BRUSSELS - LE PALACE

Image by: Paulo Ferreira

30

31
---
HOTEL

Georgia

KABADONI

HOTEL

BOUTIQUE HOTEL

OF THE YEAR

1 Tamar Mepe st. Sighnaghi, Georgia

4200 • Tel +995 32 2240400 •kabadoni.ge/

Located in the historical center of

Sighnaghi, Hotel Kabadoni

overlooks scattered vineyards

throughout the Alazani Valley and

the Caucasus.

The 21 rooms in the hotel are

equipped with the most modern

amenities to ensure a comfortable

stay with neutral coloured walls with

colourful rugs and clean designs.

Kabadoni Restaurant is the place to

find some local delicacies, which

are accompanied with true

Georgian hospitality and superior

service. The restaurant also boasts

of a terrace from where you can get

some picturesque views of the valley

and mountains. You can also sip

your favorite drinks at the sunset

lounge or taste some of the finest

wines in the wine bar. If you're

looking to rejuvenate, you can head

over to the spa where expert

masseuses will offer some treatments

and therapeutic massages. If you

love to swim, there is an indoor pool

with scenic views of the valley. The

hotel also has a gym and sauna.

Dainty environment, calm and harmonious

atmosphere, picturesque views, a wide

range of services, and traditional Georgian

hospitality – Boutique Hotel Kabadoni is an

ideal place for those who appreciate comfort,

coziness and care.

HOTEL

Hungary

CORINTHIA HOTEL

BUDAPEST

HOTEL OF THE YEAR

Erzsébet körút 43-49, Budapest H-1073,

Hungary • Tel +36 1 479 4000 • corinthia.

com/budapest

Corinthia Hotel Budapest is one of

the grandest hotels in Budapest as the

perfect destination for both exploration

and relaxation.

The former Grand Hotel Royal has been

transformed to the highest standards of

contemporary luxury, while retaining

the beautiful historical features such

as marble floors, a grand sweeping

staircase and a stunning six-storey

atrium. The hotel is located in the city

centre, baths, churches, restaurants,

bars and other recreational places are

within walking distance.

Corinthia Hotel Budapest has 438

rooms, including 31 suites and 26

apartments, 4 restaurants from fine

dining to casual meals, a bar, a cabaret

and a 2700 m2 Conference Centre

with 20 meeting rooms providing one

of the most convertible conference

areas in the country.

As the jewel of the luxurious Corinthia

Hotel Budapest, the Royal Spa has

been beautifully restored to its original

splendour and today offers the latest

state-of-the-art spa facilities including

a 15-metre swimming pool, relaxation

areas, saunas, a steam bath, jacuzzis,

a fitness room and ESPA treatments.

32

72

33
---
HOTEL

Austria

HOTEL STADT WIEN

FAMILY FRIENDLY HOTEL OF THE YEAR

Schmittenstrasse 41 A-5700 Zell am See •

Tel +43 6542 762 • hotel-stadt-wien.com

This getaway in the alpine town of Zell am See in

Austria is like a place picked right out of fairytales.

The family run hotel is located centrally in the town

and gives you easy access to the main points of

interest. The location of the hotel is ideal for kick-starting

trips and expeditions in your winter holidays.You

can choose from the 57 rooms and suites in the hotel

which are furnished to reflect the alpine environment

of the hotel. The accommodations come with pine

wood walls which help in getting a good night's

sleep. They also have a special room with solid wood

furniture for guests who suffer from allergies to ensure

a pleasant holiday for them.

The hotel pays special attention to families and has

packages specifically designed to make your vacation

perfect. You can head up to the Schmittenhohe

mountain for hiking while kids can visit the Schmidolin's

trail. The hotel has a playroom, petting zoo and

a playground which make it a fun stay for both kids

and parents. A special Schmidolin Kids' Programme

is also hosted by the hotel where kids will be taken on

discovery tours of the various forests and other places

around.

For relaxation you can head over to the Vitality Oasis

of the hotel where you can visit the steam bath, Finnish

sauna, salt-grotto and even a large heated outdoor

swimming pool with jacuzzi. Integrated Jacuzzi the

spa has rooms when you can unwind by getting relaxing

massages and treatments from experienced

masseuses. During your stay, you can indulge in the

culinary delights prepared in the hotel kitchen, be it a

hot and cold buffet breakfast or a five course dinner.

They also have exclusive meals for vegetarians and

other guests with special diets.

84 34

85 35
---
HOTEL

Greece

Enjoy A Unique Experience Half Way to Heaven

HOTEL CATTLEYA

UNIQUE GUEST HOUSE OF THE YEAR

Kokkari, Samos Island, Greece, 83100 • Tel +30 227 309 2809 •

hotelcattleya.com

Hotel Cattleya is classical and enticingly quaint.

The Hotel's unique furnishings are far from traditional and one

can expect colonial chic, ostrich feathered throws and Italian

1950's love seat.

From the moment you join them, you'll feel the welcoming

warmth in a relaxed surrounding splashed with fantastic

service and attention to detail. There is nothing more important

to them than creating your very own piece of heaven.

Whether you want to have an intimate romantic holiday, a

relaxing time with friends, or get married in full. They'll pull-out

all the stops to make this happen.

Hotel Cattleya has a very capable team and passionate owner

on hand for your every whim.Go ahead book the whole hotel

and raise your glass to your very own special occasion.

• Rates include full continental breakfast.

• Refreshments on arrival.

• Each room contains complimentary water, tea and coffee.

• Facilities include a common area terrace, mini library and

free WIFI.

• Complimentary refreshments daily on the patio between

16.00 – 18.00 pm.

• Each room contains hairdryers, toiletries and air

conditioning.

• Check-In at 2pm ( given the flight schedules of the island,

we have flexible check in and out times, please inquire

upon booking ).

• This is a strictly adults-only retreat: children and under-16s

are not catered for

36

37
---
HOTEL

Germany

Experience Home in all Places

MK | HOTEL REMSCHEID

UNIQUE HOTEL OF THE YEAR

Bismarckstrasse 39 42853 Remscheid •

Tel +49 8723 97871-2200 • mkhotels.de

MK | Hotel Remscheid is located in the small but fascinating

town of Remscheid in West Germany, conveniently located

opposite the rail station with frequent connections to Dusseldorf

and Cologne. Remscheid is renowned for quality

manufacturing, especially in the metal and tool industry. Many

large companies such as ThyssenKrupp and Vaillant are based

here, making this property perfect for business travelers. It is

also ideally positioned for visiting local attractions such as the

Deutsches Röntgen-Museum, which houses a diverse collection

of artefacts relating to the discovery of the x-ray, as well as

107m (351ft) high Müngsten Bridge, the highest railway

bridge in Germany. The 100-years-old Wuppertal ski run and

the first drinking water dam in Germany are also an interesting

tourist hotspots that attest to the resourcefulness and innovation

of the local residents. This contemporary, upmarket

accommodation uniquely boasts its own on-site brewery,

where guests can enjoy the traditional, unfiltered beers for

which Germany is famous the world over, alongside a

sophisticated menu of both regional and international dishes.

88 exquisitely renovated guest rooms are designed in a

vibrant palette of contemporary tones. There is also

complimentary Wi-Fi, high tech flat screen TVs and spacious

work desks in every room, while one of many standout features

are the provision of fitness equipment such as yoga mats,

exercise bikes, punch-bags and weights that enable busy

guests to unwind on their own schedule. The proprietors also

willingly provide bicycle rentals to explore all this exciting

region has to offer – alternatively, hiking is a popular pastime,

with plentiful panoramic routes nearby perfect for exploring

the gorgeous European landscapes. The ethos of the MK

brand is people – the hosts are passionate about their home

region and offer honest, straightforward service, ensuring any

stay here in Remscheid is stress-free.

38

39
---
HOTEL

Slovenia STRMOL CASTLE

Gorenjskem Slovenia

STRMOL CASTLE

UNIQUE CASTLE OF THE YEAR

Dvorje 3, Cerklje na Gorenjskem • Tel +386 (0) 4

202 59 00 • grad-strmol.com

Situated on the beautiful pre-alpine slopes,

this fortress is named after the Strmol Knights

who settled here in the 13th century.

This hotel is indeed one of the oldest and

best preserved castles in Slovenia and you

can get a unique experience by residing

here. Strmol Castle creates an image of

life from the past centuries and yet offers

the complete comfort of the present time. It

impresses its guests with the outstanding

interior and halls with authentic furniture

that tells us stories about its rich history. You

can choose to stay in one of the finest suites

available here designed to match the age of

the castle. Luxurious and comfortable with

spacious bathrooms, they satisfy even the most

demanding guests.

Your stay will be escorted by outstanding

culinary experiences. Chefs trained at the

protocol Brdo Estate create exciting flavours

through which guests can experience the

mysterious castle stories.

You could also sit on the spacious terrace

and take in the views around the castle. The

hotel ensures that you get a feel of complete

seclusion by creating carefully arranged parks

and a romantic lake to give you a tranquil

view. Nearby there is also Café Strmol,

where you can lay backand sip a warm cup

of coffee! The Strmol estate also plays hosts

to various events ranging from weddings to

business meetings.

40

47 41
---
NORTHERN

EUROPE

Image by: Naian Wang

42

43
---
Iceland

Things to Do and Places to Visit

Reykjavik

The capital of the country is also home to two

thirds of its population and this beautiful city

is located right on the coastline of the country.

From the quirky design of the Hallgrimkirkja

Church to the oldest Icelandic settlement – The

Settlement Exhibition, this city has a lot to offer.

This is the place where you can enjoy the city

life and witness the Nordic culture unlike any

other place. It is also the starting point for all

the tours and trips around the country.

The Golden Circle

As the name suggests, this 'circle' is a driving

route which is approximately 300 km long

starting from Reykjavik and back in a loop.

You

can find some of the most popular tourist

attractions on the way like Þingvellir National

Park. Other popular attractions are the Gullfoss

waterfall and the famous geysers of Iceland –

Geysir and Strokkur – where the latter erupts

every 5 to 10 minutes and goes up to a height

of 40 m! Moreover, you can find many hot

springs around this geothermally active region.

Known for its dramatic

landscapes and amazing

natural beauty, Iceland

maybe the most sparsely

populated country in Europe

but it has an abundance

of wonders – both

natural and man-made.

Whether you are a fan of waterfalls or beaches, this country

has it all. If you thought that was all, you are mistaken. Iceland

is also home to one of the most rarely found bird species –

puffins. With all its unique sites and peaceful environment, this

country has quickly grabbed the attention of avid travellers.

The reason for this is simple – it has something to offer to

every tourist. If you love adventures, there are numerous active

volcanoes across the country including the Eyjafjallajökull and

hundreds of trekking trails with vast hinterlands waiting to be

explored. Moreover, you can find geysers, black sand beaches

and can even see the continental plates pulling away from each

other. What makes this country even more unique is that it has

had no standing army since 1869. With such a wide range of

natural marvels, Iceland definitely has to be on your bucket list.

Þingvellir National Park

This UNESCO Wo

rld Heritage Site was

established in 1930 and is the very place

where the national parliament of Iceland was

founded in 930 AD. Owing to its location

in a rift valley,

this place has some unusual

tectonic and volcanic environments. You

could

make a visit to the Þingvallavatn Lake, which is

the largest natural lake of the country,

on the

southern edge of the park. Moreover, you can

see the

44

45
---
Vatnajökull National

Park

If you want to see the famous glaciers of Iceland,

VatV

najökull National Park is the place to be.

Spread out across an area of 12000 km2, this

park encompasses the entire Vat

najökull glacier,

whose ice is so thick that it conceals mountains

and even active volcanoes! You

could trek to

the summit of the Hvannadalshnjúkur or can

see the mighty Dettifoss waterfall too. This

national park is also home to the picture-perfect

Svartifoss waterfall and Skaftafellsjökull glacier.

Mývatn

This volcanic lake is located in the northern

region of the country. The crystal clear waters

with relatively low depth are the highlighting

factors of this spot. You

could explore the

neighboring Reykjahlíð village that also serves

as a base for exploration around the region.

Moreover, you could take a dip in the mineralrich

waters of the Mývatn Nature Baths which

have a naturally heated man-made lagoon.

Alternatively, y you can see some hot-springs,

fumaroles and boiling mud pots at Hverir, which

is located at a short distance from here.

Jökulsárlón

This glacial lake just south of Vat

najökull

National Park is the deepest lake in the country

and is fed by the Breiðamerkurjökull glacier. It

is filled with fish and hence it's common to find

seals gathering here in large numbers along

with birds like Skua and Arctic Te

rns to feed on

them. You

could take a boat tour of this scenic

paradise with local tour company – Jökulsárlón

ehf. The unmissable Breiðamerkurjökull can

also be seen from the lake rising high up in the

air.

Hiking

Iceland truly is an amazing destination for all

those who love to hike. Va

st open lands with

rugged terrain make for some great hikes and

spectacular natural scenery along with it only

makes the whole deal better for thrillseekers.

One of the most popular trails is the Laugavegur

trail that is not just scenic but also has numerous

hot springs, glaciers and mountains around to

leave you in awe of the beauty of nature.

Northern Lights

Iceland is famous for many things but what it

is most visited for are the stunning northern

lights which are also known as Aurora Borealis.

These beautiful luminous green streaks in the

skies can be spotted at many locations across

the country,

including the capital; however, they

are most commonly found away from populated

areas. This phenomenon draws thousands of

tourists every year to Iceland and it can even

be spotted from the space.

Caving

Ever fancied entering a magma chamber?

Iceland is the perfect place for you. Thanks to

its geological activity,

this country has numerous

underground caves with varied rock formations

that will leave you astounded. The most famous

one among all is the Þríhnúkagígur crater which

is a dormant volcano that has a huge cavity and

a magma chamber that is located right at the

heart of the volcano! This thrilling experience

is unlike any other and probably Iceland is the

only place in the world to experience it!

46

47
---
Ice Climbing

Iceland Air

With 4500 square miles of glaciers, Iceland is

a great place for those looking to hike on ice or

have some adrenaline rushing through the veins

by climbing on it. The climate makes it possible

to climb glaciers all round the year and this

should be reason enough for the adventurer in

you to head out to places like Snæfellsjökull

and Sólheimajökull glaciers with your gear.

Whale Watching

The location of this island makes it possible to

spot whales in the cold waters of the coast during

the summer months. With over 20 species of

whales to be spotted, nature lovers have a great

chance to be up close and personal with these

mammoth creatures in their natural habitat. Yo

u

can easily take a whale watching tour from

Reykjavik and head out into the deep blue with

other enthusiasts. The best time to spot whales

is between April and September.

Birdwatching

Iceland is truly a paradise for bird watchers.

Not only is it home to the largest population

of Atlantic Puffins on earth but there are many

other rare bird species that you can find here

including the Razorbill and Fulmar. The birds

can be spotted in abundance across the country

in special bird watching day trips. Moreover,

you could head over to the We

stman Islands

where it is estimated that more than 4 million

puffins nest.

Travelling to Iceland this year to see the puffins?

Or perhaps you prefer to explore the vast

hinterlands of the country, or even go for a

little adventure to the volcanoes and glaciers?

Whatever maybe your aim for visiting this

beautiful country, it is simply not possible without

the assistance of the omnipresent Icelandair. This

airline makes it easier for you to reach the island

from Europe and North America by providing

direct flights to major destinations across the

continents.

This airline is the main airline of the country

and operates from the Keflavik International

Airport in the capital Reykjavik. It is also the

first international airline of the country and is

currently among the two international carriers

hailing from Iceland. With services to over 32

cities across 16 countries, this airline serves as

the main mode of transportation for reaching

Iceland.

Launched way back in 1937 as Flugfélag

Akureyrar, this airline has come a long way

to become one of the most well-known aircraft

carriers in the world today. To really see the

commitment of this airline towards the country's

tourism, you can go back in history books to

2011 when the Eyjafjallajökull eruptions had

wreaked havoc in the tourism sector of Iceland.

Icelandair took the initiative and launched

the "Inspired by Iceland" campaign with the

government of Iceland to regain the confidence

of tourists.

Under the visionary leadership of the CEO

Björgólfur Jóhannsson, the company has won

many accolades including "The Knowledge

Company of the Year" and "Marketing Firm of

the Year in Iceland" by the Icelandic business

community and Marketing Association of Iceland

respectively.

The airlines offer 4 classes – Economy Light,

Economy Standard, Economy Comfort and Saga

Class. You could choose to travel by the Economy

Light class for an affordable travel experience

or could choose the Economy Standard and

Comfort classes for a little more comfort and

baggage allowance. The Saga Class provides

you with the most luxurious services like priority

check-ins and lounge access.

Icelandair is no ordinary airline company and it

boasts of some spectacular features that make it

a unique airline. Across years, the company has

grown leaps and bounds; it now offers attractive

packages to visit Iceland and explore its beauty

and is working continuously towards creating

better experiences for their customers.

From vacation packages to guided tours, onboard

internet connectivity to flight bookings

from Facebook; Icelandair has ensured that it

provides the finest services to their clients.

48

49
---
Iceland Vacation Packages

Along with flights, the airline also functions as a travel company and offers a plethora of vacation

packages throughout Iceland. A few noteworthy ones are Northern Lights and Midnight Sun.

These all-inclusive packages include your flight tickets, accommodations as well as travels inside

the country so that you can relax and enjoy the beauty of Iceland without worrying about travel

arrangements.

Northern Lights

Stopover

A unique feature pertaining to Icelandair for tourists travelling from Europe, United States of America

and Canada; Icelandair Stopover program enables you to stop by in Iceland for up to 7 days at

no additional airfare while travelling across the Atlantic. This allows you to explore the country and

get to know its culture while on the go!

Whether you wish to stay for as short as one day or even as long as a week, they have suggestions

of things to do for each day so that you needn't worry about planning your stopover. You can simply

follow their well-researched itineraries and experience Iceland like never before.

With Icelandair, you can get a

chance to see the natural marvel

of northern lights along with other

destinations like Blue Lagoon and

The Golden Circle. If you prefer a

more adventurous vacation, you can

go for a glacier hike and see the

northern lights.

Midnight Sun

This package is for the summer months when

Iceland has the midnight sun that shines all day

long. Icelandair gives you a chance to utilize the

extra daylight hours to explore a bit more of the

country and make the most of your trip. Whether

you wish to jog on a black sand beach or play a

game of midnight golf, they have packages for all.

Tours

Apart from the complete packages, you can

book tours and add-ons too. The tours include

trips around the Golden Circle, trip to see the

northern lights, visit to Blue Lagoon and Ice

Glacier Cave tour among others. You could also

indulge in some activities like snowmobiling and

horseback riding across lava fields. To learn

more about the gastronomic culture of Iceland,

you can even join an Icelandic cooking class!

Moreover, the airline also gives you the option

to book airport and hotel transfers.

If none of their packages seem to fit your

requirements, you can create your very own

Iceland trip and have that dream vacation that

you were always wishing for.

You can book hotels all around the world with

just a few clicks and can also rent a comfortable

car for your travels, all from their website.

Golden Circle City Break

This trip takes you on the Golden Circle route

which is a 300 km route from Reykjavik and

back. In this trip, you'll get to see some splendid

sights like Gulfoss Falls, Thingvellir National

Park and Geysir! This one-day road-trip will

give you some of the most stunning views of the

natural environment surrounding the capital.

Flight Theater

Icelandair created the world's first immersive

in-flight theater experience on a flight from

London to New York which was stopping

over at Iceland last year. The entire staff and

professional actors performed live in front of

the passengers and this was only the first of

the many performances lined up for this year.

You can plan your stopover accordingly and

get to see the in-flight performances too!

Stopover Buddy

If you're looking for an authentic Icelandic

experience, the Stopover Buddy program

is perfect for you. Whenever you're taking

a Stopover at Iceland, you will have the

option to request a Stopover Buddy, who is

an Icelandair employee who acts as your

personal host for up to one day. You can

truly discover Iceland with them and whether

you're looking for a celebration or are simply

looking to get deeper insight into the country,

these locals ensure that you can get the best

experience possible during your stay.

50

51
---
Saga Club Frequent Flyer Program

The frequent flyer program allows you to earn

Saga Points every time you travel by Icelandair or

make a purchase on-board the flights. You could

also earn these points when you spend money

at their partners across the world like hotels and

car rentals. On accumulation, you can use these

points to book your flights or even redeem them at

numerous partners worldwide for something you

wish to do/buy. Moreover, you can donate your

Saga Points for charity too.

The membership itself comes with loads of

privileges as you gain more points with amazing

features like free access to lounges and discounted

limousine services to the airport.

Handcrafted Livery on Aircrafts

Hekla Aurora

The Hekla Aurora is a Boeing 757 aircraft that

is wrapped with images of the northern lights

and even the inside of the flight is illuminated

with LED mood lighting to display the Aurora

inside the main cabin. Moreover, the flight is

equipped with a Wi-Fi connection so that you

can show off your in-flight photos with the

northern lights online!

Vatnajokull

As a part of the airline's 80th anniversary,

the exterior of one aircraft was hand-painted

to showcase the enormous Vatnajokull glacier

which is one of the largest glaciers in the world

and covers more than 8 percent of Iceland.

Along with the exterior, the interiors of the

flight were designed to replicate the marvellous

glacier with ice blue ambient lighting and

serving carts transformed into rolling glacier

caves. You can also spot the glacier motifs on

the complimentary snacks and drinks.

Always On-Time

Time and again, Icelandair has proved that

they always take off and land on time. Their

punctuality has brought them the praise from

thousands of passengers; it was even declared

the most punctual airline in Europe in 2012!

Gate-To-Gate Connectivity

In 2016, Icelandair became the first airline in

the European and North Atlantic markets to offer

gate-to-gate connectivity in all its flights flying

across Europe and North America. Right from the

moment you enter the gate till you leave it at your

destination, you can be connected to high-speed

Wi-Fi. The flights also feature on-demand in-flight

entertainment services for movies, games and

music to keep passengers entertained throughout

the duration of the flight.

Book Flight From Facebook Messenger

If you ever thought that booking a flight is a tough

job, Icelandair will make you rethink it all over

again. Passengers travelling across the Atlantic

can book flights right from Facebook Messenger

with ease. All you need to do is chat with the

Stopover Bot and it'll do the booking for you in

the process! Not only does it book your flight

tickets but also answers all the frequently asked

questions.

Baggage-Based Fares

For those who wish to travel light, Icelandair has a new tier – Economy Light. This allows

passengers to carry upto 10 kgs of baggage with them and experience the same level of luxury

at lower fares. This feature benefits those who are going for a short business trip or a weekend

getaway.

Inspired By Iceland

With the support of the government of Iceland, Icelandair launched a mega-campaign in which

thousands of residents of the country and people from all around the world took part to showcase

what part of Iceland inspired them. Many live webcams were set up across the country which

broadcasted the visuals of the country around the world to invite people to visit this amazing land

post the Eyjafjallajokull eruptions.

With such passenger-friendly features, Icelandair has truly made a name for itself across Europe

and North America. Increasing connectivity and affordable fares make this airline the best way

to reach Iceland from anywhere around the world to explore its beauty. Whether you're visiting

Iceland for a business trip or are travelling to see the beautiful natural attractions of this country,

Icelandair is the first impression of the country for you and it sets this bar high enough for you to

enjoy a smooth transition to this wonderful nation.

52

53
---
TOUR HOTEL

Coatia Iceland

VILLA YOUR MAGDALENA

DAY TOURS

HOTEL CULTURAL & SPA TOUR OF COMPANY THE YEAR

OF THE YEAR

Mirna Fiskislóð ul. 24, 1, 49217, 101 Reykjavik Krapinske • Tel Toplice, +354

Hrvatska 770 4500 • Tel yourdaytours.is

+385 49 233 333 •

villa-magdalena.net

Your Day Tours is a family owned

Hotel company Villa established Magdalena in April is 2015 an

exclusive with a simple small goal in four-star mind – to move hotel

located people, in not Krapinske only between Toplice places just 45 –

kilometres but also with from the Zagreb. magnificent history

It and is a nature unique of Iceland. place for relaxation,

The wellness, 'Your Golden first-class Circle' tour gourmet will

tell experience you all there and business is to know meetings. about

Iceland. All accommodation You'll get to see is the equipped Geysir

geothermal to highest area, standards Gullfoss waterfall befitting

and the hotel's Þingvellir leisure National and business Park –

where guests, you with can a see hidden the American delight –

and each Eurasian room offers tectonic a Jacuzzi plates heated pulling

by apart. the thermal You will springs also of get Krapinske to see

Toplice. the beautiful Further Faxi relaxation waterfall can as an be

found added in punch the panoramic of natural beauty! wellness &

spa

On the

oasis

south

– complete

coast of

with

Iceland

an indoor

you'll

pool,

be able

massage

to see

areas,

two waterfalls,

a steam

room

Seljalandsfoss

and a gym

and

–

Skógafoss

a beautifully

as

maintained

well as the

environment

mighty Sólheimajökull

that invites

you

glacier.

to

Fancy

release

beaches?

your stress

Their tours

and

recover

include

your

the wonderful

energy.

Reynisfjara

with When black not luxuriating sand beaches in the where spa, guests you

might can indulge be lucky in the enough finest gastronomical

to spot some

delights. The fine dining restaurant

puffins! You will also get to see the

within Hotel Villa Magdalena is a

amazing

place for premium

Eyjafjallajokull

gastro experiences,

Volcano,

whose with a menu eruption inspired had by put the best hundreds of the

of traditional flights on Zagorje hold a cuisine few years combined back.

with elements of modern Italian and

French cuisines.

TOUR

Iceland

TRAVEL REKJAVIK

FAMILY FRIENDLY TOUR

COMPANY OF THE YEAR

Langholtsvegur 109, 104 Reykjavík,

Iceland • Tel +354 588 8660 •travelreykjavik.com

Run by Snæland Travel which has

more than 70 years of experience

in the tourism sector, Travel

Reykjavik offers a large variety of

tours in Iceland.

You can book trips ranging from

short day trips to long excursions

spanning across a few days. With

them, you'll be able to take a tour

to the marvelous Blue Lagoon or

head over to the north to witness

the natural phenomenon of

Northern Lights. They also offer the

option of having a completely

private tour with your own driver

guide and vehicle so that you can

enjoy your trip exclusively with your

own family. The 'Journey Around

Iceland' tour takes you on the ring

road and in this weeklong tour,

you'll be able to visit every major

site that Iceland has to offer. With

tours all across the country, you can

explore every region of the country

when traveling with Travel

Reykjavik. They also offer airport

transfers to and from the Reykjavik

airport.

54

61 55
---
HOTEL

Iceland

RADISSON BLU 1919 HOTEL

HOTEL OF THE YEAR

Posthusstraeti 2, Reykjavik, 101, Iceland • Tel +354 599 1000 •

radissonblu.com

Located in the capital of the country, Reykjavik, Radisson Blu

1919 Hotel offers a comfortable stay in the land of endless

geysers, waterfalls…and puffins! With 88 rooms and suites

designed to perfection and equipped with plush furnishings,

you can expect your stay here to be a comfortable one.

Rooms here come in all shapes and sizes so that you can

choose the one that suits your palate. The rooms come fitted

with hardwood flooring to give an elegant feel and even

help avoid cold feet in the chilling weather of Iceland.

You can dine amongst the beautiful interiors of the 1919

Restaurant and indulge in authentic local cuisines. A super

buffet breakfast awaits you in the morning, prepared fresh

with local ingredients! Fancy some drinks? The 1919 Lounge

and Bar is the perfect place for you to sink into your chair

and see the city life passing by while sipping some fine

wines or cocktails.

The hotel makes sure that your stay in Reykjavik is relaxing

and convenient with the endless list of services that they

offer. You can hit the fully-equipped gym here for keeping up

with your fitness routine or head over to the concierge desk

for inquiring about Iceland's many attractions. In a hurry to

kick-start your day? The Grab and Run Breakfast offered by

the hotel gives you tea and coffees in disposable cups along

with fresh fruits and energy bars!

Every room also comes with a One Touch Service button

on the telephone that will alert the staff and take care of all

your needs! The hotel also features 3 meeting rooms which

can be used to host corporate meetings or personal events.

68 56

69 57
---
TOUR

Iceland

AURUM BY

GUOBJORG JEWELLERY

UNIQUE EXPERIENCE OF THE YEAR

Bankastraeti 4 101, Reykjavik Iceland • Tel +354 551 2770 • aurum.is

Our Designer

Guðbjörg Kristín Ingvarsdóttir was born in 1969 in Ísafjörður, West Iceland.

Completing her journeyman's examination at Copenhagen polytechnic

in 1993, she received her Master diploma in gold-smithing at Reykjavik

Technical College in 1994. Guðbjörg further studied jewellery design at

Copenhagen Institute for Precious Metals before returning to Iceland in

1999, founding her own jewellery design company Aurum along with

her husband Karl Jóhann Jóhannsson MBA. Aurum's flagship store is

located in the lively city centre of Reykjavík.

Inspiration

Guðbjörg has made a name for herself with her innovative jewellery

designs which are a combination of delicate individual elements inspired

by her surroundings. Often seeking inspiration from the Icelandic nature,

the majestic and raw landscape in the West Fjords continues to be reflected

in Aurum's jewellery designs, both in her in-store collections and custom

made jewellery art pieces that have been exhibited around the world.

Recognition

Guðbjörg was awarded first prize in the jewellery competition Spirit of the

North in St. Petersburg in 2000. In 2001 she received the DV cultural

award in Reykjavík for art design and received the Visual Arts Award for

design in 2008. Along with receiving awards, Guðbjörg has participated

in many exhibitions both in Iceland and internationally, recognising Guðbjörg's

artistry and craftmanship. Recent exhibitions include LOOT: MAD

about Jewellery at Museum of Art and Design in New York and Artistar

Jewels in Milan where Guðbjörg received recognition for a jewellery art

piece from Aurum's Tuttu collection.Aurum by Guðbjörg has won world

wide acclaim from the likes of Condé Nast Traveler, Timeout, Town &

Country, GQ, Vogue and many others. ELLE magazine ranks our flagship

store in Iceland as one of the "Best boutiques in the World". Aurum

received the Njarðar —

16 58

17 59
---
WESTERN

EUROPE

Image by: Invisiblepower

60

61
---
Alpine Lake Towns

One of the most beautiful and

impressive mountain ranges in

the World, The Alps, spanning

Italy, Germany, Switzerland,

France and Austria.

Mountains, valleys, fields and

forests, a fantastic and natural

landscape.

The Alps has become one

of the most popular tourist

destinations in Europe with its

diverse offering, with transport

links between the Alps and

the rest of Europe, making the

region most accessible.

Although the Alps is popular all year round, the

region is most renowned for its winter sports

such as skiing and snowboarding, in particular,

attracting beginners and avid winter sports

enthusiasts alike. The Alps is as tremendously

popular during the summer months for

alternative activities including hiking, climbing,

and paragliding. Others may prefer to relax and

appreciate the wonderful location and scenery.

The options are limitless.

There are many picturesque towns and villages

located amongst the Alps, such as Bern, Annecy,

Riva Del Garda, Feld Am and Konstanz. With

views that are breathtaking with impressive

mountain ranges and alpine lakes. These towns

have good facilities to ensure all travellers are

well catered for.

Each town has its own

history, such as the resort

town of Interlaken in

Switzerland, a typical

Alpine town, which

was very popular in

the 19 th century with

artists, although these

days are more popular

with travellers enjoying

skydiving or paragliding.

The history remains for all

to see.

As one would expect of

this vast natural space,

there is an impressive

array of wildlife, so while

enjoying the region, do

not be surprised to see an

Ibex, Deer or Lynx.

62

63
---
Annecy | France

Interlaken | Switzerland

LAKE

Annecy

POPULATION

124,401

HOW TO GET IN

• Road

• Train

• Fly in

A Medieval town built around a

Chateau known also as the

Venice of Savoie

LAKES

Brienz to the East & Thun

to the West

POPULATION

5,673

HOW TO GET IN

• Road

• Train

A small town perfectly nestled

between 2 Alpine Lakes. Popular

for outdoor adventure activities

& shopping.

GET AROUND

• On Foot

• By Bike

GET AROUND

• On Foot

• Taxi

• Bus

• Taxi

ATTRACTIONS & SIGHTS

• BLS Schifffahrt

ATTRACTIONS & SIGHTS

• Unterseen

• Chateau d'Annecy

• Palais d'Isle

THINGS TO DO ON THE LAKE

• Swimming in both lakes

• Fete du Lac

• River Rafting

THINGS TO DO ON THE LAKE

• Swimming

• Canyoning

• Sailing

• Rowing

• Sailing

Find out more – http://

www.interlaken.ch/en/

discover-interlaken.html

Find out more – https://

en.lac-annecy.com/

64

65
---
Riva Del Garda| Italy

LAKE

Garda

POPULATION

17,190

The largest lake in Italy which was

part of Austria prior to the Unification

of Italy in 1870

HOW TO GET IN

• Road

• Ferry

GET AROUND

• On Foot

• Bus

• Taxi

ATTRACTIONS & SIGHTS

• Museo Civico

• The magnificent city

gates Porta San Marco

• Varone Falls

THINGS TO DO ON THE LAKE

• Sailing

• Windsurfing

• Sabbioni Beach

Find out more – http://

www.visitgarda.com/en/

tourist-offices-lake-garda/

66

67
---
Konstanz | Germany

Feld Am See | Austria

LAKE

Constance (Bodensee)

POPULATION

85,524

HOW TO GET IN

• Road

• Train

• Ferry

• Fly in

Lying on the border between

Switzerland and Germany Konstanz

is unique in that it's historic old town

remains perfectly intact. It's proximity

to Switzerland means it was never

bombed during second world war.

LAKE

Brennsee

POPULATION

1,124

HOW TO GET IN

• Road

GET AROUND

• On Foot: A small village

very walkable

Spectacularly set amidst the Nock

mountain range, Feld Am See is the

perfect getaway to enjoy village life.

GET AROUND

ATTRACTIONS & SIGHTS

• On Foot

• By Bike

• Bus

• Taxi

• Protestant Church of

Feld Am See

• Alpen Wildpark Feld

am See

• Mirnockriese

ATTRACTIONS & SIGHTS

• Munster Cathedral

• Rosegarten Museum

• Bismarck Tower

THINGS TO DO ON THE LAKE

• Fishing

• Sailing

• Surfing

THINGS TO DO ON THE LAKE

• Swim

• A boat Trip

Find out more – https://

www.feldamsee.at/de/

• Canoeing

Find out more – http://

www.konstanz.de

68

69
---
HOTEL

Country Austria

HOTEL BRENNSEEHOF

FAMILY FRIENDLY RESORT

OF THE YEAR

Seestraße 19 9544 Feld am See • Tel +43

4246 2495 • brennseehof.com

Whether in summer or winter, the

picturesque setting of Feld Am See will

provide the perfect holiday for the

whole family. There is no better place

to take advantage of the incredible

scenery than at the Hotel Brennseehof.

A partner of Kinder Hotels Europe,

Mountain Bike Holidays and Tennis

Hotels, this establishment offers a

unique combination of family and

sporting activities and a four-star hotel

in a lakefront setting. Families can

enjoy a wealth of sporting activities,

such as tennis, sailing, surfing, biking,

beach volleyball, basketball, football

and basketball. Additionally, the

comprehensive activity programme

offers seven swimming pools,

gymnastics, tours and excursions in the

surrounding valley. To keep even the

youngest of visitors entertained, Hotel

Brennseehof provides professional

child assistance and a car, with a

dedicated kid's entertainment

programme. Parents too are well

catered for, with a spa and sauna. The

hotel offers large and comfortable

rooms and apartments. The complex

also offers Hotel Alte Post, a charming

guest house in the centre of Feld am

See, for those families that desire a little

more privacy and relaxation.

Ideal

combination of

family & sports

holidays at a

small lake

TOUR

Switzerland

BLS NAVIGATION

ATTRACTION OF

THE YEAR

Lachenweg 19, 3604 Thun,

Switzerland • Tel +41 58 327 48 11

• bls.ch/schiff

BLS Navigation operates

steam and motor boats on the

lakes around Interlaken.The

lakes Thun and Brienz are

located in the middle of the

world famous Bernese alps

including Jungfrau mountain –

a designated UNESCO world

heritage area. BLS Navigation

offers a unique experience to

enjoy this fantastic landscape

on board of its boats on two

lakes, making this area accessible

for everyone. BLS is also

running the largest private

train network in Switzerland

and offers specialised touristic

packages. If you were wondering

that they are just another

transportation company, you

are wrong. BLS also provides

tours and excursions to various

attractions of the area. Not

only do they show you the

country but also take you back

into the history of the navigation

on the lakes Thun and

Brienz which is more than

hundred and eighty years old.

70

73 71
---
HOTEL

Italy

LIDO PALACE

UNIQUE GUEST HOUSE OF THE YEAR

Viale Carducci 10, 38066 Riva del Garda, TN, Italy • Tel +39 0464

021899 • lido-palace.it

Tucked away on the shores of Lake Garda in Riva del

Garda, Lido Palace stands out as a luxury retreat. This

heritage building played host to royalty in the past and

today it offers the same level of opulence post -restoration

and redesigning. The location of the hotel provides you with

some splendid views of Italian lakes and alpine scenery. The

19 th -century building itself is a masterpiece that definitely

does deserve some exploration. Whether you're visiting the

hotel alone or with your family, they offer a wide range of

rooms for you to choose from. Equipped with the finest of

amenities and stunning views, the hotel ensures that you are

pampered throughout your stay and treated royally by the

staff.

The in-house restaurant, Il Re della Busa is hidden away

in the bow of a ship-like structure close to the lake and is

furnished to give a very cozy ambiance. Executive Chef

Giuseppe Sestito and his team prepare the finest of seafood

here for you to devour on the exclusive candle-lit terrace of

the restaurant. You can choose from a selection of wines to

have along with the gourmet dinner too.

Alternatively, you can have the most amazing Mediterranean

cuisine at Tremani bistrot. The chefs work hard to create

tantalizing dishes that will make you an instant fan of the

bistro. Moreover, they specially make low calorie lunches

for those using the CXI Spa! For those who enjoy cocktails,

Bali Bar is the perfect place to sip on some fine cocktails

with munchies to accompany the drinks.

Apart from this, the hotel also features an elegant spa where

you can get some relaxing and rejuvenating massages from

experienced masseuses. If you wish to go for a swim, the

hotel has indoor and outdoor swimming pools too.

72

73
---
Made in Bern

Bern Baby Bern – 10 Highlights

Exhilarating moments and thrills galore await you in Bern.

From the UNESCO-protected capital to the world-famous

Eiger, Mönch and Jungfrau, you will find everything your heart

desires! Here are 10 places in the canton of Bern that you

really need to see before you leave:

Gstaad – Fondueland

Delicious fondues with panoramic

views are on offer at Fondueland

Gstaad. Waiting for cheese-lovers

are two purpose-built huts and two

oversized caquelons, which can

cater for up to eight people. And

after the fondue, a circular hike

on foot or a short bike ride in the

fresh air will help you to digest the

cheese you have enjoyed so much.

Old Town of Bern – capital city

and World Cultural Heritage site

in one

The Bernese Old Town has been a UNESCO

World Cultural Heritage site since 1983. The

arcades are an inviting place for a stroll,

and the basement venues include shops,

restaurants and cultural activities that are just

waiting to be discovered. And there is the

Aare river. Locals and tourists love bathing

in the cool water. A summer visit to the city is

not complete without a detour to the Marzili.

74

Lake Oeschinen – glacier water

above Kandersteg

From Kandersteg you can walk up to Lake

Oeschinen in about an hour and a half.

Alternatively, you can also take the gondola

to this lake located in the extended UNESCO

World Natural Heritage site. Its deep blue

waters flow from the surrounding glacier

brooks. Nevertheless, or even more precisely

because of this, it is also a popular bathing

lake in summer.

75
---
Schilthorn – secret

agents on the trail

(BondMountain)

It takes three quarters of an hour

for the Piz Gloria Restaurant

on the Schilthorn to revolve

once around its axis. During

their meal, visitors can enjoy

the entire panorama – from

Eiger, Mönch and Jungfrau to

Mont Blanc. James Bond, on

the other hand, did not have

as much time to enjoy the view.

This was where the British

secret agent hunted down Ernst

Stavro Blofeld (played by Telly

Savalas), making the Schilthorn

world-famous.

Emmentaler Show

Dairy– the secret of

thecheese

Emmental cheese has many

fans, but not many people know

how it is produced. Do you

know how the holes get into the

cheese or how long it takes until

this Emmental specialty is ready

to enjoy? Find out first-hand at

the show dairy. Guided tours

and daily attractions are on

offer.

Tropenhaus

Frutigen – where

sturgeon live in the

tropics

Exotic fruits, tropical

plants and locally

produced caviar are

all on offer at the

Tropenhaus Frutigen.

Warm water from the

Lötschberg is used to

grow the fruit. The first

sturgeons to be bred in

the Alps are found here.

Visitors can experience

this world of adventure

both individually and on

guided tours.

76

Sherlock Holmes and the

Reichenbach falls

At first sight a water fall in Meringen and

an English detective do not have a lot in

common, but...The English author and creator

of the brilliant detective Sherlock Holmes,

Arthur Conan Doyle, often visited the Bernese

Oberland. He always stayed at the Hotel

zum Wilden Mann in Meiringen. Fascinated

by the beauty of the region and by the

roaring Reichenbach Falls in particular, he

incorporated Meiringen, the hotel and the

waterfall in his novel "The Final Problem" 77
---
Kayaking on a Wintery Lake

If you don't feel up to skiing but still want

to spend a few hours in a "winter fairy

tale", Bönigen is the place to be! Here

the Hightide kayak school offers guided

kayaking trips on Lake Brienz. You paddle

over the lake in small groups and enjoy

the silence, the play of light on the water

and the snowy mountain scenery which

extends around the water and between

the Emmental and the Bernese Alps.

Junfraujoch – Top of Europe

The view sweeps over the Aletsch Glacier,

the snow and the mountains, and the air

is cold. The Jungfraujoch is one of the

tourist highlights of the canton of Bern,

if not of all of Switzerland. At 3,454

metres above sea level you can certainly

feel the elements here. And what is really

astonishing is the engineering feat that

enables visitors to reach this high Alpine

world by train.

AUSTRIA

Austria is often considered to be one

of the top winter holiday destinations,

and with its snow-capped peaks it's

easy to see why. But there is so much

more to Austria just waiting to be discovered

and explored.

Uncover Austria on a summer adventure to reveal

the hidden gems of some of the country's most

beautiful landscapes, towns and natural delights.

Experience the diversity of Austrian culture on a

city break, where museums, amazing architecture

and festivals for all senses await. Or take to

outdoor exploration – atop mountains, amidst

green expanses and on lakes as clear as they

come. Here, nature is an all-ages playground,

and your hosts will only be too happy to guide

you along the way.

Adventure under a Roof

of Snow

There are various places where

you can spend the winter

under a roof of snow. You will

have thick fur blankets to keep

you warm as you soak up the

romantic ambience created by

the flickering candlelight.

78

79
---
French Top 5

Paris

Narbonne

market is comparable to the Boqueria

de Barcelona for its architecture and its

variety of products.

Nimes

Discover Paris and all it has to offer

including history, culture, leisure,

cuisine. Its cafes and boats on the

Seine, its elegant neighbourhoods and

its shops, its metro and its musicians,

its monuments, squares, quays, and

fountains. The French are justly proud

of their capital. Begin with the symbol

of the city: the Eiffel Tower. From its

peak at 300 metres, you will enjoy a

breathtaking view over the rooftops of

the capital. Built for the 1889 Universal

Exhibition, the monument remains the

highest observation tower in Europe.

At its foot is the Champ De Mars, where

some of the biggest events of the City

are held. Enjoy a picnic on the lawn,

take in the lights at night and feel the

magic of the Peace Wall which fronts the

Military School. No visit to Paris would

be complete without a trip to the Louvre

on the banks of the river Seine. This royal

palace needs no introduction and is

impossible to see everything in one visit.

But essential viewing is Leonardo Da

Vinci´s La Gioconda and the department

of Egyptian antiquities. The museum has

just opened a new section dedicated to

the most stunning Islamic art. Guaranteed

to raise goosebumps to any discerning

art lover. Celebrate French gastronomy

at the Louchebem, an old butcher shop

in the Les Halles district, downtown Paris

where the dishes of beef are out of this

world. Nearby in the Bastille area is the

Cafe de L'Industrie, a typical Parisian

cafe offering reasonably priced food

and drinks alongside a pleasant French

atmosphere.

The magic of the South of France should

be explored in its entirety. An area

of particular interest historically and

architecturally is Narbonne. Situated

on the Canal de la Robine, Narbonne

is a city with an abundance of Roman

architecture still retained in the medieval

streets and Roman roads. Attractions

on offer include the impressive 13thcentury

Cathedral, a medieval palace

with art gallery and museum as well as

the Horreum, a Roman warehouse with

underground art galleries. The main

square hosts the revered Via Domitia,

the first Roman road built in Gaul,

created around 118 ac with the purpose

of facilitating the transport of Roman

armies, and where Hercules along with

50,000 Carthaginian soldiers and 37

elephants passed through on his way to

conquer Italy. I

In addition to having the best buffet

restaurant in Europe, Les Grands

Buffets, Narbonne has one of the most

colourful and spectacular markets in

the area, Les Halles. This centennial

Situated in the Languedoc-Roussillon

region, Nimes is a relatively small town

with a population of 150,000. Nimes,

like Narbonne, has almost flawless

Roman formations and architecture.

Even more so in fact due to the incredibly

impressive and well preserved Roman

amphitheatre, Les Arenes, with a seat

capacity of seat 16,000 and is still

used today to commemorate the Roman

Games of Nimes. In addition a temple

known as Maison Carree, a Roman

temple dating from the sixteenth century

and Corinthian in style with columns of

marble. Apart from these two perfect

statements of Roman architecture,

Nimes is a legacy to Roman history and

is nicknamed French Rome. Narrow

streets add to the charm of Nimes, and

some of the best restaurants in the world

showcasing French flavours and talent

makes Nimes a gastronomical delight.

80

81
---
Montpellier

The Loire Valley

Montpellier, located in the south of

France, is a city full of charm where

medieval and modern go hand in

hand. Founded in the 8 th -century, it is

the eighth most populated city in France

with around 300,000 inhabitants.

Famous for its Faculty of Medicine,

one of the oldest in the world founded

in 1220; the classrooms boast famous

figures such as Nostradamus, Ramon

Llull, Guillaume Rondelet and Arnau de

Vilanova.

Culturally the city is incredibly vibrant

with an open-air museum, urban art

such as the incredible "trumpe l"oeil"

bringing life to plain walls in the city

and confusing the eye since the 1990s

thanks to the talents of artists such as

Zevs and Space Invader.

Montpelier is a typical French romantic

city which has not lost its charm despite

rapid growth in recent times. A great

place to relax is the Place de la Comédie,

a large pedestrianised square (although

it is nicknamed "the egg" due to its oval

shape). It has played an important

role in the life of the city for over 250

years. Here you can sit and take a

coffee, eat at one of the restaurants

or shop in the trendy boutiques. A

popular meeting place surrounded

by 19 th -Century architecture including

the Opera Comedie, a majestic 19th

Century opera house with an elegant

facade, columns and arched windows.

The centre of the square features an

impressive fountain depicting the Greek

mythological Charites, the statue of

Zeus´s three daughters.

Visit the famous Castles of the Loire

Valley, commonly referred to as

"the garden of France". Recently

declared a World Heritage Site the

Loire Valley is home to more than fifty

Renaissance castles such as Chambord,

Chenonceaux and Usse.

A great way to explore the whole area

is by bicycle. Cycle through the Loire

Valley starting at Orleans and wind up in

Angers, a total 800 kilometre bike ride

is available for the more adventurous.

Discover this part of France with its

picturesque villages, journey through

leafy forests along designated cycle

routes making new friends along the

way.

There are several shorter routes or travel

itineraries involving train hopping or

transfer companies to assist along the

way to break up the journey for those

less energetic although the cycles routes

are perfectly ideal for families as the

area is reasonably flat and well paved

with designated rest stops along the

route for refreshments.

82

83
---
TOUR

France Portugal

CELINA CEDRIC'S TOURS PARIS

THE TAILOR AWARD MADE FOR TOUR

EXCELLENCE COMPANY OF IN THE SERVICE YEAR

Av cedricsparis@gmail.com Estados Unidos da América, •

142 cedricsparis.com

– 1dto, 1700 – 180 Lisboa,

Portugal • Tel + 00351 — 926 049

232 A personalized • celina-tours.com tour inside the

original convertible "2 chevaux" is

Celina what you Tours get offers when quality traveling tours with

of Cedric's Lisbon Paris. and Sintra that suit all

tastes.

Traverse charming streets and tiny

Guests can explore the grand

squares of the city that are unknown

architecture and fairy tale-like

to tourists and to even many

wonder of the palaces of Sintra

Parisians! Whether you're looking

Cascais and Sintra Mafra,

to see the city at night sipping

indulge in the city after hours

Champagne or into discovering it

on the Lisbon by Night tour or

beyond the famous monuments,

take in the top tourist attractions

every single tour is possible when

on the Lisbon City Tour. For

traveling with them. For larger

those that wish to explore

groups, a 1976 VolksWagen

further afield, Celina Tours also

Kombi "Bert" is the perfect vehicle

organises tours in five other

to drive around the city and enjoy

destinations that promise to

time with family. If you're more of

take you deeper into Portugal

a walker, a private walking tour

and provide an in-depth look

around the lively markets and the

into the country's history and

hidden gardens of the city is all

culture. With quality hospitality

you need to discover Paris like a

on offer and prime importance

native Parisian! A bachelorette

given to the security of the

party special tour is available as

tourists, Celina also offers

well. With an option to customize

fully flexible itineraries to

the tours according to your needs,

give their guests the best and

it is possible to make the most out of

most personal experience of

your trips to Paris.

Portugal possible. With indepth

attention given to even

the size of groups to make the

best out of the tour, visitors are

guaranteed an excellent service.

"Tailor made

sightseeing tours in

Paris with a local in

a vintage car!"

TOUR

France

AMERICAN

CONCIERGE

PRIVATE TOUR COMPANY

OF THE YEAR

45 Wall Street, #2203 New York, NY

10005 USA • Tel +866-867-2747 •

americanconcierge.com

Founded in New York, American

Concierge offers privately guided

tours of Paris along with multi —

day customised itineraries of the

City of Lights.

Immerse yourself in a bespoke

Parisian experience and get to

know the city from the eyes of the

local residents. Based on what

you want to do, itineraries are

created that help you make unique

memories of the city; discover the

sprawling palace of Versailles

or the elegant Louvre Museum

and marvel at some of the nest

jazz bars with the help of the

exclusive tours offered by American

Concierge. The customization of

each trip is made easy by a brief

conversation where they will ask a

few questions to learn about your

hobbies and interests and make

recommendations on tours inside

Paris and day trips outside the city.

For an extra special trip, American

Concierge offers a biannual trip,

one-week of tours with the founder

of the company; with just ten guests

in each tour, you are guaranteed

the best service and a personal

introduction to Paris.

284

35 853
---
Paris

JUAN JEREZ

DEL VALLE

Q&A

QUESTION: Tell us a little about yourself

JUAN JEREZ DEL VALLE: I think my first

contact with photography was during my years

as a student of Art History in Granada. I spent

hours and hours watching images, not only

photographs but also building plans, façades,

engravings and, especially, paintings. The

history of painting has a great influence on my

work. I was fascinated by the universal power of

the image, the narrative capability of the forms.

Photography is for me a way of seeing the

world, of being in the world. In the same way

as literature, photography is an instrument which

allows you to have access to the essence of

things, a ticket for the front row in a show. I

have always dreamed of having the ability to

create images capable of telling a story, the

ability to become a kind of writer working not

with words but with lights, shadows, shapes...

Q: What made you decide to set up a Photo

Blog in Paris?

JJDL: I moved to Paris for work. I immediately

fell in love with the city. During the first three

months, I used to spend the whole day walking

and shooting and, after that, I had a lot of

material to show. I decided to start sharing

myphotos atthat time.

Q: What are some of the most photography

trends right now in the city?

JJDL: It depends. There are a lot of classic

spots in Paris and normally most people try to

photograph them. But there are also new places

which catch theattention of the creatives and

inspire them. For example, there is a basketball

court in Pigalle reallypopular now; the colors of the the

ground are fantastic. The Louis Vuitton Foundation in the Bois

the Boulogne is another trendy place.

Q: Are there any neighbourhoods you'd recommend to

perfectly capture the city?

JJDL: Well, if you really want to capture the city I recommend

not to go to the touristic neighborhoods and visit other places.

You will be able to find a different Paris, moreauthentic. The

11 th and 20 th districts are perfect for that. The area behind

the Bastille or around the Père Lachaise cemetery, the Parc

des Buttes- Chaumont or the Aligre market arefantastic for

that.

Q: Have you ever considered showing people around

yourself, maybe doing a photography tour?

JJDL: Yes and, actually, I have already done it and I have to

say I loved it! It was a wonderful experience. I have studied

History of Art and I really like to explain the history of a city

(I did it in Rome for along time). If, in addition, we can also

take photos, the combination is perfect!

Q: Best place to grab a coffee & why?

JJDL: I really love the coffees in the 5th arrondissement. I

lived there for one year when I moved to Paris. The coffees

on Rue Mouffetard oraround the Pantheon are my favorites.

Q: Favourite local Restaurant?

JJDL: Well, I really love a popularrestaurant near Bastille.

I usually go there once or twice a week.It's a verytypical

Parisian restaurant. Its name is Cafe deL'industrie

Q: What is the "best off the beaten path" attraction?

JJDL: One hidden place I love is the Promenade Plantée,

a former elevated railway track transformed now into an

Urban park.

Q: Where would you go for a day trip outside the city?

JJDL: I would go to Normandie. Ireally love its landscape and

there you can find the closest beaches to Paris. The cliffs of

Etretat, the old port of Honfleur, the local food...Everything

is wonderful!

Q: What would you say is the best way to get around Paris?

JJDL: To get lost as the flâneur of Baudelaire. To walk

aimlessly, following the beauty of the city.

86

87
---
Eiffel Tower

Image by: Chris Karidis

88

89
---
Amsterdam Event Calendar

AMSTERDAM – THE EVENTFUL EUROPEAN EXPERIENCE

MARCH – MAY

Event: The HISWA Amsterdam

Boat Show

Event: The Day of the King

(formerly the Queen)

Date: 7th March through to

11th March 2018

Date: 27th April 2018

Amsterdam is renowned as one of the

most cosmopolitan and liberal cities

in Europe. It has a broad cultural

appeal and during the year hosts

a great deal of international events

and over 300 festivals covering a

wide range of genres from outdoor

film showings to dance events

lasting several days. From festivals

for children to art and fashion,

culinary events to music concerts.

From festivals celebrating the tulip

to bi-annual boat shows. The range

is wide and diverse. Most popular

are the Kings Festival, the Festival

of Lights, TheGranchtenfestival and

Gay pride. For art lovers, there is

always a collection to excite and

amaze, including Dutch Masters

from the Hermitage collection

including some exquisite Rembrandts

alongside a variety of rare works of

art. It promises to be a breathtaking

exhibition. Conferences, keynotes,

various exhibitions and networking

events take place regularly and all

over Amsterdam. The main congress

and convention centre is the RAI,

one of the largest business centres

in Europe which hosts more than 50

events throughout the year including

car shows, fashion displays,

equestrian events, sporting and

cultural events. There are a number

of restaurants including a city beach

for those wishing to combine business

with pleasure.

A spectacular water sports event not to

be missed. A huge display of boats and

nautical accessories featuring cuttingedge

innovation and design. Exhibitors

will be presenting boats of all shapes

and sizes from classic ships to modern

cruising boats, offering workshops and

interesting programmes.

A fantastic experience and a national

holiday where there are only two rules:

wear orange and have a great time at

one of the largest and most colourful

festivals in Amsterdam. With activities

of all kinds throughout the city such as a

huge open-air market, art exhibitions and

well-known DJs.

90

91
---
AMSTERDAM

TOUR

– THE EVENTFUL EUROPEAN EXPERIENCE

France

MARCH – MAY

HOTEL

Netherlands

Event: Hemeltjelief Festival

FLAVORS OF PARIS

Date: 10th May 2018

TOUR GUIDE OF THE YEAR

The Hemeltjelief festival is a family festival

Paris, France • Tel +33 06 40 40 00 66 •

flavorsofparis.com

that takes place every year to mark

the occasion of the Catholic Ascension

Flavors festival. of The Paris' event presents carefully a rich vetted musical

walking and theatrical and program, tasting as tours well as will many

guide activities you and to some events. of the The finest main little stages

Parisian are traditionally food shops, located cafés, on the and banks

markets

of the River

where

IJ and

you

host

can

famous

meet

DJs

the

and

locals and sample some of the best

local upcoming bands. In addition, there

French foods.

are a number of theatre performances,

With

exhibitions

three

and

major

workshops

tours carefully

from 11 am

crafted to offer you a wide variety

to 11 pm.

of French fare, ranging from crispy

baguettes to splendid wines, you

can be assured of a once-in-alifetime

experience.

You can also customize your tours

according to your requirements,

be it a small group or a large one.

Every aspect of the tour is kept

flexible to ensure that you receive

the best experience possible.

HILTON AMSTERDAM

AIRPORT SCHIPHOL

DESIGN HOTEL OF THE YEAR

Schiphol Boulevard 701, Schiphol, 1118 BN,

Netherlands • Tel +31-20-7104000 • amsterdamairportschiphol.hilton.com

This airport hotel redefines what an airport

hotel should be.

Hilton Amsterdam Airport Schiphol is

unlike many other airport hotels. Groundbreaking,

visionary and inspirational, its

breath-taking design redefines what an

airport hotel should be.

The hotel's seemingly endless geometric

façade and vast, open lobby is a fitting

welcome to the level of outstanding service

and facilities that await each and every

guest.

Fresh, bold, and surprising are all worthy

descriptions of the spacious rooms and

first-class amenities, including Bowery

Restaurant offering Asian & Grill specialties

served from the three open kitchens and

Axis Lobby & Cocktail Bar, where you

share your taste and flavour preferences

and the bartender creates that drink to

perfectly match your style. Looking for

some relaxation? eforea spa offers a wide

variety of treatments including facials and

massages and features a whirlpool, sauna

and steam room.

Hilton Amsterdam Airport Schiphol is

perfectly situated for business and leisure

travellers; downtown Amsterdam, and

various attractions are just 15 minutes

away.

Visionary and

inspirational, its

breath taking

what an airport

hotel should be.

36 92

37 93
---
AMSTERDAM – THE EVENTFUL EUROPEAN EXPERIENCE

JUNE – AUGUST

Event: Holland Festival

Date: June 7th 2018 – July 1st 2018

Event: Julidans Festival

Date: July 3rd, 2018 – July 14th 2018

Event: Applesap Fresh Music Festival

Date: August 11th 2018

Since June 1947 Amsterdam has

carried on this annual festival tradition

of music, dance and theatre. Each year

top artists from around the world are in

Amsterdam to perform both classical and

contemporary music, dance and theatre.

The Festival is one of the highlights of

the cultural season and offers up new

talent along with established artists and

is always innovative and original in its

approach to venues and styles of events.

The Julidans Festival is an essential

event in the international contemporary

dance scene. To be at the event is to

be at the pulsing heartbeat of the latest

trends and creations in this area of art

and is an important event especially for

choreographers and dancers who aim

to express themselves using new dance

forms with the aim of stirring up emotions

within the audience and themselves.

Applesap Fresh Music Festival delivers

fresh music vibes to the city with exciting

top named artists alongside fresh local

talent. In proper festival form there will

be food from all over the planet to sustain

extreme festival activities.

94

95
---
HOTEL

Netherlands

ANDAZ AMSTERDAM

HOTEL & SPA OF THE YEAR

Prinsengracht 587, 1016 HT Amsterdam,

The Netherlands • Tel +31 20 523 1234 •

amsterdamprinsengracht.andaz.hyatt.com

The award- winning design of the Andaz Amsterdam

Prinsengracht, done by famous Dutch Designer

Marcel Wanders, helps us to create wonderful

experiences for our guests.

But what really makes the difference is our genuine

contact with our guests. Amsterdam's storied past

collides with the vibrant energy of the city at Andaz

Amsterdam Prinsengracht.

Our boutique hotel features 122 guestrooms and

suites welcoming our guests to enjoy a stylish

retreat in the heart of the city. Our guestrooms

and suites offer abundant natural light and views

of the Prinsengracht canal, landscaped gardens,

or our Observatorium. Each space was designed

by Dutch architect and designer Marcel Wanders.

Enjoy exclusive access to our video art channels in

each room.

Around our hotel's every corner, from the lifts to

the bathrooms, you'll discover unique works of

art including magical murals, wallpaper stories,

sculptural furniture, and more. Can you find them

all? When hunger strikes, enjoy rustic European

cuisine with a Dutch twist at Bluespoon Restaurant

and handcrafted cocktails at Bluespoon Bar, our

hotel bar with a speakeasy vibe. However you

choose to spend your time in Amsterdam, the always

chic Andaz Amsterdam Prinsengracht awaits.

56 96

57 97
---
AMSTERDAM – THE EVENTFUL EUROPEAN EXPERIENCE

SEPTEMBER – DECEMBER

Event: Unseen Amsterdam

Event: TCS Amsterdam Marathon

Event: Museum Night

Event: Amsterdam Light Festival

Date: 21st – 23rd September 2018

Date: October 14th 2018

Date: 3rd November 2018

Date: December 2018 – January 2019 (exact dates to

be confirmed)

Unseen Amsterdam is a photographic

festival showcasing promising and

talented photographers and providing

them with a platform to exhibit their work

as well as providing an opportunity for

accomplished photographers to provide

support and dissemination.

The TCS Amsterdam Marathon is one

of the fastest marathons in Europe and

benefits from careful organisation. The

start and finish is located in the Olympic

Stadium and there is the opportunity

to run the whole marathon or the half

marathon. Enjoy one of the most active

and cosmopolitan cities of the continent

in an active manner.

On the first Saturday of November

of every year around 50 museums in

Amsterdam open their doors from 7:00

pm to 2:00 am and organize special

activities that include workshops, concerts,

special tours and performances. All this

is accompanied by delicious appetizers

and glasses to help you keep your energy

levels high.

It is always a good time to visit

Amsterdam, but the annual Festival of

Light in Amsterdam makes a visit in the

winter very special. 2018 marks the sixth

edition of this festival and takes place

on land and water. The organisers invite

local and worldwide artists to submit

their work and provides a platform to

showcase groundbreaking and genius

concepts of light artwork.

98

99
---
HOTEL

Netherlands

SOFITEL LEGEND THE GRAND

AMSTERDAM

HISTORIC HOTEL OF THE YEAR

Oudezijds Voorburgwal 197, 1012 EX Amsterdam,

Netherlands • Tel +31 20 555 3111 • accorhotels.com

Hotel Sofitel Legend The Grand is no ordinary hotel; it indeed

is a historic site in Amsterdam. Originally, there were two

convents here – St. Cecily's and St. Katherine's. The hotel was

built on this very site and the structures of these ancient

convents are still very much visible like the tiny tower on the

rooftop of the hotel which was a part of St. Cecily's Convent.

You can choose from the wide variety of rooms and suites

available here which give you different levels of luxury. These

lavishly furnished accommodations come with every possible

amenity that you can think of. For instance, the Imperial Suites

boast of a steam room, freestanding bathtub and butler service

throughout the day.

The hotel has daily private tours of the hotel itself and can

arrange royal breakfast and private dinners for you with much

sophistication. You could explore the historic part of the city of

Amsterdam in a horse driven carriage too.

To satiate your gastronomic requirements, the hotel has plenty

of fine dining restaurants, cafes and bars. You can dine at

Hotspot Bridges and enjoy some classic cocktails at the

Cocktail Bar. Alternatively, you could have an after dinner

cigar at the Cigar Lounge or read some books at the Library

'OR'. The hotel has a garden terrace where you can sit in the

tranquility of nature and enjoy your food and drinks. The So

Spa is a peaceful oasis in the hotel where you can unwind and

pamper yourself with Turkish steam bath, indoor heated

swimming pool, sauna and treatment rooms where you can

get relaxing massage at the hands of experienced masseuses.

Moreover, you can keep up with your fitness schedule at So Fit

gym. The hotel host meetings and events too.

82 100

101 83
---
Austria

Austria is often considered to be one of the top

winter holiday destinations, and with its

snow-capped peaks it's easy to see why. But

there is so much more to Austria just waiting to -

be discovered and explored.

Uncover Austria on a summer adventure to

reveal the hidden gems of some of the

country's most beautiful landscapes, towns -

and natural delights. Experience the diversity

of Austrian culture on a city break, where

museums, amazing architecture and festivals

for all senses await. Or take to outdoor

exploration – atop mountains, amidst green

expanses and on lakes as clear as they come.

Here, nature is an all-ages playground, and

your hosts will only be too happy to guide you

along the way.

Home to many of the most snowsure

resorts in the Alps, come

winter Austria offers sensational

slopes and authentic villages with

legendary hospitality to provide

a base for your stay. Austria's

sophisticated ski infrastructure

receives significant investment

each year, with higher, faster,

bigger lifts and extended ski

areas continuously upgrading

the choice for winter guests.

Whichever season you decide to

visit, take advantage of countless

direct flight connections from the

UK and find yourself in Austria

within the space of a couple of

hours.

For further information on

holidays in Austria, visit: www.

austria.info

102

103
---
104

105
---
Shopping in Vienna

Austria's capital city, Vienna, shows no shortage of options when the topic is "shopping".

Most stores open from 9h until 18h30, Monday to Friday, sometimes extending their

working hours until 21h on Thursdays. On Saturdays, businesses tend to close at around

17h or 17h30.

Vienna proudly sustains old habits,

and it is possible to find classical

homeware brands that still hold the

title of "Hoflieferant" – a symbol of

quality and tradition that reassembles

the time of caterers of Austria's

imperial court. Both Lobmeyr – an

old manufacturer of crystal pieces –

and Augarten – maker of Viennese

porcelain – used to produce objects

for the aristocratic families, but now

feature more contemporaneous

attitudes.

In the heart of Vienna, amidst its historical streets, there is a wide choice of

international brands who chose to set up their stores on a specific pedestrian area,

transforming classical addresses into places where new fashion tendencies emerge.

Between Kohlmarkt, Graben, and Kärntner streets are the most exclusive open-air

shopping area in Vienna – known as "Goldenes Quartier" – with big fashion

names such as Burberry, Chanel, Dior, Salvatore Ferragamo, among others. On

Tuchlauben and Am Hof streets, there are influential brands like Emporio Armani,

Louis Vuitton, and Prada's biggest store in Europe; while other up-and-coming

names like Marc Jacobs, Fendi, and Chloé can be found on Sterngasse street.

Kärntner Ring street comprises a

bunch of department stores – like

Steffl and Peek & Cloppenburg –

that sell clothes, accessories and

perfumery. Another shopaholic

address in Vienna is the Ringstrassen

Galerien – a huge mall with various

stores and restaurants. For the ones

who are into crystals, there is a threestory

Swarovski shop on Kärntner

Strasse that boasts a wide range

of jewelry and decoration pieces

designed by the famous Austrian

company.

106

107
---
TOUR

Italy

The region sliced by Mariahilfer Strasse was once the route of ancient emperors who

passed between the Schönbrunn Palace and Hofburg. Nowadays, it concentrates

an assortment of shops and is one of the favorite places of those seeking apparel,

shoes, and items of interior design – another specialty of Vienna. Just south of

Mariahilfer, Gumpendorfer Strasse is the right choice for design aficionados. This

WINE TOUR

AMALFI COAST

area was taken over by young, both local and international, creative designers, as

a way of exhibiting their work in small and charming ateliers.

WINE The "seventh TOUR district," COMPANY north of Mariahilfer, is considered by many as the creative

OF hub THE of Vienna. YEAR This lively region is great for a casual walk, as well as for the

ones who enjoy hunting for exclusive, unsung items from small designers. Near

Via Museum Panoramica Quartier, 31, 84010, aside Conca from finding unique in vogue stores, one can grab lunch

dei Marini, Salerno, Italia • Tel +39 333

or a coffee in one of the modern restaurants and bars that fill the area and bring a

3432830 • winetouramalficoast.com

contemporaneous touch to the more classical air of Vienna.

Wine Tours Amalfi Coast takes you on

a journey across the Amalfi Coast for

excursions to some of the most famous

and historic places in the area.

Gastronomical delights such as

mozzarella of Lattari Mounts await

you along with some exotic native

wines of Reale which wait to be

discovered as well. Traditional recipes

are also taught and you can actually

try your hand at cooking them in the

kitchen. The lemon tours take you on

a trip to discover the 'yellow gold' of

Amalfi Coast on the numerous terrace

gardens overlooking the sea. Cheese

lovers are sure to get excited in the

mozzarella tasting tours, where you

will be taught how to prepare

mozzarella! All the adventure lovers

can retrace the footpaths and mule

tracks running across ridges of

mountains along the Divine Coast.

Guests are made to feel special by

their transfer services, where you can

easily reach your destination without

any hassles. With some exquisite

all-round experiences to offer, you can

never be disappointed when traveling

with them.

HOTEL

Austria

PARK HYATT VIENNA

ELEGANT HOTEL OF THE YEAR

Am Hof 2 Vienna, Austria, 1010 • Tel +43 1

22740 1234 • parkhyattvienna.com

Park Hyatt is located in the very heart

of Vienna and offers unparalleled

elegance and grandeur.

With 143 spacious rooms and suites

with remarkable furnishings and built

with a fusion of contemporary style and

Viennese accents, staying here is a very

comfortable experience for all. Situated

in a 100-year old building, this hotel

truly reflects the history of Vienna; with a

convenient central location, guests can

find the most important and impressive

sites of the city within easy walking

distance. Exquisite dining experiences

await your arrival at The Bank Brasserie

& Bar while hot beverages and dainty

snacks can be enjoyed at Café Am Hof.

Guests can also relax in the state-of-theart

Arany Spa with its indoor pool,

sauna, sanarium and vitality shower,

in addition to indulging in refreshing

massages from the expert therapists.

This pet-friendly hotel is also the place

to head to for conducting corporate

meetings or holding some functions in

their large banquet halls and meeting

rooms that are fully equipped to cater

to your requirements.

6108

1097
---
Hamburg | Germany

POPULATION

1,805,316

HOW TO GET IN

• Road

• Rail

• Fly in

• Ferry

Germany's gateway to the world,

Hamburg is the second busiest port

in Europe

GET AROUND

• On Foot

• By Bike

• Taxi

• Metro

ATTRACTIONS & SIGHTS

• Hafen City

• Harbour Area

• Hamburg Museum

• Volksparkstadion

THINGS TO DO

• Boat Trips

• The Hamburg State

Opera House

• Sunday Fish Market

Find out more – http://

www.hamburg.com/

tourist-information/

110

111
---
TOUR

Germany

BIG BLACK CAR TOURS

PRIVATE TOUR COMPANY OF

THE YEAR

Heiko Augustin, Nindorfer Strasse 10,

d-21641 Apensen, Germany •

Mob +49 (0)172 54 74 774 •

big-black-car-tours.com

If you're looking to explore

Hamburg in a classy way, Big

Black Car Tours is the way to go.

Experience the sights and sounds of

the city in the comfort of your very

own SUV, a Lincoln Navigator!

Huge windows ensure that you can

get sweeping views of the city and

enjoy the tour with your close ones

instead of a regular tour where you

may have strangers sharing the

vehicle with you. The only person

accompanying you is the driver

who has thorough knowledge of

the city and will guide you in a fun

and professional manner. Whether

you wish to simply go around the

city or have a pub crawl, they are

here to serve you. Another fantastic

option is the three hour VIP Tour, for

only €190 per group and is a

great way to see the city in comfort

and style. Special occasions can be

celebrated with them as well.

Anyone who wants to experience

something special, wants to feel like

a celebrity, wants to see things that a

normal Sightseeing bus does not show, is

in perfect hands with Big Black Car Tours

Hamburg.

58 112

113 59
---
SOUTHERN

EUROPE

Image by: Matt Artz

114

115
---
Portugal – The Big Three

Portugal

With a long-lasting history as a powerful maritime empire, known for fruitful explorations

and diverse cultural influences, the Portuguese territory stretches to a series of archipelagos

(the Azores and Madeira) in the Atlantic. This relatively small chunk of land on the tip

of Europe's Iberian Peninsula is sometimes overlooked by travelers; but it is precisely its

size and location that make it such an interesting place to explore.

Portugal's continental landmass has an extensive, easily accessible coastline dotted with

villages and cities; while the autonomous Atlantic islands favour a more rustic lifestyle.

As the three main touristic regions of Portugal, the Algarve, Lisbon, and the islands of

Madeira somehow complement each other, portraying different dimensions of the rich

Portuguese culture.

The Algarve is the

southernmost region of

continental Portugal and

the country's most popular

summer destination.

Unlike Lisbon, the Algarve

boasts a more provincial

air, where the landscape

seems to dictate the

pace of life and vast,

arid plains contrast with

an array of white sand

beaches.

Lisbon is one of the oldest

continuously inhabited

cities in the world; it's also

both Portugal's capital and

most populous city, where

most of the country's

history is translated in

the form of landmarks

and monuments. By

walking along the city's

hilly, pebbled streets, it

is possible to grasp the

magnitude of the cultural

transitions it went through,

currently perceptible in its

diverse architecture: from

Romanesque, Gothic,

Baroque, to Postmodern.

Meanwhile, the island

of Madeira rests as an

option for those willing to

go the extra mile in order

to see something different

– which is definitely worth

it. Not only is the island

known for its refined

gastronomy and wines,

but its flora and fauna

differ from mainland

Portugal. A highlight is

the northern slopes and

their "laurisilva" forests,

featuring an array of

native plants and birds

– attributes that have

designated the area as

a World Heritage Site by

UNESCO.

116

117
---
Lisbon | Portugal

Algarve | Portugal

POPULATION

545,245

HOW TO GET IN

• Road

A spectacular European city and

Portugal's capital built on seven hills.

POPULATION

451,006

HOW TO GET IN

• Road

Portugal's most popular holiday

destination the Algarve is rich in

history, culture & diversity.

• Rail

• Rail

• Fly in

• Fly in

• Ferry

• Ferry

GET AROUND

GET AROUND

• On Foot

• On Foot

• Car

• Car

• Moped

• Train

• Taxi

• Tuk Tuk

• Metro

• By Bus

• Ferry

ATTRACTIONS & SIGHTS

• Ria Formosa Natural

Park

ATTRACTIONS & SIGHTS

• Tram 28

• Monchique Mountains

• Sao Rafael Beach

• Rossio

THINGS TO DO

• Jeronimos Monastery

• A Segway Tour

THINGS TO DO

• Explore Alfama

• Dinner at LX Factory

• Dolphin Watching

• Sailing

• Try the Piri Piri Chicken

• Hiking at Sintra Cascais

Natural Park

Find out more – http://

www.visitalgarve.pt/

Find out more – https://

www.visitlisboa.com/

118

119
---
Madeira| Portugal

POPULATION

289,000

HOW TO GET IN

• Fly in

• Ferry

Located 620 miles from the European

continent Madeira has become known

as the Pearl of the Atlantic (Also home

of Cristiano Ronaldo)

GET AROUND

• By Bus

• Car

• Taxi

ATTRACTIONS & SIGHTS

• The Levadas

• Jardim do Monte

Palace

• Miradouro

THINGS TO DO

• Play Golf

• Kayaking

• Fishing

• Scuba Diving

Find out more – http://

www.visitmadeira.pt/engb/homepage

Image by: Adam Smigielski

120

121
---
TOUR

Portugal

TAKING U THERE

DESTINATION SPECIALISTS

OF THE YEAR

Rua de Campolide, nº27 – 4º

esq. Lisboa 1070-026 Portugal •

Tel + +351 917 837 597 • takinguthere.com

Our destination specialist is

true to its name; they will take

you 'there' — to the very place

you want to visit.

Their off-the-beaten-track tours

open you up to the most unique

and popular parts of Portugal.

With small private groups of

two to 12 members, tours are

always engaging, in-depth and

personable. Taking U There

tour guides are characterised

by their passion for nature and

local history, and strive to pass

on valuable knowledge while

keeping their tours fun and

exciting. Art and architecture

fans can admire the beautiful

churches of Lisbon and visit

the famous Pena Palace in

Sintra, while nature lovers will

get their fair share in dolphin

watching tours off the coast

of Lisbon or bird watching

in Sesimbra. Taking U There

can also offer tours to the best

wineries across the region and

even organise a trip across the

Strait of Gibraltar to the exotic

cities of Morocco.

HOTEL

Portugal

AMENDOEIRA

GOLF RESORT

LUXURY GOLF RESORT

OF THE YEAR

Amendoeira Golf Resort, Morgado

da Lameira, 8365-302, Alcantarilha,

Algarve, Portugal • Tel +351 282 320

820 • www.amendoeiraresort.com

A mix of apartments and villas dot

the landscape of Amendoeira Golf

Resort, which is perfect for golfing

holidays as it sits next to two

championship golf courses.

It also serves as the perfect base

for exploring the countryside and

other leisure activities. With every

possible amenity available at your

fingertips in the apartments, you

can have a luxurious stay here.

Communal swimming pools and

children's pools are available for the

apartments, while the villas have

their own private pools! The

clubhouse houses a large restaurant

and bar where you can indulge in

all-day breakfast, lunch and dinner.

Post-golf drinks can be enjoyed on a

spacious terrace which gives some

spellbinding views of the golf

courses around. The sports club here

has a full range of sports activities

including football fields, six tennis

courts, Technogym gymnasiums,

jogging path and children's

playground. You can also learn golf

at the Amendoeira Golf Academy

during your stay.

122

46

123
---
TOUR

Portugal

CELINA TOURS

THE AWARD FOR

EXCELLENCE IN SERVICE

Av Estados Unidos da América,

142 – 1dto, 1700 – 180 Lisboa,

Portugal • Tel + 00351 — 926 049

232 • celina-tours.com

Celina Tours offers quality tours

of Lisbon and Sintra that suit all

tastes.

Guests can explore the grand

architecture and fairy tale-like

wonder of the palaces of Sintra

Cascais and Sintra Mafra,

indulge in the city after hours

on the Lisbon by Night tour or

take in the top tourist attractions

on the Lisbon City Tour. For

those that wish to explore

further afield, Celina Tours also

organises tours in five other

destinations that promise to

take you deeper into Portugal

and provide an in-depth look

into the country's history and

culture. With quality hospitality

on offer and prime importance

given to the security of the

tourists, Celina also offers

fully flexible itineraries to

give their guests the best and

most personal experience of

Portugal possible. With indepth

attention given to even

the size of groups to make the

best out of the tour, visitors are

guaranteed an excellent service.

HOTEL TOUR

Portugal France

AMERICAN HOTEL H10

CONCIERGE DUQUE DE LOULÉ

PRIVATE ELEGANT TOUR BOUTIQUE COMPANY

OF HOTEL THE OF YEAR THE YEAR

45 Wall Street, #2203 New York, NY

10005

Av. Duque

USA •

de

Tel

Loulé,

+866-867-2747

81-83, 1050-088,

•

americanconcierge.com

Lisbon, Portugal, • Tel +351 213 182

000 • h10hotels.com

Founded in New York, American

Concierge Located at the offers heart privately of Lisbon, guided Hotel

tours H10 Duque of Paris De along Loulé is with located multi in — a

day historical customised building itineraries and is furnished of the

City

in a

of Lights.

manner that reflects the

Immerse building's yourself age. in a bespoke

Parisian experience and get to

know You will the city get from a feel the of eyes entering of the

local the 18residents. th -century Based when you on what walk

you through want the doors to do, of itineraries this hotel. With are

created 89 luxuriously that help you furnished make unique rooms

memories with modern of the and city; contemporary

discover the

sprawling elements, you palace can be of assured Versailles of

or utmost the comfort elegant when Louvre staying Museum here.

and You marvel can indulge at some in of traditional the nest

jazz

Portuguese

bars

and

with

Spanish

the help

flavors

of the

In

exclusive tours offered by American

the Azul E Branco Restaurant or

Concierge. The customization of

each

perhaps

trip

you

is made

can sip

easy

your

by

favorite

a brief

conversation cocktail the where Limao they Rooftop will ask Bar a

few while questions taking in to the learn views about of Lisbon. your

hobbies If you love and books, interests you and can make head

recommendations over to Equestre on Bar tours and inside enjoy

Paris some and drinks day while trips outside reading the books. city.

For The an painstaking extra special effort trip, put American in by

Concierge the interior offers designer a biannual can be seen trip,

one-week in every corner of tours of with the the hotel, founder right

of

from

the

the

company;

lanterns

with

to the

just

sofas,

ten guests

which

in each tour, you are guaranteed

exude elegance.

the best service and a personal

introduction to Paris.

2124

42

1253
---
HOTEL

Portugal

HOTEL BAIA AZUL

STYLISH HOTEL OF THE YEAR

Rua Quinta, Calaça, 1, 9004-530 Funchal Madeira,

Portugal • Tel +351 291 700 400 • grupocardoso.pt

Located in Funchal,this hotel offers you luxury with

close proximity to the main points of interest in the

city. You can choose to stay in one of the 215

well-appointed rooms that are designed in a

minimalistic manner keeping the surroundings in

mind. You can sit in these elegant rooms and watch

the infinite sea unfold in front of your eyes. The

swanky terrace of the hotel has cozy chairs for you

to sit and enjoy the views of the sea. The picture

perfect reception has a huge poster on the ceiling

that creates an illusion of a swimming pool

overhead!

You can choose to dine in one of the three

restaurants here, SAL, Ocean and Atlantic, which

serve Italian and Portuguese cuisines. The

restaurants have outdoor seating available as well

with beautiful views of the sea. What better way to

dive into delicious food than with a view of the

sea? You can sit on the plush furnishings in the pub

and sip on some fine cocktails and marvel at the

stylish interiors and the blue sea. Moreover, you

can unwind in the spa with some rejuvenating

treatments or dive into the pool. You could also go

for a Turkish bath, sauna or indulge in yoga in the

yoga room. You can keep up with your fitness

routine at the gym and finally relax in the

relaxation area. The hotel also has an outdoor pool

with sunbeds to relax and see the horizon. There is

also a small garden area for you to stroll around

while taking in the views of the sea.

126

127
---
Barcelona | Spain

POPULATION

1,604,555

HOW TO GET IN

• Road

• Rail

• Fly in

• Ferry

The quintessential European city,

Barcelona has it all.

GET AROUND

• On Foot

• Bus

• Tuk Tuk

• By Bike

• Taxi

• Metro

ATTRACTIONS & SIGHTS

• La Sagrada Familia

• Camp Nou

• Las Ramblas

THINGS TO DO

• A Food Tour

• Ride the Montijuic

Cable Car

• Boat Trip

• Rent a bike & Explore

Find out more – http://

www.barcelonaturisme.

com/wv3/en/

Image by: Dennis Van Den Worm

128

129
---
TOUR

Spain

BARCELONA HOLIDAY

DESTINATION SPECIALISTS OF THE YEAR

Plaza de Catalunya, Barcelona, Spain •

Tel +34 627 92 91 93 • barcelonaholiday.es

Barcelona holiday are proud

to accept this award and will

go for it again next year

If you are visiting the region of Catalonia in Spain,

there is no better company to travel with than Barcelona

Holiday. They give you a chance to discover this

ancient land by showing you its historical spots as well

as the modern day cities like Barcelona.

What makes them special are their private tours.

These tours take you to the most important landmarks

in Catalonia with your close ones with an itinerary

that can be adapted according to your preferences.

To ensure supreme comfort, all tours are conducted

in VIP buses with chauffeur and professional guide.

You could take private tours to Pyrnee, All Dali and

Andorra. If you wish to see some ancient monuments,

they've got a tour for that as well. Fancy new food?

Here's your chance to explore the food of Catalonia.

The Gastronomic Tours will give you the very best of

Catalan cuisines, including their famous wines.

They also have full and half day tours to Costa Brava.

In the full day tour, you will be able to see the life of

a fishing village – Calella de Palafrugell. Furthermore,

you will be able to explore the medieval town of Pals

and the trip will also take you on a boat ride around

the beautiful Medes Islands. Moreover, you can see

Greek and Roman ruins of Empuries.

In the half day tour, you will be able to see Lloret de

Mar in all its glory bustling with thousands of tourist

from all over the world who come here to enjoy the

beautiful beaches and activities. Moreover, this tour

will take you to Tossa de Mar by waterways and you

will be able to see the great landscape and historic

elements of this village. With such amazing tours,

you truly can experience the best of Catalan with

Barcelona Holiday.

86 130

131 87
---
Trendy Barcelona

Adriana Gastelum

FAKE-LEATHER

Barcelona

Q&A

Q: What made you decide to set up a

Fashion Blog in Barcelona?

AG: I started my blog in Mexico because

I wanted a place for myself. It was never

meant to be a business or anything more

than a mere hobby. Luckily, it started to

get attention from readers, the media and

agencies and I've been able to move from

Mexico to Barcelona.

Q: What are some of the most popular trends

in fashion right now in the city?

AG: A mix between casual and formal in a

unisex way. Think crop tops with wide men

suit trousers and chunky sneakers. Gucci,

too.

Q: Are there any stores or neighbourhoods

you'd recommend to shopaholics visiting the

city?

AG: For luxury shopping you must go to

Passeig de Gràcia and Diagonal. If you are

more into local designers, small brands and

vintage, El Born is the neighbourhood to visit.

Q: Have you ever considered showing

people around yourself, maybe doing a

shopping tour?

AG: I take my friends out for shopping all

the time!

Q: Best place to grab a coffee & why?

AG: Anywhere in Example. So many options,

affordable and sunny sidewalks.

Q: Favourite Tapas Restaurant?

AG: I'm personally not a fan of tapas. Tapeo

is good, though.

A mix

between

casual and

formal in

a unisex

way.

Q: What is the "best off the beaten path"

attraction?

AG: Tibidabo in Spring and Summer. It's a

whole day visit so make sure you get up early.

QUESTION: Tell us a little about yourself

ADRIANA GASTELUM: I'm a graphic

designer and photographer raised in Mexico,

living in Barcelona, Spain. I'm the editor for

Fake Leather which I started around seven

years ago when the blogging world was very

different, and Instagram was non-existent.

I also work as a food photographer for

restaurants in the city.

Q: Where would you go for a day trip

outside the city?

AG: Sitges is definitely my first option. You

don't even need a car. Just an hour away in

train and you're all set (make sure to bring

sunscreen).

Q: What would you say is the best way to get

around Barcelona?

AG: If you're a local: the metro. It's fast, easy

and cheaper than owning a car. If you're a

tourist definitely by foot. I promise you won't

get tired of it and architecture, urbanism and

the movement of the city will enchant you.

132

133
---
TOUR

Spain

LIFESTYLE DMC

DESTINATION

MANAGEMENT

COMPANY OF THE YEAR

Carrer Mallorca, 260-262 5° 3°

Barcelona, 08008 Spain • Tel +34

93 270 2049 • lifestyledmc.com

If you are a corporate company

looking for a firm to organise

and manage your events, then

your search has come to an

end.

With hundreds of satisfied

clients, Lifestyle DMC has

established itself well as a

Destination Management

Company. Whether you are

looking for some team building

activities at exotic destinations in

Spain or even for corporate

meetings, they can do it all.

With more than 400 unique

activities throughout the country

like Tai Chi Class and

Blindfolded Cooking, you can

be guaranteed that your team

will have the best time together.

Not only do they organise

large-scale functions and

meetings but they also pay

equal amount of attention to

detail for small-scale meetings

as well. With large multinational

companies trusting them with

their corporate events, you can

be assured that your event is in

safe hands.

HOTEL

Spain

HOTEL ARTS BARCELONA

HOTEL OF THE YEAR

Marina 19-21, Barcelona, 08005 Spain •

Tel +34932211000 • ritzcarlton.com/en/

hotels/spain/barcelona

Rising above the rest of Barcelona, Hotel

Arts located on the waterfront, provides

a luxurious stay with spellbinding

views of the sea and city. With some

amazing facilities like terrace gardens,

outdoor swimming pool and spa, they

ensure that the guests here get a unique

experience. If that was not enough, you

can keep up with your gym schedule

at the fitness center or get pampered

in the hairdressing salon and luxury

fashion boutiques. The sophisticated

rooms and suites have elegantly done

décor and plush furnishings.To top it all

off, the hotel boasts of some amazing

duplex penthouses that offer the

pinnacle of luxury travel experiences.

The penthouses come with a butler

and shopping concierge to provide

assistance along with luxury private

transfer to shopping places.

The hotel also has six restaurants and

bars, which serve everything from

light, informal breakfasts and lunches

to exceptional Catalan cuisine. It also

offers spaces for private events and

corporate meetings.

134

75

135
---
A Maltese Summer

Malta, situated in the very centre of the Mediterranean, is a country full of history

and culture and a wonderful destination due to pleasant weather all year round. The

beaches are one of the most important draws for tourism although once visited it

becomes apparent that there is much more to Malta that meets the eye, of course, the

beaches are incredible with warm sea temperatures up to 27 degrees. Bear in mind that

summer temperatures are usually very high, reaching 40°C with a high humidity. During

the hotter months Malta is not recommended for those who are highly susceptible to the

heat.

Beaches in the Mellieha Bay area

Ghadira Bay is a classic family beach, 800-metre long beach with golden sand that

slopes smoothly into the clear blue water making it perfect for younger children

to enjoy as the water temperatures stay warm all day long. Facilities on offer

are bars, toilets, showers, sunbeds with umbrellas and a range of watersport

equipment including the popular banana boat. A downside is the busy road that

runs alongside

There are beaches to suit all

requirements, be it lively parties or

convenient family affairs close to the

hotel or out of the way quiet, hidden

shores nestled in coves amongst the

cliffs. Great beaches can also be found

at nearby Gozo and Comino. The

choices are plentiful but bear in mind

that nudism and topless bathing are

prohibited in Malta although away

from the more busy tourist beaches

sun worshipers do manage to locate

an area, undisturbed for discreet

sunbathing with less clothing although

it is a good idea to check beforehand

what the locals approve of to prevent

any disrespect.

The main beaches, are to be found

on the north side of the island, from

Sliema to Mellieha Bay. It is the more

touristic area where most of the hotels

are found. The spacious beaches here

benefit from services such as toilets and

showers and are lined with restaurants,

bars and plenty of opportunities to hire

water sport equipment including jet skis,

paddle boats, canoes or excursions

to other parts of the Island including

Comino, Gozo and the Blue Grotto.

Golden Bay, although

overlooked by the modern

and imposing Radisson

Resort Complex, it is a nice

sandy beach with all the

extras required to spend a

day on the sand including

beach cafes, sunbeds

and umbrellas, lifeguards

and a great beach for

swimming, beach games

and sandcastle building. It

can be very crowded during

peak summer season.

136

137
---
Alongside Golden Bay is Ghajn Tuffieha,

a very pretty but narrow beach that

requires a bit of effort to get to so

mostly remains the quiet choice. The

bay is maintained and protected

by Malta´s Gaia Foundation, an

Environmental NGO making it a

favourite beach to get away from it

all and swim in the beautiful ocean.

A kiosk rents out sunbeds and

umbrellas and some equipment for

watersports, but there is an undertow

which can be quite strong if the seas

are rough, making swimming and

watersports perilous.

St George´s Beach is situated in the party

capital of Malta, Paceville. One end

is reserved by the Intercontinental

Hotel, but the remaining is public

and benefits from being very clean,

in fact, it was one of the first beaches

in Malta to receive the prestigious

Blue Flag, an achievement it has

maintained for some years. The

beach is in proximity to St Julian´s

resort and the ancient capital city

of Valletta and, for this reason, gets

jam-packed in high season. But it

is the ideal beach if you like to be

close to the vibrant and busy bars,

restaurants, shopping centre and

bowling alley.

Paradise Bay looks out across the sea to the islands of Gozo and Comino. A relatively

unspoilt beach on the northern Marfa Peninsular close to where the Gozo Ferry

departs from Ċirkewwa harbour. With its golden sand, cute cafe bar and invitingly

clear blue water Paradise Bay is a very popular destination in the summer.

A tranquil and slightly more secluded beach is Peter's Pool. It is worth effort to

find it, having to traipse across farmland and negotiate some vegetation. The

beach is more rock than sand and rarely gets cramped for space even at peak

season. Flat rocks make ideal sunbathing stations and views out across the pure

blue ocean make this an ideal way to spend an afternoon sunbathing. There are

no services on the beach so you would need to bring your own supplies and if the

weather is slightly inclement then swimming can prove to be dangerous although

the adrenalin habit of cliff jumping is very popular here.

138

139
---
TOUR

Malta

GAULOS

DIVE COVE

DIVING COMPANY

OF THE YEAR

Experience the island on

a much more intimate level.

Gaulos Dive Cove, Marziena street,

Munxar Gozo-Malta, MXR0001 • Tel

+00356 79093169 • gaulosdivecove.

com

Located in Gozo, Gaulos Dive

Center has more than 15 years of

experience in diving in the islands

around. You can expect a very

friendly environment when heading

for a dive with their fun crew, which

takes you to see all the beauty that

the island hides underwater. You

can start off your diving career

here as a beginner or head over

for some dives as a pro. From

the salt pans of Xwejni Bay and

the blue hole, you can explore all

underwater beauties of the region.

You can choose to undergo PADI

Certified Diving Training to even

become a dive-master or a rescue

diver yourself! As an additional

step towards hospitality, they even

offer door to door pick up and drop

off services to the shop.

30 140

141 31
---
TOUR

Malta

ROLLING GEEKS

INNOVATIVE ECO TOUR COMPANY

OF THE YEAR

Vault II, Captain of the Galleys Birgu

Waterfront, Malta • Tel +356 2180 5339 •

rolling-geeks.com

Behind the seemingly impenetrable thick

walls, flanking Malta's Grand Harbour,

lies a hidden gem known as the Three

Cities (Vittoriosa, Cospicua and Senglea),

which is surprisingly off the tourist radar.

Predominantly a maritime hub, rich in

history, this area is reviving itself and the

Rolling Geeks are paving the way with

their modern take on touring.

Explore this gorgeous open air museum

full of architectural riches and breathtaking

views, while cruising around in your eco

friendly, smart technology vehicle.

The cars are unbelievably fun, safe and

easy to drive. Following a GPS guided

route at an easy pace while listening to

the commentary onboard in the language

of your choice gives you the freedom to

sightsee at your own pace. The online

tracking and onboard communication

systems enable the Rolling Geeks' vigilant

staff to provide assistance throughout the

tour giving you peace of mind. The roads

on the prescribed route are very quiet and

it is very easy to park up and step out

whenever you wish to.

The selfie feature in the cars adds to the

fun, the rest is up to you to capture.

Overall this is a great value for money

experience, suitable for all ages.

Visit the website at www.rolling-geeks.com

for more information.

HOTEL

Italy

WEIHRERHOF

BOUTIQUE HOTEL & SPA

OF THE YEAR

Costalovara 22 39054 Soprabolzano,

Renon • Tel +39 0471345102 •

weihrerhof.com

Tucked away in the mountains of Italy

by the lakeside, Hotel Weihrerhof is

the perfect holiday destination in

which to rediscover yourself.

This relaxing hotel has delicately

designed rooms that echo the

surroundings and give you an allround

peaceful experience. With

some special cuisines prepared from

ingredients selected by the chef and

herbs grown in the hotel itself, those

that choose this exquisite hotel are

assured of a gastronomic experience

that will exceed expectation. In order

to fully cater for its guests needs and

provide the most relaxing experience

possible, the hotel offers such

thoughtful touches as a late-riser

breakfast and complete rejuvenation

in the onsite SeaSpa, complete with

sauna and therapeutic massage

menu. Boating facilities are available

on the lake; enjoy a gentle sail, swim

or simply sunbathe on the lake shore

with a favourite book and soak up the

calming and exclusive atmosphere.

Those who prefer more active pursuits

won't feel left out either, with a

mountain bike hire service (complete

with helmets ad rucksacks) available

for a mountain adventure.

Image by: Remi Yuan

8142

1439
---
Italy

From the sheer peaks of the Dolomites in the north to the arid Sicilian coast in the south

– Italy is a country that needs no introduction, and yet never ceases to amaze the ones

who actually live in it.

In a present heavily influenced by a fruitful past, Italy exhibits timeless and intriguing

sophistication: the ancient collection of Renaissance art in Florence contrast with the

vibrancy of Milan's modernity in a similar way that the peaceful gardens of the Vatican

converge with the cypress-tree-dotted valleys of Tuscany.

The country's natural beauty

complements the warmth of

the people which – together

with centuries of history

and long-lived traditions –

introduce a unique character

to the air. Italy is a place of

never-ending transitions; the

hub of great civilizations

and ingenious people; a

nation intrinsically united by

its raison d'être, rather than

systematic structures.

There is all sort of options for all kinds of travelers, both in winter and summer, for

short or long stays. Italy features a series of subcultures that shape different traditions

and heterogeneous landscapes that promote varied sensations. If treading through

the narrow, bridge-laden alleys of Venice doesn't sound appealing, perhaps an

ambitious drive along the winding roads of the Almafi coast towards a beach

encircled by fiords wild. And then there is the food...

144

145
---
Adventure in Northern Italy

As the birthplace of important artistic movements – like the Baroque and Renaissance

– and icons such as Michelangelo, Dante, and Leonardo da Vinci, Italy is one of

the countries that has contributed the most to European traditional arts, science, and

technology.

As one of Europe's wealthiest regions, the Italian North exhales an entrepreneurial

spirit – most probably inherited from the merchant-controlled communes that spread

around the area after a long period of barbarian-rule – making trade a major means

of subsistence among mountain-dwellers. Its varied landscape introduces a mixture

of cold, dry air descendant from the mountains and a warm, moist breeze coming

from the Mediterranean, that when combined with the richness of the river Po basin

creates an incredibly fertile land. The northern region of Italy is often subdivided

into northwest and northeast. The northwestern side includes the districts of Valle

D'Aosta, Piemonte, Lombardia, and Ligúria. Places like Bérgamo, Bréscia, Milan,

Pavia, and the lakes of Como, Iseo, Garda, and Orta are some of the cities

in Lombardia. The Valle D'Aosta district (with Aosta as the capital), is located

between the Swiss and French Alps, while Turin is the capital of the Piemonte zone.

In Linguria – a narrow stretch of land bordered by mountains and sea – the cities

and towns of San Remo, Genova, Portofino, Cinque Terre, and Porto Venere are

some of the ones that comprise the region.

Besides its cultural heritage, the country is highly captivating for its natural

landscapes, gastronomy, wines, and historic monuments. Palaces, Medieval cities,

cathedrals and archaeological sites are surrounded by awe-inspiring scenery –

like the cliffs of the Amalfitan Coast; paradisiacal islands such as Capri; the vast

sunflower fields of Tuscany; eye-popping beaches of Sicily, and enamoring regions

where to enjoy a tranquil boat ride in Sardinia. Multifaceted, the country also hosts

ideal locations for the practice of outdoor activities; unequal tastes like the truffles

of Piemonte; charming atmospheres in Portofino, Cinque Terre and Liguria; as well

as romantic regions like Venice; cosmopolitan cities such as Milan, and one of the

world's most important religious destinations: Rome.

Enveloped by the Alps to the north and west, and the more modest Apennines to

the south, it seems only natural that the Italian nord features some worldwide-known

mountains: the Matterhorn (Cervino) and the Gran Paradiso in the western Alps;

Stelvio and Dolomites on the eastern section of the range. For adventure seekers, a

mountainous region means skiing, snowboarding, paragliding, mountain biking,

as well as hiking and trekking. Fortunately, all of the above can be found in

northern Italy, among other adrenaline-filled traits. But despite having a versatile

list of attributes, the region is still most famous in the outdoorsy community for its

wide number of hikes and treks, strengthened by strategically placed refuges and

chalets, and everlasting historical vestiges.

146

147
---
Beginning a journey from West to East, the first main region in which to explore

the hiking potential is the Aosta Valley. Embedded among the French and Swiss

Alps, the valley commences near Turin – the closest city – in the zone of Pont-

Saint-Martin. Like any alpine valley, the Aosta is a mixture of astonishing views,

small settlements, and a wild yet accessible natural environment, making it one

of the top choices of many hikers. To the north, it is separated from Switzerland

by monolithic mountains, among which is the impressive Monte Cervino, referred

by the Helvetic as Matterhorn; to the south, lies the Gran Paradiso National Park,

which does justice to its name of "great heaven." In the border with France, the

frozen immensity of Mont Blanc rises towards the sky, surrounding the valley with

its grandeur.

Within the Aosta Valley, Gran Paradiso is an idyllic option for both short and long

treks. As the name suggests, here lies the wild heart of the Alps, an area of great

harmony and natural beauty, habitat of marmots, foxes, and mountain goats. The

valleys that spread toward the north stay out of the protected zone, but share

the same untamed beauty and hold hidden viewpoints over some of Europe's

most impressive mountains. Valtournenche, for example, leads the way to a steep

crevice until Breuil-Cervinia, at the foot of 4.478m Mount Cervino (Matterhorn). Yet

the best part is safe in the Gran Paradiso: arriving from the south, via Piemonte, the

Ceresole Reale Valley presents some unforgettable views of the mountains, not only

concerning the landscape but also the human environ. From Noasca, where the

park head office is located, it's only a few kilometres until the trek that leads to the

Valle del'Orco, through old villages now taken over by forest and wildlife. Moving

towards the East, Lake Como is a mandatory stop for those who enjoy the peace

and quiet often correlated with lakeside settlements.

148

149
---
TOUR

Usually more inviting from April to July and from September to November, this

Malta

enchanting region of mountainous slopes, charming villages and deep blue waters

features some magnificent scenic overlooks in addition to well-preserved historical

towns. One of the hiking highlights is the valley of Valtellina, located north-east of

the lake, in what's known as "Little Yosemite" of Italy. This is also a great opportunity

ROLLING GEEKS

for wine-lovers to try the Nebbiolo varietal, which has for centuries been used to

INNOVATIVE make a dry vino ECO unique TOUR to the COMPANY region.

OF THE YEAR

Vault II, Captain of the Galleys Birgu

Waterfront, Malta • Tel +356 2180 5339 •

rolling-geeks.com

Behind the seemingly impenetrable thick

walls, flanking Malta's Grand Harbour,

lies a hidden gem known as the Three

Cities (Vittoriosa, Cospicua and Senglea),

which is surprisingly off the tourist radar.

Predominantly a maritime hub, rich in

history, this area is reviving itself and the

Rolling Geeks are paving the way with

their modern take on touring.

Explore Almost this at the gorgeous Austrian-Slovenian open air museum border, north-east of Trento, lies the Dolomite

full mountains of architectural – a cluster riches of and sheer breathtaking rock formations, split into nine zones by rivers

views, and valleys while cruising that frame around the overall in your scenery eco of northern Italy. Declared as a World

friendly, Heritage smart Site by technology UNESCO, vehicle. the Dolomites offer a series of outdoor activities, always

The with cars mighty are landscapes unbelievably in the fun, background. safe and Among picturesque, stone-built villages

easy and to green drive. valleys, Following there is a a GPS mixture guided of local culture and architecture that becomes

route evident at an through easy the pace medieval while listening churches to that dot the area. As an alternative means

the to commentary discover the secrets onboard of in this the area, language it's possible to watch culinary demonstrations,

of

visit

your

traditional

choice gives

farms,

you

taste

the

the

freedom

region's wine,

to

and stay at elegant hotels with quality

sightsee at your own pace. The online

restaurants where to unveil some of the mysteries of the homegrown cuisine. The

tracking and onboard communication

systems

region

enable

is also a

the

hub

Rolling

of outdoor

Geeks'

activities,

vigilant

both light and intense, with all the safety

staff needed to provide for travellers assistance to enjoy throughout the local the nature and discover the true spirit of the

tour mountains giving you – a peace mixture of of mind. adventure, The roads high-end gastronomy, and robust wines. In

on one the of prescribed the region's route "wildest" are very zone, quiet the and Dolomiti di Brenta, the town of Molveno

it is is the very starting easy point to park to a up number and step of treks out and ferratas towards refuges deep into

whenever the heart you of wish the mountains. to. Other key features not to be missed are the Lago

The Nero, selfie in feature the Adamello in the zone, cars adds which to overlooks the the Brenta range; the Groste pass,

fun, Dolomite's the rest is highest up to "walkable" you to capture. section; and Madonna di Campiglio, a well-known

Overall winter destination this is a great that turns value into for an money intersection of trails during summertime. For

experience, a while, the suitable Dolomite for seemed all ages. untouchable but today it's possible to find a broad

Visit infrastructure the website of at refuges, www.rolling-geeks.com

cable cars, maps and guides that turn this once mysterious

for and more hostile information. environment into something slightly more human-friendly.

HOTEL

Italy

WEIHRERHOF

BOUTIQUE HOTEL & SPA

OF THE YEAR

Costalovara 22 39054 Soprabolzano,

Renon • Tel +39 0471345102 •

weihrerhof.com

Tucked away in the mountains of Italy

by the lakeside, Hotel Weihrerhof is

the perfect holiday destination in

which to rediscover yourself.

This relaxing hotel has delicately

designed rooms that echo the

surroundings and give you an allround

peaceful experience. With

some special cuisines prepared from

ingredients selected by the chef and

herbs grown in the hotel itself, those

that choose this exquisite hotel are

assured of a gastronomic experience

that will exceed expectation. In order

to fully cater for its guests needs and

provide the most relaxing experience

possible, the hotel offers such

thoughtful touches as a late-riser

breakfast and complete rejuvenation

in the onsite SeaSpa, complete with

sauna and therapeutic massage

menu. Boating facilities are available

on the lake; enjoy a gentle sail, swim

or simply sunbathe on the lake shore

with a favourite book and soak up the

calming and exclusive atmosphere.

Those who prefer more active pursuits

won't feel left out either, with a

mountain bike hire service (complete

with helmets ad rucksacks) available

for a mountain adventure.

8150

1519
---
HOTEL

Italy

A&L WELLNESSRESORT

WELLNESS HOTEL OF THE YEAR

I — 39030 Ahrntal/Valle Aurina – South Tyrol — Italy •

Tel +39 0474 651010; +39 0474 652190 • wellnessresort.it

Located in South Tyrol, this 4-star superior wellness hotel takes its

inspiration from the power of mountains.

Tucked away in the mountains, this is the ultimate place to unwind

with luxurious rooms that impart an alpine feel. Whether your

choice is a romantic suite or one for the family, all categories of

rooms are available here with premium all-inclusive services. You

can enjoy the culinary delights that are prepared in the restaurants

here by award-winning gourmet chefs.

The entire hotel is dedicated to wellness, from top to bottom. Some

of the highlighting features that make this wellness haven stand

out are:

• Seven swimming pools and seven saunas.

• Sky Lounge with panoramic sauna and sky pool with scenic

views

• Over 100 spa and beauty treatments for your mind and body

• A 140m2 gym and daily workouts with a professional trainer

• New Spa Lodge with an area of 3000m2 across 3 floors including

new indoor and outdoor pools

• New rooms and suites including romantic and family suites

with individually furnished rooms

• Mini Club for kids with childcare, play facilities and Junior

Club with Wii consoles, T-wall and climbing wall

• Ski resort directly opposite the hotel with mountain adventures

in the Rieserferner-Ahrn Nature Park in summer and winter

• Premium all-inclusive late breakfasts, healthy choice buffets and

gourmet dinner with choice menus. Assortment of non-alcoholic

beverages included too!

You can also experience the magic of silence in the Silent Room,

which has water beds for relaxation. A special Relax Room is also

available for you and your loved one to curl up and unwind.

Your luxurious wellnesshotel

in South Tyrol.

Your 4-star-superior wellness

hotel in South Tyrol.

PURE. ALPINE. LIFESTYLE.

26 152

153 27
---
TOUR

Italy

RIGHT PATH ADVENTURES

WALKING TOUR COMPANY OF THE YEAR

2780 So. Jones Blvd. #200-3838 Las Vegas, NV, 89146 • Tel +435

729-9107 • rightpathadventures.com

Right Path Adventures offers guided walking and hiking tours

to see and experience the best of the spectacular Dolomites

— considered the world's most beautiful mountains.

World-renowned travel guide Gary Scott is the founder

and owner of Right Path and has been in the adventure

travel business for over 35 years. Previously a professional

mountain guide on over 40 treks and expeditions in the

Himalaya, over 100 walking tours in the Dolomites, and

over 250 total international adventure trips with a perfect

safety record — Gary brings a high level of professionalism,

safety and care to his guests. A variety of hiking options

and terrains assure that every guest hikes according to their

ability and experience, combined with luxurious four-star

accommodation that provide comfort and pampering at the

end of the day. Gary and other hand-picked and highlyexperienced

mountain guides lead the tours of small groups

of no more than eight to ensure that highest quality of services

is offered. Starting from either Venice or Bolzano, guests are

transported in private and comfortable nine-seater vehicles.

Guests are also offered the opportunity of a night's stay in a

traditional, family run three-star mountain lodge with their own

room and attached bath to really get the feel for mountain

living. The pace of walking is kept such that each guest is able

to keep up and the mountain lodges (refugio's) located short

distances apart, are the perfect places to have a snack, lunch,

or sip a glass of wine or beer and strudel while taking in the

beautiful views. The excellent cuisine is one of the highlights of

the trip and with thousands of happy and satisfied customers

over the years, you can be sure that your trip to the Dolomites

is in expert hands when traveling with Gary and Right Path

Adventures.

4154

1555
---
Road Trip : Santa Maria to Rapallo

One of the (many) delights of Italy is its roads, bordered by medieval cities, sunflower

fields, rich vineyards, mountains, and hills as far as the eye can see. That being said, it

is only natural that many travelers opt for exploring the country by car. Driving in Italy is

not particularly difficult: the roads are divided into autostradas (motorways) and estrada

extraurbana principale (main extra-urban road), with an infinity of small, secondary

roads branching off them. Since they tend to follow the shortest route available, most

GPS will choose these narrow and bumpy rural routes over the main motorways, which

are better maintained. Nowadays, most European rental agencies are affiliated with

the likes of Hertz and Avis, so finding an Italian agency doesn't necessarily mean

getting cheaper rates. It's definitely worth booking a car before arrival though, using an

aggregator or booking sites to research for the best price available and keeping in mind

to stick with flat rates (which will invariably include the "Collision Damage Weaver"

and "Theft Protection") and try to outsource insurance from a third company in order

to find competitive rates. There are many options: from the budget prices of Thrifty and

Europcar to Sixt's Porsche and Audi.

Without stops, a road trip from Santa Maria to Rapallo takes around 8 hours, but

if time is at disposal, the option of meandering through the many cities along the

way should be considered. It is roughly 800 kilometres of land to cover, which

could be split into two different routes: a toll-less, coastal option through the E80

or a more straightforward, inland route via the A1. After driving through Pompeii

– the once-thriving Roman city that was buried in ash after the eruption of Mount

Vesuvius – and catching a glimpse of Naples – Italy's less-traveled capital of the

south, with its Baroque masterpieces and negative preconceptions – the first main

stop would be Rome, where the routes diverge.

156

157
---
Rome is a city that needs no introduction.

Remnants of the ancient Roman era

are concentrated to the southeast of

Capitoline Hill, while a predominantly

Art Nouveau architecture extends

through Quartiere Coppede; palmshaded

parks at Villa Torlonia contrast

with the modern-day masterpieces of

Marancia's street art scene. Rome is a

trip in itself, so for those who wish to

explore a bit more of Italy, it would

be wise not to give in to the city's

spell. Choosing lush-green plains over

white-sand beaches, the road keeps

to starboard of Bracciano-Martignano

National Park.

Around two hours north of Rome, Civita

di Bagnoregio is a great opportunity

to get out of the motorway for a while

and do a bit of sightseeing. Known

as "la citta che muore" (the dying

city), this small village sits on the top

of a hill, which has been slowly but

surely destructed by erosion. Civita di

Bagnoregio has extremely picturesque

lanes that, together with its dramatic

landscape, produce a journey back in

time sensation among its visitors. Not far

away lies the village of Montepulciano –

another Medieval hilltop town. From its

high grounds, it is possible to appreciate

panoramic views of Val'Dorcia and

get lost in narrow alleyways that hold

renaissance palaces, old churches, and

charming squares. This town was also a

setting for The Twilight Saga film, New

Moon.

Just an hour north of Montepulciano is the ravishing and

mysterious Siena. During the Middle Ages, the city fought

with Florence over the commercial power over the region.

Nowadays, it is famous for hosting the Palio di Siena, one

of the world's oldest horse races, which takes place at the

handheld-fan-shaped Piazza del Campo – the physical

and spiritual heart of the city – between July and August.

Another highlight of Siena is the Palazzo Pubblico – with its

majestic, 14 th -century belfry – and the Piazza del Duomo,

whose cathedral was projected to be larger than the

Florentine duomo (until the outburst of the 1348 plague,

when funds were limited). The city is an open-air museum,

with a collection of majestic Gothic-inspired constructions;

as well as a nice option for an overnight stop as it has

great infrastructure for tourists and a variety of hotels. Before

heading to Florence, it is worth visiting San Gimignano,

only an hour away from Siena. Surrounded by a tall wall,

the city features 15 medieval towers, once symbols of

wealth and status.

Florence is the last main stop before reaching Rapallo. As the

capital of the Tuscany region, the city breaths culture, flavours

and aromas, and boasts a wide ensemble of Renaissance

art and architecture. By walking through its narrow streets,

the heritage of centuries of history becomes ever so evident

through the rare concern with beauty. Impressive monuments

have a jaw-dropping effect on any passerby: the expansive

Duomo, with its mix of green, white and pink marbles,

is on the top of the list. In Florence's famous museums,

remarkable works of art – such as Michelangelo's David –

are inspiring, to say the least. The Ponte Vecchio, one of the

city's postcards, gives a romantic atmosphere to Florence,

while its tiny windows exhale a somewhat melancholic air

over the Arno River. Once indulged by the historical beauty

of some of inland Tuscany's city, the route redirects towards

the coastal, going through Pisa (or Lucca, depending on

which road was chosen), and continues through to Rapallo

– where the eyes and legs are finally rejoined with the warm

Mediterranean air.

158

159
---
HOTEL

Italy

EXCELSIOR PALACE

CLASSIC HOTEL OF THE YEAR

Via San Michele di Pagana 8,16035 Rapallo, Italy •

Tel +39 0185 230 666 • excelsiorpalace.it

Facing the bay of Rapallo on the Portofino coast,

Excelsior Palace Hotel offers 5 star luxuries with

exemplary service and takes you back to its elegance

of early 1900s.

The grand halls furnished with antique design

furniture welcome you into the hotel. With 119

carefully designed rooms and suites, ranging from

Classic to Presidential, you can choose your degree

of pampering when selecting a room here. You

can enjoy some delicious cuisines in Lord Byron

Restaurant (open all year round) and Eden Roc

Lounge and Restaurant (seasonal) while taking in the

views of the sea and Portofino.

You might as well lay back and enjoy some relaxing

massages in the treatment rooms of the spa or at

the Gazebo (only available in the summer) with

views of the infinite blue. The hotel also boasts of

an indoor heated pool and a fully equipped gym.

You can also take a dive into their outdoor infinity

pools during the summer months or laze around in

the open Jacuzzis. If boating is your thing, then you

can head out for boat excursions from the private

jetty at the hotel beach club.

This pet friendly hotel walks the extra mile to keep

your pooch happy right from the time you arrive.

With reserved areas in both the restaurants and the

beach club with some special treats cooked for your

pets.

Special care is taken to create dreamy scenes for

weddings hosted in the hotel on a terrace illuminated

with torches and candles with the scenes of Portofino

Coast. These weddings are sure to give you a feel

of the 1900s.

24 160

161 25
---
HOTEL TOUR

Greece Italy

SIENA CORI RIGAS TOUR SUITES GUIDE

DESTINATION HISTORIC HOTEL SPECIALIST OF THE YEAR

OF THE YEAR

Stella Cori Rigas Soldani Suites • official Fira, 84700 tour guide Santorini, Siena

Greece Tuscany P.O.Box • mobile 151 • + Tel 393356810098

+30 22860 25251

• coririgasuites.com

email info@sienatourguide.it •

sienatourguide.it

A restored Captain's House, Cori Rigas

Suites With Siena offers Tour 250 Guide, years of those history that and

visit stunning Tuscany views can over 'enjoy the Caldera. the art of

Travel.'

Located in Fira, on the famed island of

Owned Santorini, and Cori operated Rigas Suites by consists Stella of

Soldani, 13 bioclimatic a long-time suites resident ideal for of couples the

region, & families. visitors will truly feel like

a

The

special

traditional

guest

sea

of

captain's

Siena, whether

house has

been

you're

restored

travelling

to

with

the highest

a group,

standards,

your

with

children

nods

or on

to

a

both

business

the traditional,

trip. Stella's

such

as

regions

the romantic

of expertise

inner

are

courtyards,

the Chianti

and

the

region,

new exquisite

San Gimignano

hot tubs.

and the

Valdelsa, Montalcino, Pienza and

Each

the Valdorcia

guest room

and

has

Montepulciano

its own unique

personality

and the Valdichiana,

and style;

and

from

a

the

wide

Petite

Suite

range

which

of tours

features

are on

a

offer

cave

to

bedroom,

show

off

to the

these

Exclusive

area's best

Suite,

– and

split

hidden

over two

– attractions.

and offering

Tour themes

unrivalled

include

space

history,

and comfort.

culture, food, trekking or

architecture, Each suite offers but either Stella's a shared particular terrace

passion or private and balcony, expertise and is such providing amenities

specialist as made kids to order tours breakfasts, for younger daily

adventurers. housekeeping Children and porter can service, enjoy airconditioning,

hunts WiFi, while satellite their parents TVs, bath

treasure

can amenities indulge and a in mini wine fridge tastings, and kettle.

cooking With an emphasis classes on or providing truffle hunting outstanding

tours service, – with Cori Siena Rigas Tour Suites Guide, is there

ideal

is option a side for of those Tuscany who wish for everyone. to become better

acquainted with the history and beauty of

Santorini.

"As a destination

specialist I am

extremely proud

to represent my

home town, its

tradition, culture,

artists and stunning

landscapes" "A restored

Captain's House,

with 250 years

of history, with

stunning views"

HOTEL TOUR

Italy Portugal

TAKING PALAZZO U BELMONTE THERE

DESTINATION THE AWARD FOR SPECIALISTS EXCELLENCE IN

SERVICE OF THE YEAR

Rua Via Senatore de Campolide, Manente nº27 Comunale, – 4º 22 •

esq. Tel +39 Lisboa 09741070-026 960 211 • Portugal palazzobelmonte.

•

Tel com+ +351 917 837 597 • takinguthere.com

Located south of the Amalfi Coast in

Our the ancient destination Magna specialist Grecia lies is Palazzo

true Belmonte. to its name; they will take

you

This

'there'

family

—

owned

to the

property

very place

is a palace

you

in itself

want

and

to visit.

served as a hunting lodge

Their for the off-the-beaten-track ruling family and tours their guests

open (Kings you of up Spain to the and most Italy). unique The rooms

and here popular are finished parts of with Portugal. a blend of

With modern small and private traditional groups interiors of with

two all essential to 12 members, amenities. tours With are a setting

always that faces engaging, the infinite in-depth blue and sea or lush

personable. gardens, you Taking can U definitely There have

tour a memorable guides are honeymoon characterised here. A

by freshwater their passion pool for right nature next to and the beach

local offers history, you some and unwinding strive to pass time along

on with valuable the poolside knowledge bar that while provides light

keeping lunches and their cocktails. tours fun A private and beach

exciting. here is all Art you and need architecture to have some

fans cozy can time admire with your the beautiful family. A lounge

churches bar overlooking of Lisbon the sea and is visit the perfect

the place famous for some Pena candlelight Palace drinks and

Sintra, appetizing while meals nature and lovers the international

will

staff get their makes fair sure share that in you dolphin have a great

watching date out there. tours They off the also coast organ – ize

of special Lisbon occasions or bird like watching weddings and

in corporate Sesimbra. meetings Taking with U a There great degree

can of service also offer and tours professionality. to the best

wineries across the region and

even organise a trip across the

Strait of Gibraltar to the exotic

cities of Morocco.

22 162

163 23
---
TOUR

Italy

ITALIAN VISTA

DESTINATION MANAGEMENT

SPECIALIST OF THE YEAR

Via Balestrieri 5 50012 Bagno a Ripoli,

Florence Italy • Tel +39 366 544 6336 •

elena@italianvistatravel.com;

info@italianvistatravel.com •

italianvistatravel.com

Italian Vista Travel provides troublefree

tours, from the classical, most

well-known sites to the local hidden

gems.

They operate with just goal in mind–

to bring authentic Italy to life and

create unique, once-in-a-lifetime

experiences in Italy. Private guided

tours are available in Florence,

Venice, and of course Rome. Each

tour can be customised according

to your specific requests; whether

your interests lie in museums and

culture, food, and wine, or art and

architecture, have limited time or are

travelling with children, every guest

can enjoy a completely tailored trip.

Custom services include private

drivers and transfers, cruise shore

excursions (ideal for those very short

on time) restaurant bookings and

special requests, such as birthday

celebrations or off-the-beaten-path

tours.

164

165
---
HOTEL

Italy

ROBINSON CLUB APULIA

THE AWARD FOR EXCELLENCE IN

BRANDING

Loc. Fontanelle, 73059 Ugento, LE, Italy •

Tel 0511/56780104 • robinson.com

The Robinson Club Apulia is a family-friendly resort,

that's popular with locals, thanks to its laidback,

welcoming atmosphere. How could you expect

anything less in Italy? Exceptional sea-water and

air quality, thanks to the Neptune grass and pine

forest. Wide range of water sports offered, with

extra children's equipment for sailing and surfing.

Childcare for children 1 month-17 years (1-24

months is an additional charge), as well as many

opportunities for family experiences, including

small or large family celebrations with an Italian

style.

Here is some of what you can expect during your

stay;

• In the very south of the Apulian boot heel, on a

beautiful, sandy beach.

• All-inclusive "made by ROBINSON". " Apulian

Kitchen" also available at lunchtime.

• Specialty restaurants (additional charge for

drinks), local wines, wine cellar in the evening

(additional charge), pizzeria, beach restaurant,

children's restaurant with buffet and cookery

courses in the pine forest.

• Large WellFit® spa.

• Tennis: nine silica-sand courts.

• Enjoy an aperitif on the beach while watching

the sunset.

• Excursions and boat trips with swim stops in the

grottos of the Ionian Sea (additional charge).

166

167
---
HOTEL

Italy

ROBINSON CLUB APULIA

THE AWARD FOR EXCELLENCE IN

BRANDING

Loc. Fontanelle, 73059 Ugento, LE, Italy •

Tel 0511/56780104 • robinson.com

ROBINSON – A market leader in resort vacation

in the premium segment. ROBINSON Club – has

been successful for over 45 years and our guest

satisfaction rates scored an impressive 95% last

year. Our portfolio is comprised of highly innovative

resorts located across Europe, Africa, Asia and the

Indian Ocean. Golfing, Sailing, SUP, Kite surfing,

Fencing, Boxing, Zumba, Thai Chi and Harley

Davidson tours are some of the activities offered

at our premises – sport lovers will be thrilled.

ROBINSON Club offers a second to none service.

As a standard you will find gourmet dining options

at each property, a daily entertainment program as

well as luxury spas and gyms. ROBINSON offers

its guests the opportunity to find the perfect mix for

all kinds of holiday experiences. More information

about ROBINSON can be found at http://www.

robinson.com/ or contact George Morris, Regional

Sales Manager UK & Ireland George.Morris@

robinson.com

168

169
---
Sicily | Italy

POPULATION

5,048,553

HOW TO GET IN

• Fly in

• Ferry

• By Bus

GET AROUND

• By Bus

• Car

• Taxi

• Train

• By Plane

The largest island in the

Mediterranean Sea, full of

history, culture and former home

of legendary mathematician

Archimedes & Domenico Dolce

of Dolce & Gabbana.

ATTRACTIONS & SIGHTS

• Mount Etna

• Palazzo dei Normanni

• Ancient theatre of

Taormina

• Ear of Dionysius

THINGS TO DO

• Boat trop

• Trek to Mount Etna

• Scuba Diving

• Try Spaghetti ai Ricci

Find out more – http://

www.visitsicily.info/en/

tourist-information/

170

171
---
HOTEL

Italy

PULLMAN TIMI AMA SARDEGNA

LUXURY HOTEL & SPA OF THE YEAR

viale dei Ginepri 3, Sardegna 09049 ,Villasimius, Italy •

Tel +39 070/79791 • accorhotels.com

Visiting the Villasimius village on the island of Sardegna in

Italy and looking for a luxurious getaway? Pullman Timi Ama

Sardegna is the answer to your needs! Located just in front of

the white sand beaches of the island, this hotel not only gives

you the chance to have a lavish stay but also puts you in the

midst of the best natural surroundings of the island. Thanks to

its location, you'll have easy access to the bay, wineries and

archaeological sites of the town!

Choose from the numerous room and suite options according

to your taste and enjoy the finest views of the bay or the lush

hotel grounds. Large glass windows and balconies ensure

that the rooms are flooded with warm Mediterranean light all

day long. With Pullman, Welcomes to help you out each day

with travel tips and restaurant recommendations, you can lie

back at ease and enjoy your trip. You could keep up with your

business-related activities at the Pullman Connectivity Lounge

too. The presence of shops and salons in the hotel makes sure

that all your needs are covered under one roof.

The one service that stands out though is the Thalassa sea and

spa. With a wide range of relaxing treatments and therapies,

the masseuses here ensure that you can unwind and rejuvenate

with their special Thalassotherapy and Spa treatments. The spa

boasts of some unique features like solarium, aqua-aerobics

and hammam along with the more common ones like sauna

and spa bath. Moreover, you could get beauty treatments

done here. The dedicated fitness area here will help you keep

up with your fitness schedule.

For gastronomic indulgences, you can head over to the

3 restaurants and 4 bars of the hotel and enjoy delicious

Mediterranean and international cuisines along with your

favorite cocktails. The hotel also hosts private functions and

corporate meetings.

172

173
---
Santorini vs Mykonos

If there is one thing Greece doesn't lack is islands. The country's landmass is made up

of thousands of islets which cover an extensive area of the Mediterranean, awarding it

with the 11th longest coastline in the world. Many names spring to mind when thinking

of the Greek Islands, but among them Santorini and Mykonos sound ever so familiar.

Mykonos (the island of the winds) is believed to have been named after the grandson

of the god Apollo in Hellenic mythology. The island is part of the Cyclades, a group

comprising around 220 islets, situated south-east of mainland Greece. Mykonos'

cosmopolitan atmosphere sets it off as a highly sought-after summer destination,

beloved by the ones seeking energetic days as well as those who simply wish to

unwind. It is easily accessible from both Athens and Thessaloniki by plane, with

direct international flights (particularly from London) being added to the schedule

during summer holidays. There are also daily ferries departing from the two main

ports in Athens, heading to Mykonos and the other Cyclades islands. Due to its

popularity, the island can get fairly crowded during high season, so it's worth

planning in advance – or choosing to travel in spring or autumn. There is no

174

175
---
shortage of things do to in Mykonos: from exploring the capital's (Hóra) marble

streets and visiting some of its churches, museums, to treading along Matoyanni

Street – one of the city's busiest spots –, or contemplating the colourful Alefkántra,

also known as "Little Venice". Adventure enthusiasts will find an array of beaches

where to practice windsurfing, bays to go sailing, and nooks for diving. While

in Mykonos, it's worth tasting the kopanistí, a soft cheese seasoned with pepper

designated the as island's culinary trademark.

A roughly 2,5hr ferry ride from Mykonos, in the southernmost portion of the

Cyclades, lies the island of Santorini – the largest of a small archipelago with the

same name. This complex of islands is, in fact, an active volcano whose crater

rests underwater and which, after a series of eruptions, had its central part eroded,

thus creating a (still visible) crater (caldera). Unlike Mykonos, Santorini is more of

a romantic destination; its crystal clear waters and dramatic cliffs being the ideal

scenery for a wedding ceremony. For the ones who seek something other than

romance, there is the opportunity of exploring the island's picturesque, cliff-top

villages with panoramic views of the Aegean; enjoying the deep blue waters of

its heterogeneous beaches; or indulging in traditional food and local, "volcanic"

wine. As a popular destination in the Greek Islands, Santorini gets very busy

during high-season, and its mostly "high-end" accommodation options make early

bookings a must if to lock in cheaper rates.

176

177
---
HOTEL

Greece

KASTRO SUITES

BOUTIQUE HOTEL OF THE YEAR

Fira city, Santorini • Tel +30 22860 25730 •

www.kastrosuites.com

Located on the beautiful island of Santorini with its

whitewashed buildings and a view of the Aegean

Sea to die for, Kastro Suites welcomes you to enjoy

its splendid services to create an unforgettable

holiday for you. The cozy apartments here come

with every amenity needed to have a comfortable

stay along with sea views. Whether you're visiting

as an individual or as a group, their suites can

accommodate groups of up to 7 people! The

whitewashed walls of the rooms along with the blue

shades of furnishings reflect the colors of Santorini

too and blend perfectly into the environment. Some

rooms are also carved into the rock side to keep

them naturally cool. The rooms also come with

balconies where you can sit back and relish your

breakfast with the view of the beautiful town or the

sea.

The hotel comes with a swimming pool overlooking

the beautiful city of Fira and the blue Aegean Sea.

If you need some munchies during your stay, the

snack bar will provide some great delights. The

feeling of eating out in the open with a scenic view

here is truly unparalleled. This is definitely the place

you can head over to with your loved one for a

candlelight dinner date. The hotel also arranges

excursions and vehicle rentals on demand for

you. If you're looking to keep connected with your

business activities, the hotel also has laptops, fax,

photocopy and scanning services. Fancy reading

books? Book exchanges are held at the hotel as

well! The hotel also serves as a destination for

meetings and personal events. They also provide

shuttle services.

70 178

179 71
---
HOTEL

Greece

HOTEL

Italy

Image by: Artiom Vallat

CORI RIGAS SUITES

HISTORIC HOTEL OF THE YEAR

Cori Rigas Suites Fira, 84700 Santorini,

Greece P.O.Box 151 • Tel +30 22860 25251

• coririgasuites.com

A restored Captain's House, Cori Rigas

Suites offers 250 years of history and

stunning views over the Caldera.

Located in Fira, on the famed island of

Santorini, Cori Rigas Suites consists of

13 bioclimatic suites ideal for couples

& families.

The traditional sea captain's house has

been restored to the highest standards,

with nods to both the traditional, such

as the romantic inner courtyards, and

the new exquisite hot tubs.

Each guest room has its own unique

personality and style; from the Petite

Suite which features a cave bedroom,

to the Exclusive Suite, split over two

and offering unrivalled space

and comfort.

Each suite offers either a shared terrace

or private balcony, and such amenities

as made to order breakfasts, daily

housekeeping and porter service, airconditioning,

WiFi, satellite TVs, bath

amenities and a mini fridge and kettle.

With an emphasis on providing outstanding

service, Cori Rigas Suites is the ideal

option for those who wish to become better

acquainted with the history and beauty of

Santorini.

"A restored

Captain's House,

with 250 years

of history, with

stunning views"

PALAZZO BELMONTE

THE AWARD FOR EXCELLENCE IN

SERVICE

Via Senatore Manente Comunale, 22 •

Tel +39 0974 960 211 • palazzobelmonte.

com

Located south of the Amalfi Coast in

the ancient Magna Grecia lies Palazzo

Belmonte.

This family owned property is a palace

in itself and served as a hunting lodge

for the ruling family and their guests

(Kings of Spain and Italy). The rooms

here are finished with a blend of

modern and traditional interiors with

all essential amenities. With a setting

that faces the infinite blue sea or lush

gardens, you can definitely have

a memorable honeymoon here. A

freshwater pool right next to the beach

offers you some unwinding time along

with the poolside bar that provides light

lunches and cocktails. A private beach

here is all you need to have some

cozy time with your family. A lounge

bar overlooking the sea is the perfect

place for some candlelight drinks and

appetizing meals and the international

staff makes sure that you have a great

date out there. They also organ – ize

special occasions like weddings and

corporate meetings with a great degree

of service and professionality.

22 180

181 23
---
One Day in Tel Aviv

As Israel's financial and technological hub, the city of Tel Aviv is the second-mostpopulous

urban area in the country, widely known for its Mediterranean-bathed beaches

and vibrant multicultural identity.

Last but not least is Tel

Aviv's nightlife scene –

often a requisite among

party-aficionados

but nevertheless an

interesting experience for

anyone who would like

to have a comprehensive

glimpse of the city.

An inspiring way to start the day in Tel Aviv is by walking along the promenade

– towards the old port city of Jaffa – while welcoming the first rays of sunlight and

inhaling the fresh sea breeze. In Jaffa, the narrow stone streets lead to locallyowned

cafes notable for their classic Israeli breakfast: omelette with fresh herbs,

home-made jam, fresh bread, and 'labne' – a thick, yogurt-based cheese.

During the day, there is

the option of enjoying

one of the many sections

on Tel Aviv beach; visiting

the Tel Aviv Museum

of Art (Israel's largest

museum) or the Diaspora

Museum (a chronicle of

Jewish heritage around

the world) for a culture

soak up; exploring the

city's streets, squares, and

gardens – the Hayarkon

Park and botanical

garden being a highlight;

or visiting the White City,

a UNESCO Heritage Site

featuring more than four

thousand (mostly white)

buildings in the Bauhaus

style of architecture.

182

183
---
HOTEL

Israel

HOTEL ROTHSCHILD 22

TEL-AVIV

STYLISH HOTEL OF THE YEAR

Rothschild Boulevard 22, Tel Aviv-Yafo, Israel •

Tel +972 3 6906565 • fattal.co.il/hotel-22-rothschild-tel-aviv

Located in the heart of Tel Aviv, Hotel

Rothschild 22 is a new and luxurious

boutique hotel with meticulously designed

interiors like that of a modern style with

pastoral design influences.

The hotel's 156 rooms are designed to

perfection, providing the perfect setting to

relax or work. Exclusive beauty products by

L'Occitane are also available to provide an

additional touch of luxury. The Gallery 22

restaurant is the perfect place to kick-start

your day with a scrumptious meal, while

the Traklin Business Lounge, overlooking Tel

Aviv, makes for a great place to carry out

meetings. Pay-per-access meeting rooms

are also available, which are the perfect,

flexible option for local businesses or those

short on time. For those who need to catch

up on emails or important calls, there is

also the option to rent office space. A

range of leisure facilities are also available;

enjoy a refreshing workout session in the

fully equipped gym, take advantage of the

bicycle rental service or see the city through

the eyes of a local on a professionally-led

tour. Hotel Rothschild 22 offers a coveted

combination of state-of-the-art comfort, firstclass

facilities and an unrivalled location

among beautiful views and fascinating

culture.

10 184

185 11
---
TOUR

Israel

Image by: Aviv Ben Or

MANTIS TOURS

THE AWARD FOR EXCELLENCE

IN SERVICE

Eilat, Israel • Tel +972-53-2298922 •

mantis-tours.com

Taking a tour to Israel, Jordan or

Egypt?

Mantis Tours is the place to head

to for exciting tours and excursions

in each of these countries.

Whether you wish to explore the

great Pyramids of Egypt, Petra in

Jordan, float on the waters of Dead

Sea or visit the holy city of

Jerusalem, their tour packages will

give you a friendly environment

with personal attention to make

your trip fulfilling. You could also

take a tour from one country to the

other and could hike to the

canyons of Jordan or even dive

into the deep blue in Aqaba. You

even needn't worry about your

visas to the countries as they take

care of that as well. You could also

get splendid visuals of undersea

life by scuba diving to Coral Reef

of Eilat. They ensure a comfortable

experience with pick-ups and

drop-offs to and from the hotels.

186

187
---
EASTERN

EUROPE

Image by: A L

188

189
---
Albania

POPULATION

3,600,523

HOW TO GET IN

• Fly in

• Ferry

• Road

A former secretive communist state,

Albania offer so much for a traveller

looking to get away from the

mainstream holiday.

GET AROUND

• By Bus

• Car

• Taxi

• Train

ATTRACTIONS & SIGHTS

• Butrint

• Dajti Mountain

• Berat

• Et'hem Bey Mosque

THINGS TO DO

• Visit the beach

• Trekking in the Albanian

Alps

• Try the Byrek & Raki

Find out more – http://

albania.al/

190

191
---
HOTEL

Albania

ADRIATIK HOTEL

LUXURY HOTEL OF THE YEAR

Hotel Adriatik, Rr. Pavaresia, Lagjja 13,

Plazh, Durres, Albania 2000 • Tel +355 52

260 850 • www.adriatikhotel.com

Adriatik Hotel has been operational

since 1957 and served as the first

luxury hotel on the Albanian Coast.

It reopened in 2003 after full

reconstruction and update. With

70 rooms and suites equipped with

every possible amenity to ensure

a luxurious stay, you can lie back

and enjoy the scenic views of the

infinite blue from the comfort of

your room. You can be assured of

impeccable services with a friendly

and professional staff, which leaves

no stone unturned. Apollonia and

Illyria Restaurants shall bring out the

foodie in you with some fine Italian,

traditional and international cuisines

at offer. You could also take a dip

in one of the largest outdoor pools

on the Albanian coast here. Did we

mention that there's a private beach

as well? Kids will also enjoy their

stay with two playgrounds, pool and

a tennis court specially dedicated to

them. The hotel also has a fitness

center and spa.

The hotel is open all year round

and organizes high quality

international conferences, events,

weddings. It boasts of 4 conference

and ballrooms: Albania-400 pax,

Skanderbeg-70 pax, Marubi-40

pax. and Ali Pasha-40 pax.

192

43 193
---
Rise of Croatia

There is no doubt that Croatia is an important country in terms of tourism. Many young

visitors, however, will fail to realise that this was a place of horrific conflict and historically

one of the most lamentable battles to have ever taken place in the world. The war of

Yugoslavia. In the course of the conflict, the Dalmatian cities at the foot of the Adriatic

were targeted by bombings that caused immense damage to their infrastructure. Some

areas were totally destroyed such as Vukovar. In fact, the damage caused to Vukovar

during the conflict has been signalled as the worst in Europe since the Second World

War.

Once the conflict was finally over

the Republic of Croatia began to

painstakingly pick up the pieces of

a country completely devastated

by war. Large numbers of deaths,

casualties and migrations left whole

regions in dire need of supplies,

and instability throughout the region

continued due to political and military

instabilities especially in the nearby

regions of Bosnia-Herzegovina and

Kosovo.

Reconstruction was slow and

depended on support from the rest

of Europe and the United States. In

1991 the Republic of Croatia was

The story of Vukovar´s Water Tower provides a clear example of the pointless

destruction caused by civil war. The Tower was constructed in the 1960s and here

was a place to dine and look out upon the charming vistas of this reasonably

prosperous city. During the conflict, the city was under siege for 87 days, and

the popular landmark was used for artillery practice whilst the inhabitants of the

city were trapped. It is estimated that over 600 civilians were killed during the

siege. The fact that the Tower did not fall during the raid is the reason the city has

maintained it in its current damaged state without any repairs, as a symbol and

monument to Croatian´s strength and determination. Vukover is situated on the

River Danube and is a draw for romantic getaways. But you cannot fail to notice

the sad pockmarked structure of the Water Tower, a sad reminder of the Croatian

War.

194

195
---
given recognition along with Slovenia by the

European Union and that same year became a

member of the United Nations Organisation and

the International Monetary Fund. Agreements

with the World Bank were signed and over the

following years, repairs and restorations have

been completed in record time with the help of

Unesco. The strength and determination of the

country have revealed its hidden charms once

again of coastal cities together with stunning

national parks attracting a multitude of visitors

to Croatia

Today visitors can enjoy post-conflict Croatia

and appreciate the remarkable economic

transformation. Today known as the country of

a thousand islands with its unique geography,

full of charming reefs and enclaves dotted along

the Adriatic coastline. This is an ideal territory to

explore and discover the magic it has to offer.

Dubrovnik, nicknamed the pearl of the Adriatic

due to its distinctive 16th century golden stone

walls. One of the cities to be rebuilt after the

shocking bombings, the city knew instinctively

how to heal its ravaged war wounds by

painstakingly rebuilding and repairing its streets

and buildings but maintaining its medieval

essence. Dubrovnik attracts a great deal of

tourism and has been on the scene of several

popular television series and international film

productions.

The city of Zadar has recently won awards for

the best European tourist destination, Rovinj and

Porec are venues of the world extreme racing

circuit of light aircraft and sailing, and Split

is host to one of the main international music

Festivals Ultra Europe 2018. Zagreb, the capital,

is considered as the best Christmas market in

Europe, while the infinity of the Croatian islands

attracts tourists from all over the world.

196

197
---
HOTEL

Croatia

VILLA JOLARA

STYLISH HOTEL OF THE YEAR

Kralja Tomislava 69a 21318 Mimice Croatia •

Tel +385 914482288 • jolara2015.wixsite.com/

jolara; jolara2015@gmail.com

Located in the historic village of Mimice,

Villa JoLaRa offers a stylish collection of

contemporary apartments overlooking the

Mediterranean. Only 900 metres to the

seafront and in proximity to the nearby

towns of Omiš and Makarska, JoLaRa

provides the perfect blend of picturesque

peace and cosmopolitan luxury.

These high-end yet affordable apartments

range in size from studio dwellings to twobedroom

apartments, with luxury amenities

including a swimming pool, garage and

bar. As standard, all apartments has WiFi,

air conditioning, satellite LCD TVs. Fresh

bedsheets and towels are provided for your

comfort, while each spacious kitchen comes

equipped with a fridge, multifunctional oven

and microwave, kettle and coffee maker

and dishwasher, ensuring guaranteed

comfort in your home-away-from-home.

Villa JoLaRa enjoys an enviable location

and is in proximity to many local attractions,

such as the beautiful beachfront of Mimice.

Guests can also enjoy boat excursions to

the central Dalmatian islands, or take to

the Cetina River and enjoy a day of highoctane

white-water rafting.

20 198

199 21
---
HOTEL

Croatia

ROYAL SUITES

AFFORDABLE HOTEL

OF THE YEAR

Kralja Zvonimira 12 Split, Croatia 21000 •

Tel +385 99 333 6919 • facebook.com/

Royal-Suites

Relax, experience the local atmosphere

and discover why 1.700,00 years ago

Roman emperor decided to build his

palace one block away from Royal

Suites. Open the door, step in a small

family, run hotel perfectly and its

located in the heart of the city with

windows oriented on south sunny side

facing red terracotta roofs and stone

houses of 300 years old peaceful

neighborhood. Relax in one of eight

rooms on the first and second floor of a

residence built by close family ancestor

in 1937. Feel the authentic local family

atmosphere formed by tradition,

heritage, friendliness, dedication and

joy shining from hosts hearts. Enjoy a

cooked home made breakfast in a cozy

dining room, wake your senses with a

smell of a good café and start exploring

the old city at your palm. Feel the

breeze on the main promenade or have

a swim on the city beach all within a

five minute walk. Stroll down the other

side of the block, hop on the ferry or

bus and start your island adventure.

Feel like at home, blend in with a local

culture and experience the city from a

location beyond comparable.

TOUR HOTEL

Spain Coatia

BODEGAS VILLA MAGDALENA TORRES

THE HOTEL AWARD & SPA FOR OF THE EXCELLENCE YEAR

IN BRANDING

Bodegas Mirna ul. 1, Familia 49217, Torres, Krapinske Finca Toplice, "el Maset" s/n,

08796 Hrvatska Pacs • Tel del +385 Penedès, 49 233 Barcelona, 333 • Spain •

Tel villa-magdalena.net

+34938177487 • torres.es

Hotel Started in Villa 1870, Magdalena Bodegas Familia is an Torres is

exclusive a family company small four-star that has come hotel to be

located seen as in Krapinske a reference Toplice for just quality 45 and

kilometres sustainability from in Zagreb. the wine world today.

It With is a 5 unique generations place of for the relaxation, family dedicated

wellness, to wines, you first-class can be assured gourmet that this is a

experience brand you can and trust. business With meetings. a commitment to

All reduce accommodation CO2 emissions is per equipped bottle by 30%

to by the 2020 highest as compared standards to 2008, befitting they are

the taking hotel's an eco-friendly leisure and approach business too. They

guests,

believe

with

in transparency

a hidden delight

and

–

respect

each room offers a Jacuzzi heated

between company and employees, take a

by the thermal springs of Krapinske

Toplice.

fair approach

Further

in

relaxation

trading and

can

are

be

closely

found connected in the panoramic with their wellness international &

spa customers oasis – from complete over with 150 an countries. indoor The

pool, efforts put massage in by them areas, go a ahead steam to prove

room that their and brand a gym is – not a beautifully just limited to

maintained excellent wine environment but is much that more invites than that.

you A tour to release their wineries your stress is sure and to be

recover once-in-a-lifetime your energy. experience, allowing you

When to choose not luxuriating from a wide in the range spa, of guests activities of

can

the one

indulge

that

in

best

the finest

suits your

gastronomical

needs; from a

delights. The fine dining restaurant

within traditional Hotel winery Villa Magdalena tour with a is pairing a of

place wines for and premium Jamón gastro Ibericos experiences, to a morning of

with harvesting a menu inspired grapes by the in best their of the most

traditional representative Zagorje estate, cuisine the combined Mas la Plana

with elements of modern Italian and

estate, or the Torres Starry Night event

French cuisines.

where you will learn to observe the night

sky in a different and unique way while

enjoying a delicious wine dinner with live

music under the stars.

44 200

201 45
---
Russia : 2018 FIFA World Cup

On July 15th, 2018, one nation will

be celebrating having been crowned

the FIFA World Cup 2018 Champions.

The World Cup can be a lottery, with

favourites often underperforming and

failing to progress or the underdogs

performing way above expectations,

and surprising football fans worldwide

and progressing to the latter stages of

the World Cup or even better.

For the first time, Russia will be the host

nation, with expectations high amongst

their supporters, realistically, progressing

to the quarter-finals would be an

exceptional achievement. The world's

largest nation, but not recognised as a

footballing powerhouse.

The opening ceremony on June 14th, at the Luzhniki

Stadium in Moscow, lasting for just over one month, will

be an extravagant performance celebrating the culture

and football of Russia, supported by fireworks, dancers,

and music.

Followed by the main event, and as tradition dictates,

the host nation kicks off the World Cup, normally against

one of the minnows of the World Cup, and for 2018,

it will be Saudi Arabia. However, official FIFA World

Rankings rate Russia and Saudi Arabia as teams of a

similar stature, supporters of the Russian team, may not

be celebrating at the end of the 90 minutes?

202

203
---
Year after year, the same

teams have the high

expectations and are

seen by many as the likely

finalists. Brazil is often the

people's choice for their

football with flair, or teams

such as Germany, Italy,

France and Spain, previous

winners and always

expected and typically do,

progress to the latter stages

of the tournament. Other

nations with dedicated fans

that expect success such as

the Netherlands, Belgium,

and England, the latter two

in recent years have been

underachievers and not

progressed on the World

stage, that one would be

expected of teams with such

high calibre players.

Thirty-two teams compete in the group stages for two weeks, eight groups of four

teams. Once the group stages are completed on June 28th, the two highest placed

teams in each group qualify for the last 16 stage. This is where the competition

becomes very exciting, as now teams are just four wins from becoming FIFA World

Cup 2018 winners.

The winners of each game in the final sixteen, progress to the Quarter-Finals played

on July 6th/7th, with the winners progressing to the Semi-Finals on July 10th/11th.

On Sunday, July 15th, its back to where the tournament started just a month earlier,

the Luzhniki Stadium in Moscow. The most important and high profile game in

the football calendar will be played, and the winner of this fantastic event will be

known.

204

205
---
Everyone loves an underdog and for the 2018 World Cup, there are a few

possibilities. Iceland and Poland continue to improve and gain impressive results

against much stronger nations. They play without fear and a desire to win, winning

the hearts of football fans throughout the world.

In the eyes of the online betting companies, Germany is the outright favourites, but

rarely cup tournaments go as expected.

Another key focus on the tournaments will be the top scorer, the world-class

performers of Ronaldo, Neymar and Messi, or is this the opportunity for younger

players such as Harry Kane to prove they are amongst the world's best.

HOTEL

Russia

THE STATE HERMITAGE

MUSEUM OFFICIAL

HOTEL

HISTORIC HOTEL OF

THEYEAR

Pravda 10, St. Petersburg •

Tel +7 812 777-98-10 •

thehermitagehotel.ru

For the football fan, Russia is expected to be a fantastic venue for the tournament.

With many years of planning, investment in the infrastructure including transport,

new hotels, and new stadiums, the facilities are expected to be superb.

Tickets for each match may not be easily obtained, but there are many public

areas to watch each game. FIFA has provided venues in eleven cities across Russia

known as "FIFA fan fest" venues, these are public family-oriented environments

where matches can be viewed in a party atmosphere. Maybe not as good as

being in the stadium, but certainly a close second.

Situated at the heart of Saint

Petersburg in Russia, The State

Hermitage Museum Official Hotel

may just be 4 years old but it

gives off a vibe of being a historic

location. Developed as a part of

the State Hermitage Museum, this

hotel has been designed to take

you back in time. You shall feel

like a king or queen when staying

at this hotel with splendid services

that make you feel special. The

hotel catches your attention right

from the moment you enter the

grand lobby with a glass dome

and magnificent chandelier.

Whether you choose to lie down

in your king size bed or dine

under the exquisite chandeliers

in the in-house restaurants, you

will definitely feel pampered

here. You could also unwind in

the Mon Plaisir Spa with relaxing

massages. The hotel also boasts of

some fine ballroom and meeting

rooms.

206

207
---
TOUR

Russia

TJ TRAVEL

TOUR COMPANY

OF THE YEAR

9-ya liniya, 34a, 615 St Petersburg, 199004 Russia •

Tel +7-812-325-6531 • st-petersburg-tours.ru

With more than 10 years of experience in the travel industry,

TJ Travel has solidified its reputation in Russia. You are bound

to experience Russia like never before when traveling with their

knowledgeable and professional guides who create a friendly

atmosphere throughout the tour. Small group sizes ensure that

the tours have a more personal touch. For group sizes larger

than 10, headphones are provided to enable better audibility.

You can also count on them to take appropriate steps during

bad weather conditions.

The St Petersburg tours and shore excursions take you on a

tour through time and help you revisit the rich history of Russia.

In this trip, you can marvel at the splendid architecture of the

Hermitage, Catherine Palace, Peterhof and experience some

of the everyday life. If you arrive at St. Petersburg by a cruise

ship, TJ travel offer trips without a visa which can save you up to

130 USD pp. If you're visiting the capital, there is no better

operator than TJ Travel to show you around the town. From

short one day tours to three day excursions, you can choose to

explore the city as much as you wish, from Kremlin to the Red

Square as well as the Golden Ring, i.e. cities around Moscow.

Also offered are tours to Baltic ports like Berlin, Stockholm,

Helsinki, Talinn etc. If you're on a short halt from a cruise ship,

they also offer trips for you without visa and pick and drop you

off at the ships on time!

Comfortable, modern vehicles and experienced tour guides

will ensure that your trip will go smoothly. The multilingual

guides ensure that you get to see the cities from the perspective

of a local and get the real feel of residing there. You can also

choose to have a completely private tour, which is customized

according to your requirements so that you can make the most

of your trip with your loved ones. A part of the money earned

from your trips is donated to orphanages to bring light to the

lives of the kids who live there.

32 208

209 33
---
THE UNITED

KINGDOM

& IRELAND

Image by: Florian Giorgio

210

211
---
The Royal Wedding

Windsor, the city in England that will host 2018's most hashed out wedding between

Prince Harry and the American actress Meghan Markle, feels like a fairy-tale wonderland.

Its castle is the largest and oldest occupied palace in the world; the building is so close

to the neighbouring structures that both royalty and plebs coexist as if time had simply

stopped. It is in St. George's Chapel, inside Windsor Castle, that the wedding will take

place on the 19th of May 2018. Until then, it is expected that the interest for the event

crowds the city of 150 thousand inhabitants and boosts tourism. In 2011, the wedding

between Prince William (Harry's older brother) with Kate Middleton, at Westminster

Abbey, in London, attracted more than 30 million tourists throughout the year – an

occasion that yielded billions of pounds to the British economy and made London stop

for a day.

For those wondering whether Windsor is worthwhile, the answer is "yes". Situated

in the Berkshire, some 35 kilometers from London, visiting the city is an interesting

exercise of contemplation. Especially if coming straight from the bustling capital;

it's impressive to witness the change in profile and atmosphere over the course of

such a short route.

Despite its many attractions and captivating energy, a day trip would be enough to

get a good feel for the place. Trains from London to Windsor leave from Paddington

(lines Bakerloo, Circle and District, and Circle and Hammersmith) and Waterloo

(lines Bakerloo, Jubilee, Northern and Waterloo & City) stations, and cost around

£10. It is best to hop off at Windsor & Eton Riverside, as it is the closest station to

the castle. There is also the option of driving to Windsor (which may take about

50 minutes) but a lack of parking spots, especially during the wedding season,

makes many refrain from this option. Alternatively, for those who don't want to deal

with either public transport or parking fines, many tourism agencies offer day trips

departing from London.

212

213
---
Although the castle will be closed on

the Saturday of the wedding, there is

no need to wait for an invitation in

order to get up close to it and really

immerse in the royal atmosphere. A

strategic place to get a good view

of the wedding preparations is Eton

High Street, only a ten-minute walk

from the castle. But regardless of

having an avid interest in the wedding

ceremony, be sure to explore beyond

the castle – an unmissable stop that

nonetheless does not do justice to

the totality of the city's fable-like

aura. The Windsor Castle has been

home to the Royal British Family for

more than 1000 years and is today

the official residence of Queen

Elizabeth II, as well as her favourite

weekend retreat. Many areas within

the complex are open to the public

throughout the year but, due to the

wedding, changes in schedule are

expected.

The State Apartments, rooms used by

the Queen and family members are

an interesting part of the tour, with a

polished interior decor that features

pieces from artists like Rembrandt

and Canaletto as a highlight. The

St. George's Chapel, considered

one of England's best examples

of Gothic architecture, is open for

visitors from Monday to Saturday.

There are the graves of ten English

monarchs, including Henrique VIII,

the main representative of the Tudor

Dynasty. Another attraction that

stands out is Queen Mary's Dolls'

House – a perfect miniature replica

of an aristocratic mansion completed

in 1924 for the wife of King George

V. Meanwhile, the ceremony of

changing of the guard is a lesserknown

yet intriguing event that

happens around the city and ends

inside the castle, with a schedule that

varies according to the weather.

The gardens are an extra

chapter when visiting

Windsor. The 33-acre

Frogmore Gardens is an old

retreat of the Royal family

which is nowadays used

for official events. It was

projected by the royalty in

1790, with Queen Charlotte

as its main idealizer and later

on add-ons incorporated by

Queens Victoria and Mary.

It is only open to the public

a few days out of the year,

so the schedule of visitation

must match that of the travels.

Among the city's green

areas, the Windsor Great

Park is another must-see site.

Covering an extension of

4800 acres (19,4 square

kilometers), the park is divided

into four main areas: The

Valley Gardens, The Savill

Gardens, Virginia Waters,

and The Long Walk & Deer

Park – with The Savil Gardens

being the only with an entry

fee. At Virginia Waters, its

ornamental cascades catch

the attention of grown-ups,

while children are often

amazed by 30-meter Totem

Pole. The most iconic area,

however, is The Long Walk

– a wooded pathway with a

clear view of Windsor Castle's

stone walls that contrast with

the tree-laden, green field.

214

215
---
Windsor, just like many

places in the same latitude

as London, is also bathed

by the mighty Thames.

The river slices through

the northern section of

the city, complementing

the landscape of some

smaller parks – like

the Alexandra Park

– by providing the

area with a delightful

promenade. But it is not

only contemplative walks

that make this part of the

Thames an attraction. In

Windsor, boat rides are

sought after alternative

for the ones wishing to

float along the waters of

history. Some companies,

such as Fringilla Boat

Trips and Services, rent

small vessels for parties

of up to twelve people

– many of whom also

wish to celebrate their

wedding in a romantic

way, even if in a less

ceremonious manner.

HOTEL

UK

ASCOTS HOUSE

THE AWARD FOR

EXCELLENCE IN SERVICE

Ascots House, 99 Sussex Place, Slough SL1

NN • Tel +01753 478936 • ascotshouse.

com/

Friendly, spotlessly clean and spacious,

Ascots House is a detached homestay,

where service is unpretentious but

sophisticated. Central London and

Heathrow are less than 20 minutes

away, but unlike nearby Windsor, it

is not on the flight path. With fast and

direct access to the M4, M40 and the

M25, it has excellent road connections.

The railway station is 5mins away,

or park in the house's electric-gated

garden car park.

With six rooms available, features

include free Superfast Broadband

Wi-Fi throughout, Superking, double

and single beds, work desks, Internetenabled

digital TVs, hotel silent fridges,

blackout blinds, Nespresso coffees,

Arran Aromatics toiletries, Egyptian

cotton bedding, robes & velour slippers.

The Thames Valley is notable for

generally having the warmest daytime

temperatures in the British Isles. But

best of all, we have a friendly labrador

who would be delighted to take you the

5mins walk to 160 acres of parkland

with its superb views to Windsor Castle.

From there it's a 15min walk through

Eton College grounds and onwards to

Royal Windsor.

216

217
---
BRITISH AIRWAYS i360

Ten times larger

than the observation

capsules

at the London

Eye, the observation

pod is often

called the 'donut'

owing to its peculiar

shape.

When on board, you're welcome to

walk around freely inside the pod, or

sit and enjoy the fantastic scenery.

Furthermore, passengers are accompanied

by a pod hosts to guide them

and maintain communications with the

ground staff via camera or radio.

Enjoy the breathtaking

views of Brighton and the

South Coast as you soar

to the skies in the world's

tallest moving observation

tower. Designed by

the same team that gave

us the London Eye, the

attraction is indeed an

architectural feat.

Standing tall at 162 meters, the British Airways i360 is an

observation tower on the seafront of Brighton in East Sussex,

England. Opened on 4th August 2016, the tower provides

visitors with a beautiful panoramic view of the surroundings from

a completely enclosed pod.

It's located on the site of the derelict West Pier that burned

down in a fire over a decade ago; you can still see some of

its ruins off the coast. The observation tower has replaced the

Brighton Eye (a moving Ferris wheel) as the new seafront

landmark in the city of Brighton and Hove.

In fact, just as amazing as it is to marvel at the pod emerging

from the bowels of the earth, so it is to be fascinated by the

ingenuity behind it. Designed by the renowned architectural

firm of Marks Barfield, the tower was conceived as a 'vertical

pier'. Also included in the design is a beachfront building that

serves as a gateway to the tower.

The tower is among the most slender in the world, has a sleek,

toroidal observation pod that has a capacity of 200 people.

The pod itself is made from double glazed, handcrafted glass

that provides you with a breathtaking 360 degree view of the

landscape around.

Ten times larger than the observation

capsules at the London Eye, the

observation pod is often called the

'donut' owing to its peculiar shape. A

feat of engineering, the pod 'takes off'

and 'lands' using state of the art cable

car technology.

Interestingly, it uses an energy

recapture technology which gets

activated when it descends. This

allows the British Airways i360 to

generate nearly half the electricity it

needs to power its ascent. How

amazing is that?! As the bubble rises,

those in the beach building below can

watch a cable unfurl on a giant winch

in the basement

This is all well and good, but you

might be wondering what the actual

experience of 'flying' on the British

Airways i360 is like. You must check

in, collect your ticket and go through a

security check, as you would for any

flight.

Adding a touch of authenticity to the experience, the entire

process is guided by staff dressed in typical British Airways

attire.

With the security check sorted, you sit and wait on the deck

chairs, watching the previous flight land. All this theatrical flair

serves to build up the eagerness and anticipation for the actual

experience of it.

As the doors slide open and you step inside, you can't help but

let slip a soft "Wow," marveling at the inspiring architecture

and engineering. While the West Pier, in its time, welcomed the

Victorian society to 'walk on water'; the British Airways i360

invites its passengers to 'walk on air'.

As the pod ascends gradually, you will be able to take in

the views over Brighton from various perspectives. The view

becomes increasingly expansive over the sea in front, the beach

on both sides, the city behind and the Downs beyond.

218

219
---
You'll have your breath taken away by this perfect panoramic portrait beneath

you and you might even have to wrestle with some deep philosophical

questions. Despite all this, though, you'll feel a sense of calm wash over you.

Putting the odd chatter aside, the experience is

entirely serene as you transcend into this peaceful

dimension where the views take your breath away.

And while you're doing that, enjoy a drink at the

Nyetimber Sky Bar in the pod.

Open throughout the year, this bar proudly serves

drinks produced in Sussex only. Be it a classic

Nyetimber Curvee or a Beer from Harveys, Wobblegate

Apple Juice or South Down Still, they are all on

offer. It is truly a one of a kind bar, so enjoy a bubbly

as you soak in the sanguine sunset.

Between the splendid view and the wonderment of

being up there, time feels warped. Little will you

realize when the twenty-minute ride is up, almost

like being woken up from the most pleasant dream.

Of course, that's not all that the British Airways

i360 offers. At the beach level, the main building

also houses the West Beach Bar and Kitchen, and a

gift shop. The gift shop has a plethora of unique items

to choose from — including specially commissioned

gifts crafted by local artists.

Stop by the West Beach Bar and Kitchen for a spot

of brunch or lunch before your flight, or evening

tea post it (subject to timings). Using locally grown,

fresh ingredients, the chefs whip up creative

and playful dishes. Be it a traditional English

breakfast, Crumbed Catch of the Day with Chips

or the scintillating Jaffa Pudding, the dishes are

is delightful.

The reconstructed toll booths, which pay homage

to the old Italianate toll booths of age, house the

West Pier Tearoom. From delicious artisan tea and

coffee to deli-style sandwiches and tantalizing

desserts, the modern cafe is indeed a gem of a

place! You can enjoy views of the old West Pier

structure as well as the Regency Square from its

terrace.

Be it a school field trip, business meeting, reception

or any other private celebrations, they offer a

host of services suiting each occasion. The British

Airways i360 is so much more than just a viewing

tower; it has something for everyone.

The husband-wife team of David Marks and Julia

Barfield, the architects, often talked about

their motivation behind the tower. The The

London Eye, despite its immense success in

attracting tourists, isn't something viable for most

cities. This is where the i360 comes in; it creates a

similar experience, as you watch the scenic

landscape gradually unfold below while you

glide to the top of the tower. Everyone loves

getting a bird's eye view

All images to be credited British Airways i360

All videos to be credited British Airways i360/Latest TV

All drone footage to be credited British Airways i360/Visual Air

All time lapse footage to be credited British Airways i360/Kevin Meredith

of an astounding scenery like this — the view of a

famous city, rich in history and culture, contrasting

against the vast open sea. This view only makes

the whole British Airways i360 experience more

beautiful and awe-inspiring.

When up there, there are so many thoughts that

will run through your mind. You'll marvel at man's

ingenuity, the design, the engineering and the

construction that went into making this wonder.

It's the serenity of it all, in those moments, that time

feels warped. The British Airways i360 does all of

that to you. It makes you feel giddy like a child as

you rise, gives you a sense of wondrous amazement

and fills you with a youthful invigoration. It is for all

these reasons and more that you must experience

it once.

220

221
---
HOTEL

UK

HOTEL INDIGO KENSINGTON

BOUTIQUE HOTEL OF THE YEAR

34 – 44 Barkston Gardens, London, SW5 0EW, United

Kingdom • Tel +44-20-73737851• ihg.com/hotelindigo

Located right in the heart of the Royal Borough of

Kensington and Chelsea, Hotel Indigo Kensington is

situated in a Victorian-era townhouse in a boutique

neighbourhood.

The hotel is furnished to reflect the age of the building

and it blends into the environment beautifully.

Every amenity is carefully chosen to give you a

boutique experience, right from newspapers to spalike

bathrooms. If you wish to have an even more

luxurious stay, you could choose the Executive Club

Membership, which comes with a wide range of

perks in itself! To keep up with your business related

activities, work desks are provided in each room as

well with phone and fax facilities.

The hotel also provides standard business services

and also is Wi-Fi enabled to enable guests to

remain online throughout their stay. The concierge

desk gives you all the information required to get

around the city.

The hotel also features a restaurant and bar –

Theo's Simple Italian, where you can munch on

your favorite Italian dishes or even sip on some

fine wines while relaxing or watching a TV. This

restaurant is open 24x7 so that you can even

satiate your midnight food cravings. A stay at the

hotel gives you complimentary access to the Soho

Gym where you can keep up with your fitness

regime. The hotel also has a state-of-the-art meeting

room with bespoke French Walnut boardroom table

and all the essential equipment to host corporate

meetings. You could also choose to have catering

done in the meeting from the in-house restaurant.

66 222

223 67
---
HOTEL

UK

COMO METROPOLITAN, LONDON

STYLISH LUXURY HOTEL OF THE YEAR

19 Old Park Lane, London W1K 1QT • Tel +44 20 7447 1000 •

comohotels.com/metropolitanlondonl

COMO Metropolitan London is a lavish hotel located

on Park Lane of the upmarket Mayfair region of the city

and boasts of 144 rooms and 19 long-stay apartments.

The minimalist designs of each room exude elegance

and give you a very homely feel along with leisurely

comforts. You can enjoy the beautiful views outside

through the floor to ceiling windows from the comfort of

your bed. Whether you're looking for a simple deluxe

room or a suite, they've got it all. The spotless marble

tiles reflect the lights to create an ambience that is both

comfortable and pleasing to the eye. The concierge

services will give you access to insider knowledge of

the city and will help you plan your trips out in a smooth

manner.

The stylishly designed restaurants are a class apart

and these are the places where you can immerse in the

energy of the city and enjoy some of the most exquisite

Japanese-Peruvian cuisines. You can choose between

the unique Nobu Restaurant, the Met bar or order food

direct to your room. The Lobby Lounge is the place you

can head to for some casual meals even post-midnight!

You can also indulge in some healing therapies for your

mind and body at the COMO Shambhala Spa. Your

fitness routine can be kept up at the fully equipped gym

which is open all round the clock and has expert trainers

too. The hotel also boasts of seven different spaces for

events and private functions ranging from wedding

celebrations to fashion shows. Corporates too can host

their meetings in the sophisticated meeting rooms that

are equipped with all modern technology.

52 224

225 53
---
Scotland

A warrior spirit and a heart marked by

Gaelic, Nordic, and Saxon heritages

mould the Scottish culture, proud and

singular. The kilt, the bagpipe, the

intimidating sight of a plate of haggis

accompanied by a glass of whiskey:

everything is so treacherously

picturesque that it becomes easy to

fall into the mountainous stereotype of

rocky hills and cloudy mountaintops.

All these facets are there to be seen

and tasted, just as much as there

are many more panoramas to be

discovered within the land of Scots.

If already in the UK for the Royal

wedding this May, it would be a

pity not to get a glimpse of the

kingdom's northern counterpart.

The easiest way to get to Scotland

from London is to fly from Heathrow

to either Glasgow or Edinburgh

airports. By land, the most costbeneficial

way is by train via the

UK National Rail, operated by

Virgin, ScotRail, and EastCoast.

As of April, temperatures start to

rise and prices begin to fall. In

July and August, the increasing

heat allows for more time to be

spent outdoors. From September

to December, the summer crowds

are already gone and the colours

of autumn create attractive

tonalities along the squares and

parks.

As a trampoline, almost mandatory stop for everyone coming to Scotland, Edinburgh

causes a heck of a first impression. The charming and serene capital city, with its

Medieval Old Town and gray houses surrounded by sheer rocky walls and arboreous

avenues, undergoes an intense transformation for a few weeks in the end of summer,

when it hosts the Edinburgh Fringe Festival. There, one may find one of the world's

most dynamic and rich cultural events: cinema, performing arts, theatre, music,

street artists and multimedia installations dot the streets (and pubs) of Scotland's

capital for an entire month. But, as the stronghold of the Scottish identity, Edinburgh

also offers much history in its magnificent castle, museums, palaces, world-class

galleries and, of course, an uncountable number of pubs.

226

227
---
To counterbalance the city life, breath fresh air, and meet awe-inspiring sceneries,

a well-deserved trip to the Scottish Highlands should be considered. It is easiest

to rent a car and set off from Edinburgh, through the A-90, towards Perth (around

70kms). From then on, it's a matter of choosing which castles and sites to visit

and then tracing the best route. For centuries, the Gaelic people were pushed

towards the north of Great Britain, in a clash for the survival of their identity and

culture. Their last refuge was the valleys framed by mountains and grey lakes:

sometimes bathed by the sun that irradiated over the low turf, others buffeted by

loaded clouds. The Highlands formed a region full of breathtaking (and daunting)

landscapes and rich history, where it's possible to hike up UK's tallest peak (Ben

Nevis), search for traces of the Loch Ness monster, experience the unpredictable

climate and eye-watering beauty of Isle of Skye, or follow the route of the malt

whisky.

Most importantly, before leaving Scotland be sure to have chatted with the locals,

felt their sincerity, warmth and humour – core traits that unite such mettlesome

nation. This is the land of Adam Smith and Graham Bell; of Sean Connery and

Andrew Carnegie; of the explorers James Clark Ross and David Livingstone.

Scotland is just that: a land of people who conquered the world, which conquers

the hearts of those who dare visit her.

228

229
---
TOUR

UK

ECOSSE EXECUTIVE

TOUR COMPANY OF THE YEAR

42 Burdiehouse Drive, Edinburgh, EH17 8BA •

Tel +44 77190 78020 • ecosseexecutive.com

Travelling to Scotland and need a vehicle to travel around?

Ecosse Executive is the answer to all your miseries. Across

many years, they have provided VIP class mini-bus services

throughout Scotland. Whether you're in need of a punctual

transportation to and from the airport or need a vehicle to

facilitate your corporate outings, they provide professional

and customized service for all.

Ecosse Executive aren't your everyday transport company.

They provide exclusive guided sightseeing tours of historic

Edinburgh and stunning Scotland. You can choose between

pre designed or tailor made tours which take you to the

beautiful countryside of Scotland. Moreover, they offer

excursions which can be up to 5 days long. With them you

can also see the beauty of Edinburgh city with its dramatic

skyline and the marvelous Edinburgh Castle. All tours come

with a chauffeur and a knowledgeable guide to take you

around and give you a background of the location.

If none of the tours seem to fit your liking; you can choose to

customise your tour according to your requirements so that

you can make the best out of your trip. Their fleet of luxury

vehicles is completely custom built to seat 8 passengers and

boasts of a stocked bar, fridge and a coffee machine. The

leather seats and interiors are designed to provide utmost

comfort to passengers along with wifi, now available in all

vehicles.

Need a vehicle for your special day? You can get their

luxurious vehicles for that as well. Golfers can sit back and

relax while they take care of your transportation to and from

your favorite golf course. All in all, Ecosse Executive takes

care of all your road transportation throughout Scotland and

ensures that you have a comfortable journey.

88 230

231 89
---
Top 10 Dublin

As the capital of Emerald Island, Dublin attracts thousands of tourists annually and

sets Ireland in motion like any other city in the country. Besides the cordiality and

receptiveness of the Irish people, the many attractions that the capital has to offer are

the reasons why so many fall in love with it. Boredom is a word that doesn't exist in

the vocabulary of those who visit Dublin – a well-structured destination, with cultural

and entertainment options, both during the day and at night, rain or shine. There are

museums and libraries that keep valuable treasures; shopping streets surrounded by

elegant buildings; parks with lush-green areas; theatres and stadiums, among other

options.

2) St. Patrick's Cathedral

It would be somewhat impossible to talk about Ireland and not mention St. Patrick,

thus, the St. Patrick's Cathedral – Ireland's largest church – may be considered as

one of the main attractions in Dublin. The cathedral was erected in the 13th century,

on the spot where St. Patrick used to baptise the faithful. An interesting feature of

this particular church, aside from its stained glass windows, interior decoration,

and Norman architecture, is the fact that Jonathan Swift – a famous writer known

for "Gulliver's Travels" – was buried there. Ireland's most popular writers are

venerated at the garden surrounding the cathedral, showing the importance of

literature within the country. The cathedral also often organizes beautiful concerts

and choirs which are worth watching.

1) Guinness Storehouse

The Guinness brewery is one of Ireland's symbol and a great Irish pride – which

makes it an important touristic attraction in Dublin. For those who wish to find

out more about the history of Guinness, inside the factory building there is a

museum devoted to the most famous brewery in the country. Among the topics are

the processes of evolution of the beer, its founders and other curiosities resulting

from over 250 years of existence, with good humour and interactivity setting the

rhythm of the visit. Besides, the museum is situated in the old fermentation plant,

so it's possible to learn about the brewing process and its peculiarities. Even more

interesting is learning how to properly pour a Guinness in an amusing class at the

Guinness Academy, with the right to a free pint and certificate.

232

233
---
3) Kilmainham Gaol

Ireland is now a fully-independent country, but its autonomy was a strenuous and

painful process that didn't come without the loss of many lives – including those of

political and military leaders that could've contributed greatly to the nation. Many

Irish nationalists were once imprisoned in Kilmainham Gaol, which eventually

became a stage for the execution of these advocates and today it's the biggest

unoccupied prison in Europe. It's one of Dublin's most visited sites. The independence

of Ireland in the beginning of the 20th century, showed to the world the strength

of the Irish people and the determination of its foremost political figures, and the

participation of Kilmainham in some of the country's most remarkable events – such

as the 1916 Easter Rising – turns a visit to this thick, cold building into a moment

of reflection over the costs of war – a bittersweet yet enriching visit.

4) Trinity College

The Trinity College is

the oldest university in

Ireland, founded by

Queen Elizabeth in

1592. Since it is a rather

prestigious school, many

famous Irish scholars

– like Edmund Burke

and Oscar Wilde –

attended university there.

Nowadays, tourists crowd

the building's courtyards,

be it for a guided tour or

simply to appreciate its

classical architecture. The

university also safeguards

The Book of Kells – a

680 page, medieval

manuscript written by

Irish monks containing

the Latin texts of the Four

Gospels.

234

235
---
5) Dublin Castle

Founded in the 13th century, the Dublin Castle is a large fortification that currently

serves to host illustrious events linked to the State of Ireland. However, the castle was

under the control of the English for centuries and, only after Ireland's independence,

it was effectively used by the nation. Therefore, it is common to say that the Dublin

Castle is the most English among the castles of Ireland. The guided tours to the old

fortification include seeing the lavish apartments, many still decorated according

to the imperial era and thus abundant in neoclassical traits. It was around this

structure that Dublin (formerly known as Dubh Linn) was born and developed.

6) Phoenix Park

Much like any city in Europe, Dublin has public gardens so people can enjoy sunny

days in nature. Europe's largest urban park, The Phoenix Park is situated slightly

far away from the city centre – a stronghold of tranquility. It is the ideal place for

the practice of sports due to its large, leafy trees, being highly-sought after on

the weekends. The Phoenix Park also lodges the presidential residence and the

Dublin Zoo. Like with the many activities in Ireland that are done in open-air, rainy

weather can cause inconvenience, but on a sunny day, this is a great option.

7) St. Stephen's Green Park

St. Stephen's Green Park has a very central location which makes it highly

coveted on weekdays, especially during lunchtime. After being restored by Sir

Arthur Guinness, the park was re-opened to the public in 1880. Its well-conserved

walkways, numerous trees, and vibrant flower beds are ideal for photographing –

or finding a patch of grass where to take a nap.

236

237
---
8) Temple Bar

The Temple Bar is a riverside region in Dublin that preserves the Medieval style

through its narrow, pebbled streets. It is a great option for the ones seeking the

trendiest pubs, nightclubs, and restaurants in the city, besides observing the

architecture of the houses and the movement of the dwellers. This area also houses

various cultural centres, like the Photography Centre, the Irish Film Institute, and the

Projects Arts Centre.

10) The Rag Trader

Drury Street is nowadays one of Dublin's hub of restaurants and bars – yet it

hasn't always been the place you would go to grab a pint. Back in the days, the

area was where most of Ireland's textile manufacturers chose to settle. This old

fabric warehouse has replaced its yarns for taps, looms for bar stools, making the

pub pastime ever so cultural. Another distinguishable feature of the Rag Trade –

certainly one of a kind – is that the majority of walls are made out of drawers, from

floor to ceiling.

9) Gafton Street

The famous Grafton Street

is one of the busiest sites in

Dublin. Situated between St.

Stephen's Green Park and

Trinity College, this pedestrianonly

street features an array of

shops and buskers that lighten

up the spirit of passerby even

on the cloudiest days. Grafton

Street works as an open-air

shopping mall and is the ideal

spot to grab a coffee and go

for a stroll – or people-watch.

238

239
---
TOUR

Ireland

IRISH FOOD TRAIL

CULINARY TOUR

COMPANY OF THE YEAR

4A Scarlet Row, Essex Street West, Temple Bar, Dublin

8, Ireland • Tel +353 85 774 7005•

Visiting Ireland and wish to explore its food scene?

Irish Food Trail is your calling. This is your chance

to try out the best food, restaurants and pubs of

Ireland. You can explore the cities of Dublin and

Galway with the locals so as to discover the city

just the way they see it.

This 3 hour walking tour takes you to the most

popular and hidden restaurants of the city. In the

journey, you will be able to visit three different

venues and try 3 Irish dishes along with a local

guide to show you around and explain the history

of these dishes. Not only will you get to try out the

traditional food of Ireland but will also get to

sample modern Irish cuisine.

The group sizes are kept small to ensure that you

get a more personalized experience. Not only is

the food included but you can also try out a

selection of Irish drinks and can meet locals and get

to know about Irish culture. If you don't drink wine

or beer, they also accommodate your

requirements.

The walking tour will show you the best places to

visit in the city and the hidden spots which only the

local know about. If you wish to have a private tour

with your close ones, they organise special tours

for you as well; even if your group sizes are larger

or smaller than the required number. With Irish

Food Trail you will not only discover the food of

Ireland but also its cities, the culture and the

people.

irishfoodtrail.ie

240

241
---
TOUR

Ireland

IRISH CHAUFFEURS

CHAUFFEUR COMPANY OF THE YEAR

Ireland • Tel +353(0)1 8019810 • irishchauffeurs.com;

info@irishchauffeurs.com

Looking for chauffeur service?

Irish Chauffeurs is your calling! With affiliate

networks in over 88 cities across the world, you

can forget your chauffer finding woes now. A

terrific fleet of BMW and Mercedes cars fills their

fleet along with some luxurious coaches for larger

groups as well!

A completely guided chauffeur tour of Ireland

is possible with them, whether it is a road trip or

even an aerial one in a private helicopter or air

craft! Whether you wish to go around the city in a

7 series BMW or a Mercedes Viano, they have it

all. For larger groups, the Mercedes Sprinter is the

ideal coach with a small capacity and comfortable

seating. For group sizes which are larger than 12,

they have executive coaches with plush seating

complete with all facilities like tables, refrigerators

and toilets!

Their coaches are available for corporate events

as well with unparalleled comfort in a corporate

coach. On your special wedding day, Irish

Chauffeurs offers wedding cars too with uniformed

chauffeurs and spotlessly clean cars to make

your day unforgettable. Many 5 star hotels and

embassies trust them with their transportation and

they also provide their cars for state visits and road

shows. This truly is the tour company that makes you

feel like a VIP when you're traveling with them. Feel

like taking a trip in these vehicles without having to

create your own itinerary? Worry not; they've got

some amazing tour packages for you as well!

62 242

243 63
---
TOUR

Ireland

IRISH LUXURY TOURS

THE AWARD FOR EXCELLENCE IN SERVICE

Dunshaughlin, Co. Meath, Ireland •

Tel +353 1 8019810• irishluxurytours.com;

info@irishluxurytours.com

The beautiful island of Ireland waits to be discovered

by you.

If you intend to do so in a luxurious manner, Irish

Luxury Tours is the company to get in touch with.

They have tours specially designed for first time

visitors to the north and northwestern region of

the country as well as Dublin and south west. For

the second timers, longer tours of up to 2 weeks

are available all around the country or to Dublin,

southwest and western region.

Looking for a short, day trip? Worry not; they've

got a great bundle of day tours, ranging from

Powerscourt House and Glendalough to The Cliffs

of Moher and Galway, so that you can explore

Ireland just the way you wish to! If none of their

tours seem to grab your attention, you can choose

to create your very own Irish experience. Whether

you're traveling as an individual or as a group,

their team of specialists will ensure that all your

requirements are taken care of.

If you wish to have a driver guide for a day, they

offer the very best of them so that you can have a

fun trip, irrespective of the size of your group. The

driver takes you to places all around the country in

the type of vehicle you choose. Their luxurious

range of vehicles is perfect for all individuals and

groups too! With hundreds of satisfied customers

over the years, you can be assured that your trip to

Ireland is in safe hands.

64 244

245 65
---
The Rag Trader

Located in the popular 'rag' district of Dublin is The Rag Trader. No, this isn't a textile

shop but a bar and restaurant. This area was well-known for its numerous warehouses

and offices of textile industry and was hence at the center of the textile business. Today

however, it has turned into one of the city's most happening areas with amazing bars

and restaurants. The Rag Trader is reminiscent of its origins as a textile warehouse and

it will take you on a journey into the past — the days of rag trade in Dublin.

The highlight of their amazing bar collection is the Whiskey Trays Menu, which

consists of five different flights of three different whiskies, so that you can compare

them and get a different experience altogether. With seven top brands of Irish

whiskey to choose from, you're definitely in for a treat. Along with the bubbling

bar menu, they also boast of a seafood-oriented bar bites menu which has some

fantastic preparations of oysters, smoked salmons and fish goujons!

Specializing in stout and

whiskey, the ambiance

of the bar has been

designed keeping in

mind the designs of

those times. The intimate

seating arrangements

with antiques all around

will transport you into

the days of the rag trade.

Comfortable seating and

pleasant lighting draw

hundreds of people here

to sit back and relax

with a glass of beer or

whiskey. What makes the

entire experience more

interesting is the live bar

which too is made to

resemble century old bars

with rustic ambiance.

You can find many old

telephones and dolls

on the walls with your

favourite liquors. On

many of the walls, you

can also find floor to

ceiling drawers that add

to the striking interiors of

this place.

246

247
---
The entrance of this bar serves as a time portal and takes you into a totally different

era. The glass windows allow ample of natural light inside and illuminate the entire

bar during day hours; this makes the whole ambiance even more peppy. Live music

in the backdrop adds to the overall atmosphere and the staff ensures that you are

pampered with delicious food all along with their courteous services.

Apart from the regular dining and

bar, they have special sampling

sessions for whiskey enthusiasts

who wish to try the finest of Irish

whiskeys. This is possible through

their whiskey tasting classes where

their whiskey monsieur conducts

an informative session on whiskey

trade in Ireland and shares tricks of

the trade too! Not only will you get

to sip the best whiskeys but also get

an in-depth idea about its history.

From Teelings to Redbreast 21, you

will get a chance to sample five of

the most well-known Irish whiskeys,

be it single malt, single grain, single

pot or even blended! The best part?

This hour or two long session can be

booked online and you can have

this private session with your family

and friends as a group so that you

can get a more intimate experience

too! What better place can there be

to try Irish whiskeys than a historical

location?

Drury Street today may not be what

it was a few centuries back with its

bustling restaurants and bars along

with lively nightlife that exists today,

but The Rag Trader does manage to

live up to the spirit of this rag district

with its decoration and velvety

whiskeys!

248

249
---
Index

Team page 2

Contents 3

Criteria 4, 5, 6, 7

Cullenery Delights 8, 9

- France 10, 11

- Spain 12, 13

- Belgium 14

- Germany 15

- Italy 16, 17

- Food Tour (Bodegas Torres) 18

- Food Tour (Love Rioja) 19

- Food Tour (Hidden in Spain) 20

- Food Tour (Flavors of Paris) 21

- Food Tour (Gastro Rallye Day

Tour) 22, 23, 24, 25

- Food Tour (Brewery Bourgogne

des Flandres) 26, 27

- Food Tour (Wine Tour Amalfi

Coast) 28, 29

Editors Choice - 7 Wonders of

Europe 30

- Hotel (Crowne Plaza Brussels -

Le Palace) 31

- Hotel (Kabadoni Hotel) 32

- Hotel (Corinthia Hotel Budapest)

33

- Hotel (Hotel Stadt Wien) 34, 35

- Hotel (Hotel Cattleya) 36, 37

- Hotel (mk Hotel Remscheid) 38,

39

- Hotel (Strmol Castle) 40

Northern Europe 42, 43

- Iceland 44, 45, 46, 47, 48

- Iceland Air ... 49, 50, 51, 52, 53

- Your Day Tours 54

- Travel Reykjavik 55

- Radisson Blu 1919 Hotel 56, 57

- Aurum by Guobjorg

Jewellery 58, 59

Western Europe 60, 61

- Alpine Lake Towns 62, 63, 64,

65, 66, 67, 68, 69

- Hotel Brennseehof 70

- BLS navigation 71

- Lido Palace 72, 73

- Made in Bern 74, 75, 76, 77,

78, 79

- France 80, 81, 82, 83

- Cédric's Paris 84

- American Concierge 85

- Juan Jerez Del Valle Q&A 86,

87

- Netherlands 90, 92, 94, 95, 98,

99

- Hilton Amsterdam Airport

Schiphol 93

- Andaz Amsterdam 96, 97

- Hotel Sofitel Legend the Grand

Amsterdam 100, 101

- Austria 102, 103, 104, 105, 106,

107, 108

- Park Hyatt Vienna 109

- Germany 110, 111

- Big Black Car Tours 112, 113

Southern Europe 114, 115

- Portugal 116, 117, 118, 119, 120, 121

- TakingUThere 122

- Amendoeira Golf Resort 123

- Celina Tours 124

- Hotel H10 Duque de Loulé 125

- Hotel Baía Azul 126, 127

- Spain ... 128,129

- Barcelona Holidays 130, 131

- Adriana Gastelum Q&A 132,

133

- LifestyleDMC 134

- Hotel Arts Barcelona 135

- Malta 136, 137, 138, 139

- Gaulos Dive Cove 140, 141

- Rolling Geeks 142

- Italy 144, 145, 146, 147, 148, 149,

150

- Hotel Weihrerhof 151

- A&L Wellnessresort 152, 153

- Right Path Adventures 154, 155

- Road Trip : Santa Maria to

Rapallo 156, 157, 158, 159

- Excelsior Palace Hotel 160, 161

- Siena Tour Guide 162

- Palazzo Belmonte 163

- Italian Vista 164, 165

- Robinson Club Apulia 166,

167, 168, 169

- Sicily 170, 171

- Hotel Pullman Timi Ama

Sardegna 172, 173

- Greece 174, 175, 176, 177

- Kastro Suites 178, 179

- Cori Rigas Suites ... 180

- Israel 182, 183

- Hotel Rothschild 22 184, 185

- Mantis Tours 186

Eastern Europe 188, 189

- Albania 190, 191

- Adriatik Hotel 192

- Croatia 194, 195, 196, 197

- Villa JoLaRa 198, 199

- Royal Suites 200

- Villa Magdalena 201

- Russia 202, 203, 204, 205, 206

- The State Hermitage Museum

Official Hotel 207

- TJ Travel 208, 209

- The UK 210, 211

- The Royal Wedding 212, 213,

214, 215, 216

- Ascots House 217

- Britsh Airways i360 218, 219,

220, 221

- Hotel Indigo - Kensington 222,

223

- COMO Metropolitan

London 224, 225

- Scotland 226,227, 228, 229

- Ecosse Executive 230, 231

- Ireland 232, 233, 234, 235, 236,

237, 238, 239

- Irish Food Trails 240, 241

- Ireland Chauffeurs 242, 243

- Irish Luxury Tours 244, 245

- The Rag Trader ... 246, 247,

248, 249

250

251
---
252