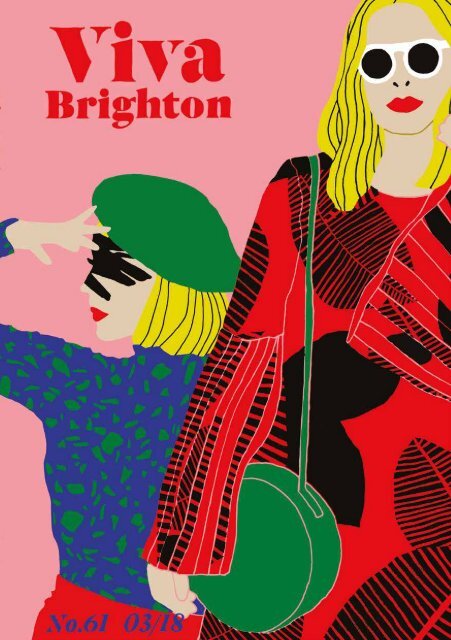 Viva Brighton Issue #61 March 2018
Create successful ePaper yourself
Turn your PDF publications into a flip-book with our unique Google optimized e-Paper software.
PROFESSIONAL PART-TIME

COURSES OPEN EVENING

CAREER-FOCUSED COURSES

Our accredited part-time courses enable you

to learn in a way that works for you. You will

develop the knowledge and practical experience

to accelerate your career, and widen your

professional network.

COME AND VISIT US ON 26 APRIL

This event offers you a chance to speak directly

with students and staff and to find out more

about our postgraduate and part-time courses

in marketing, management, accountancy,

human resources, law and logistics and supply

chain management.

FIND OUT MORE

To book your place and find out more visit www.brighton.ac.uk/pgevening. If you have any

questions about our postgraduate courses, the course team will be happy to help. Email them at

business@brighton.ac.uk.

PUTTING

LEARNING

TO WORK
---
VIVA

B R I G H T O N

#61. MAR 2018

EDITORIAL

...........................

.......................

Viva Brighton is based at:

Brighton Junction,

1a Isetta Square, BN1 4GQ.

For advertising enquiries call:

01273 810 296.

Other enquiries call:

01273 810 259.

Every care has been taken to

ensure the accuracy of our content.

We cannot be held responsible for

any omissions, errors or alterations.

Walking past my office window, one rainy Monday

morning, is a striking young woman. Her eyes

are painted with thick black eyeliner against her

porcelain skin; her black hair rolled up under a

floral silk headscarf, tied in an elegant flourish.

She wears a close-fitting biker jacket, a black

pencil skirt and vertiginous boots. Her immaculate

outfit is sheltered from the elements beneath a

pagoda-peaked parasol. She looks very carefully

constructed; but how, I wonder, does she define

her style? Rockabilly-Goth-Geisha? She certainly

looks fabulous. Very 'Brighton', I think.

But what is Brighton style? Everyone I've asked

agrees that it's a stylish place, but no one has quite

been able to define it. Instead, long conversations

ensue, peppered with words like 'individual',

'eclectic' and 'experimental'… the confidence to

dress as we damn well please. (Where else could

you nonchalantly saunter about your daily business

wearing a floor-length, star-spangled magician's

cape?) We're a pretty stylish bunch, it's just that

our style is all our own.

This month we've been talking to locals who make

their living in the rag trade. We've met industrious

university students learning ancient weaving

techniques and others creating smart fabric from

graphene. There are ethical swimwear designers,

clubbers who accessorise their ballgowns with

animal masks, and a photographer who turns

fashion photographs into exacting aerial artworks.

And a whole (fashion) parade of other stuff too.

So, slip into our fabric and fashion issue.

Dress code: anything goes.
---
WHERE BOOKS, IDEAS & CREATIVITY BLOOM

18-28 MAY 2018

INCLUDING:

Simon Armitage, David Attenborough, Clemency Burton-Hill, Evan Davis,

Robert Harris, Lubaina Himid, Alan Hollinghurst, Susie Orbach, Kamila Shamsie,

Ali Smith, Alexander McCall Smith, Jon Sopel, Claire Tomalin, Robert Webb

DAY TICKETS AVAILABLE FROM £55

CHARLESTON.ORG.UK/FESTIVAL

TEL: 01323 815150
---
VIVA

B R I G H T O N

THE TEAM

.....................

EDITOR: Lizzie Lower lizzie@vivamagazines.com

DEPUTY EDITOR: Rebecca Cunningham rebecca@vivamagazines.com

SUB EDITOR: Alex Leith alex@vivamagazines.com

ART DIRECTOR: Katie Moorman katie@vivamagazines.com

PHOTOGRAPHER AT LARGE: Adam Bronkhorst mail@adambronkhorst.com

ADVERTISING: Hilary Maguire hilary@vivamagazines.com,

Sarah Jane Lewis sarah-jane@vivamagazines.com

ADMINISTRATION & ACCOUNTS: Kelly Hill kelly@vivamagazines.com

DISTRIBUTION: David Pardue distribution@vivamagazines.com

CONTRIBUTORS: Alexandra Loske, Amy Holtz, Andrew Darling, Ben Bailey, Cara Courage,

Chloë King, Chris Riddell, Emma Chaplin, JJ Waller, Jacqui Bealing, Jay Collins,

Joda, Joe Decie, John Helmer, John O'Donoghue, Lizzie Enfield, Mark Greco,

Martin Skelton, Michael Blencowe, Nione Meakin and Suzanne Harrington

PUBLISHER: Becky Ramsden becky@vivamagazines.com

Please recycle your Viva (or keep us forever).

Photo by Lucy Limage
---
We can do anything you want for special occasions.

We don't have limits. Talk to us. Challenge us.

15 Duke Street BN1 1AH.

@bechocolatbrighton
---
Sail t

Seven Seas

WELCOME

aboard

The No.7 bus to the Marina runs 24/7

Ahoy landlubbers! Enjoy the bars & restaurants,

casino, cinema and more before you set sail.

For more information, visit www.buses.co.uk

7

N7
---
CONTENTS

...............................

12

Bits & bobs.

12-29. Illustrator HelloMarine on this

month's vibrant cover; Viva visits Albania;

suffragette Minnie Turner on the buses;

Joe Decie in his partner's pocket; Alexandra

Loske on Angelica Kaufmann; sewing

for good causes; a magazine for makers

from The Maker's Atelier; JJ Waller

shoots his style guru; Sussex poems and

paintings, and a welcome pint in The

Market Inn.

My Brighton.

30-31. From wedding dresses to

wallpaper: Brighton's decorative

doyenne, Sarah Arnett.

Photography.

33-39. The exacting eye (and endless

patience) of Joseph Ford.

68

Columns.

41-45. Lizzie's in lamé, Amy seeks solace

in an angel, and John scoops the poop…

On this month.

47-58. Ben Bailey's sounds of the city;

Police Dog Hogan buck the prairie

dogma; Paddy Armstrong's life after

'life'; Kit Redstone's male changing room

debut; the sounds of Brighton Beach (and

way beyond) courtesy of sound recordist,

Chris Watson; a bilingual poetry night

for the deaf; the real-life Billy Elliot

choreographs the miners' strike; nail-art

activism; Unitarian women who made

their mark on Brighton, and Sara Pascoe

stands up on International Women's Day.

Art & design.

59-69. Alexia Lazou pays homage to

Aubrey Beardsley; Club Silencio

venture above ground for Brighton

Arts Lab; father and son in their

natural habitats at Towner;

....9 ....
---
CONTENTS

...............................

some of what's on and where art-wise

this month, and Brighton's bespoke

blue-jean brokers, Dawson Denim.

The way we work.

71-75. We ask Brighton's vintage

clothes traders: 'Which style era would

you go back to?'

84

@thedesignerist

Food.

77-83. A perpetual pop up in Preston

Park; a recipe from The Feature

Kitchen; Dexter's Kensington Garden

café, and lunch at Lavash.

89

78

Features.

84-97. Fashion blogger thedesignerist

on fashion and disability; Brighton

University textiles department; ethical

swimwear start-up, RubyMoon; smart

fabric at Sussex University; Sarah

Arnett on the Level, and the elusive

and very destructive nature of the

American mink.

Inside left.

98. The Queen Mum catches the

photographer's eye on a trip to the

Pavilion.

....10....
---
BRIGHTON MUSEUM

& ART GALLERY

28 APRIL TO

2 SEPTEMBER 2018

Gilbert & George EXISTERS 1984.

ARTIST ROOMS Tate and National

Galleries of Scotland. Acquired

jointly through The d'Offay Donation

with assistance from the National

Heritage Memorial Fund and Art

Fund 2008. © Gilbert & George.

Admission payable

Free for young people (under 26) & members

brightonmuseums.org.uk

The ARTIST ROOMS touring programme is delivered by the National Galleries of Scotland and Tate in

a partnership with Ferens Art Gallery until 2019, supported using public funding by the National Lottery

through Arts Council England, by Art Fund and by the national Lottery through Creative Scotland.
---
THIS MONTH'S COVER ARTIST

.......................................................

"It probably took me about six months after

I graduated to realise I didn't want to be in a

design studio," says this month's cover artist

Marine Gentils (artist name HelloMarine), who

moved here from France in 2000 to study at the

University of Brighton. "So I decided to build

up a small portfolio, about ten images, and start

going around showing my work as an illustrator,

and trying to get commissions."

It went well, and in the time since she's

collaborated with clients including Lacoste,

Penguin and Zadig & Voltaire. But just as

important, she says, is making time for personal

projects: "All the work you do outside of

commissions, when it's a bit quiet, fills your

portfolio – and personal projects always bring new

commercial work. It's important creatively as well.

Sometimes when you work for clients they really

have got boundaries, and sometimes by the end it

no longer looks like your style. It keeps me happy

creatively to do my own stuff."

When we told Marine about our upcoming

themes, 'fabric and fashion' was the one that

jumped out. "I love patterns," she says. "That's

quite a big theme in my work – patternmaking, I

like integrating it into my illustrations. I also seem

to get asked a lot to draw feminine figures, strong

women, inspiring women. I've got that kind of

portrait style where I strip back everything from a

character, except for the really strong features, so

by the end it looks really graphic."

Signature to Marine's style is her use of bold,

....12....
---
HELLOMARINE

.......................................................

vibrant colour palettes. "If I see someone's

outfit or a picture or an object that has colours

I like, I record it as a colour scheme – I've got a

sketchbook in my studio that's literally just colour

schemes – and then I try to use it in my work.

Although I draw by hand, I always add my colours

in digitally, so I can just click and get a different

colour straight away. Recently, though, I've started

painting. It's a really different process, I have to

think a bit more, I guess. I'd like to take my work

in that direction and perhaps do some mural pieces

too, just to let me get my hands dirty and to step

away from the screen a bit!"

Marine has recently signed with Lewes-based

illustration agency Meiklejohn, who will be

representing her in the UK and further afield.

You can see more work from her portfolio

at hellomarine.com or by following her on

Instagram: @hellomarine. RC

Marine is giving one reader the chance to win a

print of this month's cover illustration. Head to her

Instagram page and keep your eyes peeled for the

competition post to find out how to enter

....13....
---
FEATURES

High flavour strength

Natural ingredients

Efficient bottle size, long

bottle neck and built in

pourer

Elegant appearance

'"''

\\ NCTII

BENEFITS

Greater control

over balance of drinks

Superior taste

Efficient handling of

bottle

Tokes up less space on bar

HOUSE OF BROUGHTON SYRUPS ARE CRAFTED FOR

BARTENDERS AND MIXOLOGISTS TO HELP THEM CREATE

SUPERIOR TASTING DRINKS.

AVAILABLE THROUGH HT WHITE - 01323 720161

'?--

MADE IN GREAT BRITAIN FOR FINTIMANS ESn . .Jil. 1905 FOR MORE INFORMATION & RECIPE IDEAS

AUTHENTIC BEVERAGES SINCE 1905

VISIT FENTIMANS.CDM/HDB/RECIPES

SPREAD THE WORD

Here is Philip J Willett, captured travelling around

Albania last September with Viva Brighton on

his holiday reading list. He sent snaps from the

national folk festival at Gjirokastër, and from the

capital Tirana but they've only just arrived. Bloody

broadband... Keep taking us with you and keep

spreading the word. Send your pictures to hello@

vivamagazines.com with a few words about you and

your trip

....14....
---
BITS AND BUSES

...............................

ON THE BUSES #35: MINNIE TURNER

(ROUTES 1 AND 1A)

'Suffragettes spend your holidays in Brighton, central. Terms moderate'

read the advert in The Common Cause, for the Sea View guest house, which

Minnie Turner ran from her Victoria Avenue home. Guests included Mrs

Pankhurst, Lady Constance Lytton, Lady Emmeline Pethick-Lawrence,

Emily Wilding Davison and Flora Drummond - several of whom stayed

there whilst recuperating from hunger strikes - and, when the guest rooms

were full, Minnie would find room for more in the potting shed.

Born in Preston Street, in 1867, Minnie became the honorary secretary of

the Women's Liberal Association in Brighton but, frustrated by the failure of the Liberal government to advance

the female vote, she joined the Women's Social and Political Union. Brighton WSPU was an extremely active

branch and Millie was arrested three times for militancy. She received a sentence of 21 days in Holloway Prison

for breaking a window in the Home Office in November 1911.

There was more window breaking in 1913, but this time the windows were Minnie's own. 13/14 Victoria Road had

gained a reputation locally as a 'suffragette centre harbouring a colony of militants' and its windows were stoned

by local youths. 'Masculine Logic - the only kind of argument men understand' read the withering signs that

Minnie and her guests posted in the windows in response. (You tell 'em, Minnie.) She later joined the Brighton

Board of Guardians, working to improve conditions at the workhouse on Elm Grove. She died in 1948. LL

Illustration by Joda (@joda_art)

• Antique and new jewellery

• Silverware

• Watches

• Repairs

• Valuations
---
'Fantastic place, full of beautiful magazines. I just love this shop.'

the world of great indie mags is here in Brighton.

22 Trafalgar Street

magazinebrighton.com

@magbrighton

magazinebrighton
---
JOE DECIE

...............................

....17....
---
CURATOR'S CHOICE

.........................................

PORTRAIT OF A WOMAN...

...IN MYSTERIOUS GARB

Brighton is very lucky to

have two large and important

paintings by the woman that Sir

Joshua Reynolds intriguingly

referred to as 'Miss Angel' in

his diaries. At the height of

her career the artist Angelica

Kauffmann (1741–1807) was

celebrated and successful

across Europe. One of her

contemporaries remarked in the

1780s that 'the whole world has

gone Angelica-mad'.

Kauffmann was born in 1741

in Chur, Switzerland, but grew

up in nearby Austria. She was

fluent in several languages and

from a young age considered an

exceptionally gifted musician

and painter. After her mother's

early death in 1757 she assisted

her father, who was also a

painter, and began travelling to

Italy with him. The lure of Italy

in the 18th century manifested

itself in an interest and

idealisation of classical antiquity

as well as Italy's contemporary

culture. Kauffmann spent

much time there developing

her painting skills and making

contacts with members of the

aristocracy on the 'Grand Tour'.

She moved to London in 1766

and took the English art scene

by storm. She quickly secured

royal commissions and in 1768

became one of only two female

founding members of the Royal

Academy. In 1781 she left

England and returned to Italy,

where she lived and worked

until her death in Rome in 1807.

The two large oil paintings by

Kauffmann in our collection

are both full length portraits

of seated women: Portrait of a

Woman (1775 or earlier) and

Penelope at her Loom (1764). Of

the two, Portrait of a Woman

is the more mysterious, as it

shows neither an identified

sitter, nor a classical figure,

and for a while it was unclear

whether the woman was dressed

in Turkish or Neapolitan dress.

Kauffmann became interested in

Portrait of Kauffman (engraving) from the collection of Alexandra Loske

....18....
---
CURATOR'S CHOICE

.........................................

Portrait of a Woman courtesy of Royal Pavilion & Brighton Museums

oriental costume in the 1770s

and painted many portraits

of women wearing highly

fashionable 'dress-à-la-Turque'.

They were mostly fantasy

versions of real Turkish dress,

or combinations of Neoclassical,

Greek and English

dress styles, embellished with

exotic elements.

None of this is apparent in

our Portrait of a Woman. The

skirt is billowing but does

not resemble baggy shalwar

trousers, the bodice is stiff

and corset-like, unlike more

loosely-fitting Turkish costume,

and there is no sign of a long

curdee cloak or turban, as we

see, for example, in images of

Lady Mary Wortley Montagu,

who travelled in the Ottoman

Empire in the 18th century.

Instead, the woman appears

to be wearing a waist-length,

tailored, brocaded jacket.

Although colours vary

greatly in Turkish costume,

the combination of deep red

and green seen here seldom

occurs. Much more likely

colour combinations, especially

in Kauffmann's paintings of

Turkish dress, are transparent

whites, contrasted with warm

shades of yellow and deep blue.

Reds are, however, a recurring

feature in Italian costume. Our

mysterious woman is therefore

probably dressed in Neapolitan

rather than Turkish garb.

Kauffmann had an interest in

traditional local costume from

early in her career, painting

several self-portraits wearing

traditional Swiss-German dress.

Since it is unlikely that Portrait

of a Woman is the portrait of

a specific person, it could be

considered a costume painting,

illustrating the artist's interest

in the dress of local Italians

during her stay in Naples.

The painting may also reflect

a general fascination with

Naples among the English

aristocracy. If you look closely,

you can just about see the Bay

of Naples and Vesuvius in the

background.

Alexandra Loske, Curator and Art

Historian

Portrait of a Woman is currently

on display in Brighton Museum.

On Sat 3rd March Alexandra will

give a talk about Kauffman, as

part of International Women's

Day. Free admission. For details

check brightonmuseums.org.uk

....19....
---
BRIGHTON FESTIVAL 2018

You no doubt know by now that

the artist David Shrigley is the

Guest Director of this year's

Brighton Festival. Best known

for his satirical cartoon-style

monochrome illustrations,

Shrigley works in many mediums,

always displaying a very

personal, very irreverent sense

of humour.

This is at play in this year's

brochure, whose cover features a

hammer about to bash down on a

bent nail, with the caption: 'strive

for excellence'. A font has been

designed to represent Shrigley's

recognisable hand-writing,

which is used throughout. In his

introduction, he explains: 'when

I am out and about I can pick

up copies and write in them and

no-one will notice'.

His distinctive hand is in

evidence throughout the

Festival line-up too. Shrigley

is transforming Fabrica into an

art classroom, with life drawing

classes centred round a ninefoot-tall

mannequin. Join the

class and your drawings will

hang in the exhibition. He's

also written an 'alt-rock/pop

pantomime' called Problem in

Brighton featuring a band playing

instruments designed in his

studio. 'There will be a mosh

pit' he promises.

Other highlights include a

Gilbert & George exhibition,

former guest director and choreographer

Hofesh Shechter,

in-your-face American singer

Amanda Palmer, 'genderqueer

rock'n'roll hero' Ezra Furman

and a welcome return for the

Kneehigh theatre company,

who wowed everyone with

Tristan & Yseult last year and

return (though this time to the

Attenborough Centre) in May

with a performance called The

Flying Lovers of Vitebsk. And so

much more besides.

We give it a massive thumbs up.

(Geddit?)

brightonfestival.org

calling all dudes, duders, El Duderinos and dudists...

THE Big LEBOWSki

TUE 13 MAR, 8PM

&

A BIG LEBOWSKI party

Fri 16 mar, 9pm

01273 201 801

theoldmarket.com
---
Social icon

Rounded square

Only use blue and/or white.

For more details check out our

Brand Guidelines.

Protect your family's future

Don't leave things to chance!

The importance of a Will cannot be underestimated.

Have you ever worried about who will care for your family or what will happen to your belongings or home after you've gone? Without

a Will, complex legal issues can arise regarding the inheritance of your estate.

Don't let the government decide what happens to your assets after you've gone. Let us help you plan to protect your family from

whatever the future may bring.

01273 838 674

info@howlettclarke.co.uk

www.qualitysolicitors.com/howlettclarke

CHARITY BOX #23: MADE AND MAKING

What is Made and Making?

We're a small business, running

sewing workshops and weekend

retreats from a gorgeous

garden studio at South Downs

Nurseries in Hassocks. When

I set the business up one of my

objectives was to ensure that we

did something to support our

local community and I touched upon the idea of

making things for charity. Now we run monthly

charity sewing and knitting sessions, where we

make anything from very practical bags for carrying

medical equipment to more fun things like

bunting and cushions.

Who are the items given to? We've donated numerous

items to local hospices, the Sussex Breast

Cancer Support Group and the Sussex special care

baby units, among others. For

2018 our charity sew projects are

all being donated to St Peter &

St James hospice in mid-Sussex

following a request for help.

Do you need any sewing skills

to join in? We choose projects

that can be worked on by a beginner

or an intermediate seamster.

On the more complicated projects we offer tuition

to those who might not already have the skills.

When is the next charity sewing session? They

take place once a month on the third Monday.

The March session is on Monday 19th from

9.30am-12.30pm and we have a charity knitting

session taking place afterwards from 2-4pm.

Rebecca Cunningham interviewed Sarah Brangwyn

madeandmaking.co.uk / @madeandmaking

....21....
---
ADVERTORIAL

Harney &

Wells

SPECIALIST FAMILY

S O L I C I T O R S

WHAT "RIGHTS" DO I HAVE

AS A GRANDPARENT?

It is recognised by the Courts in England and

Wales that Grandparents play a significant role

in the lives of their grandchildren and this can

be at risk when families separate. In England and

Wales, Grandparents do not have automatic

rights to spend time with their grandchildren.

Where an agreement can be reached, there is no

need to make an application to the Court as an

order will only be made if in all the circumstances

it is better to do so than not make an order at all.

The Court is not there to endorse agreements

already reached.

Where an agreement cannot be reached,

consideration can be given to making a Court

application. Whilst Court orders can be

necessary, they can also be inflexible and counter

productive as children grow and their needs

change. Going to Court should be considered as

a last resort.

There are two stages to the process 1) attending

mediation to see if you can reach an agreement

(mediation is a prerequisite to any Court

application being made) 2) apply to the Court for

permission to bring an application. The Court will

then consider the merits of your application and

then determine whether to grant you permission

to make your application.

We offer an initial one hour consultation

at £100.00 plus VAT to advise you about

the applicable law and possible outcomes,

the various ways your case could be

funded and provide an estimate of the

costs involved. This includes a letter to

you to confirm the advice given during

the appointment.

focus

Share the Roads,

Brighton & Hove

LOOK

LISTEN

42% of collisions in Brighton & Hove

occurred because people were

not looking properly

6241_road_safety_A4.indd 1 14/09/2017 15:08
---
BITS AND BOBS

...............................

MAGAZINE OF THE MONTH: THE MAKER'S ATELIER

We're reviewing The Maker's

Atelier this month. Frankly,

there was nothing else we could

do when we were told that the

theme was 'fabric and fashion'.

But, full disclosure coming

up. We have connections; this

review is not neutral.

First, Roxy, who looks after

our shop during the week,

and organizes our events,

newsletters and lots more, is

one of the models. She looks

amazing (even though she says

something different) and so do the clothes that

she's modelling.

Next, Bee, who used to work with us while she was

a photography student in Brighton (and got a First

for her amazing project and portraits), has taken

some of the photographs.

Finally, Frances Tobin, whose magazine it is, has

been a great supporter of ours since we opened

and gave one of our best talks ever about the development

of patterns for making clothes. Who'd

have thought? Not me, for one, but I loved it.

Frances is well known in Brighton (and lots of other

places) for the wonderfully stylish

patterns she designs; she sells

them through her website. Then,

one day, she came in and said she

was going to start a magazine.

And here it is. By the time you

read this, we'll have had one of

the launch evenings in our shop

and, hopefully, we'll have sold lots

of copies. (Don't worry, we'll still

have lots in the store.)

The Maker's Atelier is a new

kind of fashion magazine. It's

beautifully made, of course,

but so much more. There's a pattern included for

making a great boxy t-shirt or three in time for

summer, with the clearest advice on how to do it;

some really good photography (did we mention

Bee?); a complete absence of dead-eyed models

and a lovely piece about the bespoke shoemaker

James Ducker.

The tag line of The Maker's Atelier is 'Sewing with

Style.' It's going to appear twice a year. If you love

fashion, making your own clothes and things that

look just beautiful, you are going to love it.

Martin Skelton, MagazineBrighton

TOILET GRAFFITO #38

Our toilet graffiti correspondent is back in the

bathroom this month and catching the eye of

an admiring audience.

We love all your tings too.

But where is this mutual appreciation society?

Last month's answer: New England Street

....23....
---
DISCOVER

EXPAND

EMPOWER

Dog lovers wanted:

"Pleeease can I come to stay?"

While owners are away you will give their dogs

love,exercise and companionship within

your family home.

If you are at home all day, have no

children under the age of six, have

no more than one dog of your

own and would like to enjoy

the companionship of guest

dogs please get in touch.

Explore our yurts

Where happy dogs holiday

Emily Deacon

01273 286 165 / 07736 665 888

bn@waggingtailsuk.co.uk

www.waggingtailsuk.co.uk/bn/carers

facebook.com/WaggingTailsBN

A franchise owned and operated under licence by Emily Deacon

The Yurt Academy taps into the vast

wealth of brilliant and experienced

people in our communities to share

their knowledge, spark imagination

and awaken a passion for knowledge

and learning. From the Curious to the

Practical, for Personal and Professional

development, The Yurt Academy

sessions are affordable in time and

money, are face to face, and take

place locally in spaces near you.

15% off your first session

using code: VIVAYURTS*

*expires 31st April

yurtacademy.com

:T 13147 52810

e

sderdnuh

wen gnivol a rof gnikol lla,

,detaniccav ,neb

tev a yb

tep erf skew4 htiw ffo uoy

.ecnedifnoc hti

taht tac a eb ll

, talfanievilu W.elytsefil oystius au h n hte oyd oyre ru

stac evah od ew ( mraf a

...)elytsef

w h oler'u hte oyre girpsarofg o oyylth nik un arotacg n

. dneirf enilef redlo

ot nothgirB ni hcnarb a evah eW

)nothgirb/ku.gro.stac.www(

:tcatnoc esaelp noitamrofni rehtruf roF

:E ku.gro.stac@noitpecer.yrettac

:W ku.gro.stac.cacn.www

:bf ertneC noitpodA taC la

)dnaltocS( 1730CS dna )selaW dna
---
JJ WALLER

...............................

There's only one Brighton style icon for JJ Waller. "With the theme of fabric

and fashion, there really was only one contender to feature," says JJ. "I'm a huge

admirer of James, the one-man Brighton style explosion, and luckily, when I see him

pacing his personal cat walk, the North Laine, James invites me for a drink in the

Colonnade Bar. Click of camera shutter. Job done."

....25....
---
One of the country's finest Elizabethan Houses

and award-winning gardens. Set within an ancient deer park

below the South Downs. Open 1 April - 14 October 2018

www.parhaminsussex.co.uk

JoA2391 - Parham_Viva Brighton 128x94 ad_AW.indd 1 12/01/2018 09:46

Valid from Monday to Friday only. Please

bring this voucher to Hixon Green and

redeem for 1 free coffee per person.
---
BITS AND BARS

...............................

PUB: MARKET INN

The serving space of

the Market Inn, an

island bar constructed,

I'm told, as part of

a refurbishment in

1927, is magnificent,

dominating the space

it sits in the middle of.

It's all classical wooden

pillars and panelling,

and period lampshades,

and it's a beaut. Unfortunately,

the beer tap

that I want the young

barman who's standing

within it to pull has a

plastic cup on it. The

Moretti's off, so I go

for a bitter instead, a

Cornish brew called

Tribute. "That's in the

Happy Hour," says the bloke, and gives me £6.70

back from my tenner.

It's the first time, I think, that I've ever set foot in

the place, but I've been reading about it. In the

18th and early 19th century Market Street was the

main food-shopping street in the town, curving

round from East Street to the sea (Bartholomew

Square was built in 1984, obliterating the southern

half of the street). Number 1 Market Street (then

Golden Lion Street) was built towards the end of

the 18th century, as a townhouse. It was called The

Chimneys, and then the Old Chimneys, reputedly

because the Prince of Wales' sweep lived there; by

1782 it had been converted into a pub, run by the

splendidly named Amon Batho. In the early 20th

century it was renamed The Golden Fleece, a name

it kept until 1990. By

then, the building had

been given a Grade-II

listing.

The Market Inn

is part of a small

chain run by the

Real London Pub

Company. One of

their other two pubs,

The Black Horse,

is also in central

Brighton. The other,

The Wheatsheaf, is in

Fitzrovia, in London.

The company seem to

specialise in historic

buildings, and to

cater for the sort of

clientele who want

fried food – burgers,

chicken wings, scampi, that sort of thing – at

reasonable prices.

The Cornish beer isn't really to my taste: when I

do drink bitters I like a bigger mouthfeel. I'm not

that fussed about the atmosphere, either, though

I guess at 5.30 on a Monday evening it's the hour

for people popping in for a quickie after work, so

there's no obvious sign of any locals. I also notice

a dartboard on the far wall: a sign that the place

might have a life of its own a bit later.

I do, however, harbour a strong 'ironic' appreciation

of flock wallpaper, which is lovely to stroke,

rather like the feeling to the fingers of a recently

applied number two haircut. I do this, surreptitiously,

before I leave, thinking that a certain sort of

tourist will absolutely love the place. Alex Leith

Painting by Jay Collins

....27....
---
littletoller.co.uk us$30 uk£20

ISBN 978-1-90821-352-5

ISBN 978-1-908213-52-5 53000

ISBN 978-1-90821-352-5

53000

9 781908 213525

9 781908 213525

BITS AND BOOKS

...............................

BOOK REVIEW: SPRINGLINES

Sometimes when I walk

down London Road it's easy

to forget that I live in the

prettiest county in England.

Sussex, with her picturesque

villages such as Ditchling,

Rodmell, and Firle; the

Downs rolling like huge

green waves, the sea mirroring

the vast expanse of blue

above; all those country lanes

and country pubs, seem like a

mirage as I trudge down this

street of charity shops and

fast food outlets. Don't get me wrong – I love the

Open Market, and the fact that all human life is

here, but since the old Co-op department store

went, London Road has become a stark illustration

of what austerity can do to a town.

Springlines acts as a much needed remedy to my

jaded mood. The book explores, in word and

image, pockets of water from Windmill Field in

Lewes to Holywell, in Eastbourne via Chanctonbury

Ring, High Hurstwood, and Poverty

Bottom. Clare Best supplies the evocative words

and Mary Anne Aytoun-Ellis the striking images,

a sequence of poems and a series of paintings.

I should declare at this point that I know Clare

very well. She taught at the University of Brighton

for ten years, and she's a native of the county. In

2012 I helped bring her collection Excisions to

publication. The central sequence in the book

comprises poems that explore Clare's experience

of having a preventative double mastectomy. She

lost many of her female relatives to breast cancer,

and so, on the advice of her doctors, went under

the knife. The book is a testament to her serenity

SPRINGLINES

Mary Anne Aytoun-Ellis & Clare Best

in the face of a decision that

Springlines emerged from a walk on the South

Downs during the drought of spring 2012.

Starting can't that day, have Clare Best and been Mary Anne easy to make.

Aytoun-Ellis went in search of bodies of water

that are concealed, forgotten or overlooked.

Along I sensed the way, they found some places rich in of this history

places from when dewponds to I ancient first wells, looked at

history, wildlife, culture and myth.

This book presents work made in response to

watery

from old clay pits to furnace ponds, from chalk

springs to the man-made pools at Glyndebourne.

Mary

Springlines.

Anne's paintings and drawings

It's

sit with

an exquisite

Clare's words, alongside short pieces by other

contemporary writers and water subjects drawn

and production, painted by John Sell Cotman, Joshua Aytoun-Ellis's

Cristall, Henry Edridge, J. M. W. Turner and

others, to create a book that approaches some

of paintings the most evocative hidden of corners copses, of English ponds,

landscape and celebrates the vitality of water.

snowy hills, and winter trees

giving a feeling of austere

sumptuousness to Clare's

spare and exact poems. My

favourite poem is one that

a little toller book

Mary Anne Aytoun-Ellis manages to be perfectly

£20

www.littletoller.co.uk

Clare Best

symmetrical across horizontal

and vertical axes, so that it's first line: 'flint, broken

broken flint' becomes its last line, the caesurae

mirroring the way a stretch of water mirrors the

landscape and skyscape reflected in its depths. And

there's Aytoun-Ellis's painting to act as the perfect

accompaniment to Clare's words.

But the poet and the painter are only half of the

story. The book also has a middle section, with

contributions from writers like Robert Macfarlane,

Alison Brackenbury, and Alexandra Harris, and

paintings by artists such as Turner and Cotman,

as well as more obscure names such as Müller,

Eldridge, and Cristall. The book's large format

(27cm x 22.4 cm) perfectly accommodates the

world of water, copse, tree, and hill, and it's been

beautifully conceived and executed.

Clare is leaving Sussex in March, moving with

her husband Philip and whippet Flint to Suffolk.

The next time I go down London Road I'll think

of Clare's walks through Sussex, and I know my

spirits will lift.

John O'Donoghue

Published by Little Toller Books, £20

SPRINGLINES

Exploring hidden and mysterious bodies of water

....29....
---
Photo by Adam Bronkhorst, adambronkhorst.com

....30....
---
INTERVIEW

..........................................

MYbrighton: Sarah Arnett

Decorative artist and Fever Club curator

Are you local? Yes, I live in Seven Dials. I

grew up in Zimbabwe and moved to Brighton

when I was seven. My father's family were all

here. I've since been back to Zimbabwe with

my sister and I was so surprised how familiar

it was. The smell, the heat. Everything was so

evocative. It was home.

You've worked in fashion and fabric and

more recently furniture and wallpapers (and

Snowdogs). How do you describe what you

do? I've only recently decided what I am. I've

never felt that I was an artist, and an illustrator

is a very practical term, so I've decided that I'm

a decorative artist. I just like decorating things,

whether it's clothes, walls, furniture, pictures...

It's quite an old-fashioned term but I like it.

Where is your favourite place in the city?

I was so very impressed with the Pavilion as a

child and it still makes me gasp when I walk in

there. Initially I loved it for its decorative surfaces

but, since becoming a patron and learning

more about its history and how it relates to

Brighton, I love it even more. George was a

huge patron of the arts. He was very forward

thinking, employing lots of local people and

creating this incredible, modern atmosphere.

What do you like to do at the weekend? I

don't think I've stayed in on a Saturday night

for at least a couple of years. Eating's cheating

on a Saturday night, so we'll start in the pub. I

love The Dorset but we'll always end up in The

Black Dove or Bar Broadway and then dancing.

A perfect Sunday is getting up late, going for a

walk or a kayak and cooking some food. Then

we'll put on some music, invite some friends

and maybe have a dance. My partner Matthew

and I work on Saturdays and take Mondays off,

so Monday has become the new Sunday.

How did the Fever Club come about? When

I was 18 my friends would put on nights in

whatever place would let us bring a turntable

and when I turned 40 I decided that I was

going to have a massive party every year. Then

a friend asked if I would throw a party for his

birthday, then we decided to have one on midsummer's

night... My neighbours were very forgiving

but we thought we'd better find a venue

and now the Rialto feels like home. We hold

Fever Club every three months and we talk

about it obsessively in between, deciding on the

theme and the decorations. We call it a salon of

soul and it's not fancy dress but it is dress fancy.

We're holding one at The Spiegeltent on the

5th of May. The Spiegeltent! But it's only three

hours long and we've got a 12-hour playlist...

Is there anything that you don't like about

Brighton? There's nothing that I don't like,

but walking home after a fantastic night out

and seeing more and more people sleeping

in doorways really upsets me. And more and

more of them are women. I know that so many

people in Brighton want to do something

about it, but they don't know how. I'm terribly

proud of our little republic of Brighton, but

how do we fix this?

When did you last swim in the sea? Probably

in October. My mum's got a beach hut so we all

share that. I'm quite a hardy sea swimmer. I did

once go in very early in April and when I came

up I couldn't breathe. That was really stupid.

Interview by Lizzie Lower

saraharnett.co.uk / modernlovestudio.co.uk

....31....
---
Where could

Masters study

take you?

Masters at Sussex.

More knowledge, more change.

With a range of generous scholarships available

and a host of fascinating subjects to study, could this

be the year you study for a Masters at Sussex?

BOOK AN OPEN DAY

www.sussex.ac.uk/discover

@sussexuni
---
PHOTOGRAPHY

....................................

Joseph Ford

Bird's-eye surrealist

I am quite meticulous... quite

detail oriented. One of the things

that I really like in photography

is when you create an image that

works on several levels. You have

something that is very clear and

obvious as soon as you see it but,

if you take the time to look at it

more closely, you can see that

there is something more going on.

For the diptychs the aerial and

location shots come first. I did

an ad campaign for an airline in

Sicily a few years ago and we spent six hours flying

around in a helicopter, location scouting. I took the

opportunity to shoot some pictures for myself. I

knew they would come in handy for something.

Drones are really interesting, but I've not

tried shooting with them yet. The advantage

of the helicopter is that you can cover a lot of

ground very quickly and you can carry heavy

equipment so, if you want really high-quality

images, you get to the point that you might as

well take a helicopter.

Pepe Jeans were probably the best client I've

worked with. They said, 'we love your concept,

we love what you do, and we want you to do

more of that, only with our products'. The only

stipulation was that it needed to be recognisably

London, so I worked out the flying time that we

needed, and they said 'great, come back to us in

four months with a series of pictures.'

I spent quite a long time with the products

laid out on the studio floor, getting used to the

shapes, textures and patterns so that I had a vague

idea of what I was looking for. Then I started

looking around on Google Maps to find areas that

might match up. The Millennium Dome was the

only image where I worked out in advance what I

wanted to shoot, so, when I went

up in the helicopter I already

knew where we were going.

The image of the checked

jumper and the fence nearly

destroyed me. Once I'd got

the perspective right, I spent

hours and hours and hours with

a needle pulling the sweater

a millimetre to the left and a

millimetre to the right until the

checks and the fence links all

joined up. Every time I'd take a

photo in the studio, I'd drop that picture in next

to the image of the fence in Photoshop to see

how it was matching up.

There's occasionally a little bit of touching

up that goes on in the studio but it's minimal.

Basically, if it's not going to work almost perfectly

straight off, then the idea doesn't really come into

my head in the first place. I think I might have

changed the width of a shadow to make the edges

join up. The easiest diptych took eight hours in

the studio, the hardest one, two days. They drive

me mad when I'm doing them but I'm generally

happy with them afterwards.

It's amazing working with people who are

up for trying crazy things. Once you've got a

few things like this in your portfolio, and you've

won a few awards and had a few things go viral,

it becomes much easier to get people to work

with you.

I have loads of ideas that I'm waiting for the

right moment for. Some of them are limited by

budget and others by what is physically possible.

If I could choose my dream job, it would be

directing a video for Die Antwoord or OK Go.

As told to Lizzie Lower

josephford.net / @josephfordphotography

....33....
---
PHOTOGRAPHY

....................................

Photos © Joseph Ford, josephford.net

....34....
---
PHOTOGRAPHY

....................................

Photos © Joseph Ford, josephford.net

....35....
---
April – December

PRESENT LAUGHTER

random / generations

THE CHALK GARDEN

THE COUNTRY WIFE

ME AND MY GIRL

THE MEETING

COPENHAGEN

FLOWERS FOR MRS HARRIS

COCK

THE MIDNIGHT GANG

THE WATSONS

SLEEPING BEAUTY

GENERAL BOOKING OPENS 3 MARCH

BECOME A FRIEND TO BOOK NOW

cft.org.uk 01243 781312

#Festival2018
---
PHOTOGRAPHY

....................................

Photos © Joseph Ford, josephford.net

....37....
---
PHOTOGRAPHY

....................................

Photos © Joseph Ford, josephford.net

....38....
---
PHOTOGRAPHY

....................................

Photos © Joseph Ford, josephford.net

....39....
---
ADVERTORIAL

"People are disturbed not by things, but by the view which they take of them"

Albert Ellis founder of the first form of CBT.

Cognitive Behavioural Therapy (CBT) is a

psychotherapy based on the cognitive model:

the way that individuals perceive a situation

determines their reaction more than the

situation itself.

The key idea underlying cognitive behavioural

therapy is that our thought patterns (cognition)

and interpretations of life events greatly

influence how we behave and, ultimately, how

we feel.

According to CBT, our pattern of thinking is

like wearing a pair of glasses that makes us

see the world in a specific way. CBT creates an

awareness of how these 'lenses' or thought

patterns create our reality and determine

how we behave. In CBT we work on creating

awareness of this process. CBT emphasises the

need to identify, challenge, and modify how a

situation is viewed.

CBT was originally developed to help people

suffering from depression. Subsequently its

methods were extended widely to address a

range of psychological issues including, anxiety

disorders, PTSD, bipolar mood disorder, eating

disorders and substance misuse. In recent

years its scope of application has mushroomed

and it has even been used with elite sports

competitors to enhance performance.

CBT is problem specific, goal oriented, and

structured. The context is supportive and the

techniques are combined with a collaborative

one to one therapeutic relationship. At the

beginning of sessions an agenda for the

session is agreed to ensure that the therapy

is focused.

Techniques used in a session may include:

developing awareness of automatic thoughts,

seeing a situation from different perspectives,

gradually increasing exposure to things that

are feared and letting go of generalisations

and all or nothing thinking. Towards the end

of a session 'homework' is set for the client

to work on in between sessions. Homework

may include doing behavioural experiments

to test underlying assumptions or keeping a

mood record. Mindfulness exercises may also

be included during sessions or as homework.

CBT is a short-term therapy that lasts anywhere

from one to twenty sessions.

If you would like to know more about our

therapy programme please call 01273 282045

or email brighton@elysiumhealthcare.co.uk

Brighton & Hove Clinic, 14-18 New Church Road, Hove BN3 4FH
---
COLUMN

...........................

Lizzie Enfield

Notes from North Village

I am momentarily blinded by my own brilliance.

Sadly, it's not metaphorical but literal. I'm at

a party, standing opposite a very shiny oven

door - so shiny it's like looking at a mirror in

direct sunlight. And I am the sun! Well, the thing

emitting the rays of light that are being reflected

back by the oven door.

The effect is dazzling: a-bit-too-much kind of

dazzling, rather than gosh, wow, don't-you-looklovely

kind of dazzling.

It did say, on the invite to the party, to wear

something shiny. The friend throwing it had just

had a bit of a backing singer moment, during

which she had been resplendent in a Lurex

threaded top. "You're so shimmery," everyone who

saw her sing said, prompting her to add a sparkly

tag to the invite.

A good idea. A way of brightening up those dull

post-Christmas months when spring has not

really sprung, the air is grey, no matter how many

squares you tick off the calendar it always seems

to be February, and February always seems to be

unending.

Cue friends unearthing sequined jackets and

Christmas jumpers that light up like trees. It's

surprising what lurks in the back of wardrobes. I

stood next to a woman in a beautiful subtle jacket:

dark grey with a discreet silver thread running

through it. She looked lovely, with the kinds of

muted sparkle that befits women of a certain age.

I nearly blinded her with my outfit.

To be fair, I had been nervous of wearing it. I'd

tested the water. I'd put a photo of the garments

in question on social media and asked if I should

wear them.

The reaction was mixed, but mostly yes.

It was my grandmother's, I explained.

'Funky grandmother,' came the replies.

She was. I don't remember her ever actually

wearing this particular ensemble - purple coats

with pink spots, hounds-tooth check jackets, vast

coral coloured straw hats, but never the gold lamé

three-piece outfit which I inherited when she died.

She must have worn it in her youth. She was born

in 1898. Gold lamé was popular eveningwear in

the thirties, way before Elvis made it a thing. I

imagine that's when Granny wore the matching

skirt, top and singlet ensemble. I wore it in

my teens, once or twice, to fancy dress parties.

It's stayed in my wardrobe ever since: a family

heirloom that I couldn't quite bring myself to part

with but was unlikely ever to wear again.

Until I was persuaded to venture out in it…

"I think it's probably real gold," said a woman

who works in the fashion industry and knows her

textiles and their history. "In those days they would

have used real metal for the component of the

thread. And if it wasn't real gold it would have lost

some of its sheen by now."

Everyone else just shielded their eyes, when I

approached. Because it hasn't.

Illustration by Joda (@joda_art)

....41....
---
Sunday 8 th April 2018

Wedding Show

www.empiricalevents.co.uk • Telephone: 01424 310580

Cissbury House & Barns

11.00am - 3.00pm

Fantastic selection of 50 exhibitors in the stunning house, barns & gardens

Quality focused event • Incredible venue • Live music • Catering

If you don't have a venue, come and meet the Cissbury team.

If you already have a venue come and meet some fine, creative and imaginative wedding suppliers.

Tickets are free but please pre-register for your goodie bag!

Please register on Eventbrite via our website or Facebook page

empirical

EVENTS

Awaken your senses with

extraordinary colours and

the scent of spring

Kew's wild botanic garden in Sussex

For details visit kew.org/wakehurst
---
COLUMN

...........................

Amy Holtz

The truth is, I'm a Minnesotan

It was a grey, cold

afternoon when I saw the

angel of Regent Street for

the first time.

After turning around in

a complete circle, I only

managed to utter a sort of

breathy 'Huh.'

The first months of this

year have been frozen

together in a special kind

of suffering – a squintthrough-the-rain,

heavyfooted

gloom. January and February are much

like siblings – they can be ok for a bit but have

the tendency to be annoyingly chaotic for no

reason at all other than their desire to make

you miserable.

So there's been lots of rushing, and eating to

keep on rushing; lots of projects that were far

away and pointless in December but smack

you in the face with the urgency of expired

excuses. A winter's worth of cat poo in the

garden; millions of wine bottles that you can't

recycle because The Man's taken your black

box away. So you have to walk six miles in

the 4pm twilight to send them to be crushed

like your dreams of a new year, new you,

which looks a lot like the old you but with a

newfound addiction to Horlicks, and not the

'light' version because life is just too short. All

the while your electricity meter is clanging

away. You will soon owe your life savings to a

little dancing orange dollop with eyes.

Brighton world problems, basically.

In the infancy of this new year, it feels easier

to just keep your head down, hoping it'll go by

quicker if you do. But here

I am, looking up, standing

in front of the angel,

moved to tears. Suddenly,

the sun is a giant, chubby

baby's face and it's raining

adorable cherub giggles

down on you. Here's this

wonderful thing – free

and beautiful. The angel's

done more than stoke

my girlhood glitterphilia;

because the understanding

of why we're here, who we are, everything

we've lost and gained over the past year has

become crystallized in a single image. It's more

than just some graffiti. Stopping on this oftbypassed

street, I can feel the tiniest shards of

light pierce my shriveled winter heart.

I don't believe there's someone in the sky,

judging us, clamouring for us to atone for

swearing or wanting to kill your neighbour's

cat, but I do know that one holy book says 'Ye

shall make you no idols'. Though our lives are

littered silly with them – from craft beer to

Pride Britney to Messi to Linda McCartney's

vegetarian sausages. Because we need them,

desperately, to feel like the ticking doomsday

clock is just a tock further than a whisker from

final jeopardy. Deep within us they create a

buoyancy – a little life raft inflated with hope

– that everything is going to turn out alright.

Or maybe I'm just being melodramatic. Either

way, if a little graffiti-worship helps you make

it through March, then join me. You know

where I'll be waiting out the last of the short

winter days.

....43....
---
Independent 3 screen cinema

Restaurant Café & Bar

Next to Lewes station

Just 11 mins from Brighton

lewesdepot.org

Depot, Pinwell Road, Lewes 01273 525354

Dance Consortium presents

FRI 9 MARCH

Tickets from £10

brightondome.org

01273 709709
---
COLUMN

...........................................

John Helmer

"Can we get a dog?"

"No, Poppy."

"Why not?"

"You know why not."

"It's the poo thing isn't it?"

"I didn't mind changing nappies when you were

little, but I will not touch the droppings of

another species, even through plastic."

This conversation has taken place at regular

intervals over the last five years. In fact I wrote it

up ages ago and kept it against the day when the

deadline for this column might arrive and find

me more than usually bereft of ideas. And then

suddenly last month this bombshell from Kate.

"We're doing a dog share."

"Eh… what… hold on… what was that?"

"A dog share."

I am thunderstruck. "Like a car share?"

"Yes, except with a dog."

"No but… who picks up its—"

"Don't worry. I'll take it for walks and

everything."

"But where will it live?"

"At Jo's. And occasionally here."

"You mean it will overnight?"

"Yes."

"But we've got a cat."

"Cats and dogs can live together perfectly

happily."

"In what universe?"

Horrifyingly soon after this conversation the

beast arrives; a rescue dog from Serbia. It looks

like a scraggy old mop crossed with a draught

excluder. "Why is it so long?" I say, noticing a

sudden lack of space on the sofa. "This is a fourseater

Ektorp and there doesn't seem to be room

on it for anyone but the two of you."

"She's part dachshund."

"And I'm sorry to say this, but she stinks."

"So would you if you'd just travelled across

Europe in a van with a load of other animals."

Actually that is what I did for most of my twenties

as a musician, and I'm sure I didn't reek this badly.

"Why can't I see her eyes?" She's also part terrier,

which means she has a lot of fur. When I stroke

her I get grit underneath my fingernails.

Dusty saunters in and, spotting the dog, does

an instant impression of a cat undergoing

electroconvulsive therapy.

"Dusty, meet Dora," beams Kate. And then to me:

"they'll soon get used to each other."

Dusty hisses, Dora snarls.

Fast forward a couple of weeks and the

transformation is extraordinary. With the love

of two highly experienced carers (Kate and Jo)

lavished on her, our dogshare mutt thrives. As

Kate and I walk across Blaker's Park, she trots

along happily ahead of us, tail wagging, kitted out

in a fetching purple waistcoat, fur-trimmed at the

neck. Her fur gleams, and when she turns to look

at me, with the look of doe-eyed adoration I have

come to quite like, so do her eyes.

"Admit it, says Kate, handing me the

lead, "you love Dora, don't you?"

I make a noise in the back of my

throat. "Can't say the same for

Dusty."

"She'll come round.

Just like you did."

Dora squats,

her back legs

shaking,

and Kate

hands

me a

blue

plastic

bag.

Illustration by Chris Riddell

....45....
---
MUSIC

..........................

Ben Bailey rounds up the local music scene

NOISE EATER

Thu 8, Sticky Mike's Frog Bar, 7.30pm, £3

Noise Eater is the second of

Canned Tunes' benefit gigs

bringing together local musicians

with frontline charities. The

idea is simple: three bands for £3

worth of tinned food or toiletries,

to be donated to Brighton Food

Bank. As the effects of austerity

continue to be felt around the city (emergency food

referrals were up 62% in Whitehawk last year), the

night aims to raise awareness at the same time as

getting food to those who need it. The music itself is

mostly from the psyche and dreampop camp. Brighton's

Method Actress sit at the jauntier end of the

shoegaze spectrum, while headliners Circe, signed

to Blood Red Shoes' label Jazz Life, deal in hypnotic

vocals and heavy electro beats.

Photo by Harry Steel

BIRDSKULLS

Sat 17, Sticky Mike's Frog Bar, 11pm, free

Birdskulls unleashed their

blistering debut in 2015

and now they're back with

another EP. Dude Ranch,

a regular Sticky Mike's

fixture, hosts the late night launch, with Bristol's

Heavy Lungs bringing a bonus dose of punk. Taking

1991 as their year zero, Birdskulls pull off a similar

trick to Nirvana in sneaking immediate melodies into

a distorted storm of guitar and drums. The end result

is upbeat, despite the semi-snarled world-weary

vocals. In any case, the trio's music is just the sort of

thing that sounds fantastic in a low-ceiling sweat pit.

With a bunch of fresh songs and a new bassist in the

band, Birdskulls look likely to make a lasting impression

on the grunge scene oozing out of Brighton at

the moment.

Photo by George Evans

WARSAW RADIO

Fri 9, Green Door Store, 7.30pm, £5

Having honed their style

over five years of local gigging,

Warsaw Radio are set to

release their debut album this

month with a launch show

in Brighton and a mini tour of Ireland. Last year's

single, After Eve, earned a string of radio plays and

the album has enough hooks and production oomph

to propel them even further. Jag Jago, known for

his work with The Maccabees and Florence Welch,

produced the record at Brighton Electric. As fans of

Arcade Fire, The Waterboys and Fleetwood Mac,

the Brighton five-piece have always had a certain folk

rock sound – with stirring strings and smart lyrics

– but now they have a pop sheen to boot. Support

comes from yourgardenday and Paul F Murray.

MELTING VINYL 20 YEAR SPECIAL

Thu 29, Basement, 7.30pm, £8/6

Melting Vinyl have been putting on gigs in Brighton

since 1998 and they're celebrating their birthday

this month with friends, old favourites and new

finds. Oddfellow's Casino flit between atmospheric

electronica and pastoral folk, often with a serene

and eerie tone. David Bramwell leads the six-piece

band, alongside a sea shanty choir from Shoreham.

Collectress, comprised of four classically trained

multi-instrumentalists, offer an experimental take on

chamber music, with minimalist arrangements and

improvisations. Completing the bill is Foreign Skin

aka Hong Kong-born, Brighton-based producer Flavia

Aliverti who promises an audio-visual adventure

through chopped-up samples and ethereal synths.

A truly diverse line-up from one of the city's most

important promoters.

....47....
---
MUSIC

....................................

Photo by Andy Wilsher

Police Dog Hogan

The grass is bluer...

Septet Police Dog Hogan bring their signature

stew of Americana-flavoured barnstormers to

town this month (and they're bringing the kids,

too). Lead singer and guitarist James Studholme

walks us through the muddy waters of Bluegrass

and why it's ok to have a day job.

All seven of us are obsessed with music; it's a

golden seam through our lives. You think it's

something you're going to do till your 25, then put

away like an old toy. But the reality is it stays – it

bubbles up, goes down, comes back. We were all

pretty good in our 20s; but then life – jobs, wives,

kids, pets, travel – came along. This tour we're

all going as an adventure. The family will get an

insight into the boredom, but the good parts too.

We originally wanted to make Bluegrass;

when American country started to move towards

pop, musicians like Emmylou Harris and Gillian

Welch weren't really 'country' anymore. So

Americana became a catchall for their music;

Bluegrass sits within Americana, but it's very

strict – no drums, standup bass, mandolin, fiddle

– everyone round one microphone at mouthlevel,

one at waist-level. The music tends to be

set texts and you're judged on your speed of

flatpicking – it seems easy, but then you realise

the people who do it are highly-skilled masters

– blending sounds, controlling volume. There's

all these rules – a so-called prairie dogma – and

we broke all of them. So our approach, through

loving American roots music, is to sing about

Britain – and anything really – death, disgrace,

divorce, disaster.

I think we like the balance of being in a band

and having a day job; in theory, I'd love to

do it all the time. But someone wise once said,

'There's this thing you make a living from, but

then there's this other thing 'under the tarp'.'

Let's say your 'under the tarp' thing was building

a car from scratch; one day, you decide to start

a car dealership and it's your job from now on.

Before, it was precious, borrowed time you had,

but now, suddenly, you have all the worries of

it being your livelihood. Your relationship with

it changes; it loses the quality it had before.

Everyone should have something 'under the tarp'.

There's a song I've had for 25 years, but

haven't finished – 'Walking with a King'. The

song's based on two stoners in Chicago who got

it into their heads to drive down to Graceland,

dig up Elvis and have a drink with him – they

were on some pretty powerful drugs. The song

speculates they've done the digging, but he's not

there; he's the guy in the frozen foods section

that you half got a glimpse of and thought, 'Is

that Elvis?' It probably made a lot of sense in

1987, but it's running on fumes now as he'd be

90. But we finally have a chorus for it!

I never anticipated that people would like

seeing us live so much. We like shows where

the audience isn't sitting down – for Brighton,

we're veering towards the mosh pit.

As told to Amy Holtz

Komedia, Thurs 22nd March, 7pm

....48....
---
TALK

....................................

Paddy Armstrong

There is life after 'life'

Imagine you've been

partying for 72 hours

without sleep. Imagine

a knock on the door,

and being arrested for a

terrible crime you didn't

commit, in a place you've

never been. Imagine

thinking that the mistake

will be rectified within

hours, but instead you

are given a life sentence, of 35 years.

Imagine the real perpetrators coming forward,

with proof of their culpability, but the courts and

government dismissing their confession, sacrificing

a few 'small lives' to protect 'great reputations'.

The 'small lives' were those of three young Irish

men and a 17-year-old English girl - the Guildford

Four - while the 'great reputations' were members

of the British establishment. Only Jeremy Corbyn

campaigned for their release.

Paddy Armstrong, Gerry Conlon, Paul Hill and

Carole Richardson spent fifteen years in prison

from December 1974 until October 1989, for

the bombing of two pubs in Guildford. How do

you come back from that? Carole Richardson

and Gerry Conlon both died prematurely. Paul

Hill went on to marry into American royalty –

the Kennedy family – while Paddy Armstrong

retreated to the Dublin seaside at Clontarf.

Paddy is 67 now, and has finally published a

book, Life After Life, with journalist Mary Elaine

Tynan. It is vivid, unputdownable. What is most

remarkable is his peace of mind and lack of

bitterness. "You can't go around hating," he says.

"I don't hate anyone. Hatred destroys you, and

it destroys your family. My mum was a gentle

woman, and that was bred into me. Life is great

now – Clontarf is a closeknit

place, I have lots of

friends and can have a

laugh and enjoy myself."

When released from

prison, Paddy was deeply

traumatised. His solicitor

and great friend Alistair

Logan, who worked for

free to get them released,

took Paddy into his home

while he readjusted to life outside. At one point,

Paddy was so overwhelmed he wanted to return to

the routine of prison life; instead, he found a new

life as a parent. Having assumed he would never

have a family, in 1998 he married a teacher and

had two children, now aged 18 and 15. While his

wife worked, Paddy became a stay-at-home dad.

The structure, rhythm and nurturing of caring for

small children hugely rehabilitated him.

"Having our son and daughter changed my life

completely," he says. "It was the start of a great life

- I brought them up, pushing the buggy along the

seafront. I was the only stay-at-home dad around

- I'd do the school run, meet other parents. I had a

purpose. I don't know what would have happened

to me otherwise."

Talking to Paddy you can hear gratitude rather

than rancour, optimism instead of cynicism.

Born ordinary, he has lived an extraordinary life

and survived it so that, once again, he may live

an ordinary one full of love, loyalty and – while

perhaps not forgiveness of those who took 15 years

from him – then at least acceptance. And peace.

Suzanne Harrington

Paddy will be on the panel of Sussex Salon

(Miscarriages of Justice - Is there Life after Life?)

at Brighton Dome on Mon 19th March. £7 (£5 conc)

Photo by Mark Nixon

....49....
---
COMEDY

....................................

Testosterone

Nowhere to hide

Kit Redstone's first time in a

male changing room at the

gym made such an impression

that he wrote a theatre piece

about it - the award winning

Testosterone. Made by the

theatre company Rhum and

Clay, Testosterone was part of

the British Council's Showcase

2017, and performed at the

Edinburgh Festival. It's soon

to head to Kazakhstan, Sao

Paolo and Central America via

The Old Market. The stage

set replicates a changing room,

audience on one side, huge

mirrors behind – there is nowhere

to hide. Which is just how Kit felt on first

entering such a testosterone-drenched space soon

after his transition from female to male. How was

he supposed to behave?

Kit's real-life male-changing room debut happened

four years ago, when he was 33, a year

after his first testosterone injection. As a woman,

he had always been androgynous, but transitioning

in his thirties created all kinds of questions.

How do you navigate adolescence as an adult?

How do you fit in? What is a man? How do you

do masculinity? If you look like a man and sound

like a man, are you a man?

Navigating the blokes' changing room was

"quite frightening and exhilarating", he says, "I

felt like I'd passed some test, a coming of age.

It was an important step." Culturally, we are far

more familiar with male-to-female transgendered

people than female-to-male; there are very

few female-to-male equivalents of glamazons,

Lady Boys, trans supermodels. "We tend to be

short little furry people," says Kit, of trans men.

"Hobbits, rather than catwalk

models." Walking into that

changing room for the first

time felt like "one of the most

terrifying places in the world

– and I had no idea how this

world worked."

Testosterone, directed by Julian

Spooner, who also performs

along with Kit, Daniel Jacob

and Matthew Wells, is the first

piece where Kit has used his

own experiences so directly.

He is keen to stress that it is

a comedy, "a dreamlike and

playful narrative" examining

masculinity. "I'm not an educator,"

he says. "It's not heavy handed – it involves

music and laughter." Rather than exploring the

lengthy process of transitioning, Testosterone is

about what happens when you have arrived, and

are navigating your new landscape.

The piece begins with four men getting changed

after a work-out, then transforms into a comingof-age

quest involving all kinds of vignettes

about masculinity, from drag queens to cowboys.

The song I Wan'na Be Like You, from Disney's

Jungle Book, is entirely apt. As is the exploration

of toxic masculinity - rigid, hierarchical, macho,

wounding. When did men lose the right to cry,

wonders Kit. Having lived and been socialised as

a woman, he says it is "an incredible advantage"

because instead of viewing women as 'other', he

has insight and empathy. In a world of constructed

masculinity and femininity, we could all

– male, female, trans, cis, the lot – do with more

of that. Especially in the locker rooms of Trump's

America. Suzanne Harrington

The Old Market, March 5th, 6th and 7th

....50....
---
AUDIO

....................................

No Man's Land

An ambisonic trip

No Man's Land is a

new sound installation,

an ambisonic

journey from Brighton's

seafront to the

deep wilds of our

oceans. Sound recordist

and composer

Chris Watson tells us

why silence is usually

anything but.

There's a BBC

cliché that radio is better than television,

because the pictures are better. No Man's Land

aims to stimulate the imaginations of listeners

through sound – starting with the starling roost

in the West Pier and the signature sounds of

Brighton beach: that wonderful harmonic sound

of water withdrawing through shingles of pebbles.

It's spatial sound I'm interested in – sound

from above, beneath you – captured in jungles,

forests, mountains, the ocean and deserts.

We're all good listeners, we're just visually

distracted these days. We evolved from the

people who woke up when a sabre-toothed tiger

wandered into the cave looking for something to

eat, 40,000 years ago. But we don't get the chance

to really listen, living in our noise-polluted

environment.

We think we live on Planet Earth, but it's

actually Planet Ocean; the paradox is we know

more about the dark side of the moon than

the ocean floor. Sound travels five times faster

through seawater than through air; so it's not

only the largest habitat, but the most sound-rich.

Dr Chris Clark, a Bioacoustics Professor at Cornell,

once told me they've yet to discover a deaf

sea animal. For everything in the ocean, from the

tiniest crustacean in a rock pool on the South

Coast to the songs

of the largest and

loudest animal – the

blue whale – sound

is crucial to survival

and it's some of the

most bizarre music

you'll ever hear.

For Frozen Planet,

we experimented

with hydrophones

in the Antarctic

and Arctic. Ice seems like this silent, inert thing;

but put a hydrophone into an ice crevasse and

you can hear the creaking and groaning, the

millimetre by millimetre movement of this great

river of ice. It's like a heartbeat, a pulse. When

recording on the Vatnajökull Glacier in Iceland,

a glaciologist crushed some snow in her hands,

dropped it as ice and said, 'It'll take an hour and

a half for us to get to the sea; this ice starts the

same journey this morning, but it'll take 10,000

years.' It's sobering; the scale is beyond our

imagination.

One time I went to the Maasai Mara in Kenya

to record spotted hyenas. Francis, a Maasai, and

I rigged microphones by a hyena den, running

the cables back to our vehicle. It got to be about

11pm on a clear, calm starlit night and I hadn't

heard any activity so I thought, 'I'll go and get

the microphones back.' I got out and started coiling

the cables which, fortunately, woke Francis.

There, in the headlight beam, were six orange

pairs of eyes – I was walking directly towards the

hyenas. I put the cable down and quickly went

back to the car. Francis said 'Never, never do that

again!' – and I haven't since.

As told to Amy Holtz

ACCA, 27th March – 13th April

....51....
---
POETRY

..........................

Sign of the rhymes

BSL bilingual poetry night

Donna Williams

Established for over ten years, Pighog publish

original poetry from a diverse range of regional,

national and international voices. They also run one

of Brighton's longest-running live poetry nights

and in an effort to bring poetry in all its forms to as

wide an audience as possible, Pighog is holding its

first bilingual night for British Sign Language (BSL)

poets and English language poets.

Hosted by local poet and painter, Michaela Ridgway,

the event will take place in the Nightingale Room

(upstairs at the Grand Central pub), with interpreted

performances and a bilingual open mic. Sign

language poet Donna Williams and English poet

Chrissy Williams feature.

Donna Williams, a Bristol-based deaf poet who uses

English and BSL, has performed around the UK including

the Edinburgh

Fringe

and the Albert

Hall. Her most recent poems have been published in

Stairs and Whispers: Deaf and Disabled Poets Write Back

and in issue 69 of Magma magazine.

Chrissy Williams is a London-based poet, editor

and tutor. She is Director of Free Verse: The Poetry

Book Fair and has published four pamphlets and

most recently edited Over the Line: An introduction to

Poetry and Comics (Sidekick Books, 2015).

In addition to this special event, Pighog runs a live

poetry night on the last Thursday of the month at

the Nightingale Room. Contact michaela_ridgway@

hotmail.com to get involved.

Nightingale Room, 29th March, 7.15pm

01273 678 822

attenboroughcentre.com

....52....
---
DANCE

.............................

Photo by Joe Armitage

COAL

Choreographer Gary Clarke

You were born in 1980 in a northern colliery town:

the miner's strike of 1984-5 hugely affected your

family and community. And then your life was

changed forever when you discovered dance… I

know, it's Billy Elliot! I get it all the time, it's fine. I actually

appeared in Matthew Bourne's Swan Lake, which

the film ends with, so there's more connection! I was

young, but I've got memories of the strike, especially

towards the end. I was raised in Grimethorpe, near

Barnsley; my grandfather and uncles were miners, and

I remember the bitterness, the police presence, cars

being set on fire, riots in the streets. It was loud and

aggressive, with a feeling of desperation. As I grew up,

I saw what happened – the decimation and breakdown

of community. A lot of my friends became criminals

and drug addicts. And I discovered dance.

And you've combined all of it with COAL… It's

been a lifelong ambition. I created the idea in 2009 on

a really small scale, and then put it to bed, as it were.

Then the 30th anniversary seemed like a good time to

restage it, and since then we've brought in live music

with a brass band and women from the local community

where we're appearing. I think it's wrong to do a

show that's about community without involving local

people. The women played a massive part in the miner's

strike, and to highlight that, we have a workshop

for local non-professionals, they spend two days learning

the show, and then they're in the performance.

They're not experienced dancers, the women?

It's better if they don't have any previous experience.

There's more authenticity then. We've had all

ages from 27–77, all shapes and sizes, and it's a real

journey. They play a big part in it: we look at the idea

of non-hierarchical structures. Over the years I've

worked a lot with marginalized communities. Inclusivity

really matters to me. I grew up surrounded by

people, and I try to bring that into my art, that downto-earth

approach, openness, generosity and empathy.

I don't want to just surround myself with artists. I've

got a responsibility. Am I adding to the world, am I

contributing, am I making a difference?

Who's in the audience? A lot of ex-miners are coming.

Not just a few, a lot, which is seen as groundbreaking.

Firemen who were on strike in Birmingham came

along, a lot of trades unionists, showing solidarity. I've

always been very politically and socially aware. I'm an

openly gay man who grew up in a mining town, which

was tough at times, and being an artist from the working

classes isn't typical, so it all feeds into what I do. It's

important to remember that the strike was a pivotal

time in British history, and we're providing some vital

education. Speak to some kids these days, and they say

'What's coal?' Andy Darling

Brighton Dome, Weds 28th March, 7.30pm

....53....
---
TALK

....................................

Suffragette City

Brighton feminists in the 19th century

Brighton Unitarian Church

on New Road was designed

by one of the key architects

behind the city's bold Regency

style, Amon Henry Wilds.

Modelled on the ancient

Temple of Theseus in Athens,

the building is grade II listed,

but was recently found to

need major restoration work.

The Heritage Lottery Fund

is partly funding it, and to

raise awareness, the church is

putting on a series of events,

including three free lectures.

In the first, Unitarian Chief Officer Derek McAuley

will be talking about 'Women Who Made a

Difference'; we asked him to tell us more.

What do Unitarians believe? Unitarians

generally like questions not answers! Unitarianism

emerged out of the radical wing of the

Reformation, contesting traditional views on the

doctrine of the Trinity. Most Unitarians insisted

that Jesus was not the son of God, a view that

was illegal until 1813 in Britain. Congregations

such as Brighton grew in the nineteenth century.

Though never huge in number, Unitarians had an

influence in society far exceeding their size. Unitarians

rejected what they saw as creeds created by

humans. Today, Unitarians embrace a diversity of

views on religion, and are united by shared values

and community, not beliefs.

And Brighton Unitarian Church? It has its

origins in 1793, when 19 people were expelled

from a Baptist Church for adopting Universalist

beliefs. By 1819, this group had grown sufficiently

to buy a plot of land from the Prince Regent for

the present church building.

How have Unitarians traditionally viewed

the role of women? As

dissenters from the Church

of England, Unitarians were

seen as radical in religion

and politics. They believed

in progress and reform, including

considering women's

rights. Mary Wollstonecraft,

widely acknowledged as the

founder of feminism, worshipped

at Newington Green

Chapel. Unitarians were

fervent in their belief in the

power of education for girls

as well as boys. Unitarians

appointed the first woman minister in Britain,

Gertrude von Petzold, in 1904.

Tell us about your lecture… I'll be talking

about a number of women, including Ellen Nye

Chart, manager of Brighton's Theatre Royal from

1876 until her death in 1892, at a time when

middle-class women did not work. She presented

the church with a window. Philanthropist Jemima

During-Lawrence donated the organ. Elizabeth

Whitehead opened the experimental Portman

Hall School with Barbara Leigh Smith, helped

found the Working Women's College, and went

on to establish rural district nursing. Clementia

Doughty (pictured) married Peter Alfred Taylor,

who became a radical MP. Clementia participated

in all his activities, including being a significant

figure in the woman's suffrage movement. I will

also explore the life of prominent educationalist

and reformer Lady Byron, who had strong

Unitarian connections, and was a regular visitor to

Brighton. Emma Chaplin

Unitarian Women Who Made a Difference, Fri 16th

March, 6pm. For other talks at Brighton Unitarian

Church see brightonunitarian.org.uk

....54....
---
COMEDY

....................................

Sara Pascoe

Has her cake... and takes it home

What's the new show

about? Having fun,

trying new things.

Attempting to be braver

and more self-reliant

as I get older. Not in a

'growing up' way, but in

a 'there's so much more

I haven't experienced'

way. It's not a political

show, but it's the usual

over-sharing and

mini-rants.

Does comedy enable

you to say things that

you wouldn't say normally?

I have a routine

about this is in my show,

actually, it's worked the

other way around. Being able to say what I

want onstage has made me far less reserved

in real life and sometimes I should shut up

and not say everything that's on my mind!

Are you daunted by such a long tour after

taking time out to write a book? I love

going on tour. I love our nation, I love rainy

days up north and cold evenings by the seaside.

It's a luxury to get to travel for one's job

and it's still a novelty for me. Ask me again in

twenty years! Writing a book has changed my

stand-up, I think I'm funnier now because

I can spend more time with ideas for the

books. After a day's writing, doing a gig is a

release and much sillier than thinking about

porn or FGM.

Are there any subjects you try to avoid?

At the moment, party politics. I feel like we

all build narratives of bad and good, and we

are having our buttons pressed by current

events but sometimes

emotive reactions are

not constructively useful.

I haven't found a way

to talk about politics in

general which is funny

and non-binary. When I

do, I'll... well I'll do it.

Do you think the world

of comedy has changed

at all since you started?

Hmm, I think audiences

are changing and that

directly influences the

acts. Comedy used to

be a crueller place, and

while there's still lots

of that stuff (and lots of

people who love it) there

is more diversity now. And I hope that continues.

Live comedy is flourishing within an

economic downturn and that is because the

people making jokes are from a much wider

spectrum. Their experiences are fresh and

exciting and audiences want that.

What was Brighton like when you were

here for university? I'll always love Brighton

and Hove. It's a vegan Mecca, there are

restaurants that call to me 'come down for

the day and take some cake home with you'.

Although I have to say, I appreciate it much

more now. Because of money. I was poor at

university and couldn't take advantage of

all the great things to do because I couldn't

afford to go out. But I did love walking my

dog Rusty on the Downs and by the sea, and

that was free!

As told to Ben Bailey

Brighton Dome, Wed 7th Mar, 8pm, £19/15

Photo by Matt Crockett

....55....
---
BRIT FLOYD

Wed 7 Mar

JOHN BISHOP

Sat 10 Mar

JOE BONAMASSA

Sat 17 Mar

YES

Wed 21 Mar

brightonfestival.org

©David Shrigley

box office 0844 847 1515 *

www.brightoncentre.co.uk

*calls cost 7p per minute plus your phone

company's access charge
---
ART

........................

Aubrey Beardsley

Decadent Brightonian

It is 120 years since the celebrated Victorian illustrator

Aubrey Beardsley died of tuberculosis, at the

age of 25. Beardsley enthusiast Alexia Lazou will

this month lead a series of events to mark his death.

Aubrey Beardsley was born in Buckingham

Road in 1872. He was diagnosed with tuberculosis

at the age of seven and attended Hamilton Lodge

School in Hurstpierpoint. People speculate that

he had this shadow hanging over him all the time

and that he worked quickly as he never knew how

long he might live. He was a boarder at Brighton

Grammar School until 16, then moved back to live

with his family in London.

He heard that the artist Edward Burne-Jones

was having an open studio and turned up with his

sister Mabel and his portfolio. There was no open

studio, but Burne-Jones noticed Mabel's lovely

red hair and invited them in. He saw promise in

Beardsley and advised that he take evening classes.

Beardsley took his advice, receiving his first commission

aged 19.

A new magazine called The Studio featured

Beardsley in its first issue, including his drawing

for the Oscar Wilde play Salome, which had then

only been published in French. He received the

commission to illustrate the English edition and

that's about the length of his professional connection

with Oscar Wilde, although people tend to

draw it out.

At the age of 22 he became the founding art

editor of The Yellow Book. It was a journal of

art and literature but, where artists were traditionally

treated as illustrators for the writing, the

idea was that artists would be considered in their

own right. It grew in success until the scandal of

Wilde's arrest. The papers reported that Wilde left

his hotel 'carrying a yellow book under his arm',

(French novels considered decadent and racy, were

often given yellow covers, which is why they had

chosen the title for the magazine) and it was indeed

a French novel that he was carrying at the time. But

protesters descended on the magazine publisher's

offices regardless, throwing stones at the window.

Beardsley was sacked from his own publication.

It was suggested that after Beardsley left, The

Yellow Book turned grey overnight and that all

the interest had gone. He went on to set up another

journal, The Savoy, along similar lines, with decadent

literature, poetry and art, until he died a few

years later. He had only been working for six years.

I can't help but wonder what would have happened

had he lived longer.

At Brighton Museum & Art Gallery there are

two of his original drawings in the collection.

One is an unused design from the fifth issue of The

Yellow Book. There is also his pencil box and Brighton

Grammar School good conduct medal, although

I can't work out what he got it for. Allegedly he was

really naughty; his nickname was Weasel.

As told to Lizzie Lower

Full programme at beardsley120.eventbrite.co.uk

The Climax by Aubrey Beardsley

....57....
---
FAMILY

....................................

International Women's Day

Challenging gender stereotypes

To celebrate International Women's Day, Hijack

Children's Festival are putting on a special oneday

event at Komedia on Sunday 4th. Hosted by

Brighton-based comedian and mother of twins Jen

Brister, the day will be packed with activities which

challenge gender stereotypes, including 'craftivism'

(using crafts for activism). Brighton & Hove

Toy Library will be bringing along a whole range

of gender-neutral toys, books and games, and DJ

Darlo will play some inspiring and fun tunes.

Organiser Emily Coleman comments: "We're delighted

that the Nail Transphobia nail salon will be

in situ for the event, tackling transphobia through

nail art - it's fabulous activism! Founder Charlie

Craggs travels around the UK with her pop-up nail

salon and offers the public free manicures, giving

people the chance

to sit down and

have a chat with

a trans person."

The event is

open to girls and

boys aged four

to eleven (and

their parents and carers). Entry is free – just drop in

between 11am and 2.30pm.

International Women's Day officially takes place

on Thursday 8th March. Look out for more IWD

events going on around town, including a day of

celebration at Brighton Dome on Saturday 3rd. RC

internationalwomensday.com / brightoninternationalwomensday.org

Photo by Raul Romo

www.CHOCOLATICIAN.com

CHOCOLATE WORKSHOPS IN SHOREHAM

Come and learn from one of the UK's Top Choc

Artists &creator of the Cumberbunny!

T:01273 809689 OR E: hello@chocolatician.com
---
ART

....................................

Club Silencio...

...at Brighton Arts Lab

For the last two years people have been gathering

in dark rooms beneath St James' Street dressed in

ballgowns and animal masks for a night of queer

cabaret, music and arty happenings. This is Club

Silencio, an almost Lynchian underworld of freaky

performers and odd installations. In partnership

with Brighton Arts Lab, itself a melting pot of

artistic goings-on inspired by 60s counterculture,

the club is rearing its head above ground this month

with a special one-off event at Phoenix Gallery.

We spoke to singer and ringmaster Stuart Warwick

about coming out of the underground.

What is Club Silencio? It's a mix of trashy queer

theatre, dark comedy, surrealism, art and disco. I

wanted to do a night that put performers in a space

that they would never normally get to perform in.

Subline is a men-only sex club, so having a female

presence there, in amongst that ultra masculine

world of heavy chains and camouflage netting, was

quite a radical prospect as it completely subverted

the space. So for the first handful of Silencios we

had some excellent female singer songwriters like

Mary Hampton, Kristin McClement and Emma

Gatrill. It was so lovely to hear their delicate and

beautiful sounds reverberate around a space that

usually just hears the guttural moans of horny

drunk gay men.

You seem to have a very interesting dress code...

We used to have the motto: dress fancy. Again it

was the idea of subverting the space. So a venue that

usually only sees men in wrestling singlets, leather,

and sportswear would instead have men and women

walking round in ballgowns and three-piece suits.

Why the change of venue? We were asked by my

friend David Bramwell, from the Catalyst Club, to

do something for Brighton Arts Lab. He's been a

huge supporter of the night. So for the next show

we're clawing our way out of the sex dungeon and

heading to the Phoenix Gallery.

As an established singer yourself, do you

perform any of your own stuff? I don't perform

any of my own songs at the night, I mainly act as

the host. I dress like a clown and sing along to bad

karaoke backing tracks. The crowd seem to dig it.

Why do you think people come to Club Silencio?

I started it just as an antidote to the usual

club nights on offer. I wanted to host one that had

a sense of humour, that was playful and reflected a

lot of the talented artists and performers in the city.

I'm a huge fan of trashy B-movies, black comedy,

The Twilight Zone, early morning kids' TV shows

from the 80s/90s where people got gunged, and bad

amateur theatre, so this night is very much a mix up

of all those things. A member of staff once found an

artificial arm in a dark room. I think it's still in lost

property waiting to be claimed.

As told to Ben Bailey

Phoenix Gallery, Thurs 22nd Mar, 7.30pm, £8

....59....
---
ART

....................................

Details of the sculptural installation of porcelain eggs. Photo by Marcus J Leith

Natural Selection

The art of birds

Natural Selection is a collaborative exhibition

by artist Andy Holden and his father Peter

Holden, an ornithologist. "The idea started over

the kitchen table," says Andy. "I'd moved back

home, so I was living with my dad. I'd not been

interested in birds when I was growing up – I

was always interested in art – but when I moved

back we had to become friends as adults, so I became

more interested in what he did. We started

developing it as something to do in the house, as

a conversation."

The exhibition is in two parts: the first explores

the history of nest building, through a series

of sculptures and a film narrated by Andy and

Peter. "I'll try to explain the nest as if it is some

kind of sculpture or curious object, and then

my dad will explain it through ornithology, he'll

put it in the context of evolution or function,

so the film is very push and pull between these

two arguments." It ends with a discussion of

the bowerbird: "It's the only bird, or really the

only animal in the natural world that makes

something that isn't a nest. It builds this beautiful,

sculptural avenue of twigs and it gathers

coloured objects and displays them around it:

it's a moment where ornithology and art come

together." Andy has built a giant replica of a

bower, made to human scale, which forms the

centrepoint of this part of the show.

The second part of the exhibition switches its

focus from natural history to social history,

looking at the hobby of egg collecting. "It starts

with the great aristocratic collectors of the early

19th century," Andy says, "when collecting was a

noble pursuit, to classify things and bring things

back, sort of early scientific discovery. Then

it becomes a hobby; gentleman scientists take

it up and it becomes the collections of natural

Andy Holden & Peter Holden, Natural Selection, 2017. An Artangel commission

....60....
---
ART

....................................

A collection of found and recreated birds nests. Photo by Marcus J Leith

museums. But then egg collecting becomes a

pastime for many people who are interested

in the natural world, so that by the 1950s it is

made illegal and it gets driven underground,

and you end up with a network of underground

collectors.

"In the final room is a recreation of the largest

ever illegal collection of eggs, which belonged

to a guy called Richard Pearson. There were

7,713 eggs, collected over a 20-year period.

What it took to make that collection is incredible.

It's very hard to collect eggs; they're

only there for a couple of weeks, and they're

up trees and they're across rivers. It takes a

huge amount of planning and expertise. The

collection was destroyed in 2006 and Pearson

went to prison. Beautiful photographs exist of

this collection, and I've used them to recreate

the hoard, made out of porcelain. It looks

exactly as it was found in the flat of Richard

Pearson, in its old tins and old fish boxes – this

collection that would rival the British Museum,

hidden in a flat in Cleethorpes."

Rebecca Cunningham

Towner Art Gallery, Eastbourne, until 20th May

Sculptural installation of porcelain eggs, recreating a hoard

discovered by the RSPB in 2006. Photo by Marcus J Leith

A recreation of a Bowerbird's bower, with a view of the film

A Natural History of Nest Building. Photo by Marcus J Leith

....61....
---
26 East Street | Brighton | BN1 1HL

Jewellers | Restaurant | Bar

www.pressleys.co.uk
---
ART

....................................

ART & ABOUT

In town this month...

Fabrica has been showing extraordinary

contemporary artists and providing a

creative space for a huge number of local

people for 22 years but recent funding

cuts have put its future in jeopardy. To

pledge your support to the campaign,

and help keep this free-to-visit art space

at the heart of the city, visit crowdfunder.

co.uk/keep-fabrica before the 8th of

March. Donors will receive a range of

exclusive rewards in return, including

original artworks, film screenings, art

materials and more.

Celebrated VR artist Simon Wilkinson brings his

immersive virtual reality performance The Cube to The

Old Market for two nights on the 28th and 29th of

March. It joins 17 other VR installations in a show titled

Whilst the Rest Were Sleeping, an 'augmented reality trail,

live electronic music and AV performance' about a mass

disappearance which happened in 1959 in America,

particularly pertinent to the fake-news-filled present day.

"I first heard of the story as a child in 1982 in a magazine

called Mysteries of The World," explains Wilkinson. "It

wasn't until much later that I heard about Manfred

Berry and the way in which he, as an author, used the

media to create these incredibly detailed story universes

interwoven with fact and fiction."

Whilst the Rest Were Sleeping © CiRCA69

Until the 18th of March at Phoenix Brighton, The Sitting Room elevates

the humble chair from furniture to artform. Through sculpture, installation,

drawing and performance, three artists take inspiration from the everyday object

for their experiments with form and meaning. So sit a while and contemplate.

Also at Phoenix Brighton, the second Brighton Arts Lab takes places at on

Thursday the 22nd. This time David Bramwell has lured the eccentric Club

Silencio from their usual St James's Street lair. More on pg 59.

Unanswered Question by Dave Stephens, Phoenix Brighton

....63....
---
THE ENCAUSTIC WORKSHOP

Hot wax painting suitable for beginners, students and practicing artists

interested in using an ancient medium in a contemporary manner

Weekend workshops,

tuition and practice

covering all aspects of

painting with hot wax

medium.

Cost £150 pp.

10.00 till 4.00pm.

All materials provided

All materials provided

together with

a sandwich lunch.

PRODUCED BY ROOSTDESIGN.CO.UK

Contemporary

British Painting and

Sculpture

We look forward to welcoming

you to our gallery in Hove.

OPENING TIMES

Mon—Sat 10.30am—5pm

Sunday/bank holidays 12pm—5pm

Closed Tuesday

For more details visit

CAMERONCONTEMPORARY.COM

1 Victoria Grove, 2nd Avenue, Hove BN3 2LJ

TELEPHONE 01273 727234 EMAIL info@cameroncontemporary.com

CCA_HovePark_Advert_210x297_Feb2018_v2AW.indd 1 14/02/2018 14:51
---
ART

....................................

ART & ABOUT

In town this month...

If, like us, you've been missing the faintly anarchic Ink_d

gallery on North Road, you'll be pleased to hear that the

team behind it have opened Whistleblower Gallery in

a crisp, newly refurbished space in St John's Road, Hove.

Through March they have White + Black, a showcase

of original works by a host of (usually colourful) artists

including Laurie Vincent, Ryan Callanan and Carrie

Reichardt. Expect monochromatic sculptures, paintings,

drawings and photography. 2nd – 30th of March.

[whistleblowergallery.co.uk]

Ryan Callanan

It's busy in North Laine. See what creativity can be found at the

bottom of a bottle of gin at Brush Gallery this month, where

the 2018 Brighton Gin Art Prize entrants are on display. Also on

Gloucester Road, Art of Treason features the work of 22-year-old

Charlie Woodland. Growing up in the family funeral business,

Charlie saw (by accident) his first dead body when he was just

six years old, which possibly shaped his desire to create art which

focusses on life and death. From the 9th until the 16th. Unlimited,

in Church Street, are busy planning a year of 'Unlimited Women',

kicking things off with Women's March; a group exhibition by a

delegation of designers and illustrators, each creating a 'protest

banner' for the show. Expect fun, playful, passionate, thought

provoking and challenging pieces, championing all things ♀.

Pussy Power by Jacqueline Colley, Unlimited

Photo of Gabriela Albergaria by Jorge Colombo

Out of town

The summer will return and so will the cross-channel arts festival

diep~haven. The theme of the 2018 edition is Terra Firma and ten artists

- Gabriela Albergaria, Matthew Beach, Ève Chabanon, Sarah Duffy,

Valérie Egles, Azadeh Fatehrad, Freya Gabie, Essi Kausalainen, John

Newling and Aurélie Sement - have been invited to work in residence

in gardens and farms across East Sussex and Normandy. Albergaria,

whose work takes gardens and their history as a starting point, will be

creating an installation at Sheffield Park that will be in the garden until

the end of August. Visit the website to find out more. [diephaven.org]

....65....
---
Photographic & Giclée Printing

Online Printing Service Available

C-Type Hand Printing

Archival Mounting

Scanning

01273 708222

info@spectrumphoto.co.uk

spectrumphoto.co.uk
---
ART

....................................

ART & ABOUT

Out of town (cont)

20 Years of Penguin Essentials Vitrine Display (detail) Ditchling Museum of Art + Craft

Photo by Sam Moore

Alongside the excellent Elizabeth

Friedlander exhibition at Ditchling

Museum of Art + Craft, you'll find a

display of the innovative and diverse covers

that have adorned the Penguin Essentials

series, which began in 1998 under the

guidance of Art Director John Hamilton.

In this display, Hamilton selects 100 of his

favourite, ground-breaking designs, with

an additional selection from the publisher's

archives that includes several Friedlander

book covers.

Patrick Caulfield, Dining Recess, 1972, Arts Council Collection

© Estate of Patrick Caulfield, all rights reserved DACS 2017

Take a trip to

Towner Gallery

this month and

you'll get an insight

into the mind of

the extraordinary

Haroon Mirza; an

artist who considers

his main medium to

be electricity. Used

to working with

video, sculpture, light and sound to create large

scale installations, Mirza has selected works from

the Arts Council Collection, as well as Towner's

Collection, and incorporated them into a unique

display. We stared at the Moon from the centre of the

Sun is an exhibition that you'll want to experience

for yourself. An

accompanying

season of classic

occult and sci-fi

films is screened

in Towner's

plush new

auditorium.

Lis Rhodes, Dresden Dynamo, 1971-2

Arts Council Collection © the artist

If you think

Hastings'

arrival on the

arts map is a

new thing, then

you'd better

think again.

Gus Cummins

- Royal

Academician and long-standing member of

The London Group - has been living and

working in the town for 40 years. Despite

having recently celebrated his 75th birthday,

he's only now having his first major UK

solo show. In Off the Wall Jerwood Gallery

presents a major retrospective of his work,

tracing Cummins' diminutive early works to

his recent, monumental pieces created in his

signature 'two and a half D'. Explaining his

penchant for creating works that stand out

from the canvas, Cummins says "I like the idea

of playing with perspective and manipulating

events - interventions with reality if you like."

It's been a long time coming, but Cummins'

time is now.

Off The Wall © Gus Cummins

....67....
---
MY DESIGN SPACE

..........................

Dawson Denim

Hand-made in Brighton (and Japan)

I bet you didn't know that one of just three

denim manufacturers in the UK is based in

Hollingbury.

Life and business partners Kelly Dawson

and Scott Ogden are the brains, and hands,

behind Dawson Denim; a brand that started

with an apron based on a 1930s pattern made

in their spare bedroom five years ago.

"We thought we'd sell a few to some rockabillies

and that would be it," says Scott, but

within a month they were picked to showcase

at The Best of Britannia trade show. "We

literally grabbed the furniture from our front

room and set it up as our stall," he says.

The opportunity led to a surprise niche

supplying Small Batch Coffee, Selfridges and

London's Ace Hotel, which soon blossomed

into a full line of covetable workwear. Their

brand now has a cult following, particularly

in Japan, and their Brighton studio is frequently

visited by curious customers ranging

from young hipsters to quality-driven old

gents and stylish women who don't care

much for stretchy jeans.

Kelly's previous career in menswear design

and manufacture for big brands was based in

London and also in Turkey, where most of the

world's denim is now produced. The Dawson

Denim concept was in part "a reaction against

throwaway fashion," she says. "We wanted to

....68....
---
DESIGN

..........................

approach it in a completely new way."

Their garments, therefore, are made to a

scrupulously ethical model. They use Japanese

denim, which not only is dyed the most beautiful

indigo, but is manufactured by weavers paid

above living wage and is subject to stringent

laws on environmental cleanliness.

"What's magical about the Japanese denim

world is it's all woven on original 1920s looms,"

says Kelly, who takes pleasure in knowing the

800-year history of their product. The pair

buys from a family-owned mill that has been

in operation since 1820 and still uses old-fashioned

methods and old-fashioned kit. "They

just replace bits with bamboo," Kelly explains.

"You think, this is just incredible, nothing is

ever thrown away."

In a similar vein, Kelly and Scott have filled just

three sacks with denim scrap since they started.

Their 'durability guarantee' is a promise to

repair garments on request, to help wearers get

the absolute most from their clothing.

Their small workshop is crammed to capacity

with the ten reconditioned machines and

other equipment it takes to make each pair of

jeans. Kelly tells me there are seventy different

processes involved.

"We like to make life difficult," she adds.

"We don't do any exposed seams, everything

is hidden; the fly has a selvedge detail... you

could take one of our garments and wear it

inside out."

I'm drawn to a framed piece of Boro quilting

on their wall. Kelly explains how this textile is

made up of scraps of well-worn kimono that

have been repaired and repurposed again and

again. It's a perfect illustration of the level of

care and respect that Kelly and Scott put into

making garments worth maintaining, and of a

day-to-day philosophy that would benefit us all.

Chloë King

Dawson Denim are hosting an open day in

March, see dawsondenim.com

....69....
---
Choose an MBA

that recognises your

ambitions and goals,

and a university that

supports, inspires and

challenges you.

Choose the

Sussex MBA.

FIND OUT MORE ABOUT THE SUSSEX MBA

www.sussexmba.com

mba@sussex.ac.uk

+44 (0)1273 873522
---
THE WAY WE WORK

This month, Adam Bronkhorst has taken 'street style' portraits

of five of Brighton's vintage clothes sellers, asking each of them:

"If you could travel back in time, when and where would you go?"

adambronkhorst.com | 07879 401333

Clio Fish, Dirty Harry

"I'd go back to 70s New York, the start of Disco."
---
THE WAY WE WORK

Audrey Taylor, All About Aud

"70s LA – I love the bohemian/gypsy style."
---
THE WAY WE WORK

Daren Turner, Immediate

"1969, No 2 Savile Row. I'd be on the roof with my tambourine, wearing my kaftan."
---
THE WAY WE WORK

Caz Watson, Starfish

"The mid-70s, in the UK. When I see pictures of my parents back then

they just wore the craziest things."
---
THE WAY WE WORK

Ben Elliott, To Be Worn Again

"I'd stay in the present. Now we have the best of everything that came before."
---
䨀 甀 氀 椀 攀 琀 栀 愀 猀 琀 攀 愀 洀 攀 搀 甀 瀀 眀 椀 琀 栀 匀 愀 洀 䴀 愀 琀 琀 栀 攀 眀 猀 ⠀ 昀 漀 爀 洀 攀 爀 挀 栀 攀 昀 琀 漀 倀 愀 瘀 愀 爀 漀 琀 琀 椀

☀ 吀 栀 攀 吀 栀 爀 攀 攀 吀 攀 渀 漀 爀 猀 ⤀ 琀 漀 挀 爀 攀 愀 琀 攀 愀 猀 甀 爀 瀀 爀 椀 猀 椀 渀 最 琀 愀 猀 琀 攀 爀 洀 攀 渀 甀 愀 渀 搀 琀 愀 氀 欀 ⸀

䨀 甀 氀 椀 攀 琀 眀 椀 氀 氀 椀 渀 琀 爀 漀 搀 甀 挀 攀 礀 漀 甀 琀 漀 挀 漀 洀 洀 漀 渀 最 愀 爀 搀 攀 渀 瀀 氀 愀 渀 琀 猀 琀 栀 愀 琀 礀 漀 甀 挀 愀 渀 攀 愀 琀 Ⰰ

眀 栀 椀 氀 攀 匀 愀 洀 猀 攀 爀 瘀 攀 猀 甀 瀀 搀 攀 氀 椀 挀 椀 漀 甀 猀 琀 愀 猀 琀 攀 爀 猀 琀 漀 眀 栀 攀 琀 礀 漀 甀 爀 愀 瀀 瀀 攀 琀 椀 琀 攀 ⸀

匀 瀀 爀 椀 渀 最 䘀 氀 愀 瘀 漀 甀 爀 猀 昀 爀 漀 洀 礀 漀 甀 爀 䜀 愀 爀 搀 攀 渀

㈀ 㤀 琀 栀 䴀 愀 爀 挀 栀 㨀 アパート 愀 洀 ⴀ ㈀ 㨀 瀀 洀

匀 甀 渀 渀 礀 Ⰰ 匀 甀 洀 洀 攀 爀 䘀 氀 愀 瘀 漀 甀 爀 猀

アパート 猀 琀 䴀 愀 礀 㨀 アパート 愀 洀 ⴀ ㈀ 㨀 瀀 洀

䄀 吀 愀 猀 琀 攀 漀 昀 䄀 甀 琀 甀 洀 渀

㈀ 㜀 琀 栀 匀 攀 瀀 琀 攀 洀 戀 攀 爀 㨀 アパート 愀 洀 ⴀ ㈀ 㨀 瀀 洀

䰀 攀 愀 爀 渀 洀 漀 爀 攀 ☀ 戀 漀 漀 欀 漀 渀 氀 椀 渀 攀 愀 琀 眀 眀 眀 ⸀ 猀 甀 猀 猀 攀 砀 最 愀 爀 搀 攀 渀 猀 挀 栀 漀 漀 氀 ⸀ 挀 漀 洀
---
FOOD

............................

Chard

(Not) just desserts

Pistachio roast pear

with cardamom ice

cream. I know it's

not the done thing

to start a food review

with dessert, but

indulge me just this

once. Pistachio, pear

and cardamom; for

me there is no more

appealing combination

of flavours.

Chard post their

monthly menu on

their website, so I'd

chosen my dessert

long before we'd

arrived and there would have been tears if they

hadn't had it. I'd thought about it all day. Visualised

it, my mouth watering in anticipation.

It was well worth the wait. Not too sweet

and with the flavours in restrained balance.

A perfectly cooked pear in a crown of

pistachio-stuffed filo, flanked by a generous

quenelle of cardamom ice cream, perfectly

white and delicately spiced. With dinner

companion Rebecca completely distracted by

a Frangelico chocolate truffle cake with rolled

hazelnut ice cream (every bit as decadent as

it sounds), I was left to savour it all to myself.

Every mouthful a delight.

We know the rules and had eaten our dinner

first of course. Both vegetarians, we'd opted for

the comforting leek and lemon barley risotto,

topped with nutty, al dente purple sprouting

broccoli, and richly seasoned with Sussex

Charmer cheese. Before that we'd shared a plate

of cool, creamy labneh with blood orange and

sumac, and a dish of fried

Sussex Medita: a locally

made feta-style sheep'smilk

cheese. Salty, savoury

and softened by the

heat of the pan, served

with tart pickled rhubarb

and earthy shavings of

beetroot. Delicious.

Located at 50 Preston

Road, Chard began life

as an evening pop up in

Café Rust, the permanent

occupant of the address.

Luckily for us, they liked

the arrangement so much

that they stayed, and now

you can enjoy the café by day and Chard by

night (from Tuesday to Friday). It's run by two

culinarily creative sisters and their other halves,

whose philosophy is to source it locally and

make it from scratch. A slightly risky strategy in

the cold winter months - the Sussex landscape

can offer scant pickings at this time of the year

- and yet the menu is shot through with bright

flavours: buttered bream steaklets, tapenade and

citrus salsa; cider-braised pig cheeks with candied

apple & walnut black pudding, and sticky

orange almond torte with Moscato d'Asti sorbet.

I've always liked Preston Circus, especially the

eclectic row of shops that ply their trade beneath

the viaduct, but it's not a place I visit often. I'm

rarely in need of a motorbike, or a splendid plaster

ceiling rose, or indeed a new bathroom but,

now I know that it deals in perfect puddings, I'll

be popping back more often. Lizzie Lower

50 Preston Road, Tuesday – Friday, 6.30-10pm,

chardbrighton.co.uk. Around £55 for two

Photo by Lizzie Lower

....77....
---
RECIPE

..........................................

Photo by Rebecca Cunningham

....78....
---
RECIPE

..........................................

Groundnut stew

By The Feature Kitchen's Jacob Fodio Todd

I grew up in Mozambique, then Swaziland, then

Tanzania; my family moved around quite a bit

until I was 13, when we came to England, to

Lewes. After I finished school, I went to Paris

for two years and worked in the Rose Bakery

there. Then I moved to London, where I started

a food enterprise with some friends called The

Groundnut, a project looking at African food.

We did a lot of pop-up restaurants and we

published a cookbook.

When I moved back down here, I wanted to do

something to increase the diversity of cuisine

available. There are a lot of takeaways, but they

tend to be the traditional Indian, Chinese, Thai

places. The idea of The Feature Kitchen is to

create a platform for chefs and food enthusiasts

to come in and cook. They don't have to worry

about anything except the food; the packaging

is taken care of, the marketing, the logistics. We

work on a menu together, talk about it, cook it,

taste it, and once that works well they just pitch

up in the kitchen and start cooking. I often

kitchen assist, but otherwise it's up to them.

We work from the Community Kitchen in

Lewes. I hire it for a day, pay the chefs a fee

and get some drivers to come and distribute the

food around the town and into Brighton. We

don't have our own permanent space, so the

business is kind of fluid.

The menu changes each month. The first was

Ethiopian, the second was Caribbean, then

Trinidad and Tobago, Thai… all over the world.

And the experience of the chefs really varies.

Genet, who did the first month, used to cook

back in Ethiopia so she's very experienced, just

not so much in the UK market. Omolola is a

doctor and she was taking a sabbatical, so she

wanted to take some time to explore her passion

for African and Caribbean food.

This recipe is actually from a friend, who's from

Sierra Leone. It's a peanut-based dish which

is common across West Africa, with similar

variations throughout Africa. Serves four.

Ingredients: 2 tins of black-eyed beans, 2

onions (finely chopped), 2 cloves of garlic

(finely chopped), fresh chilli (finely chopped),

2 heaped tablespoons of tomato purée, 2

tomatoes (finely chopped), vegetable stock,

2 heaped tablespoons of peanut butter, ½

teaspoon of white pepper, and salt and pepper

to taste.

Method: Heat a little oil in a pot. Add the

onions, one of the cloves of garlic and the chilli

(I used a quarter of a Scotch Bonnet, but adjust

according to taste). Cook that all down until

the onions turn golden brown. Add the white

pepper and tomato purée and cook until it starts

to burn slightly.

Put the fresh tomatoes and the rest of the garlic

into the pot with the black eyed beans and add

stock to just cover. Stir in the peanut butter and

leave to simmer for 30 minutes. Season with

salt and pepper. This goes really well with rice,

bread – any staple really – and then a nice salad.

As told to Rebecca Cunningham

This month Seven Sisters Spices will be taking

over the kitchen. Their menu will be available

(Fridays and Saturdays only) on the weekends

of the 9th, 16th and 23rd of March. See

thefeaturekitchen.co.uk

....79....
---
FOOD

....................

Lavash

Middle Eastern zing

Photo by Lizzie Lower

It's a gloomy day

when I visit the

recently opened

Lavash on Gardner

Street, named after

the unleavened

flatbread popular

in Middle Eastern

countries. The place

is decorated to

suit, with stencilled

geometric tile patterns on polished plaster walls

and engraved, brass tables. It's very nicely done

and reminiscent of exotic holidays; a welcome

distraction from late winter Brighton.

On the menu are – as you might expect – a variety

of flatbreads and sharing boards. I opt for Çigköfte:

a mix of spiced, fine bulgur wheat, rolled up in a

flatbread with shredded red cabbage and onion,

and a handful of fresh and peppery leaves. Lunch

companion Lucy opts for a Chicken Çöp Shish, her

wrap filled with a generous helping of marinated,

grilled chicken.

We take a seat upstairs and dig in. They are

definitely two-handed affairs, and its not a dainty

operation, but we both nod our appreciation as

we chew. The lavash is soft and springy, and the

bulgur wheat is generously seasoned with finely

chopped herbs and chilli. A touch of hot sauce adds

further piquancy and sweet and tart pomegranate

dressing oozes from the open end with each bite.

It's a delicious mess. As is the chicken, Lucy reports;

flavoursome without being too spicy.

It's a welcome change from a sandwich lunch –

fresher, less bready and bursting with zesty flavours

– with a gentle warmth to ward off the winter chill.

Lizzie Lower

£9.50 for two

....80....
---
FOOD

....................

Dexter's

Very North Laine

Each month I spend a morning with Adam

Bronkhorst, photographing (him photographing, me

watching and occasionally making myself useful by

carrying a spare flash) the five subjects in our The

Way We Work feature. It's a lot of fun, and usually

involves us driving all over town to get round to all of

them as quickly as we can.

This month's subjects being vintage clothes sellers, we

end up shooting all five within the same three streets

in North Laine. So when we're finished, early, it seems

like the perfect opportunity to try out Kensington

Gardens' new café.

Dexter's is in the spot where the Thai restaurant

Krua Anne used to be, and it's undergone a serious

refurbishment. The outside is painted a bold blue; the

inside is warmly lit and cosy. The menu is pretty cosy

too. I can't resist the combination of peanut butter and

banana, so seeing this on the menu – atop a toasted

cinnamon and raisin bagel (£4.75) – makes my mind

up. Adam goes for smashed avocado on toast with feta

(£7.45) and extra bacon (£1.60).

The café gets busy so there's a bit of a wait before

our food arrives, but we're running ahead of schedule

anyway, and it's worth it when it does (note the

sprinkling of poppy seeds). Plus there are some quality

eavesdropping moments: at one point three girls walk

in, one of them approaches the counter and hesitantly

asks if she can buy eight brown bags, 'big enough to fit

over someone's head'. We are in North Laine. RC

dexters-brighton.co.uk

....81....
---
BRIGHTON

hove lawns

5, 6, 7 MAY

BANK

HOLIDAY

www.foodiesfestival.com ● 0844 9951111
---
ADVERTORIAL

Food & Drink

Fin & Farm

Easter is nearly upon

us (and Mother's Day)

when Spring roasts are

on the table. You can eat

well and support independent farms by serving

great quality, ethically reared meat, such as our

organic Pevensey Saltmarsh Lamb. Maybe round

off with a Sussex chocolate Easter egg. We are a

zero-food-waste company and bring local farm

produce to your door. finandfarm.co.uk

West Hill Tavern

An independent, familyrun,

family-friendly local

pub, perched on the hill just

two minutes from Brighton

station. 'The Westie' is a

super cosy pub serving home-cooked traditional

pub food, a superb Sunday roast, local ales, a gin

list as long as your arm, gluggable wines, craft

beers, and a bloody-good-Bloody-Mary. Plus,

there are quiz nights, DJs, Jazz Thursdays, open

mic nights and more. Bring your friends, bring

your dog, bring your family, bring the GOOD

TIMES! 67 Buckingham Pl, thewesthilltavern.com

Terre à Terre

The local go-to for the most

creative vegetarian food in

Brighton, always delivered

with a cheeky little pun!

Offering lunch and dinner options from small

plates and sharing tapas to three-course set

meals, not forgetting the afternoon-tea menu,

multi-tiered savoury, sweet and traditional

delights available from 3-5pm daily. Enjoy one of

the unique cocktails, or a glass from the organic

wine list, with a little nibble off the à la carte.

71 East Street, 01273 729051, terreaterre.co.uk

Edible Updates

Cheese lovers rejoice: The Big Cheese

Festival returns. This year it's at Hove

Lawns on the 3rd, featuring a selection of

cheesemakers from across the UK. Final release

tickets still available (as we go to press) at £22.

[thebigcheesefestival.co.uk] If dairy is not your

thing, there's a Vegan Beer and Cider Festival

at the Cowley Club from the 23rd to the 25th,

offering a selection of ales,

stouts and ciders (as well as

non-alcoholic options) to

try while you enjoy some

live music. Entry is free

(donations welcome).

On the 24th and 25th, VegFestUK Brighton

is back for its tenth year. The Brighton Centre

will be filled with over 200 stalls selling vegan

foods, clothing and beauty products, plus 19

caterers serving some delicious vegan food

to eat while you browse.

Tickets are £7 (per day,

plus booking fees) in

advance or £10 on the

door (concessions £5,

kids under 16 free with

accompanying adult).

[brighton.vegfest.co.uk]

Finally, there's an opportunity to craft your

own chocolate goodies in time for Easter,

with 'chocolatician' Jen Lindsey-Clark. She

has previously sculpted a life-sized head of

Benedict Cumberbatch and a

bust of Elizabeth II (both

in Belgian chocolate)

and will be holding a

workshop on the 29th,

2pm-4pm. To book, call

07813 619667.
---
FASHION

...........................................

Photo by Adam Bronkhorst, adambronkhorst.com

....84....
---
FASHION

...........................................

thedesignerist

Emmanuelle Morgan, fashion blogger

Instagram has given rise to

many inspirational, 40-plus

female bloggers, however

I found it worrying how

few disabled women were

represented. I had a motorbike

accident in 1995 which

resulted in a brachial plexus

injury, essentially a permanent

paralysis of my left hand and

arm. I was doing a degree in

furniture design at the time,

and I was very much part of

the London vintage scene,

riding old British motorbikes

and socialising in rock'n'roll

pubs around Camden.

Many aspects of my

lifestyle changed overnight,

and of course it took me a

while to adapt to my new

circumstances. I am not going

to put a positive spin on losing

the use of my arm and hand –

of course I would dearly love

to be able to use both again

– but the experience has made

me stronger, more self-reliant

and determined.

People have always told

me that they love the way I

dress, so I decided to create

thedesignerist to promote a

positive image of living with

disability. Clothes are very

empowering, they make me

feel good about myself and

confident about the way I look.

I love that the fashion industry

is becoming more inclusive,

I just hope that in my own

small way, I can help challenge

perceptions of fashion and

disability.

I have expressed myself

through fashion for as long

as I can remember. I have

a huge collection of clothes

which I essentially mothballed

when I moved to Brighton.

Brighton is more laid back

than London and I became less

flamboyant and more practical

in the way that I dressed.

Instagram has made me fall in

love with fashion all over again.

I really enjoy putting together

outfits each morning, pairing

old with new and adding to the

collection.

Writing the blog has been

very cathartic. I have never

liked the word 'disabled' – it

felt restrictive and inferred

that people with disabilities

were somehow less able. But

I've made peace with the

word and accept that being

disabled doesn't make me less

of anything.

....85....
---
CNM

Training Successful Practitioners

COLLEGE OF

NATUROPATHIC

MEDICINE

CHANGE CAREER

Train to become a…

Nutritionist

Herbalist

Postgraduate Courses & Short Courses also available

Part time and full time studies

Acupuncturist

Homeopath

London, Brighton, Bristol, Birmingham, Manchester,

Edinburgh, Belfast and Ireland

01342 410 505 www.naturopathy-uk.com

Attend a FREE

Open Evening

Naturopath

Natural Chef

NEW

John

Pasfield

Specialist in traditional &

modern wood floors

RESTORATION BY HAND

USING TRADITIONAL

METHODS, OR

WITH DUST FREE

FLOOR SANDING

MACHINES.

Floorboards, parquet, stairs, panelling,

marine woodwork and other wooden surfaces

Oils, waxes, lacquers, stains & bleaching

20 YEARS EXPERIENCE AND FULLY INSURED

www.johnpasfield.com

E.johnpasfield@yahoo.co.uk M.07810206294
---
FASHION

...........................................

I have recently posted a picture of

myself highlighting the physical

difference between my arms. It's a

departure for me as I have spent the last

20 years hiding my left arm, covering

the scars and tucking it away in a pocket.

Instagram has given me a platform

to express myself and to embrace my

differences. I am happy with who I am,

and I don't feel that my age or disability

define me.

Brighton is a stylish place. It is a very

creative city and because of its 'anything

goes' attitude and the number of people

experimenting with personal style, it's

hard to look out of place. I love the liveand-let-live

attitude, it's so unlike other

places I've lived like Lausanne and Paris,

both cities where you need to conform.

In many aspects I don't fit in but in

Brighton that doesn't matter. Nobody

fits in. It's not one-dimensional. We are all

different in our own ways and that's what

makes Brighton so unique.

As told to Lizzie Lower

thedesignerist.co.uk / @thedesignerist

Photos (this and above) by Capture Factory

....87....
---
JOHN WILLIES

COUNTRY

KITCHENS

HANDMADE & HAND-PAINTED

FITTED & FREESTANDING

SOLID WOOD KITCHENS

BRIGHTON

SHOWROOM

126 CARDEN AVENUE, PATCHAM

BRIGHTON BN1 8NE

Tel: 01273 562943

WWW.JOHN-WILLIES.COM

Extensions, loft conversions, bathrooms,

kitchens, plus much more...

01273 287900 or email

truebuild121@gmail.com

truebuild-construction.com
---
Photos by Rebecca Cunningham

MY SPACE

...........................................

Future couture

Tomorrow's fashion and textile makers

The University of Brighton welcomed its first

Textiles students in the late 60s. We meet with

Caterina Radvan (Programme Leader), Patrick

Dyer (MA and MDes course leader) and Craig

Higgins (Fashion course leader) to find out

what the next generation of textile designers are

working on.

"All the courses in the programme are underpinned

by a philosophy that is teaching design

through make," says Craig. "Whether that's

making garments, or producing fashion editorials,

websites, and magazines, students are fully engaged

in making products from the start. Design

through make is very different to a straightforward,

almost linear, method. The process we adopt

is much more iterative; the students are experimenting,

they're reviewing, refining, testing things

out, redesigning."

Patrick adds, "I think it's decreasing, the number

of courses that have such a strong focus on practice.

Our students leave with that knowledge and

that skill, that we're not here just to do design, it's

design through practice."

"The approach at Brighton is that our graduates

leave very highly skilled, and in order to be highly

skilled you have to be a specialist," says Caterina.

"You can't do a little bit of everything the whole

way through, or you just won't have the standard

of skills to be able to design and understand the

process." First-year Textiles students take a taster

....89....
---
MY SPACE

...........................................

....90....
---
MY SPACE

...........................................

module in each of the three areas: knitted textiles,

printed textiles and woven textiles. "After their

first term here, they decide which of those they

want to specialise in for the rest of their course,

and the rest of their career, usually."

Craig explains: "The first year is focused on

design process skills, and it's really about trying

to understand who they are as a designer. In the

second year we introduce them to more specialist

product areas, such as tailoring, sportswear, couture

– so they're really trying to build the kind of

skills that suit what their end objective is."

The third year, for the majority of students across

Fashion and Textiles, is spent in industry. "The

work placements are bespoke to each student,"

says Caterina, "so they tell our work placements

office where they would like to work and why

they would like to work there, and we do our best

to make sure that happens. Most students don't

stay in Brighton – many of them end up in London,

or Paris, Stockholm, Berlin, New York, Milan

– but locally, we have a handful of companies who

take placement year students, many of whom are

Brighton alumni. Our students are very fond of

their course and everybody keeps in touch after

they graduate, so there's a huge network that's

stretching all over the world."

"We always say, if you scratch below the surface of

any company in the fashion industry you'll soon

find an ex-Brighton student!"

Rebecca Cunningham

Photos by Rebecca Cunningham

....91....
---
FABRIC

...........................................

RubyMoon

'Slow fashion' ethical swimwear

Photo by Alma Rosaz

"One sixth of the world's population is employed

in the textile industry," says Jo-Anne Godden,

founder of Brighton-based swimwear brand

RubyMoon. "Most of those are women, and most

of them are paid below the living wage, and so

they're trapped in a job where they're not able to

meet their most fundamental needs, or plan for the

future, or provide for their children. I wanted to do

something different."

In 2009, Jo left a career designing swimwear and

lingerie for big-name brands and decided to go out

on her own. A couple of years later, she launched

her first line of ethical swimwear. She says: "I

wanted to make a product that could be sold that

would actually add value, both environmentally and

socially, rather than taking it away, which most of

the garment industry does right now."

The process starts with the sourcing of materials.

"We partner with Healthy Seas – an amazing environmental

organisation based in the Netherlands

– whose mission is to remove 'ghost' fishing nets

from the North Sea and the Mediterranean. They

work with divers and fishermen to retrieve those

nets, bring them back onto land and send them out

to a cleaning and reprocessing point. The nylon is

taken out of the fishing nets and reprocessed by a

company called ECONYL ® into a yarn, which is

used to produce our swimwear fabrics."

The resulting fabrics are not only environmentally

friendly, but "stronger and more resistant to

chlorine, salt water and sunlight than traditional

materials," Jo explains. "It's quite a high-tech

fabric and we use it as such; all the stitching we

do, the elastics we use and the componentry has

to be very well considered so that we know our

garments are going to last a long time. The most

....92....
---
FABRIC

...................................

Photos by Ana Caroline de Lima, part of IWD exhibition

positive environmental

impact you can make as

a designer is ensuring

your clothes last longer."

And that extends to the

durability of the design

as well as the products

themselves. "We don't do

high-fashion items," she

says, "we do what's called

'slow fashion': more

classic shapes, and classic

colours that will last year

after year."

The latest collection

launches on pre-sale this

month. "Pre-selling is a

new concept for us. It's

about having zero waste:

we're aiming to get

orders in before we start production to give us an

idea of how much we need to manufacture." The

range is called 'GymToSwim ® ' – a set of mix-andmatch

separates, designed to be worn for both

swimming and working out. There's a sports top,

reversible bikini bottoms, yoga shorts, and a multi-sports

bra, each priced between £38 and £49.

Looking to make a positive social impact as well

as environmental, Jo tapped into the idea of

Photo by Mi Elfverson

microfinance, through an

organisation called Lendwithcare

[lendwithcare.

org]. "It's called 'micro'

because in our terms it's a

small amount of money"

- loans start from as little

as £15 - "but when you're

talking about investing

in people in developing

countries, that small

money goes a long way."

100% of the net profits

generated by RubyMoon

are loaned out to female

entrepreneurs in developing

countries. "We invest

in women because we believe

that once they have

their own steady source

of income, they're empowered in their communities.

People become interested in what they're

doing and what they're saying, and they actually

begin to have a voice." Rebecca Cunningham

To celebrate International Women's Day, there will

be an exhibition of photographs (top) of five of the

women RubyMoon and Lendwithcare have invested

in so far, created in collaboration with FotoDocument.

Brighton Dome, 3rd March, from 12.30pm

....93....
---
INTERVIEW

...........................................

Smart clothing

It no longer just means your interview suit

First came Fitbits and Apple Watches, gadgets

worn by those keen to track their activities in the

hope of adopting healthier lifestyles. Now scientists

and manufacturers are creating garments with

inbuilt systems that are able to detect an array of

bodily functions - from our heart rate, to our respiration,

to the state of our hydration. In short, our

clothes will soon be able to say much more about

us than just our style preference.

While there is clearly a market for wearable

technology – particularly in sport and health – the

challenge has been how to make it sophisticated

enough to be accurate without it impeding the

movement or performance of the wearer.

A team at the University of Sussex have come up

with a solution. They are currently in the early

stages of developing an electronic sensor from an

emulsion of graphene, oil and water. The sensor,

in the form of a flexible patch that can be sewn

into clothing, would be able to detect the pulse

and respiration of the wearer through the tiniest of

body movements. This is because the more it flexes

and stretches, the greater its electrical conductivity.

This information can then be relayed wirelessly

to a monitor or a smartphone, dispensing with the

need for clunky equipment.

Professor Alan Dalton, head of the University's materials

physics group and the lead researcher, came

up with the idea while making salad dressing with

his nine-year-old daughter. "She was amazed to see

the little circular particles of oil," he says. "It set me

thinking about how we could use the principle to

....94....
---
INTERVIEW

...........................................

create emulsions in which tiny balls of graphene are

suspended in oil and water."

Graphene is a two-dimensional, ultra-strong, flexible

and conductive form of carbon that's abundant

in the natural world (it's derived from graphite, the

'lead' in pencils). Because the cost of producing

such a device is so affordable - a matter of pence,

according to Dalton - the potential uses are vast.

And not just for the sports and fitness fraternity.

"A simple and cheap-to-produce sensor like this

could be sewn into babies' sleepsuits and help to

prevent neo-natal deaths in remote communities

in developing countries," says Dalton. "It could

have a traffic light system, which tells a parent

when their child is unwell, or relays the information

to a hospital. It could also be used for dementia

patients to detect dehydration, a common

problem with the elderly, and remind them to have

something to drink."

There are already some alternatives to Dalton's

idea, such as clothing that incorporates electronic

sensors. But, as he points out, these require batteries

whereas the graphene solution has a very long

lifespan. The team are now expecting investment

from companies and are anticipating commercially

available products in the next two to four years.

Dalton says: "This material has great potential.

As physicists, it's exciting for us to see how our

research can have real-world benefits. This is just

the start of the journey." Jacqui Bealing

....95....
---
BRICKS AND MORTAR

...........................................

Underfoot art

Sarah Arnett's on the Level

Take any of the

intersecting paths of

the Level's north lawn

and you'll at some point

walk over a circular 2D

art installation installed

as part of the park's

redevelopment, the work

of Brighton and Hove

fashion designer and

fabric illustrator, Sarah

Arnett (see pg 30) and

landscape architect, Tom

Hardiment.

The design duo are both

long-time Brighton

residents and their artistic

vision was borne of their

love of the city. The design

of the two roundels

incorporates city motifs

from our heritage and contemporary landmarks,

along with text drawn from locals' memories of

the Level, collected by an oral historian.

Stop and look down and across the four-metre

panel and you'll see the Royal Pavilion, Duke of

York's, the beach huts and the bandstand on the

seafront, St Bart's and St Peter's churches, the

London Road Viaduct, the streets of Hanover

and the War Memorial, and from the Level, the

1983 Peace Camp, the funfair and the Urban

Tree Festival. The nature of the city is integral

to the design – the elm trees feature and the

conservation of the White-letter Hairstreak

butterfly that lives in the tops of the trees.

Fabrication of the roundel was by Graphic

Relief Ltd, using a novel cast-concrete-moulding

technique. To pick out the detail of the design

in a material not known

for its light touch, Sarah's

drawings were produced in

a shaded monochrome. The

casting process then went

on to render the detailed illustrative

style that Sarah is

renowned for in her fabric

designs, onto the hardwearing

material needed

for such a busy part of the

city. Sarah comments: "The

design and casting process

provided for the range of

expression that was needed

for both a grand gesture,

the first impression you get

of the roundel, and then the

intricacies of the stories of

the Level and the city you

see on closer inspection."

With a successful international fashion business,

Sarah has a history of bringing her fashion and

fabric design skills to alternative material and

surfaces across the city. She is known to many

first and foremost for 'Max', the floral Snowdog

once found outside Hove Museum, who went on

to raise £22,000 for The Martlets at its charity

auction. Sarah has also worked with The Royal

Pavilion to create a design for its membership

information, taking inspiration from "some of

the more humble elements from the wallpapers

and decorations, leaving out the big showy

dragons and serpents and bringing, for example,

fishermen from the Music Room wallpaper and

birds from the walls of the newly restored Salon

to centre stage." Cara Courage

saraharnett.co.uk

....96....
---
Illustration by Mark Greco (@markgreco)

WILDLIFE

...........................................

Mink

Fashion victims

The Wind in the Willows is one of Britain's most

beloved books. Yet this story of riverbank wildlife

would have no doubt lost some of its charm if, in

the final chapter, Kenneth Grahame had introduced

a new character: a deranged American serial

killer who eats his victims.

It's easy to cast American mink as the bad guys. With

long, sleek bodies equipped with razor sharp teeth,

they're natural born killers as vicious in water as they

are on land. Part polecat, part piranha. But it was the

mink's adaptation to winter and water – luxurious,

thick, waterproof fur – that was its downfall. Enter

the real villains of this tale; the ghastly women who

craved mink fur coats and the greedy men out make

a fast buck from a mink massacre.

American mink were imported into the UK

in 1929. By the fifties British mink farms were

springing up everywhere producing pelts at full

pelt. Near Brighton there were farms at Chiddingly,

Plumpton, Isfield and Buxted. But fur

farmers had overlooked one important thing:

mink were smarter than they were. Mary Potter

remembers the Buxted farm: "they built the cages

with ordinary wire netting. The mink made short

work of that and escaped. With stronger netting,

they started again with more mink, but again, the

wire was no match for their teeth. After a third

attempt with stronger wire netting they gave up

and just released them." The result of a new alien

predator invading our waterways was catastrophic.

Kingfishers, ducks, moorhens, fish and toads suddenly

found themselves on the mink's menu and

were swiftly dispatched with a Dracula-style neck

bite. The worst victim was the water vole – Ratty

from The Wind in the Willows - which mink almost

completely eradicated from Sussex.

Jim 'The Fish' Smith has walked and worked the

River Ouse for decades. Legend has it that Ouse

river water runs in his veins. He first encountered

a mink when one cruised past him downstream

on a piece of driftwood. "I had never seen a mink

before and had no idea what it was" says Jim "but

it wasn't long before we saw God knows how

many along the river". During the sixties Jim and

four others were employed to trap and humanely

kill mink along the Ouse. "In those days we were

doing nothing else but trapping mink. We were

catching 25-30 a week."

Thankfully fashions and attitudes change and

mink farms are gone but their ferocious, furry

legacy remains in our rivers. "These days you don't

see that many mink so I have to conclude that the

effort we have put in to controlling them has been

successful," says Jim "but you're never going to get

rid of all of them".

Michael Blencowe, Sussex Wildlife Trust

....97....
---
INSIDE LEFT: ROYAL PAVILION, 1924

.....................................................................................

'The fashions, especially ladies, have changed much

more than the buildings,' wrote Brighton photo

archivist James Gray, about this shot, taken in 1924.

It's from a postcard, which we've cropped to show

the protagonists more clearly, which is captioned

'Visit of TRH the Duke and Duchess of York'.

'TRH' stands for 'their royal highnesses', and the

royalty in question, sitting in front of the Royal Pavilion,

are Prince Albert, second heir to the throne,

and his wife Elizabeth.

It's Elizabeth who draws our eye, partially because of

the way her own eye is drawn to the camera (everyone

else is looking the other way), partially because

of the stylish manner in which she is dressed, cloche

hat and all.

Does she look happy? We hope so. Elizabeth had

famously hummed and hawed for nearly three years

before accepting Albert's marriage proposal, aged

just 23, imagining that becoming part of the Royal

Family might be rather a life-changing event.

It was, and then some. Albert might have expected,

as second-in-line, to live his life in the shadow of his

elder brother Edward. But Edward, of course, was

later to declare his abdication in the same year as his

coronation (1938) and Albert had to step up to the

plate. Until then, he had been known as 'Bertie'...

afterwards he became King George VI. His eldest

daughter Elizabeth, of course, is our current monarch.

The Elizabeth in the photo became best known

to most of us later in her life, as 'The Queen Mum'.

Between Liz and Bertie sits one of Brighton's more

flamboyant mayors, Hugh Milner Black. Before

moving to Brighton to take up the trade of optician,

Black – made a Freeman of the city for his dedication

to corporation housing – had been a pastor,

working in Kansas and Melbourne, Australia, where

he met his wife, sitting to the right of the Prince.

Alice Jean Milner Black (nee McCullough) looks delighted

to be in such exalted company and – we bet

– has bought that flamboyant hat for the occasion.

Of course the building the group are sat in front of

could have belonged to the young couple if Bertie's

great grandmother Victoria hadn't taken such a dislike

to it, having inherited it from her uncle, George

IV, but selling it to the city of Brighton in 1855. For

the record the postcard was made by the Brighton

Camera Exchange, based in Market Street, who also

specialised in pictures of the Brighton Carnival, and

Brighton & Hove Albion players and supporters. AL

Thanks, as ever, to the Regency Society for their

permission to use this shot taken from the James Gray

archive. regencysociety.org

....98....
---
ADVERTORIAL

For your heart pumping, life changing moment.

FOR THE NOW.

Take on one of the world's most iconic trekking trails with

Chestnut Tree House. This classic Inca Trail challenge in Peru

encompasses three high mountain passes – the highest at

4,200m - as well as hiking through sub-tropical vegetation,

cloud forest and summiting snow-capped peaks. The trekking

will be tough, but worth it when you reach the unforgettable

sight of Machu Picchu.

Chestnut Tree House cares for local children with lifeshortening

conditions – giving them the chance to do all

sorts of things that kids love doing. These children live in the

moment, for the now. When you are facing the greatest of

challenges, it's the smallest of moments that really matter –

taking the time to relax, knowing your child is safe; splashing

in the hydrotherapy pool together; talking to one of our

nurses who understands exactly how difficult things are.

Join us on this mystical Inca trek and take on the challenge.

For yourself. For local children and families. For living.

For the Now.

www.chestnut-tree-house.org.uk/inca

CHALLENGE 2019

Limited places

1-10 November 2019

TO REQUEST A BROCHURE

www.chestnut-tree-house.org.uk/inca 01323 725095

Registered charity number: 256789

Inca Trail 2019 Seaford Scene 153x109 AW.indd 1 08/12/2017 12:49
---
1 Malling Street, Lewes,

East Sussex BN7 2RA

01273 471 269

bespoke@alistairflemingdesign.co.uk

alistairflemingdesign.co.uk