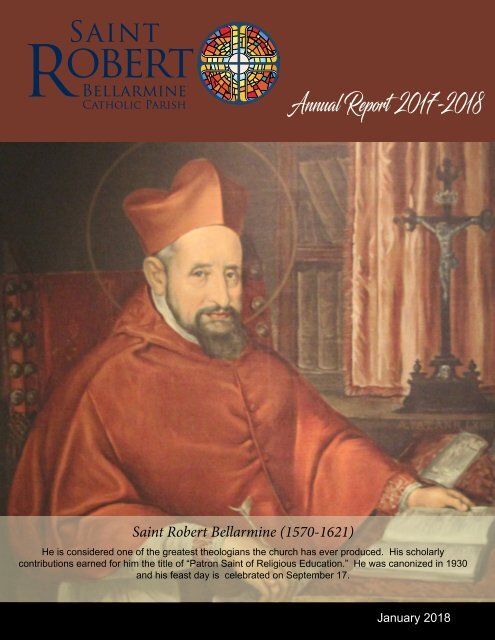 You also want an ePaper? Increase the reach of your titles
YUMPU automatically turns print PDFs into web optimized ePapers that Google loves.
Annual Report 2017-2018

Saint Robert Bellarmine (1570-1621)

He is considered one of the greatest theologians the church has ever produced. His scholarly

contributions earned for him the title of "Patron Saint of Religious Education." He was canonized in 1930

and his feast day is celebrated on September 17.

January 2018
---
A year in Review

In 2016-2017 we had many great reasons to celebrate the Year of the Cardinal at Saint Roberts Parish.

Our second pastor, Archbishop Blase Cupich, was elevated to the position of Cardinal in the Archdiocese

of Chicago. Father Stillmunks celebrated his 40th year of Ordination as a Priest. Debbie Marcil was

named the Catholic Woman of the Year. Recipients of the Spirit of Saint Robert Bellarmine Award were

Jack and the late Regina Minton and Dan and Jenni Owens.

We are blessed with the commitment of extremely talented lay leadership on the Parish Council, Total

Education Board, Finance Committee, Development Board and the newly formed Foundation Board. All

of our leaders continue to Build, Serve and Give to the parish by sharing their gifts from God with the

parish.

The Ladies Guild celebrated its 50th Anniversary as an organization serving the community and the

parishioners of Saint Roberts. We continue to be blessed with numerous active organizations, Bible

studies, prayer groups, and Perpetual Adoration continues to grow. The Alumni Committee published

its first Alumni Newsletter and offered four activities for Alumni to attend this year. There are more than

1,550 Alumni registered.

Saint Robert's National Blue Ribbon School continues its excellence in education. Youth Ministry

continues many youth activities and service to others. RCIA has 27 candidates preparing to enter the

Catholic Church. Shine, An Evening with Friends, was a huge success under the leadership of chairs,

Mark and Stacey Floersch, Steve and Dana Patterson, Brian and Chris Reilly, along with numerous

committee chairs and volunteers. Home and School had another successful year with Cardinal Cruise, a

fund-raiser for the school, chaired by Abby Blair.

Thank you for your financial support through Sunday offerings, memorials, gifts to the foundation and

contributions to the Jubilee Campaign. We have been very fortunate. Please reflect and review the

financial information in this Annual Report.

We ask for your help in retiring the costs in Phase I of the Campaign. This phase was necessary and

could not be postponed. There is a shortfall of approximately $400,000 that will result in additional debt

to the parish if we do not have additional pledges and gifts for Phase I. We can postpone some of the

other items in Phase II and III of the campaign, but that was not the case in Phase I. Please pray and

reflect on a gift to the Jubilee Campaign. If you have not contributed to the Jubilee Campaign, please

consider a gift or pledge now. It is not too late.

Once again, it has been a very busy and productive year at St. Roberts; our Parish has been graced by

God in so many ways. May the peace of Christ be with your families and continue to bless Saint Robert

Bellarmine Parish.
---
Spirit of Saint Robert Award

2017 Award Recipients

Jack and the Late Regina Minton

Jack and Regina Minton were married for 58

wonderful years, and raised 10 children together.

They were founding members of Saint Robert

Bellarmine and the go-to couple for the founding

pastor, Fr. Eugene Kerwin.

While Jack served as the President of Mutual of

Omaha, he never said no to any pastor who asked

him to serve on a capital campaign for the parish.

Jack currently serves on the Jubilee Campaign as

an honorary co-chair with Fr. Donald Shane.

Fr. Kerwin asked Regina to organize a Ladies

Guild for the new parish. This year the Ladies

Guild celebrates 50 years of service, and a

scholarship for girls in the parish was created in

Regina's memory. It was the Ladies Guild, under

the guidance of Fr. Kerwin and Regina Minton, that

began the parish's Perpetual Adoration; a lasting

legacy that continues to this day. Regina also

was one of the founding members of the Welcome

Committee for new parishioners.

Their children attended Saint Robert Bellarmine

School.

Dan and Jenni Owens

Dan and Jenni Owens started their married life in

Florida in 1989 where Dan served in the U.S. Coast

Guard. In 1995, they moved to Omaha, close to Saint

Robert Bellarmine Parish and raised eight children.

Dan has been involved in the Mens' Basketball

League, served on the Athletic Commission, assisted

with the Annual Golf Tournament to benefit the

youth of the parish, was a basketball coach, track

commissioner, scout leader and a member of the

Knights of Columbus. He also has served on the

Catholic Charities Board, the governing board

of Music in Catholic Schools and the Boy Scout

Executive Board in Omaha.

Jenni is a fixture at Saint Robert's school. She helps

students prepare for math contests, co-founded the

Elizabeth Ministry for families mourning the loss of

their infants, and organized childcare during Parish

Missions and Adoration. She has served on the Total

Education Board, the Welcome Committee, Family

Ministry's St. Nick at Night, an Extraordinary Minister

of Holy Communion (EMHC) and is a member of the

Ladies Guild.

Faith, Family & Fellowship
---
Parish Leadership

Development Board supports the pastor and

serves Saint Robert's members and its many

organizations, committees, and ministries.

Total Education Board advises the pastor,

principal and Director of Religious Education &

Youth Ministry on matters essential to maintain

the school and religious education for our parish

youth.

"I have chosen the way of faithfulness; I have set my heart on your laws" - Psalm 119:30

Parish Council is a consultative body of

parishioners who consult with the pastor to

support his vision and direction for the parish.

Foundation Board advises and oversees the

investment policy and investments of the parish

endowments and funds. Members also

help secure funds and planned gifts to grow the

foundation and parish funds to secure the parish

and school for future generations.

Finance Committee advises and assists the

pastor in all financial matters concerning the

parish and school.

At the time of the picture not all board members were available

Saint Robert Bellarmine Annual Report • 2018
---
School

Saint Robert Bellarmine National Blue Ribbon School is dedicated to educating students in a Catholic,

Christ-centered environment. We are united by our core values of Living Faith, Practicing Service, Achieving

Excellence, Inspiring Leadership, and Promoting Collaboration.

Cardinal Cruise, a walkathon to raise money for special projects for the

school, is sponsored by Home and School.

Faith, Family & Fellowship
---
Religious Education and Adult Formation

Saint Robert Bellarmine Religious Education Program aims to develop the qualities of the whole

student. This program is for elementary and middle school students who attend public school or

are home schooled.

"I have chosen the way of faithfulness; I have set my heart on your laws" - Psalm 119:30

R.C.I.A., the Rite of Christian Initiation of Adults is the process by which unbaptized persons and

members of Christian Churches may be baptized or received into the church at Easter.

Saint Robert Bellarmine Annual Report • 2018
---
Youth Ministry

Youth Ministry is a comprehensive program that fosters an inner movement toward adult understanding

and formation of the Catholic faith. It includes social, spiritual, and community service for middle school

and high school youth.

Faith, Family & Fellowship
---
The Year of the Cardinal

"I have chosen the way of faithfulness; I have set my heart on your laws" - Psalm 119:30

A Spiritual Bouquet for His Eminence,

Cardinal Blase J. Cupich, Archbishop of

Chicago, on his Elevation to the College of

Cardinals.

Our Father 7597

Hail Mary 10419

Rosary 1807

Adoration Hour 253

Holy Communion 1311

Remembrance at Mass 1384

Chaplet of Divine Mercy 696

Glory Be to the Father 3444

Hail Holy Queen 57

Angel of God 145

Mass 29

With grateful thanksgiving

From the parishioners and children of

Saint Robert Bellarmine

Saint Robert Bellarmine Annual Report • 2018
---
Father's 40th Anniversary

You are a priest forever

in the line of

Melchizedek,

consecrated to the service

of the Lord

to sit at His right hand.

Faith, Family & Fellowship
---
Ladies Guild Anniversary

"I have chosen the way of faithfulness; I have set my heart on your laws" - Psalm 119:30

Saint Robert Bellarmine Annual Report • 2018
---
The Ladies Guild has been thriving at Saint Roberts since 1967. Its two

purposes are to provide opportunities to gather as a faith community and

foster friendships within the parish. Here are a few events with the Ladies

Guild this past year! Thanks for 50 years of friendships!

In January of 2017, the Ladies

Guild sponsored Murder in the

Mainelli Center.

In April, we had Trivia Night, an

Easter Egg Hunt, the Sedar Meal

and a Father/Daughter Dance!

In June, we had a very

successful Parish Garage

Sale!

Santa Claus even visited in

December

Faith, Family & Fellowship
---
Shine

An Evening with Friends

Shine, an Evening with Friends, celebrated a big year for our parish: former pastor Blase Cupich

was elevated as the Cardinal of Chicago, Fr. Stillmunks celebrated his 40th year as a priest,

and the Ladies Guild celebrated its 50th Anniversary. Hence the theme: Ruby Red Year of the

Cardinal! "We celebrate our wonderful parish, we gather to raise money for our parish and

school, and most importantly we hope you connected with friends, both old and new."

2017 Chairs: Stacey and Mark Floersch, Dana and Steve Patterson and Chris and Brian Reilly.

2017

"I have chosen the way of faithfulness; I have set my heart on your laws" - Psalm 119:30

Saint Robert Bellarmine Annual Report • 2018
---
Ruby Red Year of the Cardinal

Save the Date: SHINE 2018: November 2, 2018

Faith, Family & Fellowship
---
Organizations & Prayer Groups

Knights of Columbus is a family-based, fraternal service organization dedicated to serving the

Catholic Church and the community.

"I have chosen the way of faithfulness; I have set my heart on your laws" - Psalm 119:30

Thank you to our wonderful parishioners! We

delivered 3,282 diapers for the 94.1 Diaper Drive. Our

own Jeff Degan was there to accept the delivery from

Chris and Brian Reilly!! All diapers will be given to the

Lydia House.

Magnificat-Omaha is an archdiocesanwide

Catholic women's organization focused

on evangelization. Debbie Herbeck spoke

at Magnificat-Omaha (at St. Roberts) on

February 25, 2017, and Kimberly Hahn spoke

at our parish on September 30. Both times,

over 400 women attended the Magnificat-

Omaha Brunches.

Saint Robert Bellarmine Annual Report • 2018
---
Alumni

The first Alumni Newsletter went out in September

2017 and is on-line on the St. Robert Bellarmine parish

website, www.stroberts.com. Click on Parish Life and

scroll down to School Alumni.

The Alumni Committee Offered Four Opportunities

for Alumni to Gather This Year:

In September, the Saint Robert's Athletic Commission

invited alumni to take part in Fill the Hill and Jam the

Gym with a Tailgate Party for a current Saint Robert's

football game and volleyball match.

2017 High School Graduating Seniors!

Congratulations to all the 2017 Graduates.

In October, a Sunday Mass was offered for the

intentions of SRB Alumni followed by a continental

brunch in the rectory with Father Stillmunks.

In November, Alumni were invited to take part in Shine, an Evening with

Friends, a parish fund-raiser to support the needs of the school and

parish. Fellow alum, Ben Preston, returned from New York to give a brief

testimony of his excellent education at Saint Robert Bellarmine School and

how it led him to answer the call to the service of others.

The final event for this fiscal year will be the Parish Picnic on June 2, 2018.

Please bring your family. There will be a 4:00 PM Mass followed by the

picnic in the north parking lot from 5:00 to 10:00 PM. There will be games

for kids of all ages,

food, a beer garden,

music and an Alumni Tent to

catch-up with new and old

friends. Hope you can join us.

Please go to the parish website www.stroberts.com, and click on Parish Life. Scroll down to School Alumni

to register, learn how you can be on the Alumni Committee, and to be a Featured Alumni. Please continue

to register and update us with current emails and addresses. Join the over 1,550 Alumni who have already

registered. Contact Kim Russell - krussell@stroberts.com, Mary Buttell - mbuttell@stroberts.com, or Alumni

Committee Chair, Sara Sililia Pohl - sarapohl@excellpt.com.

Faith, Family & Fellowship
---
Concert Series

On December 4, 2016,

and December 3, 2017,

musicians and vocalists from

the Omaha area parishes

and schools presented

concerts celebrating advent

and Christmas under the

direction of Rick Jacobi.

"I have chosen the way of faithfulness; I have set my heart on your laws" - Psalm 119:30

Nebraska Wind Symphony Concert, Saint Roberts north parking lot, July 2, 2017

Saint Robert Bellarmine Annual Report • 2018
---
Parish Foundation

Foundation Board

Fr. Steven Stillmunks

Fr. Donald Shane

James Czyz

Ron Quinn

Mike Owens

Terry Sibbernsen

Elaine Martin

Bruce Haney

Nancy Kuhl

Rob Reed

Mark Treinen

Marci Koory

Foundation Executive

Director

Mary Buttell

Foundation Committees

Planned Giving

Committee

Larry Dwyer

Steve Patterson

Greg Harr

Doug Kelly

Mike Owens

Janet Melchior-Kopp

Investment Committee

Ron Quinn

Vince Miscia

Chris Snere

Gift Acceptance

Committee

Jim Czyz

John Lingo

The Saint Robert Bellarmine Parish Foundation invites you to support our mission of bringing

Jesus to people and people to Jesus. The pastors, priests, deacons, teachers and community of

Saint Roberts have a long history of helping parishioners to better know and serve God. Your

prayers and gifts will secure for future generations the daily celebration of Holy Eucharist,

Perpetual Adoration, sacraments, Catholic education, friendships, and most importantly the

faith formation that sustains us through the many stages of our lives. Endowments and Funds

at Saint Roberts are designed to continue the legacy of the founding pastor and parishioners

and to educate the next generation.

Permanent Parish Endowment in Honor of

Monsignor Eugene Kerwin

Established to support the needs of Saint Robert Bellarmine

Parish. There is currently one $25,000 fund established in the

Kerwin Endowment.

• Father Steven Stillmunks Fund

Permanent Education Endowment in Honor of

Father Donald Shane

funds established in the Shane Endowment.

• Cupich Family Fund

• Dr. Charles Rush Memorial Fund

• Leon and Jean Morris Fund

Create a Fund

You can establish a fund in honor or in memory of an individual, couple or family in

the Msgr. Kerwin or Fr. Shane Endowments for a minimum of $25,000.

Lifetime Gifts

Lifetime gifts of the following types of property to Saint Robert Bellarmine Parish

Foundation may qualify for an income tax deduction.

• Cash

• Stocks, Bonds, Mutual Funds

• Real Estate

Established to support the needs of Catholic educational

programs (school, religious education, and adult education), and

student recognition. There are currently three $25,000 or more

Gifts Through

Your Will or Trust

• Automobiles

• Crops

• Works of Art

Gifts may be made during your lifetime to Saint Robert Bellarmine with various

income tax benefits. Gifts may also be made in your Last Will & Testament or Trust Agreement effective

at the time of death as a specific item of property, a specific amount of cash, or a specific percentage of

your estate.

Beneficiary Designations

Designating Saint Robert Bellarmine Foundation as the beneficiary of the following assets may qualify for

income, estate 11802 and Pacific inheritance Street, Omaha, tax benefits: NE 68154 402-333-8989 www.stroberts.com

• Life Insurance

• Annuities

• IRA Accounts

• 401(k) Plans

Faith, Family & Fellowship
---
Thank you for your support

"I have chosen the way of faithfulness; I have set my heart on your laws" - Psalm 119:30

MONSIGNOR EUGENE KERWIN PARISH FOUNDATION

Marcella Adams

Samuel & Elizabeth Ancona

Maria Baker

Joseph & Jeanne Barmettler

Frank & Ruth Ann Barrett & Family

J.A. & Virginia Beener

Jim, Connie, Scott & Brad Belina

Dick & Barbara Bene'

Richard A. Berry Family

Bradley A. Bischof

Carl & Helen Bloom

Mary & Martin Blum

Rusty & Mary Belle Boeding

Dr. David & Judith Bolam

John P. & Rosemary Boler

The Braig Family

Mike & Jan Brannen

George P. Breen Family

William & Kathleen Brennan

Louis M. & Anne P. Bruckner

Jim & Mary Buring

Ray & Marjorie Burke

Ernest & Evelyn Burke

Bob & Carolyn Burns & Family

Thomas J. & Diane Byrnes

Ann M. Campisi

Mrs. Sarah Campisi

Tony J. Campisi

Grace Caniglia

John & Maria Capoccia Family

The Tony & Lola Capoccia Family

Gary & Mary Lou Carrico

Berniece A. Casey

A Catholic Family

Ross & Lois Cavaleri

Richard M. & Thelma Chalupsky

Mr. & Mrs. Dwight L. Chandler

George & Pauline Cherney

John & Lillian Coffey

Cliff & Frances Coffey

Anne Comfort

John J. & Monica Conners

Lynne H., Regis P. & Sean Coyne

Denis & Rose Cuka & Family

Marty & Jean Curnyn & Family

Dr. Martin & Lillian Curnyn & Family

Nettie M. D'Agosta

Joseph F. & Bridgie J. Dauner

Dick & Jane Delaney

Kelly Delaney

Dilger Family

Carl & Judy Distefano

Evelyn & Paul Dolan

Edward & Jean Donahoe

Mr. & Mrs. Robert E. Dostert

C.E. Jack Doyle

Bob & Kathy Doyle & Family

Timothy Michael Dunn

Marie C. Alberts Ehlers

Joseph F. Emery

Bill & Helen Enenbach

Joe & Judy Engelbert

Vincent & Dorene Finocchiaro

James & Cheryl Fischer

Dr. & Mrs. Robert Fitzgibbons, Jr.

Paul & Mary Lou Floersch

Florence & Michael Foy

Melissa & Matthew Freyer

John W. Gatewood

John & Teresa Gaule & Family

Mark Christopher Gerstner

Roger & Jo Ann Gerstner & Family

Daniel L. & Jessica L. Glasgow

Harold E. & Catherine M. Gordon

John L. & Margaret J. Gordon

Andrew & Lucia P. Greco

George & Kathryn Greib

Joseph W. & Cecelia M. Hahne

Donald & Shirley Hanna

Dick & Joanie Hautzinger

Marie & George Hautzinger

Dorley Hautzinger

Ted & Helen Heieck

Jerry & Pat Heinrichs & Family

Bill & Florence Henry

Margaret & Edwin Henry

Bill, Joann, Kirsten & Shannon Henry

Dick & Jane Hintz

Mr. & Mrs. Robert J. Hoffman

Albin & Mary Hoffman

Jim Holtz

The L.J. Horbach Family

Tom, Mary Ann & Trish Horkan

Maurice & Rita Howell

Dr. & Mrs. Theodore F. Hubbard

Jack & Carol Jacobs

The Jannenga & Conahan Families

Mike & Beth Jareske & Family

Jack & Marie Jesse

Louis P. & Helen D. Jezewski

Robert "Tony" & Donna Johansen

Julie Jonas (Jason, John, Paul)

Dennis Jonas (Jason, John, Paul)

Richard & Eileen Jones & Family

George & Cleo Jostes

Edward & Agnes Kacirek

Chuck & Marge Kafka

George & Ardean Kanouff

Les & Margaret Kardell

Mr. & Mrs. James Keenan

Kellogg Family

Joe & Barbara Kenney

John E., Kathryn M. & Bette Kerwin

Father Kerwin

Knights of Columbus Council 10108

Michael & Celia Krebs

William & Mary Joe Krehmke

Mary Lynn Kuhry

Joseph F. & Rose V. Kusek

Mark & Susan Laughlin

Susan Denis Laughlin

Donald & Barbara Lanspa & Family

George B. & Mary C. Larson

Joseph & Judy Latoza & Family

The Lehmkuhl Family

Marguerite A. Leonard

Phil & Ursula Liesche

Frank & Marjorie Lippold

Nick & Lenora Loehr Family

Mel & Vivian Lorenz

Mr. & Mrs. William A. Lorenz

The Tom Lynch Family

Sam A. & Patricia L. Maggio

Patrick & Anne Mahoney & Family

James T. & Dolores J. Mainelli

Maloney Family

Wayne & Karen Markus & Family

Dr. James & Rosemary Maynard

James F. & Marguerite E. McAleer

Edward J. & Joan E. McCarthy

Jim & Karla McConnell

Don & Nadine McCormick

Warren & Kae McCoy

Vern & Mary McFadden

John & Genevieve McGowan

Hugh & Mary McMahon

Thomas S. & Winifred L. McShane

Thomas & Dorothy Micek

Vince & Joyce Miller

John D. & Regina A. Minton

Mr. & Mrs. John H. Minton

Janet Minton

Isabell A. Morgan

Saint Robert Bellarmine Annual Report • 2018
---
Thank you for your support

MONSIGNOR EUGENE KERWIN PARISH FOUNDATION

Eugene & Bernice Morrison

In Honor of Our Mother of Perpetual Help

Dale & Dorothy Mountain

Mary & Homer Mueller

Dennis & Ellin Murphy

Lucille M. Murphy

Mike & Bette Naughton

Floyd & Sandra Noelle & Family

Lourdes O'Leary

Robert & Mary O'Leary

Dr. & Mrs. Michael O'Neil & Family

Charlotte Oldaker

Lou & Vicki Pantano

Edward C. & Charlotte Parks

Marguerite V. Parsons

Dr. Donald & Barbara Pavelka

Dwaine & Dee Peetz

Frank E. Piotrowski

Dr. Richard & Joan Pitner

John & Darlene Posedel

James & Marika Poulos

Mike & Susie Price

Psalm 37:4

Eugene & June Puterbaugh

Roland M. & Anita D. Quinn

Ronald N. & Teri A. Quinn & Family

Kenneth & Mary Ann Raff

John & Veronica Raleigh

Pat & Shirley Ramaekers

John & Lucille Respeliers & Family

William & Imo Rickard

Ted & Marcella Ridgway

Maria, Marcia, Matthew, Martha, &

Max Ridgeway

John & Nadine Ries & Family

Carmelo & Delizia Rindone

Jack J. Roberts

Domenic & Josephine Rocca

George & Betty Rohde

Mr. & Mrs. Don Romeo

Joe & Mary Rossbach

Louis J. Helen Rotella

Louis & Kathleen Rotella & Family

Chuck, Cathy, Katie, Debbie,

Kellie, Tim, Terry, Tom Rush

Donald & Patricia Ruth

Dr. & Mrs. Wayne Ryan

Clinton & Sandra Schutt & Family

The John A. Scott Family

Dr. John & Teresa Seminara Family

Dr. & Mrs. Edward J. Smith

Angie Sparano

Stipo Family

Mr. & Mrs. Charles E. Stoltz

Donald J. & Bernice M. Stone

Fred & Mary Strider

Joe & Ruth Sullivan

Robert & Jean Tatten & Family

James & Nancy Thibodeau

Gerald & Virginia Toohey

John & Joan Trygg

Clete & Doris Uhing

John & Theresa Urek

The Robert Vanhauer Family

Dr. & Mrs. Luis A. Vasquez

Denis & Marian Walsh

Dr. & Mrs. Michael Weaver

Paul & Therese Welge

The Weremy Family

James R. Whitmore Family

Ronald L. Wiese & Shannon Weise

Dr. Wesley Wilhelm

John & Ellie Wingender

Mr. & Mrs. Fred W. Winkelman

John & Lucy Wrabetz

Edmund J. & Mary M. Wysaski

FATHER DONALD SHANE EDUCATION ENDOWMENT

Jean & Mary Ambrose

Joseph & Jeanne Bartmettler

Dick & Barbara Bene'

Dr. Steve & Lori Budd

Bill & Patty Buttell

Jack & Rita Buttell

Tony & Kay Cruise

Joe & Judy Engelbert

Frank & Marge Evans

Patrick & Mary Finn

Michael Sean "Rain" Fletcher

Paul and Mary Lou Floersch

The Floersch Family

Health Care Information Systems

Jack & Jo Holloway

Ardean Kanouff

Harold Kelly

Frank & Kathryn Lafebvre

Pauline Maher

Dr. James & Rosemary Maynard

John "Red" & Mary Jean McManus

Karen McKeone

Antoinette K. Merwald

Randy & Kathleen Milbrath

Jack & Karen Owens

Dr. Richard & Joan Pitner

Bernard Reznicek

Clyde & Nancy Robb

Saint Robert's Golf Tournament

Tim Shane

Albert & Minnie Sibilia

Roger & Mary Sullivan

Paul & Beverly White

James & Nancy Thibodeau

Faith, Family & Fellowship
---
Capital Campaign

"I have chosen the way of faithfulness; I have set my heart on your laws" - Psalm 119:30

As we enter the third year of our Jubilee Campaign,

we have much to celebrate, and we have work still

to accomplish. Saint Roberts has a strong history of

giving spiritually and financially. Once again in this

campaign, we have experienced the generosity of

our parish family. When designing the campaign,

the Parish Jubilee Committee decided to include

all of the items and repairs that needed attention.

Repairs were given a priority, and it was the hope all

items would be accomplished in one campaign. The

committee also included in the campaign to retire the

parish debt. We have made great progress. Money

and prayer have been given in all three phases of the

campaign.

Phase I was the most needed and was over half

the cost of the entire campaign. We could not put

off theses repairs: HVAC system for the school and

parish, school windows had to be replaced and the

school restrooms had not been updated since the

school opened 49 years ago. This portion of the

campaign we must address as a parish. If we do not

pay off this portion, we will be forced to add to our

debt rather than reducing it. We are short $400,000 of

the $3,500,000 for phase I.

Phase II was the next level of priority; these repairs

are important but not immediate. We are able to

cross two of the items off the Phase II list. The

improved lighting in the church and the upgraded

security equipment were gifted by donors at the price

of approximately $50,000. Phase III has $215,000

pledged toward the reduction of our legacy debt. If

we can pay off Phase I, we will be better able to

manage the other items as they become necessary.

We should be able to retire the campaign, at least

the most needed portion, once we can raise the last

$400,000 for Phase I. We will still have items that will

need our attention and hopefully meet those needs

as they become a priority.

Please, if you have not given your pledge or gift to

the campaign, or if you have given but could give

more, prayerfully consider giving to the campaign at

this time. Thank you for all you do for the parish.

Saint Robert Bellarmine Annual Report • 2018
---
Financial Comments

Fiscal Year 2016-2017 Financial Review

Operational Funds Income:

Total income for Fiscal Year 2016/2017 (FY16/17),was $4,483,609, a .1% decrease from $4,489,797

last Fiscal Year. A further detailed breakdown can be found in the "Operational Funds Detail" section

on the following page.

Operational Funds Expenses:

Total expenses for Fiscal Year 16/17 were $4,375,610, a 4.6% increase from $4,181,584 last Fiscal

Year.

Fiscal Year

2016/2017

Fiscal Year

2015/2016

Expenses

Revenue

Faith, Family & Fellowship
---
Financial Comments

Fiscal Year 2016 / 2017 Operational Funds Details

Income

"I have chosen the way of faithfulness; I have set my heart on your laws" - Psalm 119:30

Education Related Income

1,408,659

Sunday, Holy Day, and Church

2,255,560

Memorials, Wills, Underwriting, Charitable Checkbooks 162,069

Mainelli Center/Rental Income

36,290

Income from Endowment

90,192

All Other Income

530,839

Total Income

4,483,609

Expenses

Wages, Benefits, Payroll Taxes

2,823,426

Utilities

203,870

Liturgical

81,302

Archdiocese Support

337,554

Education Related Expenses

104,008

PARISH Maintenance, Supplies & Administrative 580,578

Property and Liability Insurance

69,962

All Other Expenses

174,910

Total Expenses

4,375,610

Net Ordinary Income

107,999

Saint Robert Bellarmine Annual Report • 2018
---
Suggested Formula for the Biblical Tithe

The question often arises: with so many worthy causes asking for financial gifts, how do I decide

how to give? I cannot give to every cause. Below is a suggested formula to answer this difficult

question. The Biblical Tithe suggests a 10% based on your income.

5% to Your Parish

1% to the Archdiocese

4% to Other Charities

Initially, some families may find it difficult to reach this 5% goal. If so, try increasing your weekly

or monthly gift incrementally until you reach an amount you know is right for you. Offertory giving

may be spread weekly, monthly, or annually. You may consider signing up for online giving as a

preferred method of giving. See the parish website for details or call Chris Snere in the parish

office 402-333-8989 for more details. The other 5% can be distributed to the Archdiocese and

other charities based on your selection.

Sample chart reflecting 5% Parish Tithe

Faith, Family & Fellowship
---
Saint Robert Bellarmine Parish

11802 Pacific Street

Omaha, NE 68154

www.stroberts.com

(402) 333-8989