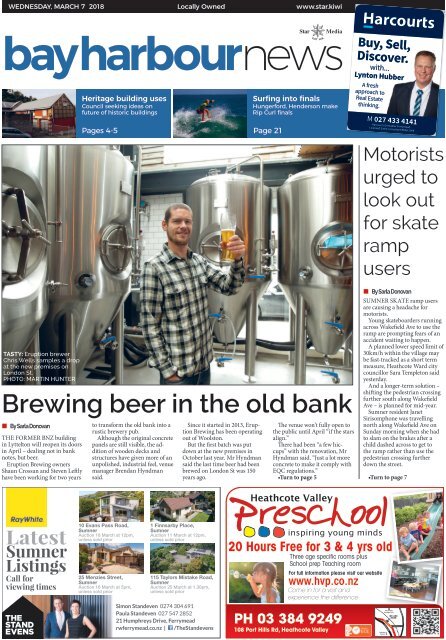 Bay Harbour: March 07, 2018
Do you know the secret to free website traffic?
Use this trick to increase the number of new potential customers.
WEDNESDAY, MARCH 7 2018

Heritage building uses

Council seeking ideas on

future of historic buildings

Locally Owned

Pages 4-5 Page 21

www.star.kiwi

Surfing into finals

Hungerford, Henderson make

Rip Curl finals

Buy, Sell,

Discover.

with...

Lynton Hubber

A fresh

approach to

Real Estate

thinking.

M 027 433 4141

Harcourts Grenadier Ferrymead -

Licensed Sales Consultant REAA 2008

F

Motorists

urged to

look out

for skate

ramp

users

TASTY: Eruption brewer

Chris Wells samples a drop

at the new premises on

London St.

PHOTO: MARTIN HUNTER

Brewing beer in the old bank

• By Sarla Donovan

THE FORMER BNZ building

in Lyttelton will reopen its doors

in April – dealing not in bank

notes, but beer.

Eruption Brewing owners

Shaun Crossan and Steven Leftly

have been working for two years

to transform the old bank into a

rustic brewery pub.

Although the original concrete

panels are still visible, the addition

of wooden decks and

structures have given more of an

unpolished, industrial feel, venue

manager Brendan Hyndman

said.

Since it started in 2013, Eruption

Brewing has been operating

out of Woolston.

But the first batch was put

down at the new premises in

October last year. Mr Hyndman

said the last time beer had been

brewed on London St was 150

years ago.

The venue won't fully open to

the public until April "if the stars

align."

There had been "a few hiccups"

with the renovation, Mr

Hyndman said. "Just a lot more

concrete to make it comply with

EQC regulations."

•Turn to page 5

• By Sarla Donovan

SUMNER SKATE ramp users

are causing a headache for

motorists.

Young skateboarders running

across Wakefield Ave to use the

ramp are prompting fears of an

accident waiting to happen.

A planned lower speed limit of

30km/h within the village may

be fast-tracked as a short term

measure, Heathcote Ward city

councillor Sara Templeton said

yesterday.

And a longer-term solution –

shifting the pedestrian crossing

further south along Wakefield

Ave – is planned for mid-year.

Sumner resident Janet

Sirisomphone was travelling

north along Wakefield Ave on

Sunday morning when she had

to slam on the brakes after a

child dashed across to get to

the ramp rather than use the

pedestrian crossing further

down the street.

•Turn to page 7

Latest

Sumner

Listings

Call for

viewing times

10 Evans Pass Road,

Sumner

Auction 18 March at 12pm,

unless sold prior

25 Menzies Street,

Sumner

Auction 16 March at 5pm,

unless sold prior

1 Finnsarby Place,

Sumner

Auction 11 March at 12pm,

unless sold prior

115 Taylors Mistake Road,

Sumner

Auction 25 March at 1.30pm,

unless sold prior

Simon Standeven 0274 304 691

Paula Standeven 027 547 2852

21 Humphreys Drive, Ferrymead

rwferrymead.co.nz | /TheStandevens

20 Hours Free for 3 & 4 yrs old

Three age specific rooms plus

School prep Teaching room

For full information please visit our website

www.hvp.co.nz

Come in for a visit and

experience the difference

Ph 03 384 9249

108 Port hills Rd, heathcote Valley

Lyttelton

Tunnel

Ferrymead

Heritage Park

Port Hills Rd

Tunnel Rd

We are

here

Bridle Path Rd

Martindales Rd
---
PAGE 2 Wednesday March 7 2018

BAY HARBOUR

Latest Christchurch news at www.star.kiwi

from the editor's desk

get on your bike

THE SUMNER skate ramp appears to be a

great success. But with it has come the odd

problem.

We highlight on page 1 today concerns

skate boarders are whistling across

Nayland and Wakefield to get to and from the ramp.

There's been a near miss apparently. Probably others have

gone unreported. There is a plan down the track to shift the

pedestrian crossing closer to the skate ramp. There's merit in

that.

The main drag through the retail area will also become a

30km/h zone in time to come – and that is a very good move.

But in spite of these measures, young skate boarders will still

cut across the road.

Motorists will just have to be vigilant.

– Barry Clarke

get in touch

GENERAL ENQUIRIES Ph 379 7100

Star Media

A Star Media Event

Visit The Bikery

Down a wide driveway at the back of the Sumner Hub,

you'll find The Bikery, where you can either get your

bicycle fixed or donate it.

Pages 8

City2Surf

Get active on March 18

#areyouupforit? Enter the 6km or 14km section of the Star Media

City2Surf at www.city2surf.co.nz.

Page 14

clean up the harbour

CLASSIFIED ADVERTISING Ph 379 1100

The Christchurch Star Company Ltd

PO box 1467, Christchurch

starmedia.kiwi

Seaweek event

Help out at the Harbour Clean-up on Friday from 4.30-

6.30pm. Take along some sturdy shoes and gardening

gloves then enjoy a barbecue afterwards.

NEWS

Sarla Donovan

Ph: 021 919 917

sarla.donovan@starmedia.kiwi

ADVERTISING

Javier Balcazar

Ph: 982 9308

javier.balcazar@

starmedia.kiwi

Rob Davison

Ph: 021 225 8584

rob.davison@

starmedia.kiwi

Page 25

The best-read local newspaper, delivered to

10,056 homes, RDs and farms every Wednesday

Brookhaven, Heathcote, Ferrymead, Redcliffs, Mt Pleasant,

Sumner, Lyttelton, Diamond Harbour, Governors Bay, Akaroa.

INTERNATIONALLY TRAINED

Eyebrow

Expert

QUALIFIED

BEAUTY

THERAPIST

Kacey has 14 years experience in

the beauty industry and has spent

the last five years specialising

in brows. Kacey's obsession led

her to train with international

experts and she's now referred

to as 'the brow queen'. The right

brow shape will change your

appearance dramatically and the

technology Kacey works with

offers her clients many different

options for enhancement. If you

are considering cosmetic tattooing

or brow repair, the consultation is

vital. Kacey invites you to book

a free consultation at her private

Ferrymead studio.

FREE CONSULTATIONS

BOOK NOW

• Brow rehab for growth repair

• Brow manicures

• Cosmetic tattooing:

microblading & powder brows

BEFORE

AFTER

For more before and after photos see:

louiseglamour.com

louiseglamour.com or

facebook.com/louiseglamour
---
Wednesday March 7 2018

Latest Christchurch news at www.star.kiwi

BAY HARBOUR

PAGE 3

News

Local

News

Now

Fire rages, homes at risk

Rats on the rise in Sumner as

cooler weather approaches

• By Sarla Donovan

MORE RATS are being trapped

in Sumner as autumn arrives.

Predator Free Sumner coordinator

Gabe Ross said they

were starting to "haul them in,"

with 23 caught in February.

"The animals start to look

for new sources of food, as the

weather cools and the autumn

bounty starts to disappear."

Esplanade resident Phil

Loughnan has single-handedly

SWEET TOOTH: This rat

couldn't resist the bait –

Whittaker's peanut chocolate.

nabbed 13 rats at or near his

home at the western end of

Scarborough Beach.

There were also five hedgehogs

caught in February.

It brings the total catch to 117

since the programme started in

October.

Mr Ross said while the numbers

might not seem that high

– there are 178 traps in the area –

"we are dealing with varying levels

of enthusiasm and expertise

in both trapping and reporting,

so it is a good start."

Predator Free Sumner last year

received a Kiwibank grant to

subsidise 140 traps in the greater

Sumner area, from Clifton Hill

to Taylors Mistake.

Co-ordinator Gabe Ross said

the uptake in the community

had been excellent.

But educating people about

keeping traps set all the time,

how best to keep them baited

and what baits to use was ongoing,

he said.

"It's a learning process we're all

going through."

Trap numbers would have

to increase if Sumner was to

become predator free.

PREDATORS: A 'heatmap' of catches since October – the red

spots indicate areas where a lot of pests have been caught.

He estimated a fifth of households

would need to be actively

trapping.

"We're well below that at present.

If we were just to cover the

valley floor, it would take about

300 rat traps, evenly spaced. That

would be a pretty great start."

The group is looking at funding

and sponsorship opportunities to

increase their trap stocks.

They were also looking at

holding a 'build-your-own-trap'

workshop.

In the meantime, Mr Ross

said people can get in touch for

advice and information:

predatorfreesumner@gmail.com

In Brief

NEW POLICE SERGEANT

Sergeant Franco Lovich will

be taking over at the Lyttelton

Police Station in April after

Sergeant Craig Prior retired

two weeks ago. Sergeant Greg

Hume will oversee the role until

Sergeant Lovich takes up the

position.

INJURED CYCLIST

A cyclist suffered a broken rib,

punctured lung and broken

collar bone after losing control

of their bike while travelling

downhill on Long Bay Rd near

Akaroa late Sunday morning.

Akaroa Police Senior Constable

Tim Johnson said no other

vehicle was involved. The injured

person was airlifted to hospital

by helicopter. Two other cyclists

were unhurt.

CONSENT ON HOLD

A resource consent application

for a new cruise ship berth

in Lyttelton is on hold until

environmental concerns are

addressed. The effects of noise

created by prolonged pile driving

on the protected Hector's

dolphins is one of the main

concerns. The $56-million berth

between Cashin Quay and the

inner harbour entrance was due

to open for the 2020 cruise

season, but that timeline will

now be revised.

Follow us on Facebook

@Dream Doors Christchurch

for design inspiration

WINNER

of the 2017

FRANchIsEE oF

thE YEAR

home services

Amazing

Kitchen

Facelifts!

• Replacement doors

• Drawer fronts

• panels & bench tops

• or a complete brand

new kitchen, all

made to measure.

Ph 03 338 1081 adrian@dreamdoors.co.nz

Sarah has joined our team!

We're all geared up for the new

tax year… are YOU?

Sarah Watkins

We'd like to welcome Sarah to Ferrymead Accounting. With her small business

and accounting background, Sarah is the perfect addition to our team

'Tax year end' is creeping up on us and if you're starting to panic a little let

Chris or Sarah help you restore some calm and order with your tax affairs and

accounts. Call them today!

We specialise in:

- Business & Management Advice

- Owner Managed Businesses

- Individual's Tax affairs

- Investment & Rental Properties

- Business Start-Ups

- Accountancy and Tax Compliance

Your local independent MYOB Approved Partner

and Xero Certified Advisor in Ferrymead

11F Settlers Cres. Ferrymead P. 03 384 8179 M. 022 354 8218 E. info@ferrymeadaccounting.co.nz www.ferrymeadaccounting.co.nz
---
PAGE 4 BAY HARBOUR

Latest Christchurch news at www.star.kiwi

Wednesday March 7 2018

News

Council seeks future use for Banks

• By Sarla Donovan

IDEAS ARE being sought for

the future use of four heritage

buildings on Banks Peninsula.

They are the Lyttelton Borough

Council stables in Lyttelton; Yew

Cottage in Akaroa; the Little

River Coronation Library and

Kukupa Hostel in Pigeon Bay.

Individuals, groups and

organisations interested in using

or helping to fund the buildings'

restoration have until March

29 to submit ideas to the city

council.

Most sustained damage in the

September 2010, and February

2011, Canterbury earthquakes

and are yet to be repaired.

"Unfortunately, we don't have

enough money right now to

repair all our heritage buildings

within the next few years, so

we need to prioritise how these

funds should be spent,'' city

council acting head of parks

Brent Smith said.

Lyttelton resident and former

property manager at The

Tannery, Ian Knewstubb, said

the former stables should be

retained and eventually restored,

in spite of the cost.

"My oath – there's so little left.

They don't have to happen that

fast. The main thing is to hold on

to them."

He said the building should

be made weather-tight and a

working party should be set up.

"In Italy, they just make sure

nothing happens to the (old)

buildings. If it takes 10, 20,

30, 40 years – that's what it

takes. The major thing is to

hold on to them and establish

a working party to look at how

to maintain them as they are,

how to fund raise, and also to

establish what purpose they

should be put to."

The stables were built in

1914 for councillors to lodge

their steeds; the horses were

replaced by motor vehicles

in 1939.

Estimates put the cost of

restoration at around $2.2

million.

AT LEAST $750,000 TO RESTORE: The Little River Coronation Library building sits in the Awa-Iti

Domain near the War Memorial Gates. ​

'Water and Light', it's all around us and nowhere

more so than on the Banks Peninsula.

As small outcrop of volcanic rock jutting out into

the Southern Ocean we are surrounded on all

sides, and nowhere

is that interplay

between water and

light more evident.

The Little River

Gallery is proud to

host Philip Beadle's

latest work, inspired

by the landscapes

of the Plains and

Peninsula.

Using a mixture of oil, watercolour, drypoint

and monotype, Philip's work is as varied as the

landscapes he depicts.

Christchurch based Philip Beadle, whether

working with the human form or drawing

inspiration from the low sun on water agitated

by wind, uses the Canterbury environment to

inform his work.

Warm and inviting, cold and forgiving, water

and light are constant but also forever changing.

'Water and Light' is showing at

Little River Gallery from 10th March

to 4th April.

LANDMARK: Yew Cottage is known by Akaroa locals as Jeannie's

Cottage in honour of long-term resident Jeannie Wendelborn.

autumn is here but the

market is not cooling!

The weather may be cooling but the property market in the seaside

suburbs certainly isn't!

Find out what your home could be worth to eager buyers actively

trying to find their next home with a free property appraisal. I

look forward to guiding you through your options for selling and

discussing our latest marketing ideas available.

For this professional advice and

more call Chris Moores today.

Chris Moores

Harcourts Grenadier Ferrymead

1020 Ferry Road

P: 03 384 7950 | M: 027 588 4440

E: chris.moores@harcourts.co.nz

GRENADIER

Licensed Sales Consultant REAA 2008

Philip

Beadle

Water & Light

10 March – 4 April

Main Rd, Little River | 03 325 1944

art@littlerivergallery.com
---
Wednesday March 7 2018

Latest Christchurch news at www.star.kiwi

BAY HARBOUR

PAGE 5

Peninsula heritage buildings

The Little River Coronation

Library building has an estimated

minimum restoration cost

of $750,000 – however, this

figure is based on preliminary

investigations rather than

engineering costs, according to a

city council report.

The library was built to mark

the coronation of King George

V. It was opened in 1913, and it

remained in use as a library until

2000.

The former Kukupa School

building in Pigeon Bay – which

is a listed Heritage New Zealand

building – operated from 1878

until 1949. In 1951 it opened as

the Youth Hostel Association's

first stand-alone hostel in New

Zealand.

Akaroa's Yew Cottage is another

well-known landmark in need

of restoration. Built of locally

milled timber in 1877, it provides

a record of the lifestyle of early

colonial settlers.

Both properties are estimated

to cost around $250,000 each to

restore.

The city council said it welcomed

all "workable" proposals, including

those from commercial businesses,

community groups or charitable

trusts.

For more information, or to

register your interest, visit www.

ccc.govt.nz/heritagebuildings

HISTORIC: The former

Lyttelton Borough Council

stables were converted to

garages in 1939, the year

horses were replaced by

motor vehicles (right). In 1951

the Youth Hostel Association

opened its first ever standalone

hostel in the former

Kukupa School, Pigeon Bay.

The hostel remained open for

40 years (below).

Brewing

beer in the

old bank on

London St

•From page 1

In the meantime, Eruption

Brewing has a special licence to

open from 9am-1pm on Saturday

mornings while the Lyttelton

Market is in full swing.

On its first Saturday, the brewery

sold 90 cups of coffee and 20

litres of beer.

"It was a really, really good feel

from the heart of Lyttelton," said

Mr Hydnman. "Steve and Shaun

are quite local and do quite a lot

of activities through the community

and it's been well-received."

One of its brewers, Chris Wells,

comes from Dunedin and has

been on board for the past year.

An on-licence and off-licence

are in the pipeline and there are

plans to offer food, but this was

still being worked on.

"We have a couple of chefs on

board but it's early stages yet; it

could be tapas, it could be burgers."

Live music on Sunday afternoons

and weddings and functions

are also being considered for

the venue.

ATTENTION

NZ ART LOVERS

If you don't already have this

classic NZ art book in your

collection, NOW is the perfect

time to purchase

Grahame Sydney Paintings 1974 -2014

Normal retail $99

This 304 page NZ classic art hardback

(in slipcase) features over 200 paintings

and covers Grahame's 40 year

career as a full-time artist.

DON'T MISS OUT!

LIMITED NUMBERS

FERRYMEAD

1005 Ferr

erry Rd. Ferr

errymead Ph. 384 2063

SUPER DEAL

HALF

PRICE

$

49.99

• Vintage Tractors

• Trucks & Machinery

• Traction Engines

• Ladies Marquee

• Kids Entertainment

• Stationary Engines

VINTAGE MACHINERY

& TRANSPORT SHOW

Celebrating the 20th Anniversary of the

New Zealand Vintage Machinery Club

1531 Highfield Road, Aylesbury

Country Fair - Kirwee 23rd-25th March 2018

For more information refer to our website: www.nzvintageclub.co.nz

or email events@nzvintageclub.co.nz

WIN $ 1000 *

Go into the draw

to win this great

prize by requesting

a no obligation

measure and quote

for a HomePlus

balustrade today.

*Promotion closes end of March 2018.

Enhance your

home and outdoor

areas, add value,

good looks and

safety by choosing

a custom made

balustrade from

HomePlus.

towards your balustrade solution

AWNINGS & BLINDS, BALUSTRADES, FENCING & GATES, INSECT SCREENS, LOUVRE ROOF, SECURITY SCREENS, SHOWERS, WARDROBES & DOORS

88 Gasson St, Sydenham

03 379 3740

www.homeplus.co.nz
---
PAGE 6 Wednesday March 7 2018

BAY HARBOUR

Latest Christchurch news at www.star.kiwi

NEW BOOK

SHIPMENT

JUST UNLOADED

NEW RELEASES

The Wife's Tale

A Personal History by Aida edermariam

The extraordinary story of an indomitable 95-year-old woman – and of the

most extraordinary century in Ethiopia's history. A new Wild Swans

A hundred years ago, a girl was born in the northern Ethiopian city of Gondar.

Before she was ten years old, Yetemegnu was married to a man two decades

her senior, an ambitious poet-priest. Over the next century her world changed

beyond recognition. She witnessed Fascist invasion and occupation, Allied

bombardment and exile from her city, the ascent and fall of Emperor Haile

Selassie, revolution and civil war. She endured all these things alongside

parenthood, widowhood and the death of children.

The Wife's Tale is an intimate memoir, both of a life and of a country. In prose

steeped in Yetemegnu's distinctive voice and point of view, Aida Edemariam

retells her grandmother's stories of a childhood surrounded by proud priests

and soldiers, of her husband's imprisonment, of her fight for justice – all of it

played out against an ancient cycle of festivals and the rhythms of the seasons.

Kill the Angel

by Sandrone dazieri

A high-speed train from Milan draws into the station in Rome, and an

horrific discovery in one carriage rocks the city. Preliminary investigations

are put in the hands of Deputy Police Commissioner Colomba Caselli.

The police receive a message claiming responsibility for the act and

announcing more murders to come, and they duly turn their attention

to a small terrorist group of Islamic extremists. But investigator Dante

Torre does not believe this angle. For him, this feels like a smokescreen

concealing the actions of a killer who has a far more terrible motivation

to continue.

The trail leads to Berlin and Venice, where the waters of the Venetian

Lagoon will turn blood red...

Miss Burma

by Charmaine Craig

A beautiful and poignant story of one family during the most violent and

turbulent years of world history, Miss Burma is a powerful novel of love and

war, colonialism and ethnicity, and the ties of blood. Miss Burma tells the

story of modern-day Burma through the eyes of Benny and Khin, husband

and wife, and their daughter Louisa. After attending school in Calcutta, Benny

settles in Rangoon, then part of the British Empire, and falls in love with Khin,

a woman who is part of a long-persecuted ethnic minority group, the Karen.

Benny and Khin's eldest child, Louisa, has a danger-filled, tempestuous

childhood and reaches prominence as Burma's first beauty queen soon

before the country falls to dictatorship. As Louisa navigates her newfound

fame, she is forced to reckon with her family's past, the West's ongoing covert

dealings in her country, and her own loyalty to the cause of the Karen people.

Based on the story of the author's mother and grandparents, Miss Burma is

a captivating portrait of how modern Burma came to be and of the ordinary

people swept up in the struggle for self-determination and freedom.

Chopper - From the Inside

by Mark Brandon read

"Apart from Irish whiskey, good cigars, Pontiac motor cars, and a pistol grip

baby .410 shotgun with solid load shells, what I love the most is kidnapping

smartarse gangsters and taking their money. To the human filth I have

bashed, belted, iron barred, axed, shot, stabbed, knee capped, set on fire and

driven to their graves, I can only quote from the motto of the French Foreign

Legion, 'Je Ne Regrette Rien'...I regret nothing." Mark Brandon 'Chopper'

Read is the son of a strict Seventh Day Adventist mother and a shell-shocked

soldier who slept with a loaded gun at his side. Bullied at school, he grew

up dreaming of revenge, determined to be the toughest and hardest of

them all. He became a criminal legend who terrorised drug dealers, pimps,

thieves and armed robbers on the streets and in jail - but boasts he never

hurt an innocent member of the public. This first volume of Chopper's

memoirs, written from inside jail, tells the story of his early life of crime - from

streetfighter to standover man, gunman to long-term prisoner. Chopper: From

the Inside is laced with his trademark brutal humour, and gives us a gripping

insight into Australia's underworld.

1005 Ferry rd

Ph 384 2063

while stocks last (see instore for terms and conditions)

Barry & kerry
---
Latest Christchurch news at www.star.kiwi

BAY HARBOUR

PAGE 7

Wednesday March 7 2018

News

NEW: The Sumner skate ramp reopened at its new location on February 25.

PHOTO: CRAIG CREW PHOTOGRAPHY

Motorists urged to look

out for skate ramp users

•From page 1

The ramp reopened on

February 25 at the corner

of Nayland St and Wakefield

Ave, where it will

remain until a permanent

skate park is built in the

bays area.

"He just ran out from

between two cars and just

kept on coming and didn't

even look," said Ms Sirisomphone,

who estimated

she was travelling about

35km/h.

"It just seems not very

well thought out. (The

children are) so eager to

get to the ramp, they don't

want to go down to the

zebra crossing. They think

• By Sarla Donovan

FIFTH generation Banks

Peninsula farmer Andrew

Craw has criticised the

city council over road

maintenance.

For the past 25 years, Mr

Craw has run a sheep and

beef farm in Little Akaloa.

He told Bay Harbour

News the road sides were

not being mowed or

sprayed, surfaces were

breaking up and potholes

were forming.

It had gotten "pretty bad"

over the past six months, he

said, and it wasn't just the

metal roads.

"The surface of the sealed

road is more of a concern –

it's falling to pieces."

He said he'd rung the city

council twice in the past

three months, requesting

a new layer of shingle and

Road maintenance

criticised again

asking for the potholes to

be fixed. But nothing has

been done.

"I haven't seen a grader

through on the

shingle roads

for as long as

12 months. The

surface is falling

apart and there's

no shingle (on

it)."

Meanwhile, in

Goughs Bay, a

truck dropping

off winter feed

for animals

struggled to get

out during recent

heavy rain.

Banks Peninsula Transport

manager Rex Gebbie

said it had left a "whole lot"

on the side of the road at

the top of the bay because

it wasn't able to safely go

down and get out again.

'there's no cars coming I'll

just whip across here'."

She said she didn't mind

the ramp being there but

worried about the traffic

aspect.

Sumner Green and Skate

member Liza Sparrow

said the new site was fully

consented.

"The city council identified

the current location as

suitable. Key considerations

regarding suitability which

include safety, noise, visibility

and land ownership

were taken into account

and investigated. The city

council also took advice

from New Zealand Police,

roading and their own consent

teams and were confident

in providing resource

consent for the corner of

Wakefield Ave and Nayland

St," she said.

The group recently ran

an education programme

with local schools around

safety and etiquette at the

new location.

"These are kids, they all

know the road rules but

they will need reminding.

Please support them," Ms

Sparrow said.

•HAVE YOUR SAY:

What do you think of

the new location? Email

your views to sarla.

donovan@starmedia.

kiwi

"We could get in alright,

we just struggled to get out.

There's just not enough

shingle, there's no traction

on the roads."

In January,

Bay Harbour

News reported

almost

$800,000 is

being spent on

new chip for

gravel roads

on Banks

Peninsula this

financial year.

City council

Andrew Craw manager

city streets

maintenance Mark Pinner

said over the 2017/18

financial year about

"$780,000 will be invested

in the (unsealed) network.

Unsealed roads are also

regularly graded and

maintained."

$

1,000to be

won

in each store south island wide*

Watties For Baby

120g Single Can

Fresh NZ Quality

Mark Lamb Leg

Roast

ANY 5 FOR

$

5 49

$

12 99 kg

Continental

Cup a Soup

2-4 Pack (excludes

Sensations)

ANY 3 FOR

$

5 49

Cadbury Creme

Eggs 4 Pack

$

4 79 ea

Treasures

Nappies or Nappy

Pants 12-26s

(excludes bulk)

Fresh NZ Chicken

Thigh Cutlets

NEW

SEASON

Feijoas Loose

Product of New Zealand

$

8 99 kg

Value Cheese

1kg Edam or Colby

Cadbury Novelty

Bar Single 30-60g

(excludes Luxury Flake)

www.foursquare.co.nz

$

7 99

ea

$

10 99 kg

$

9 99 ea

99 c

ea

facebook.com/FourSquareNZ

Specials available South Island only from Monday 5th March until Sunday 11th March 2018 or while stocks last.
---
PAGE 8 BAY HARBOUR

Latest Christchurch news at www.star.kiwi

Wednesday March 7 2018

News

Local

News

Now

Getting people on their bikes

Fire rages, homes at risk

Down a wide driveway at the back of the Sumner Hub, you'll find

The Bikery. Sarla Donovan reports

WHEN I visit The Bikery on a

sunny Friday afternoon, a couple

of tandem bikes are leaning

against the fence: One dragonfly

green and one blue with oldschool

10-speed handlebars.

A muddy mountain bike in

need of some TLC sits nearby.

The roller doors are up on the

garage and a black leather couch

sits in one corner.

Tools are arranged in an orderly

fashion along the back wall

and a nonchalant cat jumps onto

a long bench and weaves among

them.

The man behind The Bikery

is Mark Wallace. He's bouncy

and enthusiastic and it's hard to

believe he's 54.

TANDEM: Mark Wallace and

Liza Sparrow on one of the

tandem bikes donated to

The Bikery. ​

A lecturer in behaviour

change and motivational

interviewing at Canterbury University,

he's built a career around

the psychology of helping people

establish a healthy lifestyle.

Cycling is one of his passions,

and when the space out the back

of the Sumner Community Residents'

Association came up in

the middle of last year, he and a

couple of friends had the idea of

a setting up a community bike

shop.

It has now been operating

since June and after a slow start

is getting quite busy at weekends.

Mr Wallace and the other volunteers

can help get your bike

back on the road – or teach you

how to do it yourself.

It's a place for people to hang

out and learn about bikes and

how to fix them – and skateboards

are on the menu, too.

"It's not a man shed," he

insists. "We wanted children

and older people involved. It's a

way of getting more connection

within the community."

People have donated bikes

they no longer use like the

tandems, and The Bikery hopes

to soon secure funding for extra

equipment such as a permanent

pump for bikes, prams and mobility

scooters.

Sumner Community Residents'

Association manager Liza

Sparrow said the state of the

roads since the February 22,

2011, earthquake meant many

parents were reluctant to let

their children bike to school.

However, once the coastal

pathway is complete, she hoped

there would be an increase in

cyclists.

•Go along and talk

cycling with like-minded

enthusiasts at The Bikery

in the garage behind the

Sumner Hub, 57 Nayland

St. All ages and abilities

welcome. It is open Monday

and Friday, 4pm-6.30pm,

Saturday and Sunday, 9am-

1pm. Cost is a donation for

parts.

•For more information, get

in touch with Mark Wallace

at mark.wallacebell@gmail.

com or 027 518 4789

Harbour Clean-up

Whakaraupō – Lyttelton Harbour

Join us in celebrating the launch

of the Whaka-Ora Healthy Harbour

plan and Sea Week with a harbour

clean-up and BBQ.

When:

Where:

Bring:

Friday 9 March 4:30-6:30pm

Lyttelton - Naval Point, Erskine Point

Diamond Harbour - Community Centre, 2A Waipapa Ave

Governor's Bay - Community Centre, 1 Cresswell Ave

sensible shoes and gardening gloves

For more information and to register

your interest please contact:

Hamish Fairbairn

Conservation Volunteers New Zealand

E: HFairbairn@cvnz.org.nz

M: 021 399 040

Registrations also accepted on the day.

healthyharbour.org.nz
---
Wednesday March 7 2018

Latest Christchurch news at www.star.kiwi

BAY HARBOUR

PAGE 9

City Sleek

With the St Michel City semi recessed Range

you get exactly what you need, a slim benchtop

and drawer storage with a full size basin.

This clever combination is a breakthrough that helps

to maximise floor area and keep your bathroom sleek.

Choose from one or two textured woodgrains or

colours for a vanity that's uniquely yours.
---
PAGE 10 BAY HARBOUR

Latest Christchurch news at www.star.kiwi

Wednesday March 7 2018

News

Lower speed

limit on Dyers

• By Sarla Donovan

A LOWER speed limit on Dyers

Pass Rd is a step closer.

Current limits range from

70km/h to 100km/h – but will

likely drop to a flat 60km/h after

city council staff recommendations

were accepted by two community

boards on Friday.

However, a recommendation

that no-passing lines be put in

place met with opposition.

In a split decision, only the

section of Dyers Pass Rd that falls

within the Spreydon-Cashmere

board area will have double yellow

lines – extending from Hackthorne

Rd south for 3.4km.

The Spreydon-Cashmere and

Banks Peninsula community

boards met jointly on Friday to

discuss lowering speeds on Dyers

Pass Rd, between Hackthorne

and Governors Bay Rds.

While both boards agreed on a

lowered speed limit, Banks Peninsula

did not want double yellow

lines, while Spreydon-Cashmere

did.

Spreydon-Cashmere board

chairwoman Karolin Potter said

it was a difficult issue and there

were "quite a lot of strong opinions"

aired at the meeting.

Christchurch Showroom

13b Parkhouse Rd, Wigram

Massive stock clearance - End of lines, Display models

T021

Extra Height

$439

About 13 people gave submissions,

most from Banks Peninsula,

she said.

"Some of them were cyclists

who believed that it would put

them in danger because motorists

would believe they couldn't

cross the yellow lines but still

would want to pass them – and in

some places the distance between

the car and the cyclist would be

very little. Other people didn't

like the idea of their right to pass

being transgressed."

Ms Potter said the Spreydon-

Cashmere board asked for education

of motorists – that they can

cross double yellow lines in order

to pass cyclists.

Dyers Pass Rd has a high risk

rating compared to other rural

roads in Banks Peninsula.

Over the nine years from 2006-

2017, there were 14 serious injuries

and one fatality between Sign

of the Takahe and Governors Bay

Vehicles losing control during

cornering made up three quarters

of 178 accidents recorded over

that period.

The city council will decide in

early April whether to accept the

board's recommendation to lower

the speed limits.

T005

$249

Freestanding Baths

From $999

Open 6 Days Mon-Fri 9am - 5.30pm | Sat 9.30am - 4pm

0800 MILLEN | www.millen.co.nz | 03 348 8678

Check out our new range of

black tapware and accessories

Dyers Road Landscape

& Garden Supplies

• Barks • Peastraw • Composts - we supply the best available

• Aggregates - Chip, Round and Basecourse

• Pavers & Schist products • Pungas

• Decorative Stones & Landscaping Rocks

• Trailer Hire first hour free with purchase

• Bag & Bulk - pick up or delivered

David, Carol & Mike

We will deliver!

Local

News

Now

SMASH: The car left the road and hit a tree front on causing critical injuries to the driver.

Man critical after car hits tree

• By Andrew King

A MAN suffered critical injuries

after the car he was driving hit a

tree near Cooptown on Monday.

Firefighters arrived at the

scene on Christchurch Akaroa

Rd about 1pm and found the

Christchurch man out of the

vehicle.

SOIL

AND

Fire rages, homes at risk

An off-duty firefighter riding

his motorbike came across the

crash and helped the man before

others emergency services arrived.

Little River chief fire officer

Dave Irving said they are unsure

if he pulled the man from the

vehicle or he did so on his own.

"We are not sure if he was assisted

out or the adrenalin helped

him get out of the vehicle, we

didn't have that conversation, but

we found him [the driver] lying

on the ground with some very

serious injuries," he said.

He was taken to Christchurch

Hospital by ambulance.

The serious crash unit is investigating.

HARDFILL

DUMPING

Phone: 03 384 6540

183 Dyers Rd, Bromley • OPEN 7 DAYS

Weekdays 7.30am-5pm. Weekends 8.30am-3pm

www.dyersroadandlandscapes.co.nz

Visit our new website: www.min.nz

From bare land to luxury abodes

min sarginson

is the ideal coastal realtor

COASTAL REAL ESTATE SPECIALISTS

We'll help you live the dream.

Min Sarginson Real Estate Ltd. specialises in homes, sections and

rental properties in the spectacular Lyttelton Harbour bays, and

coastal suburbs of Christchurch, New Zealand.

We'll make it so easy for you. All our sales consultants live in the

area – we can give you valuable insights into life in our thriving

coastal communities.

This is an exciting time; of promise, optimism, and opportunities

never anticipated pre-quakes. Beachfront, or hillside with

grandstand views, find the property of your dreams:

Lyttelton | Diamond Harbour | Governors Bay | Cass Bay

Charteris Bay | Church Bay | Purau Bay | Port Levy | Northshore

Southshore | New Brighton | Heathcote | Sumner | Redcliffs

Scarborough | Mount Pleasant | Clifton

Call Min Sarginson Real Estate Ltd. for free, no-obligation advice. Lyttelton: 03 329 4161, lyttelton@min.nz or Church Bay: 03 328 7273, churchbay@min.nz
---
Co lections

Look up

Messages Information

Wednesday March 7 2018

Latest Christchurch news at www.star.kiwi

BAY HARBOUR

PAGE 11

Unwanted

appliances

and tools?

Drop 'em off at

an EcoDrop for free.

Download the Christchurch Wheelie Bins

App for useful disposal information.

RED

GREEN

YELLOW

DROP

For more information visit

ccc.govt.nz/disposal
---
PAGE 12 Wednesday March 7 2018

BAY HARBOUR

Latest Christchurch news at www.star.kiwi

Your Local Views

We said:

Too many beachside

warning signs could lessen

their impact, according

to Surf Life Saving New

Zealand

You said:

Melissa

Paintin – Put

the signs up.

Not a lot of

people knew

about those rips; if it prevents

another tragedy, it's worth it. It's

a no-brainer.

Stephen Graham – What

will signs do for the people most

likely to take the biggest risks

with seawater? They're also the

people most unlikely to read the

signs.

Cathryn Lucy – Just put up

one that is damn clear from a

distance and not cluttered with

other information. One message.

I very clearly remember the one

about quick sand and I don't even

know if that's there anymore.

I couldn't tell anyone what the

signs with tiny writing and many

messages on them are about.

Trish Heyward – Anything's

better than nothing. Get talking

signs that give basic tips on spotting

dangers in the water.

•More readers' views, page 18

Long Term Plan: Have your say

Consultation

on the city

council's

Long Term

Plan opens

on Friday.

Heathcote

Ward city

councillor Sara Templeton

explains what the plan is

and why you should care

EVERY THREE years the

city council drafts a 10-year

budget for consultation with the

community, known as the Long

Term Plan.

There's a 40-page consultation

document, a capital programme,

the financial strategy, the

levels of service, and a 30-year

infrastructure plan which

sets the planned expenditure,

borrowing and rates.

While it's a big document, it's

not as daunting as you'd think to

get involved and have your say.

It's all available online with

searchable pdfs and consultation

is open from Friday to April 13.

Paper copies are also available at

service centres and libraries

It's your money and your

city. Everyone has an opinion

about what's happening in

their community and across

Christchurch and now is the

time to influence the city council

budget.

Yes – yes, you can. Time and

time again changes are made

(including big ones) based on the

consultation.

Writing submissions and

speaking at the hearings does

count. And make sure that you

STUCK: There is no money

allocated for the Moncks

Bay section of the coastal

pathway in the city council's

Long Term Plan.

say what you want to stay in the

draft, not just what you want

to add or cut. Projects that are

there could also be cut if there's

not enough support.

There will be Linwood-

Central-Heathcote Community

Board-run drop-in sessions and

local community groups are also

putting together information for

their communities.

Here's a list of key local issues

that I hear about from the

community and where they are

currently in the draft Long Term

Plan:

•Bays area skate park – most

of the funding budgeted in

2020/21.

•Coastal pathway – currently

no money budgeted for the

Moncks Bay section.

•Sumner Village Master Plan

– various stages funded.

•Scarborough playground –

funded 2018/19.

•Main Rd Master Plan –

Redcliffs Village streetscape and

Beachville Rd streetscape funded

2018/19.

•Beachville Rd steps – currently

no money on budget to

replace them.

•Heathcote Expressway Major

Cycle Route – Tannery to Heathcote

delayed until 2025/6.

•Rapanui Shag Rock MCR

– the last section, Humphreys

Drive, is funded in 2019/20/21.

•Cobb Cottage – funded

2018/19. Maintenance issues are

a 'level of service' that could be

increased.

The city council's job is to balance

service provision with rates

affordability, and current needs

with those of future generations.

It's not easy, but we do listen – so

please have your say.

OPEN SAT & SUN

Anita, Kellie, Grant, Nehad & Ashleigh

Full Service Pharmacy

including...

• Passports Photos

• Revlon Cosmetics and Revlon Club

• Gifts and Gift Wrapping

• Ear Piercing

• Extensive Natural Health range

• Scarves, Hats and Sunglasses

• Focus on Natural Organic Skincare including Trilogy,

Antipodes and Sukin

Dispensary Service

• Medico Packs

• Quit Smoking Quitcards

• Emergency

Contraceptive Pill

• Delivery Service

Owned and operated by

your phamacist, Grant Bell

CAFÉ

NOW OPEN

1005 Ferry Rd, Ferrymead. Ph:943 9635

OPEN 7 DAYS: Mon to Fri 8.30am - 6pm

Sat 9am - 4pm and Sun 10am - 4pm
---
Co lections

Look up

Messages Information

Wednesday March 7 2018

Latest Christchurch news at www.star.kiwi

BAY HARBOUR

PAGE 13

Disposing

hazardous

items?

Drop 'em off at an EcoDrop

for free.

Download the Christchurch Wheelie Bins App for

collection day reminders. Available on Android and iOS.

RED

GREEN

YELLOW

DROP

For more information visit

ccc.govt.nz/disposal
---
PAGE 14 Wednesday March 7 2018

BAY HARBOUR

Latest Christchurch news at www.star.kiwi

ARE YOU UP FOR IT?

Sunday March 18

Enter now at

Pak'NSave | New World | The Athlete's Foot

or online at city2surf.co.nz

PROUD

SPONSOR

OF THE

Routes

Pre-Run bus route

McCormacks Bay - 14km-6km

Post-run bus route

Ferrymead - 6km - 14km

76

WOOLSTON

74A

FREE shuttle bus

McCormacks Bay - Finish Line -

McCormacks Bay (No ticket needed)

14 KM

START

Centennial & DROP

Park OFF

SPREYDON

Barrington Street

CASHMERE

Colombo Street

Wilsons Road

OPAWA 6 KM

DROP OFF

76

Hansens 6 KM

START Park

Grange Street

74A

Port Hills Road

76

74

Ferry Road

FERRYMEAD

INFO

FINISH

LINE

MOUNT

PLEASANT

FREE

PARKING

INFO

MCCORMACKS

BAY

BUS TICKETS

1

$6

SUMMARY

SINGAPORE AIRLINES

BRAND GUIDELINES

BUY NOW AT

CITY2SURF.CO.NZ

Proudly supported by:

74
---
ENTRY

STAGE

ENTRY

STAGE

Wednesday March 7 2018

Latest Christchurch news at www.star.kiwi

BAY HARBOUR PAGE 15

You choose your distance: 14km, 9am start or 6km, 10am start

76

OPAWA

74

Colombo Street

SPREYDON

76

74A

Ferry Road

Wilsons Road

H 2 0

6KM START

Hansens

Park

H 2 0

Grange Street

Barrington Street

14KM START

FERRYMEAD

Centennial

Park

CASHMERE

Port Hills Road

76

FINISH

Ferrymead

Playing

Fields

H 2 0

H 2 0

Water

Toilets

74

Hawford Rd

Pioneer Stadium

6km

Site

Map

P

P

ENTRY

Butler St

HANSEN

PARK

Les Mills

Warm Up

STAGE

Aynsley Tce

6km

runners

Grange St

ENTRY

CENTENNIAL

PARK

Lyttelton Street

14km

Site Map

First Aid

Free Sunscreen

STAGE

Les Mills

Warm Up

P

WALKERS

JOGGERS

RUNNERS

Participants

assemble

here

START

14km runners

Heathcote River

START

First Aid

Free Sunscreen

Toilets

Clothing Drop Off

8.30-10am

Late Registrations

8.30am-10am

9am-10am Les Mills

Warm Up & Entertainment

Start Line. 10am start

6km Runners

14km Runners

P

Participants

assemble here

WALKERS

JOGGERS

RUNNERS

Rose Street

START

Cashmere View

START

Toilets

Clothing Drop Off

Late Registrations

7am-9am

8am-9am Les Mills warm

up & entertainment

Start Line, 9am start

Transport

PARK AT

MCCORMACKS BAY

• Buses to startline from 7.15am

• Last bus to 14km at 8.15am for 9am start

• Last bus to 6km at 9.30am for 10am start

• Buses only stop at start line drop offs

PARK AT EITHER

START LINE

• Post event bus runs from Ferrymead

finish to 14km and 6km starting point

• Buses run from 10am

• Buses only stop at start lines

FREE SHUTTLE

• Free Shuttle will be running between

Ferrymead Playing Fields (finish line) and

McCormacks Bay (free parking).

• No ticket needed.

• Runs from 7:30am-9:00am, 10:00am-1pm

Need to know

Online Order

• Selected collect? Bring your e-ticket confirmation

to Smiths City Colombo street on Friday 16

March between 11-5pm Or Saturday 17 March

between 9-5pm.

Selected courier? You will receive your entry

shortly. Cut off day for courier is March 1.

• The 14km starts at 9am at Centennial Park,

Pioneer Stadium. The Sport Canterbury 6km starts

10am at Hansens Park, Opawa.

• Warm up with our Christchurch Les Mills fitness team,

and enjoy pre event entertainment.

• At the finish line grab your free Pump Water or

Powerade

• Enjoy free children's entertainment and our live band.

• Look out for our social media squad. See your

photo on The Star City2Surf Facebook Page.

• Prize giving starts at mid-day.

Look the part

Star

Available in 3 different colours

T-Shirt $35 Singlet $30

Children's T-shirt $30

Media

Christchurch 2018

Available online now or at The Athlete's Foot

Riccarton and Northlands.

Westfield & Northlands

Star

Media

Proud to support

Proud to support

Child

Child Prize

Prize

Corporate

Corporate Prize

Prize

School

School Prize

Prize

Family

Family Prize

Prize

Spot

Spot Prizes

Prizes

Sunday

18th 18th

March March
---
PAGE 16 Wednesday March 7 2018

BAY HARBOUR

Latest Christchurch news at www.star.kiwi

Your Local Views

Obey the rules on your jet ski

Lyttelton-based

navigational safety officer

Gary Manch has some

simple tips to help keep

you safe on the water

Pirate's Corner

This Weekend!

March 10-11

SINCE MY last update I've

received several complaints

about jet skis speeding in

areas that are restricted to five

knots.

My message this week is

directed to all boaties, but

mainly at the jet skiers out

there who choose either

wilfully or through lack of

knowledge to not comply with

our Navigation Safety Bylaw

speed rules.

I want to reinforce the fact

that we are not here to stop

you having fun on the water,

we are here to ensure the

safety of all water users. There

are plenty of areas where you

can "hoon" around without

putting yourself or others at

risk, or without breaking the

rules and making yourself

liable for a fine.

In general, if you are within

200m of the shore or a structure,

the maximum speed is

five knots, unless the area is

indicated as a speed uplifted

zone, access lane or ski lane. If

you are within 50m of a swimmer

or other vessel, including

the ones you may be travelling

with, the maximum speed

is five knots. A speed of five

knots is equivalent to a fast

walking pace. You shouldn't

be creating a wake at that

speed.

Three areas of recent complaints

are Purau Bay, Sumner

Bay and the Heathcote Estuary.

To ensure clarity, here are

the rules in those areas.

Sumner Bay from Scarborough

to the northern side of

Shag Rock is a five-knot zone

from the shore to 400m out.

This includes when leaving

the boat ramps at either the

Christchurch Yacht Club or

the Coastguard ramp at Scarborough.

The Heathcote Estuary,

including the Heathcote and

Avon river, up to Shag Rock is

a five-knot zone.

Purau Bay is a five-knot

zone until you are 200m from

the shore. The southern end

of the bay is a 'no powerboat'

area, including jet skis, and is

marked clearly with buoys.

Please remember to learn

the rules for the area you're

boating in, and be safe out

there – no excuses.

Sign up to Smart Deals & be in the monthly draw for a $100 Dress-Smart gift card!

Be one of the first to hear about the latest deals, sent straight to your inbox each week!

JOIN US NOW!

See website for details

COTTON ON KIDS

All Sale Hats $5, All Sale

Swim & Sleep Sets $10 &

Under, Sale Tee's $7.50,

Sale Dresses $15 & Under.

KESS HAIR AND

BEAUTY

$11 Off Tigi Double,

Dioxin Duo $99 ($205

Value), No Yellow

Fanloa Buy 1 Get 1

Half Price.

HALLENSTEINS

$10 Polo's, New Stock &

Styles Just Arrived.

THE WATCH.CO.NZ

Up To 60% Off RRP on Timex,

Pulsar, Lorus, & Hello Kitty

Citizen.

DRESS-SMART CHRISTCHURCH

/ DRESSSMARTCHRISTCHURCH

NEW

DEDICATED

FACEBOOK

PAGE

Like our page for the latest deals, news,

giveaways & invites to special events.

LAZEEZA

JEWELLERS

Four Leaf Clover

Studs $10

GET

EVERY

DAY

CHRISTCHURCH 409 Main South Road, Hornby

www.dress-smart.co.nz

Open 10am-5pm, 7 Days 03 349 5750
---
Wednesday March 7 2018

Latest Christchurch news at www.star.kiwi

BAY HARBOUR

PAGE 17

Still Pedalling!

Rotary gives aid after cyclone

Ferrymead

Rotary

member

Barbara

Crooks

talks about

extending

a helping

hand to those worst

affected by Cyclone Gita

ASSISTANCE: A Rotary volunteer delivers emergency kits

following the devastating cyclone in Tonga last month.

THE BAY Harbour

community is doing its

bit to help 4000 Tongans

and Samoans recover from

February's hard-hitting

Cyclone Gita.

This support has come in

the form of 700-plus Rotary

emergency response kits

distributed in the wake of the

cyclone.

A dress-up movie-day

organised by Mt Pleasant

School pupils raised the $600

needed to fund one of these

kits. The other was part of Ferrymead

Rotary's continuing

support for this international

emergency-support service.

In the wake of the latest

cyclone, Ferrymead Rotary

has already contributed to a

replacement kit. Because of

Rotary's international links,

the administration and packing

is done voluntarily – which

allows every funding dollar to

go towards the contents and

transport.

Rotary's strategy is to locate

the kits in danger areas before

a crisis occurs.

In December, on the advice

of weather forecasters as the

cyclone season neared, 1000

kits were placed in Fiji and

Tonga within easy reach of all

Pacific Islands. Five hundred

were distributed immediately

to those most in need.

Tonga was hardest hit – two

people killed, 41 injured, at

least 171 homes destroyed and

more than 1100 damaged, and

the infrastructure was severely

disrupted.

The kits come in standard,

78-litre containers packed

with more than 60 items

rated essential for survival in

an emergency. The contents

include shelter, bedding, tools,

medical supplies, and tablets

for purifying drinking water.

The container itself can be

used to hold and treat the

water.

With a little ingenuity, families

can create a shelter from

tarpaulins using the hammer

and nails provided. There's

a folding shovel for digging

trenches. Food is key, so

there's fishing gear, a hunting

knife, and cooking equipment.

Basic clothing and bed covers

are included to help keep

disaster victims warm, and a

medical pack, including items

such as soap, painkillers and

antiseptic cream, provides

the basics for the important

task of treating minor injuries

and maintaining hygiene and

health.

Whenever the kits are used,

Rotary seeks feedback from

partner organisations, governments,

and the communities

that received the boxes. This

information is used to regularly

review the contents of

the emergency response kits

(known in the Rotary world as

ERKs).

•For information about

Ferrymead Rotary and

its international projects,

contact the secretary Kai

Tovgaard on 384 9485 or

president Roger Chapman

on 384 1300.

•More Local Views, page 18

Trevor Crowe's been involved with cars for a

while. You can benefit from his experience at...

Subaru Specialists

Full Workshop services

WOF's | Service Checks | Wheel

Alignment | Brakes | Clutches | Tyres etc

Great range of Subarus & other

makes from $5,000 - $35,000

View at www.crowesport.co.nz

518 Moorhouse Ave (East end)

Phone 379 7615 or

email: service@crowesport.co.nz

HEAT PUMP

SALE NOW ON!

Amazin' Autumn Specials!!

• We will offer you the best quality brands and

option of heat pump for your home/business

• Providing Heat Pump solutions for over 15 years to Cantabrians

• We personally guarantee all our products & installs for 5 years

(providing annual maintenance has been completed)

Phone us today for your free consultation & quote

Now

Available at

41A SHAKESPEARE RD, WALTHAM

PHONE 03 366 0525

www.enviromaster.co.nz

"A local team for local people"

37 Main South Road, Upper Riccarton | Ph 348-7910 | www.feetfirst.co.nz

Tuesday, 13th March 2018

Register your interest by contacting

Tasha Brobyn on 03 365 0385

brobynt@cathedralgrammar.school.nz

Principal's address 9:30am
---
PAGE 18 Wednesday March 7 2018

BAY HARBOUR

Latest Christchurch news at www.star.kiwi

Your Local Views

We said:

Freedom campers could

be banned from more sites

around Banks Peninsula

You said:

Cedric Trounson –

Interesting how when this first

started

to be a

problem,

all the

do-gooders

reckoned it

was such a

good thing.

Now a few

years later,

the whole thing is out of control,

starving real growth in tourism

for New Zealand and leaving

the country in a mess.

Jake Ranginui – Shame for

us who don't make a mess when

we go freedom camping. The

few always spoil a good thing.

Bill Misselbrook – It's lazy

governing. There are enough

laws in place already to deal

with people who make a mess,

they just aren't implemented.

Roxanne Oliver – Ever

heard of camping grounds?

Been around forever. Ban

freedom camping.

Plan for a healthy harbour

The Whaka-

Ora Healthy

Harbour

plan being

launched

today is an

exciting new

concept,

writes

National list

MP Nuk Korako

WE ALL love Lyttelton Harbour/

Whakaraupo, known for its

sailing, swimming, fishing

and so many other activities,

including an important working

port and tourist area.

Today, to future-proof the

harbour catchment area, the

Whaka-Ora Healthy Harbour

plan and project is being officially

launched at Rapaki Marae

in a collaborative approach between

Te Hapu o Ngati Wheke,

Te Runanga o Ngai Tahu, Environment

Canterbury, the city

council, and the Lyttelton Port

Company.

This is an exciting concept to

restore cultural and ecological

health, looking across the whole

harbour from the high outcrops

to the deep harbour waters.

This plan belongs to the community

and you can help turn it

into reality.

A great start is the celebration

to launch the Whaka-Ora

Healthy Harbour plan and

Seaweek with the harbour cleanup

and barbecue on Friday in

Lyttelton at Naval Point and at

the Diamond Harbour and Governors

Bay community centres

between 4.30-6.30pm. Everyone

is invited.

The Canterbury earthquakes

had a significant impact on the

communities of Whakaraupo/

Lyttelton Harbour.

The port itself was severely

damaged during the earthquakes

and part of the Lyttelton Port

Company recovery plan in 2015

was a commitment to create a

catchment management plan for

the future of the harbour.

This launch is also very timely

NEW: The Whaka-Ora

Healthy Harbour plan and

project is being launched

at Rapaki Marae at 1.30pm

today.

with the recent blessing that took

place for construction work to

begin on stage two of four of the

wastewater pipelines around the

harbour basin to converge and

go via the tunnel to the Bromley

treatment plant rather than into

the harbour.

Christchurch is bouncing back

– our growth and population are

up from pre-earthquake figures.

I am looking forward to seeing

the result of the census that was

completed last night, particularly

as there were many new questions.

The census is compulsory as

it provides information about

our national demographics and

plays an important part in the

calculation of resource allocation

to local service providers.

Have a great week.

FERRYMEAD

The Ruin

by Dervla McTiernan

Cormac Reilly is about to reopen the case that took him

twenty years to forget ... The most addictive crime fiction debut

of 2018.

Galway 1993: Young Garda Cormac Reilly is called to a scene

he will never forget. Two silent, neglected children - fifteen-year-old

Maude and five-year-old Jack - are waiting for him at a crumbling

country house. Upstairs, their mother lies dead.

Twenty years later, a body surfaces in the icy black waters of the River Corrib. At first it

looks like an open-and-shut case, but then doubt is cast on the investigation's findings -

and the integrity of the police. Cormac is thrown back into the cold case that has haunted

him his entire career - what links the two deaths, two decades apart? As he navigates his

way through police politics and the ghosts of the past, Detective Reilly uncovers shocking

secrets and finds himself questioning who among his colleagues he can trust. What

really did happen in that house where he first met Maude and Jack? The Ruin draws us

deep into the dark heart of Ireland and asks who will protect you when the authorities

can't - or won't.

Birthright

by Fiona Lowe

Australian author Fiona Lowe returns with a juicy family saga, set against the backdrop

of Victoria's high country, about unforgettable characters tangled together by a wealthy

inheritance, secrets and betrayal. Is an inheritance a privilege or a right?

Does it show love? Margaret, the matriarch of the wealthy Jamieson family, has always been

as tight–fisted with the family money as she is with her affection. Her eldest daughter, Sarah,

is successful in her own right as a wife, mother and part owner of a gourmet food empire.

But it's not enough to impress her mother. Always in the shadow cast by the golden glow

of her younger brother, Sarah feels compelled to meet Margaret's every demand to earn her

love. Does it give security? After a poverty–stricken childhood, Anita has claimed the social

status she's worked so hard to achieve by marrying Cameron Jamieson. Although they

have a comfortable life, she's never able to fully relax, fearing everything could change in a

heartbeat.

Or does it mean freedom? Ellie, the youngest, has lived a nomadic and – according to her

siblings – a selfish life, leaving them to care for their ageing mother. For her, freedom means

staying far away from the strings attached to her inheritance, but she needs to consider her

young son's future as well. As their mother's health deteriorates, will long–held secrets and

childhood rivalries smash this family into pieces?

An addictive and page–turning story of the relationships between siblings and of deceit,

betrayal and revenge.

WIN THIS BOOK

ENTER TO

WIN

THIS BOOK

book

release

We have one copy of The Ruin to give away, courtesy of Take Note Ferrymead. To be in the draw, email giveaways@

starmedia.kiwi with The Ruin in the subject line or write to Take Note Book Giveaway, The Ruin , Star Media, PO

Box 1467, Christchurch 8140. To be eligible for the draw, all entries must include your name, address and contact

number. Entries close Tuesday 19 March.

Winner of The Saboteur is Warren Thomson of Brookhaven

Substantial energy savings

over traditional domestic

ventilation systems.

0800 SMOOTH

(0800 766 684)

sales@smooth-air.co.nz

Ventilation Equipment Suppliers

totrade

retail

The most efficient way

to ventilate your home

HEX 390

For Healthy Indoor Air

Heat is transferred to the

incoming filtered fresh air

Made in New Zealand,for New Zealand conditions

Fresh air

from outside

Warm, stale

air from house

351c Blenheim Rd

Riccarton

Christchurch

03 343 6184

&

Exhaust air

to outside

Warm fresh air

to house

Monday - Friday

7.30am - 5pm

www.smooth-air.co.nz
---
Wednesday March 7 2018

Latest Christchurch news at www.star.kiwi

BAY HARBOUR

PAGE 19

raNGiora • Northwood • st martiNs • tower juNctioN • BishoPdaLe • raNGiora • Northwood

Northwood • st martiNs • tower juNctioN • BishoPdaLe • raNGiora • Northwood • st martiNs • tower juNctioN • BishoPdaLe •

BARGAIN

BOOK BONANZA

35 %

off

BOOKS

*Only

STORE

WIDE *

applies to bargain/fantastic price books.

Stock may vary from store-to-store.

@papertreestores

UP TO

95 % off

RRP

EVERYTHING

MUST GO!

MORE FANTASTIC SPECIALS INSTORE NOW!

HALF

PRICE

KIDS' PUZZLES

*Applies to selected products.

50 %

25 % off*

STATIONERY

FASHION

*Applies to selected products.

off

GREETING CARDS

TUES, MARCH 6 - SUN, MARCH 11

30 %

off

STORAGE BOXES

Follow us on Facebook:

@papertreestores

tower junction, off Clarence St, Riccarton | Bishopdale, 31 Bishopdale Court, Bishopdale | rangiora, 206 High Street, Rangiora

Northwood supa centre, Main North Road, Belfast | st martins shopping centre, Wilsons Road, St Martins

• st martiNs • tower juNctioN • BishoPdaLe • raNGiora • Northwood • st martiNs • tower juNctioN • BishoPdaLe • raNGiora
---
PAGE 20 Wednesday March 7 2018

BAY HARBOUR

Latest Christchurch news at www.star.kiwi

WE'VE MOVED

to 392 Moorhouse Ave

GRAND OPENING

SALE NOW ON

Sales, Service, Parts & Finance: 03 379 0588

The Ultimate

Driving Machine

ENJOY AN UNBEATABLE 15% OFF

ALL NEW BMW SEDANS AND HATCHES. *

Find your ultimate driving machine at the BMW EXPO Sales Event.

Enjoy 15% of all new BMW Sedans and Hatches* along with other

outstanding opportunities across a wide range of BMW models.

Visit Christchurch BMW today to find out more.

Christchurch BMW

30 Manchester Street, Christchurch, 03 363 7240. chchbmw.co.nz

*

15% saving applies across the BMW Sedan and Hatch range only and is based on Manufacturers Recommended Retail Price excluding On Road Costs for new vehicles ordered, registered and delivered between

February 1st and March 31st 2018, or while stocks lasts. Offer excludes pre-owned and demonstrator vehicles, the BMW X Range, the BMW i3 and the BMW M5. Cannot be used in conjunction with any other offer.
---
Wednesday March 7 2018

Latest Christchurch news at www.star.kiwi

BAY HARBOUR

PAGE 21

Henderson, Hungerford make Rip Curl finals

• By Gordon Findlater

TAYLORS Mistake surfers

Ava Henderson and Estella

Hungerford both featured

in finals at the Rip Curl

GromSearch in New Plymouth.

The two-day event saw New

Zealand's top young surfing

talent compete with more than

100 entrants, including an

Australian contingent, taking

part in six age-group categories

from under-12 through to under-

17s.

In the under-17 girls category,

Hungerford showed plenty of

promise early. She scored a 9.57

to win her semi-final ahead of

Gisborne's Saffi Vette. However,

Vette came up with the goods in

the final to win with a score of

10.33.

Hungerford's 7.97 in the final

was good enough for fourth.

Christchurch's Tegan Bishop

finished second with 9.47.

Henderson came agonisingly

close in the under-14 girls

final. Her score of 8.7 was good

enough for second behind

Auckland's Alice Westerkamp

who won with a ride of 8.83.

Christchurch's Myka Black

also came close to trumping

the North Island riders in the

under-17 boys category. Black

produced some great rides in the

heats, quarter-finals and semifinals

to qualify for the final.

His score of 10.07 in the final

saw him finish second behind

Hamilton's Caleb Cutmore.

The winners of the under-17

boys and girls divisions qualified

to represent New Zealand at the

International GromSearch Final

being held in May.

SPORTS

SURF'S UP: Ava Henderson had a ride of 9.57 to progress to the

under-17 girls final. (Above) – Myka Black finished second in the

under-17 boys category. PHOTO: COL/SURF2SURF.COM

White Ferns visit Heathcote club

• By Gordon Findlater

WHITE FERNS players visited

the Heathcote Cricket Club on

Friday ahead of their one-day

series against the West Indies.

A group of Ferns players ran a

coaching seminar with the club's

junior girls team and also mixed

with the group of about 90 kids

who play cricket at the club every

Friday over Summer.

"Having some international

players come down was great for

the girls," said club president Ken

Lomax.

The Friday night community

event is run by the club's junior

cricket captain Matthew House,

with eight volunteers from the

club introducing children aged

from five to eight to cricket before

they begin playing Saturday

games. "It's a great event. We

get between 80-90 kids every

week who come down with their

parents to enjoy cricket," said

Lomax.

Heathcote's senior team recently

won the metro A one-day

competition and is currently

leading the two-day competition

with one-and-a-half rounds

remaining.

VISITORS: Kids from the

Heathcote Cricket Club met

members of the White Ferns

on Friday night.

2018 CANTERBURY SPORTS AWARDS

Without our partners, this event would not be possible.

www.sportcanterbury.org.nz

Proudly sponsored by

www.nexiachch.co.nz
---
PAGE 22 Wednesday March 7 2018

BAY HARBOUR

Latest Christchurch news at www.star.kiwi

our fresh promise

If it's not fresh, we'll replace & refund

5 th to 11 th March 2018

$

13 99

kg

Fresh NZ Beef Rump Steak

69 ¢ ea

Sweetcorn

great deal

$

4 99

ea

Tip Top Ice Cream 2L

$

6 99

kg

Fresh NZ Pork Shoulder Roast

(Excludes Free Range)

$

1 99

kg

Royal Gala Apples

$

6 50

ea

Sanitarium Weet-Bix 1.2kg

2 for

$

5 80 great deal

$

1 00

ea

great deal

$

2 99

ea

Tip Top Better For You/

Super Soft Bread

700g

Bluebird Burger Rings/

Twisties/Cheezels/

Rashuns 110-120g

Cadbury Chocolate

Block 155-205g

$

19 99

pk

Steinlager Classic

12 x 330ml Bottles

$

11 99

ea

$

5 00

pk

Purex Toilet Tissue 12 Pack/

Mega Long White 6 Pack

Wyndham Bin /

Wither Hills 750ml

(Excludes Pinot Noir)

svbhn0703

Owned & operated

by locals

SuperValue Lyttelton: 17 London Street, Lyttelton. Phone 328 7368. Open 7am–9pm, 7 days.

SuperValue Sumner: 3 Village Mall, Sumner. Phone 326 5688. Open 7am–9pm, 7 days.

While stocks last at SuperValue Lyttelton and Sumner only.

We reserve the right to limit quantities. Trade not supplied. For inspiration visit SuperValue.co.nz |

Please drink

responsibly
---
Wednesday March 7 2018

Latest Christchurch news at www.star.kiwi

BAY HARBOUR

PAGE 23

Hydrate to elevate

We all know drinking water is important, but the

majority of us simply don't drink enough even though

we know it makes us feel great when we do. We look

at the benefits and motivate you to drink more with a

few tips on how to make it just a little more palatable.

With over a quarter of Kiwis consuming

less than two glasses of water a day and only

5% drinking more than the recommended

eight, the message obviously hasn't hit

home on the importance of hydrating our

body.

A recent survey conducted by

SodaStream found that Cantabrians are

particularly guilty when it comes to their

water intake.

With 82% drinking less than six glasses

of water a day, but with over 85% admitting

they feel healthier when they drink more

water, something needs to be done to

bridge the gap in terms of what we know

to be true and what we're actually doing

about it.

This same survey revealed that although

41% of us limit how many soft drinks we

consume due to our concerns over sugar

content, the same number of people said

tea or coffee is this their number one drink

of choice.

Some people even believe that the water

consumed in their cup of Joe constitutes

part of their water intake. This is a fallacy.

As caffeine actually dehydrates us, as

does alcohol too, it means we need to

drink even more water to compensate.

Not so surprisingly the reason we don't

drink nearly enough water is that we

simply forget. Now with apps you can

download direct to your smart phone,

there are no more excuses.

Further studies proved that people who

had a SodaStream machine in their homes

were more likely to drink more water.

In fact, the study showed that people

drank 30% more water.

For those of us who aren't used

to drinking water like it's going

out of fashion, there are plenty of ways

to increase the fun factor while still

being healthy.

By simply turning tap water into

sparkling water with a SodaStream

machine and adding a splash of fresh

lemon juice or naturally squeezed fruit

juice, is bound to have a positive impact on

our health and wellbeing.

Refer your friends

to us and you

and your friend

will receive a

free gift with

your appointment.

Make an appointment today (03) 384 1743

4/2 Soleares Ave, Mt Pleasant Open: Monday to Saturday Late Night: Wed & Thurs

style

noun

elegance and sophistication.

synonyms: flair, grace, poise, polish, suaveness,

urbanity, chic, finesse, taste, class, comfort,

luxury, affluence, wealth, opulence, lavishness.

MAGAZINE

STYLE.KIWI
---
PAGE 24 Wednesday March 7 2018

BAY HARBOUR

Latest Christchurch news at www.star.kiwi

Advertisement

Live

Q&A:

A first from

Corrections.

Have you ever been interested

in a new career or a specific

job, but haven't had the

chance to talk to anyone

about it before applying?

Probably, yes.

Here's your chance to learn more about

a career with Corrections. If you're

interested in an exciting and rewarding

career as a Corrections Officer, you can join

our Live Q&A event and have your questions

answered by Corrections Officers working

in New Zealand prisons. You will have the

opportunity to ask your questions to the panel

of working Corrections Officers and have them

answered in real time.

Over the last year we've held information

evenings in cities and towns across New Zealand.

Next week, for the first time you can have all

of your questions answered live online from

wherever you are. Our team will be on hand to

share their experiences about working to help

offenders change their lives and answer any

questions that you and your whanau might have.

Our Live Q&A event will make sure that you

have the information you need to decide on

a career with Corrections.

Kahore tetahi o tatou, taea te mahi,

nga mahi e taea o tatou katoa.

Not one of us can do the work as well

as all of us working together.

MEET YULIA

Yulia's experience and passion for working with

people has ensured her smooth transition into the

role of Corrections Officer at Auckland Region

Women's Corrections Facility.

"I joined Corrections at the beginning of 2017, I

had previously worked in a range of roles including

early childhood teacher, swimming instructor and

most recently caring for older people and people

living with disabilities."

"I love working with people, and was looking

for a different challenge. I found the job through

Seek, and researched the role on the Corrections

website. I watched the videos of staff sharing their

experiences, which made me realise this was

something I could do. I dived in, accepted the

challenge, and I've never looked back."

"I love what I do, and I think so many people out

there may not realise just how much impact they

can have building a career here."

"I will never forget the journey, and where it has

taken me so far. There are a world of opportunities

out there – I can't wait to see what's next."

Yulia McConaghan, Corrections Officer

Make sure to join the

Live Q&A to get Yulia's

insight on a career path

with Corrections.

Live Q&A with

Corrections Officers.

Monday, 12 March at 8pm. Register

for the event and send us questions at

live.corrections.govt.nz

Join Corrections for a job you can be proud of.

Become a Corrections Officer, Probation Officer or Case Manager.

Find out more at frontlinejobs.co.nz

or call 0800 4FRONTLINE 0800 437 668
---
Wednesday March 7 2018

Latest Christchurch news at www.star.kiwi

BAY HARBOUR

PAGE 25

Email: sarla.donovan@starmedia.kiwi

by 5pm each Wednesday

will give a feature talk on bird

life in the estuary and there will

be spot prizes to be won. Free but

bring money for a coffee/cuppa

at the end. Weather dependent.

Tidal view car park, next to

Anytime Fitness

Storytimes

Wednesday 10.30-11am,

Tuesday 11-11.30am

Encourage learning through

a love for stories. Storytimes is

a free, interactive programme

including stories, songs, rhymes

and play.

Matuku Takotako: Sumner

Centre on Wednesday, and

Lyttelton Library, Tuesday

50s Up Band

Wednesday, 9.30-11.30am

Do you want to revive your

skills or are you looking for

a new group of friends? The

50s Up Band welcomes new

members of any age who play

a brass instrument or maybe

some percussion. A wide range

of music is covered and play

outs usually take place during

weekdays around once a month.

For inquiries, call Noeleen on

384 3953.

Woolston Brass Band Hall,

Dampier St

Strength 'n' Stretch Class

Wednesday, 6-7pm

For women in their fab-50s

and beyond. Enjoy a whole

body workout at a medium level

which includes exercise to music,

circuit stations and more. First

class is half price.

St Andrews Anglican Church,

148 Main Rd, Redcliffs. $10

Seaweek Activity: Film

Screening

Thursday, 5.30-7.30pm

As part of the Akaroa Seaweek

event line up, go along to the

screening of A Plastic Ocean

film followed by questions and

answers with Maria Jesus Valdes,

University of Otago Department

of Marine Science. Spaces are

limited, book at the cinema

or phone 304 8898. Cost

is $20

Cinema Cafe, 2 Selwyn St,

Akaroa

Mainly Music

Friday, 9.45-11.15am

Are you looking for a fun

activity to do with your baby or

pre-schooler? Do you want to

get to know other families in the

Sumner-Redcliffs-Mt Pleasant

area? Mainly Music is a fun,

educational half-hour music and

movement session followed by

morning tea and a social/play

time. Cost is $4 per family

casual rate, $30 for a 10-session

card. For more info phone

Hazel on 384 1965 or 021 077

1264

St Andrews Church, 148 Main

Rd, Redcliffs

FEATURED EVENT: The Harbour Clean-up is on Friday at

4.30-6.30pm. Held as part of Seaweek, in conjunction with

Conservation Volunteers New Zealand, bring sturdy shoes and

gardening gloves and help clean up the harbour. A barbecue

will follow. There will be three meeting stations: Naval Point,

Governor's Bay Community Centre and Diamond Harbour

Community Centre. Register by emailing HFairbairn@cvnz.org.

nz, or phoning 021 399 040, or just turn up and register on the

day.

Home from Home: Ceramic

Exhibition

Friday-Sunday, 10am-4pm

Recent works by Diamond

Harbour resident and University

of Ulster fine arts graduate Jane

McCulla. Patterns inspired by

ancient petroglyphs, geology and

aerial photography of the earth.

Stoddart Cottage Gallery, lower

Waipapa Avenue, Diamond

Harbour

Seafarers Centre Open Day

Saturday, 10am-2pm

The Seafarers Centre will be

open for all of Lyttelton to pop

in and have a look around. Meet

the volunteers and find out what

happens at the centre.

18 Norwich Quay

Zero Waste Households

Saturday, 2-4pm

Want to reduce your

household rubbish? Learn how

with The Rubbish Trip, a touring

road show about how and why

individuals and groups can

reduce their waste footprint.

Apparently, reducing waste can

be "easy, fun and fulfilling!"

Lyttelton Recreation Centre, 25

Winchester St

Seaweek Activity: Forest and

Bird Coastal Pathway bike ride

Saturday, 10.30am-1pm

Saddle up and ride out on

the coastal pathway, starting

at Ferrymead and finishing in

Sumner. Canterbury University

marine biologist Islay Marsden

Learn to Play Lawn Bowls

Sunday, 9.30-10.30

If you've never played before

or simply want to improve your

technique, go along to these free,

weekly sessions. Coaches will

be available to give guidance on

holding and delivering the bowl,

and establishing the correct line.

Bowls available but flat shoes

need to be worn. Free.

9 James St, Redcliffs

Twilight Golf.

Tuesday, tee-off 4.30-5.30pm

Come and enjoy twilight golf

at a friendly club with social

time afterwards. Non-members

welcome. Prizes to be won.

Green fees are $10, members $5.

For further information, contact

Ann at a.b.newsom@xtra.co.nz

or Rob at r.j.connell156@gmail.

com.

Ferrymead Golf Club

Markets:

Lyttelton Farmers' Market

and Lyttelton Craft Market:

Saturday, 10am-1pm, London St.

Mt Pleasant Farmers' Market:

Saturday, 9.30am-12.30pm, 3

McCormacks Bay Rd.

Akaroa Farmers' Market:

Saturday, 9.30am-1pm, Madeira

Car Park.

3 Garlands Road, Woolston

DeluxeCinemas.co.nz

Christchurch's Premium Cinema Experience

Phone Bookings | Free Parking | Cafe/Licensed Bar

03 389 5360 Online Bookings | Cinema Club | Hot Nuts/ Cheeses

the mercy Colin Firth, Rachel Weisz

thu: 10:00am, 2:00pm, 6:00pm Fri, sat, sun: 10:00am, 2:00pm, 6:00pm

mon: 10:00am, 2:00pm, 6:10pm tue: 10:00am, 2:00pm, 6:00pm

Finding your Feet Joanna Lumley, Timothy Spall

Wed: 11:00am, 1:15pm, 3:30pm, 6:00pm

thu, Fri, sat: 10:00am, 12:10pm, 2:20pm, 6:20pm

sun: 10:45am, 1:00pm, 5:10pm

mon, tue: 10:00am, 12:10pm, 2:20pm, 6:20pm

Loving vincent

Wed: 12:20pm, 4:20pm thu, Fri, sat: 4:25pm sun: 3:15pm

mon, tue: 4:25pm

three BiLLBoards outside eBBing, missouri

Nominated for 7 Academy Awards

Wed: 8:10pm thu, Fri, sat: 8:30pm sun: 7:20pm mon: 8:15pm tue: 8:30pm

FiLm stars don't die in LiverpooL Nominated for 3 BAFTA Awards

Wed: 2:15pm, 6:15pm thu, Fri, sat, sun: 12:00pm, 8:00pm

mon: 12:00pm, 4:00pm tue: 12:00pm, 8:00pm

Lady Bird Nominated for 5 Academy Awards

Wed: 10:30am, 8:20pm thu, Fri, sat: 4:00pm sun, mon, tue: 4:00pm

the mercy M Offensive language Finding your Feet M Offensive language, sexual references & drug use

Loving vincent M Adult themes three BiLLBoards outside eBBing, missouri R16 Violence, rape themes,

suicide & offensive language FiLm stars don't die in LiverpooL M Offensive language & sexual references

Lady Bird R13 Drug use, sex scenes & offensive language

NEW: SERVING FREE MORNING TEA ENjOy A FREE TEA, COFFEE

& A FREShly BAkEd BISCuIT WITh EVERy MORNING ShOW

Discover this

unique Emporium

Metal art - gifts - hoMewares

water features - pottery

Mirrors - candles

wall hangings & More

722 Marshland Road, Top end Styx

Open 7 Days

Ph: 03 323 9781

www.hitchingpost.co.nz

WEDNESDAY

RETRO ROAST

LUNCH

$10 MEMBERS / $12 NON

THURSDAY

STEAK NIGHT

$15!

SUNDAY NIGHTS

KID'S EAT

FREE

Conditions apply

43 Hargood St, Woolston ph 03 389 7039 www.woolstonclub.co.nz

Follow us on Facebook www.facebook.com/WoostonclubInc

Whitford's Hours:

Open for LUNCH & DINNER

Tues to Sun from 5pm
---
PAGE 26 BAY HARBOUR

Latest Christchurch news at www.star.kiwi

Wednesday March 7 2018

REAL ESTATE

A class act – avant-garde classic on the hill

136 Moncks Spur Road, Redcliffs

Deadline Sale: 5pm Friday 23 March 2108

3 bedrooms | 2 bathrooms | open plan kitchen, dining living area | 1 study/play area | 2 carport | 2 off-street parks | Listing ID: 6237

What began life as a 1950s bungalow was

transformed in the 1970s when architecture

in Christchurch was breaking from the

constraints and traditions of the past to

create what is now a truly unique home.

What we have today is an avant-garde

home nestled into the sunny slopes above

Redcliffs. Not only does it bask in sunshine

it enjoys uninterrupted views across the

estuary and up the coastline. The magic of

the setting reflects the magic to be found

indoors. On 3 levels it provides space for

everyone and everything. The main central

floor comprises the entry from the carport

at the front door, open plan kitchen dining

and living, a study/play area, 2 double

bed-rooms which open to a spacious deck

area and a state of the art bathroom. Stairs

descend to a rumpus room/studio which

opens to a paved patio area giving access to

a landscaped contemporary hillside garden.

The upper level provides the main suite

comprising bedroom, en suite and dressing

room and expansive open living space with

floor to ceiling windows. This home exudes

contemporary style with an industrial

minimalist theme.

Open homes Sundays 1.45pm-2.30pm

and Thursdays 7.30pm-8pm.

See you at the open homes or for a private

viewing contact Min of Min Sarginson

Real Estate (Licensed Agent REAA 2008),

phone 0274 320 327 or 329 4161

now bigger than ever

growing with you

SprIng Is here –

It'S Sow Time

how to get the best results from

seeds and seedlings

100% NatIve In

The capItal

Unravelling the secrets of

Otari-wilton Bush

The New Zealand

landscape awards

The people behind

the projects

$7.90 incl. GST

Save our roSeS

How a rose register is protecting our heritage

September 2016 | 100%

It's time

to grow!

New look and more

content than ever!

MeeT LeSTer Brice

A Garden coach

auckland Botanic GardenS

Why we love our public grounds

The magazine for

gardeners who like to get

their hands dirty

SubScribe from

$43. 50*

*6 issues/6 months

ISSN 2423-0219

SUBSCRIPTIONS FREEPHONE

0800 77 77 10

www.gaRdeNER.kiwI
---
Wednesday March 7 2018

Latest Christchurch news at www.star.kiwi

BAY HARBOUR

PAGE 27

Animals Livestock/

Supplies

FARM WANTED

Long term lease for small

herd pure breed beef

cows. Yards & good water

required. Contact Mike

Gilbert 027 2894277

Computer

Services

VIRUS REMOVAL AND

PC HEATH CHECK

$50.00

With free pick and delivery

within 10km of Redcliffs.

Phone Paul on 021495577.

Microsoft Certified Pro

with 25 years experience.

Visit www.seracnz.com

Computers

Curtains

www.curtainfabric-outlet.com

Fashion Designs & Colours

Discontinued Designs

End of Lines Bargain Prices

Call at Our Shop

CURTAIN FABRIC OUTLET

71 Hawdon St Sydenham

Ph 366-5026

Gardening

& Supplies

Landscape

and Garden

Services

If you need help

getting your garden

back in order after

repairs, need any

type of landscape

construction work or

garden restoration.

Ph 021 272 0303

accountant

Classifieds Contact us today Phone our local team 03 379 1100

Gardening

& Supplies

A GARDEN OR

LANDSCAPING TIDY

UP? Shrub, hedge &

tree pruning, Lawns,

Gardening, consistently

reliable general property

upkeep, Dip. Hort. 10

yrs experience, One off

tidy ups or on-going

service. Nick's Property

Maintenance. Keeping

your garden beautiful.

Free Quote. Ph. 942-4440

Holiday

Accommodation

ALL

YOUR

COMPUTER

QUEENSLAND SUN-

WORRIES SOLVED! SHINE COAST AUSTRA-

*$30.00 off your first LIA Resort, Ocean Views,

service with this coupon!* Balconies, Self Contained,

1 or 2 B/R Ensuite,

No problem too big or

small from home PC's to Heated Pool, Spa, Sauna,

business networks. PC

Free Internet, Shops,

Restaurants, Tennis, Surf

slow? An end to Viruses,

Club & Patrolled Beach,

Spyware, and Clogged

Public Transport at door.

Systems. Safe secure

Ask for our SEASONAL

hassle-free computing. SPECIALS. Phone 61 7

Lost files recovered. 544-35011 Email: reception@mandolin.com.au

Microsoft Certified,

MCSE, MCP+l. 30 years www.mandolin.com.au

experience. Call Andrew

Buxton this week on 326-

6740 or 027 435-7596

for $30.00 off* Custom

Computers Christchurch

ADD SOME

COLOUR

TO YOUR ADVERT!

Select Services

COAL & FIREWOOD

Clean Dry Firewood

Marcrocarpa, Bluegum,

Oregon & Old Man Pine

Free delivery for 6cm

truckload or 3cm

by arrangement

COAL & FIREWOOD

suppLIEs yARD

stAtE HIgHWAy 75, KAItunA

Lynda or Ron Aldersely

Phone 329 6233

Mon - Fri 8am - 12 noon

Trades & Services

Cracked tiles?

Dirty grout?

Old or mouldy

silicon?

Brett Ph 03 358 5105

or 027 746 7632

www.groutpro.co.nz

ROOF

PAINTING

Rope & harness

a speciality,

no scaffolding

required,

30 years of

breathtaking

experience.

FREE QUOTES

Exterior staining,

exterior painting,

moss and mould

treatment and

waterblasting

Phone Kevin

027 561 4629

Trades & Services

CARPET & Vinyl

lAying

Repairs, uplifting,

relaying, restretching,

E mail jflattery@xtra.

co.nz

ph 0800 003 181

or 027 2407416

LANDSCAPING

Stone Age

Landscapes

If you can visualise, we can create

We specialise in residential and commercial

landscaping and stonework. We pride ourselves on

quality workmanship at affordable prices.

• Stonework: Driveway entrances & Walls

Exterior house cladding

• Fences and Decking

• Paving and Patios

• Ponds and Water features

Mike Adams 021 149 9733

Email: mikerobadams@gmail.com

Website: www.stoneagelandscapes.co.nz

(03) 380 50 20

Trees for

CanTerbury

speCialisTs in

• Groundcovers

• Ferns

• Grasses

• Small to big

sized shrubs

Your local professional

FOR ALL YOUR

PLUMBING

NEEDS

• Bathroom repairs

• Renovations

• Leaks

• Tap Repairs

• Gas and Drainage

PrEmIum

TyrEs & AuTO

10% discount with this ad

tWO LOCAtiONS!

222 LINWOOD AVE (Beside Burger King)

245 DyErs rOAD (Cnr Wickham St)

• Vehicle servicing from $75

• Punctures only $25 for most vehicles

• Brake pads from only $110

• New & secondhand tyres on sale now

• WOFs • Lubes • Alignments

CALL NOW! HOURS:

MON - FRi

8am - 5pm

SAtURdAy

9am - 2pm

Native PlaNts

naTiVe planT nursery

Ask us about Super

Gold Card discounts

• Shelterbelts

• ALL grades

• Expert advice

• Planting now

(Linwood)

Helping our community grow

42 Charlesworth Street

Ph/Fax (03) 982-1028 | OPEN 7 DAYS

www.treesforcanterbury.org.nz

Trades & Services

Trades & Services

COnCRETE CUTTing

Affordable Concrete

Carol and Chris

Cutting with Quality, and

removal work. Free quote.

No job to small. Phone 027 Phone 376 5322 or email

442-2219, Fax 359-6052 chcheast@laserplumbing.co.nz

a/h 359- 4605

ElECTRiCiAn

JMP Electrical

Trades & Services Trades & Services

Experienced & registered.. PAinTER AVAilAblE SEWing

Expert in all home

RAPID RESPONSE, AlTERATiOnS

electrical repairs &

quality work guaranteed, Dressmaking repairs,

maintenance.Call James

interior/exterior,

prompt service, 25

027 4401715

roofs, spraypainting, yrs exp, workmanship

GARDENER

waterblasting, ph Graeme guaranteed, reas rates,

Need your home or

for a free quote, 027 318 ph Tiang 022 011 8142 or

commercial garden tidied

2614

376 4338

up or renovated or require

long term assistance.

PAinTER

STOnEMASOn, bRiCK

Phone Ruth 326-6663 or

Plasterer, decorator. Free

& blOCKlAyER

021 272-0303

quotes, honest.

Earthquake Repairs, Grind

Out & Repoint, River/

LOCAL NZ BUILDER Ph 03 384 4452 or 021

Oamaru stone, Schist,

Specialising in hill work, 08115299

Volcanic Rock, Paving,

retaining walls, decks, PlASTERing

all Alterations new & old,

fences,extensions & inTERiOR

Quality Workmanship,

renovations. LBP Builder no job too big or too

visit www.featureworks.

Richard 021 08109540 small, specialise in repair

co.nz or ph 027 601-3145

PAinTER/PlASTERER work & new houses, free STOnEMASOn

Experienced tradesman, quotes given, over 20 yrs Houses, feature walls,

quality work, free quotes, plastering experience, ph paving,dry stone walling &

ph Simon 027 389-1351 or Peter 027 221-4066 or repairs.Keeping the locals

03 328-7280

384-2574

happy for over 20yrs. Ph

Trades & Services

Tim 027 7145402

WinDOW ClEAning

"Your Windows are the

automotive

eyes of your Home", for

a free no obligation quote,

call Greg Brown, Crystal

Clear Window Cleaning

ph 384-2661 or 027 616-

0331 Local Resident

Situations Vacant

Machine

Operators

Wanted Experienced

Machine Operators

with WTR for

projects in Gore

and Queenstown

to operate 20T

excavator, dump

truck, roller and

water cart.

Good rates of pay.

Phone Karen:

022 303 3723

or email karen@

wilsoncontractors.

co.nz for more

information

The magazine for

gardeners who

like To geT Their

hands dirTy

www.gardener.kiwi

ADVERTISE YOUR BUSINESS HERE

Public Notices

A RARE

OPPORTUNITY

IN THE

FERRYMEAD

AREA

We are looking for a motivated, energetic

and enthusiastic franchise owner for the

Ferrymead area (including Sumner, Redcliffs,

Mt Pleasant, Lyttelton, St Martin's, Opawa,

Huntsbury).

If you're looking for a new challenge and

the chance to make a difference in your

community, join one of NZ's fastest

growing franchises.

Price on Application.

Apply online to become a franchisee in

this growth sector.

www.drivingmissdaisy.co.nz/buy/e/

100%

Phone for further details

(03) 379 1100
---
PAGE 28 Wednesday March 7 2018

BAY HARBOUR

Latest Christchurch news at www.star.kiwi

ExCLUSIvE

Tiny Pots 8CM

This range of baby houseplants

has a variety suitable for any room

of the home. $3.19each.

133557

3 FOR

$9

Times Up

Wooden Mouse Trap

Suitable for indoor and outdoor use. Twin pack.

296776

Kiwicare

No Rats & Mice One

Feed Blocks 80G

Suitable for indoor

and outdoor use.

Professional strength.

300513

Dutch Iris Bulbs

20PK

This stunning mixture

includes purple, lavender,

blue, yellow and white

varieties.

137957

Kiwicare

No Bugs Super

Bug Bomb 3PK

Long lasting –

up to 6 months

protection.

309412

Daffodil

Bulbs 20PK

Plant now to enjoy flowers in spring.

300053

Freesia Bulbs 20PK

For colour, fragrance and

elegant form, this single

mix is unbeatable.

300243

Ripcord Plus

Pest Control

200ML

Effective long

term pest control.

Indoor and

outdoor use.

138873

gET ONE

FREE

SNAP

Pittosporum

Golf Ball

Great for

low hedges.

2.4 litre pot.

174296

DEAL

$

17 98

GET IT BEFORE IT'S GONE!

bUy ONE

$

9 98 $

9 98 $

16 55

Kiwicare

No Bugs Super

Spray 2L

Professional

strength. Kills 99%

of common insect

pests.

174183

$

1 98 $

4 78 $

19 99 $

24 99 $

29 95

Tui

Garden

Waste Bag

Ideal for

transporting

and storing

garden waste.

221640

Hozelock

Fitted Hose 15M

Fitted hose includes 1 hose connector, 1 water

stop hose connector and 1 tap connector.

240315

Fiskars

Wide Leaf Rake 180CM

Light durable nyglass construction.

Wide rake head for greater surface

coverage.

179654

ExCLUSIvE

Fiskars

Hedge Shears

200mm self-sharpening

blades. Soft grip handles.

120893

Jobmate

Hickory Axe 1.13KG

100% FSC genuine

hickory handle.

Carbon steel axe head.

233099

$

9 98 $

27 98

$

32 98 $

39 98 $

39 98

Spick N Span

Microfibre

Cloth

Lightweight

and versatile

universal

microfibre cloth.

Assorted colours.

060034

$

2 38

EACH

Interworld

Plastics

Spout

Bucket 9.6L

Markings inside

the bucket

show litre-age.

111409

Number 8

Rolling Box 29L

Stackable and nesting. Clip on lid.

BPA free.

299819

FROM

$

9 36

Number 8

Path

Broom

Medium stiff

synthetic

bristles.

290mm.

269247

Drain Clean

Liquid Drain Clean 1L

For use in kitchen and

bathroom. For blocked or

slow running drains.

325217

Raven

Mop-A-Matic

220MM

Sponge squeeze

mop with easy

squeeze action.

324010

gojo

Pumice

Hand

Cleaner

3.78L

914126

30 Seconds

Outdoor Cleaner

Concentrate 5L

Quick effective

exterior cleaner.

Results in 10 minutes.

362155

$

1 98 $

10 88 $

16 45 $

19 76

Persil

Laundry

Powder 4KG

Ultra-concentrate.

Built in pre-treaters

which attach

tough stains first

time.

293501

$

10 67 $

15 99 $

19 99

30 Seconds

Deck & Driveway

Cleaner 2L

Ideal for use on painted

and wooden decks,

fences, driveways and

composite materials.

201832

$

29 98

Ferrymead

1005 Ferry Road, Phone: 366 6306

Opening Hours: Monday–Friday: 7:00am–7pm

Saturday, Sunday and Public Holidays: 8:00am–6:00pm

Offers available at Ferrymead Mega store & Trade Centre only, until the 14th of March, while stocks last.

mitre10mega.co.nz

If you find a lower price on an identical stocked

product locally we will beat it by 15%.

find us mitre10.co.nz

If you find the same product cheaper from another Mitre 10 store or Mitre 10 website we'll match that price.

Excludes trade and special quotes, stock liquidations and commercial quantities. The in-store price may be lower than that advertised.
---
TARGET'S ANNUAL

UP TO

60 %

Sale ends

Monday 12 th

March 2018

OFF SELECTED ITEMS

LIMITED

STOCK!!

Soho Lounge Collection – Aqua

Clean, modern lines, compact, button-tufting accents

Available as single settings; 3 Seater, 2 Seater or 1 Seater

Accessories sold seperately.

only 5*

3 Seaters

left!

only 3*

1 Seaters

left!

only 3*

2 Seaters

left!

save

50 % Soho 3 Seater Sofa

3 Seater also available

in Charcoal

only 5*

left!

Soho 1 Seater Sofa

Aqua

Soho 2 Seater Sofa

Aqua

Aqua or Charcoal

was $599

now only

$

299

was $799

now only

$

399

was $999

now only

$

499

*Quantity available at time of printing.
---
FINAL CLEARANCE LEANDRO RANGE

Leandro Living Collection

Solid, rustic look, walnut finish, made from

solid reclaimed pine, rounded edges

save

up to

rounded edges ideal

for families with

young children

Accessories not included.

Leandro Highboard

was $1299 now only

$

699

Leandro Bookcase

was $1199 now only

$

499

60 % Leandro Entertainment Unit

was $599 now only

$

349

Leandro Buffet

was $1199 now only

$

599

Leandro Dining Table

was $799 now only

$

399

Leandro Lamp Table

was $249 now only

$

99

Leandro Hall Table

was $479 now only

$

199

Leandro Coffee Table

was $499 now only

$

249
---
OUTDOOR

SETTINGS

REDUCED

TO CLEAR!

save

$750

Cancun Outdoor

Modular Day Bed

Luxurious, compact,

weather resistent,

easy maintenance

was $1749

now only

$

999

Cabo 5 Piece Outdoor

Dining Set

Versatile as a lounge or dining set,

weather resistant brushed Acacia

was $3499

now only

$

1799

save

$850

save

$1700

Athens 7 Piece Outdoor

Dining Set

Sleek design, rust resistant,

lightweight, aluminium

was $2249

now only

$

1399

save

$2000

was $4799

now only

$

2799

Milan 3 + 2 Outdoor Lounge Set

Contemporary, light and durable, quick dry foam seating,

resistent to fading, available in Sooty (shown) and Lead

Accessories and Coffee Table sold seperately.

www.targetfurniture.co.nz

INSTORE AND ONLINE
---
Disco Sofa Bed

Retro, compact, comfortable

save

$1000

EVEN MORE

SAVINGS!

was $499

now only

$

249

Paris 2 Seater + Chaise Right

Side – Natural

Generous seating, pillow style back

cushoins, durable

was $2499

now only

$

1499

Farina Suede Recliner

– Chocolate

save

$330

Comfortable, plush, durable

was $629

now only

$

299

Mosaic

Large Buffet

Coffee Table

Quirky, retro, ease of use,

versatile storage

Coffee Table

was $349

now only

$

179

Large Buffet was $749

now only

$

379

Bahama Queen Mattress

Medium feel, spring support, durable

was $299

now only

$

249

Prestige Nature Queen

Mattresses – 2 Feels

Advanced comfort layers, top layer

made from all natural materials,

minimal partner disturbance

Available in Firm or Soft

was $1499

now only

$

1299

Prestige Queen

Mattresses – 3 Feels

Advanced comfort layers, memory

foam, minimal partner disturbance,

supportive, comfortable

Available in Firm, Medium or Soft

was $1299

now only

$

999

save

$300

24 MONTHS

NO PAYMENTS

& NO INTEREST *

*Minimum purchase $499.

Finance offer expires 26th March 2018.

See below for terms & conditions.

Cnr Blenheim & Curletts Rds, Christchurch

0800 TARGET (0800 827438)

INSTORE AND ONLINE

targetfurniture.co.nz

We accept:

Accessories are not included in the price of furniture unless otherwise stated. Colours in store may vary to those pictured. Stock

may vary from store to store. Target apologises in advance if any item is sold out during the promotion. All Prices include GST. Target

reserves the right to amend any misprints or errors within this advertisement. Mailer offers expire Monday 12th March 2018. Sale

excludes Manchester and accessories.

*No Payments and No Interest for 24 months ("Payment Holiday") is available on Q Card Flexi Payment Plans for in-store purchases

only until offer ends 26th March 2018. Minimum spend $499. Annual Account Fee of $50 applies. New Q Cardholder fees - $55

Establishment and ($3 PPSR - Q Card only. Existing Q Cardholder fee - $35 Advance. Q Card Standard Interest Rate, currently

25.25% p.a. applies to any outstanding balance at end of Payment Holiday. Payment Holiday period may vary depending on

Cardholder's payment cycle dates. Q Card lending criteria, fees, terms and conditions apply. Rate and fees correct as at date of

publication, subject to change.