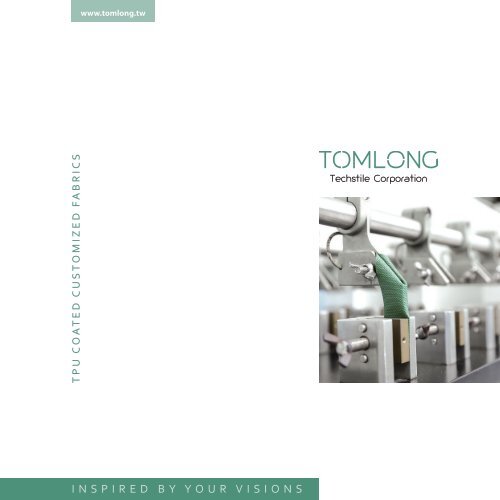 You also want an ePaper? Increase the reach of your titles
YUMPU automatically turns print PDFs into web optimized ePapers that Google loves.
www.tomlong.tw

T P U C O A T E D C U S T O M I Z E D F A B R I C S

1

I N S P I R E D B Y Y O U R V I S I O N S
---
COMPANY

background

The thermoplastic polyurethane industry has been developing in Taiwan for

several decades; however, due to a lack of qualified high-bonding laminators,

there was a big gap between film makers and downstream manufacturers. To

bridge this gap, A GROUP OF EXPERIENCED PROFES-

SIONALS FROM THE TEXTILE, CHEMICAL AND

ELECTRONIC INDUSTRIES came together and formed TOM-

LONG Techstile to meet the growing demands.

2
---
Major Products

TPU LAMINATED FABRICS

WELDABLE / SEALABLE FABRICS

WATERPROOF FABRICS

AIRTIGHT FABRICS

Distinct from other laminators

in the garment fabrics industry,

TOMLONG IS DEEPLY

INVOLVED IN INITIAL

DESIGN AND FINISH

PRODUCT MAKING.

After acting as the bridge between

two fields for many years, our rich

knowledge, high-quality technique

and excellent service have established

our reputation within many

well-known brands in the outdoors,

sport, marine, automobile, medical,

military industries and more.

3
---
T H E M I S S I O N

MAKE

IT

WORK!

4
---
Now, TOMLONG is not only specializing in high-bonding

film lamination, but also provides SOLUTIONS IN

COMPOSITE MATERIAL.

We have flexible manufacturing machines and we can

laminate/coat diversified textiles such as nylon, polyester,

n / t, cotton, n / c, recycled yarns, woven, knitted or nonwoven

materials. Most of our laminated / coated fabrics

are designed for waterproof or inflatable devices, and our

willingness to take on new challenges have earned us

recognition as an innovative and technically-oriented

company.

We embrace new challenges and are

proud of our STRONG R & D in

new materials and processes.

Our H I G H P R O D U C T I O N

QUALITY is one of the core values

of TOMLONG.

With our top-of-the-line quality control

inspection equipment, we ensure the

best quality and fulfill our customers'

needs.

We design specialized, custom-made

products to meet our customers' unique

needs.

OUR STRENGTH IS VERY

HIGH BONDING, thin-layer TPU

that remains LIGHT WEIGHT.

You have an idea, we have

the know-how and the

equipment to help you turn

it into reality.

COMPANY

strength

5
---
MAIN

applications

6
---
INFLATABLE ITEMS

1

We specialized in airtight materials, therefore

many of our products are suitable for inflatable

devices, such as

_ watersports items e.g. tube, SUP, boats

_ mattresses, seating pads

_ search & rescue equipment e.g. avalanche

airbag, balloon, life vest

7
---
MAIN

applications

8
---
WATERPROOF PRODUCTS

2

Most of our laminated/coated fabrics are

waterproof, uses include:

_ dry bags

_ vehicle covers (boat covers, car covers)

_ tent floor fabrics

9
---
MAIN

applications

10
---
LIGHTWEIGHT MATERIALS

3

Another strength of our experienced engineers

is thin layer TPU – special light weight material

with many uses like

_ bags

_ backpacks & packs

_ kites

11
---
MAIN

applications

12
---
TANKS

4

TPU

...an extremely flexible material adaptable to

dozens of uses.

13
---
TPU

properties

TPU

...AN EXTREMELY

FLEXIBLE MATERIAL

ADAPTABLE TO

DOZENS OF USES.

Thermoplastic Polyurethane (TPU) is a highly versatile elastomer with unique properties that offers

both superior performance and flexibility. TPU is the ideal polymer for applications in a wide variety of

markets.

TPU properties:

- High abrasion resistance

- High elasticity across the entire hardness range

- Excellent low-temperature and impact strength

- Resilience to oils, greases and numerous solvents

- Good flexibility over a wide temperature range

- Robust weather and high-energy radiation resistance

- Pleasant tactile properties

- Suitability for bonding and welding

- Can be easily colored/dyed

- Recyclability

14
---
PROCESS

types

COATING/

LAMINATING

We provide two types of processes: coating a thin layer of PU (Tomcoat) on fabric, or

laminating a layer of TPU film of varying thickness on fabric.

Single layer:

Double layers (sandwich):

Tomcoat/TPU

Tomcoat/TPU

Fabric

Fabric

Tomcoat/TPU

The materials can be PU/TPU or any other thermal polymer materials.

The process can be one layer, two layers and multi-layers (for example: film/fabric/film/fabric).

There are many possibilities – just tell us your needs!

FOR SPECIAL

ORDERS:

We can accommodate your unique requirements without ever sacrificing bonding strength, and

help our customers push their innovative products to the limit.

For example: the ELASTIC FABRICS in inflatable products need to retain their flexibility and

durability, and our low-temperature process keeps the material lightweight, yet maximizes

fabric strength.

You tell us your needs, and we provide the solution.

15
---
TOMLONG Techstile Corporation

email: info@tomlong.tw

Factory address:

No. 5, Gong 6 th Road

Dajia Youth Industrial Park

Dajia District Taichung City

43768, Taiwan

Tel: +886 4 2681 5977

Fax: +886 4 2681 5663

Sales and R & D address:

3F 314 ZiYou Road Sec. 4

Taichung City,

40147, Taiwan

Tel: +886 4 2215 1639

Fax: +886 4 2215 0624

16