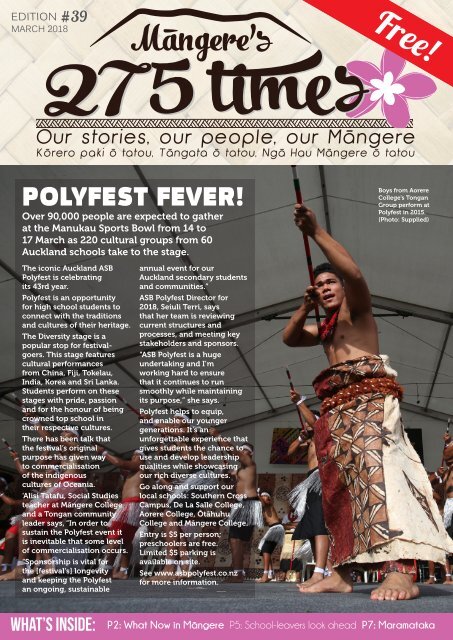 275 Times March 2018
Mangere community news. This month: ASB Polyfest, What Now in Mangere, students get behind the Ihumatao campaign, a new column from Lemauga Lydia Sosene (Chair of the Mangere Otahuhu Local Board), school leavers talk about their next steps - and more!
Mangere community news. This month: ASB Polyfest, What Now in Mangere, students get behind the Ihumatao campaign, a new column from Lemauga Lydia Sosene (Chair of the Mangere Otahuhu Local Board), school leavers talk about their next steps - and more!
SHOW MORE
SHOW LESS
Create successful ePaper yourself
Turn your PDF publications into a flip-book with our unique Google optimized e-Paper software.
EDITION #39

MARCH 2018

275

Māngere's

times

275 times

Free!

Our stories, our people, our Māngere

Kōrero paki ō tatou, Tāngata ō tatou, Ngā Hau Māngere ō tatou

POLYFEST FEVER!

Over 90,000 people are expected to gather

at the Manukau Sports Bowl from 14 to

17 March as 220 cultural groups from 60

Auckland schools take to the stage.

The iconic Auckland ASB

Polyfest is celebrating

its 43rd year.

Polyfest is an opportunity

for high school students to

connect with the traditions

and cultures of their heritage.

The Diversity stage is a

popular stop for festivalgoers.

This stage features

cultural performances

from China, Fiji, Tokelau,

India, Korea and Sri Lanka.

Students perform on these

stages with pride, passion

and for the honour of being

crowned top school in

their respective cultures.

There has been talk that

the festival's original

purpose has given way

to commercialisation

of the indigenous

cultures of Oceania.

'Alisi Tatafu, Social Studies

teacher at Māngere College

and a Tongan community

leader says, "In order to

sustain the Polyfest event it

is inevitable that some level

of commercialisation occurs.

"Sponsorship is vital for

the [festival's] longevity

and keeping the Polyfest

an ongoing, sustainable

annual event for our

Auckland secondary students

and communities."

ASB Polyfest Director for

2018, Seiuli Terri, says

that her team is reviewing

current structures and

processes, and meeting key

stakeholders and sponsors.

"ASB Polyfest is a huge

undertaking and I'm

working hard to ensure

that it continues to run

smoothly while maintaining

its purpose," she says.

Polyfest helps to equip,

and enable our younger

generations. It's an

unforgettable experience that

gives students the chance to

use and develop leadership

qualities while showcasing

our rich diverse cultures.

Go along and support our

local schools: Southern Cross

Campus, De La Salle College,

Aorere College, Ōtāhuhu

College and Māngere College.

Entry is $5 per person;

preschoolers are free.

Limited $5 parking is

available on site.

See www.asbpolyfest.co.nz

for more information.

Boys from Aorere

College's Tongan

Group perform at

Polyfest in 2015.

(Photo: Supplied)

WHAT'S INSIDE:

P2: What Now in Māngere P5: School-leavers look ahead P7: Maramataka
---
2

EDITORIAL

Aloha!

It's March, and

Polyfest fever

is upon us.

The annual

cultural showcase

is just days

away, and secondary school

students across Auckland

are buzzing in anticipation.

I auditioned for a spot in the

Ōtāhuhu College Samoan

Group back in 1994.

After spending an hour

learning a sāsā routine, I had

to perform the dance with a

small group. I was so nervous,

but I gave it my all. In the end

though, my twelve mistakes

were eleven too many!

Not being selected for the

group freed me to soak up the

atmosphere (and the food) on

festival day, so I was content.

This year, the devastation in

Samoa, Tonga and Fiji following

Cyclone Gita won't be far from

minds of the performers as they

take to the stage. No doubt

they will perform with spirit

and mana as they represent

their beloved countries.

Local people have certainly

been doing their bit to help

in the wake of the cyclone.

Ōtāhuhu Māngere Youth

Group (OMYG), which

has collected clothes for

families in the affected

areas, is just one example.

The outpouring of love and

support across our community

has been overwhelming.

The 'Times' are a-changing,

and we'd love your help. Share

with us what you like about

275 Times – and what you'd

like to see more of in your

monthly community magazine.

Send us an email: 275times@

gmail.com, or message us

on Facebook: @275times.

Mahalo nui loa,

Hermann

Tuataga Hermann Arp Jr

Editor

'What NOW' in Māngere

Children around New Zealand got a taste of

Māngere talent, humour and hospitality in February,

when 'What Now' came to town.

The popular Sunday-morning

kids' TV show broadcast its second

episode of the year live from

Centre Park on Robertson Rd.

Dozens of families joined the fun –

watching performances from Nainz

Tupa'i (Adeaze) with the Saintz Up

Performing Arts choir, Tone 6 and the

Little Saintz dancers – and cheering on

good sports Toaletai Faumuina

David Tua and Dave 'The Brown

Buttabean' Letele, as they tackled

some classic – and very messy

– 'What Now' challenges.

Several local children also got

to tell the TV audience about

community projects they're

involved in – including a cloth

bag-sharing scheme in Māngere

Bridge that's helping combat

plastic pollution, and SOUL's

ongoing fight to save Ihumātao.

'What Now' has gone on the road

after 14 years in Christchurch. For

40 weeks they'll be filming in 40 different

locations – meeting kids who

wouldn't usually have the chance

to be part of the live show.

If you missed the Māngere edition,

you can catch it online at

www.tvnz.co.nz/shows/whatnow/episodes/s2018-e2

Top: Tia Ormsby (right) tells 'What

Now' presenter Erin Wells about

SOUL's campaign to protect heritage

land at Ihumātao. (Photo: Roger

Fowler) Middle: Aupito William

Sio, Toaletai Faumuina David Tua &

Nainz Tupa'i enjoy the fun.

Bottom: A performance from the

Little Saintz dancers closes the live

show. (Photos: Aupito William Sio)
---
Designing for a cause

Year 13 fashion students

from Māngere College have

stepped up to help protect

heritage land at Ihumātao.

Working with SOUL (Save Our

Unique Landscape) and a team

of specialists from TV documentary

series 'Heritage Rescue',

the students (and teachers Nalini

Singh and Viv Maskell) have

created dozens of bright flags

to draw attention to the historic

site – and to the community's

fight to save it from destruction.

The students' handiwork will

feature on an upcoming episode

of 'Heritage Rescue' (on Choice

TV), but there's no need to wait:

their colourful beacons – and

the rest of the artwork at SOUL's

'Street Gallery' – is free to view

right now at the Kaitiaki Village

on Ihumātao Quarry Rd.

Dozens of colourful flags, sewn by Māngere College students, mark

the entry to the Kaitiaki Village at Ihumātao. (Photo: Hermann Arp)

Inset: Students sew like the wind! (Photo: Nalini Singh/Viv Maskell)

New year brings opportunity & challenge

Kia ora, tafola lava and warm greetings from all of us at the Local Board.

Lemauga Lydia

Sosene: Chair of the

Māngere-Ōtāhuhu

Local Board

Firstly, welcome to my

new regular column in this

wonderful publication.

I hope you've had a relaxing

and refreshing summer. It

started out with such great

weather and if you're like me,

you took advantage of all the

great events that have been

going on around the area.

Unfortunately the weather

turned a bit in February, but

for those of us with friends

and family in Samoa, Tonga

and Fiji we know we didn't see

the worst of it here. So please

join me in keeping those in the

affected islands in your prayers.

One of the big challenges that

our board has dealt with over

the last year, but particularly

during the summer, has been

the drunken and disorderly

behaviour happening along

Kiwi Esplanade, around

Coronation Road and next

to the Old Māngere Bridge.

In the last six months of 2017,

there were 376 call outs to

Police for a range of anti-social

behaviours, and I want to

assure you this issue is being

given our full attention. We are

working with Police, Auckland

Transport, Auckland Council

staff and local residents to find

ways to stop this disturbing

and dangerous behaviour.

However, we would also

appreciate your help, so

please call Police if you see

this behaviour continue

in coming months.

On a more positive note, I

want to encourage you all

to Have Your Say this month

on Auckland Council's

10-year budget and our

local board priorities.

We are all working hard to

make Māngere-Ōtāhuhu

in particular, a thriving

community, so we need your

input to ensure we're heading

in the right direction. Check

out akhaveyoursay.nz for

more info on how to do this.

Manuia,

Lemauga Lydia Sosene

Chair of the Māngere-

Ōtāhuhu Local Board

3
---
LOCALS SCORE MANUKAU UNITED FC

By John Palethorpe

South Auckland has more

football clubs than Central, West

or East Auckland combined. Yet

of the 36 teams playing in the

Lotto Northern Region Football

League (NRFL) divisions, just

four are from the South.

For an area with a rich sporting

heritage in rugby, league

and boxing, football seems

strangely absent. But that

might be about to change.

This month, premier-division football

returns to Māngere-Ōtāhuhu for

the first time in over a decade, as

Manukau United FC begin their 2018

Lotto Premier League campaign.

The new club is a partnership

between Manukau City AFC and

Māngere United. It aims to provide

greater opportunities for local

players, and to establish a pathway

for junior and youth footballers

in South Auckland to play at the

highest level of the game.

Seeking success on and off the pitch:

Manukau United coach Kevin Fallon (left), with

chairman and club captain Hone Fowler at

Centre Park stadium. (Photo: John Palethorpe)

With experienced former All

Whites' coach Kevin Fallon at the

helm, Manukau United are seeking

success on and off the pitch.

"Obviously we want to proudly

represent South Auckland in the

Premier Division," says chairman

and club captain Hone Fowler,

"but it's important that Manukau

United fulfils its aim to be a club

for the local community.

"We intend to offer coaching

sessions in local schools – and give

more kids the opportunity to fall

in love with the beautiful game."

With home games at Centre Park

Māngere, a venue that hosted a group

stage of the 2017 Oceania Champions

League, United have one of the

best playing facilities in Auckland.

But on match days they'll still be

relying on local support to spur

them on as they represent the south

at the top of the local game.

United's first official home game will

be at Māngere's Centre Park Stadium,

Robertson Rd on Good Friday, 30

March at 3pm. The new club will

be taking on last year's Premier

League champions and Chatham

Cup holders Onehunga Sports.

You can follow Manukau United

on Twitter: @ManukauUtdFC

& Facebook: @ManukauUtdFC

4
---
FEATURE

Decision

time for

SCHOOL-

LEAVERS

A good percentage of our

Māngere community lives in

poverty, and with ever-rising

living costs, making ends

meet can be a real struggle.

So when our local Year

13 students said farewell

to school last December,

many were faced with a

tough decision: "Do I go to

university, or do I get a fulltime

job to help my parents?"

275 Times asked four

recent school-leavers

about making this choice.

Soakai Malamala, who was Head

Boy at Aorere College in 2017, understands

how difficult it is for many of

his peers to make the right decision.

"A decision only becomes right

when the person makes it," he says.

For Soakai, reaching that decision

was a bit of a battle. "One day, getting

a job was winning," he says. "The

next day, university was winning.

My parents helped me understand

the pros and cons of both options.

Both were equally important."

Soakai's parents left the final

decision to him and told him they

would support him either way.

"You see your parents struggling,

and all you want to do is help them.

So, in the end the decision was really

an easy one to make," he says.

For many students, individual

circumstances – and particularly

financial struggles in the family –

play a huge part in their decision.

For Cris from Māngere East, the

choice was: "Easy! I don't need

university to get a job. But I do need

money to have a life," he says.

Cris has already secured a job

and is happily working at the

Looking to the future: Soakai Malamala is pleased with his decision. (Photo: Hermann Arp)

same carpet-manufacturing

company as his father.

Siata Ah Chong, a former

student of Māngere College, can't

wait for university to start.

"YOU SEE YOUR PARENTS

STRUGGLING, AND ALL

YOU WANT TO DO IS HELP

THEM. SO, IN THE END THE

DECISION WAS REALLY

AN EASY ONE TO MAKE.

Riding the bus back to Māngere from

Auckland city, she tell us: "I'm excited

about uni. It's a whole different world.

"I was thinking about getting a

job, but after today's Open Day, I

know that I need to be at uni."

There is always the option of securing

a part-time job and still getting

a tertiary-level education, which is

a path that many have chosen.

Right now Jeremy is working at

McDonald's, but he's been accepted

to start at Manukau Institute of

Technology (MIT) later this month.

"It's going to be hard, but like the

Bible says, 'When I was a child… I

thought as a child: but when I became

a man, I put away childish things.'

"I am now a man, so I can

handle hard things – um – you know

what I mean!" he says, to thunderous

laughter from his Maccas' workmates.

By the beginning of March, thousands

of first-year university students

will have begun their journey.

Nestled in the middle of them all,

in a warm enclosed music hall, will

be Soakai Malamala – a University

of Auckland student aiming for a

Bachelor of Music – majoring in Jazz.

5
---
Get into Performing

Arts with Shirl'e

By Beatz Revel8ah

I know what you're

thinking… Where's

Shirl'e? Don't worry.

She's still here.

We just got the "Word"

that Queen Shirl'e is

preparing to throw

down her wisdom and

skills in an awesome

community arts

programme for high

school students.

'Pathway to Performing

Arts' will be presented

by the Queen over four

Friday afternoons –

beginning on 2 March.

Each session will run

from 4pm to 5pm at

the Māngere Town

Centre Library.

Students will build

confidence as they

learn the basics of

song writing, film

acting, beat making

and performance.

And apparently, it's

all free! (One can't

argue with free...

Um, can I join?)

If you haven't already

enrolled, pick up a form

from the Māngere Town

Centre Library today.

Hmm… It's kind of

nice out here on "the

Street". I wonder what

else is happening?

COMMUNITY

OUTREACH PARTNER:

PRINCIPAL FUNDERS:

6
---
MARAMATAKA:

Poutūterangi (March)

Artists for the future (left to right): Anonymouz (Matthew Faiumu

Salapu), Musu Neil Tupu-Sitagata, Milo Fuli (Skolar), To'asavili

Tuputala, Lastman So'oula, Lemoa Henry Sevesi Fesulua'i & Kas

Futialo (Kas tha Feelstyle). Photo: Raymond Sagapolutele.

4 THA LUMANA'I

In a ground-breaking live performance led by

local music and sound producer Anonymouz,

'4 Tha Lumana'i' finds the parallels between

traditional Samoan oratory customs and

contemporary hip hop art forms.

While visiting Samoa to celebrate

the 50th anniversary of

the country's Independence,

Anonymouz became interested

in exploring ways to integrate

his Samoan culture into his work

in the hip hop and commercial

radio scene in New Zealand.

This eventually led him to

take his own tatau (traditional

tattoo) journey with

master tufuga (tattooist)

Su'a Paul Junior Suluape.

"...one of my ideas at the time

was to sample [the] sounds

of the tufuga's (tattooist's)

tools tapping to turn into a

beat for a jingle," he notes

in a recent blog post.

Anonymouz found similarities

between the way rappers 'rep

a crew' when battling other

rappers, and how Samoan

tulāfale (orators) represent

their families as they battle

other tulāfale for the right

to be the main voice.

To tell this story of cultural discovery,

a cast of local Samoan

tulāfale joins rappers, poets

and community performers

for a living conversation about

the past, present and future.

'4 Tha Lumana'i' will run for

two nights on 23 and 24

March. Both shows start at

7:30pm at the Māngere Arts

Centre, Corner Bader Drive

& Orly Avenue, Māngere.

Book your FREE tickets

Tickets are free, but you must

book to guarantee your seat.

Drop in to the Māngere Arts

Centre, or book online at:

www.eventfinda.co.nz/2018/

whanui-the-lumanaii/

auckland/mangere/tickets

WANTED! EDUCATION SUPPORT WORKERS

Part-time work available.

Work with children with special needs in early childhood education.

Experience preferred, but not essential. Training provided.

Speakers of Samoan and/or te reo Maori are particularly encouraged to apply.

Call Shayla today

ph. 09 263 0798

By Ayla Hoeta

Kia ora koutou, and welcome

to Poutūterangi!

Poutūterangi is in the sixth phase

of summer (Matiti Rautapata).

After an incredibly hot few months,

the temperature cools and we

move into the harvest season.

When it comes to harvesting, our

kaumatua share stories of whānau

gathering and preserving lots of kai for

tough months ahead. The cupboards

and storehouses (pataka) were full!

Today you may see the preserving

of peaches, jams and pickles.

Tohu (Signs) for Poutūterangi

The star Whānui (Vega) is the tohu in the

sky for the start of the harvest. At 5:30am

on 5 March, it can be seen in the north-east

sky at about 35˚. The other star marker

for this time is Poutūterangi (Altair), who

stays in the sky for most of the year.

The tohu in the water are tuna (eel),

which start to migrate to the sea,

and the tohu on land include the

fruit which will be preserved.

Key dates in Poutūterangi

1 Mar: Rakaunui – Highest energy day

28 Feb & 2 Mar: Oturu & Rakau Ma

Tohi – High energy days. Good for

planting root crops & watery crops.

3 Mar: Takirau – Plant root crops.

5, 6 & 7 Mar: Korekore Te Whiawhia,

Korekore Te Rawea & Korekore Piri

– Reflecting & low-energy days.

8, 9 & 10 Mar: Tangaroa A Mua,

Tangaroa A Roto & Tangaroa Kiokio

– Fishing & planting days.

12, 13 & 14 Mar: Orongonui, Omauri &

Mutuwhenua – Plant all types of kai.

15 Mar: Whiro – Lowest energy

day. Best for resting & planning.

For a maramataka dial, email:

ayla.hoeta@aucklandcouncil.govt.nz

Thanks whānau!

7
---
Community Notices

MANUKAU HARBOUR CLEAN-UP DAY

Help the Sustainable Coastlines crew with this massive job!

Sat 10 Mar: 9am – 1pm. Register online, or on the day at

Māngere Boating Club, Kiwi Esplanade, Māngere Bridge. You

must wear sturdy, closed-toe shoes to participate. (No

gumboots!) You'll also need warm clothes, a raincoat, a sun

hat, sunscreen, a drink (in a reusable bottle) and your favourite

snacks. Sustainable Coastlines will provide reusable rubbish

sacks, gloves, extra sunscreen, drinking water, hand sanitiser/

soap & water for hand-washing, and refreshments at the end

of the event. For more info, visit: sustainablecoastlines.org/

event/manukau-harbour-public-clean-day/

ADULT BIKE SKILLS & MAINTENANCE

FREE drop-in session: Thurs 15 Mar, 6pm – 8pm at Centre Park,

Robertson Rd, Māngere. Learn how to ride, improve your cycle

skills, or find out how to look after your bike. No need to book,

just turn up. Bikes will be available to borrow for the session

on a first-come, first-served basis – so be early! For more info,

see the events page @aucklandtransportcycling on Facebook.

CITIZENS ADVICE BUREAU NEEDS VOLUNTEERS

Time to spare, or skills to share? Volunteer for Citizens Advice

Bureau (CAB) in Māngere, Ōtāhuhu or Papatoetoe! The CAB

is all about the client – making sure individuals do not suffer

through ignorance of their rights and responsibilities. Apply

online at www.cab.org.nz, or call or drop in. CAB Māngere is on

the Orly Ave side of Māngere Town Centre (ph. 09 275 6885),

CAB Ōtāhuhu is in the Tōia Precinct, 30–34 Mason Ave (ph. 09

216 9813) and CAB Papatoetoe is at the back of the Town Hall,

35A St George St, Old Papatoetoe (ph. 09 278 5191).

FREE NEIGHBOURHOOD BBQ – 24 MARCH

Sat 24 March, 5:30pm – 7pm. Bring your family and neighbours

and join Māngere Connect for a FREE BBQ at Boggust Park,

Favona, Yates/Ferguson Reserve, Māngere East OR Miami

Park, Māngere East. Bring a picnic mat and salad, Māngere

Connect will provide the meat! Sponsored by Māngere

Ōtāhuhu Local Board, Māngere Community Patrol, CPNZ and

Neighbourhood Support as part of Neighbours Day 2018

(www.neighboursday.org.nz)

FREE CLASSES IN MA – NGERE EAST

Māngere East Community Centre runs FREE & low-cost classes

in parenting, te reo Māori, Samoan, korowai, drivers licence

theory, tai chi, zumba – and more! Visit www.mangereeast.org,

email: fiona@mangereeast.org, ph. 275 6161 or drop in to 372

Massey Rd (behind the library) Māngere East to find out more.

Community Notices are FREE for community groups.

To list your group or event in the next issue, send

us a 50-word summary by 15 March 2018.

275 times

275

Māngere's

times

Editor: Hermann Arp Design: Belinda Fowler

Publisher: Māngere East Community Centre

275times@gmail.com

www.facebook.com/275times

www

www.275times.com 09 275 6161

THE EVENT CENTRE

Affordable Venue hire for all your special events, Feel free to contact us now.

book

now

TO BOOK OR VIEW PLEASE CALL

027 200 7368 or 0800 DJ DAVE

792 GREAT SOUTH ROAD,WIRI

www.djdave.co.nz - fb/DJDavesEntertainment

Great stories

COURSES FOR AGES 16+

Barista & Hospitality

Building, Construction &

Carpentry

Electronics Technology

Electrical Engineering

Warehousing & Distribution

begin here

COURSES FOR AGES 16-19

+Travel Allowance and

Learner Licence

Automotive

Foundation Skills

Retail

Security

CALL NOW 0800 000 055

OR FREE TXT INFO TO 590

59 TIDAL ROAD, MANGERE

SKILLS

UPD TE

TRAINING INSTITUTE

www.skillsupdate.co.nz

ZERO

FEES

Conditions

apply