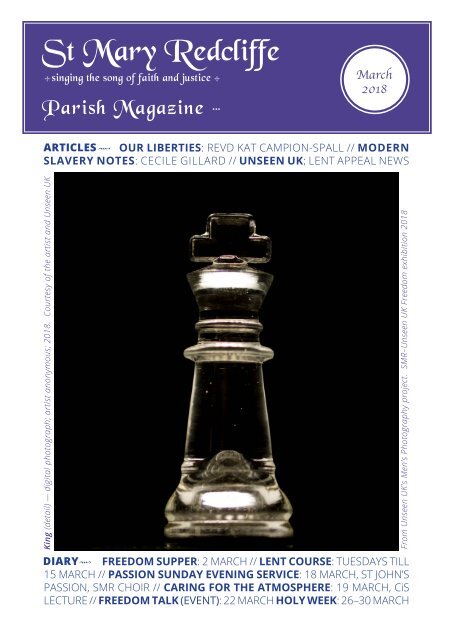 St Mary Redcliffe Church Parish Magazine - March 2018
Create successful ePaper yourself
Turn your PDF publications into a flip-book with our unique Google optimized e-Paper software.
St Mary Redcliffe

singing the song of faith and justice

+ +

Parish Magazine

…

February March

2018

2018

ARTICLES OUR LIBERTIES: REVD KAT CAMPION-SPALL // MODERN

SLAVERY NOTES: CECILE GILLARD // UNSEEN UK; LENT APPEAL NEWS

King (detail) — digital photograph; artist anonymous; 2018. Courtesy of the artist and Unseen UK

DIARY FREEDOM SUPPER: 2 MARCH // LENT COURSE: TUESDAYS TILL

15 MARCH // PASSION SUNDAY EVENING SERVICE: 18 MARCH, ST JOHN'S

PASSION, SMR CHOIR // CARING FOR THE ATMOSPHERE: 19 MARCH, CiS

LECTURE // FREEDOM TALK (EVENT): 22 MARCH HOLY WEEK: 26–30 MARCH

From Unseen UK's Men's Photography project. SMR–Unseen UK Freedom exhibition 2018
---
St Mary Redcliffe

With Temple, Bristol & St John the Baptist, Bedminster

church wardens

Richard James: 0117-966 2291

Elizabeth Shanahan: 07808 505977

head verger

Matthew Buckmaster: 0117-2310061

vergers

Carys Underdown: 0117-231 0061

Andy Carruthers: 0117-231 0061

director of music

Andrew Kirk: 0117-231 0065

vicar

Revd Dan Tyndall: 0117-231 0067

associate vicar

Revd Kat Campion-Spall: 0117-231 0070

associate clergy

Revd Canon Neville Boundy, Revd Peter Dill

Revd Canon John Rogan, Revd Canon Michael Vooght

operations manager

Peter Rignall: 0117-231 0073

admin executive

Evelyn Burton-Guyett: 0117-231 0064

admin associate

Pat Terry: 0117-231 0063

admin assistant

Ros Houseago: 0117-231 0063

the parish office

12 Colston Parade, Redcliffe

Bristol BS1 6RA 0117-231 0060

research assistant

Rhys Williams: 0117-231 0068

education officer

Sarah Yates: 0117-231 0072

assistant organists

Claire and Graham Alsop

For more information about

St Mary Redcliffe visit our website at

www.stmaryredcliffe.co.uk

Any of the staff may be contacted at

parish.office@stmaryredcliffe.co.uk

vicar's letter

AT LIBERTY

OUR FREEDOMS

— revd kat campion-spall

W

HEN I HAVE TO TALK to children

about Lent, I often start with the

idea of giving something up, as

many of them will be familiar with that. I

will sometimes talk about the idea of practising

making a difficult choice that's not

really that important, so when we have to

make a difficult choice that is important, it's

not quite so hard because we've practised.

"Shall I have some chocolate?" is a difficult

choice because I really love chocolate, but

I've given it up for Lent — but it's not that

important because the consequences are

fairly minor. But if I practice that hard

choice, I am strengthened to make another

hard choice — "Shall I stand up to that bully?" That is why we talk about

discipline in Lent — we consciously modify our behaviour to a pattern that

is more holy, less self-centred, as part of our own training as a disciple.

But another side of fasting is speaking to me more powerfully this Lent as

we support the charity Unseen who are working to end modern slavery.

Because by consciously denying myself the opportunity to have what I

want, whenever I want it – even something small like a cup of tea or a

chocolate biscuit – I am acknowledging the freedoms that I have in my life,

and am standing in solidarity with those who do not have those freedoms.

Now there is clearly a huge difference between me deciding not to each

chocolate for 40 days, and someone being enslaved, and fasting does not

in any way give us an experience of enslavement. But it does give regular

and frequent reminders of our own freedom. I can eat what I want, when

I want. I can use the bathroom when I want. I have a choice of clothes

and can wear what I like. I have money to spend on the things I need and

the things I don't need but just want. I can enter and leave my home as

I choose. These are freedoms that most of us take for granted to such
---
King: credits as front cover but shown here

with original image ratio intact (A3 at Unsseen exhibition)

an extent that we probably don't even think about them. But for people

in modern slavery, these are the kind of freedoms that they are denied.

It's not simply that they are not paid for their labour, but that often every

minute detail of their lives is controlled by others.

Fasting can be a chance to remind ourselves of the good things we have

that we don't even notice, and to be more thankful. And it can remind us

of the people — even in our own city — who don't have those things. And

for them, we can pray, and we can take action. You'll find lots of information

about how to get involved in the Lent Appeal in church and in last

month's magazine, and also in the Modern Slavery pages in the central

section of this month's issue.

Whatever you are doing for Lent, I pray that it blesses you and the world

around you deeply.

The King in chess is unique in being both the

reason for the game and its most isolated

and constrained piece —

Revd Kat Campion-Spall

Associate Vicar

Unseen UK Freedom exhibition: North Trtansept; photo EJL

from the diocese of bristol

ARE YOU CALLED TO BE A LICENSED LAY MINISTER?

ALICENSED LAY MINISTER (Reader ministry) ministry is nationally

recognised as a highly significant ministry for the Church of

England today, and is a vital part of Bristol Diocese's strategy for

ministry and mission in the 21st century. It is for this reason that we

invest significant time, effort and commitment to developing this ministry,

and encouraging vocations to this specific call.

Licensed Lay Ministers are significant, valuable members of ministry

teams. Some are in full time work, some retired, some in positions of leadership

within industry, some full time parents or carers. All are trained

and equipped, canonically authorised and episcopally licensed, and freely

give their ministry as people who know themselves called by God to this

vocation.

Licensed Lay Ministry is exercised in diverse ways, and not necessarily

restricted to the congregational life of the church community, but to kingdom-wide

service and connectedness, in areas and relationships that are

beyond intentional Christian gathering.

Some of our Licensed Lay Ministers have significant involvement in mission

and outreach, schools work and witness, offering a ministry of the word

and pastoral responsibility in opportunities for making connections both

within and outside of the church beyond the traditional model of preaching

and teaching.

LLM's go through a structured training programme of theological study

(usually Exploring Christianity) and a Formation year, where areas of Leadership,

Pastoral ministry and Preaching and Leading worship are developed.

The local community is an important part of the formative journey, and

the support of local learning groups during this stage is key to individuals

growing into the ministers God is calling them to be.

COULD THIS BE YOUR STORY? [continued /...]
---
See mention on p19 Modern Slavery section

"Am I Called to be a Licensed Lay Minister?" is being held on Wednesday

7th March at 7.30pm at the Diocesan Office, Hillside House — please

come along to find out more.

Please register your interest to attend

with Rachel Miller at Rachel.miller@bristoldiocese.org

To find out more about Licensed Lay Ministry, please contact The Advisor for

Initial Ministerial Development, Wiz Slater, at wiz.slater@bristoldiocese.org

SOCIAL JUSTICE NETWORK IN 2018 — EVENTS AND REGISTRATION DETAILS

Tackling Homelessness

March 14, 2018, 6.30pm, Bristol Cathedral

Richard Hawkridge from Streetwise and Jonnie Angel from Crisis Centre Ministries

reflect on their work, homelessness, and the challenges we face as a society as we

seek to respond to this most difficult of problems. Join us for an evening discussion

debating the different approaches to tackling homelessness and which is best

suited for Bristol.

https://bristol-cathedral.co.uk/whats-on/bristol-homelessness-policy-vs-practice

The inaugural annual Social Justice Network conference:

The Church and the Environment: Getting Real about Creation Care

April 14, 2018, 10am-3pm, St Paul's Church Southville

With Nicholas Holtam, Bishop of Salisbury and Church of England lead on the environment.

A day packed with informative speakers, discussion, and opportunities

to reflect with others on what creation care means for you and your community.

https://www.eventbrite.co.uk/e/the-church-and-the-environment-getting-real

-about-creation-care-social-justice-network-tickets-41699207452

Who is Bristol for?

May 16, 2018, 6.30pm, Bristol Cathedral

Award-winning author Anna Minton's best-selling 2017 book Big Capital: Who is

London for? explores the housing crisis in London. Anna joins us for a stimulating

panel discussion with local experts to talk about her ideas in relation to Bristol.

https://bristol-cathedral.co.uk/whats-on/who-is-bristol-for

Slavery past and present: What does justice look like?

September 12, 2018, 6.30pm, Bristol Cathedral

Panel discussion with Alastair Redfern, Bishop of Derby and Church of England

lead on modern slavery. Save the date! Registration details will be available shortly.

Social Justice Network—Bristol Cathedral

Learn to do right; seek justice. Defend the oppressed. Isaiah 1: 17

God gives us a responsibility; it is a responsibility to care for those around us: below

is a link outlining how people can register for the Social Justice Network — scroll

down the page to find the expression of interest form.

https://bristol-cathedral.co.uk/social-justice/social-justice-network/

Our Social Justice Group meets every other month to reflect on key issues in the

city, to learn more and plan practical action, including volunteering at Night Shelters,

making Christmas packages for prisoners and welcoming refugees. The group

is open to all, of any faith or none.

2018 dates — Sundays: 14th January; 4th March; 6th May — all at 11.30am

To find out more about our work in Social Justice, contact Revd Canon Martin Gainsborough

https://bristol-cathedral.co.uk/social-justice/social-justice-group/

CHRISTIANS IN SCIENCE (CiS) — LECTURE SERIES 2018–2019

OUR FRAGILE PLANET — A CHRISTIAN PERSPECTIVE: this lecture series will

look at the Biblical mandate for caring for our world and the science that

lies behind the challenges we face. The intention is that the lectures should

not only inform us of the objective facts and controversies, but also look

at how God's people can respond both as individuals and corporately, and

in a manner that balances the needs of individuals with the need to safeguard

the future of our planet. The next lecture in the series is:

CARING FOR THE ATMOSPHERE

Friday 16 March 2018; 7pm for 7.30pm

Professor Euan Nesbit — A consideration of greenhouse warming,

pollution and climate change

The venue for all lectures is Redland Church Hall, Redland Green Rd, Bristol

BS6 7HE. Nearest train Redland Station; nearest bus no. 9; free parking on

nearby roads. No need to book. No entrance charge, but opportunity to give

donation, suggested £5, to cover costs. Refreshments provided.

Bristol CiS is a local group for people in and around the Bristol area interested

in discussing the relationship between science and faith. Please email Christina

Biggs at cmbbiggs@gmail.com for more information. Full list of titles in the series:

Creation Care and the Kingdom of God; Dr Hilary Marlow; 19 January 2018

Caring for the Atmosphere; Prof Euan Nesbit; 16 March 2018

Caring for the Oceans 1; Prof Meric Srokosz; 15 June 2018

Caring for the Oceans 2: Dr Robert Sluka; 28 September 2018

Caring for the Earth 1; Prof Simon Stuart; 16 November 2018

Caring for the Earth 2; Dr Martin Hodson; 25 January 2019

Caring for the Earth 3; Revd Dr John Weaver; 15 March 2019

Beliefs, values and commitments; Revd Dr Chris Sunderland; 21 June 2019

Lecture list with details can be downloaded as a PDF leaflet at

CiS Bristol Our Fragile Planet 2018-19
---
church matters

JOIN THE PCC — SMR NEEDS YOU !

Sealing the Tomb: figure of Roman soldier sealing the tomb in which Christ's body is laid

Drawing from William Hogarth's altarpiece for SMR ; EJL 2017

DO YOU WANT TO MAKE A DIFFERENCE to the way SMR is run?

Are there areas of church life or members of the congregation you

feel are overlooked? Do you want to be on the front line of the exciting

developments going on in church? JOIN THE PCC !

We are looking for new members to join our Parochial Church

Council (PCC), the body that sits behind the governance and running of

our church. PCC meets 6 times a year (once every 2 months) on Mondays

at 7.30pm, with sub-committees covering matters such as social outreach,

worship and congregation that meet 3 times a year— so the workload is

manageable if you work full time and/or have family or other commitments.

Discover more about PCCs at https://www.bristol.anglican.org/pccs/

This is a hugely exciting time to be involved at SMR with the growing

numbers of families and children attending, and the development plans to

enhance our social outreach, protect our treasures and nurture our church

life. We are also re-working our internal processes and procedures to ensure

they are as professional, streamlined and smooth as possible. So, if you'd

like to get involved, have your say and represent your congregation, sign up!

Elections take place at the Annual Parochial Church Meeting (APCM) on 30 April.

Make yourself known to Dan and Kat, our clergy, or to our wardens

Richard and Elizabeth if you'd like to know more. We particularly want to

hear from you if you have experience in HR matters, project management,

community engagement/social outreach, heritage, music or health and safety,

but welcome a conversion with anyone who wishes to know more — you can

contact clergy and wardens as below:

G

OD OF THE AGES,

who stirred our ancestors

to build this house of prayer to the glory of your name,

inspire us with that same longing to be a beacon of your kingdom;

bless our current endeavours, that, begun, continued and ended in you,

what we build in stone, may be woven into a community of hope

where your name is praised, your story is told, and your love is shared;

so that this and future generations may be heard

singing the song of faith and justice;

for the sake of Jesus Christ our Lord.

SMR Prayer

Revd Dan Tyndall

Revd Dan Tyndall — E: dan.tyndall@stmaryredcliffe.co.uk T: 0117-2310067

Revd Kat Campion-Spall — E: kat.campion-spall@stmaryredcliffe.co.uk T: 0117-

2310070 // Richard James — E: richard@bristolbound.co.uk T: 0117-966 2291

Elizabeth Shanahan — E: eshanahan21@googlemail.com T: 07808 505977

[ NB: Confirmation November 2017 — reflections: as promised, the magazine plans to

publish a selection of reflections on confirmation by congregation members confirmed

last November, and aims for a Vox Pop column in next month's or a future issue.]
---
soundbites music at smr

sunday school smr

CONCERTS 2018

— ANDREW KIRK

DIRECTOR OF MUSIC

LENT ACTIVITIES

AND EVENTS

— BECKY MACRON

SUNDAY SCHOOL LEADER

AS WELL AS the three Sunday services which the choirs sing each week,

and the additional events at Christmas and Holy Week, we also have a

number of extra concerts organised this year which I list below:

Saturday 21 April — St Mary's Church Yatton at 7.30pm

Trinity Singers and SMR boys choir

Britten St Nicholas and choral music by Vaughan Williams

Tickets £10 (under 18s free). Visit www.trinitysingers.co.uk

Friday 11 May — St Mary Redcliffe Church at 7.30pm

Featuring choristers from Finland, Bristol Youth Choir and SMR

Tickets available on the door.

Saturday 30 June — St Mary Redcliffe Church at 7.30pm

Bristol Concert Orchestra and SMR Girls/Adults

Berlioz Symphonie Fantastique and Vaughan Williams Dona Nobis Pacem

Tickets £15, £12, £10. Visit www.bristolconcertorchestra.org.uk

Saturday 13 October — St Mary Redcliffe Church at 7.30pm

Community Opera for the centenary of the end of the First World War

School Choirs and SMR choirs with orchestra

Further information about tickets available nearer the time.

A gentle reminder from the last edition too, that the boys/adults from our

choir will sing Ian King's St John Passion as part of the Evening Service on

Sunday 18 March at 6.30pm.

I hope many of you will be able to support these extra musical events.

Andrew Kirk

PLANS ARE NOW

UNDERWAY and

we are looking forward

to a busy and fun

few weeks as we embark

on our fundraising for

Lent. Our activities kick

off on Saturday 3rd March,

with a Secret Cinema in the

Undercroft from 6–8pm.

Parents are encouraged to

enjoy two hours of PEACE!

Which leads nicely onto

the next event: this year's

Sunday School Bake Off is

entitled a PEACE of Cake.

We are inviting members of the congregation along with our Sunday

School families to complete in creating a cake or dessert on the theme of

peace. There will be prizes for the most ingenious creations.

Our annual fun run will be taking place on 18th March — and this year

will be truly unmissable. Continuing the theme of breaking free, we will

be doing a series of three-legged races (Sarah Tyndall's inspirational idea!);

this means will be changing the course and not running around the church

(for obvious reasons!). There will be a series of races on the front lawn,

hopefully including a staff special! Please do sign up!

Our final Lent event activity is a "fun day" in the local community of

Redcliffe. Held in the Faithspace Centre on Saturday March 17th, from

2–4pm, children and their families are invited to join us for crafts and music.

There will be — as our new Sunday School Welcome Song accurately puts

it — friends and fun for everyone..!
---
I consider supporting our Lent charities, both through fundraising and

increasing awareness, a very important aspect of my role as Sunday

School Leader. Not least because it is creates lots of opportunity for good

fellowship and fostering relationships with the wider community — and,

indeed, with one another. It's a great chance to learn new things about

people we meet with regularly but perhaps don't really know. I find this

fascinating.

Modern Slavery . . .

I think it is important however, in amongst the fun, that we don't overlook

the meaning of Lent — a time of fasting and reflection, the preparation

for Easter that celebrates the resurrection of Jesus Christ. These concepts

can be confusing to understand, particularly for children, and I am always

mindful of this when preparing our sessions — this year, we've created a

"Lent dial" (taken from Pinterest) to develop the idea that the forty days

of Lent are an opportunity to make positive changes to our daily lives and

to become closer to God.

Becky Macron, Leader

secret cinema 3 march : a peace of cake 11 march : fun day 17 march

secret cinema 3 march : a peace of cake 11 march : fun day 17 march

Unseen UK: Freedom exhibition 2018; North Transept; Photo & exhibition boards EJL
---
Modern slavery . . . notice board . . .

No one shall be held in slavery or servitude; slavery and the slave trade shall be

prohibited in all their forms — UN Declaration of Human Rights 1948

The spirit of the Lord God is upon me, because the Lord has anointed me, he has sent

me to bring good news to the oppressed, to bind up the broken hearted, to proclaim

liberty to the captives, and to release the prisoners — Isaiah 61: 1[NRSV]

Stop press : please continue to let our Modern Slavery notice board

know details of Anti Slavery initiatives you are aware of : thanks, Ed

this page: FREEDOM EVENTS at SMR AT LENT // opposite: VISIT THE LINKS

FOR LOCAL AND WIDER INITIATIVES TACKLING MODERN SLAVERY

FREEDOM TALKS: 22nd March at 6.3pm; St Mary Redcliffe

church — please see church website for details

A celebratory event with a number of Bristol people with different

perspectives giving short talks about what freedom means to them; there

will also be film, music and a bar. Keep an eye on our website for more

information: http://www.stmaryredcliffe.co.uk/lent-appeal.html

FREEDOM EXHIBITION: 19th February–3rd April; SMR North

Transept; open daily 8.30am–5.00pm — see Views on pages 6 & 15

Art & information exhibition including Unseen's Men's Photography Project

for Modern Slavery survivors — beautiful and thought-provoking — plus

survivors' stories. There's a donations box, visitors' book and tally list too so

when you visit, please donate, have your say and make your mark.

FREEDOM SUPPER: 2nd March at 7.00pm; Faithspace Centre,

Prewett Street, Redcliffe BS1 6PB — tickets from Parish Office*

Good food, good company and a chance to learn more about the work

Unseen does to combat modern slavery — all welcome! Tickets £12

adult, £10 child, £25 family. Buffet supper with vegetarian option, and

homemade cakes. [*At time of going to print, severe weather has

meant the Supper has had to be cancelled]

Unseen UK // SMR Lent charity partner 2018

Bristol-based charity #modernslavery is real. Watch Unseen's video Spot the

Signs on www.unseenuk.com and You Tube about our work and to #knowthesigns

and call the Modern Slavery Helpline if you #spotthesigns on 08000 121

700 or report online at www.modernslaveryhelpline.org. // Watch also

Bristol short film My Name is Sorrow at https://www.bristolnetworks.

org.uk/Articles/505804/Home/Resources/Films_Videos/My_Name_is.aspx

BCfm Radio // The Roma Widger Show // 10–11am // 21st February

Roma interviews Cecile Gillard on SMR's Lent Project and its work with Unseen

UK. The interview starts 8 mins into the programme and continues to the end.

Excellent topic coverage: listen here http://bcfmradio.com/romawidger

Soundbites: when you're put into a position of abuse you lose self exteem and

confidence, you feel you're in the wrong; of all modern slavery victims in the 7

countries topping the list of slavery abuses, third in that list are UK nationals.

Social Justice Network // Bristol Cathedral

" 'Learn to do right; seek justice. Defend the oppressed'; Isaiah 1: 17: God gives

us a responsibility to care for those around us." Below is a link outlining how

people can register for the Social Justice Network; scroll down the page on the

link to find the Expression of Interest form — https://bristol-cathedral.

co.uk/social-justice/social-justice-network/ See magazine pages 8 & 9 for

further social justice initiatives and events organised by Bristol Cathedral.

The Clewer Initiative //

The Clewer Initiative enables Church of England dioceses and wider church

networks to develop strategies for detecting modern slavery in their communities

and help provide victim support and care. Excellent resource that includes the

Lent Course publication SMR is using this year for Lent study. Visit the Clewer

Initiative's website at https://www.theclewerinitiative.org/lent See page 22

for an excerpt of Clewer's adaptation of "A Theology of Modern Slavery".

Statute: Modern Slavery Act 2015 // GOV.UK overview of legislation

The Act gives law enforcement the tools to fight modern slavery... Read the

overview, a list of 11 main points, at GOV.UK website: https://www.gov.

uk/government/collections/modern-slavery-bill. // Read also The UK's

new slavery laws explained: what do they mean for business? at

the Guardian: https://www.theguardian.com/sustainable-business/2015/

dec/14/modern-slavery-act-explained-business-responsibility-supply-chain
---
posts for

february...

please take

another

look

. . . modern slavery notice board

No one shall be held in slavery or servitude; slavery

and the slave trade shall be prohibited in all their

forms — UN Declaration of Human Rights 1948

The spirit of the Lord God is upon me, because the Lord

has anointed me, he has sent me to bring good news to

the oppressed, to bind up the broken hearted, to proclaim

liberty to the captives, and to release the prisoners

— Isaiah 61: 1[NRSV]

ANTI-SLAVERY PARTNERSHIPS — Cecile Gillard reports:

THE UK INDEPENDENT ANTI-SLAVERY COMMISSIONER has

issued an online map of the UK's anti-slavery partnerships. This

enables people to find their local partnership, details of the activities

it undertakes, which agencies and organisations are part of it, and how

to make contact — here are details of our local Anti-Slavery Partnership:

. . . AVON AND SOMERSET ANTI-SLAVERY PARTNERSHIP —

area: Subregional; chaired by Police; coordinated by Non Government

Oganisation (NGO). Contact for further information:

coordinator@aspartnership.org.uk

activities: Community awareness-raising; Frontline staff training; Intelligence

sharing; Planning for joint enforcement; Survivor support; Supply chains

analysis; Monitoring and analysis of progress.

members: Avon and Somerset Constabulary, Unseen UK, Bristol City Council,

North Somerset Council, Somerset Country Council, South Gloucestershire

Council, Bath and North East Somerset Council, Business West,

Office of the Police and Crime Commissioner, HMRC, The Red Cross, NHS,

DWP, Home Office (Immigration), Avon Fire and Rescue, Devon and Somerset

Fire and Rescue, NCA, Regional Organised Crime Unit, ROCU (GAIN),

Victim Support, GLA, Guildhall Chambers.

objectives: The purpose of the Anti-Slavery Partnership (ASP) model is to

support and enable the discovery of and response to incidents of human

trafficking, slavery and exploitation through a victim-centred, multi-agency

and collaborative community effort at both a local and regional level —

its vision is the eradication of modern slavery

first published October 2017 *

* SEE IT AND DO SOMETHING!

Cecile writes —

THE NATIONAL CRIME AGENCY

(NCA) has recently admitted

it is shocked by the scale of

modern slavery and human trafficking

in Britain. Victims are hidden

in plain sight 'in almost every'

town and city in the UK. Previous

estimates of 10,000–13,000 people

are '"the tip of the iceberg". In fact

it is so widespread many of us are

unwittingly in contact with victims

in our daily lives — key sectors include

(but are not limited to) food

processing, fishing, agriculture, construction,

domestic and care work,

car washes, beauty parlours and nail

bars. Will Kerr, Director of Vulnerabilities

at the NCA, says: "As you go

about your normal daily life there is a

growing and a good chance that you

will come across a victim who has

been exploited and that's why we are

asking the public to recognise their

concerns and report them." Victims

are of all ages (children as young as

12 have recently been rescued by the

authorities from domestic servitude)

and all backgrounds.

Read the adjacent column, and if you

see anything that does not look or feel

'right' please report your concerns

confidentially to the official Modern

Slavery Helpline on 0800 0121700 or

online at www.modernslaveryhelpline.

org/report — or report to the police

on 101 (but call 999 if you believe

anyone is in imminent danger) — CG

Signs that may suggest a person

is being held in a form of captivity

and/or forced or coerced into work

can include:

Restricted freedom

of movement (eg not

allowed to go out

in public or travel

alone) . . .

. . . appearing to be under

someone's control; afraid

to speak to strangers or

make social contact; showing

other signs of stress . . .

. . . something

odd about how they

have come to live

or work in an area

or location . . .

. . . unusual travel

patterns to and from

work (eg: dropped off

and collected very early

or late or in groups) . . .

. . . their physical

appearance: poorly

dressed, unkempt,

ill-fed, visible signs

of injury . . .

. . . isolation,

rarely interacting

with others
---
. . . FROM: "WE SEE YOU — A THEOLOGY OF MODERN SLAVERY"

— THE CLEWER INITITIATIVE

adapted from a resource produced by the Mission Theology Advisory Group

Disgust and fear are powerful emotions in people's lives and often visited

on those we think can contaminate or threaten us. It is no surprise that the

word 'dirty' is often used as a term of abuse on beggars and prostitutes.

We see exactly the same reactions in the Bible where the laws governing

the behaviour of the people of Israel spelled out how to become and remain

pure and how to avoid or recover from defilement (eg Leviticus 11–15).

These kinds of laws did not in themselves create the fear and shunning of

sources of contamination, but codified human instincts and attempted to

create conditions whereby a tent-dwelling community could continue to live

together. Yet, despite our modern societies, fear and disgust still attaches to

people who are vulnerable and damaged and the knowledge of our

attitudes contributes to the depths of their 'defilement' and the loss of

their humanity. Despite our best intentions, while we may feel happy about

giving a beggar money or making cups of tea for the cheap labourers, we

may feel less goodwill towards befriending them or finding out their story.

Yet, as we have seen, all of them have stories.

Matters of purity and defilement are also concepts which Jesus turns

on their heads. Not only does he deliberately seek out and heal people

with disease, when asked about defilement, he makes it clear that it is not

the body which defiles but the evil intentions within the mind that defile

those who perpetrate them (see Matthew 15.18-20). In teaching this, Jesus

switches the focus from the powerless to the powerful, the people we have

no problems associating with. In reality these are the people we should

fear will defile us. Lying, deception and the attempt to exercise power over

others for one's own gain, leads to such defilement. To pretend to be something

you are not to gain power over another is both sinful and damaging.

This reminds us that as Christians we should develop a careful attentiveness

to see beyond the circumstances of the enslaved people we encounter and

not judge them unfairly for what they do or the conditions in which they find

themselves. Indeed Christians should be at the forefront of finding them and

going out to them, as Jesus did for those shunned in his own community.

Further, we should not be solely concerned with the victims of modern

slavery, but also for the perpetrators - both by praying for spiritual change

and repentance but also by praying and working for a world in which

slavery is of no benefit and the Isaiah vision is available to everyone...

forgotten voices WWI March 1918

Two British soldiers killed in the

German advance of 21st March —

Someone has taken their boots

The Clewer Initiative; www.theclewerinitiative.org

Corporal Sydney Amatt, London Rifle Brigade

WE WERE ALWAYS COLD. In the winter we had thick woollen underwear

and woollen shirts — well, not woollen but a similar material — and a

cardigan or pullover. Then we had our uniform and on top of that we had our

overcoats. During the winter of 1917 sheepskin coats were issued for the troops

who were manning the front line. It was a sheepskin leather coat with the fleece

still on it, and you put it on so the fleece was outward. You wore that over the

top of your overcoat.

If you were at the front line you also had large gauntlets, otherwise you were

issued with woollen gloves. And you had a woollen scarf, which acted as a

cover for your head after you'd taken your steel helmet off. You weren't allowed

to go about unless you had a steel helmet on and your respirator fixed round

your chest. These respirators came in 1916 with the advent of the Lewis gun,

and you had to wear them all the time.

Voices compiled by Lester Clements, for March 2018
---
Sealing the Tomb: detail from central portion of Hogarth's triptych; graphite pencil on paper; EJL 2018

Redcliffe cultures . . .

DRAWING AT ST NICHOLAS

— ELEANOR VOUSDEN

IT'S BEEN VERY COLD in St Nicholas Church this past week or two.

Layers are important when you're out drawing: extra inner and outer

garments, fingerless mitts, a thick woolly hat and several yards of scarf

are essential kit in winter, especially when 'out' means inside a virtually

empty church rather short on heating (no weather but the cold still bites).

I've been drawing from William Hogarth's altarpiece, Sealing the Tomb, which

depicts the central event of the Christian faith: the Resurrection and the

sealing of the tomb in which Christ's body is laid. As we know, the triptych

was commissioned by St Mary Redcliffe Vestry in 1755, installed the following

year, removed 90+ years later during the Victorian renovations of the

church and (fast forward) has 'lived' at St Nicholas since the 1970s following

its post-war lease to Bristol City Council — who, since the 1990s, have used

it for office space, allowing viewing of the work by appointment with Bristol

& Region Archeological Service who occupied the building until 2016. I have

drawn from the work on a number of occasions since last summer and am

grateful to the Council staff still working there for giving me access during

their working day, especially now as they prepare to vacate the building

— as reported in last month's parish magazine, St Nicholas will become

a working church from September this year. The building will be vacated

mid-March and the work sealed from view.* My drawing sessions have

been intense — Sealing the Tomb, it seems, is an apt title. The cold matters.

Why visit to draw? Drawing from observation means paying attention to

the structure and detail of your subject and is one of the best ways I know

of understanding what I'm looking at. As the PCC 'advert' at the front of

the magazine says, this is a hugely exciting time to be involved at SMR; the

PCC will eventually make a decision on whether to include the altarpiece in

the church's Project 450 development bid, so the PCC as a body will need

to keep informed about it. For me this is where it gets interesting as art is

often where people connect with the Gospel, and I find this a fascinating

piece of work that's both grand religious narrative in the pre-Reformation

and Catholic tradition plus streetwise storytelling with a very sharp eye for

the underbelly of society for which Hogarth, the father of British painting,

is so well known.

The drawing opposite shows shadowy figures searching, like everyone else

in the frame, for Jesus. I'm not sure about the 'iconography' (who they

represent), but to me they might very easily have walked in off another

set — Canterbury Tales, Rake's Progress, Rovers Return, Queen Vic — or

unseen off today's streets unbidden in the hope of a better life. And

"where's that to" in the background — Smithfield, Bristol? So I see this mix

of art and life sub specie aeternitatis as perennially persuasive and Sealing

the Tomb (like the Canterbury Tales) as relevant to today's world, and am
---
putting this drawing experience to use as a starting point for a paper

exploring its potential relevance to SMR — which I shall begin after the

work is sealed off and no longer available for study.

Eleanor Vousden; PCC member, visual artist

* as earlier reported, the plan is for public access to the work some 6 days each year

IT'S FORTY YEARS since

Robert Cleave first dreamed

of doing a long-distance cycle

ride. He'd thought of maybe

following the Tour de France

route and, when he finished

university, he managed to get

around most of North West

France until his money ran

out. In recent years, he's cycled

the 1,000 miles from John O'Groats to Land's End, completing the ride

in fourteen days.

But he never thought he'd be cycling around the world, which is what

he's planning to do in 2018. Robert — who lives in Bramcote and

recently retired after a career with a global health company — will be

setting off on 7th April. He will cycle 18,000 miles over a period of 12–18

months, averaging 50–60 miles per day. He's not looking to break any

ROBERT'S RIDE; ROUND THE WORLD BIKE RIDE

— A PRESS RELEASE

FORMER BRISTOL RESIDENT AND SMR PARISHIONER ROBERT

CLEAVE wrote to us keen to let us know about his round the world

bike ride, and keen too to garner interest and support for his venture.

Below is his Press Release, which gives a flavour of his inspiring endeavour

and some of the reasons for it. For more information visit please Robert's

website (details below) and read his note in the Parishioner-to-Parishioner

message board pages further on in the magazine (page 32).

records but is committed to raising money for two charities close to his

heart — Cancer Research UK and Traidcraft Exchange.

He's calling the epic journey Robert's Ride 18000 — Cycling Around the

World the Life Changing Way. "It's all about transforming lives. As an IT

manager, I was dedicated to root causing problems — dealing with an

issue so that the problem didn't arise in the first place. This is exactly what

Cancer Research UK are doing — applying medical science to beating

cancer," he says. "And as one of the first ever Traidcraft representatives

in the UK in the 1980s, I've always been impressed and inspired by the

charity's approach to fighting global poverty through trade."

Robert (also a marathon runner) has had a few hitches to contend with

along the way. Osteo-arthritis in his right hip meant he had to take a

break from impact sports and undergo a total hip replacement. And

then just prior to his retirement, he was rammed by a car from behind

whilst cycling home from work and broke his shoulder in several places.

Fortunately, he didn't require surgery and is now back in training again.

"It's going very well. I'm building up both the miles and the legs," he says.

"The bike's ready and I'm assembling the equipment and finalising the

plans. I look forward to once again arriving in France to revisit a few of the

places that I saw on my earlier tour before I head off for new territory and

new experiences. I'm definitely older — and who knows, possibly wiser?"

Robert will be leaving from Bramcote Hills Park at 10am on 7th April,

a launch event to which family, friends and community groups are all

invited. "Join me to help make this a journey of a lifetime," he urges.

"And bring your bike — and your helmet of course — so we can cycle

the first mile together before I depart independently for the remaining

17,999! — I look forward to you coming on board as we journey together

around the world and change some lives," he concludes. "Even if it's from

the comfort of your favourite armchair!"

Robert will be blogging throughout the trip. To follow his blog, make a

contribution to his charities or to contact or his team of UK-based

Co-ordinators see his website and film at —

www.robertsride18000.com

Visit also www.cruk.org.uk and www.traidcraft.co.uk
---
Redcliffe Gardening Club . . . .

(22nd February). Despite being one of

the coldest days to date this winter,

nine people, including two very

recent new members, turned out

to weed, plant potatoes, parsnips

and radishes and over twenty

euphorbias for a bit of ground

cover, and, as usual, to pick up litter.

The crocuses were in full bloom

and all the daffodils were about to

burst into yellow, and it was good

to see that past plantings were

coming back to flower. And now

that Bristol City Council is cutting

down on its green rubbish collection

service, one of our challenges over

the next few weeks is to rationalise

and reduce the size of our green

rubbish piles, including cutting and

shredding wood and twigs.

IN MEMORIAM

ON THURSDAY 8th February,

the day before his funeral,

Keith Willcocks was fondly

remembered by members of the

Redcliffe Garden Club as they planted

a cherry tree in recognition of his

great contribution to the club.

Keith had been Chairman of the

Garden Club Committee for two

years and took a keen interest in

the club's development until very

— ANGELA HOGG

shortly before he died. Amy Stone,

a representative of Growing Support,

the NGO which had launched the

club some two and half years ago,

joined in the planting ceremony. A

name plaque will go up beside the

tree; at the moment the tree is just

a small one but it will grow — like

the club.

Keith would have been gratified

by yesterday's gardening session

Photos: Angela Hogg 2018

— AH

The Redcliffe Gardening Club

meets Thursdays 10am–12 noon at

Somerset Square. For more details

call Angela Hogg on 0117-9734560
---
parishioner to parishioner msgs

IN LOVING MEMORY — JEREMY KNIGHT: Adrienne Knight would like

to would pass on her sincere thanks to members of St Mary Redcliffe

who attended her husband Jeremy's funeral, on 18th December, and to

all who sent cards, letters and messages of condolence at the time.

HYMN SINGALONG — NEWS AND EVENTS FOR MARCH: Rosemary

Kingsford has news of this month's Singalong —

We have a couple of changes to our schedule this month. Firstly we're invited

to sing at Asda Bedminster on Tuesday 6th March so do please come and

join us inside (foyer area) at 11am for another very enjoyable Singalong!

Secondly our regular monthly get-together, on Wednesday 7th March, is in

the North Transept at church, where we'll be singing next to Unseen UK's art

exhibition. So we're looking forward to a wonderful time on both occasions

and some lovely new photos too — we hope to see you there! Please don't

hesitate to ring me on the number below if you would like further information.

Hymn Singalong

We're a friendly happy group who love to

sing — please come and join us in singing all your

old well-loved favourite hymns Tea, coffee, cake and

biscuits afterwards Free of charge, or a small donation

Regular time and place: First Wednesday in every month

from 11 am–12 noon at Faithspace Centre, Prewett Street,

Redcliffe BS1 6PB (please check for any changes)

All enquiries to Rosemary Kingsford

0117–9221627

NEWS FROM Kofie and Eve Ansah — Christopher Legg writes:

Kofie and Eve were members of the SMR congregation for some years,

and their two sons attended our Sunday School. Kofie worked with

Bristol City Council children's services in Hartcliffe for nine years, while

Eve worked as a nurse with NHS in Bristol. In 2016 their residence

permit in the UK was not renewed, and they had to return to Ghana.

The following is from an email that Lorraine and I received from Kofie

just after Christmas this year:

Photo courtesy of

Kofie & Eve Ansah

I am currently working with an International School here in Accra, Ghana

as a Reception Teacher and head of Early Years Education. This is my

second year at post. Eve on the other hand, is now operating her own

business where she deals in bridal wear and accessories as well as other

ladies clothing, shoes and bags. She currently has two shops and the

business is doing quite well.

The boys have settled into their

new school and have made

new friends. They have really

improved in their academics

which has made us very proud

parents. Jayson is now 6 years

and in Year 1 while Jeffrey is 4

and will be going to Reception

this September.

I do follow keenly the various happenings at St. Mary Redcliffe via

different sources including the website. I am on Dan's mailing lists and get

his weekly mails 'from the Vicar's Desk'. I also get Kath and Becky's mails

about the Sunday school. Glad I signed up for these! The church and for

that matter, Bristol, will always be part of our lives as a family. The Sunday

School prayer said before they leave for the undercroft, has now become

the children's and, to a larger extent, our family's bedtime prayer. We say

this prayer every night before the children go to bed.

Please send our sincerest regards to Dan and all the parishioners at SMR.

We do miss you all and we are always with you in spirit.
---
With all the knowledge and experience I acquired over the 9 years I worked

in Bristol, I will be giving back to the community here in Ghana by opening

a model children's centre. I am doing this with support from my former

place of work (Brentry and Henbury Children's Centre). Construction has

already started. This is an area I feel the genrousity of St. Mary Redcliffe

could support to make it a reality — I will give more details in my next mail.

A very cordial handshake

Kofie

ROBERT'S RIDE — former parishioner Robert Cleave got in touch

with us recently about his round the world bike trip; here's what he

told us —

I was a congregation member at SMR before I left home after university and

started work; I was a member of the church youth group, a server and read

lessons. Many years later I am about to embark on a round the world bike

trip raising money for two charities — Cancer Research UK and Traidcraft

Exchange; the former relating to my late mother's battle with cancer and the

latter to my longstanding interest in and support of development work. I set

off from Nottingham on Saturday 7th April this year. The trip is self-funded

and any money goes directly to the charities, and I am writing in case there

are any at Redcliffe who might be interested in following me as I cycle round

the world and supporting me.

Read Robert's Press Release on pages 26–27 of the magazine, visit his

website at www.robertsride18000.com and find him on Facebook at

https://www.facebook.com/robert.cleave.14 where he will be posting

regular updates.

CHURCH SOCIALS — NB: Following our hugely enjoyable Epiphany

(New Year) party in January, the organising team are keen to confirm

that further events are planned; details are still being discussed and dates

will be finalised in due course — please watch this space.

morning prayer lectionary

morning and evening prayer are said daily at 8.30 am & 4.30 pm in the lady chapel

diary dates 1st March – 8th April

Please note that in addition to the events opposite which vary in frequency or

other details, the following happen every week in this period:

Tues

Tues

Weds

Thurs

Fri

there is no Lectionary in this month's magazine; we will resume next month

Faithspace Coffee Morning // 10am–12pm — Faithspace Community

Centre (FCC)

Christian Meditation // 6.30–7.00pm — FCC

Jazz in the Undercroft // 7.30pm–10.00pm

Redcliffe Gardening Group // 10.00am–12.00pm — Somerset Square

Police Beat Surgery Drop-in // 1.00pm–2.00pm — FCC

1 Holy Communion // 12:30pm — Revd Peter Dill

1 Organ Recital // 1.15pm — Emma Gibbins; St Woolos Cathedral

2 Freedom Supper // 7.00pm — Buffet Supper for Unseen UK — FCC

5 Pot Luck Lunches // 12:30pm

5 Wedding of Rio Irvin & Shelby Smart // 2.00pm — Revd Dan Tyndall

5 Postcard Club // FCC

6 Holy Communion // 12:30pm — Canon Neville Boundy

MARCH

6 Hymn Sing-Along // 11.00am — Rosemary Kingsford — at Asda Bedminster

7 Hymn Sing-Along // 11.00am — Rosemary Kingsford — North Transept

7 Redcliffe Lunch Club // 12.00pm — Sgt Andy Whelpton;

Playing the Saxophone — FCC

7 Redcliffe Film Club // 2.30pm — Pride — FCC

8 Eucharist with Prayer for Healing // 12.30pm — Revd Dan Tyndall

8 Organ Recital // 1.15pm — Paul Carr; St Paul's, Birmingham

13 Holy Communion // 12:30pm — Revd Kat Campion-Spall

14 Redcliffe Lunch Club // 12.00pm — Belinda Price; A Surprise! — FCC

14 Mothers' Union // 2.30pm — Holy Communion, and AGM — FCC

15 Holy Communion // 12:30pm — Revd Dan Tyndall

15 Organ Recital // 1.15pm — Eric Tyson; All Saints Clifton
---
18 Passion Sunday // 6.30pm — evening service with St John's Passion; new

work by Ian King sung by SMR Choir

20 Holy Communion // 12:30pm — Revd Kat Campion-Spall

21 Redcliffe Lunch Club // 12.00pm — Bingo/Quiz with prizes — FCC

21 Redcliffe Film Club // 2.30pm — Pleasantville — FCC

22 Eucharist with Prayer for Healing // 12.30pm — Revd Peter Dill

22 Organ Recital // 1.15pm — Ben Bloor; London Oratory

[Last organ recital until 12 April]

22 Freedom Talk // 6.30pm — celebratory event for Unseen UK — in church

Holy Week

26 Holy Communion // 12:30pm — Revd Peter Dill

27 Holy Communion // 12:30pm — Revd Kat Campion-Spall

28 Redcliffe Lunch Club // 12.00pm — Graham Steer; George Miller — FCC

28 Holy Communion // 12:30pm — Canon Neville Boundy

29 Holy Communion // 12:30pm — Revd Dan Tyndall

29 Maundy Thursday Service with Washing of Feet & 1-hour Watch // 7:30pm

30 Good Friday 3-hour Service // 12.00–3.00pm

31 Service of Light // 8:30pm

1 EASTER SUNDAY

2 Bank Holiday

3 Holy Communion // 12:30pm — Canon Neville Boundy

4 Hymn Sing-Along // 11.00am — Rosemary Kingsford — FCC

4 Redcliffe Lunch Club closed till 11th April

5 Holy Communion // 12:30pm — Revd Peter Dill

7 Wedding of Lee Brown & Tia George // 1.00pm — Revd Anthony Everitt

parish register February 2018

BAPTISMS

Courtnie Louise Edwards

Millie Lou Edwards

WEDDING

Jordan Kyle James Bacon and Keighley Louise Brown

FUNERALS

Keith Edward John Willcocks

died 17th January 2018, aged 65 years

APRIL

11th February 2018

11th February 2018

24th February 2018

9th February 2018

SUNDAY CHURCH SERVICE ATTENDANCE

Date 2018 28 January 4 February 11 February 18 February

8.00am Adult Child Adult Child Adult Child Adult Child

6 - 10 - 5 - 7 -

9.30am 114 36 95 32 95 21 100 33

11.15am 19 - 16 - 18 - 20 -

6.30pm 32 - 31 - 24 - 31 2

Date 2018

25 February

8.00am Adult Child

16 -

9.30am 92 23

11.15am 10 -

6.30pm 27 1

SUNDAY CHURCH SERVICE COLLECTIONS *

Period: 27 Aug 2017–11 February 2018

27 Aug 2017 3 Sep 10 Sep 17 Sep 24 Sep 1 Oct

£418.59 £405.80 £822.80 £476.54 £404.74 410.12

8 Oct 15 Oct 22 Oct 29 Oct 5 Nov 12 Nov

£429.88 £420.31 £387.59 £460.37 £954.72 £517.02

19 Nov 26 Nov 3 Dec 10 Dec 17 Dec 24 Dec

£568.07 £375.45 £762.57 £442.80 £1,196.85 £407.51

31 Dec 7 Jan 2018 14 Jan 21 Jan 28 Jan 4 Feb

£431.71 £451.25 £575.19 £326.13 £463.45 £480.29

11 Feb - - - - -

£434.46 - - - - -

* Reporting of church service Collections starts again this issue, catching up with figures

after changes in collecting and recording data since end August 2017 — all is now set up

to continue regularly, on a monthly or bi-monthly basis as needs.

nb editor's note

NB: attendance figures refer

to congregation only

not to clergy, servers

choir or vergers

email: editor.mag@stmaryredcliffe.co.uk

As always, it's lovely to see the Parishioner message board used — thanks very

much for everything you've sent in and please continue to post, it's great to hear

from you...

— many thanks, Eleanor

Tel: 0117-9634856 (direct) or 0117-2310060 (Parish Office)

The deadline for the April issue is Sunday 25th March
---
prayers for March 2018

with thanks to kendra lindegaard age 9 and family for this detail of a sketch of an smr candelabra

groups within the church

The regular congregation is large, active and involved. If you would like to

join one of the many groups connected with the Church, please contact the

appropriate group leader

An anonymous ancient prayer

found in Chester Cathedral

— a prayer offering from

Mildred Ford

"Roses and Shadows"

— photograph by Mildred Ford

Give me a good digestion, Lord,

and also something to digest;

Give me a healthy body, Lord,

with sense to keep it at its best.

Give me a healthy mind, Good Lord,

To keep the good and pure in sight;

Which seeing sin is not appalled,

But finds a way to set it right.

Give me a mind which is not bored,

That does not whimper, whine or sigh;

Don't let me worry over much

About the fussy thing called "I".

Give me a sense of humour, Lord,

Give me the grace to see a joke,

To get some happiness from life,

And pass it on to other folk.

Head Server

Head Sidesman

Head Steward

PCC Secretary

PCC Treasurer

PCC Safeguarding

PCC Recorder

Sunday School

Faithspace Centre

Lunch Club

Meditation

Mothers Union

Church Flowers

Coffee Rota

Bell Ringers

Canynges Society

Journey into Science

Magazine Editor

Dean Barry

Graham Marsh

Andy Carruthers

Keith Donoghue

David Harrowes

Stephen Brooke

Tal Singh Aujla

Becky Macron

Sarah James

Bobby Bewley

Lewis Semple

Hilda Watts

Mildred Ford

Christine Bush

Gareth Lawson

Pat Terry

Eric Albone

Eleanor Vousden

0117-9099862

01275-832770

0117-2310061

0117-9422539

0117-9779823

0117-3311260

07429 480397

07443 000420

0117-9258331

0117-9864445

0117-9255763

01275-543588

0117-9666794

0117-9773023

07798 621834

0117-2310060

0117-9247664

0117-9634856

If you or one of your family are sick or have gone into hospital, please let us

know — contact the Clergy or Vergers as soon as possible.

Please consult the Parish Office before making any arrangements for

baptisms, weddings or funerals.
---
sunday services

8.00 am holy communion

9.30 am sung eucharist

With Crèche and Sunday School, and followed by coffee

11.15 am choral mattins

6.30 pm sung evensong

weekday services

holy communion

Tuesdays and Thursdays at 12.30 pm

2nd and 4th Thursdays at 12.30 pm with Prayers for Healing

morning and evening prayer

Monday to Friday at 8.30 am and 4.30 pm in the Lady Chapel

opening times

Weekdays all year round from 8.30 am – 5.00 pm

Bank Holidays 9.00 am – 4.00 pm (except New Year's Day)

Sundays 8.00 am – 8.00 pm

The Church is occasionally closed for special events and services

The Arc Café in the Undercroft

Serving home made refreshments all day

Opening hours:

Monday to Friday 8.00 am – 3.00 pm

Lunch served from 12.00 – 2.30 pm

Tel: 0117-929 8658