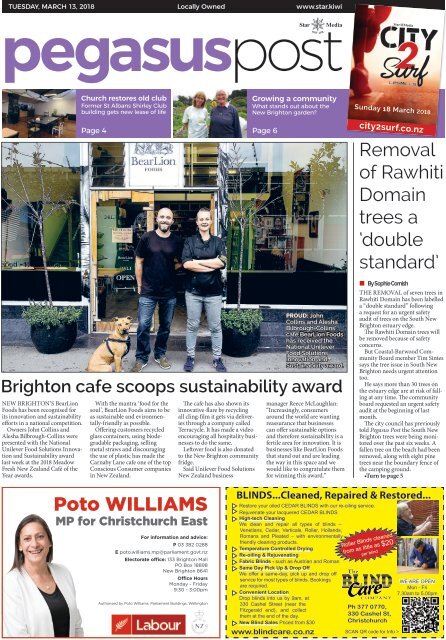 Pegasus Post: March 13, 2018
Create successful ePaper yourself
Turn your PDF publications into a flip-book with our unique Google optimized e-Paper software.
TUESDAY, MARCH 13, 2018

Locally Owned

www.star.kiwi

A Star Media Event

Star Media

Church restores old club

Former St Albans Shirley Club

building gets new lease of life

Growing a community

What stands out about the

New Brighton garden?

Sunday 18 March 2018

NEW BRIGHTON'S BearLion

Foods has been recognised for

its innovation and sustainability

efforts in a national competition.

Owners John Collins and

Alesha Bilbrough-Collins were

presented with the National

Unilever Food Solutions Innovation

and Sustainability award

last week at the 2018 Meadow

Fresh New Zealand Café of the

Year awards.

Page 4 Page 6

Brighton cafe scoops sustainability award

With the mantra 'food for the

soul', BearLion Foods aims to be

as sustainable and evironmentally-friendly

as possible.

Offering customers recycled

glass containers, using biodegradable

packaging, selling

metal straws and discouraging

the use of plastic has made the

Carnaby Lane cafe one of the top

Conscious Consumer companies

in New Zealand.

The cafe has also shown its

innovative-flare by recycling

all cling-film it gets via deliveries

through a company called

Terracycle. It has made a video

encouraging all hospitality businesses

to do the same.

Leftover food is also donated

to the New Brighton community

fridge.

Said Unilever Food Solutions

New Zealand business

PROUD: John

Collins and Alesha

Bilbrough-Collins'

cafe BearLion Foods

has received the

National Unilever

Food Solutions

Innovation and

Sustainability award.

manager Reece McLaughlan:

"Increasingly, consumers

around the world are wanting

reassurance that businesses

can offer sustainable options

and therefore sustainability is a

fertile area for innovation. It is

businesses like BearLion Foods

that stand out and are leading

the way in this space and we

would like to congratulate them

for winning this award."

city2surf.co.nz

Removal

of Rawhiti

Domain

trees a

'double

standard'

• By Sophie Cornish

THE REMOVAL of seven trees in

Rawhiti Domain has been labelled

a "double standard" following

a request for an urgent safety

audit of trees on the South New

Brighton estuary edge.

The Rawhiti Domain trees will

be removed because of safety

concerns.

But Coastal-Burwood Community

Board member Tim Sintes

says the tree issue in South New

Brighton needs urgent attention

too.

He says more than 30 trees on

the estuary edge are at risk of falling

at any time. The community

board requested an urgent safety

audit at the beginning of last

month.

The city council has previously

told Pegasus Post the South New

Brighton trees were being monitored

over the past six weeks. A

fallen tree on the beach had been

removed, along with eight pine

trees near the boundary fence of

the camping ground.

•Turn to page 5

Poto WILLIAMS

MP for Christchurch East

For information and advice:

P 03 382 0288

E poto.williams.mp@parliament.govt.nz

Electorate office: 133 Brighton Mall

PO Box 18898

New Brighton 8641

Office Hours

Monday - Friday

9:30 - 3:00pm

Authorised by Poto Williams, Parliament Buildings, Wellington

BLINDS...Cleaned, Repaired & Restored...

Restore your oiled CEDAR BLINDS with our re-oiling service.

Rejuvenate your lacquered CEDAR BLINDS

High-tech Cleaning

We clean and repair all types of blinds –

Venetians, Cedar, Verticals, Roller, Hollands,

Romans and Pleated – with environmentally

friendly cleaning products.

Temperature Controlled Drying

Re-oiling & Rejuvenating

Fabric Blinds - such as Austrian and Roman

Same Day Pick Up & Drop Off

We offer a same-day, pick up and drop off

service for most types of blinds. Bookings

are required.

Convenient Location

Drop blinds into us by 9am, at

330 Cashel Street (near the

Fitzgerald end), and collect

them at the end of the day.

New Blind Sales Priced from $30

Roller Blinds cleaned

from as little as $20

per blind

Ph 377 0770,

330 Cashel St,

Christchurch

www.blindcare.co.nz SCAN QR code for Info >

WE ARE OPEN

Mon - Fri

7.30am to 5.00pm
---
expands!

2 Tuesday March 13 2018

Latest Christchurch news at www.star.kiwi

A Star Media Event

l a Karaoke Dance Party, CASPA Fear Factor,

g Healthy Art, Out of Africa from and hundreds the of editor's Canvas Bag desk Drama School have been vivid and exciting performance allowing for

e other amazing themes/activities!

running after-school drama classes in Star the children's Media individuality to shine.

CASPA parents enjoy peace of mind, Merivale area for children for over 20 years Children gain in terms of confidence

a knowing their kids are THERE'S safe and enjoying A real arm and wrestle last year developing

opened a second successful and communication, and as an after

s the benefits of a quality between after city school campus in South Brighton

school leisure activity drama classes have

council staff and the Coastall

programme. Some parents and caregivers So it's great news that in Term 2 Canvas a great deal to offer in terms of social

r also enjoy government Burwood subsidies Community for Bag Board. will open a 3rd campus in Halswell and intellectual development, enhancing

CASPA. CASPA is Child It Youth involves and Family trees (see beginning page with 1) along two classes the that cater for 5-7 literary skills taught at school.

e approved for the OSCAR estuary Subsidy at South and in years and 8-12 years.

To find out more about Canvas Bag

New Brighton.

e some circumstances, the full CASPA fee "We are looking forward to making Drama School, visit the web page

. will be covered by the subsidy. The community board our wonderful wants damaged brand of drama education www.canvasbag.nz and contact the school

f trees For removed more information from the water's or to enrol, edge. call available in Halswell," says director Felicity for schedules.

, Caroline, Rachel or Tania on 349 9260 or Williams, "and engaging with

. The visit latest www.caspa.org.nz discord involves what board children member and Tim families Sintes in this

d

area."

says is a double standard over the removal "Our of trees popular at Rawhiti classes are

Domain for public safety issues. based on storytelling and

wner,

But the same interest isn't being shown improvisation. South New We take a story

and then enable children to

Brighton, where Sintes says there is also create a public their safety own issue. dramatic

He said the work "reeks of a double standard" interpretation and believes of it it using

physical movement, percussion

may

r

be due

faces

to an agenda the city council and has dress-up." with the estuary

edge. This fight is heating up.

Classes are high energy and

fun, with imagination as the

– Barry Clarke

driving force; and being able

to harness the creativity into a

y, curriculum designed for active and exciting

r

get

play.

in touch

n With 10 spaces in their nursery, and

d 23 GENERAL spaces in their ENQUIRIES preschool, the Ph centre 379 7100

s provides the complete early childhood

e service. CLASSIFIED The fluidity ADVERTISING of care allows children Ph 379 1100

's to form close bonds while families enjoy

e peace The of Christchurch mind. Star Company Ltd

n PO Phone box (03) 1467, 359 7944 Christchurch

or visit their

website www.theenchantedgarden.co.nz

y starmedia.kiwi

n

e

w

e

NEWS

al

Sophie Cornish

ly

g

Ph: 364 7437

sophie.cornish@starmedia.kiwi

n

r

w

h

g

ADVERTISING

Elaine Moon

Ph: 364 7436

elaine.moon@starmedia.kiwi

City2Surf

Get active on Sunday

#areyouupforit? Enter the 6km or 14km section of the Star

Media City2Surf at www.city2surf.co.nz.

Page 12

kidstuff

After school drama classes

Enrol your children into a Canvass Bag Drama School class at

its South Brighton campus.

Page 13

help with technology

Barrier Free Computing

The Computer for Special Needs Trust will have tutors on

hand to help people with a disability use a computer at the

New Brighton Library on Saturday.

Page 15

PEGASUS POST

The best-read local newspaper, delivered to

15,657 homes every Tuesday

Linwood, Avonside, Richmond, Shirley, Burwood, Dallington,

Wainoni, Bromley, Aranui, Avondale, Bexley, New Brighton,

Northshore, Queenspark, Parklands, South Brighton.

What happens

to the contents

of your green bin?

Come along to the

Organics Processing Plant

FREE OPEN DAY!

Saturday 17 March

10am–3pm

The magazine for

gardeners who

like To geT Their

hands dirTy

www.gardener.kiwi

100%

Still Pedalling!

Full Workshop Services:

• WOF's • Service Checks

• Wheel Alignment • Brakes

• Clutches • Tyres etc

All makes & models

Trevor Crowe's been

involved with cars for a

while. You can benefit

from his experience at...

Subaru Specialists

518 Moorhouse Ave (East end) | P: 379 7615

W: crowesport.co.nz | E: service@crowesport.co.nz

Hosted by

40 Metro Place, Bromley

(next to EcoDrop)

Parking onsite or on Metro Place

• Plant tour every 30 minutes

• See New Zealand's largest

compost windrow turner

• Prizes and giveaways

• Informative, educational and fun

for the whole family.

Air Conditioning and Heat Pumps

Commercial and Residential

• Daikin • Fujitsu • Mitsubishi • Gree • Panasonic

• Toshiba • Hitachi

Mitsubishi

Hypercore

Heat Pumps

installed

from $2,495 *

RED

GREEN

YELLOW

For more information, phone 941 8999

or visit ccc.govt.nz/disposal

*Conditions apply. Back to back installations 3 metre pipe run.

Email info@pshc.co.nz

Website www.pshc.co.nz
---
PEGASUS POST Latest Christchurch news at www.star.kiwi

Tuesday March 13 2018 3

News

Pressure builds to add 50m pool

• By Sophie Cornish

FEARS THAT the new QE II

Recreation and Sport Centre

will not meet the demands of

the community are increasing

pressure to add a 50m pool to

the facility.

The concerns are that the

current 25m pool will not

cater for the

large variety of

users, including

students from

the Shirley

Boys' High and

Avonside Girls'

High campus at

Linda

Stewart

QE II Park.

"It is never

going to be able

to service the local community

as well as two high schools, local

primary schools and sporting

groups . . . the former facilities

were used by people all over

Christchurch, not just the east,"

said Christchurch Concerned

Citizens Group members

Jacqui Herron and Craig

MacKay.

Said a spokeswoman from the

Keep QE II in the East group:

"We are concerned not everyone

in our community will get a fair

opportunity to use it."

Coastal-Burwood Community

UPGRADE: There is increasing pressure to add a 50m pool

at the QE II Recreation and Sport Centre to meet the needs of

the community.

Board member Linda Stewart

said there would "undoubtedly"

be congestion in the new 25m

pool.

"I would almost bet a lot of

money on it," she said.

However, city council

manager operations recreation

and sports unit, Nigel Cox,

said the facility's placement

"provides space to the north

and east of the new facility's

pool hall for an expansion. The

provision of an expansion zone

is common place in facility

planning. However, there was no

specific expansion in mind that

informed this decision."

The $38.6 million pool facility

is set to open for Queen's

Birthday weekend.

Following a recent site visit,

the community board was told

by contractor, Apollo Projects,

that adding a 50m pool would

cost an estimated $15-20

million.

Coastal-Burwood Ward city

councillor David East said

increasing the pool size to 50m,

which is the Olympic standard,

as well as adding seating and a

dive well could cost almost $50

million.

The facility's plans were

designed with a "room to grow"

concept, said Ms Stewart.

Pressure is mounting around

the idea, as the city council's

draft Long Term Plan will be

finalised in June.

Ms Stewart said if the pool is

not included in the plan, there

will not be the option to include

it until 2028.

However, Mr Cox said:

"The city council provides

an opportunity to update

the existing LTP through the

Annual Plan process that

operates yearly," he said.

A 50m competition-sized

pool is planned for the $300

million central city Metro

Sports Facility, which Greater

Christchurch Regeneration

Minister Megan Woods

brought to a standstill last year

following a $75 million budget

blowout.

Local

News

Now

In Brief

Fire rages, homes at risk

SCHOOL AND HALL FUTURE

The city council and Coastal-

Burwood Community Board

have successfully requested the

Ministry of Education delay its

decision on the future of the

Central New Brighton School site

and Roy Stokes Hall until the end

of July. City council staff are now

working with the New Brighton

Community Hall Trust to form a

business plan on the feasibility of

owning and managing parts of the

school site.

PLAYGROUND TO CLOSE

The new seaside playground in

New Brighton will be closed for

about a month from either May

or June. It will allow Development

Christchurch to make additional

improvements to the playground

and install artwork.

WALK AROUND QE II PARK

The Coastal-Burwood Community

Board wants the community to

have a say on the development

of the QE II Park master plan.

The board is offering a guided

walk around the park on March

25. There will be an update on

the new recreation and sports

centre, the school campus and

the Christchurch School of

Gymnastics rebuild. The walk will

start at the north end of QE II Park

off Ascot Ave, noon-3pm.

25 %

off

• All vehicle repairs

• Oil changes and services

• Brakes • Loan car available

• Tyres, punctures & batteries

• W.O.F • Tune up

Discover Christchurch's

best priced pet

accommodation

• New cat & dog

groomer straight

from the USA

• Daycare -

all breeds

• Long stay/

short stay

Call now to book in your fur baby -

inspections welcome anytime!

ALAmeDA

keNNeLS & cAttery

271 Dyers Road | Ph 384 1297

www.alameda.nz

YOUR LOCAL GARAGE

Your LocaL GaraGe

Resene Premium Paints,

Wood Stains, Primers,

Sealers, Wallpaper,

Decorating Accessories

and Cleaning Products

Come in and see us today at your local Resene ColorShop!

Shirley: 38 Marshland Road, (03) 385 5082

0800 737 363 www.resene.co.nz/colorshops

Discounts off the normal retail price of Resene premium paints, wood stains, primers, sealers,

wallpaper, decorating accessories and cleaning products until 9 April 2018. Available only at

Resene owned ColorShops and participating resellers. Paint offer also available at participating

Mitre 10 MEGA and selected Mitre 10 stores. Valid only with cash/credit card/EFTPOS purchases.

Not available in conjunction with account sales, promotional vouchers/coupons or other offers.

Excludes trade, ECS, WallPrint, wall decals, Crown products and PaintWise levy.

VERY FRIENDLY SERVICE AND ADVICE

NEW BRIGHTON AUTOMOTIVE

Phone: 03 388 3630

40 Hawke St (behind Z Petrol Station)

AT LEAST

10% OFF

EVERYTHING STOREWIDE

45% OFF

PHOTO FRAMES

BUY 5 GET 1

FREE!

KNITTING WOOL

OR $2.50 EACH

LOW PRICES

ON PLASTIC &

GLASSWARE

NEW TO CHRISTCHURCH

The Palms Shopping Centre

Shop 95 (outside by the Library)

Phone: 03 385 5978

Email: bentangltdpalms@hotmail.com

• Photo frames • Homewares • Stationery • Giftware • Make up • Art & Crafts • Pet care

• Hardware • Garden • Candles • Electrics • Toys • Party • Kitchenware • Plasticware • Glasses
---
4 Tuesday March 13 2018

Latest Christchurch news at www.star.kiwi

News

Schools

shouted trip

to the zoo

NINE EAST Christchurch

schools will be given the

opportunity to participate in

education programmes at Orana

Wildlife Park.

As part of The Warehouse

Zoofari, more than $130,000 has

been raised to enable 5000 pupils

from 41 decile 1-3 schools to go

on the 'zoofari'.

Said Orana Wildlife Park education

manager Toby Johnson:

"Zoos in each region are collaborating

to host the school students

and give them the learning

opportunity that many would

otherwise miss out on without

The Warehouse."

The Warehouse general manager

community relations Shari

French said visiting the zoo is a

quintessential part of childhood

for many children, but for some

families it is sometimes not possible.

The eastern school taking

part in 'zoofari' include Rawhiti

School, Shirley Primary School,

St James School, Haeata Community

Campus, Linwood

North School, Christchurch East

School, Linwood Avenue School,

Bromley School and Linwood

College.

Church restores former club

THE FORMER St Albans

Shirley Club has been extensively

renovated to become a new

church and community centre.

The building was opened on

Saturday at a launch event, with

a free lunch and entertainment,

including children's games, a

bouncy castle and a performance

from the New Brighton Brass

Band.

The building on Hills Rd will

now be home to the Eastside

C3 Church and a variety of

community groups, including

the St Albans Shirley Club,

Fevah Modern Jive, Silhouette

Studios NZ, Toddlerock Shirley/

St Albans, and Moveable Feasts.

The C3 Church Christchurch

purchased the 1.6ha property

and the building off the St

Albans Shirley Club in 2016.

The church's senior pastor

Paul Julian said the church

aims to contribute to the local

community.

AFTER SIX months of

preparation, the Zonta Club of

Christchurch South is set to hold

its annual summer garage sale

on Saturday.

Children's toys, preserves,

furniture, ornaments, linen,

"This new building is one of

the ways we are doing that. There

are some amazing community

groups who use the space

during the week, as well as our

crockery, paintings, and books

were among the items on offer.

The money raised will be

distributed to the club's chosen

charities. Recently it donated

money for furnishings at the

new City Mission women's night

regular church services. We've

been pretty overwhelmed with

the amount of bookings so we're

definitely filling a need. It's

a pretty versatile space so we

shelter "We have a number of

very worthwhile charities which

we support and it is incredibly

satisfying to be able to make

substantial donations to these

groups," said club president

Margaret Currie.

PEGASUS POST

OPEN: The Eastside C3

Church now has a new home

on Hills Rd after it renovated

the former St Albans Shirley

Club building. It will also be

used as a community centre.

welcome anyone to pop in and

check it out," he said.

The Eastside C3 Church

is one of three branches in

Christchurch.

Zonta Club garage sale aims to help charities

Members of the club for

professional and business

women have been gathering

quality items for the past six

months in preparation for

the sale which will be held in

Cashmere.

2

1

3

Spencerville 6 Calypso Place 1000m2 A 4 B 2 C 2 D 3 I

Wonderful Family Lifestyle Awaits

Large contemporary home (267m2) in a quiet cul

de sac within walking distance to the new Surf

Club & Adrenalin Forest.

Situated on 1000m2 section, this incredible home

is superbly finished with plush features and

fittings.

Four generous double bedrooms, wooden

floating floors, tinted windows with security

locks throughout, heat pumps and gas fire, tiled

wet areas and triple car garaging with multiple

off street parking.

For Sale

Deadline Sale 5pm 29th March 2018

View Saturday and Sunday 2:00-3:00pm

www.harcourts.co.nz/BF29553

Glenys French

M 021 333 699 P 03 323 6045

glenys.french@harcourts.co.nz

Tony Edwards

M 0274 421 402 P 03 323 6045

tony.edwards@harcourts.co.nz

Twiss-Keir Realty Ltd Licensed Agent REAA 2008

Dyers Road Landscape

& Garden Supplies

• Barks • Peastraw • Composts - we supply the best available

• Aggregates - Chip, Round and Basecourse

• Pavers & Schist products • Pungas

• Decorative Stones & Landscaping Rocks

• Trailer Hire first hour free with purchase

• Bag & Bulk - pick up or delivered

David, Carol & Mike

lIQuID lAuNDROMATs

345 sTANMORE ROAD, RICHMOND

261 BuRwOOD ROAD, BuRwOOD

713 fERRy ROAD, wOOlsTON

7 DAys: 5am-11pm

NOW OPEN 319 PAGEs ROAD, ARANuI

wAsH & DRy All yOuR

lAuNDRy IN ABOuT 1 HOuR

$4.00 WASH

$4.00 DRY

wash 2 Mink Blankets, Duvets

or woolrests for only $8

DRY UP TO 3 LOADS IN

ONLY 25 MINUTES! $4

SAvE TIME & ELEcTRIcITY

We will deliver!

Phone: 03 384 6540

183 Dyers Rd, Bromley • OPEN 7 DAYS

Weekdays 7.30am-5pm. Weekends 8.30am-3pm

www.dyersroadandlandscapes.co.nz

SELF SERvIcE

• Fast Dryers

• Sports Gear

• Duvets

• Mink Blankets

• Bedding

• Washers

• Domestic Laundry

SOIL

AND

HARDFILL

DUMPING

Other Locations: 289 Colombo Street, Sydenham • 47 Carmen Road, Hornby

• 17 Halswell Road, Hoon Hay

www.liquidlaundromats.co.nz
---
PEGASUS POST Latest Christchurch news at www.star.kiwi

Tuesday March 13 2018 5

Tree removal a 'double standard'

•From page 1

However, Mr Sintes said the

real problem is the trees on the

estuary edge.

"It is a total inconsistency, as

there has been no motion from

city council to remove trees on

the estuary edge, which pose

equally as much of a safety risk,"

he said.

"The walking track in South

New Brighton would get a lot

more people than the Rawhiti

Domain one would . . . if you use

the same criteria that they have

used in the Rawhiti Domain on

the estuary edge, well

there shouldn't be any trees left

there."

Mr Sintes said the work

"reeks of a double standard"

and believes it may be due to an

agenda the city council has with

the estuary edge.

The city council wants to

let the estuary edge erode

naturally following damage to

the erosion protection from the

earthquakes. The community

board wants to protect it in

order to preserve as much of the

domain as possible.

"This (trees becoming

damaged) is never going to stop

on the estuary edge until they

protect it," Mr Sintes said.

City council acting head

of parks Kay Holder said on

RISK: Tim Sintes wants the dangerous trees removed from the South New Brighton estuary

edge.

PHOTO: GILBERT WEALLEANS

Thursday the estuary edge is

monitored on a regular basis as

the area is treated as a priority

from a health and safety

perspective.

"As a result of this monitoring,

we became aware of the fallen

tree and tree stumps and had

these removed as a priority.

During those works a stand of

dead pine and macrocarpa trees

were identified as hazardous and

have also been removed.

"We will continue to monitor

the area on a regular basis to

ensure that any health and

safety issues are dealt with

appropriately," she said.

In Brief

HOT POOL DESIGNS

The latest revision of the design

plans for the hot pools in New

Brighton will be presented to the

Coastal-Burwood Community

Board on Monday. Development

Christchurch will hold its fourth

workshop with a community

focus group on March 21, where

it will present the design plans

that will form part of the resource

consent application. The plans

will then be released to the wider

community. A Development

Christchurch spokesman said the

designs will continue to evolve

throughout the process.

QUEENSPARK DRIVE SPEED

The Coastal-Burwood

Community Board has approved

lowering the speed limit around

Queenspark School. The new

speed zone will be on Queenspark

Drive and the limit will be

changed from 50km/h to 40km/h.

Electronic signs will be placed at

the start of the school speed zone.

NOT A FREEDOM CAMPER

A photo on page 5 of Pegasus Post

last week said it was a freedom

camper's campsite. This was

incorrect. It was a site belonging

to a homeless person. The caption

also said it was taken in South

New Brighton. The location was

in fact North Beach. Pegasus Post

apologises for the errors.

INTERPRETERS NEEDED

We are recruiting now for our Canterbury Introductory

Interpreting course starting in May 2018.

Complete the course, pass the assessment and

become a paid interpreter with us.

You must be proficient in English and preferably

one of the following languages:

Amharic, Arabic, Cantonese, Dari, Farsi, Japanese,

Mandarin, Nepali, Samoan, Sign Language,

Sinhala, Somali, Tagalog.

For more about training and working with us, go to

our website.

Applications Close Fri. 09 April 2018

COURSE DATES:

INTERPRETING

New Zealand

Fridays 6:00 p.m - 8:30 p.m.

Saturdays 9:00 a.m. - 4:30 a.m.

4 & 5 of May

18 & 19 of May

22 & 23 of June

6 & 7 of July

Participants must attend all 5

sessions.

Phone Maria: 027 493 1122

maria.fresia@interpret.org.nz

www.interpret.org.nz

Enrol now: www.interpret.org.nz/become-an-interpreter.html

Beautiful Teeth

Meet the

Owner

Ryan Carlton

Natural Smile

Free Consultation, No Obligation

• Full Dentures • Dentures Repaired • Implant Assisted Dentures

• Injection Moulded Flexible Partials • Relines

• Mouthguards • Additions/Repairs

• Purchase cleaning and care products from our website.

All dentures personally

designed and created to ensure

a comfortable natural fit.

DENTURES PLUS (2014) LTD

Denture Clinic and Laboratory

396 Innes Road, St Albans. Phone 385 5517.

Email: denturesplus@paradise.net.nz

www.denturesplus.co.nz

Orbiter Bus stops Innes Road

Canterbury 2018.indd 1

2/5/2018 2:30:11 PM

$10

PIE, MASH, PEAS AND GRAVY

STEAK & MURPHY'S

MOROCCAN LAMB

PORK AND APPLE

CHEESE & SPINACH

03 260 0325 - Cnr of Worcester St & Stanmore Road
---
6 Tuesday March 13 2018

Latest Christchurch news at www.star.kiwi

PEGASUS POST

Your Local Views

Growing the community

New Brighton Community

Garden secretary Hilary

Wilson and garden

manager Catherine O'Neil

talk about the benefits

of being involved in the

project

FOR MORE than 12 years a

whole lot of people have put a

whole lot of effort into making

our community gardens the

flourishing success that they

now are. As well as growing

vegetables, we pride ourselves on

growing the community.

What stands out? The diversity

of vegetables and flowers, food

for the body and food for the

soul, and the diversity of volunteers,

young and old, Kiwi and

foreign, smiley and grumpy, all

are warmly welcomed. The gardens

are a place to meet new people,

establish friendships, learn

new skills, build confidence, and

increase one's sense of well-being

and belonging. Knowledge is

freely shared in many ways.

What do we treasure? Our

marvellous volunteers and staff,

our supportive trust members,

our very helpful funders and

the on-going support from local

businesses is very valuable. Our

commitment to respecting and

taking care of people and the

environment is too.

What do people say when

they come in the gate? They

say "wow." And then "this is

so peaceful, and yet also a hive

of activity." Recently from

two French tourists we heard

"c'est magnifique." And from a

German-speaking Swiss tourist

– "wunderbar." Particularly after

the Christchurch earthquakes,

visitors and volunteers found solace

and comfort in the gardens.

Gardening anywhere provides

GREEN

THUMBS:

Catherine O'Neil

(left) and Hilary

Wilson take

pride in their

community

garden.

both physical and mental health

benefits.

What do people get out of it?

You will almost certainly get

your hands dirty. And you will

probably go home with some

yummy fresh vegetables. But

also, and perhaps more importantly,

you get a sense of belonging

to the community, of contributing

to a meaningful productive

project, of working at literally the

grassroots level to help make the

world a better place. We are happily

about as far from corporate

culture as it's possible to get.

Growing your own food sustainably

is a global movement. If

you want to find a community

garden near you, go to the Canterbury

Community Gardens

Association website at

www.ccga.org.nz

Readers respond to the

Christchurch School of

Gymnastics receiving

$900,000 from the city

council for the rebuild of

its new facility

Margaret Nicholas –

Why should a gym which is

basically a club, and which

has had large amounts of

money from city council in

the past, get so much more

than other grassroots sports,

or ones which keep more

youth active?

Bill Palmer – Good idea,

problem is no one can get

there unless they've got a

four-wheel-drive because of

the neglected roads in the

east, again I say city council

get your priorities in order

first.

Ryan Bailey – Surely

when a sports club has

received so much from city

council already, shouldn't the

money go to other smaller

struggling sports/community

clubs. It would make a

massive difference to help

smaller sports clubs grow.

Readers respond to

the increasing number

of freedom campers

in North New Brighton,

including one who

cleaned her underwear

in a drinking fountain

Cathryn Lucy – They

aren't good for local

businesses. They cost more

than they're worth, make the

area less appealing for other

visitors who actually spend

money and can plan a trip

properly, and their goal is to

do everything as cheap as

possible.

Maybe the supermarket

might get a tad more money.

These ones certainly don't

seem to want to spend money

at a cheap laundromat.

Go to a camp site or

be self-contained, which

means taking your rubbish,

belongings, (and your poo

instead of leaving it next to

schools) with you, and

leaving where you stayed

in the condition you found

it.

Sara Teasdale – Ban

freedom campers.

JOIN US NOW!

See website for details

GET

KESS HAIR AND BEAUTY

2 FOR $23.90 Fudge Shaper

2 FOR $34 Fudge Matte Hed

EVERY

DAY

COTTON ON KIDS

$15 & UNDER All Baby Sale Products

BUY 1 GET 1 HALF PRICE All Baby Sale Items

ITALIA SPORTSWEAR

$40 SHOES selected styles

HALLENSTEINS

$10 POLO'S New Stocks & Styles Just Arrived

THE WATCH.CO.NZ

UP TO 60% OFF RRP on Timex, Pulsar, Lorus &

Hello Kitty Citizen watches.

Sign up to Smart Deals & be in the monthly draw for a $100 Dress-Smart gift card!

Be one of the first to hear about the latest deals, sent straight to your inbox each week!

CHRISTCHURCH 409 Main South Road, Hornby

Open 10am-5pm, 7 Days 03 349 5750

www.dress-smart.co.nz
---
PEGASUS POST Latest Christchurch news at www.star.kiwi

Tuesday March 13 2018 7

this saturday

17 th march

St Patrick's

Day

HATS, GLASSES, wigs, face

PAINT and MUCH more!

Make this ST PATRICKS DAY MEMORABLE!

Your Local JUST INCREDIBLE STORES

• Barrington Mall • New Brighton Mall

• The Hub, Hornby • South City Centre
---
8 Tuesday March 13 2018

Latest Christchurch news at www.star.kiwi

PEGASUS POST

Christie

named young

sportsman

of the year

• By Andrew King

FORMER SHIRLEY Boys'

High first XV captain Tom

Christie was named AECOM

outstanding young sportsman

of the year at the Nexia New

Zealand Canterbury Sports

Awards on Friday night.

He was up against basketballer

Quinn Clinton, golfer Tom

Parker and rower

Ben Taylor.

Christie, who

plays flanker, made

his debut for Canterbury

last year

Tom

Christie

and was part of the

World Cup winning

under-20 New Zealand

squad.

In 2015, he famously captained

Shirley to the UC Championship

final against St Bede's, which

they lost.

The awards honour sporting

excellence as well as the invaluable

contribution of dedicated

coaches, administrators, officials

and volunteers.

"As a region, Canterbury has

access to world-class coaching

and an exceptional sports club

system," Sport Canterbury chief

executive Julyan Falloon said.

The awards were held at the

Air Force Museum of New

Zealand.

More than 130 nominations

were received for the awards

across 30 sporting codes.

Schools count down to Maadi Cup

Six days out from the biggest school rowing event of

the year, Andrew King looks at how some of the crews

might fare at Maadi Cup which starts on Monday at Lake

Ruataniwha, Twizel

Shirley Boys' High had a tough

start to the rowing season after

a 30m poplar tree fell into the

Avon River just as the under-15

crew of Reuben Bannon, Finley

Ocheduszko Brown, Cameron

Maughan, Liam Whitaker and

David Brown rowed underneath

it in January.

At the South Island secondary

school rowing champs earlier

this month, Maughan along

with Lucas MacDonald (stroke),

Brodie Barsby, Jack Hearn,

Cameron McConchie, Brayden

Keep, Elliot Stanley, Matthew

Sudlow and Joel Coleman (cox)

won gold in the under-15 eights.

The school also had success in

the under-16 single sculls with

Scott Shackleton winning gold.

Now they turn their attention

to the Maadi Cup which starts

on Monday and runs through

the week at Lake Ruataniwha,

Twizel.

Head of rowing Rob Wilson-

Pyne said it is all about building

a diverse squad with a variety of

different rowers.

"Everyone is working very

hard in training and we have just

completed our seat racing to get

placing for boats," he said.

"We have got good depth

in the squad and some strong

rowers who should do well."

He would not identify any

individuals to look out for,

saying every rower goes out there

with a team mindset.

"There are no individuals, it

is all about the squad. We have

the philosophy that any boat

that makes a final is representing

every kid involved," he said.

The school is in a building

phase and is looking to have

a strong under-18 eights

competing at the Maadi Cup in

the near future.

"We are looking at 2019-2020

to target that under-18 eights

race," he said.

They are also keeping an eye

on the competition up north.

"We always have a look at the

cousins up north; don't know

what they feed them up there,

but they always set fast times.

And that is what it is all about,

the best in the country coming

together and seeing where we

stand. It's an opportunity and a

challenge for us," he said.

South Island secondary

school rowing champs –

results

Winners – boys

•CBHS: Under-15 coxed

quadruple sculls and coxed

octuple sculls; under-16

coxed quadruple sculls;

under-17 coxed four; coxed

quadruple sculls; under-18

novice double sculls;

coxless pairs oars; coxed

quadruple sculls; coxed four

and under-18 coxed eights.

•Shirley Boys' High:

Under-15 coxed eights; and

under-16 single sculls.

•Christ's College: Under-16

coxed eights; under-17

coxed eights; and under-18

novice coxed eights.

•St Bede's: Under-16 coxed

four; and under-18 novice

coxed four.

•Cashmere High: Under-18

novice coxed quadruple

sculls.

Winners – girls:

SPORTS

PROGRESSION: Shirley Boys' High are in a building phase

with some good talent coming up through the grades in the

under-18 eights.

PHOTO STEVE MCARTHUR

Rangi Ruru: Under-16

coxed four; under-16 coxed

eights; under-17 coxed

eights; under-18 novice

coxed eights; under-18

novice coxed four; and

under-18 coxed eights.

CGHS: Under-15 coxed

eights.

Dunstan High: Under-15

double sculls; quadruple

sculls; coxed octuple sculls;

and under-16 coxed quadruple

sculls.

St Margaret's: ​Under-18

coxed four.

Villa Maria: Under-18

coxed quadruple sculls.

New Brighton players help revamp clubrooms

• By Andrew King

NEW BRIGHTON Rugby club

players will start the season off

with newly renovated clubrooms.

Members of the club and the

community have been busy

fixing up the clubrooms on

Rawhiti Ave.

Division one captain Reuben

Spicer, who is studying sports

leadership at Canterbury

University, had to write a paper

for his course on sponsorship

and decided fixing up the old

clubrooms would be a great way

to put theory into practice.

The idea had been floated

around the club for a while as the

clubrooms were starting to look a

bit run down.

But from Spicer's paper the idea

snowballed and work started in

August last year.

Rugby development officer

Roddy Butt said Spicer, who

plays halfback, thought it would

also be a good way for the squad

to bond ahead of the upcoming

competition.

Lock Ben Nelson, a builder

by trade, said there had been so

much support from the local

community.

Not only have they managed to

renovate the division one shed,

but the majority of the club's

buildings have also been done

PRIDE: Progress is being made on fixing up the New Brighton rugby clubrooms, which are set to be ready for the upcoming

season.

up, including the referee's and

physio's rooms.

Builder Matthew Burleigh,

brother of Scotland international

and former New Brighton

midfielder Phil Burleigh, and

plumber Henare Faithful have

also put a lot of work into the

buildings.

Nelson has donated about 450

hours himself, and Burleigh and

Faithful are not far behind.

"Most of the materials we have

used have been donated. So we

have been able to get between

$15,000 to $20,000 worth of

materials for about $200, which is

amazing," Nelson said.

"It really shows how good

the club is and how great the

community is to get behind this."

Nelson, who was born and

bred in Minnesota, United States,

came to the club in 2013 to "ply

his trade in rugby".

Now he has residency and said

he will play for the club for as

long as he can.

"We want to be one of the best

recruiting clubs in the city and by

doing up our sheds it sends the

right message," he said.
---
PEGASUS POST Latest Christchurch news at www.star.kiwi

Tuesday March 13 2018 9

EASTERN SUBURBS

MikePeroRealEstateLtdLicensedREAA(2008)

3/78 Brighton Mall, Eastern Suburbs

03 421 8448

Your Local Area Specialists

Dean Cations

021 043 4840

Samantha Coe

027 635 8463

Nick McIsaac-Luke

027 301 3870

Tim Miller

022 312 5339

Nicola Clark (Mortgage Adviser)

022 519 4795

Mike Pero Real Estate Ltd Licensed REAA (2008)
---
10 TUESDAY MARCH 13 2018

Latest Christchurch news at www.star.kiwi

PEGASUS POST
---
PEGASUS POST

Latest Christchurch news at www.star.kiwi

TUESDAY MARCH 13 2018 11
---
12 Tuesday March 13 2018

Latest Christchurch news at www.star.kiwi

PEGASUS POST

A Star Media Event

Star

Media

Sunday 18 March

#Areyouupforit?

EntEr NOW!

Entry $25 (children 10 and under free)

Available online now from city2surf.co.nz or at these outlets
---
PEGASUS POST Latest Christchurch news at www.star.kiwi

Tuesday March 13 2018 13

KIDSTUFF

Kids love CASPA!

Canvas Bag

Drama School

expands!

CASPA (Creative After School

Programmed Activities) incorporating

PAPA JACKS offers children the

opportunity to be creative, make new

friends and try new experiences all within a

safe, nurturing environment. CASPA offers

working parents an affordable after school

and school holiday programme that their

kids just love!

CASPA attributes its success to the

variety of activities on offer as well as the

convenience and affordability for parents.

CASPA kids enjoy an exciting range of

activities including sports, music, games,

drama, arts and craft as well as fun trips.

Previous themes and activities have included

a Karaoke Dance Party, CASPA Fear Factor,

Healthy Art, Out of Africa and hundreds of

other amazing themes/activities!

CASPA parents enjoy peace of mind,

knowing their kids are safe and enjoying

the benefits of a quality after school

programme. Some parents and caregivers

also enjoy government subsidies for

CASPA. CASPA is Child Youth and Family

approved for the OSCAR Subsidy and in

some circumstances, the full CASPA fee

will be covered by the subsidy.

For more information or to enrol, call

Caroline, Rachel or Tania on 349 9260 or

visit www.caspa.org.nz

New owner,

familiar faces

Burnside-based preschool and nursery, curriculum designed for active and exciting

The Enchanted Garden, was handed over play.

to new owner-operator Debbie Taylor in With 10 spaces in their nursery, and

October. She has been in early childhood 23 spaces in their preschool, the centre

management for over seven years and has provides the complete early childhood

three children of her own. Along with the service. The fluidity of care allows children

familiar faces of long-time staff, Debbie's to form close bonds while families enjoy

vision is to continue the high quality care peace of mind.

and reputation that The Enchanted Garden Phone (03) 359 7944 or visit their

has maintained since 1995.

website www.theenchantedgarden.co.nz

The centre offers children a home away

from home, with a philosophy based on

holistic, individualised care. They engage

higher teacher-to-child ratios to allow

better care and attention. The centre

is staffed with a team of professional

educators and nurturers who are highly

trained and passionate about creating

happy experiences.

The setting is warm and home-like in

nature while the playground and indoor

environment have been designed to allow

children to safely explore and learn with

confidence. This is supported by a strong

Canvas Bag Drama School have been

running after-school drama classes in the

Merivale area for children for over 20 years

and last year opened a second successful

campus in South Brighton

So it's great news that in Term 2 Canvas

Bag will open a 3rd campus in Halswell

beginning with two classes that cater for 5-7

years and 8-12 years.

"We are looking forward to making

our wonderful brand of drama education

available in Halswell," says director Felicity

Williams, "and engaging with

children and families in this

area."

"Our popular classes are

based on storytelling and

improvisation. We take a story

and then enable children to

create their own dramatic

interpretation of it using

physical movement, percussion

and dress-up."

Classes are high energy and

fun, with imagination as the

driving force; and being able

to harness the creativity into a

Is a child you know

struggling to relate

or learn?

Don't struggle alone.

Our therapists can help.

They come to you.

Physio, Speech Language, Music,

Occupational Therapists and Dieticians

P: (03) 377 5280

E: therapyprofessionals@clear.net.nz

www.therapyprofessionals.co.nz

vivid and exciting performance allowing for

children's individuality to shine.

Children gain in terms of confidence

and communication, and as an after

school leisure activity drama classes have

a great deal to offer in terms of social

and intellectual development, enhancing

literary skills taught at school.

To find out more about Canvas Bag

Drama School, visit the web page

www.canvasbag.nz and contact the school

for schedules.

home away

from home

UNDER NEW MANAGEMENT!

FREE hAlF DAy 20 hoURs ECE

OPEN 7.30-5.30pm ALL YEAR

SpaceS

available

0-6 years

facebook.com/

The Enchanted Garden

255 Greers Rd, Burnside

Phone: 03 359 7944

www.theenchantedgarden.co.nz

call us

noW

CASPA

After School

& Holiday Programme

Your friendly childcare solution

Creative

After

School

Programmed

Activities

P: 349 9260 or 027 352 1638

E: info@caspa.org.nz

W: www.caspa.org.nz

• We provide a safe, creative

environment for 5-13 year olds

• Our staff are trained

• A range of fun activities

• 7.15-8.30am and 3-6pm Mon-Fri

• 8am-6pm Holidays

• Kids just LOVE it!

Incorporating

Subsidies

Apply

DRAMA CLASSES5-13yrs

Term 2 - 30th April

Free trial class

Be on stage and have fun!

• Creative

• Comedy

• Laughter

• Friends

• Leadership

• Performance

• Movement

• Dressups

• Confidence

• Improvisation

• Production

• Self growth

Canvas Bag Drama School

Three Locations: Merivale • South Brighton • Halswell

info@canvasbag.nz • 021 222 7273 • www.canvasbag.nz
---
14 Tuesday March 13 2018

Latest Christchurch news at www.star.kiwi

PEGASUS POST

Connecting

COMMUNITIES

Local

people

Local

news

Local

ownership

Local

opinions

Star Media.

We're connecting

Cantabrians!

Your local newspapers.

www.starmedia.kiwi
---
PEGASUS POST Latest Christchurch news at www.star.kiwi

Tuesday March 13 2018 15

88 Petrie St, Richmond

The Ray White New Brighton

Duke Festival of Surfing

Tuesday, Friday, Saturday

The Boardroom exhibition

shows surfboards throughout

the ages. An outdoor movie

night on Friday will feature

Moana, a movie supported by

the Aotearoa Surf Film Festival,

Fish People, and two shorter

surf films. A two-day surfing

competition begins on Friday

with local and international

surfers from all age groups

from under-12 through to the

over-60s. A smorgasbord meal

will follow at the New Brighton

Club on Saturday night with

entertainment from upcoming

South Island band Soaked Oats

and local band Run77. Visit the

festival's Facebook page for more

information about times and

locations.

New Brighton

Table Tennis Club

Tuesdays 7.30pm

The St Albans/Shirley Table

Tennis Club is looking for new

members to join their friendly

club. All levels are welcome.

There are some spare bats

available. Games can be social

or competitive. Phone Ian on

021 586 802 or Shirley on

027 343 3981 evenings only

Email sophie.cornish@starmedia.kiwi

by 5pm each Friday

with any inquiries.

St Albans/Shirley Club, 269

Hills Rd or entrance at end of

Crosby St

Have-A-Go at Indoor Bowls

Every Tuesday, 11am-1.30pm

Indoor bowls for the senior

community. No experience

necessary and all abilities

welcome. Go along to try it out.

Please wear soft shoes. Cost per

person is $2. First session free.

Phone Tania Smith at ACTIS on

963 7070, or 027 540 5442 with

any inquiries.

Aranui/Wainoni Community

Centre

Ascot Petanque Club

Tuesday and Friday, 9.30-

11.30am

A friendly social club willing to

teach beginners the great game

of petanque. Equipment can be

supplied. Go along and learn this

easy game.

Ascot Community Centre, 12

Ascot Ave, North Beach

Rocket Club

Wednesday, 3.30-4.30pm

Rocket Club is a weekly afterschool

programme running during

term time. Students can join

the club and become involved in

different activities based on local

Barrier Free Computing on Saturday, 10am-noon, is a service

provided by the Computer for Special Needs Trust, an

organisation which offers assistance with using computers for

people experiencing a disability in a friendly and supportive

setting. The tutors will be on hand to help beginners as well as

provide assistance with emailing, accessing the internet, playing

games, researching a homework assignment, and literacy

or numeracy development. There is also the opportunity for

socialising with others with similar interests. Free of charge, but

standard library printing and copying costs apply. New Brighton

Library, 213 Marine Pde.

and current events in a fun learning

environment. Homework

help is available during this time.

Free to attend and no bookings

required.

Aranui library, 109 Aldershot St

Exercise Classes – Over 50s

Wednesday 1-2pm, Thursdays

9.30am

Times may change to just

Thursdays at a later time. Cost

is $4 and a cup tea to follow. All

inquires welcome – phone either

Margaret on 383 2665 or 383

2337.

Ascot Community Centre, 12

Ascot Ave

Boys' Brigade in Shirley

Thursday, 6.30-8pm

The boys enjoy a wide range

of action, fun, games, life skills,

leadership and competition. The

creative weekly programme is

both skills and values based. For

more information, call Chris on

385 6446.

Ascot Scrabble Group

Friday, 12.45pm

Challenge your word

knowledge with other likeminded

folk. Join in with this

friendly group suitable for

beginners or experienced players.

Cost is $3, includes afternoon tea.

Ascot Community Centre, Ascot

Ave, North New Brighton

Seaside Toy Library

Saturday, 9.30-11.30am

Catering for children six

months to seven years with toys,

games and sports equipment. Toy

hire is $2 per fortnight. Visit the

library's Facebook page.

St Luke's Church Hall, 212 Pine

Ave, South New Brighton

Eastside Gallery Multicultural

Exhibition

Monday-Friday, 11-4pm,

Saturday noon-3pm

Linwood Community Arts

Centre's Eastside Gallery presents

Wayne Seyb's Red Zone Gardens.

Seyb's 23 paintings illustrate

what remains after houses and

possessions have gone. Exhibition

runs until Saturday.

388 Worcester St

Line Dance Class For

Absolute Beginners

Monday, 6-7pm, Tuesday and

Wednesday, 12.30-1pm

For further details, phone

Mary on 389 8809.

Bromley Community Centre,

Bromley Rd (Monday), sports

hall Woolston Club Hargood St

(Tuesday and Wednesday)

21–23 MARCH

Isaac Theatre Royal

THE ROYAL NEW ZEALAND BALLET IS HONOURED TO STAGE A NEW FULL-LENGTH

DANCE WORK, INSPIRED BY THE FILM THE PIANO WITH PERMISSION KINDLY

GRANTED BY JANE CAMPION, JAN CHAPMAN AND SADDLEBACK PRODUCTIONS.

REDISCOVER THIS EXTRAORDINARY TALE OF DESIRE, VIOLENCE

AND HOPE, SET AGAINST A BACKDROP OF WILD AOTEAROA.

BOOK NOW

rnzb.org.nz

SUPPORTED BY

NATIONAL TOURING

PARTNER

PRESENTED IN ASSOCIATION WITH
---
16

Tuesday March 13 2018

REAL ESTATE

A class act – avant-garde classic on the hill

136 Moncks Spur Road, Redcliffs

Deadline Sale: 5pm Friday 23 March 2108

3 bedrooms | 2 bathrooms | open plan kitchen, dining living area | 1 study/play area | 2 carport | 2 off-street parks | Listing ID: 6237

What began life as a 1950s bungalow was

transformed in the 1970s when architecture

in Christchurch was breaking from the

constraints and traditions of the past to

create what is now a truly unique home.

What we have today is an avant-garde

home nestled into the sunny slopes above

Redcliffs. Not only does it bask in sunshine

it enjoys uninterrupted views across the

estuary and up the coastline. The magic of

the setting reflects the magic to be found

indoors. On 3 levels it provides space for

everyone and everything. The main central

floor comprises the entry from the carport

at the front door, open plan kitchen dining

and living, a study/play area, 2 double

bed-rooms which open to a spacious deck

area and a state of the art bathroom. Stairs

descend to a rumpus room/studio which

opens to a paved patio area giving access to

a landscaped contemporary hillside garden.

The upper level provides the main suite

comprising bedroom, en suite and dressing

room and expansive open living space with

floor to ceiling windows. This home exudes

contemporary style with an industrial

minimalist theme.

Open homes Sundays 1.45pm-2.30pm

and Thursdays 7.30pm-8pm.

See you at the open homes or for a private

viewing contact Min of Min Sarginson

Real Estate (Licensed Agent REAA 2008),

phone 0274 320 327 or 329 4161

Latest Christchurch news at www.star.kiwi

PEGASUS POST

now bigger than ever

The magazine for gardeners who

like to get their hands dirty

growing with you

SprIng Is here –

It'S Sow Time

how to get the best results from

seeds and seedlings

100% NatIve In

The capItal

Unravelling the secrets of

Otari-wilton Bush

The New Zealand

landscape awards

The people behind

the projects

September 2016 | 100%

It's time

to grow!

New look and more

content than ever!

MeeT LeSTer Brice

A Garden coach

BridalsHoW

25th March, 2018

25th March, 2018

10am – 3pm

10am – 3pm

Air Force Museum of NZ

Air Force 45 Harvard Museum Ave, of Wigram, NZ

45 Harvard Christchurch Ave, Wigram,

Christchurch

2x Fashion parades showcasing

All the experts the latest under Bridal one styles. roof.

www.withthisring.kiwi All the experts under for one roof.

tickets.

www.withthisring.kiwi for tickets

a honeymoon prize of

5 nights in Fiji

With proud support from:

SubScribe from

$43. 50*

$7.90 incl. GST

*6 issues/6 months

ISSN 2423-0219

Save our roSeS

How a rose register is protecting our heritage

auckland Botanic GardenS

Why we love our public grounds

SUBSCRIPTIONS FREEPHONE

0800 77 77 10

www.gaRdENER.kIwI
---
PEGASUS POST Latest Christchurch news at www.star.kiwi

Tuesday March 13 2018 17

AUTOMOTIVE PROFESSIONALS

Panel repairs in handy,

central city location

Whether it's a ding on your door from

the supermarket car park, or you have

been involved in a 'fender bender' and

need a panel or two repaired, in fact,

whatever panel and paint services you

need, the friendly team at Smart Repairs

(NZ) Limited can get the job done with

minimum fuss.

As specialists in small to medium repairs

(no job is too small!), they offer a full range

of services including panel beating, spray

painting, paintless dent removal and mag

wheel repairs and painting.

Their workshop team has over 40 years

of experience in the automotive repair

industry between them, so you can be

assured of top-quality workmanship. The

team stands behind all their repairs.

Accidents happen, but there's no need

to panic – Smart Repairs can help you get

back on the road. They offer free advice and

assessments and are happy to discuss the

options for your vehicle repair – they want

to make it easy for customers that may be

unsure of what to do if their vehicle has

been scratched or dented.

Smart Repairs can provide estimates for

all insurance companies, and will carry out

s

m

a

r

t

mall

edium

• Panel beating

• Spray painting

Fast

turnaround

utomotive

epair

echniques

Smart repairS (NZ) Limited

automotive refinishers

272 Lichfield St (Fitzgerald Ave end)

Ph 377-0409

repairs in an efficient and timely manner.

Brian, Maxine and Dave are Christchurch

born and bred, and love being in the city

as it gets rebuilt. They are easily located

in central Christchurch – on the corner

of Lichfield Street and Fitzgerald Avenue

(Access is from Lichfield St.)

Customers can have the use of Smart

Repairs' courtesy car while their vehicle is

being repaired. A free pick-up and delivery

service within Christchurch is also available

on request.

"We take pride in our work, and want to

ensure that our customers are happy with

the results," Maxine says.

"Getting you back on the road is our

focus."

EftPos and credit cards accepted. A 10

per cent discount is offered if you mention

this advertising feature.

Smart Repairs (NZ) Limited

are located at 272 Lichfield St.

Christchurch. Opening hours are

Monday to Friday 8am-4.30pm.

To enquire about vehicle repairs,

please call in or phone 377-0409.

European

Car Owners

NEW DIAGNOSTIC EQUIPMENT!

We can identify ANY electrical

fault & reduce repair work

with our NEW European Car

Specific Diagnostic Equipment

ROSES

AUTO ELECTRICAL

Enquiries welcome

CH 352 5090

PARKER

AUTOMOTIVE

■ All Automotive Repairs and

Servicing including 4WD

■ Suspension Brakes & Cambelts

■ WOF, Tyres, Batteries

■ Courtesy Car

55 Lincoln Rd, behind Caltex

(Cnr Lincoln & Torrens Rd)

Ph 03 982 4268

Mob 027 331 0382

Email: parkerauto@clear.net.nz

Receive a 10% discount when you

mention this advertising feature

A vonhead

utomotive

free

6 months roadside assist

with any vehicle servicing

• automatic transmission

flushing service

• Wof • tune-ups • suspension

• batteries • neW tyres • oil &

lube service • courtesy cars

• full mechanical repairs

oPen 6 days (sat until 1pm)

126 racecourse road

Ph 342 7123 or 027 495 6600

• W.O.F • Servicing

• Repairs • Batteries

• Auto Electrical • Tyres

• Clutch • Cambelt

• Diagnostic Equipment

YOUR LOCAL

AUTOMOTIVE SHOP

YOUR CENTRAL

CITY WORKSHOP

• new & quality

secondhand tyres

• alloy wheels

• replacement rims

• puncture repairs

WITH A MASSIVE RANGE OF TYRES IN STORE,

WHY NOT POP IN AND SEE US TODAY!

NeW LoCATIoN 95 Gasson St

The Automotive

Lamp Specialists

287 Hoon Hay Road

Christchurch

Open Mon-Fri

Ph. 982 0405

®

8c Birmingham Drive,

(Cnr Hands & Birmingham Drive)

Ph: 03 343 0099 Cell: 027 226 3805

Website: www.jcmdirect.co.nz

New and Used Lamps for Cars, Trucks,

Vans, 4WD and Motorhomes

95 Gasson Street, CHRISTCHURCH

PH 0800 225 483
---
18

Latest Christchurch news at www.star.kiwi

Tuesday March 13 2018

PEGASUS POST

Classifieds Contact us today Phone our local team 03 379 1100

Why go to the Dump? Junkman comes to you!

Items too big for the rubbish bin?

Or too heavy for you to move?

Junkman comes to FROM

you & takes it away $

65 *

Building Supplies

SHOWERLINERS

Installed to fit your tired

or old existing shower,

the perfect solution, ph

Lachlan for a free quote

383 1723 or 027 436 7067

Caravans, Motorhomes

& Traliers

CARAVAN Wanted to

buy. Up to $5000 cash

today 027 488-5284.

Community Events

ALCOHOLICS

ANONYMOUS, If you

want to have a drink thats

your business. If you want

to stop, we can help. Phone

0800 229-6757

*Prices vary depending on items and volume – minimum charge $65

Finance

NEED A

QUICK CASH

LOAN NOW?

We offer a range of personal Loans

and can provide cash quickly.

Loans from $500 to $20,000

Contact Karyn or Kris

0800 695 626

or 03 379 7798

www.alternatefinance.co.nz

Computers

Trades & Services

ALL

YOUR

COMPUTER

WORRIES SOLVED!

*$30.00 off your first

service with this coupon!*

No problem too big or

small from home PC's to

business networks. PC

slow? An end to Viruses,

Spyware, and Clogged

Systems. Safe secure

hassle-free computing.

Lost files recovered.

Microsoft Certified,

MCSE, MCP+l. 30 years

experience. Call Andrew

Buxton this week on 326-

6740 or 027 435-7596

for $30.00 off* Custom

Computers Christchurch

junk

0800 586 5626

www.junkman.co.nz office@junkman.co.nz

Entertainment

Weka Pass Railway

Waipara, North Canterbury

We are RUNNING

SUNDAY 18th MARCH

Running 1st and 3rd

Sunday of every month

Phone 0800wekapass

Depart Glenmark Station

11.30am & 2.00pm

www.wekapassrailway.co.nz

Gardening

& Supplies

A GARDEN OR

LANDSCAPING TIDY

UP? Shrub, hedge &

tree pruning, Lawns,

Gardening, consistently

reliable general property

upkeep, Dip. Hort. 10

yrs experience, One off

tidy ups or on-going

service. Nick's Property

Maintenance. Keeping

your garden beautiful.

Free Quote. Ph. 942-4440

LANDSCAPE GARDEN

PROFESSIONAL

Qualified Horticulturist,

offering expert, garden

makeovers, design and

landscaping, for free

quotes call Bryce 027 688-

8196 or 0508 242-733

Pets & Supplies

AFFORDABLE Dog

Grooming $46 small,

$52 med, experienced

and qualified groomer/

veterinary nurse,

Redwood, ph June 03 354-

6414 or 027 746-5295

Holiday

Accommodation

QUEENSLAND SUN-

SHINE COAST AUSTRA-

LIA Resort, Ocean Views,

Balconies, Self Contained,

1 or 2 B/R Ensuite,

Heated Pool, Spa, Sauna,

Free Internet, Shops,

Restaurants, Tennis, Surf

Club & Patrolled Beach,

Public Transport at door.

Ask for our SEASONAL

SPECIALS. Phone 61 7

544-35011 Email: reception@mandolin.com.au

www.mandolin.com.au

To Let

NEED MORE

SPACE?

WARMER THAN A CARAVAN

NO BOND

Ideal as an extra

bedroom or office

Three convenient sizes

from $70 p/w:

Standard 3.6m x 2.4m

Large 4.2m x 2.4m

Extra-large 4.8m x 2.4m

Visit our display cabins at

470 Cranford Street or call

0211277227 for a free brochure

www.justcabins.co.nz

To Let

HOMESITTERS reqd

Chch & surrounds.

Lovely homes / pets. Ph

Lisa 359-2323 www.

townandcountryhomesit.

co.nz

Trades & Services

FOR ALL YOUR

★Garden Clean-ups

★Pruning

★Lawn Mowing

★Garden Maintenance

Call us today for a FREE quote

PH 0800 4 546 546

(0800 4 JIMJIM)

HOUSE

CLEARING

Are you

moving house

or trying to

downsize?

Call All Clear

Canterbury. We work

with you to recycle,

sell and dispose of

unwanted items.

Ph: 03 260 0934

or 021 078 4553

raewynlcooke@gmail.com

www.allclearcanterbury.co.nz

Trades & Services

PLANT GROWERS

1934-2017

It's time to plant

your winter

vegetables and

spring flower

plants

We have all your garden

needs and invite your

inspection

Bettaplants

83 YEARS IN BUSINESS

27 Ottawa Road. Phone: 389-7855

Hours: 8.00am-5.30pm Mon to Fri, 8.00am-5.00pm Sat

Trades & Services

Lawns, Gardens

& Home Cleaning

9185885AA

Free Quotes

Professional, personalised

service. Regular &

one-offs. Fixed price.

Ph: 377-5814

For all your property and

cleaning requirements

Trained, insured & security

screened owner/operators

Multi-award winning

systems & Franchises

Franchises Available

www.fviphomeservices.co.nz

AAA HANDYMAN

licensed carpenter

LBP, all property and

building maintenance,

repairs, bathroom/shower

installations, with free

quotes 03 383 1927 or 027

245 5226 ciey@xtra.co.nz

BRICKLAYER

George Lockyer. Over

35 years bricklaying

experience. UK trained.

Licensed Building

Practitioner number

BP105608. Insurance

work. EQC repairs.

Heritage brickwork and

stonework a speciality. No

job too small. Governors

Bay. Home 329-9344,

Cell 027 684 4046, email

georgelockyer@xtra.co.nz

BUILDER

LICENSED, available for

all aspects of building.

Please call 027 241-7471

or 335-0265

Trades & Services

BUILDER

For all building work

but specialist in bathroom

renovations, 30 yrs

experience, with service

and integrity. Free Quotes.

Ph Lachlan 383-1723 or

0274 367-067.

CARPET & VINYL

LAYING Repairs,

uplifting, relaying,

restretching Email

jflattery@xtra.co.nz ph

0800 003 181 or 027

2407416

ELECTRICIAN

For electrical work, no job

to small, affordable, tidy &

experienced, HEATPUMP

servicing, & perfomance

test $70 + gst, ph or txt 027

432 9755 or 03 326 49922

INTERIOR PLASTER

& PAINT Your local

quality tradesman.20yrs

exp.No job too small or

big. Jared 021 02470034

PAINTER

Available, All aspects in

painting. Very competitive

in roofs and fences. Please

call 027 241-7471 or 335-

0265

PAINTING & DECORATING

Wingfields Contracting,

all interior & exterior

painting & all forms of

interior plastering & jib

fixing, ph Mark 021 171-

1586 or 355-5994

PAINTER

Quality work, I stand by

Canterbury Ph Wayne 03

385-4348 or 027 274 3541

PLUMBER ALF

THORPE PLUMBING

Certifying Plumber for

all types of plumbing,

maintenance, spouting,

alterations etc. Phone 352-

7402 or 0274-350-231

Trades & Services

ROOF REPAIRS

Locally owned & operated with

over 30 years experience.

• Extensions & repair • Roof coating

• Concrete & clay tiles • Butynol

• Malthoid • Asbestos Certified

• Coloursteel • Old iron • Guttering

Phone Dave 981 0278

or 021 223 4200

E: dave@beaumontroofing.co.nz

BEAUMONT ROOFING LTD

Trades & Services

SPOUTING CLEANING

Spouting Unblocked,

Cleaned Out and Flushed

Out. Also Full Handyman

Services Available. Call

Trevor 332 8949 or 021

043 2034

STONEMASON, BRICK

& BLOCKLAYER,

Earthquake Repairs, Grind

Out & Repoint, River/

Oamaru stone, Schist,

Volcanic Rock, Paving,

all Alterations new & old,

Quality Workmanship,

visit www.featureworks.

co.nz or ph 027 601-3145

UPHOLSTERER

Dining Chairs, Lounge

suites, Caravan Squabs

etc. recovered. Free

Quotes. Phone Graeme

383-1448

VHS VIDEO TAPES

& all camera tapes

converted to DVD, video

taping special occasions,

www.grahamsvideo.co.nz

ph 03 338-1655

WINDOW CLEANING

Average 3 bdrm house

inside or out $40. Both

$70. Phone Trevor 344-

2170

Wanted To Buy

AAA Buying goods

quality furniture,

Beds, Stoves, Washing

machines, Fridge Freezers.

Same day service. Selwyn

Dealers. Phone 980 5812

or 027 313 8156

TOOLS Garden,

garage, woodworking,

mechanical, engineering,

sawbenches, lathes, cash

buyer, ph 355-2045

Visit www.star.kiwi

anytime, anywhere!

Breaking news,

delivered to your pocket.

•news •CTV •sport •districts •schools •lifestyle •opinion •what's on

Fire rages, homes at risk

www.star.kiwi
---
PEGASUS POST Latest Christchurch news at www.star.kiwi

Tuesday March 13 2018 19

What's On

Entertainment

To advertise, contact

Jo Fuller 027 458 8590

jo.fuller@starmedia.kiwi

Students have done us proud!

From top le:

Dominic Wilson

(Burnside High)

CHOGM Representative;

Meg Roberts (Rang Ruru)

Senior Gold Award;

Joshua Persico (CBHS)

Junior Silver Award;

Bottom le:

Noah Cunningham

(St Patrick's Bryndwr)

Junior Silver Award;

Ruby Wilson-Moses

(Selwyn House)

Junior Bronze Award

'Famous for their roasts!'

RESTAURANT & CAFÉ

Kid's SPECIAL

Two courses

Seniors SPECIAL

Two courses

$10

We are family friendly. Great Kids menu plus designated play area.

Soup/Roast or

Roast/Dessert

Special available lunch only

Monday - Saturday 12pm - 2.30pm

$20

Start your

day with us

We are open from 6.30am

Cooked

breakfasts

$18

Check out our extensive

breakfast menu from

Continental to Cooked

The

RACECOURSE HOTEL

& Motorlodge

118 Racecourse Rd, Sockburn,

Christchurch. Ph 03 342 7150

www.racecoursehotel.co.nz

CANTERBURY students have done extremely

well in the Queen's Commonwealth Essay

Competition judged in London with Meg

Roberts (Rangi Ruru) gaining senior gold;

slilver awards going to Noah Cunningham (St

Patricks Bryndwr) and Joshua Persico (CBHS);

and Ruby Wilson-Moses (Selwyn House)

gaining a junior bronze award.

With 12,300 entries from throughout the

Commonwealth and just 4% awarded gold,

9% silver and 13% bronze, Canterbury

students have done us proud.

e winners were acknowledged at the

Canterbury Branch of the Royal

Commonwealth Society at the Russley Golf

Club on Sunday evening with the Guest

Speaker, Sandra Manderson QSM, presenting

the certificates and cash rewards.

SERVING

HAPPY HOUR

5PM - 7PM DAILY

is year's competition is now open with

entries needing to reach London by 1st June

and is open to under 19 year olds. Last year's

theme was 'A Commonwealth for Peace' with

this year's theme 'Towards a Common Future'.

Entry details are on www.rcscanty.co.nz

together with the 2017 winning essays.

Another Commonwealth opportunity for

youth happens each year in August when

students from all over New Zealand gather in

Wellington for a Model Commonwealth

Summit where the students represent a

Commonwealth country and debate issues

from that country's point of view. Dominic

Wilson from Burnside High spoke about his

experience. e Canterbury branch offers a

grant to help with expenses towards this with

details on www.rcscanty.co.nz

EVENTS COMING UP...

Irish

Fare

added

to the

Dinner

Buffet

SATURDAY

17TH MARCH 2018

Available only on

Saturday 17th March 2018

DINNER SESSION ONLY.

NORMAL PRICE APPLIES

OUR CABINET ITEMS

ARE HOMEMADE

CREATED FRESH ON SITE DAILY

$12

LUNCH

SPECIALS

Say o I doo Say o II do

COFFEE

HAPPY

H O U R

ON OUR

Love on the Lawn

SEE US AT THE WEDDING SHOW

FOR EXCLUSIVE SHOW DAY DEALS

SUNDAY 25th MARCH | 10am-3pm

WIGRAM AIR FORCE MUSEUM

Lunch & Dinner : All you can eat, 7 days

Bookings Essential PH 386 0088

fb.com/GardenHotelRestaurant www.gardenhotel.co.nz

2PM-4PM

DAILY

$3.50

Offer available for a limited time

and includes tea, hot chocolate

MON: ROAST MEAL

TUE: FISH & CHIPS

WED: FISH BURGER

THU: ROAST MEAL

SAT: FISH & CHIPS

AVAILABLE

FROM

11.30AM-2PM

FOR A

LIMITED TIME

LIVE MUSIC 6PM SATURDAY:

VINTAGE BLUE

PHONE 385 8880 FIND US ON FACEBOOK fb.com/GBCCHCH

THE GARDEN HOTEL COMPLEX | 110 MARSHLAND RD

www.gardenhotel.co.nz | phone 385 3132

What's On

TUESDAYS & THURSDAYS

MEMBERS LUCKY CARD DRAW

Saturday 17th March

ST PADDY'S DAY

DJ KRONIK from 3pm - 6.45pm

PRIZES FOR BEST DRESSED - LUCKY SEAT NUMBERS

Highlanders v Crusaders 7.35pm

DOWNSTAIRS

CLUB BISTRO

Open Tuesday to Saturday

from 12pm - 2pm & from 5pm.

DINE BY THE SEA!

UPSTAIRS

Pierview Restaurant

Open from 5.30pm Friday, Saturday

and Sunday, and for

Sunday Brunch from 10.30am to 2pm.

SORRY, PIERVIEW IS FULLY BOOKED

This Saturday 17 March 2018.

SUNDAY 25th MARCH, from 5.30pm

SUNDAY NIGHT BUFFET

$25pp BOOK NOW!

202 Marine Pde | Ph 388 9416 | www.newbrightonclub.co.nz | Members, guests & affiliates welcome

H ORNBY

WORKINGMEN'S

CLUB

PLAYING

THIS WEEKEND

March

16 & 17

St Patrick's

Weekend

Music to jig to

Friday : Robbie 'Mc' Drew

Saturday : Norm Bland

followed by Boru

Cans of Guinness &

Jameson RTD

Irish Specials in the

Club Cafe

PLANNING A FUNCTION?

We have rooms available

for any occasion.

Call us today, 349 9026

FAMILY FRIENDLY DINING

Club CAFE

OPEN DAILY

LUNCH & DINNER

GF & V options available

Dine and

WIN

A

DOUBLE

PASS

TO SEE

Chalmers Restaurant

CARVERY DINNER $22.50

EVERY FRIDAY & SATURDAY FROM 5.30PM

Early Bird Special

5.30pm - 6.30PM

LIONEL

RICHIE

SUNDAY 15 APRIL 2018

ENTER WHEN YOU DINE IN THE CLUB CAFE

& CHALMERS RESTAURANT.

Conditions Apply.

FREE

DESSERT

Family Friendly

SUNDAY NIGHT BUFFET $27

EVERY SUNDAY FROM 5PM-8PM

PERFECT FOR SPECIAL OCCASIONS & FAMILY EVENTS!

The Hornby Club | ph 03 349 9026 | 17 Carmen Rd | Hornby

www.hornbywmc.co.nz | Members, guests & affiliates welcome
---
20 Tuesday March 13 2018

Latest Christchurch news at www.star.kiwi

PEGASUS POST

Have you been declined

treatment by the DHB ?

The Canterbury Charity Hospital

may be able to treat you at no cost.

Our current services are:

• Gynaecology and women's health

• Rectal bleeding clinic

• Colonoscopy (acute and screening)

• Cataracts

• Orthopaedics (upper and lower limb)

• General surgery (abdominal, rectal)

• Oral surgery and dentistry (* conditions apply)

• Counselling (by self referral)

To be treated by the Charity Hospital you must:

• Have been turned down in writing for treatment by the CDHB

• Not have medical insurance

• Not be able to afford the treatment privately (means tested)

• Have a referral from your doctor

* All dentistry and oral surgery patients need a dentist's referral.

Dentistry is available for WINZ clients only, whilst oral surgery may

be available if you fit the above criteria.

Why are the Charity Hospital's services at no cost to the patient?

More than 280 unpaid volunteer surgeons, nurses, dentists and support staff generously

donate their time for free. The Charity Hospital does not receive any Government funding.

Volunteers are always welcome. If you are a surgeon, nurse or technician,

volunteer forms are on our website at www.charityhospital.org.nz

or email reception@charityhospital.org.nz

To donate to the charity please visit our website at www.charityhospital.org.nz.

Your next step...

get a referral from your doctor or dentist - please don't contact the hospital directly.

For more information:

www.charityhospital.org.nz
---
ARE YOU UP FOR IT?

Sunday March 18

Under 10's free

Enter now at Pak'NSave | New World | The Athlete's Foot

or online at city2surf.co.nz

A Star Media Event
---
You choose your distance: 14km, 9am start or 6km, 10am start

ENTRY

ENTRY

76

OPAWA

74

Colombo Street

SPREYDON

76

74A

Ferry Road

Wilsons Road

H 2 0

6KM START

Hansens

Park

H 2 0

Grange Street

Barrington Street

14KM START

FERRYMEAD

Centennial

Park

CASHMERE

Port Hills Road

76

FINISH

Ferrymead

Playing

Fields

H 2 0

H 2 0

Water

Toilets

74

Hawford Rd

Pioneer Stadium

6km

Site

Map

P

P

ENTRY

Butler St

HANSEN

PARK

Les Mills

Warm Up

STAGE

Aynsley Tce

6km

runners

Grange St

ENTRY

CENTENNIAL

PARK

Lyttelton Street

14km

Site Map

First Aid

Free Sunscreen

STAGE

Les Mills

Warm Up

P

WALKERS

JOGGERS

RUNNERS

Participants

assemble

here

START

14km runners

Heathcote River

STAGE

START

First Aid

Free Sunscreen

Toilets

Clothing Drop Off

8.30-10am

Late Registrations

8.30am-10am

9am-10am Les Mills

Warm Up & Entertainment

Start Line. 10am start

6km Runners

14km Runners

P

Participants

assemble here

WALKERS

JOGGERS

RUNNERS

Rose Street

START

Cashmere View

STAGE

START

Toilets

Clothing Drop Off

Late Registrations

7am-9am

8am-9am Les Mills warm

up & entertainment

Start Line, 9am start

PROUD

SPONSOR

OF THE
---
Transport

PARK AT

MCCORMACKS BAY

• Buses to startline from 7.15am

• Last bus to 14km at 8.15am for 9am start

• Last bus to 6km at 9.30am for 10am start

• Buses only stop at start line drop offs

PARK AT EITHER

START LINE

• Post event bus runs from Ferrymead

finish to 14km and 6km starting point

• Buses run from 10am

• Buses only stop at start lines

FREE SHUTTLE

• Free Shuttle will be running between

Ferrymead Playing Fields (finish line) and

McCormacks Bay (free parking).

• No ticket needed.

• Runs from 7:30am-9:00am, 10:00am-1pm

Need to know

Online Order

• Selected collect? Bring your e-ticket confirmation

to Smiths City Colombo street on Friday 16

March between 11-5pm Or Saturday 17 March

between 9-5pm.

Selected courier? You will receive your entry

shortly. Cut off day for courier is March 1.

• The 14km starts at 9am at Centennial Park,

Pioneer Stadium. The Sport Canterbury 6km starts

10am at Hansens Park, Opawa.

• Warm up with our Christchurch Les Mills fitness team,

and enjoy pre event entertainment.

• At the finish line grab your free Pump Water or

Powerade

• Enjoy free children's entertainment and our live band.

• Look out for our social media squad. See your

photo on The Star City2Surf Facebook Page.

• Prize giving starts at mid-day.

Look the part

Star Media

Star Media

Available in 3 different colours

T-Shirt $35 Singlet $30

Children's T-shirt $30

Christchurch 2018

Available now at The Athlete's Foot

Riccarton, Northlands and on event day

Pre-Run bus route

McCormacks Bay - 14km-6km

Post-run bus route

Ferrymead - 6km - 14km

76

WOOLSTON

74A

FREE shuttle bus

McCormacks Bay - Finish Line -

McCormacks Bay (No ticket needed)

14 KM

START

Centennial & DROP

Park OFF

SPREYDON

Barrington Street

CASHMERE

Colombo Street

Wilsons Road

OPAWA 6 KM

DROP OFF

76

Hansens 6 KM

START Park

Grange Street

74A

Port Hills Road

76

74

Ferry Road

FERRYMEAD

INFO

FINISH

LINE

MOUNT

PLEASANT

FREE

PARKING

INFO

MCCORMACKS

BAY

BUS TICKETS

$6

BUY NOW AT

CITY2SURF.CO.NZ

74

Proud to support

Child

Prize

Corporate

Prize

School

Prize

Family

Prize

Spot

Prizes

Sunday

18th

March
---
March 18 $25

Enter now at Pak'NSave | New World | The Athlete's Foot | or online at city2surf.co.nz

Be in to win return flights

for two to London on

Singapore Airlines

Prize announced at mid-day Sunday 18 March 2018

at The Star City2Surf. You must be wearing your

registration sticker to be eligible.

1

SINGAPORE AIRLINES

BRAND GUIDELINES

SUMMARY

Proudly supported by: