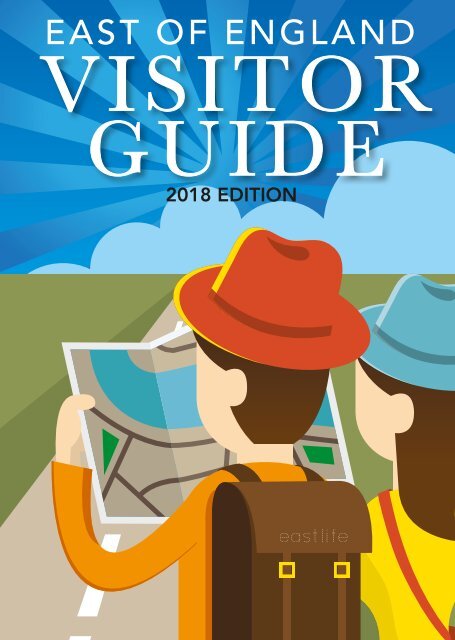 East of England Visitor Guide 2018
With its coastal and country landscapes, market towns and villages, and many family attractions and events, East Anglia is the perfect destination for a holiday, short break or day out. In this guide we cover how to make the most of a trip.
With its coastal and country landscapes, market towns and villages, and many family attractions and events, East Anglia is the perfect destination for a holiday, short break or day out. In this guide we cover how to make the most of a trip.
SHOW MORE
SHOW LESS
You also want an ePaper? Increase the reach of your titles
YUMPU automatically turns print PDFs into web optimized ePapers that Google loves.
EAST OF ENGLAND

2018 EDITION

eastlife
---
Enjoy

a day of

Discovery

Rare Breeds

Pets' Paddock

Heritage Museum

Tractor-Trailer Rides

Café & Gift Shop

All-Weather Play Area

and much more...

A great

day out

for the whole

family!

Just 20 minutes from Woodbridge and 35 minutes from Ipswich

Group visits welcome. Please contact info@suffolkpunchtrust.org

For our opening times and full visitor information visit

www.suffolkpunchtrust.org or call 01394 411327

The Suffolk Punch Trust, Woodbridge Walk, Hollesley, IP12 3JR

01394 411327 | info@suffolkpunchtrust.org | Registered Charity Number 1100596
---
VISIT EAST

ANGLIA

2018

8-11 BEDFORDSHIRE

CONTENTS

With its coastal and country

landscapes, market towns and

villages, and many family attractions

and events, East Anglia is the perfect

destination for a holiday, short break

or day out. In this guide we cover

how to make the most of a trip to this

beautiful region...

13-39 CAMBRIDGESHIRE

40-57 ESSEX

8

59-73 HERTFORDSHIRE

75-121 NORFOLK

123-162 SUFFOLK

20

FACEBOOK /eastlifemag

TWITTER @eastmagazines

INSTAGRAM @eastlifemag

WEBSITE www.eastlife.co.uk

47

Please be aware that information and contact

details may have changed since publication in

March 2018.

For more information or to advertise in the next

edition, please contact one of the sales team: Darren

Marshall (07826 628680); Stewart Hedges

(07595 894557); Jim Leishman (01954 267635).

Editor: Emma Kemsley emma@eastlife.co.uk

81

Visit East Anglia Guide 2018 is published by Thompson Media

Partners Ltd. All rights reserved. Reproduction, in part or

in whole, without the written permission of the publisher is

strictly prohibited. The views expressed by contributors are not

necessarily those of the publisher. All times, prices, information

and dates were correct at the time of going to press but readers

are advised to ring and check before setting out. Printed by

Buxton Press.

131

eastlife.co.uk 3
---
THE REGION'S PREMIER VALUE

RETAIL & LEISURE DESTINATION

MAJOR LEISURE DEVELOPMENTS FOR 2018

Up to 75% OFF RRP at over 50 stores

springfieldsshopping.co.uk
---
VISIT BRITAIN'S BIGGEST

BEER SHOP

Plus

WINE & SPIRIT WAREHOUSE

YOU DON'T HAVE TO

TRAVEL THE GLOBE TO

ENJOY WORLD BEERS.

It is just a short haul to

BEERS of EUROPE

Over 4000 different UK Ales, World Beers, Malt Whiskies, Unusual Spirits,

Fine Wines, Miniatures, Homebrew Equipment and Branded Glassware.

OPEN: MON - SAT 9AM - 6PM SUN & BANK HOLIDAYS 10AM - 4PM

Garage Lane, Setchey, King's Lynn, Norfolk PE33 0BE

Tel: 01553 812000 • Fax: 01553 813419

Email: sales@beersofeurope.co.uk

or visit our online store:

www.beersofeurope.co.uk

www.youtube.com, search for "Beers of Europe"
---
One Destination

Three One Unique Destination

Experiences

Three Unique Experiences

Monday - Saturday 9am - 6pm, Sundays and Bank Holidays 10am - 4pm

Monday - Saturday 9am - 6pm, Sundays and Bank Holidays 10am - 4pm

Simply the Biggest

range Simply of the Beer Biggest

& Spirits

range of of in Beer the & UK Spirits

in in the UK

East Anglia's

15,000 sq. ft. of

Largest East Anglia's

Selection of Antiques 15,000 & sq. Collectables

ft. of of

Largest Steiff Bears Selection & Animals

of

Antiques on & one Collectables

level

Steiff Bears & Animals

on one level

Not Just Beer,

Not Not

Just Just

Beer, Europe.

Beer,

Not Just Europe.

Not With Just Over Europe. 5000

With Over 5000

Interesting, With Over 5000 Rare &

Interesting, Rare Interesting, Unusual Rare &

Unusual

Beers, Unusual Wines & Spirits

Beers, Wines Spirits

Beers, From Around Wines & The Spirits World

From Around The World

From Around The World

Other Traditional Items Available

Other Traditional Items Available

Other Traditional Classic Items Available Metal Pedal

Classic Cars Metal & Ride Pedal On's

Classic Metal Pedal

Cars & Ride On's

Cars Wooden & Ride On's Toys

Wooden Toys

Wooden Toys

Puzzles & Games

Puzzles & Games

Puzzles & Games

Over 100 stands &

Over Over 100 100 stands cabinets stands &

cabinets

cabinets

Full disabled

Full disabled

access Full disabled & toilets

access

access &

toilets

toilets

ample free parking

ample free parking

ample free parking

Beers of Europe Ltd, Garage Lane, Setchey, King's Lynn, Norfolk, PE33 0BE

Beers of Europe Ltd, Garage Lane, Setchey, King's Lynn, Norfolk, PE33 0BE

Beers of

The

Europe The Steiff

Steiff

Ltd, Shop

Shop

Garage and

and The

Lane, The Warehouse

Warehouse

Setchey,

Antiques

King's Antiques Lynn, &

& Collectables

Norfolk, Collectables PE33 0BE

The Steiff Shop are located next to Beers of Europe

are

and

located

The

next

Warehouse

to Beers

Antiques

of Europe

& Collectables

are located Telephone:

Telephone: next 01553 to 01553 Beers 812000

812000 of Europe

Telephone: 01553 812000
---
AMPTHILL

Take a trip to Ampthill, a small town and

civil parish located between Bedford and

Luton. It's best known for its regular market,

which has taken place every Thursday for

centuries.

The town has several lively pubs, a wide

variety of restaurants, and a selection of

small independent specialist shops and

businesses.

A trip to English Heritage's Wrest Park is

highly recommended (www.english-heritage.

org.uk/visit/places/wrest-park/). It features

over 90-acres of historic landscapes and a

French-style mansion. Stroll in the gardens

and enjoy miles of reinstated historic pathways

as you discover the garden buildings.

Zip along to the children's play area, take

tea in the café and explore the hidden

treasures in the archaeological stores.

The annual Ampthill Festival takes place

every summer. This year's event takes place

29 June to 1 July 2018; featuring AmpRocks,

Ampthill Park Proms, Gala Day. The Ampthill

Literary Festival takes place 28 April.

BEDFORD

Bedford is a town steeped in history so why

not spend the day discovering some of the

delights? You can start in the town centre

where St Paul's Church stands, dating back

to the 13th century (www.stpaulschurchbed

ford.org.uk). The BBC broadcast services in

secret from one of its chapels during the

war, which you can learn more about at the

Higgins Bedford Museum

(www.thehigginsbedford.org.uk).

The town centre has its fair share of

shopping opportunities. The town's weekly

charter, gourmet and home and garden

markets are great for picking up local

goods, while The Arcade boasts a number of

independent retailers and the Harpur Centre

has 30 stores trading over two levels.

The Embankment is a pedestrian walk,

about a mile long, following the banks of the

River Ouse through the town and bordered

by a tree-lined public park. The gardens

are very pretty and provide a pleasant way

to view many of the main sites of the town

including the Butterfly Bridge. The town's

War Memorial, designed by notable sculptor

Charles Sergeant Jagger, is also located

in these gardens and is well worth a look.

At the end of your walk the larger-than-life

mock-tudor Embankment pub is there for

refreshments.

8 Download Our App Today!
---
LEIGHTON BUZZARD

The town which lies between Luton and

Milton Keynes, contains a great deal of

history within its borders. Leighton Buzzard

has many old buildings, each with its own

story to tell, which together make for an

interesting visit. With many attractions, lovely

restaurants and shopping available it's a

great place to explore.

It is well known for its beautiful parks and

gardens, including Stockgrove Country Park;

a 40-acre park situated just outside the town

at Heath and Reach. With a lake, woodland

walks, and picnic area, this park is the

perfect place to go for a relaxing day off.

The Grand Union canal runs from London

to Birmingham, and passes right through

Leighton Buzzard. For a calming feel, take a

walk along the towpath in either direction.

Canal cruises can be booked in advance,

and canal boats can be booked from Grebe

Canal Cruises.

The main market is located on the High

Street. It takes place every Tuesday and

Saturday with a Farmers' Market visiting on

the third Saturday of every month. On the

first Saturday of every month, the council

run pop up markets in support of people of

all ages starting up in business.

WOBURN

Home to Woburn Abbey, a Safari Park, Go

Ape and the popular family resort Centre

Parcs, it's clear to see why Woburn has

established itself as a major tourist

attraction of the East.

Woburn Abbey is a must visit. Dating back

to 1145, it was originally a religious house

for a group of Cistercian monks. Located on

the Woburn Estate, visitors can explore 22

rooms within Woburn Abbey and over 28

acres of award-winning Humphry Repton

inspired gardens, all set within 3,000 acres

of deer park.

Woburn Safari Park is an action packed day

out for all the family. From the Road Safari

where you can go round as many times as

you like to the Foot Safari where you can

mingle with the animals and grab lunch

before watching the keeper demonstrations.

It's also home to Go Ape, a thrilling tree top

adventure.

USEFUL CONTACTS

www.ampthill.info

www.bedford.gov.uk

www.lovebedford.co.uk

www.bedpop.co.uk

www.leightonbuzzardmarket.co.uk

www.woburnvillage.co.uk

www.woburnabbey.co.uk

Give taste buds a treat at one of the many

tea shops and cafes. Check out The Duchess

Tearoom at Woburn Abbey or Woburn

Coffee House on the Market Place for

afternoon tea. For a dinner you won't

forget in a hurry book a table at the stylish

Woburn Brasserie on Bedford Street or at

the Michelin-starred Paris House.

During the summer months visit the outdoor

swimming pool. Woburn also has a monthly

Farmers' Market on the third Sunday of the

month organised by the Village Traders.

eastlife.co.uk 9
---
Look up,

look down,

look around!

Registered Charity No 307534

Shuttleworth is home to the Collection of historic aircraft, vintage vehicles

and motorcycles, a period House and a 19th-Century Swiss Garden

Old Warden Aerodrome, Nr Biggleswade, Beds SG18 9EP • 01767 627927

Whether you've come to explore the Swiss Garden, look around The Collection, or simply to

enjoy our on-site restaurant and gift shop, Shuttleworth is always an interesting day out. Parking

is free and there's a Play Area for children that is disabled friendly. Events run throughout the

year, and group visits for Afternoon Tea in The House can be combined with Swiss Garden

tours and/or entry to The Collection. Finding us is easy - we are just off the A1 at Biggleswade!

Scan the QR code to

watch a short Swiss

Garden video

www.shuttleworth.org

Scan the QR code

to watch a short

Collection video

East of England Tourist Guides 2018 HP.indd 1 06/12/2017 11:33:01
---
WHAT'S ON?

10 Mar - 23 Sept

Celebrating Women of Bedfordshire

The Higgins Bedford, Castle Lane, Bedford,

MK40 3XD

www.thehigginsbedford.org.uk

8 Apr, 13 May, 10 Jun, 8 Jul, 12 Aug, 14 Oct,

11 Nov & 9 Dec

Woburn Antiques And Collectors Fair

Woburn Village Hall, Crawley Road

10-Apr Ramp 'n' Roll

Harpur Square, Bedford

28-Apr Ampthill LitFest 2018

Ampthill Parkside Hall, Woburn Road,

Ampthill, MK45 2HX

www.ampthillfestival.co.uk/literary

13-May Made in Bedford Artisan Fair

Bedford Corn Exchange, St Pauls Square,

Bedford MK40 1SL

www.bedfordcornexchange.co.uk

20 May, 8 Jul & 16 Sept

Bedford Flea

St Pauls Square, Bedford MK40 1SQ

www.facebook.com/BedfordFlea

3-Jun Big Lunch Food Festival

Town Centre, Leighton Buzzrd

www.leightonlinslade-tc.gov.uk/your-town/

events

16-Jun Taste Bedford

The Embankment, Bedford, MK40

www.bedpop.co.uk/bedpop-presents-taste

23-24 Jun Woburn Abbey Garden Show

Woburn Abbey Gardens, MK17 9WA

www.woburnabbey.co.uk/events

28-Jun Linslade Canal Festival

Tidenfoot Waterside Park, Mentmore Rd,

Leighton Buzzard LU7 2AE

www.leightonlinslade-tc.gov.uk/canal-festival

30-Jun AmpRocks

Ampthill Great Park

www.ampthillfestival.co.uk/amprocks

5-Aug Proms in Bedford Park

Bedford Park, No 98 Kimbolton Rd, Bedford

MK40 2PF

www.bedfordparkconcerts.co.uk

13-15 Aug Afternoon Tea with speaker

Gillian Perry MBE

Woburn The Sculpture Gallery, MK17 9WA

www.sculpturegallerywoburn.co.uk

Map courtesy of Bedfordshire Archive and

Records Office

eastlife.co.uk 11
---
Coach House,

Thornham, 5 Bed

The Gables,

Thornham, 4 Bed

Lavender Barn,

Holme-next-the-Sea, 5 Bed

Hope Cottage,

Holme-next-the-Sea, 1 Bed

The Old Smithy,

Holme-next-the-sea, 1 Bed

The Beach Hut

Available for hire to Guests

staying in any of the Ocean

Breaks Norfolk properties.

LUXURY HOLIDAY LETTINGS

w: oceanbreaks.com | m: 07515 063572 | t: 01733 200908 | Search: Ocean Breaks
---
GARDENS

OF CAMBRIDGE

When you want to escape the city, head

to one of the many beautiful green spaces

Cambridge has to offer.

A stone's throw from the city centre, Jesus

Green is a beautiful stretch of parkland

bordering the River Cam and the nearby

Jesus College. Complete with an openair

swimming pool, skate park and tennis

courts, it's the perfect place for a leisurely

stroll at any time of year.

Any first-time visitor to Cambridge should

take a walk along the 'Backs' of the riverside

colleges. To really get into the Cambridge

spirit, hire a bike from one of the city's

rental outlets and freewheel your way

around. Back in the city centre, the University

Botanic Garden is a 40-acre oasis of beautifully

landscaped grounds and glasshouses

that is home to a huge diversity of plants,

trees and bird life. The Garden offers all-year

interest and seasonal inspiration and has a

number of trails available.

You don't have to stray far from the city to

find a wealth of natural beauty and stunning

gardens to enjoy. The nearby village of

Grantchester is a fantastic destination for a

short walk.

Cambridge Botanic Garden

Pool; credit Visit England,

Iain Lewis.

Much-loved by generations of Cambridge

families is Wandlebury Country Park – some

45 ha of tranquil woods and chalk grassland.

West of the city on the edge of Coton

village is The Countryside Reserve; a working

farm, offering some 120ha of pasture

and agricultural land with diverse wildlife

habitats, routes for walkers, cyclists, joggers

and more. Both areas are owned and cared

for by charity Cambridge Past, Present &

Future.

eastlife.co.uk 13
---
STEP

BACK IN TIME

Cambridge has profoundly helped to shape

the modern world, and there is a real sense

of living history almost everywhere you look

- as you might expect from a city whose

University has produced 15 former British

Prime Ministers and 87 affiliates of the

University who have won the Nobel Prize

(more than any other single institution).

History and environment are inseparable

in Cambridge, from the descendant of the

tree outside Trinity College that inspired Sir

Isaac Newton to devise his theory of

gravitation to The Eagle pub where Crick

and Watson sketched out the structure of

DNA on a napkin.

The University of Cambridge is home to 31

autonomous colleges. Each has its own

distinctive atmosphere and rich history

to soak up and enjoy - from the medieval

Peterhouse to the 20th century Churchill

College.

No trip would be complete without gazing

upon the majestic King's College Chapel

- the picture postcard symbol of the city

and its University that is known around the

world. The Great Court at Trinity College,

founded by the infamous Henry VIII, offers a

scene that has remained virtually

unchanged for centuries.

The most idyllic way to see the city has to

be by drifting slowly down the River Cam

on a punt - a flat-bottomed boat steered

and powered by a pole. Once on board, see

history pass before your eyes as you take in

'The Backs' of the Colleges and glide under

the famous Bridge of Sighs (St John's

College) or the Mathematical Bridge

(Queens' College).

Not forgetting Corpus Christi College,

founded by members of the Town Guilds

of Corpus Christi and the Blessed Virgin

Mary, the College houses a collection of

Anglo-Saxon manuscripts.

Old Court is the finest surviving early

medieval court in Cambridge and famous

members have included the dramatist

Christopher Marlowe.

To satisfy your thirst for culture, Cambridge

has everything from paintings by Titian

and Picasso through to World War II fighter

planes, to fossils dating back 550 million

years. Its museums house some of the most

fascinating and diverse collections in the

world - and best of all, most are free to enter.

14 Download Our App Today!
---
King's Parade; credit: Visit England, Iain Lewis
---
Farmland Museum

& Denny Abbey

A FASCINATING PLACE TO VISIT FOR ALL AGES

A family friendly museum celebrating farming & village life

in a beautiful rural setting. Explore the remains

of a 12th century Abbey.

Visit website for admission prices & details of all events.

Picnic & play area. Gift Shop. Tearoom open weekends, bank

holidays & family activity afternoons. Hot drinks available daily.

Free Parking. Well behaved dogs on leads welcome.

Reg. Charity

No. 289555

OPEN DAILY

BETWEEN 1 April until 28 October 2018.

Tuesday – Sunday 11am – 5pm

and Bank Holiday

Mondays – 11am – 5pm

The Farmland Museum & Denny Abbey, Ely Road, Waterbeach, Cambridgeshire CB25 9PQ

Tel: 01223 860988 Email: info@farmlandmuseum.org.uk

www.farmlandmuseum.org.uk

Keep up to date by

following us on

Open Gardens

2018

Old Moulsham

Sunday 3rd June

Danbury

Sunday 10th June

Great Notley

Sunday 17th June

Little Waltham

Sunday 24th June

Mill End, Bradwell-on-Sea Sunday 1st July

Galleywood

Sunday 8th July

Witham

Sunday 8th July

Enjoy an unforgettable day of colour and fragrance in

beautiful Essex gardens, opening to the public through the

summer in support of Farleigh Hospice. For more information

or to book your ticket, please call 01245 457411 or visit

www.farleighhospice.org/gardens

It is because you care that we can

www.farleighhospice.org

Registered charity no 284670

adc theatre

corpus playroom

The ADC Theatre is

the liveliest theatre in

Cambridge. We have

helped to launch the

careers of many theatre

luminaries including Sir

Ian McKellen,

Emma Thompson

and Stephen Fry.

Photo Credit:

Evelina Gumileva

view our full season at adctheatre.com
---
ARTS & MUSEUMS

There are exhibits to excite and inspire

visitors of all ages and interests. The

Fitzwilliam collection includes antiquities,

applied arts, illuminated manuscripts, and

paintings by Constable, Hogarth, and

Gainsborough. Gaze upon a masterpiece by

Rubens in King's College Chapel, visit

Concorde at The Imperial War Museum

Duxford, take a trip to the North and South

Poles at the Scott Polar Research Institute,

and still have time to see the specimens

Darwin gathered on his famous trip on the

Beagle at the Museum of Zoology.

The world-famous Fitzwilliam Museum has

been described as 'the finest small museum

in Europe' and is an essential stop on any

cultural itinerary of Cambridge. The diverse

collection includes antiquities from ancient

Egypt, Rome and Greece and illuminated

manuscripts.

For something completely different, try

Kettle's Yard - formerly the home of Jim Ede,

a curator at the Tate Gallery, London, whose

private art collection has been preserved

and opened to the public in this beautiful

house, alongside his furniture and

household objects. Just next door is the

Kettle's Yard Gallery of Contemporary Art,

and just around the corner is the Cambridge

and County Folk Museum.

Further afield, visitors to Cambridge are

also spoilt for choice with beautiful

stately homes such as Anglesey Abbey

and Wimpole Hall and just 15 miles north of

Cambridge is Ely, Britain's second smallest

city and home to an awe-inspiring cathedral

dating back nearly 1,000 years.

www.visitcambridge.org

Image credit: Visit Cambridge

eastlife.co.uk 17
---
FOOD &

DRINK

With a tantalising array of independent

eateries, including a two-star Michelin

restaurant, Cambridge is a haven for

anyone who just wants a good bite to eat

and is an ideal destination for the more

discerning restaurant connoisseur.

If you are looking for a quiet lunch

overlooking the River Cam, an

excellent gastro 'pub-grub' or wish to

dine al fresco, there is plenty of choice

to serve your needs. The city has an

assortment of tea rooms offering a tempting

range of cakes and treats and the cafés and

brasseries provide a welcome break from

shopping and sightseeing.

As well as the usual chain restaurants

Cambridge boasts a diverse mix of

independent restaurants. Meat lovers

should try The Pint Shop on Peas Hill,

which serves up chargrilled meat dishes,

real ales and a great selection of gin.

For rustic Italian snacks visit Aromi. The

popular establishment now has three

restaurants in the city. Or for dinner with

a view, book a table at SIX, at the Varisty

Hotel, where you can enjoy great food and

panoramic views of the city.

If you want to experience the best of the

Cambridge food scene book onto the

Cambridge Food Tour. A number of tours

are available to help you taste first-hand

some of Cambridge's finest food.

If you would rather just get away from it

all, the surrounding villages are home to

country pubs serving quality foods

and sumptuous real ales.
---
SHOPPING IN CAMBRIDGE

Cambridge is fortunate to have an exciting

and brilliant mix of independent shops that

should not be missed, often hidden away

down beautiful winding lanes and side

streets. The 'Hidden Gems' of the city are

well worth exploring to find style and individuality

in an attractive historic setting.

Down by the beautiful and undulating River

Cam you'll find a mix of specialist shops,

bars and restaurants scattered around the

Quayside area.

Between 10am-4pm opposite the Guildhall,

every Monday to Saturday, you'll find the

famous and historic market boasting a wide

array of stalls. These offer everything from

fruit and vegetables to clothes and gifts.

The Market Square changes character on

Sunday as it hosts the weekly Arts, Craft

and Local Produce Market. Again, trading

between 10am-4pm, this popular market is a

showpiece for some of the region's most

talented artists, craftspeople, photographers

and esteemed farmers.

Also not to be missed is the All Saints Garden

Art and Craft Market, held every Saturday, in

a beautiful garden just across the road from

Trinity College. This market has earned itself

a justified reputation for quality handmade

products at affordable prices.

Cambridge also offers a number of exciting

shopping areas in and around the city

centre. These include: The Grand Arcade,

with over 60 shops, including a five-storey

John Lewis Store; Lion Yard, a vibrant and

cosmopolitan mix of high street names in

the heart of the city centre; Christ's Lane

with numerous trendy stores; and the

Grafton Centre, which features well-known

brands, restaurants and a cinema. Rose

Crescent offers a combination of independent

retailers and brands such as Molton Brown

and there is also a selection of food outlets.

Green Street and Sussex Street hosts

a collection of independent shops and

boutiques. For more on Cambridge's

independent stores visit

www.independent-cambridge.co.uk

Mill Road is renowned for its diverse

range of restaurants and food shops,

and hosts regular events throughout

the year.

With independent boutiques, open-air

markets and household brands,

Cambridge has everything you could

need for an unforgettable city

shopping break.

eastlife.co.uk 19
---
CAMBRIDGE

ATTRACTIONS

ADC Theatre

The oldest University playhouse. Its resident

company is Cambridge University

Amateur Dramatic Club (CUADC) whose

alumni include Sir Derek Jacobi, Griff Rhys

Jones and Stephen Fry. Park Street,

01223 300085. www.adctheatre.com

Anglia Ruskin University Mumford Theatre

Here you can enjoy an arts programme

which includes a free series of Friday

lunchtime concerts, the on-campus Mumford

Theatre and Ruskin Gallery, and concerts

and productions in the City. East Road, 01223

352932. tickets.mumfordtheatre.anglia.ac.uk

Arts Picturehouse

Three-screen cinema showing a wide range

of films spanning art-house, independent,

classic, documentary and world cinema, as

well as Hollywood blockbusters.

38-39 St Andrew's Street, 0871 9025720.

www.picturehouses.com

The Backs

The Cambridge Backs is a stretch of

reclaimed land, which runs along the

back of the riverside colleges. It provides

stunning views throughout the year, and

is covered with a blanket of daffodils and

crocuses during the spring.

Queen's Road. 01223 457000

Cambridge American Military Cemetery

The hallowed grounds on which are buried

or commemorated 8,939 men and women

of the American Armed Forces who lost their

lives in Britain during the Second World

War. Visitors can learn more with its many

displays and exhibitions. Coton,

01954 210350. www.abmc.gov/cemeteries-me

morials/europe/cambridge-american-cemetery

Cambridge Arts Theatre

A 666-seat theatre that attracts some of the

highest-quality touring productions in the

country, as well as many shows direct from,

or prior to, seasons in the West End. Its

annual Christmas pantomime is an

established tradition in the City. 6 St

Edward's Passage, 01223 503333

www.cambridgeartstheatre.com

Cambridge Bike Tours

Cover the city, more of the river and get

off the beaten track on an antique British

bike. Your eccentric guide takes you round

the city and out into the countryside at a

leisurely pace to really soak up the

atmosphere. 07902 118100

www.cambridgebiketours.co.uk

Cambridge Chauffeur Punts

Chauffeured punting, self hire punting,

guided river tours, weddings, conferences,

hen parties, school groups and exclusive

chauffeured punts with a Thai meal,

strawberries and Champagne or

entertainment. Silver Street, 01223 354164

www.punting-in-cambridge.co.uk

Cambridge Corn Exchange

Situated within the heart of the city,

Cambridge Corn Exchange is Cambridge's

biggest venue for music, comedy, shows and

entertainment playing host to around 280

different events every year.

Wheeler Street, 01223 357851

www.cambridgelivetrust.co.uk/cornex

Cambridge & County Folk Museum

Discover the real story of Cambridge and

its people through this fascinating Museum

of Cambridge life. Housed in a 17th century

timber framed building which was the

White Horse Inn for more than 300 years,

this family-friendly museum displays a

wealth of Cambridge tradition and history.

The museum hosts a number of temporary

exhibitions and events throughout the year

and offers regular family and children's

activities and trails. Castle Street, 01223

355159. www.museumofcambridge.org.uk

20 Download Our App Today!
---
Cambridge Leisure Park

Cambridge Leisure is home to a nine-screen

Cineworld cinema, 28-lane Tenpin bowling,

the Cambridge Junction, gym, café, wide

range of restaurants and bars. There is also

a large Travel Lodge hotel. Clifton Road.

www.cambridgeleisure.co.uk

Cambridge Museum of Technology

Based in the original sewage pumping

station the Museum exists to preserve and

exhibit material that is relevant to the

Cambridge area, either by its use or its

invention. Cheddars Lane. 01223 500652.

www.museumoftechnology.com

Cambridge University Botanic Garden

John Stevens Henslow, professor of Botany,

founded the Botanic Garden which develops

and displays over 8,000 different plant

species in 40 acres of beautiful landscaped

gardens, with many fascinating features

including a lake, glasshouses, winter garden,

rock gardens, and a superb collection of

mature trees. The garden holds nine

national collections, including Geranium and

Fritillaria. Bateman Street, 01223 336265

www.botanic.cam.ac.uk

Cambridge University Library

The University Library is a copyright library,

which holds over seven million books and

periodicals, and a million maps. The library

has an exhibition centre in which members

of the public can enjoy the riches of its

collection. Exhibitions run throughout the

year. West Road, 01223 333000.

www.lib.cam.ac.uk

Cambridge University Press Bookshop

The Cambridge University Press Bookshop

is located on the oldest bookshop site in

England. Books have been sold here since

1581. 1 Trinity Street, 01223 333333.

www.cambridge.org/about-us/visit-bookshop

Christ's College

Founded by Lady Margaret Beaufort, whose

coat of arms and statue grace the

gatehouse. This was the college of the

famous poet John Milton and Charles

Darwin was a student here between 1828 &

1831. St Andrew's Street, 01223 334900.

www.christs.cam.ac.uk

Christ's Pieces

The council purchased Christ's Pieces in

1886 from Jesus College; it covers 10 acres

and is one of the most important formal

parks in the city. Centrally located, it is

visited daily by thousands of shoppers as a

thoroughfare between the city centre and

the Grafton Centre. The seasonal display

beds are extremely colourful both during

winter and summer. Emmanuel Road, 01223

457000. www.cambridge.gov.uk/christs-pieces

Church of the Holy Sepulchre

The architecturally stunning round church

is Cambridge's second oldest building.

The Church of the Holy Sepulchre is one of

only four round churches in England. It is

based on the Church of the Resurrection,

which was consecrated in Jerusalem in 335.

Cambridge's Norman round church was built

in 1130. Regular guided walks on Monday,

Saturday and Sunday. Bridge Street,

www.christianheritage.org.uk

Clare College

The second oldest college in Cambridge,

with the oldest surviving river bridge. The

old court is built in the renaissance style

and could easily be mistaken for a palace.

Former students include Hugh Latimer, the

Protestant reformer who was burnt at the

stake by Mary Tudor. Trinity Lane,

01223 333200. www.clare.cam.ac.uk

Corpus Christi

Corpus Christi contains the finest surviving

medieval court in Cambridge. The college

is also home to the impressive Grasshopper

Clock. King's Parade, 01223 338000.

www.corpus.cam.ac.uk

eastlife.co.uk 21
---
Emmanuel College

The college chapel was designed by Sir

Christopher Wren, and completed in 1674. It

contains a plaque to John Harvard, a former

student of Emmanuel. St Andrew's Street

01223 334200. www.emma.cam.ac.uk

Fitzwilliam Museum

The Fitzwilliam museum is one of Britain's

earliest public museums. The present

collections contain: European paintings

ranging from the 14th Century to the

present day; Egyptian, Greek and Roman

antiquities; and the applied arts of

Western Europe and Asia including

sculpture, ceramics, furniture, coins and

medals. A wide range of temporary

exhibitions are also on offer, as well as an

annually-changing display of contemporary

sculpture in the Museum's grounds.

Trumpington Street, 01223 332900.

www.fitzmuseum.cam.ac.uk

Grasshopper Clock

The fabulously terrifying "Grasshopper

Clock" on the corner of Corpus' Taylor

Library is a must-see for any Cambridge

visitor. Unveiled to the public in September

2008, this extraordinary feat of new

technology now stands proudly facing onto

King's Parade; its shining, 24-carat gold dial

and gruesome time-keeper is a dazzling

addition to the historic city centre. Corpus

Christi College (view from corner of King's

Parade and Benet Street).

www.corpus.cam.ac.uk

Great St Mary's Church

Great St Mary's is the university church. Its

tower was completed in 1608 and provides

excellent panoramic views of the city and

and University Colleges. Market Square,

01223 747273. www.gsm.cam.ac.uk

Jesus College

Founded by John Alcock, Bishop of Ely, on

the site of a 12th century nunnery in 1496.

The college has spacious grounds and

pretty 16th century cloister court. Former

students include Thomas Cranmer the first

Protestant Archbishop of Canterbury, and

Prince Edward, the youngest son of Queen

Elizabeth II. Jesus Lane, 01223 339339.

www.jesus.cam.ac.uk

Jesus Green

This riverside park is the perfect venue

to relax, picnic, walk, or play sport. Jesus

Green's outdoor swimming pool is situated

in idyllic surroundings and close to the river.

There are floral displays and an Avenue of

London Planes, planted in 1890, which

dominates the central walkway.

Chesterton Road, 01223 457000.

www.cambridge.gov.uk/jesus-green

The Junction

One of the most diverse cultural venues in

the UK, presenting 100s of performances

each year, The Junction has three

performance spaces that cover clubs,

comedy, dance, live music, theatre and

events for young people. Clifton Road,

01223 511511. www.junction.co.uk

Kettle's Yard

A fine collection of modern art in a unique

and beautiful domestic setting and a gallery

showing regular exhibitions. Castle Street,

01223 748100. www.kettlesyard.co.uk

King's College

The Chapel is the grandest and most

beautiful building in Cambridge and ranks

amongst the most important examples of

perpendicular (late gothic) architecture.

Visit the College grounds and Chapel and

attend choral services in the Chapel.

King's Parade, 01223 331212.

www.kings.cam.ac.uk

New Hall Art Collection

A permanent collection of contemporary

art by women artists. With more than 350

artworks it is the largest and most

significant collection of art by women in

Europe. Murray Edwards College,

01223 762295. www-art.newhall.cam.ac.uk

22 Download Our App Today!
---
Parker's Piece

Parkers Piece is one of Cambridge's most

significant open spaces. It was named after

Edward Parker, a cook who leased the land

from Trinity College in Cambridge. Its

greatest claim to fame is that it was where

basic football association rules were formed.

It was in 1863 that these 'Cambridge Rules'

became the defining influence on football

association rules, many of which still apply

to this day. Parkside, 01223 457000.

www.cambridge.gov.uk/parkers-piece

Pembroke College

The third oldest Cambridge College,

founded by a French lady, Marie St Pol de

Valence, the widowed Countess of Pembroke.

The chapel was the first completed

work of Sir Christopher Wren. Delightful

gardens. Trumpington Street, 01223 338100.

www.pem.cam.ac.uk

Peterhouse

Hugh de Balsham, Bishop of Ely, founded

Peterhouse, the first Cambridge College,

in 1284. The Hall, which is the oldest in any

Cambridge College, has work by William

Morris, Burne Jones and Madox Browne.

Former students include Charles Babbage,

the inventor of the early mechanical computer,

and Sir Frank Whittle, who invented

the jet engine. Peterhouse was the first

Cambridge College to introduce electricity.

Trumpington Street, 01223 338200.

www.pet.cam.ac.uk

Queens' College

Queens' College is home to the famous

wooden Mathematical Bridge. Silver Street,

01223 335511. www.queens.cam.ac.uk

Riverboat Georgina

Enjoy a luxury river cruise along the Cam.

Public trips are available throughout the

year. Also available for private charter.

01223 929124

www.riverboatgeorginacambridge.co.uk

St John's College

The annual Cambridge and Oxford boat

race began in 1829, when St John's College

challenged Oxford. St John's Street,

01223 338600. www.joh.cam.ac.uk

Scott Polar Research Institute

Learn about the expeditions of Captain

Scott, and other polar explorers. Lensfield

Road, 01223 336540. www.spri.cam.ac.uk

Scudamore's Punting Co

The largest selection of boats in Cambridge

with a choice of both chauffeured punt tours

and self-hire craft. Mill Lane & Quayside,

01223 359750. www.scudamores.com

Sedgwick Museum of Earth Sciences

The museum houses a spectacular collection

of fossil animals and plants of all

geological ages from all over the world.

Downing Street, 01223 333456.

www.sedgwickmuseum.org

Sidney Sussex College

Sidney Sussex was the college of Oliver

Cromwell, the great Lord Protector who was

born in the nearby town of Huntingdon, and

came up to Cambridge to study in 1616.

Cromwell's skull was buried in the college

ante-chapel in 1960. Sidney Street,

01223 338800. www.sid.cam.ac.uk

Trinity College

The wealthiest college founded by Henry

VIII towards the end of his life. Trinity is the

college of Sir Isaac Newton, who had rooms

between the chapel and gatehouse in the

17th century. Here you can see an apple tree,

a descendant of Newton's tree in

Lincolnshire, which inspired his work on

gravity. The college library was designed by

Christopher Wren and completed by 1690.

Trinity Street, 01223 338400.

www.trin.cam.ac.uk

eastlife.co.uk 23
---
Come and experience one of the

wonders of the Medieval World

• Daily Ground Floor & Tower Tours

• Restaurant, Café & Gift Shops

• Stained Glass Museum

• Monastic Buildings & Gardens

• Specialist Exhibitions & Events

• Major Film & TV Location

(The King's Speech, The Crown)

• Beautiful Riverside & Shops

Open Daily from 7am

01353 660349

www.elycathedral.org

Have you visited the

Centre for Computing History

in Cambridge?

Explore electronics, coding and control

systems, revive your passion for retro

gaming, discover the people and stories

that laid the foundation for our

digital age & so much more.

Interactive Workshops, Talks &

Hands-on Experiences in a digital

playground for all ages.

For our full programme visit:

www.ComputingHistory.org.uk
---
ELY

Ely has a beautiful waterside, seen best in the

summer months, when you can enjoy a boat

trip or a riverside walk. As well as an art gallery

and the region's largest antique centre,

the riverside is home to a variety of eateries.

With the city centre only a two-minute walk

away, your trip can be completed with a visit to

one or more of the key visitor attractions such

as the impressive Cathedral or Oliver

Cromwell's House. Not forgetting a visit to the

many quaint and traditional shops selling a

variety of unusual gifts to remember your visit by.

Your first port of call will no doubt be the

medieval Cathedral. It is easy to see why it is

Ely's top tourist attraction. Wander around this

magnificent building famous for its octagon

tower or take advantage of having a more

informative experience with a guided tour.

Tours also include optional visits to the

octagon and west towers where the

spectacular views make it well worth the climb.

Whilst in the Cathedral, don't miss the chance

of visiting the Stained Glass Museum, housed

in the South Triforium. Regular tours and

events are held throughout the year so you

can get a better understanding of the history.

Before leaving the city centre, take the time

to visit Ely Museum. Discover the story of Ely

from prehistoric times to the 20th century set

in the city's former gaol.

Oliver Cromwell's House is one of the only

remaining homes of Cromwell's with the

exception of Hampton Court Palace in

London. The house has been transformed to

give you an insight into 17th century life. It

hosts a range of fun 'hands on' activities for

the whole family. The house also doubles as a

tourist information centre.

Ely's Waterside is a hotspot for visitors

wishing to relax and enjoy afternoon tea

or to take a boat trip. Stop off at one of the

traditional tea rooms or restaurants or take a

trip along the Great River Ouse on board the

Liberty Belle, Ely's Fenland Cruiser (Easter to

October) and enjoy the live commentary.

For those with an interest in retail therapy or

those looking for something a little different,

the area offers an extensive range and mix

of traditional and contemporary gift, craft

and antique shops along with a variety of

art galleries. For those who love a bargain,

Ely holds three different markets including

an award-winning Farmers' Market on the

second and fourth Saturday of every month,

a regular General Market and Saturday Craft

and Collectables Market.

The city's heritage public art Eel Trail is an

excellent way of seeing the historic city at its

best. This circular walk, self-guided by brass

waymarkers set in the ground, takes you past

the oldest parts of Ely and down to the

beautiful riverside.

eastlife.co.uk 25
---
FOREST HEATH

Forest Heath has a wonderful variety of

landscapes to explore, from the chalk

downlands of Newmarket, through to the

rich agricultural fenlands in the west and

the sandy brecklands in the north with its

large lowland forest.

The largest town in the district, Newmarket,

is the international home of horseracing

and attracts visitors from all over the world.

While they may initially come to Newmarket

for the racing, they discover that

Newmarket has much to offer both new and

returning visitors.

With magnificent buildings, wonderful

views and an excellent location (with historic

Cambridge and Ely on the doorstep), it is

the perfect place to explore this region.

Brandon, the gateway to the Brecks, has

a long and fascinating history. Brandon

Country Park boasts 30 acres of space to

enjoy, including a delightful walled garden,

forest walks, picnic area and visitor centre.

Mountain biking is very popular in this area

and there are trails both in the country park

and High Lodge Forest Centre just a short

distance down the road.

rebuilt in the 15th century, yet retains many

features dating back to the 12th and 13th

centuries.

The parish of Mildenhall is one of the

largest in Suffolk and the town boasts a

rich history remembered in the Mildenhall

Museum. Here, you can see a replica of the

Mildenhall treasure and learn about the

great Mildenhall to Melbourne air race. RAF

Mildenhall and RAF Lakenheath are still

operational as part of the United States Air

Force.

As well as the three market towns, Forest

Heath has 22 villages. Scattered around the

outskirts of the towns, and linking the three

main centres together, the villages are well

worth visiting and many have local pubs

and shops for you to visit.

As you pass through each you will

experience the changing landscapes

around you; fen, heath, chalk and downlands,

from the flat, panoramic views over

dark peat fields, to rolling countryside, and

woodland areas covered in wildflowers -

you will discover magical, isolated places,

known only to a lucky few.

St Mary's Church and the Market Pump sit

in the heart of Mildenhall. The church was

For more information visit the tourism

pages at www.forest-heath.gov.uk

26 Download Our App Today!
---
HUNTINGDON

Huntingdonshire is centred around the

beautiful River Great Ouse and has

fascinating historic market towns to explore.

The five towns of Huntingdon, Godmanchester

(pictured above), Ramsey, St Ives and St

Neots have long and wonderful histories.

Huntingdon, Godmanchester, St Ives and St

Neots nestle on the banks of the River Great

Ouse, while Ramsey is in a glorious setting

on the edge of the fens, offering the visitor a

warm welcome.

Huntingdonshire also has a wealth of stunning

villages tucked away down country

lanes, with charming stone buildings and

tranquil waterside settings.

Kimbolton is one of the larger villages in

the area, with its historic High Street and

medieval castle which was the final home

of Queen Katherine of Aragon, wife of King

Henry VIII.

Retrace the steps of more famous people.

Oliver Cromwell, Lord Protector of England,

was born and educated in Huntingdon. His

former grammar school is now a museum

recording his life. He was also a tenant

farmer in St Ives where his statue still stands.

Visit the wealth of other heritage attractions.

There's Elton Hall with its beautiful

gardens and Gothic orangery, and the 18th

century mansion of Island Hall in Godmanchester,

with its serene riverside setting. The

Manor in Hemingford Grey, on which the

Green Knowe children's books were based,

is one of the oldest continuously inhabited

houses in the country, and Houghton Mill, the

last working water mill on the River Great

Ouse, is also well worth a visit.

Huntingdonshire is also lucky to have a wide

range of wildlife sites, from the large and

rambling parks of Hinchingbrooke, Paxton

Pits and Grafham Water to the meadows of

Portholme, Houghton and Upwood.

eastlife.co.uk 27
---
01353 861677

info@swanontheriver.co.uk

www.swanontheriver.co.uk

Five rooms overlooking the river Great Ouse

Pub

Dining

Rooms

Sleep in your en-suite riverside room, wake

to morning coffee on your own balcony,

overlooking the river

1 Sandhill

Littleport

Ely

Cambs CB6 1NT

Littleport sits on the Norfolk, Suffolk and

Cambridge borders, centrally placed for

exploring East Anglia, in particular

Cambridge, Ely, Newmarket, Kings Lynn and

Bury St Edmunds

- all accessible from the village rail station

which is on the direct line from London

Kings Cross.
---
S3295 OHH East of England Tourist Guide.qxp_Layout 1 19/02/2018 20:56 Page 1

Beautiful hotel and spa in the cathedral city of Peterborough

Accommodation with

leisure facilities

Traditional on-site pub

with carvery

Afternoon Teas,

Light Lunches

The Village, Orton Longueville, Peterborough, Cambridgeshire PE2 7DN

Tel: 01733 391111 Email: reception@ortonhall.co.uk

www.ortonhall.co.uk

THE ULTIMATE

FAMILY DAY OUT

Come and see our collection of over

180 Birds of Prey with 3 daily flying

displays. Visit the Reptile House and

listen to Keeper talks on Meerkats,

snakes and spiders. Also on site Mad

about Owls Gift Shop, Silent Wings

Tearoom, Bobb-N-Sew, St Ives Photos.

1 CHILD FREE

with this advert.

Must be accompanied

by a paying adult.

1 per family

Valid until 30/9/18.

To find out more about our upcoming events,

Animal Experiences please visit our website

Tel: 01487 741140

http://raptorfoundation.org.uk/

Charity number 1042085

/rapfound
---
Offering an exciting mix of culture,

countryside and city attractions,

Peterborough is in its prime.

PETERBOROUGH

You can enjoy lazy afternoons among acres

of rolling countryside and miles of

waterways or full days out visiting

Peterborough's museums, stately homes

and varied visitor attractions.

By night, the city really comes to life with

theatre productions at the Key Theatre,

greyhound racing, scores of bars and

restaurants. After a successful shop, take

time out to rest your feet at one of the

many cafés. During the summer months,

dine al fresco so you can soak up the

atmosphere while relaxing with a drink and

a bite to eat.

Peterborough Cathedral is situated in

beautiful surroundings in the heart of the

cosmopolitan city centre. As well as still

operating as a thriving Christian Church,

today the cathedral offers a wide array of

activity including an interactive exhibition,

fascinating historic and Cathedral tower

tours, an exciting mix of arts and crafts

based events, and a popular coffee shop.

Only a few minutes from the city centre is

the glorious Nene Park. Stretching out for

over six miles along the River Nene, this is

the perfect spot for picnics, bird watching,

walking, cycling, riding, sailing and golf.

Annual events include a Dragon Boat Race,

Beer Festival and the famous Burghley

Horse Trials. Don't miss the arts and cultural

festivities in Peterborough and the surrounding

smaller towns and villages. There

is the Peterborough Festival, the Green

Festival and a host of arts, music and drama

events throughout the year. During 2018

Peterborough will be celebrating the 900th

anniversary of its iconic cathedral with over

100 events. Find out more at

www.peterboroughcelebrates.org.uk
---
SOUTH CAMBS

Set in 350 square miles of fantastic cycling

and walking countryside, the district of

South Cambridgeshire offers the perfect

opportunity to relax and explore.

With its historic monuments, houses and

museums set in the tranquil and rural

landscape of rolling chalk hills covered with

beech woods and flat fertile land, South

Cambridgeshire provides a great location for

everyone, from the lively and adventurous

to those who want to unwind and get away

from it all.

Eight miles south west of Cambridge,

Wimpole Hall and Home Farm is

Cambridgeshire's largest stately home

with 18th century gardens designed by

the famous historical gardener Lancelot

'Capability' Brown. As well as its impressive

grounds, Wimpole Hall is also home to a

working farm where visitors can take part

in a variety of activities such as grooming

donkeys and ponies, collecting eggs and

experiencing the wide range of pigs, sheep

and cattle that live there.

The Imperial War Museum Duxford

(www.iwm.org.uk/visits/iwm-duxford)

is Europe's premier aviation museum,

offering visitors an array of the finest

historic aircraft in seven acres of exhibition

space. The summer months see the skies

come alive with dramatic air displays.

Take in a winery tour at Chilford Hall's working

vineyard, lying in 18 acres of rural countryside.

East Anglia is one of England's main

wine-producing regions and the district

boasts a number of vineyards, benefiting

from long hours of sunshine and low rainfall.

Not far from Chilford Hall, the award-winning

Linton Zoo offers children and adults

alike a wealth of rare and exotic creatures,

while Shepreth Wildlife Park, just 8.7 miles

south of Cambridge, houses a famous collection

of wild and domestic animals.

Travel north to Grantchester with its idyllic

water meadows and The Orchard Tea

Gardens, made famous by poet Rupert

Brooke.

A warm welcome is awaiting at the many

hotels and guesthouses which are ideal

bases from which to enjoy all that the

region has to offer.

eastlife.co.uk 31
---
ST.IVES

The historic riverside market town on the River

Great Ouse is a wonderful place to visit. For

over 900 years St Ives has been attracting

visitors to its traditional fairs and markets.

The 600-year-old stone bridge with its

chapel built in midstream is one of only three

such buildings in the whole of the country.

The statue of Oliver Cromwell in the market

place recalls the time when the future Lord

Protector lived here before rising to power.

Nowadays a few stone walls are all that remain

of St Ives Priory, built on the spot where

the bones of the mysterious St Ivo were

unearthed by a ploughman in the year 1001.

The parish church of All Saints stands in a

tranquil churchyard on the riverbank. The

church is 15th-century but its interior is a

feast of colourful Victorian decoration by the

famous architect Ninian Comper. The spire is

even more recent than that, built to replace

the original steeple destroyed by an aircraft

in a tragic accident during World War I.

St Ives has many elegant houses of the 18th

century, when the town was rebuilt after a

disastrous fire. From the 19th century come

the remarkable New Bridges, the longest

brick viaduct in the country when they were

built in 1822. Close beside them is the seven-storey

Old Mill, originally a corn mill but

in the 1970s the place where Clive Sinclair

invented the world's first pocket calculator.

St Ives specialises in its hospitality and the

streets are thronged with teashops and cafés,

pubs, hotels and restaurants. All set in the

lovely riverside scenery of the Great Ouse

valley, where you can cruise the waterway in

a narrowboat, explore the countryside on foot

or by bike.
---
ST.

NEOTS

The attractive market town of St Neots is

home to many listed buildings, and much of

the town is a designated conservation area.

No visit to the town is complete without

taking time to enjoy the river, and the

Riverside Park and restaurant. The

meandering River Great Ouse, with its huge

weeping willows is a great draw for visitors.

The park offers several places to enjoy a

picnic and there are pleasant walks across

the parks' many bridges.

St Neots still retains its character as a country

market town and the Market Square is one of

the largest and most ancient of its kind in the

country, dating back to the 12th century.

A market has been held upon this square

every Thursday since its foundation.

In the centre of the square is the Day Column,

which was erected in 1822 by John Day, a

local brewer. At one time during the 19th

Century, it dispensed medicinal water

piped from the local spa.

Visitors can explore the history of St Neots on

foot, taking either a guided or a self-guided

tour of the town. Alternatively, visit the town's

Museum. Housed in the former magistrates'

court/police station it tells the story of St

Neots from prehistoric times to the present

day.

There is a wealth of wildlife to enjoy all year

round, and a network of marked paths.

During May there are large numbers of

nightingales, and many species of orchid

can be found in the meadows.

eastlife.co.uk 33
---
Fenland is a beautiful landscape formed by

nature and shaped by people over more

than 6,000 years. It consists of four historic

market towns and a wealth of stunning rural

villages situated in the peaceful countryside

with more than 200 miles of rivers and

drains. The four main towns of Chatteris,

March, Whittlesey and Wisbech all have

charm and interesting histories to discover.

CHATTERIS

Chatteris would have been a seaside

town in Neolithic times, it perched on the

edge of a vast tract of salt marshes, with

the sea just to the east. Today, there is

not a bucket and spade in sight - in fact

this busy little town is 50 miles from the

nearest beach.

The town we see today grew around the

abbey of St Mary from around 1010. A

market place formed in front of the abbey

and streets evolved to connect to the

other settlements in the Fens. Although

there is little sign of the abbey remaining,

Chatteris is still well connected and is an

ideal base for touring the Fens and south

Cambridgeshire.

MARCH

March was once an island surrounded by

marshes. As the land was drained and

made more fertile the town grew and

prospered. Today the town is a pretty

market town, offering all the delights you

would expect to find in a place such as

this. The River Nene winds its way through

THE

FENS

the town centre, past the park and pretty

riverside gardens.

The river is often busy with colourful boats

cruising the Fenland waterways. The

town is a popular stopping-off point for

boaters with free moorings in the town

centre, close to shops and places to eat.

The town centre has the unusual Broad

Street lined with shops and headed by

an elaborate fountain which was erected

to commemorate the coronation of King

George V.

There is a good variety of shops, from

well-known high street names to small

independent stores. A number of specialist

markets are held throughout the year.

including the Italian, French and Christmas

markets.

34 Download Our App Today!
---
WHITTLESEY

Whittlesey sits on the very western edge

of the Fens, close to the cathedral city of

Peterborough. The town has an interesting

maze of streets with a mix of architecture

spanning several centuries.

The Buttercross in the Market Place is

one of the most striking buildings and a

reminder of Whittlesey's rich trading and

agricultural history. The market is in town

every Friday.

Whittlesey has two churches, both close to

the town centre. The Church of St Mary is

famous for its glorious spire supported on

elegant flying buttresses from the massive

tower below.

WISBECH

Wisbech the Capital of the Fens, is the

perfect place for a day out or a break

to get away from it all. There is plenty

of accommodation choice, from historic

town centre hotels to attractive B&B's in

rural settings and charming self catering

cottages.

It's renowned for its elegant Georgian

architecture. Stroll along the Brinks or

round the Crescent to see some fine

Georgian houses. Then visit Peckover

House on North Brink, now in the care of

the National Trust and open to visitors

from spring to autumn three or four

afternoons a week.

A little further along North Brink is a

completely different example of Georgian

architecture. Wisbech has two museums;

the Wisbech and Fenland in the Crescent

and Octavia Hill's Birthplace House on

South Brink. Wisbech also has one of the

oldest surviving Georgian Theatres in the

country, The Angles.

eastlife.co.uk 35
---
BED & BREAKFAST

BED & BREAKFAST

BED & BREAKFAST BED & BREAKFAST

01832 273220

01832 273220

10 en-suite bedrooms in converted farm buildings in Bar

10 en-suite bedrooms

10 en-suite

in converted

bedrooms in

BARNWELL farm

converted

buildings in B

farm buildings in Barnwell

01832

01832 273220 near Oundle 273220 01832 273220

BARNWELL enquiries@lower-farm.co.uk

BARNWELL near Oundle

10 en-suite 10 en-suite bedrooms bedrooms 10 in converted en-suite enquiries@lowerfarm.co.uk

in bedrooms converted buildings in converted in buildings Barnwell farm buildings in Barn i

www.lower-farm.co.uk

near Oundle

enquiries@lower-farm.co.uk

BARNWELL BARNWELL BARNWELL

near Oundle near Oundle

www.lower-farm.co.uk

near Oundle

enquiries@lower-farm.co.uk

£505

enquiries@lower-farm.co.uk

enquiries@lower-farm.co.uk

www.lower-farm.co.uk www.lower-farm.co.uk

www.lower-farm.co.uk

ROUND CHURCH

VISITOR CENTRE

CAMBRIDGE

Begins Here

VISITOR CENTRE:

Monday - Saturday 10am - 5pm;

Sunday 1:30pm - 5pm

Discover The Cambridge

Story: Exhibition & Film

Daily guided walks of Cambridge University:

Monday - Saturday at 2:15pm; Sunday at 2:30pm

Advance group bookings also welcome

Find us on Bridge Street, opposite St John's College

www.roundchurchcambridge.org 01223 311602
---
WHAT'S ON?

13-15 Apr Cambridge Literary

Festival

Various venues in Cambridge

www.cambridgeliteraryfestival.com

4-7 May Ely Eel Festival

Ely City Centre, Jubilee Gardens & Palace

Green

www.elyeelfestival.co.uk

5-6 May QIPCO Guineas Festival

Newmarket Racecourse

newmarket.thejockeyclub.co.uk

6-May Duxford Spring Car Show

IWM Duxford, CB22 4QR

www.iwm.org.uk/visits/iwm-duxford

18 May - 22 Sep The Cambridge Roar

Various venues in Cambridge

www.thecambridgeroar.co.uk/home/events

21-26 May 45th Cambridge Beer Festival

Jesus Green, Cambridge

www.cambridgebeerfestival.com

2-Jun Strawberry Fair!

Midsummer Common

strawberry-fair.org.uk

3-Jun Cambridgeshire County Show

Wimpole Home Farm, SG8 0BW

www.cambscountyshow.co.uk

9-10 Jun Cambridge Town & Country Fair

Cambridge

www.oakleighfairs.co.uk

9-Jun Peterborough Dragon Boat Racing

Peterborough Rowing Club, Thorpe Meadows

dragonboatfestivals.co.uk

17-Jun Picnic in the Park

Warners Park, St Ives

stivesfest.org.uk

22-Jun Paloma Faith - Newmarket Nights

July Course, Newmarket

newmarket.thejockeyclub.co.uk

23-24 Jun The Cambridgeshire Food &

Drink Festival

East of England Showground, Oundle Road,

Alwalton, Peterborough PE2 6XE

www.cambridgeshirefoodanddrinkfestival.co.uk

1-Jul Ely Aquafest

The riverside, Lavender Green, Jubilee Gardens

and the Maltings Green

www.elyaquafest.org.uk

13-15 Jul The Big Weekend

Parker's Piece, Cambridge

www.cambridgelivetrust.co.uk

13-15 Jul Ely Folk Festival

Ely City Centre

www.elyfolkfestival.co.uk

14-Jul Paxfest & Fun Dog Show

Little Paxton Village Hall, PE19 6EY

www.little-paxton.cambs.info

21-Jul Ferry Meadows Celebrates Culture

(part of Peterborough Celebrates)

Ferry Meadows

neneparktrust.org.uk

2-5 Aug Cambridge Folk Festival

Cherry Hinton Hall

www.cambridgelivetrust.co.uk/folk-festival

24-25 Aug The Gin and Rum Festival

Cathedral Church of St Peter,

Peterborough

25-27 Aug Festival of Water

River Ouse, Riverside Park, St Neots

www.waterways.org.uk

19-21 Oct Octoberfest

The Embankment, Peterborough

28-20 Sept Cambridge Art Fair

Quy Mill Hotel, Cambridge

www.cambridgeartfair.com

4-Nov Fireworks & Bonfire Night

Midsummer Common

www.cambridgelivetrust.co.uk

1-2 Dec ArtFest

St Ives Corn Exchange

stivesfest.org.uk

eastlife.co.uk 37
---
USEFUL CONTACTS

Cambridge TIC

The Guildhall,

Peas Hill

01223 791500

visitcambridge.org

Ely TIC

Oliver Cromwell's

House, 29 St Mary's

Street

01353 662062

visitely.org.uk

Wisbech TIC

4 Post Office Lane

01945 464058

Peterborough TIC

9 Bridge Street

01733 452336

Huntingdon District

Council

01480 388388

huntingdonshire.

gov.uk

Peterborough City

Council

01733 747474

peterborough.gov.uk

Fenland District

Council

01354 654321

www.fenland.gov.uk

Cambridge

Park & Ride

0345 045 5213

cambridgeparkan

dride.info

East

Cambridgeshire

District Council

01353 665555

eastcambs.gov.uk

Forest Heath

District Council

01638 719000

forest-heath.gov.uk

South

Cambridgeshire

District Council

0345 045 0500

scambs.gov.uk

USEFUL WEBSITES

visitcambridge.org

visitely.eastcambs.

gov.uk

visitpeterborough.

com

www.eastlife.co.uk

www.cambridgelive

trust.co.uk

www.cam.ac.uk

visitstneots.co.uk

ourstives.com

eastlife.co.uk 39
---
BRAINTREE

The town of Braintree is famed for its

Freeport Shopping Village, however there's

so much more to be discovered. Venture into

the great outdoors and explore the town's

gentle rolling countryside, which has been

home to some less than gentle crusaders,

famous explorers, ground breaking scientists,

the American air force and world-changing

industrialists over the years.

Here you'll find miles of stunning scenery,

wonderful walks, cycling routes and golf.

Braintree Golf Club is currently ranked 9th

place in the top 100 golf courses in Essex.

You'll find fascinating exhibitions at the

Braintree District Museum, which change

regularly so there's always something new

to learn and discover. Interesting talks and

workshops on local history and creative

crafts take place throughout the year.

The hub of modern entertainment is of

course, Braintree Freeport. The popular

retail outlet features over 85 stores offering

up to 60 per cent off designer brands –

definitely a place to visit for the shopaholics

among you. The area is also home to a

cinema and a selection of restaurants.

Antiques are a local speciality and you'll find

offerings at Bocking Antiques Centre and

Finchingfield Antiques Centre, and nearby

Gosfield Shopping Village. If you are after

something more unusual, the specialist

shops of Braintree, Coggeshall, Halstead and

Witham are all within easy reach.
---
CHELMSFORD

Home to one of the UK's biggest summer

festivals, shopping centres and glorious

parks, Chelmsford has established itself as

one of the most popular places in Essex.

The city has grown immensely over the last

few years with modern property developments

and improvements to the town centre

including the Bond Street Shopping Area,

which makes a pleasant addition to the

retail scene. It's home to a number of high

street stores, a cinema and John Lewis' first

Essex-based store.

Hylands House is a stunning Grade II listed

property, spectacularly restored to its former

glory and situated in 574 acres of historic

landscaped parkland. With events and shows

on all year round, it is the perfect day out for

all the family. www.hylandsestate.co.uk

Chelmsford Museum is set in a lovely Victorian

house in Oaklands Park. There are temporary

exhibitions and family activities such

as interactive displays and dressing up, along

with special events and open days such as

the Wildlife Fun Day. Check out

www.chelmsford.gov.uk/museums

Chelmsford is home to three theatres; The

Civic Theatre, Cramphorn Theatre and Old

Court Theatre. All offer a diverse range of

performances throughout the year. Keep

up-to-date with the latest productions at

www.chelmsford.gov.uk/theatres

Chelmsford bars and restaurants offer

something for everyone. You'll find the usual

chains scattered throughout as well as independent

cafes, bistros and pubs, Riverside

dining, arts, history and nightlife make

Chelmsford a great place to visit.

eastlife.co.uk 41
---
Classic Wings Ad 128mm w x 90.5mm h 2-17_Layout 1 28/02/2017 14:34 Page 1

FLIGHTS OF NOSTALGIA

From March to October our fleet of Vintage Aircraft

take off from IWM Duxford offering a truly memorable

experience to all who fly with us at Classic Wings.

Choose from our range of nostalgic flights:

Sightseeing in our 1930s de Havilland

Dragon Rapide over London or Cambridge

An exciting Trial Flying Lesson

in a genuine Tiger Moth or Cessna

Experience the thrill of high

speed flight in the T-6 Harvard

Fly Wing to Wing with a genuine

Second World War Spitfire

Fly in a Spitfire – for the

ultimate experience

NOT JUST

A FLIGHT BUT

A WHOLE DAY OUT!

All our vouchers include

free entry to IWM Duxford

which houses 85 acres of

aviation history

Flights available from £99

For more details of these flights,

to book a flight or buy gift vouchers,

contact us on 01223 837453.

Book online at www.classic-wings.co.uk

The Princes Theatre is the area's largest professional theatre/venue,

presenting a wide range of live entertainment throughout the year. Music to

suit all genres. Gift Vouchers are now available and can be purchased either

online or in our box office in denominations of £5, £10, £20, £50 or £100 and

can be exchanged for any show at our theatre. For more information or to

join our mailing list please visit our website www.princestheatre.co.uk.

FULLY LICENSED BAR -

This multipurpose venue is suitable to hire for:

Performances, Award Ceremonies, Conferences,

Seminars, Exhibitions, Functions, Wedding Ceremonies,

Wedding Receptions, Birthday Parties, Workshops

Box Office: 01255 686633 - For further information: 01225 686652/686653

www.princestheatre.co.uk /PrincesTheatre @PrincesTheatre
---
CLACTON

With one of the best climates in the UK, a

summer visit to the Essex Sunshine Coast is

a must. Clacton-on-Sea is the largest town

on the Tendring Peninsula and was founded

in 1871. It is a seaside resort that attracts

many visitors. The seafront gardens are a

carpet of glorious colour throughout the

season and provide a backdrop for miles of

golden sandy beaches and the town's fun

packed pier. The town and its beaches are

popular with visitors in the summer, and

there is a packed annual entertainment

programme.

This summer the popular Clacton Air

Show takes place 23-24 August. The

award-winning seafronts and greensward

are transformed over the two days into a

fun filled events site and viewing area.

Impressive aerobatic displays take to the

skies whilst a whole host of exhibitions,

trade stands, food court and on-site

entertainment are available at ground level.

Clacton is also home to the Princes Theatre,

located at the Town Hall on Station Road.

Here you'll find a fantastic programme of

performances including drama, comedy

and live music.

FRINTON

This elegant seaside town was developed

from a small village in late Victorian times

into an exclusive resort. By the first half of

the 20th century Frinton-on-Sea had great

appeal for its high society visitors who

came to enjoy the secluded sandy beach,

golf course (frequented by the Prince of

Wales) and tennis tournament, the classy

Esplanade hotels, the lido and Connaught

Avenue, 'East Anglia's Bond Street', named

after the Duke of Connaught and opened by

his wife.

Developer R Powell Cooper bought out the

original developer of the town in the 1890s

and prohibited boarding houses and pubs.

Frinton's first pub, The Lock and Barrell,

opened in 2000. Relaxed and sophisticated,

Frinton retains an atmosphere of the

1920/30s. Tree-lined avenues sweep down

to the elegant Esplanade and cliff-top

greensward, with its colourful Victorian-style

beach huts. The sandy beach is

quiet and secluded and one of the best

on the Sunshine Coast.

eastlife.co.uk 43
---
MERCURY THEATRE COLCHESTER

Tickets

from £12!

Outstanding theatre for the whole family in the heart of Essex

Balkerne Gate

Colchester

CO1 1PT

Call 01206 573948

www.mercurytheatre.co.uk

Premiere Partner
---
COLNE VALLEY

The Colne Valley, an area of beauty in the

heart of North Essex, has something for everyone;

rolling countryside walks, villages rich in

history and even great shopping experiences.

COLCHESTER

Britain's oldest town is home to some of the

region's most interesting heritage and history.

From Saxon to Medieval, Tudors to Stuarts

and Georgian to Victorian, each era has

shaped the town in some way. Today it's not

just Colchester's vast heritage that attracts

over 4.5 million visitors every year. The

thriving and modern town is home to family

favourites such as Colchester Zoo and

Colchester Castle. Colchester tourist

attractions make the town great for both a

day trip or weekend break.

It's a great location for a spot of shopping.

Colchester's Charter Market dates back close

to a millennium and continues to be a vibrant

place to shop alongside Culver Street West,

Long Wyre Street and Culver Street East,

every Friday and Saturday. The town centre

is also home to two large, indoor shopping

centres, Culver Square and Lion Walk, that

between them house many of the country's

most popular high street retailers from Debenham's

to H&M, alongside local businesses.

Art lovers should head to The Minories Art

Gallery, Firstsite and the Mercury Theatre, all

of which offer a vibrant calendar of

exhibitions, events and performances

throughout the year.

Earls Colne, named after the flowing River

Colne, offers a 13th Century church and many

17th Century houses to admire, and the nearby

Chalkney Wood is a popular destination

for walkers. Using Earls Colne as your base,

heading south will lead you to the beautiful

village of Coggeshall, where you can find the

family-run West Street Vineyard for a glorious

vineyard walk and a bite to eat at the on-site

restaurant, which serves brunch to dinner and

even afternoon tea.

Back at the starting point of Earls Colne, if you

head north towards Bures and Sudbury you

are treated to the magnificent views that the

Stour Valley has to offer. Once in Sudbury,

Clare Castle Country Park provides much to

learn about the 13th Century stone castle

remains that overlook the town.

Just outside the nearby town of Halstead

you'll find Hedingham Castle, where you'll

discover one of the country's best preserved

Norman keeps with medieval re-enactments

loved by children and adults alike. Also near

the castle within the village of Castle

Hedingham is the Colne Valley Railway

heritage railway, with its short running line

and activities for families including demonstration

train rides.

Nearby, the Layer Marney Tower, built around

1520, is the tallest Tudor Gatehouse in England.

The house came to the Charrington

family in the mid 20th century and has been

occupied by the Charrington family ever

since. The 80ft tower is well worth the climb

for a spectacular view of the Essex

countryside.

eastlife.co.uk 45
---
BIG BRANDS,

SMALL PRICES

CLACTON

FACTORY OUTLET

DISCOUNTED FASHION,

FOOTWEAR, FURNITURE

AND MUCH MORE!

Clacton Factory Outlet, Stephenson Road West, Clacton-on-Sea, Essex CO15 4TL

Contact us or visit us online to get more news on events, store offers and much more!

01255 479595 www.clactonfactoryoutlet.co.uk

FASHION OUTLETS | LEISURE STORES | CAFES

FURNITURE AND HOMEWARES | FREE PARKING
---
LEIGH-ON-SEA

Described as 'Notting Hill with a seafront'

Leigh-on-Sea boasts an historic Old Town

and buzzing Broadway. Cool bars and chic

boutiques strive for your attention, along

with traditional pubs and cockle sheds.

It's hardly surprising that a town with such a

close proximity to London (less than an hour

by train), instantly strikes you as 'comfortable'.

Stock brokers, solicitors and successful

entrepreneurs' sports car and luxury saloons

vie for parking spaces on and around Leigh's

natural epicentre, the Broadway. But like

Notting Hill, which is home to a similar demographic,

there's a laid-back but well-heeled

vibe that many of the locals will refer to as

'buzzing'.

If you've not been, or not visited for a while,

Leigh really does reward you for jumping

into the car or onto a C2C train for a day

out. Alternatively, indulge yourselves in a

weekend with a difference. Among the City

slickers you'll find a wealth of artists and

creative types, while down in the atmospheric

Old Town, the original wealth creators of

Leigh, the fishermen, still ply their trade. For

lovers of fresh seafood, Leigh's Old Town is

fabulous.

The Old Town features a cobbled street

which leads to Cockle Row, where you can

buy all manner of bivalves drawn from the

estuary waters. They don't worry about food

miles here because much of it has travelled

no more than a handful of yards on its way

from boat to plate. The friendly, traditional

pubs of the Old Town are also popular with

locals and tourists alike.

The Mayflower on the High Street is a multi

CAMRA award-winning pub that will delight

fans of real ale, while the Crooked Billet is

another traditional waterside establishment

with a big reputation.

A short walk or drive up the cliffs takes you

into the heart of Leigh and onto the Broadway.

Again, pubs and restaurants abound,

with a wonderful supporting cast of cool bars

and relaxed cafes. Leigh is chock-full of

fabulous independent, quirky fashion boutiques,

dedicated antiques stores, and homeware

emporiums, elegantly placed alongside

the big names and high-street classics.

Words & image courtesy of Visit Essex

www.visitessex.com

eastlife.co.uk 47
---
MALDON

The ancient Essex town of Maldon has a

rich and varied history waiting to be

explored. It's a pretty town on the Essex

Blackwater estuary, and is the seat of the

Maldon district, which includes the starting

point of the Chelmer and Blackwater

Navigation at Heybridge Basin.

Salt has been made on the East Coast of

Essex for over 2,000 years. The remains

of Roman salt works can be found dotted

along the north and south banks of the

Blackwater Estuary. However, there is much

more to Maldon District than its salt. The

River Blackwater and its surroundings has

long been a tourist attraction. In Edwardian

times visitors came for the 'bracing air' and

healthy saltwater bathing. Now the activities

on offer are sailing trips, wildlife watching

and leisurely strolls along the sea wall.

Maldon has a rich history and is packed

with places to visit. If you are making a

day trip to Maldon there are a number of

Museums within walking distance. The Moot

Hall opens for guided tours and visitors are

taken onto the roof to view the rooftops of

the town and the River Blackwater. A short

walk down the High Street takes you to The

Maldon Museum, which houses the Fat Man

of Maldon's waistcoat and a Penny Farthing,

and there's the award-winning Combined

Military Services Museum, which displays

the history of the armed forces in uniforms,

weapons and other artefacts.

Generations of families have enjoyed the

fun of the award-winning Promenade Park

on the bank of the River Blackwater. Bring

a picnic and enjoy the boating lake, splash

park, adventure play and orienteering trail.

48 Download Our App Today!
---
MERSEA ISLAND

For epicures and bon viveurs crossing the

Strood - the ancient Roman causeway that

leads onto Mersea Island - is something akin

to an act of pilgrimage. The tiny estuary

island is home to vineyards, apple orchards

and the finest seafood – where food miles

are measured in yards.

If you want polish and bling, then Mersea

might not quite be for you. Alternatively,

if ramshackle and eccentric floats your

fishing boat, then you'll never want to leave.

The island is awash with character and old

world charm, exemplified by The Company

Shed. Long-hailed by restaurant critics as

a culinary gem, this black-painted, weather-boarded

institution sits just a handful of

yards off the beach.

Palm trees may front parts of Mersea's

waterfront but regarding this as the Essex

Riviera might be stretching one's imagination

a little far. Those expecting miles of

golden, sandy beaches might have a bit of a

lip wobble. Don't despair however, the wonderfully

named Monkey Beach is a cracker

and arguably the island's best.

Children will love exploring the island's myriad

creeks and scampering over the boardwalks

that interconnect the marshes, while

parents will revel in the simple pleasures of

watching little ones collecting sun-bleached

oyster shells to decorate their sandcastles,

crabbing and splashing about in the water.

With its broad expanses, unrivalled seafood,

excellent local wines and beers and

cute cottages, Mersea is a beguiling place.

Terrific for chucking the kids or your mates

into the car and heading off for a day trip,

Mersea also rewards those who linger!

eastlife.co.uk 49
---
VISIT

SAFFRON WALDEN

Saffron Walden is a delightful medieval market town located in

North-West Essex. It has a rich heritage of old buildings,

including St Mary's Church, the largest and one of the most

beautiful parish churches in Essex.

The town also has a friendly, award winning museum.

Market days are Tuesday and Saturday.

On the North Side of town is Bridge End Garden, a recently restored Victorian

Garden of great charm, which contains a wonderful yew hedge maze and sunken

Dutch Garden. OPEN FREE OF CHARGE

For further information about how to get here, places to visit, where to stay,

local events and activities, please contact:

SAFFRON WALDEN TOURIST INFORMATION CENTRE

1 Market Place, Saffron Walden,

Essex, CB10 1HR. Tel: 01799 524002

Email: tourism@saffronwalden.gov.uk

www.visitsaffronwalden.gov.uk

Discover a world of hidden treasures

at this family-friendly museum

Rolling programme of special exhibitions, activities and events

Ancient Egypt • Archaeology

• Ceramics and Glass • Costume and Textiles

• Furniture and Woodwork

• Geology • Local and Social History

• Natural History • World Cultures

SAFFRON WALDEN MUSEUM

Museum Street, Saffron Walden, CB10 1JL

(01799) 510333 museum@uttlesford.gov.uk

www.saffronwaldenmuseum.org

Entrance Fees: Children (18 and under) FREE, Adults £2.50, Discounts £1.25, Season Tickets £8.00 and £4.00

Opening Hours: March – October: Tuesday – Saturday 10am – 5pm (Sundays and Bank Holidays 2pm – 5pm)

November – February: Tuesday – Saturday 10am – 4.30pm (Sundays and Bank Holidays 2pm – 4.30pm)
---
SAFFRON WALDEN

Saffron Walden combines the best of both

worlds. It's where old meets new. You can

often feel as though you've been transported

to a time gone by while doing your grocery

shopping. A wander around the cobbled

streets, while popping into independent boutiques

and admiring the historic architecture

is a lovely way to spend an afternoon.

The market takes place on Tuesday and

Saturday and offers a delightful mix of local

produce, furnishings and crafts. After a

browse during the summer, buy some of

the local produce and have a picnic on the

Common.

town, the grade II listed space consists of

seven interlinked gardens and popular hedge

maze. The Turf Labyrinth, another maze

which twists and turns, is sure to be a hit

with children.

Popular with both adults and children is the

magnificent Audley End House & Gardens

just outside Saffron Walden. Wander around

the immaculately kept grounds, explore the

Victorian service wing and visit the horses in

the stable yard. There's also a play area to

keep the little ones entertained. The English

Heritage site hosts a fantastic calendar of

events throughout the year.

It's quite easy to spend a whole afternoon

simply eating in Saffron Walden. Timber-clad

buildings host modern pubs and restaurants,

while there's the opportunity for tea and

cake on almost every corner.

Surrounded by beautiful Essex countryside,

Saffron Walden has plenty of footpaths and

country walks to offer. However, if you don't

fancy pulling on your wellies and trekking

across the fields, pay a visit to Bridge End

Garden. Hidden in the back streets of the

Make the most of the day with a visit to the

Audley End Miniature Railway, located opposite.

A massive hit with families, the railway

trails through the forest where children can

spot teddies that live in the woods. There's

also a Enchanted Fairy and Elf Walk and

picnic and play area – great for the when

warmer weather arrives!

The town also features an independent

community cinema, Saffron Screen, and one

of the oldest purpose-built museums in the

country.
---
A FAMILY FRIENDLY WORKING MUSEUM

DEDICATED TO PRESERVING THE HISTORY

OF RAILWAYS IN THE EAST OF ENGLAND

2018

2018

BY TRAIN

Regular trains run from Sudbury,

Bures or Marks Tey to the museum,

and connections from London,

Chelmsford, Colchester and

Ipswich can be made at Marks Tey.

BY CAR

Chappel Railway Station is about 8

miles from Colchester. The postcode

for the museum is CO6 2DS.

WHEELCHAIR ACCESS

Access is available to all buildings

however, you will however need a

vehicle to gain full access to both

sides of the museum.

EASTER DAY OUT WITH THOMAS TM 30 March to 2 April

Steam train rides on Thomas and friends, storytelling with the Fat

Controller and children's activities in the Imagination Station all day.

BANK HOLIDAY FUN DAYS 6 & 7 May

Inflatable assault course, treasure hunt, steam train rides, petting zoo

and real ale from our miniature pub, The Viaduct.

KIDS RUN THE RAILWAY 14 April | 21 July | 18 August

Let off steam at our new kids' activity days… Operate the signals, be

a crossing keeper or guard and ride a diesel train (over 10's only).

TRANSPORT EXTRAVAGANZA 27 & 28 May

Classic cars, vintage motorbikes and modern head turners as well

auto jumble and steam train rides on this great family day out.

FATHER'S DAY STEAM UP! - Dads go FREE 17 June

Dads drive a diesel loco or take a family steam train ride.

We'll fire up our BBQ or simply bring a picnic and relax in our

lovely rural surroundings.

SUMMER STEAM GALA 8 July

Join us as we celebrate our 50-year anniversary. All of our steam

engines will be running - a full day of intensive steam engine action!

A STEAMY VINTAGE ENCOUNTER 29 July

Steam train rides, vintage stalls and scrumptious teas, swing jive

workshops and live music from the fabulous Fox, Wiggle & Sass.

DAY OUT WITH THOMAS TM 25 to 27 August

Thomas and his friends are back for more Summer fun! Meet the

Fat Controller and enjoy re-enactments with Rusty and Dusty.

CHAPPEL SUMMER BEER FESTIVAL 4 to 8 September

One of the largest beer festivals in the region, with live music, great

food and over 400 varities of beer, run in association with CAMRA.

Please be advised the museum areas will be closed for set up and

during the festival.

STEAM DAY AND MODEL RAILWAY SHOW 7 October

Together with our partners the Braintree & Halstead Model Railway

Club, we are hosting this great day out for kids young and old!

HALLOWEEN HALF TERM FUN 22 to 25 October

Pumpkin carving, apple bobbing and spooky crafts as well as

gingerbread decorating in our vintage railway carriage café.

SPOOKY DAY OUT WITH THOMAS TM 27 & 28 October

Ride on real steam trains with Thomas and his friends. Meet the Fat

Controller at his Spooky railway with lots of fang-tastic things to do.

FESTIVE DAY OUT WITH THOMAS TM 9, 15, 16, 22 & 23 December

Ride real steam trains with Thomas and his friends. Have festive fun

with the Fat Controller and meet Santa in his grotto!

OPEN DAILY FROM 10:00 TO 16:30

Chappel Station, Colchester, Essex, CO6 2DS

01206 242524 | www.earm.co.uk
---
SOUTHEND

Southend became a seaside resort during the

Georgian era, attracting many tourists in the

summer months to its seven miles of beaches

and sea. To this day it attracts around

over six million tourists every year.

You'll find all the traditional seaside

pleasures along the seven glorious miles of

seafront; but you won't find a Pleasure Pier

like Southend's anywhere else. Thrill-seekers

rejoice with their vast range of water sports

at the Marine Activities Centre. Ride the rollercoasters

at Adventure Island or discover

a world of watery wonder at the Sea-Life

Adventure, which had a £680,000

redevelopment last year.

If you love to shop, the town centre features

a variety of quirky independent boutiques

and the usual 'big name' high street

stores. With over three hundred mouth-watering

places to eat plus a dazzling live

music and nightlife scene, you really are

spoilt for choice. All of this is just an hour's

train ride from London.

The seaside resort has a rich 'feast' of

festivals and events all year round, which

means there's always something great to

see and do.

WALTON-ON-THE-NAZE

A traditional seaside town on the Essex

Sunshine Coast, Walton-on-the-Naze's

golden sands have been attracting visitors

for generations. It's home to the second

longest pier in England, and rows of

colourful beach huts.

Throughout the town you'll find classic

tea rooms, fish and chip shops and stores

selling bucket and spades.

The 86 foot octagonal Naze Tower,

overlooking the coastline, is currently used

as a gallery and hosts a number of

exhibitions throughout the year.

eastlife.co.uk 53
---
Discover a world of wildlife set in

18 acres of spectacular gardens

Children's play area,

Free parking,

Coffee/gift shop

Adult: £10.00

Child (2-13):

£7.50

Under 2's Free

KEEPER EXPERIENCES

KEEPERS LITTLE HELPER

for children age 5-8

KEEPER EXPERIENCE

age 8-13 or age 14+

BIG CAT EXPERIENCE

age 18+

ANIMAL FEEDS

ANIMAL

ENCOUNTERS

KEEPER

TALKS

VIP LEMUR

TOURS

Hadstock Road, Linton, Cambridgeshire, CB21 4NT

Tel: 01223 891308 www.lintonzoo.com

Find us just off the A1307 between Cambridge and Haverhill

MARKS HALL

Gardens & Arboretum

A striking heritage landscape in Coggeshall,

Essex with an enviable collection of mature

trees and leafy paths. Enjoy home cooked food

and browse the plant centre & gift shop.

Feel inspired.

www.markshall.org.uk t.01376 563796

INGATESTONE HALL

Hall Lane, Ingatestone,

Essex CM4 9NR

(off the London end of Ingatestone High St.)

16th Century manor house & grounds with a wealth of history.

OPEN TO THE PUBLIC

Sunday, Wednesday and

Bank Holiday afternoons

(Noon – 5 p.m.) from Easter

until the end of September

Adults - £7

Concessions £6

Children (over 5) - £3

Guided tours available for

groups or school parties

at other times by prior

appointment.

The House and/or Gardens are also

available for hire for public or private

events such as weddings, concerts,

exhibitions or corporate events

Tel. 01277 353010

Email: house@ingatestonehall.co.uk

Website: www.ingatestonehall.com
---
WHAT'S ON?

30 Mar -2 Apr Easter Adventure Quest

Audley End House

www.english-heritage.org.uk/visit/whats-on

30 Mar - 15 Apr Easter Egg Trail

Mountfitchet Castle, Stansted Mountfitchet

www.mountfitchetcastle.com

12-13 May Essex Fine Food Show

Chelmsford City Racecourse

www.essexfinefoodshow.co.uk

15-May Saffron Walden Emporium -

Collectables, Crafts

Saffron Walden Town Hall

20-May A Vintage Affair

Hedingham Castle

www.hedinghamcastle.co.uk

26 May, 28 Jul, 29 Sep & 24 Nov

Curiosity Fair: Vintage & Craft Fair

Saffron Walden Friends meeting house, High

Street, Saffron Walden

26-27 May Mersea Food & Drink Festival

Rewsalls Lane, East Mersea, Colchester,

www.mersea-fdl-festival.com

7-9 Jun Chelmsford Film Festival

131 Bond Street, Chelmsford, CM1 1GH

www.chelmsfordfilmfestival.com

9-JunBreast Cancer Care Pink Ribbon Walk

Audley End House

www.english-heritage.org.uk/visit/whats-on

9-10 Jun Mind Body Spirit Festival

Chelmsford City Racecourse

www.lifearts.co.uk

16-Jun Young Children's Festival

Castle Park, Colchester

www.colchester-events.co.uk

21-14 Jun Leigh Folk Festival

Various locations in Leigh

leighfolkfestival.com

22 Jun - 15 Jul Thaxted Festival

Thaxted Church

www.thaxtedfestival.org.uk

26-28 Jun 3foot People Festival

Hylands Park, Chelmsford

www.chelmsford.gov.uk

30-Jun Fling Festival

Hylands Park, Chelmsford

www.flingfestival.com

13-15 Jul Brentwood Festival

Brentwood Centre

brentwoodfestival.co.uk

15-Jul Heritage Live Concert Series:

2CELLOS

Audley End House

www.english-heritage.org.uk/visit/whats-on

21-Jul Outdoor Cinema: Dirty Dancing

Maldon Promenade Park

www.essexoutdoorcinema.com

3-5 Aug Brightlingsea Free Music Festival

Various locations, Brightlingsea

www.brightlingseafreefest.com

4-Aug Maldon Carnival

Maldon High Street

www.facebook.com/MaldonCarnival

2-Sep Kite Festival

Layer Marney Tower, CO5 9US

layermarneytower.co.uk

16-Sep Apple Day at The Gardens of Easton

Lodge

Little Easton, CM6 2BB

www.eastonlodge.co.uk

29-Sep Outdoor Cinema: Pretty Woman

RHS Garden Hyde Hall

www.essexoutdoorcinema.com

29-30 Sep The Essex Country Show

Weald Country Park

www.essexshow.co.uk

20-31 Oct Halloween Special at Audley End

Miniature Railway

Audley End Road, Saffron Walden, CB11 4JB

www.Audley-End-Railway.co.uk

eastlife.co.uk 55
---
Map courtesy of Visit Essex

USEFUL CONTACTS

Clacton TIC

Town Hall, Station

Rd, Clacton-on-Sea

CO15 1SE

01255 686633

Maldon District

Tourist Information

Centre

High St, CM9 5AD

01621 856503

www.visitmaldondis-

USEFUL WEBSITES

www.visitessex.com

www.freeport-brain

tree.com

www.colnevalleyrail

way.co.uk

www.leigh-on-sea.com

www.visitmerseais

Colchester Visitor

Information Centre

Castle Park,

Hollytrees Museum,

CO1 1UG

01206 282920

www.visitcolchester.

com

www.visitchelmsford.

co.uk

www.chelmsford. gov.

uk/museums

www.chelmsford.gov.

uk/theatres

trict.co.uk

Saffron Walden

Tourist Information

Centre 1 Market St,

CB10 1HR

01799 524002

www.visitsaffron

walden.gov.uk

land.co.uk

www.visitsouthend.

co.uk

www.essex-sunshine-coast.org.uk

eastlife.co.uk 57
---
HATFIELD HOUSE,

GARDEN AND PARK

IS THE PERFECT

PLACE TO VISIT THIS

SPRING.

Visitors can enjoy the state rooms rich

in paintings, fine furniture and tapestries

along with a picture perfect garden which

dates from the early 17th century.

Beautifully designed gifts, jewellery, toys

and much more can be found in the

Stable Yard shops. Visitors can also enjoy

relaxing at River Cottage Kitchen & Deli

which serves a variety of delicious foods

throughout the day.

VISITOR ATTRACTIONS

HOUSE, PARK

& GARDENS

STABLE YARD SHOPS

& RIVER COTTAGE

KITCHEN & DELI

HATFIELD PARK

FARM

WWW.HATFIELD-HOUSE.CO.UK | 01707 287010 | VISITORS@HATFIELD-HOUSE.CO.UK
---
HATFIELD & WELWYN

The two Hertfordshire towns have grown enormously over recent years, and offer everything

you'd expect from a modern town. Standing side by side in the same borough, it's easy to

visit both in one day, here's how to make the most of your trip:

HATFIELD

WELWYN

The town has largely grown up around the

gates of its most famous attraction, Hatfield

House. The Jacobean house is great to explore

and is an ideal family day out with its

gardens, play area and park farm. Stop by

the Stable Yard Shops which features a wide

range of exclusive retailers. The stores have

been lovingly created from an area of Hatfield

House which used to play home to the

stables. Hatfield House hosts regular events

so check what's on before visiting. An

Antiques Market is held on the third Saturday

of every month and a Farmer's Market is

held on the third Sunday of each month.

There are also the Art and Design Gallery,

The Weston Auditorium and music venue

The Forum at the University of Hertfordshire.

In addition to the town centre, shopping can

be enjoyed at The Galleria, an outlet

shopping centre with 80 stores.

Welwyn village is often referred to as 'Old

Welwyn' to distinguish it from the newer

settlement of Welwyn Garden City. One

of the main attractions is The Hawthorne

Theatre (www.hawthornetheatre.co.uk), which

is also home to The New Maynard Gallery.

The theatre is a fully appointed, 370 seat

live arts venue and hosts some of the finest

professional theatre, live music, dance and

comedy in the South Herts region.

When the weather warms up head to

Stanborough Park, a beautiful countryside

park, covering an area of 126 acres, on the

outskirts of Welwyn Garden City. Awarded

the prestigious Green Flag Award, it is a

great place for a family picnic, leisurely stroll

or enjoy the rowing boats and pedalos on

the lake.

eastlife.co.uk 59
---
Experience Hitchin

Culture, History, Entertainment,

Shopping, Tradition, Cuisine, fun

and community spirit.

Hitchin Information, 1A Churchyard, Hitchin,

Hertfordshire, SG5 1HR • Telephone: 01462 453335

OurHitchin @OurHitchin www.hitchinherts.com

Discover Britain's foremost modern sculptor at

Henry Moore Studios & Gardens.

Explore Henry Moore's studios, home

and sculptures in over 70 acres of glorious

countryside, plus a new exhibition

of the artist's carvings.

30 MARCH - 28 OCTOBER 2018

WEDNESDAYS TO SUNDAYS

& BANK HOLIDAYS 11AM-5PM

www.henry-moore.org

Registered Charity Number 271370

HENRY MOORE

STUDIOS & GARDENS

Perry Green, Herts, SG10 6EE

01279 843333
---
HERTFORD

& WARE

Imagine the scene; 18th century riverside gazebos,

rustic listed buildings with a roman heritage;

you have found yourself in Hertford and Ware,

two picturesque towns nestled in the heart of

Hertfordshire.

Hertford's weekly market takes place every

Saturday, while the farmers' market is held on the

second Saturday of every month. Visitors should

stop by Hertford Castle, which hosts regular

exhibitions and events.

Art lovers will adore Hertford's choice of galleries.

Courtyard Arts is a small but lively community

arts centre on Port Vale in Hertford. It offers term

time art and clay classes for adults and children

alongside a vibrant programme of changing exhibitions.

It also has artists' studios, a small cafe

and a gift shop showcasing work by local artists.

In addition to the gallery at the Centre, Courtyard

also curates the gallery at Hertford Theatre.

Ware is a busy high street with old world charm.

Some of the timber framed buildings that are still

standing along Crib Street, have been restored

since the 1970s, as part of an ongoing project

to keep the town true to its history. You'll find a

number of independent boutiques and high street

stores.

Ware's main attraction is Ware Museum, which

takes visitors back in time to the ghostly goings

on in the town. Head to Hanbury Manor or

Fanhams Hall for afternoon tea.

The towns are ideal places for a day trip, located

off the A10, and close to the M11. There are beautiful

spots by the River Lea, which passes through

the towns to sit and eat a picnic and take in the

peaceful scenery, so don't forget your flask and

picnic blanket for those sunny days.

eastlife.co.uk 61
---
HITCHIN

Steeped in history, Hitchin has established

itself as a popular market town within North

Hertfordshire. A trip to the town will provide

an interesting and enjoyable experience.

Hitchin plays host to one of the most beautiful

gardens in England. Nestled in Cadwell

Farm are acres and acres of fragrant Hitchin

Lavender. Lavender was introduced to Cadwell

Farm in 2008, and has flourished to 17

miles of lavender rows for visitors to wander

through.

In the 17th century barn, a variety of food,

refreshments and lavender products are sold

so visitors can bring home a piece of their

experience. www.hitchinlavender.com

The British Schools Museum is set in school

buildings that developed in the site between

1837 and 1905. The classrooms are open to

the public and the hands-on museum allows

visitors to try dipping their pen in an inkwell

and writing in a sand tray or slate, and play

with early toys, games, and puzzles.

Hitchin is most famous for the Hitchin Markets.

This award-winning market is open every

Tuesday, Friday, and Saturday.

In nearby Baldock, 1066 Gallery

(www.gallery1066fineart.com) works with a portfolio

of artists from around the globe - from

local, emerging talent to international acclaimed

artists, offering an eclectic portfolio

of immense talent and varied subject matters.

62 Download Our App Today!
---
ROYSTON

Positioned on the North Hertfordshire border

Royston is a small market town that ticks all

the boxes. With a market dating back to when

the first market rights were granted in 1189.

Royston is a town full of character and charm.

The town has several historical buildings and

an unusual man-made cave with medieval

carvings. Royston has grown up at the intersection

of the Ickenield Way and the Roman

Ermine Street, which was built almost 2,000

years ago.

Royston holds a general market on Saturdays,

between 8am and 2pm. One of the town's

main attractions is its fascinating cave, which

lies beneath the bustling town centre. Visitors

climb down to discover an amazing cavern,

intricately carved with religious and pagan

symbols, which may or may not be linked to

the Knights Templar. It was rediscovered after

a workman stumbled on the opening in 1742

but its origin and purpose remains keenly

disputed. If you would like to visit the cave, it

is open weekends from 2pm – 4.30pm

between 31 March and 30 September 2018

and Wednesdays during August only.

With its rich history, it's no surprise that

Royston is home to a range of traditional pubs

and restaurants that offers a superb Sunday

lunch and good hearty food.

eastlife.co.uk 63
---
With two thousand years of history under

its belt, lush green parks and a buzzing

city centre, St Albans offers plenty to see

and do. The Cathedral dominates the

city's skyline from every approach. Its

architecture is a blend of many different

periods, and its great tower includes

Roman bricks salvaged from the ruins of

Verulamium. Open daily, the Cathedral

offers a number of free tours, plus events

and concerts throughout the year.

St Albans has a vibrant and varied

entertainment scene. You'll find a jampacked

programme of shows and concerts

ranging from drama and ballet to music

and comedy at The Alban Arena, Abbey

Theatre, Maltings Arts Theatre, Odyssey

Cinema and Trestle Arts Base.

Shopping is a favourite pastime in St

Albans. The street market is one of the

most popular markets in the region. Dating

back to the 9th century, held twice a

week and running the length of St Peters

Street, you'll find stalls offering fresh local

produce, crafts and more. The city centre

has established itself as busy cosmopolitan

city of old and new, with two modern

shopping centres and a wealth of

independent stores.

Without a doubt the best way to explore

the city is on foot. Stroll around the

historic streets and marketplace on your

own accord or follow the City Trail, which

covers a distance of three miles. Alternatively,

The City and District of St Albans

Tour Guides host a programme of walks

throughout the year. Walks include 'A City

Revealed', 'Ghosts and Ghouls', 'Victorian

St Albans – a Time of Change' and many

more.

ST ALBANS

New this year is the St Albans Museum

+ Gallery, opening 1 June 2018. Set over

three floors, the gallery spaces will

showcase over 2,000 years of heritage

and display contemporary artworks.
---
THE WILD IS CLOSER

THAN YOU THINK

SAFARI

IN THE HEART

OF BEDFORDSHIRE

JUST OFF J13

OF THE M1

10% OFF

FOR YOUR GROUP

VISITORS IN RETAIL

AND CATERING

MEET THE

SAFARI STARS

AND VISIT BRAND NEW

ENCLOSURES!

Just off J13 of the M1 or the A5 (MK43 0XB or MK17 9QN). Check website for opening times.

www.woburnsafari.co.uk info@woburnsafari.co.uk Telephone: 01525 290407
---
STEVENAGE

A visit to Stevenage and its surrounding

villages offers variety in every sense of the

word. You can shop in major High Street

chains or independent retailers, see inns

that Dick Turpin knew, view modern

architecture or admire ancient churches

and Tudor cottages.

Walk down the Avenue that writer Forster

described in Howards End or watch the

latest films at a 16-screen Cineworld at

the Leisure Park. You might just bump into

local hero Lewis Hamilton, paying a visit to

his childhood home!

Stevenage, the first of the country's postwar

new towns, has a wide range of facilities

including the Gordon Craig Theatre,

a swimming pool, indoor market and a

thriving museum.

At the Walkern Gallery you can see the

work of Stephen Lowe along with other

local and professional artists.

TRING

Located in the Borough of Dacorum, and

nearby the Chiltern Hills, Tring is great for

exploring the delights of a small market

town.

Tring has a small charter market on

Fridays and the popular farmers'

market takes place on alternate Saturdays

offering local produce and crafts

(www.tringfarmersmarket.co.uk).

The Natural History Museum at Tring is a

major attraction. It features many displays

and exhibitions of animal life and provides

an educational insight into nature. The

'What's in the Woods?' exhibition runs

until 24 June 2018, while you can wander

among hundreds of butterflies and moths

in the tropical butterfly house from 29

March – 16 September 2018. Visit

www.nhm.ac.uk for museum opening times

and more information.

Knebworth House, close to Stevenage,

is well worth a visit. Not only a fabulous

stately home, you can spend the whole

day there, visiting the Dinosaur Trail and

the children's adventure playground.

Between the 24 March and 30 September

2018, you can enjoy exploring Knebworth's

history and heritage. Guided tours of

Knebworth House are included in the

House admission ticket. Lasting about an

hour, the knowledgeable guides will tell

visitors about the history of the House and

the family who have lived here over the

centuries. Also for a small extra charge,

groups can add a private tour of the

Gardens, which are filled with colour

throughout the season. Look out for its

calendar of events including the Hertfordshire

Garden Show, Medieval jousting and

DogFest. www.knebworthhouse.com

eastlife.co.uk 67
---
galleria Get Wild Jan 2018 Advert 184x135mm v1.indd 1 19/01/2018 14:05

Your Big Day Out

Plan your big day out at www.thegalleria.co.uk

Plan your big day out at

www.thegalleria.co.uk

85 STORES, CAFÉS & RESTAURANTS 9-SCREEN CINEMA GET WILD KID'S PLAY

thegalleriahatfield

the_galleria
---
WATFORD

Watford supplies all the ingredients for a

fabulous weekend so whether you want to

indulge in some retail therapy, grab some

tasty food, take a leisurely stroll or enjoy

some great entertainment, you can be sure

that Watford ticks all the right boxes.

Watford Palace, close to the high street,

offers productions ranging from dance and

theatre to 3D films, many of which have

received critical acclaim.

How to keep the kids entertained is always

an issue but in Watford it's covered too

because Watford is home to the Warner

Brothers Harry Potter Studio Tour. There are

few children, or adults for that matter, who

have not been transfixed by the Harry

Potter tales so an opportunity to visit full

size sets, including the Great Hall,

costumes, props, creature workshop and

the Night bus is sure to delight. The walking

tours last about three hours but tickets sell

fast so be sure to book in advance.

If shopping is your thing then Watford is

the place to be as intu Watford is home to

a huge range of stores including John

Lewis and fashionable high street brands.

Visit Cossiobury Park, a 190-acre haven of

outstanding natural beauty. Stroll along the

towpath beside the Grand Union Canal and

River Gade, stopping for a picnic, spot of

fishing or a trip on the miniature railway.

Unleash the offspring at the adventure play

area or under 14s paddling pool and round

your leisurely day off with a cup of tea and

slice of homemade cake at the Cha Cha

Cha tea Pavillion.

Watford's town centre is bursting with pubs

and restaurants offering a smorgasbord of

culinary delights to suit all the family.

eastlife.co.uk 69
---
● Educational and fun group

visits for Early Years and Key

Stage 1

● Discounted group rate and 1

free adult for every 5 paying

children

PB01194

For details visit willowsactivityfarm.com

or call 0870 129 9718

© Frederick Warne & Co. Limited and Silvergate PPL Limited 2018. All rights reserved.

Junction 22

off the

M25

Visit the world's oldest mechanised paper mill

worKinG industrial heritaGe

Frogmore is a visitor centre and

working paper mill still using

a 114 year old machine to

make paper for specialist

customers.

At Frogmore Mill you will

find out about the fascinating

history of paper, learn how to

make a piece of paper by hand, see heritage

papermaking and printing equipment, often in

action. We also have a shop and a cafe serving

light refreshments.

Open for drop-in visits every Thursday and on

the first Sunday of every month from 11.00

to 16.00 and for pre-booked groups of 10+

any Monday to Friday (or for 30+, Sundays

too). Call Maureen on 01442 234600 for

group and package details.

t: 01442 234600 www.thepapertrail.org.uk

Charity No

1079008

Fourdrinier Way

Hemel Hempstead

HP3 9RY
---
WHAT'S ON?

1-2 Apr Easter Medieval Jousting

Knebworth House

www.knebworthhouse.com/events

1-2 Apr French Market

Hatfield House

www.franceathome.com

6 Apr - 6 May Hertford Arts Festival

Various venues, Hertford

www.hertford.gov.uk/events/hertford-arts-festi

val-414/

21 Apr, 19 May, 16 Jun, 21 Jul, 18 Aug , 15 Sep,

20 Oct & 17 Nov

Stable Yard Antiques & Collectors Fair

Hatfield House

www.hatfield-house.co.uk/event

10-13 May Living Crafts

Hatfield House

www.livingcrafts.co.uk

5-7 May Hertfordshire Garden Show

Knebworth House

www.knebworthhouse.com/events

26-27 May Hertfordshire County Show

The Showground, Dunstable Road,

Redbourn

www.hertsshow.com

26-27 May Homes & Antiques Fair

Knebworth House

www.knebworthhouse.com/events

2-3 Jun St Albans Steam and Country

Show

Oaklands College (Smallford Campus),

Hatfield Road, St Albans

www.hertssteam.co.uk

3-Jun Cars at the Castle

Hertford Castle, Hertford

www.hertford.gov.uk/events

9-Jun Harpenden Carnival

Harpenden Common

www.harpendencarnival.com

10-Jun Theatre in the Park: Alice's

Adventures in Wonderland

Hatfield House www.chapterhouse.org

17-Jun Father's Day Medieval Jousting

Knebworth House

www.knebworthhouse.com/events

24-Jun Alban Street Festival

St Peter's Street, St Albans

www.enjoystalbans.com

28-Jun Garden Theatre - The Tempest

Knebworth House

www.knebworthhouse.com/events

30 Jun - 1 Jul Geronimo Festival

Knebworth House

www.knebworthhouse.com/events

7-8 Jul DogFest

Knebworth House

www.knebworthhouse.com/events

14-Jul Battle Proms

Hatfield House

www.battleproms.co.uk

15-Jul Folk by the Oak

Hatfield House

www.folkbytheoak.com

21-22 Jul The Great British Food Festival

Knebworth House

www.knebworthhouse.com/events

5-Aug Rock at the Castle

Hertford Castle, Hertford

www.hertford.gov.uk/events

11-12 Aug Knebworth Country, Crafts & Steam

Fair

Knebworth House

www.knebworthhouse.com/events

17-19 Aug Art in Clay

Hatfield Park

www.artinclay.co.uk

31 Aug - 2 Sep Cool Britannia

Knebworth House

www.knebworthhouse.com/events

9-11 Nov Knebworth Winter Festival

Knebworth House

www.knebworthhouse.com/events

eastlife.co.uk 71
---
Discover Lee Valley

Regional Park

Enjoy 26 miles of award winning open spaces, wonderful nature

reserves and riverside trails, stunning world class sports venues

and beautiful walking, running and cycling routes

Find out more at visitleevalley.org.uk

Your Local Theatre

Cinema, Shows, Theatre

Bar & Cafe, Conference &

Training Facilities

Call the Box Office now

for further information

or to receive our

FREE entertainment

brochure

Come along and visit Lee

Valley Boat C

Broxbourne Valley Boat in Centre the heart at of Lee Valley R

and Broxbourne experience in the a boat heart trip of along the tra

on Lee the Valley River Regional Lee. Whether Park you prefer

day and or experience just an hour a boat on the trip river or enjoy

cruising along the along, tranquil all parkland tastes are catered fo

Situated on the River midway Lee. Whether between you Enfield prefer and to spend Hertford just off the

A1170 the day where or just you an hour will on find the free river parking or enjoy opposite a the Boat

For meal further while cruising information along, please all tastes visit are our catered websites: for.

www.leevalleyboats.co.uk Come Come along along and visit and Lee visit & www.riverleecruises.co.

Valley Lee Valley Boat Boat Centre Centre at

Call

Situated

us Broxbourne on

midway

01992

between

Broxbourne 462085 in the in heart

Enfield

or the email heart of

and

Lee leevalleyboats@btco

Hertford

of Valley Lee Valley Regional Region Pa

just off the A10 on A1170 where you will find

and experience and experience a boat a trip boat along trip along the tranquil the tranquil parkl

free parking opposite the Boat Centre.

p

on the on River the River Lee. Lee. Whether Whether you prefer you prefer to spend to spen th

For further day or information

day just or an just hour please

an on hour the visit

on river our

the

websites:

river or enjoy or enjoy a meal a me wh

cruising cruising along, along, all tastes all tastes are catered are catered for. for.

Situated Situated midway midway between www.leevalleyboats.co.uk between Enfield Enfield and Hertford and Hertford just & off just the off A10 the A10 on

A1170 A1170 where where you will www.riverleecruises.co.uk

you find will free find parking free parking opposite opposite the Boat the Boat Centre. Centre

For further For further information information Call

please

us on please visit

01992

our visit websites:

462085 our websites: or

www.leevalleyboats.co.uk & www.riverleecruises.co.uk

& Call us Call on us 01992 email

on 01992 462085 leevalleyboats@btconnect.com

462085 or email or email leevalleyboats@btconnect.com

WYLLYOTTS BOX OFFICE

Wyllyotts Theatre, Wyllyotts Place,

Darkes Lane, Potters Bar, HERTS

01707 645005 www.wyllyottstheatre.co.uk
---
USEFUL CONTACTS

Hertford Tourist

Royston Tourist

St Albans Visitor

USEFUL WEBSITES:

Information Centre

Information Centre

Information

10-12 The Wash,

Royston Library,

St Albans Cathedral:

www.enjoystalbans.com

Hertford SG14 1PX

Market Hill, Royston

Sumpter Yard, AL1 1BY

Tel: 01992 584322

SG8 9JN

Verulamium Museum:

www.hatfield-house.co.uk

www.hertford.gov.uk

Tel: 01763 878242

St Michael's Street,

St, AL3 4SW

www.watfordforyou.org

Hitchin Visitor

Stevenage Tourist

Tel: 01727 864511

Information Centre

Information Centre

www.sll.co.uk

27 Churchyard,

Stevenage Central

Watford Tourist

Hitchin

Library, Southgate,

Information Point

www.visitherts.co.uk

Tel: 01462 453335

SG1 1HD

One Stop Shop,

www.hitchinherts.com

Tel: 01438 737333

Town Hall, Watford

Tel: 01923 226400

eastlife.co.uk 73
---
A superb selection of special self-castering holiday

properties in North Norfolk, ranging from Romantic

HIdeaways to Luxurious Barn Conversions

with Coastal Views

01263 741777

bookings@blakeneycottagecompany.co.uk

www.blakeneycottagecompany.co.uk

The Granary, High Street, Blakeney, Norfolk, NR25 7AL

fll
---
ATTLEBOROUGH

Tucked away between Wymondham and

Thetford, the market town of Attleborough is

well worth a detour off the A11.

Attleborough was a staging town for weary

travellers between London and Norwich,

and is full of history, from its town sign to

the Norman St. Mary's Church. The church

is renowned for its decorative rood screen,

which stretches across the width of the

church - making it East Anglia's longest.

The Griffin Hotel (built in the mid 17th

century) in the town was also used to house

prisoners on their way to trial in Thetford at

the Assizes. You can even still see the rings

in the cellar walls to which they were tied!

Attleborough is also a great base for exploring

The Brecks or Thetford Forest. Nearby

you can visit the world famous Peter Beales'

Classic Roses, all set in a stunning 2.5 acres

of rose gardens.

Close by you'll also find Snetterton Circuit

(www.snetterton.co.uk), with its programme

of exciting racing, the amazing Banham Zoo

(www.banhamzoo.co.uk) and Old Buckenham

Airfield (www.oldbuck.com), with its regular

fly-in events. This year the Old Buckenham

Airshow will take place 28 & 29 July.

Attleborough's market is held on Thursday,

8am to 2pm, and the town has a number of

specialist and family-owned independent

shops. The town sign shows cider making

in action (Gaymers were based in Attleborough

from 1896 until 1995), as well as two

black turkeys both denoting key industries

associated with Attleborough over the years.

eastlife.co.uk 75
---
AYLSHAM

Set in the heart of beautiful rolling

countryside, Aylsham is a charming

market town that is truly special. The town

has rich historical roots, with its fascinating

parish church and Georgian market place

that still acts as a central hub for local

people today, particularly on market days.

Every Monday and Friday, the Georgian

market place is home to the market where

you will find all sorts on sale from plants to

household goods, and a fortnightly Farmers'

Market selling local produce.

Nearby, visit the historic 18th century house

and parkland at Wolterton Hall and

Mannington Gardens' country walks and

beautiful gardens. There's a packed

programme of events throughout the year.

For a memorable journey the whole family

will adore, hop on board the Bure Valley

Railway (www.bvrw.co.uk) to experience the

magic of steam. Starting from Aylsham, the

train takes an 18 mile round trip through

the picturesque Bure Valley stopping off

at some of Norfolk's quaint villages before

arriving at Wroxham, the capital of The

Norfolk Broads.

Families can also enjoy a trip aboard The

Broadland Boat Train. Starting from the

historic market town of Aylsham, follow the

beautiful Bure Valley, before arriving at the

Broads town of Wroxham. Then take to the

water and discover the beautiful Norfolk

Broads with a leisurely hour and a half

cruise with guided commentary.

The Broadland Boat Train operates on a

daily basis from the beginning of April to

the end of October. Pre-booking is advisable.

A family ticket (2 adults + 2 children)

is available at a cost of £62 and under 5's

travel free.

Finally, Redwings Horse Sanctuary

(www.redwings.org.uk) cares for over 2,000

horses, ponies, donkeys and mules. Redwings

visitor centre in Aylsham is a beautiful

site in the heart of the North Norfolk countryside.

There is also a café, gift shop and

children's play area as well as walking tours

and horse care demos. Entry is free.

BLICKLING HALL

There's nothing more enchanting than a

woodland walk and during the spring

Norfolk's forests are alive with colour.

The Bluebell Woods at Blickling Estate

(www.nationaltrust.org.uk/blickling-estate)are

no exception. Visit during the spring, ideally

between April and May to benefit from a

stunning display of bluebells. If you want to

make a day of it, you can also pop over to

the house and explore the gardens.

The parkland is also the hosting ground

for the annual Aylsham Show, a traditional

one-day agricultural show with cookery

demonstrations, food, farming, trade stands

and much more. This year the show will take

place Monday 27 August. Book tickets at

www.theaylshamshow.co.uk

76 Download Our App Today!
---
BLAKENEY

The village and small port of Blakeney is

situated at the mouth of the River Glaven on

the North Norfolk coast between Wells-nextthe-Sea

and Sheringham.

Blakeney is an attractive destination with

narrow lanes of flint cottages, traditional

pubs serving locally sourced real ale, a fine

church and medieval Guildhall and, with the

opportunities for crabbing, fishing,

canoeing, birdwatching, yachting and

sailing pleasure craft, it is a popular spot for

tourists.

Blakeney is also the perfect location from

which to explore the great outdoors; the

North Norfolk Coastal Path passes through

the village, and it lies within the Norfolk

Coast Area of Outstanding Natural Beauty

and the North Norfolk Heritage Coast.

Blakeney also has the largest coastal nature

reserve in England and Wales, including the

National Trust owned Blakeney Point, a 3.5

mile long sand and shingle spit, which is

home to colonies of common and grey seals.

At high tide you can take a boat trip from

Morston Quay and get up close to the seals

as they bask on the sand. Blakeney Point

also offers a wilderness walk along dunes

where rare terns make their nests in the

safety of the reserve.

Blakeney Point Nature Reserve

01263 740241

Norfolk etc RYA sailing courses

01263 740704

Temples Seal Trips 01263 740791

Beans Boat Trips 01263 740505

Bishop's Boats 01263 740753

The Blakeney Cottage Company

01263 741777

eastlife.co.uk 77
---
BRANCASTER

The neighbouring villages of Brancaster,

Brancaster Staithe and Burnham Deepdale on

the North Norfolk coast line up along the edge

of Brancaster Bay and the offshore barrier

island, Scolt Head.

Much of the beautiful coastline at Brancaster

is sandy beaches, stretches of Marram grass,

saltmarsh and sand dunes and is owned by

the National Trust. For great coastal views and

wildlife follow the Norfolk Coast Path. There's

also the 16km Brancaster Circular Walk, which

is split into two equal circuits, one west and

the other east of Brancaster.

The pretty fishing village of Brancaster

Staithe, with sailing boats and seafood for

sale, is a hotspot for those wishing to learn to

sail, windsurf or parasurf.

BRANCASTER

STAITHE

Brancaster Staithe Harbour, beach and Scolt

Head Island National Nature Reserve is

particularly popular with birdwatchers; the

extensive areas of saltmarsh, intertidal mud

and sandflats attract internationally

important numbers of breeding terns and

wintering wildfowl, and waders such as

shelduck, wigeon, teal and curlew.

During the holidays the National Trust -

Brancaster Activity Centre at Brancaster

Staithe runs courses for families and children,

in everything from weaving and watercolours

to baking and birdwatching. www.nationaltrust.

org.uk/brancaster-activity-centre
---
THE

BURNHAMS

The Burnhams is the name given to the

villages grouped around the River Burn

on the North Norfolk Coast.

There is Burnham Market, the main village,

Burnham Overy Staithe on the coast,

Burnham Thorpe, where Nelson grew up, with

his father Rector of the local church and the

villages of Burnham Overy, Burnham Deepdale

and Burnham Norton.

The pretty village of Burnham Market is full of

delightful houses, cottages and quirky shops all

situated around a village green.

Burnham Market is known as 'Chelsea-on-Sea'

for its popularity with visitors from London.

With shops and galleries selling high-class

antiques, paintings, food, fish and fashion it is

the perfect destination for shopping, eating out

or simply just chilling and people watching.

The village is within a designated Area of

Outstanding Natural Beauty and near the

nature reserves at Titchwell, Holme, Holkham

and Cley, as well as the historical visitor

attractions Holkham Hall, Houghton Hall and the

Royal Estate of Sandringham.

Holkham Hall 01328 710227

Houghton Hall 01485 528569

Sandringham Estate 01485 545400

The Crab Hut Open April to October

01485 525369

Brancaster Brewery Tap at The Jolly

Sailors 01485 210314

National Trust Brancaster Activity

Centre 01328 738008

The White Horse 01485 210262
---
Food Hall

Six super stores in one village!

ROYS

OF WROXHAM

Garden Centre

DIY Centre

Department Store

ROYS Cafe

Children's

World

Toy Store

Ample coach parking with drop off points

Open 7 days a week

Convenient late night opening

Please see our website for full details of our opening times

Stalham Road, WROXHAM NR12 8DB

01603 782131

www.roys.co.uk

enquiries@roys.co.uk

REEDHAM FERRY COMPLEX

Reedham Ferry & The Archers Touring Park

For your camping holiday in Norfolk,

we offer an idyllic setting in the heart of the Norfolk Broads.

We pride ourselves on cooking the best food from

local suppliers, we prepare from fresh so you are aware

straight away that quality shines through

For fishing, with its own lakes on site

and the River Yare adjacent to the facilities.

Reedham Ferry Touring Park, Reedham

Ferry Inn, Norwich, NR13 3HA.

WWW.REEDHAMFERRY.CO.UK

HUNTER'S YARD

Sailing on the Norfolk Broads

2 hour skippered sails

Only £74 for up to 4 people

Cabin Yacht Hire

RYA Sailing Tuition

Levels 1, 2, 3 & Seamanship courses

Half-Decker (day boat) Hire

Learn to Sail Holidays

Tel: 01692 678263

www.huntersyard.co.uk

The Horsefen Norfolk Heritage Road, Fleet Ludham, Trust – Charity NR29 No: 5QG 1052303
---
THE BROADS

The Broads is Britain's magical waterland,

a beautiful environment shaped by people

working hand-in-hand with nature over

thousands of years. The Broads offers visitors

an experience unlike any other, both on its

rivers and lakes – the Broads – and alongside

them, on peaceful paths and cycleways and

in the unspoiled villages and market towns

that make up the tapestry of this fantastic

area.

Broads, with the bustling village of Wroxham

(home to the fantastical BeWILDerwood,

an award-winning adventure park), the

starting point for many Broads holidays and

river trips, is formed around the rivers Bure,

Thurne and Ant. At How Hill Nature Reserve

you will find Toad Hole Cottage, a tiny, former

eel-catcher's cottage, where the silent

Electric Eel will take you on a wildlife water

trail through the reeds and marshes.

The Broads offers a rich mix of attractions

and activities year round for visitors of any

age and any interest. It is proud to be a

member of Britain's family of National Parks,

and is recognised globally for its wildlife and

the distinct and precious character of its

environment.

Best of all, the Broads is so easy to get to for

a holiday, short break or day visit, and it's all

within easy reach of the historic city of

Norwich and the exhilarating coastline of

Norfolk and Suffolk. A magical place where

land and water, people and nature meet!

This protected wetland has over 125 miles

of safe waterways, carefully managed

over centuries. The northern section of the

Climb the winding, spiral stone staircase of

Ranworth church for magnificent views of

the Broads and discover the floating

conservation centre moored on Ranworth

Broad - great for birdwatching.

The historic ferry at Reedham offers one of

the only river crossing in the southern Broads

and you can take in the delightful scenery

and wildlife on board Liana, an Edwardianstyle

electric launch, from Beccles.

Wroxham is a popular starting point on the

North of the Broads. Here you'll find plenty

of boat hire, riverside restaurants and B&Bs.

Combined with the River Bure and Salhouse

Broad, its considered to be one of the

prettiest stretches of river in the area.

eastlife.co.uk 81
---
Your holiday begins here ……….

Relax & Recuperate with ……….

Discover the beauty of the Norfolk Broads in

one of our idyllic riverside self catering

cottages and dayboats. Pets and families

welcome.

"Best www.riverside-rentals.co.uk coffee

01493 368300

and walnut

"Best sponge coffee EVER"...

and walnut

sponge EVER"...

Best Best coffee

and and walnut

sponge EVER"...

- Traveller, Tripadvisor

"

"

- Traveller, Tripadvisor

- Traveller, - Tripadvisor

THE GALLEY

43 LOWER STREET

THE

✦ HORNING

GALLEY

✦ NORFOLK ✦ NR12 8AA

"Best coffee THE GALLEY

and walnut 43 LOWER STREET ✦ HORNING ✦ NORFOLK ✦ NR12 8AA

43

01692 43 LOWER LOWER sponge STREET

630088 STREET EVER"... ✦ ✦ HORNING HORNING ✦ ✦ NORFOLK NORFOLK ✦ NR12 ✦ NR12 8AA 8AA ON THE MENU

www.thegalleyhorning.co.uk

✦ Homemade toasted

01692

01692630088

01692 630088

630088

"

/TheGalleyHorning

coconut granola with

P ON THE THE MENU MENU ON THE MENU

www.thegalleyhorning.co.uk

www.thegalleyhorning.co.uk

✦ Homemade toasted

✦ Homemade toasted ✦ Homemade Greek yoghurt toasted and

/TheGalleyHorning - Traveller, Tripadvisor

/TheGalleyHorning /TheGalleyHorning

coconut granola with

P

coconut granola with seasonal fruits

P

coconut granola with

P Greek yoghurt and

Greek yoghurt and Greek yoghurt and

seasonal fruits

seasonal fruits ✦ Charcuterie board with a

seasonal fruits

The Galley is a must for any visitor to Horning. ✦ Charcuterie board with a selection of cured salamis

✦ Charcuterie board with a

The Galley is a must for any visitor to Horning.

selection of cured salamis ✦ Charcuterie and meats, board artisan with bread, a

The Galley is a must intimate for any cafe visitor attached to Horning.

an extensively stocked selection of cured salamis

The Galley is a must for any visitor to

THE

Horning. and meats, artisan bread, selection

GALLEY

salad and of cured homemade salamis

The intimate cafe is attached to an extensively stocked

and meats, artisan bread,

The intimate delicatessen, cafe is attached filled to an with extensively many homemade stocked delicacies, salad including and homemade

salad and homemade and chutney meats, artisan bread,

delicatessen,

delicatessen, our The filled

filled famous intimate with many

with many Hornish cafe homemade

homemade attached delicacies,

43 pasties, LOWER delicacies, to scotch STREET an including extensively eggs including ✦ HORNING and a stocked chutney

variety ✦ NORFOLK of chutney ✦ NR12 8AA salad and homemade

our famous Hornish pasties, scotch eggs and a variety of

our famous ✦ Homemade scones and

wonderful

delicatessen, Hornish pasties, cakes.

filled scotch The

with eggs cafe

many and menu

homemade a variety includes of delicacies,

breakfast, ✦ including

Homemade lunch and scones and

wonderful cakes. The cafe menu includes breakfast, lunch and

chutney

✦ Homemade scones and

wonderful cakes. The cafe menu includes breakfast, lunch jam with clotted cream

afternoon tea afternoon

our options, famous with

tea

Hornish most

01692 options, dishes pasties,

630088 with available most

scotch all dishes day. eggs Fully and

available

a variety jam

all day.

of with clotted cream

jam Fully with clotted cream

afternoon tea options, with most dishes available all day. Fully

ON ✦ THE Homemade MENU scones and

licensed, choose licensed,

wonderful your wine choose

cakes. or local your

The beer cafe

wine or cider menu

or local to includes accompany beer or

breakfast,

cider to accompany

lunch and

Stoneware

licensed, choose your www.thegalleyhorning.co.uk

wine local beer cider to accompany

jam with clotted cream Pottery – Ideal Gifts

your meal. We afternoon are "yes" tea people, options, and will with make most dishes menu available all day. Fully

your meal. We are "yes" people, and will make most menu ✦ Homemade toasted

adaptations your meal. to We suit are special "yes" people, and will make most menu

"Throwing" Tuition – Gift Vouchers

licensed, choose /TheGalleyHorning

dietary your requirements, wine local including beer or cider coconut granola with

adaptations to suit special dietary requirements, P to accompany

those adaptations needing to gluten suit special free options. dietary Make requirements, time to eat, including take away including

Greek yoghurt and

some those tasty needing your

treats, those gluten meal.

and needing browse free We options. are "yes"

gluten around Make people,

free the well time options. stocked and eat, will

Make gift take away make most menu

time to eat, take away seasonal fruits

shop some with tasty adaptations

its some treats, large tasty variety and browse to suit

treats, of unusual around special

and and browse the dietary

unique well around stocked requirements,

gifts. gift including

the well stocked gift ✦ Charcuterie board with a

shop with its those large needing variety of gluten unusual free and options. unique gifts. Make time to eat, take away

shop with The its Galley large is a variety must for of any unusual visitor to and Horning. unique gifts.

selection of cured salamis

some tasty treats, and browse around the well stocked gift

and meats, artisan bread,

The OPENING intimate cafe TIMES: is attached

Monday

to an

-

extensively

Sunday 10.00-17.00

shop with stocked

OPENING its large variety TIMES: of unusual Monday and - Sunday unique 10.00-17.00 gifts.

salad and Church homemade Road Sutton, Norwich NR12 9SG

09.00 - 17.00

delicatessen, filled with many homemade delicacies, including

chutney

OPENING TIMES: Monday - Sunday 10.00-17.00 01692 580595 | www.suttonpottery.com

our famous Hornish pasties, scotch eggs and a variety of

✦ Homemade scones and

wonderful cakes. OPENING The cafe menu TIMES: includes breakfast, Monday lunch - Sunday and 10.00-17.00

afternoon tea options, with most dishes available all day. Fully

licensed, choose your wine or local beer or cider to accompany

your meal. We are "yes" people, and will make most menu

adaptations to suit special dietary requirements, including

jam with clotted cream

Sutton Pottery
---
CLEY NEXT THE SEA

The picturesque village of Cley next the

Sea lies just east of Blakeney, on the River

Glaven, in the Norfolk Coast Area of

Outstanding Natural Beauty and the North

Norfolk Heritage Coast.

Visitors will find brick and flint houses,

narrow lanes and sea paths, art and craft

galleries including 'Made In Cley' selling

pottery, prints, jewellery and sculptures, specialist

food shops such as Cley Smokehouse,

pubs, a teashop and a magnificent church,

as well as Cley's famous saltmarshes, one of

Britain's premier birdwatching sites.

Due to land reclamation the village is no

longer 'next the sea'. The River Glaven, once

navigable by large ships, began to silt up in

the early 17th century. The area that is now

the village green was, during the Middle

Ages, a thriving trading port exporting and

importing cloth, grain, malt, spices and coal.

Cley is also known for its landmark, Cley

Windmill, a fine 18th century mill that now

serves as a highly rated holiday home.

Beyond the windmill there are the paths and

creeks of Cley Marshes to explore.

Norfolk Wildlife Trust's Cley Nature Reserve,

on the edge of the marshes and overlooked

by a glassed visitor centre, has an international

reputation and is popular with

birdwatchers who come to see migrant and

wading birds.

NWT Cley Marshes Nature Reserve

01263 740008

Made In Cley 01263 740134

Cley Smokehouse 01263 740282

Cley Windmill 01263 740209
---
Amazona Zoo

Rainforest Springs logo

rican Animal Under Adventure

4's

go FREE

Braziliant value:

Admission still

at 2014 prices!!

South American Animal Adventure

Explore the

Amazona

in Cromer

mazonazoo.co.uk

stay with us at

cromercamping.com

check website for

opening times

South American Animal Adventure
---
CROMER

Cromer is a Victorian gem, with a seafront

townscape that rises steeply from the Promenade

and is crowned by the finials of one of

Norfolk's tallest and most imposing church

towers.

North Norfolk's best-known landmark, Cromer

Pier, recalls a golden age of British seaside

holidaymaking. The Pavilion Theatre hosts

one of the country's last end-of-the-pier

summer variety shows, along with concerts

for all the family throughout the year.

Cafes, gift shops and amusements sit above

the beach, while the RNLI Henry Blogg

Museum gives insights into the bravery of

those men who risk their lives to save others

at sea. The Cromer Museum, adjacent to the

church at the heart of the town, is also a trove

for those interested in local history.

America to the North Norfolk coast, while The

National Trust's Felbrigg Hall, just two miles

from Cromer, has a lush walled garden and

acres of parkland and woodland to explore.

Cromer crabs are still as famous as ever with

fishing boats, launched from the beach in

season, tending to hundreds of crab pots.

Cromer Pier & Pavilion Theatre

01263 512495

Henry Blogg Museum 01263 511294

Cromer Museum 01263 513543

Felbrigg Hall 01263 837444

Amazona Zoo 01263 510741

Amazona Zoo opened on the edge of Cromer

in 2008, bringing the colour of tropical South

eastlife.co.uk 85
---
Made in England

at our factory in

Wattisfield.

Paint your own pottery

Enjoy a warm coffee shop welcome -

it's part of our shopping experience

Monday - Thursday 9:30am - 4:30pm Friday: 9.30am - 4.00pm

Saturday: 9.30am - 4:30pm Sundays: Closed

Find us on the A143 between Bury St Edmunds and Diss.

Wattisfield, Suffolk, IP22 1NH

01359 251239 www.henrywatson.com
---
DEREHAM

Dereham is at the centre of Norfolk so is an

ideal touring base. It has a good shopping

centre and several attractions.

Bishop Bonner's Cottage Museum is a beautiful

thatched building dating from around

1500 - the oldest surviving domestic building

in Dereham. Built as three cottages, it is easy

to imagine how people lived here in the past.

As the town's museum it is well worth a visit.

www.derehamhistory.com.

Dereham Windmill is a Grade 2 Listed windmill

built in 1835. No longer a working mill, it

is now a popular Exhibition Centre with a coffee

shop serving drinks and delicious home

made cakes. www.derehamwindmill.co.uk.

The route to the Windmill takes visitors past

the Mid-Norfolk Railway at Dereham station.

This heritage railway runs services along the

11 miles between Dereham and Wymondham

and is restoring the line to the north.

mnr.org.uk.

Dereham is an accredited Walkers are Welcome

town. Walkers are welcome to explore

routes such as the Wensum Way link to the

Norfolk Trails network, but can also get a free

pack of 14 walk guides from the Library. The

walks can also be downloaded from

www.DerehamWaW.org.uk.

Just outside the town, easily reached by bus

or car, is Gressenhall Farm and Workhouse

offering a museum, a working farm,

exhibitions and gardens.

Gressenhall Farm & Workhouse

01362 869263

Bressingham Steam & Gardens

01379 686900 | www.bressingham.co.uk

Diss Corn Hall 01379 652241

DISS

Dereham windmill

Diss is a successful, picturesque market town

with parkland, play areas, live entertainment

facilities and a great market. Fine examples

of period architecture can be enjoyed

including timber-framed buildings and

Georgian and Edwardian facades.

Diss Corn Hall, which has recently undergone

refurbishment, is a hub for entertainment.

It hosts a number of theatre, dance, music,

comedy and art exhibitions throughout the

year. At the heart of the town is Diss Mere,

popular with tourists and residents, the lake

and parkland are great for a gentle stroll, for

simply sitting back and watching the world

go by. There is a play area, opportunities to

feed the ducks and a café is open during the

summer months.

Nearby Bressingham is a must to visit with

its amazing Steam Museum, with over five

miles of narrow-gauge steam lines and four

journeys to choose from, 20 acres of gardens

- renowned worldwide for their horticultural

excellence and its Dad's Army exhibition.

eastlife.co.uk 87
---
FAKENHAM

Fakenham is a market town situated on the

River Wensum.

The town's most famous attraction is of

course Fakenham Racecourse. The course has

a history dating back to the early 1900s and

unlike most courses it has no formal dress

code and a relaxed atmosphere, making it an

exciting day out for people of all ages.

Fakenham gasworks is the only surviving

type of its kind in England and Wales. It

ceased production in 1965 and reopened in

1987 as the Fakenham Museum of Gas and

Local History. It retains original equipment as

well as a section of the museum dedicated to

local history and is worth a visit. The museum

is open Thursday mornings from 1 June to 1

October.

The town's busy Thursday market starts early

in the morning until mid-afternoon with a

range of great bargains to be had from local

traders. Fakenham also boasts a popular

Farmers' Market, which takes place on the

fourth Saturday of every month.

Pensthorpe Nature Park has nature trails, a

play area for children and a lovely Courtyard

Café.

Pensthorpe 01328 851465

Fakenham Racecourse 01328 862388

Fakenham Musuem of Gas

07470 341402

eastlife.co.uk 89
---
OPEN EVERY

DAY OF THE

YEAR from

10.00am

The place to visit

Group bookings call: 01493 369477

or email: mail@thrigbyhall.co.uk

THRIGBY HALL FILBY GREAT YARMOUTH

NR29 3DR

% 01493 369477

www.thrigbyhall.co.uk
---
GT YARMOUTH

Great Yarmouth is a fun destination for a

holiday for all the family, and really has got

something for everyone. One of the UK's

best-loved seaside towns, Great Yarmouth

has been attracting the crowds for decades.

Its 15 miles of golden sandy beaches stretch

out into the horizon along an ever-changing

coastline, from seaside amusements to rugged

cliffs, from the serenity of Scroby Sands

windfarm and seal colony, to the fast paced

action of Marine Parade.

For candyfloss, ice-cream cones, seafront

illuminations, amusements arcades, theme

parks, donkey rides, entertainment, nights

out on the town, razzmatazz and beautiful

sandy beaches, Great Yarmouth's Golden

Mile has it all. Play all day and party all night

in the upbeat seaside quarter.

At the top of Regent Road, where retail

therapy begins, shops, department stores

and boutiques surround the market place,

officially the town centre. For a more tranquil

pace, head for the heritage quarter and

South Quay, where museums and former

merchant's houses face onto the busy port

area. With museums and the second most

complete medieval wall in England, you can

have your fill of history, then head to the

seafront to whoop down a rollercoaster.

Get up close and personal with sharks at the

Sea Life Centre or explore the remains of

shipwrecks at The Potteries. Visit the

seafront Marina Centre for a dip in the

tropical pool or go ten pin bowling on

Wellington Pier overlooking the waves.

The Hippodrome Circus hosts top entertainment

all year, but is best known for its

Summer Spectacular Circus & Water Show,

which features daredevil stunts and breath

taking performances.

It's not all just fish and chips, Great Yarmouth

has something to suit every taste bud and

every pocket. The Terrace at The Imperial

Hotel offers dining with a sea view, while The

Courtyard on Howard Street is an intimate

place to dine. Tucked away in one of Great

Yarmouth's historic row houses, this delightful

Italian restaurant will set your taste buds in

motion.

Sea Life Centre 01493 330631

The Pleasure Beach 01493 844585

Hippodrome Circus 01493 844172

The Potteries 01493 858862

eastlife.co.uk 91
---
GORLESTON

South of Great Yarmouth, Gorleston-on-Sea

has its own bay and riverside, with a stunning

sandy beach stretching into the distance

below glorious cliff gardens and a grand

promenade.

Summer Sundays in Gorleston are a

chilled-out affair, with bands playing in the

bandstand surrounded by deckchairs, as

visitors and passers-by watch the Sunday

yacht race. Performances take place from

2-4pm from June to August.

Gorleston has a large paddling pool and

yacht pond, green cliffs, beautiful lawns,

bowling greens, tennis courts and a trim-trail

on the cliff top where views of the beach,

harbour, pier and wind turbines can be seen.

Behind the promenade, beachside cafes and

shops offer a wide selection of goods from

multi-coloured buckets and spades to trendy

sunshades and beach wear.

The town's Pavilion Theatre has seaside

shows throughout the summer season and

is a popular dining and dancing venue. Don't

miss its Showtime Summer Spectacular

variety show which runs from May to

September.

Other attractions and amusements include a

bingo hall, pitch and putt golf course, amusement

parks, restaurants, pubs and cafés.

Pavilion Theatre 01493 662832
---
HOLT

HARLESTON

Harleston is a treasured market town nestling

in the Waveney Valley, which has a wealth of

fine Georgian houses and individual shops.

The annual Harleston & Waveney Art Trail

shows works from a diverse and lively

community of professional artists who live

and work in the beautiful Waveney Valley.

This year the event will be held 19-20 and

26-28 May.

The attractive Italianate clock tower

overlooking the market place has been

restored and there are many interesting

architectural works and speciality shops, plus

a nationally acclaimed butcher. Wednesday

is market day in Harleston.

The Waveney Valley is perfect for

discovering on foot or bicycle with its numerous

way-marked routes and quiet country

lanes including much of the 'Angles Way'.

The pretty market town of Holt is a

Georgian gem of washed stone High Street

and flint lined yards harbouring a range of

quality galleries, tea rooms, pubs, antique

shops and specialist food stores.

Holt is one of the country's best-preserved

Georgian market towns. Destroyed by fire

three centuries ago, the town was rebuilt all

at once and reborn in the smart style that

makes it so popular with visitors seeking the

perfect blend of the homely and the refined.

In winter, the town's continental style of

on-street cafes and dazzling colour cascading

from hanging baskets gives way to a fairy

wonderland of Christmas lights. In all seasons,

Holt is an ideal base to explore the North

Norfolk hinterland, whether to the coast (only

three miles away) or the countryside.

Holt Country Park, just south of the town, is a

100 acre woodland that hosts family events

throughout the year as well as offering

way-marked walks for all abilities, and boasts

a prestigious Green Flag award.

eastlife.co.uk 93
---
S3295 LSA East of England Tourist Guide.qxp_Layout 1 19/02/2018 20:54 Page 1

Character hotel with stunning sea views on the North Norfolk coast

Accommodation

with sea views

Traditional

on-site pub

Afternoon Teas,

Light Lunches

Golf Course Road, Old Hunstanton, Norfolk PE36 6JJ

Tel: 01485 534411 Email: reception@lestrangearms.co.uk

www.lestrangearms.co.uk

HOUGHTON

Hall & GardeNs

SPECIAL

GROUP RATES

Exquisite Palladian Mansion • Award-winning Walled Garden

Contemporary Sculptures • Richard Long Exhibition

Model Soldier Museum • Gift Shop & Licensed Café

BOOK ONLINE AT HOUGHTONHALL.COM
---
HUNSTANTON

Hunstanton, or 'Sunny Hunny' as it is

affectionately known, is the ideal location for a

seaside holiday with all the trimmings. Famous

for its striped cliffs, acres of sand and clear,

shallow water, Hunstanton also offers lots of fun

attractions for all ages. The town was purpose

built as a seaside resort in 1846 by local landowner

Henry Styleman le Strange and gained

popularity as early as the 1860s.

Today, Hunstanton retains its Victorian character

and remains a popular holiday location for all

ages but particularly families. The town possibly

takes its name from the River Hunn, which

begins in the grounds of Old Hunstanton Park

and Old Moated Hall. During nice weather

explore the resort in the morning then spend a

lazy afternoon lying amongst the dunes.

Hunstanton's popular land train runs regularly

through the summer months carrying visitors

from Searles Leisure Resort to the lighthouse

and back again. On weekends throughout the

season events take place on Hunstanton green

and the bandstand.

In and around Hunstanton High Street you'll find

shops to suit all needs, from last minute holiday

essentials such as a bucket and spade to high

street fashion for all ages, as well as gifts for the

home and garden, kites, surf boards, kite-surfing

and wind surfing equipment, model toys and

homemade sweets.

There are a number of small cafes, tea rooms,

chip shops and restaurants and along the sea

front there are the usual purveyors of fresh sea

food, Hunstanton Rock, ice cream and donuts.

Hunstanton market is held in the South End

Market Car Park off Le Strange Terrace every

Sunday and Bank Holiday Monday.

Searles Leisure Resort 01485 534211

Searles Sea Tours 01485 534444

Hunstanton SEA LIFE Sanctuary

01485 533576

eastlife.co.uk 95
---
Cambridge's favourite

festival is back!

A festival of events proudly

supporting local charities

RAISING FUNDS IN SUPPORT OF

Arthur Rank Hospice Charity

making every moment count

All events hosted at:

"The Home of The Cambridge Roar"

www.thecambridgeroar.co.uk
---
Friday, Saturday & Sunday

April 20th - 22nd • 10 - 5pm

Just Crafts

at Sandringham

A Makers' Show that includes:

• ARTISTS, DESIGNERS AND CRAFTSMEN

Adults £7.00 • Over 65's £6.50

Children £2.00

Jewellery, fused glass, blown glass, pictures and prints, ceramics, fabrics.

Purchase an inimitable piece of creativity.

• WORKING DEMONSTRATIONS AND RURAL SKILLS Glassblowing, blacksmiths,

woodturners, stick maker, chair maker, bodger, barrel maker, corn dollies and

many more fascinating displays.

• THE SANDRINGHAM CHAINSAW TEAM

including daily speed carving demonstrations

• FOOD HALL Come and browse our large Food Hall for home made cuisine of all

types. The halls host a wide range of food and drink from regional and national

producers and retailers.

SANDRINGHAM, Nr. Kings Lynn, Norfolk PE35 6EN

www.sandringhamcraftshow.co.uk

Living Heritage Events Tel: 01283 820548

LH0034 90.5x128mm 2-3.indd 1 28/02/2018 10:04

Discover the history of

King's Lynn

Tour the old gaol cells, see the

magnificent King John cup, and

more! Fascinating for all ages.

Saturday Market Place,

King's Lynn, PE30 5DQ

Open Daily | 01553 774297

www.storiesoflynn.com

App available now
---
S3295 KHH East of England Tourist Guide.qxp_Layout 1 19/02/2018 20:55 Page 1

Beautiful hotel and spa in the heart of the Norfolk countryside

Accommodation with

leisure facilities

Traditional on-site pub

with carvery

South Wootton, King's Lynn, Norfolk PE30 3HQ

Tel: 01553 675566 Email: reception@knightshill.co.uk

www.knightshill.co.uk

Afternoon Teas,

Light Lunches

Annual Self-Hire Pass

Year Round Adventure on

Punts, Kayaks and Canoes

Purchase Online

www.scudamores.com | 01223 359750 | enquiries@scudamores.com
---
KING'S LYNN

Full of history, King's Lynn is a great destination

offering a superb mix of history, heritage,

shopping and entertainment. With its historic

waterfront, cobbled lanes flanked by medieval

merchants' houses and two magnificent

market places, the town is a treat to discover

and explore.

At the heart of the medieval old town,

magnificent King's Lynn Minster dominates

the Saturday Market Place around which is

some fine architecture including the distinctive

Trinity Guildhall and historic Town Hall

complex. Take a short walk past the grand

buildings and merchants houses of King

Street and Queen Street, towards the magnificent

Tuesday Market Place, probably one of

England's grandest squares and home to the

Corn Exchange, now a thriving concert hall.

A great way to explore the town is to follow

the King's Lynn Maritime Trail. Discover the

town's history as a premier English sea port,

the stories of its merchants, ship builders, sailors,

fishermen, press gangs, porters and pubs

which have played key roles in its history.

Another way to discover the real history of the

town is to join one the regular guided walks

with the King's Lynn Town Guides. Walks run

regularly on Tuesday, Friday and Saturday

afternoons from May through to October.

King's Lynn's Corn Exchange offers a

sparkling programme of live entertainment,

including opera, ballet, concerts, comedy and

children's shows. King's Lynn is also home to

a classic Victorian style cinema, the Majestic,

which screens films to cater for all tastes.
---
A real alternative

to residential care.

Live-in care in

your own home.

"Deciding to stay in my own home with Jess and my

live-in carers was the best decision I ever made."

Live-in Care

For a free brochure call us on

Home from

Hospital Care

01603 764567

Holiday

Companion Care

Respite Care

www.ablecommunitycare.com

info@ablecommunitycare.com
---
Visit the Tourist Information Centre and maritime

displays at the Custom House to find out

more about the host of places such as True's

Yard Fisherfolk Museum and nearby St Nicholas'

Chapel, Lynn Museum, King's Lynn Minster,

Marriott's Warehouse, Greyfriars Tower and

Gardens or the classic 18th century town park

known as 'The Walks' where you can indulge

yourself in discovering more of King's Lynn's

rich history and heritage.

A great place to start your visit is the iconic

Custom House with its elegant rooms, views

of the river and displays that tell of the famous

mariners of Lynn - including Vancouver and

Nelson - as well as its merchants, customs

men and smugglers.

For those who cannot resist a tipple from

Norfolk or further afield be sure to try Beers

Of Europe, purveyors of the best selection of

global beers, wines and ciders in the UK.

King's Lynn is a shopper's paradise. As you

stroll through the cobbled streets you'll find

large brand names at every turn. The Vancouver

Quarter is the main hub for national

retailers and has established itself as the

town's destination for shopping, dining and

entertainment. Throughout the year it holds

regular promotions, events and fun days for

visitors.

King's Lynn Corn Exchange 01553 764864

Lynn Museum 01553 775001

www.visitwestnorfolk.com
---
NORWICH

A visit to Norwich will bring you to the very heart of

East Anglia, one of the finest heritage cities in the land

where you'll discover over 1,000 years of history, a

buzzing cultural scene and superb shopping

destination.

Thanks to its medieval origins as Britain's second city,

Norwich has an historic fabric that stands comparison

with the finest heritage cities in the UK. Over 1,500

historic buildings lie within the city walls and the city's

compact scale means you can easily explore on foot.

As well as two magnificent cathedrals and an imposing

Norman castle, you'll find more medieval churches than

any other city north of the Alps within the city's pretty

medieval streets such as the wonderfully preserved Elm

Hill with its cobbles and half-timbered houses.

Dragon Hall, with its superb dragon crown-post roof,

is the only medieval trading hall known to survive in

Western Europe and a historical treasure. Tucked away

but well worth seeking out, The Plantation Garden is a

wonderfully restored late Victorian town garden with

a gothic fountain, rustic bridge and Italianate terrace.

Many of the city's heritage sites can be explored

through guided walks and tours, visitor attractions,

exhibitions, music and performances, cafés, restaurants

and gift shops.

Norwich offers a vibrant cultural scene with a wealth

of fantastic cultural experiences whether you enjoy

the performing and visual arts or you're inspired by

fine buildings and amazing history. The iconic Norwich

Castle Museum & Art Gallery stands proud over the

city and offers both permanent and visiting exhibitions

whilst lunchtime concerts can be enjoyed in the

delightful music room at the Assembly House.
---
The Sainsbury Centre for Visual Arts offers outstanding

collections of contemporary and world art. Norwich has

a remarkable choice of theatre including Norwich

Theatre Royal, whose programme includes top West

End shows, operas and ballets, the Maddermarket

Theatre and the Norwich Puppet Theatre.

With such a large proportion of Norfolk farmers

producing fruit, vegetables, dairy and meat it is

almost impossible for this not to translate onto the

menus of local restaurants and eateries. From fine

dining to gastro pubs, cafés to restaurants, Norwich

is a cosmopolitan city offering dining experiences

with imagination and flair.

Norwich is blessed to house so many independent

places to dine. Some establishments have been running

for decades and others have popped up over the past

few years. All offer high standards of customer service

with exceptional menus and food. Norwich has a love

of food and drink and you'll find regular events at many

restaurants.

It's not hard to see why Norwich ranks so high for

shopping. With its large pedestrian areas and bustling

lanes, its quirky independent shops, six day open-air

market and spacious modern shopping malls, Norwich

is truly a great destination for shoppers.

Norwich has all the UK's leading department stores

including John Lewis, Marks and Spencer, House of

Fraser and Debenhams. The Castle Mall and intu

Chapelfield shopping centres have over 150 stores between

them whilst dozens of independent shops, many

within the historic Norwich Lanes area, bring an extra

dimension to any trip.

The pretty streets and narrow alleys of the Lanes

embrace all aspects of contemporary lifestyle shopping

and also offer plenty of independent cafés and

restaurants. The city's colourful market is open Monday-Saturday,

and worth a visit is the Goat Lane Fair

held at the Quakers' Meeting House every Thursday,

8am to 3pm, where you'll find a huge range of antiques,

collectables and vintage items. Similarly, try the

Norwich Original Fleamarket, held in St Andrew's Hall,

on selected dates throughout the year.

eastlife.co.uk 103
---
the giggly goat

craft shop & gallery

S T E A M T R A I N S T O T H E N O R F O L K B R O A D S

S T E A M T R A I N S T O T H E N O R F O L K B R O A D S

A L L A B O A R D F O R A G R E A T D AY O U T !

T r a i n s f r o m A y l s h a m o r W r o x h a m

C o m b i n e d T r a i n a n d C r u i s e

20 lower goat lane, norwich nr2 1el

01603 663299 www.thegigglygoat.co.uk

info@thegigglygoat.co.uk

open mon-fri 10-5, sat 9.30-5.30 &

sundays 11-4 in november & December

N o r w i c h R o a d , A y l s h a m , N o r f o l k , N R 1 1 6 B W

0 1 2 6 3 7 3 3 8 5 8 - w w w. b v r w. c o . u k

LORD AND LADY WALPOLE INVITE YOU TO ENJOY WALKS,

TRAILS, GARDENS AND THE MANY SPECIAL EVENTS

AT

MANNINGTON GARDENS

WHY NOT VISIT THE GREEDY GOOSE TEA ROOMS

SERVING HOME MADE LOCAL PRODUCE

Wine Tours and Tastings at Chet Valley

Vineyard in Bergh Apton South Norfolk

John Hemmant wine maker and vineyard owner welcomes you to Chet

Valley Vineyard nestled in the South Norfolk Village of Bergh Apton.

Your Chet Valley experience will start with a tour of the vines followed by

a visit to the winery where there is an opportunity to see the wine making

process in action plus taste wines straight from the vat (subject to season).

Finally you will be offered a tasting of 6 wines accompanied by local cheese

and charcuterie if you wish. Allow 2 hours for the tour and tasting.

Tasting for over 18s only. Cost is £12 per person. Under 18s free.

Booking in advance by phone or email is essential

Chet Valley Vineyard, Loddon Road, Bergh Apton, NR15 1BT

Telephone 01508 333002 www.chetvineyard.co.uk

Email: chetandwaveney.vineyard@gmail.com

We are on Facebook, Instagram, Twitter and also Tripadvisor.

@ukwinemakerwife Chet and Waveney Valley Wines

@ukwinemakerwife

Walks and car park open daily until dusk

Gardens open May 27th to end of August

Sundays, and Wednesday to Fridays 11 am to 5pm

For events including music, drama, art exhibitions and

children's activities please see our website. Contact us for

weddings, celebrations, party visits and corporate events.

MANNINGTON HALL, NORWICH, NORFOLK NR11 7BB

Email: admin@walpoleestate.co.uk Tel: 01263 584175

www.manningtongardens.co.uk
---
Norwich Market | credit: Nick Farrow

The city has had its own independent department

store, Jarrolds, since 1823 whilst the art

nouveau Royal Arcade is home to the one and

only Colman's Mustard Shop and Museum.

Don't forget to visit The Forum where you will

find the Millennium Library with storytelling and

other fun activities plus an amphitheatre where

on a busy lunchtime you can sit and watch

street entertainers and performers - Covent

Garden style.

Every year the city has a great programme of

entertainment, from free activities in the parks

and open spaces to outdoor theatre. With

interactive workshops, music, performances,

sporting activities, arts and crafts, there really

is something for everyone. There are weekend

bandstand concerts throughout the summer in

many of the Norwich parks offering wonderful

live music and the opportunity to take along

your homemade picnic.

When the weather is kind and you want to

explore 'hidden Norwich' why not plan some

time to visit the Bishop's Garden at Norwich

Cathedral, or try a children's stained glass

window workshop at the beautiful church of St

Peter Hungate in Princess Street.

The Norfolk & Norwich Festival takes place

every year in May (11-27 May 2018) and

features a fantastic line-up of music, arts,

theatre and entertainment throughout the city

for two weeks. There are also plenty of places

to buy local produce for eating at home or

taking back to family or friends.

A number of excellent delis are scattered

across the city where you can purchase beer,

wine, cheese, rare breed sausages, artisan

bread, pies, jams and organic chocolate – the

list goes on. Finally not forgetting Norwich

Market where some stalls have been owned by

four generations of the same family.

Norwich Castle Museum & Art Gallery

01603 493649

The Assembly House 01603 626402

The Sainsbury Centre for Visual Arts

University of East Anglia 01603 593199

Norwich Theatre Royal 01603 630000

Norwich Puppet Theatre 01603 615564

Maddermarket Theatre 01603 620917

Norwich Original Fleamarket

01603 630763

Dragon Hall 01603 877177

The Plantation Garden 07504 545810

Colman's Mustard Shop and Museum

01603 627889

Norwich Arts Centre 01603 660352

eastlife.co.uk 105
---
Come to the

Cat Pottery

1 Grammar School Road,

North Walsham NR28 9JH

Sandringham houSe

muSeum & gardenS

The Country retreat of h.m. The Queen

And see me being made.

Also collection of Railwayana

and other curiosities.

Open: 9-5 Mon-Fri & 11-1 Saturday

No entrance fee

open daily easter to mid-July and early august to october (closed good Friday)

www.sandringhamestate.co.uk or 01485 545408

Visit: www.eastlife.co.uk/dog-friendly/

eastlife
---
NORTH WALSHAM

& MUNDSLEY

Ideally situated for both the Norfolk Broads

and the coast, North Walsham is a market

town of Georgian frontage dominated by the

large 14th Century 'wool church' of St Nicholas

and boasting a 400-year-old Palladian-style

'Cross'. Explore the byways around North

Walsham to find medieval churches, cosy

pubs and the tranquil waterways of the

Broads.

Venture towards the coast and you will come

across the fine sandy beaches of Mundesley.

The pocket sized cliff top seaside resort, with

its colourful beach huts and Blue Flag beach,

has proved a popular destination for visitors

looking for a traditional seaside holiday.

SANDRINGHAM

The village of Sandringham, just north of

King's Lynn, is best known for Sandringham

House and Estate, the Queen's favoured

country retreat. Much of the house, including

ground floor rooms used by the Royal

Family, is open to the public, as well as acres

of gardens and a museum housing collections

of Royal vehicles, rare ceramics, photographs

and memorabilia. The house, built in 1870 by

the Prince and Princess of Wales (later King

Edward VII and Queen Alexandra), has been

the private home of four generations of British

monarchs, and the decor and contents remain

much as they were in Edwardian times.

The 60 acres of gardens that surround the

house have been added to and adapted by

each of Sandringham's Royal generations, and

feature woodland walks, carrstone rockeries,

formal Edwardian gardens with pleached lime

avenues and a stream walk.

The estate's 600 acre Country Park is open

to the public every day at no charge. There

are many woodland paths to explore and two

waymarked Nature Trails, one 1.5 miles and

the other 2.5 miles long. Tractor and trailer

tours run daily when the house is open, which,

for a small charge, offer an easy way to see

the park.

The beautiful medieval church, where the

Royal Family worship while they are at Sandringham,

is also open to the public during

the visitor season. The highly decorated

interior contains a magnificent silver altar and

pulpit, together with a very fine 16th century

processional cross and a number of memorials

to the Royal Family.

Sandringham Estate 01485 545400

Mundesley Maritime Museum

www.mundesleymaritimemuseum.co.uk

eastlife.co.uk 107
---
TO US!
---
SHERINGHAM

A plume of steam is often seen rising above

the heart of Sheringham, as engines embark

from The Poppy Line heritage railway along

the coast to Holt.

the stunning colour of the rhododendrons and

azaleas that blossom from mid-May to mid-

June. A treetop platform gives breath-taking

coastal views.

The Poppy Line station hosts themed events

throughout the year, recalling a golden age

of the railways with steam and diesel engines,

or evoking the magic of Christmas with Santa

Specials.

Sheringham boasts an array of independent

shops, and there is a wealth of attractions

in and around the town. 'Splash' is a family

leisure pool with fitness facilities, while the

enchanting Priory Maze & Gardens lie around

the ruins of the 13th Century Augustinian

Friary of St Mary at Beeston Regis.

The National Trust's Sheringham Park is a

mature woodland with paths and walks

punctuated by viewing platforms for taking in

Sheringham has a market on a Saturday and

Wednesday.

Sheringham Park National Trust Visitor

Centre 01263 820550

Priory Maze & Gardens 01263 822986

Splash Leisure & Fitness Centre

01263 825675

Sheringham Little Theatre 01263 822347

Hilltop Outdoor Centre 01263 824514

The Fishermen's Heritage Centre

sheringhamsociety.com

North Norfolk Railway 01263 820800

eastlife.co.uk 109
---
Our self catering

Garden Lodge and

Boat House

accommodation

have splendid views

overlooking the sea.

Self catering

Breaks by theSea

Located in the picturesque seaside town of

Old Hunstanton on the north Norfolk coast, the

Le Strange Arms Hotel is the perfect venue for the

ultimate relaxing seaside break.

Tel: 01485 534411

Email:

reception@lestrangearms.co.uk

Old Hunstanton, Norfolk PE36 6JJ

www.lestrangearms.co.uk
---
SWAFFHAM

Swaffham is a delightful town, and was used

for the TV series Kingdom starring Stephen

Fry. Located on the very northern point of the

Brecks, an area of outstanding beauty,

Swaffham is a naturally pretty town offering

history, culture and plenty to see and do.

The town has a great weekly market on

Saturdays, beautiful Georgian buildings and a

magnificent church.

Nearby Oxburgh Hall is a romantic, moated

manor house. It was built by the Bedingfeld

family in the 15th century and they have lived

there ever since. Inside, the family's Catholic

history is revealed, complete with a secret

priest's hole which you can crawl inside.

Outside, you can enjoy panoramic views from

the gate-house roof and follow the wood-carving

trails in the gardens and woodlands.

Swaffham is a great base for exploring The

Brecks.

THETFORD

Thetford is an ancient market town filled

to the brim with history and heritage sites,

quiet gardens, open parkland and a relaxing

riverside. With Thetford Forest right on the

doorstep, this is also the best base for

discovering the wildlife and outdoor pleasures

of The Brecks ideal for walking, cycling, riding

and action-packed adventure days.

Many of the buildings in the town and

surrounding villages were used for filming and

there is a Dad's Army exhibition at the nearby

Bressigham Steam Museum near Diss, and a

statue of actor Arthur Lowe as Captain Mainwaring

in Thetford town. Thetford has been

the Saxon capital of East Anglia; an important

medieval religious centre, an elegant 19th

century spa and the manufacturing base of the

world-famous Burrell steam engines.

In the heart of Thetford Forest you'll find Go Ape,

an award-winning high wire forest adventure

course of rope bridges, Tarzan swings and zip

slides, all set high up in the trees. If you're looking

for a phenomenal family day out, Go Ape is

guaranteed fun. You can also take in Go Ape's

beautiful location from the ground as you whizz

through the forest on segways. The day is

guaranteed to leave you on an adrenaline filled

buzz as high as the trees!

eastlife.co.uk 111
---
Albatros

Bar, Restaurant, B&B

On board historic sailing ship Albatros,

The Quay, Wells-next-the-Sea, Norfolk NR23 1AT

Traditional DUTCH CUISINE including our famous

DUTCH PANCAKES, PEA SOUP and APPLE CAKE

Chef's DAILY SPECIALS MENU with vegetarian,

vegan and gluten-free options available.

Fully LICENSED BAR serving the best choice of

local REAL ALES from cask

Listed in The CAMRA GOOD

BEER GUIDE since 2010

Speciality LODGING/B&B

in the former CREW CABINS

LIVE MUSIC every weekend

OPEN daily for LUNCH and DINNER from 12 noon

CLOSED on CHRISTMAS DAY

BOOKINGS NOW

BEING TAKEN

For more details visit

www.albatroswells.co.uk

For Enquiries

07979 087228

Our new look takeaway at Platten's

10% OFF YOUR NEXT VISIT *

Overlooking the stunning coastal views of the harbour, our takeaway

provides both takeaway and eat in options, where you can sit in the

spacious 60 seat Fisherman's Yard.

Visit our website to download a 10% off voucher today

WWW.PLATTENSFISHANDCHIPS.CO.UK

FIND US

Platten's Fish & Chips, Quayside,

Wells-Next-The-Sea, Norfolk NR23 1AH

01328 711 249

FOLLOW US

Plattensfishandchips

Plattensfishchips

@Plattens_Wells

Terms & conditions apply.
---
WELLS-NEXT-THE-SEA

Sitting at the quay crabbing - or gillieing, is a

longstanding tradition for holidaymakers at

Wells-next-the-Sea.

Wells, with its small working harbour, is

dominated by a 100-year-old granary building,

whose gantry overhangs the harbourfront as a

reminder of past glories.

The town is also known for its sweeping

sandy beach and the stilt-high huts in primary

colours that look out across the beach at the

mouth of the harbour.

A great way to travel through the area is by

using the Wells and Walsingham Light Railway,

which is the longest 10 inch narrow gauge line

in the world. This runs from Wells to the holy

village of Walsingham, where pilgrims come to

this day to worship at the Roman Catholic and

Anglican shrines.

A short distance from Wells is Holkham estate,

with its stately Palladian mansion, Bygones

Museum, deer park and Holkham beach. This

part of North Norfolk forms part of the largest

coastal nature reserve in England and Wales.

The town is a network of narrow streets, old

alleys and yards. Some of the town's buildings

are hundreds of years old, and many, including

former coaching inns and public houses, are

listed buildings.

Wells-next-the-Sea and indeed the whole of

the Norfolk Coast Area of Outstanding Natural

Beauty is a haven for twitchers. Bitterns and

terns, oyster catchers, avocets and marsh harriers

are among the species which make this part

of North Norfolk a prime site for birdwatching.
---
SUPPLIERS OF THE

Finest Quality Locally-Sourced Food

Since 1889

Flying the Flag for Norfolk Produce

ARTHUR HOWELL

WWW.ARTHURHOWELL.COM

01328-710228

WELLS-NEXT-THE-SEA • BURNHAM MARKET
---
WALSINGHAM

Walsingham, known as 'England's

Nazereth', has been a place of pilgrimage

since medieval times. Comprised of two

conjoined villages, Little Walsingham and

Great Walsingham, it is famed for its

religious shrines in honour of the Virgin

Mary.

The Wells Walsingham Light Railway is

the longest 10 1/4" narrow gauge steam

railway in the world and the wonderful

scenic journey with five bridges through

lovely countryside is worth taking.

WYMONDHAM

Wymondham is an historic market town

with an attractive town centre, a

number of notable old buildings and a

good range of shops.

Wymondham Abbey, founded in 1101, is one

of the finest and most interesting of the

historic churches of East Anglia. Its two tall

towers dominate the countryside for miles

around.

Wymondham is also the starting point

for one of the largest preserved railways

in the UK, the Mid-Norfolk Railway,

which hosts a number of special events

throughout the year.

The annual Wymondham Music Festival

Fortnight is a popular event, which

takes place mid-summer. It features a

mix of musical styles for all ages, with

a combination of open air and formal

concerts and community events.

Art lovers should head to the Wymondham

Arts Centre for its changing displays

throughout the year.

eastlife.co.uk 115
---
COTTAGE

COMPANY

THE

BLAKENEY

Ken's traditional fish and chip shop

is in the heart of Wroxham offers

quality food and a warm friendly THE

service. The restaurant at the rear

of the premises has stunning views

across the broads and there is also

outside seating so that diners can

enjoy the river side location.

THE

A takeaway menu is also available so BLAKENEY

customers can enjoy delicious fish COTTAGE

and chips where ever they please.

Ken's is the longest running Fish and

Chip shop in Wroxham and is now

under the new management of local

lad Michael who has worked there

since his teens and has learnt THE his

trade from the original owner. BLAKENEY

COTTAGE

Ken's Traditional

FISH & CHIP

Restaurant

BLAKENEY

COTTAGE

COMPANY

The Granary, High Street, Blakeney, North Norfolk NR25 7AL

THE

BLAKENEY

COMPANY COTTAGE

COMPANY

The Granary, High Street, Blakeney, North Norfolk NR25 7AL

COMPANY

The Granary, High Street, Blakeney, North Norfolk NR25 7AL

THE

BLAKENEY THE

COTTAGE BLAKENEY

COMPANY COTTAGE

COMPANY

The Granary, High Street, Blakeney, North Norfolk NR25 7AL

The Granary, High Street, Blakeney, North Norfolk NR25 7AL

THE

BLAKENEY

COTTAGE

COMPANY

THE

BLAKENEY

COTTAGE

COMPANY

The Granary, High Street, Blakeney, North Norfolk NR25 7AL

The Granary, High Street, Blakeney, North Norfolk NR25 7AL

The Granary, High Street, Blakeney, North Norfolk NR25 7AL

01603 783739 • 01603 784445

The Bridge • Norwich Road • Wroxham • Norfolk • NR12 8DA

The Granary, High Street, Blakeney, North Norfolk NR25 7AL
---
WHAT'S ON?

3-15 Apr, 28 May- 2 June, 25 July - 31 Aug &

3-5 Sept Field to Fork Tractor Trailer Tour

Holkham Hall, NR23 1AB

www.holkham.co.uk/events/whats-on

28-29 Apr East Anglian Game and Country

Fair

Euston Hall, Euston, Thetford IP24 2QH

www.ukgamefair.co.uk

28 Apr - 13 May Broads Outdoors Festival

Various venues

www.outdoorsfestival.co.uk

11-27 May Norfolk & Norwich

Festival

Various venues

www.nnfestival.org.uk

19-20 May Crab & Lobster Festival

Cromer and Sheringham

www.crabandlobsterfestival.co.uk

24 May - 3 June Norwich City of Ale

Various venues

www. cityofale.org.uk

27-28 May Country Fair

Hoveton Hall Estate

www.hovetonhall.co.uk

8-16 Jun Great Yarmouth Arts

Festival

Various venues

www.greatyarmouthartsfestival.co.uk

15-17 Jun Summer Diesel Gala

North Norfolk Railway

www.nnrailway.co.uk

17-Jun Father's Day Dens & Fire

Holkham Hall, NR23 1AB

www.holkham.co.uk/events/whats-on

17-Jun Norwich Food and Drink Festival

The Forum, Norwich

norfolkfoodanddrink.com

6-8 Jul Gin Festival Norwich

The Halls, St Andrews, Norwich, NR3 1AU

www.ginfestival.com

11 Jul - 16 Sep Grand Summer Spectacular

& Water Show

Hippodrome Circus, Great Yarmouth

www.hippodromecircus.co.uk

14-16 Jul Annual Beer Festival

Sheringham Station

www.nnrailway.co.uk

21-29 Jul Holt Festival

Holt NR25 6BN

www.holtfestival.org

25-Jul Sandringham Flower Show

Sandringham Park

www.sandringhamestate.co.uk

27 Jul - 4 Aug Wells Carnival

Wells-next-the-Sea

www.wellscarnival.co.uk

28 Jul - 5 Aug Sheringham Carnival

www.sheringhamcarnival.com

4-5 Aug Sandringham Food & Drink Festival

Sandringham Estate

www.sandringhamfoodfestival.co.uk

11-Aug The Great British Prom

Blickling Estate

www.revival-productions.co.uk

13-14 Aug North Norfolk Music Festival

Various venues

www.northnorfolkmusicfestival.com

26-Aug Auction and World Crabbing

Competition

Cromer and Sheringham

www.crabandlobsterfestival.co.uk

8-9 Sep Great Yarmouth Maritime Festival

South Quay

www.great-yarmouth.co.uk/maritime-festival

8-9 Sep Sandringham Game & Country Fair

Sandringham Park

www.livingheritagecraftshows.com

15-16 Sep Out There Festival

Great Yarmouth

www.seachangearts.org.uk/out-there-festival

eastlife.co.uk 117
---
Inclusive Short Breaks

at Potters Resort

For nearly 100 years, our family has been welcoming guests

to our unique and friendly Resort by the sea.

We offer a fantastic selection of inclusive short breaks on the beautiful Norfolk coast:

• Adult Midweek Breaks • Family Breaks

• Drinks Inclusive Breaks • Weekends With Friends

• Star Act Breaks

Comfortable accommodation

Full board - Four meals a day

Breaks from as little as £129 Per person

Plus you can receive a £10 per person, per night discount on

your first Potters break. Simply Quote GUIDE at time of booking.

Visit www.pottersholidays.com to find out more.

POTTERS RESORT • COAST ROAD • HOPTON-ON-SEA • NORFOLK • NR31 9BX

Inclusive sports and leisure activities

First-class live evening entertainment

GUIDE must be quoted at time of booking. Terms and conditions apply. New bookings only and cannot be used in conjunction with any other offer.

Prices are based on Standard Bungalow accommodation, supplements apply for Bungalow Plus and Hotel accommodation. Calls are charged at

national rate and in many cases count to your inclusive minutes on mobile and landline contracts. Subject to promotional rate availability.

Mid-Norfolk Railway

The Dereham to Wymondham Abbey Line

Large & Small Groups Welcome

Discounts available for parties of 10 or more

Free Coach Parking at Dereham Station

On-board catering or meals at Dereham Station available

if booked in advance Free meal for driver

Complete Package Tour

to include Train Trip, Lunch and one of the following:

Gooderstone Water Gardens, near Swaffham

Gressenhall Workhouse Museum, near Dereham

Wells & Walsingham Light Railway

The Market Town of Wymondham and Wymondham Abbey

Broads Tours, Wroxham

For more details and to book,

please email marketing@mnr.org.uk

or telephone 07585 855350 / 01362 667814
---
MORE THAN JUST A

TRAIN JOURNEY

North Norfolk Railway Plc

@nnrailway

www.nnrailway.co.uk

enquiries@nnrailway.co.uk 01263 820 800
---
Sheringham Cottages 1-4 Jan18.qxp_1/4 PORTRAIT GRID 11/12/2017 16:34 Page 1

Relax on the North Norfolk C oast

Real Norfolk Ales

from Real Norfolk Barley

Choose from over 60 naturally

bottle-conditioned real Norfolk ales

from 15 local brewers who use our farm's

classic malt as their prime ingredient.

Summer Opening Times

Mon to Sat 10am - 6pm

Sunday 12 - 4pm

On the B1105 Fakenham to Wells road, NR23 1SB

Tel: 01328 710810

www.therealaleshop.co.uk/norfolk

Local family run business

Six delightful 4 star / families welcome graded holiday

properties sleeping from 2 to 15 in Sheringham

Foresters, Augusta & Madge are all rated suitable for

wheelchair users by Visit England, as well as being

great for families

Superb quiet location. Blue flag beach, shops, family

pubs, theatre and 18-hole golf course all within 200

metres

Free use of local leisure centre, inc. swim and gym,

Sky TV, sports and movies, Wi-fi, gardens and off

road parking

Free pick up from Sheringham train & bus station

Call: 01263 577 560

Web: www.sheringhamcottages.com

Email: enquiries@sheringhamcottages.com

The enchanting Water Gardens

he Real Ale Shop.indd 1 31/3/11 09:50:25

at Gooderstone

What could be nicer than to stroll through an enchanting

garden, explore the nature trail, perhaps spot a kingfisher

and enjoy delicious home-made cakes.

SNETTISHAM

PARK

Garden open daILY aLL Year. 10 - 5.30

Tearoom open 12 March to end October, daily if weather fair.

Please check 01366 328118 / 01366 328007

Closes 5 pm, 4 pm from September.

Children 16 and under

FREE & Dogs on leads allowed

Coaches and group visits welcome by appointment.

Discounts on request.

All enquiries please call Coral Hoyos

Garden - 07730 551945, Tearoom - 01366 328118

Gooderstone Water Gardens &

Nature Trail, Gooderstone, PE33 9BP

coral@sunnycottage.plus.com

www.gooderstonewatergardens.co.uk

Deer Safari Park & Farming Attraction

ALL YEAR:

Amazing Deer Safari

Friendly Farm Animals

Children's Play Area

Visitor Centre & Tea Room

SEASONAL ACTIVITES:

Pony Rides/

Lead Rein Treks

Bottle Feeding Lambs

Egg Collecting

Deer Calving

and much more…

OPEN DAILY 10am-5pm

T: O1485 542425

PE31 7NG

www.snettishampark.co.uk
---
USEFUL CONTACTS

Attleborough

Town Council

Tel: 01953 456194

attleboroughtc.org.uk

Diss

Mere Street

Tel: 01379 650523

www.diss.gov.uk

Holt

3 Pound House,

Market Place

Tel: 01263 713100

North Norfolk

Information Centre

Louden Road,

Cromer

Tel: 01263 512497

Aylsham TIC

Downham Market

Hunstanton

northnorfolk.org

28 Norwich Rd,

Aylsham, NR11 6BW

Tel: 01263 733903

Priory Road

Tel: 01366 383287

west-norfolk.gov.uk

Town Hall

Tel: 01485 532610

visithunstanton.info

Norwich

The Forum

Tel: 01603 213999

Burnham Deepdale

Great Yarmouth

King's Lynn

norwich.gov.uk

Deepdale Farms

Tel: 01485 211142

www.deepdalebackpackers.co.uk

25 Marine Parade

Tel: 01493 846346

great-yarmouth.co.uk

Harleston

The Custom House,

Purfleet Quay

Tel: 01553 763044

visitwestnorfolk.com

Sheringham

Station Approach

Tel: 01263 824329

visitsheringham.co.uk

Cromer TIC

Louden Rd, NR27 9EF

Tel: 01263 512497

www.northnorfolk.org

8 Exchange Street

Tel: 01379 851917

harleston-norfolk.

org.uk

Mundesley

Station Road

Tel: 01263 721070

mundesley.org

Swaffham

4 London Street

Tel: 01760 722255

aroundswaffham.co.uk

eastlife.co.uk 121
---
Ickworth

When you come to

capture the view,

together we bring

history alive.

When you visit, donate, volunteer or

join the National Trust, your

support helps us to look after special

places for ever, for everyone.

nationaltrust.org.uk/ickworth

© National Trust 2017. The National Trust is an independent registered charity, number 205846. Photography © National Trust Images.

#nationaltrust

Explore the beauty of the River Orwell with

Orwell Lady River Cruises

Holiday homes

for sale and

Touring Park

The ideal base from which to explore the

stunning Suffolk coast and countryside,

or just relax and put your feet up.

01728 831655

www.cakesandale.co.uk

reception@cakesandale.co.uk

Daytime Public Cruises • Music Nights

English Afternoon Tea Cruises

Sunday Lunch Buffets • Private Charters

School Trips • Coach Parties Welcome

• Sailing from Ipswich Waterfront

01473 258070

OR BOOK ONLINE

www.orwellrivercruises.com
---
ALDEBURGH

Aldeburgh is a striking town found on the

unspoiled East Suffolk Coast. It is blessed

with breathtaking scenery, both seawards

and following the River Alde inland.

Once an important Tudor port and

shipbuilding area, Aldeburgh had to wait

until the 19th century when the fashion for

the beach and craze for sea air brought

back visitors in quantity, establishing it as

a popular resort. It is now characterised by

its lively beachside atmosphere and thriving

musical influence, once described as 'a

place of energy and inspiration for music

and the arts'.

and August, and the Carnival and Regatta

on 18-20 August 2018.

Popular with weekend seadogs, Aldeburgh

has an active yacht club catering for both

the self-assured and the less buoyant

sailors visiting the town.

For those less inclined to take to the high

seas the town boasts two popular golf

courses, all-weather tennis courts, and of

course a historical legacy unlikely to go

unnoticed, such as 400-year old Moot Hall

(now home to Aldeburgh's museum), a

Norman Church and a Martello tower.

The town's most famous inhabitant was the

composer Benjamin Britten and there are

many reminders of his life about the town.

Britten established the classical Aldeburgh

Music Festival in 1948, placing Aldeburgh

firmly on the musical map. Taking place at

nearby Snape Maltings for two weeks every

June, the festival kicks off the town's summer

season of events which also includes Jill

Freud's Aldeburgh Summer Theatre in July

The high street has craft, food and antiques

shops, reflecting local passions, as well as

a myriad of excellent pubs and restaurants,

not to mention Aldeburgh's famous fish and

chip shop - just be prepared to queue!

With a range of accommodation to suit all

requirements ranging from cottages to rent

to family run B&Bs, Aldeburgh is

undoubtedly not to be missed!

eastlife.co.uk 123
---
Run Cottage

Touring Park

POSSIBLY THE FRIENDLIEST

CARAVAN SITE

IN SUFFOLK

East Anglian

Wine of the Year 2017

VINEYARD &

WINERY TOURS

flintvineyard.com | 01986 893209

Earsham, Bungay, Norfolk, NR35 2AH

Close to the town of Woodbridge we are a small family run touring

park with 45 pitches. Set in a 4.5 acre parkland setting with a large

pond and views over open farmland, we offer peace and tranquility.

Our new luxury Glamping pods are now available for hire,

Each pod comes complete with 4'6 oak frame double bed with

pillows, complete with cotton sheets, duvet & Pillows,

Large leather sofa, TV & DVD player comes with 140 free sat

channels, Small fridge with freezer compartment & Microwave,

Complementary Tea & Coffee on arrival,

Individual BBQ stand beside glamping pod for disposable BBQ

Plates/Bowls/Mugs/Glasses & knife & Forks provided.

Bistro table and chairs on the decking overlooking our wildlife pond.

Run Cottage Touring Park, Alderton Road,

Hollesley, Woodbridge, Suffolk, IP12 3RQ

Website: www.runcottage.co.uk

Email: info@runcottage.co.uk

THE SWAN MOTEL

Luxury Self-catering Accommodation in eight

Converted Barns on a working Arable and Dairy Farm.

We are situated in the beautiful peaceful

rural Waveney Valley adjoining the southern

tip of the Norfolk Broads.

Many fantastic sandy beaches and attractions can

be found a short distance from Wheatacre Hall Barns

making this a great place to base your visit in your

discovery of Norfolk and Suffolk. Facilities include,

Games Barn, Fitness Barn, Soft Play Barn and Hot Tub

and plenty of outdoor space for fun and games.

THE SWAN MOTEL, A MOTEL,

RESTAURANT AND PUBLIC HOUSE

SITUATED IN THE VILLAGE OF GILLINGHAM

ON THE NORFOLK AND SUFFOLK BORDER

JUST OUTSIDE THE MARKET TOWN OF BECCLES.

The Bar Area At The Swan

Friendly Staff, plenty of drinks and

good company at

The Gillingham Swan

Fine Restaurant And Sunday Lunch

We have 2 restaurants for you to dine in.

We offer food from the main menu but we also

have daily specials and bar food. We also have

a carvery which is available on Sundays

Magnificent Rooms

To Complete Your Stay

Contact Joanna Burroughs on 01502 677208

Wheatacre Hall Barns, Wheatacre, Beccles, NR34 0AS

www.wheatacrehallbarns.co.uk

We have 14 fully refurbished rooms for

you to choose from including our Double-

Deluxe-Ensuite-Honeymoon Suite

Loddon Road, Gillingham, Beccles, Suffolk, NR34 0LD | 01502 470005
---
Beccles, credit: The Suffolk Coast

BECCLES

The market town of Beccles lies in North

West Suffolk on the banks of the Waveney

River, on the Norfolk-Suffolk border. Once

a thriving Saxon river port, Beccles is now

a flourishing boating centre. Its attractive

riverfront and quay make it a popular stop

for passing pleasure crafts.

The town is dominated by the detached

16th-century bell tower next to St Michael's

Church, while a walk through the narrow

streets of Beccles (the result of fires in the

16th and 17th centuries which paved the

way for the town's many Georgian houses)

offers a chance to peruse an eclectic

mix of boutiques and antique shops, with

plenty to tempt the palates of visitors.

Twyford's Café in Exchange Square serves

a fine tea, for dining there's Bear & Bells

in The Old Market and The Swan House,

a restaurant and boutique hotel near the

bell tower is highly recommended. Among

them are quality food shops, including

Bailey's Delicatessen on Hungate, which

also has an upstairs bistro.

Like Aldeburgh in the summer, Beccles

also boasts an array of festivities, with

an annual carnival and regatta, with live

music, a parade, fun fair and fireworks.

Most engaging of the annual get-togethers

is the fiercely contested charity Rubber

Duck Race.

Bungay, credit: The Suffolk Coast

BUNGAY

The River Waveney loops around another

market town situated on the Suffolk/

Norfolk border, the town of Bungay. The

streets are full of historic charm and offer

several independent shops, restaurants,

cafes and bars. With its weekly markets

and an abundance of outdoor pursuits in

the area including walking, cycling, fishing

and canoeing, there is plenty to keep even

the most energetic of visitors busy.

Worth a look are the unused St Mary's

Church and the ruins of Bigod's Castle,

built in 1170, details of which can be found

at the castle visitor centre on Cross Street.

For a bite to eat there's the well-loved

Buttercross Tearooms and Tea Gardens,

lunch at The Castle Inn on Earsham Street

and at the award-winning Earsham Street

Café & Delicatessen.

Enjoy a scenic walk along the riverside

pathway of the Waveney or hire a rowing

boat to take advantage of unspoiled views

of the heathland and golf course of Outney

Common.

eastlife.co.uk 125
---
Immerse yourself in 1000 years of history at Suffolk's

Cathedral and take a guided trip up our magnificent

Millennium Tower* Guided tours of the cathedral also

available with our friendly and knowledgeable guides.

Browse a huge range of gifts in our shop and refresh

yourself in our welcoming Pilgrims' Kitchen café which

serves hot and cold food and drinks and has free Wi-Fi.

Help us build history by laying a brick on our LEGO

® model. We're building our cathedral out of 200,000

LEGO bricks and need your help! Donate £1

and lay a brick on the model.

You are assured of a warm welcome

at our services and events.

For full details of services, events and news go to

www.stedscathedral.co.uk

The Cathedral Office, Abbey House,

Angel Hill, Bury St Edmunds, Suffolk, IP33 1LS

*tower tours only available on certain dates. Please check website for details.

Greene King Brewery Tours

7 days a week

"Outstanding"

"Absolutely fantastic!"

"If you haven't already

done this tour… Why?"

Visit our Beer Café

open Mon to Sat 10am to 6pm

Call us 01284 714297

greenekingshop.co.uk

Westgate Street, Bury St Edmunds, Suffolk IP33 1QT

EUSTON HALL

OPEN DAYS

EUSTON HALL

OPEN DAYS

Following our success last year Euston Hall will be

Open again as below:

Monday 7 th to Saturday 12 th May

Following our success

Monday 25

EUSTON th last year Euston

to Friday 29

HALL

th Hall will be

Open again as below:

June

Monday 167 th th to Saturday 12 th 21May

st July

Monday 20

OPEN th 25to th to Friday 24 29

DAYS

th June August

Monday Monday 10 th to 16 th to Saturday 15 th 21September

st July

Monday 20

Come and view one th to Friday 24

of the th August

finest Stuart art

collections Come and in the view country, one of as the well finest as the Stuart extensive art

park collections and gardens, in the historic country, watermill, as well as the bygones extensive room

and park Church and gardens, of St. Genevieve. historic watermill, bygones room

Please and visit Church our of website St. Genevieve. www.eustonhall.co.uk for

Please visit our website www.eustonhall.co.uk for

further visitor information. Tickets can also be

further visitor information. Tickets can also be

purchased purchased from from the the Leaping Hare Hare Box Box Office, Office, in in

Thetford: Thetford:

T: 01842 T: 01842 751 751 975 975 www.leapinghare.org

Following our success last year Euston Hall will be

Open Monday again as 10 below: th to Saturday 15 th September

Monday 7 th to Saturday 12 th May

Monday 25 th to Friday 29 th June

Monday 16 th to Saturday 21 st July

Monday 20 th to Friday 24 th August

Monday 10 th to Saturday 15 th September

Come and view one of the finest Stuart art

Come

collections

and view

in

one

the

of

country,

the finest

as

Stuart

well as

art

the

collections

extensive

in the

country,

park and

as well

gardens,

as the

historic

extensive

watermill,

park and

bygones

gardens,

room

historic

watermill,

and Church

bygones

of St.

room

Genevieve.

and Church of St. Genevieve.

Please

Please

visit

visit

our

our

website

website

www.eustonhall.co.uk

www.eustonhall.co.uk

for further

for

visitor

further

information.

visitor information.

Tickets can also

Tickets

be purchased

can also

from

be

the

Leaping purchased Hare Box from Office, the Leaping in Thetford: Hare Box Office, in

T: 01842 Thetford: 751 975 www.leapinghare.org

T: 01842

Euston

751

Hall,

975

Euston,

www.leapinghare.org

Suffolk, IP24 2QW

Euston Hall, Euston, Suffolk, IP24 2QW

All profits will benefit local Charities

All

Euston

profits

Hall,

will

Euston,

benefit

Suffolk,

local

IP24 2QW

All profits go to local charities Charities

All will benefit Charities

All profits All profits go go to local local charities charities
---
BURY ST

EDMUNDS

Theatre Royal, Bury St Edmunds

Portrait of Matthew Vernon (Sub Dean) of

St Edmundsbury Cathedral

Few places in England can match the

beauty, character and history of Bury St

Edmunds. Rich in legend and folklore, the

town has been admired down the years by

visitors and authors from Daniel Defoe to

Charles Dickens.

The town grew up around the powerful

Abbey of St Edmund in early medieval

times. Evidence of St Edmundsbury's past

and present is all around. Town and village

streets, magnificent parish churches, and

unspoiled landscapes throw light on an

England that elsewhere has long been lost.

It's a wonderful town to visit, with almost

1,000 preserved buildings and a network of

streets that still follow the grid pattern

devised by the abbots in the 11th century.

Take the Abbey Trail through the town and

visit the old Abbey Ruins; the remains of the

great Benedictine Abbey, destroyed in

the dissolution of 1539.

The Abbey Gardens are well known for its

stunning floral displays. St Edmundsbury

Cathedral was mostly built in the 16th century

and has been a cathedral since 1914 but

in recent years has been completed with the

addition of a new Gothic style lantern tower.

The town has excellent leisure and

shopping facilities and is at its busiest on

Wednesdays and Saturdays when people

flock to the Buttermarket and Cornhill to

visit one of the best provision markets in

the East of England. The town is a shopper's

delight, where every sort of store from the

large high street names to family-run businesses

and fascinating small gift shops sit

comfortably side-by-side.

Visit the Theatre Royal Bury St Edmunds; a

restored Regency playhouse with a yearround

programme of performances. The

Apex is the town's hub for entertainment.

It hosts events, music, comedy shows and

more throughout the year. Don't miss the

Bury St Edmunds Festival from 18-27 May; 10

days of great music, theatre, film and exhibitions

taking place throughout the town.

Other buildings to admire include the

Victorian Corn Exchange; Cupola House,

where Daniel Defoe once stayed; the Angel

Hotel, where Charles Dickens and his creation

Mr Pickwick stayed; and The Nutshell,

owned by Greene King and declared the

smallest pub in the country.

Image credits: Visit Suffolk | www.visitsuffolk.com

eastlife.co.uk 127
---
CONSTABLE

COUNTRY

Constable Country is located on the Suffolk

and Essex border, on the banks of the River

Stour. This enchanting part of England was

the birthplace of renowned artist John

Constable and the subject matter of many

of his most famous paintings.

Rippingdales Antiques Shop, Clare | www.visitsuffolk.com

CAVENDISH

Cavendish is the perfect 'picture postcard'

English village and arguably one of the

prettiest villages in Suffolk. Situated in

the Stour Valley, Cavendish is famed for

its 14th/15th century church, a number

of thatched cottages, and the Sue Ryder

Foundation Museum, which tells the life

story of Sue Ryder and the history of the

foundation.

CLARE

A delightful little wool town on the River

Stour, it has a captivating history, offering

a wide range of shops, antique outlets

and excellent local cafes and pubs. Visit

the remains of a 13th century Augustinian

Priory and the quaint Ancient House

Museum. The open space of Clare Castle

Country Park is a wonderful place to relax

as is the picturesque nearby River Stour.

Constable once said: "I associate my

careless boyhood with all that lies on the

banks of the Stour... those scenes made

me a painter", and indeed one of the best

ways to appreciate the countryside that

John Constable knew and loved is to walk

around the picturesque Stour Valley.

By following in the footsteps of Constable,

visitors can experience first hand the

setting for some of Constable's most

famous paintings, such as 'The Hay Wain',

'The Mill Stream', 'Boat-building near

Flatford' and 'The White Horse'. The Bridge

Cottage is now home to a small exhibition

on Constable, a tearoom and shop.

The little riverside hamlet of Flatford is

owned by the National Trust, which

between March and October organise

guided Constable tours around the village,

lasting approximately one hour. You can

also visit the village of East Bergholt,

Constable's birthplace, and from where a

young Constable used to walk across the

riverside meadows to Dedham every day

on his way to school.

Close by is the historic market town of

Hadleigh, the delightful Shotley Peninsula,

and some wonderful villages along the

Stour Valley, which you can follow all the

way to Haverhill. Known the world over

for its atmospheric skies and captivating

natural beauty, this is an inspirational

place to spend a holiday.
---
DEBENHAM

A former court of East Anglian Kings, this

attractive large village is set near the

source of the River Deben. Once a thriving

wool centre, the streets are lined with 14

-17th century timber-framed merchants'

houses. 'Blood Field' recalls a great battle

which took place against the Danes.

Debenham is also home to the world

famous Carters Teapot Pottery and Ceramic

Cafe. Visitors can watch the teapots being

made, browse around the Pottery Shop and

enjoy light refreshments (homemade cakes

and scones) in the Pottery's small

conservatory/tea room.

DUNWICH

Once the capital of East Anglia, it's hard

to believe that the sleepy village of

Dunwich was once a bustling port city

with a population of 4,000. It might have

been still if the sea hadn't eaten away

at it, leading to its almost complete

abandonment by the 19th century, with its

population dwindling to a mere 237.

Nonetheless there are fabulous reminders

of its heyday, including the ruins of a

Franciscan priory, while the natural

splendour of Dunwich Heath is still intact.

eastlife.co.uk 129
---
Euston Rural

Pastimes Event

A fun, family day out in the beautiful

surroundings of Euston Park.

Traction engines

Sunday 10 June 2018

10am-5pm

Dog shows

Bolddogs Kangaroo Lings- Display Kid Team

Scurry and Trials

Euston Park, Euston, IP24 2QH

www.eustonruralpastimes.org.uk

Classic cars

Plus much more!

Helmingham is famous for its Grade 1 Listed gardens,

redesigned by Lady Tollemache (a Chelsea Gold

Medallist) set in a 400 acre deer park surrounding

a moated Tudor Hall. Visitors are enchanted by the

herbaceous borders within the walled kitchen gardens, the

herb & knot garden, rose and wild gardens. A delicious

range of local food is served in the Coach House

Tearooms and the Stable Shops offer a wide array of local

produce, plants, garden accessories and local crafts.

Winner of the HHA/Christie's

Garden of the Year Award 2017

Many special events including The Festival of Classic &

Sports Cars and specialist Plant Fairs are held throughout

the season and groups are warmly welcomed. Please

contact us for further details of group booking discounts.

Open May – September Tues, Wed, Thurs and Sun

11:00 – 4:30

Helmingham Hall Gardens, Helmingham,

Stowmarket, Suffolk, IP14 6EF

t: 01473 890799

e: events@helmingham.com

w: www.helmingham.com

Photos copyright of Marcus Harper
---
Felixstowe, bordered on the north by the River Deben

and on the south by the River Orwell, is a well-loved

resort known for its quality sand and shingle beach, long

promenade, perfectly kept seafront gardens and seaside

attractions.

Felixstowe became a fashionable seaside resort in the

1880s, and has retained many of its attractive Victorian

and Edwardian houses and hotels. The seafront is over

four miles long, with a wide promenade that stretches

almost the entire length of the beach from Languard

Point to Felixstowe Ferry.

The front has all the attractions of a traditional seaside

holiday resort, with old-fashioned beach huts, fish and

chip shops, a funfair, amusement arcade, miniature golf,

bowling green, cafés and restaurants, as well as the

facilities of the leisure centre. Alternatively, you could

enjoy a retro night at the movies at the 1930s Palace

Cinema.

Felixstowe's summer season of events includes a French

Market, Historic Vehicle Rally, tennis tournament, Carnival

and Fair and Art on the Prom, which this year takes place

on 2 September.

FELIXSTOWE

Felixstowe is home to the UK's largest container port

and Europe's busiest. The viewing area at Landguard

on the southern edge of the town offers great views

of container and passenger ships from Felixstowe

and Harwich harbours. Next to the view point is the

Felixstowe Museum, full of artifacts from Roman to

recent times, and Landguard Fort, a multi-period military

building dating back to the 16th century.

At the mouth of the River Orwell are the Landguard

Bird Observatory and the Landguard Peninsular Nature

Reserve, a significant site for shore and migrant birds,

and rare shingle flowers.

North of the town centre is the fishing village of Old

Felixstowe and at the mouth of the River Deben, the

hamlet of Felixstowe Ferry with its gallery, golf course,

cottages, boat yard and riverside inns. Here you can

explore coastal paths, see the Martello Towers, pick up

fresh fish, enjoy excellent fish and chips at the Ferry Café

and catch the small ferry boat across the estuary to

Bawdsey.

eastlife.co.uk 131
---
Introducing The New Sheepyard Barn

The New Sheepyard Barn

SLEEPS UP TO 12 GUESTS | OPEN PLAN LIVING

HOME CINEMA SYSTEM | CHILDREN'S PLAYROOM

OUTDOOR LOUNGE | PRIVATE INDOOR SWIMMING

HOT TUB | REMOTE SETTING | PIZZA OVEN

2018 Winners of Best Self Catering Property in Suffolk & Norfolk

THE PERFECT RURAL ESCAPE FOR FAMILIES

AND LARGE GROUPS OF FRIENDS

Luxury Self Catering Log Cabins

SLEEPS UP TO 12 GUESTS | OPEN PLAN LIVING

HOME CINEMA SYSTEM | CHILDREN'S PLAYROOM

OUTDOOR LOUNGE | PRIVATE INDOOR SWIMMING

HOT TUB | REMOTE SETTING | PIZZA OVEN

STOP, RELAX AND UNWIND

20% PEACE OFF & TRANQUILITY 2017 MID-WEEK | HOT TUBS | WOOD HOLIDAYS STOVES | IN DINING OUR OVER CABINS WATER

AND AN EXTRA SPA 20% TREATMENTS OFF THE | ADULTS SHEEPYARD ONLY BARN,

IN ADDITION

The Suffolk Escape,

TO THE

Hintlesham,

CURRENT

Ipswich,

2017

Suffolk

DISCOUNT.

IP8 3NX

01473 652149 Enter | www.suffolkescape.co.uk

code: suffolk20

info@suffolkescape.co.uk

Luxury Self Catering Log Cabins
---
View of the cottage within the walls of Framlingham Castle | www.visitsuffolk.com

FRAMLINGHAM

HADLEIGH

Framlingham, known locally as 'Fram', sits

in the unspoilt countryside of East Suffolk's

coastal district. The pretty market town

has a conservation area and many of the

town's buildings date from the 17th, 18th

and 19th centuries. Framlingham's trail is a

good way to explore the town's history

and interesting buildings.

The 12th-century Framlingham Castle,

owned by the English Heritage, was the

seat of the Earls and Dukes of Norfolk.

Mary Tudor lived in the castle in 1553

and it was here that she heard she had

become Queen of England. Open daily

for much of the year (March - November,

weekends only) visitors can walk around

the battlements and along the wall to take

in good views of the countryside and the

Mere. Concerts and re-enactments take

place in the grounds between March and

September.

The Suffolk Wildlife Trust manages the

Mere, which runs alongside Framlingham

Castle. Framlingham town centre is best

known for its antique shops, and is a great

place to search for a special find. A twiceweekly

market takes place on Market Hill

every Tuesday and Saturday.

Hadleigh, in the south of Suffolk close to

the border of Essex, offers a wonderful

mix of the old and new, and is known as

much for its collection of interesting shops,

pubs and restaurants as it is for its fine

architecture.

Hadleigh is one of Britain's finest ancient

market towns, with a rich architectural

history that has its origins in Saxon times.

Hadleigh's High Street is almost a mile

long and runs parallel with the river, and

of the 137 properties that line the street 90

percent are listed buildings.

HALESWORTH

Halesworth is a small market town

primarily centred around a pedestrianised

shopping street known as The

Thoroughfare. The Cut, a centre for arts

in the community, offers a whole range

of arts and entertainment and is host to

the Halesworth Arts Festival from 13-28

October. The Town Park hosts Gig in the

Park every August; a showcase of local,

national, and international musical talent.

Market day is every Wednesday.

eastlife.co.uk 133
---
A Unique Venue

Clay Shooting | Weddings | Celebrations

Luxury Lodge Accommodation | Footgolf

The Sunday Carvery | Corporate Events | Golf

Feel free to visit the website for more information, alternatively

pop down to see us. We are located just off the A12 near

Blythburgh, not far from Southwold, Suffolk IP17 3QT.

Every Sunday

12 - 2.30pm

01986 784347 | www.highlodge.co.uk

High Lodge Leisure Ltd HighLodgeSS High_Lodge_Leisure_Ltd

A WORLD CLASS VENUE ON

THE IPSWICH WATERFRONT

TRANSPORT & ENGINEERING

HERITAGE IN OUR COUNTY TOWN

Over 100 major exhibits - all made or used in Ipswich!

OPEN EVERY SUNDAY and

BANK HOLIDAY 11am - 4pm

until 2nd DECEMBER

Plus MONDAY to FRIDAY 1pm - 4pm during

SUMMER & AUTUMN School Holidays

See website for details and special events

PERFORMANCES

CLASSES & COURSES FOR ALL AGES

PROFESSIONAL ARTIST DEVELOPMENT

CENTRE FOR ADVANCED TRAINING

COMMUNITY & EDUCATION PROJECTS

SUMMER SCHOOLS

We're on Facebook &

Google Streetview!

Old Trolleybus Depot, Cobham Road, Ipswich IP3 9JD

GIFT SHOP - TEA ROOM - WHEELCHAIR ACCESSIBLE

enquiries@ipswichtransportmuseum.co.uk
---
HAVERHILL

Haverhill is a market town that dates back

to Saxon times. Whilst most of its historical

buildings were lost to the great fire on

14 June 1667, it does however retain one

notable Tudor house (reportedly given to

Anne of Cleves as part of her divorce from

Henry VIII, and thus titled Anne of Cleves

House) and many interesting Victorian

buildings.

Haverhill is predominantly a modern and

young town, with a small centre with a

number of shops, including a retail quarter,

and a leisure complex with a number of

restaurants and a Cineworld. The town

has a refurbished leisure centre with a

state-of-the-art gym and swimming pool,

and an Arts Centre that hosts a range of

entertainments.

Haverhill also offers wonderful green

spaces; the large recreation ground in the

heart of the town is popular with all ages

while there's also the award-wining East

Town Park.

IPSWICH

Once a solid centre of maritime commerce

and activity, the Ipswich 'Docks' has been

transformed into the Ipswich 'Waterfront'.

Much of the rich fabric of the past remains

intact with sensitive renovations of several

heritage dockland buildings including the

delectable boutique style Salthouse Harbour

Hotel and the imposing Old Custom's House.

Meanwhile, a new wave of vibrant

cafes, cosmopolitan restaurants, interesting

shops and modern apartment blocks

has washed in with the tide. Add this to the

ever-changing skyline; the vista of visiting

large sailing boats, Royal Navy ships, yachts

and powerboats, it's easy to see why Ipswich

has become one of the most sought after

destinations in the East.

Ipswich Maritime Festival | www.visitsuffolk.com

Ten minutes walk away is the town centre,

which offers rich pickings in terms of its

museums, galleries, theatres, parklands

and high street shops. There's also a great

open-air market on the Cornhill on Tuesdays,

Fridays and Saturdays, located right outside

the refurbished Town Hall Galleries, which is

well worth a visit.

Christchurch Mansion, a fine Tudor house set

in its own beautiful park in the heart of the

town, boasts the most important collection

outside of London of works by Constable

and Gainsborough. International pop acts,

mainstream, fringe theatre and an unrivalled

arts festival can all be found at venues such

as The Regent Theatre, the Corn Exchange,

DanceEast and the New Wolsey Theatre.

Of course, retail therapy is a must when in

town. St Nicholas Street is 'boutique paradise',

and there's a thriving High Street and

the Sailmakers Shopping Centre.

eastlife.co.uk 135
---
Earsham

Home

Furnishings

Our extensive showrooms house a large

range of pine, oak & hand painted furniture in

East Anglia, traditional fireplaces, surrounds and

accessories, solid brass lighting, mirrors, prints,

giftware and decorative accessories.

Monday - Saturday 9.00am – 5.00pm • Sunday 10.00pm – 4.00pm • Bank Holidays 9.00am – 5.00pm

Tel: 01986 893 423 - Email: enquiries@earshamhall.co.uk - Web: www.earshamhall.co.uk

EARSHAM HALL, BUNGAY, SUFFOLK, NR35 2AN

FURNITURE LIGHTING FIREPLACES GIFTS TEAROOM KITCHENS EVENTS
---
LAVENHAM

LONG MELFORD

Lavenham is a joy to explore at any time

of the year and looks as beautiful in the

evening as it does during the day. The

village has a proud history and the many

magnificent buildings that remain are a

testimony to the town having been the

fourteenth wealthiest in England.

It ranks amongst the most beautiful of

villages; set in lush green countryside it

makes the ideal weekend getaway. The

appearance of the town has changed little

over the years, the buildings are fascinating,

some are huge and imposing, others are

tiny and crooked. The townspeople have

even removed the telegraph poles and

buried the wires underground to preserve

the village's Tudor appearance.

Lavenham has been described as 'the finest

medieval town in England' and no fewer

than 300 of its buildings are listed as being

of architectural or historical interest. One of

these is the Church of St Peter and St Paul,

which is among the finest in East Anglia, a

magnificent church with a spire of 141 feet.

The local Lavenham Sinfonia gives regular

concerts here on Sundays. Other buildings

of interest that are open to the public

include The Guildhall of Corpus Christi. This

is a 16th-century timber framed building

overlooking the market place and houses a

museum offering insights into local life.

Little Hall is a lovely example of a

15th-century hall house with a crown-post

roof. Much recommended is a walk along

the disused railway line, followed by a

wander through the gift and antique shops,

then a spot to eat in one of the many

fabulous tea rooms, pubs and fine-dining

restaurants scattered around the town. The

Angel, believed to be Lavenham's oldest inn

is great for a bite to eat and the renowned

Swan is perfect for afternoon tea.

Long Melford is one of Suffolk's most

attractive villages. It has a long High Street

- two and a half miles to be exact; the

longest in England - populated by charming

independent shops, vibrant art galleries,

antique centres, cafes, restaurants, and, of

course, typical Suffolk Inns. This, combined

with beautiful architecture and amazing

countryside, makes Long Melford a

desirable stop for any visitor to Suffolk.

There are plenty of interesting sights,

including Holy Trinity Church, a wool church

dating from the 15th century. It contains

several noteworthy memorials and brasses,

and just outside is the brick hospital,

founded in 1573 as an almshouse for twelve

poor men and two poor women. There are

also two Tudor mansions in close proximity.

Kentwell Hall is a romantic, completely

moated, mellow redbrick mansion in a

tranquil parkland setting. There are lots of

events going on at the Hall, not least their

famous Tudor re-creations, and you can

have a guided tour of the house.

Melford Hall is a large Elizabethan house

run by the National Trust, built of red brick

around a quadrangle and ornamented with

mitretopped turrets. Spend the afternoon

strolling around the many art galleries,

which Long Melford has become known for.

Long Melford is a true Suffolk gem. It

has lots to offer the visitor, from historic

buildings to contemporary fashions, and

the food available throughout the village

- from the butcher to the restaurants and

pubs - will keep you sustained throughout

your stay.

eastlife.co.uk 137
---
STAYCATION,

PAYCATION

You're familiar with

the idea of the

Staycation: holiday

near home and enjoy

the sights and scenery

of the UK, and save

on all the travelling,

queues and hassle

of going abroad.

We would like to introduce you to the Paycation. It works just

the same; enjoy the UK and save on the hassle and travelling,

but also earn money from lettings when you're not using your

holiday home. Wonderful when you're there, and profitable

when you're not.

DON'T SETTLE FOR A STAYCATION

WHEN YOU CAN HAVE A PAYCATION

• Brand new 2 bedroom holiday properties for sale - £74,995

• x10 new plots just released • Open all year round

• Low annual running costs • 99 year lease

• Peace of mind - buy from a long standing manufacturer

• Lease protected under The Landlord & Tenant Act

• Earn an income from our managed letting scheme

• Reserve today with only £1000

01692 652167 www.tingdenelifestyleparks.co.uk

Tingdene Rainbows End, Mill Lane, Bacton, Norfolk NR12 0HN
---
LOWESTOFT

Located on the most easterly point of the British coast,

Lowestoft provides an ideal holiday location for all

ages. Lowestoft offers a mix of lively beaches, pleasant

seaside walks and quality family attractions all set in a

traditional seaside town.

This once flourishing fishing port is now renowned

for the quality of its golden sandy beaches, which are

considered to be some of the very best in Europe. The

Victorian gardens provide the perfect surrounds to one

of the east coasts highlights.

The town centre and seafront areas have seen some

changes over recent years to make them more

accessible to visitors. The improvements included the

introduction of the Princess Royal Fountains, consisting

of 74 individual water jets that provide the perfect

attraction for children throughout the day and a visual

spectacle in the evenings.

Lowestoft also offers a great shopping experience. The

main town centre provides all the high street names,

Kirkley offers a choice of independent stores whilst the

High Street provides an opportunity to shop in one of

the most interesting and historical parts of the town.

Those wishing to delve into Lowestoft's rich maritime

history will be able to explore Heritage Quay and the

Maritime Museum. There is also the opportunity to buy

some local fish from one of the merchants or from the

local smoke house.

Heading away from the beach, the town is surrounded

by a wide choice of attractions, ranging from

museums, wildlife parks, piers and other facilities that

will keep all visitors of all ages entertained.

The Marina Theatre in the town provides a number of

high quality acts throughout the year. Those wishing to

be a little more active may decide to follow the coastal

walk, either on foot or on horseback, and for the more

adventurous kite boarding is also available.

eastlife.co.uk 139
---
Go Behind the Scenes

Prices from

£11

per person

Fun family

days at top

attractions!

Discover Newmarket offers a unique

opportunity to go behind the scenes at

racing's headquarters to learn about

the fascinating history, heritage and

culture of the town.

Meet the

equine

stars

Exclusive

access to

Trainer yards

and studs

email admin@discovernewmarket.co.uk T @DiscoverNkt F /discovernewmarket I @DiscoverNkt

visit www.discovernewmarket.co.uk call 0344 748 9200
---
MILDENHALL

Mildenhall is an attractive medieval

market town surrounded by the River Lark.

The town centres on the Market Place

with its distinctive 16th century hexagonal

Market Cross - used for hanging criminals

years ago - and the Town Pump. The parish

pump still stands in the market place,

as a reminder that piped water was not

available until the 1940s.

A market is held here every Friday and was

established by Royal Charter in 1412. During

the Second World War, Mildenhall was an

important bomber base and since 1950 has

been home to the United States Air Force,

fast becoming one of the most important

American installations in this country.

St Mary's Church is one of the finest in

Suffolk and the town has a good number

of restaurants, shops and other amenities.

Mildenhall Stadium hosts greyhound, stock

car and speedway racing.

NEEDHAM MARKET

Needham Market is a small historic town

set in the Gipping Valley. Once a thriving

wool town, the onset of the plague resulted

in the town being 'chained' off from the

outside world between 1663-65 to isolate it

and contain the disease. Despite the plan

succeeding, the town still lost two-thirds

of its population and did not recover for

some two hundred years until the arrival of

the railway. The town has two road names

linked to the plague: Chainhouse Road,

named after the chains that ran across the

East end of the town, and The Causeway,

a modern variation of 'the corpseway', so

called because of the route that plague

victims were transported out of town.

The town boasts many unusual,

independent and specialist shops, and fine

Georgian and Tudor architecture.

NEWMARKET

Whether you're a devoted horseracing

fan or just a lover of beautiful English

towns, Newmarket is sure to appeal. It has

long been considered the birthplace of

thoroughbred horseracing since successive

Royal Family members came to appreciate

the flat land as an ideal location for

galloping their horses.

Racing's early administrative body, The

Jockey Club, created its home here. If this

is your particular fascination, you'll be

pleased to find the National Stud here, the

National Heritage Centre for Horseracing

& Sporting Art, Tattersalls and also the

impressive Newmarket Racecourses

themselves, which welcomes big-names in

music at its summer concerts, 'Newmarket

Nights'.

There are other places of interest for the

curious visitor too. Newmarket boasts

impressive features such as the grand

Clock Tower on the High Street, the

King Edward VII Memorial Gardens, the

War Memorial Gardens and the elegant

Cleveland House in Old Station Road.

eastlife.co.uk 141
---
ORFORD

Steeped in history, Orford is an

attractive town dominated by its

impressive castle, built in the 12th

century by Henry VII for coastal

defence.

The town has plenty to offer those

passing through, with excellent walks

and cycle rides for the more outdoorsy,

and plenty of good restaurants, pubs

and tearooms for those simply looking

to relax and soak up the surrounding

history.

Brick and timber buildings line the

streets to the little quayside, where

there are boat trips to Orford Ness -

Europe's largest vegetated shingle spit.

The Reserve contains a variety of

habitats including shingle, saltmarsh,

mudflat, brackish lagoons and grazing

marsh. It provides an important

location for breeding and passage birds

as well as for the coastal shingle flora

and wildlife (including a large number

of nationally rare species).

Visitors can follow a 5.5 mile route,

which can be walked in total or in

part (the full walk involves walking on

shingle). Don't leave without trying the

locally cultivated oysters!
---
SAXMUNDHAM

Saxmundham is a popular market town on

the River Fromus at the centre of Suffolk's

Heritage Coastal region. Saxmundham, or

'Sax' as it is known locally, has many local

shops and businesses, sports and leisure

facilities. There's also a market every

Wednesday. It's home to RSPB Minsmere;

a fantastic coastal nature reserve that's

perfect for families. There's something for

everyone to enjoy including long and short

walks, wildlife, a café and Wild Zone natural

play area where the kids can let off steam.

(www.rspb.org.uk/Minsmere)

PIN MILL

On the banks of the River Orwell the

hamlet of Pin Mill is a haven of tranquility,

loved by artists, walkers and birdwatchers.

The 17th-century Butt & Oyster Inn is so

close to the river that it can serve pints of

ale through the window to yachtsmen at

high tide.

Pin Mill was the setting for Arthur

Ransome's book 'We Didn't Mean to Go to

Sea', one of a series of children's books

penned by the author.

The wild Konik Horses at Minsmere RSPB Reserve |

www.visitsuffolk.com

eastlife.co.uk 143
---
smart casual clothing

for men & ladies

11 Market Place, Southwold, Suffolk, IP18 6EA

Open 7 Days | 01502 722372 | info@dennyofsouthwold.co.uk

Boating Lake Tearoom

This Quirky little Tea Room is big on giving you a warm and friendly welcome, with Breakfasts, tempting Lunches, Snacks and the

scrumptious Afternoon Cream Teas all served to you by our friendly staff. Our homemade Scones, Soups, Cakes and Sandwiches

are all made fresh to order and where and when possible local produce and suppliers are used.

We have seating inside for 50 people and far more outside and can cater for Families, Groups, and Private Hire such as

Birthday Parties, Anniversaries, Mother and Toddler groups and Wakes, small Wedding Parties and Coach Parties.

Outside on the Boating Lake Veranda we have Lloyd Loom chairs for your comfort, sit and watch children in the paddleboats,

or families having fun on the crazy golf. On the Rear lakeside veranda there is seating overlooking the beautiful lake and Islands,

the perfect location for Bird watching or chilling out watching the world go by.

To enquire or make a booking call Penny or David 07771781739

Southwold Boating Lake & Tearoom, North Parade, Southwold, Suffolk IP18 6BN

www.southwoldboatinglakeandtearoom.co.uk

Facebook: SouthwoldBoatingLakeAndCafe Twitter: @boatinglake
---
SOUTHWOLD

Southwold lies in the centre of an area

of great natural beauty – a haven for the

walker, the naturalist and the birdwatcher.

Situated on a hill that gently rises from the

Blyth Valley, the town is virtually an island,

being surrounded by the River Blyth to the

south and Buss Creek to the north. This

has enabled Southwold to retain its old

world charm. The dramatic coastline and

the town's beautiful architecture make it a

popular attraction throughout the year.

by the local – and world famous – Adnams

Sole Bay Brewery. The Adnams stamp is

everywhere and reflected in the cluster of

great pubs in the area. The brewery can

be found on East Green, which has both

brewery and distillery tours available.

The Swan Hotel, which dominates the

Market Place, is not only an excellent

place to stay but has a highly regarded

restaurant.

In the summer, Southwold's sandy beaches

are a huge draw and out of season some of

its most charming elements can be enjoyed

– cosy pub lunches, isolated walks or a

quiet browse in its many antiques shops.

Southwold's beach is immaculately kept

and is a regular Blue Flag winner. The shore

is famous for its rows of brightly coloured

beach huts. These days they sell for the

price of a small flat!

Quiet and full of character, Southwold is a

refreshingly unspoilt coastal resort. In the

town centre there's an exciting selection of

interesting and independent shops, selling

antiques, crafts and gifts. There's also

a variety of art galleries, boutiques and

jewellers scattered around the town.

As you'd expect, first-class seafood can be

found in the town's many fine restaurants

and pubs, most of which serve ales brewed

Southwold looks out over Sole Bay, scene of

an inconclusive battle in 1672 between the

combined British and French fleet and the

Dutch fleet. The town was once known for

its herring fishery, and today the attractive

harbour is still home to a little fleet of

boats.

To discover something of Southwold's

maritime heritage visit the Sailors' Reading

Room, on East Cliff overlooking the sea,

where the exhibits include ship models,

figureheads and early photographs of

past seafaring local heroes. There's more

maritime history to be found in The Alfred

Corry Lifeboat Museum.

Visitors who climb the winding lighthouse

stairs are rewarded with fantastic

views. Those wanting to take to the sea

themselves can take the Coastal Voyager

sea trip from the harbour.

eastlife.co.uk 145
---
Gainsborough's House Museum

Open: Monday - Saturday 10am to 5pm Sunday 11am to 5pm

T: 01787 372958 | www.gainsborough.org
---
STOWMARKET

A town at the geographical heart

of rural Suffolk and on the River

Gipping, Stowmarket was originally an

agricultural market town.

Industry developed upon the

canalization, in 1793, of the River

Gipping bringing new prosperity to the

town. Now the old towpath forms an

enjoyable footpath through the Gipping

Valley, from Stowmarket railway station

to the docks at Ipswich.

Even though it is growing in size and

population, Stowmarket hasn't lost its

charm, with a variety of listed buildings

typical of Suffolk's towns and villages,

most notably St Peter and St Mary's

Church.

Not to be missed is the Museum of East

Anglian Life, one of the UK's leading

open-air museums.

Foster traction engine, Museum of Rural Life,

Stowmarket | www.visitsuffolk.com

SUDBURY

Set in the heart of the Stour Valley,

the market town of Sudbury was for

centuries a centre of the weaving and

silk industries. The painter Thomas

Gainsborough was born here and a

fine collection of his paintings can be

seen in his house, which also has a

contemporary art gallery and a print

workshop offering summer courses.

The Quay Theatre puts on a lively

programme of events and close by

visitors can enjoy a lazy boat trip on

the River Stour followed by a cream tea

at the restored 18th-century Granary.

There is still a traditional market, a

farmers' market on the last Friday of

each month plus a lovely range of shops

to explore.

eastlife.co.uk 147
---
Minsmere

Family-friendly fun on the Suffolk coast

Kidsgo free!

Get your voucher at rspb.org.uk/discoverminsmere

• Wild Zone play area

• Nature Discovery Centre

• Coastal trails

• Woodland dens

• Family-friendly café

• Less than an hour's drive

/RSPBSuffolk

/RSPBMinsmere

RSPB Minsmere nature reserve, Suffolk coast, IP17 3BY

Girl image by Nick Cunard (rspb-images.com), dragonfly by Fotolia and ladybird by iStock.

The RSPB is a registered charity in England & Wales 207076, in Scotland SC037654. 851-1289-16-17.
---
People queueing for The Ferry at

Walberswick | www.visitsuffolk.com

THORPENESS

WALBERSWICK

If there was ever a village that deserved to

be called 'fantastic', it is Thorpeness. Built at

the start of last century by Glencairn Stuart

Ogilvie, a wealthy and eccentric Scottish

barrister with a penchant for mock Tudor

and Jacobean architecture, Thorpeness

has a number of unconventional properties

under its belt.

Originally a private fantasy holiday village,

Ogilvie ingeniously disguised the village's

water tower as an overgrown house, the

striking 'House in the Clouds', lest it offend

the eye. 'Peter Pan' fans of all ages can find

J M Barrie's work realised at the Meare

boating lake where islands and coves are

given names taken from the book. Children

are able to play in the Pirate's Lair and

Wendy's Home, with boats available to

rent in order to enjoy the Meare in all its

quirkiness. After an afternoon's boating

enjoy a meal and explore the stalls at the

Thorpeness Brasserie and Emporium. In

August the Meare hosts the Thorpeness

Regatta, attracting visitors looking to enjoy

the numerous boat races and impressive

fireworks display.

Walberswick is a village across the River

Blyth from Southwold. It is one of Suffolk's

top tourist attractions with half of the

properties in the village being holiday

homes.

The village and surrounding beach and

marshland have long attracted residents

drawn from the arts, film and media.

Considering its size, an inordinate number

of British celebrities own holiday homes in

the village including Emma Freud and her

husband Richard Curtis.

The village is the setting for Esther Freud's

novel, The Sea House, thinly disguised

as 'Steerborough' - presumably a coded

reference, or in-joke, towards one-time

resident, Philip Wilson Steer.

From 1981 to 2010 the village hosted The

British Open Crabbing Championship.

Visitors can still join in the fun, simply set

yourself up on a jetty or footbridge and

see what you can catch! The village has

tearooms, restaurants, public houses, an art

gallery, original crafts and gift shops.

eastlife.co.uk 149
---
2018 01 East of England Visitor Guide General QP.qxp_90.5mm h x 128mm w 30/01/2018 09:47 Page

Hidden treasure

for all to enjoy

Ufford Park Woodbridge

A warm welcome and fantastic views await you

at Ufford Park Woodbridge Hotel, Golf & Spa.

Open to guests, members & non-members, our

family-friendly hotel boasts a fantastic 18 hole,

par 71 golf course (suitable for all abilities),

thermal suite spa, health club, swimming pool,

Congo Rapids Adventure Golf Course and

delicious locally sourced food served all day.

Everyone is welcome, even your

four-legged best friend.

Why not pop in for a Paddy and Scott's coffee,

and a piece of homemade cake?

We would love to see you.

t 0844 477 1835 (local rate)

w www.uffordpark.co.uk

Yarmouth Road|Woodbridge|Suffolk|IP12 1QW

One of East Anglia's oldest commercial vineyards

producing a range of White, Red and Rosé wines

as well as Quality English Sparkling wines.

For more information, including full tasting

notes, go straight to our online shop!

OPEN

May to September - Monday to Saturday - 10am to 5pm

For full contact details and to view our online shop,

please visit our website:

www.shawsgate.co.uk
---
WOODBRIDGE

The picturesque market town of

Woodbridge effortlessly mixes the old with

the new and attracts thousands of visitors

every year.

Whether it's for a walk along the smooth

River Deben overlooking Sutton Hoo, the

ancient burial site of the Anglo Saxon Kings

tucked across the river estuary or simply to

enjoy one of the many cafes and eateries

around the town, you'll find plenty of

reasons to return.

The town's most well-known landmark

is the white-boarded Tide Mill, which is

neatly nestled between the boat builders,

sail makers and chandlers still plying their

wares. It may be one of the earliest mills

in the UK - a mill was first recorded on

this site in 1170 - but today's building dates

from the 18th century.

In town you will probably want to catch

your breath in The Thoroughfare, a

cornucopia of delicatessens, boutiques,

and bookshops. One of the charms of the

town are the tiny winding lanes bedecked

on either side with medieval timbered

cottages, Georgian townhouses, and a

plethora of cosy pubs.

Market Hill provides one of the best

vantage points in town and it's here

that you'll find Woodbridge Museum,

which includes an excellent collection of

memorabilia telling the intriguing story

of the National Trust's Sutton Hoo site

amongst other things. Then there's the

Shire Hall to explore, built in 1575.

For a fun family day out, head to The

Suffolk Punch Trust. With stables, a farm,

pretty walks, heritage garden, museum and

barn there's plenty to discover. The Trust is

dedicated to preserving the Suffolk Punch

breed but also the skills of the people

needed to handle these wonderful horses.

Families can get involved with a range of

activities including stable demonstrations,

feeding the resident pets, tractor trailer

rides and arts and crafts.

There's some lovely walks to enjoy too as

this part of the South-East Suffolk coast

is an area of Outstanding Natural Beauty,

popular with dog walkers.

eastlife.co.uk 151
---
SUFFOLK

ATTRACTIONS

Adnams Brewery

Adnams' famous Suffolk beer has been

brewed in Southwold for over 150 years and

all around the town you will experience the

influences of the brewery. The brewery itself

is a mix of traditional buildings, with cutting

edge installations where cask beer has been

brewed since 1872. Take a guided tour of the

brewery or the distillery for £20 per person.

Southwold. 01502 727225 www.adnams.co.uk

Anglia Indoor Kart Racing

Indoor racing karts and exhilarating

multi-level circuit, bringing the thrills of

motorsport to all adrenaline-seekers. Ipswich.

01473 240087. www.angliakarting.com

The Amber Museum

The UK's only purpose-built museum

dedicated to the history of amber. The

museum has artefacts, carvings, jewellery

and objets d'art; both modern and antique.

Southwold. 01502 723394.

www.ambershop.co.uk

Beccles Lido

Heated pool situated by the river Waveney.

Beccles. 01502 713297. www.beccleslido.com

Abbey Gardens

Beautiful public gardens surrounding the ruins

of the Abbey. The gardens include a host of children's

play area, tennis courts, putting, bowling

green, a tea shop and a riverside walk leading

towards a local nature reserve known as No

Man's Meadows. Bury St Edmunds.

www.abbey gardenfriends-burystedmunds.com

Aboard the Allen Gardiner

Operating from the historic waterfront's

Ipswich Haven Marina in the Wet Dock,

cruise the River Orwell down to the Port of

Felixstowe, whilst enjoying fine food from an

a la carte menu. 01473 558712.

www.lady-florence.co.uk

Adventure Island Play Park

Excellent purpose-built children's indoor soft

play centre. Pinbush Road, Lowestoft. 01502

519933. www.adventureislandplaypark.co.uk

Alton Water

The largest reservoir in Suffolk offering

fishing, sailing, windsurfing, picnic area,

footpaths, water sports centre extension and

visitor centre. Cycle hire available. Stutton,

nr Ipswich. 01473 328408.

www.altonwater.co.uk

Bentwaters Cold War Museum

Museum housed in a command post or

bunker on what was the USAF air base at

RAF Bentwaters. Bentwaters Parks.

07588 877020. www.bcwm.org.uk

Africa Alive

An award-winning attraction set in 100 acres

of dramatic coastal parkland, where you can

get close to the animals and discover the

sights, sounds and smells of Africa. Home

to more than 80 species of animals from

around Africa. Lowestoft. 01502 740291.

www.africa-alive.co.uk

Brandon Country Park

32 acres in the heart of the Brecks with

walks, cycle and easy access trails. Brandon.

www.brandoncountrypark.org.uk

The Brecks

One of the great natural areas of Britain with

over 370 square miles of forest, heathland

and countryside. www.brecks.org

Carlton Marshes

Over 100 acres of beautiful Suffolk grazing

marsh, fens and peat pools to explore via

waymarked trails. Carlton Colville, Lowestoft

01502 564250.

152 Download Our App Today!
---
Christchurch Mansion

A fine Tudor mansion built between 1548 and

1550 with later additions. A good collection

of furniture, panelling, ceramics, clocks

and paintings from the 16th-19th centuries.

Christchurch Park, Ipswich. 01473 433554.

www.cimuseums.org.uk

Clare Castle Country Park

Beautiful quiet space that contains the

remains of the 13th century stone castle

keep. The nature trail takes in the River

Stour and the Railway Walk. Visitor Centre.

Maltings Lane.

www.clarecastlecountrypark.co.uk

Coastal Voyager

Fast exciting sea trips from the harbour.

Southwold Harbour Kiosk. 07887 525082.

www.coastalvoyager.co.uk

The Seething Control Tower Museum

Learn the fascinating history of this airfield,

from the first flights in 1917 to the 1970s,

and about the British and American airmen

who worked, fought and died at Martlesham

Heath. www.seethingtower.org

Deben Cruises

Cruises on the River Deben for organised

parties. The Quay, Waldringfield,

Woodbridge. 01473 736260.

www.debencruises.co.uk

Dunwich Heath Coastal Centre

Enjoy wonderful walks and fabulous views at

this site of specific interest within an Area of

Outstanding Natural Beauty. Dunwich.

01728 648501. www.nationaltrust.org.uk/dunwich-heath-and-beach

East Anglia Transport Museum

A working museum where the past comes

to life. Travel as often as you like on historic

vehicles or take a trip on the narrow gauge

railway. Chapel Road, Carlton Colville,

Lowestoft. 01502 518459.

www.eatransportmuseum.co.uk

Easton Farm Park

Delightful working farm where you can learn

all about the different animals, including

lambs, ponies, Suffolk Punch Horses, piglets,

rare breed cows and more. Chick nursery,

adventure playground, pedal tractors, go

karts, café and gift shop. Easton.

01728 746475. www.eastonfarmpark.co.uk

Euston Hall

Home for the Dukes of The Hall, it contains,

among its many treasures, the famous

collection of paintings of the court of Charles

II and includes works by Van Dyck, Lely and

Stubbs. Visitors are also invited to enjoy the

tranquil gardens, the church and the

river walk to the recently restored watermill.

Euston. 01842 766366. www.eustonhall.co.uk

Euston Rural Pastimes

The annual celebration of rural pursuits and

agriculture featuring Traction and Stationary

Engines, Classic and Vintage Cars, crafts and

more. This year the event takes place on

Sunday 10 June. www.eustonruralpastimes.org.uk

Electric Picture Palace

Owned and run by Southwold Film Society,

the Electric Picture Palace shows films in

seasons throughout the year, with a short

break between each season. Tours of the

Palace are also available. Tour times vary

week to week. They are usually at 2.30pm

and last for 45 minutes to one hour. The cost

is £6 adult, £3 child under 16. Blackmill Road,

Southwold. 07815 769565.

www.southwoldcinema.co.uk

Felixstowe Leisure Centre

25m pool, fitness suites, activity hall, bowls

hall, soft play area and more. Seafront,

Felixstowe. 01394 694600

Framlingham Castle

A magnificent example of a late 12th century

castle. The castle is notable for its curtain

wall with mural towers, an early example

of this design. Walk around the impressive

wall-walk, explore the mere and admire

eastlife.co.uk 153
---
Looking for a

GrEAT Group

Visit?

With discounts for pre-booked groups as well as talks and tours

tailored to your needs, you could enjoy a great day out at the

Museum of East Anglian Life

www.eastanglianlife.co.uk

Kelvedon Hatch

Secret

Nuclear Bunker

Come and witness the three lives of

the bunker starting with its role as an

RAF ROTOR Station, then a brief

period as a civil defence centre through

to its most recent life as a Regional

Government HQ. Designed for up to

600 military and civilian personnel,

possibly even the Prime Minister, their

collective task being to organise the

survival of the population in the awful

aftermath of a nuclear war.

Adults £7.50,

Child £5.50,

Family (2 plus 2) £18.00

www.eatransportmuseum.co.uk

Tel: 01277 364883 Email: mike@japarrish.com

www.secretnuclearbunker.com
---
the fine castle gatehouse. Events are held

throughout the year. Church St, Framlingham.

0370 3331181. www.english-heritage.org.uk

Fritton Lake

A stretch of water where you can mess about

on boats, children can enjoy the playground,

forts and mini tractors, there's nine-hole

golf, fishing, pony rides and walks. Fritton, nr

Lowestoft.

Gainsborough's House

Gainsborough's House and garden is the

birthplace of one of Britain's greatest artists,

Thomas Gainsborough R.A (1727-88). The

Georgian fronted townhouse and exhibition

gallery shows an outstanding collection of

his paintings and has a changing

programme of displays and temporary

exhibitions throughout the year. Sudbury.

01787 372958. www.gainsborough.org

Glemham Hall

An elegant, red brick Elizabethan mansion

surrounded by 300 acres of parkland.

The estate now hosts a variety of events

including a country fair, open-air opera and

theatre. Little Glemham. 07920 855041.

www.glemhamhall.co.uk

Market Place, Hadleigh. 01473 822544.

www.hadleightownhall.co.uk

Helmingham Hall Gardens

Spectacular Grade 1 listed garden in the

grounds of the 500-year-old house,

Nr Stowmarket. 01473 890799.

www.helmingham.com

High Lodge

Sporting and leisure venue set in 100 acres

of woodland, offering clay target shooting, a

pay and play nine-hole golf course, fishing,

holiday lodges, shop and more. HawWood,

Hinton, 01986 784347. www.highlodge.co.uk

High Lodge Forest Centre

Right at the heart of Thetford Forest, with

over 70km of cycle trail, 20km of walks and

a huge children's Play Arena, it is perfect for

families. Home to bike hire and Go Ape, High

Lodge has all the facilities you need. Big

summer music concerts in the forest. Open

all year. Thetford. 0300 0674400.

www.forestry.gov.uk/highlodge

Ipswich Witches

Top speedway racing. Foxhall Stadium,

Ipswich. www.ipswichwitches.co

Go Ape!

Extreme tree-top challenge course - an

amazing trail of nets, rope bridges, slides

and trapezes high up in the trees. Brandon.

0845 094 9732. www.goape.co.uk

Greene King Brewery

The visitor centre is full of interesting

exhibits and displays about the brewery,

Bury St Edmunds. 01284 763222.

www.greeneking.co.uk

Hadleigh Town Hall & Guildhall

A medieval timber-framed complex, Grade

I listed dating from 15th century. There is a

timbered guildroom, an old town hall which

has a fine crown-post roof, a Georgian

assembly room and a Victorian ballroom.

Small walled garden with medieval features.

Ickworth House, Park and Gardens

One of England's most extraordinary houses.

The house is set in a Capability brown park

and surrounded by an Italianate garden with

a range of marked woodland walks, an adventure

playground and picnic area. There's

a vineyard and plant centre, plus regular

events. Horringer, nr Bury St Edmunds.

01284 735270. www.nationaltrust.org.uk/ickworth

Ipswich Museum

This museum gives a fascinating insight into

the town and surrounding area's intriguing

past. High Street, Ipswich. 01473 433551.

www.cimuseums.org.uk/Ipswich-Museum

Jimmy's Farm

A working farm but also open for visitors

seven days a week, there is plenty to do for

eastlife.co.uk 155
---
a great family day out, including a nature

trail, woodland walk, beautiful gardens, farm

shop, adventure play area and field kitchen.

Pannington Hall Lane, Ipswich

014736 04206. www.jimmysfarm.com

Kentwell Hall and Gardens

Moated redbrick Tudor mansion in a tranquil

parkland setting. Renowned for its incredible

recreations of everyday Tudor life and of

WWII daily life, along with events such as

Scaresville at Halloween. The present

owners' efforts to restore the house and

recover and extend the once noted gardens,

add to any visit's enjoyment. Long Melford.

01787 310207. www.kentwell.co.uk

Lackford Lakes

This nature reserve has year round importance

for birds, dragonflies and other wildlife. The

visitor centre offers stunning views across the

reserve and is an ideal place to start your visit.

Lackford, 01284 728541

Lady Florence River Cruises

For a different fine dining experience, cruise

the calms waters of the river Alde and Ore

while enjoying a freshly prepared meal.

Orford Quay, Orford. 01473 558712.

www.lady-florence.co.uk

Lavenham Guildhall of Corpus Christi

One of the finest timber-framed Tudor

buildings in Britain, with tearoom, shop and

children's guide. Market Place, Lavenham.

01787 247646. www.nationaltrust.org.uk

Main Street, Leiston. 01728 832189.

www.longshopmuseum.co.uk

Lowestoft Family Bowl

Indoor bowling, nine-hole mini-golf. Capital

Estate, Rant Score, Whapload Road,

Lowestoft. 01502 519200.

www.richardsonsfamilybowl.co.uk

The Malthouse Project

Restored old maltings, which dates back to

the 17th Century. Risbygate Street,

Bury St Edmunds. 01284 732550

Mannings Amusement Park

This fun park has been run by the Manning

family since 1946. Traditional fairground

rides and amusement arcades. Seafront,

Felixstowe. 01394 282370.

www.manningsamusements.co.uk

Mechanical Music Museum and Bygones

Small music boxes, polyphons and organettes,

larger street pianos and player organs, large

fair organs, dance band and cafe organs plus

a number of unusual items and the Wurlitzer

theatre pipe organ. Blacksmith Road, Cotton,

01379 783350.

www.mechanicalmusicmuseum.co.uk

Melford Hall

Romantic Tudor mansion, home of the

Hyde-Parker family. New interpretations,

craft displays, special events.

Long Melford. 01787 379228.

www.nationaltrust.org.uk/melford-hall

Leiston Abbey

One of Suffolk's most impressive monastic

ruins of a 14th century abbey with a 16th

century brick gatehouse. Leiston.

01728 831354. www.english-heritage.org.uk

Long Shop Museum

Discover Leiston's history and visit the home

of the Garrett collection. An award-winning

museum housed in the original Garrett

works buildings. Four exhibition halls,

resource centre, picnic garden and gift shop.

Mid Suffolk Light Railway Museum

The MSLR was a classic case of a railway built

late in the great railway age that never paid

its way. This example of quirky English history

is remembered in Suffolk's only railway

museum. Themed open days held throughout

the year. Brockford Station, Wetheringsett.

01449 766899, www.mslr.org.uk

Mildenhall Greyhound Racing

Evening racing with up to four races per

hour, every Tues and Fri. Mildenhall Stadium,

156 Download Our App Today!
---
West Row, Mildenhall. 01638 711777.

www.mildenhalldogs.co.uk

Moyse's Hall Museum

Housed in the oldest domestic building open

to the public in East Anglia, Moyse's Hall

dates back over 800 years. Cornhill,

Bury St Edmunds. 01284 757160.

www.weststow.org/moyses-hall

Orford Castle

The polygonal tower keep of Orford Castle

stands beside the pretty town and former

port which Henry II also developed here

in the 1160s. An 18-sided drum with three

square turrets, and a forebuilding reinforcing

its entrance, the keep was built to a highly

innovative design. Orford. 0370 3331181.

www.english-heritage.org.uk

Museum of East Anglian Life

Open-air museum in 75 acres of beautiful

countryside. Explore nearly 3km of woodland

and riverside nature trails, learn about

fascinating East Anglian crafts and traditional

Gypsy culture and discover splendidly

restored historic buildings. Plus steam

engines, animals, including Suffolk Punch

horses, and more. Stowmarket. 01449 612229.

www.eastanglianlife.org.uk

Newmarket Racecourses

One of the world's greatest racetracks,

steeped in history and offering top racing

and an unbeatable experience on both its

Rowley Mile and July Racecourses. Cambridge

Road, Newmarket. 01638 675500.

www.newmarket.thejockeyclub.co.uk

Newmarket Tours

Palace House can arrange hour long tours of

historic Newmarket, explaining in depth its

associations with Royalty and the Sport of

Kings. Newmarket. 0844 7489200.

www.discovernewmarket.co.uk

Nowton Park

200 acres of beautiful Suffolk countryside

landscaped over 100 years ago in typical

Victorian style. Open all year.

Bury St Edmunds. 01284 757098.

www.visitburystedmunds.co.uk/nowton-park

Oasis Camel Centre

Farm Park that specialises in camels, llamas,

alpacas, plus a pets corner, play areas, crazy

golf, bouncy castle, walks and gift shop.

Orchard Farm, Halesworth.

07836 734748. www.oasiscamelpark.co.uk

Orwell River Cruises

Enjoy the sights and scenes of the beautiful

River Orwell from the comfort and tranquillity

of the Orwell Lady – a custom-built river

cruisersailing from Ipswich Wet Dock to

Harwich Harbour. Meander along the River

Orwell enjoying a traditional homemade

English Afternoon or a Suffolk Savoury Tea

cruise on-board Orwell Lady. Cruises from

Ipswich between May and September. Orwell

Quay, Ipswich Wet Dock. 01473 258070.

www.orwellrivercruises.co.uk

Pakenham Water Mill

Suffolk's last working water mill, producing

traditional stone ground flour. Beautiful

setting with garden by the millpond, guided

tours, tearoom, shop and special events.

Pakenham. 01284 724075.

www.pakenhamwatermill.org.uk

Palace House: National Heritage Centre for

Horseracing & Sporting Art

The National Heritage Centre is situated

in King Charles II's sporting palace and

stables and spans five acres in the heart

of Newmarket. It comprises the National

Horseracing Museum, a national gallery of

British Sporting Art, and a chance to meet

former racehorses and learn what they do

after racing, in the flagship home of Retraining

of Racehorses. There is so much to

see and do for all the family. Palace House,

Palace Street, Newmarket, Suffolk, CB8 8EP.

01638667314. www.Palacehousenewmarket.co.uk

Pleasurewood Hills

Set within 59 acres of enclosed coastal

parkland and just 10mins from the seaside

eastlife.co.uk 157
---
town of Great Yarmouth, the theme park is

a great family day out. Enjoy thriling rides,

family rides, entertainment and attractions,

including wonderful shows with sea lions,

parrots, acrobats and clowns. New features

added regularly. Corton, Lowestoft.

01502 586000. www.pleasurewoodhills.com

River Stour Trust

Boat trips from Sudbury to Great Henny

and vice versa on Edwardian style electric

launch with a traditional canopy or a

pontoon-style boat. Take in lunch at the

delightful Henny Swan. The Granary, Quay

Lane, Sudbury. 01787 313199.

www.riverstourtrust.org

RSPB Minsmere

A nature reserve where visitors can see the

huge range of birds that pass along the

Suffolk coast. Saxmundham. 01728 648281.

www.rspb.org.uk

RSPB Havergate Island

The island is famous for its breeding avocets

and terns. The boat trip to the island adds

to the interest of your day out. Orford Quay.

01394 450732. www.rspb.org.uk

RSPB Lakenheath Fen

A wetland area filled with life: marsh

harriers, hobbies, bearded tits and warblers.

Lakenheath. 01842 863400

RSPB Wolves Wood

One of the few remaining areas of an ancient

woodland that used to cover much of East

Anglia. Hadleigh. 01206 391153

St Edmundsbury Cathedral

There has been a church on the site of Suffolk's

Cathedral for nearly 1,000 years. The

last 40 years have seen several additions to

the church and its associated buildings, culminating

in the Millennium Project. Regular

exhibitions and concerts available. Angel Hill,

Bury St Edmunds. 01284 748720.

www.stedscathedral.co.uk

Sandlings Forests

The Sandlings covers woods in Rendlesham,

Tangham and Dunwich. Rendlesham forest is

the main area for recreation and there are

various picnic sites and recreation areas.

There are three circular walks including

disabled trails and forest cycle trails and an

adventure playground. Nr Woodbridge.

Saxtead Green Postmill

This corn mill was one of many built in

Suffolk from the late 13th century. Though

milling ceased in 1947, it is still in working order.

Climb the stairs to various floors, which

are full of fascinating mill machinery. However,

due to conservation works, Saxtead

Green Post Mill will be closed until further

notice. Saxtead Green.

www.english-heritage.org.uk

Somerleyton Hall & Gardens

A Jacobean Manor with 12 acres of beautiful

gardens with famous 1846 Yew Tree Maze.

Guided tours of the hall, garden trail, walled

garden and special events. Somerleyton,

Lowestoft. 01502 734901.

www.somerleyton.co.uk

South Pier Leisure Complex

Ten-pin bowling, amusement arcades, luxury

casino and more. Royal Plain, Lowestoft.

01502 512793. www.thesouthpier.co.uk

Southwold Lighthouse

Enjoy a tour of this marvellous operational

landmark, first lit in 1889. Stradbroke Road.

01255 245156. www.trinityhouse.co.uk

Southwold Maize Maze

A giant puzzle of pathways within eight

acres of maize; a real brain-teaser that will

test your navigational skills to the limit.

Every year there's a new design. Plus play

and picnic area. Old Hall Farm, Reydon.

07801 065845. www.southwoldmaizemaze.co.uk

Southwold Pier

Southwold Pier is one of the finest examples

of a Pier to be found in the British isles. From

158 Download Our App Today!
---
traditional fish and chips in the Promenade

Café to mouthwatering menus in the

Boardwalk and The Clockhouse. Plus gift

shop, children's shop and lifestyle store,

amusements and more. North Parade,

Southwold. 01502 722105.

www.southwoldpier.co.uk

Snape Maltings

Visit this remarkable collection of redeveloped

Victorian industrial buildings for

world-class concerts and events, distinctive

independent shops, cafes, galleries, walks

and abundant wildlife, all set against a

breathtaking expanse of reeds, water and

sky. It is home to the flagship Aldeburgh

Festival and the folk, world music and jazz of

the Snape Proms. Snape, nr Aldeburgh.

01728 688303. www.snapemaltings.co.uk

Sutton Hoo

One of Britain's most important and

atmospheric archaeological sites, burial

ground of the Anglo-Saxon kings of East

Anglia. Explore the exhibition hall which tells

the compelling story of early English history,

The Royal Burial Mounds and Tranmer House.

You can also enjoy sandlings heathland and

woodland walks. Events are held throughout

the year. Nr Woodbridge. 01394 389700.

www.nationaltrust.org.uk/sutton-hoo

Suffolk Owl Sanctuary

A delightful place to visit to watch, study

or simply enjoy the Owls and other birds of

prey. There are over 60 raptors at the centre,

all housed in spacious aviaries and flying

free in narrated flying displays or demonstrations

plus a mini-maze. Stonham Aspal.

03456 807 897. www.owl-help.org.uk

The Suffolk Punch Trust

The Trust is dedicated to preserving the

Suffolk Punch breed but also the skills of the

people needed to handle these wonderful

horses. Visit the stables where you can meet

some of The Colony Stud's star characters

- the horses and foals. There's also a farm,

Heritage Garden, walks, activities and cafe.

01394 411327. www.suffolkpunchtrust.org

Thornham Walks

Twelve miles of footpaths through the woodland,

farmland and parkland of the

Thornham Estate. Red House Yard,

Thornham Magna, Eye. 01379 788345

The Thornham Walled Garden

Restored Victorian glasshouses in the idyllic

setting of a two-acre walled garden with

fruit trees, wide perennial borders, collection

of East Anglian geraniums and fern house.

01379 788700. www.beyondthewall.org.uk

Thorpeness Windmill

This working mill dates from 1803 and is a

visitor centre for Suffolk coast and heaths

area of outstanding natural beauty. Uplands

Road, Thorpeness.

Valley Farm Equestrian Leisure

A working farm and a diverse, multi

award-winning equestrian leisure centre.

Attractions include an animal collection and

their foals, as well as Camelot the Camel,

Muffin the Mule and other animal friends, as

featured many times on television. Wickham

Market, Woodbridge. 01728 746916

www.valleyfarm.co.uk

Waveney River Centre

A range of vessels available for hire from

rowing boats and canoes to luxury day

cruisers. A great way to take in the sights

and sounds of this beautiful stretch of water.

Overnight accommodation also available.

Burgh St Peter, Beccles. 01502 677343.

www.waveneyrivercentre.co.uk

Waveney River Tours

River trips from Oulton Broad to a number of

destinations along the southern Broads. Selfdrive

day boats available for hire. Mutford

Lock, Oulton Broad, Lowestoft. 01502 574903

www.waveneyrivertours.com

West Stow Anglo-Saxon Village

A reconstructed Anglo-Saxon village built

eastlife.co.uk 159
---
on an original settlement site, giving visitors

the opportunity to touch and experience

Anglo-Saxon houses as we imagine them to

have been 1,500 years ago. Visitors can also

see the archaeological objects excavated

from the site on display in a specially built

centre. West Stow. 01284 728718

www.weststow.org/Anglo-Saxon-Village

West Stow Country Park

125-acre country park with a wide range of

Breckland habitats - heath, woodland, river

and a lake. There are nature trails, walks,

bird hides and a bird feeding/viewing area,

visitor centre, café, shop, picnic areas and

adventure playground. Icklingham Road,

West Stow, Bury St Edmunds.

01284 728718. www.weststow.org

Wildtracks Off Road Activity Park

Purpose-built offroad activity park dedicated

to a range of fun outdoor events for the

public and corporate entertainment market.

Enjoy activities such as offroad driving,

karting and clay pigeon shooting to name a

few! Chippenham Road, Kennett, Newmarket.

01638 751918. www.wildtracksltd.co.uk

Woodbridge Tide Mill

By the early 1950s Woodbridge was home

to the only surviving tidal mill in the country.

It regularly grinds high quality wholemeal

flour when conditions are suitable, and at

most low tides the machinery will turn. It affords

a fascinating and educational glimpse

into our industrial and technological past.

Tide Mill Way, Woodbridge. 01394 388202.

www.woodbridgetidemill.org.uk

Woodbridge Museum

Local history museum.

Market Hill, Woodbridge. 01394 380502.

www.suffolkmuseums.org

Image: Sunset at Southwold by Nicola Pursey
---
WHAT'S ON?

7-8 Apr INK Festival

Halesworth Cut Theatre

inkfestival.org

21-22 Apr Woodbridge Mind Body

Spirit Festival

Woodbridge Community Hall, IP12 4AU

www.lifearts.co.uk

6 May & 12 Aug Beccles Antiques Street

Market

Beccles Town Centre

12-May Into the Woods 'A Pirate's Ball'

Thorington, IP17 3RB

www.mauiwauievents.co.uk

12 May - 3 Jun Suffolk Walking Festival

Various locations

www.suffolkwalkingfestival.co.uk

18-21 May 1940s Weekend

Town Centre, Lavenham

www.discoverlavenham.com

18-27 May Bury Festival

Various venues, Bury St Edmunds

www.buryfestival.co.uk

26-28 May Framlingham Gala Fest

Framlingham Castle, IP13 9BP

www.framlinghamgalafest.co.uk

30-31 May Suffolk Show

Trinity Park, Ipswich

www.trinityparkevents.co.uk

31 May - 2 Jun Red Rooster

Euston Hall

www.redrooster.org.uk

8-24 Jun Aldeburgh Festival

Various venues

www.aldeburgh.co.uk

8-10 Jun Homegrown Festival

Church Farm, Barrow

homegrownfest.co.uk

10-Jun The Taste of Sudbury Food & Drink

Festival

St. Peter's Church, Sudbury

www.tasteofsudbury.co.uk

23-24 Jun Dragon Fest

West Stow, Bury St Edmunds, IP28 6HG

www.weststow.org

23-Jun Great East Swim

Alton Water Sports Centre

www.suffolksport.com

21-Jun Suffolk Day 2018

Various venues and locations

www.visitsuffolk.com/blog/Suffolk-Day.aspx

12-15 Jul Latitude Festival

Henham Park, Southwold

www.latitudefestival.com

21-22 Jul Jimmy's Festival

Jimmy's Farm, Wherstead, IP9 2AR

www.jimmysfestival.co.uk

27-29 Jul Felixstowe Carnival

www.felixstowecarnival.org

29-Jul Suffolk Dog Day

Helmingham Hall Estate

www.suffolkdogday.com

1 Aug - 1 Sep Snape Proms

Snape Maltings, Aldeburgh

www.aldeburgh.co.uk

11-Aug East Anglian Dragon Boat Festival

Oulton Broad, Lowestoft

www.dragonboatfestivals.co.uk

17-19 Aug FolkEast

Glemhall Hall, Woodbridge

www.folkeast.co.uk

18-20 Aug Aldeburgh Carnival

www.aldeburghcarnival.com

26-27 Aug The Bury St Edmunds Food and

Drink Festival

Town Centre, Bury St Edmunds

www.burystedmundsfestivals.com

24-26 Aug Maui Waui Festival

Peakhill Farm, Theberton

www.mauiwauievents.co.uk

22-23 Sep The Woodbridge Shuck

Whisstocks Quayside woodbridgeshuck.co.uk

eastlife.co.uk 161
---
TOURIST INFORMATION CENTRES & OTHER USEFUL CONTACTS

USEFUL CONTACTS

Bury St Edmunds

Hadleigh TIC

Newmarket TIC

USEFUL WEBSITES:

Charter Square St,

Hadleigh Library

The Guineas Centre

discoversuffolk.org.uk

IP33 3FD

Tel: 01473 823778

Tel: 01638 719749

Tel: 01284 764667

visithadleighsuffolk.

suffolkcoastal.gov.uk

visit-burystedmunds.

co.uk

Stowmarket TIC

co.uk

Crowe Street

choosewoodbridge.co.uk

Ipswich TIC

Tel: 01449 676800

Felixstowe TIC

St Stephen's Lane

visitsuffolk.com

Beach Hut,

Tel: 01473 258070

Woodbridge TIC

Undercliff Road

allaboutipswich.com

Station Buildings

southwoldtouristinfor

Tel: 01394 276770

Tel: 01394 382240

mation.co.uk

visitfelixstowe.org.uk

Lavenham TIC

Lady Street

visit-aldeburgh.co.uk

Tel: 01787 248207

discoverlavenham.com

lovelowestoft.co.uk

snapemaltings.co.uk

162 Download Our App Today!
---
The Lady Rothschild Holiday Houses

Country Estate Luxury

Holiday Rental Houses

Spectacular self-catering holiday houses located on

the famous Ashton Estate nr. Oundle surrounded by

wildflower meadows, rolling farmland and magical

woodlands. The houses are finished with an emphasis

on quality, in a style that is both comfortable and

elegantly modern. Perfect for family get-togethers,

celebrations, wedding groups and short breaks.

The Constable House – Sleeps max.12

The Turner House – Sleeps max. 10

The Gainsborough House – Sleeps max. 8

Newmarket Rooms – Sleeps max. 4

Morland Manor – Sleeps max. 10

www.ashtonestatecountryholidays.co.uk

estateoffice@ashton.ohllimited.com

Tel: 01832 272264 @rothschildholidayhouses