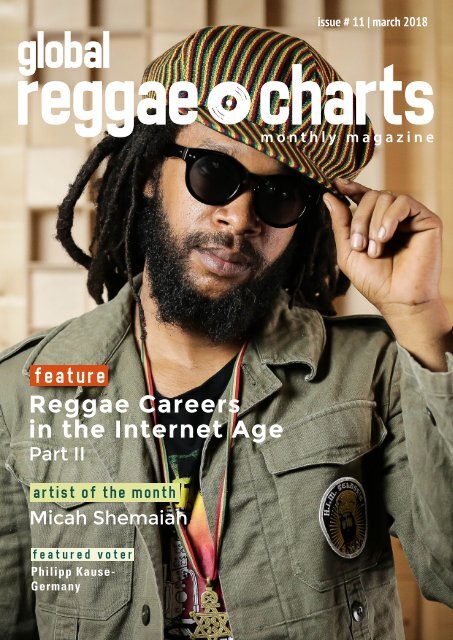 Global Reggae Charts - Issue #11 / March 2018
Inside you can find the latest reggae album, single, and riddim charts based on votes by radio DJs and music directors from around the world.
Inside you can find the latest reggae album, single, and riddim charts based on votes by radio DJs and music directors from around the world.
SHOW MORE
SHOW LESS
Create successful ePaper yourself
Turn your PDF publications into a flip-book with our unique Google optimized e-Paper software.
issue # 11 | march 2018

feature

Reggae Careers

in the Internet Age

Part II

artist of the month

Micah Shemaiah

Philipp Kause-

Germany

global reggae charts | issue 11 / march 2018
---
global reggae charts | issue 4 / august 2017

#11
---
editorial

Welcome to a new edition of the Global Reggae Charts!

The hardest winter days are (hopefully!) behind us and spring is slowly but surely approaching.

With the sun returning, the appetite for good vibes and positive music grows, too. Which is why

the behind-the-scenes preparations for the reggae season are in full effect around the globe. The

same is true for the Global Reggae Charts. This is issue #11, which means our first anniversary edition

is coming closer. We want to get some major updates done by then.

We will unveil more about the changes in the upcoming weeks. Some of them will be related to

our website, some to the content, and others to… well, you'll find out. One update, though, requires

your participation and some more preparation. So let's talk about it for a second.

One of our goals is to increase the interaction with you, the readers and followers of the Global

Reggae Charts. A format which I've liked for a long time is the mailbag: readers send their questions

and receive thoughtful answers (I think Bill Simmons is the master of the format). Since, at

least to our knowledge, there is no reggae mailbag, we want to launch it. And that's where you

come in:

We need your questions and observations about everything that's new and interesting in reggae.

Whether you want to know more about your favorite artist, want to discuss a new video or an

artist's marketing strategy - we are interested in hearing from you!

By establishing this format, we want to tackle more of the topics that you care about - and at the

same time get to know our readers better. Thus, we want to turn the reggae mailbag into a regular

feature going forward. We have created a dedicated email address at mailbag@globalreggaecharts.com.

It would be much appreciated if we could get the Qs coming and a cool reggae

mailbag going!

And now, enjoy the new edition of the Global Reggae Charts. As always, they are packed with a lot

of reggae goodness!

Cheers

Thomas

Thomas Euler is founder of the German reggae & dancehall blogazine whagwaan-magazine.de

1

global reggae charts | issue 11 / march 2018
---
Album single Charts | top 20

Period

Ending 28/02/2018

Contributing voters: 58

europe

# LM 2M PK Mo Artist Single Label

+ 1 - - 1 1 Capleton & Chronixx Help the Weak ZincFence

↑ 2 10 - 2 2 Koffee Raggamuffin Frankie Music

3 3 10 3 3 Koffee Burning Upsetta

+ 4 - - 4 1 Kabaka Pyramid Borders feat. Stonebwoy Ghetto Youths International

5 1 1 1 7 Alborosie Living Dread Baco

6 2 8 2 6 Black Uhuru Jah Guide feat. Bugle Ajang Music

↑ 7 9 2 2 4 Jah9 Feel Good VP

↑ 8 15 - 8 2 Joe Pilgrim & The Ligerians Migrants Soul Nurse

+ 9 - - 9 1 Micah Shemaiah Roots I Vision Evidence

+ 10 - - 10 1 Protoje Bout Noon Mr Bongo

+ 11 - - 11 1 Joe Pilgrim & The Ligerians Use Your Time Soul Nurse

+ 12 - - 12 1 Dre Island Yaad N Abraad Digi Killaz

+ 13 - - 13 1 King Kong Old School feat. Burro Banton & Pinchers Irie Ites Records

+ 14 - - 14 1 Shaggy & Sting Don't Make Me Wait A&M

15 6 - 6 3 Lila Iké Gotti Gotti In.Digg.Nation

16 7 3 2 6 Protoje Truths & Rights feat. Mortimer Mr Bongo

17 11 20 11 5 New Kingston Come from Far Easy Star

↑18 19 - 18 2 Stick Figure Easy Runaway Ruffwood

+ 19 - - 19 1 Katchafire Love Today Lion House

+ 20 - - 20 1 Tarrus Riley Haunted Diwali

Capleton & Chronixx

Kabaka Pyramid

Joe Pilgrim & The Ligerians

Micah Shemaiah

Katchafire

# = this month's position on the chart LM = last month's position on the chart 2M = position two months ago

PK = peak position MO = months on the chart ↑= signifies upward movement + = new entry

global reggae charts | issue 11 / march 2018 2
---
Album Charts | top 20

Period

Ending 28/02/2018

Contributing voters: 53

europe

# LM 2M PK Mo Artist Album Label

↑ 1 7 - 1 2 Sly & Robbie and Dubmatix Overdubbed Echo Beach

+ 2 - - 2 1 Micah Shemaiah Roots I Vision Evidence

3 2 1 1 5 Jesse Royal Lily of da Valley Easy Star

4 4 3 2 8 Damian Marley Stony Hill Republic

5 1 4 1 4 Randy Valentine New Narrative Royal Order

↑ 6 18 - 6 2 Hollie Cook Vessel of Love Merge

↑ 7 8 6 1 8 Samory I Black Gold Rorystonelove / Black Dub

8 6 2 2 4 Mista Savona Havana meets Kingston Baco

9 5 8 1 7 Chronixx Chronology Chronixx Music

↑10 14 - 10 2 Mo'Kalamity with Sly & Robbie One Love Vibration Sofia-Thea

↑ 11 20 - 11 2 Iba Mahr Get Up and Show Oneness

+ 12 - - 12 1 King Kong Repatriation Irie Ites Records

13 3 5 3 3 Exco Levi Narrative Silly Walks

14 11 9 9 5 New Kingston A Kingston Story: Come from Far Easy Star

15 12 11 4 6

Lee "Scratch" Perry with

Subatomic Sound System

Super Ape Returns to Conquer

Echo Beach

16 9 7 6 5 Macka B Health Is Wealth Greensleeves

17 10 10 9 4 Ken Boothe Inna de Yard Wagram / Chapter Two

18 15 12 12 3 Alborosie Soul Pirate - Acoustic Geejam

+ 19 - - 19 1 The Dubbeez Peace, Love & Dub V2 Records

20 16 17 11 4 Chezidek Irie Day Chezi Berry

Randy Valentine The Dubbeez Alborosie King Kong Exco Levi

# = this month's position on the chart LM = last month's position on the chart 2M = position two months ago

PK = peak position MO = months on the chart ↑= signifies upward movement + = new entry

3

global reggae charts | issue 11 / march 2018
---
Reggae Careers

in the Internet Age

Part II: Four Archetypes

of Internet Careers Text: Thomas Euler // whagwaan-magazine.de

If you follow the music industry, you certainly

heard the stories of artists who managed to succeed

thanks to the internet: Justin Bieber who was discovered

thanks to homemade YouTube videos and

then quickly signed by Island Def Jam Recordings.

The mighty Adele, too, was signed after a video that

showed her singing made the rounds on the web

(MySpace, to be precise). Ed Sheeran, The Weeknd,

and Tori Kelly are other notable artists that were first

discovered online.

But for every success story, there is a myriad of

others from people who uploaded their work to the

internet without turning ever into a global superstar

- or even receiving any recognition at all. Sadly, there

are no blueprints or magic formulas that guarantee

success in music. There are only many different

paths and trajectories which a career can follow.

But it's possible to recognize some patterns. As this

series focuses on reggae careers in the internet age,

it makes sense to begin by looking at the different

career paths and typologies that we encounter today

in order to more clearly map out the realm of possibilities.

The One-Viral Wonder: A song goes viral - for no

predictable reasons, so best to be thought-of as a

random event - and becomes the talk of the internet

for a brief time. In accordance with the web's general

catalyzed and amped-up nature, it's basically the

ADD version of what was formerly known as the onehit

wonder. It reaches an insane amount of people in

an incredibly short amount of time. For the artist, the

hard part is to convert that sudden boost of attention

- which usually comes totally unexpected - and

convert it into something that lasts.

About a year ago, Hamburg-based singer Ace Tee

released the video to one of her first songs, Bist du

down?, on YouTube. Thanks to its very cool, laid-back

90's look - and the strange ways of the web - it became

super popular among urban US media and was

viewed millions of times. Certainly a nice, but also

completely random, start to a career. At that point

it's critical to not get carried away by the hype but to

leverage it to quick-start more projects, especially if

you don't really have a catalog yet. After all, people

who stumbled upon the viral song may want to explore

what else you do. If you don't manage to leverage

the hype in a very short time, the internet's short

attention span will quickly turn you into a footnote. In

which case you classify as a One-Viral Wonder.

The Blue Collar Artist: The Blue Collar Artist is pretty

much the polar opposite of the One-Viral Wonder.

The BCA's defining characteristic is constant output

over an endured stretch of time. It's the slow grind of

building a fanbase from the ground up, without ever

(necessarily) being subject to any extreme event of

sudden internet hype. It's usually not a career path

that leads to superstardom, but it can lead to notoriety

and recognition within a specific scene. Constant

hustle, when the talent level is at least average, will

often get rewarded and can even lead to the occasional

hit song.

The BCA type has a long history in reggae and particularly

dancehall. The internet popularized the model

- as it gave hard workers the tools to make and distribute

music without having to rely on labels or other

gatekeepers - and enabled a solid business model

for output-oriented artists. In the riddim and single-focused

dancehall game of old, however, it has an

global reggae charts | issue 11 / march 2018 4
---
global reggae charts

feature

analogue predecessor. Few dancehall artists became

stars outside the scene, but many managed to make

a living by creating a steady supply of music. Just

look at Sizzla's catalog. The BCA of the internet age

usually has a small and effective support structure

but nothing like a major label. Instead, revenue is generated

from streaming on digital platforms, self-distributed

records (e.g. via Bandcamp), merchandise

sales, and live shows.

The Sustained Internet Sensation: This is the career

path of the lucky artist who had a breakthrough song

on the web and turned it into a sustained career. I

was surprised to find that PSY - the Korean producer

whose Gangnam Style became a global internet

phenomenon can be regarded as a prototypical viral

hit - has several songs in the hundred million views

region, some of them not even a year old. Apparently

he managed to build a career upon his internet hit.

Congratulations!

But we don't have to go to K-Pop to find examples

for that career arc. We can stay much closer to home

and look at Major Lazer. The Diplo-founded project is

arguably a dancehall ting but its popularity reached

far beyond typical genre limits. From early on, the

project made excellent use of viral phenomena, for

instance when, in 2011, they shot the Original Don

video as a tribute to the Jian Sword Dancing viral

video. Two years later, Bubble Butt turned into a viral

hit in its own right and another two years later we of

course all witnessed the Lean On craze.

There are several models that can lead to sustained

internet sensation status. The most obvious one is

to leverage the initial attention boost into a contract

with a label. While that's far from a guarantee for

future success, it at least presents a well-understood

framework for future projects. The other option is to

look at the Blue Collar artist's toolbox in an attempt

to develop into a DIY Star.

The DIY Star: The DIY star trajectory is still a relatively

recent development. Its prototypical protagonist

is Chance the Rapper, who built his entire career

- which so far culminated in his Grammy-winning

2016 album Coloring Book - without relying on

traditional industry structures. He self-released all of

his work thus far, built his career on platforms like

SoundCloud and YouTube and made Coloring Book,

which was initially released exclusively on Apple

Music, into the first-ever streaming-only title to win a

Grammy.

So, the DIY Star is an artist that reaches stardom

in do-it-yourself fashion. It's the blue collar artist's

best-case scenario if you will. Thus, this music-related

toolkit is pretty much identical to the BCA's.

However, the higher profile allows the DIY Star to

use his or her brand for other revenue-generating

endeavors, which can range from advertising deals

to collaborating with big brands or even launching

new businesses.

Of course, these four archetypes are only a rough

description of reality and you'll find many hybrids

in practice. But the goal isn't to fit reality into a neat

model but rather, simply, to establish a clearer, more

nuanced understanding of different career types -

which can be pretty useful, for instance, when talking

about different options for artists at certain points of

their careers.

If you have any feedback or input in the meantime,

just drop me a line at

thomas.euler@whagwaan-magazine.de

5

global reggae charts | issue 11 / march 2018
---
Micah Shemaiah

"Micah Shemaiah has everything it takes to become a flagship in the

hearts and minds of reggae fans. Leader of the revival of

Jamaican roots reggae, with his music he pays homage to his foundations.

Conscious and motivated Micah Shemaiah encourages the empowerment

of young people and disadvantaged

people worldwide."

That's how Micah Shemaiah is described in the official press

release for his new album Roots I Vision. The album made it directly

to #2 on the album charts upon release. Reason enough to feature him

on this issue of the GRC magazine.

global reggae charts | issue 11 / march 2018
---
global reggae charts | issue 11 / march 2018
---
COMMUNITY

RADIO

GERMANY

global reggae charts

featured voter

INTERVIEW

This time we talked to Philipp Kause, who broadcasts

the show "Rastashock" at Radio Z.

Global Reggae Charts: Can you please introduce

yourself and your radio show!

IQulah Rastafari & Philipp Kause

Philipp Kause: OK, I am Philipp from Germany and

one of the five presenters of our radio show. The

show is called "Rastashock" and is broadcast 120

minutes every week on FM and streaming.

"Rastashock" is - as far as I know - the oldest weekly

FM reggae radio show in German-speaking countries

and has been running since spring 1988. So we

are going to celebrate the 30th anniversary in some

weeks :). For us, the show is a blend of everything

in the genre, and so it's a surprise every week to our

listeners, what the host keeps the focus on.

Every host is fully free to select everything by themself

so we only communicate a little bit and do not

have much influence on each other. The result is NOT

that every host plays the same - no, it's surprisingly

the case that you'll rarely find a track running more

than one or two times in this show. And, we include

soca, afrotrap, ska, gospel reggae, country reggae,

dub poetry, dubstep, jungle to an equitable extent,

compared to the main sub-genres.

My main goal is not only to produce a show which

covers some new releases or as many of them as

possible, but to widen the range, to play music from

all continents, for example for me the context is:

I studied anthropology with a focus on Africa and

Brazil, I speak French fluently, and I understand

Portuguese. So I'm interested in stuff from other

parts of the world than from good old Jamaica. And,

unfortunately, I'm not really a fan of German productions

with only few exceptions, whereupon I'm

really deeply interested in my neighbour countries,

in French, Swiss, and Austrian reggae & digital offbeat

music. So please, all people from Latin America,

France or Africa, send me your files that you want to

share ;).

GRC: How did you get into reggae and radio, and

what was your motivation?

PK: Oooops, that happened completely atypically

and in a sinous way. Mh, I'm born in the' 80s in the

South of Germany. We'd been living under US-American

"protection", I would call it - I want to say that

public radio & TV stations followed the "system" the

Allies had introduced at the end of the 1940s. In the

Southern part of Germany we had a lot of discos or

clubs primarily addressed to the US-American G.I.s,

because those members of the U.S. Army had a lot

of money to spend Friday night on nightlife. Their

music - I think, this is not a stereotype - was funk,

r'n'b, soul, disco style. In the larger record stores you

could find large "Black Music" departments, and a

print of the "Billboard R & B Charts" were freshly attached

every week on the walls. Any idea of racism?

Anyway, in public radio programs, all those styles

had their corners, their niches 2-3 times a week,

same for country & western music . For some unclear

reasons, all the public pop music, service and

culture radio stations changed their program struc-

global reggae charts | issue 11 / march 2018 8
---
global reggae charts

featured voter

tures radically around 1992 - 1999, introduced algorithm-based

softwares like MusicMaster, Selector

and Radiomax. The new structure they call "Durchhörbarkeit"

in German, which basically means you

won't find any breaks and ruptures and frictions

within the program, it's always the same formula, a

bit of this, a bit of that, and no extraordinary tracks,

especially never never never any album tracks - strictly

forbidden.

The consequence: Radio became boring, and the

market research found out: any kind of offbeat music,

maybe soul, maybe reggae, maybe acid house, whatever

is supposed to not please the German audience

at all. So all radio stations turned to a pop-rock-scheme.

I wanted to discover the world, I wanted to listen to

non-English-speaking music, and to other feelings

and rhythms, let's say a blue rhythm-kind of music.

For me, Curtis Mayfield (Soul) was a hero, Arrested

Development (Conscious Rap), Stereo MCs (Dance-Acidjazz).

By digging into African music, I stumbled

over the samplers of the Putomayo label and, via

that, I discovered Lucky Dube.

Putomayo is a stereotype thing, but it was played on

the radio in some last remaining shows of quality,

and I always want to give thanks to Jo Schweizer,

Jürgen Herrmann, Claus Kruesken, Thomas Resch,

short FACTS

Station: Radio Z

Location: Nuremberg, Germany

Show: Rastashock

Host: Selecta "HiPhi" Philipp Kause

On air: Every Saturday 7-9 PM, Sunday 12-2 PM

(rotating with other hosts)

http://snd.radio-z.net:8000/Radio-Z

https://www.facebook.com/rastashock.

bonusmaterial/

https://www.facebook.com/rastashock95.8/

and Angie Portmann of public Bavarian radio who

discussed their music selections with me via phone

during or after their shows. They tried to build

up some resistance to the mainstream and let me

believe a bit in a future of worldwide-sounds radio

shows. Unfortunately, even if the internet seems to

allow to connect the parts of the world, UK/US music

still dominates radio in Germany, no exception even

on the little free community radios. For me, that's

a disappointing and imperialist thing, and so I did

what I could at the end of my studies to spread my

knowledge and to do shows only with or focusing on

African, non-English-speaking or worldwide reggae

music. But I'm neither a Bob Marley nor a Sean

Paul fan, it's just about picking up the rarities I like -

whether they are new, brand-new, brand-brand-new,

unpublished, or old & black on vinyl.

GRC: How do you get to know about new music? Are

you relying on music submissions by labels, artists

and PR agents or do you have other ways?

PK: I would be glad to receive more music from labels,

but I think this is not so easy. I can imagine very

well that for artists promoting themselves it's not

a pleasure to write to everyone "Can you play my

music?", I understand the situation. BUT: if artists do

so, honestly, I try to give them a chance as much as

I can - the only thing is: it can take some time, long,

long time, but I never forget it on my to-do list.

I have one PR agent or promoter, here from our

German label and agency Rootdown who does a lot

and gives some good input to the shows as well.

He gives me some general feedback on my shows,

too, and qualified feedback is a really rare thing, so I

profit from that. I'm digging for music in all kinds of

streaming services, yes. That's the only way to realize

my project of worldwide music.

Additionally, I'm very much influenced by the lineups

of several larger and smaller festivals, as we connect

and collaborate. CDs I get at festivals as physical

copies, directly from the artists, are the fourth important

source.

9

global reggae charts | issue 11 / march 2018
---
global reggae charts

featured voter

GRC: If you get submissions with new music by mail

or email, what are the dos and don'ts to catch your

attention?

GRC: What spectrum of music do you play in your

show and which artists have you found most inspiring

lately?

PK: There aren't any straight rules. On the formal

level, it would help to keep things easier, if sound

files are correctly labeled and not only "Track 01",

"Track 02".

I find it cool to have the choice between .WAV and

.MP3 format, as .WAV sometimes sounds better to

my ears yet .MP3 is easier to check when I listen

to the music going mobile. If someone contributes

a hand-signed vinyl to me between interview and

concert, this black piece will get played with priority,

because this is an important gesture.

If someone sends me a demo, an acoustic track,

without final mastering, and the track has a message

and a feeling and the vocals are strong, it's like I

explained above: it widens the range - more countries,

more languages, more styles, more formats,

more recording situations. It's a good thing for me.

The live, the dub version, the remix, the unplugged,

I'm always curious to discover a song from different

angles. I'm a fan of long songs, too.

For me: better to delete three short songs from the

planned playlist, if there's ONE really charismatic

5:30 tune. Maybe it's an interlude that catches my

attention more than the regular songs.

PK: From afrohouse to ska, jazz-inspired triphop

tunes to classics from former decades, instrumentals

and remixes - but the focus is on artists I met

in person (no phone call interviews). When there's

some soul within the reggae, I like it. 'Cause reggae

got soul!

My goal as a feminist man is to support some women

who have impressed me and to push them

forward, and it's nice if they are not from Jamaica

and do the unexpected.

To sum up after all that, let's say I'm an outsider from

the point of view of an insider who has insights, but

remains an outsider to this scene - and that's something

I have very much in common with Nneka, to

an extent with Jaqee, and a little bit with Nattali Rize

(knowing about her life before doing what she currently

does). So these artists are my soulmates and

motivate me, and Marla Brown turned to record a

song as a singer the 1st time at the age of 28 - that's

the age when I presented my first radio show - so we

two also have something in common. And you know,

good quality takes its time. So I always believe in the

newcomers and the "come-backers".

Album Riddim Charts | top 5

Period

Ending 28/02/2018

Contributing voters: 26

europe

# LM 2M PK MO Label Riddim

1 1 - 1 2 Oneness Nice & Easy Riddim

2 2 - 2 2 Giddimani Civil Rights Riddim

↑3 4 - 3 2 Yellow Moon Episodes Riddim

↑4 5 2 2 3 Upsetta Ouji Riddim

+ 5 - - 5 1 Digi Killaz Yaad N Abraad Riddim

Yaad N Abraad Riddim Nice & Easy Riddim

global reggae charts | issue 11 / march 2018 10
---
ON Air

global reggae charts

radio shows

Argentina

Estación La De Dios

LDD SOUNDS PRESENTS

GLOBAL REGGAE CHARTS

with Santi Palazzo

Sundays 3:00 pm ART

Argentina

Radio Cantilo

FUNKY KINGSTON

with Georgia and Santi

Wednesdays 10:00 pm ART

Canada

Radio Regent

ItaL rOOts RaDio

with Sweet T & MAdCast-Fuji

Tuesdays - 3:00 pm EST

Canada

Rootz Reggae Radio

NEW MUSIC - TDIF

with DJ Klient

Fridays - 6:00 pm

Costa Rica

Urbano 106

DI DOCTA SHOW

with Docta Rythm Selecta

3. Tuesday - 8:00 pm CST

Germany

Antenne Münster

COOL & DEADLY

with Roots Operator Wolle

4. Saturday - 8:00 pm

Germany

Radio Regentrude

GLOBAL REGGAE CHARTS

with Brigitte Reinert

Last Friday - 8:00 pm CET

Indonesia

Bpost Radio

REGGAE TOP SINGLE CHART 20

with Harry Ramadhan

Mondays - 9:00 pm WITA

Israel

Radio Kol Hanegev 106.4 FM

BA BA REGGAE

with Asaf "Baba G" Nahmias

Mondays - 8:00 pm IST

Italy

Radio Popolare Network

REGGAE RADIO STATION

with Vitowar

Last Sunday - 11:45 pm CET

Italy

Atom Radio

GLOBAL REGGAE CHARTS

Sundays 5:00 pm CET

Norway

Radio Nova

OSLO REGGAE SHOW

with Dominic Reuben & Selecta Harmony

Last Tuesday 9:30 pm CET

UK

1BTN

VENUM SOUND SHOW

with DJ Kris Snakes

4. Sunday 4:00 pm GMT

UK

99.8FM KCC Live

ELEMENTS OF REGGAE

with MJRuckus

3. Tuesday - 10:00 pm GMT

UK

Black Country Radio

RIDDIM SESSIONS

with Kevin Moore

Fridays - 1:00 am GMT

UK

Radio St. Austell Bay 105.6 FM

A-Z OF REGGAE

with Mark Norman

Last Sunday - 4:00 pm GMT

UK

Vibes FM

REGGAEMYLITIS

with Sarah C

Last Wednesday - 6:00 pm GMT

UK

World A Reggae

IRIE JAMMS SHOW

DJ 745

On Demand

Venezuela

Radio Nacional de Venezuela

DESDE EL GHETTO

with George Dread

2. & 4. Saturday - 11:00 am VET

GRC on

your

station?

You'd like to become a

media partner and present

the Global Reggae Charts

on your radio station?

Link us!

11

global reggae charts | issue 11 / march 2018
---
global

voters

global reggae charts

voters

Argentina

La De Dios

Music Director

Santi Palazzo

La De Dios

Brownie

Martin Quispe

PelaGatos iRadio

Creative Producer

Fernando Sarzynski

PelaGatos iRadio

Host

Maiti Ruts

Radio Demente

Roots & Culture Selector

Iván Tutavac

Australia

2BOB Radio

Roots'n'Reggae Show

Bobbie Philp

89.7FM

Ital Galore

Ian Pillar

Radio Fremantle

I&I Sounds

Corby Howell

Belgium

Radio Centraal

Back 2 Bass

Tim Ianna & Kenneth Oyen

Bulgaria

Radio Bumerang 99.00 FM

Music Director

Canada

CFRU 93.3 FM

The Crooked Beat

Nicky Dread

CIUT 89.5 FM

Bassment Sessions

Dubmatix

Radio Regent

ItaL rOOts RaDio

Sweet T

Radio Regent

ItaL rOOts RaDio

MAdCast Fuji

Rootz Reggae Radio

Riddim UP - Fridays

Tonie Smith

Czech Republic

Radio 1

Reggae Klub

DJ Kaya

Columbia

UPTC Radio 104.1 FM

Legado Africano

Charli Urrego

Costa Rica

Radio Urbano 105.9FM

Di Docta Show

Marco Villalobos

Croatia

Reggae.hr

Editor

Ivana Toli

Radio Makarska Rivijera

Zoran Spajic

Denmark

Station Amager

Reggae Moods

Dominican Republic

Kabina34 Radio

Champion Sound Radioshow

Omar Tavarez

Finland

Bassoradio

Blaka Blaka Show

Selecta Andor

France

La Grosse Radio

Reggae Program Director

Simon Chamfroy

Party Time Radio

Party Time Radio Show

Cheeka

Radio Mille Pattes

Zion High Station

Fillot Jerome

Sunalpes.com

Cassonade

Julien Guedz

World A Reggae

Editor

Fred Reggaelover

Germany

Antenne Münster 95.4

Cool & Deadly

Wolfgang Hickmann

ByteFM

Forward The Bass

Karsten Frehe

Radio Leinehertz 106.5

Wha Gwaan – Reggae & Dancehall

Thorben Noß

Radio Regentrude

Music Director

Brigitte Reinert

Radio StHörfunk

Sluggish Radio Show

Daniel Kielczewski

Radio Top 40

Host

Marius Finger (DJ Marious)

Radio Z 95.8

Rastashock

Philipp Kause

Radio Z 95.8

Rastashock

Crystal van de Rastashock

Reggaeville

CEO

Julian Schmidt

Reggaeville

Author

Gardy Stein

Visador-Radio

ReggaeRoundUp

Karsten Zick

global reggae charts | issue 11 / march 2018 12
---
global reggae charts

voters

Greece

Radio Xanthi One

Music Director

Nick Giannakopoulos

ReggaeYard

Editor

Israel

Kol Hanegev 106.4 FM

Ba Ba Reggae

Asaf Nahmias

Italy

Atom Radio

Host

Giuseppe Bellobuono

Jammonite Radio

Reggae New Releases

Marco Fregnan

Radio Magenta FM 92.2

Reggae Corner

Teo Riccardi

Radio Popolare Network

Reggae Radio Station

Vitowar Fiorentino

Radio Popolare Verona

Exodus

Marco Serafin

Radio Web-Base

Reggae Music

Louis Knight

Mexico

Cabina420 Radio

Music Director

Misachael Solis

Netherlands

Impact AM

Music Director

Henk van Ulden

NPO FunX

Music Director

Eric van Holland

NPO Soul & Jazz

Andrew

Andrew Makkinga

RTV-Arnhem

Sound Armada Radio

Wilfman Sound Armada

World A Reggae

CEO

Danny Creatah

Norway

Radio Harstad

Editor

Tommy Vandalsvik

Radio Nova

Oslo Reggae Show

Dominic Reuben

Poland

Polish National Radio

Polskie Radio Czwórka

Strefa Dread

Mirosław "Maken" Dzieciołowski

Positive Thursdays

Rafal Konert

Radio Kampus

Dancehall Masak-Rah

Pawel Szawczukiewicz

Romania

Do The Reggae Romania

Editor

Nedelcu Sebastian

Russia

Daily Vibes

Editor

Vladimir Zavialov

South Africa

MzansiReggae

Editor

Lee Phiri

Spain

Arco FM

La Concha Reggae Radio

Host

Switzerland

Jam On Radio

Music Director

Raphael Häfliger

United Kingdom

107.8 Black Diamond FM

The Reggae Attic

Addie Thomson

1BTN

Venum Sound Show

Kris Lewis

Radio St Austell Bay

A-Z of Reggae

Mark Norman

Reggae Roots Review

Editor

Toby Whittacker-Cook

Swindon 105.5

Andy V's Random Reggae Show

Andy Vater

Vibes FM

Reggaemylitis

Sarah C

World A Reggae

Irie Jamms Show

DJ 745

USA

Caribbean Dance Radio

Owner

DJ PhG

California

Reggae Music Forward

Host

Tomas Palermo

Reggaeville et al.

Author

Brad Metzger

Colorado

Island Stage Magazine

CEO

Susan Underwood

KDUR FM

Heart Beat of Zion

Rasta Stevie

KGNU

Dub Palace / Reggae Transfusion

The Groove Thief

13

global reggae charts | issue 11 / march 2018
---
global reggae charts

voters

Florida

Reggae King Radio

Reggae Rhapsody

Keith Rowe

Illinois

The TikiPod

Program Director

Eric Przybylski

Massachusetts

WZBC Boston College Radio 90.3FM

Raggamuffin International

Robin Walther

New Jersey

WBZC 88.9 FM

Sounds of the Caribbean

Selecta Jerry

New York

SiriusXM

The Joint

Jheanelle Morgan

Oregon

KPOV 88.9 FM

The Coop / High Desert Co-op

Tristan Reisfar

Tennessee

90.3 The Rock Volunteer Radio WUTK

Simmer Down

Mason Mulkey

Texas

KAZI 88.7 FM

Reggae Evolution

RJ Johnson

Wisconsin

WORT 89.9 FM

Tropical Riddims

Tropical Riddims Sound System

DJ -F.R.P.

Venezuela

Radio Nacional de Venezuela

Desde El Ghetto / Raices y Cultura

George Dread

Become

a voter!

ALL RADIO DJS AND

MUSIC DIRECTORS

ARE INVITED TO REGISTER:

GLOBALREGGAECHARTS.COM

Imprint

Publisher:

Boomrush Productions

Tondernstr. 14

26127 Oldenburg

Germany

Editor-in-Chief:

Felix Rühling

info@globalreggaecharts.com

Editor:

Anderson Muth

thegroovethief.com

Author:

Thomas Euler

whagwaan-magazine.de

Art Director:

Solvey Schönknecht

Advertising:

Felix Rühling

info@globalreggaecharts.com

Website:

https://globalreggaecharts.com

Photo credits:

front/back: On The Roots

Page 6/7: Phvrvohxa

© Boomrush Productions 2018

All rights reserved. Reproduction in part or

whole is strictly prohibited without prior

consent or authorization from the publisher.

global reggae charts | issue 11 / march 2018

14
---
media partners

15

global reggae charts | issue 11 / march 2018
---
global reggae charts | issue 11 / march 2018