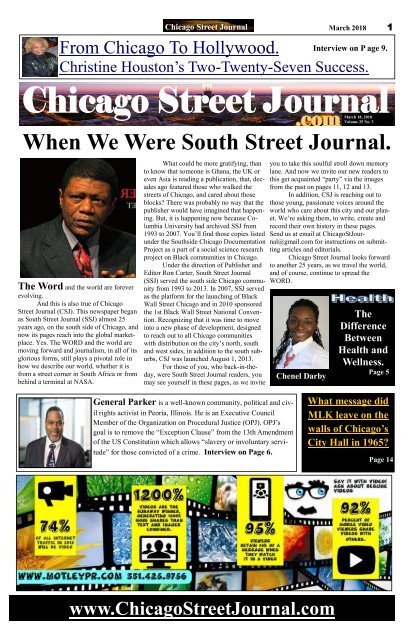 When We Were South Street Journal. Chicago Street Journal for March 18, 2018.
On August 1, 2013, South Street Journal (SSJ) became Chicago Street Journal (CSJ) . For the new readers, you will see just a taste SSJ from the old days. For the older readers, you may recognize some of the old faces and headlines from the past. Sonja Cassandra Perdue Associate Publisher - Digital 773-998-1925
On August 1, 2013, South Street Journal (SSJ) became Chicago Street Journal (CSJ) . For the new readers, you will see just a taste SSJ from the old days. For the older readers, you may recognize some of the old faces and headlines from the past.

Sonja Cassandra Perdue
Associate Publisher - Digital
773-998-1925
SHOW MORE
SHOW LESS
You also want an ePaper? Increase the reach of your titles
YUMPU automatically turns print PDFs into web optimized ePapers that Google loves.
Chicago Street Journal

February 2017

March 2018

From Chicago To Hollywood. Interview on P age 9.

Christine Houston's Two-Twenty-Seven Success.

1

March 18, 2018

Volume 25 No. 3

August 11, 2017

$1

When

Donation Requested

We Were South Street Journal.

Volume 23 No. 4

The Word and the world are forever

evolving.

And this is also true of Chicago

Street Journal (CSJ). This newspaper began

as South Street Journal (SSJ) almost 25

years ago, on the south side of Chicago, and

now its pages reach into the global marketplace.

Yes. The WORD and the world are

moving forward and journalism, in all of its

glorious forms, still plays a pivotal role in

how we describe our world, whether it is

from a street corner in South Africa or from

behind a terminal at NASA.

What could be more gratifying, than

to know that someone is Ghana, the UK or

even Asia is reading a publication, that, decades

ago featured those who walked the

streets of Chicago, and cared about those

blocks? There was probably no way that the

publisher would have imagined that happening.

But, it is happening now because Columbia

University had archived SSJ from

1993 to 2007. You'll find those copies listed

under the Southside Chicago Documentation

Project as a part of a social science research

project on Black communities in Chicago.

Under the direction of Publisher and

Editor Ron Carter, South Street Journal

(SSJ) served the south side Chicago community

from 1993 to 2013. In 2007, SSJ served

as the platform for the launching of Black

Wall Street Chicago and in 2010 sponsored

the 1st Black Wall Street National Convention.

Recognizing that it was time to move

into a new phase of development, designed

to reach out to all Chicago communities

with distribution on the city's north, south

and west sides, in addition to the south suburbs,

CSJ was launched August 1, 2013.

For those of you, who back-in-theday,

were South Street Journal readers, you

may see yourself in these pages, as we invite

you to take this soulful stroll down memory

lane. And now we invite our new readers to

this get acquainted "party" via the images

from the past on pages 11, 12 and 13.

In addition, CSJ is reaching out to

those young, passionate voices around the

world who care about this city and our planet.

We're asking them, to write, create and

record their own history in these pages.

Send us at email at ChicagoStJournal@gmail.com

for instructions on submitting

articles and editorials.

Chicago Street Journal looks forward

to another 25 years, as we travel the world,

and of course, continue to spread the

WORD.

Chenel Darby

The

Difference

Between

Health and

Wellness.

Page 5

General Parker is a well-known community, political and civil

rights activist in Peoria, Illinois. He is an Executive Council

Member of the Organization on Procedural Justice (OPJ). OPJ's

goal is to remove the "Exception Clause" from the 13th Amendment

of the US Constitution which allows "slavery or involuntary servitude"

for those convicted of a crime. Interview on Page 6.

What message did

MLK leave on the

walls of Chicago's

City Hall in 1965?

Page 14

www.ChicagoStreetJournal.com
---
February

2

March 2018 2017

Chicago Street Journal

2018 Candidate's Questioner

Chicago is a diverse city with a rich history and it deserves a robust, local paper

that provides stories about local people and the community issues that inspire and create

anticipation for readers. Although African American interest is still at the core of what

we cover, these questions are still for a city-wide platform to provide our readers with

the creditable work in partnership with the office you seek.

1. What one skill makes you the most qualified candidate for this elected office?

2. Do you agree with Governor Candidate Chris Kennedy and Cook Commissioner Richard

Boykin that there has been strategic moving of African Americans in the City of Chicago to any

extent? If so, please provide examples. If not, can you explain the disenfranchisement of African

Americans in Chicago?

3. Would you support legislation of the Black Wall Street platform as in HB bill 27 [October 14,

2009] SENATE RESOLUTION NO. 432?

4.a How would you describe your own working style with the political party you represent and

with the opposition party?

4.b What is the difference between a conservative and liberal?

5. If any, what one item do you agree with on President Donald Trump's agenda and what do you

disagree on?

6. If (re)elected, what is the first thing you would tackle in this office?

7. Why do candidates use the term "representing the middle class" as opposed to the lower income

persons?

8. Are you in favor of parity based on a geographical racial area in contract procurement and how

would you address parity?

9. Are you in favor of term limits or not? If so, for which offices?

10. Do you believe that the Obama Foundation should have a Community Benefits Agreement?

Thank you for taking the time to respond.

Ron Carter, Publisher and Editor

Chicago Street Journal

773-595-5229

www.ChicagoStreetJournal.com
---
Chicago Street Journal

March February August 2018

2017

3

CALUMET CITY - Queen Academy

is now in search of a business owner

who can mentor their girls about what it

takes to run/own a business. They serve

girls of color ages 8 to 14 by offering

over 20 courses including self-esteem

building, hair care, financial literacy,

modeling, and creative writing. If you'd

be interested in joining their family, you can commit to teaching

once a month for 45 minutes. Contact them at their website

at www.QueenAcademy17.com.

CHILDREN - 14K empty shoes outside the US Capitol on

Tuesday, March 13, 2018, to represent every child killed

with a gun since the Sandy Hook Massacre. If we truly

cared, would this be a news item?

FREE CLOTHING - Everyone is Welcome and Everything is

Free! The Lincoln Boutique Free Store located at 6454 S.

Champlain in Chicago is inviting everyone to stop by on Saturdays

from 1 PM to 4 PM. Hosted as an outreach ministry for

Lincoln Memorial Congregational UCC church.

GEORGIA – The more things change, the more they stay the

same. Newly elected Mayor Rufus Davis of Camilla, GA was

locked out of his own office for two years. And, if you visit the

Mayor's Facebook page, you can see the Civil War being

played out in GA, on a smaller scale, as it is across our nation.

FREE BOOK GIVEAWAYS – Are you a published author?

Great! CSJ invites you to participate in our #FREE eBook

Giveaway Series starting in April 2017. There is no charge for

you to post your #FREE eBook giveaway for April and May in

our next edition. Click HERE for details. Or follow CSJ on Facebook

to stay up-to-date.

SOUTH AFRICA – Newly elected South African President

Cyril Ramaphosa has announced his intent to redistribute land,

now owned by white farmers. A November audit showed that

73% of farmland was still owned by whites, two decades after

the end of apartheid. A 1913 land act stripped most Black

South Africans of their rights to own land. (Similar to the laws

enacted by the Europeans upon the African and Native Indians

on this continent, denying access to the same resources, the reason

for continued generations of poverty.)

Health Care Professionals? Call 773-998-1925 to be in

the next edition of CSJ or visit www.CSJads.INFO.

Chicago Street Journal

Advertising Sales Rep

This is an outstanding opportunity,

selling advertising (print, online):

• Initiate sales and marketing calls to prospective or current clients and

documents sales efforts •

Our ideal candidate must be a self-motivated overachiever with a

strong desire to succeed.

• Prior sales experience, developing both new accounts and servicing

existing accounts is preferred.

• Highly disciplined, independent, entrepreneurial, confident,

well organized self-starter

• Compensation, Base Salary Negotiable.

Call 773 595 5229

Publisher and Editor: Ron Carter

Associate Publisher: Sonja Cassandra Perdue

Chicago Street Journal

8036 S. Cottage Grove, Chicago, IL 60619. E-mail:

ChicagoStJournal@gmail.com

773.595.5229

For delivery direct to your inbox.

http://www.issuu.com/ChicagoStreetJournal

Columbia University South Street Journal archive:

http://southside.ccnmtl.columbia.edu/

Archived by Columbia University's Urban Research

Workshop (URW), back issues from 1993 to 2006 of

Chicago Street Journal's predecessor, the South

Street Journal, were donated to provide material for

URW students to collaboratively research themes

such as gentrification, racism, political affairs, and

youth development.

CSJ is free, except special request drop offs and

street sales where a $1 donation is requested.

Copyright 2014. All

rights reserved. CSJ

assumes no responsibility

to return unsolicited

editorial or

graphic material. All

rights in letters and

unsolicited editorial

Ron Carter, Publisher and Editor
---
4 March February 2018 2017

Chicago Street Journal

YOUR AD HERE— VISIT www.CSJads.info
---
Chicago Street Journal

February 2017

March 2018

5

The Difference Between

Health and Wellness and How

Important Is It Really…

All it took was a few painful

ingrown toenails to knock me up side

my head to have me realize, while I

was a young tenderoine, I was not exempt

from experiencing the stress and

strain of being invincible.

Emotional wellness relates to understanding your feelings

and coping effectively with stress

Environmental wellness inspires us to live a lifestyle that is

respectful of our surroundings.

Financial Wellness involves the process of learning how to

successfully manage financial expenses.

Intellectual wellness involves having an open mind when

you encounter new ideas and continuing to expand your

knowledge.

Occupational wellness is about enjoying your occupational

endeavors and appreciating your contributions.

World Health Organization (WHO) defines

health as a state of complete

physical, mental and social well-being and not merely the absence

of disease or infirmity.

Three months before this slap-up side my head I landed this

awesome corporate Fitness gig in Manhattan, New York. The

freshman 15 melted into grown, sexy, and sassy in a matter of

weeks! My fall internship added value to my life, curriculum

credits, fitness membership, lockers, and laundry service.

Boom I had it going on! What put a red, bloody, swollen, sad

face, over my perks were my painful ingrown toe nails.

I found myself dreading the walk to work and then once I arrived

I would disappear behind the desk, sitting at the computer

station in a silent pain.

All I could think, is how could I make this go away. Bloody

toe nails stopped me from moving around and kept my mind

in a prison of pain. This sudden toe attack stunted my emotional,

occupational, physical, and social wellness. What I didn't

know was that my wellness had been compromised.

How did my wellness get compromised and why does wellness

matter?

Physical wellness relates to maintaining a healthy body

and seeking care when needed.

Social wellness helps you perform social roles effectively

and comfortably, and create a support network.

Spiritual wellness allows you to develop a set of values

that help you seek meaning and purpose.

It just so happened that my site host was promoting an employee

health and wellness fair and on the list was a Podiatrist.

Needless to say, I was the first person at his table the

morning of the fair and before I went home that evening me

and my nasty toenails limped over to the physician's office to

be treated. He addressed my ingrown toe nails, by the following

week I was back to my invincible self!

As I reflect back I am almost sure I did not share my grownup

pain with my parents or co-works. I probability took on the

mentality that this was my cross to bear and it would get better

with hard prayer. I am almost sure I am not the only one

who has suffered through wrong thinking at some point in

time? The Good Book reads faith without works is dead, I

needed to seek out a physician but I sat for weeks and silently

suffered.

Wellness matters because everything we do and every emotion

we feel relates to our well-being. According to Pfizer,

wellness is the act of practicing healthy habits on a daily basis

to attain better physical and mental health outcomes, so instead

of just surviving, you're thriving.

I went into to survival mode; the physical pain directly affected

my ability to perform my fitness internship which inturn

played on my emotions to be engaged in my daily work responsibility.

There are eight dimensions of wellness: occupational, emotional,

spiritual, environmental, financial, physical, social, and

intellectual. Each dimension of wellness is interrelated with

one another. Each dimension is equally vital in the pursuit of

optimum health.

As I have slightly matured and now parent a teenage boy, I

perform daily wellness assessments. I recommend you do the

same for yourself and those around you. Especially your children,

check-in with your child and their emotions. Get to

know who they are, talk to them, ask questions. Look through

their phones; see who and how they are talking and texting.

Suggest walks, active play, give lots of hugs and kisses, even

when they don't want it.

Wellness is something that everyone needs but may not know

they need it. It is important for everyone to achieve optimal

wellness in order to subdue stress, reduce the risk of illness

and ensure positive interactions.

Chenel Darby is the founder of Choice Wellness Company.

www.ChoiceWelllnessCompany.com

Health Care Professionals? Call 773-998-1925 to be in the next edition of CSJ or visit

www.CSJads.INFO.
---
February

6 March 2018 2017

Chicago Street Journal

GENERAL PARKER

Today, General works tirelessly to

give back to his community and fight

the injustices that left him and his

counterparts with feelings of desperation

and loss of hope. He is President

of the Central Illinois Coalition of

Black Trade Unionists and has spoken

around the country on issues of

organizing labor and incarcerated

workers, fathers' and noncustodial

parents' issues, domestic violence,

housing and education reform. Twitter:

@gparker326 cicbtu@gmail.com

It's a pleasure to connect with you and share with our readers, the

stellar organizational activities that you are currently involved with,

in Illinois. But, first tell the world what's going on in Peoria, Illinois?

Did you grow up there and why is it your current stomping ground?

It's always an honor and a privilege to speak with the Chicago Street

Journal. Yes, I was born in Peoria. I grew up for the most part in The Taft

Homes Housing Project. My first 20 years of life consisted of me being

reared in between Peoria, Detroit, and Chicago. The people down or out

West don't understand my affinity for my hats and hard soled shoes.

I came back to Peoria in 2003 to regroup around the family, as I was going

through a bitter divorce and custody battle in St. Louis, MO. Little

did I know what a wild ride I was in for these next fifteen years. That is

when I started becoming more conscious of who I was and what the

world really thought about me and my people. I learned this system was

totally corrupt, from school boards all the way up to the White House. I

found out that it really doesn't matter if or how good a person you are

and it doesn't matter if you try and do right by people. It only matters if

you have money, connections or the right color. Sometimes all three.

I chose to stay here first of all to help care for my grandparents who have

since passed but also because my people were perishing for lack of

knowledge. Peoria has made 24/7 Wall Street's list as one of the worst

cities for blacks to live for the past three years. They ranked 6 th , 1 st , and

2 nd respectively. The only reason they didn't make first place this year is

because Eerie, PA had more unemployment this year. This year doesn't

look at all promising either for us to get off that list.

Over the years, you've worked on many projects, but you're currently

President of the Central Illinois Coalition of Black Trade Unionists.

What is its function and what do you hope to accomplish as the

President of this organization?

The Coalition of Black Trade Unionist (CBTU) is an organization that

was established in 1972 after the AFL-CIO refused to back a candidate in

the presidential race because Nixon was a Republican and McGovern

was talking about equal pay and rights for women and minorities so black

union members got together in Chicago that year and found their own

candidate and started the Coalition of Black Trade Unionist under founders

like William "Bill" Lucy who was the first president of CBTU and

remained there for 40 years and retired in 2012. Rev. Terrence Melvin of

the New York State's AFL-CIO is the present and only other president

this organization has ever had.

The Objectives of CBTU are:

To improve economic development and employment opportunities for

black workers;

Increase union's involvement in voter registration, voter education, voter

turnout;

Organize unorganized workers;

Inaugural Meeting of the Organization for Procedural Justice (OPJ)

Actively support civil rights and civic groups who are working to improve

conditions in the Black community; and

To increase effective political alliance by urging members to run for office.

Governmental or union seats.

I founded the Central Illinois Chapter with the goal of bringing Peoria,

Rockford, and Rock Island together to be a formidable force here in the

17 th Congressional District. I believe the power in this district, the largest

voting district outside of the Chicago area, should be more diverse and

it's time to turn this state around especially in this area. Not just for

Blacks but for all minorities who are oppressed by this country's and

state's terrible reign of oppression, discrimination, racism, and terrorism

to improve the conditions to receive fair and equal education, healthcare,

political and economic opportunities.

"United Purpose. United Voice. United Power." Those words, found

on the website of JustLeadershipUSA.org, give off some extraordinary

vibes. What is JLUSA and what is your role?

Just Leadership USA (JLUSA) is an organization founded by Mr. Glenn

Martin of New York City, a formerly incarcerated person who is all

about investing in the leadership of other formerly incarcerated people. In

New York City, that takes people who have been disabled by the system

for having a record, and trains them to be more effective leaders at their

jobs, especially if they are working to help end mass incarceration. I first

met Glenn a couple of years ago in Oakland, CA at the first National

Conference for Formerly Incarcerated and Convicted Persons and Family

Movement (FICPFM). That great feat was organized by Dorsey Nunn

and his staff at All Of Us Or None (AOUON) and Legal Services for

Prisoners with Children (LSPC). Glenn was one of the featured speakers.

Once I heard him speak I had to interview him for my Urban Intellectuals

organization. We went Facebook live and the page lit up that day. We

have our own website and page at www.urbanintellectuals.com but we

also have a Facebook page with over 1 million followers.

JLUSA works with formerly convicted leaders of other organizations and

shows them how to become better, more effective leaders. JLUSA exposes

me to a national community of like-minded leaders all working towards

#halfby2030 which allows me to work locally and have the ability

to tap into a network of advocates to share best practices. I was chosen,

along with thirty-five other individuals from around the country, as 2018

Leading with Conviction fellowship. My cohorts and I are the fourth

class and the best class might I add. My role is to learn what I can to become

a better leader so that I can help bring out the leadership in others

and to network with whomever I can to give and receive help from others

to accomplish my goal of ending mass incarceration. JLUSA has already

shown what's possible when you think and act boldly, with the

#CLOSErikers Campaign, teaching the rest of us what's possible locally.

Continued on Page 7.

www.ChicagoStreetJournal.com
---
CSJ's Interview with General Parker

(cont'd) Interviewer Sonja Cassandra Perdue — CSJ.

Chicago Street Journal

February 2017

March 2018

7

(Left) General Parker and African Americans Father's Rights advocate,

Kenneth Braswell. (Right) General Parker and MN. Rep.

Keith Ellison, while in Ferguson teaching a weekend class on how

In looking over your bio, I found that you are working on a project

to remove the "Exception Clause" from the 13th Amendment of the US

Constitution which allows "slavery or involuntary servitude" for those

convicted of a crime. Now, that's some strong stuff. Can you break it

down for us?

When Abraham Lincoln signed Executive Order #95, the Emancipation

Proclamation, it gave people the illusion that slavery no longer existed in

America and had been outlawed. They even took this charade one step

further by Congress passing the 13 th Amendment (the one just ratified in

Mississippi in 2013) which stated "Neither slavery nor involuntary servitude,

EXCEPT AS PUNISHMENT FOR CRIME WHEREOF THE

PARTY SHALL HAVE BEEN DULY CONVICTED, shall exist within

the United States or any place subject to their jurisdiction.

The injection of that "Exception Clause" meant slavery never went anywhere

and legalized slavery still existed here in the United States. All the

racist, politicians and greedy corporate (McDonalds, Sprint, Verizon,

Victoria Secrets, etc.) entities had to do was make sure laws were passed

that would make minorities, the poor and everyone not connected into

criminals thus granting them the benefit of free labor while they keep the

profits. Slavery!

I was appointed three years ago, along with Illinois State Senator, Mattie

Hunter, to be an advisor for the Organization on Procedural Justice

(OPJ) by the Hon. Judge Arthur Burnett who is the first black judge appointed

to the federal court for the District of Columbia. We had our inaugural

meeting on March 28, 2015, at Howard University in Washington,

DC. OPJ was founded by Dr. Merelyn Bates-Mims of Cincinnati,

OH. They co-chair this committee under the direction of the Southern

Ohio Diocese of the Episcopal Church. I've since become an Executive

Council member for OPJ. Me, a formerly incarcerated person on a committee

with Lawyers, judges, prosecutors, professors, ex-Army Colonels

and law students. Go figure!

You are also a public speaker, how can you be reached and is there

anything that you would like to add?

I would just like to add, that I love Chicago, except for its winters, and I

try to come here every chance I can get to help out wherever I can. I

spend a lot of time helping Dr. Phillip Jackson of the Black Star Project

by volunteering and mentoring whenever I can. Anybody out there reading

this, I just ask that you find the time to volunteer, tutor, mentor or

donate wherever you can. You may not think what you do matters but

trust me, every little bit helps. You never know who is watching, so continue

to plant those seeds of positivity and love for one another.

I fight for court reform, criminal justice reform, housing and education

reform, civil and human rights and first and foremost, the rights of noncustodial

parents to have a chance to be in their children's lives. If people

wish to contact me the can go to gparker326@gmail.com or cicbtu@gmail.com

and (309) 232-8583. Thank you!

Secure Your Ad In The NEXT Issue At www.CSJads.info.
---
February March 2018 2017

8 Chicago Street Journal

www.RetainYourClient.com
---
Christine Houston

From Chicago to 227.

Chicago Street Journal

February March 2018 2017

9

CSJ loves interviewing folks from Chicago. We're sure that

your Parker High School classmates are still excited about your

success. Did any of this take you by surprise? Did you even imagine

the success of Two Twenty-Seven, as you worked on the

play, while still a student at Kennedy-King College?

I wrote the play Two Twenty-Seven on a challenge by my fellow

classmates. They were going to attend a spring conference,

representing Kennedy-King College (KKC), that was

being held at a university in Texas. Having won awards in

every theater category except playwriting, they were desperate

to win that award.

When asked what my major was, I lied and told them Journalism.

After all, I was a 42-year-old wife and mother of

three teenage boys and couldn't bring myself to the point of

telling them I was there because of my secret ambition to acquire

the lead role in a theater production. At that time, KKC

had a reputation for having the best theater program in Illinois.

After several days of being pressured, I decided to accept the

challenge, thinking the play wouldn't win anyway since I had

no idea how to write a play, despite

all the English and writing

classes I had taken. To my surprise,

the play took first place

in the contest. I titled the play,

Two Twenty-Seven, my address

growing up in Chicago. Several

months later, the play was entered

(by the college) into the

Norman Lear and the Lorraine

Hansberry playwriting contests,

where it won first place in the

Norman Lear and second place

in the Lorraine Hansberry. The

committee agreed that Two

Twenty-Seven really should get first place in the Lorraine

Hansberry, too, but decided that since the contests were sponsored

by the American College Festival, another student

should be encouraged. That same year, I graduated, receiving

an AA in Theater Technology and was off to Hollywood.

As you well know, opportunities to work in the entertainment

industry is growing phenomenally in Chi-Town, so your latest

book is indeed very timely. Tell us a little bit about The Screenwriter's

Guidebook: Inspiring Lessons for Film and Television

Writers.

After several years of writing on various television shows

produced by Norman Lear and finally seeing my play become

NBC's hit series titled 227, I returned to Chicago to

care for my ailing mother. I soon realized it would be a while

before I could return to LA and continue launching a career

writing for television. After eight years, my mother made her

transition and I prepared to return to Hollywood, only to

learn that my husband of 35 years had dementia. While caring

for him, I returned to school, enrolling at Chicago State

University and in 2006, at the age of 70, I received a BA in

Communications. Two years later, I was asked to teach Writing

For Television and collaborated with Dr. Christine List to

pen The Screenwriter's Guidebook: Inspiring Lessons for

Film and Television Writers.

Being a successful writer, would you share with us, what we

should say to our young people regarding the importance of

reading and how it affects their success in TV and movies?

Despite its popularity and the fact that many people think

math is the most important subject, I can't recall engaging in

any other field of learning without the ability to read and

write. It has been proven; when the ability to communicate

through speech is almost impossible, writing serves as a viable

alternative.

Can you give us a little inside scoop on what it is like to be a staff

writer for a TV series?

The job of a staff writer is viewed as OBJ (on the job training)

that can lead to the top position, executive producer or

showrunner. The showrunner is responsible for hiring and

overseeing every aspect of producing a weekly television series.

The staff writer assists in the revisions of every page of

every script written by the collective writers of the show. Although

rare during the first season of tenure, the staff writer

may also pitch an idea and after acceptance, write and receive

credit for that episode.

You're working on a screenplay based on your first novel,

Laughing Through The Tears. Would you tell us a little bit about

the book?

After graduating from Chicago State, I documented my experiences

caring for my husband who had been diagnosed with

dementia. Laughing Through The Tears is a culmination of

my personal experiences. It was published in 2013. AARP

sponsored a book signing and purchased 350 books and gave

them away to all who attended the signing. I am now working

on a television pilot based on the book.

"It isn't over 'til it's over." Those are your words. Share the

meaning with our readers.

It is a well-known cliché that I believe in. Your purpose here

on this planet has not been fulfilled until you take your last

breath, hence, "It isn't over 'til it's over."

– Interviewer Ms. Sonja Cassandra Perdue

for Chicago Street Journal

March 2018
---
February March 2018 2017

10 Chicago Street Journal

Need social media services

or looking to hire a Virtual Assistant?

Call 773-609-2226

www.CBBNAffordableMarketingSolutions.com

YOUR AD HERE— VISIT www.CSJads.info
---
Chicago Street Journal

DO YOU REMEMBER?

February March 2018 2017

11

SSJ

Archived by Columbia University.

1993 to 20017
---
February

12 March 2018 2017

Chicago Street Journal

DO YOU REMEMBER?
---
Chicago Street Journal

DO YOU REMEMBER?

February 2017 March 2018

13
---
February March 2018 2017

14 Chicago Street Journal

Real estate boards and brokers

Demands Placed on the Door of Chicago City Hall

by Martin Luther King, Jr.

- J u l y 10, 1 9 6 6.

1. Public statements that all listings will be available on a nondiscriminatory basis.

Banks and savings institutions

1. Public statements of a nondiscriminatory mortgage policy so that loans will be available to any qualified borrower without

regard to the racial composition of the area.

Mayor and city council

1. Publication of headcounts of whites, Negroes and Latin Americans for all city departments and for all firms from which

city purchases are made.

2. Revocation of contracts with firms that do not have a full scale fair employment practice.

3. Creation of a citizens review board for grievances against police brutality and false arrests or stops and seizures.

4. Ordinance giving ready access to the names of owners and investors for all slum properties.

5. A saturation program of increased garbage collection, street cleaning, and building inspection services in the slum properties.

Political parties

1. The requirement that precinct captains be residents of their precincts.

Chicago Housing Authority and the Chicago Dwelling Association

1. Program to rehabilitate present public housing including such items as locked lobbies, restrooms in recreation areas, increased

police protection and child care centers on every third floor.

2. Program to increase vastly the supply of low-cost housing on a scattered basis for both low- and middle-income families.

Business

1. Basic headcounts, including white, Negro and Latin American, by job classification and income level, made public.

2. Racial steps to upgrade and to integrate all departments, all levels of employments.

www.ChicagoStreetJournal.com
---
Chicago Street Journal

March February 2018 2017

15

Follow Chicago Street Journal at

Issuu.com/ChicagoStreetJournal

Call 773-998-1925

to be in the NEXT issue.

Now Available at AskingOurselvesTheToughQuestions.com

Click the images to learn more about our sponsors!
---
February

16 March 2018 2017

Chicago Street Journal

www.OnliStudios.com