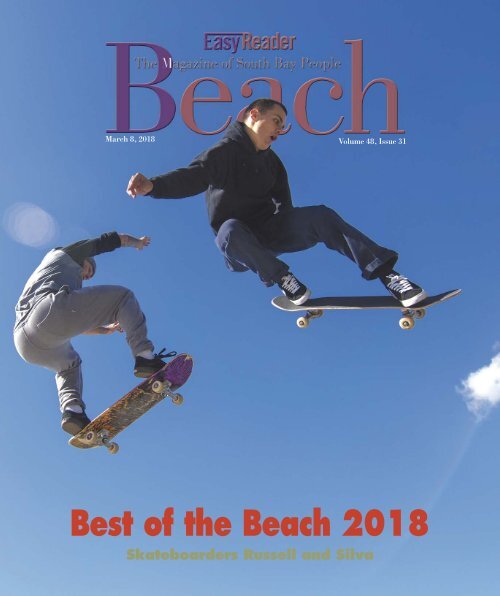 Create successful ePaper yourself
Turn your PDF publications into a flip-book with our unique Google optimized e-Paper software.
March 8, 2018

Volume 48, Issue 31

Best of the Beach 2018

Skateboarders Russell and Silva
---
Stocking Dealer

South Bay's oldest lumber yard

• Trim

• Doors

• Siding

• Decking

• Lumber

• Windows

• Hardware

• Referrals

Free parking in our 6th Street lot

635 Pacific Coast Highway - Hermosa Beach

310-374-3406

Call Our Dexperts
---
March 8, 2018

Volume 48, Issue 31

ON THE COVER

Manhattan Beach skateboarder

Mason Silva and Hermosa

skateboarder Chris Russell at the

new Manhattan Beach Skate

Park.

Michael Burstein is a probate and estate planning

attorney. A graduate of the University of California,

Hastings College of the Law in 1987, he is admitted

to the California, Kansas and Oklahoma Bars and

is a member of the Order of Distinguished Attorneys

of the Beverly Hills Bar Association.

As an estate and probate lawyer, Michael has prepared

approximately 3,000 living trusts and more

than 4,000 wills.

An Estate Planning,

Estate Administration,

and Probate Attorney

l Living Trusts

l Wills

l Powers of Attorney

l Asset Protection

l Veterans Benefits

l Pet Trusts

l Advance Health

Care Directives

l Insurance Trusts

l Probate

l Conservatorships

l And Much More!

Call us to schedule an appointment or for our

FREE Guide:

Selecting the Best Estate Planning Strategies

111 North Sepulveda Boulevard, Suite 250

Manhattan Beach, California 90266

310-545-7878

STAFF

PUBLISHER Kevin Cody, ASSOCIATE PUBLISHER Richard Budman, EDITORS Mark McDermott, Randy Angel, David

Mendez, and Ryan McDonald, ARTS & ENTERTAINMENT Bondo Wyszpolski, DINING EDITOR Richard Foss,

STAFF PHOTOGRAPHERS Ray Vidal and Brad Jacobson, CALENDAR Judy Rae, DISPLAY SALES Tamar Gillotti,

and Amy Berg, CLASSIFIEDS Teri Marin, DIRECTOR OF DIGITAL MEDIA Hermosawave.net,

TYPESETTER Tim Teebken, DESIGN CONSULTANT Bob Staake, BobStaake.com, FRONT DESK Judy Rae

EASY READER (ISSN 0194-6412) is published weekly by EASY READER, 2200 Pacific Cst. Hwy., #101, P.O. Box 427, Hermosa

Beach, CA 90254-0427. Yearly domestic mail subscription $150.00; foreign, $200.00 payable in advance. POSTMASTER: Send

address changes to EASY READER, P.O. Box 427, Hermosa Beach, CA 90254. The entire contents of the EASY READER newspaper

is Copyright 2018 by EASY READER, Inc. www.easyreadernews.com. The Easy Reader/Redondo Beach Hometown News

is a legally adjudicated newspaper and the official newspaper for the cities of Hermosa Beach and Redondo Beach. Easy Reader

/ Redondo Beach Hometown News is also distributed to homes and on newsstands in Manhattan Beach, El Segundo, Torrance,

and Palos Verdes.

CONTACT

14 Sports

18 Kids

20 Professional services

BEST OF THE BEACH

Photo by Brad Jacobson

(CivicCouch.com)

A VOTE OF THANKS

Best of awards are really gratitude ceremonies. They are

an expression of appreciation for those whose extra

effort makes life a little bit richer than it would be

otherwise. Just how much richer is evident in the stories and

photos of local retailers and service professionals who appear

in the following pages.

Nearly 3,000 readers participated in the Best of the Beach

2018 balloting, a number that exceeds the ballots cast in the

last Hermosa Beach election (2,174). It's notable that almost

all of the honorees are small businesses whose owners have

chosen to "dig deep, not wide."

43 Personal services

- Kevin Cody, Publisher

26 Health

30 Home services

34 Retail

n Mailing Address P.O. Box 427, Hermosa Beach, CA 90254 Phone (310) 372-4611 Fax (424) 212-6780

n Website www.easyreadernews.com Email news@easyreadernews.com

n Classified Advertising see the Classified Ad Section. Phone 310.372.4611 x102. Email displayads@easyreadernews.com

n Fictitious Name Statements (DBA's) can be filed at the office during regular business hours. Phone 310.372.4611 x101.

6 Easy Reader / Beach magazine • March 8, 2018
---
03/11/18

March 8, 2018 • Easy Reader / Beach magazine 7
---
S O U T H B AY

CAL ENDAR

Friday, March 9

Free fitness

Designed by Beach Cities

Health District to introduce

people of all incomes and abilities

to a variety of fitness offerings

including yoga, Pilates,

cycling, boot camp and more.

Over 25 fitness studios in Hermosa,

Manhattan and Redondo

participate. Some

require pre-registration, others

available on a first come, first

served basis. Through March

11. bchd.org/freefitness.

Lenten season

The Knights of Columbus

fish fry. $11 per person, under

12, $5. 5 - 7:30 p.m. Knights of

Columbus Hall, 214 Avenue I,

Redondo Beach.

Saturday, March 10

Whale of a day

Celebrate the migration of

the Pacific Gray whale from

the Arctic to Baja California.

Educational exhibits, vendors,

entertainment, food trucks,

kids crafts, games, and puppets.

Free! 10 a.m. - 4 p.m.

Point Vicente Interpretive Center.

No onsite parking. Free

parking and shuttle at the Rancho

Palos Verdes City Hall,

30940 Hawthorne Blvd. (310)

544-5260, rpvca.gov or

losserenos.org.

Paws to read

Children are invited to practice

their beginning reading

skills with B.A.R.K. (Beach Animals

Reading with Kids) dogs.

For early readers. Free. 10:30

a.m. - noon. Hermosa Beach

Library, 550 Pier Ave. For

questions contact Kay Wantuch

(310) 379-8475 or kwantuch@library.lacounty.gov.

For the babies

Baby Shower presented by

Woman's Club of Redondo

Beach benefiting Foster Children

Resource Project and

D.C.F.S. Babies. Bring unwrapped

items for newborn to

12 months; no baby formula or

food, please. Noon- 2 p.m. 400

S. Broadway, Redondo Beach.

(310) 713-4063.

Affair of the heart

The Richstone Family Center's

23rd annual gala to benefit

child abuse treatment and

prevention programs for local

at-risk children and families.

Wine tastings, dinner, silent

and live auctions. Tickets are

$250 per person and up. 6:30

p.m. Audi Pacific, 20460

Hawthorne Blvd., Torrance.

RichstoneFamily.org/2018Gala.

Sunday, March 11

Daylight Savings

Set your clocks ahead before

you went to bed last night?

We've sprung forward.

Donate

During Red Cross Month the

American Red Cross encourages

eligible donors to join in

its life saving mission by giving

blood. 8 a.m. - 2 p.m. St. James

Catholic Church, 415 Vincent

Street, Redondo Beach. Make

an appointment to become a

hero to patients in need by visiting

redcrossblood.org or calling

(800) 733-2767.

Let's fly a kite

The 44th Annual Festival of

the Kite presented by Redondo

Pier Association & Sunshine

Kite Company. This all-ages

free event is open to the public

and prizes are awarded. 12 - 5

p.m. Redondo Pier, 100 Fisherman's

Wharf, Redondo Beach.

Register on eventbrite.com.

For more information visit redondopier.com

or

facebook.com/redondopier.

Natural Health Fair

20+ different South Bay

Natural Healthcare Doctors

and Practitioners to explore

healing methods like

Acupuncture, Cryotherapy,

Thermography, NLP, vitamins

and more. Opportunity giveaways.

Free. 1 - 4 p.m. Anderson

Senior Center, 3007 Vail

Ave., Redondo Beach.

Healthylife.net.

Monday, March 12

LA Opera talks

The Palos Verdes Library

District, in partnership with

LA Opera, presents a series of

introductory lectures on opera.

2 p.m. Peninsula Center Library,

community room, 701

Silver Spur Rd., Rolling Hills

Estates. Free. (310) 377-9584.

Cancer Side Effects

Workshop

Cancer Support Community

Redondo Beach (CSCRB) hosts

Paula Anastasia RN, gyn-oncology

clinical nurse specialist

at Cedars Sinai Medical Center.

Anastasia will provide informative

and engaging

information on sexuality and

intimacy after a cancer diagnosis.

Advance registration required.

6 - 7 p.m. 109 West

Torrance Blvd., Redondo

Beach. Call (310) 376-3550 or

visit cancersupportredondobeach.org.

Tuesday, March 13

Party time

Blue Zones' monthly Social

Hour. Bring family and friends

to mingle and practice some of

the project's Power 9 Principles,

including Down Shift and

Right Tribe. Discounted appetizers!

5 p.m. Zinc, 1221 N.

Valley Drive, Manhattan

Beach. bchd.org.

Pajama-rama

Kids ages 2 and up and their

caregivers are encouraged to

wear pajamas and bring special

pillows or blankets for stories.

6:30 p.m. Katy Geissert

Civic Center Library, 3301

Torrance Blvd., Torrance. Free

and no registration is required.

For more information call the

Youth Services Department at

(310) 618-5964.

Library namaste

Slow, easy flow with yoga

teacher Anne Spinner. 7 - 8

p.m. Free. For questions contact

Melissa McCollum (310)

545-8595. Manhattan Beach

Library, 1320 Highland Ave.

Wednesday, March 14

Cup of RB joe

Join neighbors and police officers

for coffee and conversation.

The mission of Coffee

with a Cop is to break down

barriers between police and

the citizens they serve. Ask

questions, voice concerns, and

get to know the officers in

your neighborhood. 8 - 10 a.m.

Sacks on the Beach, 1611 S.

Catalina Ave., Redondo Beach.

Medical Cannabis

Cancer Support Community

Redondo Beach (CSCRB) hosts

Bonni Goldstein MD, Medical

Director at Marijuana Medicine

Evaluation Centers. The

benefits of using medical marijuana

to ease side effects of

cancer treatment will be examined.

Participants will learn

correct information about the

popular and scientific data on

the use of medical marijuana

and how to obtain a doctor's

recommendation for it. 6 - 8

p.m. 109 West Torrance Blvd.,

Redondo Beach. Call (310)

376-3550 or visit cancersupportredondobeach.org.

Thursday, March 15

Baby band practice

Build your child's pre-literacy,

cognitive and motor skills

through song and rhyme. For

babies 0-18 months and their

caregivers. Space is limited.

10:30 - 11 a.m. Hermosa Beach

Library, 550 Pier Ave. Contact

Kay Wantuch (310) 379-8475,

kwantuch@library.lacounty.go

v.

Saturday, March 17

The 44th annual

Festival of the Kite is

Sunday, March 11,

noon - 5 p.m.

Redondo Pier, 100

Fisherman's

Wharf. All-ages

free event; prizes

awarded. Register

on eventbrite.com.

310-372-0308 or

redondopier.com.

St. Patrick's Day 5K

Village Runner presents the

annual St. Patrick's Day 5K

run/community walk and Leprechaun

Dash for the gold.

Race starts at 6:30 a.m. on

Catalina Ave., near the Village

Runner Redondo store. $40

entry all ages. $30 entry for

Little Leprechaun Dash for the

Gold. (310) 375-2626 or villagerunner.com.

St. Patrick's Parade

Over 100 local businesses,

civic organizations and school

marching bands take part in

the seven block parade down

Pier Avenue. 11 a.m. The parade

begins near City Hall on

Valley Drive, makes a left onto

Pier Avenue and ends at the

corner of Hermosa Avenue

and 10th Street.

Fitness 5K

Two auxiliary support

groups of Torrance Memorial

host the annual Spring into Fitness

5K Walk/Run. Proceeds

support renovations of the Torrance

Memorial Pediatric Unit

and Neonatal Intensive Care

Unit. $30. Registration 7:30

a.m. Walk/run 8:30 a.m. Participate

as individuals, teams, or

virtually. Children under age

13 must be accompanied by an

adult. springintofitnesstmmc.

org. South Coast Botanic Gardens,

26300 Crenshaw Blvd.,

Palos Verdes.

Bunny breakfast

Meet the Easter Bunny and

have breakfast at the Promenade

on the Peninsula, Ruby's

Diner. Seatings every half

hour, 8:30 - 10 a.m. Adults

$15, Kids are free (under 12).

Tickets available at Ruby's

Diner. 550 Deep Valley Dr.,

Rolling Hills Estates. (310) 541-

0688 or promenadeonthepeninsula.com.

B

Put on your green and watch the 23rd annual St. Patrick's

Day Parade on Saturday, March 17 in Hermosa Beach. 11

a.m. Pier Ave. between Valley Dr. and Hermosa Ave.

HBchamber.net.

8 Easy Reader / Beach magazine • March 8, 2018
---
March 8, 2018 • Easy Reader / Beach magazine 9
---
each

The

Yin and

Beach Cities

Mason Silva slides into a backside Smith grind, while Chris Russell launches into a frontside Smith stall at Manhattan Beach Skatepark. Photo by Brad Jacobson (CivicC
---
y David Mendez

ouch.com)

Friends from youth,

Mason Silva and Chris Russell

shred together after carving

separate paths to

pro skateboarding careers

Yang of

Shredders

The differences between skateboarders Chris Russell and Mason Silva,

as they prepare to power across Manhattan Beach Skatepark and attempt

a tandem trick (Russell airing off a quarter-pipe and stalling

on a nearby fence, Silva simultaneously pulling off a grind under Russell)

are stark.

Russell, a Hermosa Beach native now living in San Diego, looks, well,

haggard. His hair is shaggy under a Red Bull beanie, his face wearing a

few days' stubble, and his clothes give the distinct appearance of something

he may have recently woken up in.

Silva, a native of Manhattan Beach now living in Long Beach, is relatively

clean cut – his dark hair closely cropped, his black hoodie and jeans looking

fresh.

But as the two push off and start to hit the trick, you see what binds

them: talent and unshakable focus.

The two young men, both 21 and recently-minted professionals for their

respective sponsors (Element Skateboards for Silva, Creature Skateboards

for Russell), grew up as good friends seeking skate spots and riding to parks

as adolescents. As the two found their niches and developed their talents,

they grew apart. But occasionally, their paths would cross – in 2015, Silva

and Russell were named The Skateboard Mag's Amateur of the Year and

first runner-up, respectively.

"They're exact polar opposites, the yin and yang," said Sonny McCollom,

of Hermosa's ET Surf, who helped secure support for both as they grew

up. "Chris is your grime, hardcore guy, while Mason is your conservative,

technical guy. And it's cool that they came out of here and it shows you

the diversity out there."

Silva's philosophies pop out at you from his video clips, and he's quick

to admit them: Hit tricks fast, and hit them hard.

"It's pretty apparent to see in footage, even for people who don't skateboard:

it's easy to tell if someone is going fast over anything," Silva said.

"It's like playing music loud or soft."

That, he said, is something that's been with him for as long as he could

remember. Everything he did was fast, and there was no way he could

turn that off.

"But power, that came way after speed. I got that from surfing, watching

some of my favorite surfers, like Dan Reynolds, put so much power in their

turns when they go fast," Silva said.

Saltwater and shaped foam are in Silva's blood. His brother Dayton went

to work in the surf industry after competing as a pro. His father Mark is

locally famed for surfing for more than 1,000 days straight.

"It's pretty surreal — it's like if a child told you he wanted to be a fireman…

you make sure he got all the right grades, did all the right things,

and it wouldn't be a surprise," Mark Silva said. "But when a kid tells you

at a young age he wants to be a pro skateboarder… all we provided him

with was the opportunity."

That opportunity, Mark Silva said, was to allow Mason to pursue independent

study in high school, granting him time to skate and film without

being forced to stay on the Mira Costa campus.

"I gravitated toward this," Mason Silva said. "That's how I got around to

Chris, seeing him at other parks, and seeing that he had the drive to really

be something. He was in the same boat as me."

As groms the two were close, riding together to skate parks around LA

and Orange County.

"It's funny, he's a transition guy, skating pools and ramps, and that got

me skating at first," Silva said. "But when Vans Skatepark built a street

course, I started skating that and never looked back."

"It's so funny, he used to skate transition back in the day, but he started

seeing his niche in street skating," Russell said. "It's so rad he took that

route and made it his own…he's so, so f—king good in the streets."

Street skating – conquering stairs, handrails, ledges and other landmarks

of urban environments – is Silva's bread and butter. His video clips show

him catching ridiculous air off banked asphalt and open-top culverts, catching

his board soon after making it dance below him.

"I think there are more options, more creativity for me," Silva said. "I

like the culture of it, going into the street, finding something unique and

filming it, making an artwork from it."

Though he cites fellow Element Skateboards pro team member Brandon

Westgate among his greatest influences, South Bay local and skateboard

March 8, 2018 • Easy Reader / Beach magazine 11
---
Mason Silva.

Photo by Jake Darwen

legend Rodney Mullen was among Silva's first idols. Mullen is a technical

wizard, known for spinning, flipping and twirling his board with uncanny

precision. Watching Mason idly skating, you can see him taking those same

influences, popping two, three, four tricks in a line on flat ground.

But if Silva is technical, Russell is visceral. He has a raw power to his

lines, tinged with recklessness.

"The skill is there, and he just has the guts to do everything he wants to

do; he can think of anything, and nothing in his mind is going to tell him

'no,'" Silva said.

"I've always been like that, with anything. I can't do it any other way,

with anything I do in life," Russell said. "It's weird. I feel like I'm worse

when I'm trying to be relaxed, than when I'm pushing it into the ground."

Russell described his style as embedded along the "hairline of chaos and

complete control," on the brink of destruction.

"That's what I liked to watch growing up, where you don't do things that

are necessarily perfect, but were unique and completely off the wall," Russell

said. "Where you can't tell what's rehearsed and practiced, or completely

in the moment and genuine."

Russell came up in an older skating tradition, growing up among wellrespected

older heads, like Mike Smith and Lester Kasai.

"That's where I was sculpted, and learned the boundaries of etiquette,"

Russell said. "Those were the main inspirations growing up, older dudes

who had deep roots in skating already."

Russell's discipline is in transition, carving the curves and rolls of bowls

and pools, grinding or stalling along the coping – the top edge, where flat

ground meets the lip of the bowl – or catching air before diving back in.

"There's a texture to it, and the coping has so much to do with what transition

skaters like," Russell said. "The street is amazing, but I never got that

same feeling of going fast."

The people who have observed Russell's growth have struggled finding

the words to describe his style – at least, words that are printable in a family

publication – but they say he's always had the fearlessness he displayed

in parks and videos.

"He's not afraid to take it to the next level, and I don't think he has the

same fear that most people do," McCollom said, recalling Russell as a kid

who would never be seen without a torn-up metal band shirt and hair cascading

down his back. "He's the one guy you'd say who completely paves

his own way, and has his own style. He's not a follower by any means."

Russell's career was nurtured by heavy family support as well. His parents

would often take both him and Silva to parks across Southern California,

and he was a regular on the contest scene even as a grom.

"We started helping Chris out because I knew his mom, Jessica," said

Steve Harkenrider, of ET Surf, who helped connect Russell with NHS –

the parent company to eventual sponsor Creature Skateboards – and would

throw in free gear to help him. "He was a ripper who killed it in pool skating,

really any type of transition skating."

But his family, Harkenrider said, was unlike typical helicoptering sports

parent who acts as a de facto agent for their child.

"We've seen throughout the years, parents always making the kids work,

trying to live their dreams vicariously through them," Harkenrider said.

"[Chris's parents] Jonas and Jessica were so mellow and thankful… he was

mellow, his family was grateful, and that speaks a lot."

Russell's apple didn't fall far from his parents' tree – as the shop helped

them, he and his family stayed loyal.

"Only ET," Russell said when asked where he bought his gear growing

up. "I started riding for them when I was like, 10. Our fam's never gone

anywhere else."

About a mile up Pacific Coast Highway, Spyder Surfboards treated Mason

Silva with just as much love. Though they have a skate section in their

PCH store, the only pro decks they carry in their online shop are Silva's

pro decks. Once upon a time, a young Mason Silva worked behind the

counters at Spyder, who he says "pretty much raised [him]."

"You've gotta represent him; he's one of those guys who's been so close

to us and been a part of the family and made it," said Luke Jarvis, son of

Spyder founder Dennis Jarvis.

As he talked, Jarvis grabbed two DVDs from behind the counter: Disorganized

Fun, and Goosenectar, two locally-made skate videos featuring a

young Silva. "It's crazy, I was just showing my buddy these two… they sold

out the old Hermosa Playhouse screening these."

As conversations turned toward the future, the young pros turned introspective.

Silva, as from when he was a kid, hopes to stay deeply involved

in skating.

"I always want to be putting out video parts, photos, keeping everything

alive for as long as I can. I want to do this forever," Silva said. "I'm not

going to be able to, because my body won't let me, but I'm going to do

everything I possibly can do."

Though Russell acknowledged he'd be in a very different place if he wasn't

skating ("My mom raised me on a really good palate," he said. "I'd fully

embrace food and go that direction."), his plan is keep working to improve,

which might even lead to skating in the Olympics.

Skateboarding medal events are planned for the Tokyo 2020 Summer

Olympics, and upcoming contest series will soon start taking scores for

Olympic qualifying. But he's not worrying about that.

"I'm not going to put myself through all this stress into something I love

so much," Russell said, before pointing to his sponsors' gear. "These dudes

and these dudes would really want me to do it, and I'm going to try my

hardest…but if it doesn't happen, I'm not going to cry about it."

As for seeing his old friend on the same track to success, Russell is

stoked.

"It's pretty rad to see how we did this, and back in the middle again; it's

funny, man, how it worked out like that," Russell said. "It's a trip. It worked

out in the best way, for sure." B

12 Easy Reader / Beach magazine • March 8, 2018
---
BB&L team photo by David LeBon

B

The Law Offices of Baker, Burton & Lundy, P.C.

Expanding to Serve the Legal Needs of the South Bay

aker, Burton & Lundy, the local law firm with a nationwide reputation

and billions of dollars won for its clients, continues to expand

both its practice and its physical presence in the heart of

Hermosa Beach.

The firm has won more than $4 billion in verdicts and settlements. The

attorneys have argued twice before the U.S. Supreme Court and have

won an unanimous opinion in the California Supreme Court making

new law that encourages resolution and helps reduce litigation.

Never content to stand still, BB&L has been growing its probate and

employment law divisions, while energetically maintaining its core

practices that include business, real estate, estate planning and personal

injury.

People walking and driving down Pier Avenue will see changes taking

place. To house the growing practice, the 42-year-old firm is making

its third expansion along Hermosa's iconic Pier Avenue, adding new

offices and a "lifeguard tower-esque" roof deck to its storefront. The

shape is symbolic to the firm – just as local lifeguards keep beach-goers

safe, BB&L seeks to help safeguard the legal rights of their clients and

stands by to help when injuries of all kind occur.

Employment Law – Advising Employers and Employees

BB&L offers employment law services to a variety of clients in Southern

California from small start-up businesses to Fortune 500 companies.

Understanding the rights of both sides, BB&L represents both employers

and employees in discrimination, harassment and wrongful termination

cases. They also are experts in analyzing wage and hour issues and

employment and employee requirements under the current California

laws, which are technical and difficult to comply with.

Navigating Probate Litigation

The area of probate litigation has been growing as the Baby Boomer

generation ages. When conflicts arise concerning questionable documents

or how money and estate assets are being managed and/or

distributed, people find themselves needing an expert attorney. The

BB&L probate litigation team helps clients navigate through the complex

probate court system and reach equitable resolutions.

Protecting Sexual Harassment Victims

BB&L has been actively defending the rights of women long before

the #MeToo movement started. The firm spearheaded prosecution of

a doctor who, like Larry Nassar, was using his position and authority to

sexually abuse multiple patients during examinations and who was

convicted in criminal court of four felonies and lost his license. BB&L

also just won several million dollars for an employee who was a victim

of sexual harassment and discrimination. One of the most healing

things for these victims is helping them have their day in court and confront

the person who abused them.

Helping Clients with Brain Injuries

Unfortunately there are many ways people receive serious injuries to

their brain – from vehicle accidents to playing football or even dangerous

falls while walking. These brain injuries can drastically alter a

person's ability to work and take care of his or herself. It is critical for

head injury victims to seek legal help when an injury occurs due to another's

negligence so patients can get the resources needed for their

long-term care. BB&L has helped a wide range of clients injured from

falls, horse-riding accidents, and car and motorcycle accidents win

millions of dollars for their long-term medical needs.

Long Term Commitment

As the longest operating business on Pier Avenue, Baker, Burton &

Lundy remains committed to being there for their clients and the South

Bay community. Partner Brad Baker says, "Few professions provide the

opportunity to help people as much as the legal profession. We take

this mission very seriously. From the moment clients walk in our front

door, they know their experience is going to be unique."

BAKER, BURTON & LUNDY | 515 Pier Avenue, Hermosa Beach | (310) 376-9893 | info@bakerburtonlundy.com

SPONSORED CONTENT

March 8, 2018 • Easy Reader / Beach magazine 13
---
Best of the Beach Sports

Underground Shaper

Divorce & Family Law

Attorneys

1815 Via El Prado, Suite 203

Redondo Beach, CA 90277

(424) 259-1770

VISIT US AT

MIONIFAMILYLAW.COM

APC

LOVETTE T. MIONI, ESQ.

CERTIFIED FAMILY LAW SPECIALIST

NICOLE JARAMILLO, ESQ.

Ian Blackmore's iᐧbe surfboards have built growing loyalty among South Bay

chargers. Photo by Rob Lee Mosquera

Ian Blackmore

Jamie Meistrell of Dive N' Surf has been friends with Ian Blackmore since they were

kids. Both of them loved surfing, and they often hit the waves together. But Blackmore,

Meistrell recalled, was always interested in board design.

He has since taken that interest and shaped it into iᐧbe surfboards, a burgeoning

underground label serving South Bay surfers. Two things set Blackmore apart as a shaper,

Meistrell said. First, he still tears it up in the water. And second, he has never been afraid

to ask for help from veterans in the industry.

This eagerness to learn has served Blackmore, a Redondo native, well. He takes his craft

seriously, but remains humble. Told that he won, he was quick to credit other local shapers,

including Pat Ryan, Don Kadowaki and Ry Harris.

Blackmore recently took his education further afield, venturing to Hawaii to learn under

famed Matt Kinoshita at Kazuma Surfboards in Hawaii. That experience, Meistrell said, has

taken his shaping "to a whole other level."

"Ian knows exactly what the customer wants," Meistrell said.

Blackmore said his primary interest is in shaping performance shortboards, but he is

willing to shape whatever his customers ask for. Lately, he said, the trend in this part of

Los Angeles County has been for retro longboards and fish shapes.

"I kind of wish more people were choosing [performance shortboards] over the forgiveness

of a fish or longboard. But I'll shape whatever the customer is looking for," he said.

Over his decades in the water, Blackmore has seen trends in board preference come and

go. But he is hopeful that surfers rediscover the personal relationship that a surfer can

develop with a shaper. When not shaping, Blackmore can be found hunting waves across

Southern California. He'll travel from San Clemente to Big Sur, but just as he vouches for

connecting with a local shaper, there's nothing like pumping surf close to home.

"I'll travel for surf, but obviously my heart lies with those Redondo tubes," Blackmore

said.

6/15/2018 6/15/2018

Ian Blackmore

iᐧbe Surfboards

i.be.wavetoys@gmail.com

@ianblackmore

>> Runner-up: Dan Cobley

DANC Surfboards, 640 Cypress Ave.

Hermosa Beach, (310) 469-2671

14 Easy Reader / Beach magazine • March 8, 2018
---
Dive Store

Dr. Liebl • Dr. Doane • Dr. Yao

Dr. Jacks • Dr. Broussard • Dr. Burgos

www.hah-vet.com

Hermosa Animal Hospital

560 PCH, Hermosa Beach, CA 90254

310-376-8819

Bronze statues of Dive N' Surf twins Bob and Bill Meistrell, inventors of the

modern wetsuit, greet customers at the entrance to Dive N' Surf. The statues

were sculpted by former Hermosa Beach pro surfer Chris Barela. Photo by

Kevin Cody

Dive N' Surf

Last Summer, after a decade spent working his way up from sale assistant to assistant

manager, with time put in as a scuba gear technician, Chris Kelly was named manager of

Dive N' Surf. He stepped in as an opportune time. The previous year, the Meistrell family

spun off its Body Glove division, freeing Dive N' Surf to carry wetsuit brands other than

Body Glove. Equally significant was the 2014 expansion of the Dive N' Surf store, which

gave the shop space to stock a range of surf and dive wetsuit brands. They now include surf

suit makers Quiksilver/Roxy, Ripcurl, Vissla and local custom wetsuit makers 7 'til 8. The

dive suit selection has been expanded to include Henderson, Waterproof and Scubapro.

The enlarged space has also allowed Dive N' Surf to expand its surfboard selection. Local

shapers such as Jacobs and Andy Prunauer (Proper surfboards) are offered alongside Sharp

Eye boards that have become popular on the pro tour.

The remodel included enlargement of the pool at the back of the store, where over 60,000

divers have earned their scuba certification.

What the store retained from the small 1958 store was its deep diving and surf heritage.

A priceless collections of dive gear and surfboards are on display, including founder Bob

and Bill Meistrell's a balsa "slot" board, shaped by pioneer surfer Bob Simmons.

"Dive N' Surf has a lot of heritage starting with my dad Bob and his brother Bill, who

invented the modern wetsuit, legendary surfboard shapers Dale Velzy and Hap Jacobs, who

were early partners in the shop, and Dive N' Surf co-founder and pioneer diver Bev

Morgan," said Robbie Meistrell.

Best Paints and

Window Coverings

1002 S Pacific Coast Hwy, Redondo Beach | (310) 540-4456

708 N Sepulveda Blvd, Manhattan Beach | (310) 376-2444

Dive N Surf

504 N. Broadway, Redondo Beach

(310) 372-8423 divensurf.com

>> Runner-up: Freedive N Spear

950 Aviation Blvd. #B, Hermosa Beach

(310) 374-7333 Freedivenspear.com

March 8, 2018 • Easy Reader / Beach magazine 15
---
Bike Shop

At Body One Fitness Sidella offers an array of classes, from Hi-Volume, Cross Training

to Plyometric Training.

"We just celebrated our 8th anniversary and still have members from 2010-11," owner

Lou Sidella said.

>> Personal trainer runner-up: Steve Maresca, (310) 529-9815.

SteveMaresca@me.com

>> Specialty Gym runner-up: South Bay Trainer, 3865 Pacific Coast Hwy, Torrance.

(310) 341-8559. Southbaytrainer.com

Sports Retailer

Dick's Sporting Goods

Dick's Sporting Goods earned the praise of gun control advocates and the scorn of the

National Rifle Association with its announcement that it will no longer sell firearms to

anyone under 21, and will no longer sell assault-style rifles like the AR-15 used in the Florida

high school massacre. Locally, the decision may be largely symbolic, because their El

Segundo location is best known for its team, individual sports and weight lifting equipment.

For runners, Dick's offers an online calendar with new shoe release dates.

770 S. Sepulveda Blvd., El Segundo. 310-726-9123. Dickssportinggoods.com

Longtime owners of Hermosa cyclery include (left to right) are Larry Burke,

Steve Collins, Mark McNeill and Ken Liebowitz. Photo courtesy of Hermosa

Cyclery

Hermosa Cyclery

When Hermosa Bike founder "Shu" Shumaker died in 2002, he willed his shop to four

kids who had formerly worked for him – Steve Collins, Larry Burke, Ken Liebowitz and

Mark McNeill.

The four continue to operate Hermosa Cyclery as a full-service bike shop that includes

sales and rentals, but most importantly as an institution of Old Hermosa.

"We've won the Best of the Beach award 10 straight years and we love what we do,"

Collins said. "We're happy to work with the community everyday."

Collins is a member of the Board of Directors of the South Bay Bicycle Coalition.

"We encourage people to ride," added Collins, who has worked at Hermosa Cyclery since

he was 16 years old. "It's a healthy lifestyle with lots of participants."

On Saturday, March 17 Hermosa Cyclery will be joining the annual St. Patrick's Parade

in Hermosa Beach. Riders are encouraged to sign up at the store. Prior to the ride, a Best

Bike Contest will be held from 9:30-10:30 a.m. with 10 categories of winners.

20 13th St., Hermosa Beach.

(310) 374-7816.

hermosacyclery.com

>> Runner-up: Helen Cycles

1570 Rosecrans Ave. #C, Manhattan Beach. (310) 321-5290 Helenscycles.com

Specialty Gym &

Personal trainer

Body One Fitness/Lou Sidella

It wasn't until he was almost 30 years old that Lou Sidella decided it was time to lose

weight. He tipped the scales at 240 lbs. With 27.5% body fat. Sidella became certified as a

trainer and spent the next nine months trying to lose weight. Though he lost 40 lbs, and

dropped his body fat to 16.5 percent, he was still uncomfortable. He sought professional

help and gained the courage to enter a 12 week before-and-after contest that changed his

life.

"Eight weeks into the contest, I had co-workers asking me to train them," Sidella said. "I

decided I'd give it a shot, and a few months later Body One Fitness was founded. Years

later, I was still able to maintain my results from the contest – 182 lbs. and 8 percent body

fat.

"I'm definitely not the most knowledgeable guy," Sidella said. "But I've learned how to

come across to clients and give them that extra push. I work with the different needs of

clientele,"

16 Easy Reader / Beach magazine • March 8, 2018

>> Runner-up: REI, 1800 Rosecrans Ave, Ste E, Manhattan Beach. (310) 727-0728.

REI.com

Health Club

Bay Club

One purpose of a health club is to prepare its members to enjoy the great outdoors. The

Bay Club in Redondo Beach does that by providing an outdoor pool overlooking the King

Harbor, a deck with rowing machines also overlooking the harbor and an outdoor cross

training area. since the Northern California-based group took over the Redondo club, it has

added regular social functions, creating a country club atmosphere. (Bay Club also recently

acquired the Manhattan Beach Country Club). Bay Club Redondo offers classes on Mind

& Body, Group Fitness, Strength Training, Aquatics and Cycling. The Redondo Beach

location also offers a childcare play area, racquetball boxing and indoor-outdoor cardio

track.

Redondo Beach: 819 N. Harbor Dr., Redondo Beach. (310) 376-9443; South Bay: 2250

Park Place, El Segundo. (310) 643-6878; Rolling Hills: 51 Peninsula Center, Rolling

Hills Estates. (310) 541-2582. Bayclubs.com

Shop Shaper

>> Runner-up: 24 Hour Fitness

1601 Pacific Coast Hwy Suite 100.

Hermosa Beach

(310) 374-4524

24hourfitness.com

Pat Ryan, ET Surfboards

To the person ordering his or her first surfboard, Pat Ryan has a question: How do you

see yourself on a surfboard? What do you aspire to do?

"If you approach someone on the sales floor, they might be surprised to hear that. Now,

if someone is in the longboard section, they probably want a longboard. But do you want

to noseride and cruise? Or do you want to do a lot of turns?" Ryan said.

Ryan has five decades in the surfboard industry, stretching back to his days on the Greg

Noll Surf Team, where he met ET Surfboards owner Eddie Talbot. In the late '60s, amid

sweeping changes in surfboard manufacturing technology and rider preferences, the duo

took the remnants of Greg Noll Surfboards and set up a fiberglass-and-resin operation out

of their apartment.

These raw beginnings eventually developed into ET's current operation on Aviation Boule
---
After shaping more surfboards than any other active South Bay shaper, ET's

Pat Ryan is now shaping stand-ups. Photo by Kevin Coy

vard in Hermosa Beach, which has been catering to — and employing — hot surfers of the

South Bay for 46 years. During that time, Ryan became one of the most respected shapers

in the region, developing signature boards for ET like his King Fish model.

The advantage of ET, Ryan said, is that the people in the shop are almost always excellent

surfers or skaters themselves.

"Anyone who's up there really knows what they're talking about," he said, referring to

the shop's second floor stock of surfboards.

"You're responsible for a broader range than ever before: first it was just longboards.

Then there were shortboards. And now there's everything in between," Ryan said.

And although technology has changed too, with some shapers relying on new materials

and greater automation, much of Ryan's craft would look familiar to his much-younger self.

He referred to Tom Wegener, a former South Bay resident who moved to Australia and wrote

a dissertation at the University of the Sunshine Coast that eventually became the book

"Surfboard Artisans for the Love." The book tracked a wide variety of approaches to surfboard

design that have emerged since the 1960s, and noted that the best boards are still

made essentially the same way. Ryan called it a "fluke," but when he turns his focus to a

board, the result is something closer to magic.

Pat Ryan, ET Surf

904 Aviation Blvd.

Hermosa Beach

(310) 379-7660

>> Runner-up: Spyder Surfboards

2461 Pacific Coast Hwy.

Hermosa Beach

(310) 374-8276

Martial Arts

Elite Training Center

Elite Training Center was founded on the four principles of Respect, Honor, Discipline

and Strength and teaches adult and youth mixed martial arts, These include LOTAR (close

quarter battle techniques), Krav Maga (self defense), Muay Thai kickboxing and

Kali/Silat/Eskrima (Filipino open hand and stick fighting). The Hermosa and Redondo

locations are overseen by Chief Instructor Brian Rauchbach, who has over 24 years of martial

arts experience.

"What sets Elite apart is our relationships with students," instructor Sean Derhammer

said. "We have a profound impact not just on our students, but on our instructors as well.

It's a pay it forward concept."

"We have a clientele that ranges from soccer moms to federal agents to local law

enforcement," Derhammer said. "Our teachers feel like giving back is a genuine thing they

want to do."

628 South Pacific Coast Hwy., Redondo Beach. (310) 543-1600;

1601 Pacific Coast Hwy., Hermosa Beach. (310) 912-3088elitetrainingcenter.net

>> Runner-up: Cobrinha Brazilian Jiu Jitsu South Bay, 3525 Pacific Coast Hwy,

Torrance. (310) 891-6821. cobrinhabjjsouthbay.com

March 8, 2018 • Easy Reader / Beach magazine 17
---
Best of the Beach Kids

Private School

Beach Camp

CampSurf

CampSurf Director Chris Brown credits location

for a large part of his 21-year-old surf

and volleyball camp's success. When Los Angeles

County Lifeguard Jimmy Miller founded

the camp in 1997, he obtained a permit to hold

it at Rosecrans Avenue in Manhattan Beach.

During the summer, when swells come from

the south, the Palos Verdes Peninsula and

Catalina Island block waves from reaching

most of the South Bay. But waves still sneak in at the north end of Manhattan.

A CampSurf student finds his stoke.

Photo courtesy of CampSurf

"Generally the summer surf is small, which is perfect for our campers. When it's big, the surf breaks out

far enough for beginners to ride the white water on the inside," Brown said.

A second benefit of the camp's location is the pool of strong South Bay surfers and volleyball players Camp-

Surf draws upon for its instructors. All CampSurf instructors are CPR and First-Aid Certified. Brown's relationships

with the area's top beach athletes come from his years as a competitive surfer and volleyball player.

Brown has been president of the CBVA (California Beach Volleyball Association) since 2005 and also sits on

the Nominating and Governance Committee of USA Volleyball, the governing body for U.S. Olympic volleyball.

CampSurf teaches over 1,000 kids to surf and play volleyball each summer and an equal number of adults

through its year round private lessons and corporate team building program.

CampSurf, Manhattan Beach

Campsurf.com

>> Runner-up: Beachsports, Beachsports.org

Peninsula Heritage offers an idyllic academic environment.

Peninsula Heritage School

The key to Peninsula Heritage School's success – and thus, its students'

success – is its environment, said Director of Advancement Joan Behrens.

"This is a nurturing, happy environment, where students come to know

who they are," Behrens said.

In operation since 1961, Peninsula Heritage's educational programs

see their kindergarten-through-eighth-grade students matriculate to top,

local public and private schools, and then to the country's top colleges

and universities.

"They discover and build their skills and talents," Behrens said. "When

they leave here, they're not necessarily trying to prove who they are."

The three acre, ranch style school at the top of the Peninsula offers an

idyllic learning environment.

Peninsula Heritage School

26944 Rolling Hills Rd., Rolling Hills

(310) 541-4795 Peninsulaheritage.org

>> Runner-up: Vistamar School

737 Hawaii St., El Segundo. (310) 643-7377 Vistamarschool.org

Your local Broker

Serving the South Bay Since 2003

✔

✔

✔

Excellent Marketing Strategy with Proven Results

Broker/Owner of One of the Few Local,

Independently-Owned Real Estate Offices

Specializing in fixers & tear downs

✔

✔

Top dollar paid

Short or long escrows

No repairs

No credits

No fuss

AVAILABLE

NOW

1716 Manhattan Beach Blvd. Suite A, Manhattan Beach • www.3LeafRealty.com

NEW CONSTRUCTION COMING SOON

2309 Clark Ln, #A & B

Redondo Beach

A $1,435,000 B $1,449,000

Two lots sold together

CLOSED 701 LONGFELLOW

Sold for $3,175,000

"Call me for a free evaluation of your property"

1108 Vincent St, #A & B

Redondo Beach

Ocean Views

J e r r y C a r e w 310-714-1416 Jerry@3LeafRealty.com

Broker

DRE#01374136

18 Easy Reader / Beach magazine • March 8, 2018
---
Birthday Party Location &

Indoor Play Facility

AdventurePlex

For $29 a month (or $12 for a day), children can learn how food gets to their tables by

playing farmer, grocery store worker and homemaker in Toddler Town. The imaginative

AdventurePlex play area features a farm with a barn, farm animals, a tractor, bales of hay

and vegetables, as well as a grocery store with stocked shelves and a checkout counter and

a home with a kitchen. For older kids, AdventurePlex offers an outdoor rock climbing wall

a rope course and basketball courts. AdventurePlex is 16,000 square feet of healthy educational

fun. Just don't mistake it for a babysitting service, except on Friday and Saturday

evenings. During play hours parents must play with their kids. But Fridays and Saturdays,

from 5:30 to 9 p.m., AdventurePlex's trained staff will watch over the kids while parents

enjoy and evening out.

For birthdays, AdventurePlex offers Fresh Brothers pizza, a custom designed Torrance

Bakery birthday cake and the run of the Adventure Room play structure. Birthday packages

also include invitations, thank you notes and goodie bags.

310.539.6685 310.884.1870

310.326.9528

AdventurePlex

1701 Marine Ave., Manhattan Beach

(310) 546-7708 Adventureplex.org

>> Runner-up: the COOP South Bay

903 N. Catalina Ave. #101, Redondo Beach

(310) 374-2667 Thecoopsouthbay.com

Kids Boutique

866.BEYOND.5

310.997.1900

www.cflu.org

310.530.5443

310.534.9560

CUT * COLOR * STYLE

310.539.2191

310.326.3354

310.539.2993

310.530.4888 310.534.0220

Employees Heather D'Errico and Mary Lacey show off Bella Beach Kids

wide assortment of stuffed animals. Photo by Ryan McDonald

Bella Beach Kids

Bella Beach Kids' location on Manhattan Beach Boulevard sits right next to Bella Beach,

a clothing store targeted at woman who have long since left the sandbox behind. But the

two stores share more than a wall: one of the most popular offerings at the kids shop is a

"Mommy and Me" or a "Daddy and Me" option: the chance to find matching garments for

a child.

It's all part of a personalized touch that has made Bella Beach Kids a fixture in downtown

Manhattan Beach, and more recently allowed them to open a second location at The Point

in El Segundo. The store is deeply connected to the community, and is family-run. Owner

Tony D'Errico is a former member of the Manhattan City Council, who would cheerfully

step out of council chambers when the body deliberated on matters that might affect his

business. His wife Kris serves as co-owner and buyer for the store, while daughter Heather

helps keep things running smoothly.

Asked to name their store favorites, employees pointed to the large selection of stuffed

animals, and Kickee Pants, a line of ultra-soft pajamas made from bamboo.There is also a

nightlight that is the shape and size of a pineapple: through some kid-friendly engineering,

it somehow never gets hot to the touch.

Bella Beach Kids

225 Manhattan Beach Blvd.

Manhattan Beach

(310) 545-9990

The Point, 820 S. Sepulveda Blvd.

El Segundo

(310) 529-3590

>> Runner-up: Lollipop

1813 S. Catalina Ave.

Redondo Beach

(310) 375-8787

310.530.3079

310.517.0324

310.326.8530

TORRANCE

TOWNE BEAUTY

CENTER

310.539.3526

310.326.4477

310.530.0566

424.347.7188

310.325.2960 310.891.2237

310.530.8411

New Smiles Dentistry

Stephen P. Tassone, DDS

310.791.2041

310.517.9366

310.530.3268

310.539.1808

WineShoppe

310.539.1055

Northwest Corner of

Crenshaw Blvd. & Pacific Coast Hwy. in Torrance

~ For Information, Call 310.534.0411

A LA CAZE DEVELOPMENT COMPANY PROJECT

March 8, 2018 • Easy Reader / Beach magazine 19
---
Best of the Beach Professional Services

process. Our business bankers are here helping local small business owners. Chase is committed

to this community."

Bank Branch

Chase Bank

1232 Hermosa Ave., Hermosa Beach

For other locations visit chase.com

>> Runner-up: Wells Fargo

For locations visit wellsfargo.com

Civil Law

Chase Hermosa Beach staff (left to right) Julian Mangine, Christopher Crowson,

Tuyet Jerald, David Eguiguern, Cindy Ramos, Bert Quinones, Erica

Vasquez, Donald Evans and Sokhary Ashe. Photo by Kevin Cody

Chase Bank, Hermosa Beach

Without question Chase Bank's downtown Hermosa Beach branch, in the lobby of the

old Bijou movie theater, is the coolest bank building in the area But it takes more than looking

cool to be the beach cities favorite bank.

"I think our customers appreciate our friendly customer service and innovative products.,

said Erica Rivera-Ruiz, general manager of Chase Bank in Hermosa Beach. "At our on site

ATMs, for example, you can withdraw cash in unusual dominations, like $1, $5 and $100.

We have wealth management professionals here to help customers who need advice on investment

strategies. We have mortgage bankers available to assist in the home buying

Baker Burton and Lundy attorneys in front of the Pier Avenue, Hermosa

Beach office (left to right) Clint Wilson, Evan Koch, Christine Daniels, Brad

Baker, Kent Burton, Albro Lundy, Steve Dawson and Teresa Klinkner. Photo

courtesy of Baker Burton and Lundy

Baker, Burton and Lundy

The law firm of Baker, Burton and Lundy is known locally for representing residents be-

20 Easy Reader / Beach magazine • March 8, 2018
---
fore planning commissions, mediating

neighborhood disputes, and providing pro

bono services to nonprofits. Its one story

building on Pier Avenue in downtown Hermosa

Beach is about as far from the Century

City high rises favored by high

powered attorneys as one can get, literally

and figuratively, and still be in Los Angeles

County. Office dress favors Reyn Spooner

Hawaiian shirts over starched Oxford cloth

and their email ends in SurfLaw.Com.

The fact that the firm has won over $4

billion in settlements, including $2 Billion

against Sempra Energy, is nowhere in evidence,

except for the fact that they recently

bought the nextdoor dry cleaners and are

remodeling the space to accommodate

their growing staff.

Baker, Burton & Lundy Law Offices

(Kent Burton)

515 Pier Ave., Hermosa Beach

(310) 376-9893 bakerburtonlundy.com

>> Runner-up:

Brandon Chabner Law Offices

1601 Pacific Coast Hwy.,

Hermosa Beach

(310) 662-4727

222 N. Sepulveda Blvd., #200,

El Segundo

(310) 498-2465

Chabnerlaw.com

Temple Emet ~ Feel the Difference!!

Programming

for all

We are more than a Synagogue

We are a Family!

They say you can't choose your family

But, you can choose your friends

We are there for you when others can't be

We travel together, dine together, go to movies, theatre, cruise, bowl,

do paint & game nites, we are there for simchas and shivas, hospital and home visits,

we share, care, and are truly there for each other.

Are you ready for something more in your life? Something different?

Try us! Temple Emet! We are Truly Unique.

Youth to those

young at

heart!

March 8, 2018 • Easy Reader / Beach magazine 21
---
Lovette T. Mioni,

Mioni Family Law

Certified family law specialist Lovette T. Mioni has been named a Southern California

Rising Star by the Super Lawyers rating service, an honor reserved for fewer than three percent

of attorneys in the region. Mioni

said she works hard to educate her

clients, to "make them aware of their

unique facts and circumstances, and

their best-case and worst-case scenarios,

so they can make the best decisions for

them, rather than letting the court make

it for them, or just going along with the

other side." Mioni also has "a very settlement

minded practice" that aims to

avoid the financial and emotional drain

of a trial. "Not every case can be settled,

and I'm very well equipped to go to

trial, but only when it makes sense to

go to trial," she said.

Family law attorney

Lovette T. Mioni.

Family Law

Criminal Law

Mioni Family Law-Lovette T. Mioni

1815 Via El Prado, Suite 203

Redondo Beach

(424) 259-1770

mionifamilylaw.com

>> Runner-up: Law Office of Karina P. Pozsar

29000 S. Western Ave., Ste. 401

Rancho Palos Verdes

(310) 853-0657

pozsarfamilylaw@gmail.com

Nigel Villanueva

Accomplished defense attorney Nigel Villanueva maintains an "open-door policy" of complete

availability to each client. "I am happy to meet my clients during late hours, or on

weekends," he said. "I want my clients to be able to simply walk into my office any time.

They will always find my door open." Villanueva has more than 50 jury trials and arbitration

hearings to his name, and he is a lawyer other lawyers have turned to when they faced legal

trouble. In addition to representing clients in a wide range of violent crimes, drug crimes,

sex crimes and driving offenses, Villanueva runs a small but successful personal injury

practice.

Law Office of Nigel Villanueva

220 S. Pacific Coast Hwy., #106

Redondo Beach

(310) 318-0018

nigelvillanueva.com

>> Runner-up: Jonas & Driscoll

Law Firm L.L.P.

1108 Sartori Ave. #320

Torrance

(213) 683-2033

Jonasdriscoll.com

Jerry Carew, 3 Leaf Realty

Jerry Carew charts just about every aspect of his industry and has learned from his

charts that, "in good years and bad, the cycle is the same. Home sales are slow in January

and rise to a peak in May or June." Judging from his charts, though the real estate market

may be cyclical, it cycles up faster than just about any other investment, at least in the

Beach Cities.

Using data from MLS, Carew concludes, "Inventory is down this year, so this year you

are going to have a hot seller's market," Carew said. "Good for sellers, tough for buyers."

3 Leaf Realty - Jerry Carew

1716 Manhattan Beach Blvd. #A

Manhattan Beach

(310) 546-6300

3 leafrealty.com

Amy Cimetta, Re/MAX

Broker Associate Amy Cimetta is a rising star in the local real estate universe. She's been

in the business a dozen years now, and as evidenced by winning her first Best of the Beach,

the multitudes of clients she's helped through the daunting maze of a sale have had such

positive experiences that Cimetta has become a go-to agent in the real estate community.

"Buying or selling a home is a huge financial and emotional endeavor," Cimetta said.

"I'm honored to work with people during one of the most important events of their lives. I

can't imagine doing anything else; I love what I do."

Cimetta has a background that has uniquely prepared her for this profession. She comes

from a real estate family; her grandfather bought hotels and office buildings — her father

grew up living in one of those hotels — and the family continued the tradition, buying and

renovating homes to rent out throughout Cimetta's childhood.

"It was a culture my parents raised me in," she said. "I learned from a very early age the

value of real estate, the value of buying that fixer and turning it around. Also, we always

lived in beautiful homes."

Her path into the profession was a bit circuitous. She attended prestigious liberal arts

schools Brandeis and Tufts Universities and went on to obtain an MBA in marketing from

Fordham. She had an early successful career in the entertainment industry, working in

sales for firms such as Variety magazine and Faction Creative, before turning her focus on

the real estate business. This, too, was part of her education as a broker, both in the creativity

of her approach and her ability to relate to people in high-stakes circumstances.

"I was dealing with some of the most challenging personalities you could deal with,"

Cimetta said. "It gives me the sales piece of it, but also the storytelling piece of it — sales

teaches you to always understand who your customer is, and how to take care of them. I do

for my clients what I would want done for me. That's the bar I hold myself up to: if it was

me, how would I want this done? It's about managing all the different parts of a transaction

and quarterbacking the whole thing, so you are not just a salesperson — you are an advocate

for your clients."

Her clients find themselves with a patient and friendly but fierce professional on their

side.

"Our recent home purchase was fairly complicated and required extreme attention to detail,"

said client Mike Murphy. "Amy went far above and beyond to make sure everything

went smoothly. We never felt like Amy was just trying to hurry us through a transaction.

She treated us like we had been friends who had known each other for years."

Amy Cimetta, Re/Max

400 S. Sepulveda Blvd. #100.

Manhattan Beach

(310) 542-9054.

Luvwhereulive.com

Real Estate Selling Agent

>> Runner-up: Strand Hill Properties

1131 N. Morningside Dr.

Manhattan Beach

(310) 545-0707

strandhill.com

Real Estate Listing Agent

>> Runner-up: Donald McVicar -

The Domo Group/Re/MAX Estate Properties

1040 Manhattan Beach Blvd.

Manhattan Beach

(310) 283-0366

donald@southbayresidential.com

22 Easy Reader / Beach magazine • March 8, 2018
---
Buying or Selling

"Since 1992"

Don Ruane

Serving the South Bay Beach Cities and beyond

Best of the Beach Travel

Motel

Office: 310.546.3441

Cell: 310.643.6363

Email: Donruane@verizon.net

DRE#01036347

T he first and only all natural pie shop

in S outhern California.

Come down for a slice of natural goodness!

Pi day

March 14!

133 Hermosa Ave. • 310-374-2323

The Sea Sprite Motel on the Hermosa Strand remains an unchanged reminder

of Hermosa's simpler days. Photo by Kevin Cody

Sea Sprite

The Sea Sprite has been welcoming guests since the 1960s and is a charming anomaly.

This modest beachfront property has been defiantly resistant to change, and though it's a

bit worn, the units are clean and welcoming. The families who have been enjoying vacations

there for decades cherish the experience of ocean views and short strolls to restaurants of

every description. There is no room service, and the rooms are light on amenities, but the

people who have been returning for over fifty years like this place just as it is.

Seasprite

1016 The Strand

HB 310-376-6933

24 Easy Reader / Beach magazine • March 8, 2018
---
Runner-up: Best Western

1850 S. Pacific Coast Hwy. Redondo Beach (310) 540-3700

2740 Artesia Blvd. Redondo Beach (310) 370-4353

Bestwestern.com

Hotel

The Manhattan Beach Shade hotel's enclosed patio is a favorite venue for

social gatherings. Easy Reader file photo

Shade Hotels

The two Shade Hotels are the home team when it comes to upscale South Bay lodging.

Both are architecturally bold and modern, but use colors of sea and sky and expanses of

wood and fabric to create an atmosphere of serenity. Rooms have all the high tech conveniences,

as well as spa tubs and the other amenities that are all about sheer luxurious pleasure.

These hotels are where we pamper our guests, and occasionally ourselves when there are

repairs going on at home or we just want to get away without leaving town.

Shade

1221 N. Valley Dr., Manhattan Beach

(310) 546-4995

shadehotel.com

655 N. Harbor Dr., Redondo Beach

(310) 921-8940

rb.shadehotel.com

Travel Agent

>> Runner-up: The Portofino Hotel & Marina

260 Portofino Way, Redondo Beach

(310) 379-8481

Hotelportofino.com

Automobile Club of America (AAA)

The travel agency business has taken a beating from the internet, but plenty of people

still prefer the personal service and advice an experienced professional can provide. After

all, most of those websites deliberately make it difficult to compare their offerings with

competitors, while a travel agent is an impartial pro whose job is to do just that. Most services

are free, and any consulting fee you might spend is trivial when you take into account

how many hours you'll spend flipping between airline, tour company, or cruise line sites.

The best travel bargain may be the one that starts long before the trip does.

Automobile Club of Southern California

700 S. Aviation Blvd., Manhattan Beach

(310) 376-0521

Calif.aaa.com

>> Runner-up: Beach Travel

215 #A Pier Ave., Hermosa Beach

(310) 376-8956

beachtvl.com

March 8, 2018 • Easy Reader / Beach magazine 25
---
Best of the Beach Health

The 256 room Torrance Memorial Lundquist

Lundquist Tower was made possible by contributions

from the community. Photo courtesy of Torrance

Memorial

Hospital

Torrance Memorial Medical Center

Highly regarded Torrance Memorial Medical Center

hospital, enhanced its image still more last month when it

became affiliated with the internationally renowned Cedar

Sinai Medical Center in Los Angeles. The affiliation will

enable the two medical centers, both of which have significant

research programs, to share specialists.

Torrance Memorial was founded in 1925 by South Bay

residents who believed it important to have world class

medical service closer than downtown Los Angeles. That

same belief carries through to today. Contributions from

Melony and Richard Lundquist and other supporters

helped finance the $480 million, seven story, 256 room

Lundquist Tower, unveiled in 2014. Car dealer Vasek Polak

made possible The Vasek Polak Research Program, which

studies cancer prevention.

Torrance Memorial Medical Center's Volunteer Auxiliary

presented a check last month for $290,000 to the Torrance

Memorial Foundation at its 2018 Auxiliary Board

Installation Lunch. The donation will go toward the transformation

of the Hunt Patient Tower, dedicated to

mother/baby postpartum, neonatal and pediatric care.

Torrance Memorial emergency room, alone, sees 60,000

patients annually.

Torrance Memorial Medical Center

3330 Lomita Blvd.

Torrance

(310) 325-9110

torrancememorial.org

>> Runner-Up: Providence Little Company of Mary

Medical Center

4101 Torrance Blvd. , Torrance

(310) 540-7676 california.providence.org

Audiologist

26 Easy Reader / Beach magazine • March 8, 2018

Parker Hearing Institute

Government approved hearing aids for individuals with

mild to moderate hearing loss will be available "over the

counter" sometime this year, as a result of Congressional

legislation passed last summer. Currently hearing aids require

a prescription from an audiologist.

Some audiologists are concerned that non prescription

hearing aids will damage their business much as reading

glasses damaged optometrists when reading glasses were

made available without prescription.

Parker Hearing, which has fitted over 40,000 people

with hearing aids since its founding by William Lee Parker

in 1975, isn't concerned. One reason is a recent study

showed people fitted with hearing aids by audiologist were

50 percent more satisfied that those who bought over the

counter hearing aids.

"Some people we fit with hearing aids never need to

come back. But most do. We offer membership fees for repeat

visits and cleanings," said Brian Sisson, a spokesper-

William Lee Parker with his kids and fellow audiologists

Josh and Andrea. Photo courtesyof

Parker Hearing

son for Parker Hearing.

Sisson believes making hearing aids more widely available

will encourage people with hearing difficulties to seek

professional help.

"Modern hearing aids are more than amplifiers. They

can be programed by your smartphone to focus on the person

sitting across from you, or to your right. They can be

programmed for noisy restaurants. People are self conscious

and don't like to be seen fiddling with their hearing aid. A

smartphone is more discrete," Sisson noted.

"We're seeing more and more children bringing in their

aging parents. We offer family consultations because it can

be stressful living with a person hard of hearing.

"We advise the family members to look at the hard of

hearing person they are talking to. All of us lip read, which

is why an evening in a loud restaurant can be mentally exhausting,"

Sisson said.

Parker Hearing was founded in 1975 by William Lee

Parker, whose parents were both deaf. As a result he

learned sign language. His children Josh and Andrea have

taken over his practice and also were raised reading sign

language. Signing is particularly helpful for Andrea, a pediatric

audiologist.

Parker hearing represents all six hearing aid manufacturers

so it has the widest available selection of hearing aids,

Sisson said.

Parker Hearing Institute

4201 Torrance Blvd., #140

Torrance

(310) 540-4327

parkerhearing.com

>> Runner-Up: Sunni McBride, South Bay Hearing

3734 Sepulveda Blvd., Torrance

(310) 803-9496

Lasik

NVision Eye Center

Patients describe NVisison's doctors as "textbook

perfect" in their procedures, which are backed by a

lifetime commitment to positive results. One customer

described choosing NVision South Bay as "the best

decision I've ever made." Others used words like

"love" and "ecstatic" to describe their vision results.

NVision offers a Vision for Life program: if an enhancement

is medically advisable, patients can receive

the procedure with any participating surgeon

nationwide, free of charge.

NVISION Eye Center

23550 Hawthorne Blvd., #220

Torrance

(562) 364-8462

Nvisioncenters.com

>> Runner-Up: Manhattan Beach Vision Group

946 Manhattan Beach Blvd.

Manhattan Beach

(310) 545-4585

Vcisionsource-manhattanbeach.com

In-home Care

24 Hour Home Care

24 Hour home Care is a leader nationwide, with

carefully screened home health aides, certified nursing

assistants, licensed vocational nurses and professional

caregivers. The popular caregiver service specializes

in non-medical, in-home care, assisting with bathing,

dressing, moving about, and transferring from chair to

bed, or bed to bath. The caregivers are trained to take

vital signs, manage medications, prepare meals, do

laundry, and provide transportation and basic house

cleaning. They are available for a few hours a day or

around the clock. 24 Hour is certified with the American

Board of Home Care and California Association

for Health Services at Home.

24 Hour Home Care

3812 Sepulveda Blvd., Suite 240

Torrance

(310) 375-5353

24hrcares.com

>> Runner-Up: Home Care Assistance

19 Peninsula Center, Rolling Hills Estates

(310) 461-2419 homecareassistance.com
---
MasterCard®

®

AMERICAN EXPRESS ®

SM

Optometrist &

Eyewear

Stein Optometric Center

About 13 years ago, Dr. Howard Stein picked up a call from his son, John, a lawyer specializing

in tax law. A father already, with two more children on the way, John Stein realized

that he needed a change, and set out to follow in his own father's footsteps.

"We've been a family business since 1960," Howard Stein said, "and this is a second-generation

business – and now John's 16 year old boy is thinking about doing it too."

Stein Optometric Center is Manhattan Village Mall's last original tenant, and in keeping

with the changes going on throughout the Village, Stein just underwent its own massive remodel.

Space once dedicated to over 45,000 hard-copy patient records has become space

for new testing equipment and office space.

"The main thing I've learned is that the patient is always right," Dr. Stein said. "If we

have someone who needs to fix lenses they've had for three years, even if their warranty is

only one or two years, we'll make new lenses. We just want everyone to be happy."

>> Runner-Up: Optometrist

Dr. Stahl, Beach Cities Optometrist

1103 Highland Ave.

Manhattan Beach

(310) 376-8975

Beachcitiesoptometry.com

Stein Optometric Center

3200 N. Sepulveda Blvd. #E-4

Manhattan Beach

(310) 546-5568

Steinoptometriccenter.com

>> Runner-Up: Eyewear

Trendy Sunglasses & Optometry

223 Manhattan Beach Blvd.

Manhattan Beach

(310) 545-4090

Trendyoptics.net

Chiropractor

Derek Levy, DC

For a Hermosa Beach Surfer Walk of Fame inductee and coach of the South Bay Boardriders

Club's grom program, chiropractor Derek Levy takes a surprisingly traditional approach

to his profession.

"There are always 'new

and improved tools' in

orbit, but in my 35 years of

practice the fundamentals

have remained the same,"

Levy said.

"Chiropractors work

with three basic parts of

the body – bones, nerves

and muscles," he explained.

"When a bone is out of

place, it can pinch a nerve,

causing pain. Then the

muscles spasm as they

work to hold the bones in

place."

"All a chiropractor does

is put the bone back in place, so the body can heal."

Levy compared a pinched nerve to a garden hose with a kink in it.

Chiropractgor Derek Levy is a Hermosa Surfer

Walk of Fame inductee. Photo by Kevin Cody

"If the hose gets pinched, the flowers wilt. If nerves gets pinched, patients experience

numbness and pain."

"When I fix something, I get the credit, but it's mostly the body's amazing healing powers

that are responsible," he said.

Unlike most doctors, Chiropractor Derek Levy describes his patients as generally healthy.

G e t R e a d y F o r S p r i n g !

Say Goodbye to Stubborn Fat....

• Skin Cancer & Mole Removal

• Mohs Micrographic Surgery

and Reconstruction

• Cysts, Acne, Warts & Rashes

• Leg Vein Sclerotherapy

• Acne & Accutane Treatments

• Pre-Cancer Treatments

• Propecia Available

Two Coolscuplting Devices to Treat Two Areas at Once!

• Age Spots

• Glycolic & Chemical Peels

• Sculptra, Radiesse, Perlane ® ,

Juvéderm & Restylane ®

• BOTOX ® & Dysport

• Pediatric Dermatology

• Ultraviolet B & PUVA

• Latisse for longer, darker lashes

Get Ready For The New Year

Discounts Offered Now!!

Call Our Office For Details!

• Laser Surgery

• GentleLASe-Hair Removal

• IPL-Rosacea/Sun Damage

• Smoothbeam-Acne/

Wrinkle Reduction

• Vbeam-Redness/Broken Capillaries

• Fraxel – Melasma/Wrinkle Reduction

• XTRAC laser for treatment of

Psoriasis and Vitiligo

Fariba Seraj,

NP/PA-C

Providing Full

Dermatological

Medical Treatment,

in addition, Provides

all Laser and

Cosmetic Services.

Intense Pulsed Light

Treats Sun Damage, Brown Spots,

Age Spots, Broken Capillaries, Sun

Induced Freckles, Rosacea

NO DOWNTIME!

Special Introductory Price

$200* (Complimentary Consulation)

*New Clients only. Must bring ad for discount.

Shelby Reed

Also providing services: Steven E. Gammer, M.D. and Geover Fernandez, M.D.

www.beachcitiesderm.com

BEACH CITIES DERMATOLOGY MEDICAL CENTER

CERTIFIED, AMERICAN BOARD OF DERMATOLOGY

Also Providing

Licensed Aesthetician

Services

• Glycolic and Salicylic

Chemical Resurfacing Peels

• Microdermabrasion

Erika La Ponza • Progressive Acne Treatments

Hamaguchi

Jennifer

FREE INITIAL CONSULTATION! PLUS...

State-of-the-Art Skin Care With a Personal Touch

Rolling Hills Estates – 827 Deep Valley Drive, Suite 101

Redondo Beach – 520 N Prospect Avenue, Suite 302

Culver City – 3831 Hughes Avenue, Suite 504 B

ALL PPOS ACCEPTED l EVENING & SAT. APPTS. AVAILABLE

310-798-1515

William J. Wickwire, M.D.

Get Two FULL

HOUR Microdermabrasion

Treatments

for $160.

A Savings of

$100.00

Neal Ammar, M.D.

28 Easy Reader / Beach magazine • March 8, 2018
---
"People at the beach lead a healthy lifestyle. So when they come to see me it's usually

for minor aches and pains that are easy to take care of. I deal with neck and lower back

pain all day long." The most common causes he said, aren't accidents, but stress.

The one significant change he does acknowledge is the growing acceptance of chiropractic

treatment by the broader medical profession, which has led to insurance coverage.

"It's one of those 'careful what you wish for situations," he said.

The paper work gives him the kind of headaches he commonly treats. Though most insurance

policies cover chiropractic treatments, the paperwork can be so burdensome that

some chiropractors won't take insurance. It's a headache Levy said that he welcomes. He

takes insurance.

Derek V. Levy, DC

950 Aviation Blvd.

Hermosa Beach

(310) 379-0503

drderekleby.com

>> Runner-Up: Dr. Charlie Harper, D.C.

1800 N. Sepulveda Blvd. #202

Manhattan Beach

(310) 883-4472

Drcharlieharper.com

The largest selection of

Antique, Collectible & Decor

Items in the South Bay

7,000 sq. ft. showroom

Consignments • Estates Purchased • Dealer Space Available

Thank You For Voting Stars #1 for 7 years running.

Dentist

Dr. Jon Miller

Dr. Jon Miller has been

in the dentist trade in Manhattan

Beach for more than

20 years, including owning

his own practice for the

last 14. During that time,

he has managed to fine

tune the balance of the

doctor-patient relationship.

"I try to be conservative.

I tell the patient about all

of the options," Miller

said.

But he also knows when

to be upfront with patients

about a potential issue.

Asked to describe Miller, office assistants Laurie Schaffer and Amanda Olea shout "Honest!"

in unison, laughing at each other.

"He has no problem looking people right in the face and telling them what needs to be

done," Schaffer said.

Skills gained over the decades of practice have helped endear Miller to his long-time customers.

Some of his older patients have been coming to him since they were young enough

to finish a visit with a trip to the toy chest.

"Come here, and you'll have a dentist for life," Olea said.

>> Runner-Up: Dr. Janelle Holden DDS

451 Manhattan Beach Blvd.

Suite D 226

(310) 545-5757

526 Pier Avenue

Hermosa Beach

2 Blocks West of PCH

310-318-2800

@starsantiquemarket

New Merchandise

Arriving Daily

Mon – Sat 11-6

Sun – 11-5

s t a r s a n t i q u e m a r k e t . c o m

Cosmetic Surgeon

Dr. James Wethe, M.D.

Dr. James Wethe, M.D. is a long established, highly respected plastic surgeon and the

Medical Director of Skin365 in Torrance. He passed his board examination in general surgery

in 1986, after attending the University of Southern California School of Medicine and

completing his internship in general surgery at Harbor/UCLA Medical Center. Dr. Wethe

became board-certified by the American Board of Plastic Surgery in 1990. He and his staff

pride themselves on providing outstanding patient care in a professional and welcoming

environment.

James D. Wethe, MD

3440 Lomita Blvd. #220

Torrance

drwethe.com

>> Runner-Up: Todd Gerlach

Center for Cosmetic Surgery

4201 Torrance Blvd Suite 150

Torrance

(310) 540-0144. doctorgerlach.com

• Private Parties

• Private Lessons

• Summer Surf Camps • Corporate Lessons

• Birthday Parties • Group Lessons

Our instructors are all CPR and First Aid Certified

Los Angeles' Premier Surf School

and

The Official Surf School for the City of Manhattan Beach

424-237-2994 info@campsurf.com

March 8, 2018 • Easy Reader / Beach magazine 29
---
Best of the Beach Home Services

Door & Window store

Furniture store

Ikea

Our readers love Ikea for its clean design and affordability, and they love touring that spacious

store, examining the wide array of bedrooms, living rooms and office spaces they can put together.

Ikea sees a home as "a perfect reflection of the people who live inside." To further help customers

make their homes look and work the way they want, the store offers features such as an online

drag-and-drop interior designer with precise measurements and 3D mock-ups of the customer's

virtual rooms. And of course, they will assemble their furniture for you, so you don't end up

with a leftover screw and an excess dowel thingee.

IKEA

20700 S. Avalon Blvd.

Carson

(888) 888-4532

ikea.com

>> Runner-up: Living Spaces

1519 Hawthorne Blvd.

Redondo Beach

(310) 266-7300

Livingspaces.com

Tile store

For over 90 years and now four generations strong, Cook's Lumber

knows doors and windows and its customers. Bob and Jim Cook.

Cooks Doors and Windows

Aimee Cook's great grandfather Bert opened Cook's lumber in 1923. Four years

ago Aimee joined her father Jim and uncle Bob, who joined their father in the business

in the late 1970s. Aimee picked an opportune time. The South Bay had recovered

from the 2008 real estate collapse and new construction and remodels were on an

upswing that continues today. In addition to economic cycles, the Cooks have witnessed

cycles in architectural styles, from Spanish Colonial to Italian Mediterranean,

to the recent Caribbean Plantation. Aimee described today's most popular style as

Coastal Modern, characterized by clean, minimalist lines. A popular window for this

style is their Western Windows System, which offer large, aluminum framed, energy

efficient windows, and sliding and folding doors.

"We put in a lot to keep this a family-run business. We're born and raised in the

South Bay, we know the customers, and we know the location," she said.

Cook's Doors and Windows

14410 Hawthorne Blvd.

Lawndale

(310) 679-2212

Cooksdoorsandwindows.com

>> Runner-up: South Bay Door and Window

732 N. Catalina Ave.

Redondo Beach

(310) 372-3667 southbaydoorinc.com

Classic Tile & Design

Classic Tile has set a standard for excellence in the South Bay tile industry for more than 25

years, and its showroom displays the best of artistic tile, ceramic tile, concrete tile, glass tile,

metal tile, stone tile, and tile care products. Customers praise Classic Tile's wide selection and

outstanding service. Terri of Palos Verdes described her exhaustive search through tile stores large

and small to make her tiles match, following a renovation to the guest bathroom. "No one came

close. We decided to give Classic Tile a shot and thankfully, they came so close that no one will

ever know that they are not the same tiles."

Classic Tile & Design

860 Pacific Coast Hwy.

Hermosa Beach

(310) 376-8024 Classictiledesign.com

Carpet store

South Bay Carpets & Hardwood Floors

South Bay Carpets, family owned for three generations, received the nod from our readers

for personalized, professional service, from sales to installation. Owner Gerry Blanks, a lifelong

area resident, said, "We may not be the biggest, but we're definitely the best." The

store offers one-on-one showroom consultations and free in-home estimates for carpeting,

vinyl, hardwood, laminate and tile work. Customers praise South Bay Carpets for fair prices,

"top-notch" work and bend-over-backwards service.

South Bay Carpet and Hardwood

Floors

1443 Aviation Blvd.

Redondo Beach

(310) 373-2163

southbaycarpetsinc.com

>> Runner-up: Rock Mill Tile & Stone

727 Pacific Coast Hwy. Hermosa Beach

(310) 379-7646

Rockmillstone.com

>> Runner-up: Carpet Spectrum, Inc.

1050 Aviation Blvd.

Hermosa Beach

(310) 376-4344

Carpetspectruminc.com

30 Easy Reader / Beach magazine • March 8, 2018
---
Plumbing

Pacific Coast Plumbing Co.

Owner David Vialpando, longtime Hermosa resident, said attention to detail and "good

customer service, with follow-up and follow-through" are keys to his success. "Our techs

are highly trained and very clean and conscientious. They always wear booties into your

house, and will always lay tools on a work tarp or towel, not on your floor." The company

is state-licensed, fully insured, and maintains active memberships in the Better Business

Bureau and International Association of Plumbing and Mechanical Officials.

Pacific Coast Plumbing Co.

1706 Pacific Coast Hwy.

Hermosa Beach

(310) 318-8899

Paccoastplumbing.com

Swimming pool/Spa store

Leslie's Pool Supplies, Service & Repair

Our readers found the service and selection unbeatable at Leslie's, a national leader in

swimming pool service, installation and repair. Leslie's boasts an eye-popping selection of

pool cleaners, chemicals, equipment, toys, parts and accessories for above-ground pools,

in-ground pools and spas. Customers praise the wide variety of products available, and the

knowledgeable and attentive staff. One Hermosa customer raved that Leslie's was able to

fix a previously nagging algae problem, and get her family back in their pool.

Leslie's Pool Supplies

5054 W. 190th St.

Torrance

(310) 371-7272

Lesliespool.com

>> Runner-up: Mickey Chastain -

Pipe Eyes Plumbing

23329 Grant Ave. Torrance (310) 387-5003

>> Runner-up: ABC Pool and Patio

24449 Hawthorne Blvd.

Torrance

(310) 373-0935 Abcpoolandpatio.com

HANDYMAN

SCHATAN

• Reasonable & Reliable

• All types of jobs

welcome

• No job too small

MATT

310 540-4444

unlic.

March 8, 2018 • Easy Reader / Beach magazine 31
---
Best of the Beach Transportation

Motorcycle Dealer

Dave and Zoie Carney (leaning out the window) with the crew at Hillside

Auto

Domestic Auto Repair

Hillside Auto Repair

"What sets us apart is our people," said Dave Carney, who co-owns the shop with his

wife Zoie. "We hire people who love doing what they're doing, and allow them the freedom

to go ahead and make magic. We live in the community, and we've been doing this for 33

years. We have some amazing people working for us, and very little turnover. We take good

care of our customers." Customers say the Hillside mechanics are honest, thorough, and

able to explain their work to the layperson.

Foreign Auto Repair

Hillside Auto Repair

24467 Hawthorne Blvd.

Torrance

(310) 373-7676

hillsideautorepair.com

>> Runner-up: Ocean Tires and Service

1017 Aviation Blvd.

Hermosa Beach

(310) 372-7800

Oceantire.com

Toyo-Tech

Owner Jody Romero, a successful businessman with small-town roots, said Toyo-Tech

approaches each repair job as if the client was the mechanic's mother. "Our clients are

more like family than customers," he said. His family owned, independent shop repairs

Toyota, Lexus, Honda, Acura, Nissan and Infiniti. Customer Karen Rogers said, "I have

trusted Jody completely to maintain my 2002 Lexis for the 14 years I have owned the car.

In fact, when I traded in my Toyota Supra, I bought a Lexus so I could continue to have

him service my vehicle."

Toyo-Tech

4607 Manhattan Beach Blvd.

Lawndale

(310) 536-0993

>> Runner-up: Lexology Auto Care

1437 Aviation Blvd.

Redondo Beach

(310) 379-0543

Lexologyautocare.com

Del Amo MotorSports

Del Amo motorsports started out as a modest 6,000 square foot showroom and mechanic

station on Aviation Boulevard in Redondo Beach three decades ago. Today, it is the largest

motorcycle dealership on the West Coast, with a 45,000 foot showroom in Redondo Beach,

a showroom in Orange County, and a showroom in Long Beach. Del Amo carries a wide

variety and the top brands of motorcycles, dirt bikes, scooters, UTVs, side by sides, ATVs

and personal watercraft. And the increasingly popular three-wheel bikes like the Can-Am

Spyder. There showrooms' enormous inventories dazzle even the most experienced motorcyclists.

Del Amo Motorsports

2500 Marine Ave.

Redondo Beach

(310) 220-2223

Delamomotorsports.com

Used Car Dealer

Tire store

>> Runner-up: South Bay Customs

115 Penn St.

El Segundo

(310) 982-1300

Southbaycustoms.net

Jama Auto House

The frequency with which one sees license plate holders in the Beach Cities that read

Jama Auto House is evidence of its popularity. Former Porsche racing driver Lars Jacobson

has been matching his customers with cars that suit their driving and finances over three

decades ago. He specializes in high end cars, but insists they are less expensive to own than

new mid priced cars because his full service garage makes certain no car leaves his lot without

being in factory condition. In addition, Club Jama members are entitled to service at

$85 an hour, a fraction of the rate charged by new car dealers and qualified service garages.

Jama Auto House

700 Pacific Coast Hwy.

Hermosa Beach

(310) 318-1639

Jamaauto.com

>> Runner-up: CarMax

18020 Hawthorne Blvd.

Torrance

(310) 896-3810

carmax.com

American Tire Depot

"Customer service combined with price" sets the shop apart, said manager Ro Verme,

who has guided American Tire Depot to 'Best of the Bay' top honors four of the five years

he's been at the helm. "We have a lot of return customers. We do a lot of work for the Hermosa

Beach Police Department," he said. "We keep it local." In addition to selling tires and

wheels, American Tire Depot offers brake, oil and strut service, and battery installation.

Customers buying tires receive free lifetime rotation, free brake inspection and free flat tire

repair if needed. Customer testimonials praise the shop for quick, efficient service and "always

fair prices."

American Tire Depot

1414 Pacific Coast Hwy.

Hermosa Beach

>> Runner-up: Globe Tire & Automotive

(310) 798-7929

500 N. Sepulveda Blvd.

For more locations visit: americantiredepot.com

Manhattan Beach

(310) 376-8866

Globetireandautomotive.net

32 Easy Reader / Beach magazine • March 8, 2018
---
New Car Dealer

Manhattan Toyota general manager Ron Vartanian and owner Brad Sperber.

Photo by Brad Jacobson (CivicCouch.com)

Manhattan Beach Toyota

Last November, the car belonging to the mother of Manhattan Beach Police Department's

soon-to-be chief, Derrick Abell, suffered a transmission meltdown. The chief, a doting son,

picked up his mother and drove her to Manhattan Beach Toyota. To her great surprise, as

they walked into the dealership, he handed her a set of keys to a new Camry and pointed

to the staff. "I've got to get back to the station," he said. "You guys take care of it." The

story in a nutshell gets at what sets Manhattan Beach Toyota apart — it's a dealership

deeply embedded in the community, with a staff truly dedicated to taking care of its customers.

"We have great customer service," says owner Brad Sperber. "Because we have the

best employees, as well. We just truly care about the customer and treat each one as if they

are family. We really take pride in it."

Sperber carries on the legacy of his father, Darrell, who passed away in 2015 but whose

vision for how a car dealership should run is ongoing. MB Toyota is among the most active

local businesses in its charitable endeavors, a priority established by the elder Sperber, who

was honored by the MB Chamber of Commerce posthumously with the Bob Meistrell Local

Legend award for his deep involvement in the community.

Last year, Brad Sperber and his wife, Andrisa, also fulfilled another of his father's dreams,

unveiling a sparkling new $7.5 million remodel of the 5.5 acre dealership on Sepulveda.

"I think one of the nice things about the

whole South Bay area and especially Manhattan

Beach is everyone looks out for each

other," Sperber said. "We eat local, we

shop locally, and we take care of our own

neighbors, really…. I love Manhattan

Beach, and I take pride in the fact that I

can hold my head up when I run into a customer

outside a grocery store. I know they

bought a car that can hold up, and I know

they they have been taken care of and had

a good experience with us."

Everyone who buys a car at the dealership

is welcomed to bring it back once a

week for a free car wash. It's small details

that speaks volumes about how Manhattan

Beach Toyota does business.

"The relationship just starts as soon as

you buy a car," Sperber said. "We look forward

to customers coming back...It's all

about what you can do to help them out."

Manhattan Beach Toyota

1500 N. Sepulveda Blvd.

Manhattan Beach

(310) 546-4848

Manhattanbeachtoyota.com

Professional Medical Aesthetics

Serving The South Bay for 14 Years

>> Runner-up: Subaru Pacific

14700 Hindry Ave.

Hawthorne

(424) 634-7766

Subarupacific.com

49 Pier Ave, Hermosa Beach

310.374.4181 | skinsavvy.com

First Laser Service New Clients

Mention "Easy Reader" or "Beach Magazine"

March 8, 2018 • Easy Reader / Beach magazine 33
---
Best of the Beach Retail

Nursery

Deep Roots founder Jon Bell. Photo by Mark Mc-

Dermott

Deep Roots Garden Center

The sprawling, barn-like structure at the corner of

Sepulveda and 2nd Street in Manhattan Beach has been a

plant nursery for six decades but has gone through several

iterations, most famously becoming a community institution

as Bob's Nursery under the ownership of Bob Brock

from 1970 to 2000. It became a more high-end nursery

after Brock sold. Then one of his former employees — Jon

Bell, who began working at the nursery when he was 15

— bought the business in 2009, at the age of 28, named it

Deep Roots and returned it to its roots. Deep Roots has

won every Best of the Beach since, an eight year streak.

It's an all-in-one garden center; in addition to several hundred

species of plants (with an emphasis on plants native

to this area), Deep Roots carries seeds, tools, organic fertilizers,

pots of every size, chimes, garden boxes, bulbs,

birdhouses, and offers landscaping and floral design services,

as well as a full time florist, regular workshops, and

educational outreach. With Bell at the helm, Deep Roots

has returned to community institution status.

"We try to cover all those bases," Bell said. "Anything

we sell, we can install. We get to know people and, over

time, get a grasp of what they are looking for. We try not

to limit ourselves to any one thing."

Deep Roots Garden Center & Florist

207 N. Sepulveda Blvd. #201

Manhattan Beach

(310) 376-0567

Deep-roots.net

Grocery store

Trader Joe's

The Beach Cities are one of the richest places in the world

by the measurement of creative grocery stores per capita.

We've already have an opulent Whole Foods Market, the culinary

finery of Bristol Farms, the exquisite freshness of Grow,

the organic homespun goodness of Sprouts, the international

flavor of Jon's Market, and a stalwart array of Vons and

Ralph's. And Gelson's and a Lazy Acres are on their way to

opening this year. But Trader Joe's remains in a class of its

own — perhaps never before has the experience of grocery

shopping been made as fun as going into the Tiki-themed,

cheerful, and wildly inventive environs of a TJ's. Founder

Joe Coulombe, who started Pronto Marts in the LA area in

1958, developed the idea of the Trader Joe's South Seas motif

while on vacation in the Caribbean. Coulombe's insight was

that Americans were traveling more and returning home with

tastes they had trouble satisfying in supermarkets of the time.

He launched the first Trader Joe's in Pasadena in 1967 with

an unusual business model that persists to this day — each

TJ's only keeps about 4,000 products in stock, compared to

the 50,000 items in an average supermarket, but Trader Joe's

inventory is constantly changing. The company maintains a

team of international travelers, who discover products that

are modified to become part of the TJ's brand (80 percent of

products bear the Trader Joe's imprint); the lowest selling 10

Produce

Sprouts Farmers Market

Sprouts has deep roots in the produce

business. The company's origin story begins

in 1943, when newlyweds Henry and Jessie

Boney borrowed $600 from her parents to

buy a truck and used it to start selling

peaches at a fruit stand in La Mesa. They

expanded with their first family story four

years later in Chula Vista, and in the

decades to come would create and operate

an array of grocery stores – Boney's, Bradshaw's,

Superama, Windmill Farms,

Henry's and finally Sprouts, one of the

early entries into what is now called the

"natural foods" sector of grocery stores.

Hence, it's unsurprising that Sprouts, which

arrived in Redondo Beach six years ago, remains

committed to sourcing the freshest

produce; it's in the company's DNA. Each

percent of products are constantly being replaced with new,

creative, and usually international products. The result is

every trip to a TJ's is an adventure. "Trader Joe's is no ordinary

grocery chain. It's an offbeat, fun discovery zone that

elevates food shopping from a chore to a cultural experience,"

wrote Fortune magazine. "It stocks its shelves with a winning

combination of low-cost, yuppie-friendly staples (cage-free

eggs and organic blue agave sweetener) and exotic, affordable

luxuries -- Belgian butter waffle cookies or Thai lime-andchili

cashews -- that you simply can't find anyplace else."

The Beach Cities are home to an unusually high number of

T.J's — there are four in the three cities — for a chain whose

stores (there are 450 now) are so coveted that a Beatlemanialike

riot broke out when one finally opened in New York City

a decade ago.

Trader Joe's

For locations visit traderjoes.com

>> Runner-up: Ralphs

Manhattan Village

2700 N. Sepulveda Blvd.

Manhattan Beach

(310) 546-2472

ralphs.com

Sprouts features its fresh produce front and center at every store.

Photo courtesy Sprouts

of the 280 Sprouts stores displays its produce front and center in each location.

"Customers love Sprouts for farm-fresh produce found at the center of the store," said Kalia Pang, a spokesperson for

Sprouts. "Our longstanding relationships with local growers and vendors, coupled with our ability to sell a high volume,

allows us to offer fresh produce at great prices. Customers will find conventional and organic staple and seasonal produce,

in addition to specialty items like cotton candy grapes, lychee and starfruit."

>> Runner-up: Peter's Garden Center

814 N. Pacific Coast Hwy.

Redondo Beach

(310) 372-2288

Peters-garden.center

Sprouts Farmers Market

1515 Hawthorne Blvd.

Redondo Beach

(424) 903-7028

sprouts.com

>> Runner-up: Grow

1830 N. Sepulveda Blvd.

Manhattan Beach

(310) 545-2904

Growdelivers.com

34 Easy Reader / Beach magazine • March 8, 2018
---
Barber

Dan Clement cuts

hair at Deep Pocket

Jean Company in

Hermosa Beach,

where he says 80

percent of his business

is repeat customers.

Photo by

Andrew Johnston

• Serving the South

Bay for over 35 years

• Full Service Contractor

• Complete Installation

• New Construction

• Remodeling

• Second Floors

• Additions

• Cabinets

Visit Our

Kitchen &

Bath

Showroom

4203 Spencer St., Torrance, CA 90503 (310)214-5049 • www.pevelers.com

Appointments Are Recommended

Showroom Hours: Tuesday, Wednesday, Thursday 10-5 • Friday 9-3 • Monday by Appointment

Closed Saturday and Sunday • License #381992

Dan Clement, Deep Pocket Jean Company

Conversation flows pretty easily with Dan Clement at Deep Pocket Jean Company in

Hermosa Beach. His repeat-heavy business means that, when someone is in the barber's

chair, he has a good idea not just what kind of haircut the customer wants, but what's happening

in that person's life.

"I'd say 80 percent of my customers, I don't have to ask what kind of haircut they want.

And we usually just pick up the conversation where we left off," Clement said.

It's a fitting approach for a man who got into being a barber from the other side of the

shears. Clement grew up in the South Bay, then moved to San Diego. While there, he became

friends with many of the employees at his local barber shop. When the economy tanked

during the Great Recession, they suggested he consider being a barber. So he went to the

same barber school they did, and got a job.

Two years later, he moved back to the South Bay and established himself at Deep Pocket.

He has come to feel part of the community, in part because so many of his customers come

from the neighborhood around the store. But even as he stays local, his client list is anything

but uniform.

"It really ranges. I've got little kids, people in college, family men, retirees: you've got to

be able to relate to everyone," he said.

As the name suggests, there's a twist to Deep Pocket: racks of high-end denim and other

apparel sit just a few feet away from the barber's chair. But the experience is a nod to the

traditional past of barber shops: the clientele

are mostly men, signs offer shaves as

well as haircuts, and customers will often

linger after their cut to hang out and watch

a game on TV. There's even a walk-in cigar

humidor. And like the barbers of yore,

Clement sees himself as providing more

than just a clean-up.

"If people look good, they feel good.

And if they feel good, they're better people,"

he said.

Dan Clement, Deep Pocket Jean Co.

200 Pier Ave., No. 201

Hermosa Beach

(310) 379-5201

dpjc.us

>> Runner-up:

Alan Bailey Peroxide

1036 Aviation Blvd.

Hermosa Beach

(562) 303-4938

peroxidebeautybarbershop.com

MATTUCCI

Plumbing

Since 1990 • License # 770059, C-36 C-34 C-42

D E P E N D A B L E • P R O F E S S I O N A L • A F F O R D A B L E

w w w . m a t t u c c i p l u m b i n g . c o m

SPRING SPECIALS

$ 9 8 0

Residential Water Heater

40 gal. installed! ($1080 - 50 gal. also available)

Includes hot & cold water supply lines

Expires April 30, 2018

NOW

OPEN

FULL SERVICE PLUMBING

SEWER VIDEO INSPECTION

ROOTER SERVICE

COPPER REPIPES

$ 7 5

Rooter Service - Main Line

Must have clean-out access. Some restrictions may apply.

Expires April 30, 2018

F R E E

E S T I M A T E S

M e n t i o n t h i s a d w h e n

s e t t i n g u p a p p o i n t m e n t .

3 1 0 . 5 4 3 . 2 0 0 1

Thank You

For Your

Vote!

ON CALL

24 HOURS

7 DAYS

March 8, 2018 • Easy Reader / Beach magazine 35

2013
---
Best of the Beach Retail

Men's Clothing

& Surf & Ski

& Snowboard

Spyder Surf's Katie Belknap, Amber Talbot

and Luke Jarvis outside their new, downtown

Manhattan Beach location.

Photo by Ryan McDonald

Spyder

Spyder owner Dennis Jarvis has been in the industry

long enough to understand the intricacies of running a surf

shop in the South Bay. Spend any time talking to him, and

it becomes apparent that he has the customer experience

thought out down to the last square foot.

The result is a trio of stores that cater to different

surfers, or perhaps the surfer on a different day. Spyder's

original location on Pacific Coast Highway in Hermosa

Beach carries the "hard goods": surfboards, leashes, fins

and anything else you might need to get wet, along with

an assortment of boardshorts and wetsuits. The Pier Plaza

location has a wide assortment of apparel for men and

women, while the downtown Manhattan Beach location is

where you can find higher-end surfwear like button-ups.

Jarvis, a former pro surfer who has shaped boards for

many of the sport's top pros, is one of South Bay surfing's

biggest boosters. His pride in the place where he grew up

and continues to call home is apparent in the way he constantly

touts the South Bay as the heart and soul of surfboard

manufacturing. And, at 35 years in business, Spyder

Surfboards is undeniably part of that story.

Spyder Surfboards

1116 Manhattan Ave.

Manhattan Beach

(310) 318-2289

2461 Pacific Coast Hwy.

Hermosa Beach

(310) 374-2494

65 Pier Ave.

Hermosa Beach

(310) 374-8276

>> Runner-up: Clothing

Macy's

Manhattan Village

Manhattan Beach

>> Runner-up:

Surf, Ski & Snowboard

ET Surf

904 Aviation Boulevard

Hermosa Beach

(310) 379-7660

Independent Fashion Retailer

Wright's

Wright's is celebrating 30 years in Downtown

Manhattan Beach this year, but the

name celebrates a tradition far older. When

long-time Manhattan residents Nancy and

Dana McFarland founded the store, they decided

to name it in honor of Dana's greatgrandfather,

who founded Wright's Trading

Post in Albuquerque, New Mexico, almost

a century before.

Today, Navajo blankets and stiff denim

have given way to a modern bohemian assortment

of clothes more appropriate for a

night out on the town than a trip in a covered

wagon. But the artisanal spirit endures.

"There're things for everybody. It's

classy but fun, not really too traditional,"

said store manager Thassia Voigt.

Voigt credited the store's eclecticism to Nancy. McFarland, she said, has a "great eye" and finds clothes that suit all body

types. She also casts a wide net: Some of the store's clothes come from domestic lines, but many come from France, Italy

and elsewhere abroad.

Gift Shop

Gum Tree

Gum Tree is the place to turn for gifts for

the hard-to-please. It has a mix of home decorations,

jewelry and cookbooks. Parents

looking for something for a kid but hesitant

to plunk down money for a video game can

find youthful gifts that are designed to

please and stimulate the mind, from puzzles

to coloring books. The Hermosa Beach location

sits inside an early 20th-century bungalow

on Pier Avenue, and features a cafe

with an Australian-inspired menu. (For

thousands of years, Australian aborigines

have used gum trees, known as Eucalyptus

stateside, for their medicinal properties.)

The Manhattan Beach location sits in the

heart of downtown, and has a constantly rotating

selection of gifts for parties and

events.

Gum Tree

238 Pier Ave.

Hermosa Beach

(310) 376-8744

324 Manhattan Beach Blvd.

Manhattan Beach

(310) 3198-2990

Manager Thaissa Voigt and employee Olivia Amster with a

totem pole commemorating the family history of Wright's in Manhattan

Beach. Photo by Ryan McDonald

Wright's

232 Manhattan Beach Blvd.

Manhattan Beach

(310) 376-8533

>> Runner-up: Curious…

128 Pier Ave.

Hermosa Beach

(310) 372-8452

>> Runner-up: Alandrea

1809 S. Catalina Ave.

Redondo Beach

(310) 378-3868

Gum Tree raises thousdands of dollars each holiday season for

the Hermosa Beach Education Foundation with its Photo with

Santa day. Photo by Kevin Cody

36 Easy Reader / Beach magazine • March 8, 2018
---
Antique store

Stars Antique Market

There's always a pot of coffee for customers near the entrance of Star's Antiques in Hermosa

Beach. Step inside, and you'll

start to see why: once you begin browsing,

you might be here a while.

A recent visit to the store revealed

treasures and wonders: an apron featuring

long-demolished hotel-casinos

of Las Vegas like the Sands and the Silver

Slipper; a copy of the single "Have

a Marijuana" by forgotten New York

hippie-rockers David Peel and the

Lower East Side; marbles of every

shade and variety stored in glass jars

as though they were volatile compounds;

a poster advertising Howlin'

Wolf at the Avalon Ballroom in San

Francisco on Sept. 23-24, year unknown.

The store takes on a mixture of direct

and consignment sales. And despite

the huge inventory of the Pier

Fay Ben David and Dawn Amerian help

customers find new treasures at Star's Antiques.

Photo by Ryan McDonald

Avenue storefront — two floors and a rear area open to the outdoors — employees can often

look at an item and know instantly to whom it belongs. What brings it all together is less a

sense that one has found something secretly valuable than a feeling of being surrounded by

things that have been loved.

Stars Antique Market

526 Pier Ave.

Hermosa Beach

(310) 318-2800

>> Runner-up: Antique Corral

145 Pacific Coast Hwy. Redondo Beach

(310) 374-0007

March 8, 2018 • Easy Reader / Beach magazine 37
---
Best of the Beach Retail

Skate Shop

first women vert skaters and a member of the Skateboarding Hall of Fame.

Skate manager Kevin "Worm" Anderson has been working at ET since he was 15 years

old. He helped the South Bay become part of the vibrant skate scene that developed in

Southern California in the 1970s, which took after economic downturns and eminent domain

by LAX created a large number of condemned homes with empty pools for skaters to

explore. Today, the store continues to connect with homegrown talent like Chris Russell

and Bryan Torrellas.

ET Surf

904 Aviation Blvd.

Hermosa Beach

(310) 379-7660

>> Runner-up: Spyder

2461 Pacific Coast Hwy.

(310) 374-8276

Camera Store

Employees River Bainard, Anthony Renna and Trevor Anderson with some

of ET's signature decks. Photo by Ryan McDonald

ET Surf

ET Surf may have been founded on ocean sports, but step inside the Aviation Boulevard

storefront, and the first thing you see is a wall of skateboard decks. Over its history, ET has

become part of the concerte history of Hermosa Beach and the South Bay by equipping

and sponsoring some of the South Bay's best skaters, including Cindy Whitehead, one the

Paul's Photo

"Running stores offer runs, nurseries offer planting classes. We offer classroom photo instruction

and photo excursions," said Mark Comon, co-owner with his dad Paul, who

founded Paul's Photo in 1961. Over the years, the father and son team have made their

store the hub of the South Bay photograph community. A visit to the large, well stocked

store is part provisioning, part socializing.

Classes range from the general (bootcamp) to the specific (lighting), night photography).

Photo excursions range from Madrona Marsh to Kilimanjaro and places in between, including

Joshua Tree, Yosemite, Death Valley, Monterey and Alaska.

Last year MSNBC aired a special about Paul's popularity in an era of online shopping.

"A good retailer creates and customer experience with every sale. A UPS driver can't do

that," retail consultant Bill McCurry told MSNBC.

To view MSNBC's report on Paul's Photo visit msnbc.com/your-business/watch/getting-

38 Easy Reader / Beach magazine • March 8, 2018
---
Paul's Photo owner Mark

Comon practiced what he

teaches in his night photography

classes with this

photo of the super blue

red moon on January 31

of this year. B-E-A-U-tiful!

the-picture-saving-a-camera-store-607940675568

Paul's Photo

23845 S. Hawthorne Blvd., Torrance

(310) 375-7014

paulsphoto.com

>> Runner-up: Silvio's Camera & Digital

22409 Hawthorne Blvd., Torrance

(310) 791-7100

silvios.com

Neighborhood Shopping

Riviera Village

Riviera Village is a treasure to Beach

Cities residents, and Nils Nehrenheim, the

Redondo Beach City Council Member representing

the area, gladly gushes about it.

"It's a very walkable area that has everything;

you can go there in the morning for

a dentist appointment, grab lunch after, go

to the store, then stop off at the accountant

for your taxes," Nehrenheim said. "It has

everything for everyone on a day-to-day

basis."

New restaurants are regularly being introduced

to the area, including the latest

edition of The Rockefeller, a sidewalk dining

program is growing, and the Sunday

Farmer's Market is coming into its own.

"The Village is where you can go to get everything done," Nehrenheim said.

Riviera Village

1799 S. Catalina Ave., Redondo Beach.

rivieravillage.org

Jewelry Store

>> Runner-up: Metlox LLC

451 Manhattan Beach Blvd.

Manhattan Beach

(626) 535-0317

Metloxmb.com

Morgan's Jewelry

Melissa Varon Weinberg has felt the weight of the Morgan name, which carries back over

70 years, and sees it in the customers she sees come into the local chain's Torrance location

every day.

"We recently had a couple who were 91 and 92 years old, who began shopping with us

when my grandparents started the company back in Del Amo; they had fond memories of

dealing with them then, and they wanted to shop with someone they can trust," Weinberg

said. "When you find someone like that, you know what you're getting."

Morgan's name, she believes, comes from building relationships and selling the kind of

quality that keeps parents, friends, children and grandchildren oohing and ahhing for years

and years.

"We want our customers to feel really proud with what they are purchasing," Weinberg

said. "To have every piece feel like an heirloom piece, that you can pass on to your family."

Morgan's Jewelry

222 Hawthorne Blvd., Torrance

(310)375-4471

morgansjewelers.com

>> Runner-up: Seymour Jewelry

1212 Hermosa Ave., Hermosa Beach

(310) 379-5401

Seymourjewelers.com

March 8, 2018 • Easy Reader / Beach magazine 39
---
Nail Salon

Angel's Nail and Spa

Cindy Nguyen credits her talented staff for the popularity of

her downtown Hermosa Beach salon, which she and her husband

Vi opened in 1995. Support for her claim can be seen in

her manicurists' nail painting artistry. Nguyen said nail designs

tend to follow the seasons, with hearts for Valentines Day and

tree ornaments during the holiday season. What's popular now?

Eyelash extensions. "We have a very good, very experienced

eyelash beautician," Nguyen said.

Angel Nail and Spa prides itself on its nail artists.

Angel's Nails & Spa

934 Hermosa Ave. #4, Hermosa Beach

(310) 798-5086

angelnailsinhermosabeach.com

>> Runner-up: Coco Nail & Spa

1256 Artesia Blvd., Hermosa Beach.

(310) 379-7949

1806 S Pacific Coast Hwy., Redondo Beach

(310) 944-9917

Orthodontist

Medical Spa

Skin Savvy

Skin Savvy is located just yards from the beach on Pier Plaza in

downtown Hermosa Beach. It offers a full range of skin treatment,

brom Botox to laser hair and vein removal. Medical director Simona

C. Arcan, D.M.D., M.D. is on staff at Long Beach Memorial and is

president of the Harbor Dental Society. She received her medical degree

from the University of Southern California i 1998. Dr. Arcan has

extensive experience in minimally invasive esthetic procedures such

as Botox injections, the use of dermal fillers and laser treatments for

facial rejuvenation.

Skin Savvy Medical Spa

49 Pier Ave.

Hermosa Beach

(310) 374-4181

Skinsavvycom

>> Runner-up: Marcus Medical Spa

1815 Via El Prado Redondo Beach

(310) 316-1445 marcusmedicalspa.com

Summer Orthodontics' Manhattan Beach location

was one of the first orthodontics offices to

earn a LEED certification. Photo by Ryan Mc-

Donald

Dr. Summer Blake,

Summer Orthodontics

During her postgraduate dental studies at Temple University

in Philadelphia, Dr. Summer Blake kept a smile on

her face with memories of the balmy weather in Southern

California from her previous stints at UCLA. Today, with

an office in Metlox Plaza in downtown Manhattan Beach,

Dr. Summer, as she is known, gives others reason to throw

open their mouths in joy.

Blake shapes her practice around the understanding that

orthodontics are a "big decision" for patients, and tries to

give them as much information as possible to reduce stress

and help them make the right decision. She monitors the

advances in the field to give patients the latest and greatest

choices. She and her family live in the South Bay, and she

is proud to put a smile on the faces of her friends and

neighbors.

Dr. Summer Blake, Summer Orthodontics

451 Manhattan Beach Blvd.

Metlox Plaza, Suite D224

Manhattan Beach

(310) 545-0770

>> Runner-up: Amy Gimlen, Gimlen Orthodontics

973 Manhattan Beach Blvd.

Suite C

Manhattan Beach

(310) 545-6525

Spa

Trilogy Spa

In the late 1990s, Chandra Shaw found herself in

dire need of a change of pace. The stress of working

in the corporate world had begun impacting her

health, and then she faced a family crisis that put

her over the edge.

"I never thought I would ever be in the spa business,"

she said. "But my brother had brain cancer.

I was coming from the really aggressive, competitive

corporate world, and I was a little bit lost and found

the healing side of things almost to heal myself."

She opened Trilogy in 1999 with the thought that

it would be a one year departure from her career.

The first employee she hired, massage therapist Linda Acosta, actually interviewed Shaw during her hiring process. "What

are you doing in the spa world?" she asked Shaw.

Eighteen years later, she's still in awe at what she is able to do for a living: people arrive often stressed and in pain, and

leave a few hours later relaxed and renewed. Acosta, along with several other long term employees, share this mission with

a passion equal to Shaw's.

"My very first boss out of college said the key to success is to surround yourself with people who are better than you,"

Shaw said. "Most people are afraid of that, but it's how you elevate what you do….We are still lucky to have that very first

person I hired in 1999, and there are several who are still part of team since those early days. We wouldn't have had the

success we've had without them."

Trilogy started in Hermosa and opened up a second location in Manhattan Beach in 2006. The design of the second store,

at Metlox Plaza, speaks to Shaw's intention: one enters and heads upstairs in a narrowing alderwood hallway and then walks

into what feels like an alternate, calming universe, where your every pain and blemish are dealt with. The spa also has a

rooftop deck, used both as a place for clients to unwind and to host special events. The spa features a vichy rainbar, moana

tub plunges and showers for two, and offers customized spa parties, solo retreats, romantic getaways and more for clients

who want a more intimate setting in which to unwind. The spa has continuously broadened the range of services it offers,

remaining at the cutting edge of the wellness industry, and is the only certified-home of Ashley Black's Fasciablasting for the

body, face and head. A new addition is body sculpting.

Trilogy Spa

451 Manhattan Beach Blvd., Manhattan Beach

(310) 760-0044 trilogyspa.com

Trilogy Spa in Metlox Plaza. Easy Reader file photo

>> Runner-up: Burke Williams

2733 Pacific Coast Hwy,, Torrance

(310) 803-5550 Burkewilliamsspa.com

40 Easy Reader / Beach magazine • March 8, 2018
---
Best of the Beach Wellness

Yoga Studio

Soho employees Rachel and David greet customers

before they step into the heat. Photo by

Ryan McDonald

Soho

Yoga as a discipline counts its history in millenia, but it

all leads back to the same place: India Though the practice

has evolved greatly over the years, there is something to be

said for practicing in a place that feels like the subcontinent.

Soho Yoga in Hermosa Beach is a studio with two rooms.

One of them is unheated, while the other is specially designed

with infrared heat to deliver a temperature and humidity

level that experienced teachers say mimics the feel

of being in the land of Iyengar and Krishnamacharya. Combined

with a roster of teachers with deep knowledge of

anatomy and light-hearted attitudes, Soho has cared out a

niche for itself in downtown Hermosa.

Soho Yoga was founded by three big fans of yoga. General

Manager Pete Niva became friends with professional basketball

player Richard Jefferson while the two were in college in Arizona. Both became fans of instructor Natasha Snow Needles,

and several years ago the trio decided to fill what they saw as a void in heated yoga offerings in the South Bay. Snow

Needles now serves as the studio's yoga director, and also leads its popular teacher training program.

In just a few years, the studio has already put down deep roots. Paintings by local artists decorate the walls, and it got

involved in charity efforts last fall to provide relief to hurricane victims. Soho also sponsored one of the top teams in last

summer's Charlie Saikley Six Man Volleyball Tournament.

But perhaps the best way to see how connected Soho is to the South Bay is to stand on the corner of Pier and Hermosa

avenues in the morning or late afternoon. "Rush hour" can start to take on a whole new meaning, as you see dozens of

people hurrying down the block, yoga mats under their arms, bound for Soho's doors. They're chasing the bliss they find

inside.

Soho Yoga

1242 Hermosa Ave.

Hermosa Beach

(310) 379-3200

Pilates Studio

Rockit Body Pilates

Rockit Body Pilates, appropriately, took off quickly following

its 2009 opening in Manhattan Beach, expanding

within a year to a Redondo Beach location. Today, the studio

opened by actress Judy Aronson has cemented itself as

one of the Beach Cities' favorite places to get fit.

Rockit's pilates classes are a hybrid workout of classic

pilates, cardio exercises and weight-training, based on a

program that hooked Aronson from day one. Rockit also offers

barre classes, strap classes more like traditional pilates,

a circuit class that's "so fun it's like recess," Aronson said,

and — at its Redondo location — indoor cycling, all of

which promise "high-octane, shirt-drenching workouts" that

they believe anyone who tries will fall in love with.

Rockit Bodies Pilates

1718 S. Catalina Ave.

Redondo Beach

(310) 844-7702 >> Runner-up: Coreology Fitness

1834 N. Sepulveda Blvd

2403 N Sepulveda Blvd.

(310) 744-1004

Manhattan Beach

rockitbodypilates.com

(310) 546-2880

coreologyfitness.com

>> Runner-up: Harmony Yoga

901 Pacific Coast Hwy.

Redondo Beach

(310) 379-6905. HarmonyYoga.com

Nutrition Store

Lindberg Nutrition

Atkins, South Beach, Paleo: diet fads and crazes have

gone in and out over the years. But Lindberg Nutrition has

been around long before them, and will likely outlast

them, too. The store opened operating in Torrance in 1949

with one woman's desire to preserve the wholesome nutrition

of food on a farm. They opened the Manhattan

Beach location 20 years ago, and the stores carry their own

brand of protein powders and nutritional supplements.

Lindberg Nutrition

3804 Sepulveda Blvd.

Torrance

(310) 378-9490

1121 Artesia Blvd.

Manhattan Beach

(310) 372-1028

Lindbergnutrition.com

>> Runner-up: Feed The Machine

1016 Aviation Blvd., Hermosa Beach, CA 90254

(310) 975-3980

feedthemachine.com

Massage

Massage Envy

Residents of the Beach Cities are a well-massaged folk, with

a boggling array of massage shops and spas. Thus, when readers

designate one massage as the best, it's worth taking serious

note, and Massage Envy has been declared Best of the Beach

two out of the last three years. The underlying philosophy at

Massage Envy is that pampering yourself, by means of massages

and skin care, is not a luxury but a necessity of good

health.

"A regular massage releases stress," said Erica, one of Massage

Envy's local managers. "By releasing stress, it betters life

in many areas like family, personal, and work."

The different massage techniques and plans offered are custom

tailored for the individual.

"We do what is best for the client and their overall health

and wellness," she said.

Massage Envy, which based in Scottsdale, Arizona and has

locations in all three Beach Cities, is the largest employer of

massage therapists and estheticians in the country, with more

than 35,000 wellness professionals who serve 1.65 million

people annually, delivering 100 million massages and facials

each year.

Massage Envy

1590 Rosecrans Ave.

Manhattan Beach

(310) 321-6717

1301 Manhattan Ave., Suite C

Hermosa Beach

(310) 318-3689

415 N. Pacific Coast Hwy., Suite 101

Redondo Beach

(310) 379-1229

massageenvy.com

>> Runner-up: Healing Hands by Lani

934 Hermosa Ave. Suite 15

Hermosa Beach

(310) 415-8685

healinghandsbylani.com

Lindberg Nutrition offers an extensive selection of

nutritional supplements and vitamins, as well as

teas and health bars.

42 Easy Reader / Beach magazine • March 8, 2018
---
Veterinarian

Dr. Steve Liebl, Hermosa Animal Hospital

Dr. Steve Liebl of Hermosa Animal Hosptial is among the most popular veterianarians

in the South Bay. A frequent winner of the Best of the Beach designation, past customers

have lauded his easy way with pets. His base at Hermosa Animal Hospital provides a full

menu of services for pet owners, including annual check-ups, surgical services, radiology,

dentistry and a vaccination clinic.

Dr. Steve Liebl

Hermosa Animal Hospital

560 Pacific Coast Hwy.

Hermosa Beach

(310) 376-8819

>> Runner-up: Bay Animal Hospital

1801 N. Sepulveda Blvd.

Manhattan Beach

(310) 545-6596

Dermatologist

Jamie MacDougall

Dr. Jamie MacDougall is a repeat Best of the Beach winner as the best dermatologist in

the South Bay. His patients also rate him highly on such sites as Yelp and

Doctor.WebMD.com. They are consistent in the specifics of their praise: MacDougall is experienced,

extremely knowledgeable, no-nonsense, and amiable.

"Years ago my smart wife told me to make an appointment with Dr. Jamie," wrote a patient

named Peter who traveled from Carlsbad to MacDougall's Manhattan Beach office because

of the doctor's reputation. "I had a thing on my nose I wasn't sure about and my

mom has skin cancer history. Well, it was a blessing to find him because I had a basal cell

cancer and he found it. Since then, I go twice a year and he takes out the 'blowtorch' to

keep me in good skin health. He cares, he's smart plus we laugh. And talk about other stuff

than just medicine. He is a modest, fantastic doctor...If you're looking for a dermatologist,

give Dr. Jamie a call and you'll be in very good hands."

MacDougall, who is affiliated with Providence Little Company of Mary Medical Center,

received his medical degree from Keck School of Medicine of USC and has been in practice

for 34 years.

Jamie L. Macdougall, MD

828 Manhattan Beach Blvd.

Manhattan Beach

(310) 545-2900

>> Runner-Up: Dr. James O'Connell

23451 Madison St. #190 Torrance

(310) 373-6952

oconnelldermatology.com

Women's Hairdresser

James Carmona, Salon del Mar

James Carmona was the final piece in the Salon del Mar puzzle, according to Salon del

Mar partner Stephanie Turner.

"We all like each other, and that's huge when you're working in a close space and talking

all day," Turner said. "I like to joke and say he was the missing link we needed."

What makes Carmona integral to the salon is the same thing that makes him integral to

his customers. He's attentive, communicative, unpretentious, and funny," Turner said.

"He's off the cuff, and he can get away with comments that most of us just could not,"

Turner said. "His presence makes it lighter."

Women's Hair Dresser

James Carmona

Salon Del Mar

3216 Manhattan Ave.

Hermosa Beach

(310) 991-7728

salondelmar.net

>> Runner-up: Elise Mitchell

Jessica rose salon

133 Pier Ave.

Hermosa Beach

(310) 567-4234

jessicarosesalon.com

March 8, 2018 • Easy Reader / Beach magazine 43
---
Best of the Beach Retail

Flower Shop

Growing Wild

The flowery little world within the Growing Wild shop on Highland

Avenue in downtown Manhattan Beach has become nothing short of a

dynasty in the annual Best of the Beach votes. This year marks the seventh

straight that Growing Wild has been awarded BOB, and that's likely

because its owners, twins Lisa Hoven Gallien and Lee Hoven Bakos, have

deep local roots in this community. The duo worked at a flower shop as

Mira Costa High School students, when already they harbored a dream

of running their own business, a dream that came true 27 years ago.

"All of our employees have worked here a long time, and we've been

here a long time, so we are able to really know our customers and what

they like," said Hoven Gallien. "We have a small town feel here, so we

really get to know people, and how to take care of them."

The shop is also both wonderfully artisan and inventive — everything

is handcrafted, with many designs that use sea shells and wood and other

unconventional materials to create uniquely local settings for Growing

Wild's arrangements. The shop is also dynamic, both as a go-to service

for events, delivery, and as place for innovative home decoration ideas.

"They make beautiful arrangements and are always on the cutting edge

of design," said customer Suzanne Kretschmer in a Google review.

"Whether you are looking for a gift, a centerpiece for a party, or a beautiful

piece for your home, you will be able to find it here."

"Growing Wild is hands down the best quality florist I have ever come

across, a total class act," said customer Kim Martin. "Their arrangements

and wreaths are the most original and beautiful...they are elegant pieces

that stand the test of time. Still hanging is a shell wreath I was given as

a house warming present 13 years ago that makes the room. The owners

are incredibly generous to the community as well. I co-founded a nonprofit

and Growing Wild has, without exception, answered the call for

every single event we have ever thrown. They are true community partners,

and for that we in this tiny beach town are grateful. "

Growing Wild

1201 Highland Ave., Manhattan Beach

(310) 545-4432 growingwild.net

Car Wash

Rock n' Roll Car Wash

A statue of Elvis overlooks cars as they pass through the final

stages of a wash cycle at Rock n' Roll Car Wash in Hermosa Beach.

It's a nod to the store's name, but also a hint that the place does

things the old-fashioned way.

The car washing system may be computerized, but there are

still plenty of people running around the storefront at the convenient

intersection of Pacific Coast Highway and Aviation Boulevard.

On a recent Saturday, customers were soaking up rays on the

patio, and listening to groovy tunes from the store's speakers,

while Rock n' Roll professionals finished off their cars.

The musical theme carries over to options for customers, who

The Growing Wild crew (clockwise

from the upper left) Abigail Belezrah,

Lisa Hoven Gallien, Lee Hoven Bakos,

Zach Bozman, Scotti Wells, and

Vanessa Ivestor. Photo by Mark Mc-

Dermott

>> Runner-up: Lily Pad Floral Design

901 Hermosa Ave., Hermosa Beach

(310) 376-2539 Lilypadfloral.com

Rock n' Roll Car Wash Manager Josh and

associate Jose proudly stand next to a

freshly cleaned Corvette. Photo by Ryan

McDonald

can order everything from just "vocals" to the "whole band," which represent increasing levels of care and work for a car.

Along with washing, the shop also offers interior and exterior detailing services, with a package of services culminating

in "the Stadium Gig" for those really wanting to show off their ride.

Gold Store

South Bay Gold

One of the highest-paying gold and diamond buyers in the

nation, South Bay Gold prides itself on living up to the Golden

Rule, screening employees for honesty, integrity and commitment

to customer service. SBG sets its prices each day, based

on the London Bullion Metals Association. "We list our buy

price and our sell price," said General Manager Samuel

Kaoud. "We tell our customer how much we're making." SBG

specializes in buying and selling gold and diamonds, custom

designed jewelry and engagement rings, retail jewelry, gold

and silver bullion, rare coins, estate jewelry, luxury watches,

and collectibles. Customer testimonials praise SBG's quality

of work, honesty and customer service.

Pet Store

South Bay Gold

3804 Sepulveda Blvd., #C

Torrance

(310) 791-5431

southbaygold.com

>> Runner-up: Meridian Coin

22330 Hawthorne Blvd.

Torrance

(310) 375-4000

Meridiancoin.com

Petco

"We treat everyone like family," said acting manager Tony

Gomez. "Our employees are pet parents, and we like to share

our experience of what works and what doesn't work with

our community. It's not just about selling, it's about building

that relationship with the customer." In addition to an admirable

selection of pet foods and products, Petco will groom

your pet, protect it with vaccines, and provide services such

as full-service grooming by qualified stylists. Petco also offers

training classes in which customers learn proficiency in potty

training, loose-leash training and obedience training.

Petco

537 N. Pacific Coast Hwy.

Redondo Beach

(310) 374-7969

3901 Inglewood Ave.

Redondo Beach

(310) 355-1360

petco.com

Rock n' Roll Car Wash

1000 Pacific Coast Hwy.

Hermosa Beach

(310) 379-5757

>> Runner-up: Red Carpet Car Wash

2412 N. Sepulveda Blvd.

Manhattan Beach

(310) 546-1693

>> Runner-up: Centinela Feed & Pet Supplies

413 N. Pacific Coast Hwy.

Redondo Beach

(310) 318-2653

centinelafeed.com

44 Easy Reader / Beach magazine • March 8, 2018
---
Women's Boutique

Katwalk employees Cassandra Lopez and Marissa McCarthy help customers

find treasures among the stores "boho chic" collection. Photo by

Ryan McDonald

Katwalk

Katwalk owner Kat Master-Melville doesn't have a favorite customer; she has a favorite

family of customers. Every now and then, a gaggle of women will march into her store on

Manhattan Beach Boulevard, all of them related: a grandmother, in her 80s; her daughter,

in her 40s; and her granddaughters, in their 20s.

The multi-generational fashion outing, Master-Melville says, is a reflection of Katwalk's

style, which she describes as "boho chic."

"It's fresh, it's beachy. It's my style. But it's how a lot of people dress these days. Some

of its for young people. But I'm a mom, and it appeals to the moms too," she said.

Katwalk first opened in Hermosa Beach in 2001, then moved to Manhattan Beach a few

years later. Master-Melville recently returned from Magic, the fashion industry's annual

tradeshow in Las Vegas, and she said some of the credit for her store's longevity in a tough

retail market goes to the cozy atmosphere of downtown Manhattan.

"You have to be a little different. The bigger stores closing down everywhere. I love that

there are so many stores around here. Well, I just love to shop, but the stores here are different,

they're not cookie-cutter. That's the best way to stay in business. All the boutiques

in Manhattan are unique and special. You come down to shop because you want to be here,"

she said.

Katwalk

312 Manhattan Beach Blvd.

Manhattan Beach

(310) 798-7399

Shopkatwalk.com

BICYCLE & SURFBOARD

RENTALS

Beach Bikes • Ride the Strand

Surfboards

Boogie Boards

Skim Boards

Wet Suits

>> Runner-up: Alandrea

1809 S. Catalina St.

Redondo Beach

(310) 378-3868

Beach Chairs • Umbrellas • Beach Toys

39 14th Street Hermosa Beach 310-372-9492

• All New Model Cars

• Stick-Shift & Automatic

• Friendly & Experienced

• Free Pick-Up & Return

• Fully Insured & Bonded

(DMV Lic #3609)

Classifieds

HANDYMAN

Handyman

Services…

Fix It Right

the

First Time

What we do…

Plumbing, Electrical,

Drywall, Painting

& more.

Valente Marin

310-748-8249

Reserve

your space in the

next

Magazine

Pub Date: Apr 12

Deadline:

Mar 30

Call direct

s

Beach

(424)

Unlic.

269-2830

STONE

MORRIS

outh Bay Driving School

LOW RATES – BEST QUALITY

TRAINING FOR TEENS & ADULTS

Classroom and Online Driver's Education

310-791-1111

Cleaning & Restoration

• Marble polishing

• Travertine & Limestone

honing & polishing

• Tile & Grout

cleaning & sealing

Free Advice

& Estimates

Call George

310-545-8750

www.CleanRestoreProtect.com

Lic. #1005861

Call Direct

424

269-2830

SAVE

$30

With this Beach

coupon

3614 Pacific Coast Hwy, Torrance • www.southbaydriving.com

424.269.2830

PLUMBING

WINDOW

CLEANING

TOTAL SATISFACTION

GUARANTEED!!

KIRBY'S

WINDOW CLEANING

THE SCREEN DOCTOR

SINCE 1978

PRESSURE WASHING

SERVICES

• RELIABLE & PROFESSIONAL

TECHNICIANS

• EXCELLENT REFERENCES

FREE

WEATHER TOUCH UPS

FREE ESTIMATES

310-374-7895

CALL TODAY

KirbysWindowCleaning.com

March 8, 2018 • Easy Reader / Beach magazine 45