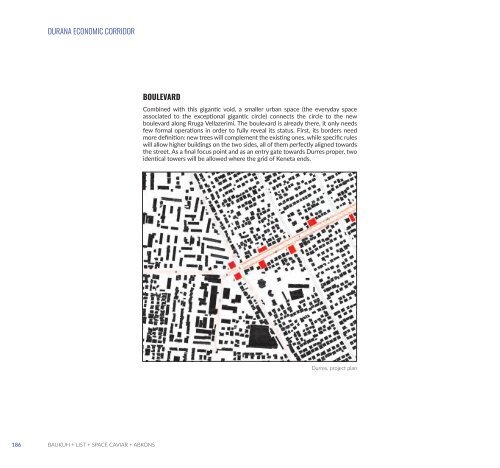 Durana Corridor
The competition for Tirana-Durres corridor stems from the need to improve the urban condition of the area along the corridor. It is one of main circulation axis of Albania that connects the two biggest cities in the country and again connects them both to the airport. It has become an economic corridor that brings large revenue to the country. It cuts through many small cities and in this perspective the whole country is the beneficiary, while the communities along the corridor will be direct beneficiaries. From an organizational perspective the competition slices the Tirana -Durres corridor into three segments/ lots: the area which connects Tirana to the metropolitan highway, the area which connects Durres to the metropolitan highway, and the city of Vora which is split in half by the metropolitan highway.
DURANA ECONOMIC CORRIDOR

BOULEVARD

Combined with this gigantic void, a smaller urban space (the everyday space

associated to the exceptional gigantic circle) connects the circle to the new

boulevard along Rruga Vellazerimi. The boulevard is already there, it only needs

few formal operations in order to fully reveal its status. First, its borders need

more definition: new trees will complement the existing ones, while specific rules

will allow higher buildings on the two sides, all of them perfectly aligned towards

the street. As a final focus point and as an entry gate towards Durres proper, two

identical towers will be allowed where the grid of Keneta ends.

Durres, project plan

186

Baukuh + List + Space Caviar + Abkons
More magazines by this user