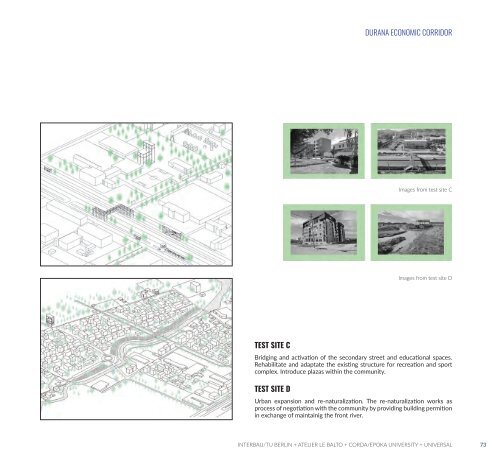 Durana Corridor
The competition for Tirana-Durres corridor stems from the need to improve the urban condition of the area along the corridor. It is one of main circulation axis of Albania that connects the two biggest cities in the country and again connects them both to the airport. It has become an economic corridor that brings large revenue to the country. It cuts through many small cities and in this perspective the whole country is the beneficiary, while the communities along the corridor will be direct beneficiaries. From an organizational perspective the competition slices the Tirana -Durres corridor into three segments/ lots: the area which connects Tirana to the metropolitan highway, the area which connects Durres to the metropolitan highway, and the city of Vora which is split in half by the metropolitan highway.
DURANA ECONOMIC CORRIDOR

Images from test site C

Images from test site D

TEST SITE c

Bridging and activation of the secondary street and educational spaces.

Rehabilitate and adaptate the existing structure for recreation and sport

complex. Introduce plazas within the community.

TEST SITE d

Urban expansion and re-naturalization. The re-naturalization works as

process of negotiation with the community by providing building permition

in exchange of maintainig the front river.

InterBAU/Tu Berlin + Atelier Le Balto + Corda/Epoka University + Universal 73
More magazines by this user